September 2015
The Trans America Trail Revisted
Corinth, Mississippi to Utah
This trip would be very, very different for me.
I would be riding a bigger bike than I normally ride----a 2013 Husqvarna TR650 Terra----a heavy beast for me.
But it excells at "easy" offroad and the road.
I would ride my bike the entire way on this trip and thought I might travel around 5,000 miles.
New tires were called for---Heidenau Scout on the rear and a TKC 80 on the front.
I also put on a new chain and sprockets as the old ones had over 20,000 miles on them.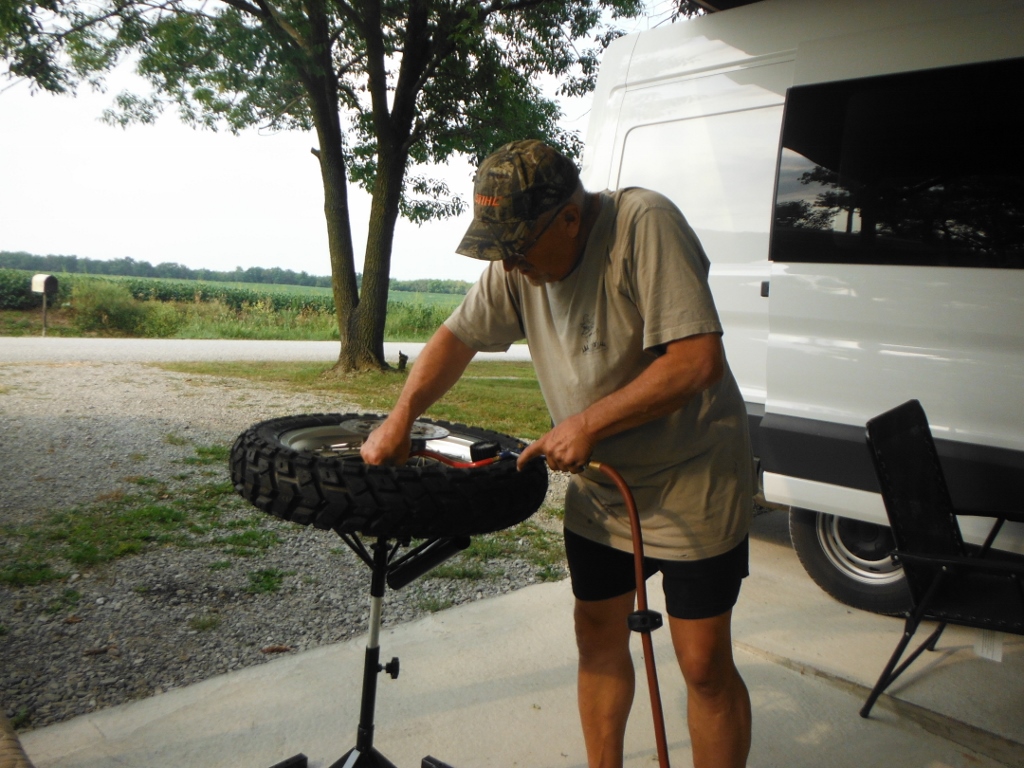 I utilized my brand new never used tire changing stand and my "Baja No Pinch" tire tool.
Why didn't I buy this stuff 40 years ago--------I had the money ??????
I could have been using it all this time.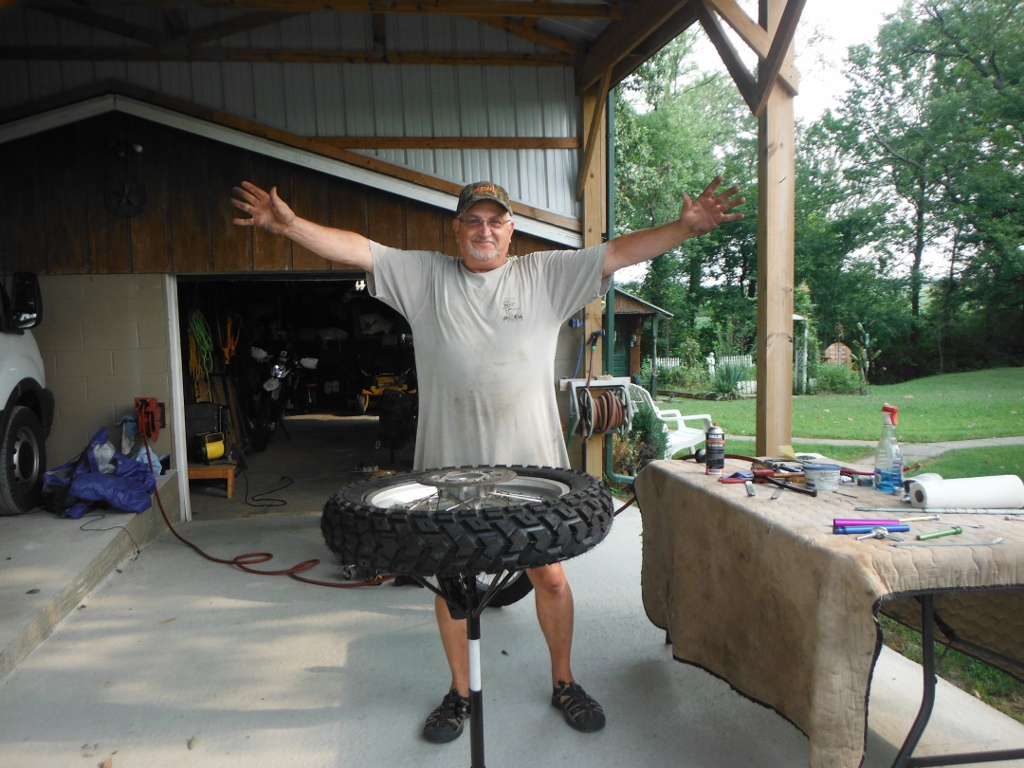 A thorough wheel bearing, brake pad, and spoke tension test was made.
I was satisfied all this would last the trip as is---------and it did.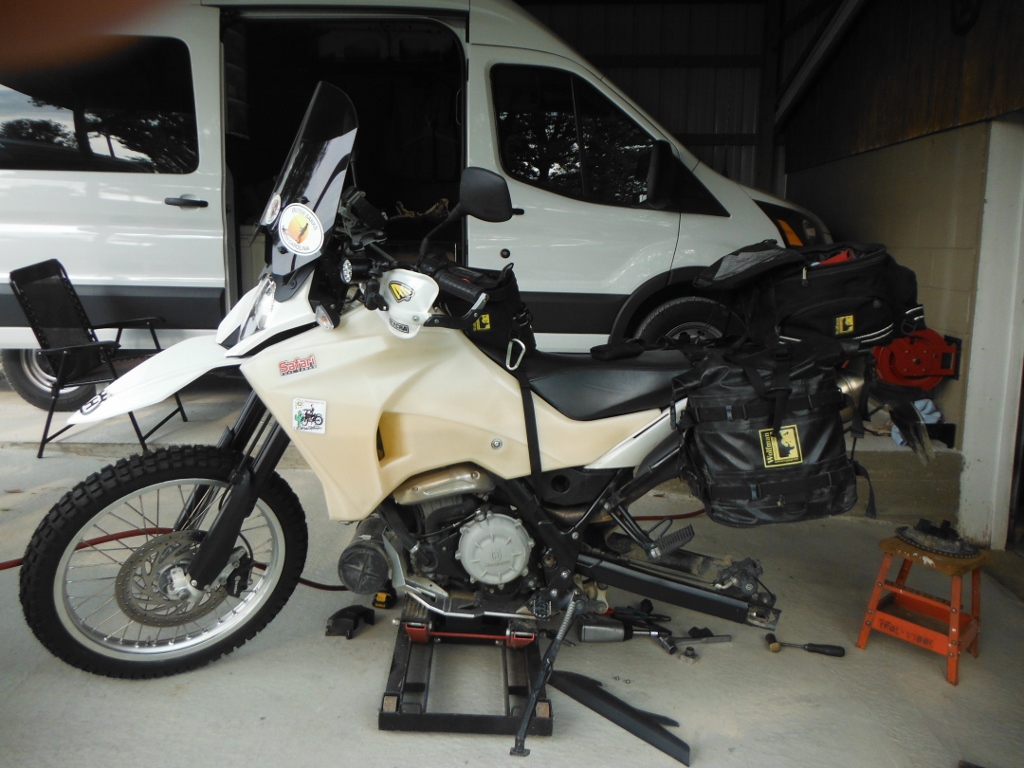 It's hard for me to leave home it seems anymore.
I would miss my wife (who took this picture) and my little doggy JoJo who isn't doing so hot now-a-days.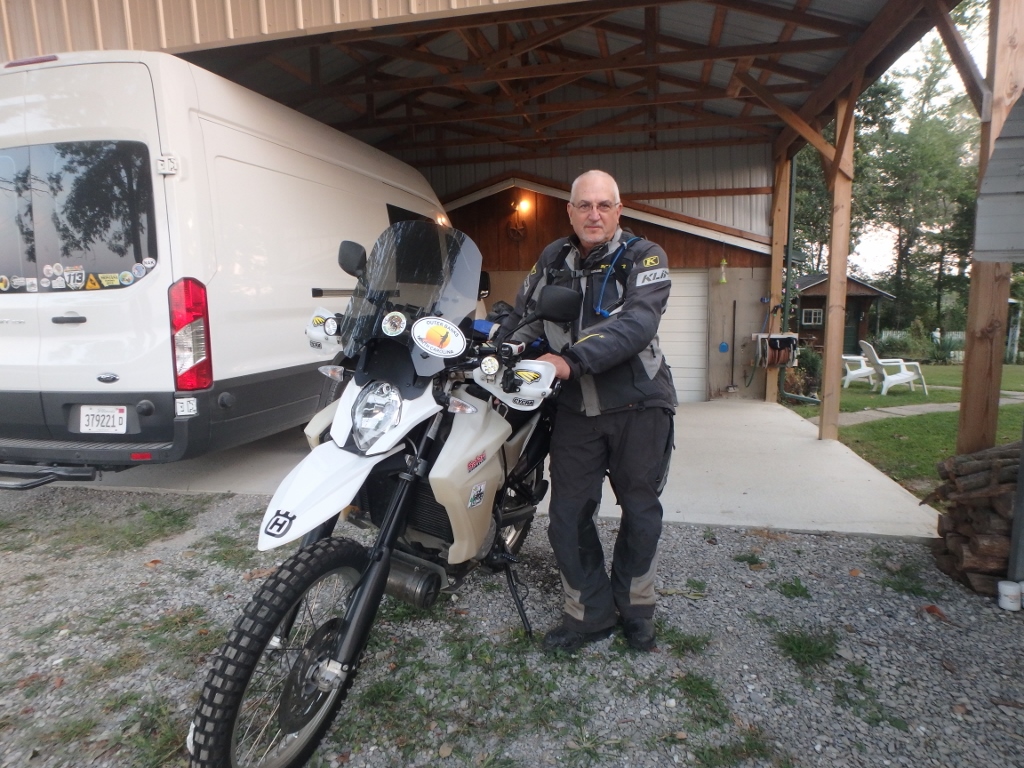 I headed for Corinth Mississippi that morning and rode all the way there in one day from my home in Southern Illinois.
Trying to ride onroads I'd never ridden on-------my biggest challenge it seems anymore.
Just North of the Tennessee border I went thru a small town------Podunk. Never knew it really existed.
It's really Fairbanks on maps---but the locals only know it as Podunk----population about 100 ?????
There were many skidmarks on the pavement by this sign where people stopped and took a picture of this sign.

Heck----I've seen the worlds biggest ball of twine in Kansas but never been to Podunk.
Bucket list check !!!!!!! Heck it wasn't even on the list ???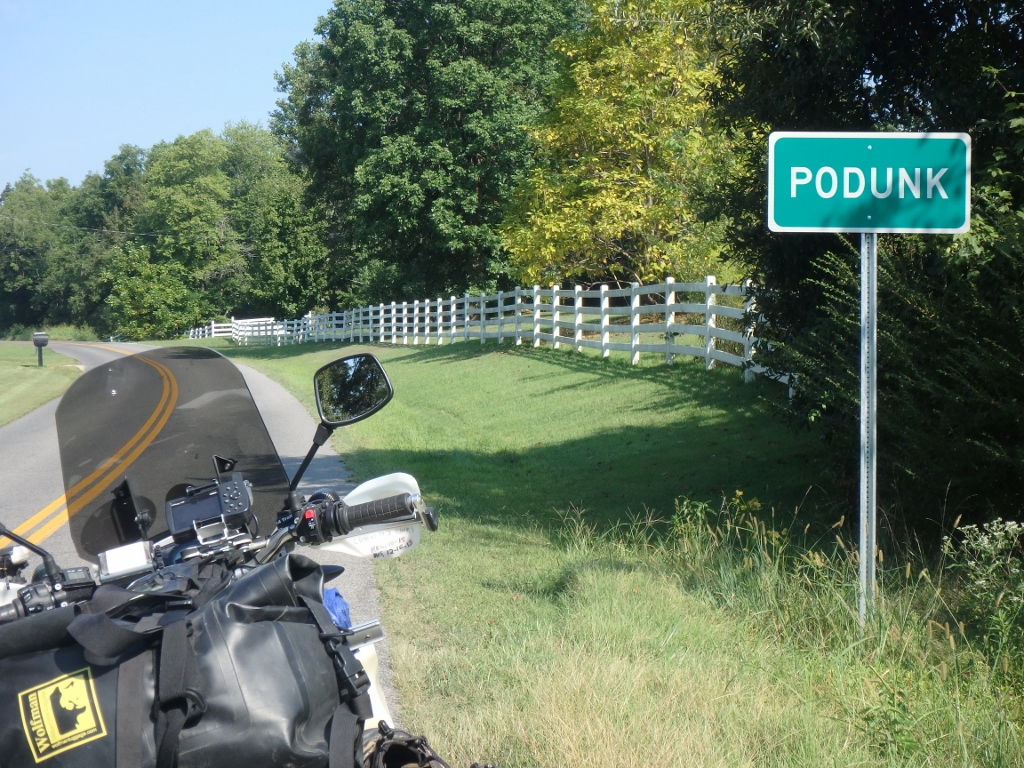 Fast forward 2 days-----I stayed at Sam Correro's house for 2 days--he's the creator of the Trans America Trail.
Me and Sam always have a hoot together and we had a great visit---and did a little scouting in the area.
I was waiting for 2 friends to show up who I'd ride with all the way to Utah and the 3 Step Hideaway on the TAT.
In Front on a BMW650GS is Francine---known as LDF on the AdvRider site.
Behind her is Dr. Rock riding his highly modified Ducati monster.
They are the "Mobius" riders---and this ride was Mobius 15 for them.

Yes we were all on way bigger and heavier bikes than we normally ride.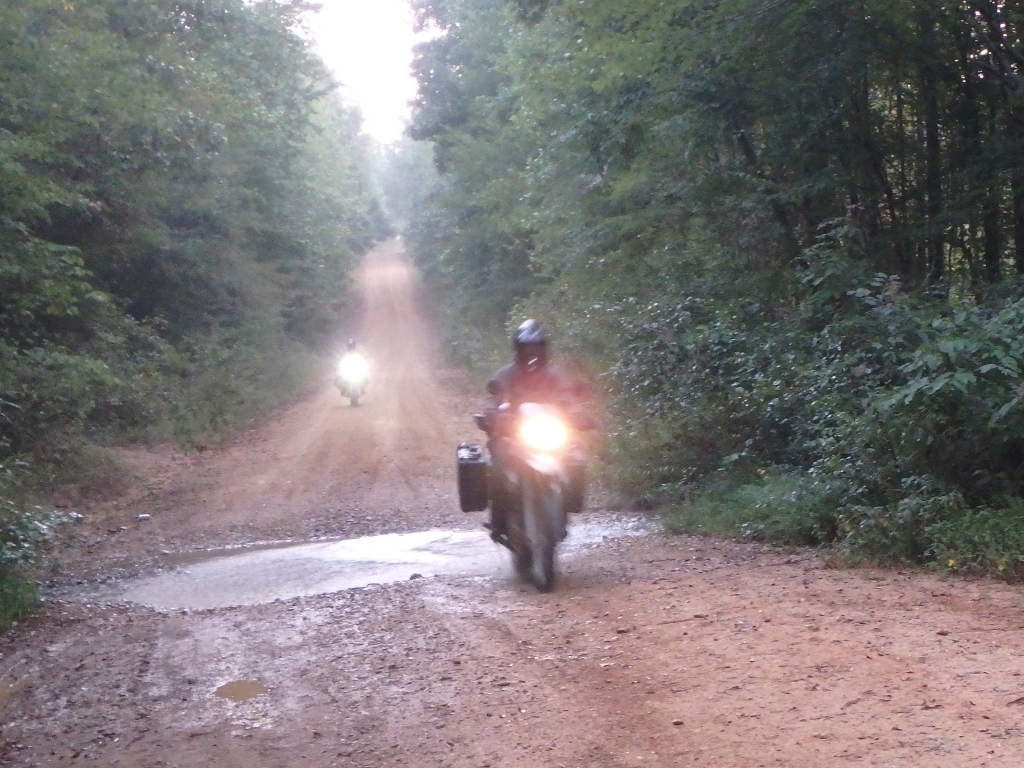 So Early in the morning, off we go West on the TAT----but since all of us had ridden the trail before we made many
diversions in route not following the TAT all the time. It was a re-union ride of the TAT for all 3 of us.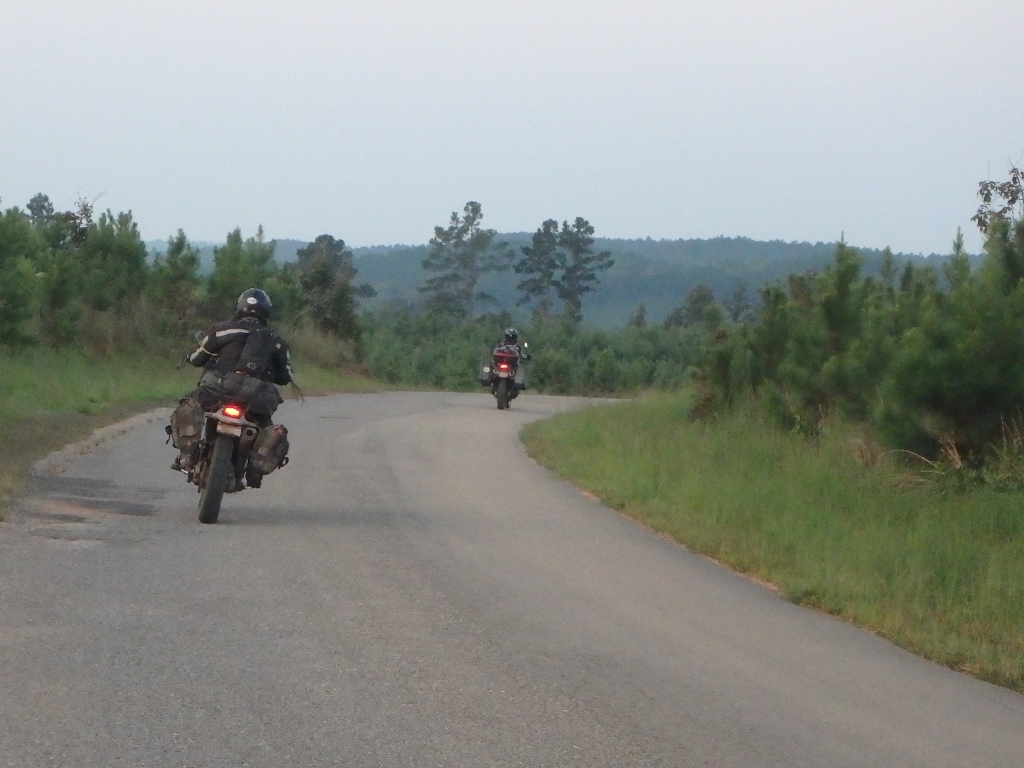 Not all that far from Sams house was an area of very deep sand---the last time I rode threw there while visiting Sam about 3 years
ago I crashed big time in it-----it was very hard riding and I was on a 250 then.
So me and Sam had went out to this area in his pickup to check it out and he drove his left front wheel into this hole and it felt
like it tore the wheel off. The sand was fine now----but the hole we found was very dangerous and you can see me and Sam
tried our best to mark this hole---you can to around it to the right very easily.
If you didn't see this hole on your bike and hit it---your ride would be over.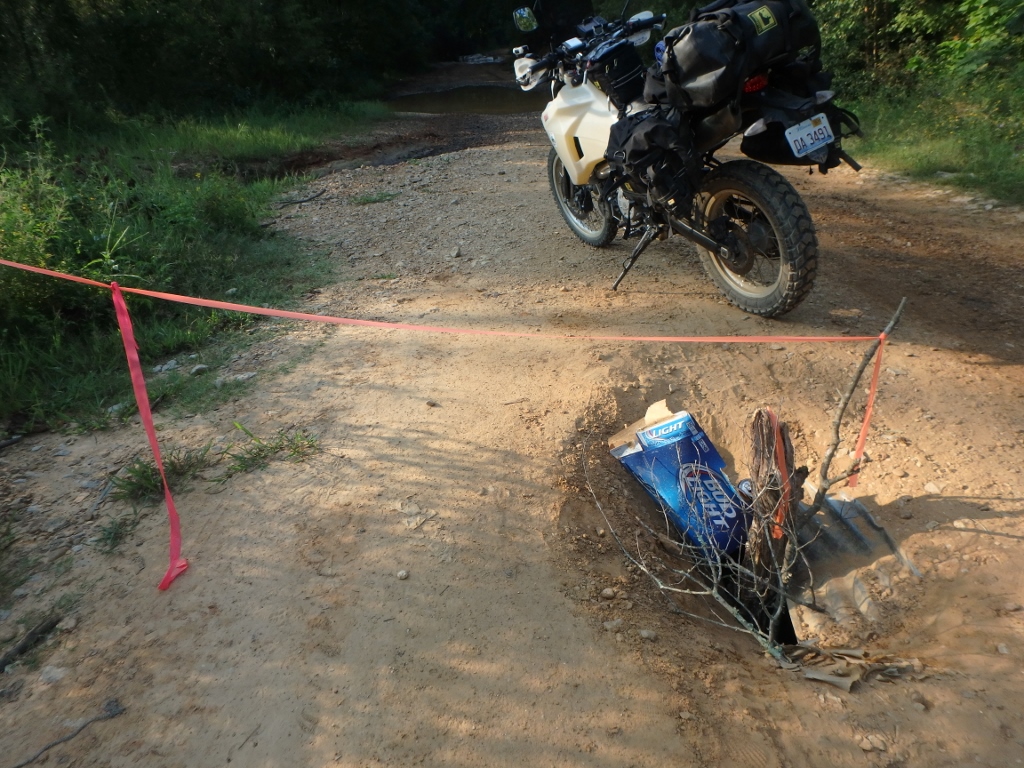 Mississippi water holes.
It hadn't rained in a while so we never hit any bad mud in Mississippi.
When I first rode the Eastern TAT many, many years ago the route went this way----I had the track of it in my gps.
We made a quick by-pass of this---very easy.
Things had changed.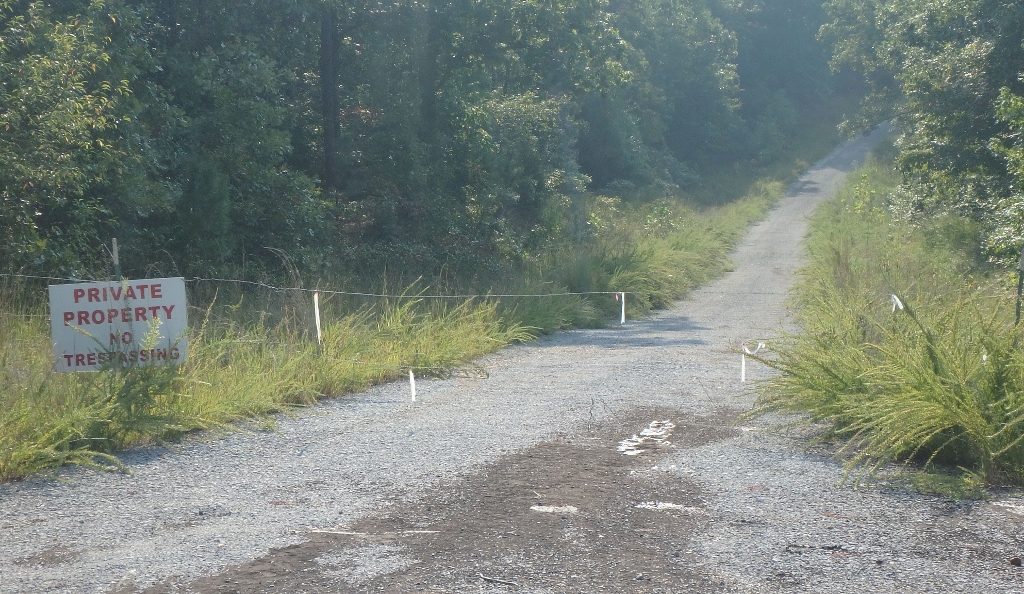 There's a bridge right behinkd Dave that is about to fall in----I wouldn't drive a $50,000 pickup over it.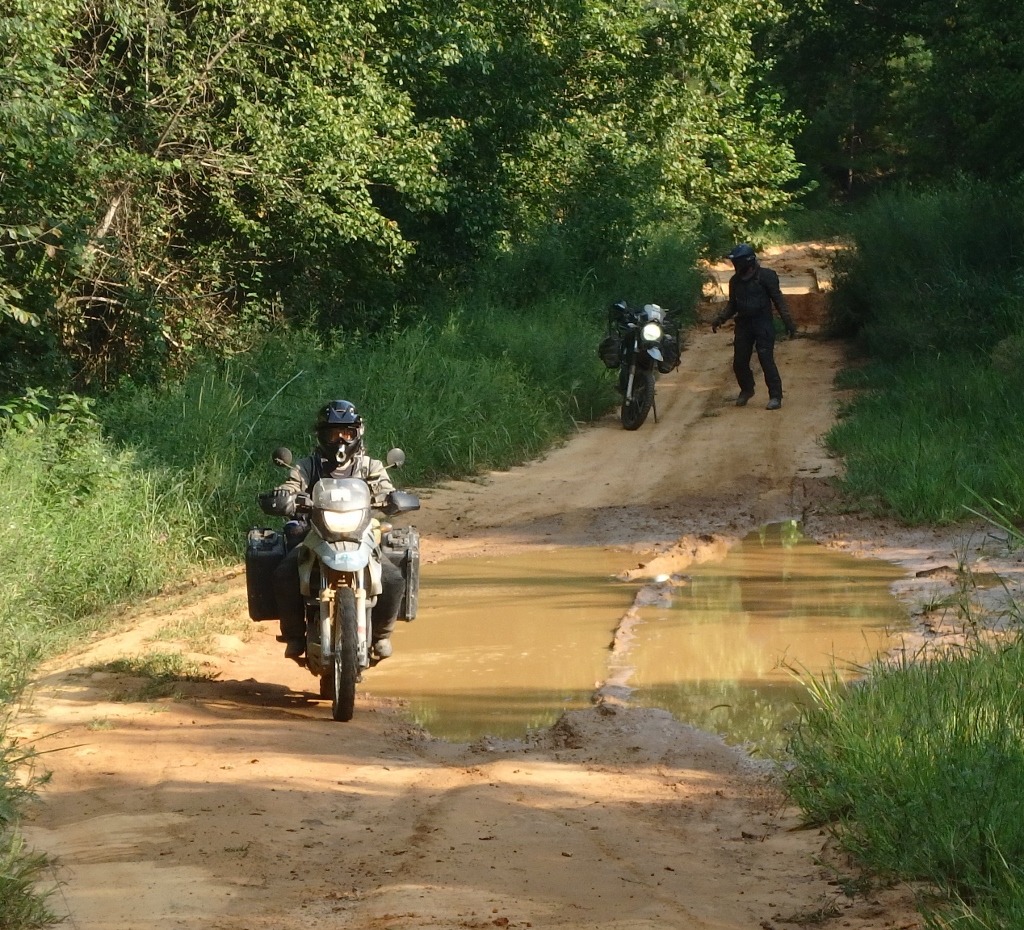 I'm not going to give a blow by blow account of each days riding or where we stayed---but will try to show some neat stuff
that I didn't on my first ride of the TAT---this one here wasn't even open the first time----Trenton Arkansas.
The gentleman standing next to me owns this store and is a retired farmer.
He spends everyday minding this store and greeting TAT riders and offering a snack or drink if needed.
His sons do all the farming and he is a very happy old man who has had a good life and wants for nothing.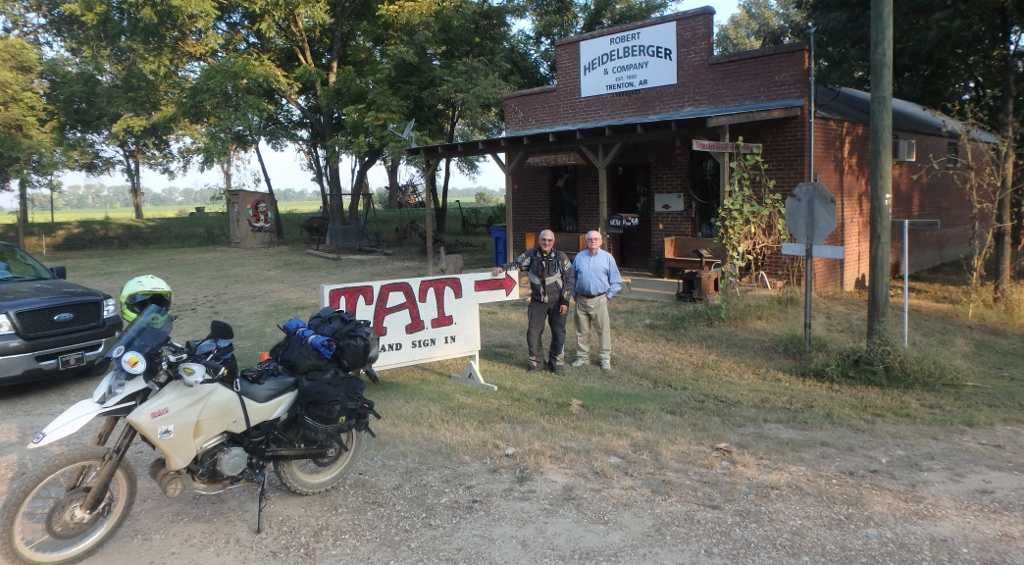 Across the street is this little store which was open years ago.
The lady that owns it is still alive and living across the street but she has closed it down.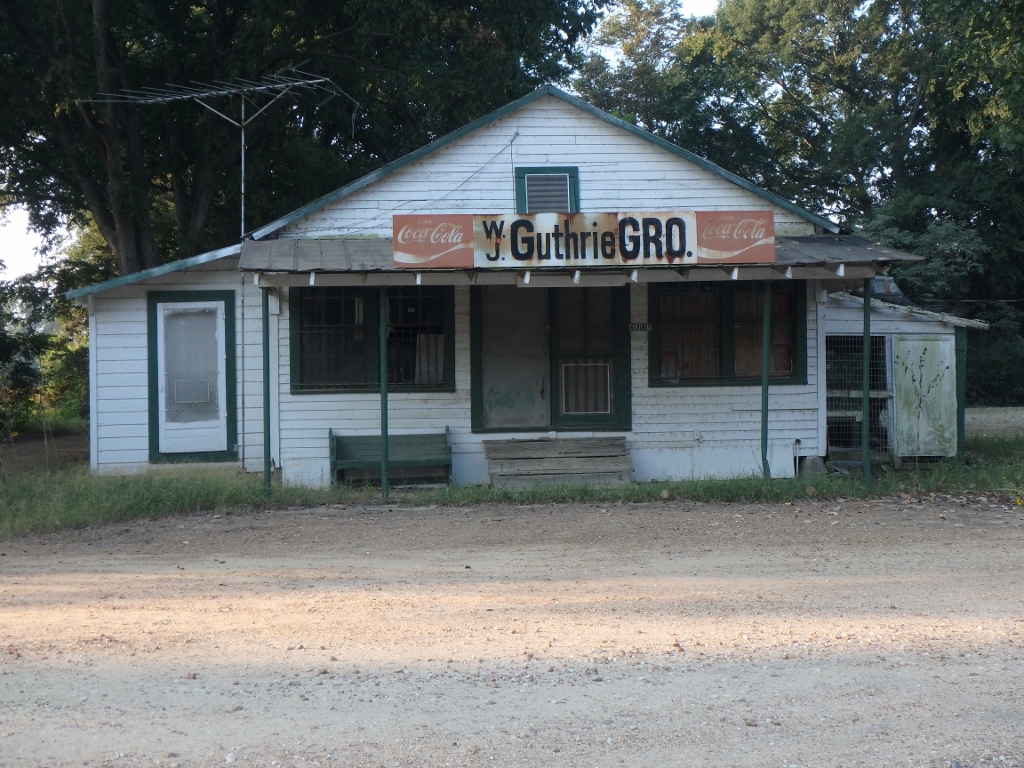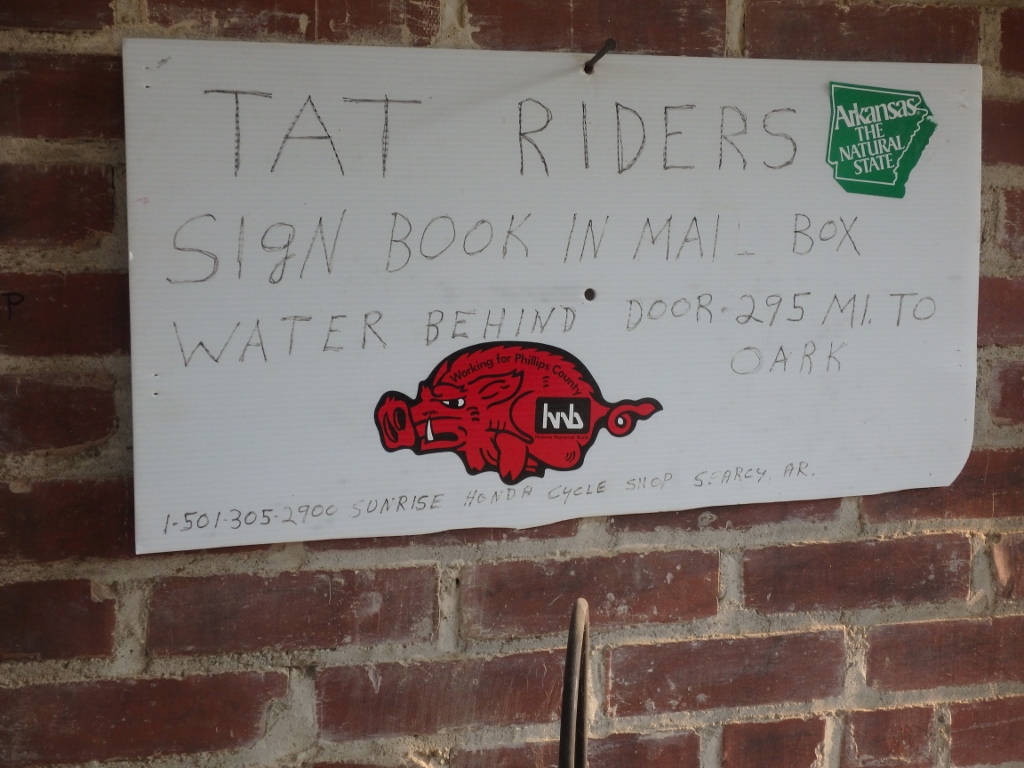 The old store is very full of old antiques and ........stuff. Lot's of stuff, which he enjoys immensely.
Nothing is for sale---------nothing.
I asked him if the "Pickers" had ever stopped in and he made a quick reply.
"Well they did call me---and I told them nothing was for sale and they'd be wasting their time if they came by---and they didn't".
Notice the beautiful metal ceiling----he said that was the good thick stuff---not the cheap stuff you buy now-a-days.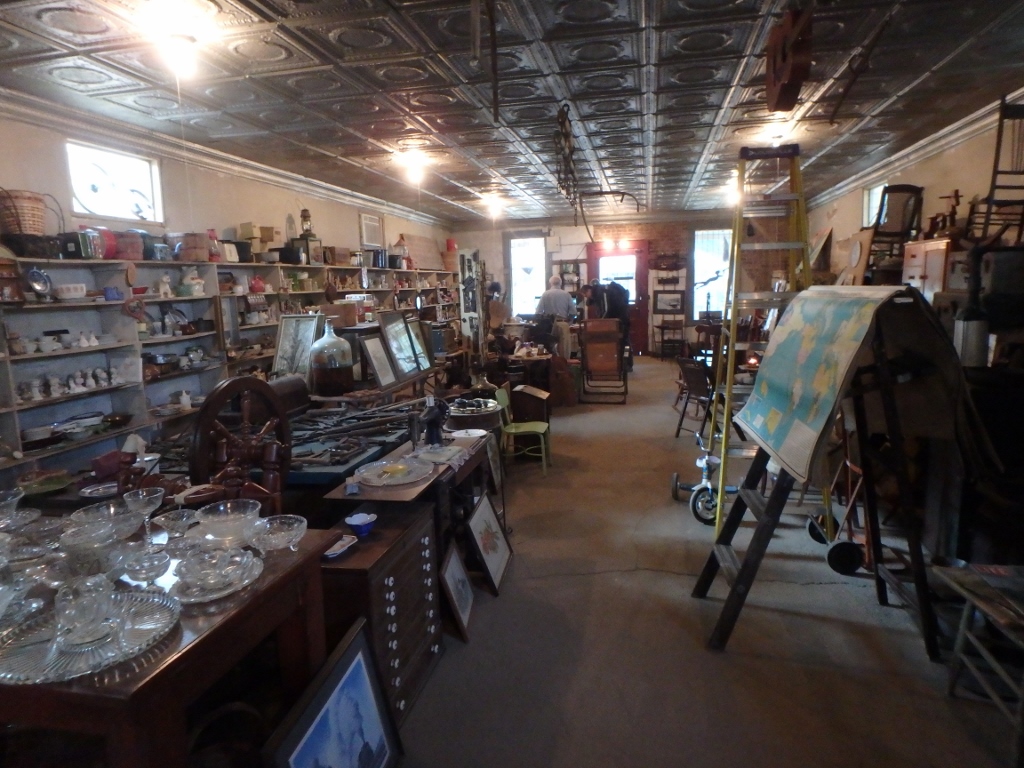 We signed the guest book at the store and picked up some "Redneckistan" stickers from him and rode away.
What a nice guy---who knew what was important in life.
Looks bad---but wasn't.
Dr. Rock always makes me lead---I'd soon ride in the back but always leading riding with them.
He had make a route up and I had it loaded in my gps.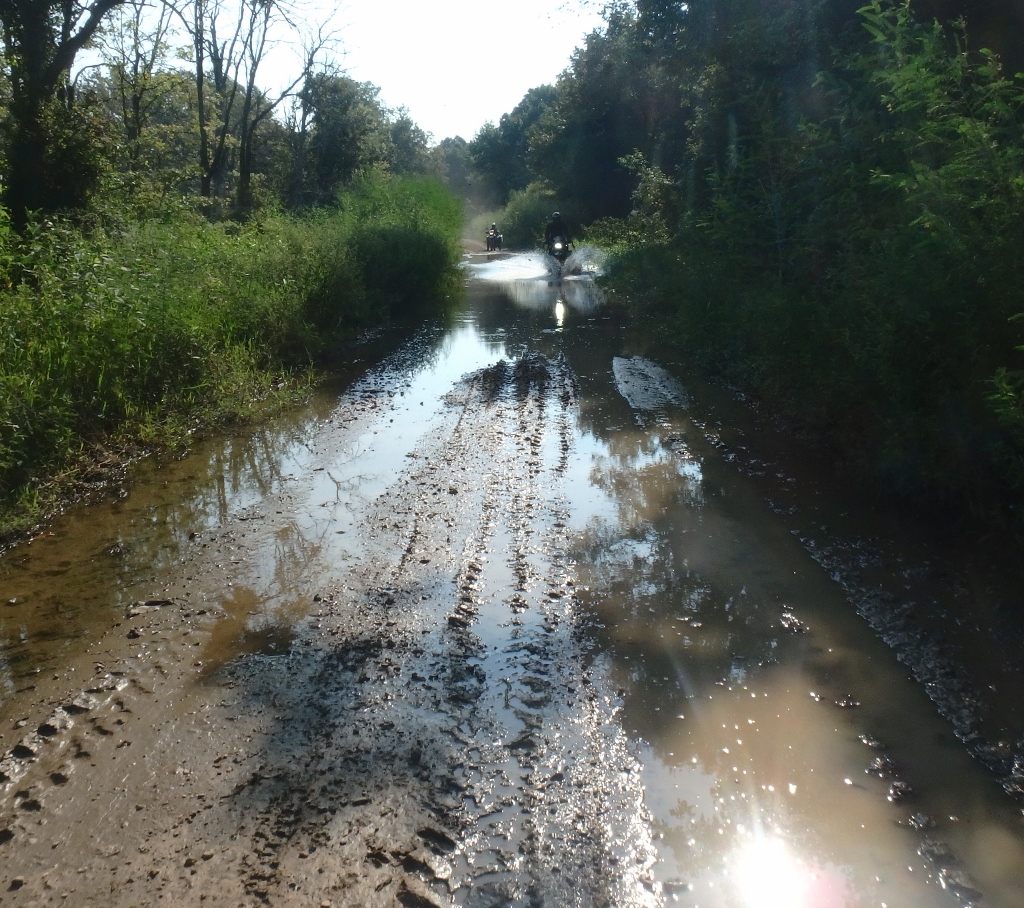 I motioned for Francine to go to the right and she almost went to far.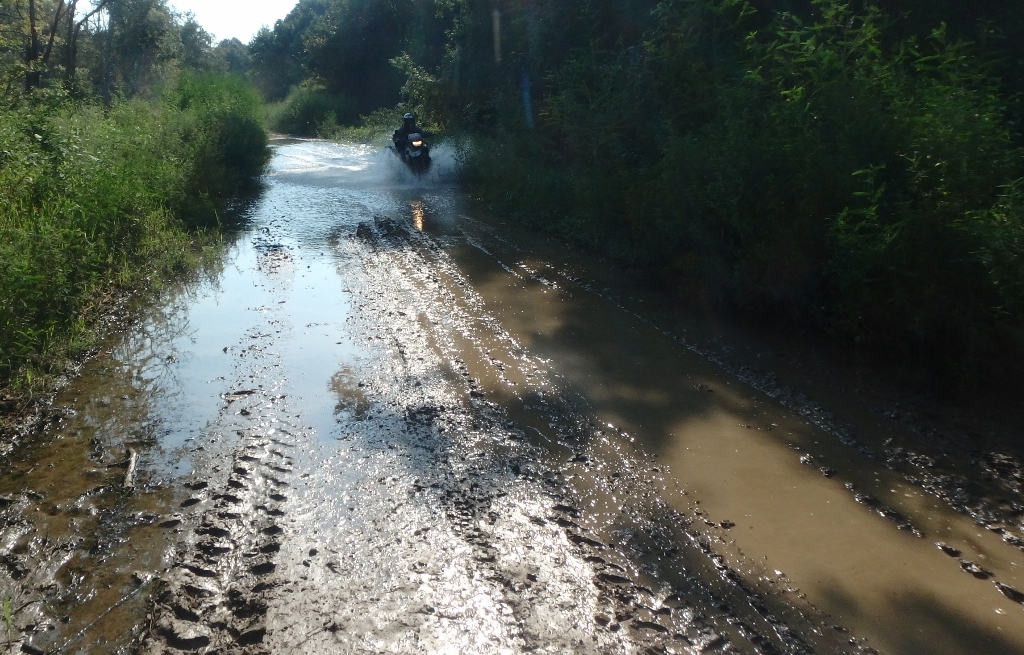 It was getting hot out---and the roads were hot and dusty----until we ran into this irrigation sprinkler.
To our eyes the water and sun made a rainbow---but it didn't show up in this picture.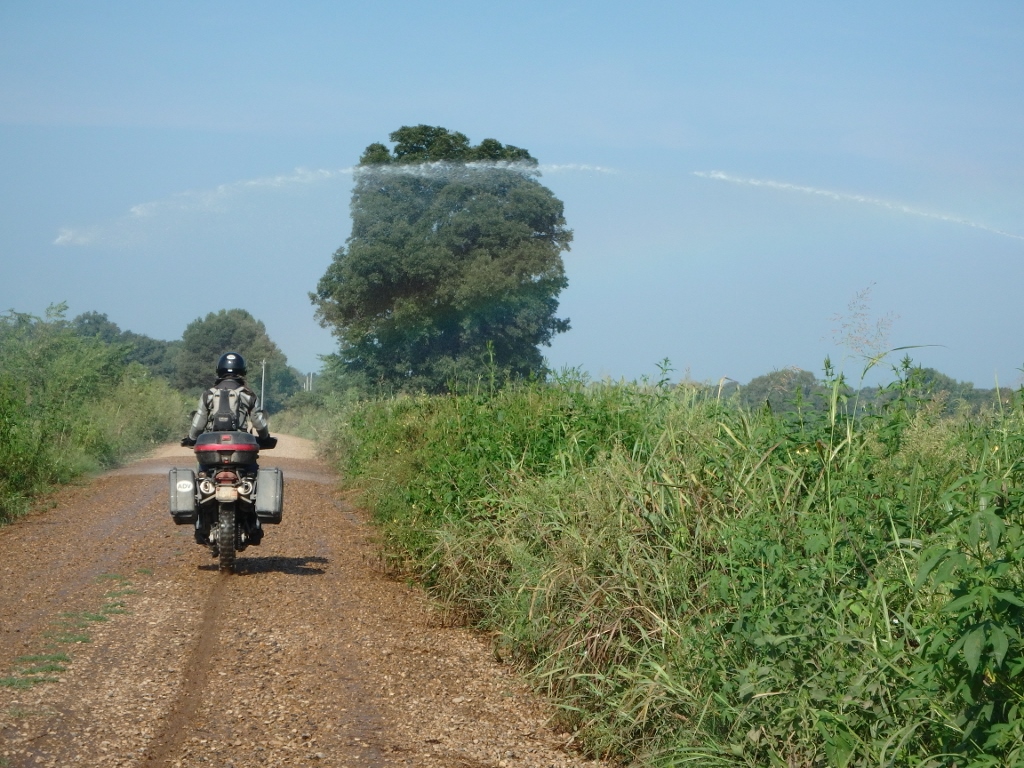 Dr. Rock had to have tires shipped to some friends house in Arkansas for Francines bike.
So she got some new "Tractionator" tires and Dave got to work installing them.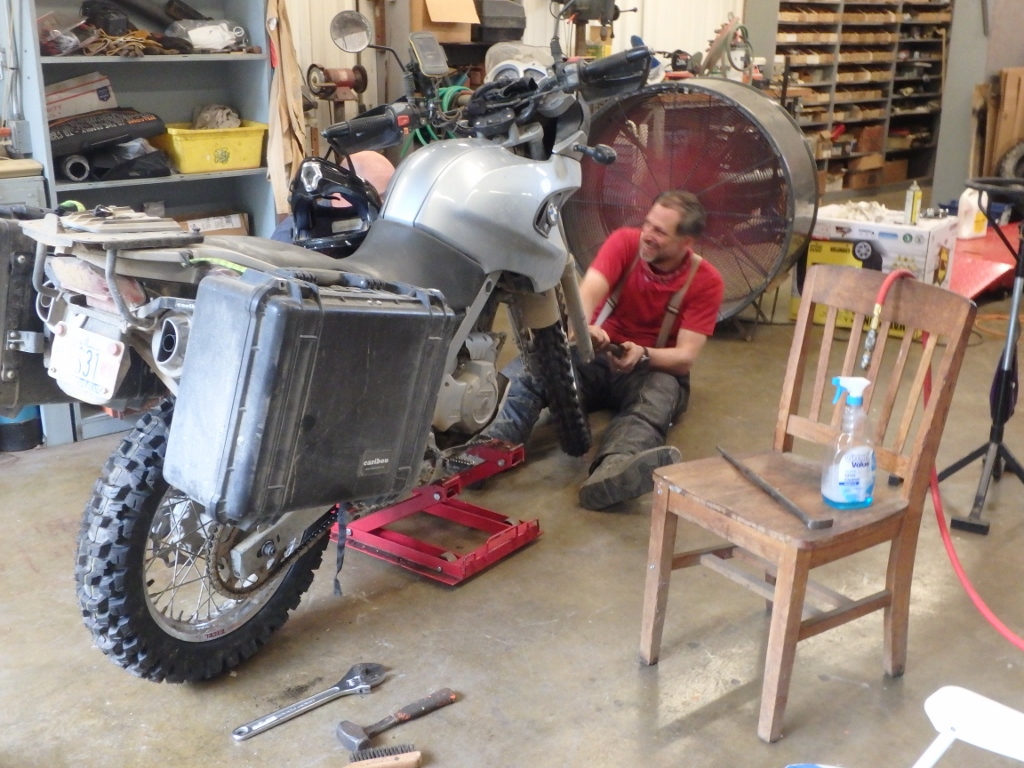 The people that lived here were so nice and many riders started showing up as a very nice meal was served up.
All these people were so nice---it was a great afternoon and evening.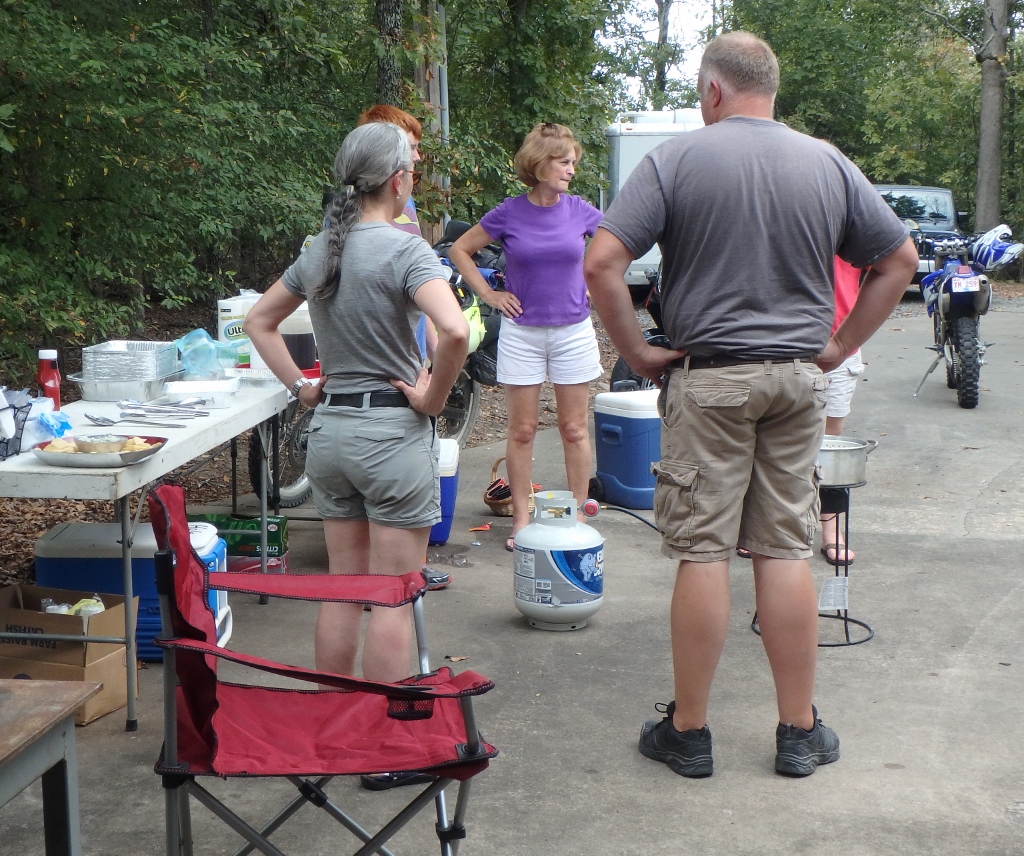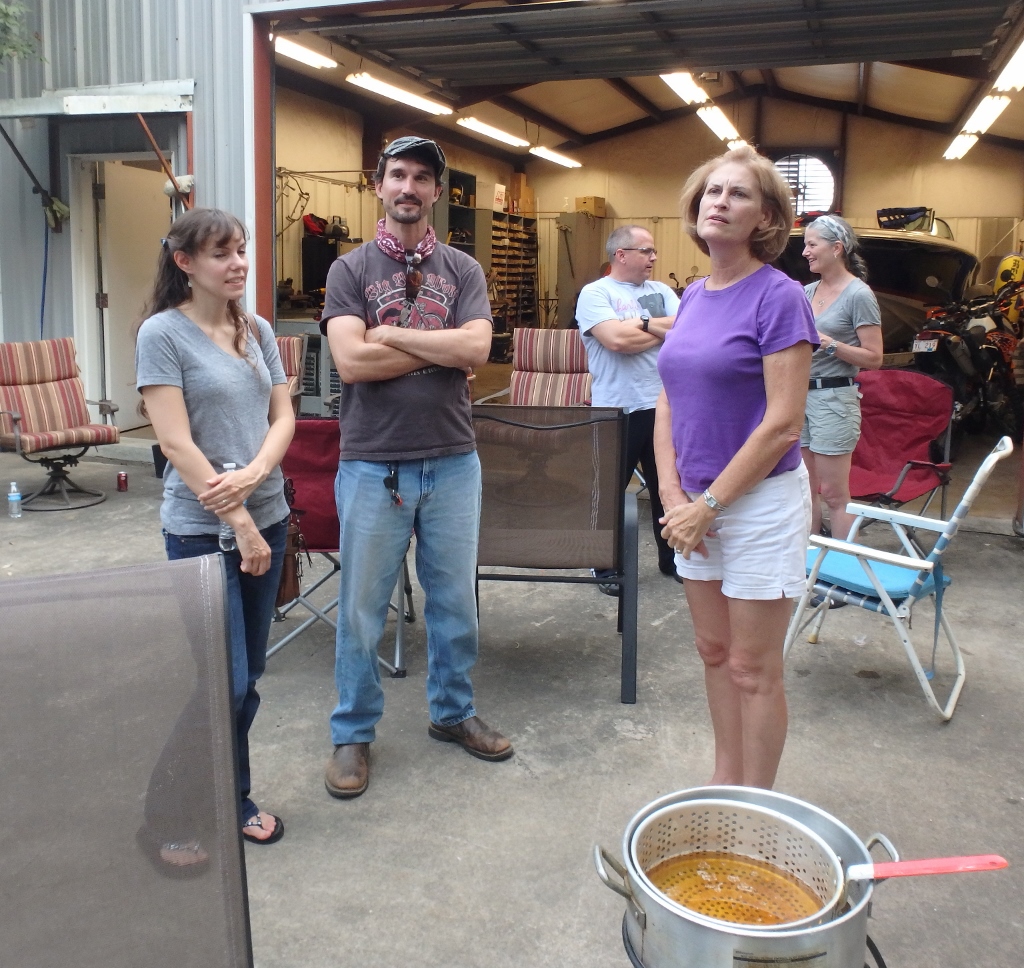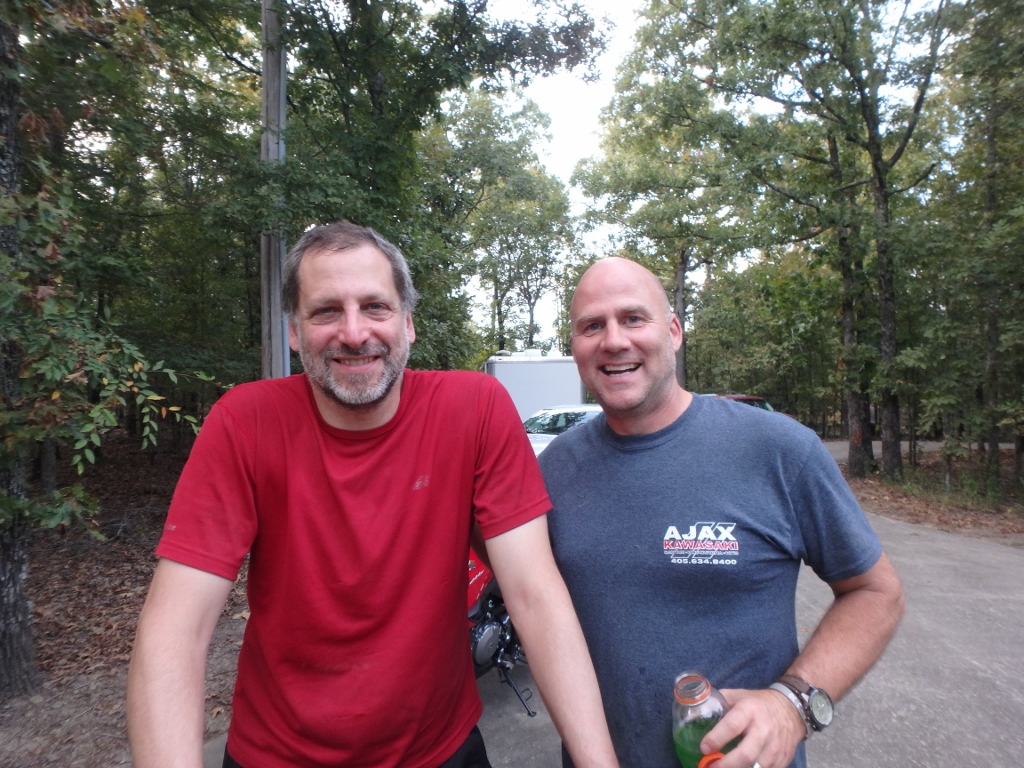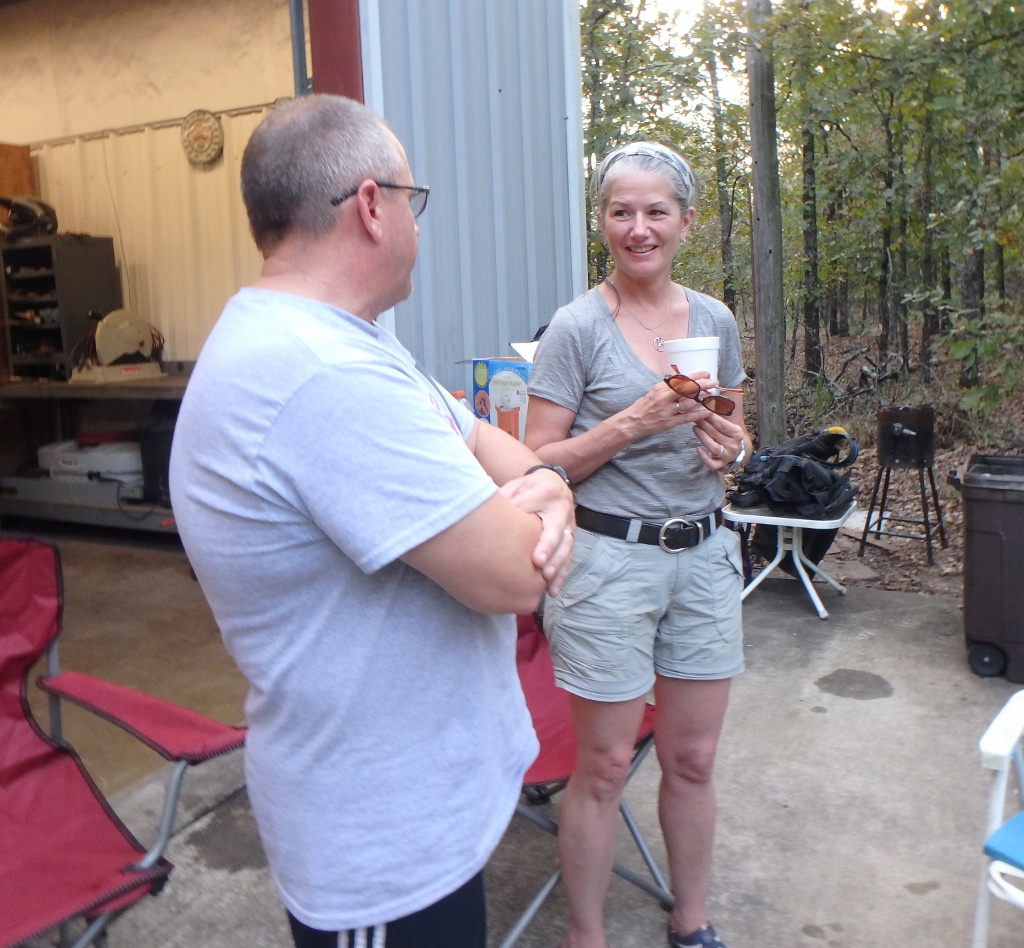 HHHHhhhhMMMMMmmmmmm
Dr. Rocks Monster-------it's been in New York all these years.
This bike and Francines bike were being transplanted to Utah with their other smaller bikes---it was a shame to have them
in New York where the riding opportunities were almost non-existent.
Of course it was equipped with "Anti-Hassle Tassels".
See the "Death Wing" on the front---it would bite Dave in the butt later on.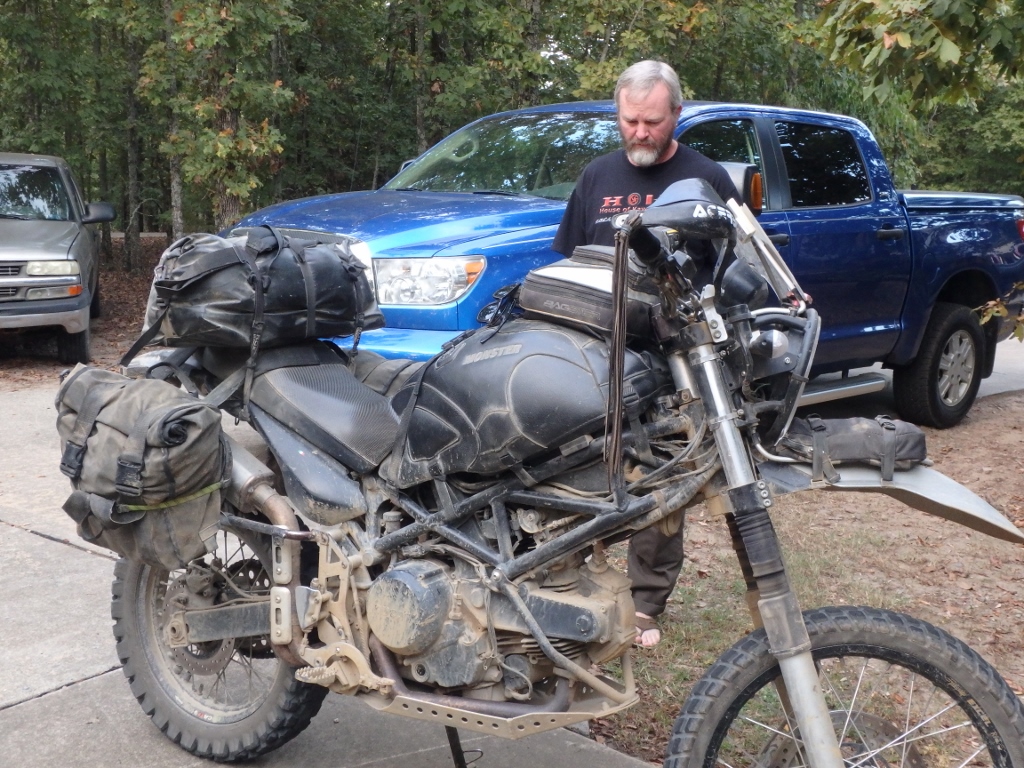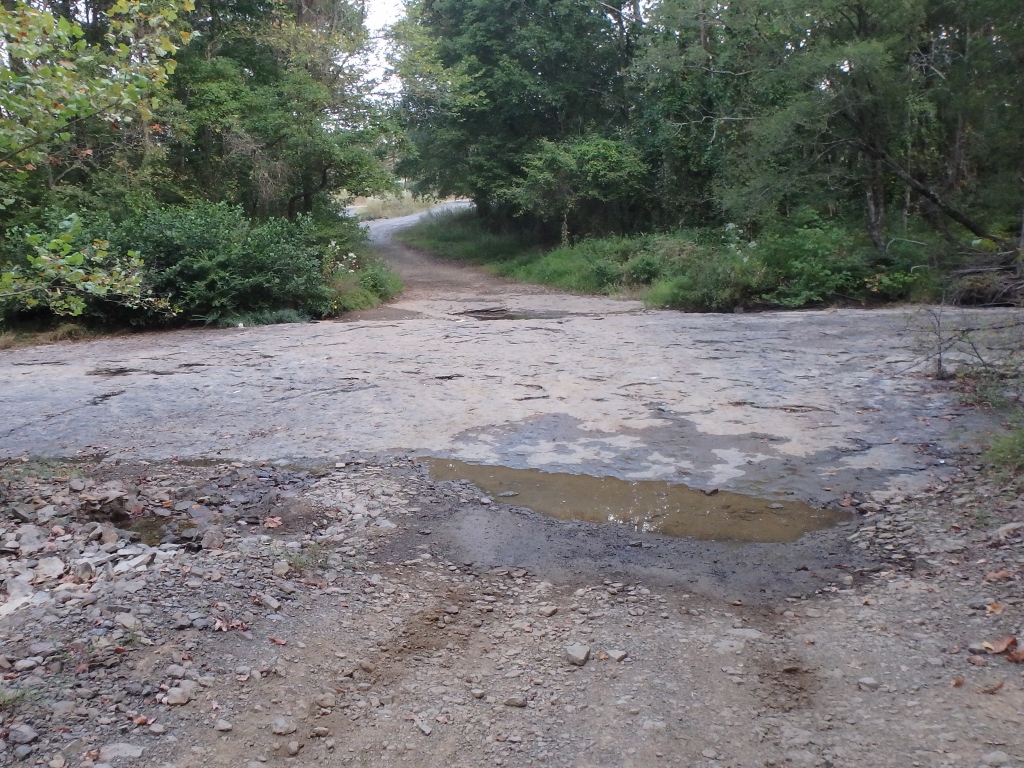 For those that don't know---this is the TAT shak.
It is in Arkansas just passed route 7 on the TAT.
A very nice AdvRider provides this trailer as a refuse for weiry TAT riders.
It has a shower with hot water--several rooms--air conditioning--heat and a covered area for you bikes.
Even camping out in the nice grass out front.
It's been here for about 3 years----and to my amusement----Same Correro (the creator of the trail) has never been to it and
didn't even know about it when I told him about it. He needs to ride his own trail !!!!! He's never ridden the whole thing at once.
There's a big sign out front so you can't miss it.
It's for TAT riders "ONLY".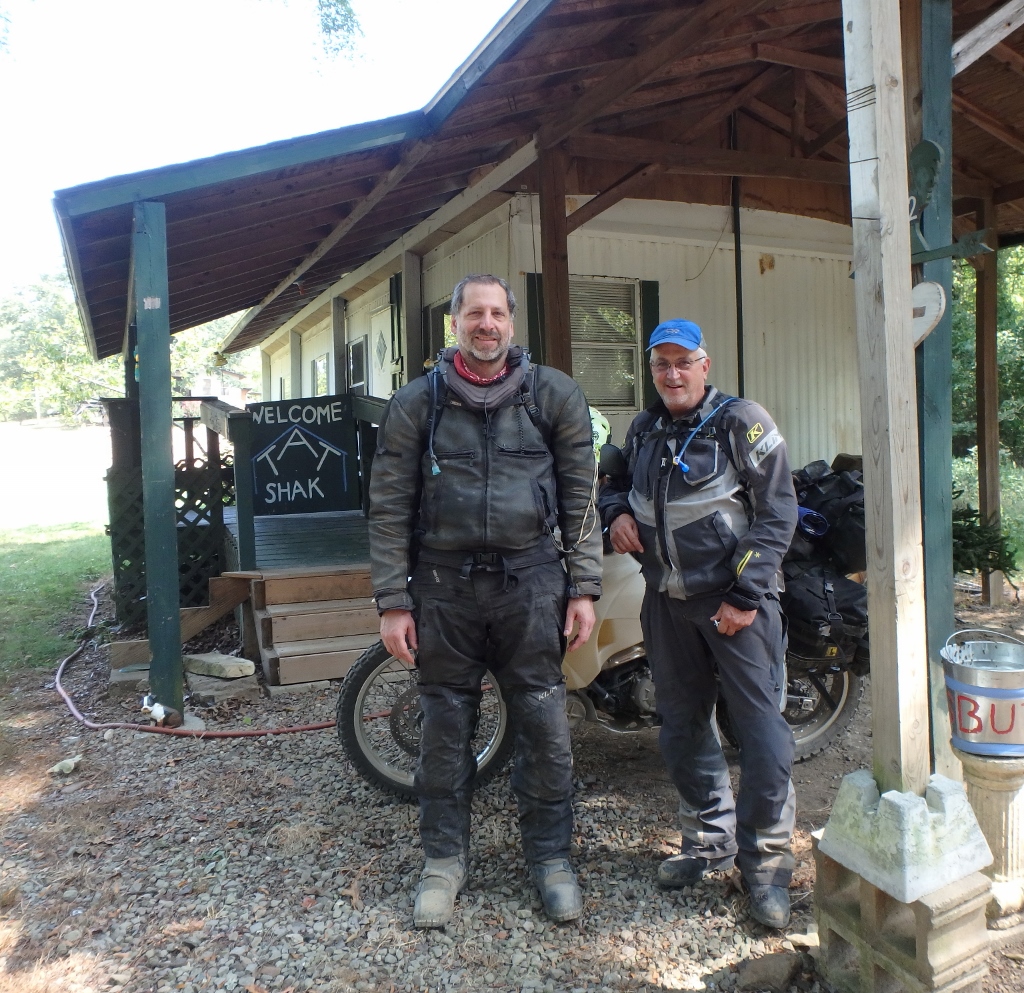 Just before you get to the Oark cafe in Oark, Arkansas there is this little swinging foot bridge.
If you didn't know it was there you'd ride right on by.
I hear there is a lady that lives on the other side of the Mulberry river and it's her only way to get to her house.
Some months ago I heard it got washed away---and it did.
Locals took up a collection and built it back----the yellow box is for donations.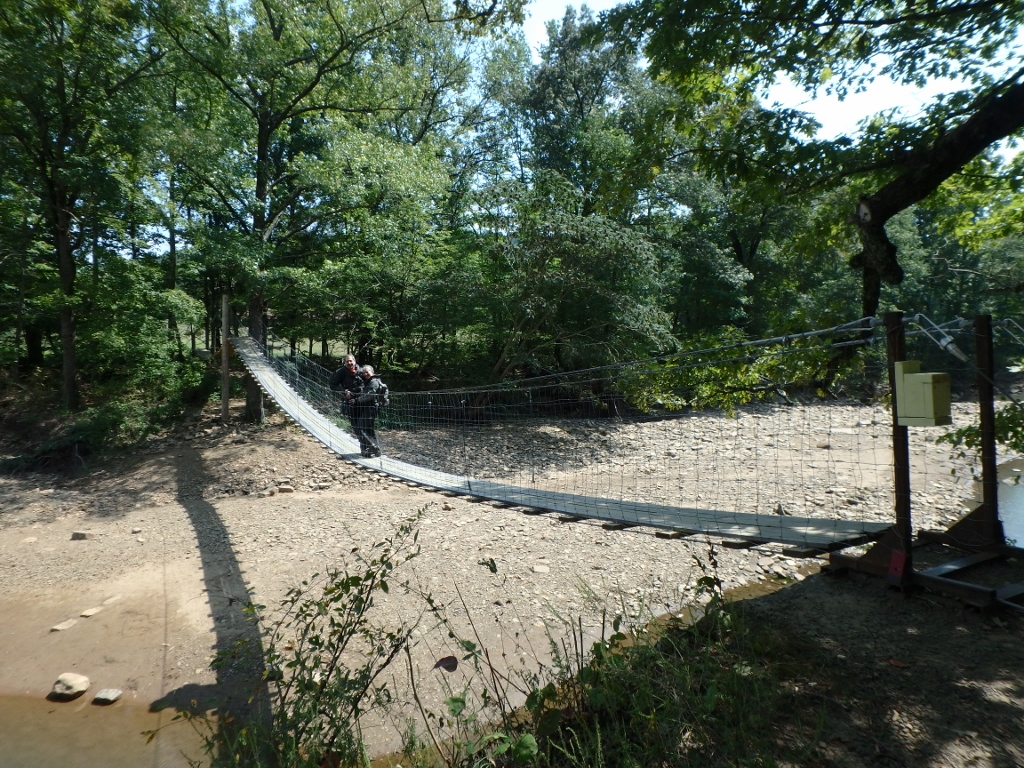 Now there's a lovely couple !!!!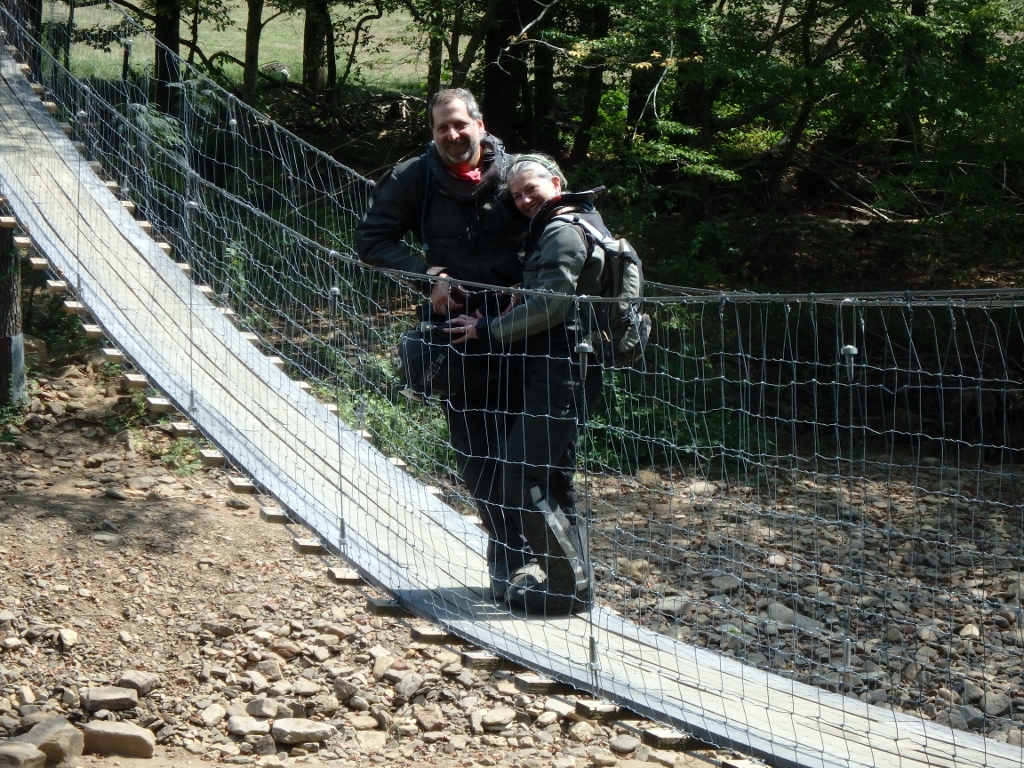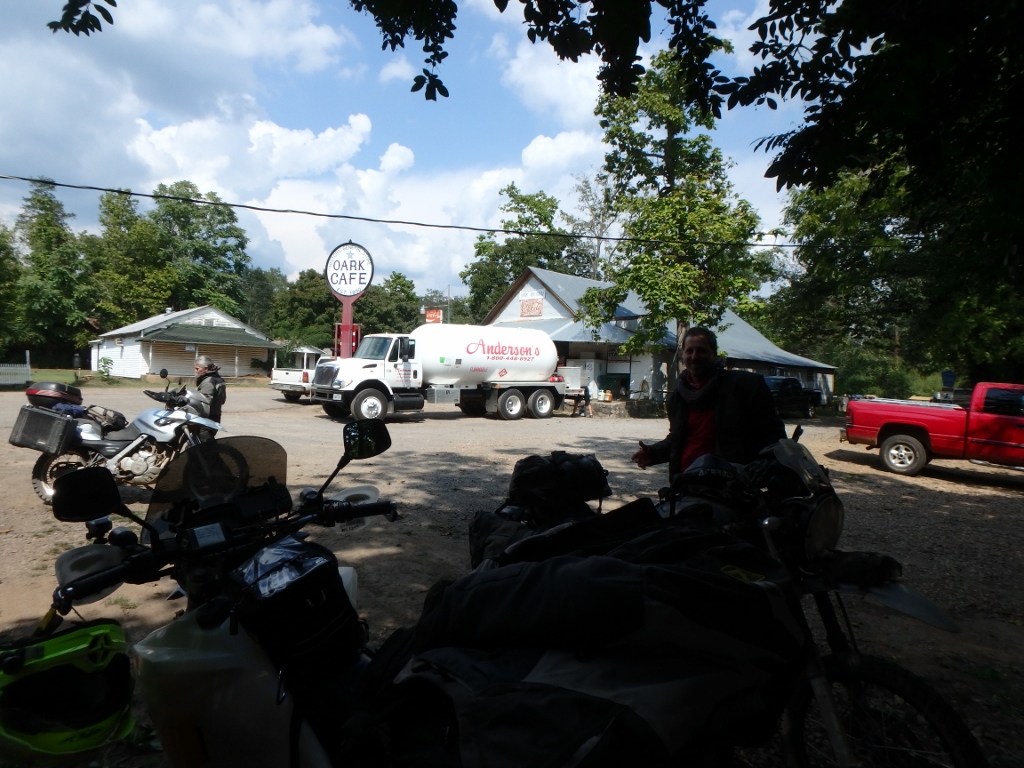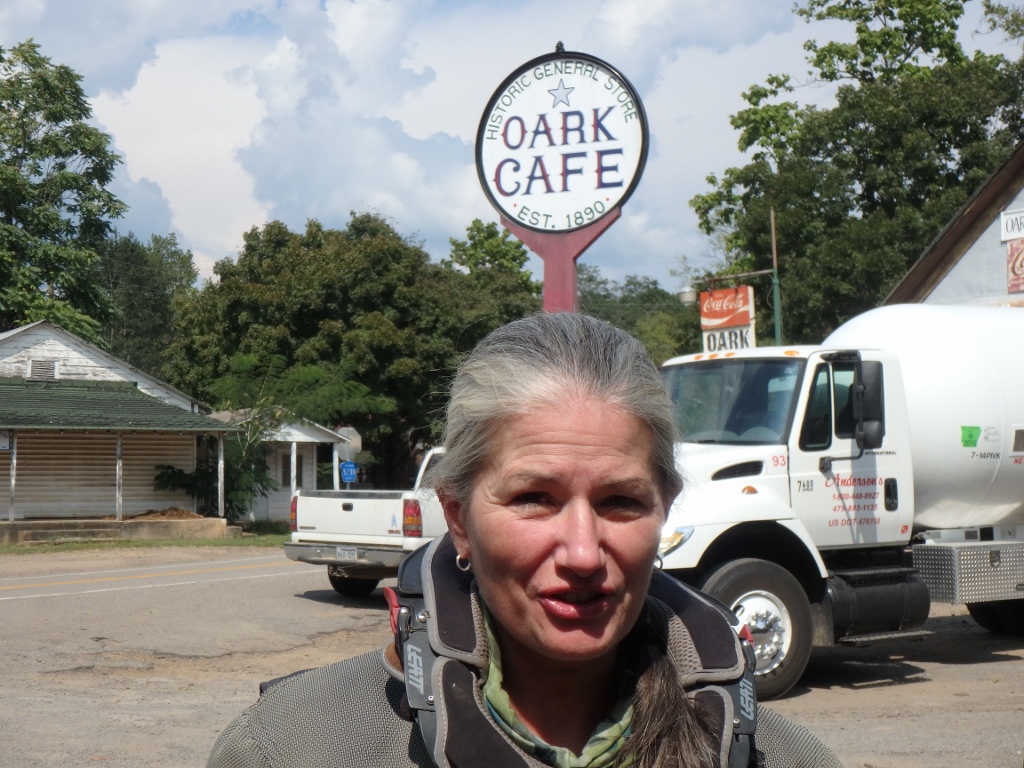 I guess we are going the wrong way ??????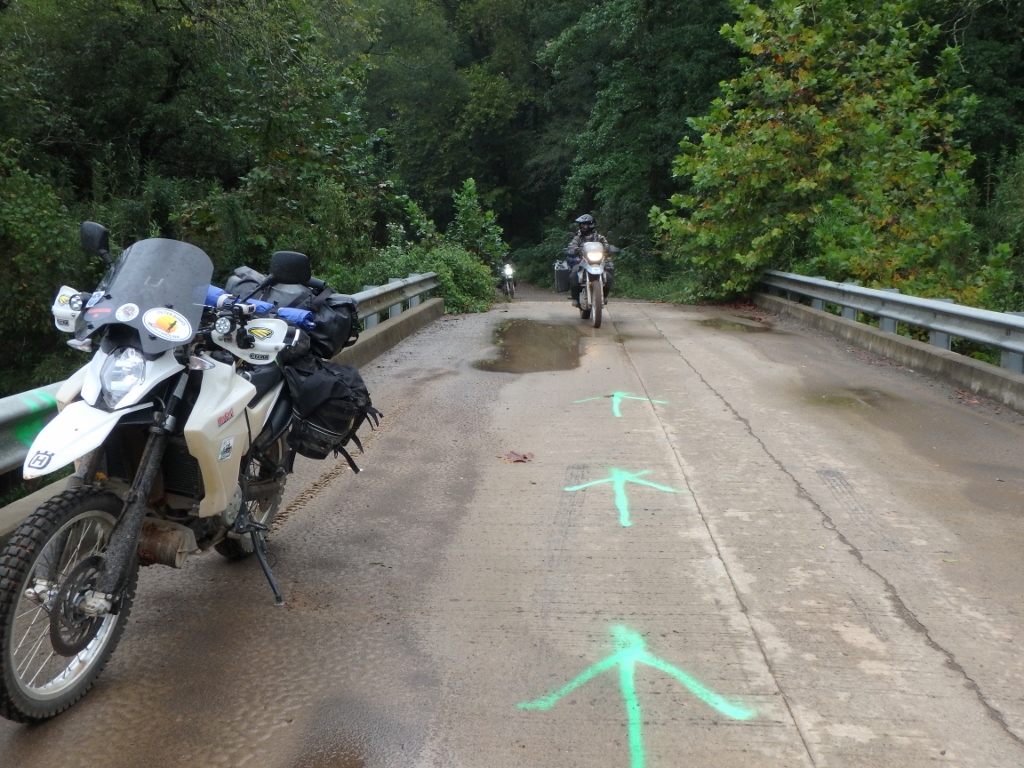 These 2 goats were hilarious. They just stared at us.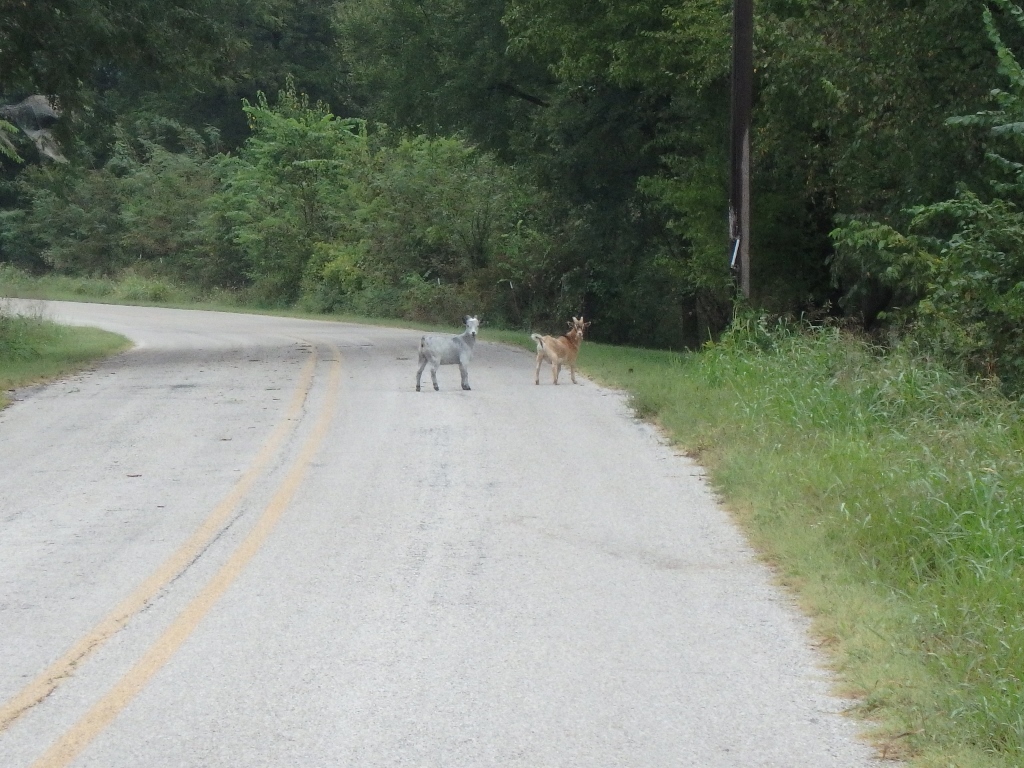 OK----we crossed into Oklahoma and drew a line in the dirt road.
Last time I did it with some water-----my water if you know what I mean.
I've crossed this border 3 times right here--the first time with Mr. Gaspipe and we rode on to Oregon.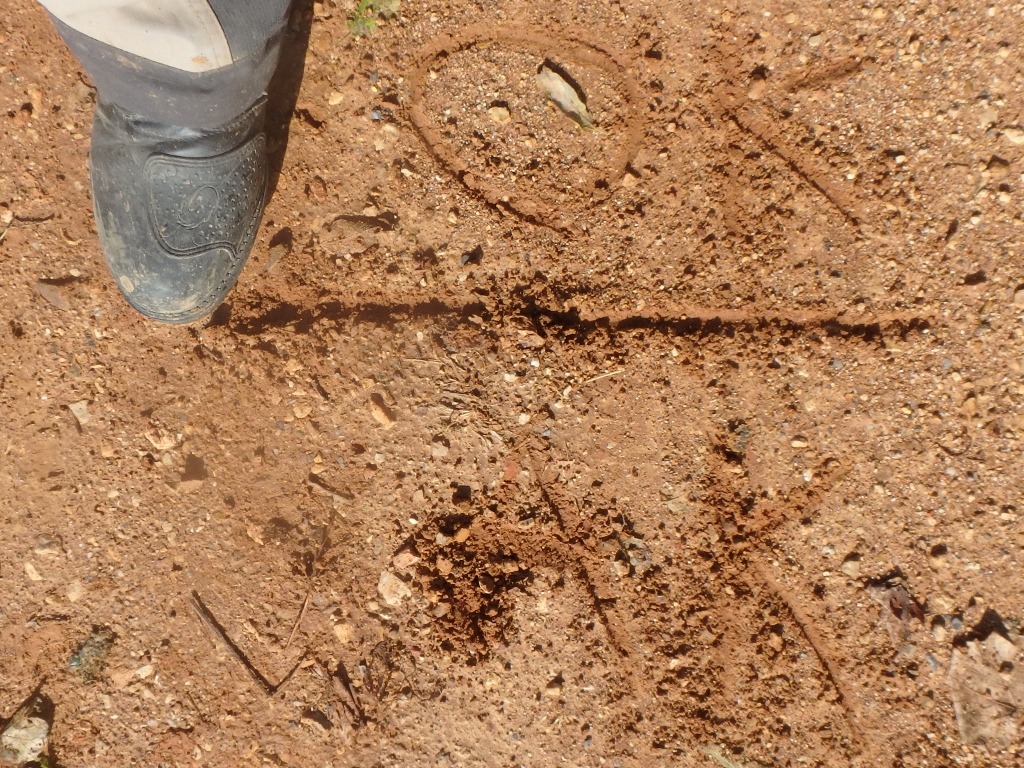 The smallest fawn I've ever seen---the markings on it were beautiful.
It could barely walk.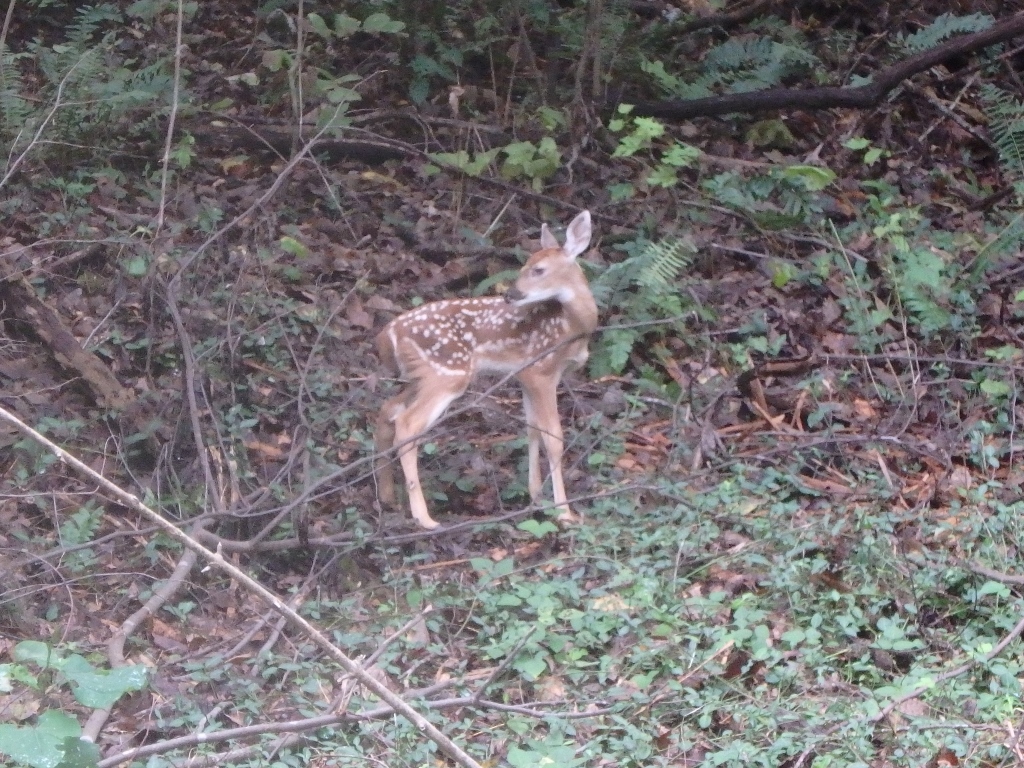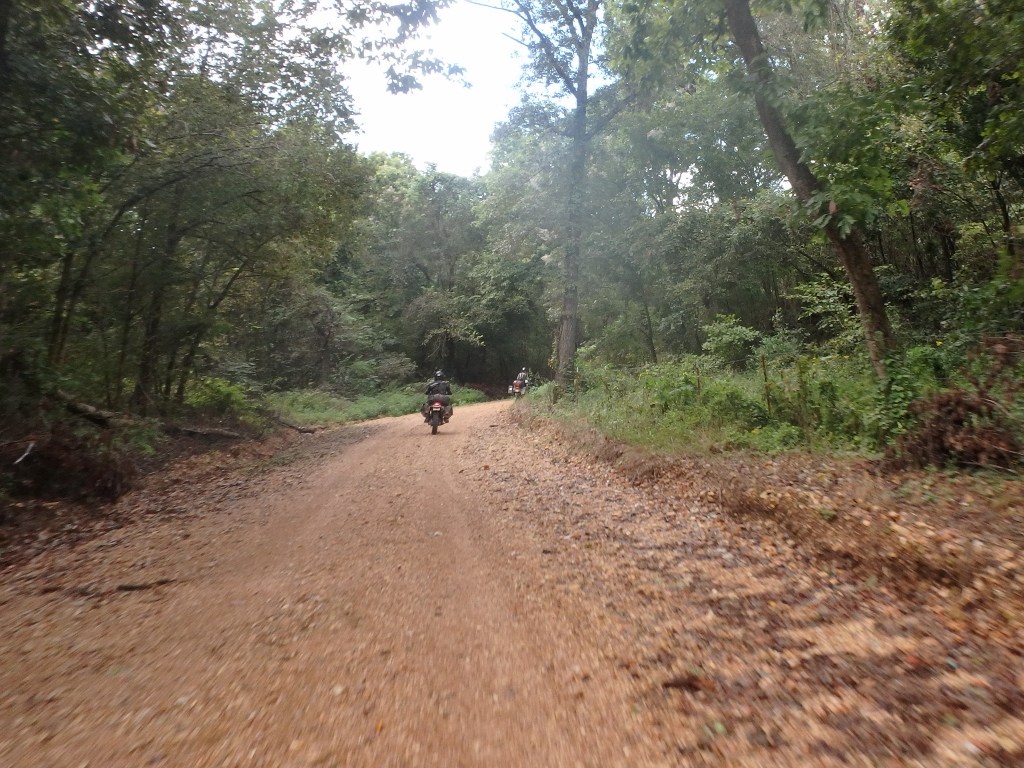 This was like riding on a wet sponge---much harder than it looks.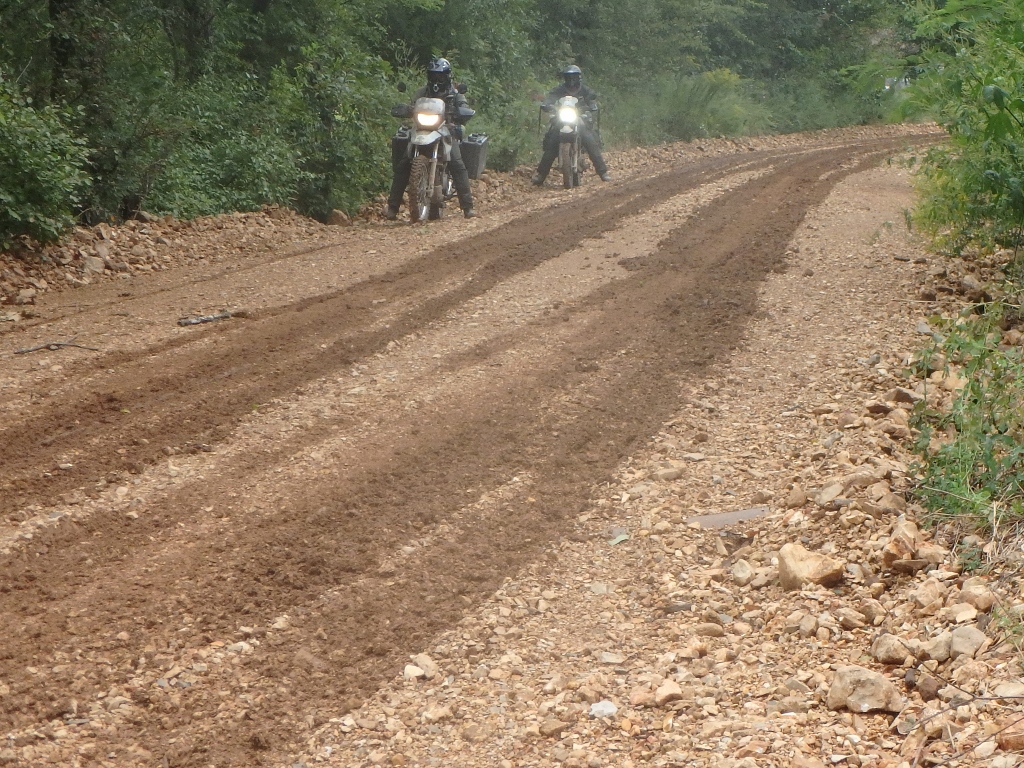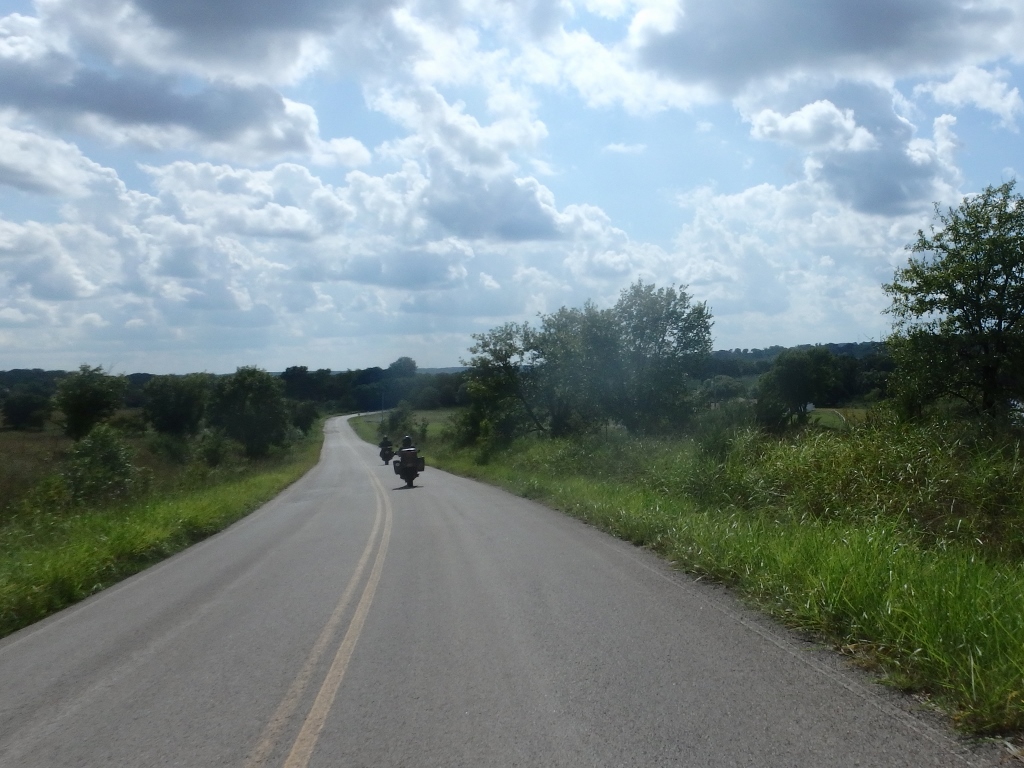 We were quite off the TAT now and blew into the town of Pawhuska.
Dave wanted to go here and see this memorial for the blacksmiths. His dad was a blacksmith.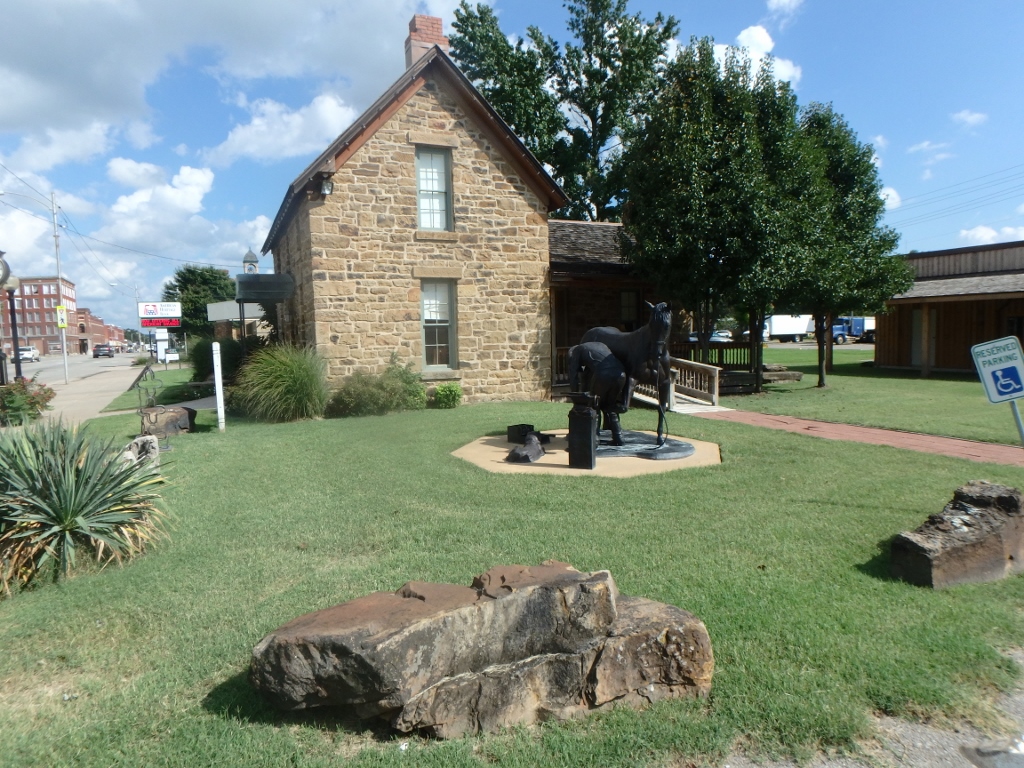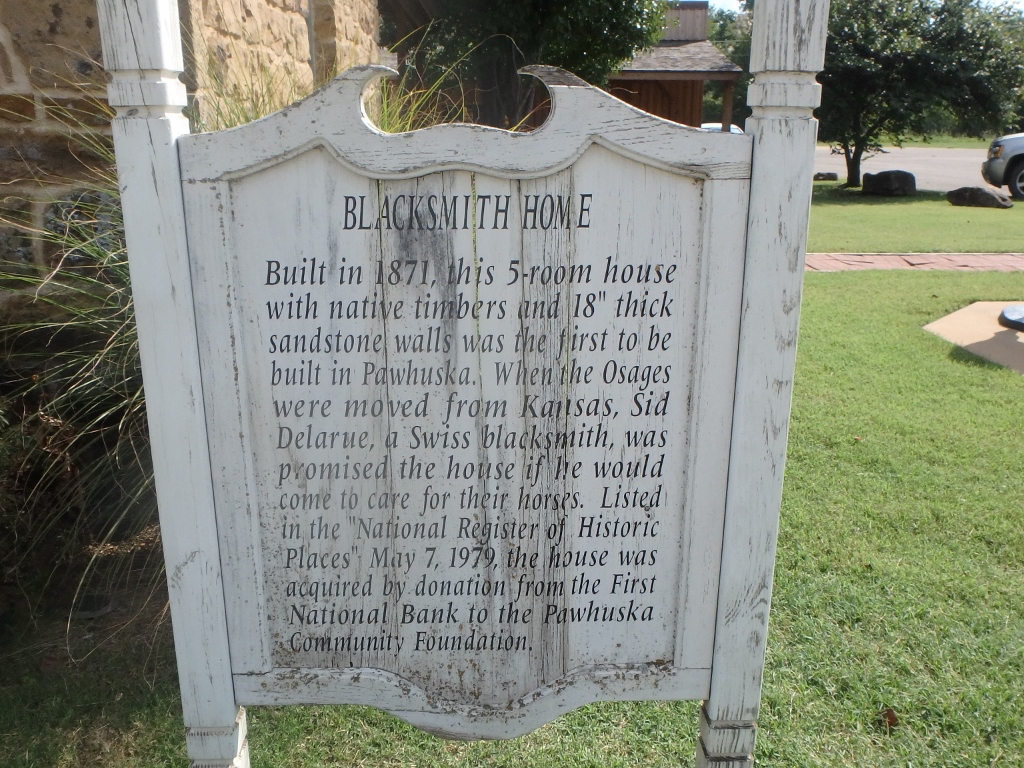 The museum was also the city office and we got lots of info about the area and one of our favorite parts of this trip.
The "Tall grass prairie Reserve".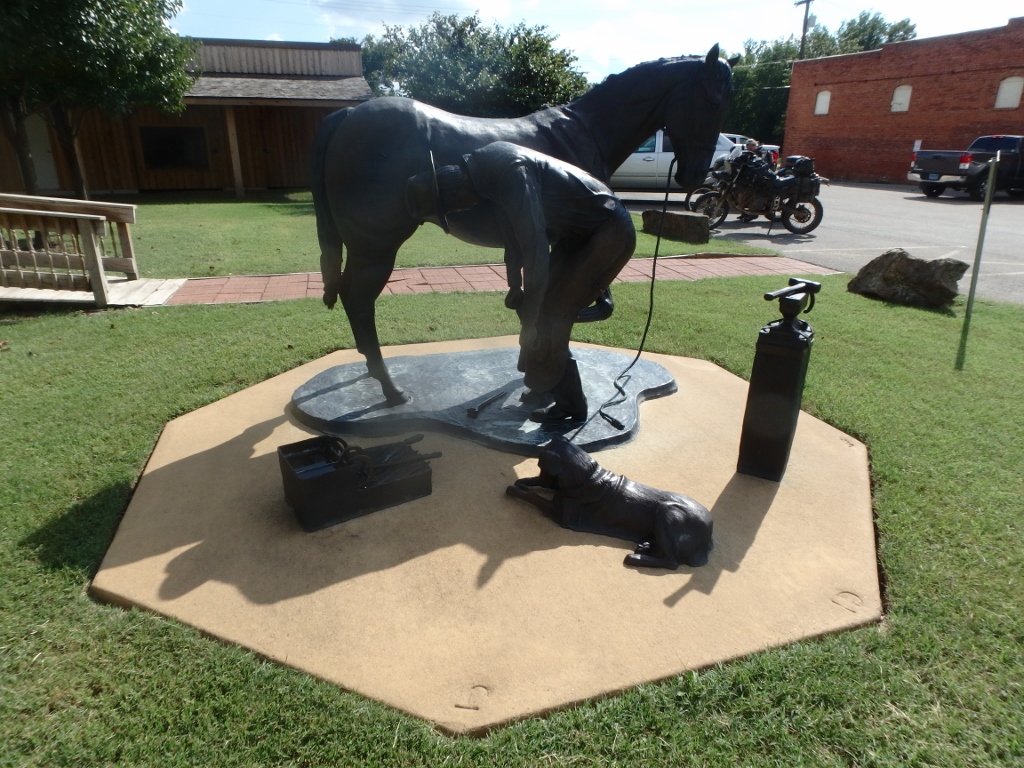 The next morning we starting riding in the dark wanting to catch the sunrise in the TallGrass Prairie----and we did.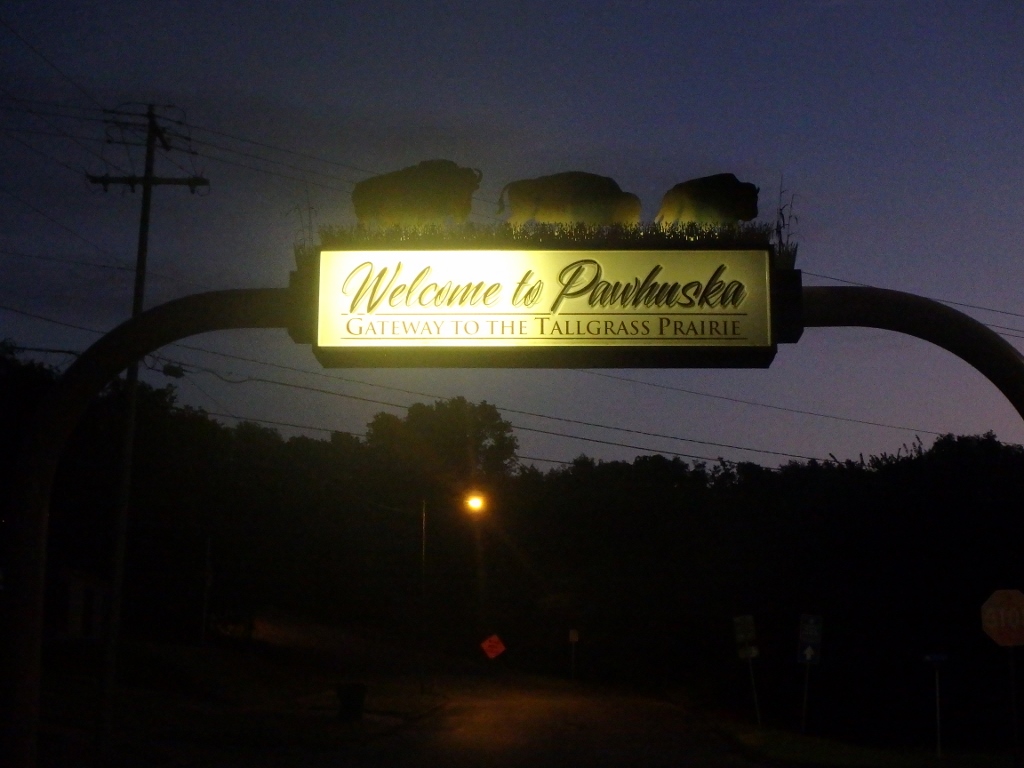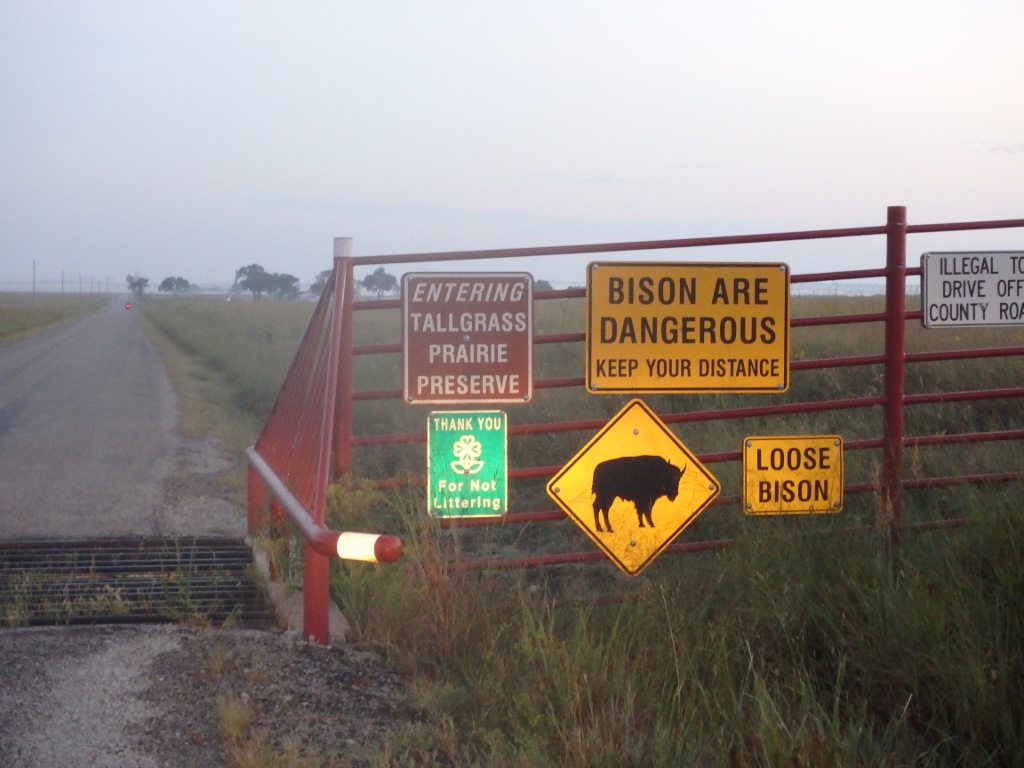 Tallgrass prairie once covered 170 million acres of North America. Within a generation the vast majority was developed and plowed under. Today less than 4% remains, mostly here
in the Kansas Flint Hills. The preserve protects a nationally significant remnant of the once vast tallgrass prairie and its cultural resources. Here the tallgrass prairie takes its last stand.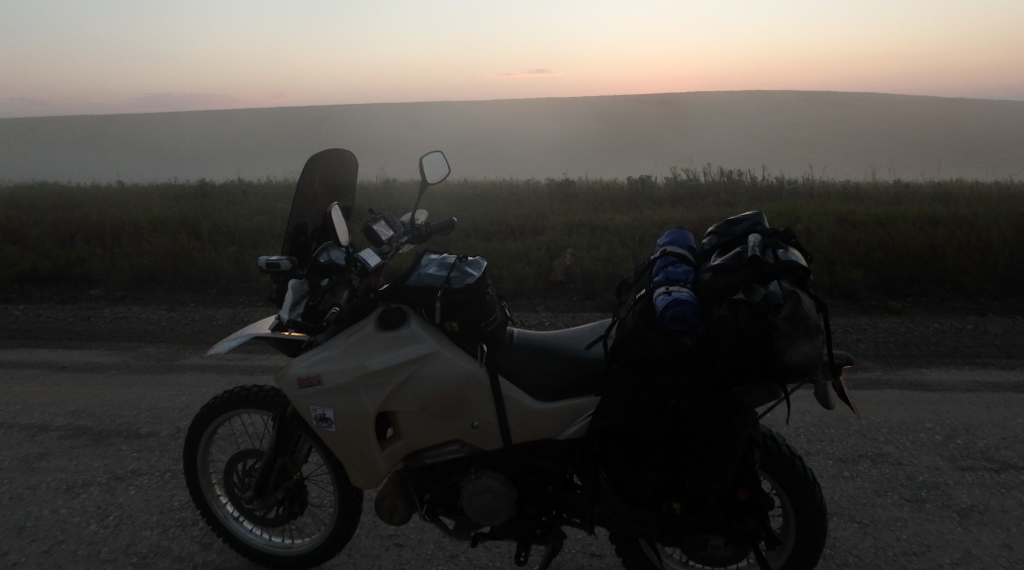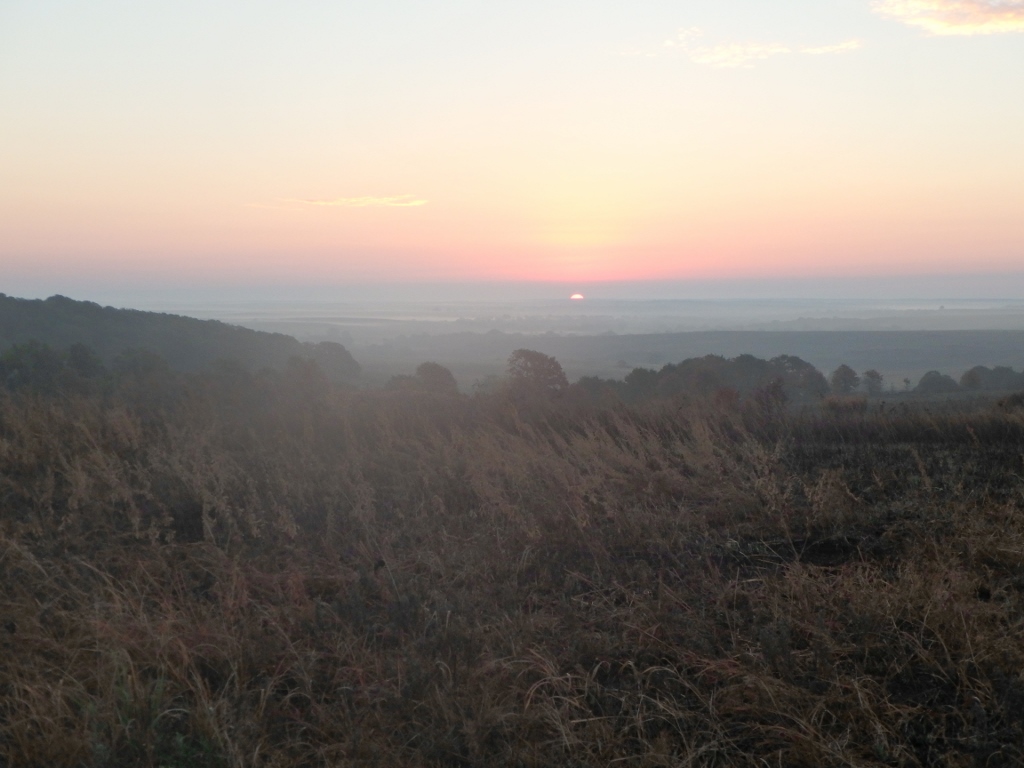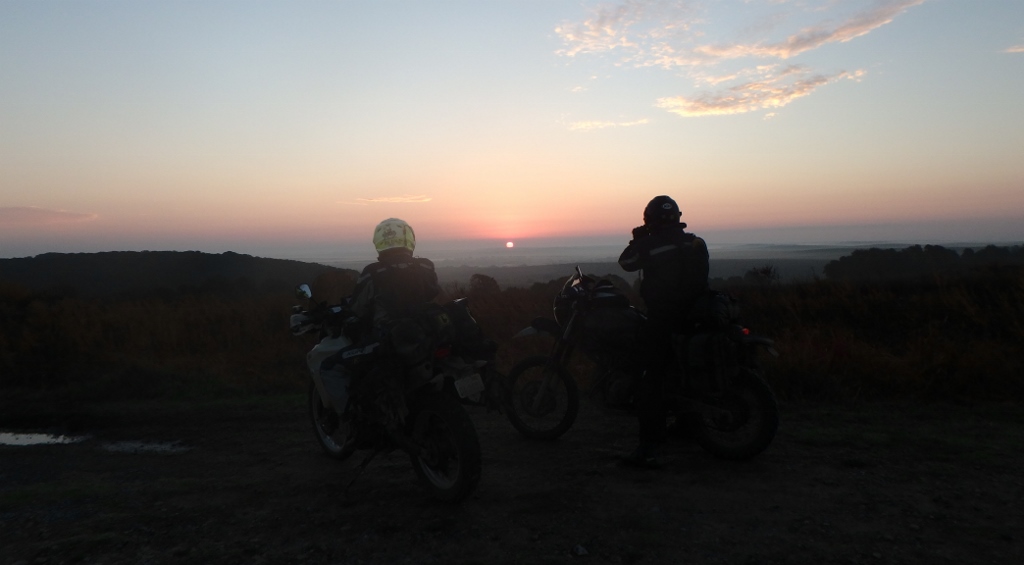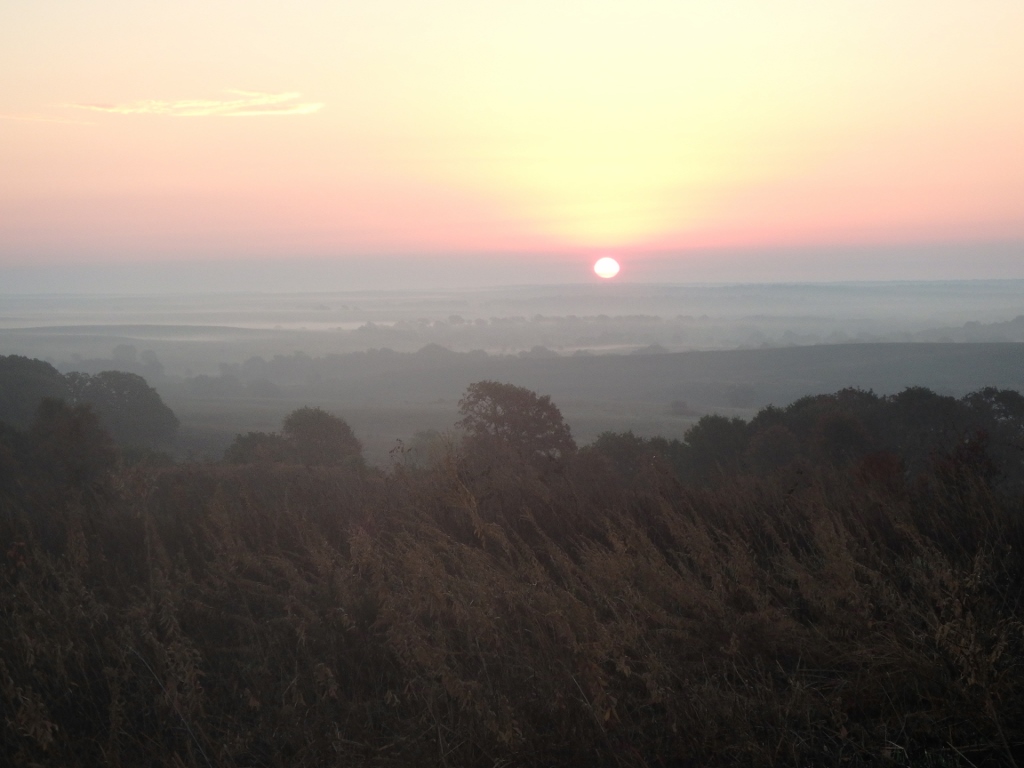 Thousands of Bison roam the prairie.
Don't go hurrying this guy up like you would a cow------you won't make it.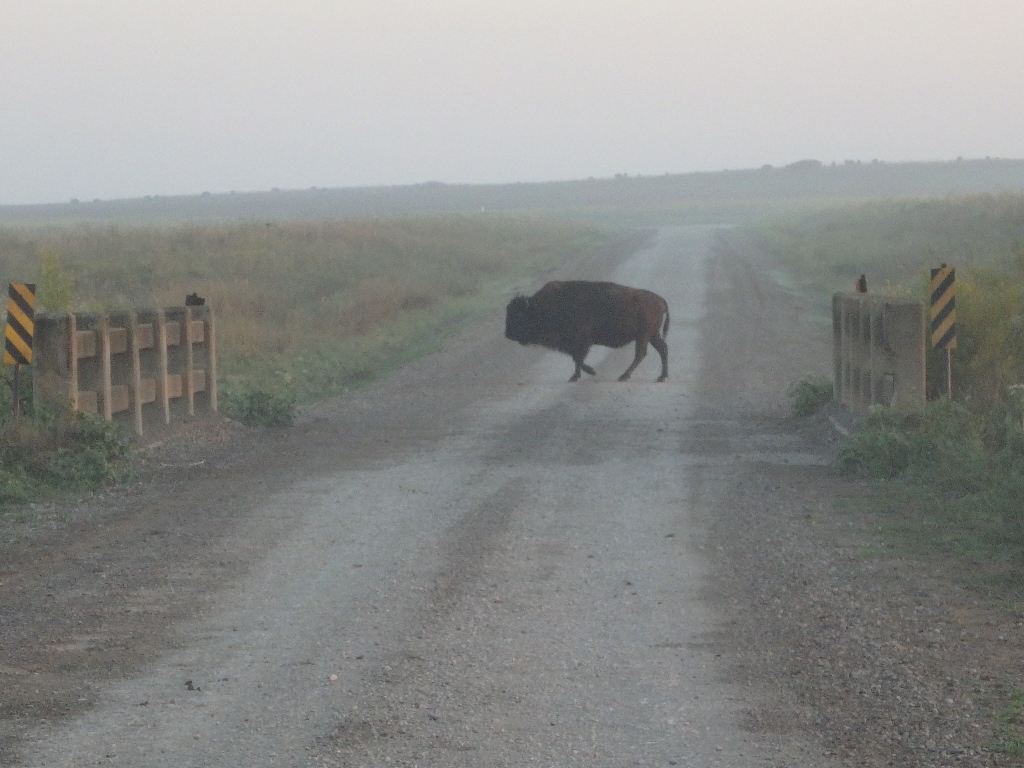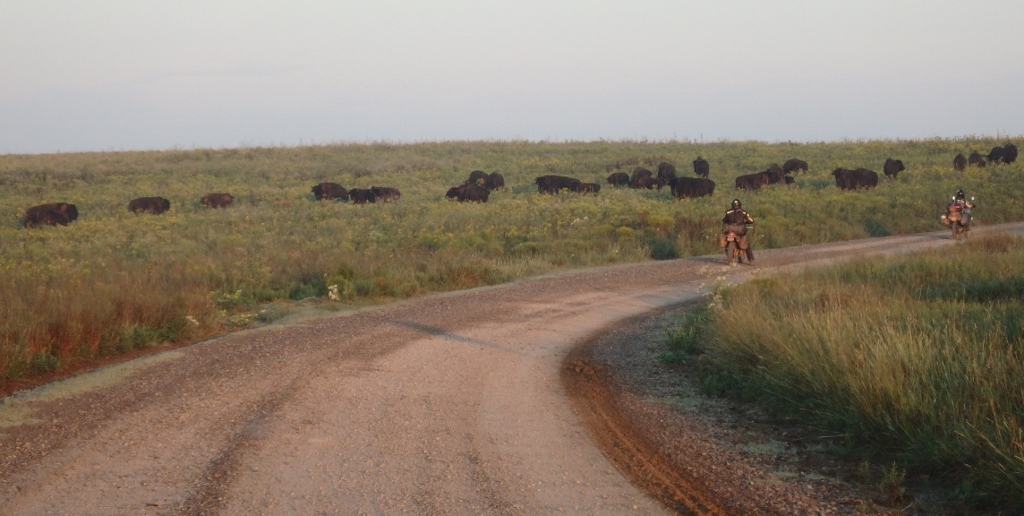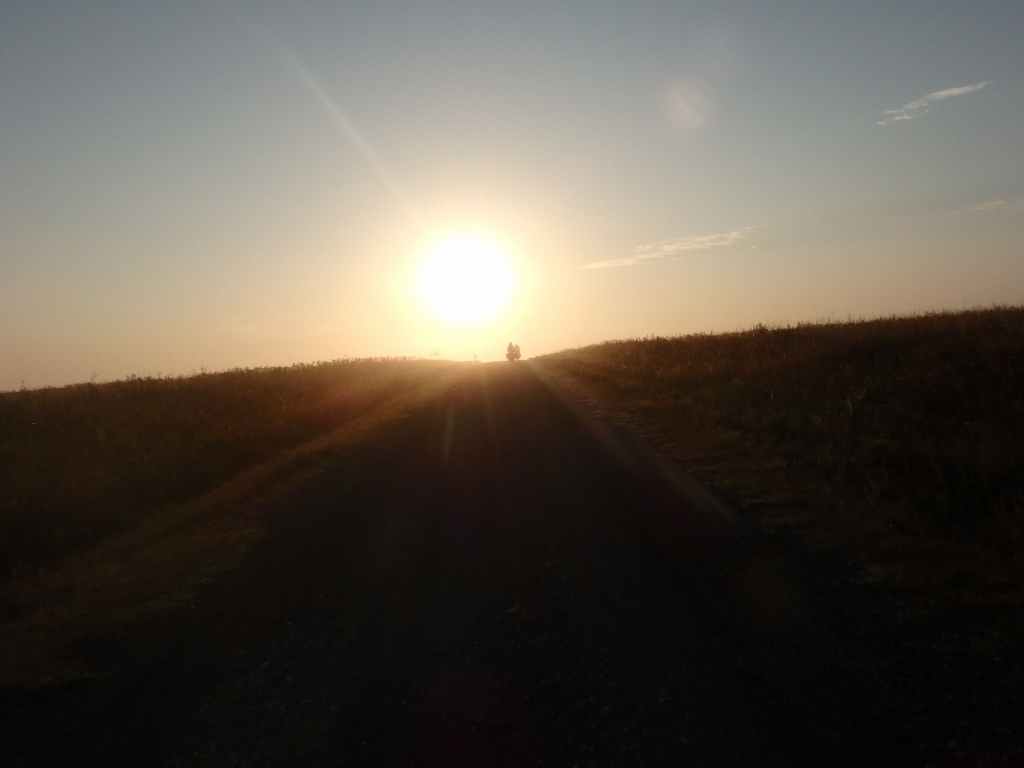 On we go thru Western Oklahoma.
The first time I crossed Oklahoma on the TAT I ran every stop sign.
Guess I'm getting old---------I stopped at some of them.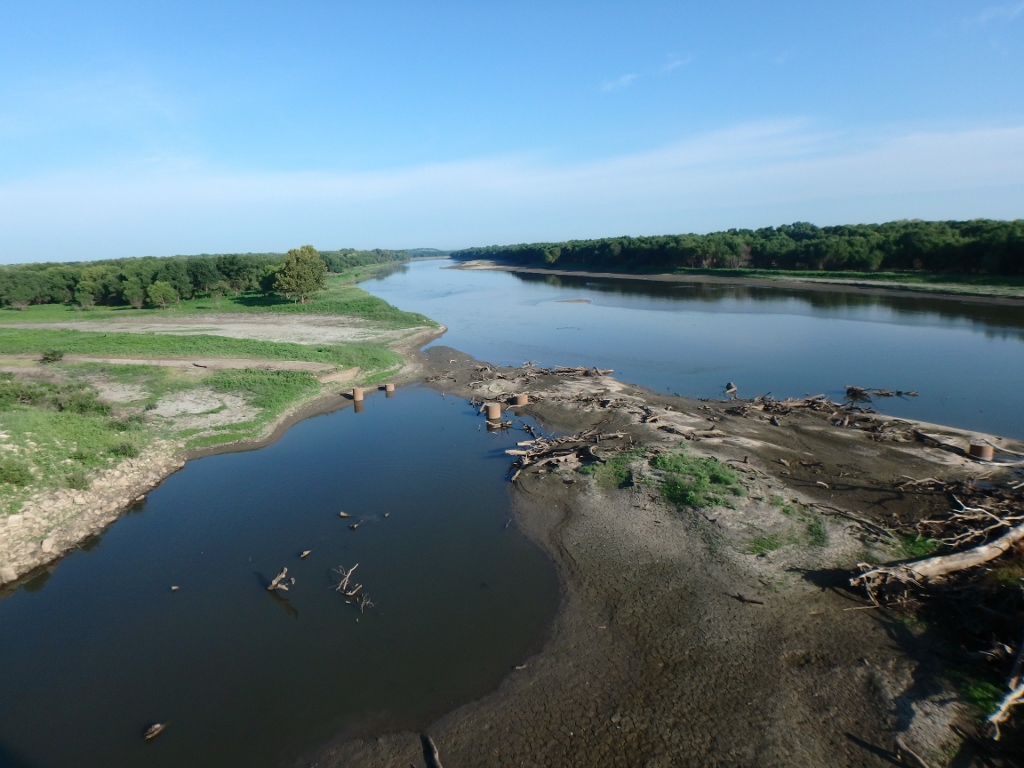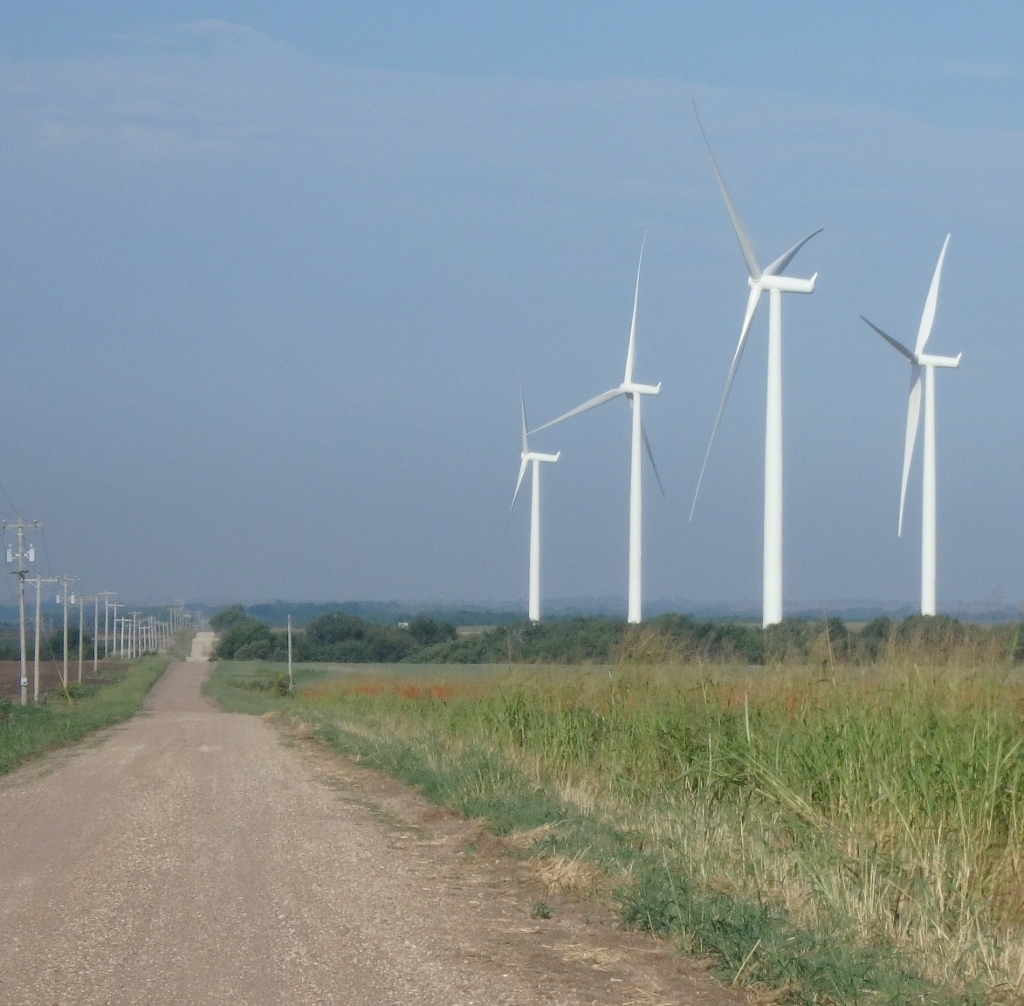 A few days earlier this would have been impassable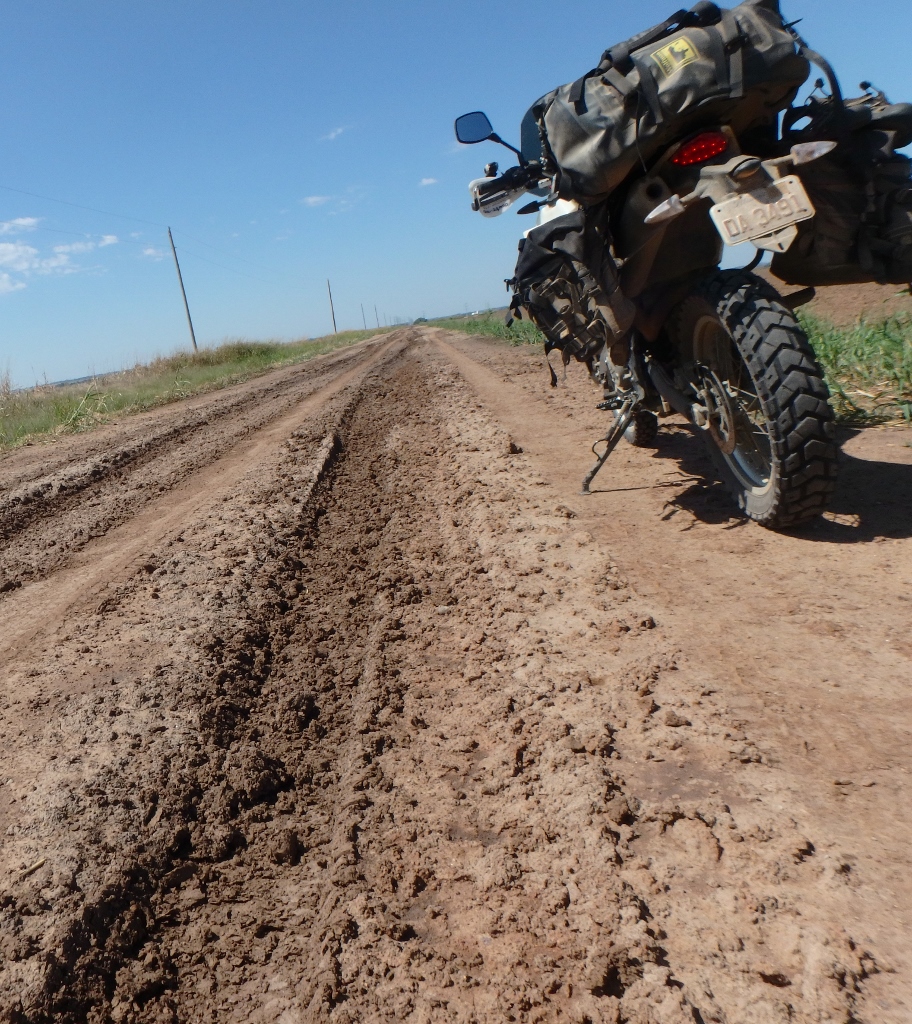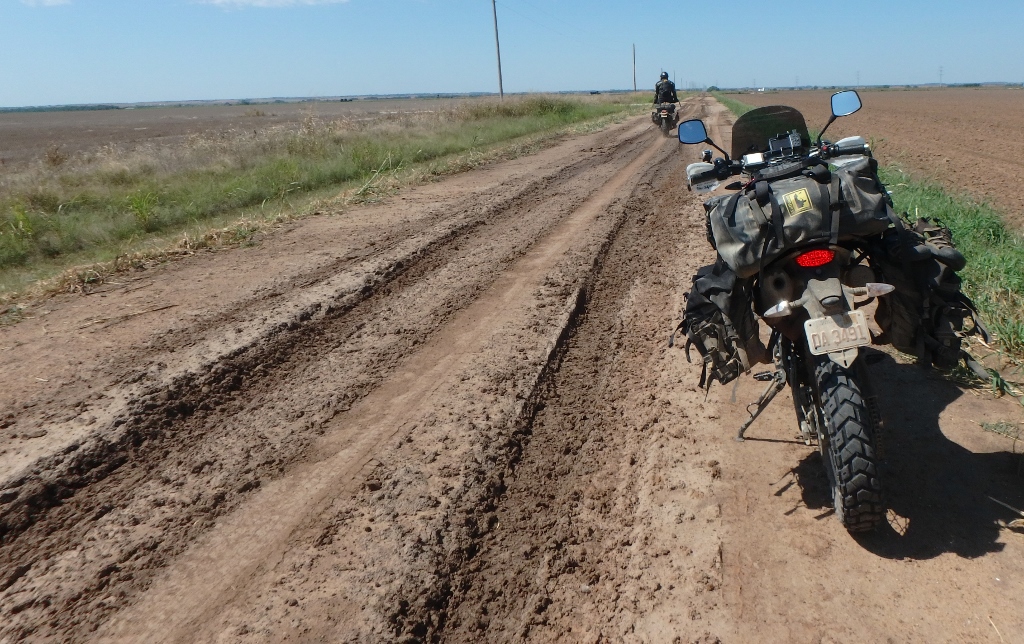 So Dr. Rock has been cussin' that Trailwing (DeathWing) tire ever since we put it on at Sams house----it was what Sam
took off his DR650. The Doc said he wished he left the worn out knobby on as it finally got him.
He knew it was coming--just didn't know when.
Instead of climbing out of the rut--it slid and took him down.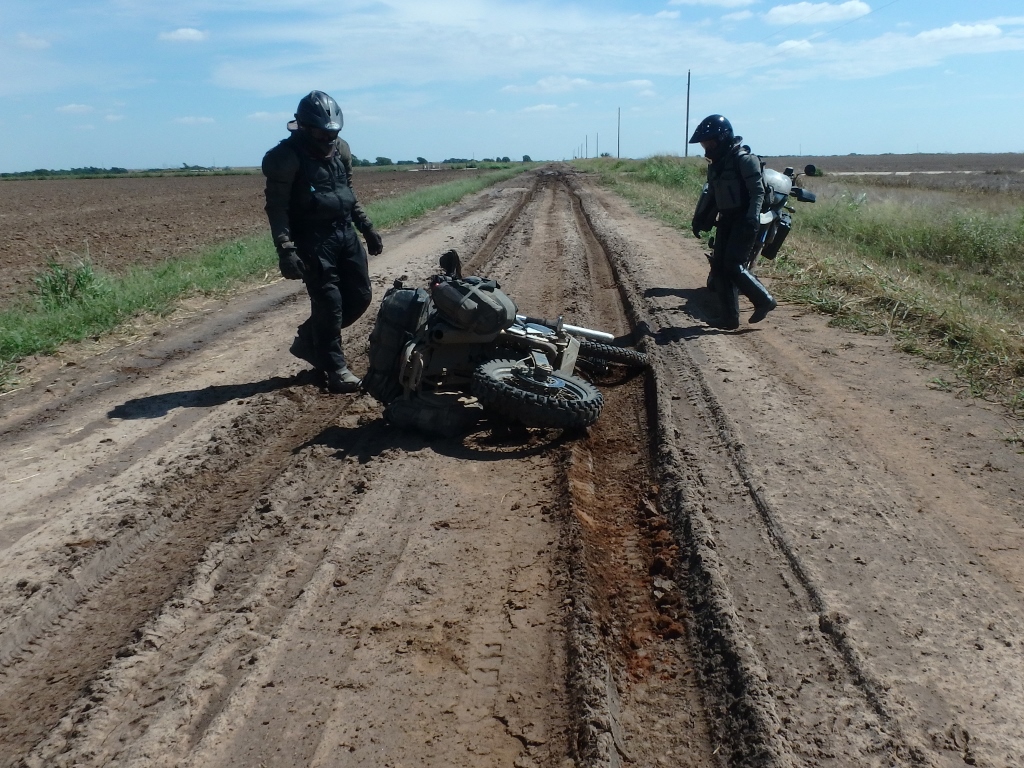 David had a waypoint in his gps for the cowboy cemetery.
I may have blown right passed it on my first trip thru here because I don't remember being here.
It was fun in this area of Oklahoma----as they were really nice rolling hills and the dirt roads were great.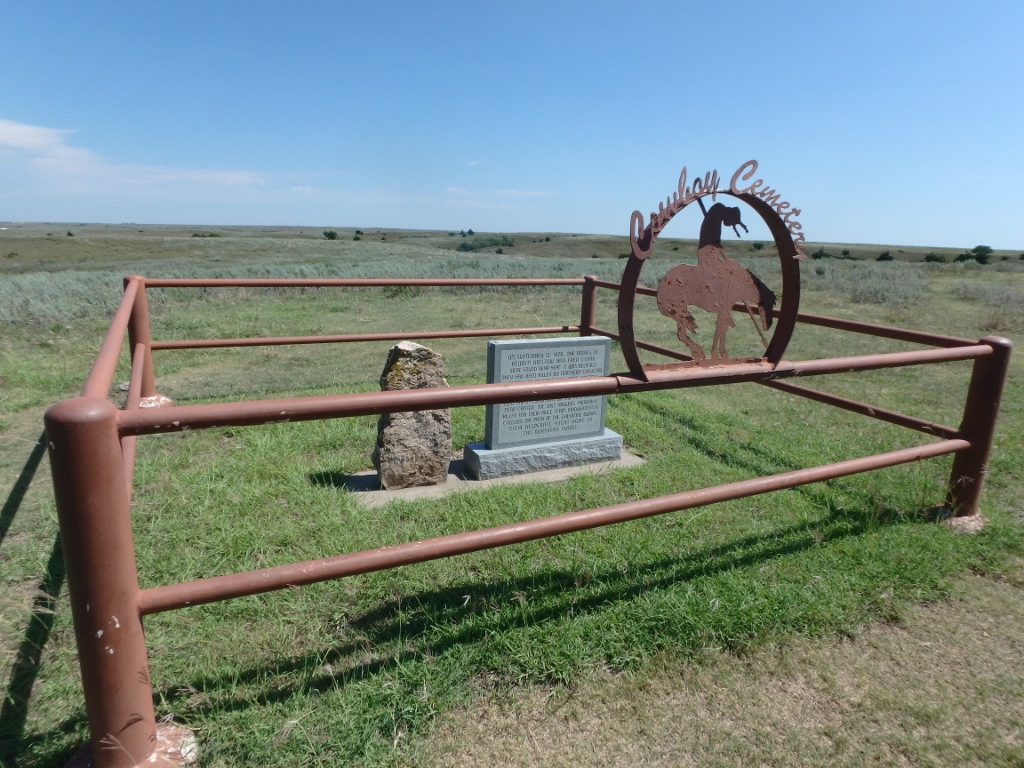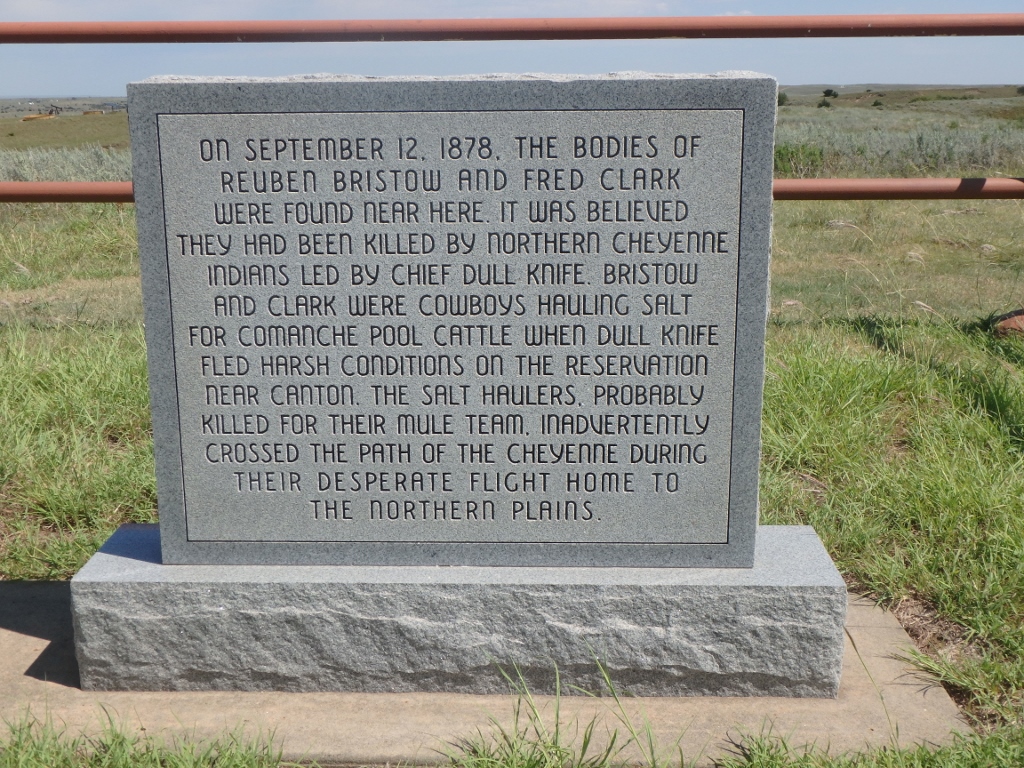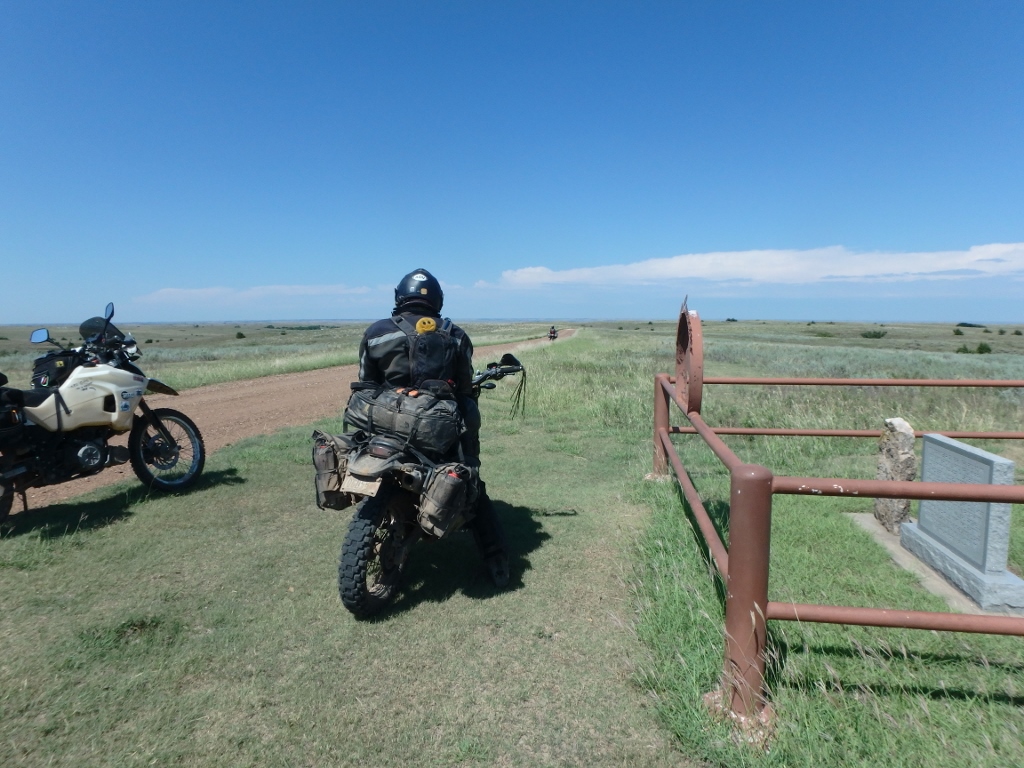 At the slower pace I was riding it was nice to stop and look at stuff.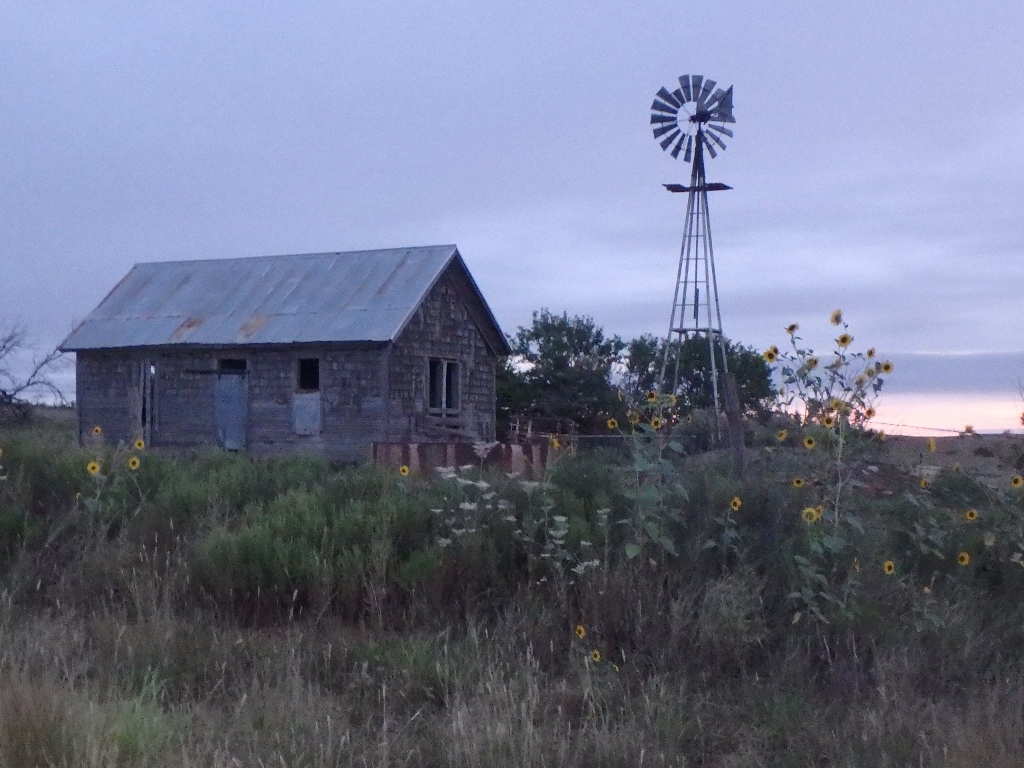 In the far West end of the panhandle of Oklahoma is a state park called "Black Mesa State Park".
I'd been there before when I rode the Shadow Of the Rockies ride in New Mexico---but just rode thru it.
Now we planned to camp there.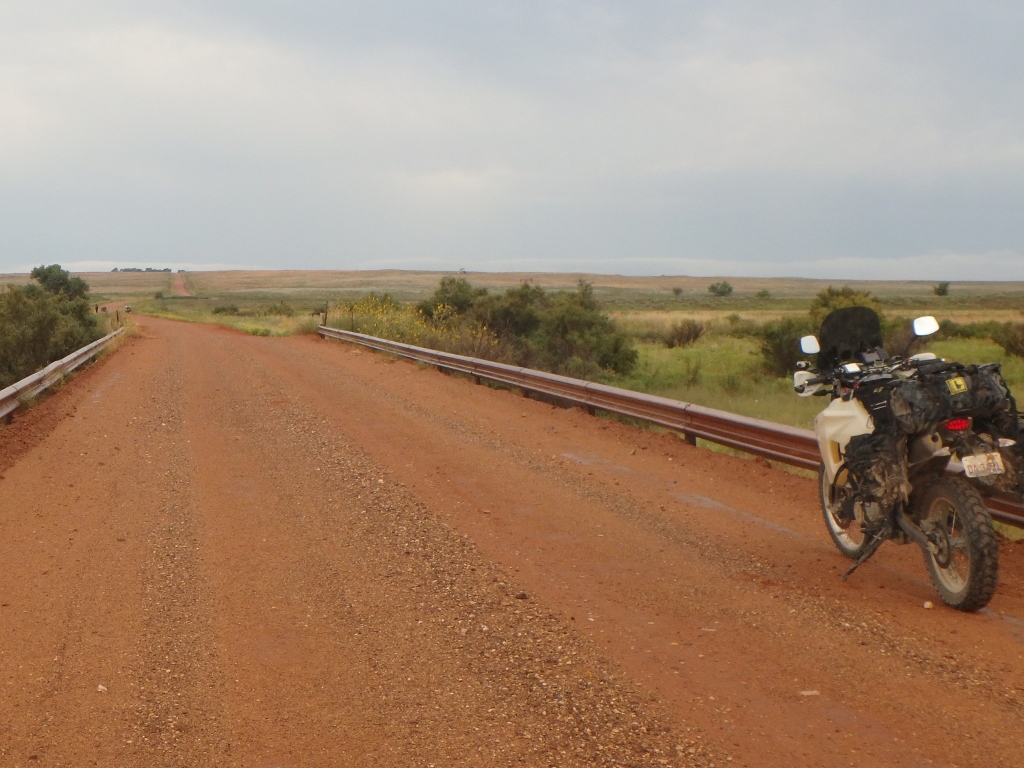 Somewhere along these lonely roads we ran into Alex----from New York.
He'd been riding for weeks on end and was 19 years old---------he was a hoot.
We couldn't find any firewood and had given up and sent this "nooby" off to find wood to give him something to do.
He wasn't gone 5 minutes and came back with this---I don't know how he had that strapped on---or how he found it
but we had a nice campfire that night.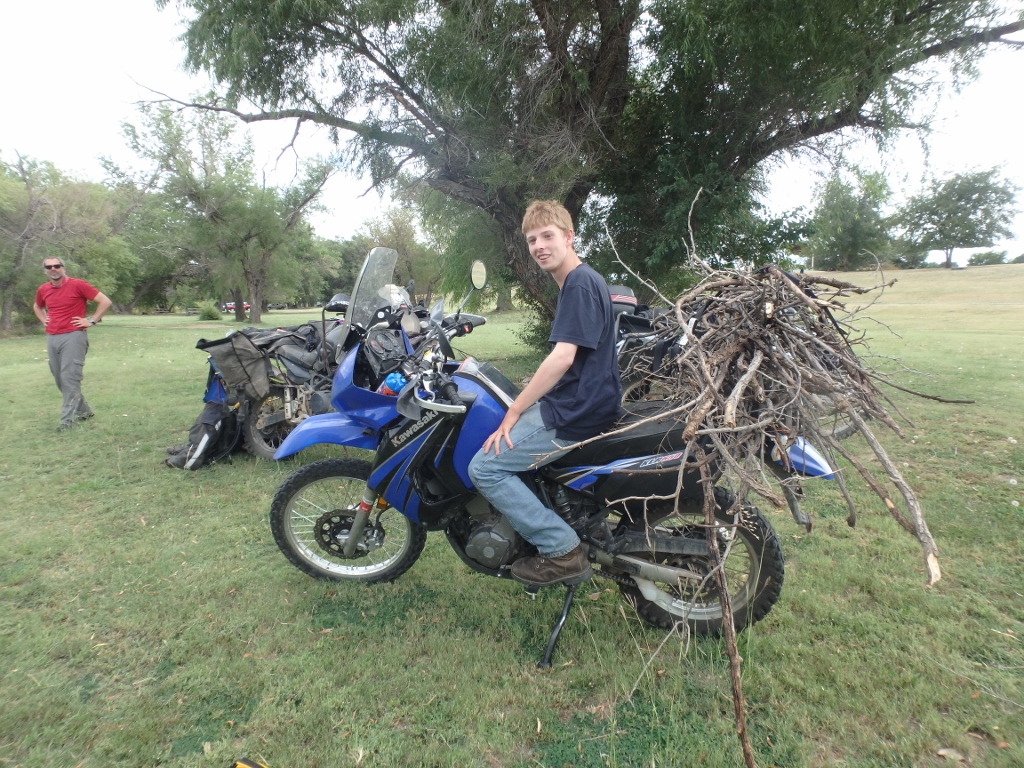 After talking to him a bit----we realized he'd been surviving on candy bars, donuts and ice cream bars.
Dr. Rock whipped up a delicious meal that any one would have been proud of at home and he was astounded.
Poor thing was starving to death---his young enthusiasm was a joy.
When we rode down Warloop road in Arkansas David said he saw a headlight assembly off a KLR in the trail.
It was Alex's-----------he broke the headlight assembly off and all his turn signals in that crash but at least got a new headlight.
I think we may have contributed to the delinquency of a minor that nite as Dr. Rock brewed up some "special" hot chocolate.
With additive.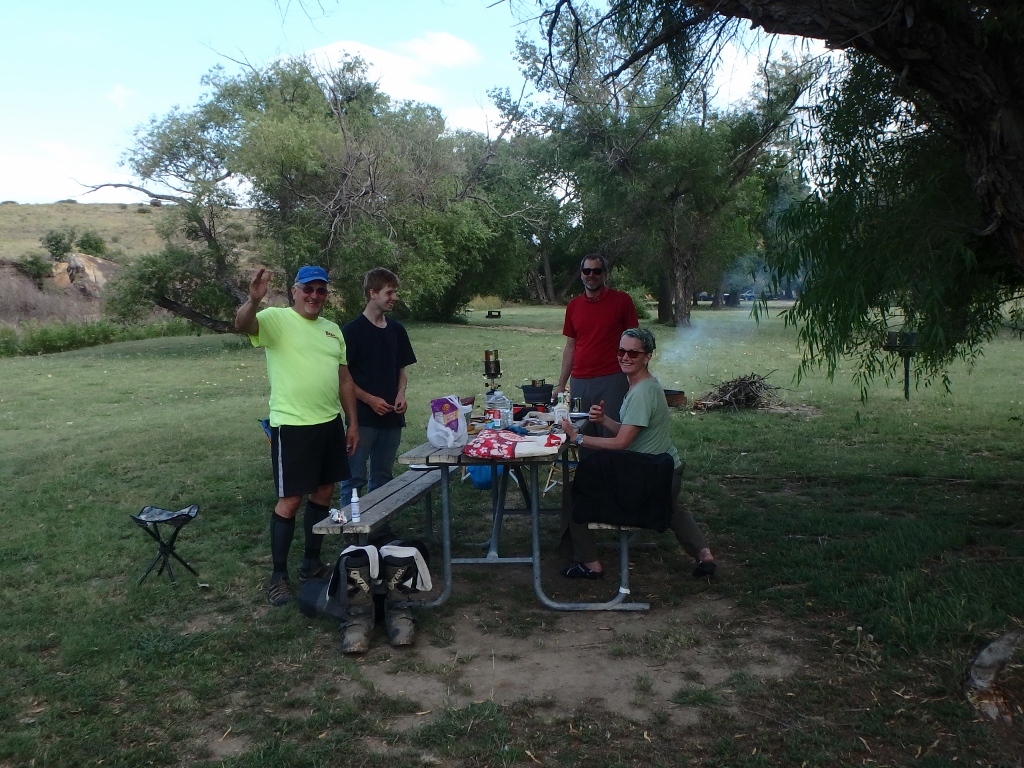 I talked Dave and Francine into getting off route quite a bit and seeing these beautiful buttes I found years ago.
Yep..........they were still there.
This one is called "Wedding Cake Butte".
These are just East of where the TAT crosses into Colorado on Long Canyon road.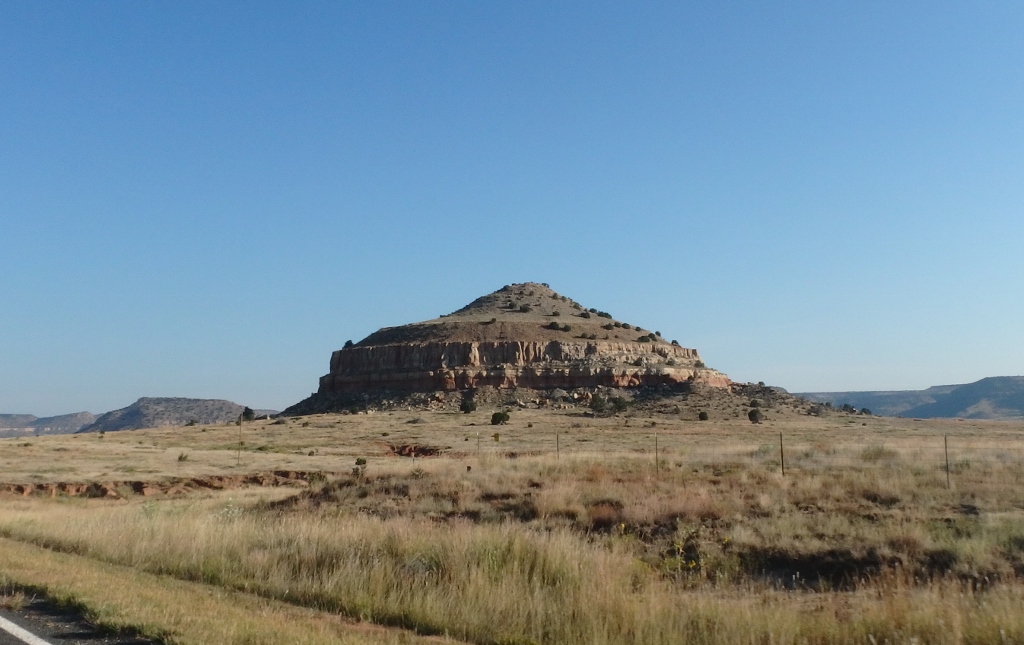 This one is "Battleship Butte".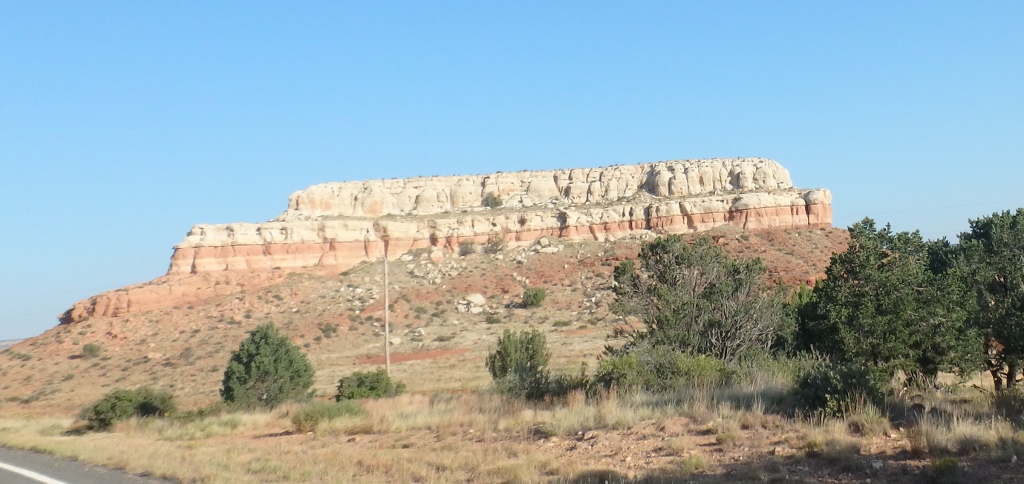 We climbed up the infamous Long Canyon road switch backs.
They were a bit technical with loose rocks and was a steep climb but we all made it up just fine.
This puts you immediately into Colorado.
Me and a buddy had camped right at the top of the climb a few years ago and had the valley below to look at as the sun went down.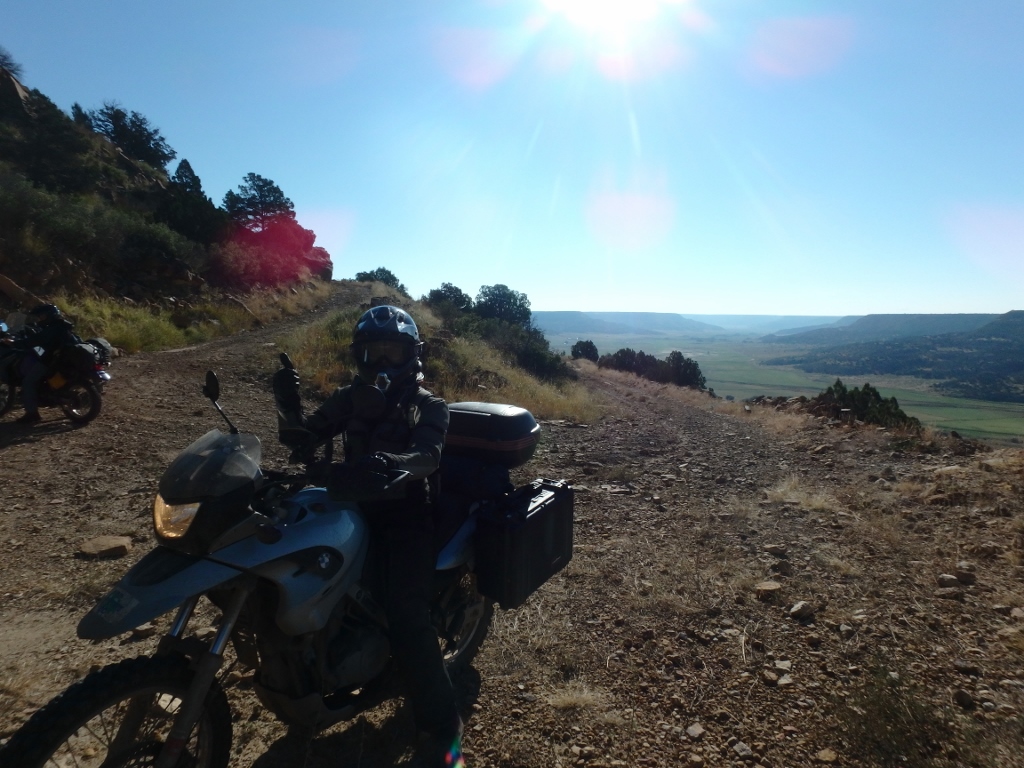 The road here was closed and impassable-------------if in Grandmas buick.
But we made it thru-------thank goodness it was dry.
No use reporting stuff like this---it will be fixed soon.
Looks like it was getting a new culvert.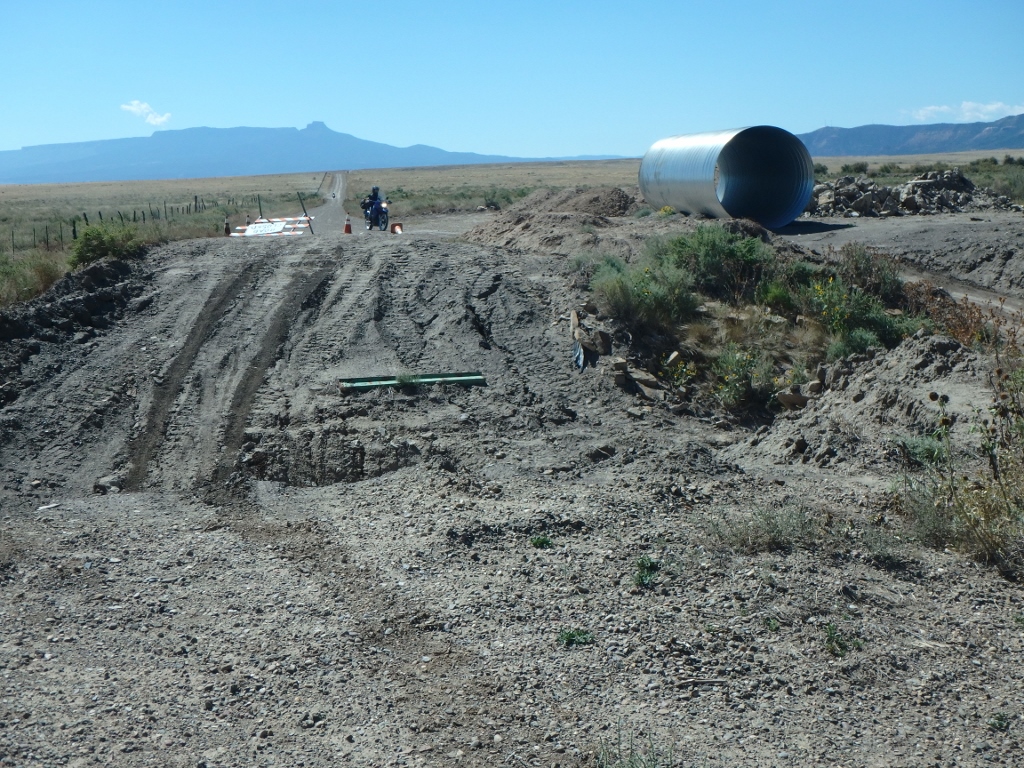 This log cabin church was standing all alone.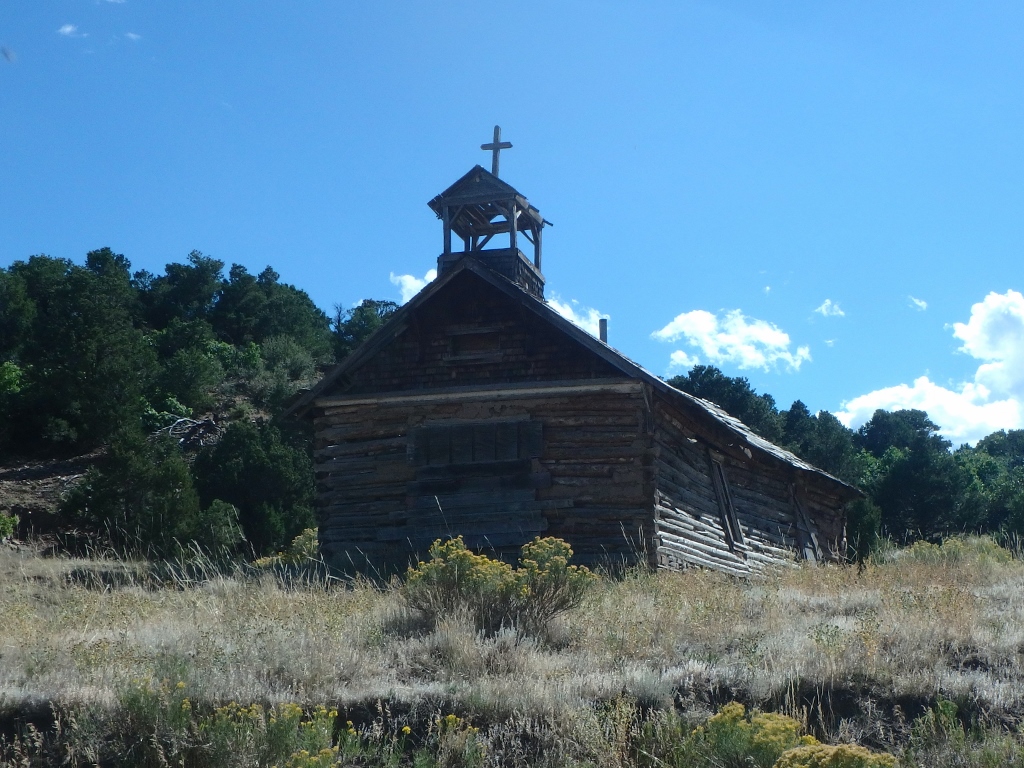 Somewhere in Colorado we cowboy camped.
David went up a 2 track hill off the main dirt road and it made a nice campspot and
we had another nice evening with Alex.
I have to laugh when I remember Dr. Rock jokingly telling Alex to not follow the BigDog to close or he'd twist your arm off.
I guess it scared him------he kept his distance---except that one time he wasn't paying attention and went skidding by me
with both wheels locked up right thru an intersection on a dirt road.
He comes back and says----"Well at least I didn't hit you".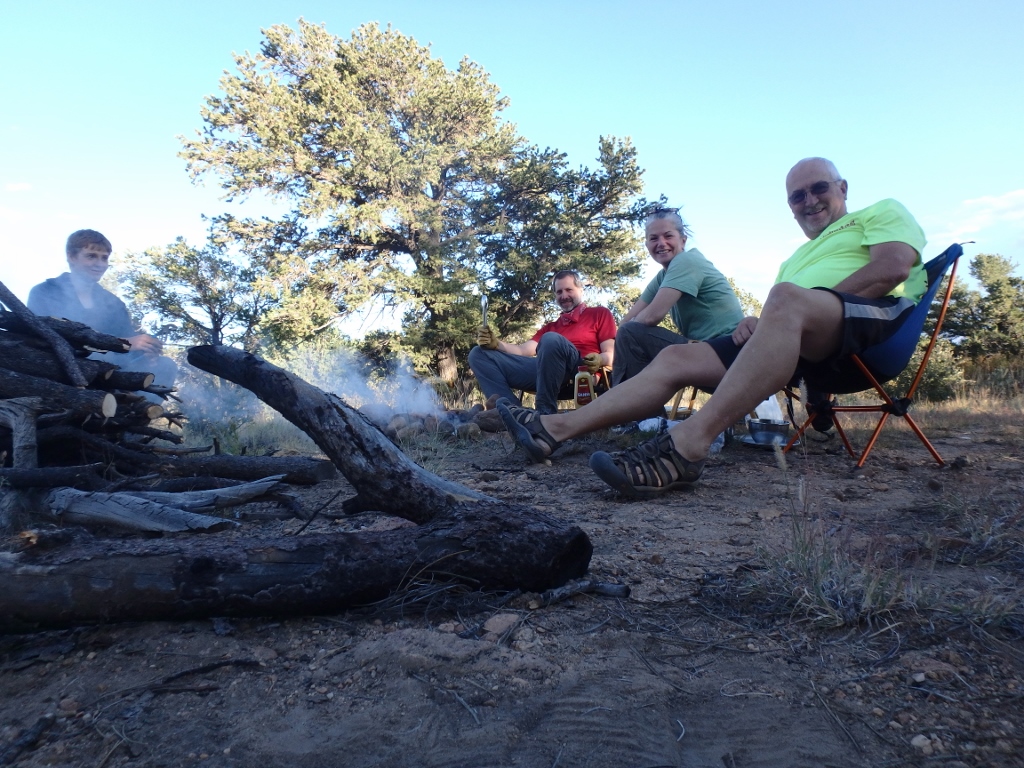 So we gather some stones and make a fire pit.
I get my "Sven" saw out and commence to making a pile of firewood---and cut way more wood than we would burn.
Dr. Rock cooked up some brats with veggies.
One nite he threw some corn right off the vine in the fire----best corn on the cob I ever had---didn't know you could do that.
Alex wasn't such a noob------------hey, he had a camp chair.
He was a lot smarter than I was when I was his age.
I was envious of him at such a young age out roaming the country side.
He was a good kid and I'll never forget him---and I'm sure he'll never forget us.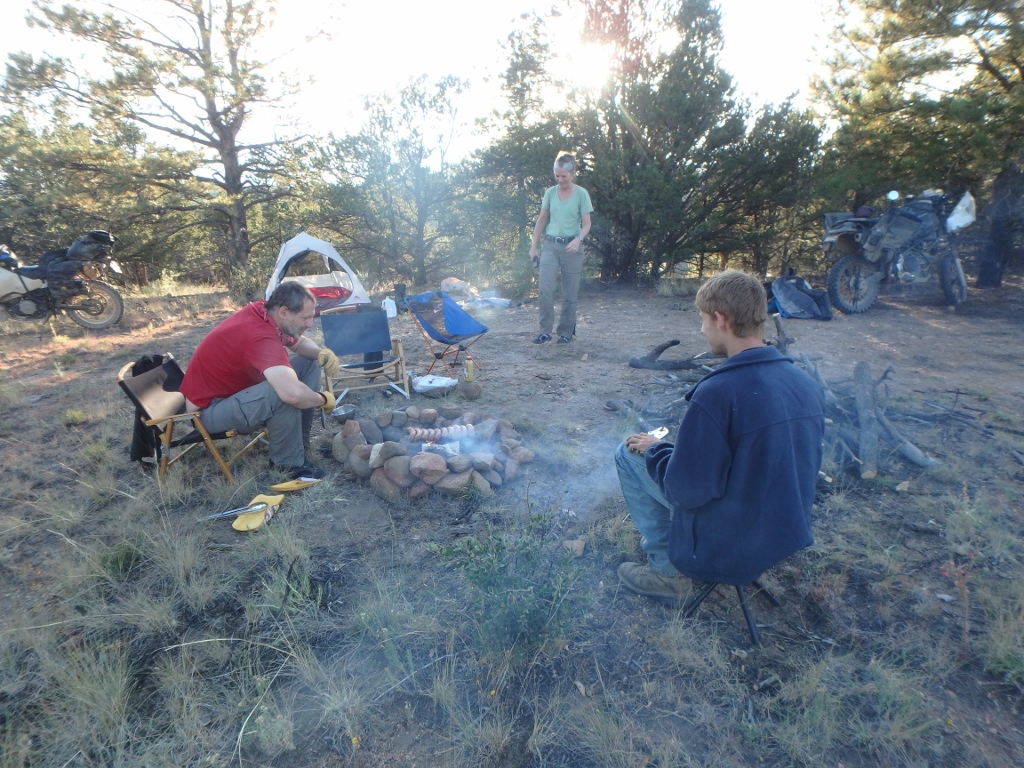 Back on the TAT near Westcliff, Colorado I saw the sign of the rainbow trail.
It's a brutal single track trail up in those mountains that I swore I'd ride someday---but I'm to old for that now.
I've seen pictures of the nasty off camber narrow trails that scared me just looking at them.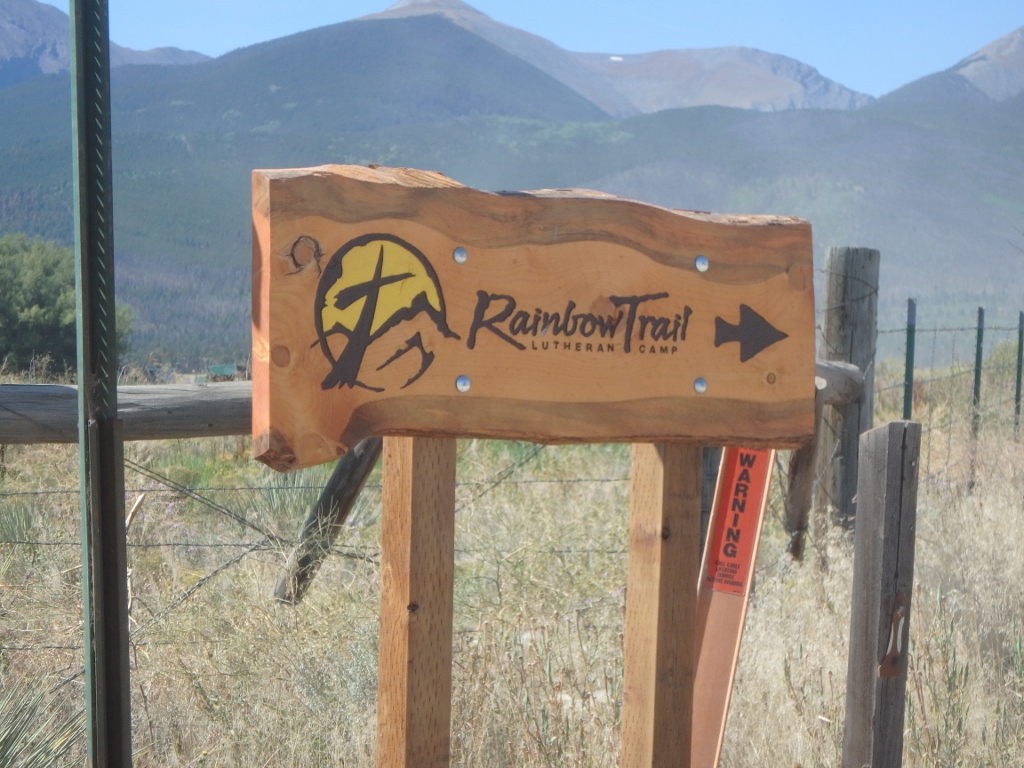 We camped again on a nice lake---the sign said you had to push your motorcycles in and out---------we didn't.
Thank you Harley Riders.
I believe it was O Haver Lake just out of Salida, Colorado before going up Marchall pass.
We had gathered groceries in Salida and had a great meal.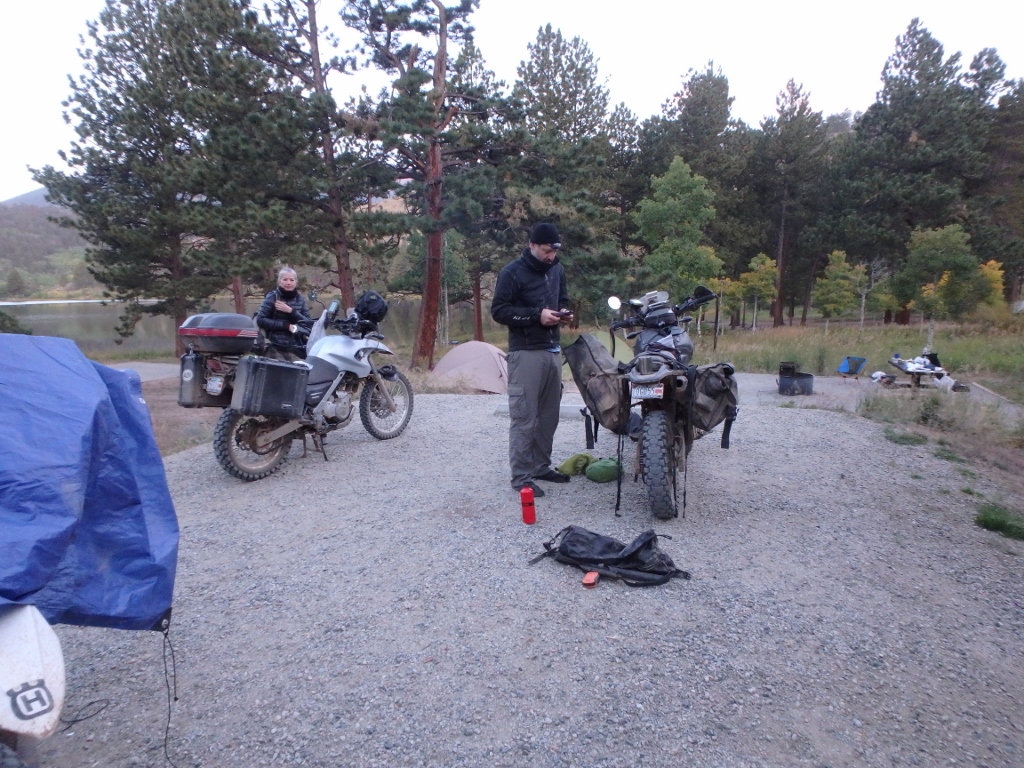 We went up and over Marshall Pass---there are 2 ways to go over it--------the easy way-----and they way we went beside Poncha Creek.
I forgot how bad the rocks were on the way we went and should have turned around---it was very hard for all of us.
It would have been easy on my WR250R---but not on this heavy beast I was riding.
But once at the pass it was a wide graded road down the other side.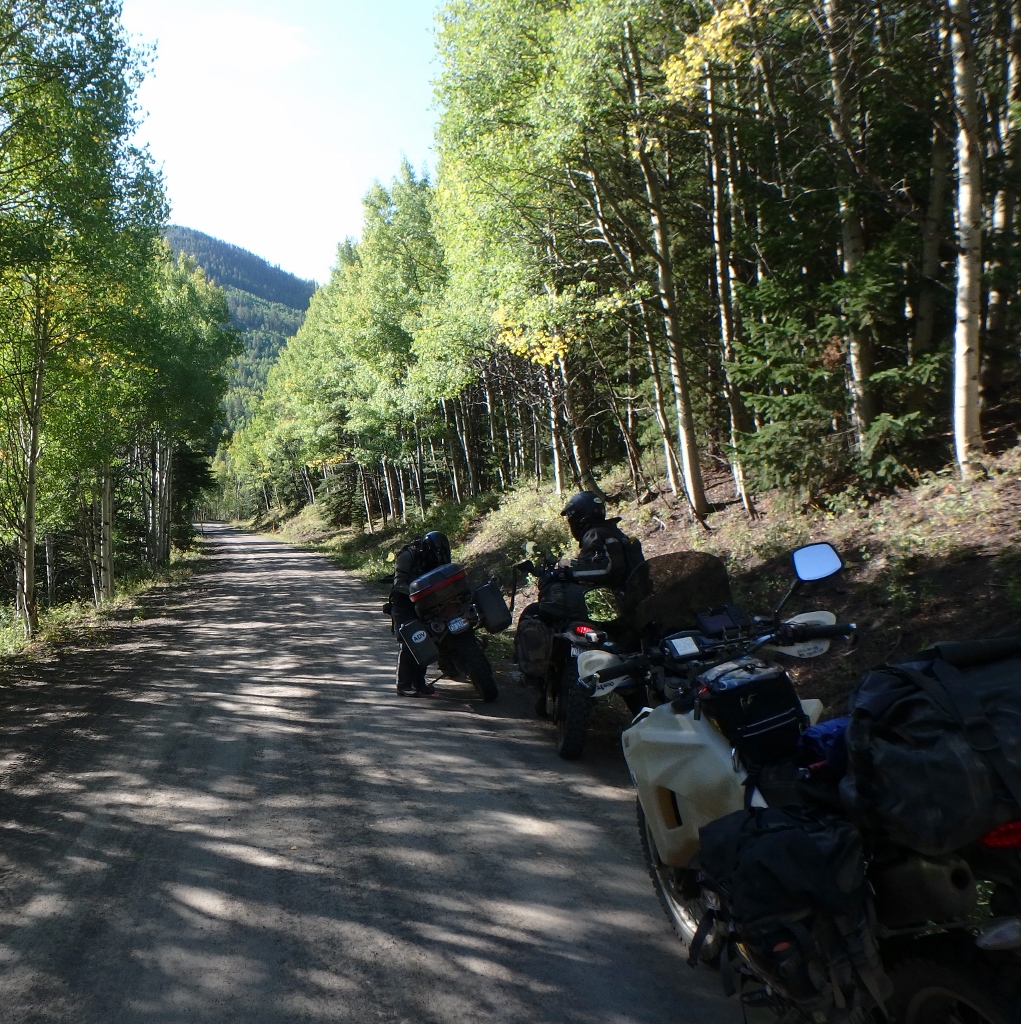 Dr. Rock ask me if I had a phobia of running out of gas---as I had a 9.5 gallon tank.
I said -----------"not no more".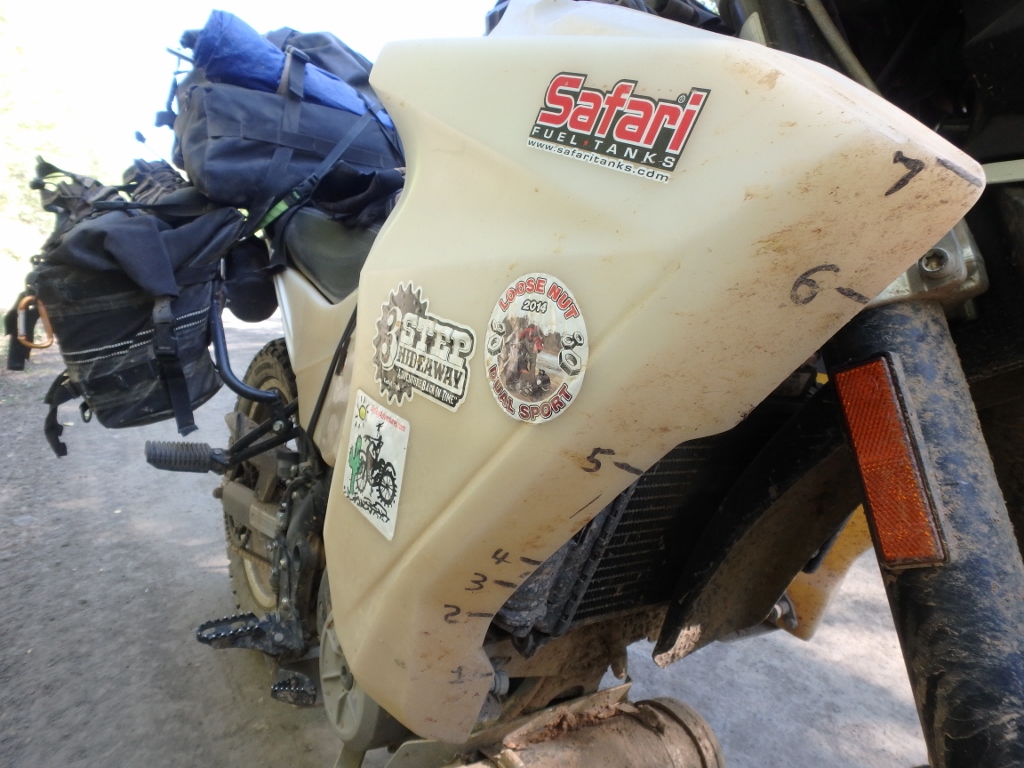 We rode on thru Sargents and Doyleville and then West towards Lake City Colorado.
This is Los Pinos Pass and the Aspens were starting to show their fall colors.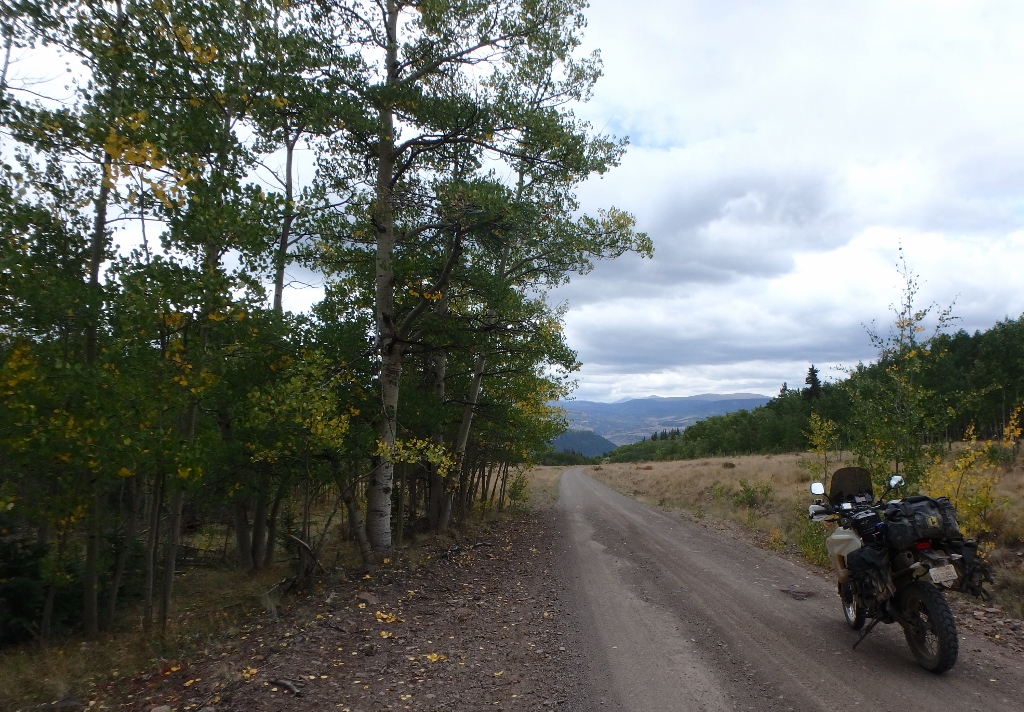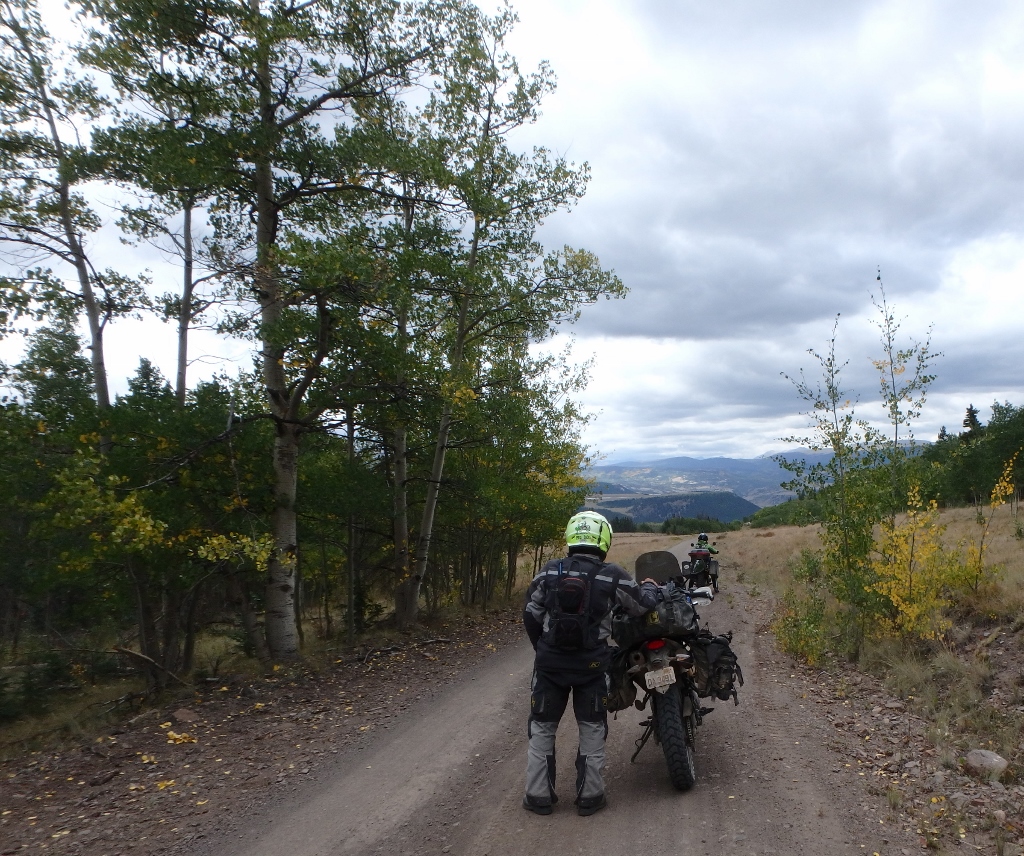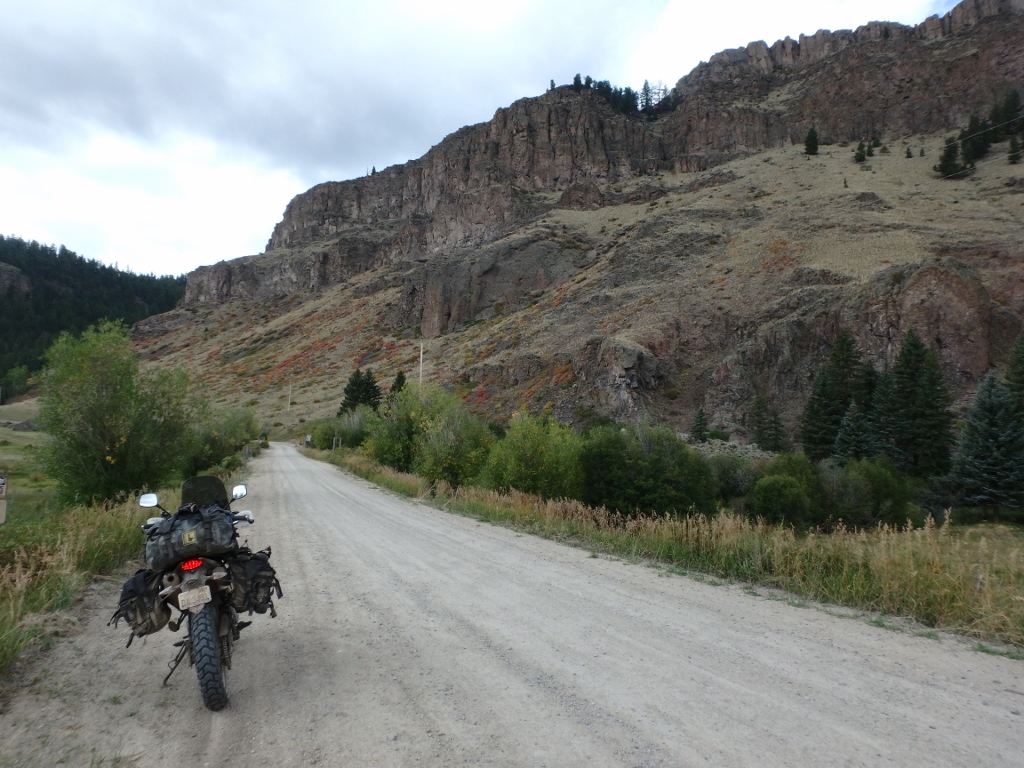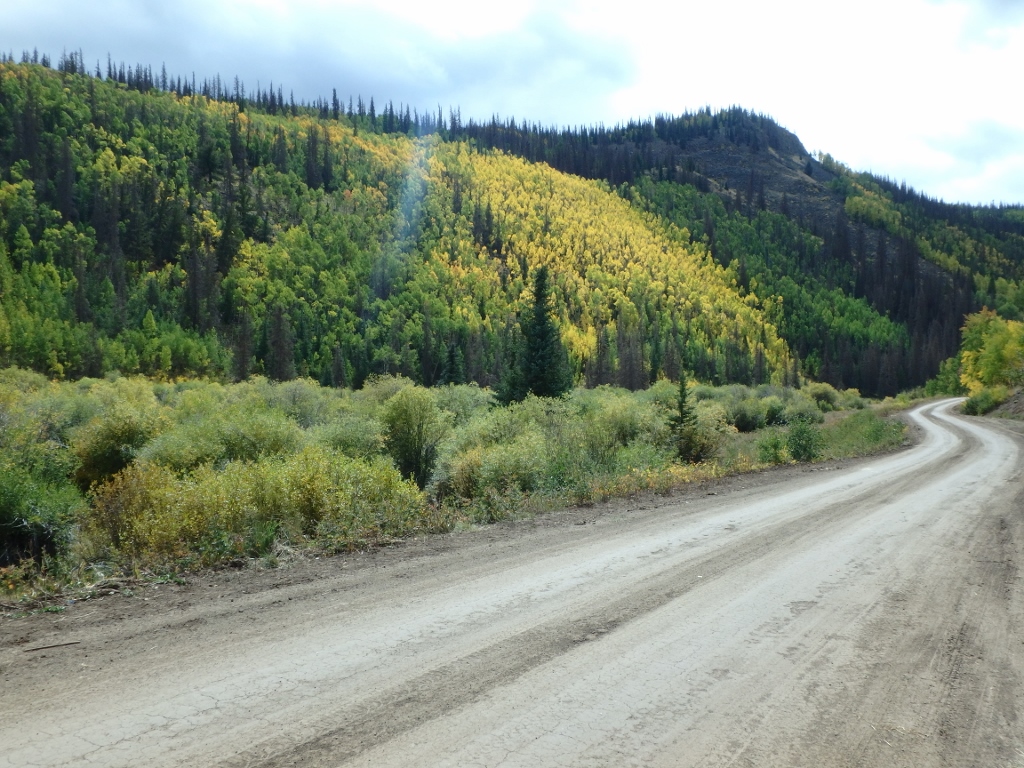 Rolling into Lake City we got cabins for the nite.
The weather looked nasty and if we continued on we'd be camping at 10,000 ft.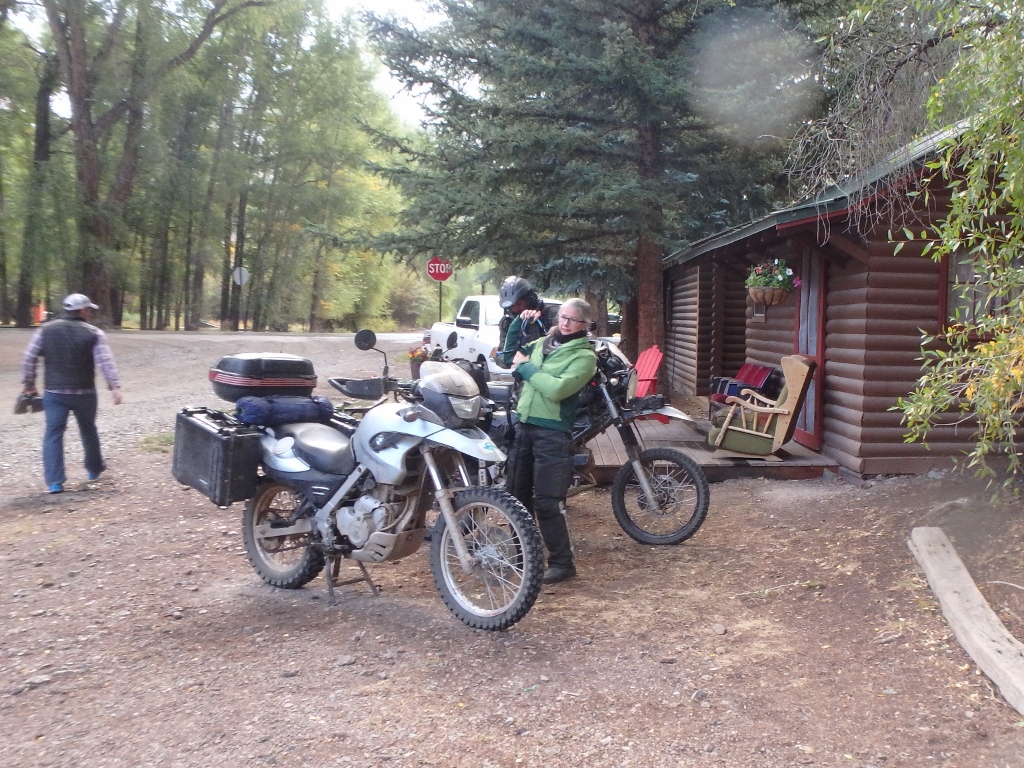 I got us a discount on the cabins as the owner remembered me from years ago as me and my son were his first customers when
he bought the place---and he saved our lives as we were wet and freezing when we came to town on that ride.
It rained all nite and that worried us as we knew we had some high passes to ride over tomorrow.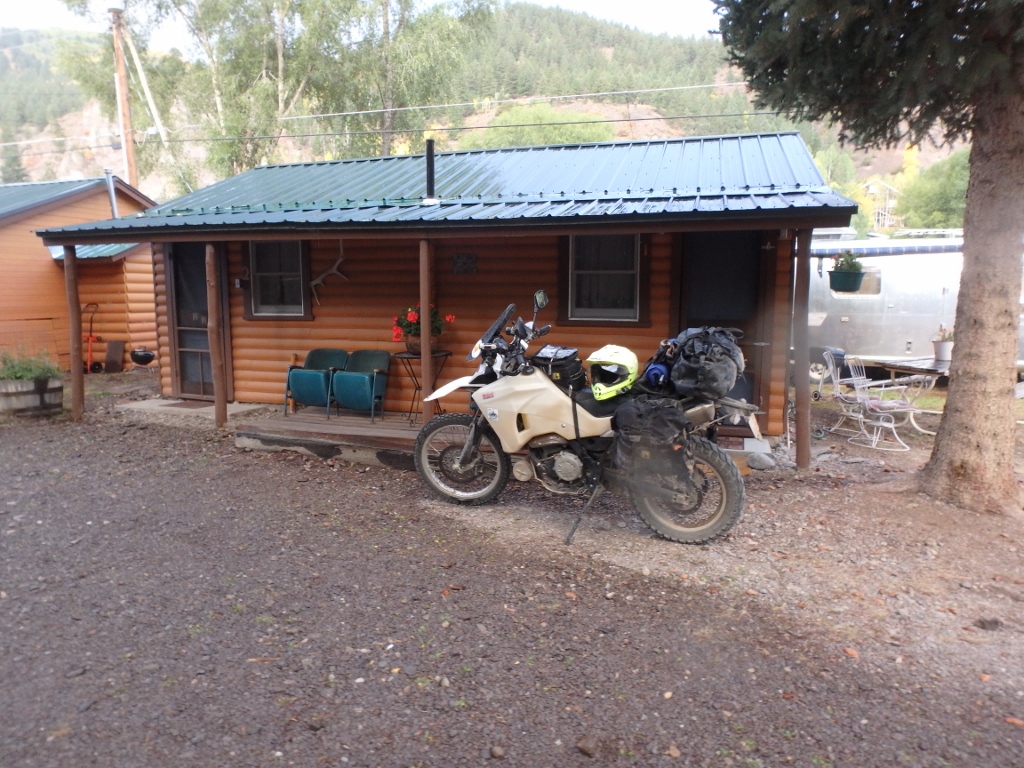 I wish this was a bigger picture-----before my wife's health went bad she rode with me everywhere.
Here we are in Lake City back in 1997 I think on a BMW 650 Funduro---she's sitting on the porch.
We had the best time on that trip.
I'll never forget us staying in that little log cabin---she loved it.
On 2 page 2
Click HERE