2015 Southwest Ride--Solo
Getting out of the Deep Freeze
Of Southern Illinois.
Winter had been exceptionally hard on me this year--------not sure why.
So Sunday Feb. 7th, 2015 I took off with my motorcycle and mountain bicycle loaded in my van--and headed Southwest.
Across Missouri---Across Oklahoma and into the panhandle of Texas I drove. And saw a few things on the way.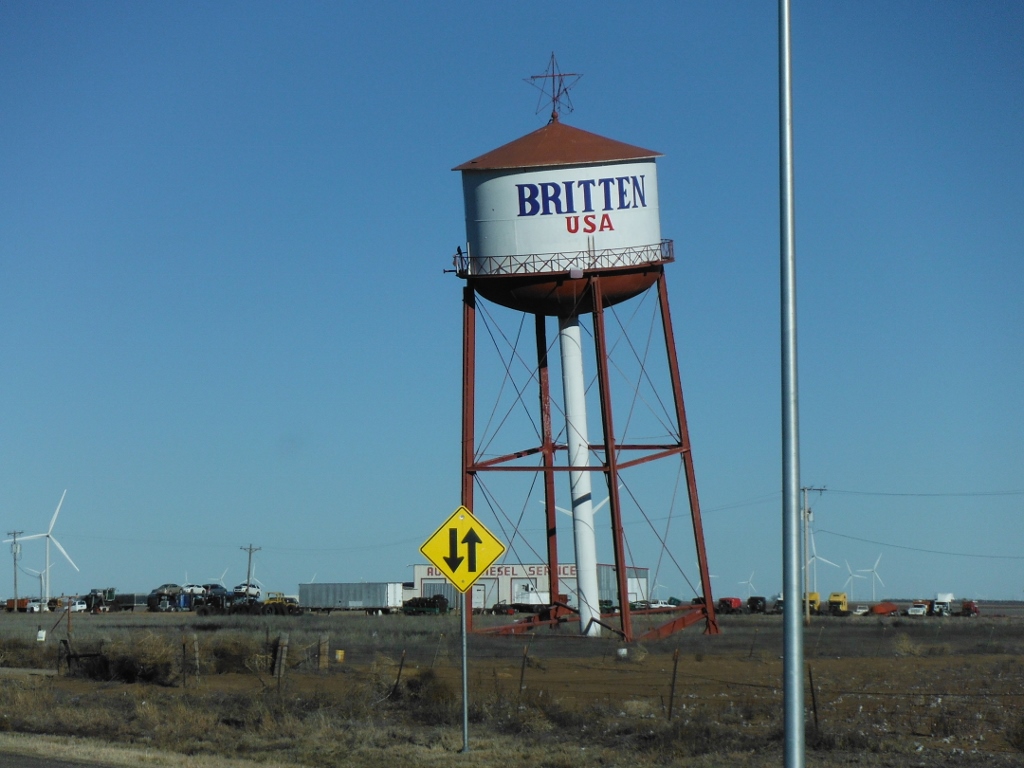 This trip I------just had a bunch of ideas and had no route laid out at all----but I had decided to get off the interstate and try to find some
interesting things on the way to New Mexico and Arizona and decide I'd camp in Palo Duro State Park in Texas.
My buddy Dinweeds was recovering from new hip surgery--------so I would be alone.
I approached the park 20 miles to the east and dropped into the canyon way East of the park as I wanted to see the bridge going
over the river that made the canyon.
What prompted me to come here ?????----I read Palo Duro Canyon was the 2nd largest canyon in the United States.
That's all it took for me to go there. Just like when I went to Copper Canyon, Mexico----I had heard it was 5
times bigger than the Grand Canyon----and just had to go see myself.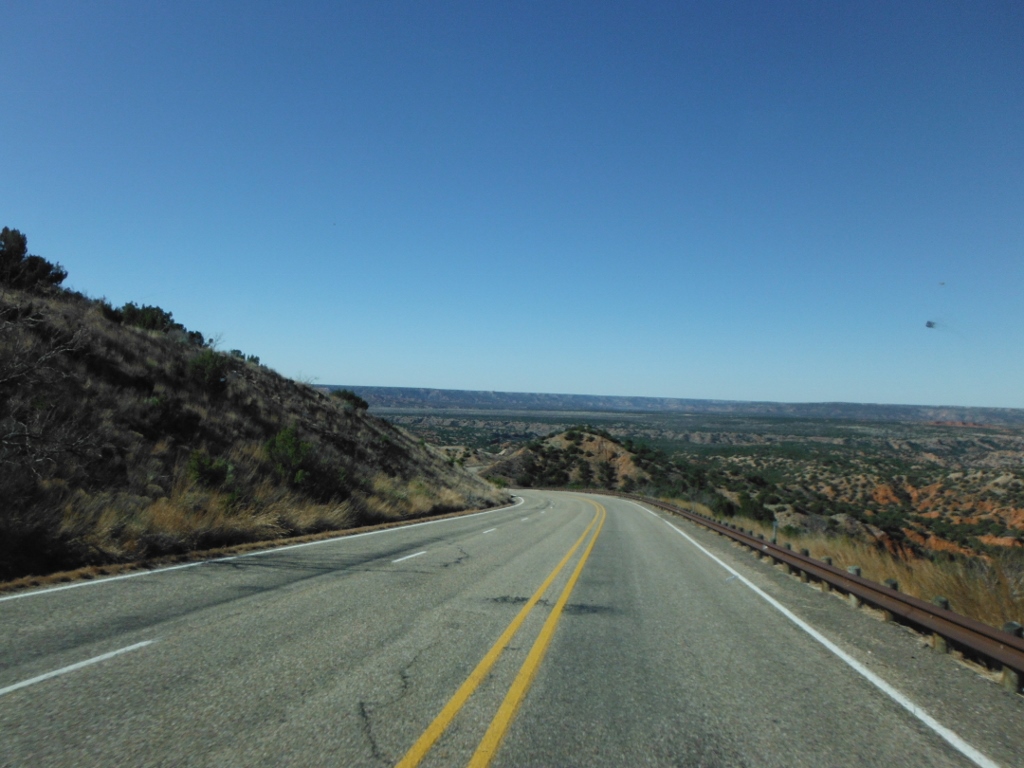 This is the bridge over the "Prairie Dog Town Fork Of The Red River"
There was nobody on this highway but me and I stopped here for quite a bit---and no one passed me.
Since I wrote this story I've been asked a lot how my new van worked out--since it's new model for Ford to go in competition with
others like the Mercedes Sprinter.
There is a link on the first page of my website that tells all about it.
It's the longest and tallest Transit they make and has a diesel engine.
In short------after 5,000 miles I'm 100% happy with my purchase and all the mods I did to it.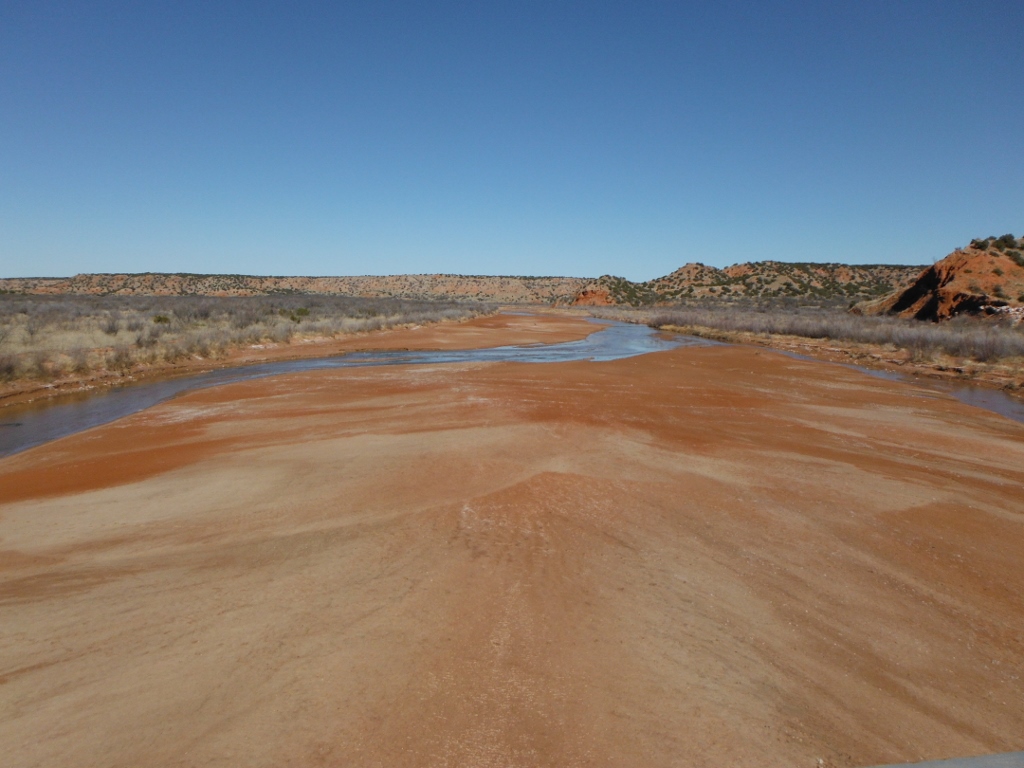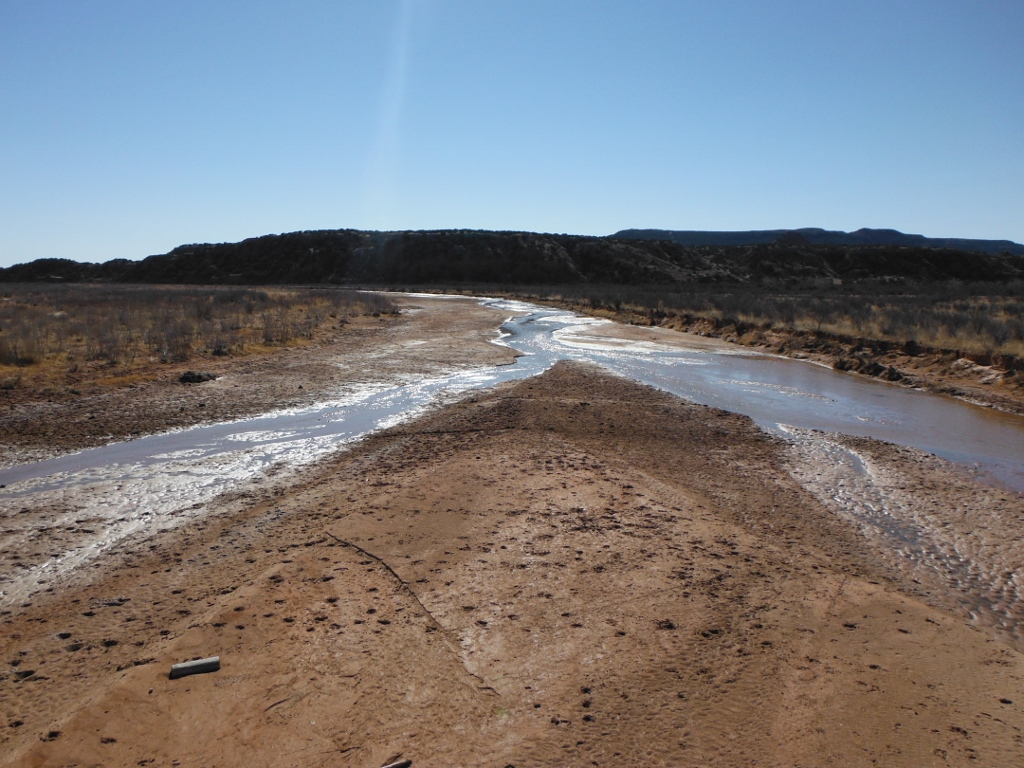 You go for a couple miles down to the river and then climb a couple miles back the other side---and I found this nice rest area and a scenic view.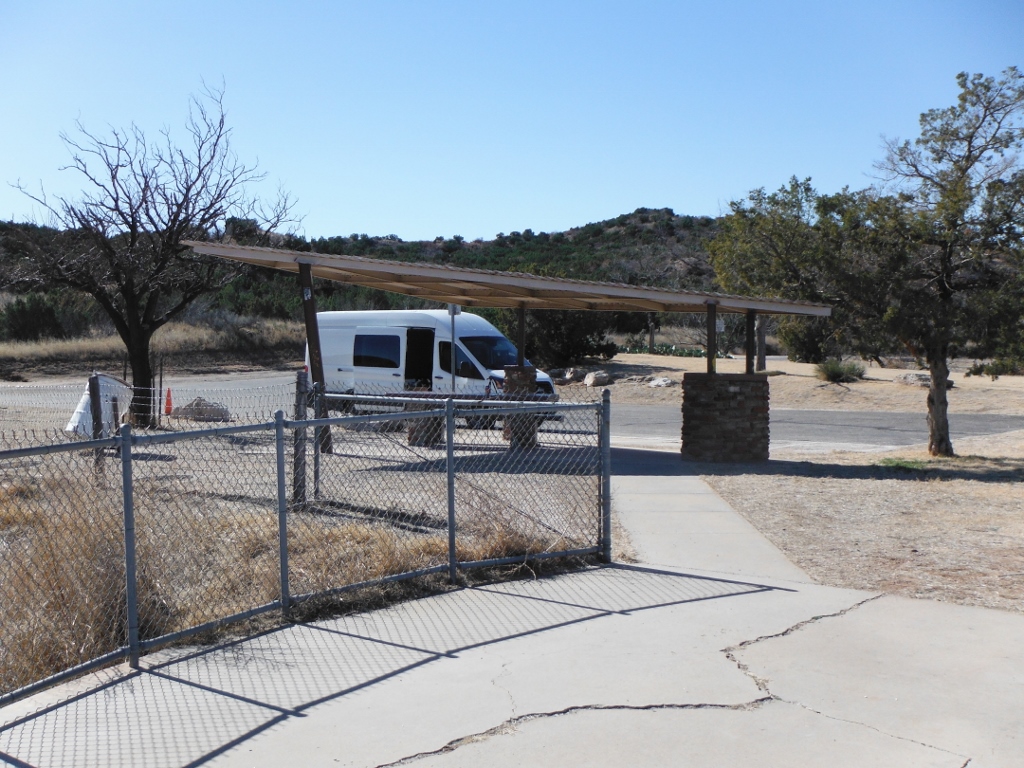 It was a nice 70° out and it felt good.
The road you see is the road climbing back out of the canyon.
My Powerstroke diesel made quick work of that.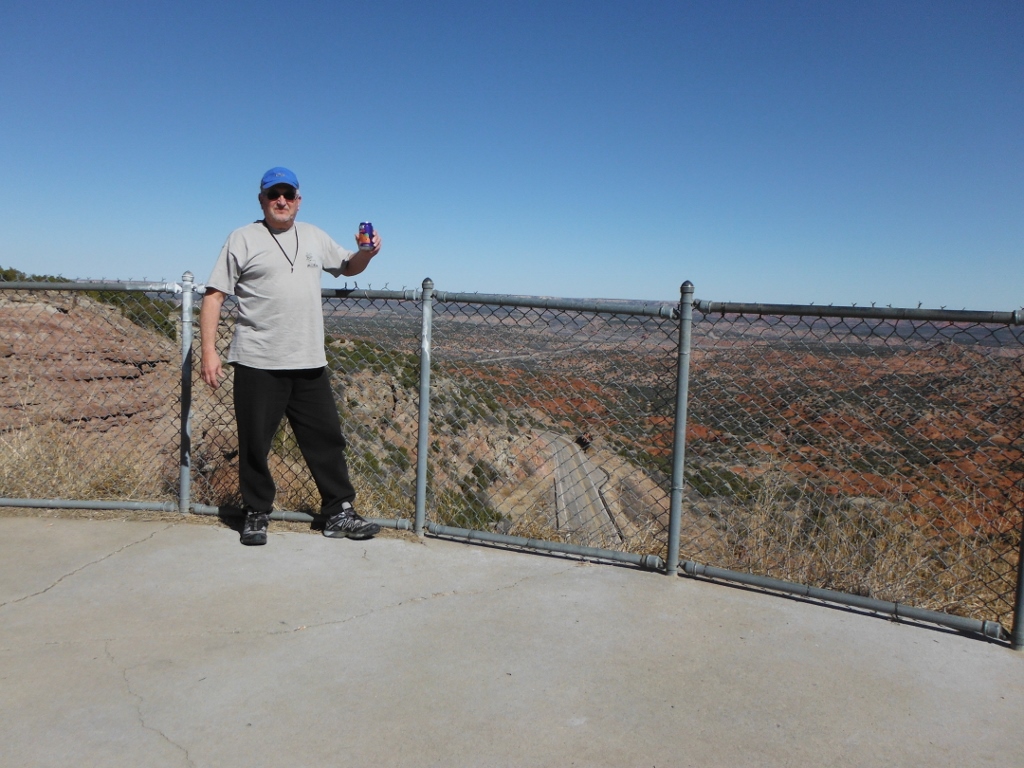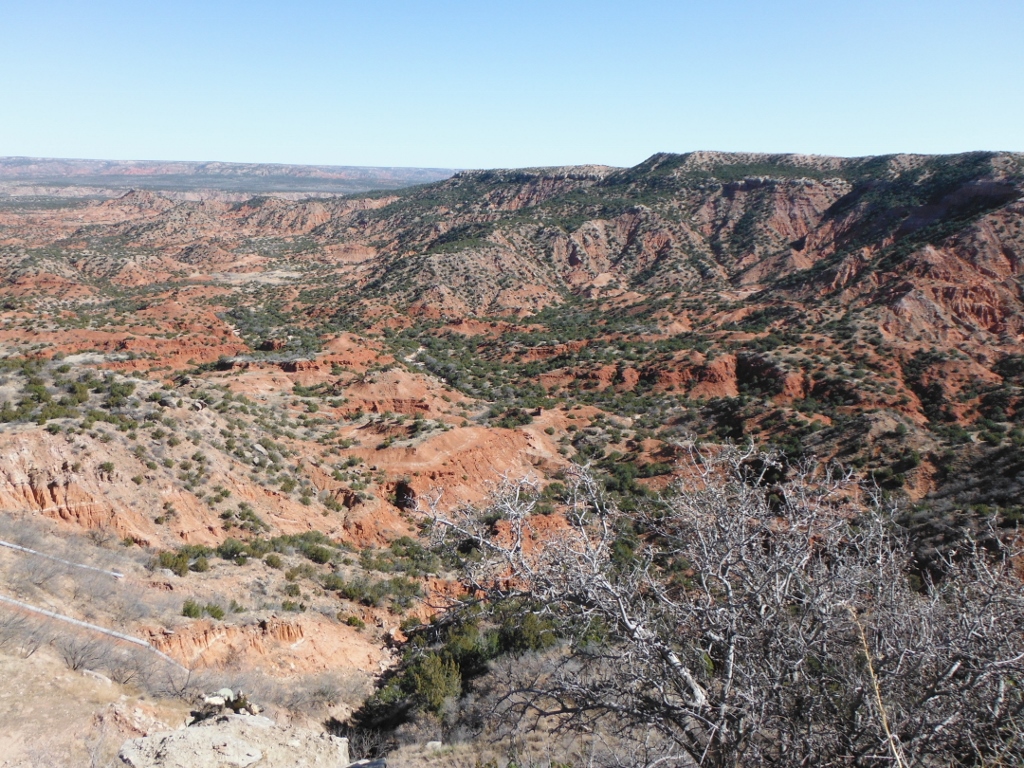 I finally entered the park from the West-------going East and paid for 2 nights camping.
I had read alot about this park and was really anxious to ride some of the mountain bike trails they have.
I parked my van and wasted no time "TRYING" to ride the "Lighthouse" trail.
I unloaded as soon as I got there-----man it was a beautiful place.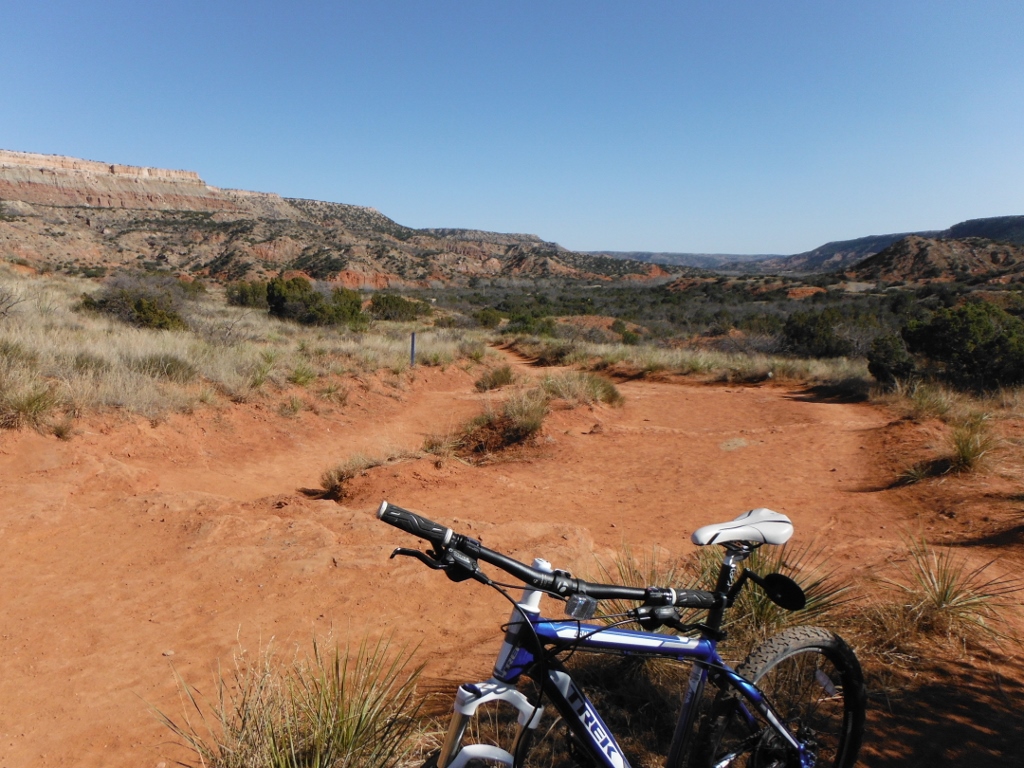 The Lighthouse trail is 6 miles roundtrip and the skill level required to ride it was just my speed-------------easy!!!!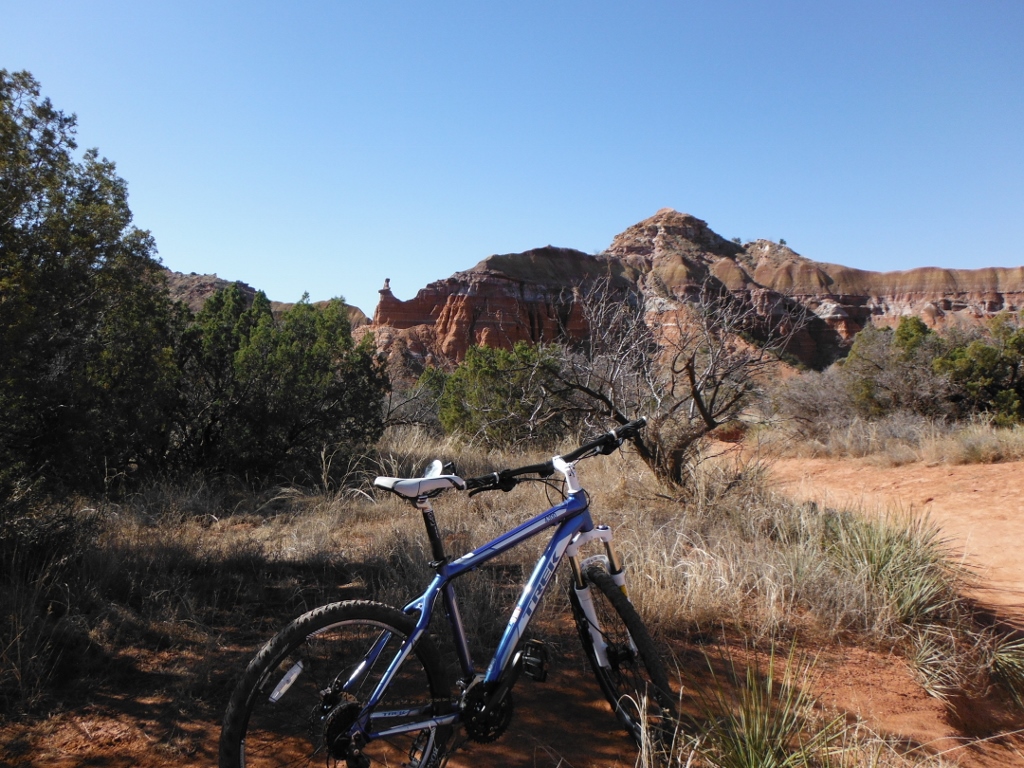 But I never got very far at all ------as I had a flat---and had to walk about 1/2 miles back to my van pushing my bicycle.
I had a nice hike and new I'd get the bike sorted and be back on my way.
I had left for this ride in a hurry and had packed nothing to repair my flat.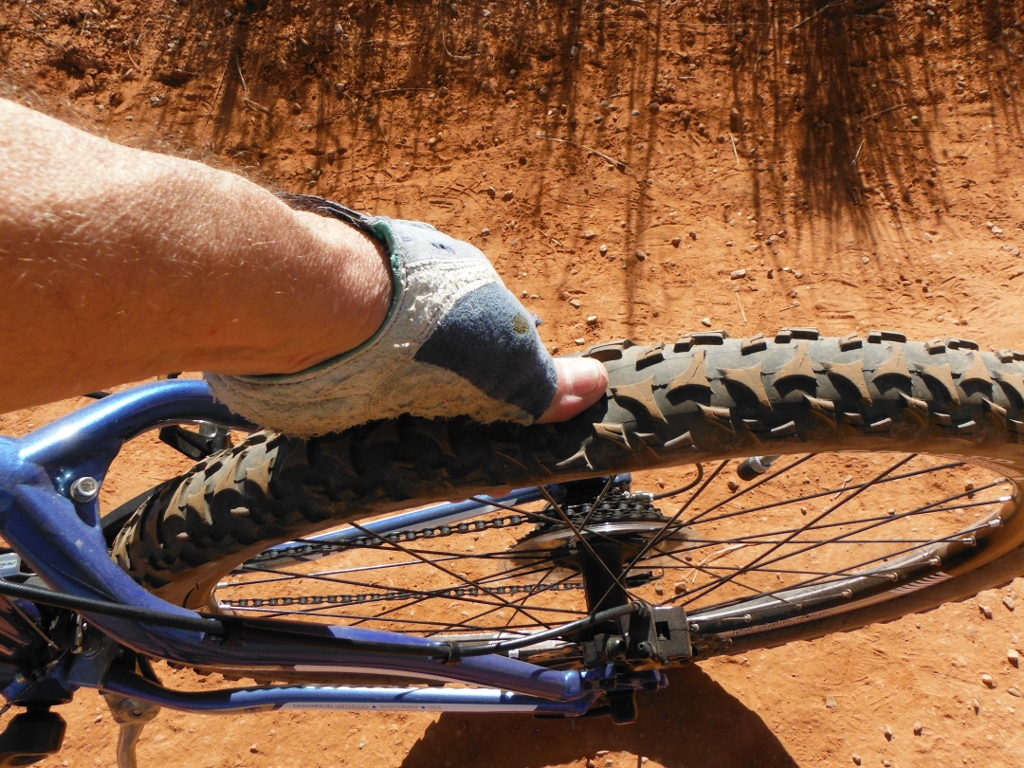 I haven't rode this bike much and bought it used-----------barely used.
The heavy duty tube has a piece of steel in it---and that slime stuff was squirting out of the whole--not a fan of slime at all.
So I put the bike in my "garage" and went to work------and put a new tube in it.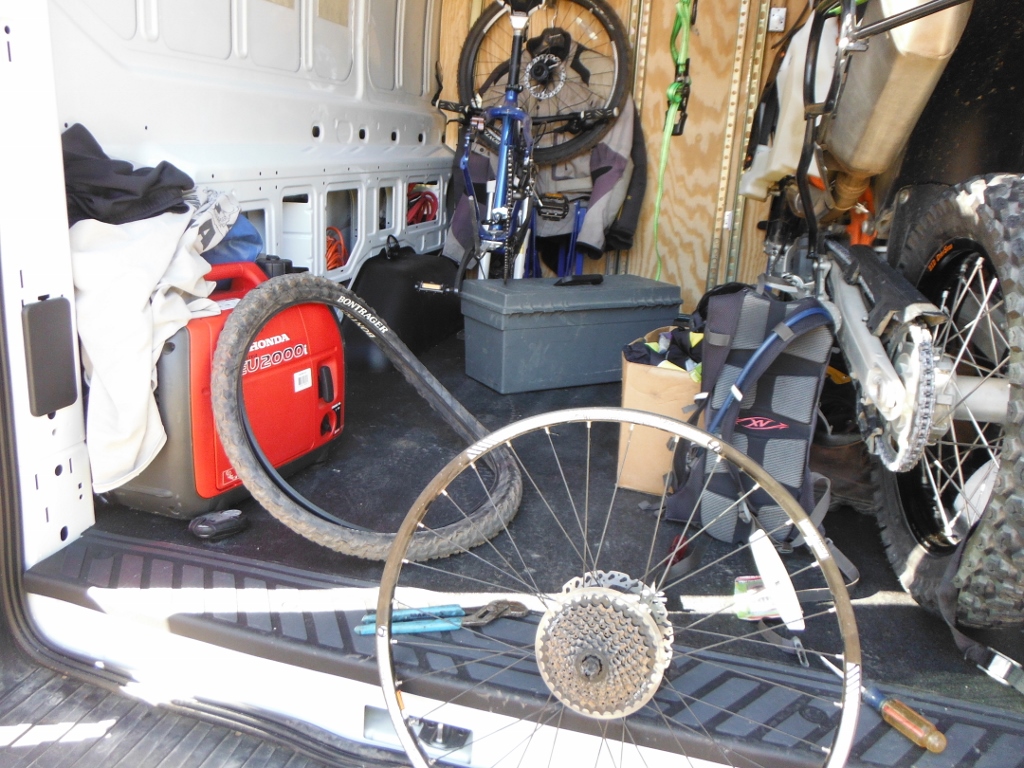 It was too late to go back and finished the Light house trail so I road the shorter Paso del diablo trail---------or something like that ?????
This trail was awesome and started right at my campsite.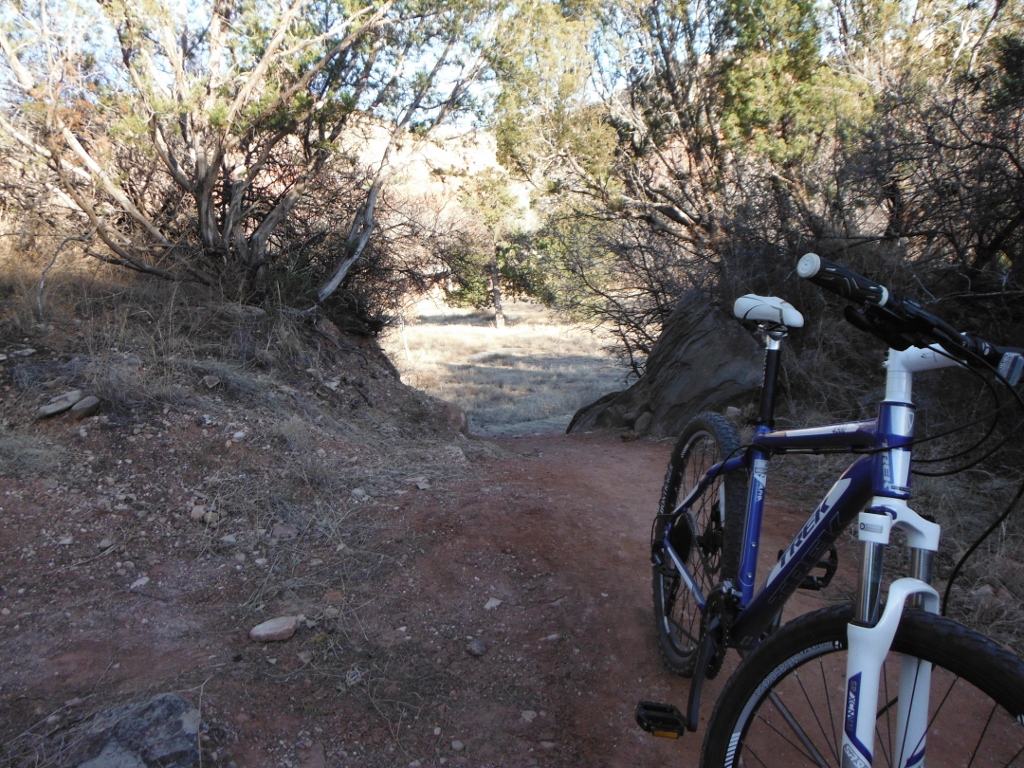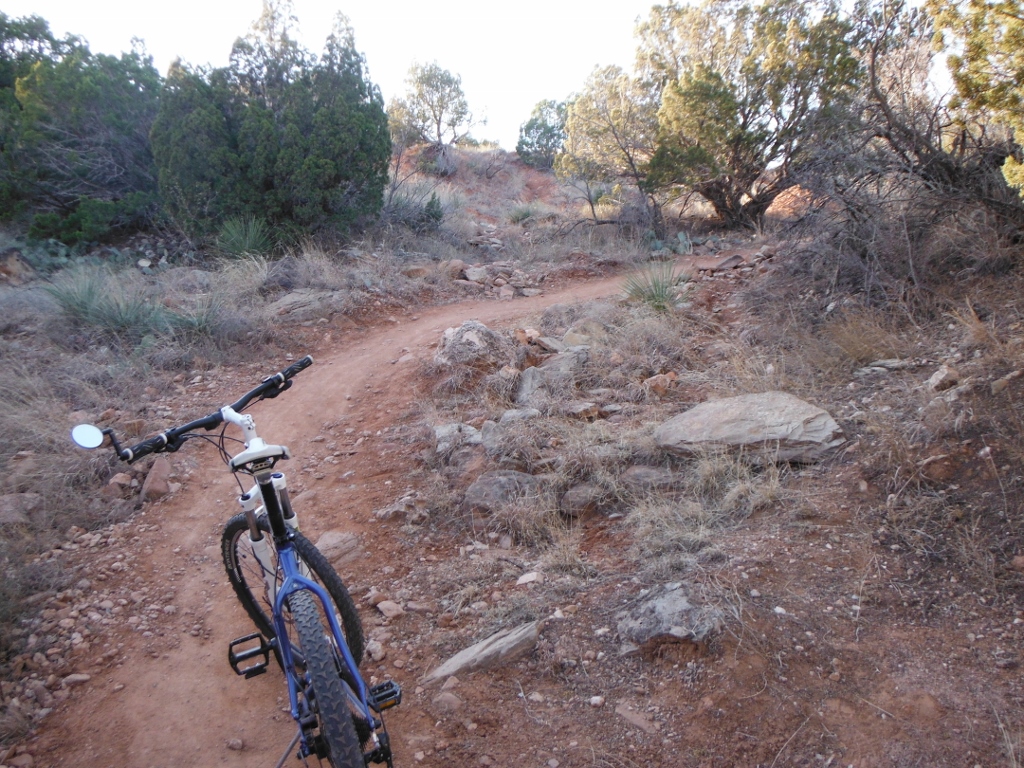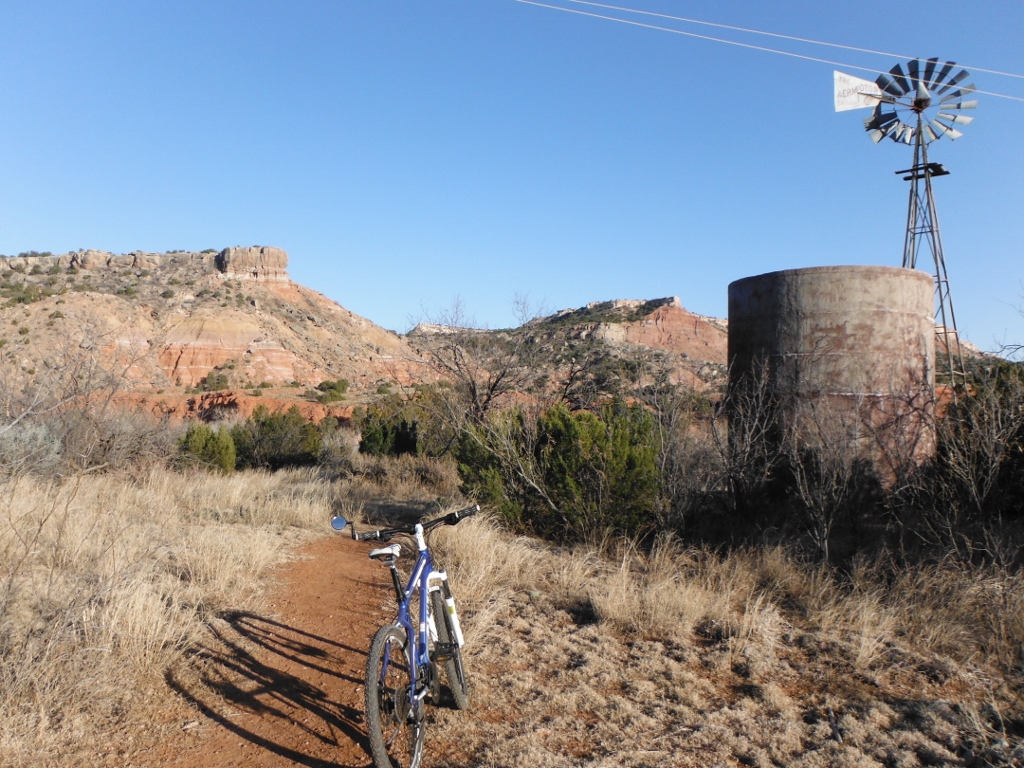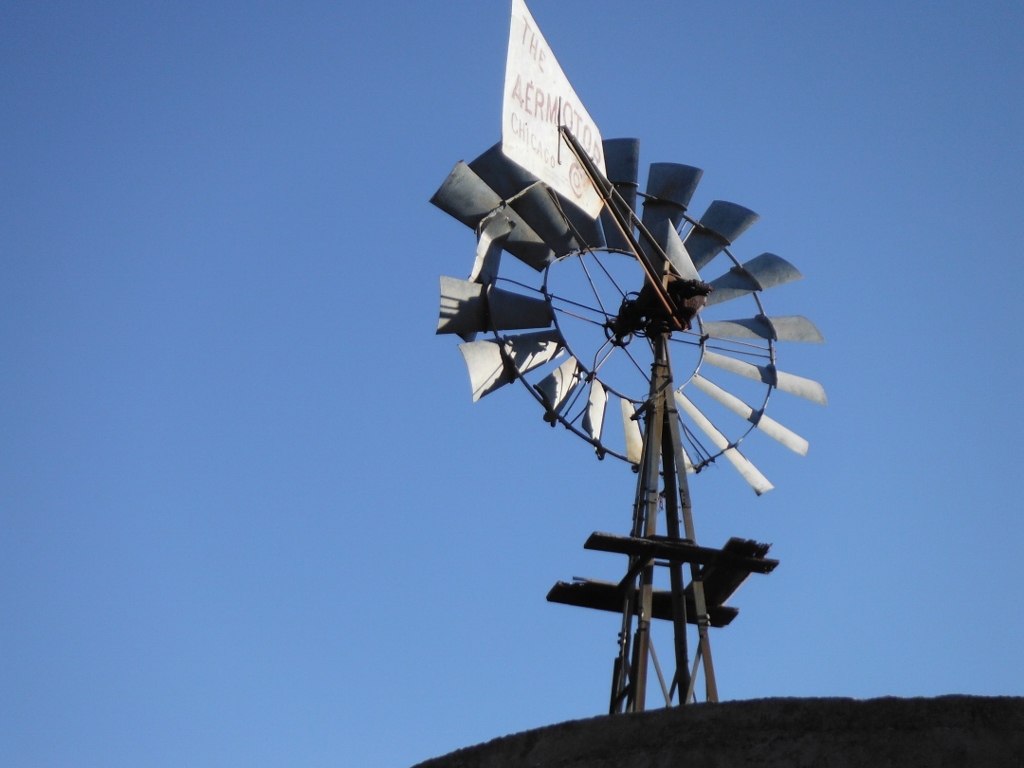 It was just a mile long-----so I rode it both ways back to camp----and started dinner.
I hadn't got to the park till about 2PM-----so it was getting late.
I had just bought this camp stove and cooking kit-------------I can't cook------we'll see how this goes.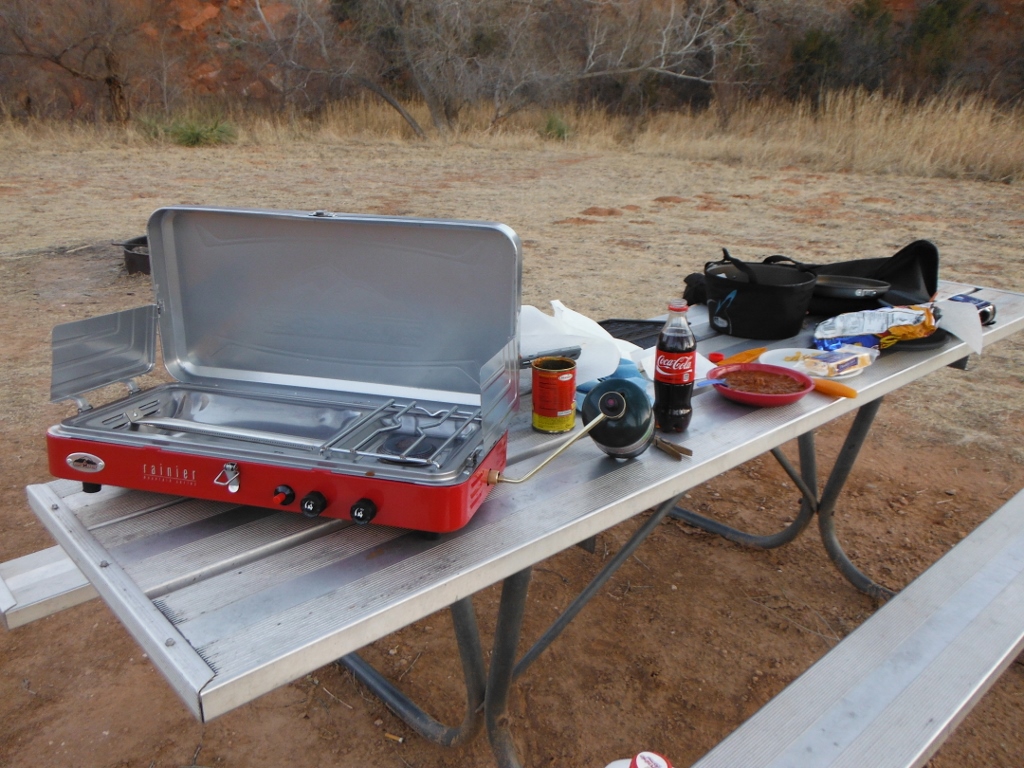 My first meal camping out of my van---I was so proud.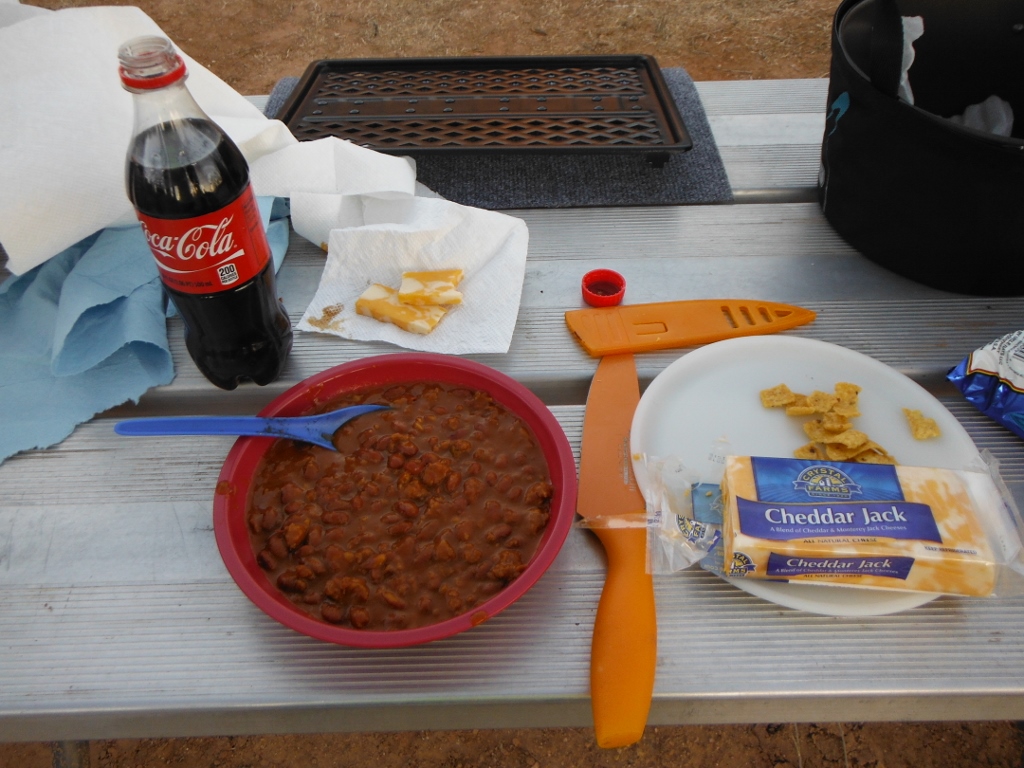 The sun set in my back yard and I imagine Indians poking their heads over the cliff and shooting arrows at me.
There was some kind of big Indian battle in this canyon--------I'll google that when I get a chance.
It was starting to get really cold.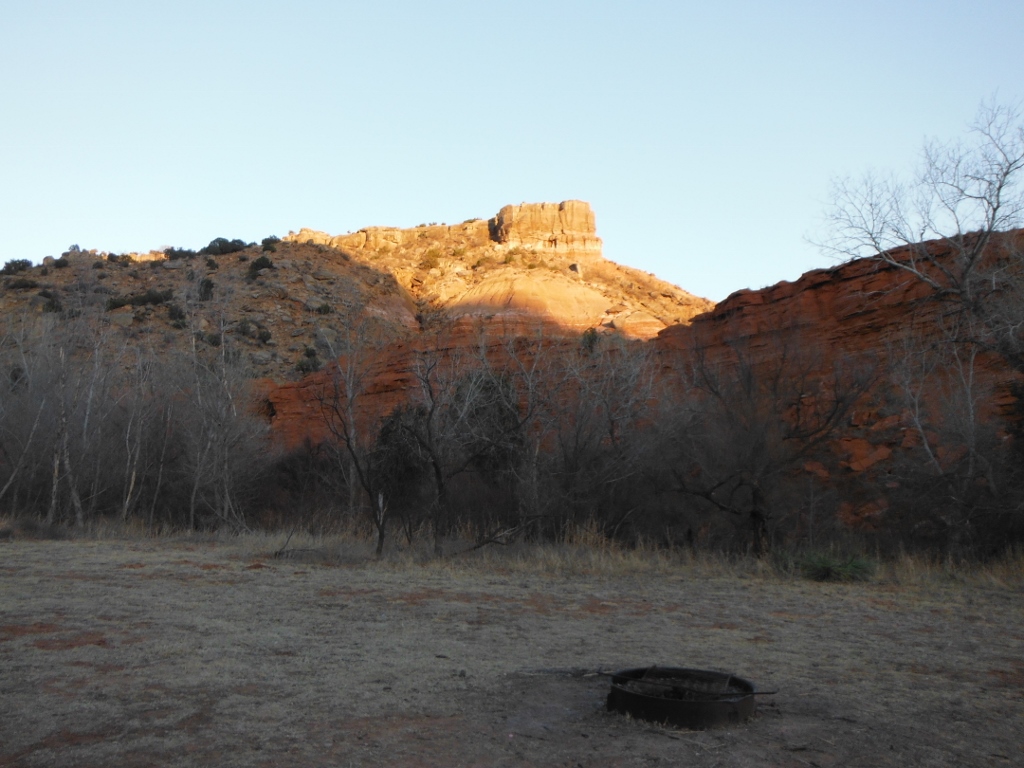 My KTM690 also awaited me in the van---I never road it while at the park.
Once out of the park it was pretty flat panhandle Texas---so I wasn't interested in riding it in the area.
I did bring an extra tire for the tire eater. The one thing the 690 does best.
It's OK but it ain't no WR.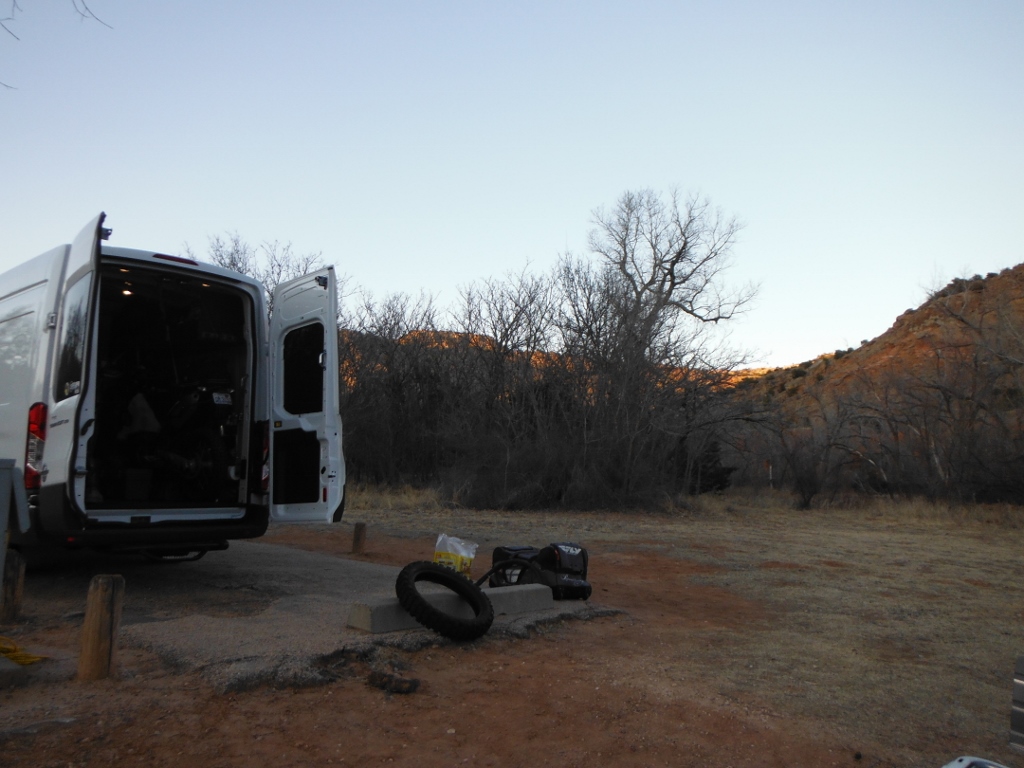 I left my bicycle out all nite---and packed everything else in the van---turned on the heater-------I had electricity--and slept like a baby.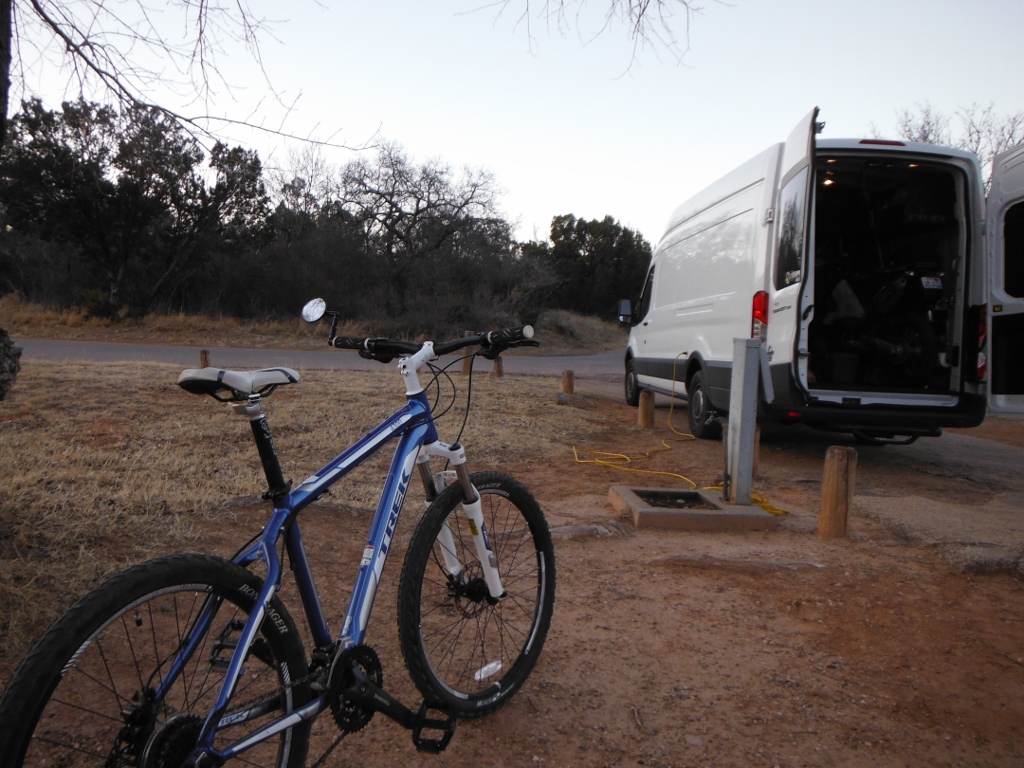 Tuesday February 10th, 2015
I woke up about 6AM---- it was still dark and fixed me a really nice breakfast in my van--even tho I can't cook.
Raisin bran cereal, coffee, an apple, a banana and some orange slices.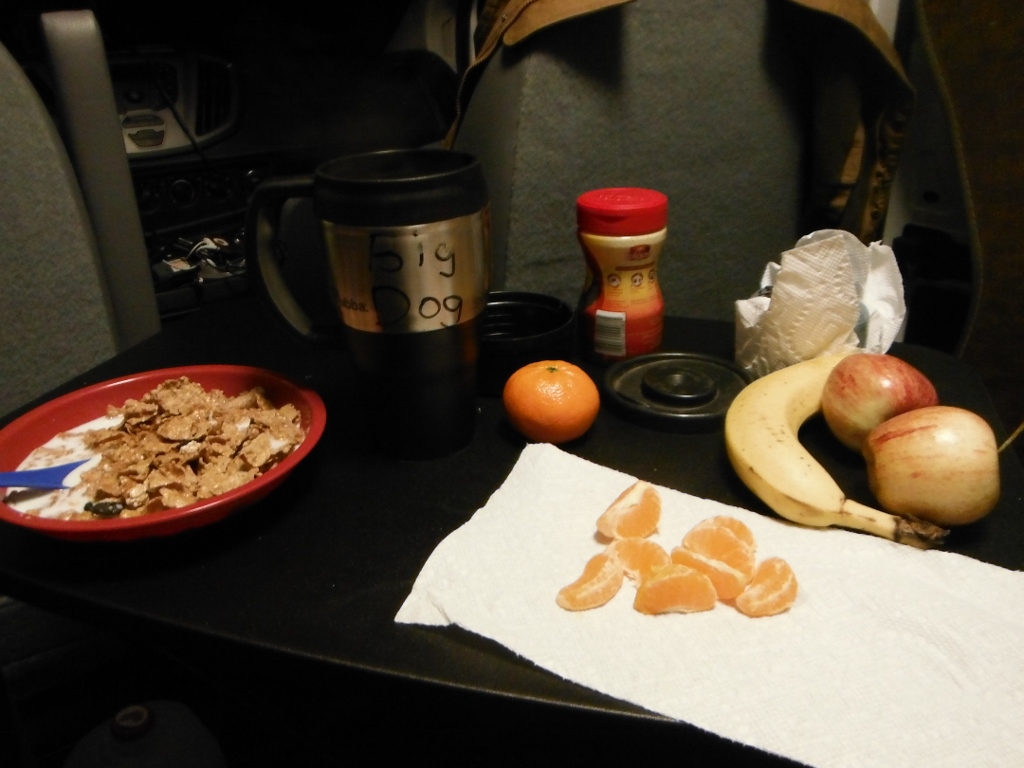 At first light----------I had visitors--------took these pictures from inside my van.
A whole herd of them.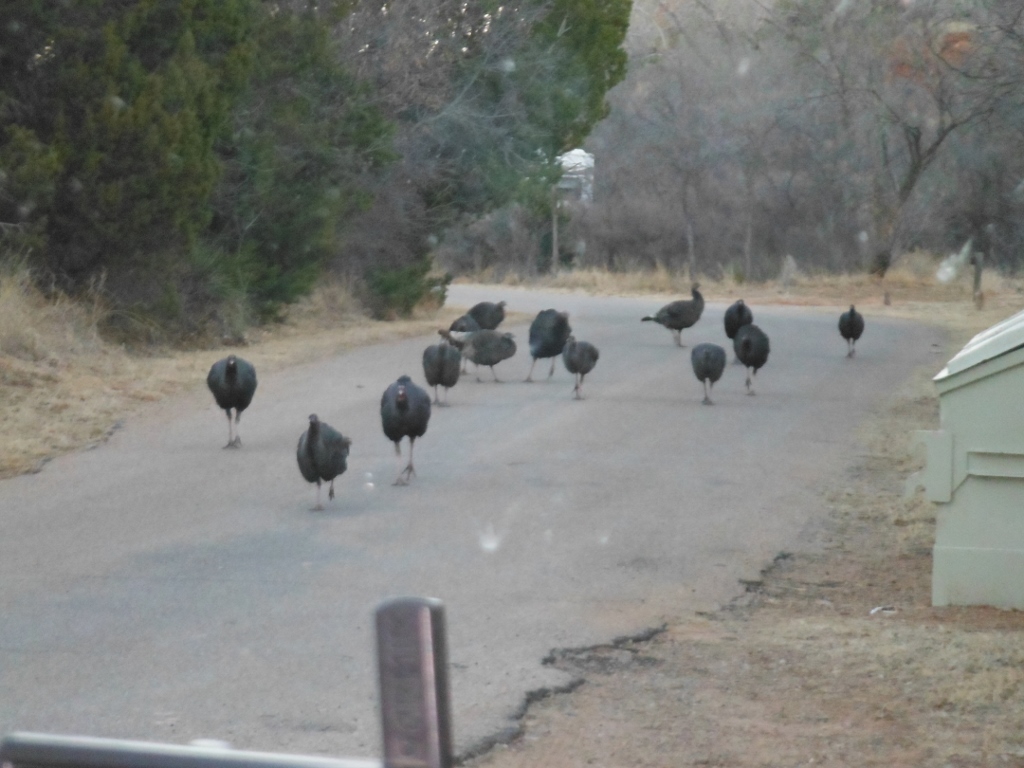 They sauntered into my campsite like they owned the place and made themselves at home as I
peaked out at them.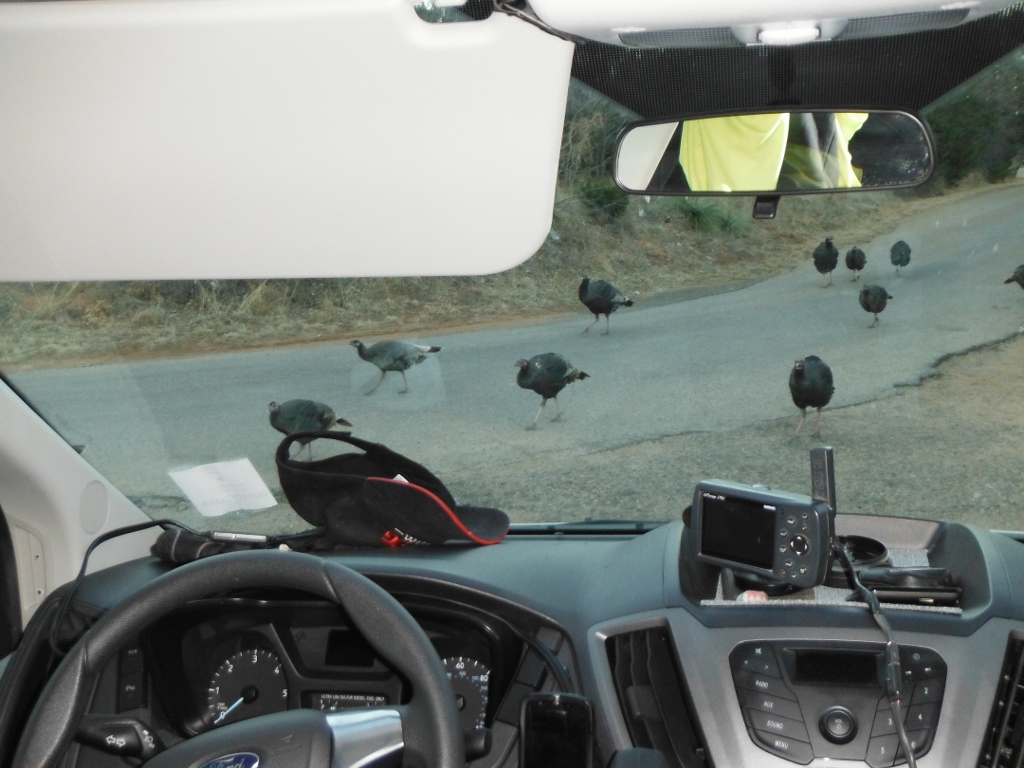 What you lookin' at !!!!!
I was afraid to get out for awhile---I had intruded their space and they checked my campsite out thoroughly looking for
snacks before they moved on. They just dared me to come out.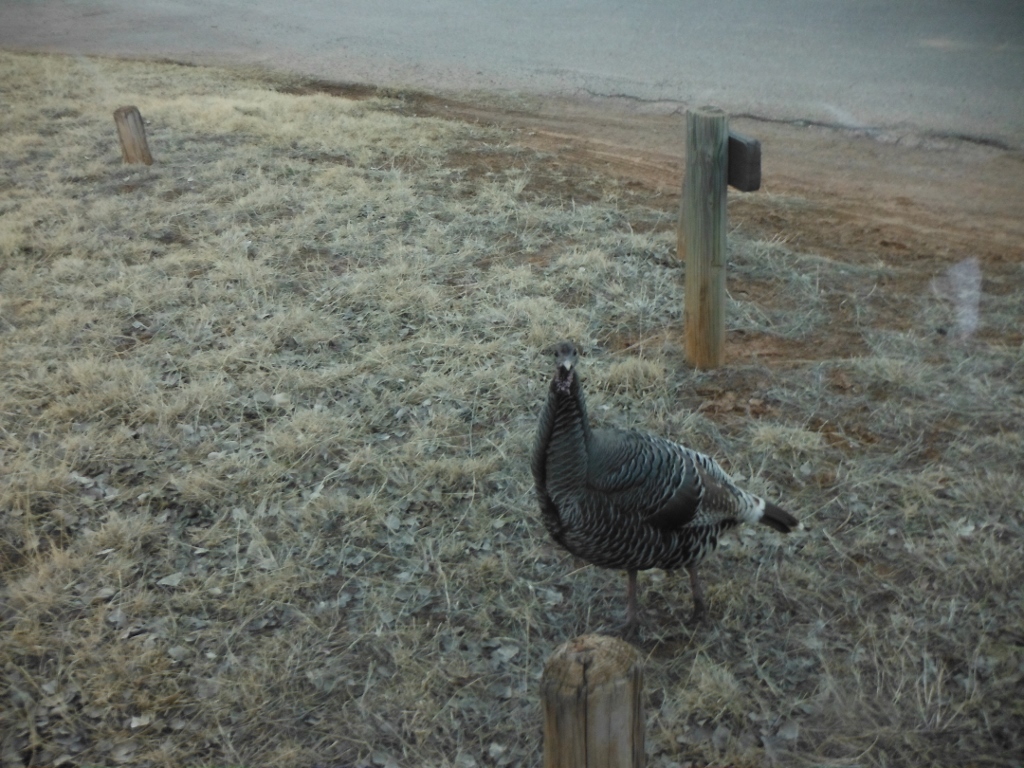 I finished my breakfast and let it warm up just a bit and headed for the Lighthouse trail head again,
Maybe I can finish it this time.
Met these really nice young guys who took it upon themselves to see that I got out of there alive--------really nice of them.
I guess they figured I had one foot in the grave after looking at me.----maybe I'd croadk out there and they thought they'd get
my KTM they were eyeballin' in my van.
One guy was a superb rider---the other was his buddy who had rented a bike and wasn't near as good a rider as him----but
way better than me.
I'm pretty good----------but I ain't no Dingweeds.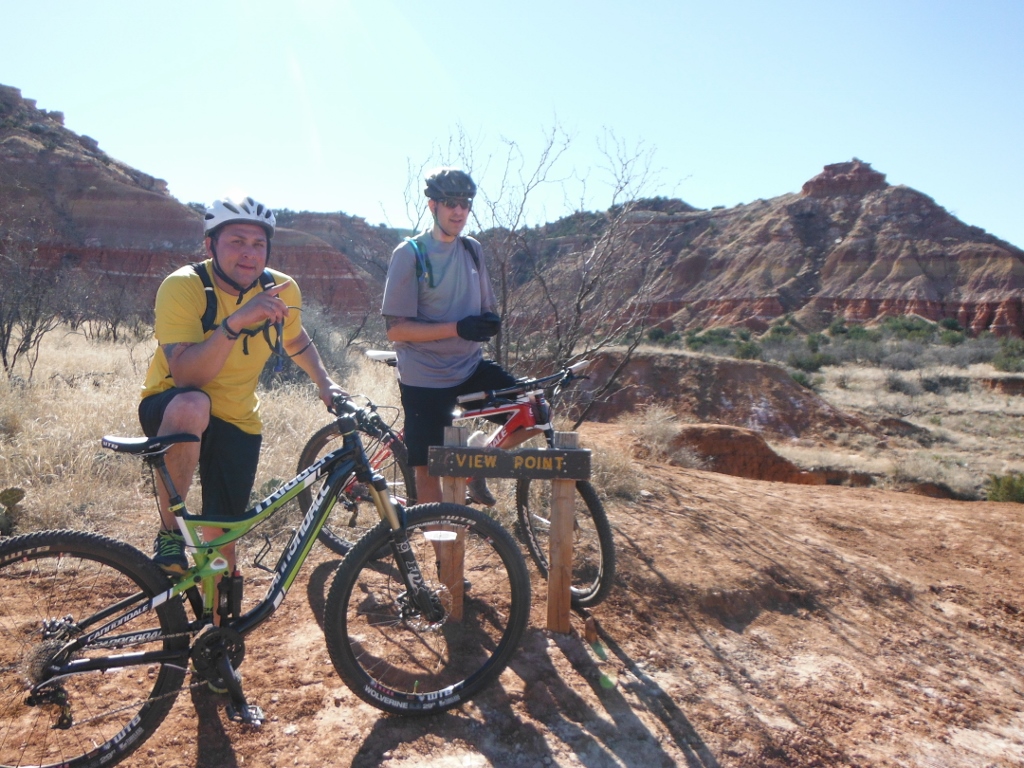 We are headed for those 2 rocks sticking up in the middle of the picture--------would I make it ????????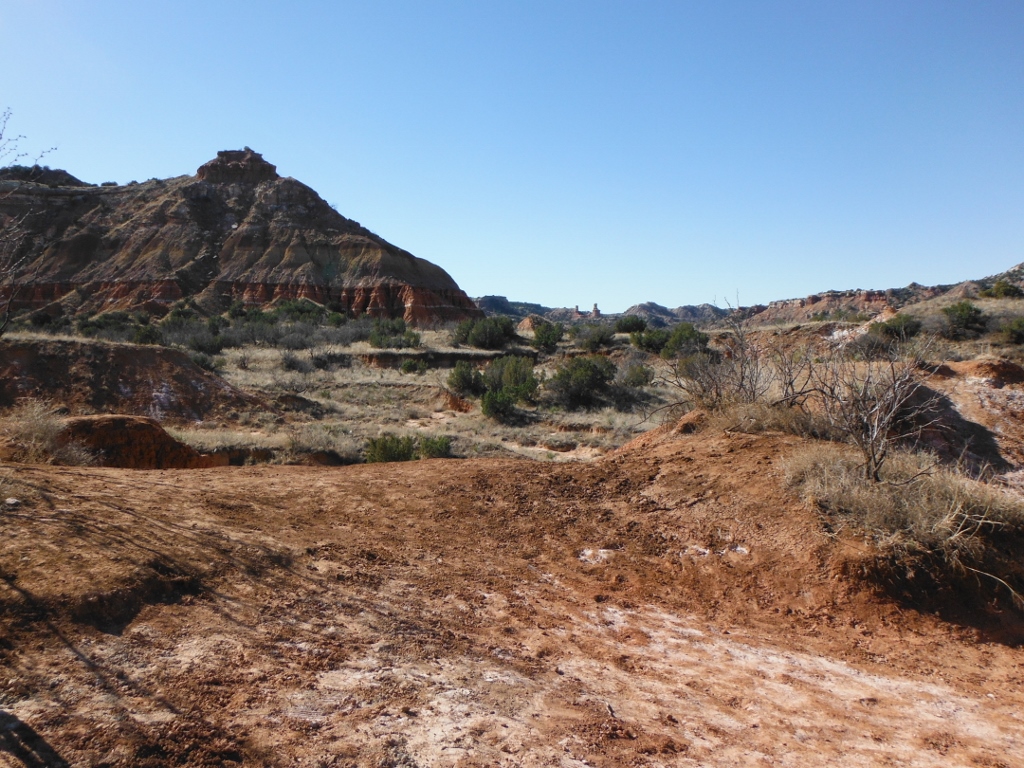 I tried to keep up----but got the heart rate way to high and slowed down.
They went off and left me----------don't blame them.
Then I got passed. Couldn't keep up with her either.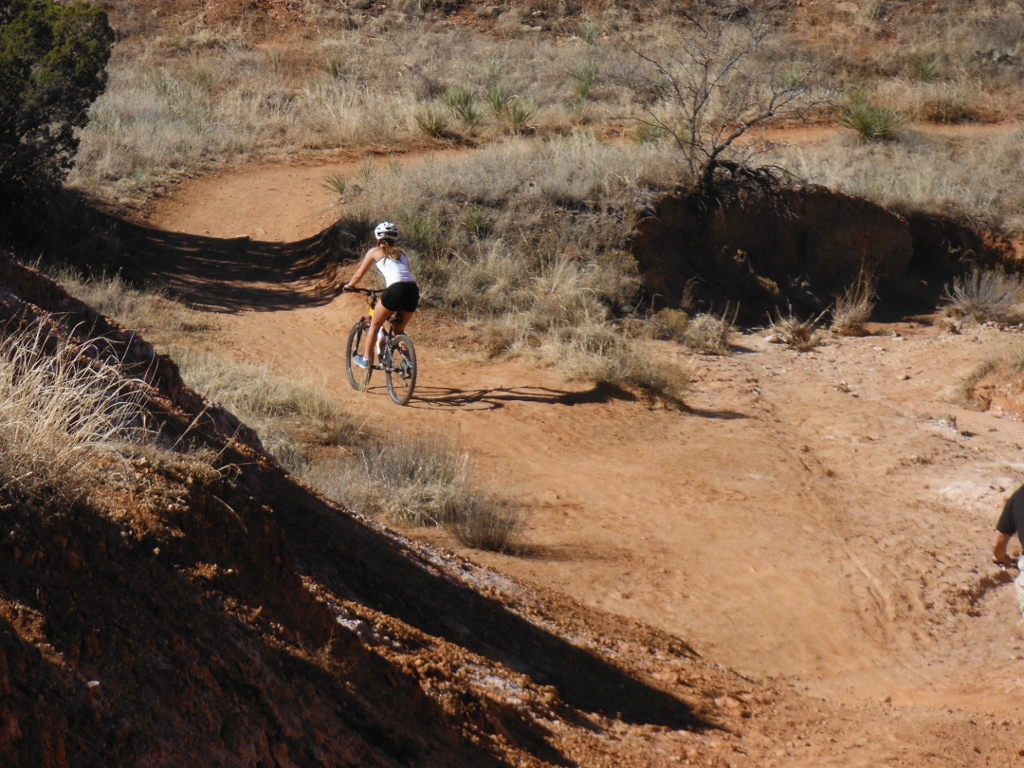 I was having a ball---the trail was just hard enough to keep me on my toes----about 4 hills I had to push my bike up.
And a couple ledges I wasn't man enough to launch off of.
But I was feeling really good----surprising since I hadn't been able to ride hardly at all this winter.
It just felt so good to be in warm weather.
I"ve ridden road bicycles a lot the last few years---but had almost no mountain bike experience.
This was a lot more fun---but I knew better than to get on any of the real technical trails out here.
There was a lot of old people like me hiking and biking in the park.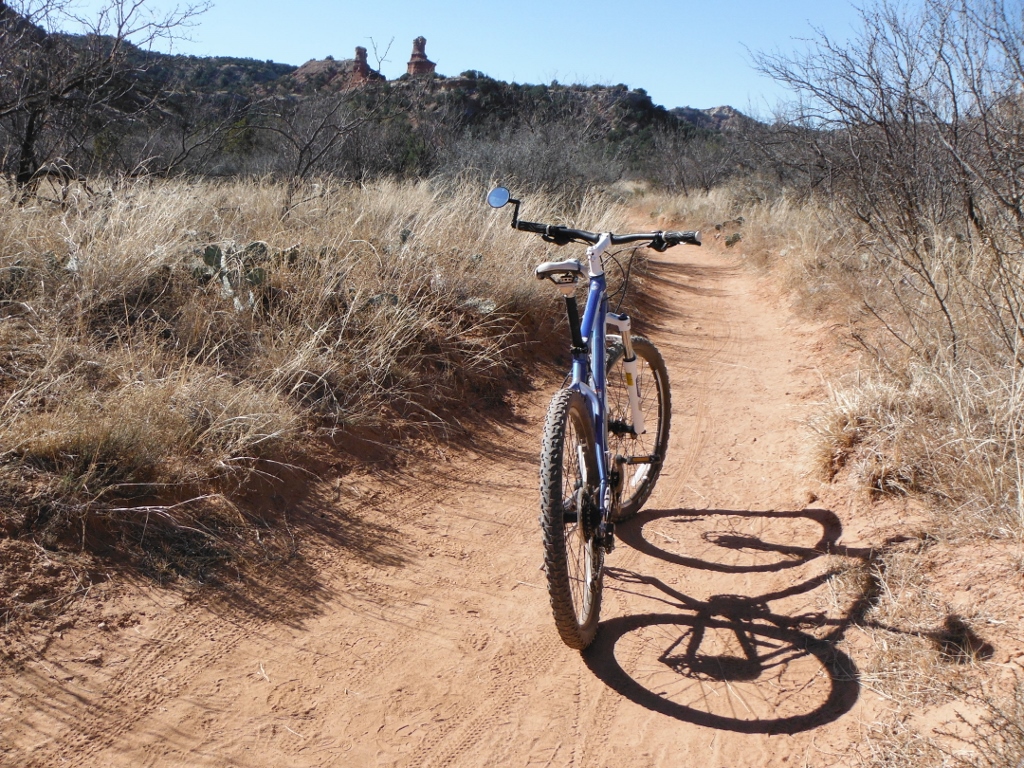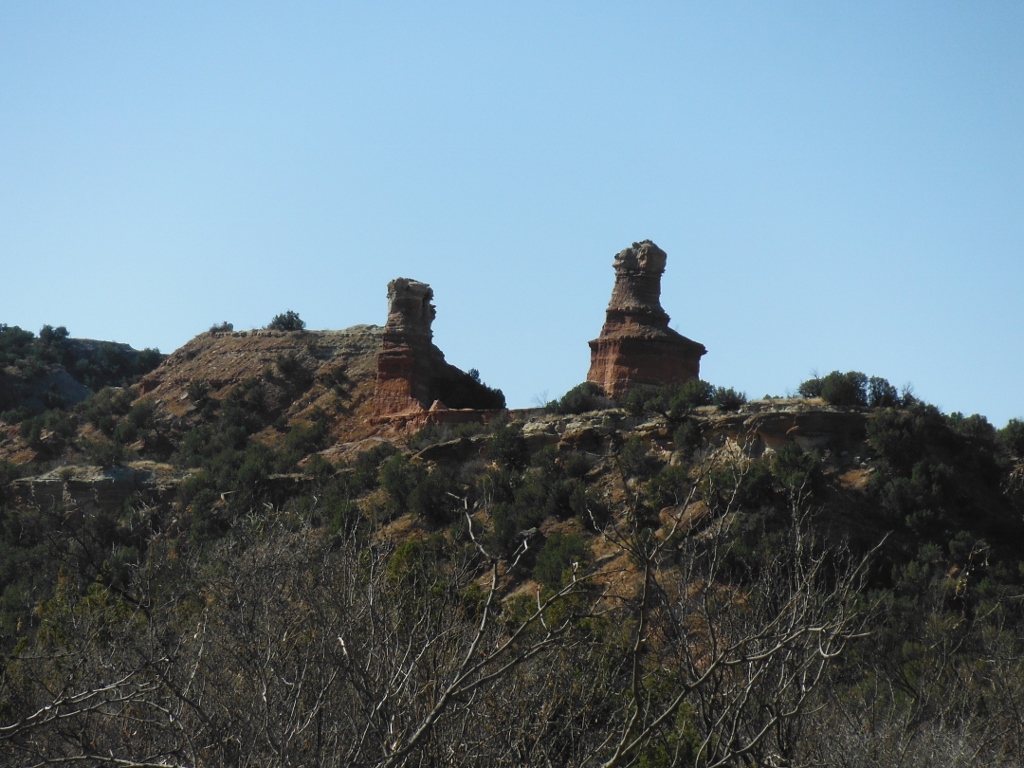 I climbed many hills OK--------then got to coast down them---got going pretty fast a few times.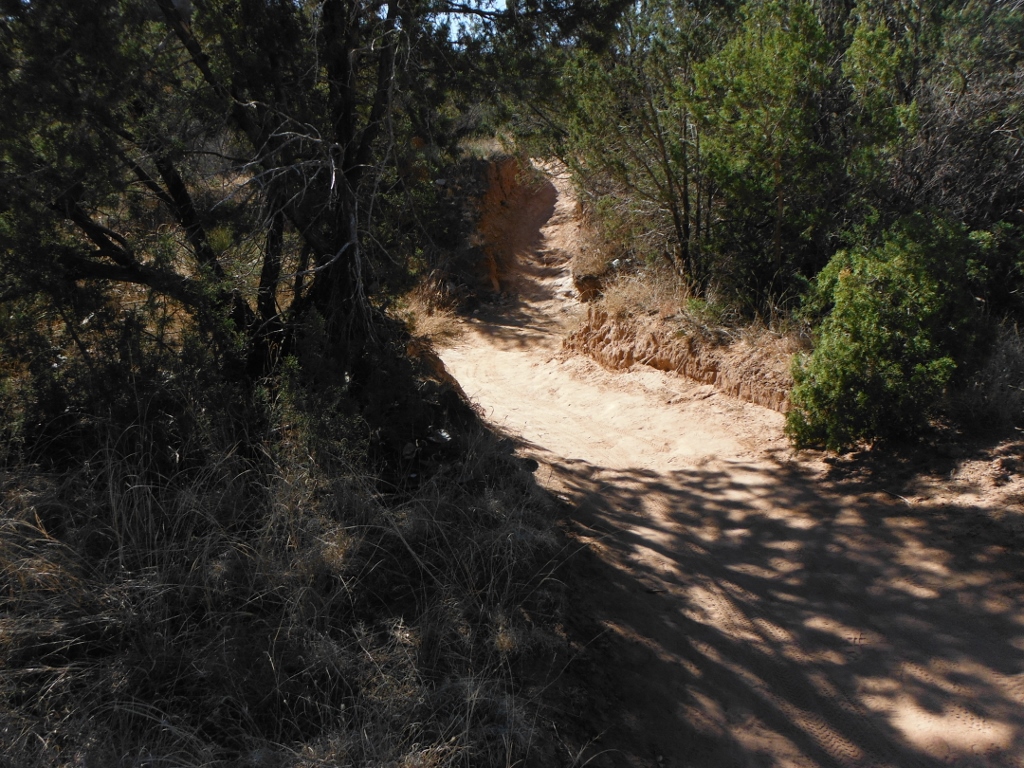 After 3 miles-----------the light house trail ends--you have to hike the rest of the way.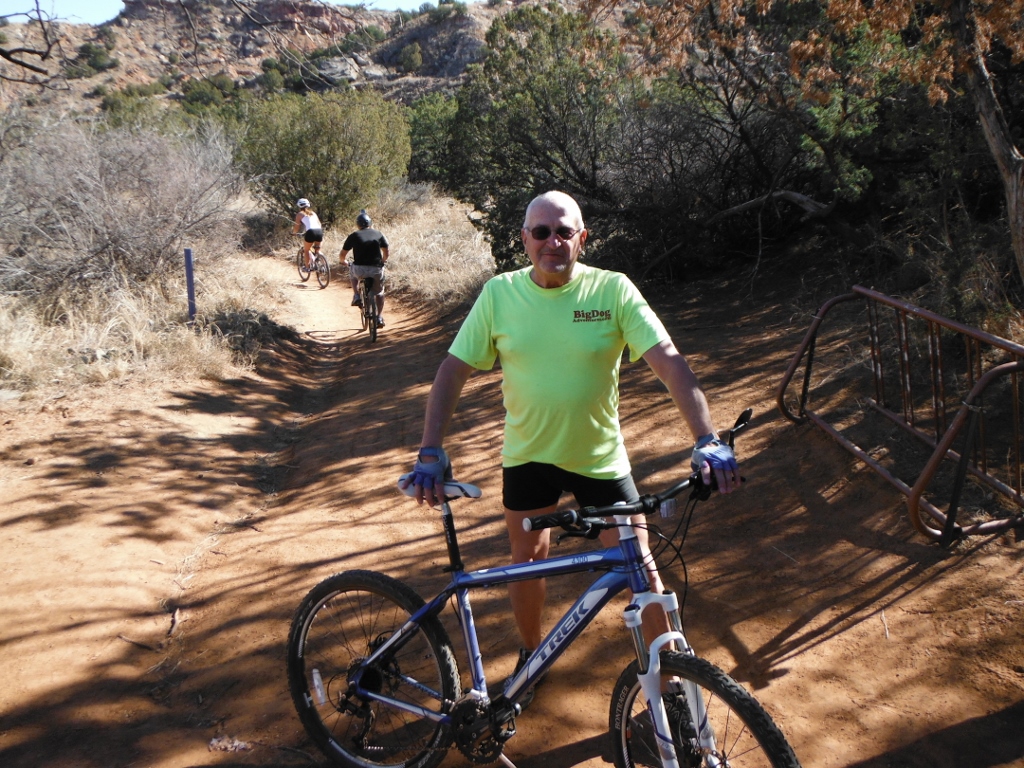 I left my bike and started walking and didn't care how long it took me.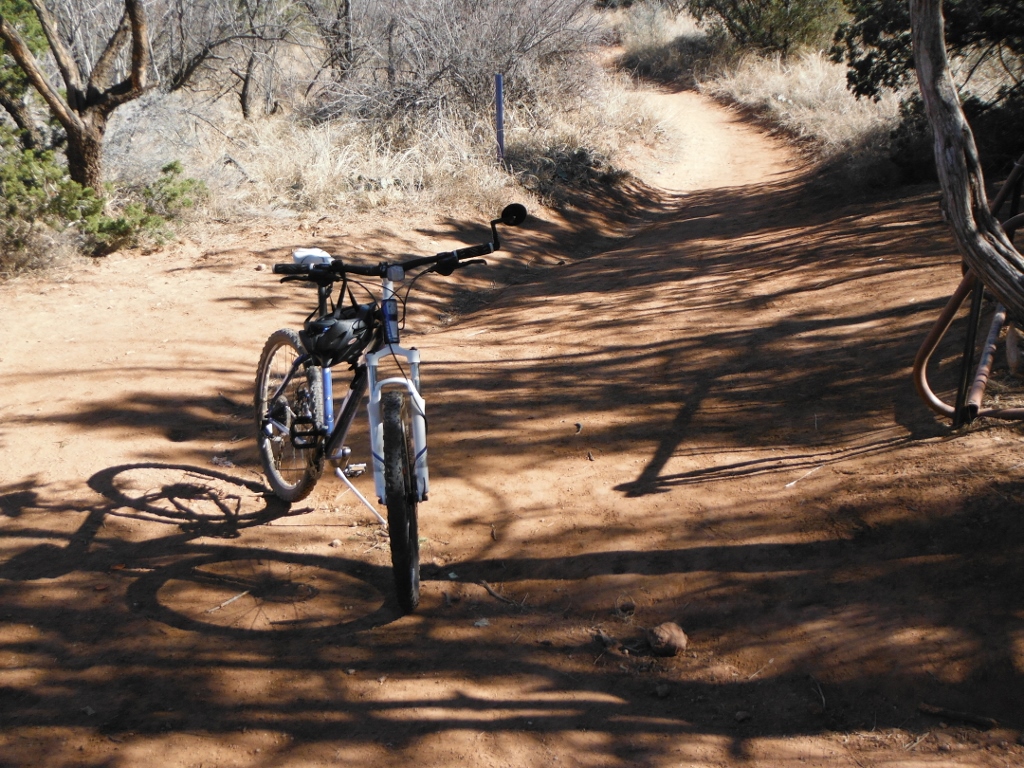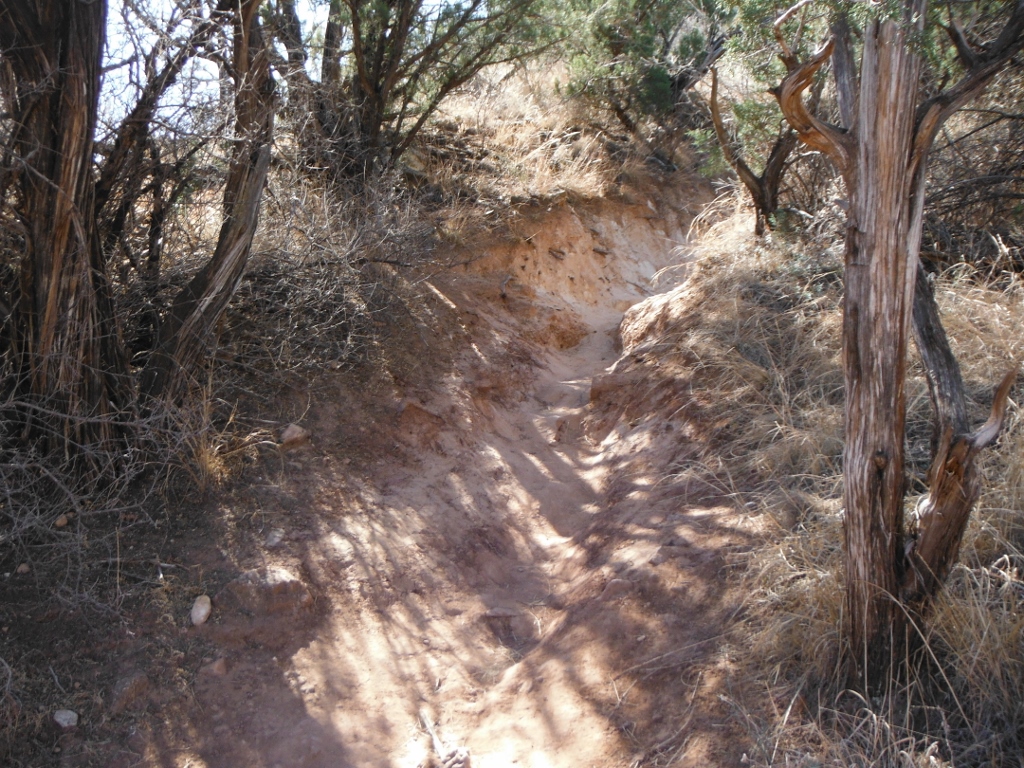 I didn't get hardly started and came to this.
I was totally alone------nobody knew where I was at-----and I had left my spot tracker in the truck.
I turned around here--------I wonder how many ankles have been broken on those steep rocks.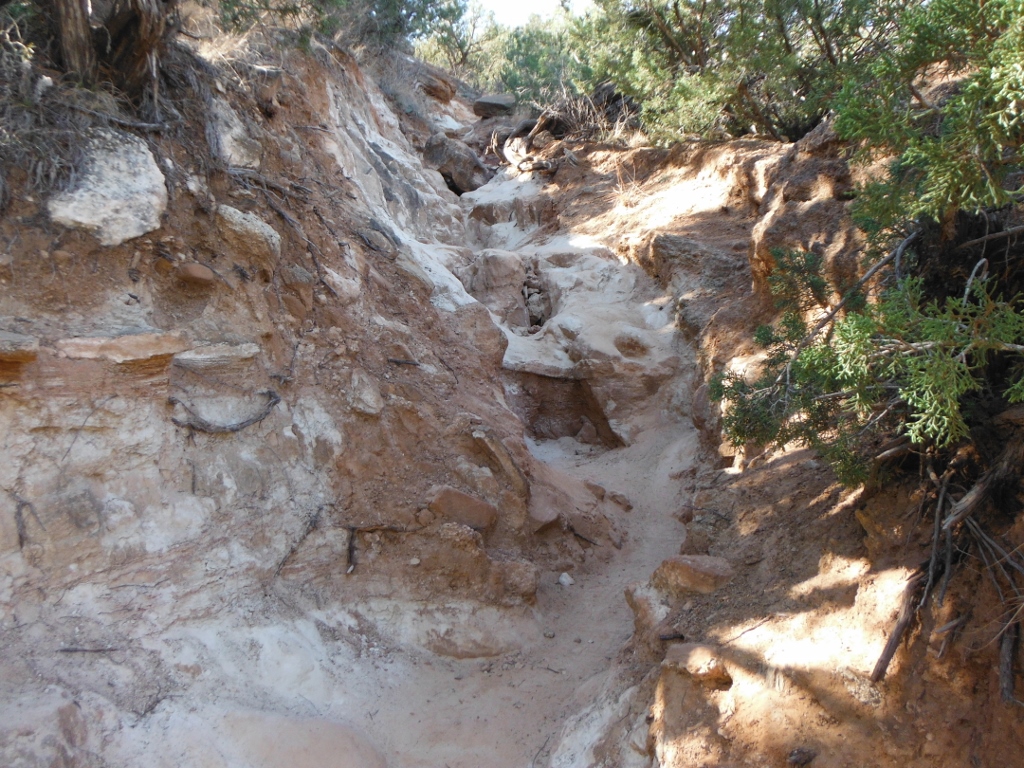 I really took my time on the way back since I was by myself----------I wasn't worn out----just wanted to enjoy the scenery the younger
guys had rushed me thru going in.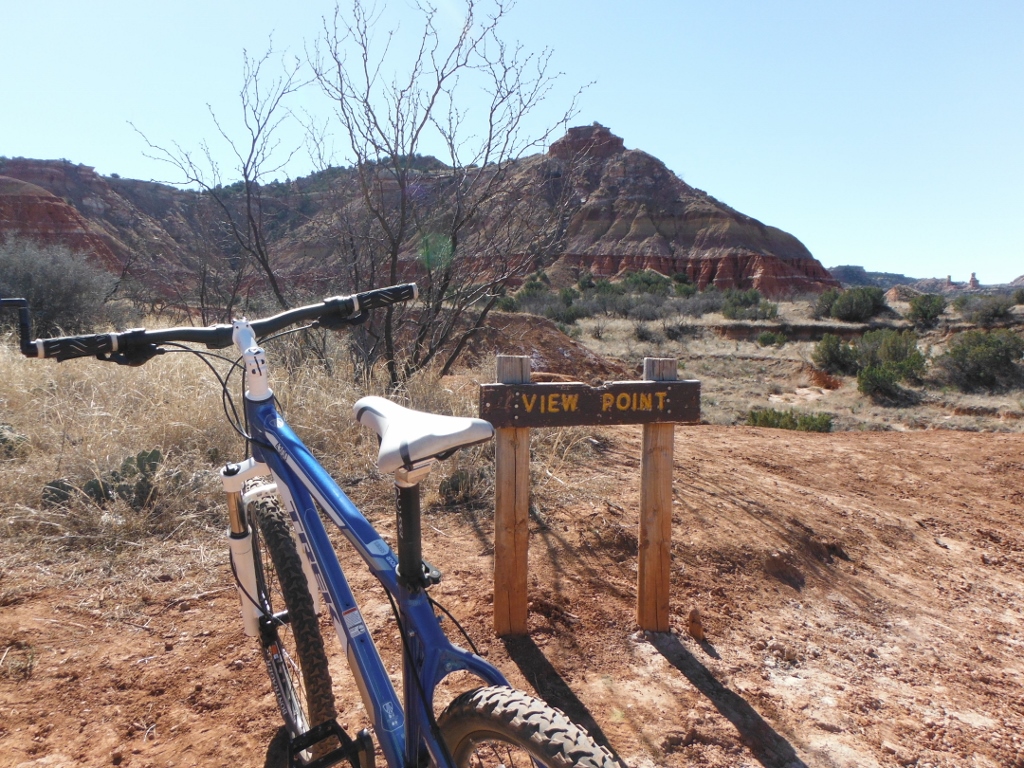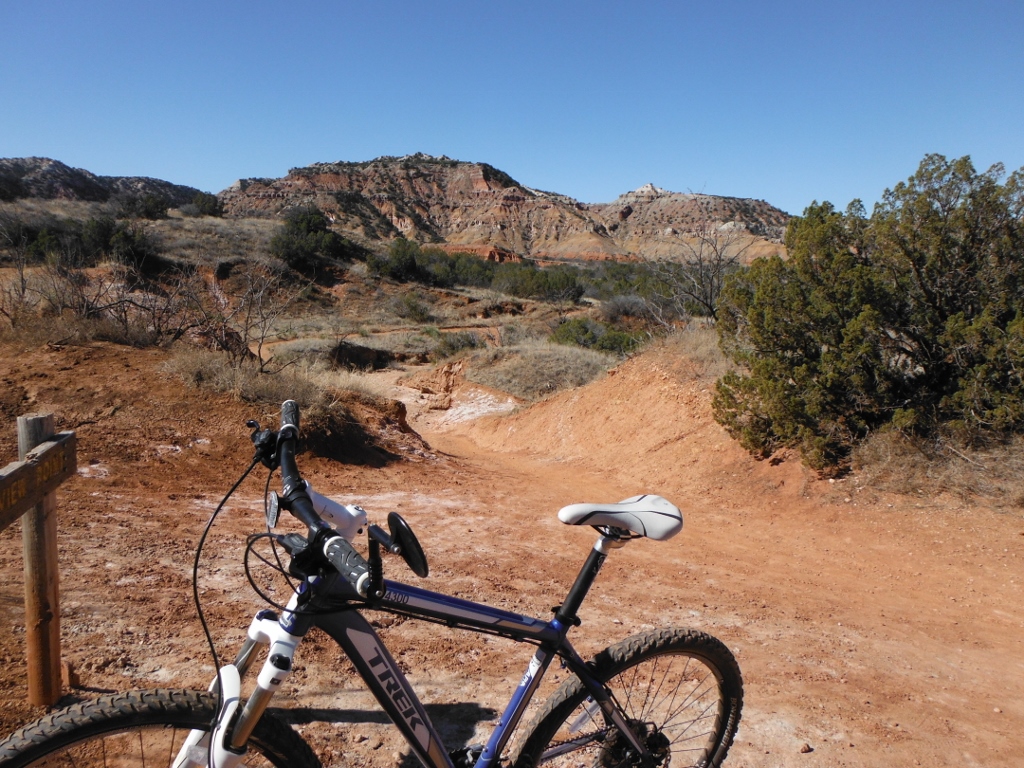 Doing the 10 second timer on your own camera---sometimes can be dangerous.
One little trip and I would have been over the edge.
The view going back was different of course---------and it was mostly down hill.
Sure looks like Utah or Arizona doesn't it.
After this trail I jumped on Rojo trail for about 2 miles------then back to camp------I was tuckered by then and didn't do much the rest of the day.
I just diddled with a few things---went for a walk and took a shower--just in time before a water main broke and
all water was shut off. The boys needed some help---but I hung up my mud boots 3 years ago :)
Dinner wasn't so fancy tonight---I'll sleep good tonight.
Heard a cold rain is moving in tomorrow---I have no phone or internet connection here. So just went with word of mouth.
Probably pull out and head towards New Mexico--need to pick up more groceries on the way.
I'm thinkin' this is the very best state park I've ever stayed in---I truly loved it here.
It was off season--and during the week---so not too many folks here.
The weather was unseasonably warm for the area while I was there---------perfect temps.
Here's a video of the last couple days.
The audio of this one is not so hot---as I was using a different camera than I use on my motorcycle---my other
camera is much better--but not set-up for my bicycle.
Wednesday February 11th, 2015
This morning after breakfast in my van camper--------I left Palo Duro---didn't want to.
A cold rain was coming---might have been snow---so I climbed outo Palo Duro Canyon .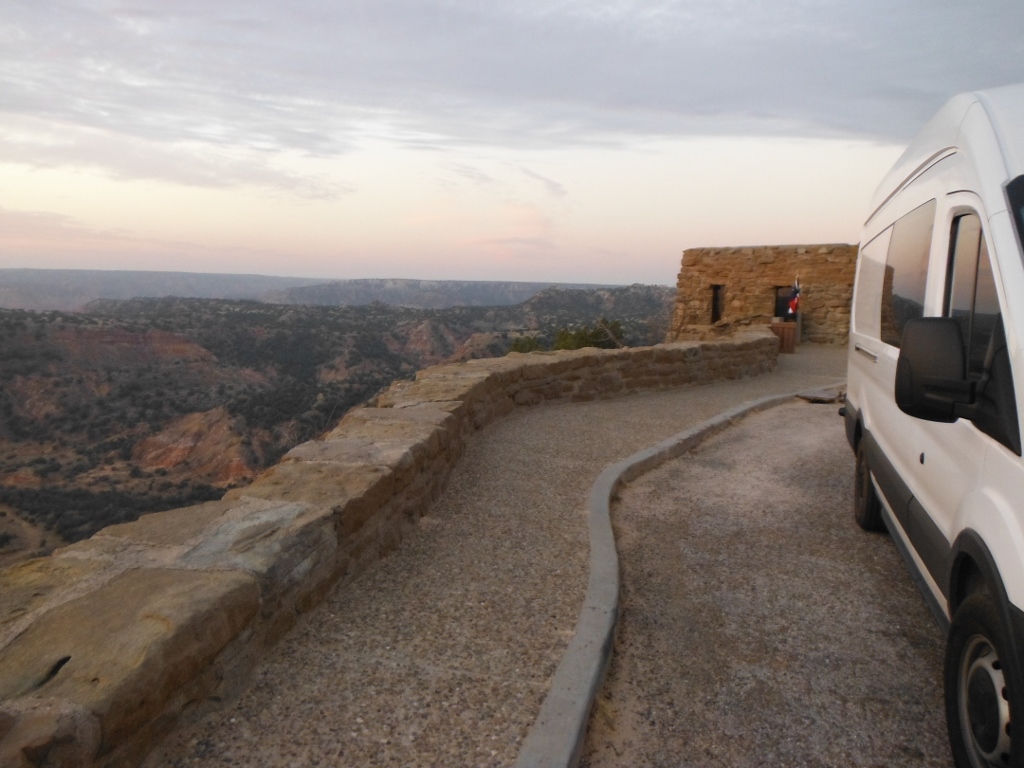 These pictures aren't too good-------it was a bit hazy out and the sun hadn't popper over the horizon yet.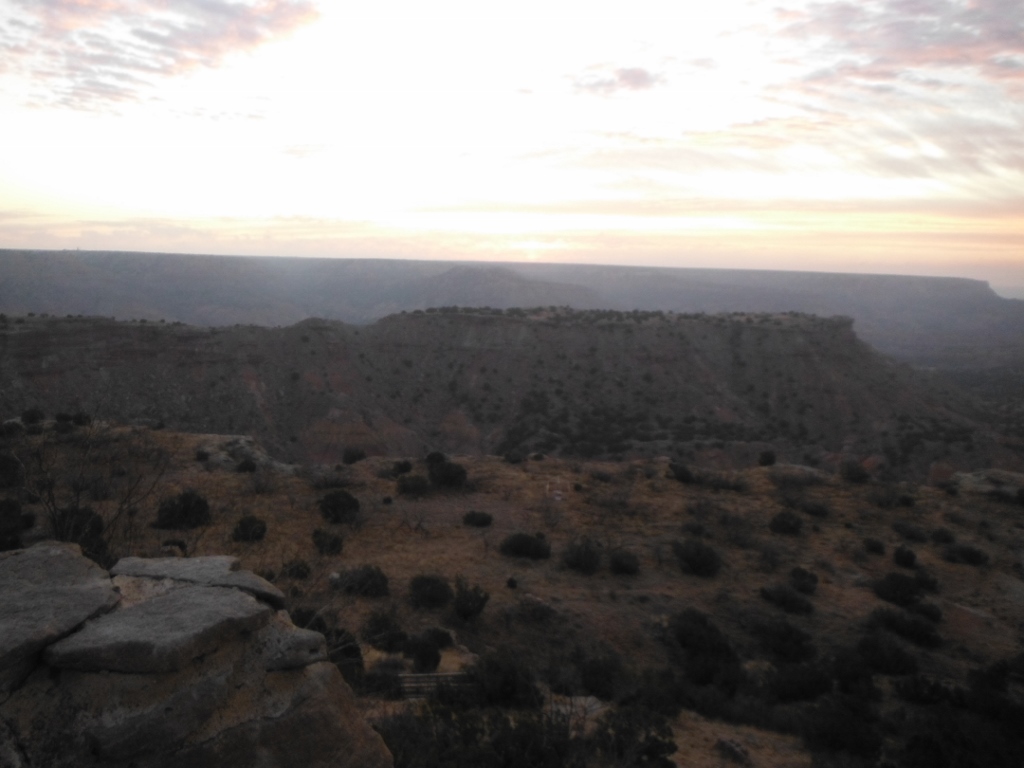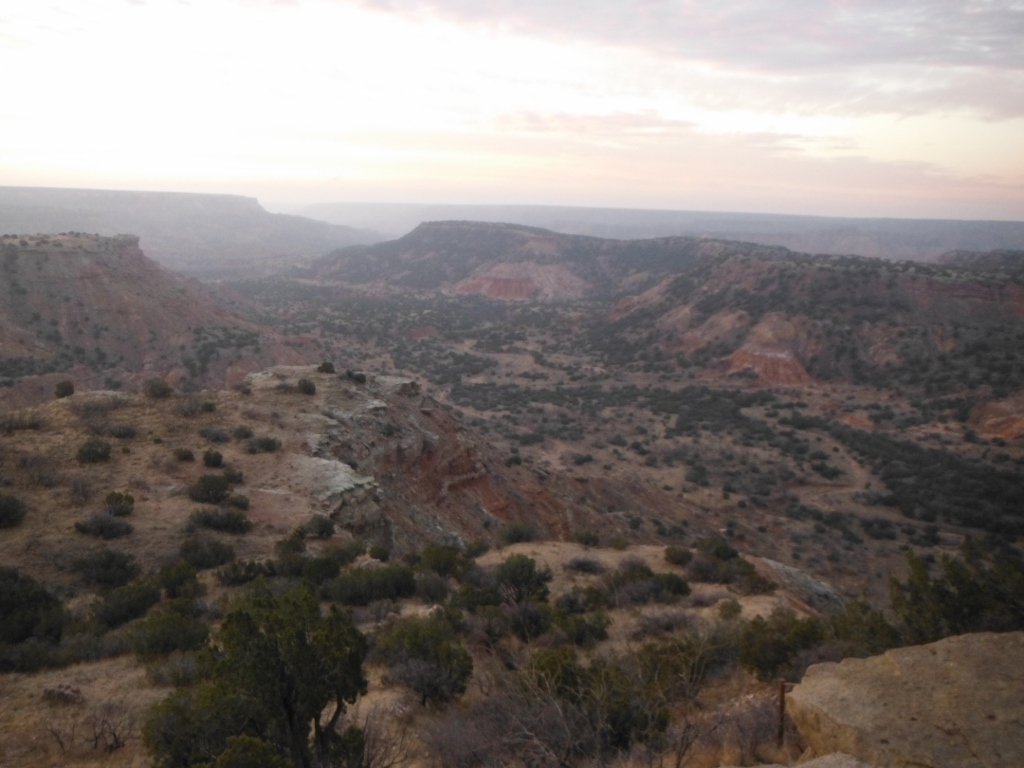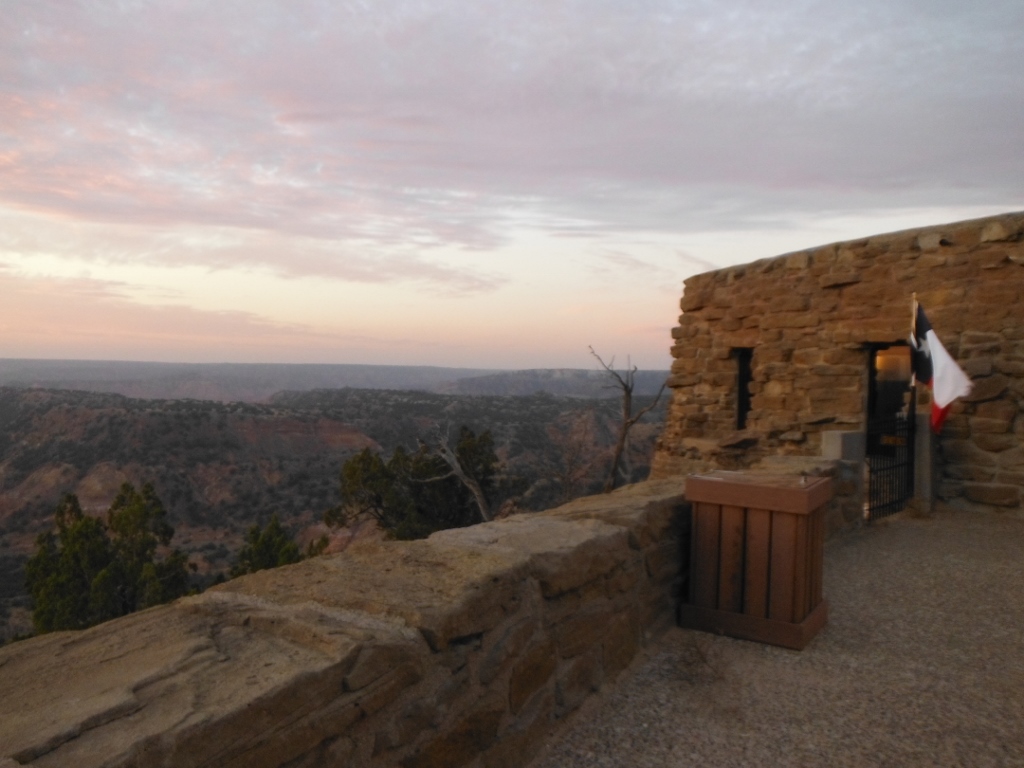 On my way South the wind was really strong at my back and I got some really good fuel mileage----about 25 I think.
It's a diesel motor---almost as good as my old sprinter diesel.
I was looking for "stuff" along the way---------and cruised thru Wink, Texas.
This little museum is kind of sad---------little hole in the wall for such a great man----Roy Orbison..
I think he was born in this town--------you better be really looking or you'll pass right by it.
He was one of the best singer song writers ever.
Makes shivers go up and down my spine listening to him sing.
The temperature was going straight down.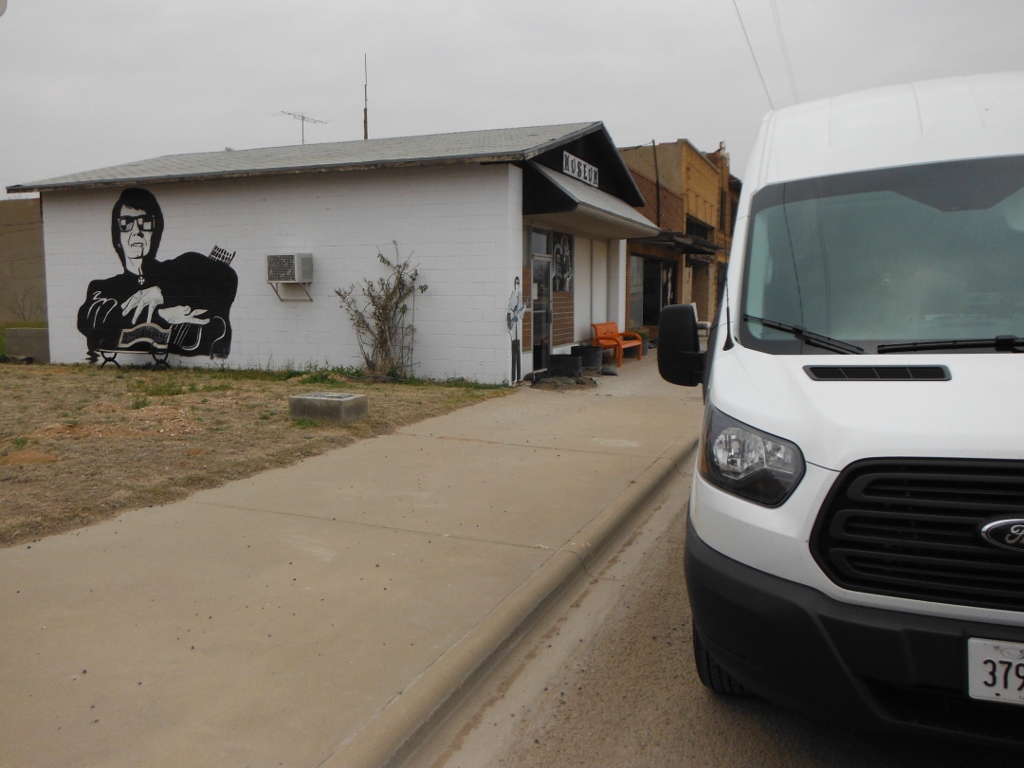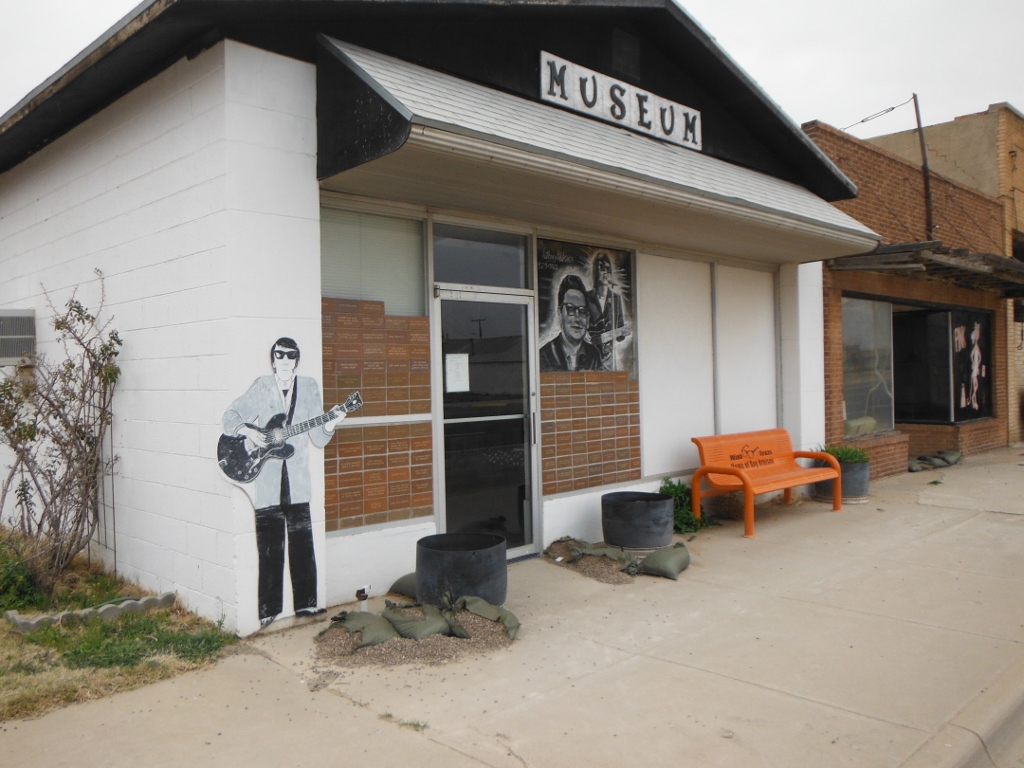 To get inside you have to call a little old lady ---and she'll let you in.
You aren't suppose to call her after 5PM---and I respected that---but I really wanted in---but just got this picture.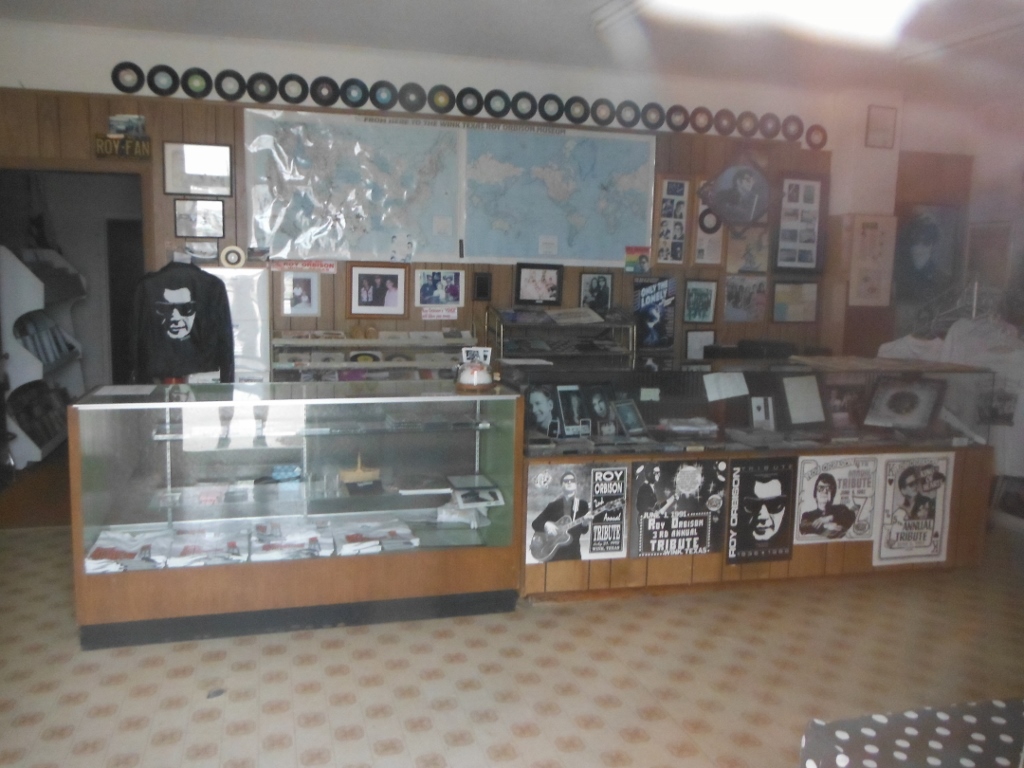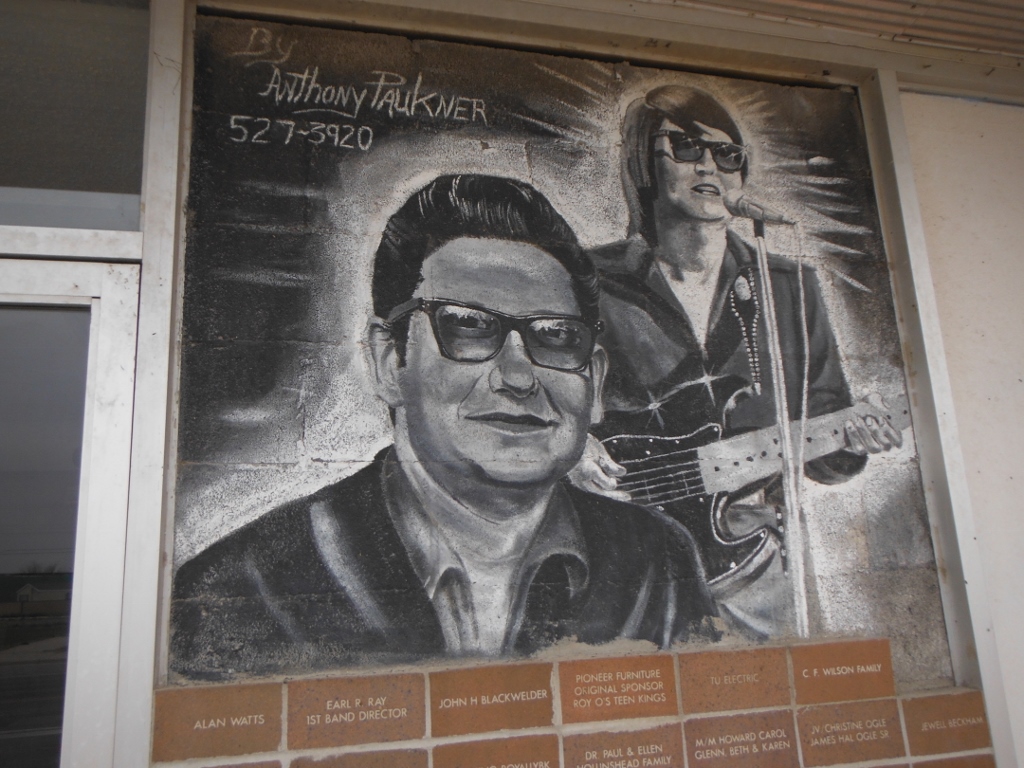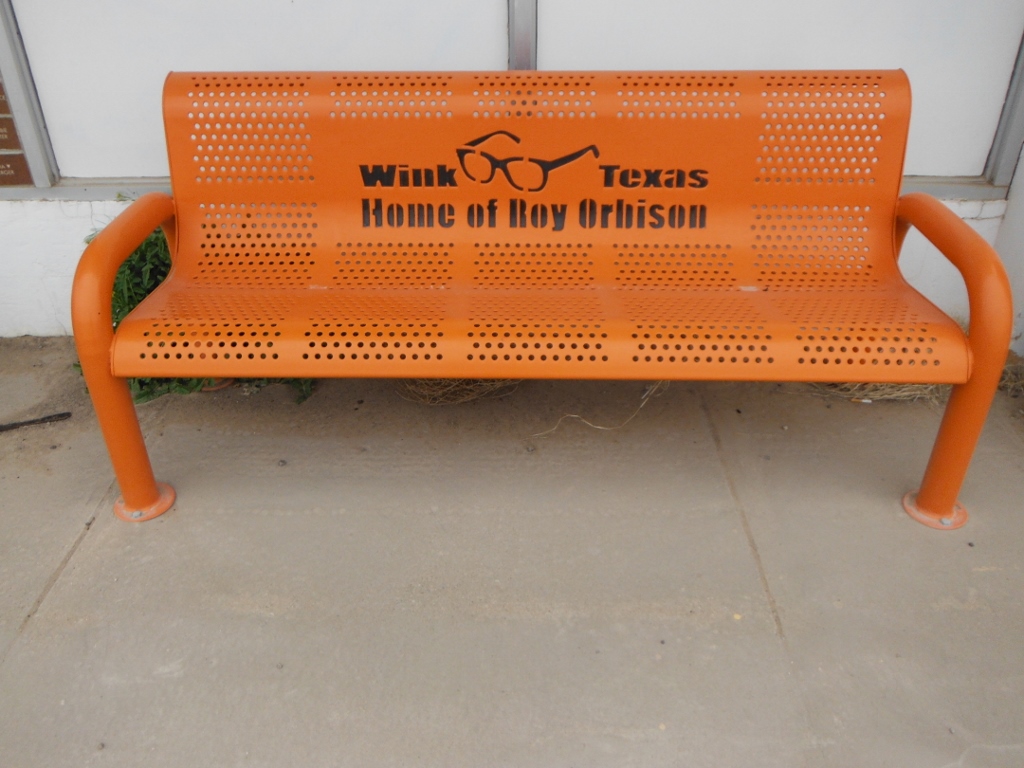 Next stop---thru the loneliest town in the whole USA.
I think there is something like 900 people in the whole county.
Why did I go there intentionally ??????
I had heard of it years ago----and just had to get out---look around--and enjoy the serenity.
Welcome to Mentone, Texas-------------just West of Wink, Texas.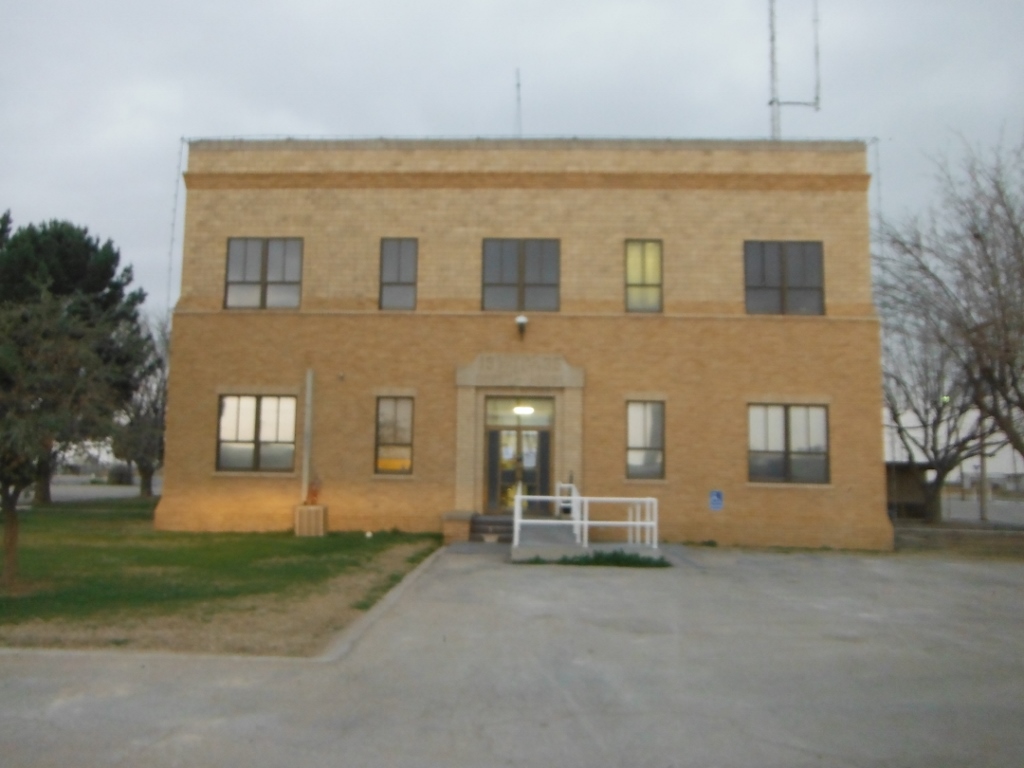 I camped in my van that night ----------boondocked-----I call it. That's free !!!!!!
February 12th, 2015
I took off in the dark the next morning-----a good 2 1/2 hours before daylight and ran into a blinding snowstorm
North of Fort Davis, Texas.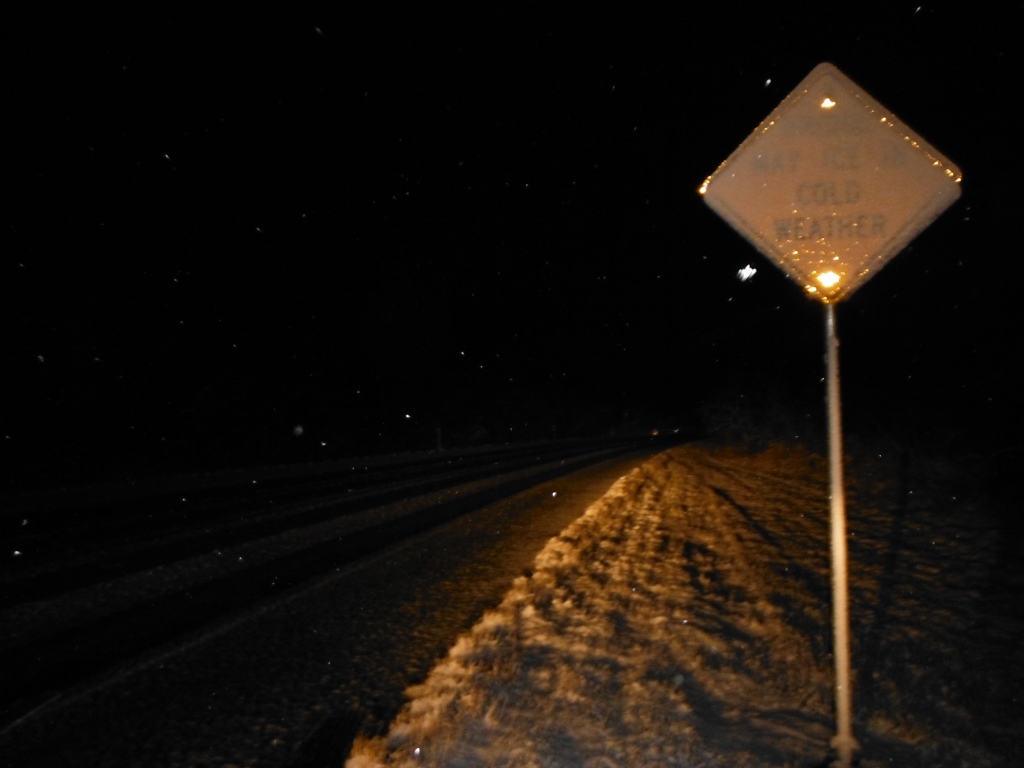 I decided to camp in Davis Mountain State Park for the rest of the day and night.
I've been here before but now alone---had a better chance of looking the place over better----and made a snowman.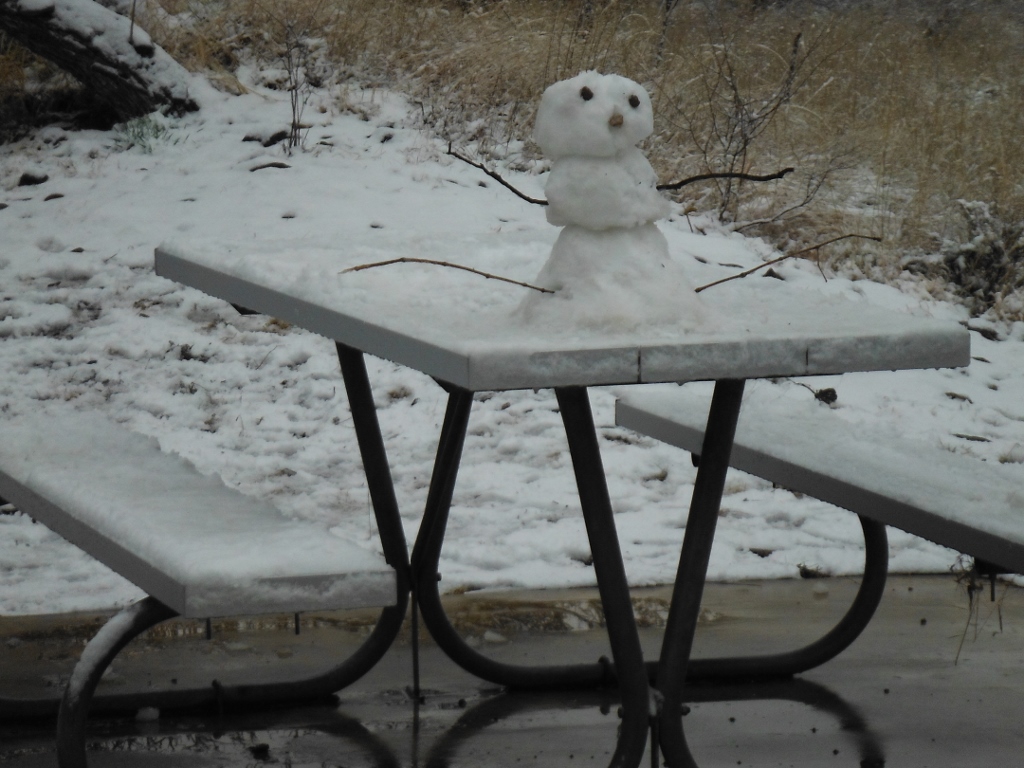 I went for a long hike on a mountain bike trail----it wasn't fit for riding---for me anyway.
I was alone--------nobody knew where I was at ---and after 2 miles I saw a Mountain Lion warning sign
and ska---diddled back to camp. Chicken ????? ..........well............yeh.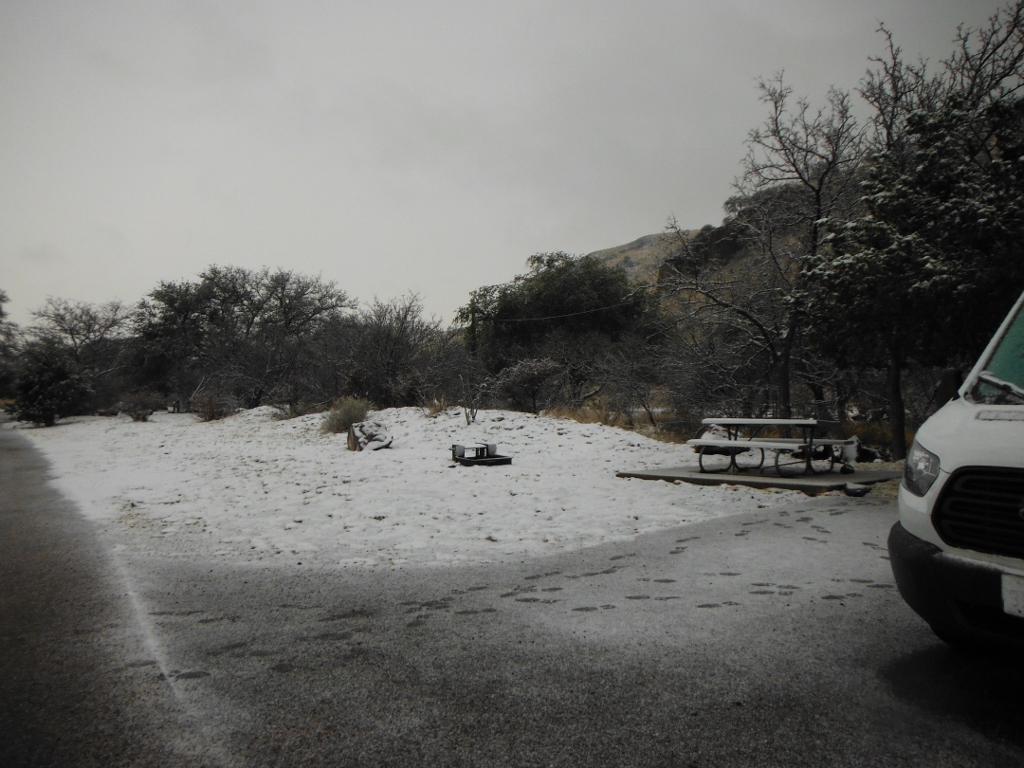 I drove the van up to 2 different peaks.
The pictures just don't do justice to how pretty the snow covered scenery was.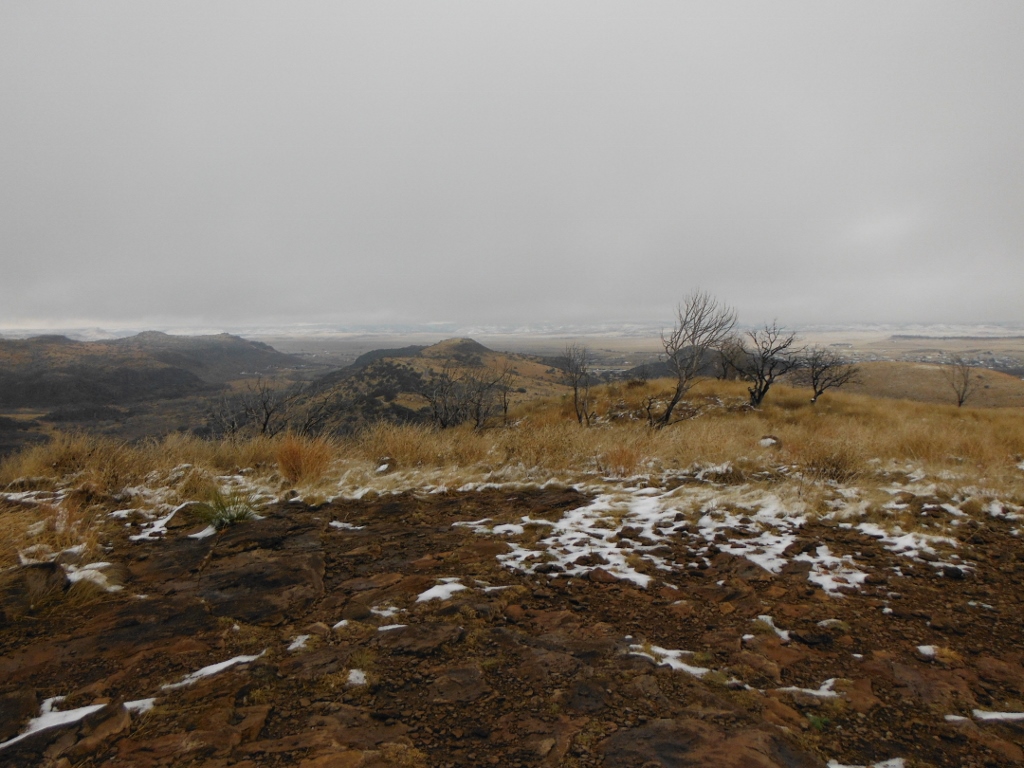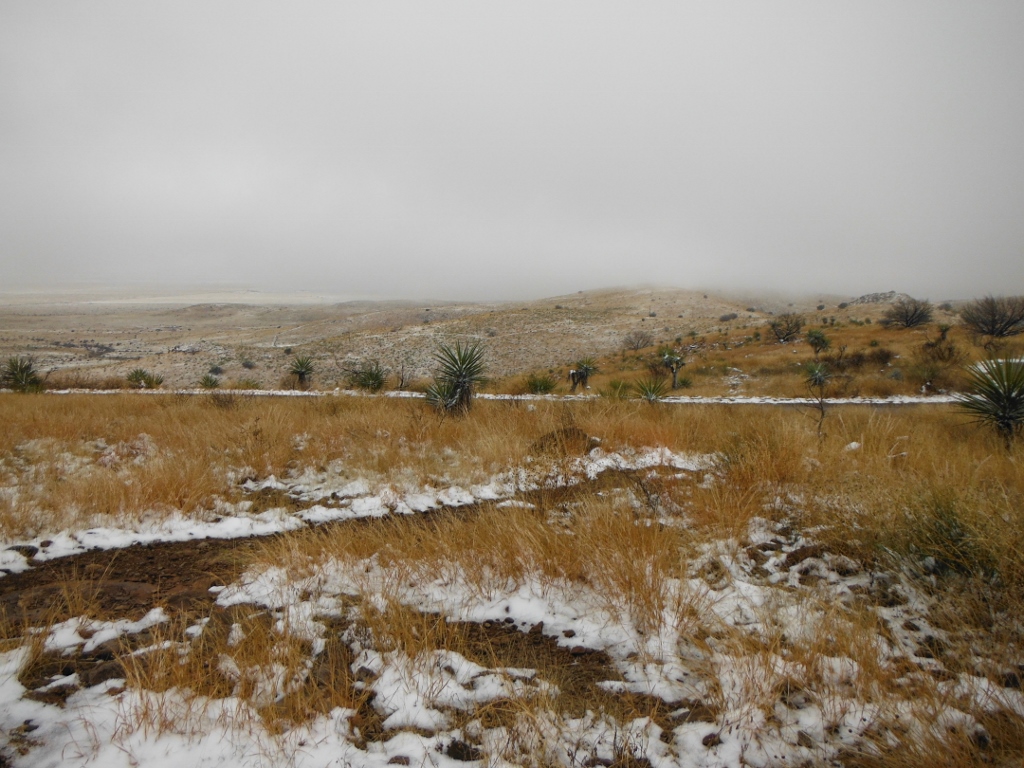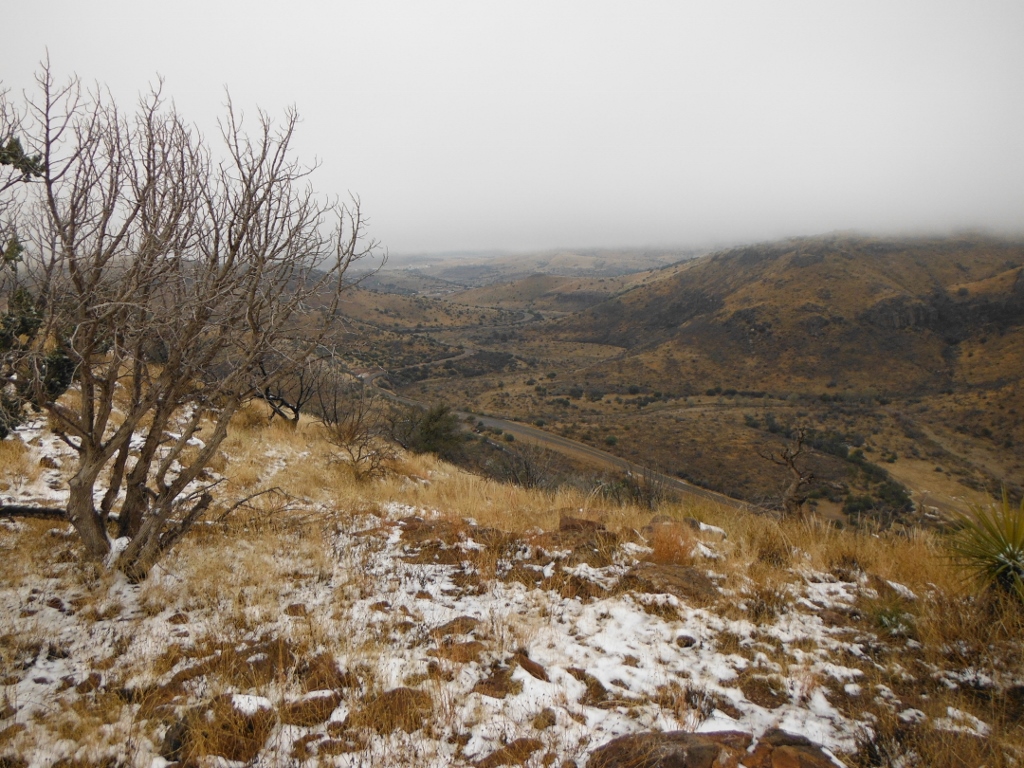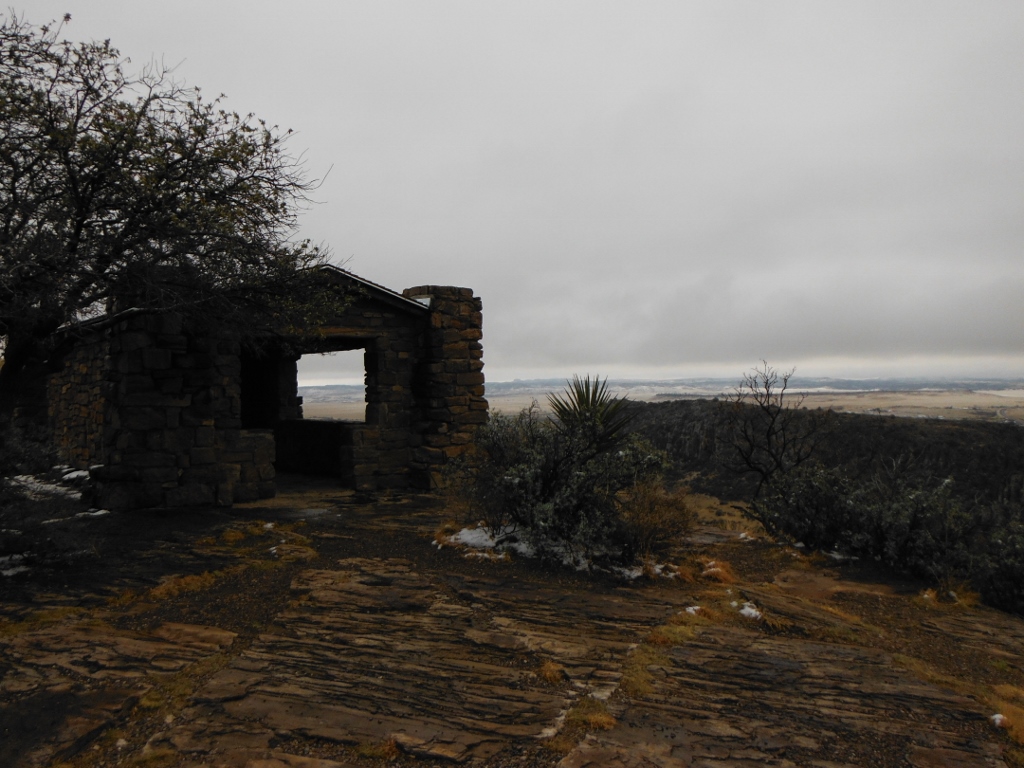 I think that is the town of Fort Davis down there.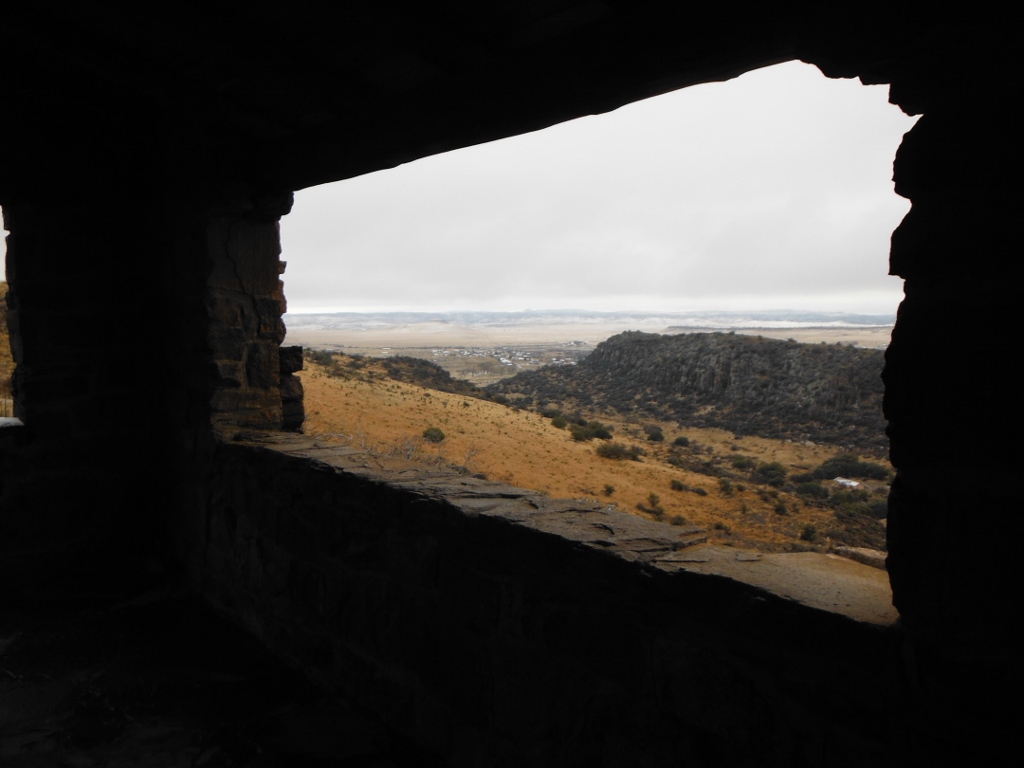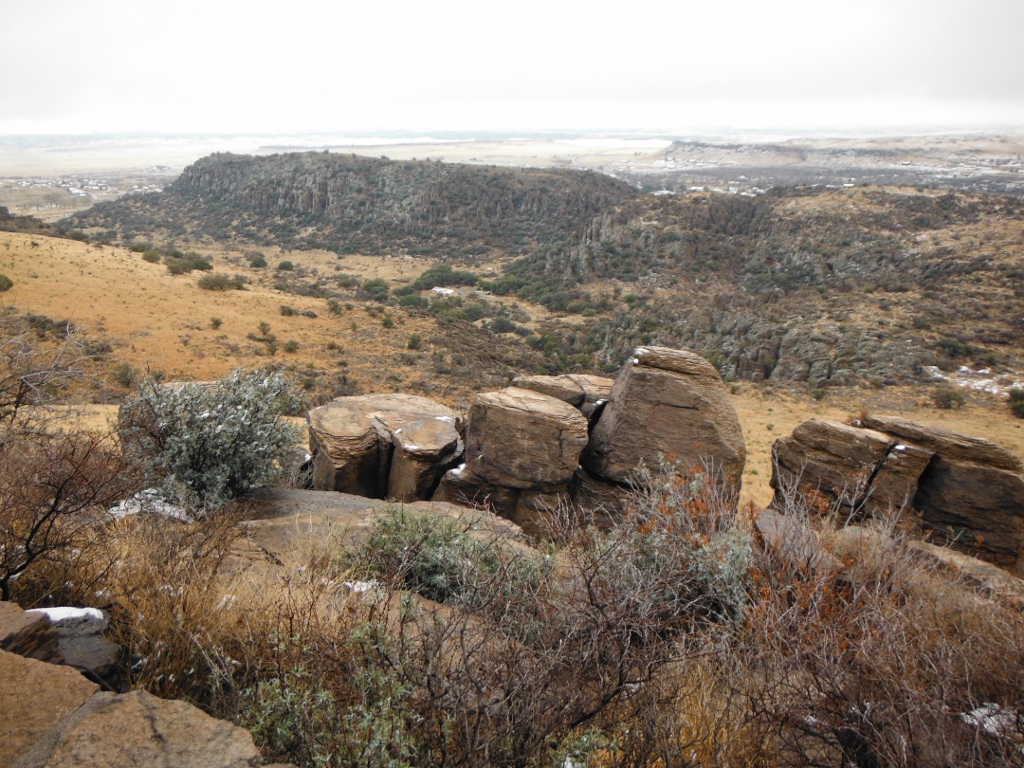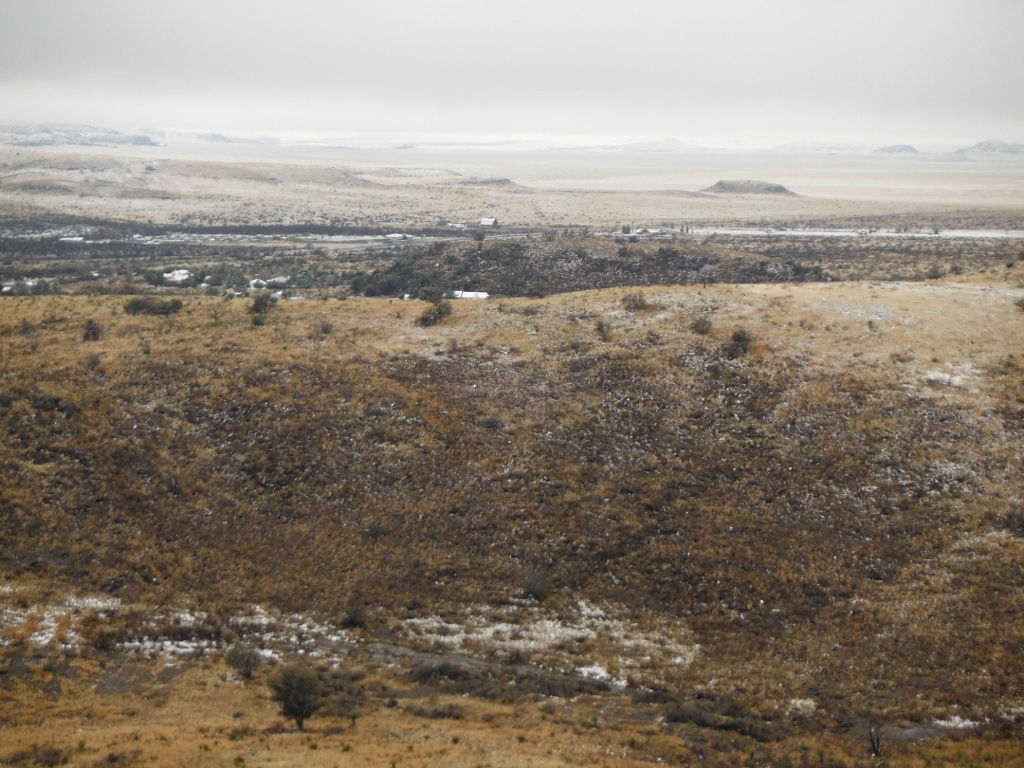 My lovely wife is always taking care of me------when I was leaving she handed me this neat little 110volt stove.
I didn't really want it-----but took it-----man was it handy---been dangerous firing up my propane stove inside the van.
Then-------I pulled out my laptop and out fell a valentine card------I guess I shed a tear----I love you Debi !!!!!!!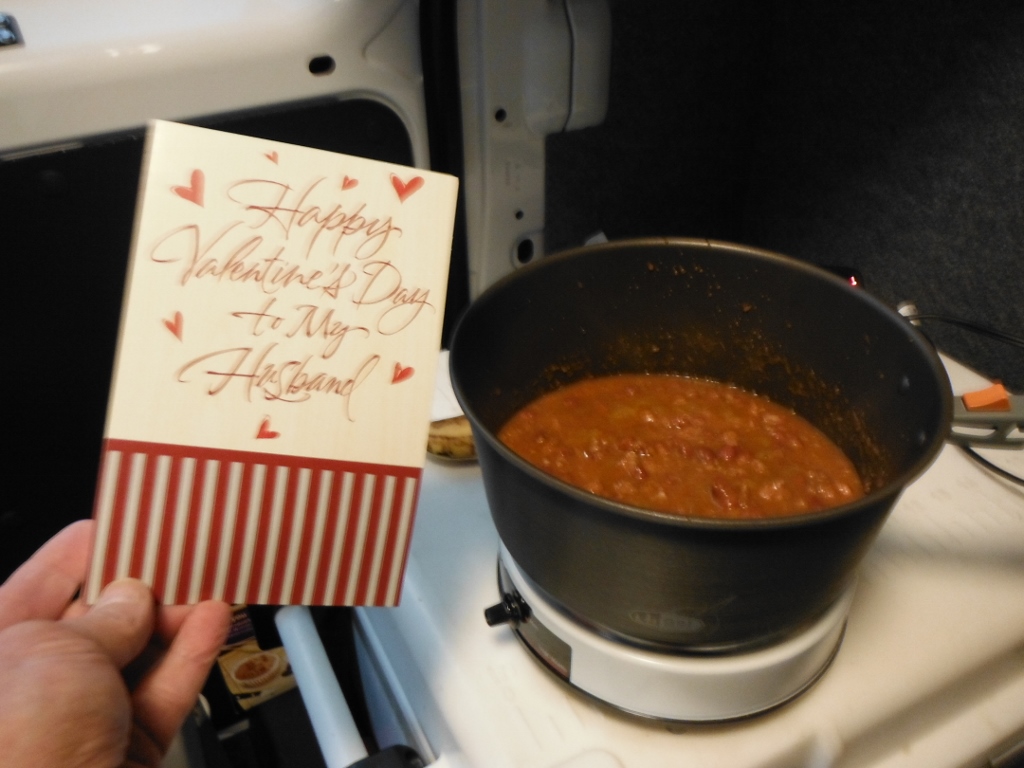 February 13th, 2015
I pulled out of my camp in Fort Davis and headed South to Marfa, Texas------it wasn't very far.
Hoped to camp somewhere and ride a rode along the border I'd never ridden.
I was wandering around Marfa in my can and went by a campground and saw a Mercedes sprinter with a bike by it.
I made a U-eeeee------and met my newest friend Jake---and his BMW F650.
It didn't take us 30 minutes to decide to go for a ride.
I told him where I was wanting to ride to and would like company-------lo and behold he wanted to go to a hot spring
that was right non the way----------first a bit of pavement then we hit some dirt roads which were a bit mucky from the snow a couple days ago.
The same snow storm that hit me in Fort Davis---------but it was drying out.
Look at those georgeous mountains. I think it was highway 2810 we started heading Southwest out of Marfa.
Jake had read all about the hot spring and it sounded really neat.
Jake didn't have a GPS---but I had a waypoint for it---some of the roads in the gps had gone back to nature---but we found it.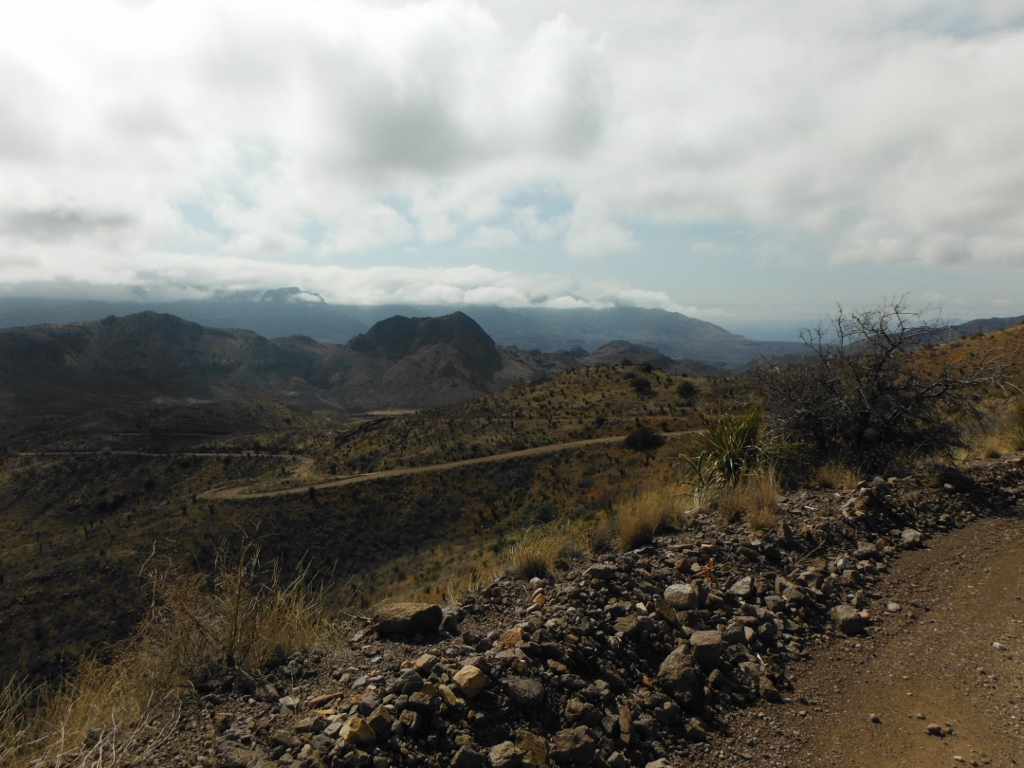 We found the turn to the springs-----it was 6 miles down the road--the town of Ruidoso was straight ahead ---but as
you'll see in a bit was a ghost town.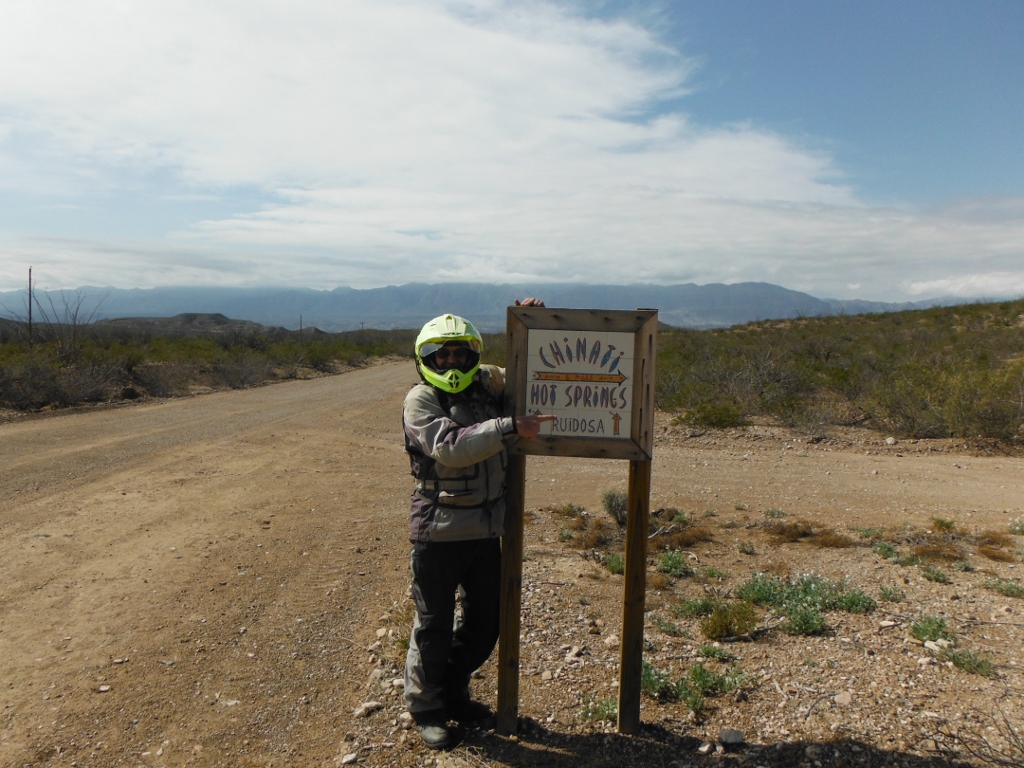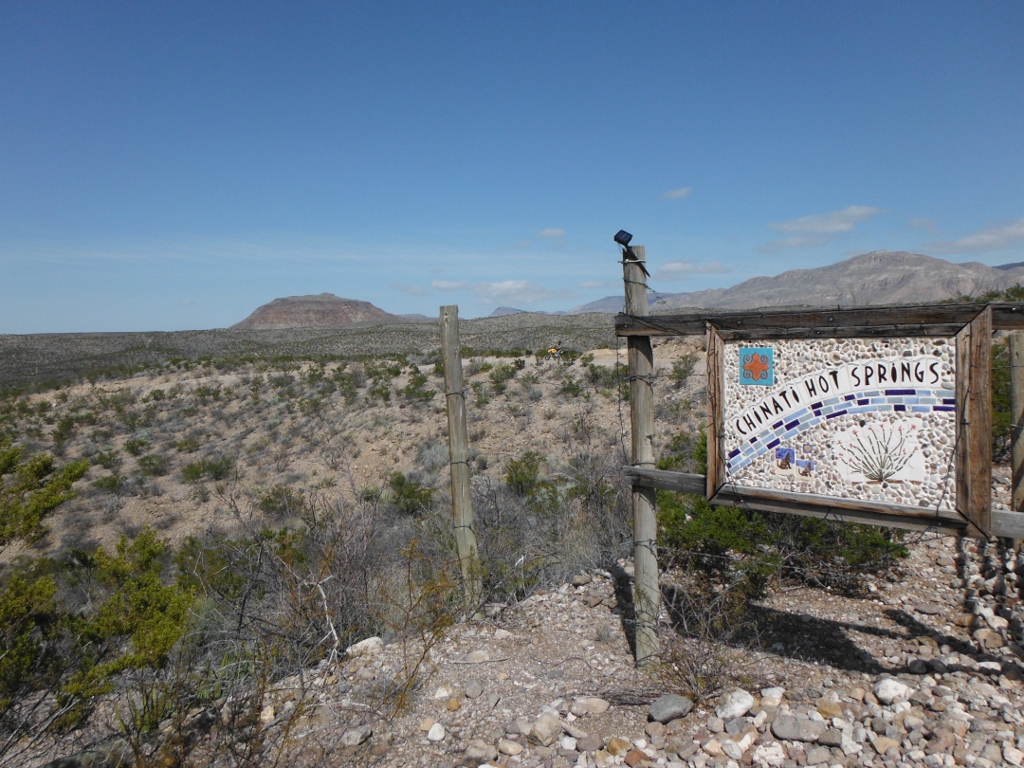 The place was down a dead end road in the middle of nowhere--but had electricity.
Several old cabins to stay in----each with a natural hot tub.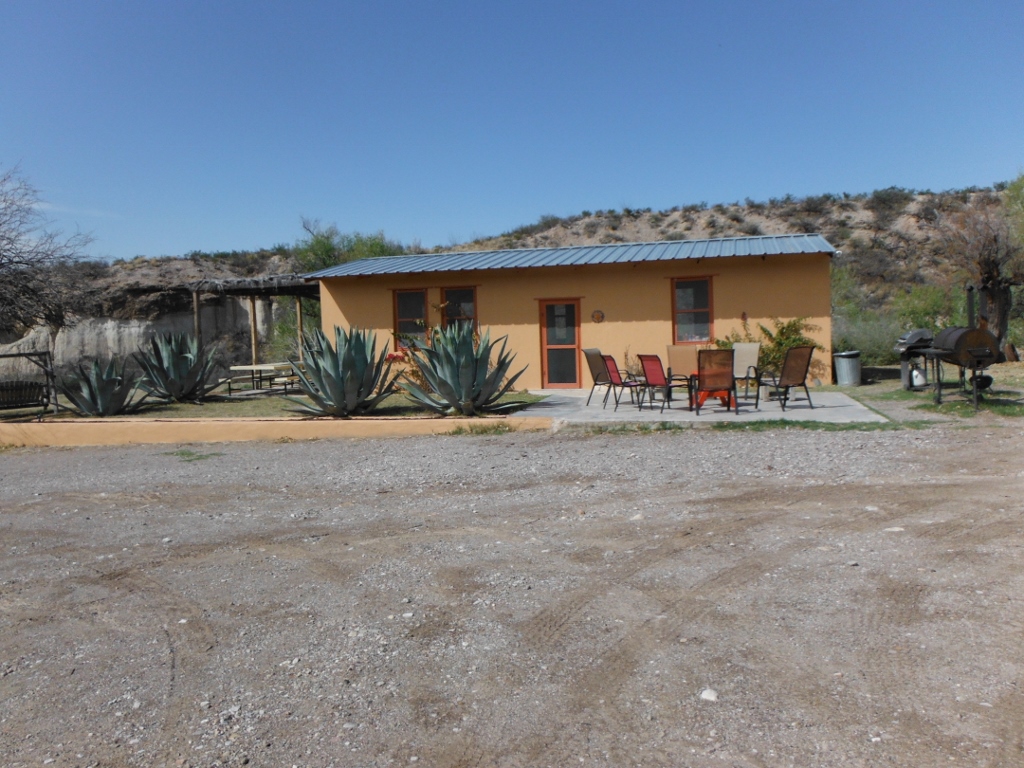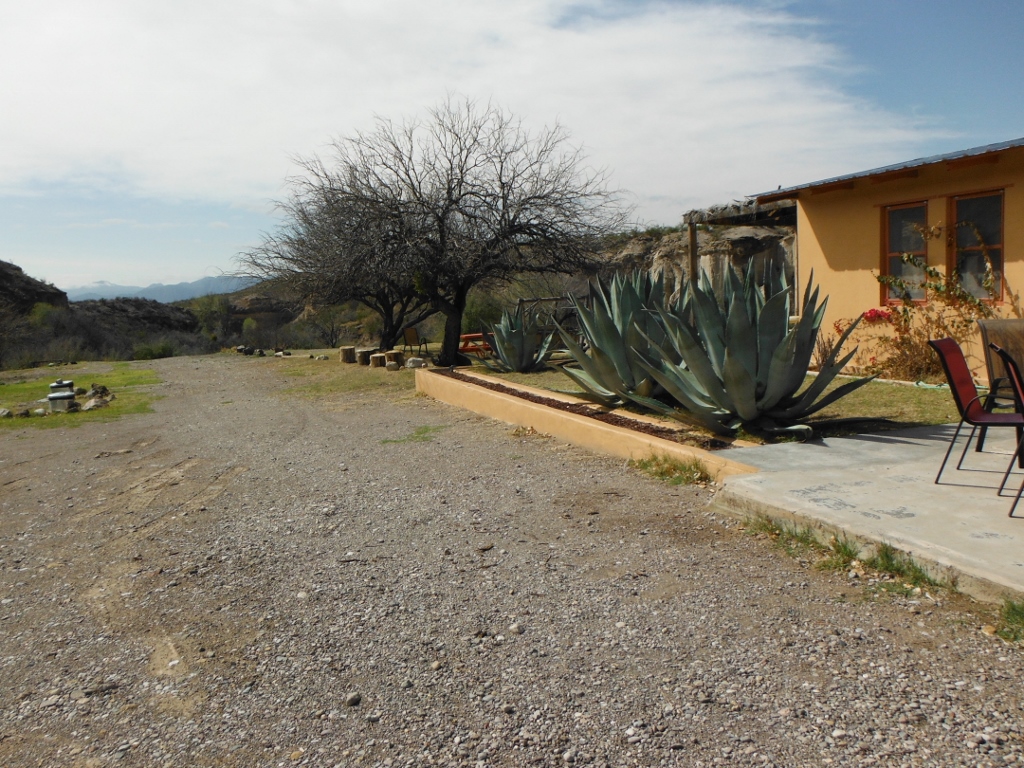 I asked Jake to stand by this plant so you could see just how big it was------they were everywhere.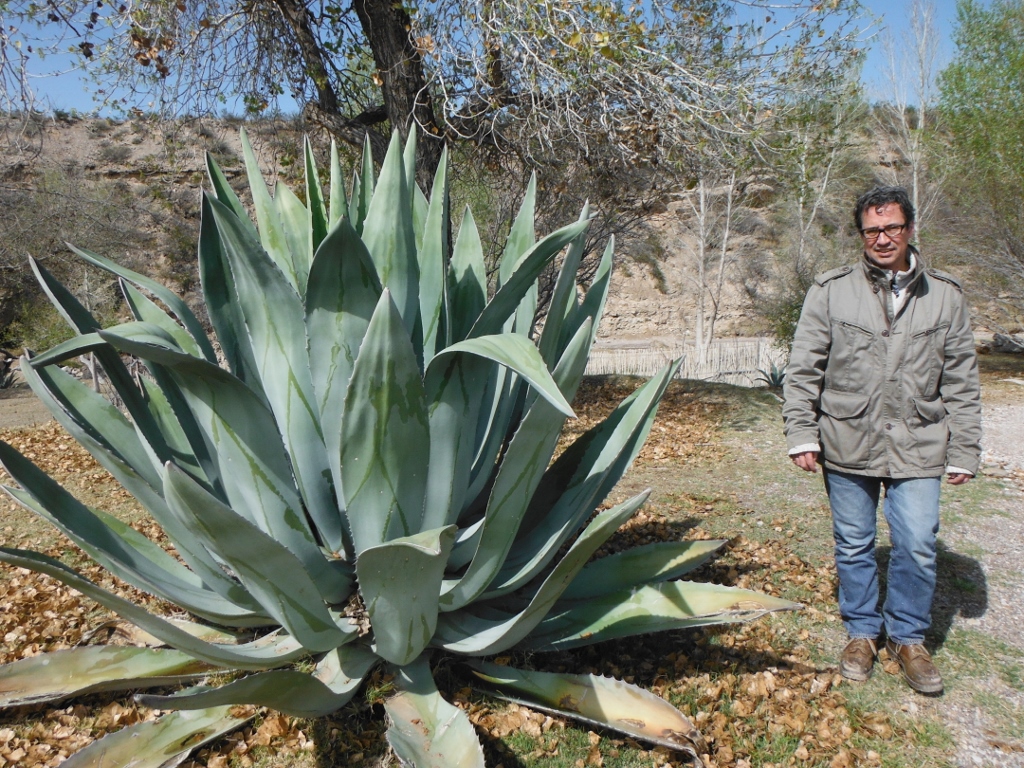 A beautiful creek ran right by the place with a canyon wall on the other side.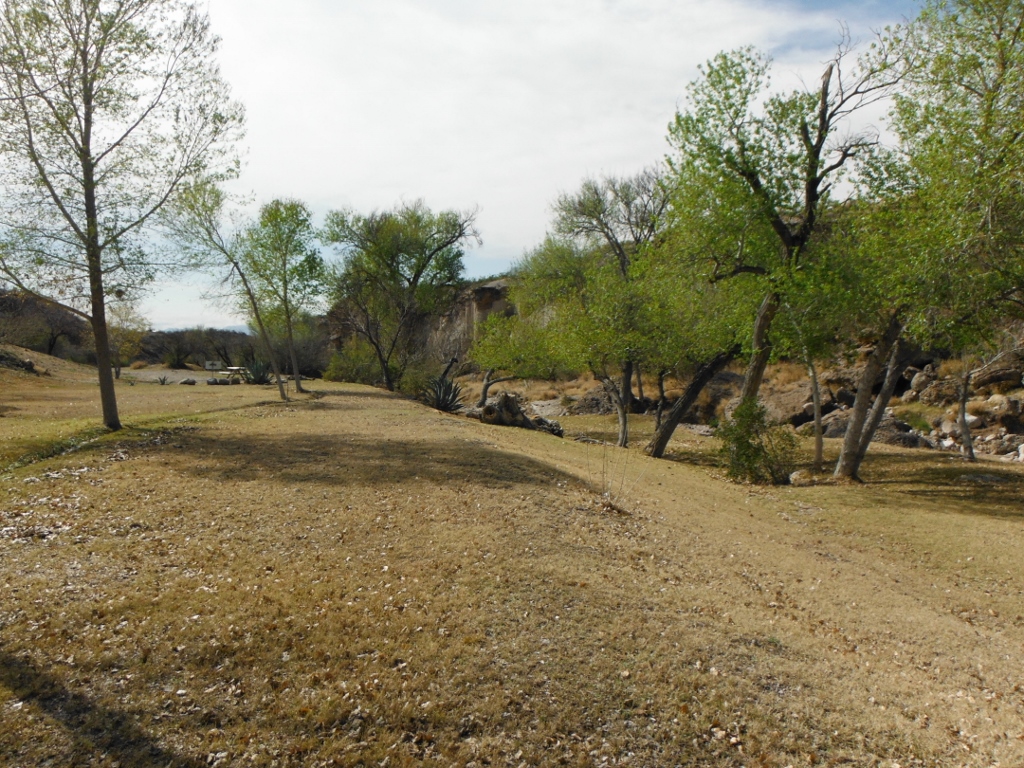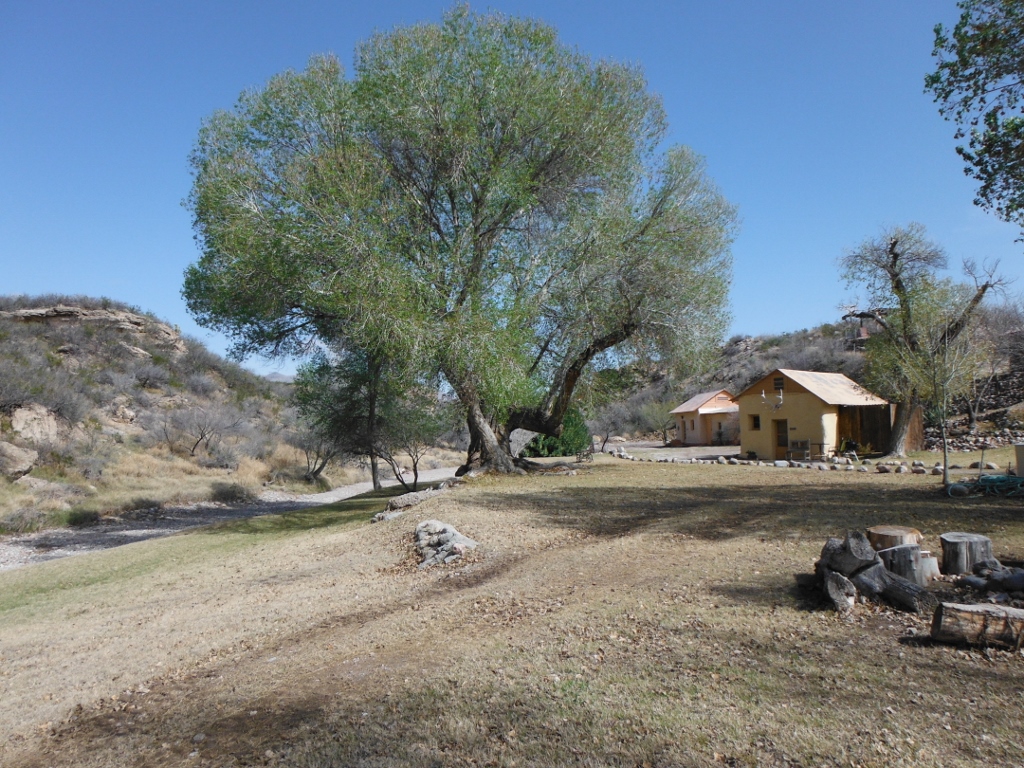 The nice lady and owner was there all alone---nobody was there.
Jake had to be back to Marfa that nite--his wife was back there in their camper and they had plans.
I wished we could have just stayed there.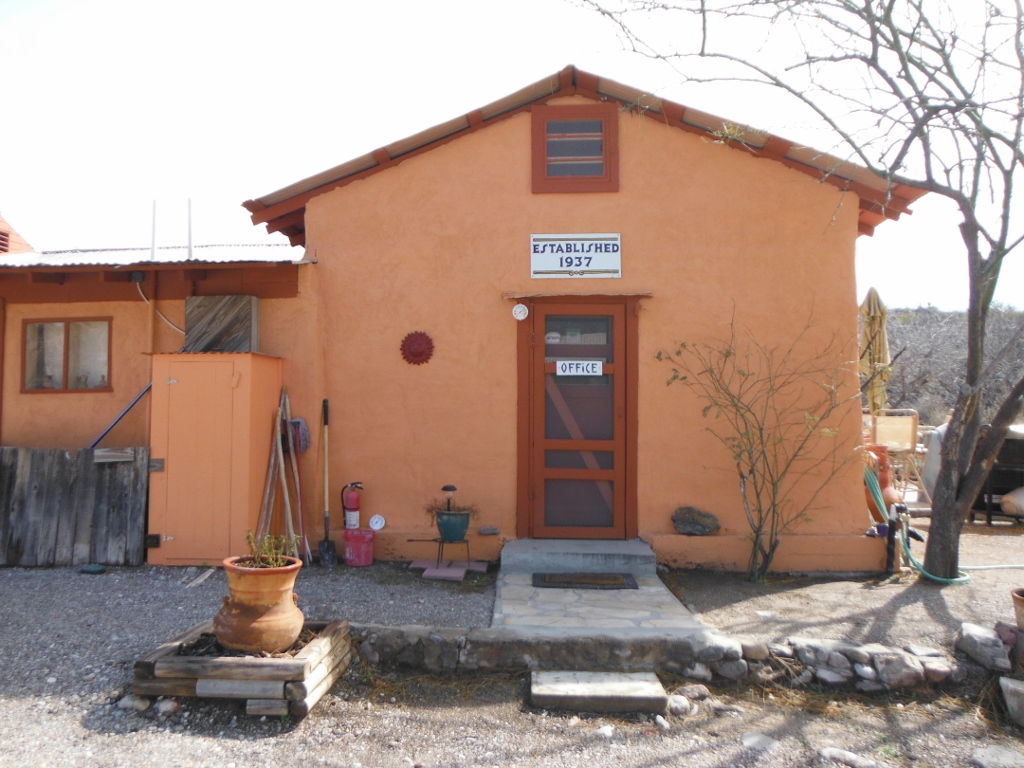 This pool wasn't a hot pool------it was regular water for summertime cooling off.
So I was kind of warm and went for a dip.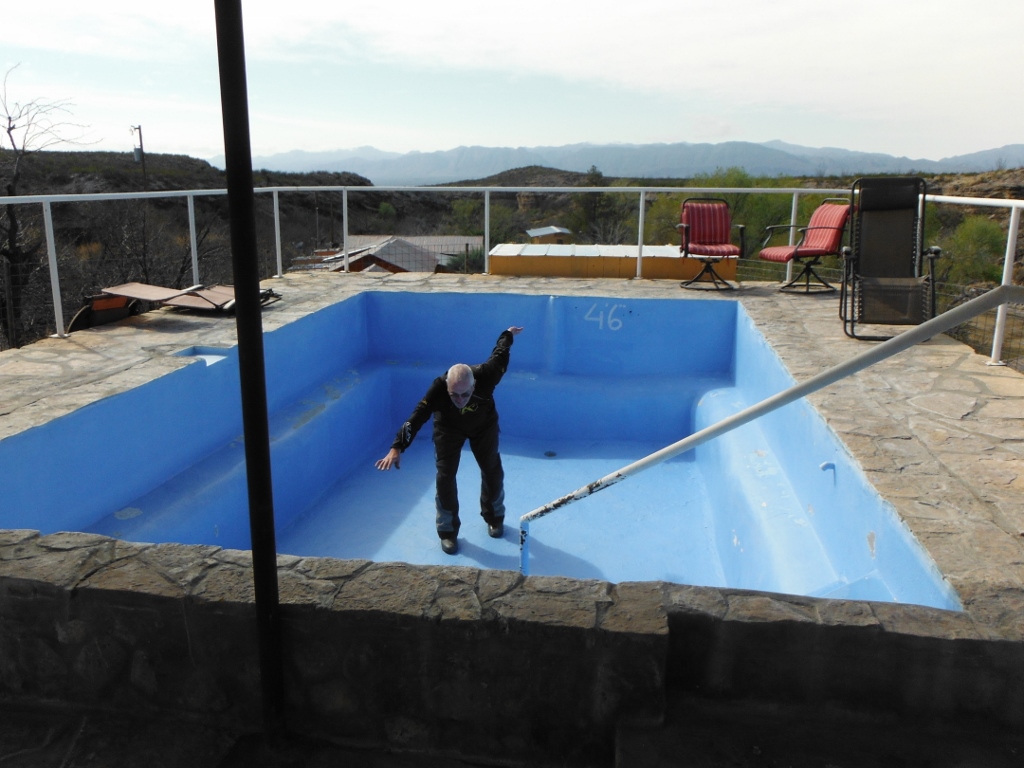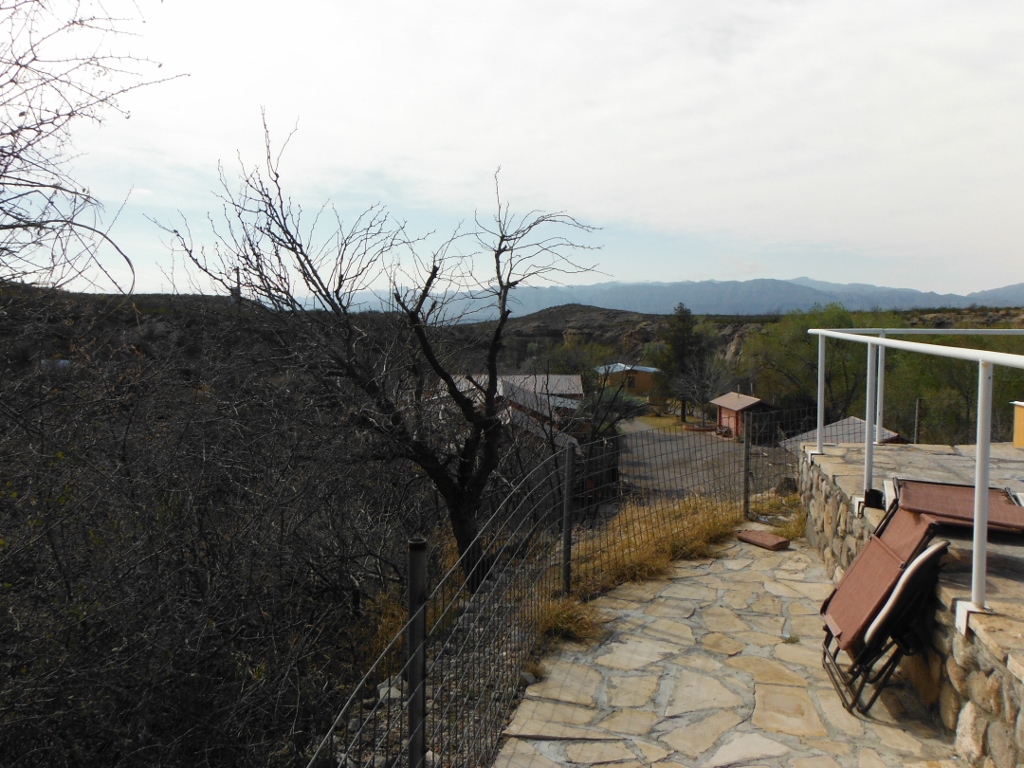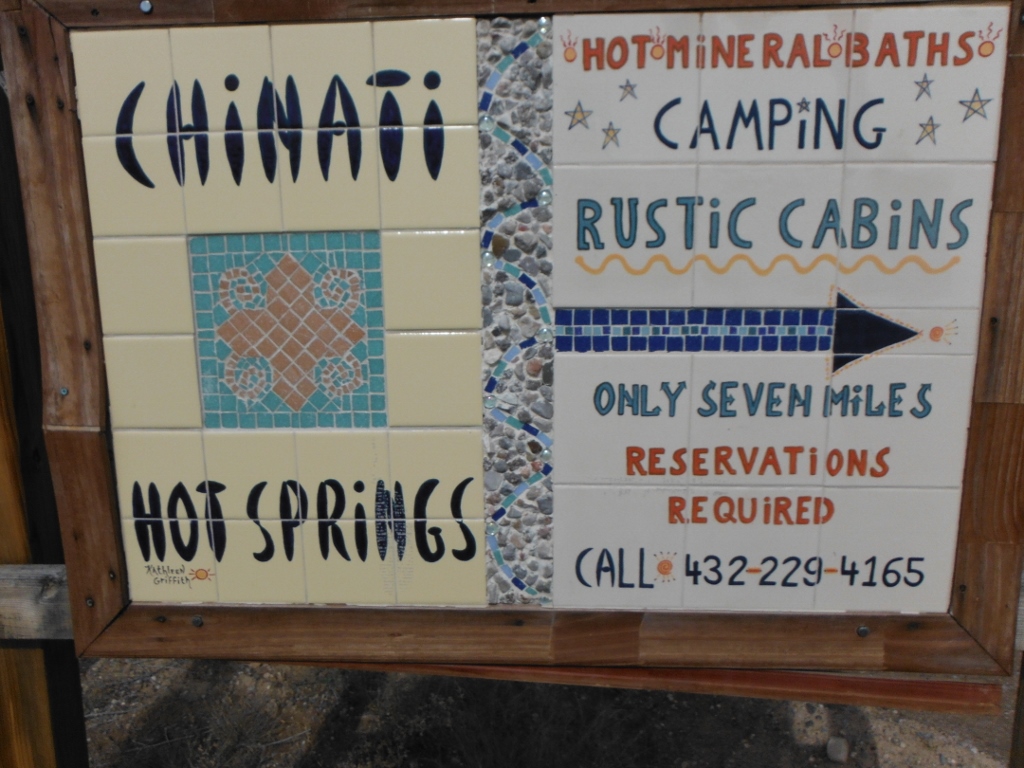 We left there and went straight for the Mexican border and turned Northwest to ride a dirt road that I heard was pretty rough.
The gal at the hotspring said we'd never make it------so we naturally took off for it.
I think we rode about 5 miles down it-------and I pulled over and we had a pow-wow.
And figured out we neither one had enough gas to ride thru there.
So we headed toward Presidio, Texas and went thru the ghost town of Ruidoso.
I don't think anybody lived there---but there were lots of long abandoned adobe homes and a couple churches.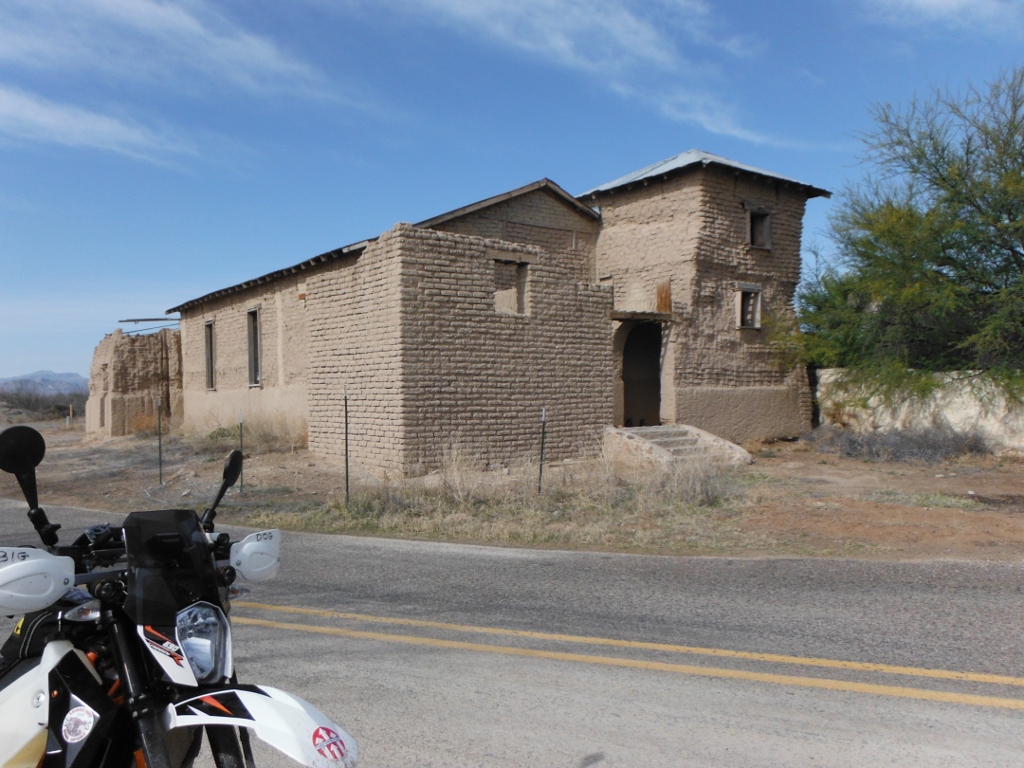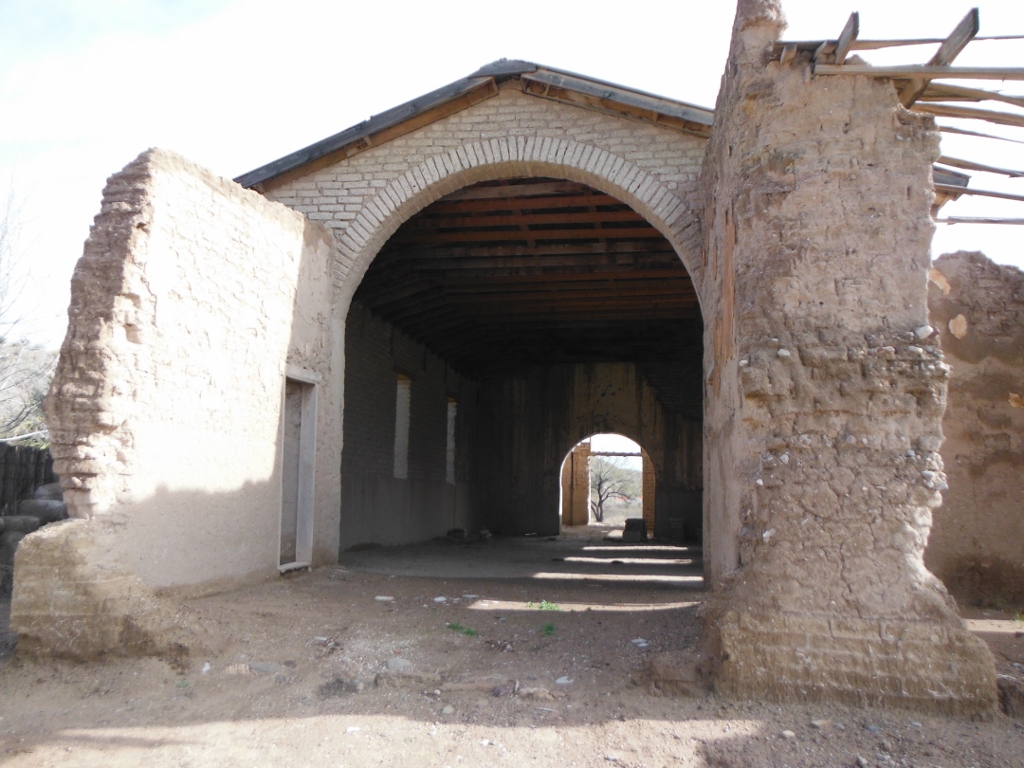 On the pavement back to Marfa we passed a rock that had a resemblance of president Lincoln.
Fuzzy picture ---------but you can see it.
It was almost dark when we got back to camp---rode 173 miles and didn't start till noon.
The weather was beautiful today.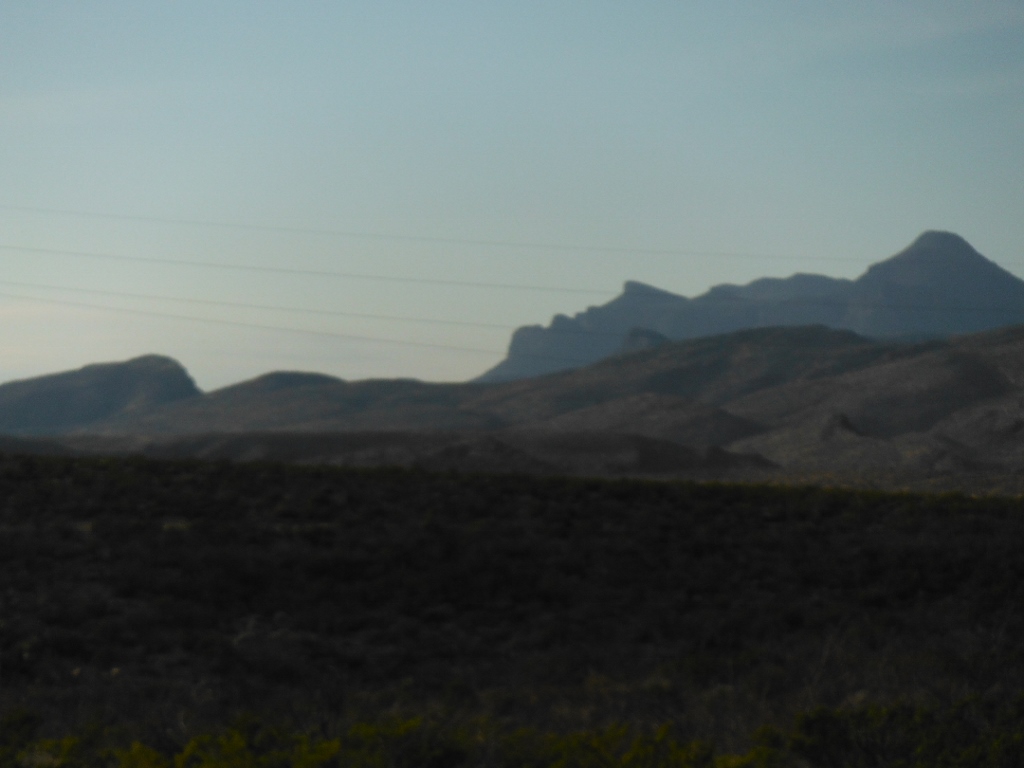 February 14th, 2015
Still camped in Marfa----today was valentines day and I decided to go to the little town of Valentine, Texas.
They were celebrating valnentines day there and had lots of really good entertainment coming to the little ghost town.
I love music---and I wasn't dissapointed at all.

I had a hoot there talking to all the cowboys there who worked or owned all the big ranches in the area.
I pretty much was the only one without a cowboy hat it seemed.

My friends I met at camp went to.
Pretty much all I did today----here's a few pics.
But first after I ate my own breakfast---I went to Jakes and his wifes camper and she fixed me some more coffee and a bagle.
They had a really nice Sprinter Mercedes camper.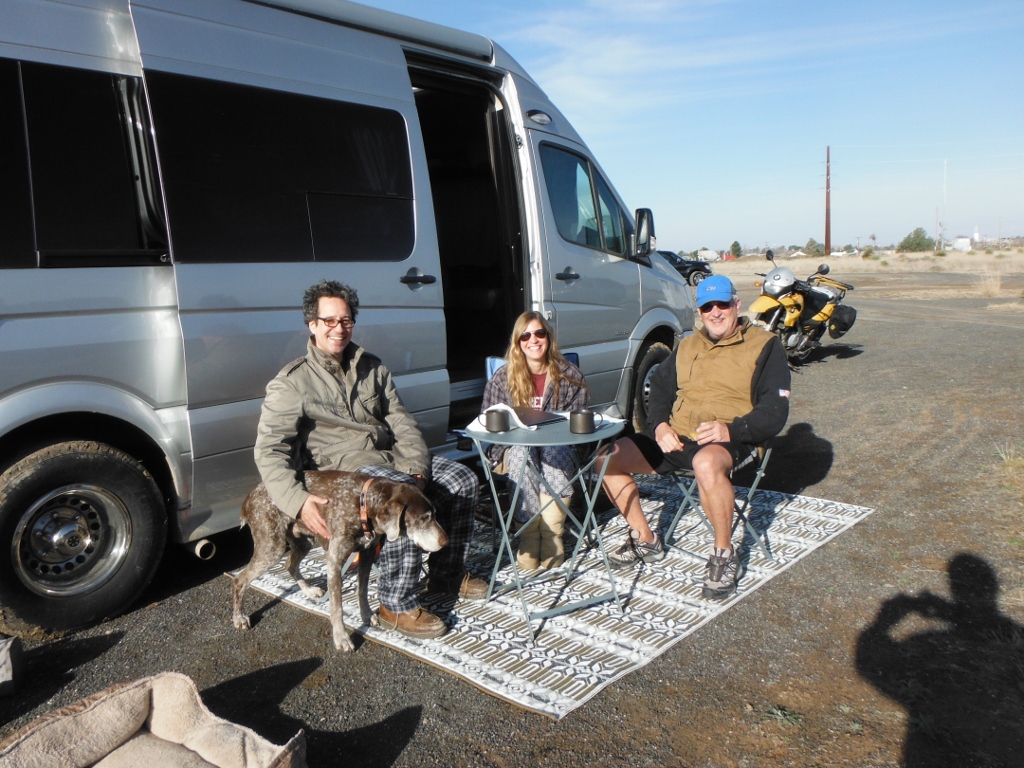 Without being rude I was trying to take pictures of all the characters there----this guy had a $500 hollywood cowboy moustache.
Actually there were many of those there.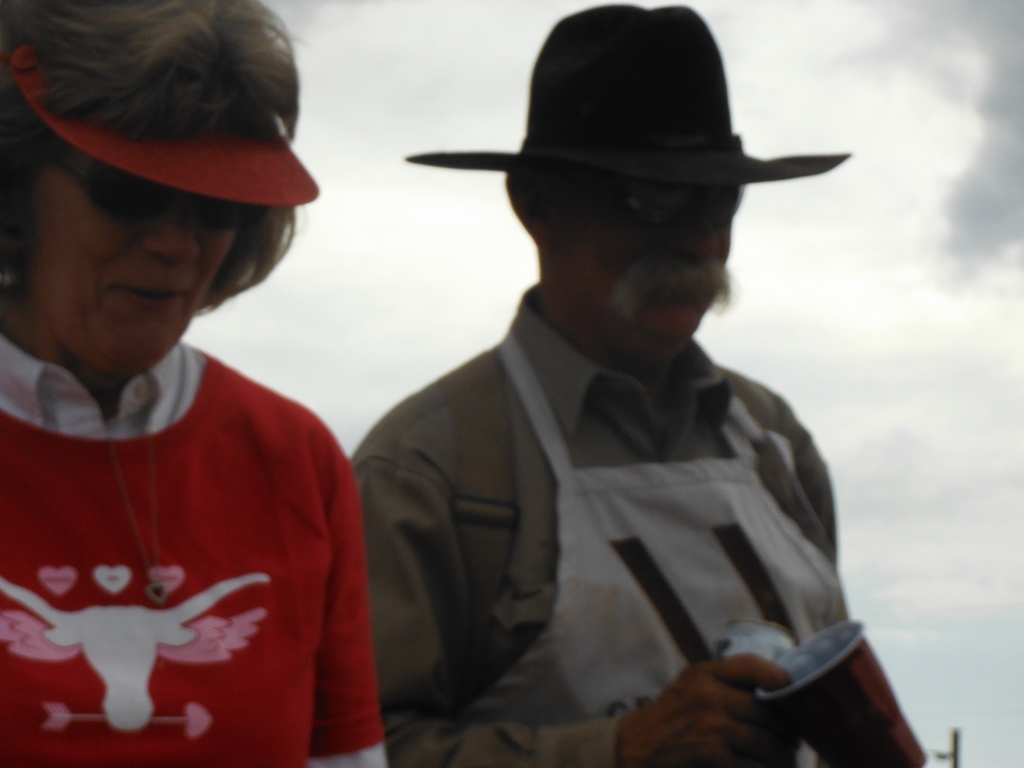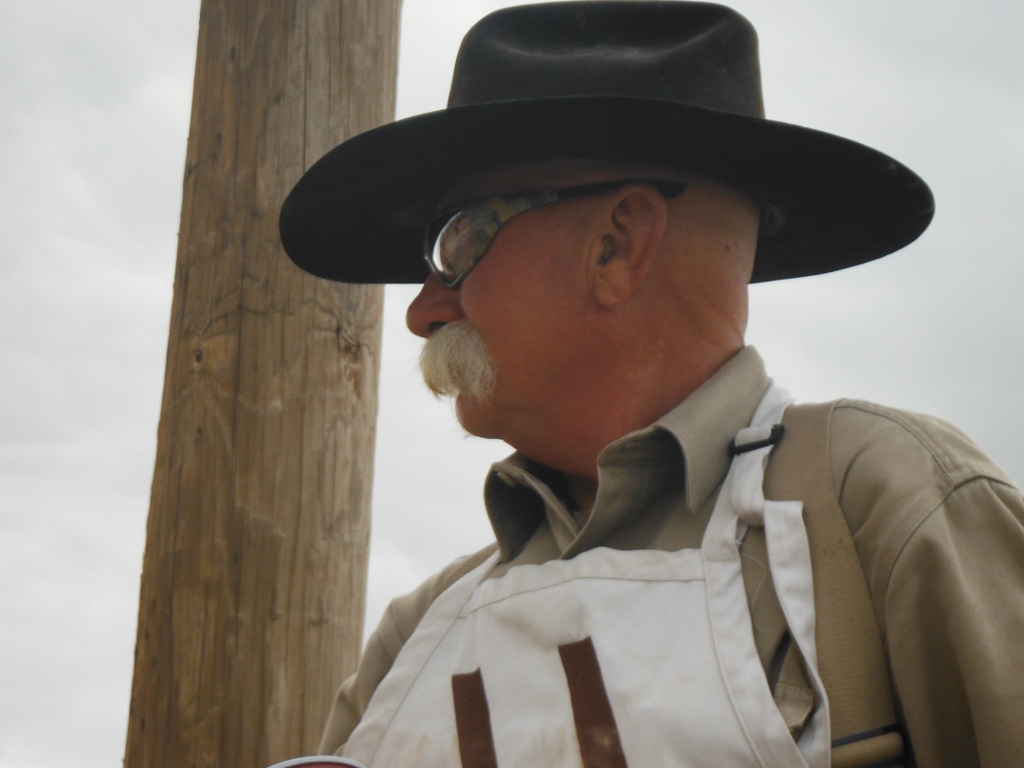 The first band cranked up---there was an outside concert grade PA system and it was awesome.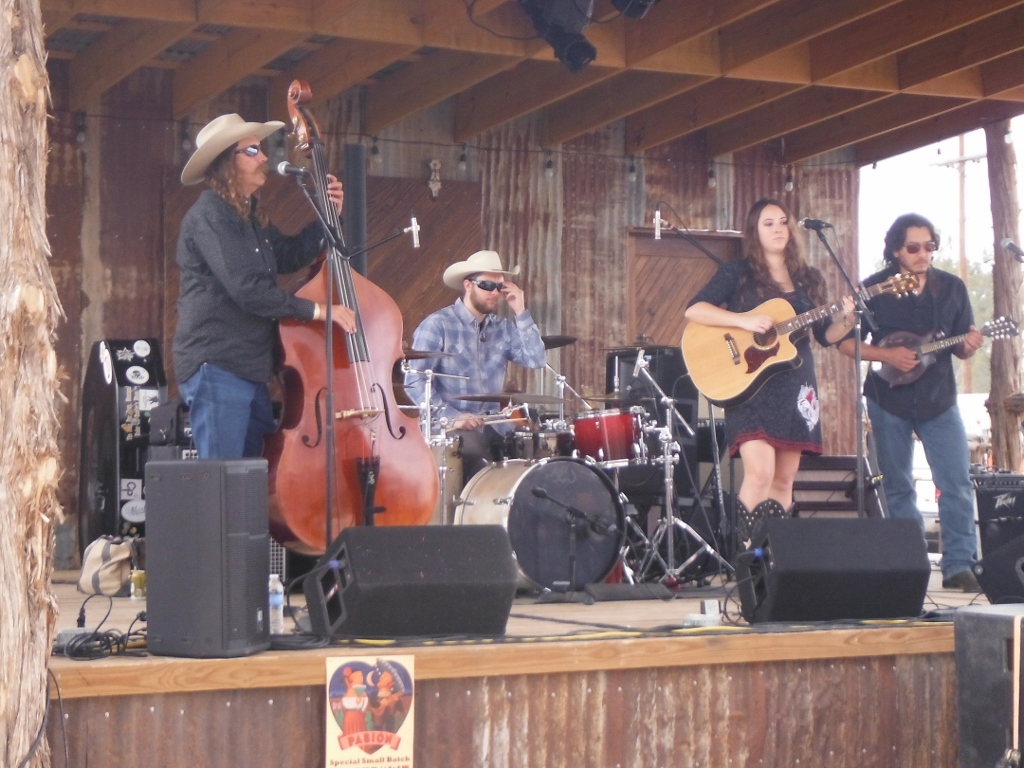 This cowgirl fixed me a beef burrito----meat off their ranch---------I had two.
Yes there is a cowgirl under that hat.
A real cowgirl-------not a hollywood one.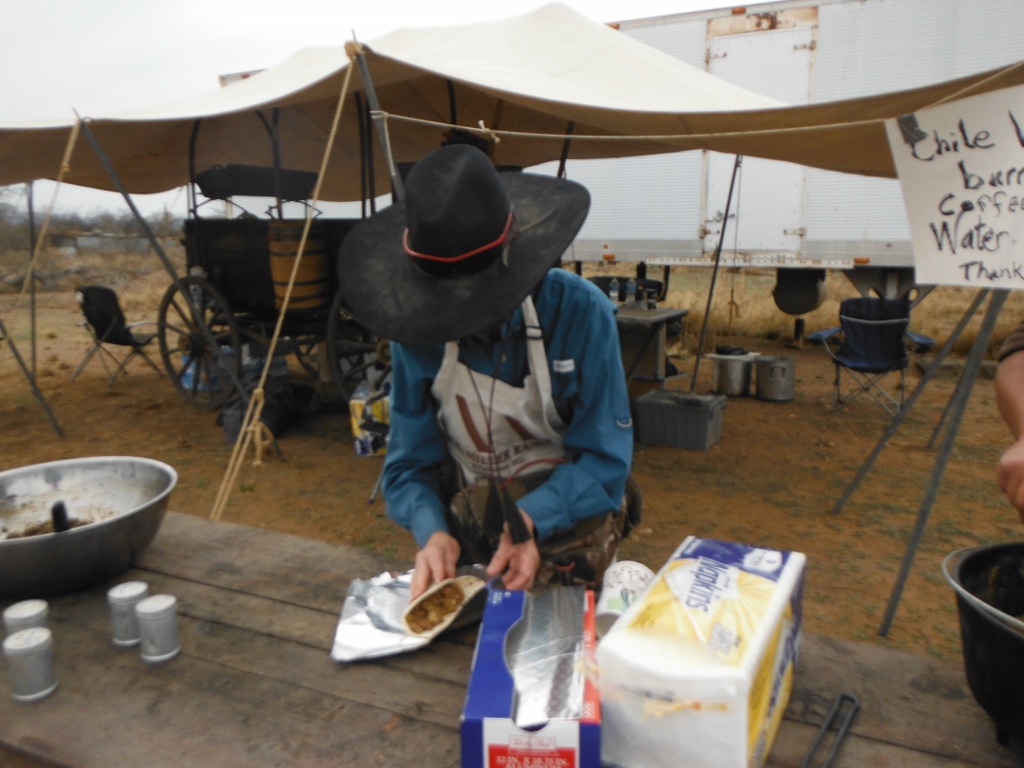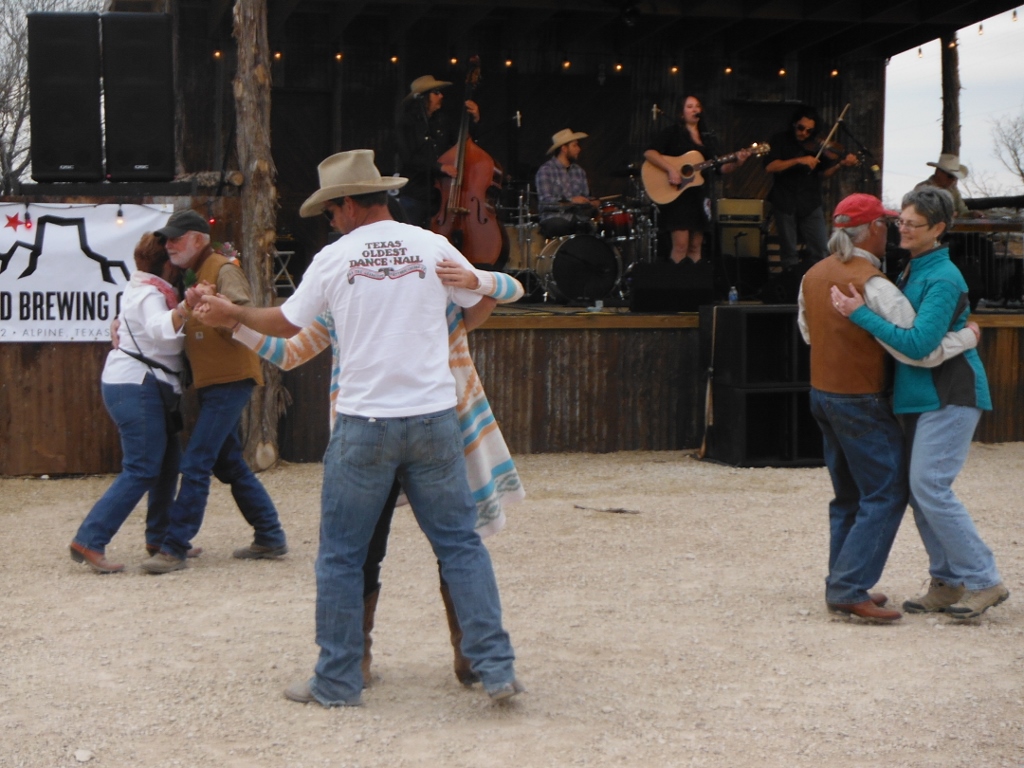 The 2nd band was really good----and fun too watch.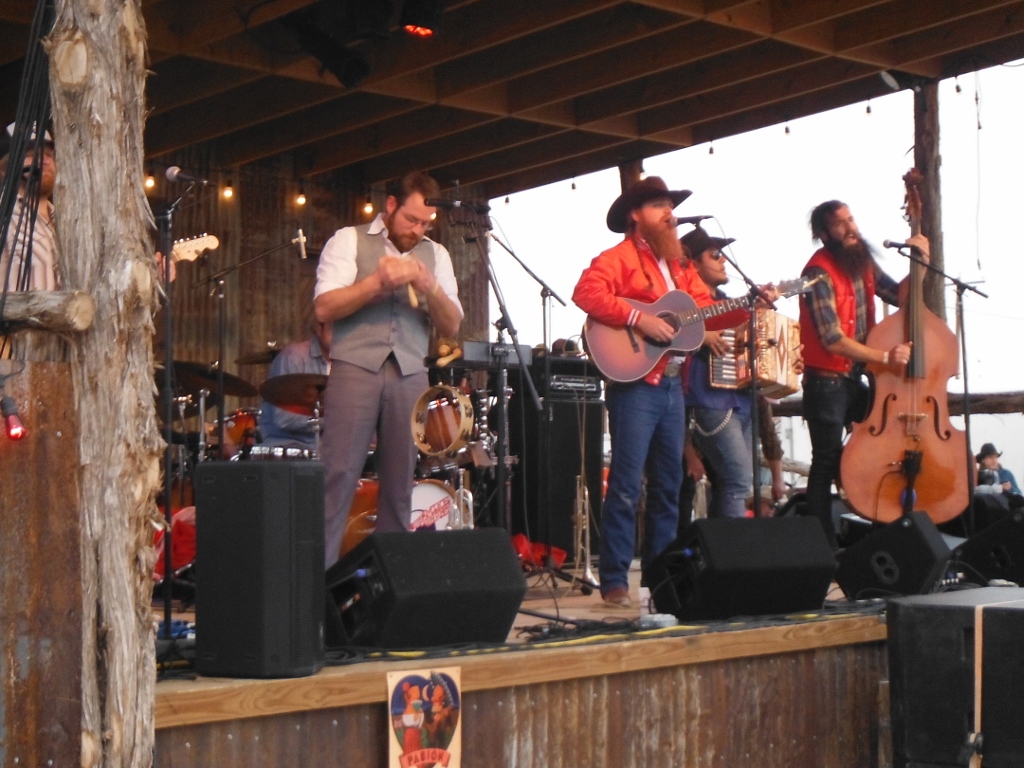 After the sun went down----I got sleepy and went back to camp----------as the bands played into the nite I heard.
I have lots of video of the bands.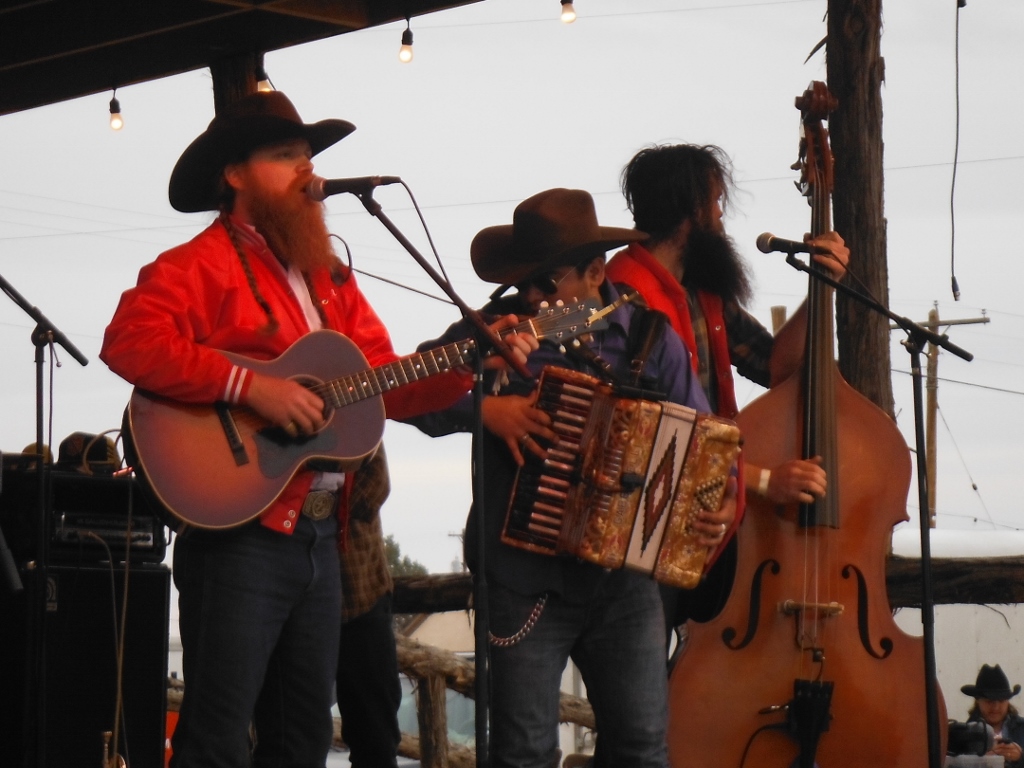 Here's a Video of the bands----they were out of Austin, Texas.
Real Texas bands. Select HD if you have the speed.
February 15th, 2015
I unloaded my bike back at Valentine, Texas and headed North towards the Chispa Rd.
On the way on the highway I passed the Homeland Security tethered radar device.
It is normally flying in the air----and is tethered by a cable. I don't know what holds it up in the air ??? Helium ????
Cost per illegal-------------$52 million dollars.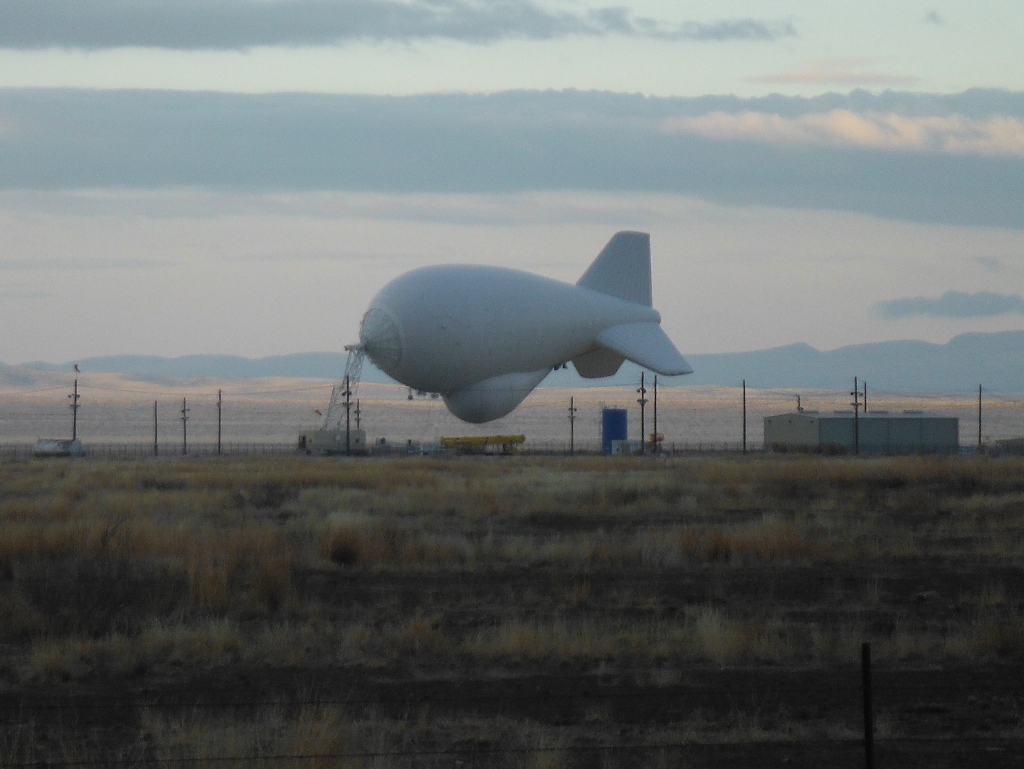 I turned down Chispa road which wasn't paved for long and headed straight West for the Mexican border.
My mission today was to run right along the border on a dirt road that I had never ridden before.

I had all kinds of intel for running this road.
You'll never make it.
It's competely washed out.
Take a gun.
If the border patrol finds you don't have a gun------they'll think your stupid.
You'll be fine.
So off I went alone---just a little bit spooked.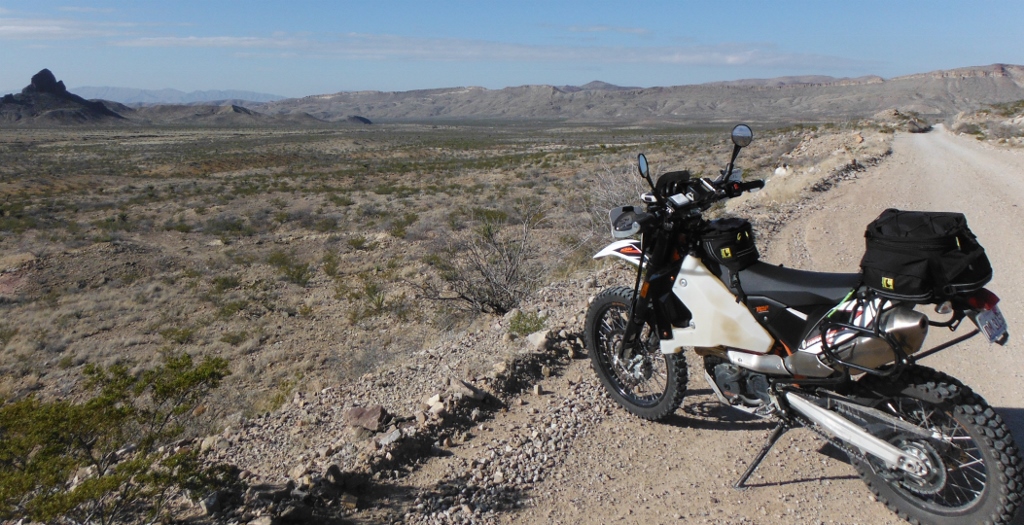 A whole lot of this road would be impassable if wet--------and I ran into quite a bit of it---but they were short and I got thru it.
But my bike weighed an extra 20 lbs. when I got out of there.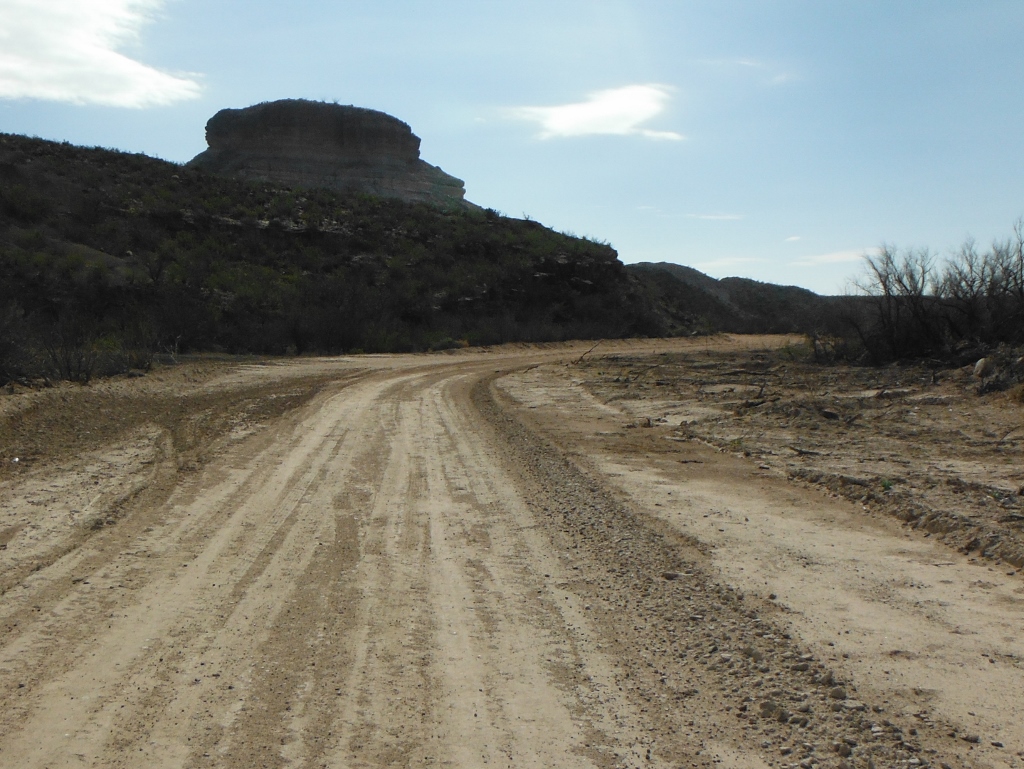 I was blessed with several things riding thru here. There were at least 30 nasty spots that had obviously washed out
that had been recently fixed---and most of it was recently graded.
It was just dry enough for me to get thru.
Any land off this one road was private ranch land----there were many places to go wrong with navigation---but I had
a tracklog from my friend who had ridden thru here years ago---he had a much tougher time as it was washed out a lot worse.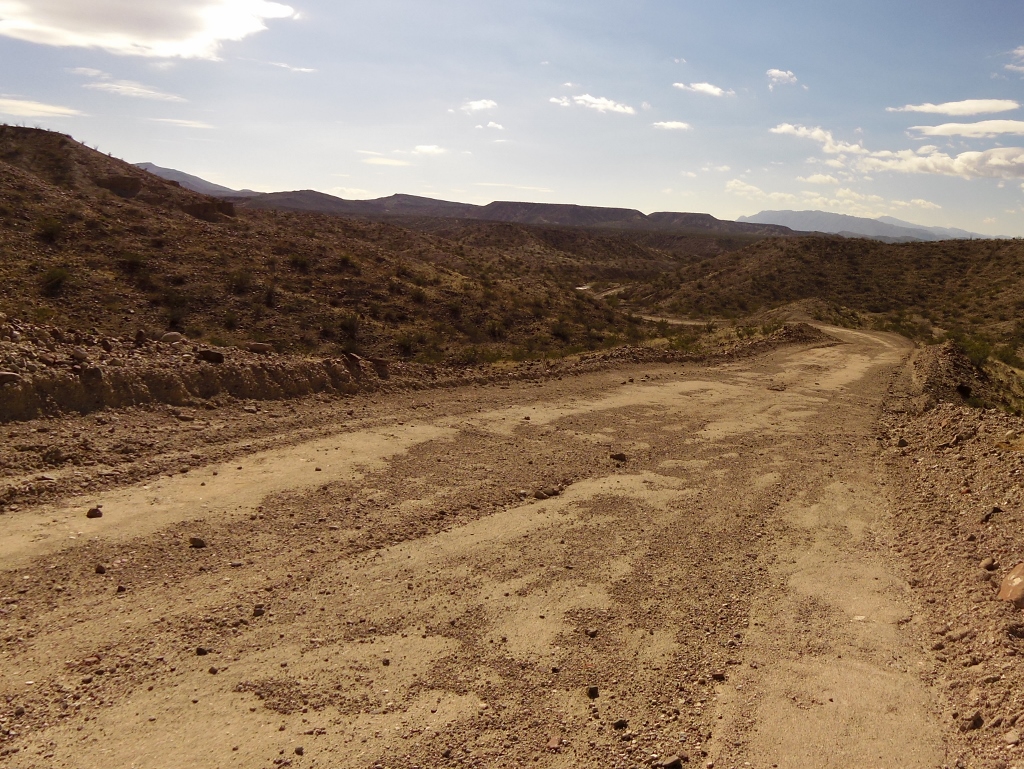 There is an old abandoned homestead out in those weeds------most of these pics that I took are taken just a couple hundred
feet from the Mexican border and the Rio Grand---------but I could never see the river.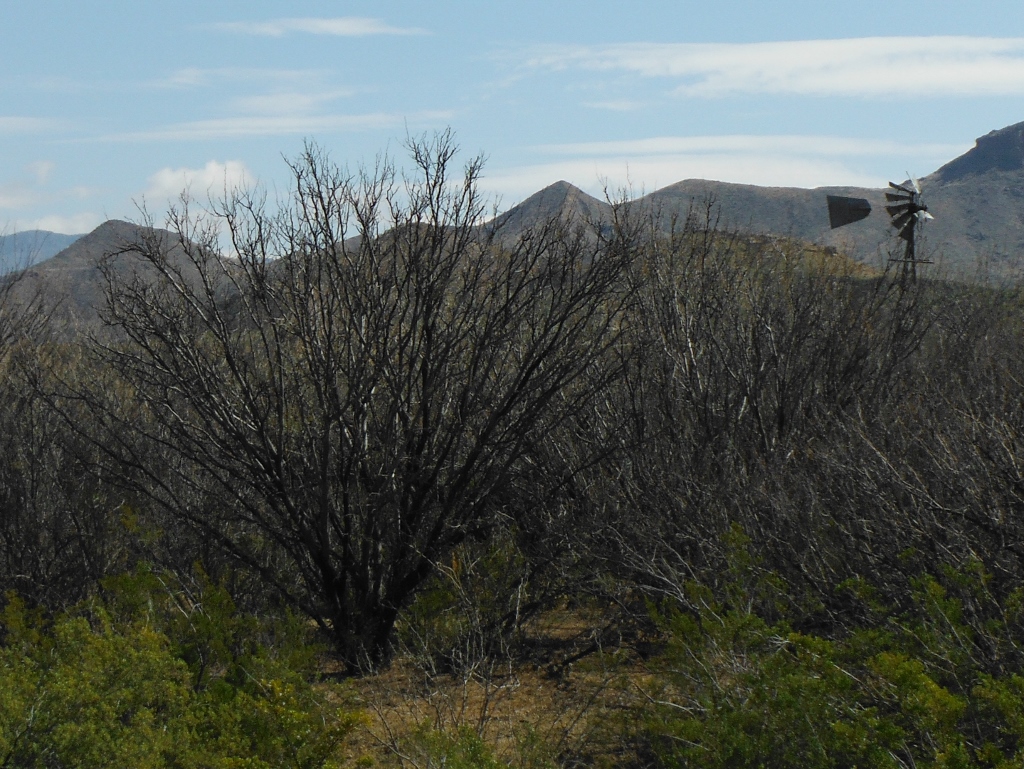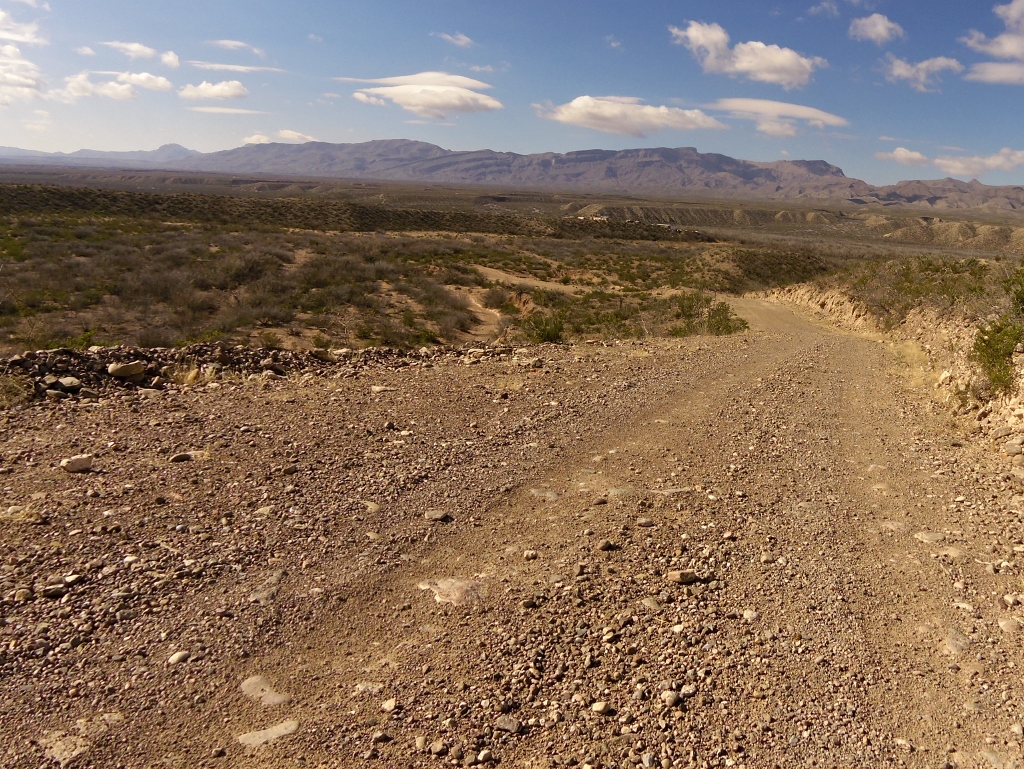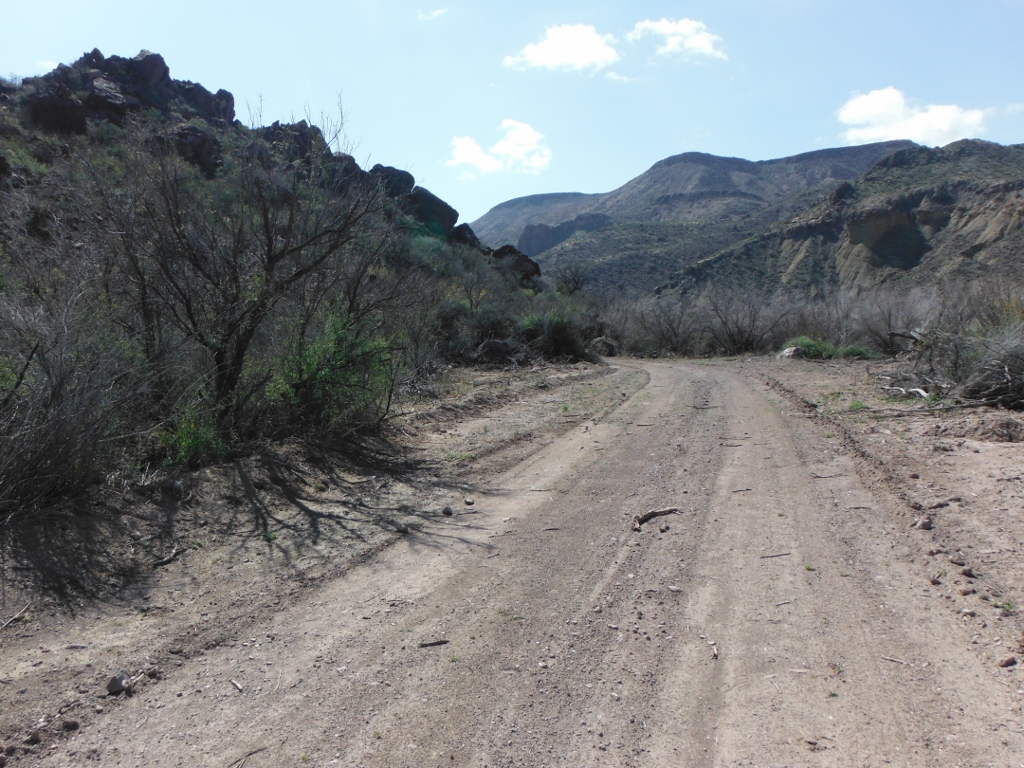 I don't think this was the river according to my gps---but it was just 200ft. from me.
The "only" reason I was out here---and the only reason I ride anywhere is because it is so beautiful.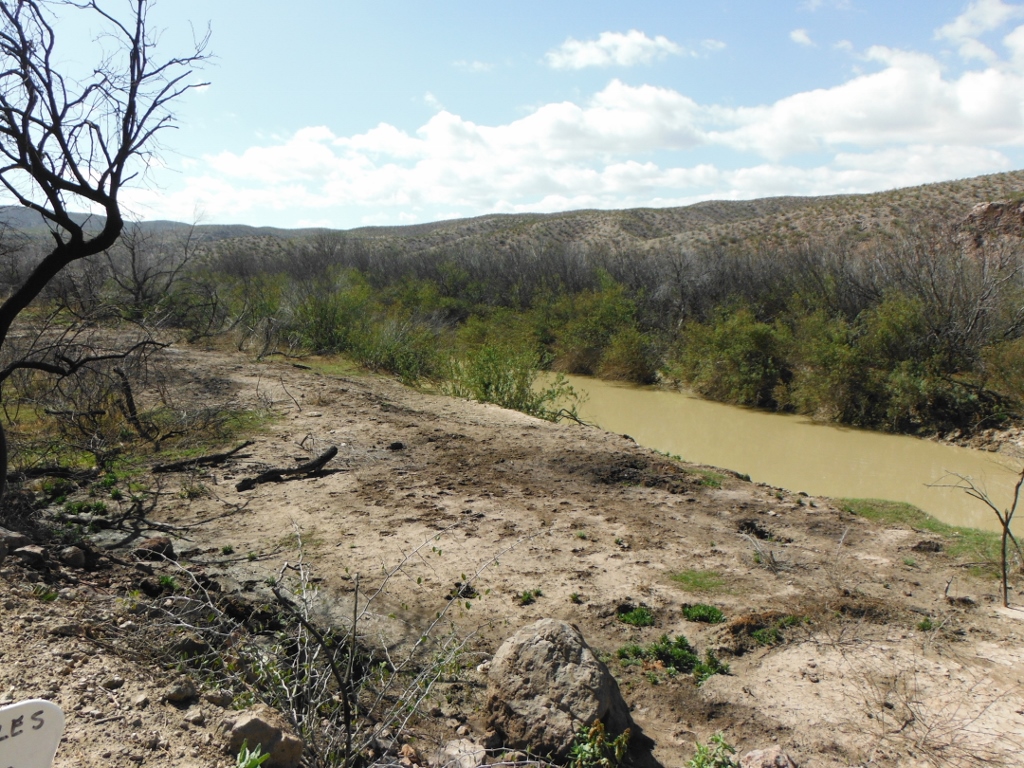 This was like a dry lake bed.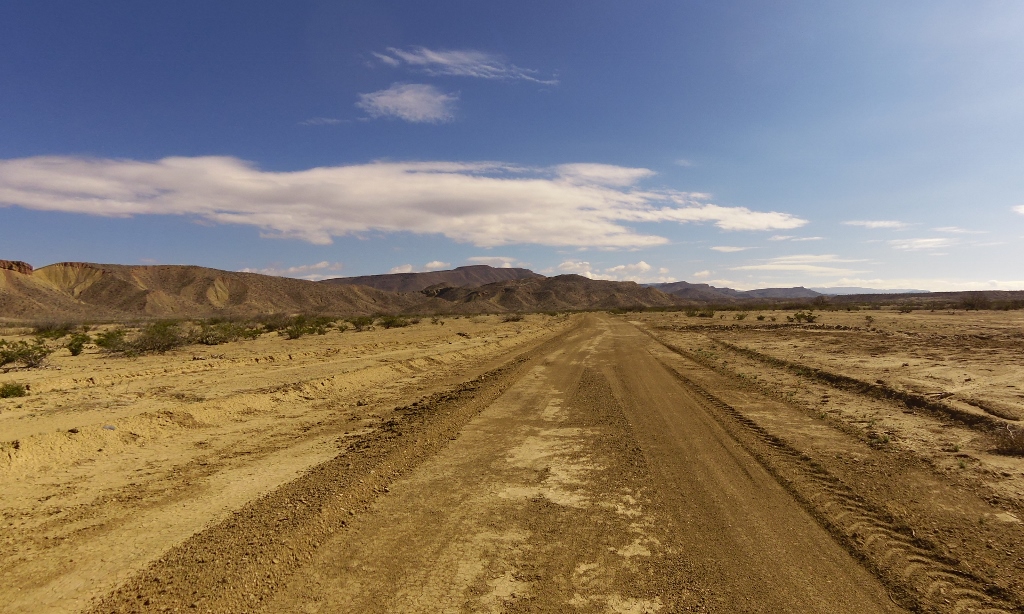 Cannonshot had given me a waypoint called "Godzilla Hill".
I knew it was out there---and wondered how bad it was going to be.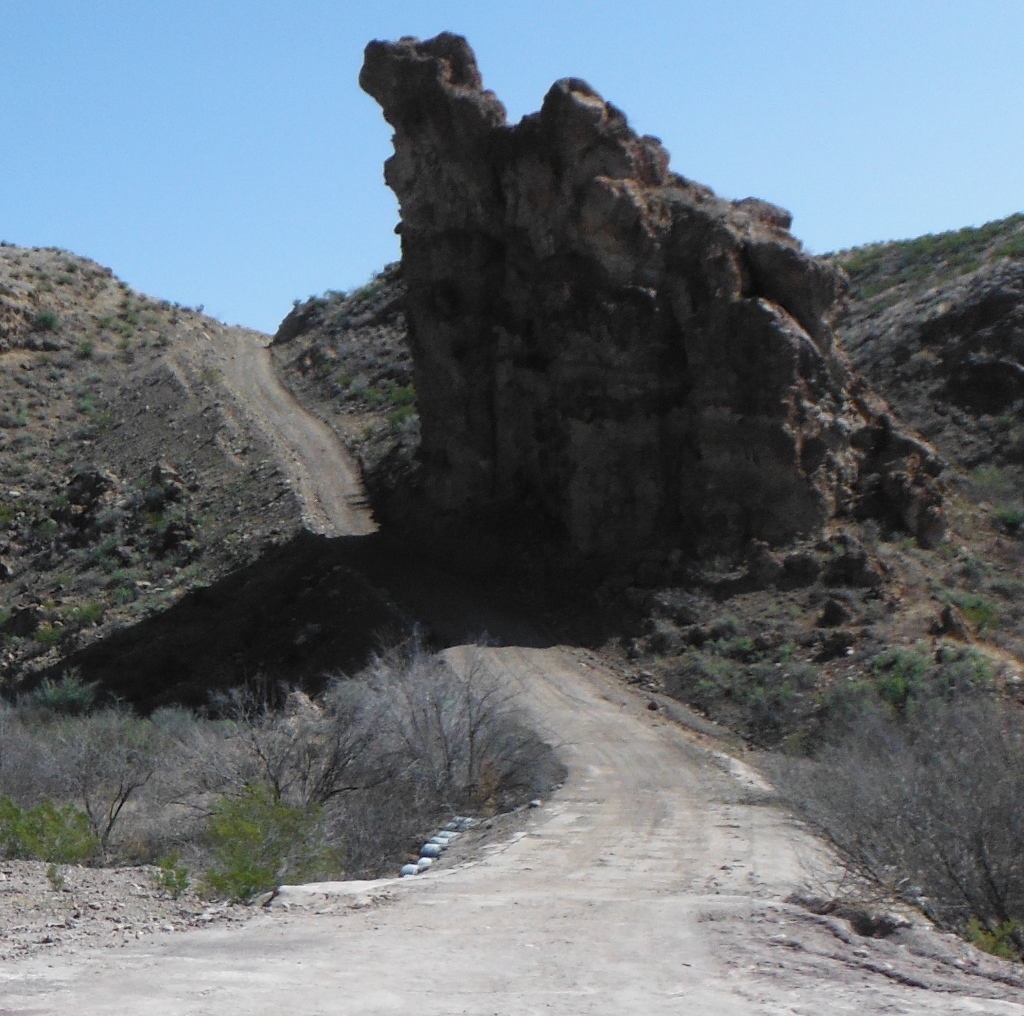 When I came over the rise the hill looked to be 400ft. long and a 45° angle.
I stared at it for awhile---and was glad it wasn't washed out---or had loose rock on it.
I run at it in 3rd gear going pretty fast to keep up my momentum and flew right up it.
It was a blast-------and put a big smile on my face.

And going up----I pondered-------what was on the other side ?????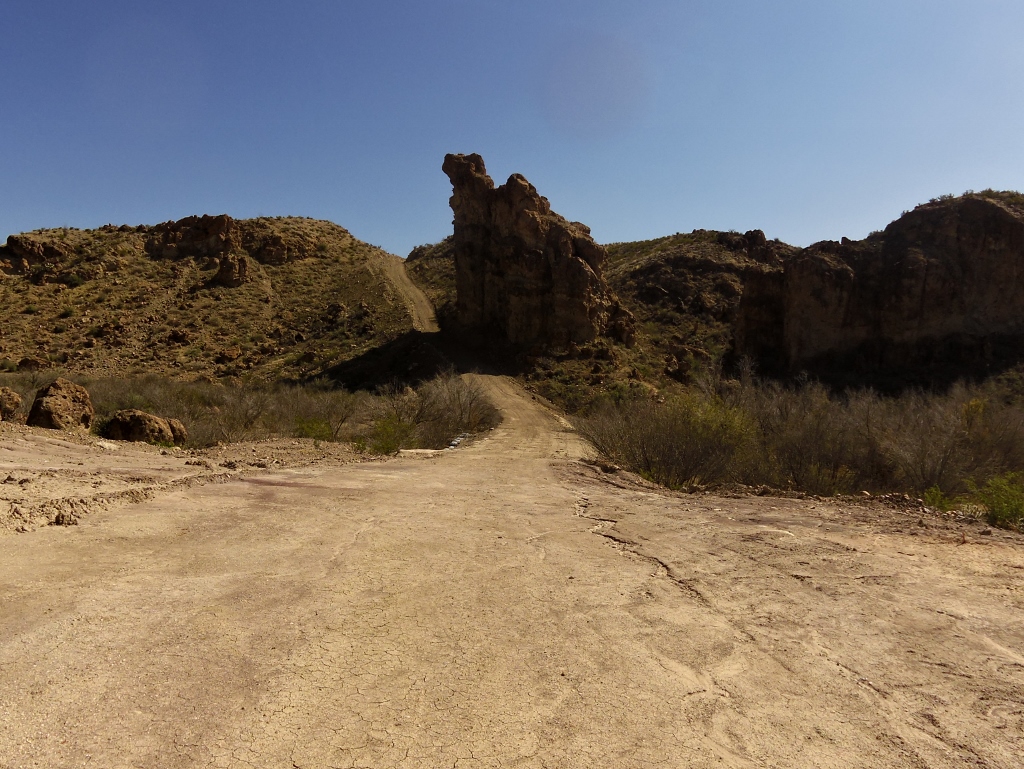 Just some more great scenery was all.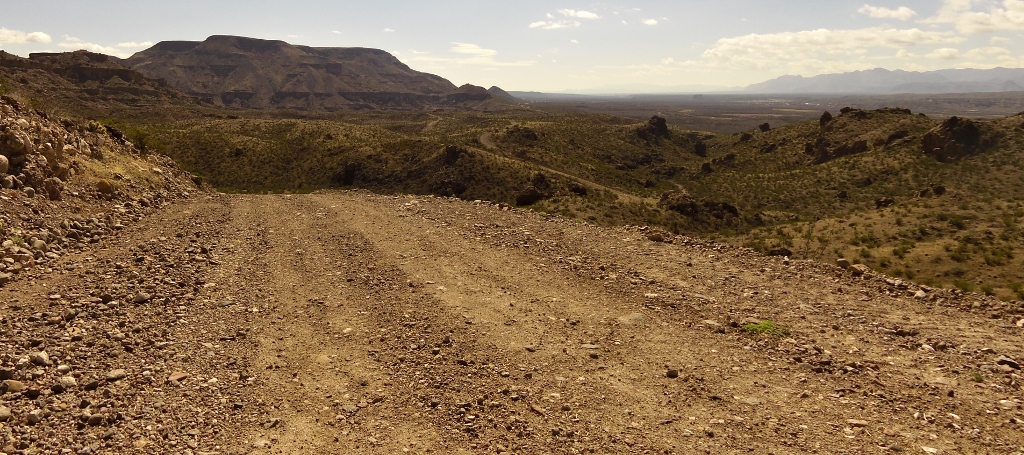 The few buildings you see are a town called Candaleria on the map.
Really small--------couldn't have been more than 30 people living there.
And that is where the pavement starts----- going South towards the ghost town of Ruidosa.
I stopped and stared at this for a good 5 minutes------didn't want to forget this view.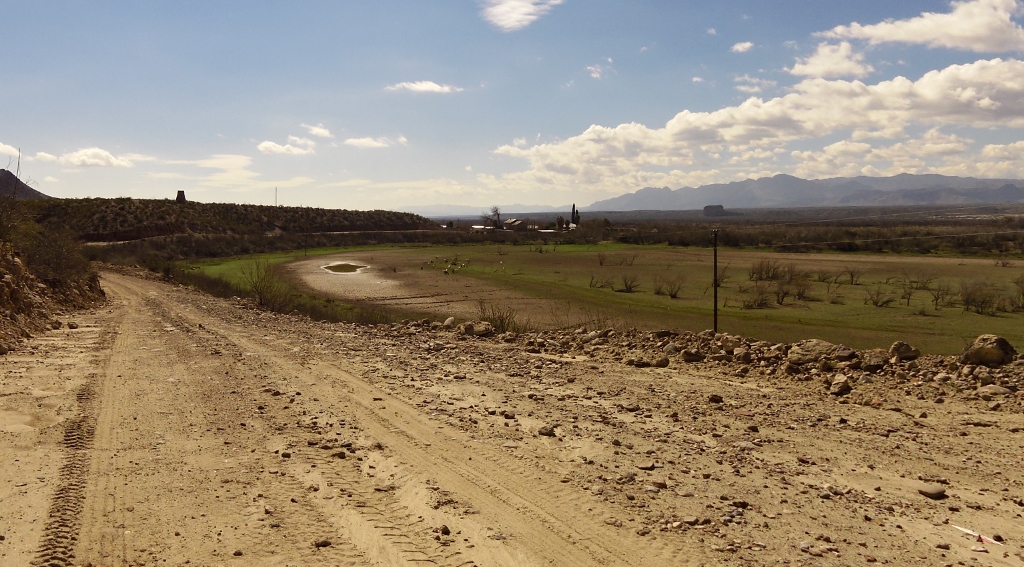 This church was in Candelaria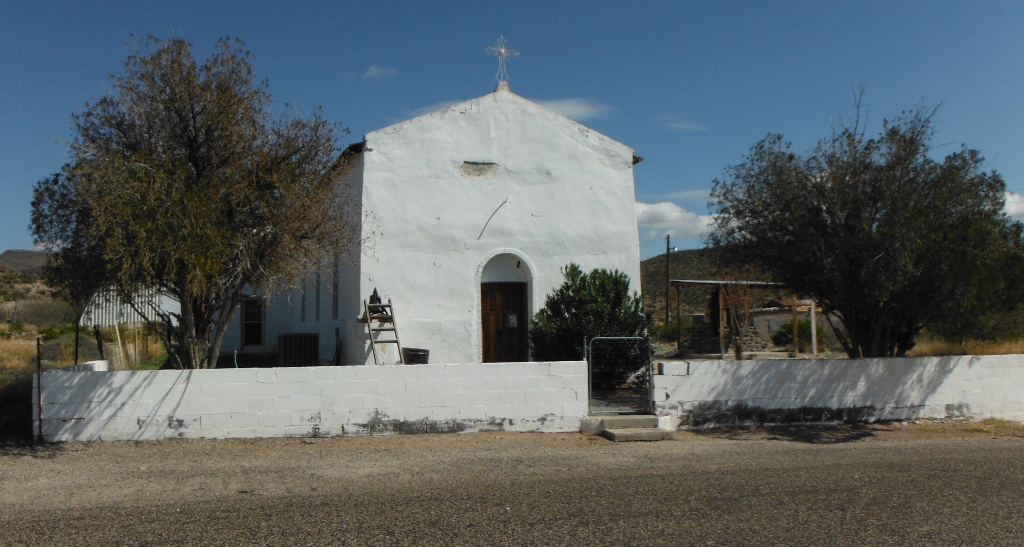 At the old ghost town of Ruidosa I headed North on the Pinto Canyon road toward Marfa, Texas---which goes thru Pinto Canyon of course.
The Canyon was miles long-------a little rough in places and I made several creek crossings.
I followed this road to Marfa, Texas---filled up with gas---had a burger at the Dairy Queen---as I was starved----and rode
back to Valentine and loaded up.
I was estactic to have ridden the border road.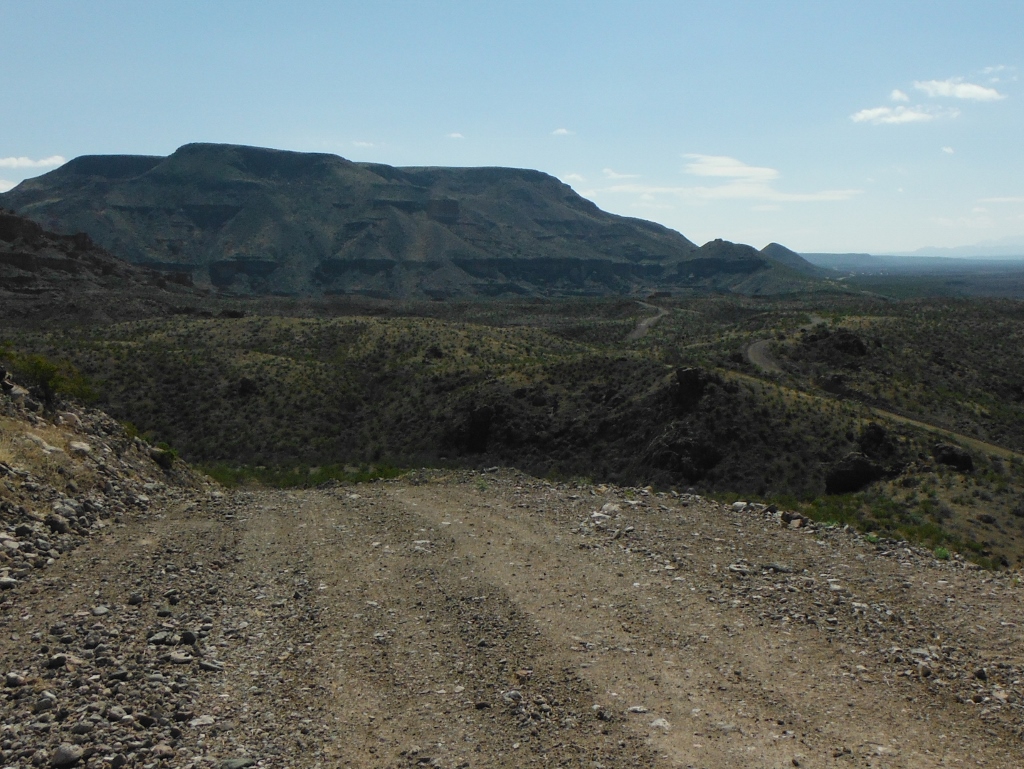 Here's a video of this days ride.
February 16th, 2015

I had camped in my van in Quadelupe National park last night---it was warm when I got there---got down to 32°
and started raining then sleeting while I was warm and cozy in my bed.
And I pondered if I would be able to do what I was wanting to------that is.............find "BigDog" canyon on the Northwest
side of Quadelupe mountain--------the highest mountain in Texas.
Thing is------I tried to get to it once before-------it was 20° and snowing---and some people said the road was
a mess----so I went home with my tail between my legs----here I am ---"BigDog"----and chickened out on finding BigDog canyon.
So I"m back.
It's colder than hell-----and I'll be damned if I'm not going to try it again.
All the cards were stacked up against me.
I was trying to find a cafe for breakfast in Dell City, Texas and drive right by it 5 times---they have no sign at all.
But finally find Spanish Angels Cafe.
Awesome breakfast from some nice Mexican lady's who speak no english.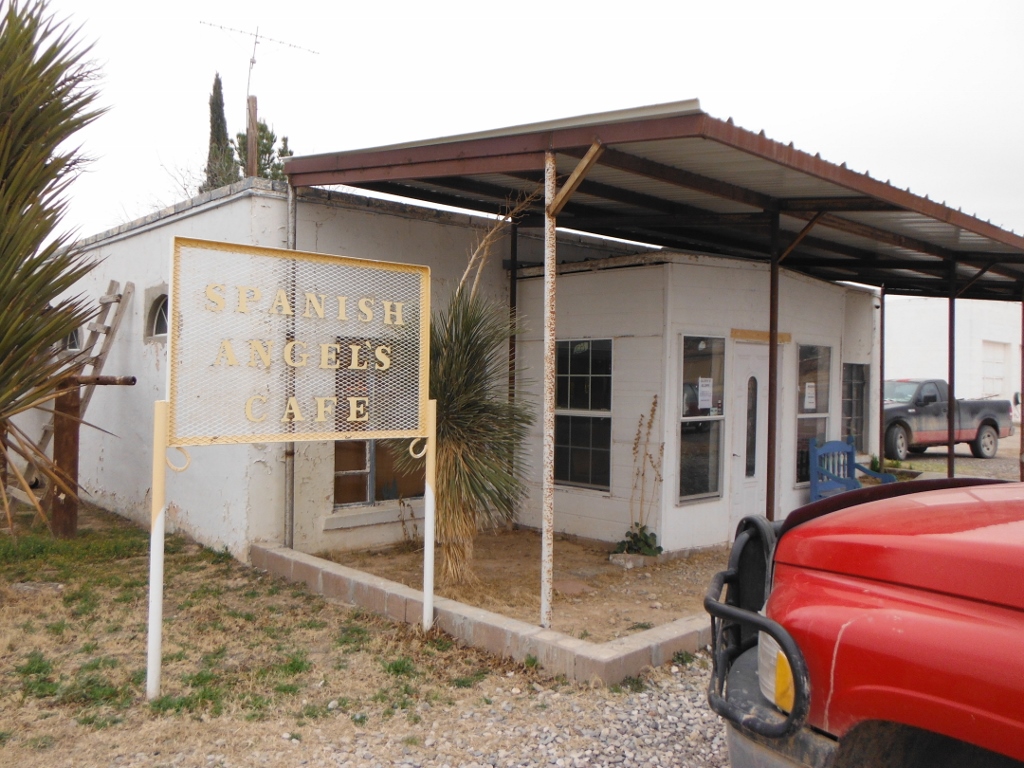 The only reason I found it -----------is because this Rokon was parked out front.
This is a very late model Rokon.
I walked in this place--and all the locals turned their heads and gave a big long cold stare at me---like I was a foreigner or something.
It was all in my head--next thing you know----I find the guy with the Rokon---we talk for an hour---I end up talking to everybody and he lets me park
my van at his house while I try to find BigDog Canyon--------he's been there and gives me all kind of good local knowledge.
The tales he tells me of where he takes that thing were really fascinating.
He's got a block and tackle in one of those metal boxes---and has had to use it.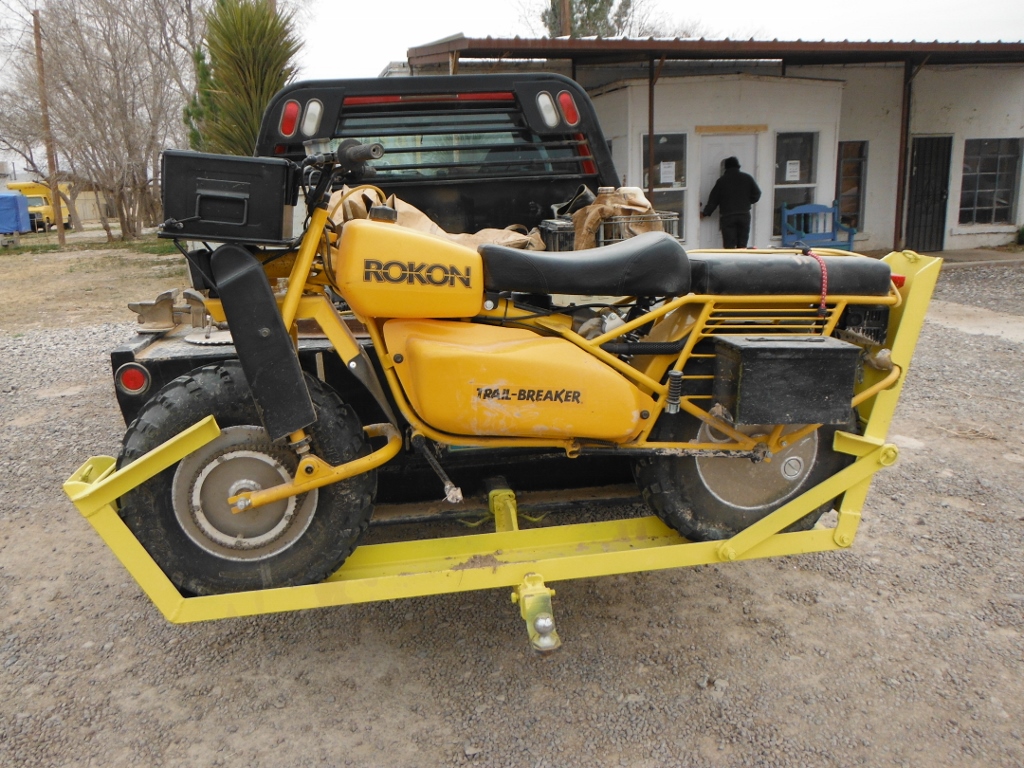 It was colder than................well you know.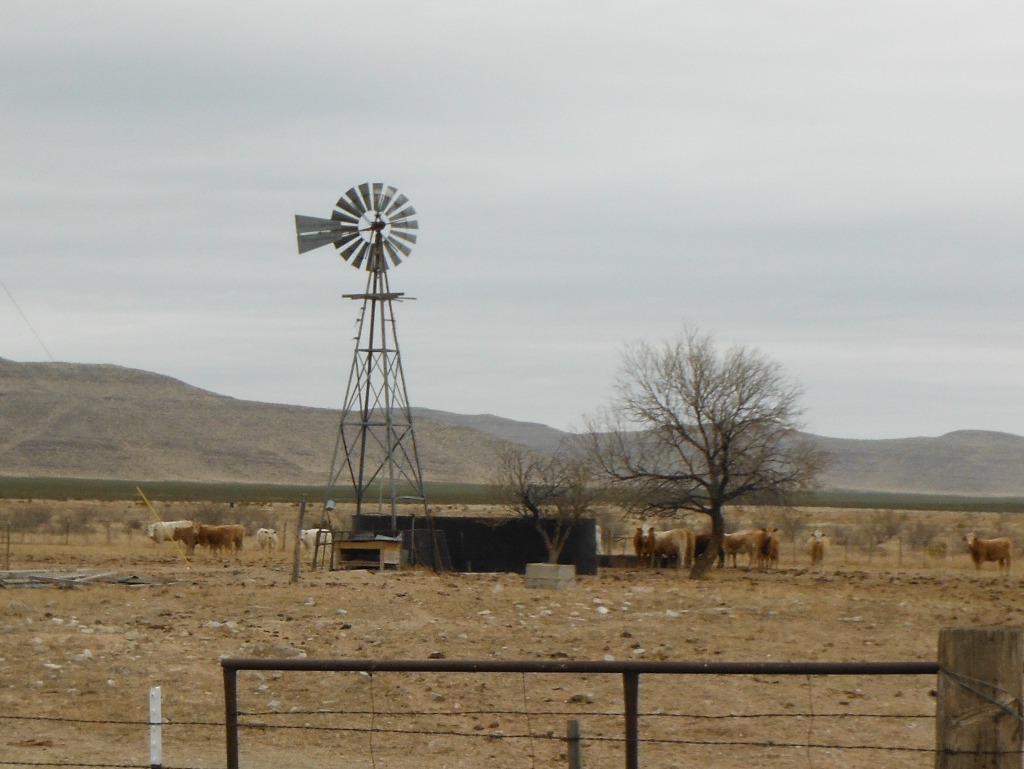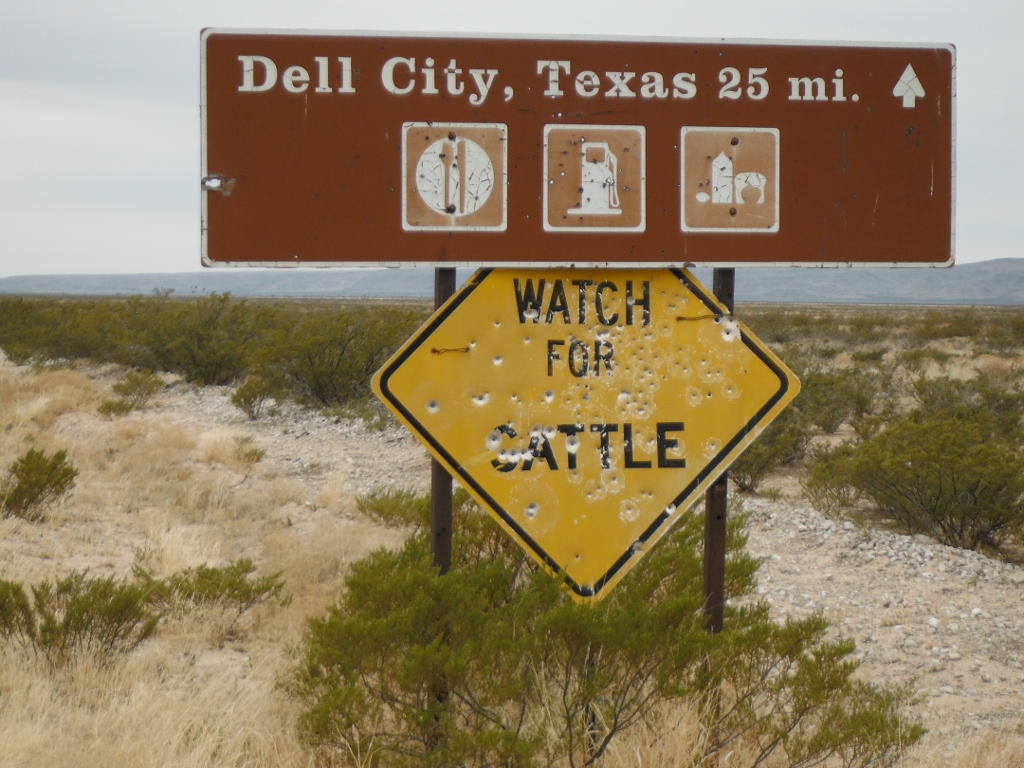 I had been to "Dog Canyon" before-----but not to BigDog Canyon.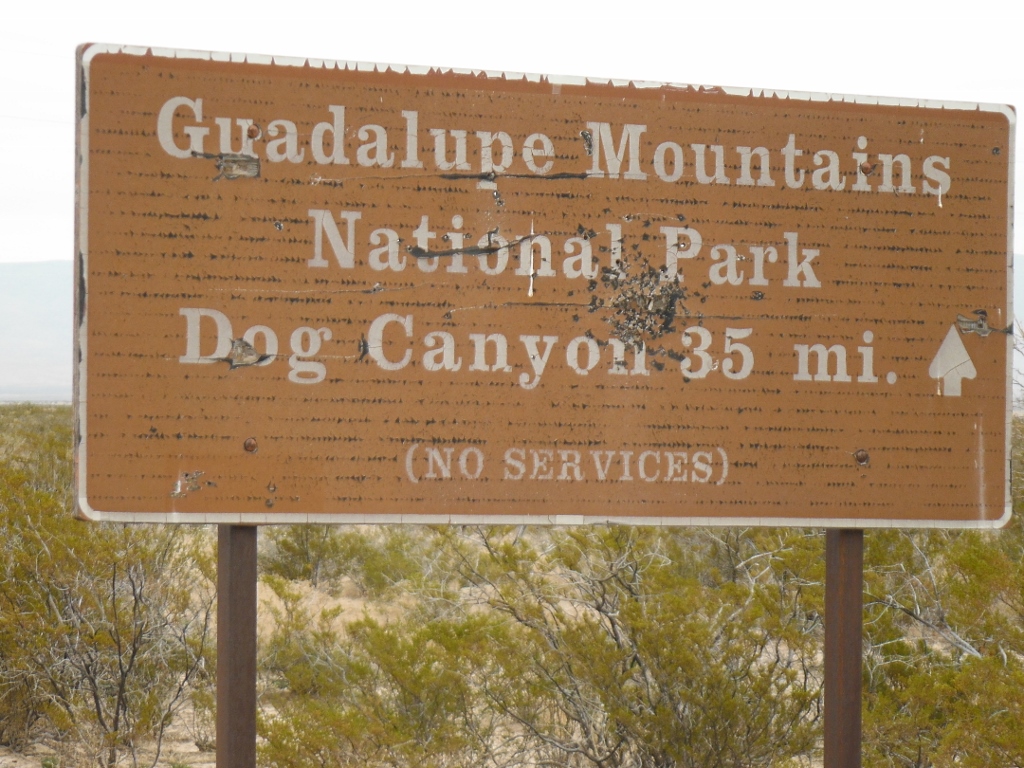 My hopes were to ride thru BigDog Canyon---climb up on that rim you see---ride the rim road all the way to Pinon, New Mexico--get
gas and ride back on the lower road. The guy with the Rokon said I was "overloading my ass".
I know all about "overloading your ass"-----do it all the time.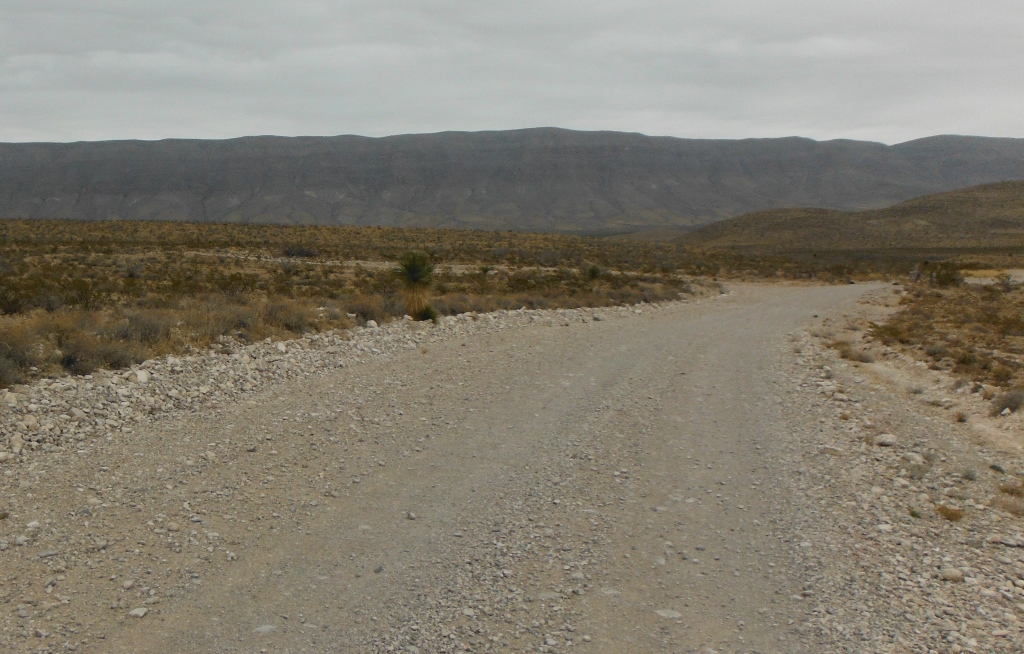 Where here's proof---------I road thru BigDog Canyon---but once on the high rim road I was froze to the bone.
I retreated back to Dell City, Texas with my tail between my legs.
I'll get the rim road next time--when I have more experience over loading my ass.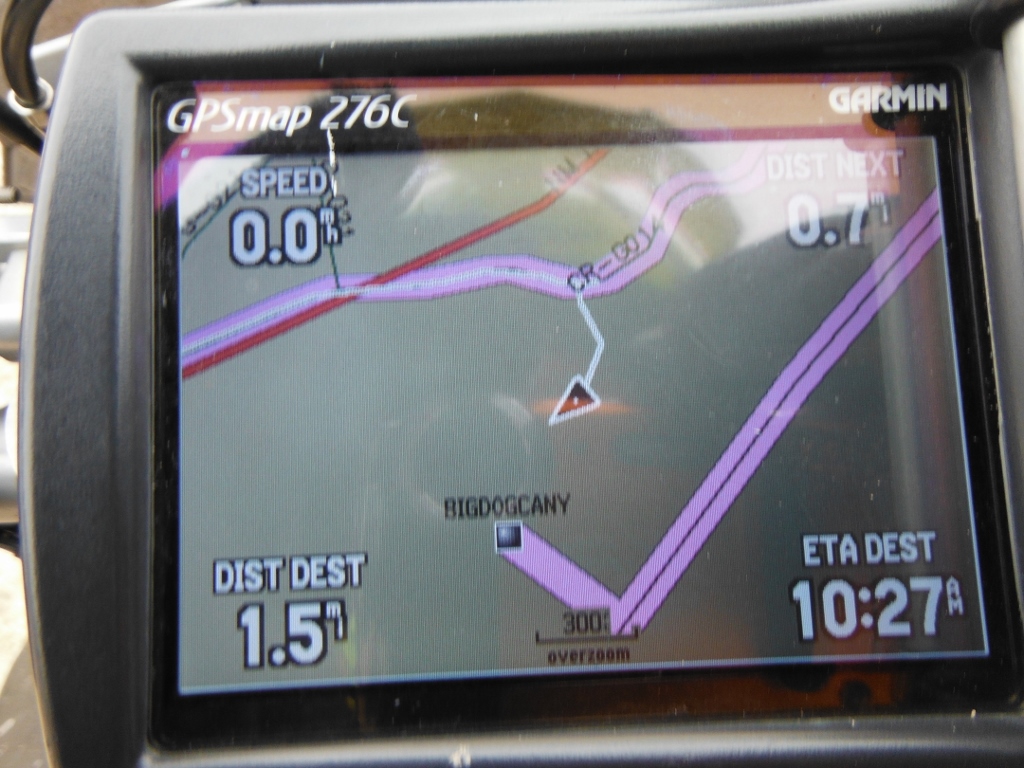 Here's a short video of todays riding.
After this days riding I loaded up my bike and drove to "Poncho Villa" state park in Columbus, New Mexico----------and
camped for the night.
Got a shower--I hadn't had one in 4 days.
It's beautiful here and 72° when I pulled into the park.
I pull in--my phone rings and my buddy "BobBob" calls me--he's been watchin' my spot tracker
and keepin' an eye on me---Dingweeds has got my back too.

If I hit my "HELP" button----he'd come wobbling to me with his cane and walker to rescue me.
He just got a new hip.
I was a very nice campground with a lot of history----here's a few pictures of it.
Kind of a mess I know---need's a woman's touch.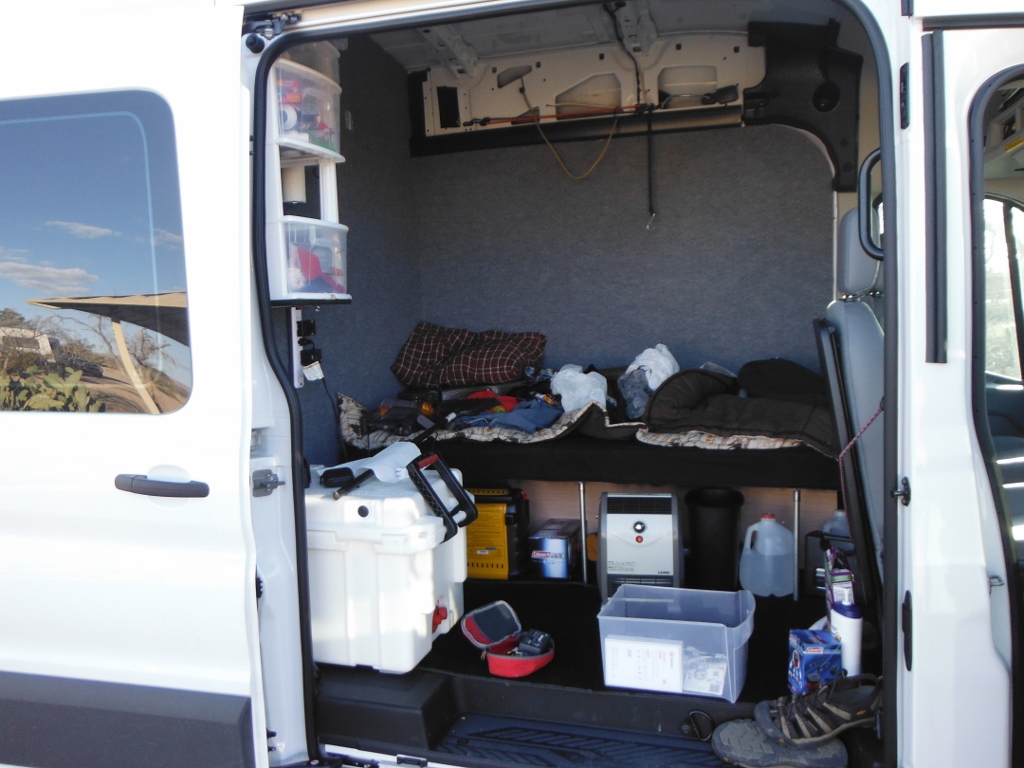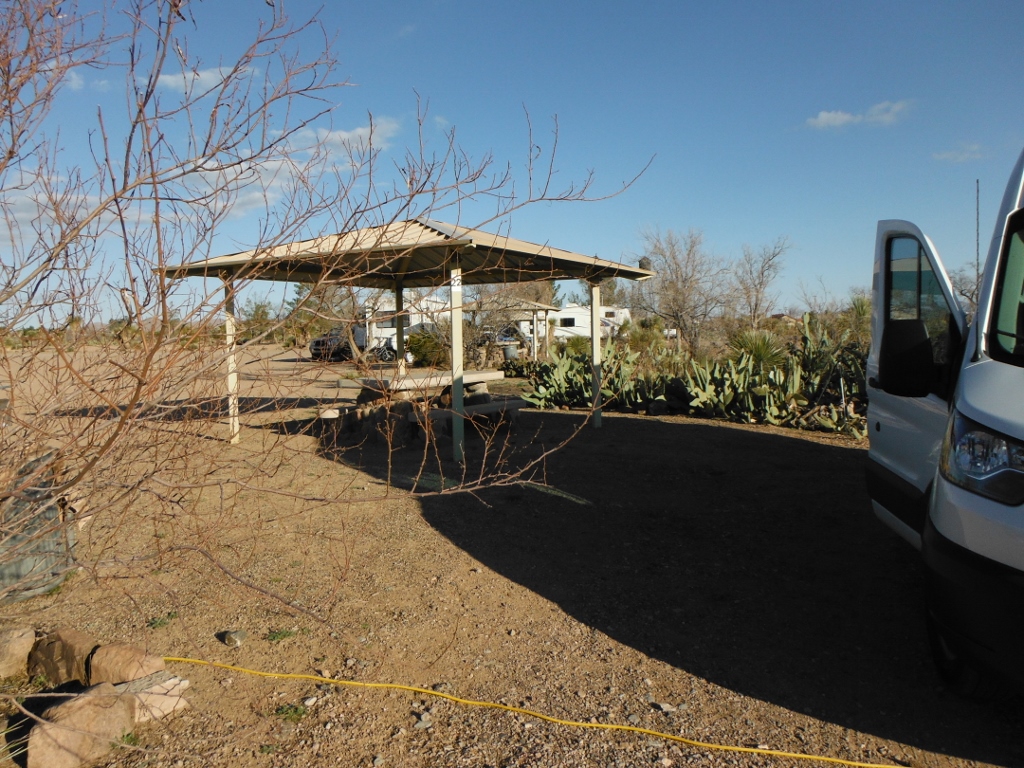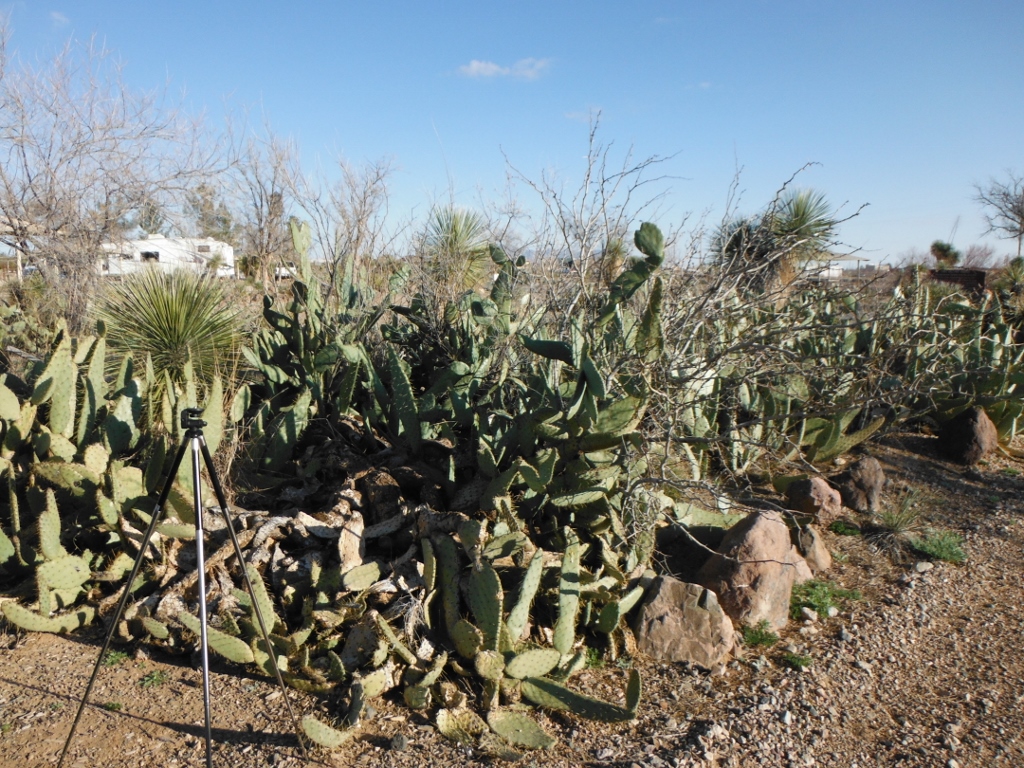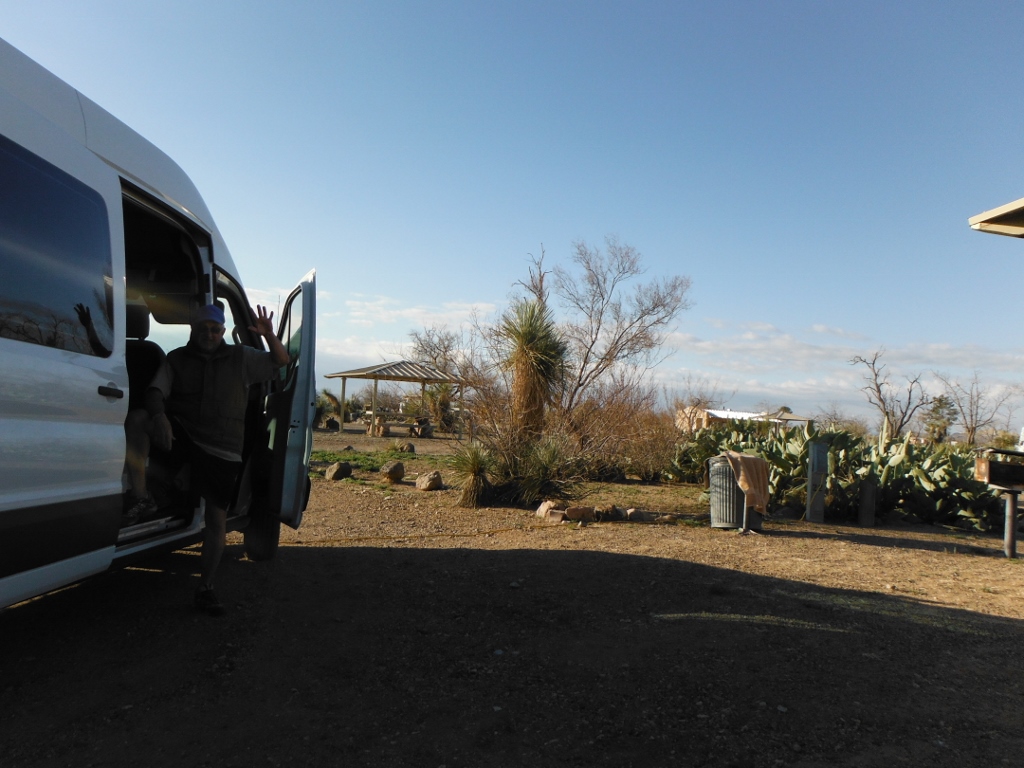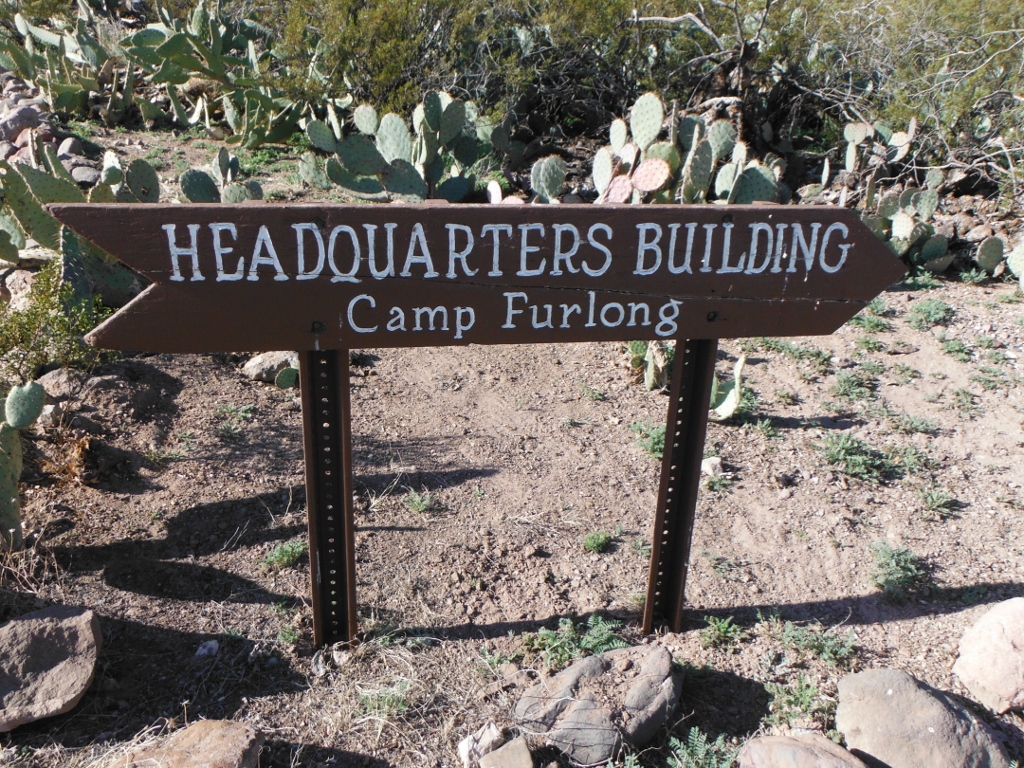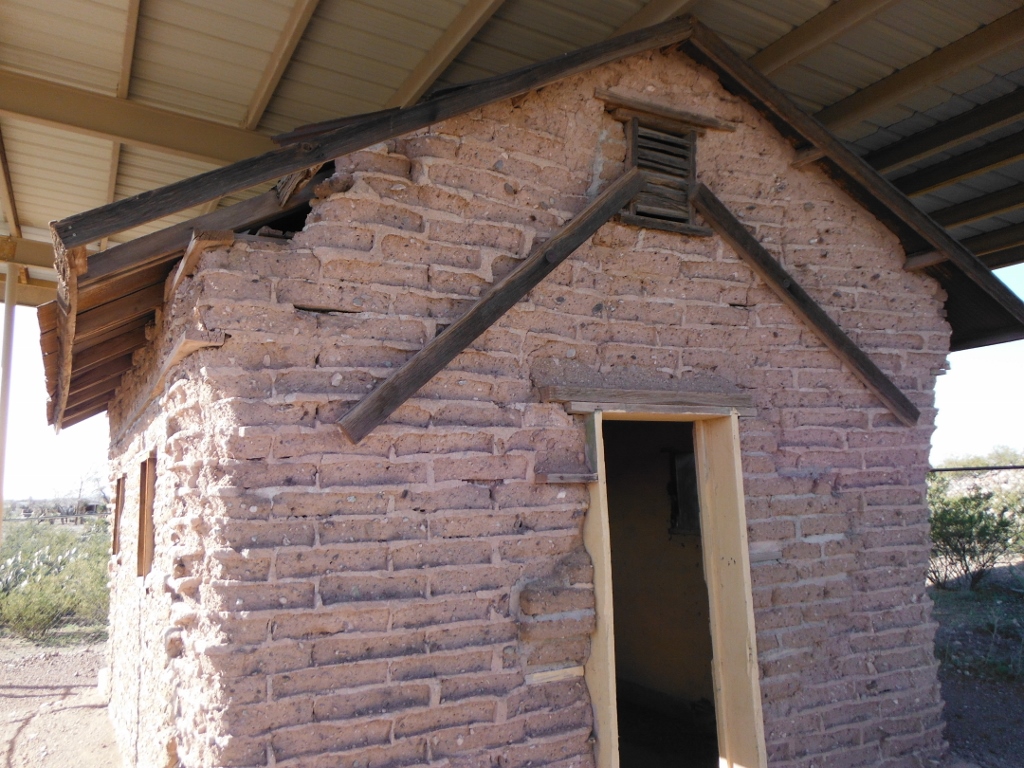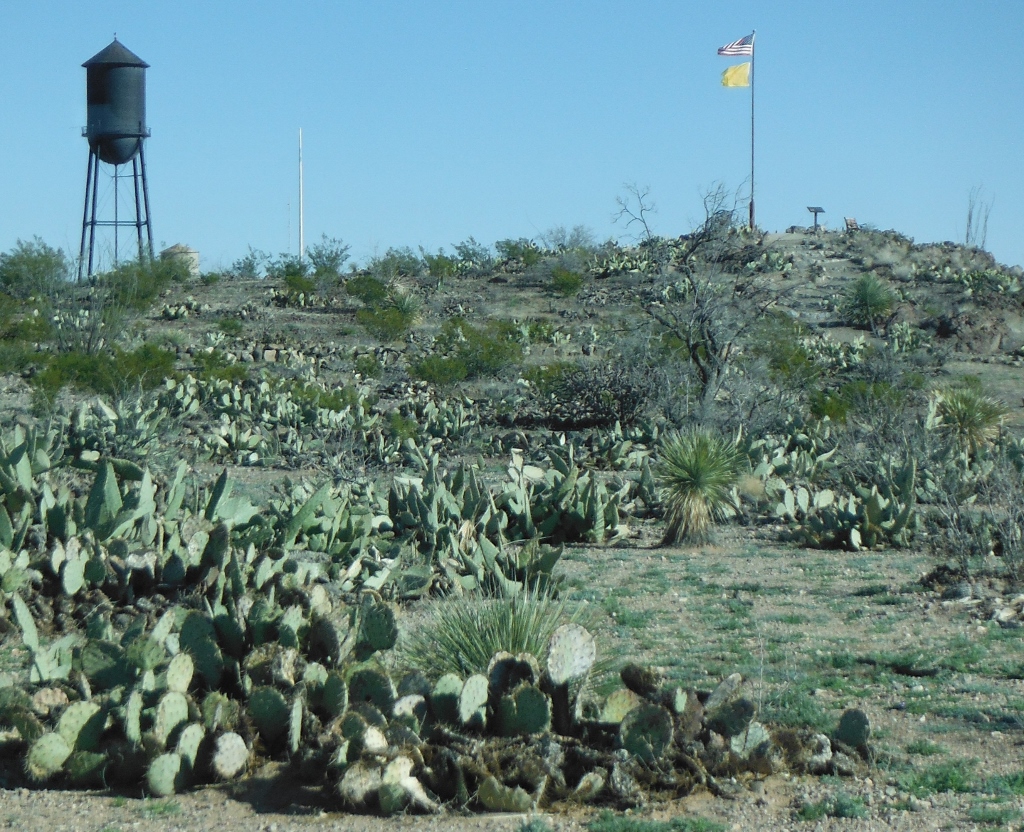 I town I thought these 2 water towers were so neat side beside----the old water tower---and the really, really old water tower.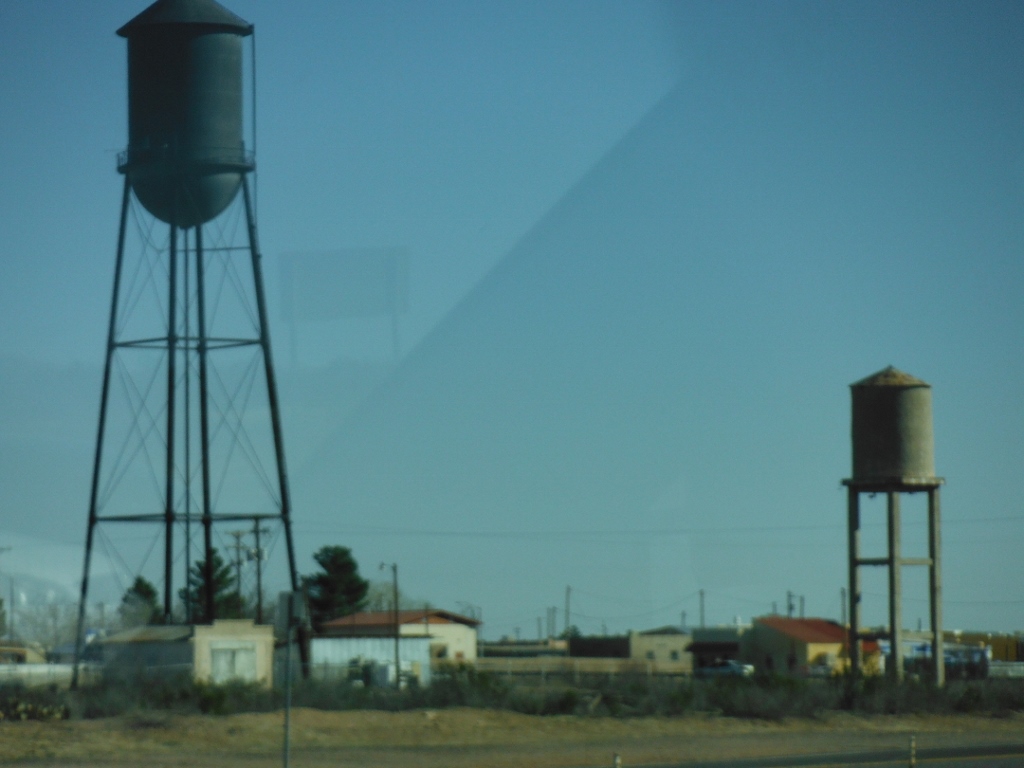 Lot of history here---------the old railroad and station.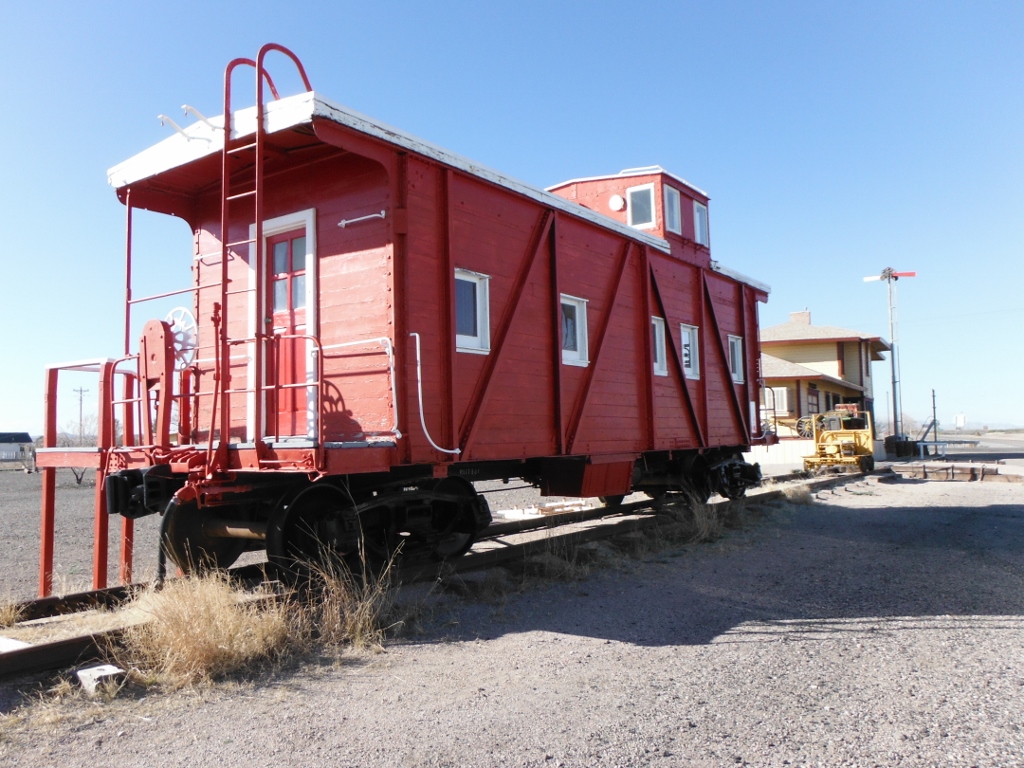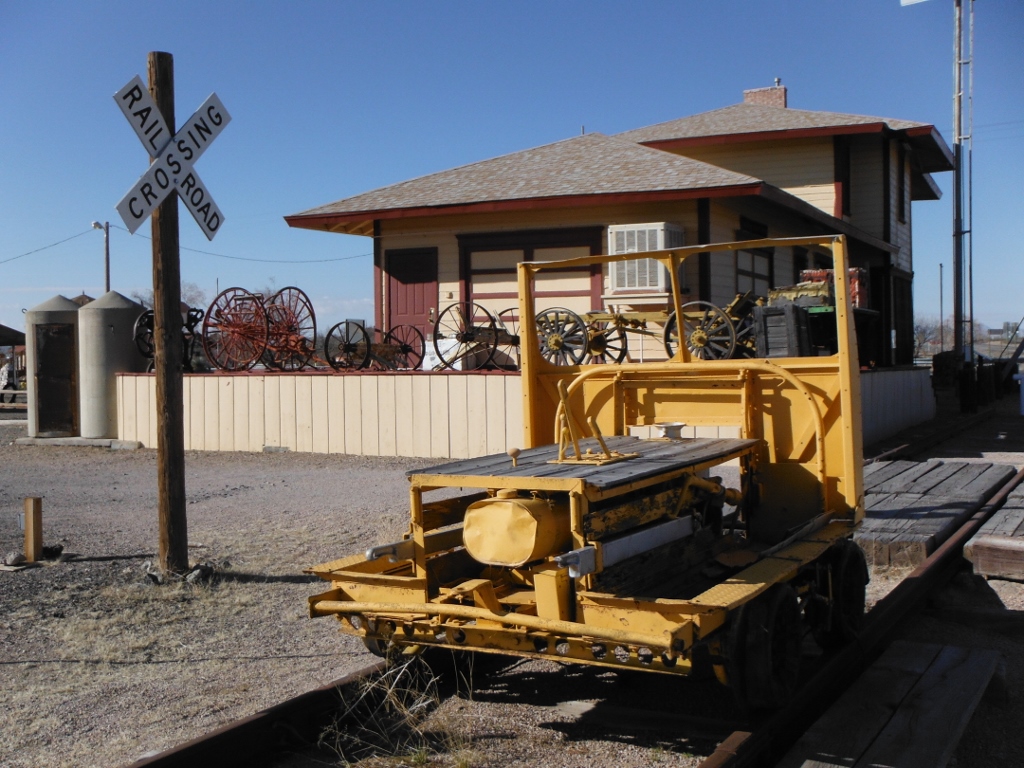 February 17th, 2015
I broke camp in Poncho Villa State park and headed for Chiracahua National monument in Arizona.
But on the way I passed my very old friend---the restaurant in Hachita, New Mexico.
When I rode the continental divide ride years ago we stopped here and ate and met some very interesting folks---------another story.
As you can see it's been closed for years.
I arrived in the National Monument----got a campsite and met my new best friend Adrian.
He had quit his job and hit the road on his motorcyle with not much at all.
He was so excited about his ride and was constantly asking advice about riding---gear and stuff.
His smile was contagious and we talked till it was time to go to bed.
I'll never forget Adrian------told me I was his inspiration---but he inspired me to---he was 30 years old and having a ball.
He had no rain gear----and after he left I wished I gave him mine-----as I don't use it any more anyway.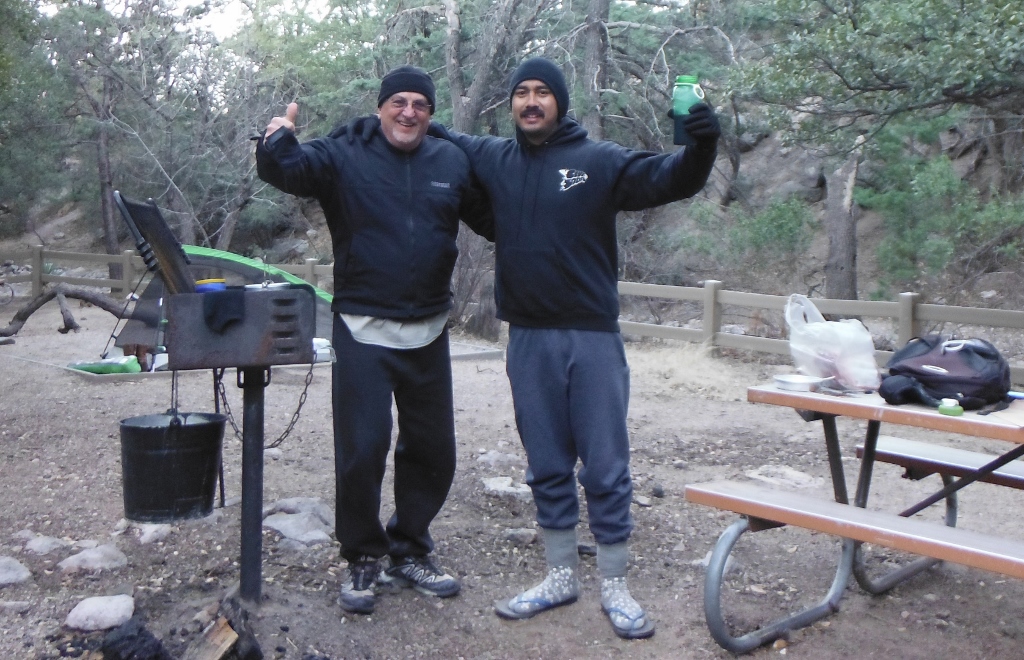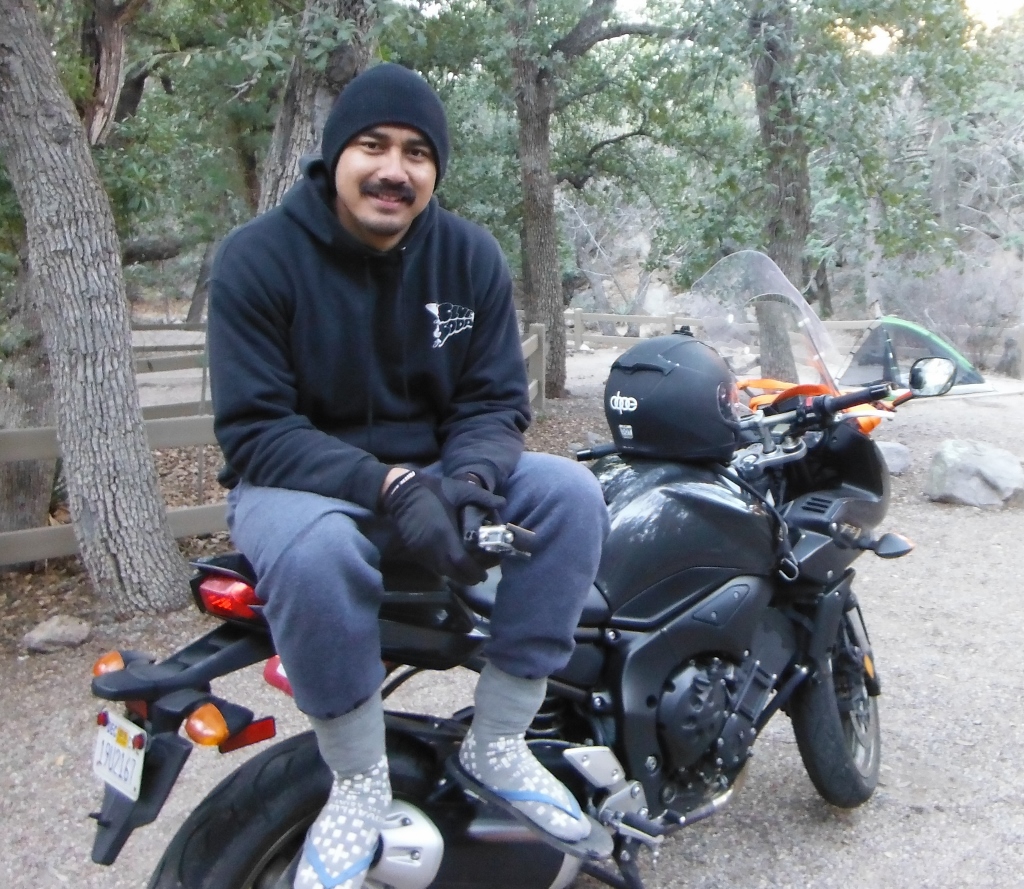 February 18th, 2015
The day I overloaded my ass----------again.
This trip was very different for me-----------it wasn't all about riding my motorcyle.
I had no where to be and wanted to relax and really enjoy different things on my way-----to wherever I was going ?????
Mike----the camphost in the campground hauled me about 6 miles up the mountain to Massai point and dropped my sorry ass
off as I was going to do a 7.5 mile hike thru the park.
Adrian had done it----------and told me I could do it "easily" with no problem------------he was wrong !!!!!!
He's 30 ---I'm 63 going on 18.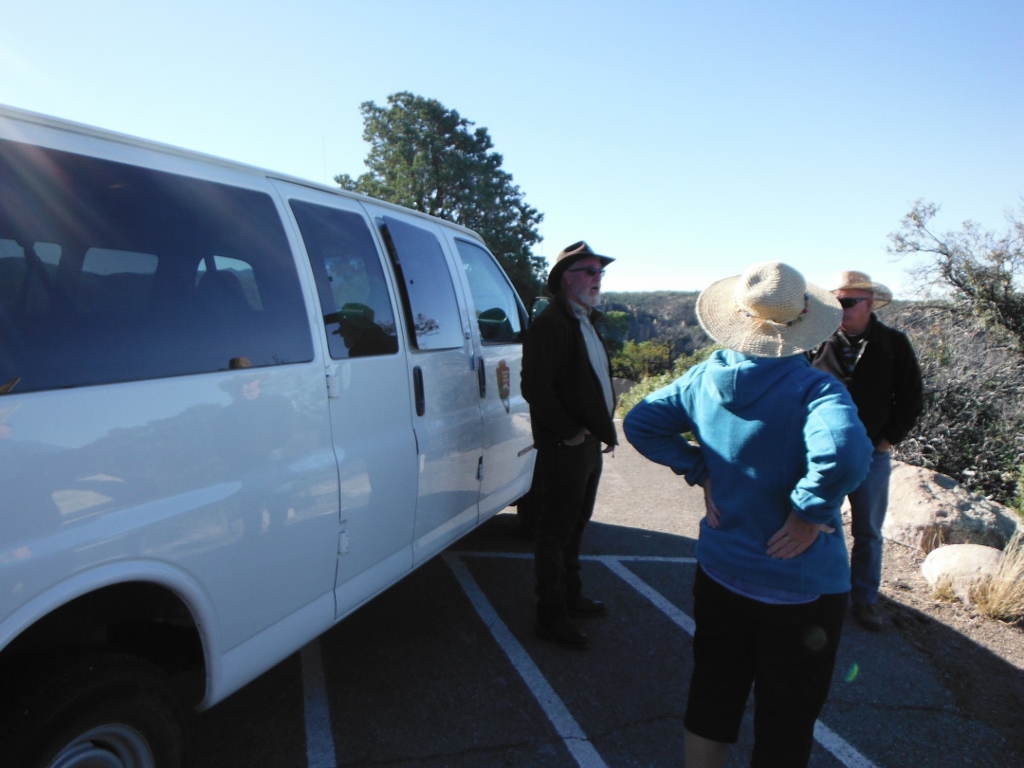 The scenery in the park was absolutely overwhelming------nothing like I had ever seen.
There were about 10 people in the bus---but we spread out at times---I was the slowest but would somehow catch up at times.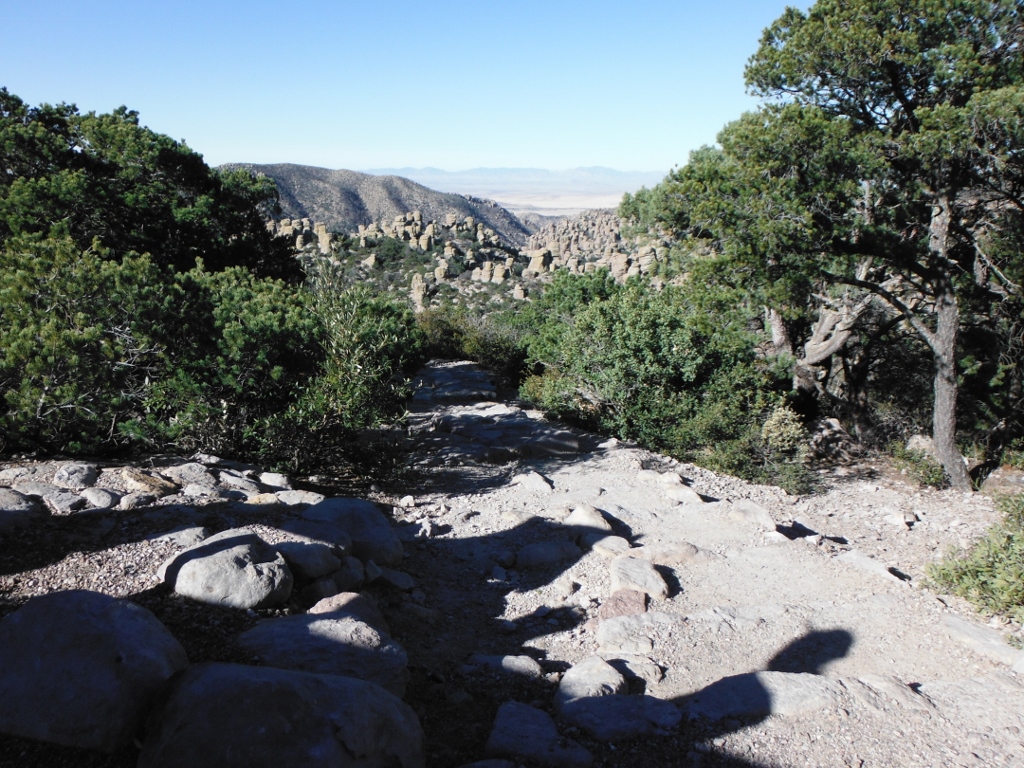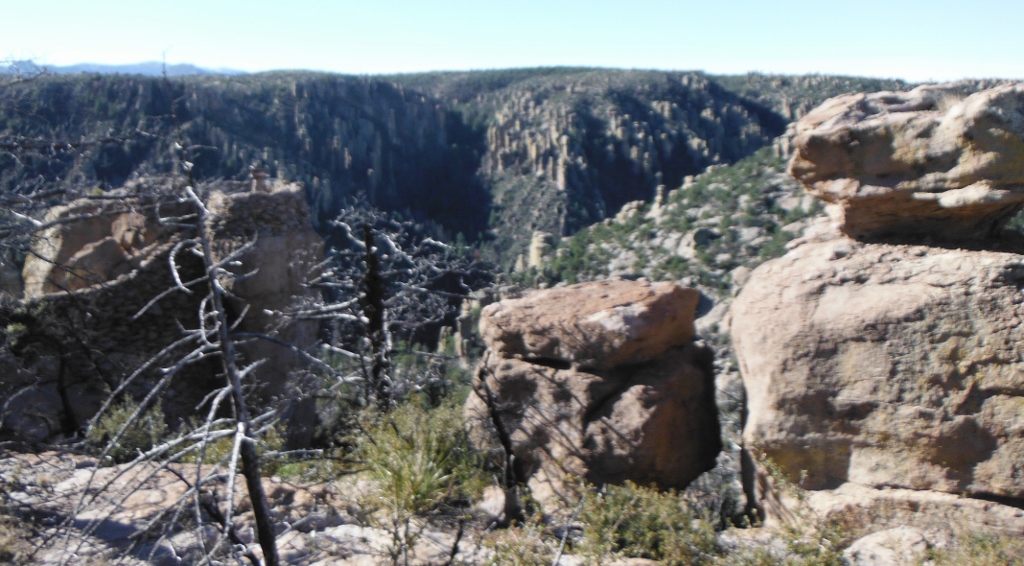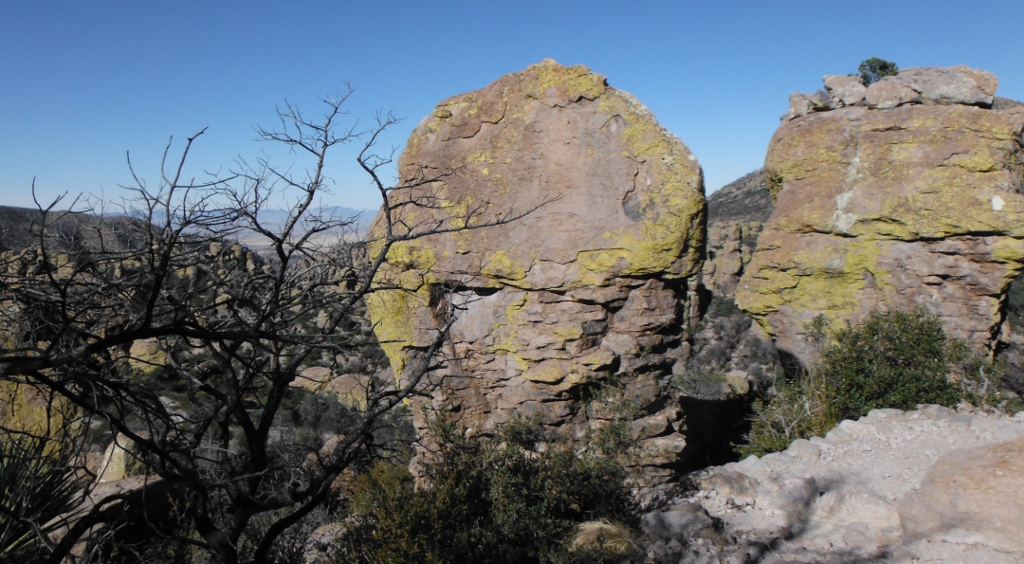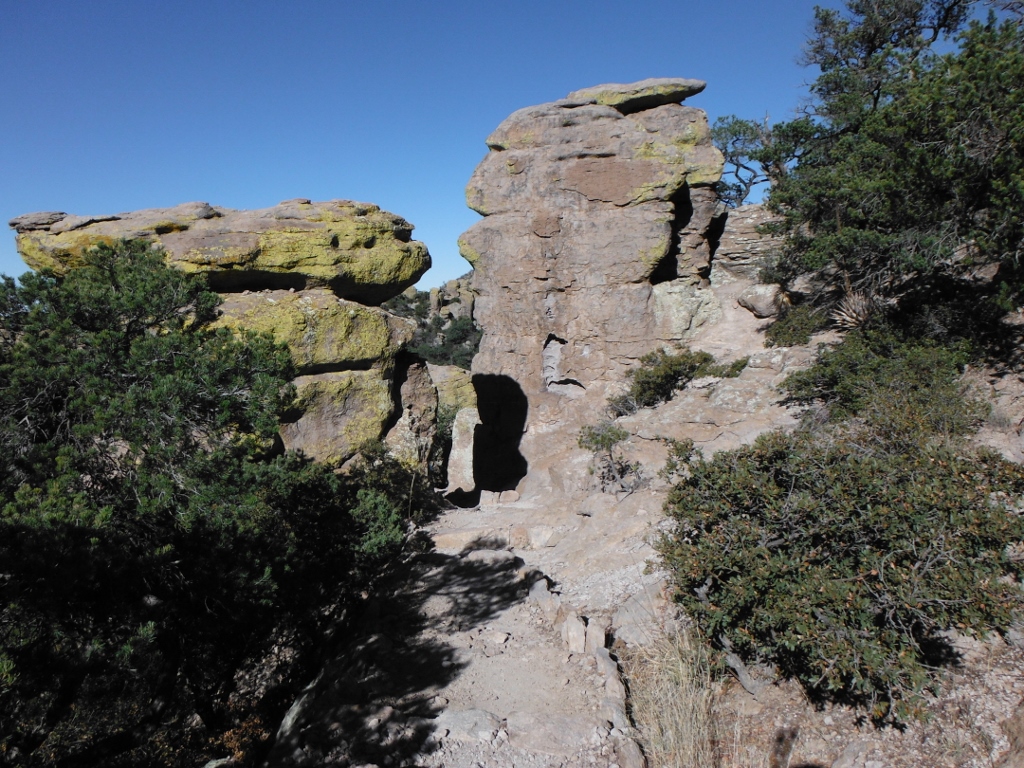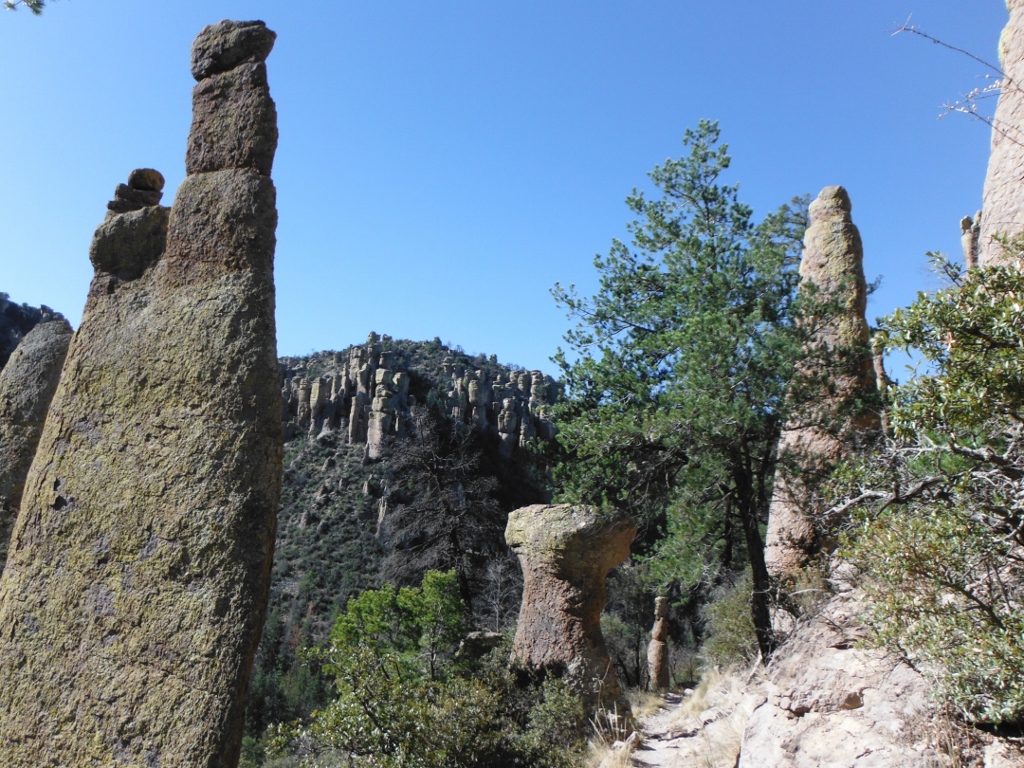 The trail was easy at times---but got really hard at times----I'm not an experienced hiker.
But as far as gear--the only thing I did wrong was carry some warmer clothes which I never needed and ended up just carrying them.
Oh---yeah-----I didn't bring a band--aid. I would need one.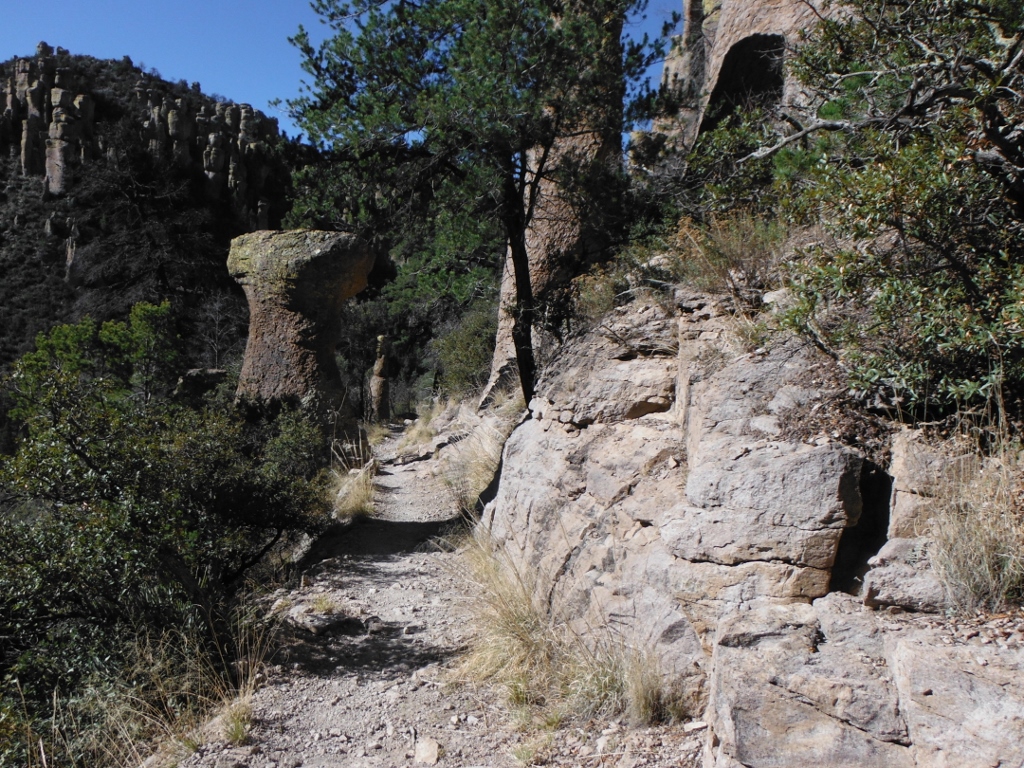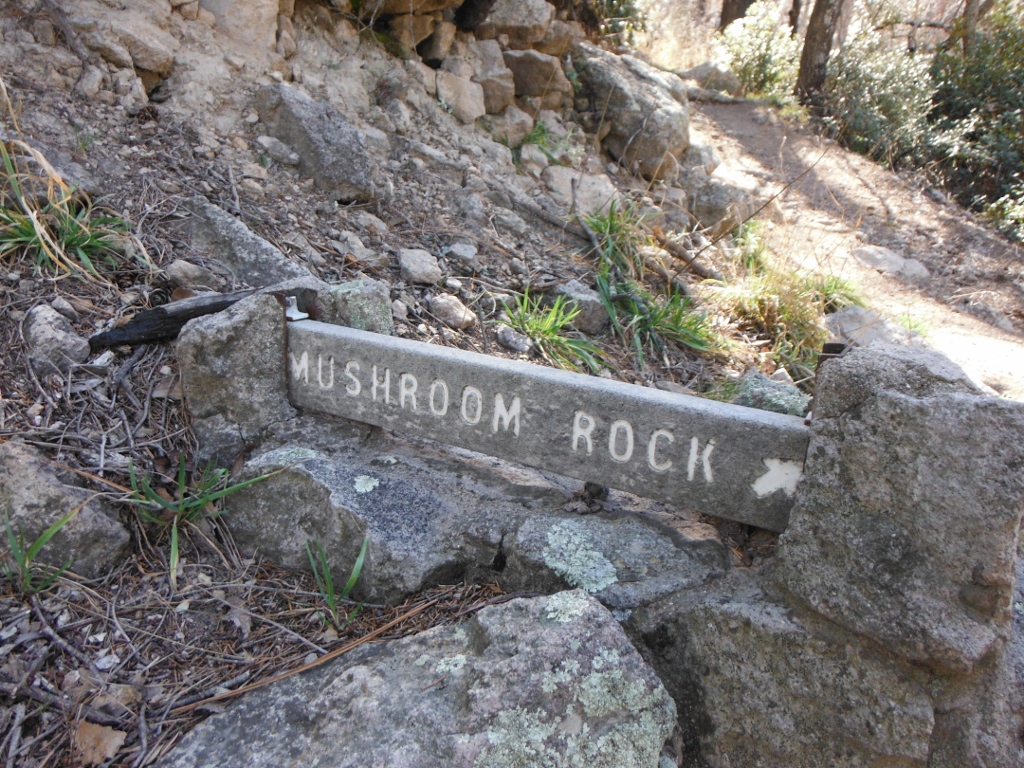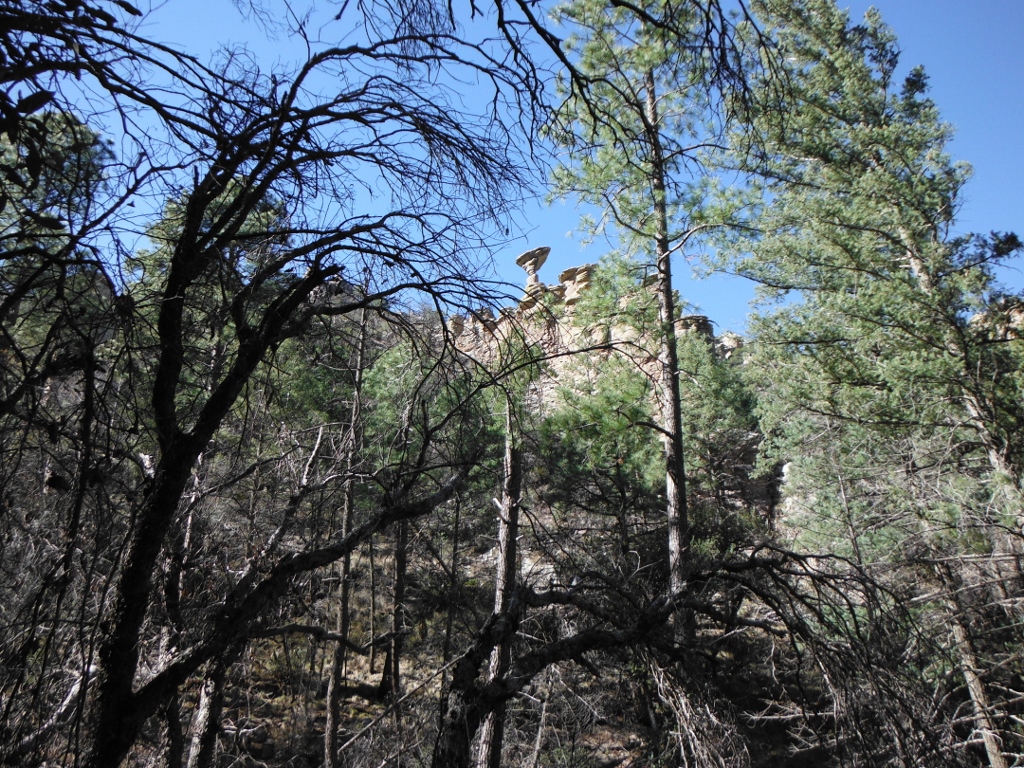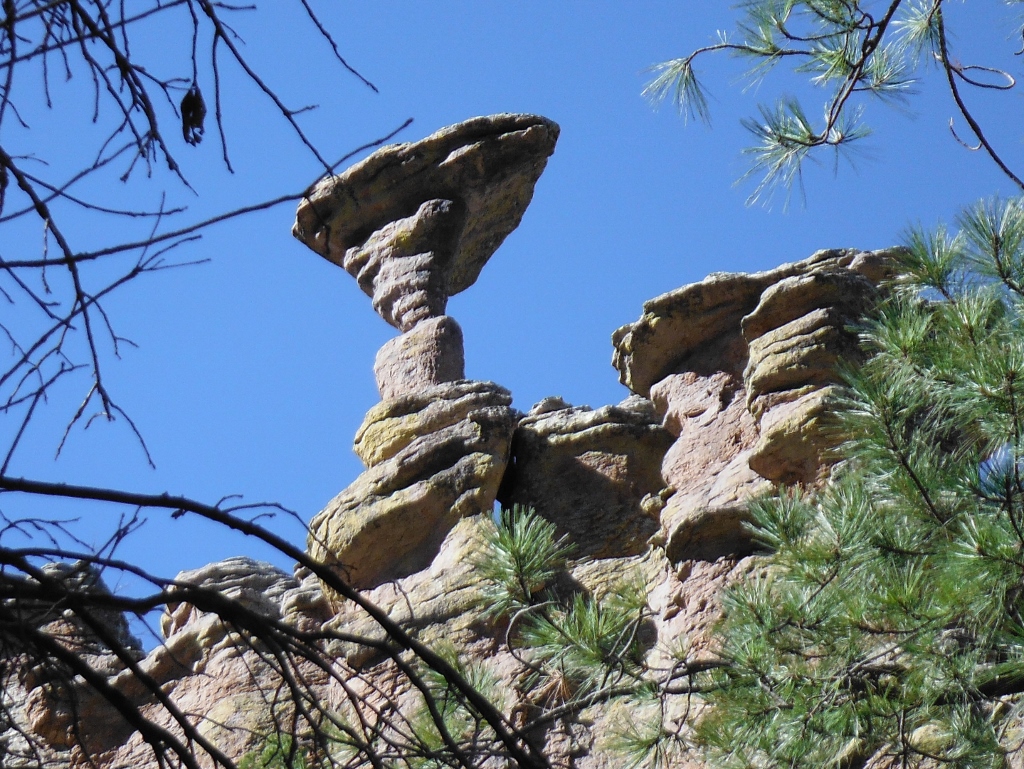 It was so funny here---I'm used to being on a motorcycle---------so thought---"How in the heck am I going to get around or over this" ???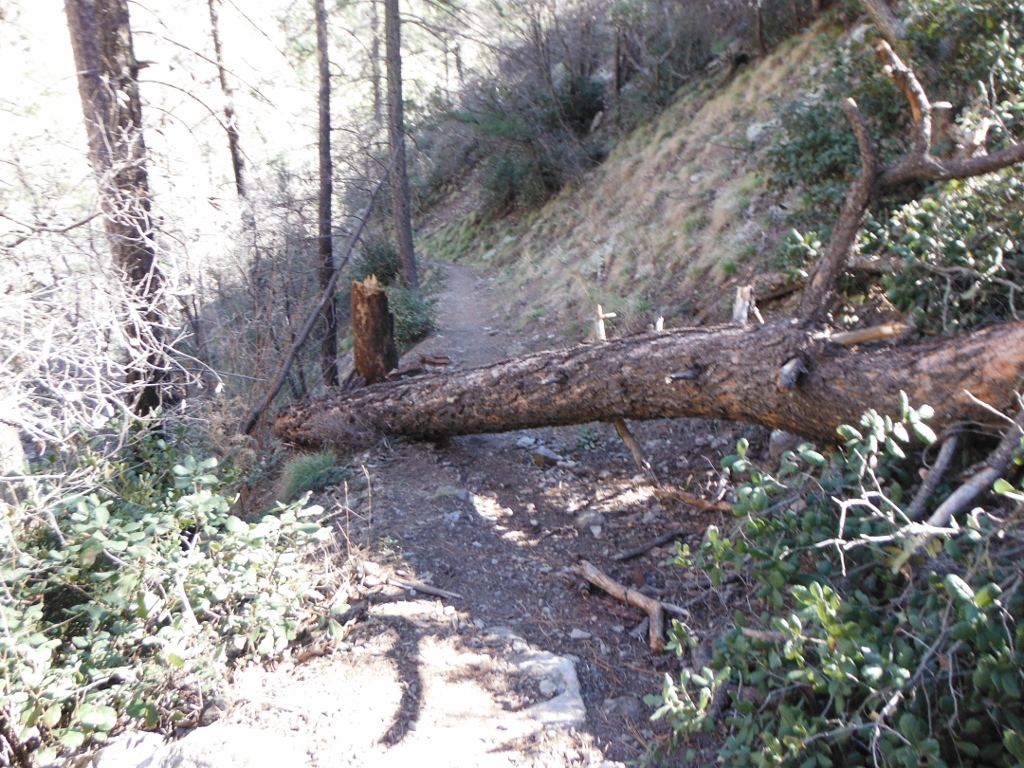 Ocasionally I got someone to take my picture to prove I actually did this hike.
People at home watching my spot tracker progress were surely wondering what the heck ????
He's only going 1mph.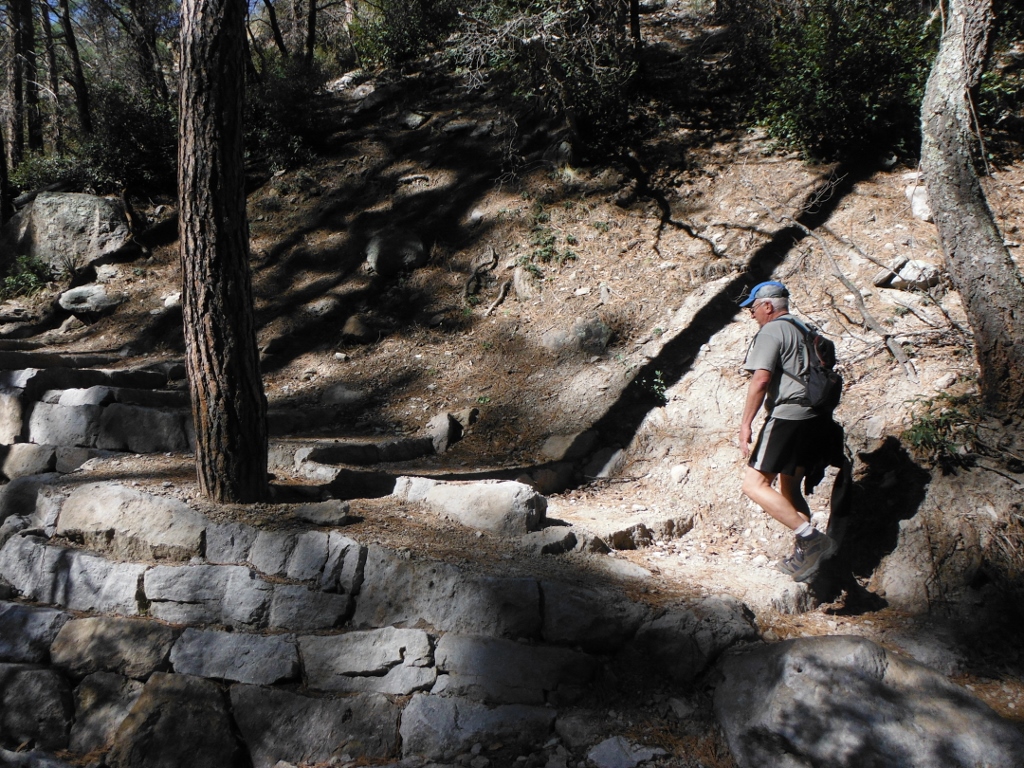 Somewhere during the hike (not here) I went over the handlebars. Head over heels going down a trickey rocky descent and had
skint myself up pretty good. It was an ugly high side and some people came up behind me and helped me get bandaged up---they
had a bandaid and I didn't. I had hit my head and thought it was bleeding---but they said it wasn't and on I went.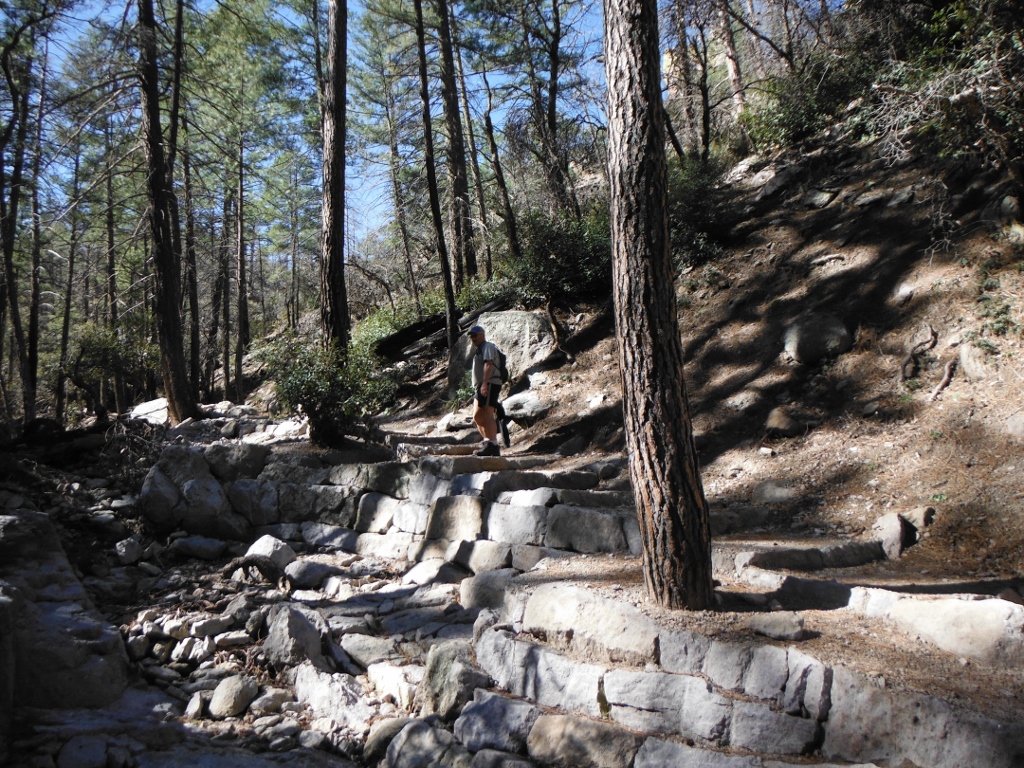 Sometimes you'd be walking in a creek for a bit----I crossed many------the trail was almost always rocky.
Foot placement was critical so as not twist your ankle-----or do a high side.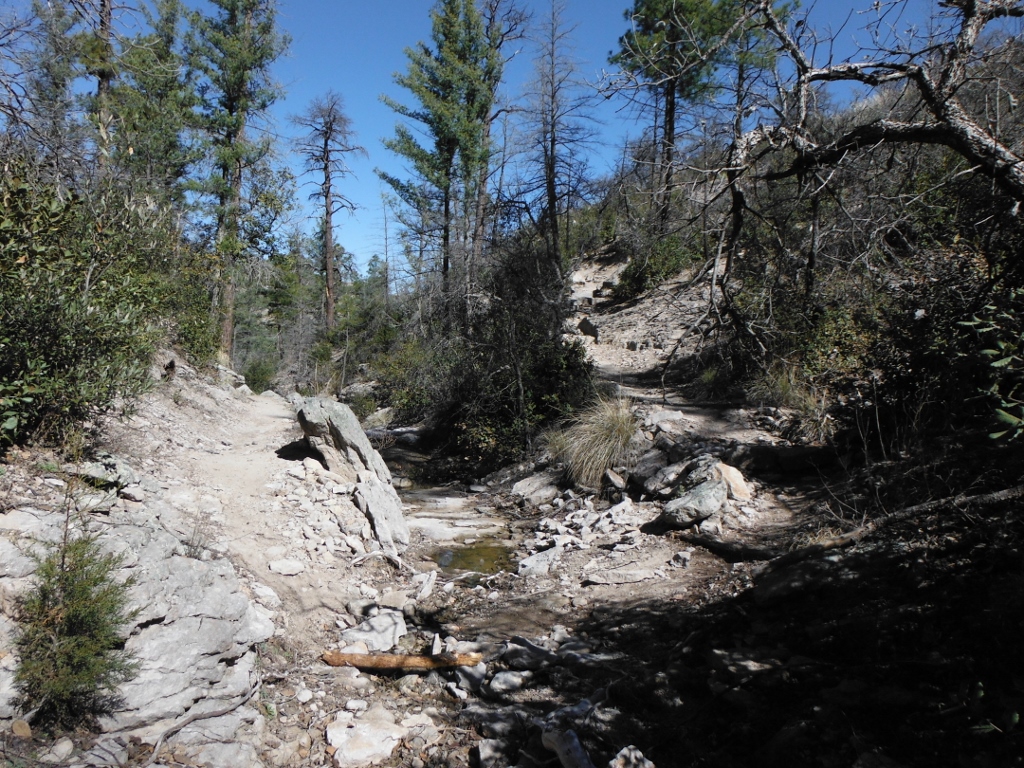 I had plenty of snacks and 100 oz. of water---which was perfect----at the end of the 7.5 miles hike I was sucking air.
But no bandaid.
I also had trekking poles---but didn't use them at all at first------but after the high side started using them the rest of the hike,
Like I said-------I'm new at this but was having a great time and had planned on taking most of the day to do this.
And as slow as I was---it took all day.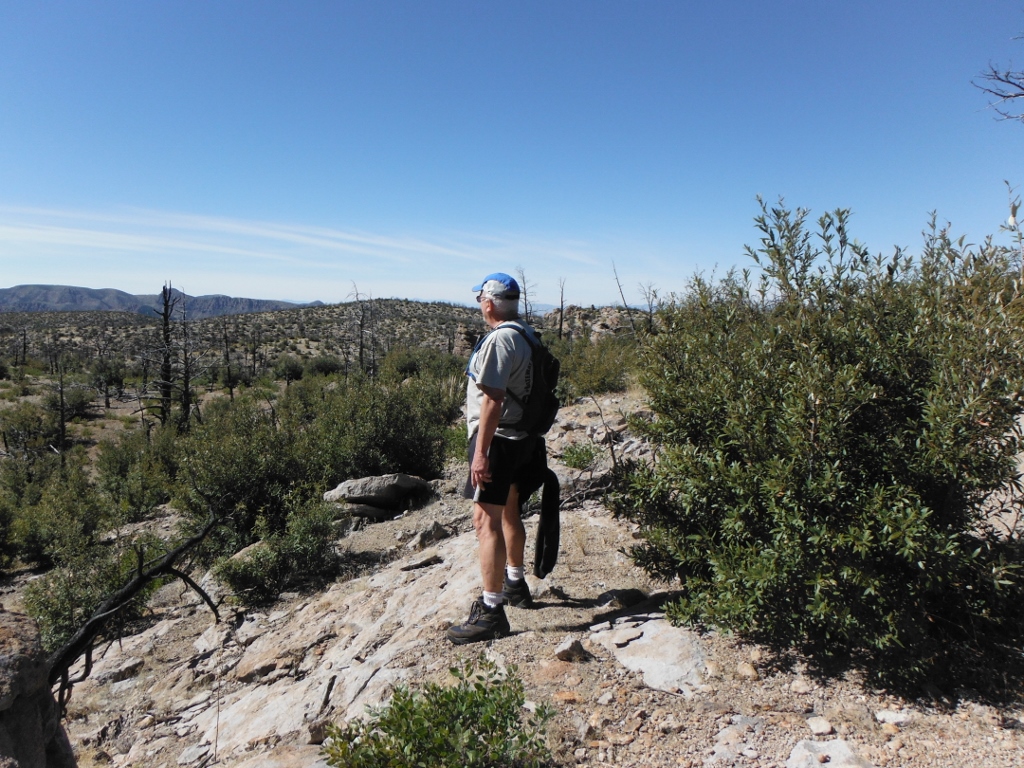 Such a nice couple--------I passed them once and she said as I passed.
"You'll find me sitting on a rock later on".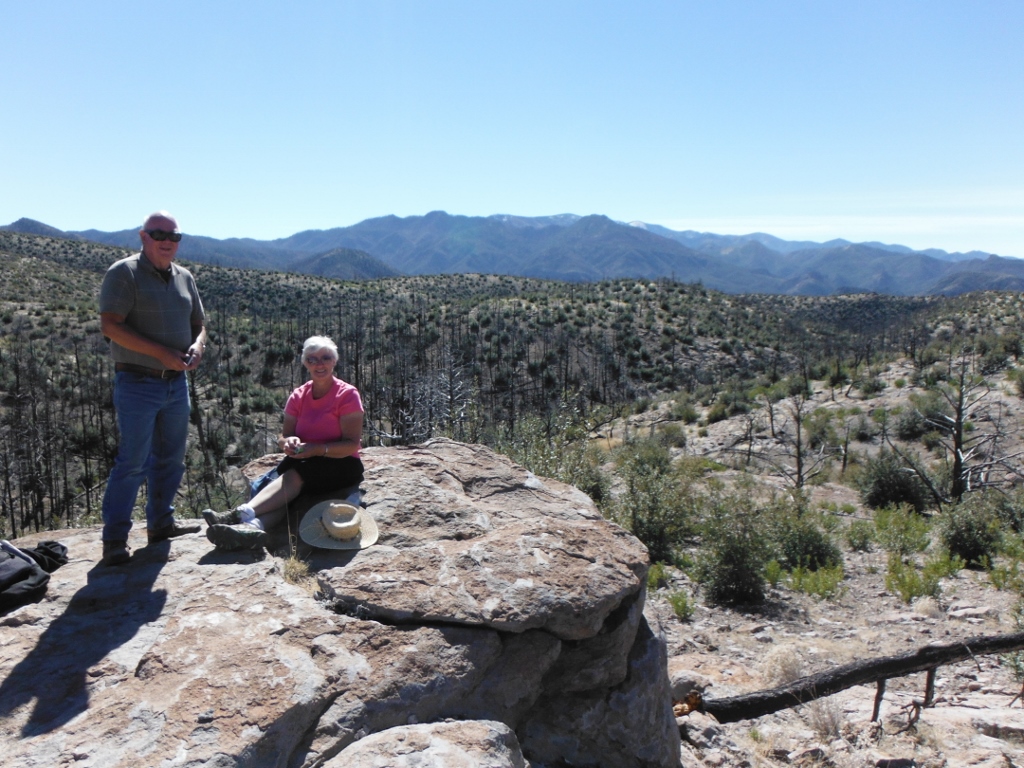 What was really slowing me down was this guy--------------talked to much too.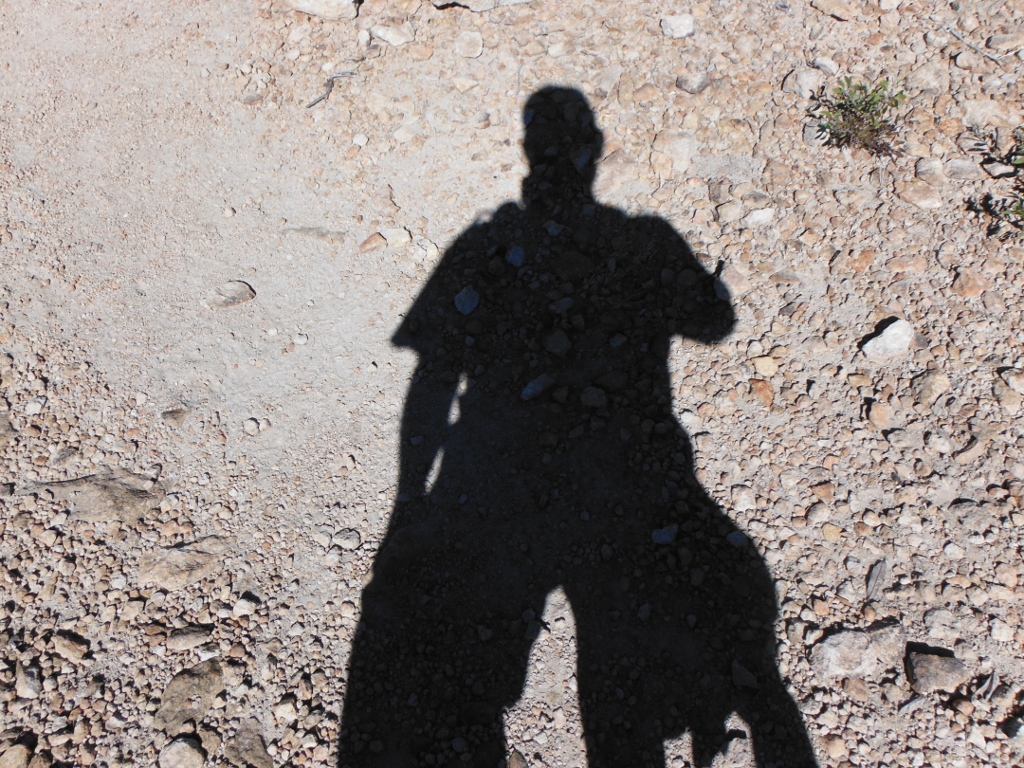 See the snow in the mountain----some where out there is Johnny Ringo's grave------I've been there.
The fastest pistolero in the West--------------until somebody shot him.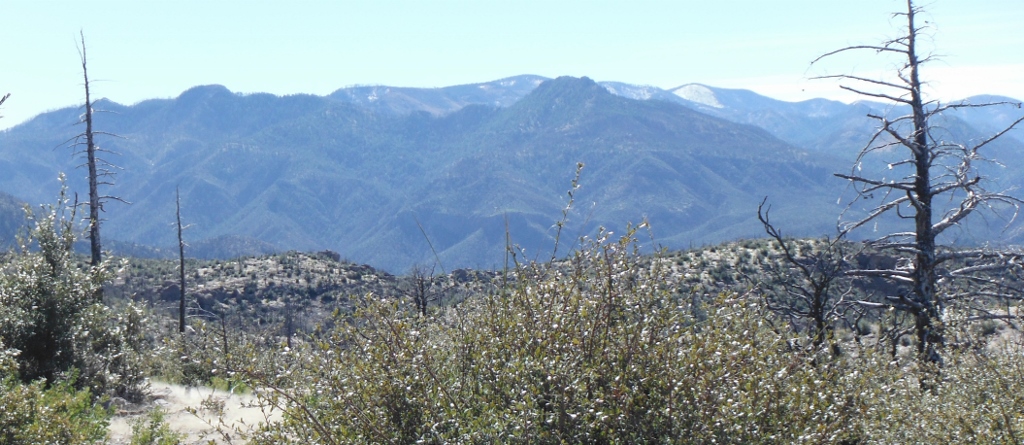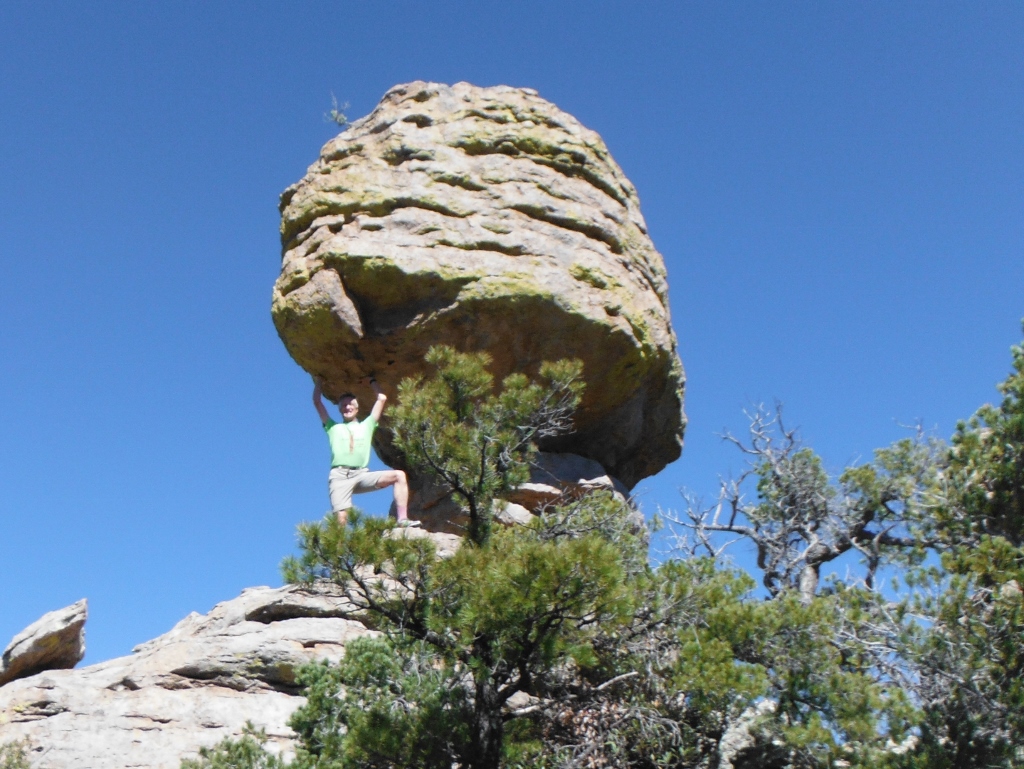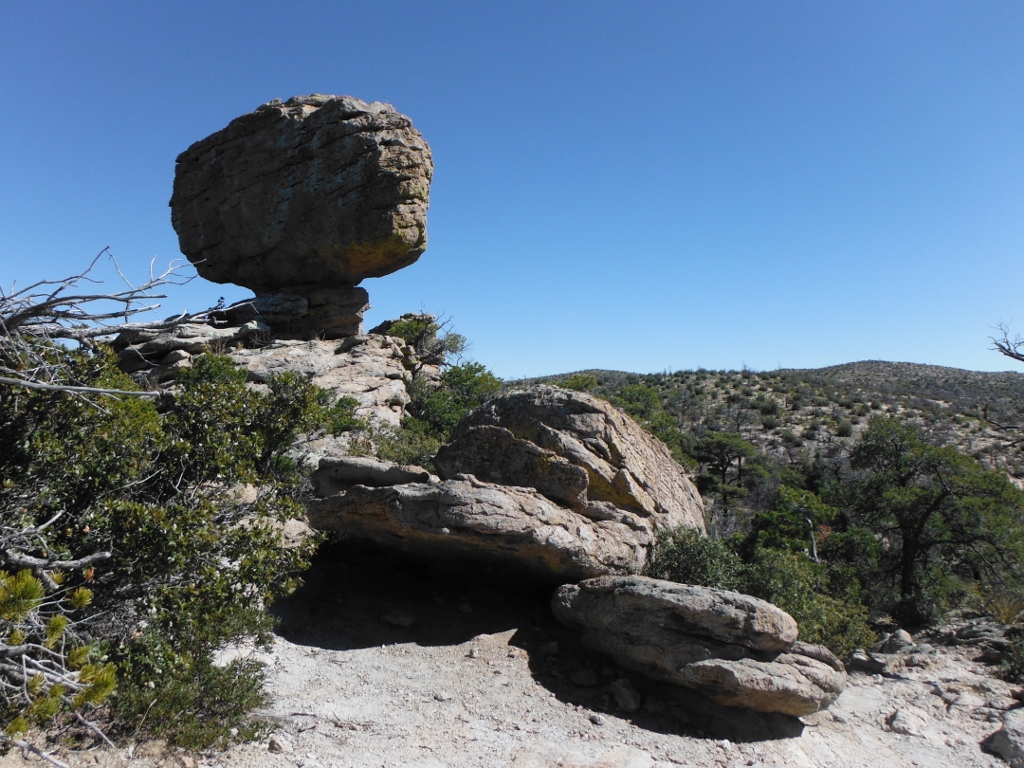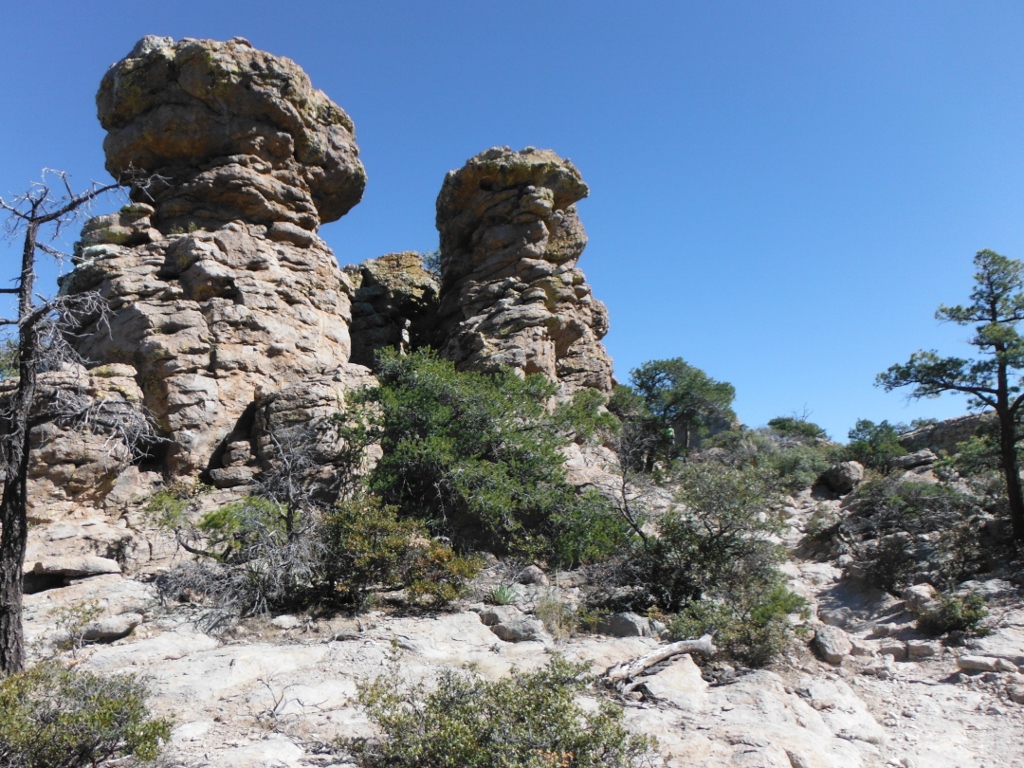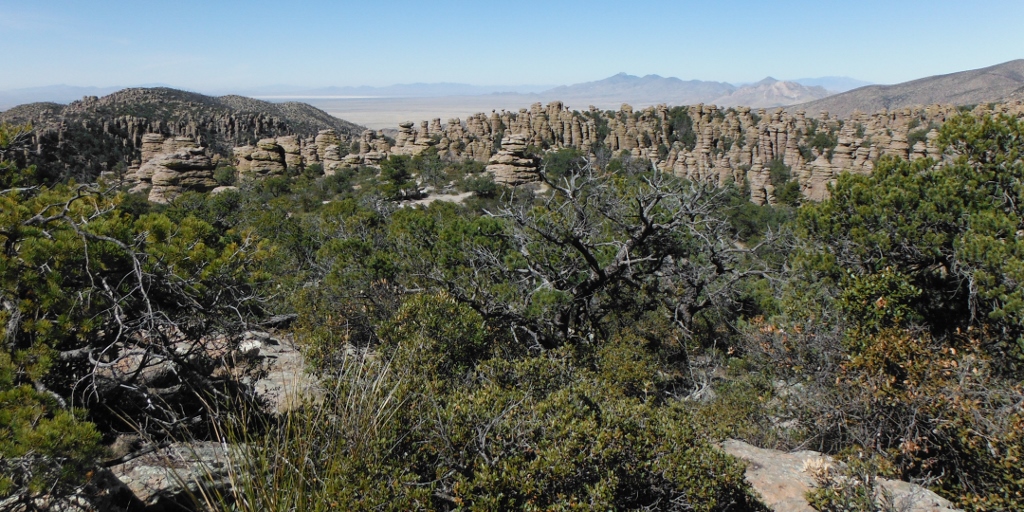 The coolest part---I walked for a long way threading my way thru those rocks.
OK----I was getting tuckered and weak. I really think I had a touch of altitude sickness.
This super nice couple who wasn't with our group came upon me and asked how I was.
I had about a mile to go----and after telling them I was weak they accompanied me back to the end of the trail.
I was so grateful-----we yakked the whole way back and it took my mind off how tired I was and I made it!!!!!
I slid in sideways----dirty---stinky----tired--hungry and beat up--just the way it ought to be some would say.
Got back at camp---and this note brought a tear to my eye.
Adrian I wish you the best.
Notice he says "Stay 18"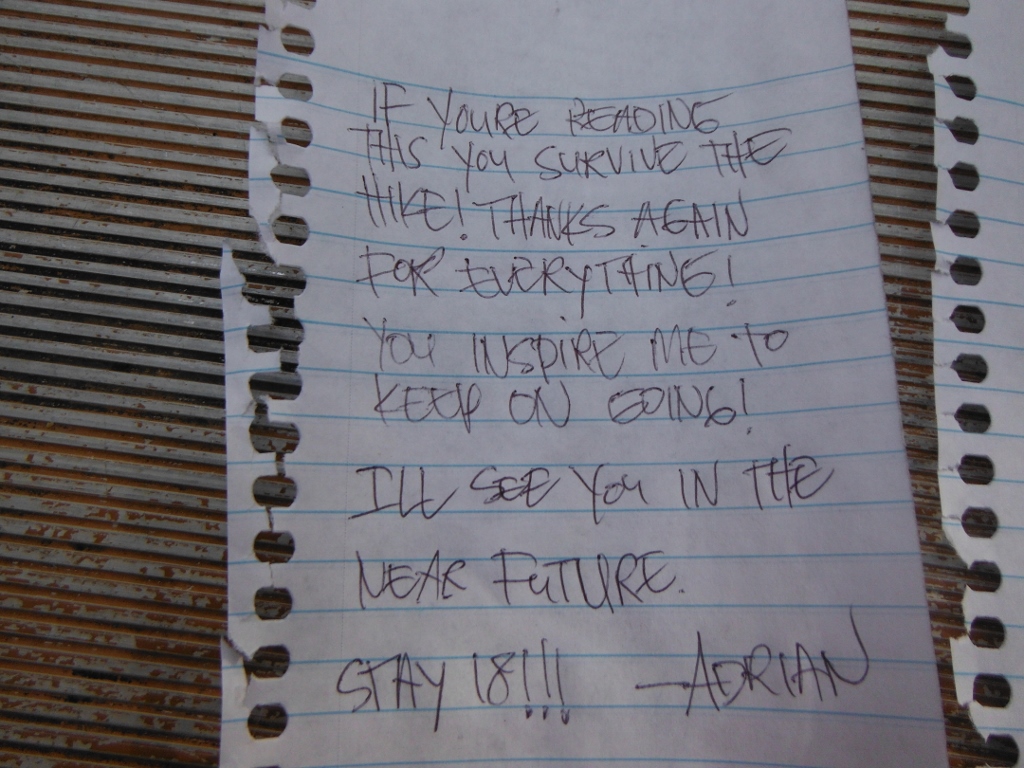 I don't hike much----I ride bicycles a lot-------bicycle muscles and hiking muscles aren't the same--I found out--who'd a thought.
My legs were so sore I couldn't hardly walk.
But had enough energy left to fix me a great meal.
Another guy I met had one of those 4-wheel drive sportsmobiles which was so cool.
He came by---and we had a "night cap'. Slept soooooooo good !!!!!
I thought about tomorrow and decided I'd overload my ass again.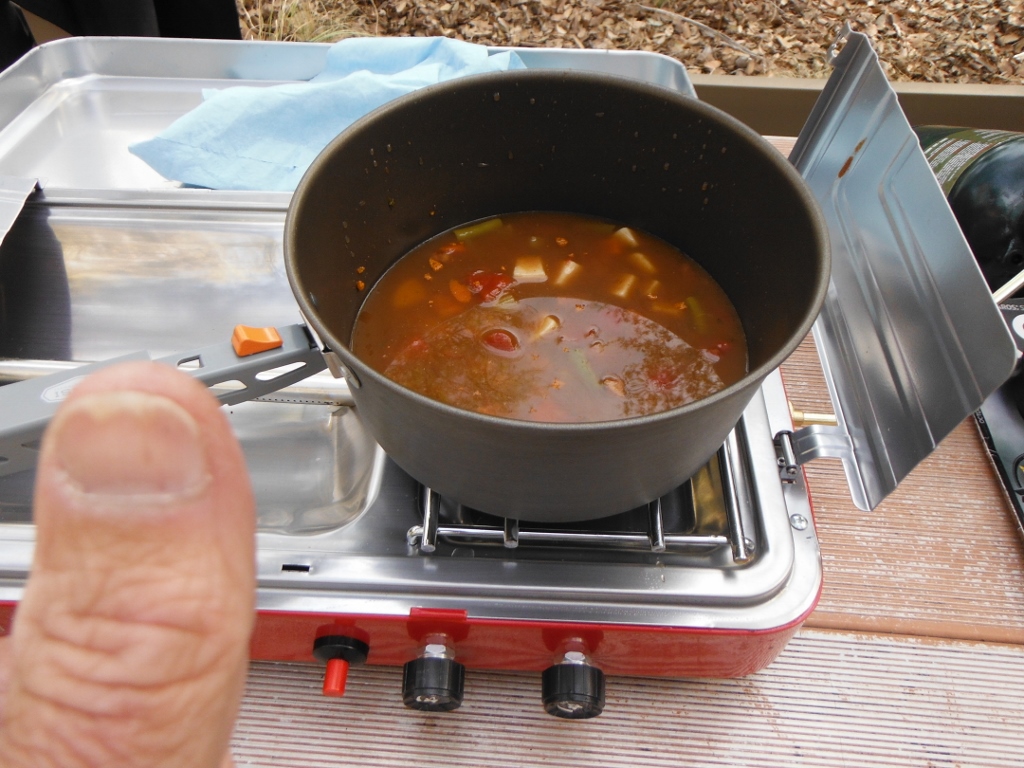 February 19th, 2015
Click the link for the rest of the story.
Click HERE