BigDogs 2009 Fall Ride
Searching for the Fall Colors
This ride isn't epic maybe--it's not in some exotic country--it's not Baja or the empty great West.

But in my eyes it was a great ride.
I rode my 2008 WR250R and was packed for camping--and camping I did.
I headed Southwest thru Southern Illinois--and here you have it thru my eyes.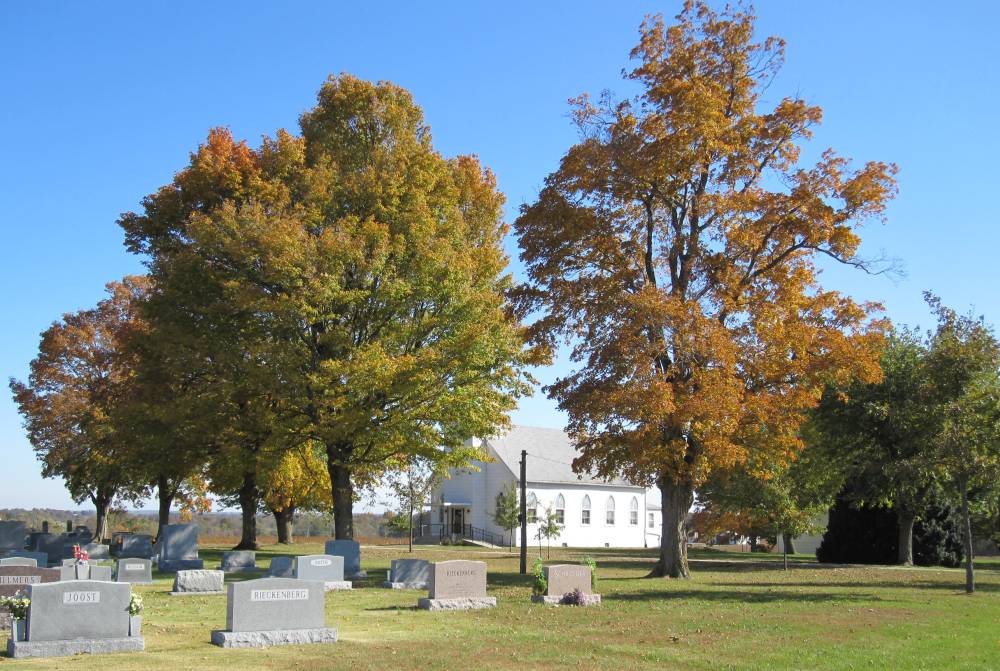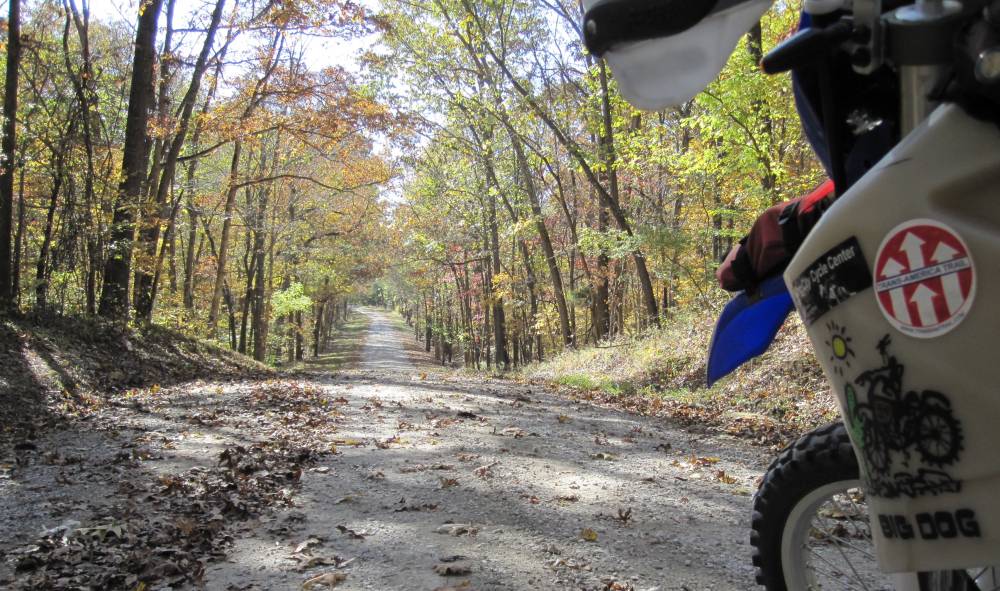 Down towards the Mississippi river in Chester where I crossed the river.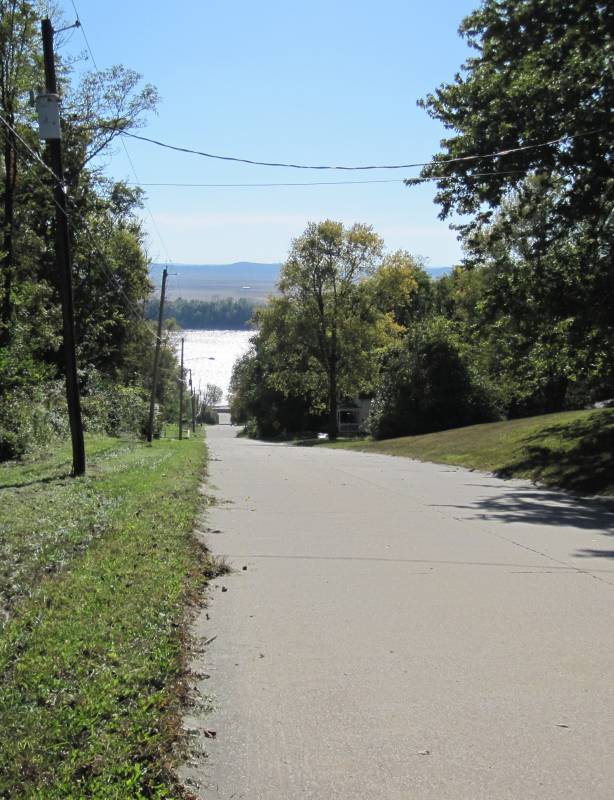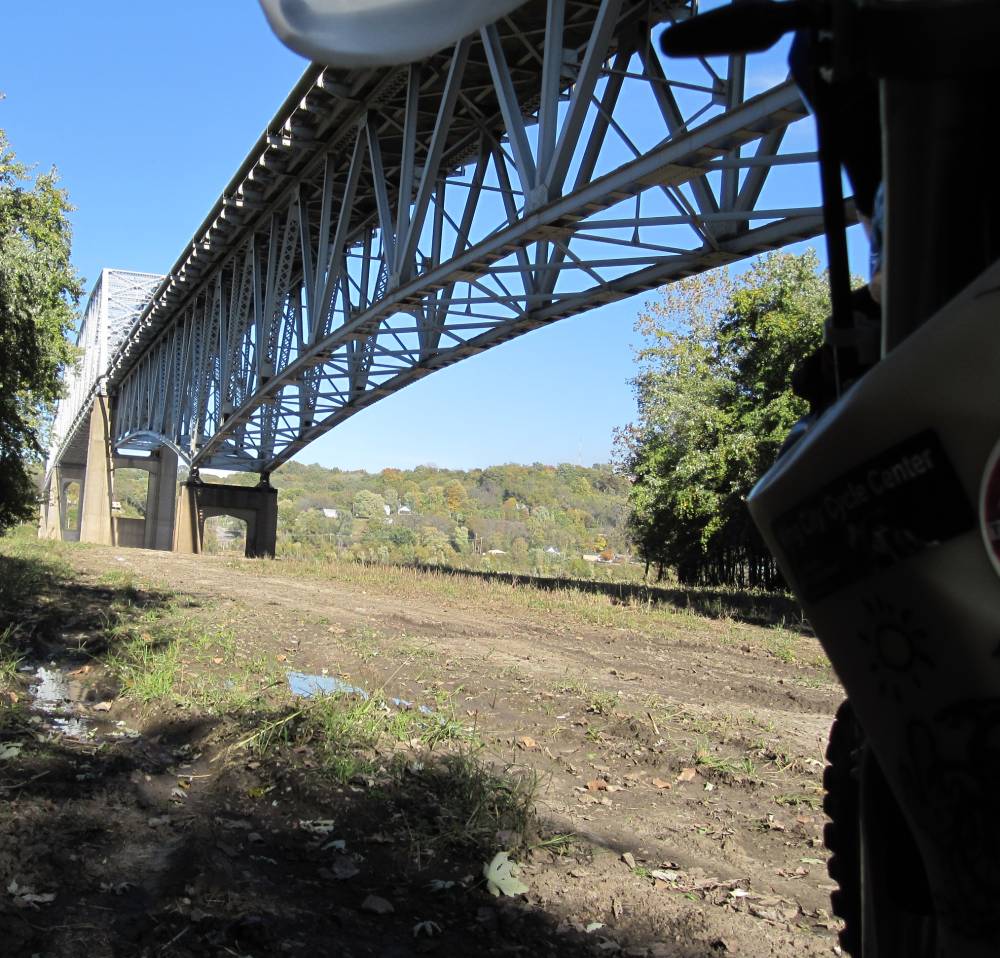 I can't seem to just cross the bridge at Chester----I always have to ride down under it----why ???
Because I can--and most vehicles can't get down there-----One of these days I'm going to be going over this bridge
at the right time of day----and camp under it. Bet there is a law against it----didn't see any signs.
When your old and gray--sometimes you can get by with this kind of thing.
If you face looks all red--your eyes are funny lookin---and you look like your face fell
in your grandpas tackle box---things might be a bit different for you !!!!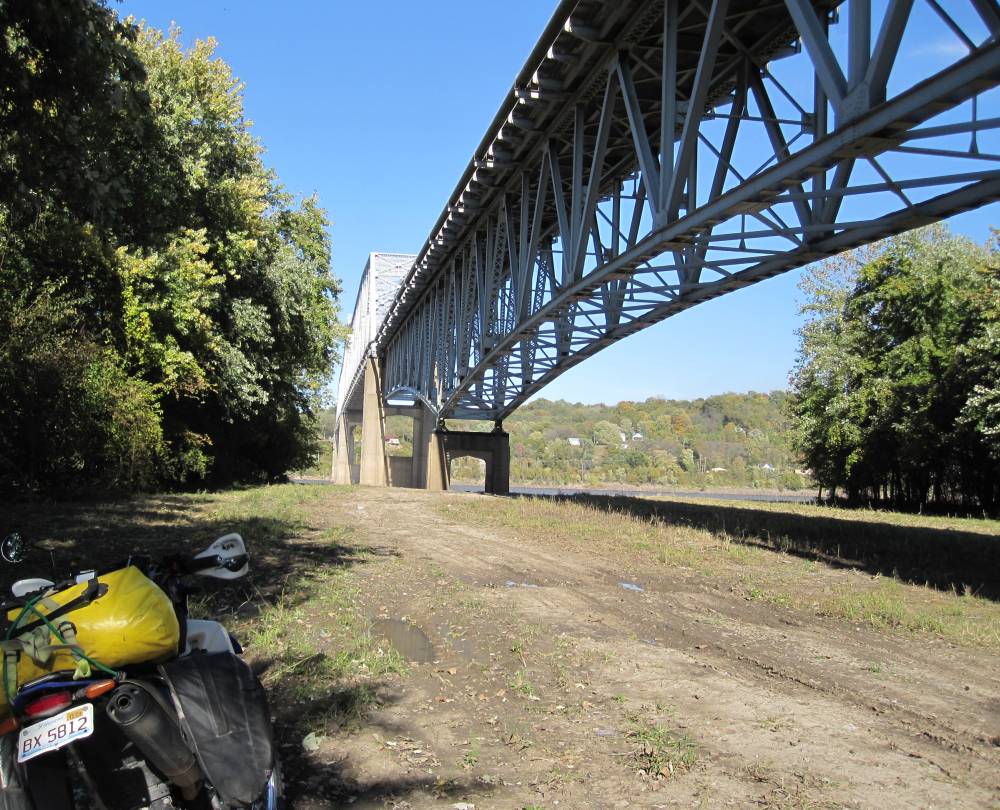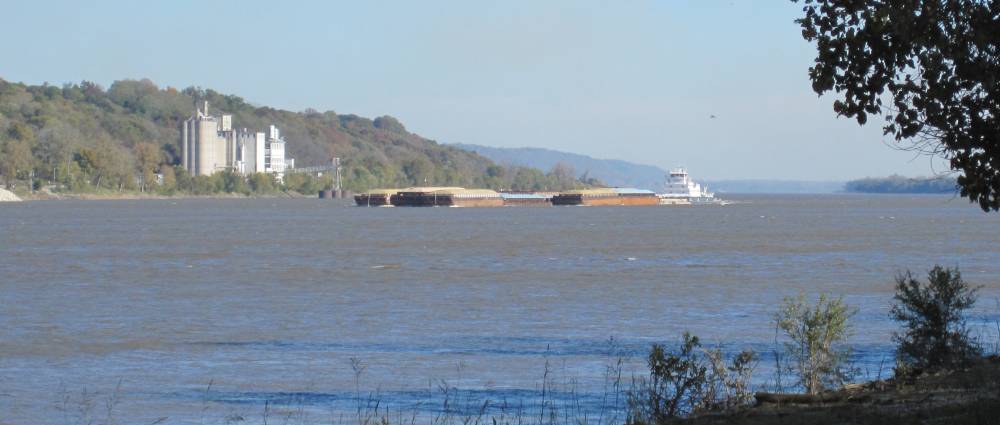 Just across the river I love riding this levee road---the farmers were burning their fields which made a magnificent scene.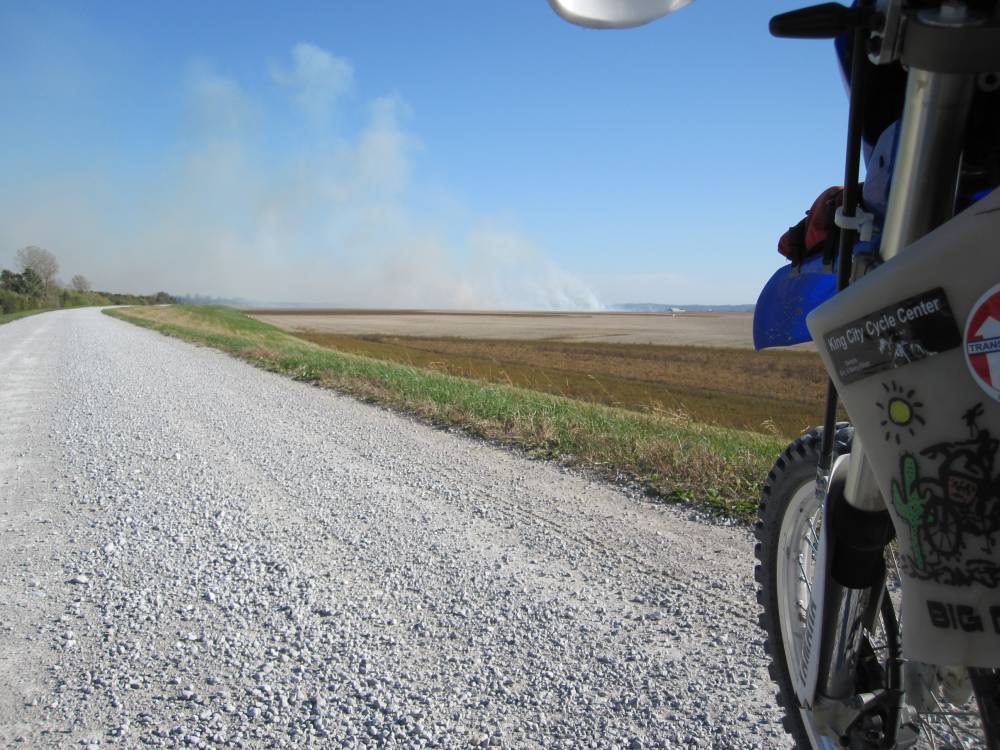 You've seen this tree before on my website-----for years there use to be a eagles nest up there that was as big as a bathtub.
I have this marked with my gps---the last time I guess I didn't look good enough as I thought the tree was gone.
Closer inspection shows the limb broke and down came the nest.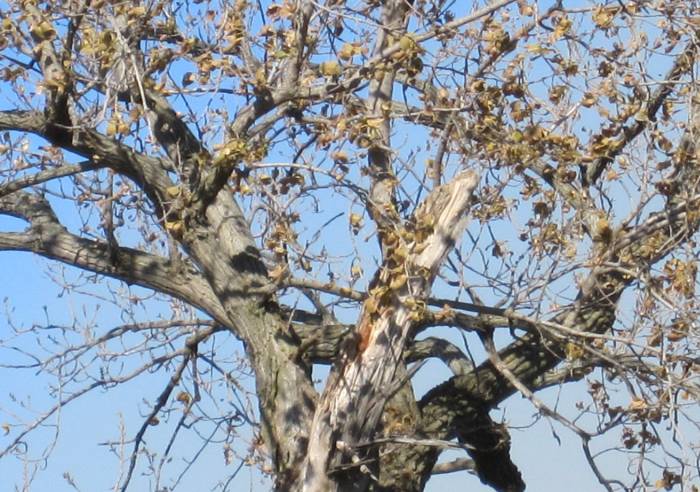 Another thing about the fall I like is harvest.
This is the flat low lying plains along the Mississippi river in Missouri.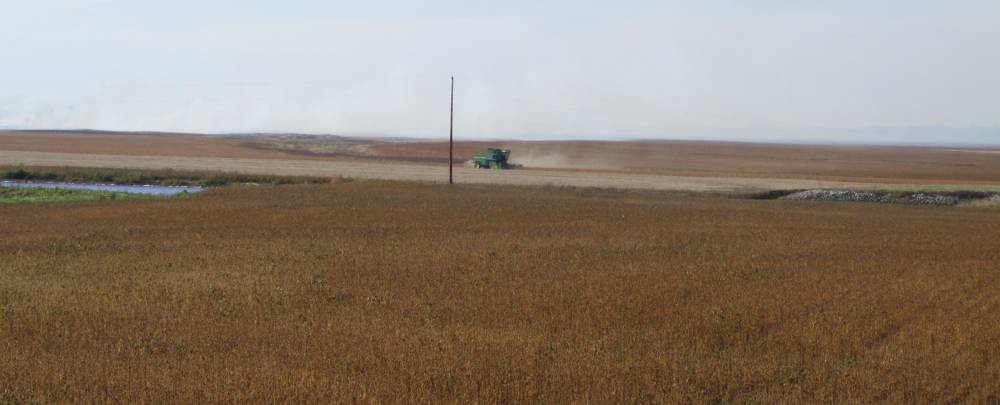 Brazeau is an unincorporated community in southeastern Perry County, Missouri. Although it is small, it does have a United States Post Office with a zip code of 63737. It is located about ten miles southeast of Perryville, Missouri and about 35 miles north of Cape Girardeau. The community is named for the nearby Brazeau Creek, which in turn was named for Joseph Brazeau (also spelled Obrazo) a merchant from St. Louis, Missouri in the years 1791-1799, or a member of his family.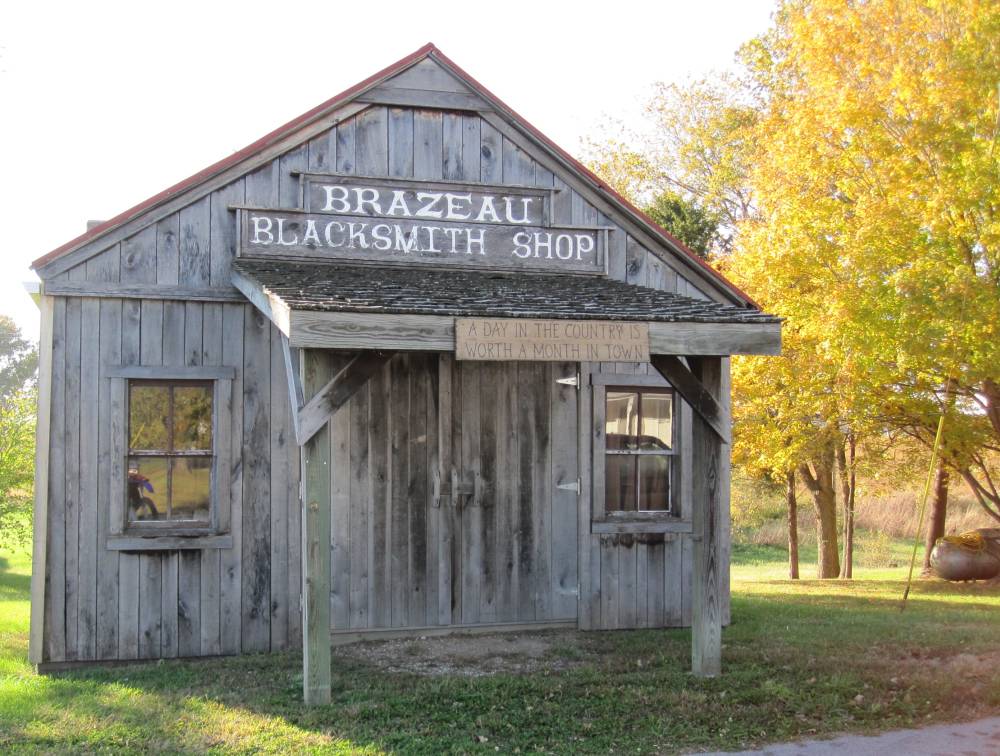 Established 1919 and still standing---I bet Poncho and Lefty could have taken this bank.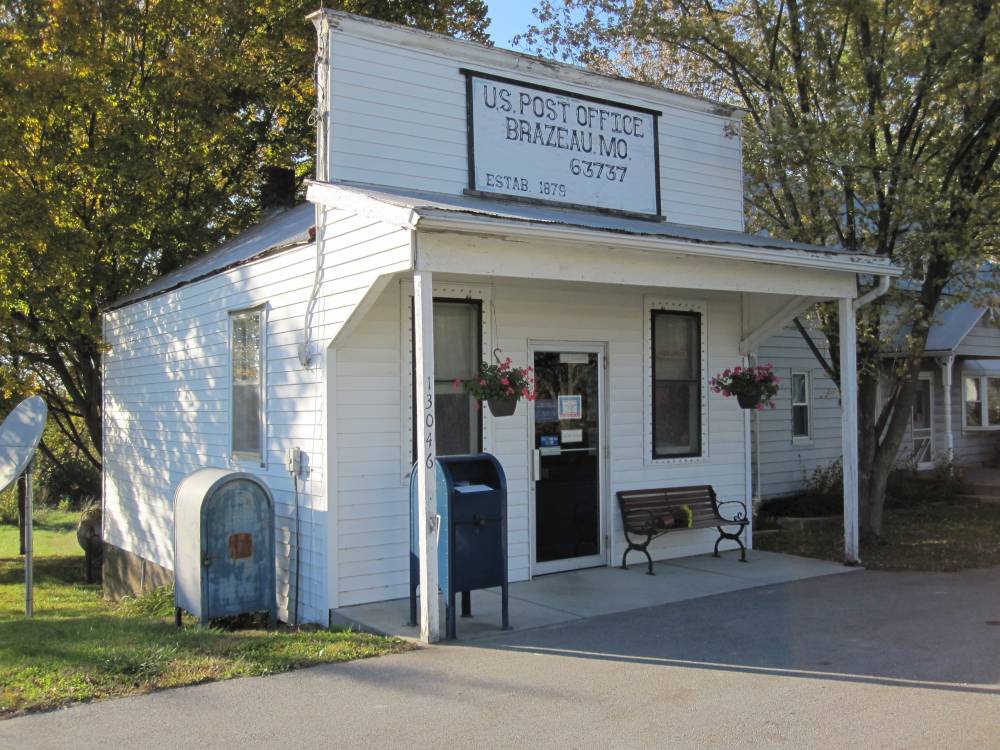 Brazeau School--established 1878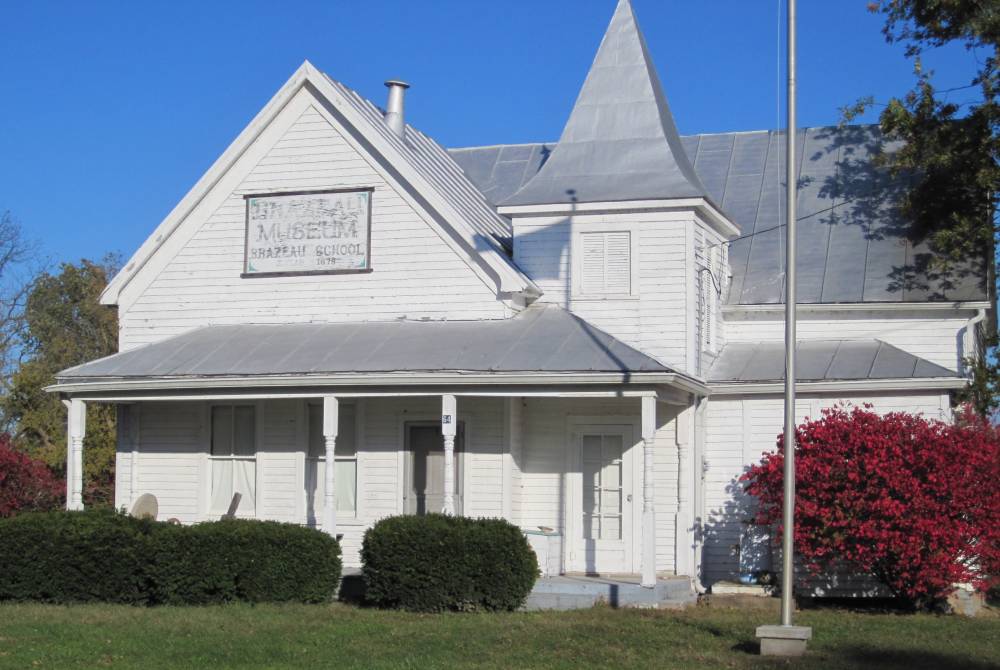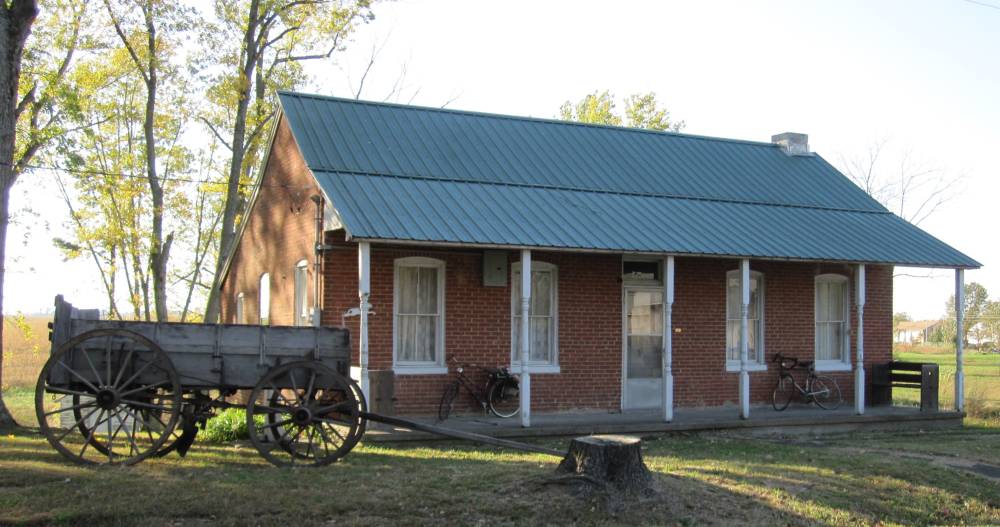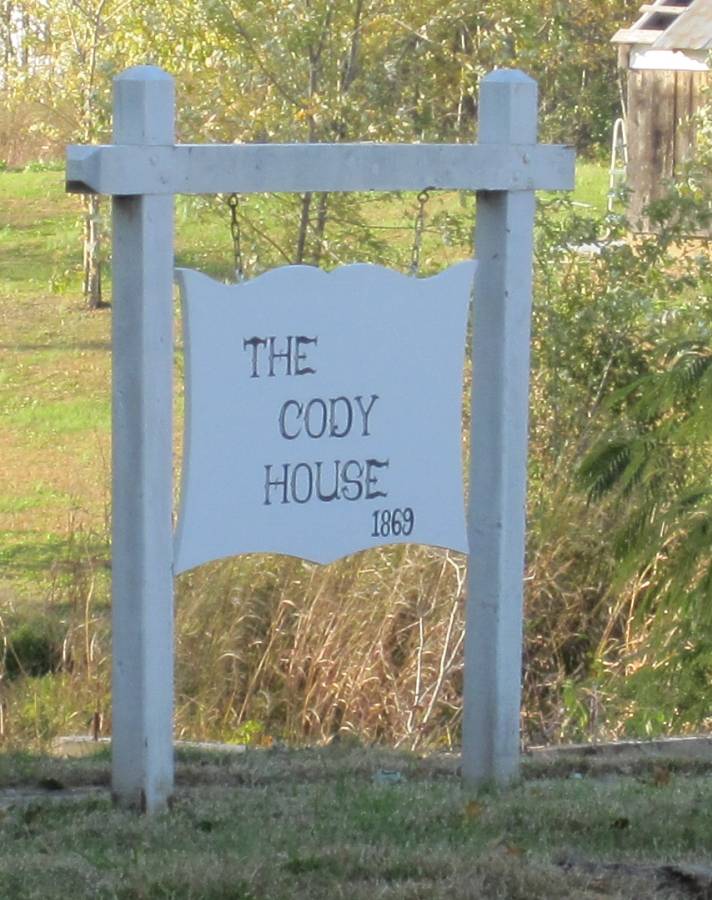 Don't go blasting thru this little town without a stop.
I'm bettin' about 100 people call this little town home still.
It's so small you can see all these places I've taken pirtures of from standing in one spot.
It is hard not to blast thru as the "C" road this town is on is very hilly and curvy with hardly anybody
or traffic around.
I hit many more backroads and the little 250 just purred happily along.
I continued South on C towards Trail Of Tears State Park in Missouri.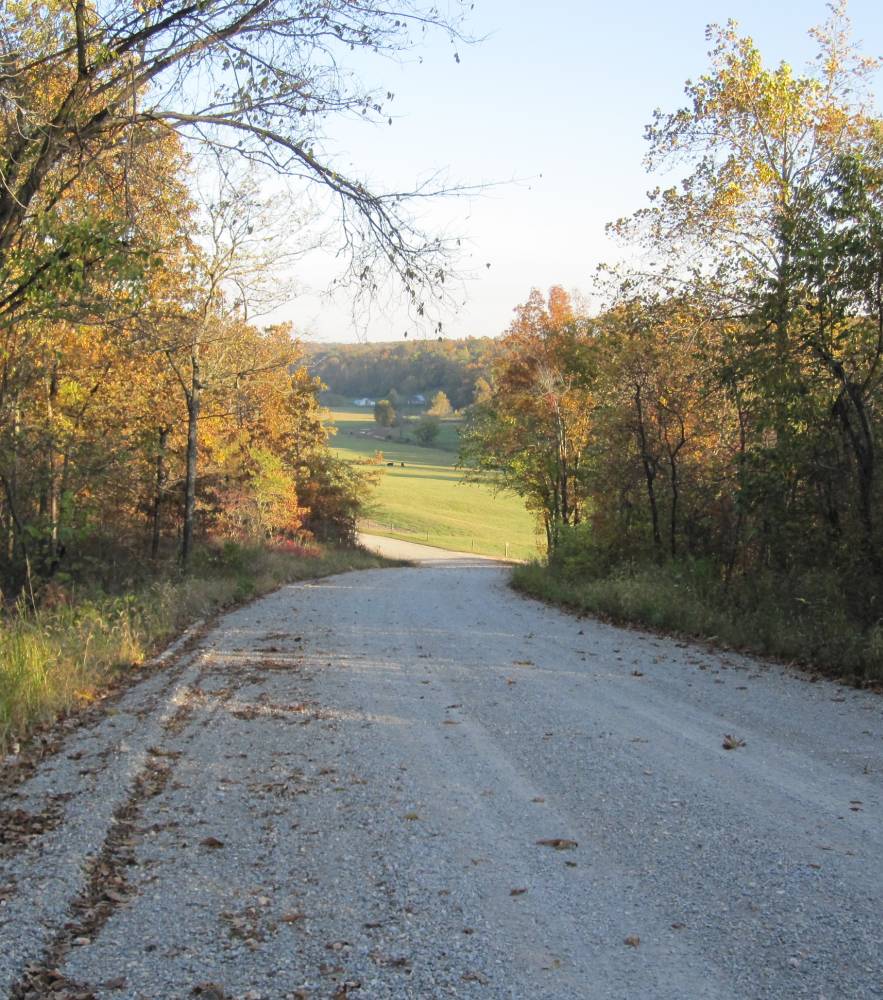 This guy is getting to be my only companion as of late. He never complains---never have to discuss where I'm going with him
or where to eat or camp. He doesn't seem to care if I go fast or slow or stop 20 times to pee. Farts a lot tho.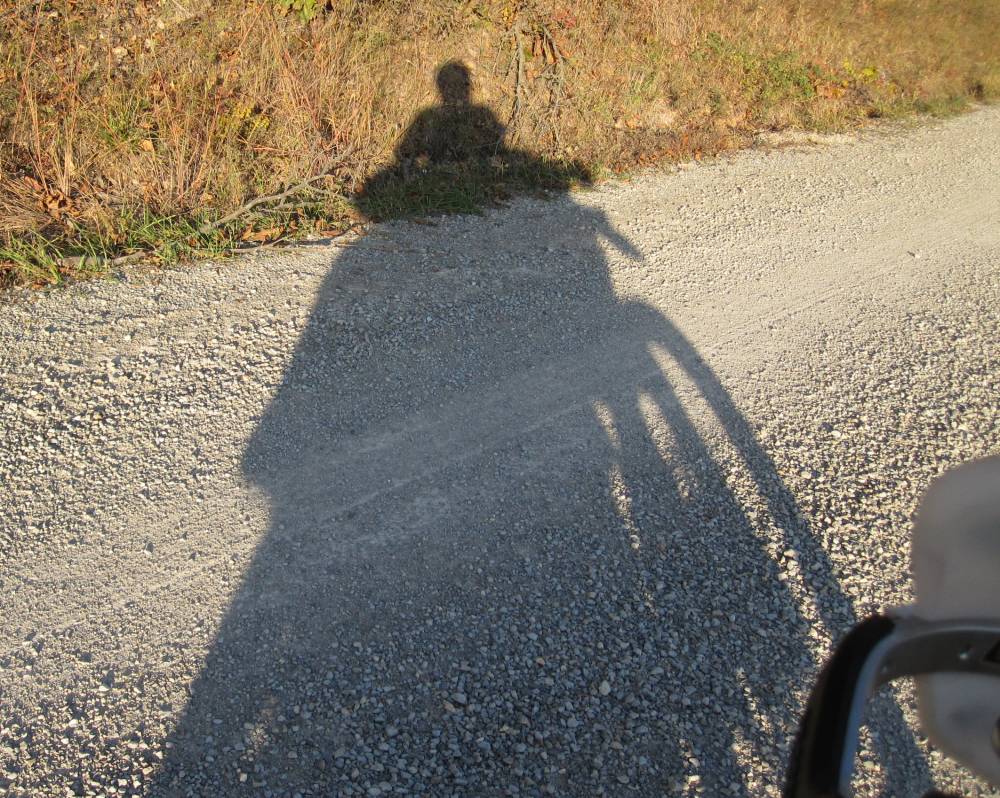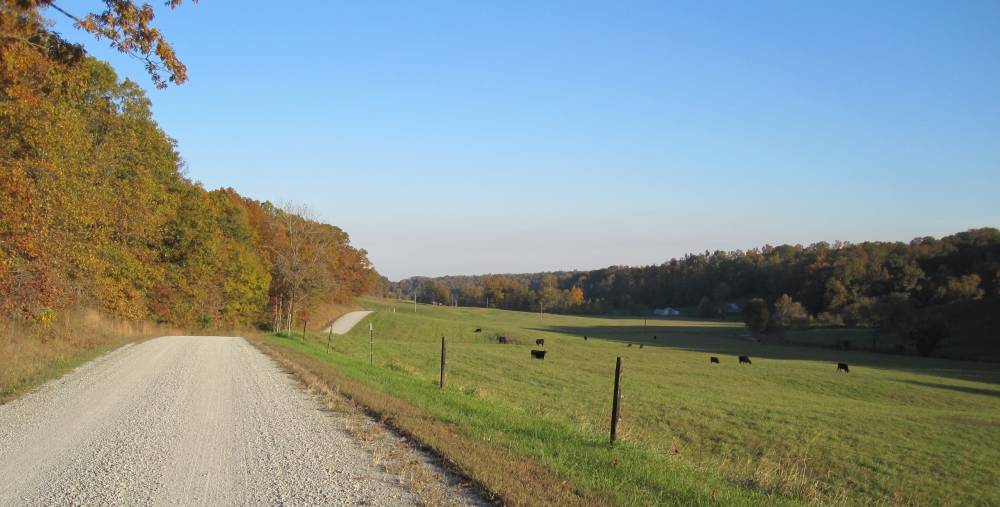 Didn't put many miles on today----good. But I didn't leave the house till noon.
And I didn't decide to go on this ride till 10AM the same day..
Didn't give myself much notice.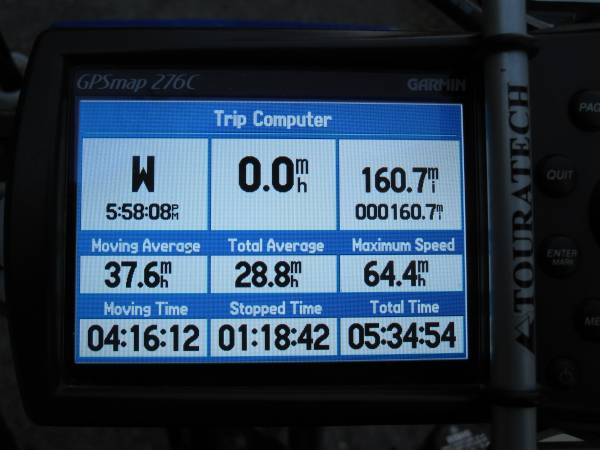 Now listen up------and go ahead and laugh---here's the story.
Trail Of Tears State Park-----I unloaded my bike near dark and proceeded to throw down my tarp to set up my tent.
I looked in my dry bag and saw my tent bag but it had a sleeping bag in it----where's my tent ????
Also in there was another sleeping bag compression bag----crap------I've brought 2 sleeping bags and no tent.
How stupid. I've been re-organizing all my gear trying to compact everything more and more and taking less and less.
I've been moving my tents and sleeping bags around trying to achieve the highest level of compactness and
this is what I get !!!!!!! I told the campground host what I did and told him to go ahead and laugh--and he did.

Should I go home-----I thought of that survivor guy who gets naked at 40 degrees below--jumps in the ocean
and then sees if he can survive----it's 55 degrees here---surely I can do this. There's no bugs and it ain't suppose to rain.
I can do this.------------Soooooooooooo!!!!!!!!!!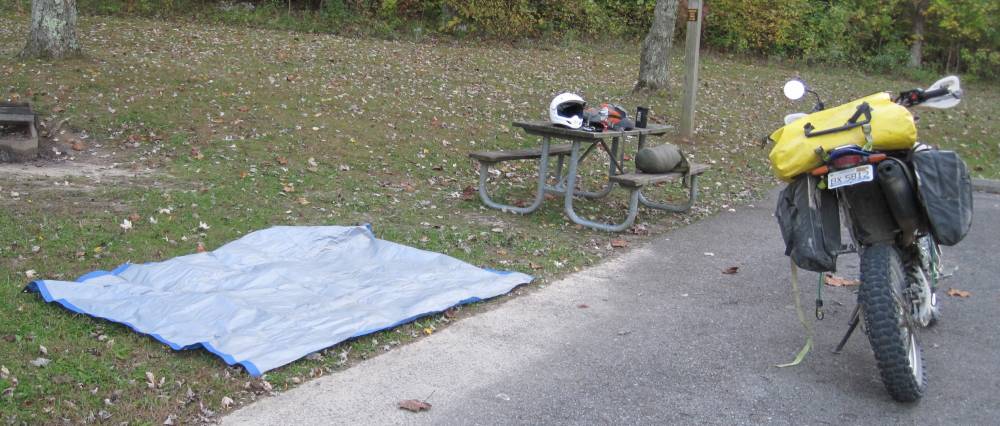 After stewing about this for an hour and laughing at myself for another I get out the other sleeping bag in the compression sack and
out rolls my tent---I had it all along. Go ahead and laugh some more--------what a deal !!!!!!!
Daylight Day 2
Wednesday Oct. 21st, 2009
Breakfast ala' JetBoil
I had some noodles and Beef Strauganoof (however you spell that) for dinner last night and boiled up some more water (I'm not totally without skills)
and had me some coffee and oatmeal for breakfast.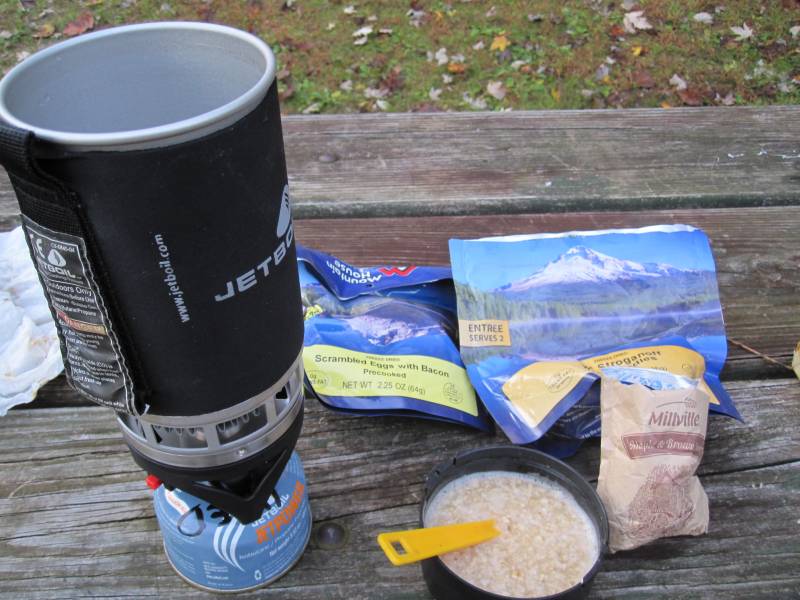 The sun poked up thru the beautiful fall colors and showed it's light down upon me---and life was good.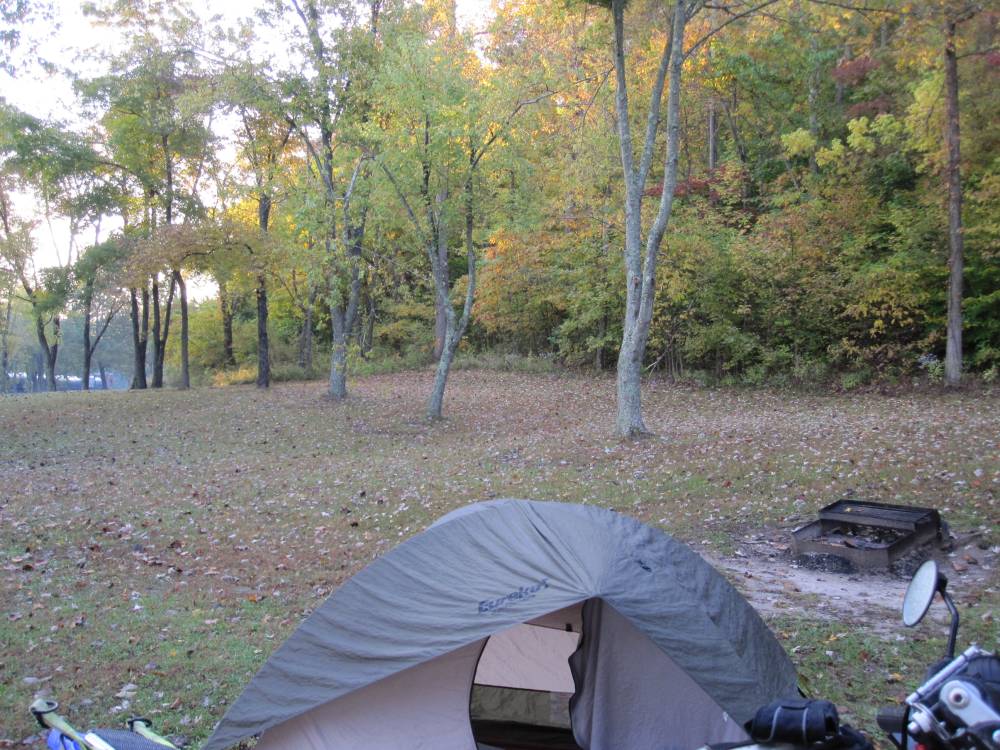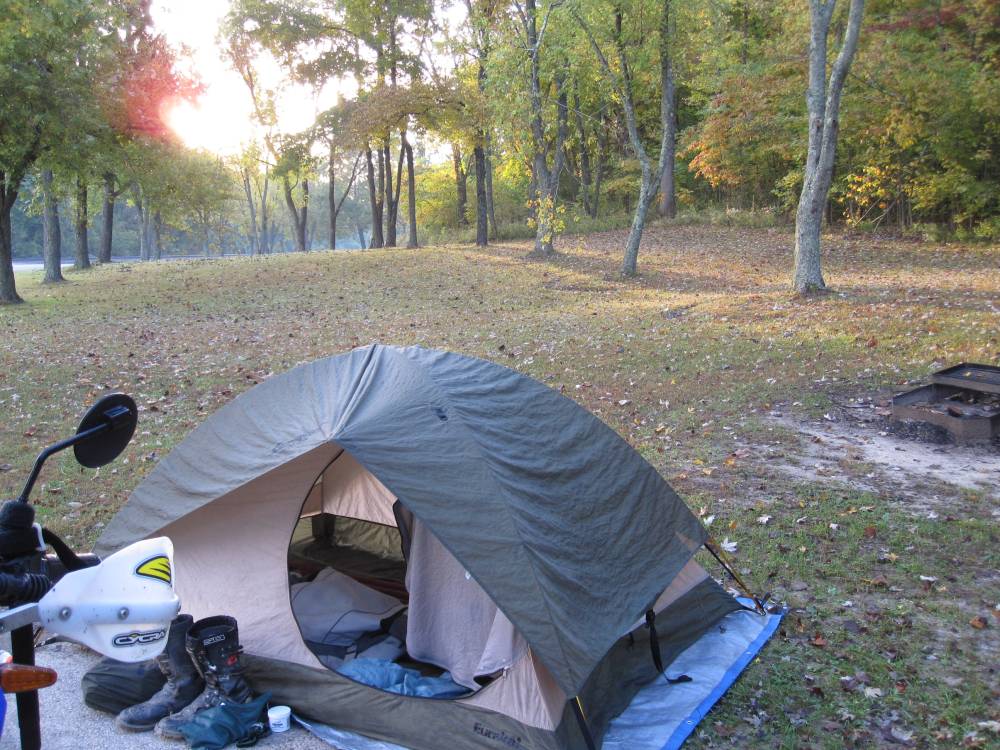 I poked my way South and West-----I have no clue where I'm going.
It was just about 4 weeks ago--I headed South on my 950---and for some reason turned East---3 days later I was at Kittly Hawk N.C.
where the Wright brothers flew the first airplane----what''s up with that--well that was another story..
My tires from my last WR trip thru Colorado, Wyoming, Utah and New Mexico had a little life in them.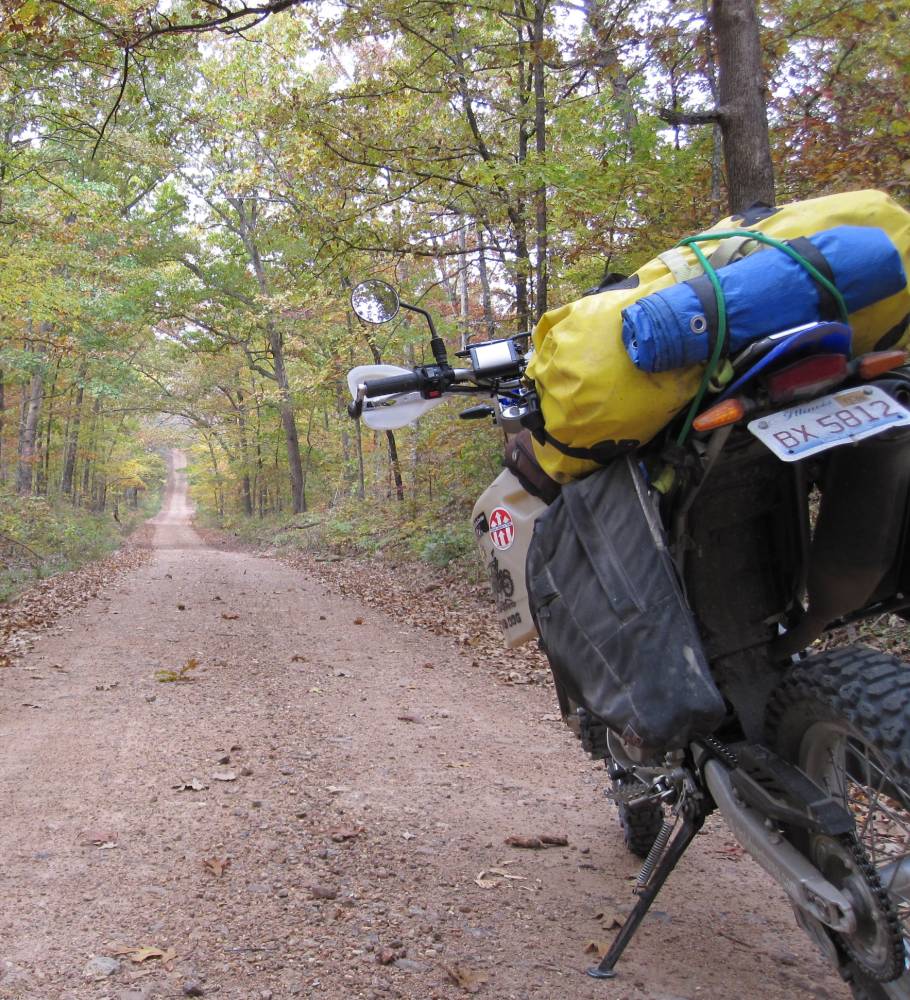 The beautiful trees in the yards of these old churches mesmorized me.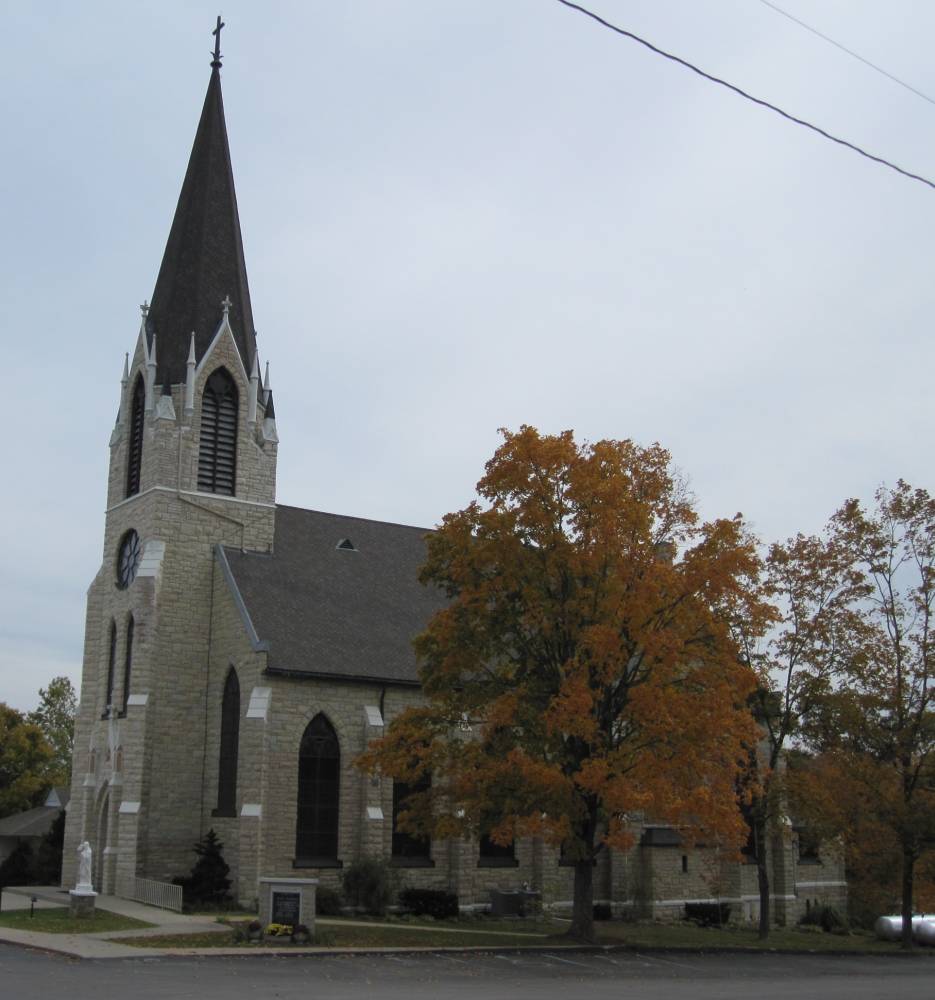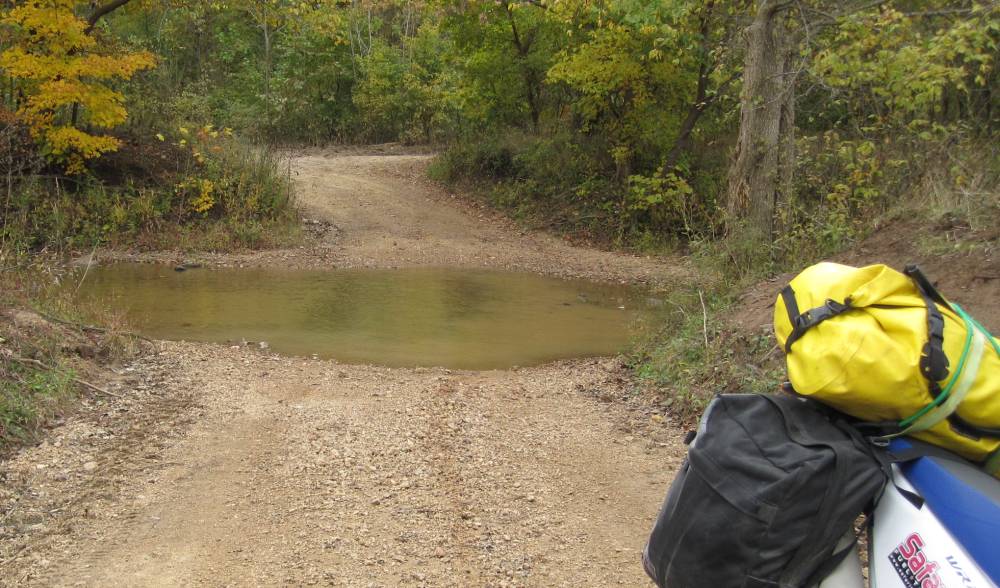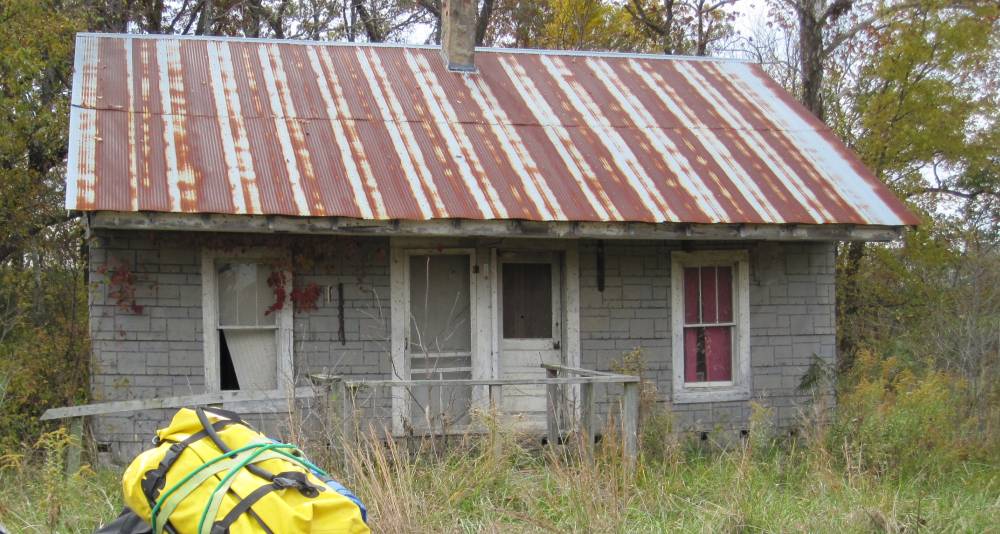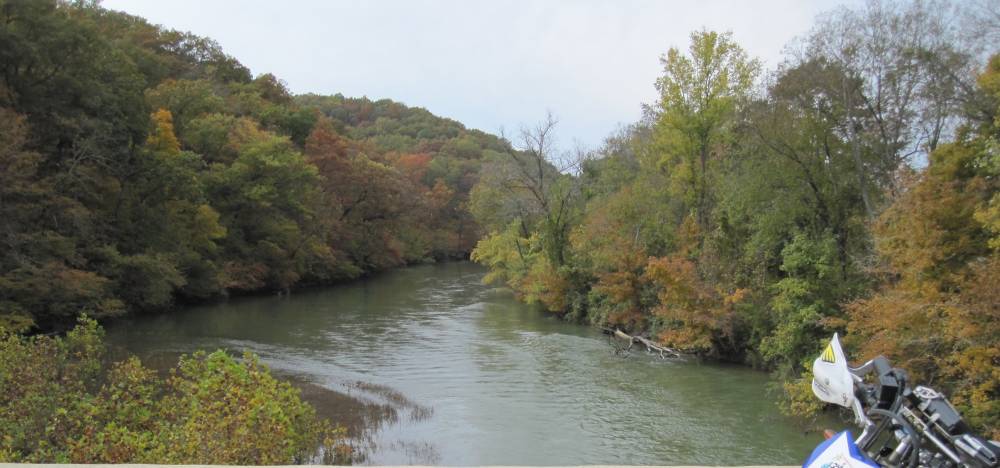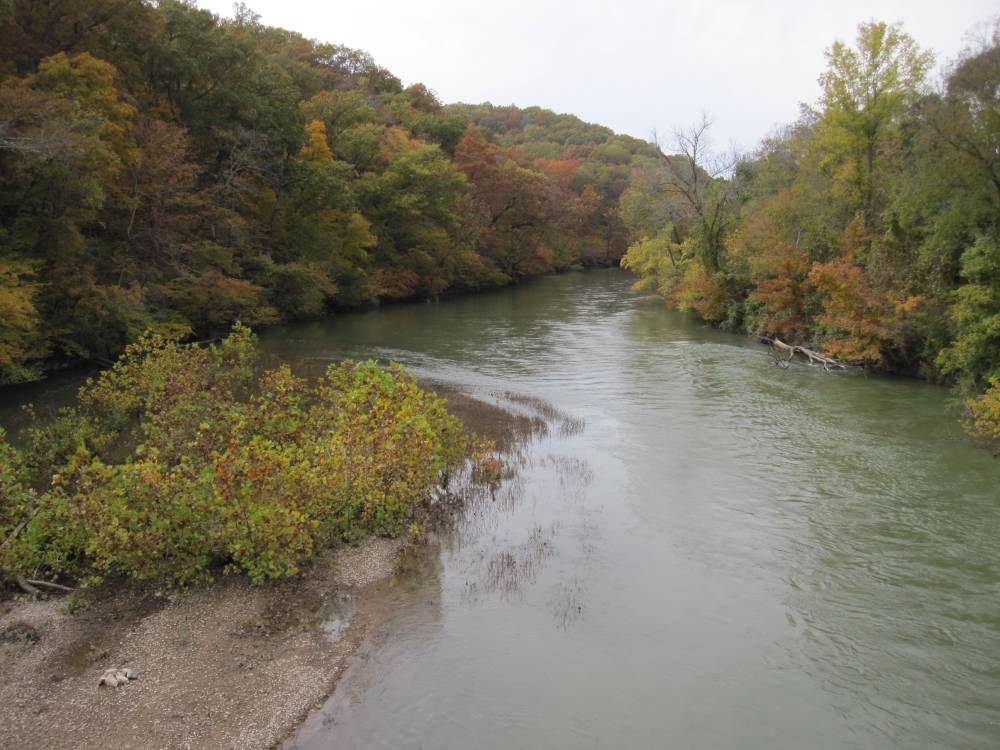 I ended up in Doniphan, Missouri for the night---and the rains came----and they came--and they came.
Day 3-It poured buckets all day
and I didn't ride.
Day 4
Friday October 23, 2009

I was antsy to ride today---and hit the starter button on the WR about 5AM and rode from
Doniphan, Mo. to the Arksasa border in the dark--it was very warm---I actually was a little
too warm in my riding gear---but that would change quickly.
The road were wet but dryiing quickly---thing is the creeks were overflowing from
all the rain for a straight 40 hrs.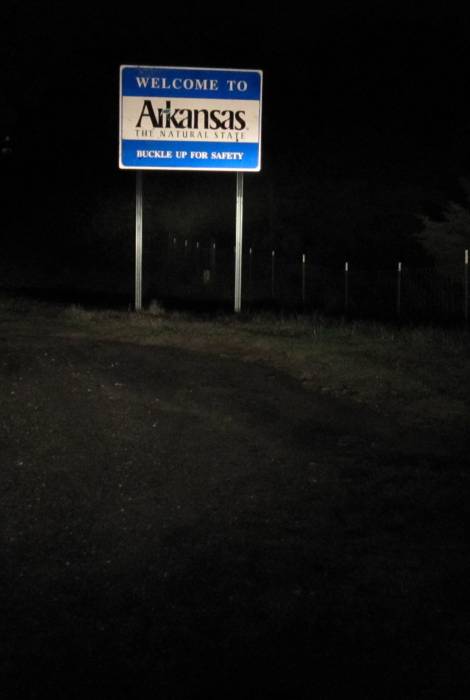 All the rivers were way overfull and flowing fast. Some paved roads were underwater and impassable.
I worried I'd spend the day backtracking on the side roads----and I did.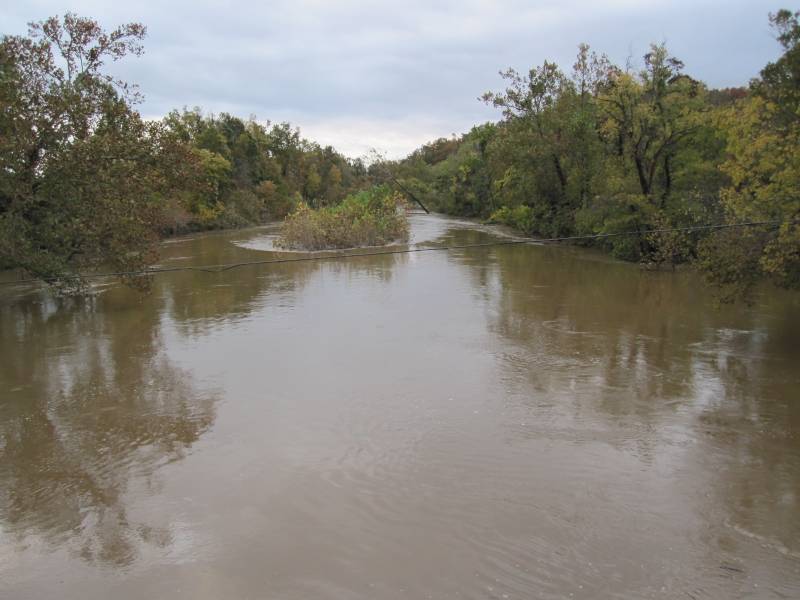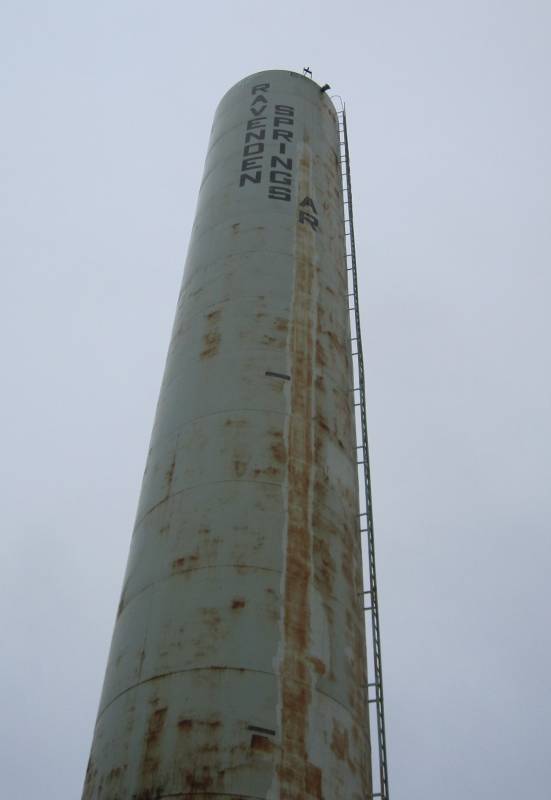 I meandered Southwest---again with no destination. I just headed general Southwest into the Arkansas mountains
where I had 2 priorities. One---not to ride a road I've been on before and Two----find neat stuff and stay off the pavement.
I was to not dissapoint myself today.
And the temperature dropped---heated grips went on high and stayed there.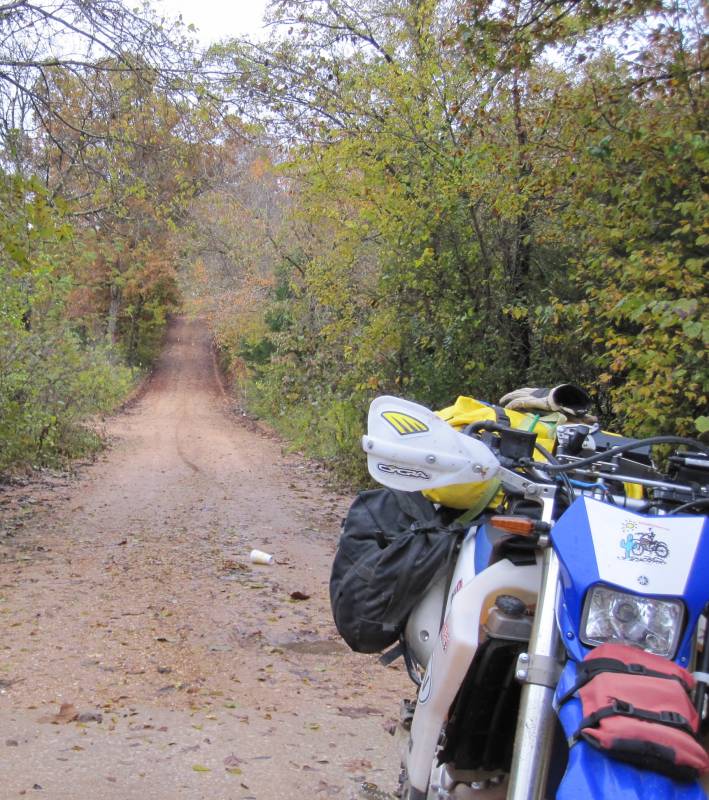 This would be a common occurence today--no way would I attempt those waters.
I was born the day before yesterday---not yesterday.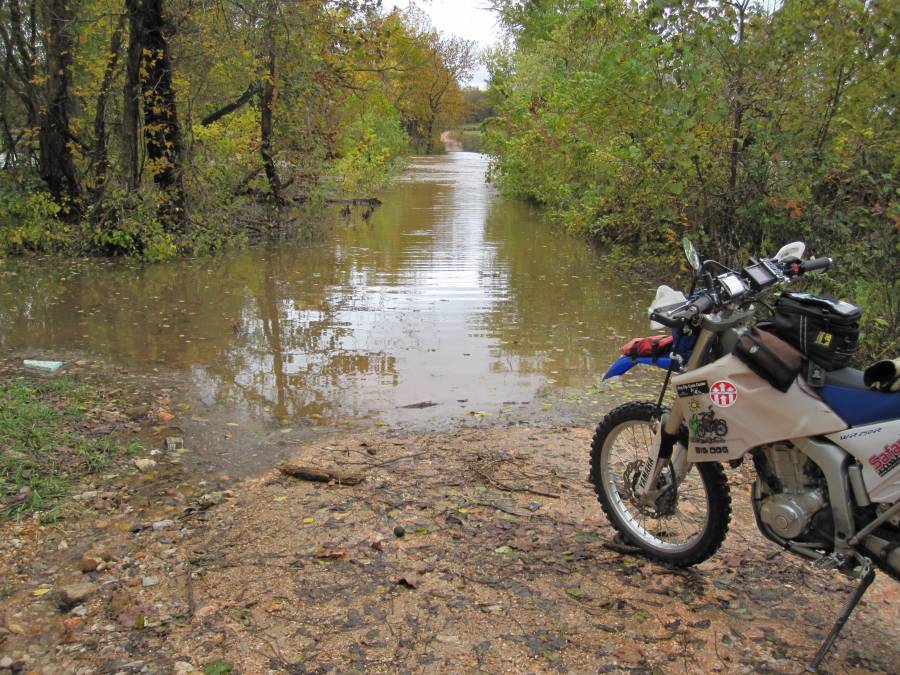 I think this one scared me away.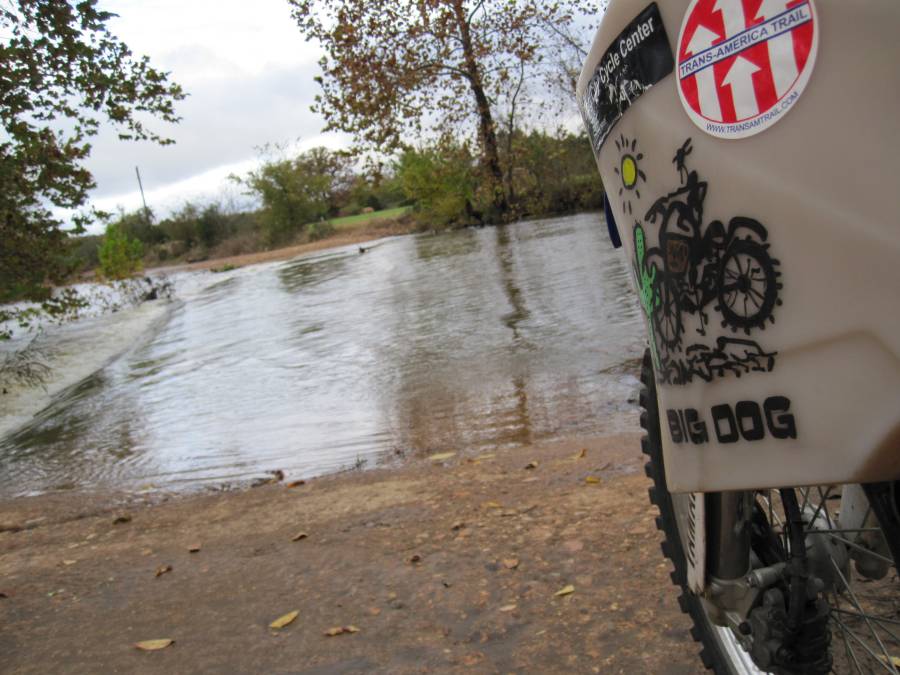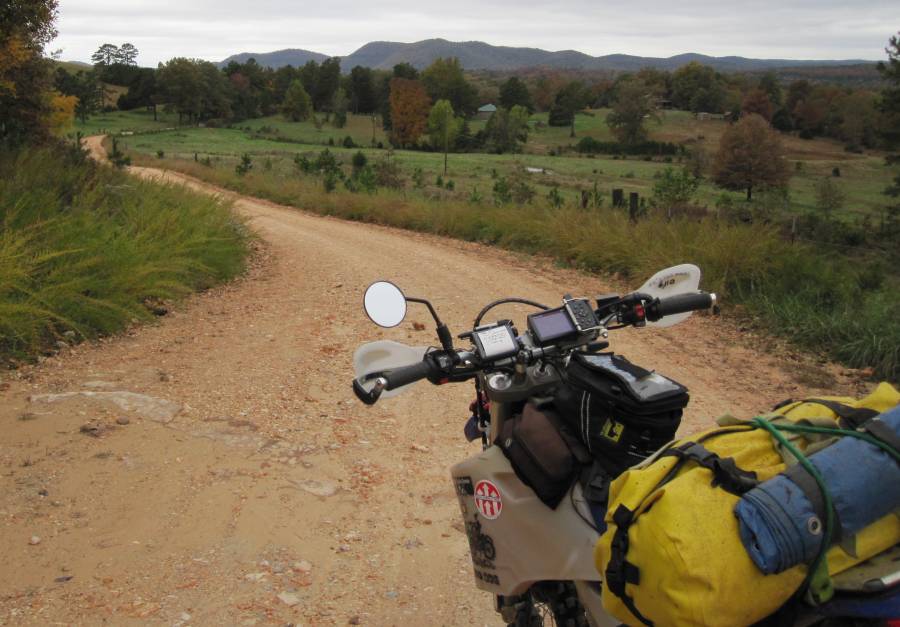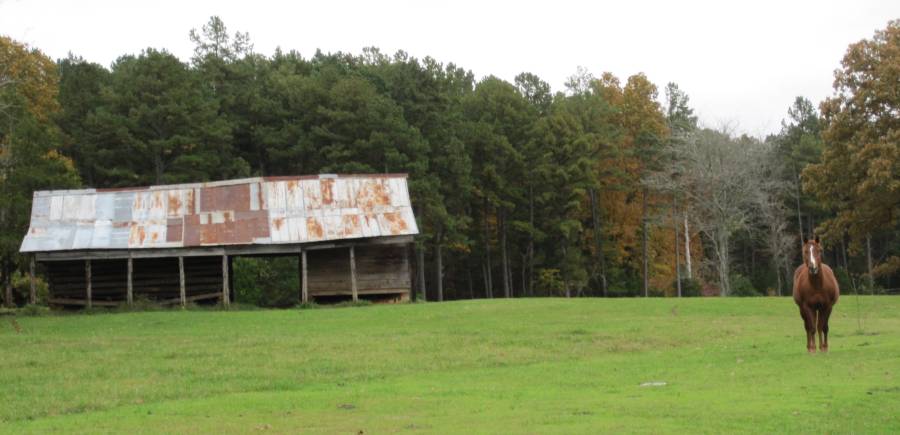 I loved this bridge----it had 3 markers noting Hy-water depth--and the dates--pretty cool.
The river was a good 20ft. below the decking of the wooden bridge---It was hard to imagine water ever being this high.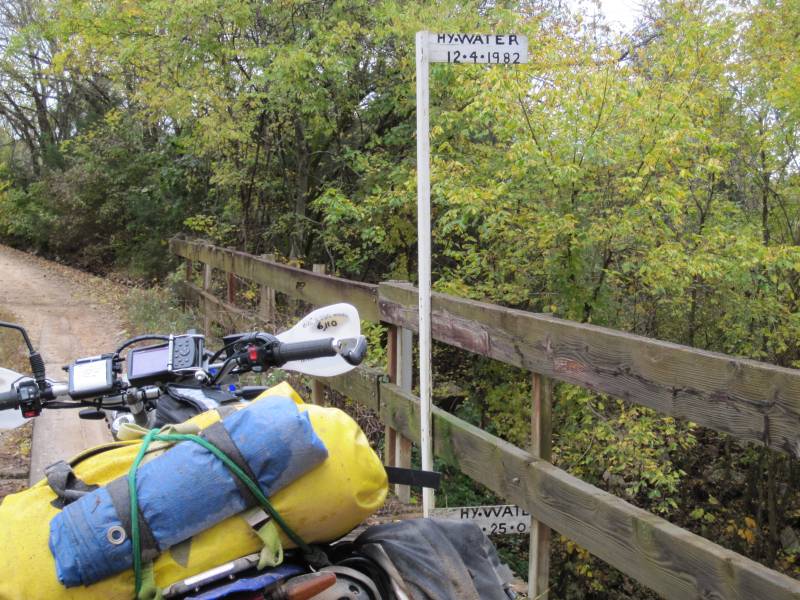 This is the White River--and I crossed it just below the town of Calico Rock---I've been there and crossed there---so
I had to find a new crossing.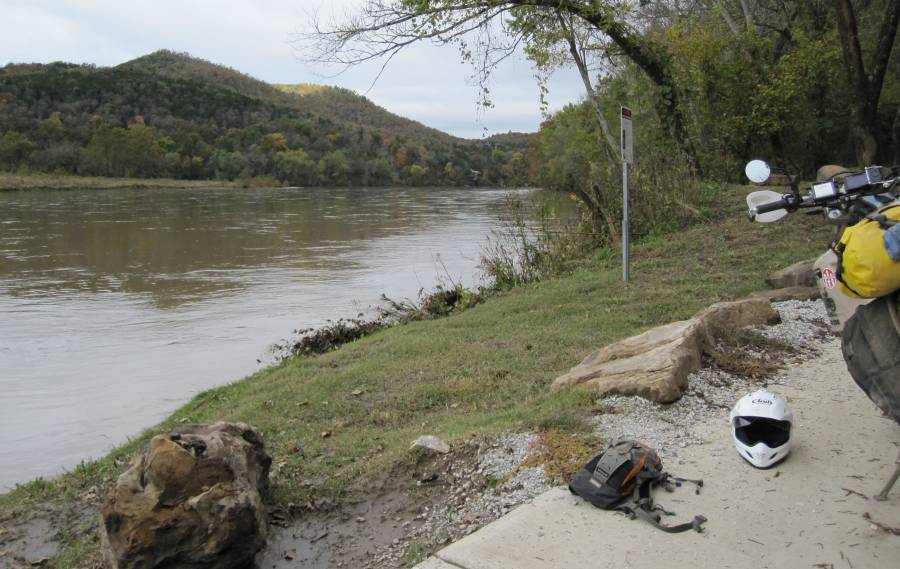 Before I had a bicycle----I had a scooter just like this one.
I was a terror on that thing---wasn't nobody safe in my neighborhood.
I dreamed of having a motor back in those days----it's all I thought about.
But I had to settle for putting baseball cards and balloons in my spokes of my Montgomery Wards bicycle.
I bet I wore out a thousand dollars worth of baseball cards that would be worth 4.3 million today---who'd a thought ???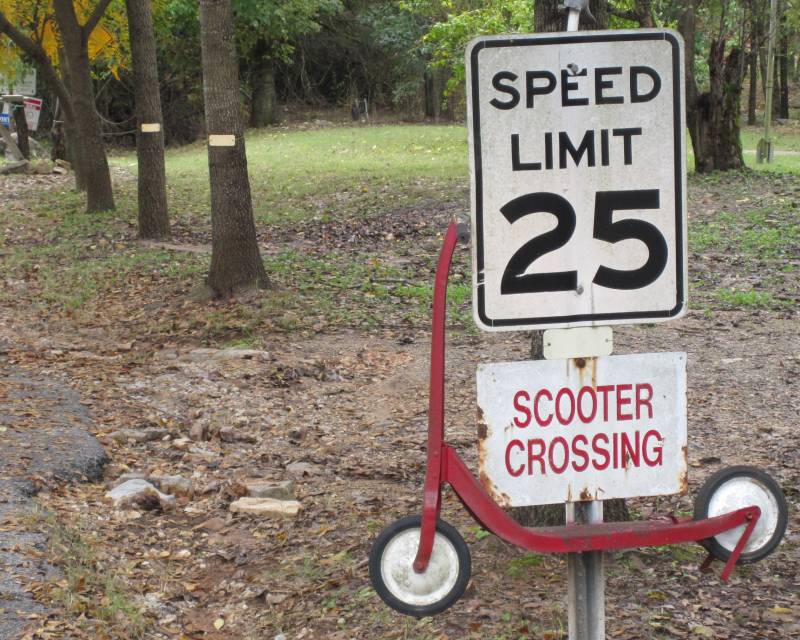 It really was a great day riding. It was drizzling a little---getting colder and nobody was out.
Never did hear the "Potato--Potato--Potato all day.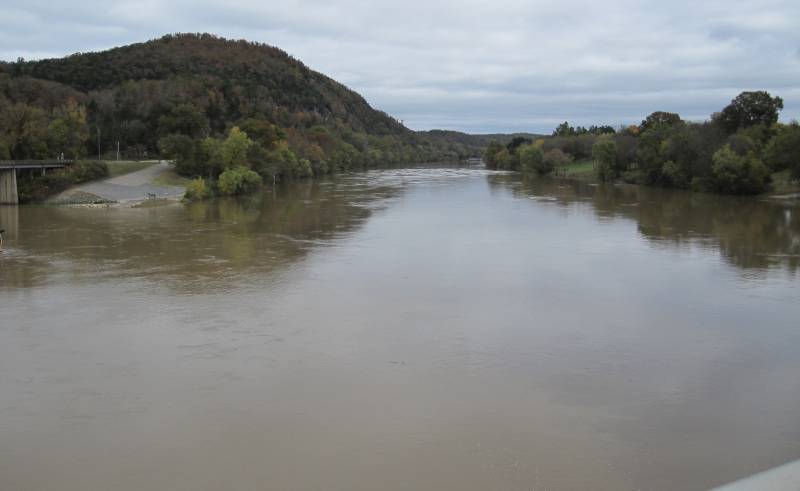 Here we go again----I loaded all the waypoints in my gps for swinging bridges a good 10 years ago.
I alway keep them in there----I got close to this one and saw it on my gps screen and told my gps
to take me there. I first saw this road sign--and just knew the bridge would be in dis-repair or gone.
It was on the "road less traveled"---as the new road by-passed this road.
The ordinary traveler would have never saw this road sign and found the bridge.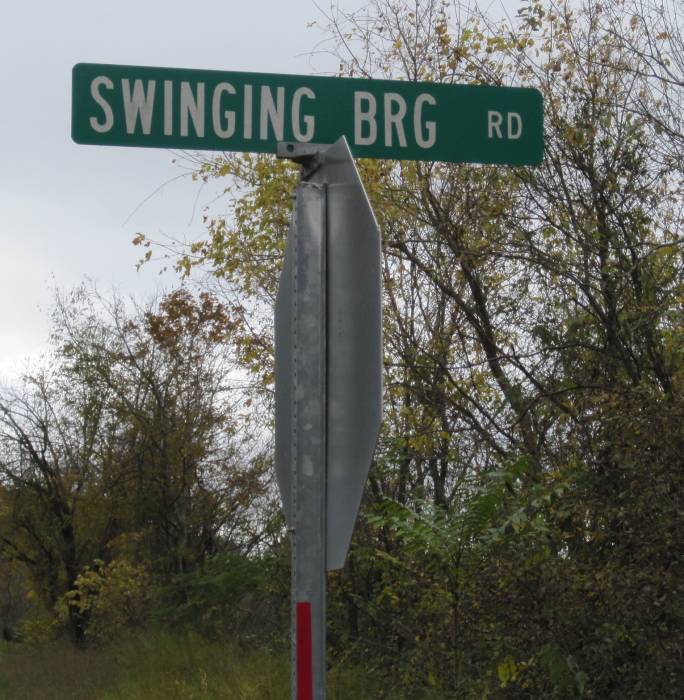 But find it I did !!!!!!!!

Swinging bridge over South Sylamore Creek on CR 238 (Old AR 14)
Location
Stone County, Arkansas
Status
Open to one-lane traffic
History
Built 1943; rehabilitated 1985
Design
Wire suspension
Dimensions
Total length: 200.0 ft.
Deck width: 11.1 ft.
Vertical clearance above deck: 13.9 ft.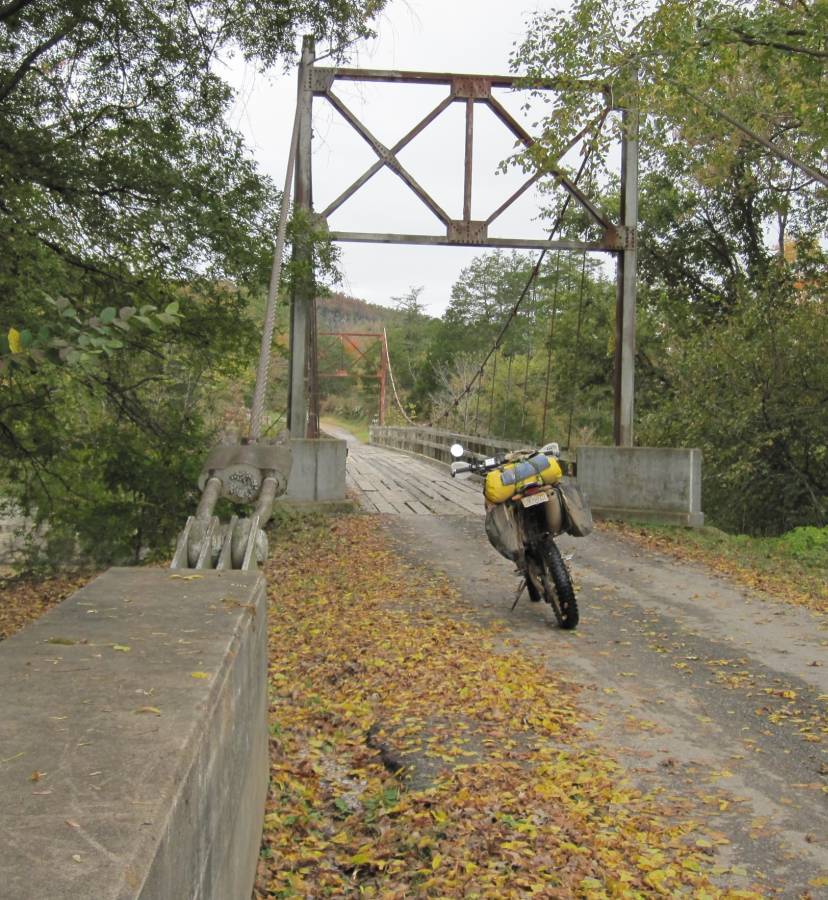 This bridge just astounded me---it was in such good shape and you could drive over it.
It is in much better shape than the swinging bridges I've seen in Missouri.
A very nice lady told me all about the bridge. She really appreciated my interest in the bridge and I told her
I know of many more. We had a really nice time talking about them and I will help her out finding where the other
swinging bridges I know of are at so she can go see them.
She told me it was built in 1914---but info on the net says 1945.
I'm bettin' on 1914.
This find just absolutely made my day---and a cup of hot coffee was in order.
It just didn't make my day---it made my whole ride worthwhile.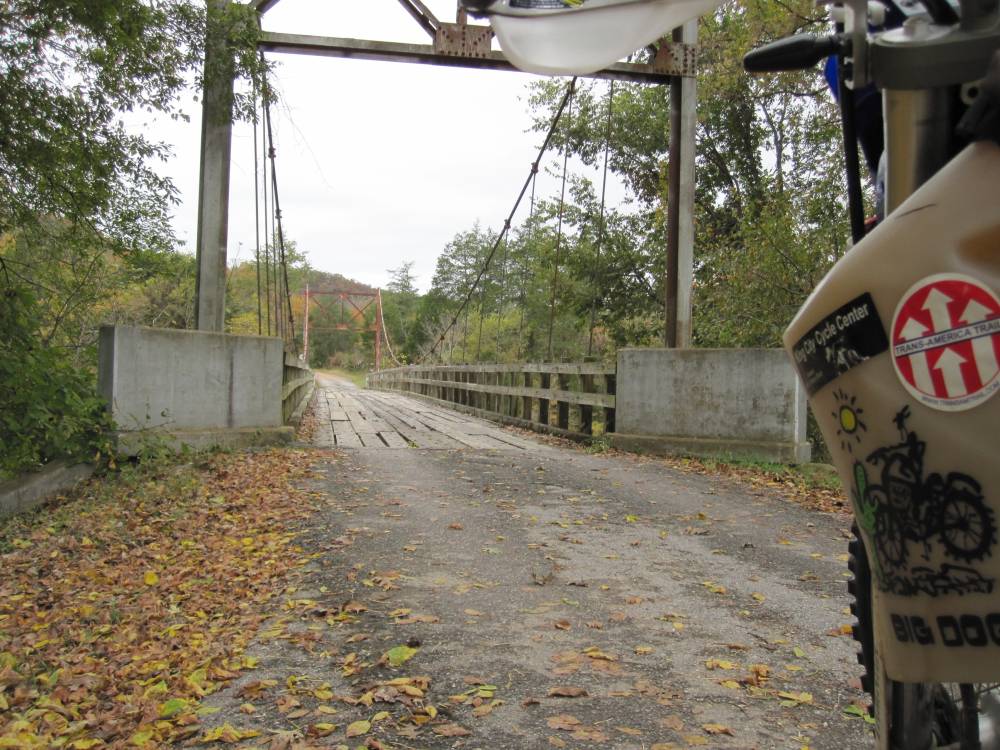 I was very spooked riding over it---as my skinny 21 inch front wheel could get caught in between the timbers---not good.
N35 56.155 W92 07.308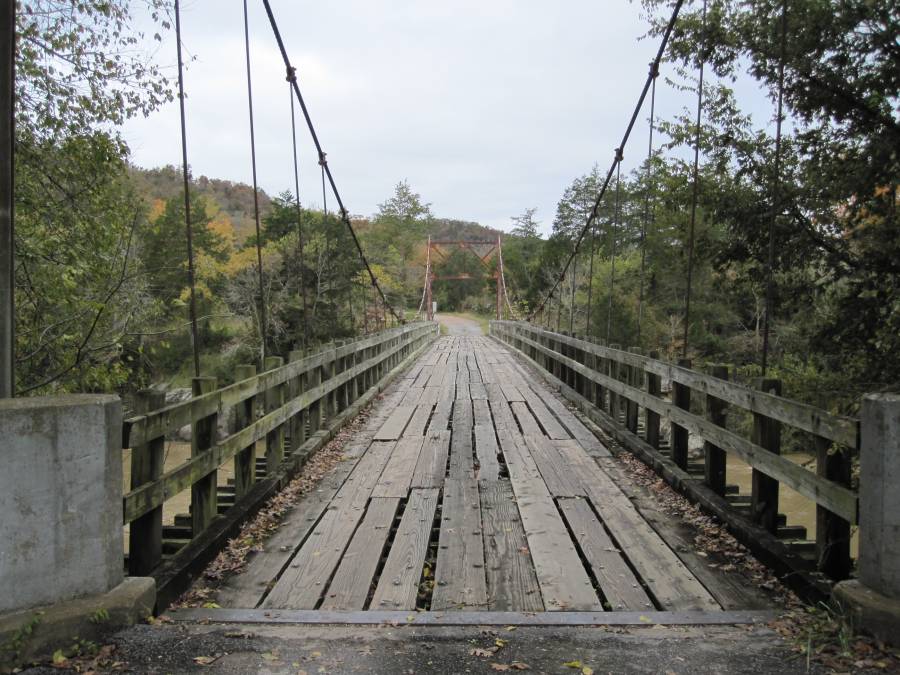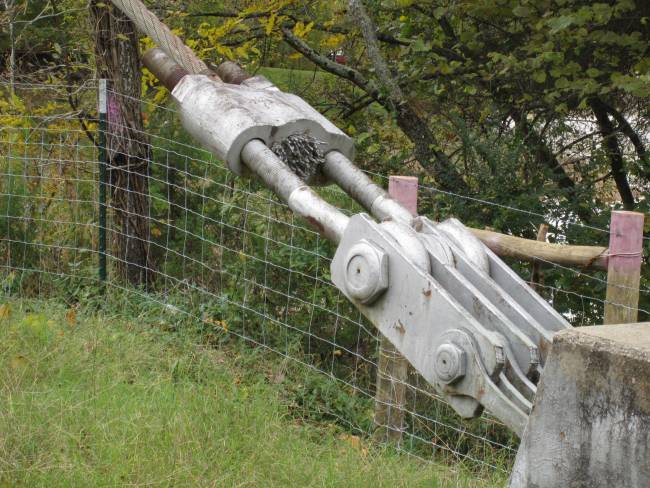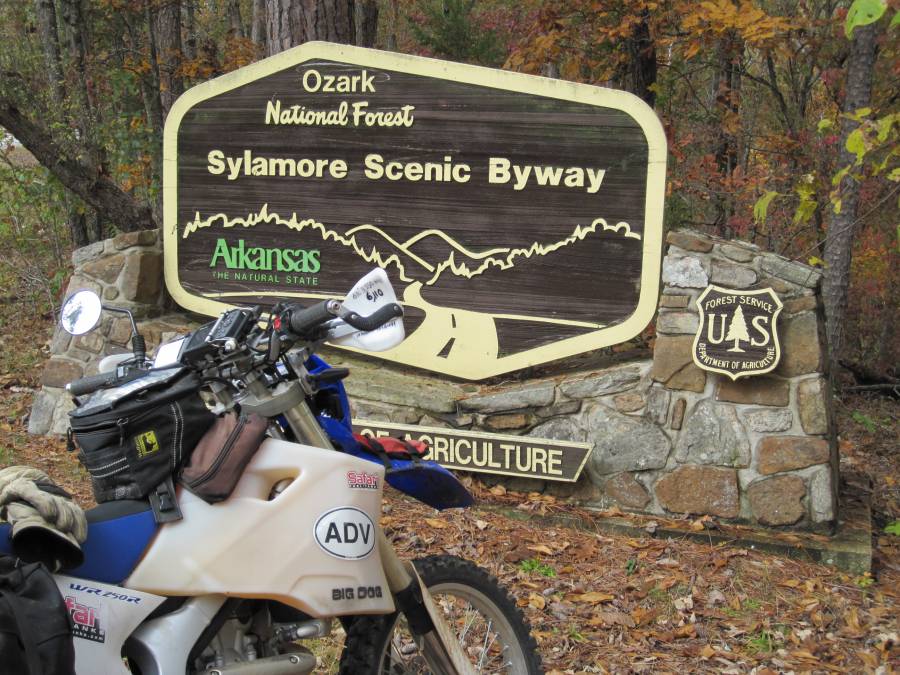 This crossing had not been crossed since the torrential rain----as I could see a ridge of sand and rock at the edge that was untouched.
I decided I wouldn't be the first to try it----my wife would be proud of me for that.
Not so proud of the many others I was the first---I know I crossed 25 rivers and creeks today.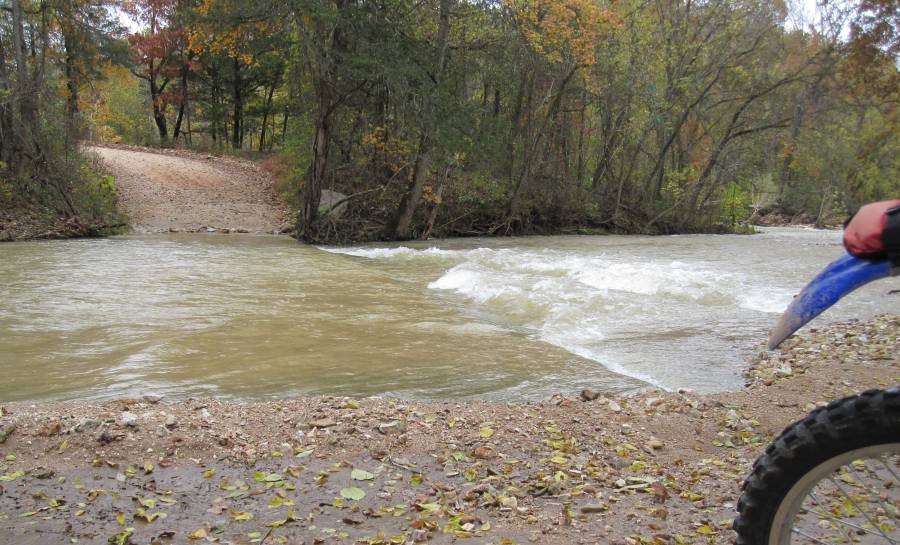 The more I stared at it---the more spooked I got---the water was really swift and I didn't attempt this one.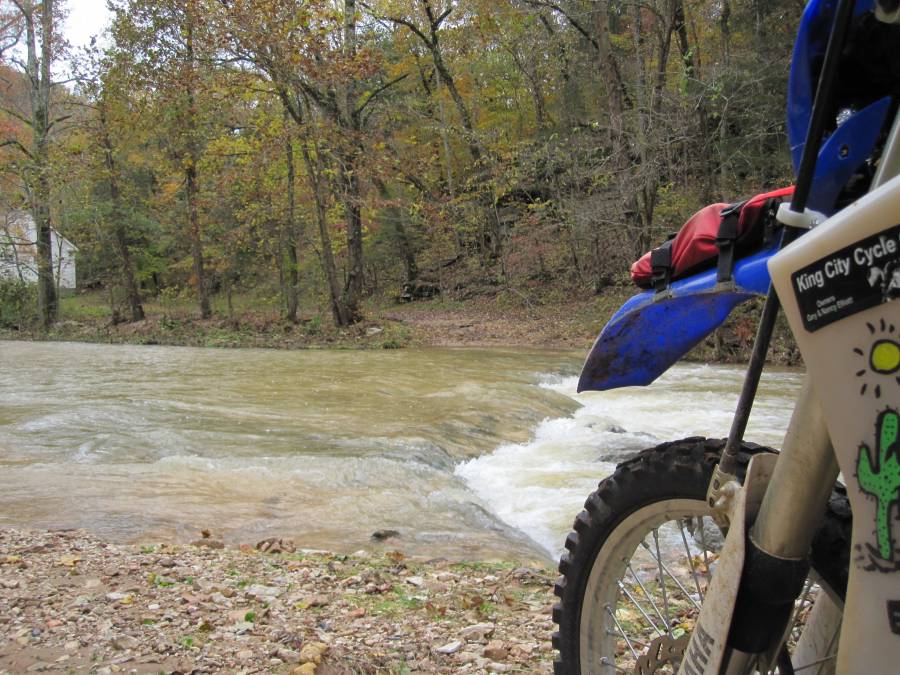 This one wasn't as bad and deep as it looks in the picture and I slowly made my way across without incident.
These really should't be taken lightly ---especially after a big rain. Many a people have died in these things.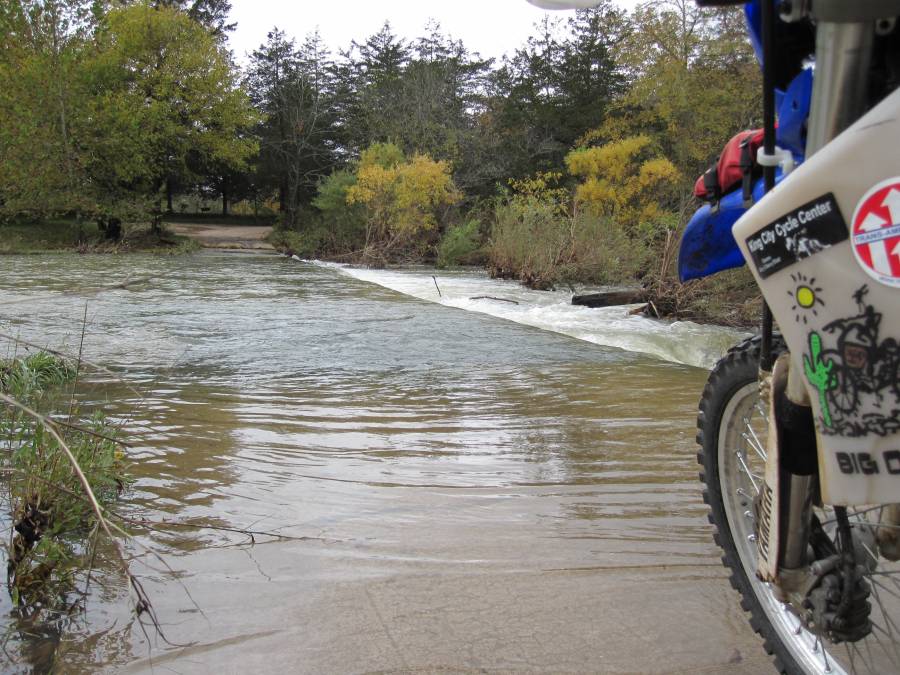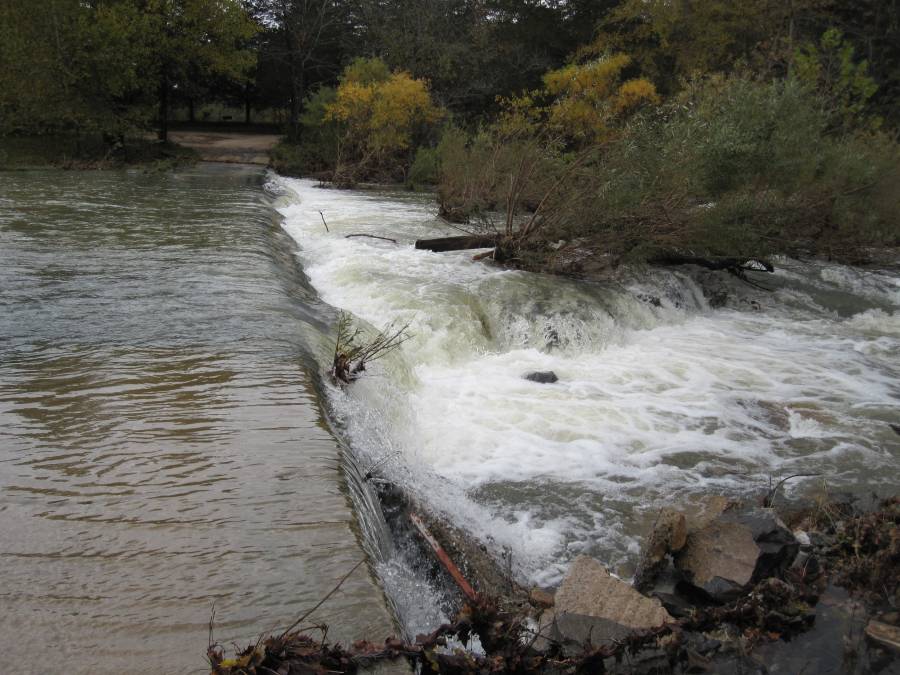 I had to go down this dirt and rock road--and I wished I would have run into a local that could tell me about it.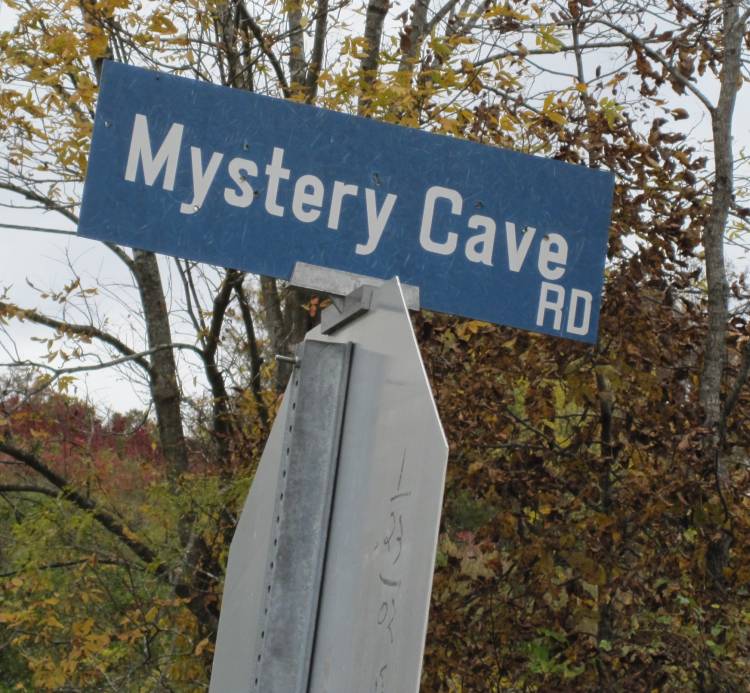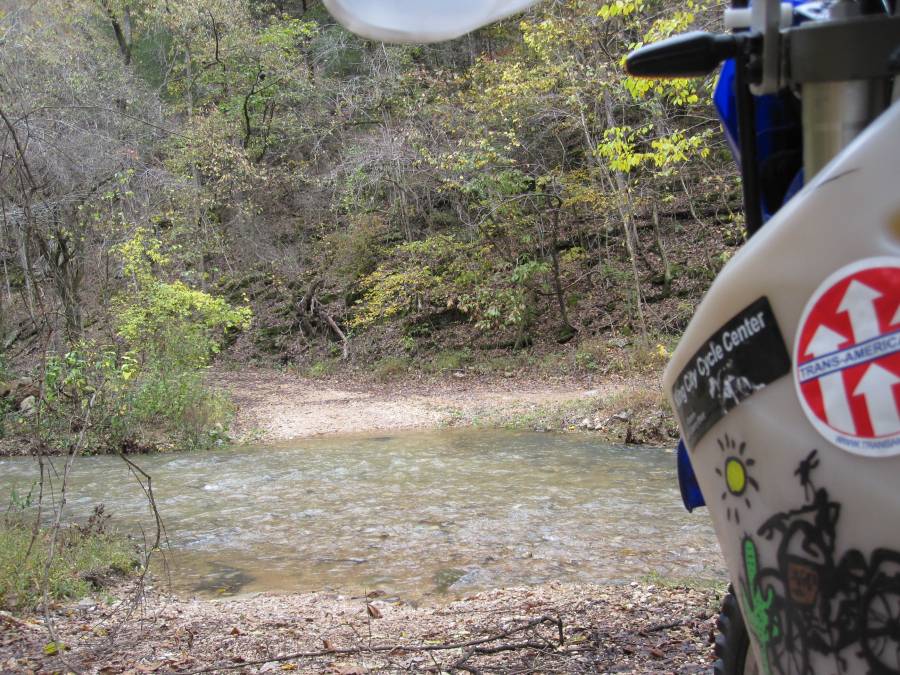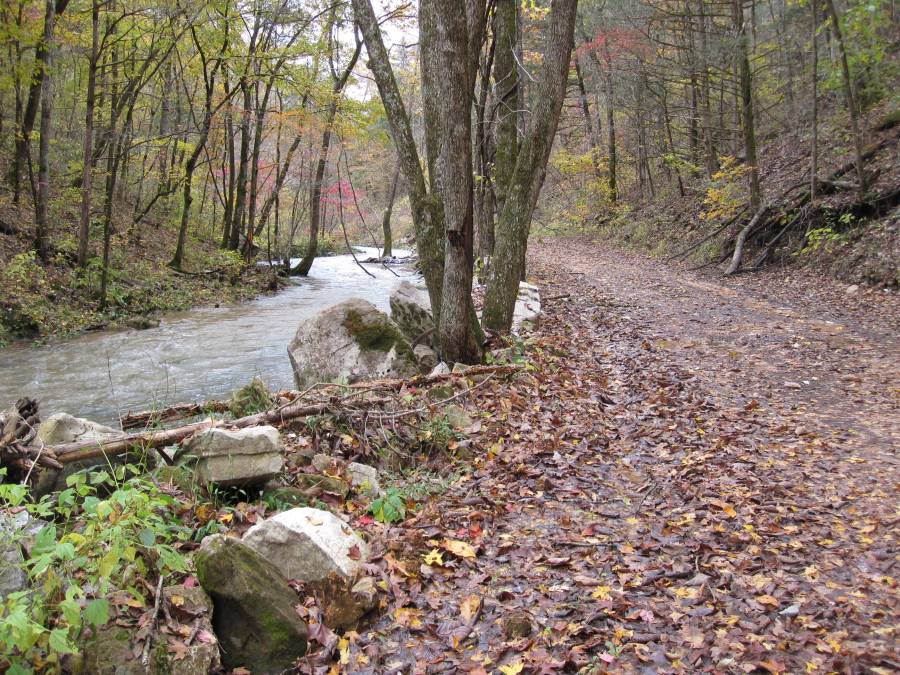 My next big find of the day----Wildcat Spring--on Wildcat road.
N35 58.601 W92 29.934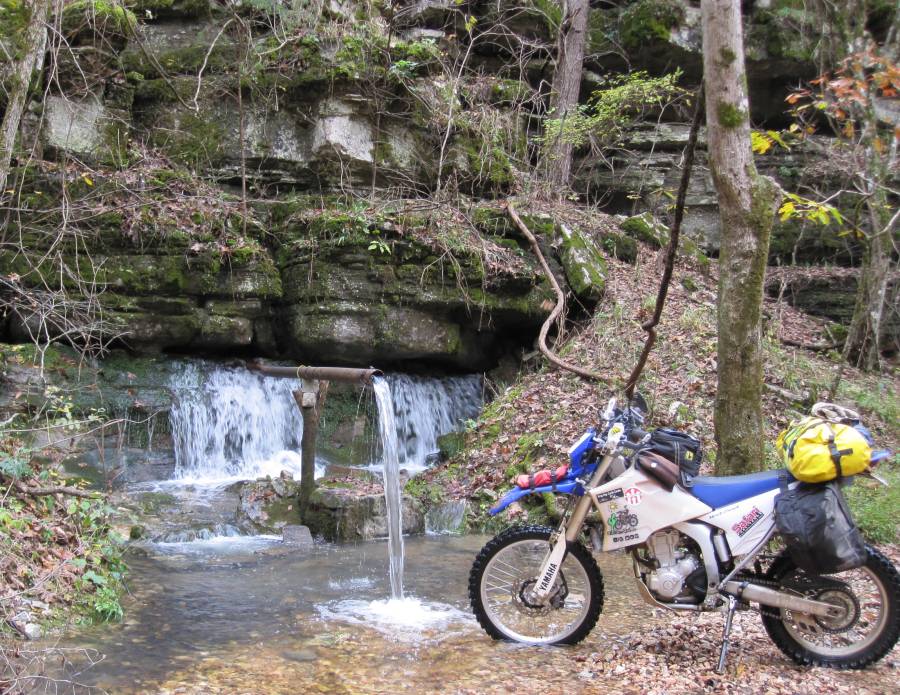 The road to the spring and the creek were one and the same--but I made it thru.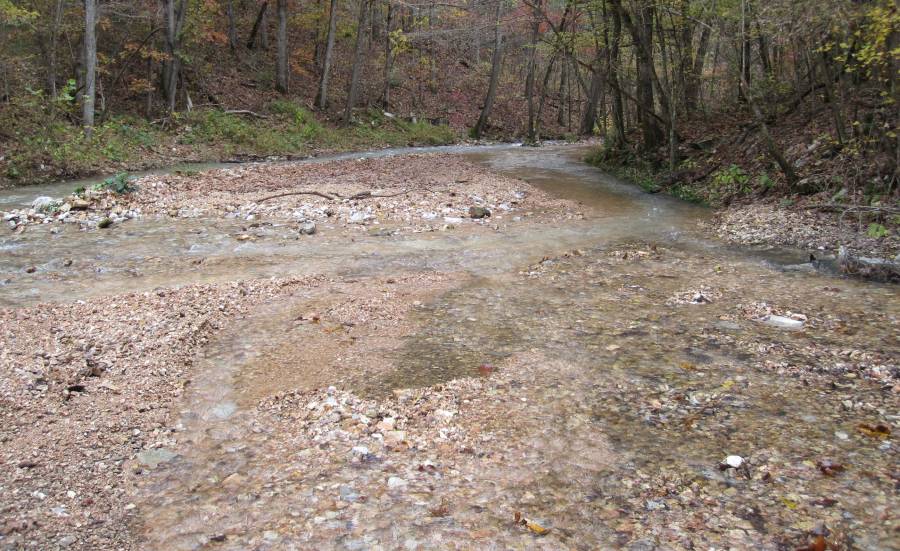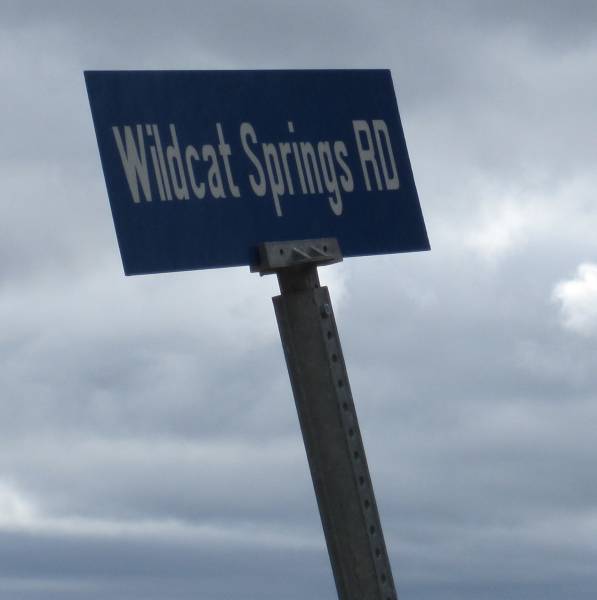 I ran into an Arkansas local at an intersection as he thought I was lost----I showed him I had gas !!!!
We talked a lot about neat stuff in the area--and everything he suggested I go see I had already seen or been there.
But----he said go down this road here----after about a mile turn right and cross the creek---I don't think the water is to high--from
there just a little ways down the road you'll see an old railroad bed and can ride it all the way into the town of Marshall.
And here it is---and that's what I did---way cool !!!!!!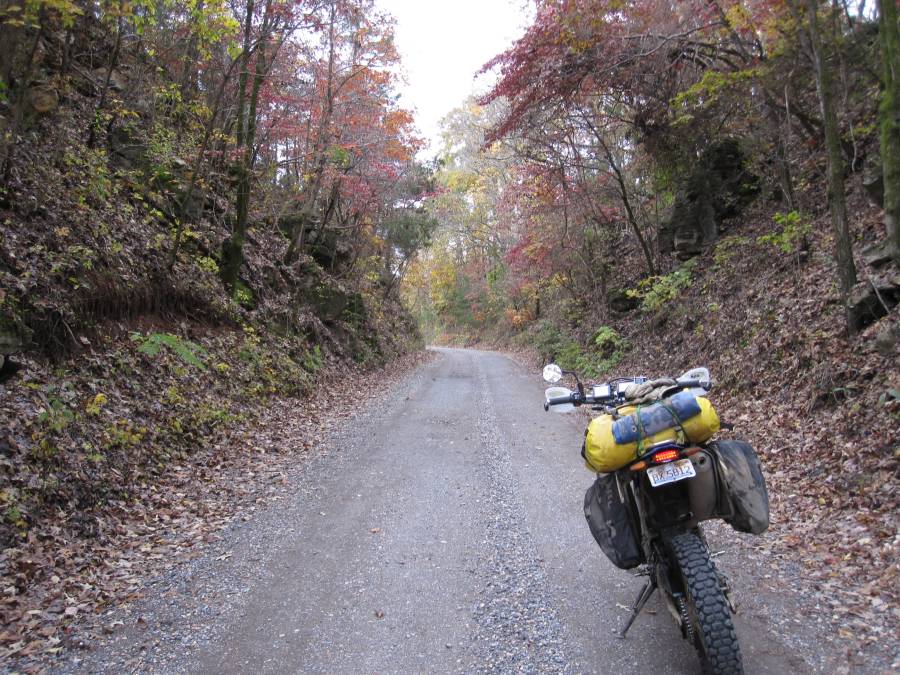 I ended up in Clarksville, Arkansas for the night after over 300 miles in the offroad saddle.
I had a few buddies that I knew would be riding the Fall Color Tour ride and hope to see them.
Sure enough ---ran into quite a few and we all went out for a steak.
It was a superb day--and I thank all the nice people I met and talked to today.
Day 5
Saturday October 24, 2009
The most beautiful day of the year 2009
The guys wanted me to ride with them today and I gave it some thought overnight.
I have ridden these same trails so many times----and the thought of riding them again when there was so much
new riding in Arkansas that I had never seen just overwhelmed me. I just can't enjoy riding anymore knowing I have to
be back to the same place---and at some point in the day I'll have to turn around and head back to the truck
when I'd really rather go on----with a big tank full of gas---my tent and sleeping bag and enough food and water
to get me by for a day or 2. I hadn't really rode to Clarksville to ride with them anyway----I was just in the area and
thought I'd talk to some old friends. It was very nice seeing everybody.
I headed North and East on pavement and took the first dirt road I came to--that I knew I hadn't been on before.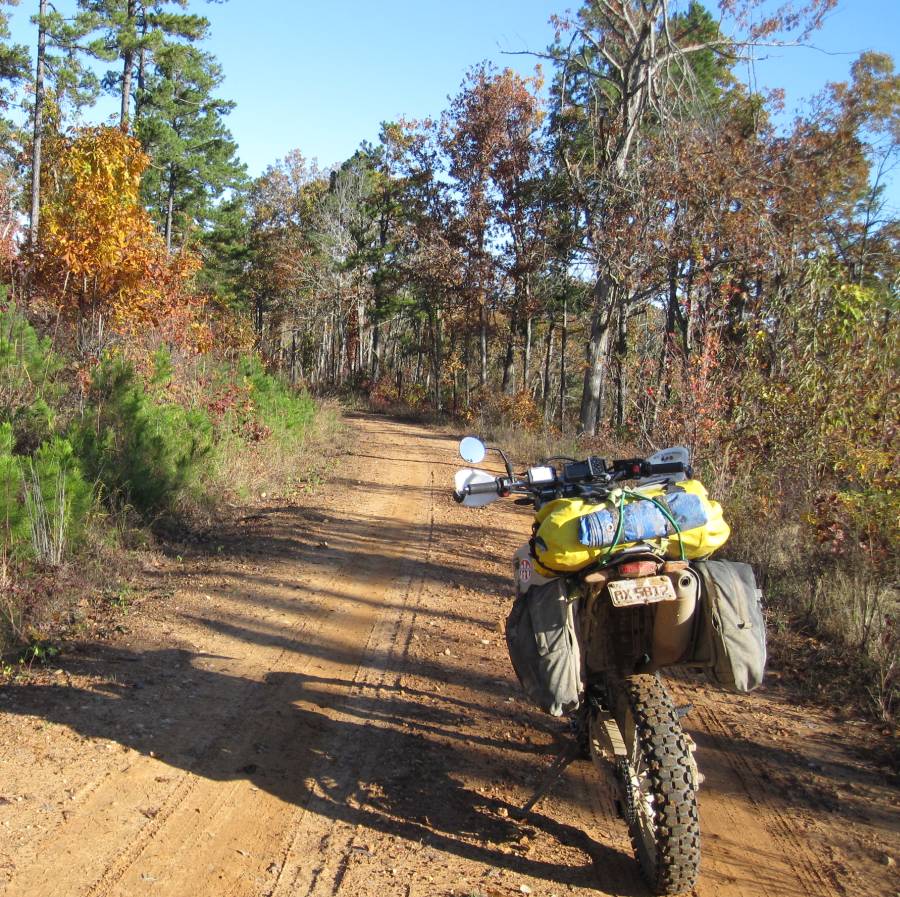 I road up and over several mountains running in and out of fog---when the sky broke thru it was the brightess blue I ever saw.
I remind you--it was the most perfect riding day of 2009. It started off very cool---and got up to about 67 degrees today.
Cool enough to keep the muffler--less motorcycle crowd off the highways--almost.
I rode down for miles on a one lane dirt and rock road which seemed to go right thru a ranch---I never saw nobody and kept going---
It seemed to be a public forest road. After exiting the ranch I saw something very unusual to my right thru some tall grass---hiding.
I couldn't believe my eyes---swinging bridges were on my mind---as I had already found one---and had another possibility in another
town---but this one was totally unexpected. It was way off the beaten path on a road that almost nobody ever came down--and hidden.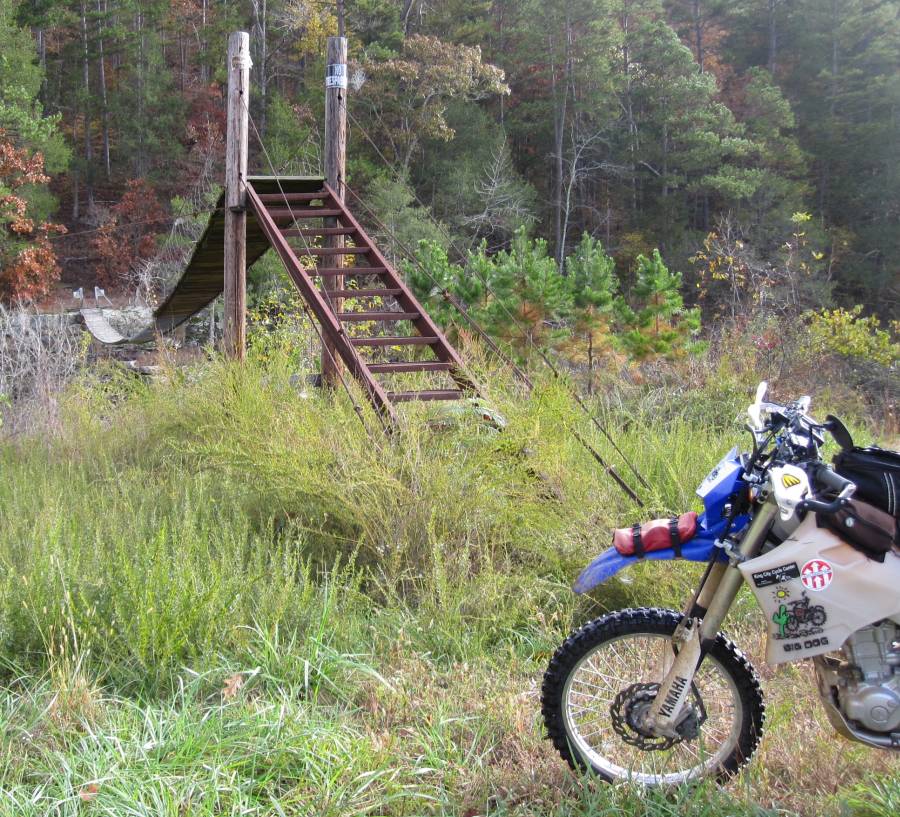 If I tell you where this is at----I'd have to kill you.
If you read these gps coordinates---send me $6,000 --so I can hire someone to do it---as I don't have it in me.
N35 47.013 W93 20.796
If you go here---I think it's OK--but just kind of fly low.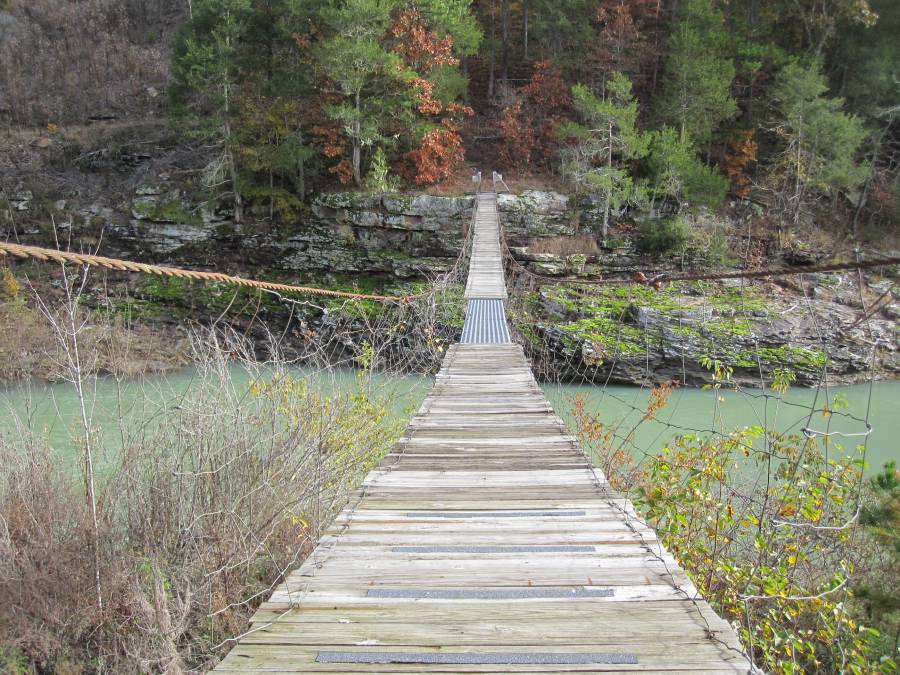 I took this picture while I was standing on the swinging bridge---those foggy mountains is where I came from
to get to the bridge.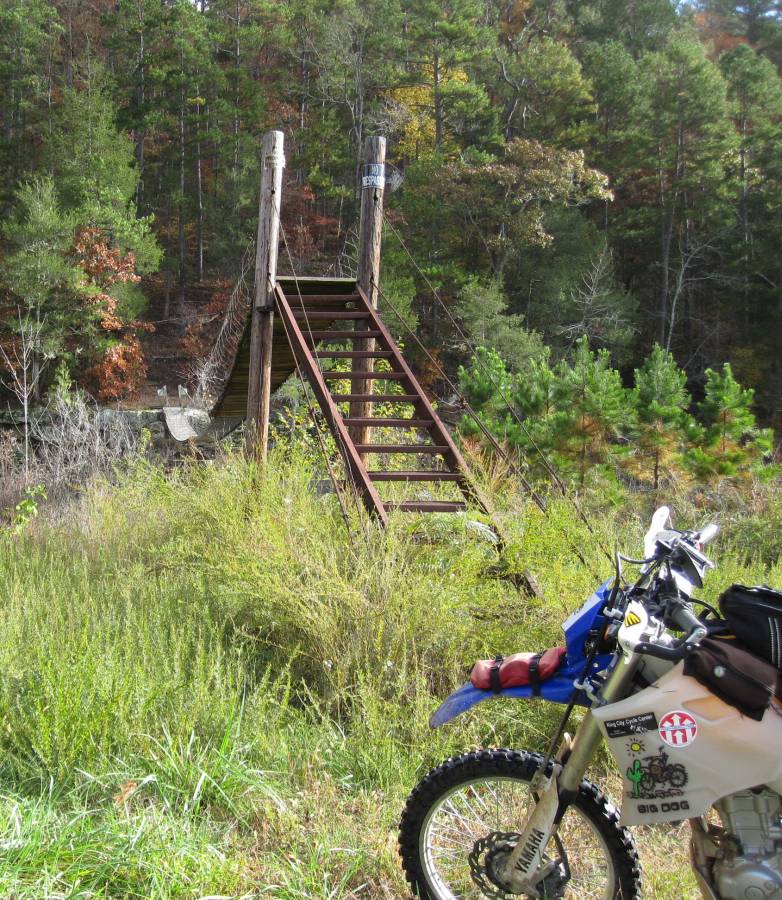 Exiting to the North---I rode for miles on a one lane rough dirt road and made at least 6 low water crossings.
There is no way to this house from the North when the water is up.
Unless you come in from the South on miles of rough mountain dirt roads---which were pretty muddy when I went thru.
Not something you could do in the family car.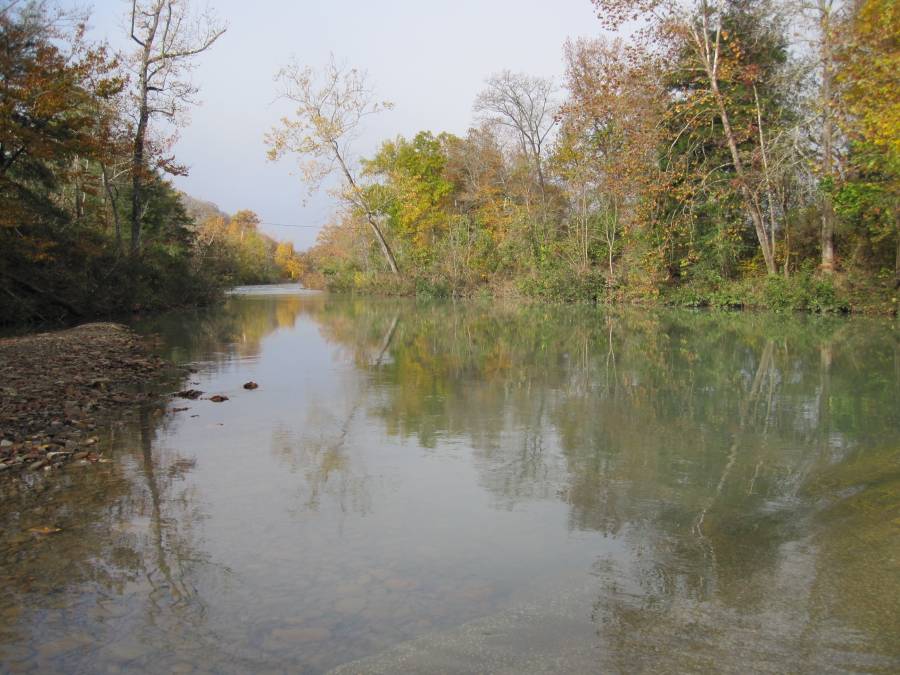 All morning this is what I saw when I was up high--then I'd drop down into the clouds--then up out of them--surreal I'm tellin' you.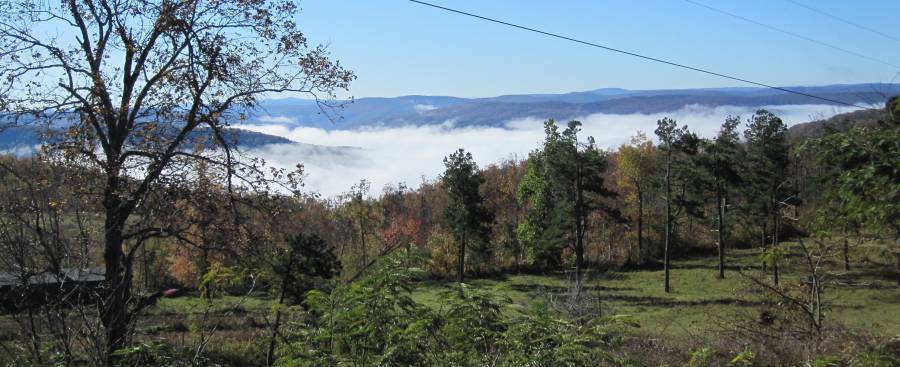 OK-----I have a tale----it all started at the Deer, Arkansas (Population about 75) country store.
I was cold--my feet were froze---and wet. I pulled in the store hoping for a cup of coffee and a
giant frosted honey bun.
She said she didn't have any coffee ready but would make me some----OK...I'll fetch a big frosted honey bun.
I backed my rear up to the wood stove in there and wished I could put my cold feet on top of it.
There was a young man in there watching a "Leave It To Beaver" re-run and laughing all the while as the
Beaver got himself into quite a mess---and couldn't bring himself to confess to Mr. or Mrs. Cleaver.
I pulled up a chair--put my feet on a stool----and started on my first cup of coffee (I had 3) and devoured the big frosted honey bun
as we watched 2 episodes of Leave It To Beaver----but not without some interesting converstaion.
Notice the old microwave is still serving a very useful service.
And notice the sign on the wall----a close-up is below.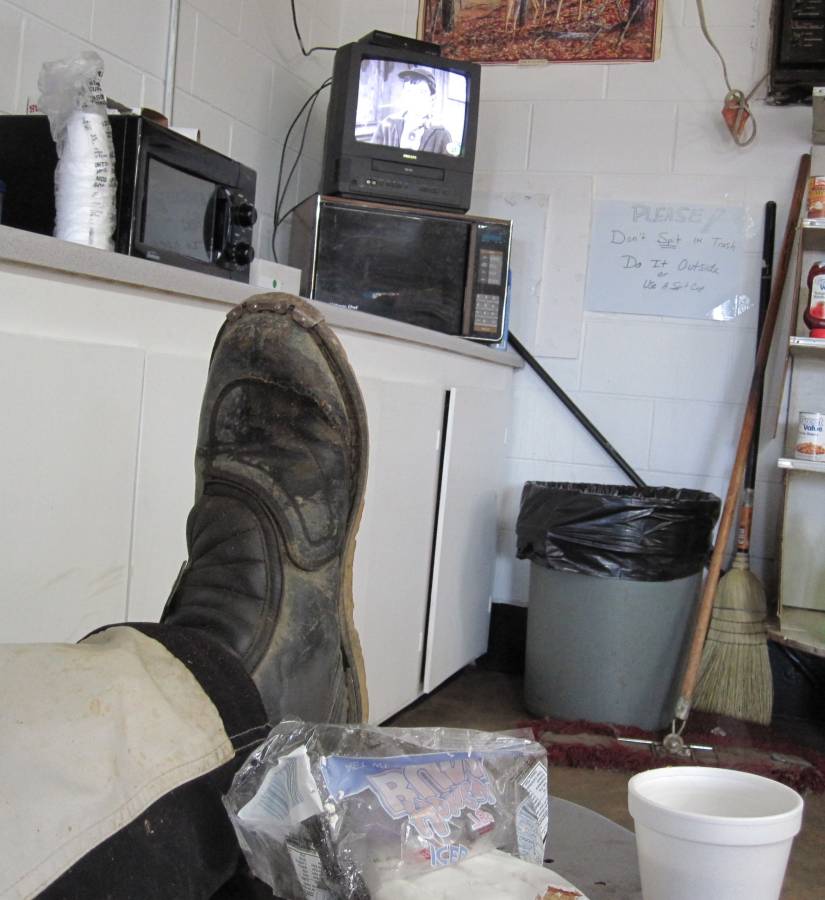 The TV was the latest---had one of them VCR thing-a-ma-bobs in it---cept nobody knew how to use it.
Poor ole' Beaver----He wanted to buy his new ice skates on his own---bought a pair 3 sizes too bike--and he
was in a pickle as he didn't want Mr. Cleaver to think he was stupid.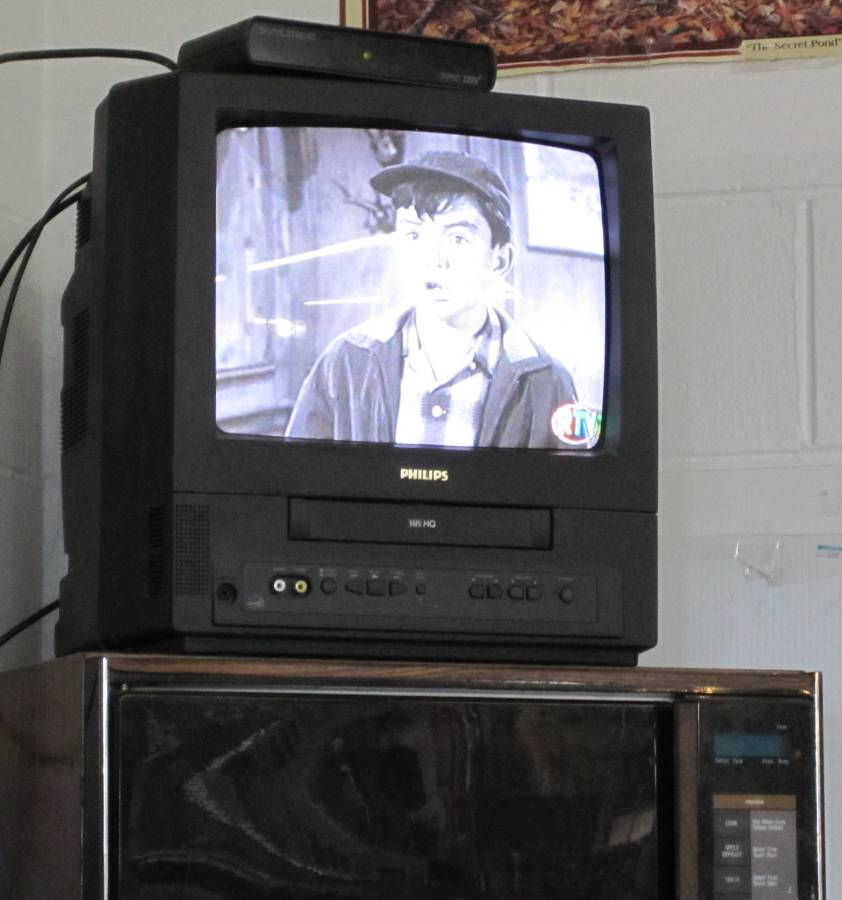 Me and the young man in there had a great conversation.
Him----"ain't nothin worth watchin on TV except Leave It To Beaver and Andy Griffith"
Me-------------"Yep"
Him-----I won't even turn on the TV in my house---can't have the kids watching all the sex, drugs, cussing and such"
Me----"Yep"
Him-----"Stinkin' commercials--can't belive people watch and listen to them"
(as he quicky muted the commercial)---just as I do at home.
I like this guy----I may hire him when I take over the world--and solve all it's problems.
This conversation went on and on--with him chewing some red man and spittin' in a styrofoam cup.
As spittin' in the trash can would get you a slap on the back of the hand with a ruler.
I didn't want to leave Deer, Arkansas---I think I could fit in very well there.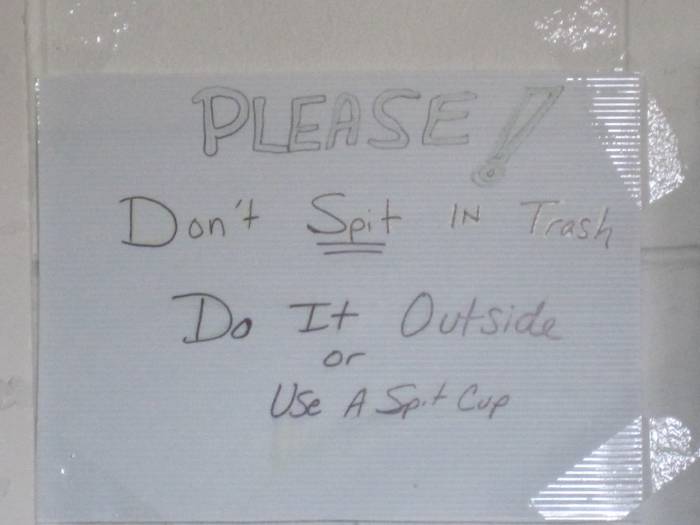 Got chased by a couple yard dogs as the little WR purred out of town.
Guess there not to fond of foreigners.
Ya'll come back now--ya here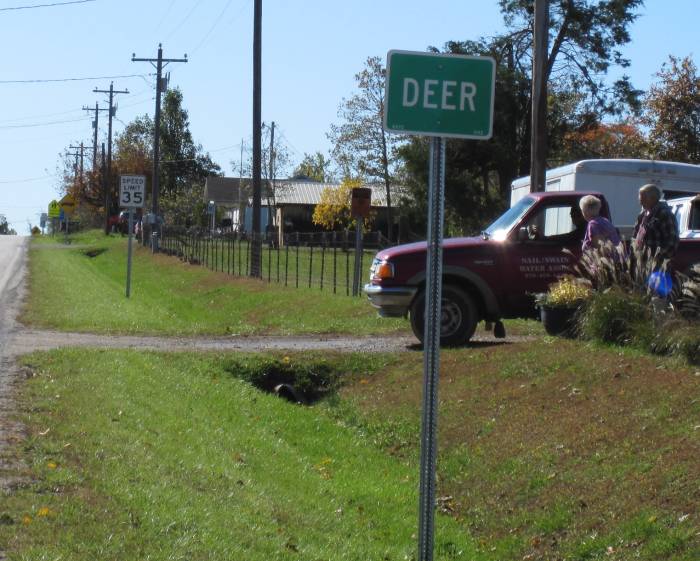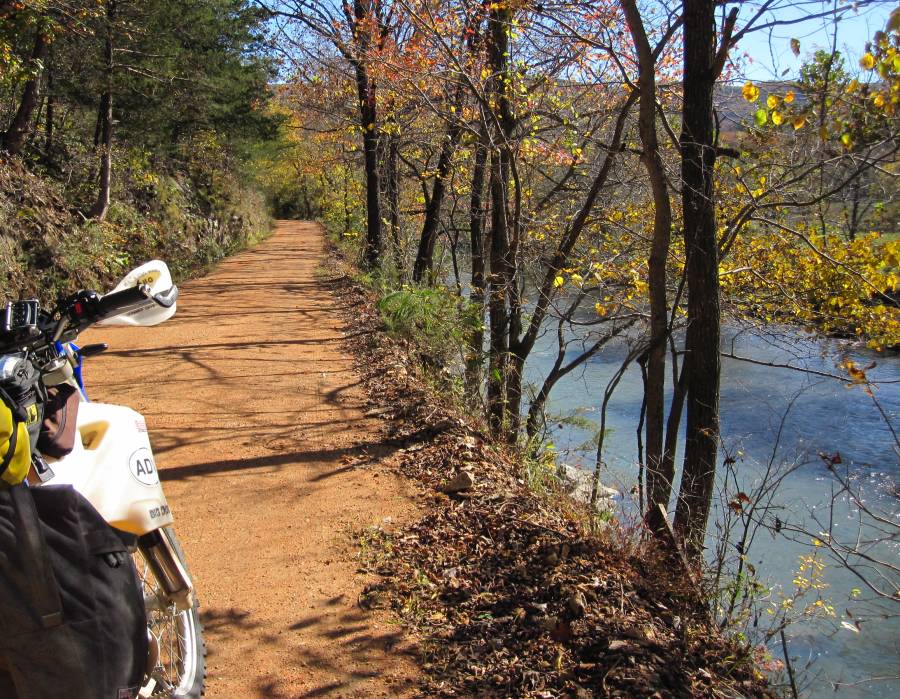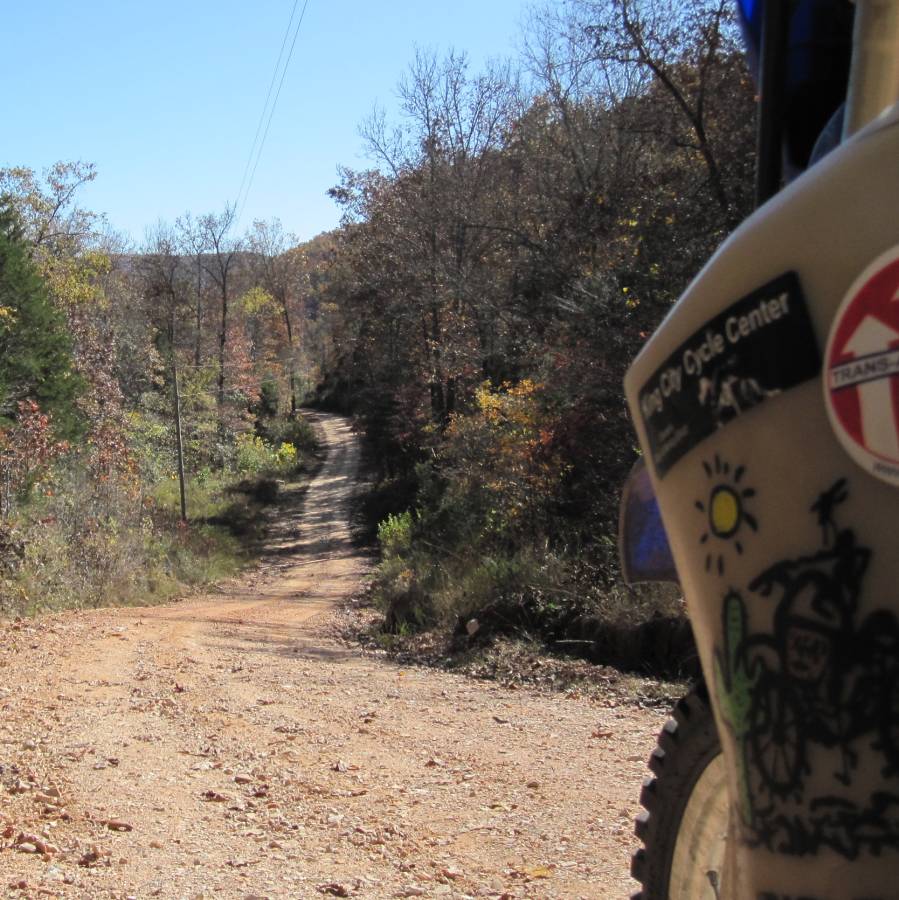 I rode a dirt road East right along the buffalo river just East of Hwy. 123.

And finally ended up right on the Buffalo river where I took another break and contemplated asking my wife if she
would like to move to Arkansas-----Deer, that is.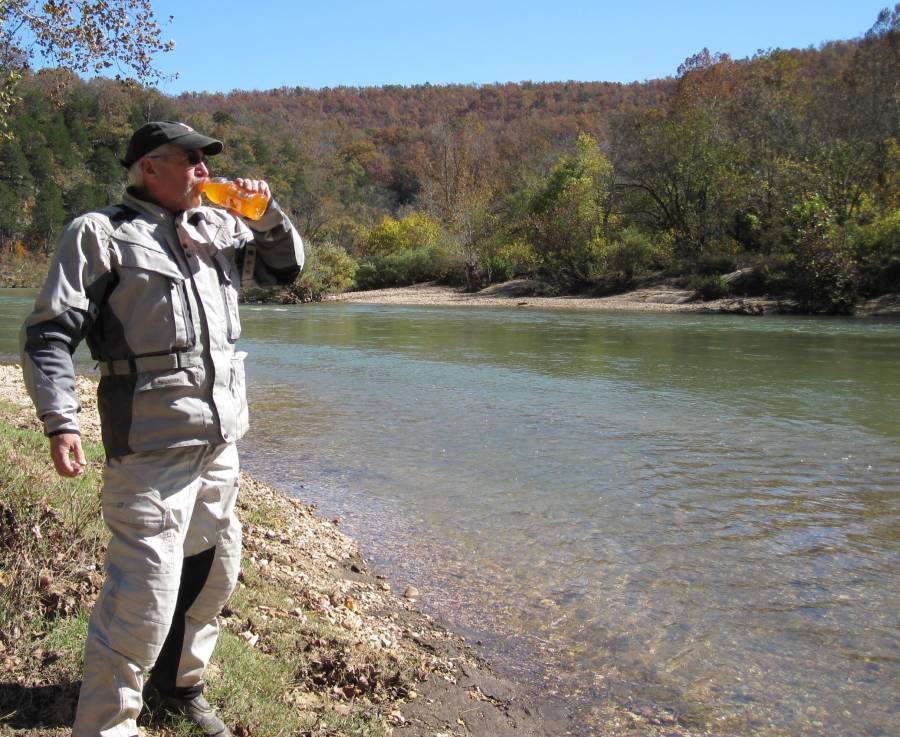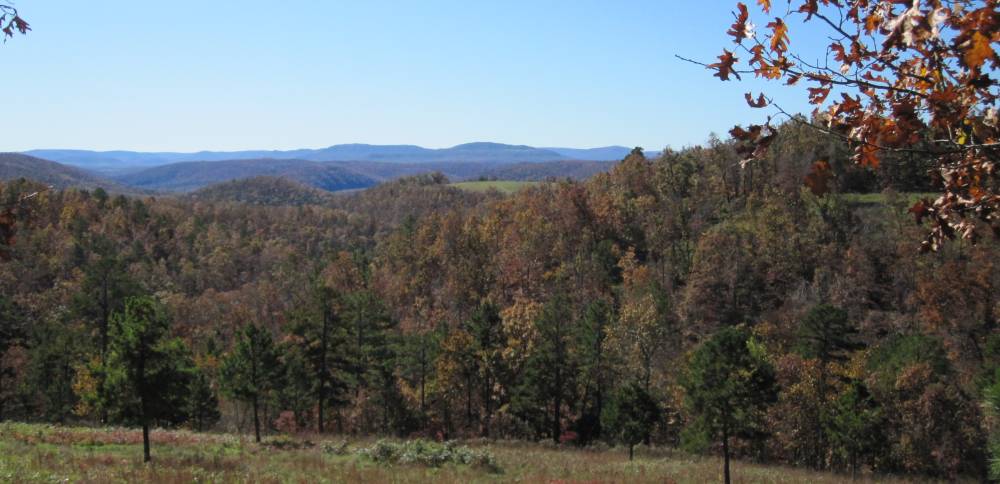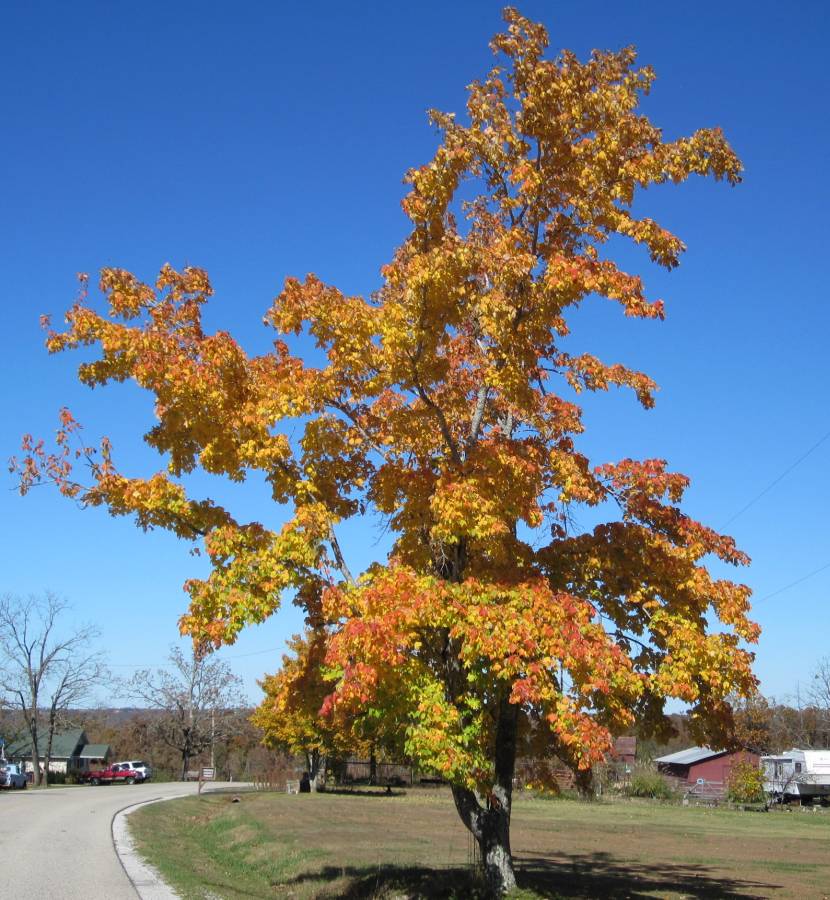 Once again-----I will definitely have to kill you if you want to know where this little jewel is.
How did I find it----I'm not tellin' that either.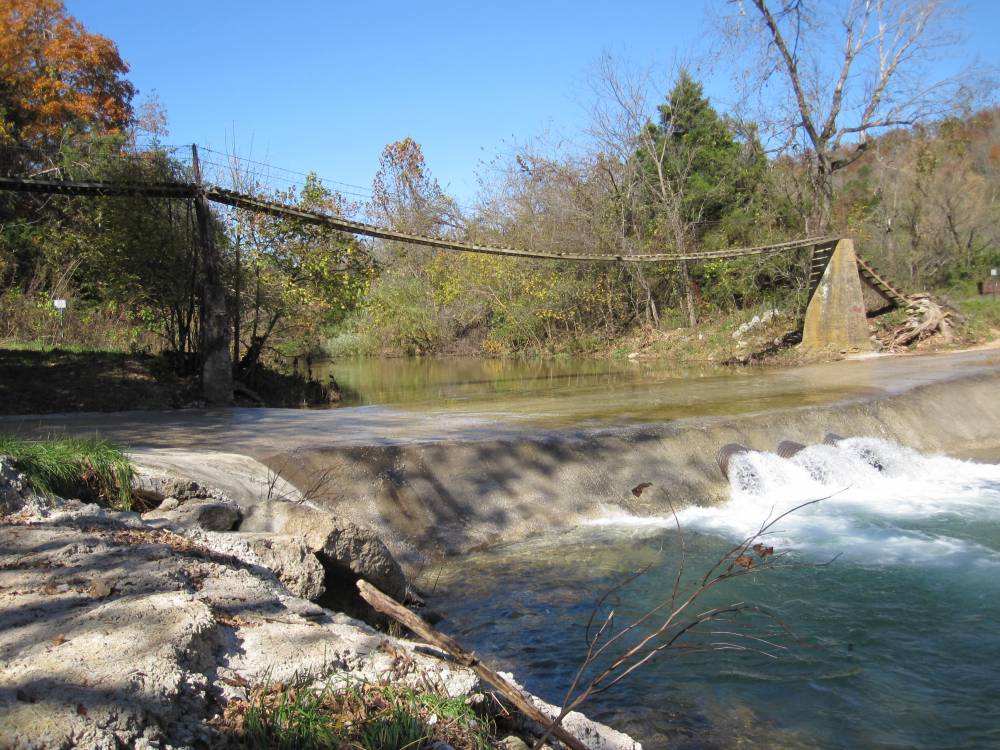 A couple young boys who were terrorizing the tiny town of Zinc (oops), Arkansas saw my camera and tried to put on a show for me.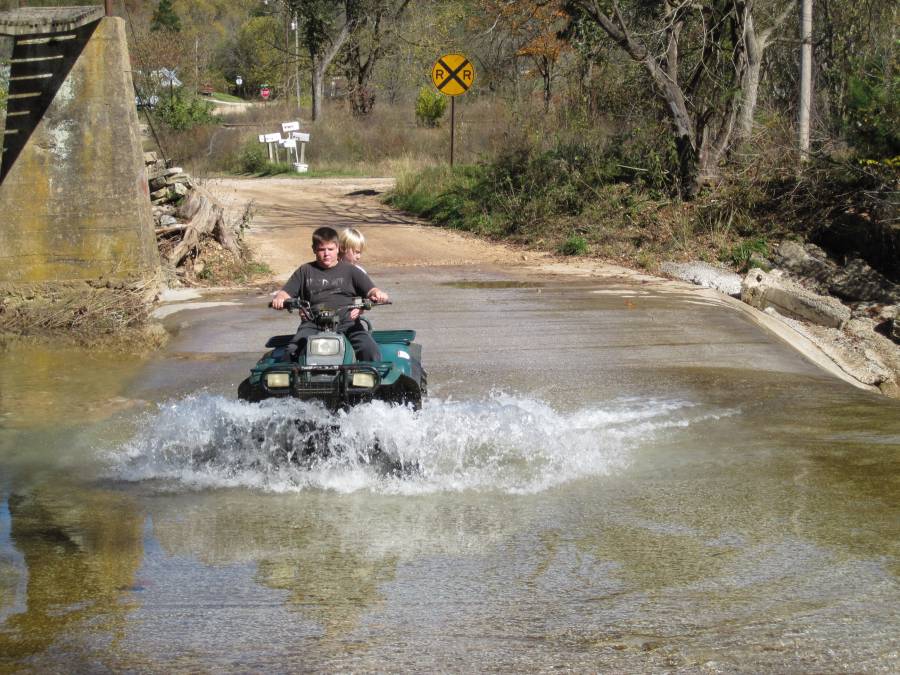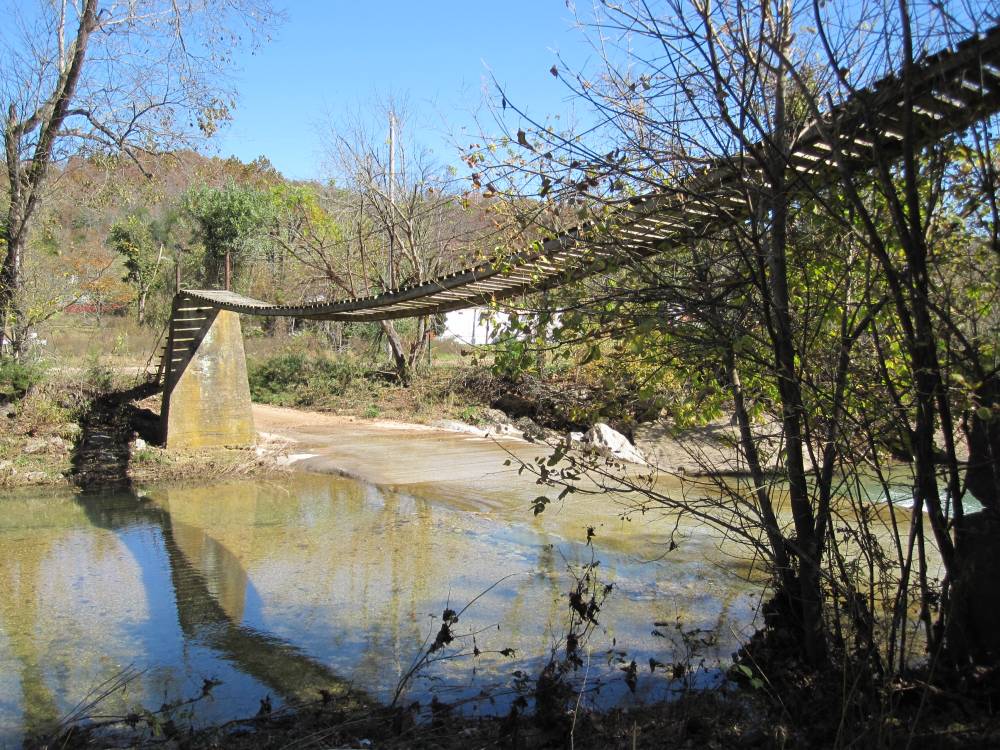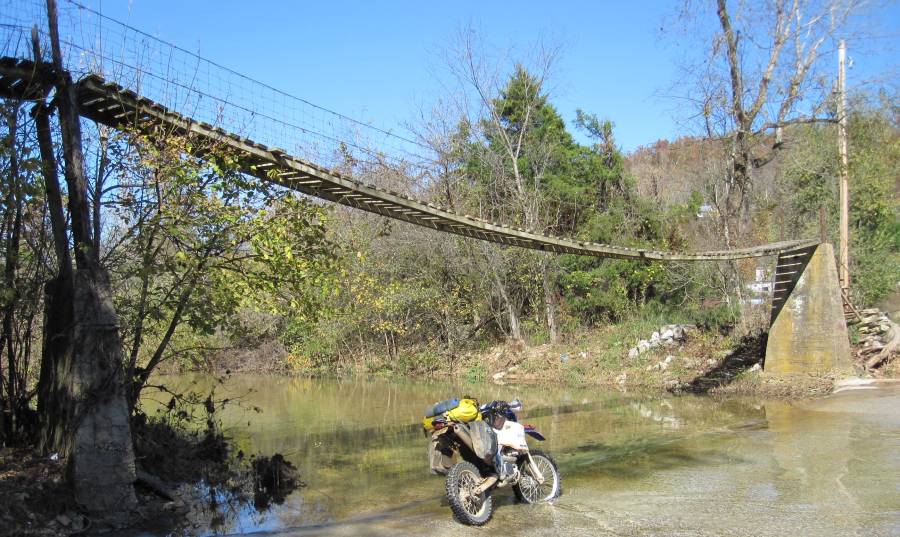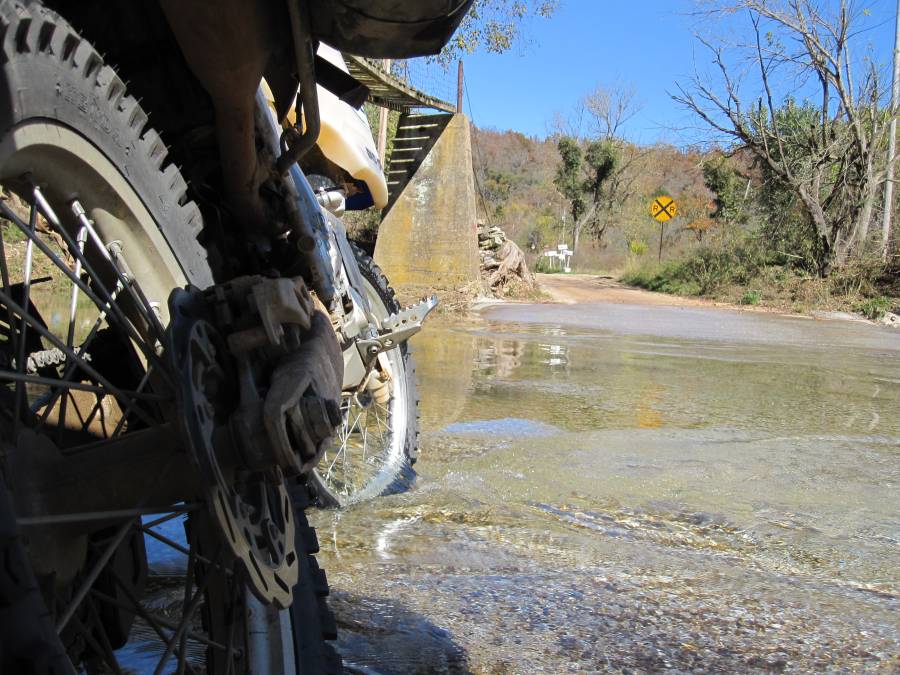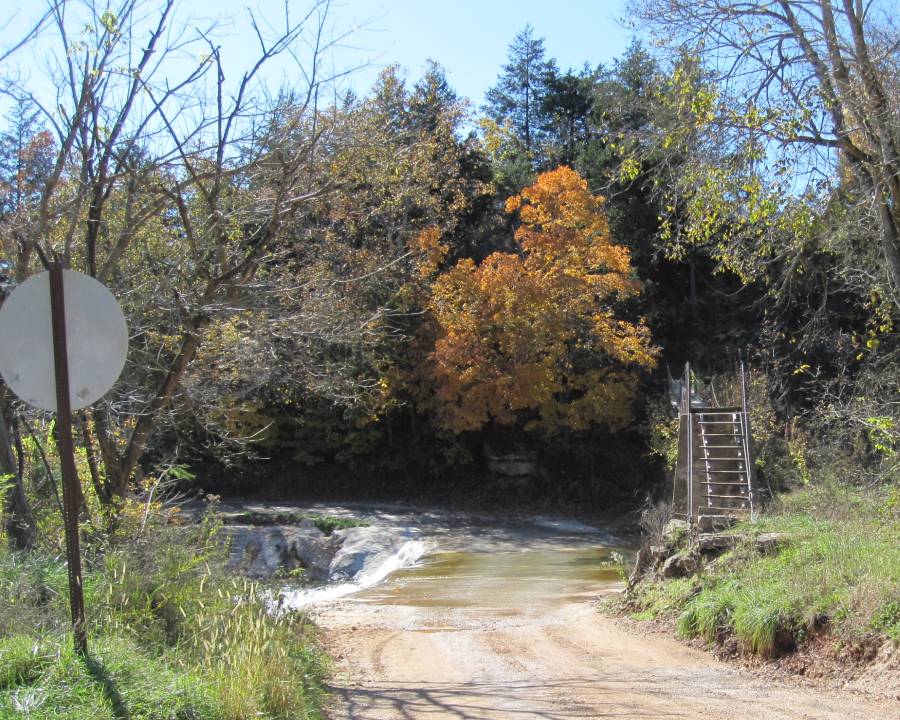 The tiny town of Zinc (population 2) has adopted one of my techniques of saving the world billions and jillions of dollars.
This is only for people with common sense--doesn't work for stupid people--you can't fix stupid.
A simple wooden sign to replace a $17,540 dollar gate and flashing lights---simple.
Whilst bringin' up your youngin's ----- that you love so much.
Teach them that when they see this wooden sign----to turn down the jam-box, hang up the cellphone--pull your finger
out of your rear ---stop look and listen both ways--and proceed with caution--or you will be cut in half
by a speeding million ton train. A little spankin' if they are not payin' attention will help.
The railroad will save billions of dollars and pass the saving right on down to you.
I've got more---if you care to listen someday.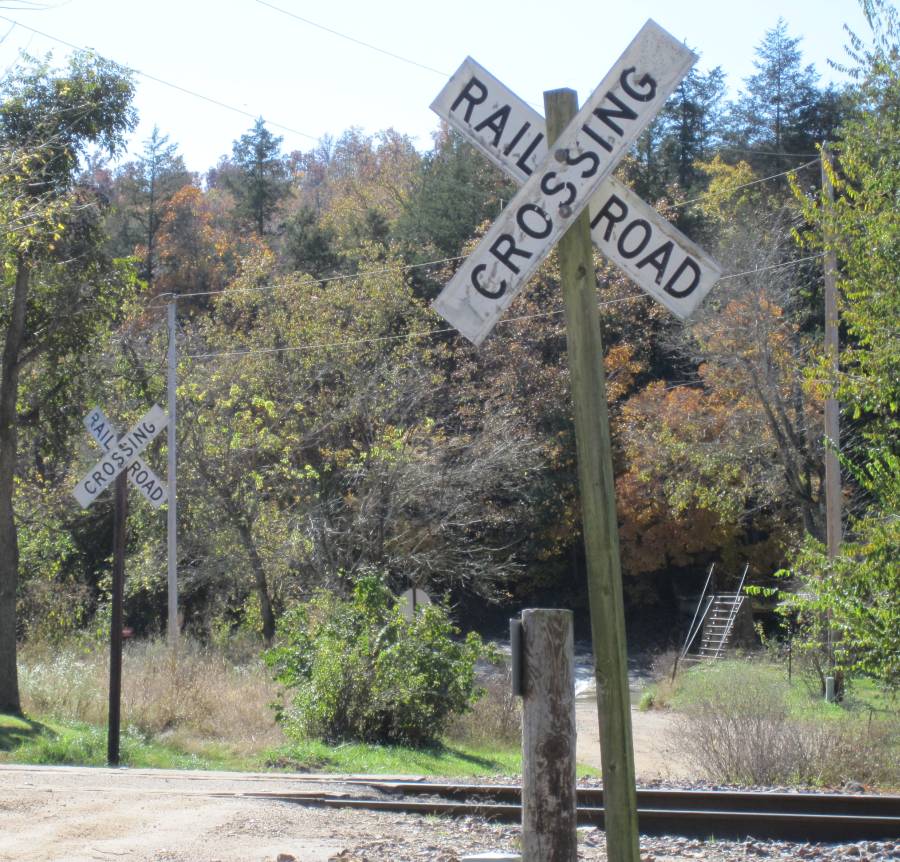 I
I proceeded towards the ferry that crosses Bull Shoals lake on some unexpected magnificent roads---with beautiful view.
Like I said---the perfect day.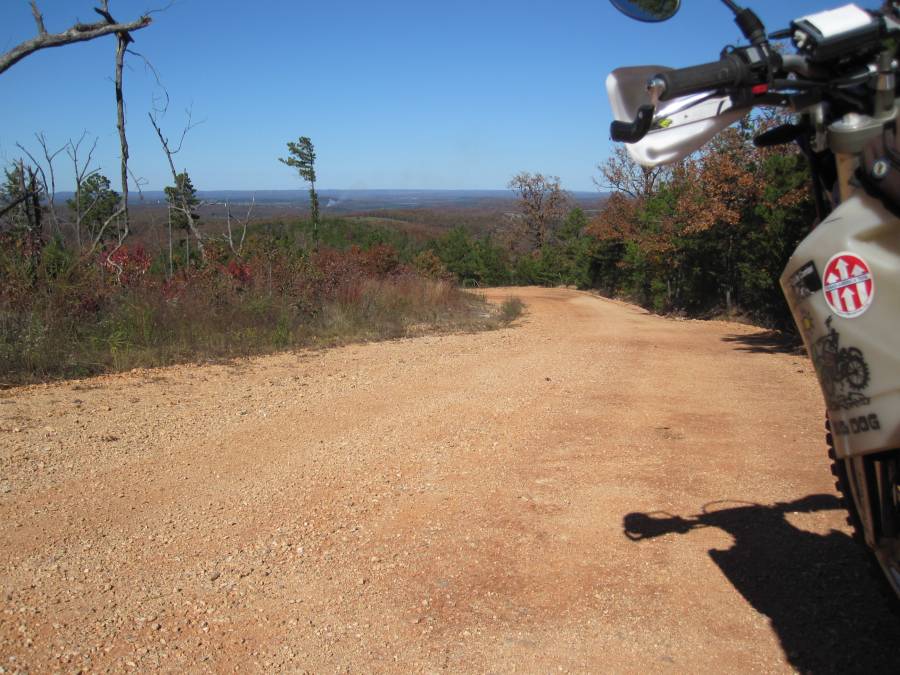 I luckily timed getting to the fairy just right and didn't have to wait 40 minutes if I just missed it.
I was crowded into the ferry with these folks---who would neither talk to me or even
acknowlege my little 250 existence even after I got face to face with them with a big smile and howdy---little
did they know I have ridden more dirt miles in the last 6 weeks then
all of them together for the last 6 years have ridden on the road. Well it was a costume party I'm tellin' ya.
I thought about cutting a hole out the rear of my pants to fit in ?????
I guess you could scratch your butt better ???
I put my ear plugs in before they started up----it was deafoning.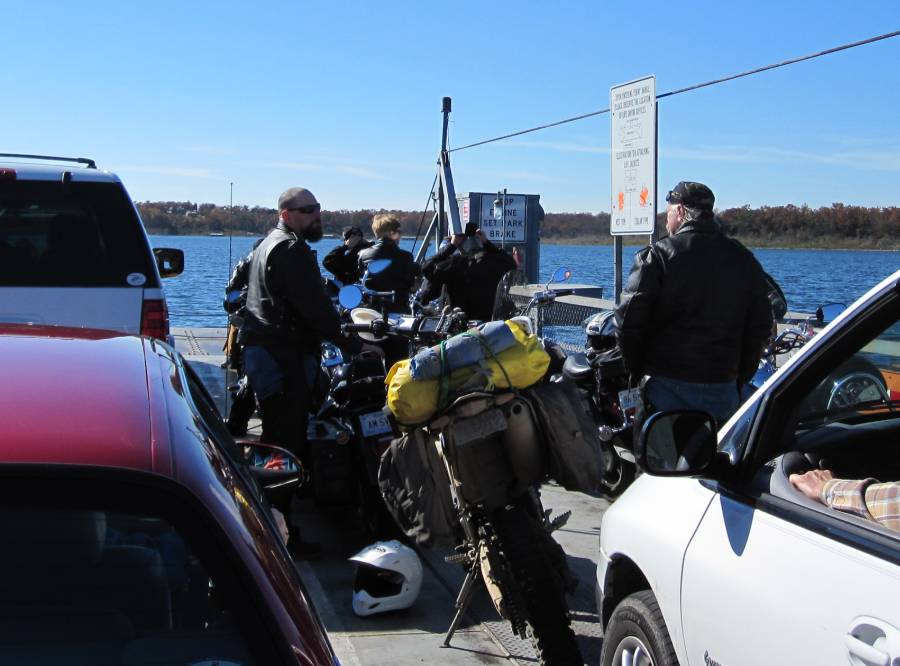 Bull Shoals Lake is so beautiful---the water was pure blue--just like the sky.....I'm tellin' ya---the perfect day.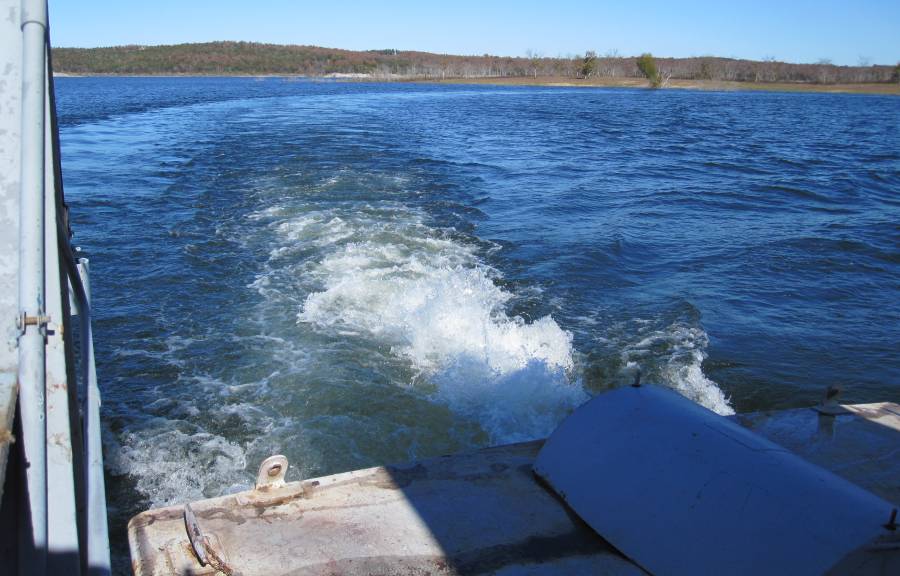 Perfect---if you didn't have to follow behind this slow freight train---I could barely balance my bike---and prayed one bike
would break down so I could get around.. There wasn't a straight piece of road long enough to get around even if I had
been on a Huyabusa.
I rode with one hand---and made a few text calls on the cellphone, got a couple nasty nose
hairs out of my nose, cut off a hangnail that had been bothering me, and adjusted my clutch free-play
and thought---if there was only a beer sign---that would get them off the road.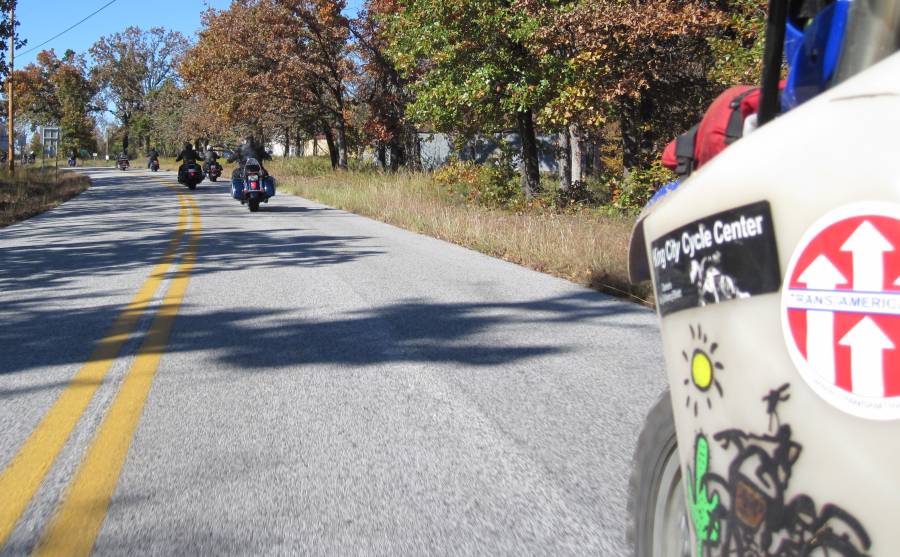 We didn't go 4 miles----and I saw the beer sign before they did and slammed on my brakes first so as
not to slam into the rear of them----as I knew what was coming.

The Glad Top Trail in Missouri---the perfect road to be on -----on a perfect fall day.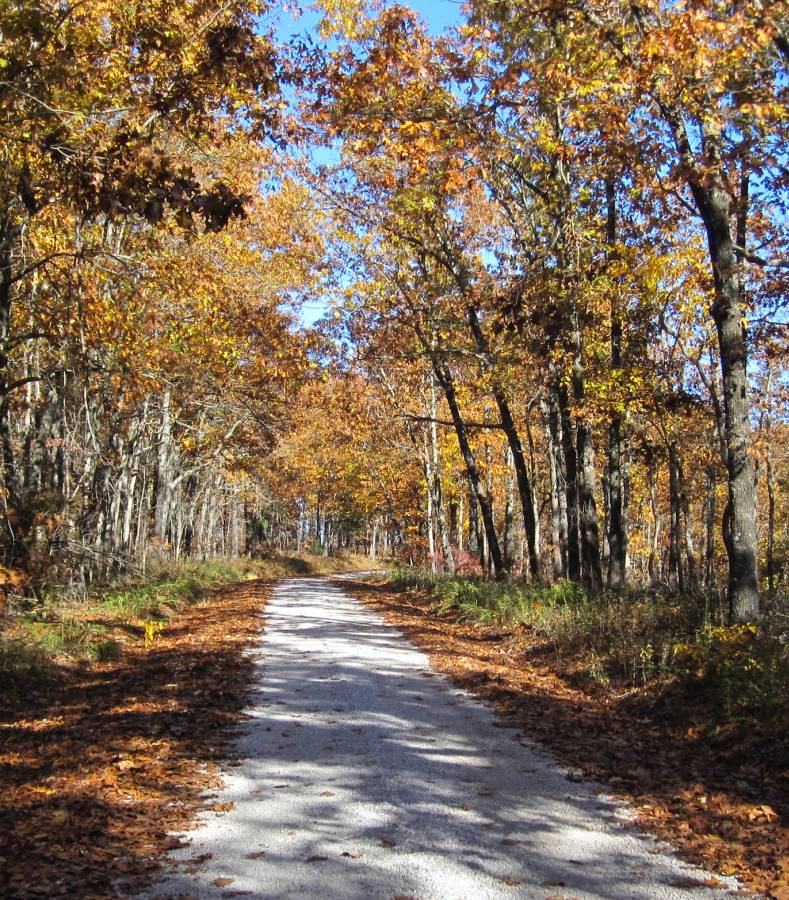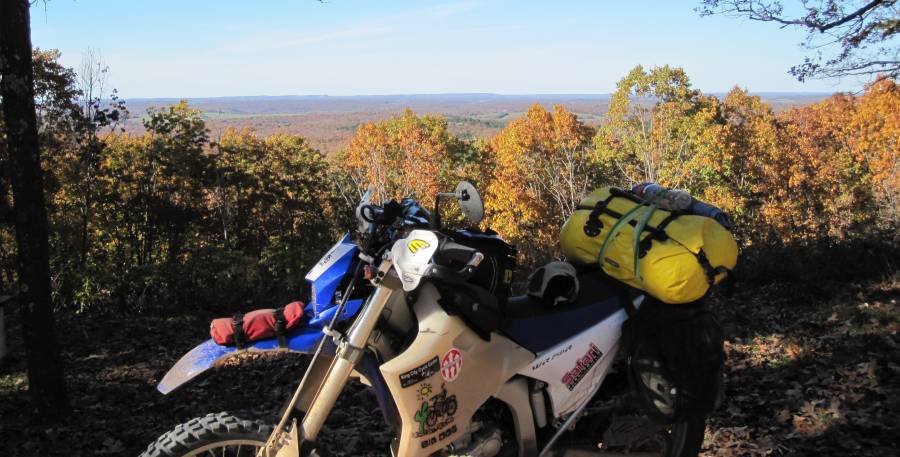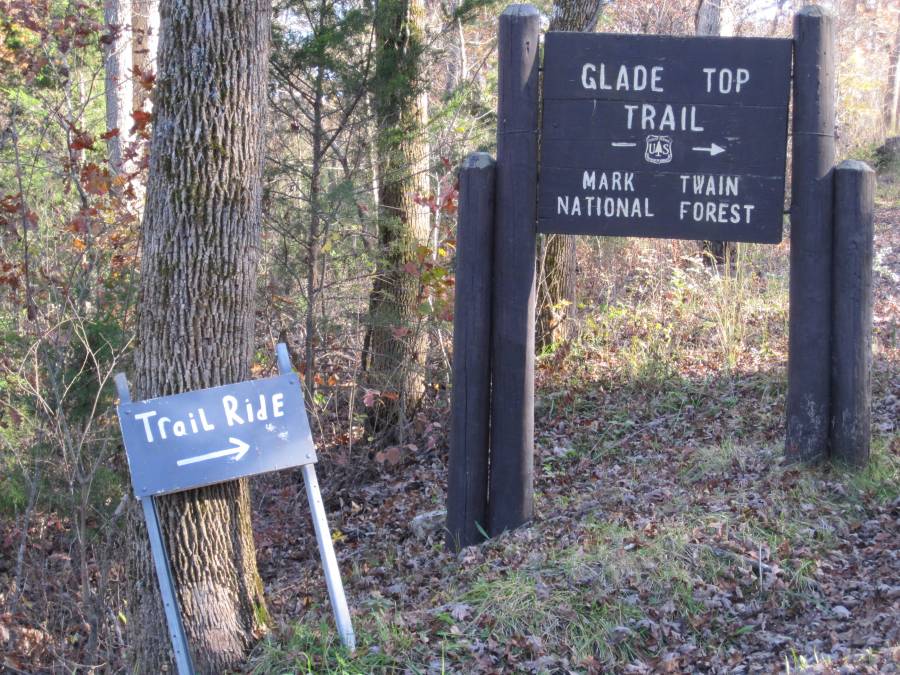 The perfect ending for a perfect day.
Day 6----getting home
Sunday Oct.25th, 2009
I headed further East and West into the Mark Twain forest in Missouri.
This picture was taken very near the Hazlecreek Campground.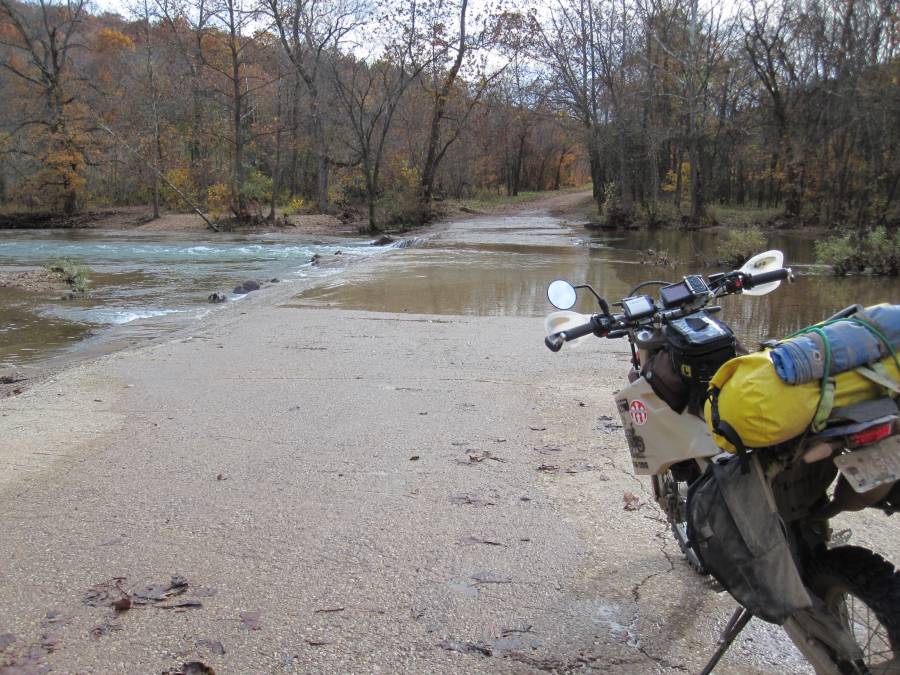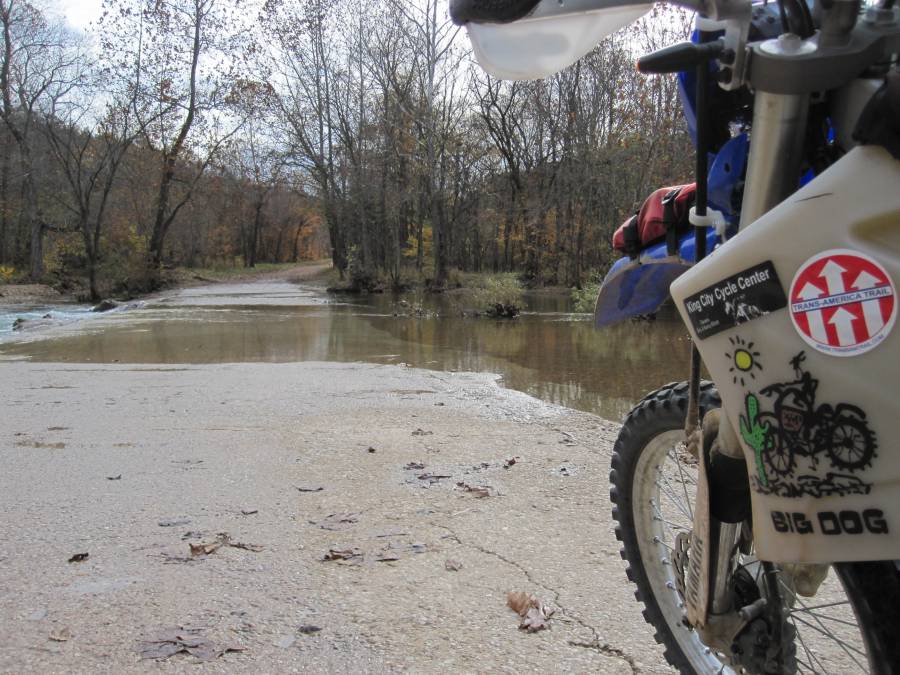 I headed Northwest from there and rode thru Berryman campground. Very nice remote campground in the Mark Twain Forest.
I turned toward home them and ran into one of my old favorites. It goes over the river AuxVases and if you pass by very fast
you'll never see it------------slow down.
N37 52.570 W90 07.776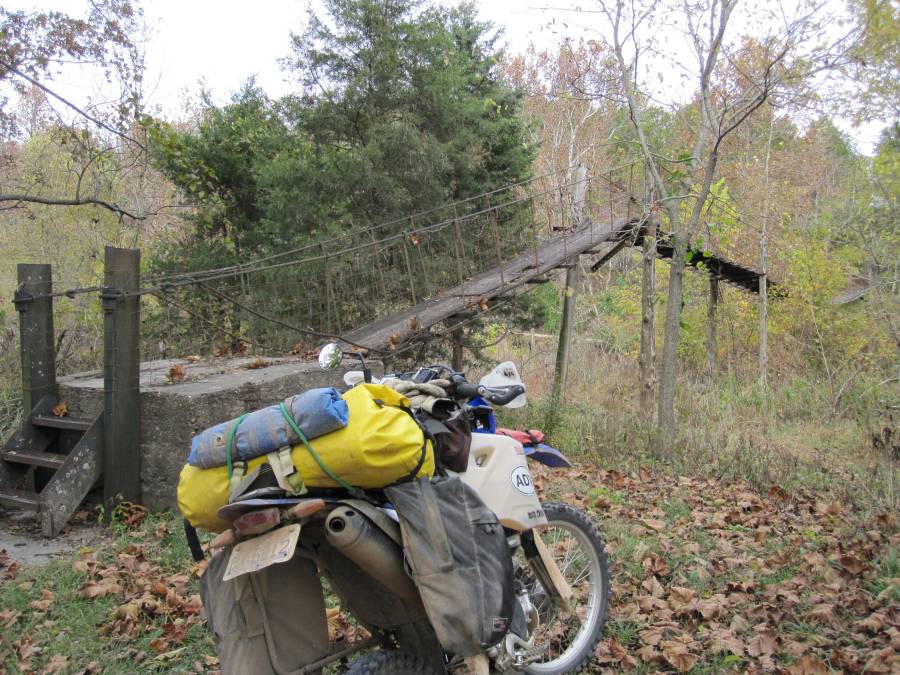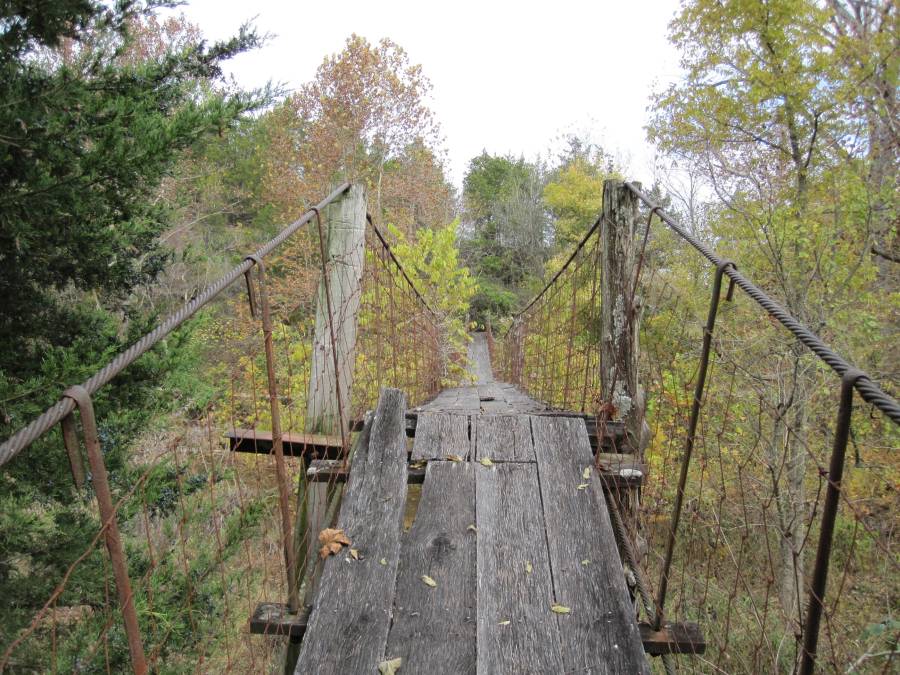 I have been here before---but never could find a local to tell me about it.
I did get a "He'll shoot you and ask questions later" from a man fishing off a low water crossing near there.
I was getting ready to leave when I saw the year 1927 scratched into the concrete support for the cables.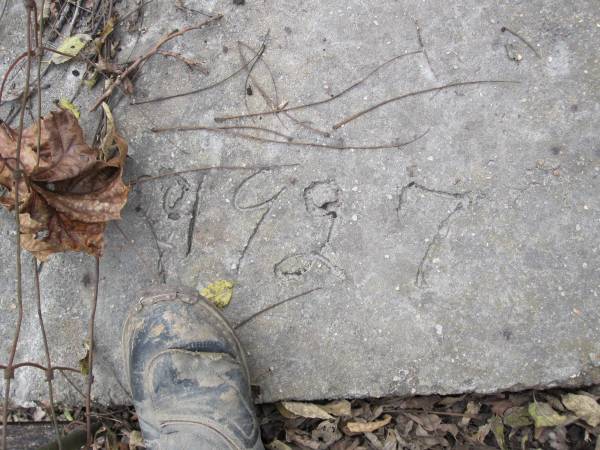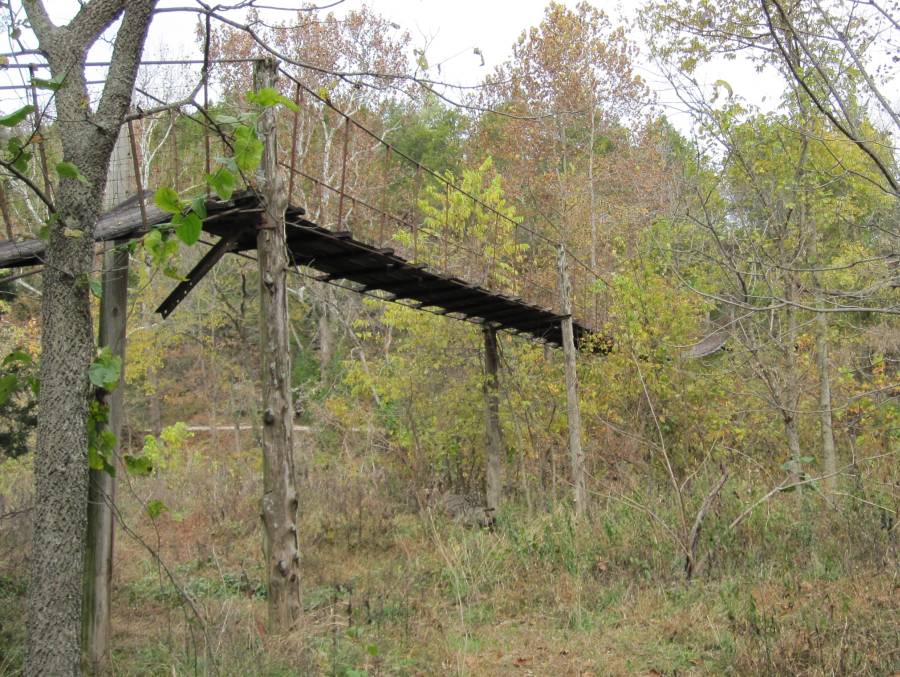 As I neared the Missippi river I got on another levee for awhile.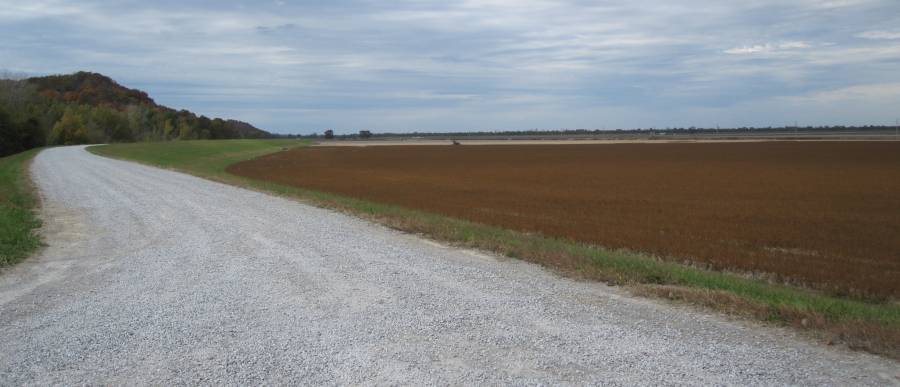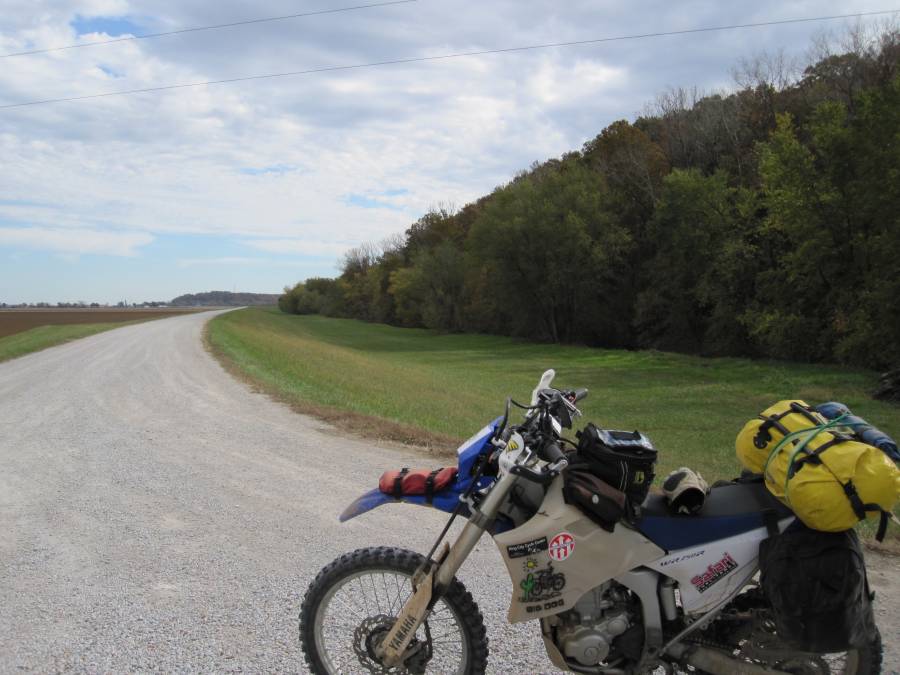 Into Illinois I made a ride thru the Washington County state park just south of Nashville.
I relaxed on a boat dock and had a snack.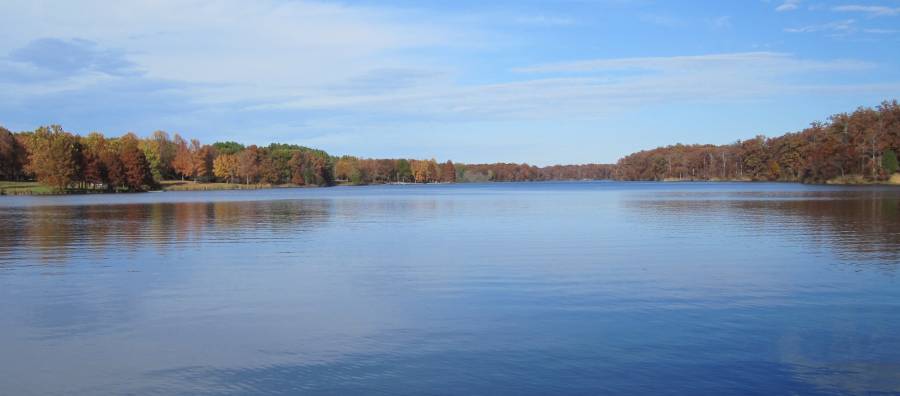 I think I rode about 1500 miles on this ride.
Don't come thru here bud---with a license plate full of mud !!!!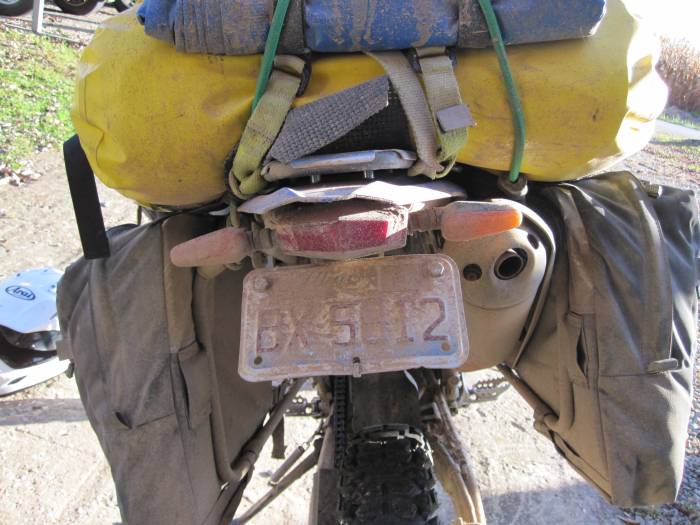 My rear Kenda K270 has about 3,500 miles on it----it's got to go.
It survived this trip and my last trip thru Colorado, New Mexico, Wyoming and Utah--earlier this month.
It was a good choice for the miles I ran it. I really like a Dunlop 606 on the WR---but I thought the last trip would be 5,000
miles and needed a tire to last.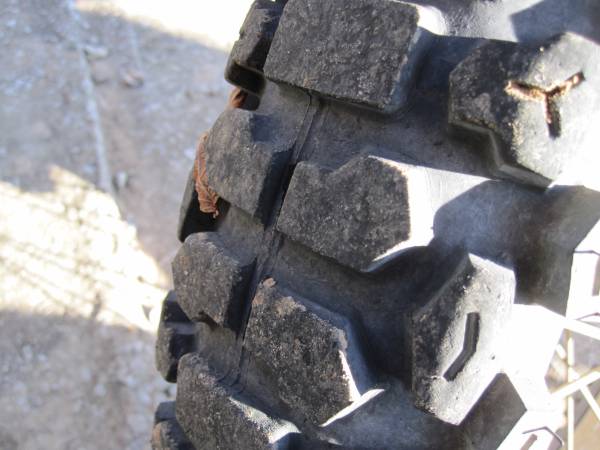 Dunlop 606--------shot I would say.
I may put a Pirelli MT 21 on the front this time.
Turns out my sprockets and chain were shot also----had new ones ready in my shop.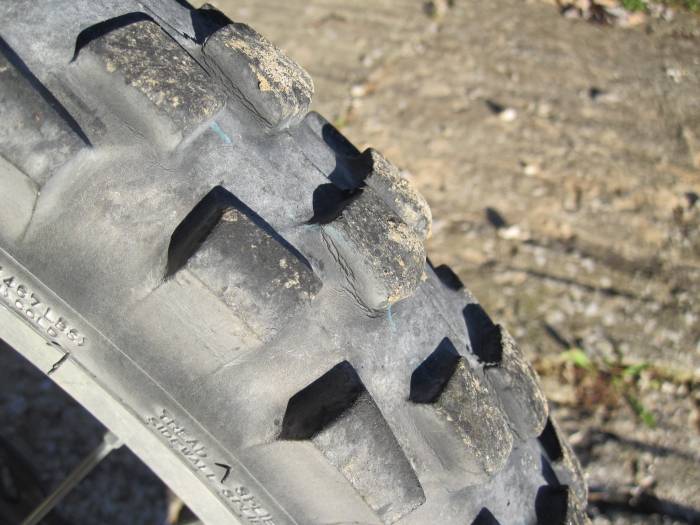 My dog JoJo was so glad to see me---he about turned inside out when he saw me out the window.
He started yelping and barking like he'd been run over by a truck and scared my wife to death.
Poor guy had been staring out the window for a week watching for me. His head goes back and forth like radar--all day long.
He really don't like my wife that much but has to put up with her when I'm gone.
He hadn't growled at her all the while I was gone---but when Debi tried to hold him he got a scolding for growling at her.
Good job JoJo-------now go get your toys and let's play.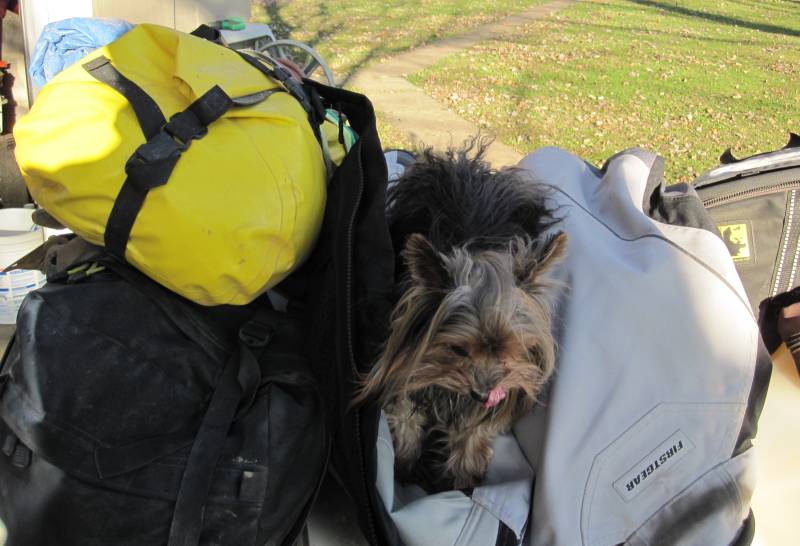 This thing was sittin' there all nice and shiny--wanting to go for a ride.
It would have been OK for this ride on most of it---but not all of it.
In rough terrain it's the slowest bike I own---but has the most horsepower.
It takes 12 horsepower to ride around the world----the rest is wheelspin.

Better put some new rubber on that WR boy--before you get er' out again.
Some people call em' tires---I call em' rubber UMmmmm.......UMmmmmm......
Alright then..............