2004 Weekend Wanderings
I'm just a poor working stiff and can't be going to far away places year round. So this is what I do on weekends---or just one day rides. Hope you find some neat places.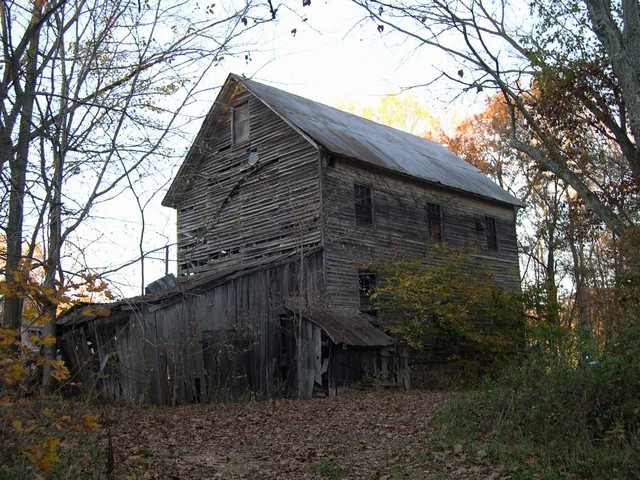 Heitmans Mill N37°35.764' W90°01.699'
12.5 miles Southwest of Perryville, Mo. (in a straightl line) Me and Kevin Sweet were scouting around the backroads of Missouri and found this. I had a waypoint on my GPS of a ghost town called Heitmans Mill. The mill was nowhere to be found only this old house. We poked around for quite awhile and new this wasn't the mill as there wasn't a water source for power. I finally peaked in the little side building on the left side of the building and low and behold !!!! Eureka !!! There is a boiler (what's left of it) and a steam engine in there with a shaft going into the main buildings cellar. This steam engine powered the mill---but what we couldn't believe is that all the original equipment is in the building--all the sifters belts, shafts, pulleys--everything--amazing. This is all posted "No Trespassing"---so you better get permission to poke around here too much. This is down a very lonely one lane dirt road--we felt like we had found a long lost gold mine !!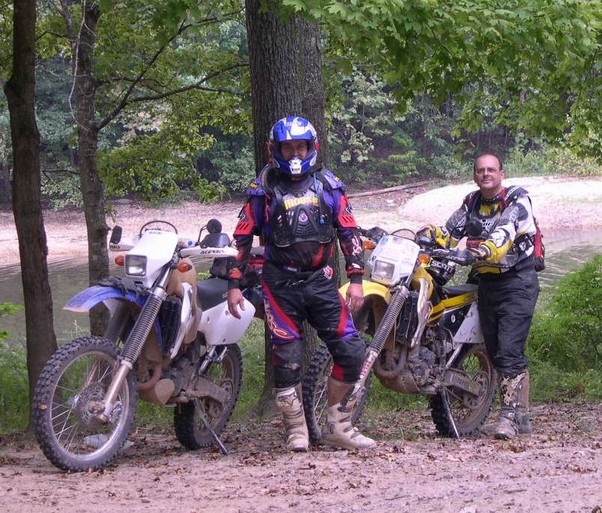 Me and Charlie Williamson (right) from Tennessee rode the LBL---Land Between the Lakes dual sport ride in Kentucky the 2nd weekend of September. We rode our DRZ's --this ride is very unusual as you get to ride on hiking trails that are only open to motorized traffic one weekend of the year---great single track !!!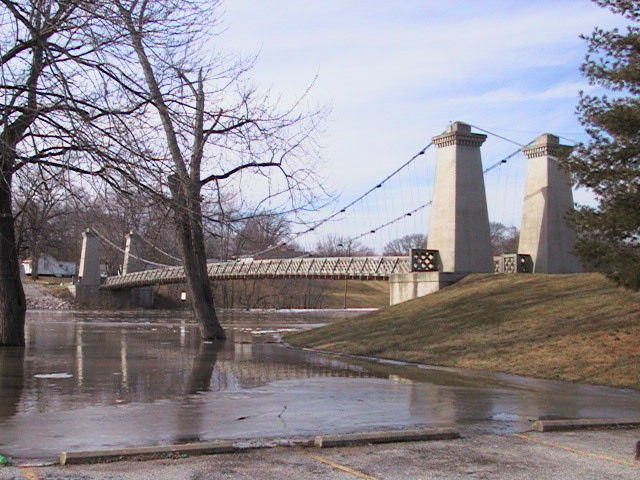 N38°36.671' W89° 21.444'
This historic suspension bridge is just below Carlyle Lake Dam in Illinois. This bridge goes over the Kaskaskia River and was the first major road in the area--it is in very good restored condition and is open to foot traffic.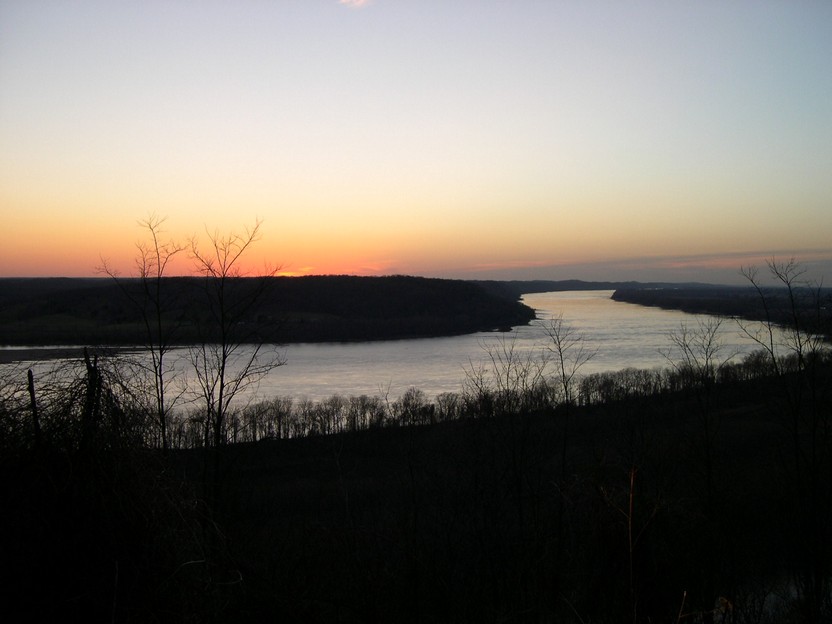 N37°41.879' W89°29.244'
View of Mississippi River from atop Fountain Bluff--just a little North of Grand Tower, Illiniois. Find Fountain Bluff Road just off Illinois route 3 and go up the very steep gravel road to the top.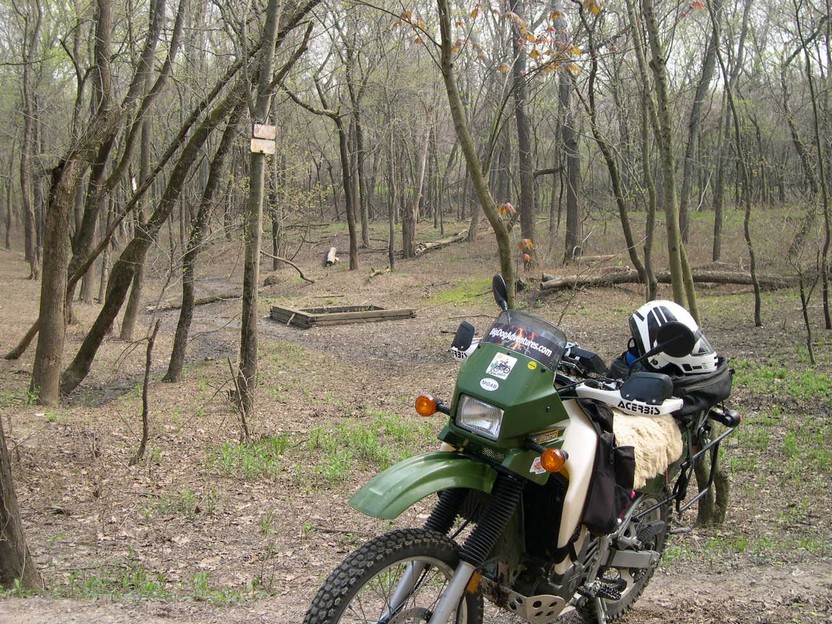 N37°42.302' W88°17.696
Just a few miles South of the "Old Slave House" in southern, Illinois is this salt spring (square box in background) just South of the Saline River. Slaves from the nearby slavehouse boiled salt water from the spring in big kettles----merchants sold the salt for big profits. It was said that they burned so much wood to fire the kettles that there wasn't a tree standing for miles which was one of the big downfalls of the business. I looked for hours trying to find this spring---when I found two old codgers mushroom hunting who showed me where it was at--there is another one nearby also--but not to many know of it.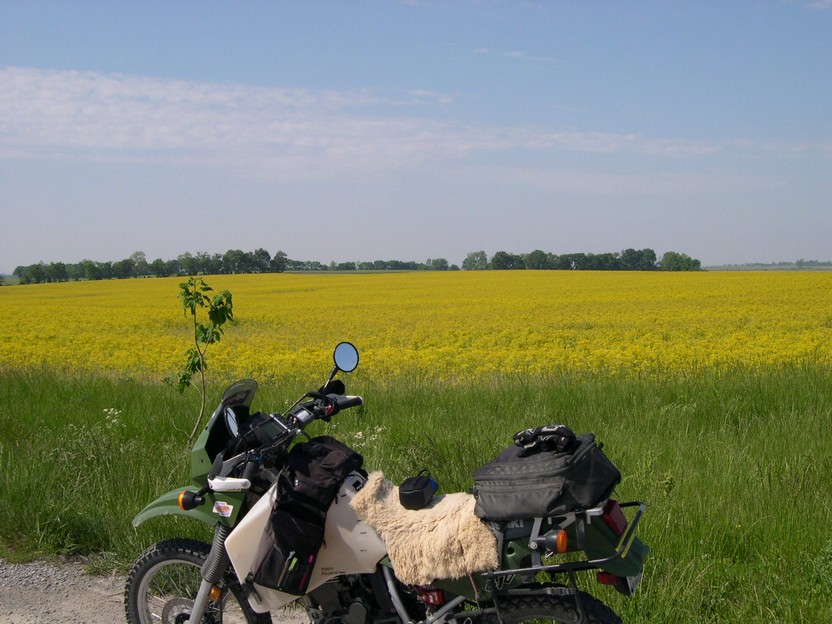 I haven't a clue where this is at---Southern, Illinois near the Wabash river--but I love the colors in this picture.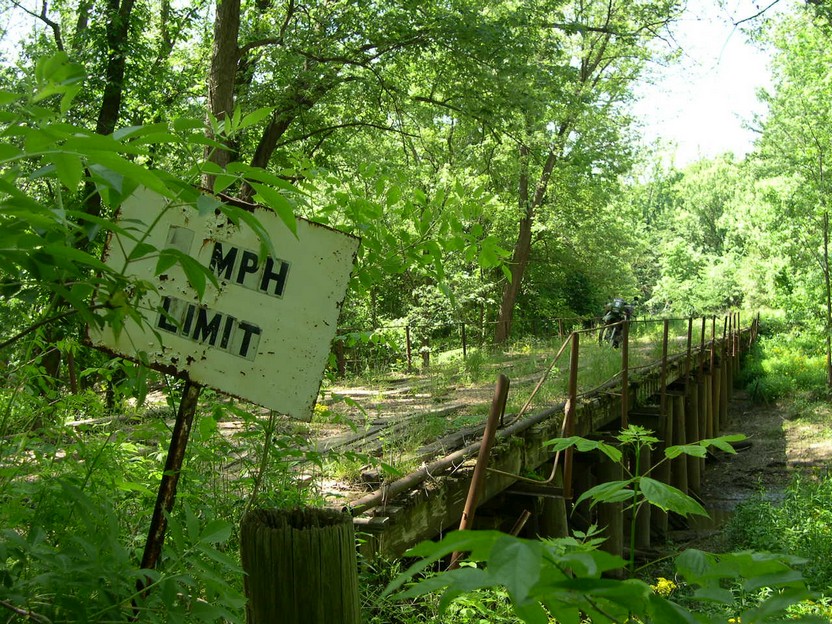 N38°07.696' W87°56.860'
In Illinois 4/10ths of a mile South of the Toll booth at the bridge over the Wabash river into New Harmony, Indiana. Speed limit was 5mph years ago---now it is abandoned and grown up in weeds. You have to be very sneaky, resourceful and have very good navigational skills to find this jewel--even with a GPS. A quiet muffler is advised !!! Ok--maybe I was trespassing !!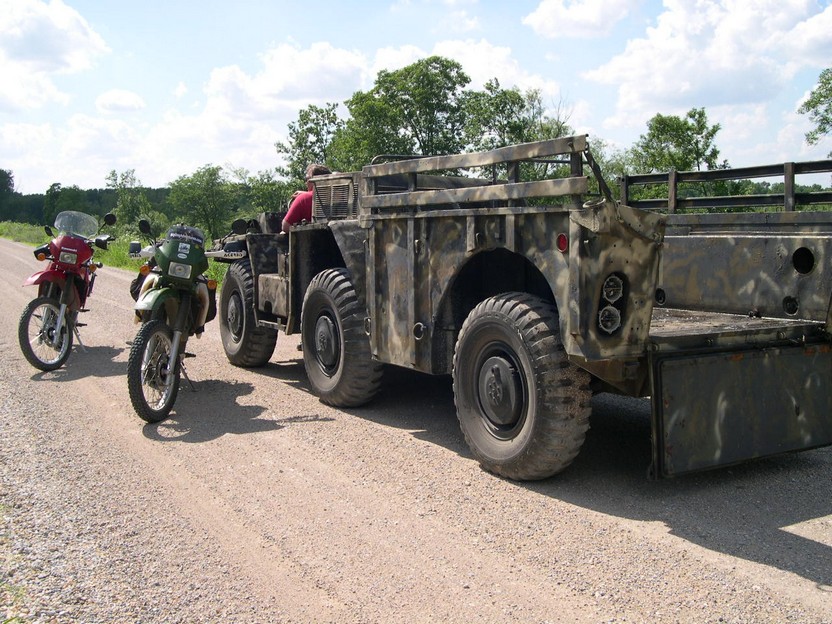 Me and my buddy Kevin ran into this guy near the Pine Hills area in Southern, Illinois. I really just couldn't beleive my eyes--better hope the forest service doesn't see him out in that thing !!! This thing floats and is all wheel drive----even the trailer. It is called a Gamma Goat---and Kevin new all about it as he drove one in the service---one guy sent me an e-mail and said it was a better anchor than a boat.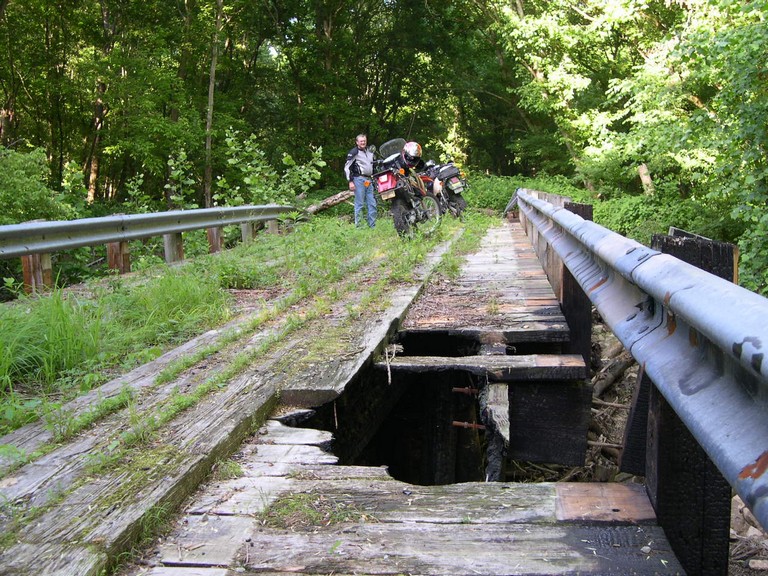 N37°39.086' W89°19.757'
Me and Kevin were riding down an old abandoned railroad bed and came across this jewel. It was the end of the road for us----as it was washed out and we couldn't ride any further. This is very near Pomona and "Natural Bridge" in southern Illinois--better have a GPS to find it---as with most of this stuff.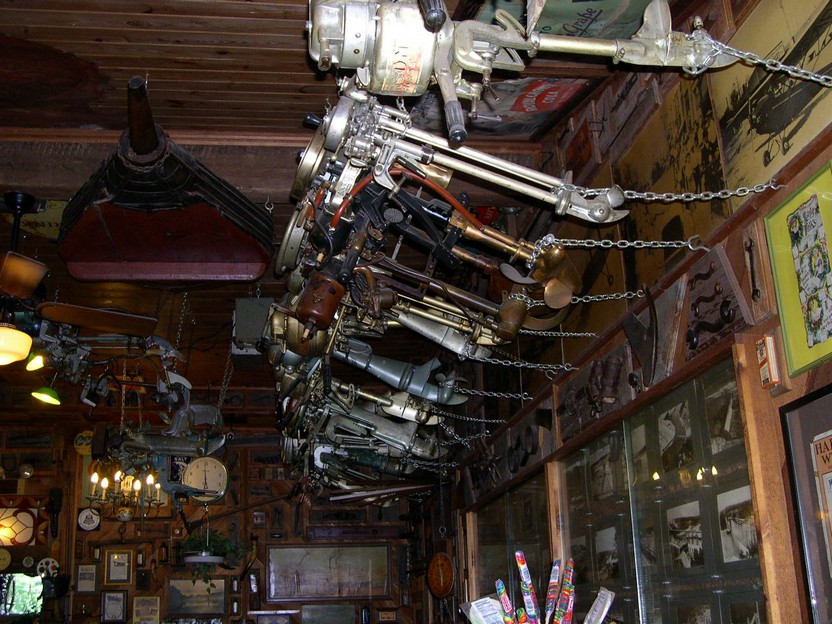 N36°20.961 W92°33.173'
In a restaurant in Bull shoals lake state park in Arkansas you will find who know what hanging from the ceiling--boat motors--motorcycles, bicycles, typewriters, chain saws, wagons and on and on--worth the trip--and the food is great--right on the beatutiful White river.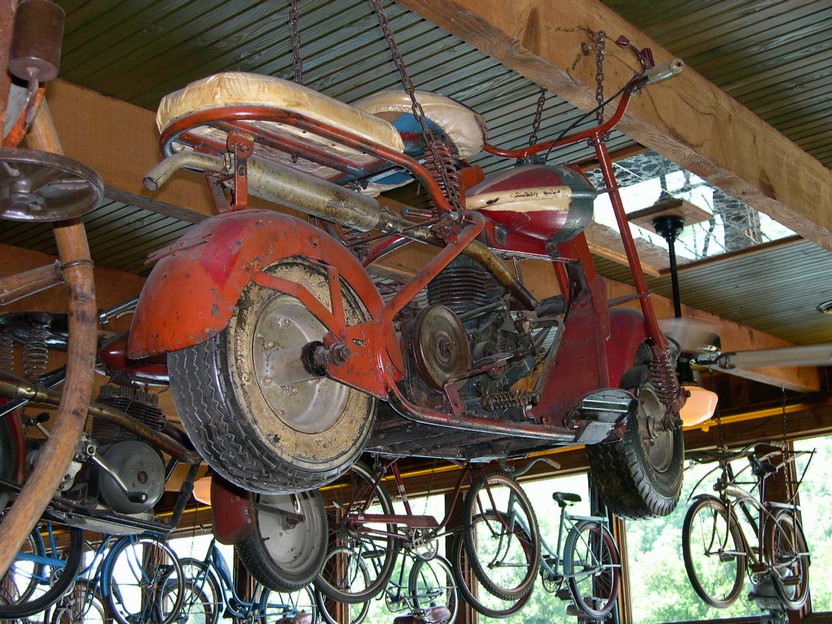 And Old Mustang scooter--there must have been over 300 bicycles hanging from the ceiling. My buddy John Simmons---famed Pancho Villa Mexican tour guide took me here. It was a great ride down there---even if we almost got thrown out of our Motel before we registered----long story !!!! Something to do with farting--or maybe something worse :)----ahh but I can't go there without incremenating someone:)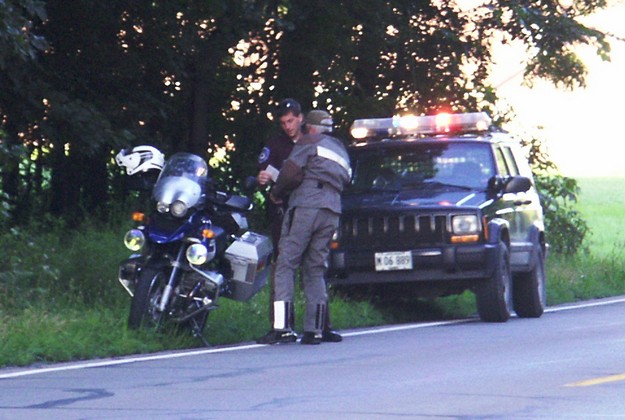 This very nice young man just was just amazed at my "superior" riding ability.
Said he just never seen any body in his little town pass a blue haired old lady in a Pontiac while crossing a double yellow line in a sharp curve at over double the speed limit-----right in front of him no less----nope---I didn't get a ticket--told him my arthritis was acting up again and my wrist was all stiff and sore.
My frickin' buddies were across the street like a couple of buzzards snapping digital images---I hope they ran their batteries dead !
I never learn---5 minutes after this episode we were jumping 3 sets of railroad tracks that were under construction and the road was closed---hey--it was 17 miles to go around !!!!!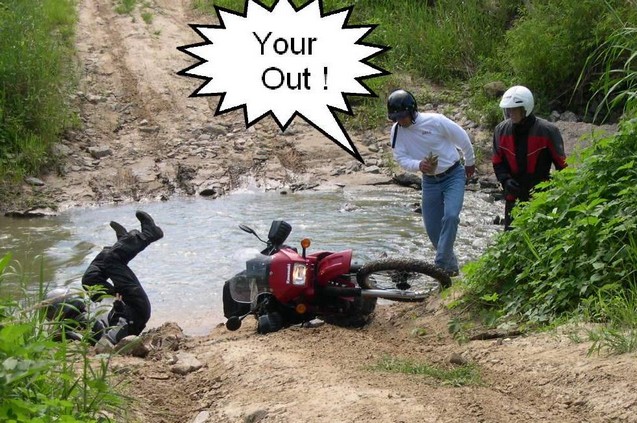 About 8 KLR's went for a ride in Southern, Illinois--I'll not mention this KLR riders name---he'll get me back.


Most made it thru the creek crossings just fine--We had at least 2 downed riders before the day was out. We had 2 police officers with us on this ride-----and we were in their county-----no tickets were issued that day---although there should have been.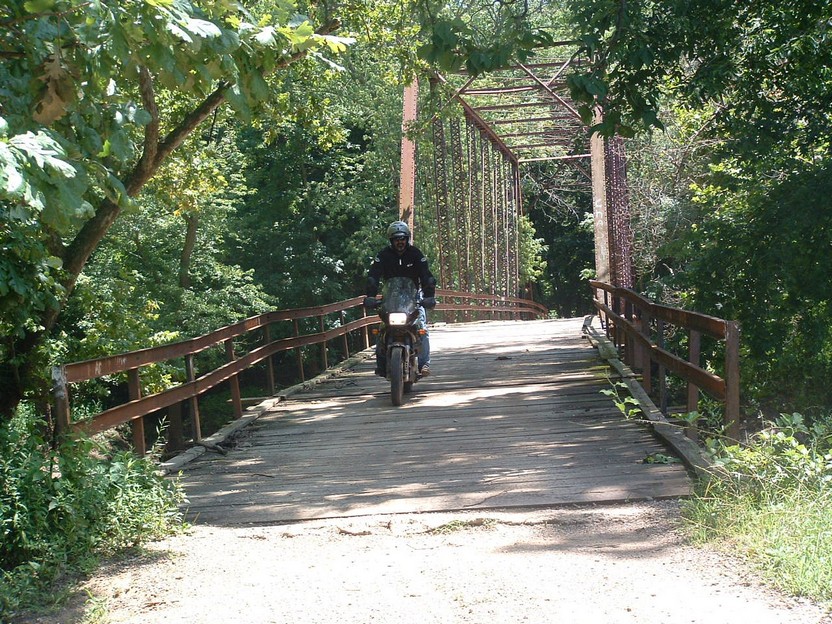 N38 24816.203' W88°08.265'
Better find this Southern, Illinois bridge before it is closed down again----it was closed, but locals raised cain and got it re-opened with a very low weight limit. It is in the middle of nowhere and probably has about 6 vehicles per day. I've visited it several times and never have seen a soul on it.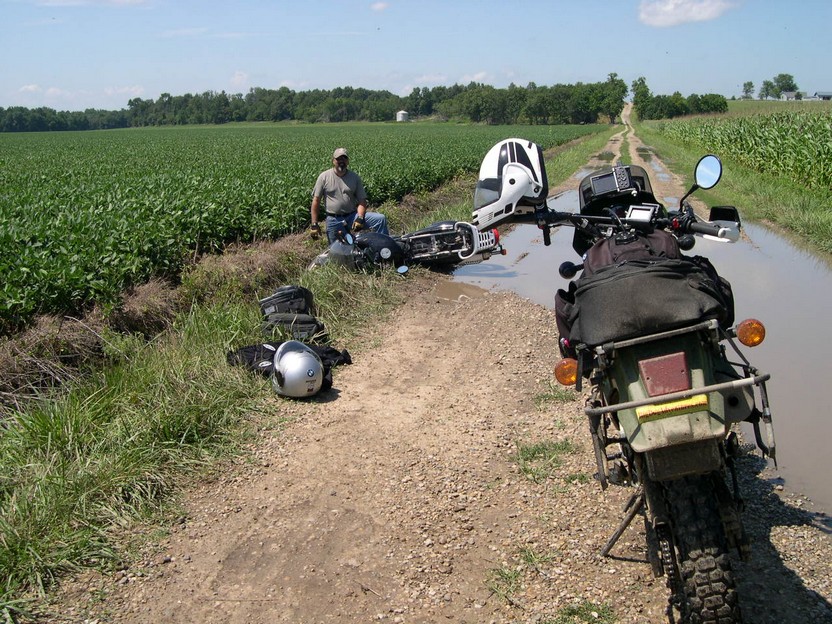 Right after riding over the old bridge Jay got a little carried away-----he's got knobbies on that F650 now !!
It was a hell of a crash---wish I could have seen it.
We got seperated for a little while when this happened---got a call on my cell phone--"rider down---rider down--i'm OK, but rider down" !!!!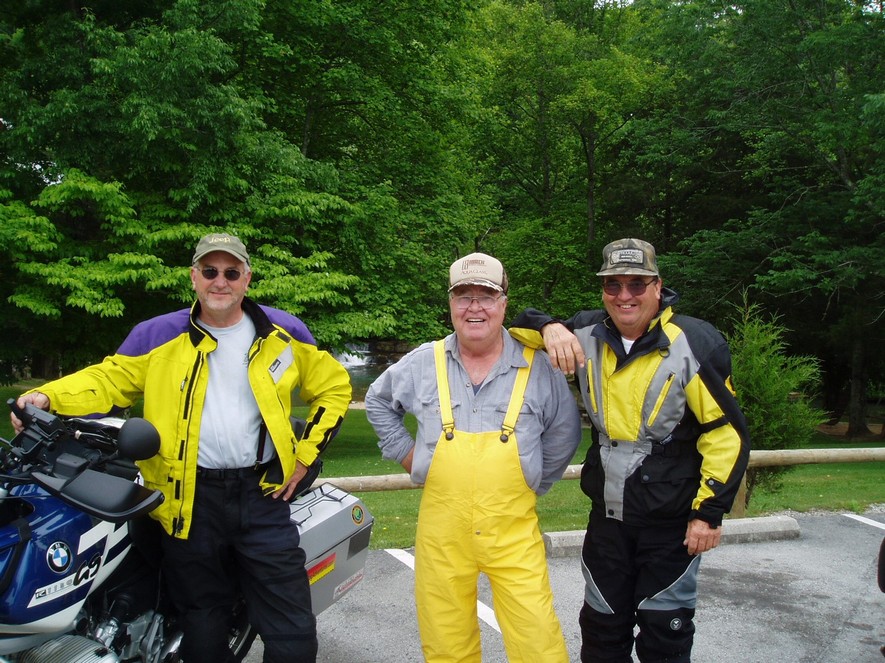 In Early May---Me, Kenny Gibbons and his buddy rode to Burkesville, Ky. to the European BMW rally. We got a little wet riding--boy that sure is a lot of yellow !!!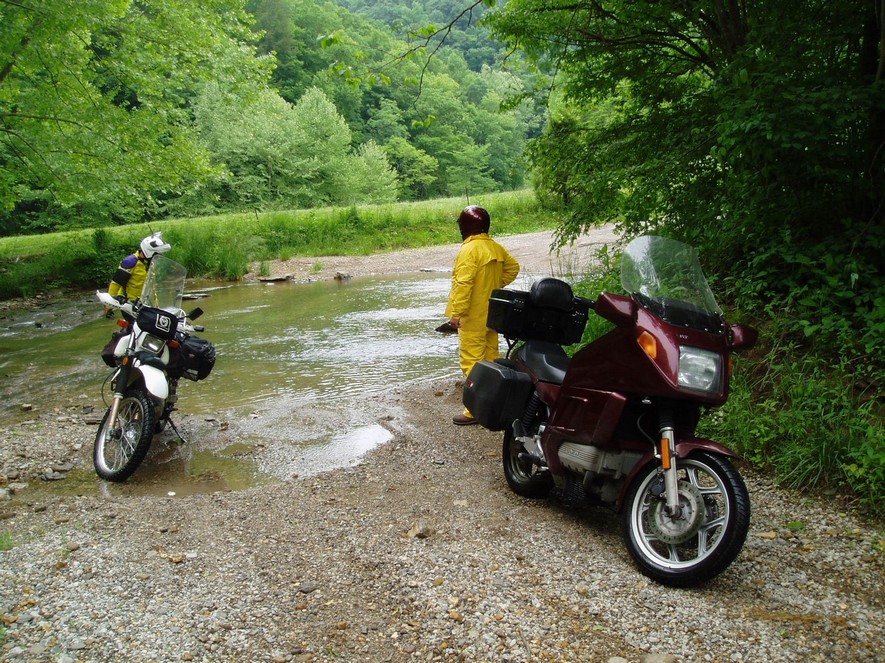 I have a hard time staying on the paved roads---I think I lost another riding buddy when the K100RT followed me thru the creek--but he never bobbled and did it with a smile.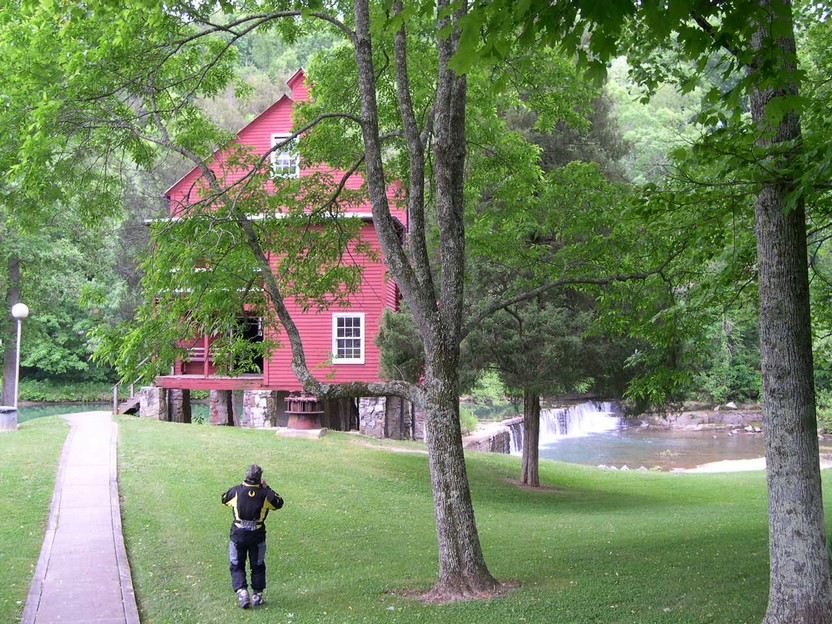 N36°32.512' W84°57.750'
We went tooling around the Kentucky countryside and ran across this beautiful grist mill on the Wolf river. This was about 6 miles West of Picket State park.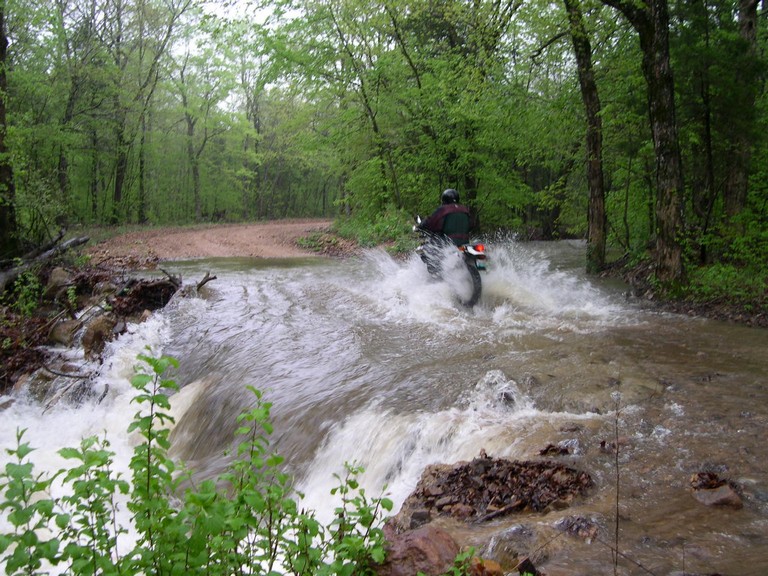 This spring--me and my friends rode in more rain than any I can remember---at the Trail of Tears BMW rally--me and Kenny took off in the rain----rode all day in the rain------we crossed so many low water crossing in Missouri I lost count. This really looks dangerous-----that's cause it was--but we lived to tell about it !!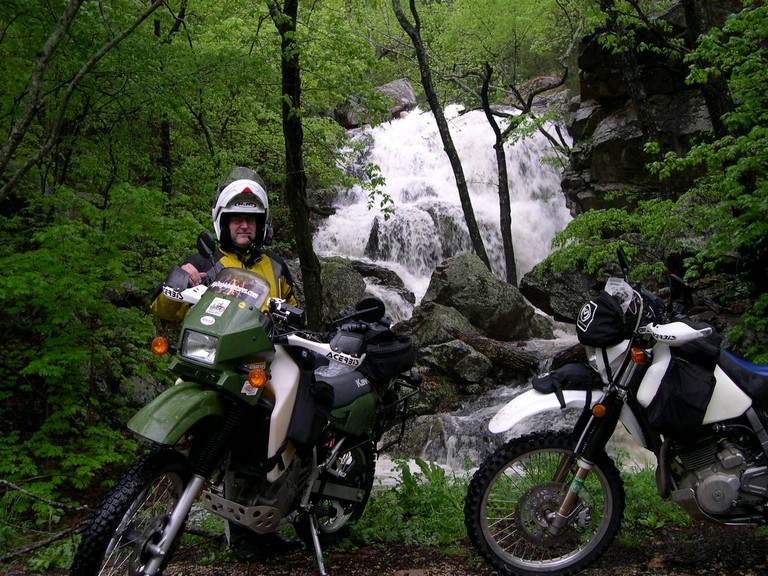 We found this beautiful waterfall right beside the road---I'm sure it only flowed in a heavy rain.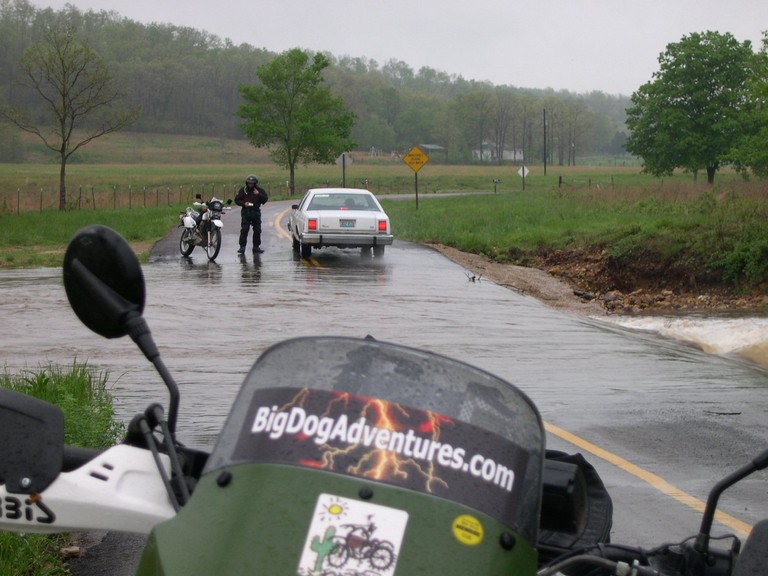 This doesn't look bad does it ?? I went across it and the water took me from one side of the road to the other and almost over the edge into some very deep and turbulent water. Kenny seen it happen and had better sense than to try it. We had helmet communicators on and talked it over and Kenny decided to go around and hopefully meet me on the other side---we picked a spot on our GPS's and it worked out perfect .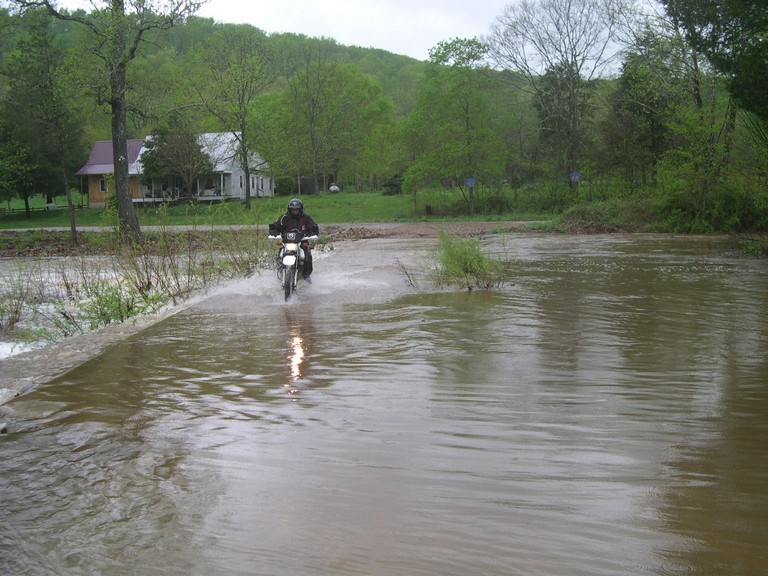 This was a little scary after the previous incident-----we crossed this creek and got trapped in a flooded area and had to come back---when we did the creek had already risen some in just 20 minutes. We were lucky not to be trapped in there till the creek came down. We got back to the rally----and it seems me and Kenny were the only ones that went riding all day. We had a blast---I never dreamed my KLR could take on so much water and keep running.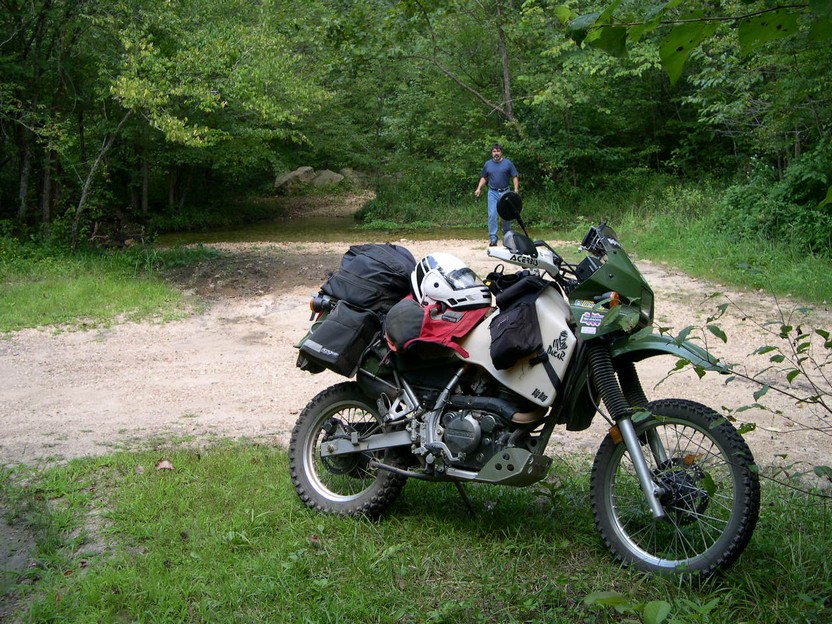 It's august in this picture and we were searching for "Spring Cave"in Missouri----here is the spring created creek--but where is the actual spring and cave ?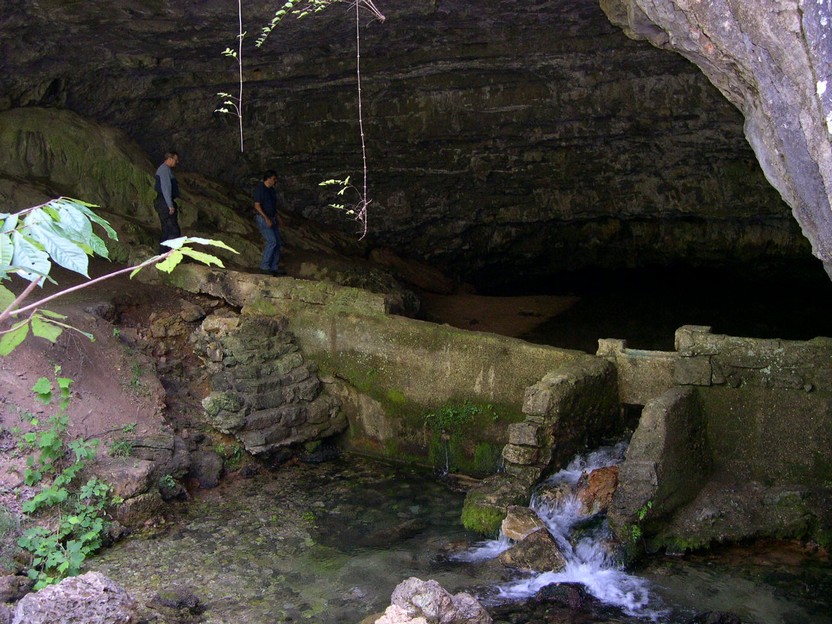 N36°53.133'W90°53.388' "Cave Spring"
You got to go find this--very remote down a dead end very narrow gravel and dirt road---you'll need the GPS coordinates to find it, but it is about 10 miles Southeast of Van Buren, Missouri on the East side of the Current River.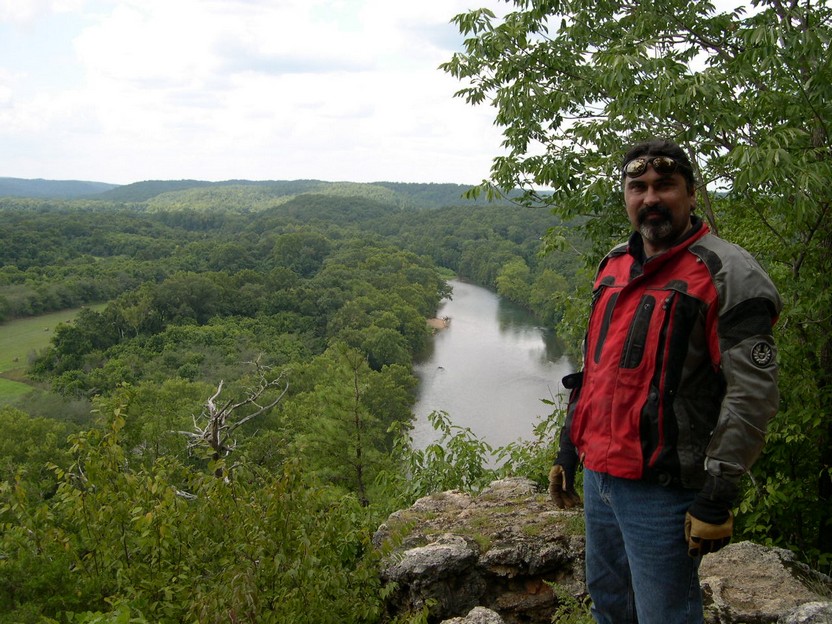 After Cave Spring---we took off on the "Tram Road"----I need to check the history of this road---but it looks like an old abandoned railroad bed and runs for miles on the East Side of the Current river near Van Buren. There were many creek crossings and it was a little much for Jays F650--but he made it. We jumped off the tram road to go up to this high bluff overlooking the Current River. I think Jay looks like a happy camper don't you !!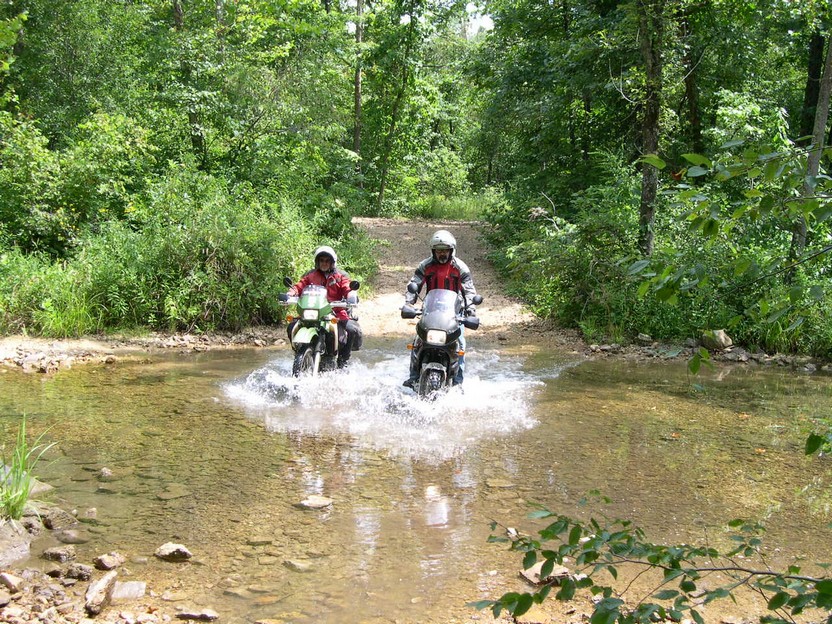 One of the many creek crossing we made on the tram road--we were very close to the Current River all the time and all the creeks flowed into it. I did some research---the "Tram" road is an old railroad bed built in 1904 for the Missouri logging boom between 1870 and 1920. It was said it was not built very well as it was deemed a temporary structure and there were a lot of accidents on the railroad.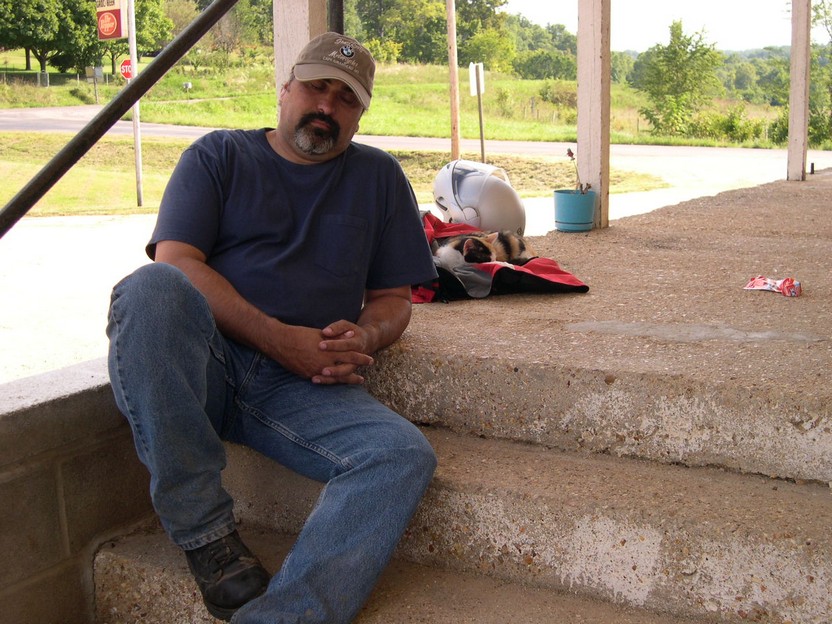 After the tram road we found this little gas staion and store in the middle of nowhere and Jay evidently had just had enough----he fell asleep on the steps of the old store and a cat took a liking to his Belstaff riding jacket. What a pair. We relaxed here for an hour watching some boys playing catch with a football.
Made me feel like I was at Goobers gas station----ala--Mayberry RFD.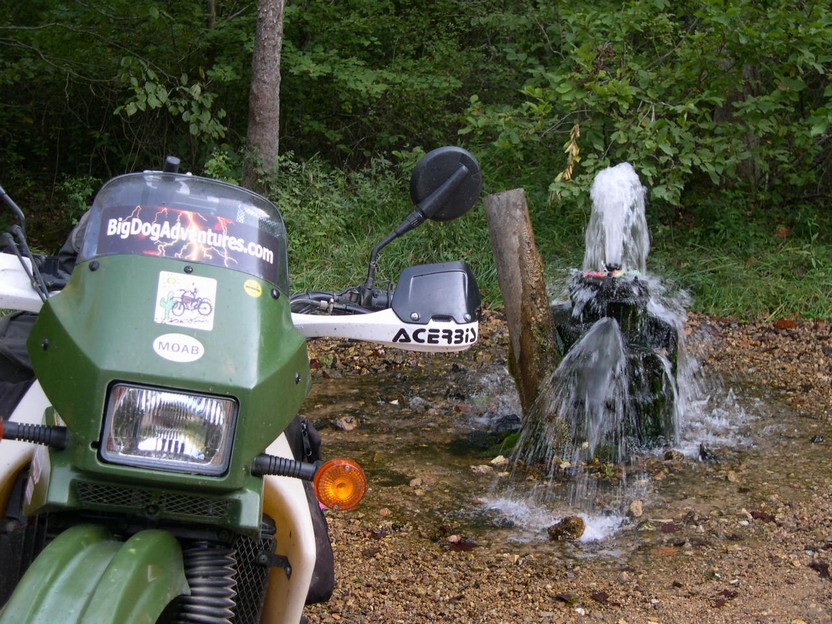 N37°18.685'W90°00.998'
You can't go another day untill you visit this artesian well---flows year round--there is so much water coming out of the ground around here it is amazing---the creek crossings you have to cross getting here can be a little hairy---my 1150--was a handful when I took it here.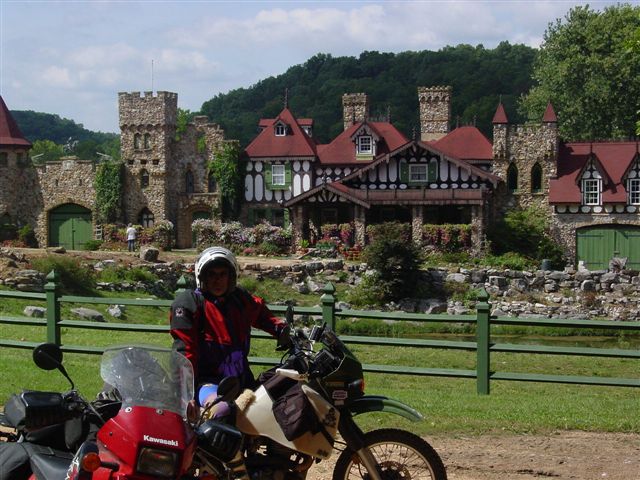 No we ain't at Disneyland. I can't give out the location of this house in Missouri. It was in the middle of a huge private plot of land---we were doing a little woods riding and stumbled onto it. There was a huge lake behind it and reminded me of something a movie star in Hollywood would own. When we hit the gravel road in front of the house we thought it was a public road and was just loafing around taking pictures and such--when we exited the mile long gravel road to get out out of there it was posted---no trespassing. Too bad--nobody will ever get to see it--but we did !!! As I look at this picture----it really doesn't look real---but it is.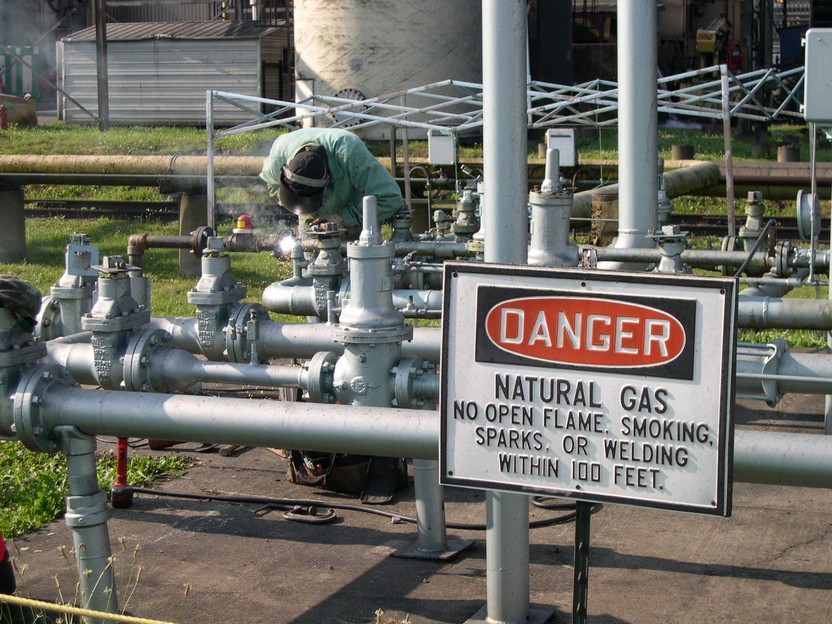 Well no adventure here for sure---this is what I do---Pipefitter and welder.
I make a habit of ignoring signs---I hate signs !!!
Kind of interesting thing I am doing tho--I am welding several "earquake" valves into all the gas lines at this huge General Tire plant. If the gas pipes shake---the valves shut off the gas.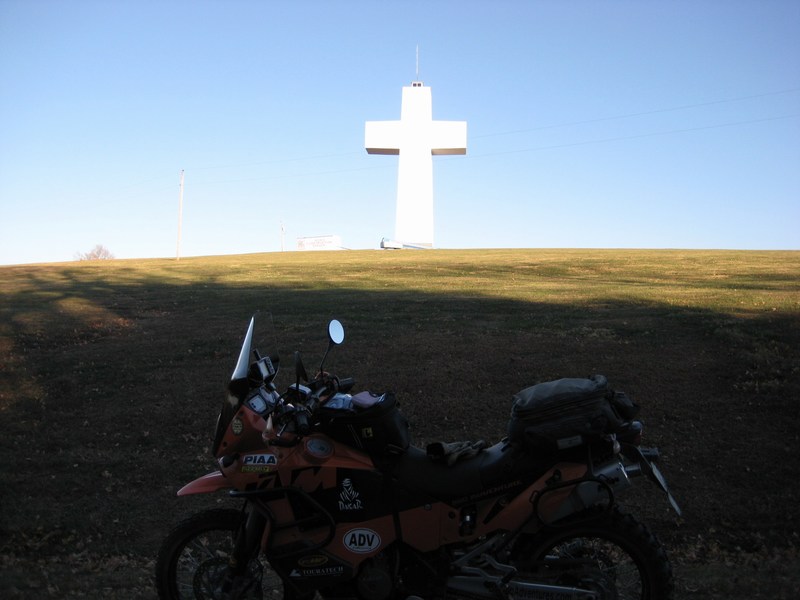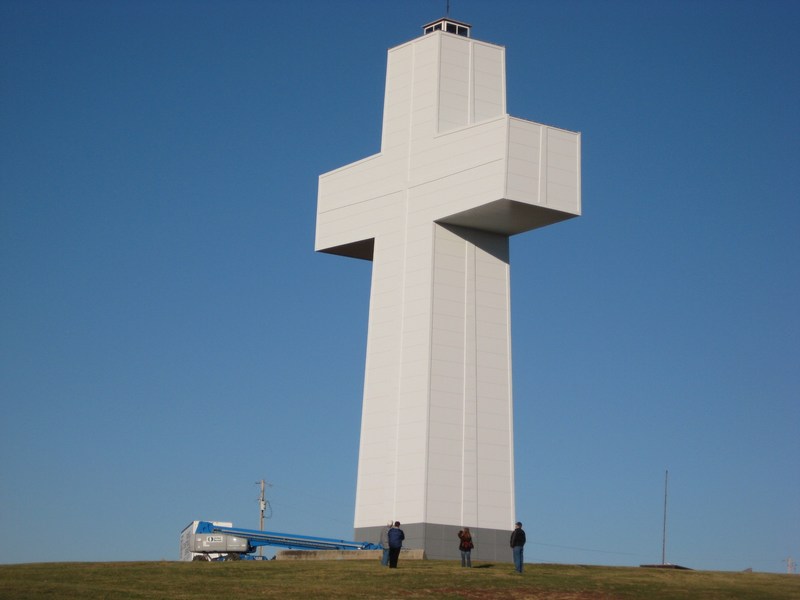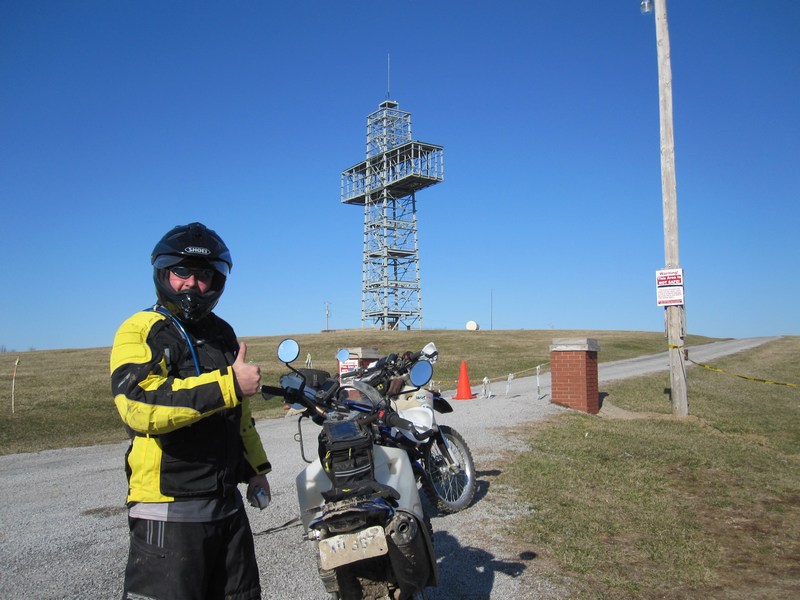 Back to my homepage