Day 7 September 7th, 2013
Generator camp from hell to Motel in Kenmerer, Wyoming

Well the Quadtard started the loud generator up at first lite the next morning and we couldn't wait to get out of there.
It was such a nice place till they showed up.
We are now just a few miles from Bear Lake-----Idaho and the end of the Utah BDR.
We got on a surprisingly rough trail just before Bear Lake came into view.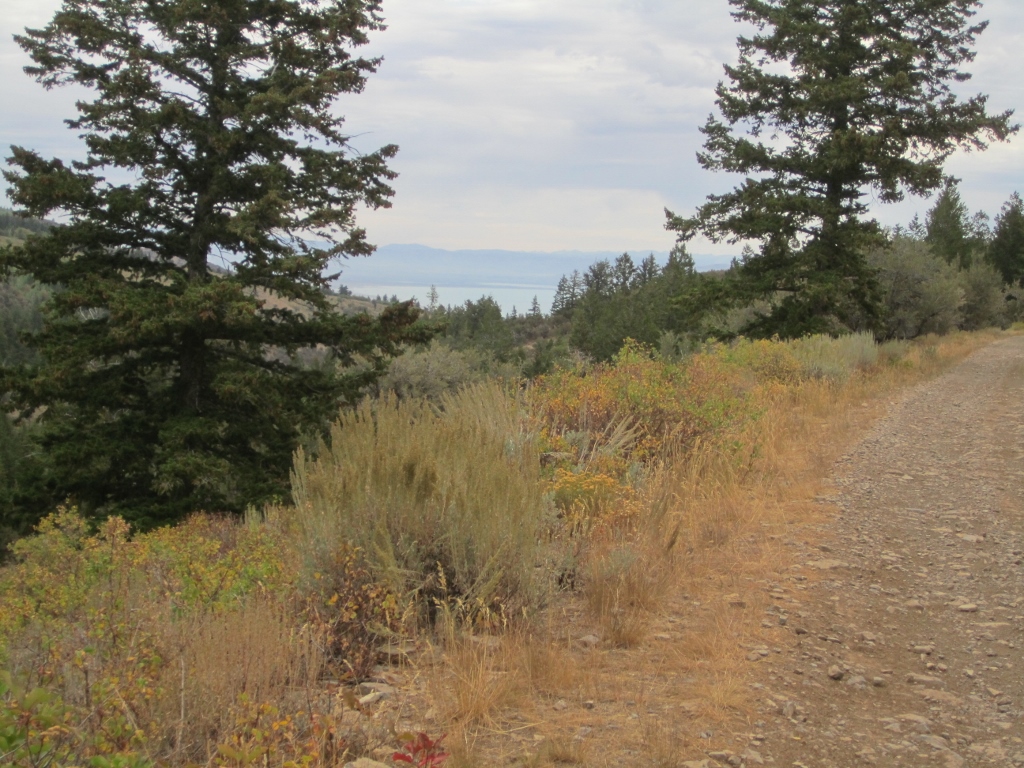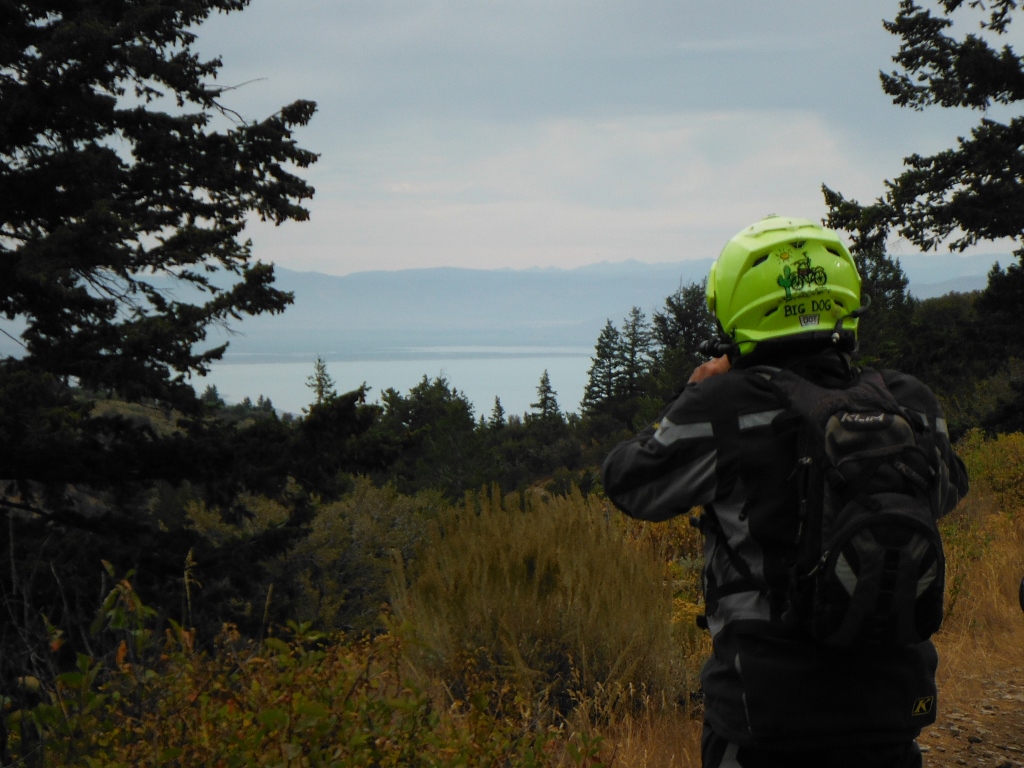 Then the highway took us up the West side of bear Lake where we got gas, and snacks.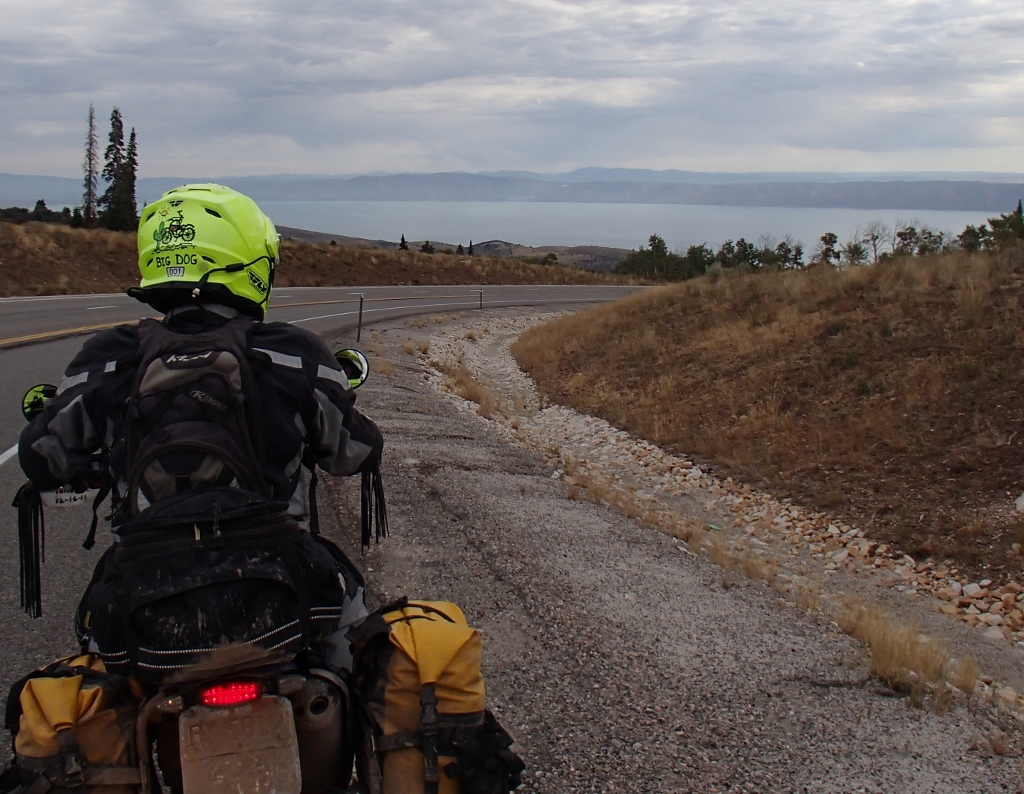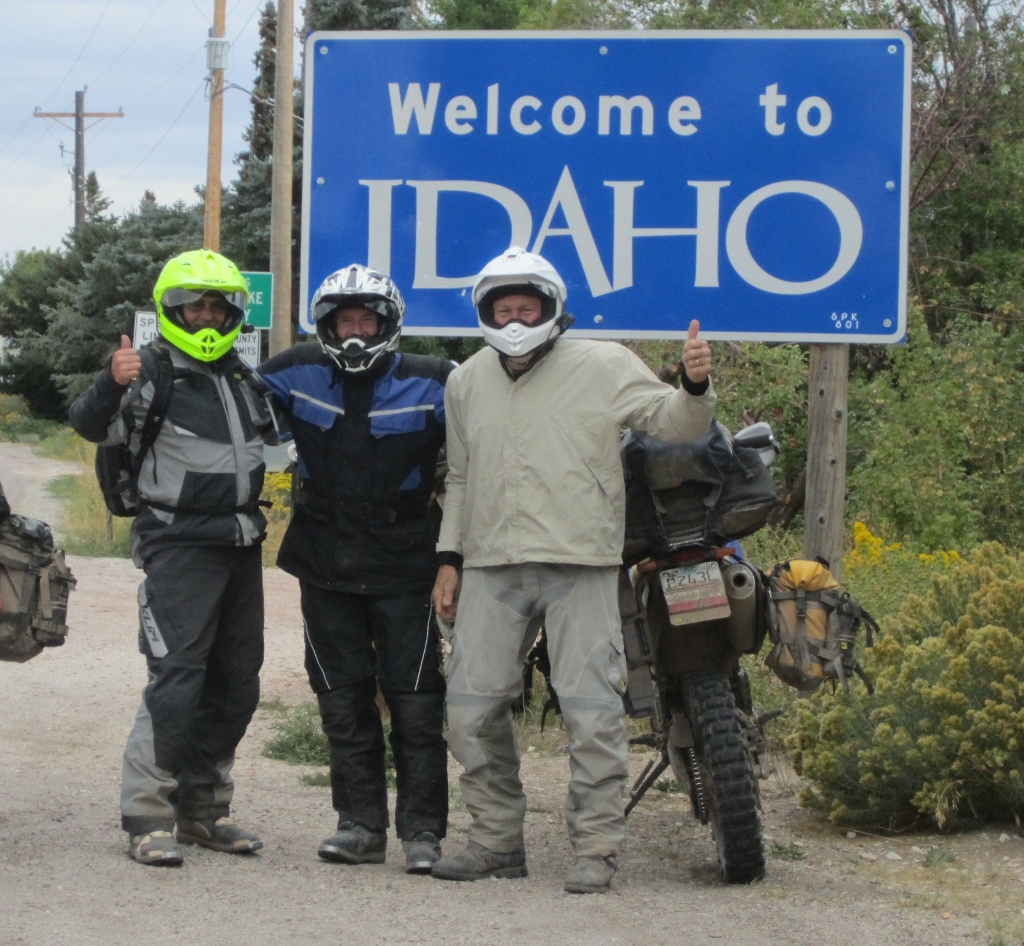 Ok---the BDR's are great and I so appreciate the routes laid out by others that makes it a no-brainer to navigate.
But my world is laying out and following my own routes----I seem to have a nac for it and they are always are as good as
the published ones everybody follows-------but they are sometimes much more exciting for me as I have no idea of what
we are really going to run in to----and how good or bad the riding will be---and if we hit locked gates or not---I love this stuff.
So the next day or two are spent tying the Utah BDR into the Colorado BDR.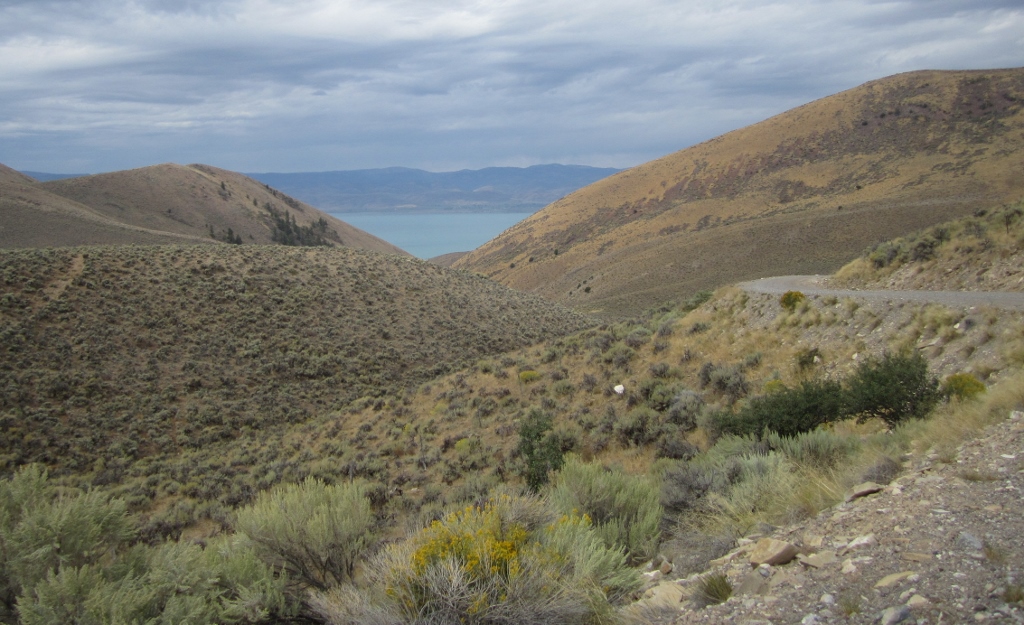 I didn't want to route South of Flaming gorge as I've been thru there too many times already.
I've not been on any of the roads I've plotted for this connection---how would it be ????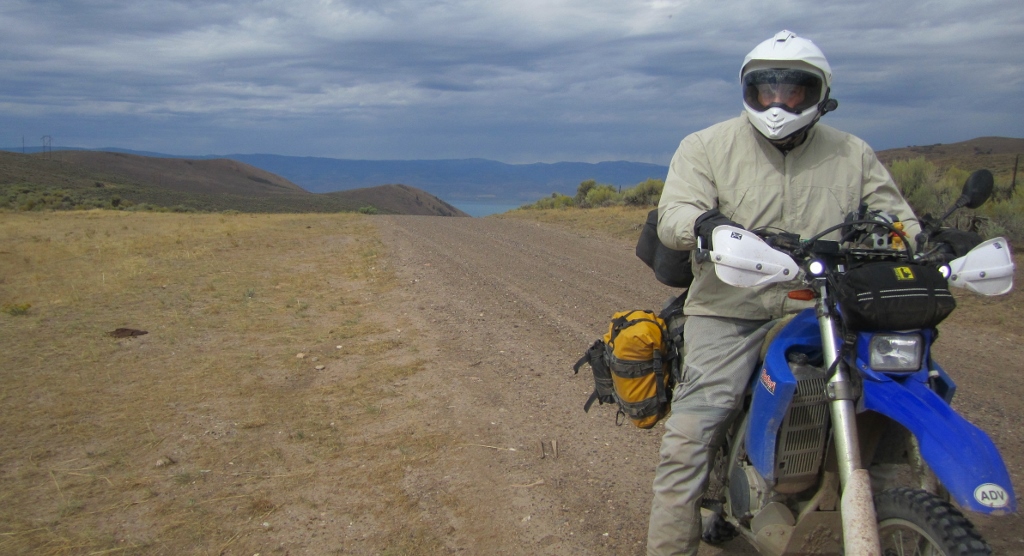 From the North side of Bear Lake on North Beach road and past Bear Lake Hot Springs we dove right up into the mountains.
I google earthed these mountains for days trying to find a road over these---only one went up over the mountain and went
all the way thru.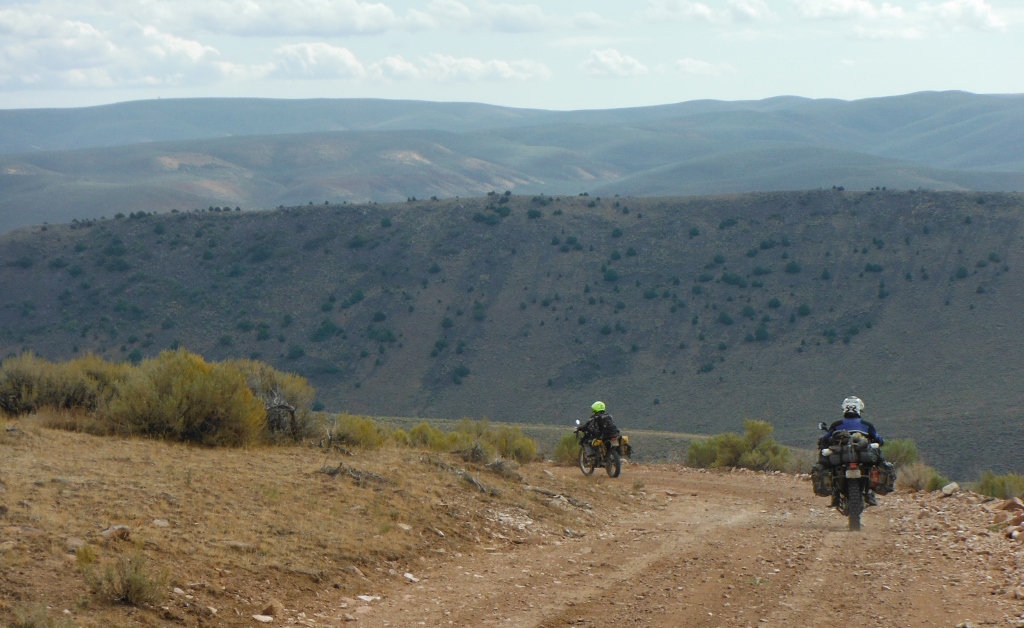 Also----I wasn't even going to follow that road all the way straight across to the East.
I was going to head South in the middle of these mountains and try to navigate my way
to .......................ta....daaaaaaaa......................"3-Corners"
We'd been to 2 and 4 corners but now it was time for 3 corners.
This would prove to be very difficult-----terrain wise and navigation wise.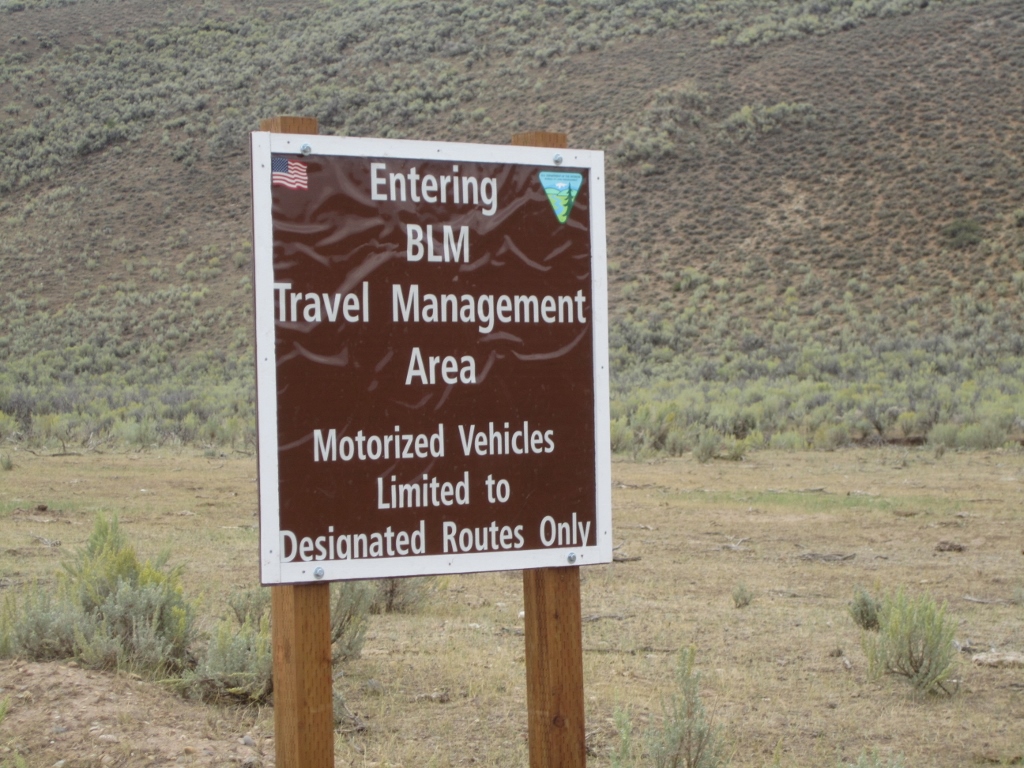 The roads that I had google earthed to get to 3 corners kind of disappeared sometimes on google earth and I really didn't have much
faith in us getting thru----but we went for it and rode on some really great very small dirt roads thru ranchland----and BLM land.
3 corners is not far off now--but would the roads go thru ???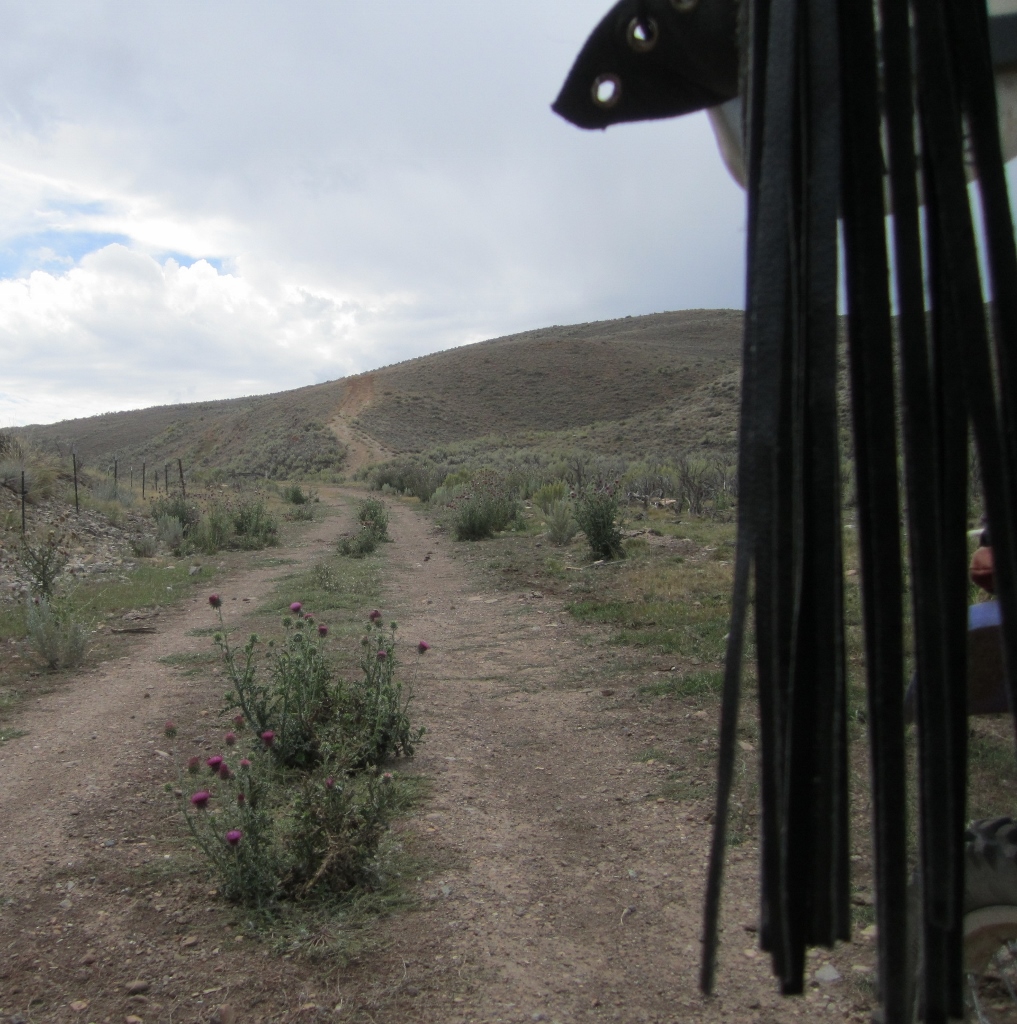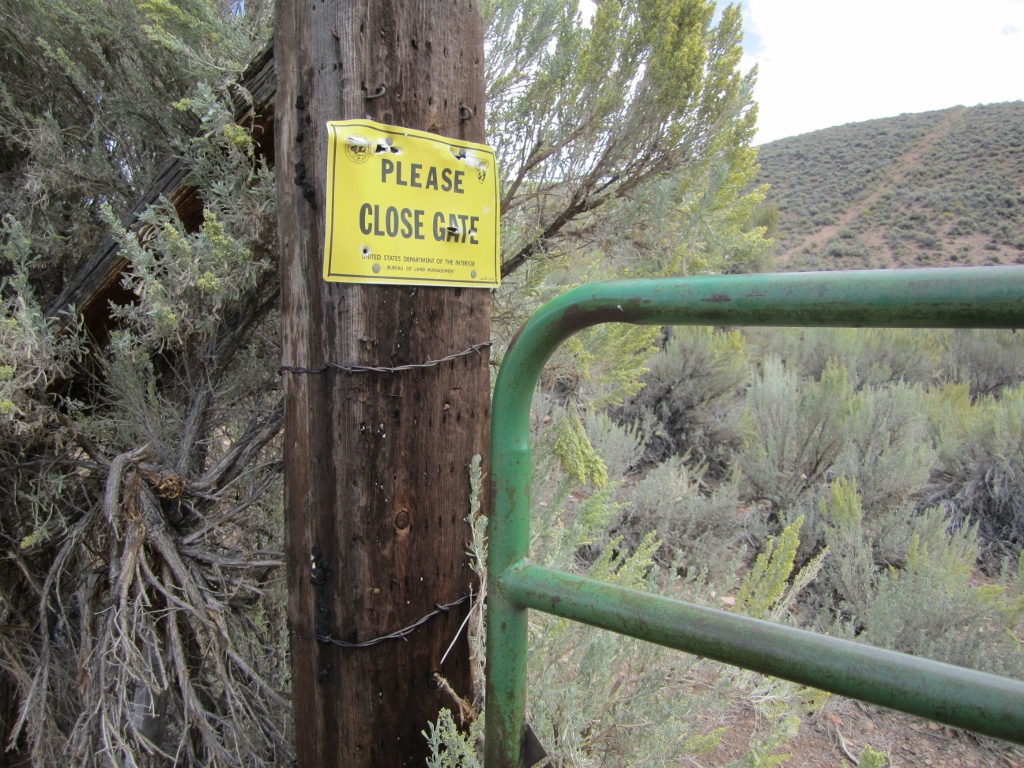 We came to this gate-----------I normally treat this as the road is public---but the land off the road isn't.
But we were all kind of nervous about it --------especially Bud.
We had rode many miles to this point---and finally turned back as I was hoping to talk to someone.
And I did find someone that said it was OK to pass thru.
So we got to ride those nice little dirt roads twice.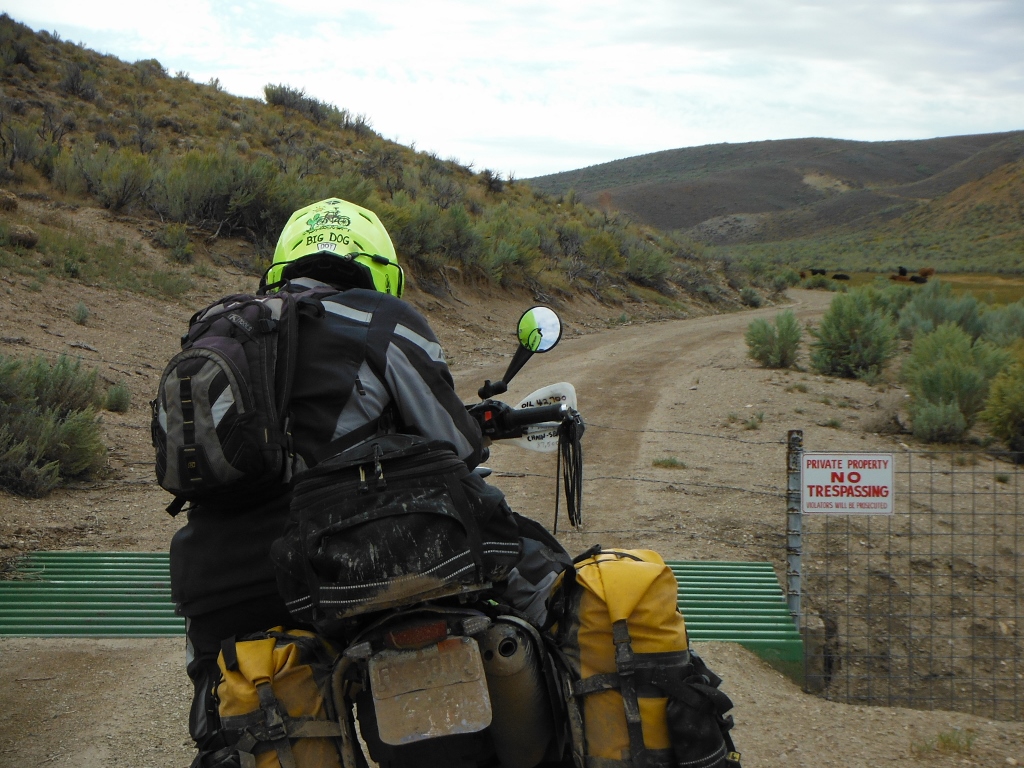 I had gotten way ahead of Scott and Bud here and got in the shade to wait for them. We had ridden so many miles thru these mountains on little
dirt road I worried we weren't suppose to be out here.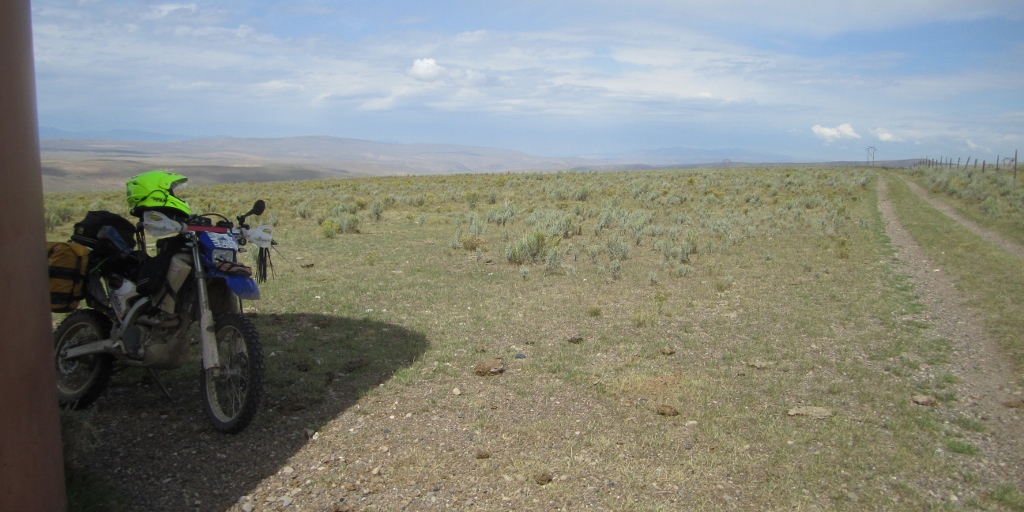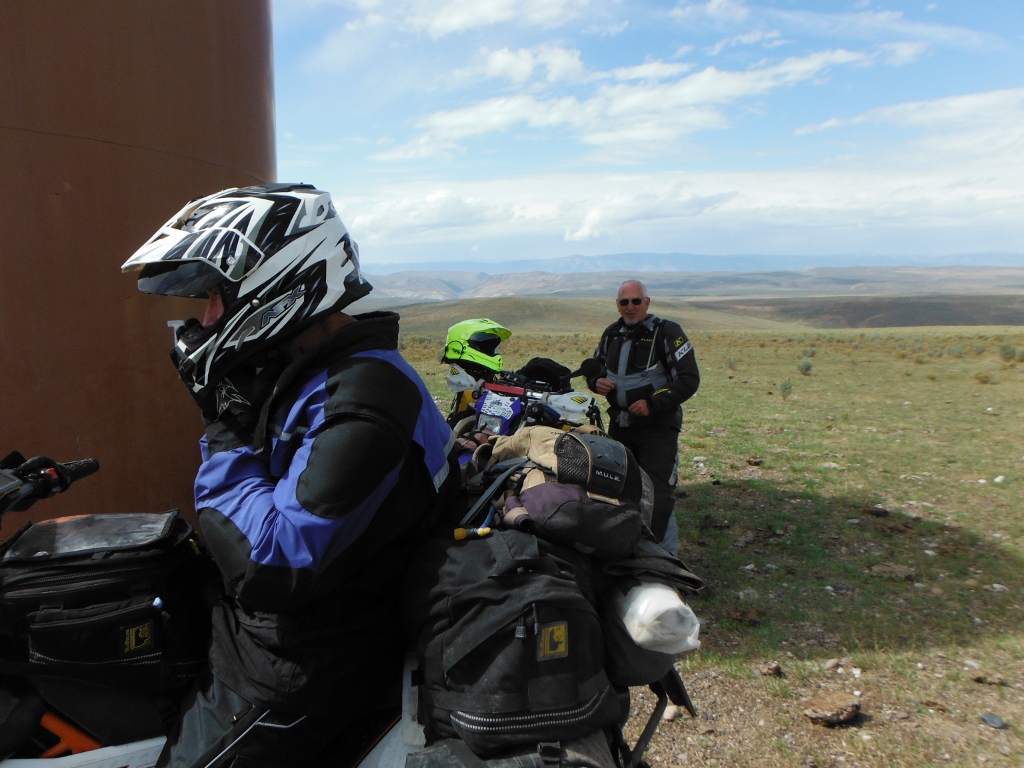 From where we came. See the little guy coming across the scrub brush.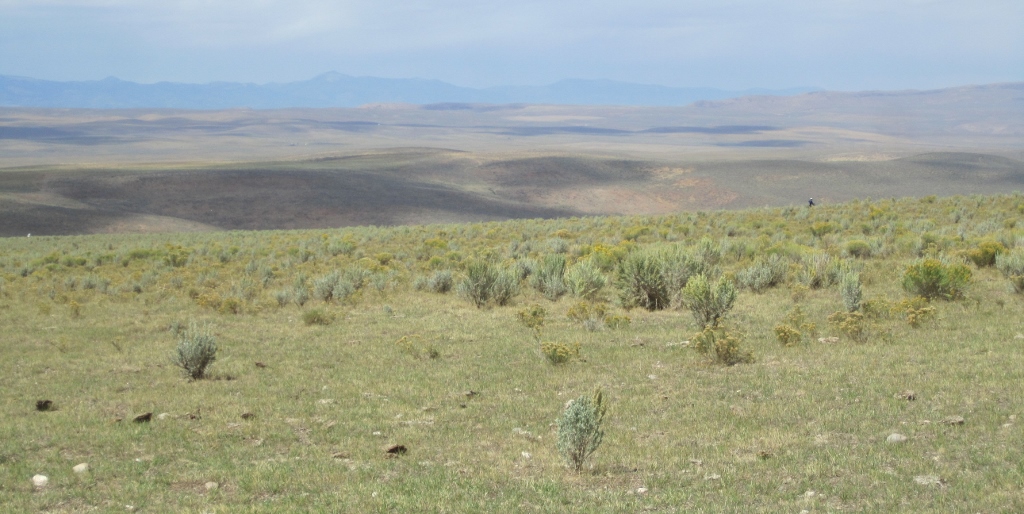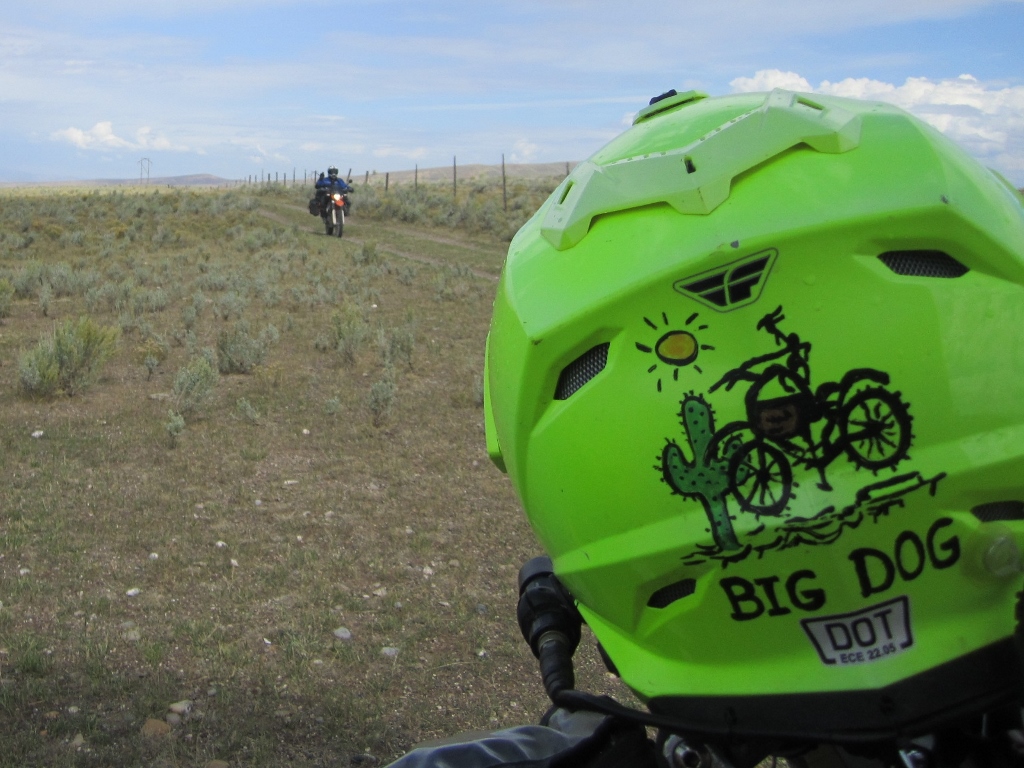 We went just a bit farther and I was so relieved to see this sign.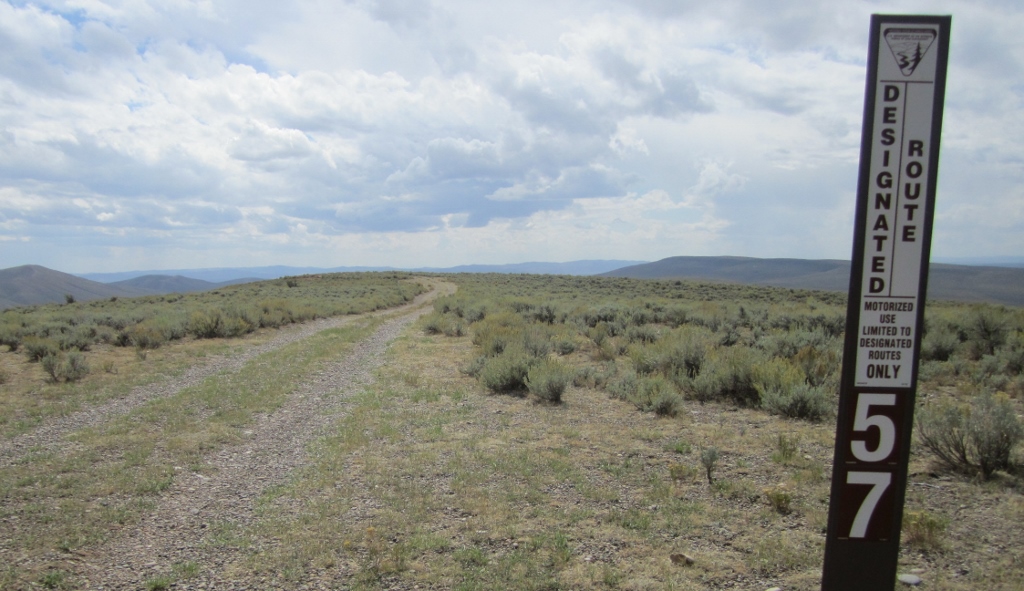 3 corners is close.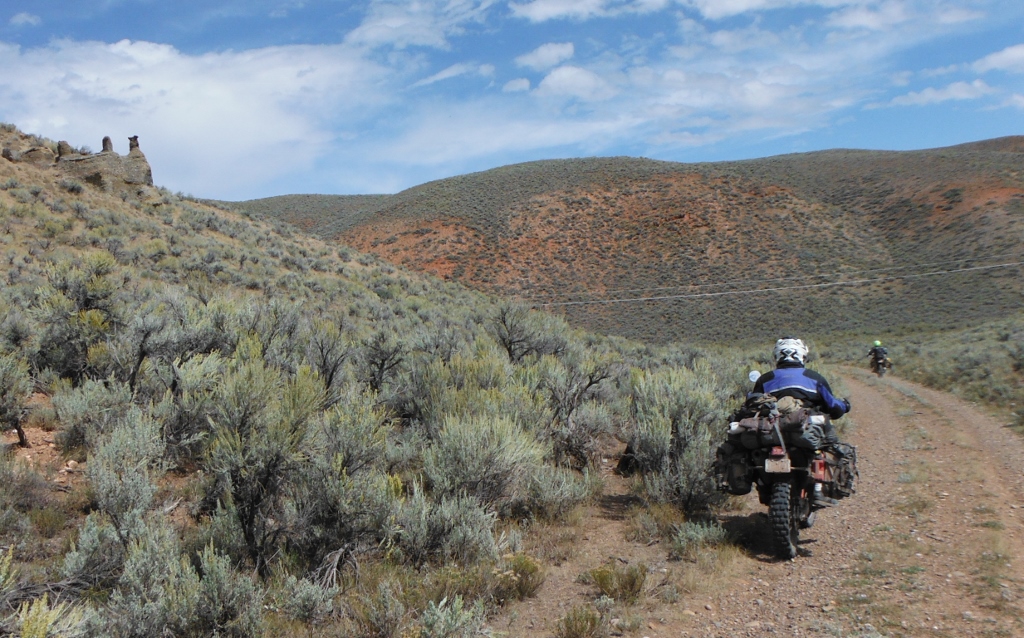 What a weird rock formation---there were several that looked very similar to this one in the 3 corners area.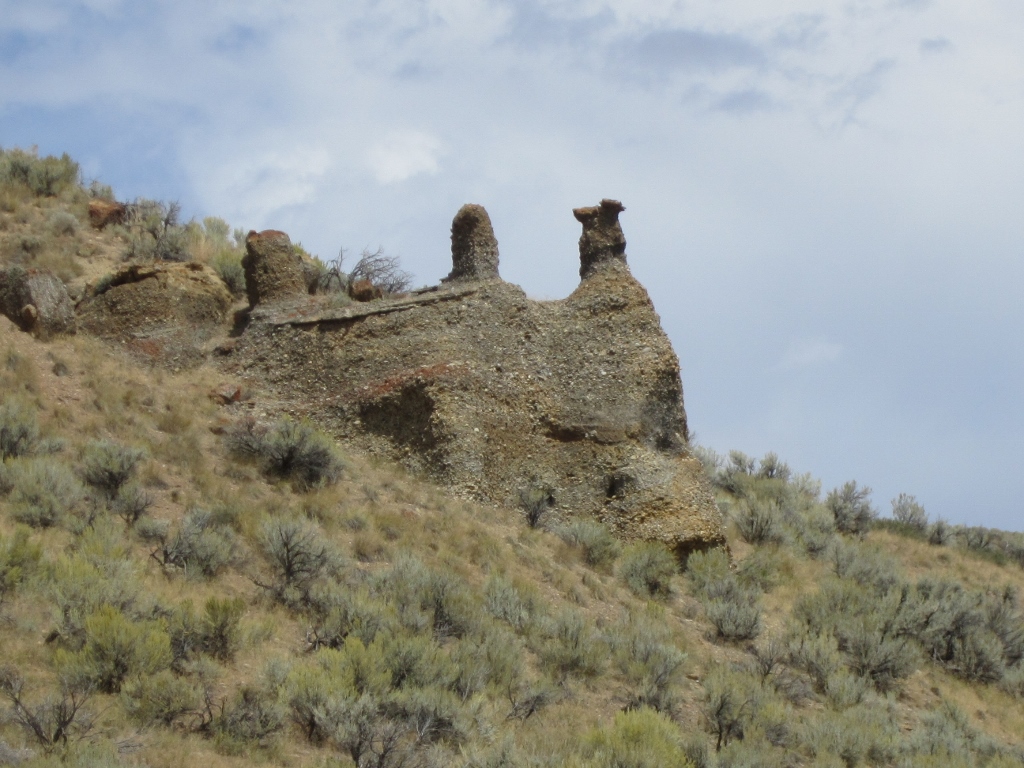 We made it--------the 3 corners monument is up that hill------that hill is impossible to climb for meer mortals such as us.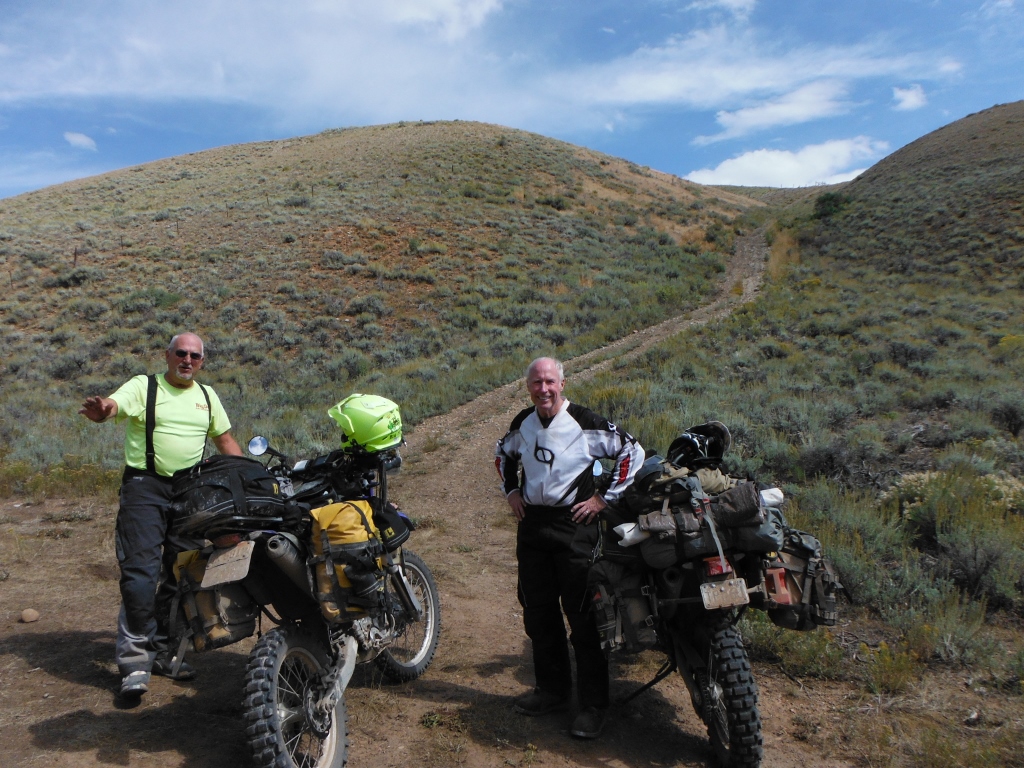 You don't need a gps to find it-------just follow the arrow.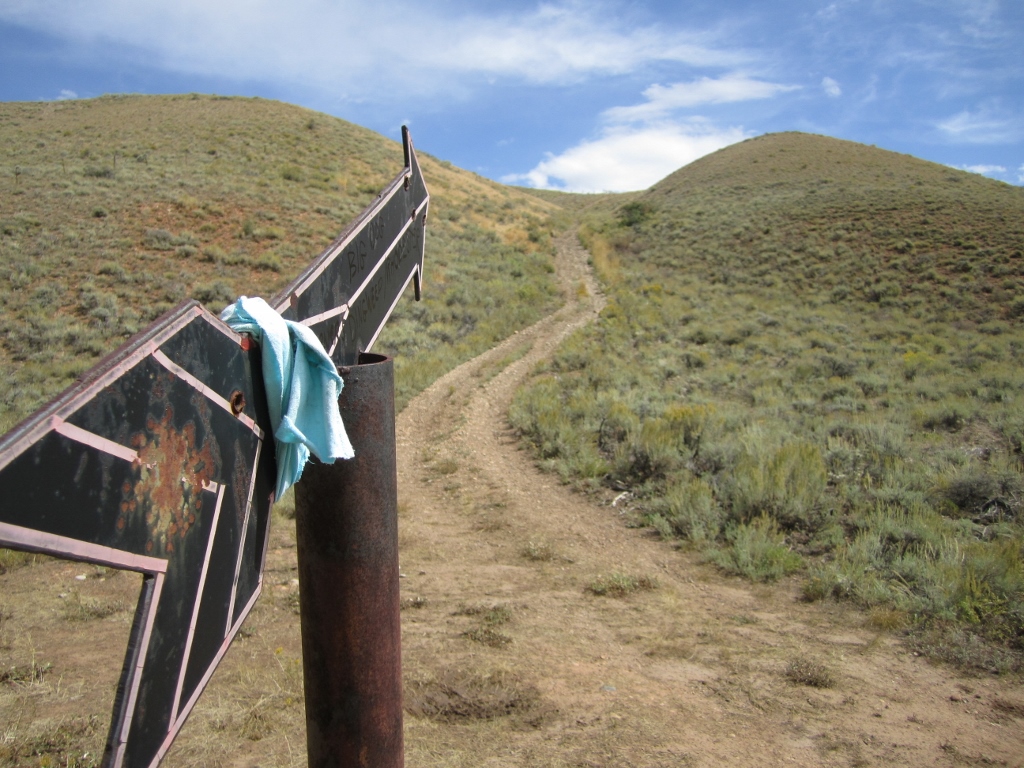 I looked at that hill and said there was no way I was walking up that sucker-------it was hot out and we'd had a hard day.
I know sooner got that out of my mouth when I took off wallking. I'd never get back here again. How stupid would it be of me
not to take this opportunity of a lifetime---my bucket list would be incomplete.
If I died out here-----------so be it.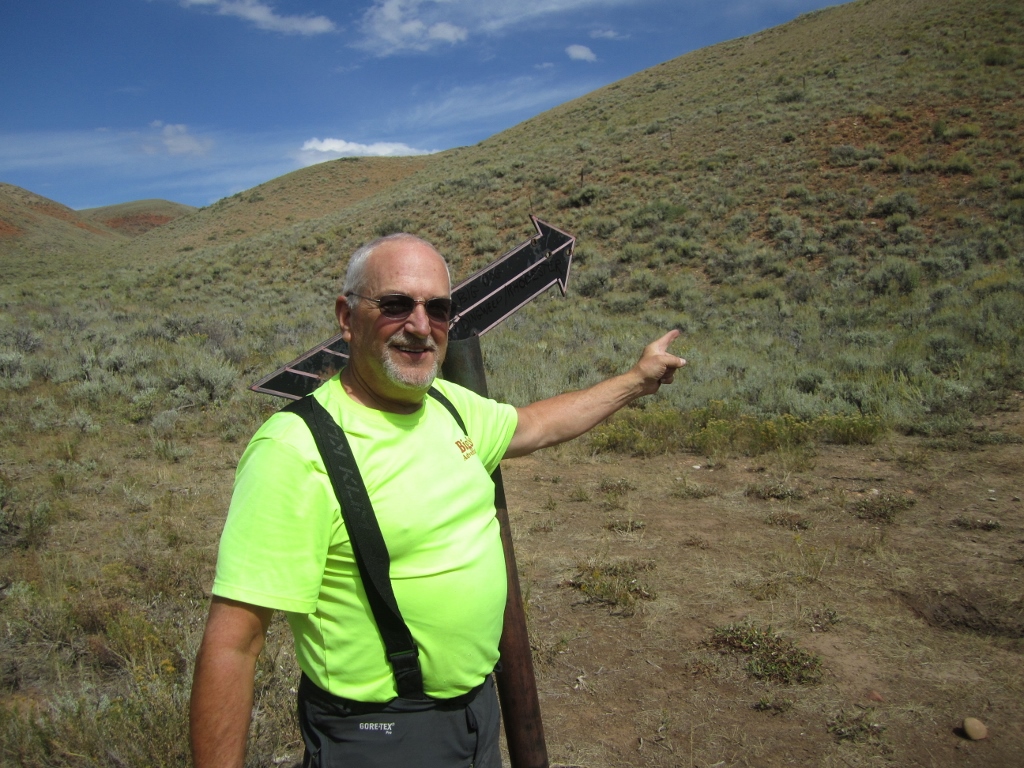 I wasn't sure Scott and Bud would follow me.
Dumb, Dumber and Dumbest !!!!!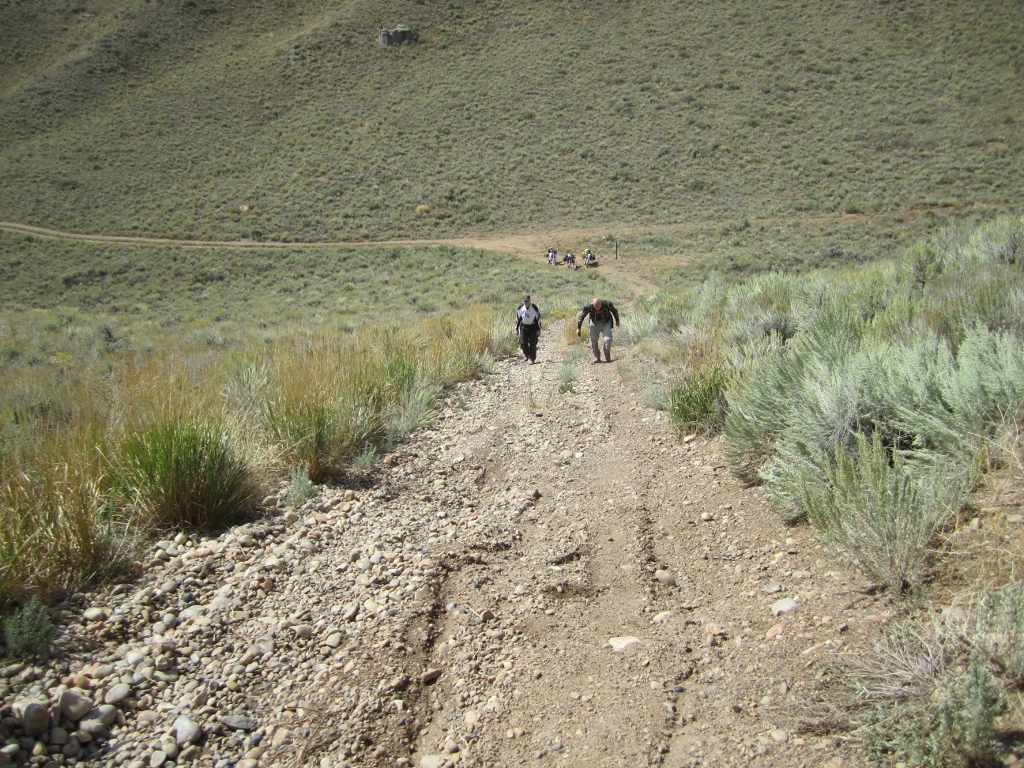 A superb ride would be lucky to get where Scott and Bud are----but right there the hill kicked almost straight up it seemed and
we almost had to crawl on our hands and knees to get to the top---------did I say it was hot out ????
Our bikes are little specs down there.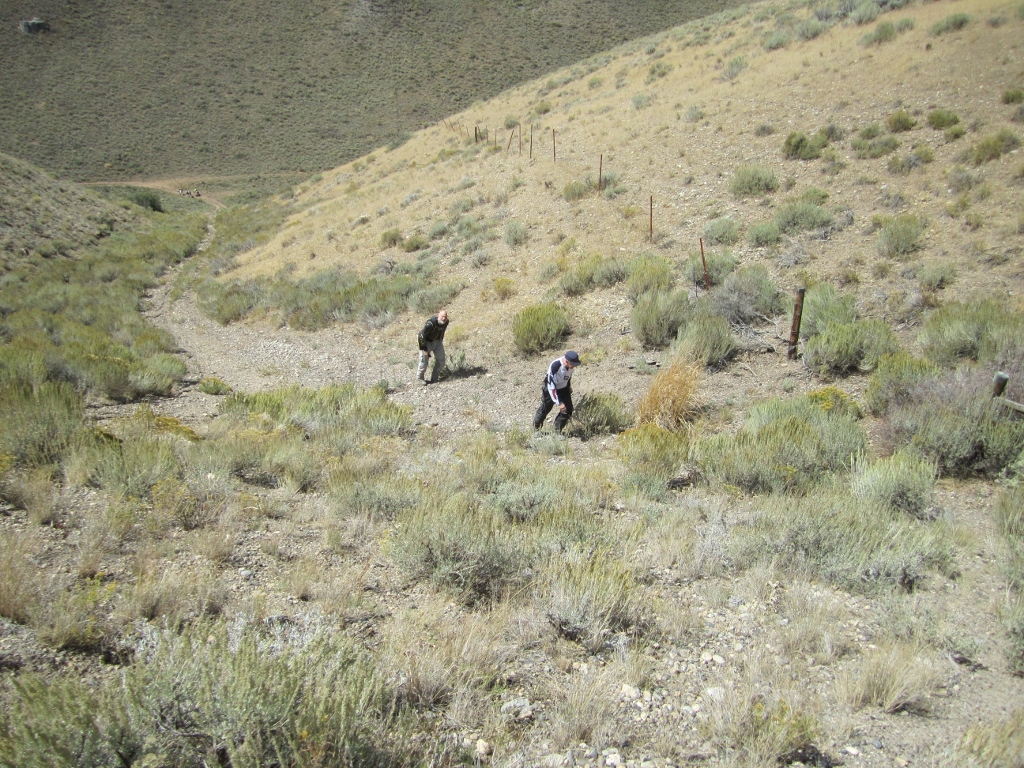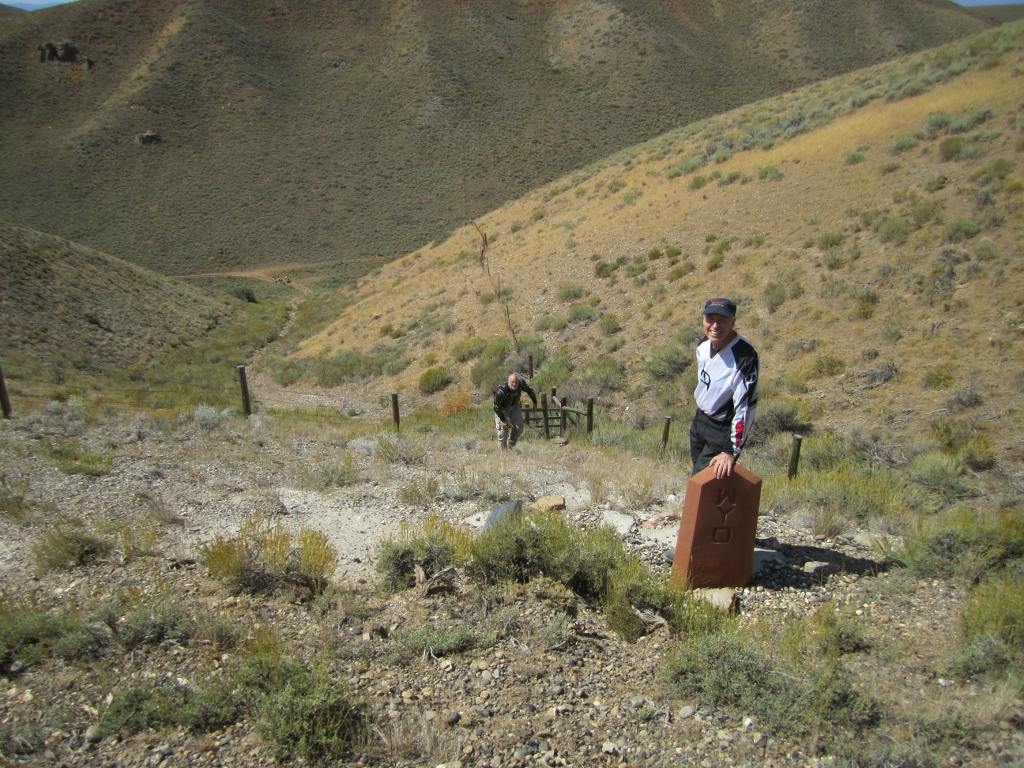 Crawling on your hands and knees you were tempted to use this barbed wire fence to pull you up.
Not a good idea.
The monument is 3 sided.
Utah, Wyoming and Idaho.
We all relished in the moment.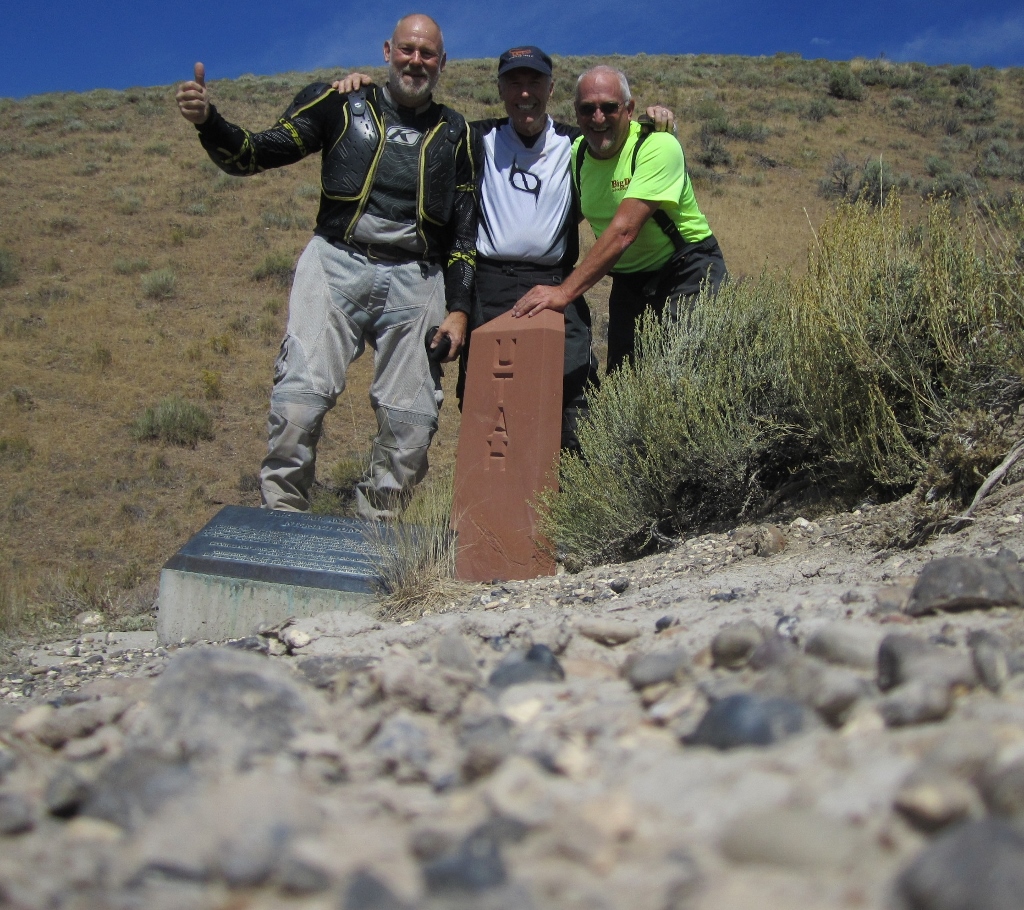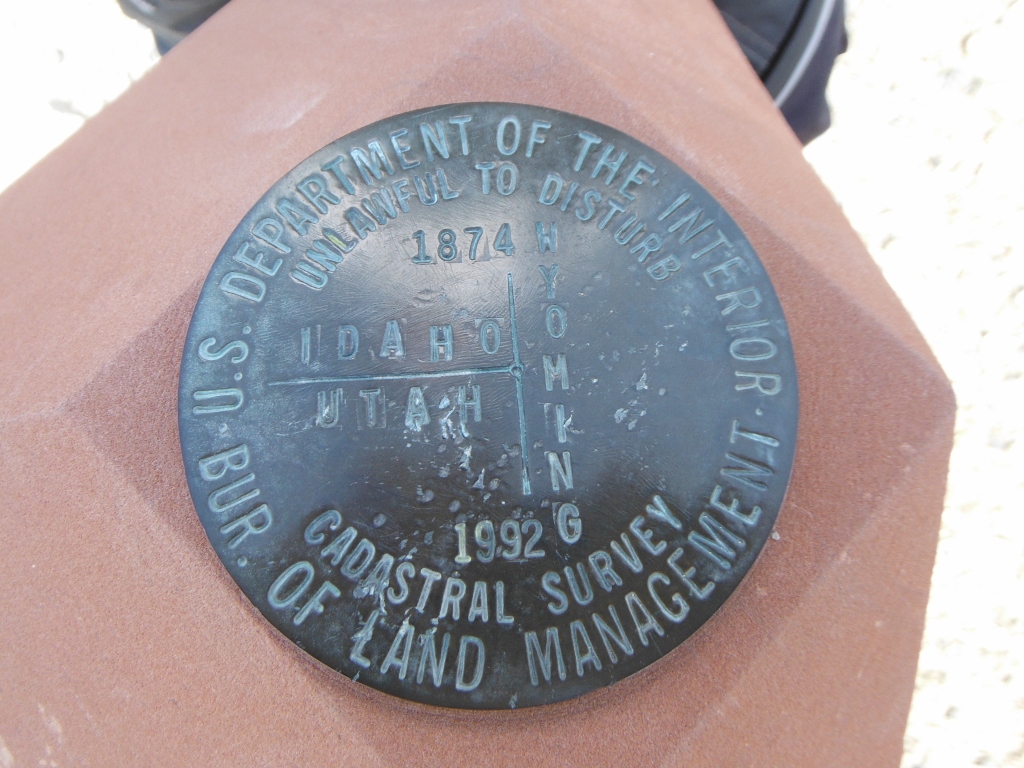 Of course on the way back I had to get out my super big sharpy.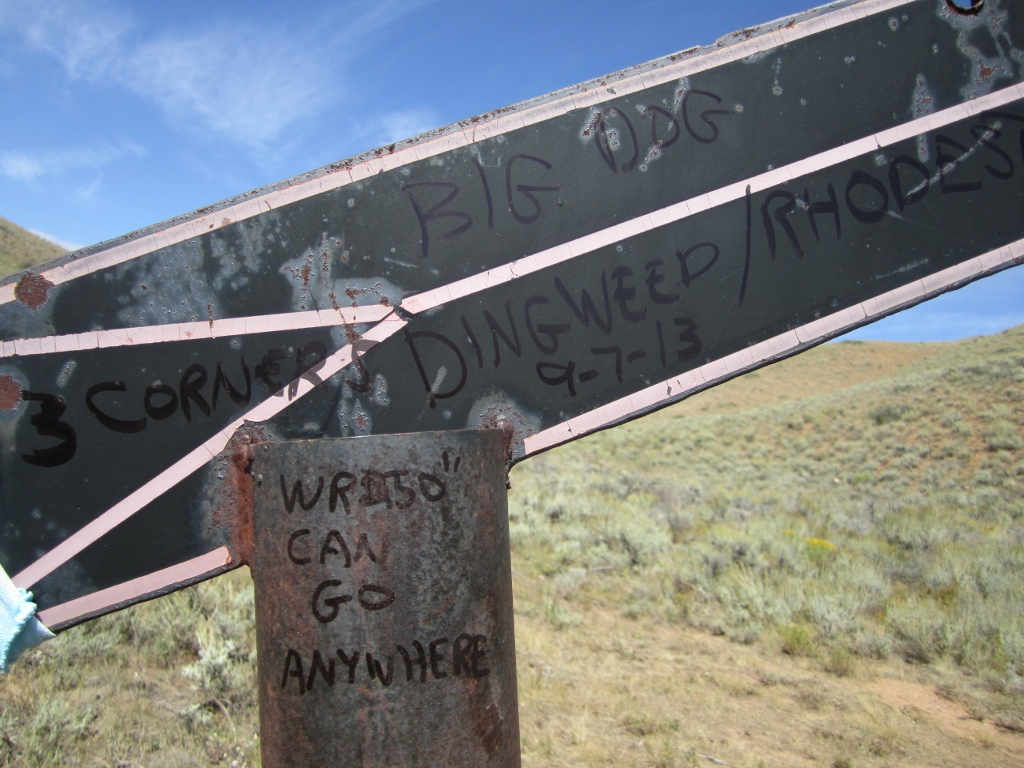 It was just 3.2 miles East to paved CR-207.
It was all impassable when wet and we scooted around a bunch of mud holes that were drying up.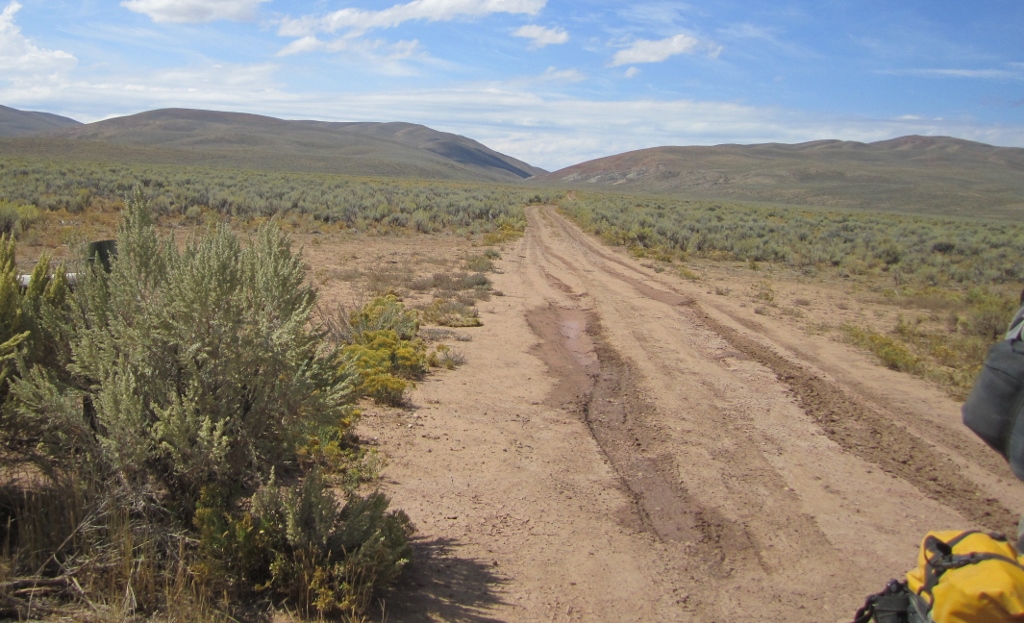 OK 4 miles---if you come in this way----------it's way easier and shorter when dry---but not near the challenge or as much fun.
We had a ball using every navigation skill we had finding the monument from the West.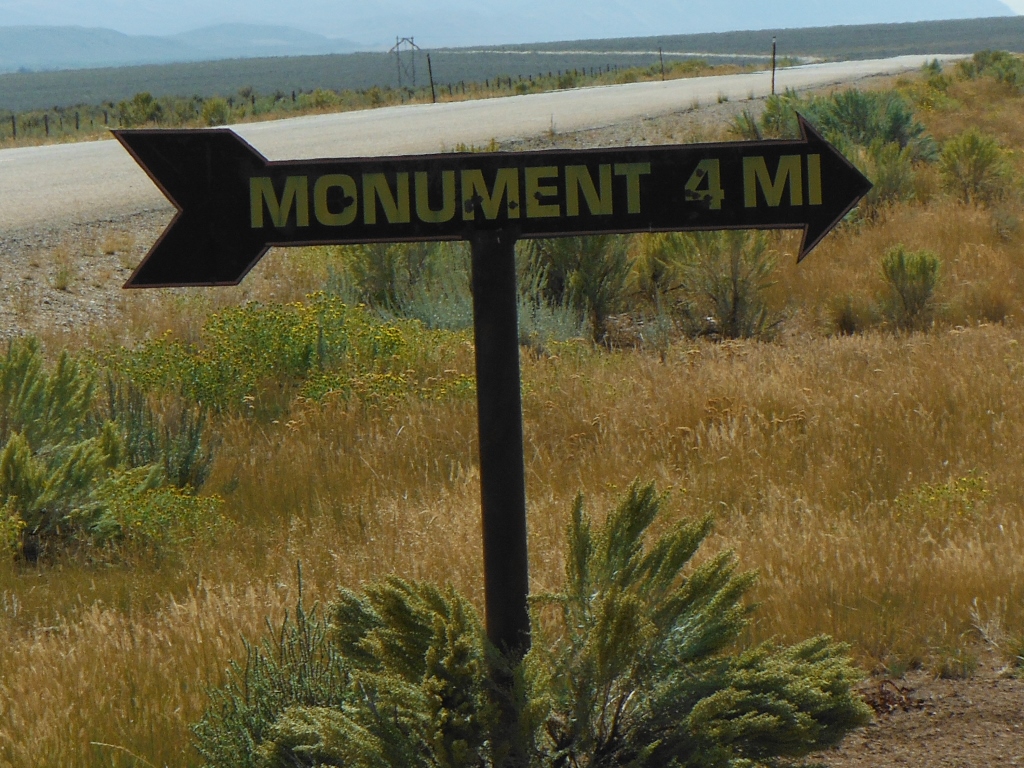 We head North on paved CR-207 towards Cokeville.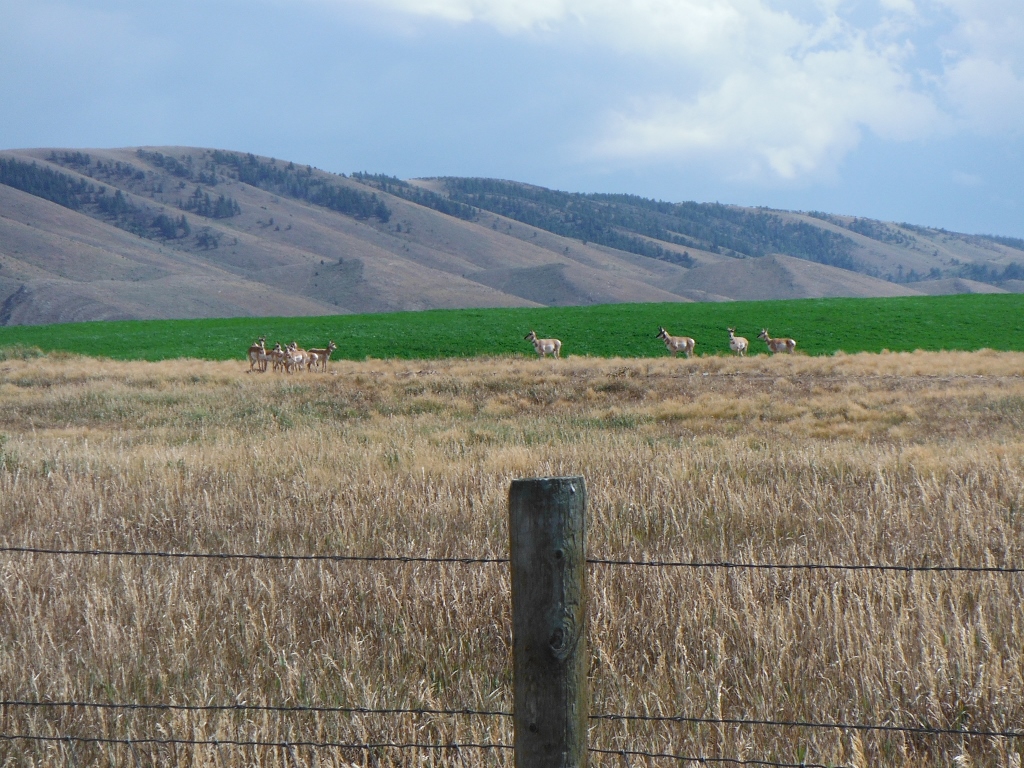 I loved Cokeville---------I could live here---I bet you ten we could have camped in the park.
Maybe Scott and Bud thought I was nuts----but we went in a little store with a deli and had them make us sandwiches
and took them to the park just down the road and ate under a shelter where a cool breeze was blowing.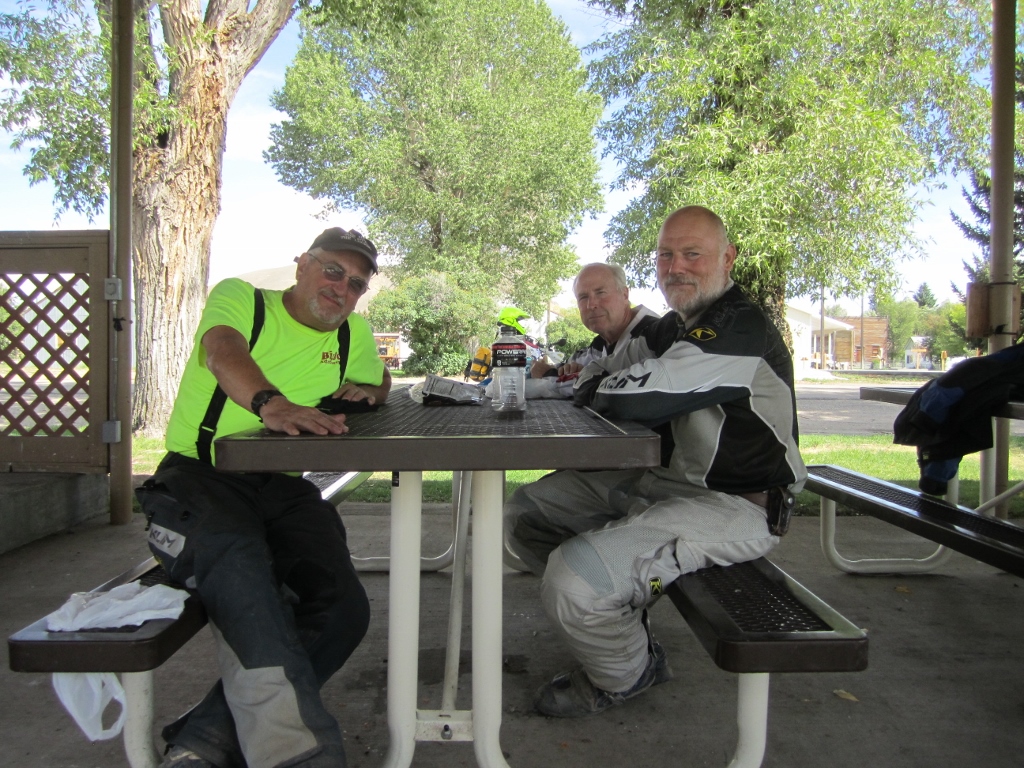 We rested at the park for a long time---------it had been a strenuous day -------but it wasn't over.
We went West again out of Cokeville and I had hoped I had found roads on google earth that would take us up on top of
Coke mountain------elevation 8,890ft.
And the route proved to be a good one as we climbed up the mountain.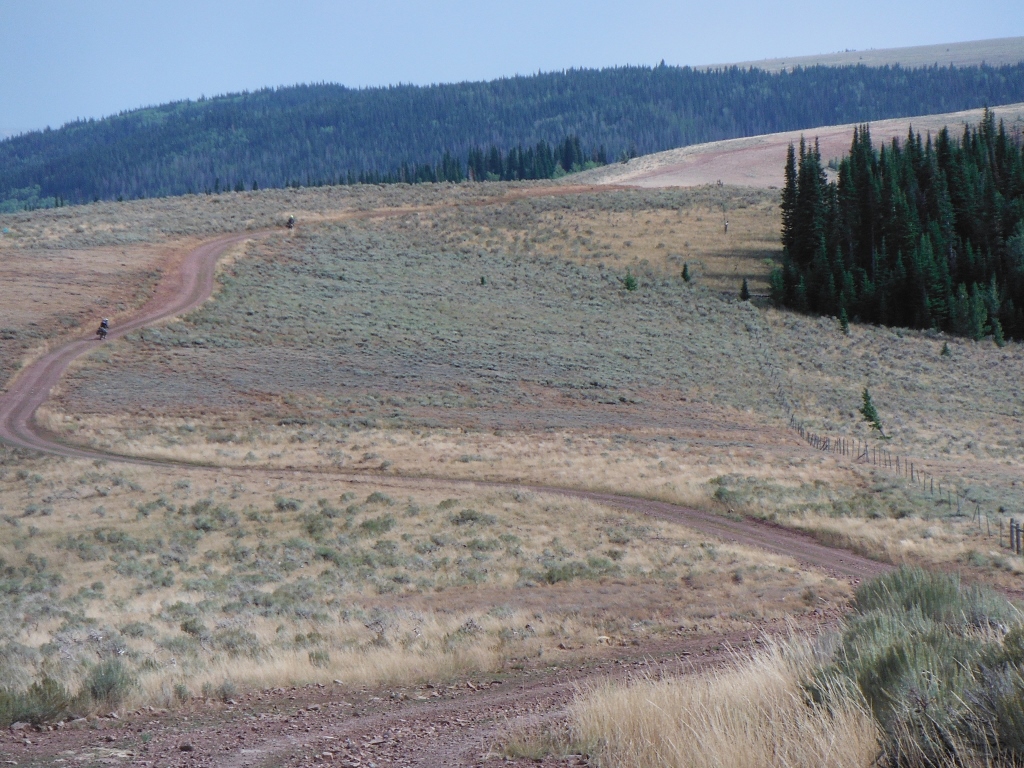 We rode for I bet 20 miles on this high ridge hoping to lead us right into Fossil Butte National Monument.
The little road that turned off of this one to Fossil Butte was a mud fest of 20 miles and we didn't take it.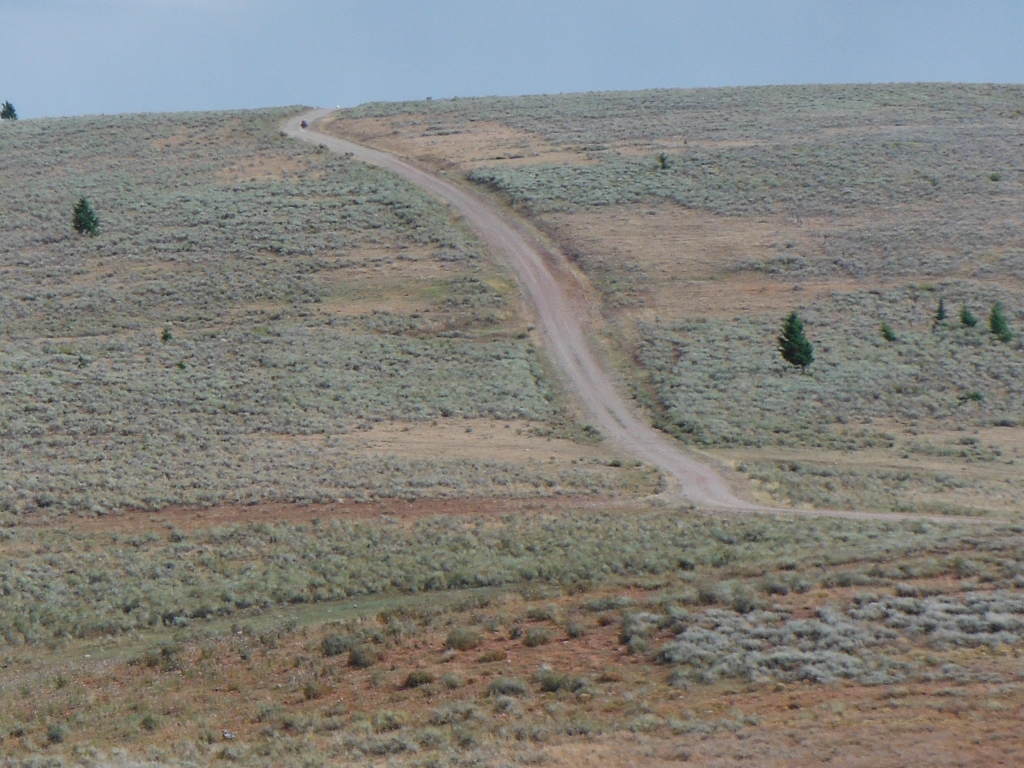 The riding was great as the main road turned Southeast towards Kenmerer and for 20 miles we just knew we were going to get pounded
with this rainstorm---------but never did. We got a motel in Kenmerer and the rains came down.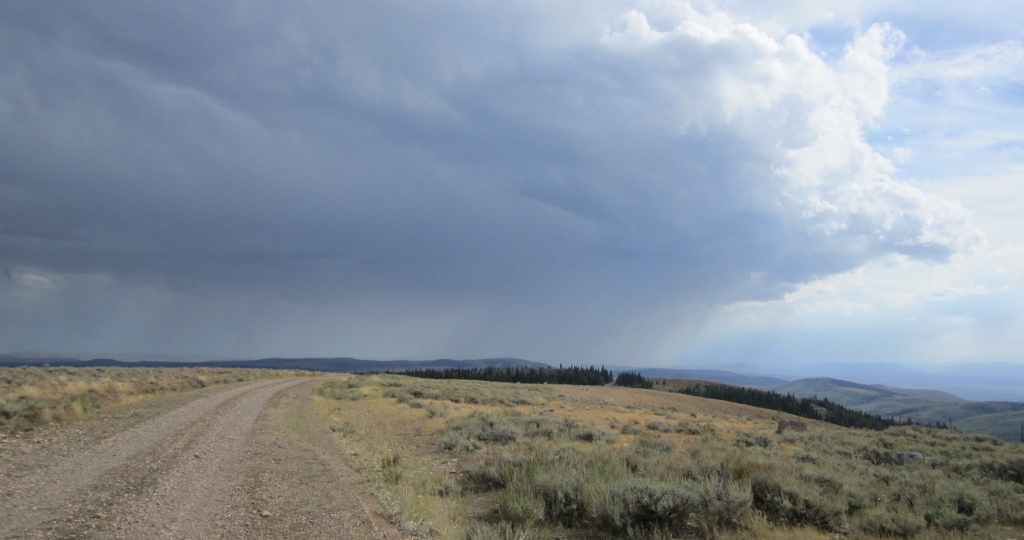 A map of our days ride---about 130 hard fought miles.
We rode from dawn to dusk this day.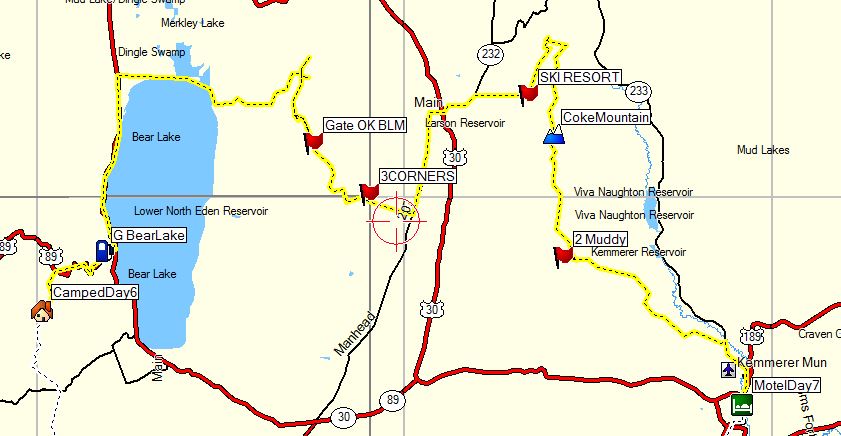 Day 8 September 8th, 2013
Motel in Kenmerer, Wyoming to Motel in Maybel, Wyoming
For most of the day the route I had laid out at home would work out really nice as we Headed South out of Kenmerer--then East from Mountain View, Wyoming.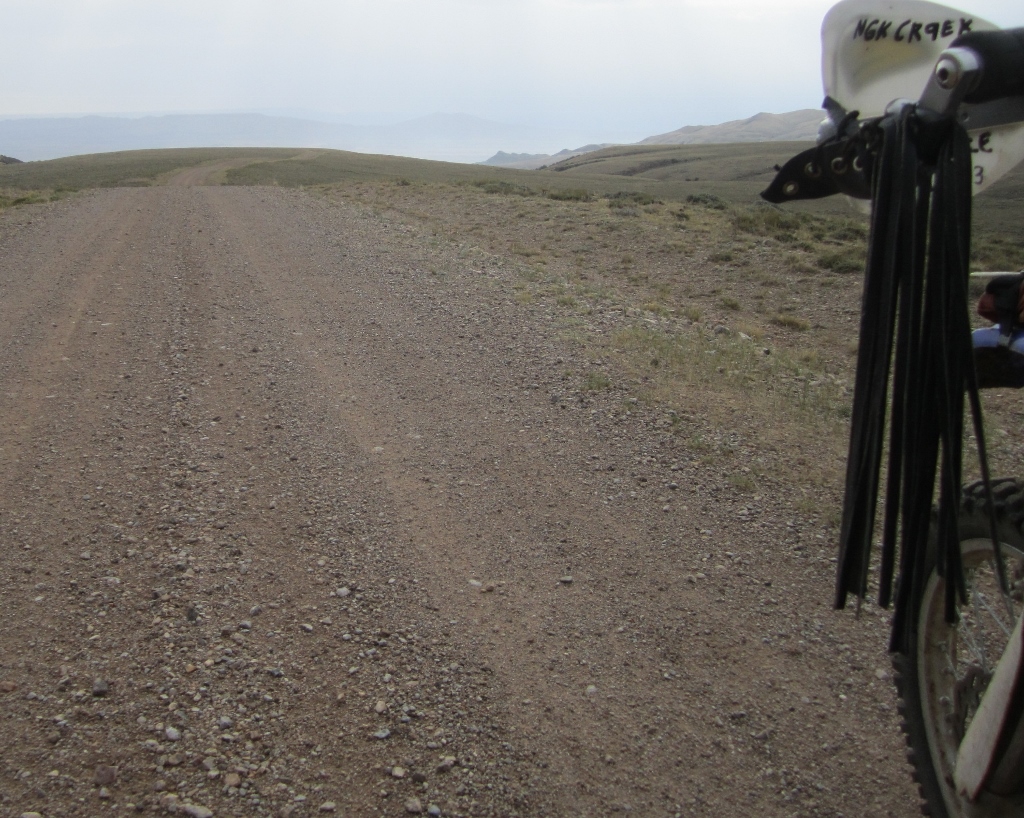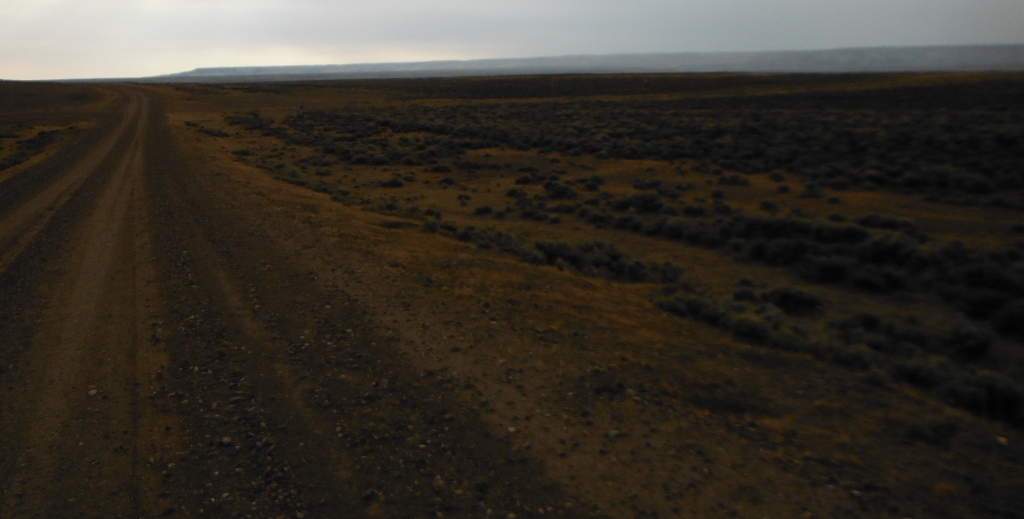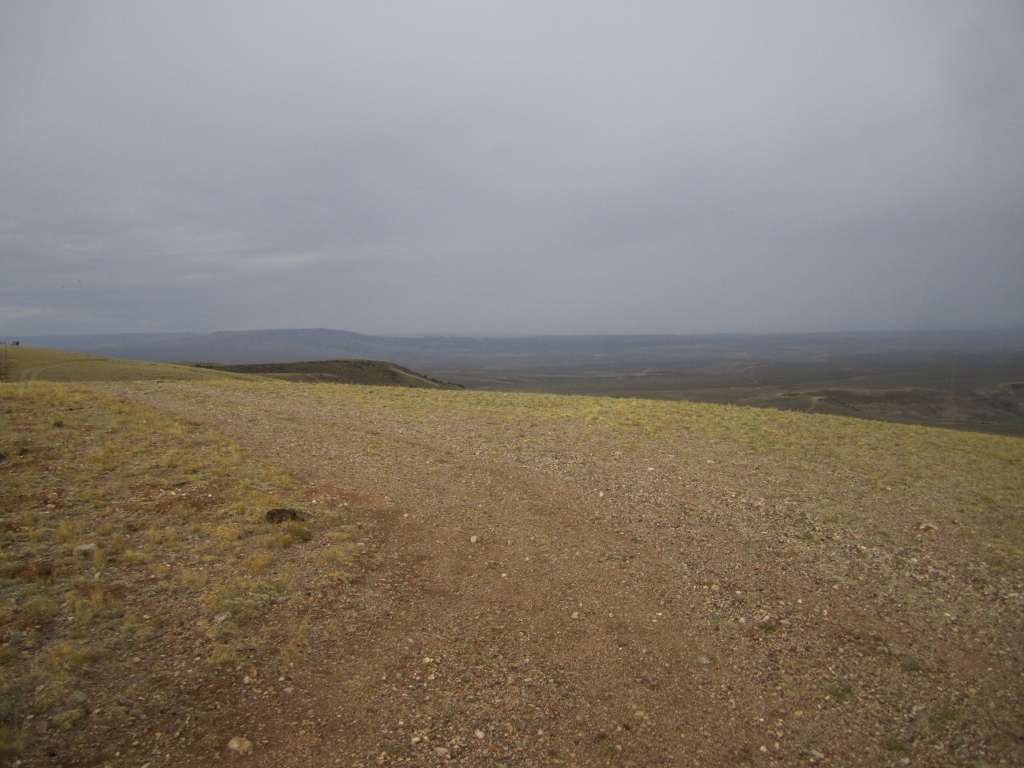 Some of the Navigation today proved to be challenging and I'm sure Bud was Questioning if I had a clue where I was going.
Well---------he was right I didn't. But used my wits as we ran into some very small dirt roads that I thought would disappear--but
I soldiered on and it never got too tough for us.
Dingweeds was totally use to this stuff from me.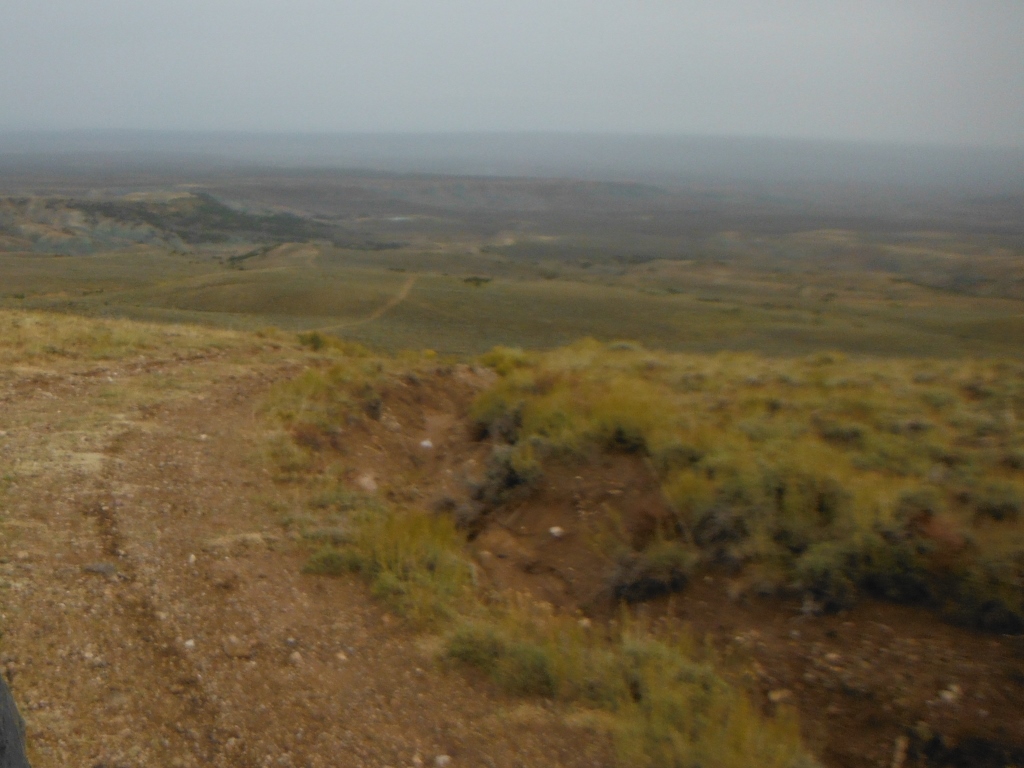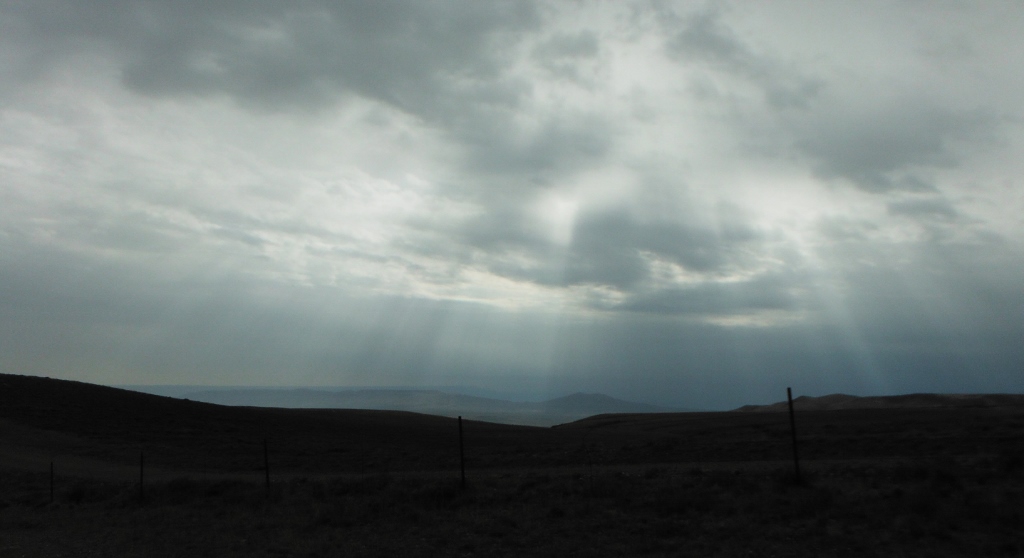 We didin't seem to get any pictures of the tough climb up to this fence.
I searched and searched for a place to go thru and finally found a spot---where I opened and closed a wire gate.
There was orange paints on the pole on the other side---which a lot of ranchers used as to point out private property.
I was nervous as we exited what might have been a private ranch---but we saw no signs prior to that..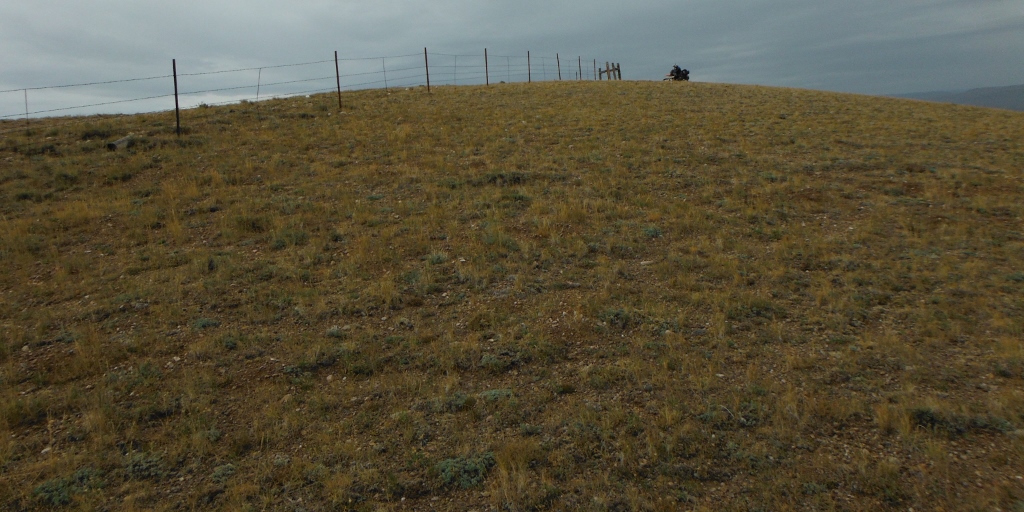 Same place--------I was on the "SAFE" side but Bud had to go back and help Scott upright his bike as he slid out on the
nasty steep hill and had a hard time gettting going. Man was I glad we were on small bikes.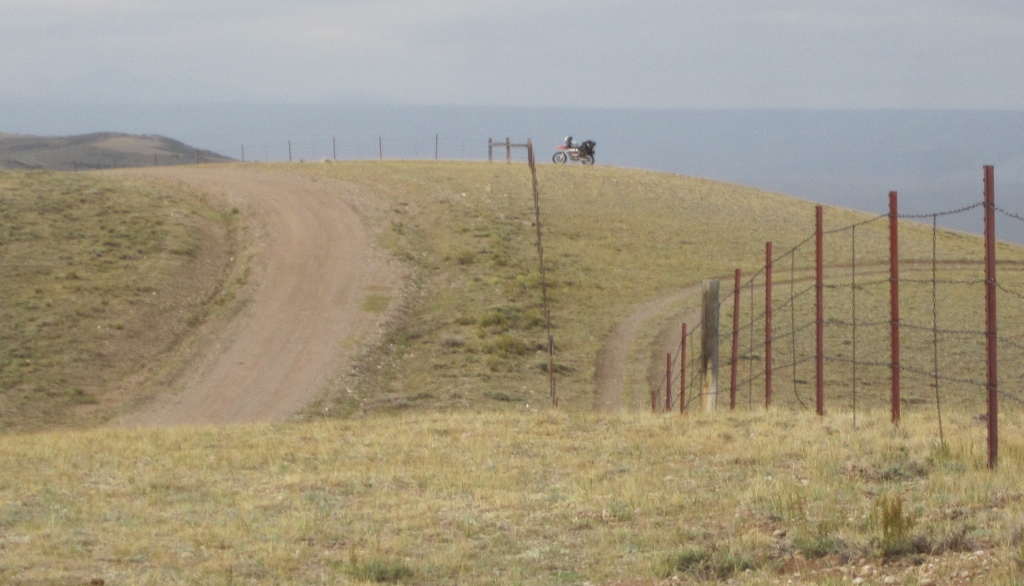 Al those dirt roads would lead us to Green River Utah where we gassed up and got some groceries.
I figured out a really neat route to by-pass Green River to the South and it would prove to be awesome.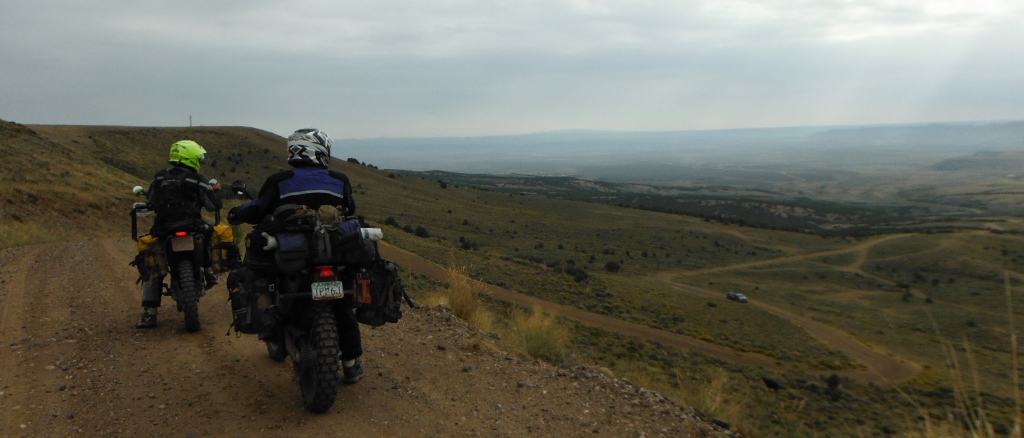 I found a newly built bridge over the Colorado river South of town and we were soon on "Scotts Bottom Road"----in the pouring rain.
This road was awesome------even in the rain.
On google earth I didn't thing the road was do-able.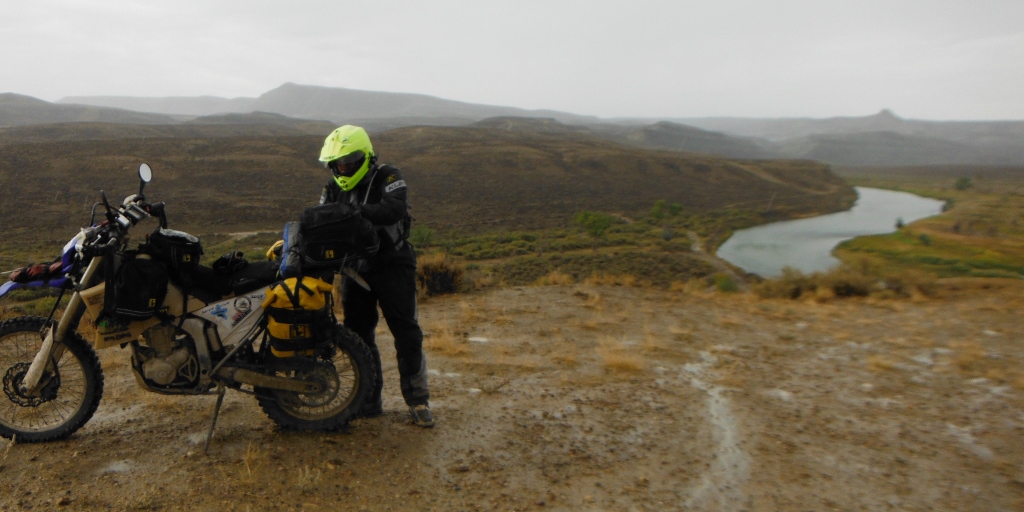 I love this picture of Bud--his KTM and the Colorado river.
I'm glad Scott took some pictures--as I had my camera tucked away.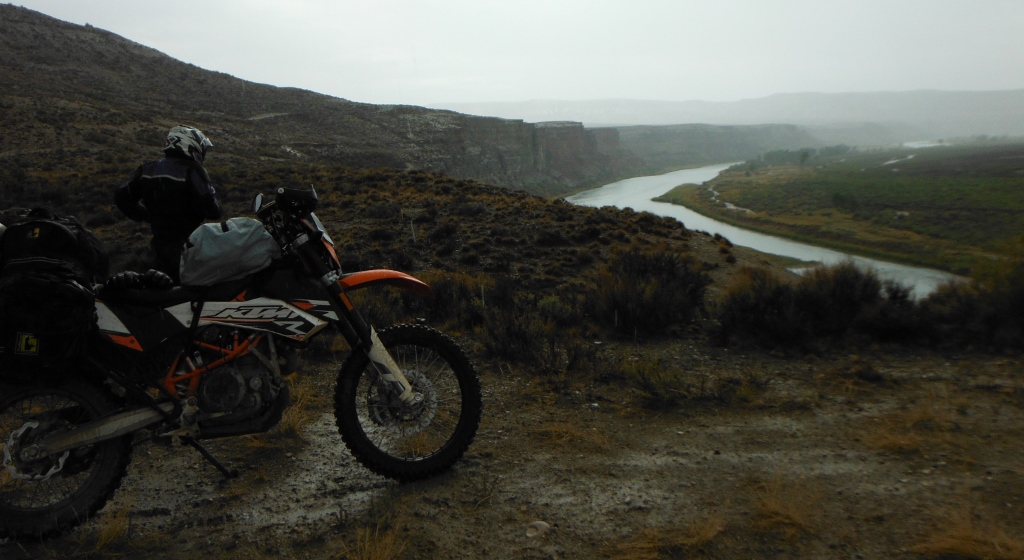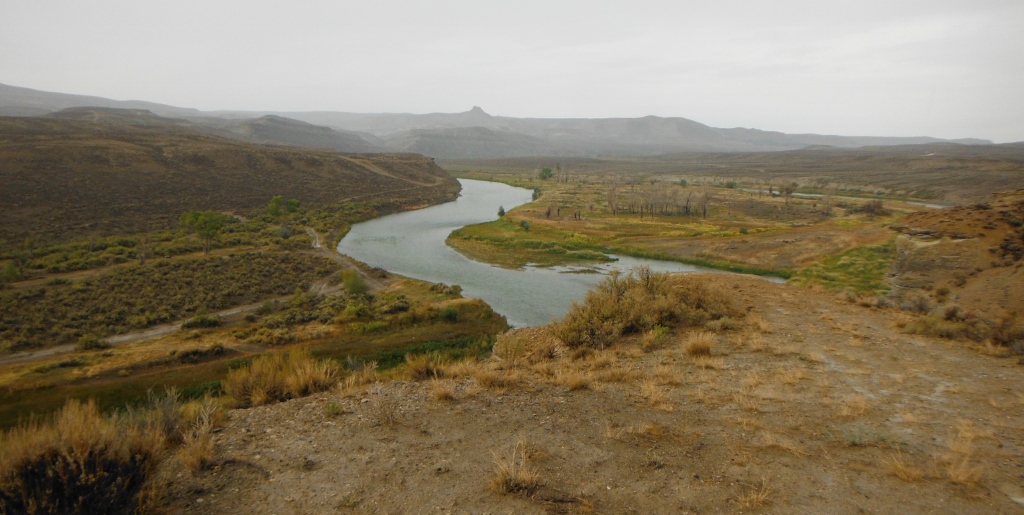 It poured and poured and I feared the dirt road would get impassable--------but it didn't.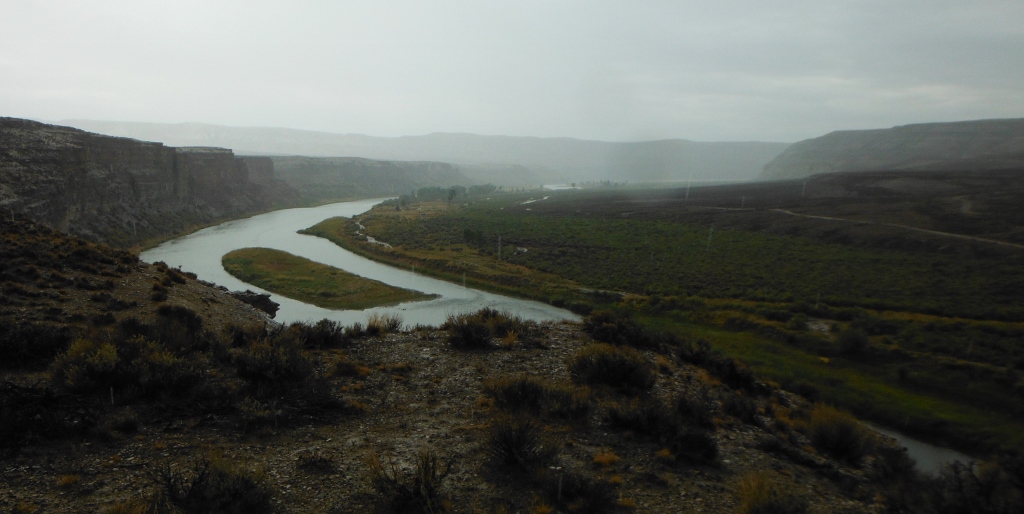 I think we got it made----------my route was looking good.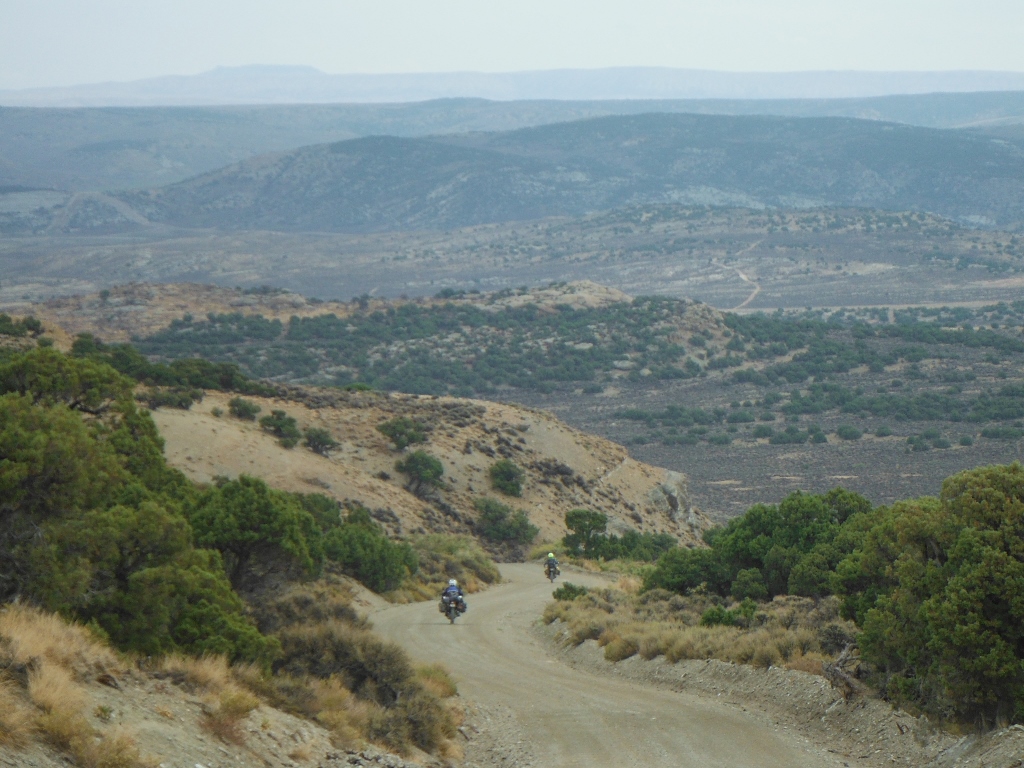 Well Crap !!!!!!
The road I had routed us down was no good it seems---we wanted to go on down it but the bad weather loomed
and the road was definitely not passable if wet.
And we headed to territory we had been to before.
I was so hoping to go a new way.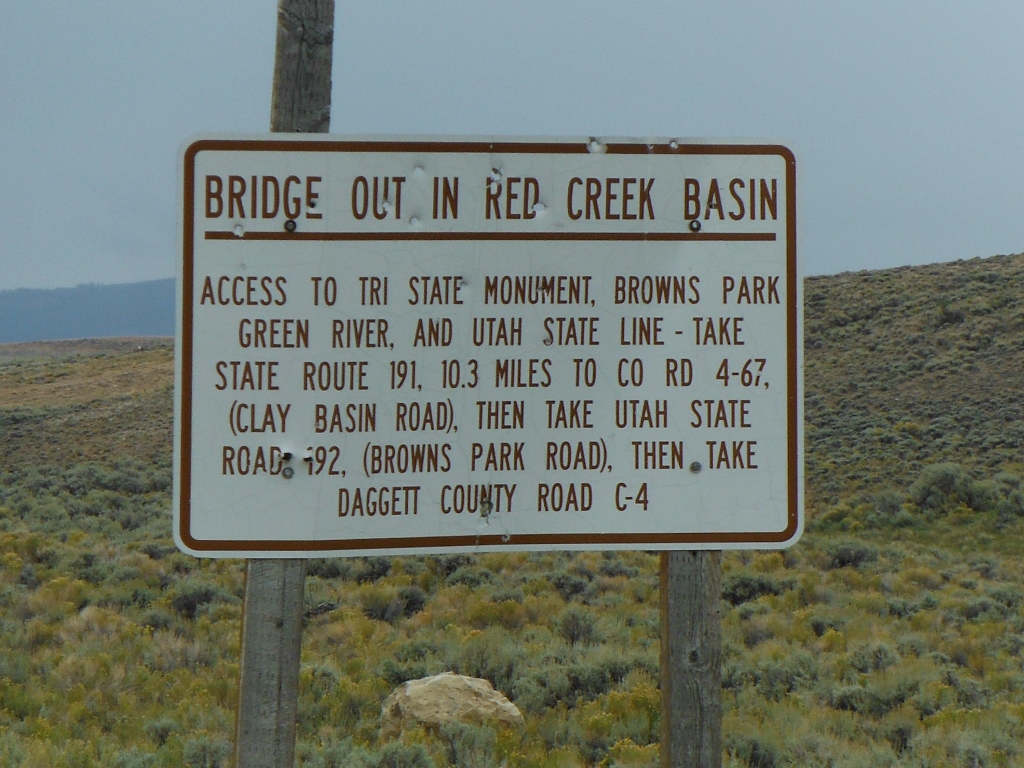 We had crossed into Colorado way West of where I wanted to and the weather played heck with us
as we neared the old Swinging bridge over the Green River that me and Scott had been over before.
I wanted Bud to see it----and we went down a side road so he could and then went back.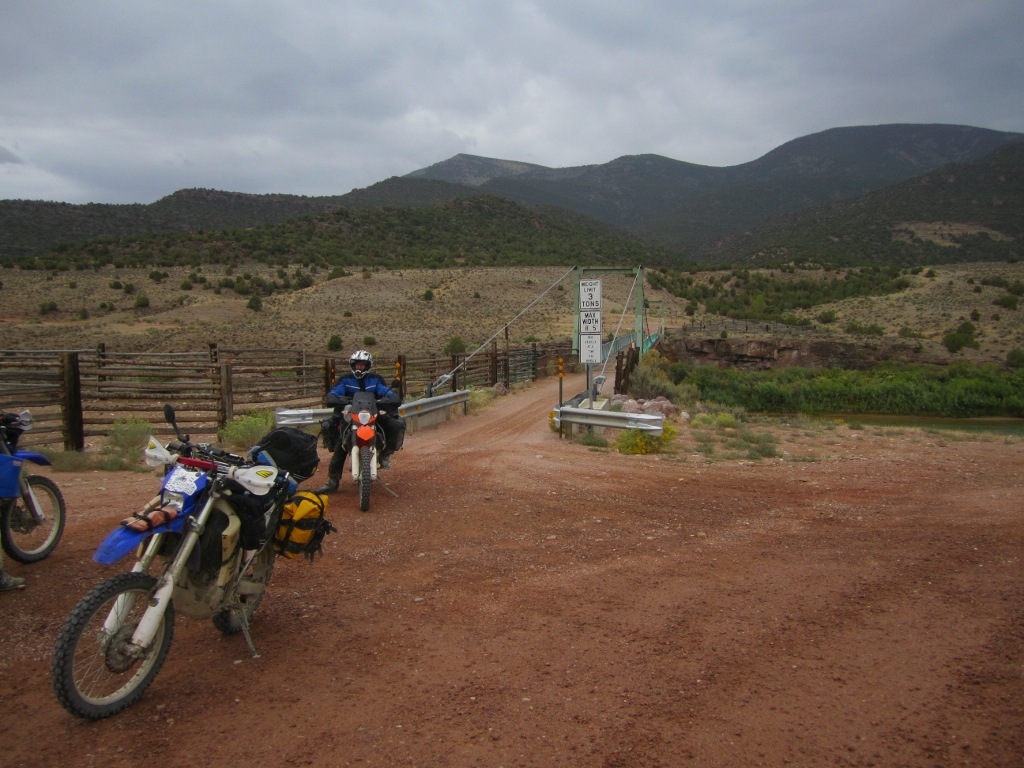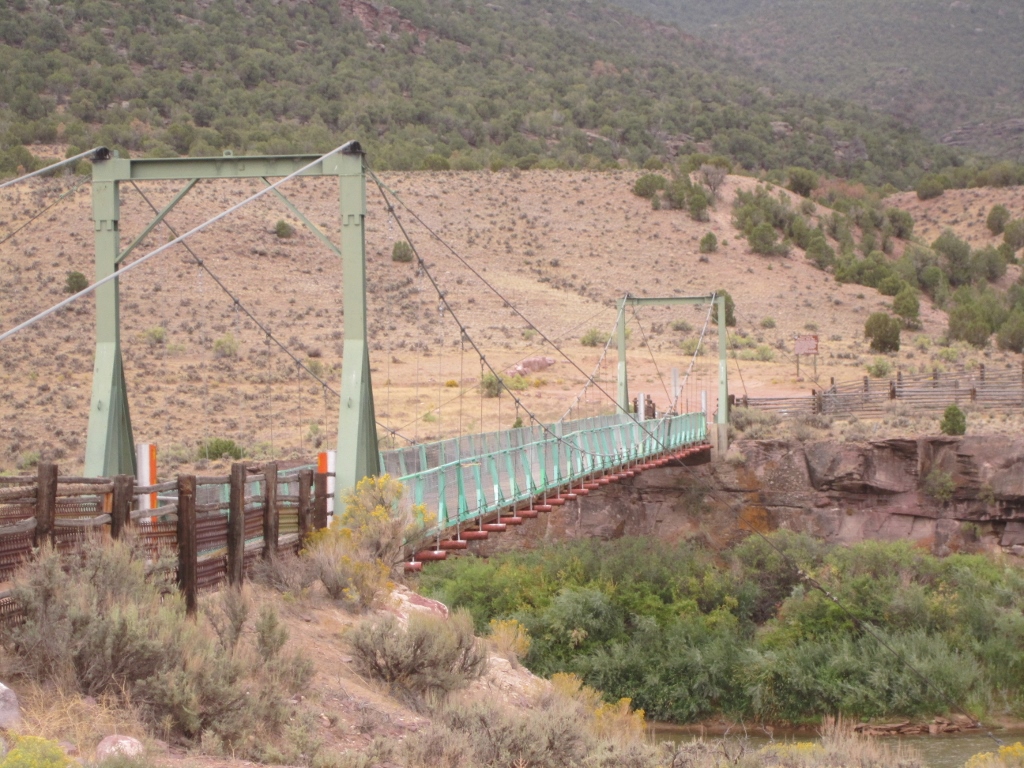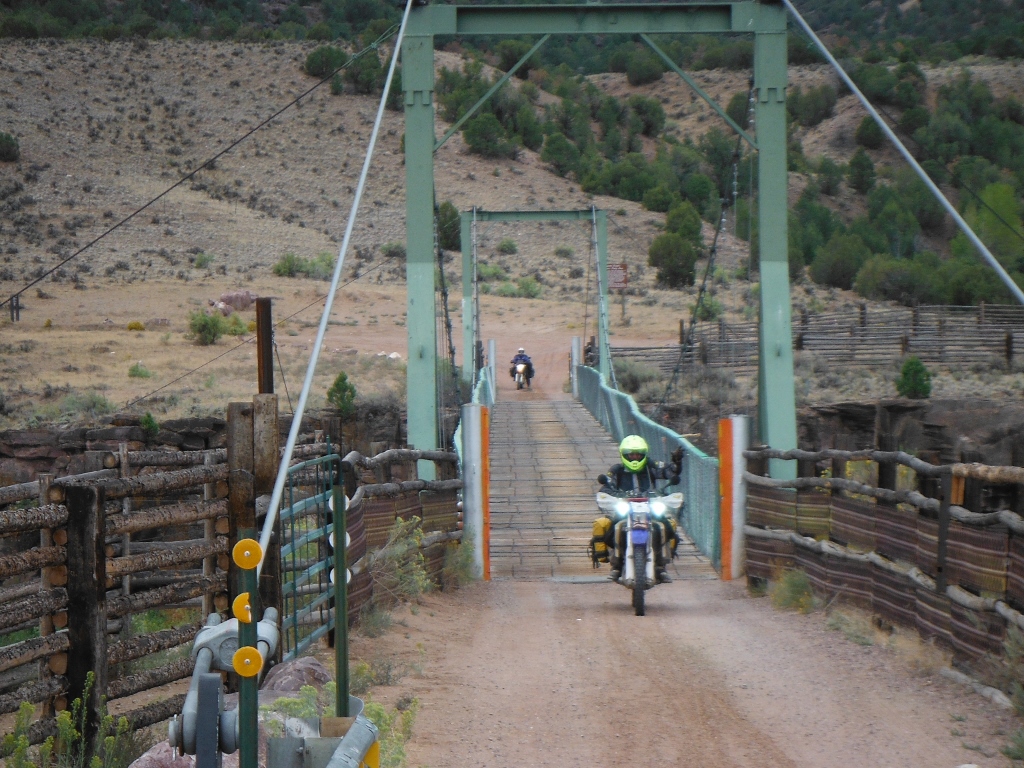 Ahhhhhhh----what's this------never been thew here before-----we don't have jobs---we don't
have to be anywhere---let's go see what this is ?????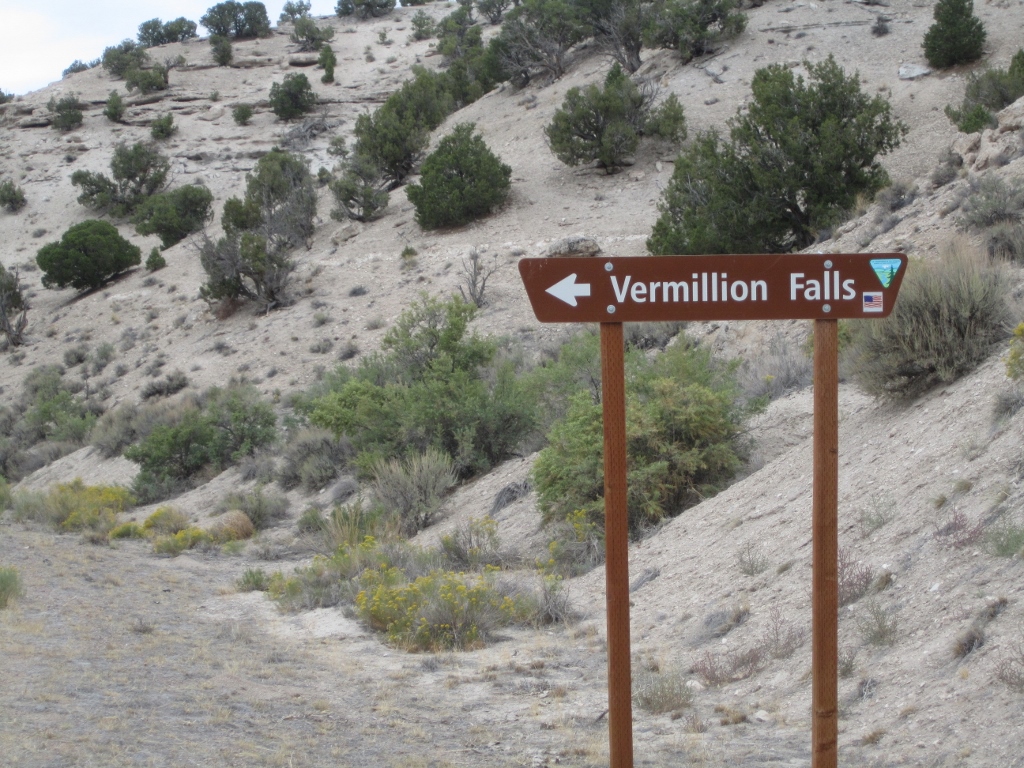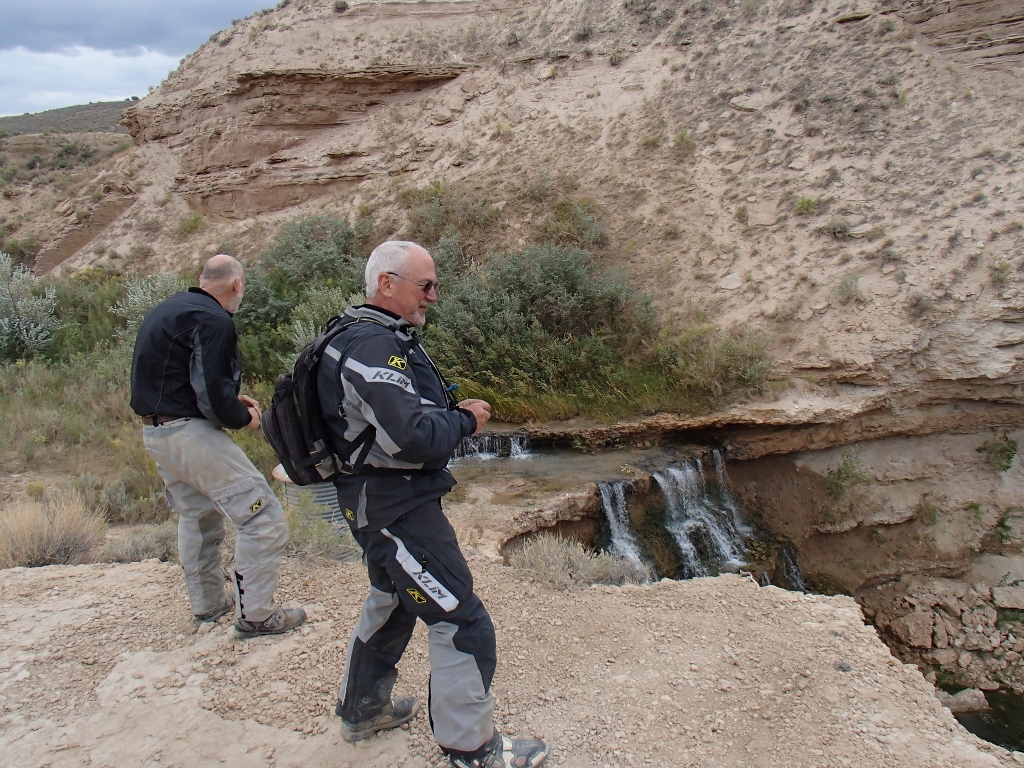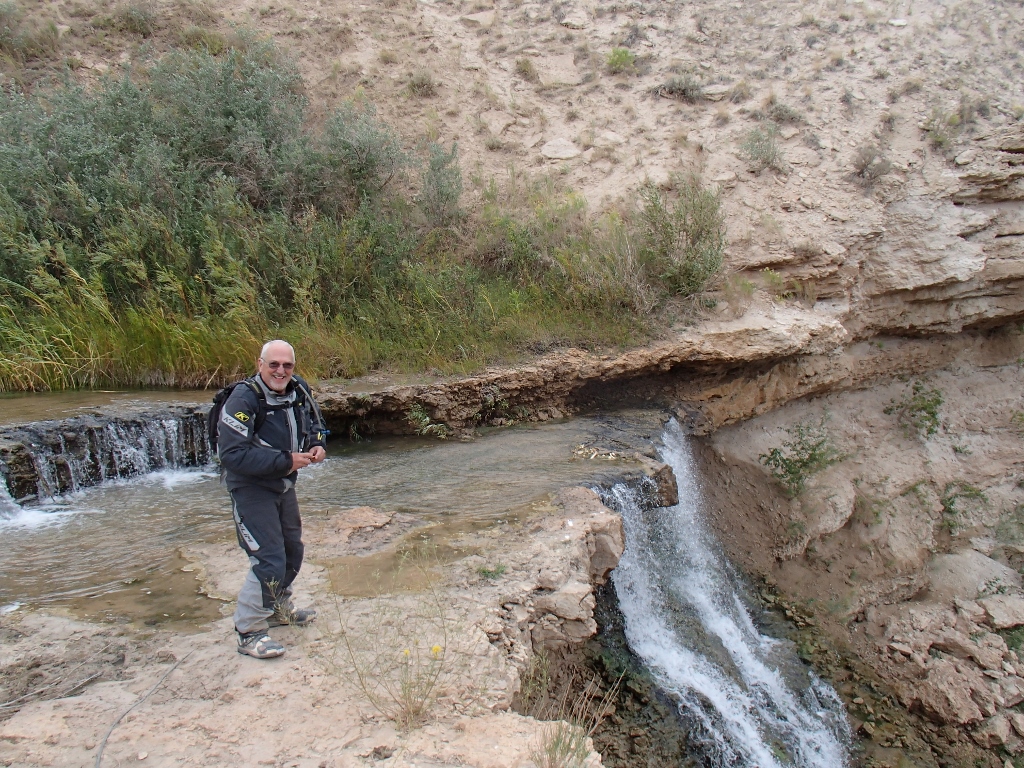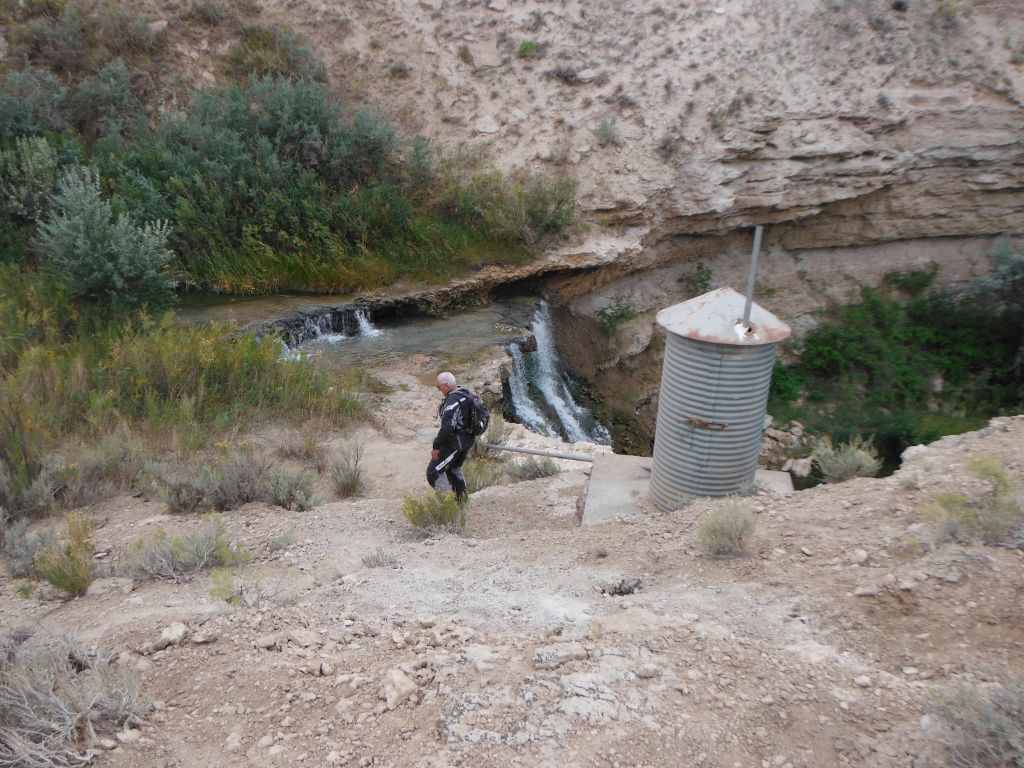 This view is below the falls---pretty neat.
The falls were on Vermillion creek.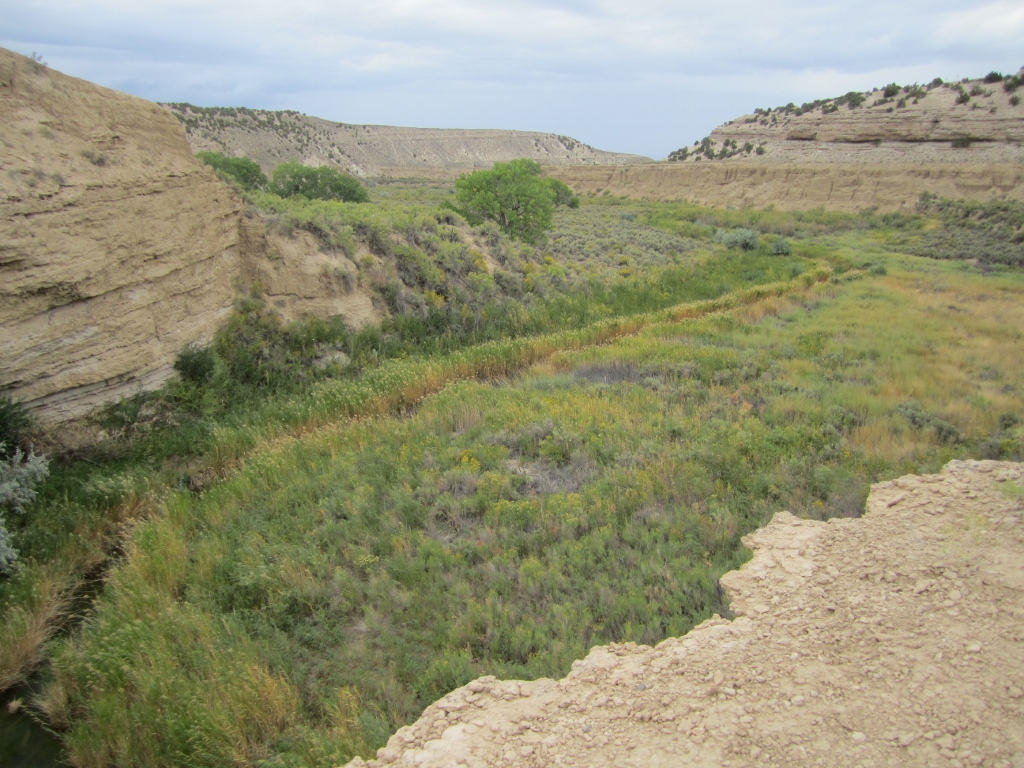 We rolled into Maybel, Colorado and scouted around for camping or a place to stay.
You could camp here in the park for a very small fee and there was a shower.
This was a tiny town----and lately I have found many little towns in my travels which would let you do this.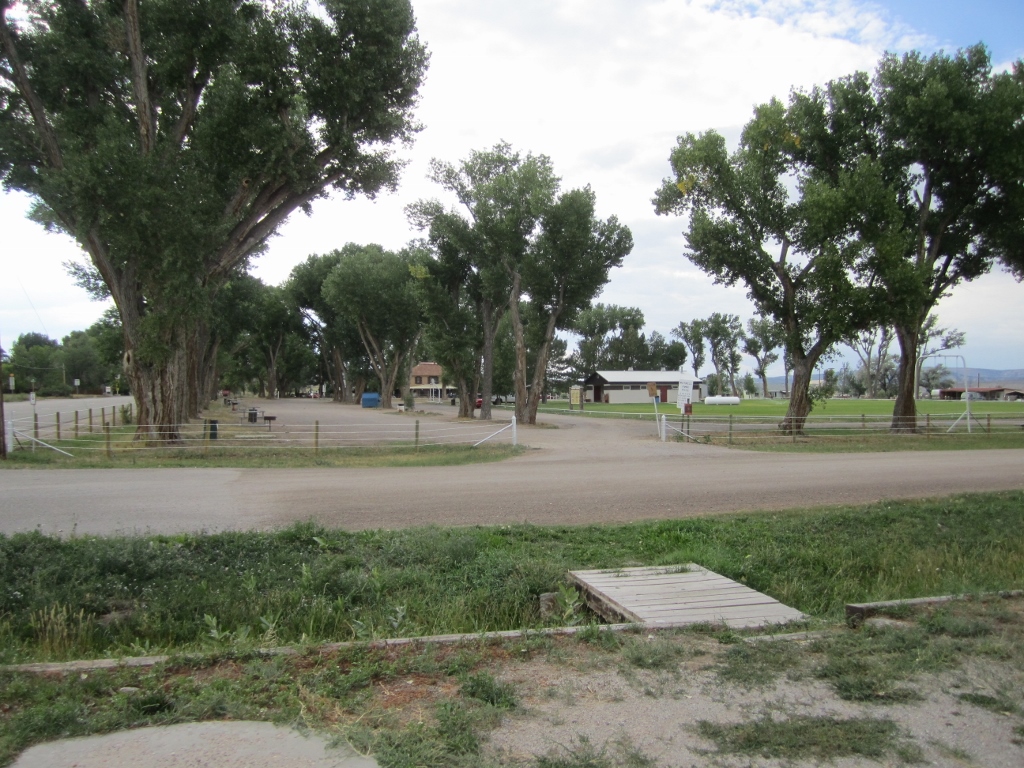 But-------it was fixin' to pour down---and the thunder was thundering.
And this old place came into view-----we overlooked this place totally but some other riders were staying there and
we stayed there too--------one of the neatest places I've ever stayed in-------I did not want to leave.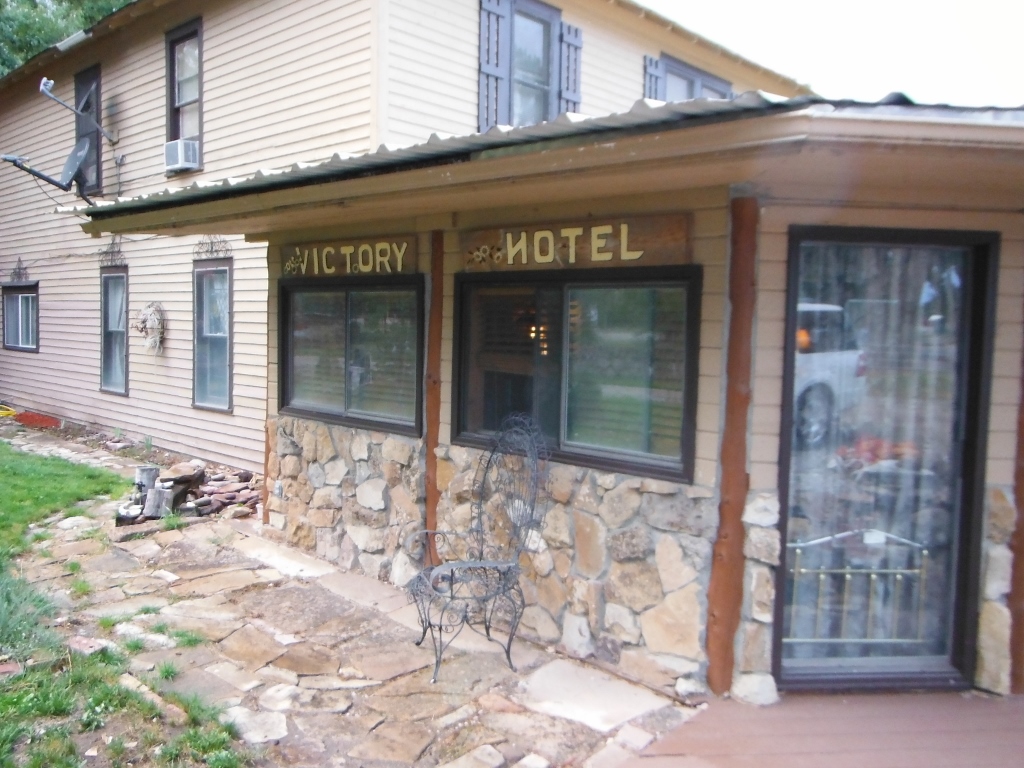 1898
That was a long time ago.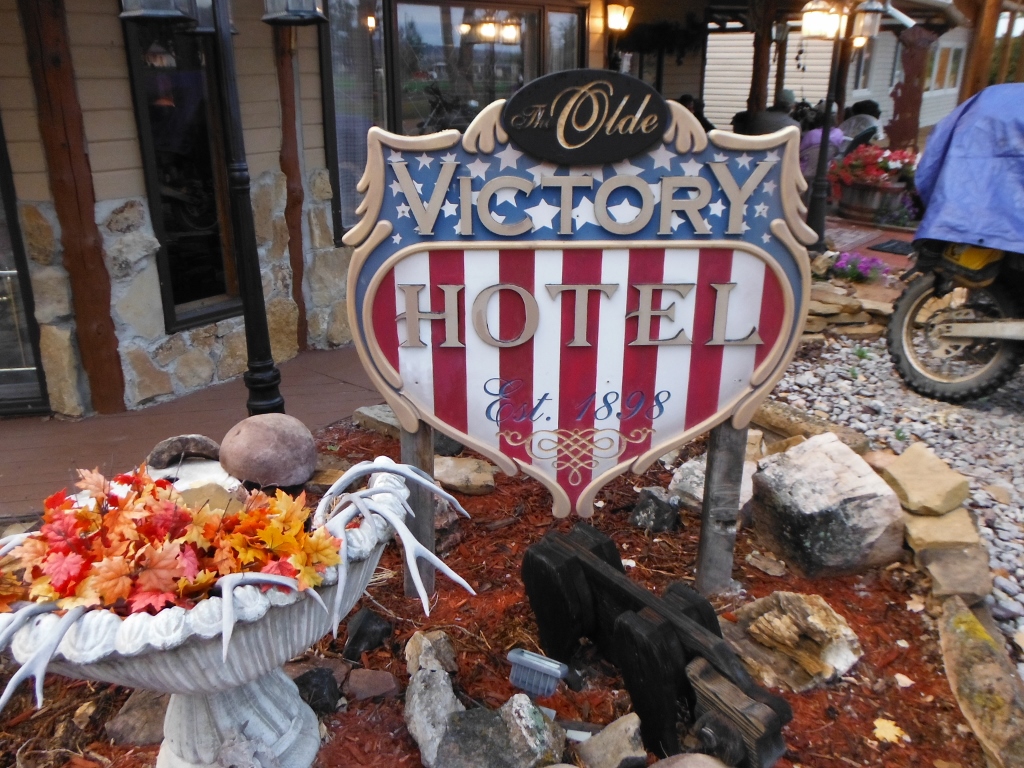 I'm so mad at myself for not taking pictures of the inside--it was magnificent and for $70 we got 2 rooms------and a shower.
The other riders were so interesting.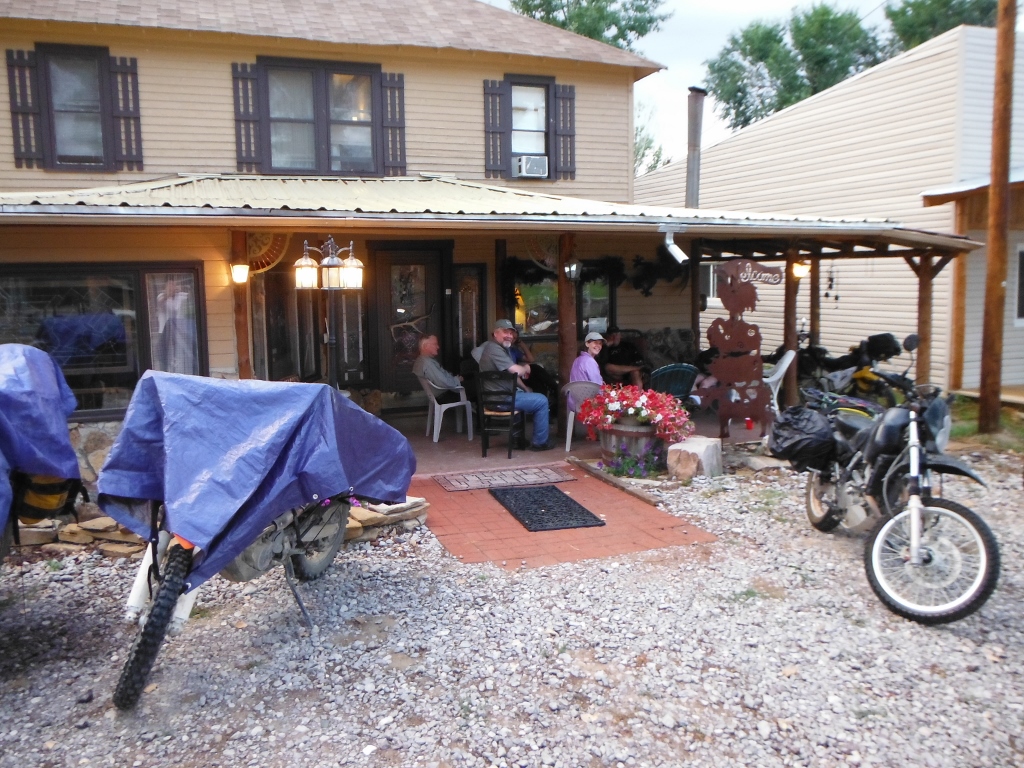 We talked of travels on the porch for hours--such nice people---all on DR650's.
A bike very well respected by me.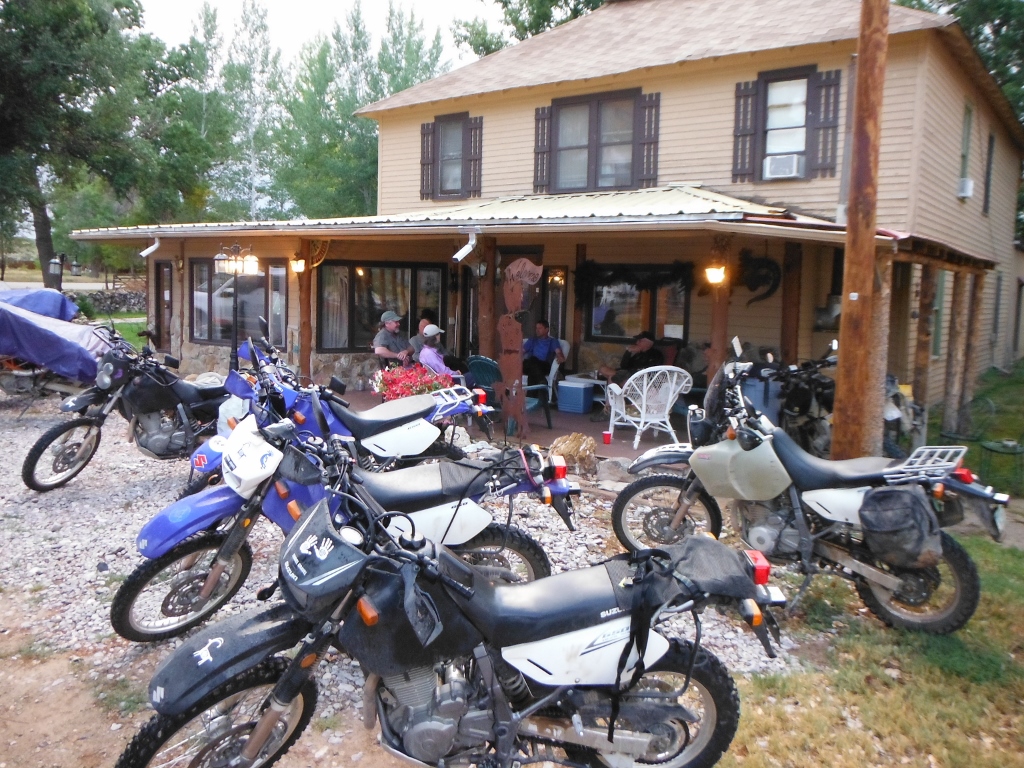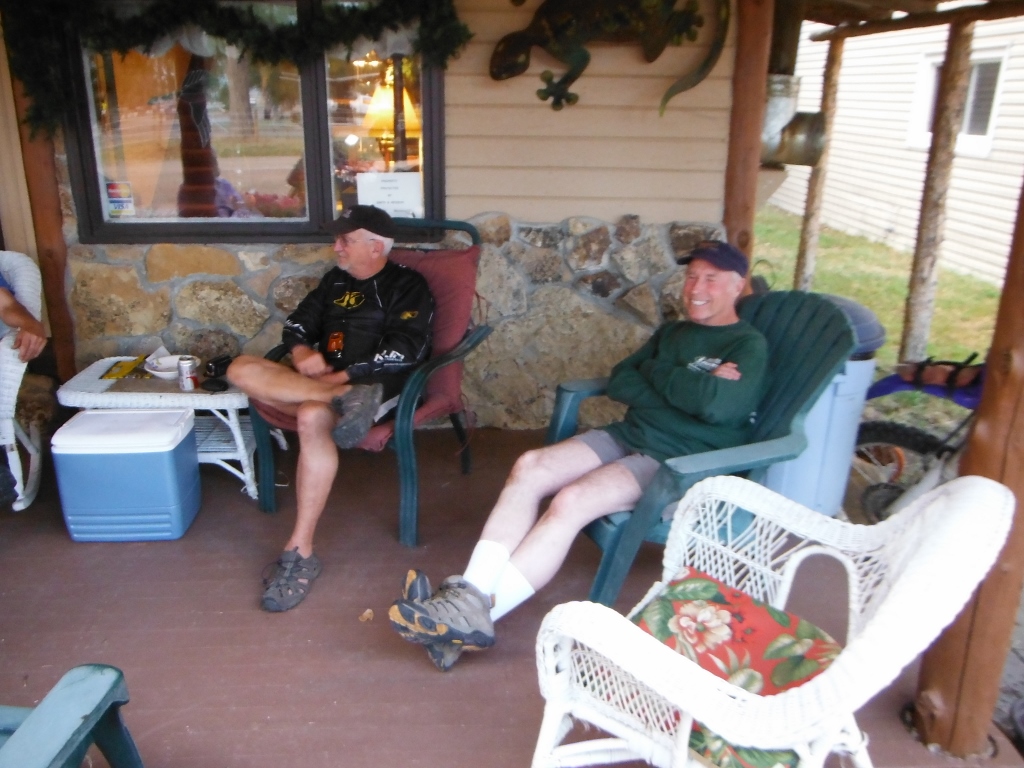 I wish I could remember all of this fellows stories---but he had a career as a forest ranger, worked as an off road tour guide for BMW
traveling throughout the south west and Mexico and is currently working for Harley Davidson Motor Company. We shared incredible
motorcycle stories for hours on that front porch with that DR-650 gang.
__________________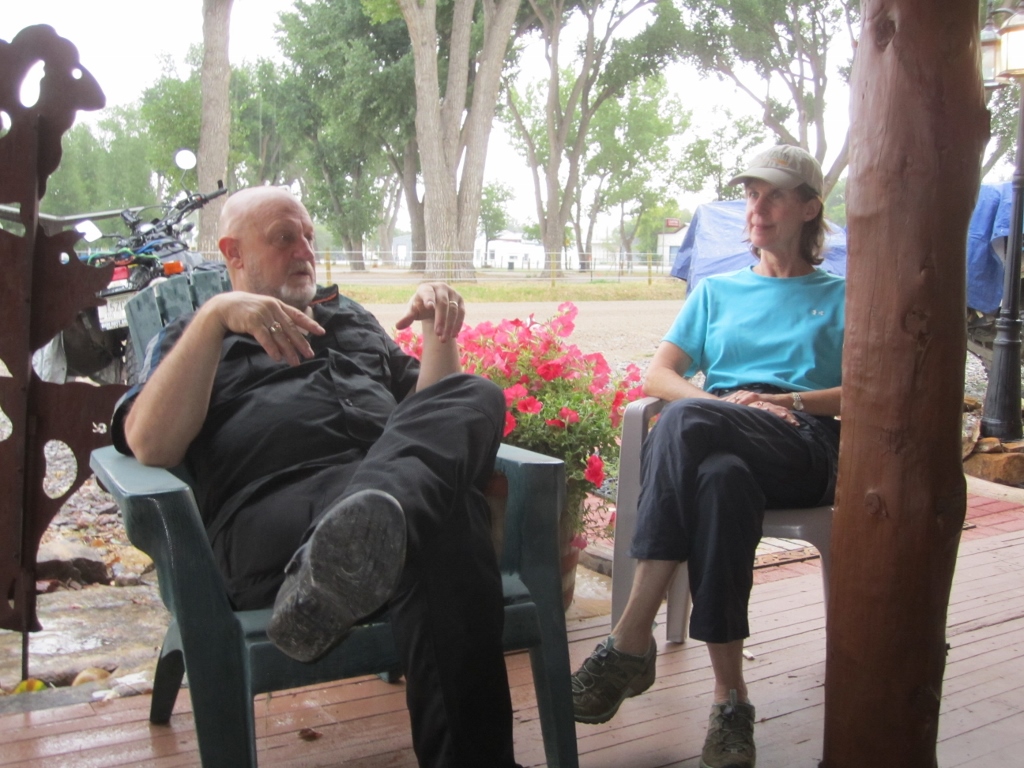 This the owner of the stores dog-----------he was so funny.
If he wanted in the house-------he'd bark one time---and you better let me in.
Same for going out.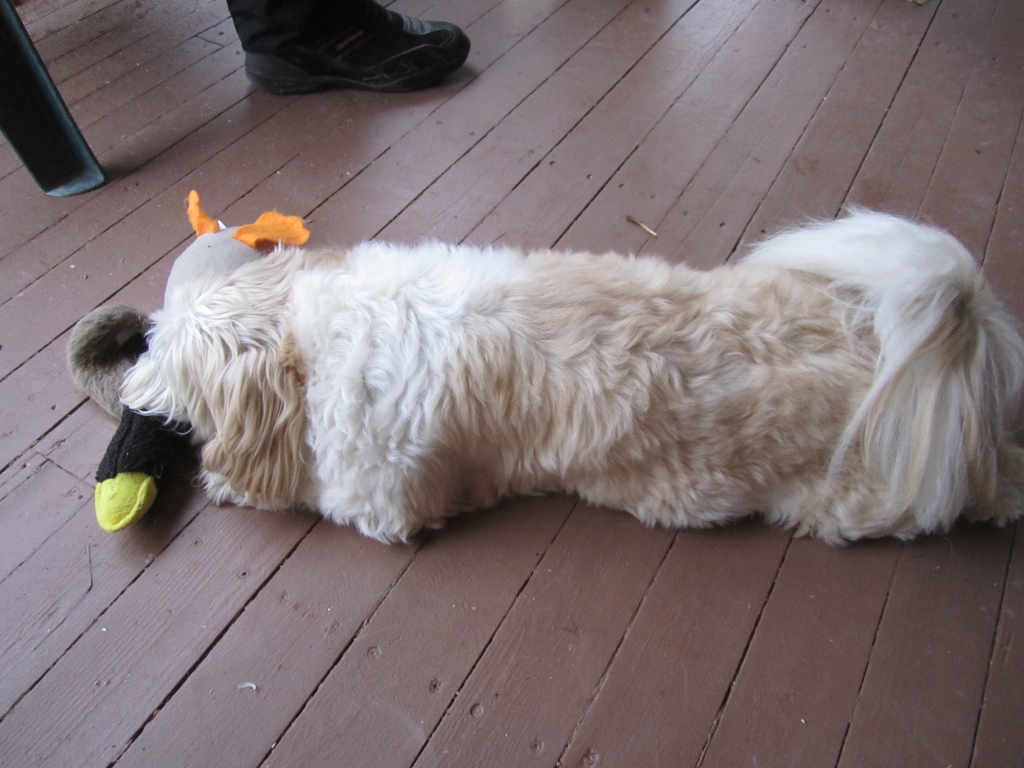 Hunters stay here a lot---and Dingweed is a big hunter.
He was all over this thing---something about "points" or something ??????
What an enjoyable and unforgettable evening we had at the old Motel.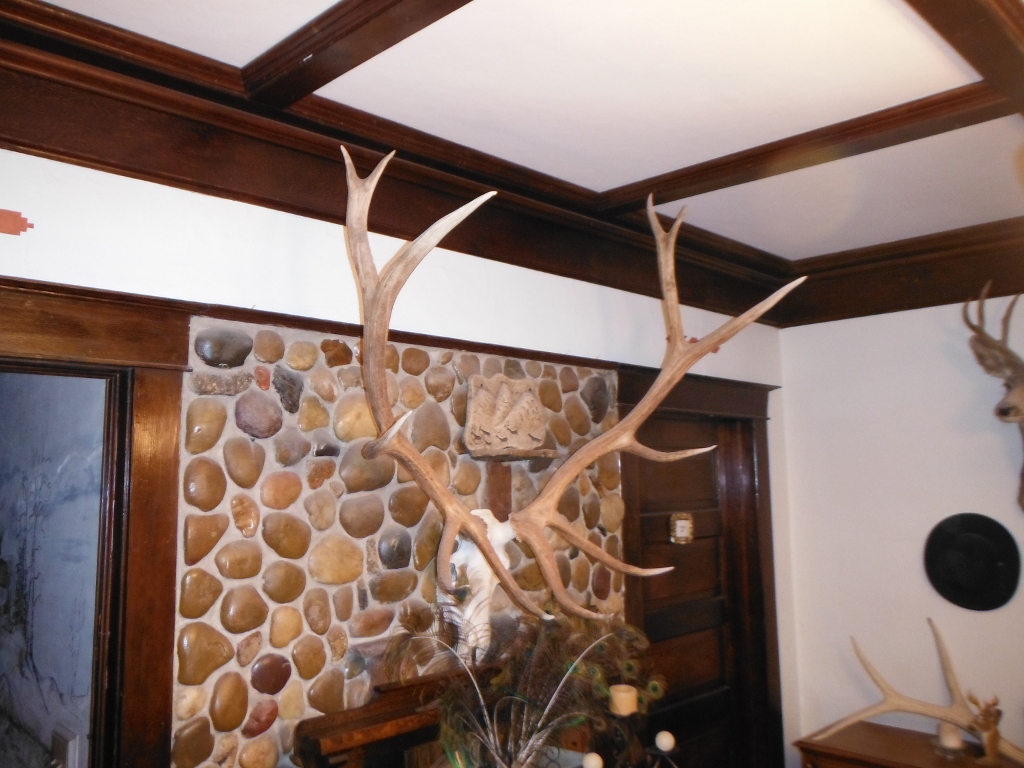 Here is a rough map of our ride that day---about 247 miles.

Day 9
September 9th, 2013
Maybell, Colorado to Motel in Eagle, Colorado
A lot of today was spent trying to get back to the Colorado BDR---but we had already been forced South a lot.
We would have had to wait a week to ride what we wanted to -----------till it dried out--------if it didn't rain anymore.
So we head West to Steamboat, Springs to intersect the COBDR---then South on it.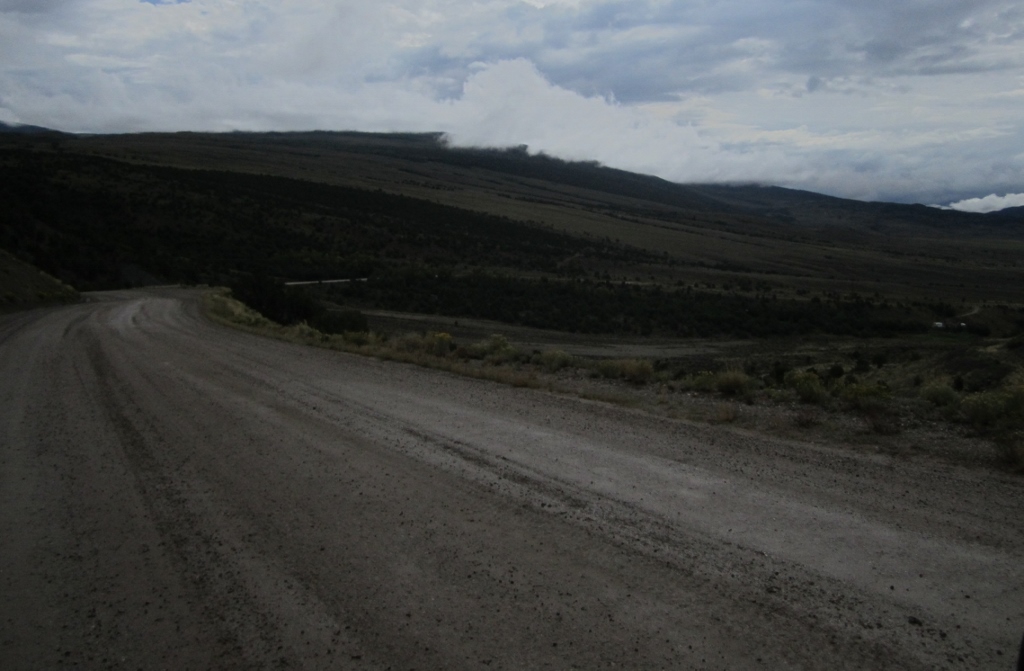 This dirt road following right along the Colorado river went on for miles and miles and was awesome.
It was wet out--no dust---but not raining.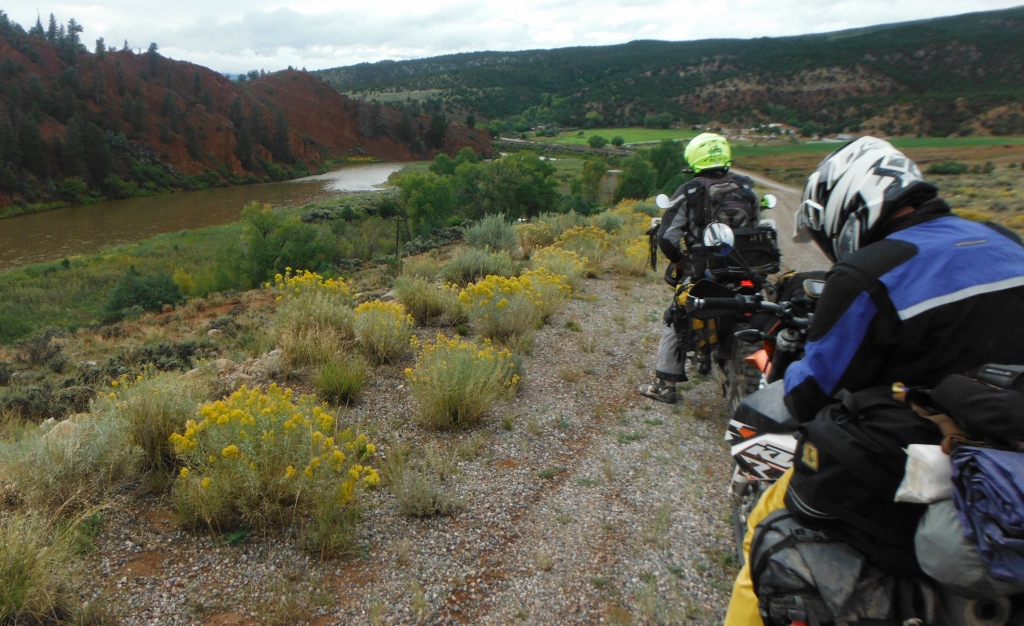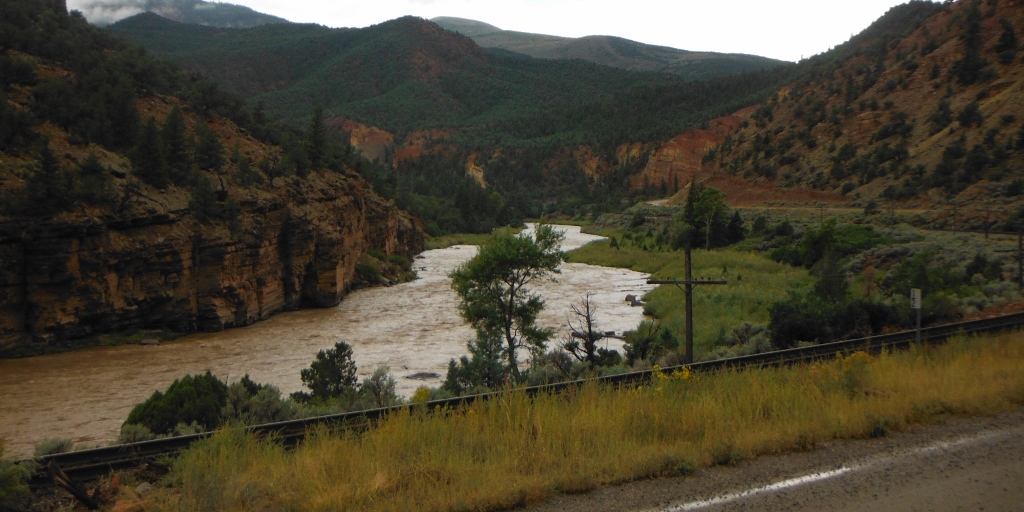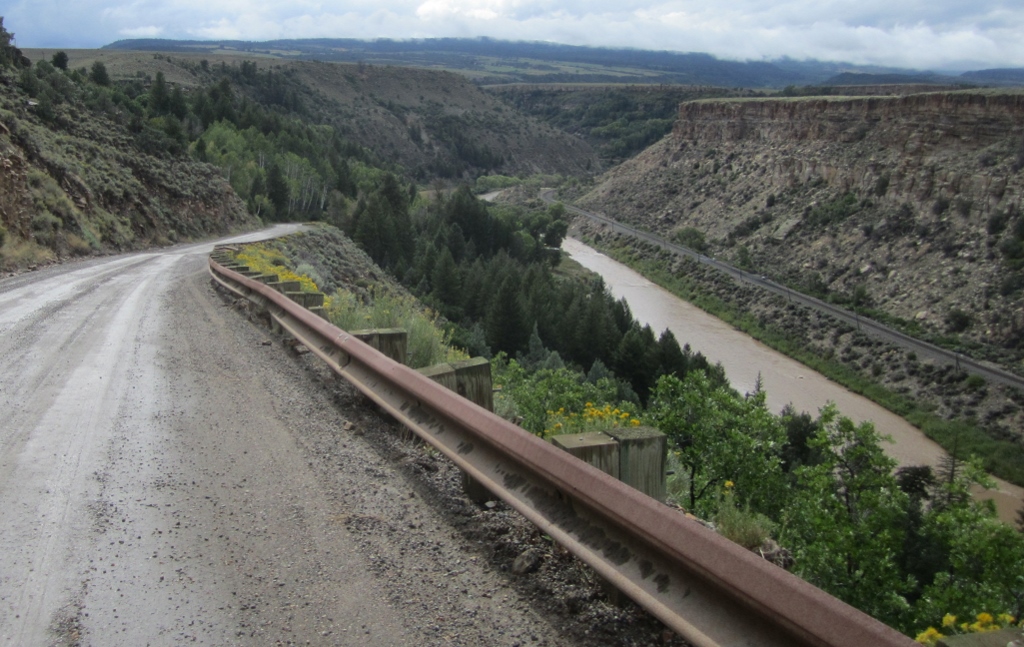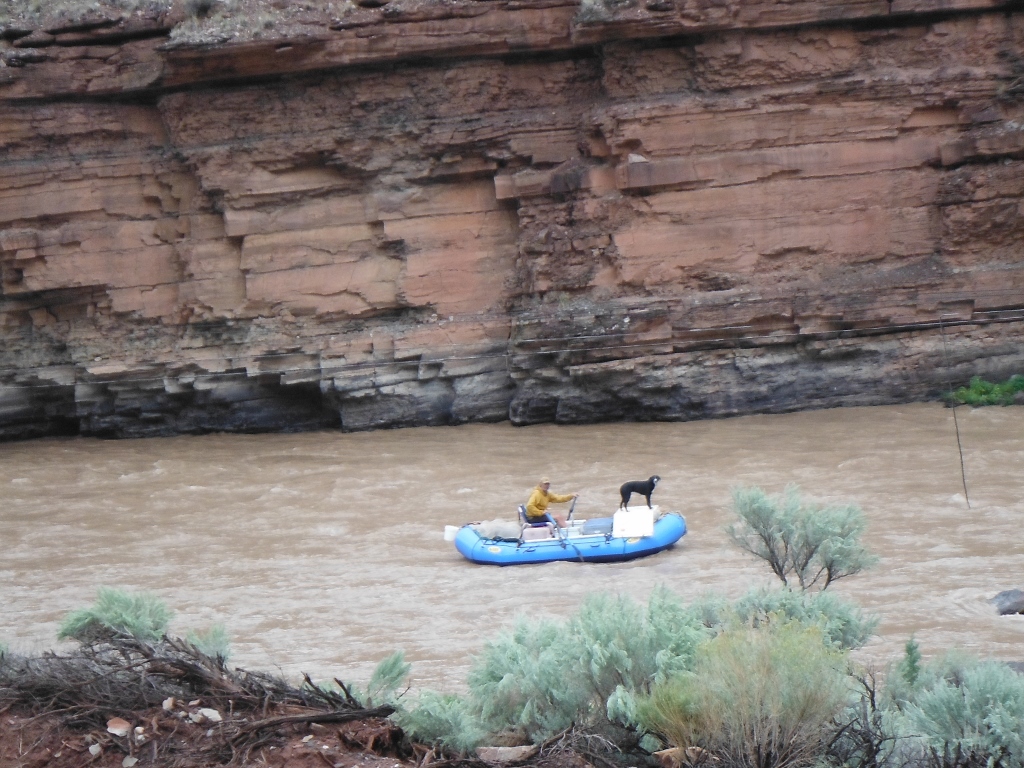 This guy was all alone---------well-------------he had his best friend.
I admired this guy----if something went wrong he had nobody to help him.
He would probably be happy dying on his raft---just as I would on my motorcycle.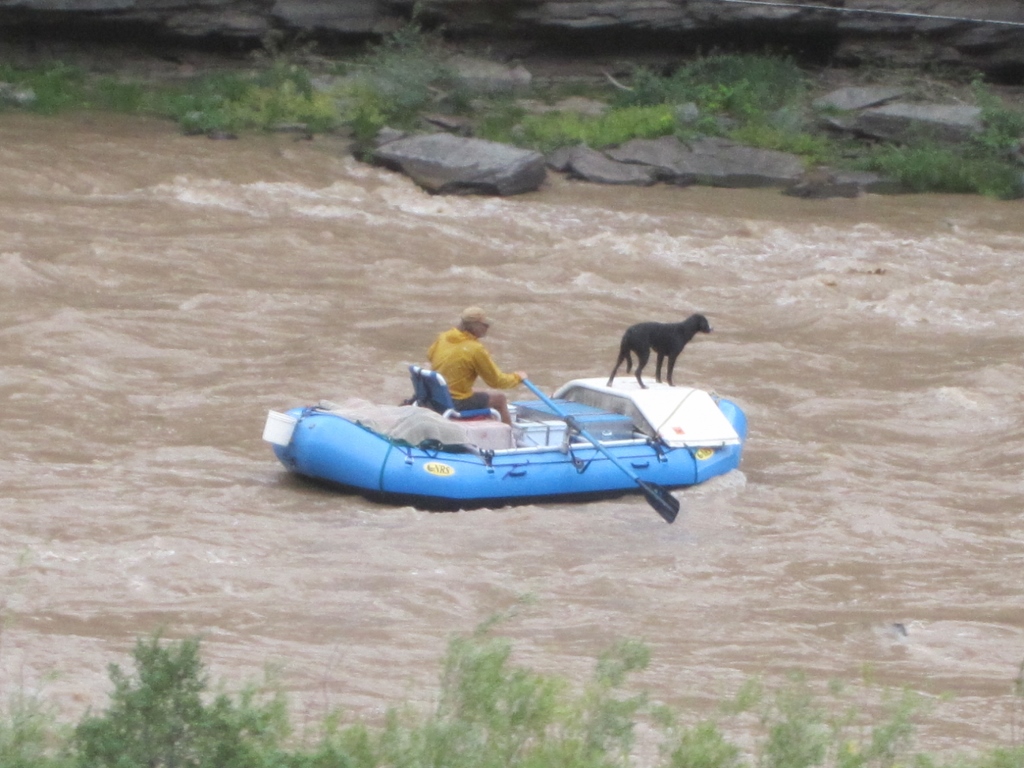 The next few pictures are awesome---but we were there !!!!!!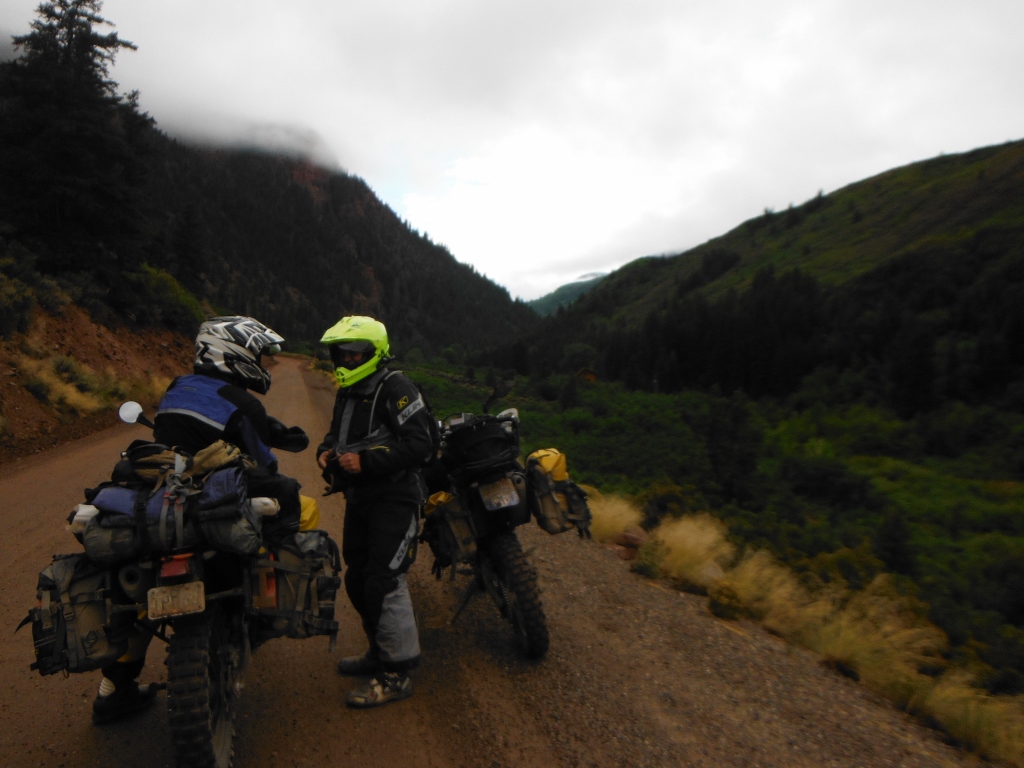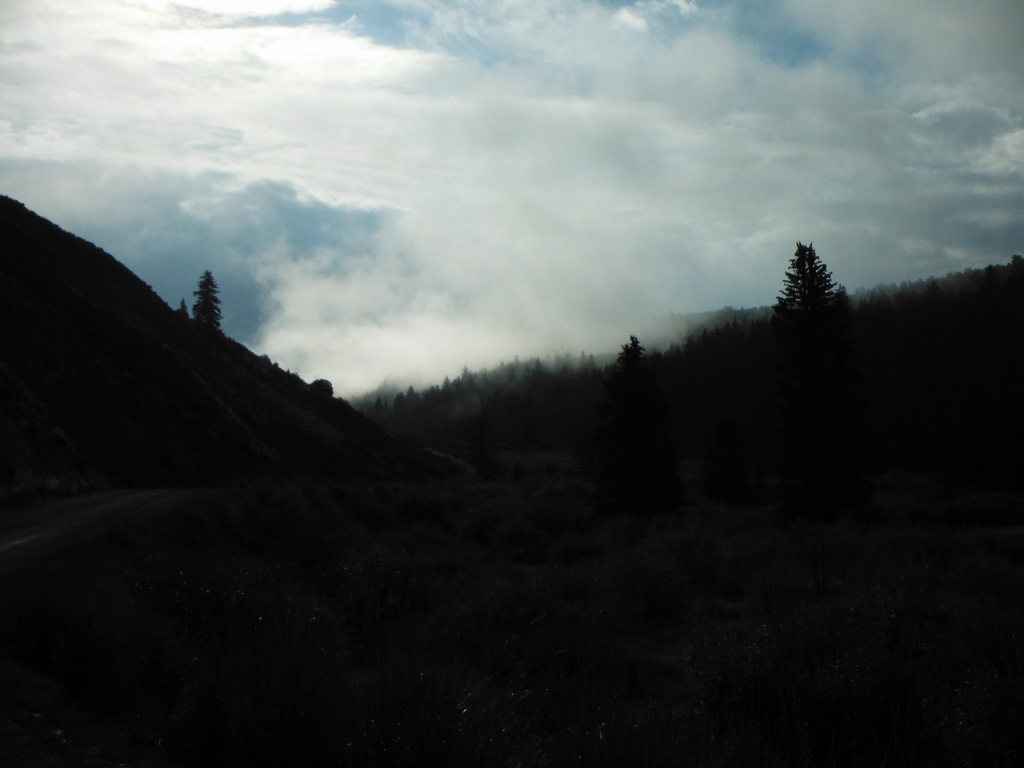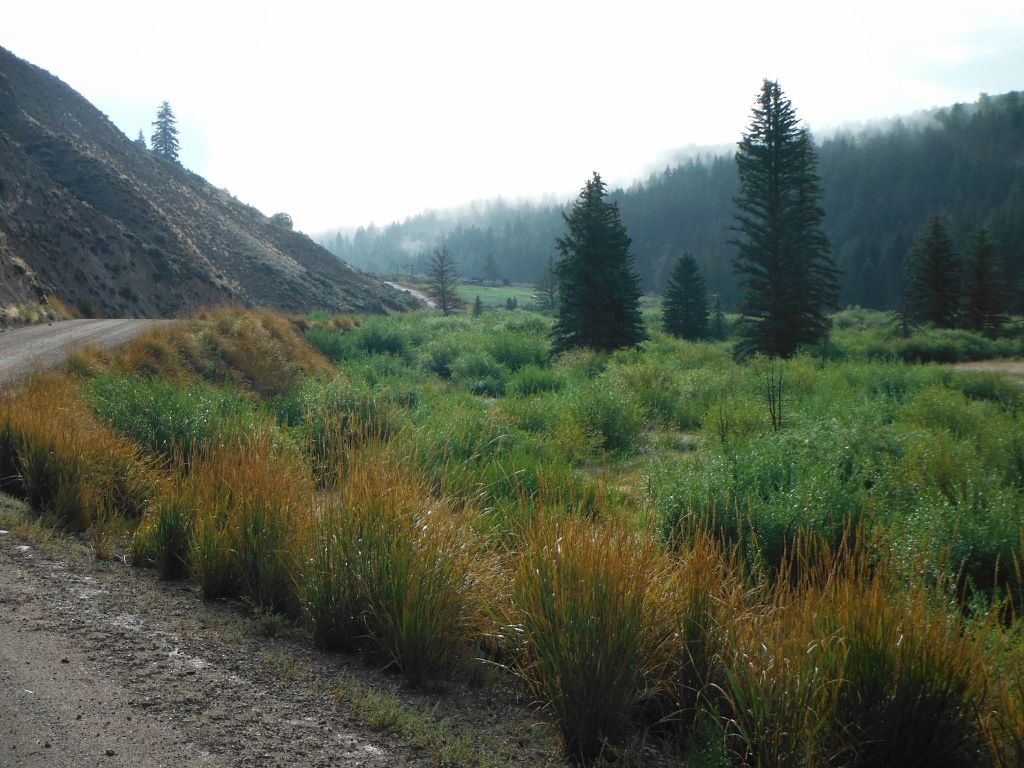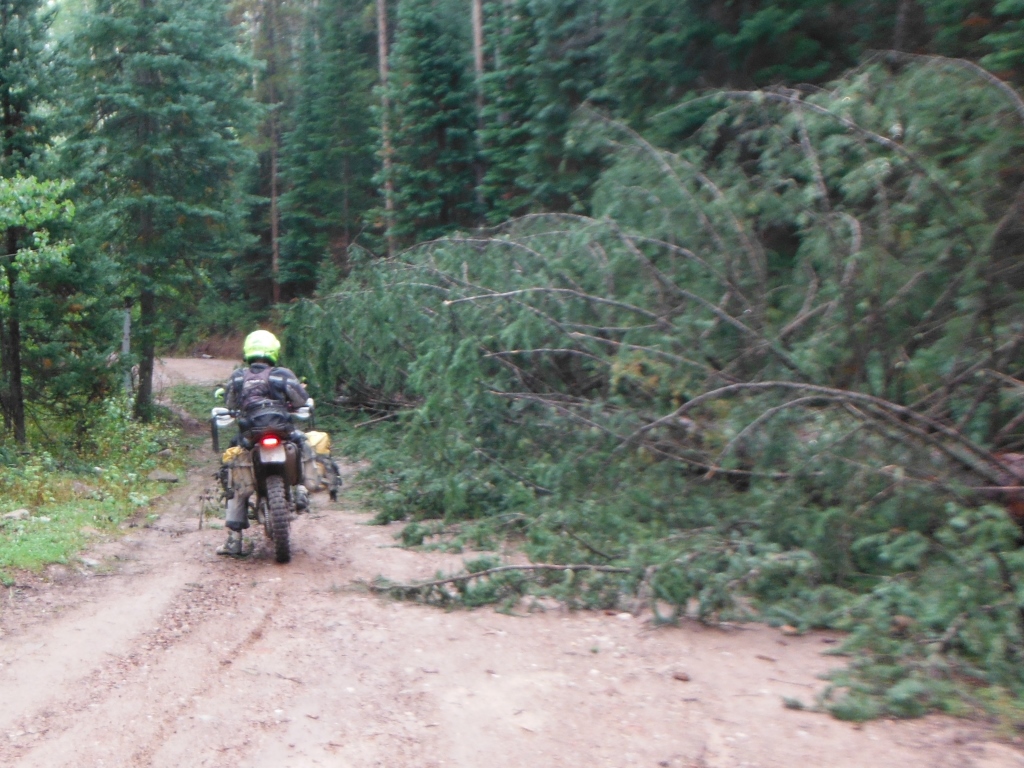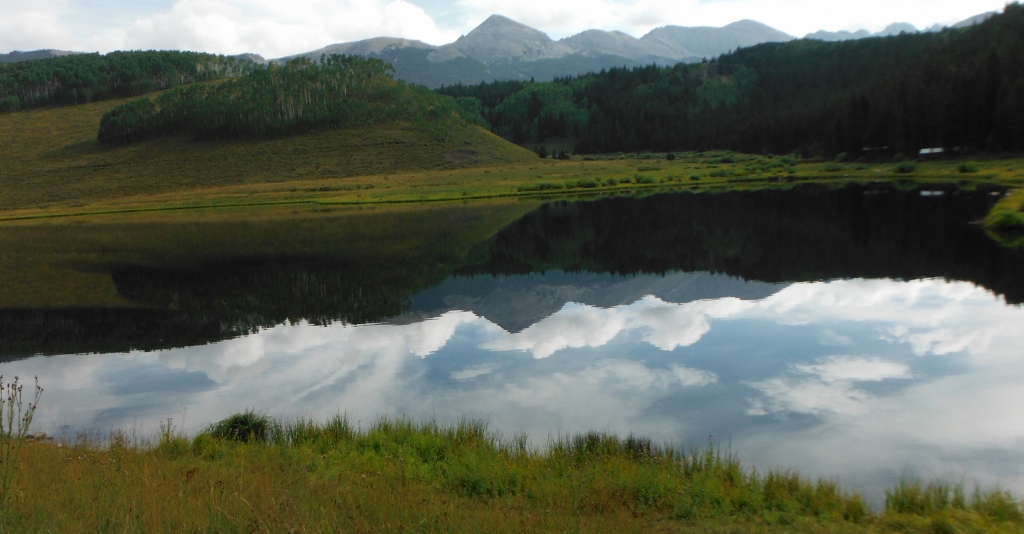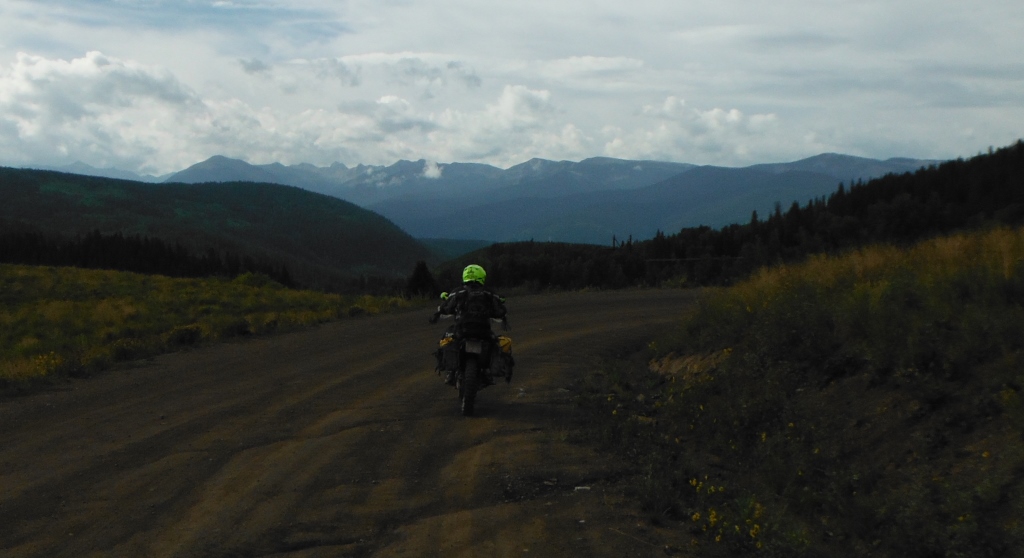 We turned off the main road onto Trail Gulch Road and I asked this guy how the road was over the mountains.
He didn't know as he hadn't went very far down the road---and it looked like it was going to dump on us bigtime.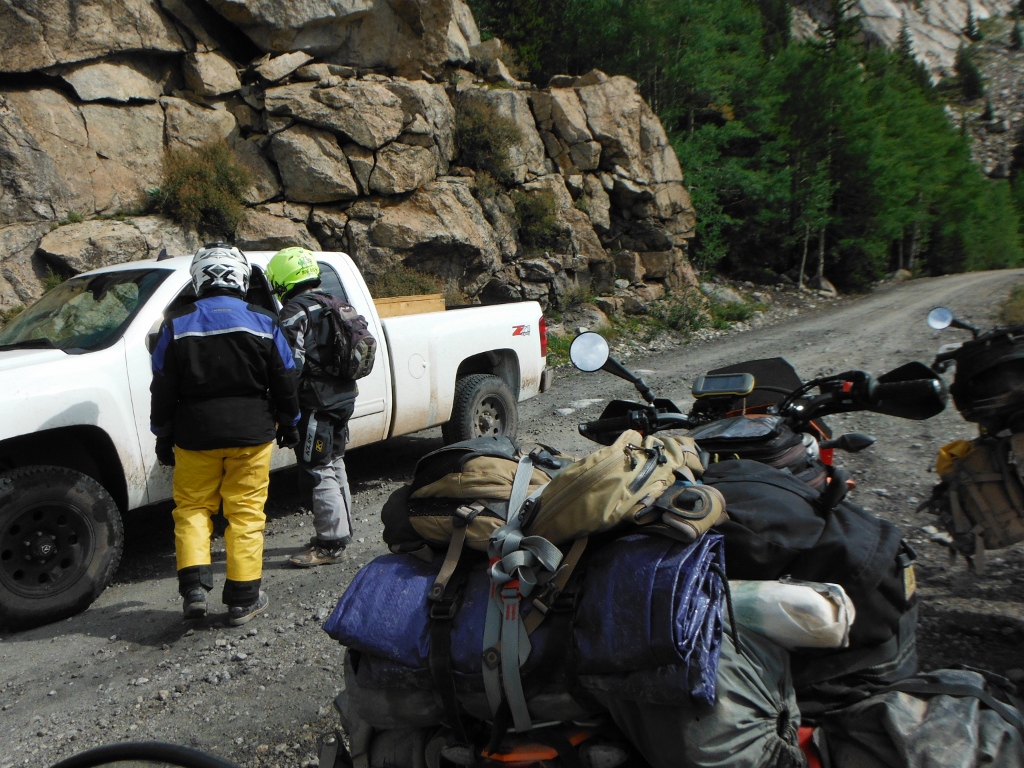 Just after the truck we ran into these guys-------I forget the names---but the guy on the right is riding a 2-wheel drive 950 and the last time
I saw him was in Alaska 2 years ago-----he remembered me--how could you forget an old man who rode a 250 to Alaska with his buddy.
The fellow in front in the yellow helmet told me to turn around. Over the mountain it was the worst mud he'd ever seen and they
had a terrible time getting thru it having to pick up their bikes many times. It was a work out and I'll never forget what he said to me.
"I have nothing left"
I could see it in his eyes and we turned around and took the big easy dirt and gravel road into Eagle
as there was no place to stay in Gypsum.
Eagle was one of those towns so busy and so much traffic I never want to see that place again.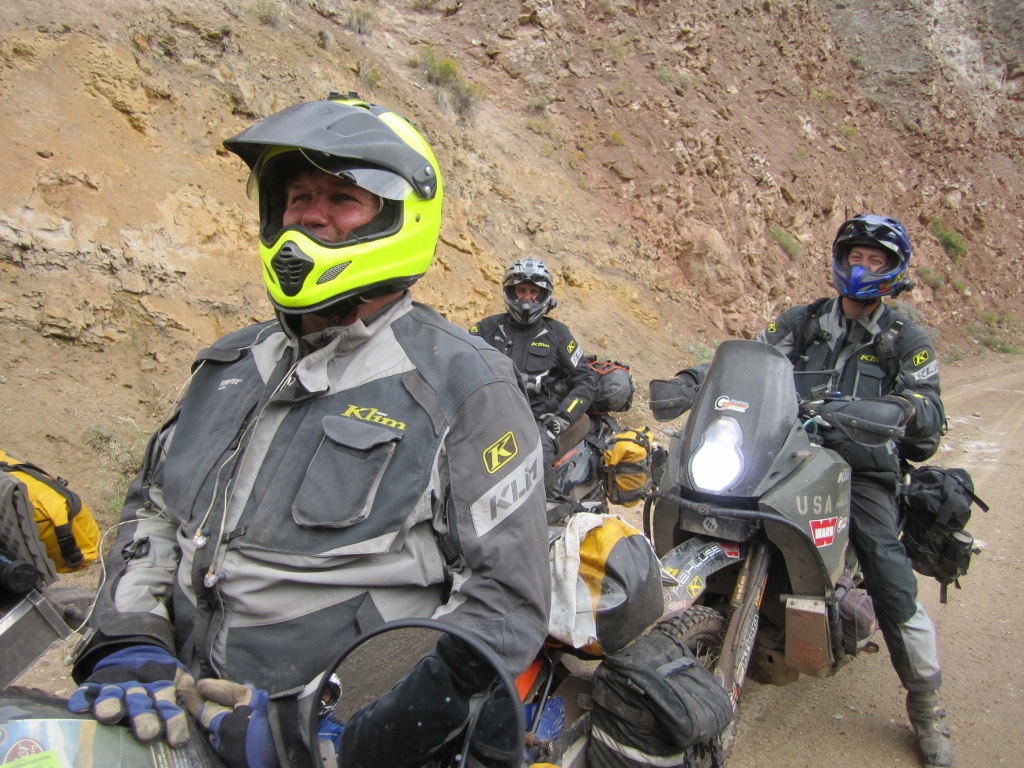 A map of our route today after we turned South at Steamboat.
About 170 miles today.
Day 10, September 10th, 2013
Eagle, Colorado to an extremely old Motel in Pitkin, Colorado.
I've been thru Pitkin many many times-----how did I not see this old Motel ????
I was going to fast on a bike with more horsepower than anybody needs----------that's how.
Man-----I've missed a bunch of stuff in my life doing that.
Up early we headed West out of Eagle Colorado to Gypsum and turned South and then Southeast
on a nice dirt road. I remember going past beautiful Slyvan Lake on the way.
Me and Dingweeds had been thru here before looking for the Fulford Cave----which we never got to see because the bats
in there were a protected species.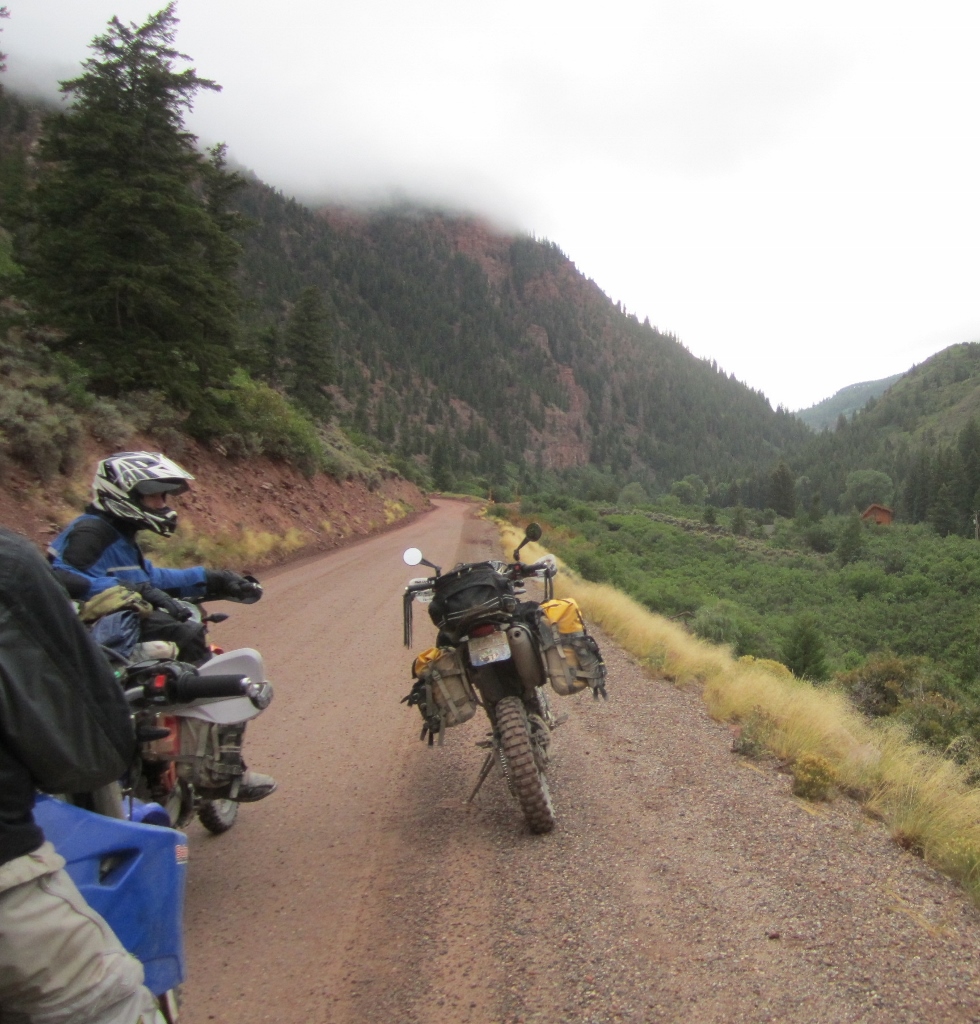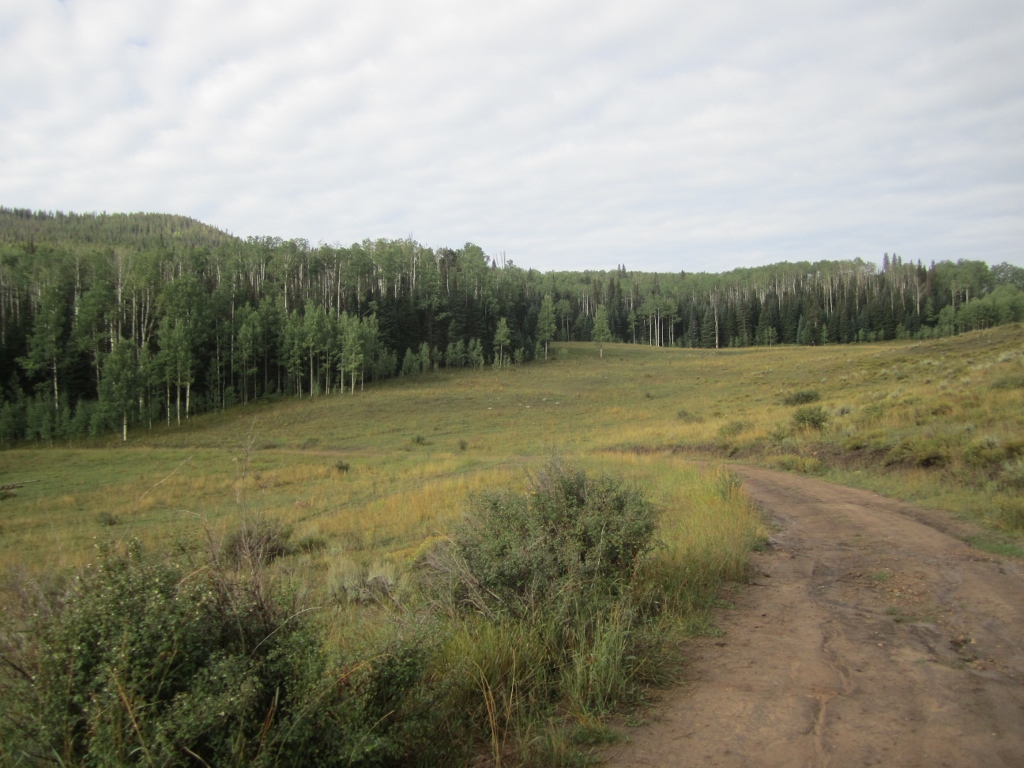 The dirt roads finally interstected the Hagerman Pass road.
The last time I rode thru here I was by myself on my carbed 950 and it had a hard time up here as
the altitude about made it choke. But the fuel injected WR250R made it easy.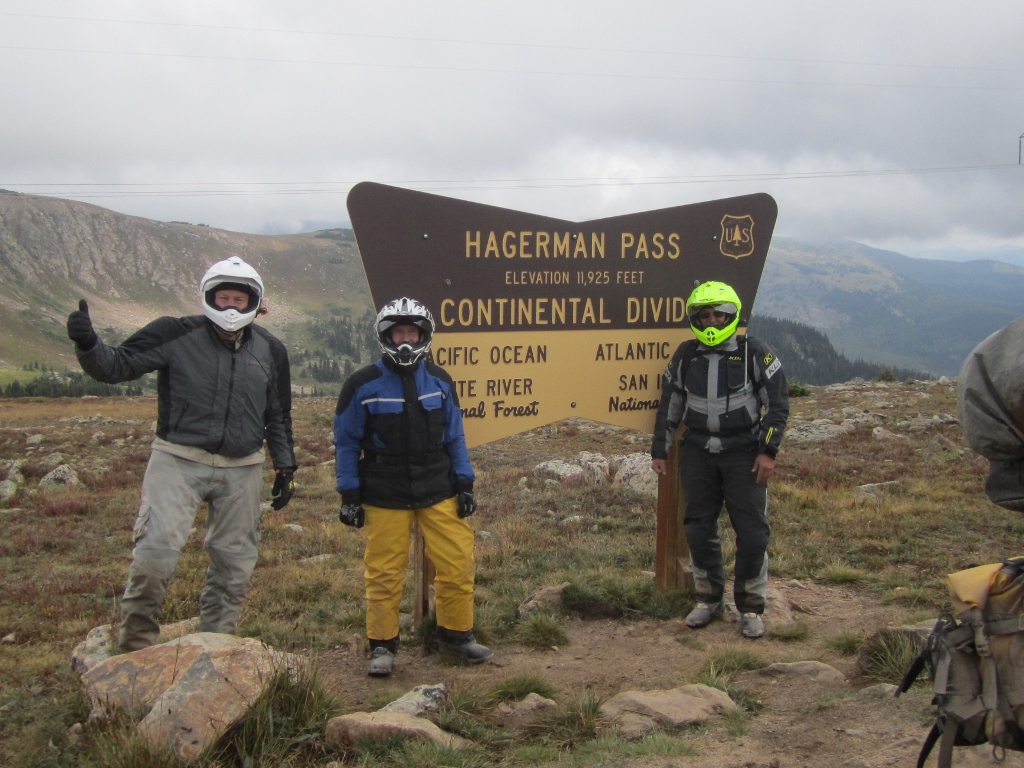 Again-----me and Dingweeds had ate here before in Leadville----but the food was astounding and we stopped again.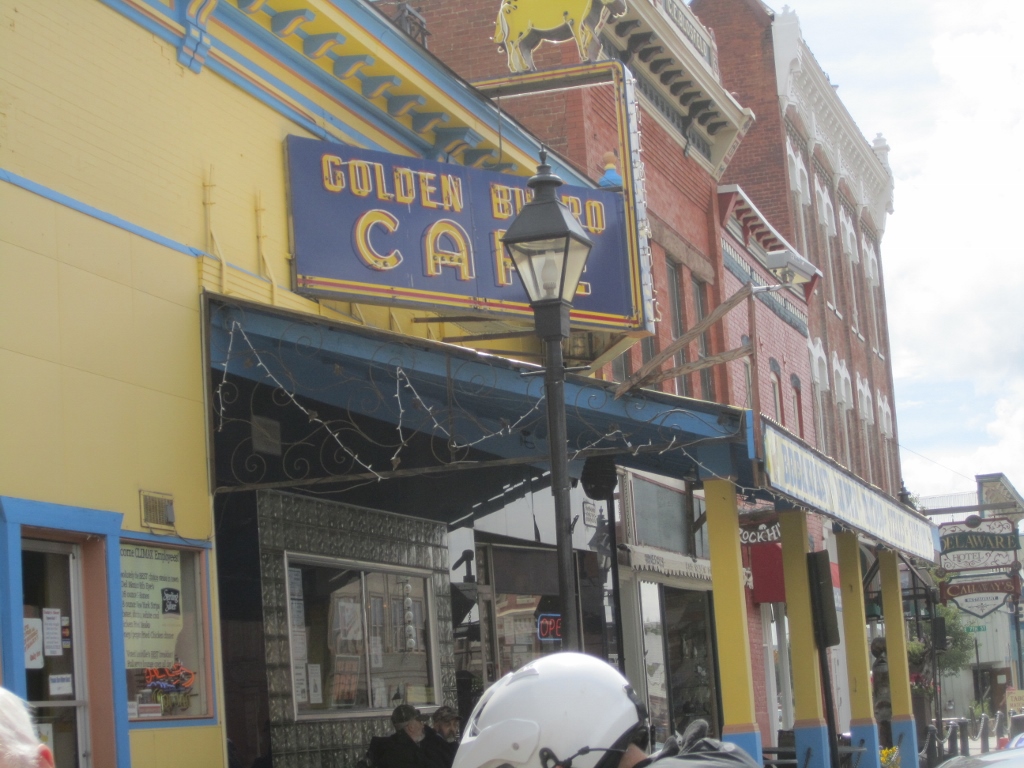 North of Beuna Vista we ran into more riders who told us not to follow the route Northeast of there as the
mud was impassable--------we rode the pavement to Buena Vista and found the old railroad tunnesls just Northeast of town.
I think there were a total of 4 tunnels-------all right in a row----pretty unusual.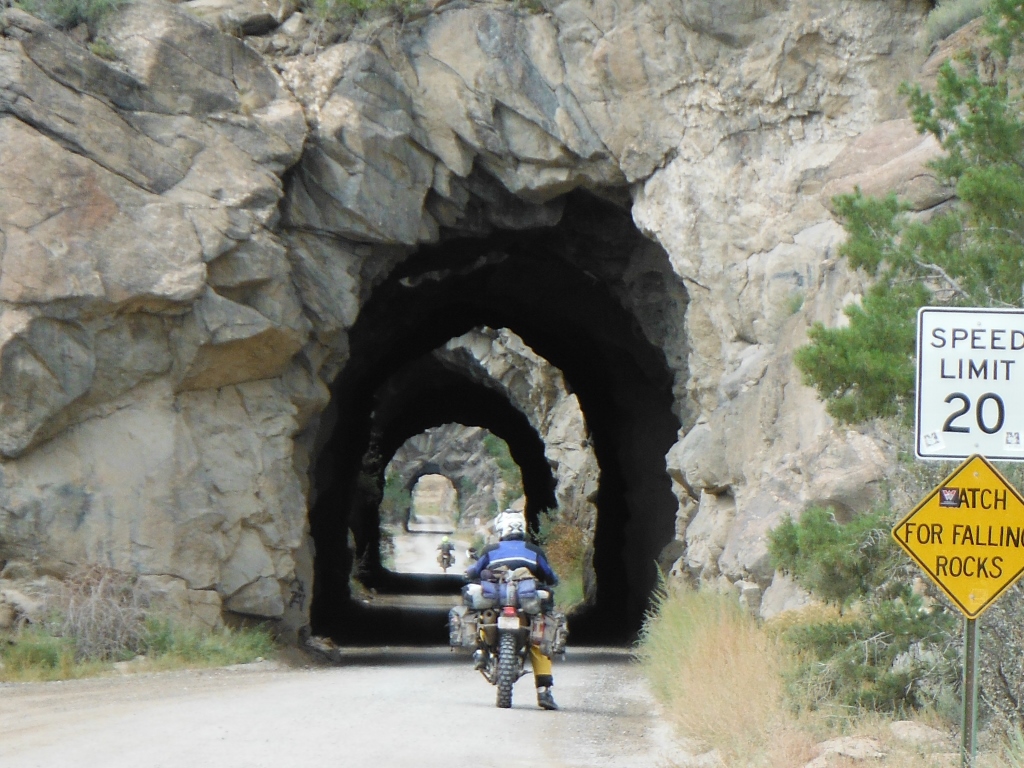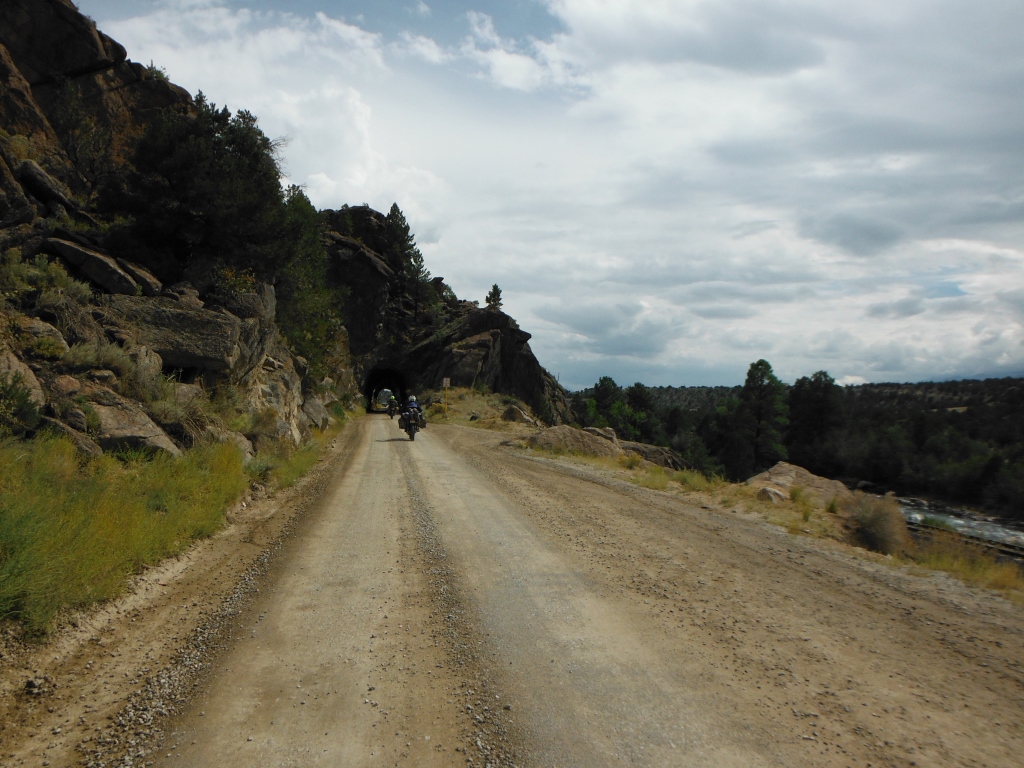 From Buena Vista we headed straight West over Cottonwood Pass.
The West side of the pass was unpaved and it brought back memories of years ago when I rode my full suspension mountain bicycle down
the pass------it was 12 miles of high speed no pedaling-----being very brave with the brakes.
I beat my buddies down the pass by about 20 minutes as they tried to pace me in my pickup truck-----it was a hoot.
I think I went faster than I could have on a motorcycle.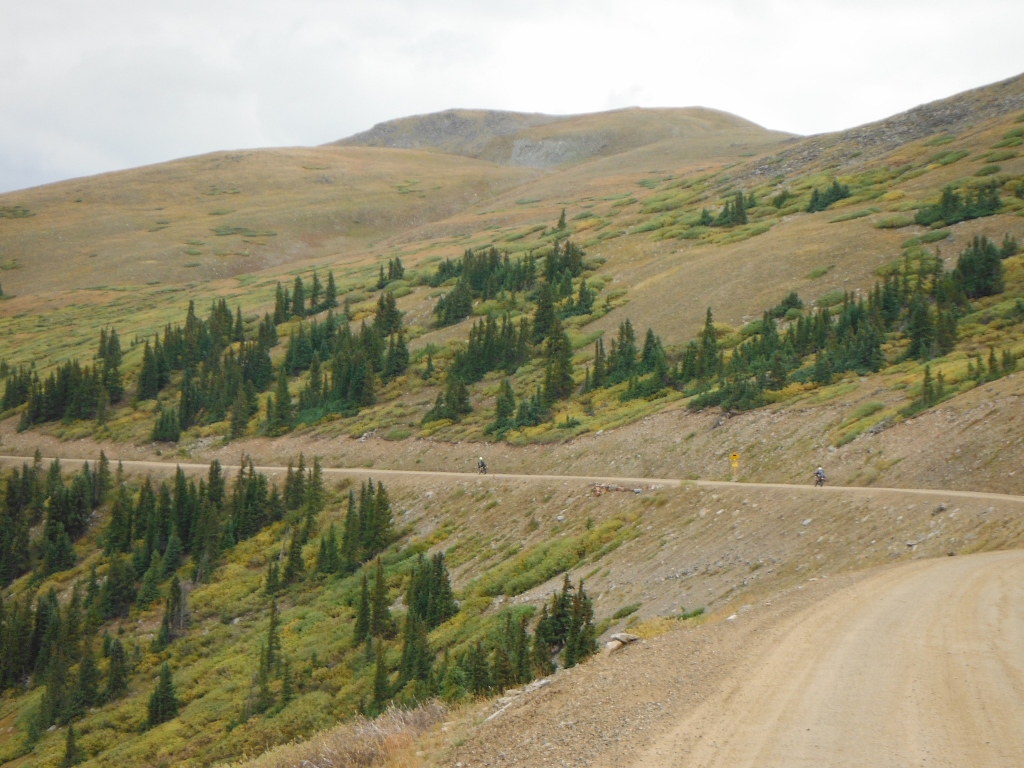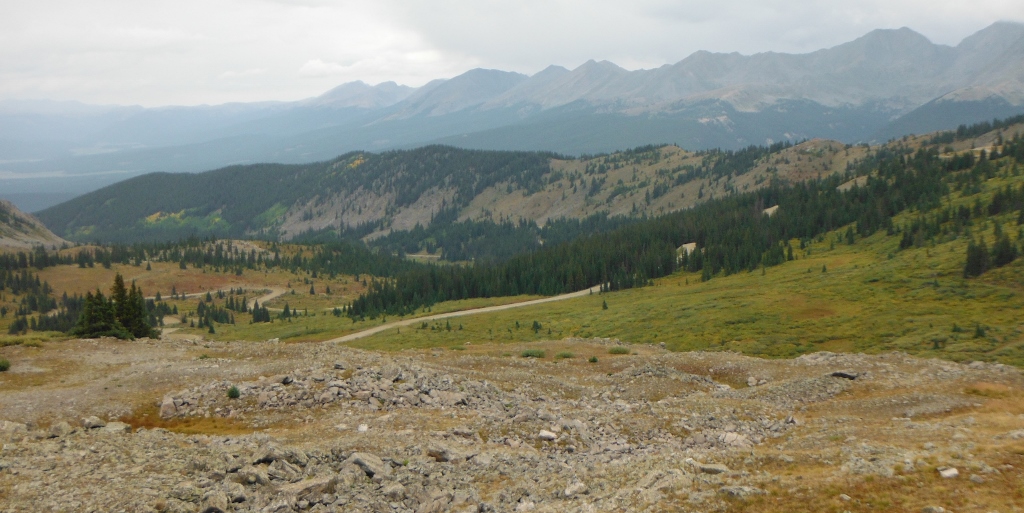 Getting close to Taylor Park and Taylor reservoir the route went down miles of a 2 track dirt road that I don't think
I've ever been on------it was a hoot------and we came to this.
I haven't a clue how deep the middle was---but I found an easy spot and took it---and Bud and Dingweed followed my lead.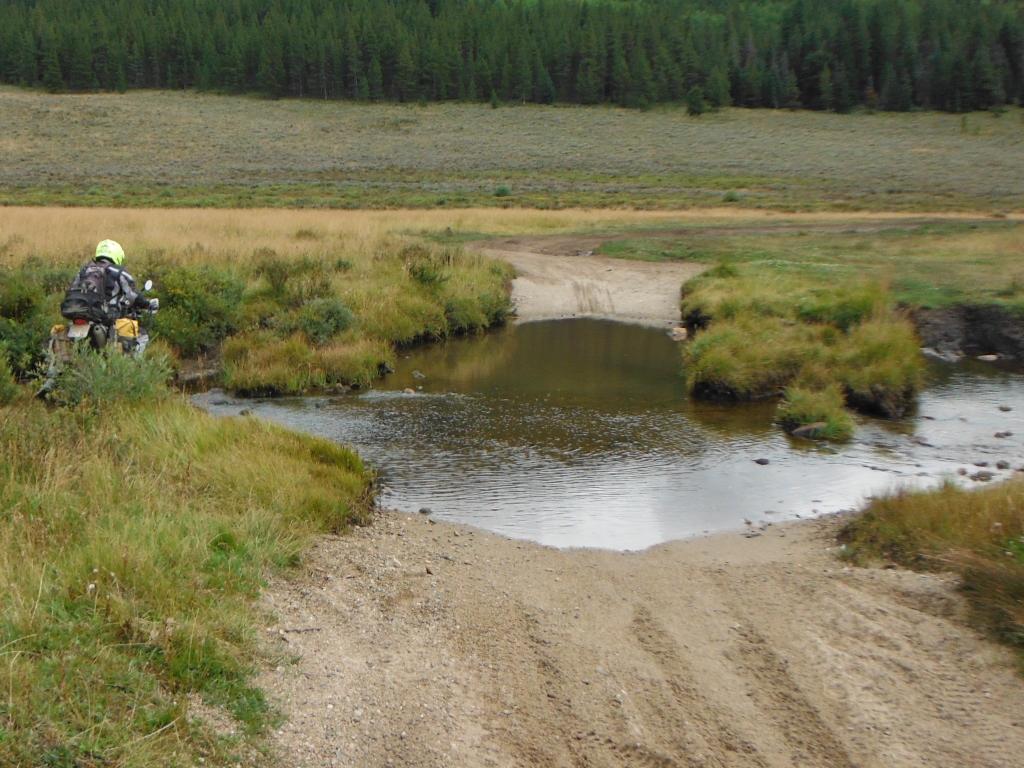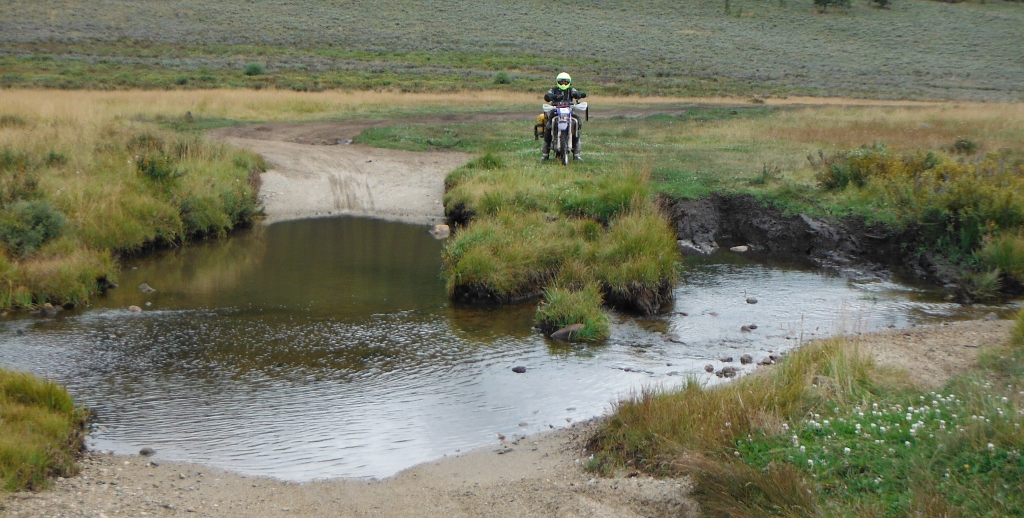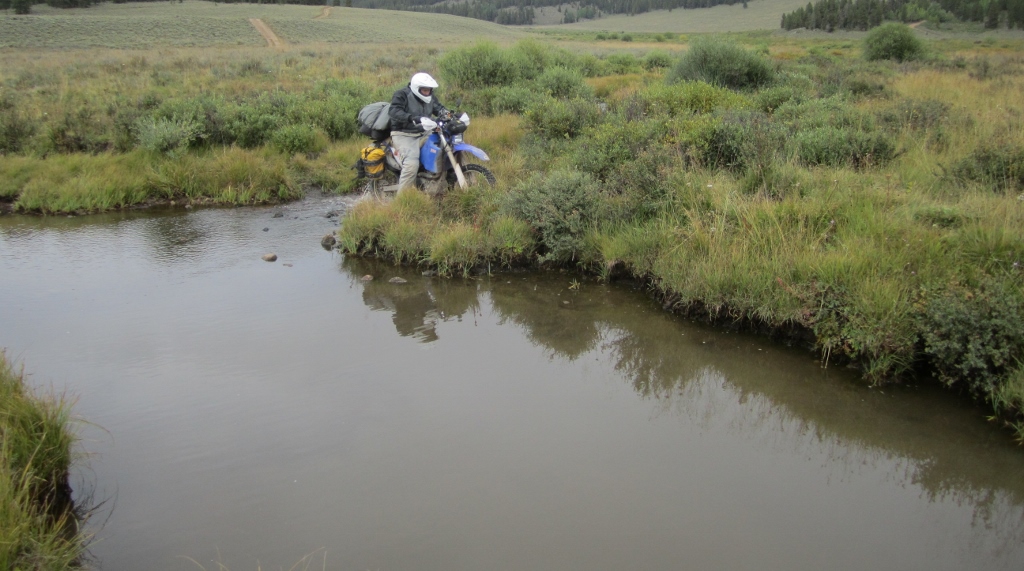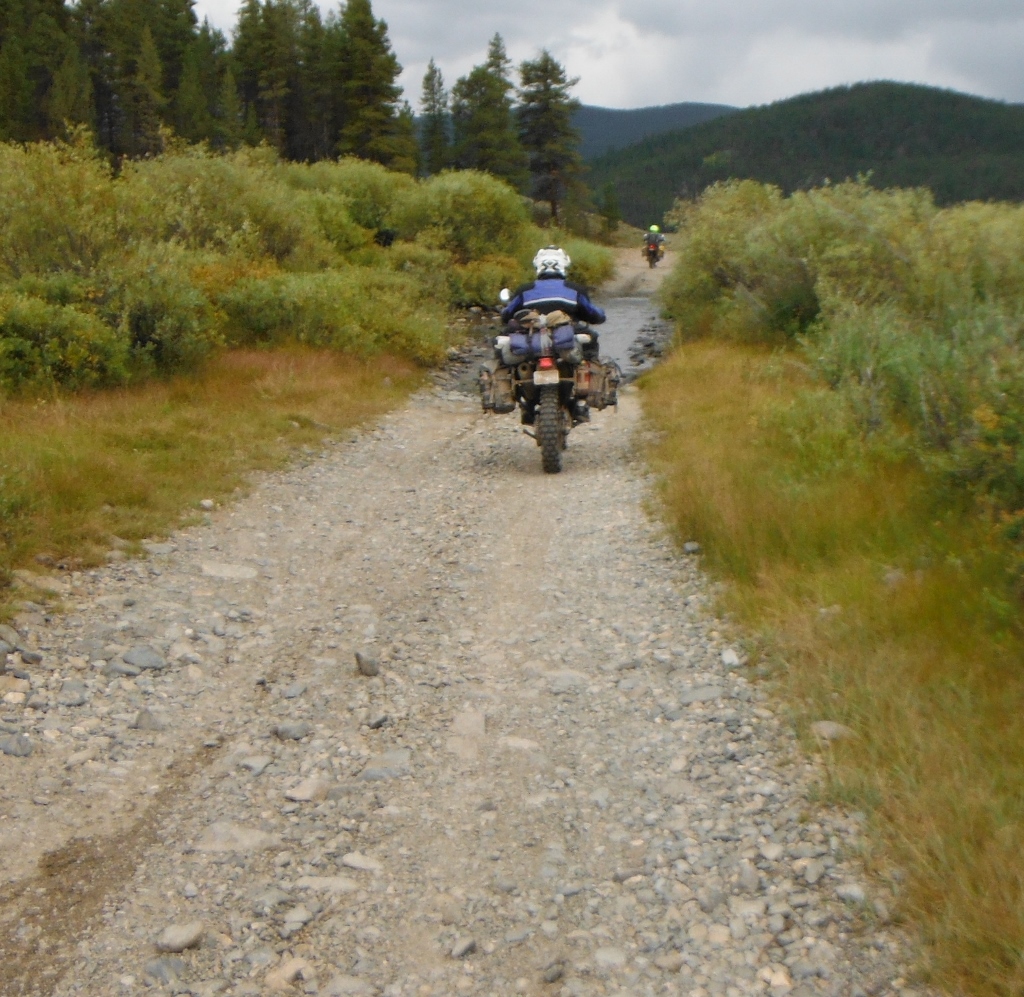 The old gold mining community of TinCup deserves a stop if you ever are in the area.
We got to Pitkin and gassed up at the llittle store and got a few snacks and were looking for a campground or lodging.
It was raining and the gal pointed us in the direction of the old Pitkin Hotel.
I can't believe I've never seen this place-----I've been thru here a lot and just don't remember it.
It was built in the 1800's and here is the downstairs---all the rooms were upstaris.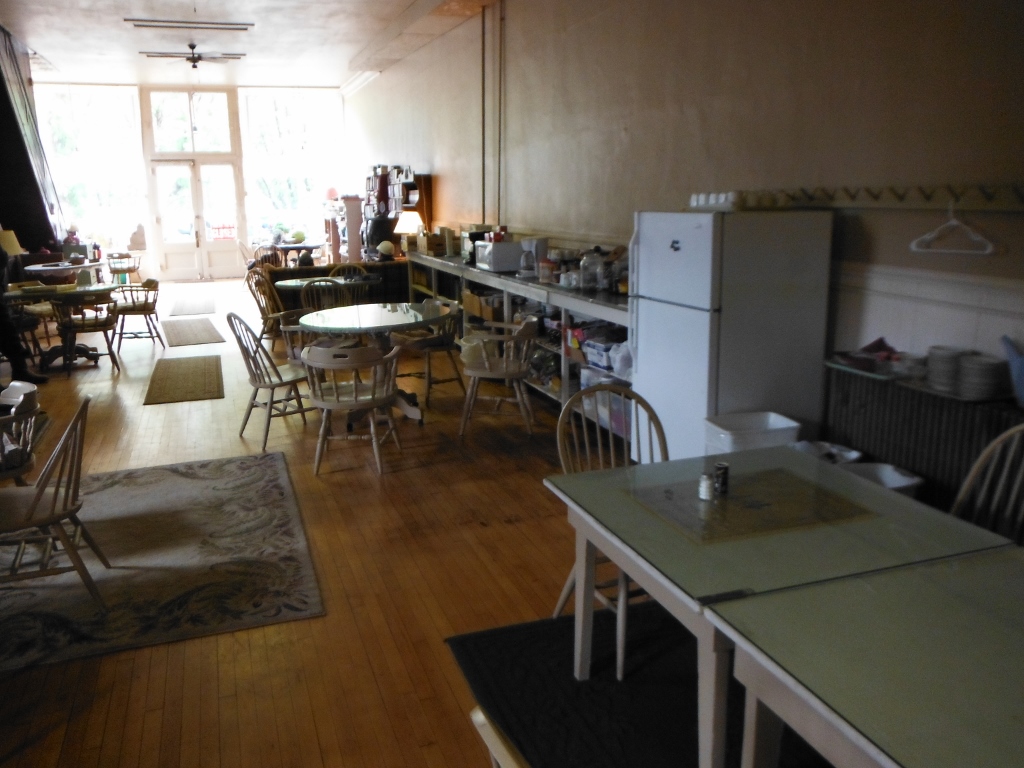 NIce gathering place downstairs with a full commercial kitchen and woodstove for heat.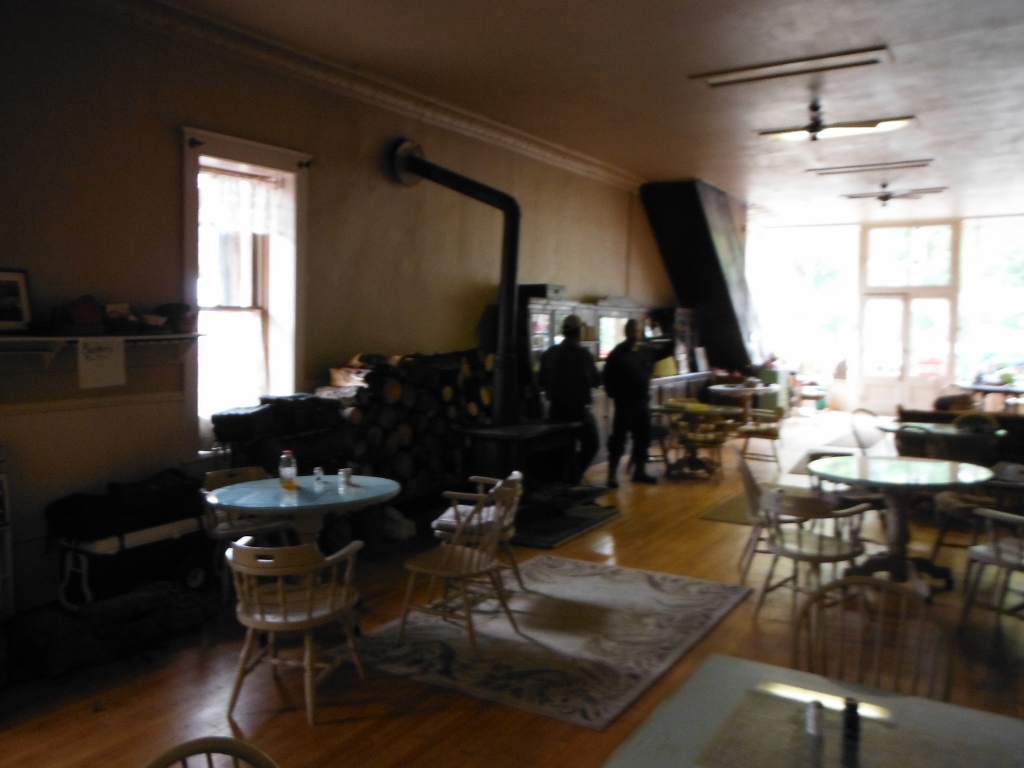 This fellow was carving a boat out of a piece of Aspen and had done most of what you see in here in a couple hours.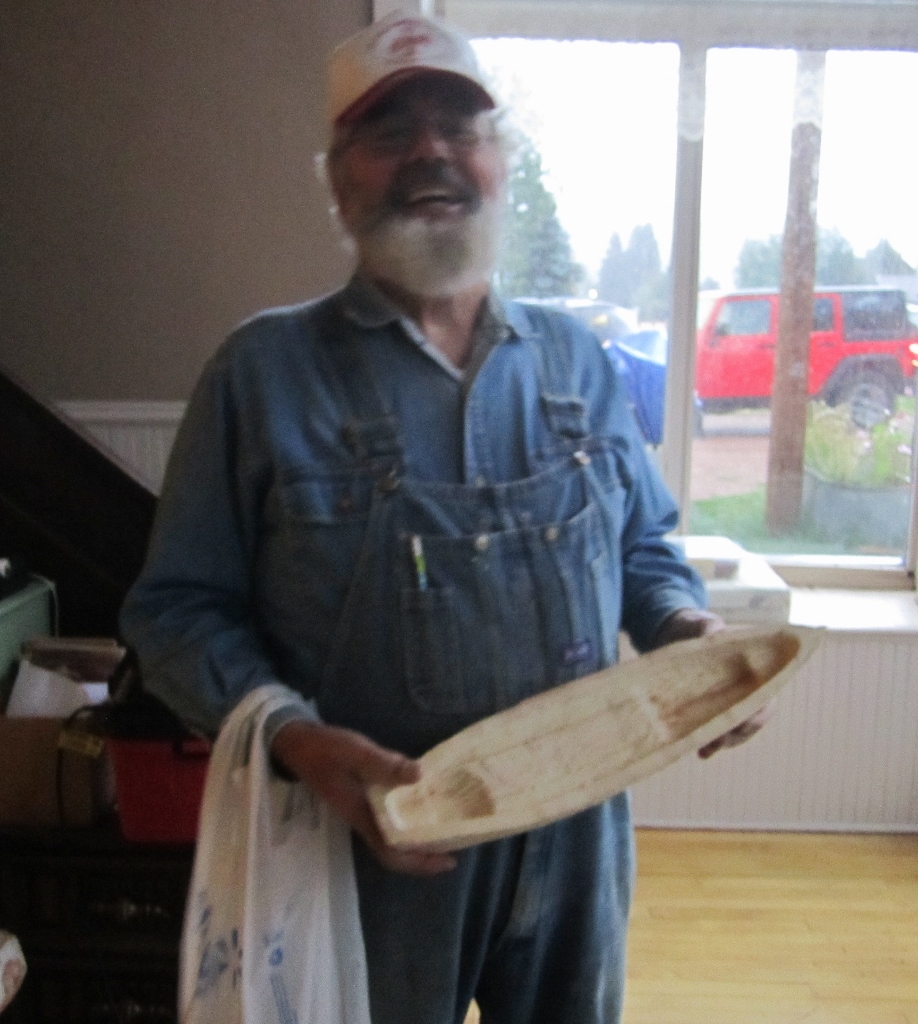 This lady owns the place---meet Joann-----she is a sweetheart.
We talked for at least 2 hours.
When she talked -------------I listened.
I had no stories that were as interesting as hers.
Man she had lead a long wonderful life and was as happy as could be.
She doesn't winter here anymore and the place is for sale.
She's had good offers but has turned them down after finding out the buyer was "right" to own this place.
She told me she was waiting for the right buyer to keep the tradition the of the place the same.
She insisted I sign her guest book and I was honored.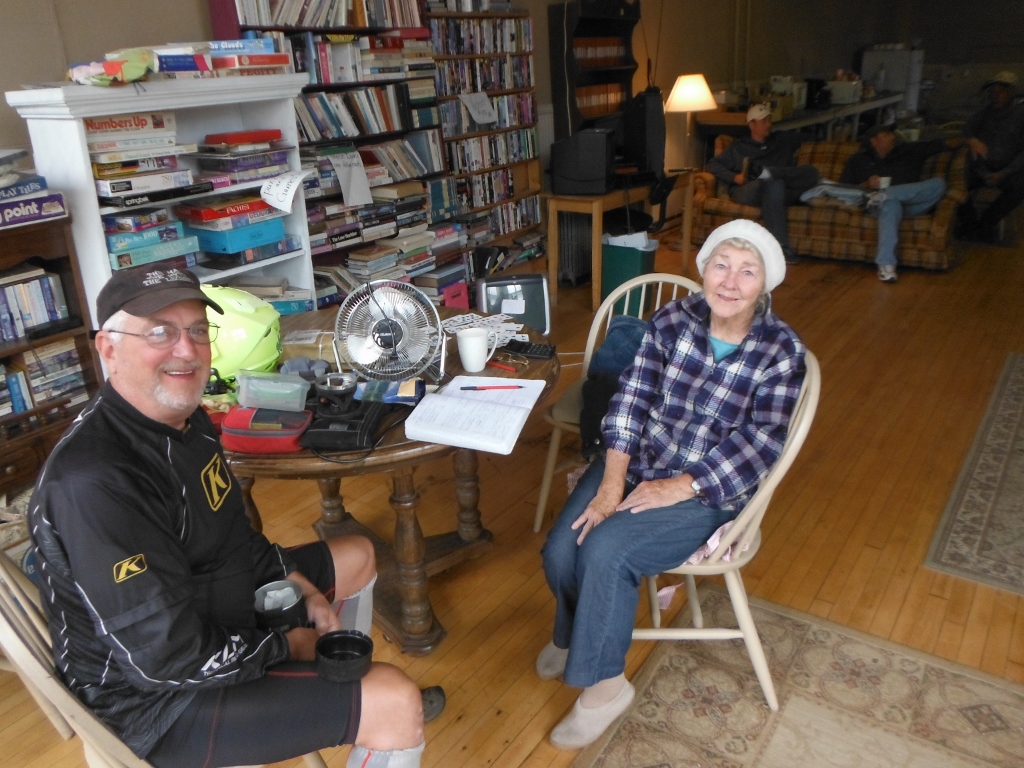 I think she was in her 80's and her mind was a lot sharper than mine is.
She had this twinkle in her eye and pretty much told me her life story and all the history of the Motel.
She used to run this by herself---do everything including the cooking----but had to give up a lot of those duties as the years past.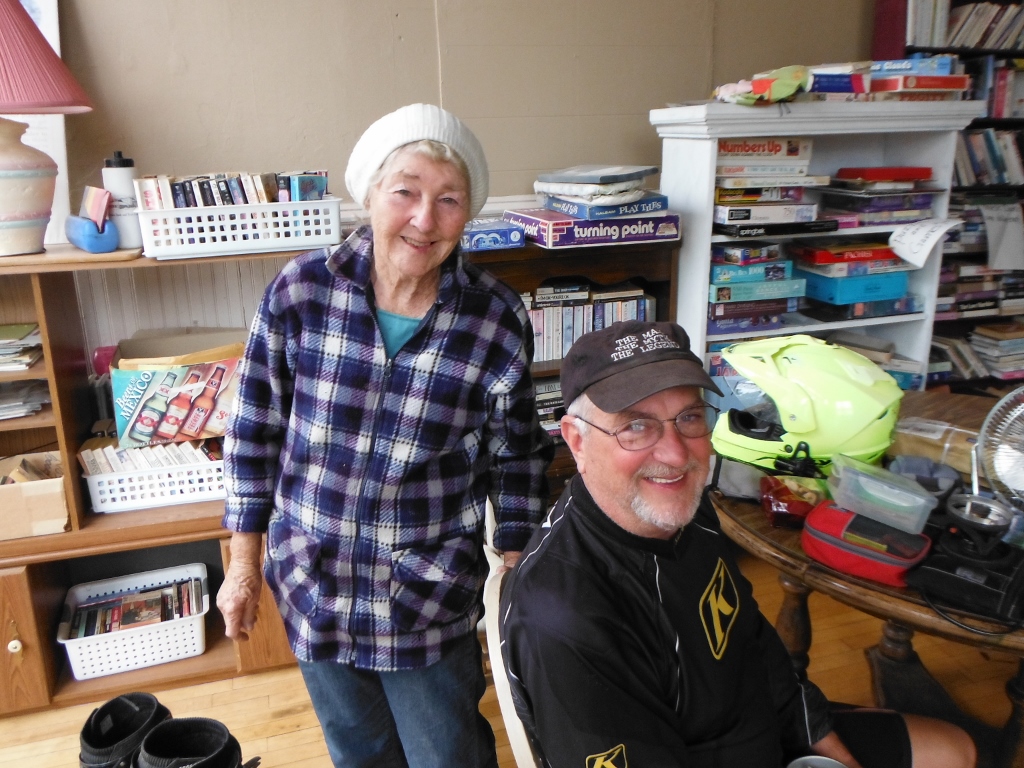 So then se asks us if we are hungry---------well..................yeh.
And waited on us hand a foot serving us homeade stew.
She don't normally feed anybody here---but did us.
We did help here as much as we could and cleaned up our mess and washed our dishes.
JoAnn is one of those people I'll never forget.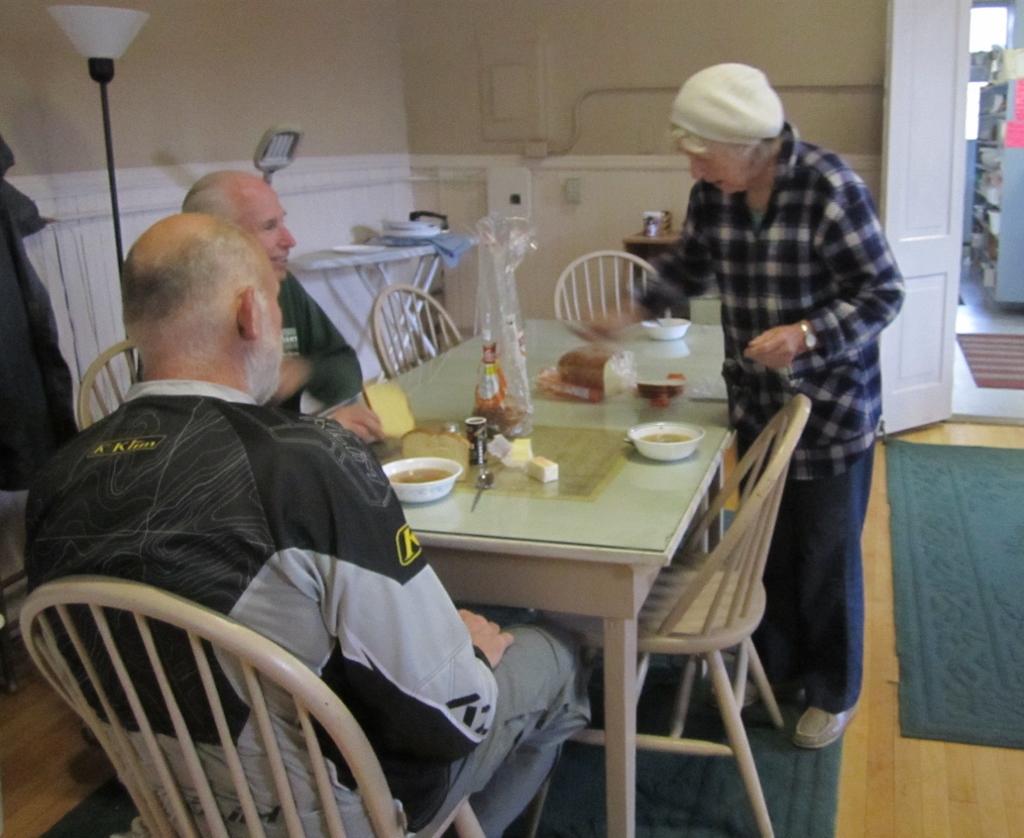 $20 per person got us a nice room with a woodstove and nice comfy bed upstairs.
Here's the hallway-------all people were skinny back then.
You can rent a room or the whole hotel if you want.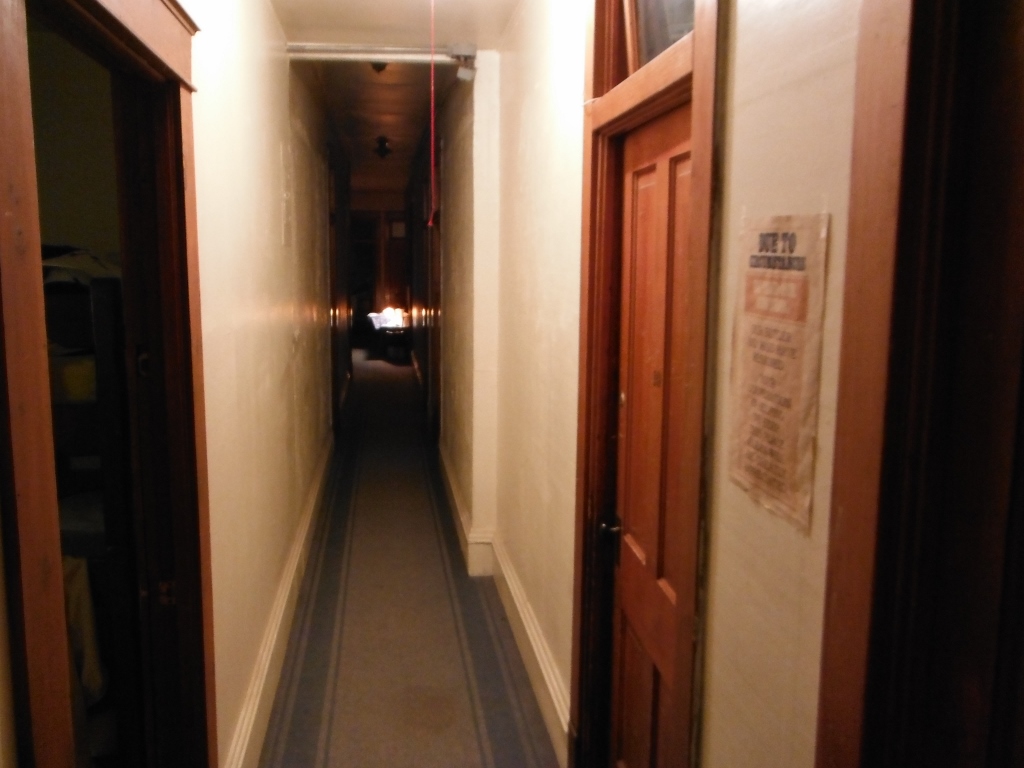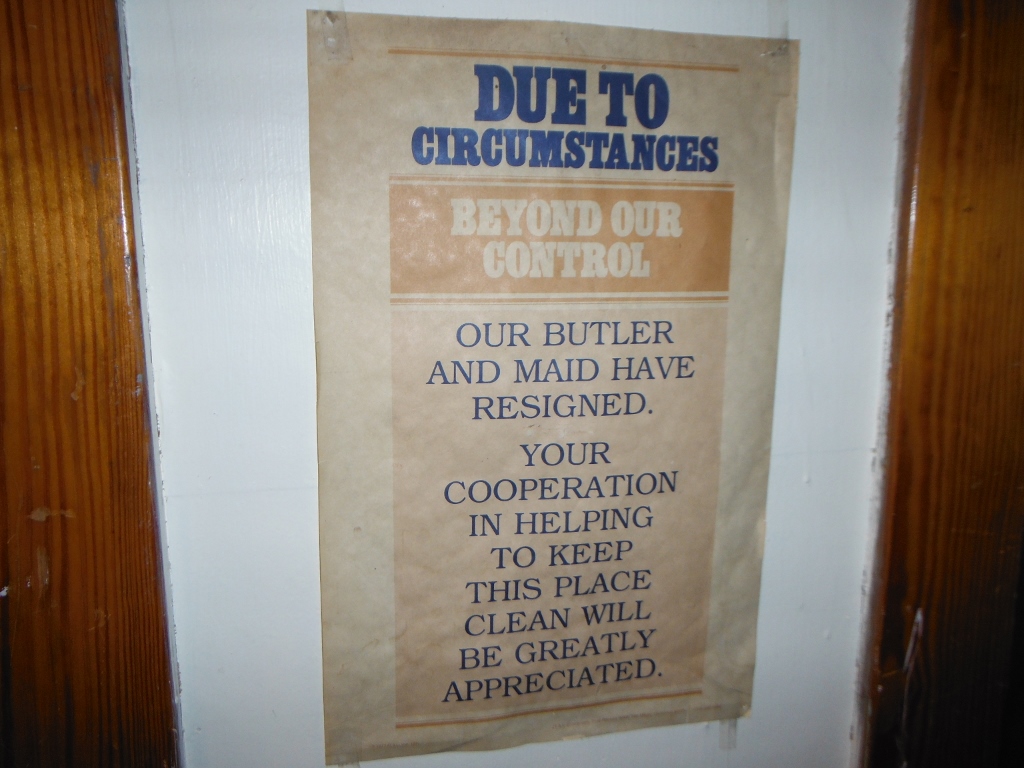 Are cosy room and plenty of beds for us 3 and more.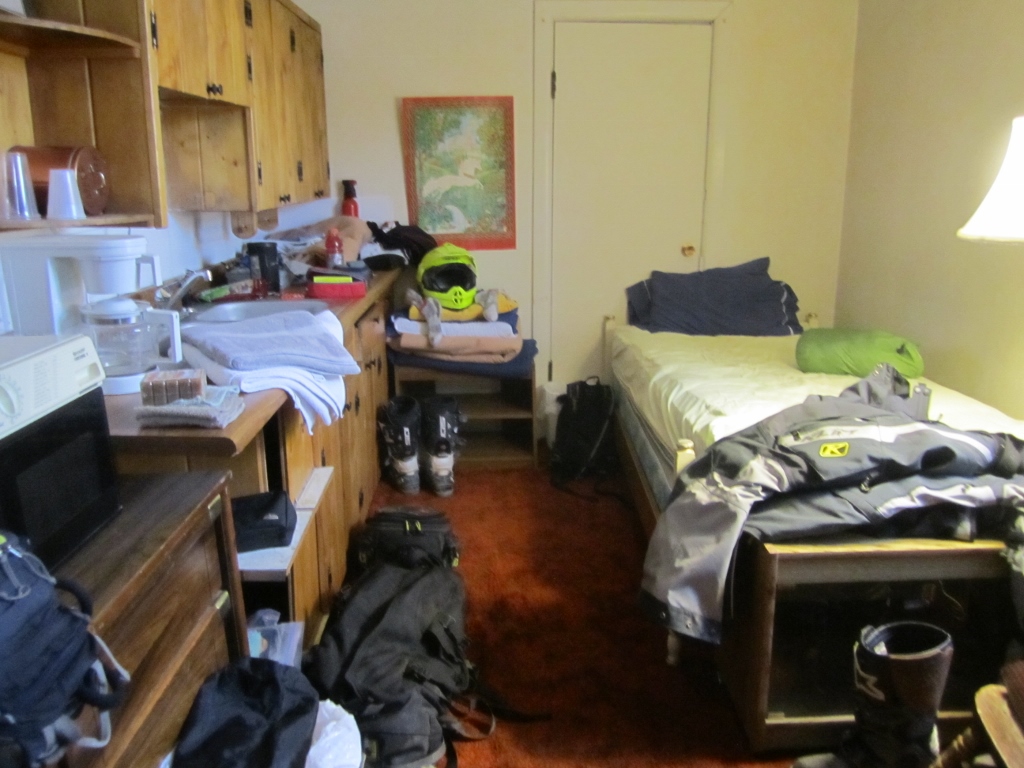 She carried a bucket of wood and kindlin' up the long steep stairs and left if for us.
She was going to light the stove and I had to talk her out of it as it was plenty warm.
We all got a shower and the next morning we all cleaned the room up---made the beds and folded all the cover real nice
and I went down stairs and told her that she didn't need to do anything to the room as we had taken care of everything.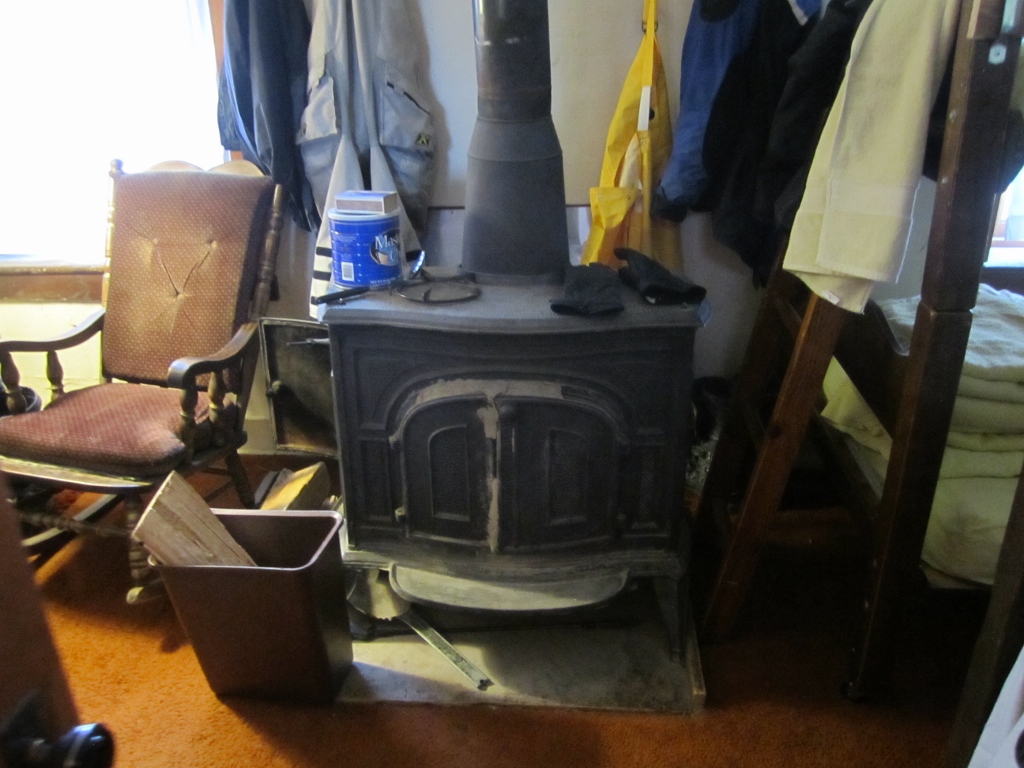 A rough map of our ride today-------about 164 miles.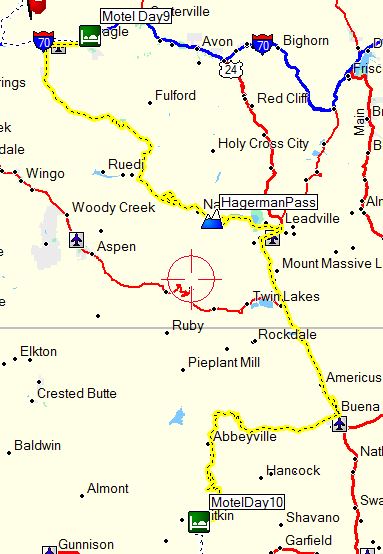 Day 11 September 11th, 2013
Pitkin to Campground Southwest of Telluride, Colorado
It was hard to leave the old Motel in Pitkin.
It had rained most of the night and there would be no dust today.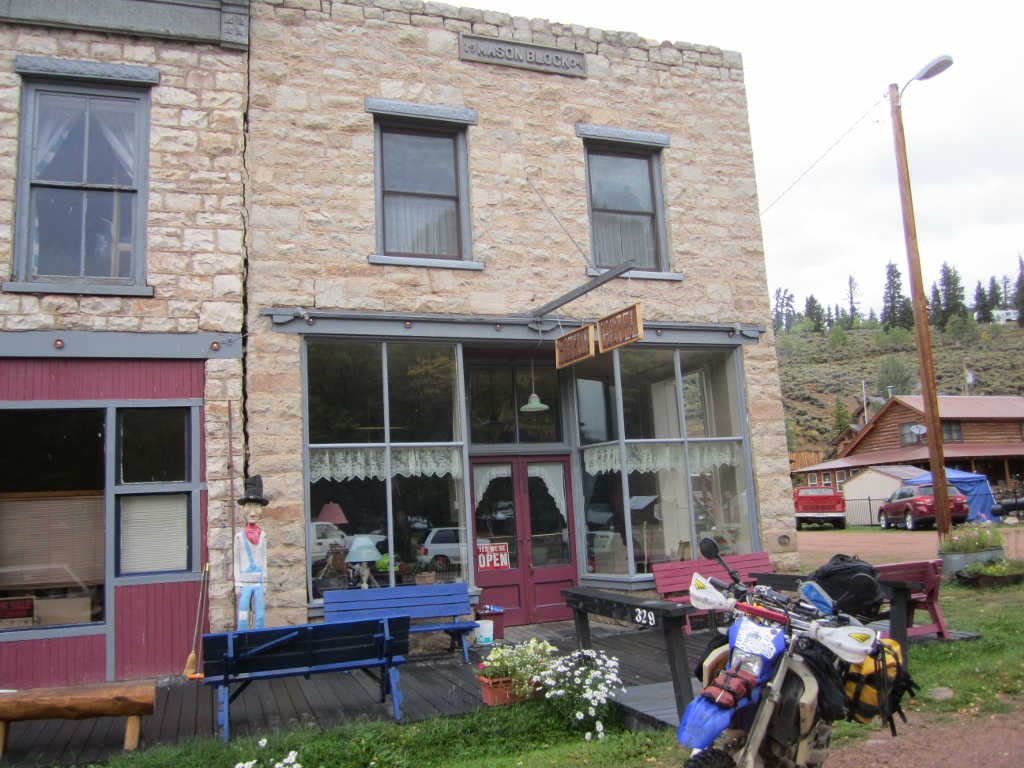 The stone on the Motel says the building was built in 1904.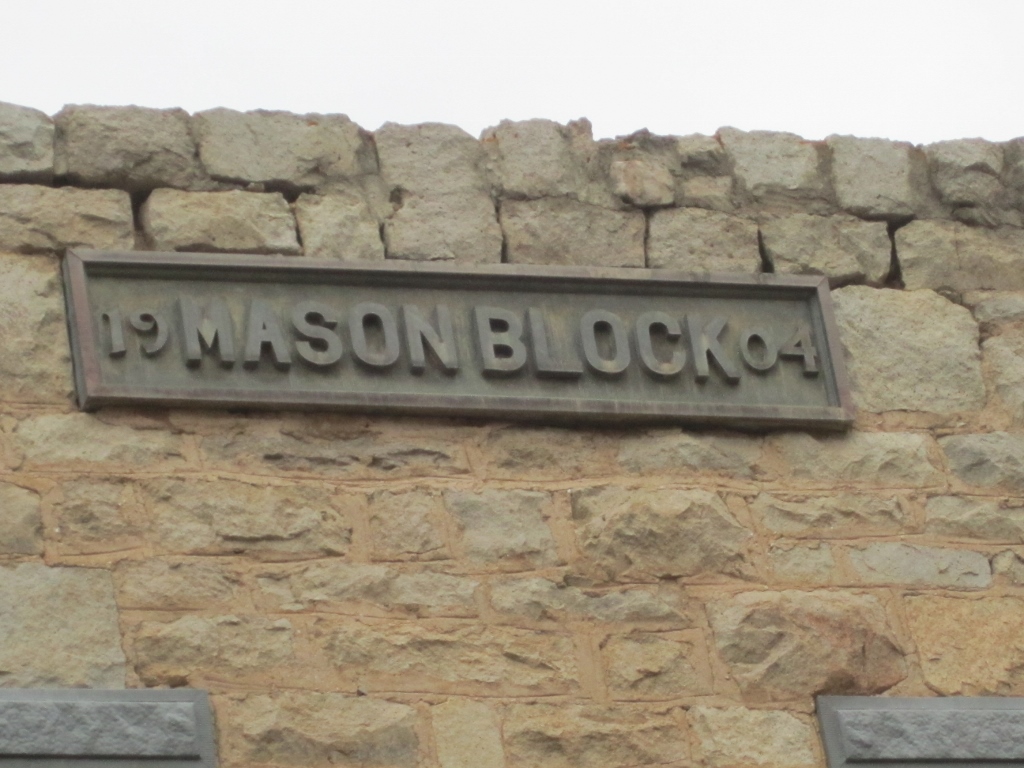 We head South out of town on a cloudy day and you can see the for sale sign to the right.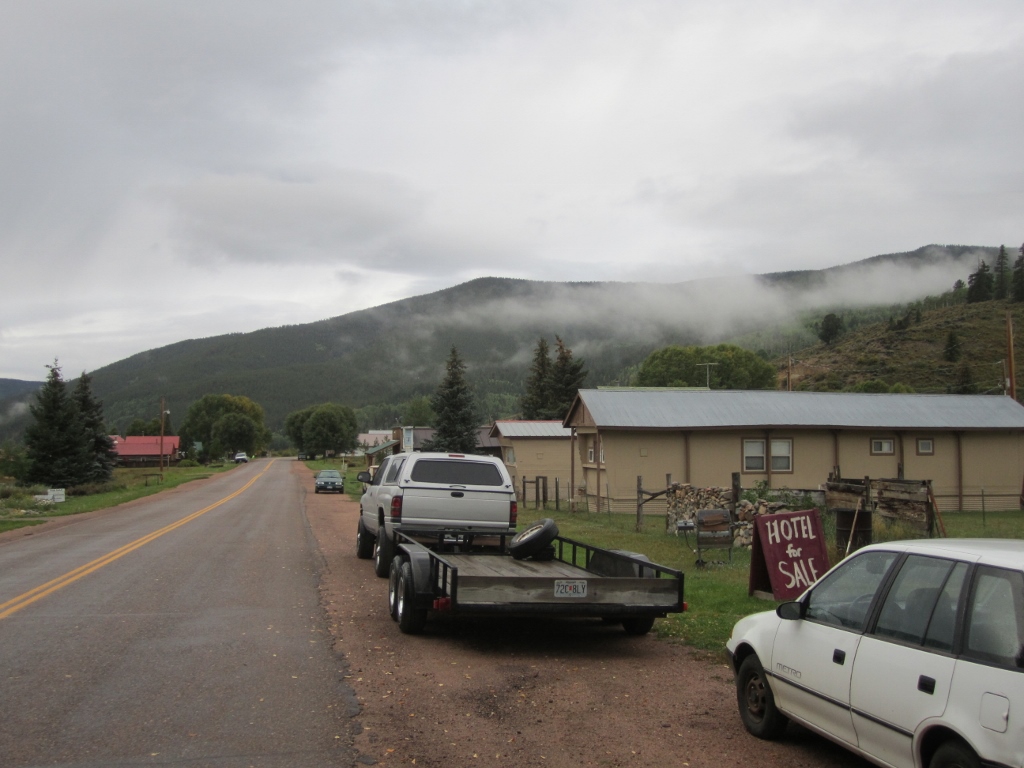 Todays route was awesome even tho me and dingweeds had ridden every inch of this days route years before.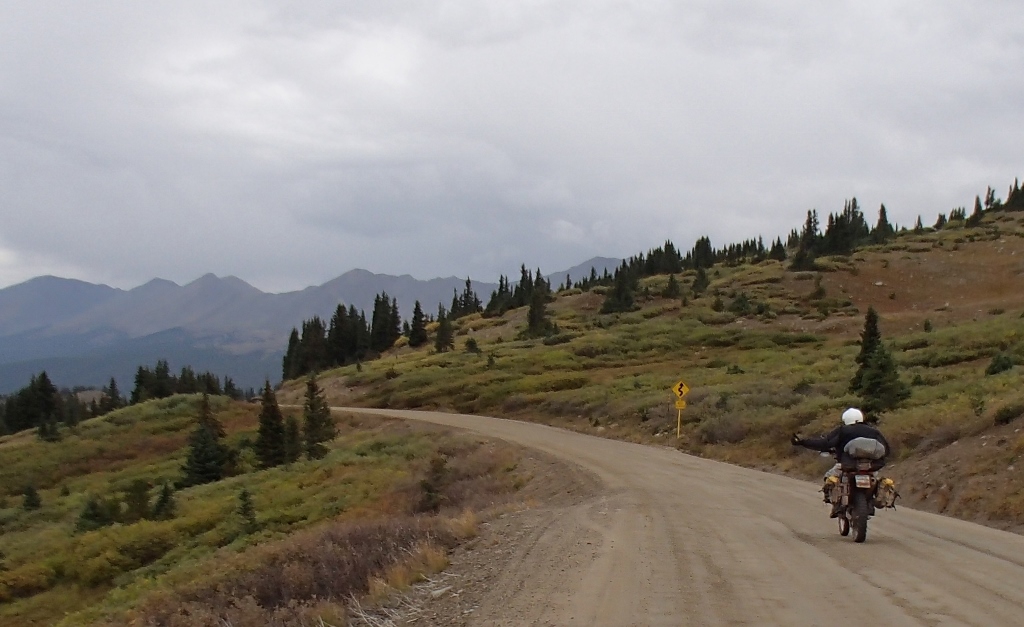 We rode by Waunita Hot Springs on our way Southwest and the clouds looked juicy---again.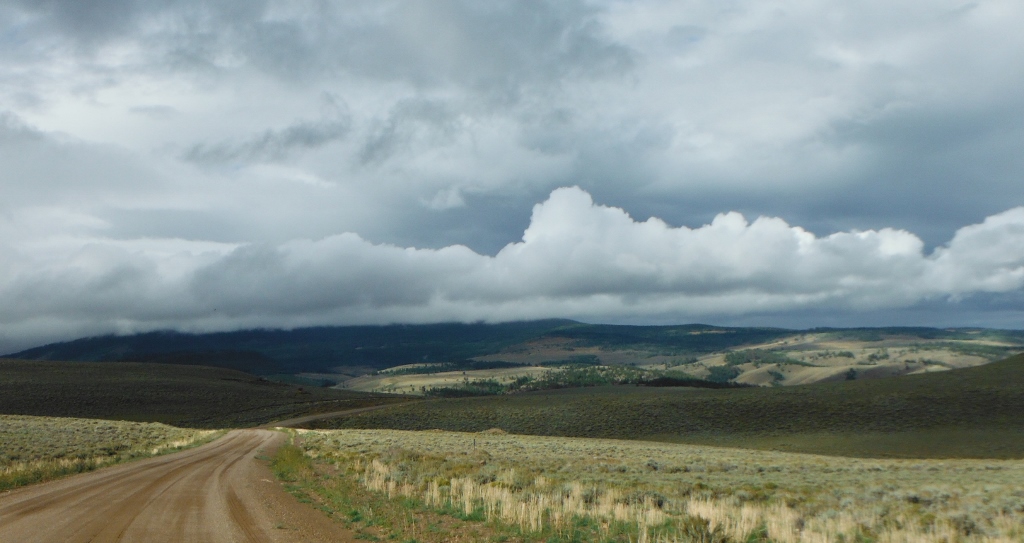 On the way to Lake City where we ate and got gas we ran into these hardy adventure riders.
I think they had slept in the rain all night and I felt a sense of tenseness and unhappyness amongst these fellows.
Maybe I was wrong----but it seemed that way.
The couldn't wipe the smile off our faces though.
I always like to stop and talk to people I run into---this guys WR250R was set up really nice.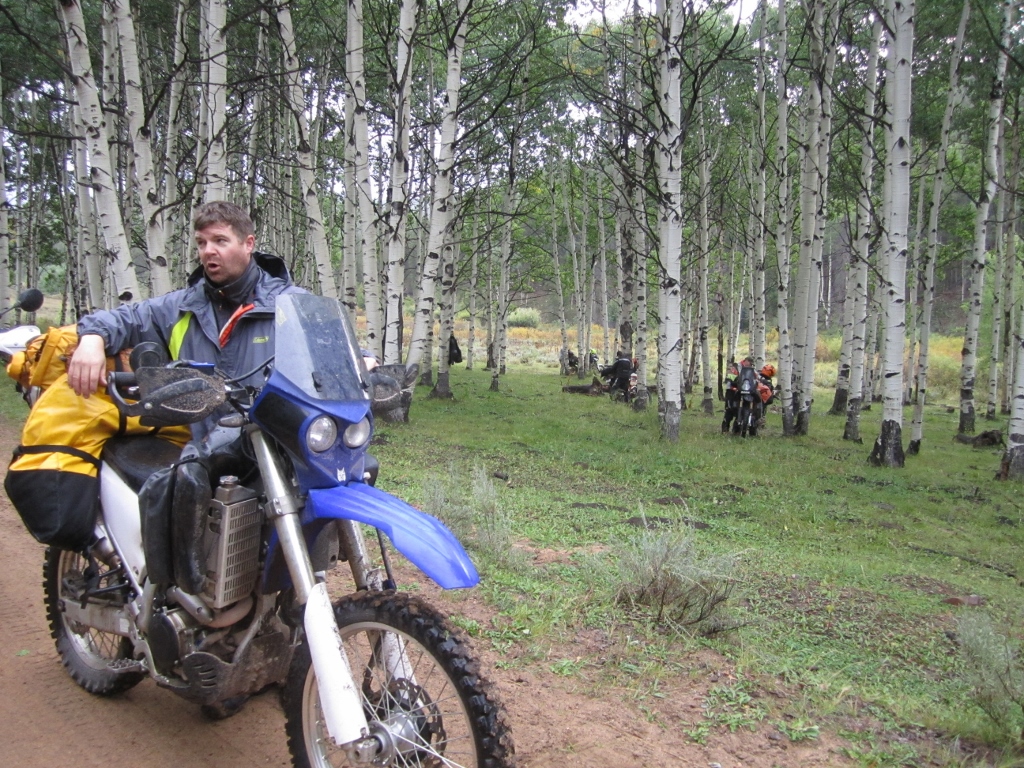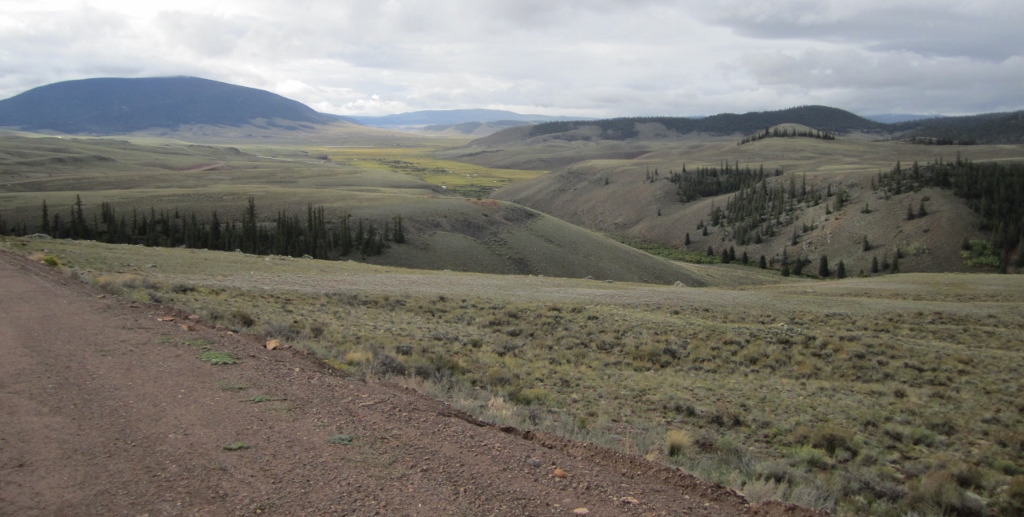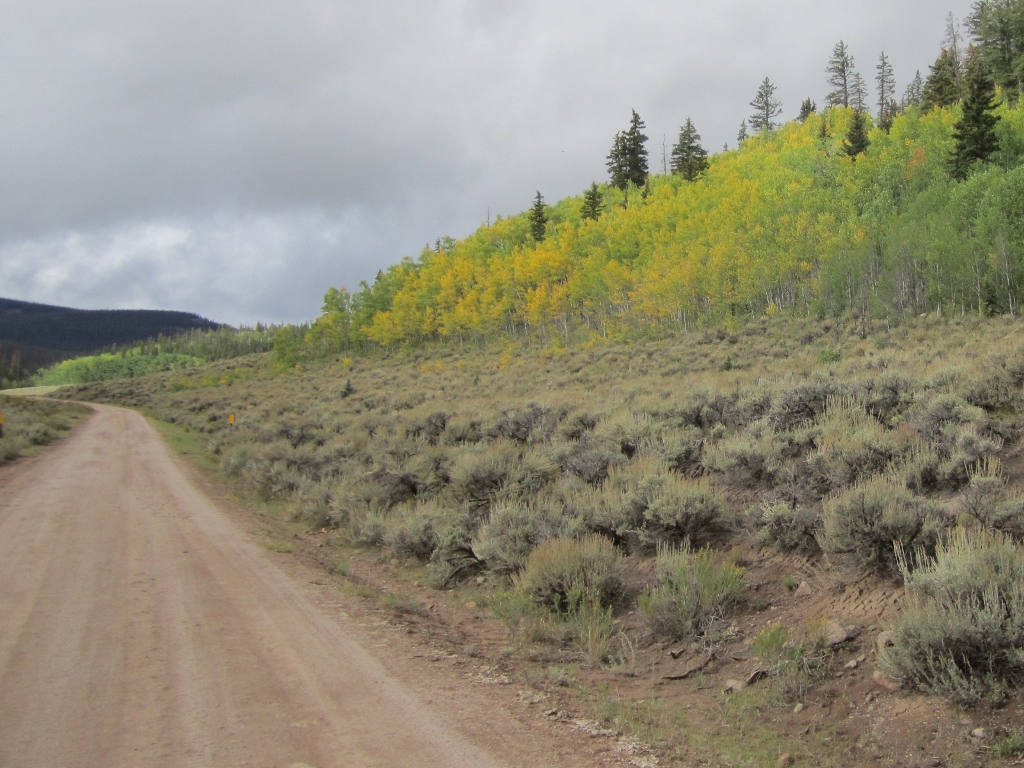 Quite a few miles before you get to Lake city heading Southwest you'll see this sign.
You can still get off the main road and ride a few miles of this route.
It's a lot rougher than the main road and when I rode it years ago I wondered how in the heck they got
the stage thru the rough terrain.
Me, dingweeds and Sam Correro were thru here not long ago and Sam said he rode it also.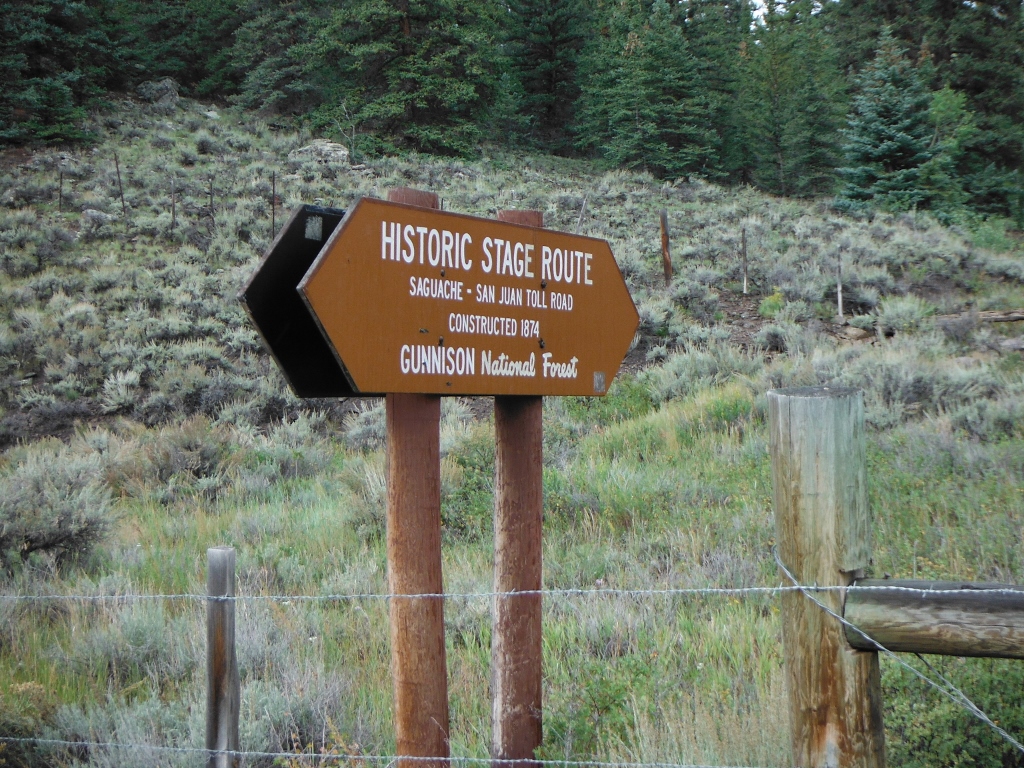 We go over Los Pinos pass somewhere along this route today---and the riding is great---and it's not raining.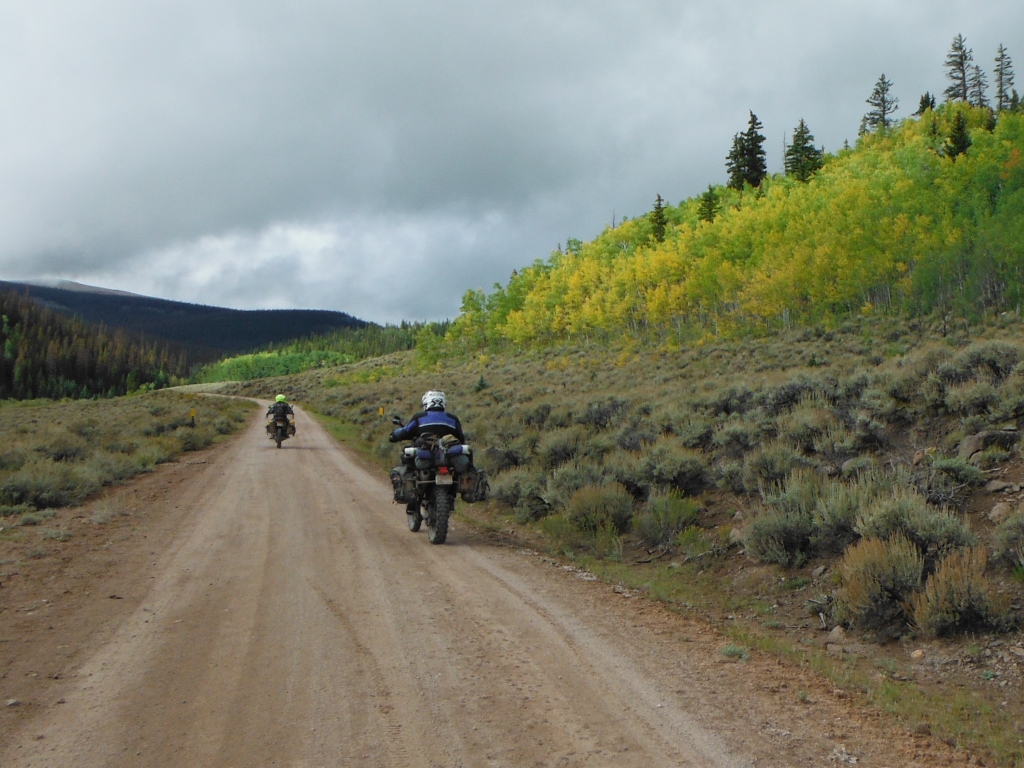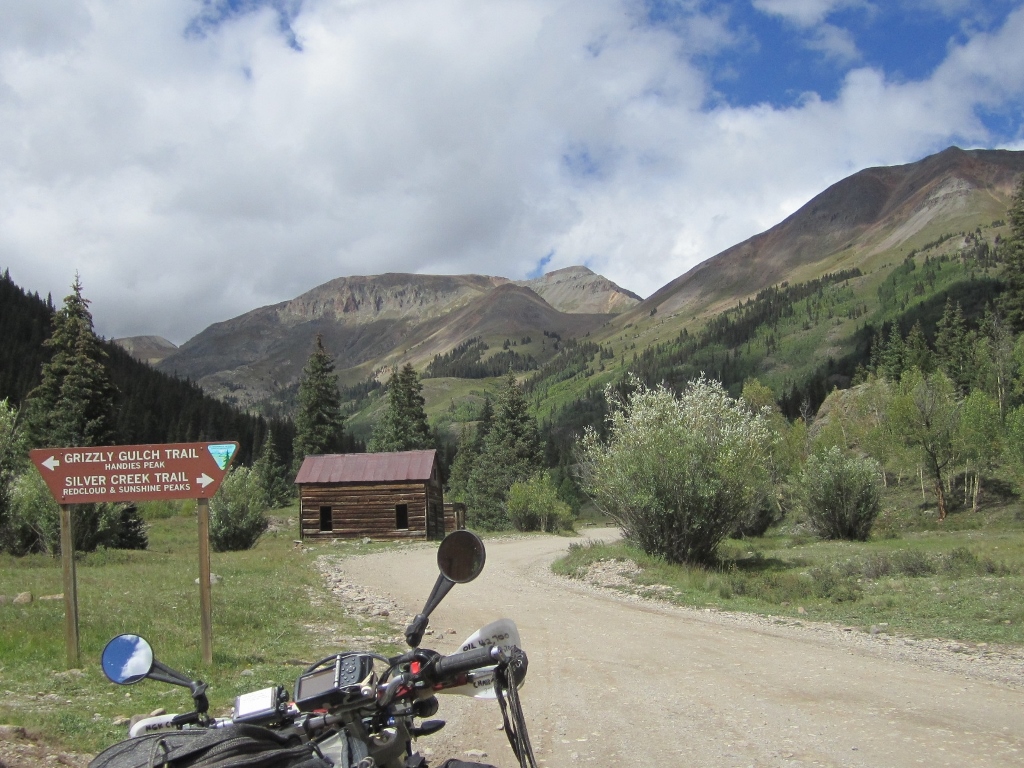 We had ate and got gas in Lake City and headed up over our next pass----------Cinnamon Pass.
A Pass I had ridden over 2-up on a BMW F650 Funduro years ago with my wife before she had to quit riding.
That is a fond memory I still have.
Here she is at the pass---probably about 1999.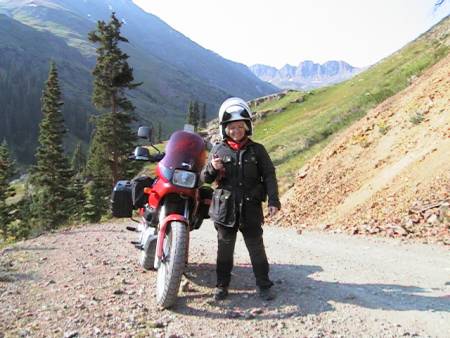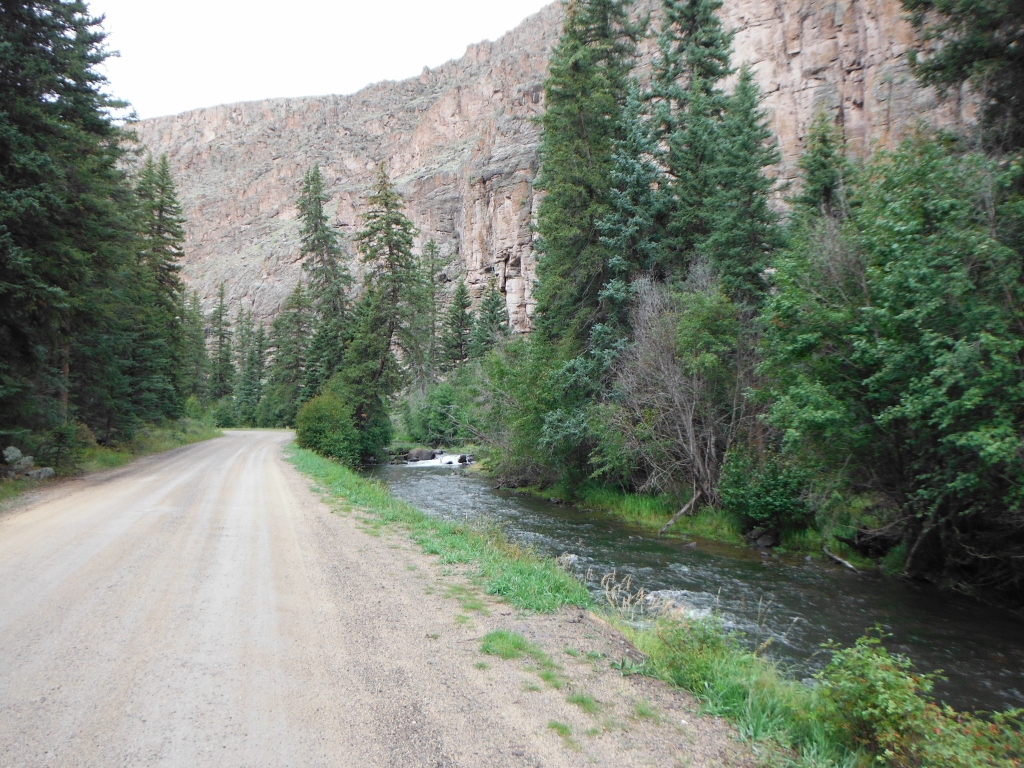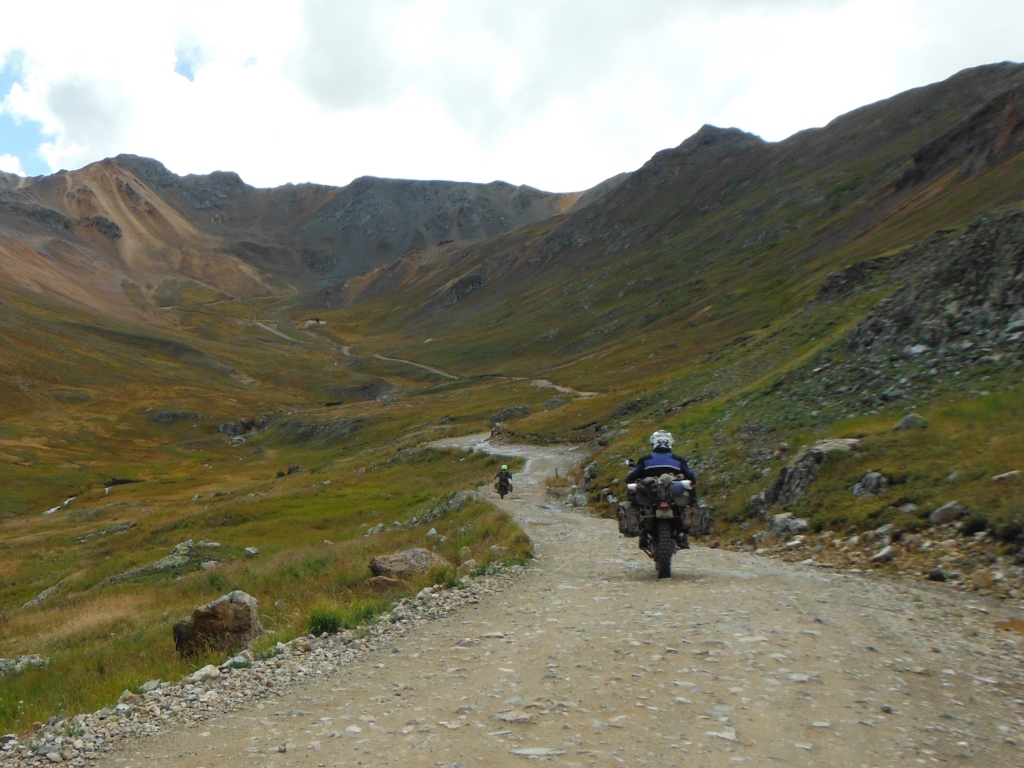 I can't remember which pass it was that we ran into the Buler map guys.
They were out working-----or that's what they called it.
Riding their bikes while this fellow carried all their gear.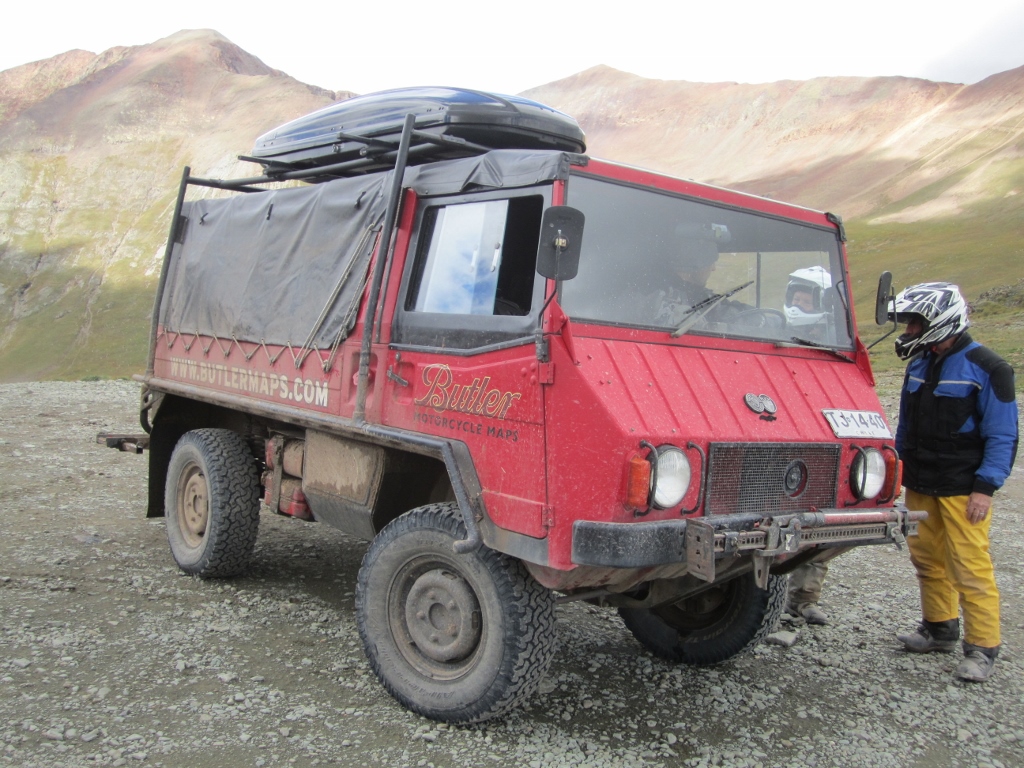 These guys are responsible for laying out the Back Country Discovery routes and they gave me a hint of what's
in store for the future.
They called this work-------with a grin !!!!!!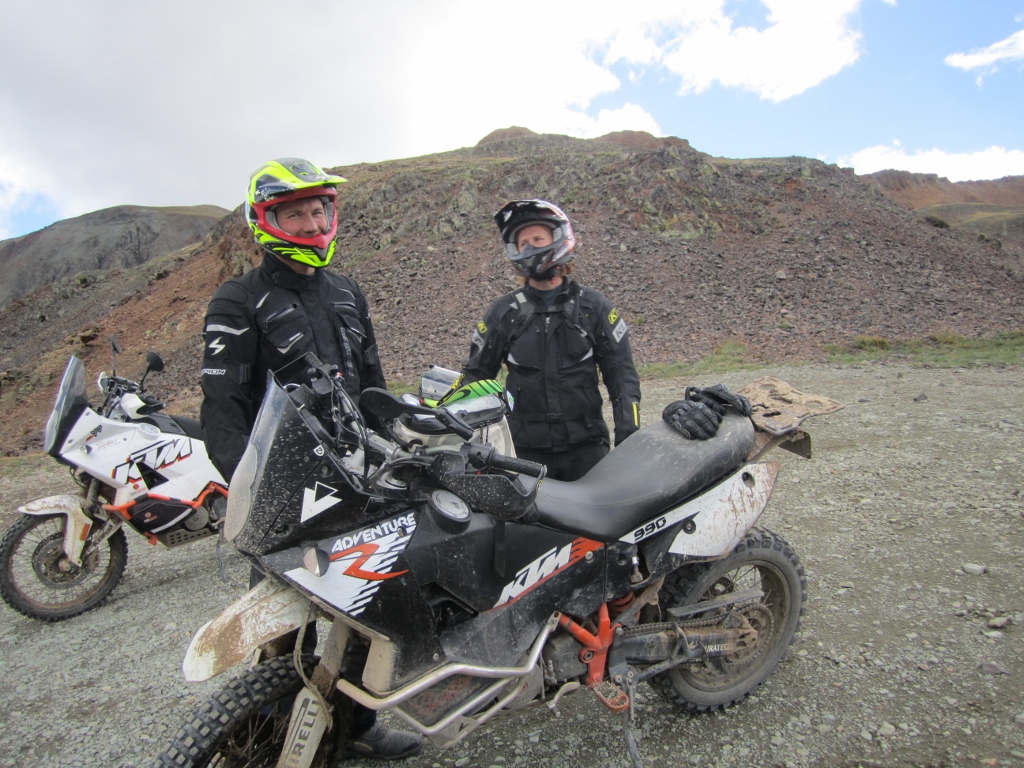 This is overlooking the historic mining community of Animas Forks as we make our way further West.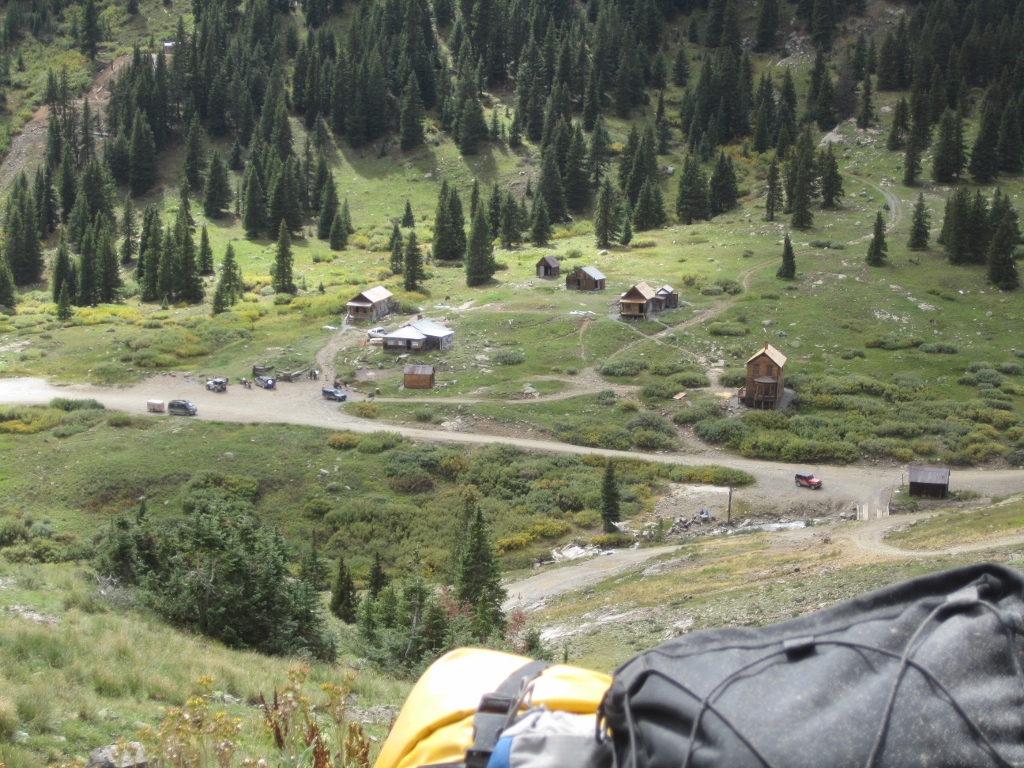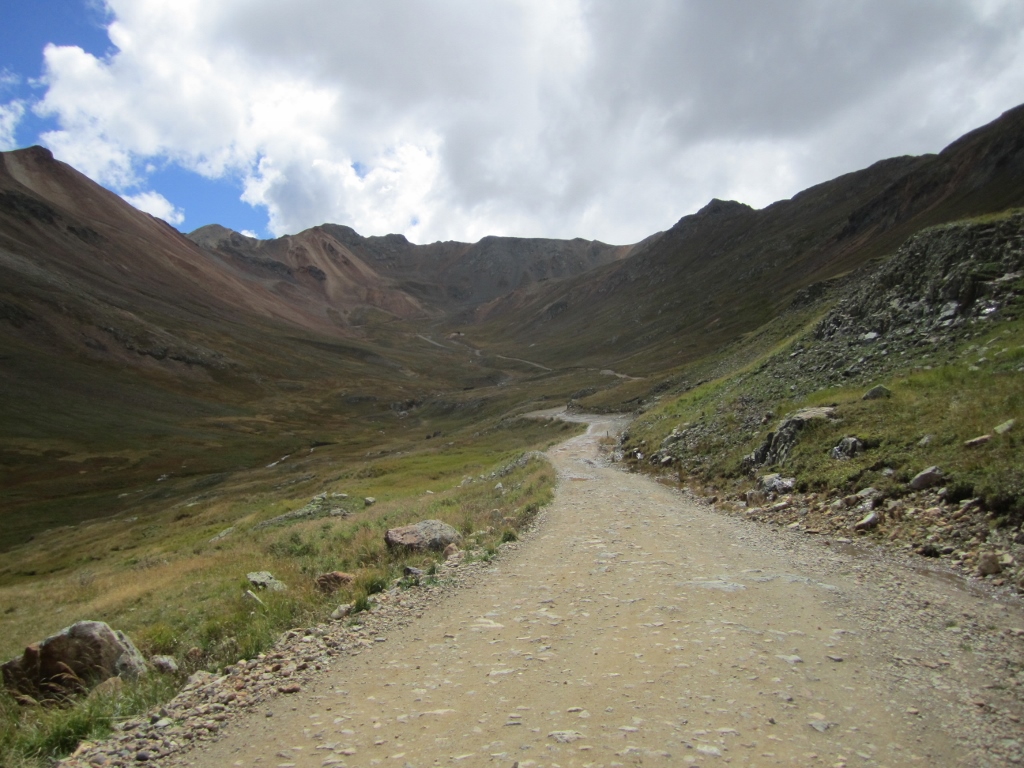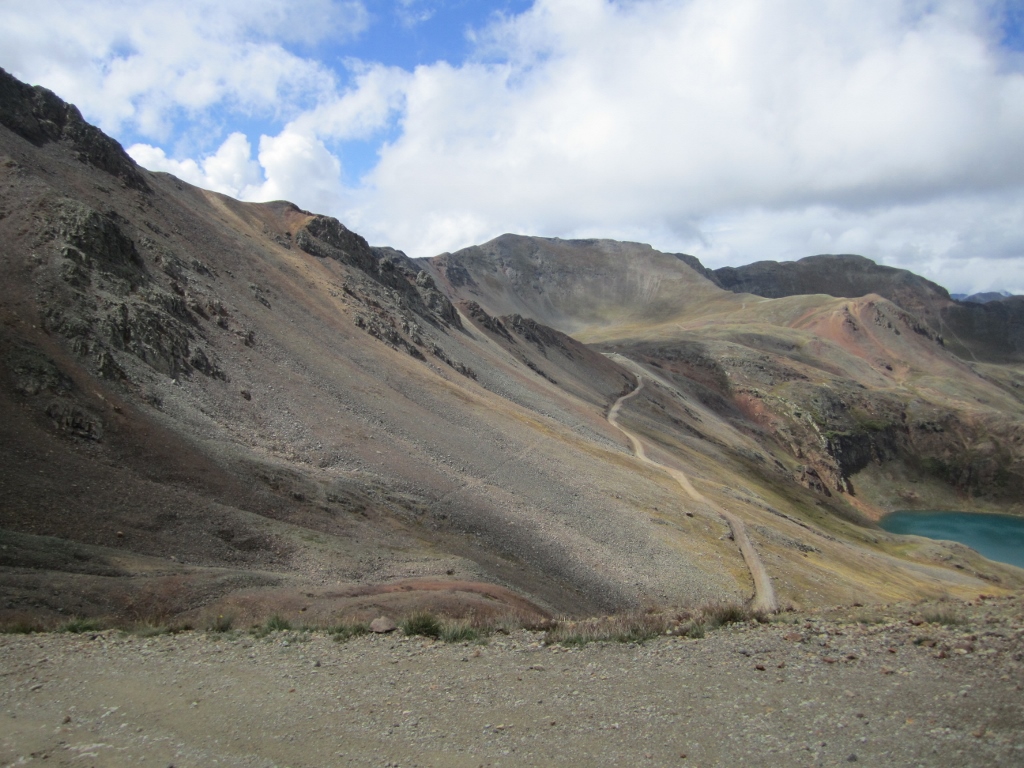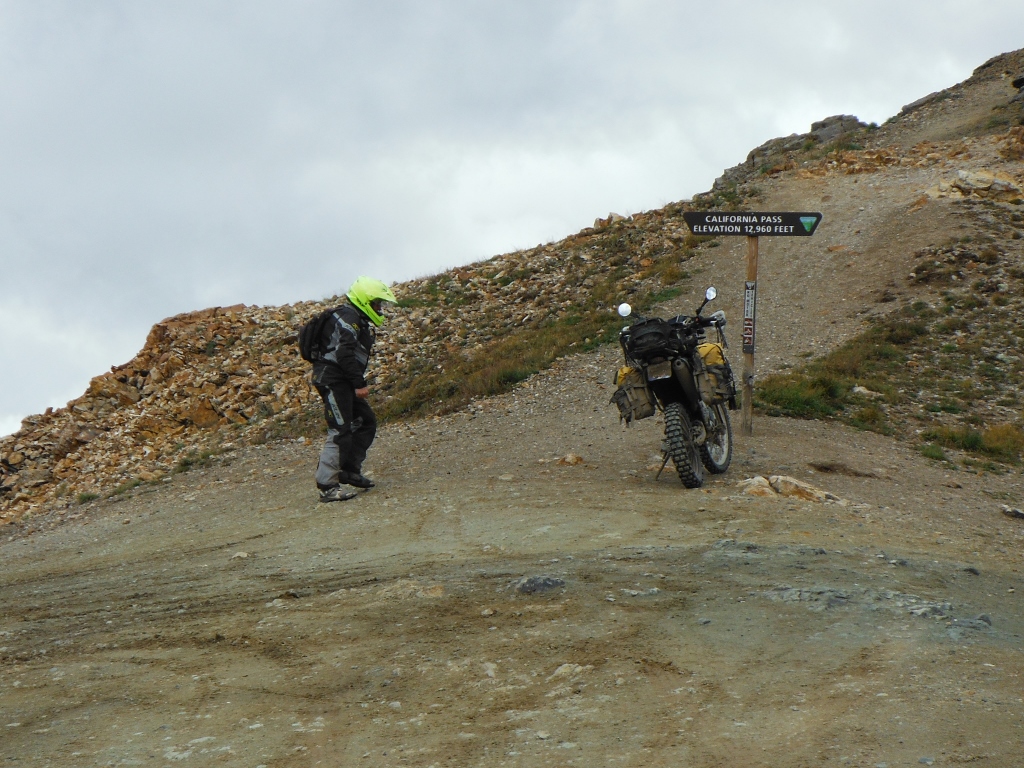 Bud is happy to be here--------I don't think he had been here before.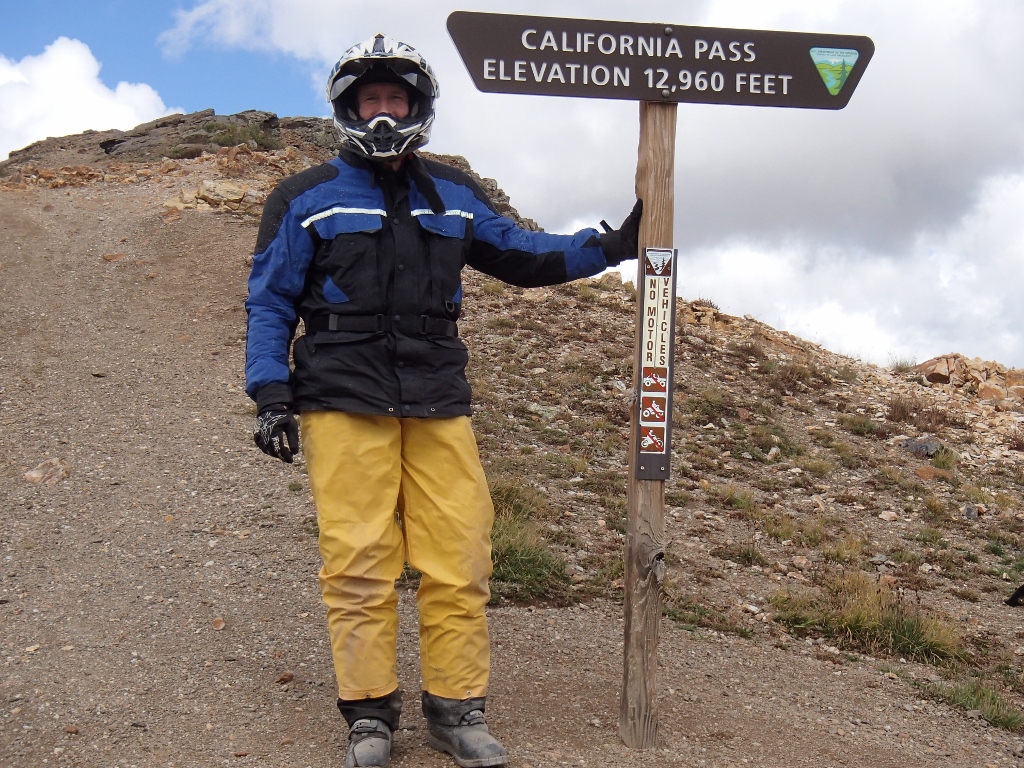 We ran into these fellow on Ophir pass I think.
Great guys and they told us a story of a guy on a big BMW riding on the wrong side of the trail that clipped them
going very fast and it knocked both of them down. The guy on the BMW almost went off a sheer drop off.
They both were badly shaken from this near miss.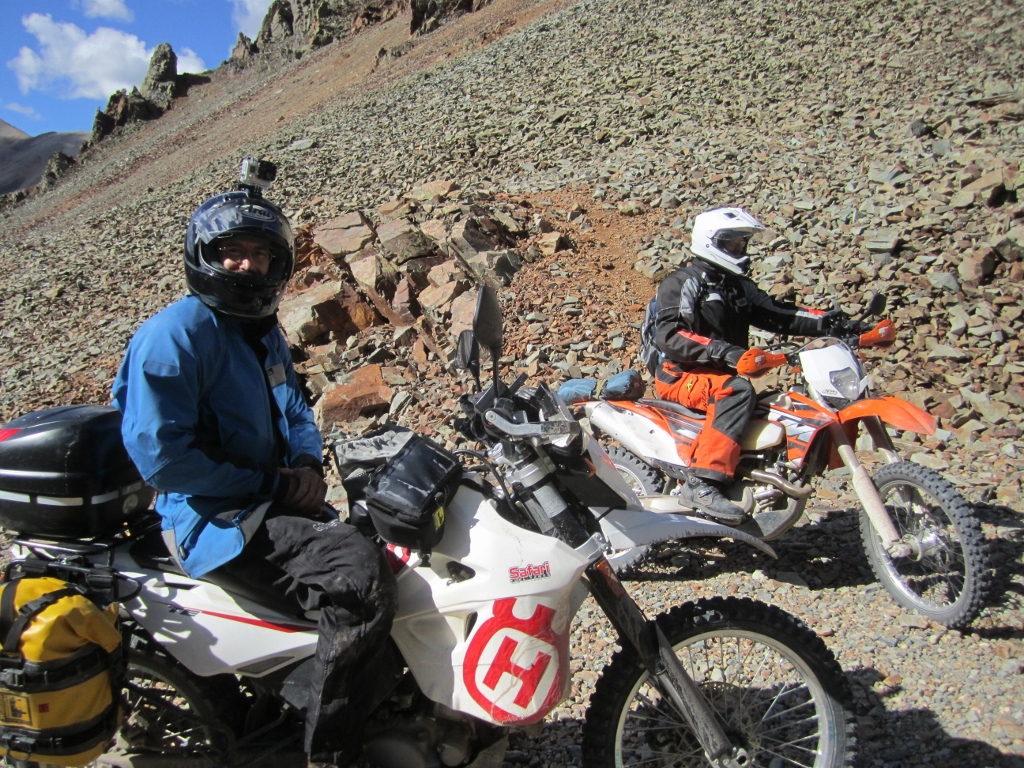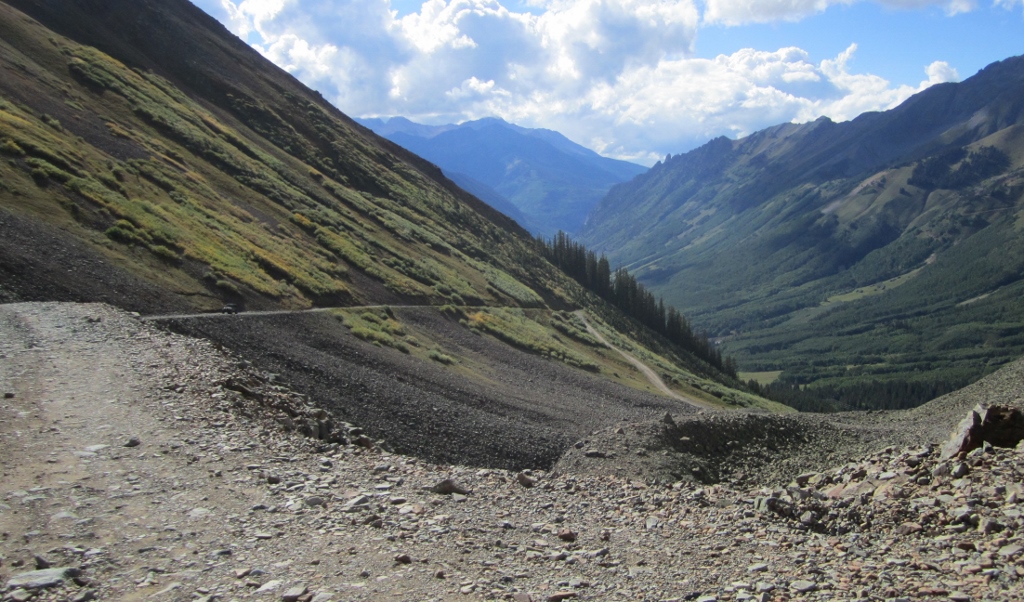 Looking over the West side of Ophir pass.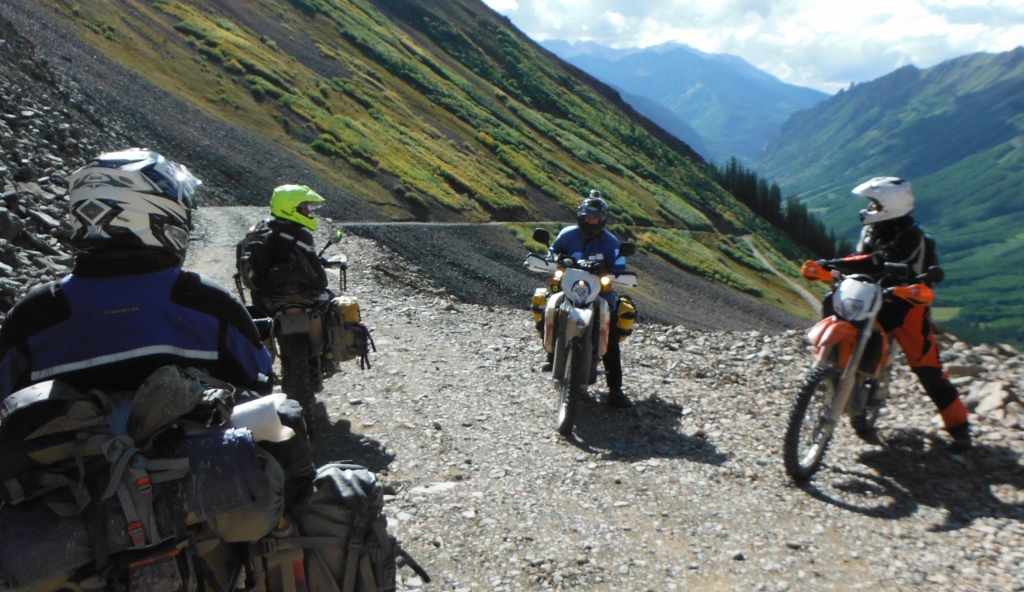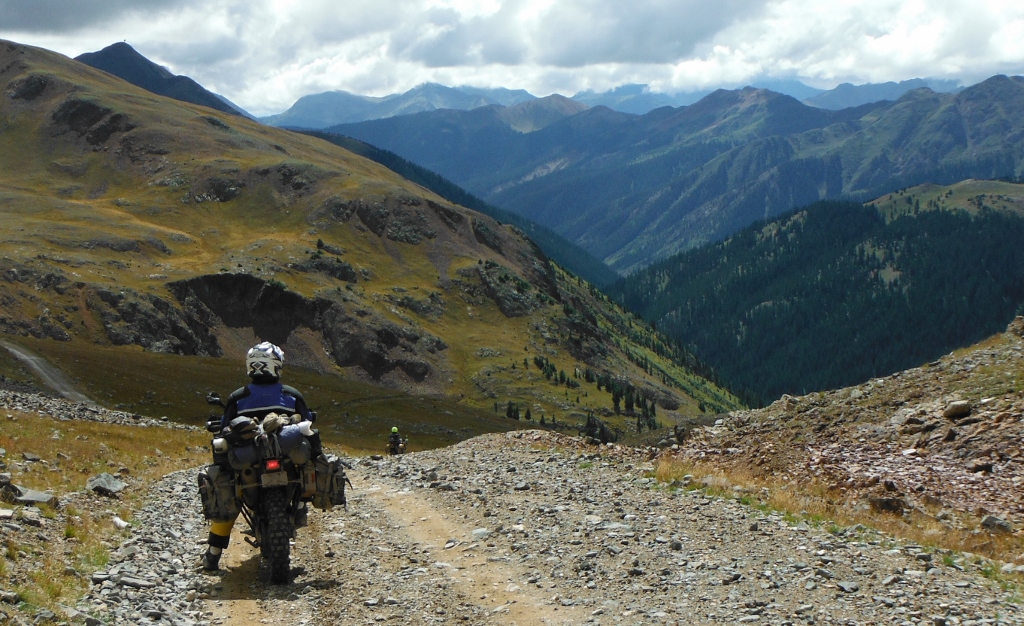 We dropped into the tiny town of Ophir and were met with the leader of a fierce motorcycle gang.
He was terrifying the streets of Ophir.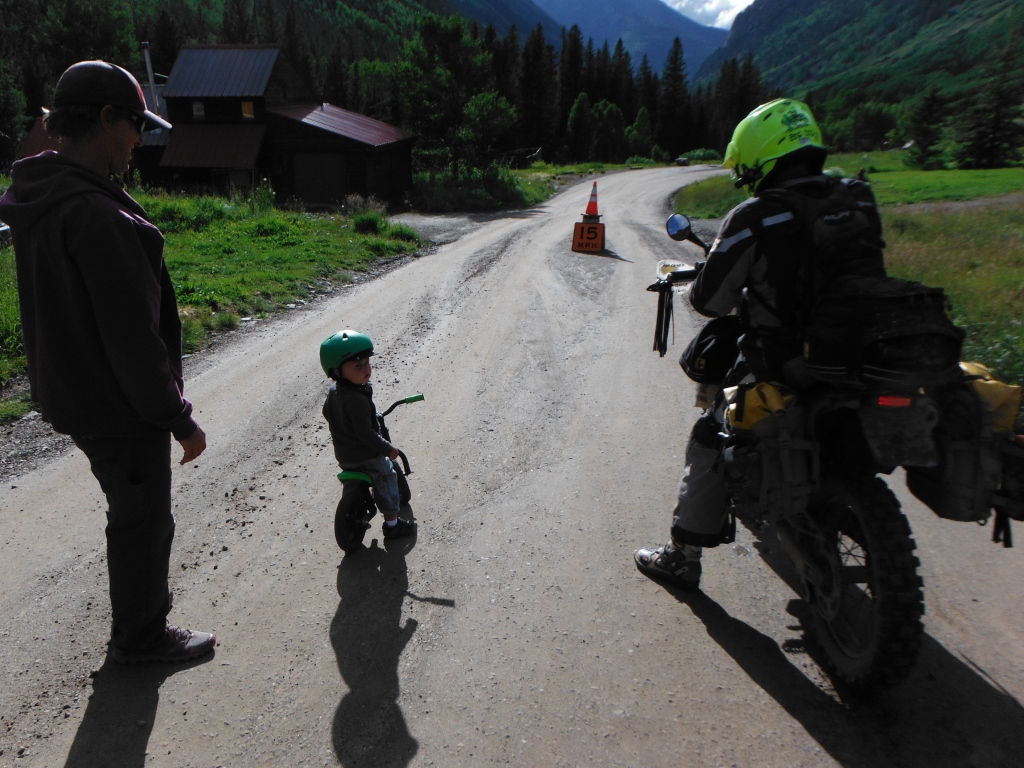 Hey little guy "Pull my finger"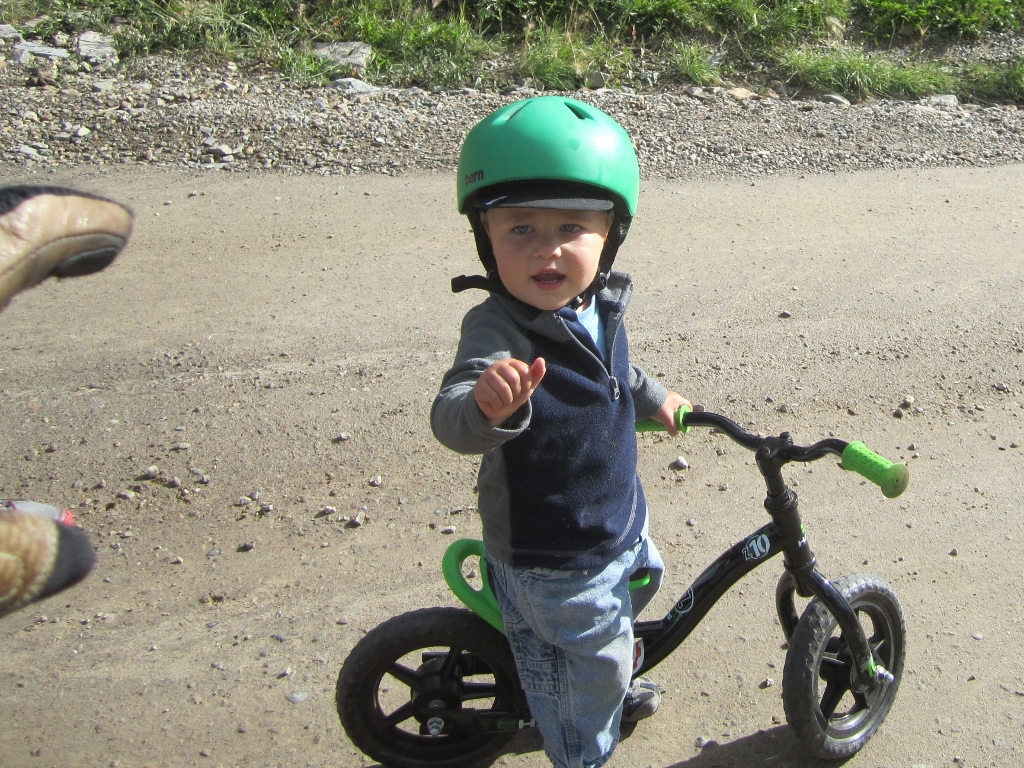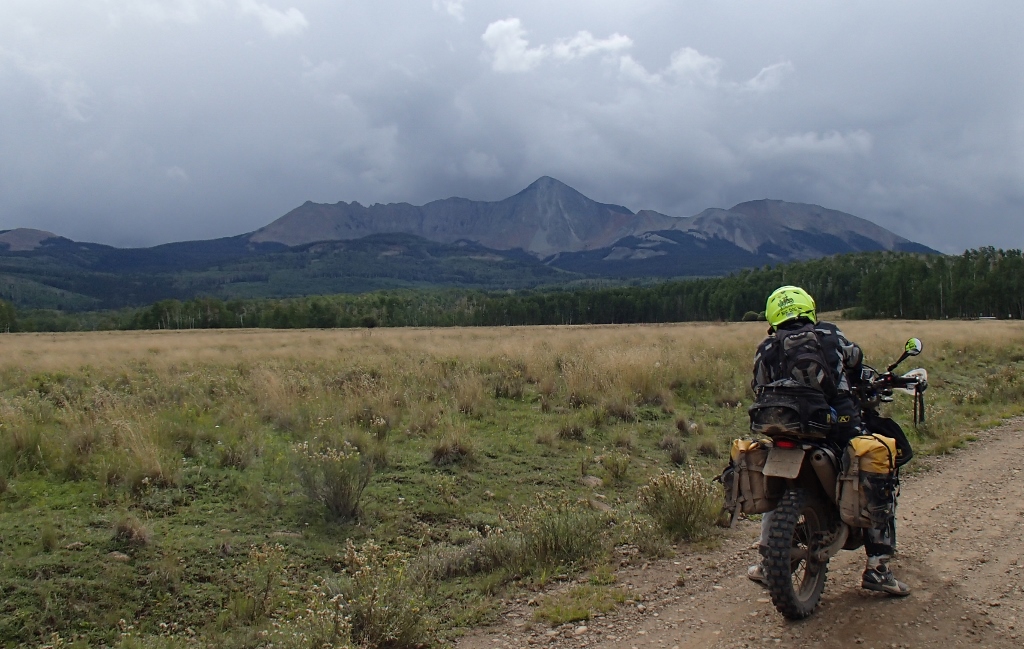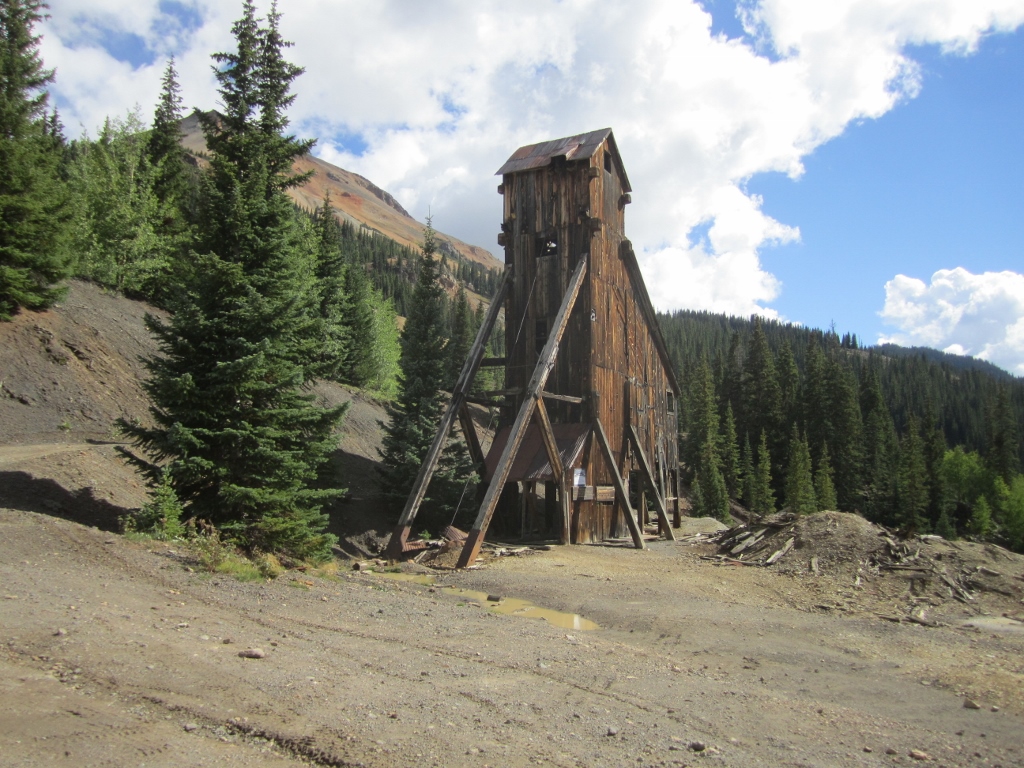 We were astounded by this--------it's not snow-------and it's not water ?????????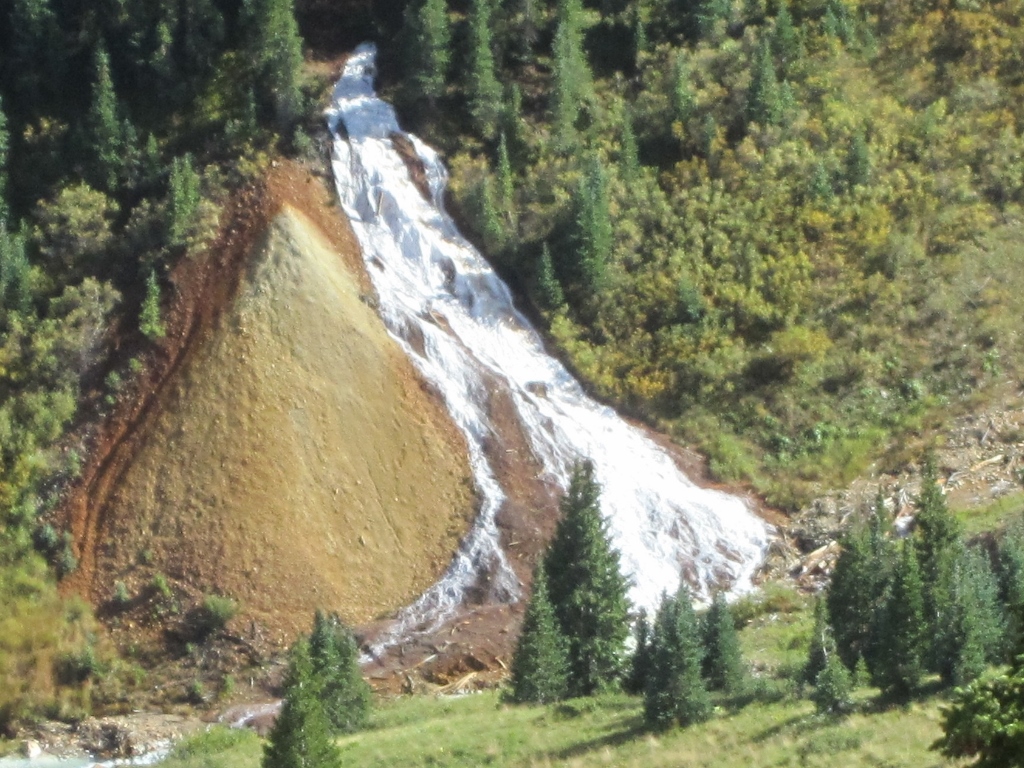 We got gas and snacks in Keystone, Colorado and headed back to this campsite me and Dingweeds knew of.
Me and Dingweeds were attacked by a herd of mice the last time we camped here. Yep --you heard me right--------attacked.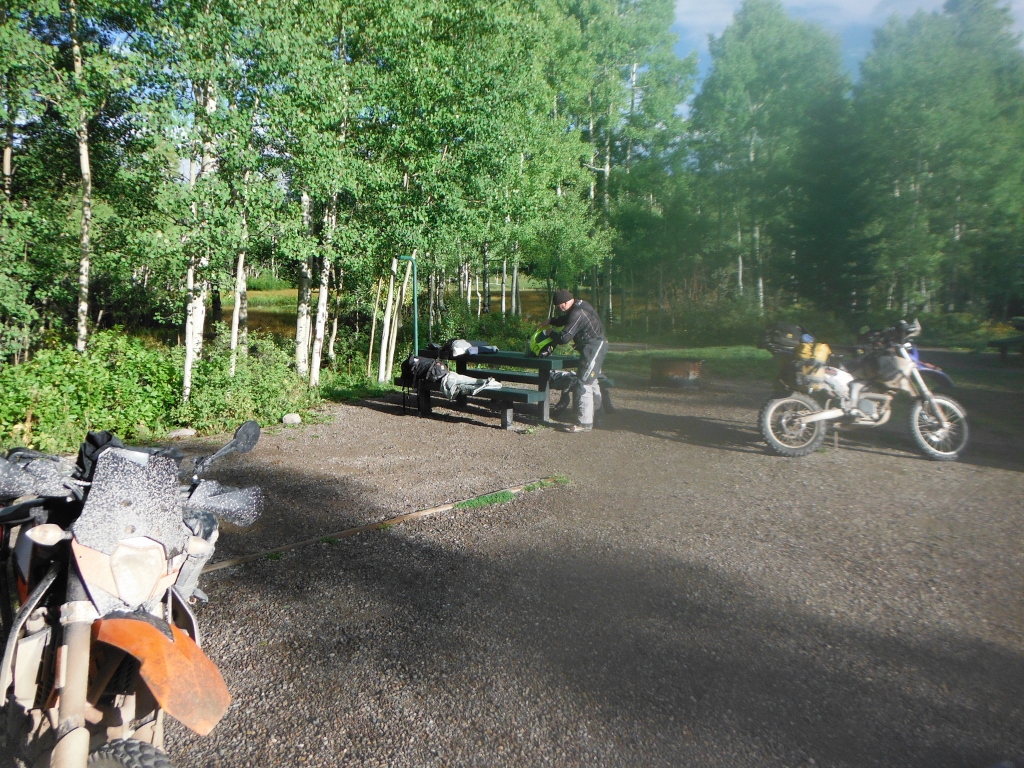 A rough map of our ride today-----about 152 miles.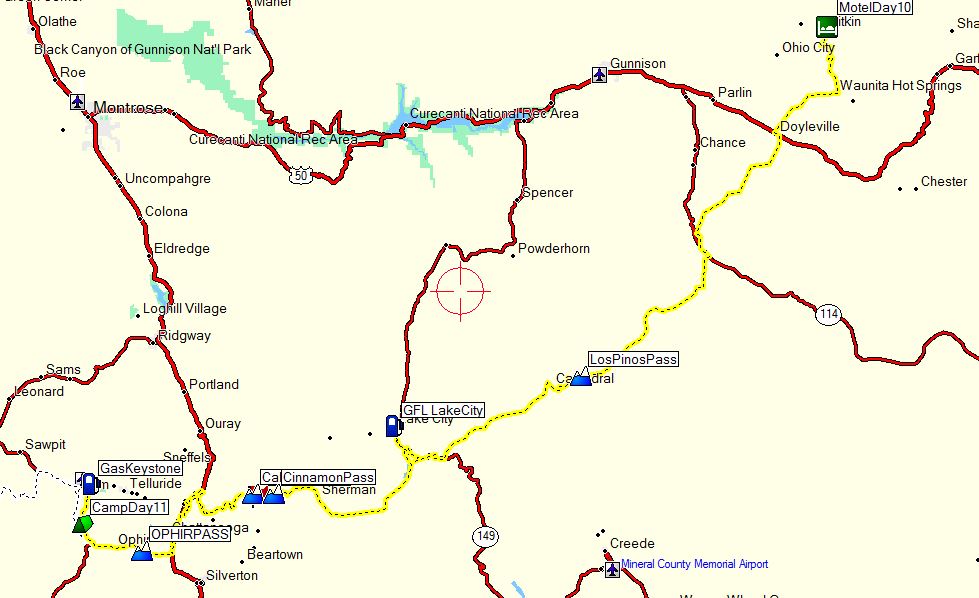 Day 12 September 12th, 2013
Our last day on the Back Country Discovery routes.
Camp to Cortez, Colorado
We broke camp early---and barring any disasters we all knew this was our last day on the BDR's.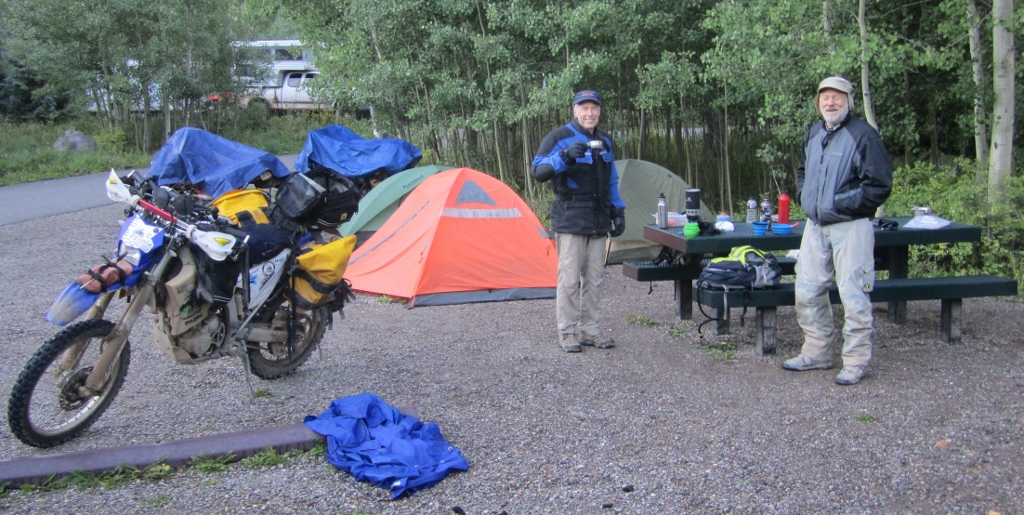 It started out really great--just damp dirt roads with no dust as we headed North at first on the BDR towards Vanadium and then turned South
then Southwest.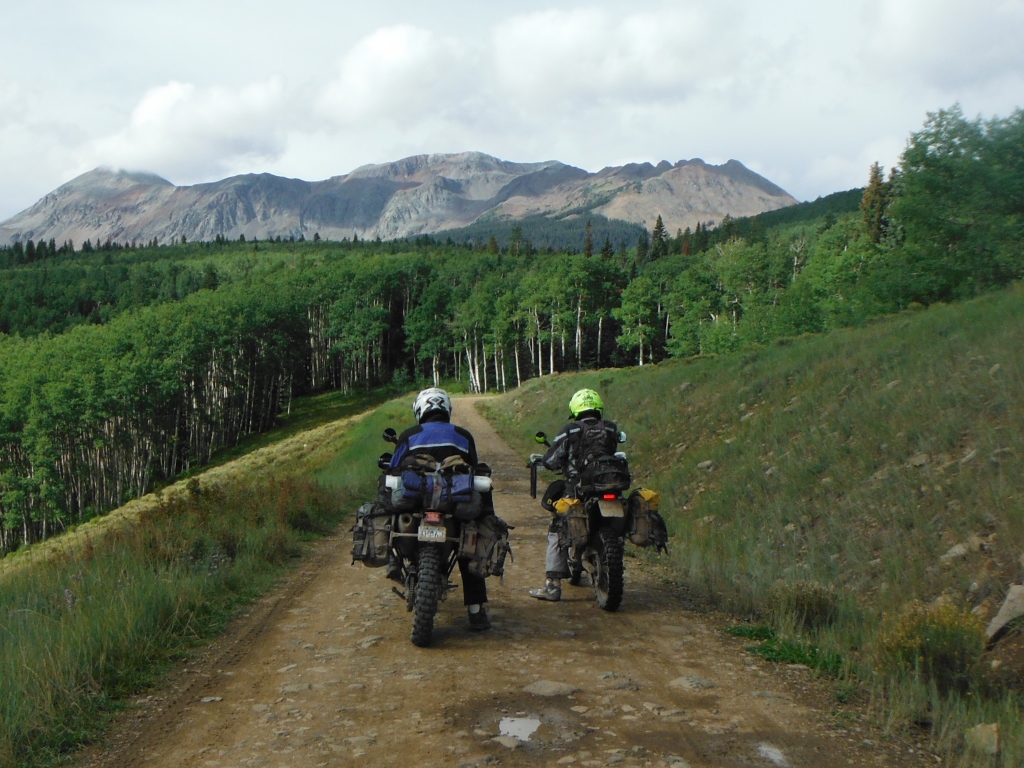 At some point we rode by Groundhog reservoir which I remember being extremely low.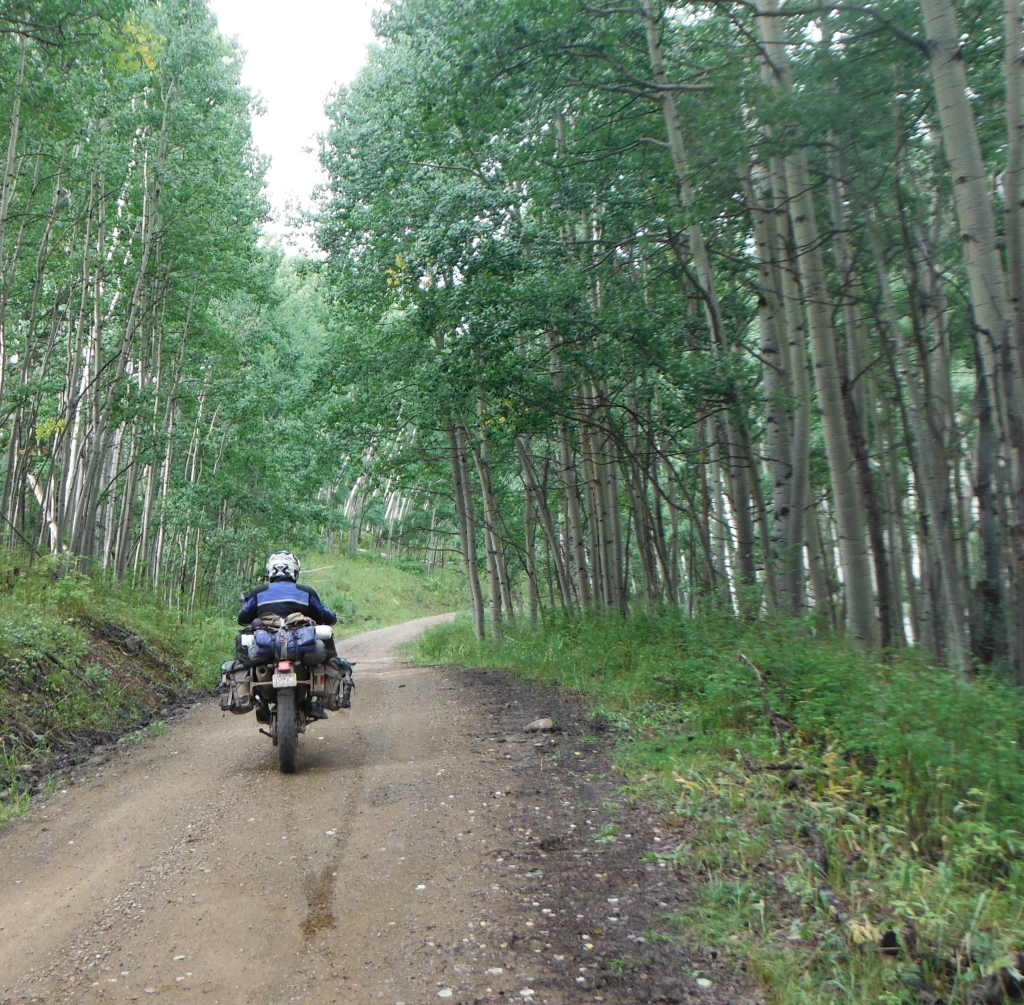 Yes the clouds are juicing up------man we have been so lucky this whole trip not to get mired down in impassable mud.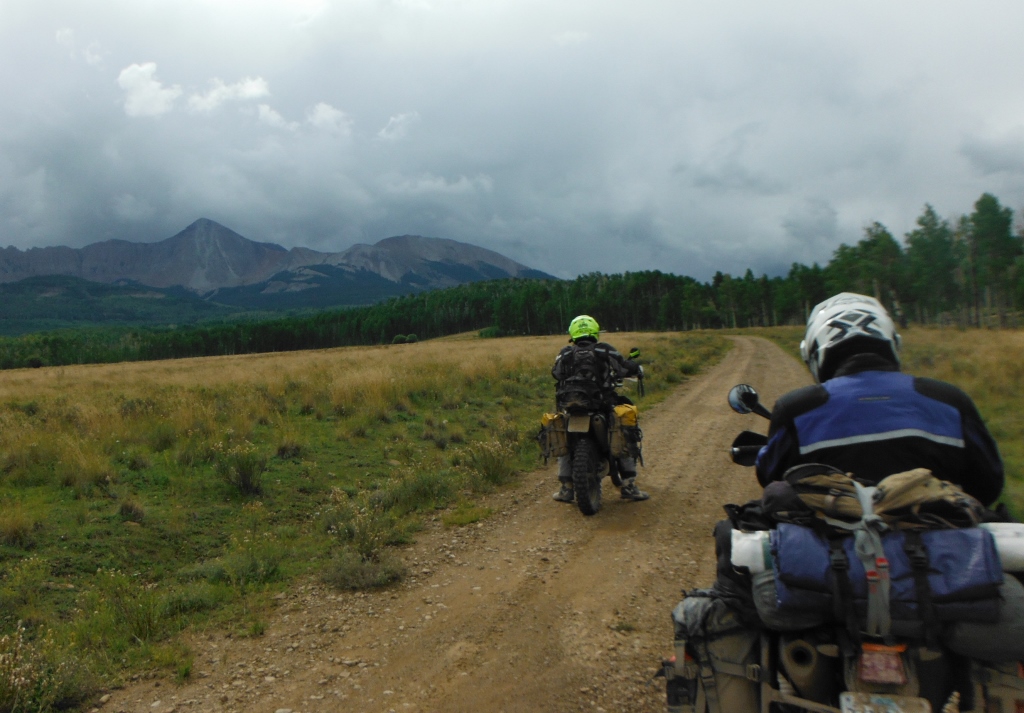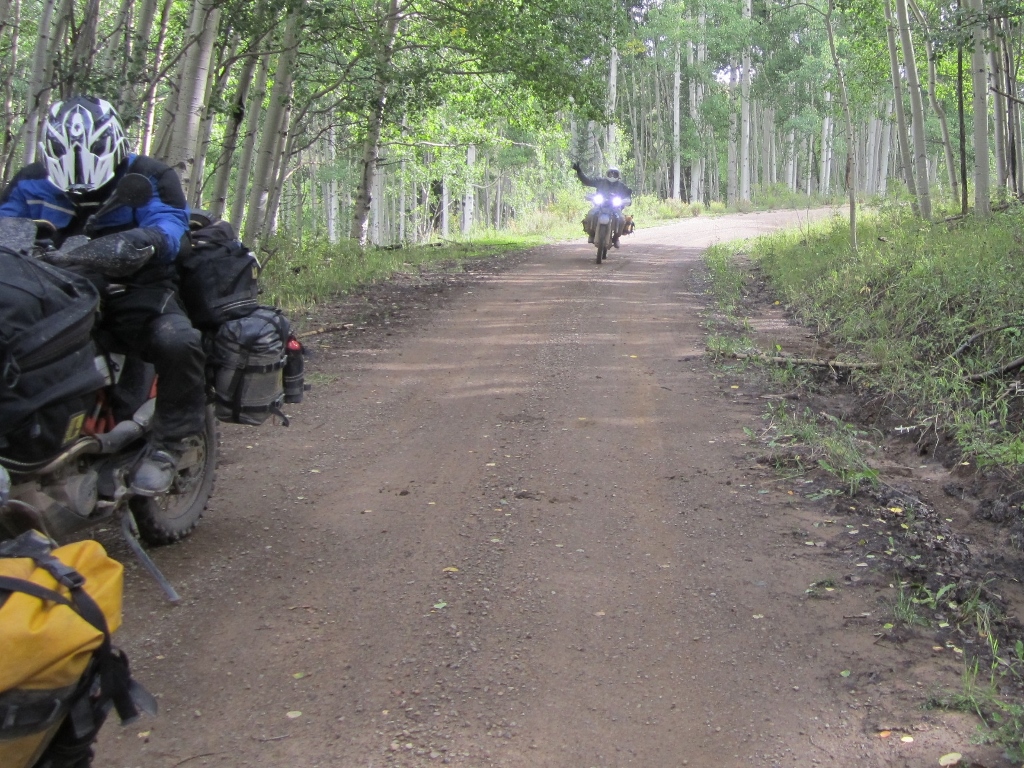 The thunder boomed---the lightning flashed---and the immenent rain was obvious.
So Dingweeds put on his rain gear.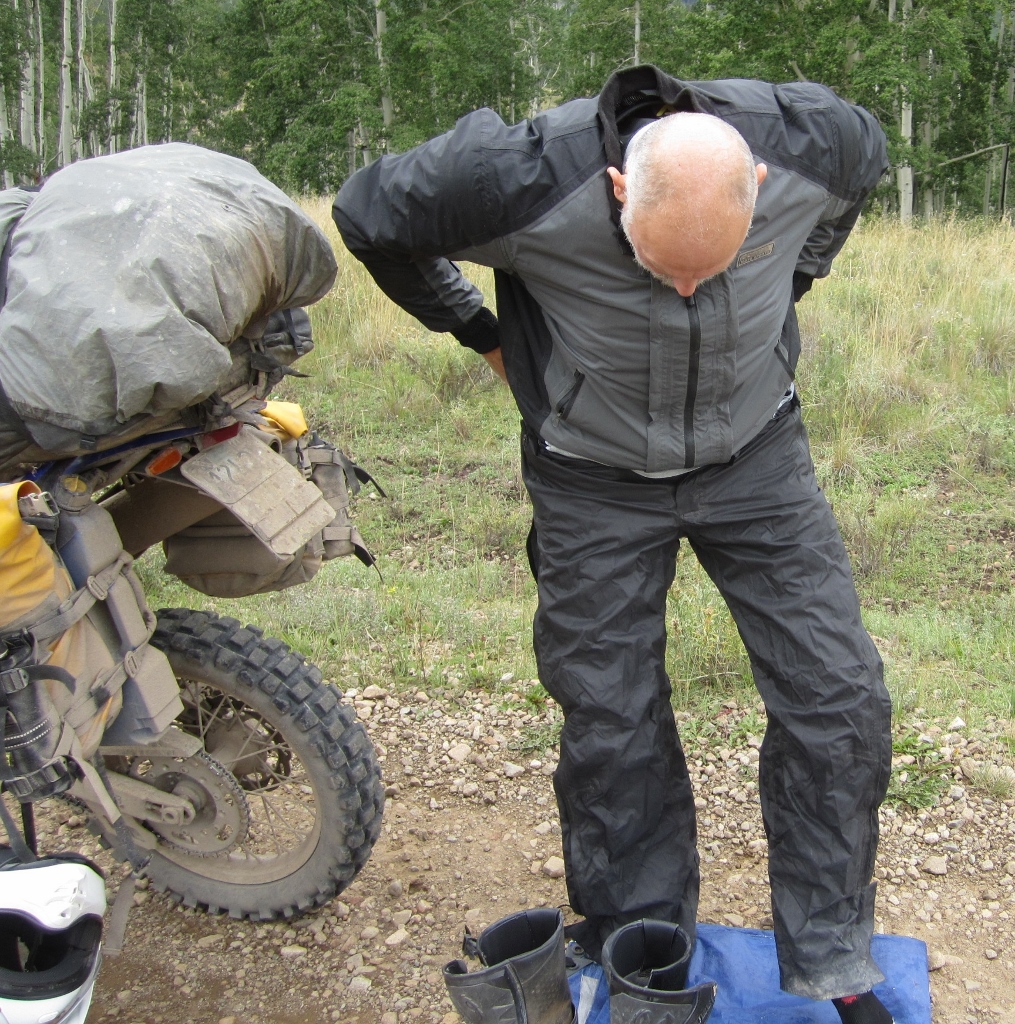 And Scott thought it a good idea too.
Me-----my riding suit was waterproof---so I just harassed them.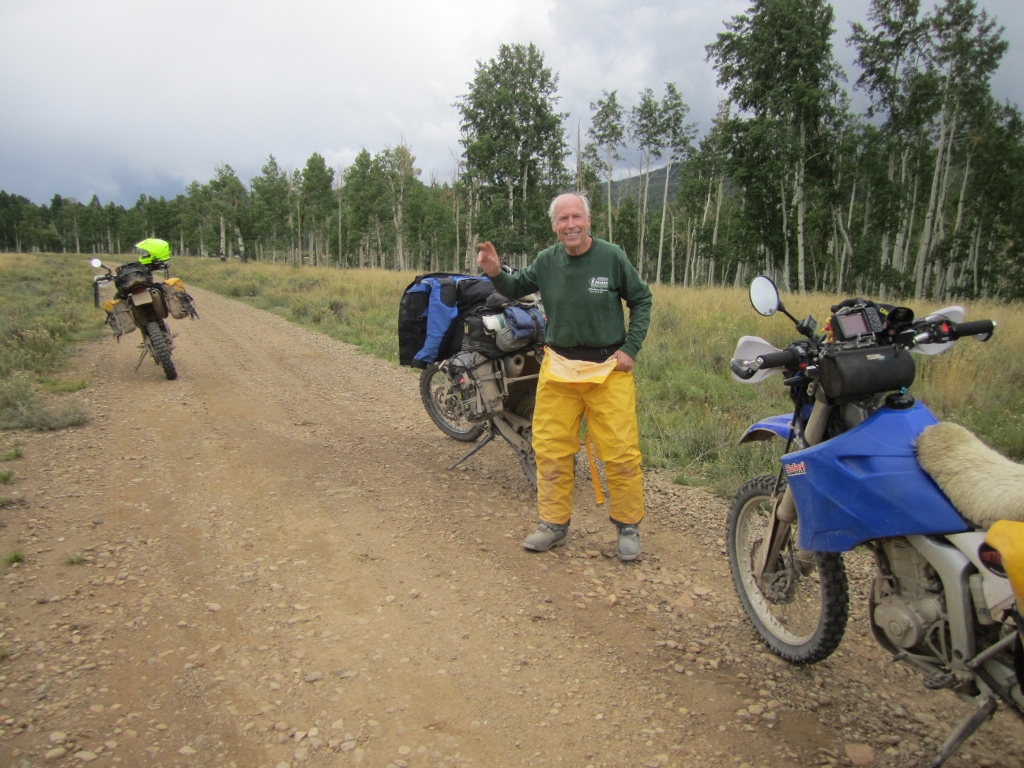 Not many pictures------but it poured and poured and poured.
A fog rolled in -------actually I guess we were up in the clouds and at tmes you couldn't see anything.
I just knew we were going to hit some nasty mud---but once again were lucky as the roads had a good bottom to them
and we just had to skirt a couple really big mudholes that went all the way across the road.
We fought the fog on our glasses and face shield and it made for some slow going.
As we got closer to Cortez the ran let up.
Our bikes were a mess--our clothes too.
Since I was going to have to put my muddy bike back inside my sprinter van I suggested we wash our bikes and clothes
before arriving back at Jeff's and loading up.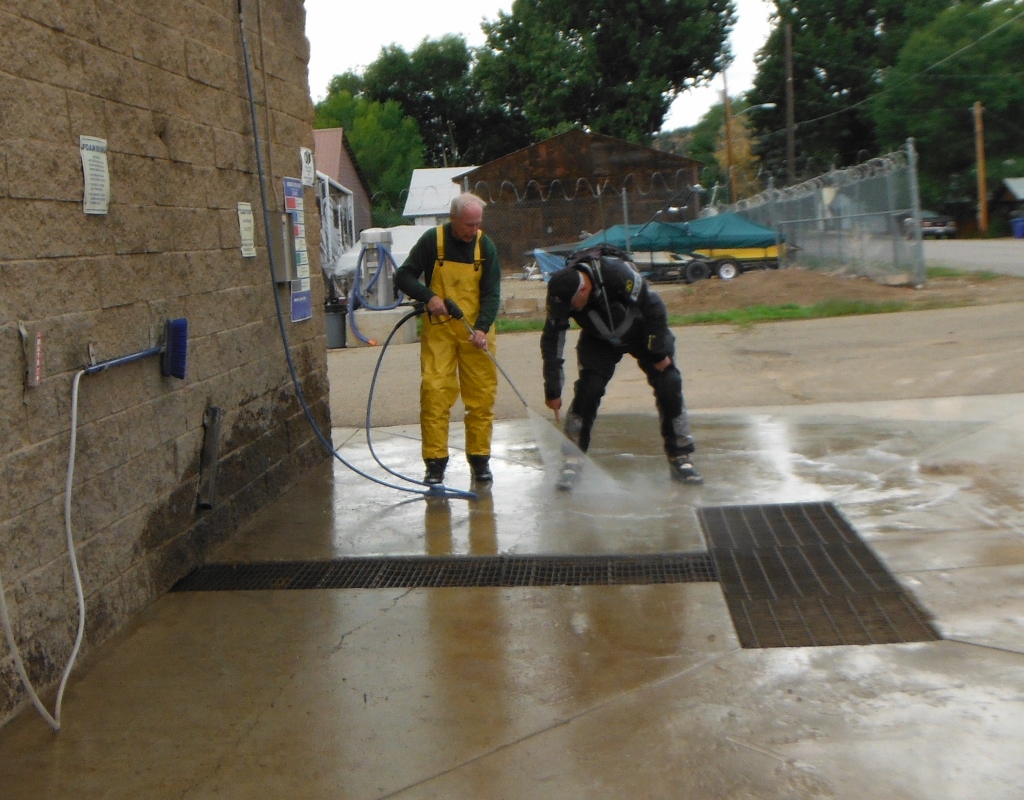 We are 3 drove our tow vehicles back to the 3-step hideaway and I planned to stay for a bit.
As soon as we got there I got really sick----I mean really sick and thought for a bit I was going to the emergency room.
I was shaking uncrollably and just felt really weak and sick at my stomach.
I toughed it out and Julie started pouring gatorade and water down me and I recovered pretty quickly.
I think I might have been de-hydrated and maybe also had a touch of altitude sickness---we had been camping for days above 10,000ft.
It was good to have friends around. I knew to drink lots of water out here---but maybe didn't drink enough.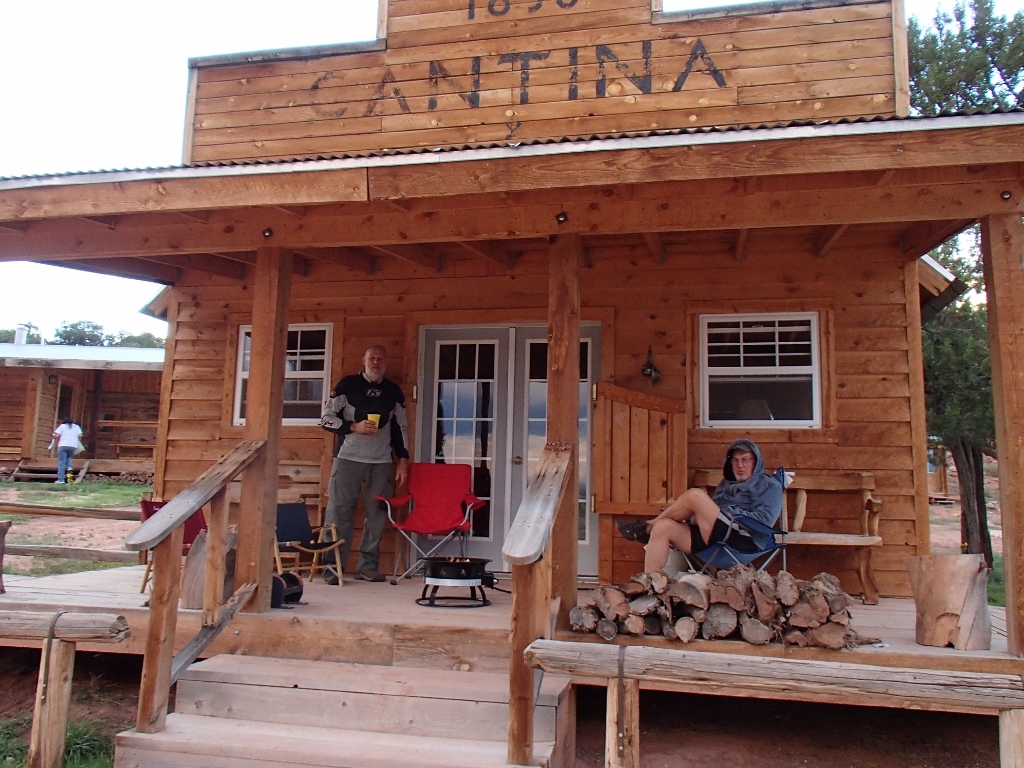 So when you come to the 3-step Hideaway you'll be greeted by these fine folks.
Dingweeds, Julie and Bailey.
They will take care of you.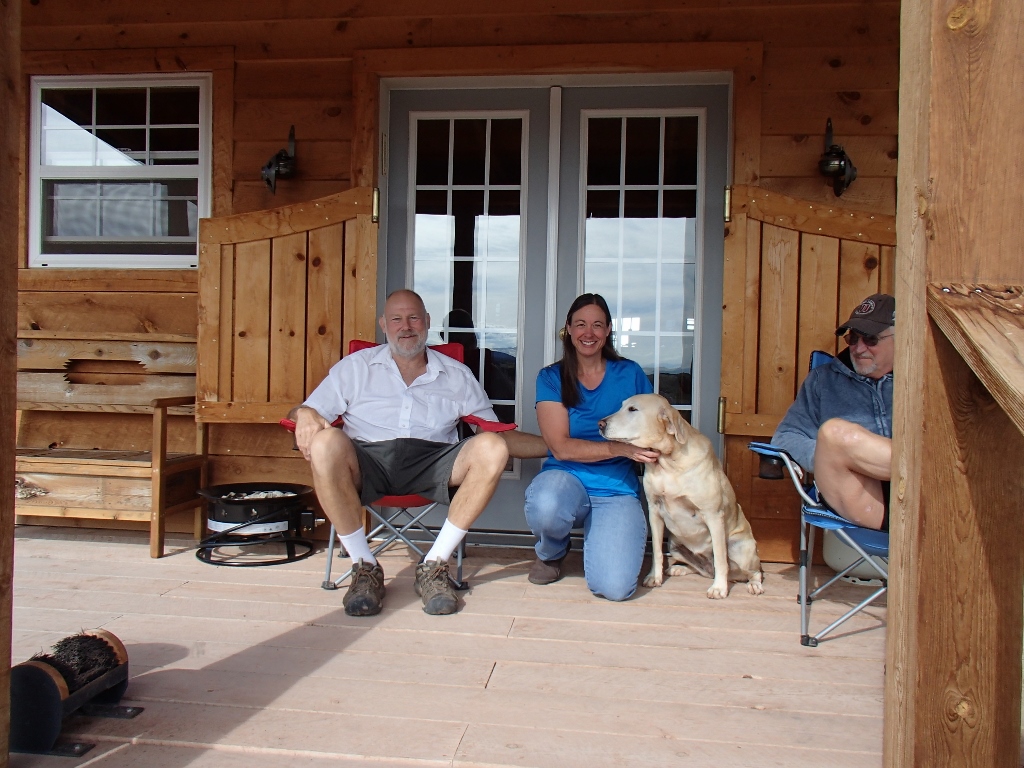 Bailey is a huge dog but don't be skeert-----she's so friendly and hopes you will play with her.
She loves to be scratched and play tug-O-war or fetch.
But really would like for you to walk her out to the pond and throw a stick in the pond for her to fetch.
You will wear out before she does.
If Scott wasn't such a good friend I'd steal this dog and take it home with me.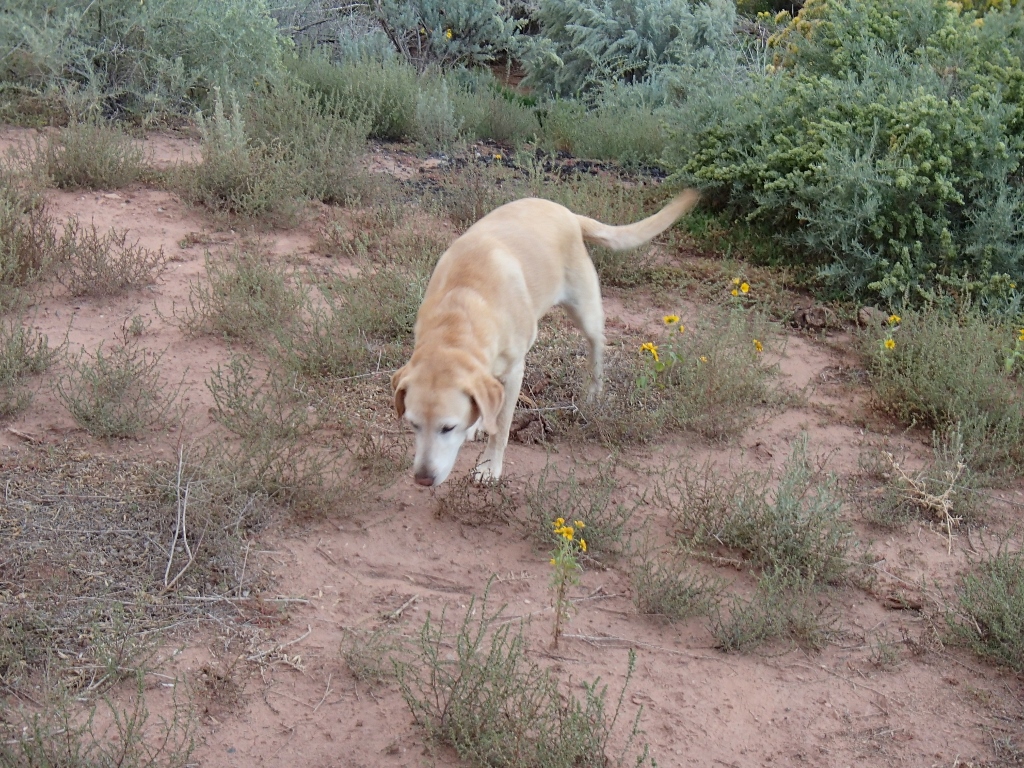 So------relax on the porch of your cabin---get a cold drink---take a deep breath and forget your troubles
as you stare at the view that the Hideaway has.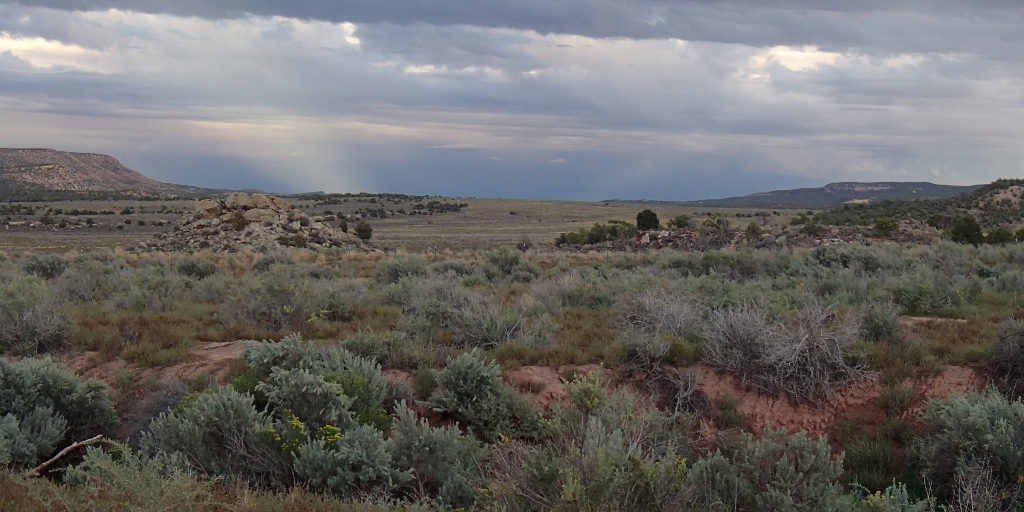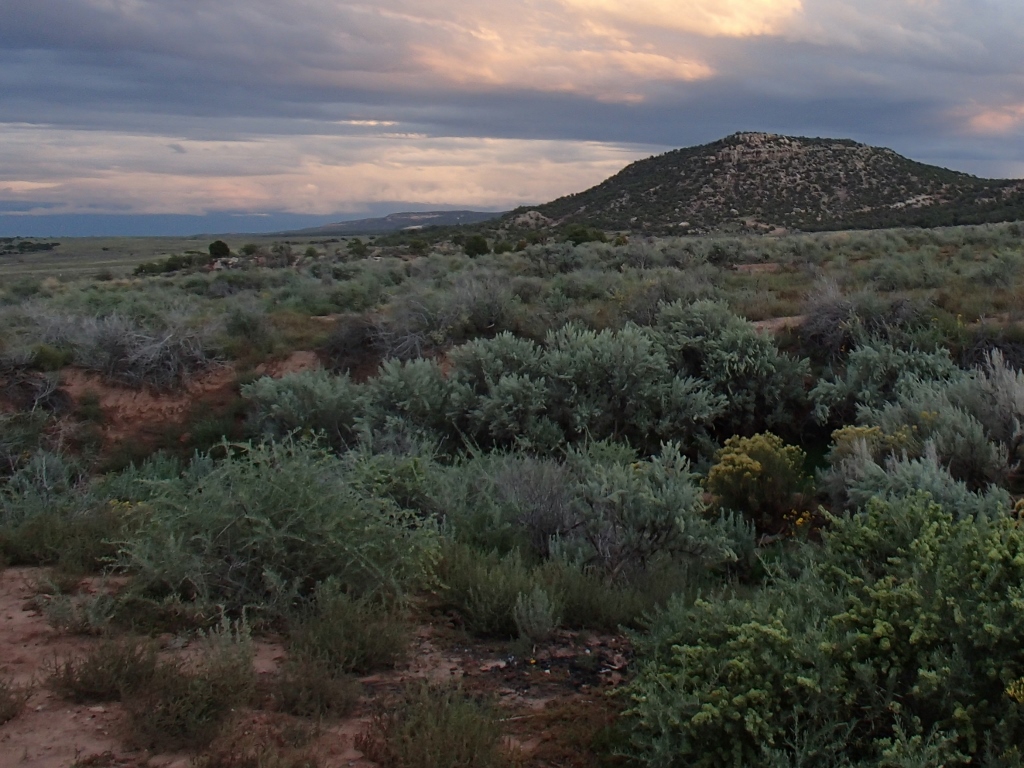 ZZZZZZZZZZZZZZZZzzzzzzzzzzzzzzzzzzZZZZZZZZZZZZZZZZZZZZZZZZZZZZZZZZZZZZZzzzzzzzzzzzzzzzzzzzzzzz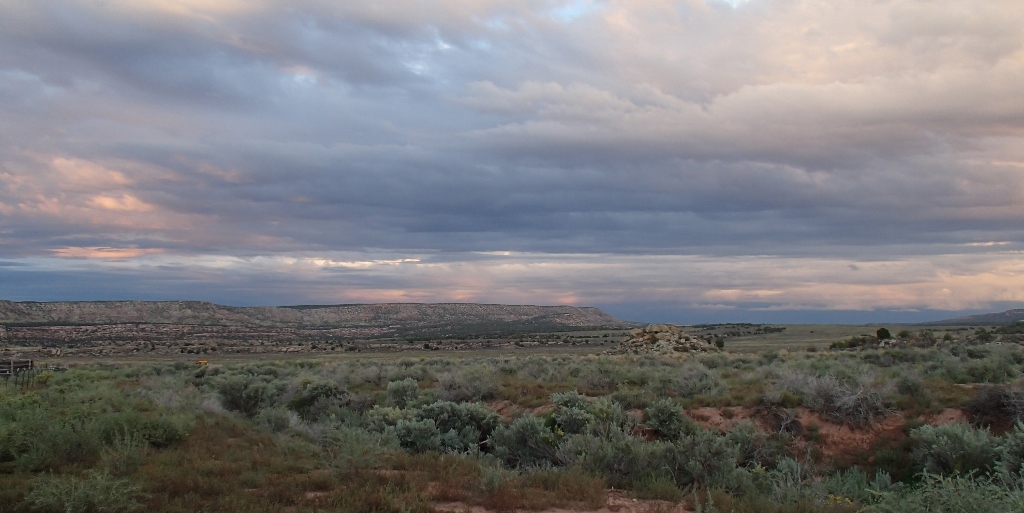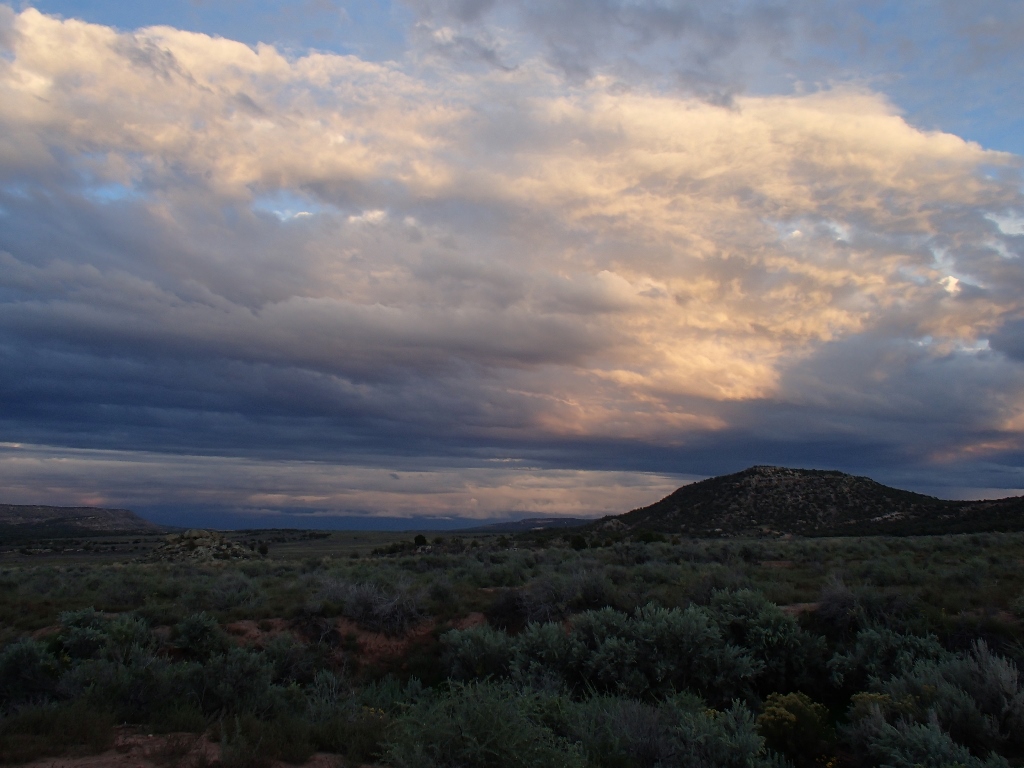 A rough map of our days route today---minus the drive over to the 3-step Hideaway
About 98 miles for the day.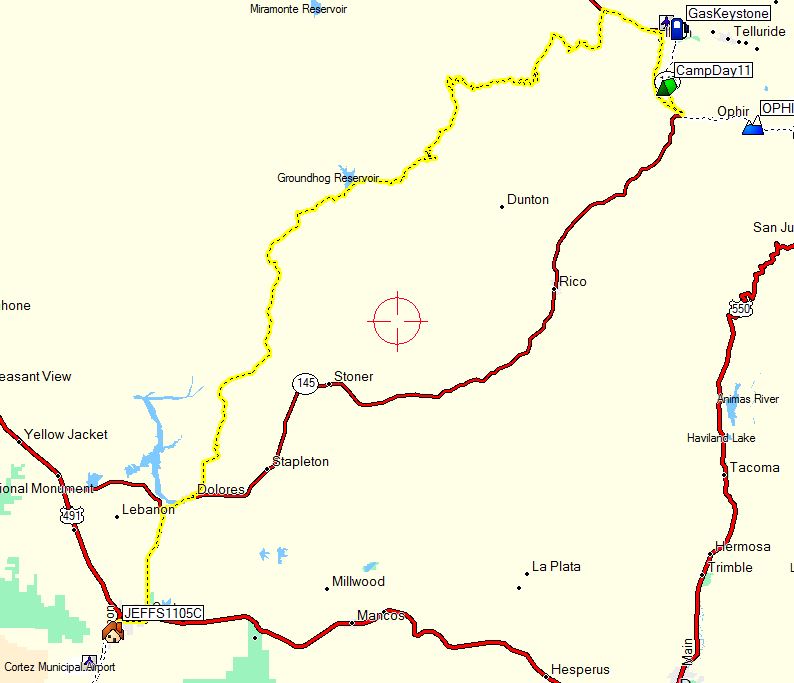 I finally said goodbye to all my friends sadly---and headed back to Illinois and my home where my loving wife and dog await me.

Enjoy Life Today
Yesterday Is Gone
And Tomorrow May Never Come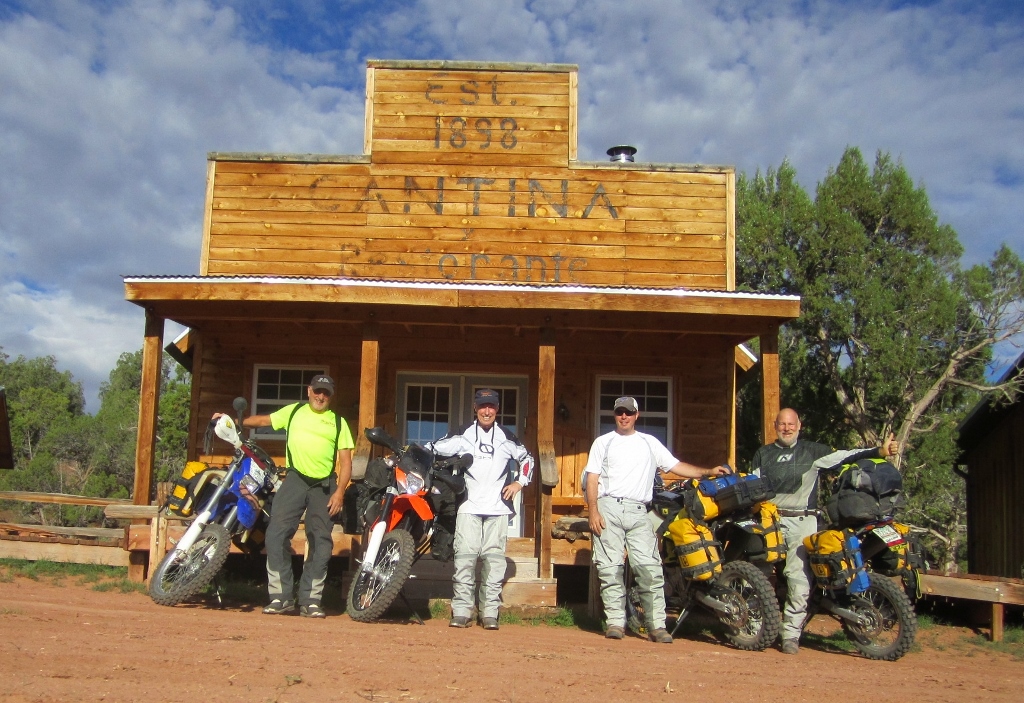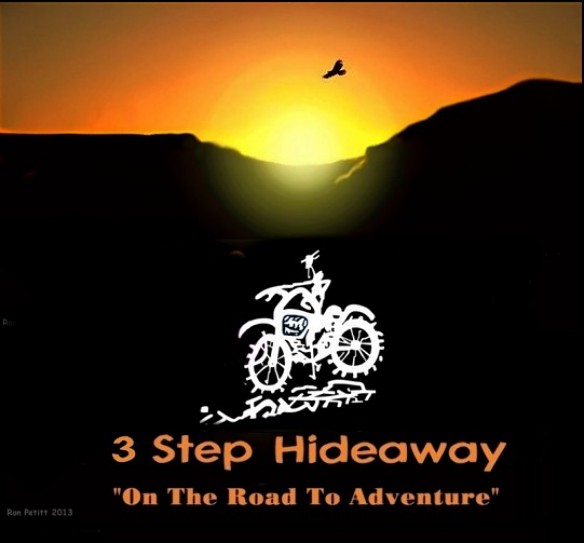 Here's some info to find Scott and Julie's 3-Step Hideaway.
The big overview of nearby La-Sal, Monticello and Dove Creek.
Moab would be 48 miles Northwest of 3-Step.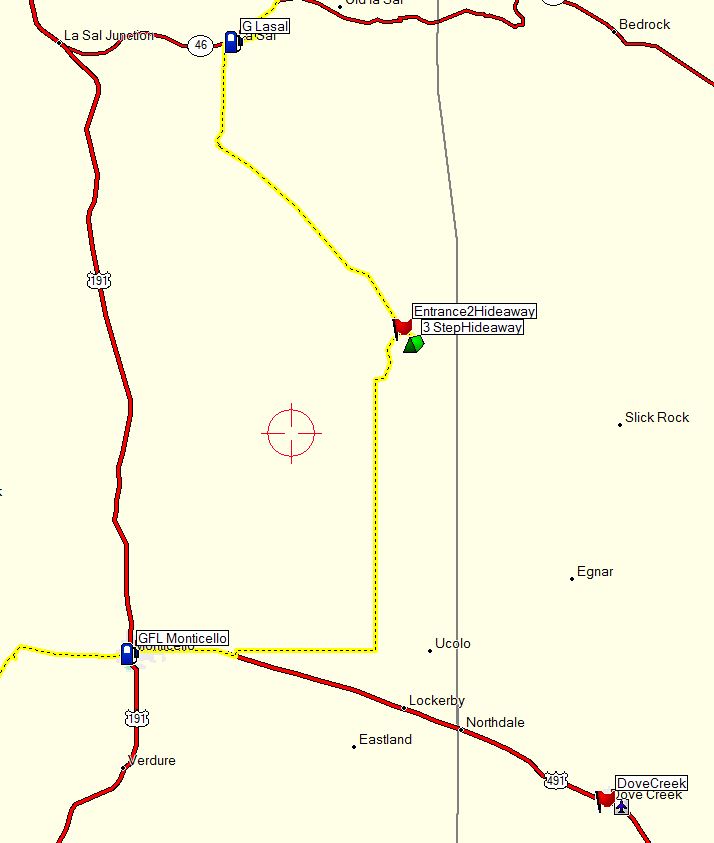 Here is a close-up of the turnoff-----it is a dirt road----do not mistake a paved road nearby to Scotts neighbor.
Nice fellow but he may get irritated after 3,000 bikes come down his very long driveway.
I bet Scott puts a sign at the road------which is the official Trans America Trail coming from Dove Creek, Colorado
Entrance2Hideaway N°38 06.256' W°109 05.541'

3-Step 3 StepHideaway N38° 05.629' W109° 04.940'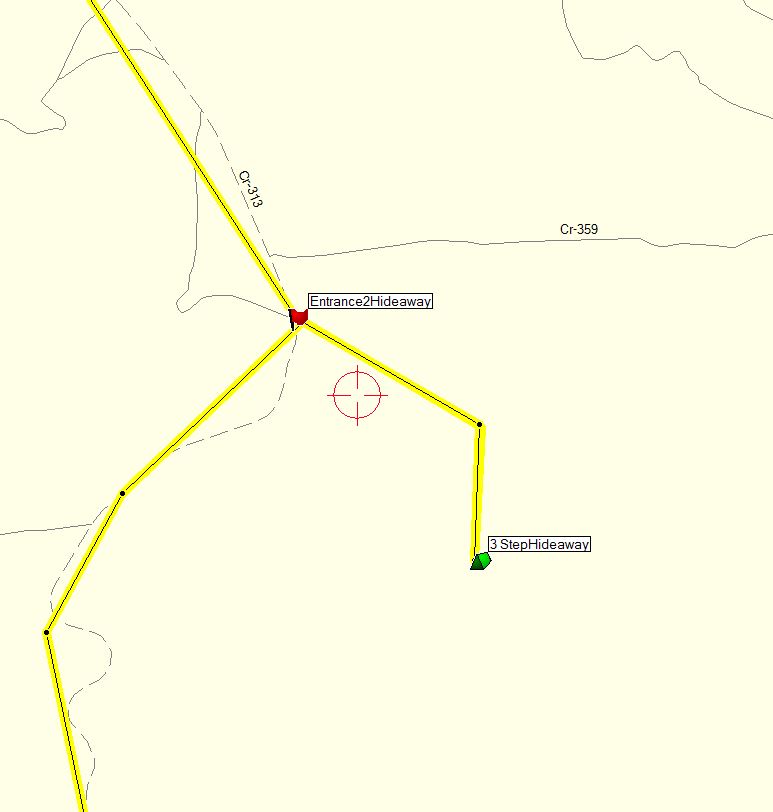 Back to my Homepage