Two, Three and Four Corners
September 2013
With the CBDR and UBDR thrown in for good measure.
A DVD video of this ride is available HERE
This ride was a really great one.
We would run the Colorado and Utah Back Country Discovery routes on this ride---which were awesome.
But other things came in to play and sometimes overshadowed those routes.
Also tying the 2 BDR routes together was a challenge and took us down some neat roads even tho the unbelievable rains Utah and
Colorado were having would try to ruin our ride. We lucked out getting thru places others were having a hard time or had
to re-route as their weather and route timing was a little different than ours.
And oh yes--------everybody knows what and where 4-corners is---so what is 2 and 3 corners ?????
3 corners is way better than 4 corners----never heard of anybody going there---and there was nobody there---and
no Indians to charge us a fee for being there.
There was a reason nobody was at 3 corners----it's extremely hard to get to and requires a hike up a hill
no bike could climb.
Left to right----Me (BigDog) Yamaha WR250R
Bud (Rhoedster) KTM 690 Enduro
Bill Asher (Bash3r) WR250R
Scott Stevenson (Dingleweeds)) WR250R---with 50,000 miles on the clock !!!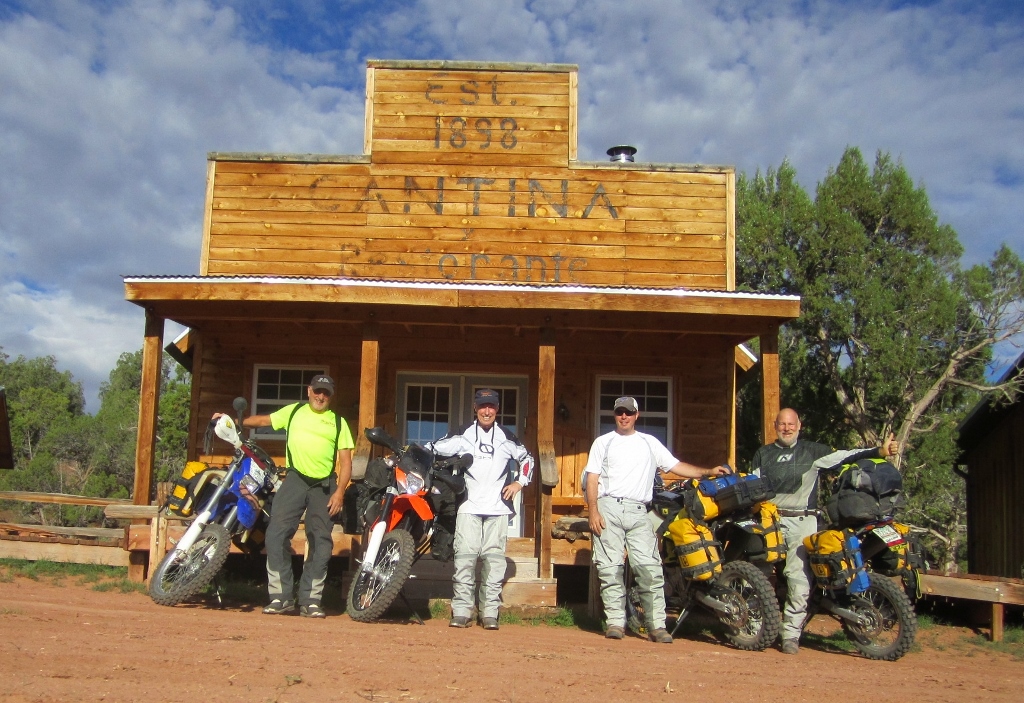 So this ride starts in Cortez, Colorado with 5 good buddies---well 5 at first--then there were 4---then there were 3.
Some people have to work you know---and keep the economy going--and paying into my social security.
Here we are at Jeffs house who was so kind to let us park all our tow vehicles at his place in Cortez, Colorado.
We had a great dinner there and stayed the night.
Jeff would join us just for one day on his BMW1200GS
Day 1----September 1st, 2013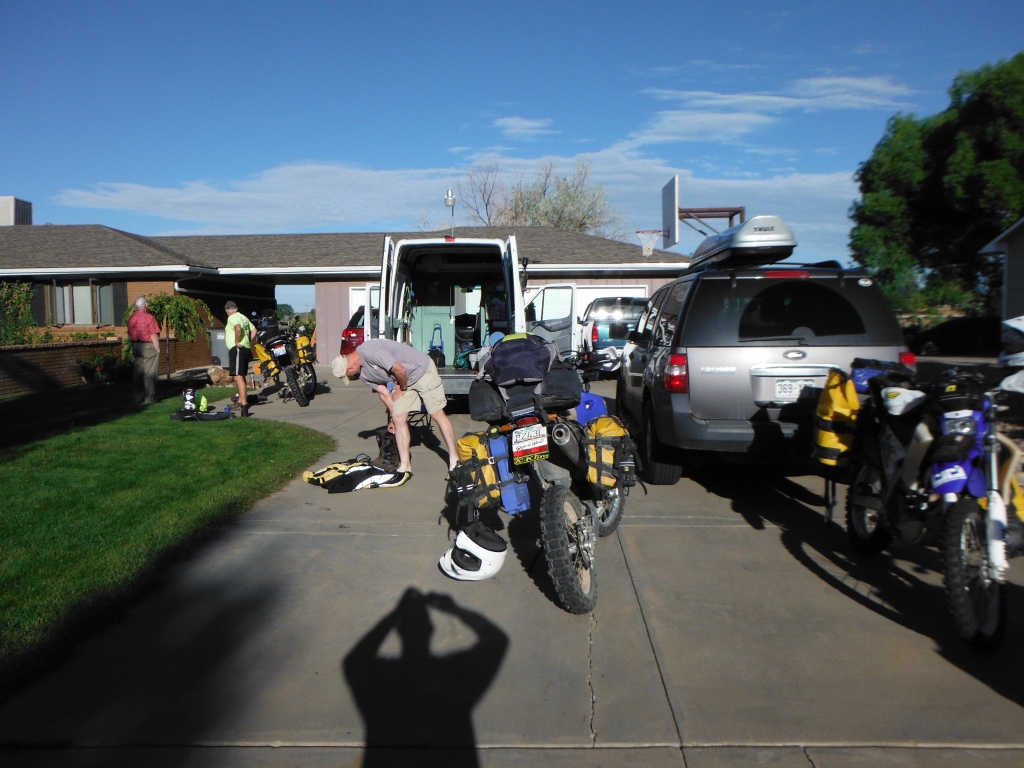 We would ride the 2 Back Country Discovery routes clockwise----and headed straight to 4 corners from Cortez where
Colorado, New Mexico, Utah and Arisona meet.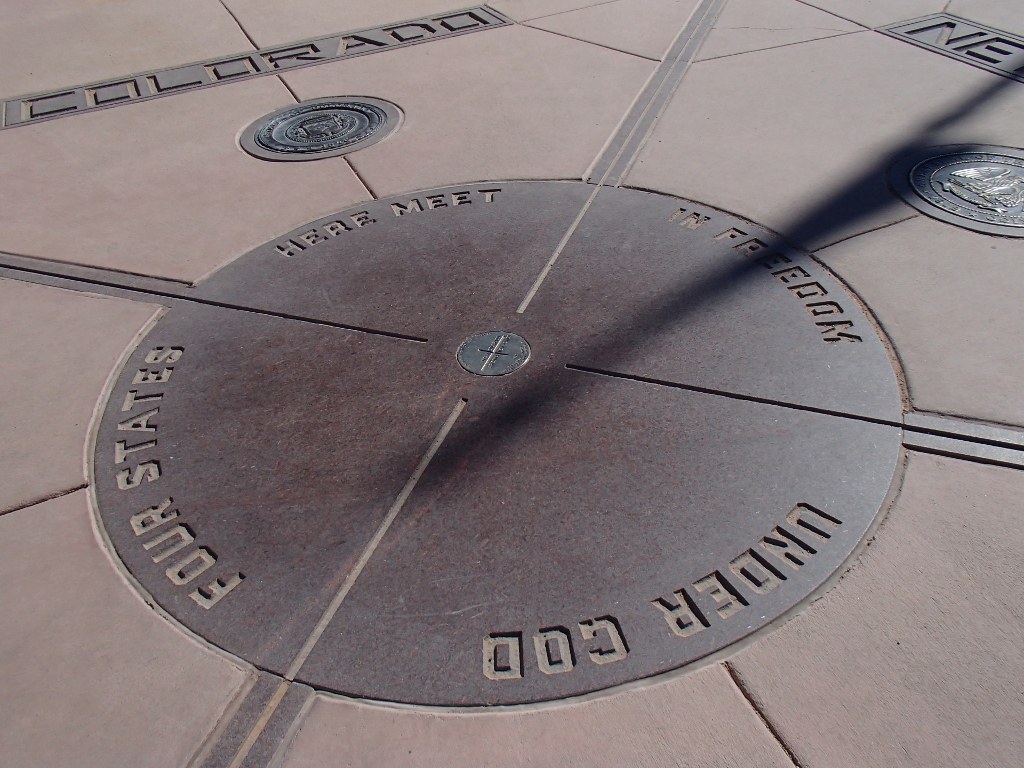 The last time I was here---with my son---4 corners was closed for renovation and my son never got to see it.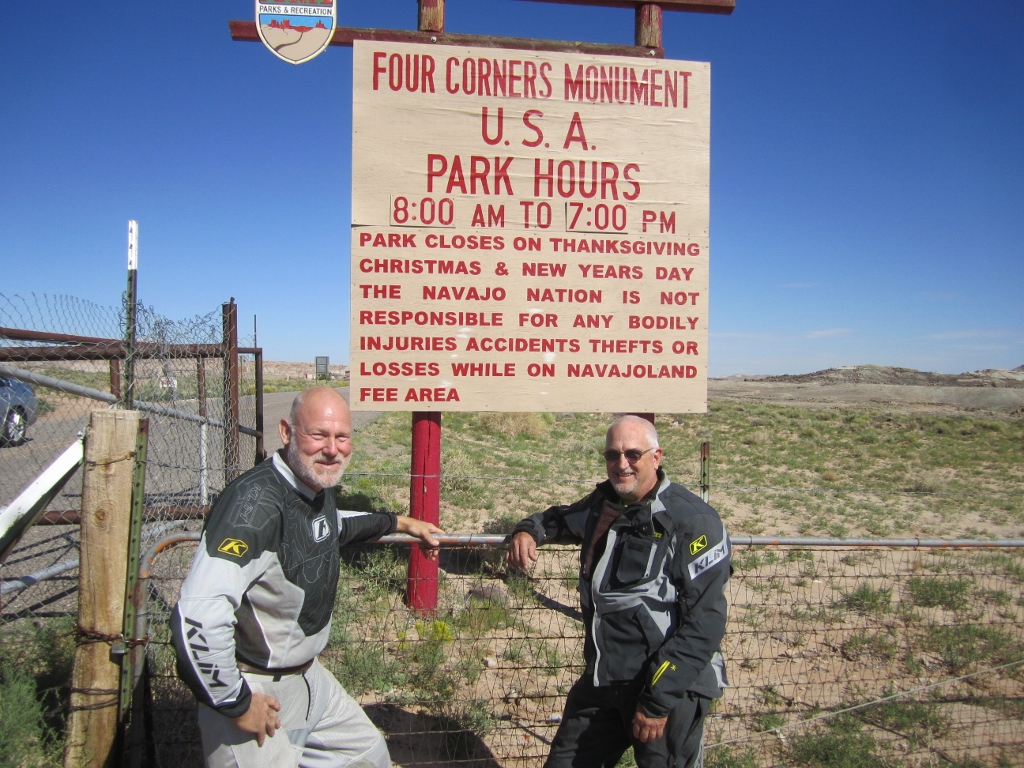 I spent many a night finding a route across the Navajo Indian reservation to connect the Colorado and Utah Back Country Discovery routes.
So from 4 corners we would start the Utah portion going North--but we went out across the reservation hoping my route would be a good one.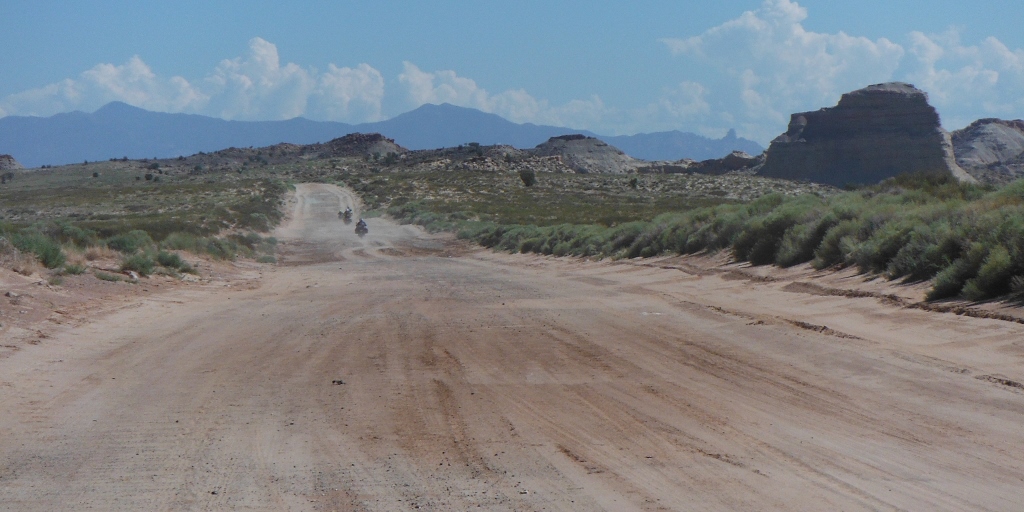 From 4 corners we rode the paved route 160 West a few miles and turned North onto the Indian reservation on Bia-5060.
"Bia" is Bureau of Indian Affairs.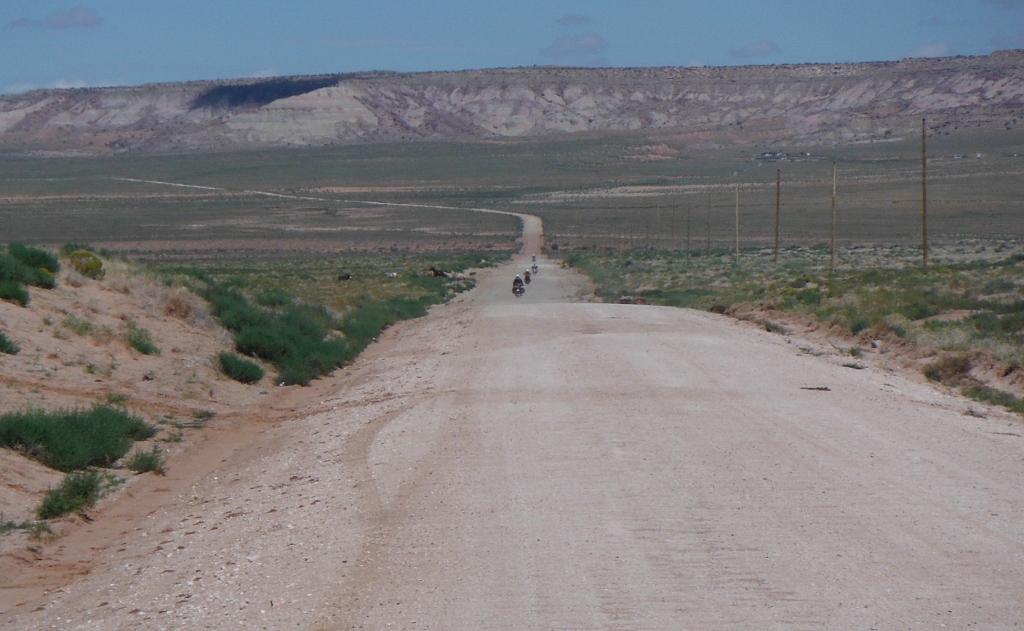 I wish Jeff could have hung with us some more--but he had work obligations and probably new his bike wouldn't be suitable for all this ride anyway.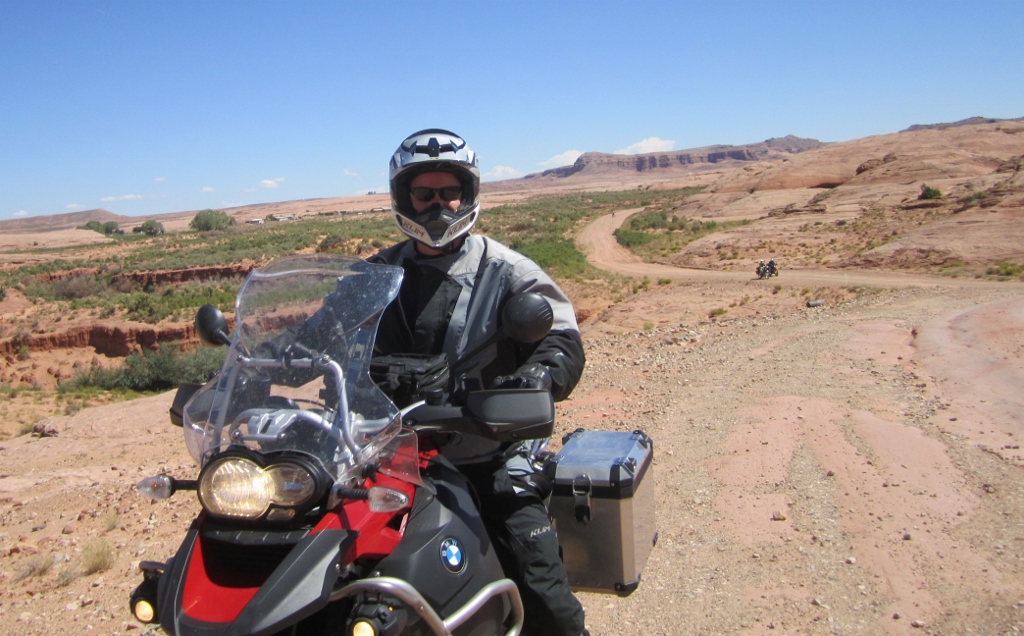 Me on the left---my WR250R would hit 45,000 miles on this trip.
Bill Asher's (right) WR250R was pretty new and low mileage.
Bill was just going to be able to ride with us for a week or so---it was great we got together to do a bigger ride together.
He lives not far from me and we've done a few shorter rides together in Illinois and Missouri.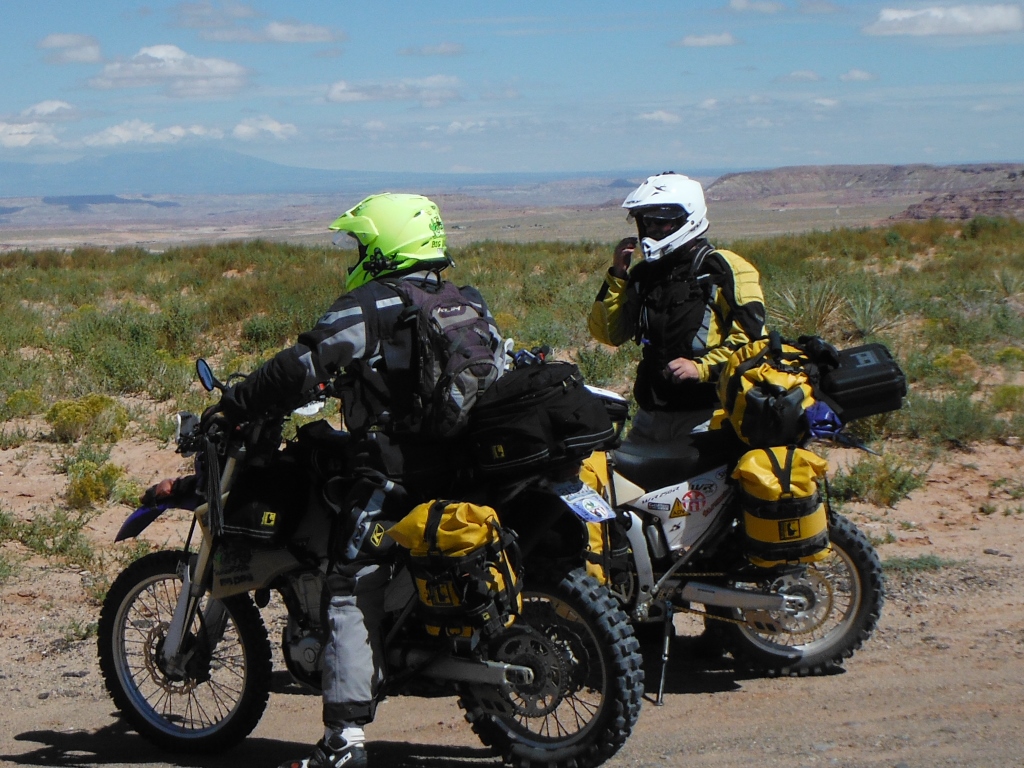 Across the desert we go in perfect weather.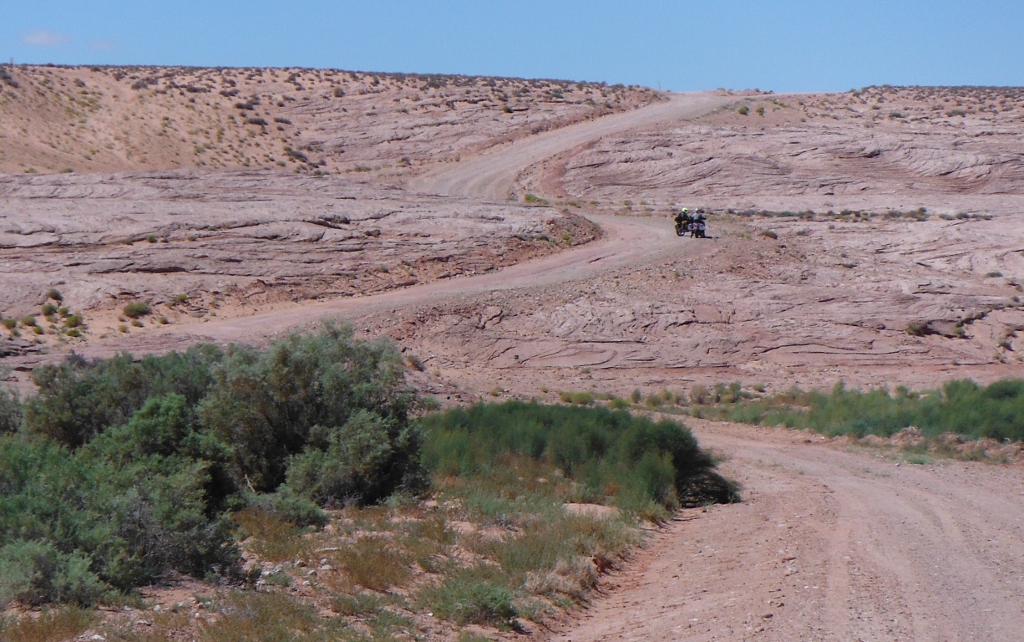 Part of the road was solid rock.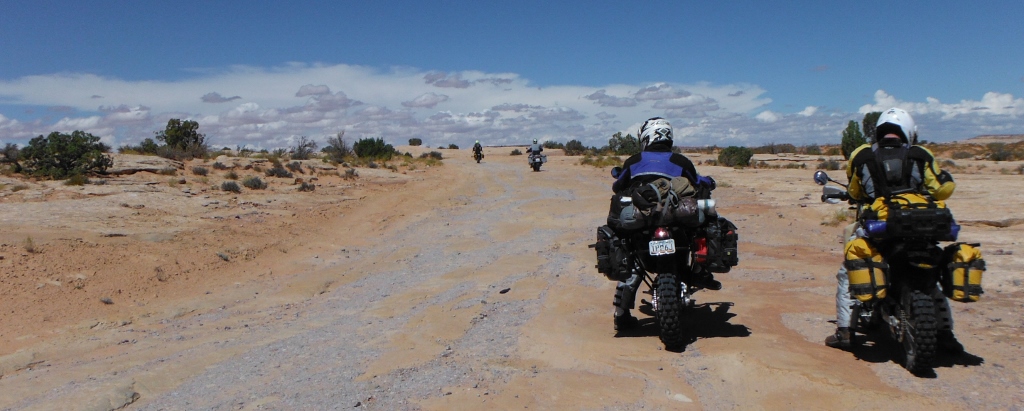 Somewhere out there the roads disappeared and we had to head South and ride some pavement on route 160 again.
I think out there was some land formation that was impassable---as there seemed to be no roads going all the way West to Mexican Hat.
Might have been a high mesa---bad deep canyon---I don't no ?????
We hit the highway just South of the little town of Mexican Hat, Utah and gassed up----then headed North a bit.
I'm not sure anybody knew why Mexican Hat was named Mexican Hat---or where I was taking them.
I think the last time I was here I was with ole' GasPipe ??? Not sure ????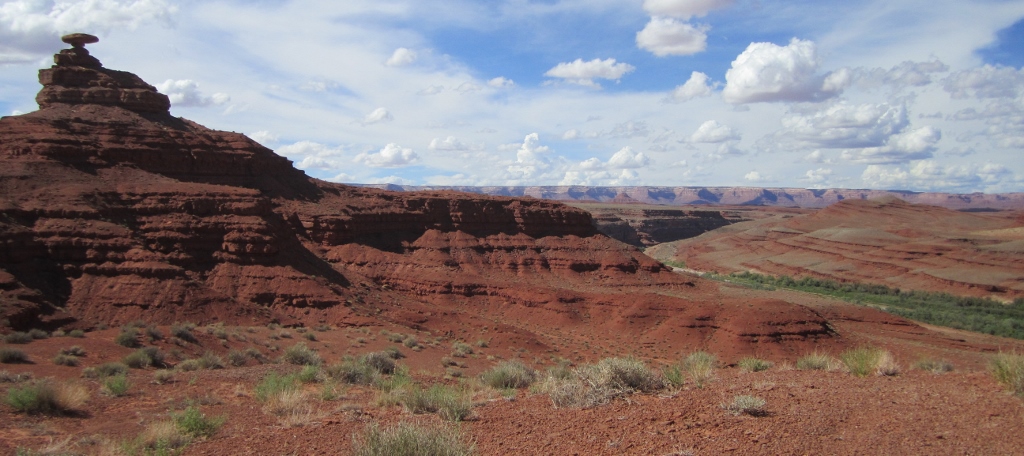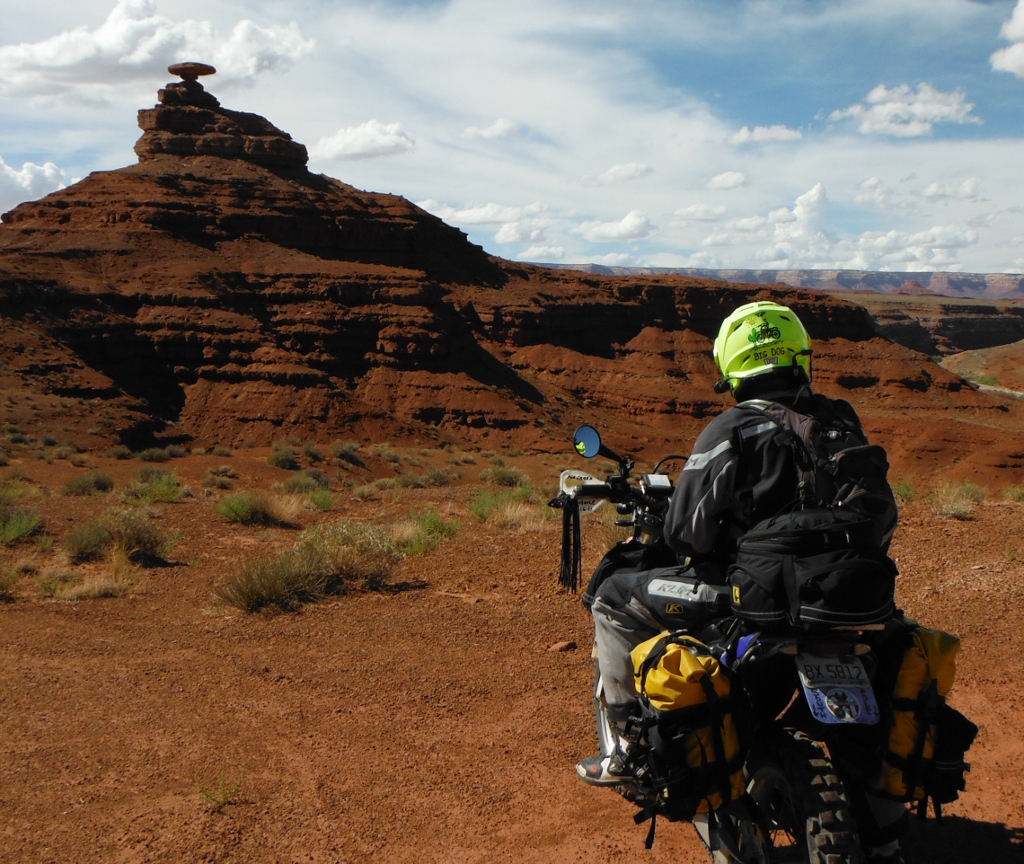 The rock needs no explanation.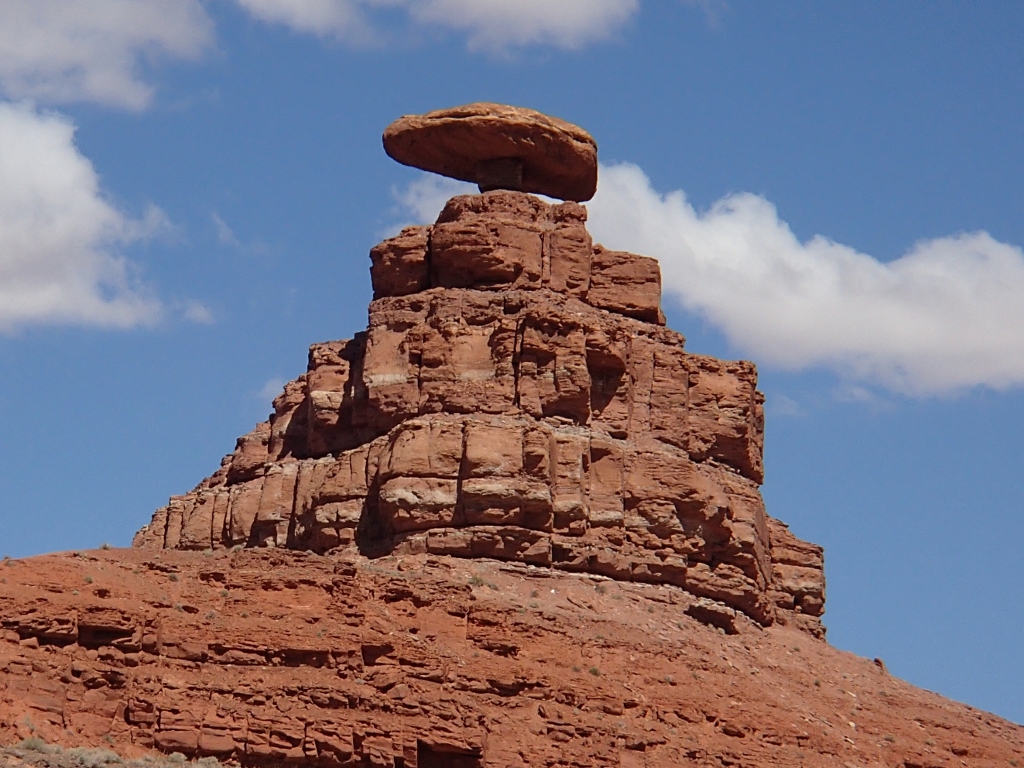 On a previous trip to Mexican hat----we stopped in the local cafe and I took a picture of a picture that was hanging on the wall.
This picture is awesome !!!!!! This girl is hanging and repelling from the top of the Mexican Hat rock.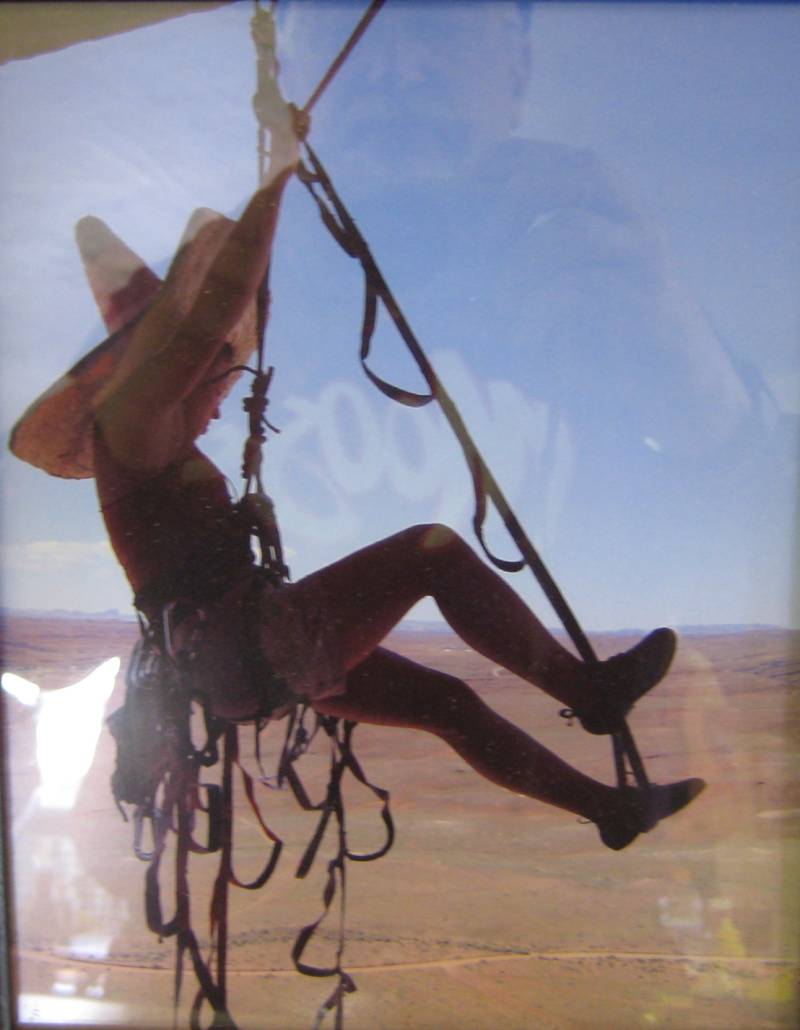 From there we headed Northeast on the paved route 163 for just a couple miles and turned North and rode thru "Valley Of The Gods"
About 20 miles of some georgeous scenery.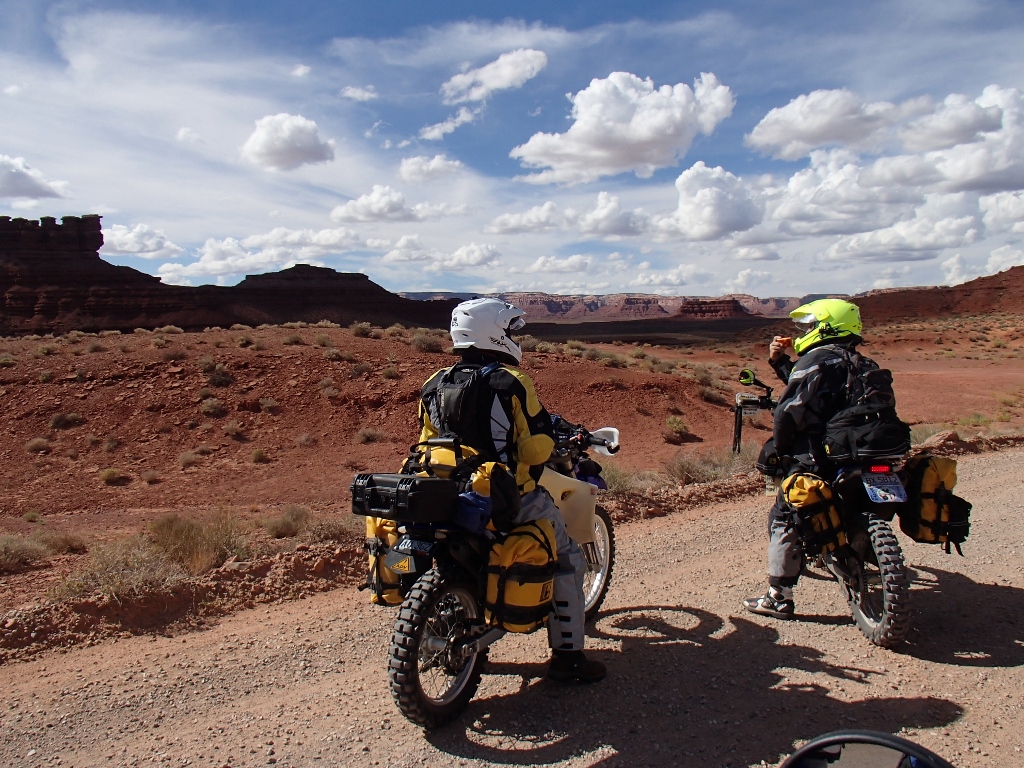 It is very easy riding and almost any motorcycle could ride thru here.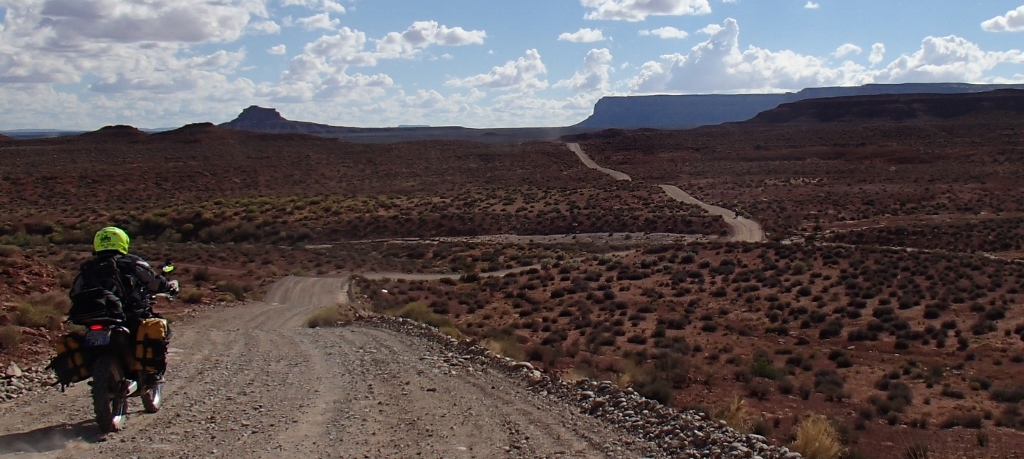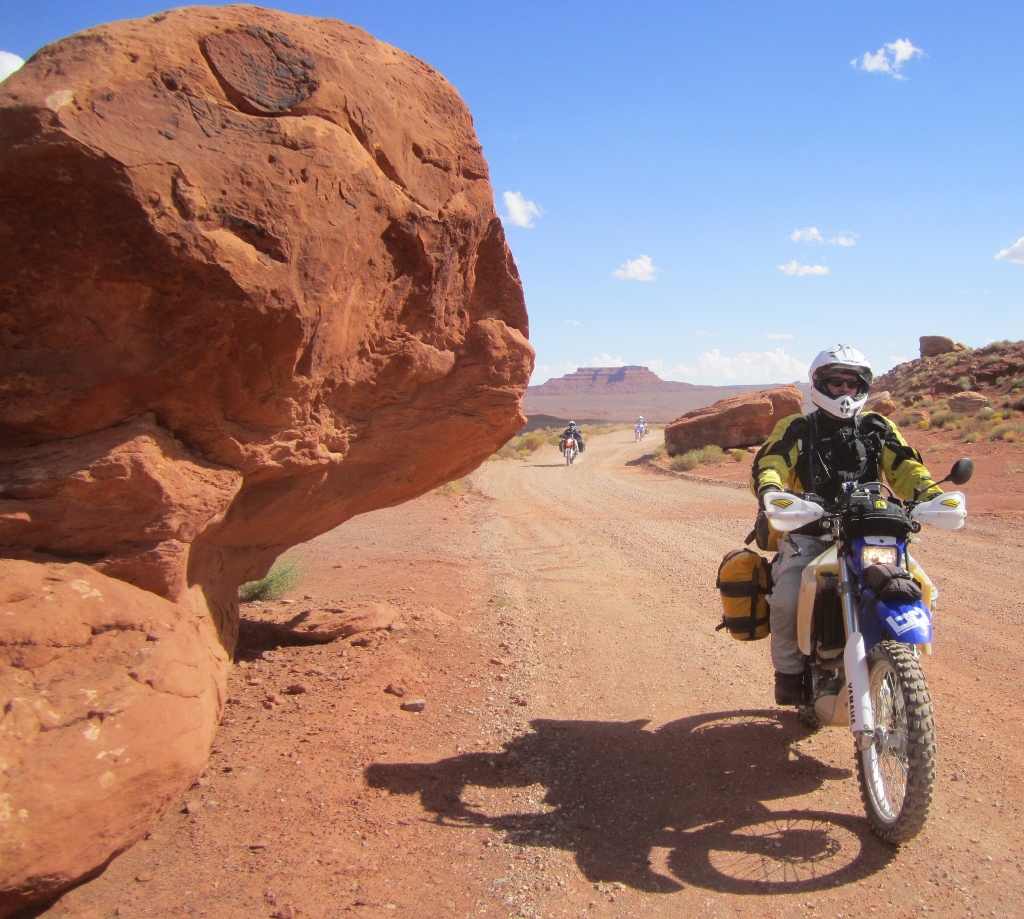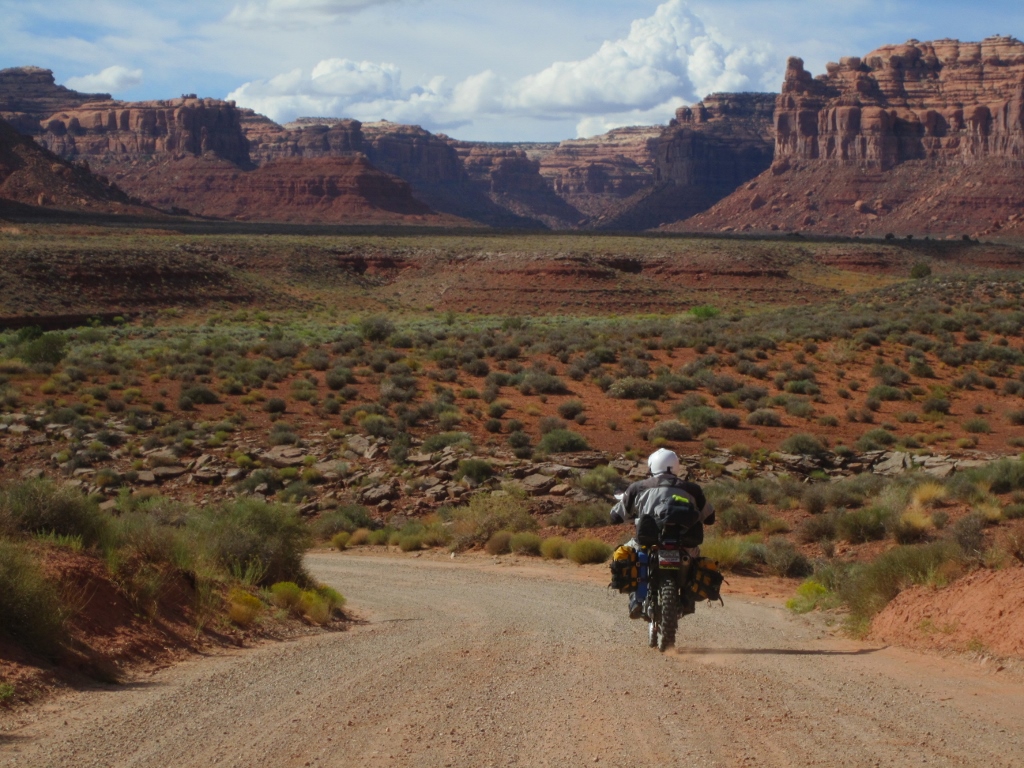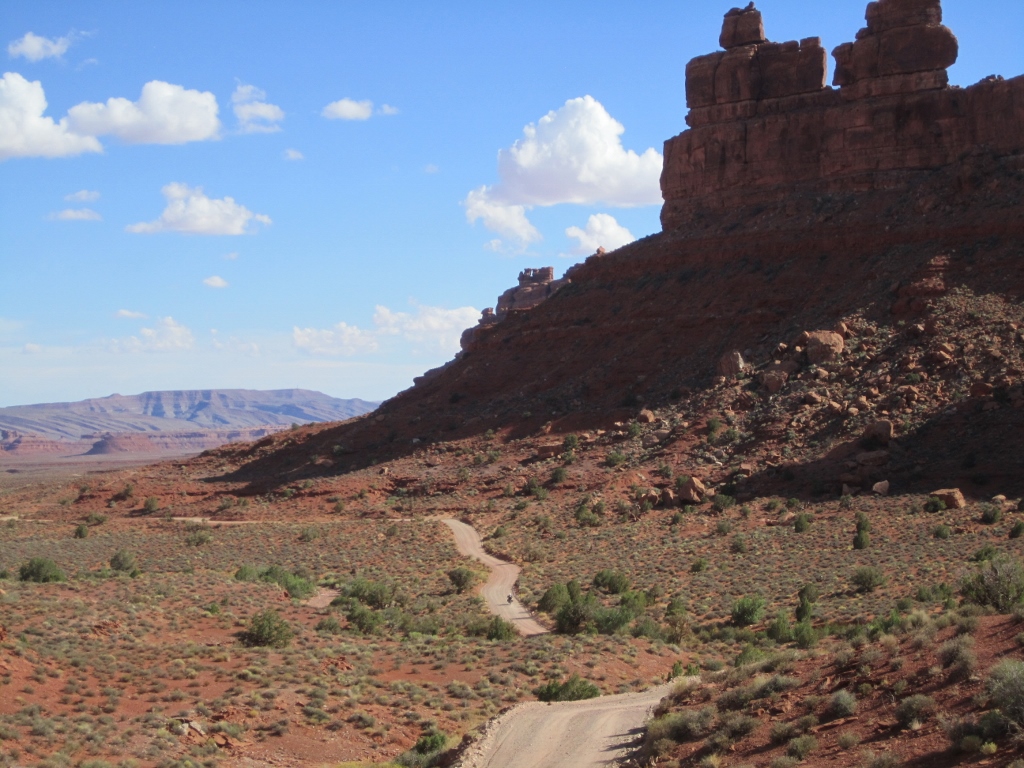 The Valley of The Gods road popped out just below what is called the "Moki Dugway".
A mind boggling set of switchbacks that climb out of the basin you see below.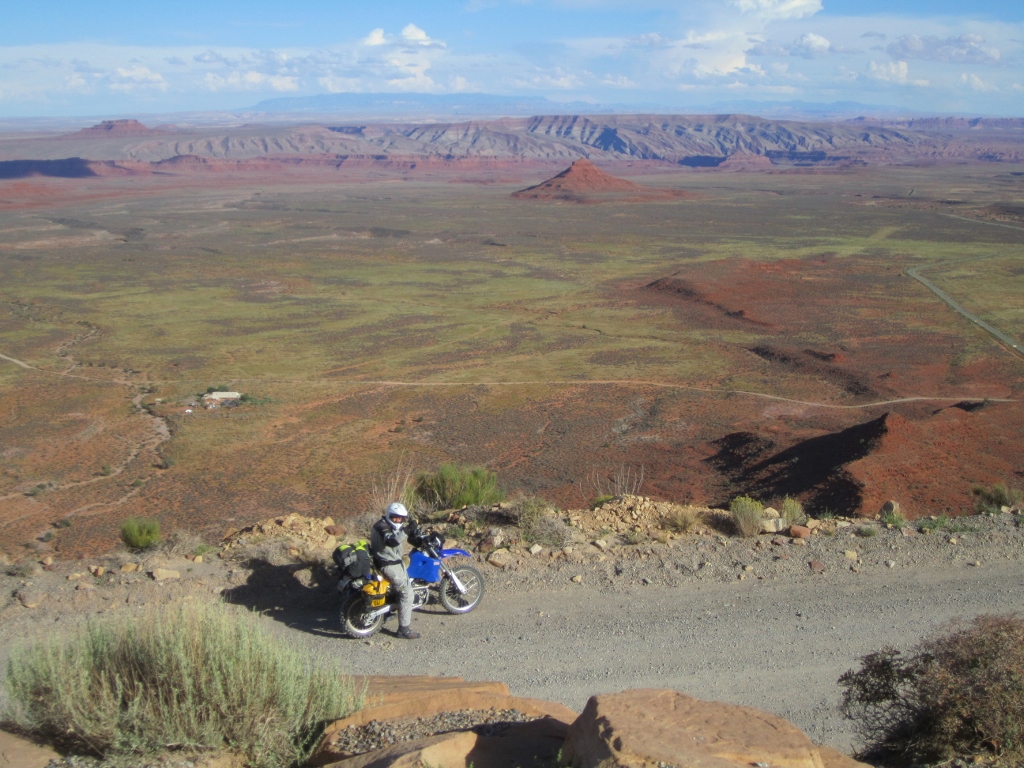 I've been told that there was no way the state was going to build a road off the top of the mesa down into Mexican Hat.
But a mine operation provided the means to do just that. It's about a thousand feet of elevation difference.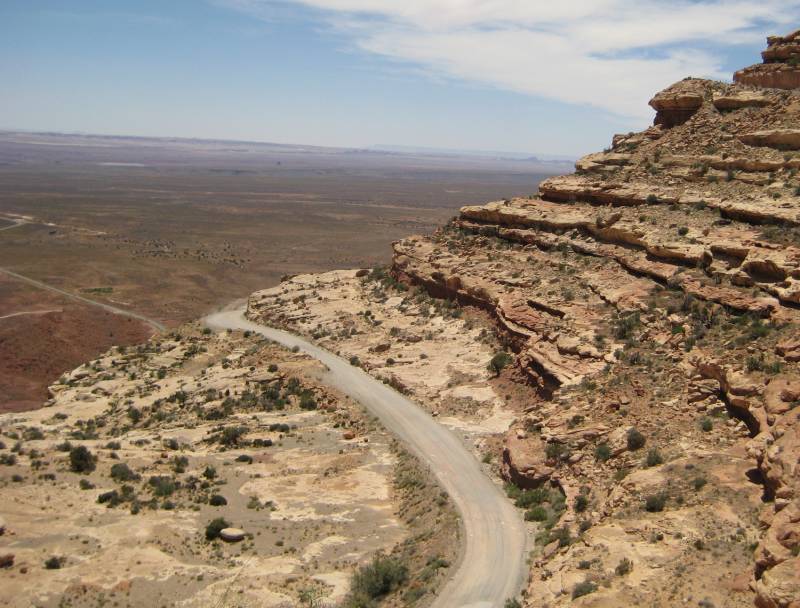 It was only a month before we left to do this trip when I was using google earth and found "Muley Point"
Right at the top of the Dugway is a 5 mile long dirt road that leads you out to it.
I had so hoped to end up here a few hours before nightfall---and it worked out perfect.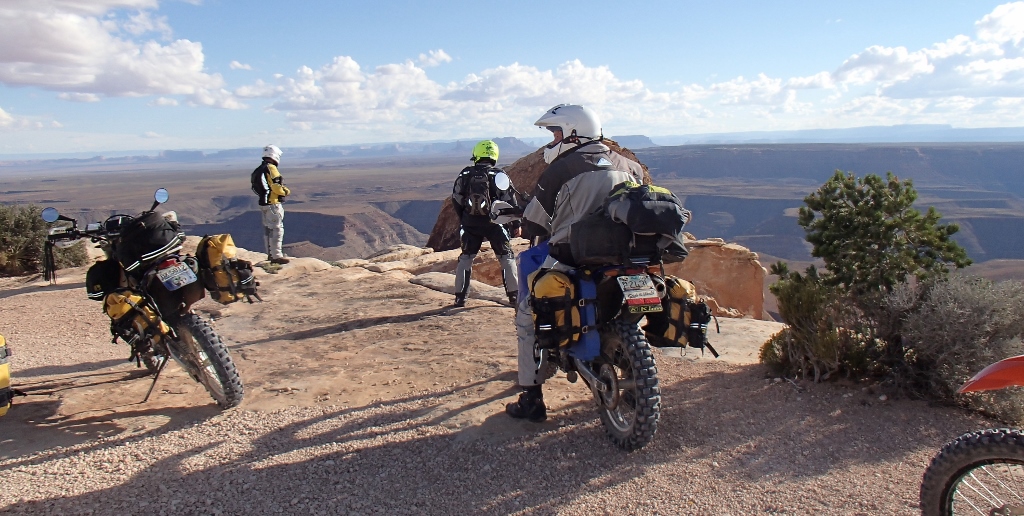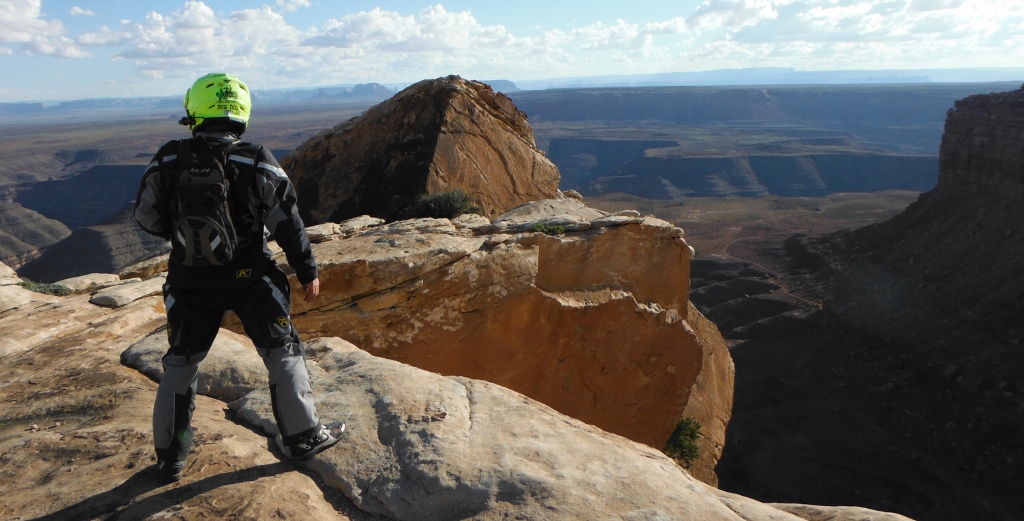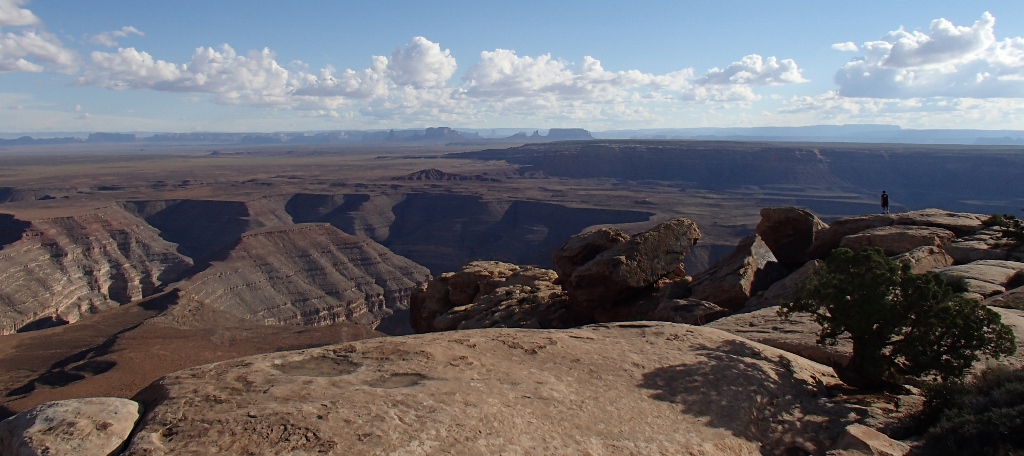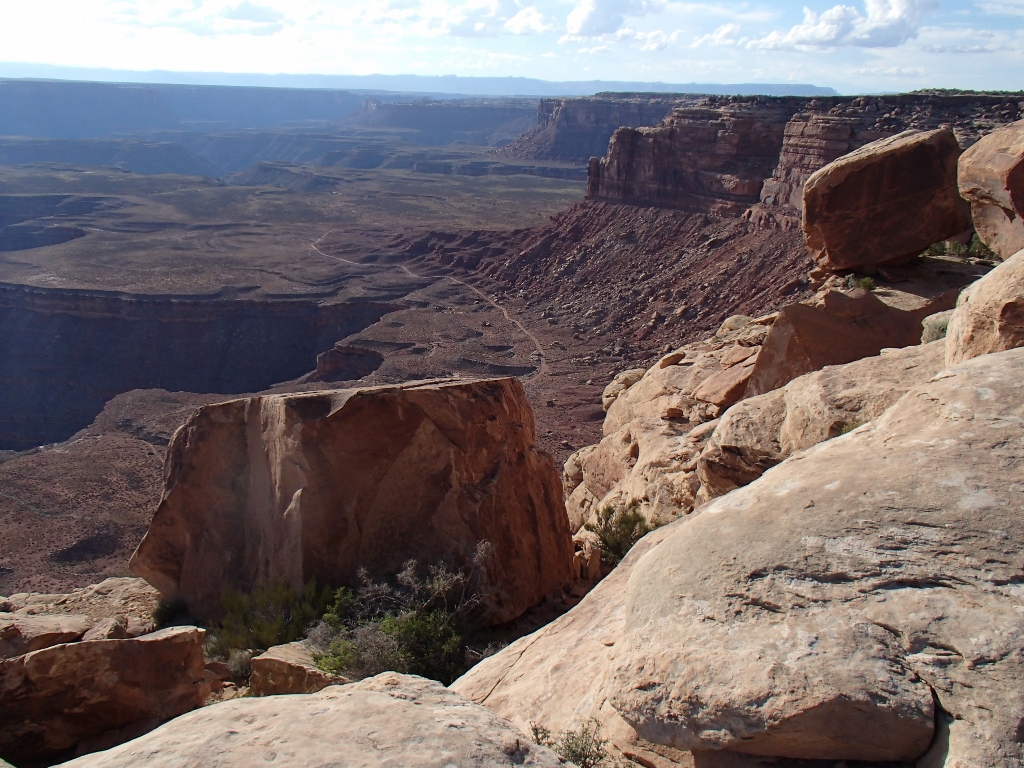 It is primitive camping only and we camped right on the edge----not a good idea to roam around in the dark here.
It was a perfect evening-------the temps were just right for camping and there was no wind.

We all cooked a nice meal with our Jetboils stoves----it was hard to take your eyes off the view here.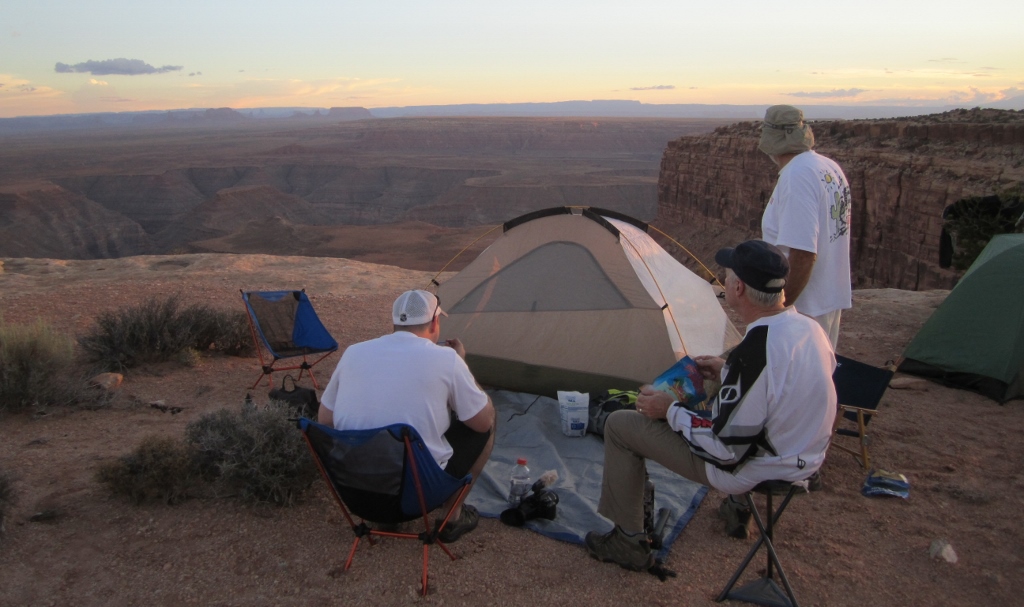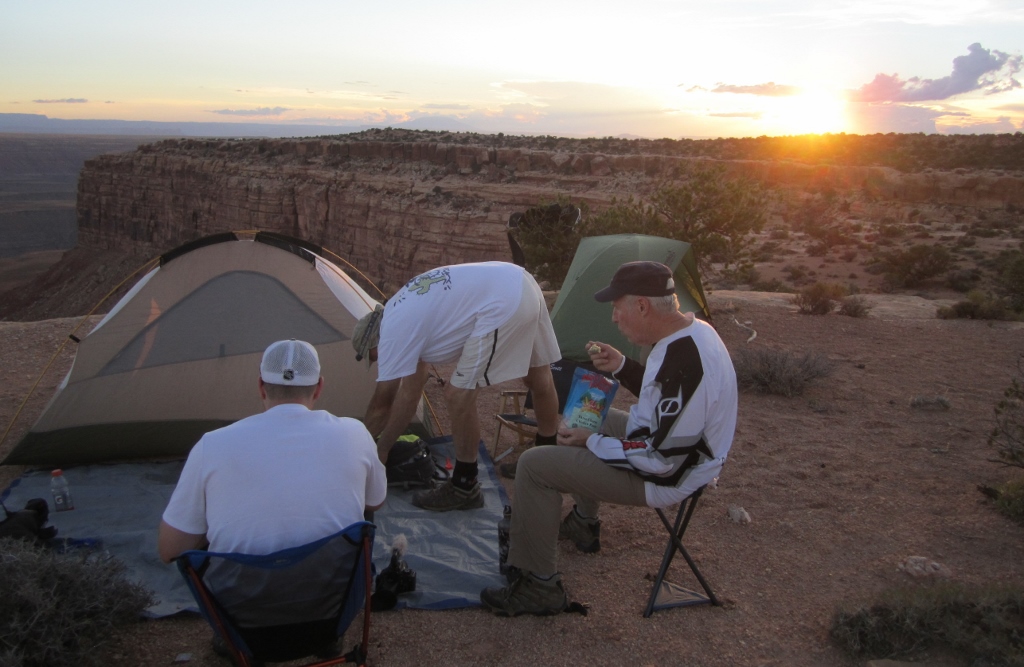 You couldn't wipe the smile off of Bud's face with a pitch fork.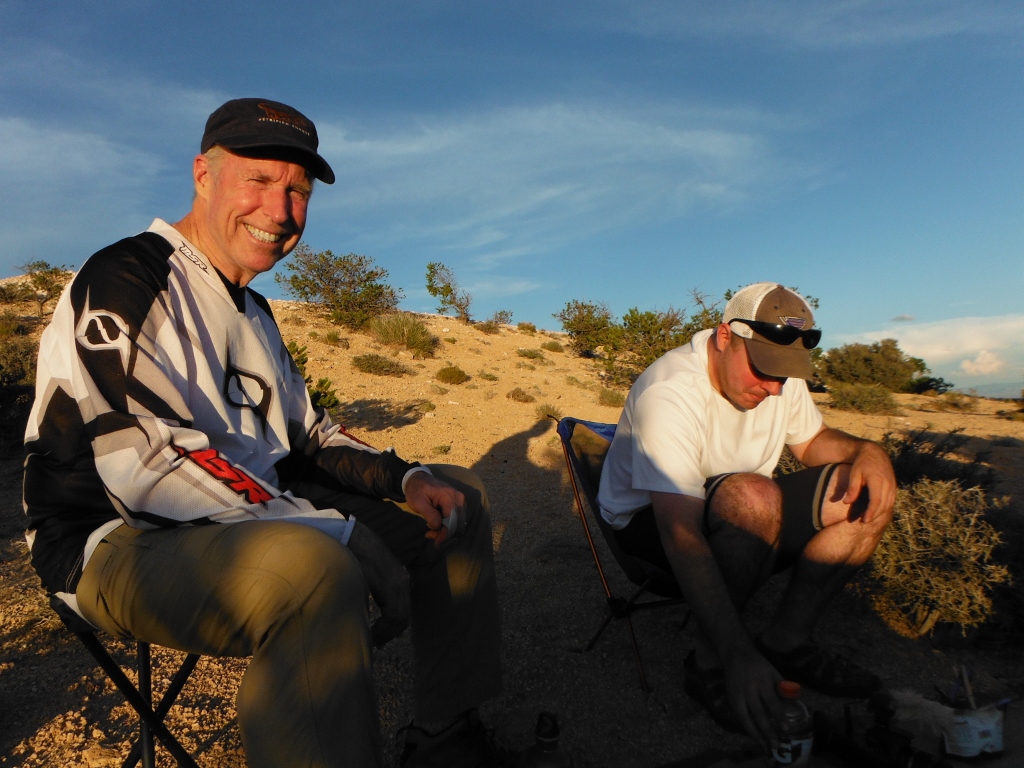 I think I heard this guy say something like .......................................
WaaaaaaaaaaaaaHoooooooo!!!!!!!!!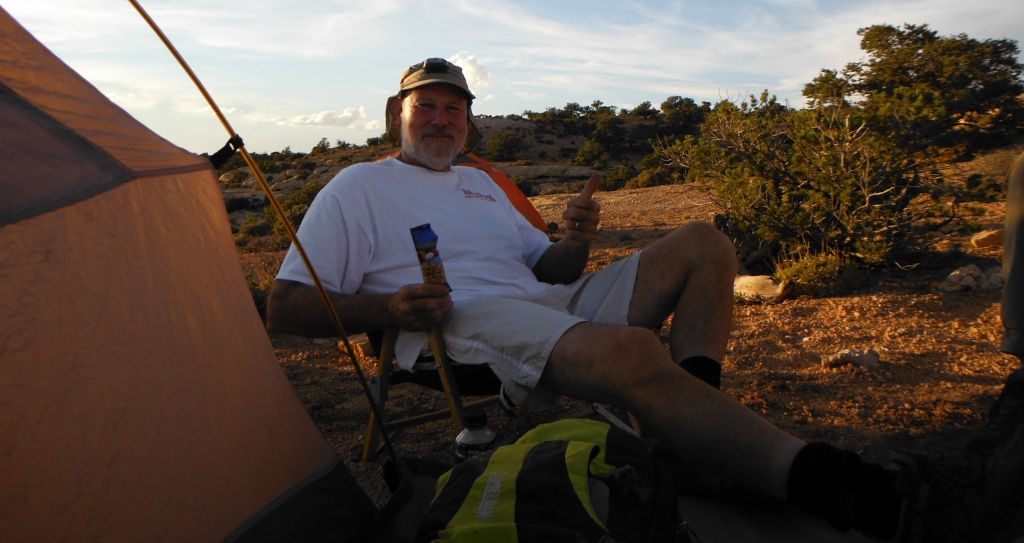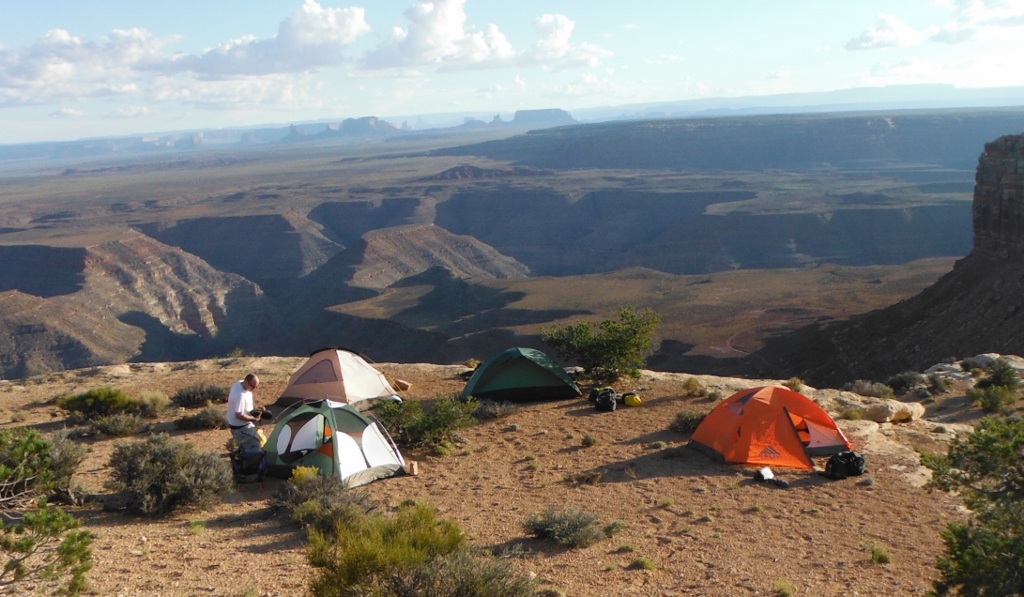 I'll shut up as the sun sets.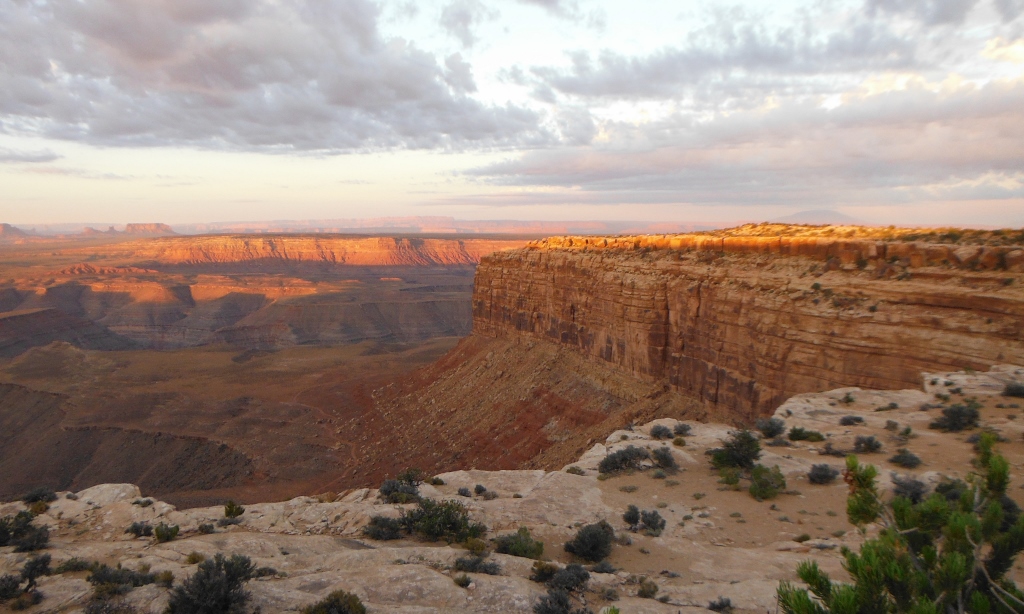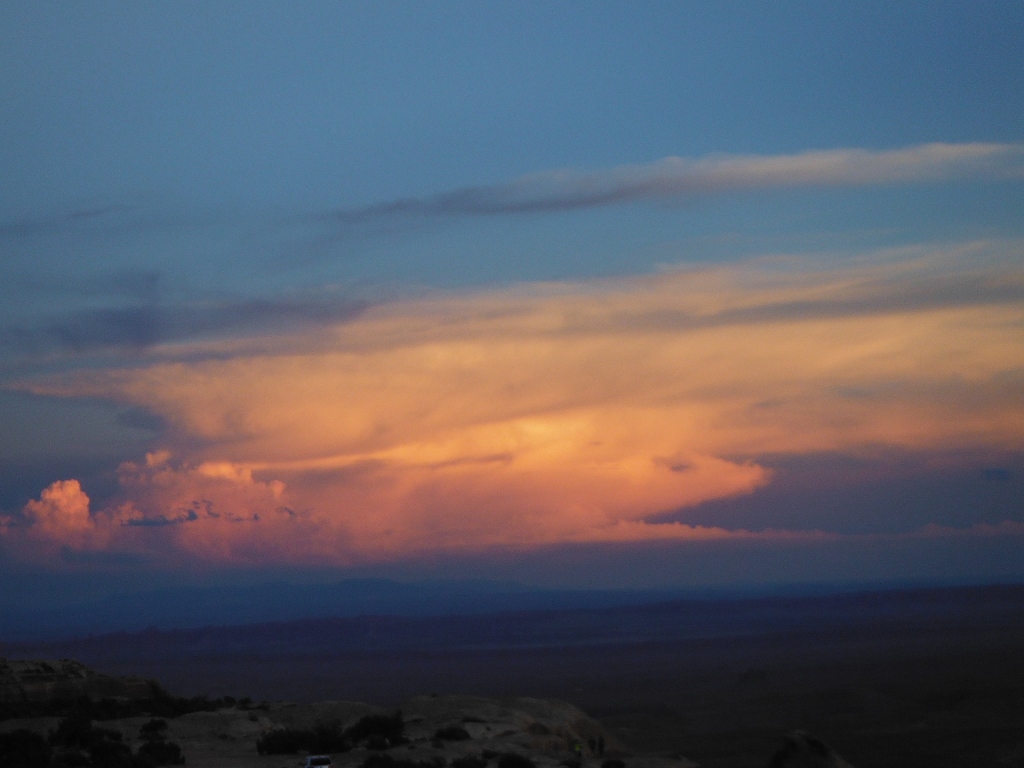 A map of our route today---about 217 Miles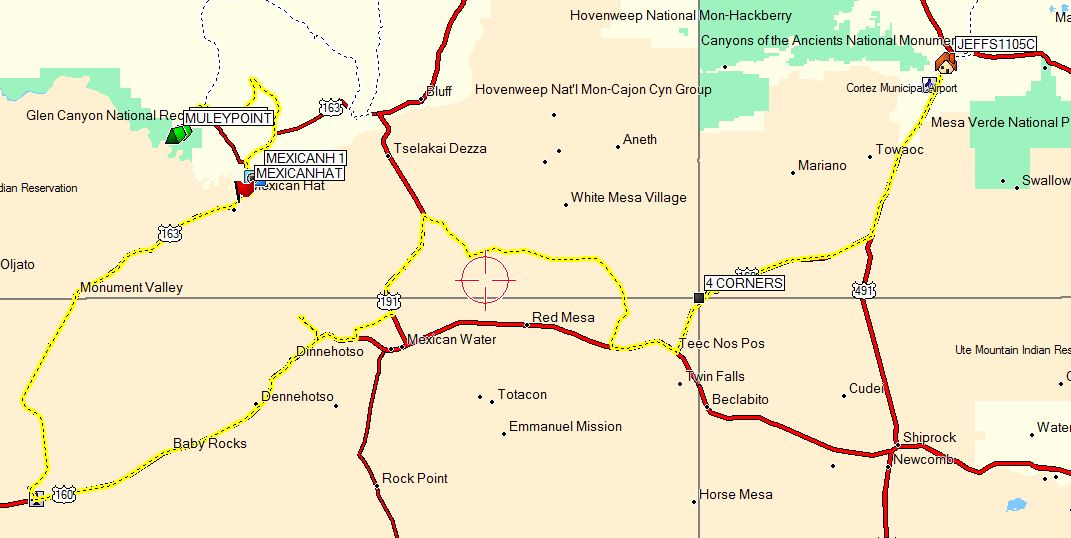 A Video of Day 1
Thanks to Bill Asher
Day 2---September 2nd, 2013

We broke camp in the morning---our bikes had been parked way above our tents--our tents are beyond the
bikes down a hill to the edge of the high mesa. The wind had picked up a bit that morning and I almost lost my tent over the edge.
It would have just been------------gone !!!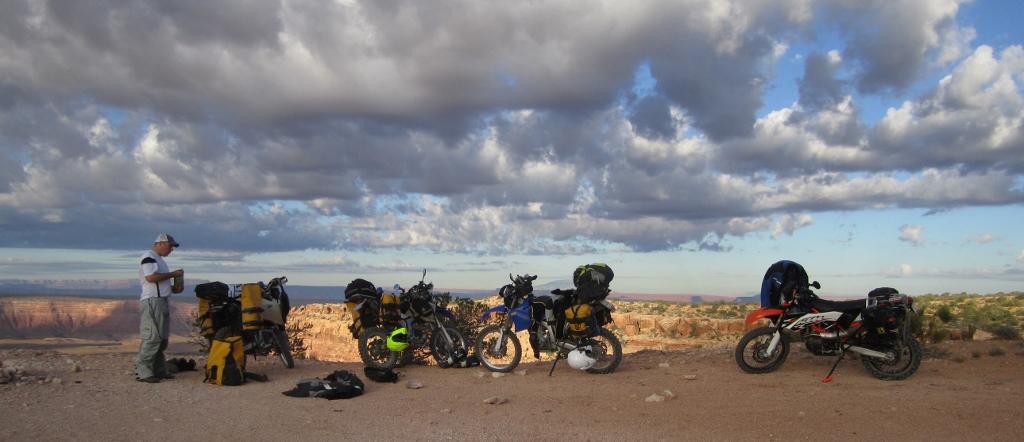 We continued North on the pavement a bit and turned Southeast on Snow Flats road.
It was awesome and provided a lot of varied terrain.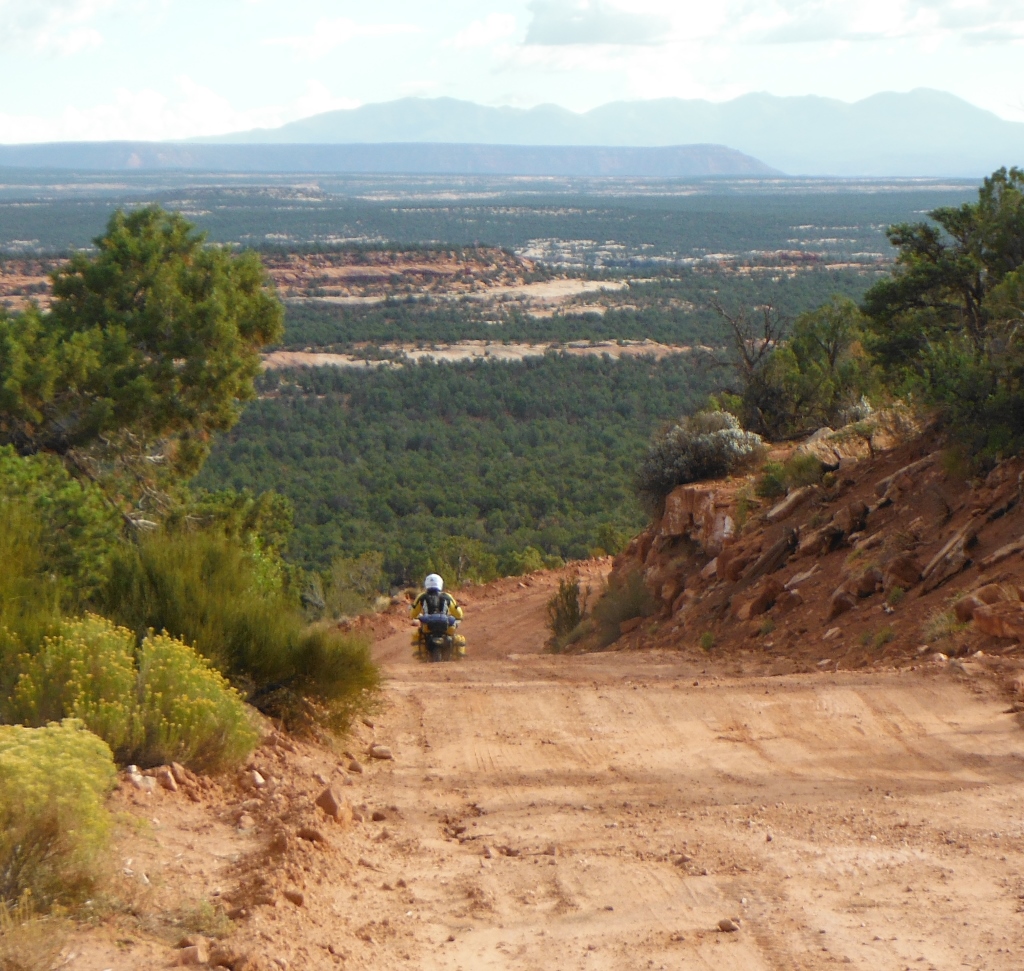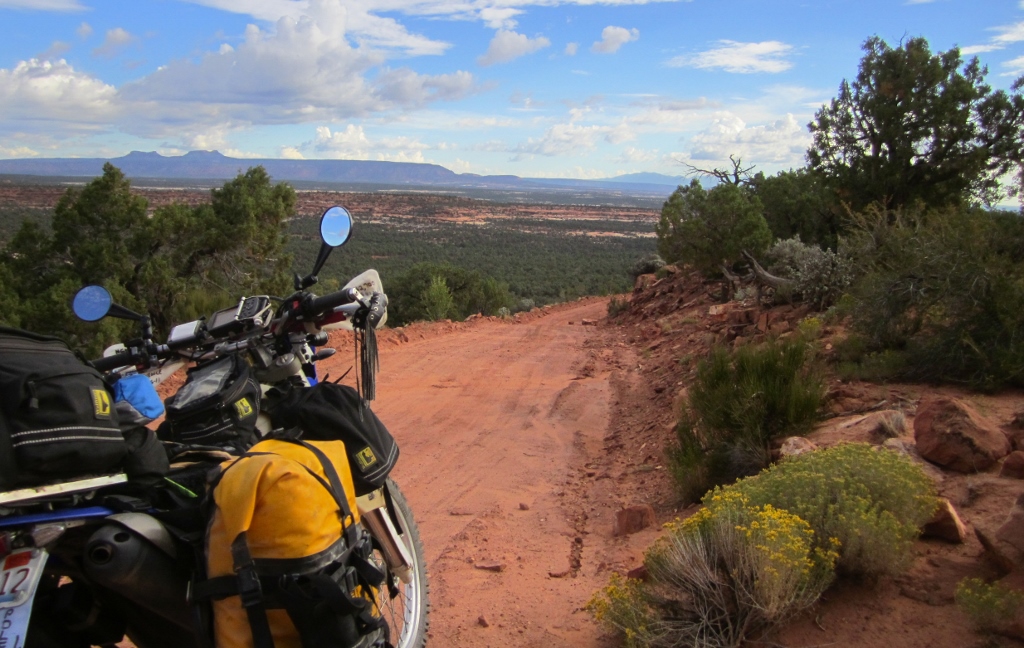 We hit lots and lots and lots of this on this ride.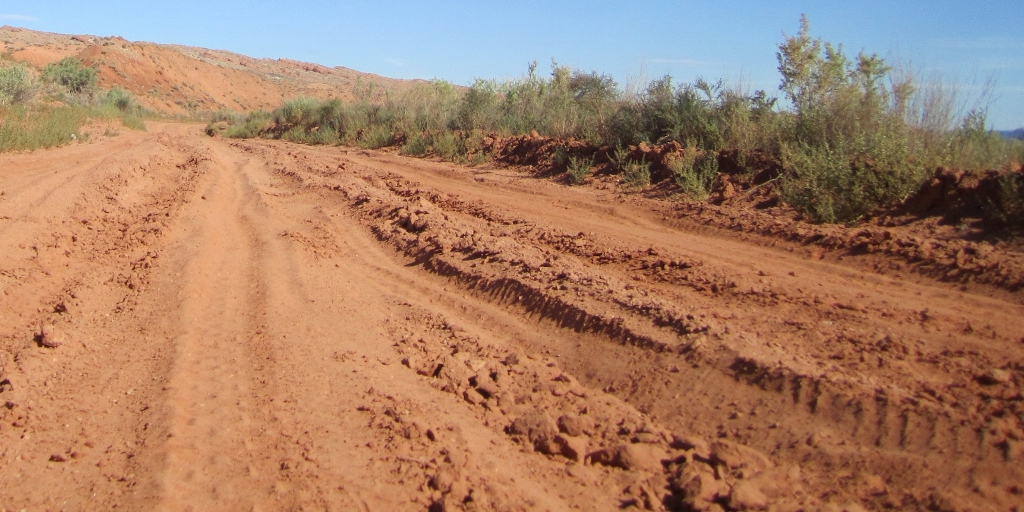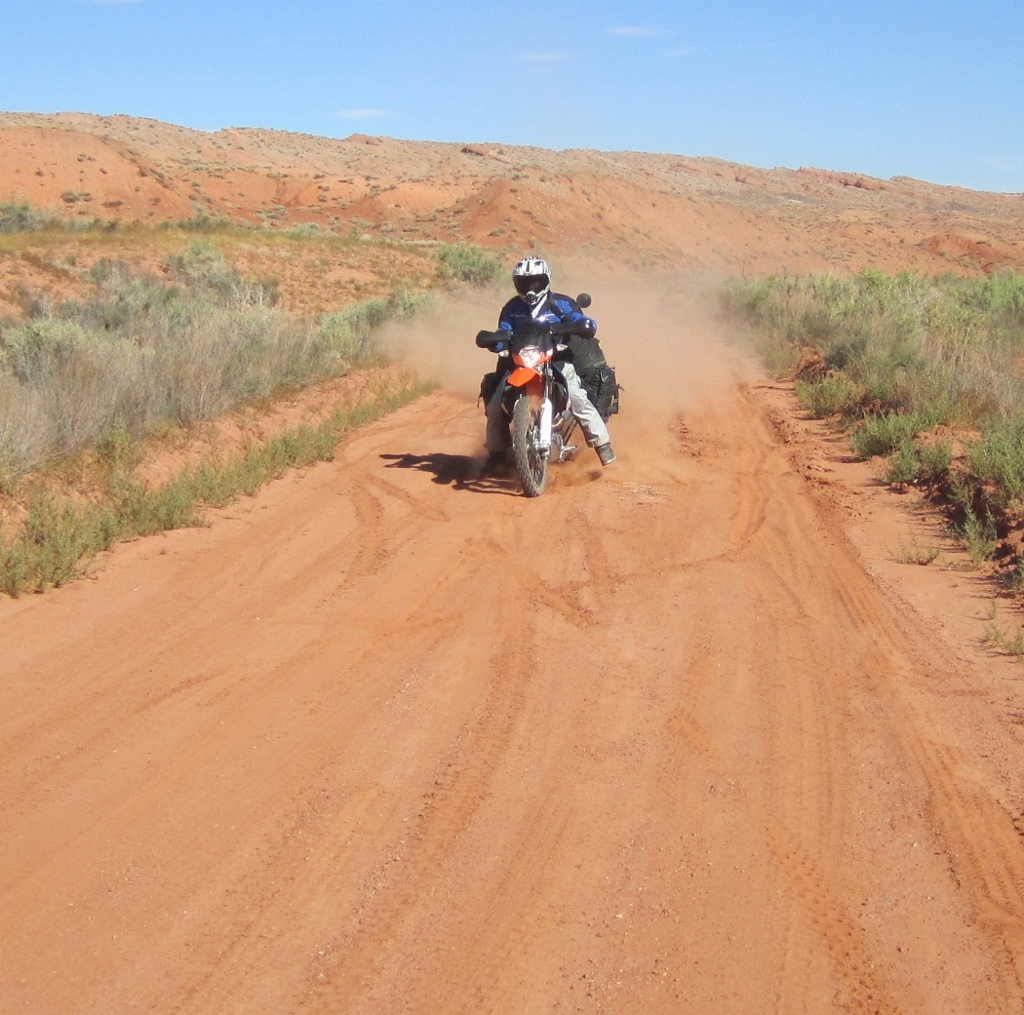 And we all got a little "Wonky" in that stuff.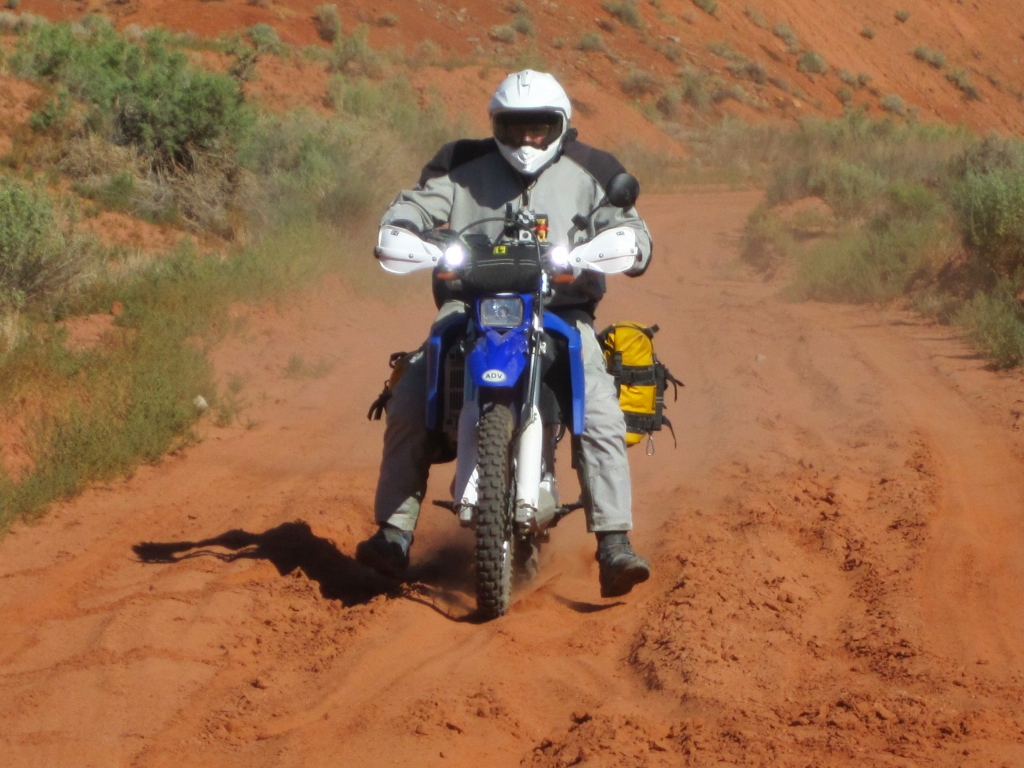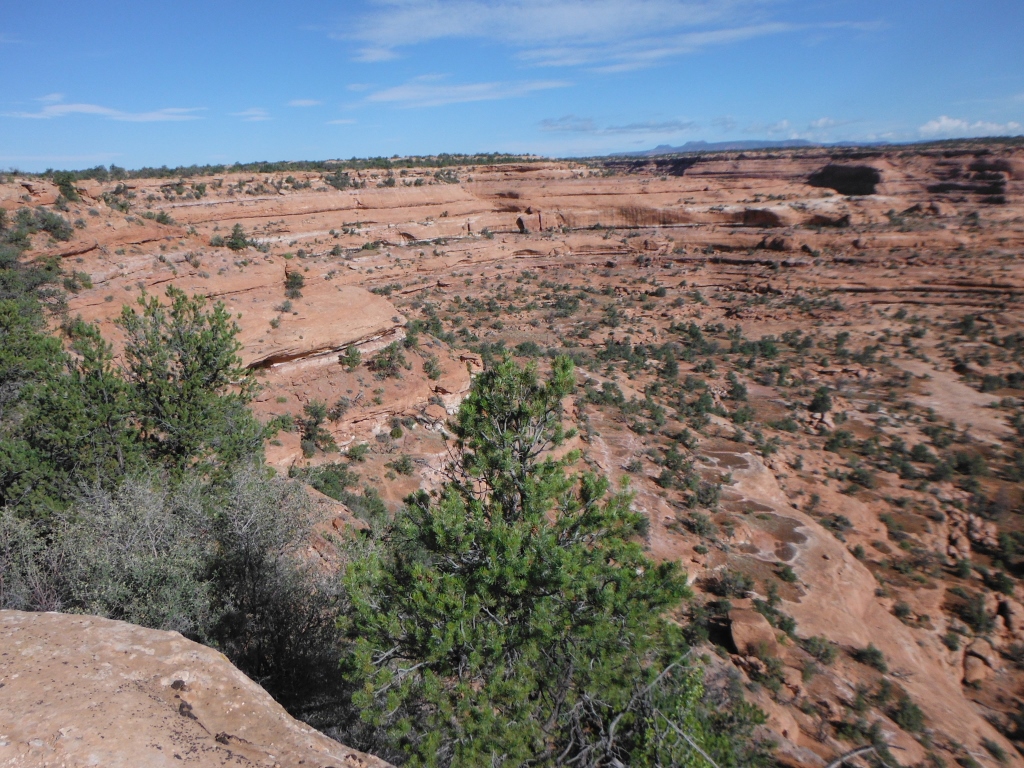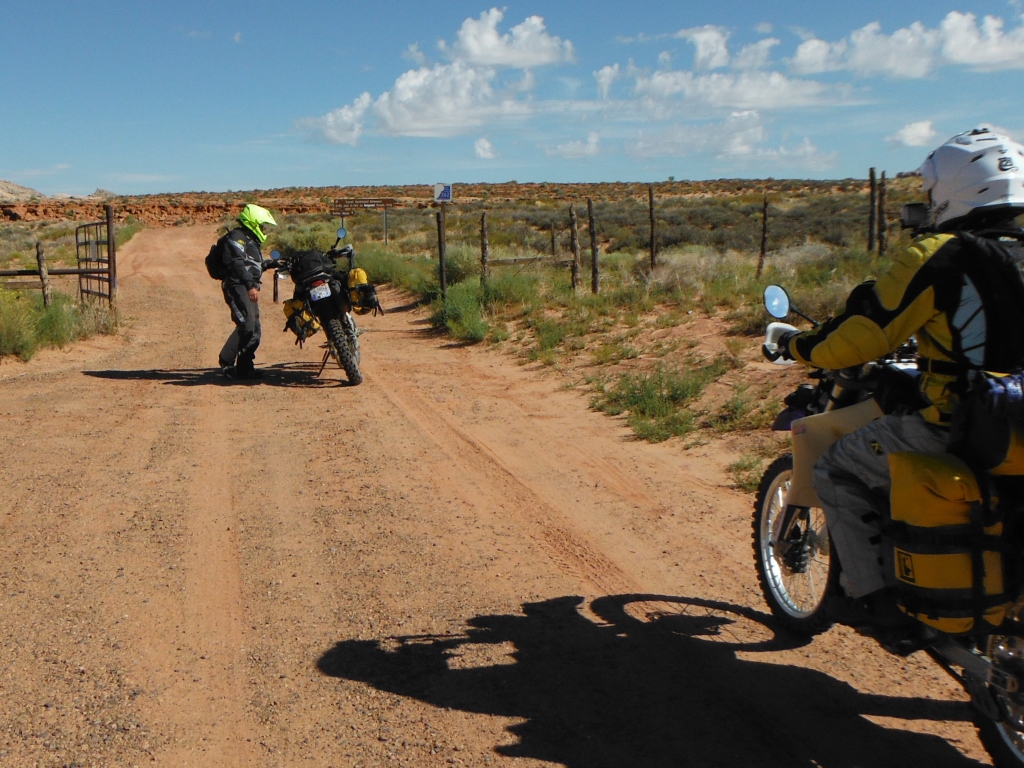 Our route on the UTBDR took us North on Butler Wash road.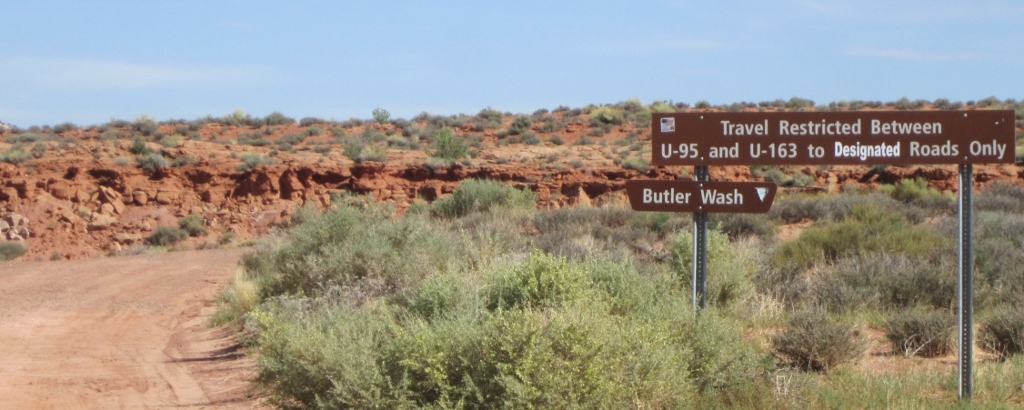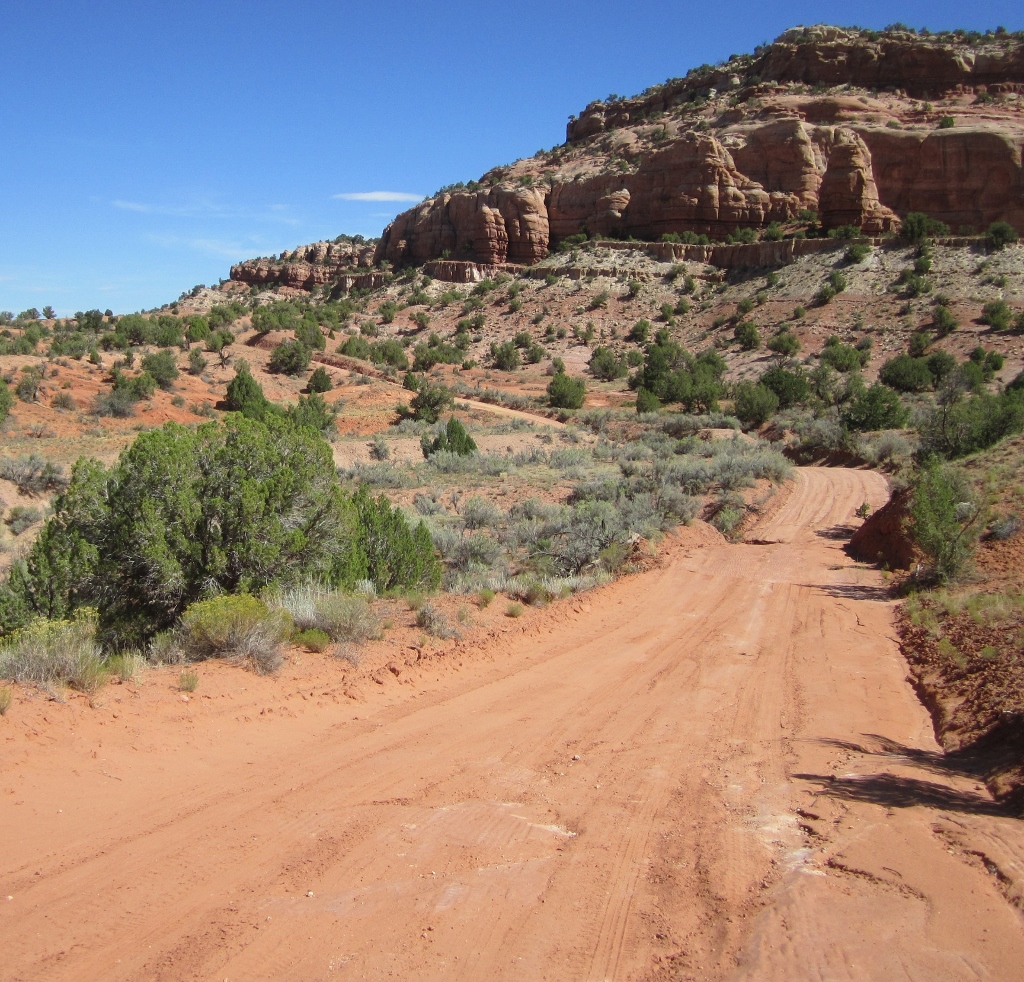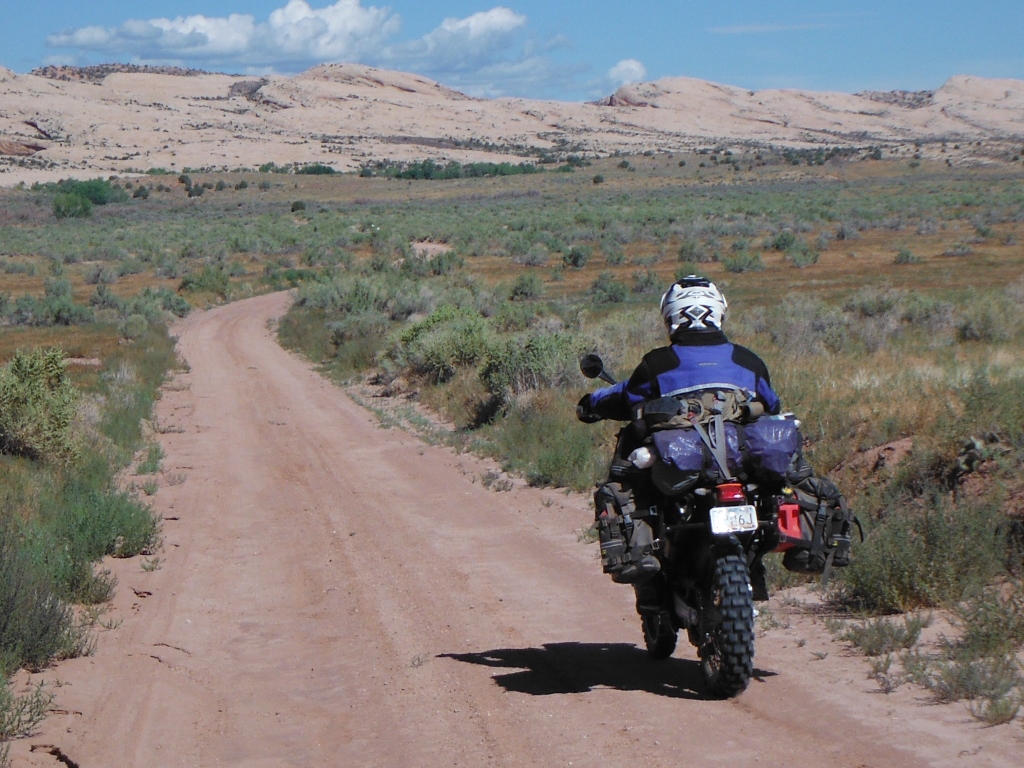 The terrain and scenery constantly changing------sometimes very abruptly.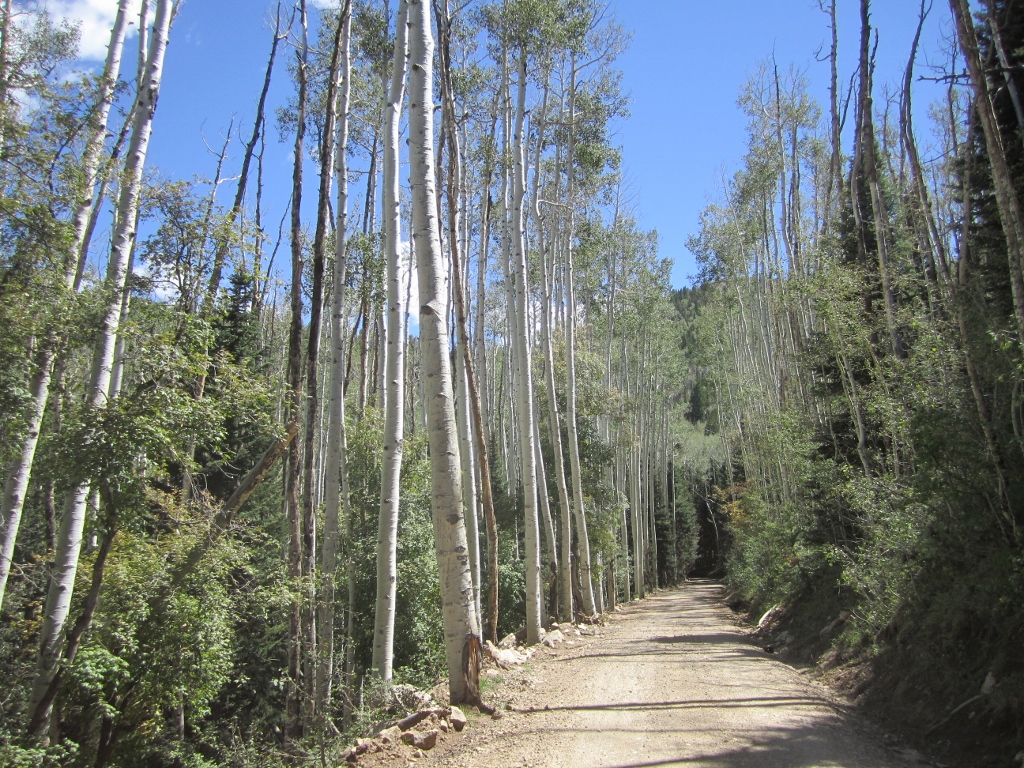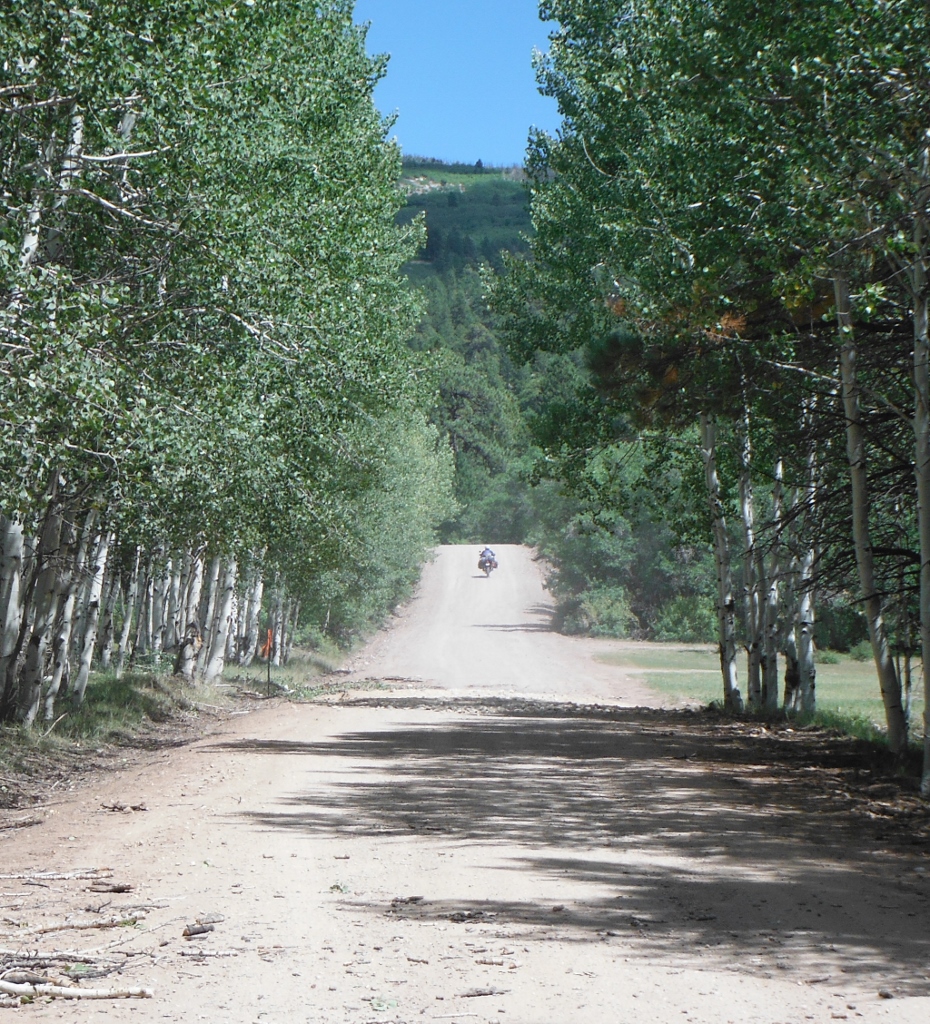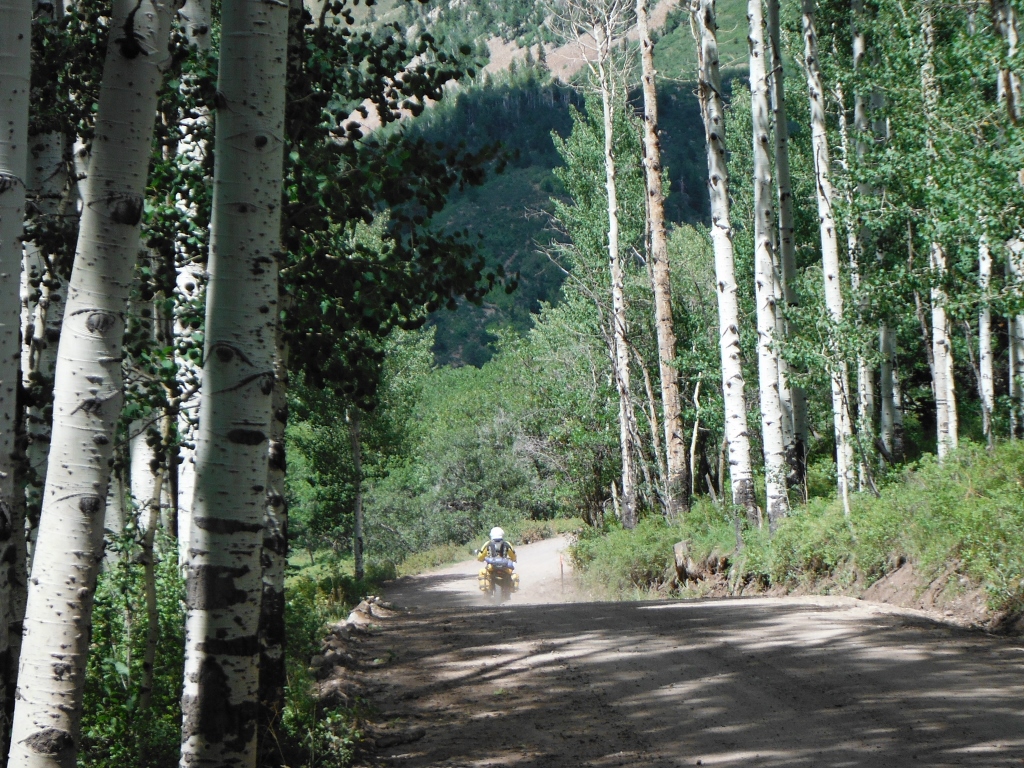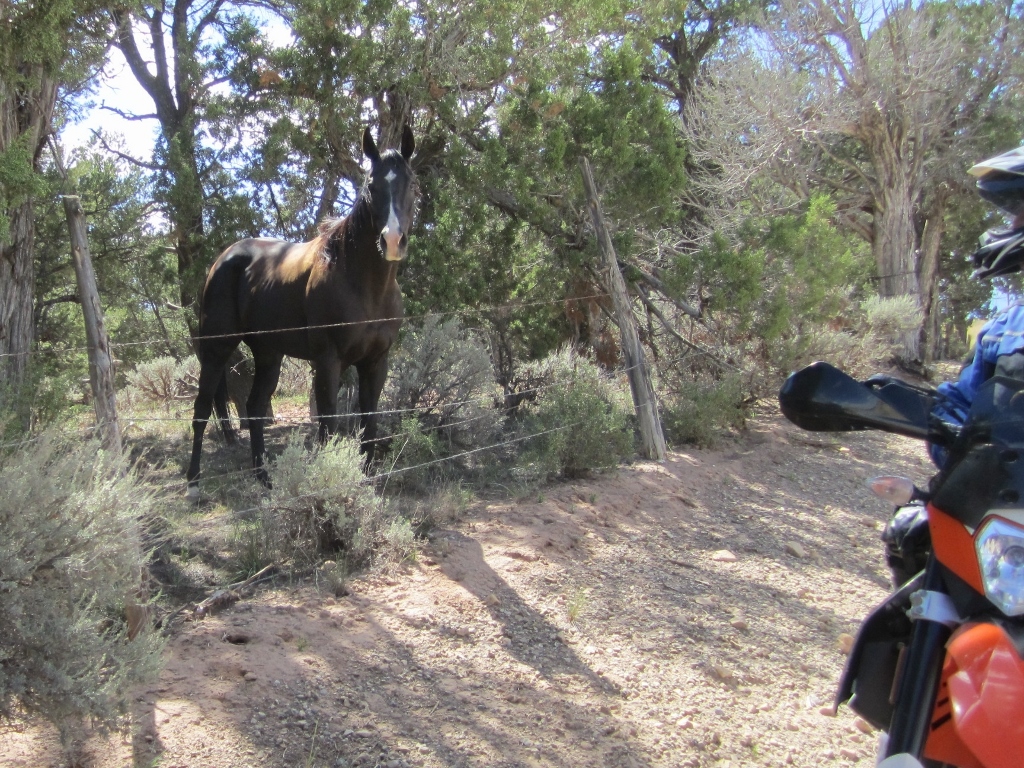 I was wearing a FLY helmet, and KLIM Badlands pro suit on this ride. With a KLIM NacPak on my back.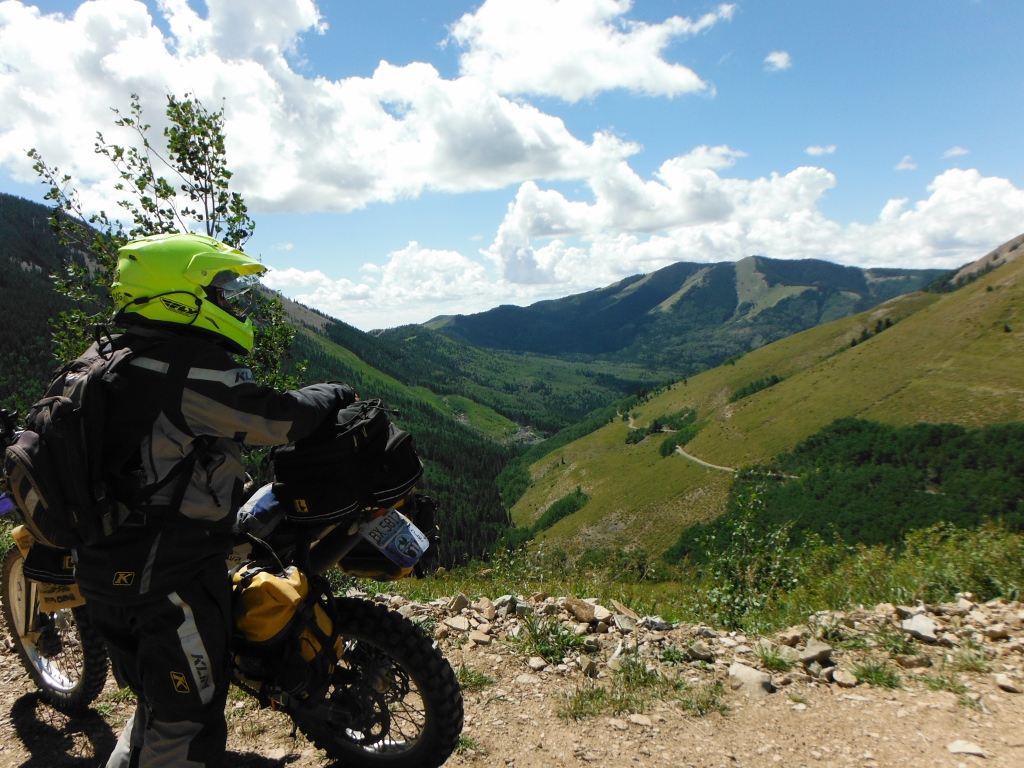 Bill Asher (Bash3r) had never ridden in Utah and was estatic.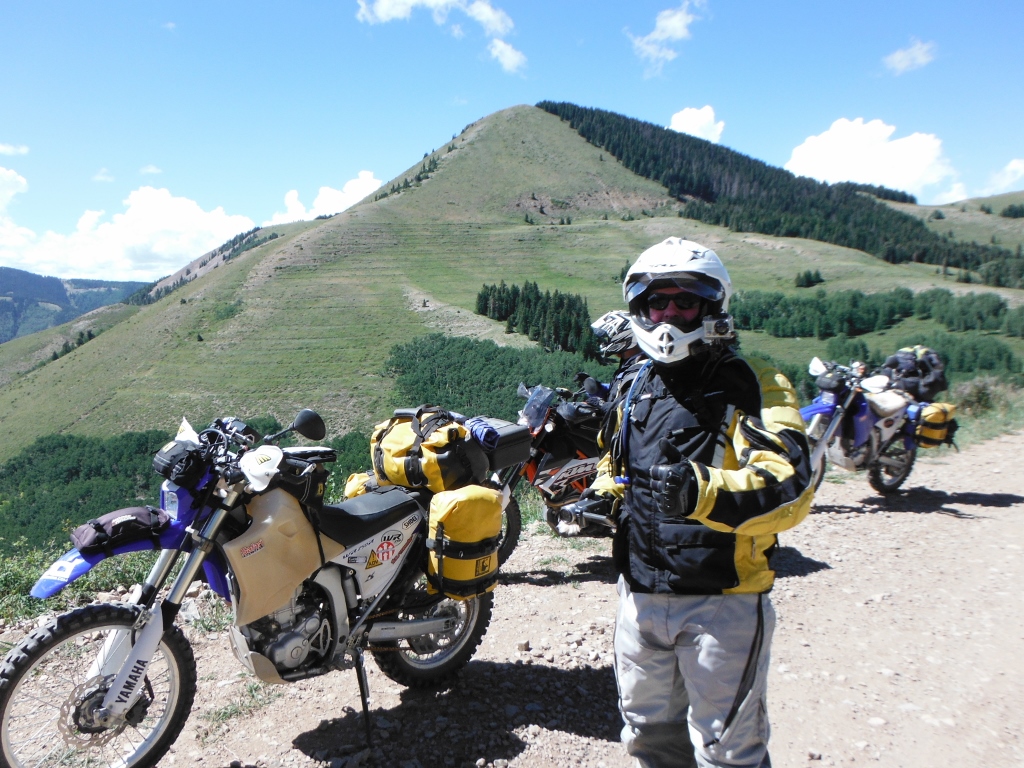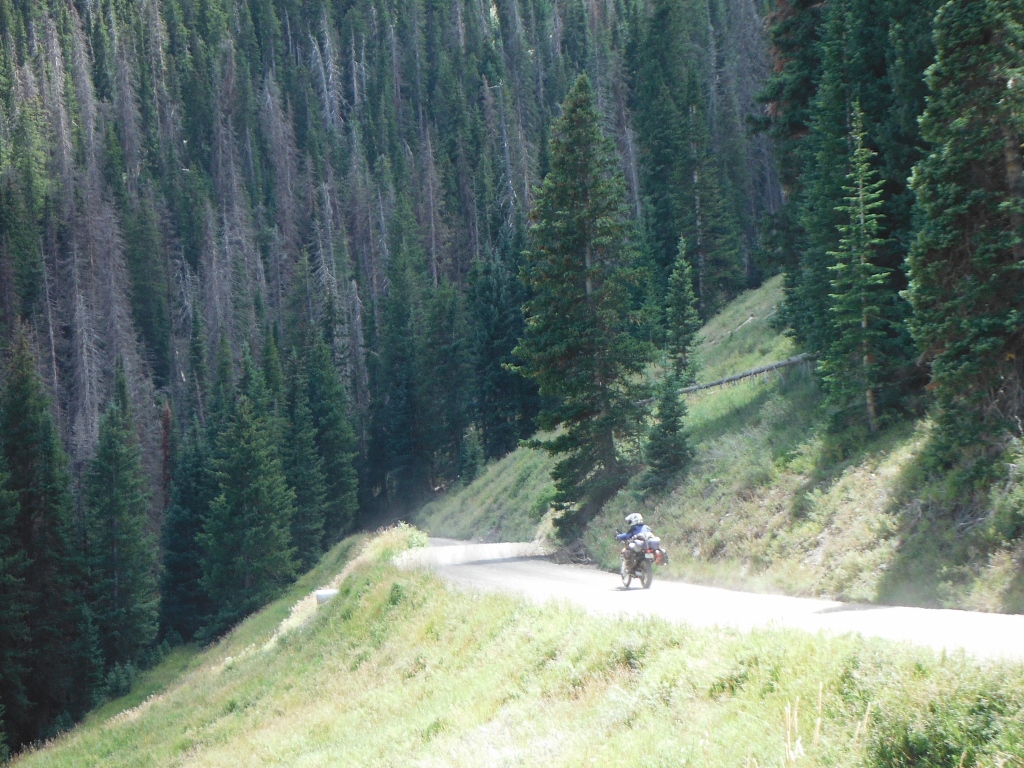 Somewhere out on the Indian reservation I had picked up this feather------------after getting home it's still riding there.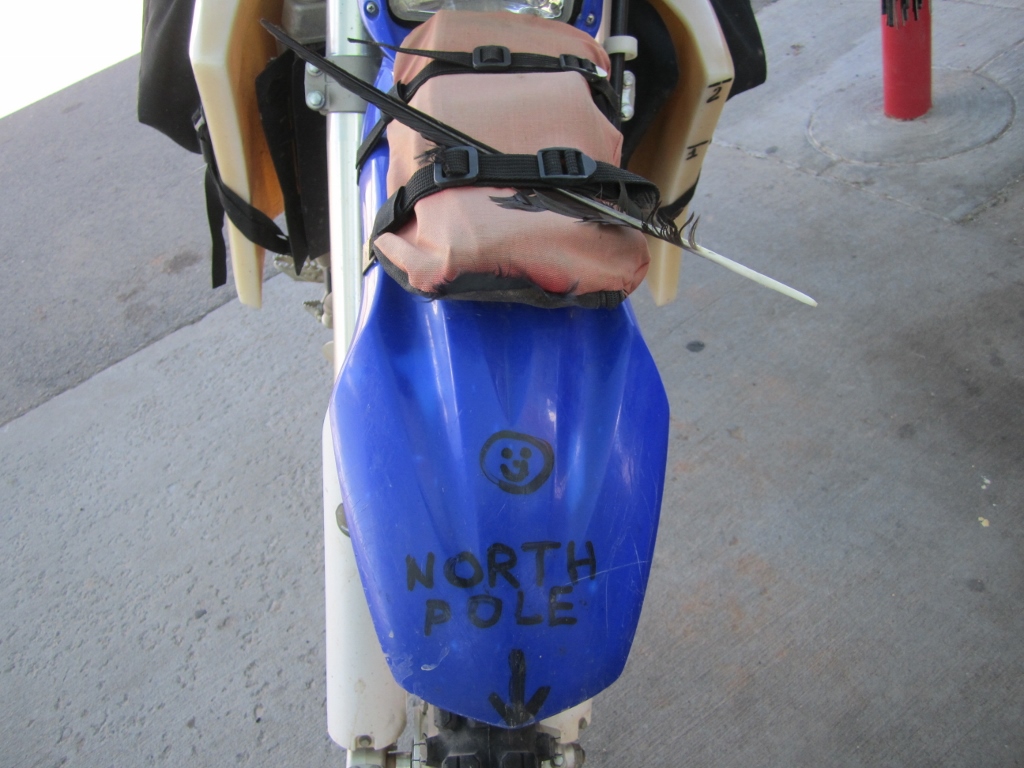 Today we veered off the designated UTBDR to visit Dingweeds ranch.
He has just aquired this place.
We had to skip Lockhart Basin to do this----but I was certainly OK with that as I had ridden that back in 2002 I think.
And we were treated like Kings at the ranch.
This ranch should be up and running and open to the public by the spring of 2014.
Me and Bud were fortunate enough to visit the place twice during this ride.
Once during the ride---and then after the ride I came back and stayed a couple days.
A website is forthcoming.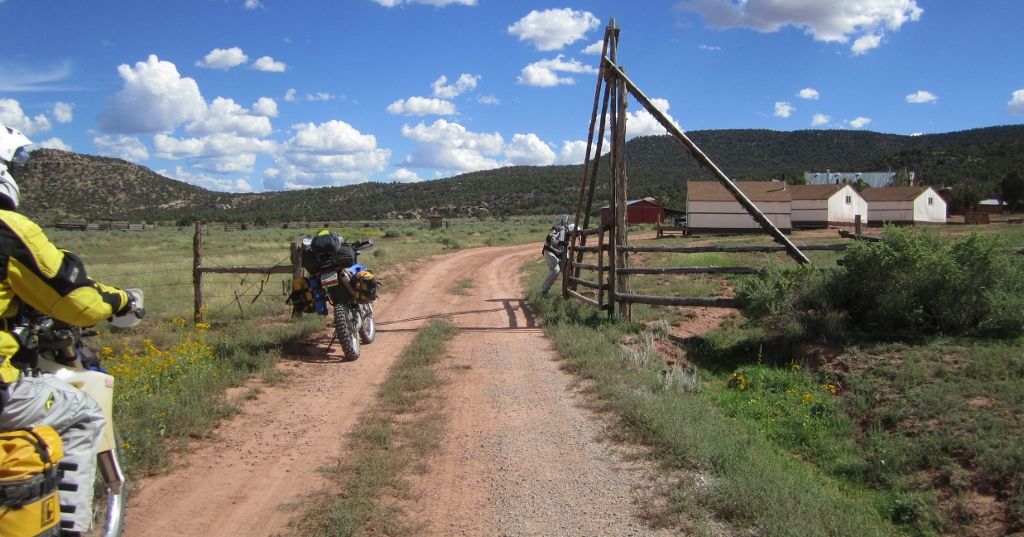 There's is no cell service here---no TV service---no electricity---no water---no visible power lines anywhere
and lots of varmits running around. Rattlesnakes, coyotes, elk, deer, ---all kind of critters.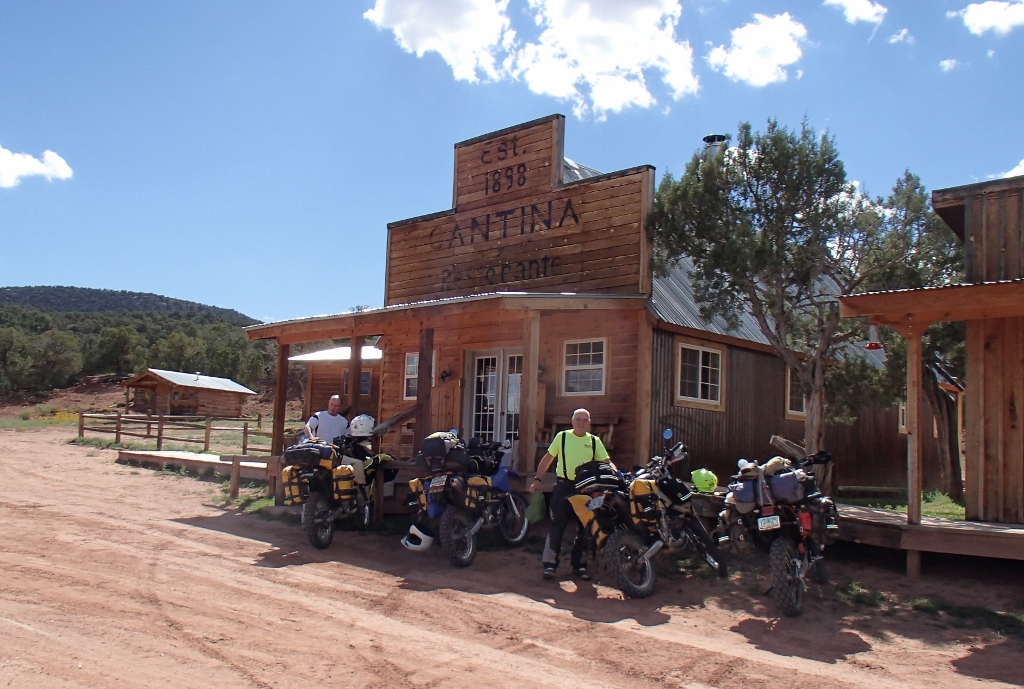 This place is off the grid -------but actually does have water from a well.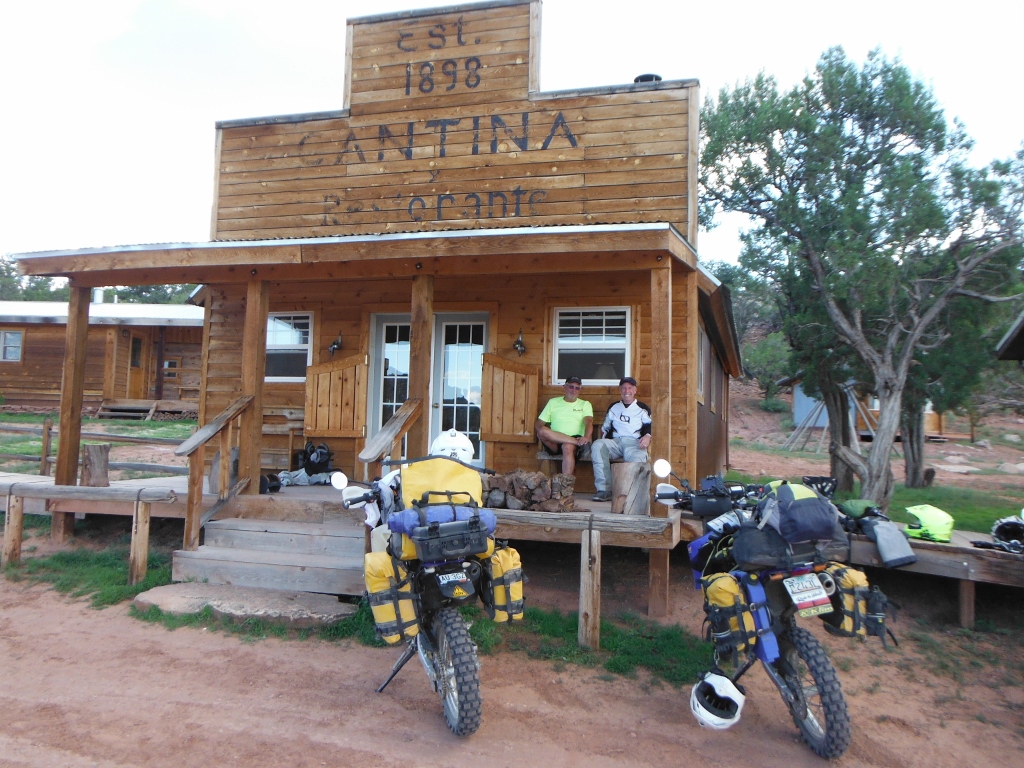 Really neat bath house---it has a seperate mens and womens bathroom with a wood fired hot tub in the middle.
It was a bit warm that night---and most of us slept outside on the deck of the bath house----there were no bugs and
the night sky was awesome.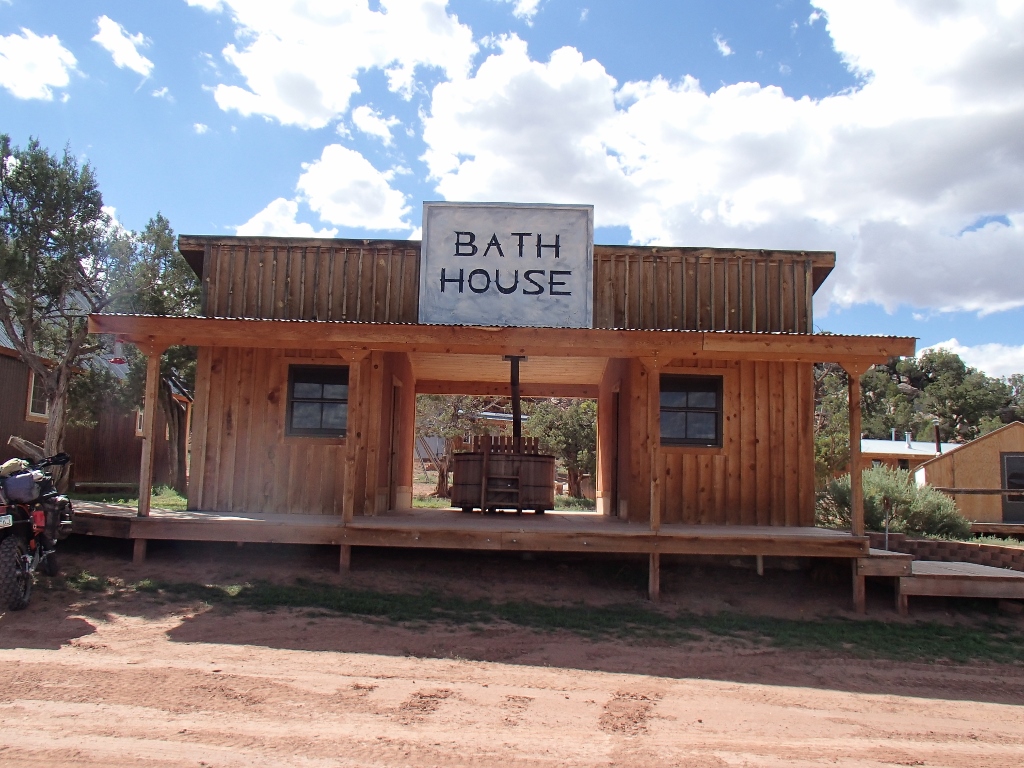 There are several canvas walled cabins for your sleeping pleasure.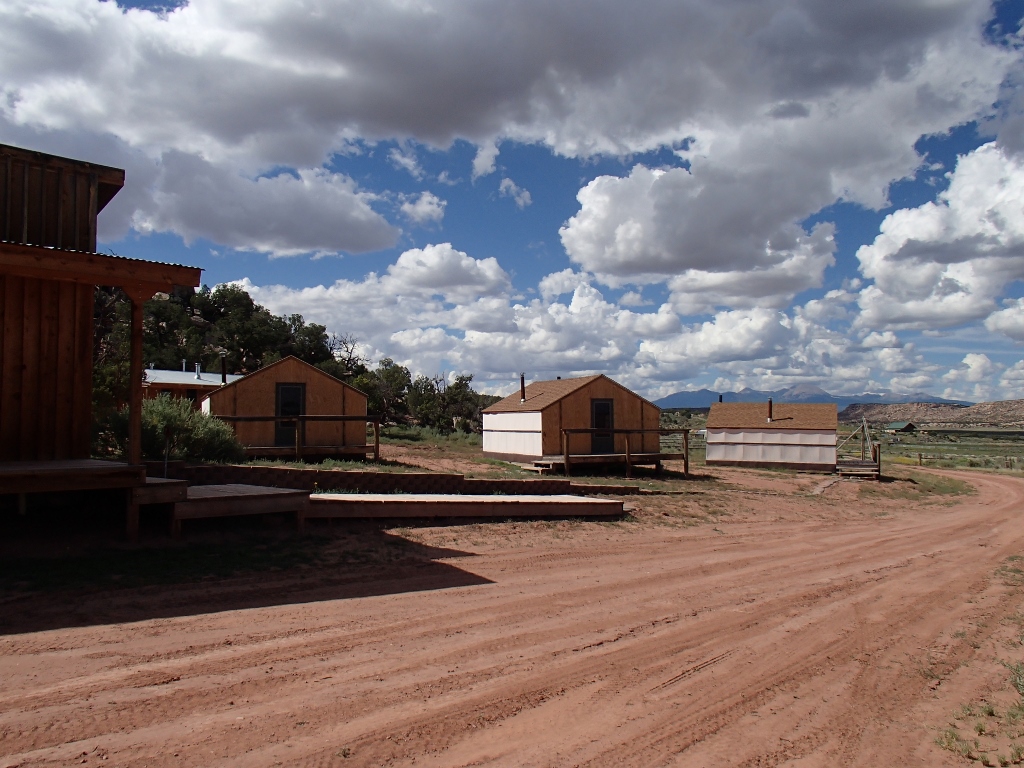 And if the shower house is too fancy for you----out back is a gravity fed shower.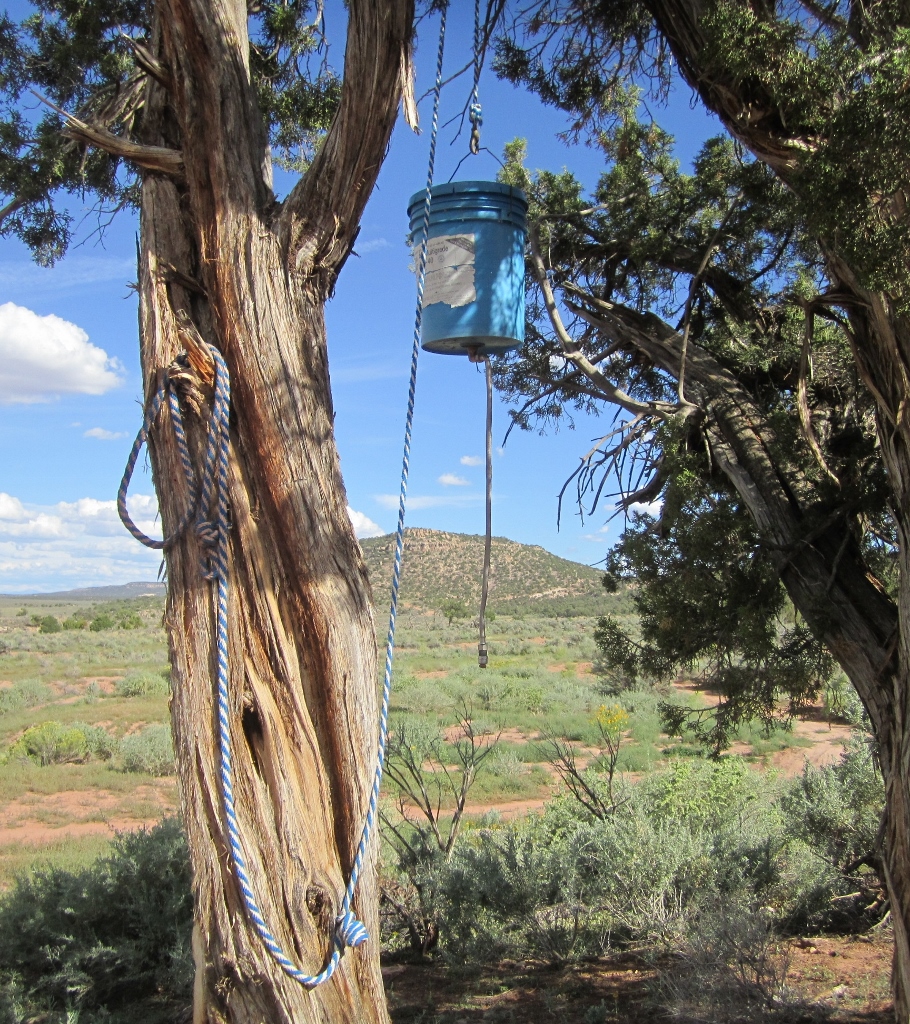 Well-------I kind of fibbed about the electricity---the whole place has 110 volt power---but it comes from a bank of batteries charged
by this solar panel. I couldn't believe just these 2 panels powered everything.
This also powers a well pump to provide water to the whole place.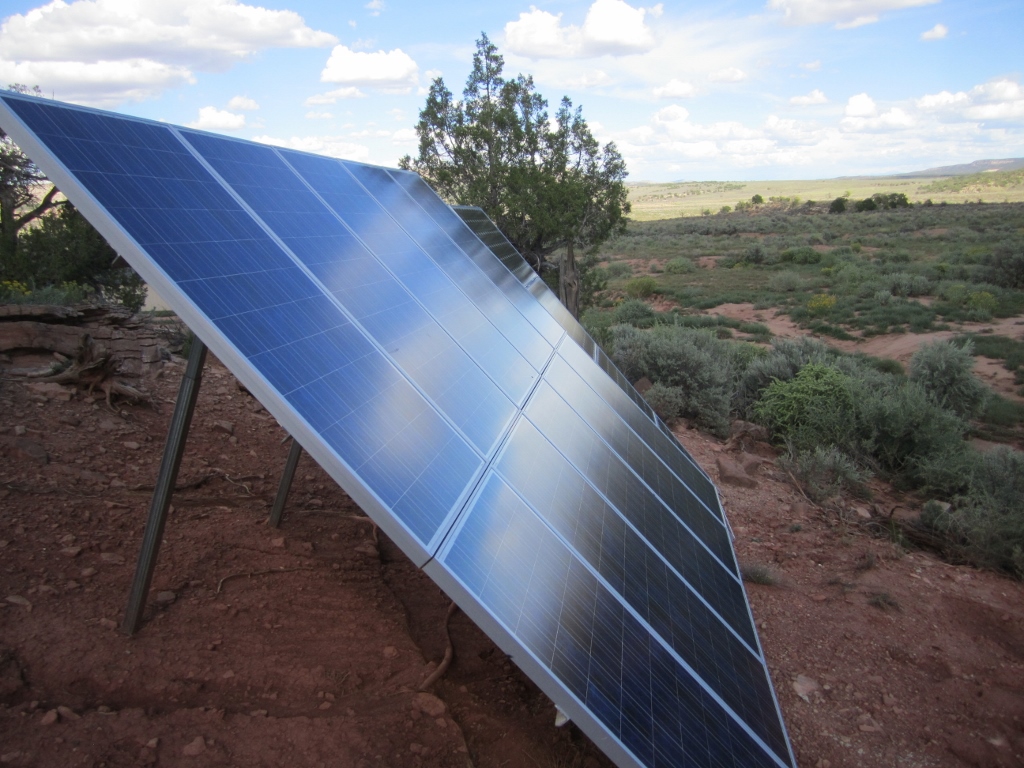 A fridge---freezer, microwave and clothes washer were no problem for the electric system.
Rick (middle) he cooked our dinner and it was awesome.
Big steaks and a salad.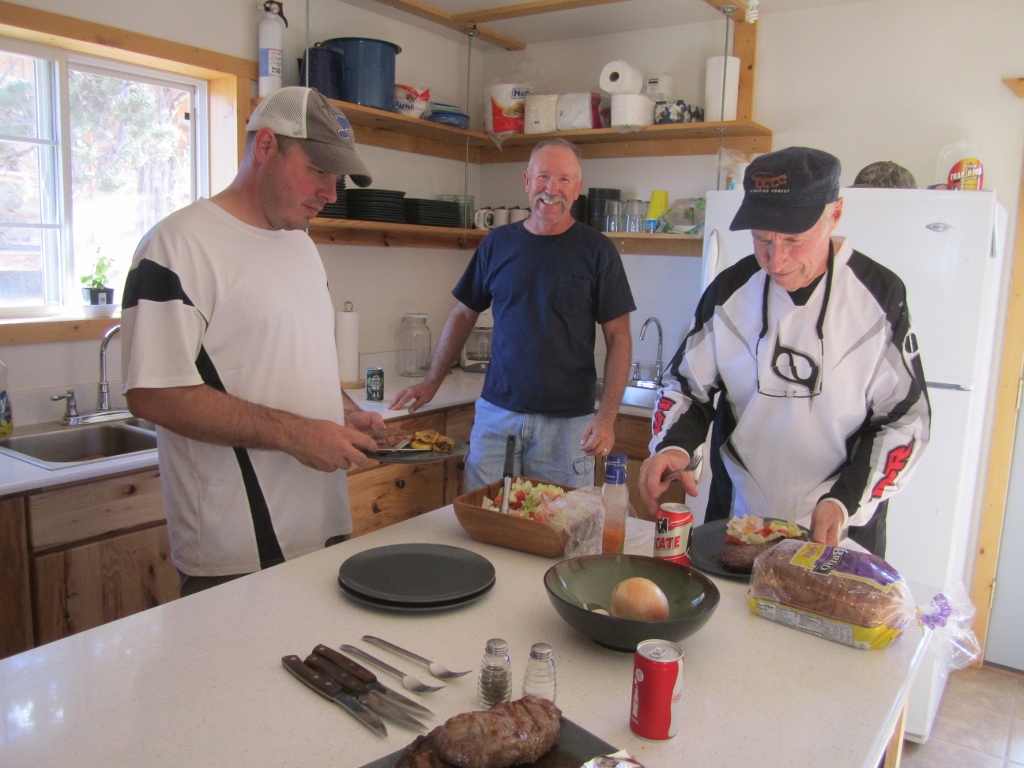 Don't tell my wife I can wash dishes.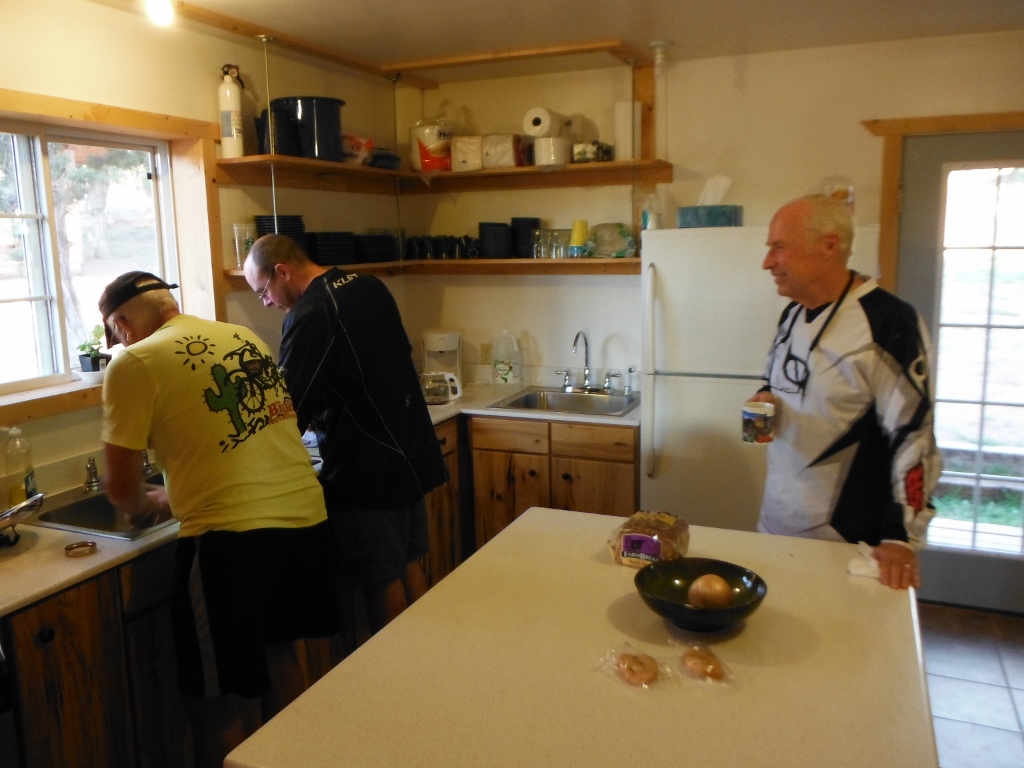 Every room at the ranch had propane heat-------and a woodstove.
The gun I'm holding is available at www.bugasalt.com I think.
It shoots salt as buckshot---and is a very effective fly killer. I had a lot of fun with that thing and bought my son one for his birthday after the trip.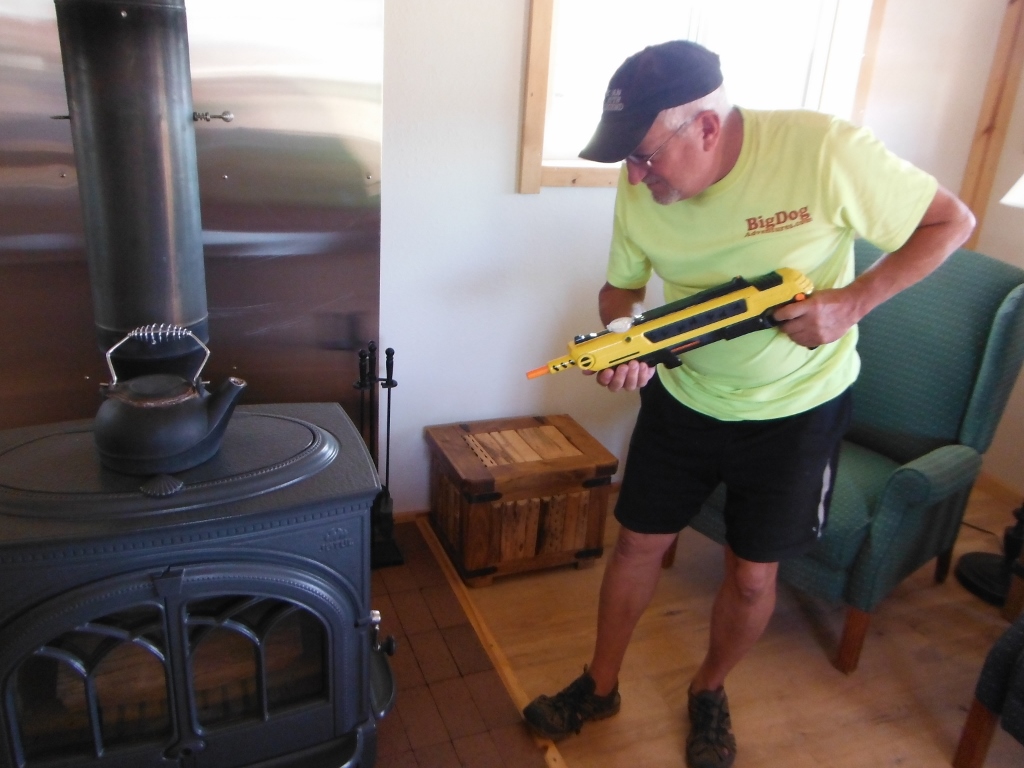 One unhappy fly--------there were many.
I was an easy man to track-----left dead bodies wherever I went (Josey Wales)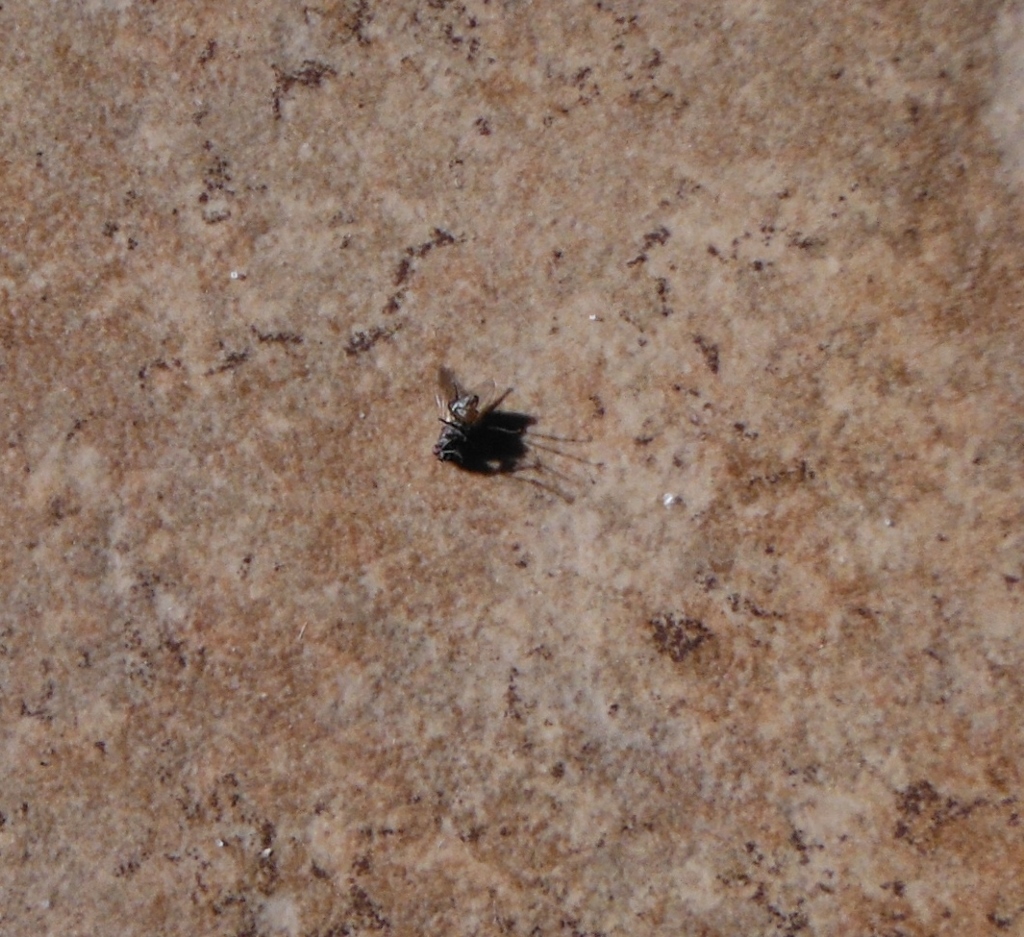 A rough map of our route for the day-----about 139 miles I think.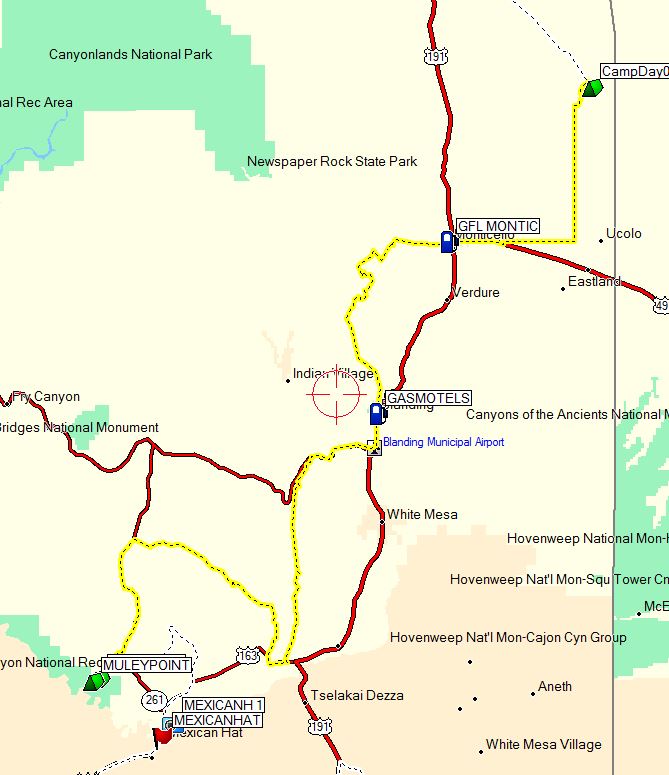 Day 2 Video
Thanks to Bill Asher
Day 3---September 3rd, 2013
Here's Bud on his 690 as we sadly left the ranch-----we would return much later for a longer stay.
There has been so much rain in both Colorado and Utah---it almost never looks like this.
Little did we know-------it was just the tip of the iceberg--as devastating rains were headed our way.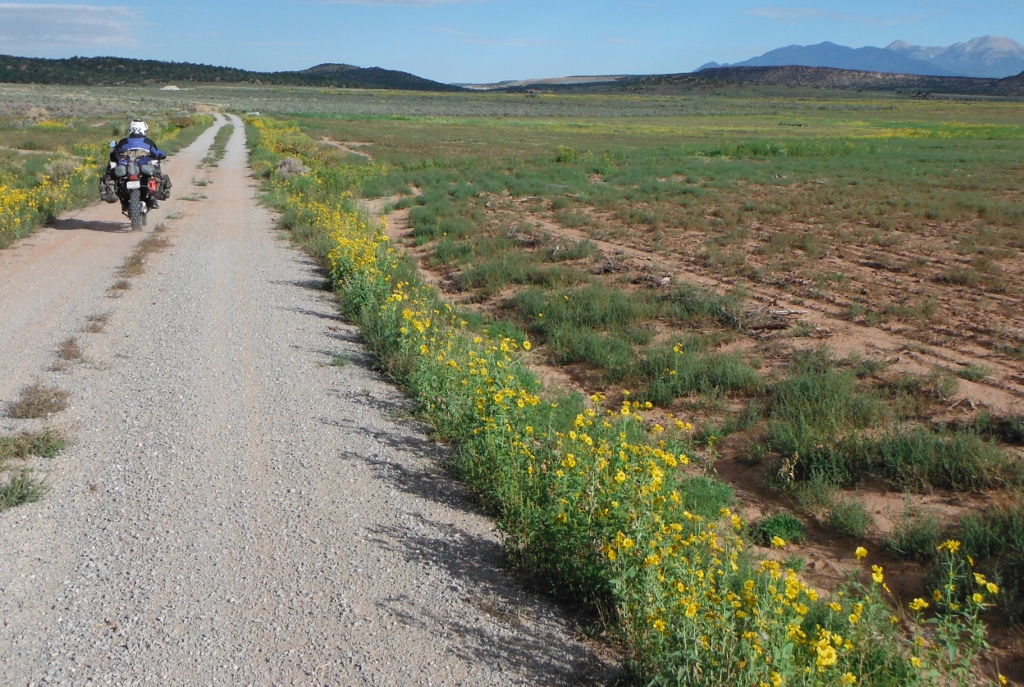 From the ranch--------which is right on the Trans America Trail we headed North into the Lasal Mountains avoiding Moab.
I'm just not much of a fan of Moab anymore--I've ridden there a lot in my younger years before it became so crowded.
This road in the picture below is the Trans America Trail.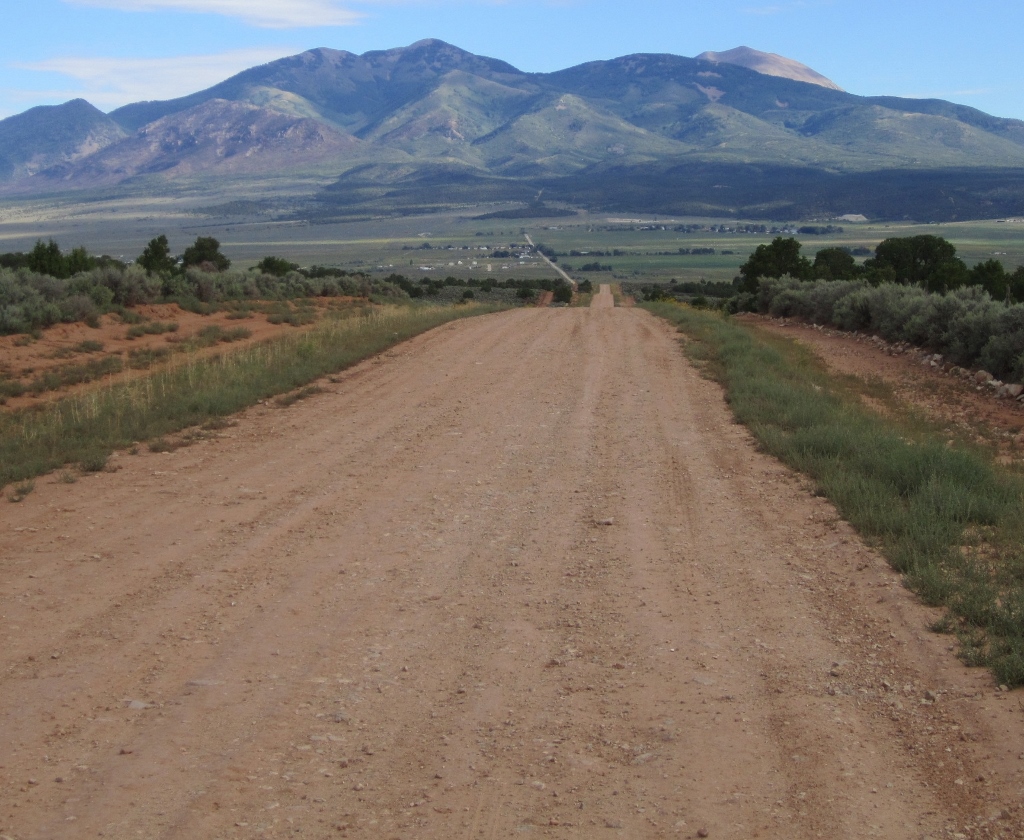 And up into the Lasal Mountains we go----me leading and just winging the route thru there to intersect the UBDR North of the Lasals.
My winging it worked out just fine.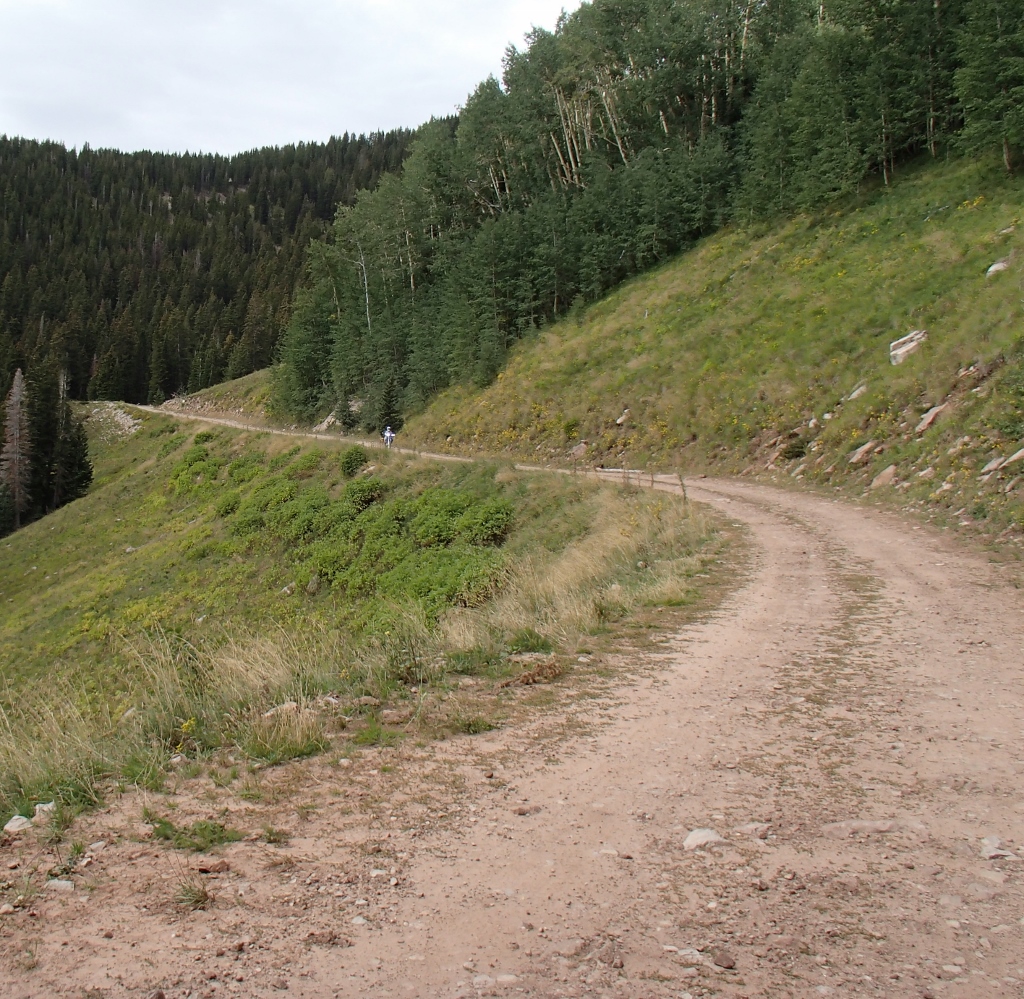 We would get above 11,000 ft. in these mountains and our fuel injected bikes ran like tops.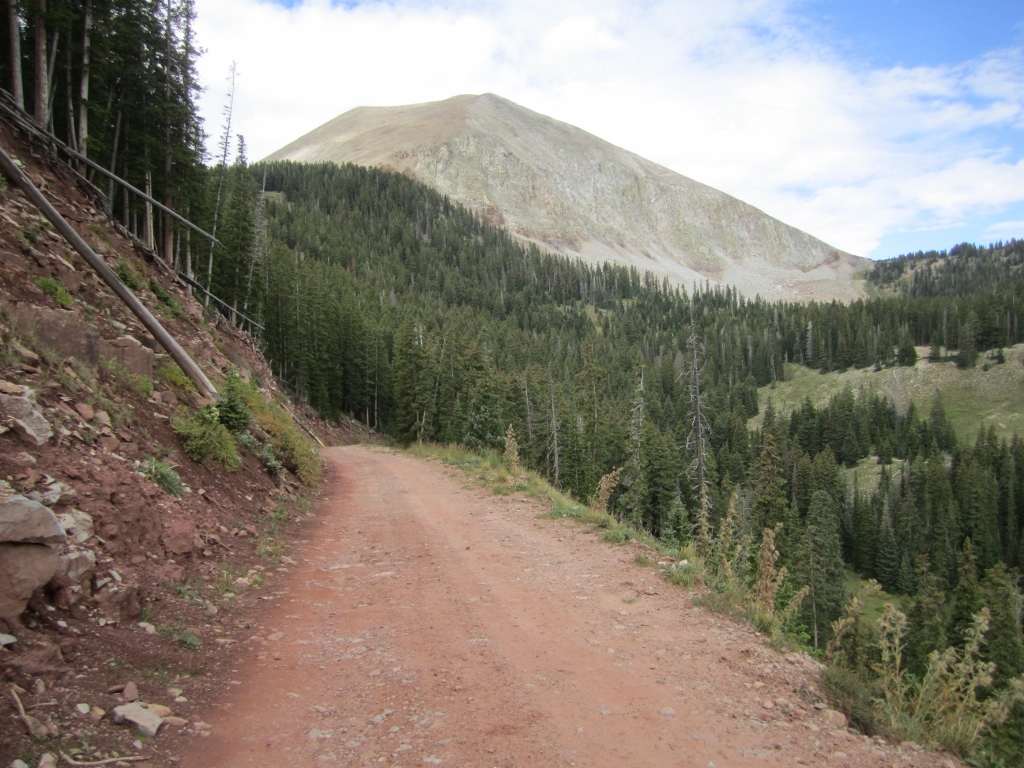 Now this guy was a hoot---at first I thought he was full of shit------then he whips out photos on his smart phone of his
bike laying on it's side in the ice and snow on the haul rode in Alaska---he has been everywhere including many foreign country's.
Quite the character he was---we had a ball talking to him and listening to his tales.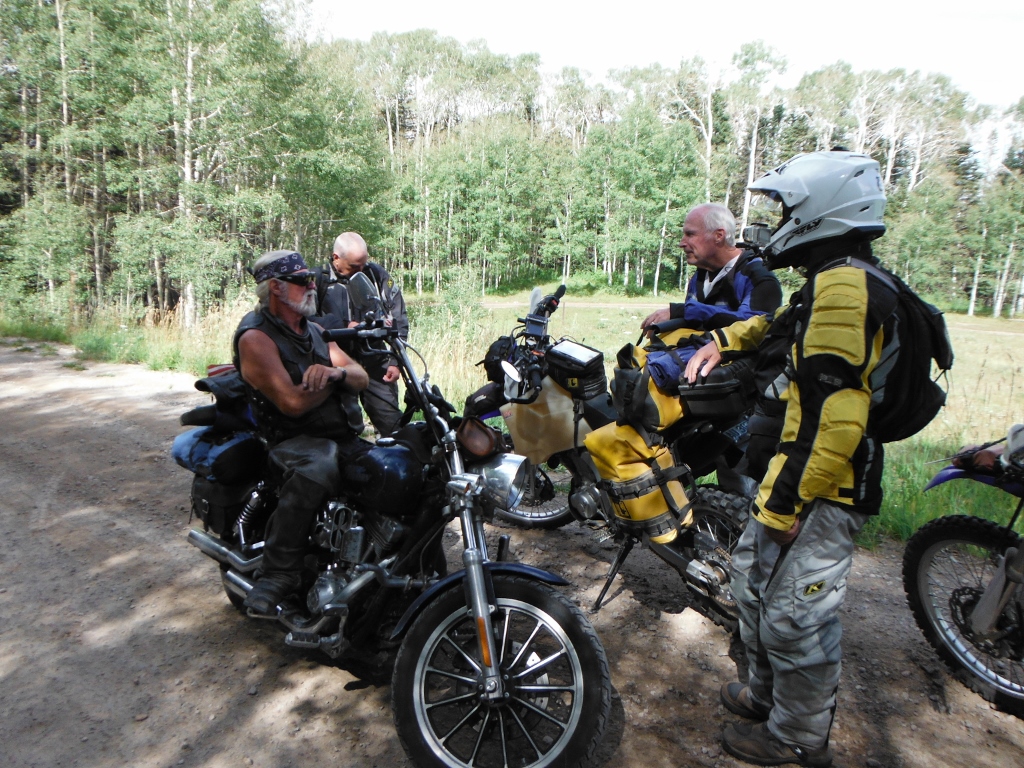 Getting close to intersecting back into the UBDR.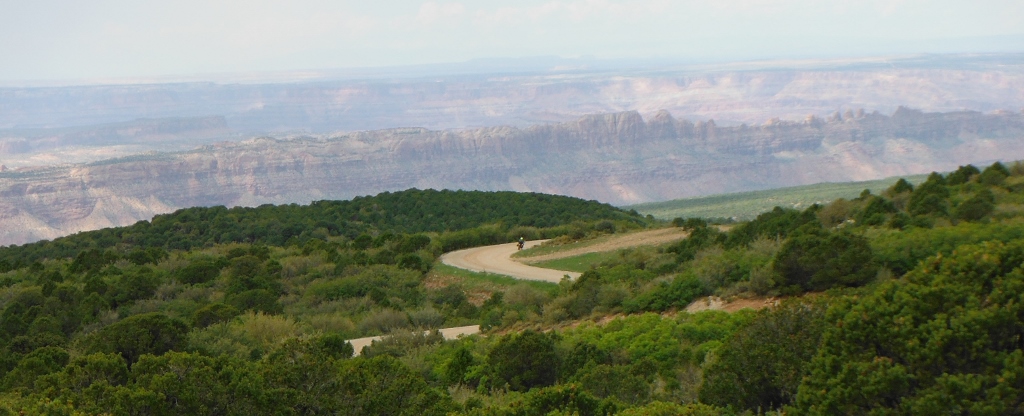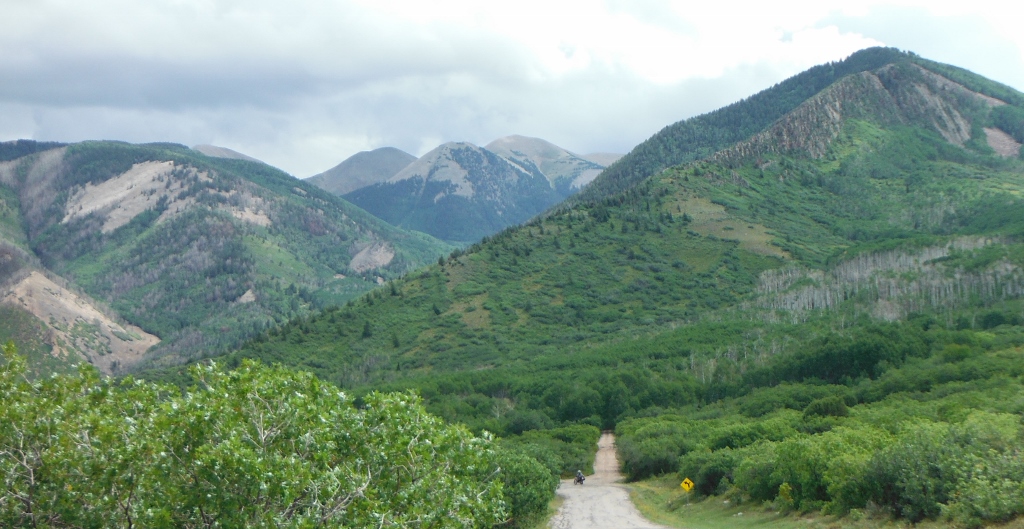 This picture deserves some staring at.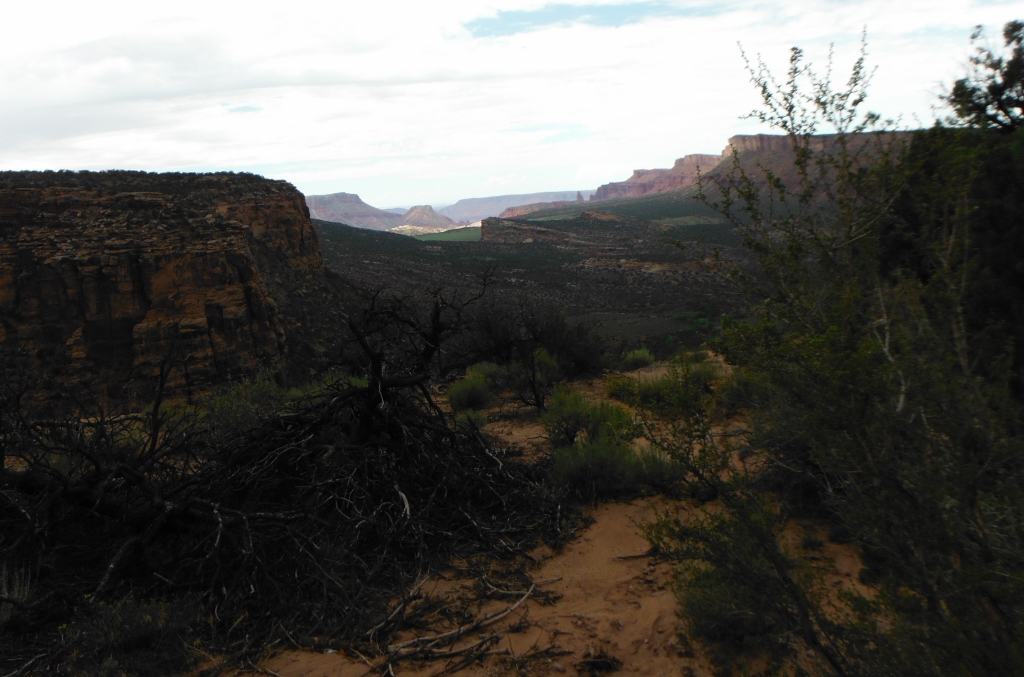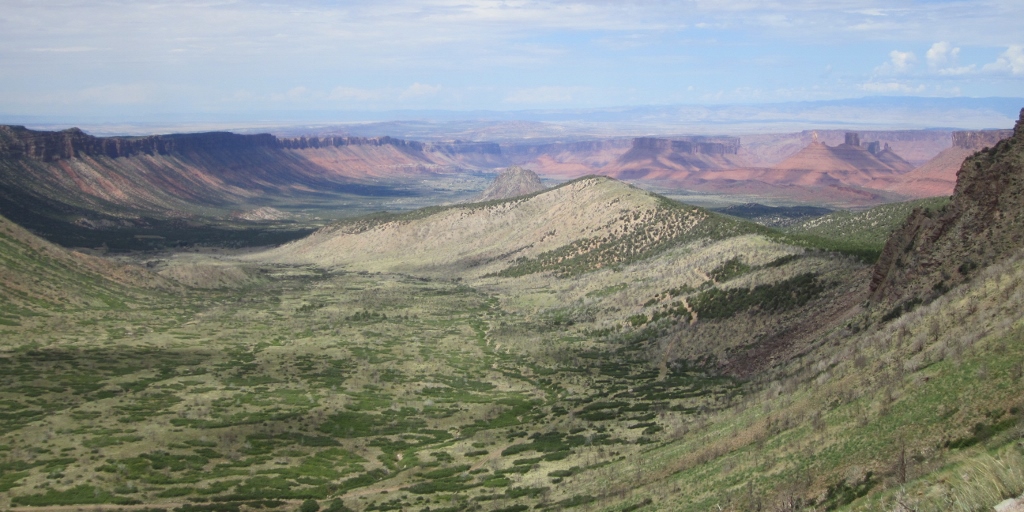 Bud went down------maybe my fault------I stopped there waiting for Scott to clear the very steep climb and Bud lost his momentum.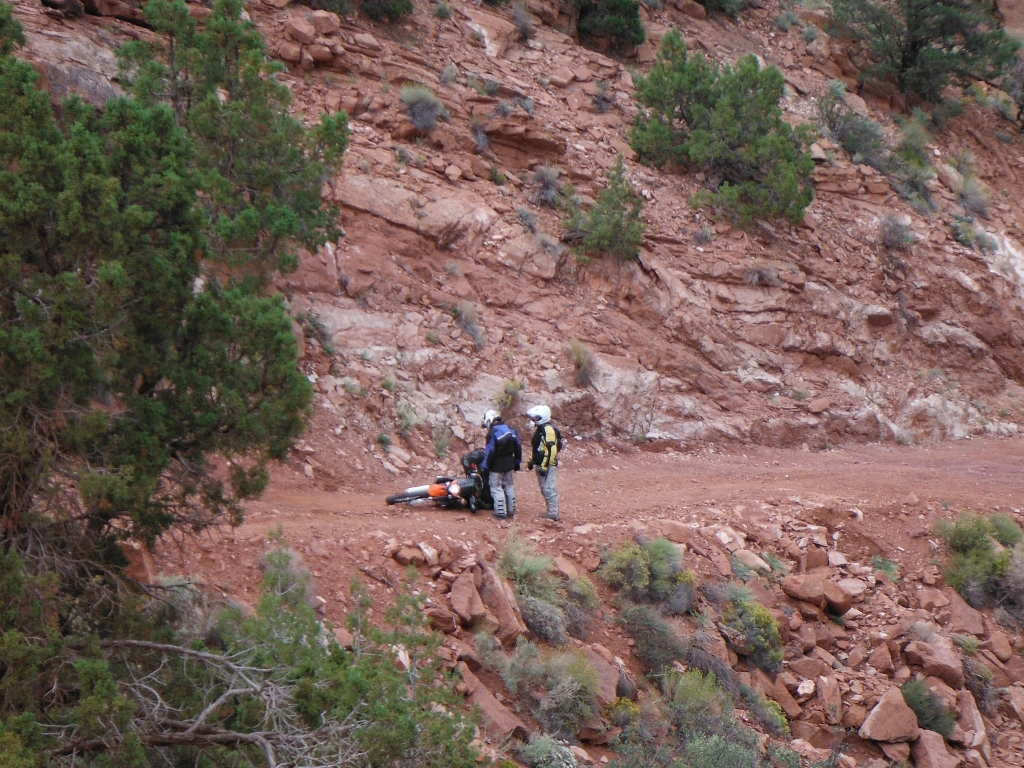 And just over that hill--------the scenery changed again on us.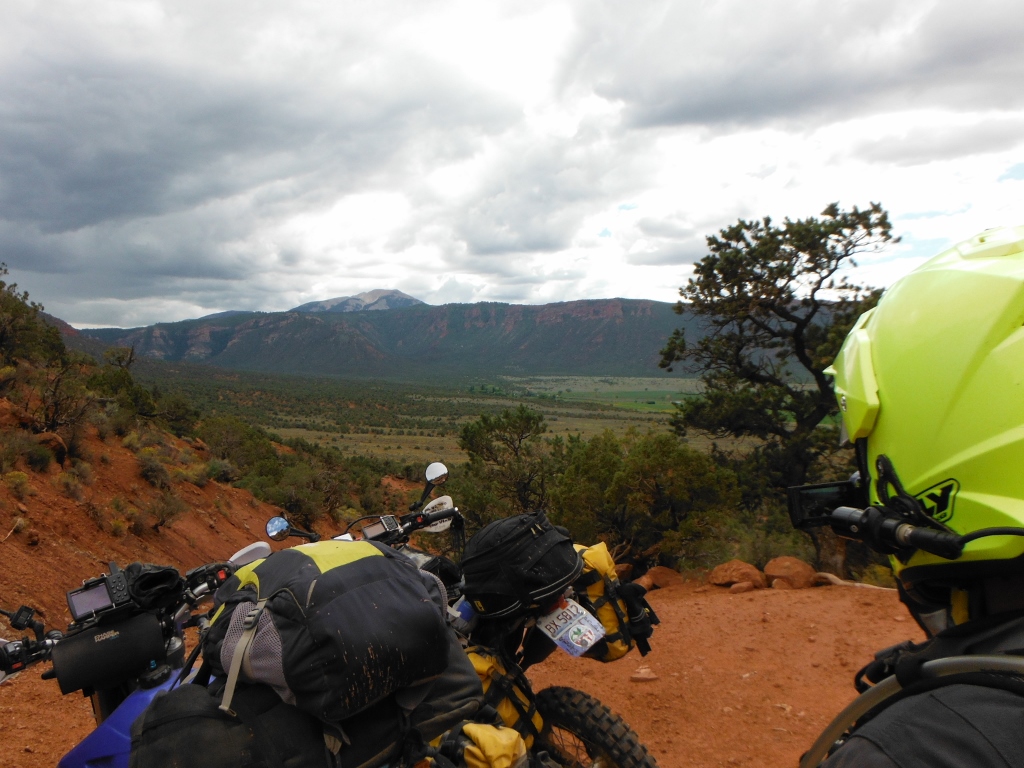 I've ridden around Moab a lot------but for some reason had never ridden onion creek road. I'd always heard of it but never rode it.
Today was the day---------well------you see------it's awesome.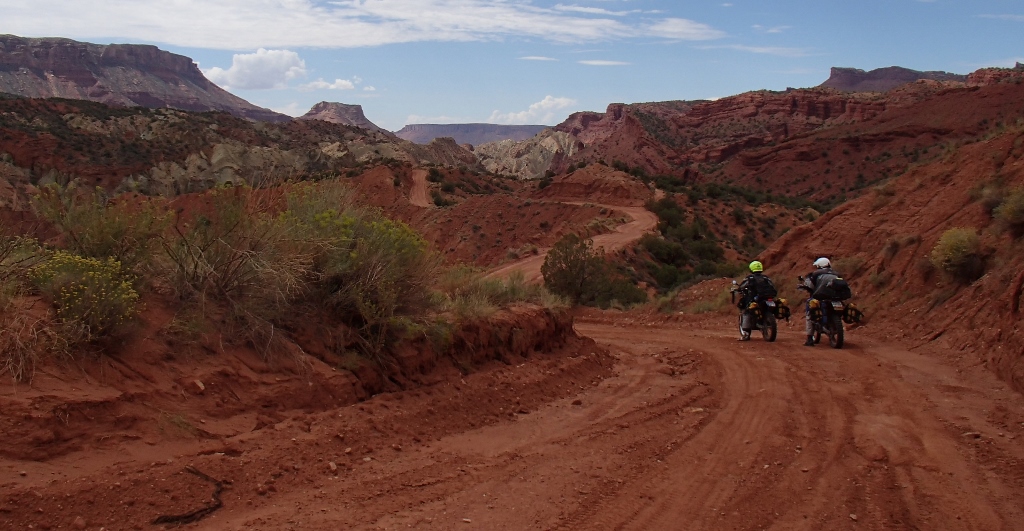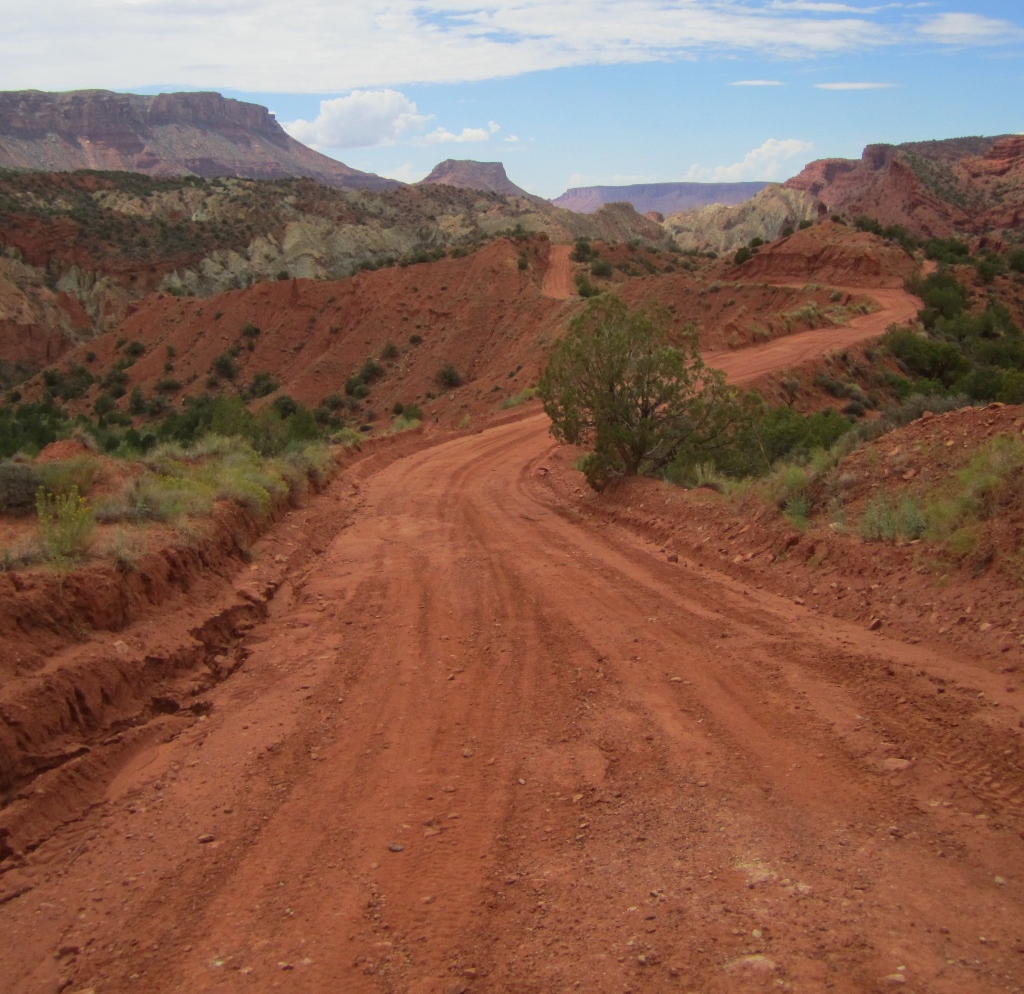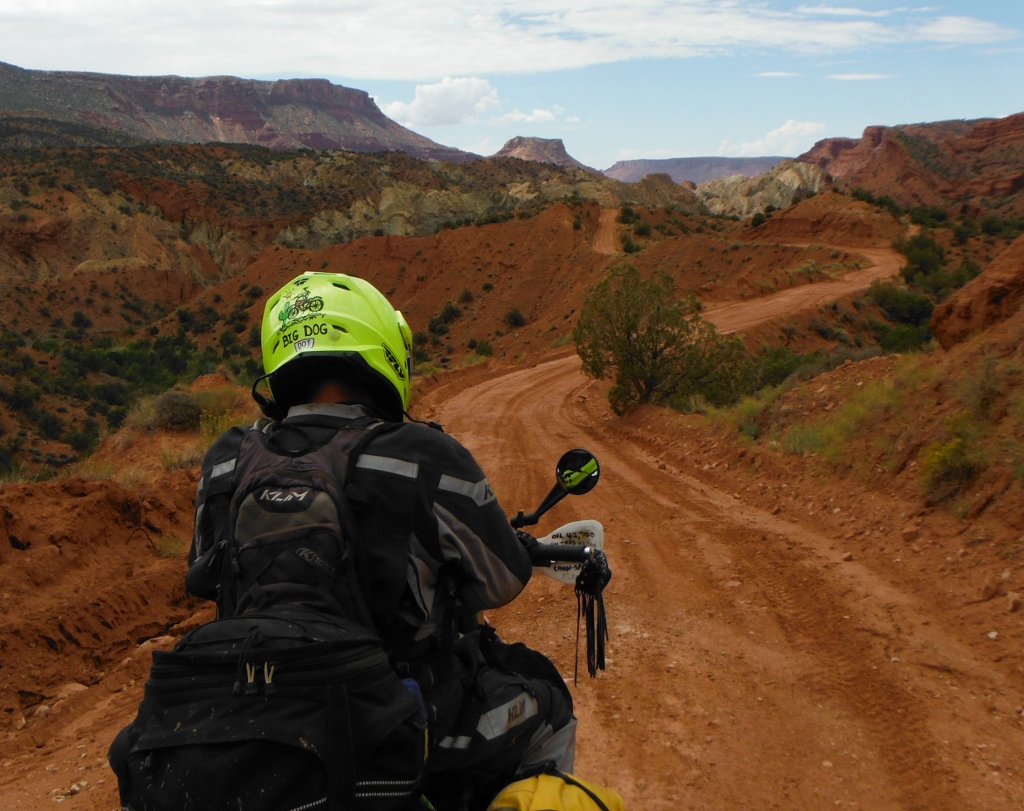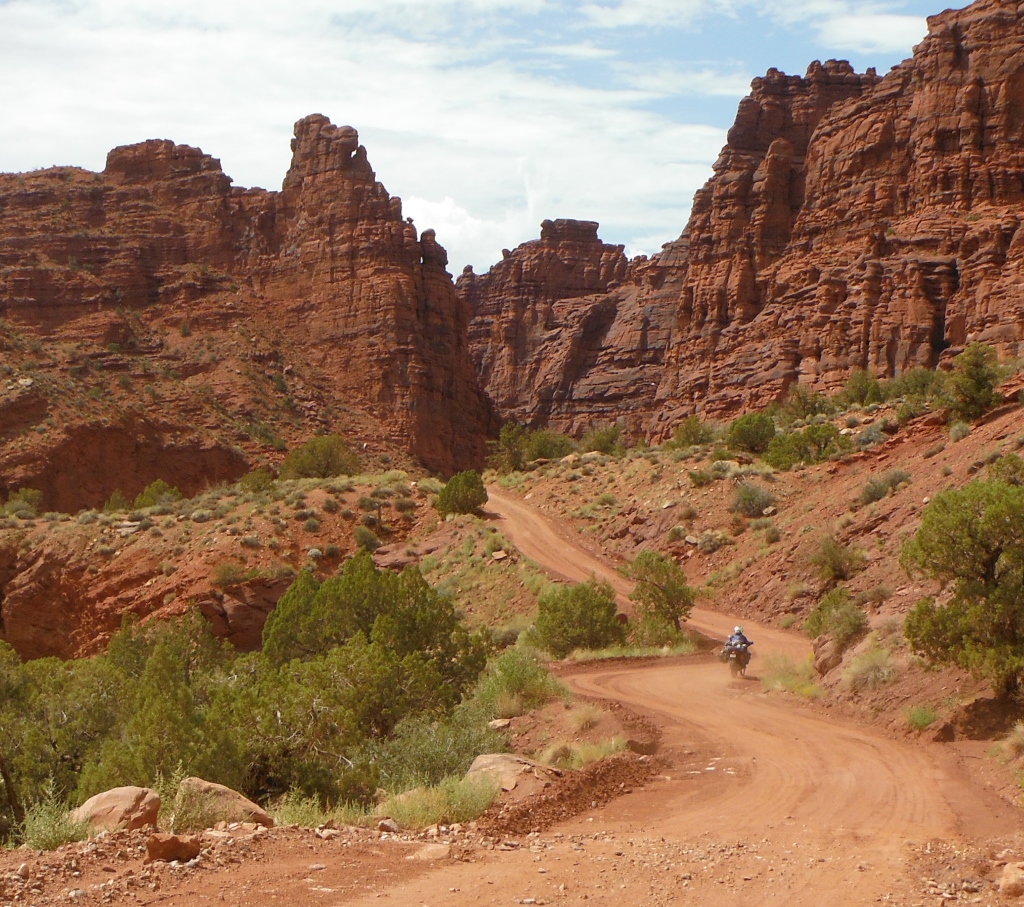 We crossed onion creek at least 50 times---always running water and muddy.
Maybe a couple days earlier we would have not gotten thru here.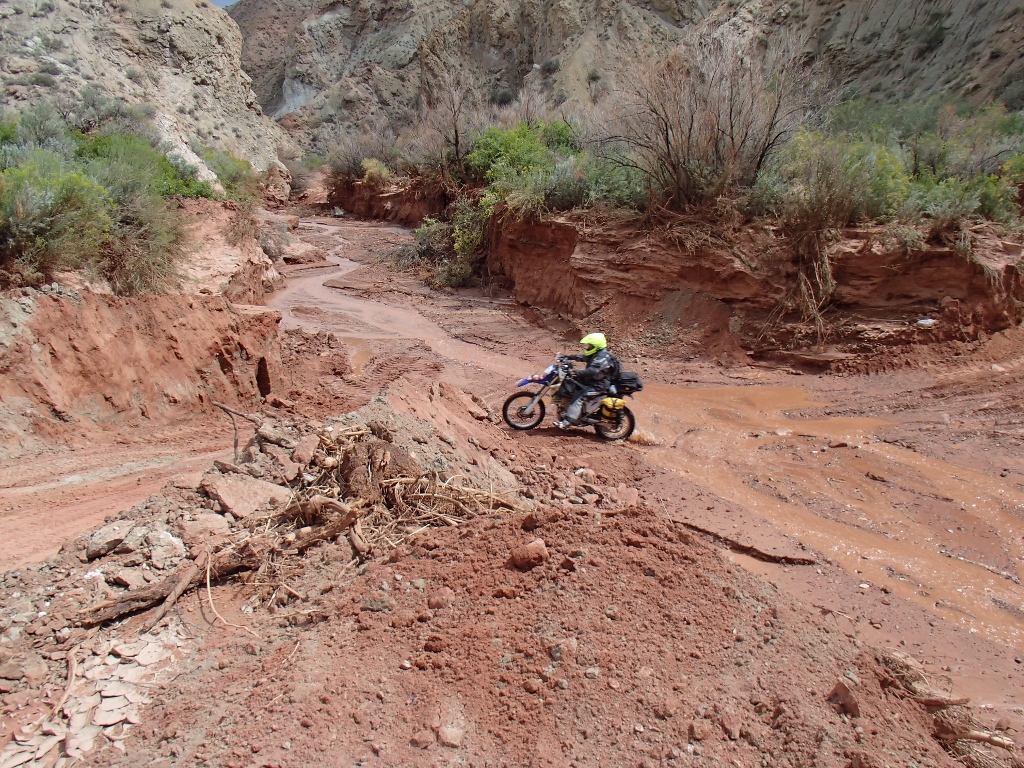 I don't even remember these-----but we got pictures.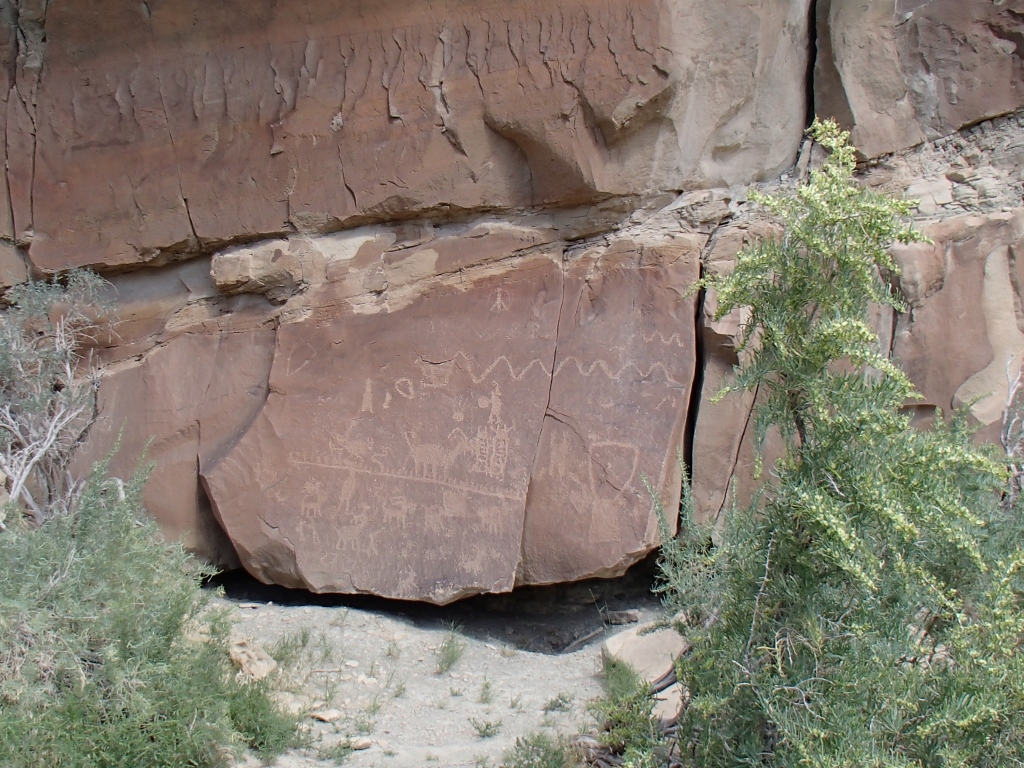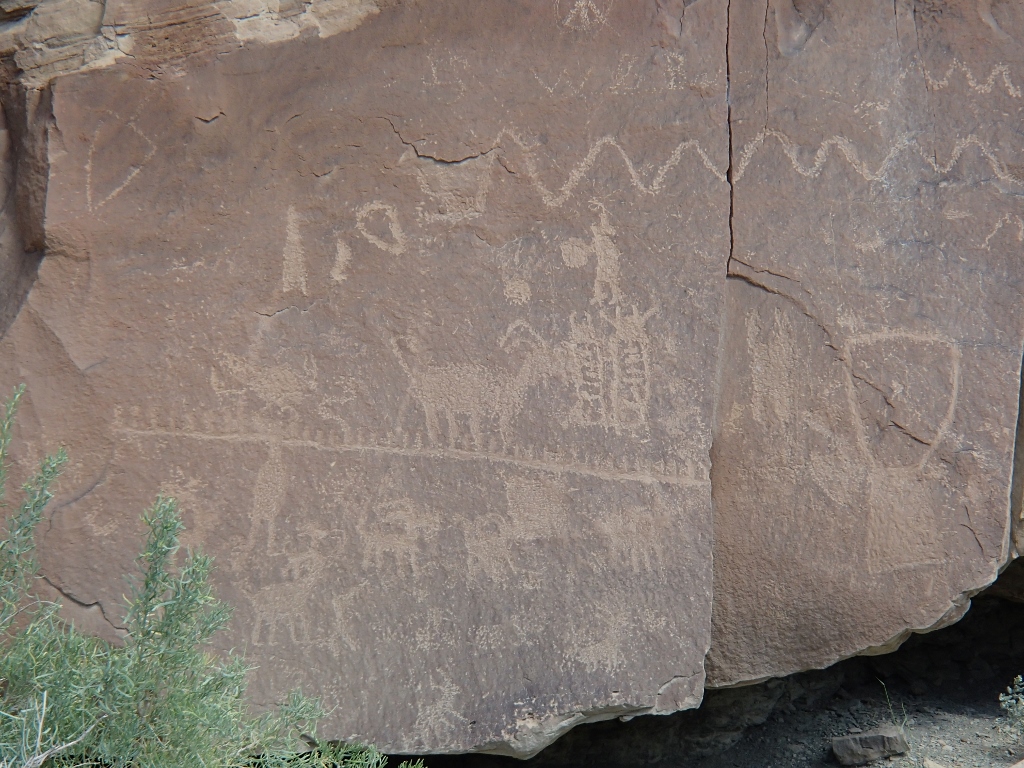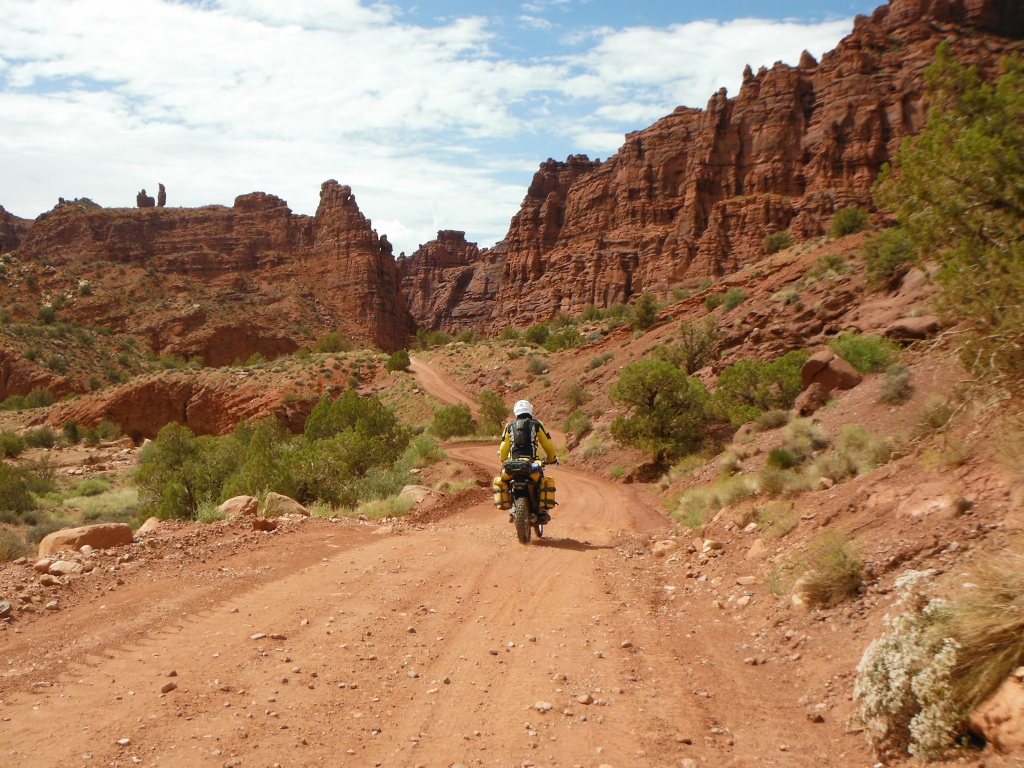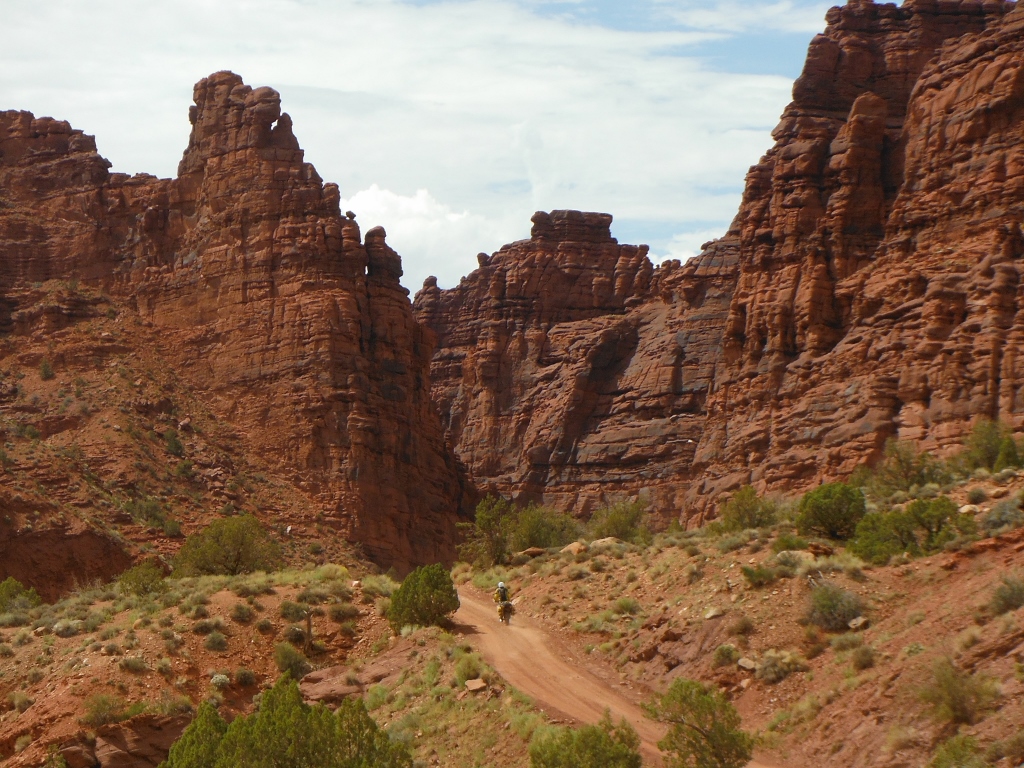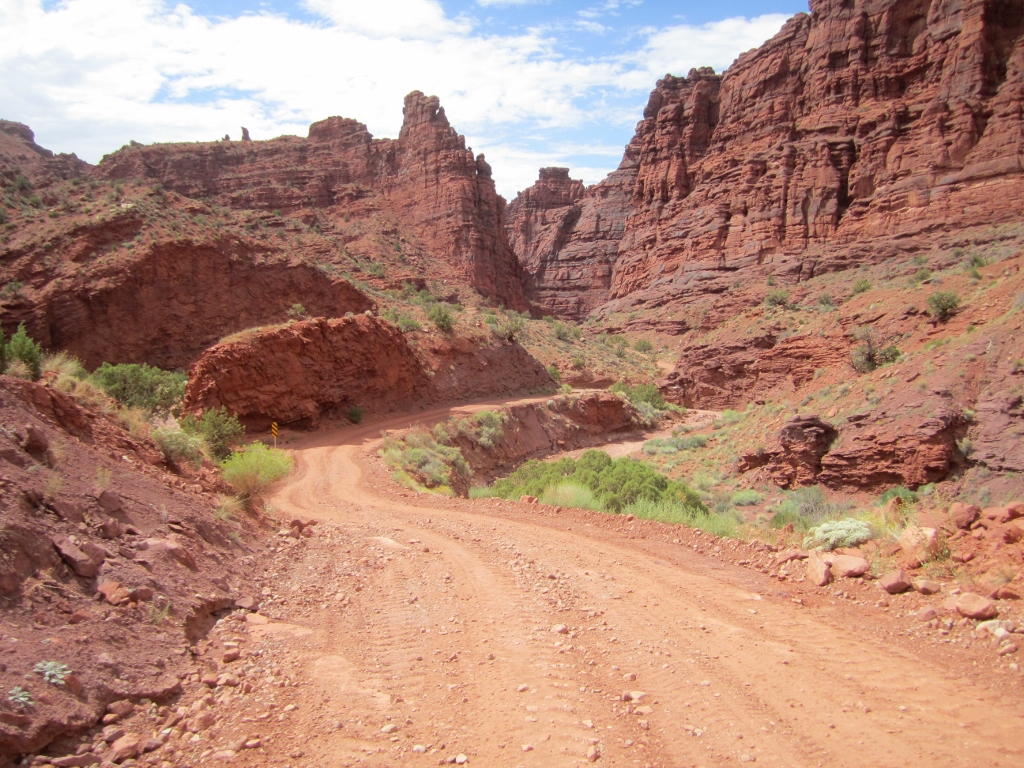 The Kokopelli trail intersects this route.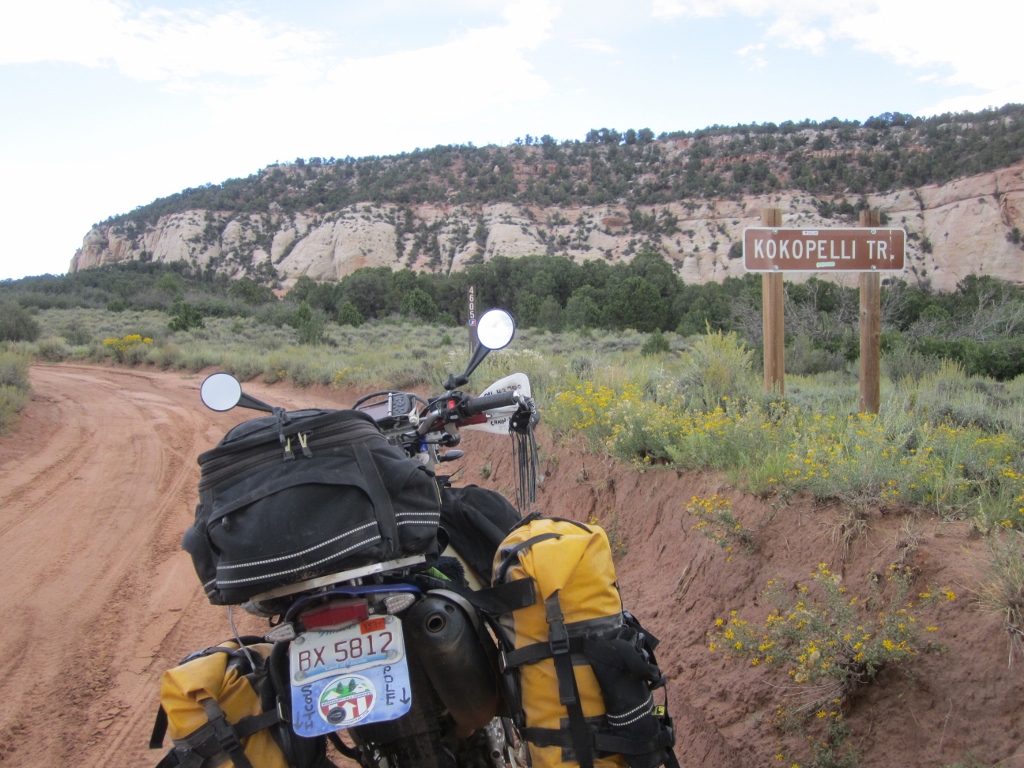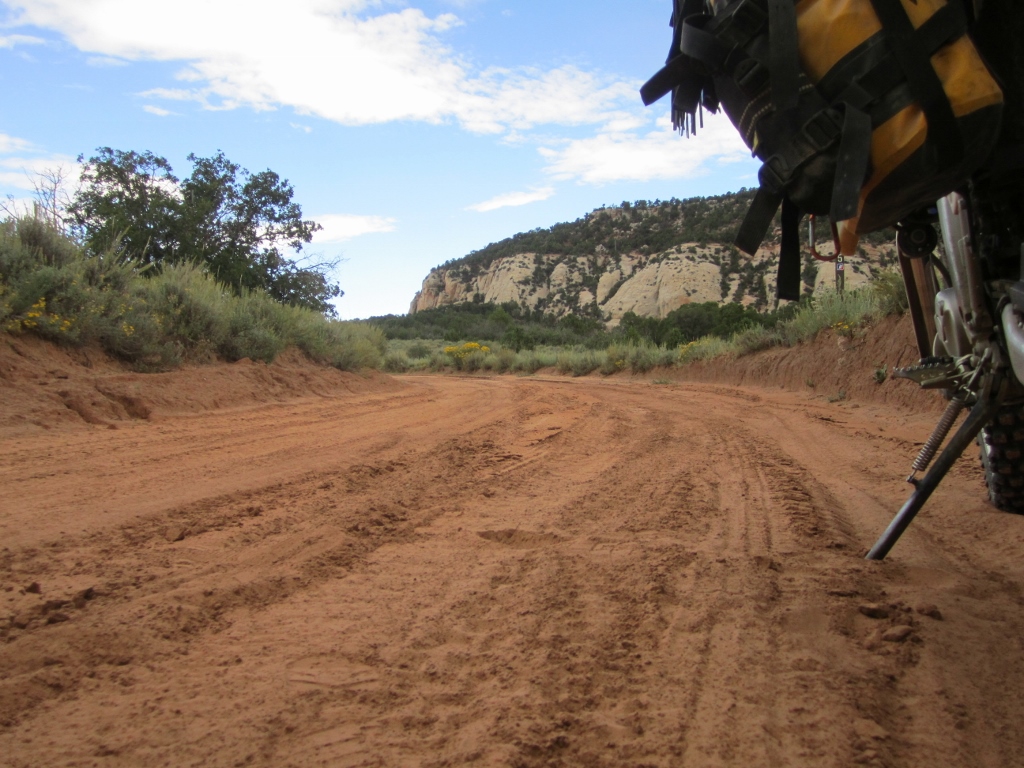 There where lots of times in here where you just rode in the creek----and look at the weather looming in front of us.
We were lucky to get out of there before it dumped on us as some of it was impassable when wet.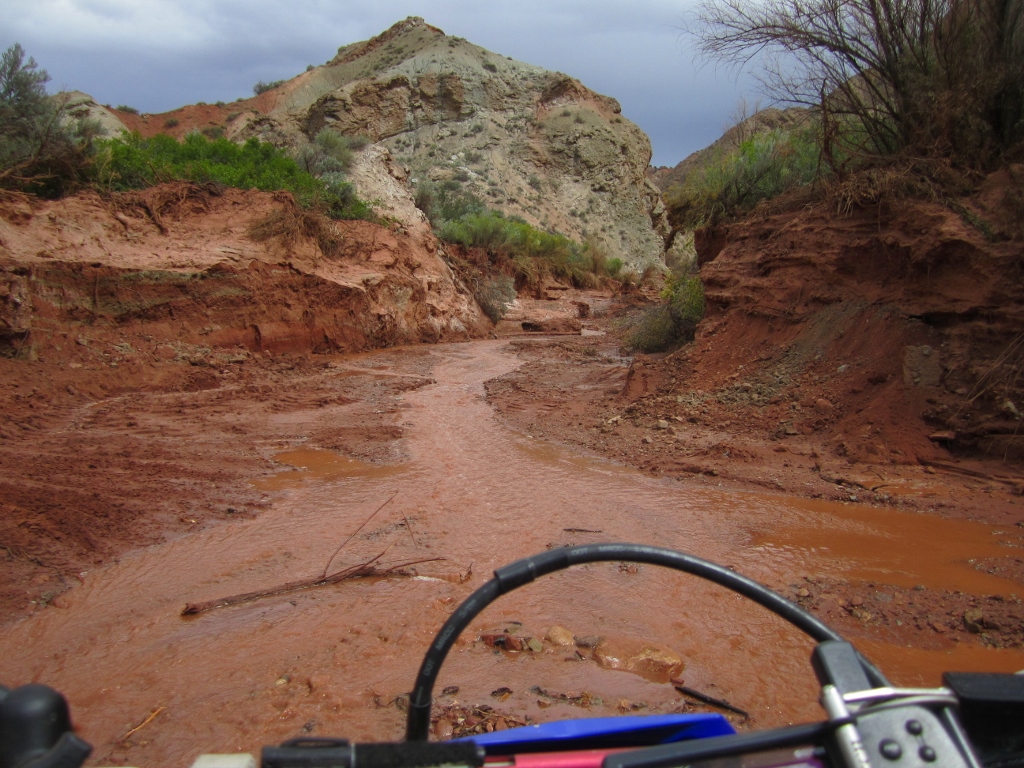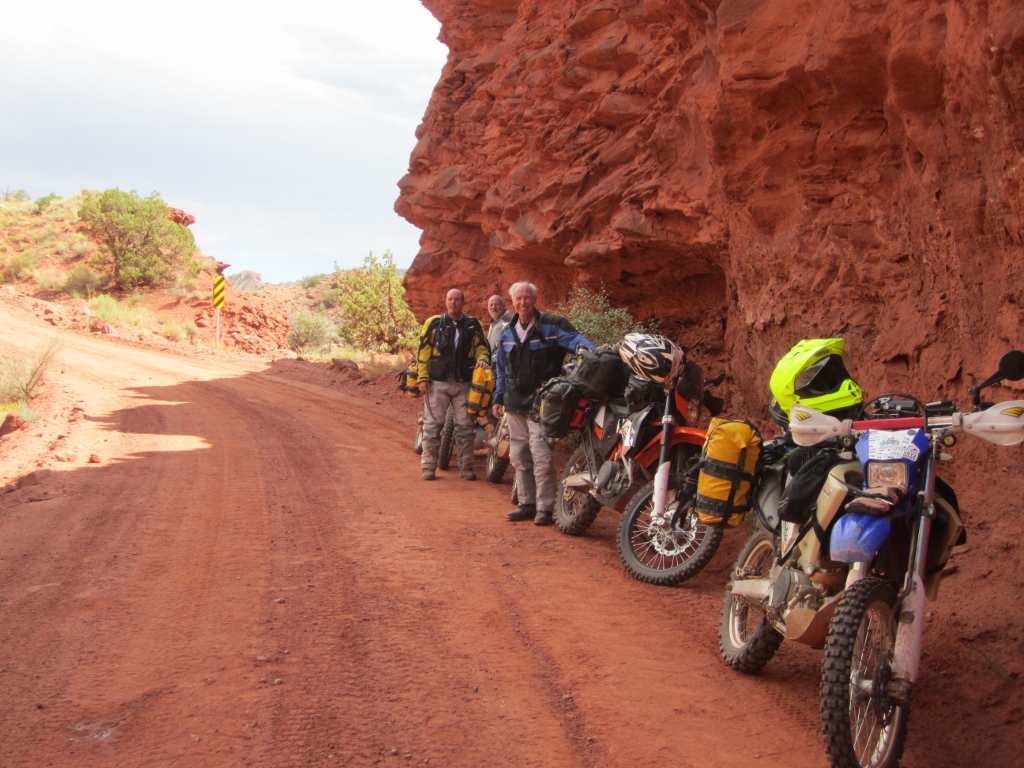 Your not crossing this wash in a rainstorm.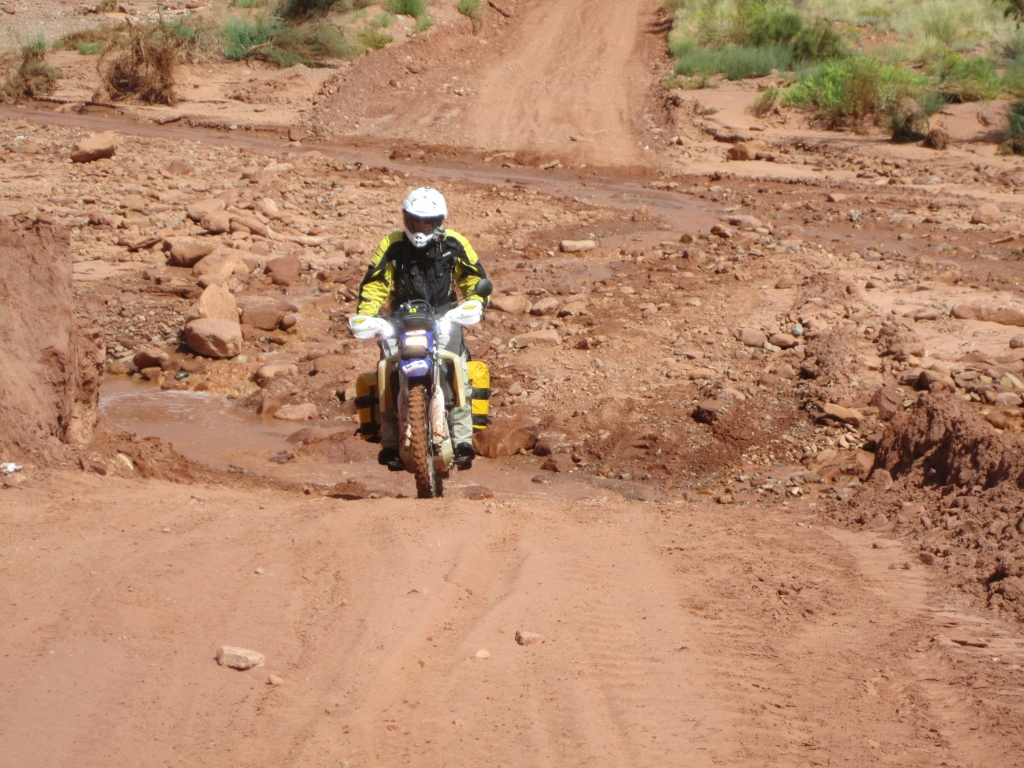 We exit onion creek road-----and find out the road was closed.
At least they waited for us to ride it before they posted the sign.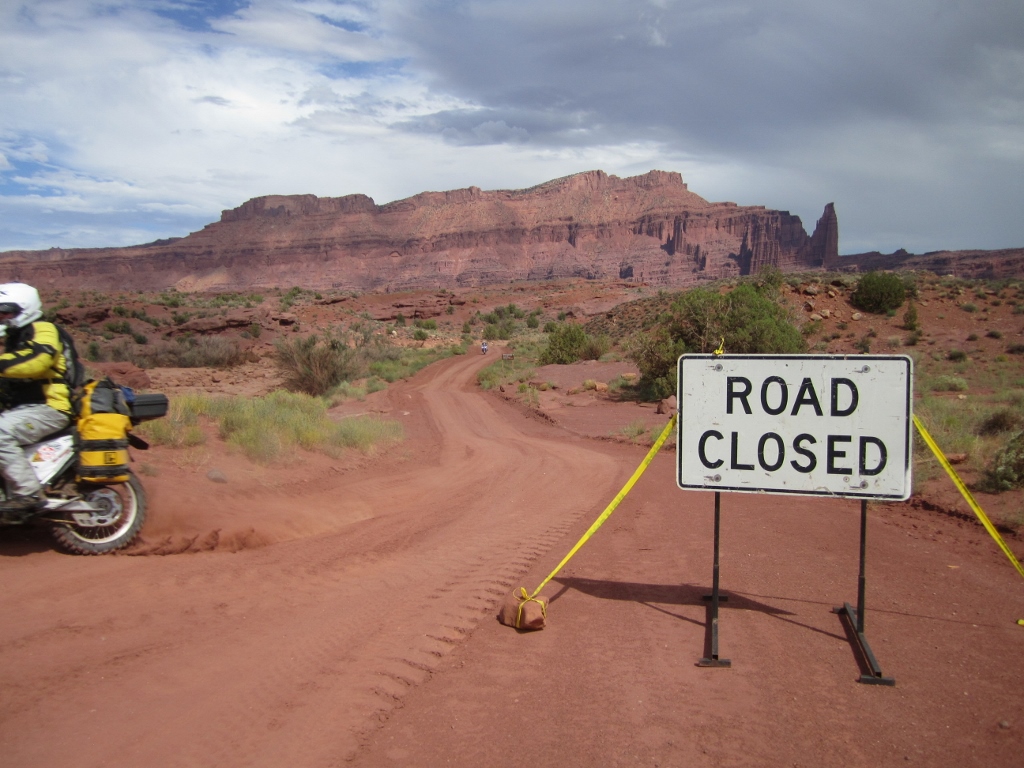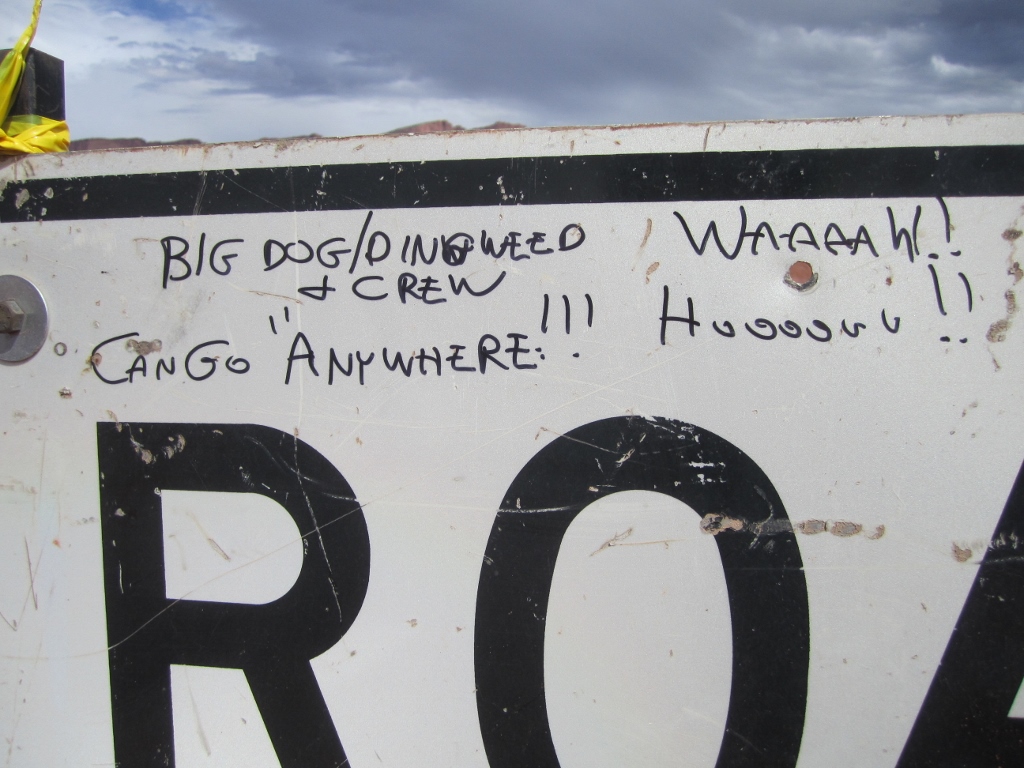 The burned down Dewey bridge. I shed a tear when I heard the bridge burnt----but that was years ago.
This is all that's left of it------it goes over the Colorado river.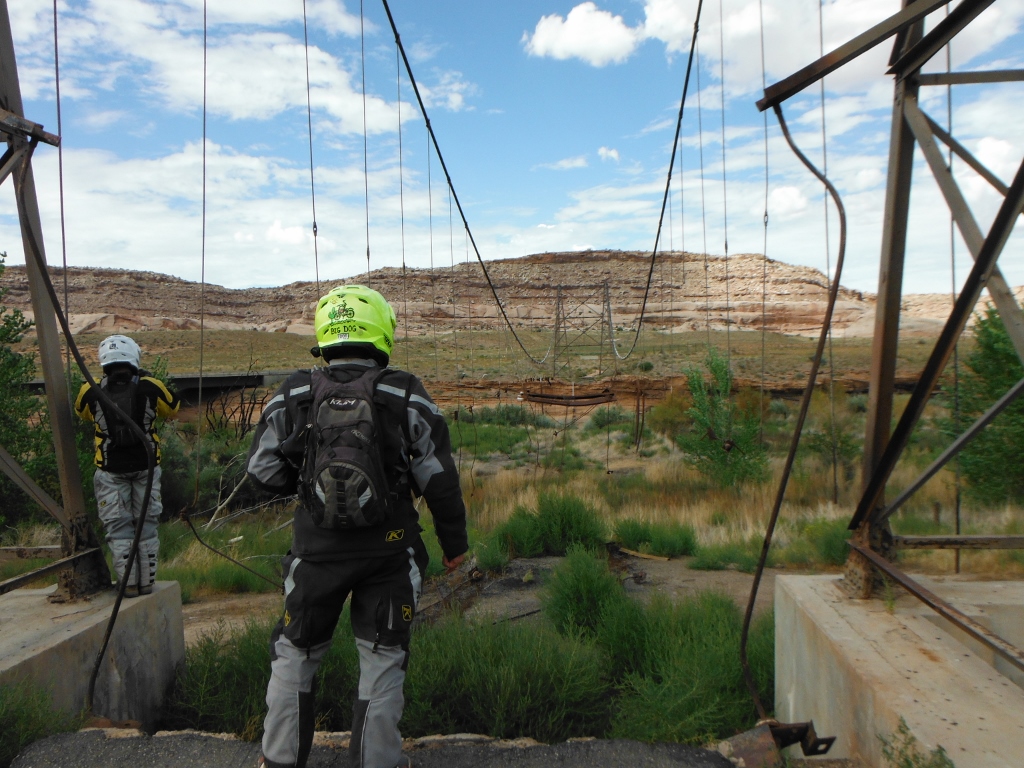 Dewey Bridge Burning--what a loss.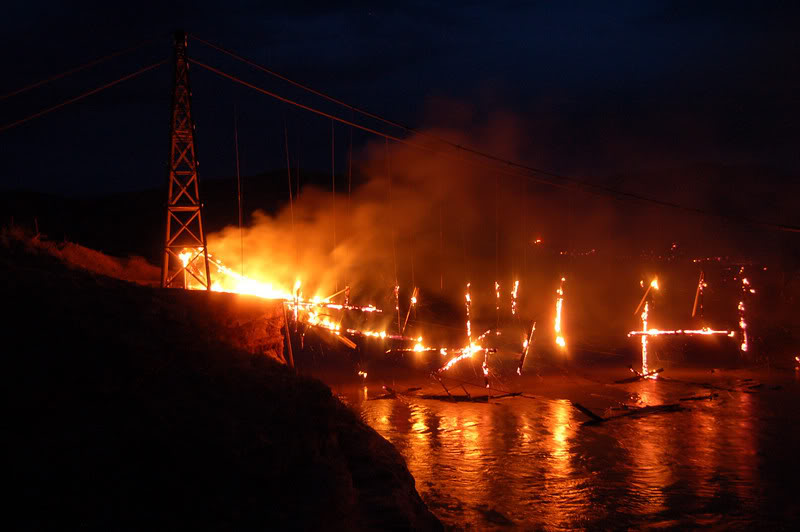 And here it is before it burnt.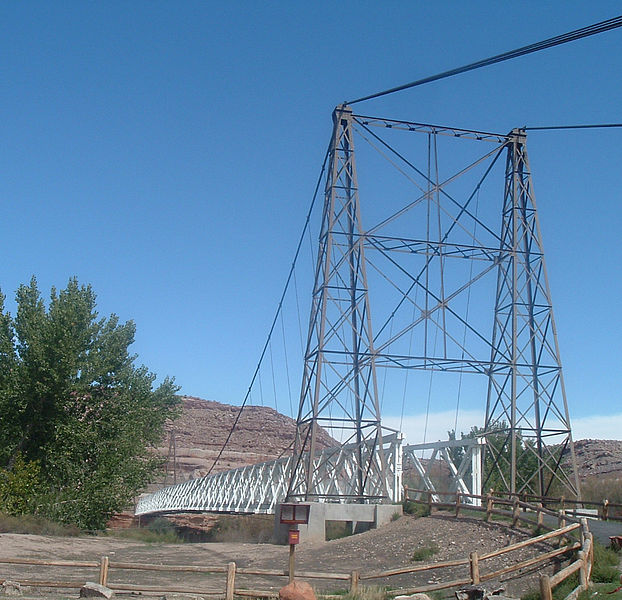 We turned North on the paved route 128 for just a short bit and turned North and West on Owl Draw Road.
I've ridden some of this---but it turned to some new stuff for me.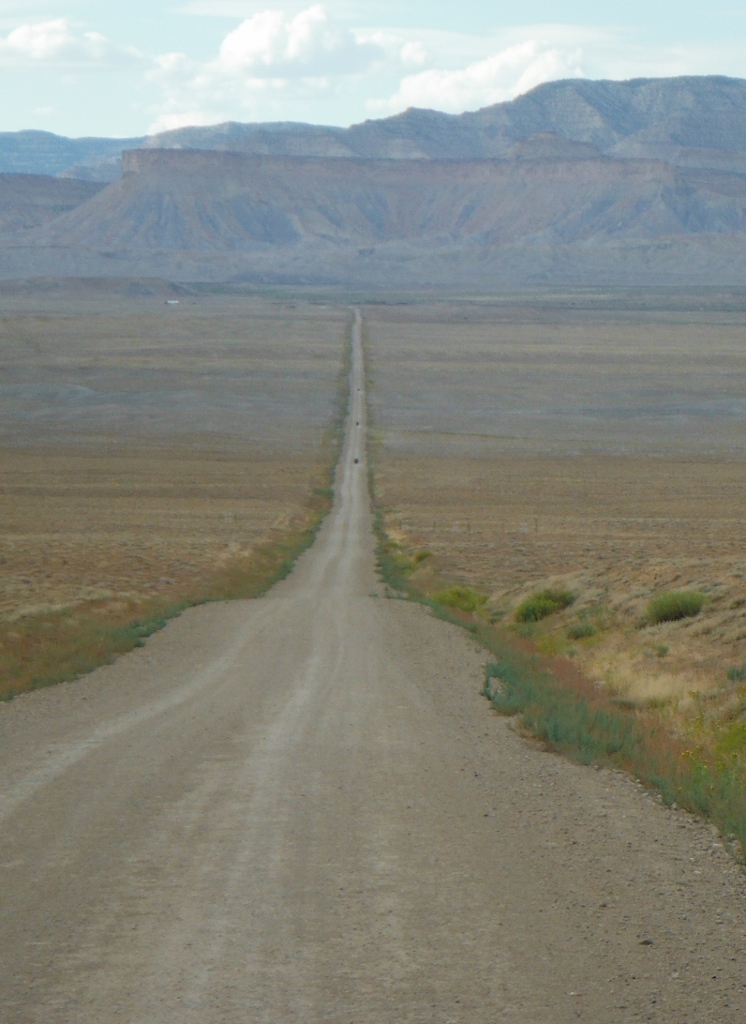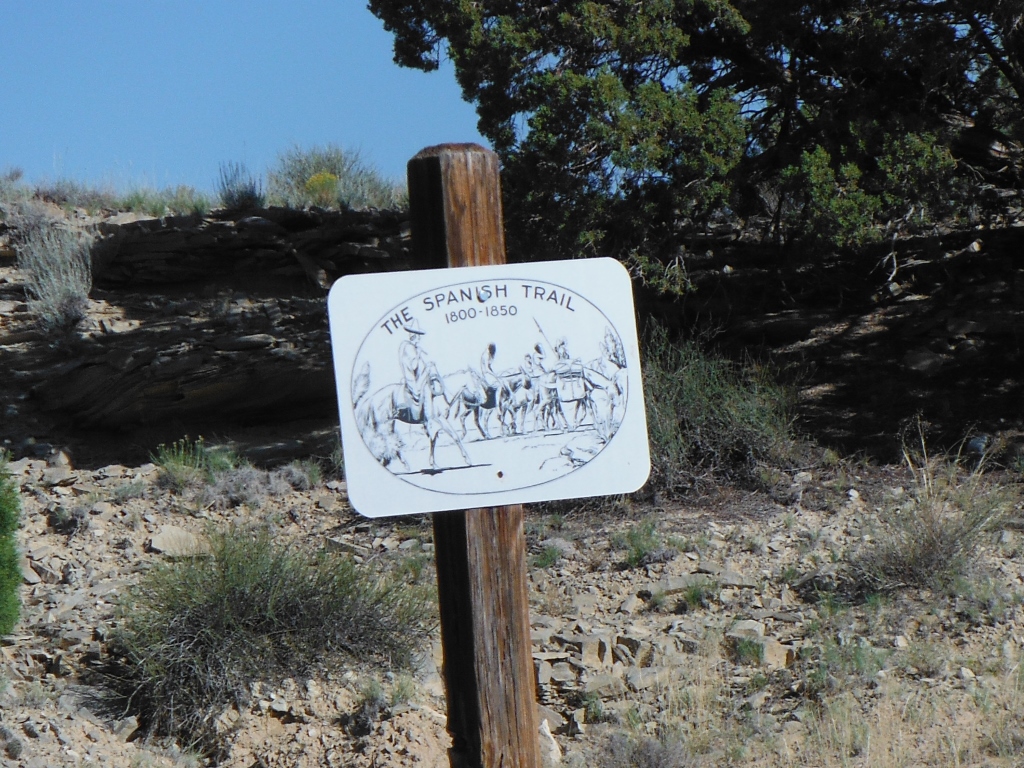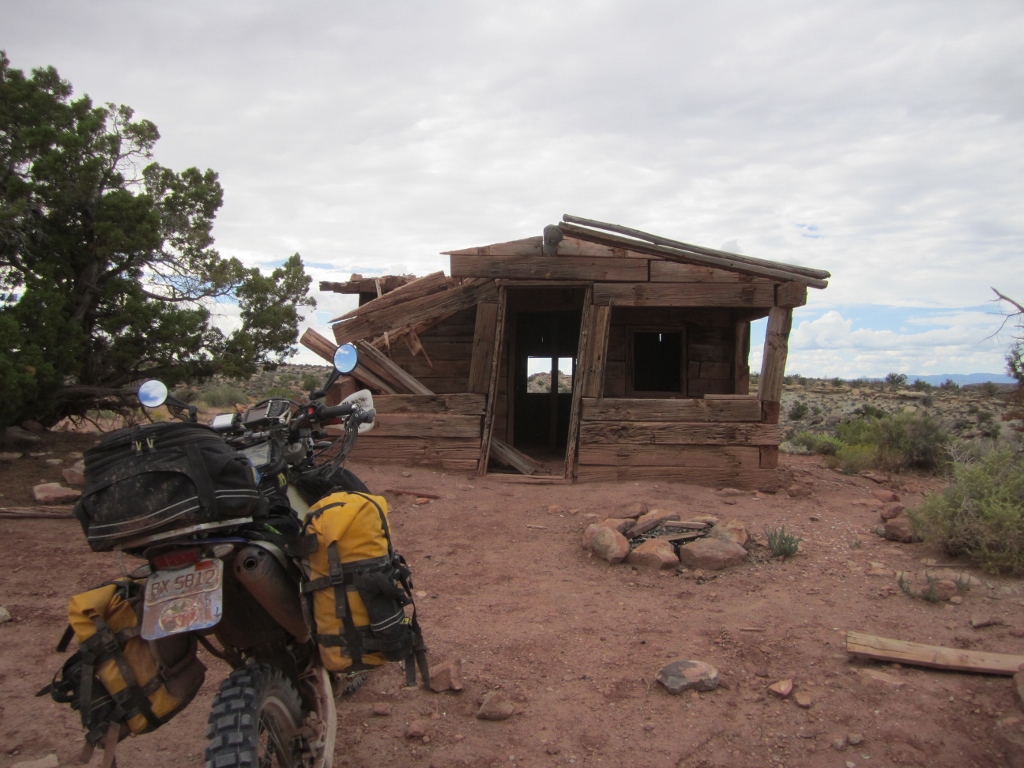 We ran across these fellows------------burned out clutch---real bummer.
They seemed unfriendly-----but I suppose they were just bummed.
I helped them figure out how many miles it was to a highway with my gps.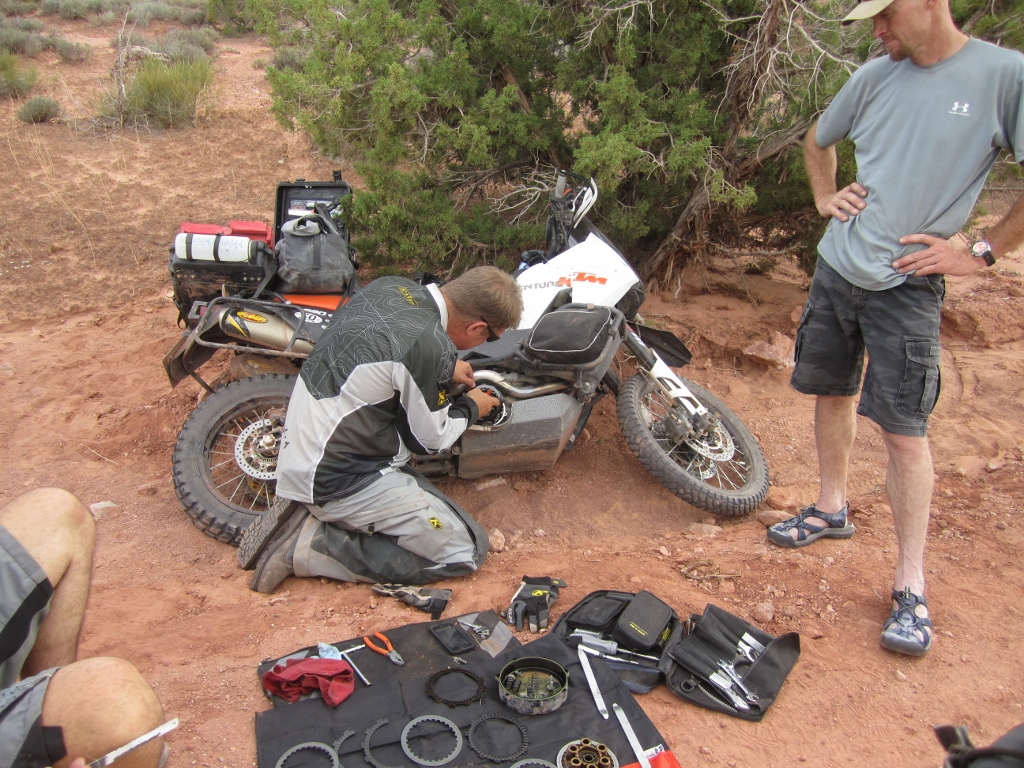 I fell down in this sand------and looked back around the corner for help-----and Bills bike looked just like mine !!!
We fell at the same exact time.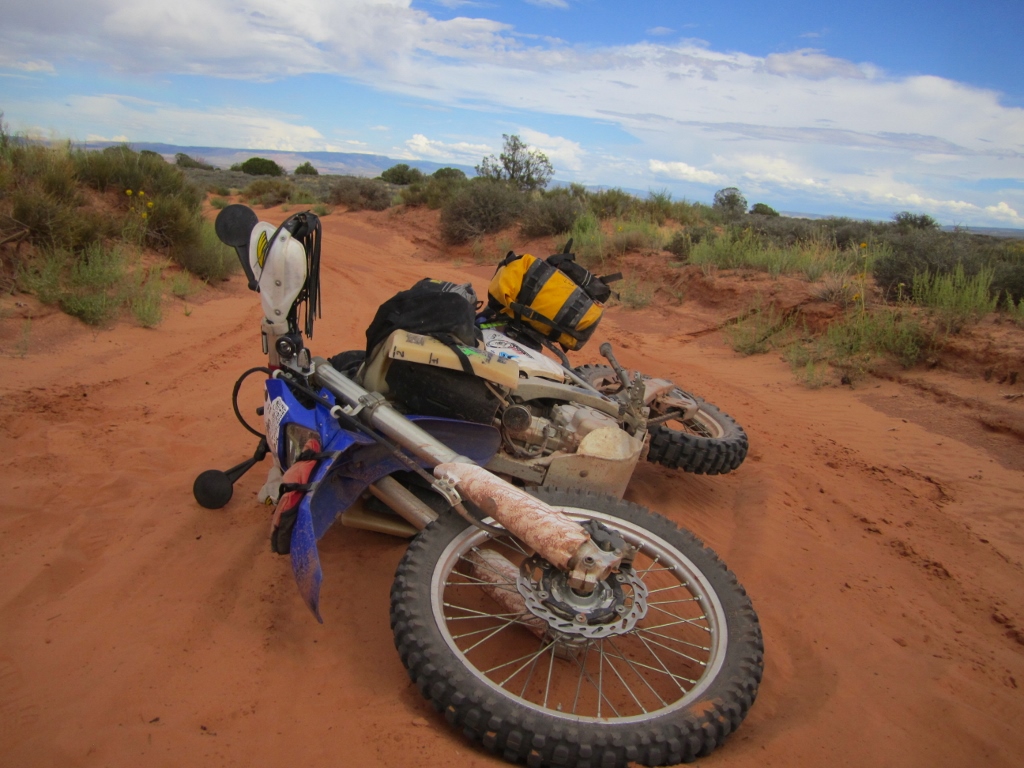 These 2 guys were having a hoot.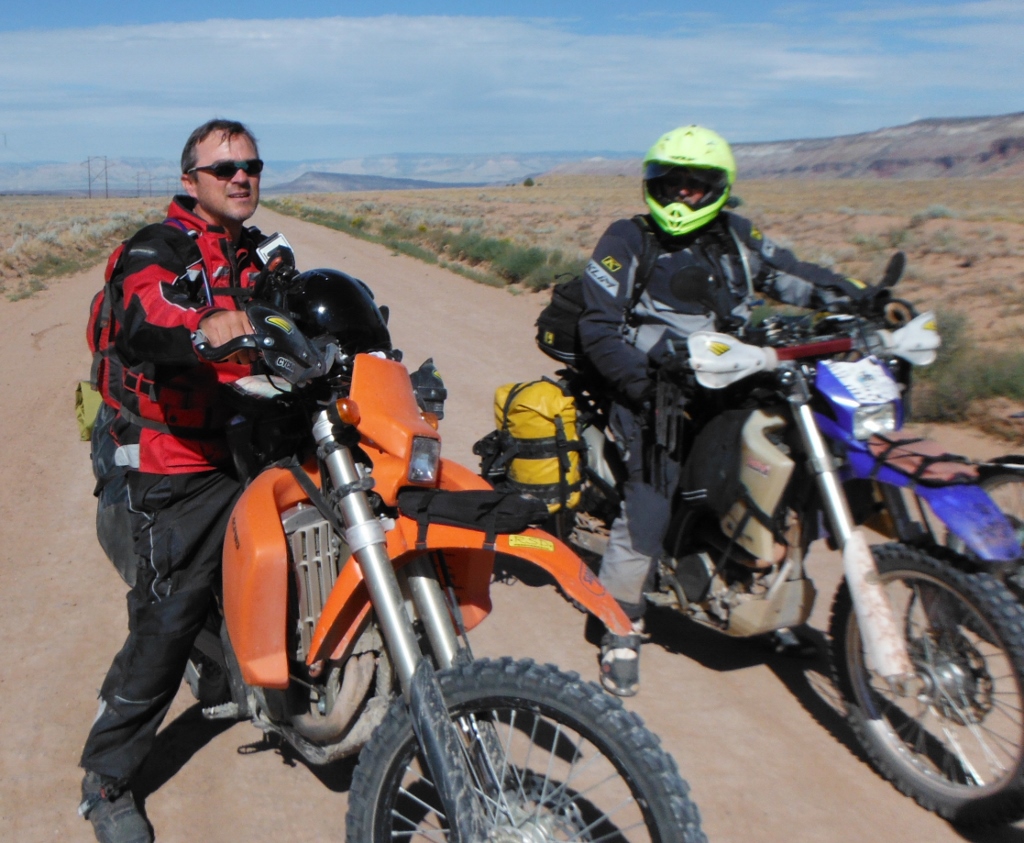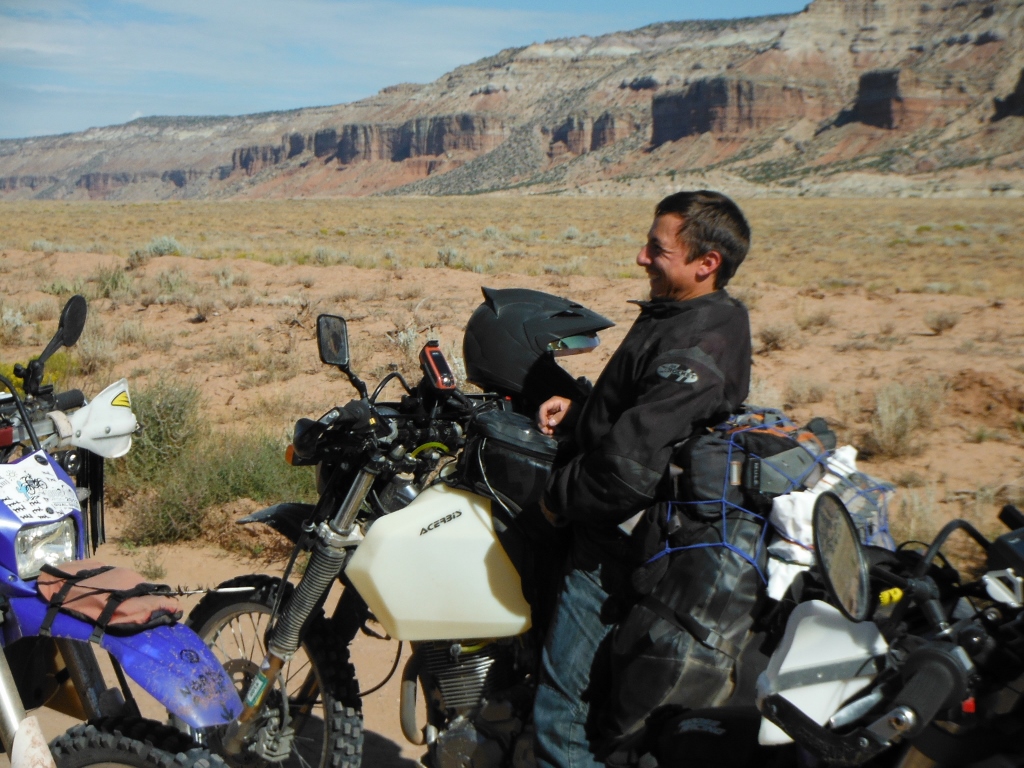 We rode on what had to be an old narrow gauge railroad bed for miles.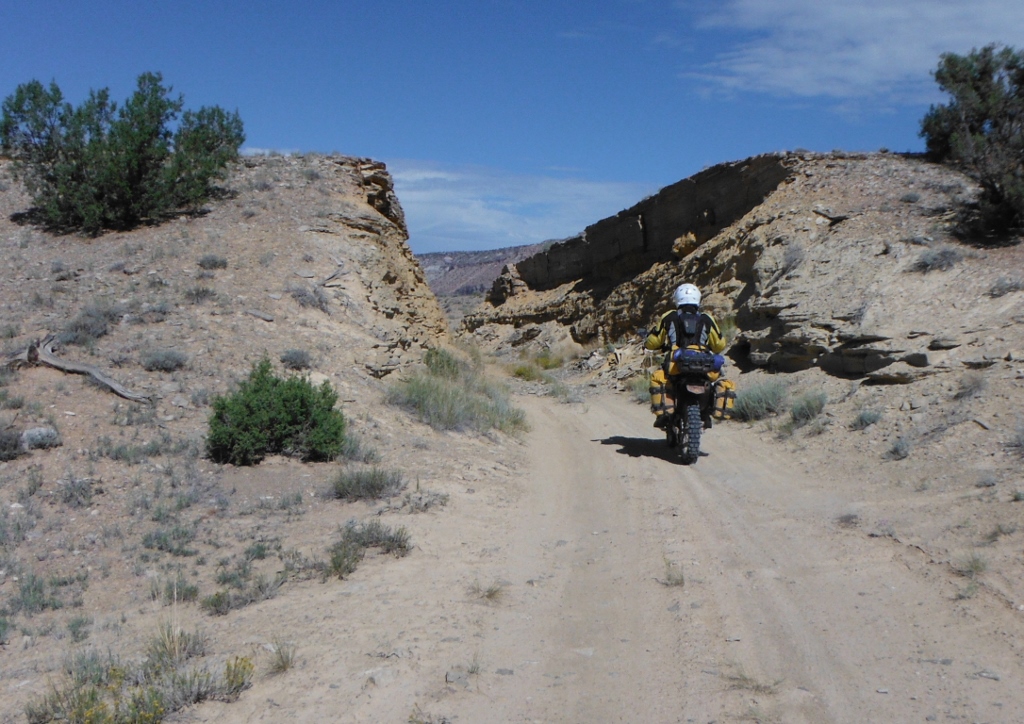 Haven't seen one of these since I road the CDR back in 2004.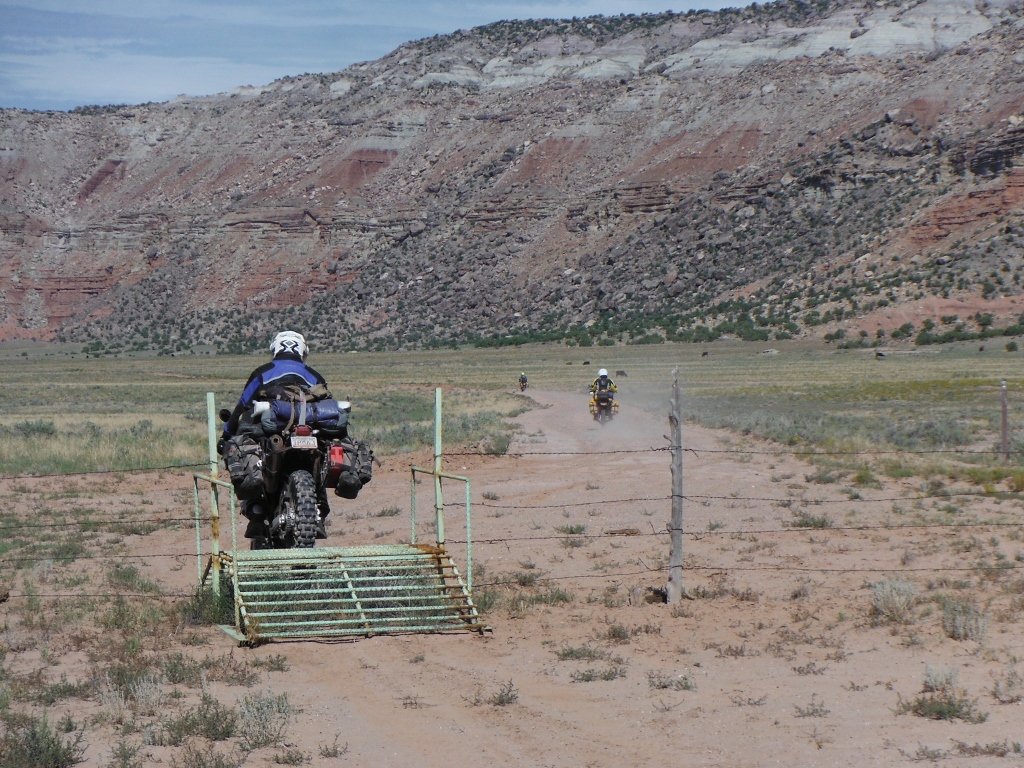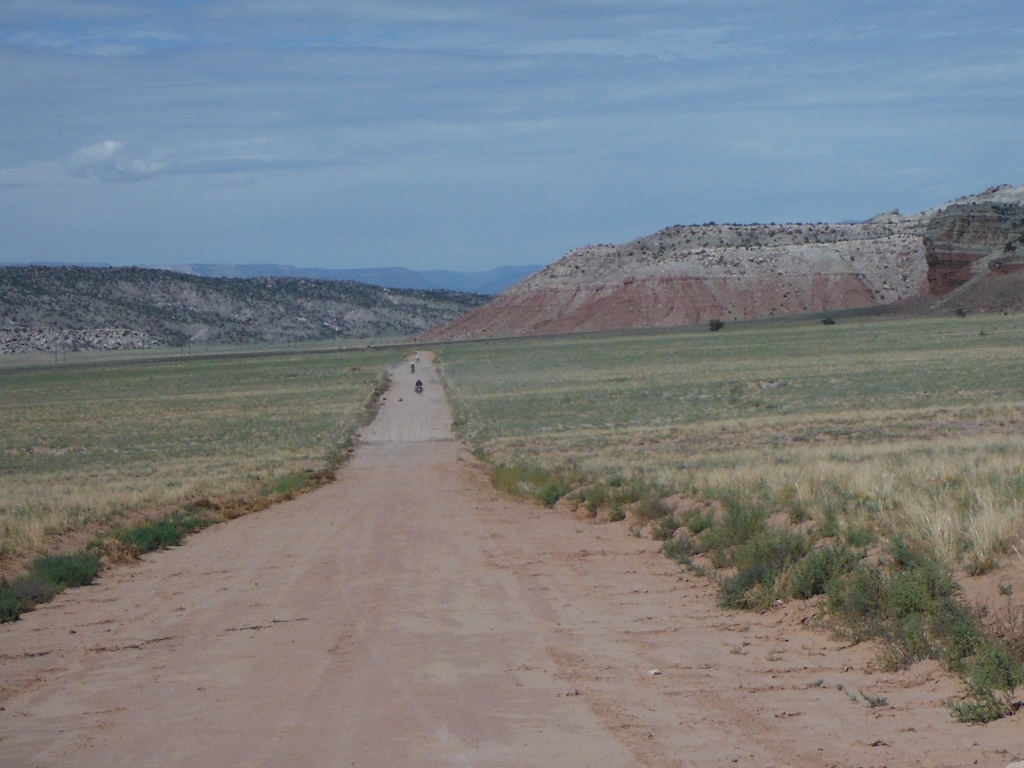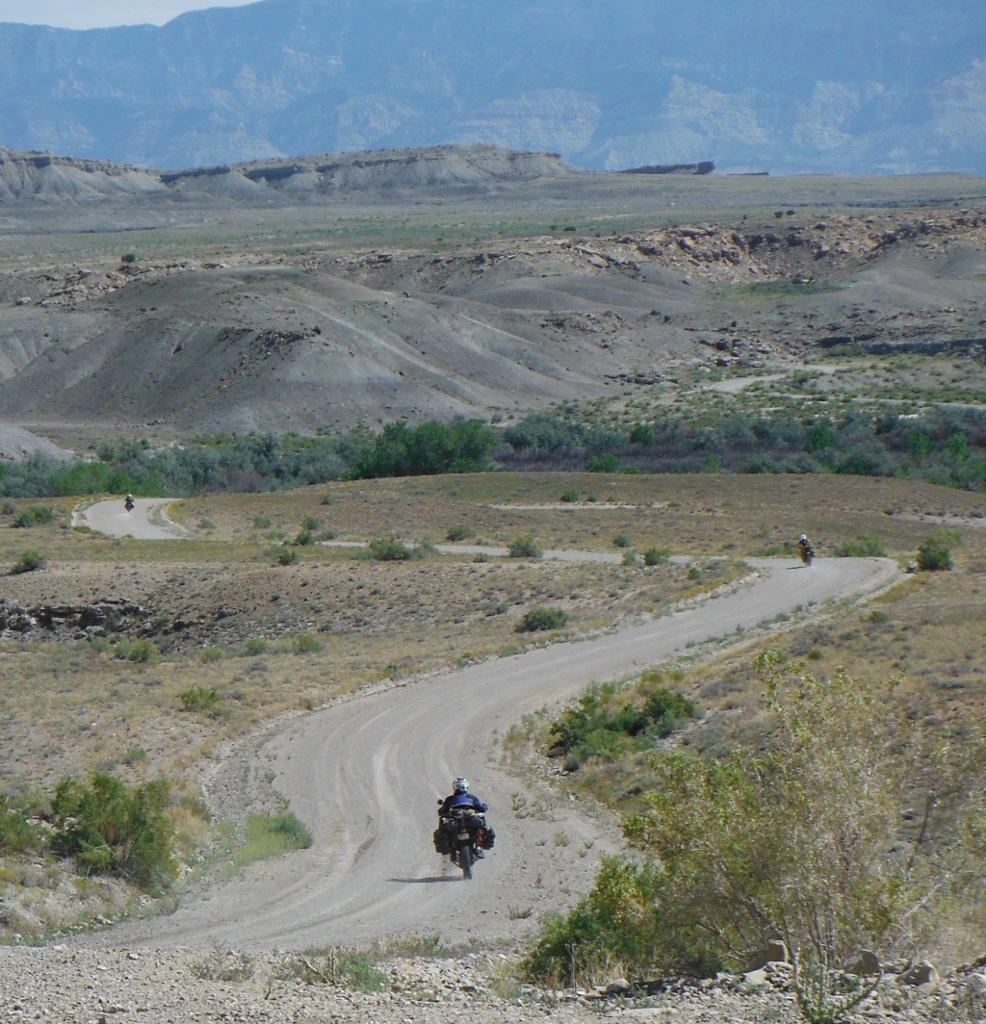 Here's a map of the days ride-----about 163 miles.
Green River Utah was out motel destination for the day---well------it was just where we ended up--not a destination for us really.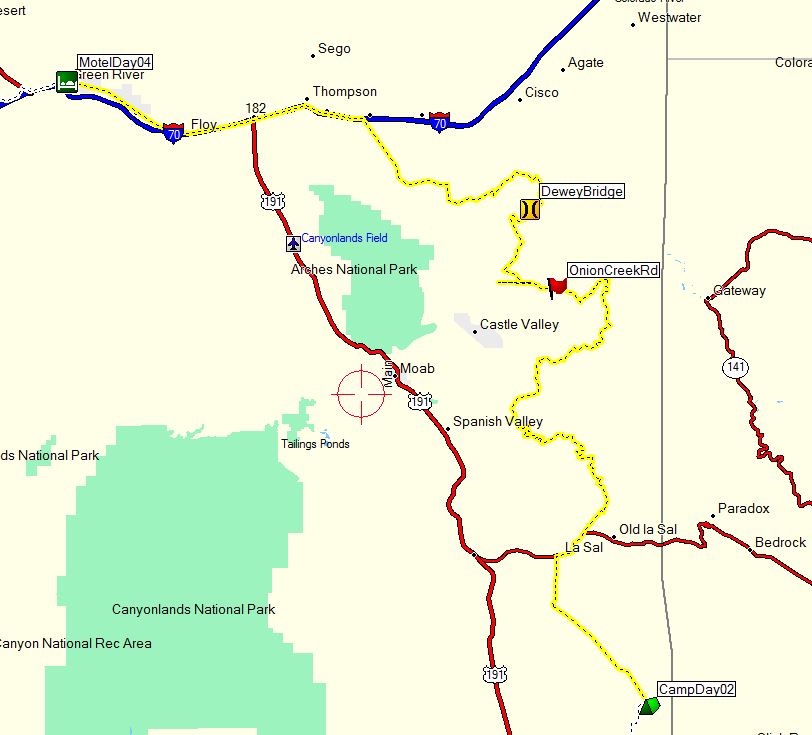 And here is a video of Day 3
Thanks to Bill Asher
Day 4------September 4th, 2013
Green River, Utah to camp on Reservation Ridge
Look what's going on here----the old guys have already ate breakfast---went for a long walk and looky
what we find back at the Motel-------------a texter !!!!!!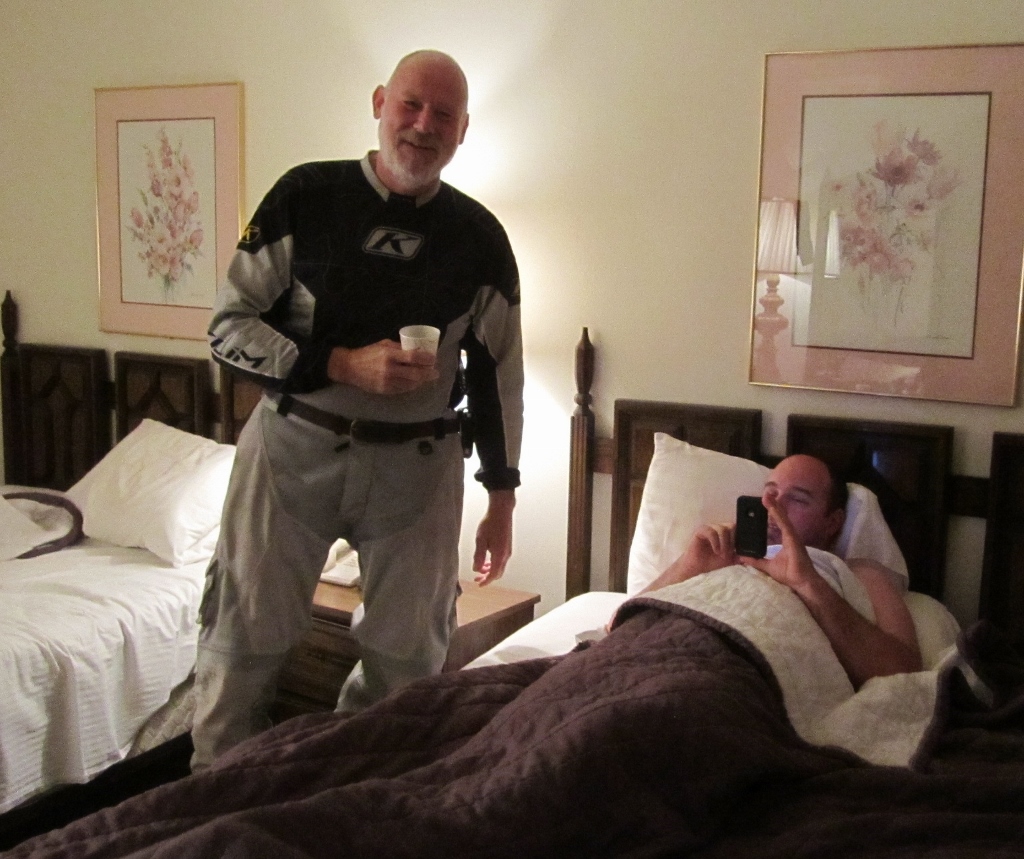 The TAT goes thru Green River---but we veered off Northwest on CR-1029 then Cottonwood Wash road.
No rain yet !!!! It ain't gonna rain.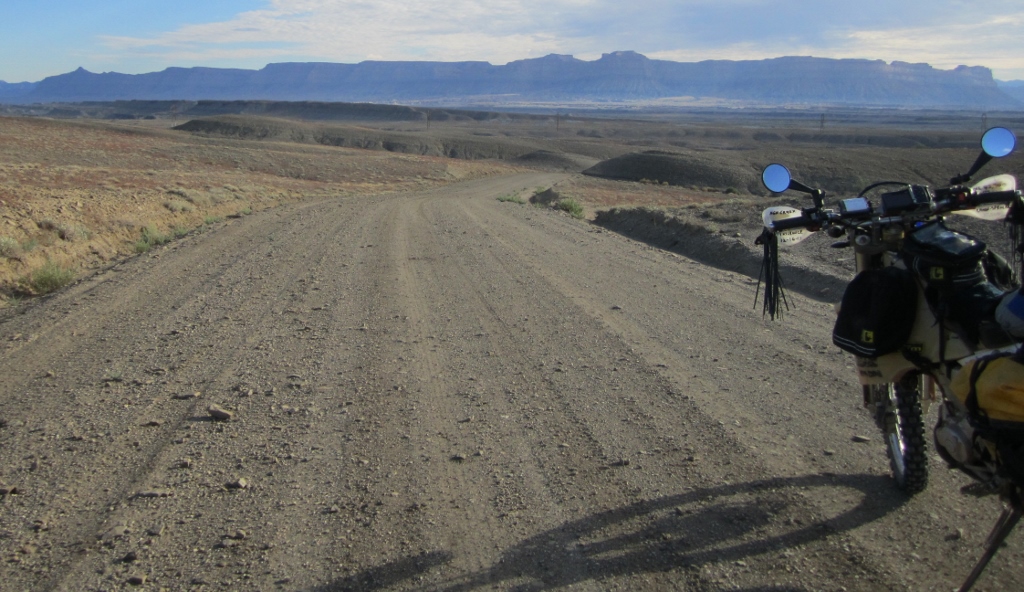 I didn't have a clue we were going to be on the Spanish Trail.
We saw a couple different types of signs designatin this route.
We ran across these real nice guys several times. They'd get ahead of us---they'd have a problem -------we'd catch up.
They'd get ahead of us again-------they'd have a problem------we'd catch up.
Good bunch of guys---but things would get much worse for them later on-------much worse----I think they just had a flat here.
I think the Harley Buell was the most unusual bike we saw out there----Had some real big knobbies on it.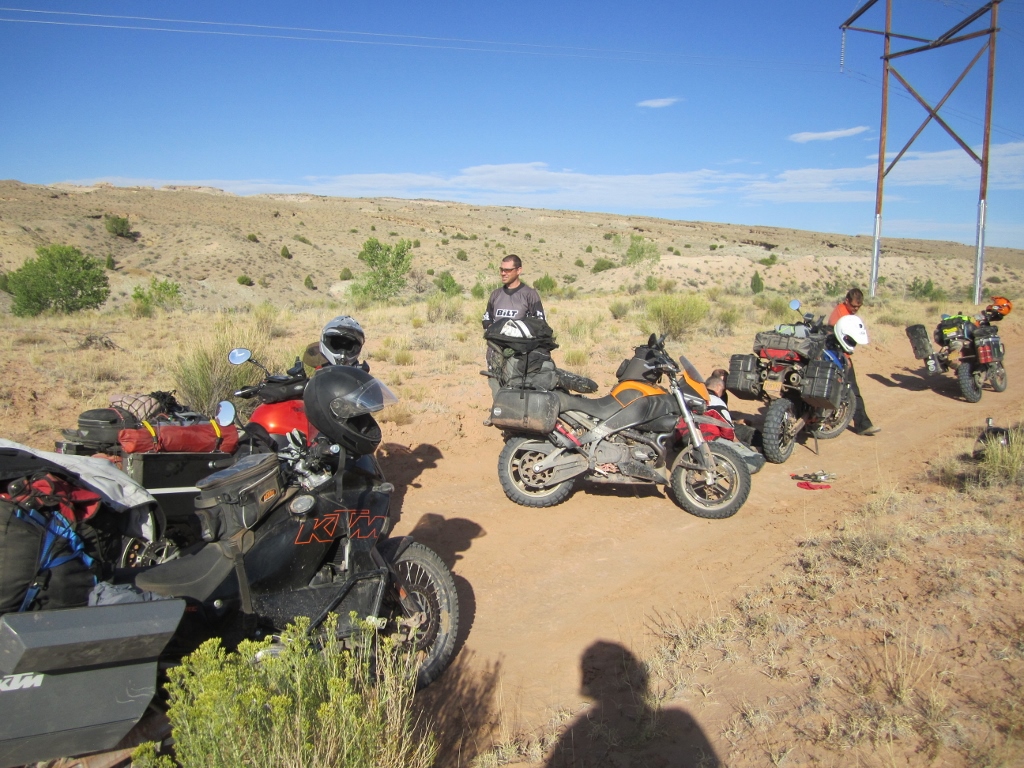 It was pretty sandy here------seems I remember it being deeper than it looks ????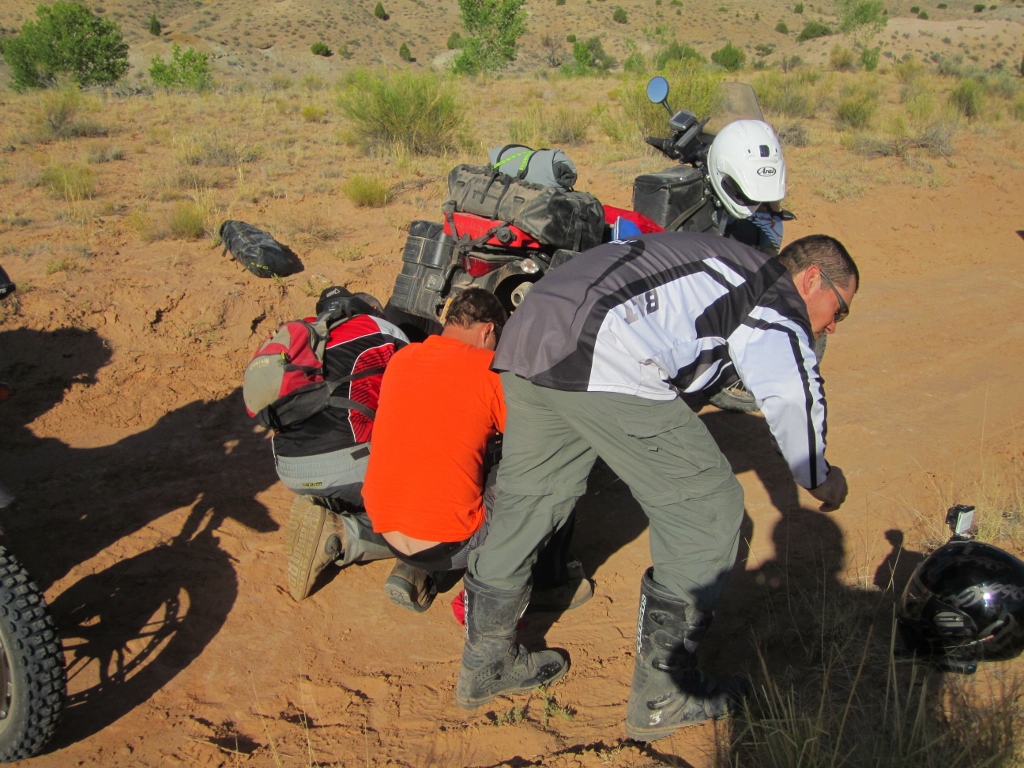 The route headed North Mostly and I remember we got gas and re-stocked snacks in Wellington, Utah on route 191.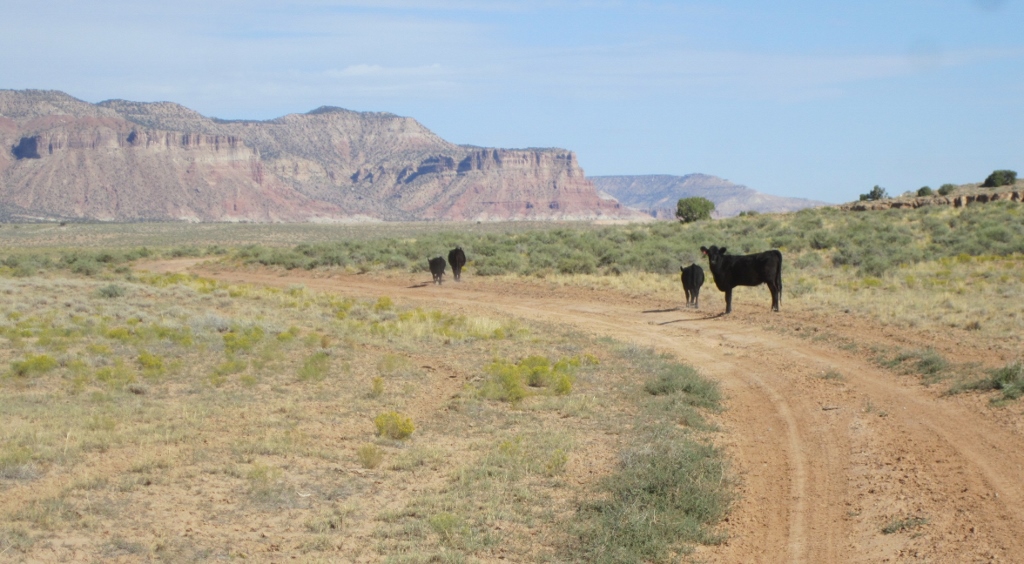 This is called "Balance Rock"
It was just a little off route---I had been here before years ago and marked this rock with a waypoint
and just wanted to show the guys something neat.
The last time I was hear the rode was dirt and gravel.

Well I found that picture-----seems it was just 2 years ago and I was on my 950.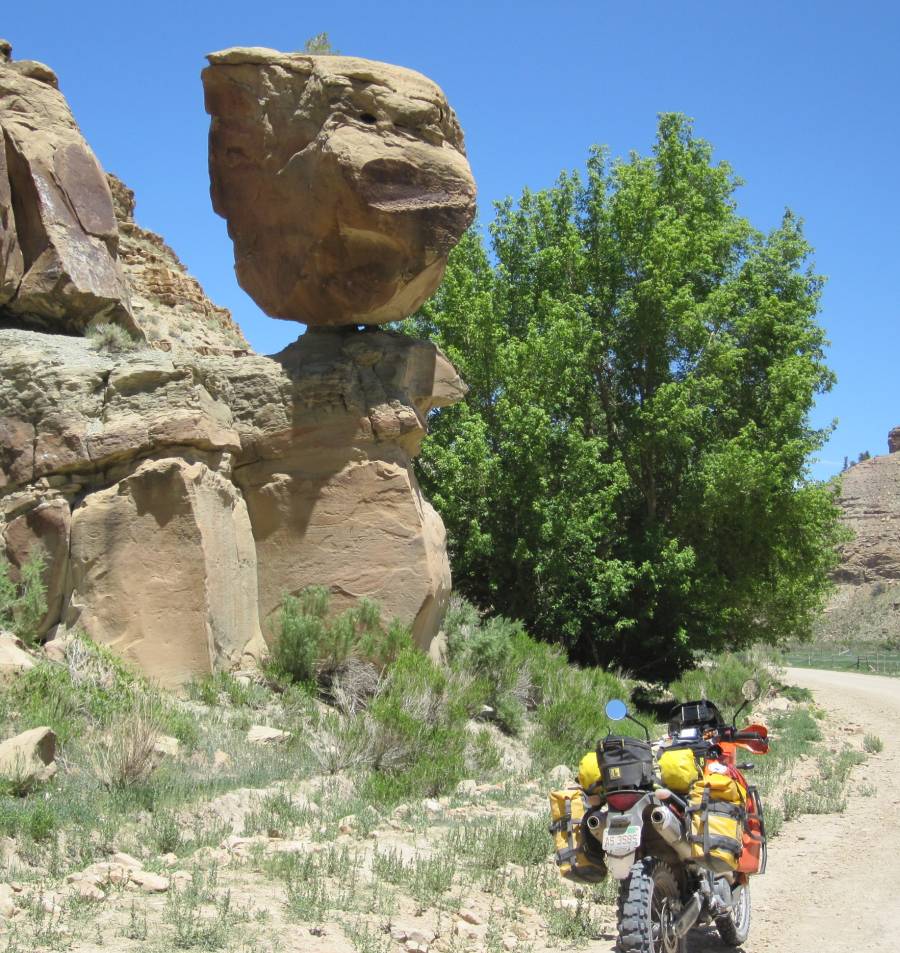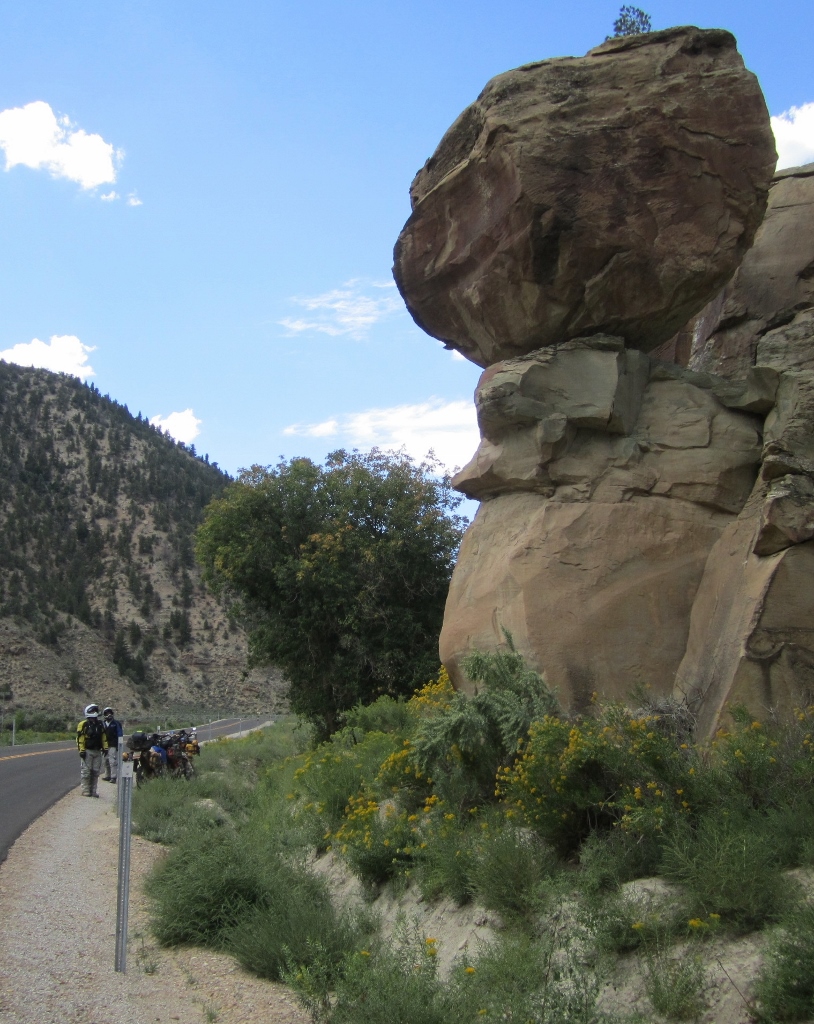 I can only imagine how much that thing weighs.I bet if I was a little kid and lived around there I could see myself climbing up there
with a hammer and chisel---------well you get the picture!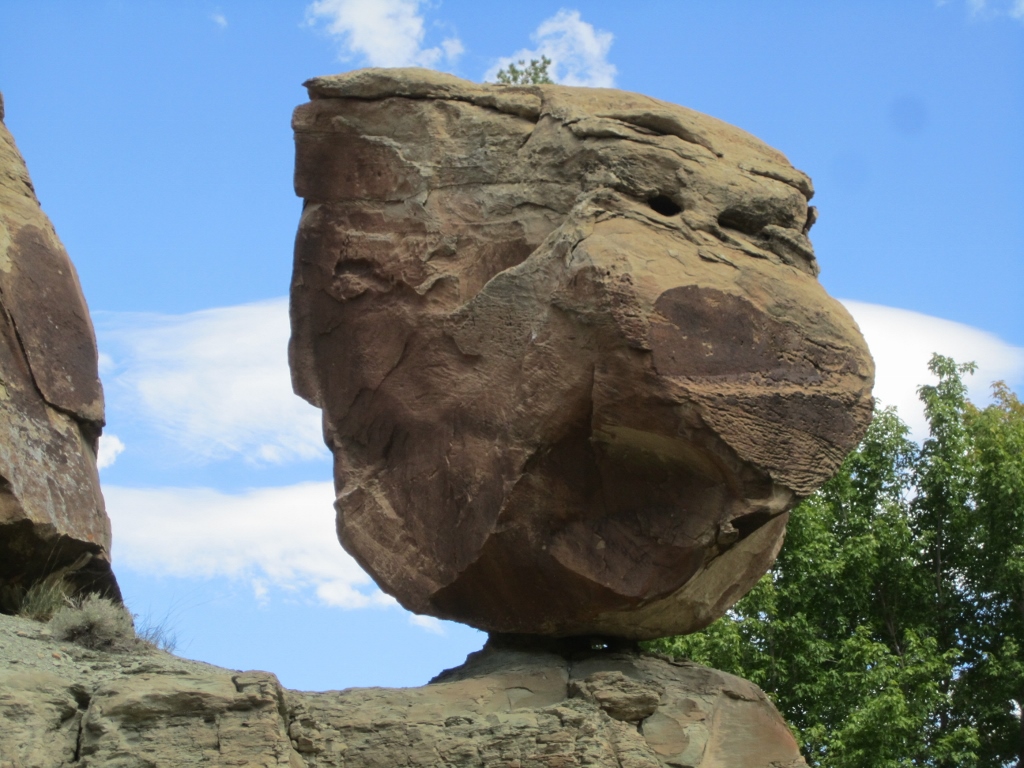 Who's the dummy standing under that thing-------yeh, it was me.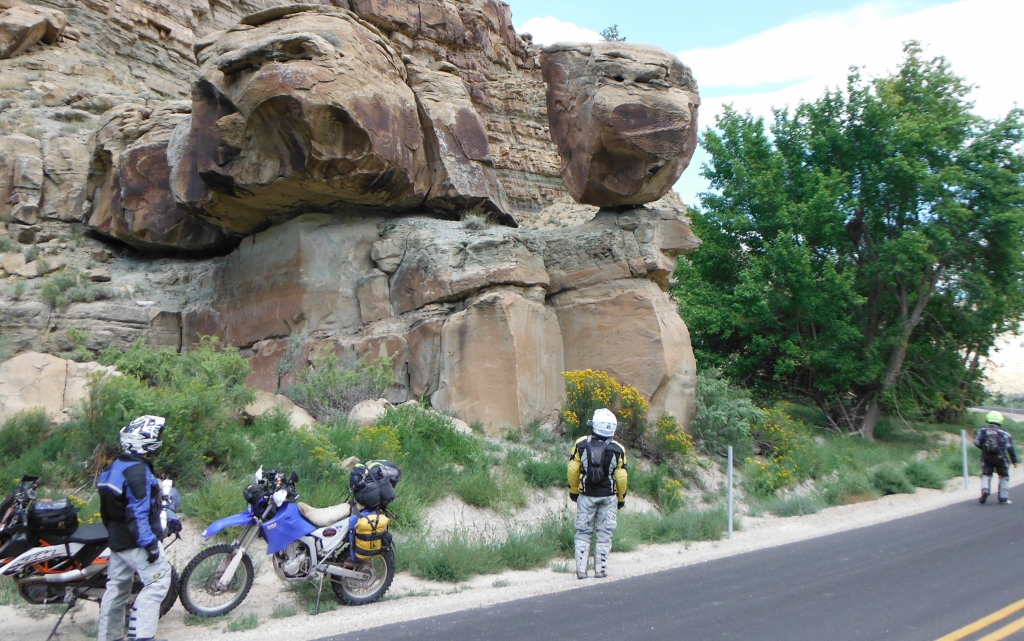 We walked up the hill a bit beside the rock and found these-----awesome !!!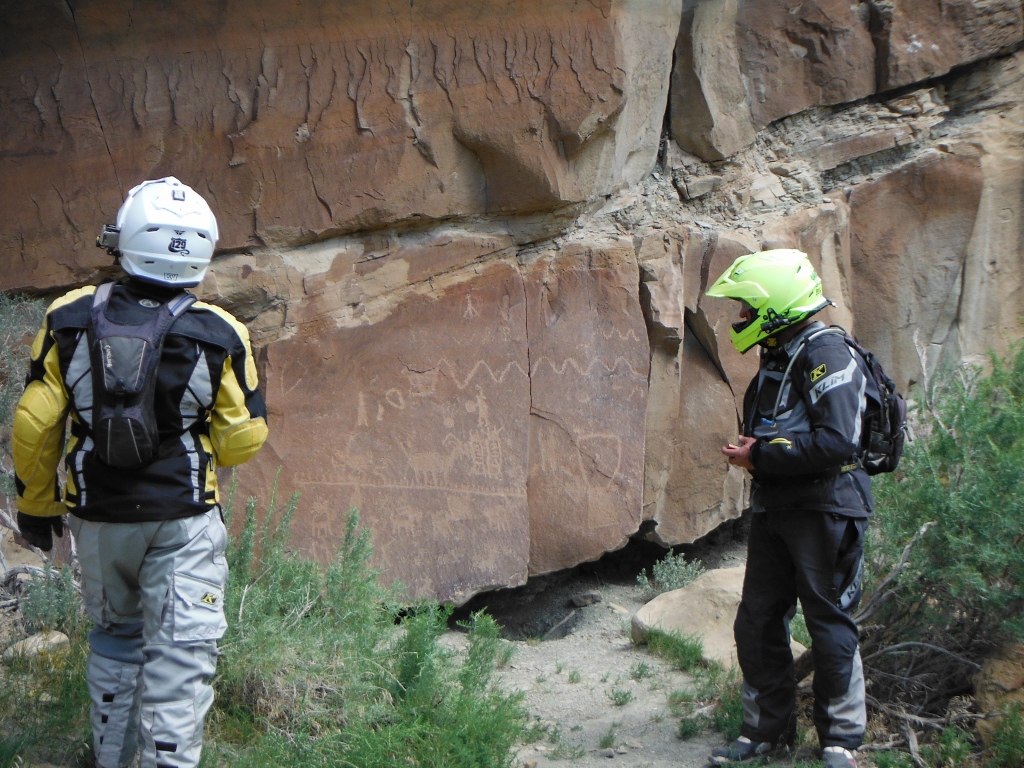 From Balance Rock the route headed West mostly on Argyle Canyon road.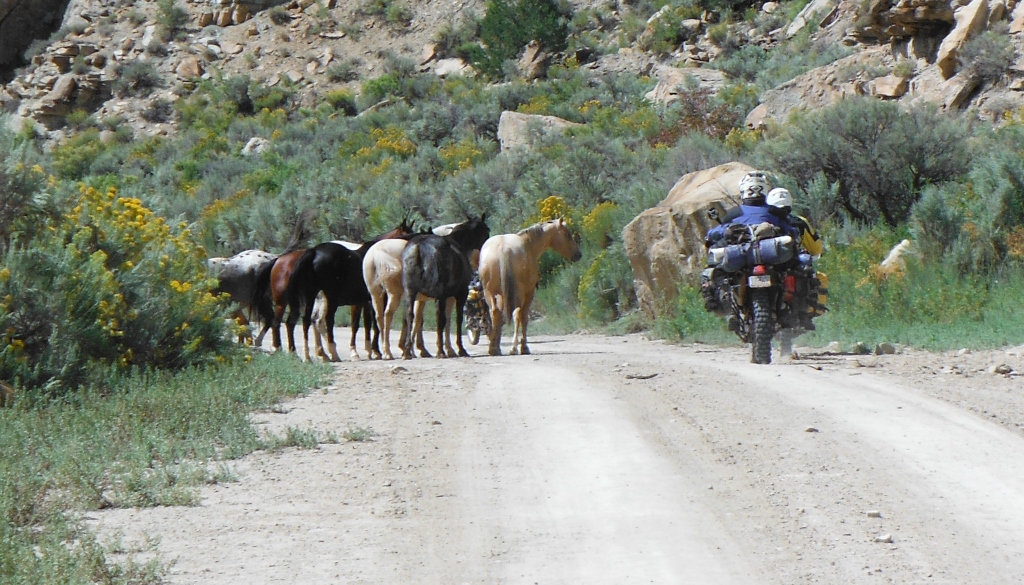 We ended up camping for the night on Reservation ridge---which is on Reservation ridge road.
I suppose it was named that because it was near the Uintah and Ouray Indian Reservation.
At almost 10,000 ft. the air was pretty thing and I thought it would get really cold---but it didn't.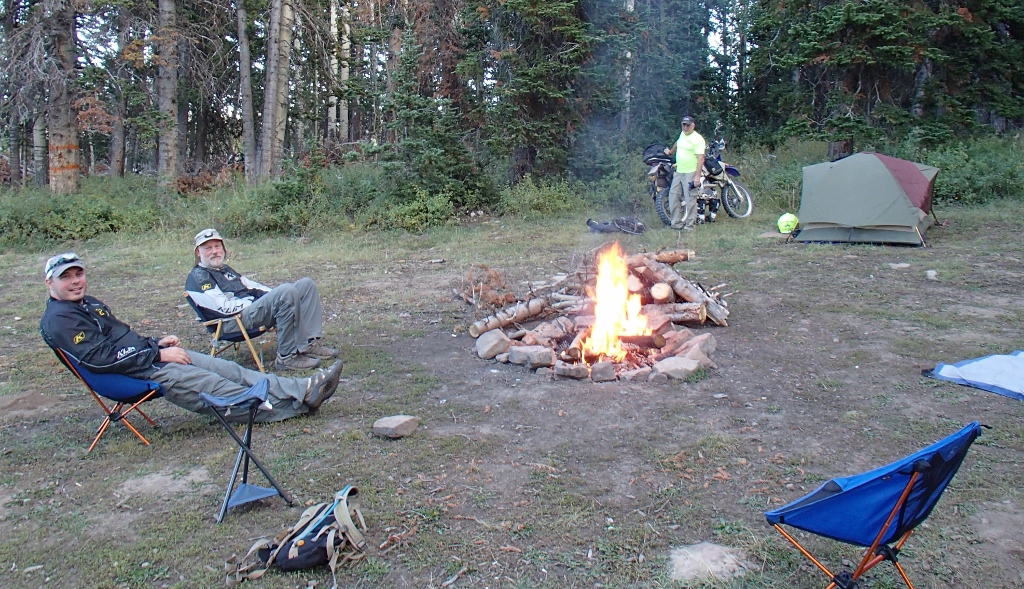 Camping ain't camping unless you got a fire---------so out came my "Sven" saw.
I let everybody have a turn at it.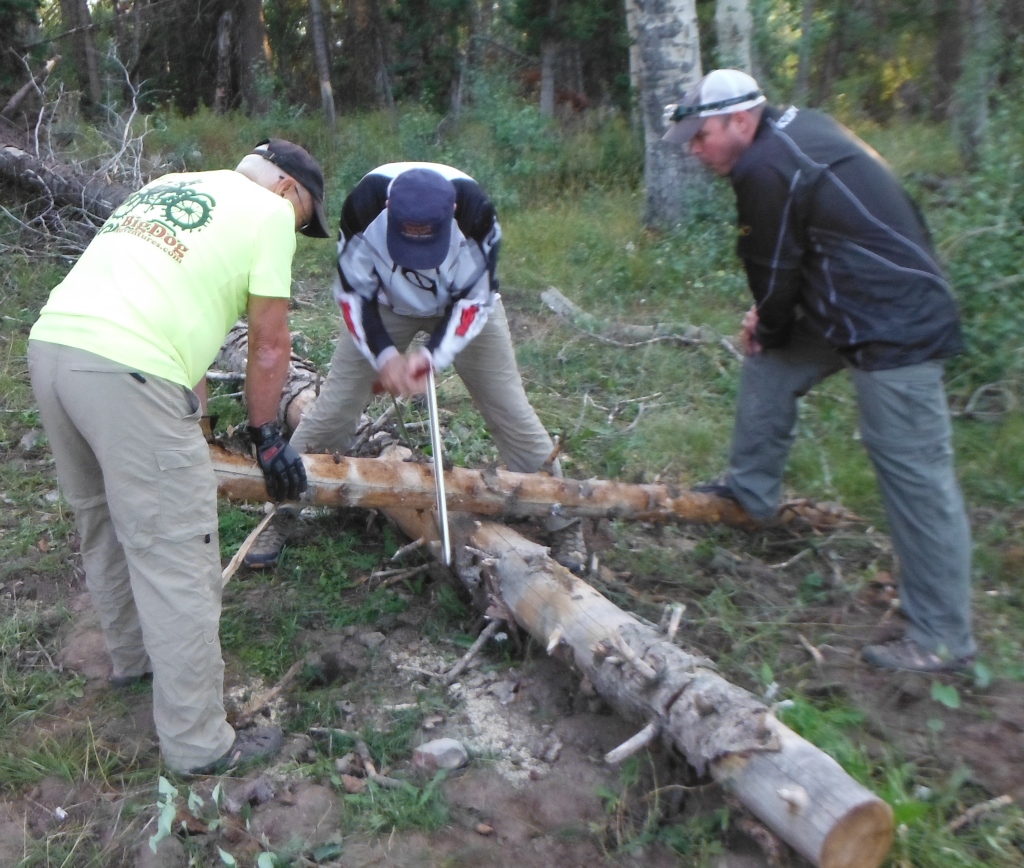 On the ground is the "Dingweeds R3000 Adventure Tarp"
It has many uses---and always does triple duty.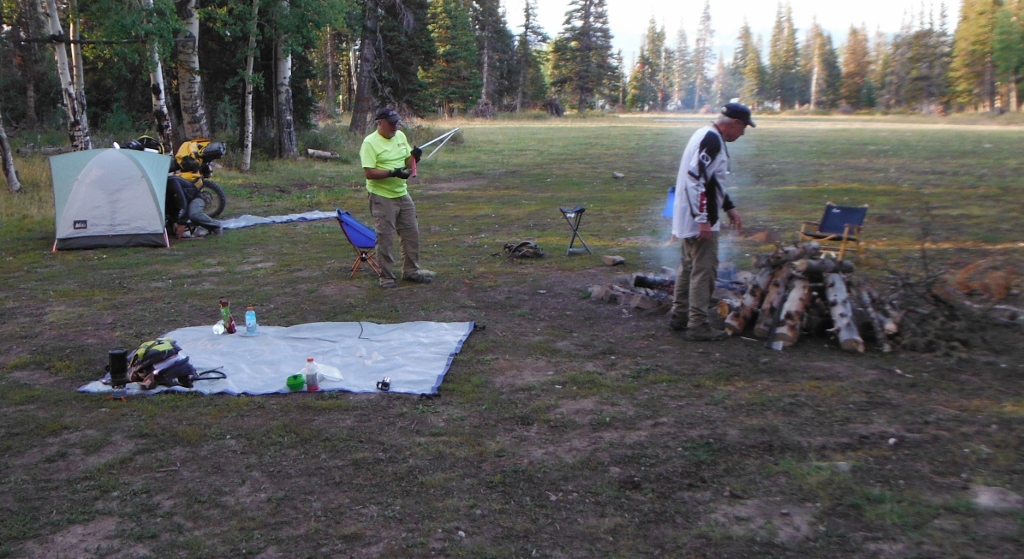 Bills stock mirror broke off and they made a fix with JB Weld-------but it didn't last long the next day.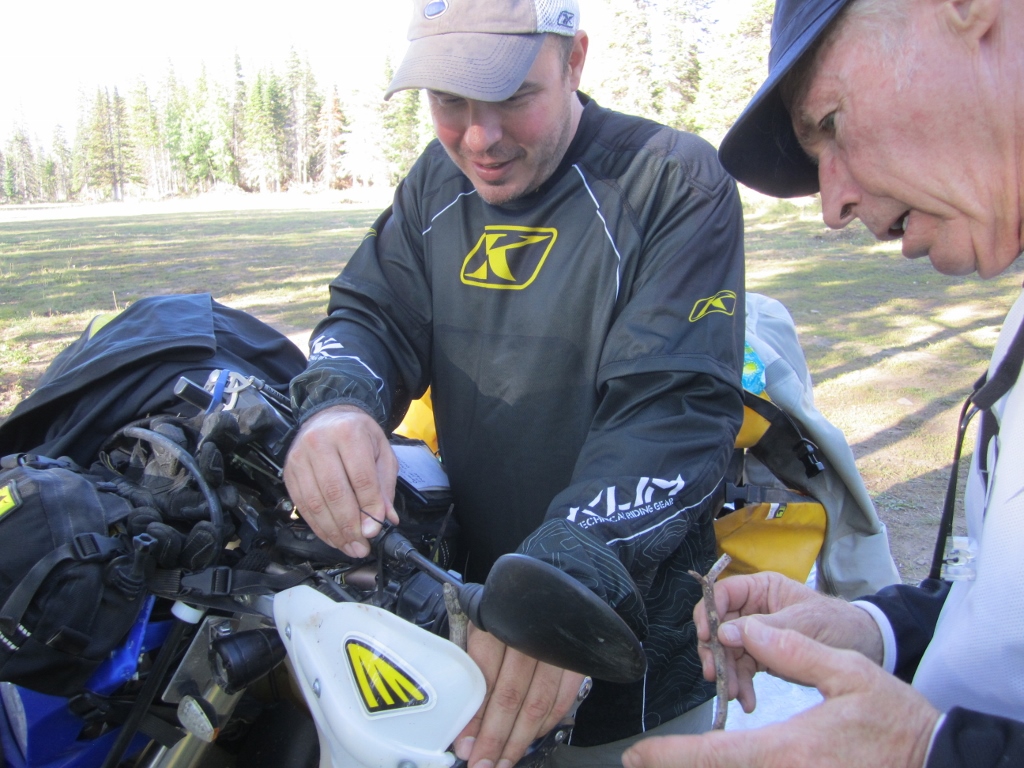 During the night we were all awoke by the worst and loudest thunderstorm I ever camped in.
The thunder was deafoning ---------the wind was howling but we had good protecting with the big trees by us.
And it poured and poured and poured--------it poured on Reservation ridge road-----you know---the one that is impasable when wet !!!!!!!
Here is a map of our route today----about 152 Miles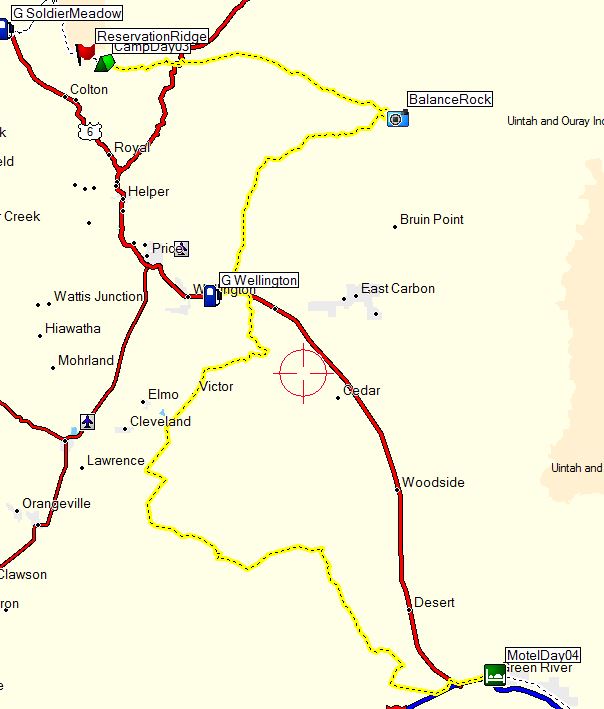 Day 5 --------September 5th, 2013
Reservation Ridge camp to Heber City Motel
After the monster thunderstorm we camped in last night we awoke to blue skies.
We lost hours of sleep from the lightning and loud thunder---and pounding rain.
But I feared the rode we came in on would be impassable------and very slick---and it almost was.
We knew some other fellows on big bikes were camped somewhere near us----and they didn't fare so well--more on that in a bit.
But riding high on reservation ridge offered some great views at about 10,000ft.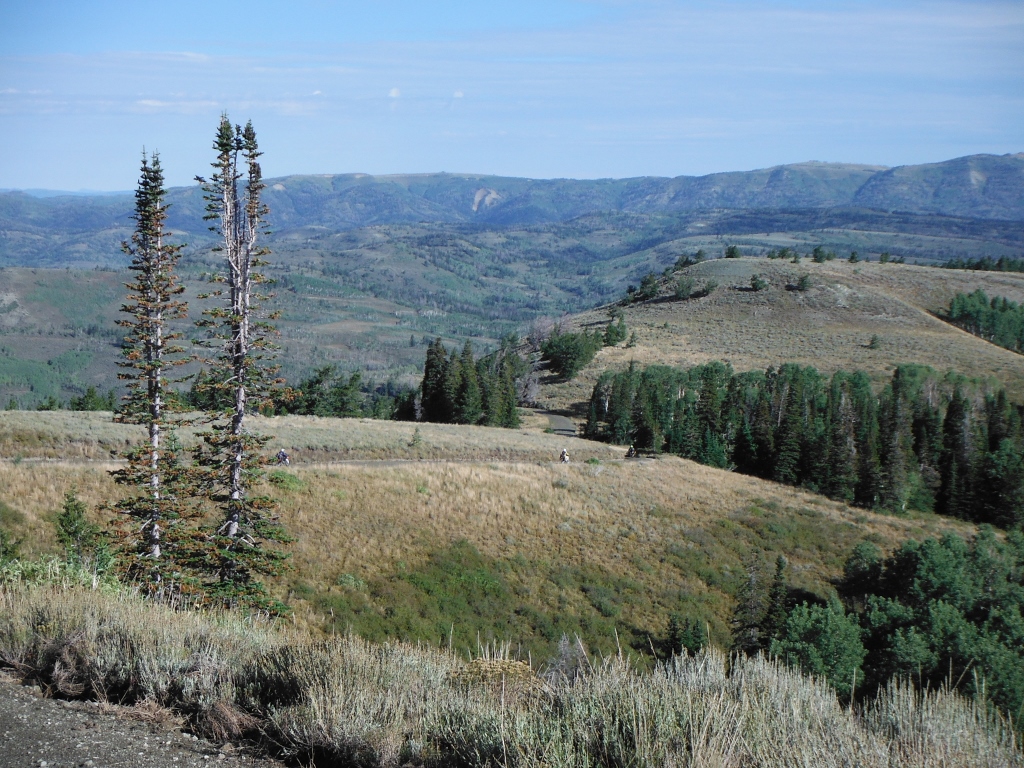 We all rode for many miles slip sliding around and finally stopped to scraped the many pounds of mud off our bikes.
I bet 30lbs. of mud was caked in eveywhere. I talked everybody into waiting here an hour or so to let the road dry out----should
have waited longer.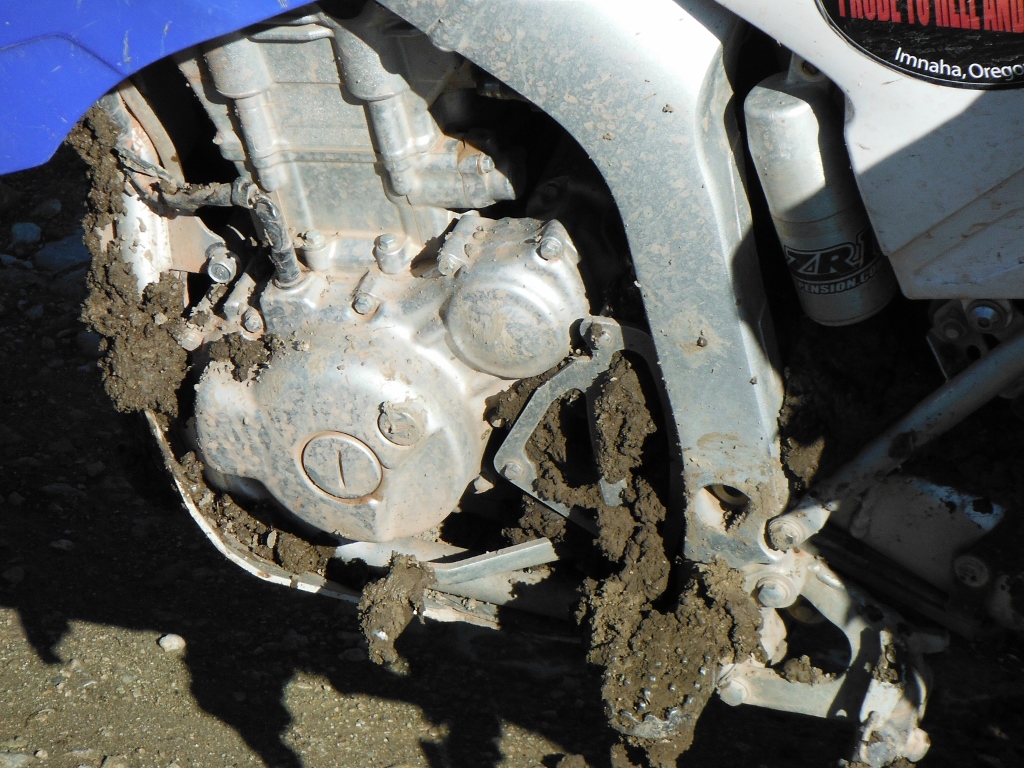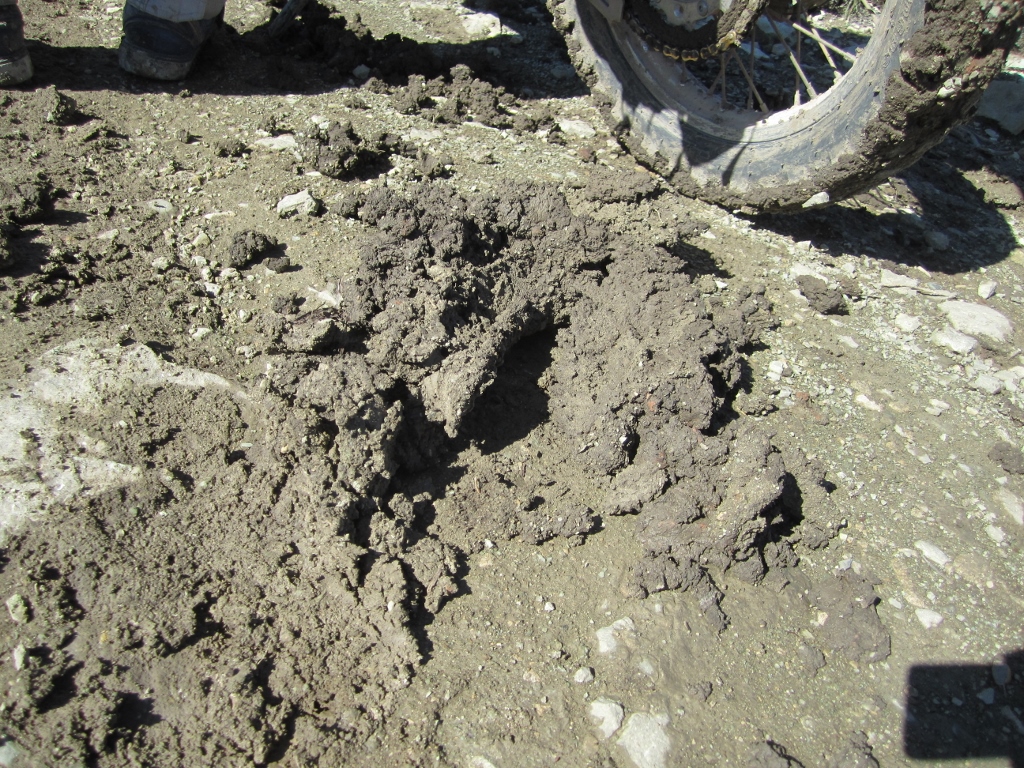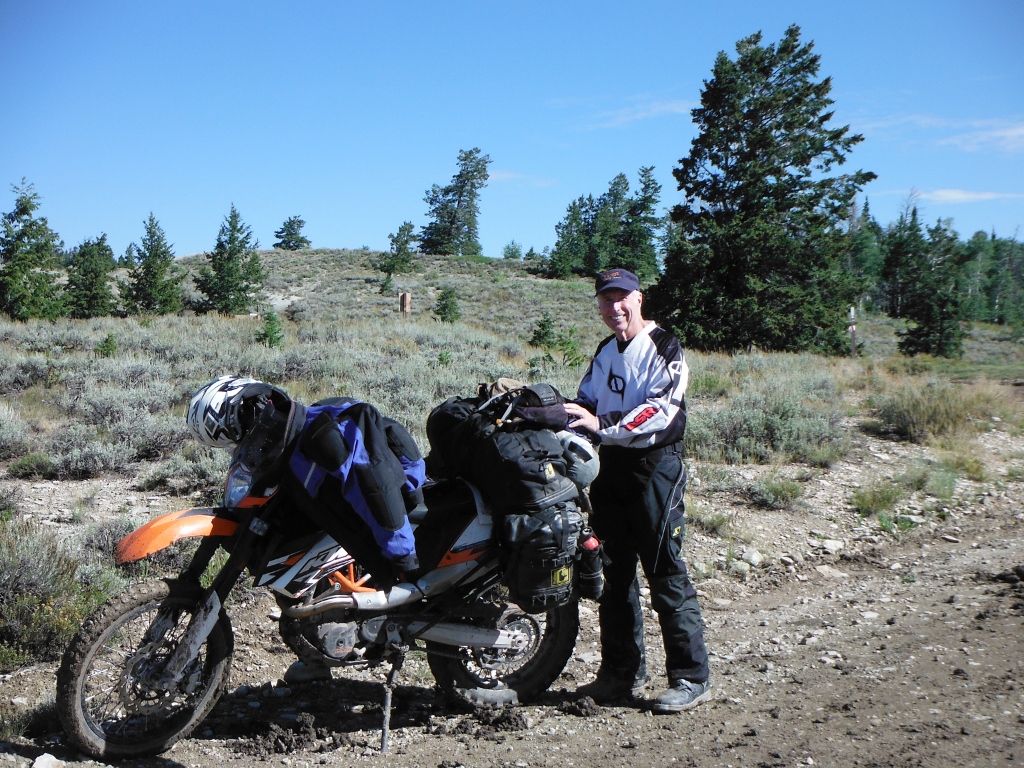 From there we had to go down hill for miles on this road---and it was slilck.
We all were very careful and never got cocky and I don't think any of us fell down.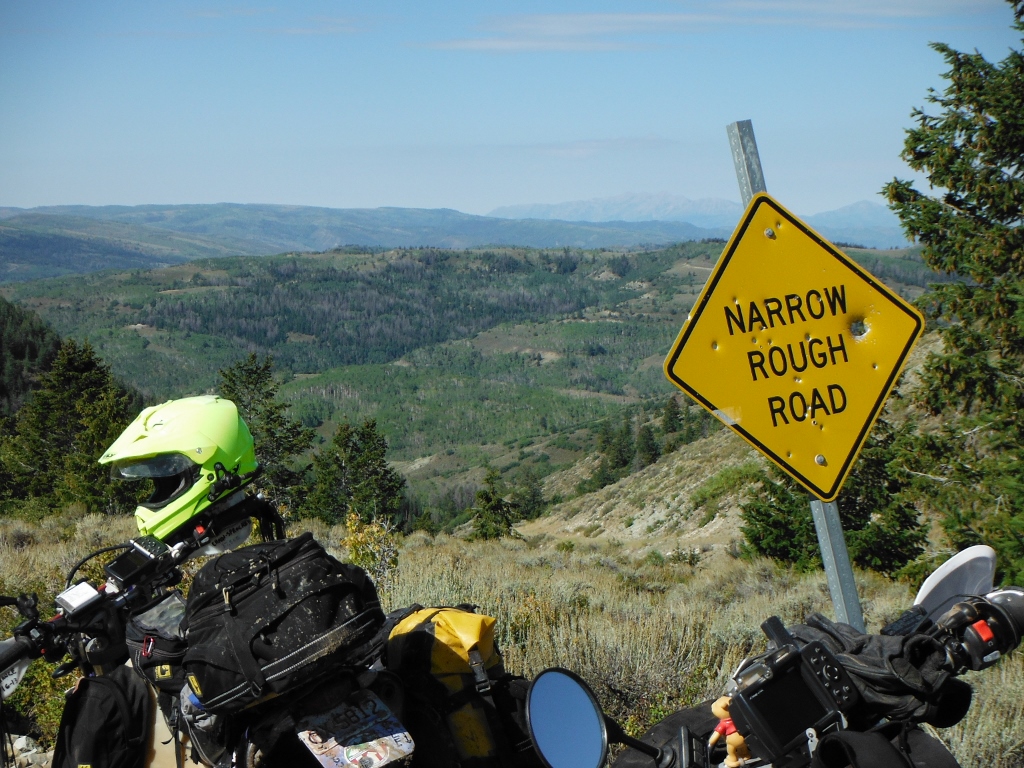 These are the guys that were camped last night near us-----or so I thought. Seems they rode on a bit farther than I thought and I
think I remember them saying they were forced into camping in a bad spot and the storm played hell with them.
At this point I think we had ridden about 25 miles in an hour and 1/2 or so.
They had ridden about 4 miles---and we saw their tracks----it was ugly and the Buell had a completely fried clutch.
Really nice fellows. I wish I had a picture of the muddy hill that just preceded this drier spot.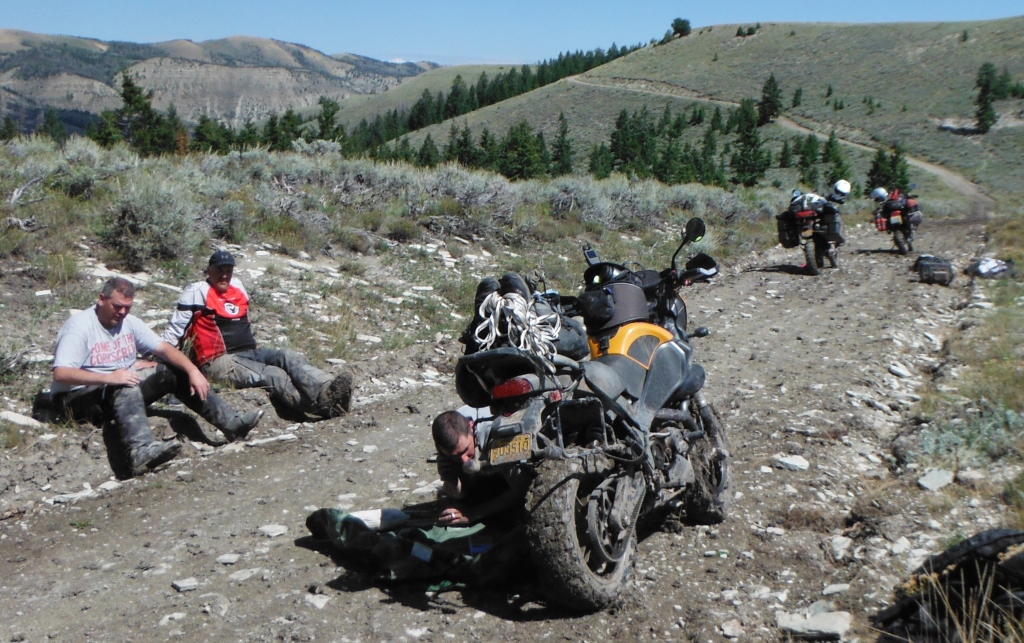 We chatted for a bit and there was nothing we could do to help so we rode on.
We would see them again.
He had cell service--------called AAA and tried to get a tow---but they wanted nothing to do with retrieving the bike where it was.
Somedody in our group thought his swingarm was broke too---maybe the subframe and held together with a ratchet strap.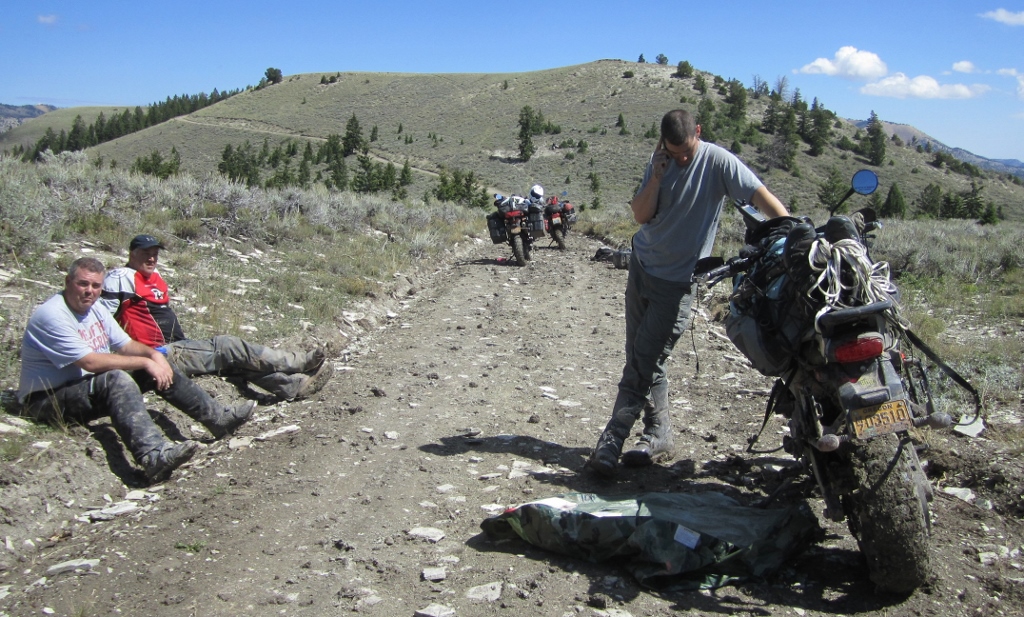 Well even tho you can't see them-----------can you read my lips !!!!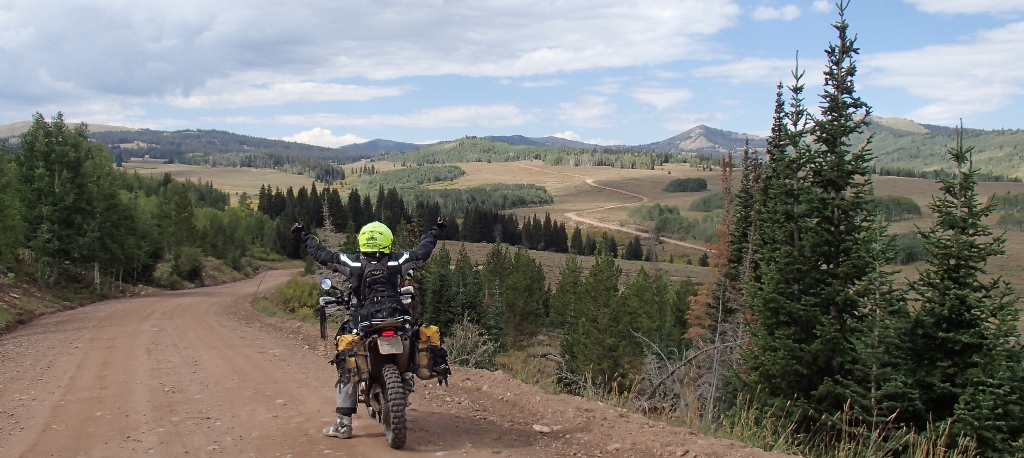 Little Moosey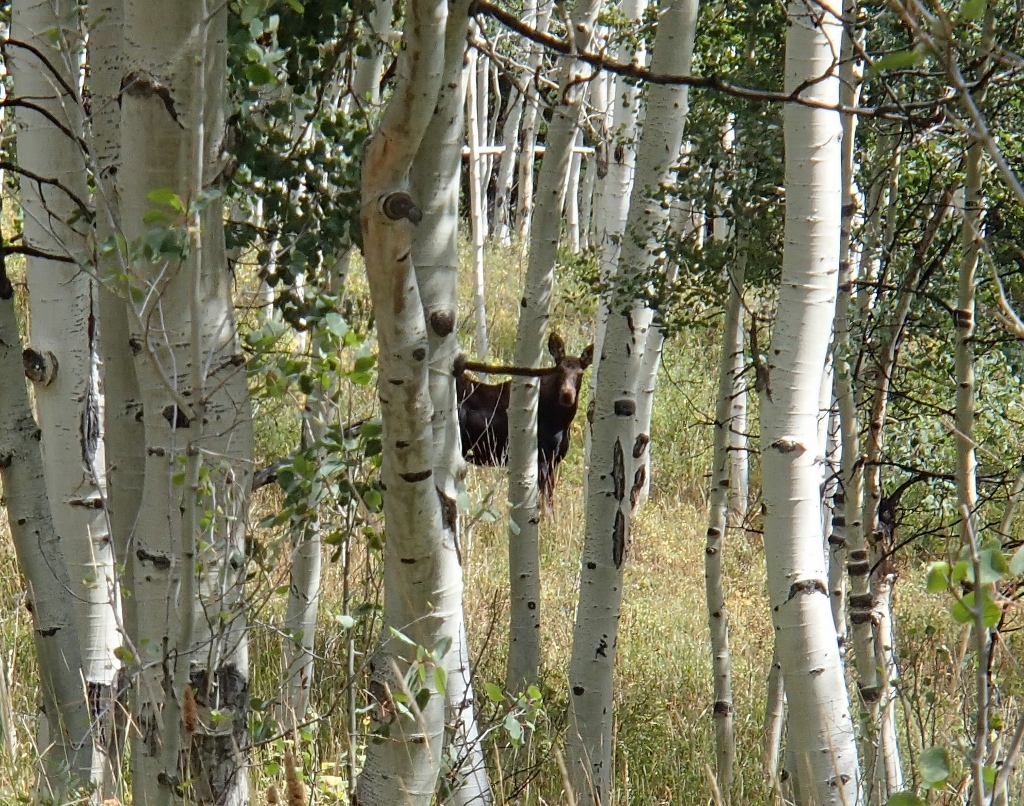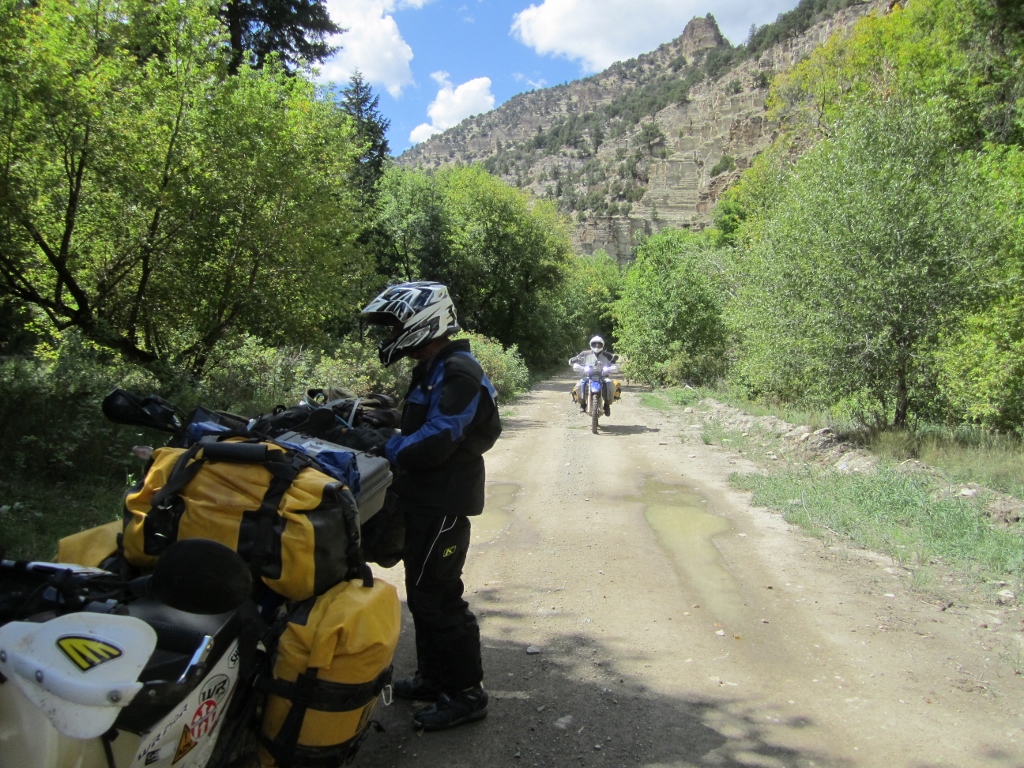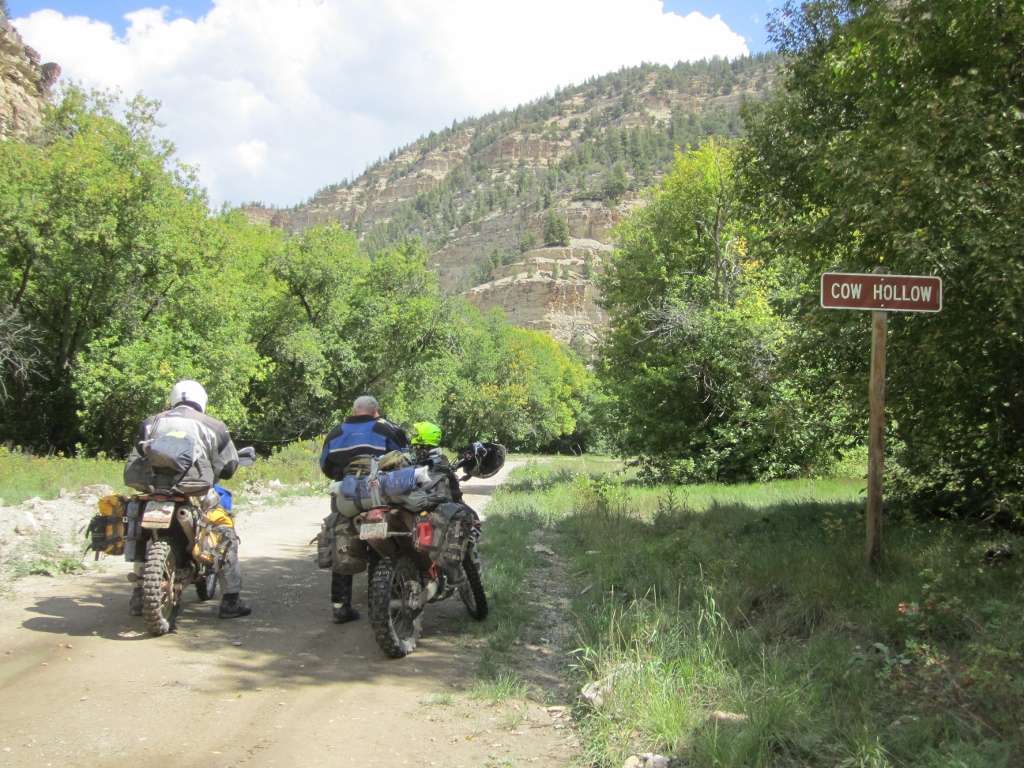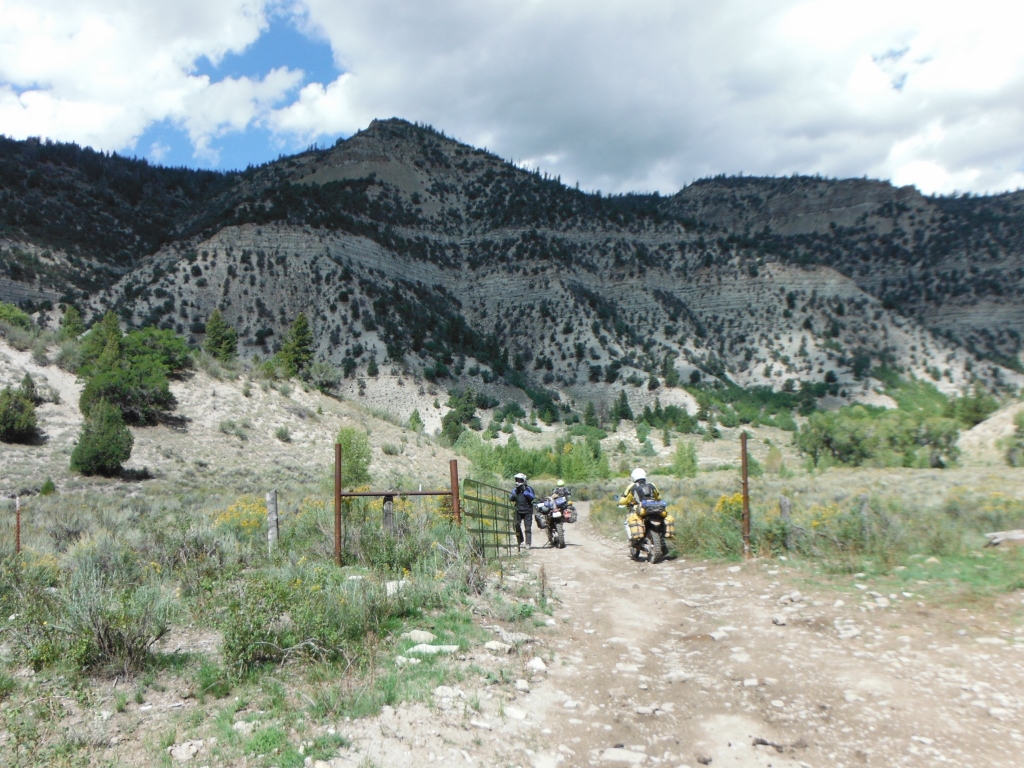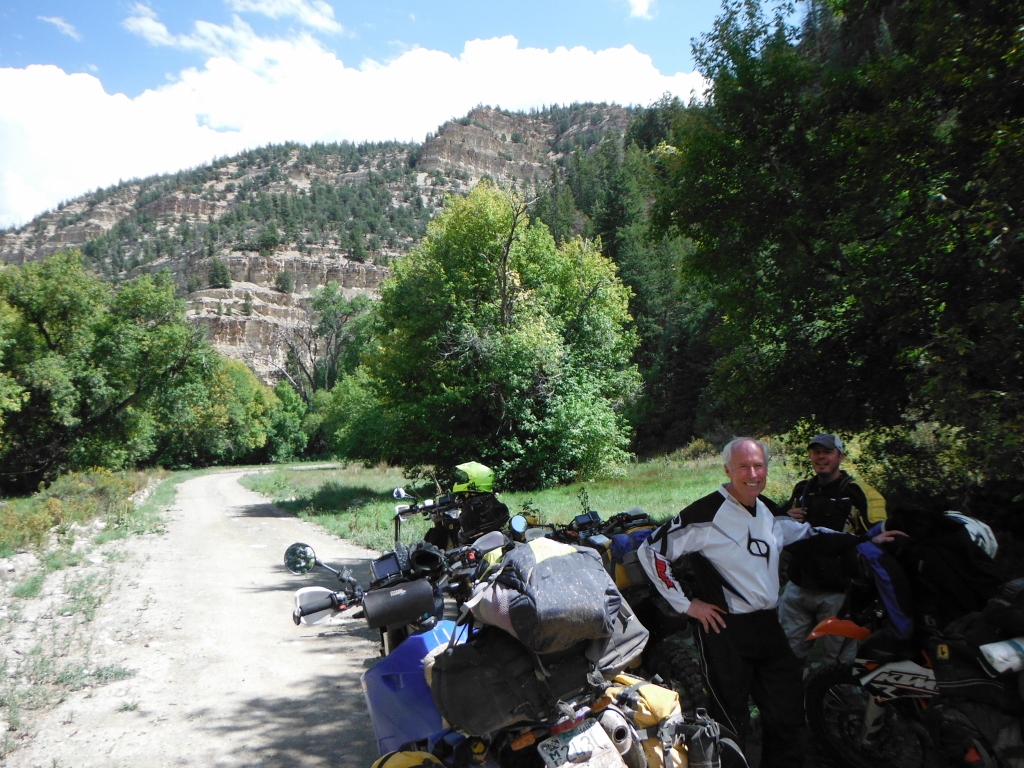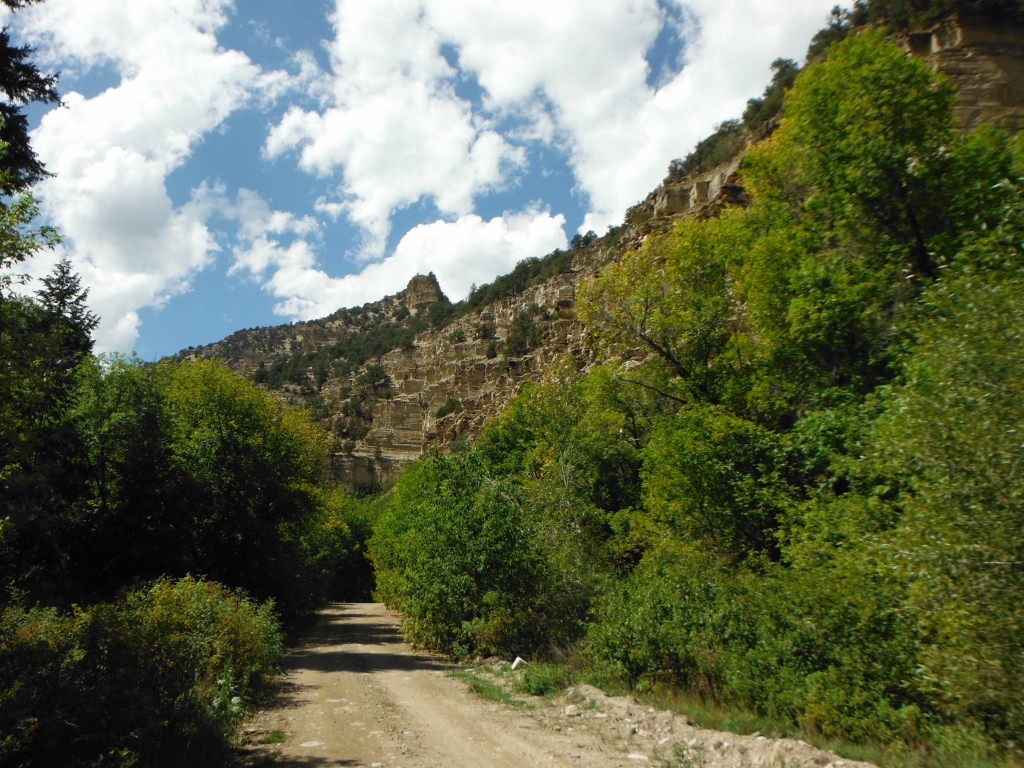 Did you fart Bud ??? No---I thought you did.
No I didn't---it had to be you----let me check !!!!!!
Ahhhhhh------we'll check tonight.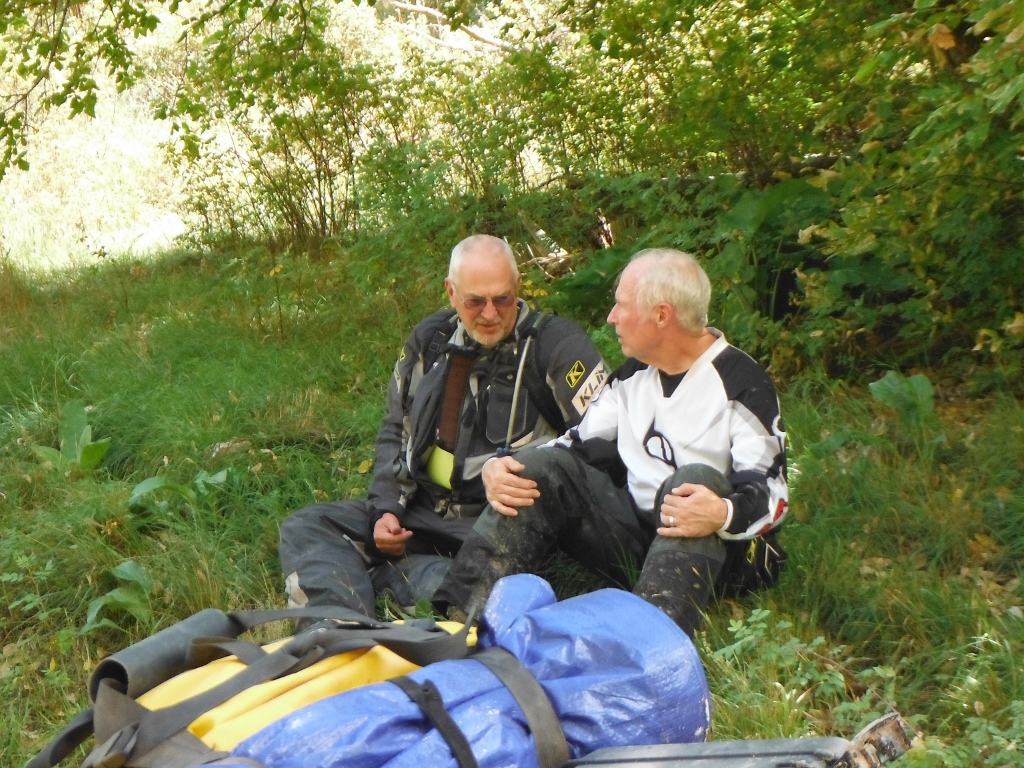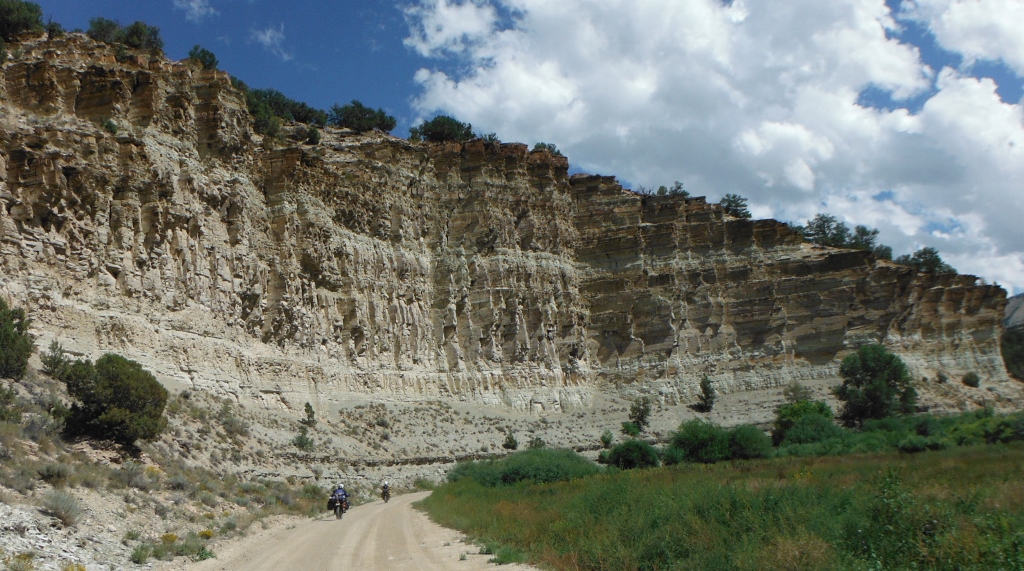 It was pouring straight ahead.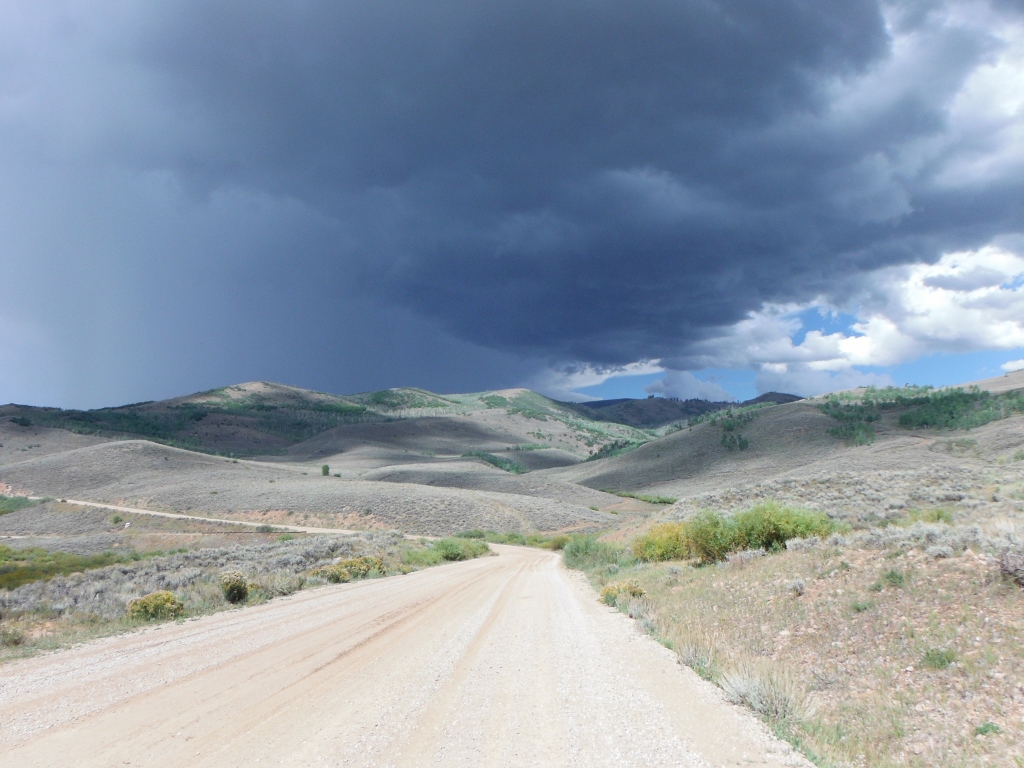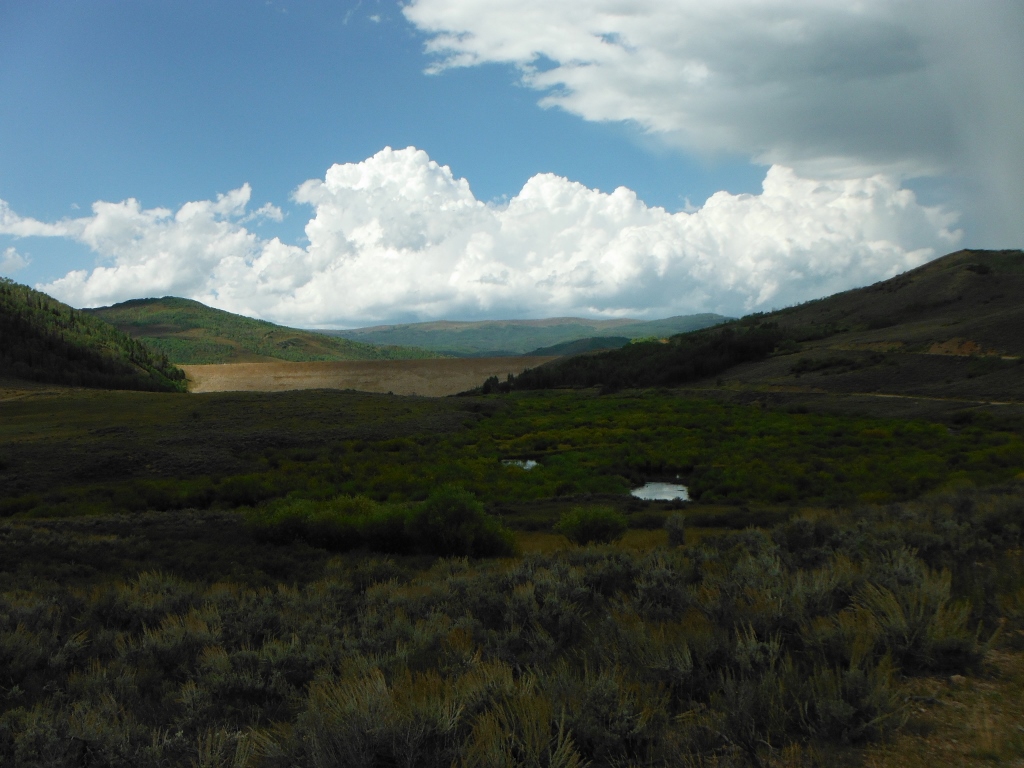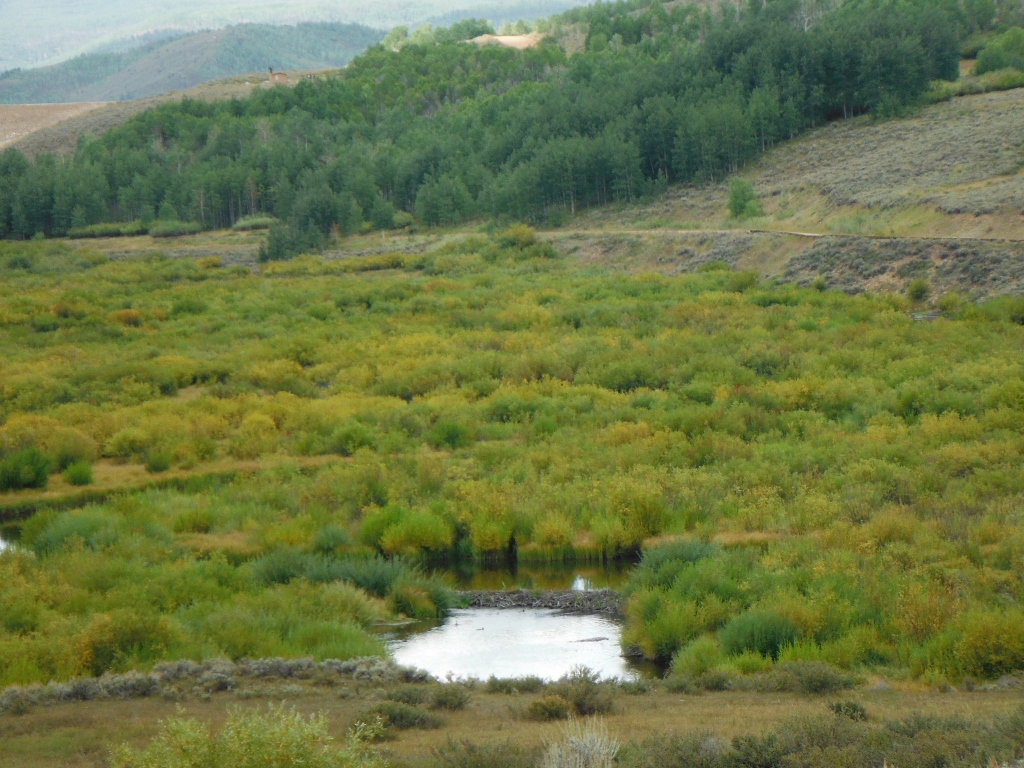 I took this picture just show I'd remember exactly where we were at---as this whole area was so nice.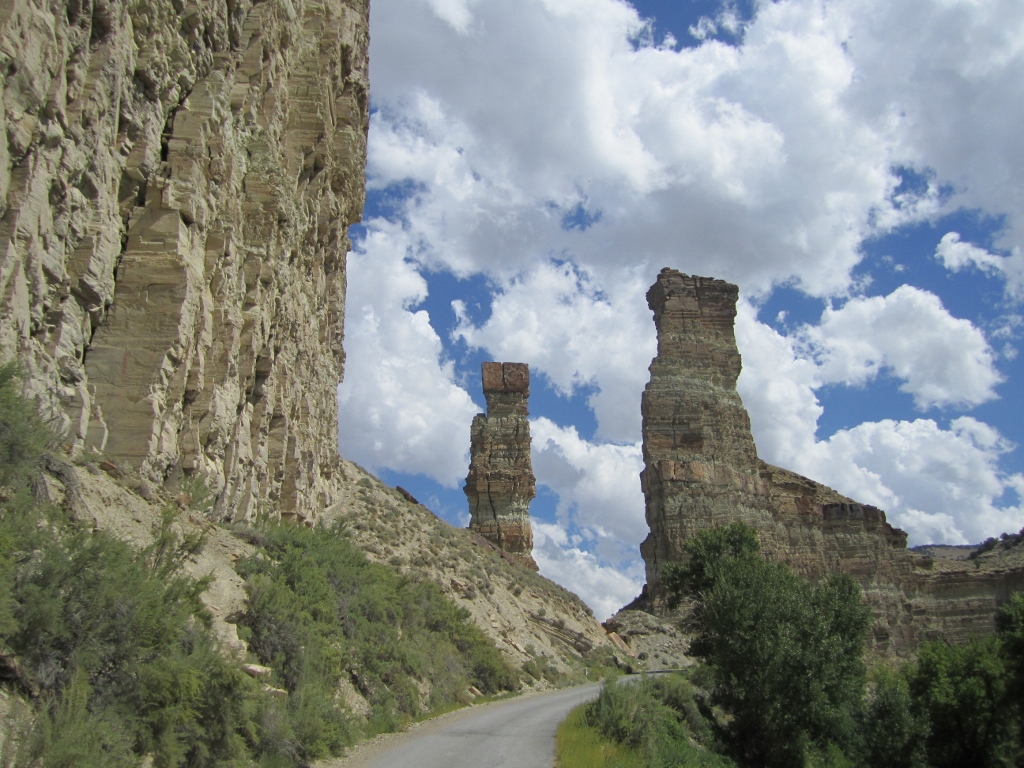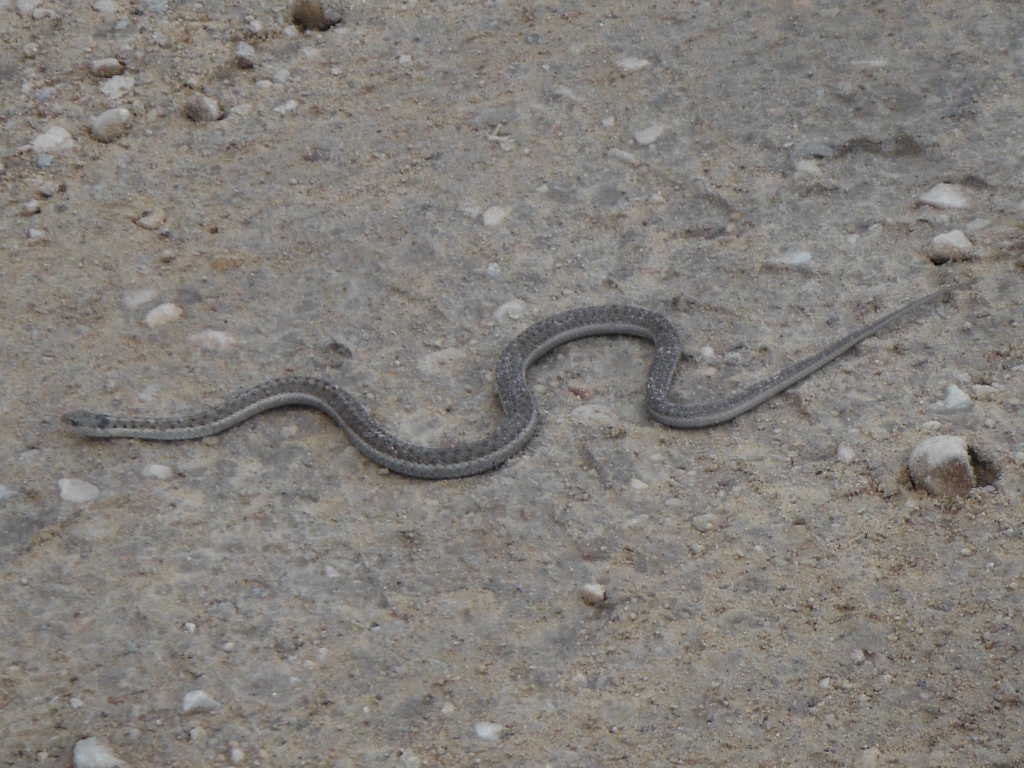 We hit paved 40 for just a bit today---and there was a gas station in Fruitland that is not mentioned at all on the Butler maps.
I did mark it on the gps file I have of this ride. So note that if you ride this ride.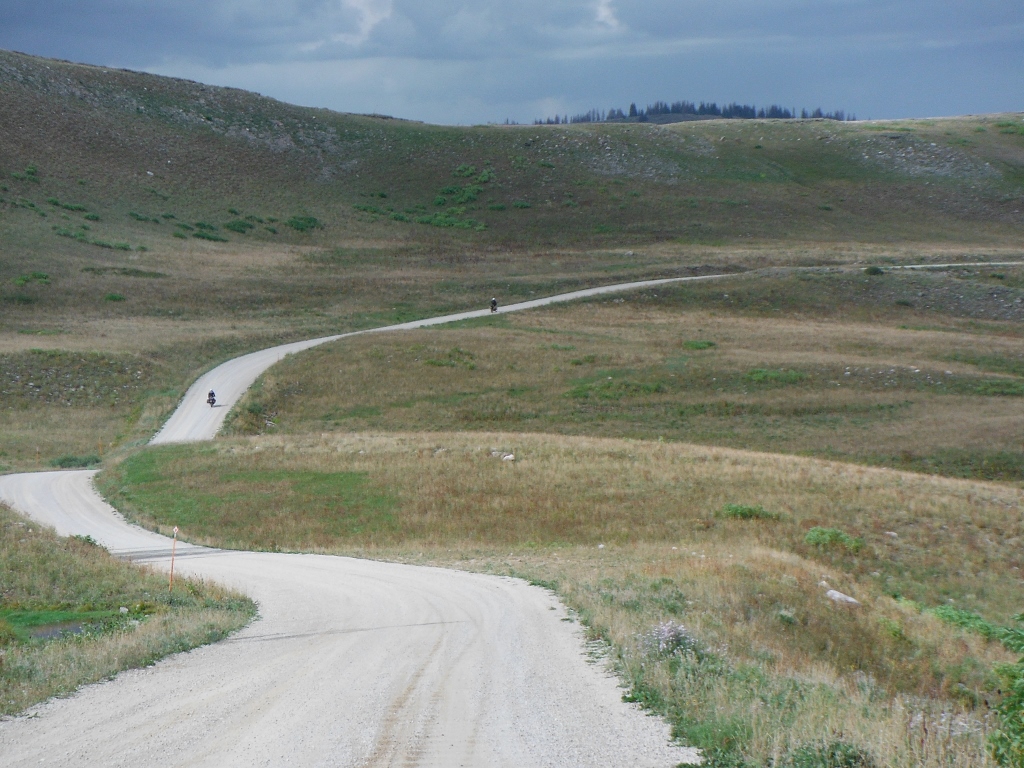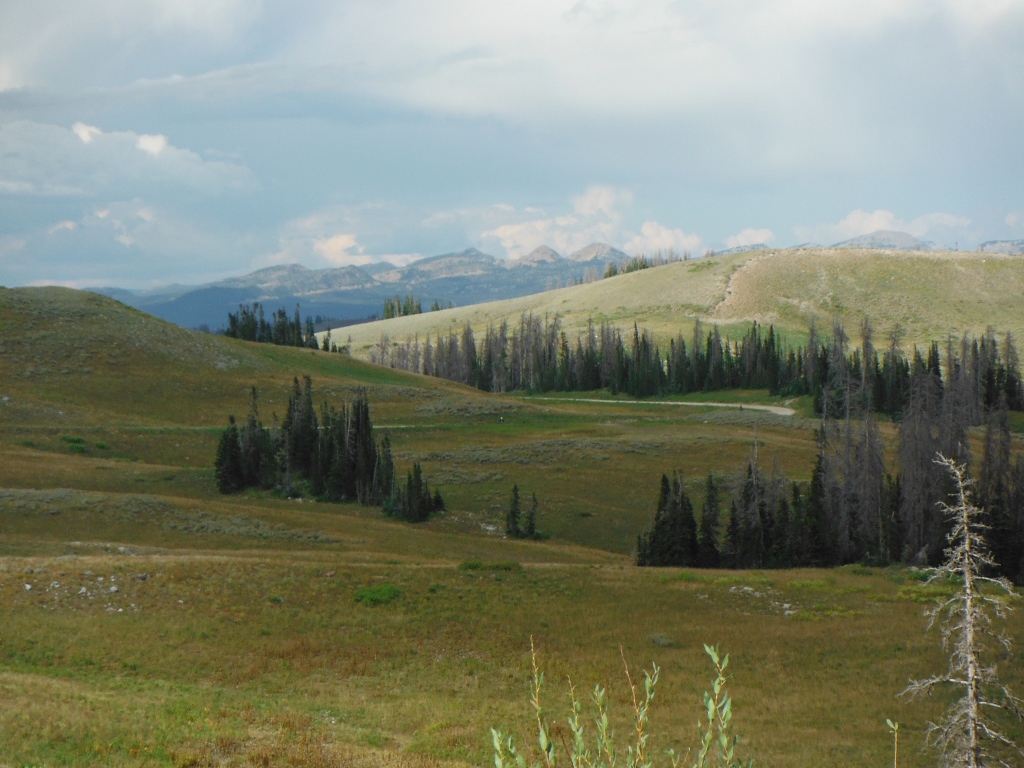 We were all kind of wore out today----and dove out of the high cool mountains to Heber City for a motel where I knew there was
a Yamaha shop and bill got a new mirror for his WR.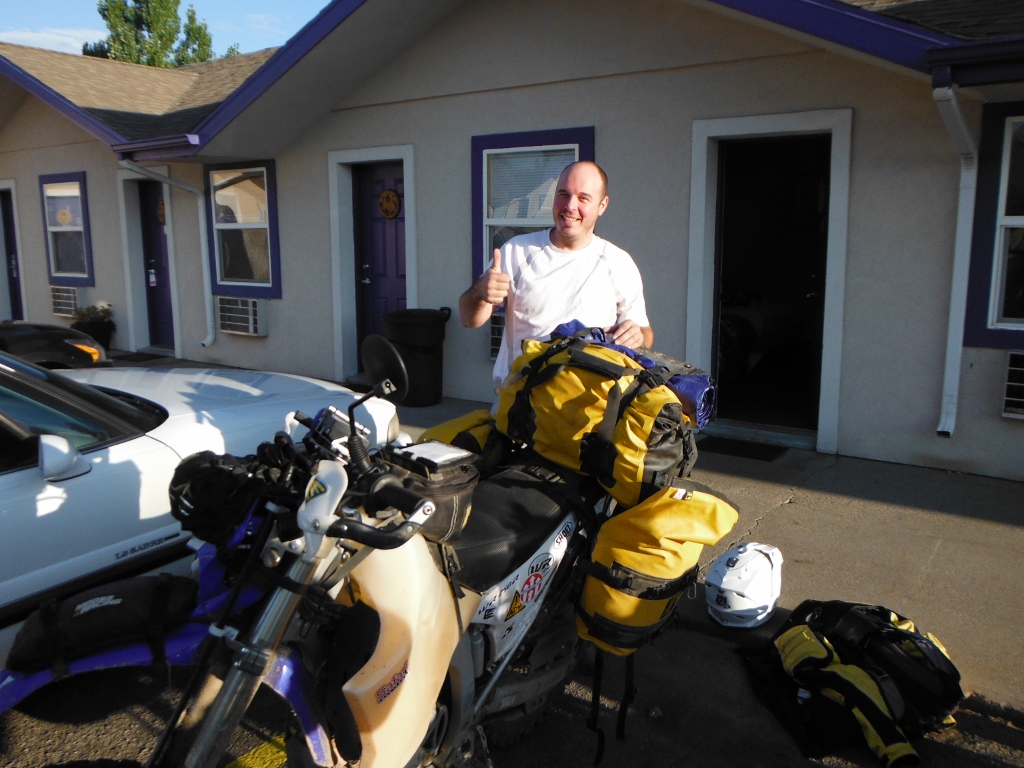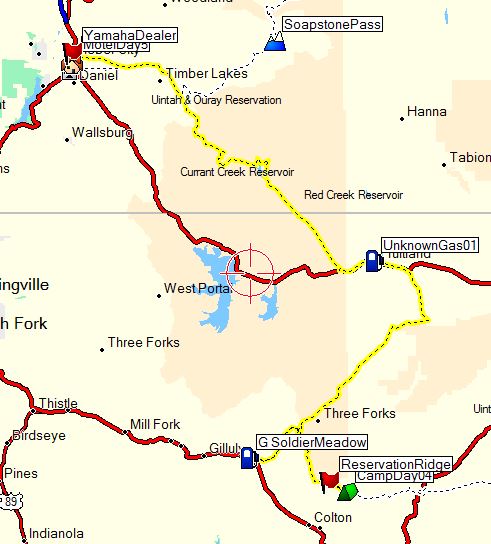 Day 6----September 6th, 2013
Heber City to Generator camp from hell
Ole Bill was a tired bup yesterday but got a good nice sleep in a motel and was ready to go.
All 4------thumbs up.
And something special would happen today for Scott---and he'd get to celebrate.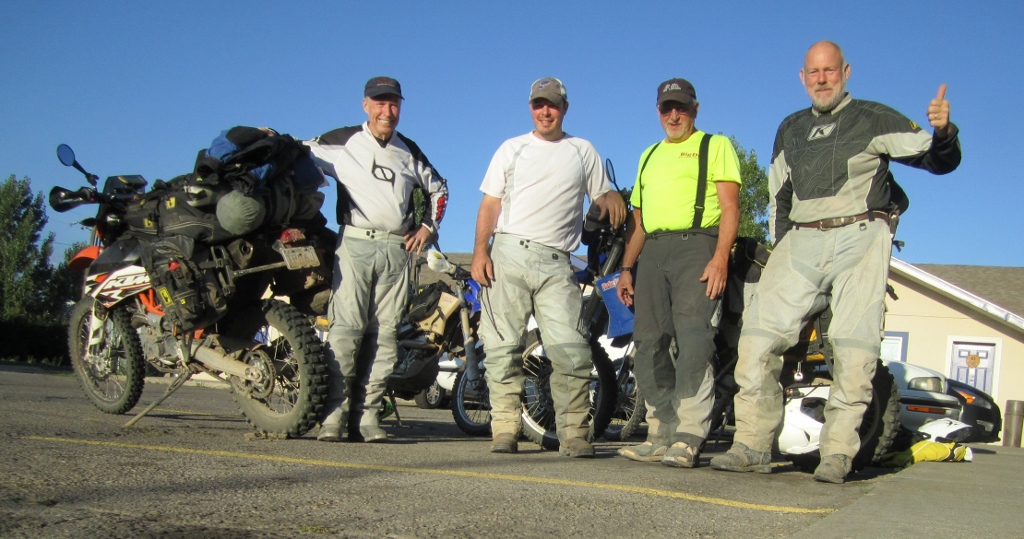 Out of Heber City we headed right back up into those cool high mountanis we had dropped out of yesterday afternoon
and went over Soapstone Pass--------there was no sign---but I had a waypont from when I went thru there years ago.
Our elevation was over 9,000 ft. at the pass.
Where it says "DIST DEST" on my gps---that is the end of the Utah BDR.
I had programmed a route into my gps and always new the distance to the next turn and our destination.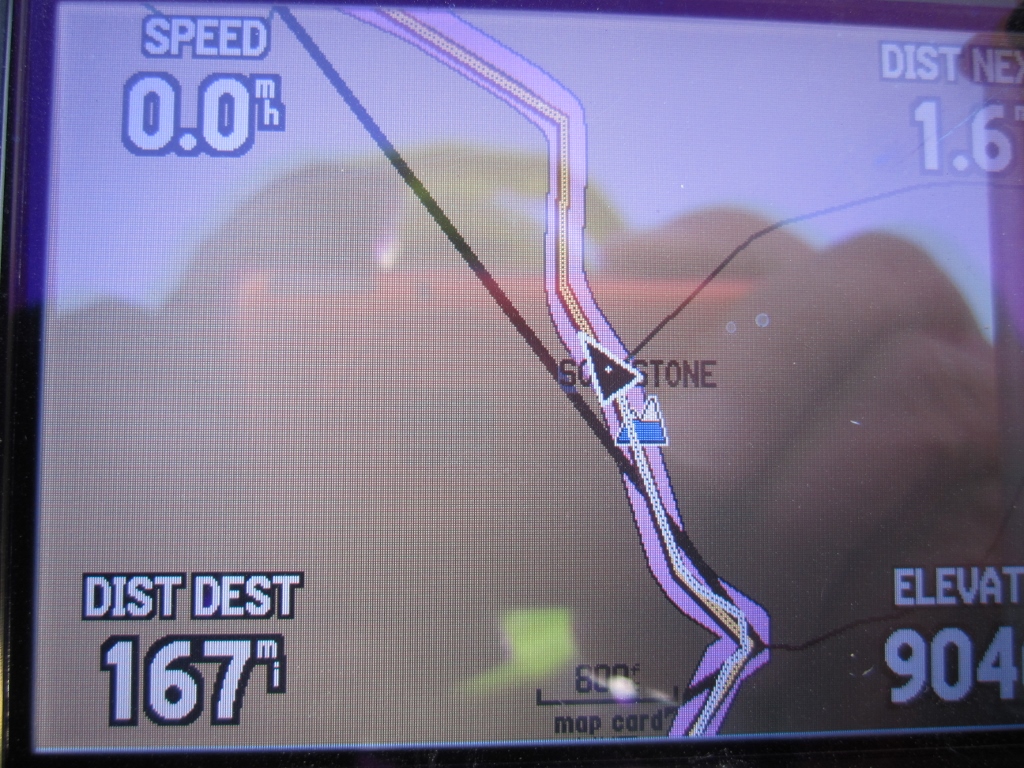 I had never ridden a KTM690 before---always nice to get to know someone well enough that you can ask them if you can ride their bike.
Nice !!!!!!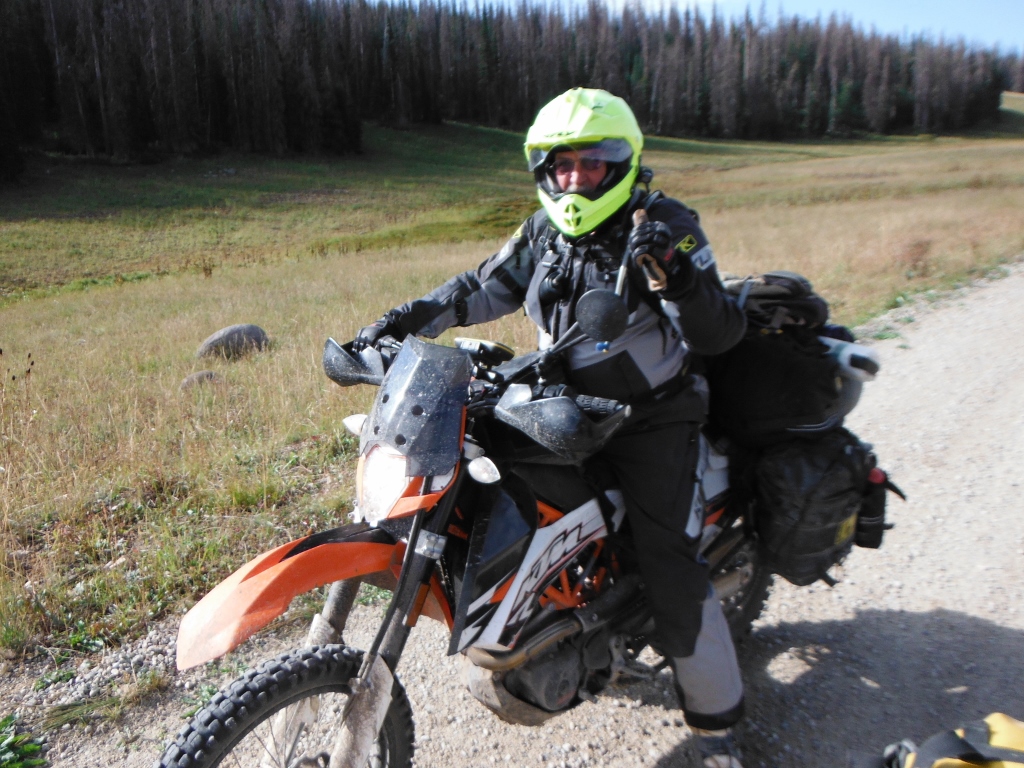 I think Bud had ridden Dingweeds WR before----but he was forced into riding mine-----or walk !!!!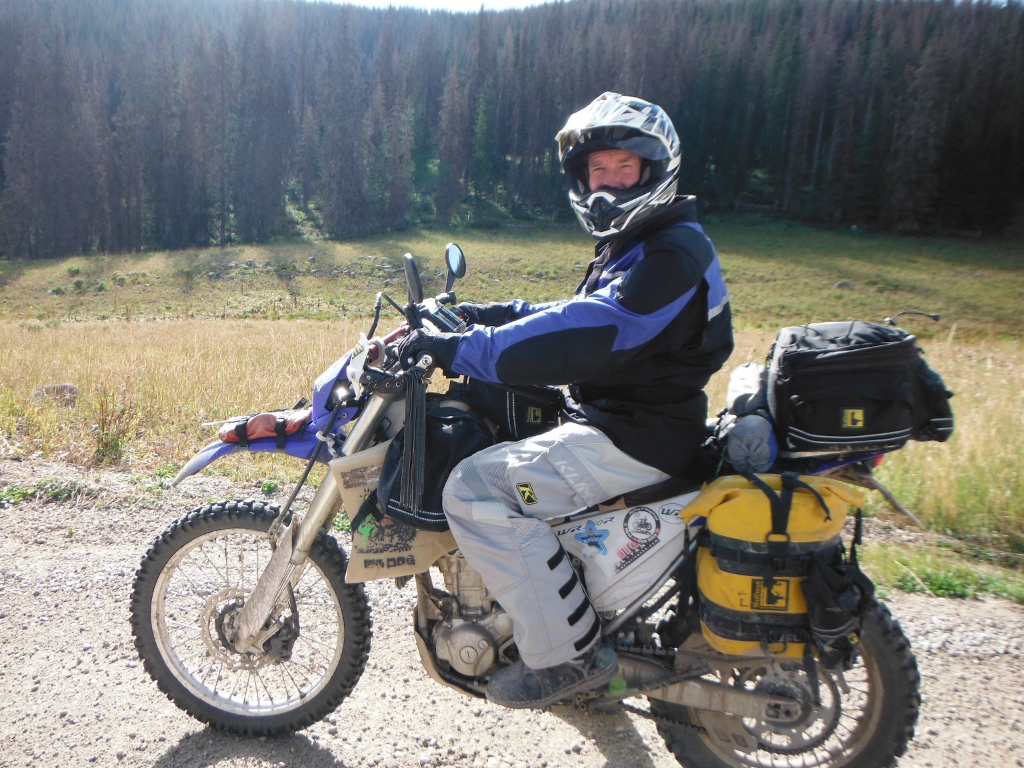 Well----enough of that--------give me my bike back we both said.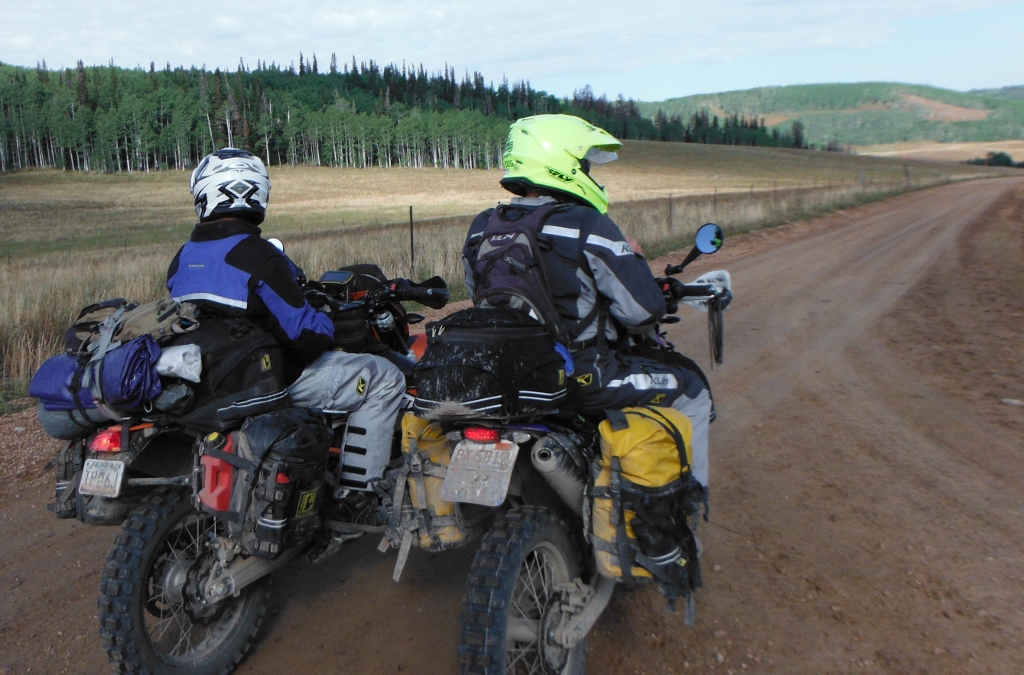 So where is all this horrible weather pounding Utah and Colorado in places.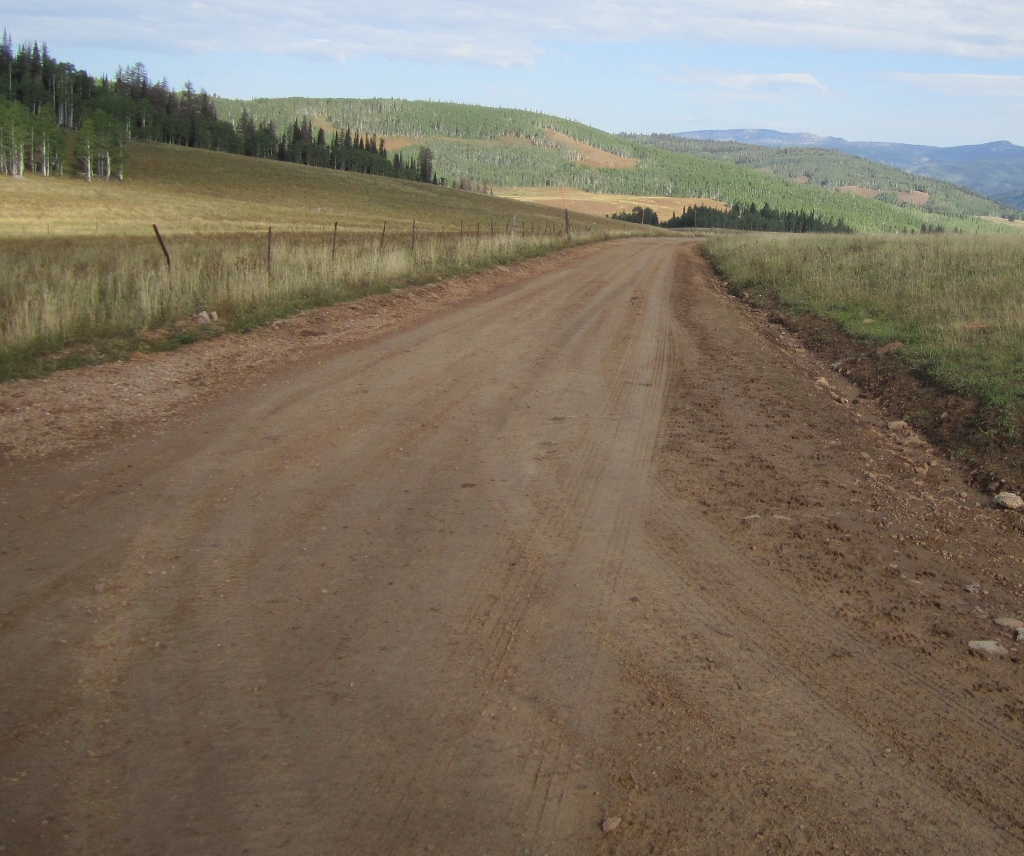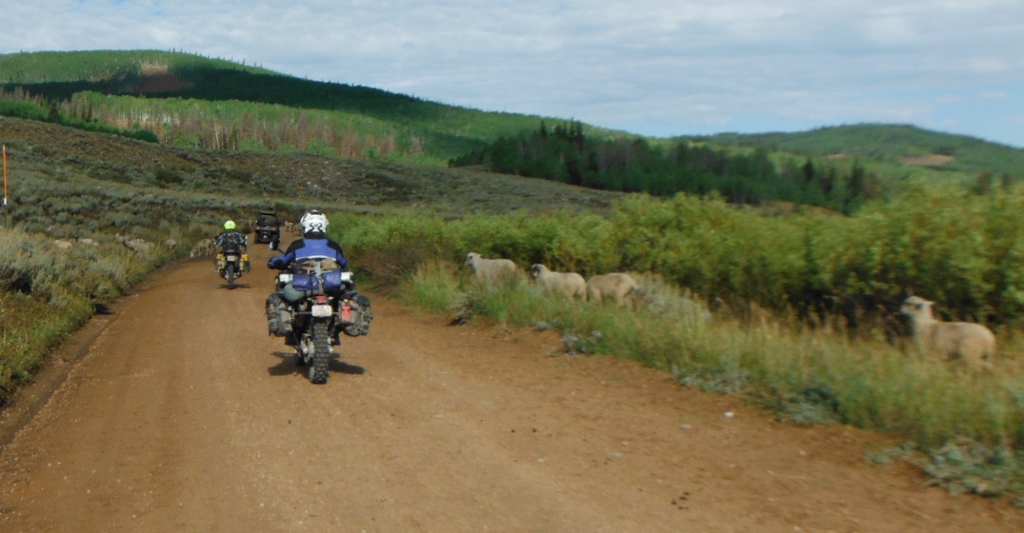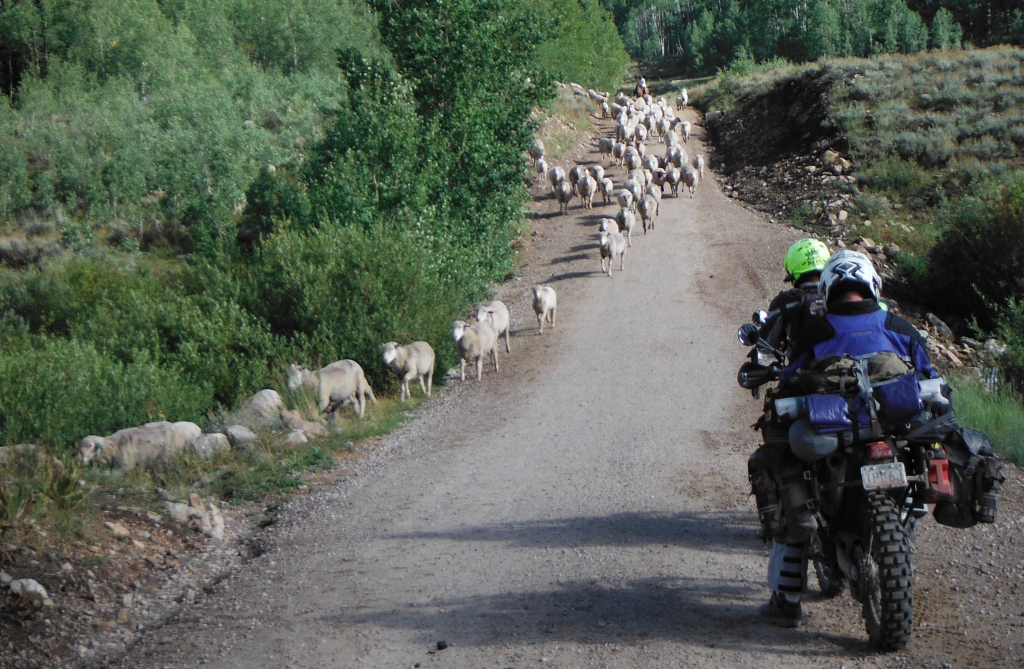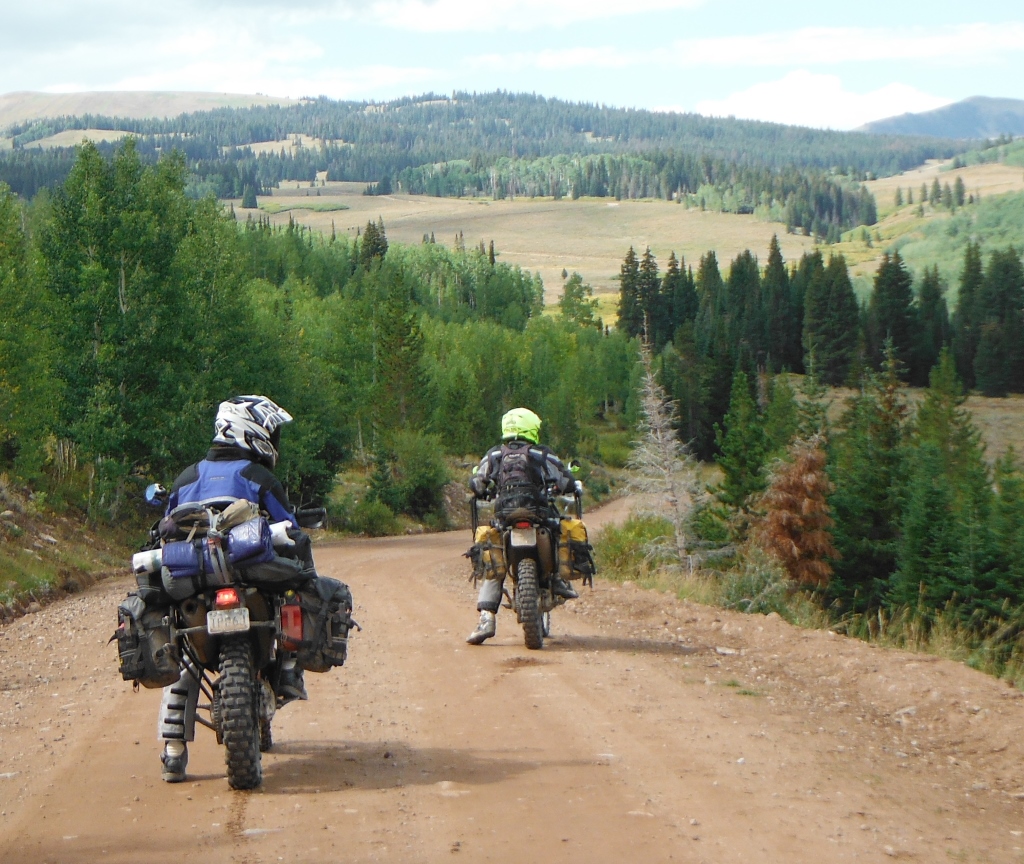 Can't a guy have some privacy ????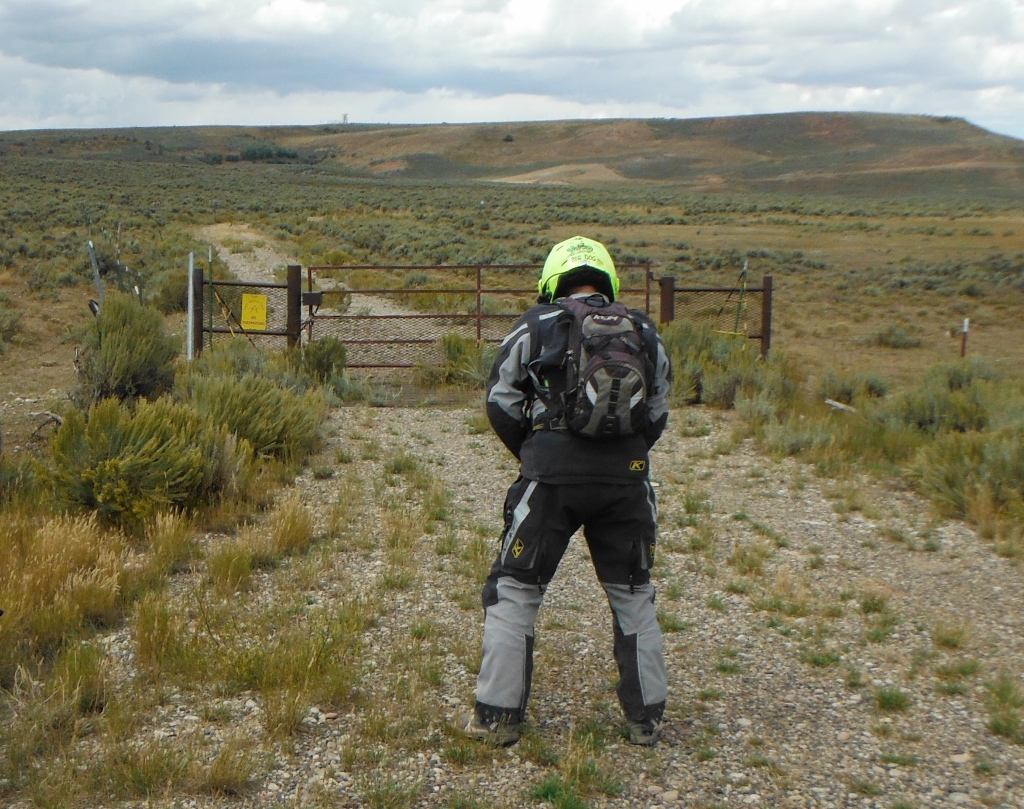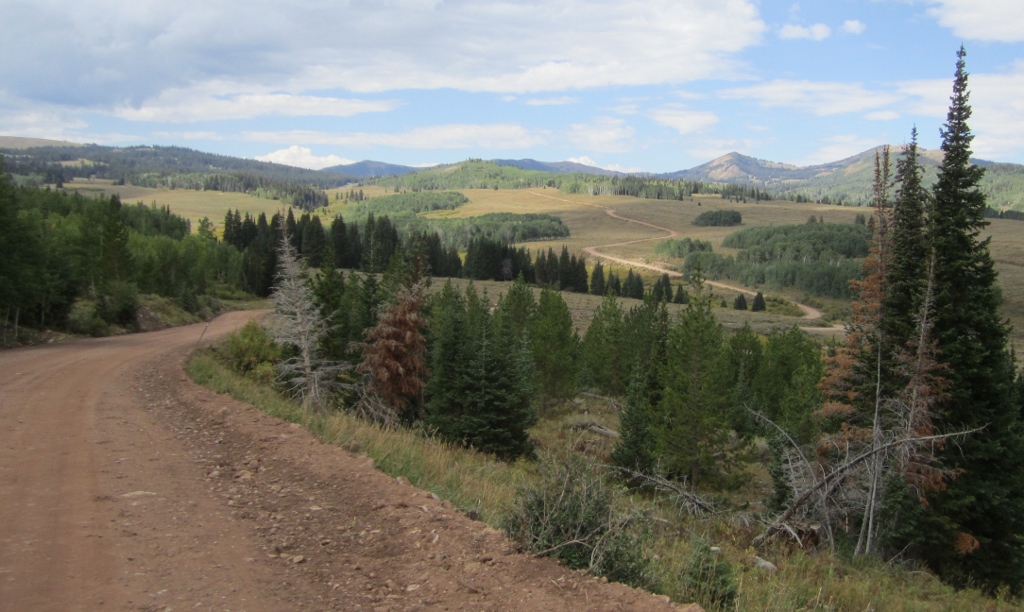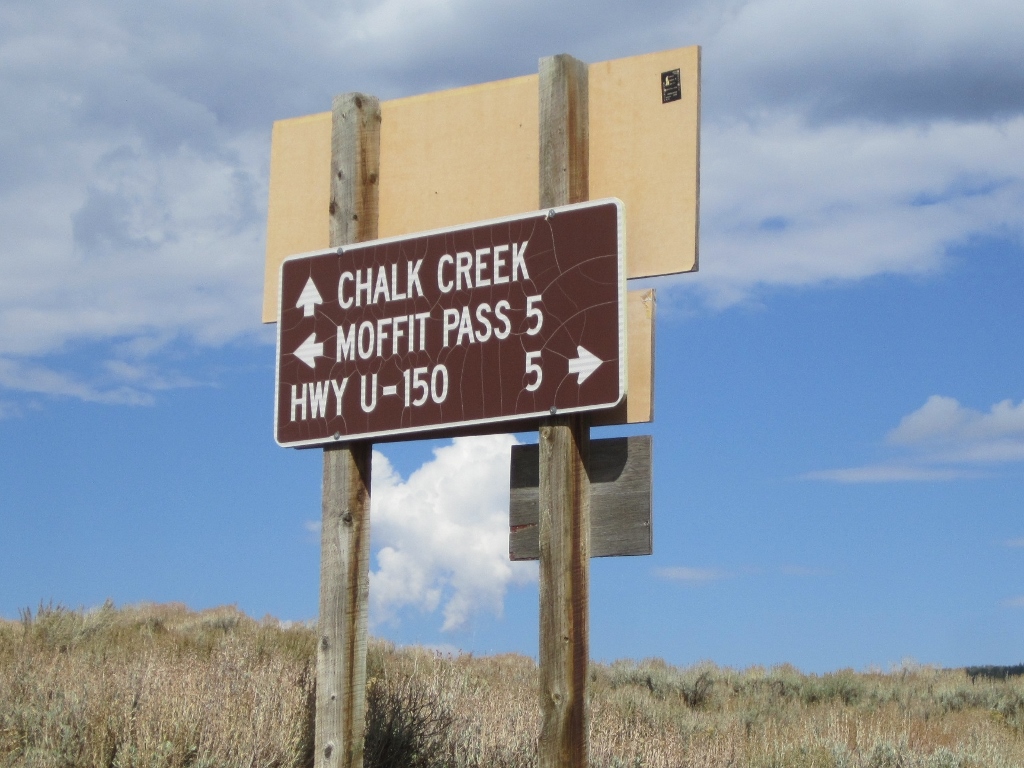 After riding for years around Moab when I was younger--riding around in circles----I had no idea Utah had so
much to offer other than red rocks.
The scenery and terrain changed several times each day.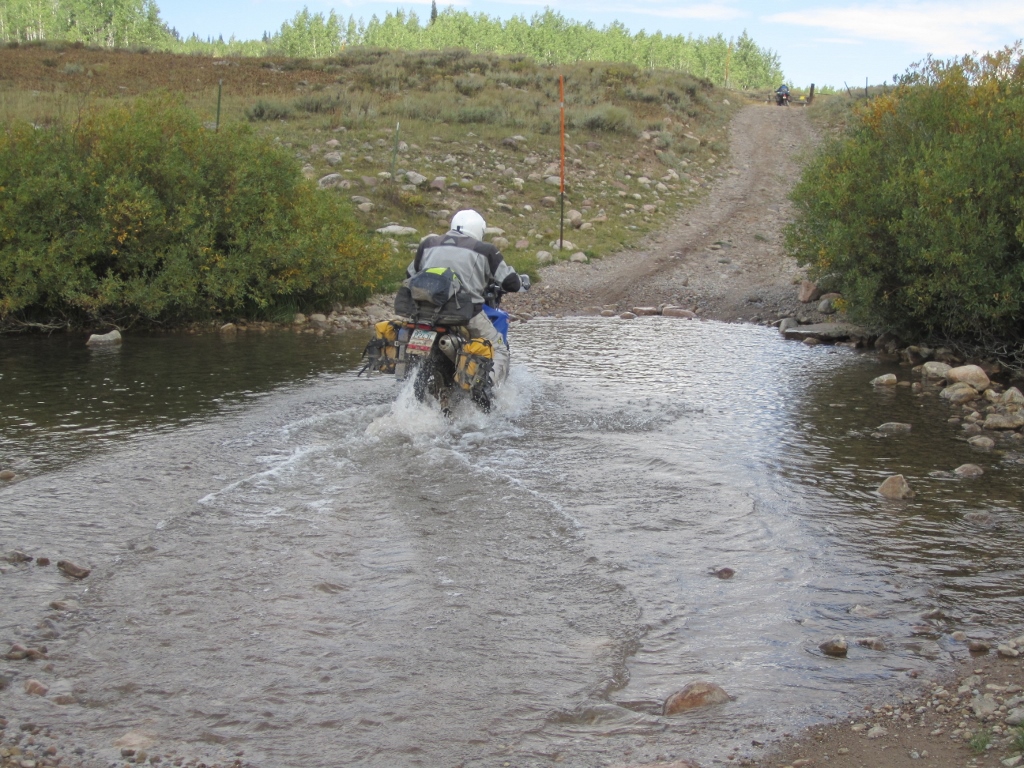 This was probably a snowmobile route---and the orange flags mark the road.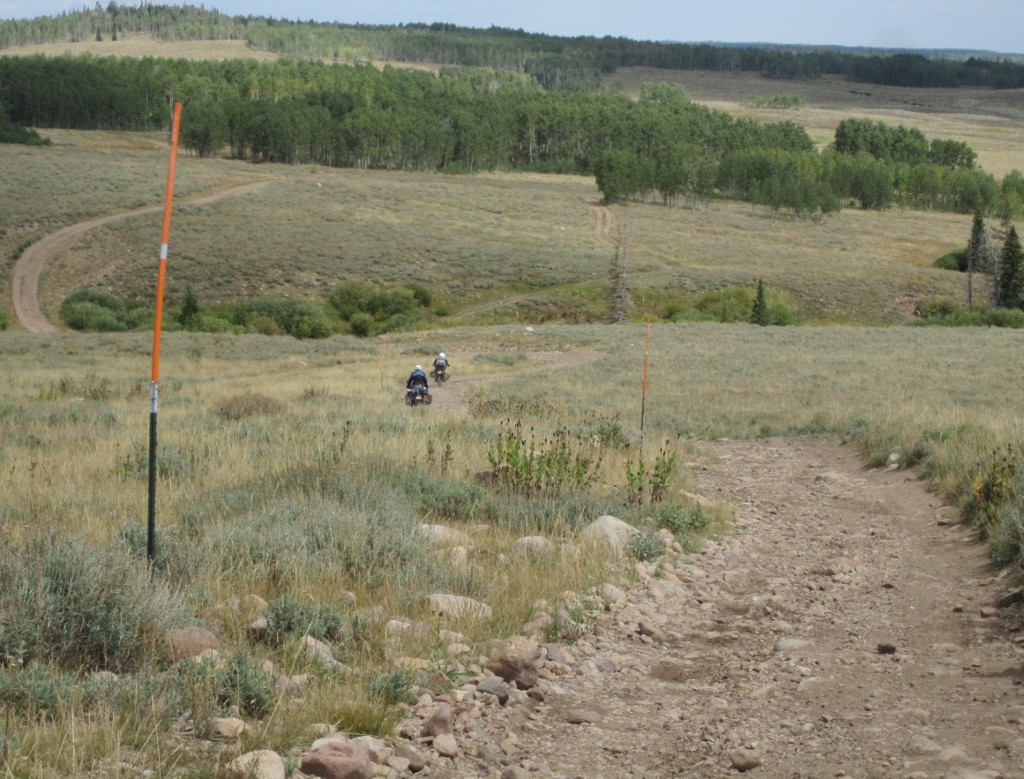 So we've been to 4 corners---------pretty neat.
Now we are at 2 corners-----named by me.
It is where Utah and Wyoming meet.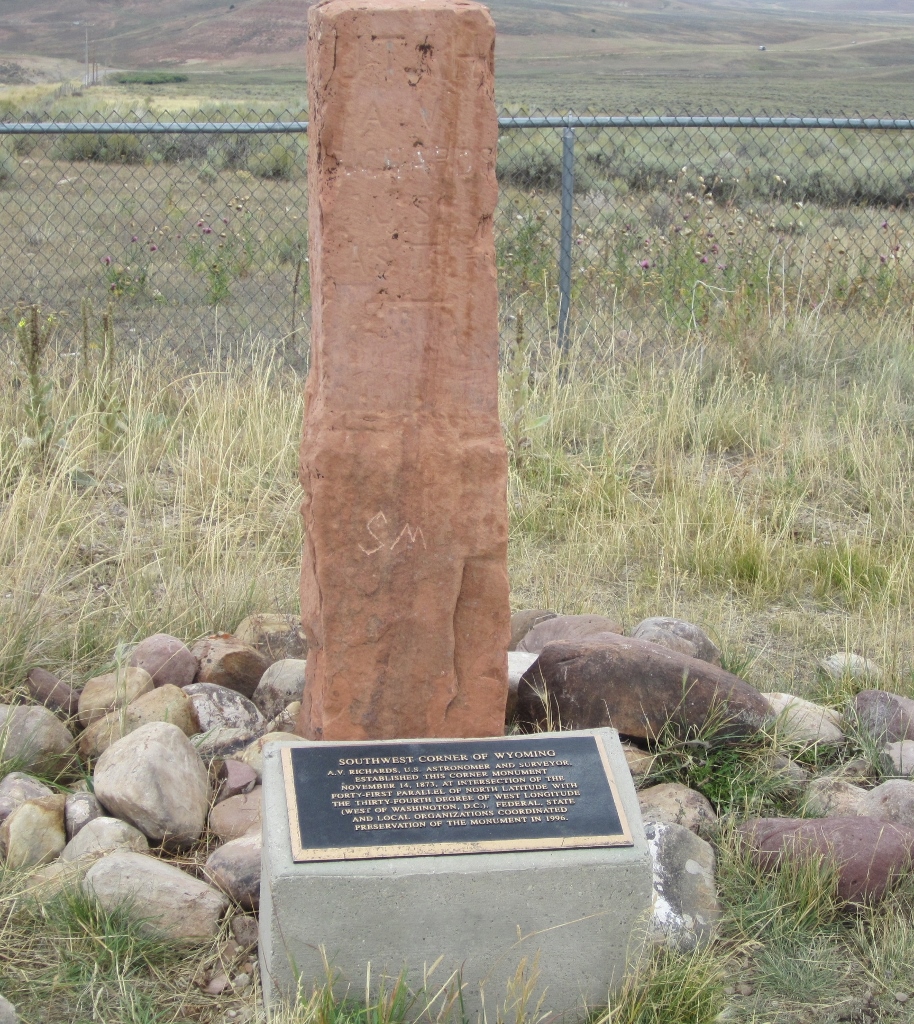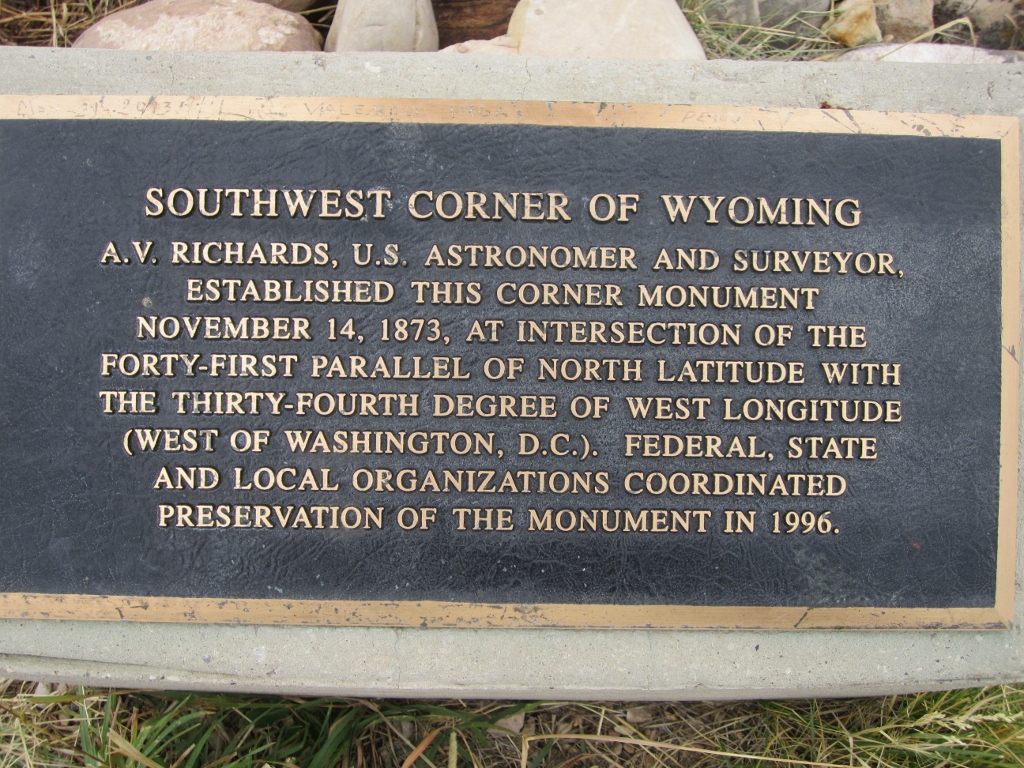 Were buzzing down the highway-------------when.............................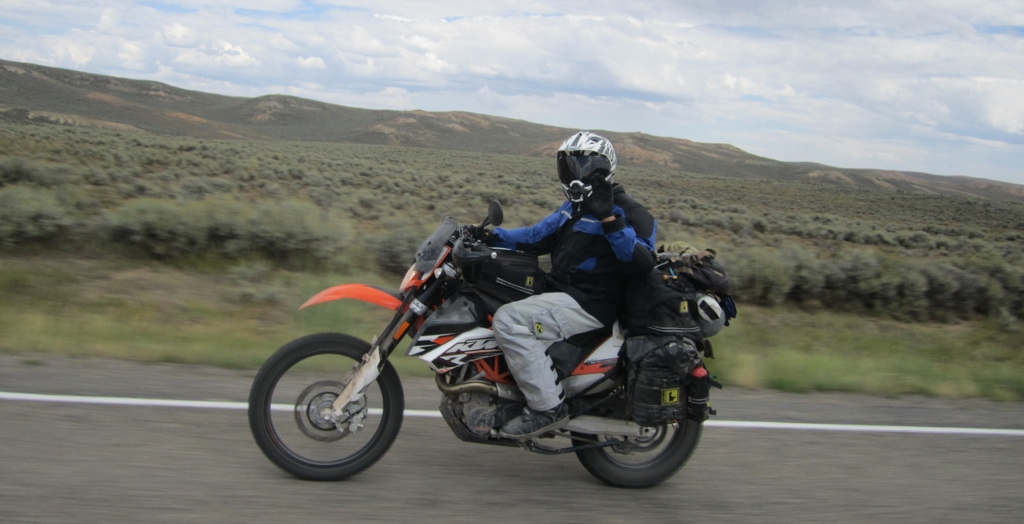 Dingweeds passes me----does a u-eeeee and pulls over----what the heck ????
He's poking at his speedometer I think----and taking a picture of it ????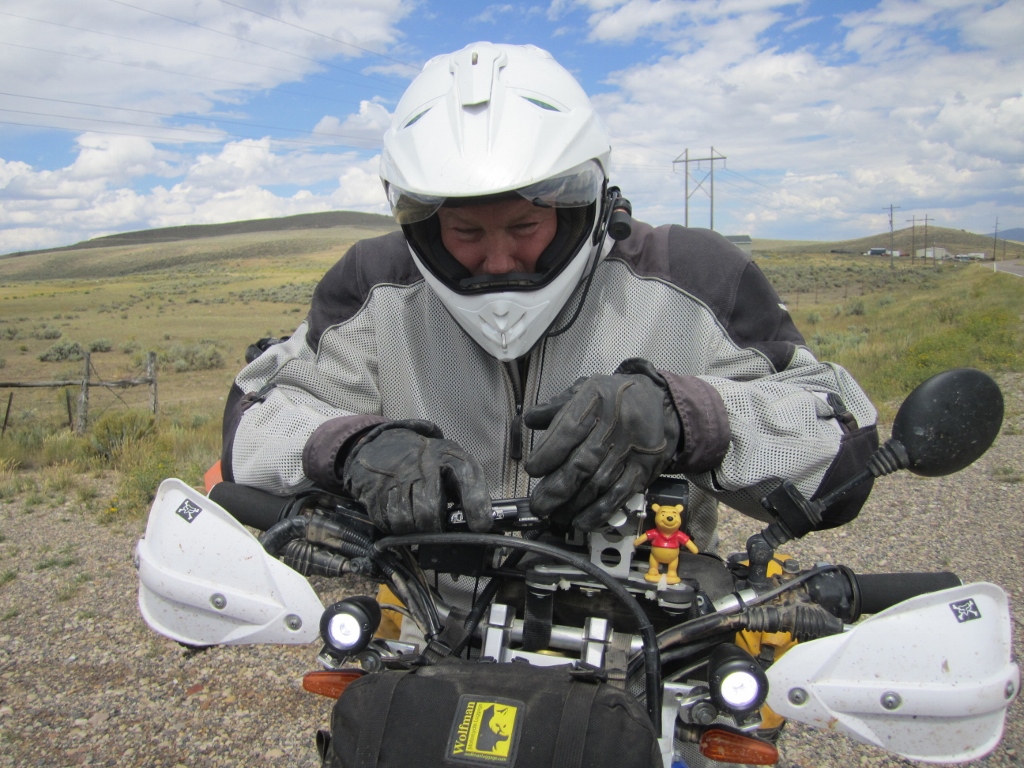 50,000 miles on his WR250R----the motor has never been rebuilt and runs as new---awesome---mine is righ behind his.
People with gold wings and such think nothing of this---but 50,000 miles on a 250 that has been pounded from Baja to the Arctic Ocean ????
I think it needs a round of applause !!!!!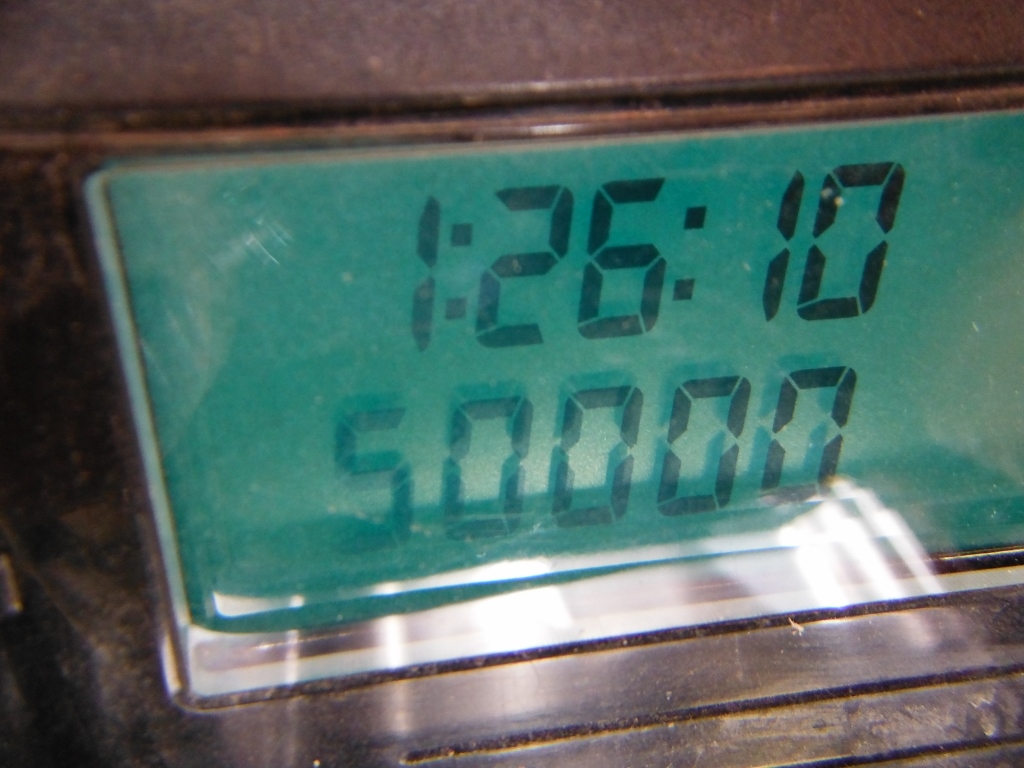 We had one gas opportunity today in Evanston, Wyoming and took it---and restocked on water and snacks--then hit the trail.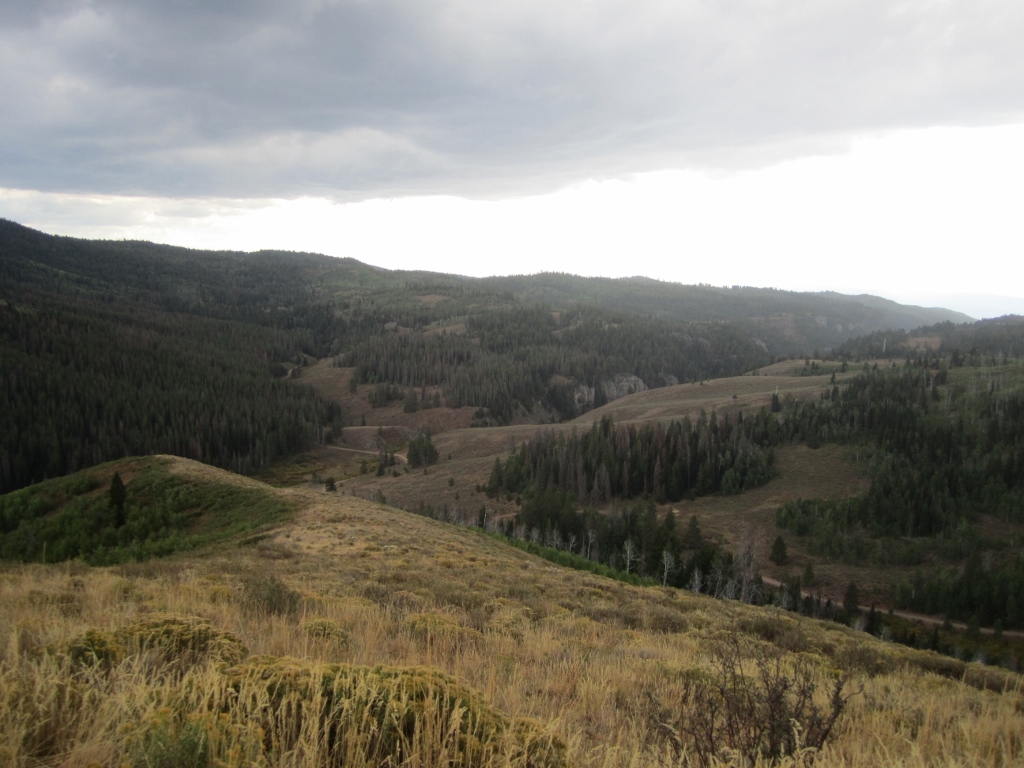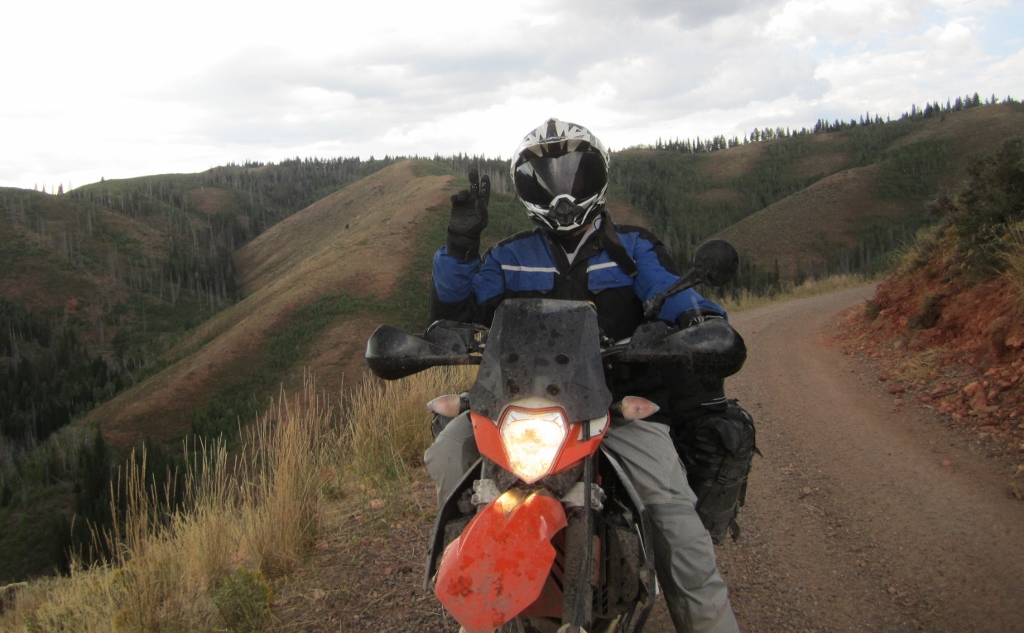 This was a cool spring---they built a fence to try to keep the cows out--but I think they got in anyway.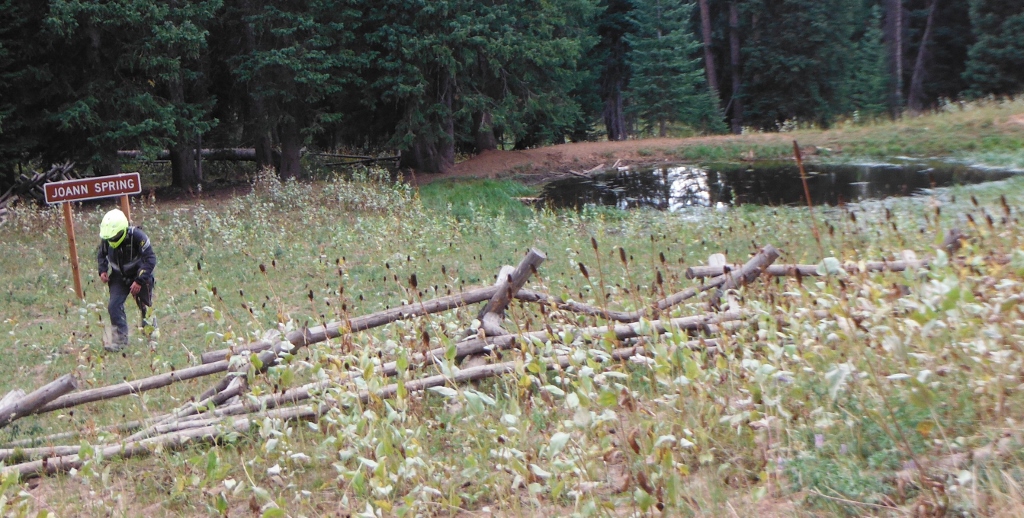 We were very near the end of the Utah BDR----and civilization at Bear Lake.
Too many fancy campgrounds and motel there---so we stopped short of there at a nice primitive campsite where it
was so quiet and pieceful. Till the quadtards, trucks, people pulling their houses behind them showed up about bed time and
started their very old briggs and stratton generator. It was hard to take ---and Dingweeds went over and had a talk with them
as it was illegal after 10PM-------but they didn't care.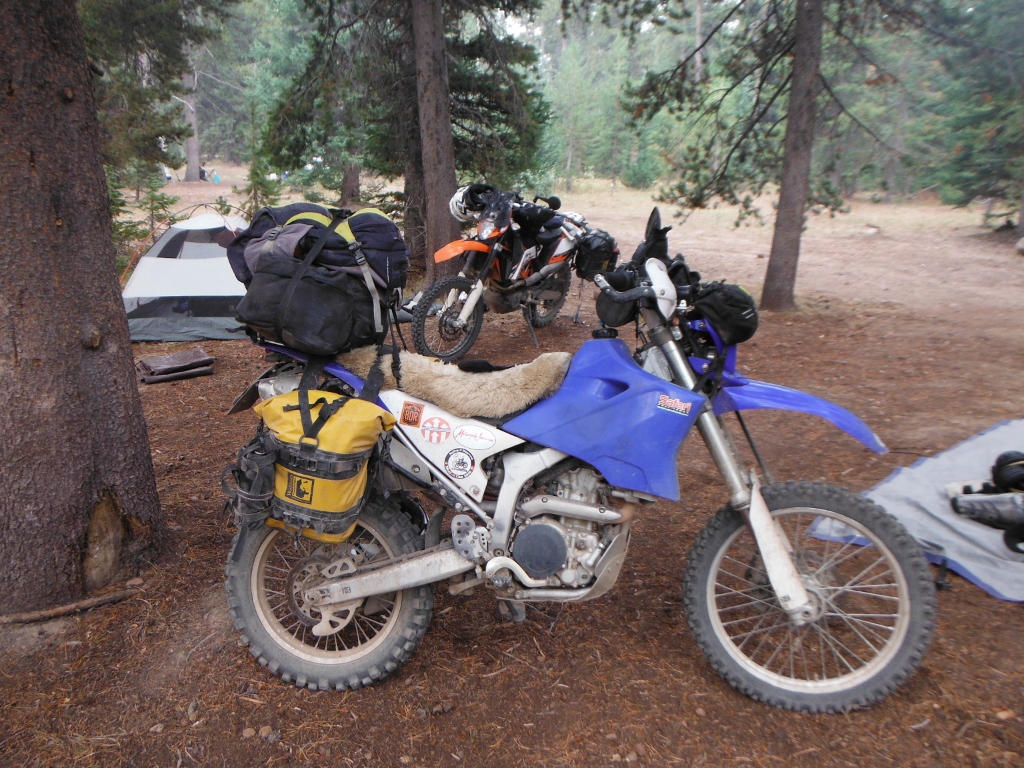 A map of our ride today--about 192 glorius miles.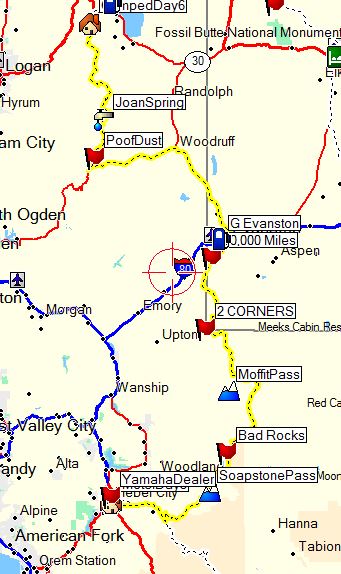 On to Day 7
Click
HERE