Fall Ride 2012
I hadn't been home that long from riding with the Mobius crew up in Wyoming, Idaho, Montana and Colorado when the leaves started turning around my hometown
and I was off again-----this time on my 950 KTM. I would head Southeast initially and had many things in mind and would end up in Kentucky, Tennessee, Mississippi
Arkansas and Missouri on this 6 day ride. A small part of this ride would include riding the brand new route Sam Correro laid out in Mississippi
on the TAT (Trans America Trail). I'm sure somebody has ridden it before me even tho it was brand new---but I didn't know of anybody
or hadn't read about it, so it would be very new to me.

You won't have to look at my ugly face much---this is the only picture of myself just before leaving.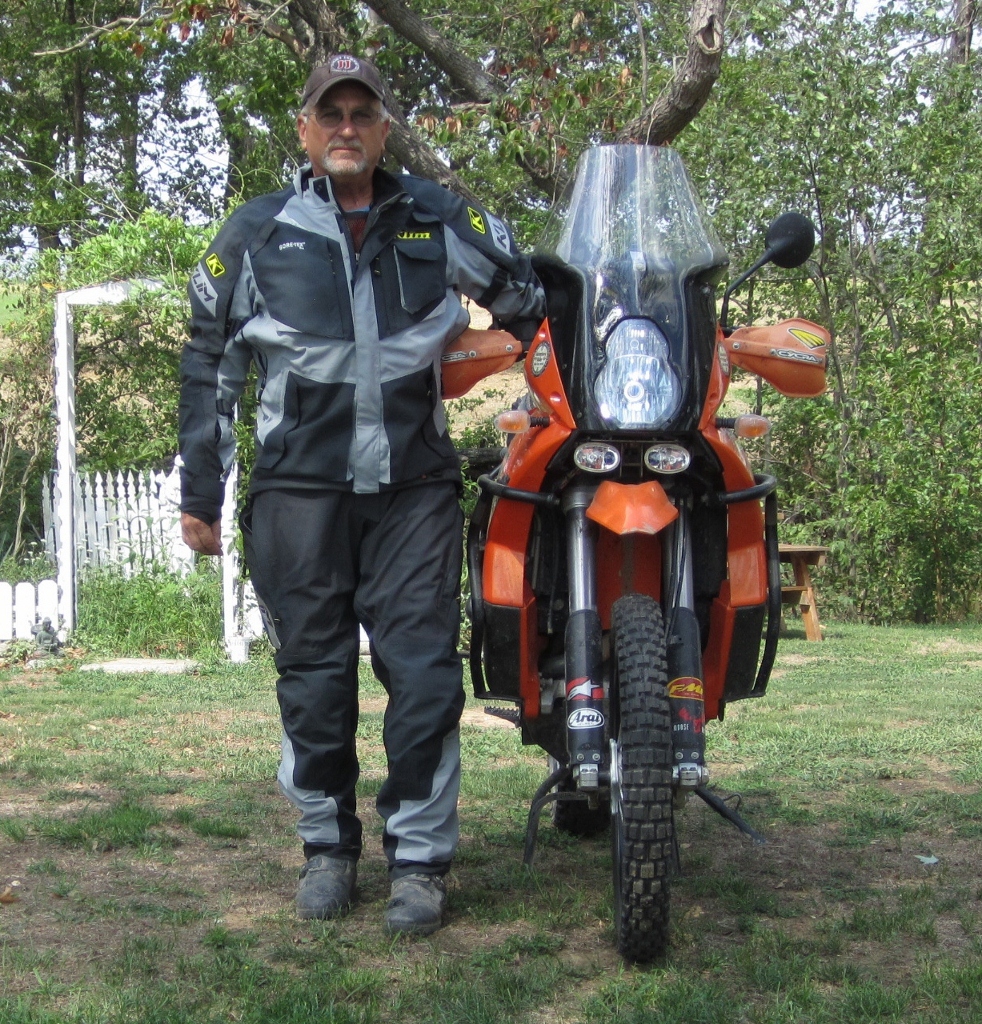 I meandered very slowly (remember I'm retired now) South and East thru some familiar territory down thru Southern Illinois---into Kentucky and finally into Tennessee
just to see this bridge I had heard about near Nashville, Tennesee near the start of the Natchez Trace Parkway---which I've been on before---but never saw this bridge.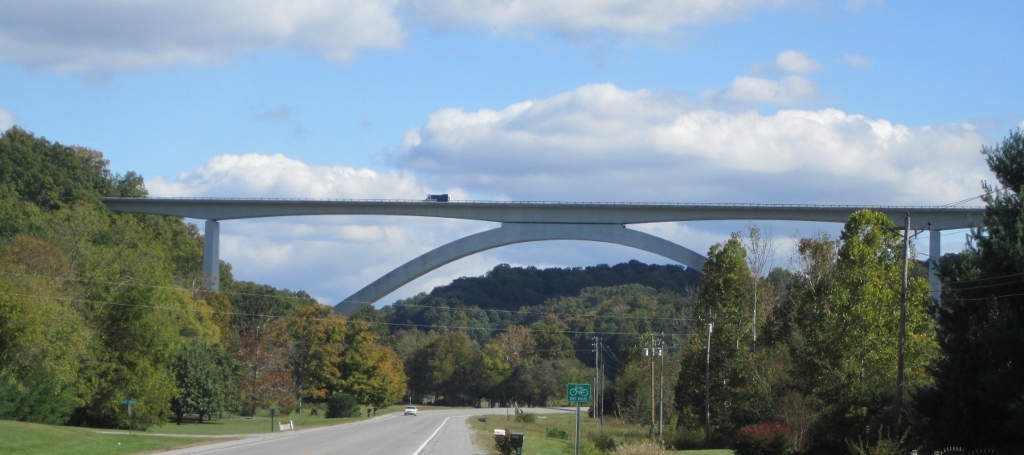 It is a very magnificent structure.

The Natchez Trace Parkway Bridge, viewed from the north
Carries Natchez Trace Parkway
Crosses State Route 96
Locale Williamson County, Tennessee
Maintained by National Park Service[1]
ID number 5570463P0000000
Design Arch
Total length 479.1 m (1,572 ft) [1]
Width 11.3 m (37 ft) [2]
Height 44.2 m (145 ft) [2]
Longest span 177.4 m (582 ft) [1]
Clearance below 32.7 m (107 ft) [1]
Opened March 22, 1994
Toll none
Daily traffic 210 (in 1997) [1]
Coordinates 35.9866°N 86.9923°W
The Natchez Trace Parkway Bridge is a concrete double arch bridge located in Williamson County, Tennessee, 14 km (8.7 mi) from the
northern terminus of the Natchez Trace Parkway. It is 479.1 m (1,572 ft) long and carries the two-lane Natchez Trace Parkway 44.2 m (145 ft)
over State Route 96 and a heavily wooded valley. The 177.4 m (582 ft) long main span is symmetrical, while the 140.8 m (462 ft) long second
arch is not, due to the slope of the valley at the southern end of the bridge.[2] The bridge is unique in that it does not use spandrel columns to
support the deck from the arch. Rather than being evenly distributed along the arch's length, the weight of the bridge is concentrated at the
crown of the arch. The lack of spandrel columns results in a clean, unencumbered appearance.
The bridge, also known as the Natchez Trace Parkway Arches, is the first segmentally constructed concrete arch bridge in the United States.
The arches comprise 122 hollow box segments precast in nearby Franklin, each of which was about 3 m (9.8 ft) long and weighed between 26 and
41 metric tons (29 and 45 short tons) . The deck consists of 196 precast post-tensioned trapezoidal box girder segments, each typically 2.6 m
(8.5 ft) long. The sections atop the crown of the arch are 3.9 m (13 ft) deep. The foundations and piers of the bridge were cast in place.
The bridge was designed by Florida-based Figg Engineering Group and built by PCL Civil Constructors Inc., a subsidiary of
PCL Constructors Inc.
The arches and deck were constructed using a balanced cantilever method. Each arch was supported by temporary cable stays anchored from the
top of the piers and the valley sides until it was fully built. This procedure was chosen in place of conventional shoring towers so that environmental
damage to the valley would be minimized.The bridge cost US$11.3 million to build,and was completed in October 1993. It was officially opened on March 22, 1994.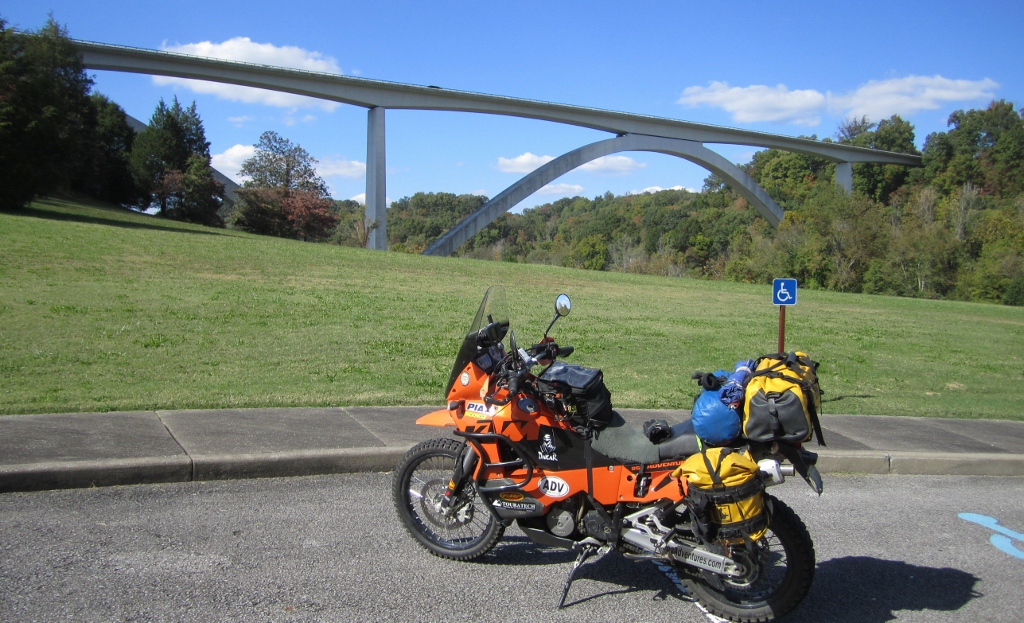 Riding or driving over it on the Parkway you have no idea of the magnificent structure below you.
You have to get off it to see the structure below.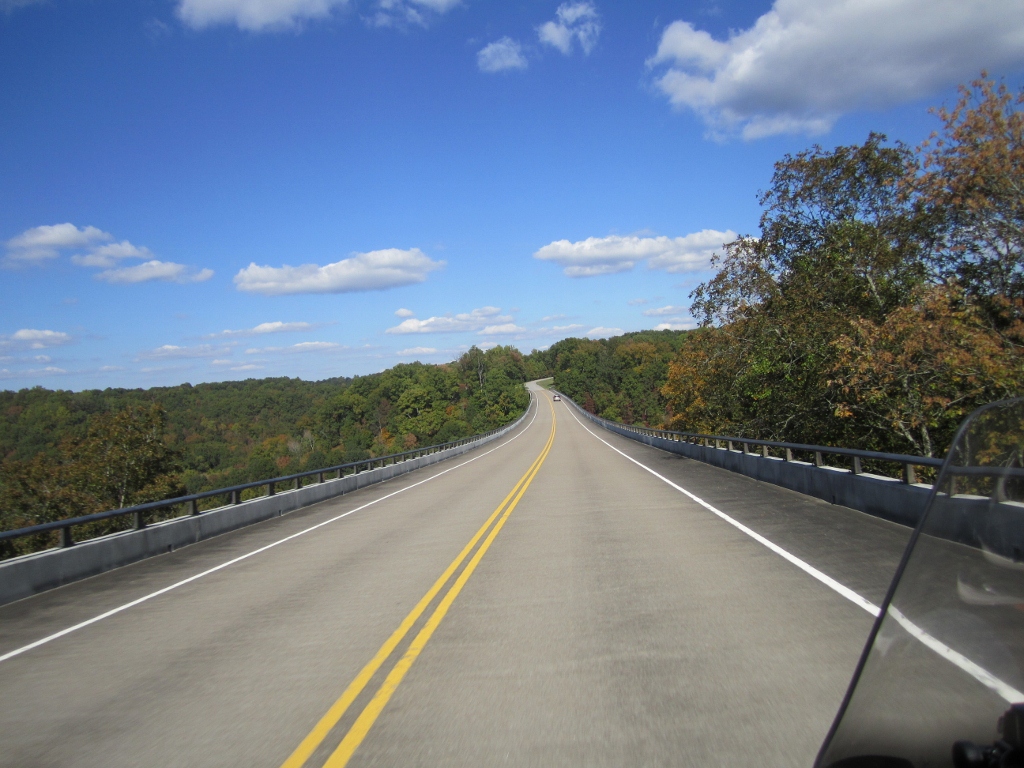 2 Views off the top of the bridge.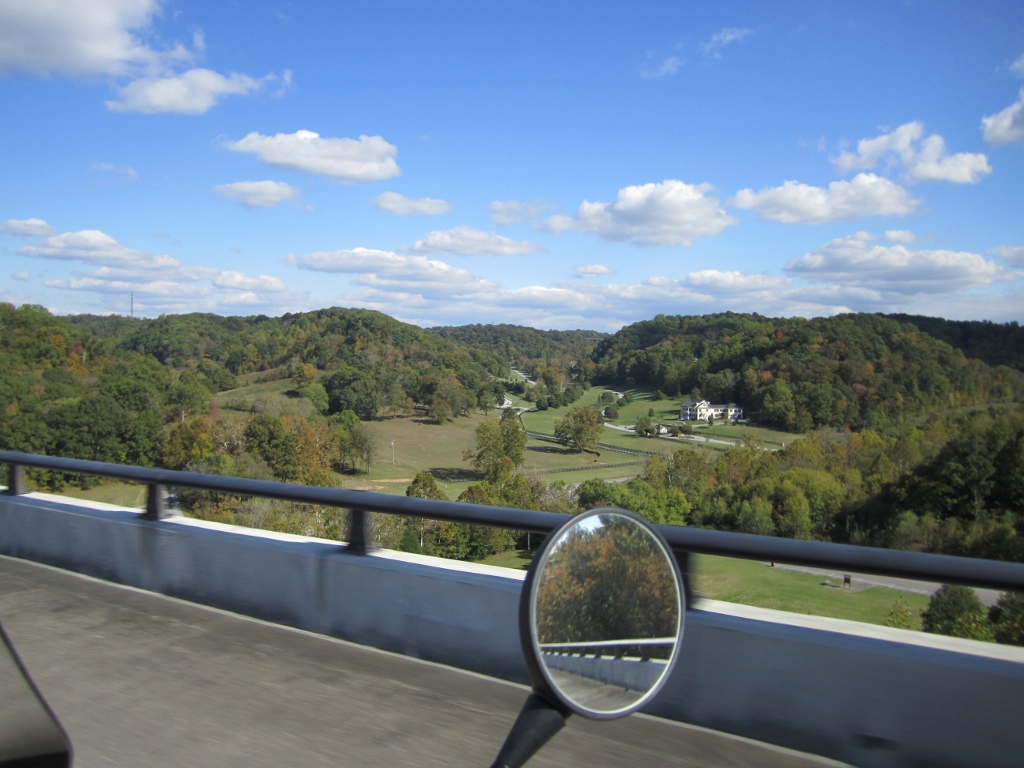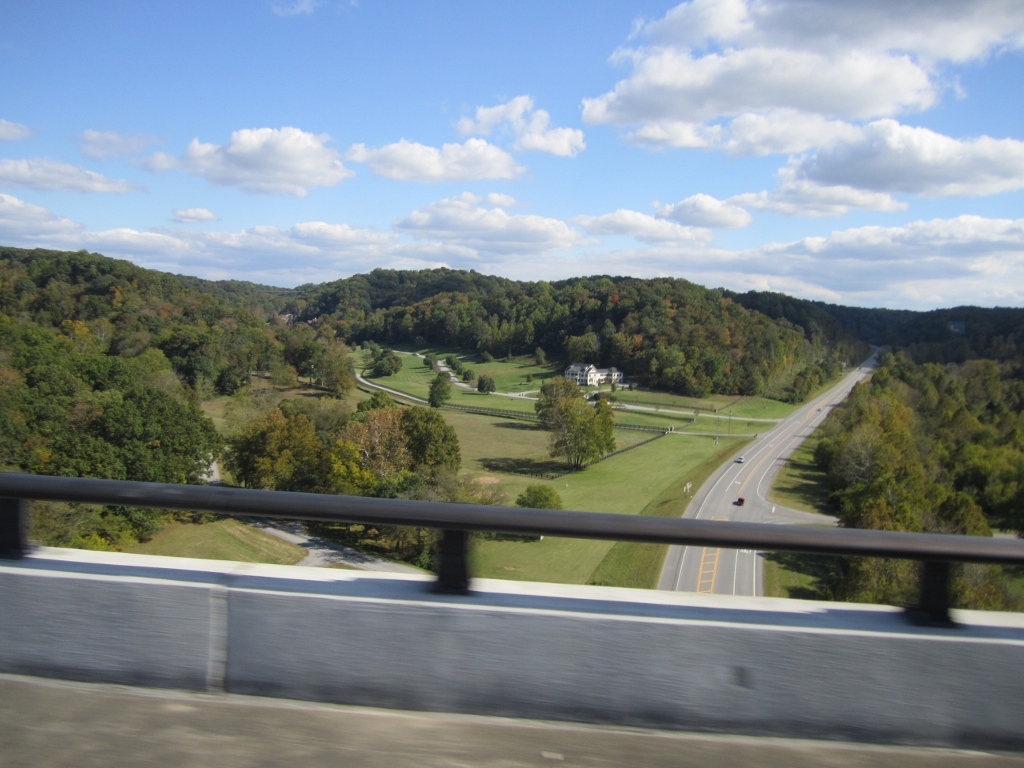 This bridge and a some of the things that follow are things I wanted to see when me and my buddy Bill Asher (Basher) meant to see
when we were down here in the spring------but didn't. Bill didn't have the time then----but I do now.
Oooopps---I snuck in this picture.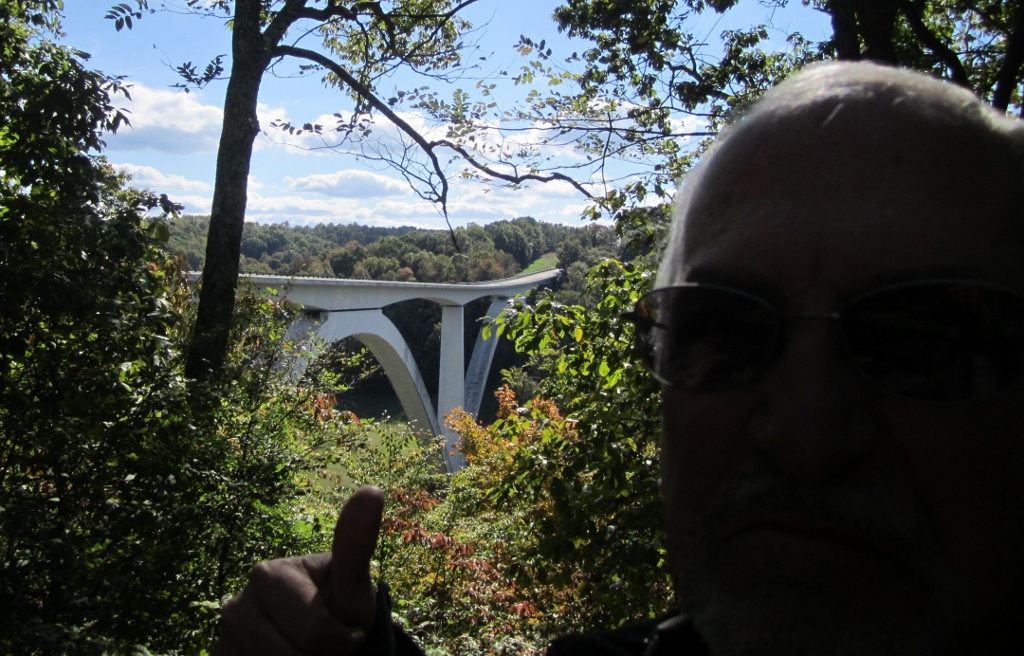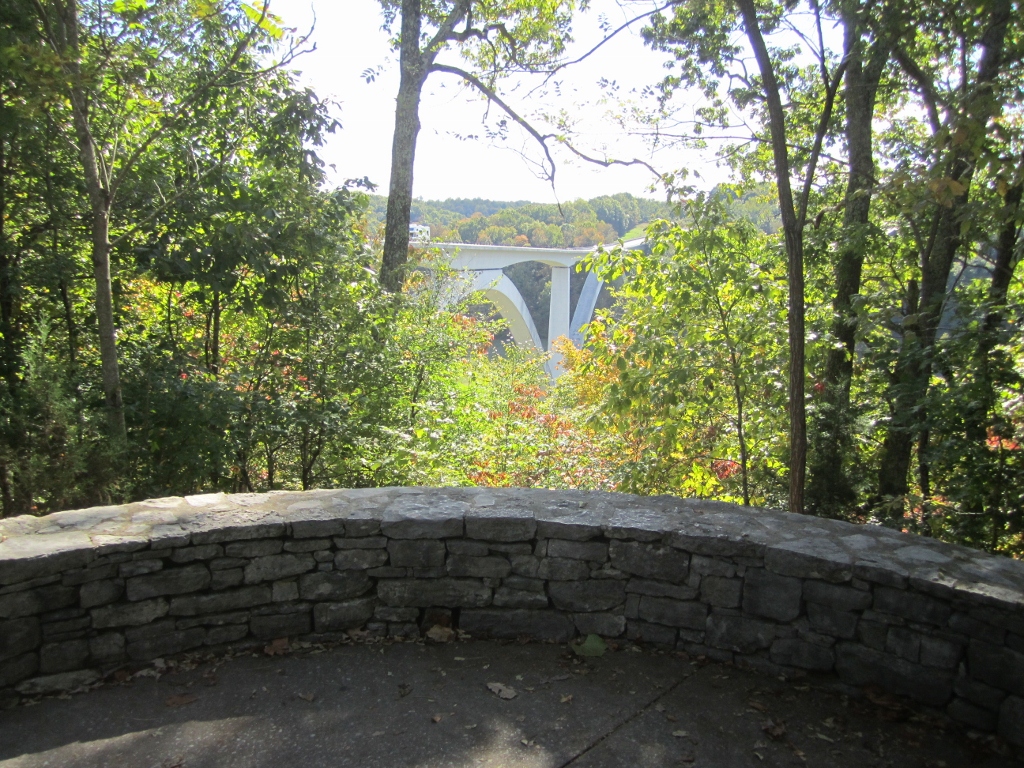 The next thing on my agenda which was very close was this old train station near the Fly General store in Tennessee.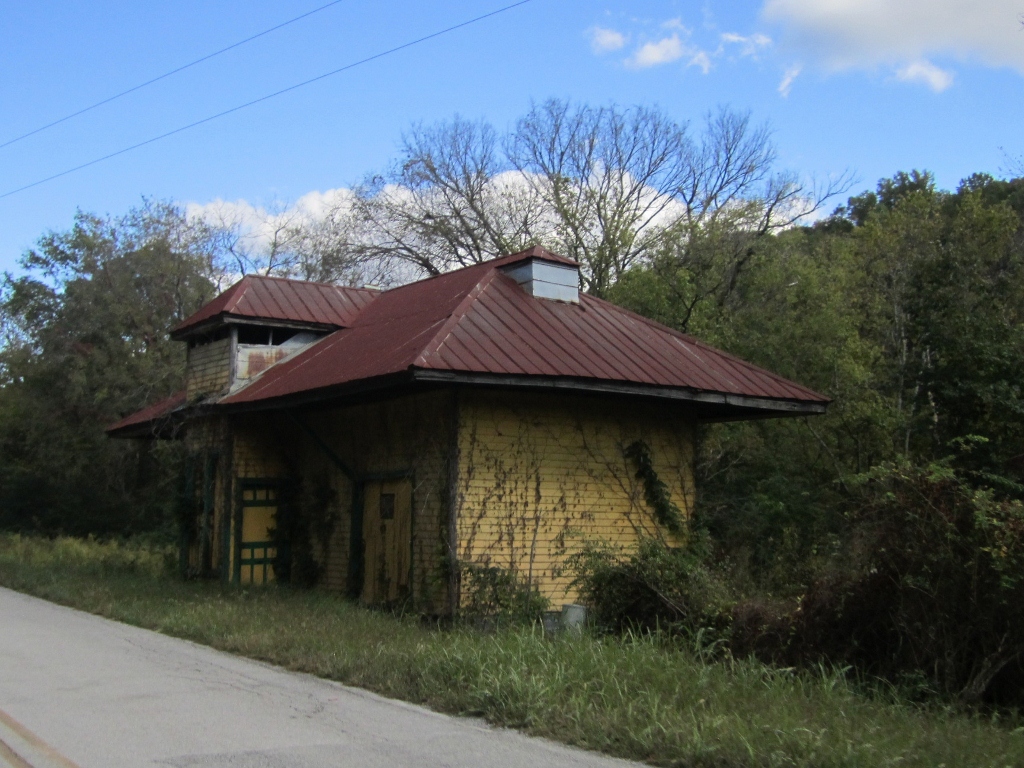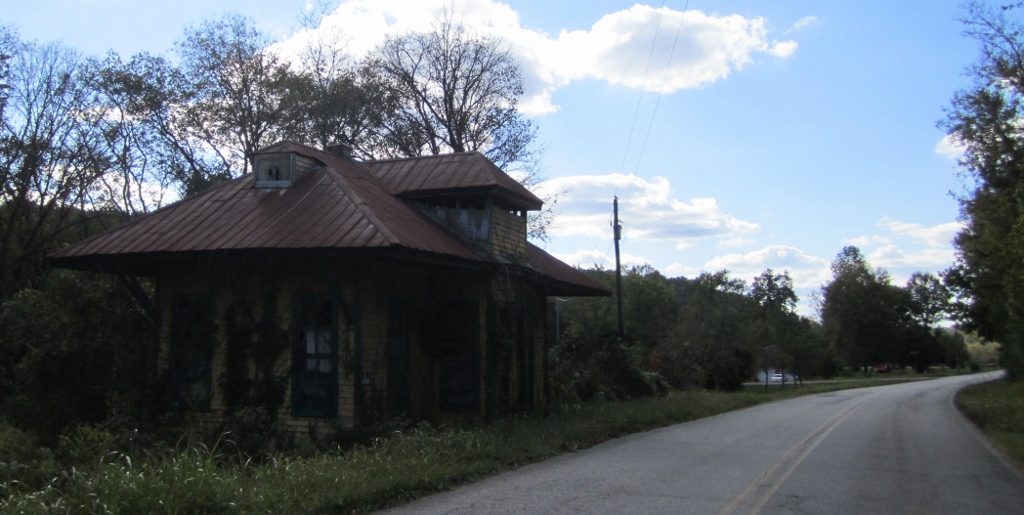 The Fly General Store
Right before I retired a good friend I was working with (thank you Steve) told me about this place---and now here I am.
Right on RT. 7 just off the Natchez Trace scenic parkway.
This is a place not to pass by.
This place has about anything you could possible want.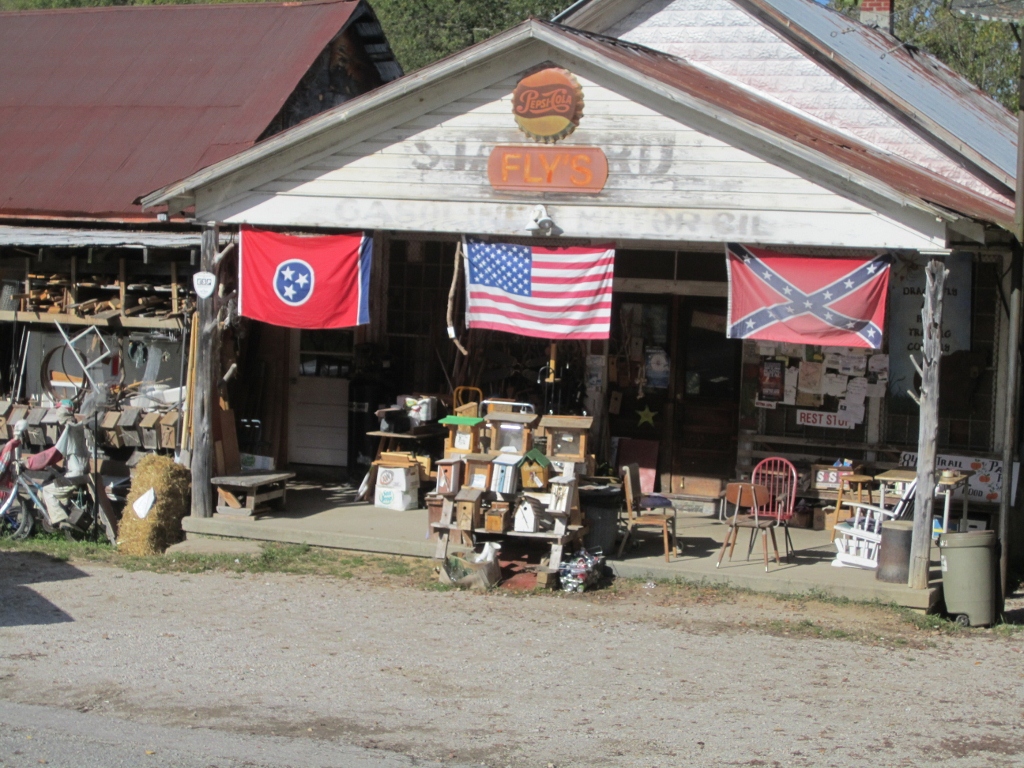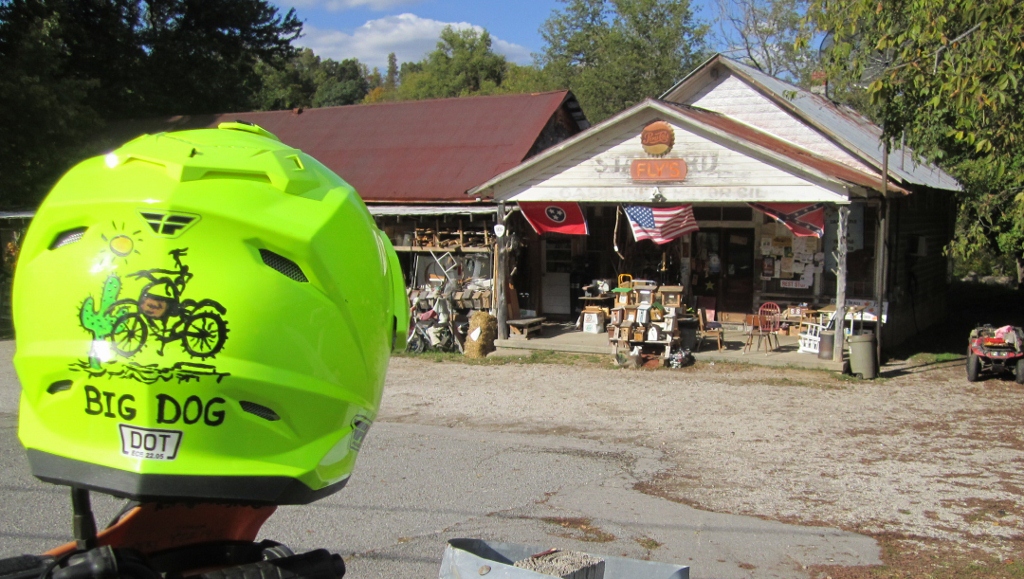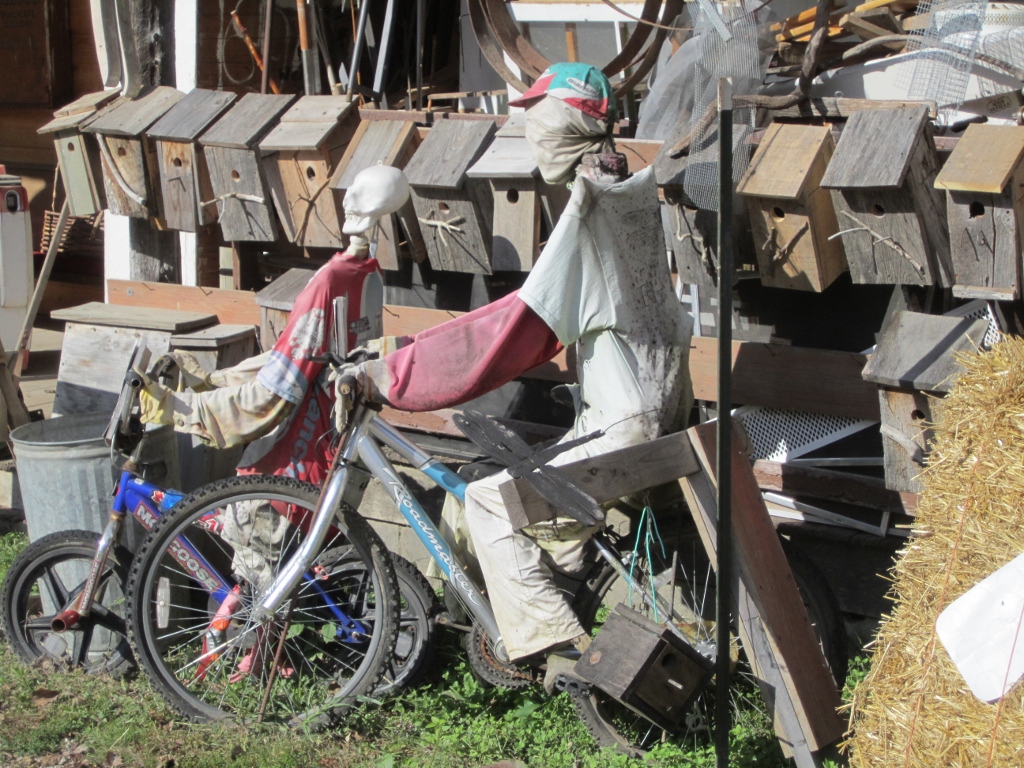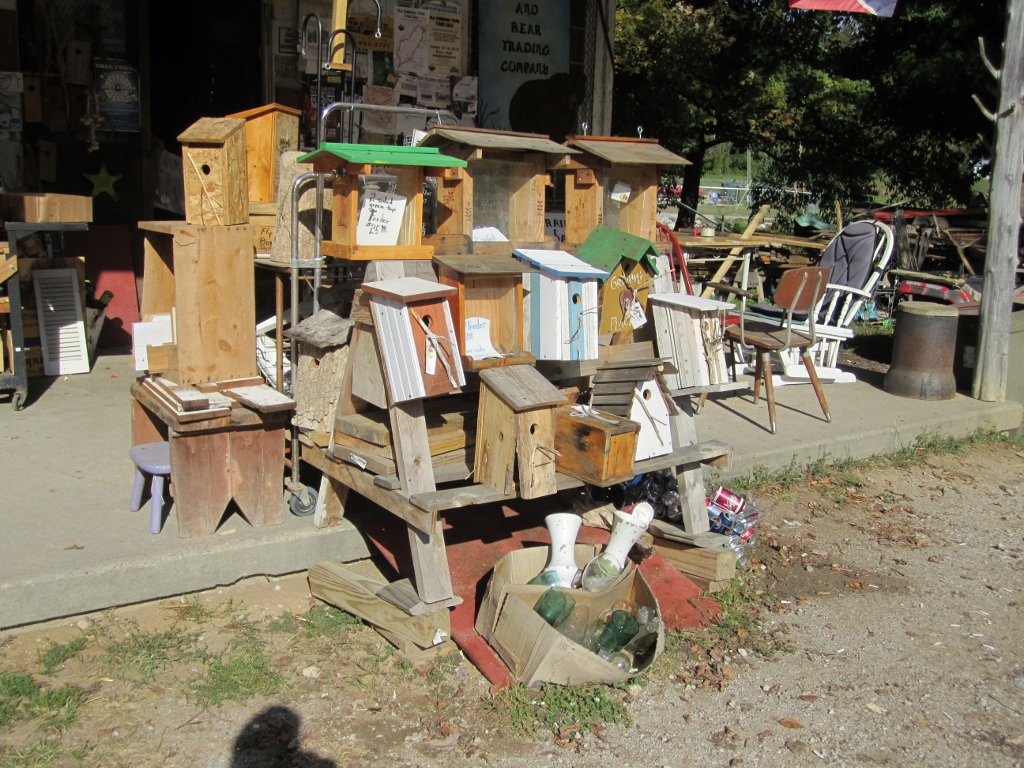 Meet Mr. Fly.
I was in no hurry and soaked up everything Mr. Fly had to tell me---and that was a lot.
Mr. Fly doesn't own a car but after talking to him for awhile I found out he loves motorcycles----and has ridden them all his life.
He's had many an old dirtbike----dualsports he called them.
And still has a 500cc Honda Ascot---he's kind of crippled up and I doubt he rides anymore.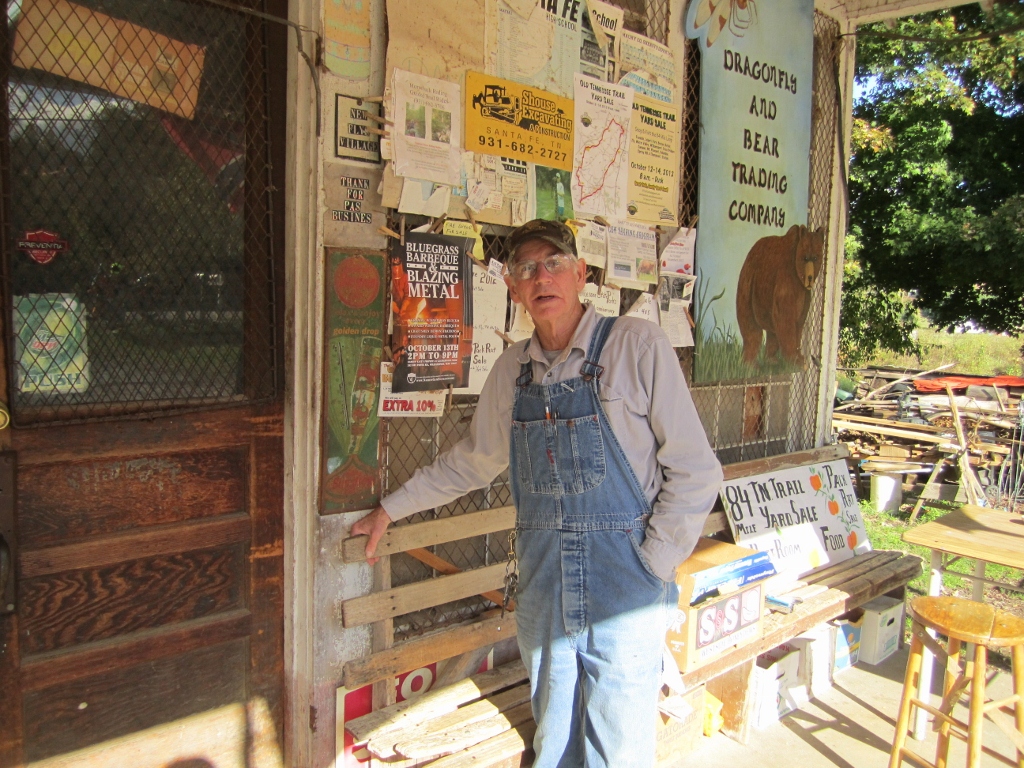 I had to tear myself away from Mr. Fly as he was so interesting and I told him I needed to find a place to camp.
He tells me where a really nice remote campground is and gave me his card to show the camp ground owner.
Mr. Fly told me it would either get me a discount or thrown out.
I went South down the trace a few miles a got off of it at Highway 412---on the East side of the trace is Fall Hollow Campground.
$5 for a nice campsite with a very nice bathroom with a shower---I haven't gotten nice camping with a shower this cheap in 25 years.
The owner really liked me and was going to take me to town for dinner----now how nice was that??
I hated to turn him down---but I was just wanting to sit and relax by the fire and nice creek and have me a Jet-Boil dinner.
It was nice that night---but got pretty dang cold ---------but BigAgnes kept me warm.
Big Swan Creek was right beyond those trees.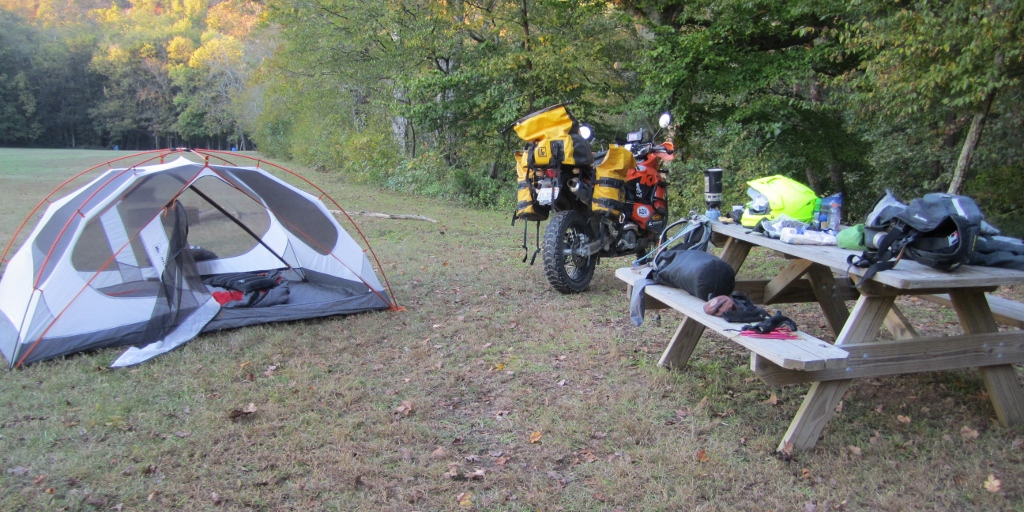 I was dead set on eating breakfast at Marcy Jo's Mealhouse.
I heard about this place from my friend Randy Stewart (AKA as Lefty on my website)---who use to live about a mile from here for a while.
I have since heard about it on TV.
Marcy Jo is the sister to Rory---who is the male singer in the famous country duo "Joey and Rory".
Joey and Rory are in here all the time as they have a farm near here.
Joey and Rory are very speciall people to me---their music and lyrics will touch your heart.
Joey and Rory were pretty well kicked off one of those big time TV talent shows when they were asked to split up as a duo---they refused
to split as a married couple and have certainly gotten the last laugh as they have made it bigtime since then.
Really nice down home people who now have their own TV show----kind of Andy Griffith style.
You want fancy-------keep going.
You want a table to eat off of that is level----keep on going.
You want gas heat--------keep on going--they got a woodstove.
You want matching tables and chairs-----keep on going----none of them match.
You want some good home cooking----stop on in Marcy Jo's Mealhouse.
About 3 miles East of Interstate 65 on route 412 in Tennessee.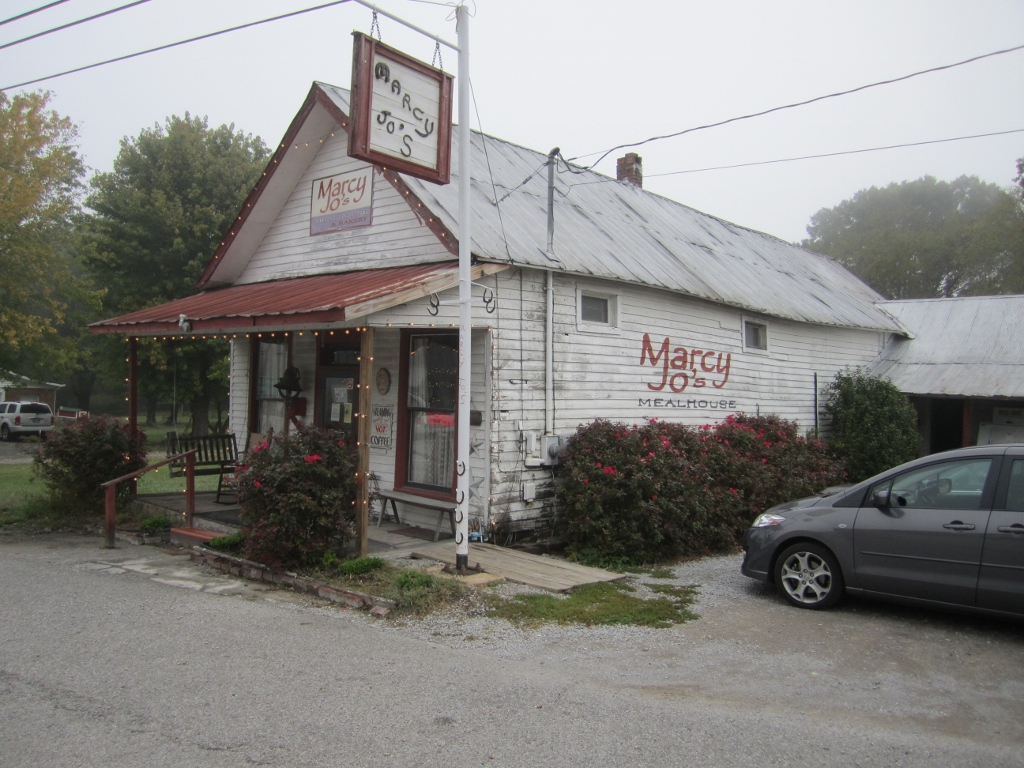 Everything in the Mealhouse is homemade---great big rolls, pies and cakes---man their food is good.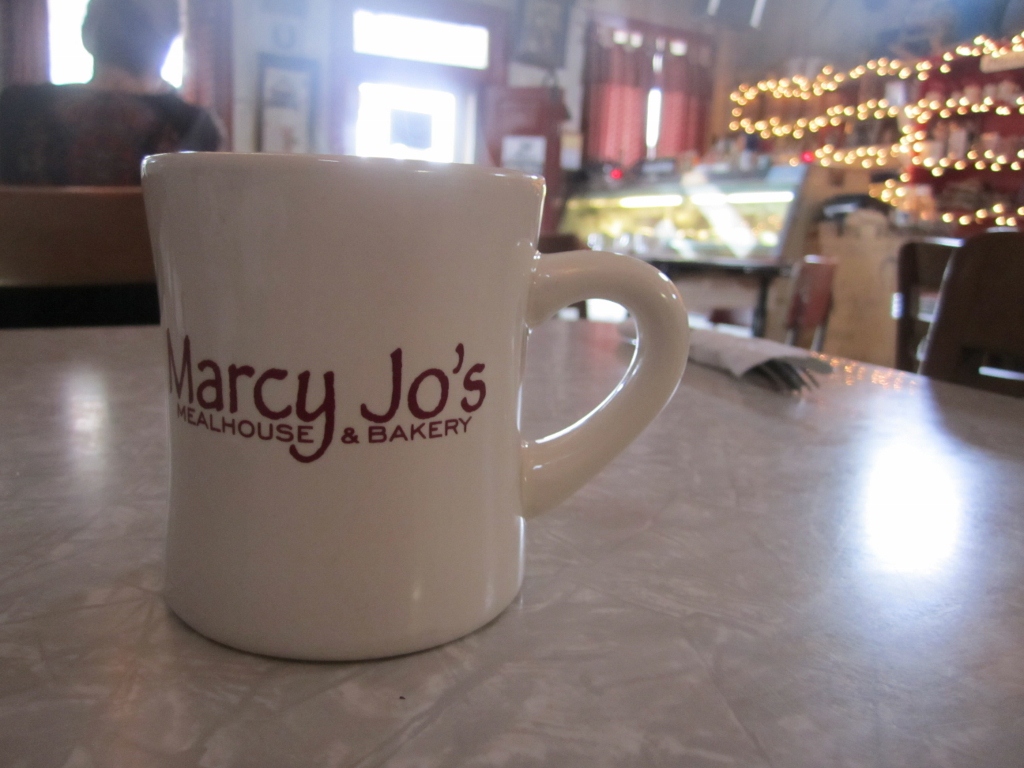 I'm 61 years old and have never had a breakfast this good.
I ordered the "Rory Overall Special".
Homemade biscuits and gravy smothered with cheese, bacon and eggs.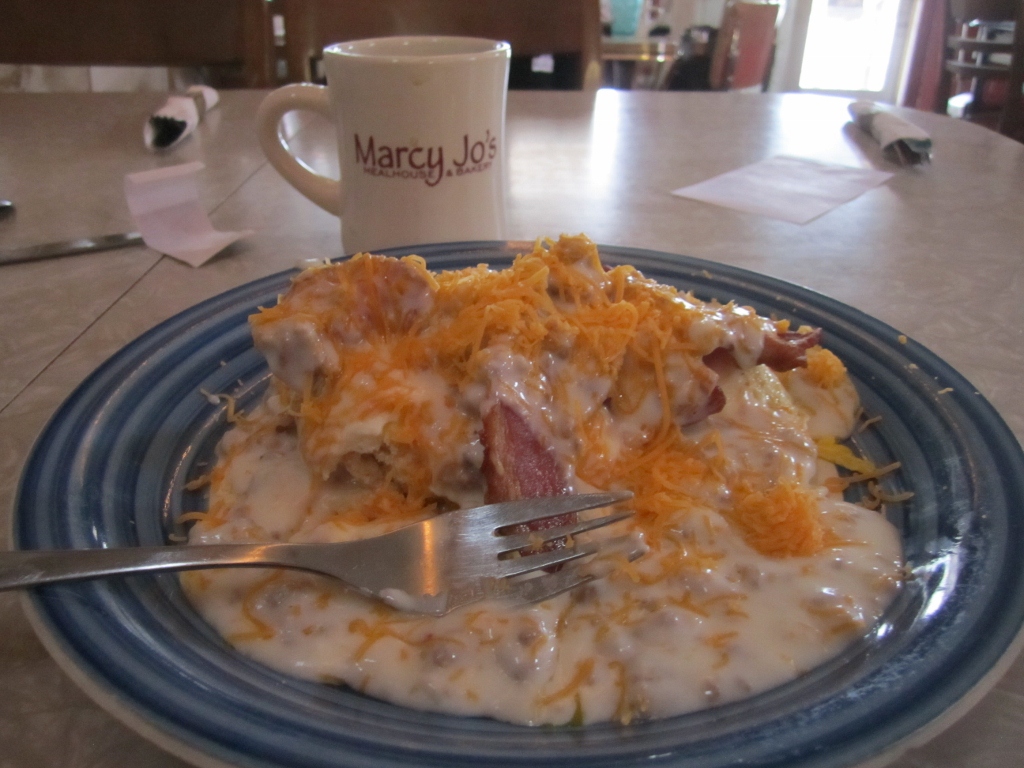 Marcy's the redhead and was so nice to people.
She is a sweetheart of a gal and everybody loves her.
I was sneakin' pictures as I didn't want to appear to be a stupid tourist---but maybe I was.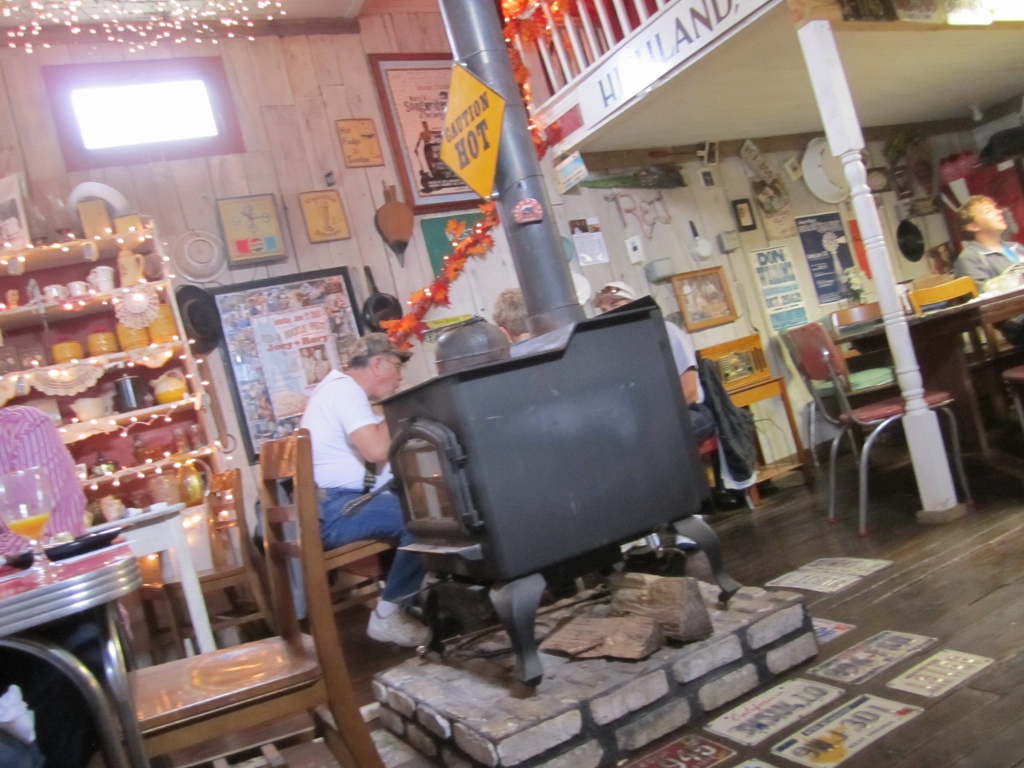 License plates cover up holes in the floor next to the woodstove which felt so good after my chilly cold foggy ride of about 45 miles to
this place from my campsite. I was chilled to the bone---but not for long.
I spent an hour in here---and it was by far the highlight of my entire ride on this trip.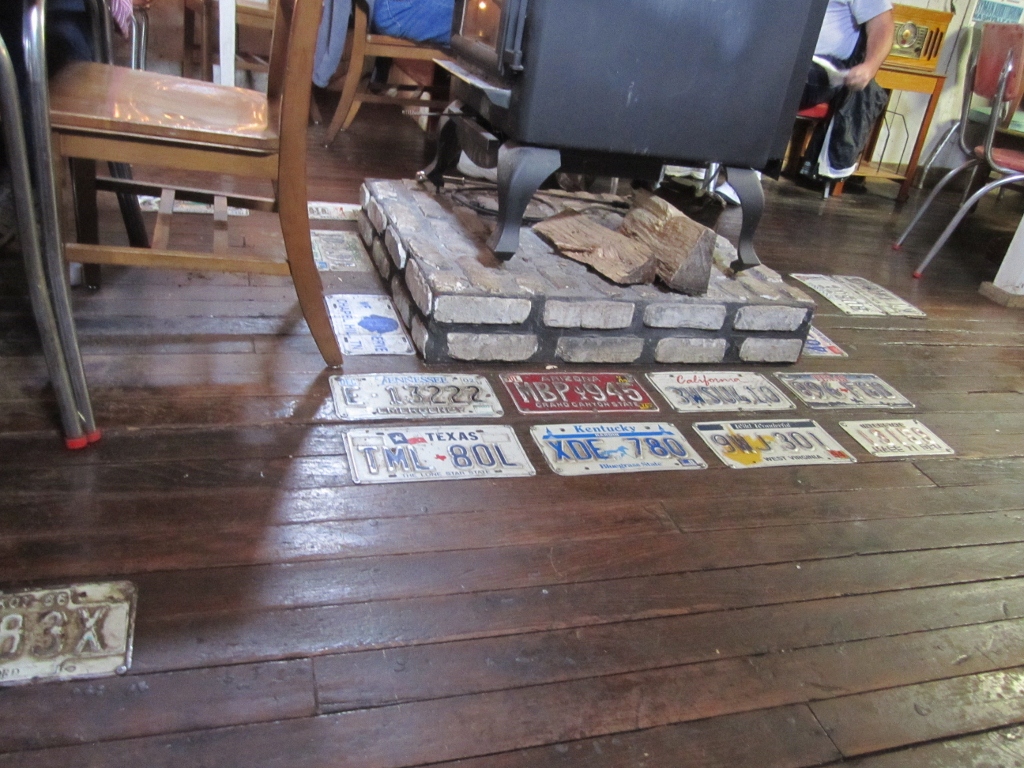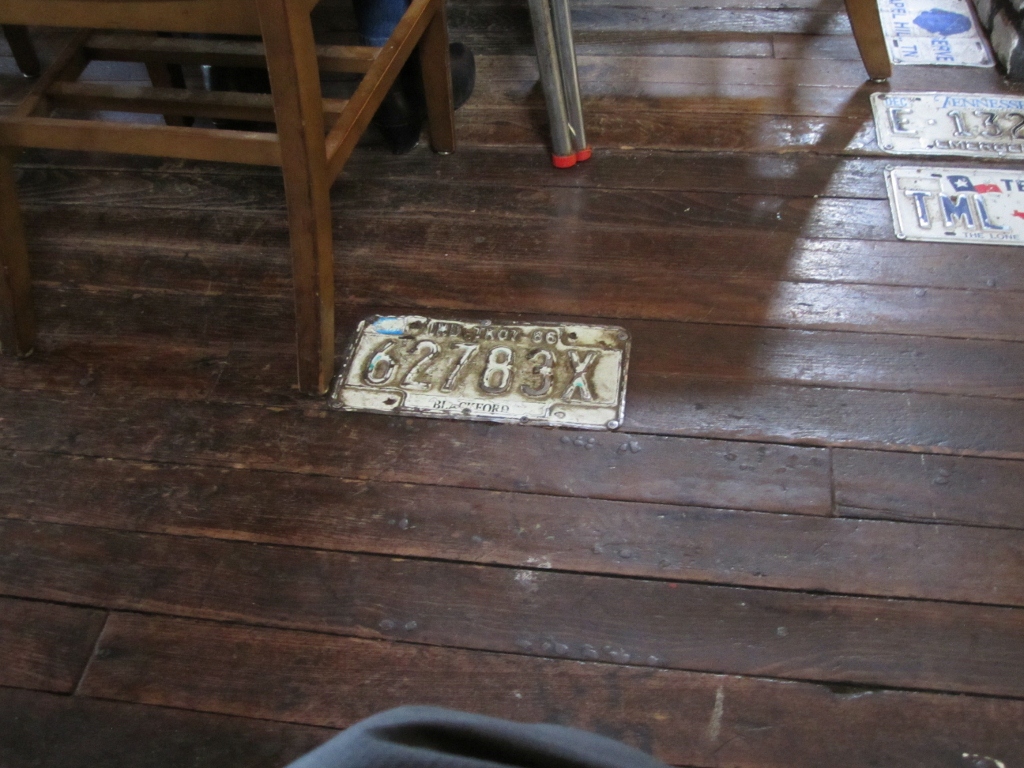 I had been talking to Sam Correro on the phone some and told him I was going to ride his new Mississipi portion of the TAT and he invited me over for the night.
His place is very near this area in Mississippi but I didn't take him up on it as when I passed thru it was too early in the day to stop riding and I hit the
Mississippi Trans America Trail--------I had ridden the original years ago but not this new one.
It went by this old store in Dumas, Mississippi and I stopped in for a bite. On my way I crossed not only the old--but the new Tennessee TAT.
Of course there's lots of Kudzu plants everywhere.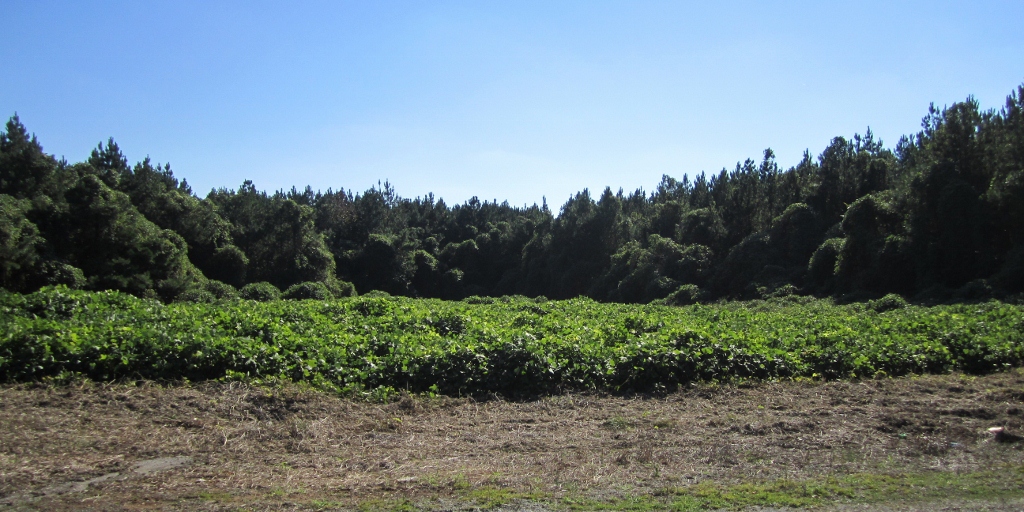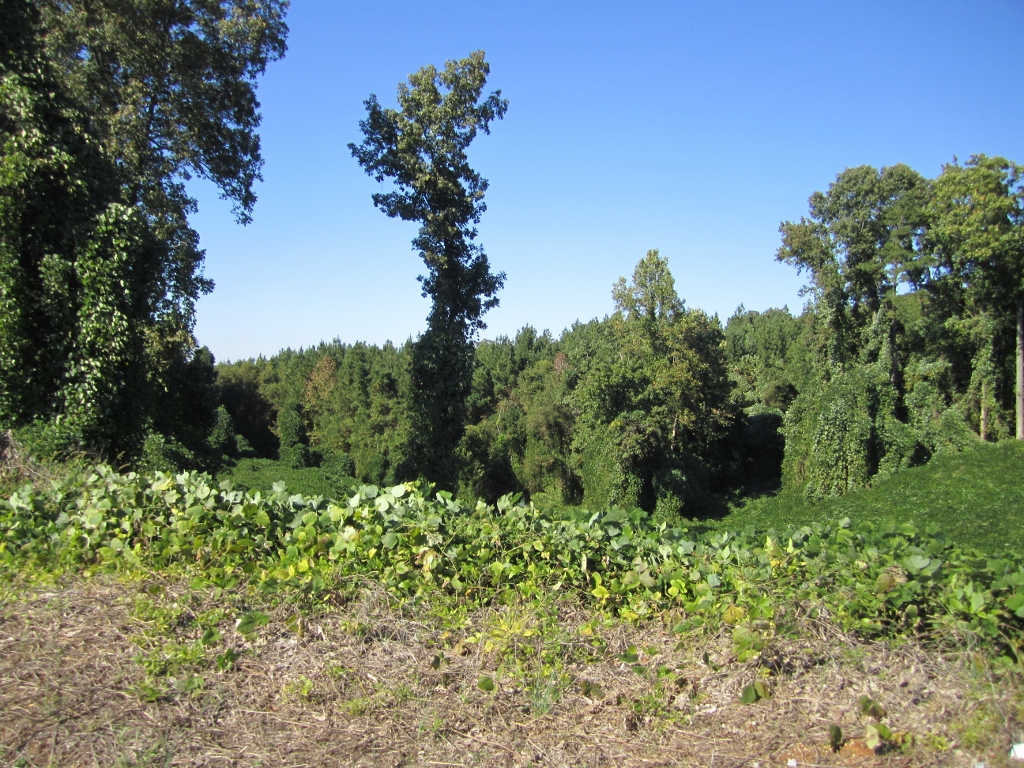 The Mississippi trail is very entertaining as I ride on one nice dirt and sand road after another.
It had rained recently and I was afraid I'd run into some roads that were impassable when wet.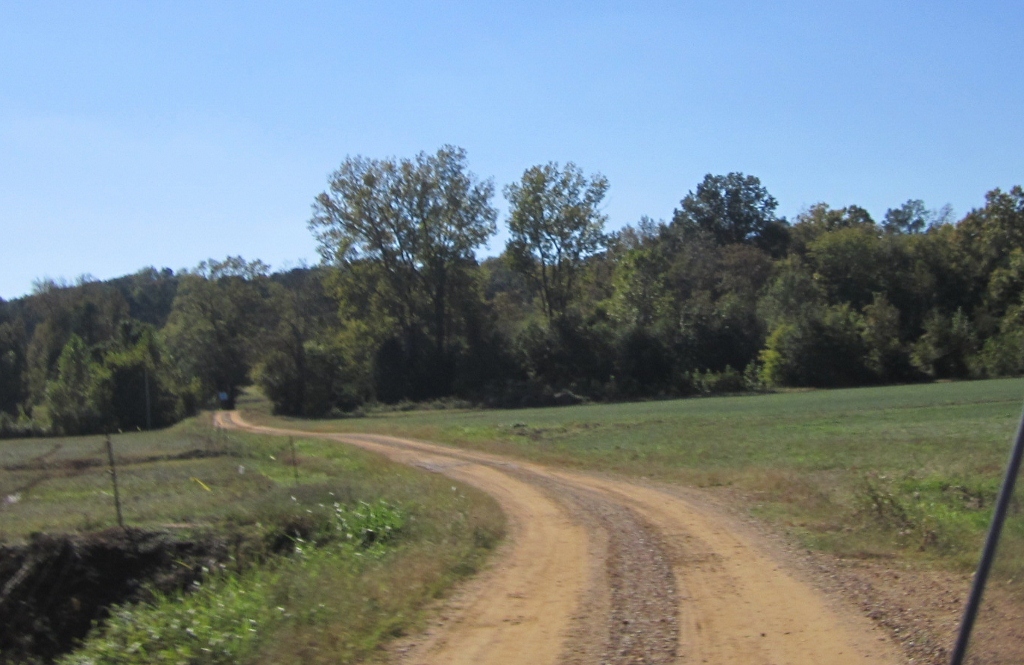 A few old wooden bridges here and there---all the roads had seen recent rain and there was no dust---but I
was alone---so following in somebody's dust wasn't an issue.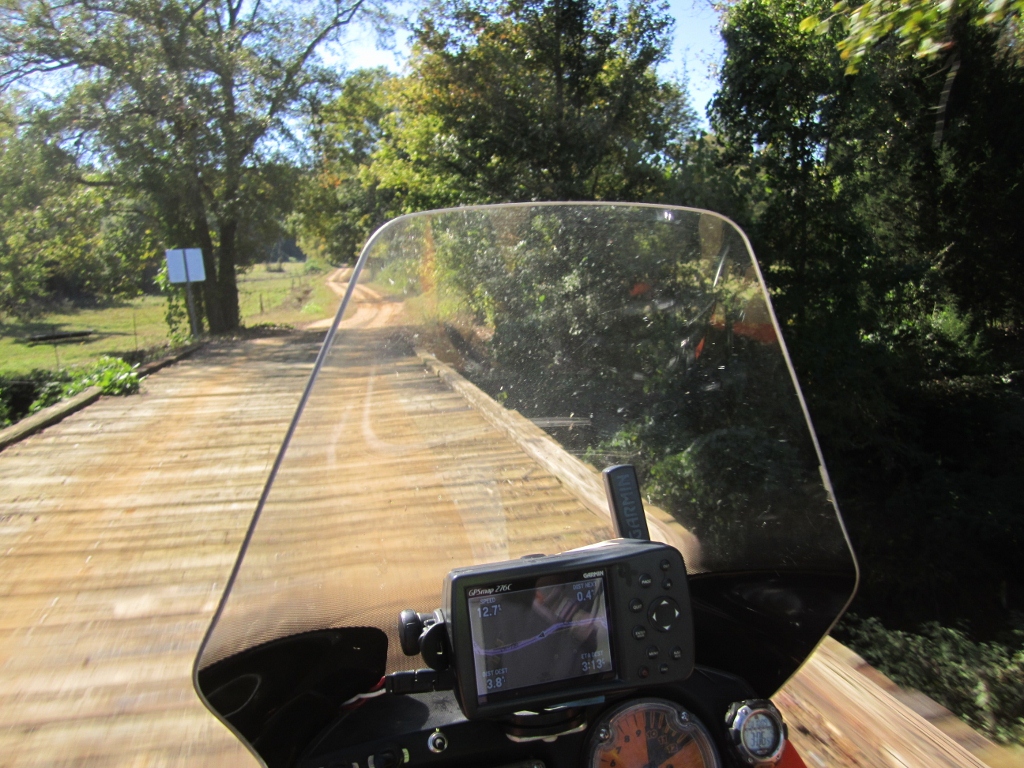 The Kudzu can be many things to many people.
I guess they hate in down there. I think it's beautiful---but I don't have to live with it.
I remember the first time I saw it late at night while me and my wife were traveling thru Mississippi on our old BMW years ago and we thought it was spooky looking.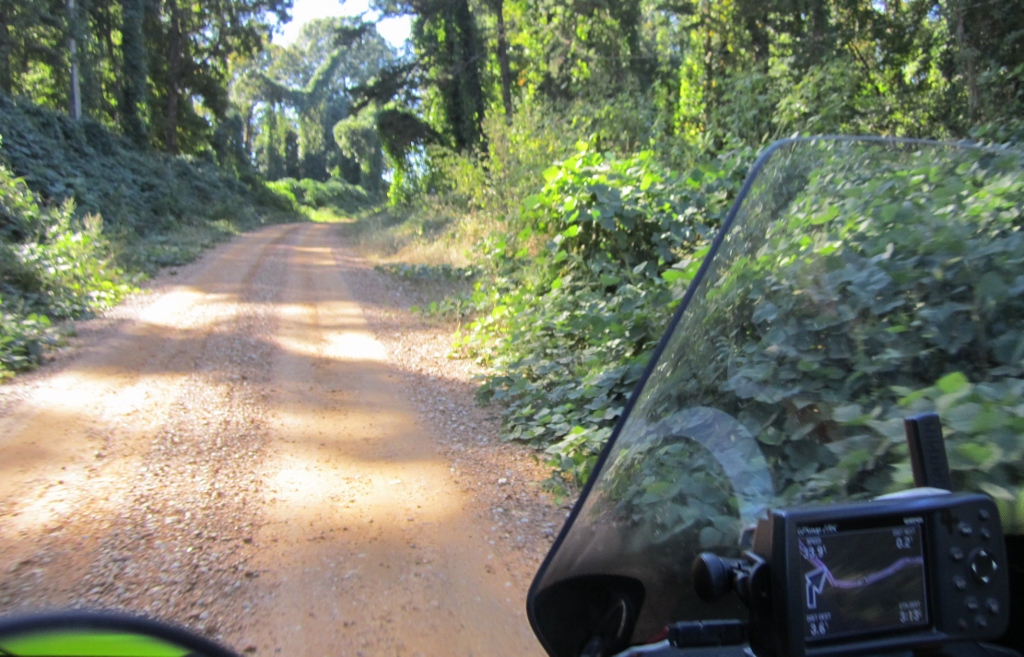 Lot's of cotton down here----and there was even a town called Cotton Plant.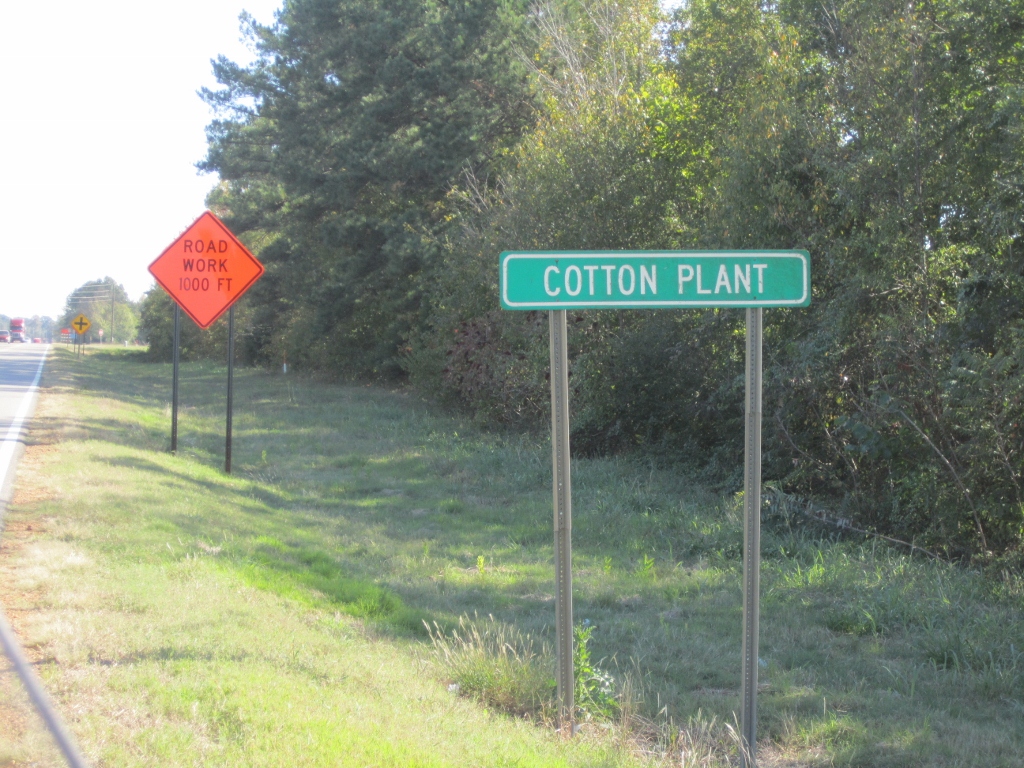 I turned off the highway following Sam's TAT route and entered Hells Creek Wildlife area.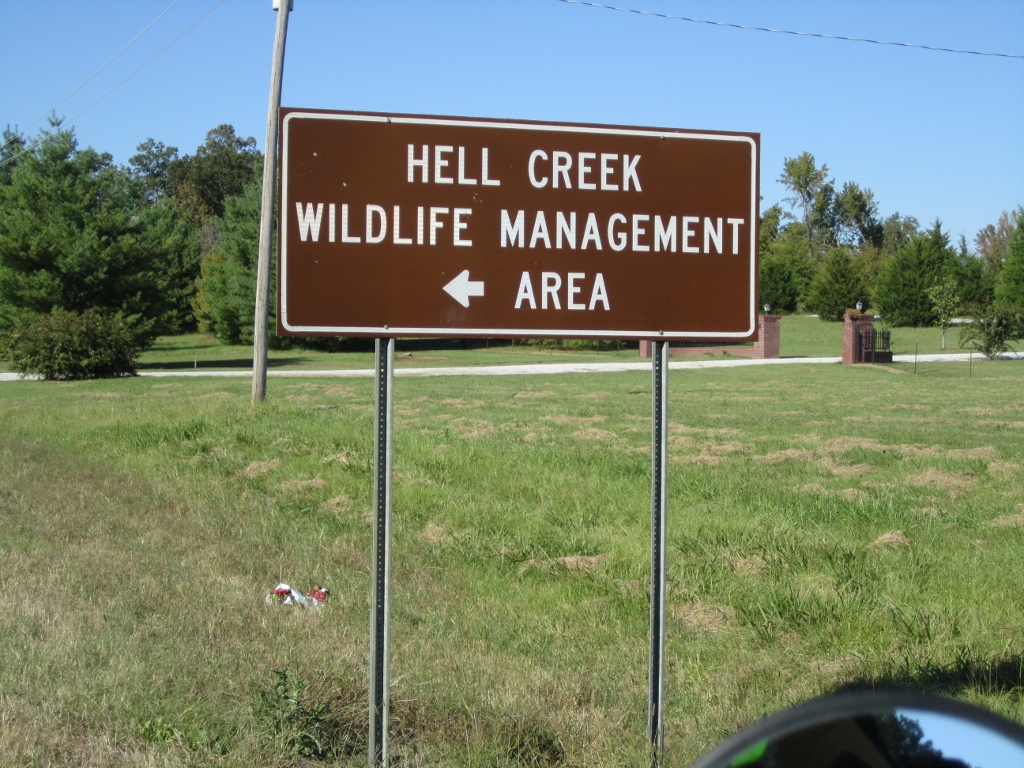 Cotton---and a big rumbiling KTM twin.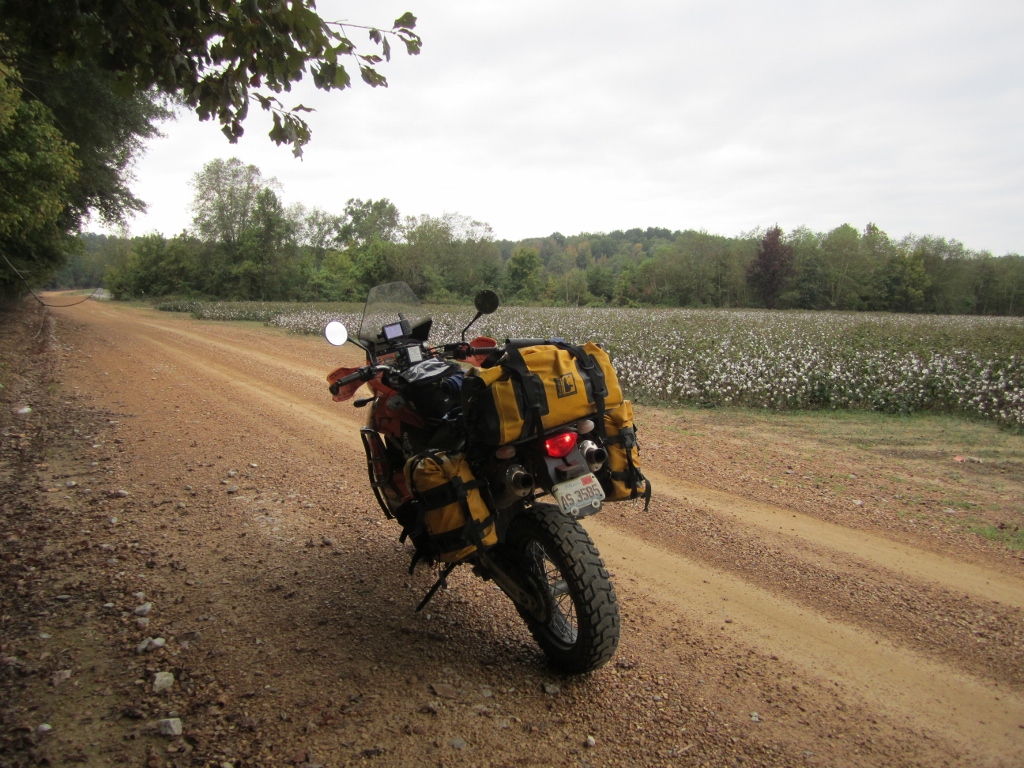 OK----it was nasty in here not long ago---but it's still OK.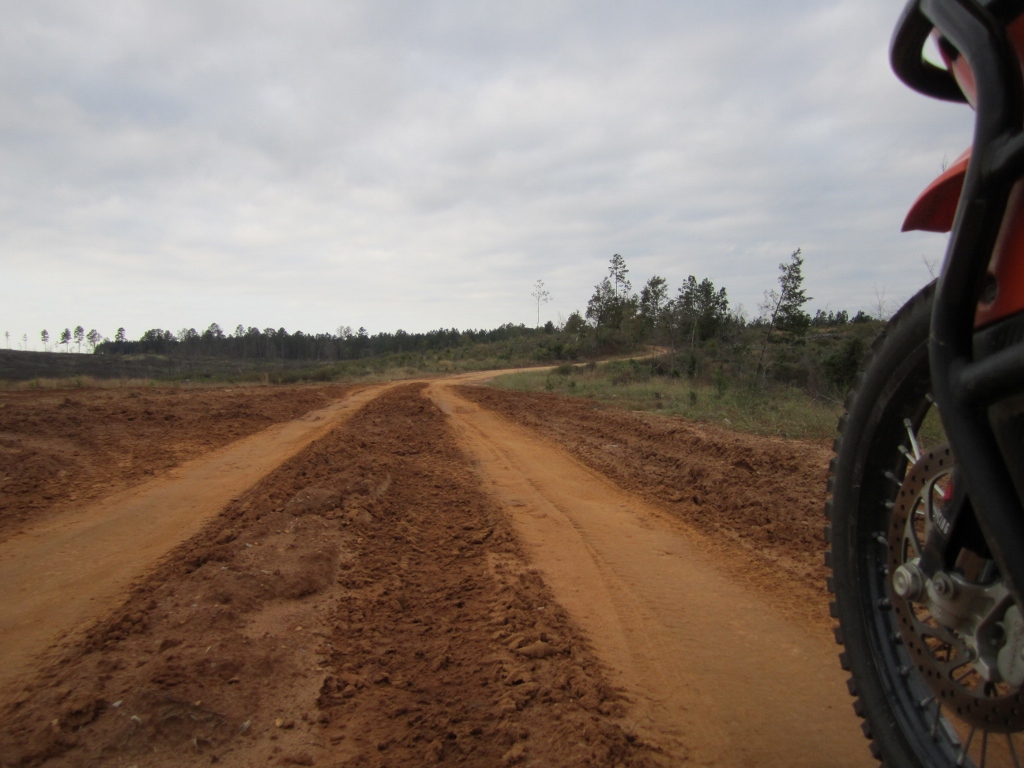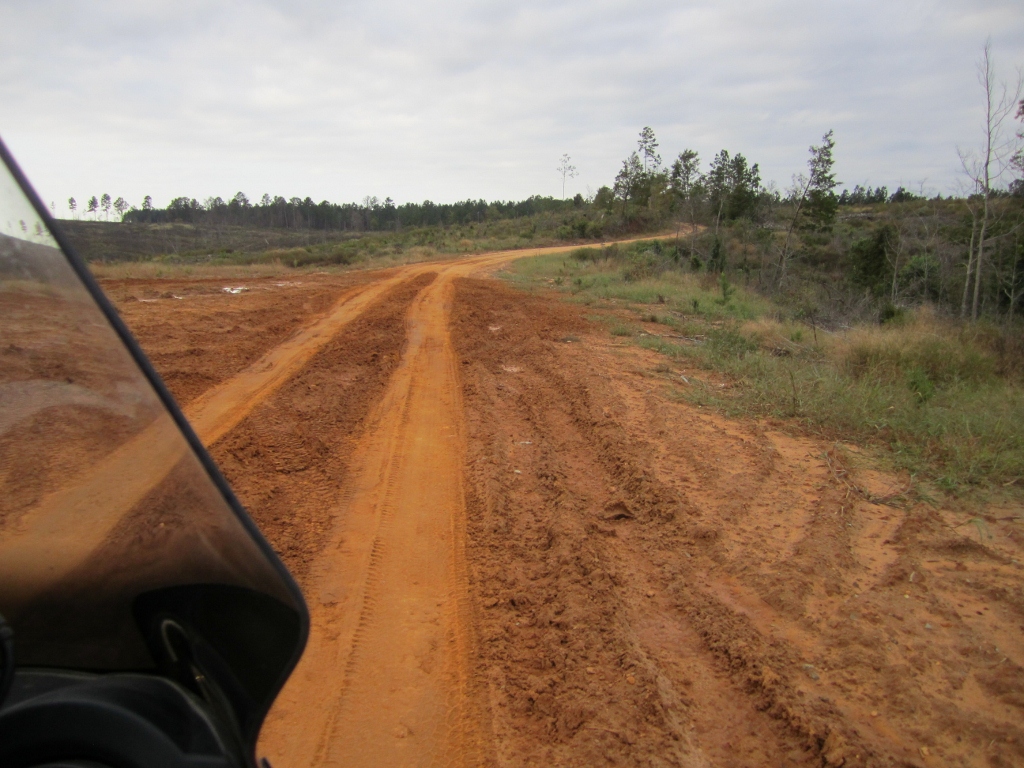 This was gooey and snotty---but I made it thru and was wishing for my WR250R-------a much better and faster machine for
this kind of stuff.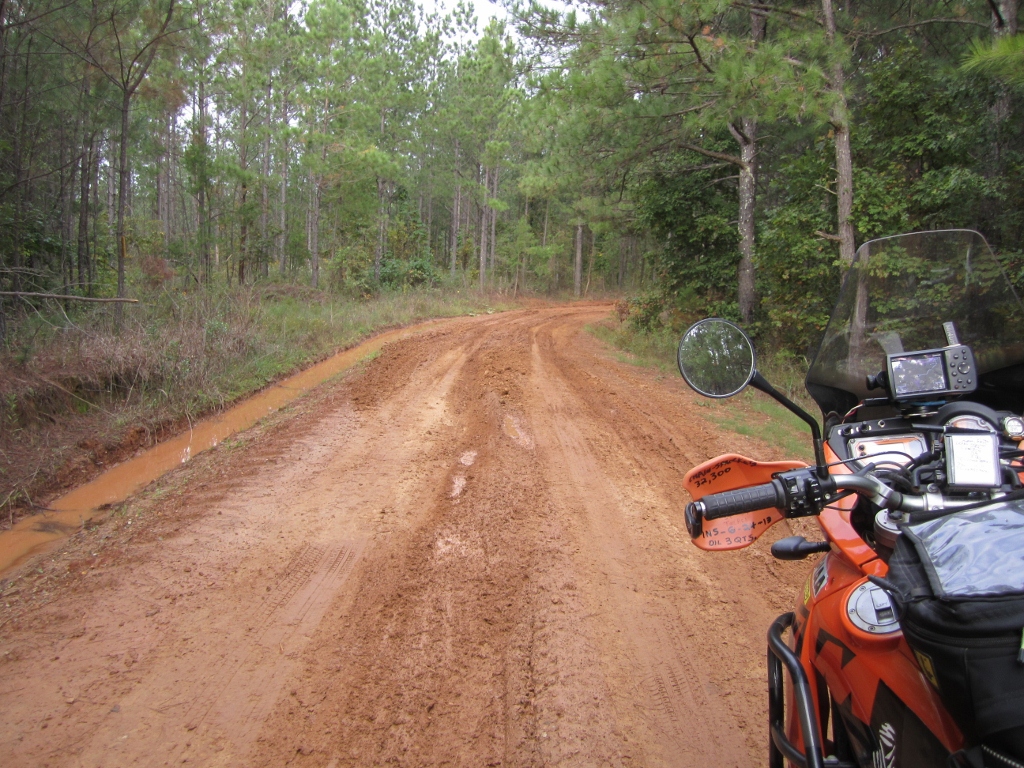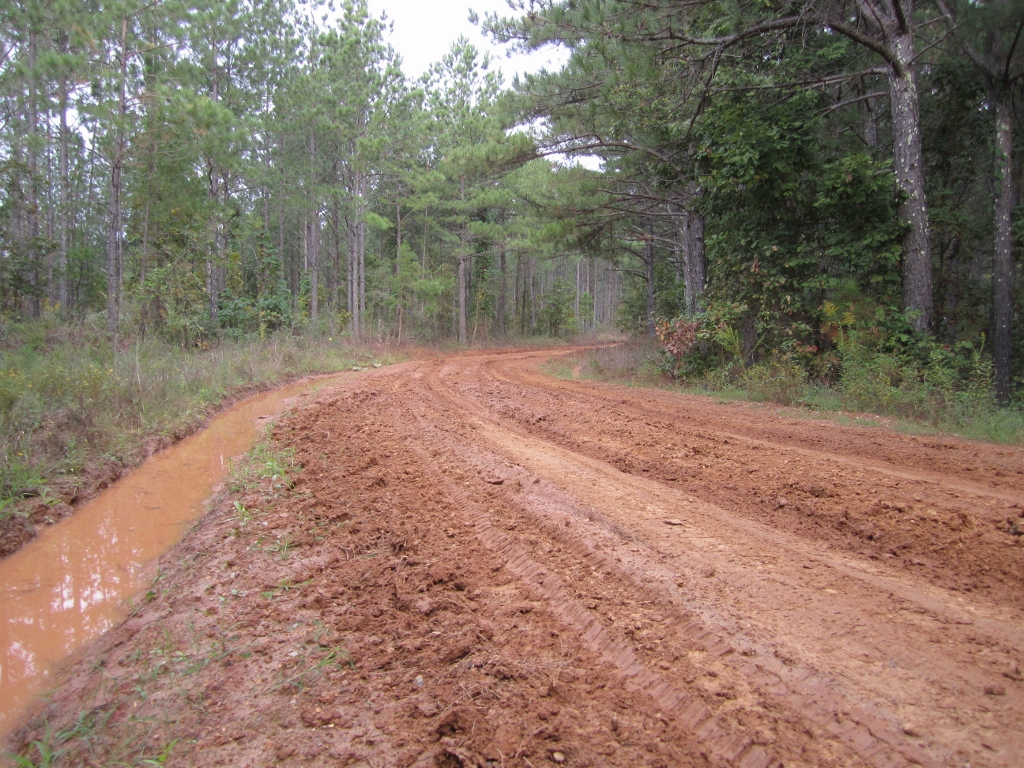 At some point in time I rode thru the Holly springs National Forest which I never heard of. It was nice.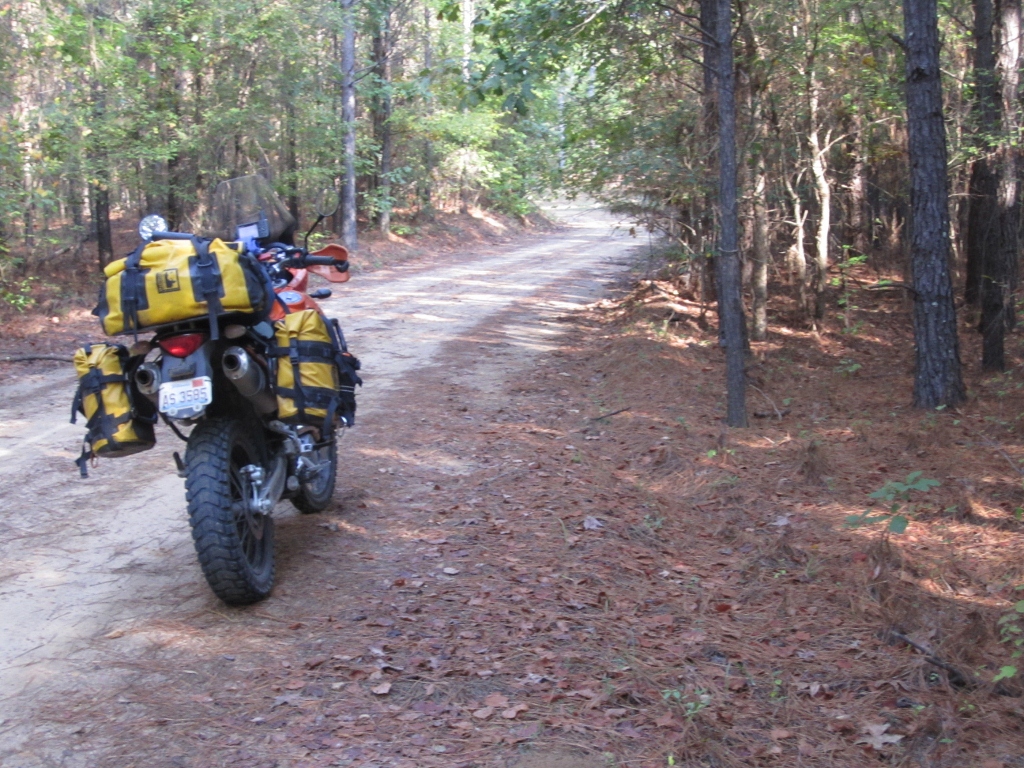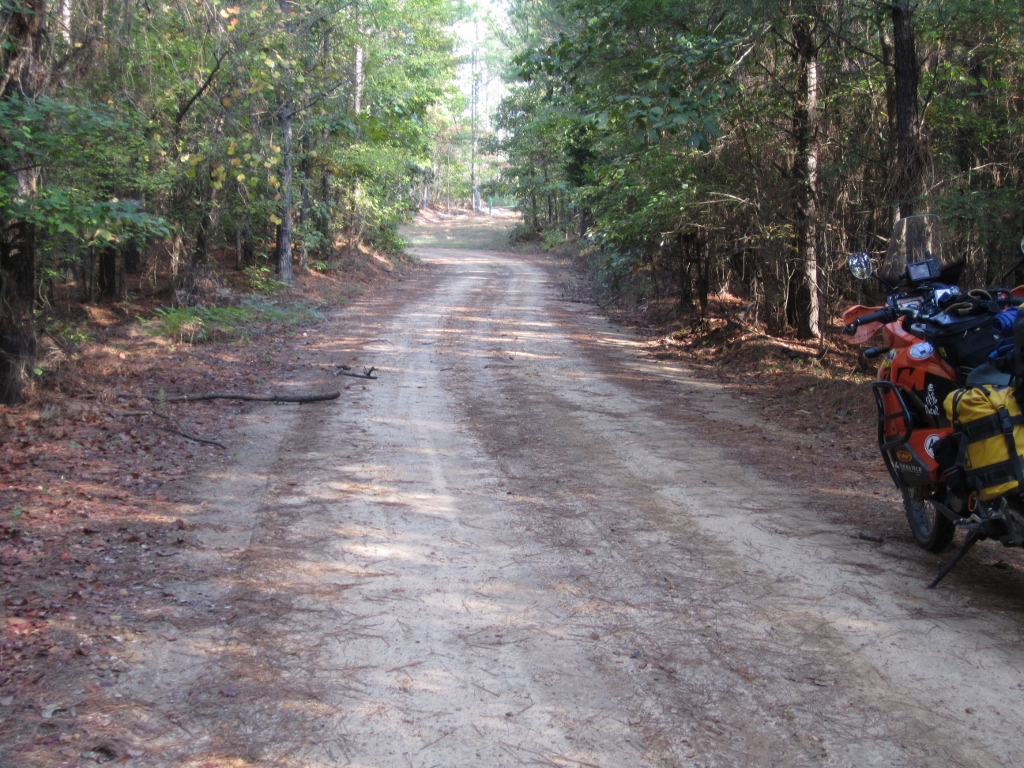 The bottom to this mudhole was solid and I made it thru just fine.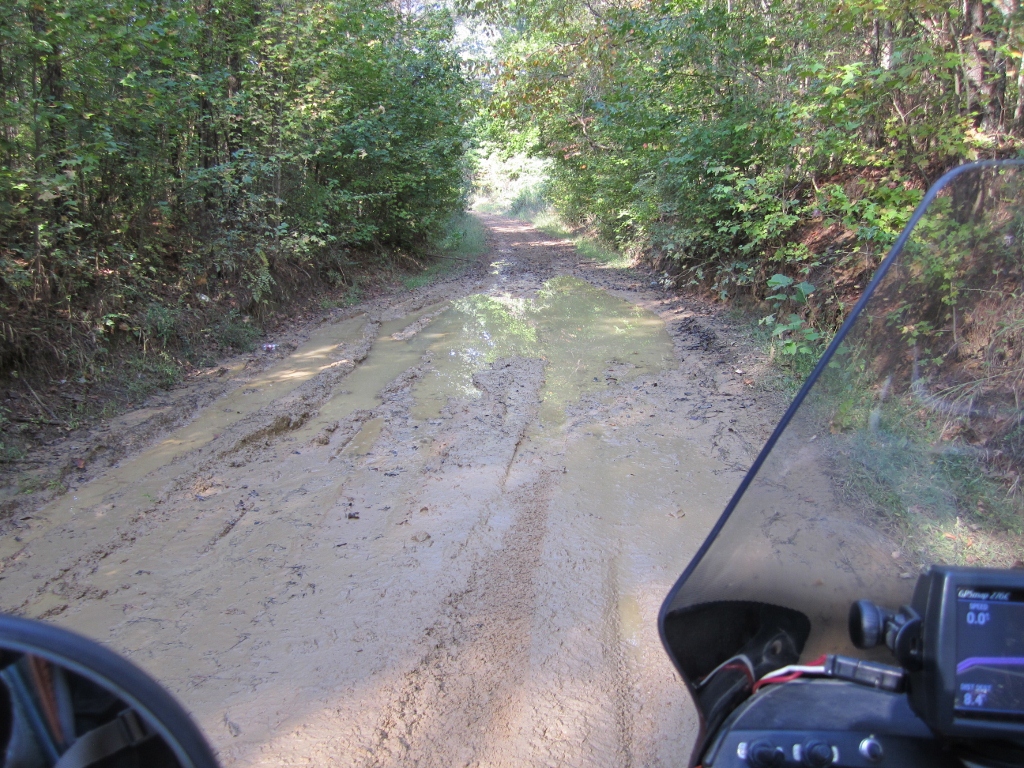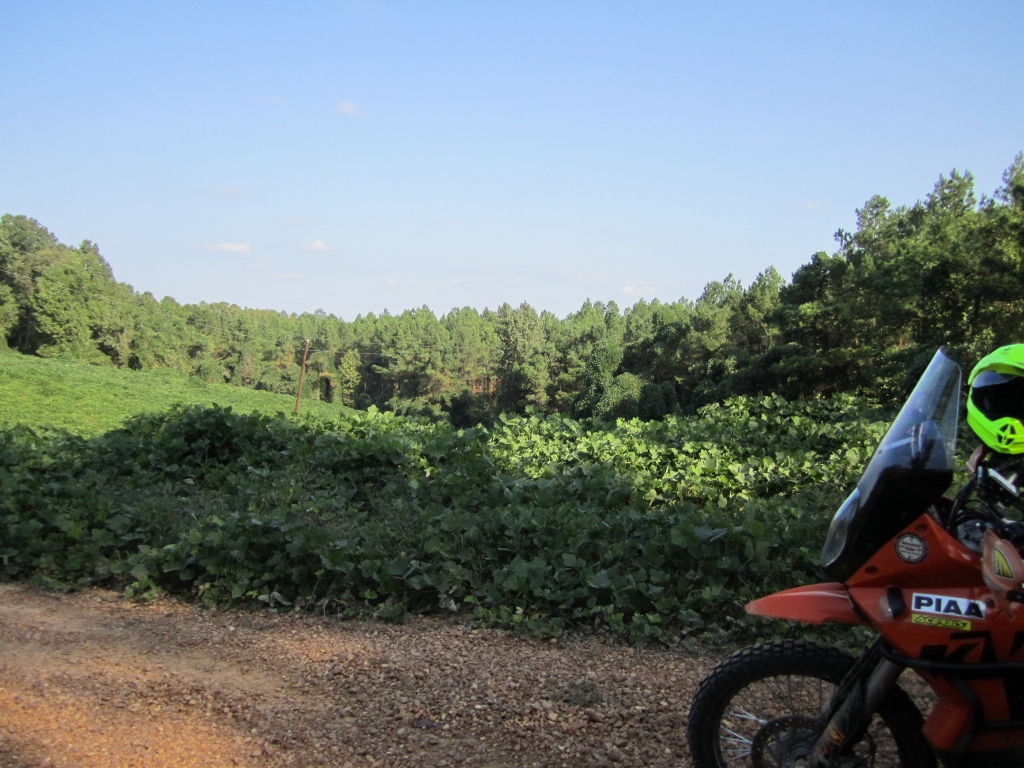 People tell me the kudzu engulfs the plants so much it finally kills them.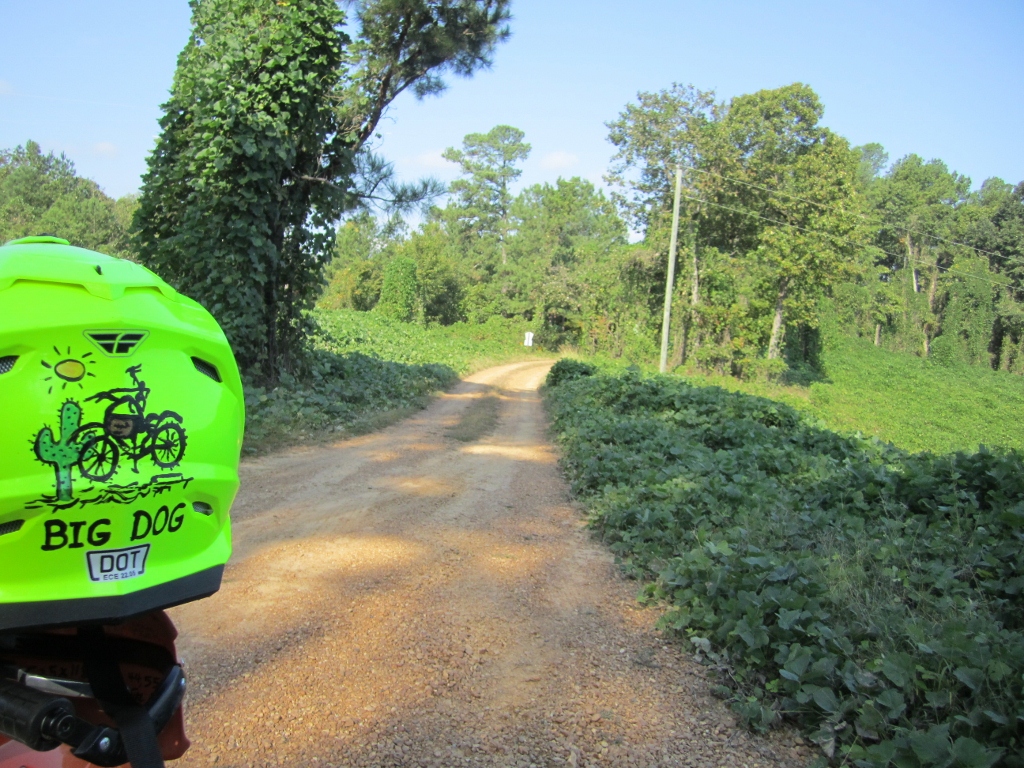 I felt like I was on the "Yellow Brick Road" to the land of Oz riding thru the thick Kudzu.
You didn't have to worry about a deer running out in front of you---no way could they get thru this stuff.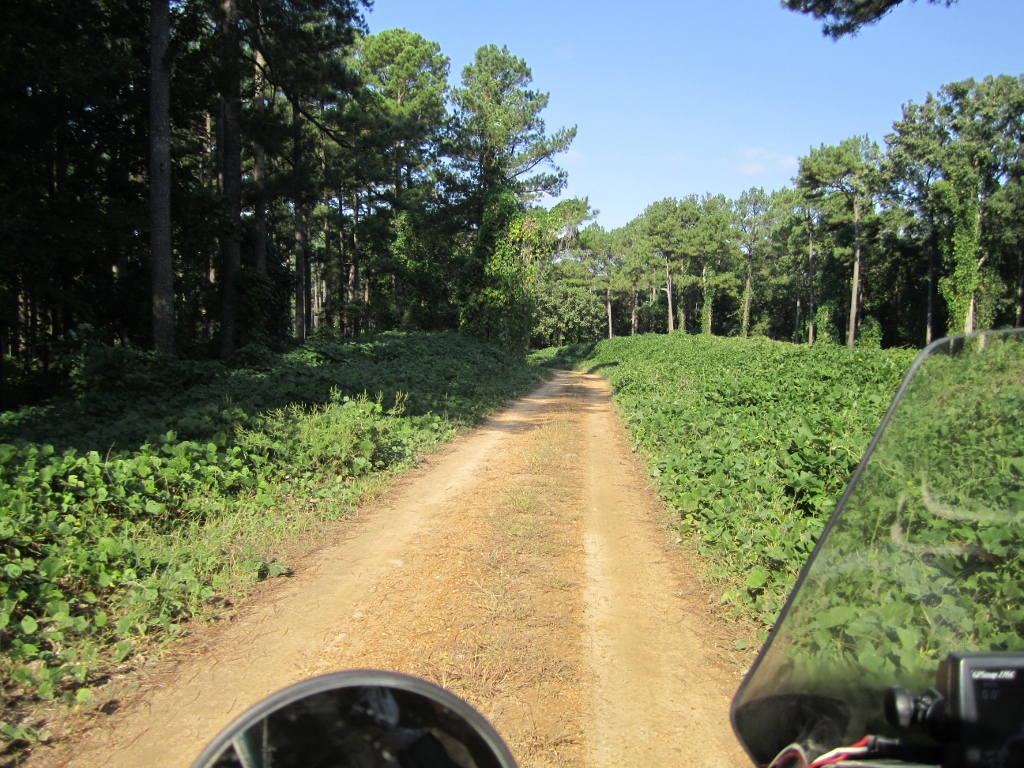 After crossing I-55 on a dirt road I went by a waypoint that said "Sam Corerro"---------he used to live here years ago and
I still had the waypoint in my gps files.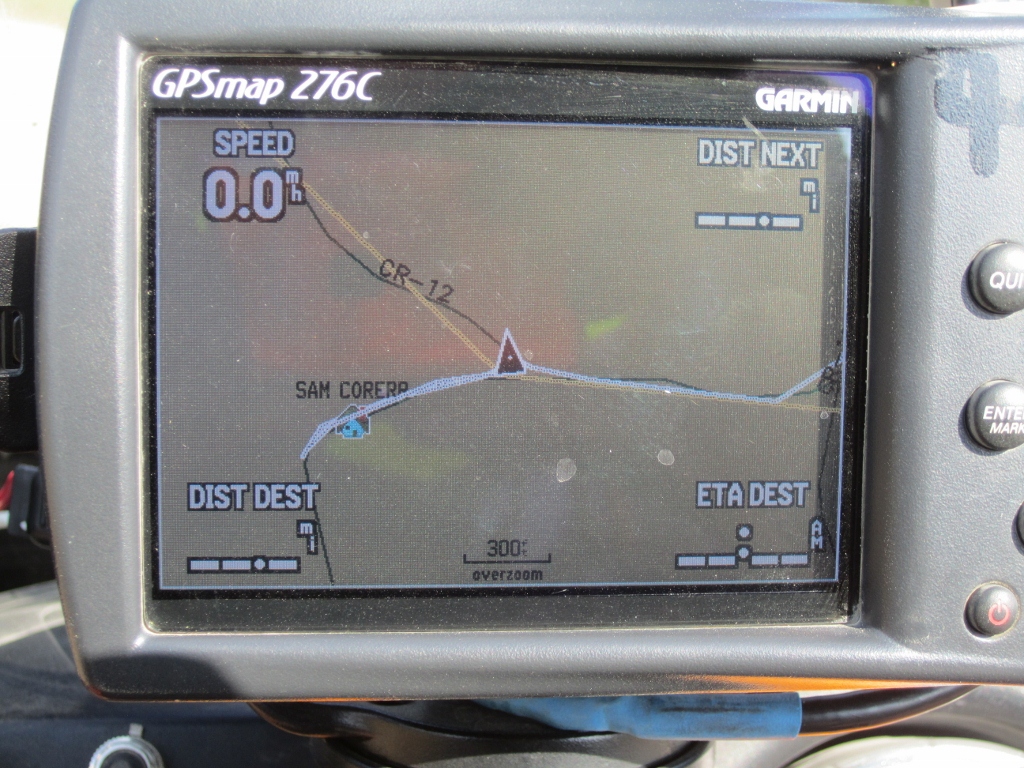 I thought this bridge was interesting and worth the time to look it over and get a picture.
I thought it odd that this concrete structure was supported with wood.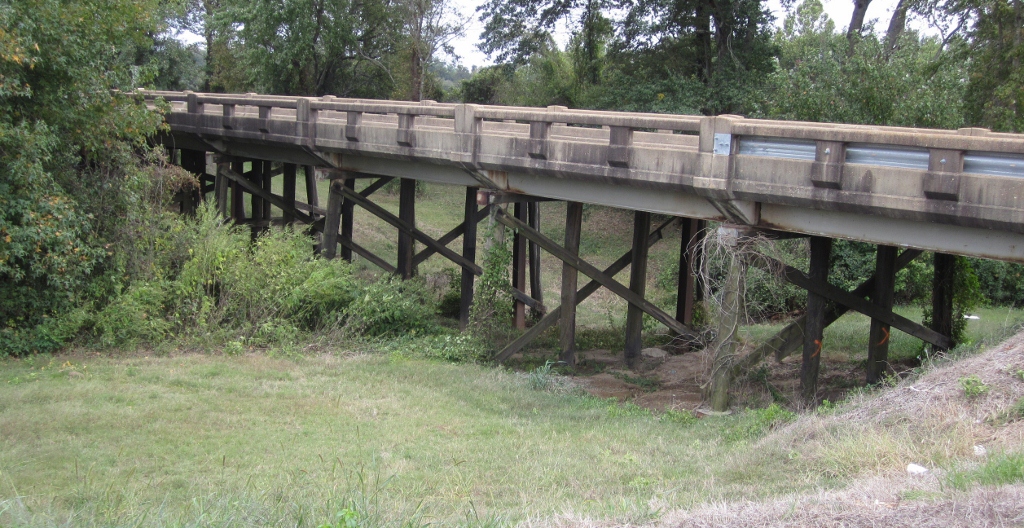 This portion was heading Northwest and I knew I was nearing the point where this new section of the TAT would meet the old and I road
on this levee for a bit.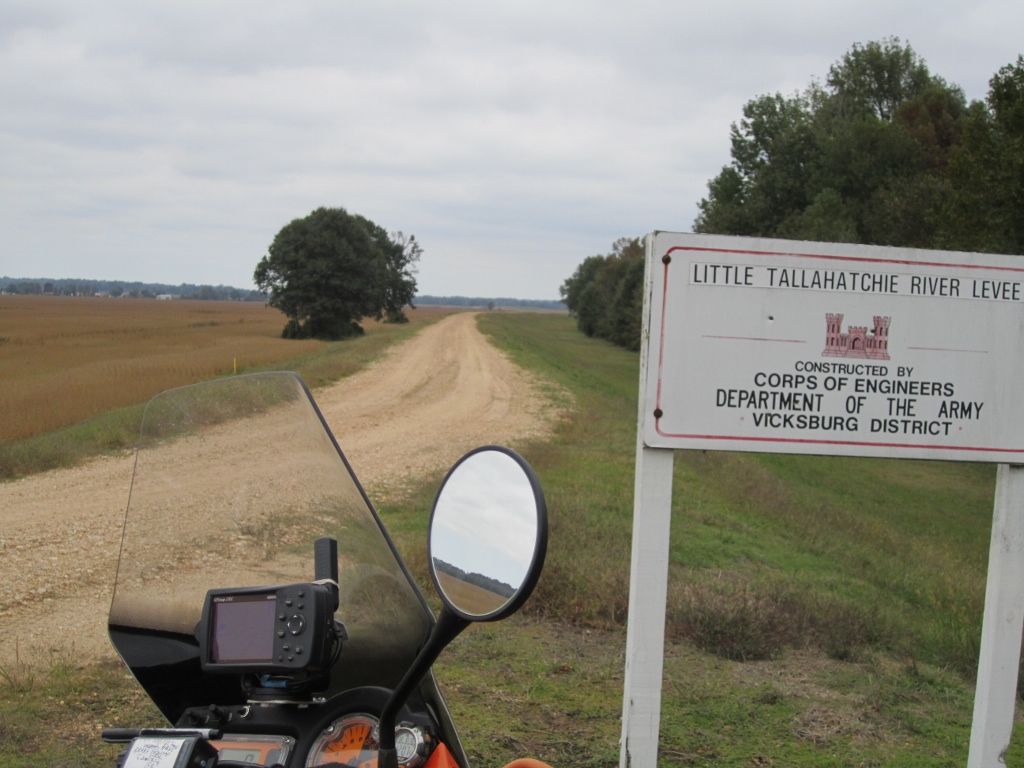 I hoped it wasn't real deep sand--------and it wasn't.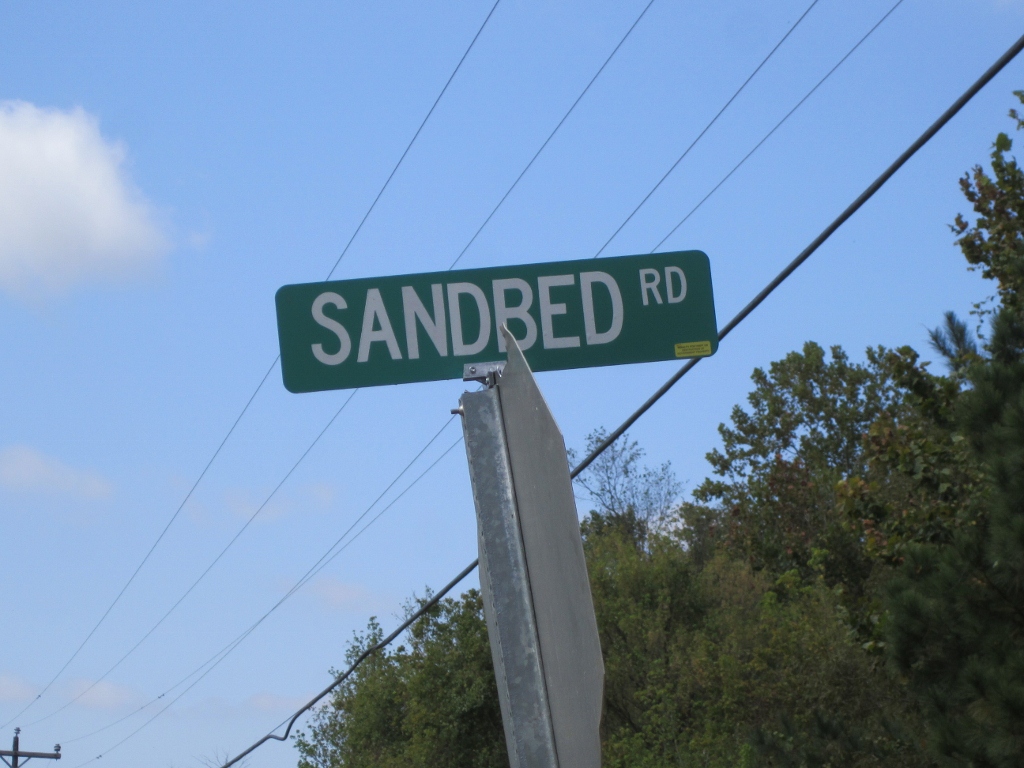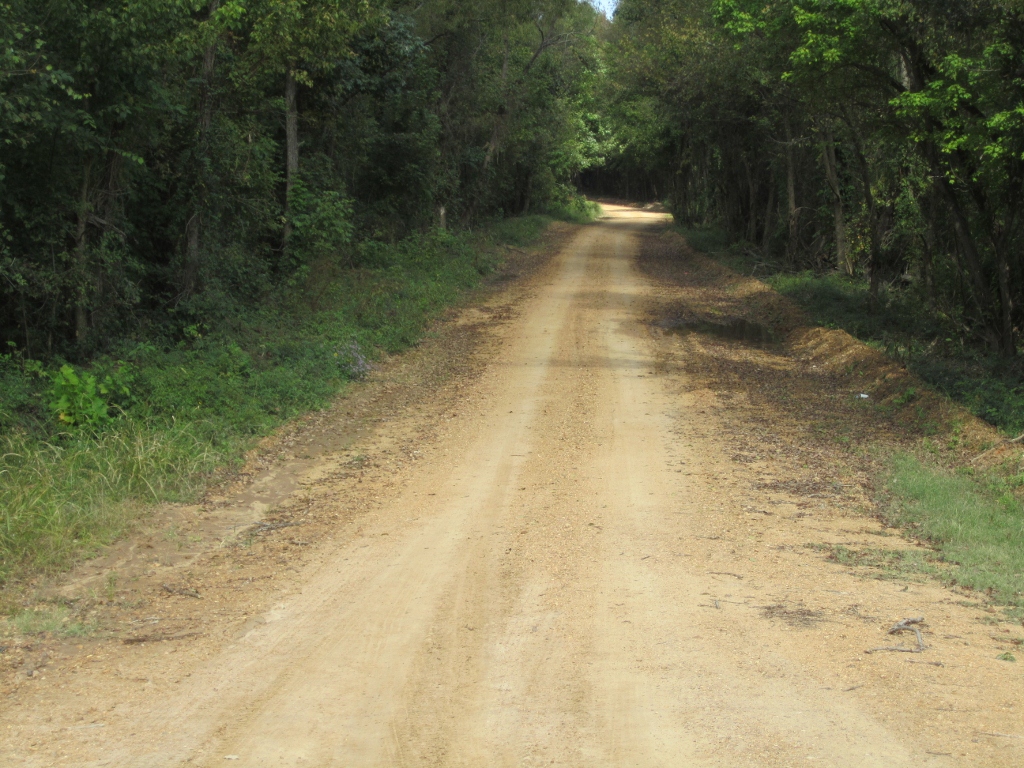 Just neat stuff I saw-------and thought you should too.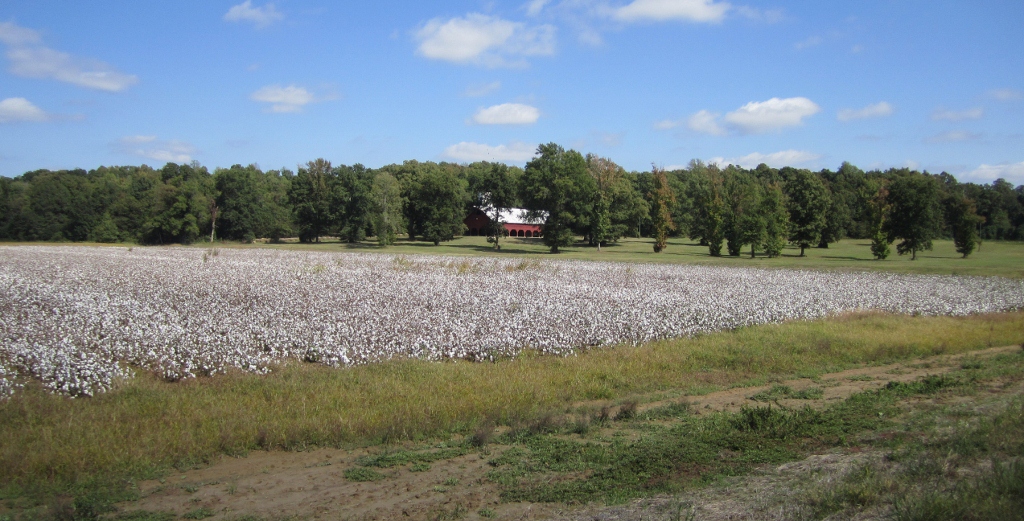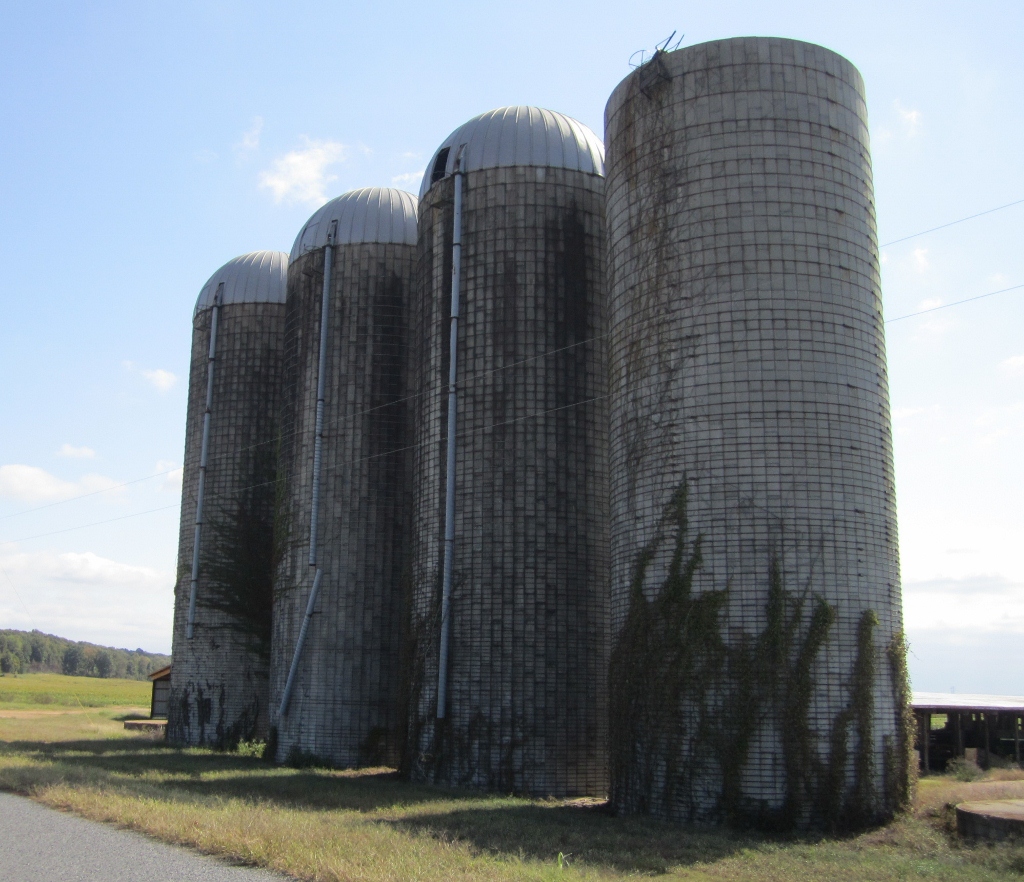 I don't think I've ever seen cotton rolled up in a round bale before---but I saw it a lot.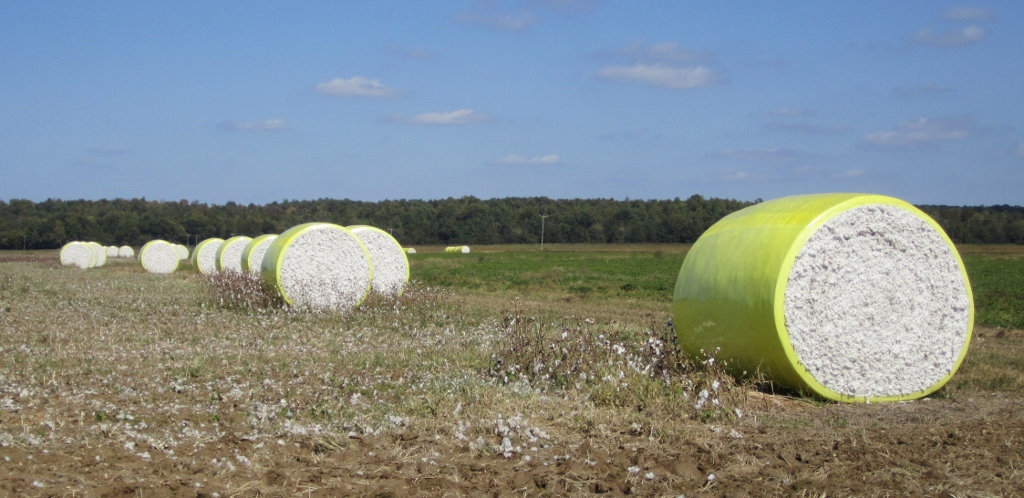 I thought this was just spectacular.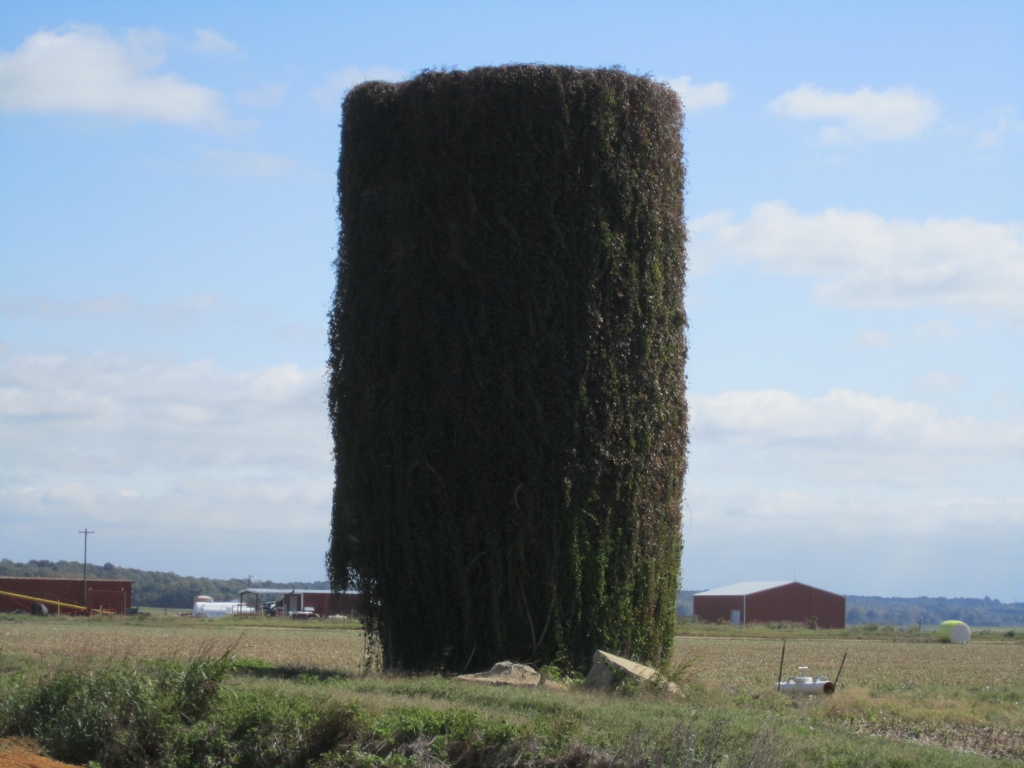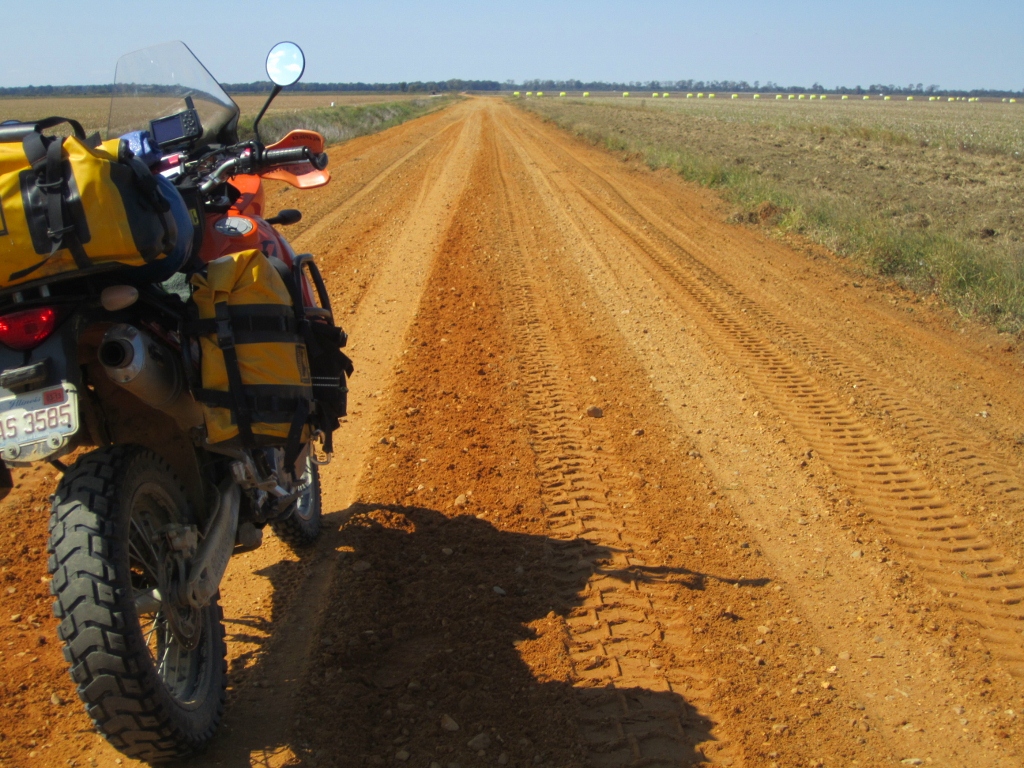 I crossed a paved road and saw a cotton harvesting operation going on and was really interested in the process.
This guy seemed to be running things and he gave me some insight to what they were doing.
That big John Deere is a far cry from the old cotton gin of old.
Or-----------hand pickin'.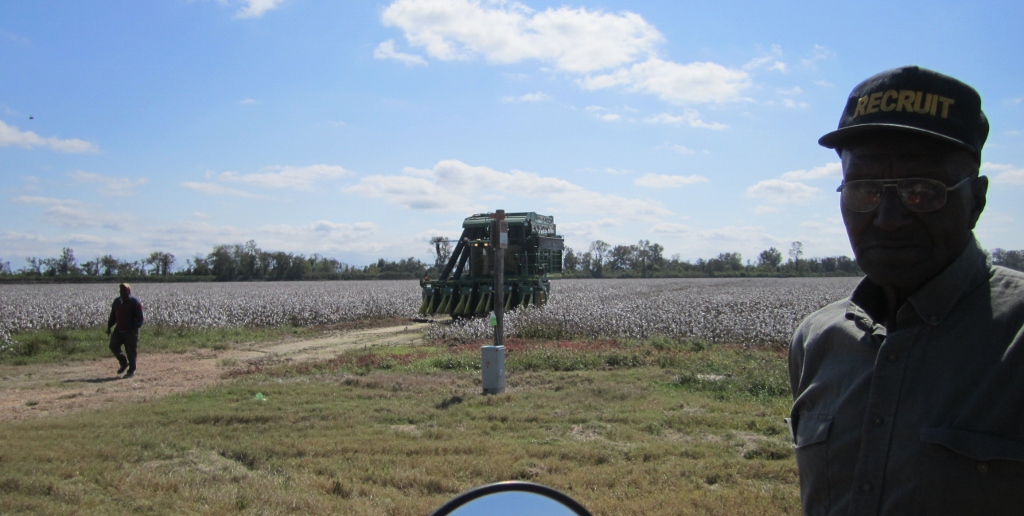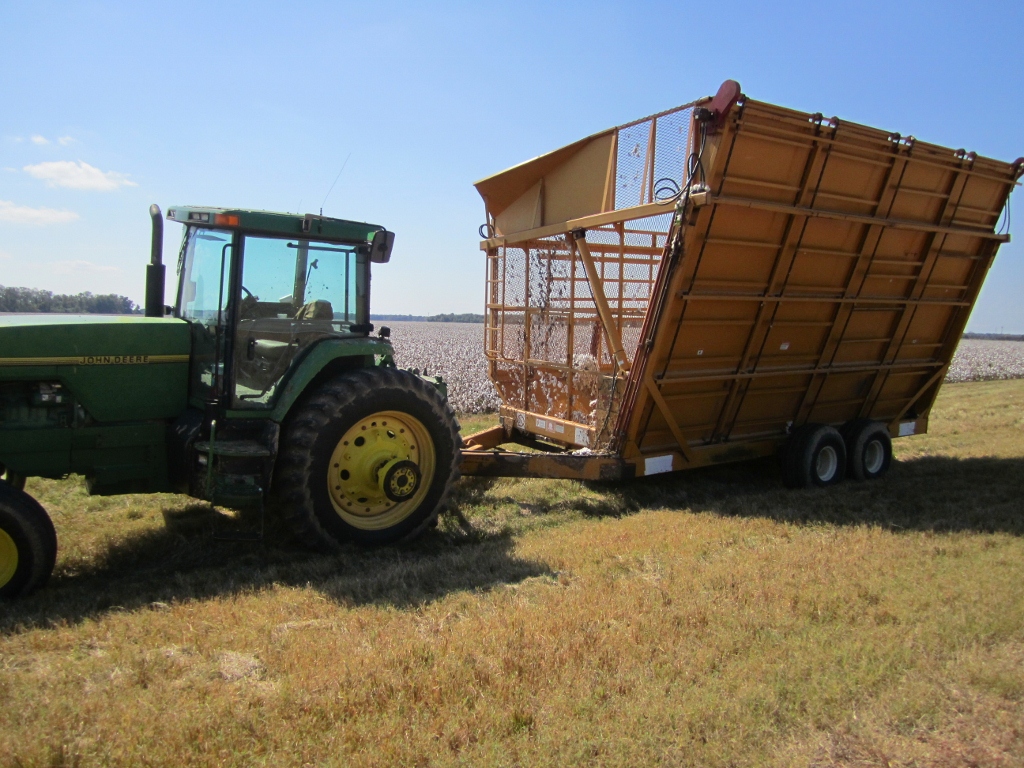 I got out of there before thinkin' they might try to put me to work-------------I'm retired boys.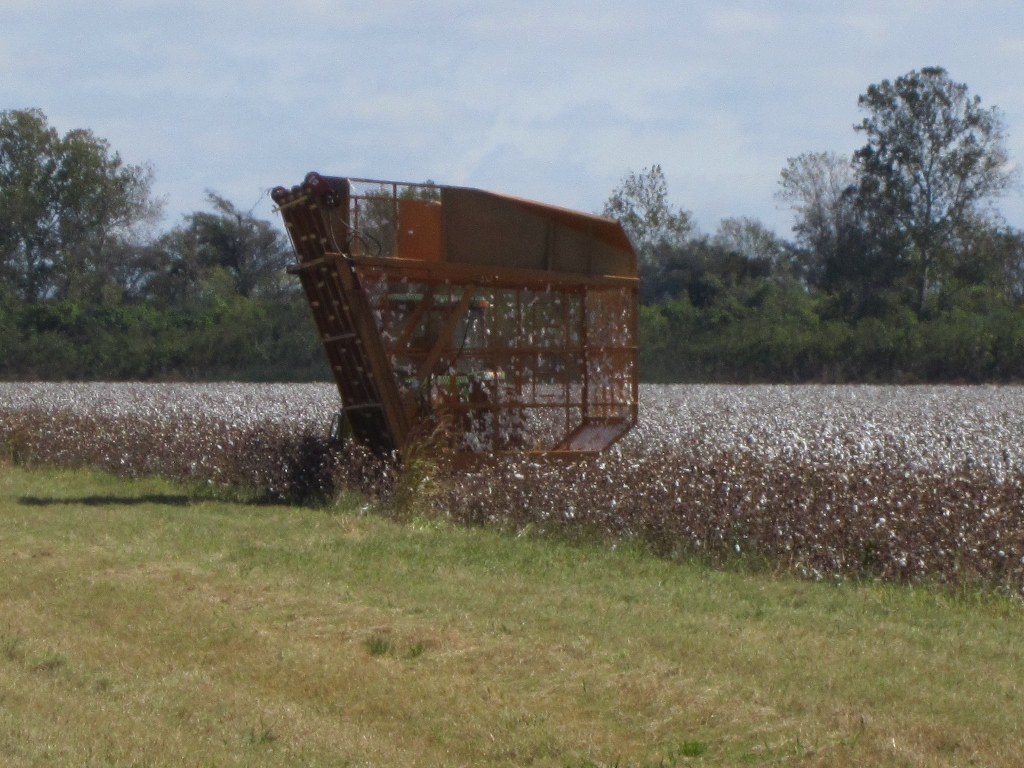 I had the old TAT in my gps for reference---it's the red track log.
The white is my new tracklog I was laying down----it was here I knew I'd be crossing the Mississippi river soon into Arkansas.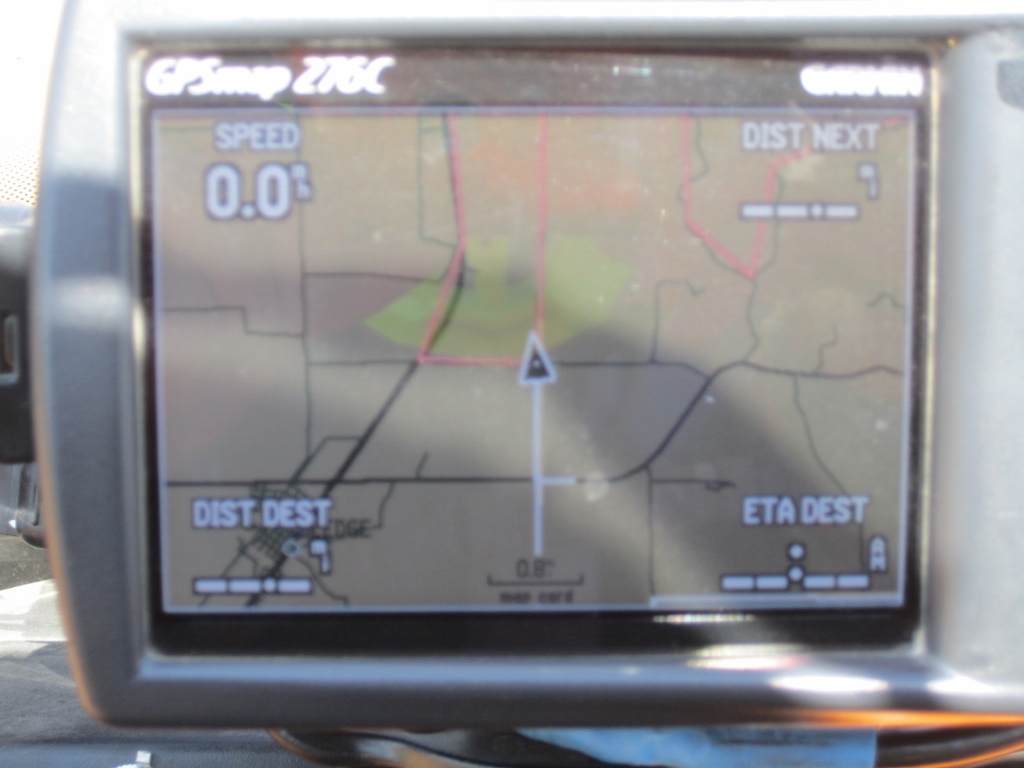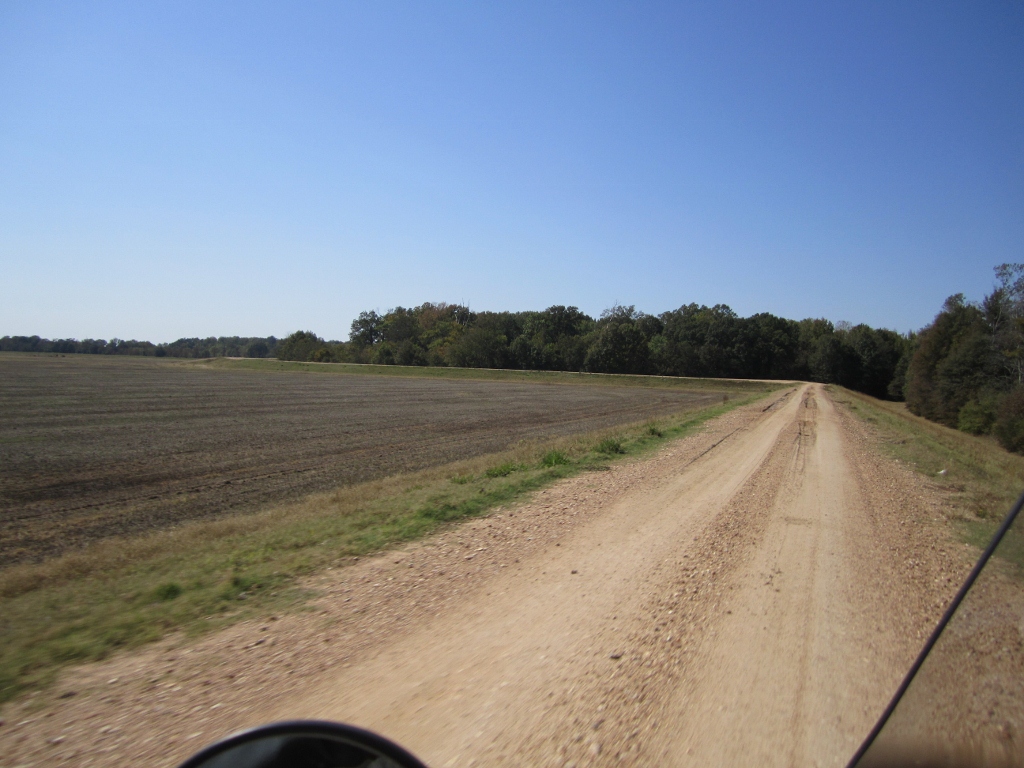 Into Arkansas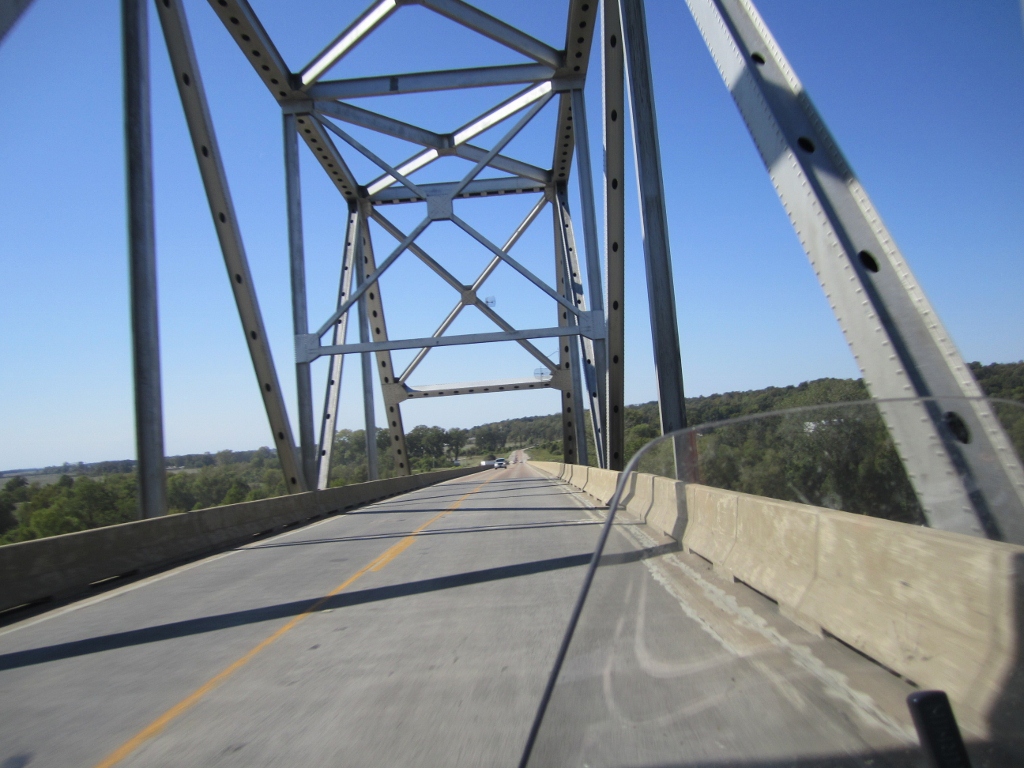 I was wanting to camp this night again but had a hard time finding a campground---but about 25 miles North of Helena, Arkansas is
Mississippi State Park------which is in Arkansas and is on Bear Creek Lake.
It's down a dead end road Southeast of Marianna, Arkansas and is really nice.
I picked out a campsite that already had wood-----a trick I learned from my buddy Dingleweeds.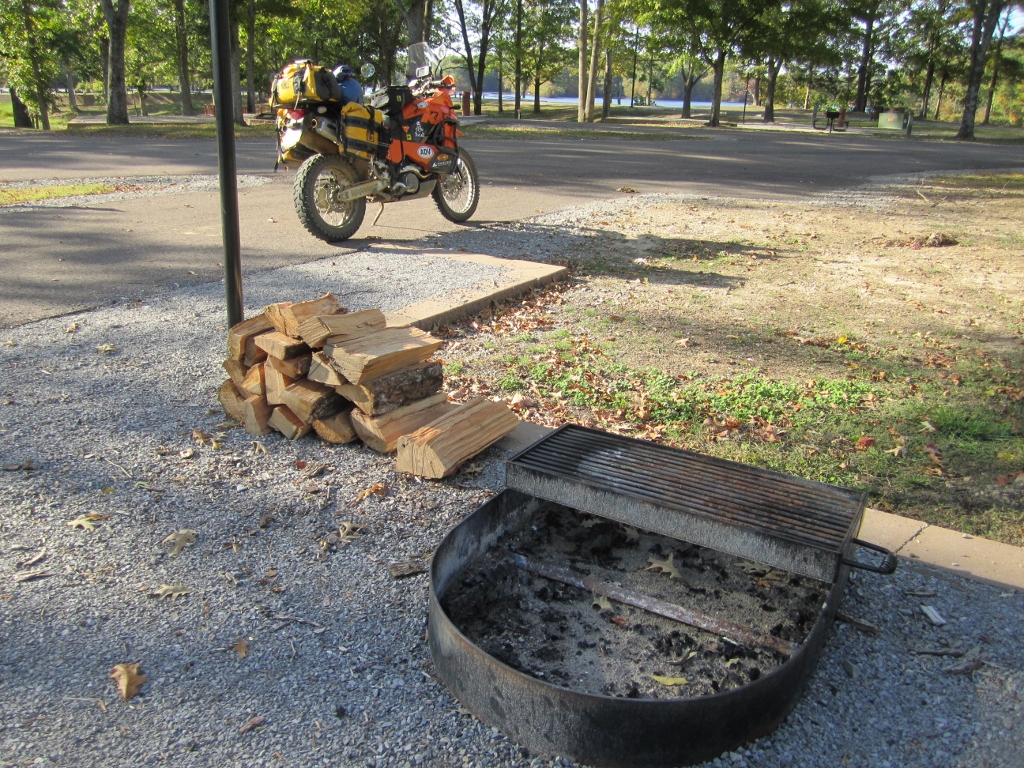 A really nice evening it turned out to be. Just the right temperature to sit around a campfire in my Big Burrito Campchair.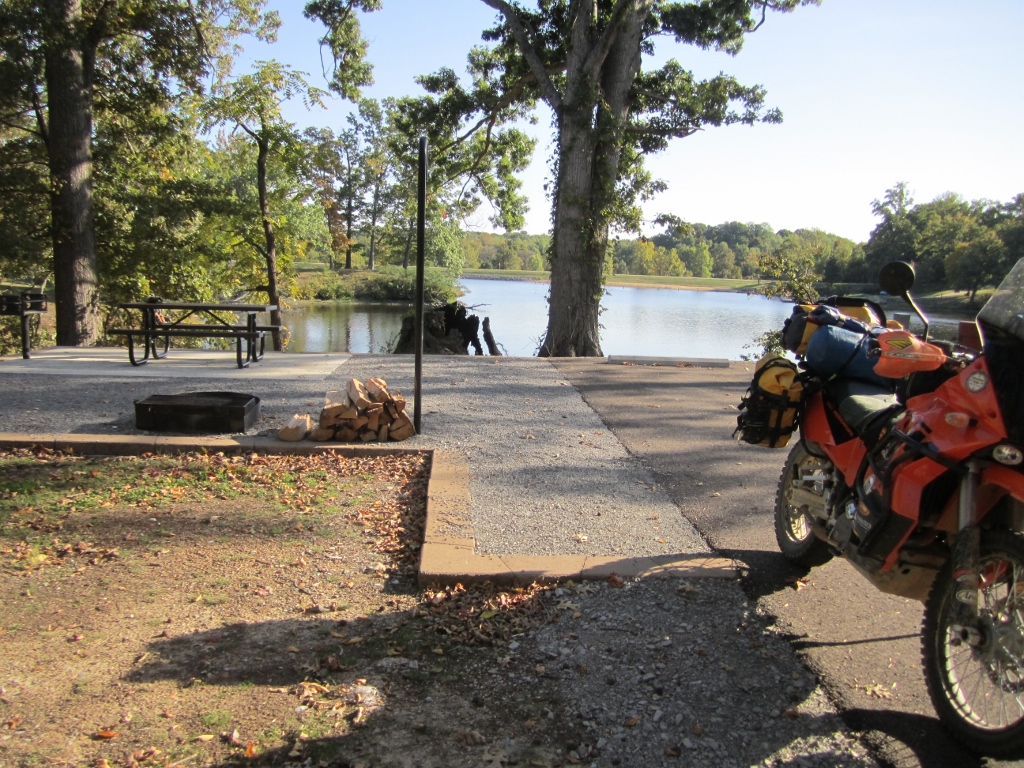 Well----I guess this says it all----dinner is ready.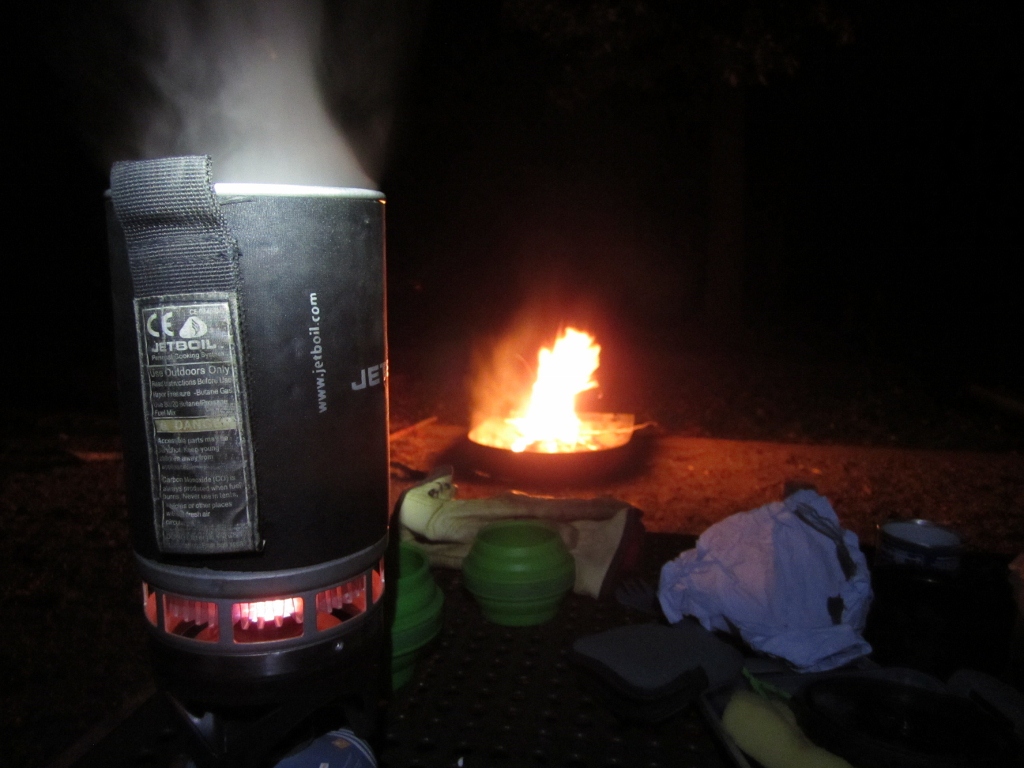 These pictures are the next morning--but the previous evening these guys rolled in next to me.
3 brothers on their yearly big bike trip---------the oldest was 81 years old.
Normally there are 5---but one has failing health and the other crashed on his bike and is healing up.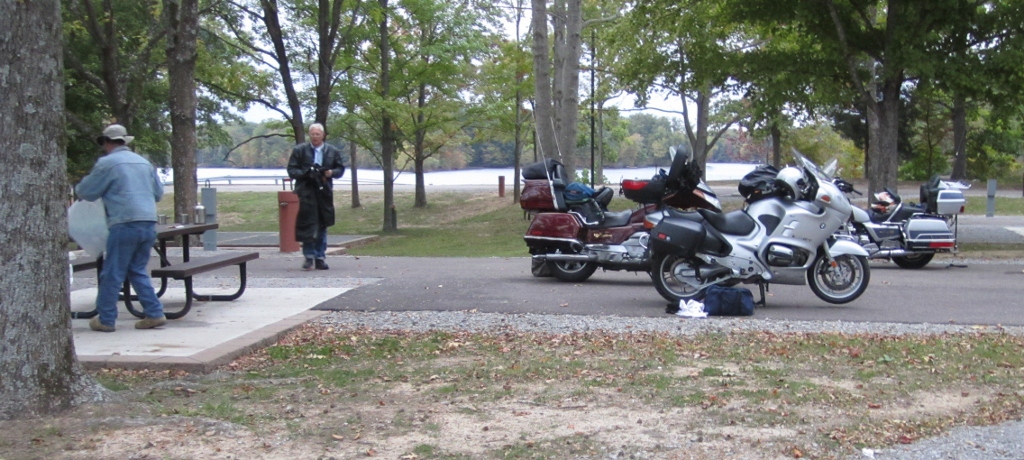 These guys were a real hoot---and cooked a big dinner of grean beans, new potatoes and big hunks of ham.
They invited me to eat and I ate again---after already eating my Jet-Boil dinner.
All of them had been riding all their lives.
At first I thougth they didn't like each other---but turned out they were just always kidding each other about stuff------it was funny.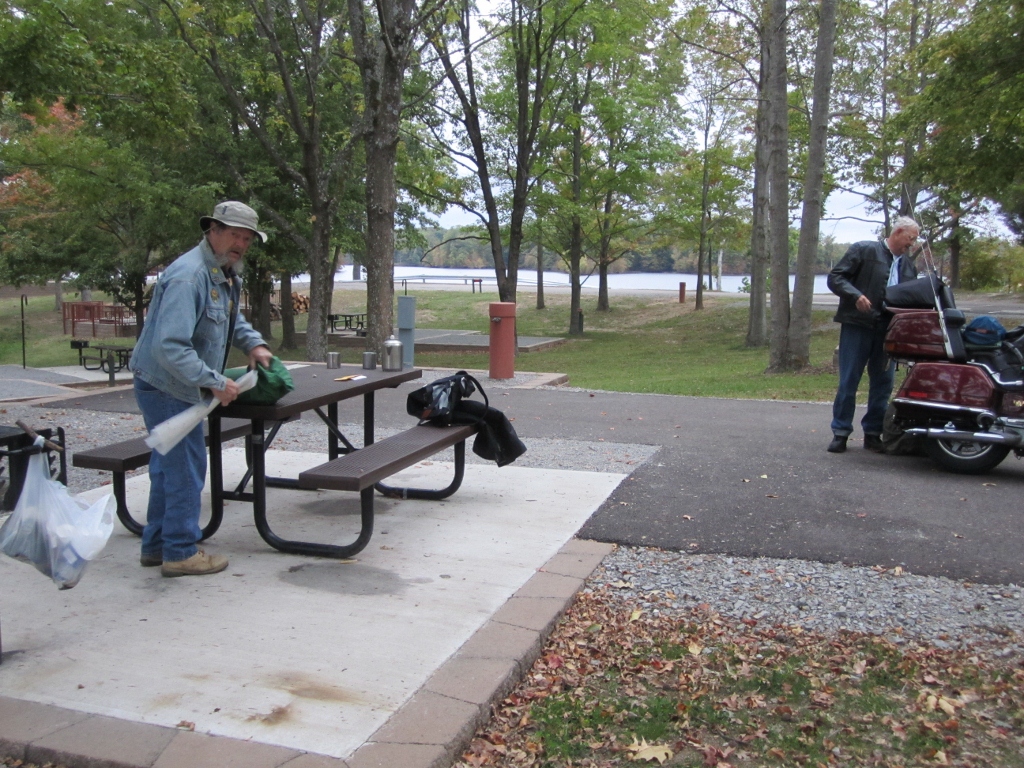 A lot of little towns in Arkansas I'd go thru was well past the good ole days.
There were towns where every place of business was just falling down.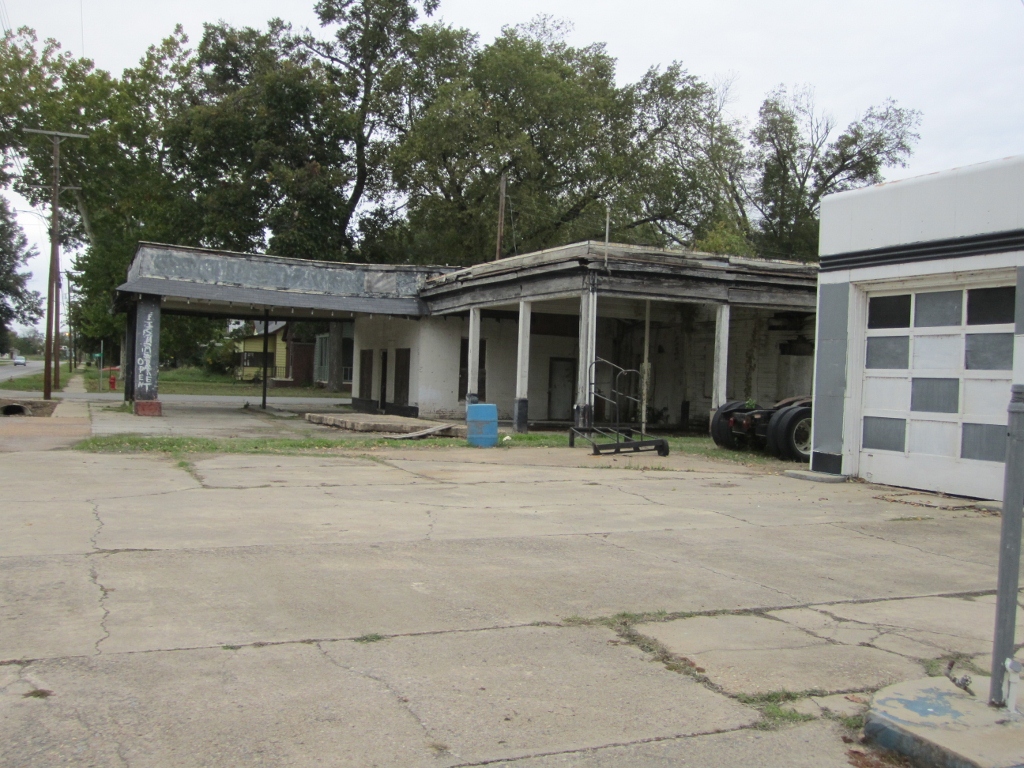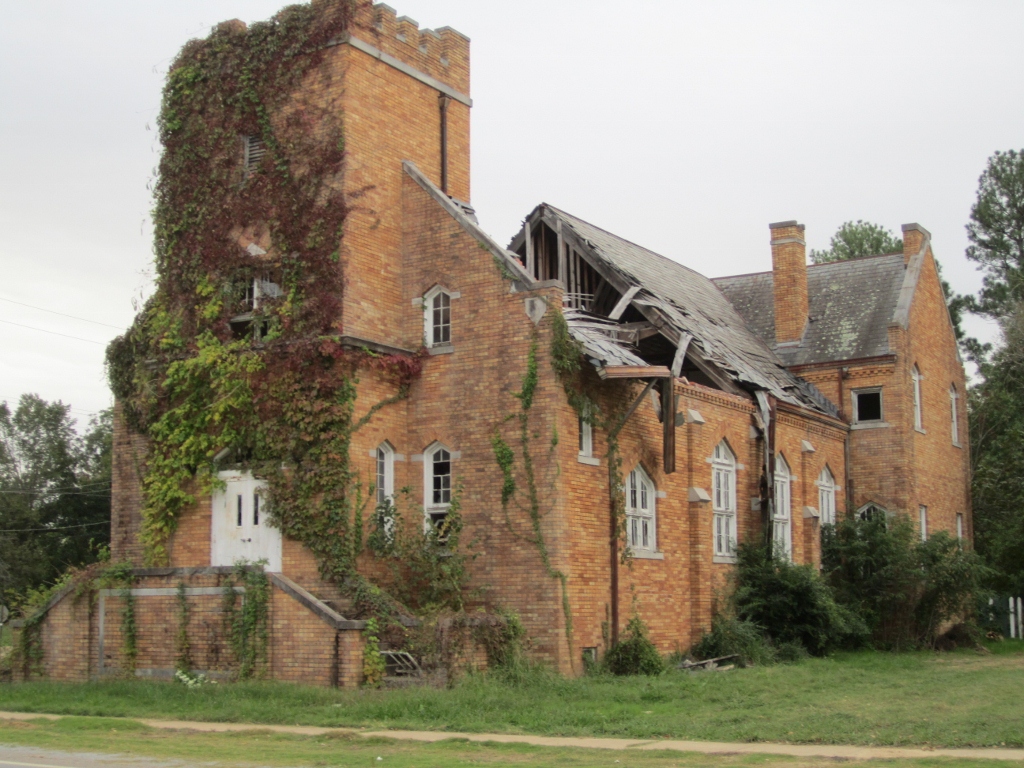 I finally meadered up into Missouri and went to find a good friends cabin way out in the boonies.
He was my foreman when I retired and was working on this place constantly preparing it for his retirement.
He wasn't there---but I wrote a note on the gate that "BigDog" was there.
The very next day he called me on my cellphone as he had seen the note.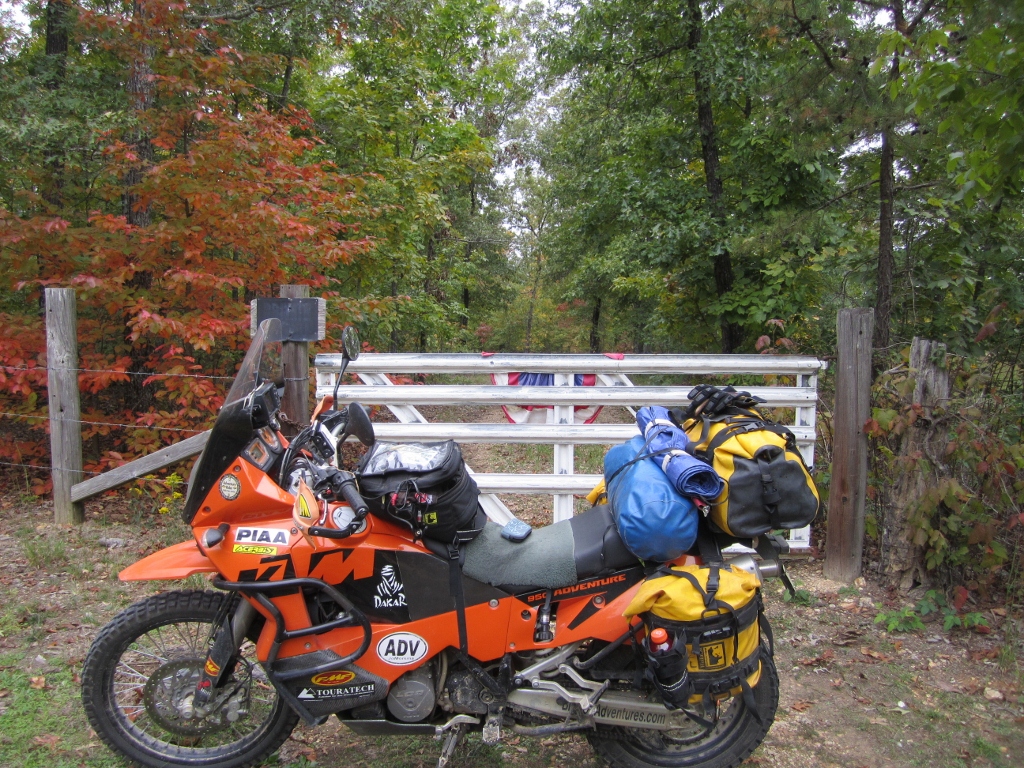 I rode a lot of dirt roads and went passed one of my favorite places called Bo's Hollow.
A place that will take you back in time----and crossed the Current river in Montauk state park.
The leaves up here were really getting pretty.
The old mill at Montauk state park.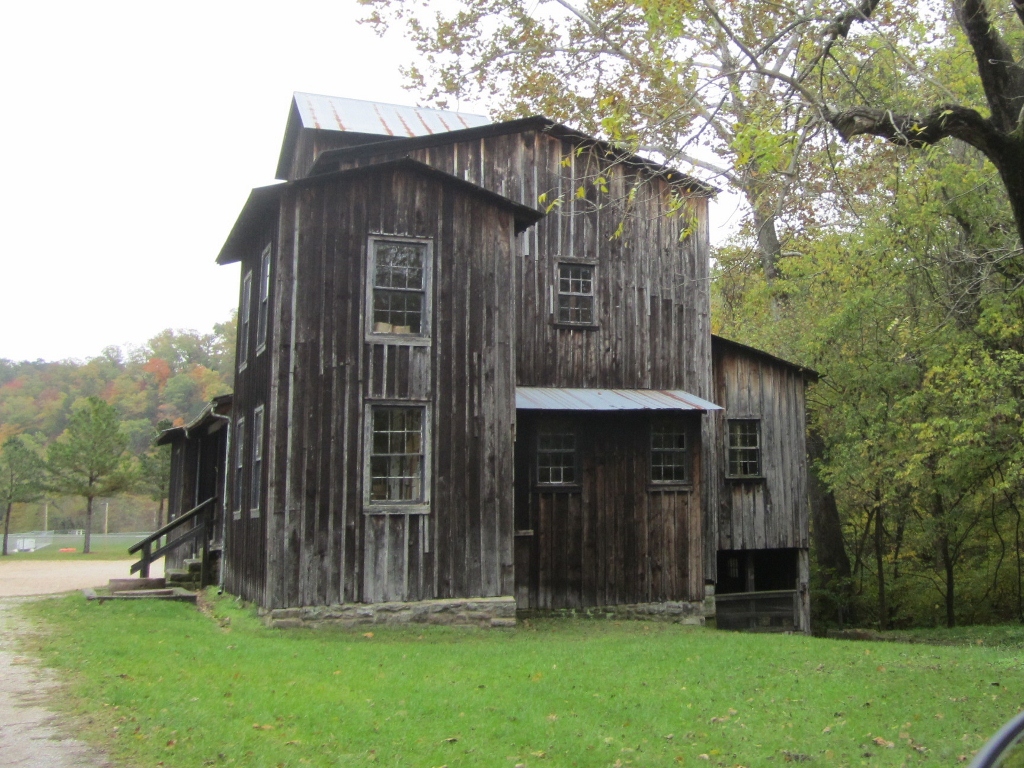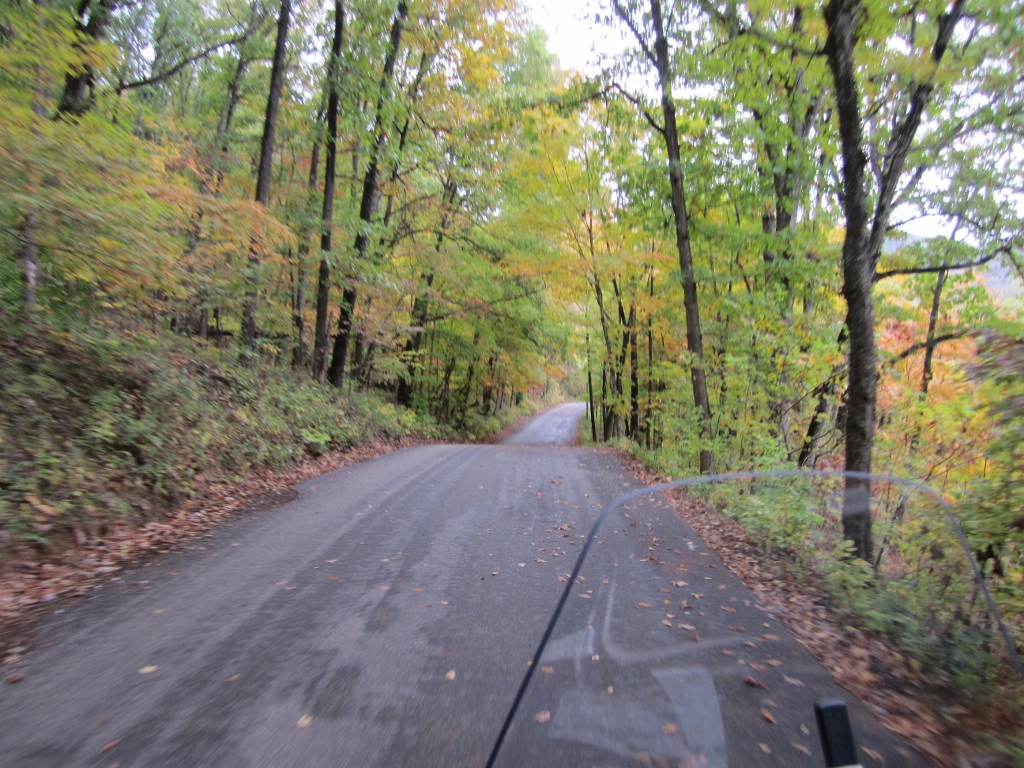 I haven't said---but I was making my way to the "Falling Leaf" BMW rally in Potosi, Missouri.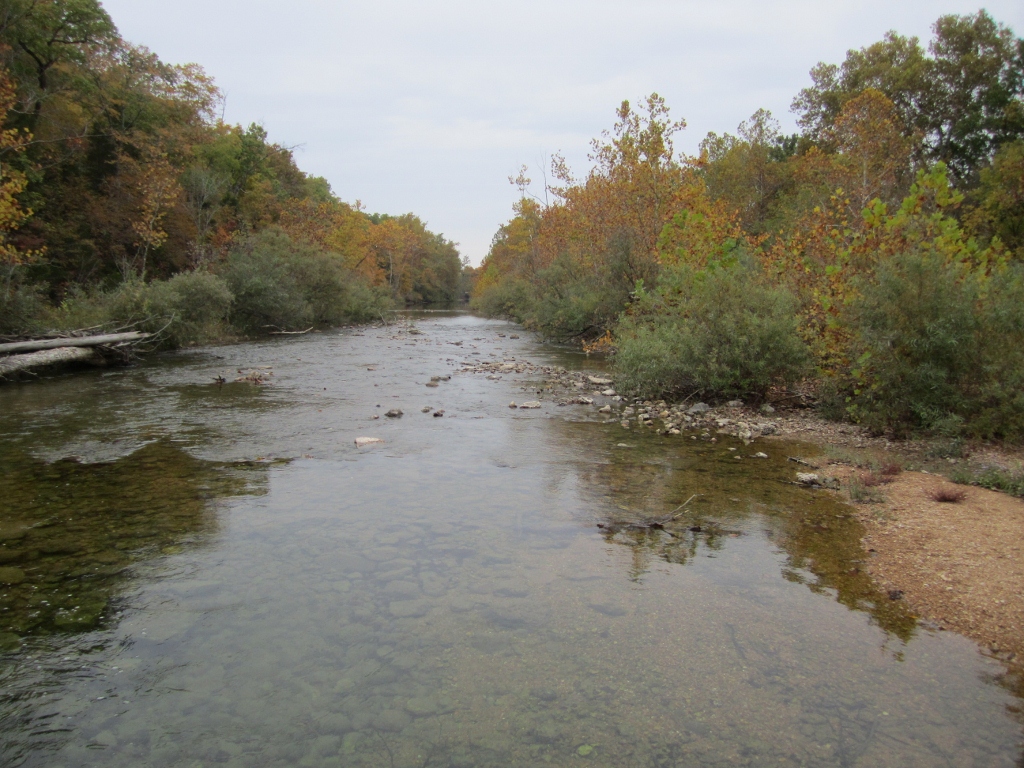 I arrived there and a friend grabbed me and said "You have got to see this"---------OK !!!!!
Honz--a friend of mine and owner of Gateway BMW in St. Louis had just bought this racing offroad sidecar rig.
He said---"I just had to have it"".
Honz is a wild a crazy guy------and everybody knows it------get out of the way !!!!!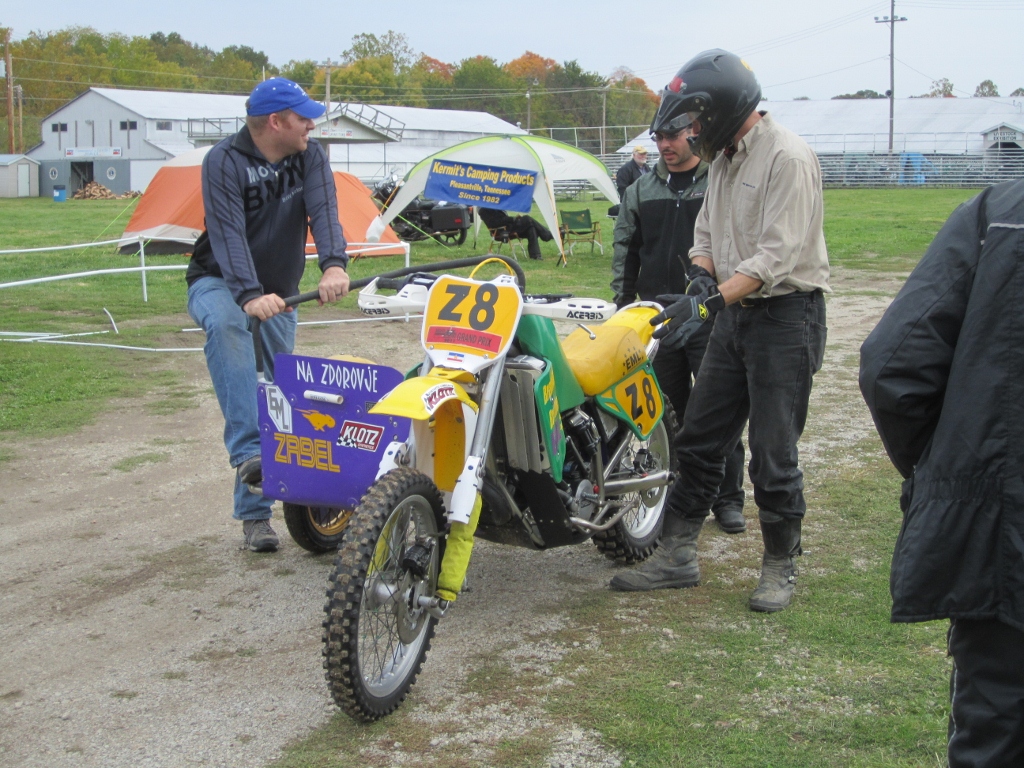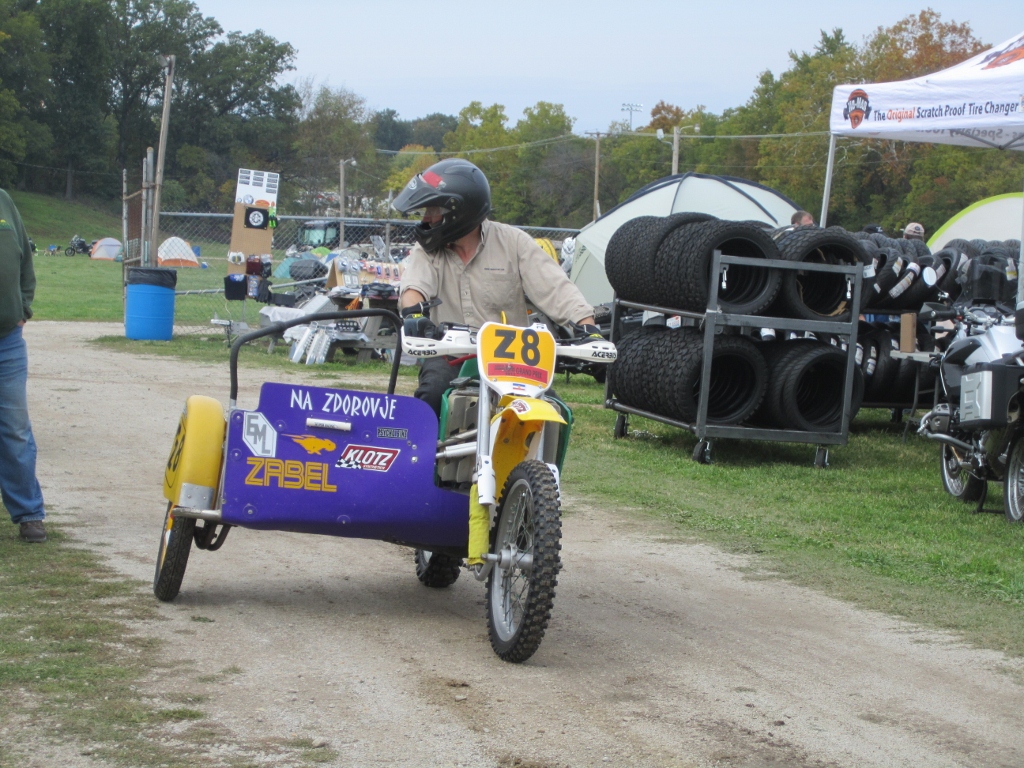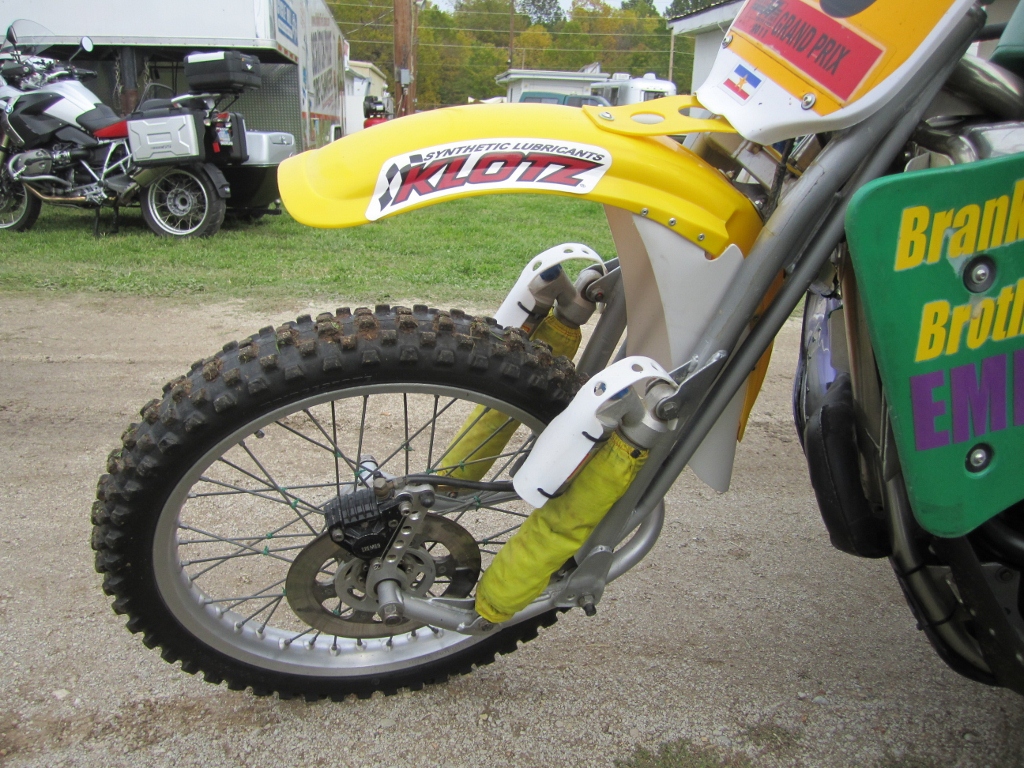 680cc's of rip snortin' 2-stroke.
Don't try to kickstart it---it will break your leg and you will bleed to death--------push start only !!!!
He ripped across the nice green grass on this thing slinging 10lb. chunks of dirt and grass in big clumps.
You could have laid a water line in the ditch this thing dug.
He almost threw off his "monkey" passenger---it was a hoot to watch and there was no way I was riding this thing.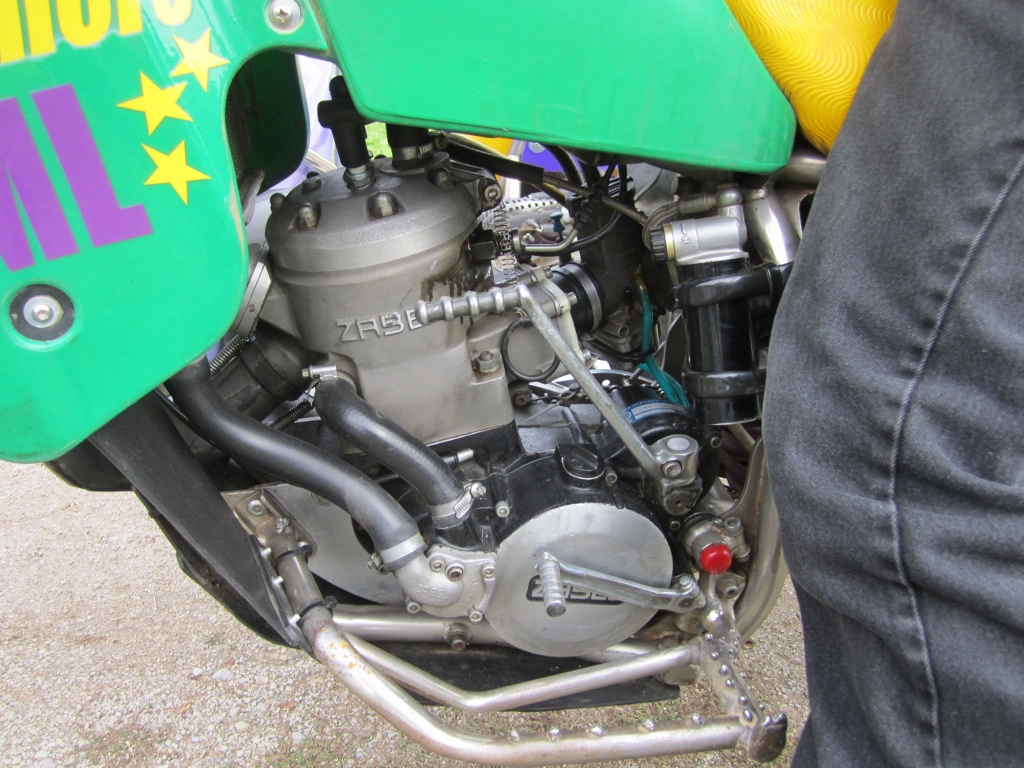 My good friend Roger Hayes---been a friend for a good 35 years I think.
Like me------he's one of those cheap KLR riders---but had the latest in KLIM's line-up of adventure gear.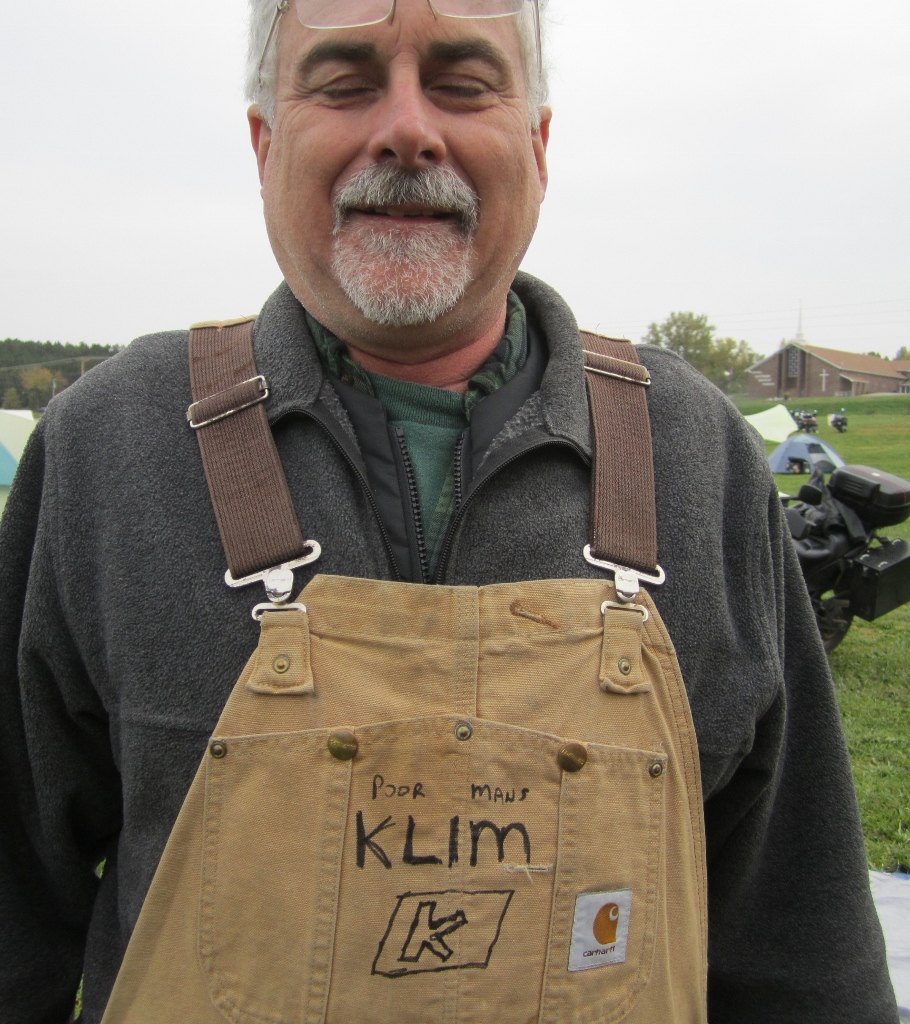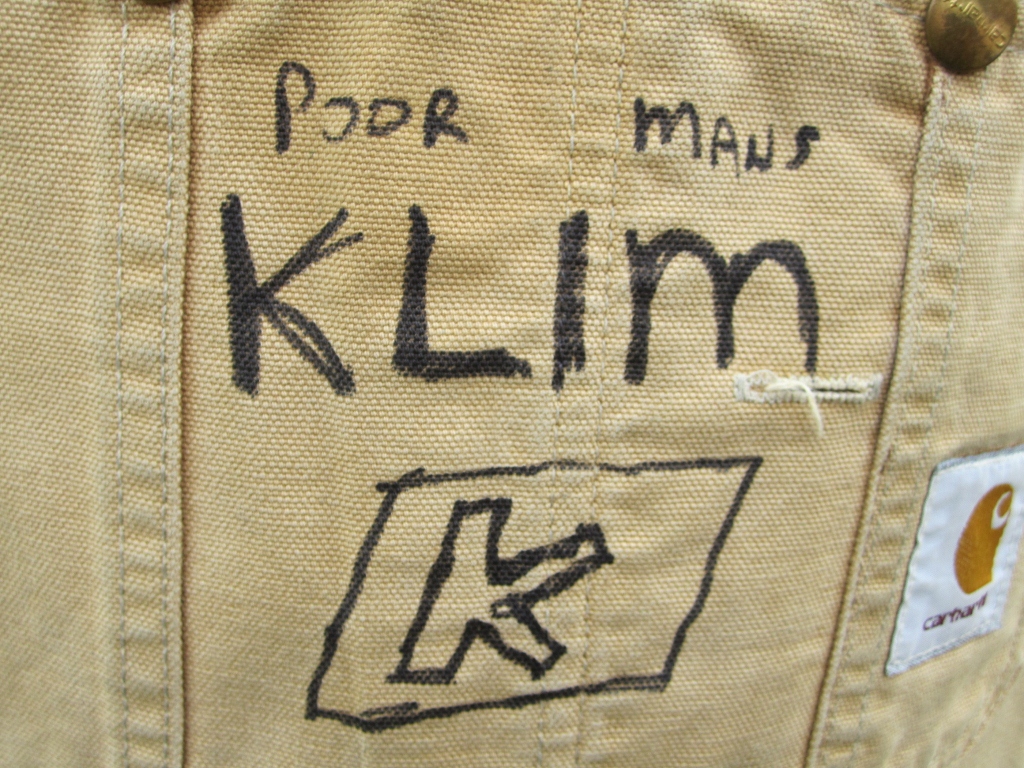 BMW rallying is brutal----no wonder I went home wore out.
There were about 15 of my hometown friends there and we had a hoot and tented in the worse storm I've ever been thru.
In the middle of the night tents went flying everywhere. It was said that people were chasing their tents across the rally ground
in the strong midnight winds-----many tents ended up in the dumpster------it was bad.
We all survived somehow----I guess we had our tent pegs dug in a little deeper than most.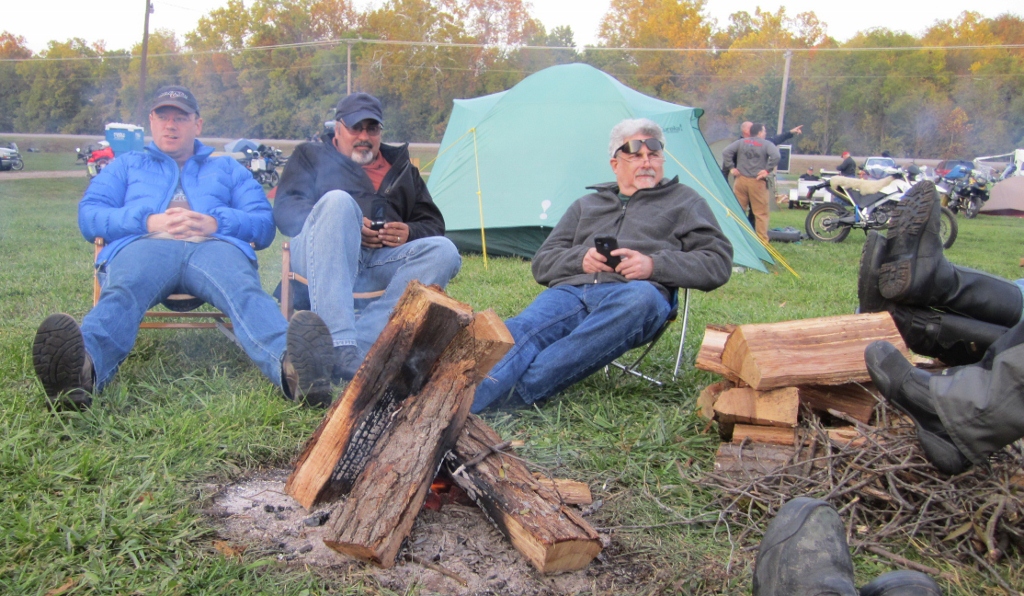 My buddy Franky Belmont.
He missed his calling. Works in a warehouse but could have had his own comedy show.
He kept all of us in stitches.
The funniest thing he said and I couldn't believe he said it in the microphone.
If you didn't know him this might have upset you.
But the announcer was congratulating him for being married for 30 years (it was their anniversary).
Franky--grabs the microphone and says "If I'd a killed her 30 year ago--------I'd be gettin' out now"
I'm not makin' this up----we about fell out of our chairs laughing.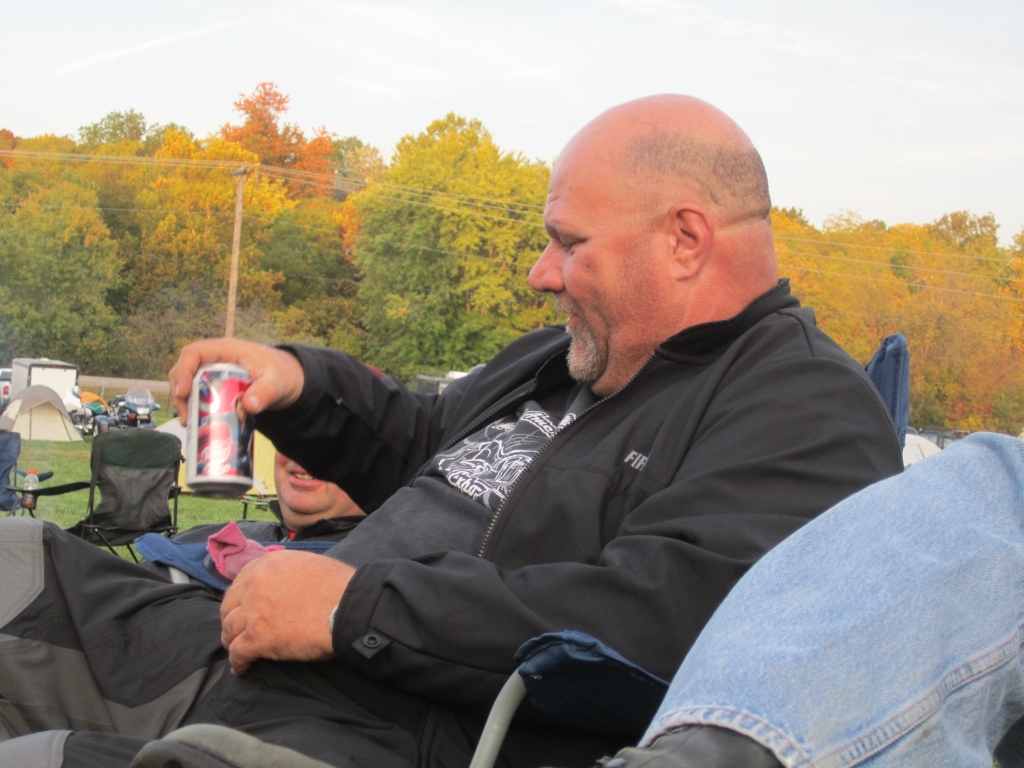 See that smirk on Rogers face--found out later he's lining up a lunch date on one of those dating internet sites.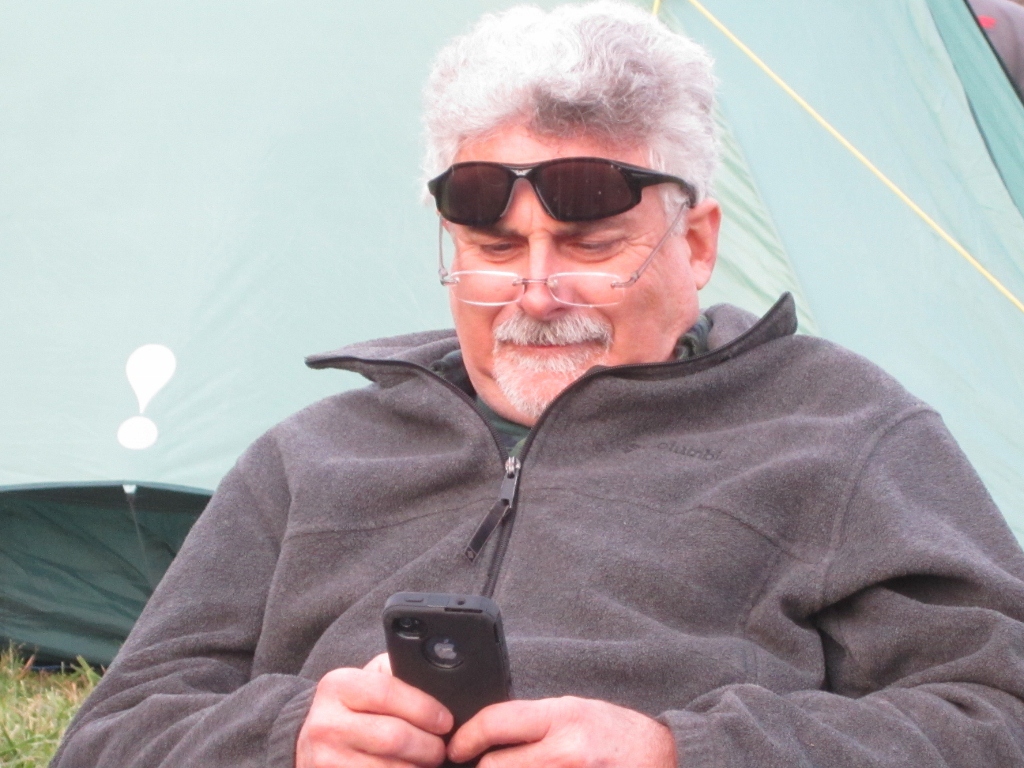 My rear Mefo Explorer was bald.
There were a lot of vendors there and I had them put me on a new tire.
I took the wheel off myself and got it installed cheaper than if I ordered one and put it on myself. First time I've ever not put on a tire myself.
Gettin' old I guess.
Guess I'll try out this Heidenau Scout and see how it does.
The calm before the storm--what a beautiful place to camp at the 4H grounds in Potosi, Missouri.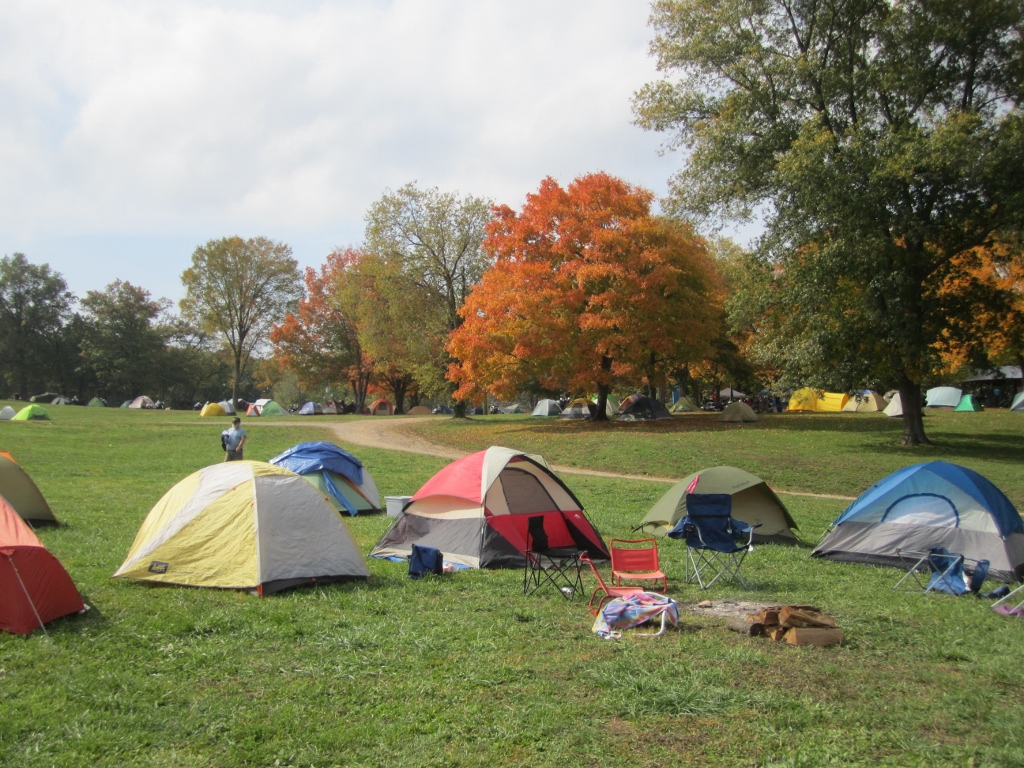 That sun screen tent was not to be found the next morning.
We all went home the next day------1,600 miles for me on this ride---the 950 sporting about 48,000 miles.
Most of those were put on when I first got it as I rarely ride it anymore.

It was a good ride home and I was glad to see my wife and little doggy JoJo.