TART
TransArkansasTrail
Fall 2011
The following ride will depict a 1,100 mile ride I did on my WR205R down thru Arkansas on the TART.
This route was created by DRZCharlie (AdvRider--screen name)
I've ridden in Arkansas a lot over the years--but this would take me to many new places I may have never found.
I rode it alone and after getting to the Louisiana border I just "winged" it back North and home
getting into Oklahoma on the way.
Here's my story
The Ride starts in beautiful downtown Blue Eye, Missouri-----populataion about 378 ???????
Not much in Blue Eye---everythings pretty much closed down.
I did meet some very nice people there.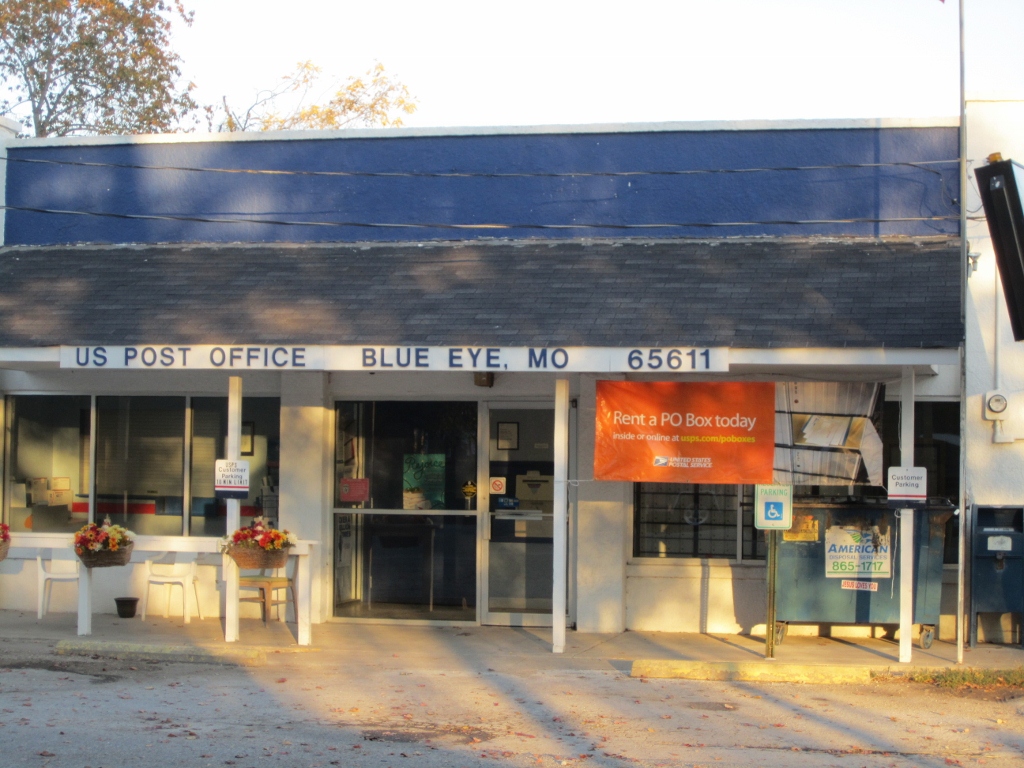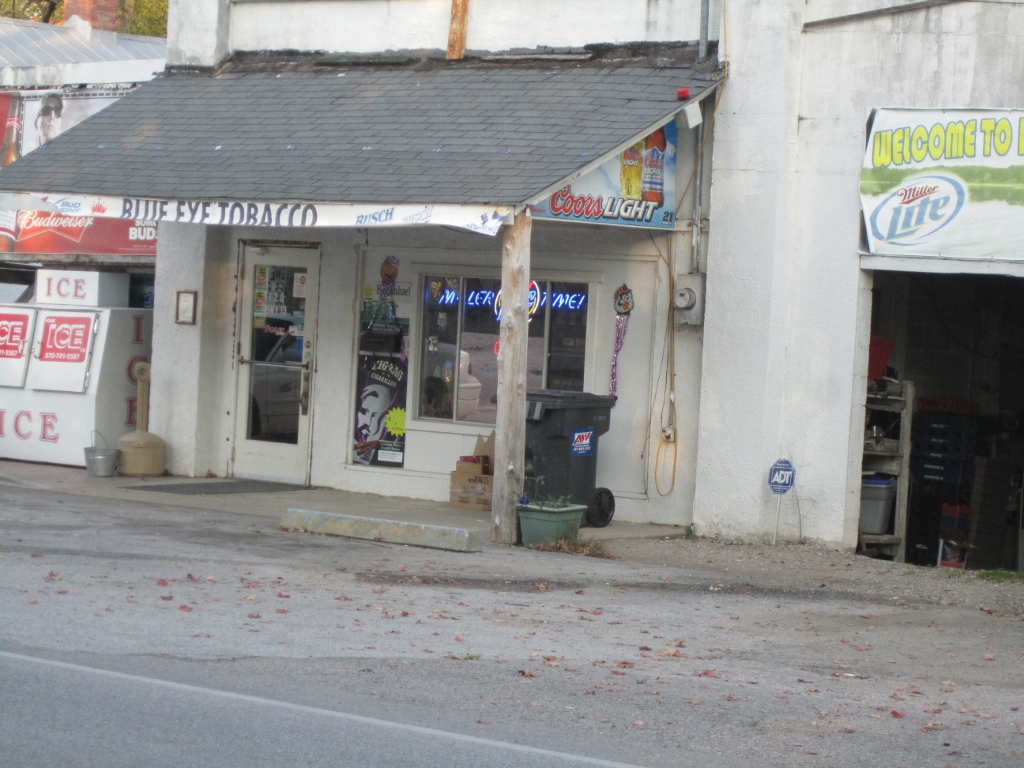 No---you can't eat at the Blue Eye Diner.
Looks like it had been closed for a long time.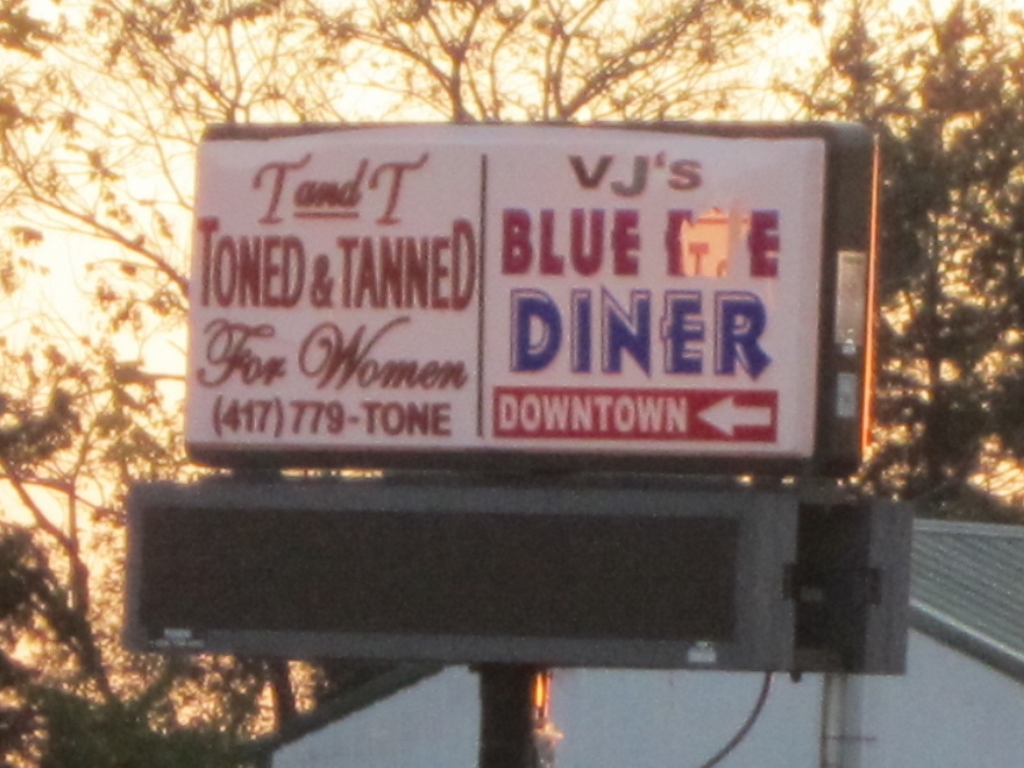 I asked some friendly folks where I could eat and they told me to go North out of town about 5 miles.
I ate here twice----at the beginning of my ride and at the end.
The food is awesome and they have cobbler---not pie-----cobblers.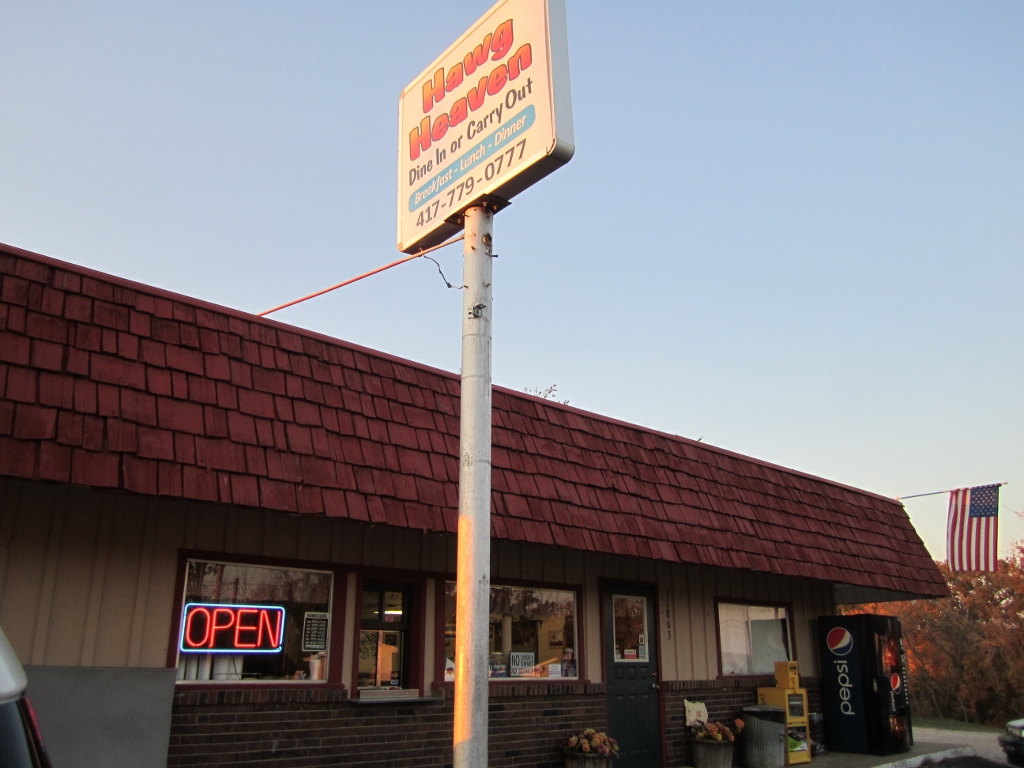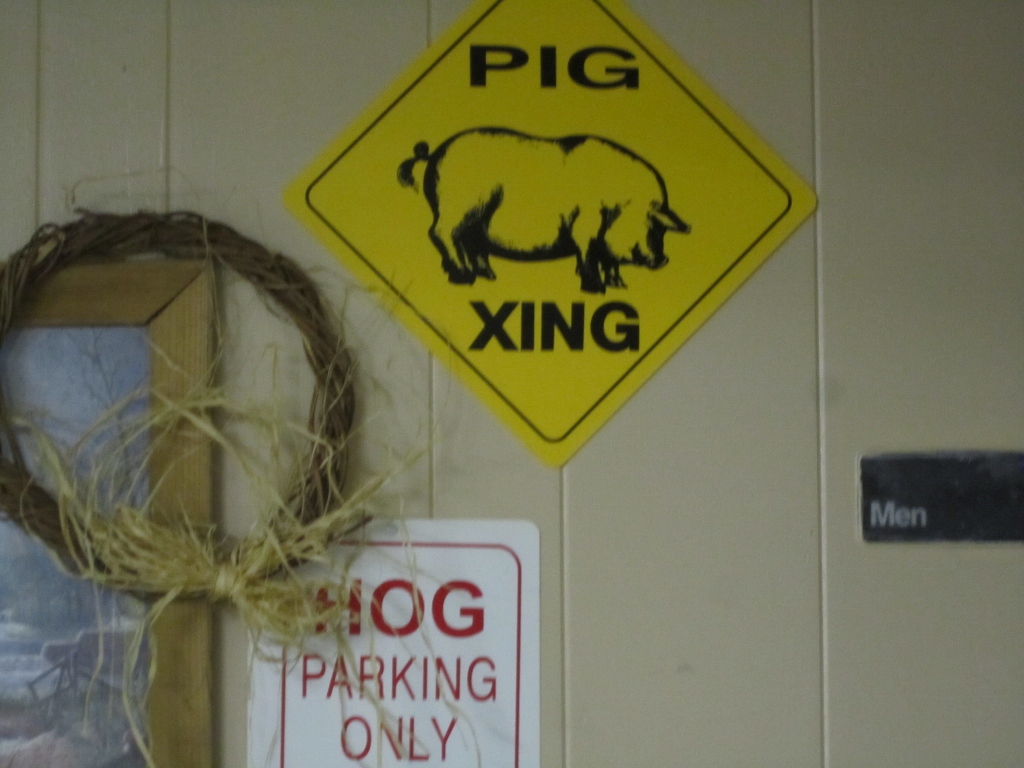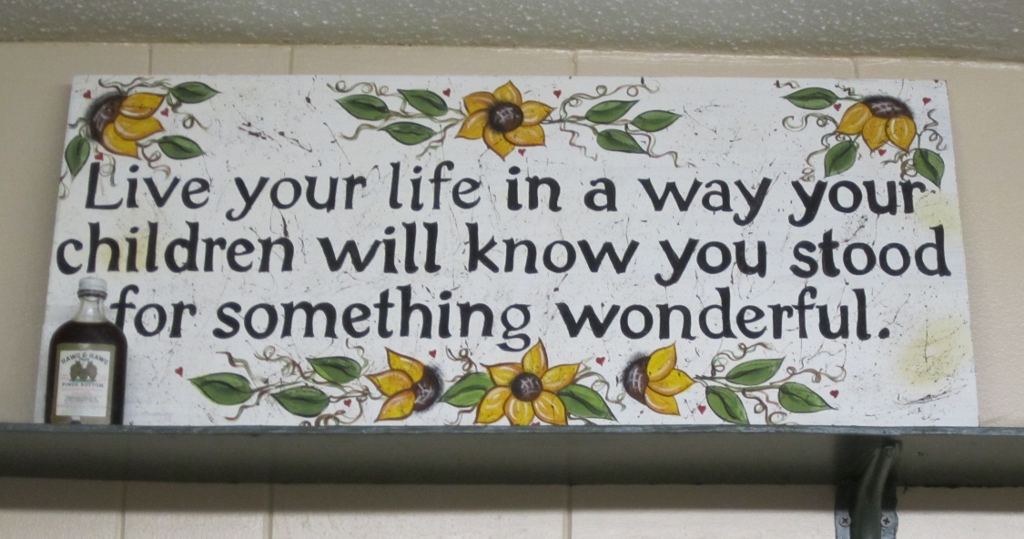 It was at the Hawg Heaven I heard about the lawnower races-----"The lawn WHAT races" ??????
Lawnmower she said-----"You ain't never seen a lawnmower race" ??????
"No, I replied---not even on TV-------or JackAss" ??????
I rode way out in the country----way out in them Arkansas boonies. I was a little afraid of what might be out
at a lawnmower race----crazies ??? drunks ????? weirdo's ?????
All I saw was a nice bunch of plain ordinary folks having a whole lot of fun. Lot's of kids were here and everybody
was getting in on the fun.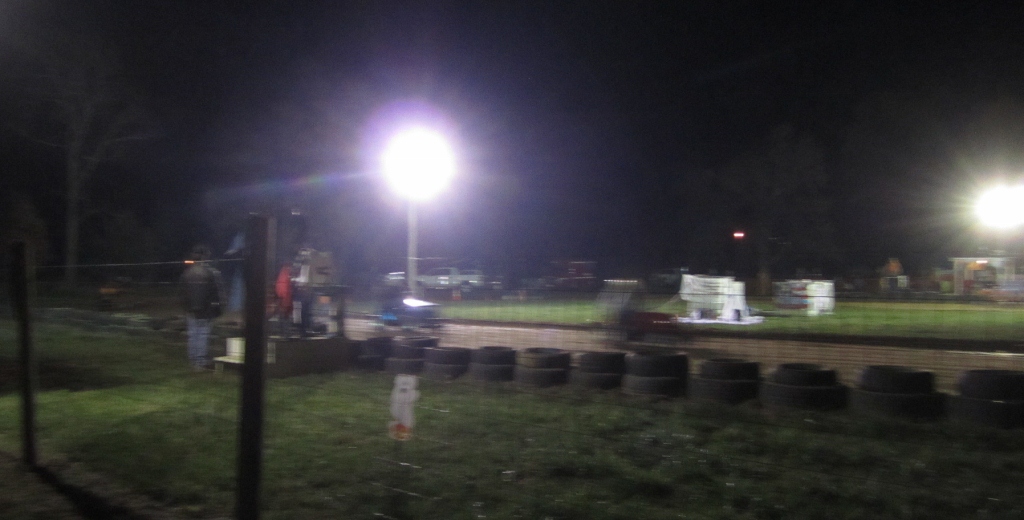 Sorry for the blurry pictures---they were fast I'm tellin' ya.
It was a hoot and they were serious and they had 4 classes I think. A regular class---modified---twin cylinder
and modified twin cylinder.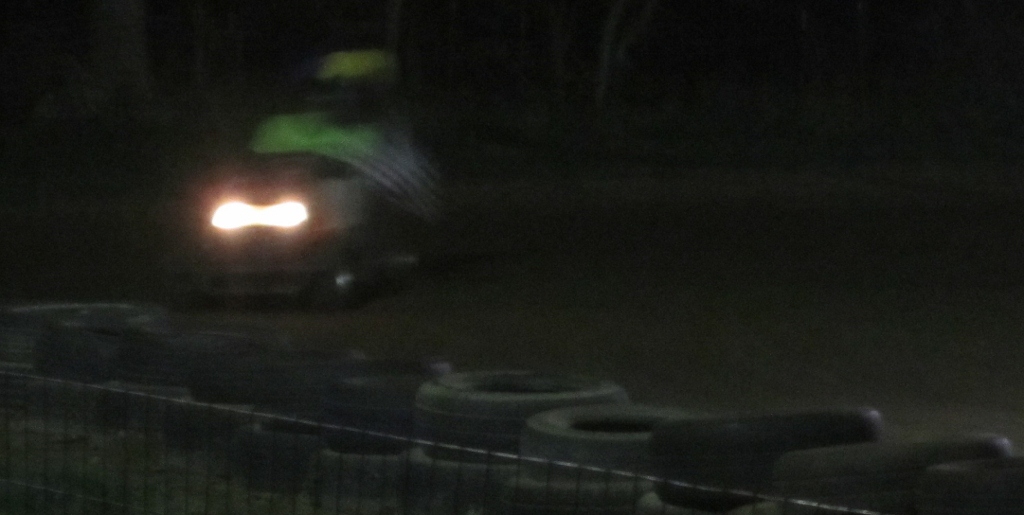 So the next morning I am ready to ride.
I still got the same sprockets and chains I used on my Alaska ride---those and the half used up rear tire
I put on in Fairbanks would just have to do.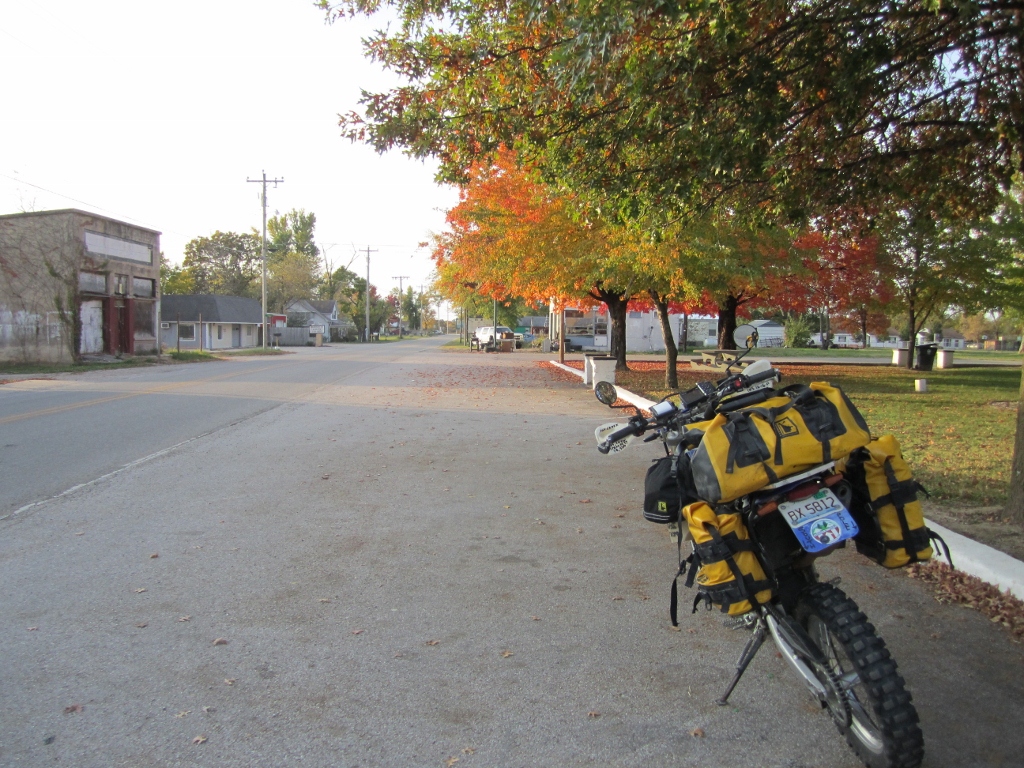 I was a cool brisk morning and I immediatley hit a dirt road and most everybody had smoke coming
out of their chimneys.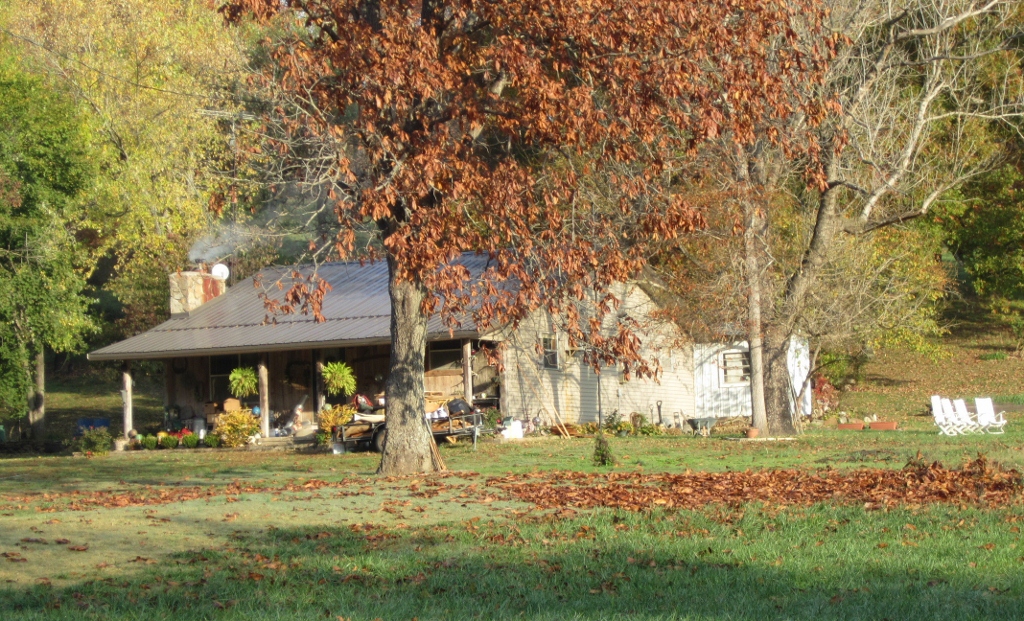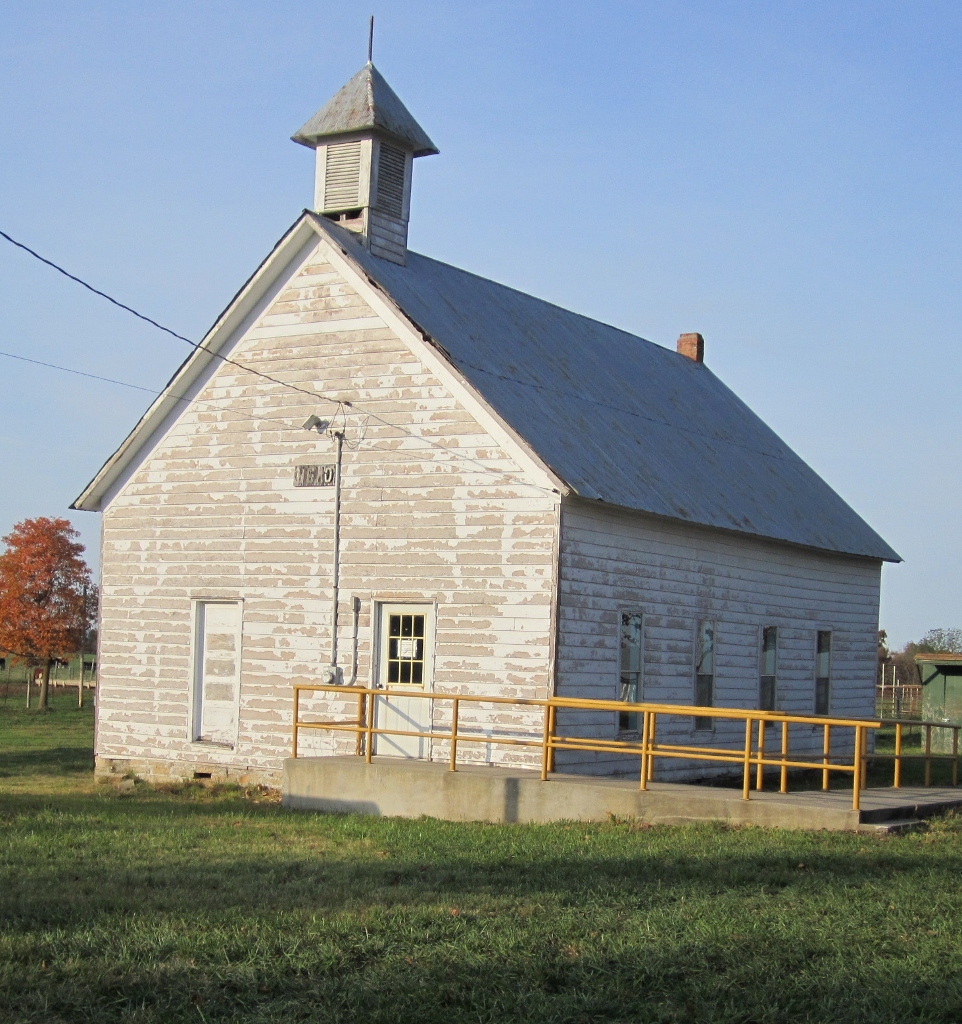 I hope you can stand the fall colors. I've been wanting to do this ride, and when I had the chance to do it in full
fall colors I just took off from the house---gave myself about 1 day notice.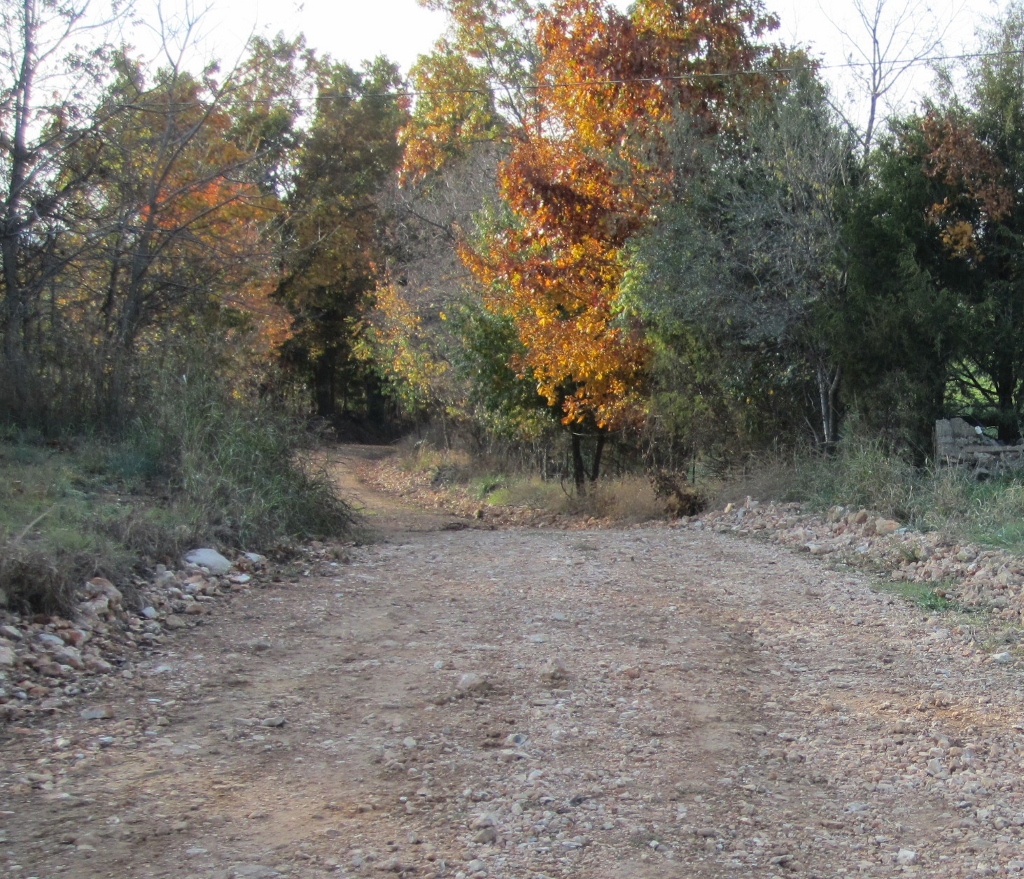 I was pretty much packed with the same excact gear I took to Alaska.
Including my electric vest---which came in handy. The WR is the most unusual 250 out there---one of the things it has
is a high output alternator to power whatever you need.

Nothing better than a dirt road---with a sprinkling of fall leaves---and an old RR Tressel.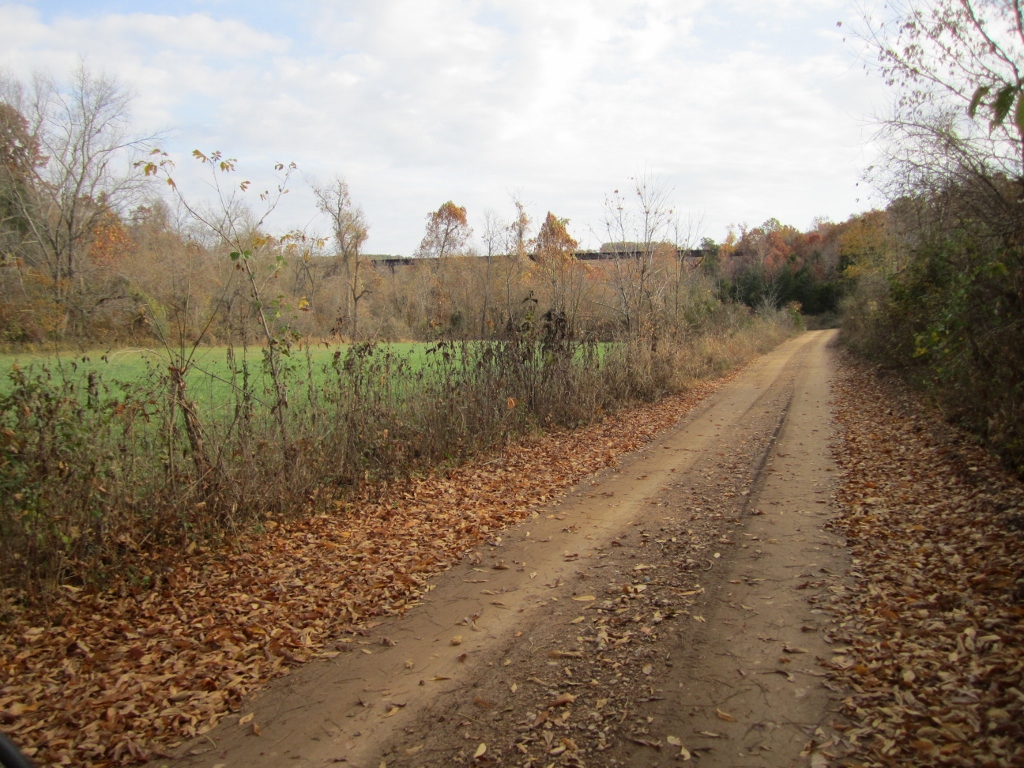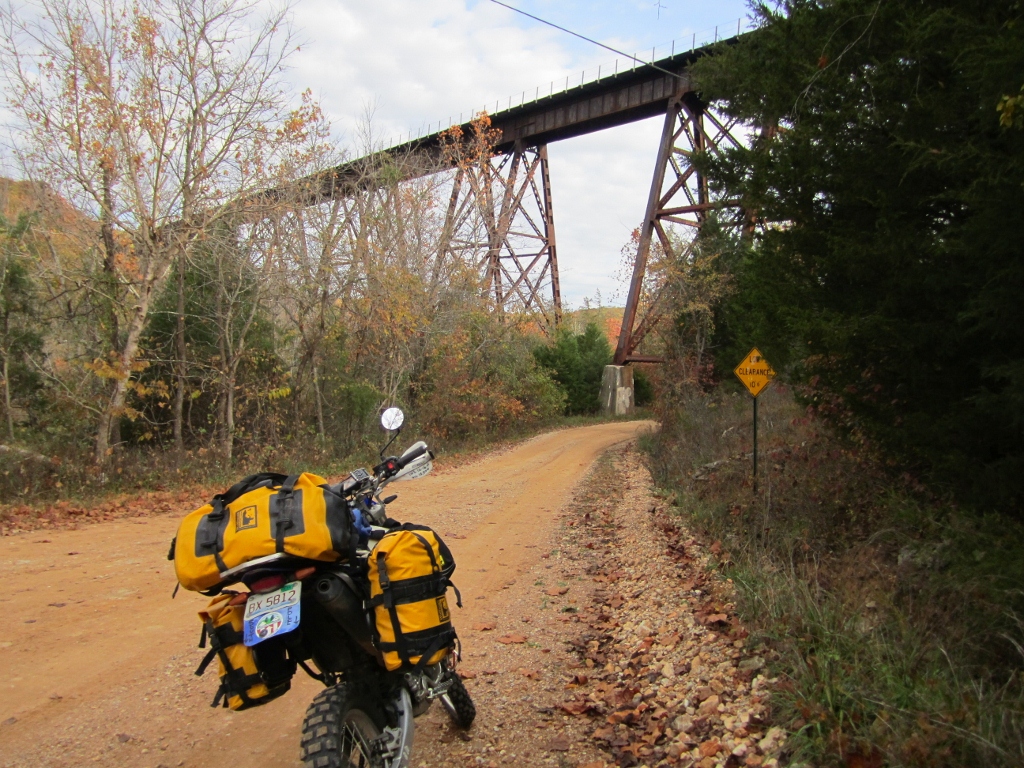 The road goes right under the tressel---and I rode under it---but had to come back as the route
doesn't go that way.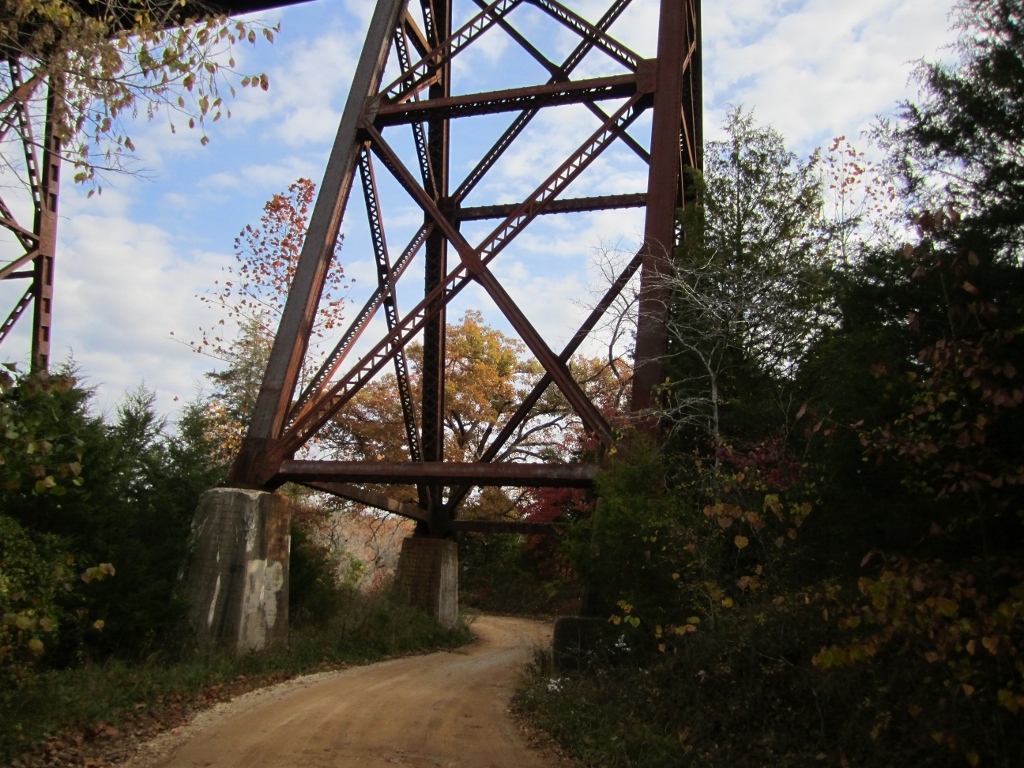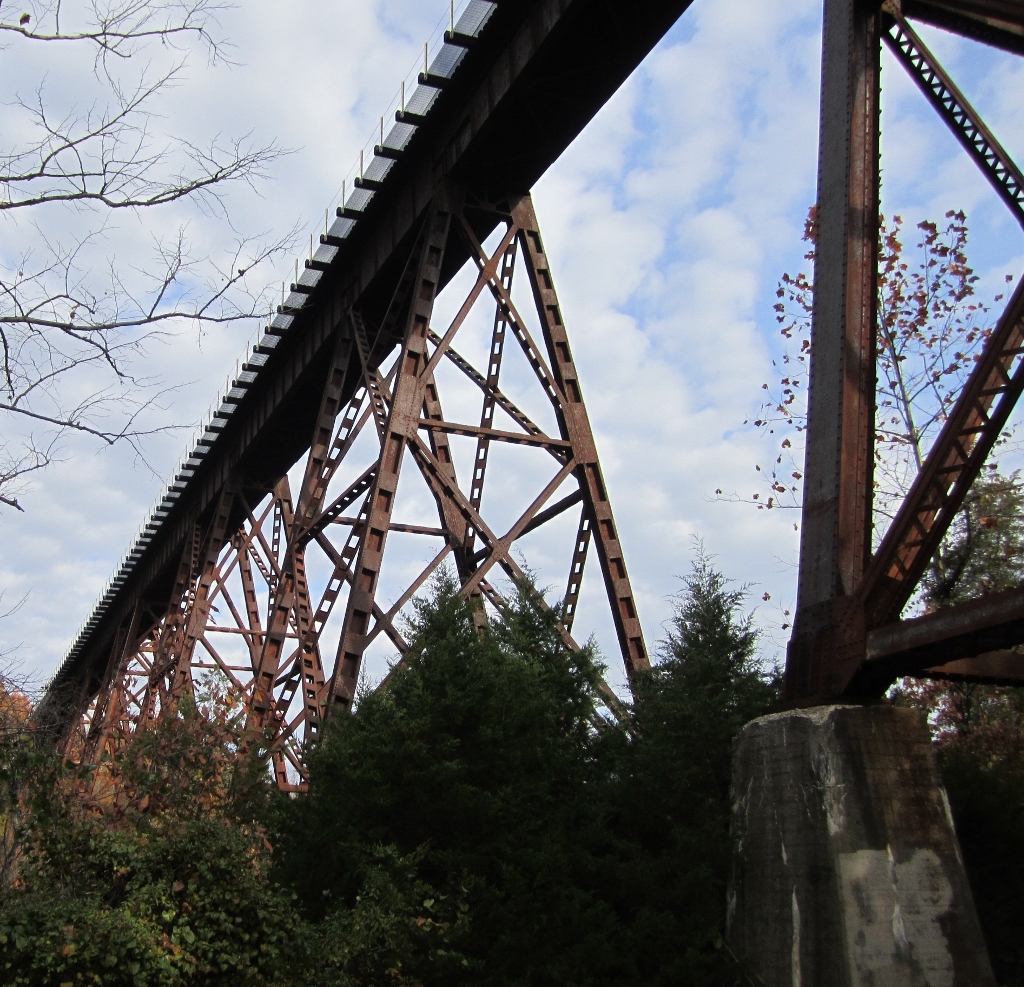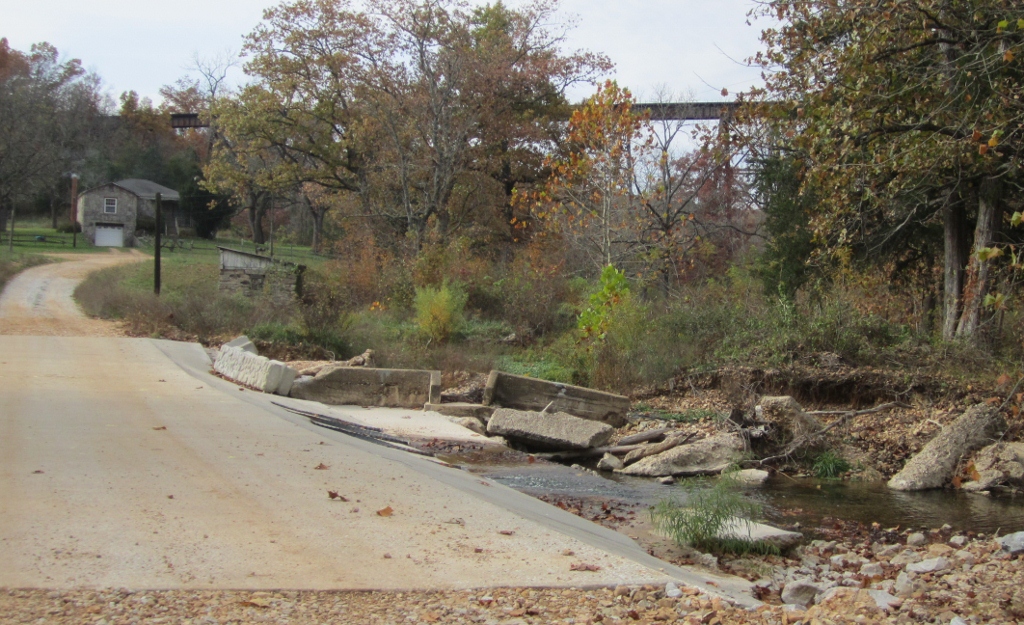 I wandered across this swinging bridge by accident about 2 years ago.
Good to see the old girl was still standing. The last time I was here water was over the road, so I guess people could still
walk over the creek on the bridge.
This is in Zinc, Arkansas------population bout ????? 42 ????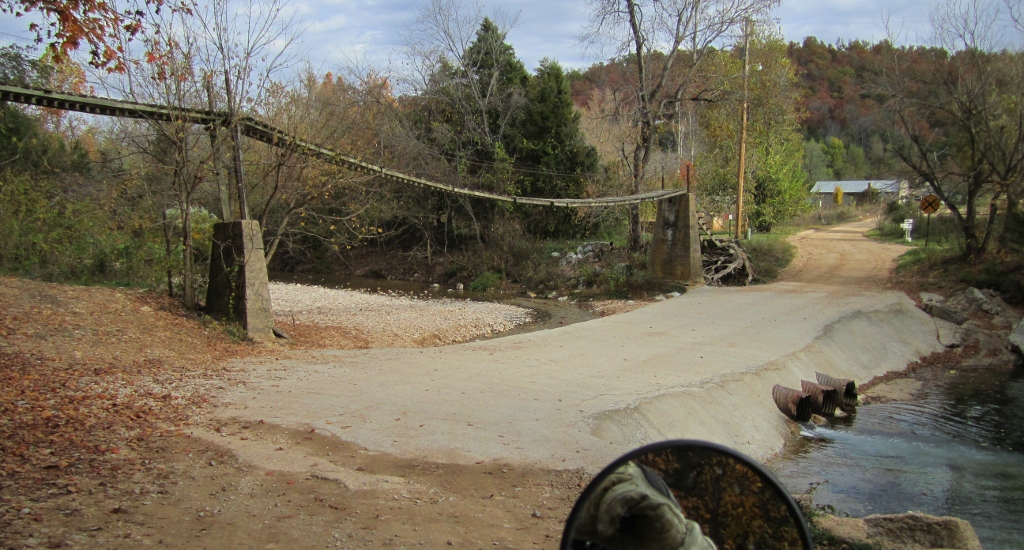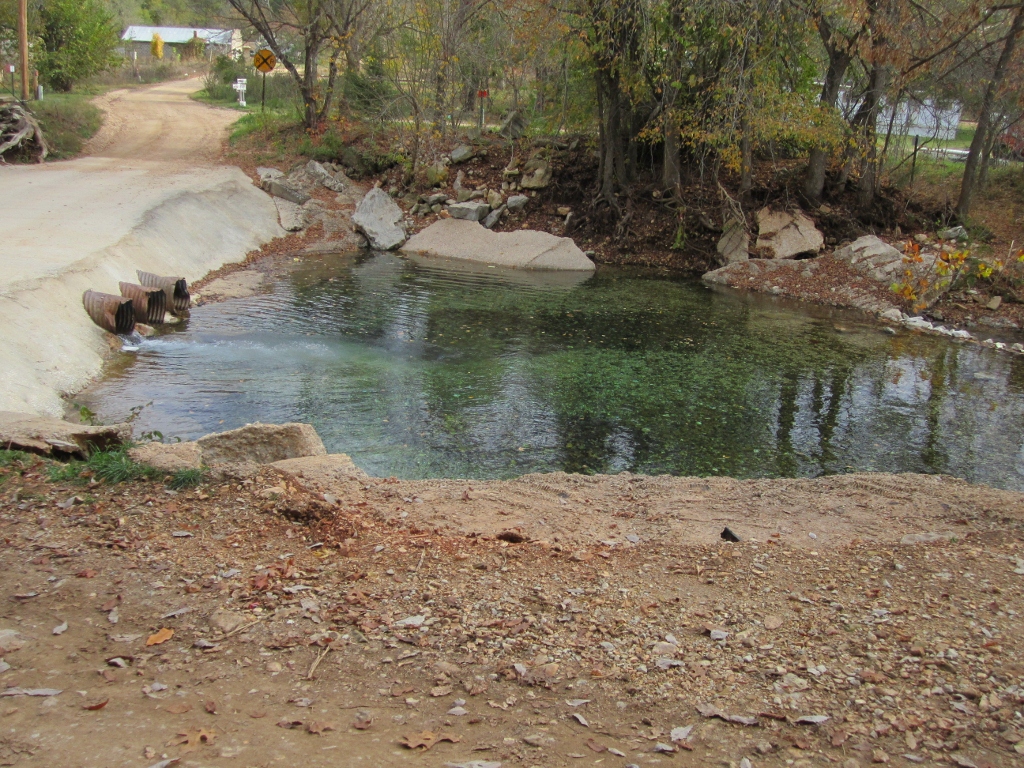 I was riding down a highway---about to go over an old bridge when I spied a dirt road going down beside the river.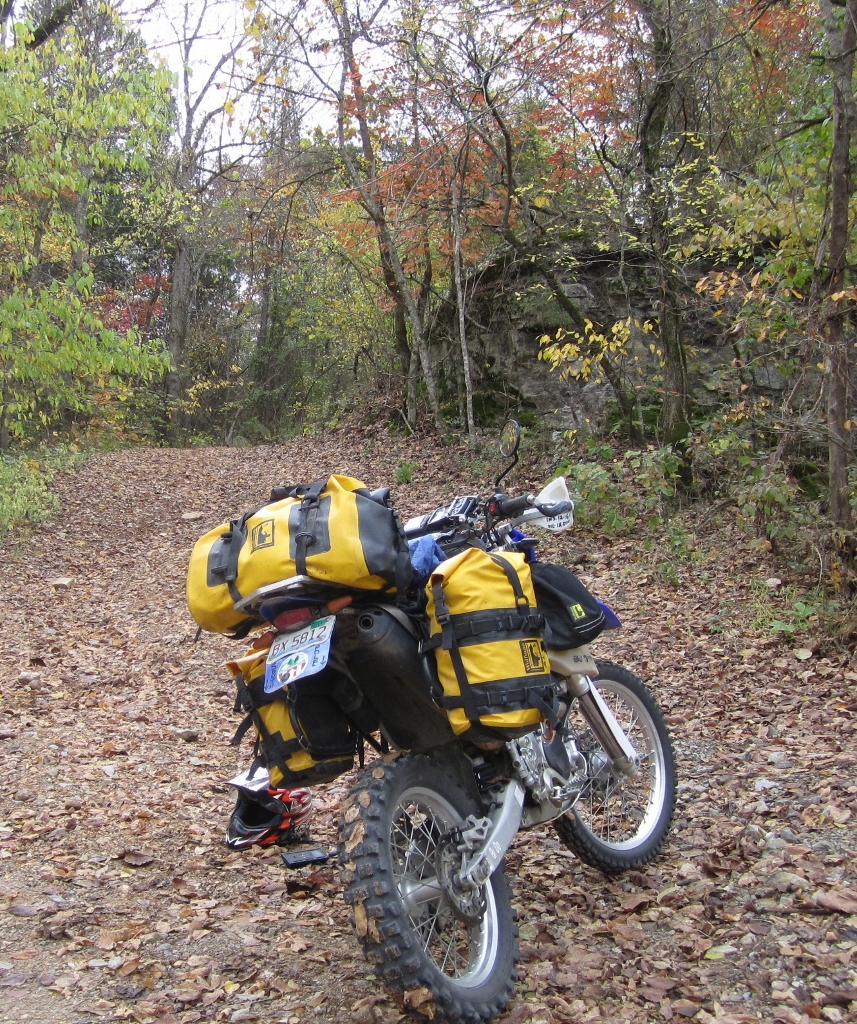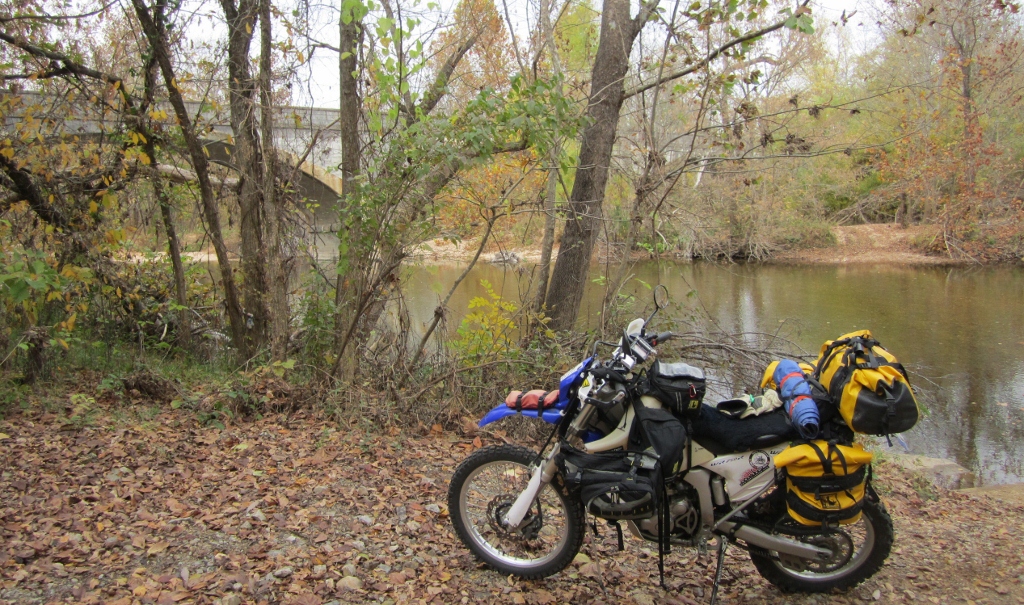 I don't think anybody crosses here---probably just put in their boats.
I wasn't about to become a boat.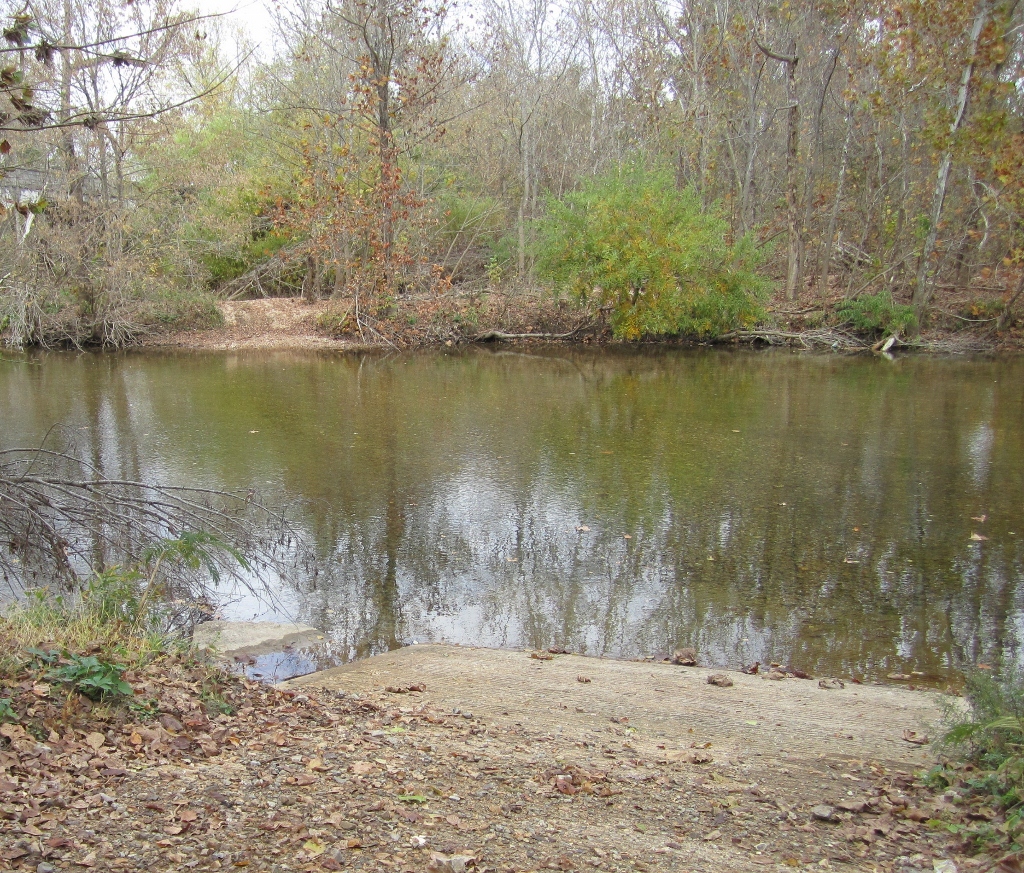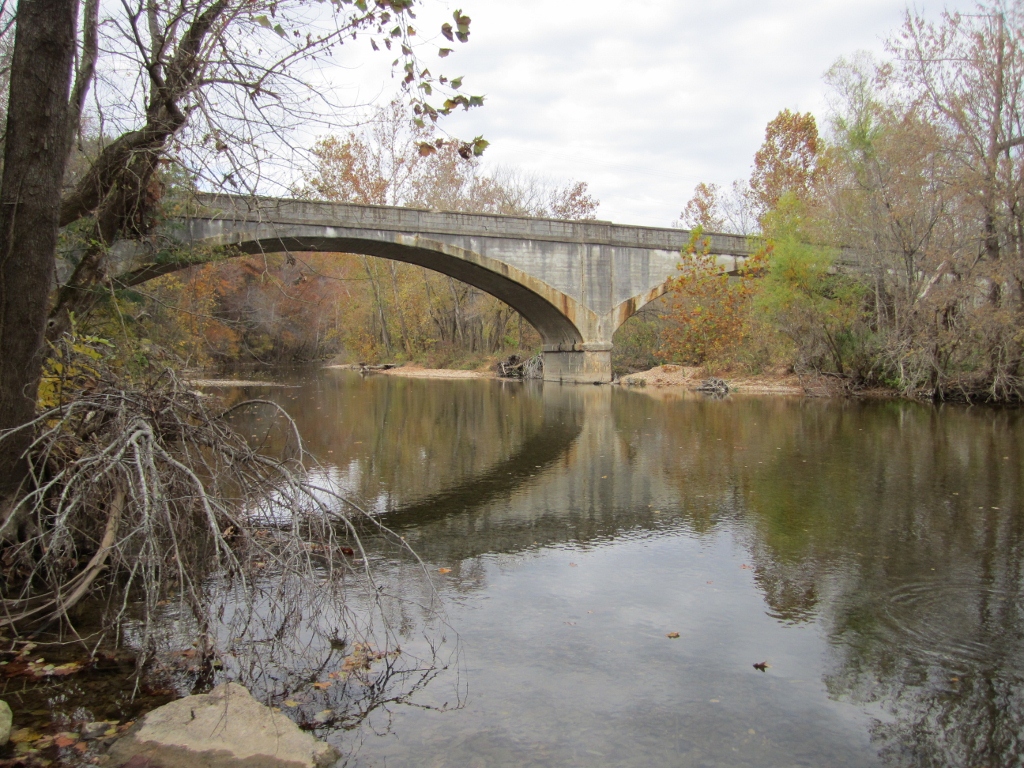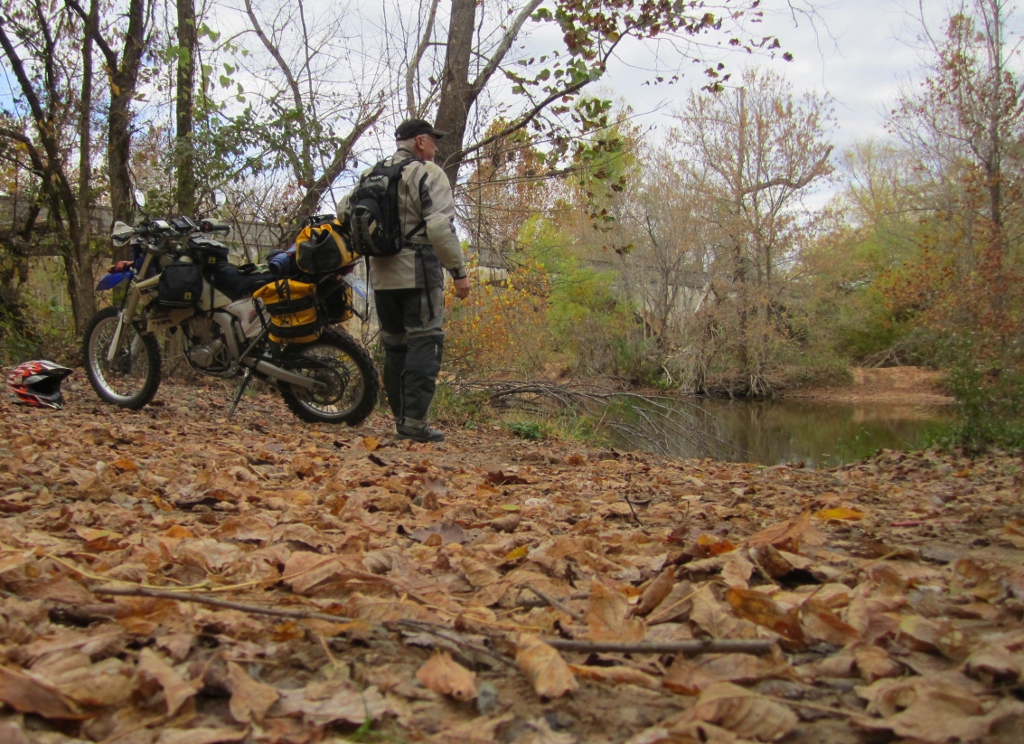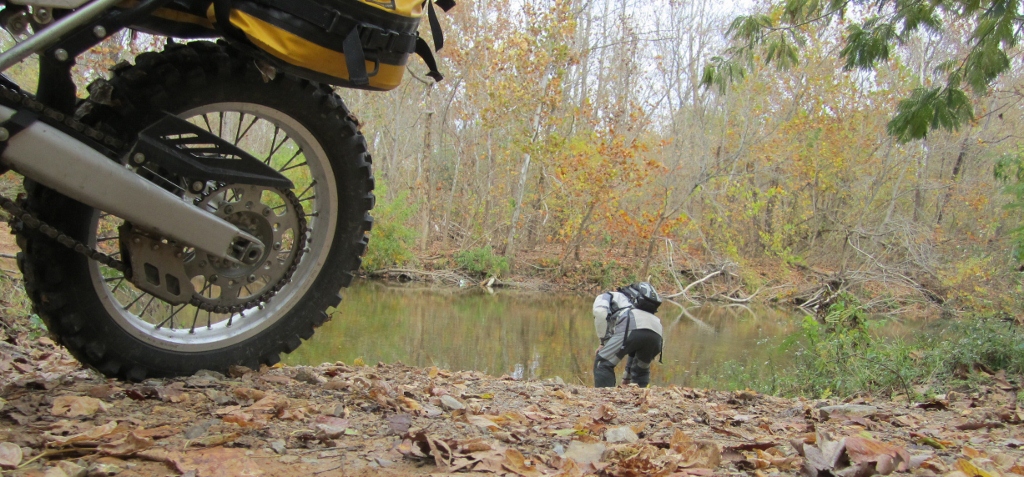 Down the road----I spied what appeared to be a spring.
No one was around and I poked all around here. Kind of glad I didn't have 15 people with me---seemed to make it
a lot easier nosing around without disturbing the locals.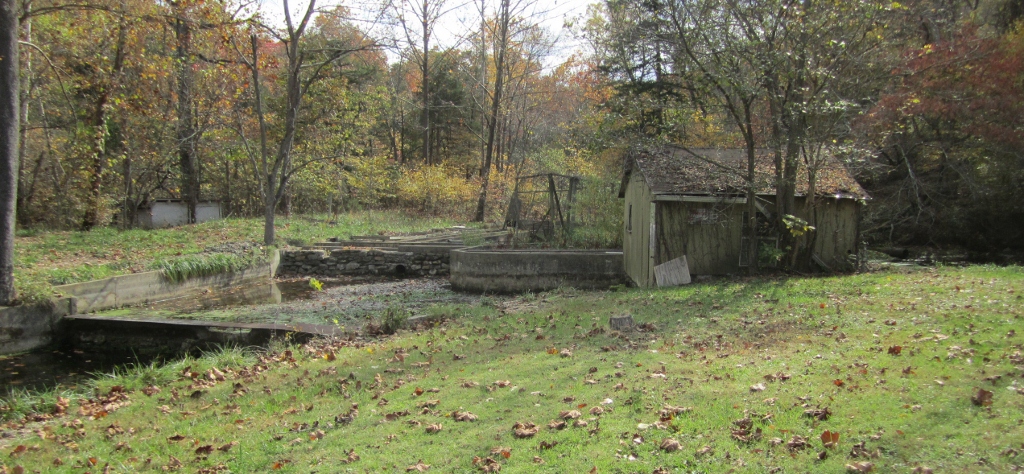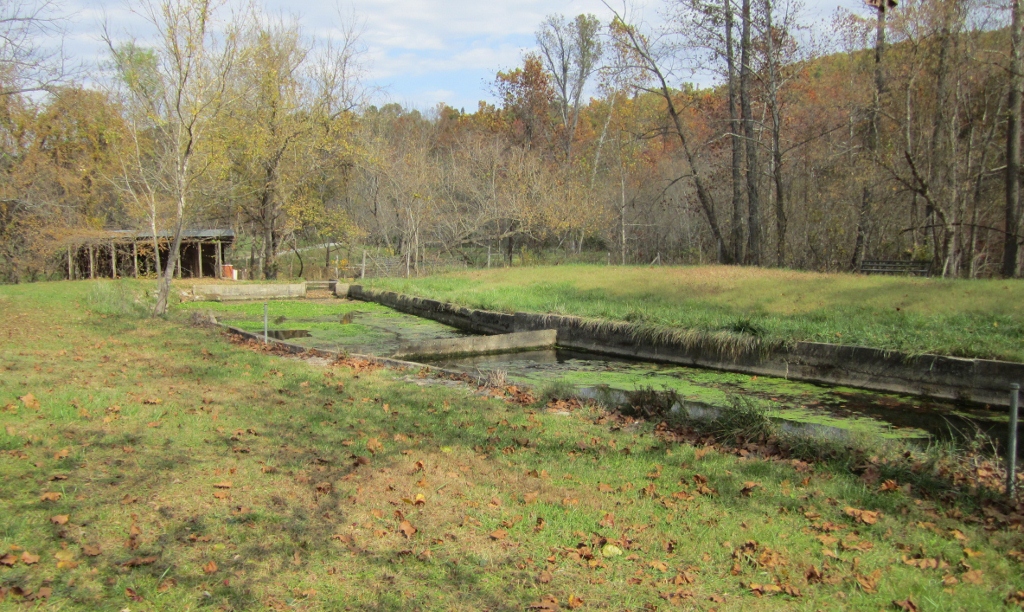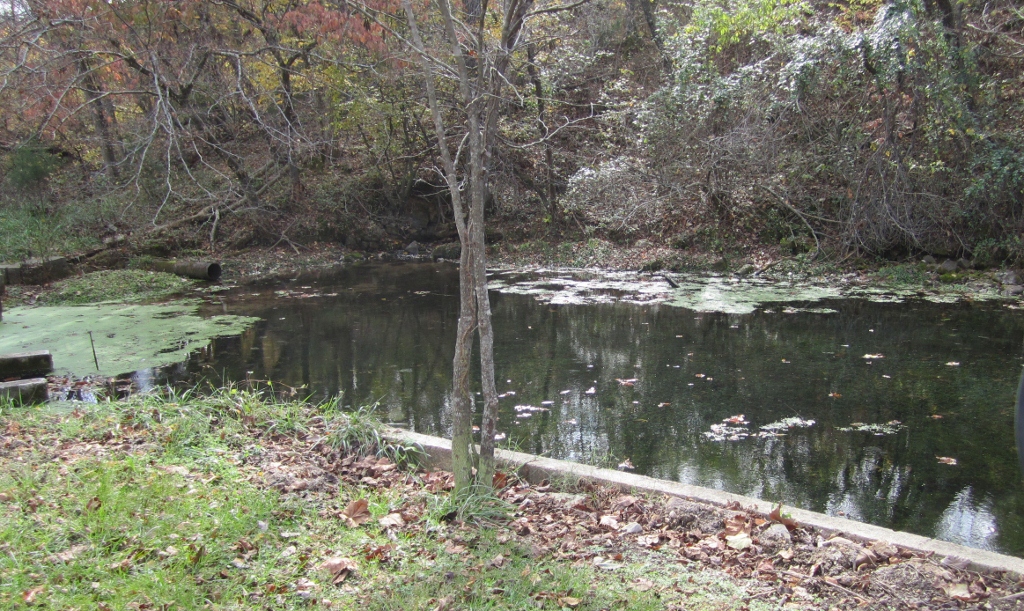 I pretty much kept my heated grips on everyday of this ride---but hadn't broke out the heated vest yet.
Even if I had been following somebody--there was no dust----everything was kind of damp which made for
perfect traction.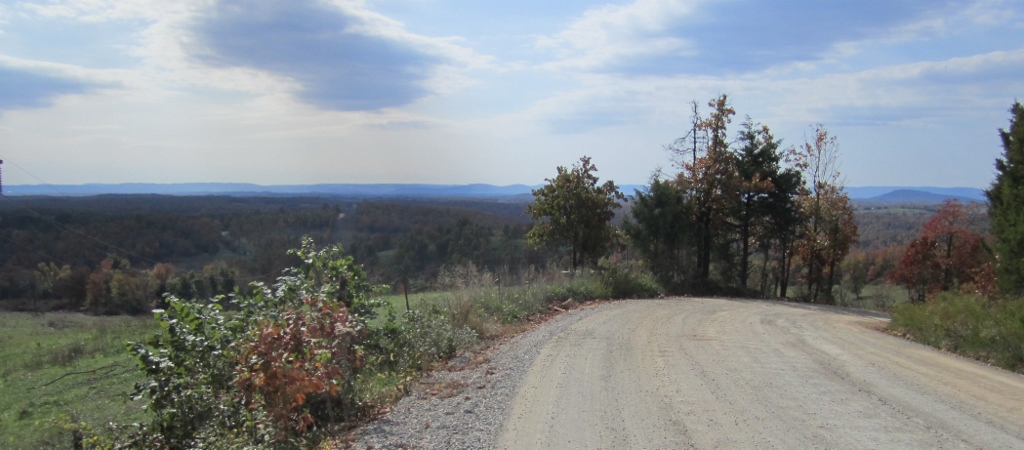 I took this picture off of a low water bridge a few miles before Gilbert Arkansas.
Yep----I'd been here before too---I think I was on my BMW F650----1997 model.
So that was a few years ago.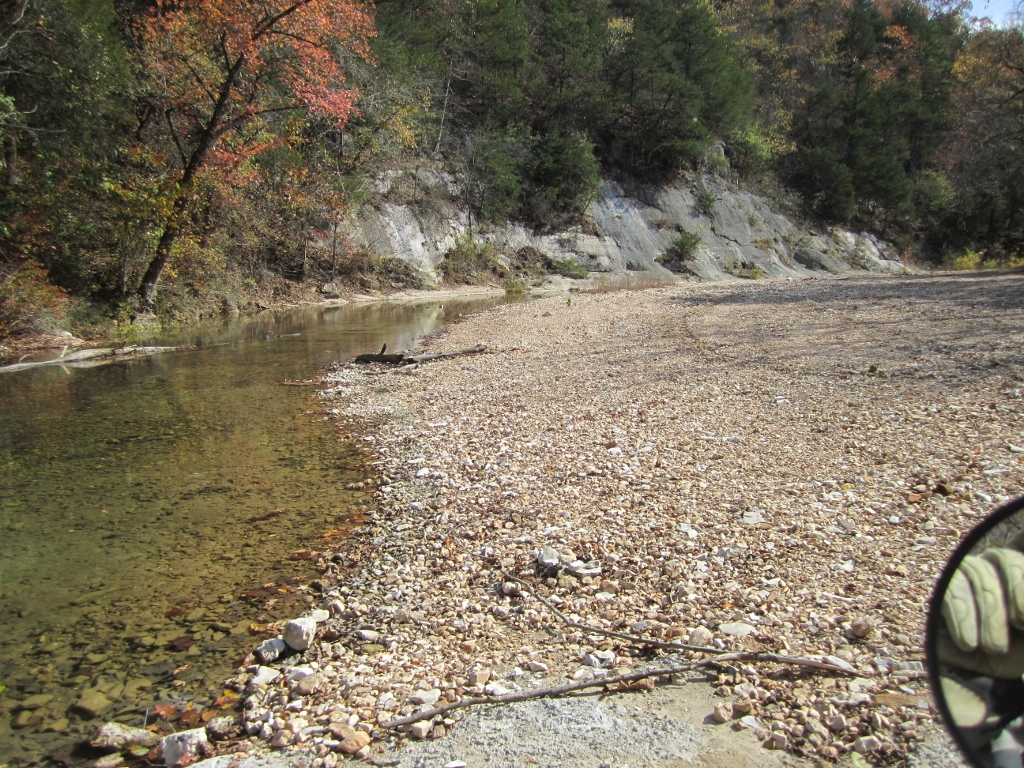 And I've been to the Gilbert Cafe a few times----it was always closed---I must have always got there on a Sunday.
Still on my bucket list I guess.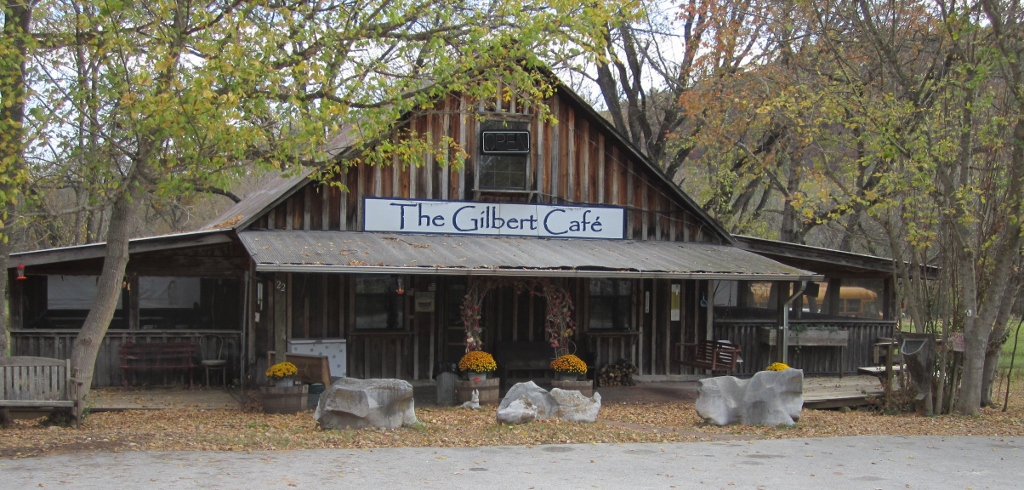 I rode down to the Buffalo river in Gilbert--and it was lowere than I ever seen it. Couldn't believe how low it was.
Out of Gilbert I crossed the Buffalo on Hwy. 65.

Better get to Scotland, Arkansas before it's gone.
It was here I crossed the Trans Am Trail.
I had those tracks loaded in my gps in case I needed to use them.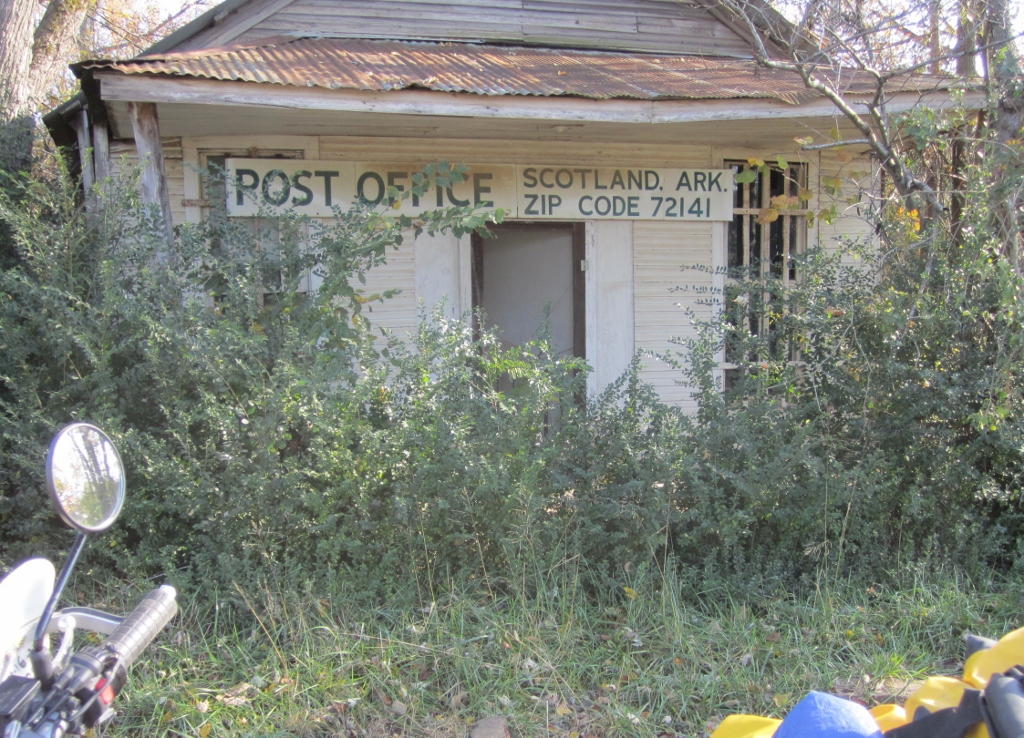 What a nice day it had been---and I arrived at my camp just at the right time and on the last day it was to be open.
The best part was I had all the fire wood I could possible burn-----I was the only one here and retrieved firewood
from nearby campsites.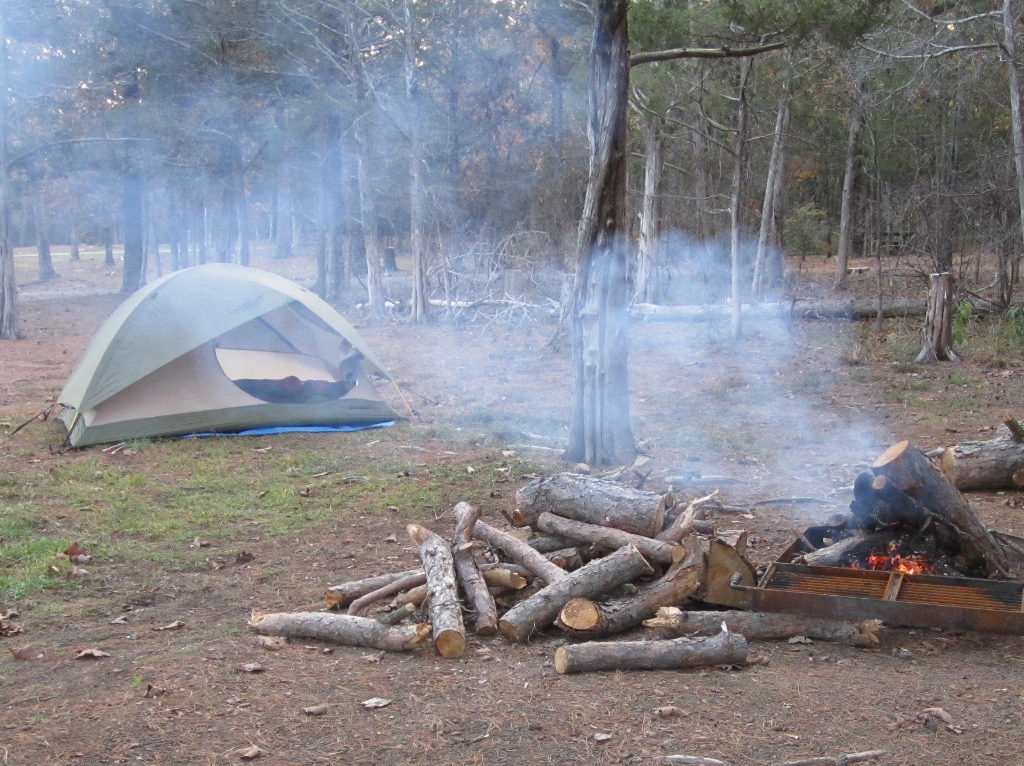 This was on Greers Ferry Lake---in the Choctaw recreation area.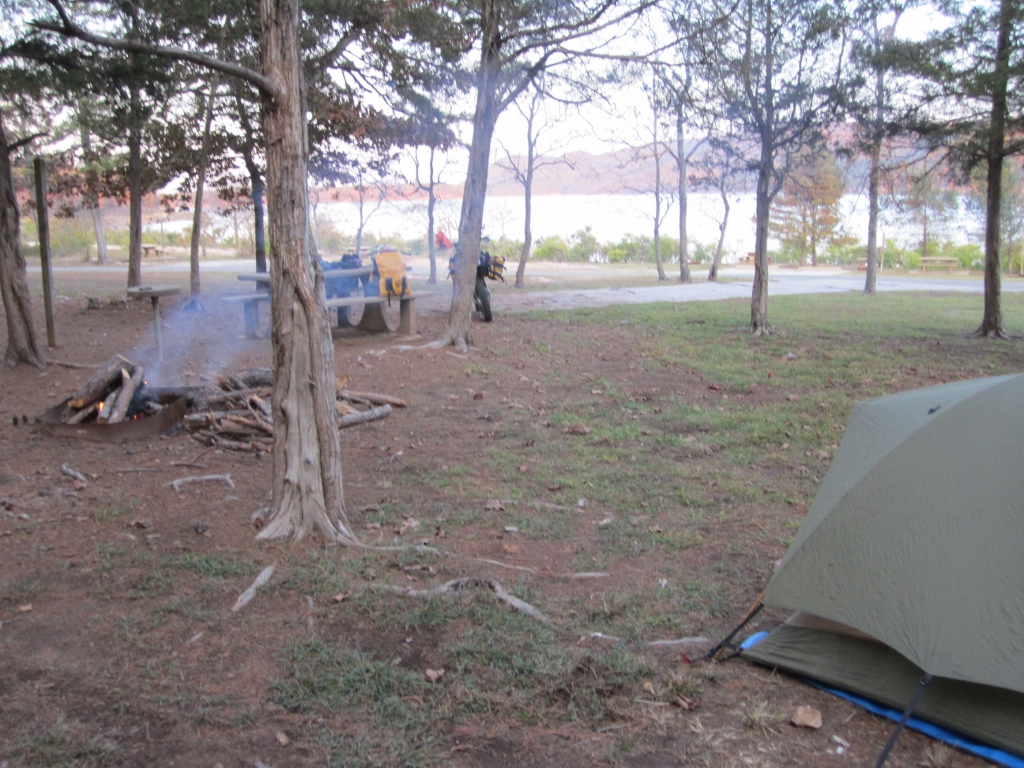 I don't know one kind of wood from another---but it burned up very fast---but I had plenty.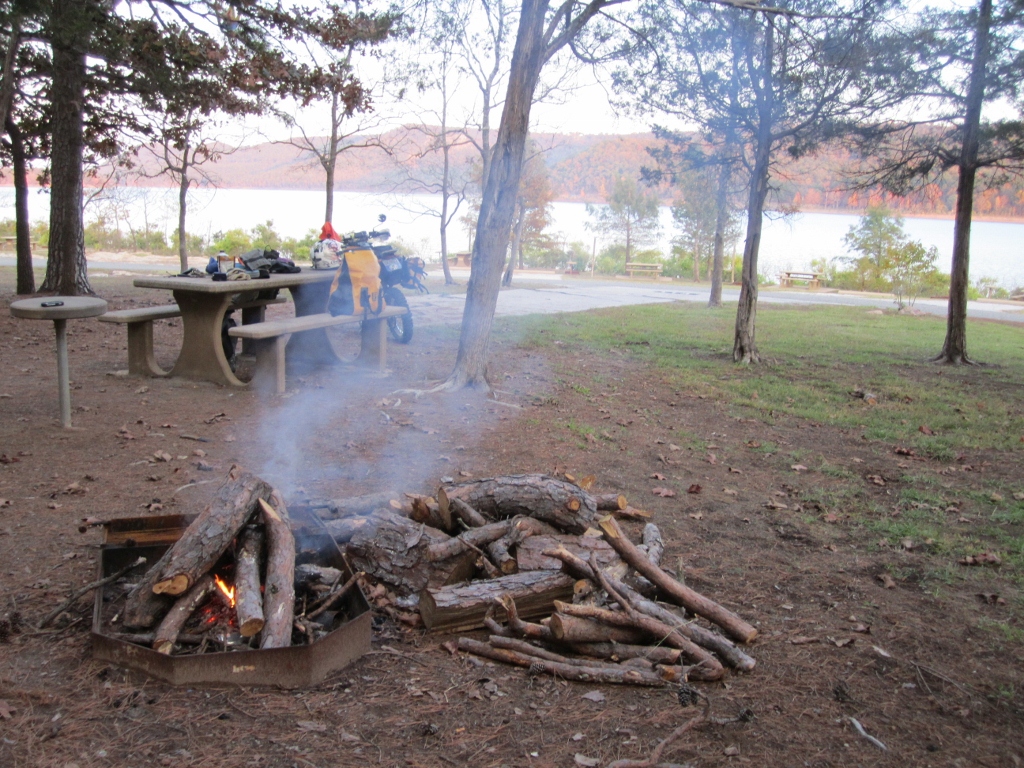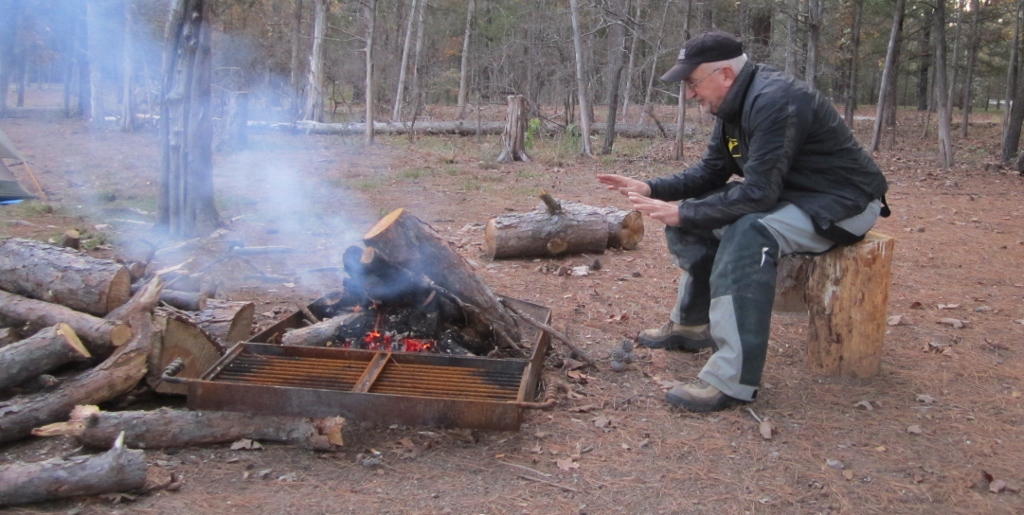 Tools of the trade.
And my hat my buddy Scott Williams (HighFive) gave me.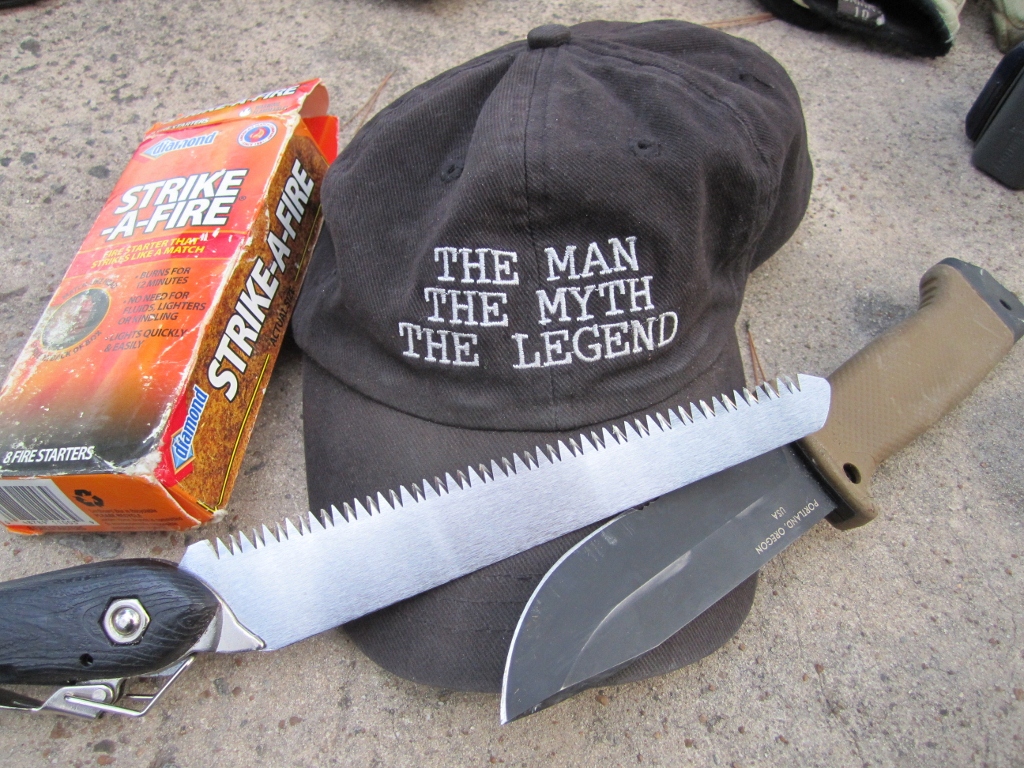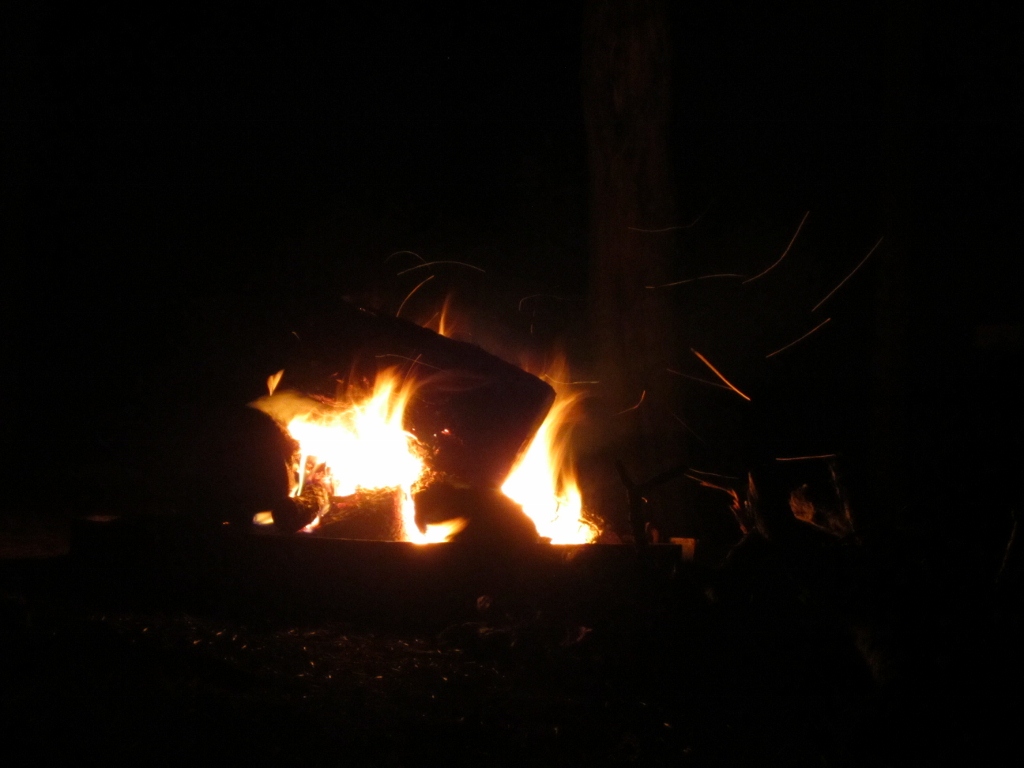 The famous Garmin 276C-----the adventure riders first choice---unless you ain't got one cause they don't make em' anymore.
Newer gps's have gone in a different direction for me.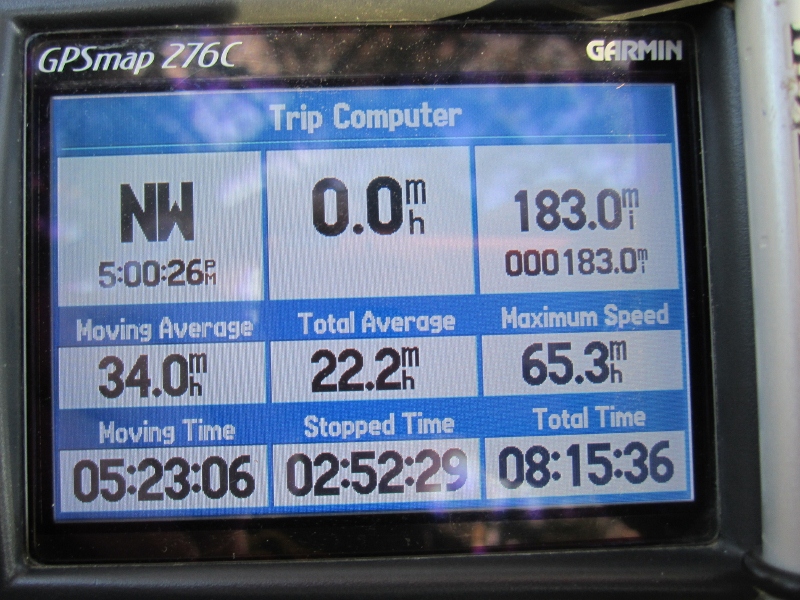 Day 2
Oct. 31st, 2011

I had kept the fire going all night at my camp on Greers Ferry Lake----but I loaded it up again as I cooked my breakfast
on my jet-boil and occasionally went over to warm up by the fire with a cup of coffee. I was lucky to have spent the last
night of the year that the campground was open.

I headed South on route 9 I believe but the route very quickly went off out in the country.
The WR is so smooth-----and I quietly breezed thru the country side standing on the pegs.
I swear it's the smoothest motor I ever straddled on a motorsickle.
6th gear is so tall on these bikes----I could almost never get in to it riding offroad---but it was there when I needed too.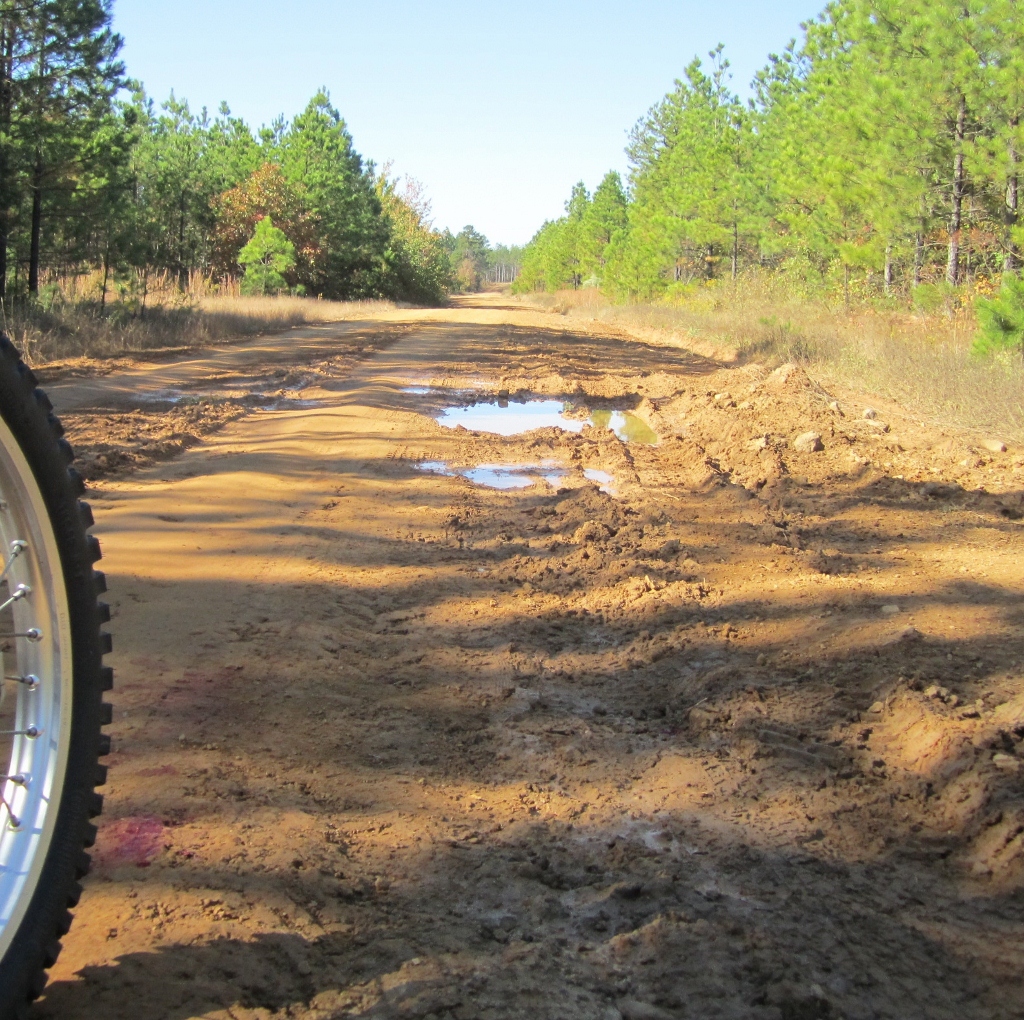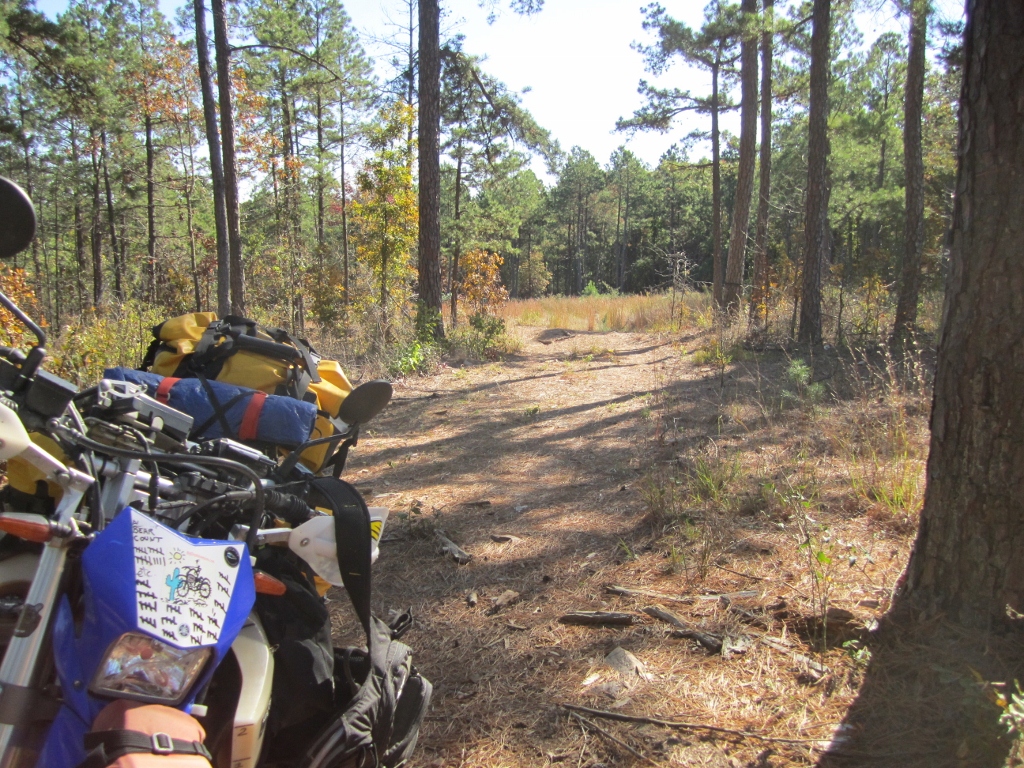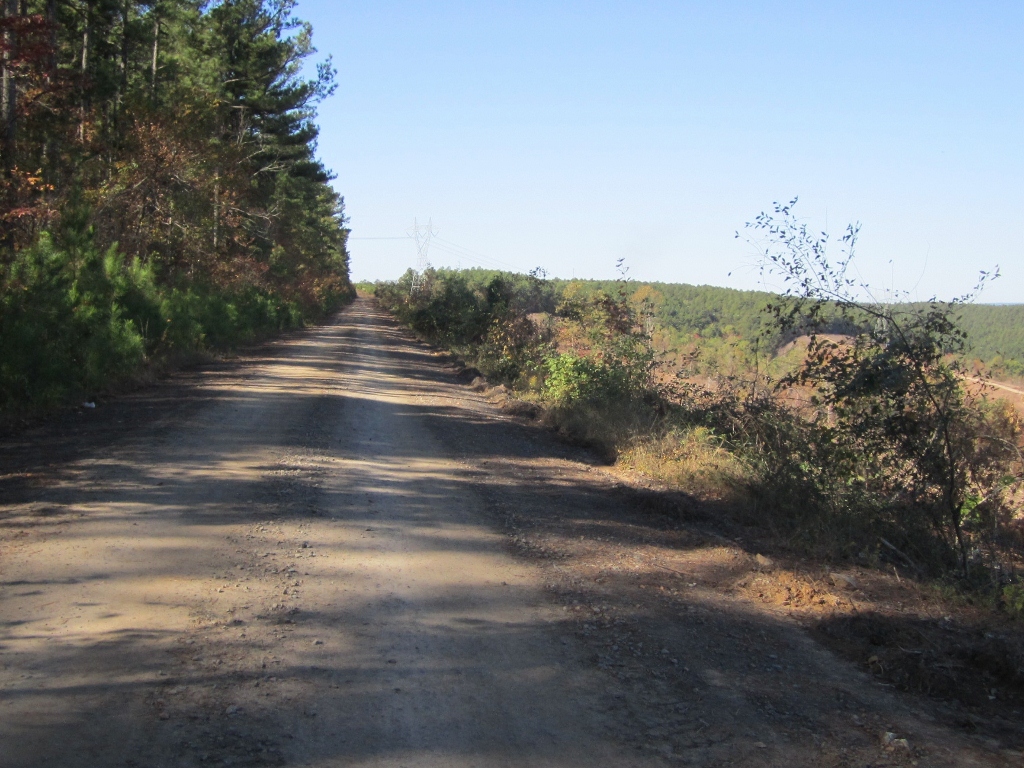 A lot of the areas I rode thru had been logged extensively as you can see here.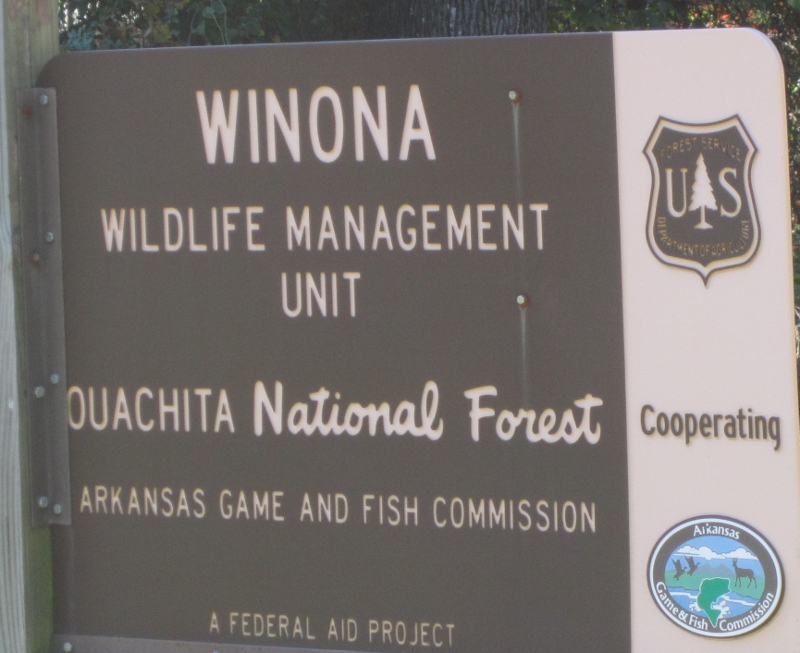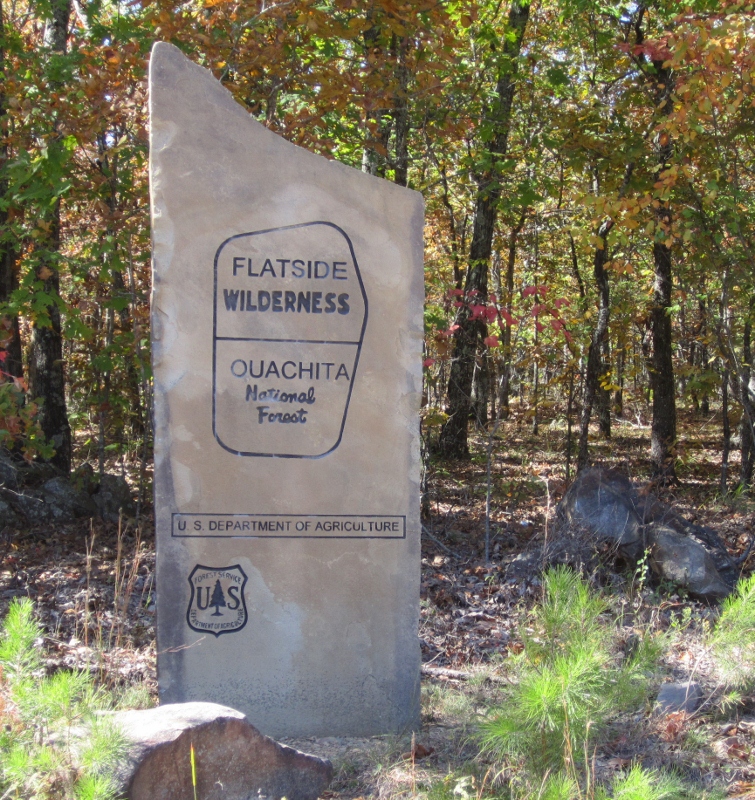 I never ran into any deep bottomless mud on this whole ride.
Any mud hole I went thru had a bottom to it and I got used to just throttling thru them without worry.
It was in here there were a couple of waypoints marked as technical riding.
One particularly tough rocky climb required my full attention--as I had to keep my momentum up so as to
avoid a tip-over. If I had gotten stopped I would have probably had to go back down to the bottom.
This was a short section that was not big bike friendly, although the picture does not depict that.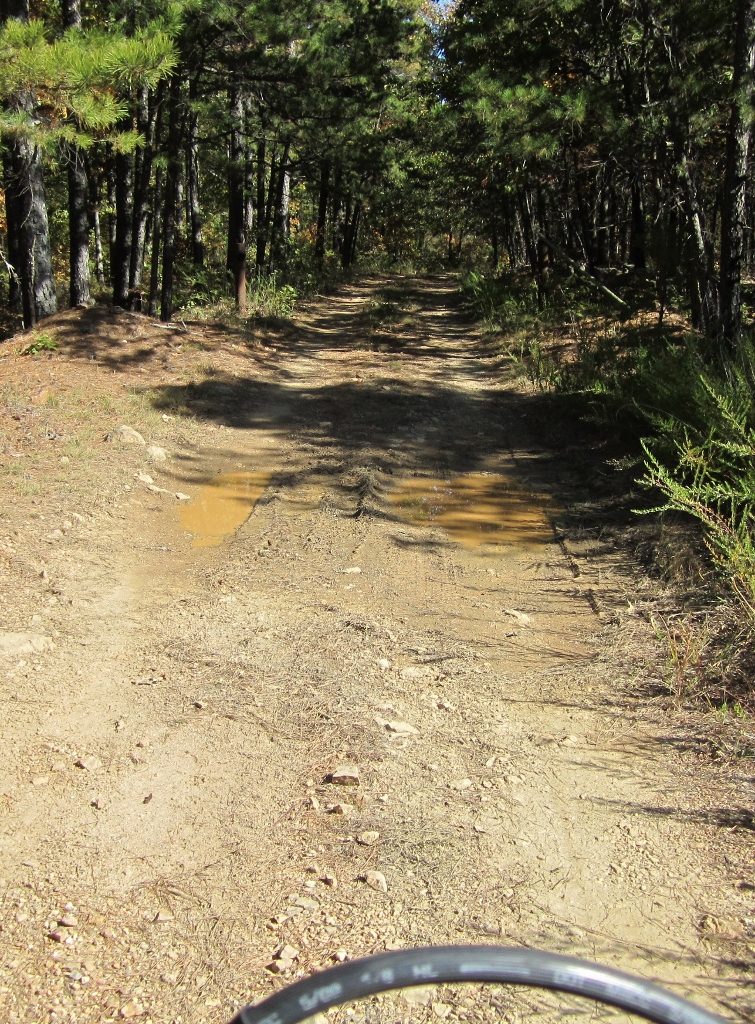 This old church really caught my eye---it was standing on stone pillars, but was in very good shape.
These are all over the place around my home in southern Illinois. Many of them down dead end
dirt roads.
This is Walnut Bottom Church and cemetary and is just Southeast of Lake Winona on Reform Rd.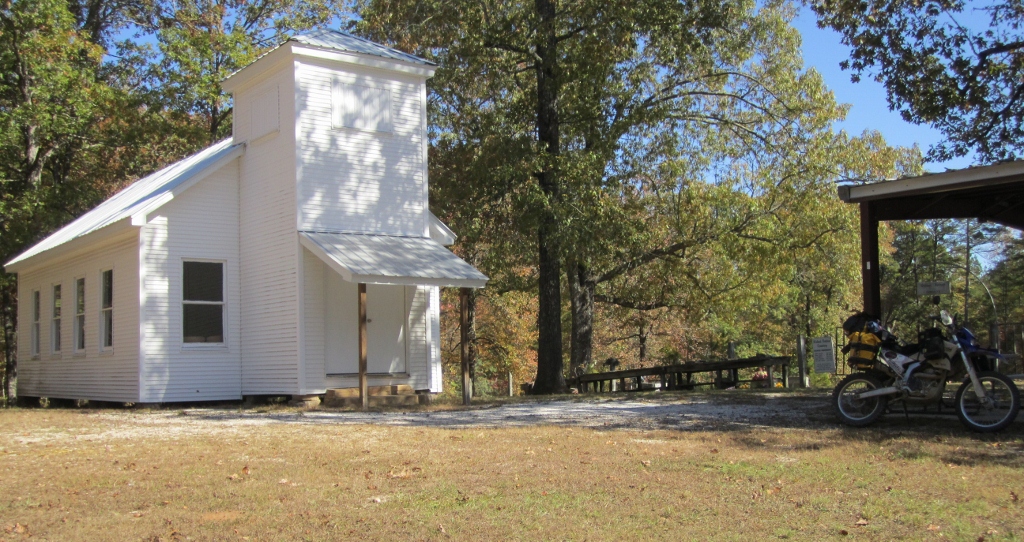 There was a nice pavillion there and I broke out my Bo's Hollow beef jerky and a gatorade.
I used to hate gatorade but drank it a lot doing physical things---like riding my bicycle or doing nasty single track
on a dirt bike----I love the stuff now. Half of what I drink while riding is gatorade.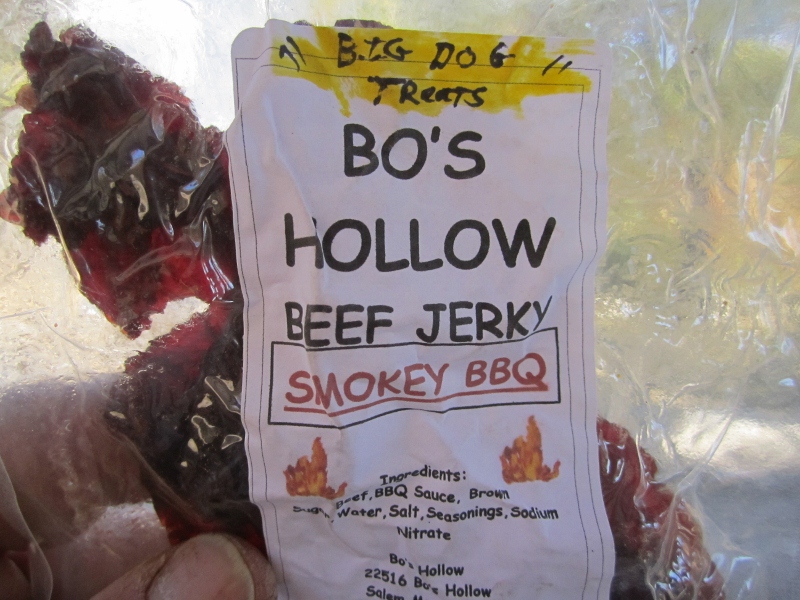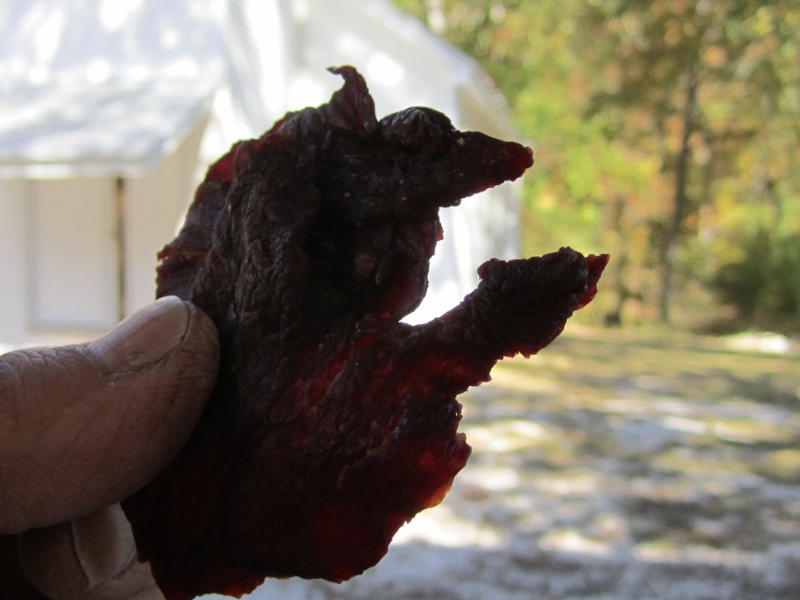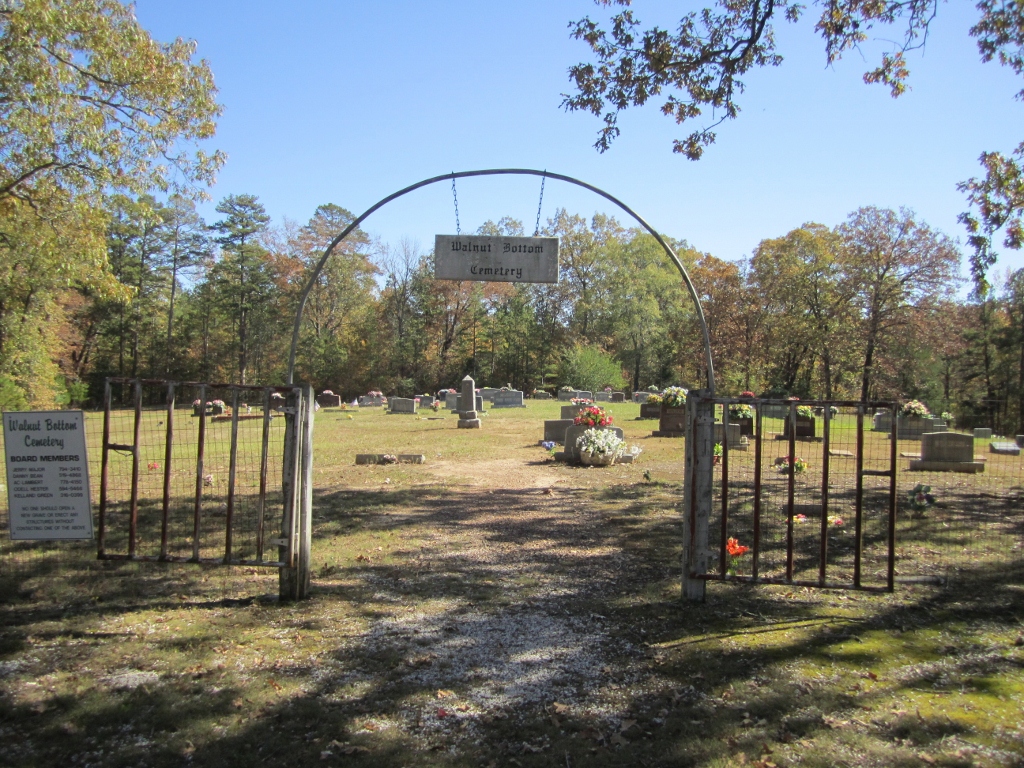 If you've ridden in southern Missouri any---a scene like this is very familiar.
Lot's of low water crossings.
It had been cool enough today that I kept my heated grips on all day--but it actually wasa perfect riding temperature.
I was wearing a Kilimanjaro 5.0 jacket and opted to not bring the liner----and instead substituted my warm and
safe heated jacket---which I used a little most days.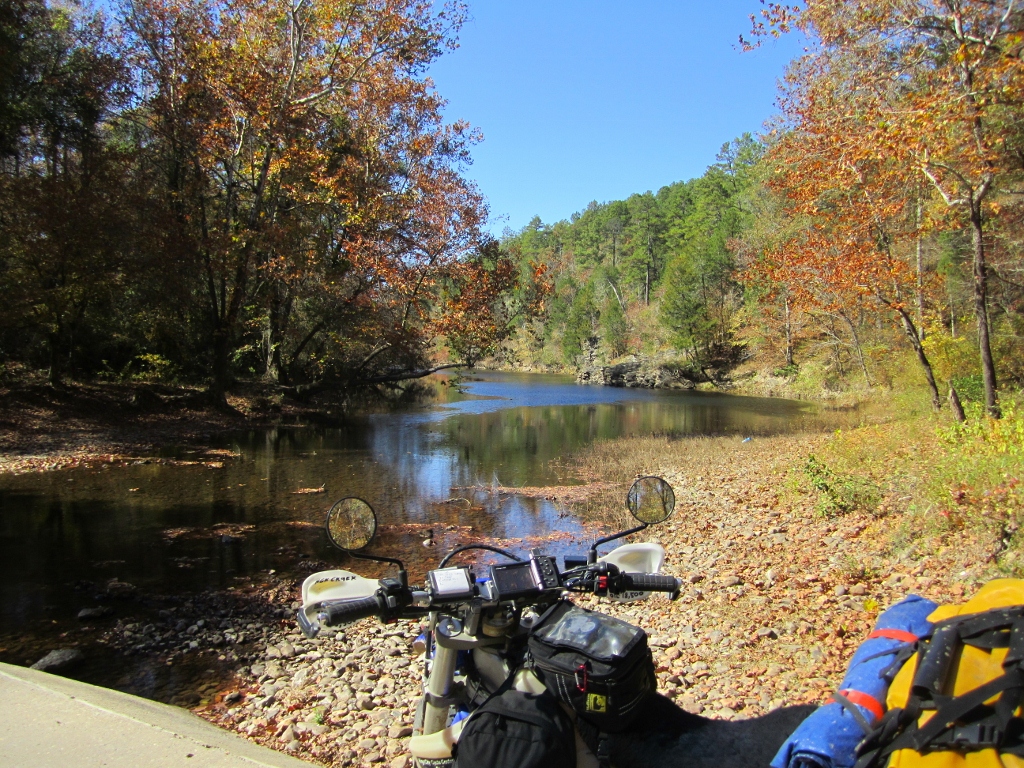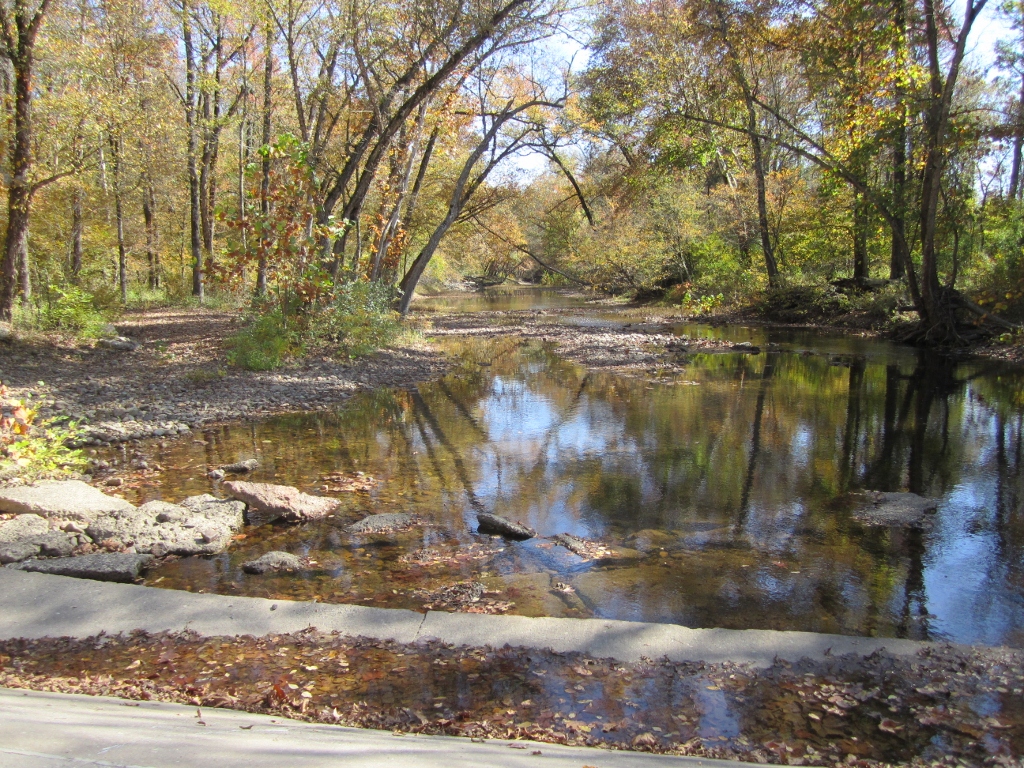 I passed a few fuel opportunities today but my 250+ range kept me from worrying about gas.
The WR gets over 60 mpg----sometimes into the 70's and has a 3.7 gallon tank.
It is an aftermarket Safari tank and the way they have the fuel injection pickup designed on this tank, it will suck all
but a mouthful of fuel out of the tank. So---if you have a 150 mile gas tank, you should be fine on the TART.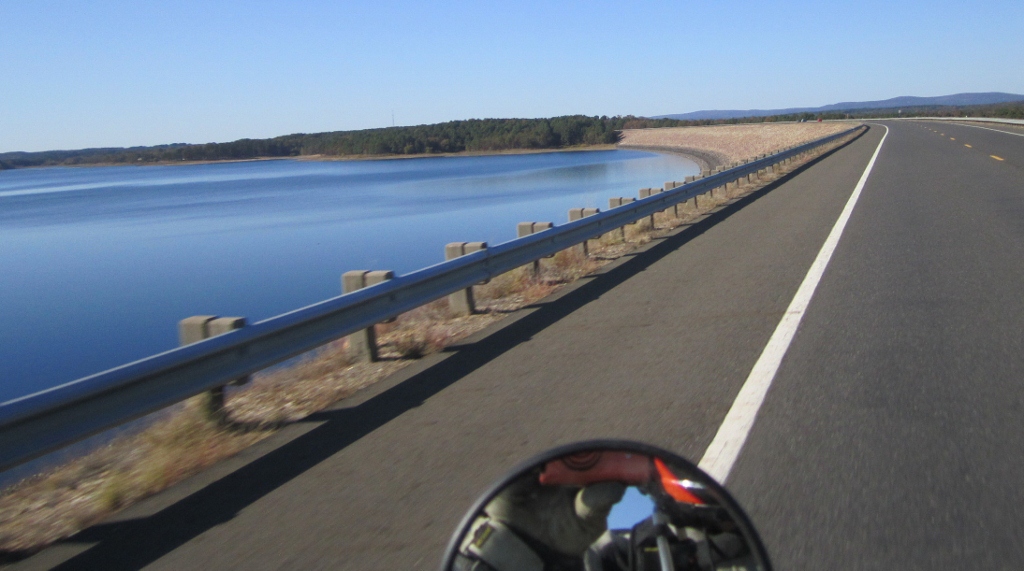 Just North of Arkadelphia, Arkansas I turned Northwest into De Gray Lake state park and campground.
I had been 4 days without a bath and they had the nicest shower there and I probably about drained the
water heater. I carry a package of wet wipes when a shower is not to be had. These work really well and I'll use them right
before I snuggle in my sleeping pad if I need to.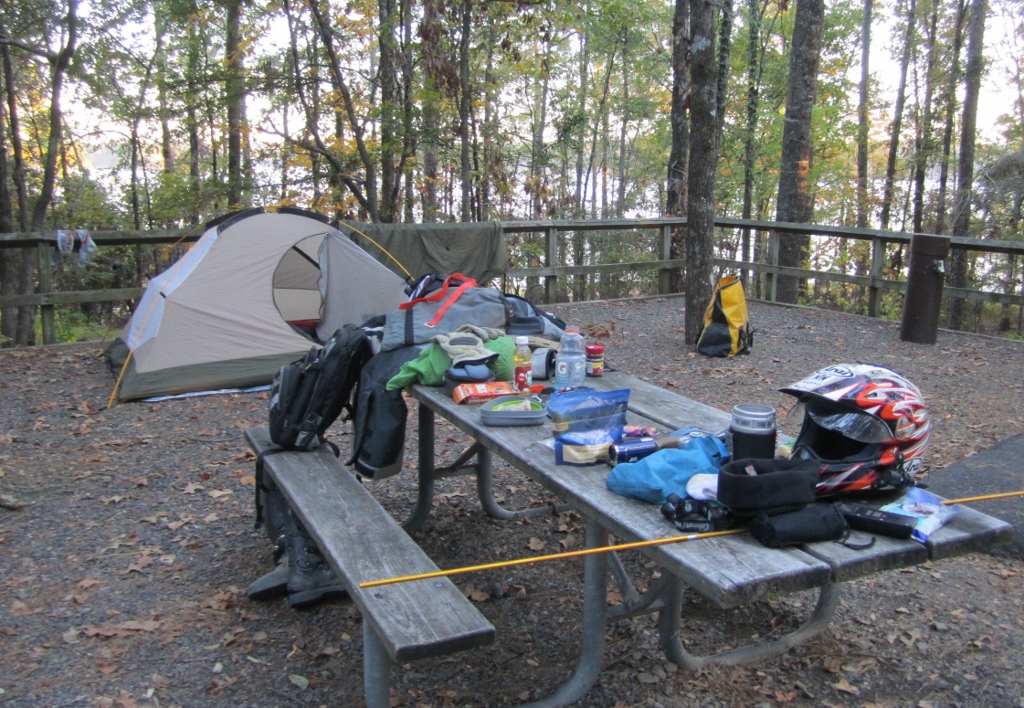 I got here just early enough to relax---gather firewood and cook a jet boil meal of chickenTerriyaki and rice.
I made sure I drank all my gatorade so I'd have something to pee in----in the middle of the night.
I hate having to crawl out---especially if it's real cold or raining.
Big Agnes finally called me to bed-----I couldn't turn her down.
Most big agnes sleeping bags have absolutely no insulatin in the bottom. But----I bought a big agnes insulated air core
air mattress which fits in a sleeve in the bottom of BigAgnes---this works so well.
It's a 0° bag----but so far I've never had to sleep out in anything below 20° yet----really toasty.
There are black bears in Arkansas, but I didn't feel the need to sleep with my Gerber LMFII in one hand and
bear spray in the other as I did a few nights in British Columbia, The Yukon and Alaska.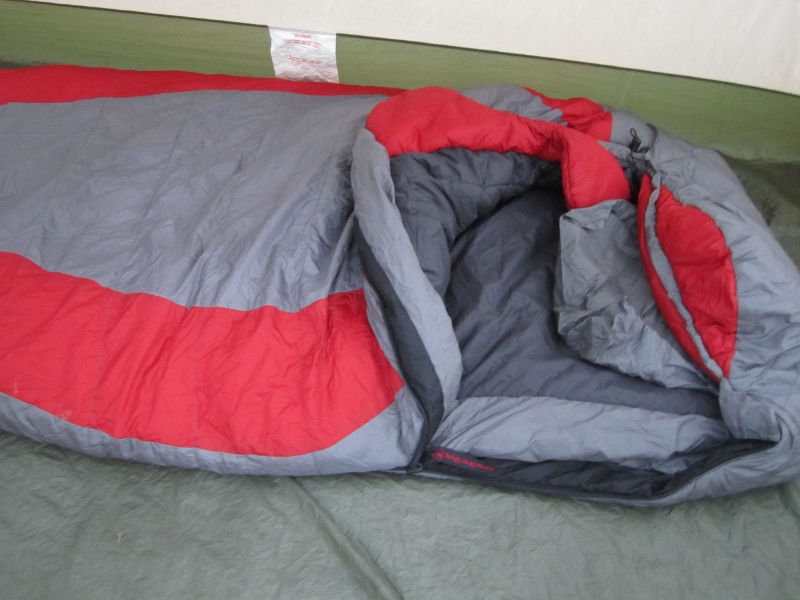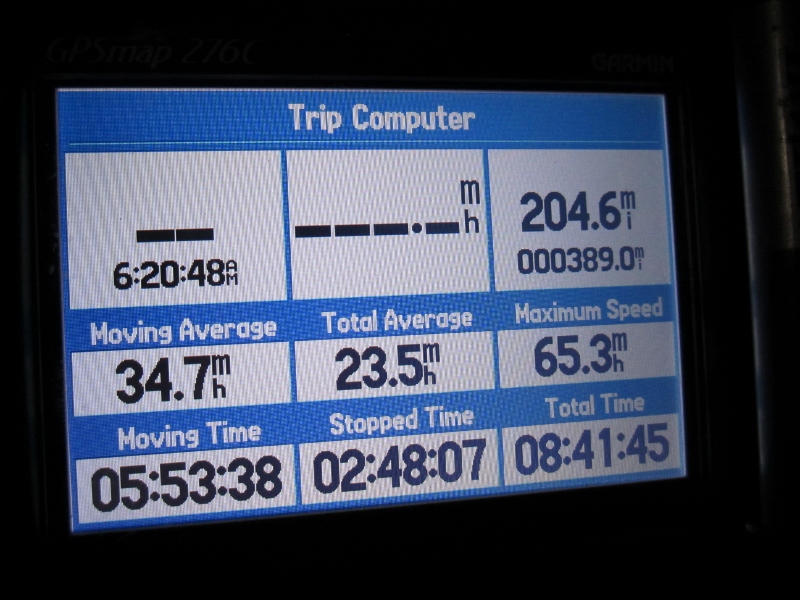 Day 3
11-1-2011
I got a free campsite last night at Degray state park---and free shower.
The office was closed when I got there and I got word to pay in the morning--at the office.
The office was closed at 6:30AM still and I wasn't waiting for them to open.
I ate breakfast and was packed up before the sun came up.
What I saw in the wee hours of the morning.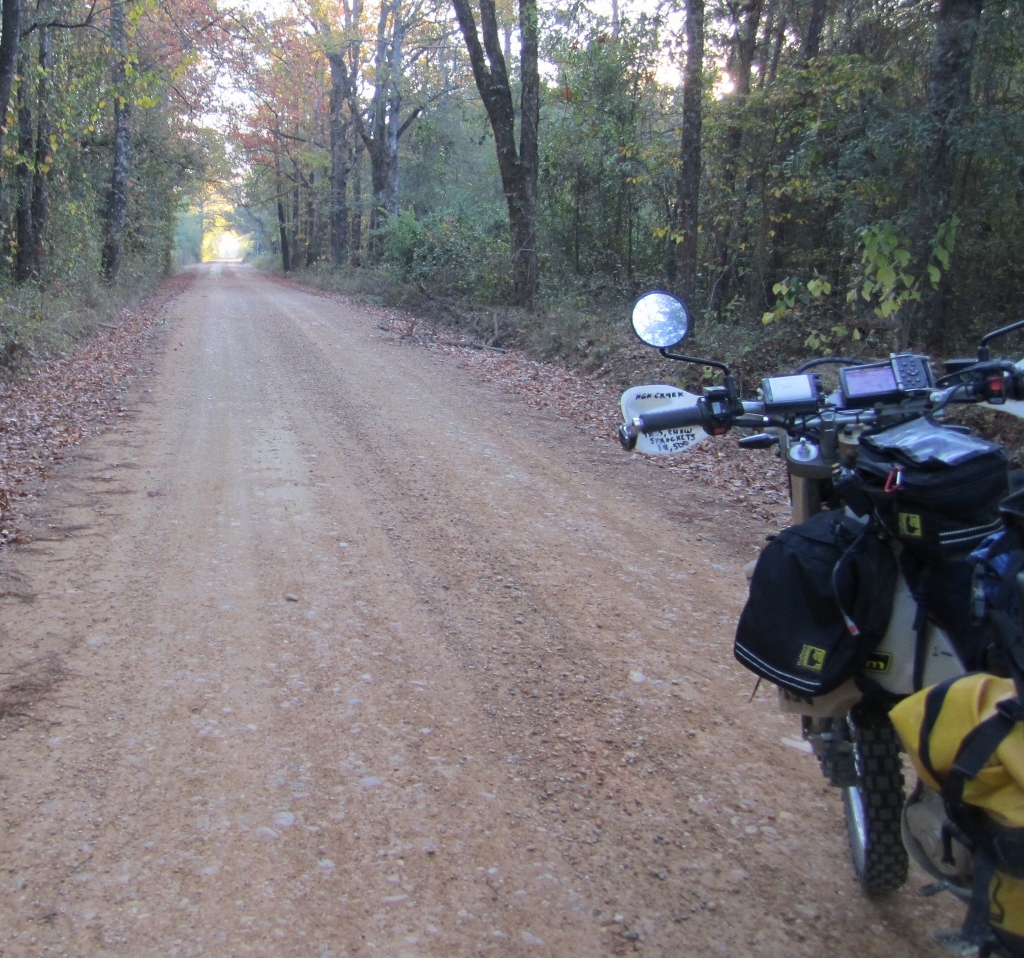 Oh did I love it in here---it was X-mas tree heaven for miles---I've never seen nothing like it.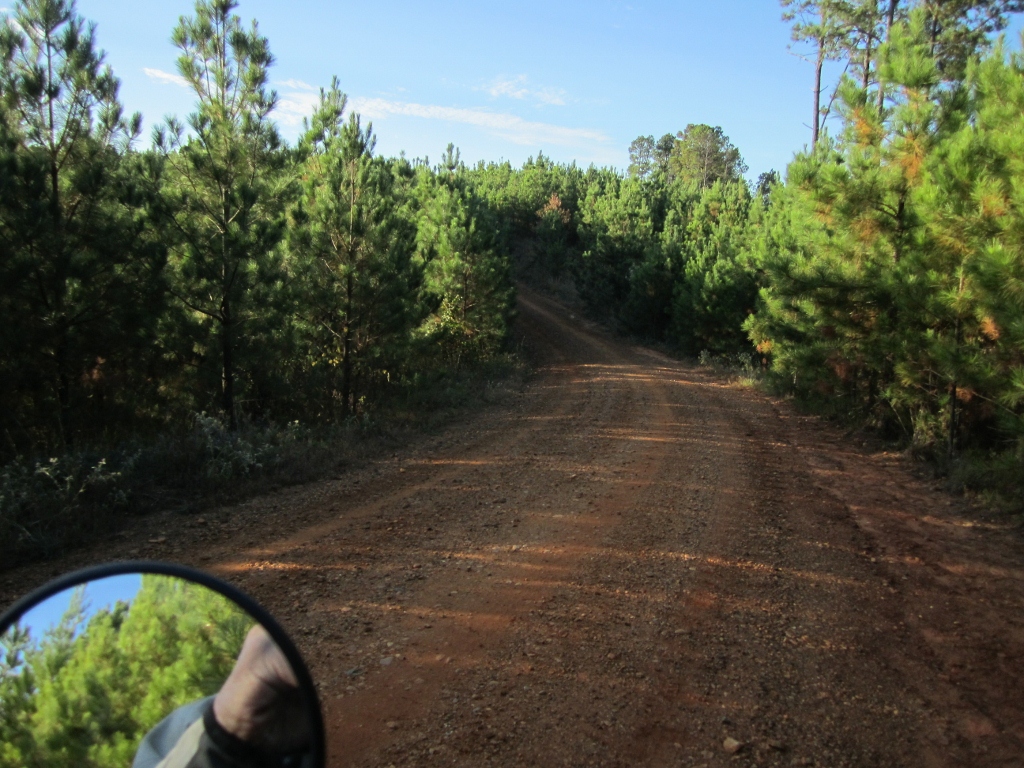 I was following a gps track log this whole ride---thanks to DRZCharlie.
He'd put down waypoints for stuff------single track---bulldust---closed gates---gas--technical--made it easy for me.
I had the track loaded but made an autoroute out of it also---set my 276C to "Do Not Recalculate" the route and it was
a no brainer--------most of the time.
It was in here the trail would almost disappear and if it hadn't been for the track log I would have never
found my way out----dirt roads and trails going everywhere.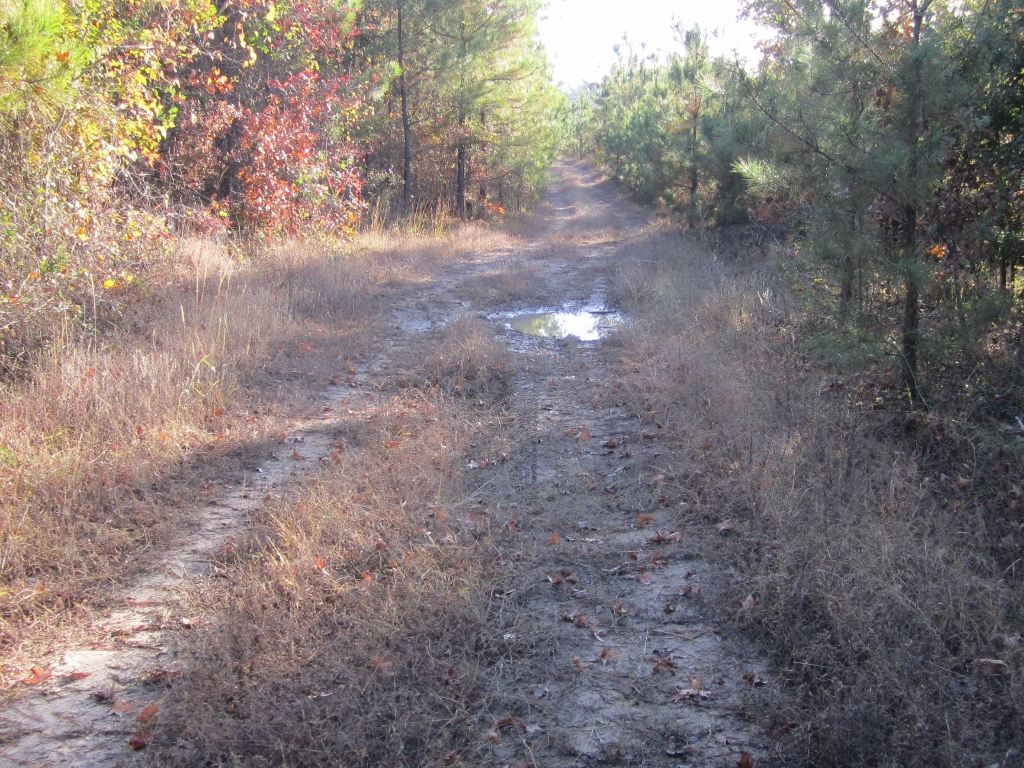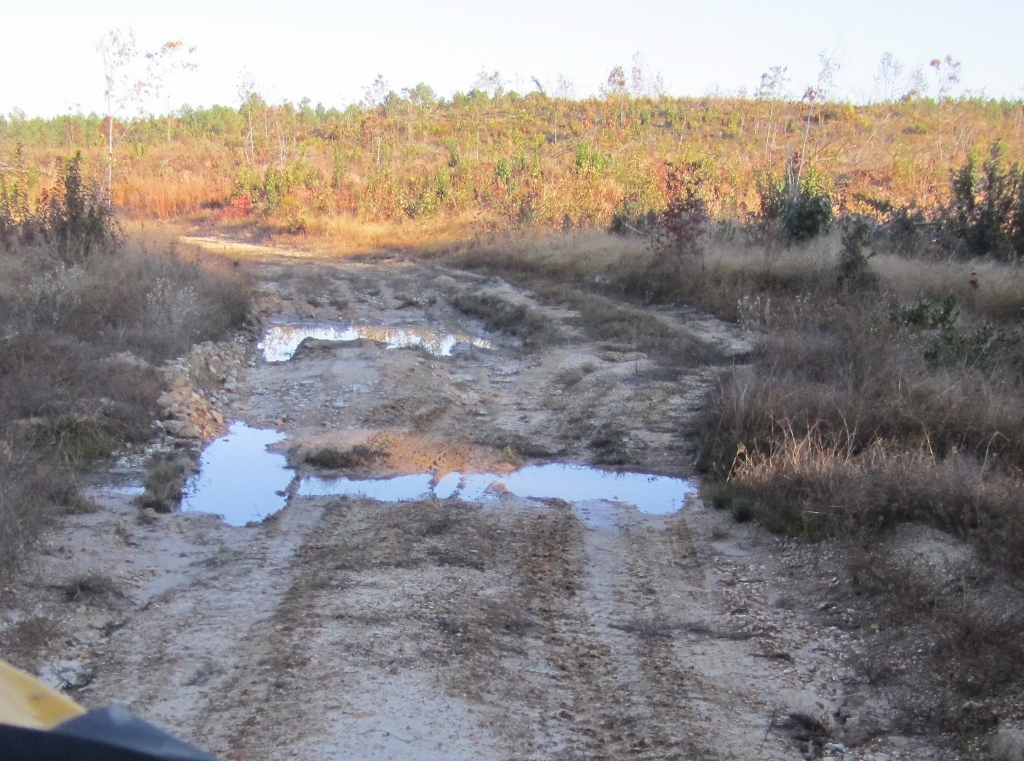 Sometimes I questioned whether these little dirt roads would go thru----but they did.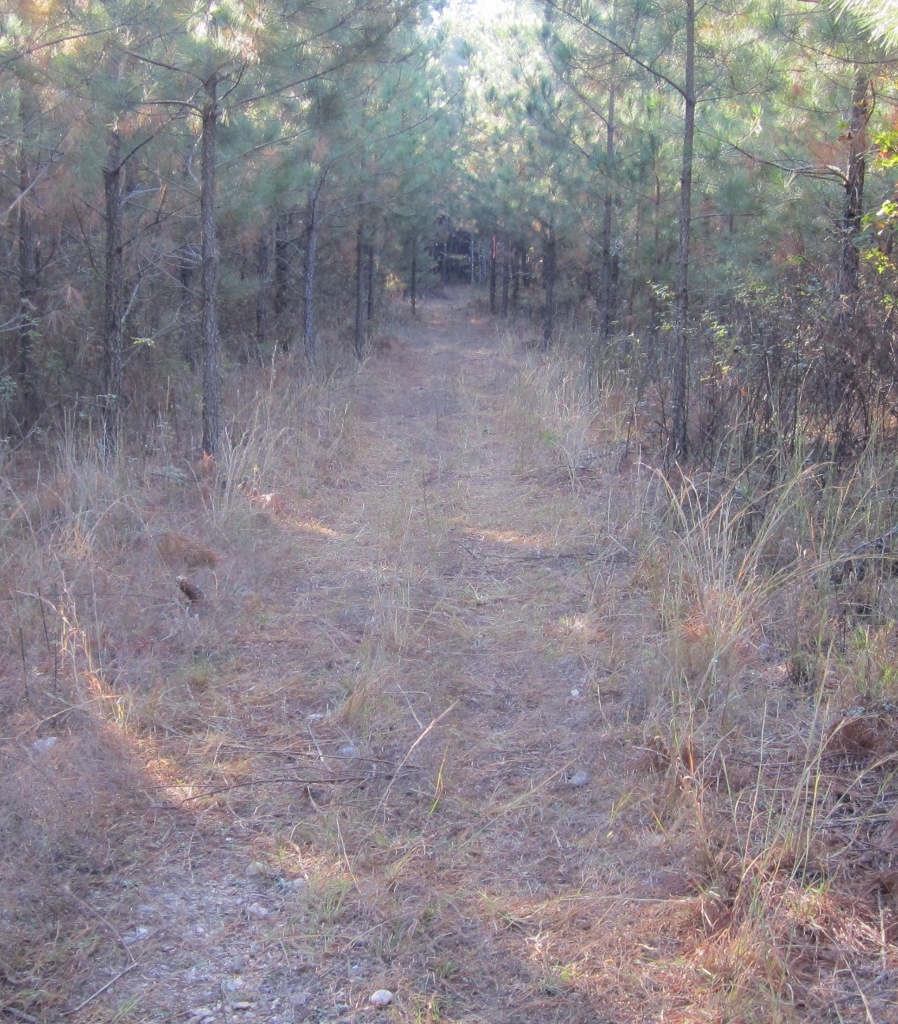 Hunters have closed some sections of the forest----I was warned to be ready to re-route on the fly and I had to--but
it was no problem.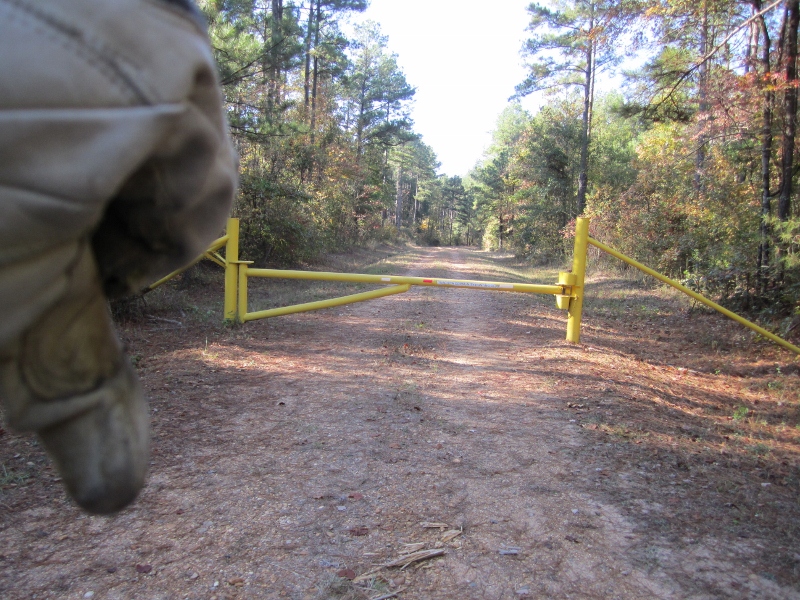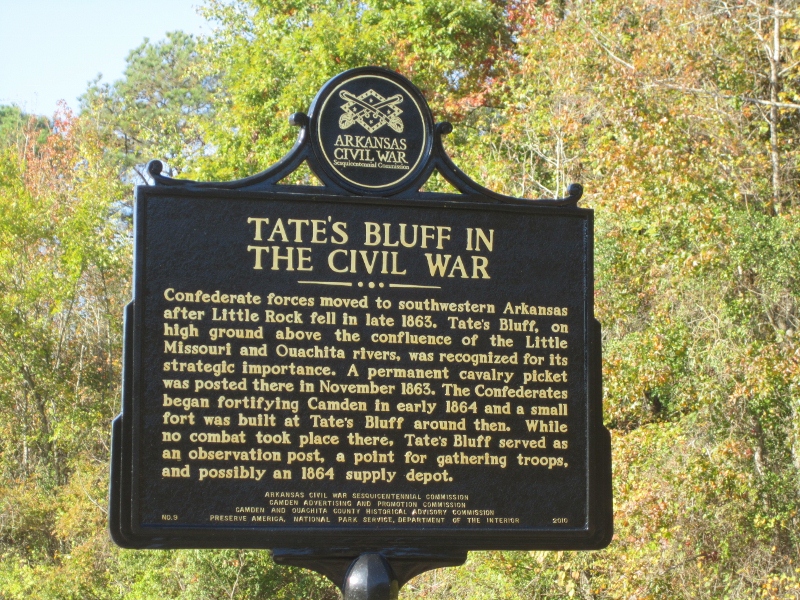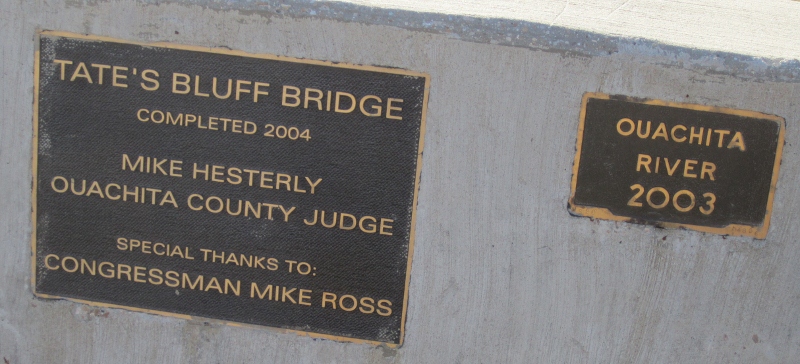 At Tates Bluff bridge-----2 rivers converged--pretty neat spot with a bit of history.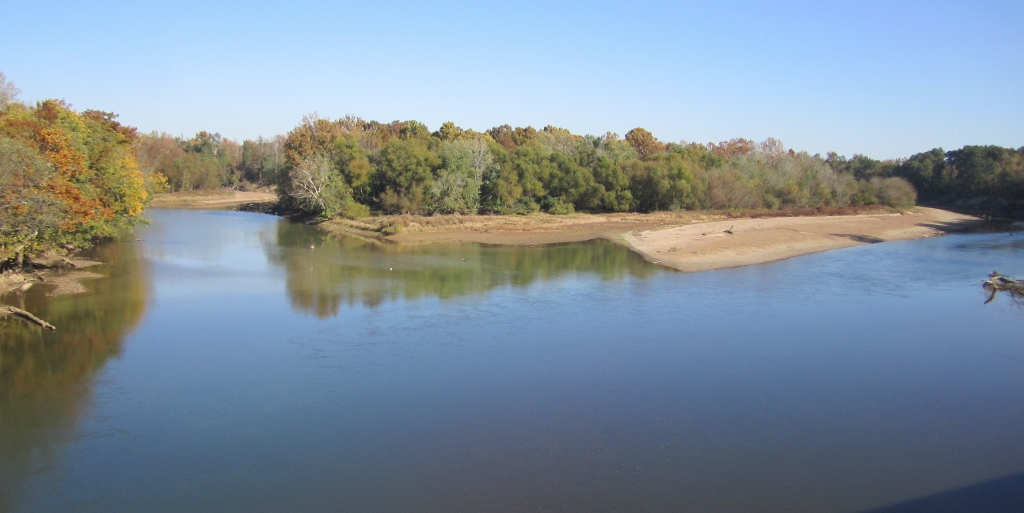 I think I only found 2 spots where the gates were closed. I checked out both ends of the road and the gates
were closed on both ends---so I was glad I respected them and didn't go around them.
Still not sure I understand the situation----how a few can close a rode for their purpose when all taxpayers paid
for constructing and maintaining the road ???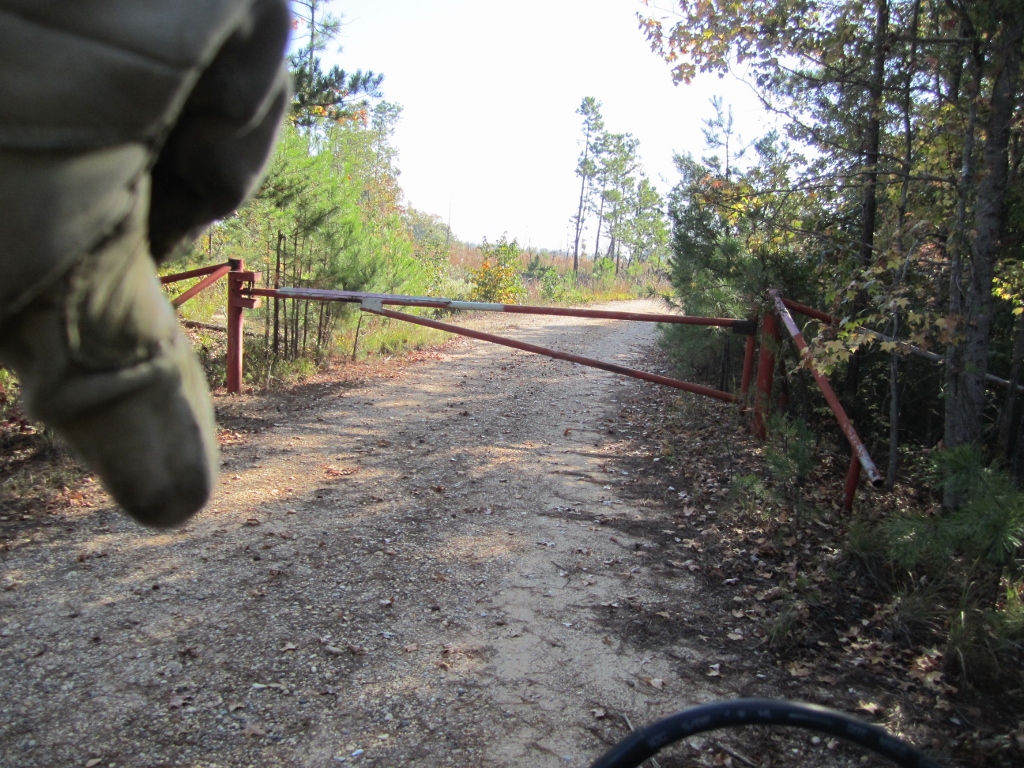 I was in dirt heaven ridig thru here--with the sun poking thru the marvelous tree colors.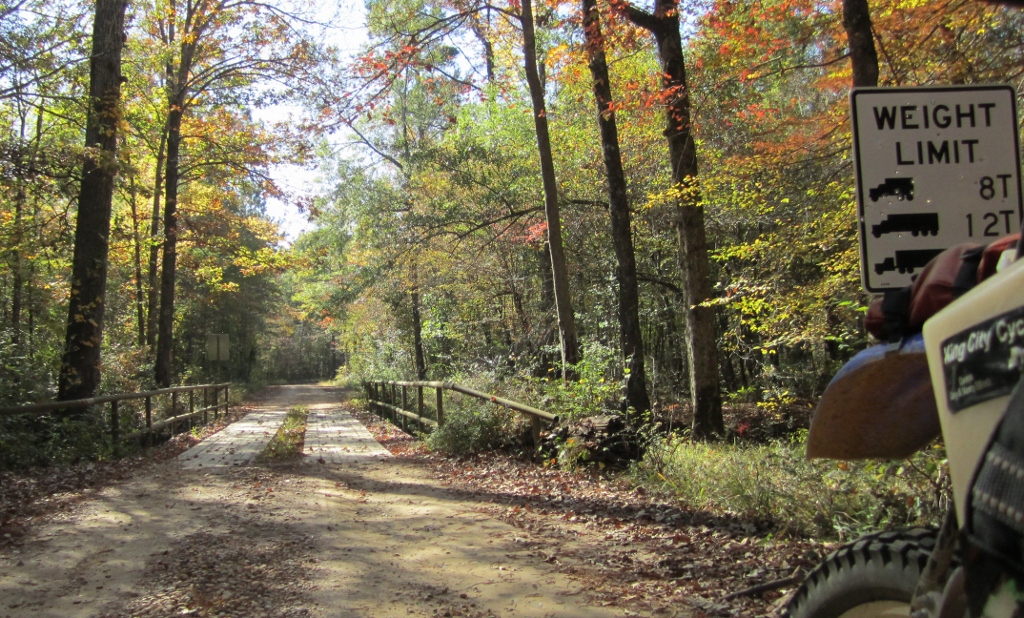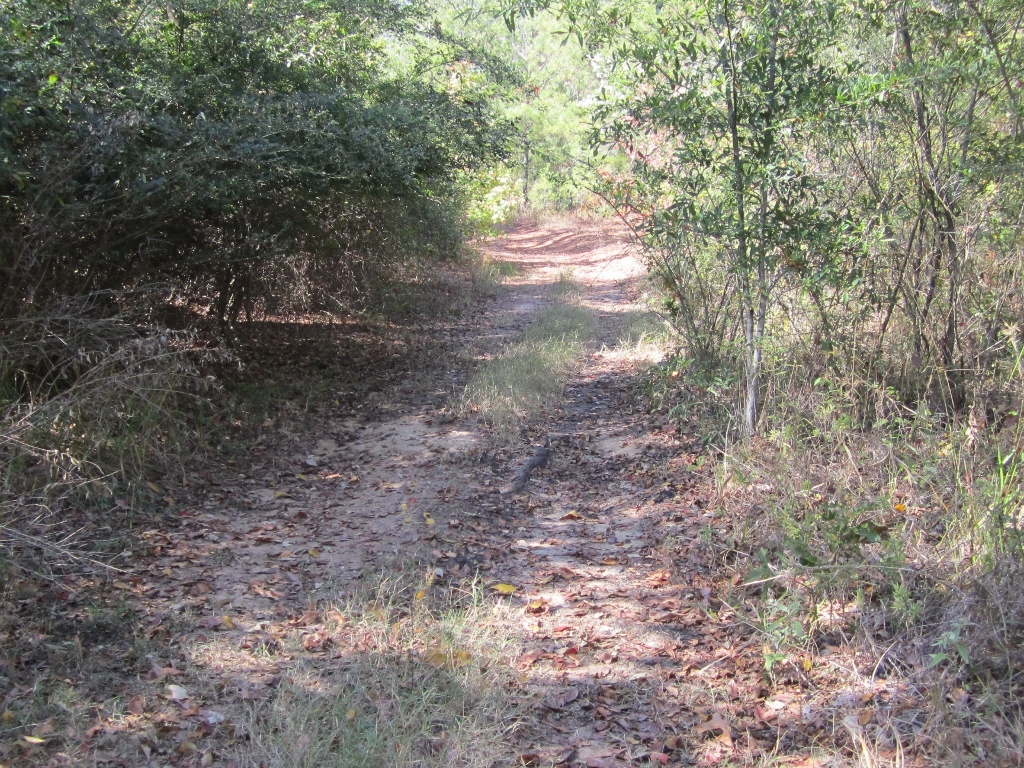 I think right before I rode this route some guys hit this wire fence and crashed.
It just popped up out of nowhere and if I hadn't been paying attention I might have hit it to.
A re-route was needed here---as I headed into an area where I was warned of deep Bulldust ???

You can see my track to the right where it ends at waypoint 0121---which is a waypoint I dropped where the wire was.
So I went around thru the Deep Bull dust waypoint and the dirt had changed.
You can also see my purple auto route which I had to ignore for awhile.
But I guess somebody had rode thru the wire all the way thru--as I had a track log loaded of it.
That DRZCharlie no doubt.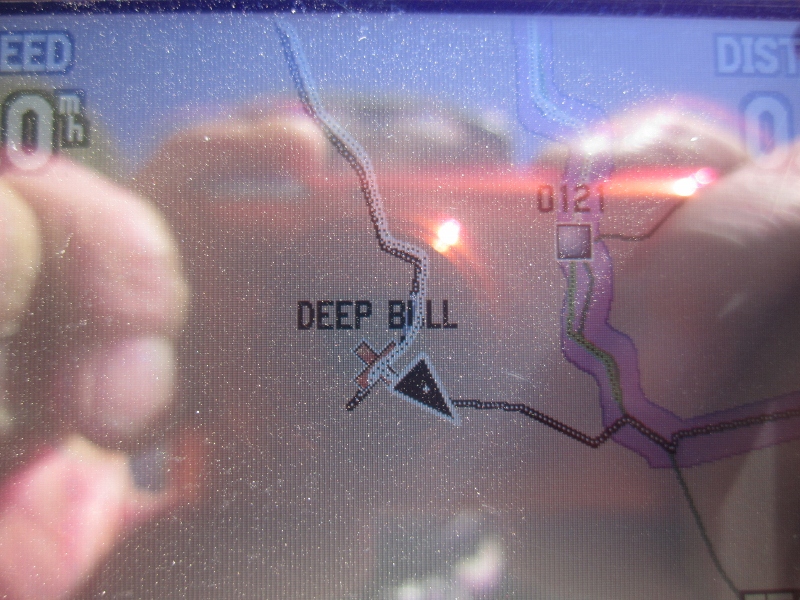 It was easy peasy----as it had rained and bulldozers had packed the dirt.
I don't think I could have got thru here if it had been muddy.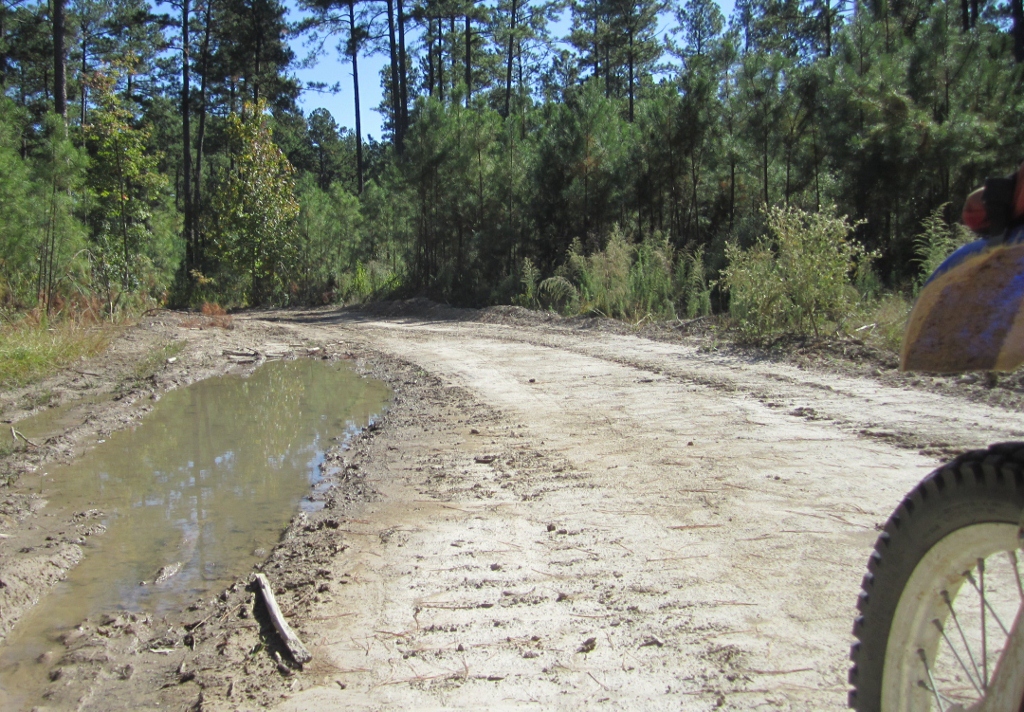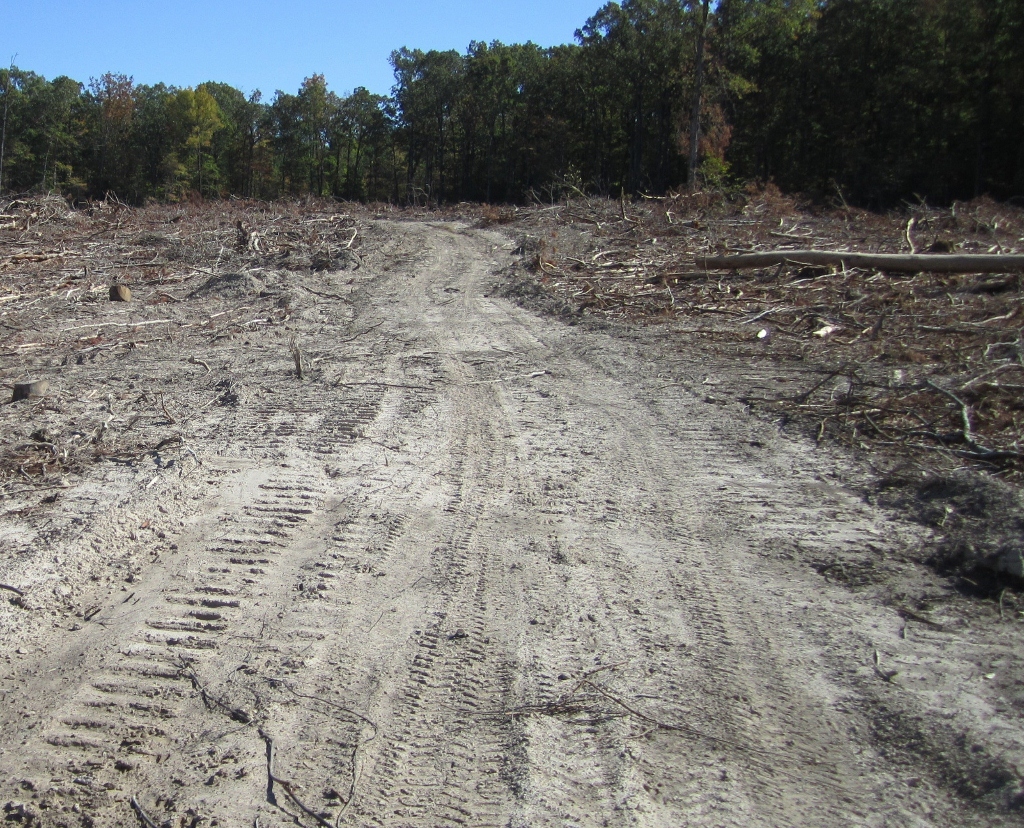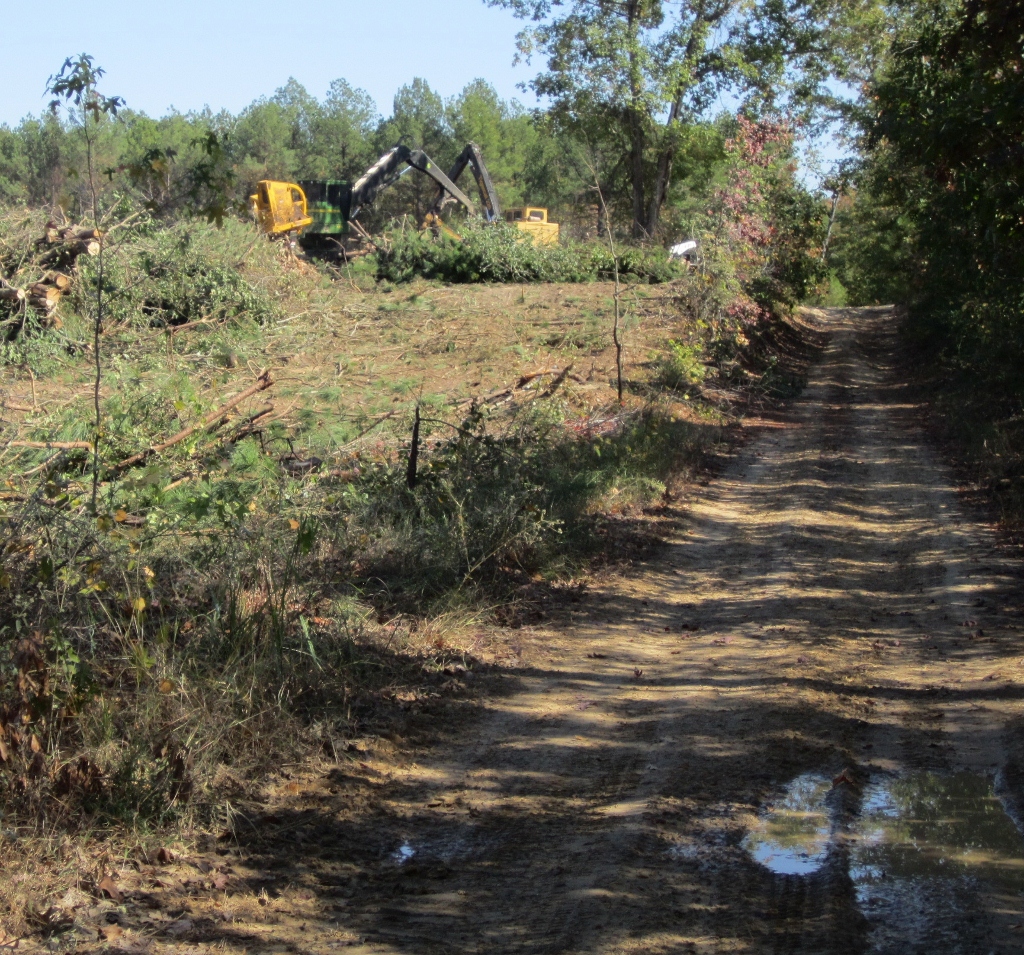 Rode right thru the middle of a huge horse ranch---fenced on both sides with a nice white steel fence.
Felt like I was trespassing---but it was a public road.


I finally hit the Lousiana border in Junction City--and went up an down the road in town looking for
a Welcome to Louisiana sign---but there was none.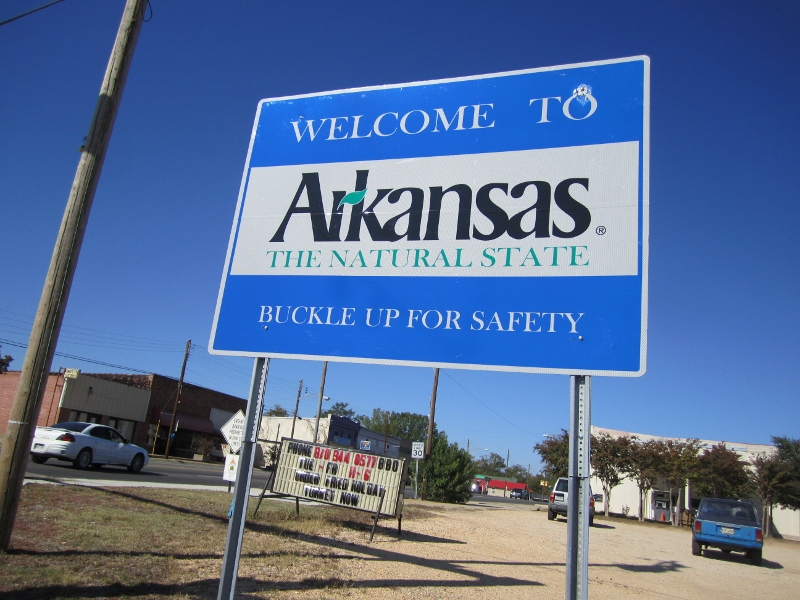 So looks like my TART was 684 miles---doing it in 3 days.
After poking around in Junction City a bit---I turned Northwest and had no idea whatsoever
where I'd go----but got a recommendation to go see an old stone with interesting carvings from
800 AD that question history as we know it--and it would be a life changing thing for me
---and it was in Oklahoma.---OK.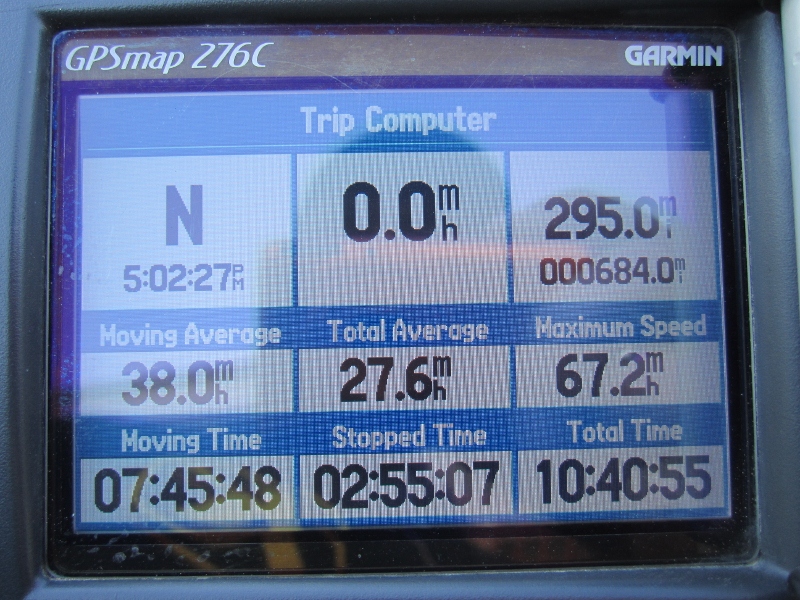 More Day 3 Heading back North---kinda
November 1st, 2011
So Immediately after hitting the Louisiana border I started winging it North and Northwest-------kinda.
I took highway 8 Northwest and a spring waypoint popped up on my screen that I put on there years ago.
Never been there---so trying to find the spring put me on an old railroad bed.
I think Caddo springs is on the other side of the river---tried to get over there---but couldn't.
This is the Caddo River.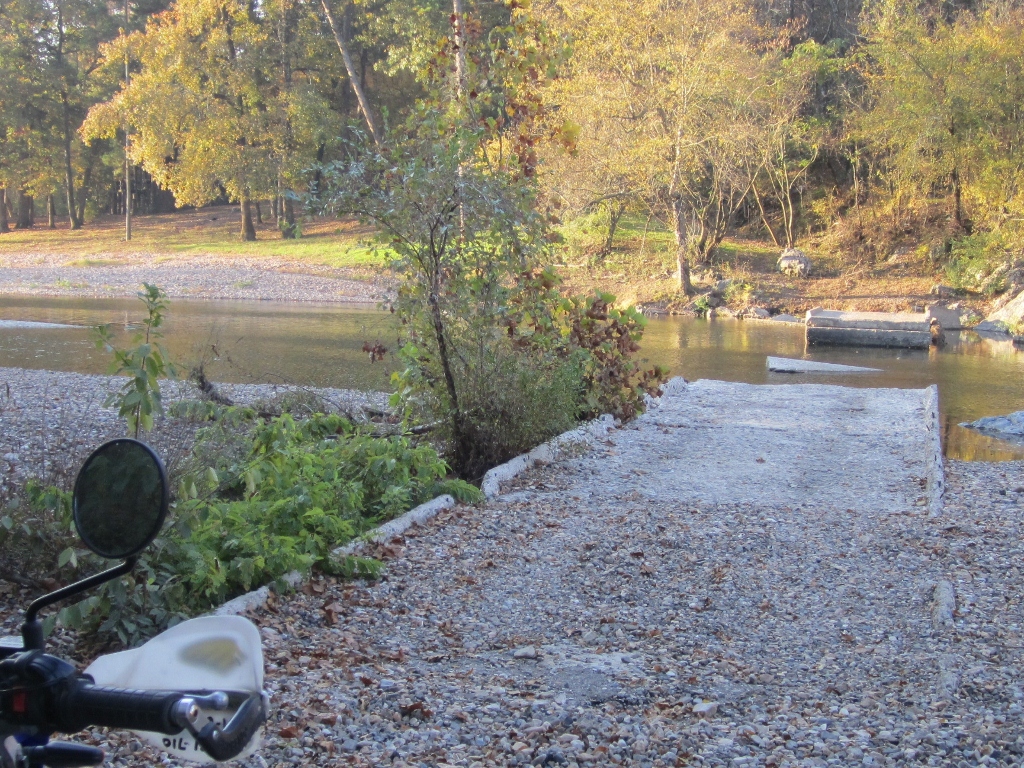 And as soon as I popped back up on hwy 8----about 2 tenths down the road a dirt road on the right caught my attention and
I noticed another spring waypoint on my gps screen. I've never been in this area, so I knew I hadn't been there.
This was some kind of ranch----Bear Ranch ??? Maybe ????
It was lousy with bears--and I had to get out my bear spray and Gerber LMF II and bop this bad boy in the nose.
Looks like he'd been bopped in the nose before.
And I added another mark to my Alaska bear count.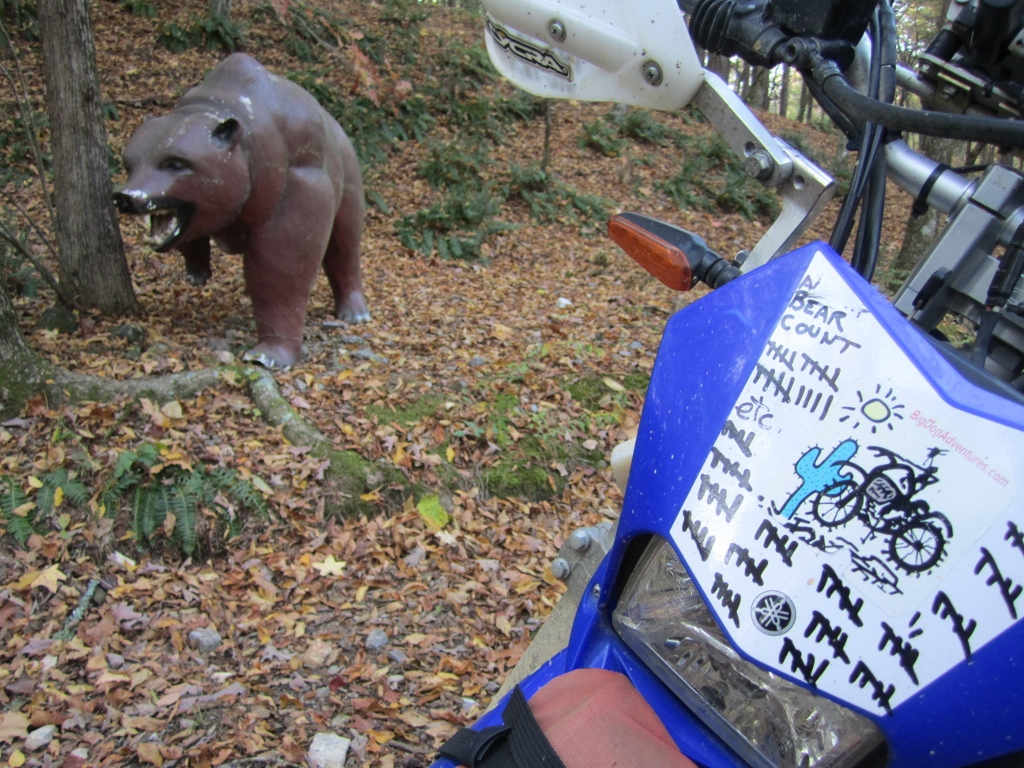 And I spotted an Elk----he wasn't scared either----never moved at all.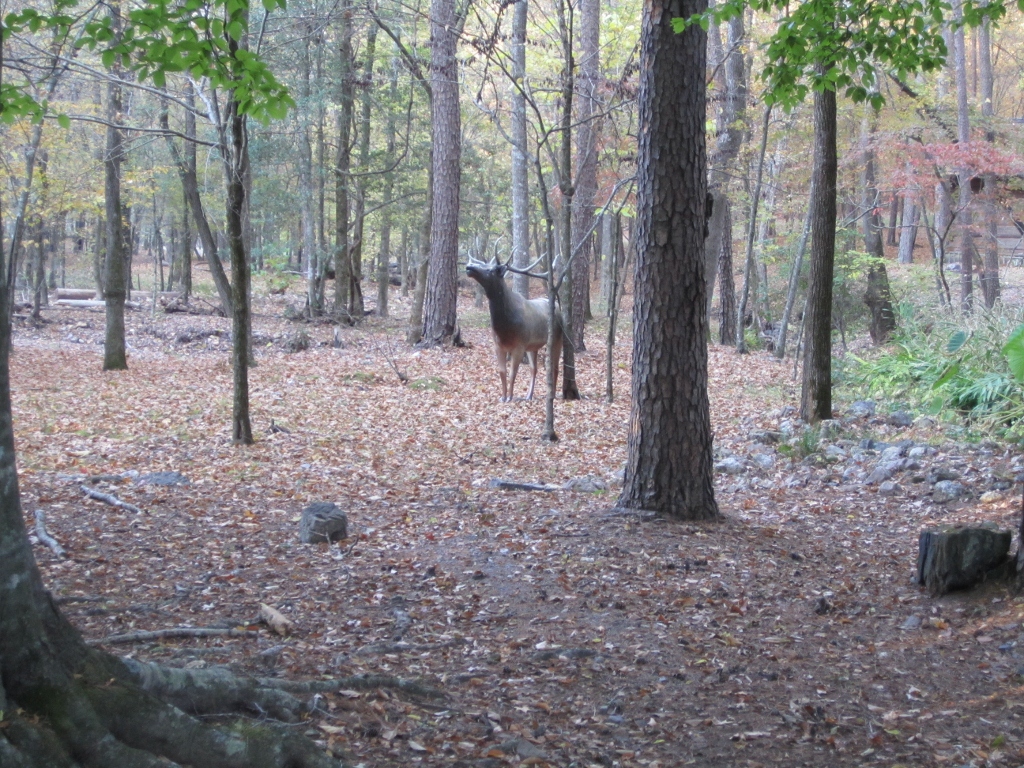 And I found the spring-----------check.
This is called Strawn Spring.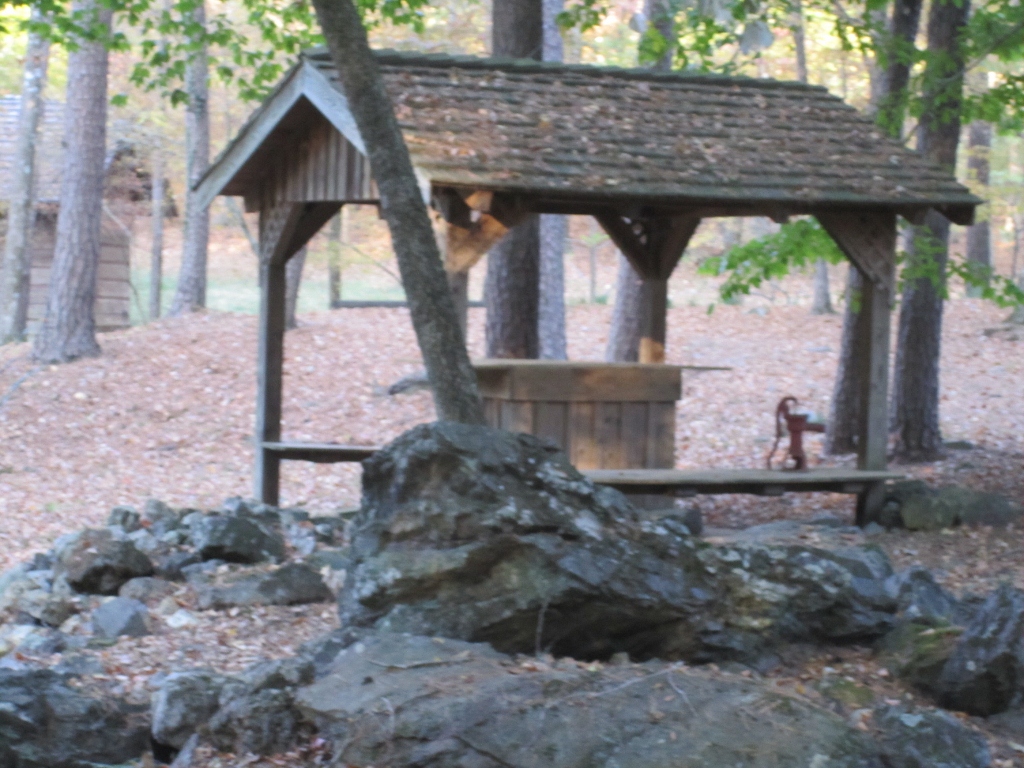 There was nobody around---I had the whole place to myself---and I guess it was some kind of
boys camp or something--never did figure it out. This train was only about 4 ft. high and 10 ft. long.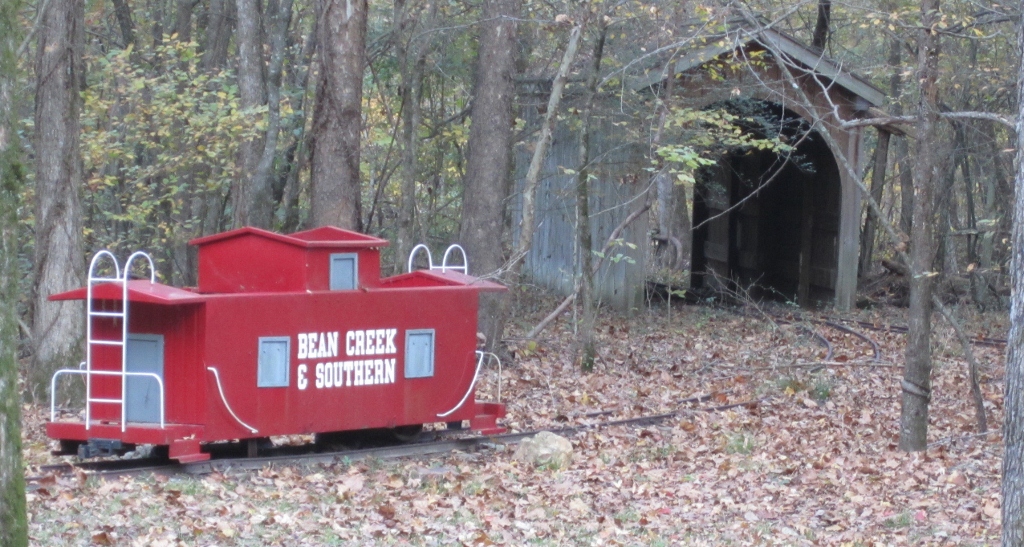 Just a little bit North on hwy 8 again and I turned West on Pole Creek road.
This was out of the town of Norman, Arkansas I believe.
What led me down this road was another spring waypoint on my gps.
Never been down here before---so off I go.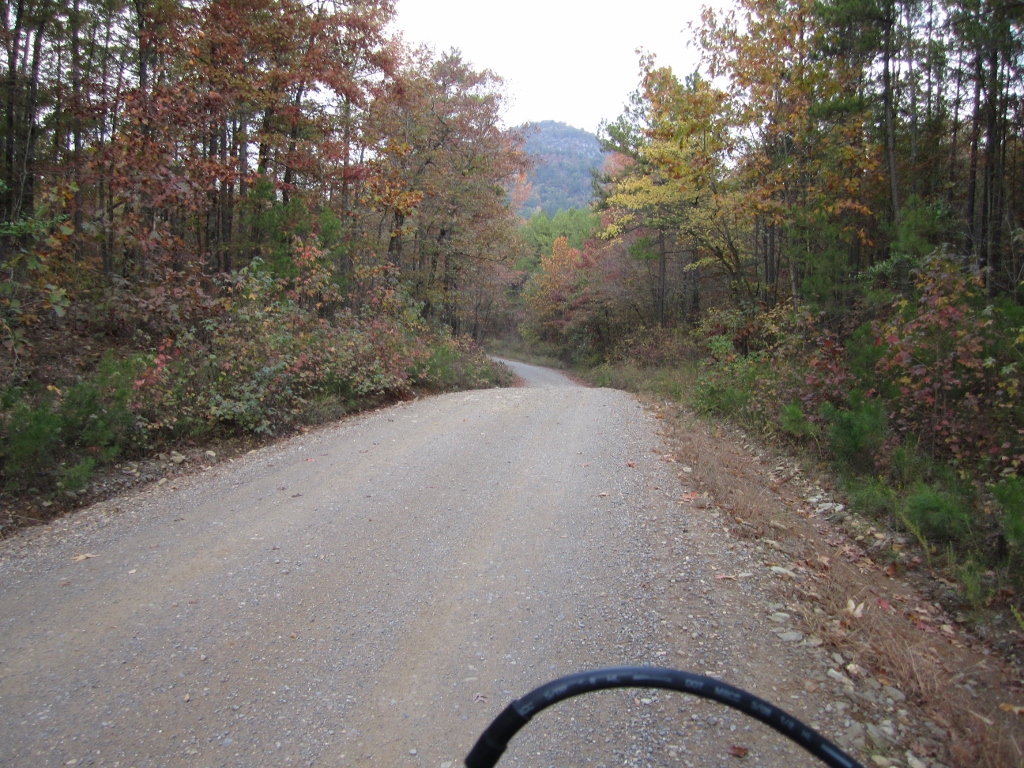 Pole Creek road was super awesome--and I turned on another road----Crooked creek
road heading West-----I can't describe how beautiful it was down this one lane narrow road.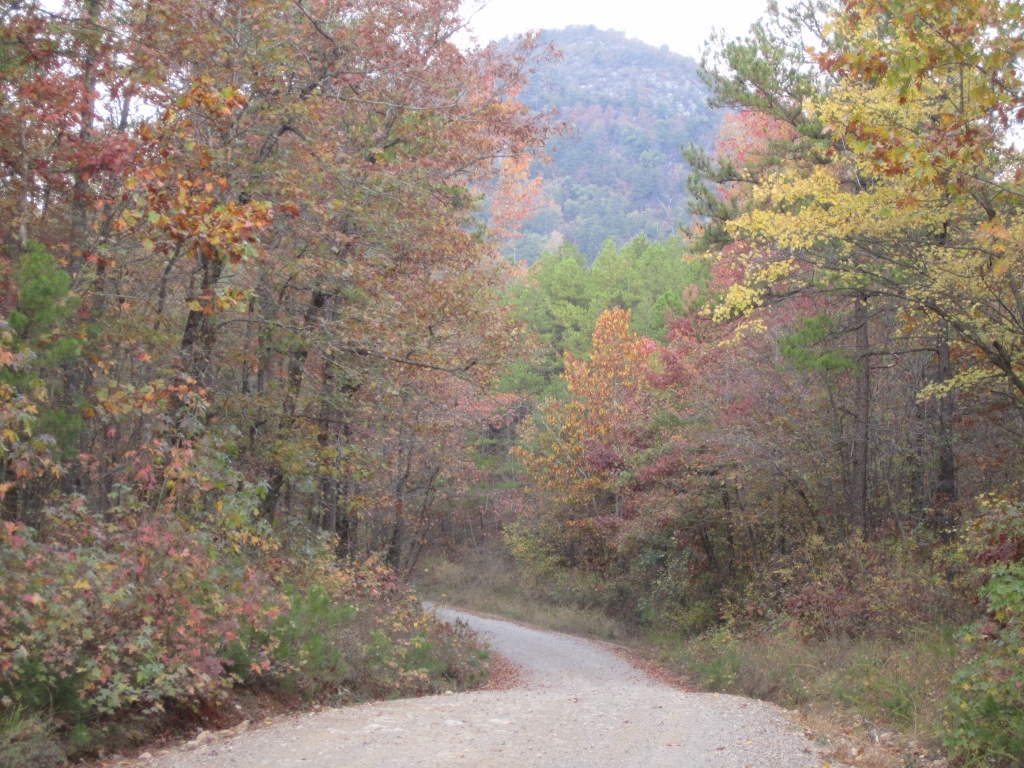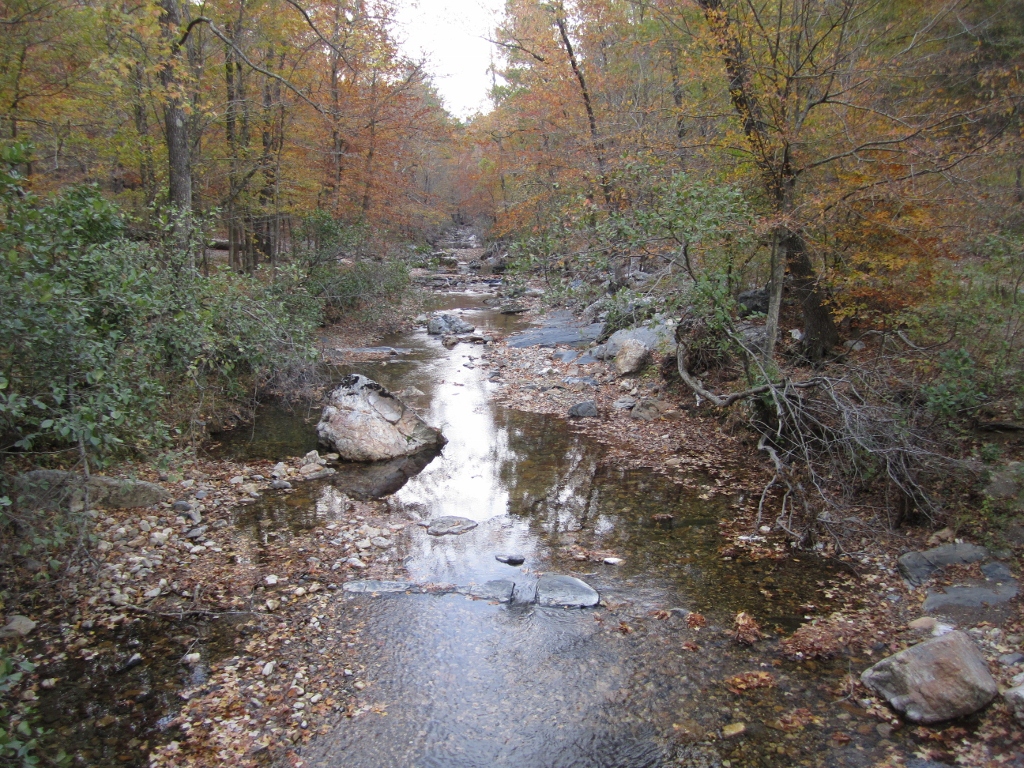 Little Missouri Falls-----gps take me there-------now.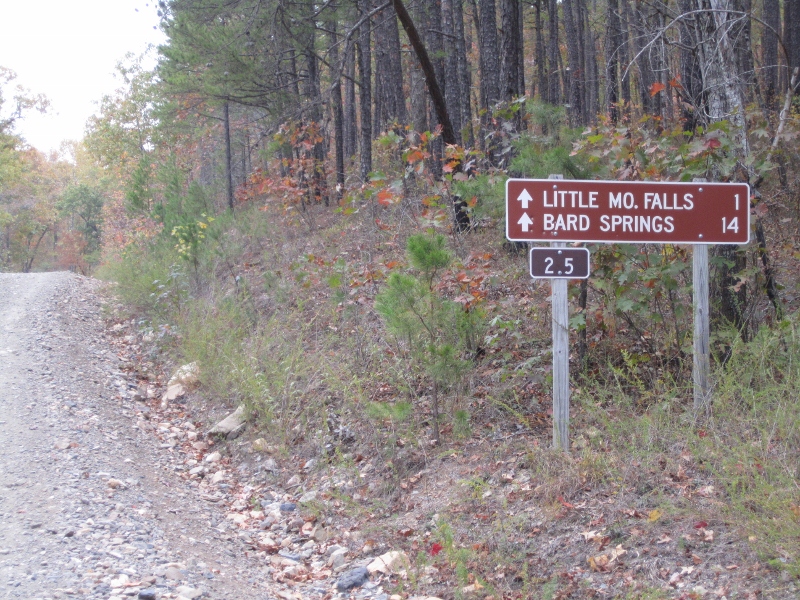 I had made another turn on to Mine Creek Road---ann took this little dead end road down to
Little Missouri Falls----on the Little Missouri River.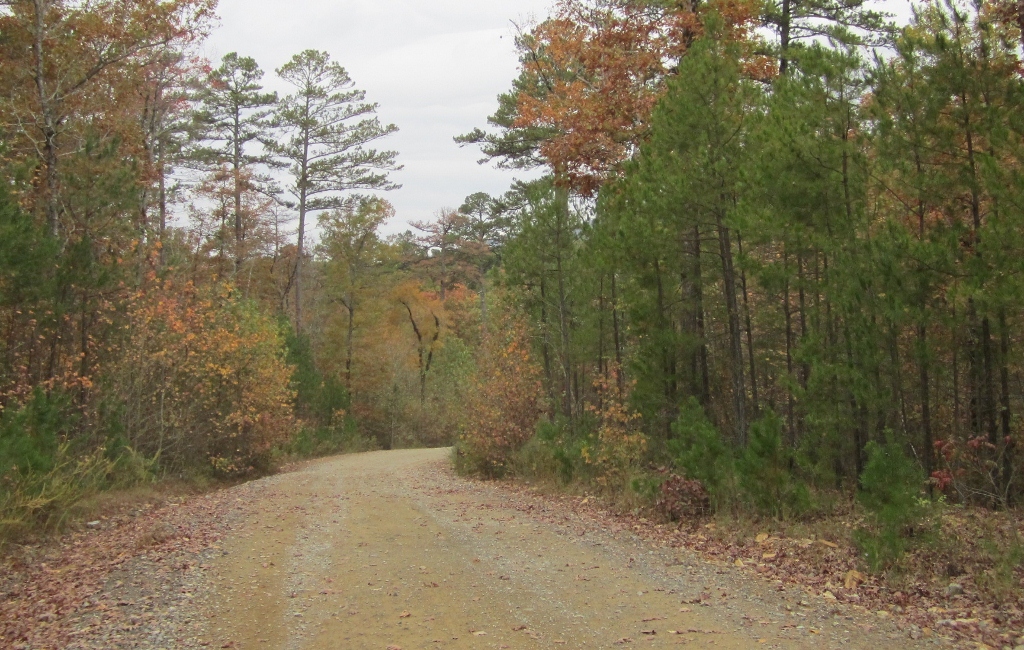 I'm no hiker-----but it was cool and it was a really nice hike back to the falls.
About a mile hike in and out----really worth the hike.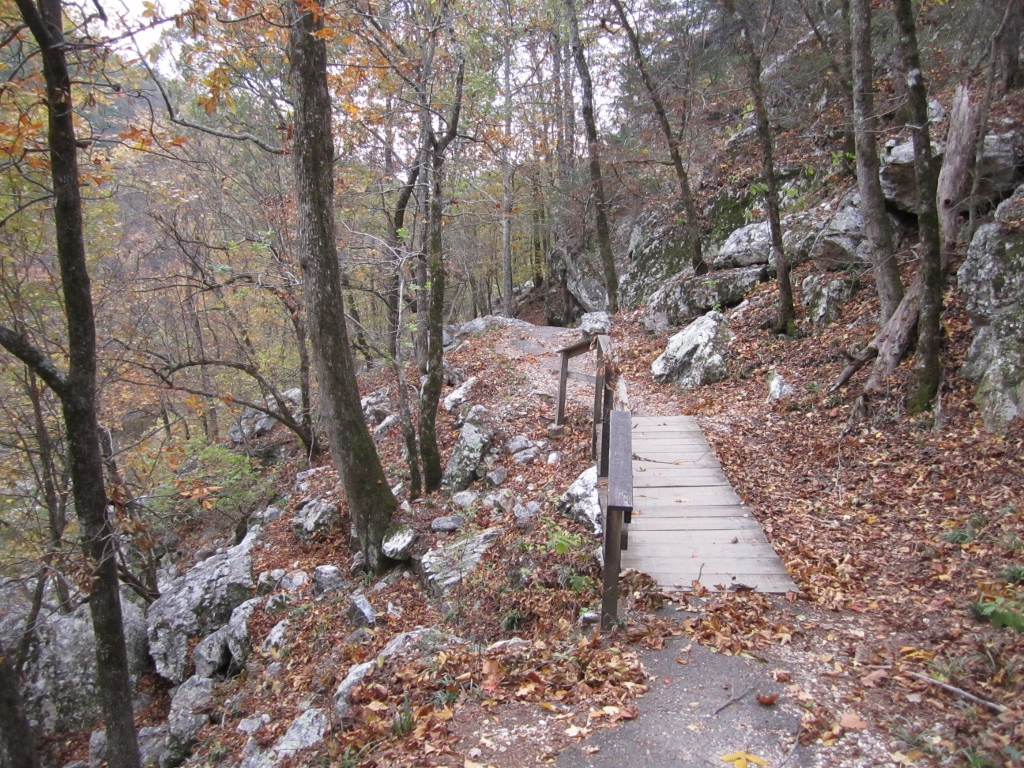 There was a big drout going on in Arkansas--so not much water flow.
I'd like to come here when there was a lot of water flowing.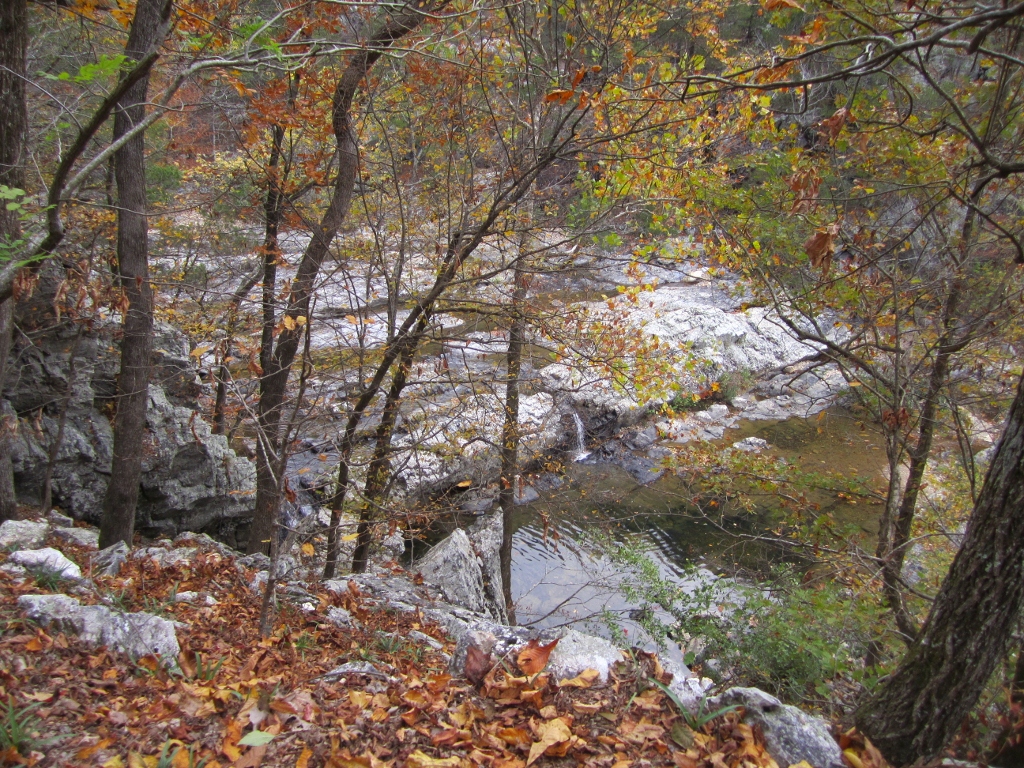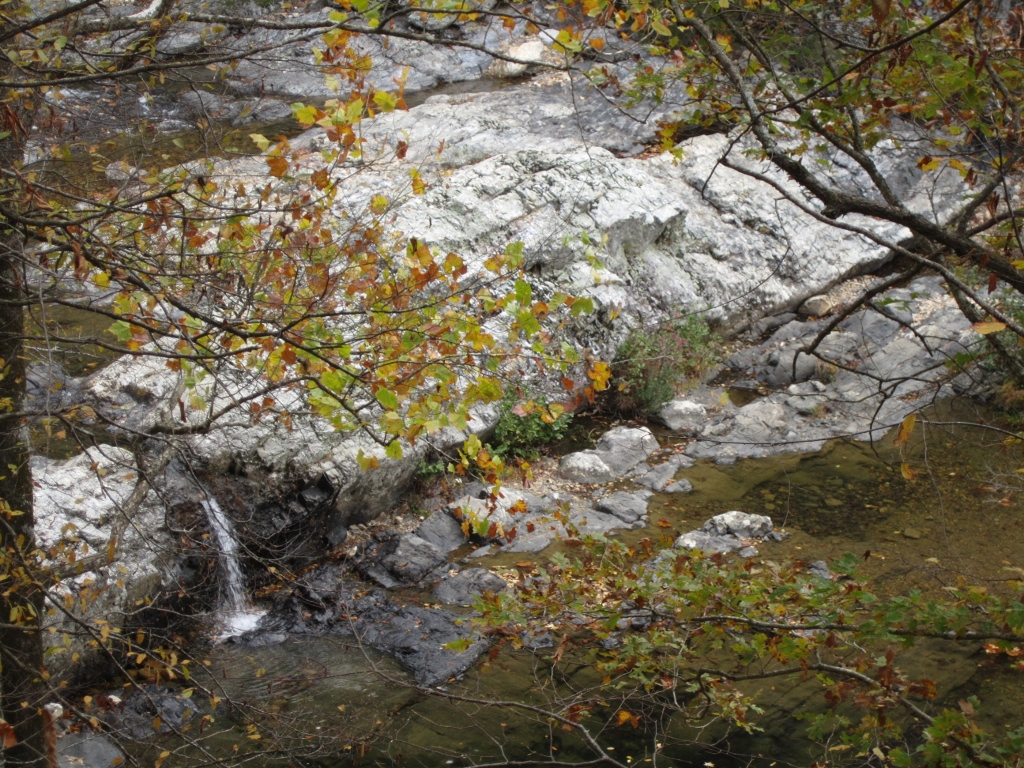 The round viewing area down below gave you the best view.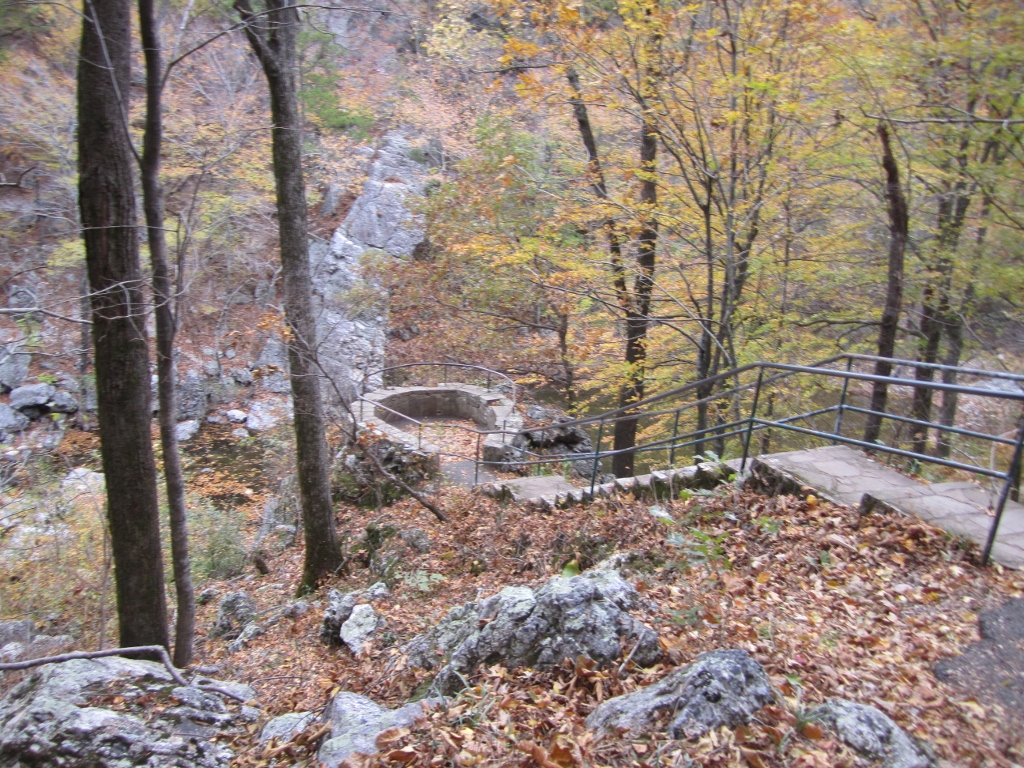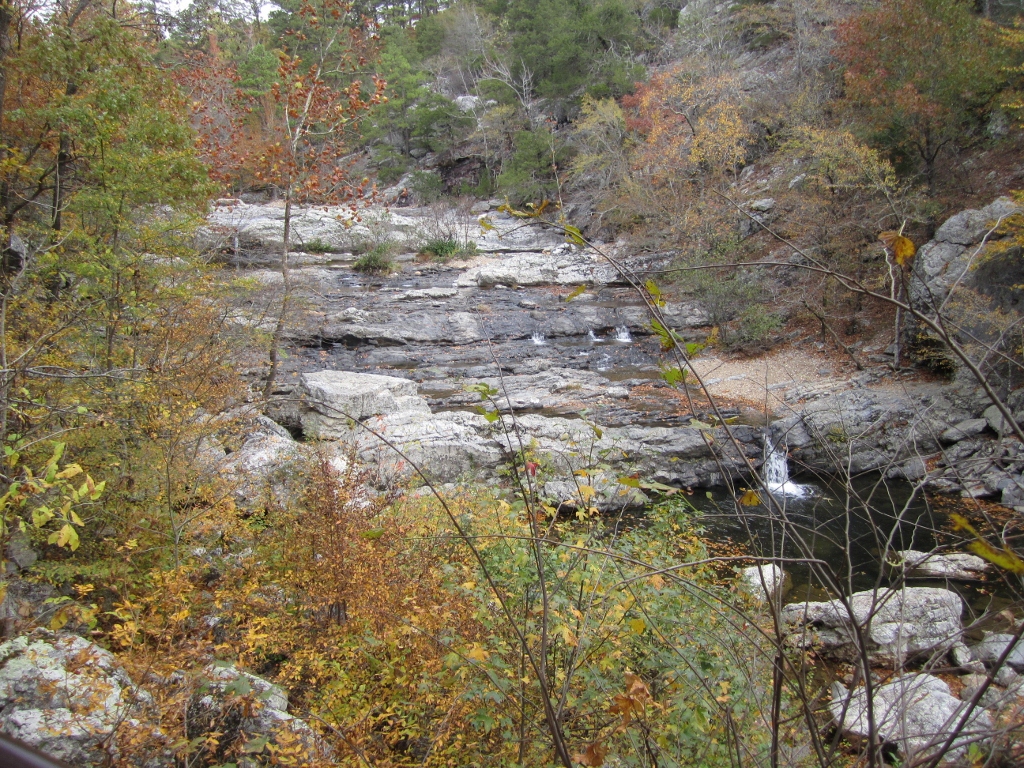 If you come here--there is no camping---but a superb place to picnic.
Lot's of bears in the area, so bear proof trash containers were a necessity.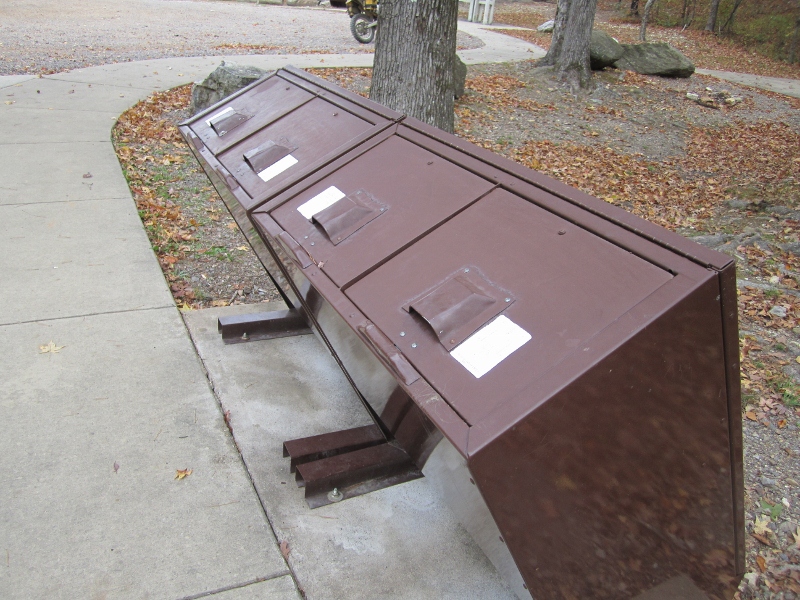 I kind of felt sorry for the bears---hey, they got to eat too.
So I tried to help them out a bit.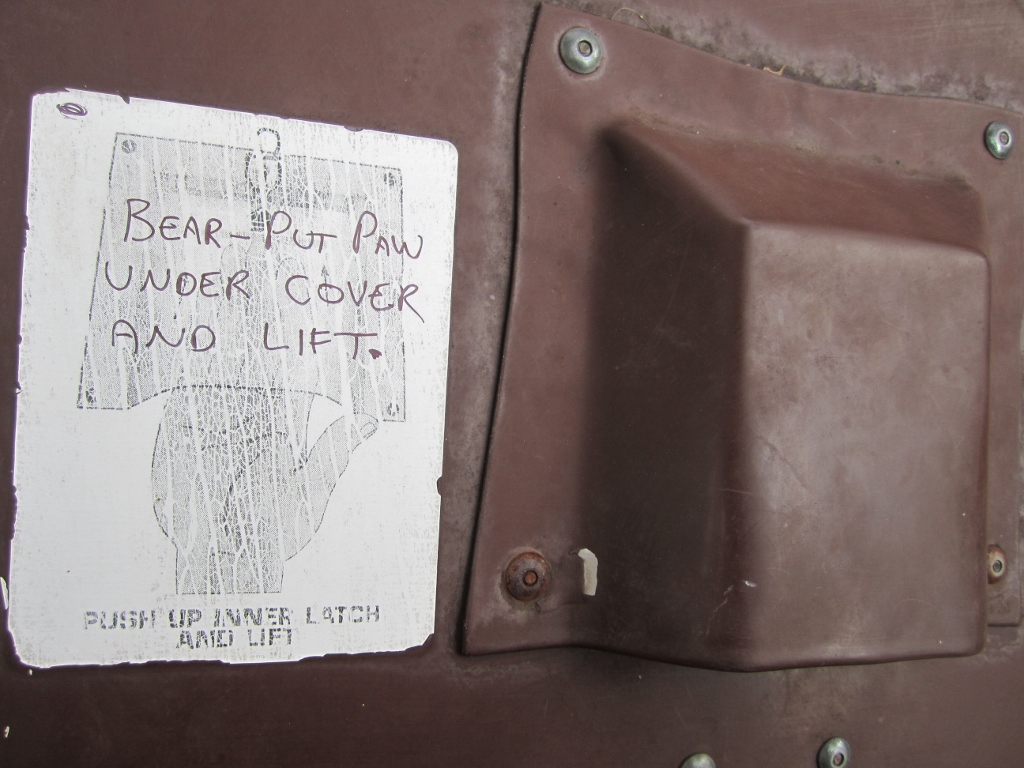 On West---kind of.
I found the nicest dirts road to Heavener, Oklahoma.
And went up this small mountain to the very historic Runestone.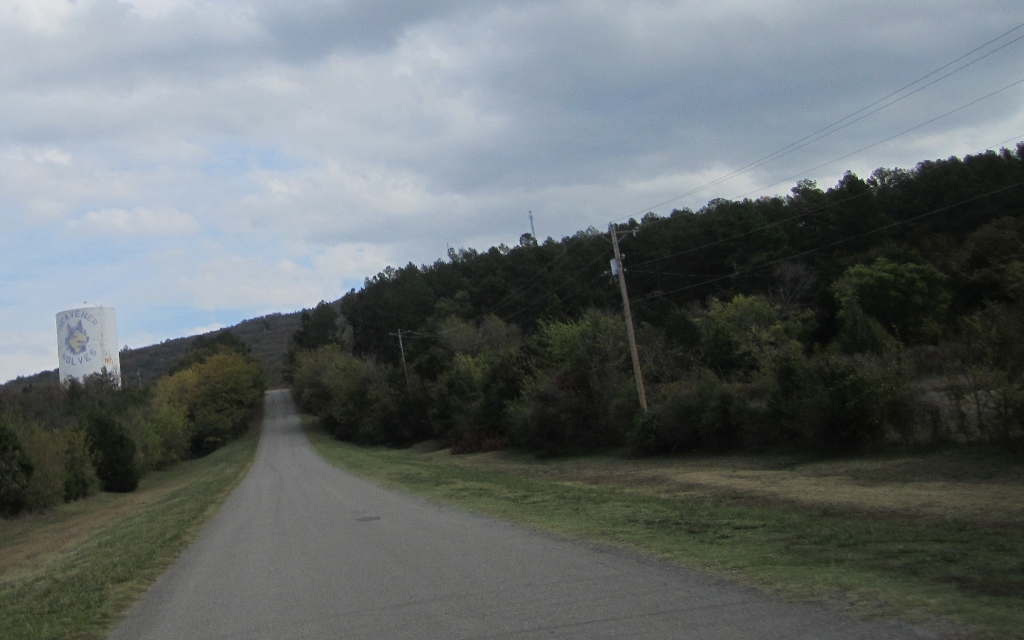 What's the Runestone you ask----well let's go up the mountain just to the East of Heavener and find out.
My buddy Scott Williams had told me about this place.

On top of the mountain looking down on Heavener, Oklahoma.
Yeh--this is probably the closest I'll ever get to Heaven I suppose.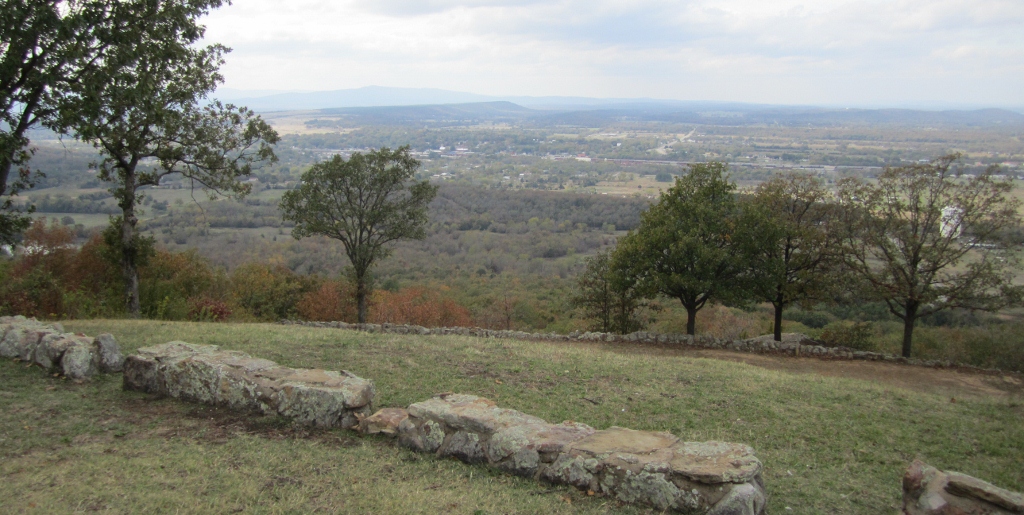 Me and these 2 ladies hike down to the bottom of a ravine to view the Runestone.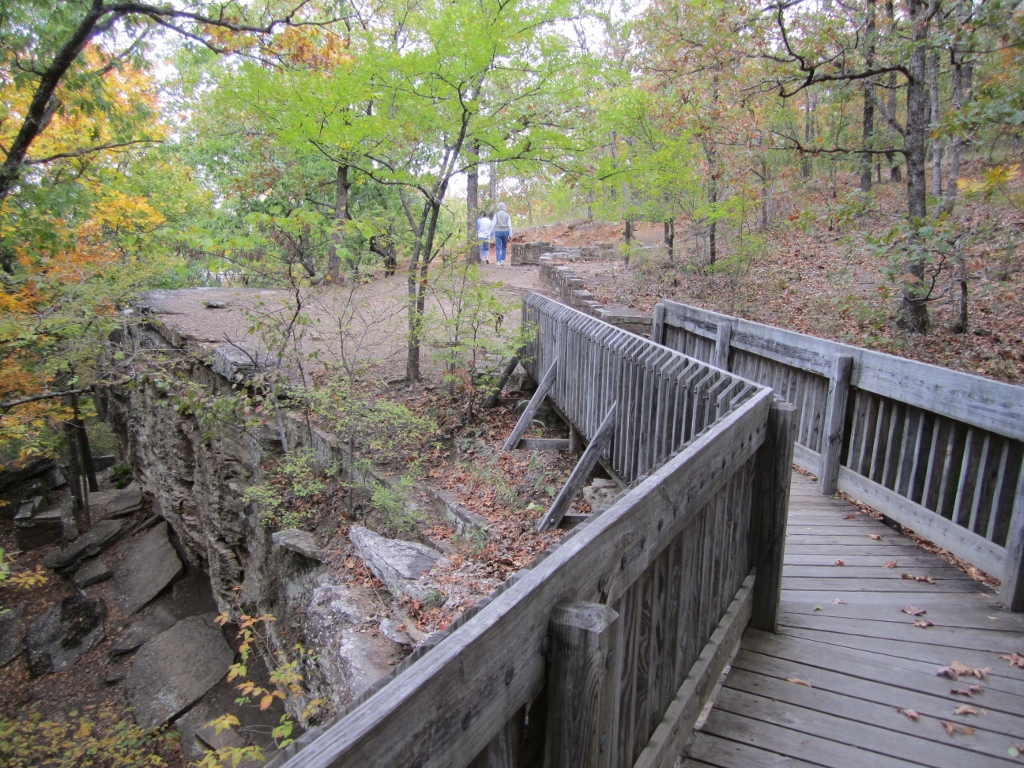 Down, down and down into the ravine we go---hey, I'm getting into this hiking thing.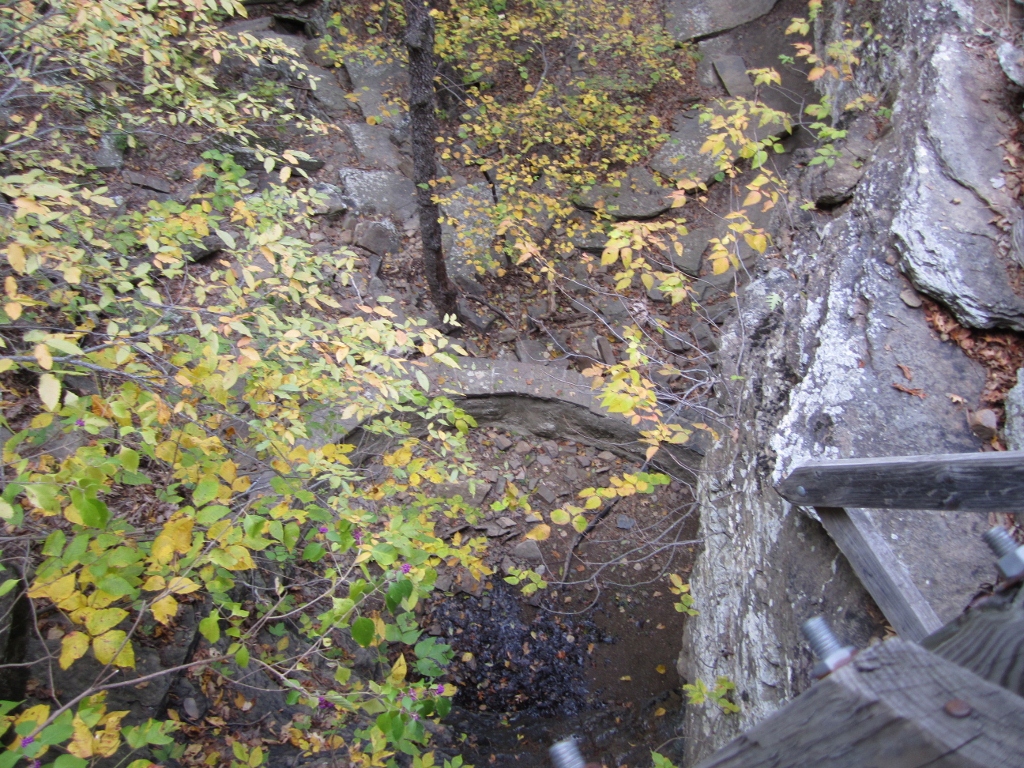 This ravine was like nothing I'd ever seen.
Even if the Runestone wasn't down at the bottom, it was worth the walk.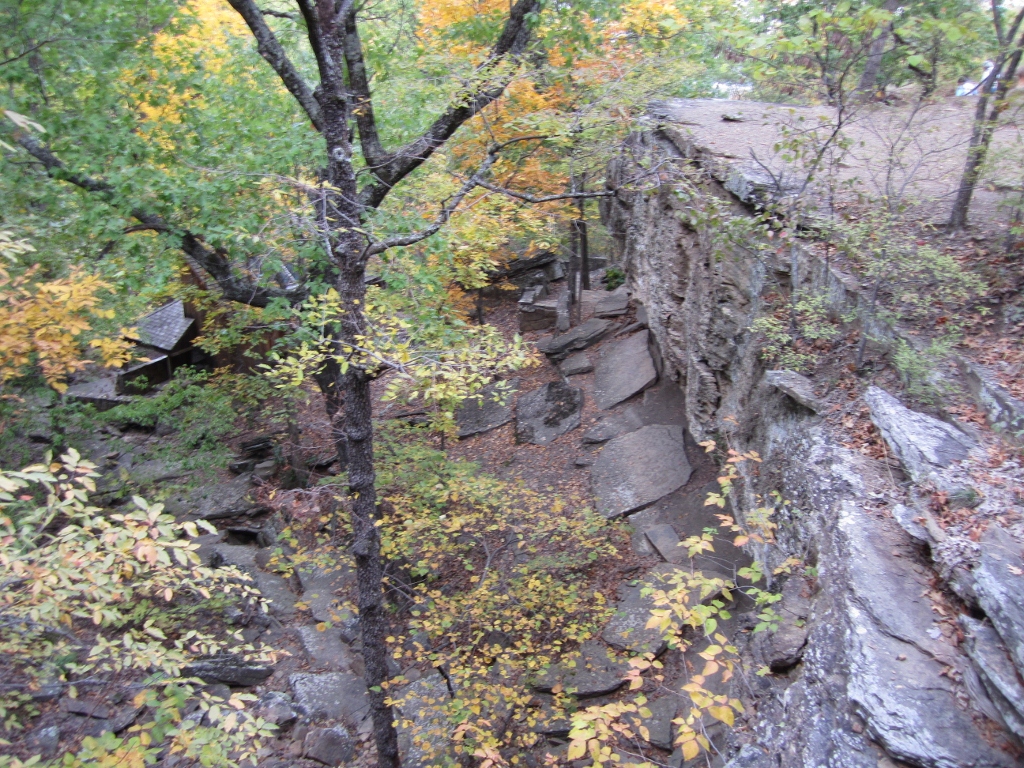 The Runeston rock is huge and behind glass in a building to preserver the carvings.
Some believe ancient Vikings carved the writing into the stone.
Some say as far back as 800 AD.
To say that the theory of Vikings roaming
around prehistoric Oklahoma is controversial
would be putting it mildly. The scientific
community does not consider the Heavener
Runestone an authentic artifact of the Viking
era. Others, however, firmly believe that the
mysterious carving is more than 1,000 years
old.
Public attention was first brought to the
Heavener Runestone decades ago by the
late Mrs. Gloria Farley. She heard of the
unusual inscriptions and arranged for a local
guide to take her to the site. After consulting
with students of ancient languages, Mrs.
Farley became convinced that the carving
had been left by ancient Norse explorers.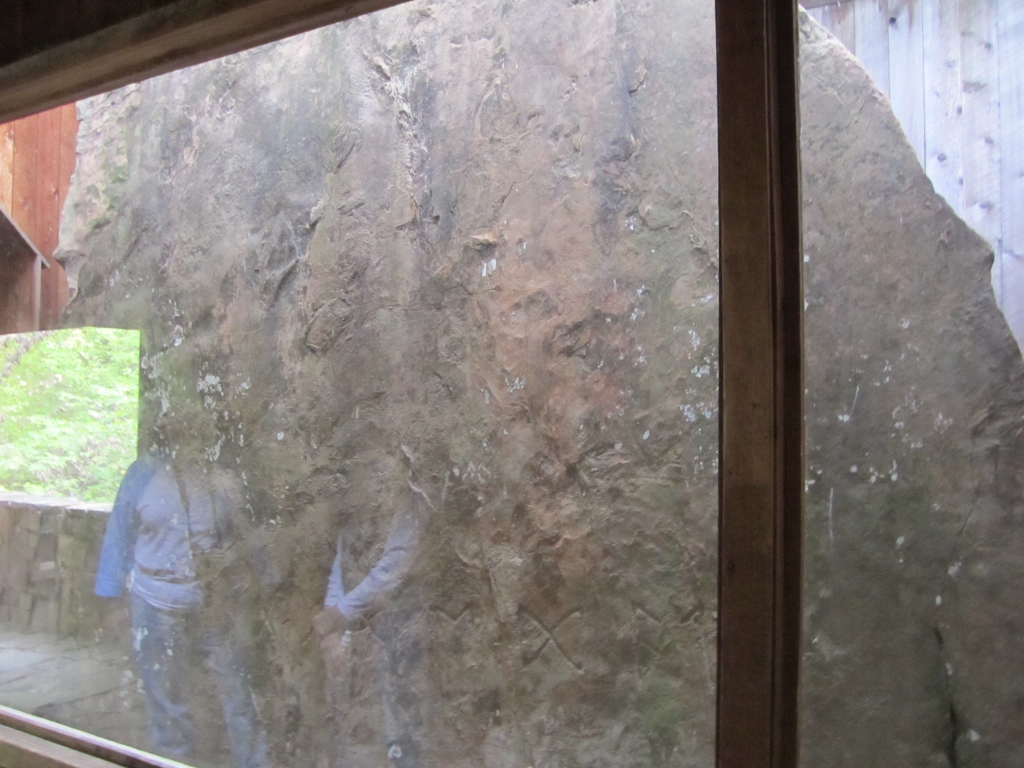 It's hard to see the carving thru the glass with my camera--but here is what it looks like.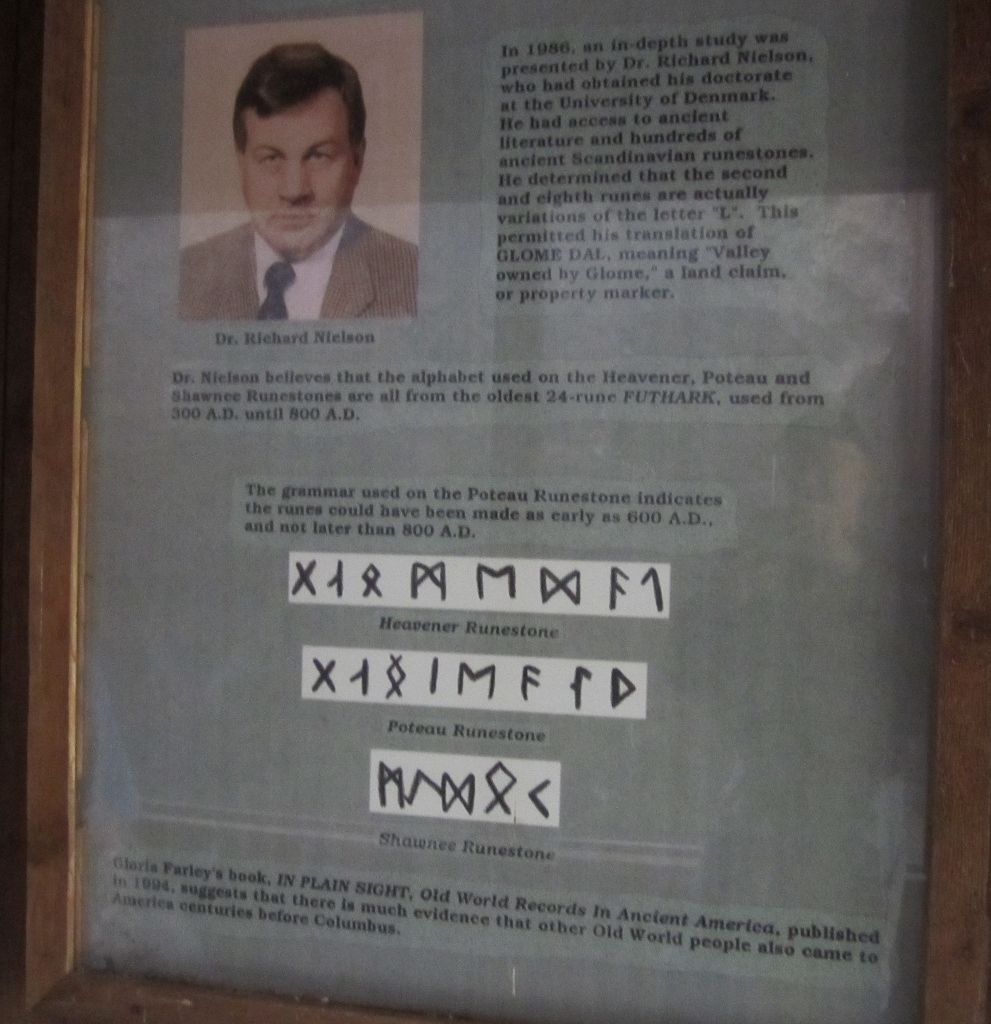 Anyway---I really dumb when it comes to history---but it was neat coming here.
It's a great place to see something very unusual.
State funds have been depleted and the state was going to close the park altogether---it was a done deal
until the town of Heavener pleade with them to let them take the park over.
If the state of Oklahoma would plant in the ground all the murderers, drug dealers and such in prison--they'd have plenty of money.
That's what I do anyway.
My walk back up---another way.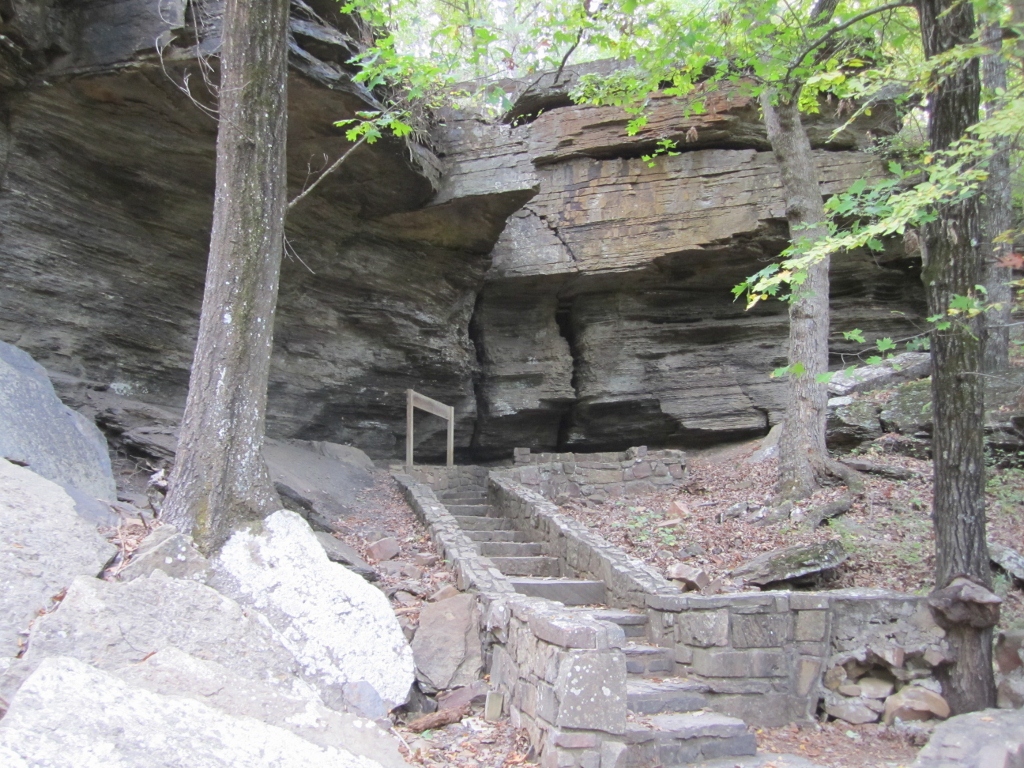 This is looking back down at the building the Runestone is in.
Even rain water would eventually destroy the carvings.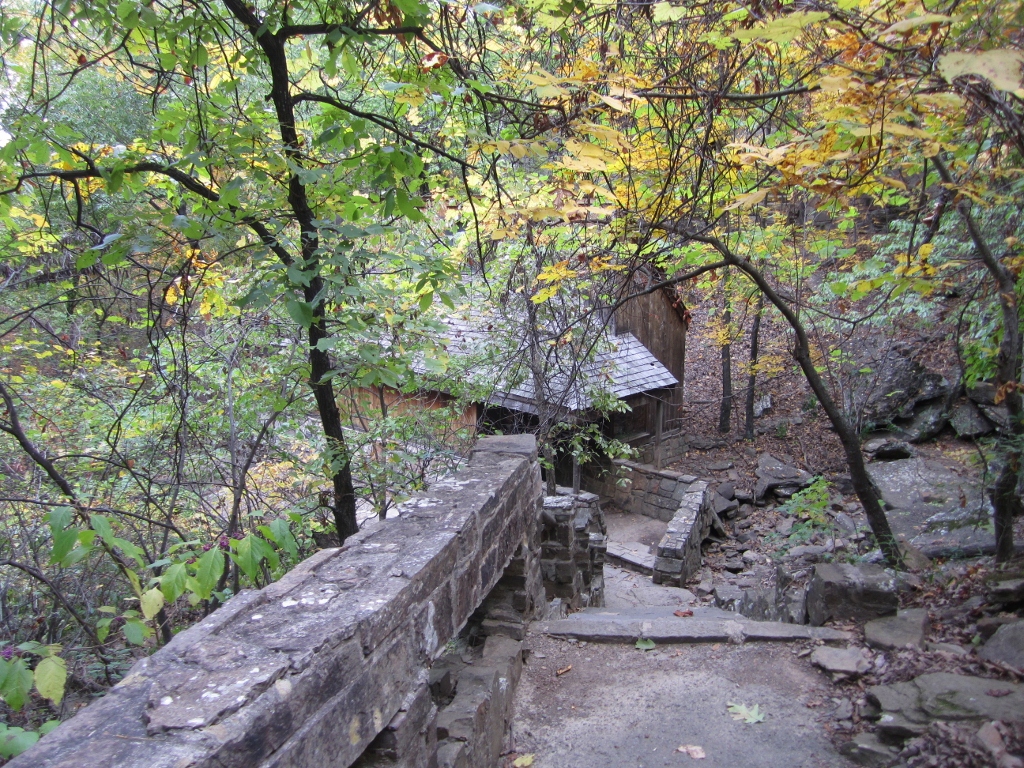 And back down the mountain I go.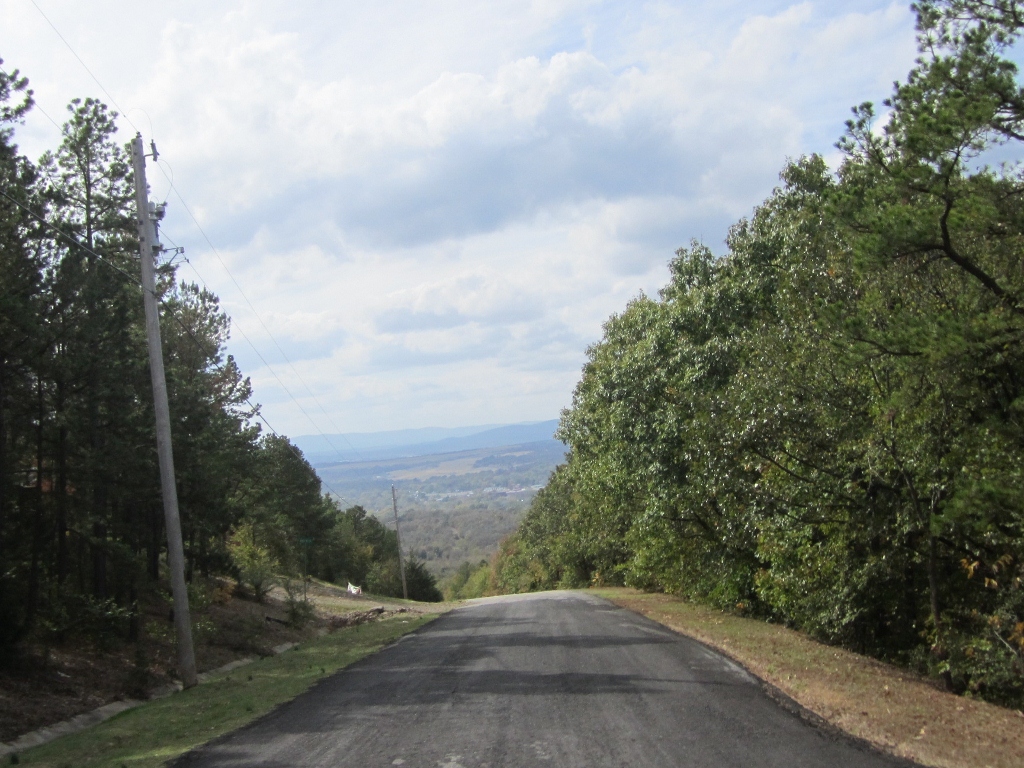 I do lots of picture on the fly---like the one above.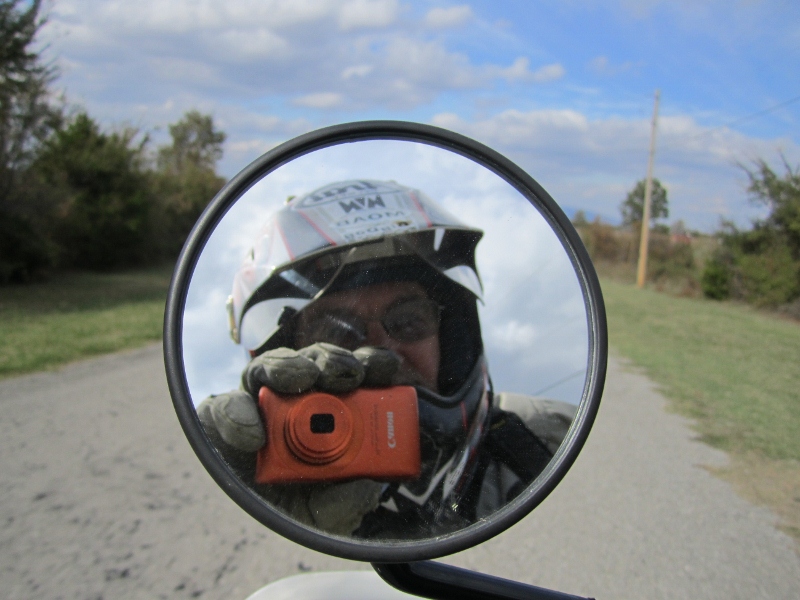 This picture is so unique.
I don't remember is looking like that---maybe the movement of my bike did that---I don't know ???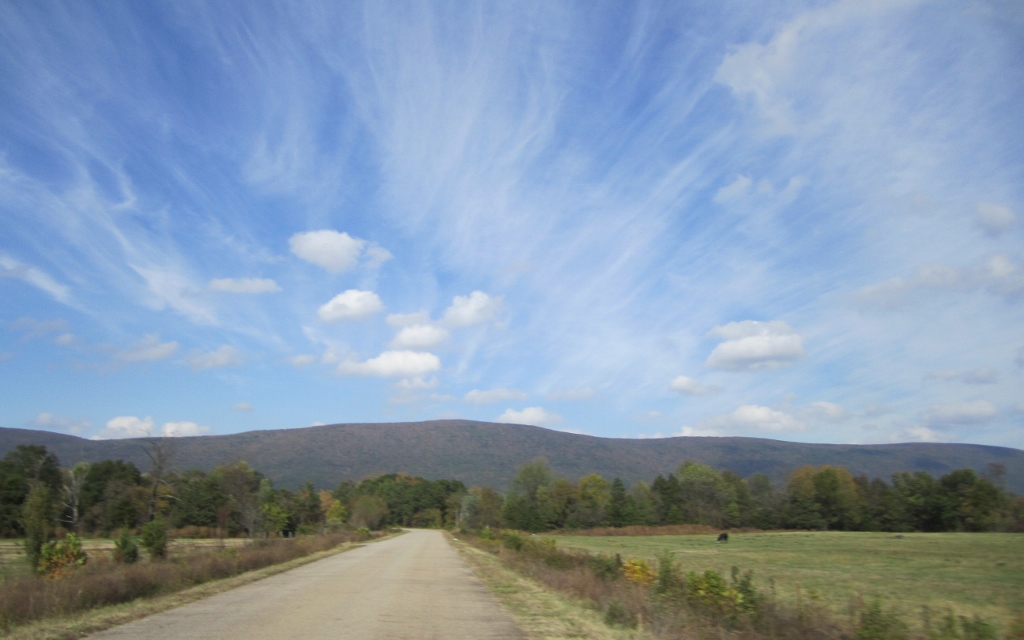 I"ve been over this bridge--------years ago. The road was blocked off and the bridge marked closed then.
So I thought I ride over it again--just as I did years ago when I rode over a tall dirt mound on my KLR
to get on it. This bridge spans the Petit Jean River on SR109 (a dirt road) in Arkansas--yes I'm back in Arkansas.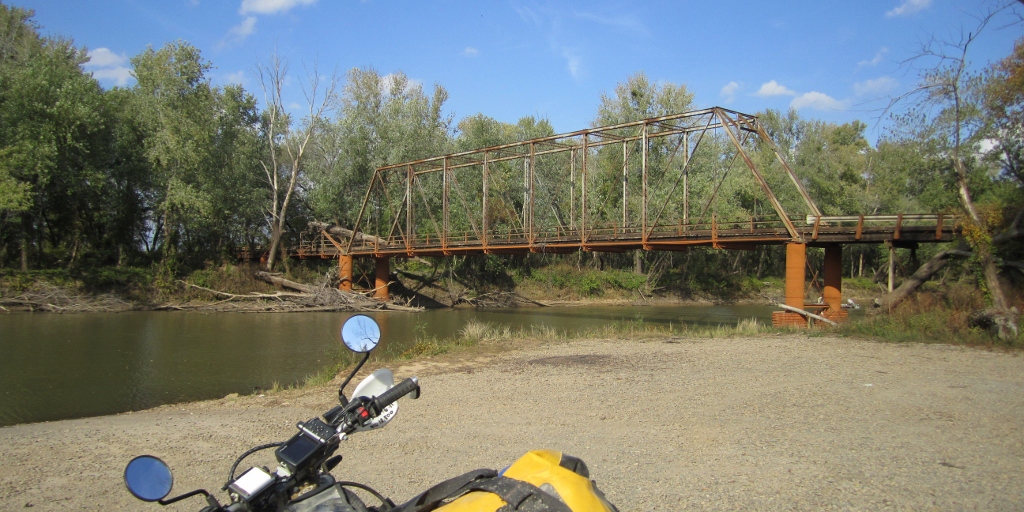 I saw this tree on it---but thought I could lay my bike down and get under it.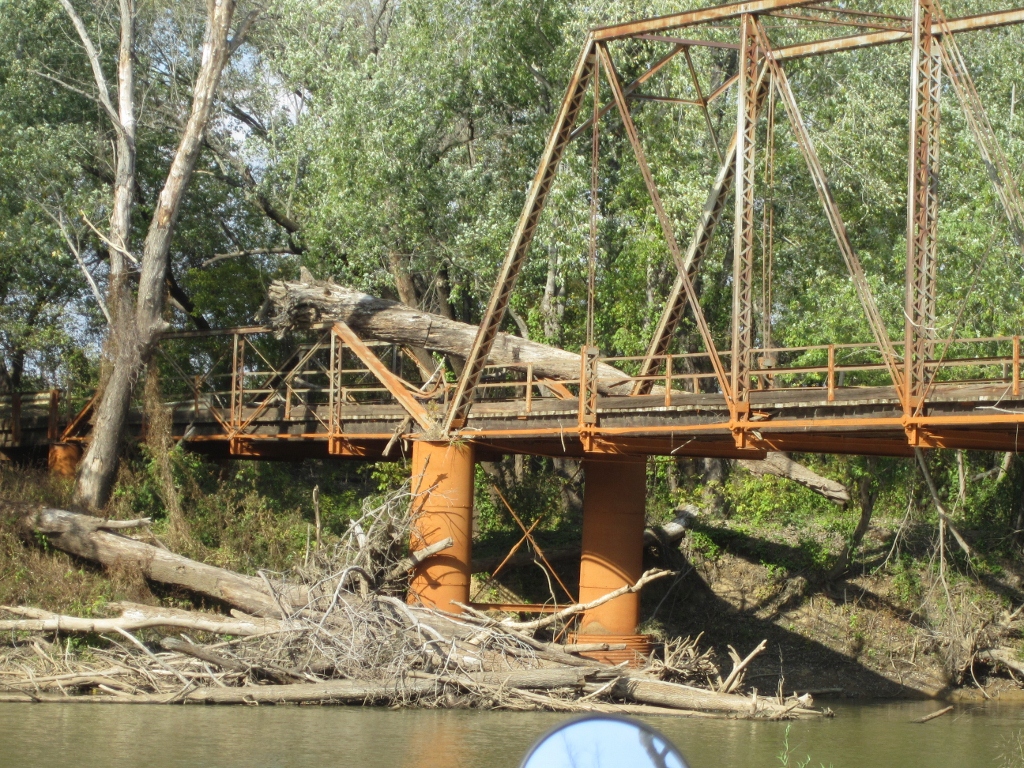 But the entrance was totally blocked and I had to re-route.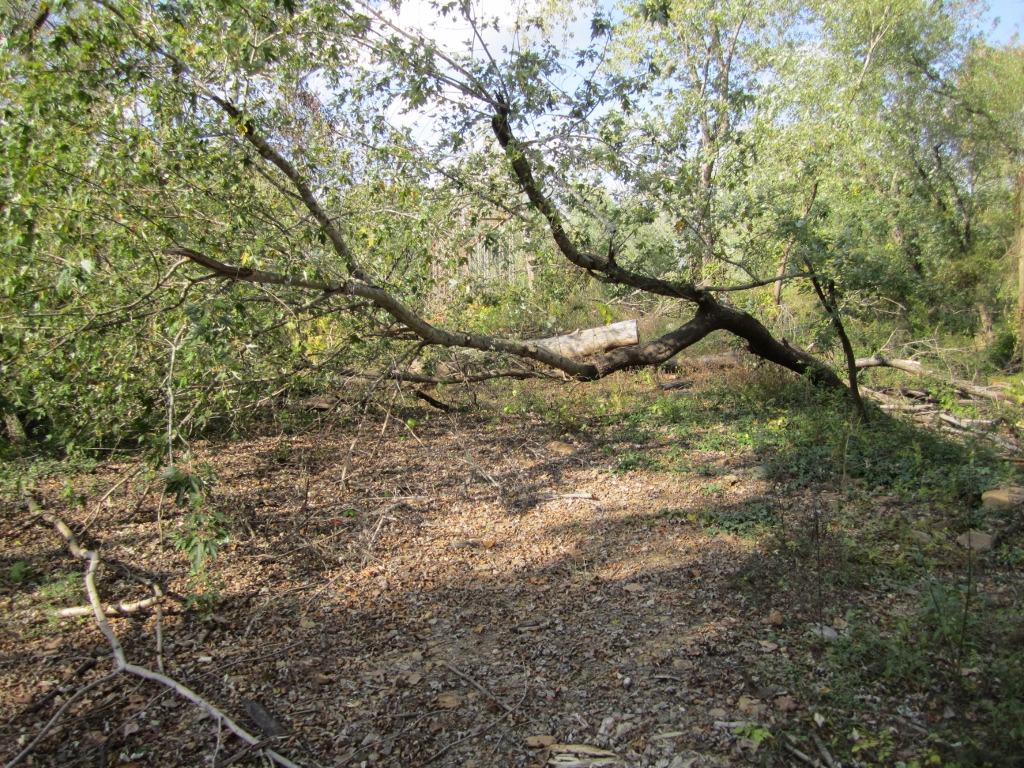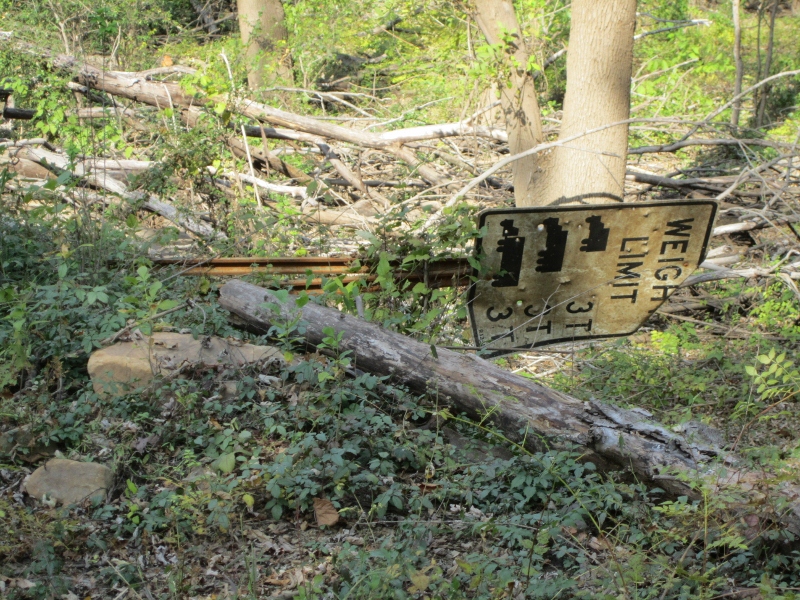 I crossed the Arkansas river in Ozark and headed North on 219---and had a camp spot in mind.
I had called the little store in Oark Arkansas as I new they had a cabin in the woods they rent out.
You have to have a jeep or dirt bike to get to it. I've never stayed in it but heard about it. She said it was booked up---something about this
guy Ted Nugent was staying in it. But she reommend a campground 8 miles West of Oark and I headed the WR to it.
And I crossed "Low Water Bridge" on the way.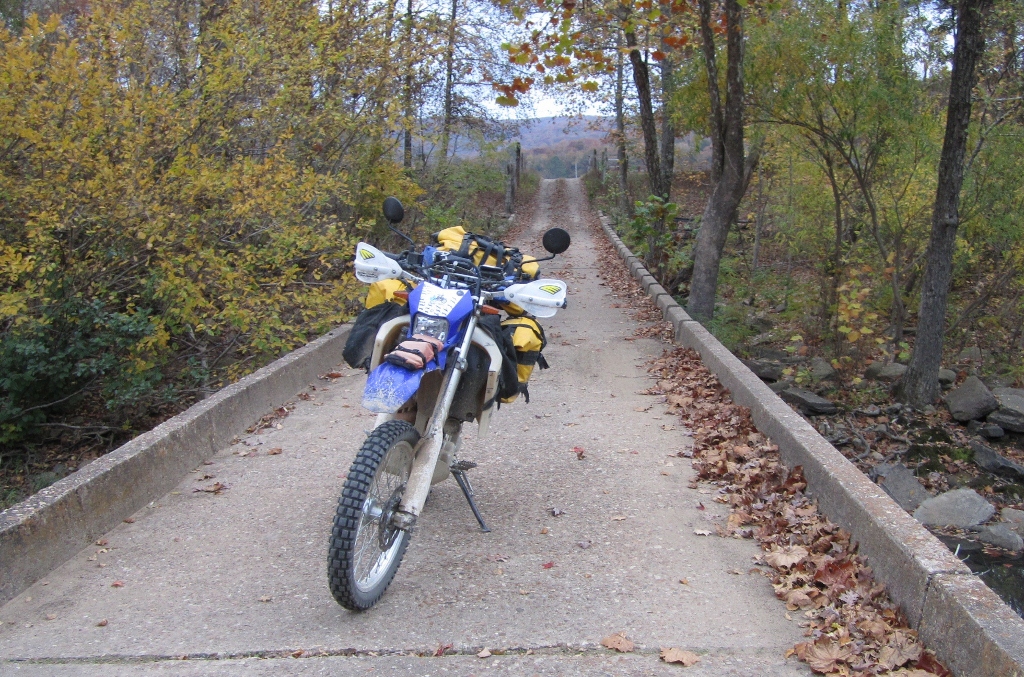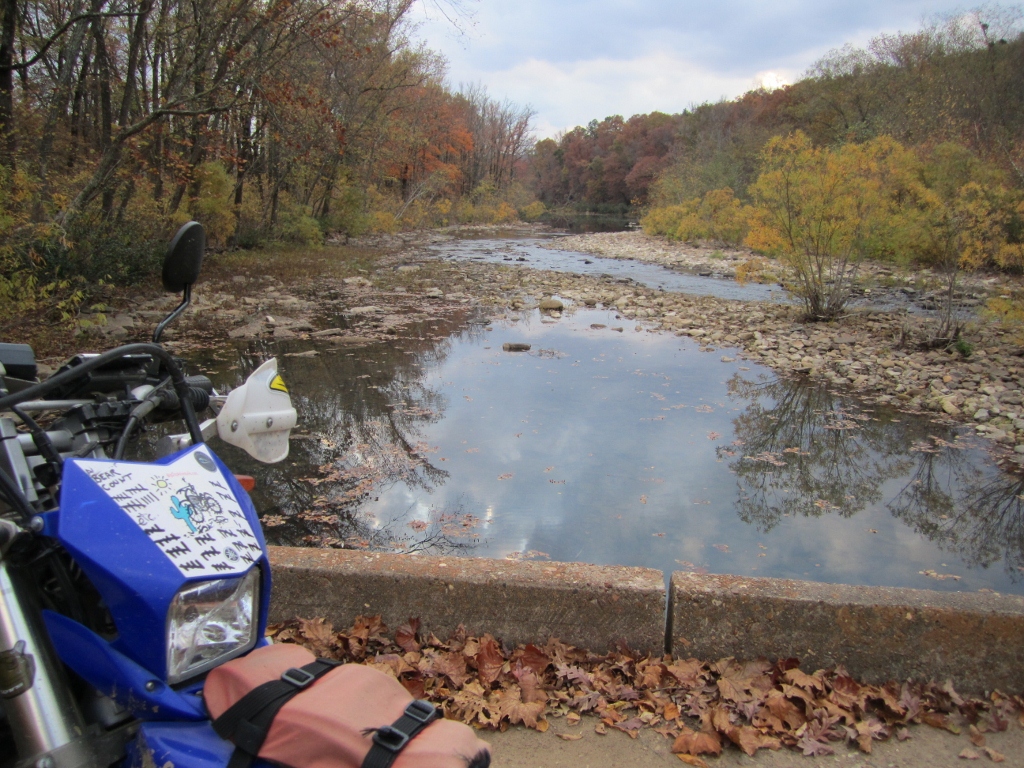 My little cabin at Byrds campground---they only have 2 cabins--but lots of camping spots.
I was the only one there.
Soon after I took this picture it started raining and raining and raining and rained all night long.
I felt so smug and comfy in my little cabin.
I had no cell service and lo and behold the TV had no cable connection at all--------perfect.
I didn't ask--just hopped the little WR up on the porch and made myself at home.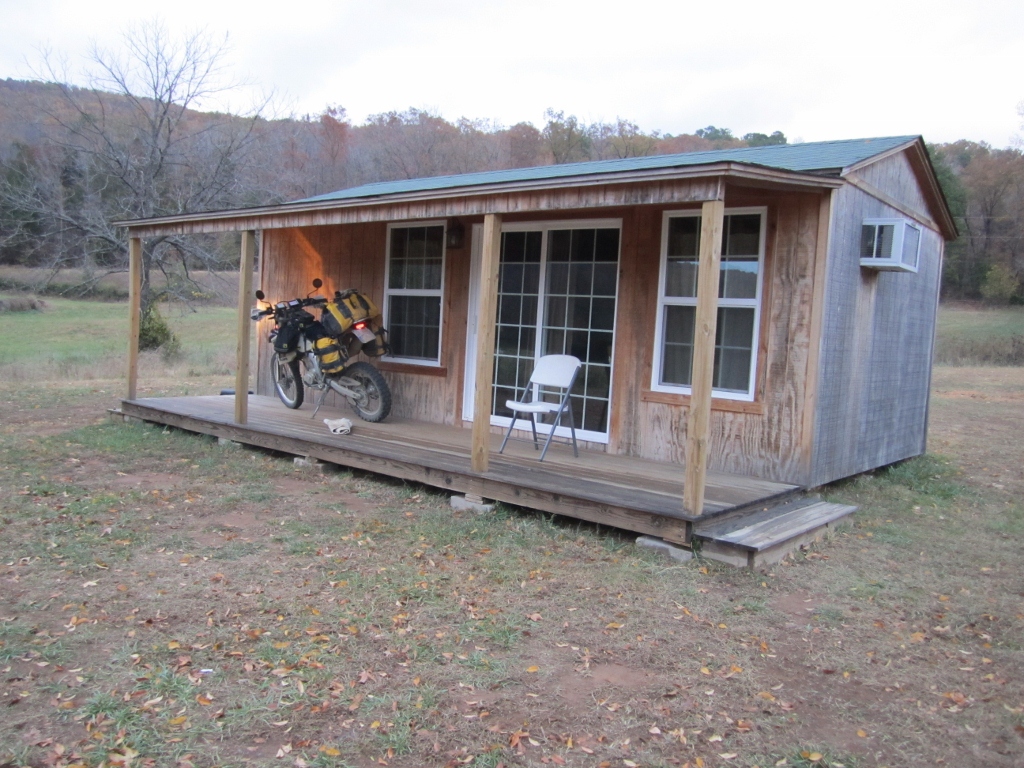 The entire inside walls of the cabin were cedar---and it almost choked me when I first walked in. I wondered if I could stay in here all night.
It wasn't 10 minutes I got used to it and never even noticed after that.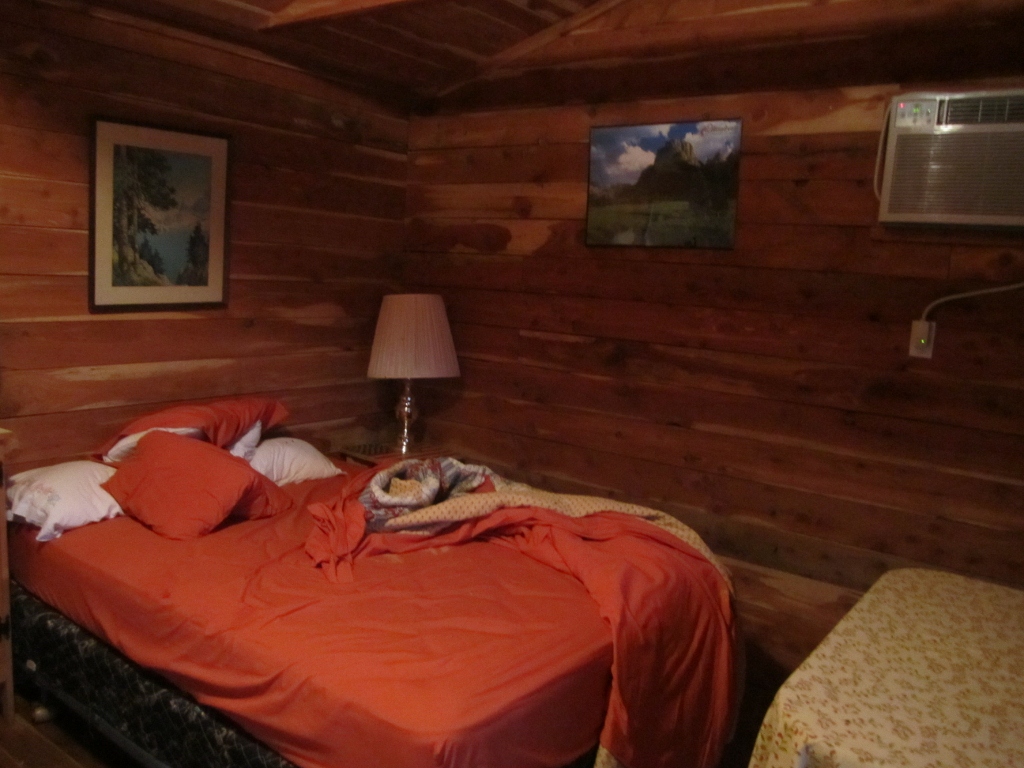 I had a full kitchen and nice bathroom with a hot shower-------NICE !!!!
And to my total enjoyment----the TV had no cable hookup---but they had a pile of neat old movies on DVD which
were completely devoid of crappy movies with constant F words in them--just good stuff and I helped myself to this really neat Western
with Tom Berringer in it----it was awesome. He was probably 20 years old when it was made--and it was really weird as it
started out in black and white---then went to color----all part of a really neat movie---go rent it if you can find it.
But if you like really crappy movies full of violence, sex, and other bullcrap---you won't like it.
Rustlers Rhapsody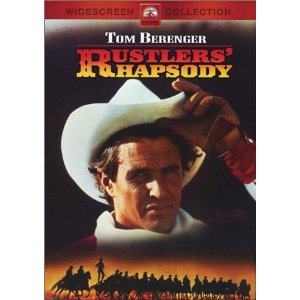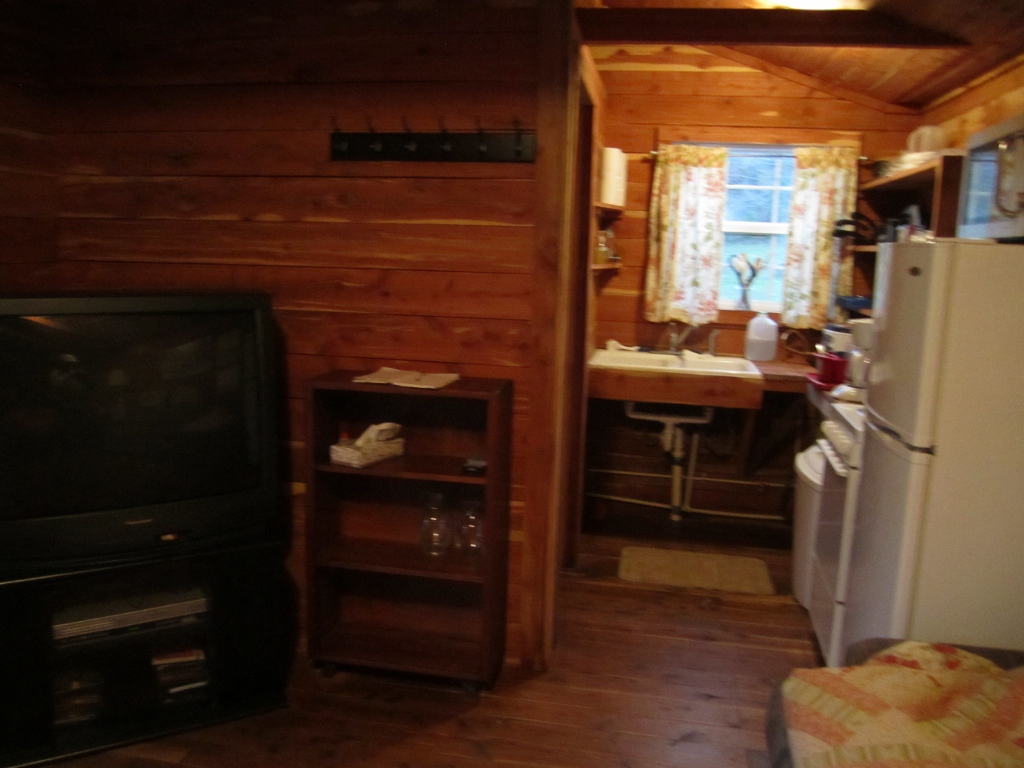 The campground thrives on float trips down the Mulberry river which about 300 hundred yards in front of my cabin window.
When it got dark and was raining really hard---I went out and sat on this porch in a chair and pondered
just how lucky I was. I got a new metal roof and septic tank this year at my house---loving wife and dog home
waiting not so patiently for me---my WR was comfy under the overhanging porch--a cozy
bed to sleep in tonight------what else could
a guy ask for ????? I'm a simple guy---with simple needs.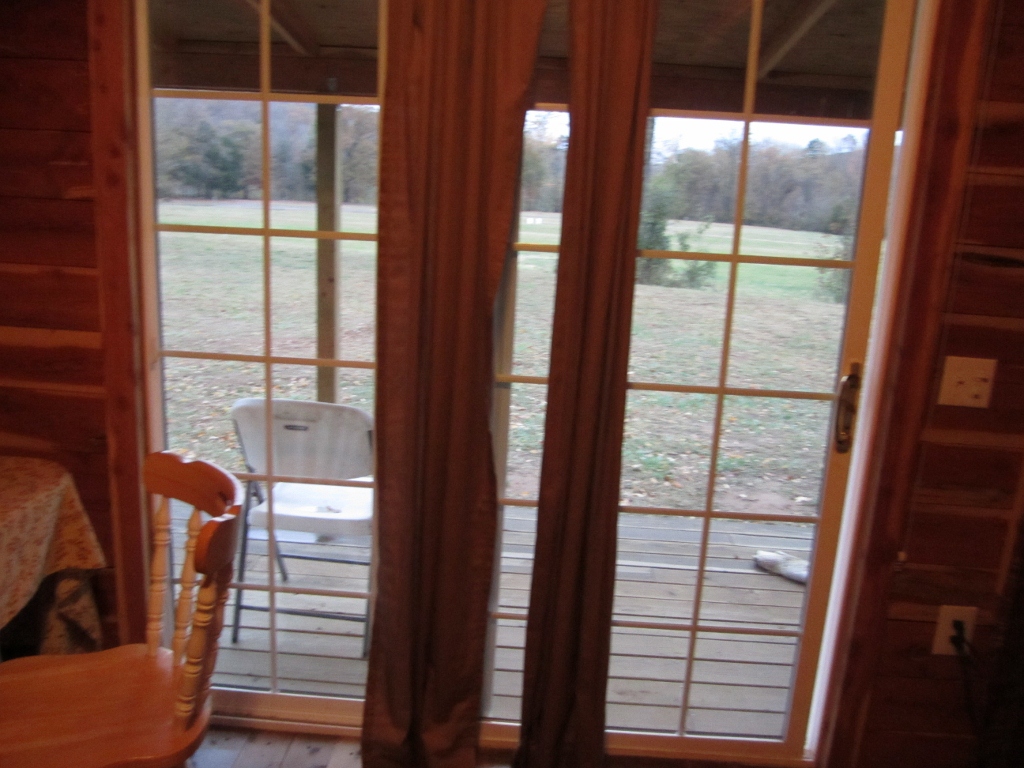 It was 979 miles total for my riding in Arkansas and Oklahoma so far.
I forgot to re-set my trip computer so the 590.4 is for 2 days riding.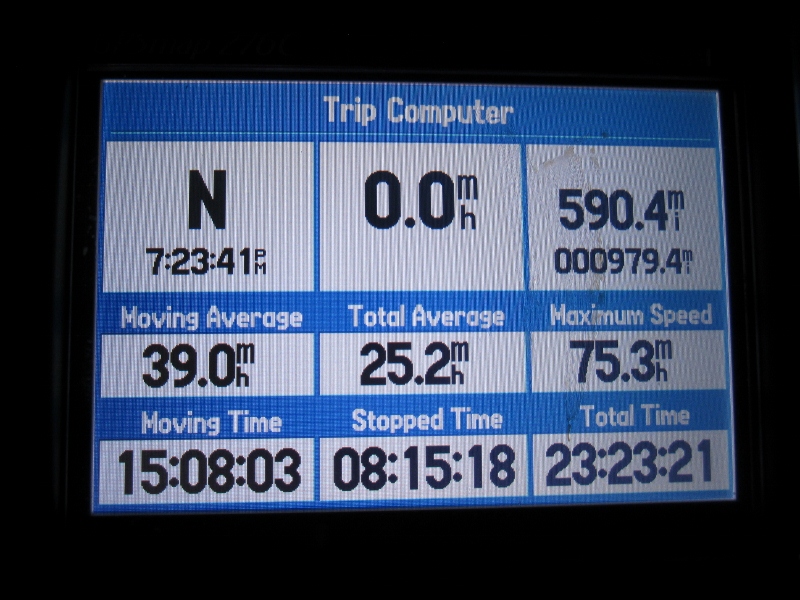 Day 5
November 3rd, 2011
As I left Byrds campground in the morning I took this picture of the entrance to it.
Again---about 8 miles West of Oark, Arkansas.
I'm gonna bet it is way to crowded for a guy like me during the summer.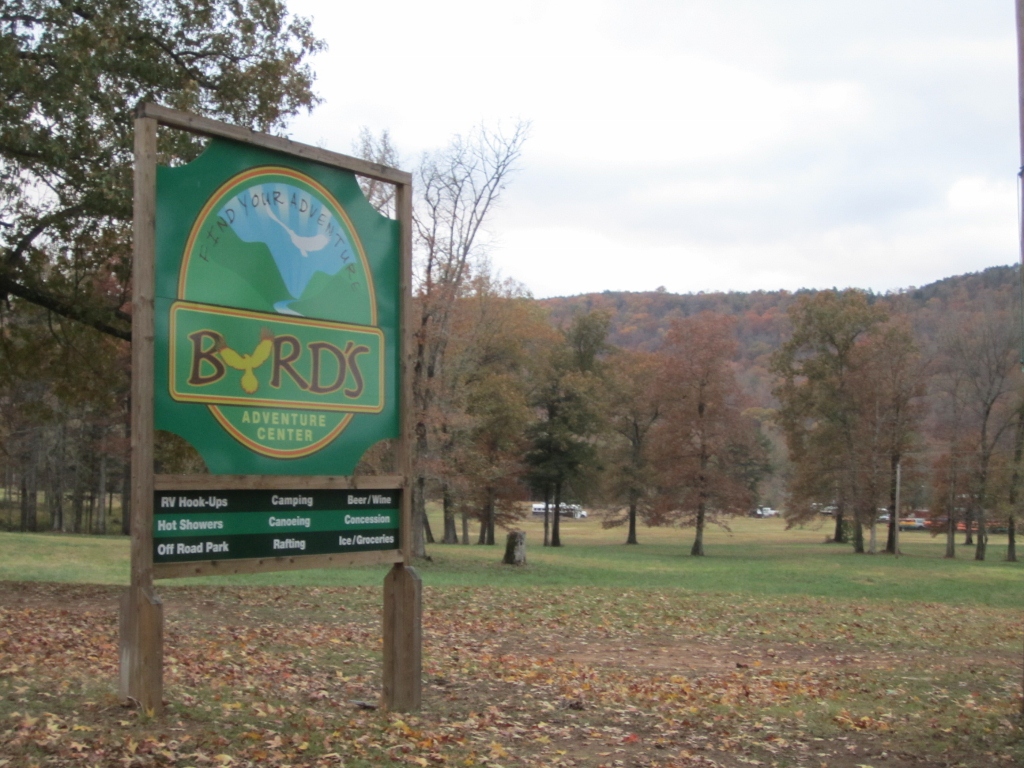 I had 2 plans today--the first was to ride the 8 miles to Oark to the old store and have breakfast.
Man the WR is fast-----I was cooking on this road and huge leaves were hitting me in the face---I loved it.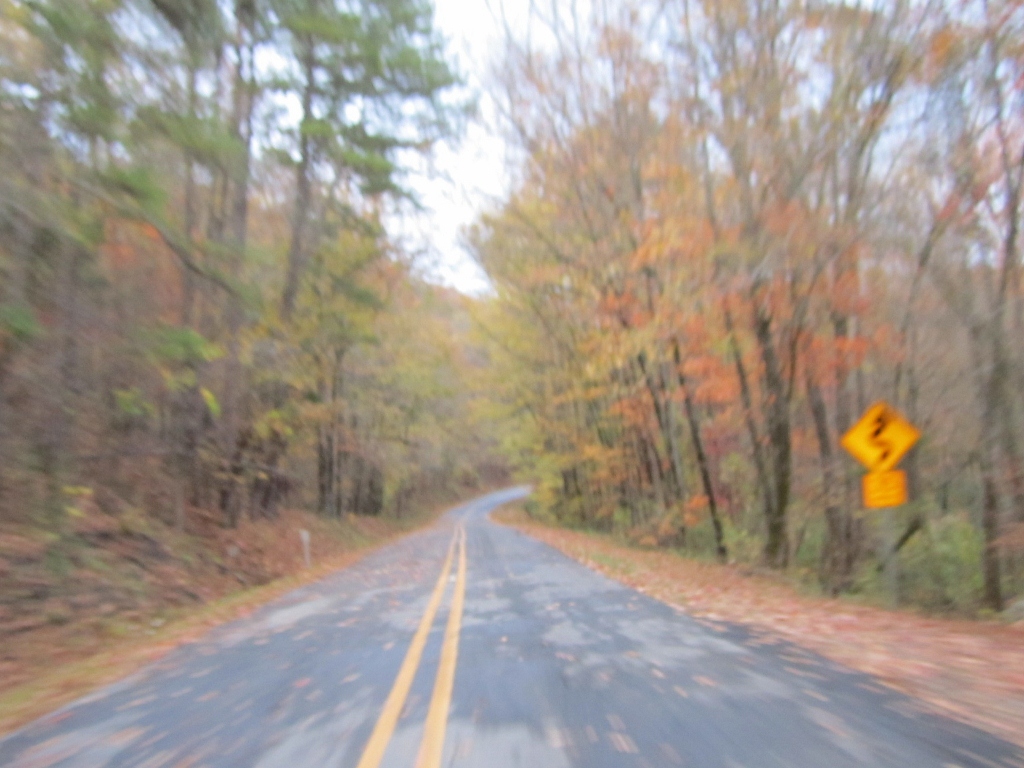 They were still here---still had gas---I topped of the WR and went in to eat.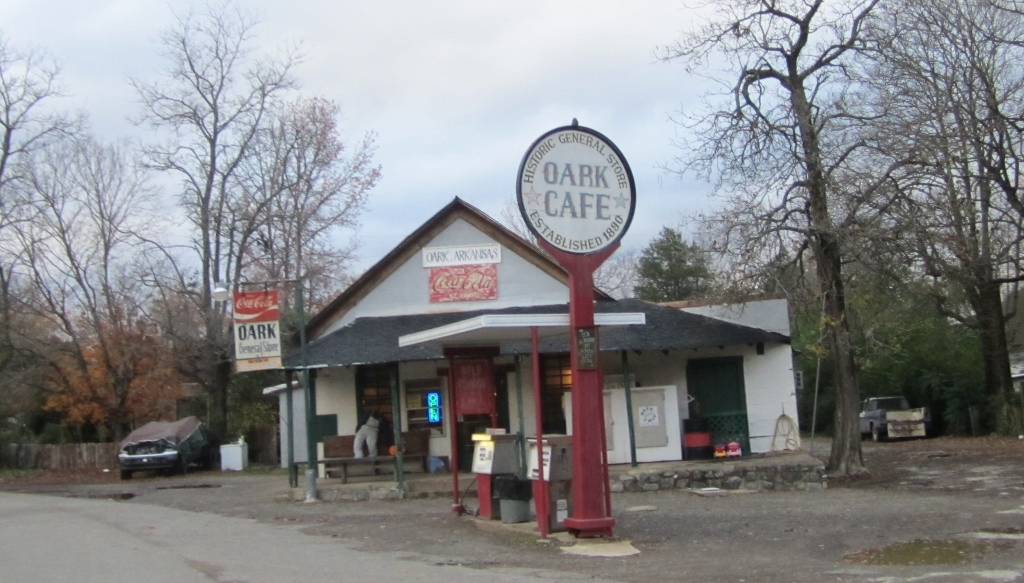 Just like the many times I've been here before---there are usually one or two dogs sleeping in front
of the entrance to the Oark store, and you have to step over them-----I love this place.
This guy needed a scratch.
"Nobody ever scratches me---would you scratch me" ??????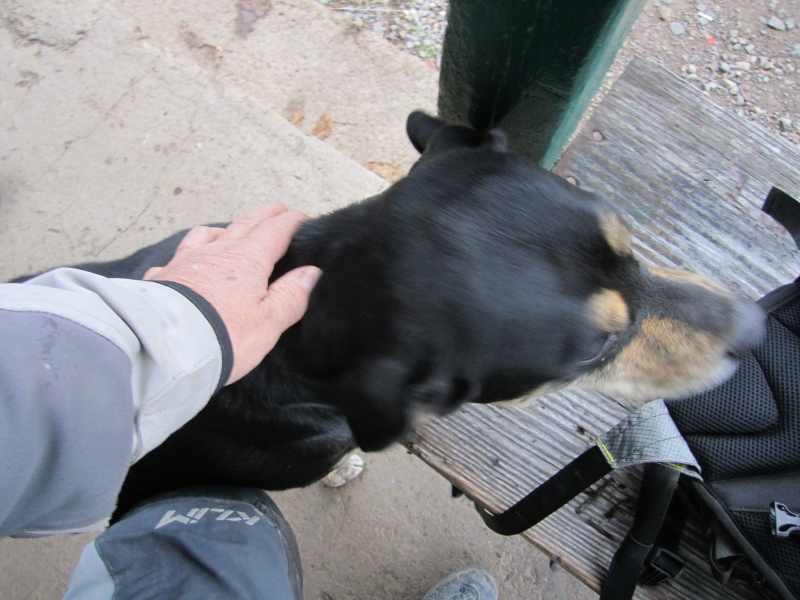 It's a dogs life I'm tellin' ya.
I dont know who has it better-----him or me ????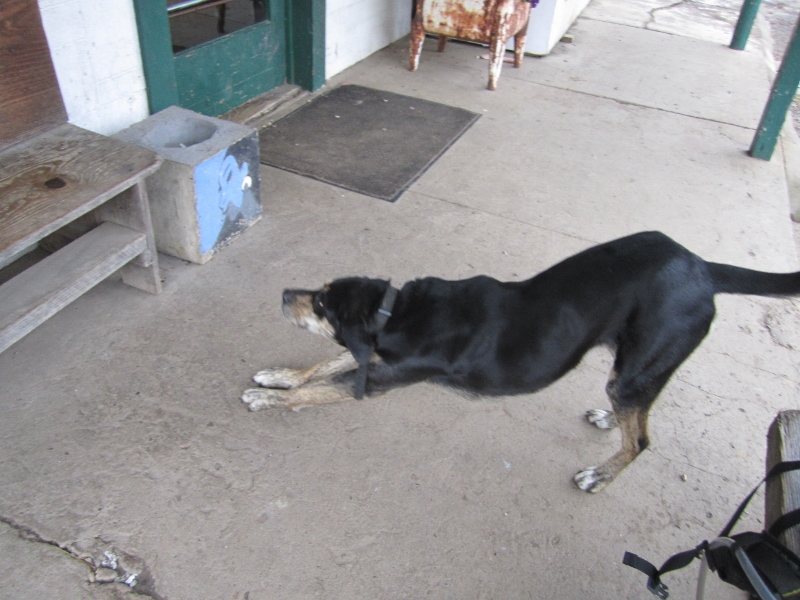 Breakfast was awesome a the Oark store and they had the wood burning stove fired up and I tried to get as close to
it as possible but the locals had it all hogged up.

So my 2nd plan for the day------I downloaded a route from Oark to Eureka Springs, Arkansas from the AdvRider website which
Dr. Lewall (the human gps) had laid out. I had no idea what to expect but it was absolutely awesome even tho it had
me nervous sometimes. These next miles toward Eureka Springs just topped this whole trip off---awesome I tell ya.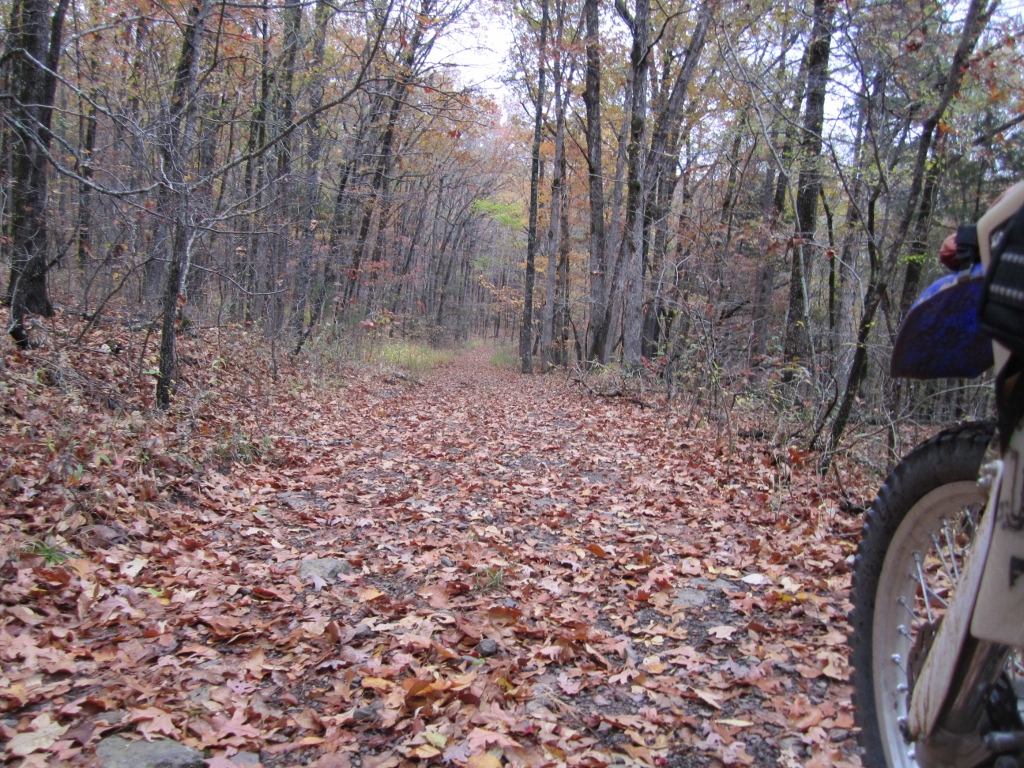 No pic--but it's on video-----down this road it got nasty---big planted Colorado rocks some alien dropped in here.
Besides it had rained all night and was very wet---all the rocks, leaves and sticks were all wet and slippery.
I was by myself and after climbing a rocky hill I didn't think I'd get up I almost turned around---but didn't know if I
could even fall back down that rocky hill---I went on and it eased up. I don't think it would have bothered me if I had
somebody with me--but I didn't.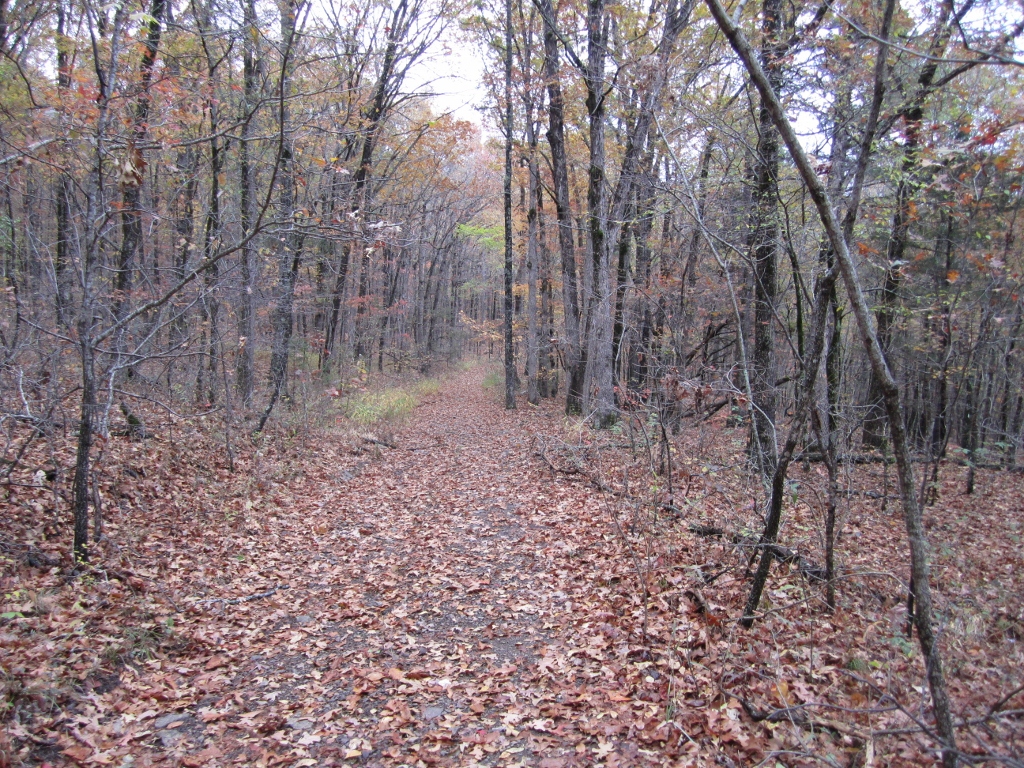 It was here I almost submerged the WR---got stuck and had to get off and push.
It was really cold---my boots filled with muddy cold water and I thought the rest of my day I was going to freeze to death.
I almost tipped over and got a complete soaking.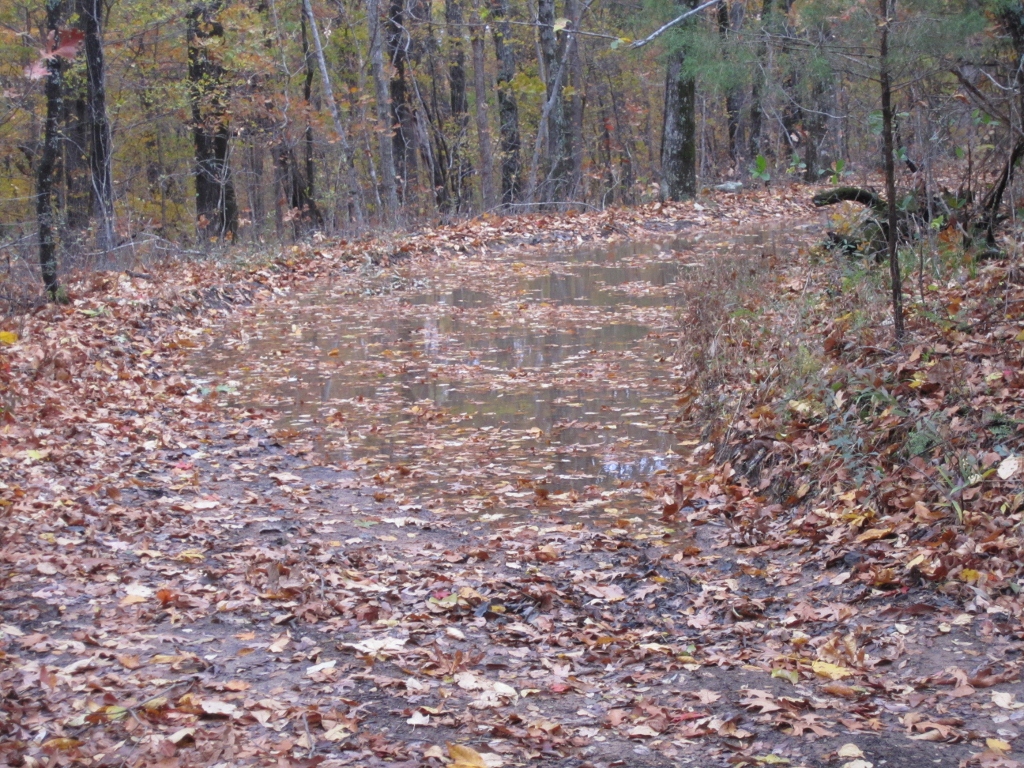 I laughed that one off and I was fine---my feet never froze and I really started enjoying this day
and the cold never bothered me---heated grips, vest and glove thank you.
The scenery thru here was just breathtaking.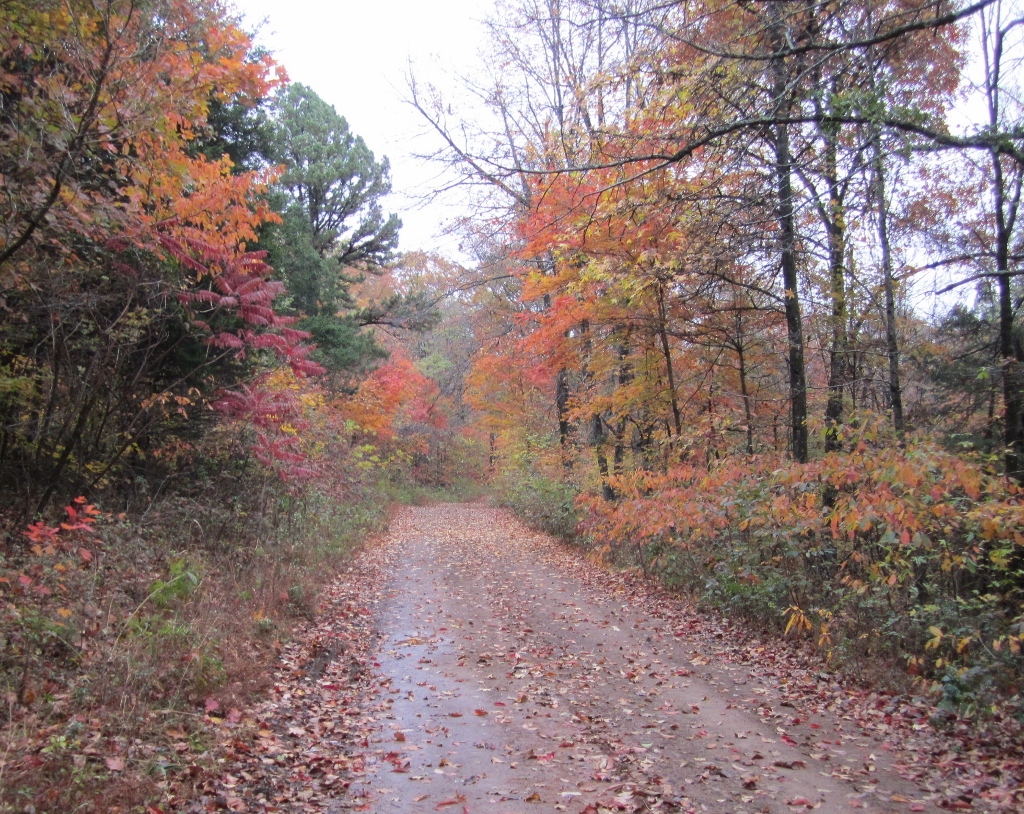 Every year in late fall or early winter---I'll be riding and stop and think what a great year it's been again for me.
And try to soak up this view thinking maybe it will be the last ride for the year------or forever ??? who knows ????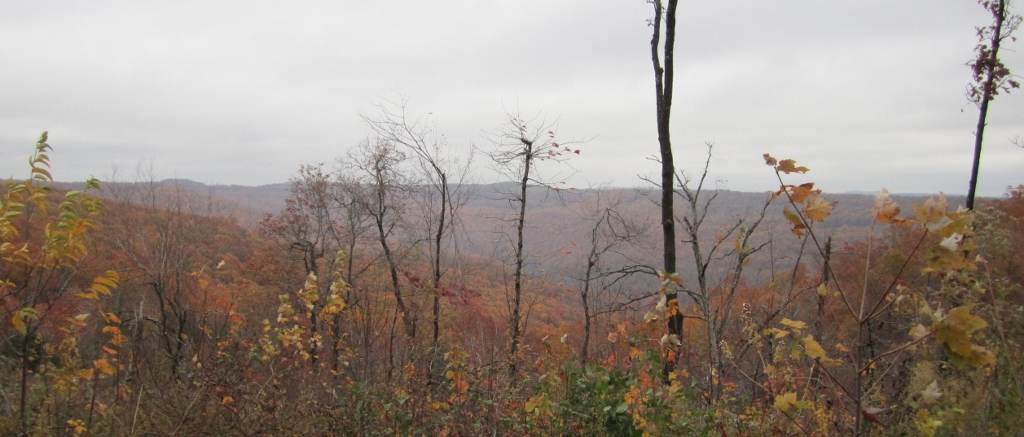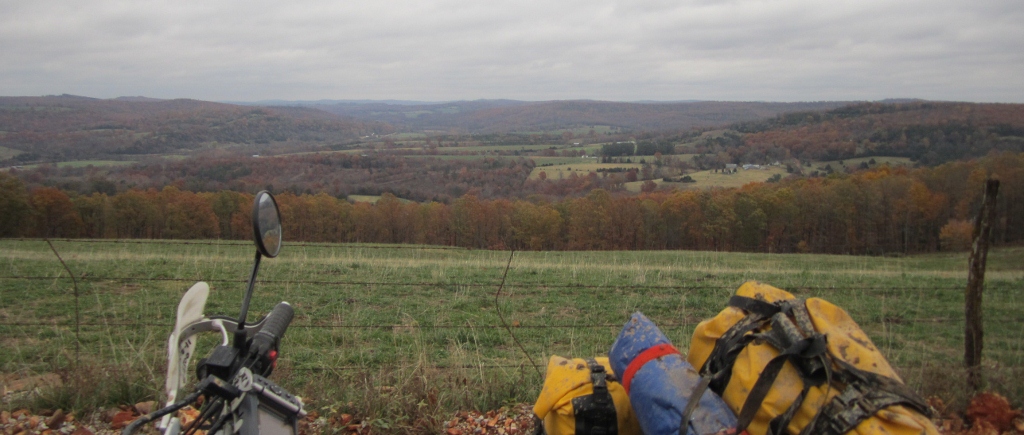 I got all this in one mudhole.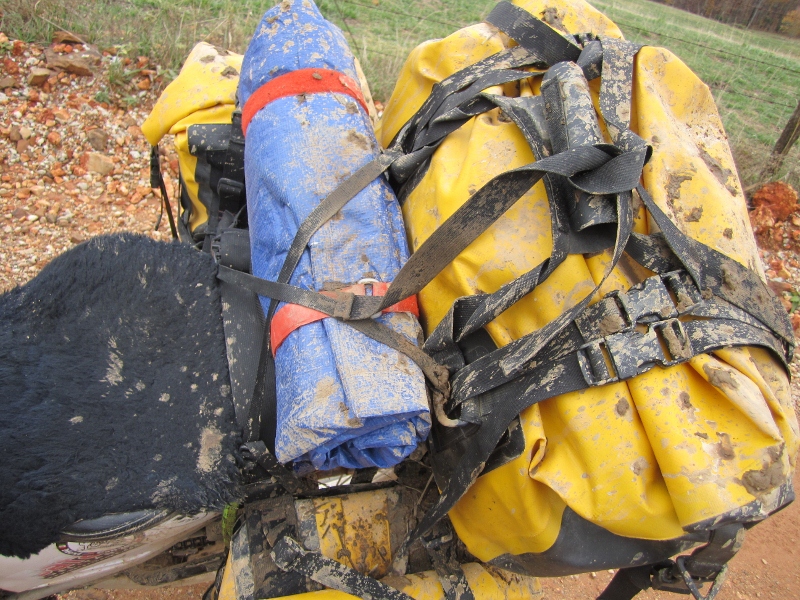 Don't come thru here bud----with a license plate full of mud.
Screw you Florence, Arizona (another trip and tale).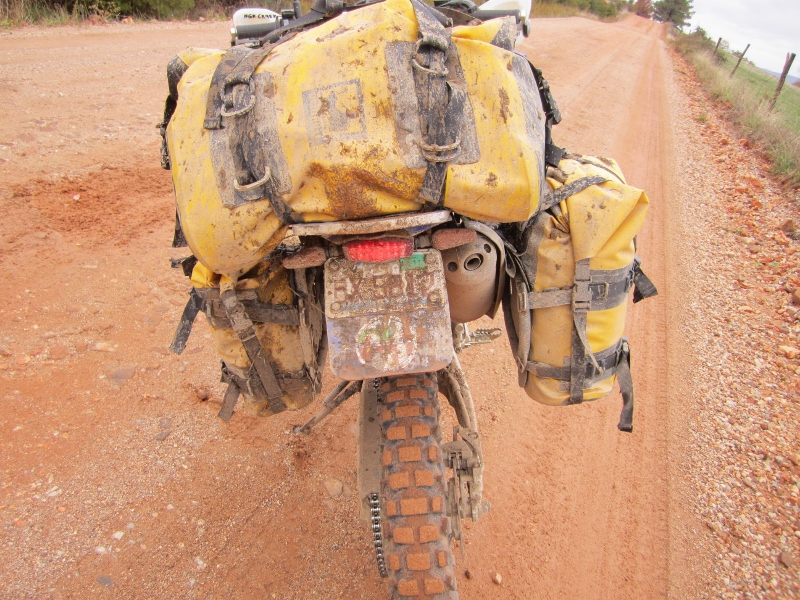 As of this writing I've already got a brand new Dunlop 606 spooned on---this one has been good to me--but is shot.
A wore out 606 is a whole lot better than any 50/50 dualsport DOT tire in my opinion.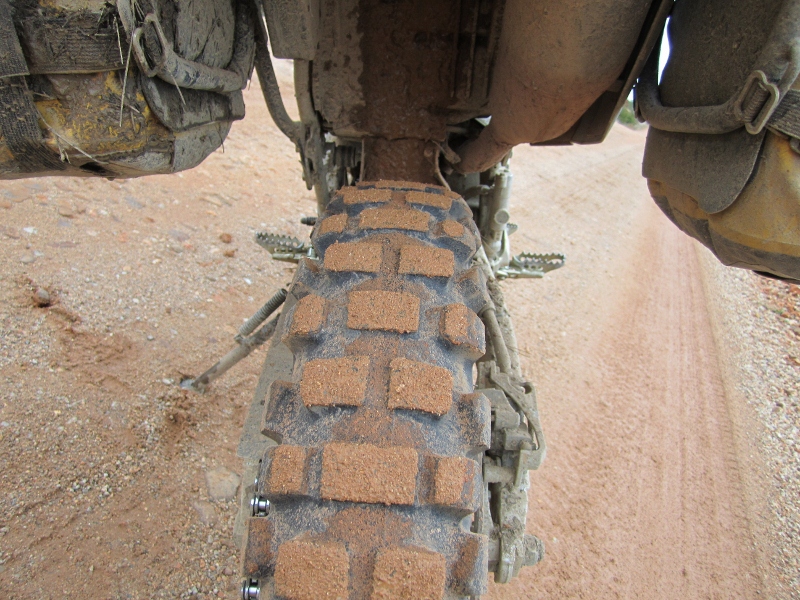 I crossed Wheaton Creek on this old bridge and had a chat with a local.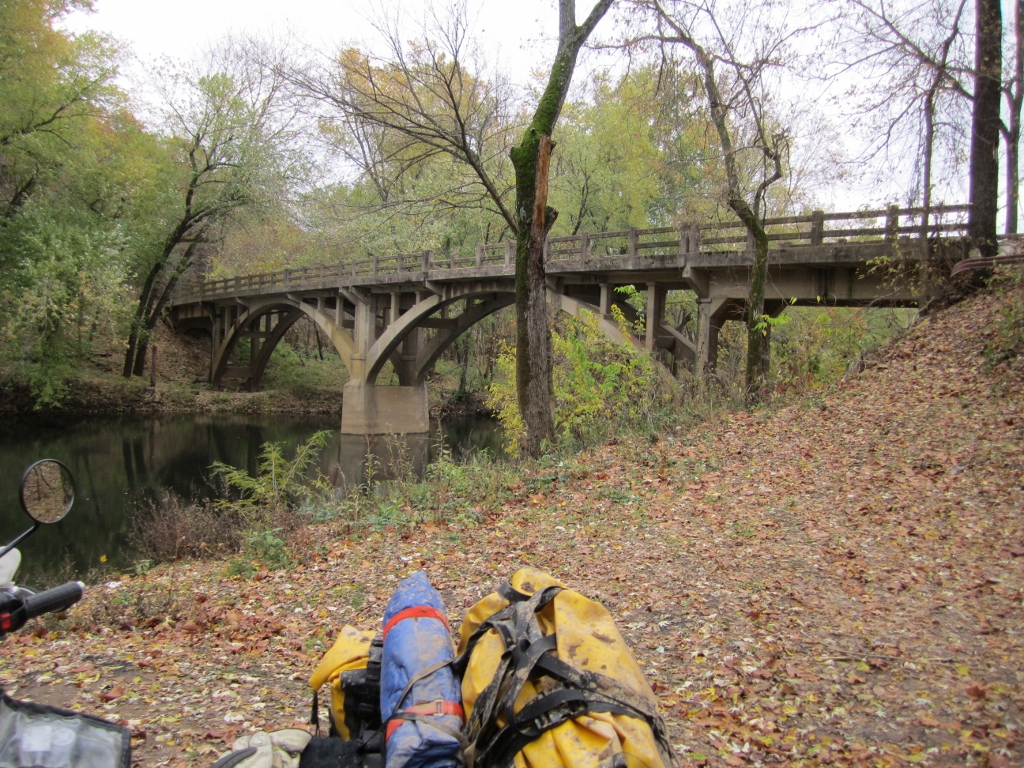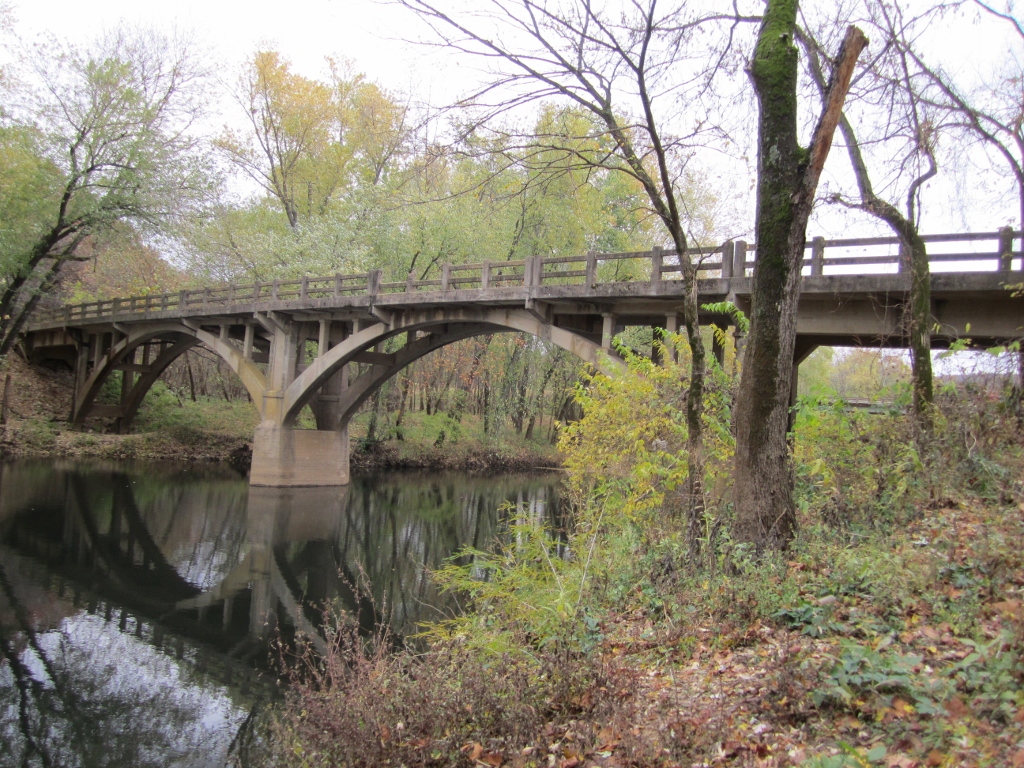 I took a diversion off of Rockhouse road on to county road 1230 and decided I'd have to see the overlook--never been there before.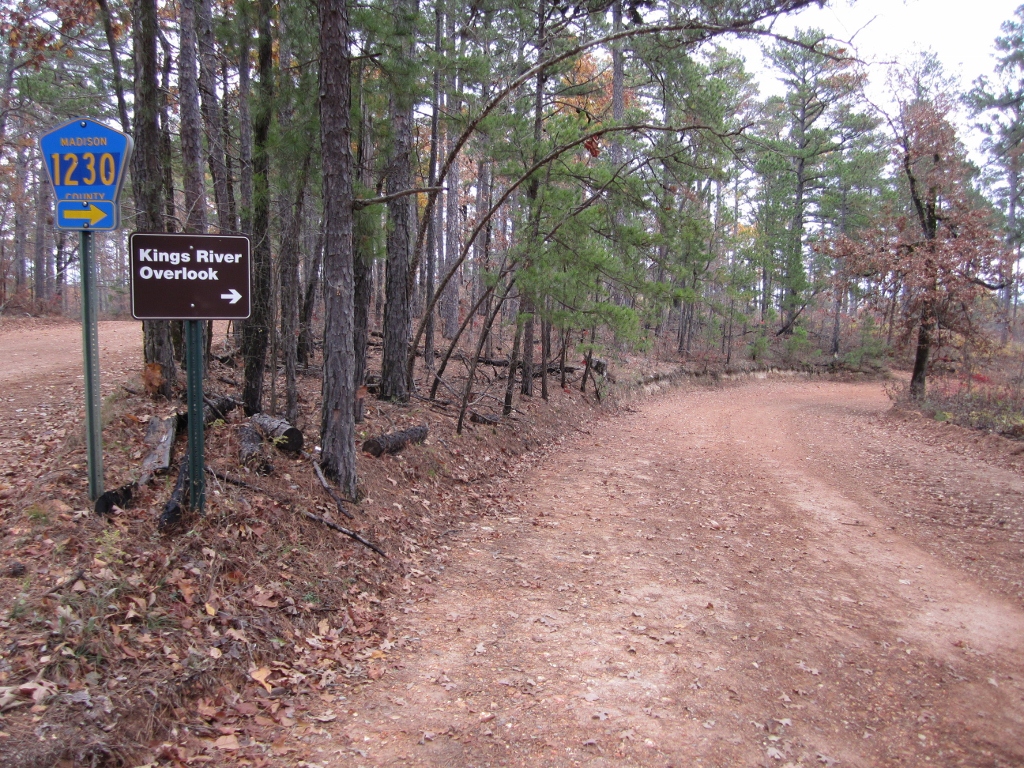 Dummy me---didn't take my camera---enjoy this video off of you tube.
Eureka Springs is a beautiful little historic town----too many people--- so in an effort to avoid it I crossed the Kings river here.
I had to turn back tho as the road on the other side was gated--so I had to cross it twice much to the amusement of
a guy sitting in a pickup truck who thought I was going under.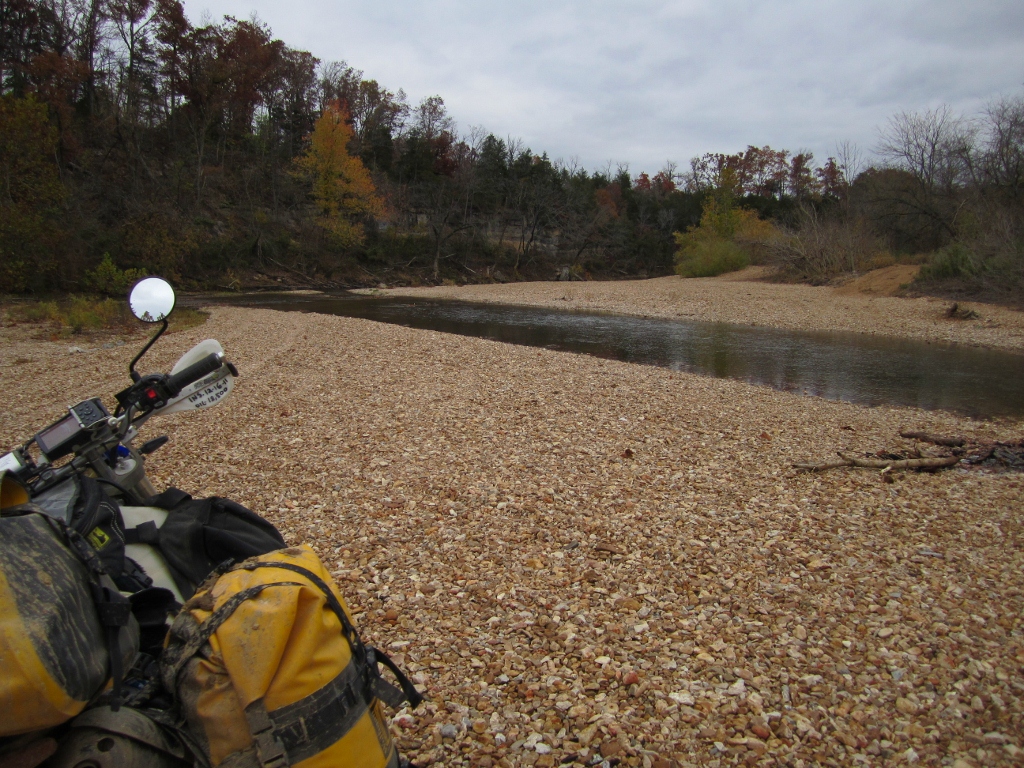 This road almost look like a roller coaster as I neared my starting point for the TART in Blue Eye, Missouri----or is it Arkansas ?????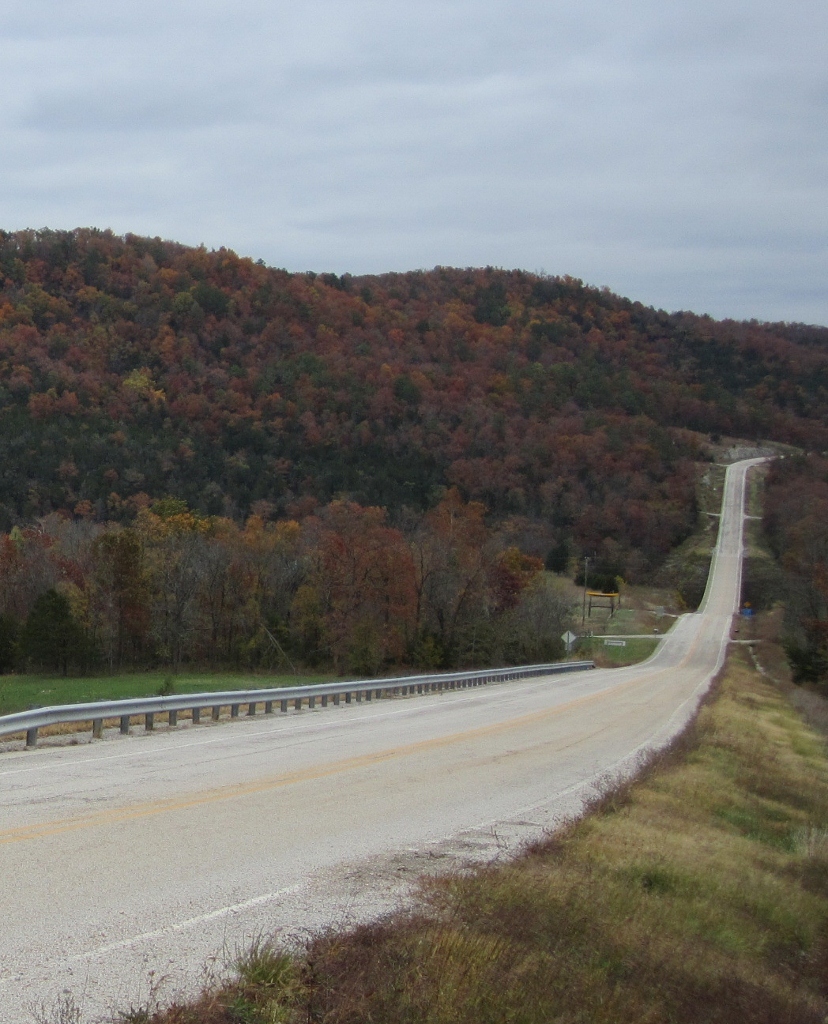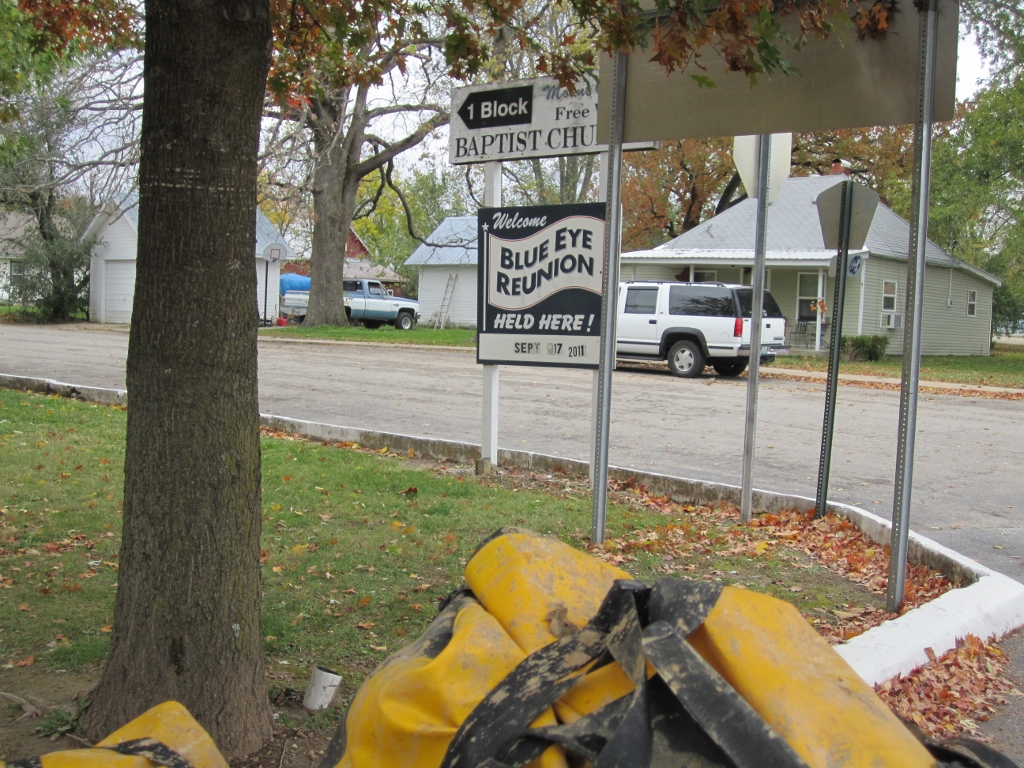 It had been 1,089 miles of Arkansas and Oklahoma.
Now I would meander home thru Missouri and Illinois which I did not write about.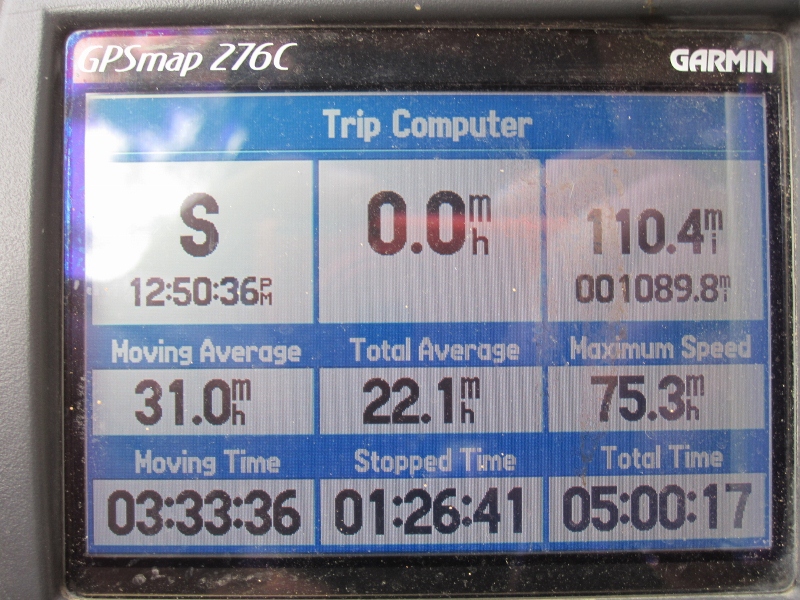 My WR now has 28, 590 miles on it. What a great bike it has been.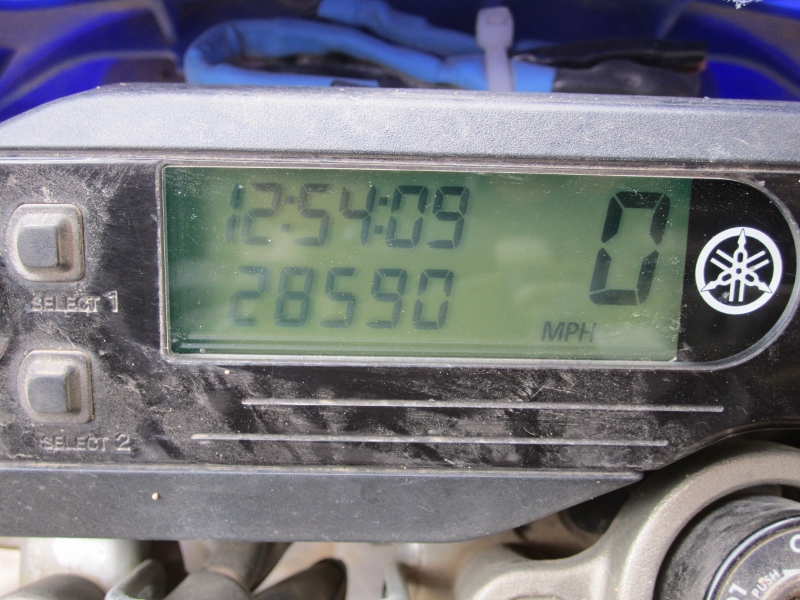 Thanks again to DRZ Charlie, Dr. Lewall and High Five