475 old bridges in Illinois
This Page Last Updated Feb., 26th 2012
You can download the gps file in .gpx format HERE
Right click on the file---and select "Save Link As"---to save it to your computer in your location of choice.
Follow the gps file as you read this and you'll see where I was.
Track logs are dated the day I rode them.
It will be continually updated as I add content---my tracklogs of riding to them is included.
I was given a gps file with about 475 old bridges in Illinois---many not far from my house in Southern Illinois.
I'm 60 years old---and will probably spend the rest of my riding time finding these--but probably won't live long
enough to find them all--------who knows ????
This winter I'll stick to the ones near me--and will maybe stretch out when it warms up a bit.
Cool thing is---most are down a very lonely country road--maybe a dead end.
Maybe down a muddy dirt path--growed up in weeds---yeah this sounds like fun.
Some are gone----some are just remains---some wood--some steel--some concrete.
So this will be an on-going ride---with I'll ad to continually when I can get out and ride.
The fun part is---while navigating to a bridge with my gps---is finding neat little roads to get there
and not following the gps's orders all that much. This way I'll run down roads I've never been on
and probably find something on the way. Lot's of re-routing is needed from flooded roads---dead ends--private
property---impassable when muddy roads---this aggravates some people---I love this stuff.
I fill my KLR full of fuel---and traveling these backroads it's impossible to run it dry in a day.
Pack snacks--a sandwich maybe---a back pack full of water--toilet paper and I don't have to see a town or gas
station all day. And you'll run into nice folks along the way.
So this is my first day finding these things.
Dec. 3rd, 2011 Pretty nice day for wintertime.
This one is "skillet fork O-TT" on my gps file.
The O means it's open for traffic----the TT means it's a Thru Truss constructed bridge.
Some of these aren't going to be designated correctly---as thing change over the year.
This is on Kell road over the Skillet Fork river.
skillet fork O-TT
N38 29.383
W88 43.633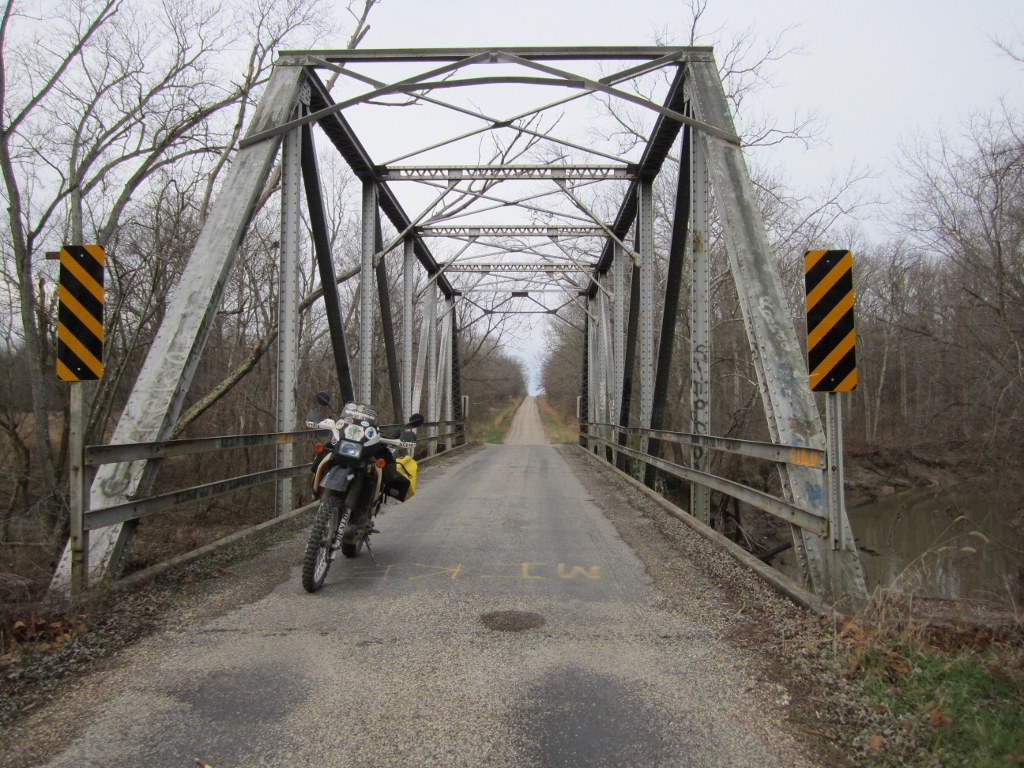 I swear that's not a pee spot in the middle of that bridge---really !!!!
So the next one is
icg3 rd C-WB (blocked)
N38 40.316
W88 41.600
The WB means wooden bridge.
It was still there but blocked from traffic.
I rode down a muddy dirt road with 3 ft. high weeds to get my bike to this point
from the West side.
It's over the Illinois Central Railroad.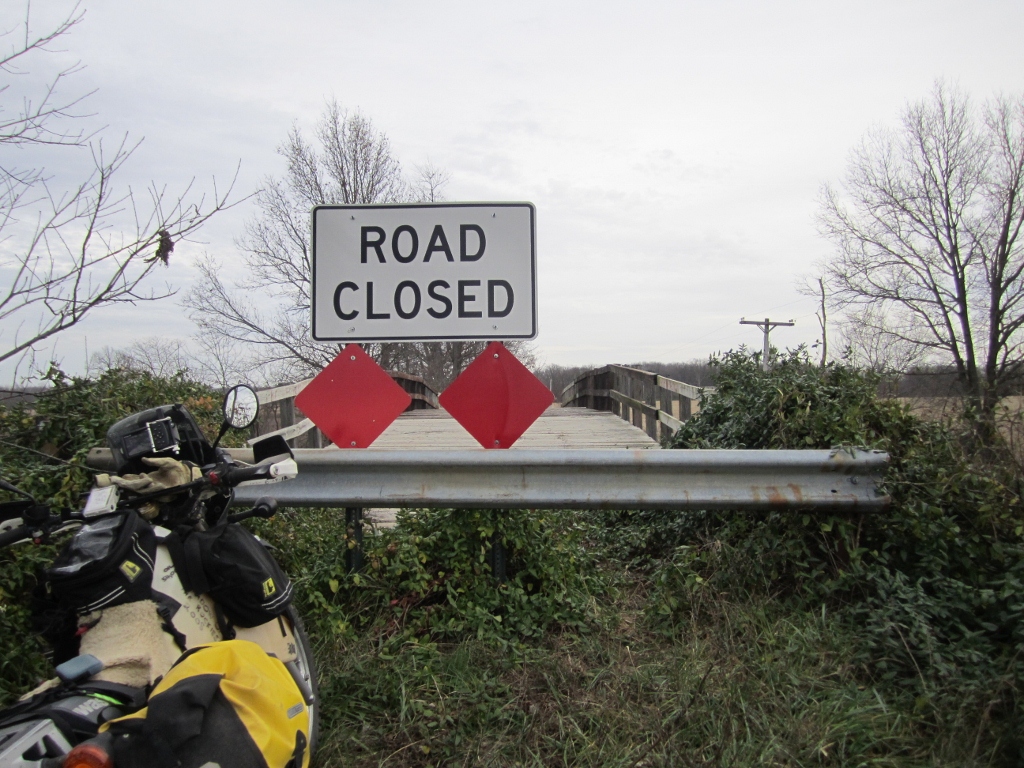 Next UP------Sycamore Bridge
sycamore creek C-PT
N38 33.497
W88 21.321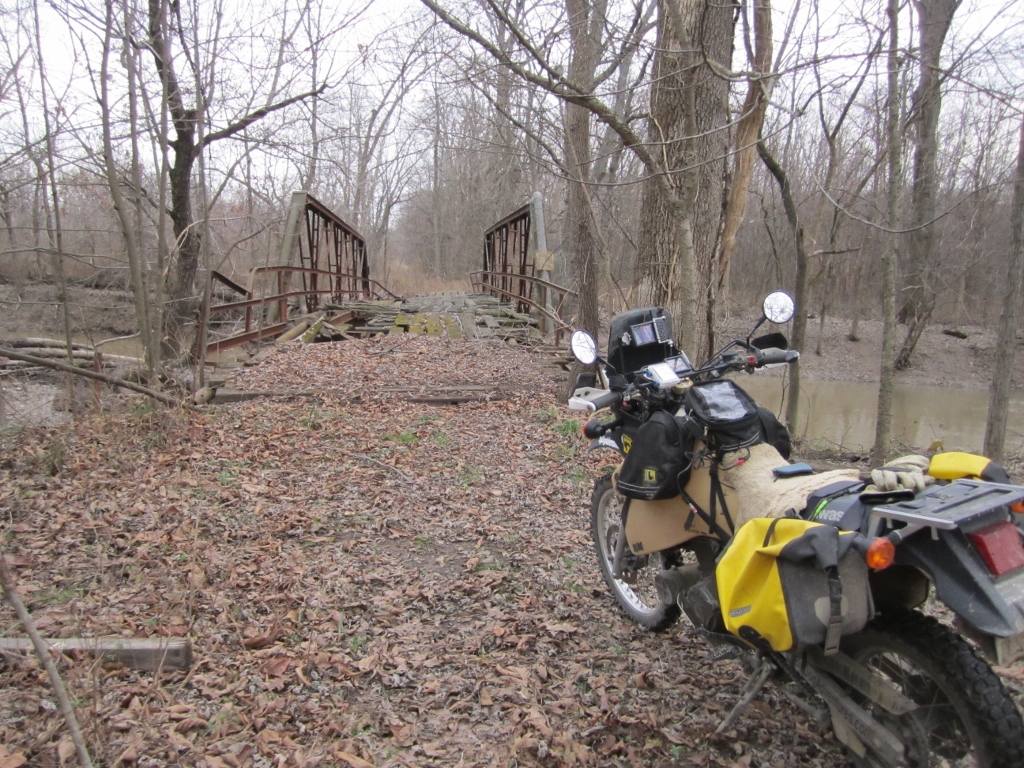 Pretty bad shape----It looked like you couldn't get to it from the other side.
The road had went back to nature---but from the West I went down a muddy dead end dirt road
and down a small hill.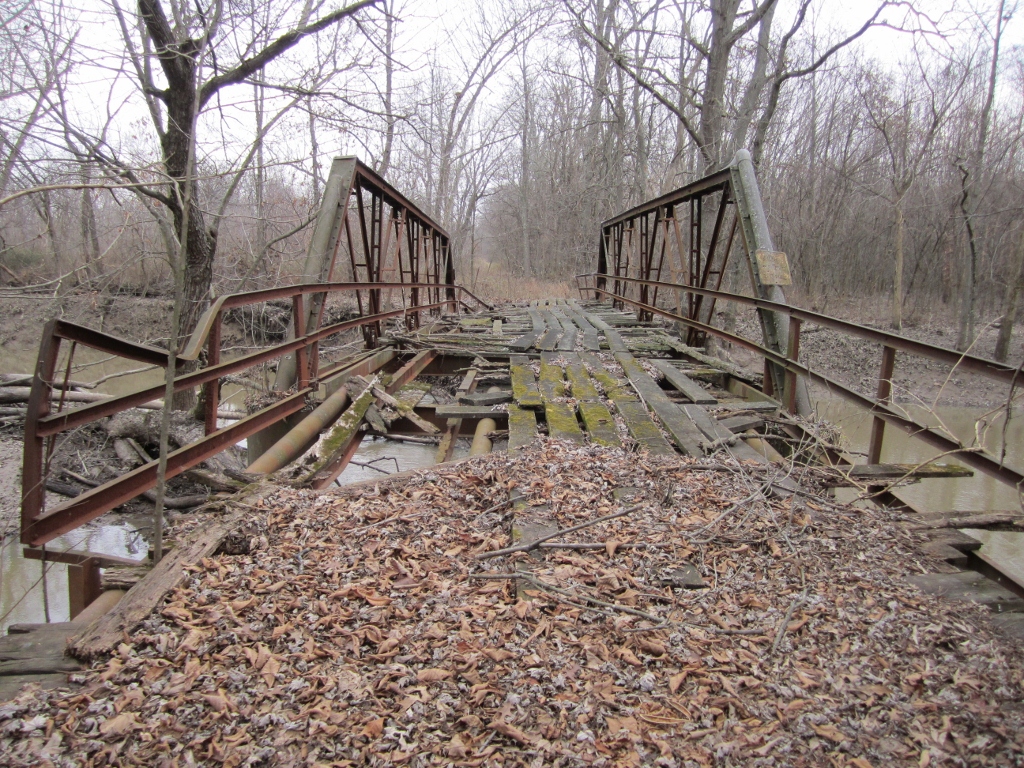 Gross weight---one fat old man on a loaded KLR !!!!!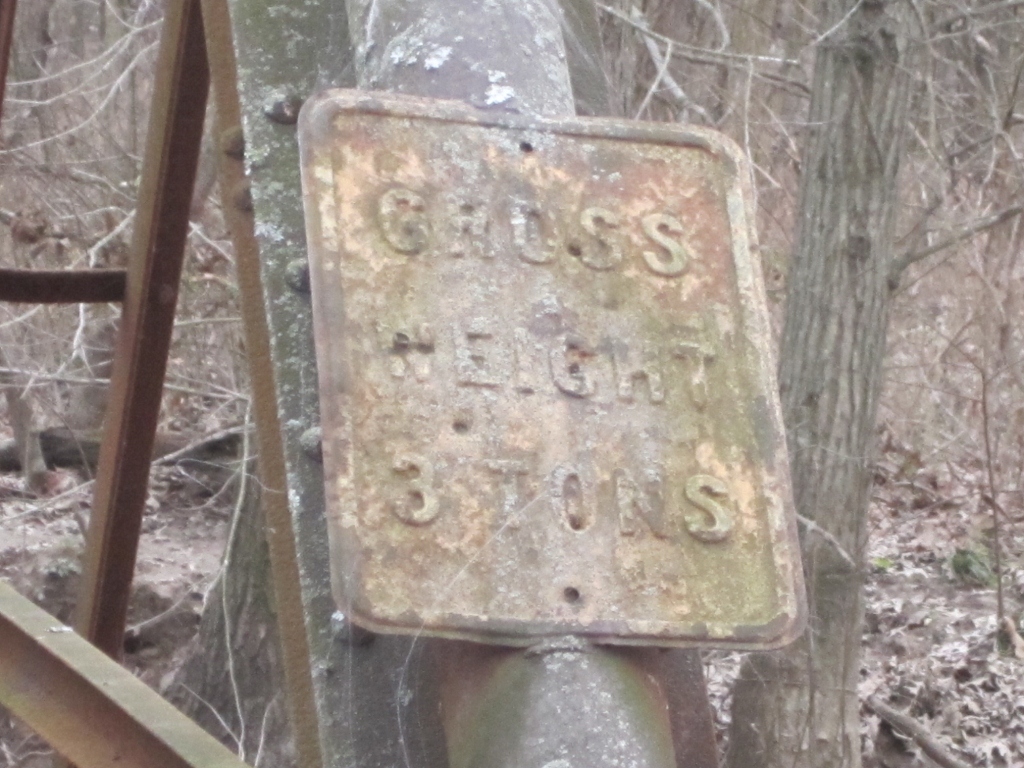 You may see me on several different bikes on these bridge finding rides.
It's been muddy out and I don't care what anybody says---the KLR is so much better to handle
in rough and muddy conditions than my KTM950. And I can't pick it up.
My WR250R would be great too--but it doesn't it doesn't have any wind protection for the cold
weather I've been riding in.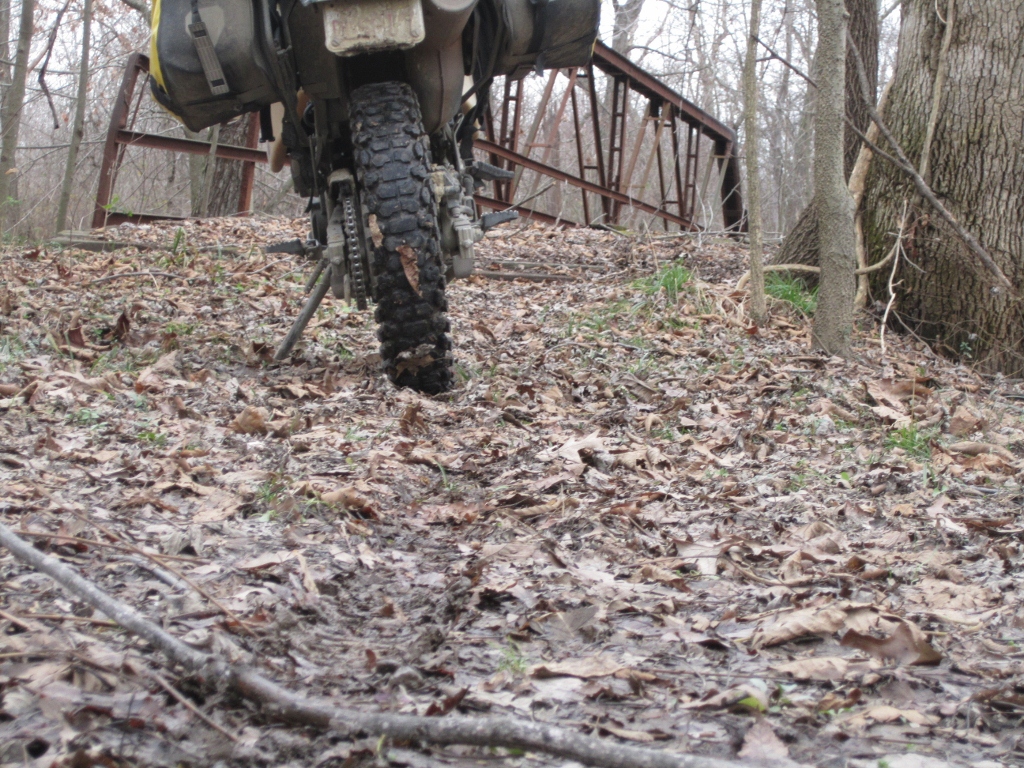 I sat here for a long time----pee'd off the bridge---left my mark.
Had a snack--a sip of gatorade---and pondered life 80 years ago.
It was a lot of fun finding this thing---and anticipating what you'll find when you get there---if anything at all.
After this--I tried to find a bridge name "Dorsey Bridge" down a muddy dead end flooded road.
I ended up at a hunters camp--bunch of hunters drinking beer around a campfire.
We made friends and they invited me to sit a drink a few beers and to camp there if I liked.
I told them I was looking for an old bridge and they laughed and pointed out in the river.
All was left was some pilings. I told them I had more bridges to fine a rode off finally.
Next up
drainage ditch3 O-PT
Which was supposed to be a Pony Truss bridge------it was gone and replaced with this thing.
You never know you will or won't find.
So I marked this one off my list.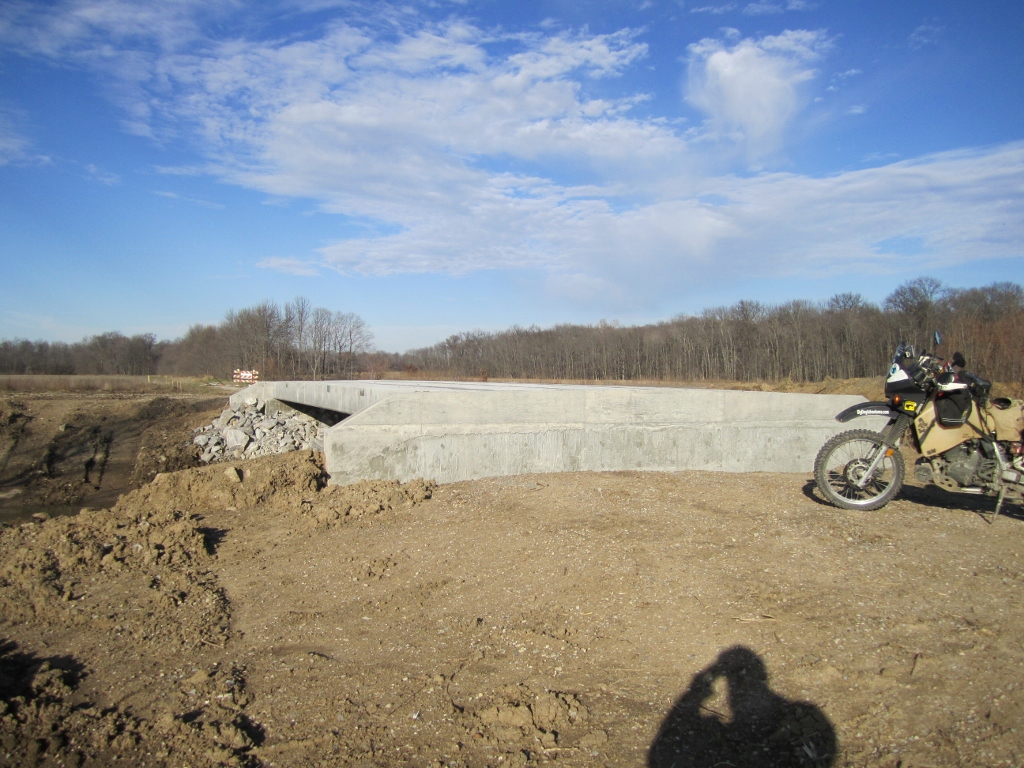 Same here----but this one was a hoot to find---I was running up and down old muddy farming roads out in the middle of nowhere
and had to do some serious navigation to get across some drainage ditches--it was a hoot---but no cigar.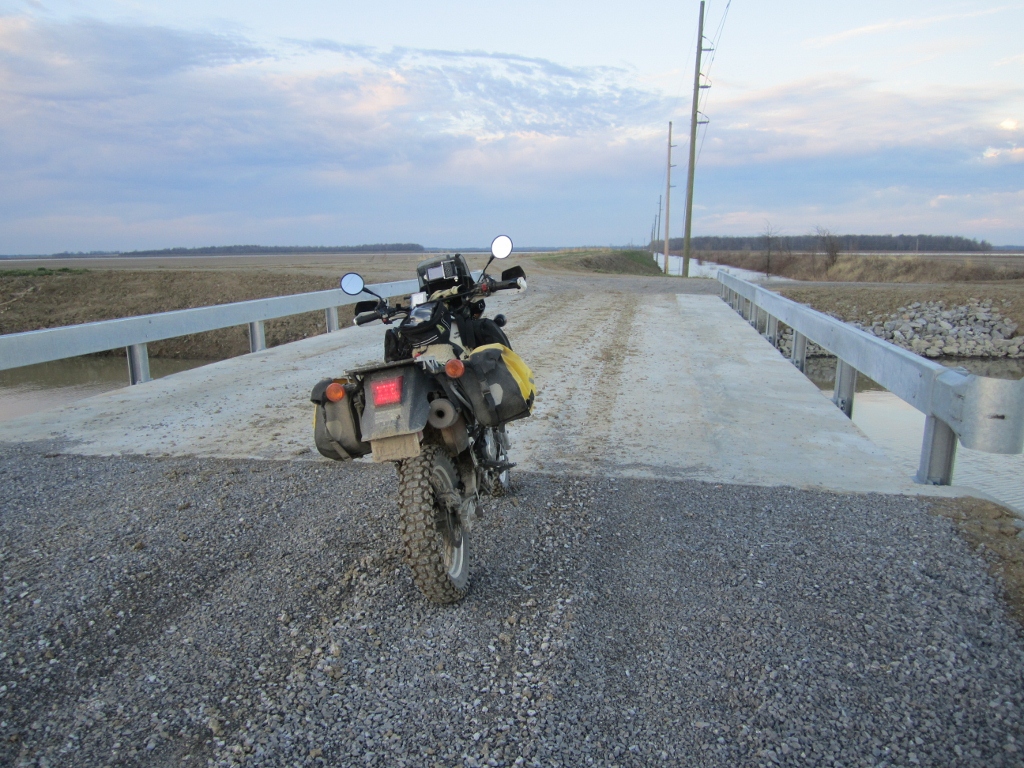 2nd ride 12-18-11
Well I was at it again today---finding more old bridges in Illinois.
It was a cold winter morning inSouthern Illinois when I left the house----about 24° BBBBbbbbRRRRrrrr !!!!
the first bridge is actually the closest one to my house and I had never saw it. Can't believe I'd never been down
Beethoven road and over the railroad tracks.
Probably the slickest thing you can ride a motorsickle on is frozen ground barely thawed on top
from the early morning sun. You can't ride on that stuff---so I didn't.
I needed the exercise--and after finding Beethoven road new Woodlawn, Illinois I hiked---yes I hiked
about a 1/2 mile to the bridge in this muck.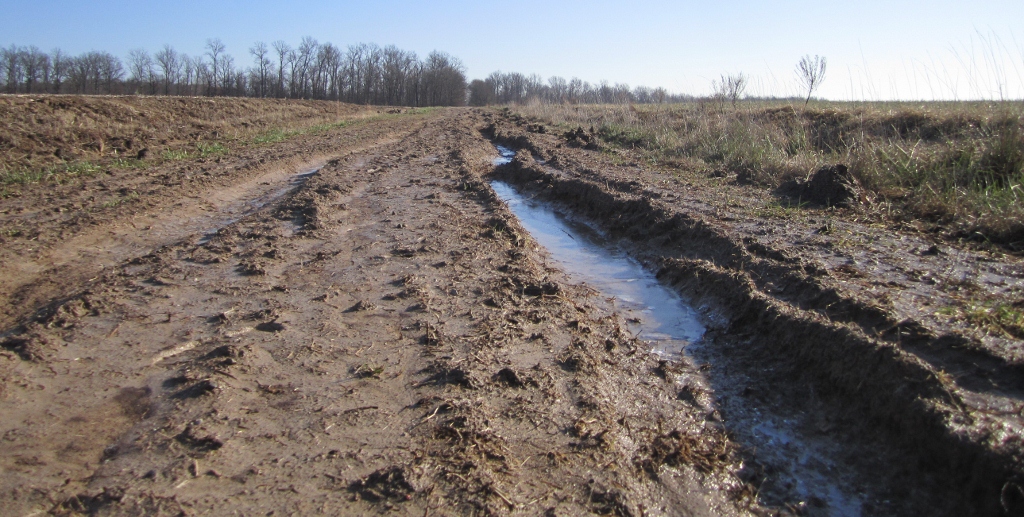 I was suppose to find this---a beautiful pony truss bridge over the railroad tracks
This is an old picture I grabbed off the internet.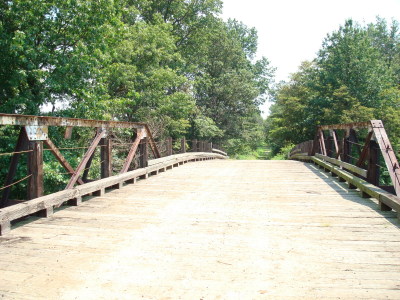 But found this-------it was gone.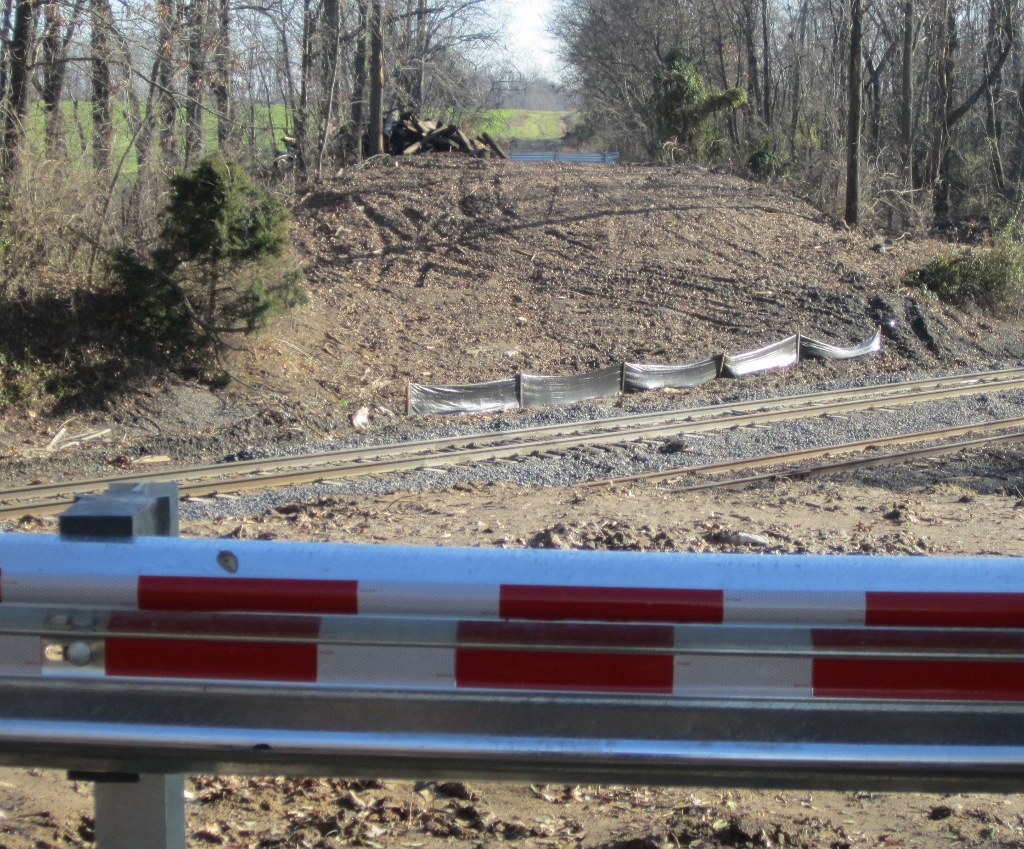 All was left of the bridge was this pile of timbers on the West side.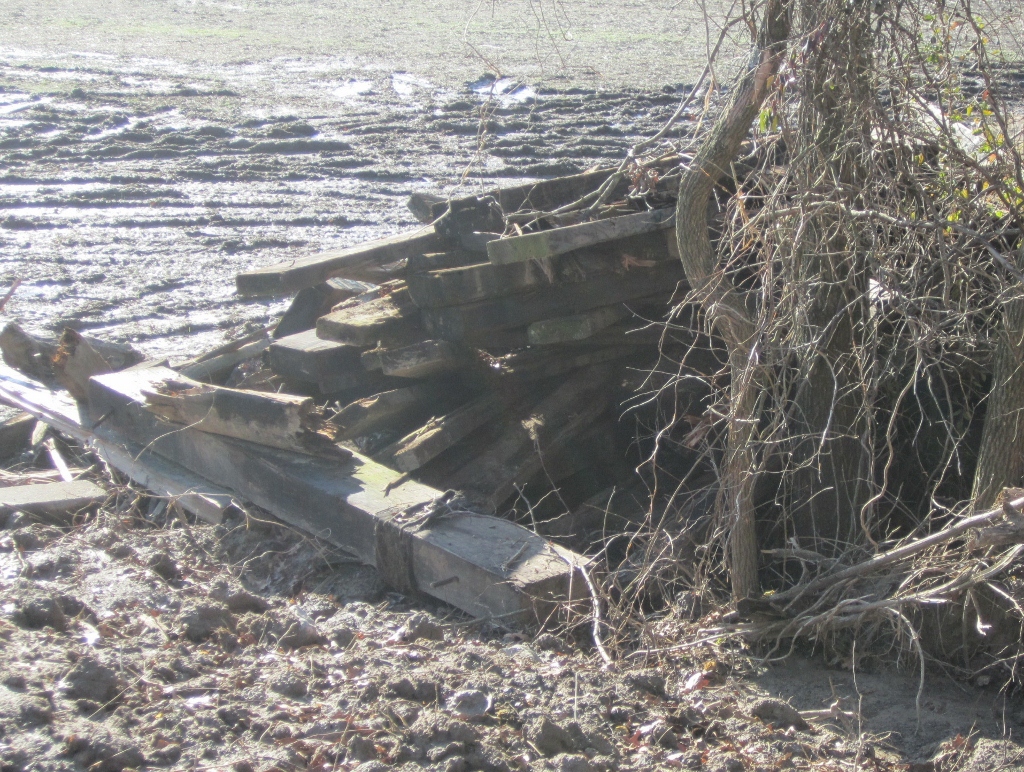 And this pile on the East side.
I think you could get to the old bridge site in dry or frozen weather from either side on your
motorsickle------------I tried both--------half frozen slick mud.
You never know what you'll find when you go looking for these things---but the waypoints I had loaded made
it easy (usually) finding them.
So I set my gps to navigate me to another bridge--and after a dead end road I turned back and crossed this bridge again.
It was not on my gps----and it was kind of special-------why ?????
Because I just accidentally found it---and the plaque telling who built it---and when was still on the bridge.
Built in 1916.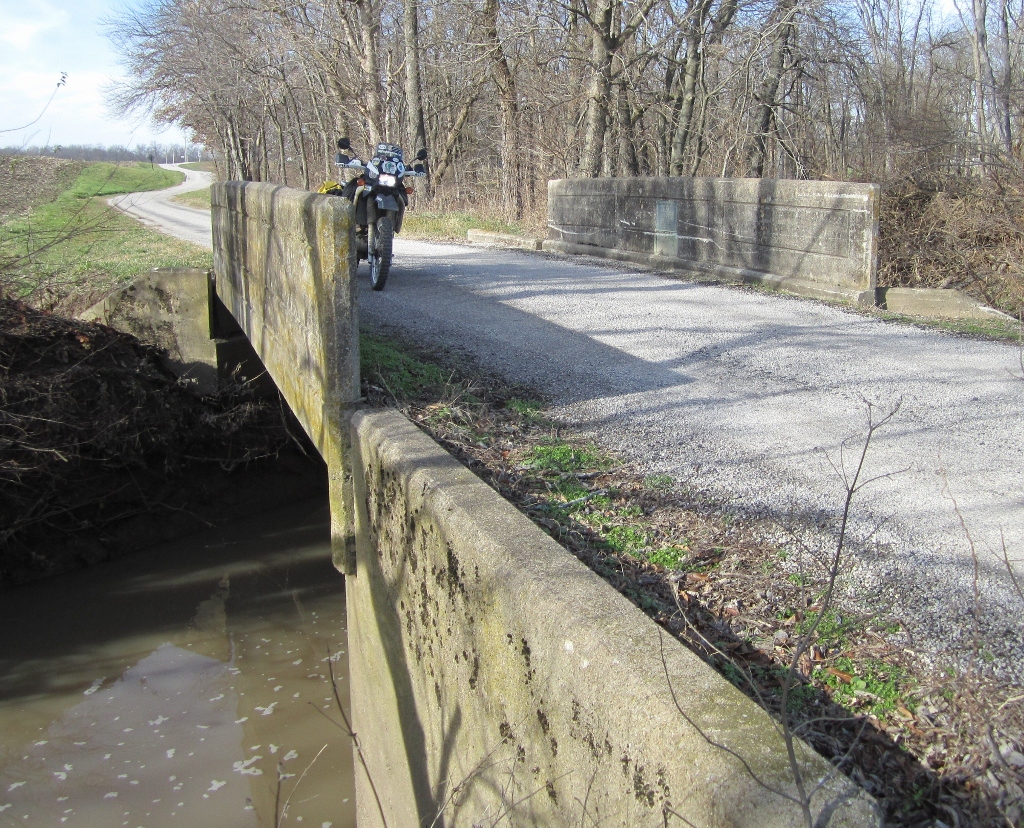 Another thing that made this nice one lane bridge so special ----to me anyway---it was still standing---and in very good condition.
Think of all the traffic that went over this bridge after almost 100 years---it was almost good as new.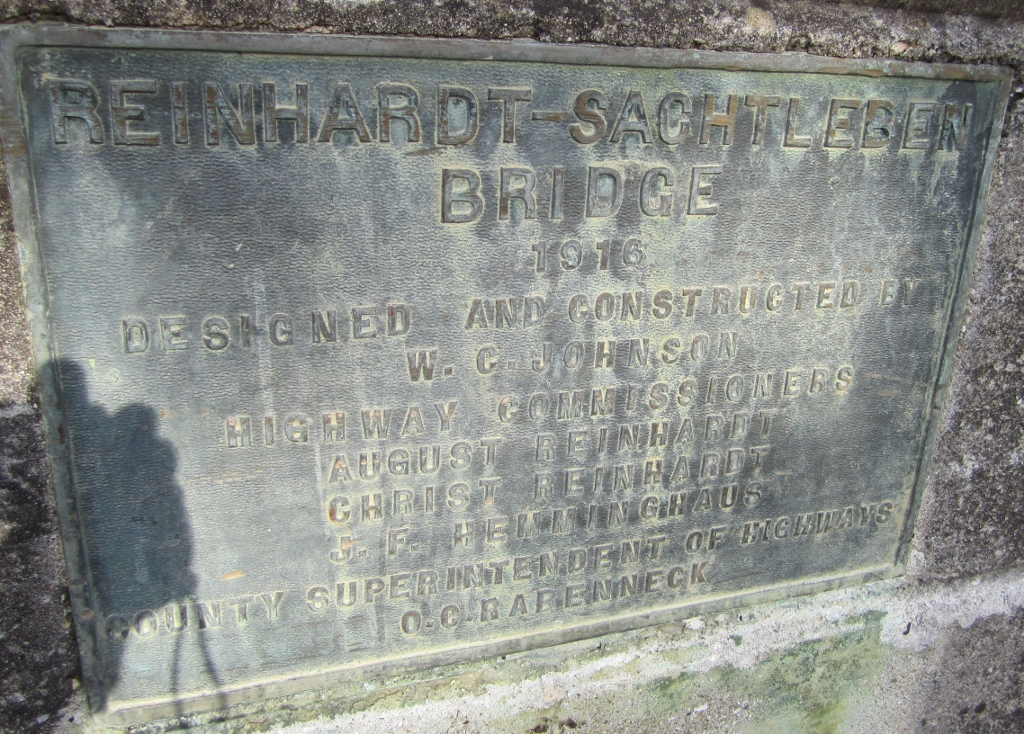 OK---now I'm looking for a bridge on Dog Alley Rd.
I like the sound of this road--------Ruuuffff.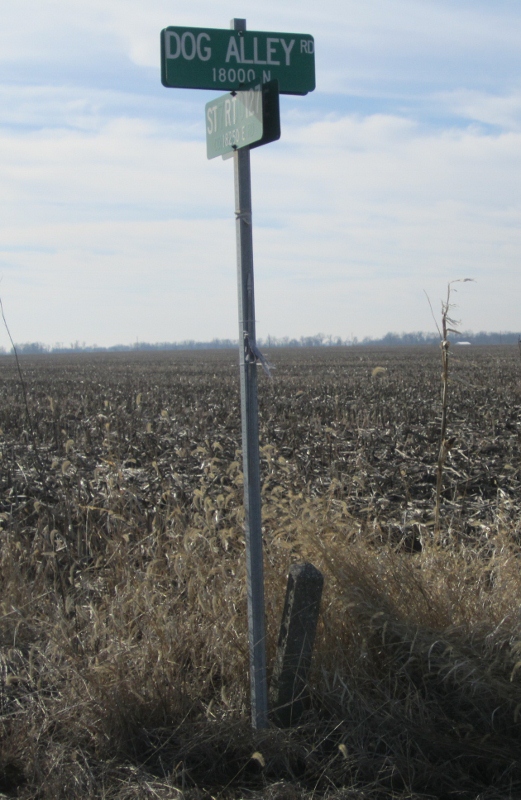 I don't no if you can see my track very good---but I came in from the East and hit some really bad mud--and
then went around and came in from the West.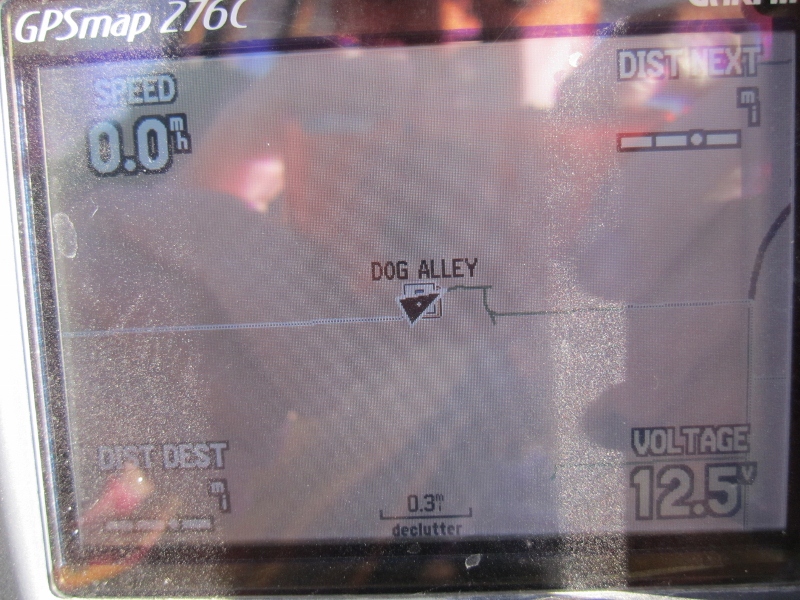 I have to admit I'd been to this bridge before--and have approached it from both directions--but you can't cross the bridge
on a bike---it is blocked very well. I haven't been here in 5 years and it was in much worse shape than the last time I was here.
On BridgeHunter.com this is "dog alley rd C-PT"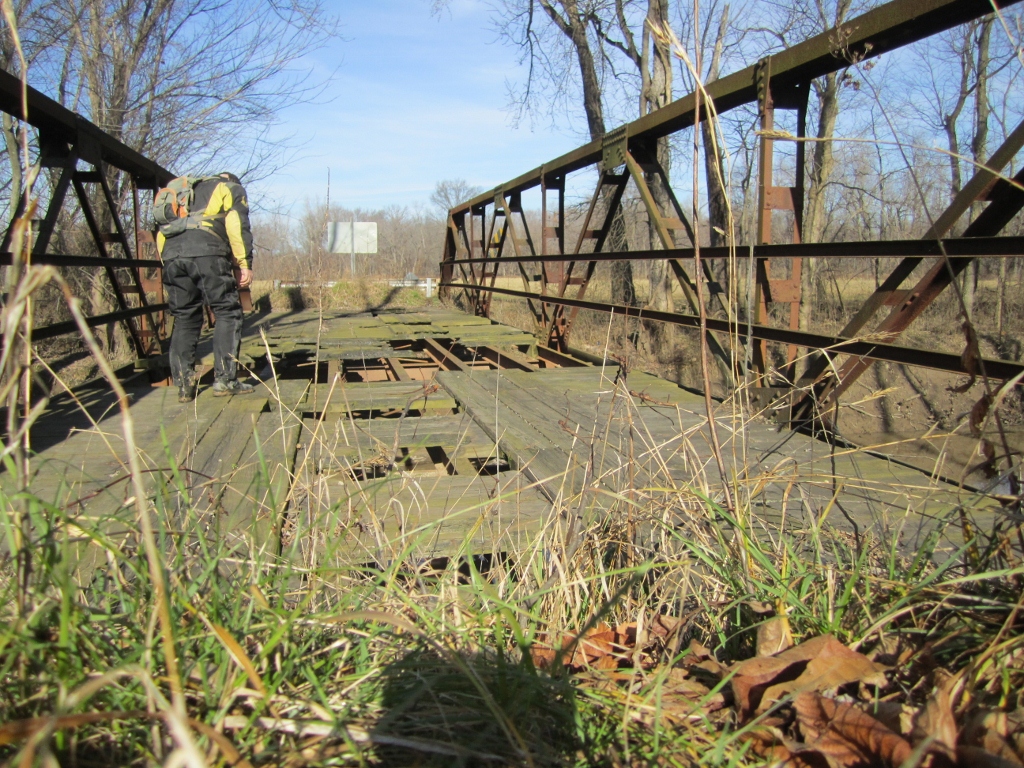 This bridge was built circa 1930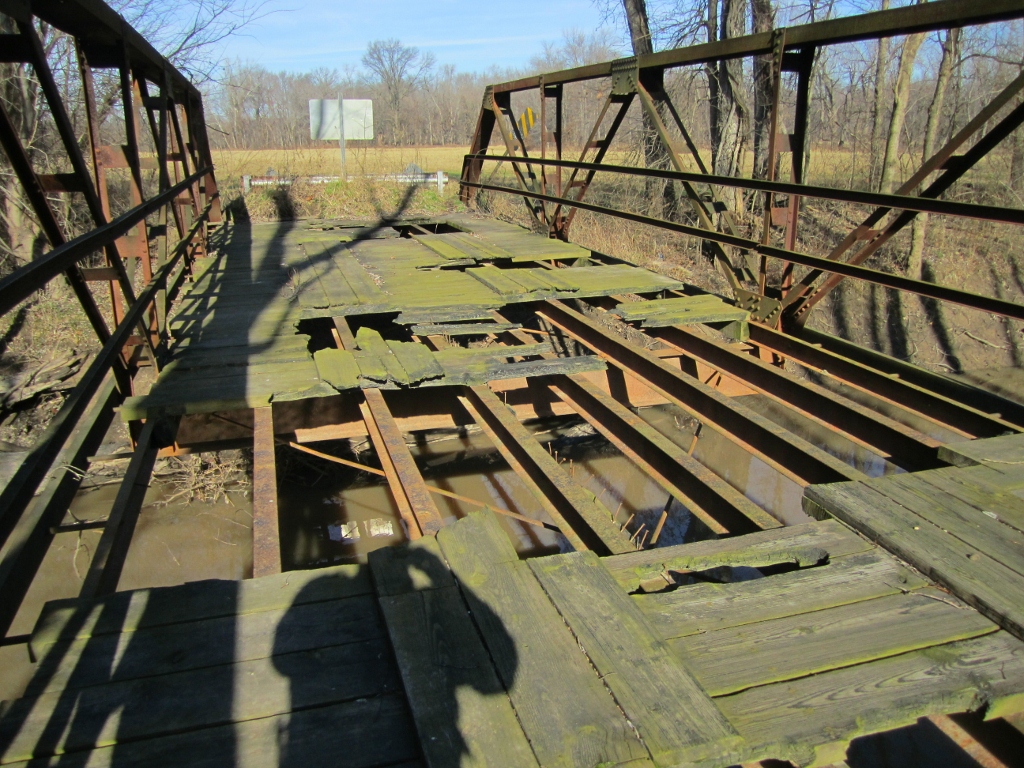 This is the road coming in from the East--which I didn't do.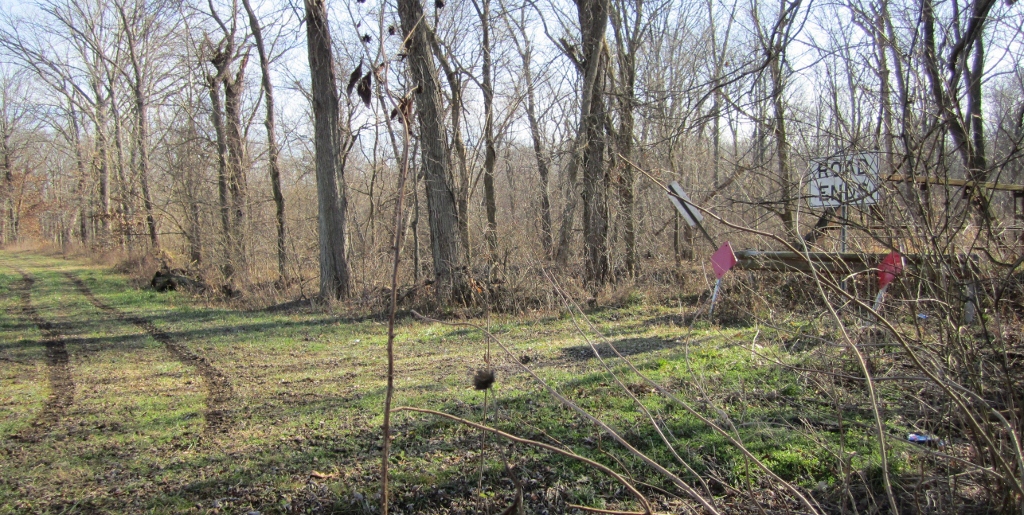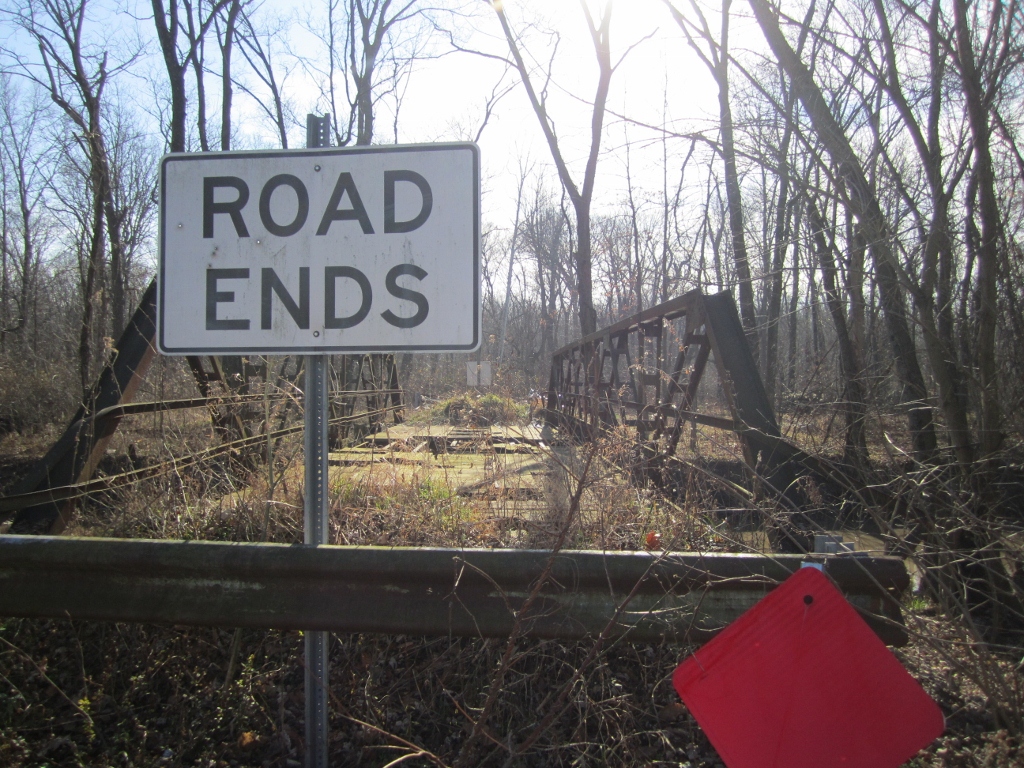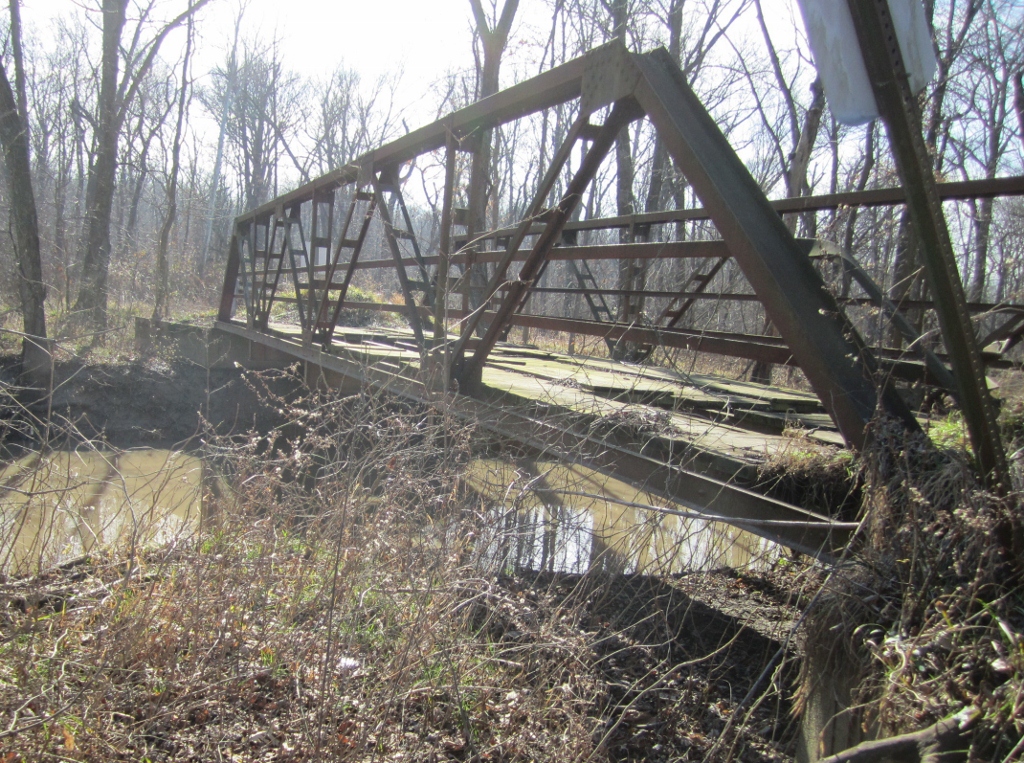 Not bad for an "Ole Dog" I guess.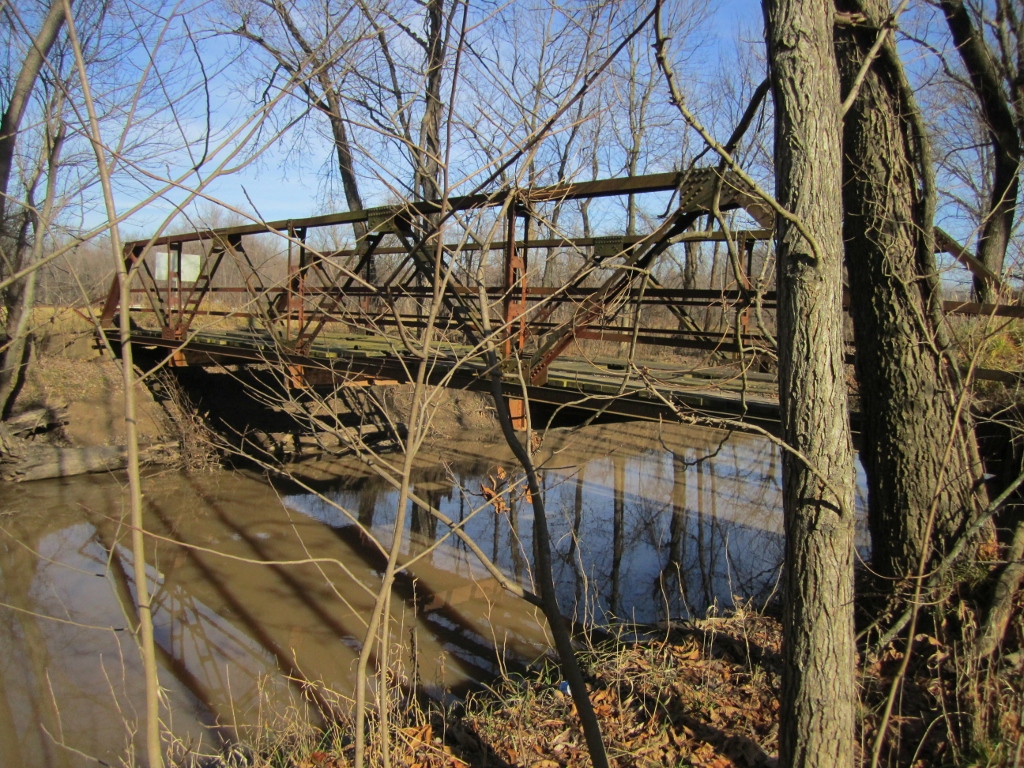 Like any Dog would do-----I peed off the bridge and left my mark.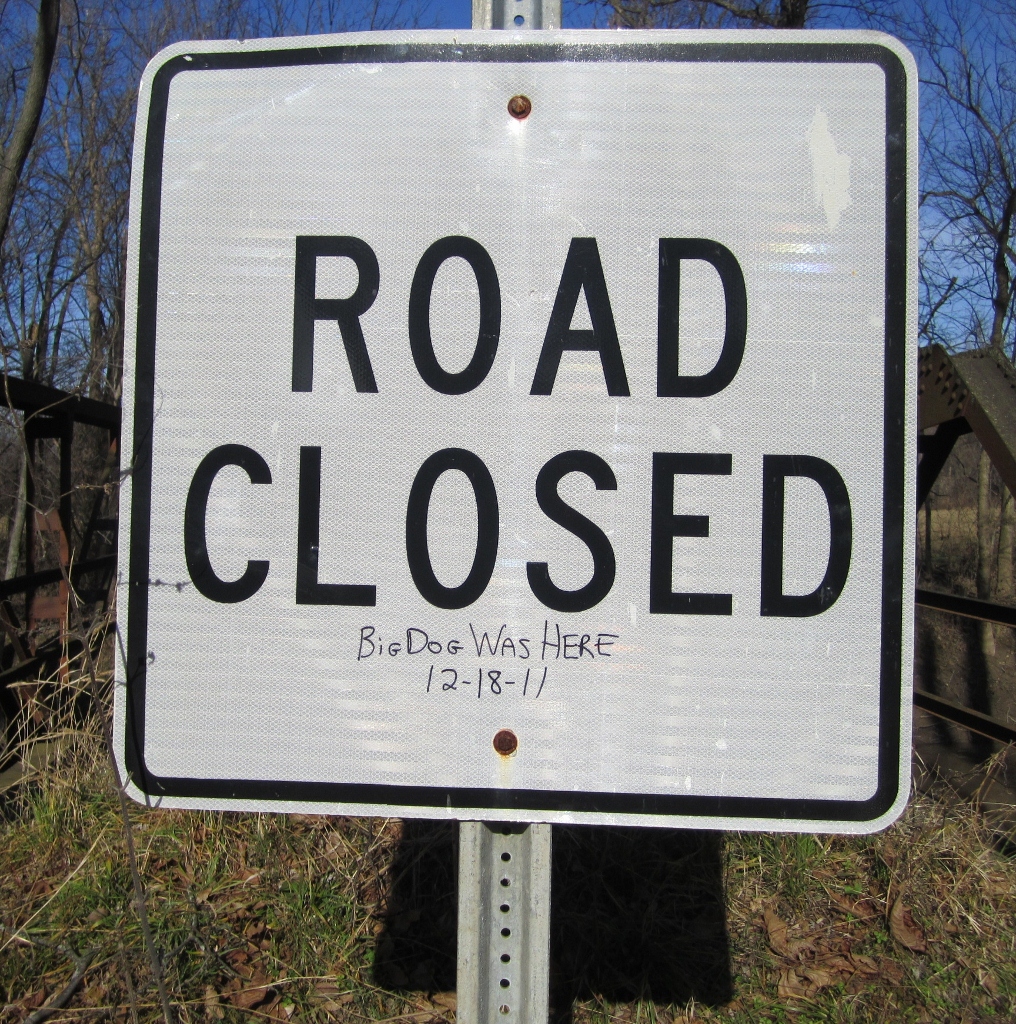 My good buddy roger Hayes has been following my story a bit it seems---and sent me a picture of him at
the same bridge-----he was out cruising on his KLR----nice roger !!!!!!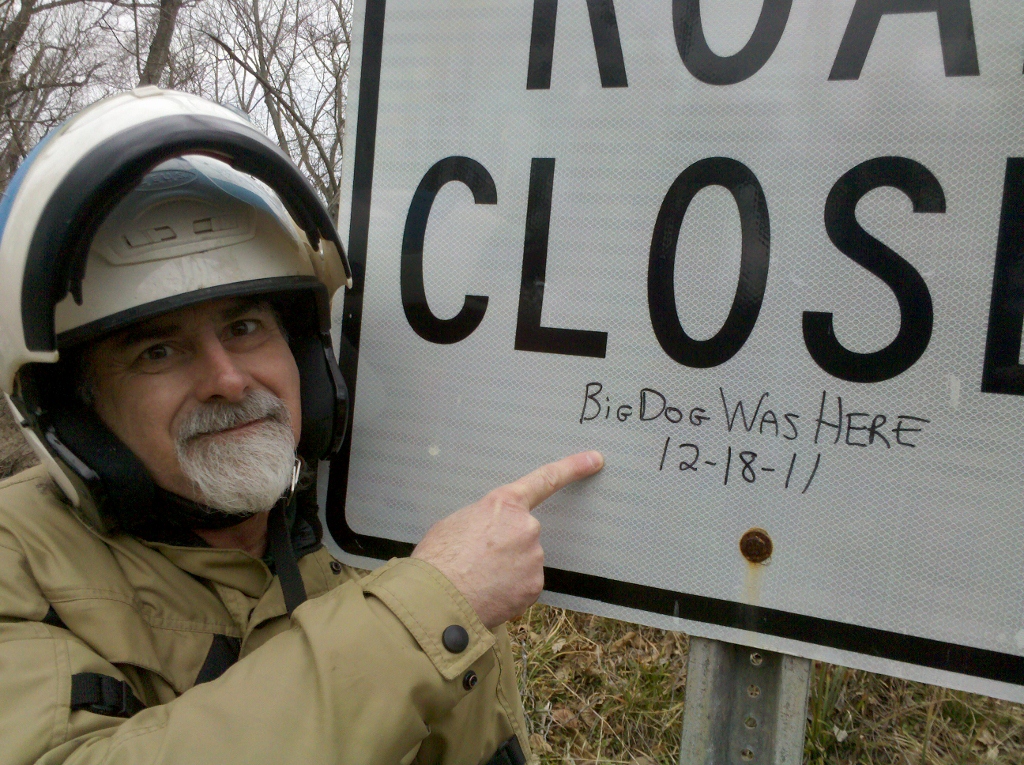 On my way to the next old bridge on the Kaskaskia river----I turned down this road just North of the very small
town of Covington--and just North of the Kaskaskia river.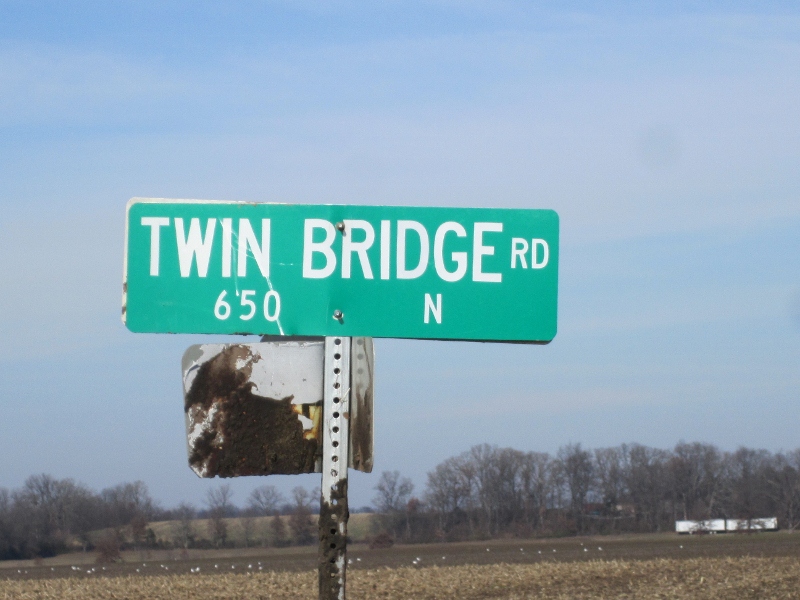 This next find was just awesome. I approached the bridge, hoping it was there---from the North on a one lane
dirt road.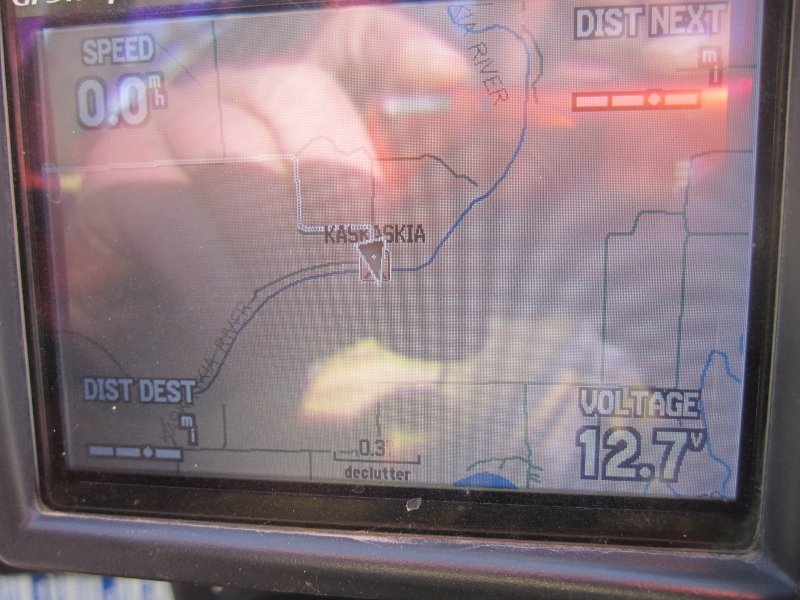 Holy Moses----look what I found.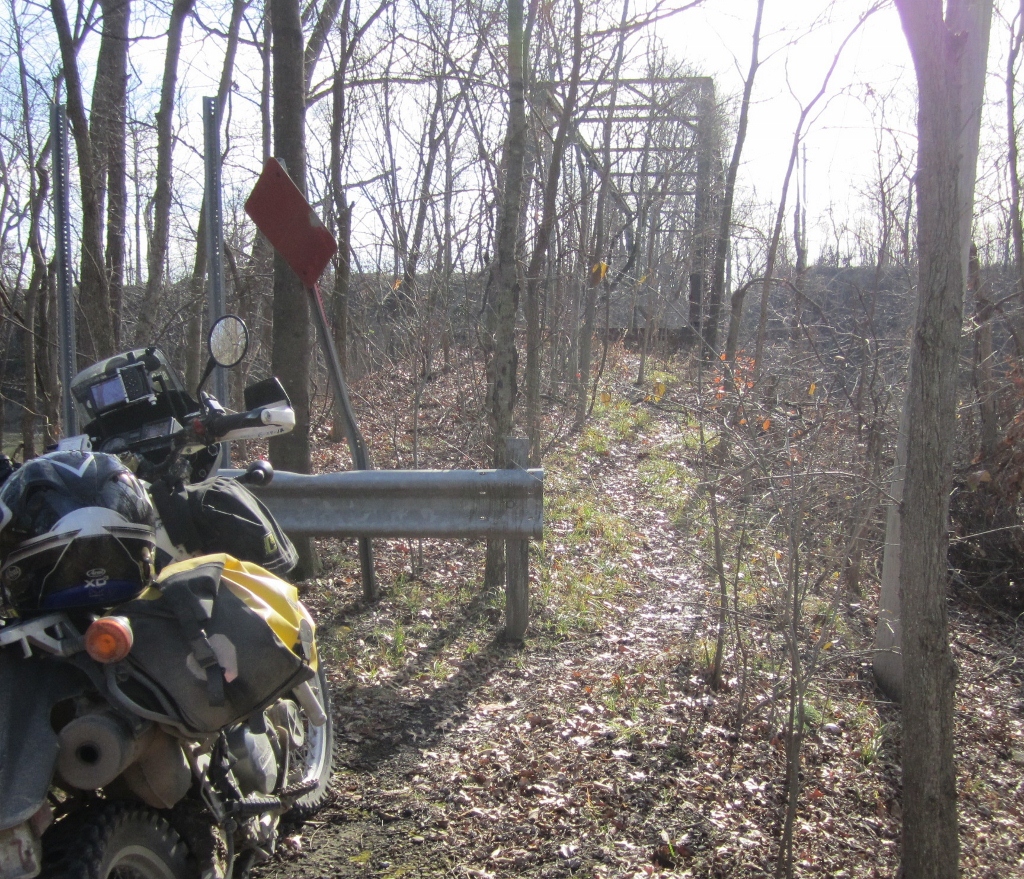 This is bridge "kaskaskia C-TT" on my gps file.
Meaning---it's closed--and is a through truss.
And it spans the Kaskaskia river.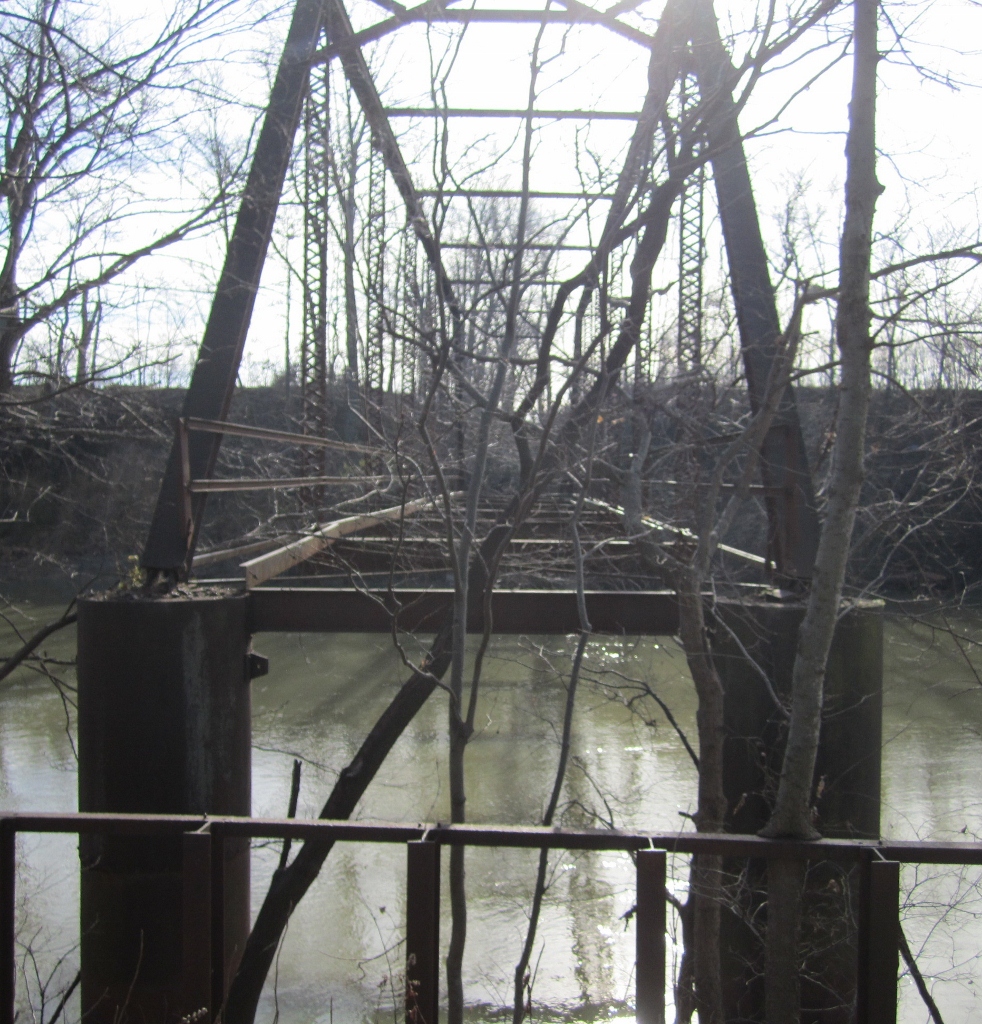 I stayed here for a long time looking at this thing. Might be the last time I ever see it---you never know.
Might be the last time anybody sees it. It was built in the early 1900's.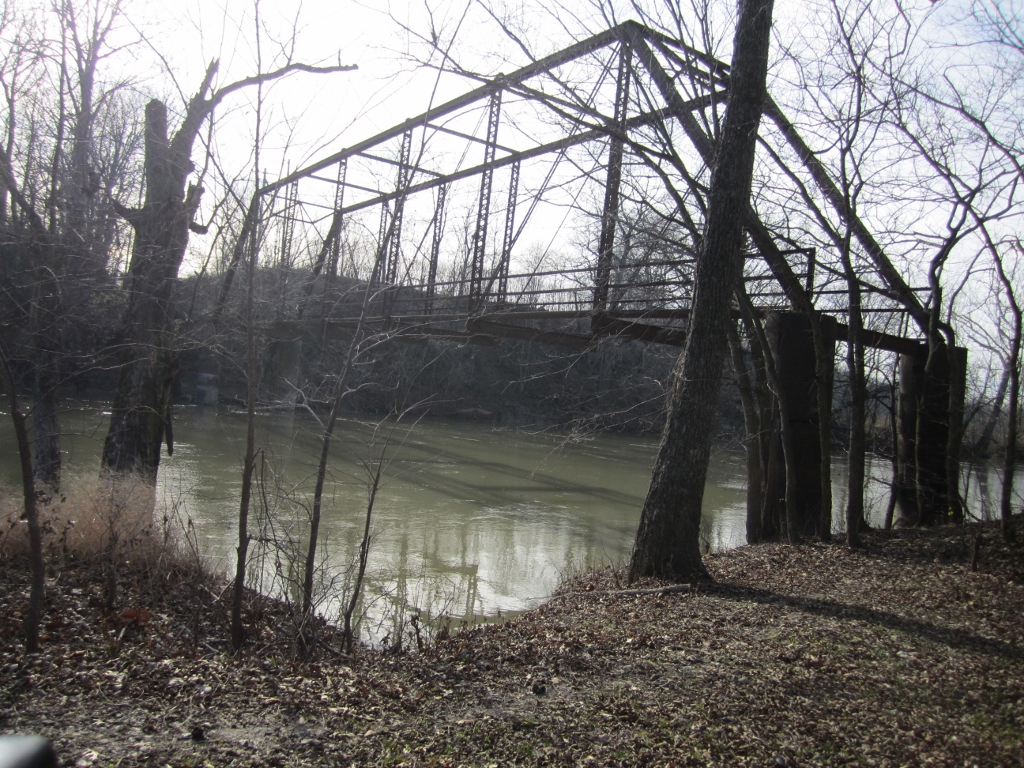 I was a dead end--but there was this neat little cabin down at the end of the road beside the bridge.
No one was around----and I'm sure going to the bridge you are not trespassing.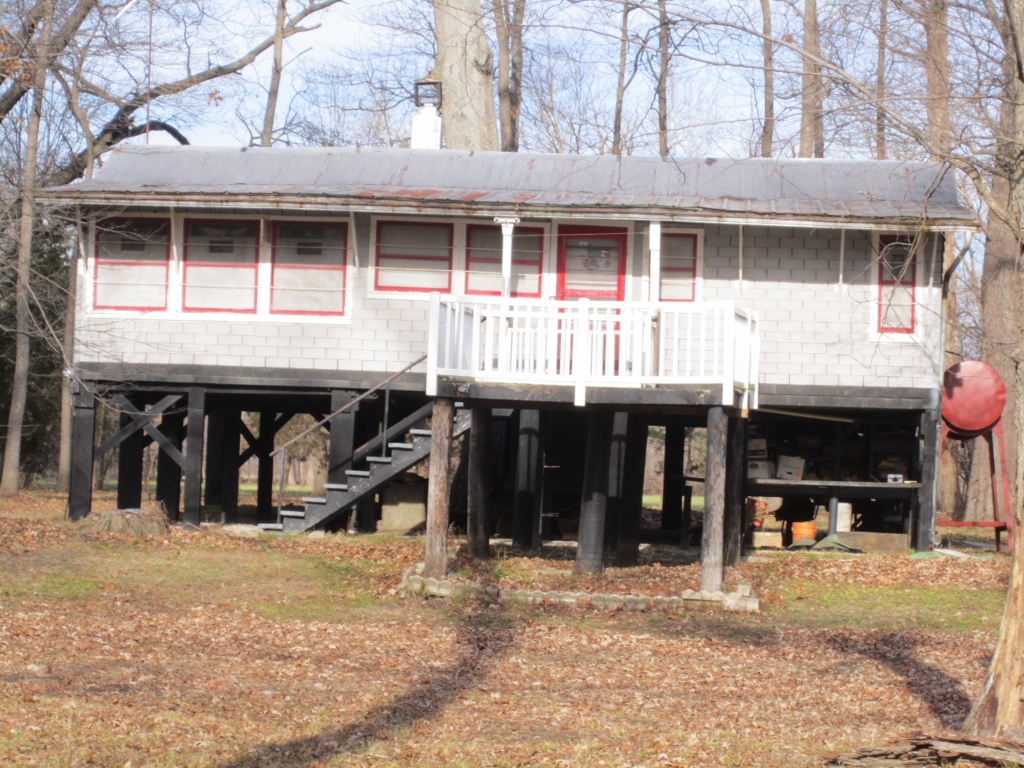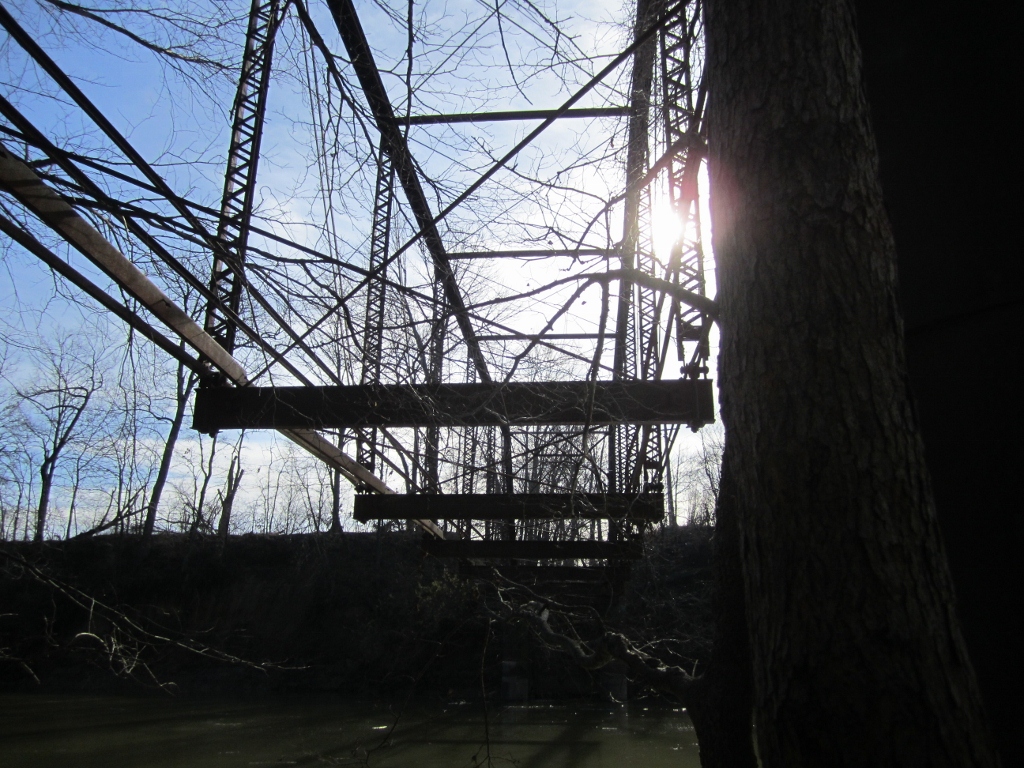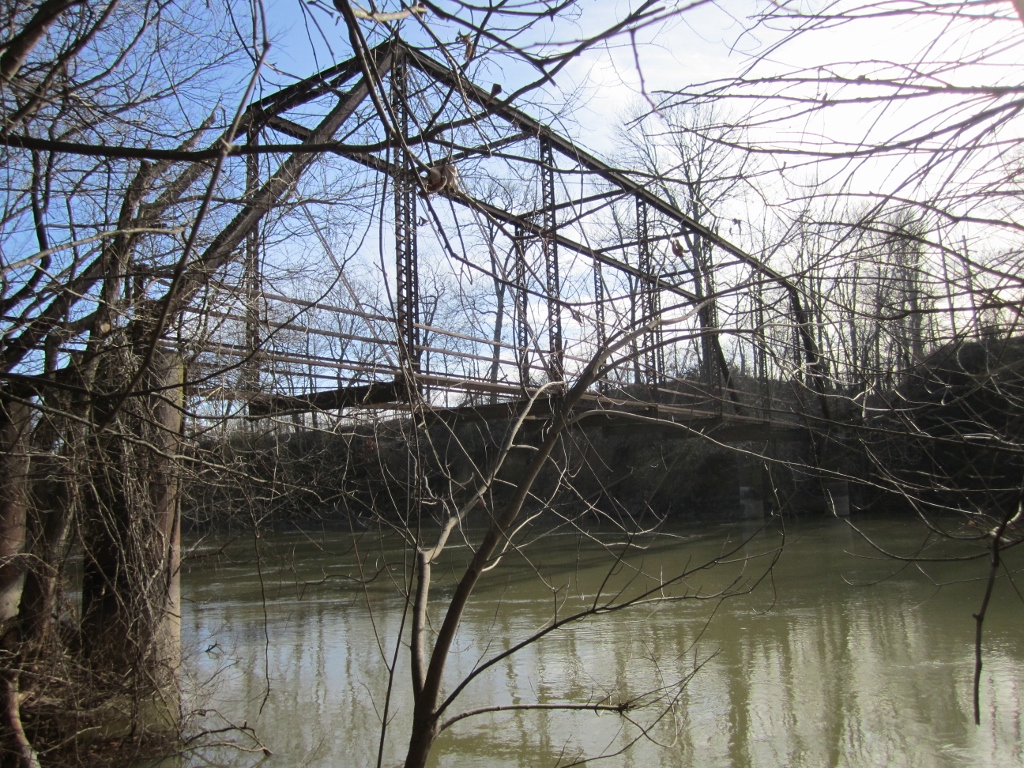 Well-------------I couldn't pee off that bridge !!!! But I did leave my mark.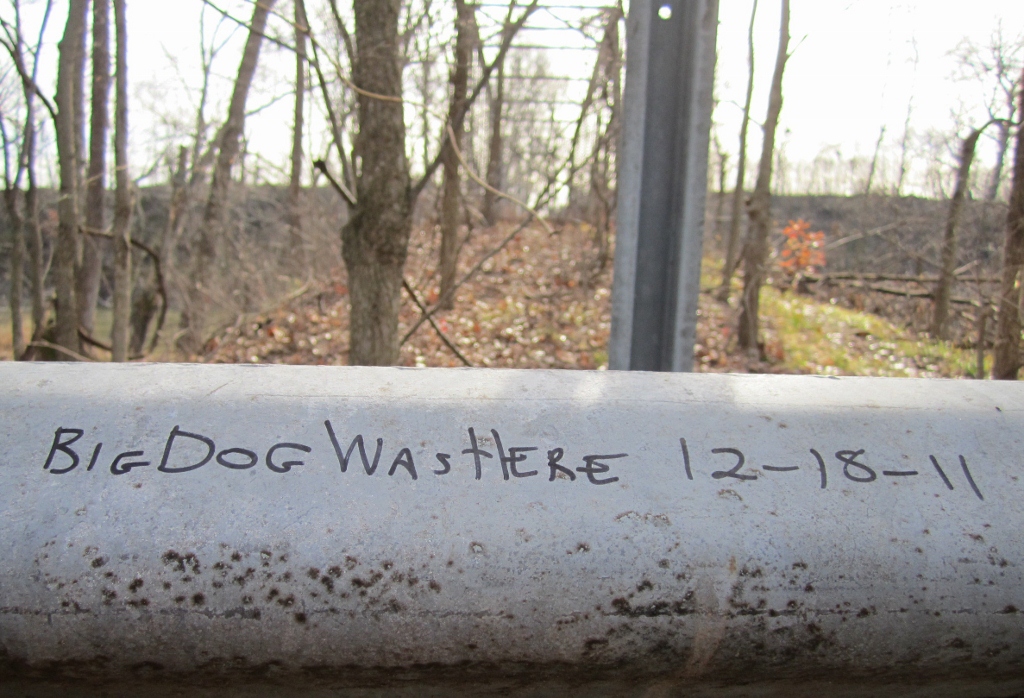 Next up "grand point C-PT" bridge.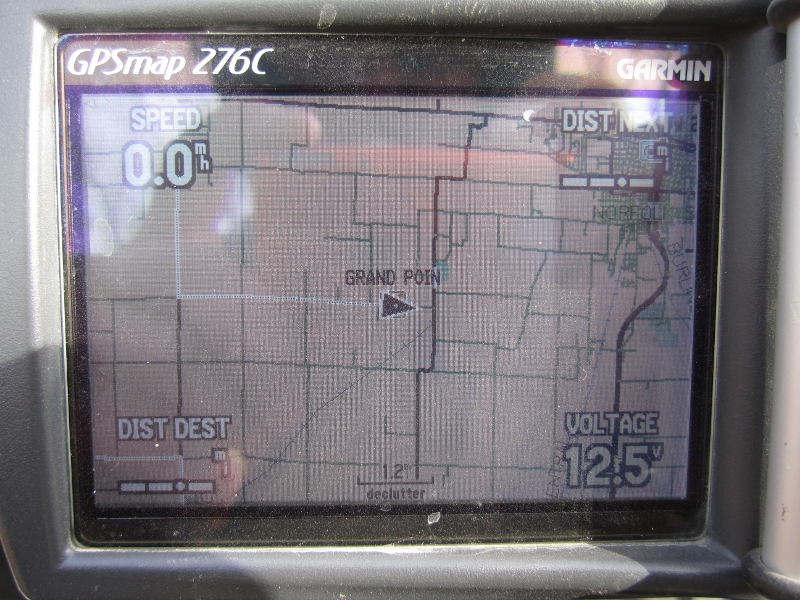 I approached from the West down a dead end muddy road.
I don't know--but maybe in dry weather you could approach from the East ????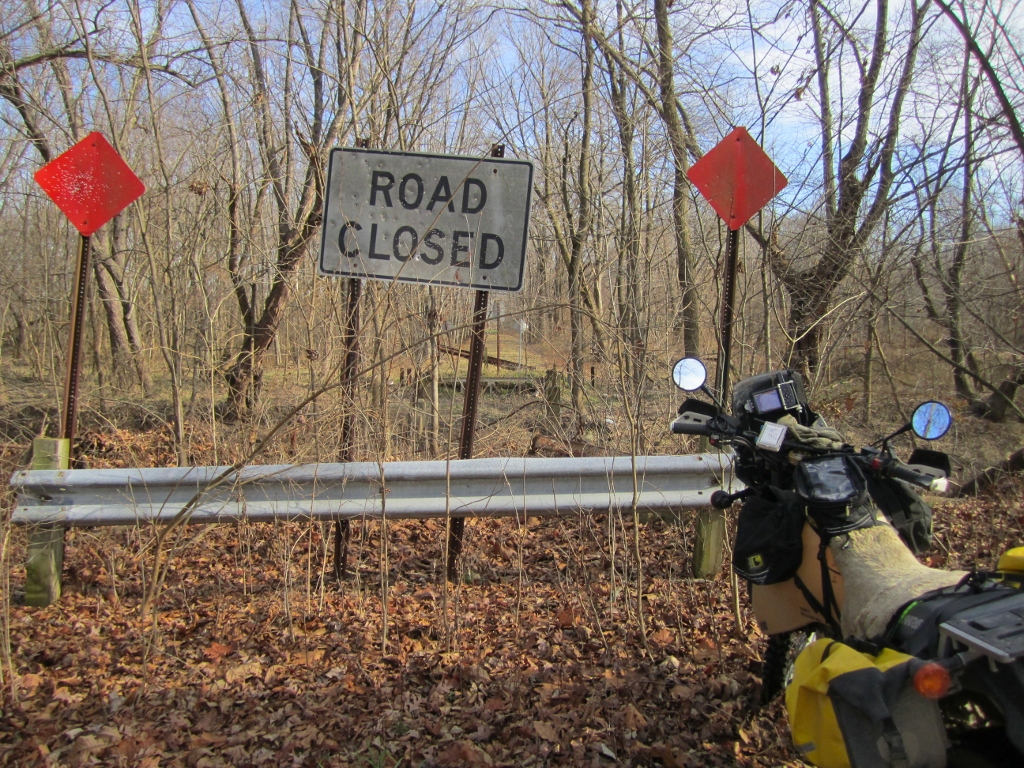 The old bridge was gone---all was left was some twisted steel and a few timbers.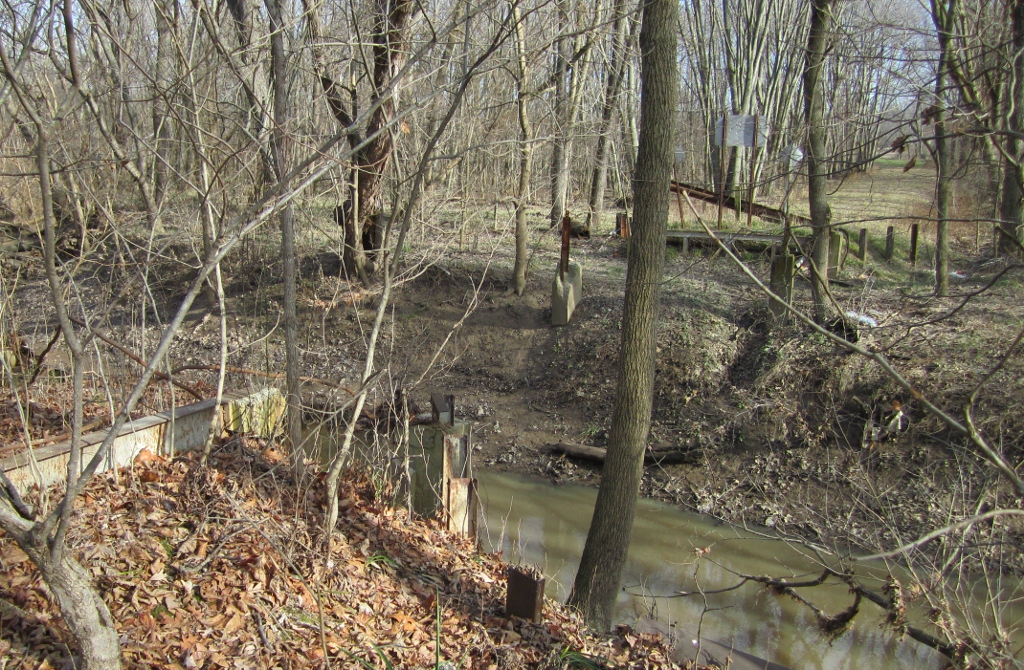 The bridge used to span Grand Point Creek.
It was originally 65 feet long and built in 1915.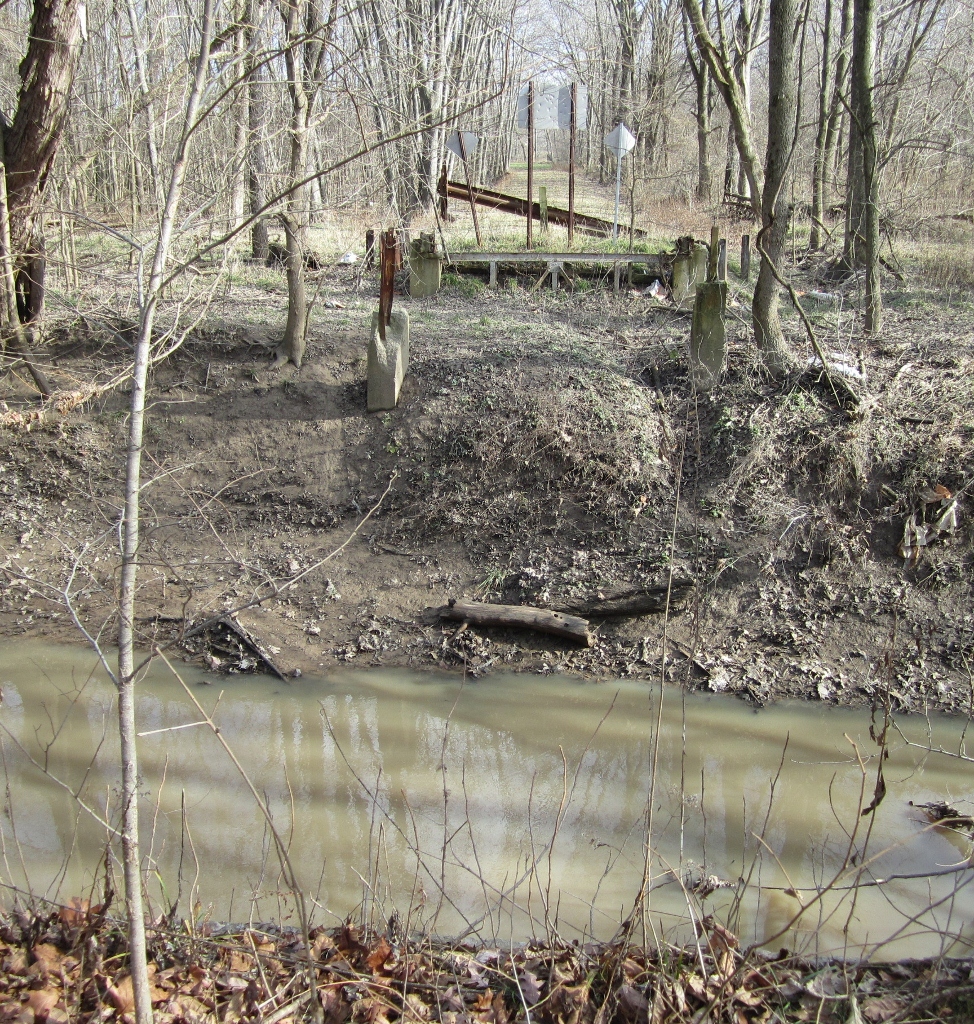 I suppose this old piece of steel could tell a lot of stories if it could talk.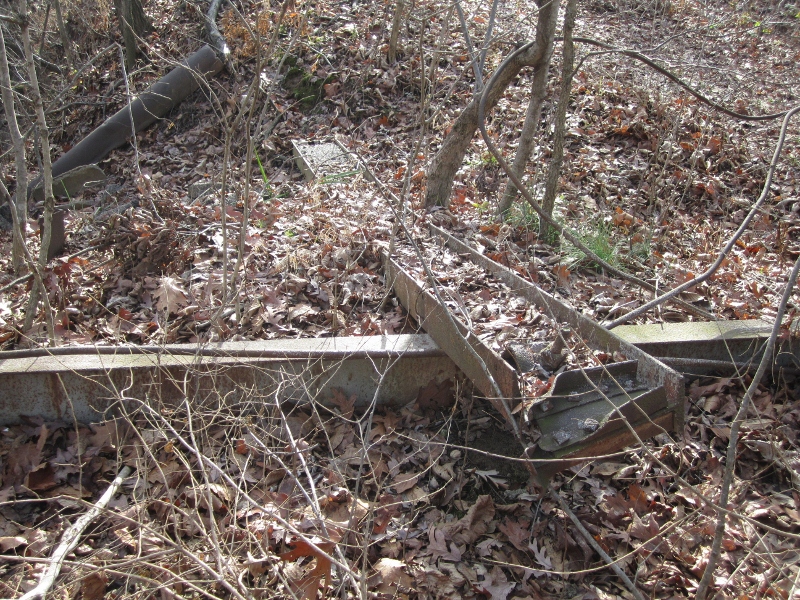 I was on my way to a bridge over the dry fork river--and came to a bridge waypoint I had dropped years ago.
The Gettins Bridge.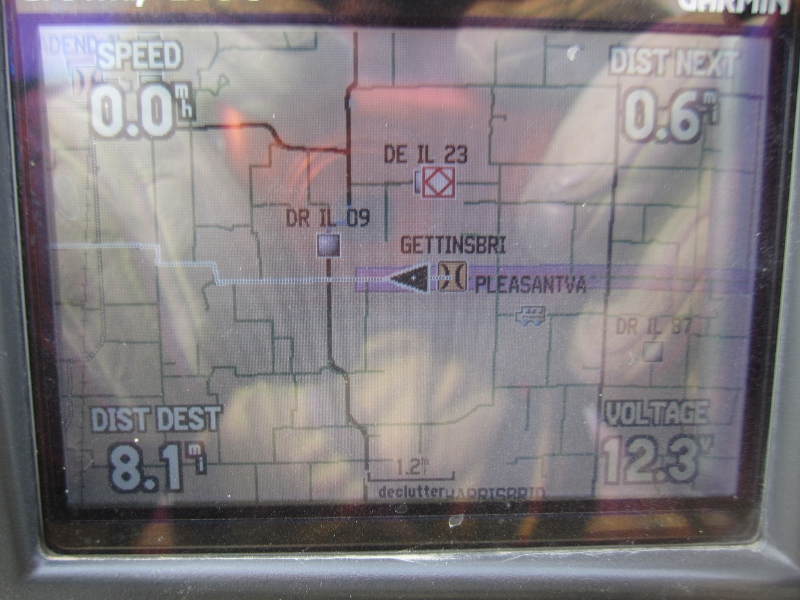 I rode thru a lot of water to get to it---I guess I didn't take a picture but I think there was no bridge---just
a low water crossing that looked to be 6 ft. deep---I turned back.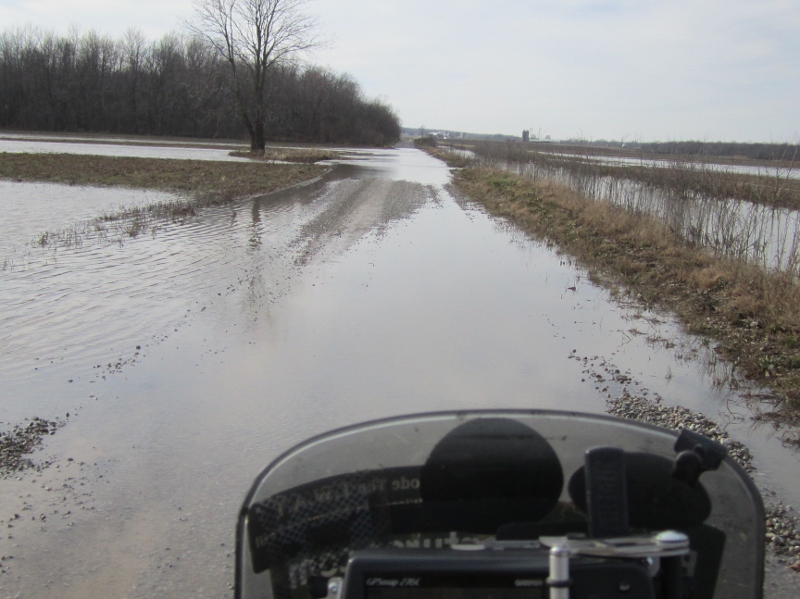 On my re-route---right where the gps pointer is I came across a closed bridge.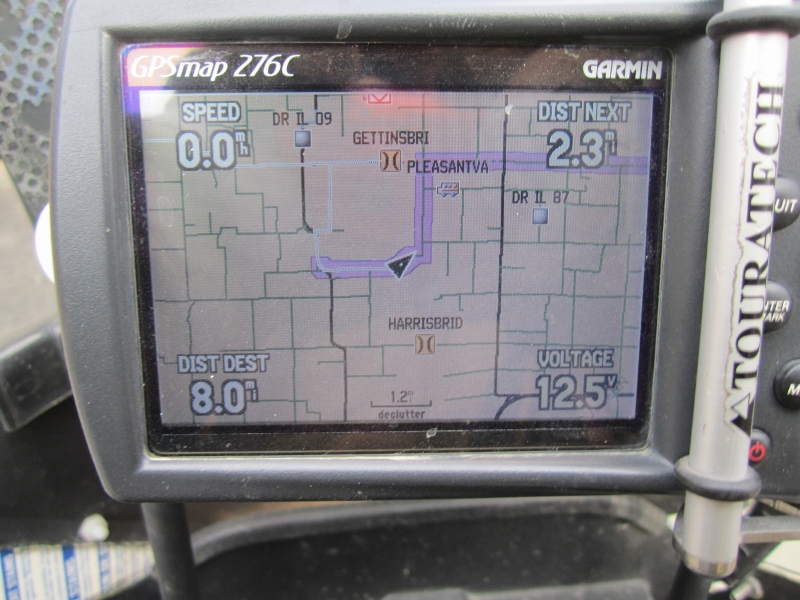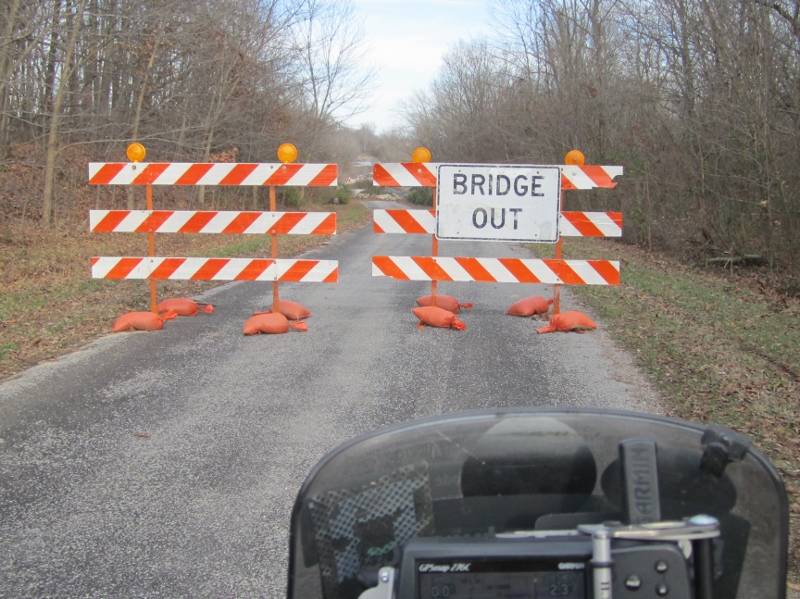 My garmin Road and Recreations software said this was the Rock Bluff Bridge.
I'm sure it wasn't the original---if they had left it---it would still be standing !!!!!!
It was really flooded beyond it---and I would have never gotten thru--so I re-routed again.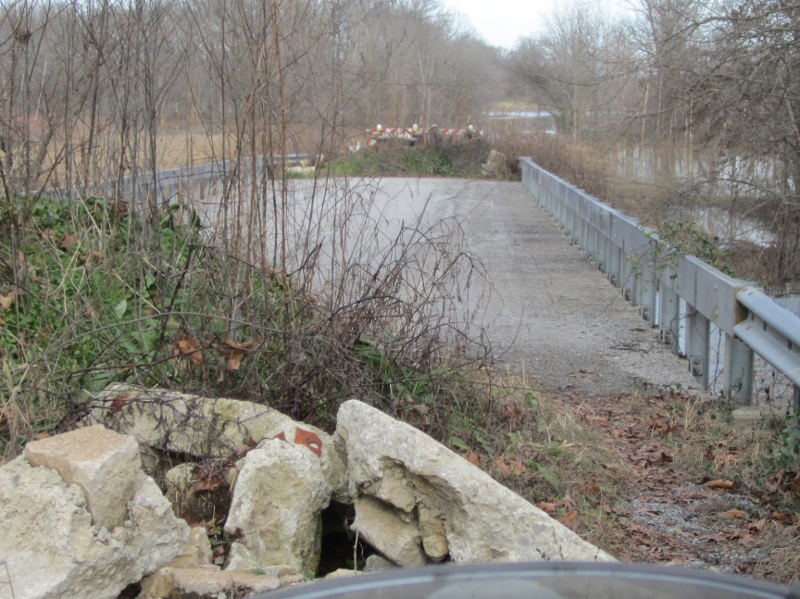 And I got to to "dry fork C-PT"
It wasn't a bridge at all---I could see no trace of a bridge--just an easy ford.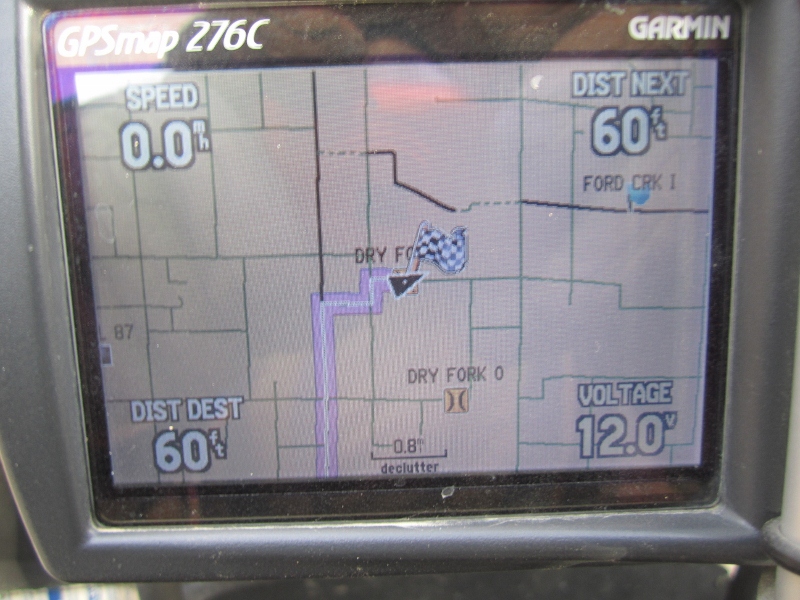 History says a bridge used to be here and was built in 1910.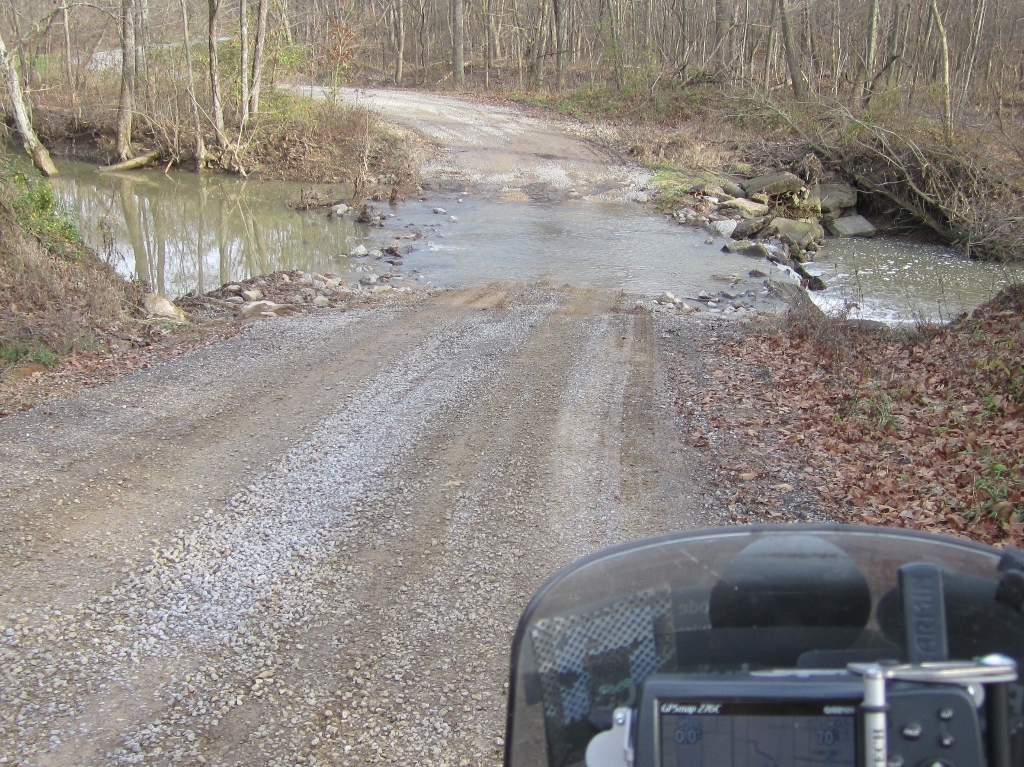 Next up "dry fork O-PT"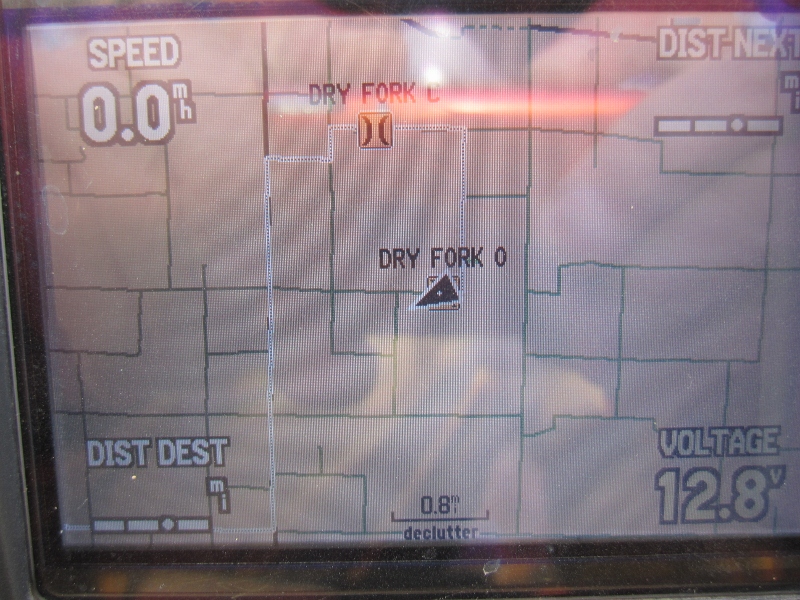 I forgot to pee off of it-----nor leave my Mark ?????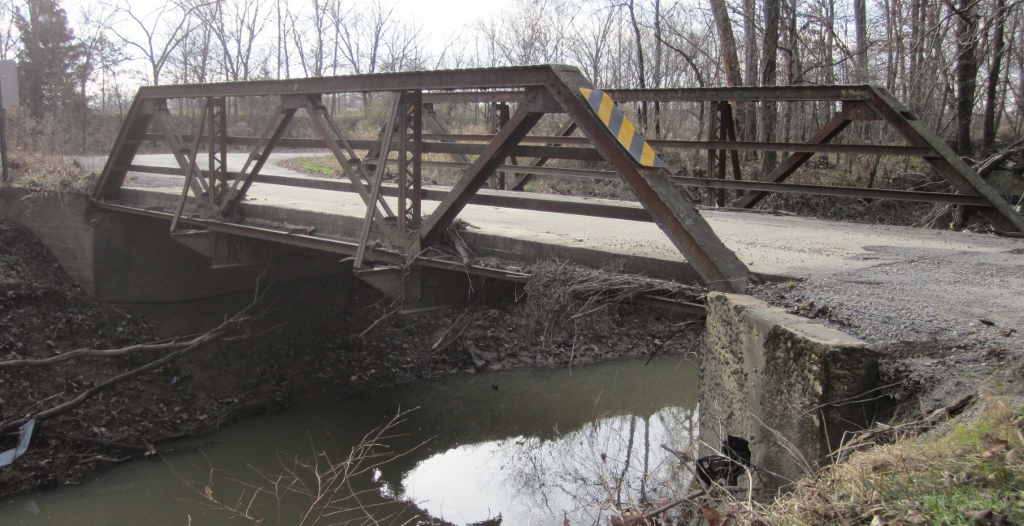 From the other side---there was a lot of leaves and brush caught on the bridge---so you can tell that
sometimes the water got over the bridge.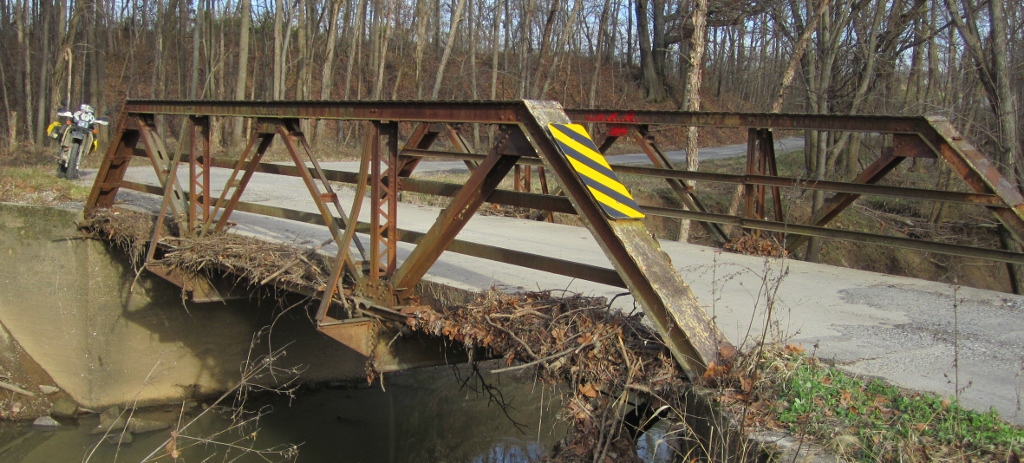 This one was built in 1909.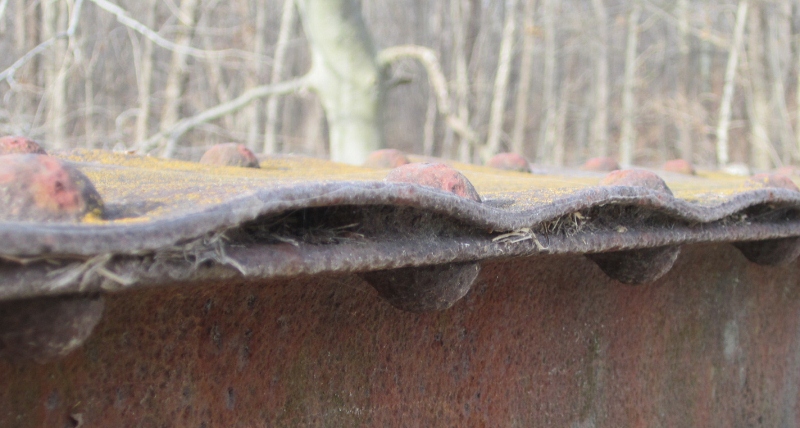 When I got home I put a new rear tire on my KLR.
The old dog has about 55,000 miles on it--and has seen many a tire.
I usually run a Kenda K-270, but put on a Dunlop 606 to help me get around this winter.
So far the 2 full days I've been doing this---I've never seen another motorcycle.
Of course it's winter--and I'm out in the boonies.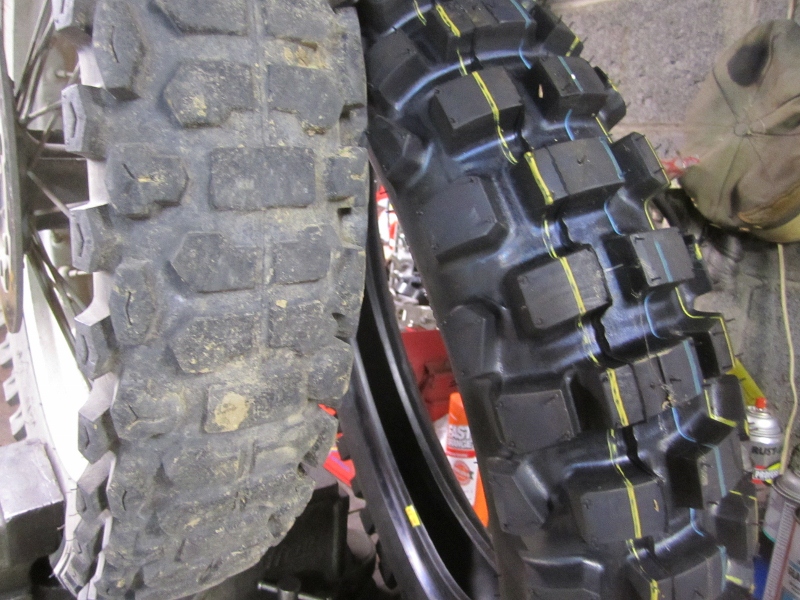 Dec, 31st 2011
It's still winter---but the day before this ride I was eyeballin' the weather and a high of 54° was predicted.
I found a new riding buddy Tom Huel from Carlyle, Illinois and gave him a call.
He was all over it---and off we went on a very cold freezing morning on our Yamaha WR250R's.
Just Southeast of Anna, Illinois I would find our first bridge--the Sadler bridge.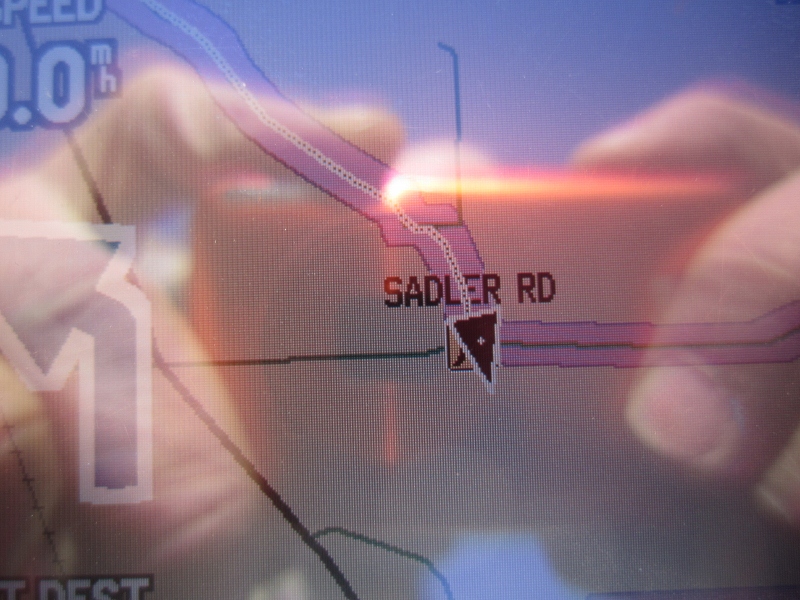 It was an old wooden bridge---as most all the bridges we would find today were. It seemed to go to private property to me.
I had about 10 bridges to find today--most were still there----but we rode over at least 25 more just like this
that weren't even marked on bridge hunter.com ?????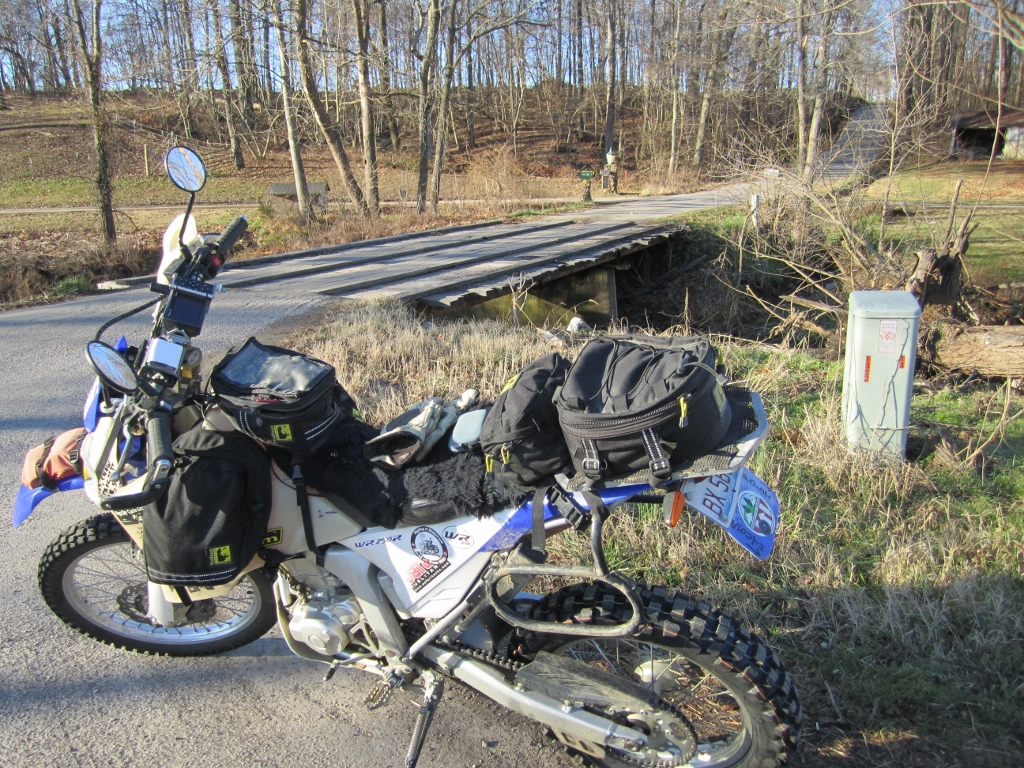 These 2 were very close together----nothing spectacular like a pony truss or thru truss bridge----but they were on lonely
country roads and we had a ball riding to them.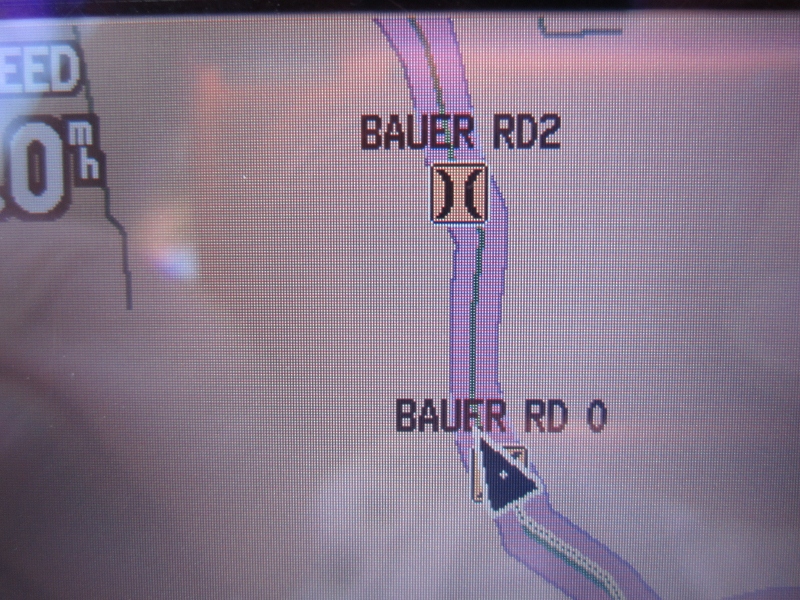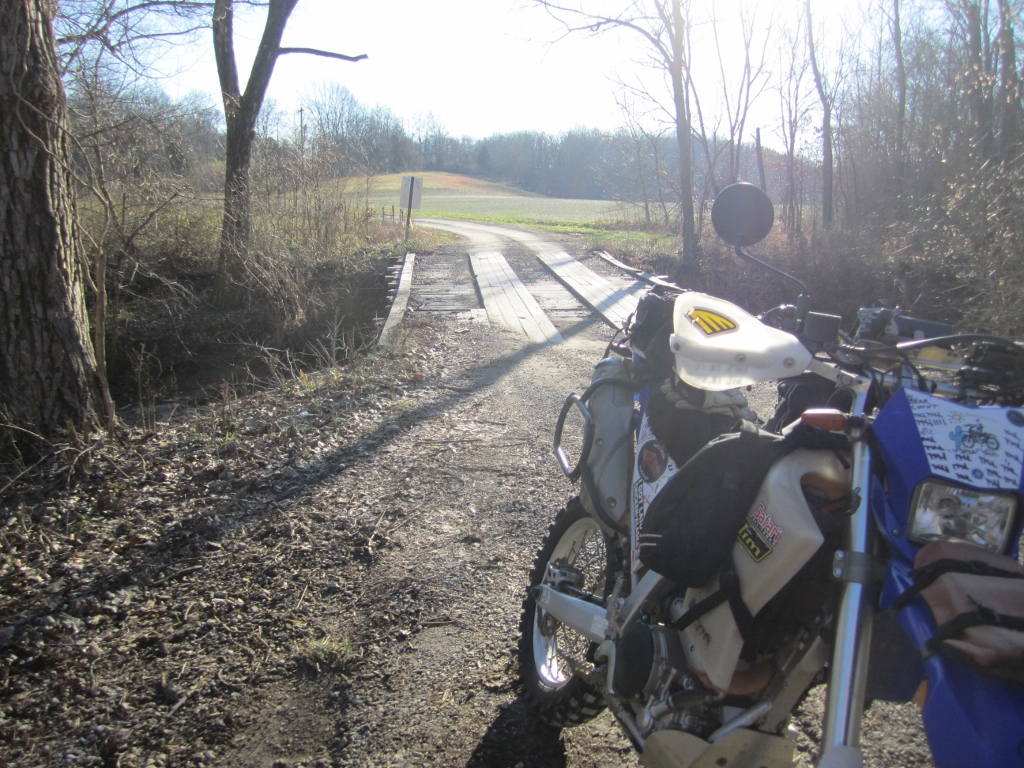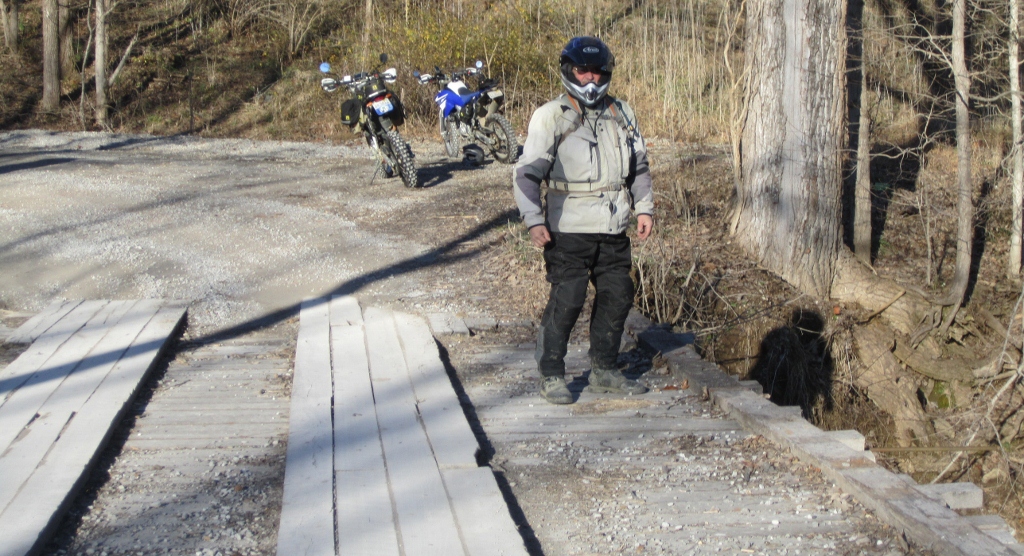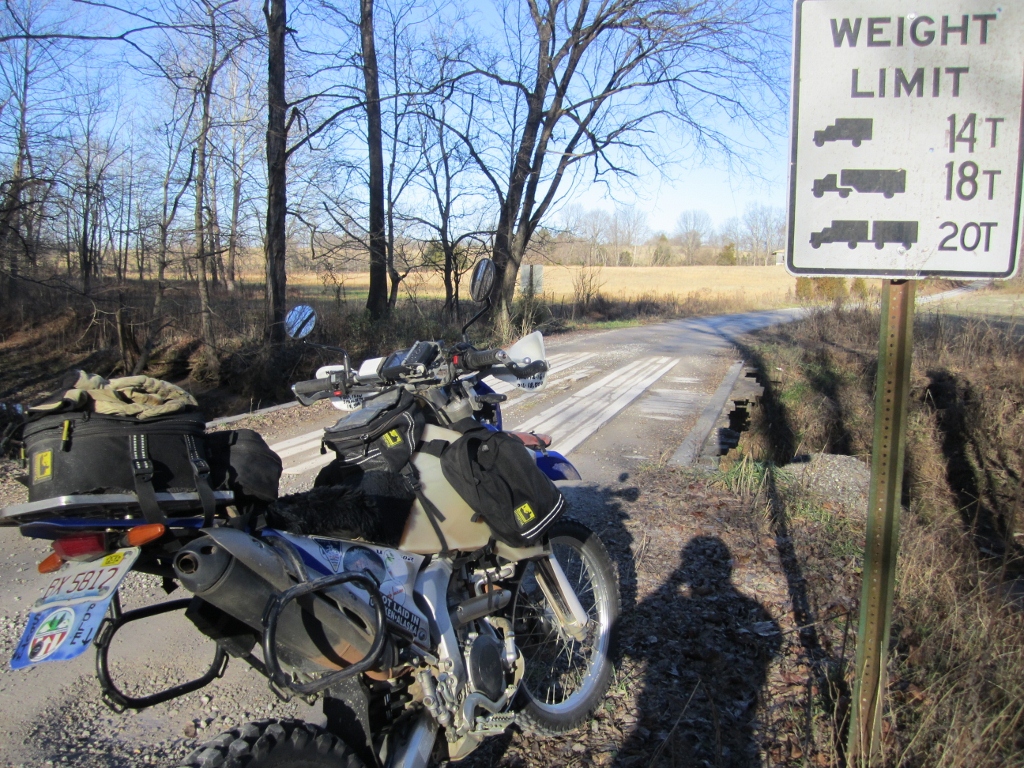 A third bridge on Bauer road.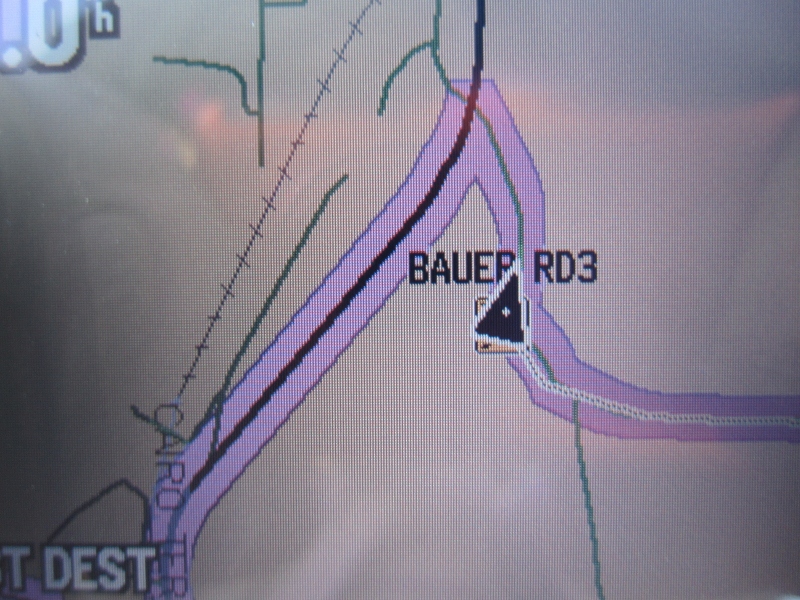 This is my new buddy Tom Huels--he got a low mileage WR250R just like mine.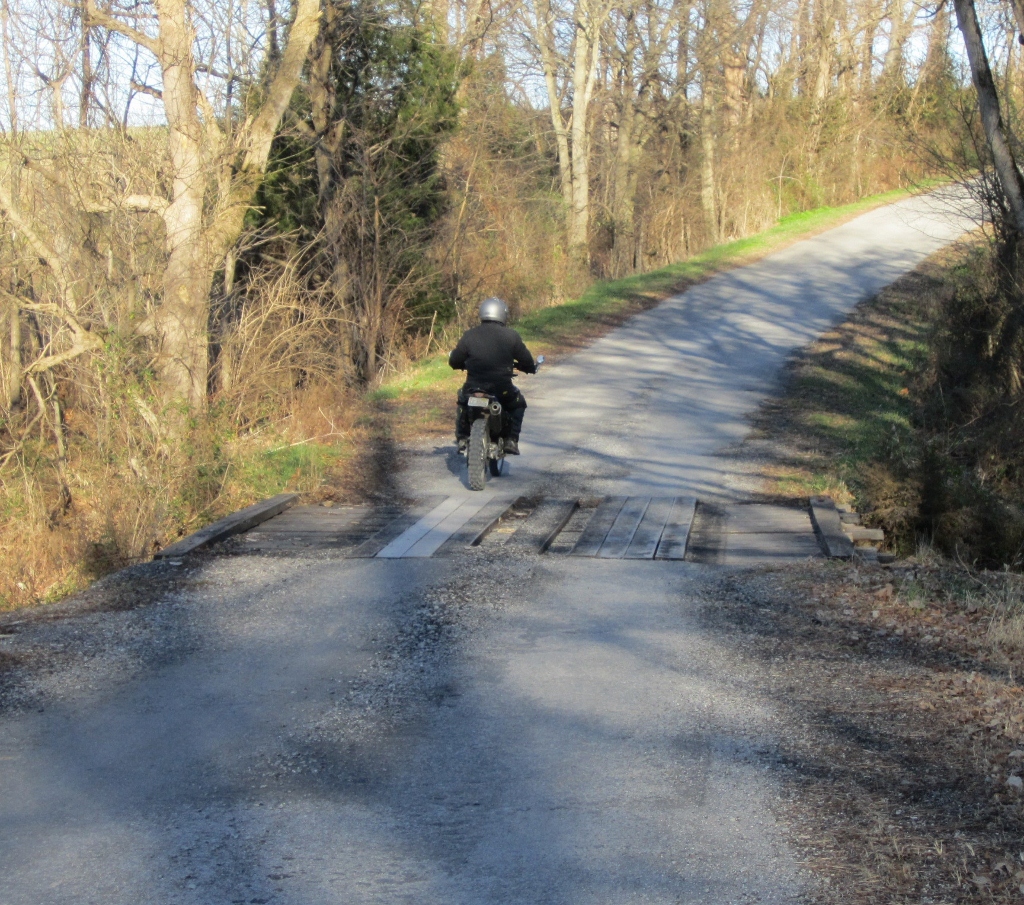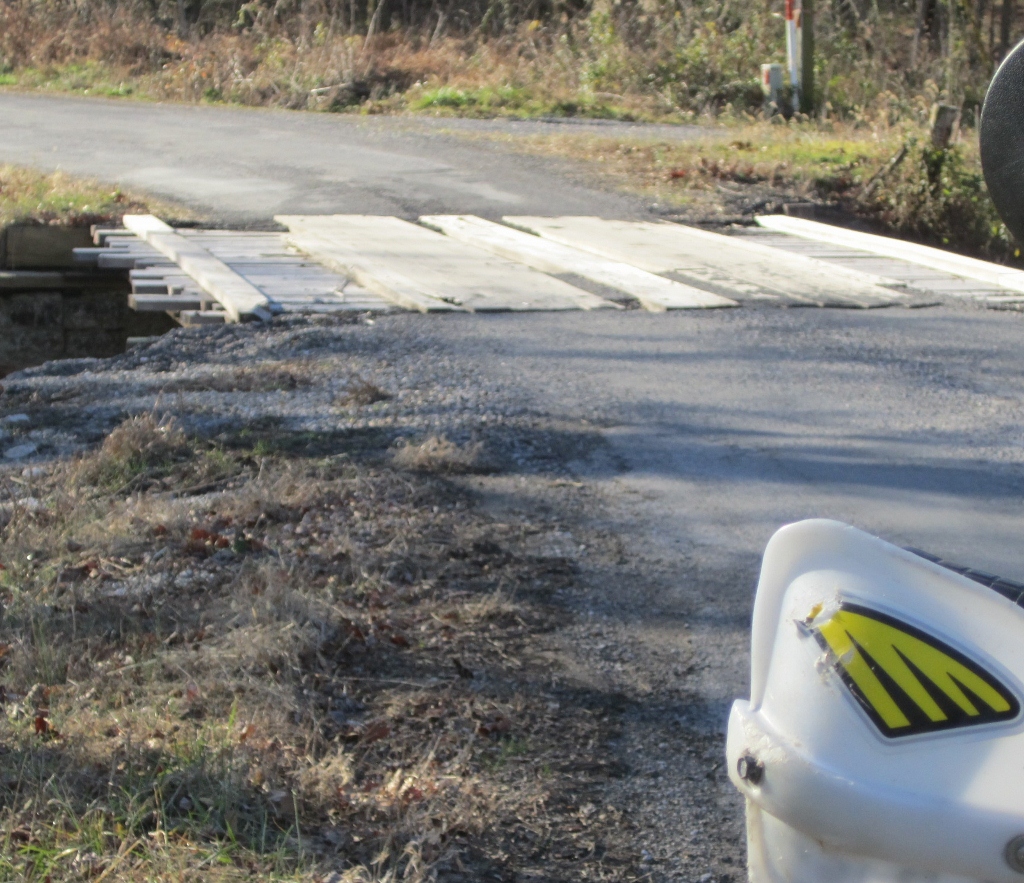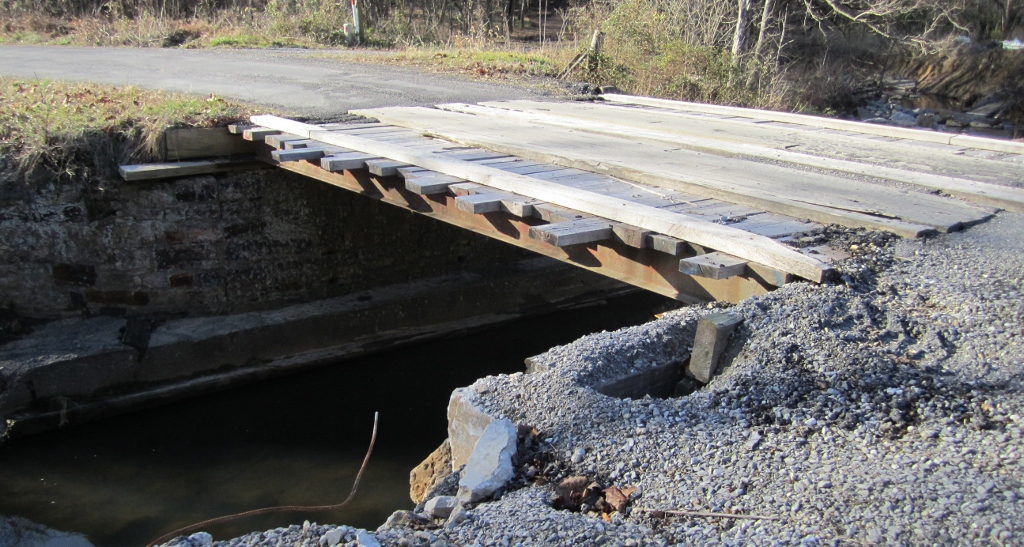 This is the same bridge as above---look at the old stone bricks---been there a long time and still doing a good job.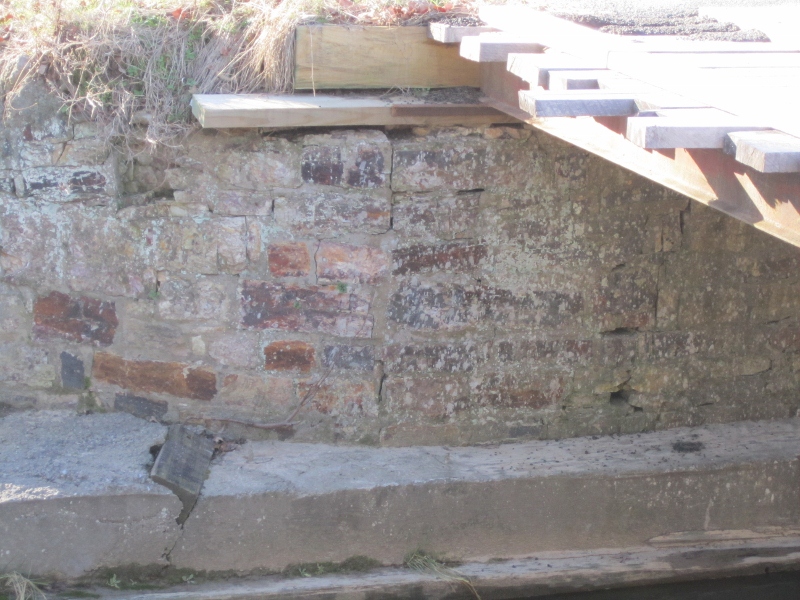 I turned down Airport Road---(not an airport in site) ???
And there was airport bridge.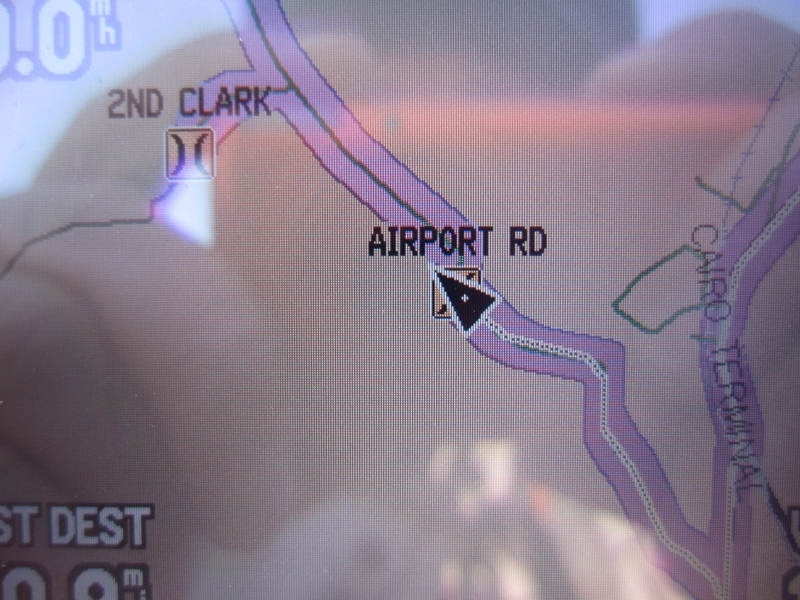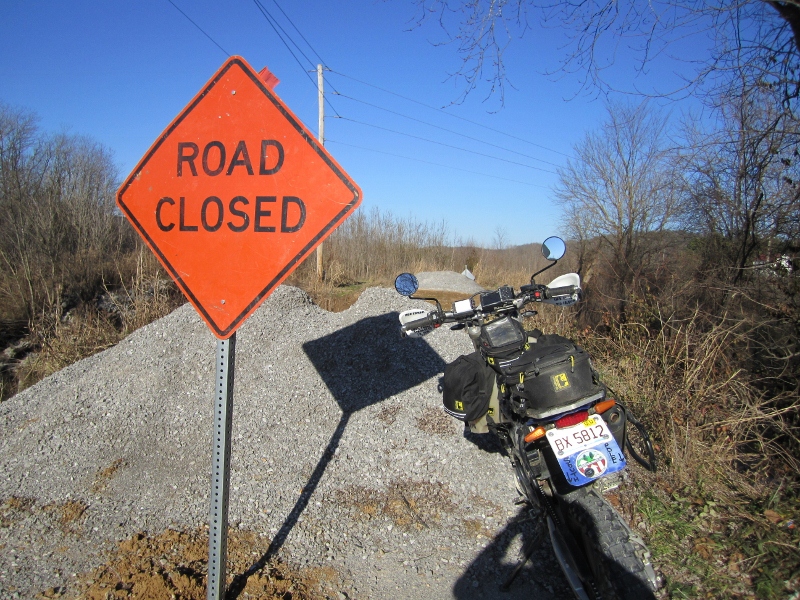 Or should I say---what was left of it.
Me and Tom laughed here and talked about our younger years racing dirt bikes and all the stupid stuff we did---and
pondered if we would have tried to ride across the creek on those I-beams-------nah !!!!!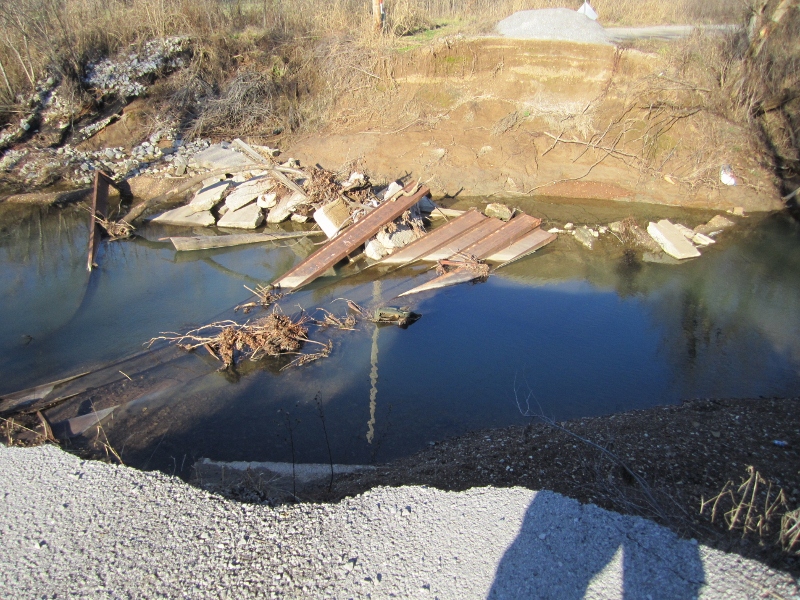 I couldn't get thru Airport road obviously---so went around to the other bridge just to the Northwest of Airport bridge.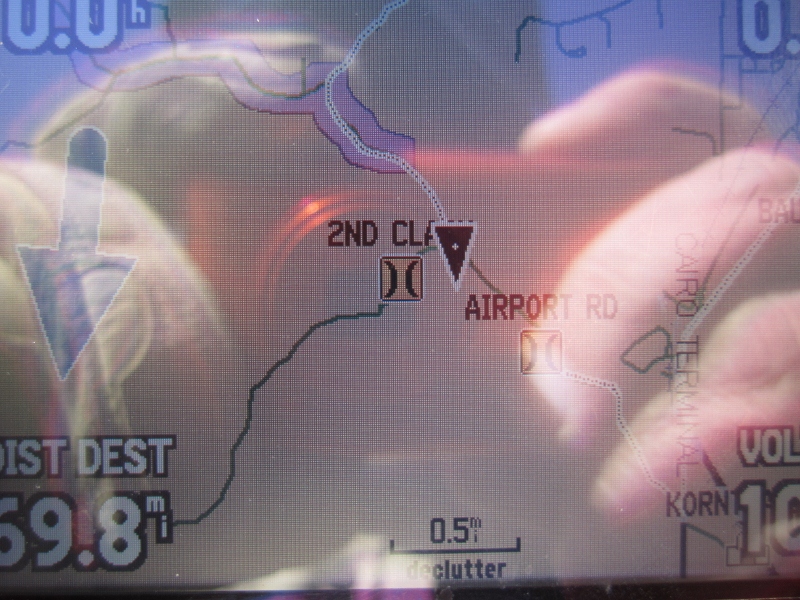 There it is behind Tom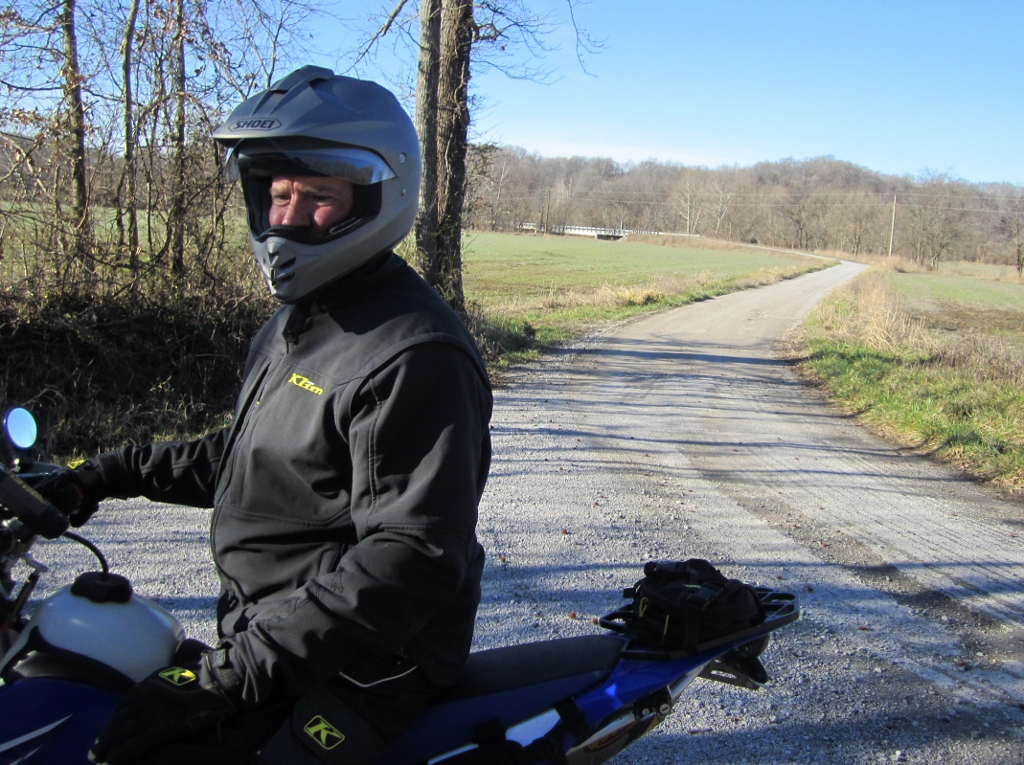 It's been replaced by a new bridge dang--it !!!!

It was cold all day---and I had my heated grips on high all day pretty much.
Tom didn't have any heated grips but never complained.
We went down Wilderness retreat road next.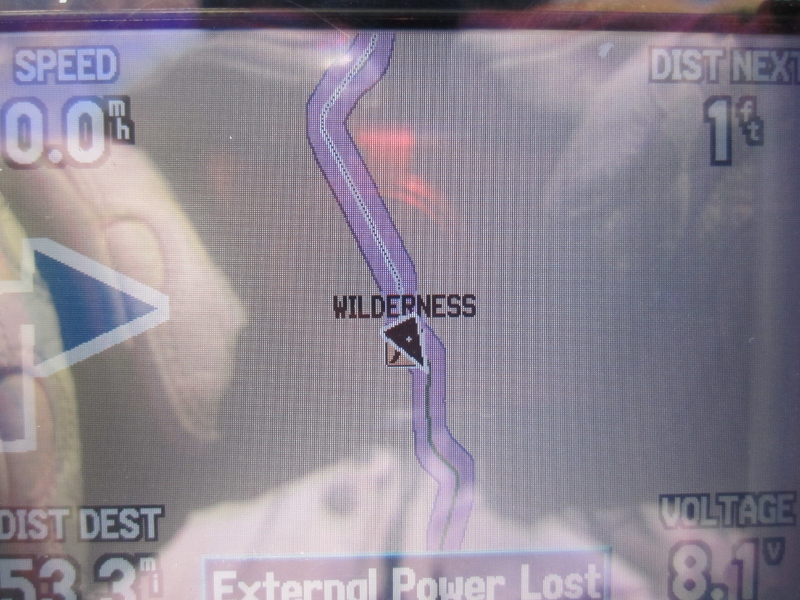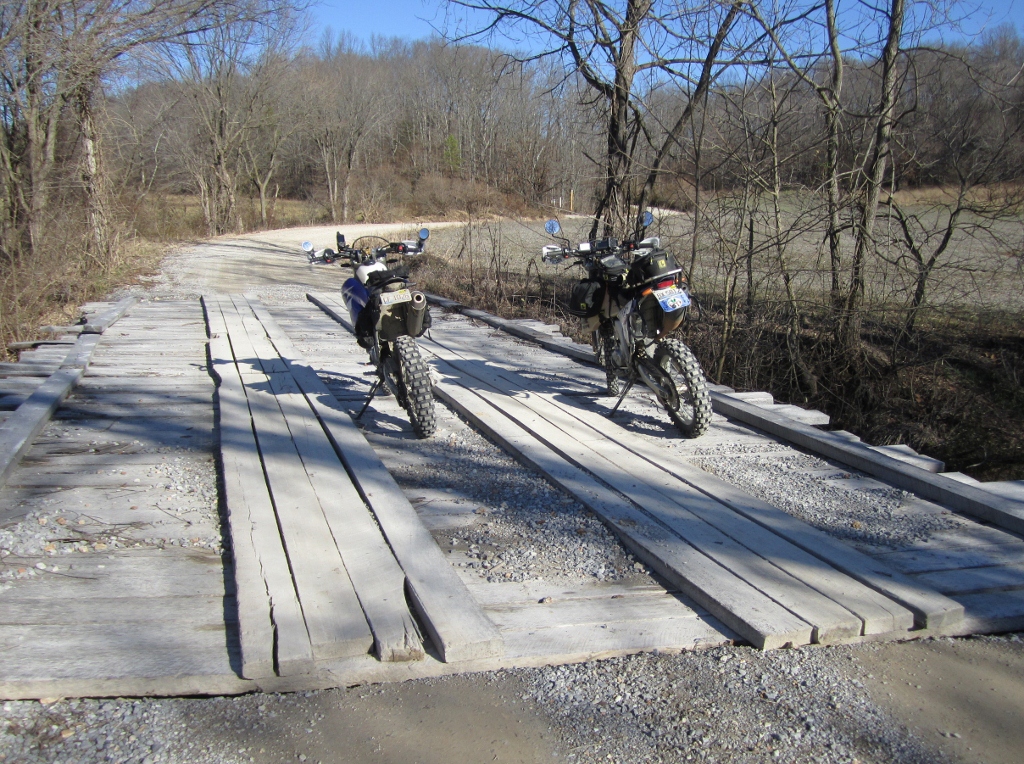 I decided to take the WR on this ride instead of the KLR---as I had routed us thru some pretty tough riding later on.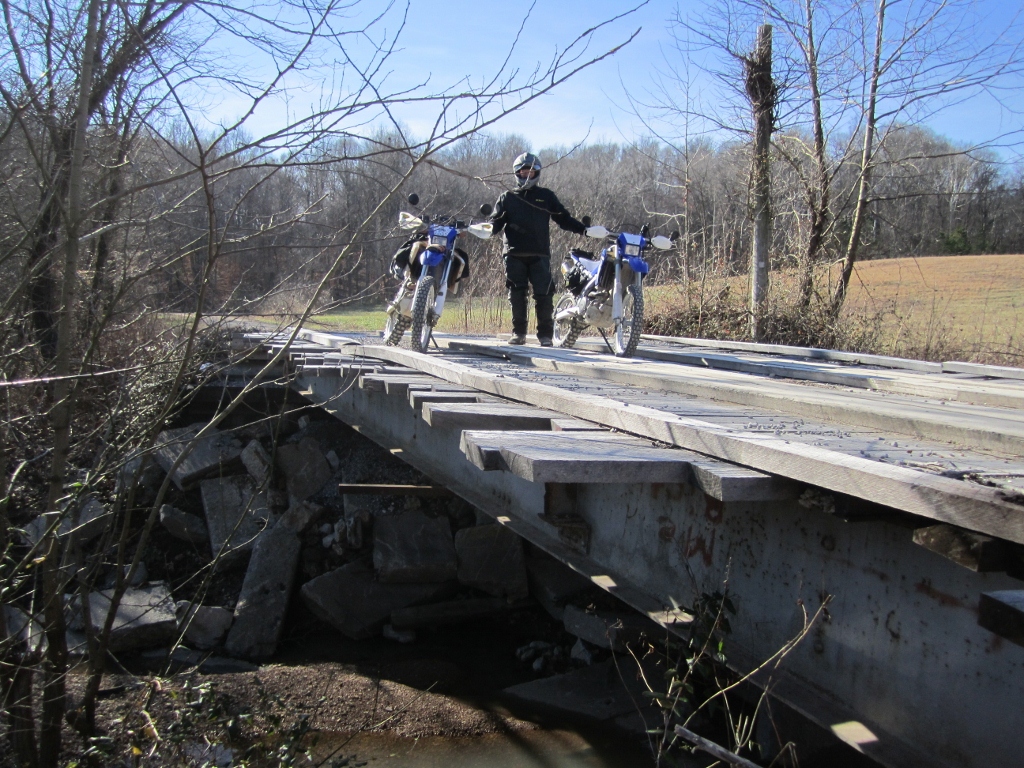 This road here is on a map----and has washed out really bad---it looks bad--but is worse than it looks.
You have to ride beside a deep rut---and it's off camber--if you tip over you are probably going to break your leg--and if you
keep it upright--you'll just go off in the deep rut. It's very steep here--the it got muddy past this as we crossed 2 creeks.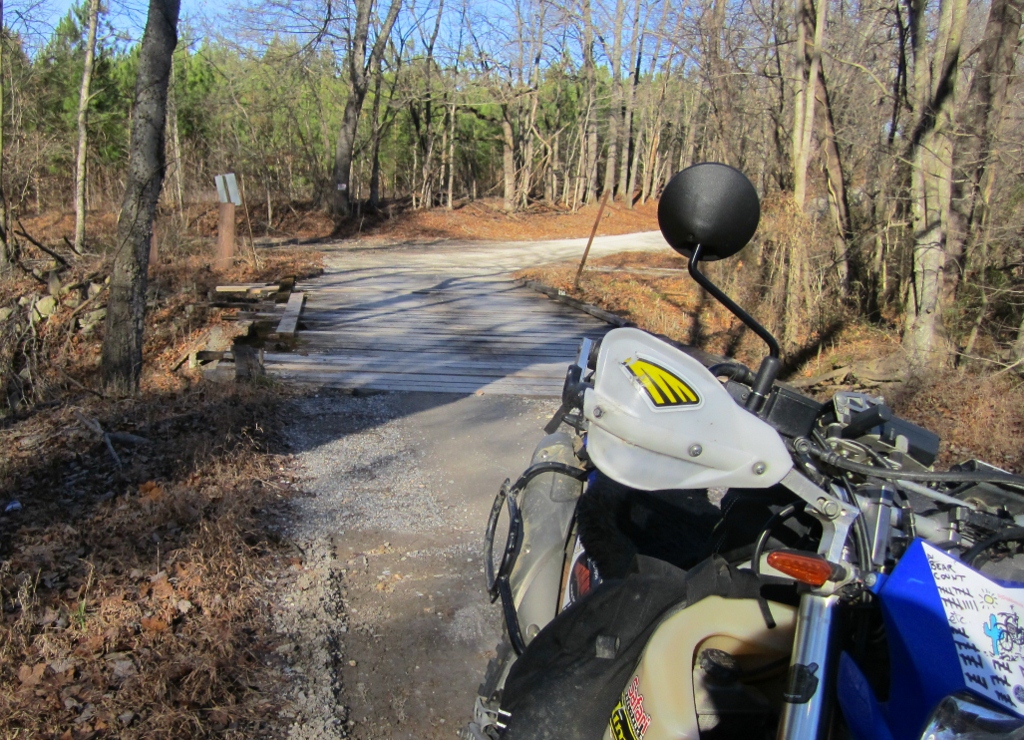 I laughed at this one---looks like the board is holding up the bridge---maybe it was ???
It can't be long before all this bridges will disappear.
Just as soon as those O'Bama dollars kick in.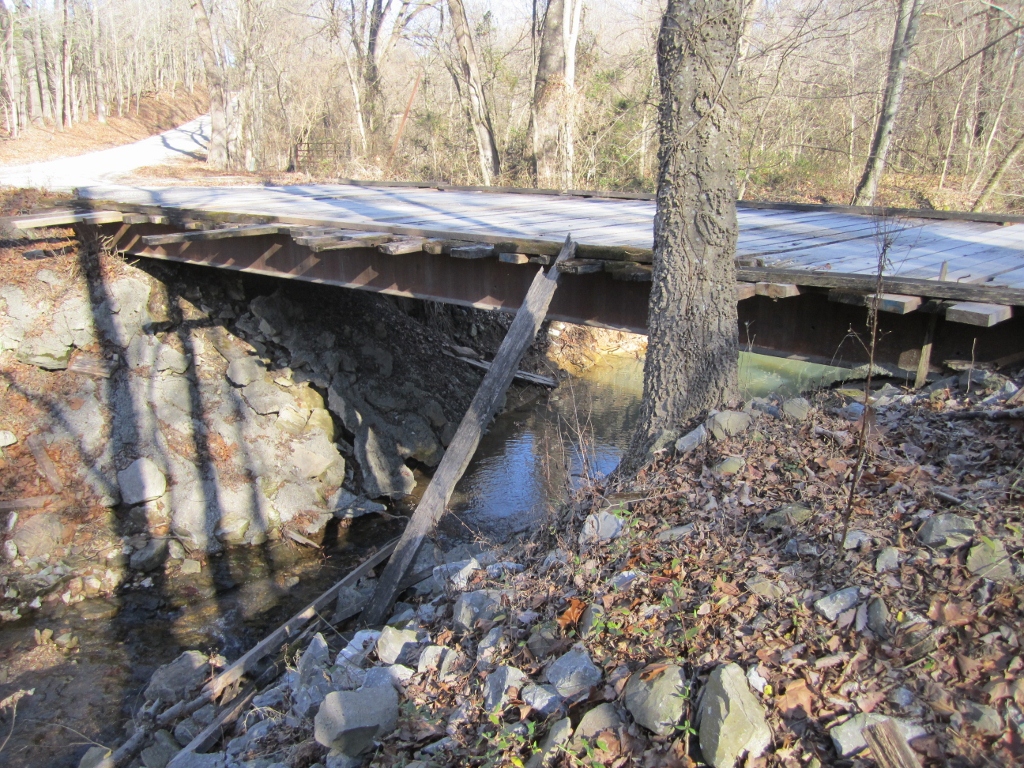 We went down Bean ridge road which is a really fun and neat one lane dirt gravel road.
Off of Bean ridge I turned down a road that I knew dead ended eventually---but I knew of some single track that ran
high on a ridge before dropping down into Sexton Creek.
It was mucky on top of that ridge and we both were sliding all over the place.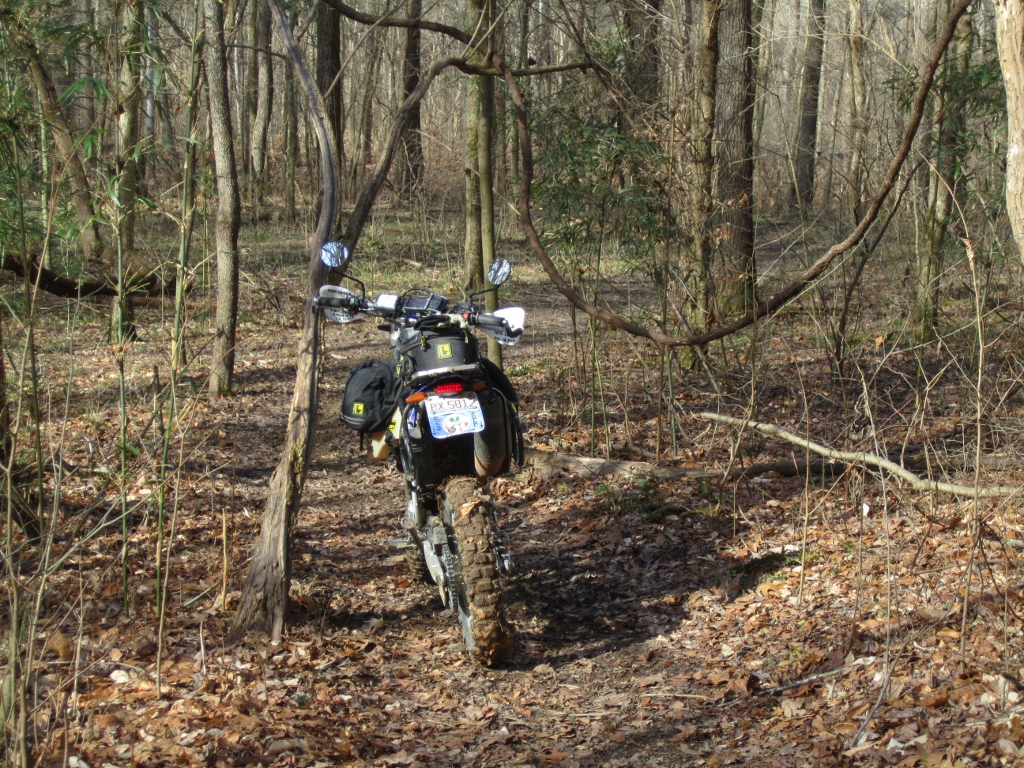 And when Tom descended this steep hill---he started off way to fast, and I thougth he was going to smack that tree or hit me on the way down.
He was kind of cussing me on the way down---with a smile !!!!
There was slick mud under a 6" layer of leaves.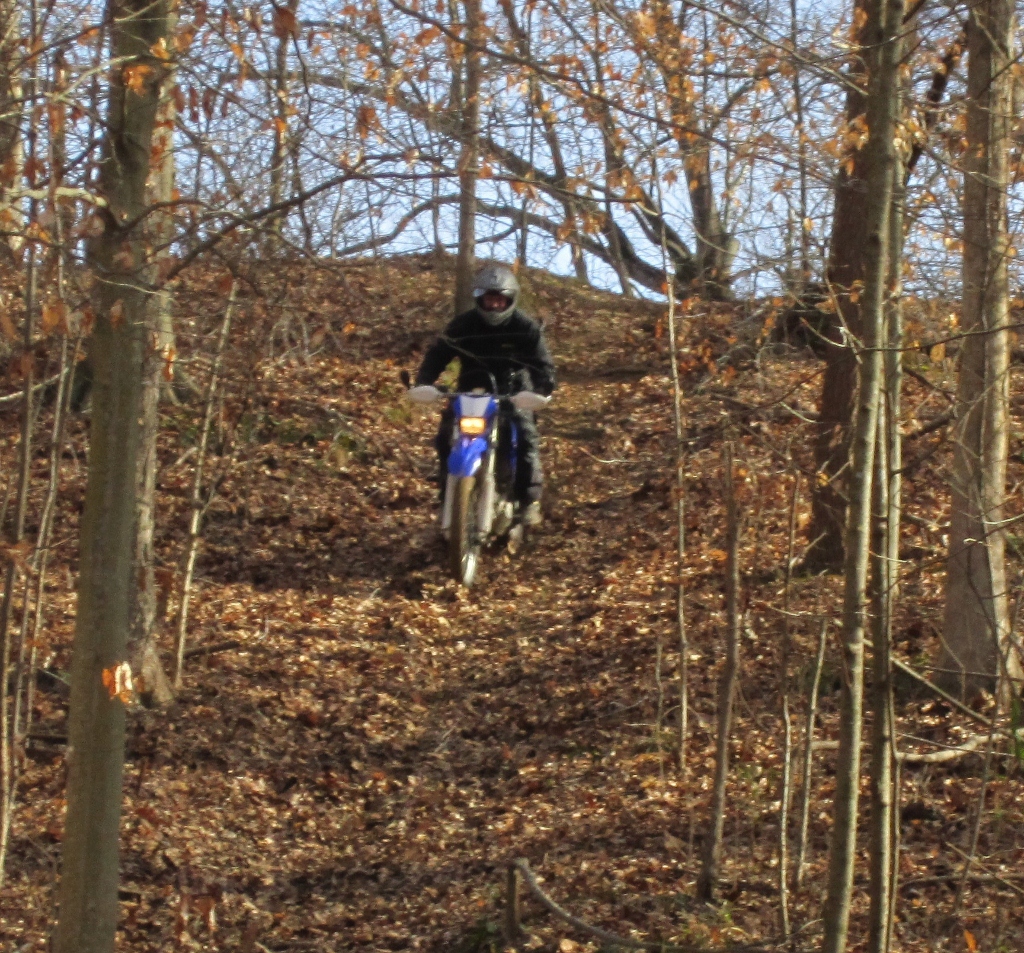 We dropped into Sexton creek which is also the old McClure road believe it or not---it goes on like this for a mile or so.
Really deep loose river gravel in which you cross a dozen water crossings.
It's a hoot if you have a small bike with a steering damper---not so much if you don't.
I've ridden my 950 thru here---but wouldn't do it again.
Tom makes it look easy.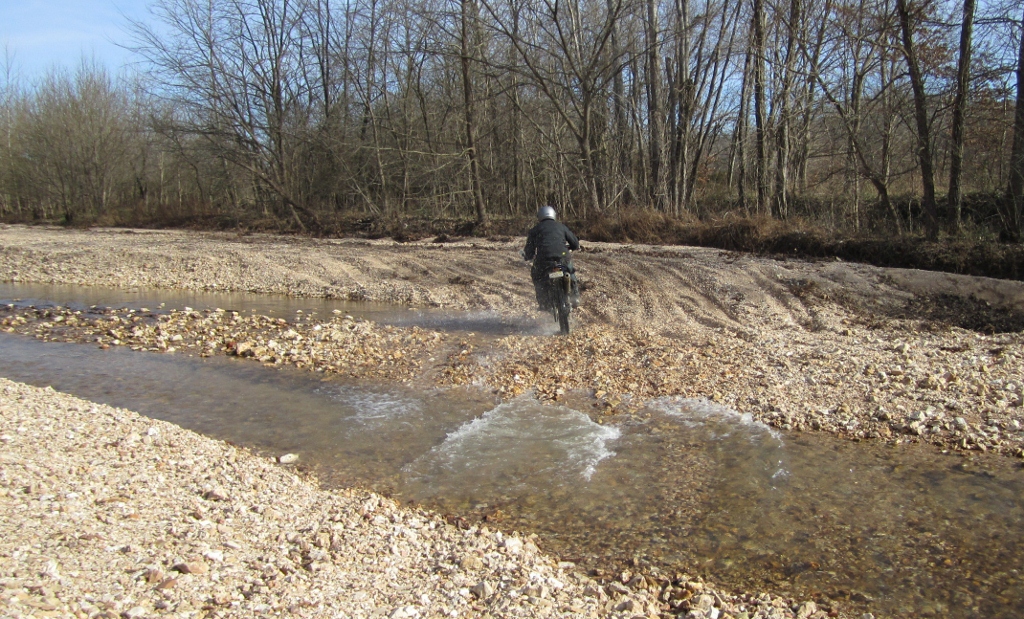 Right as you come out of Sexton creek and continue East on the old McClure road--you go by this neat old siloh.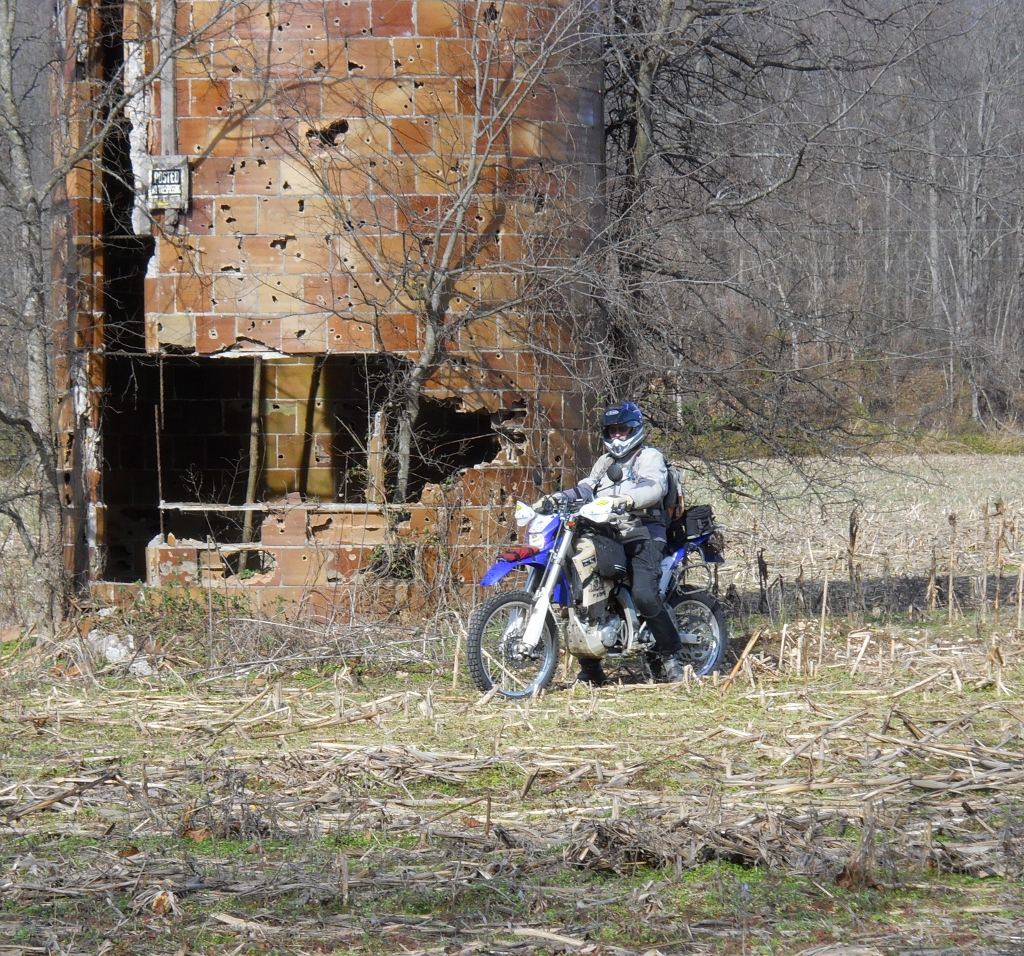 Man the riding was good that day---we rode North on a river levee for many miles--then up into the Pine Hills area of the Shawnee Forest--then
North on a narrow road on top of a bluff overlooking the migty Mississippi river on top of Government rock.
After descending the high rock ridge. we road another levee West and came to another bridge in my GPS--except this was an old
but active railroad tressell which goes over the Big Muddy river--and not far from here dumps into the Mississippi.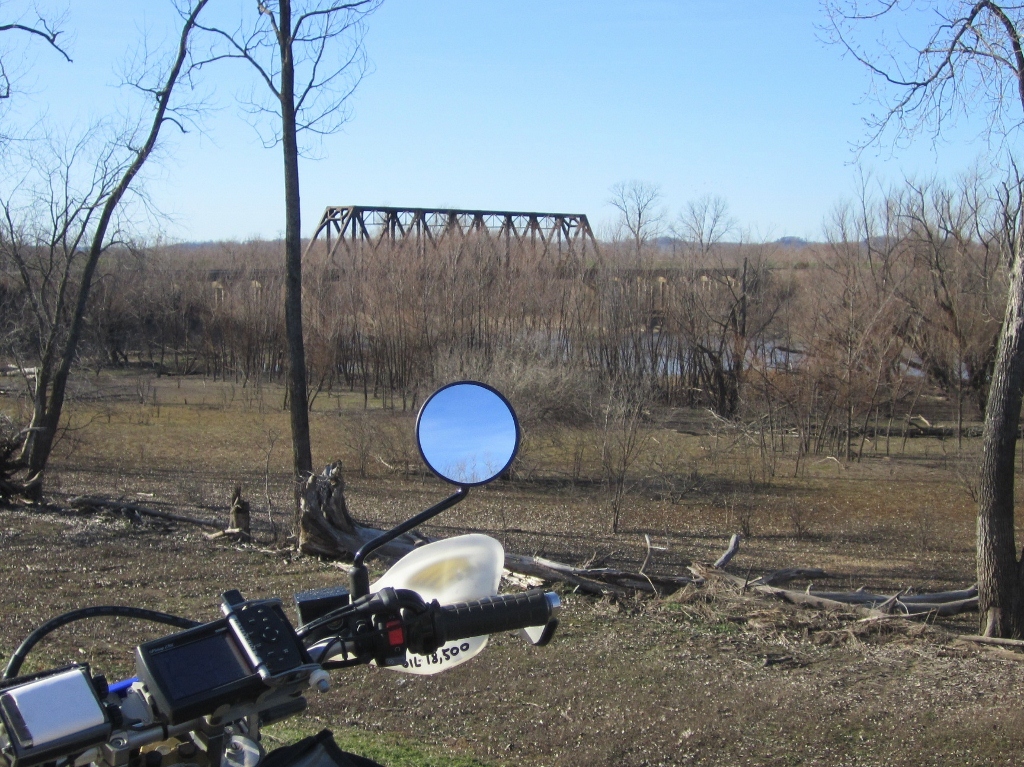 I have one memeory of this bridge----a few years ago a steam locomotive was going to come down the tracks and over this bridge.
I heard about it from a friend----and I waited for 5 hrs. in the pouring rain for the steam engine to cross this bridge--it was
going to be a wonderful sight and I couldn't wait to get a picture of it. Seems the engine broke down in St. Louis I think and never got here
till a few days later. As I recall the train was carrying passengers that were stopping at many baseball games. Kind of forgot the details.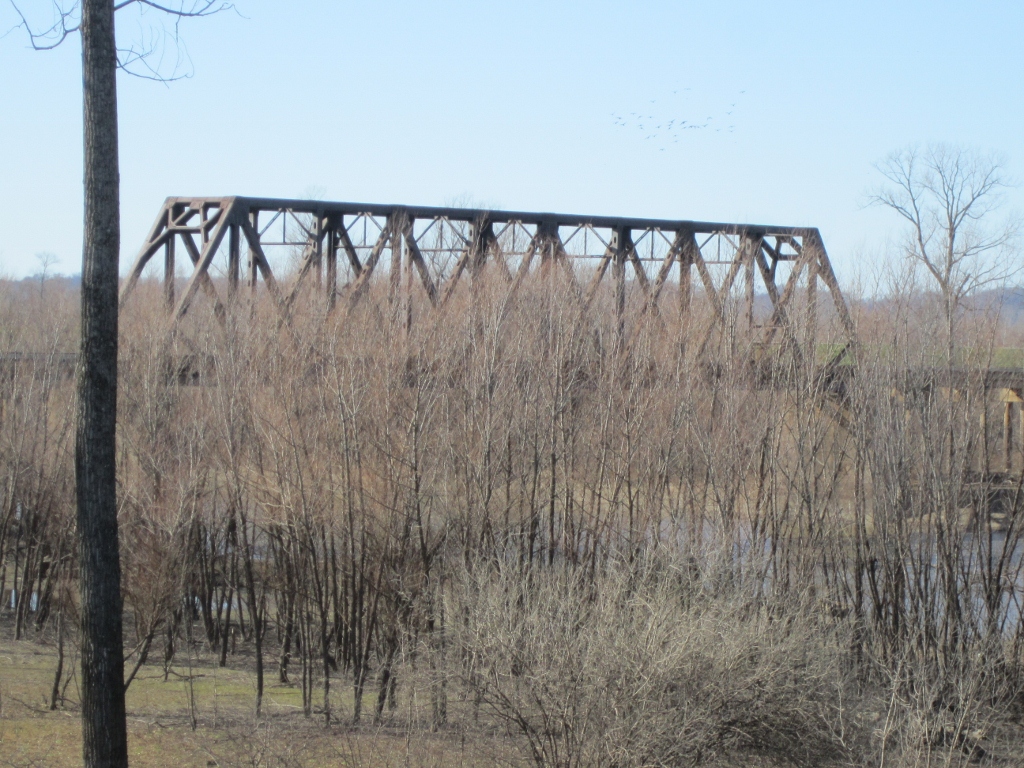 We bee-lined it for some late afternoon lunch at my favorite eating establishment after getting some
gas in Grand Tower, Illinois.
The Bottoms Up Bar and Grill in Nunert, Illinos---Population about 14 I think.
They have great food here and are really nice people-----I luv this place and have taken my wife here
several times.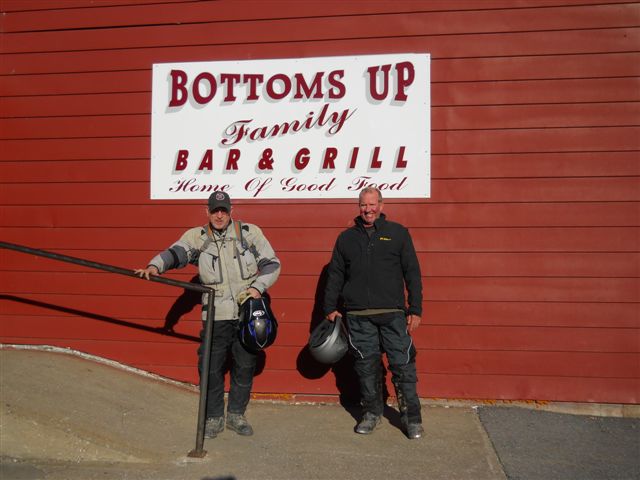 After leaving the Bottom's up we headed South on route 3 and then East on Oakwood Bottoms road, which goes thru
some neat flooded bottom land that is barely out of the water---and got on another leveee road that came up on the other side
of the same railroad bridge we came by earlier.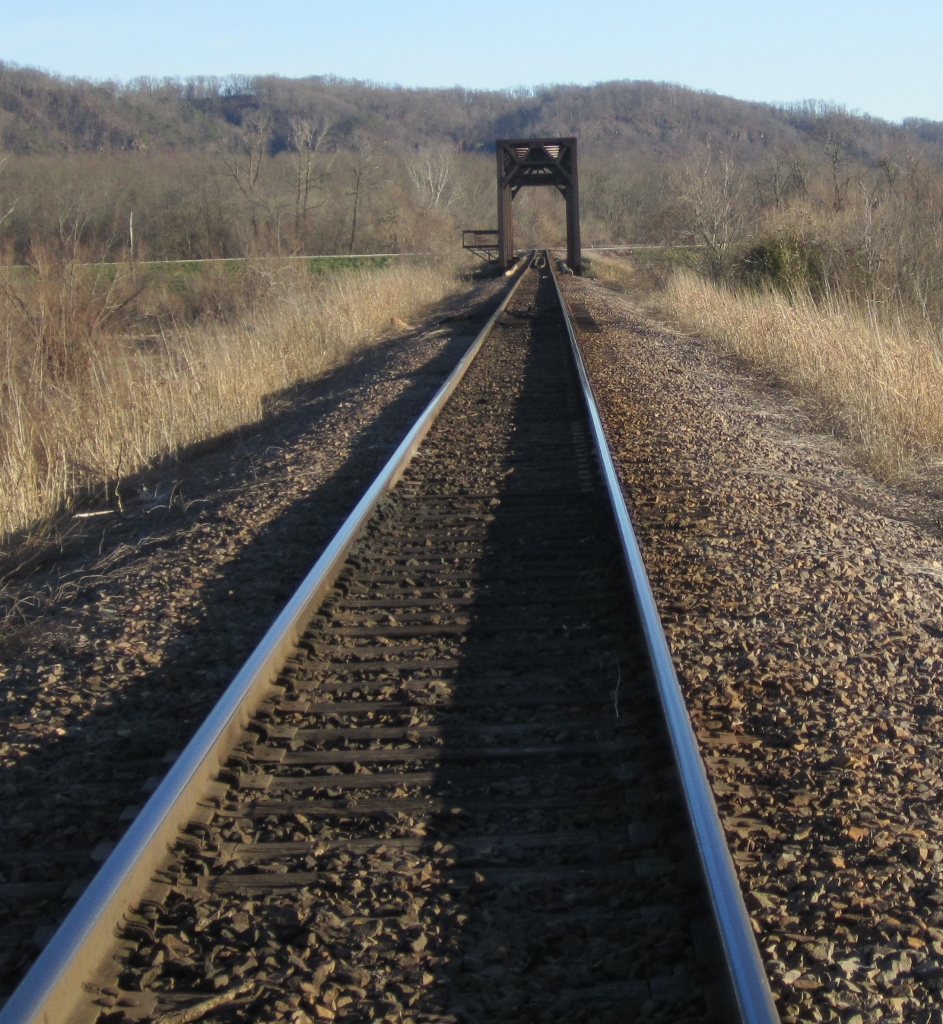 I'ts been on my bucket list for at least 25 years to ride across this tressell--now how stupid is that. Not today I told Tom !!!!
Looks like the perfect place to break a leg.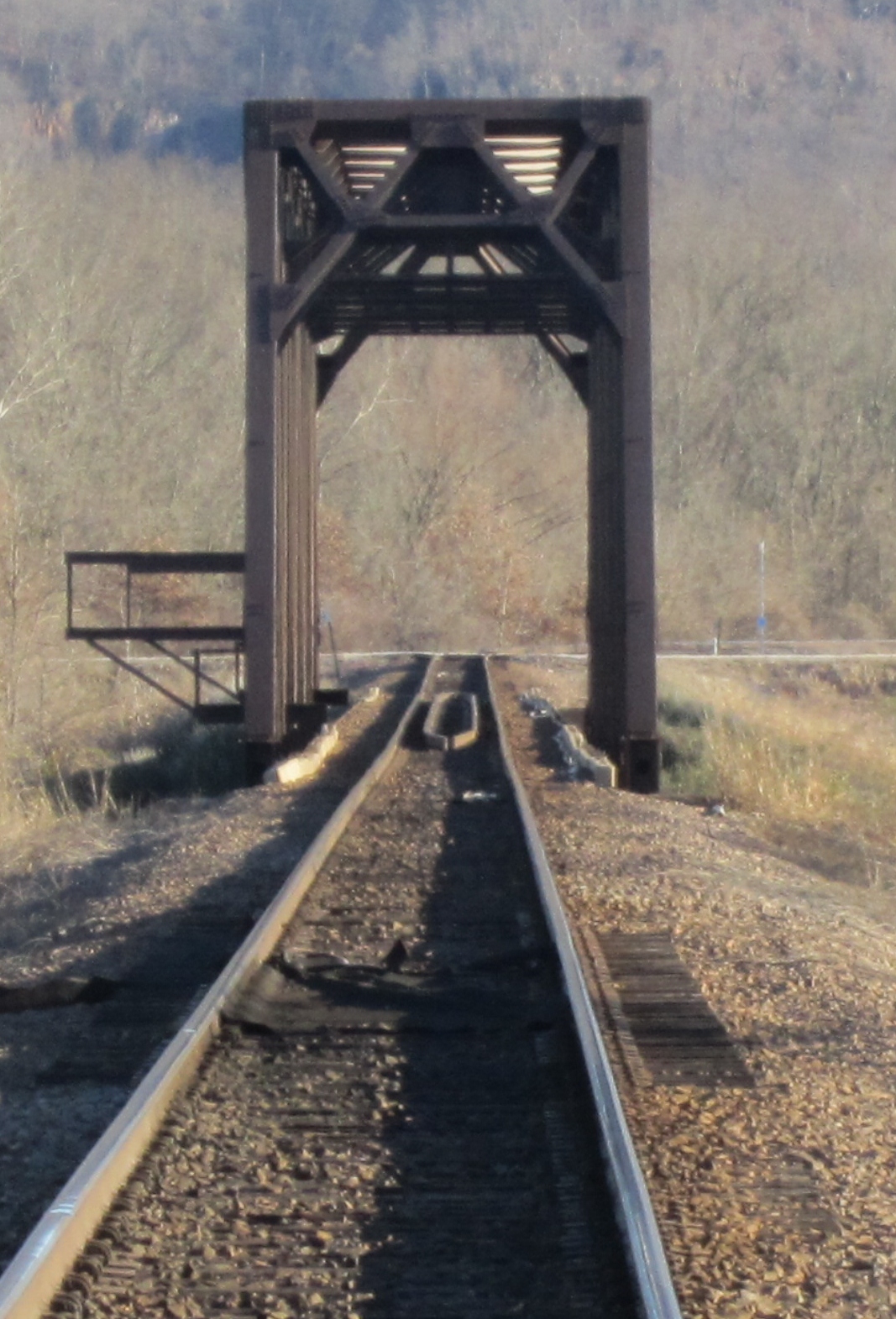 I was really windy now---and we sat on the tracks awhile---and I finally thougth I better get off the tracks. I wasn't sure
you could here a train coming it was so windy.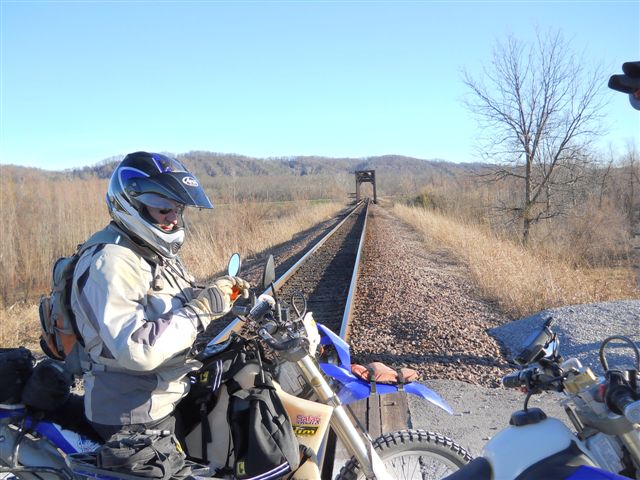 After this we headed East on a levee and up into the Pine Hills again and headed for home.
Me and Tom had just met---but had a great time together.
Until next time----I've got way more bridges to find.
Jan. 7th 2012
Heck it's winter---you ain't suppose to be riding this time of year !!!
But it was a nice 50° -----and I found quite a few more bridges---and had some issues with property !!!!
It hadn't rained in a while and was pretty dry---so I chose the 950 to ride--and hope I wouldn't fall over
out in the middle of nowhere and couldn't pick it up !!!!
I headed towards Mill Shoals, Illinois to a bridge I tried to get to a couple of weeks ago
but the road were under water---would the bridge still be there.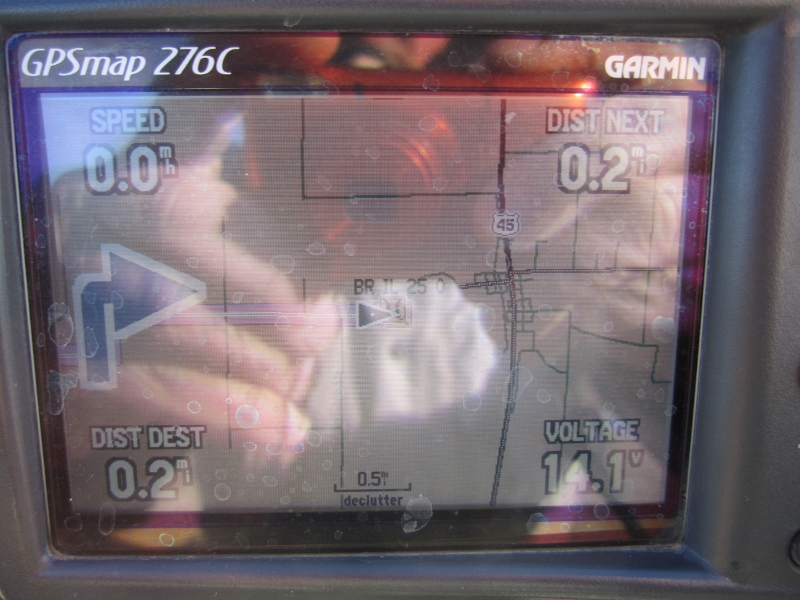 I approaced from the West and happily I saw the bridge in the distance---could I ride over it ?????
Bridge "mill sholes C-TT" on the gps file.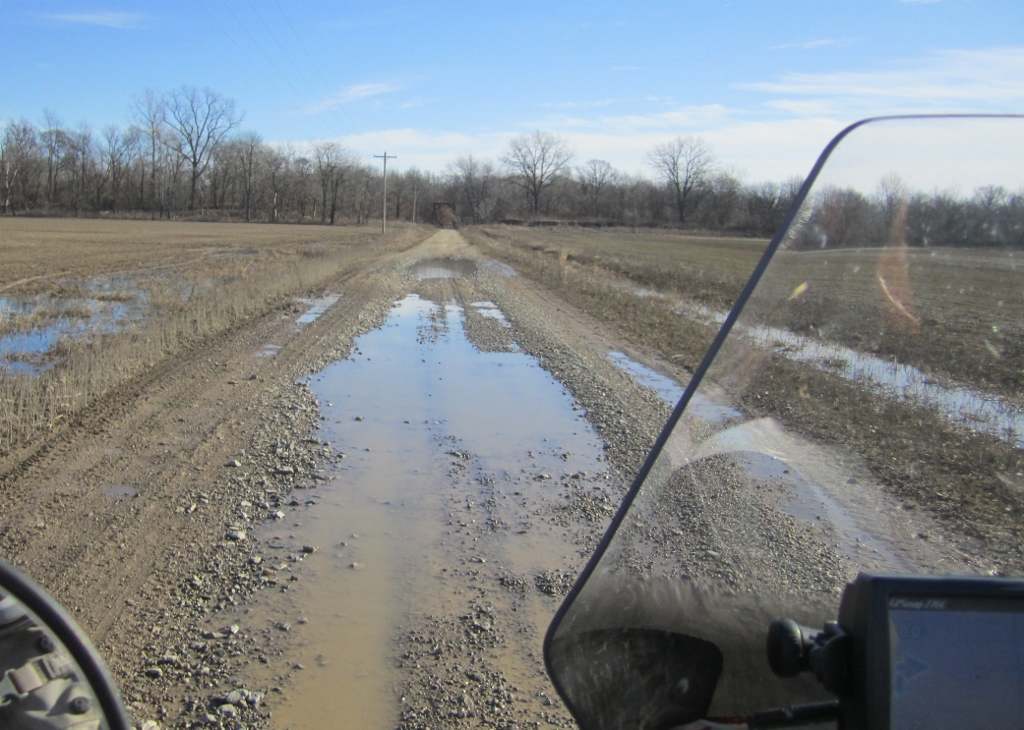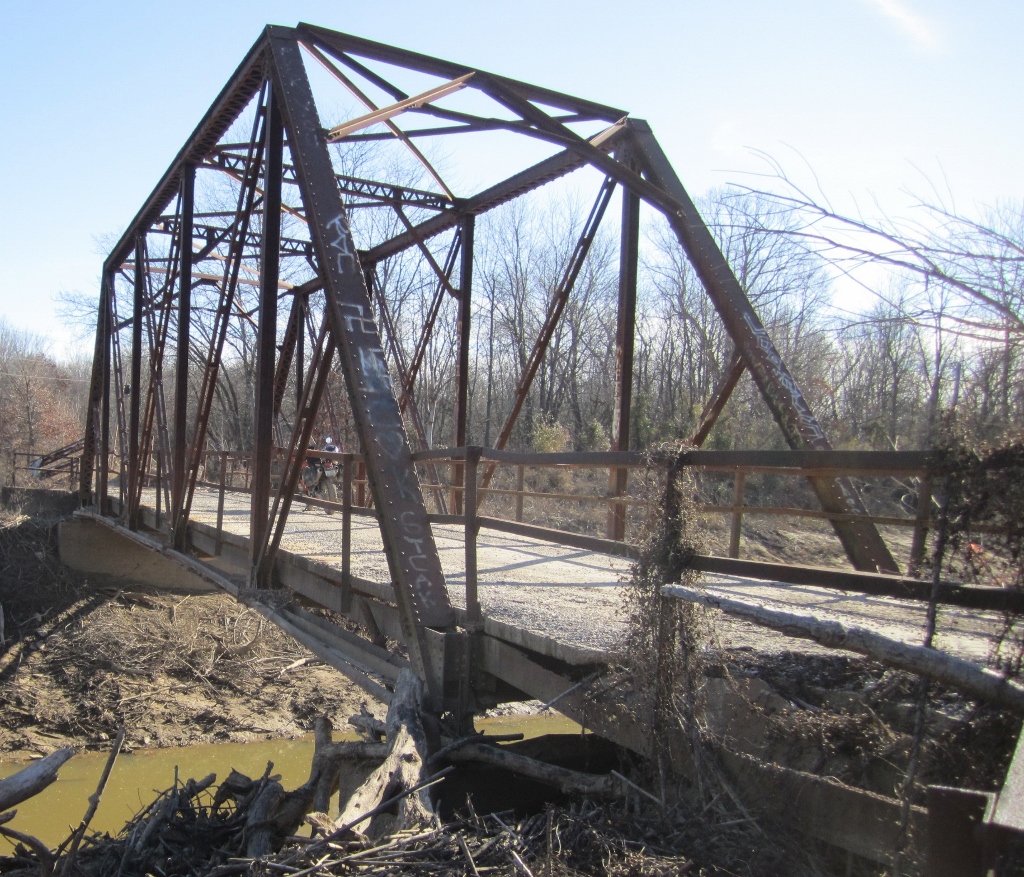 Pretty neat old bridge on a drainage ditch----and I got to ride over it---but it had been blocked in the passed.
But somebody pulled the steel out of the way--------it wasn't me !!!!!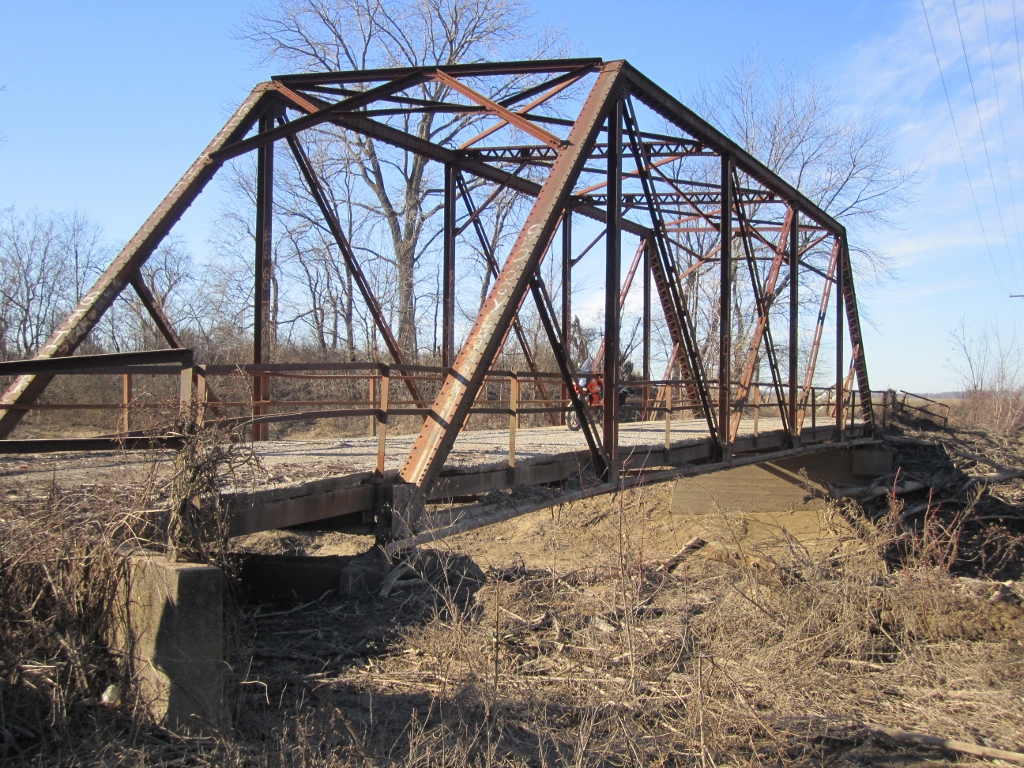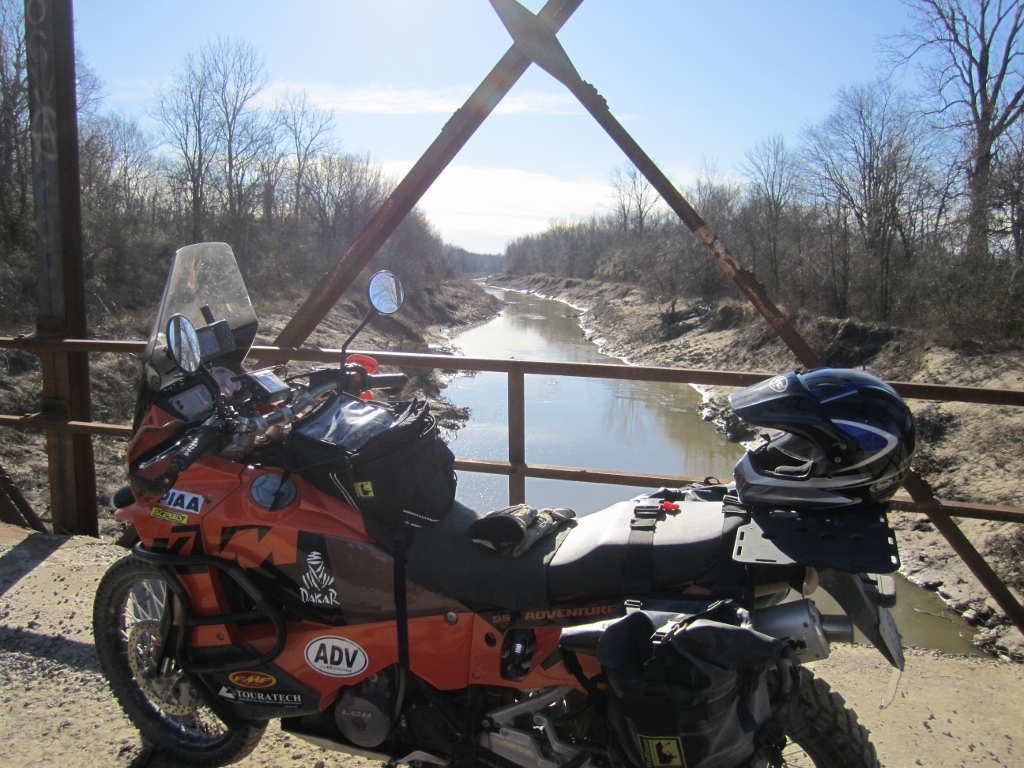 This bridge was one I had tried to get to many years ago----and left a waypoint called "DE" --------Dead end.
But today I would Endeavor to Persevere.
My first approach (there would be 2) was from the South and the Little Wabash River wasn't far away..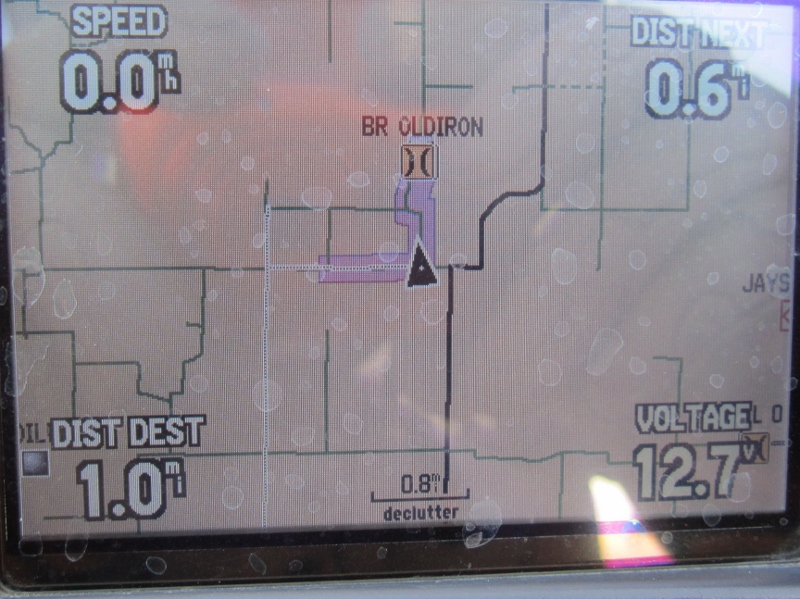 And down this road I went---further on it got real muddy.
I finally came to a gate that said private-----do not come down this road--more about that in a bit.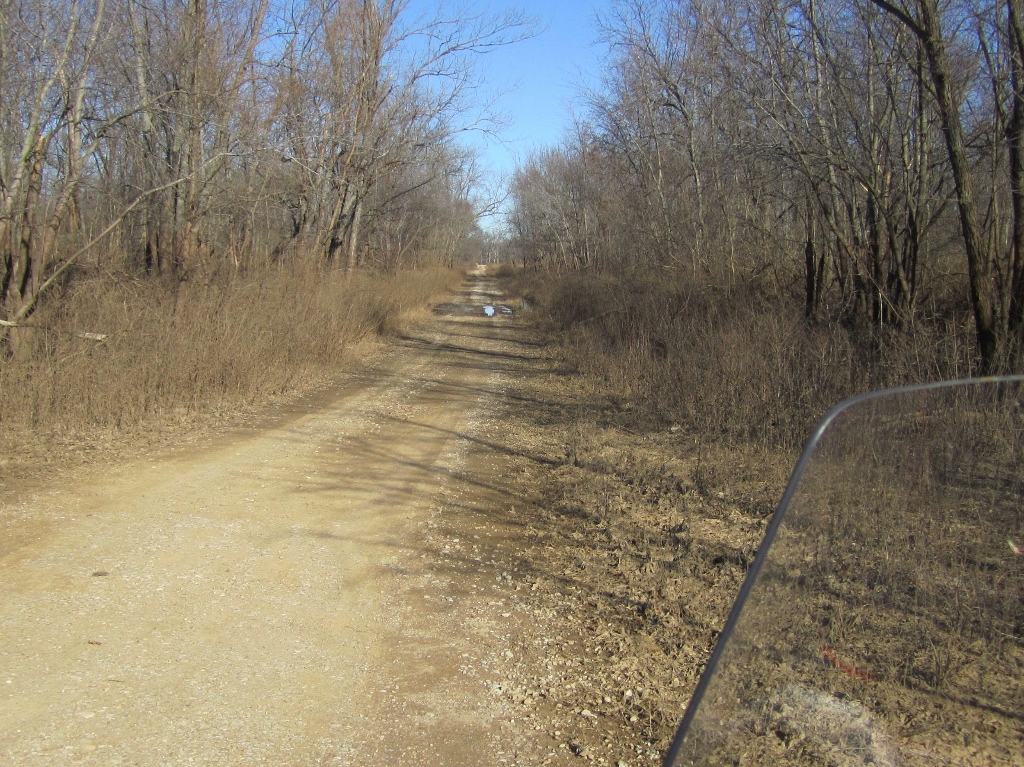 I wasn't giving up that easy-----and went way around and approached from the North.
I came down that road from the farmhouse you see off in the distance and stopped at a No-Trespassing sign and waited.
And waited---for flying bullets---mad farmer----shotgun yielding pick up truck---I waited---I was kind of tense and the
bridge was only 300 yards away across a field where the road had went back to nature---I wasn't giving up.
Was the bridge still there----google earth said it was--but some of that stuff is old.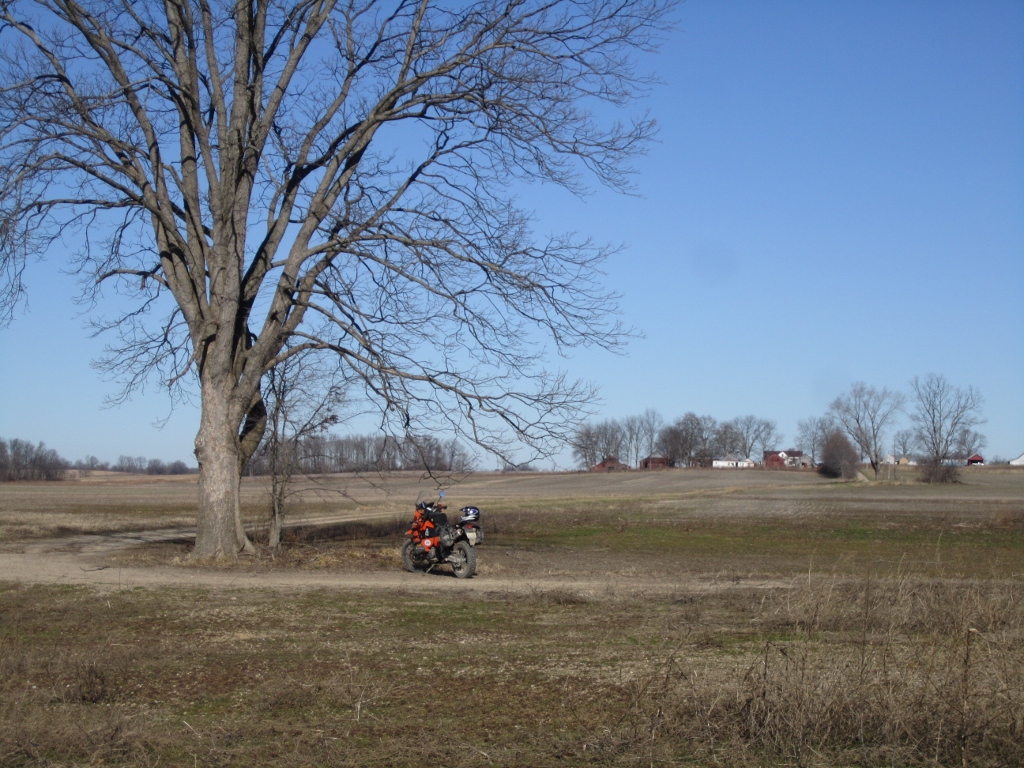 I finally got enough nerve to walk to the bridge-----after walking a bit I went back and got my gps to guide me to it------good thing as
the first time I was getting off course. The bridge was long gone------long gone.
This is bridge "lil wabash rvr2 C-TT" on the gps file.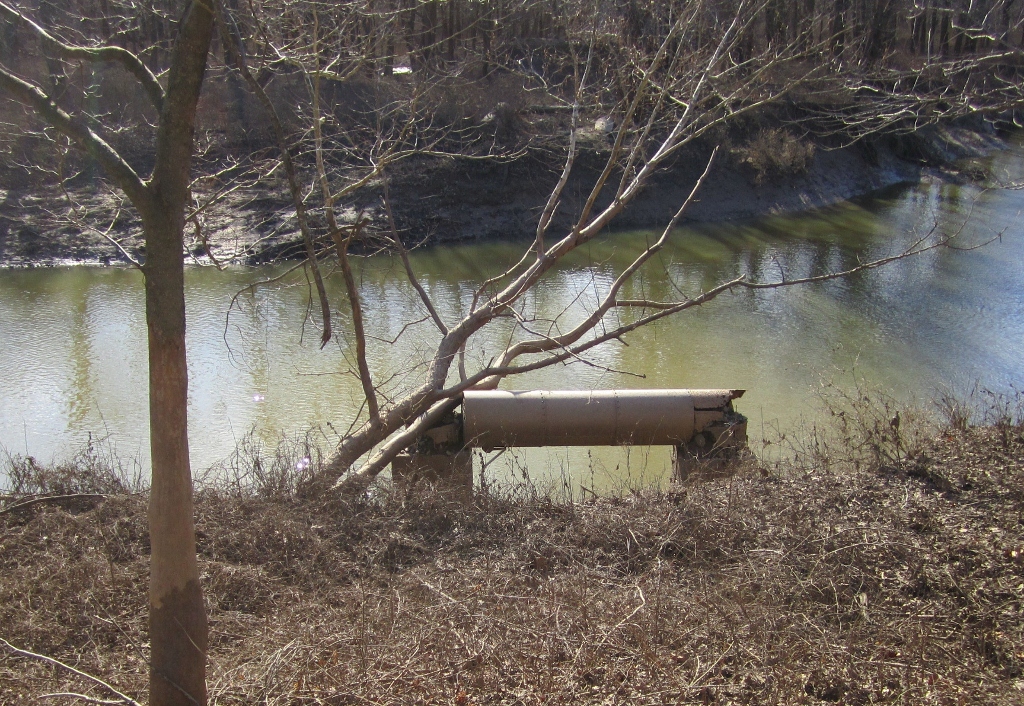 You can see where it landed on the South side--the side I couldn't get to because of the private property.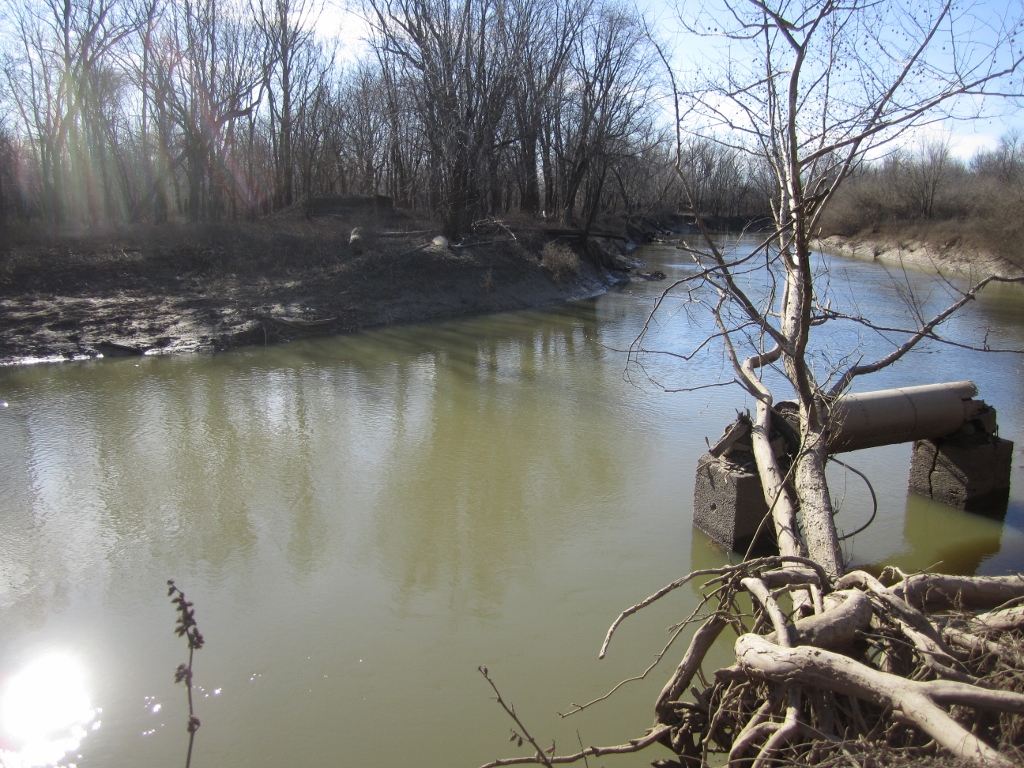 This used to be the entrance to the bridge on my side (North).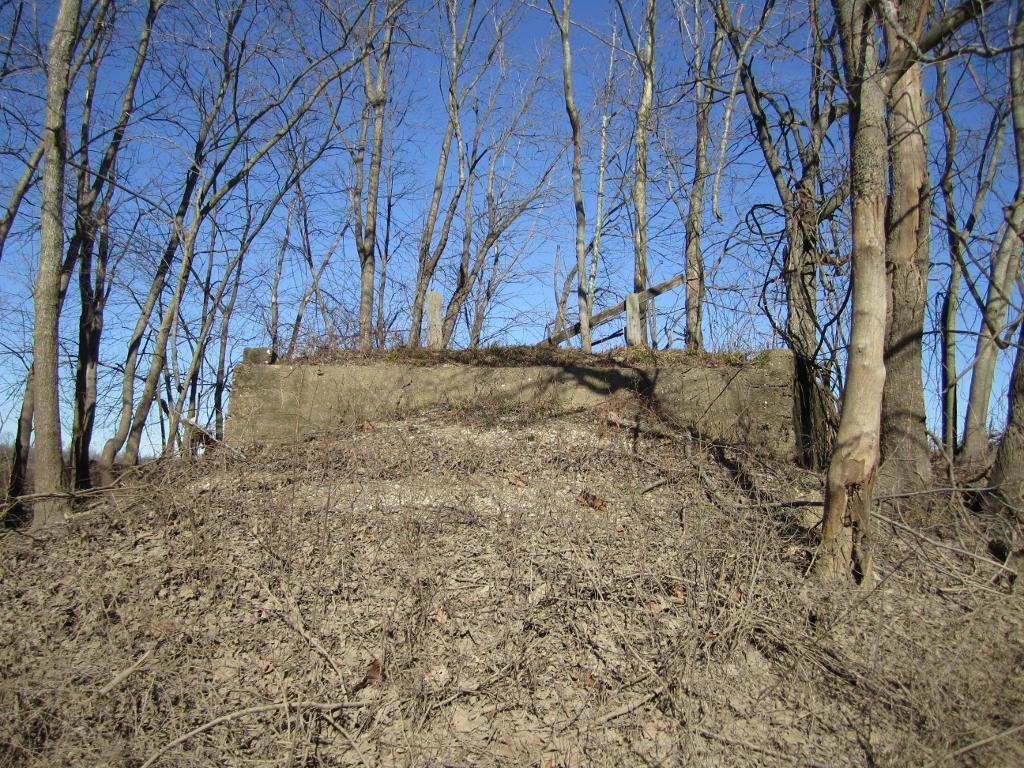 Boy this is old stuff-----I'm sure this is where the bridge was blocked off years ago with a sign--all that is long gone since there is no road anymore.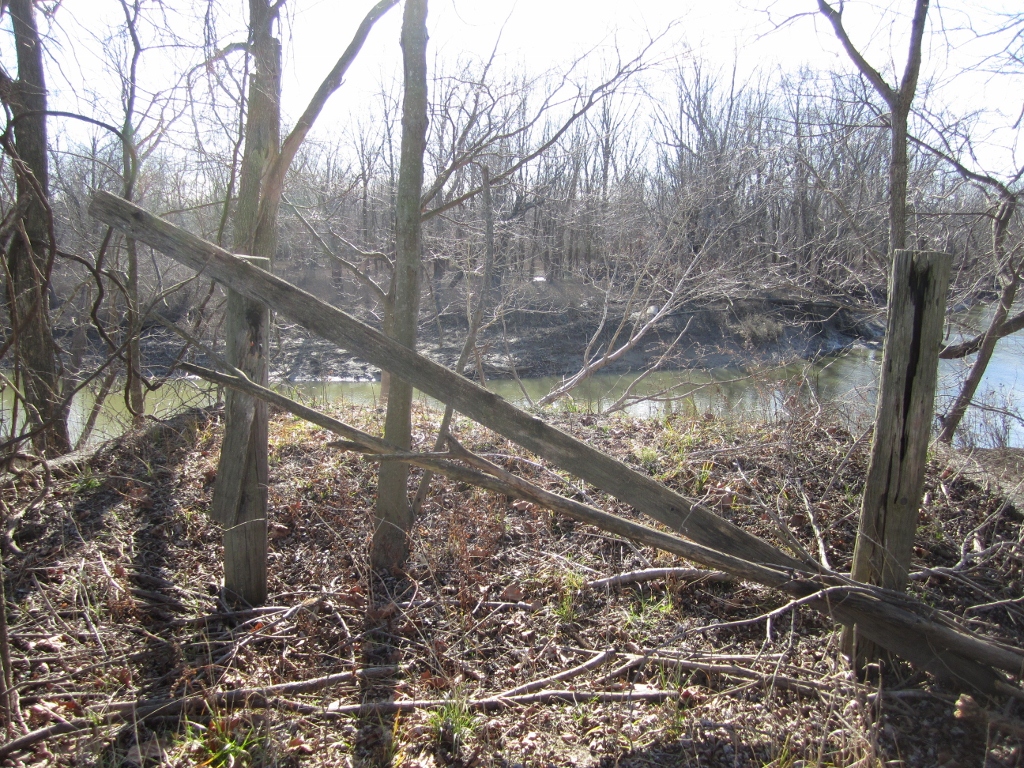 I'm at the bridge from this picture--you can see my bike way out there and the farmhouse.
Now for the rest of the story if you care to listen--------do NOT come down here--ever.
I was about to leave and here comes the pick up truck--------crap !!!!!!
I took off my helmet to show I was a poor old lost old man and gave a big "good morning" to the driver and
prepared for the worst.
Turns out----his family used to own all this land on both sides of the river for generatations---------I said "use to".
He was so nice----and was just out for a ride and we had a long talk.
So---all the land is owned by an asshole from Indiana and he can't even fish in his old fishin' hole
when he was a kid. What a sad story. He told me I was OK where I was parked, but if that guy caught me by the bridge
I was in big trouble--------so don't come down here on either side of the river.
I told him I walked to the bridge and we talked about the bridge and he said it fell in the river 8-9 years ago and the corps of
of engineers made him get all that steel out of the river.
My gps track shows that I got to the bridge--but I was walking.
Don't come down here to try and see the bridge--or what's left of it.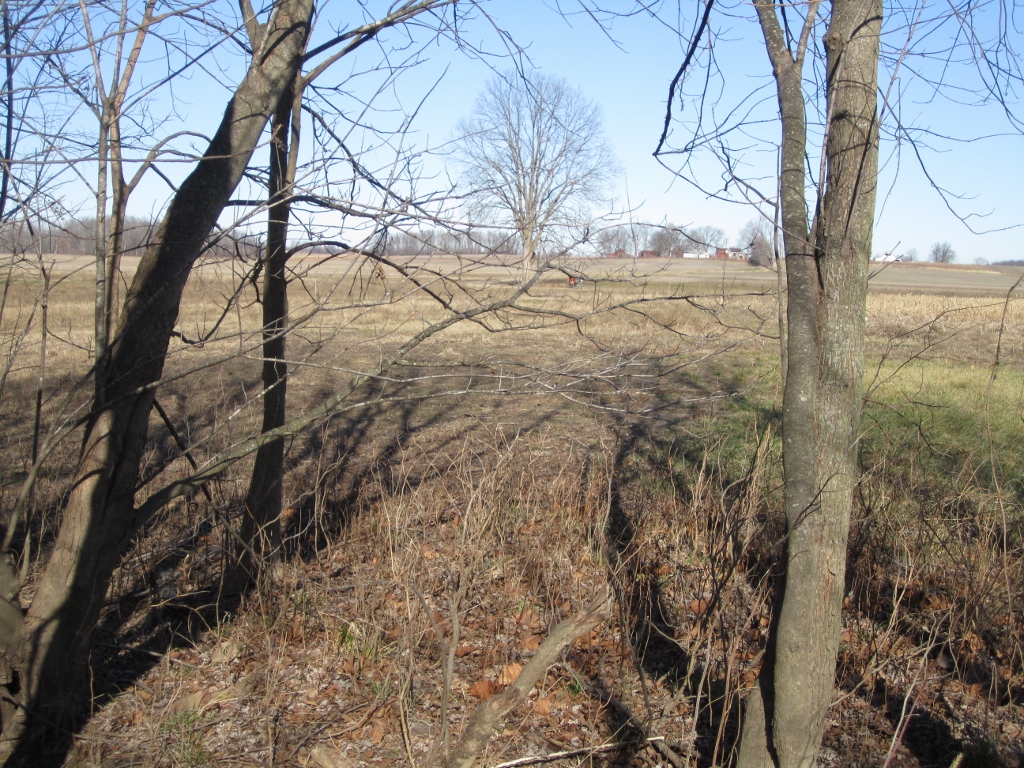 My pictures of this are probably the last ones that will be ever taken I'm guessin'.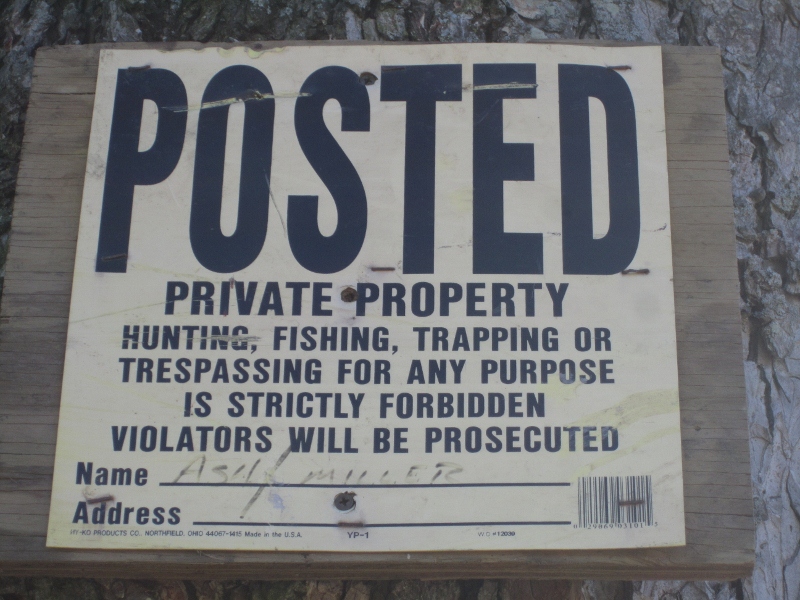 So off I go to try and find another bridge---another that I tried to find awhile back--but the road was under water
and I wasn't sure that it didn't get washed away.
On my way I went across this unmarked bridge ------but it's construction was neat.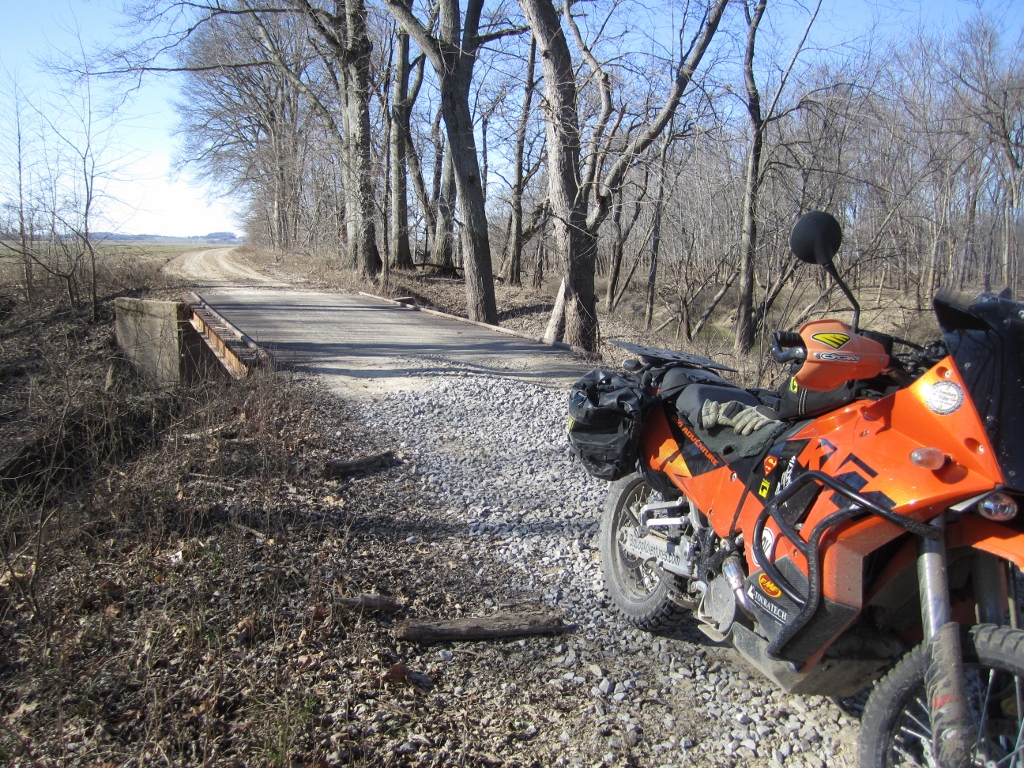 Lot's of oil wells in this area---and this unmarked bridge seemed to be made of oil well drill pipe ?????
Neat old bridge tho----hard to walk across in motocross boots I'll tell ya'.
This is "Drill Pipe Bridge" on the waypoint file.
You may think you are trespassing thru a farmers field as you come down this road---but it's a open county road.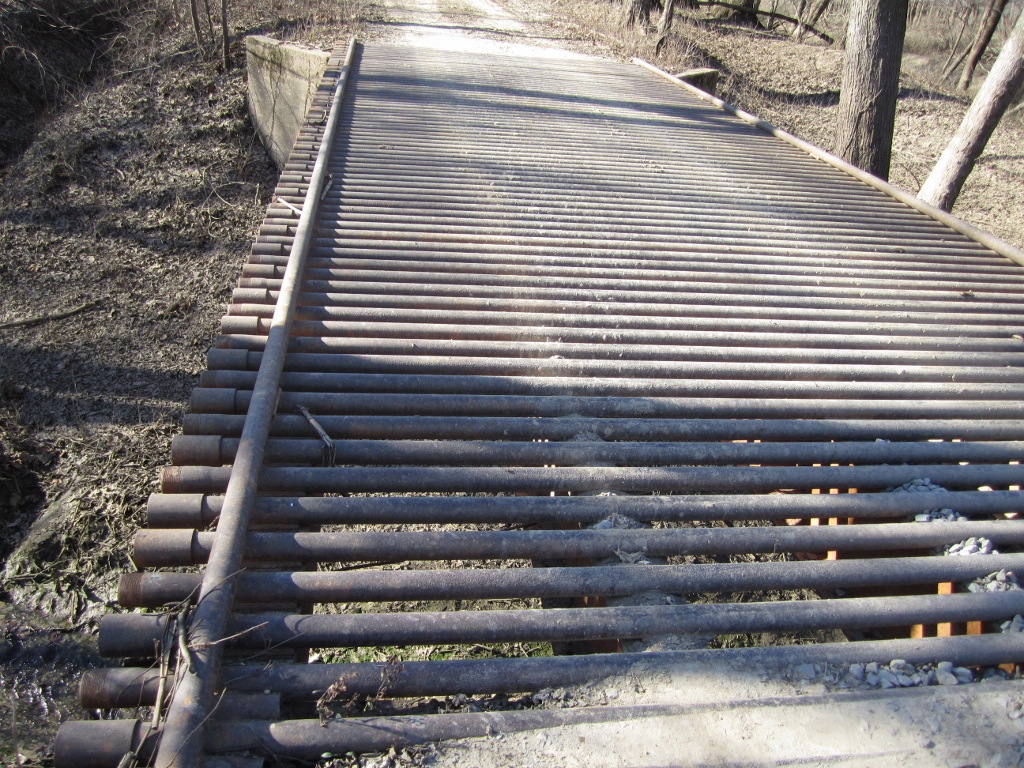 This suckeer will be standin'
"Till The Cows Come Home"
My dads old sayin'---then my sayin'---and now my son's sayin'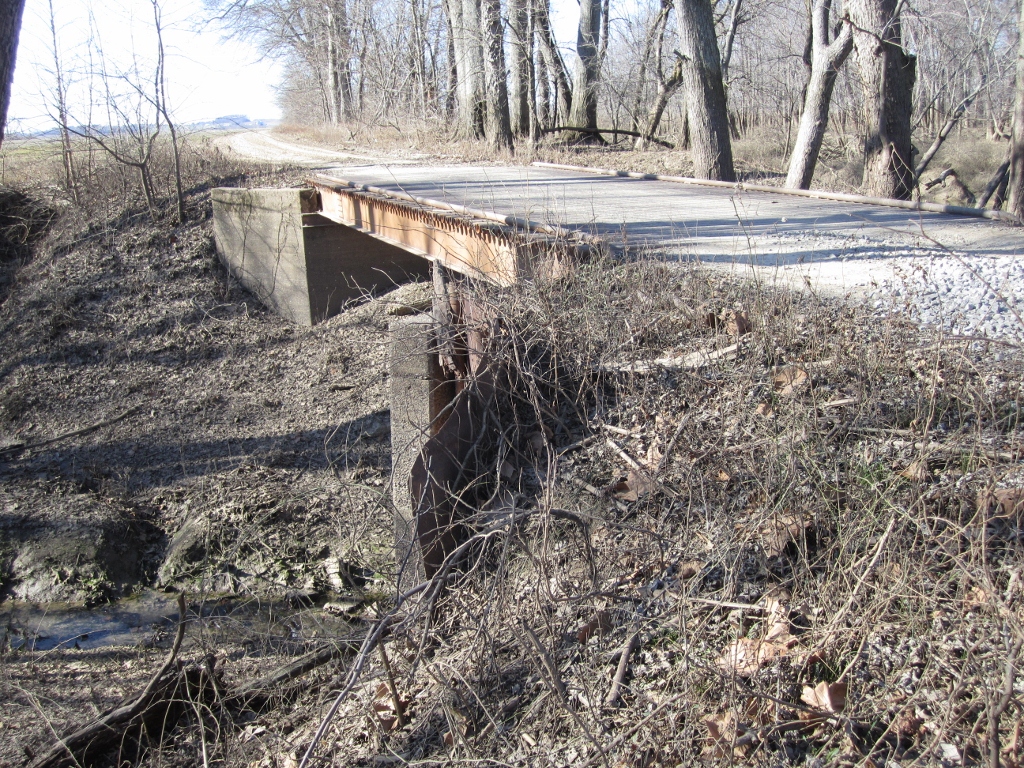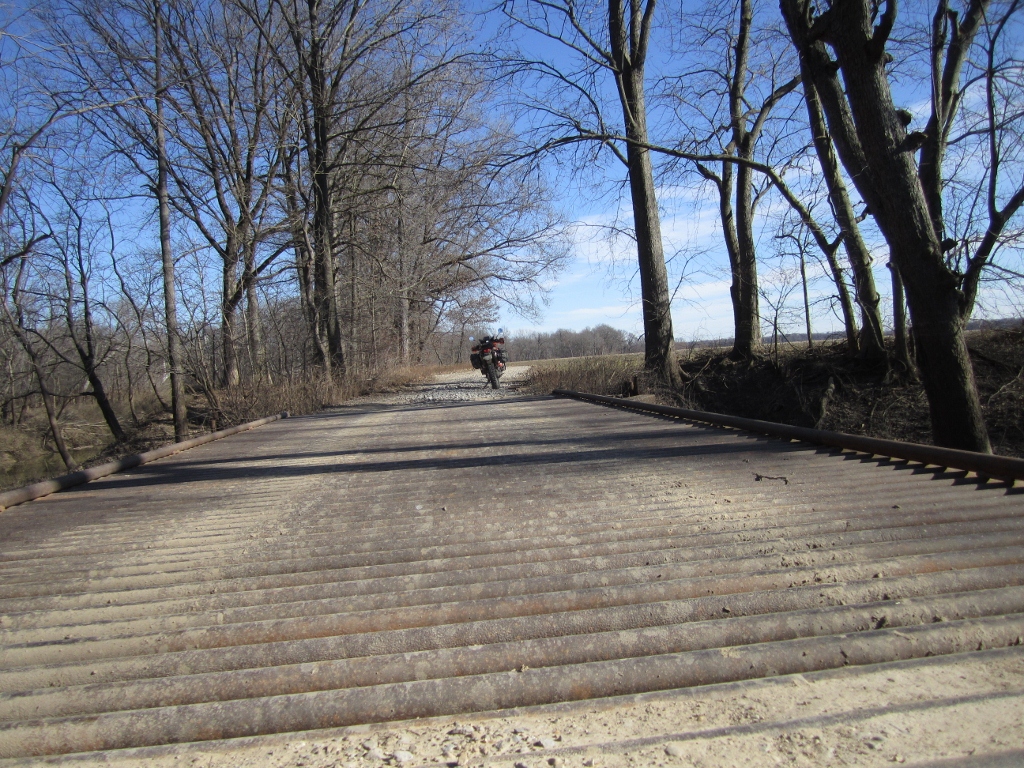 My favorite bridge that's closest to my house it in sight---man I was glad it was still there.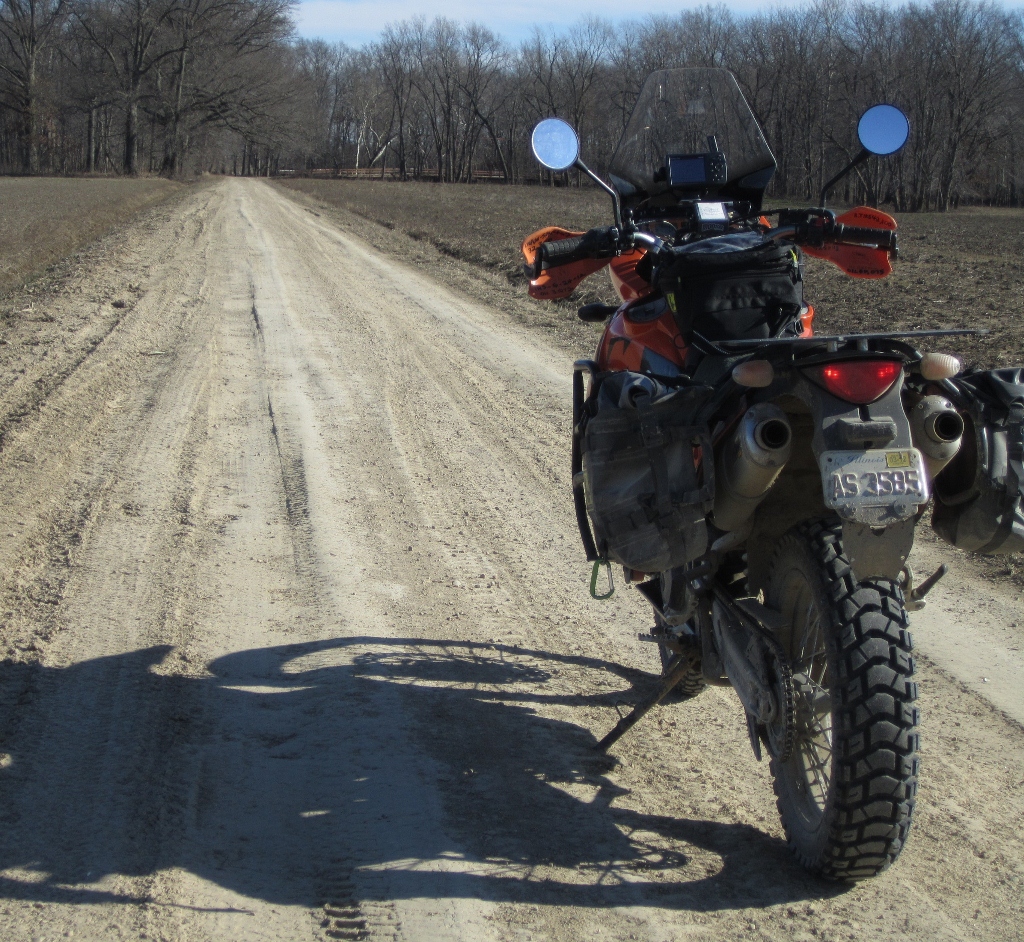 This is brige "grayville O-TT" on the gps file.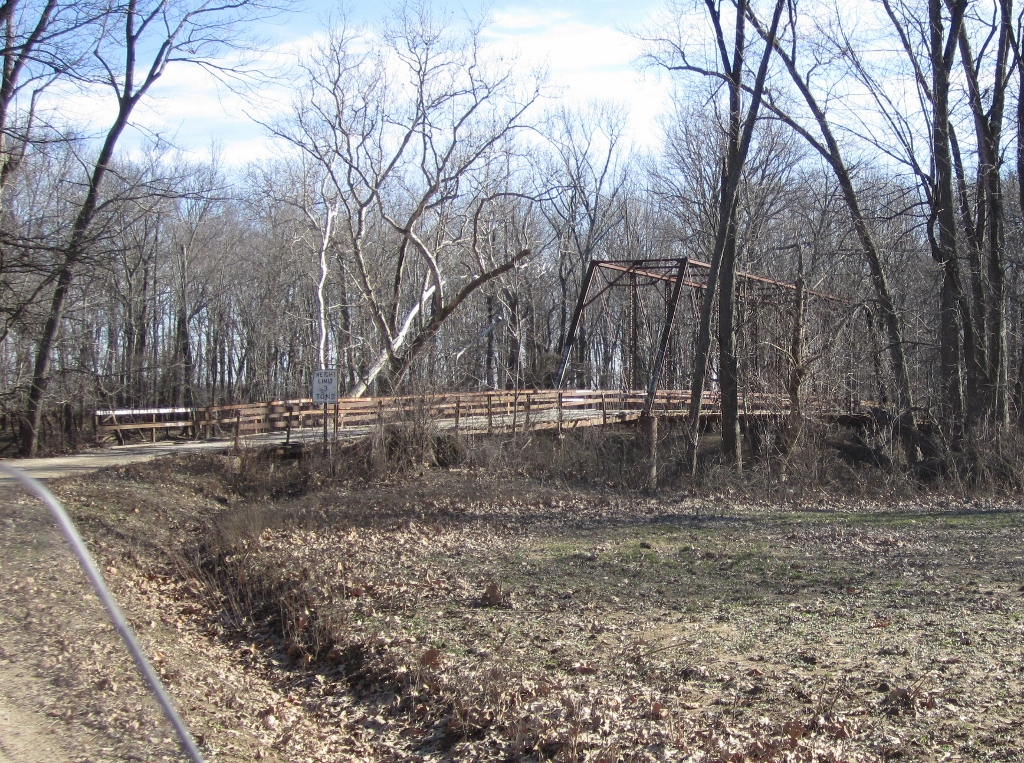 When you ride over it it might scare you as the old boards rumble loudly.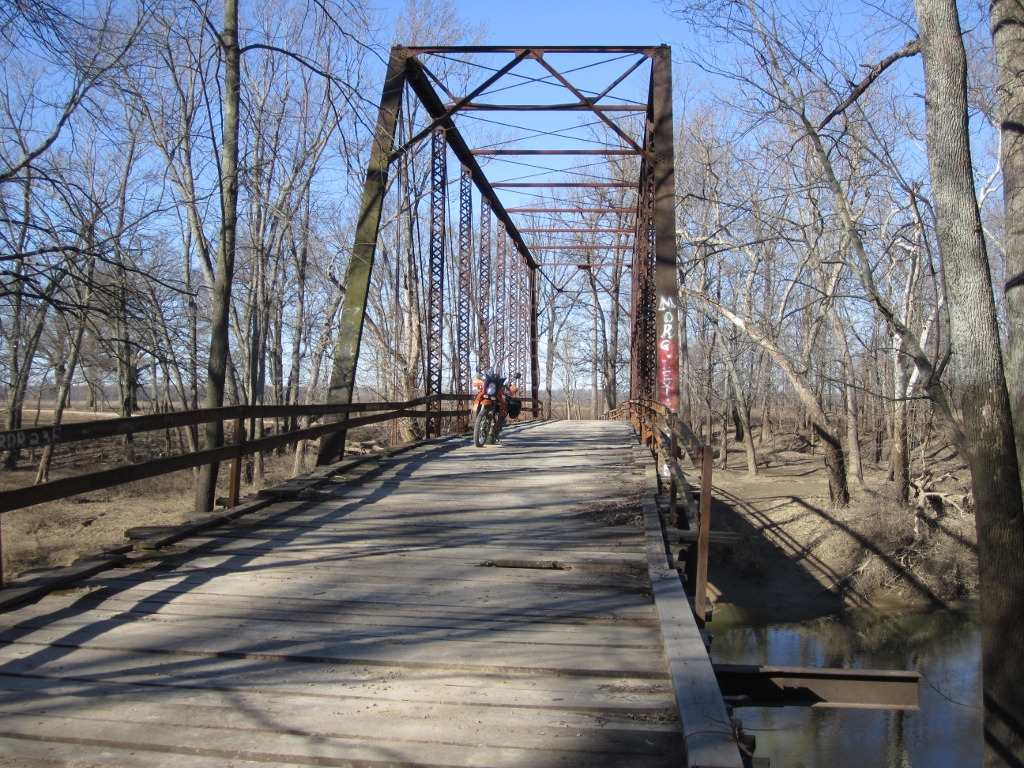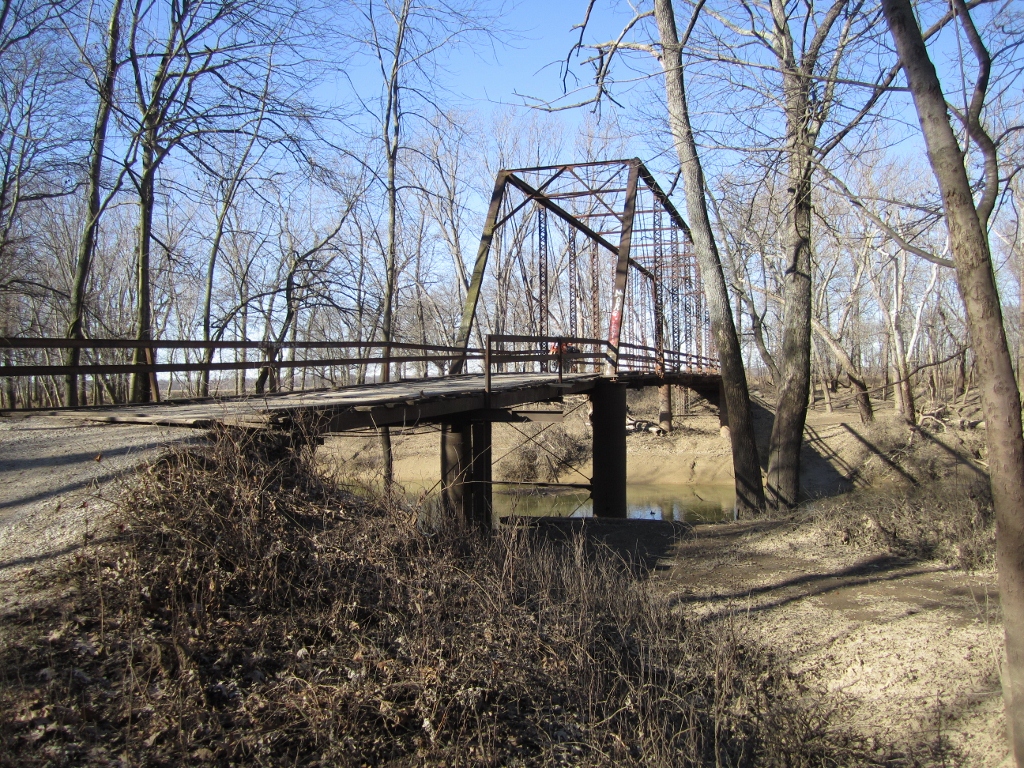 The lonely dirt road exiting the bridge to the East.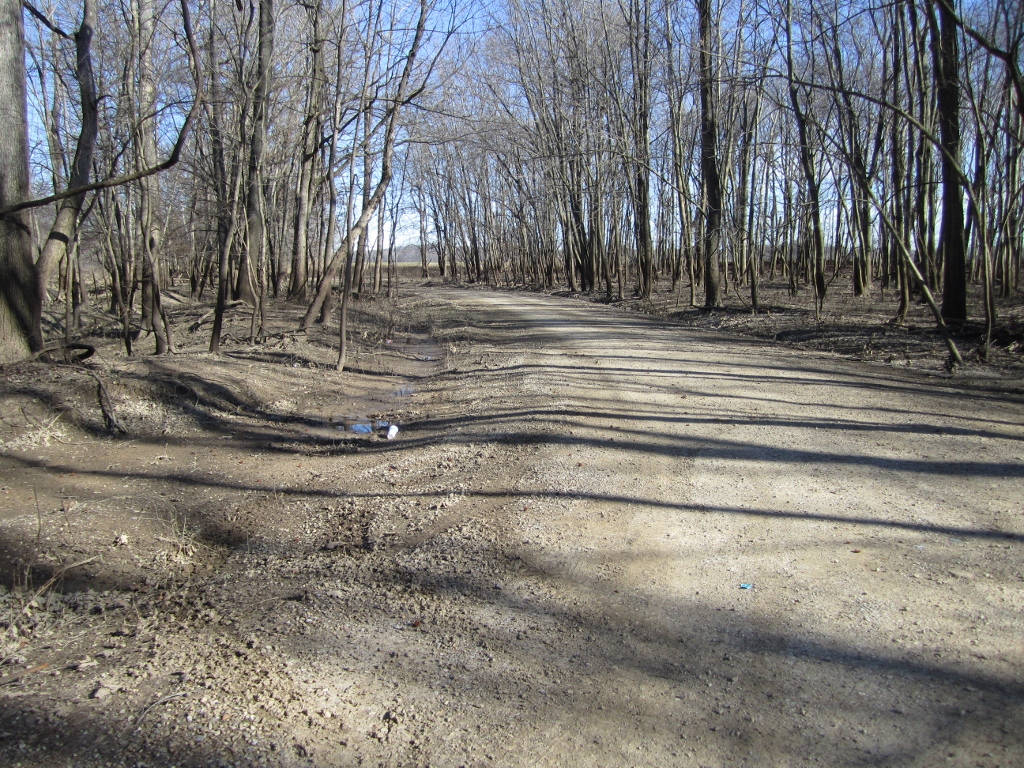 Pretty big hole I'd say.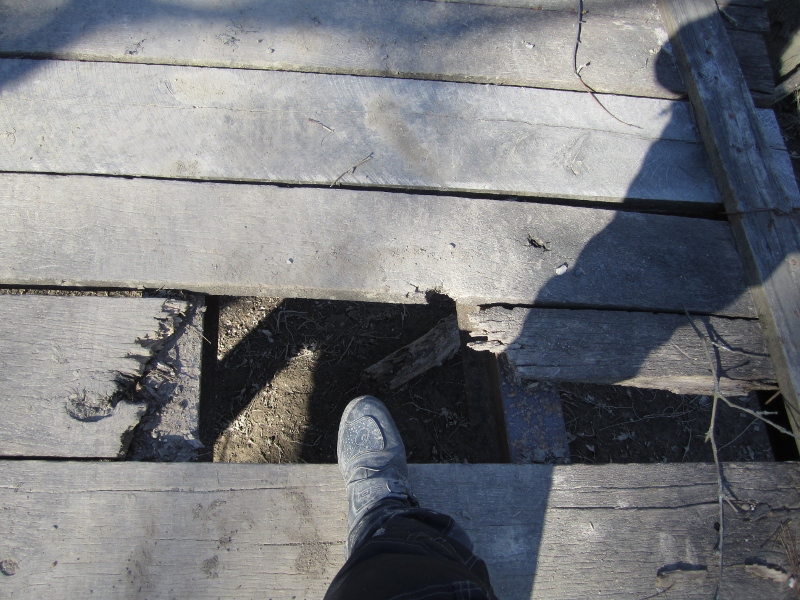 What's next ???????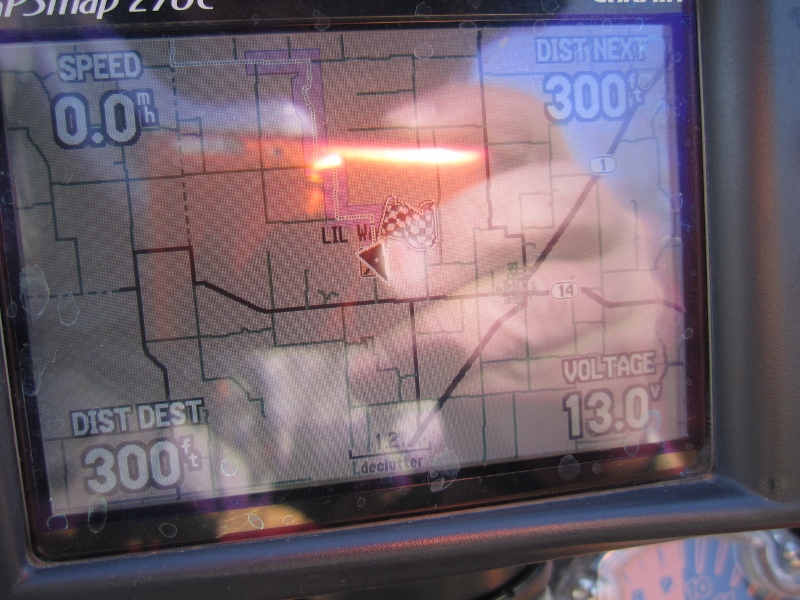 Holy smokes-----I've never seen this one before------I looked across the other side and I think you can get to it from both sides.
This is bridge "lil wabash rvr4 C-TT" on the waypoint file.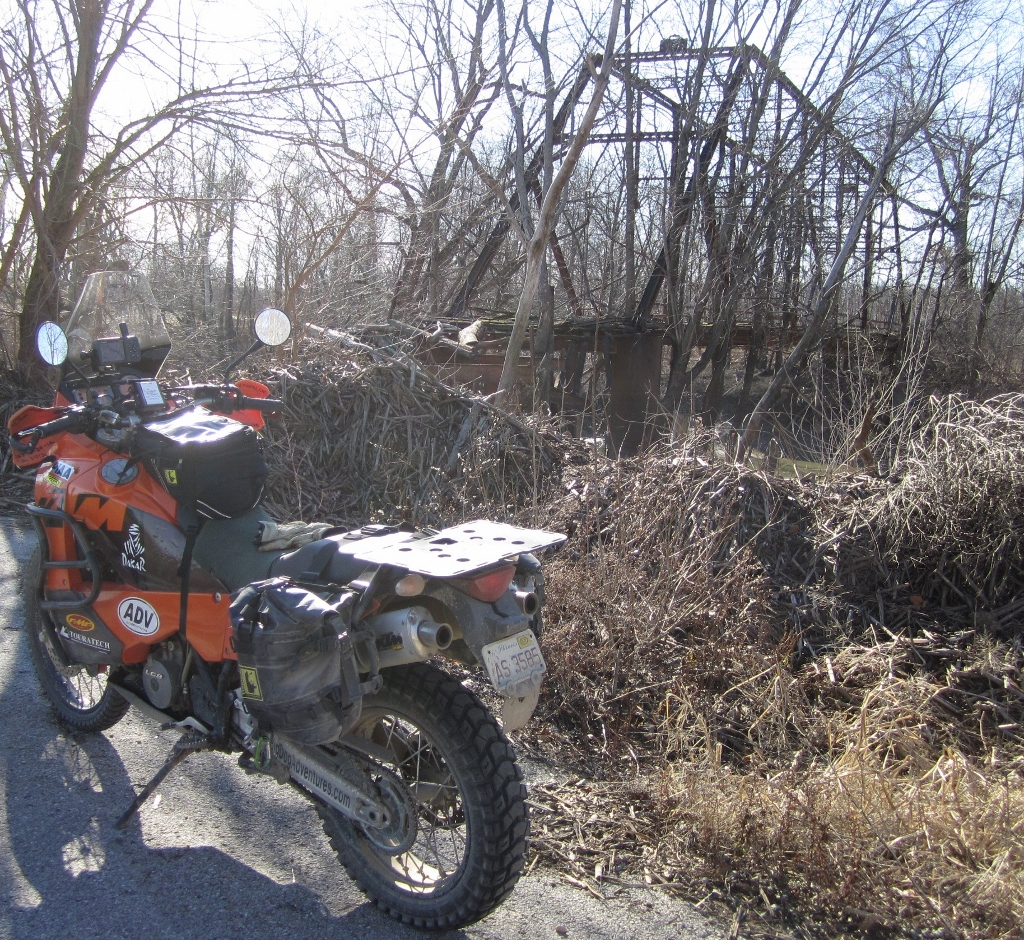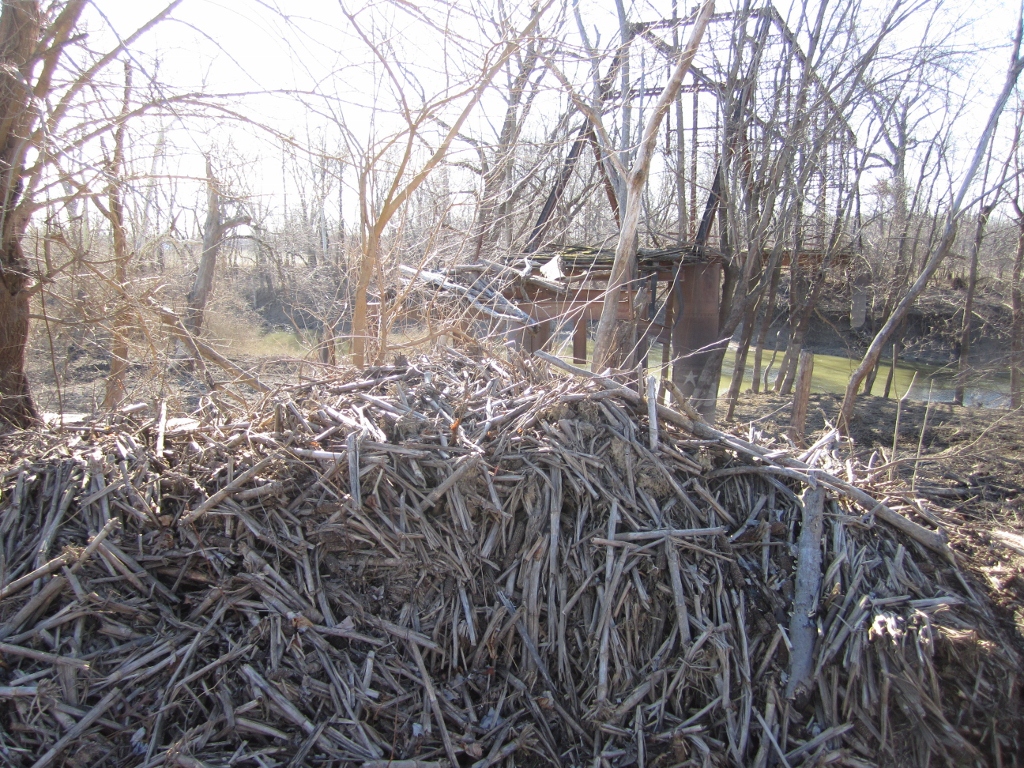 From the East side---the landing was completely gone.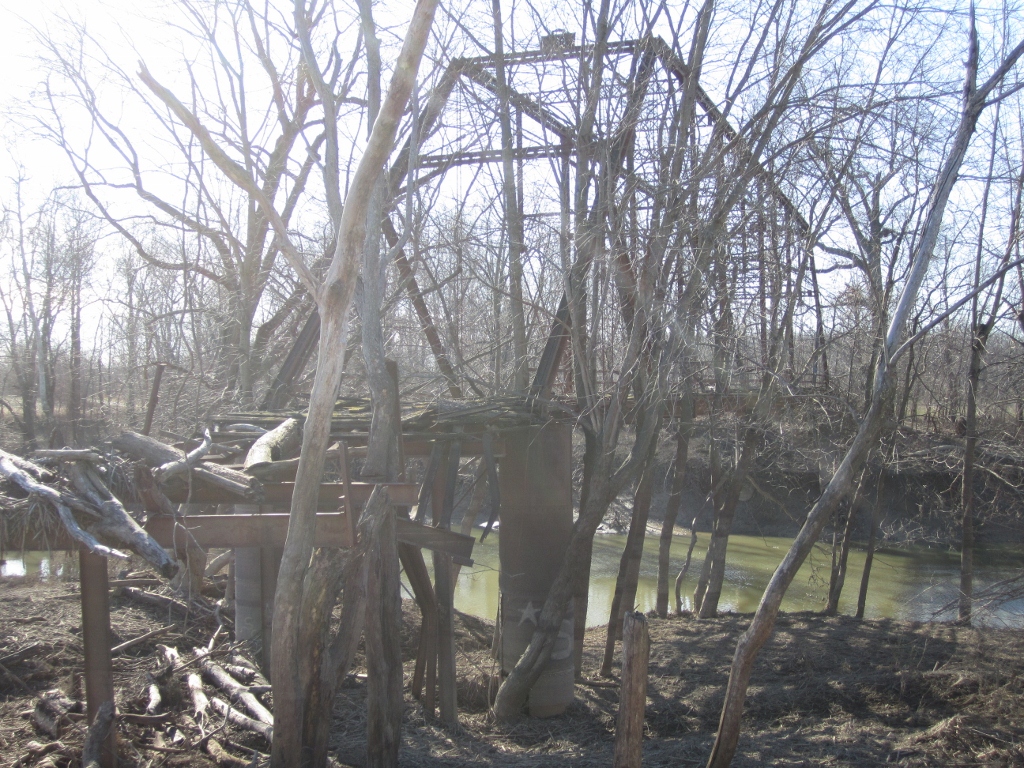 The tag on top that usually tells the build date and who built it was nothing but bullet holes and rust.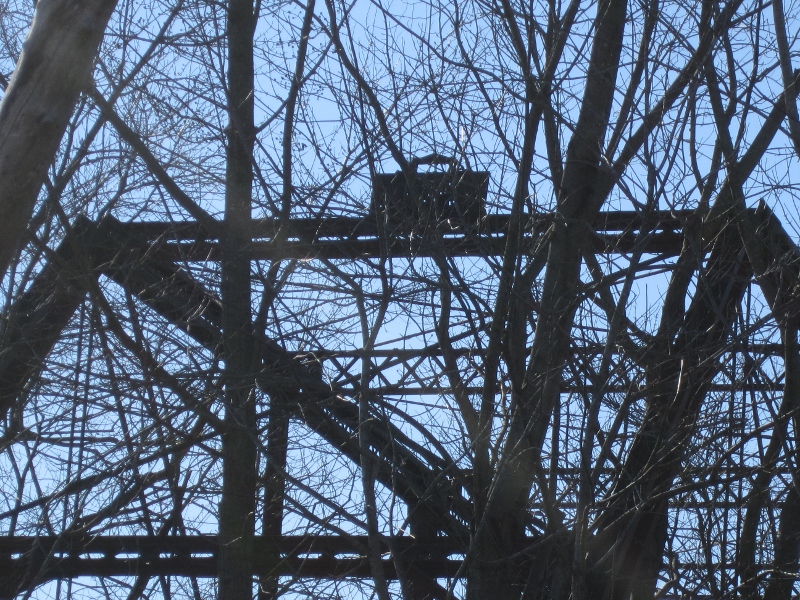 I was just crusing down a paved road on a new bridge and spotte the old bridge down the river.
It wasn't marked on my gps file---but is now.
It is bridge "Winters Bridge (Gone)" on the gps file.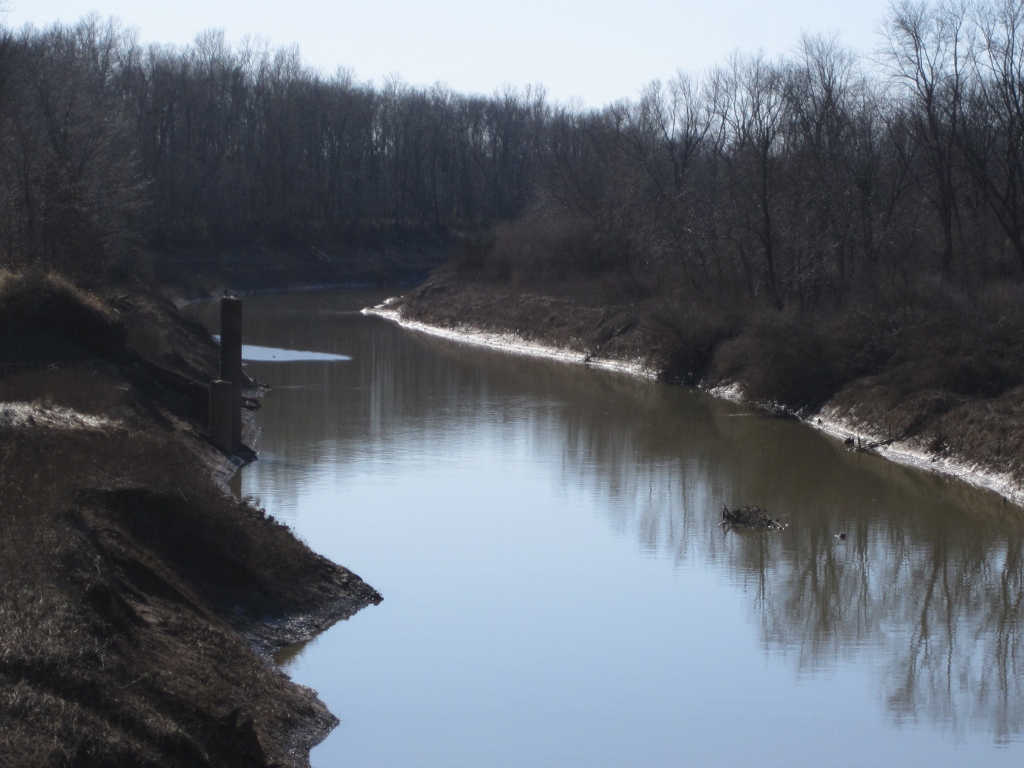 What's next----I'm having a good bridge finding day today.
And felt so lucky to be out riding on a beautiful winter day---had the heated grips on high and was prepared
to turn on the heated vest if necessary. Looky---2 more bridge close to each other.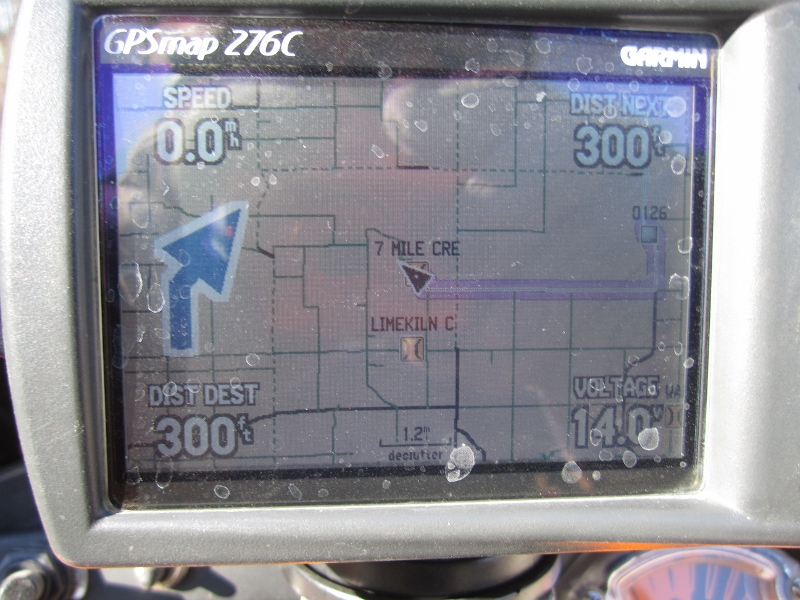 7 mile creek O-PT
It's been replaced--dang it.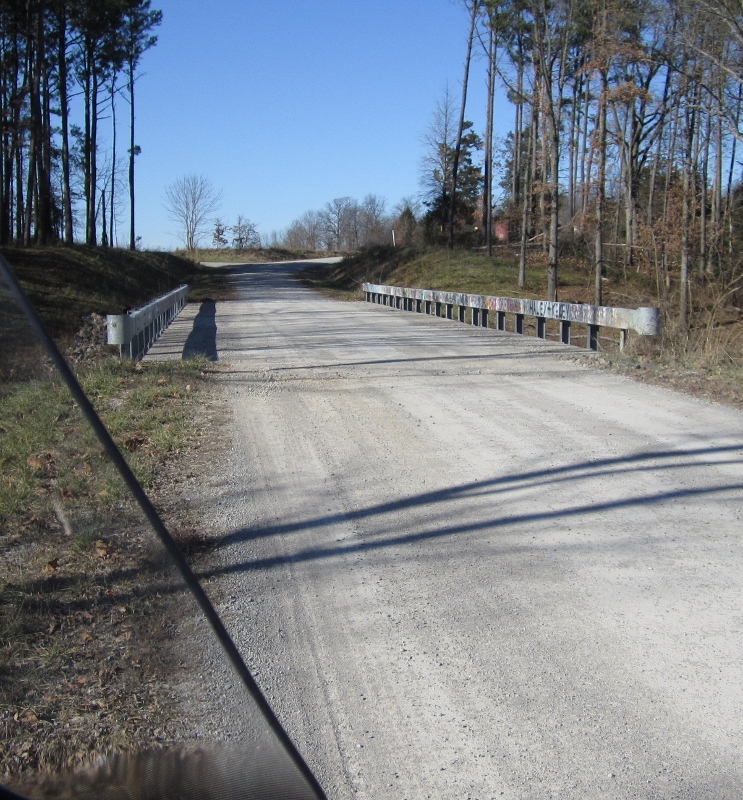 Just down the road a bit ................?????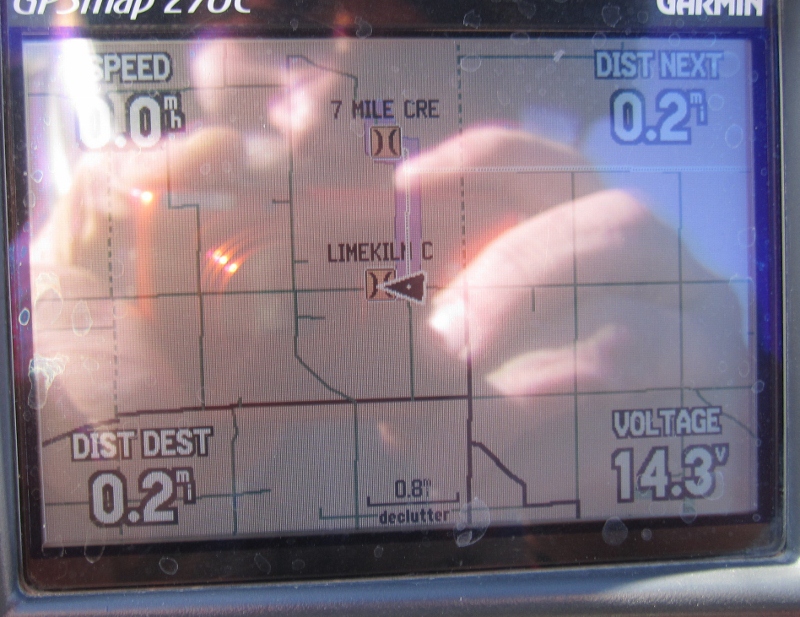 Hah----I got 98 horsepower--ain't no sign gonna stop this monster.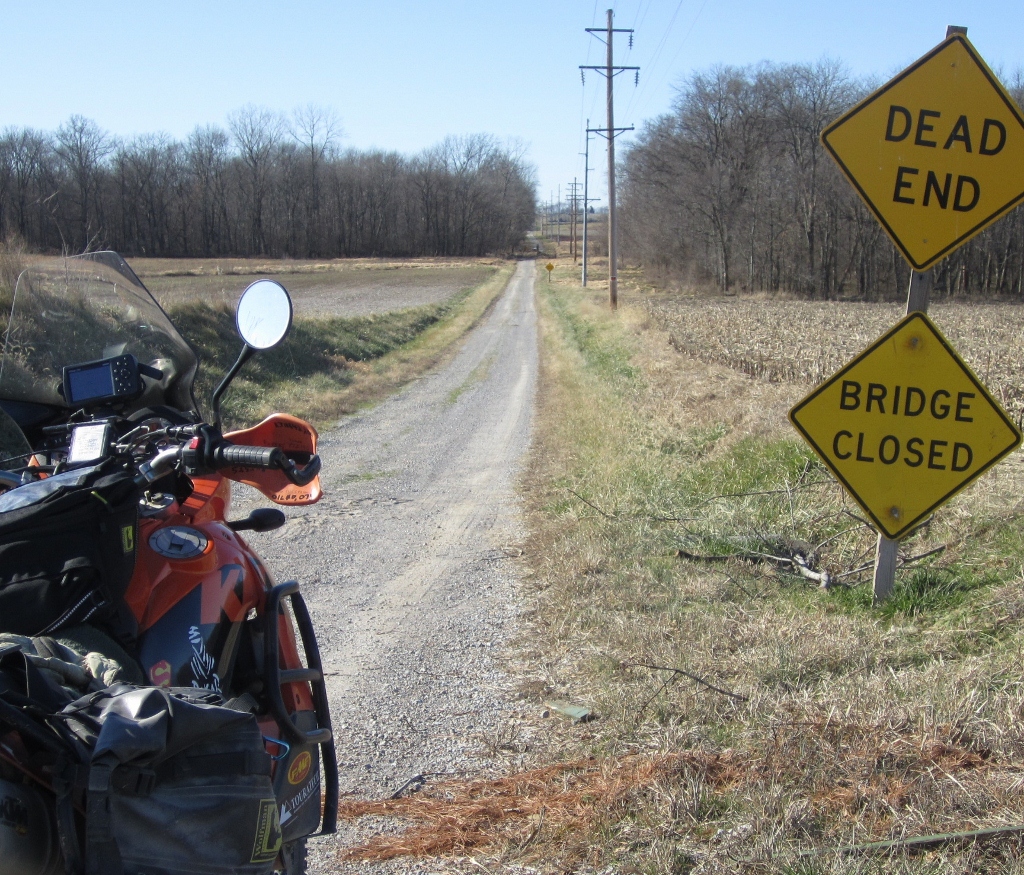 But this 5 ft. deep ditch did ??????????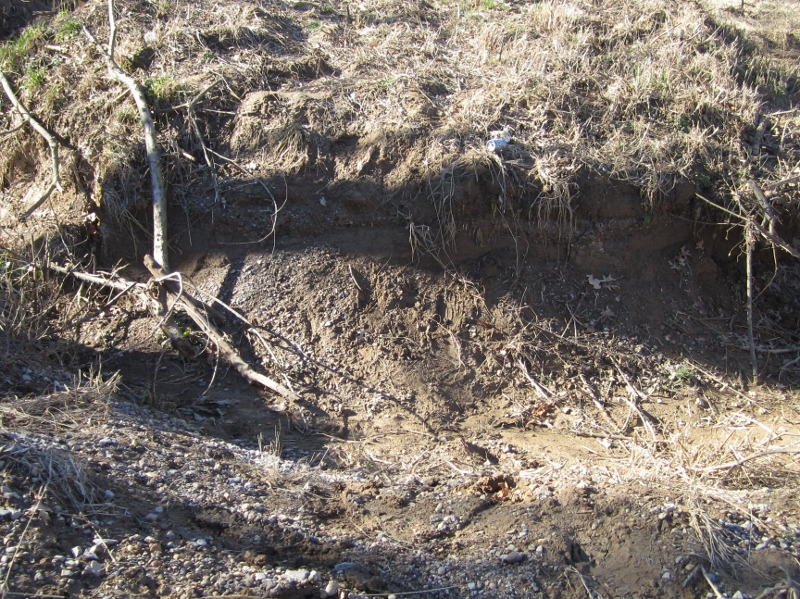 Bridge "limekiln creek O-PT" on the gps file.
The O stands for open---but it's not no more.
I had a great picture of the bridge from the end--but it had a very nasty bit of griffti.
No nasty griffiti on BigDogs site.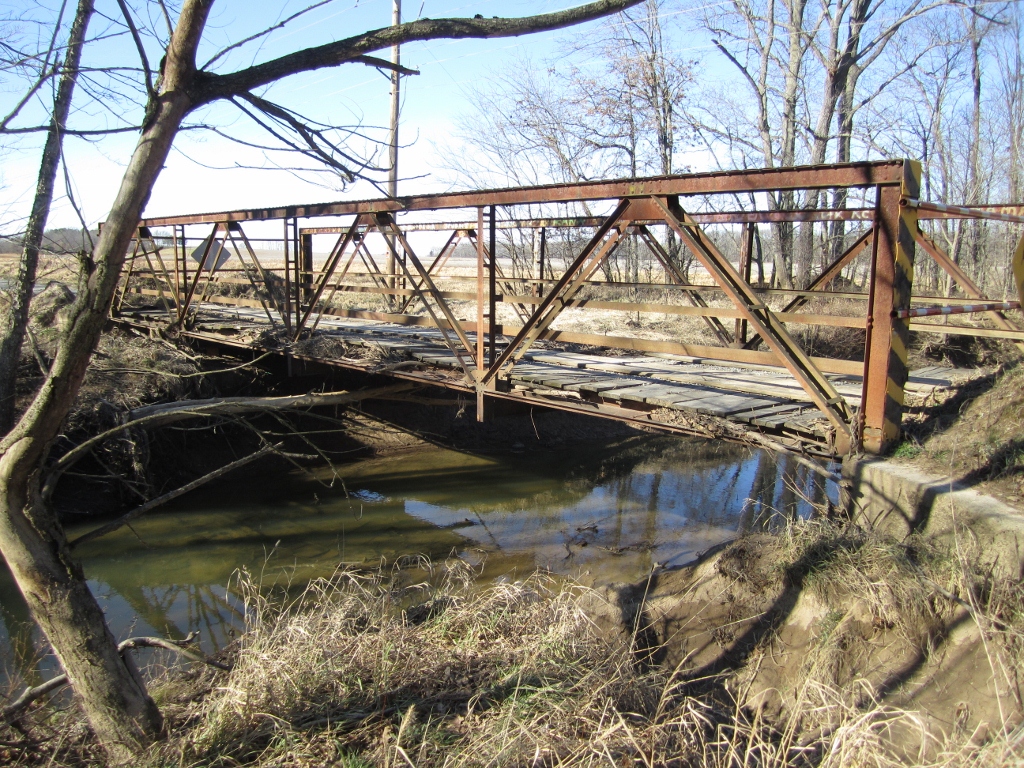 I approached bridge "lil wabash rvr3 C-TT" from both the North and South---couldn't get close to it.
It was almost in the town of Carmin on the Little Wabash River.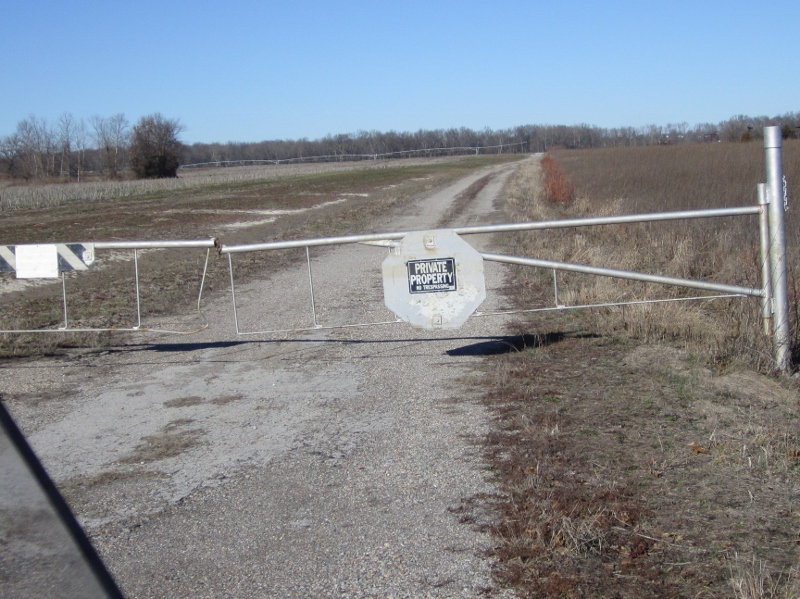 I got near home and remembered this old bridge across a drainage ditch I hadn't seen in years.
It was blocked off 10 years ago-----now it's gone.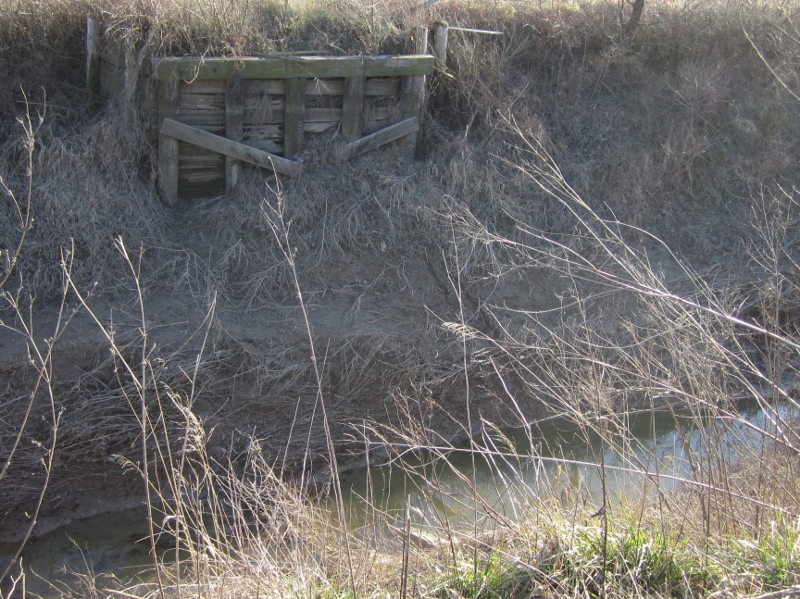 A nice warm meal was waiting for me when I got home---I was kind of chilled.
Life is good---real good !!!!
February 26th, 2012
I've been so lucky this winter and have been getting out riding all winter.
It's been cold in the morinings but warms up pretty nicely in the afternoons. I left the house a sunrise and rode to Iuka, Illinois
where I had breakfast at Penny's cafe-----I love this place---bunch of common ordinary folks---mostly farmers
who are always eager for conversation----"where you headed on that sickle boy" ????
"Well................. ain't sure" ?????
Signs like this were everywhere when I was young-----50 years ago---before the big billboards you see today.
I hate billboards------it's not nice to hate things I suppose-----but I hate billboards.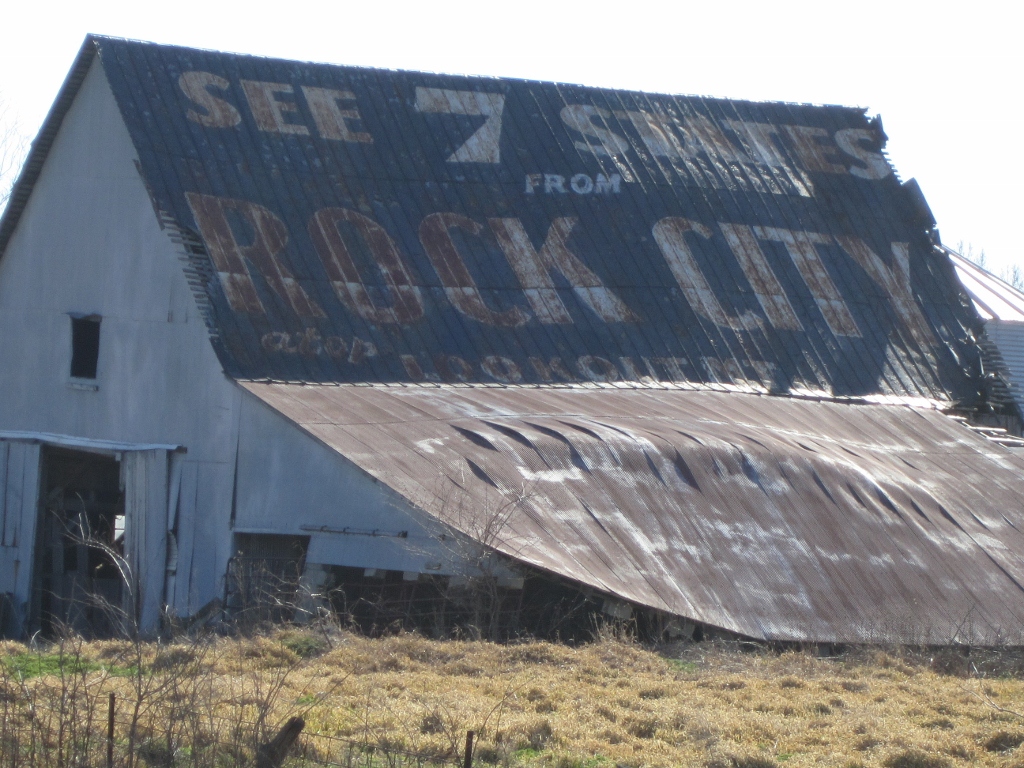 These next 4 bridges were right in a row on the old Route 50 highway bout 12 miles East of Flora, Illinois.
The old road is now abandoned and I risked a ticket for riding on it.
This is a "concrete thru truss" bridge and is so named..........
"lil wabash C-TT" on the gps file.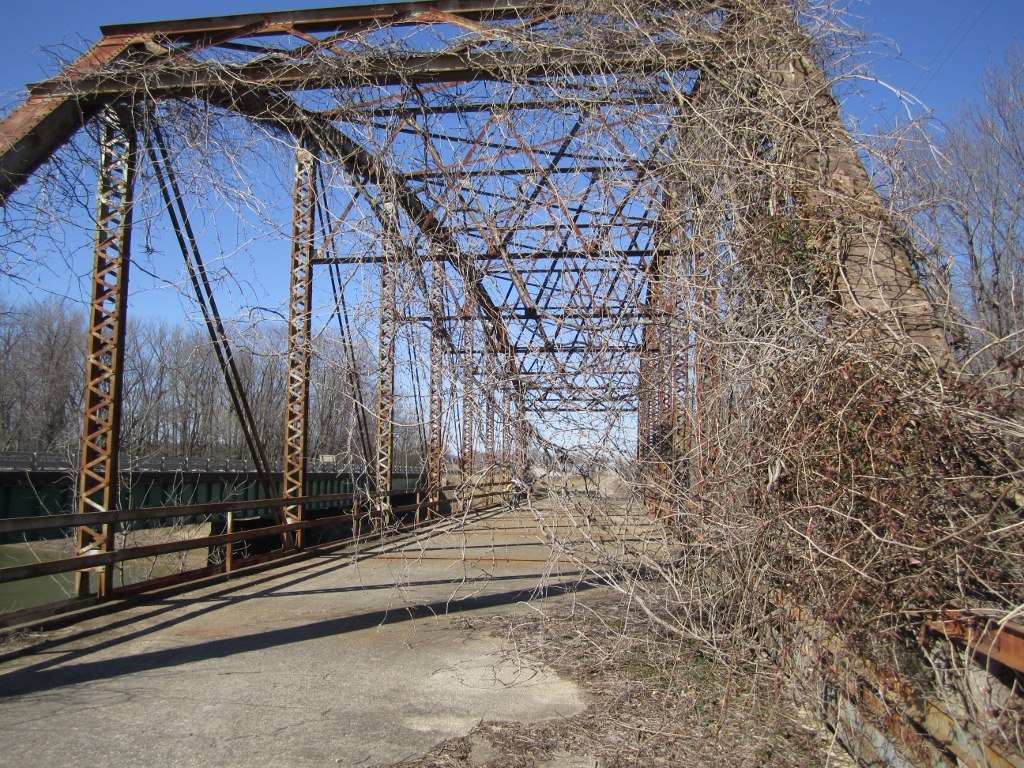 The old highway was just fine and really has very little traffic.
It was a waste of time and tax dollars to build the new road and the new bridges.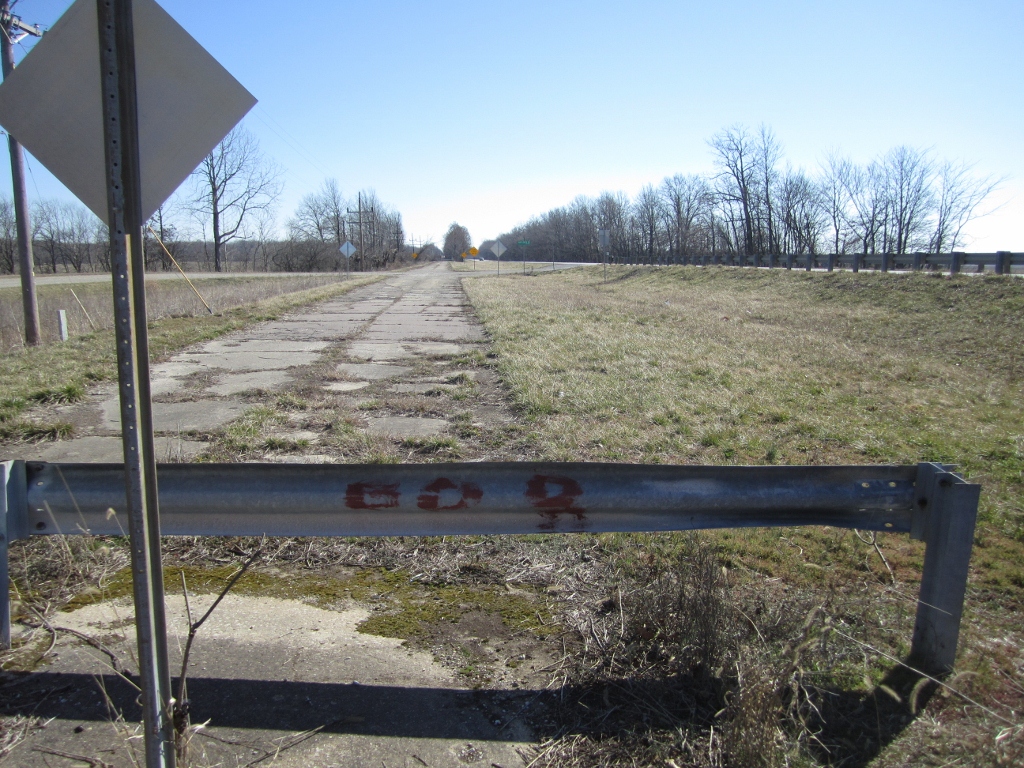 I squeezed my KLR theu every barrier and got on the bridges and had a gatorade and a snack.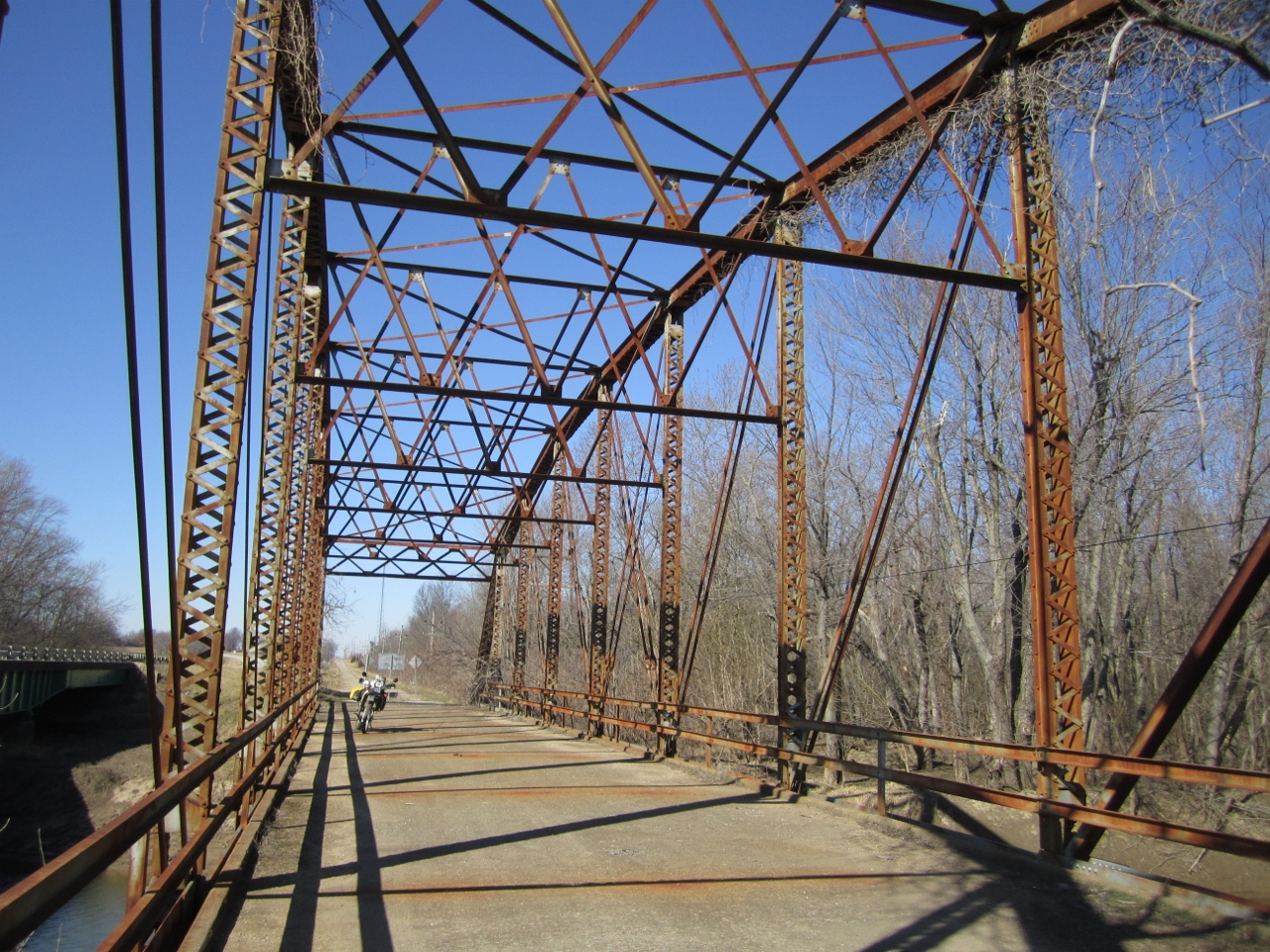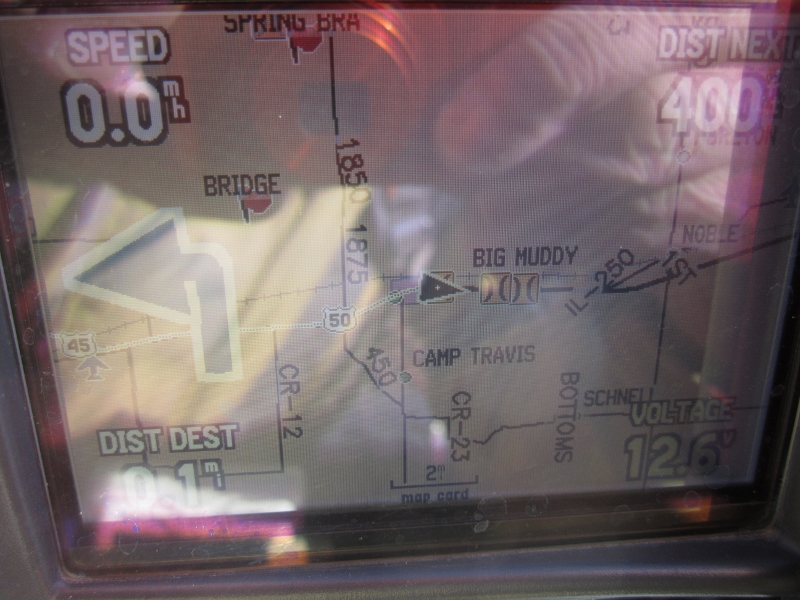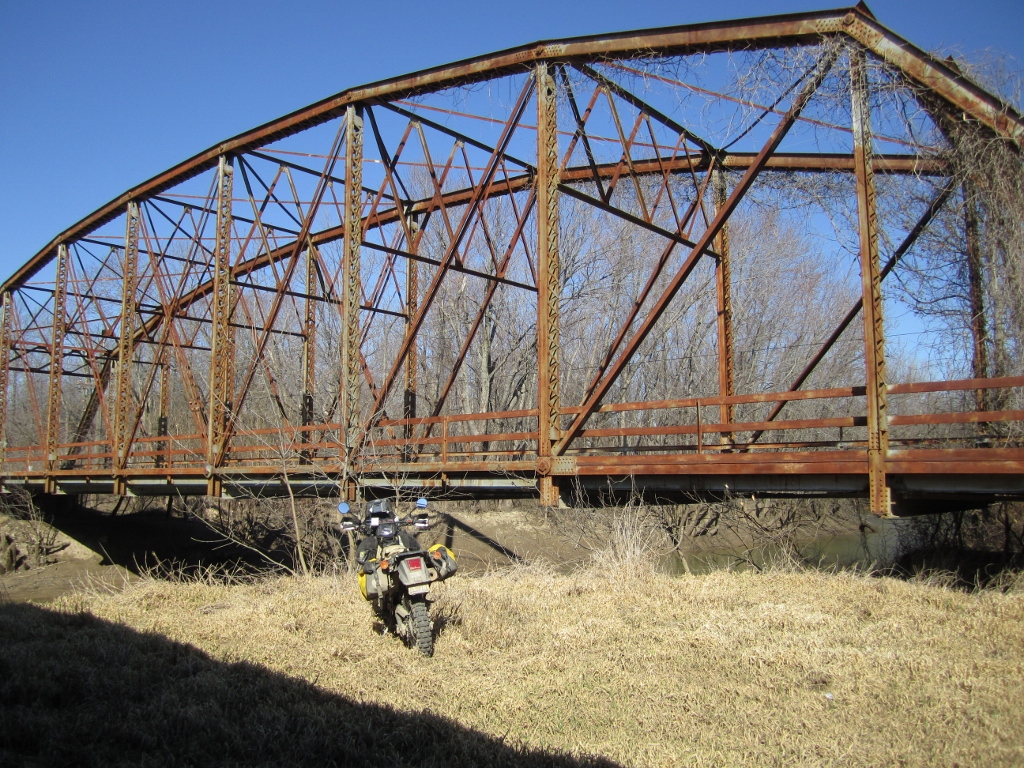 I really liked this one----I just loved the old stone and brick side rails.
It was very long.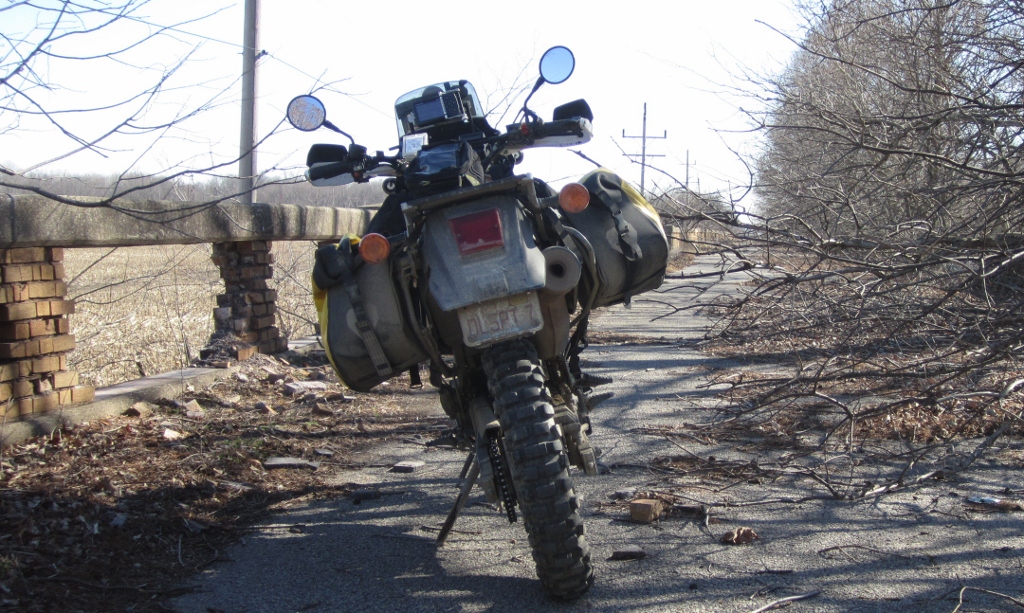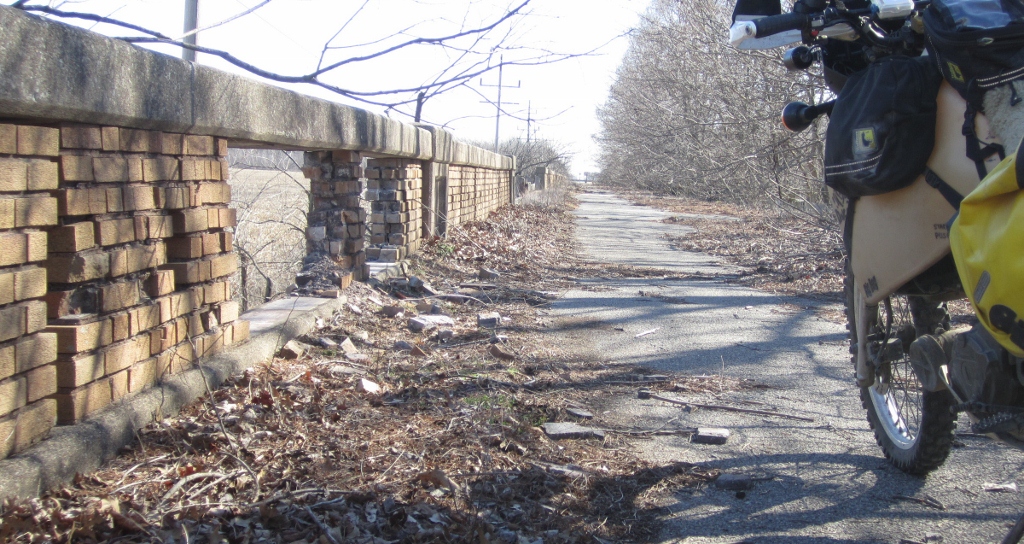 A side view of the same bridge above.

The next closest bridge to me on my gps was Sailor Spring bridge in Sailor Springs, Illinois.
A neat little community.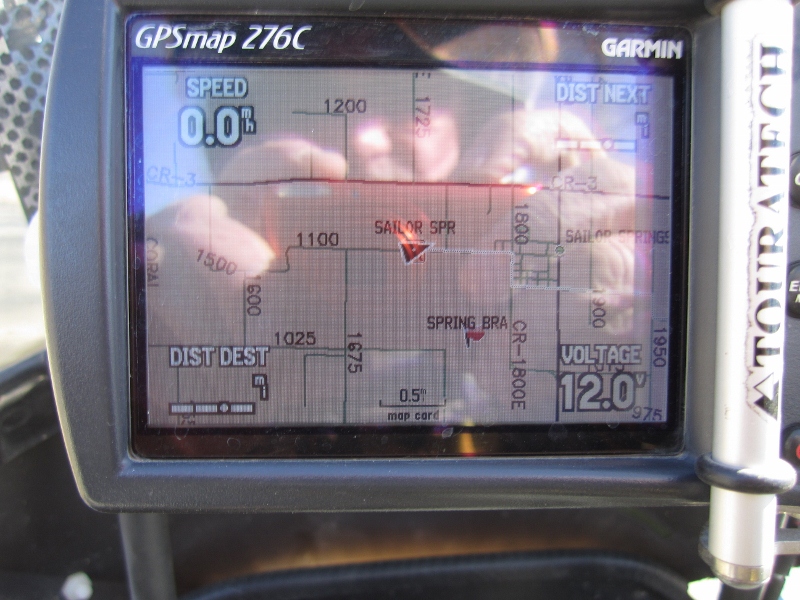 Nothing really spectacular. Maybe your getting tired of looking at these old bridges.......but I want to point out
how relaxing and fun it was just finding them --------running down all these country roads meeting nice folks
and just enjoying the riding.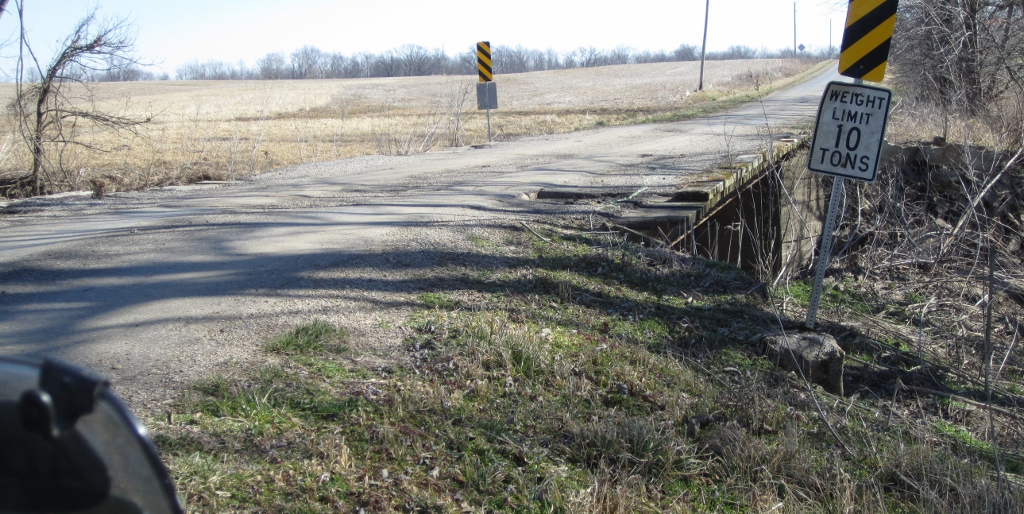 But I considered this old school spectacular.
There was no visible parking lot or lane going up to the school---if there had been, it had gone back to nature.
But I suppose everybody walked to school back then---like they should now-a-days.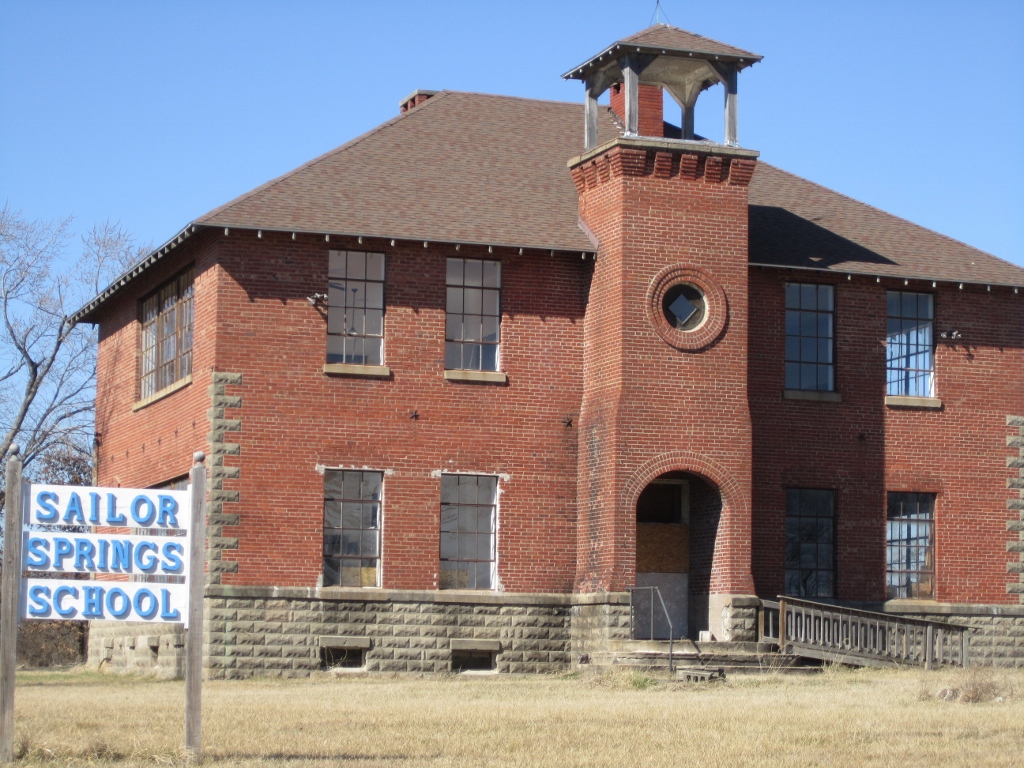 On the North side of Newton, Illinois I found this bridge----"old mill C-TT" on the gps file.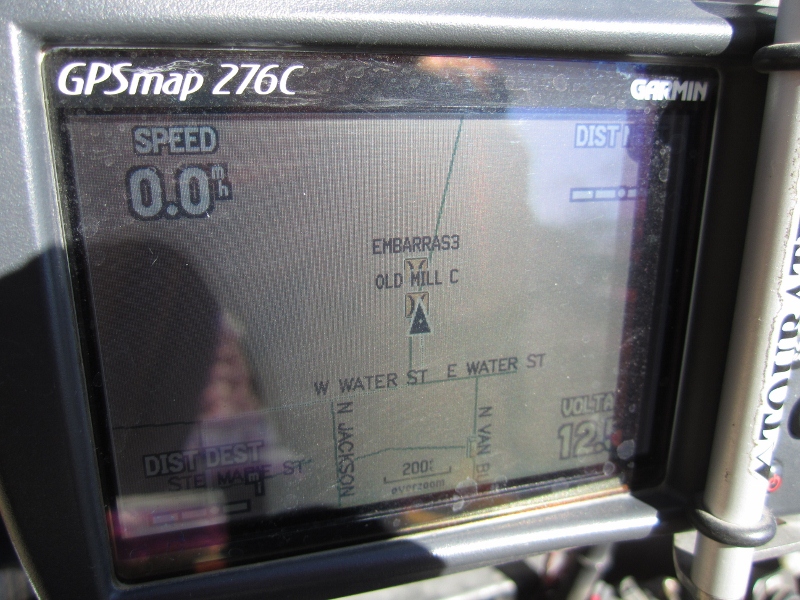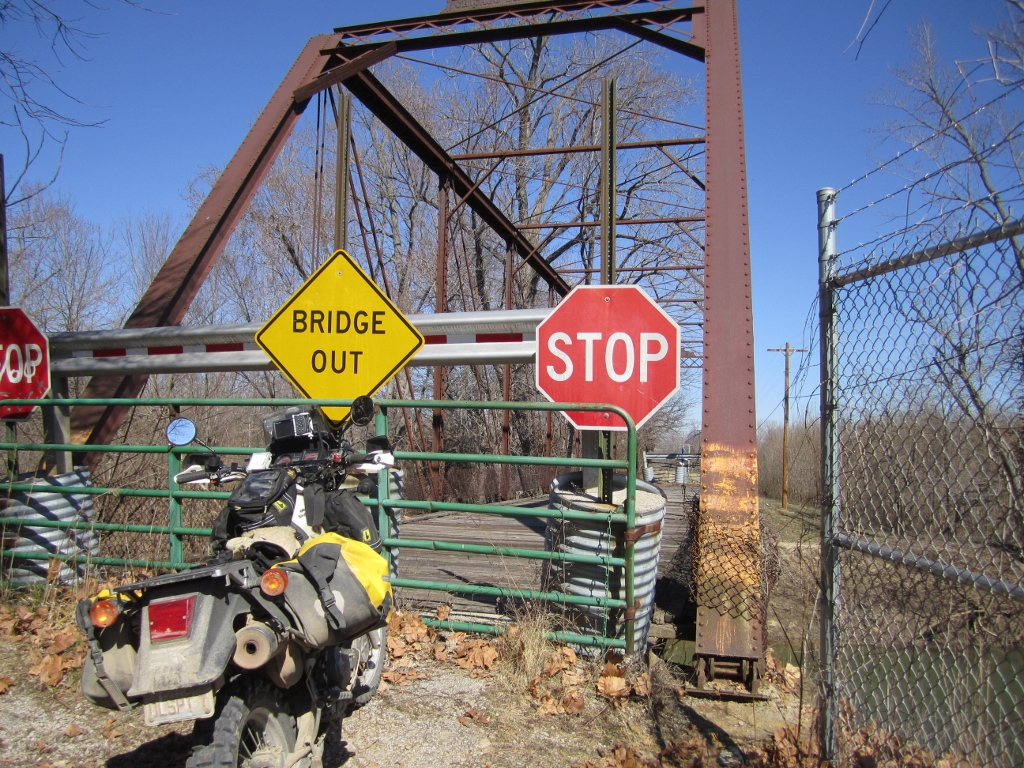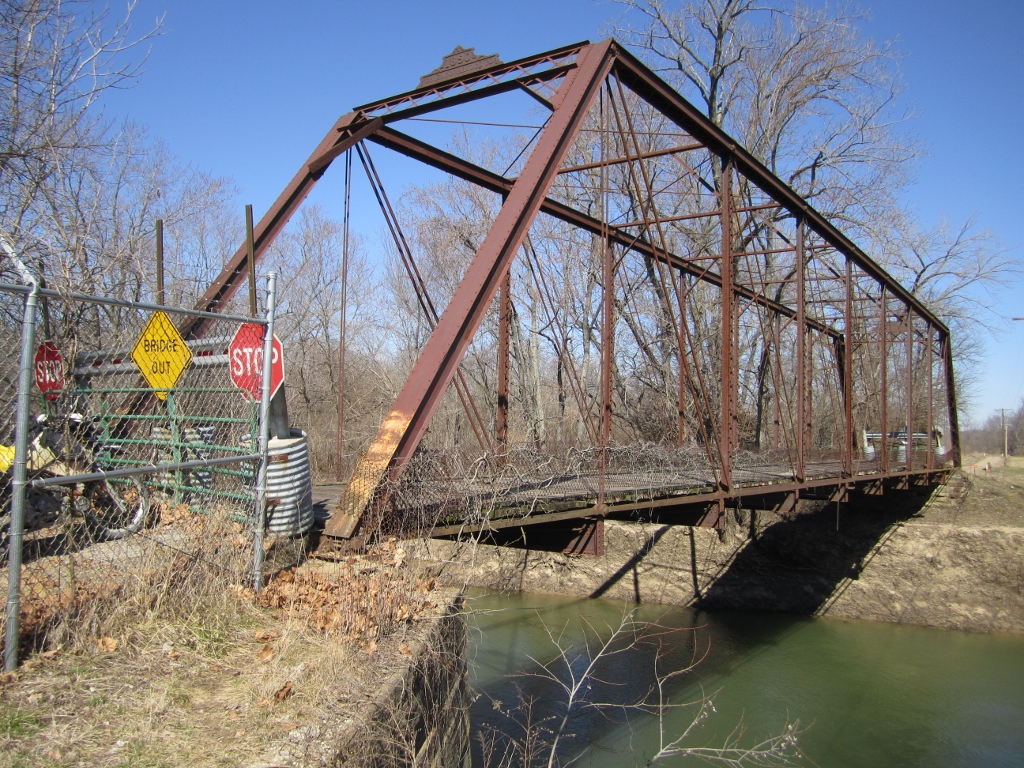 Nobody had stole the plaque on top of it------yet.
I talked to a gal at a gas station about the bridge over the Embarrass river and she said the town
wouldn't let them tear the bridge down.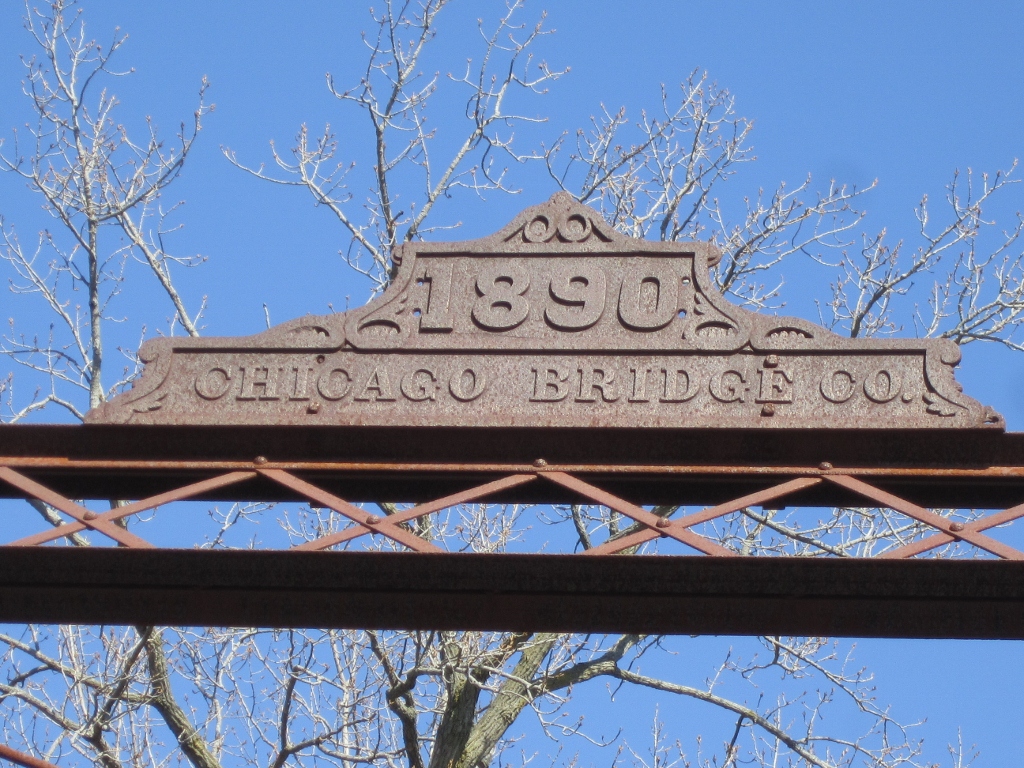 This was the road on the North side of the bridge and there were 3 bridges marked on my gps file on the other side.
Just little small concrete arch bridges.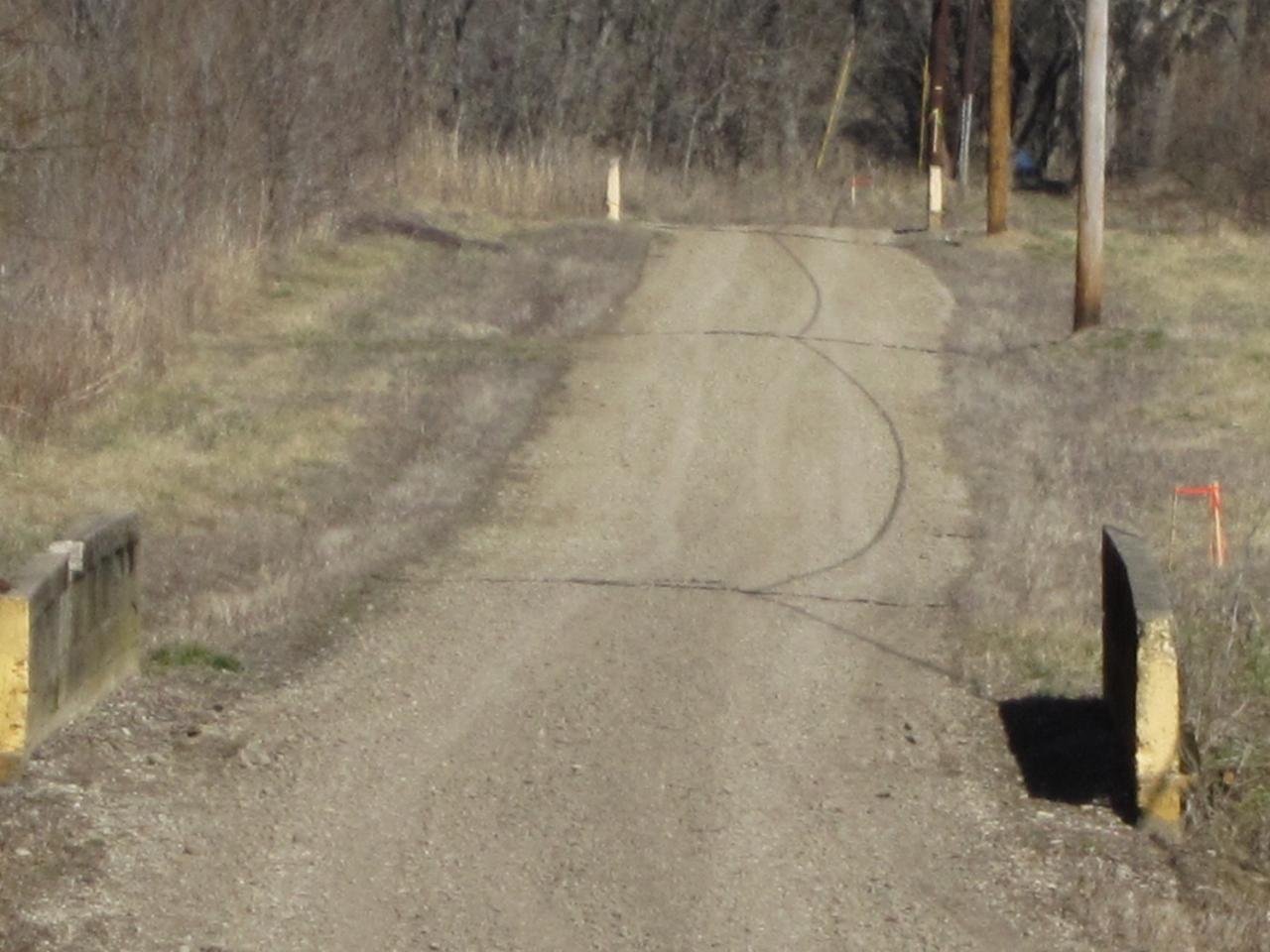 "brush creek O-CA"
was next.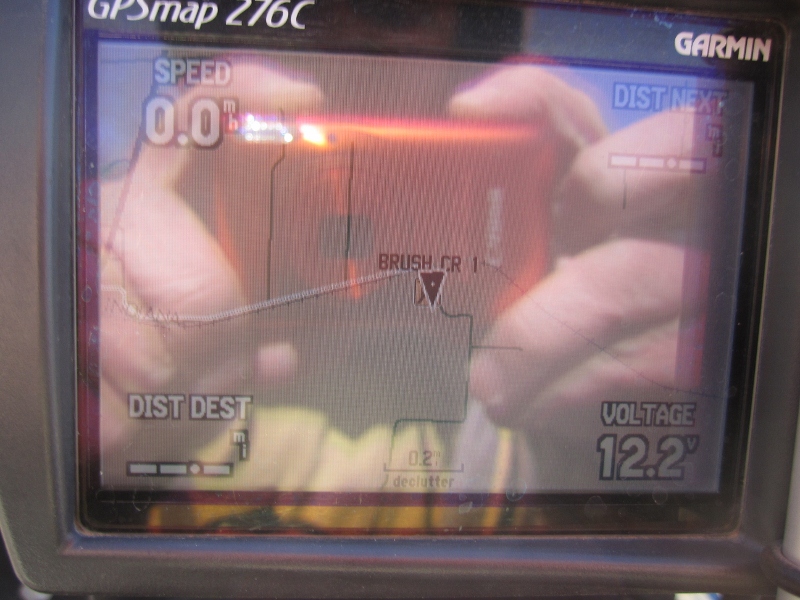 The above bridge had been replaced.

"crooked creek O-CA"
was next-----a neat little concrete arch bridge on a fine country road.
It was warming up nicely now---and got up to a balmy 50° before the day was done.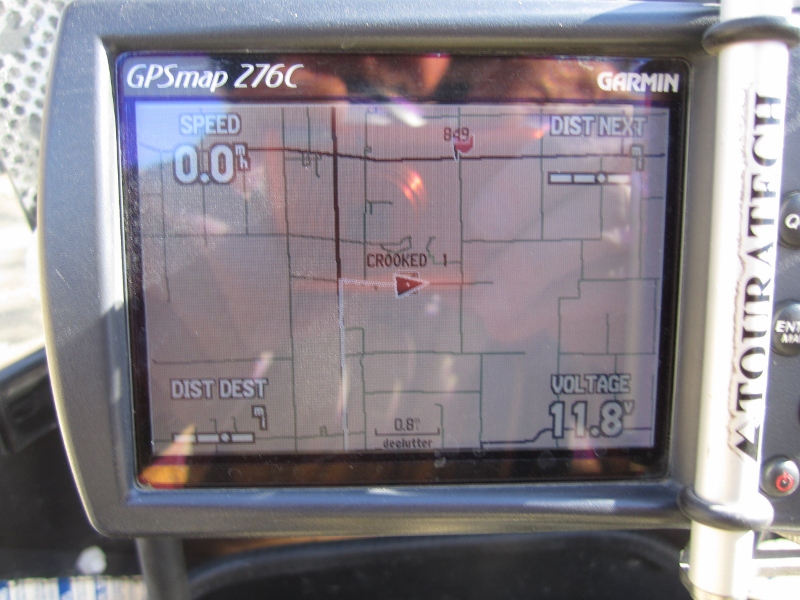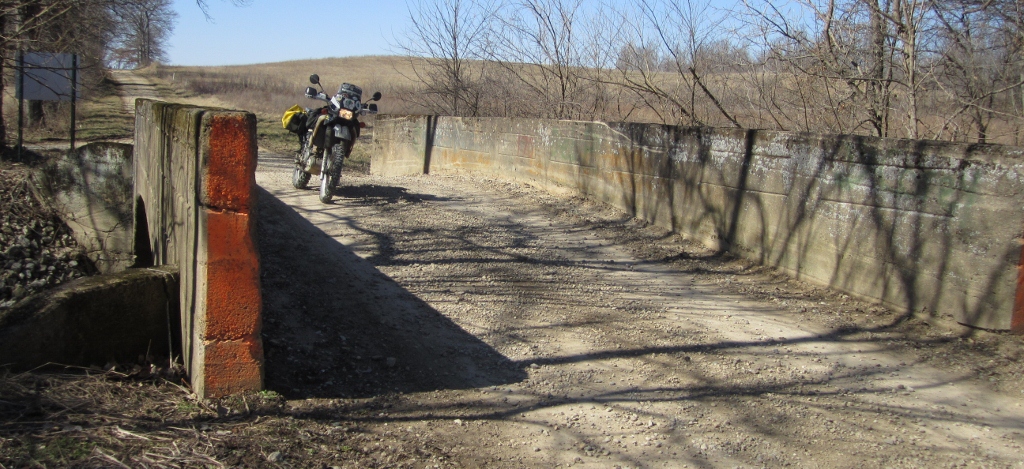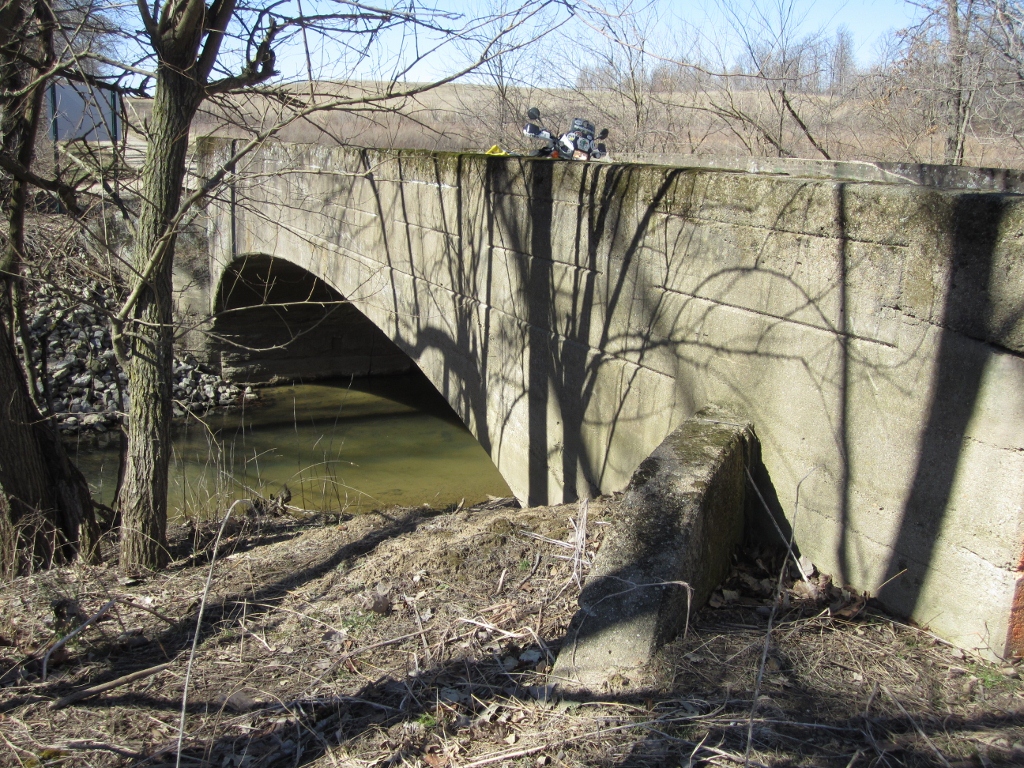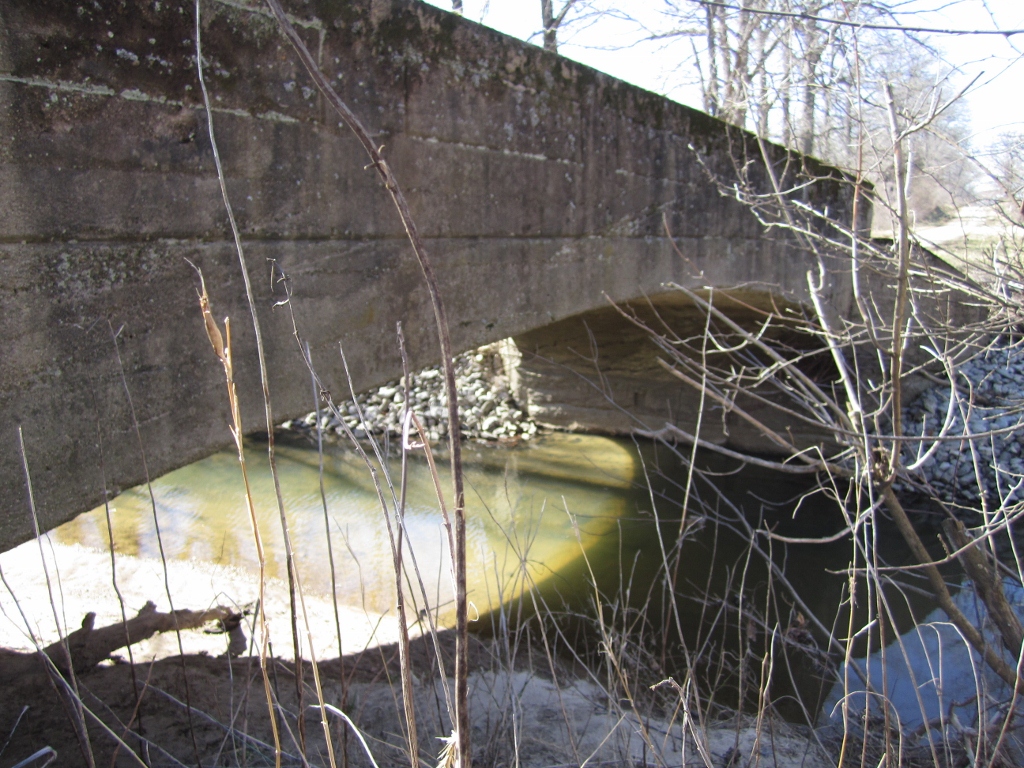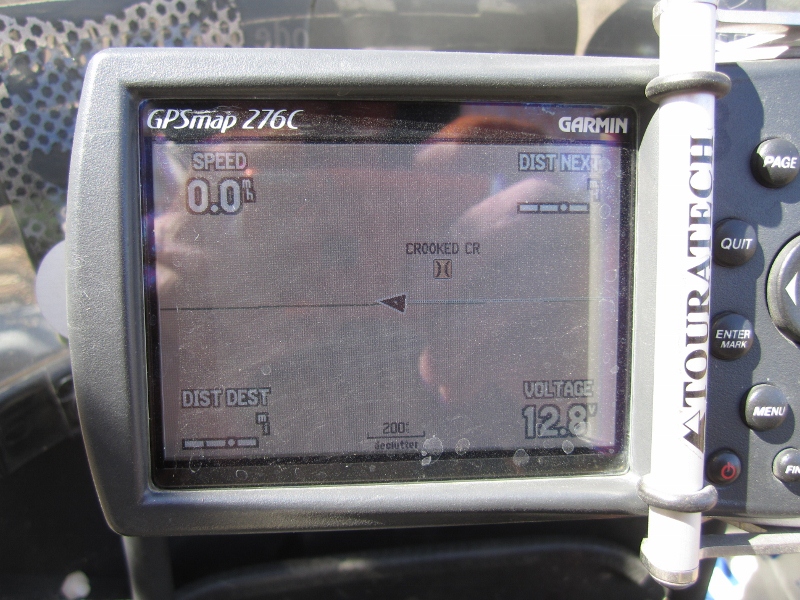 This bridge over crooked creek was going back to nature in a hurry.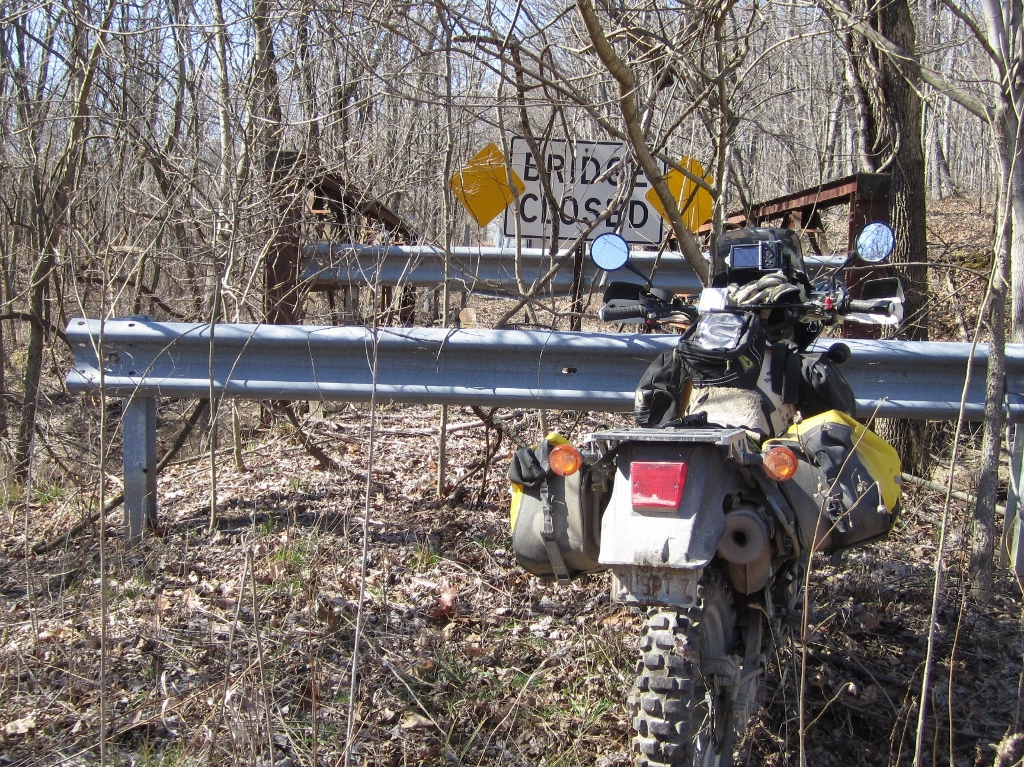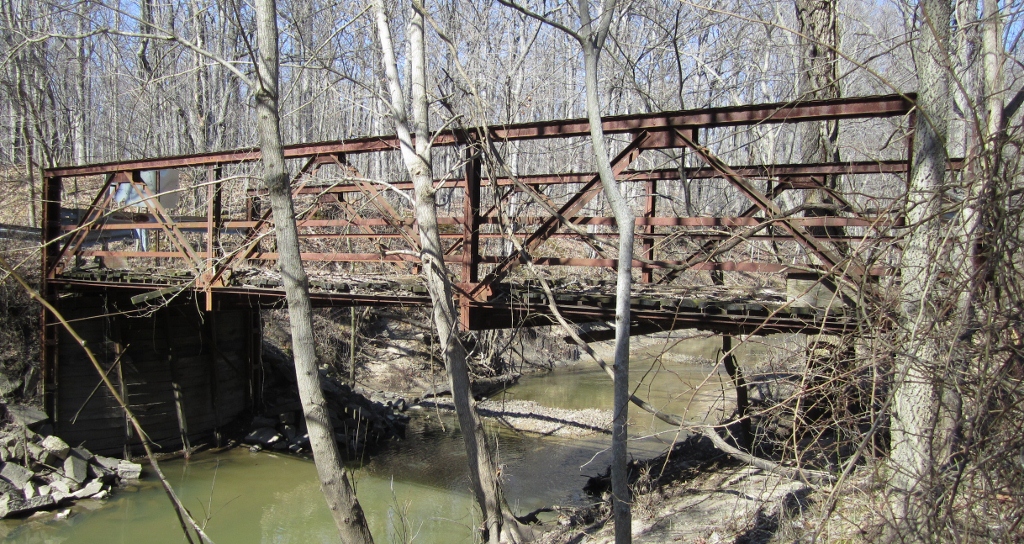 This is what's left of the road I went down to get to this bridge.
It was wet and muddy---but my new Dunlop 606's got me thru it.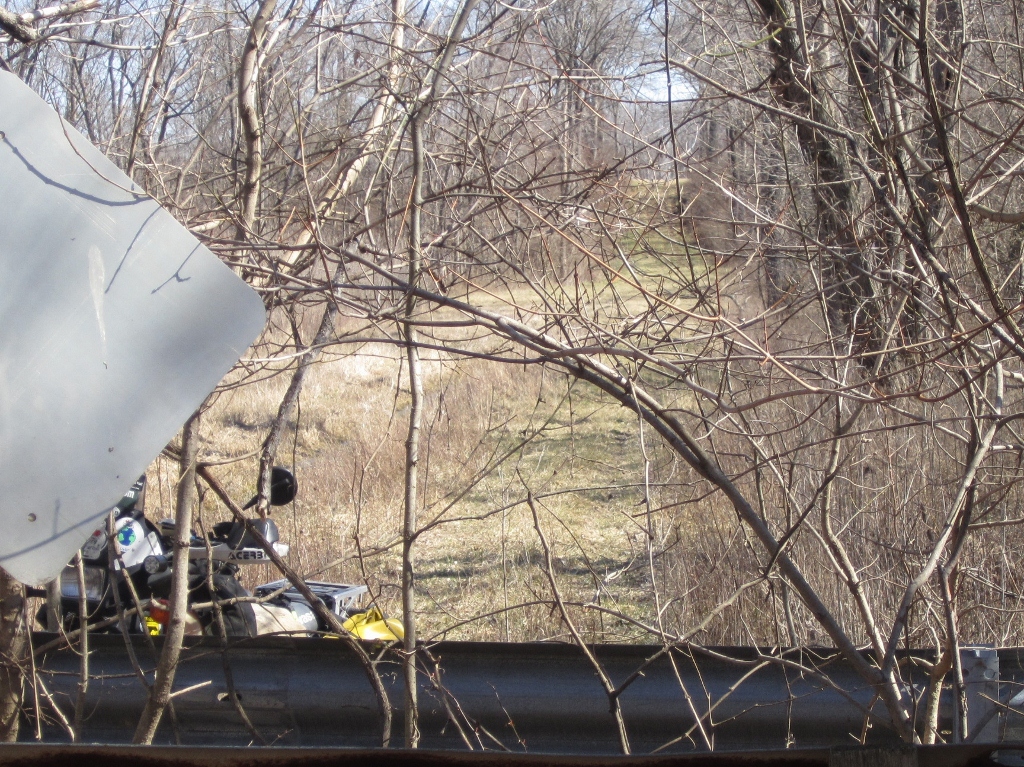 I had tried to get to this bridge from the East side---pictured...but couldn't get thru.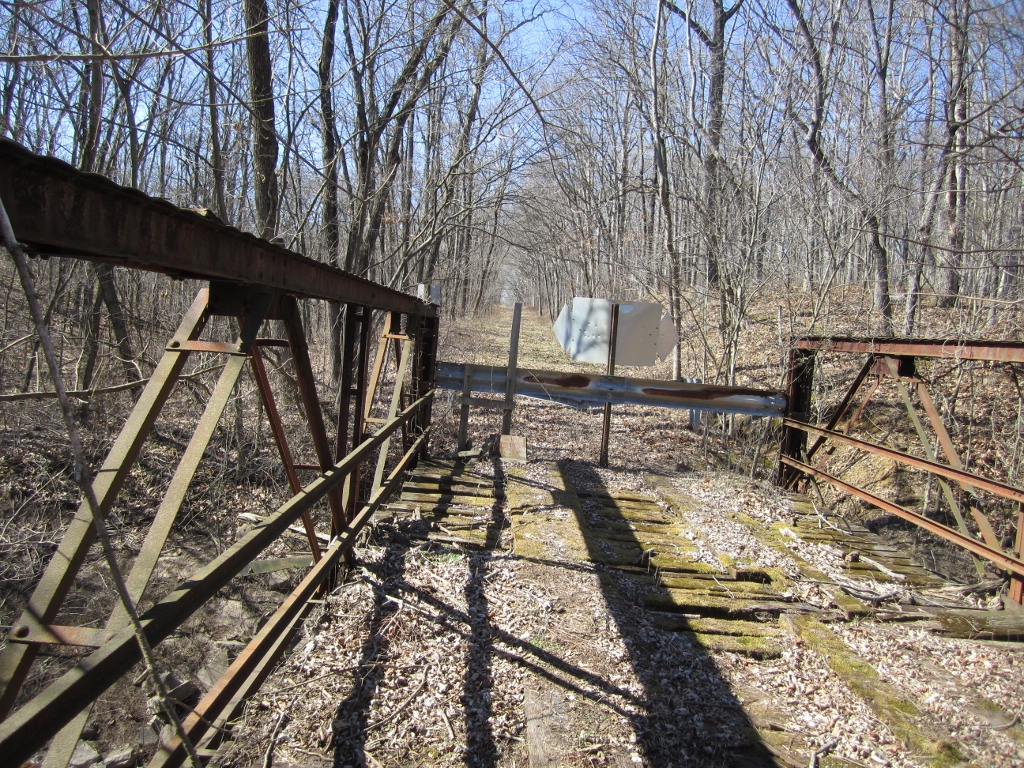 Don't try to take a dump out here----you'll get shot with your pants down.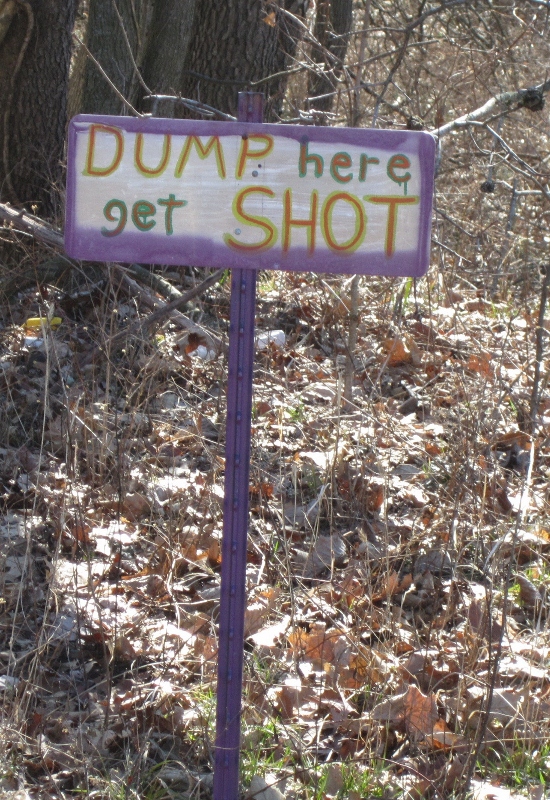 The grassy lane is what I rode on to get to this bridge----the bridge is to the right down that hill.
The road is going back to nature and I was lucky to get to the bridge.
Lot's of folks kind of claim the land and the bridges it seems after they gete closed.
I'm not sure I recommend you finding this bridge----it wasn't posted private tho and nobody was around
and my KLR is oh-so-quiet.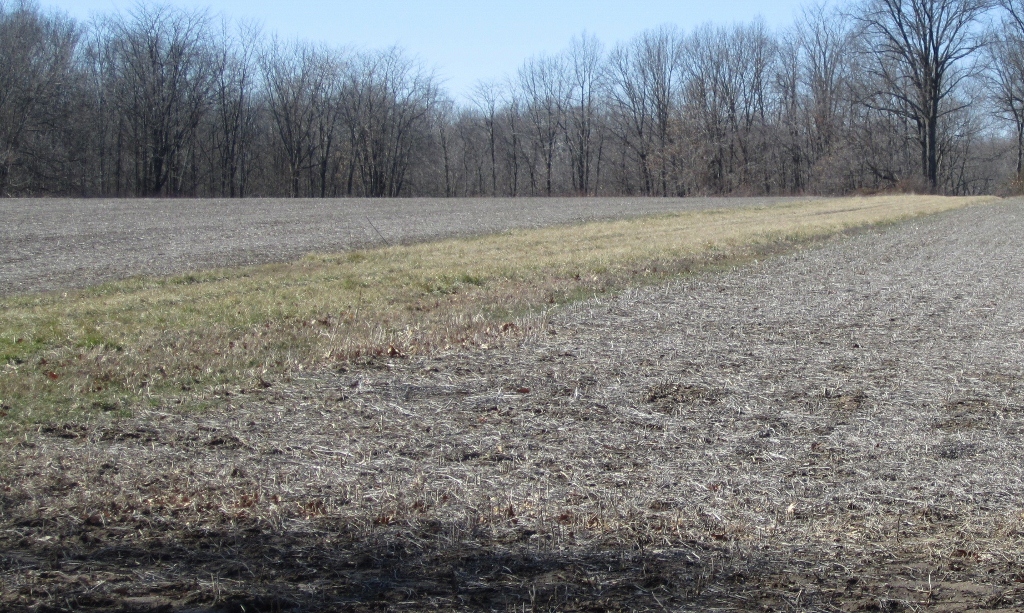 "hickory creek O-CA"
On the gps file-----my gps said I was there----and it was right !!!!!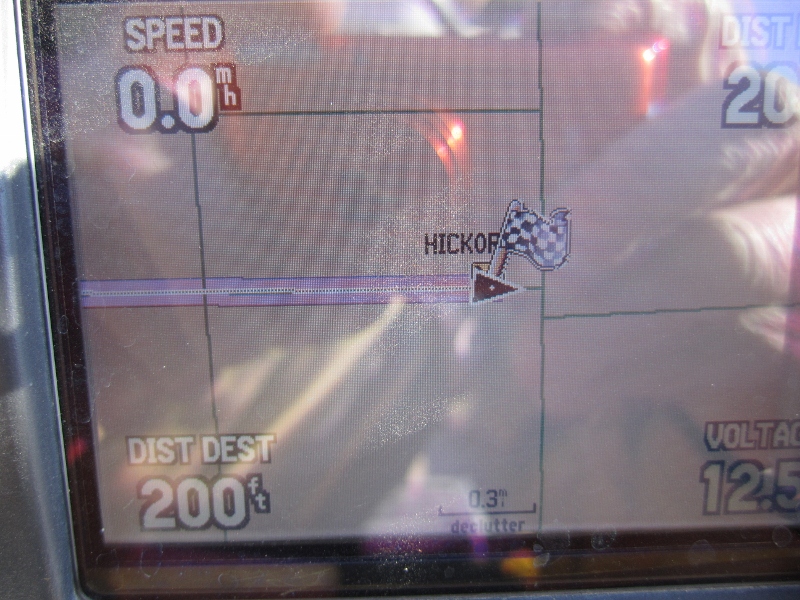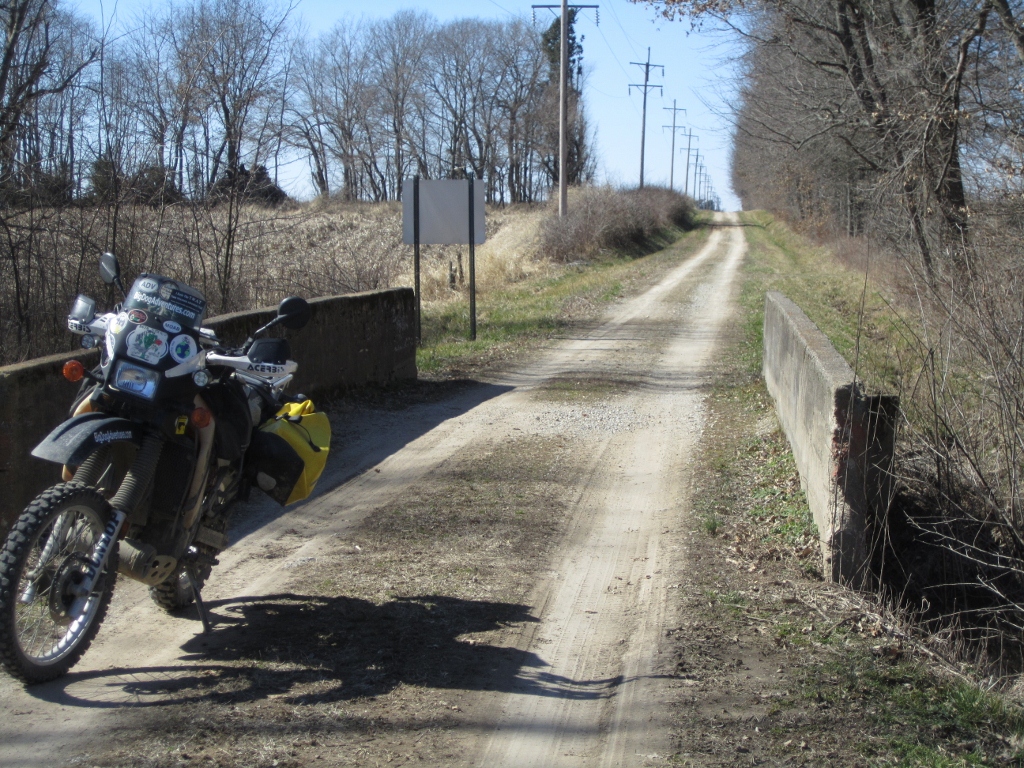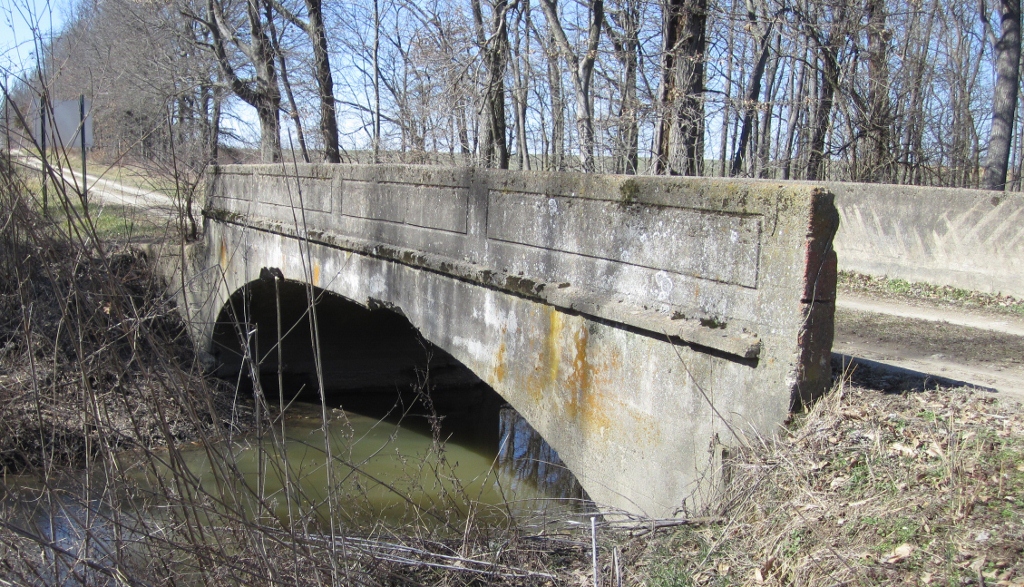 It was probably after noon when I crossed the Hickory Creek bridge---I took this picture of the still partially frozen
Hickory creek so you could see how cold it was still getting at night.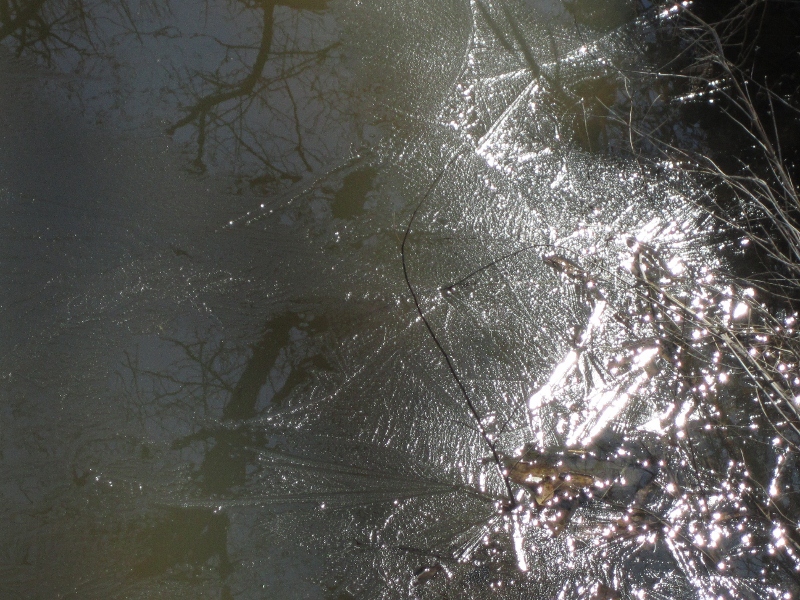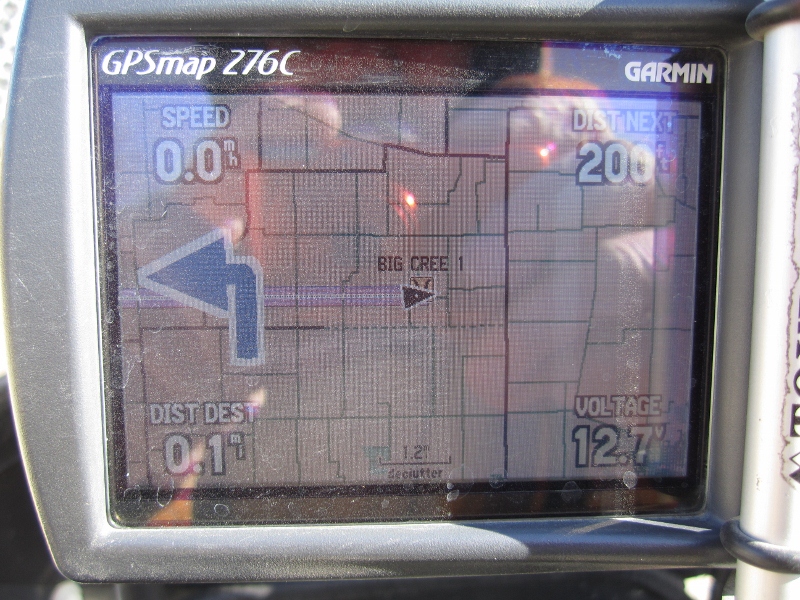 "big creek O-Arch"
Had been replaced.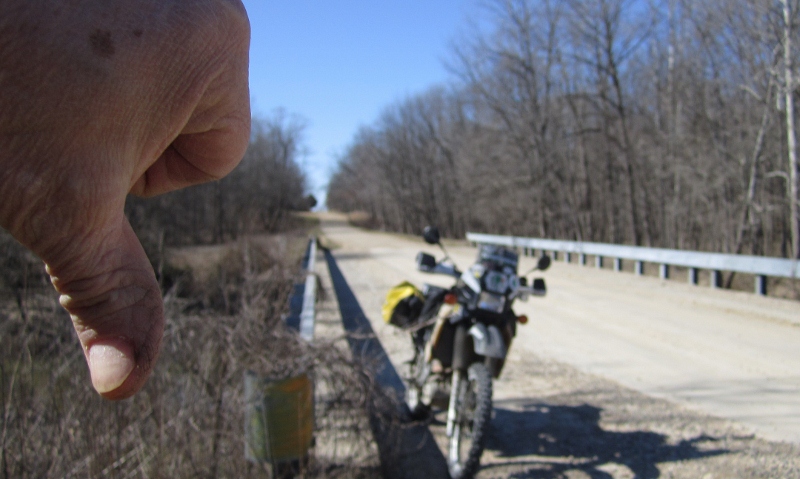 Let's see if "sugar creek C-PT" is still there ?????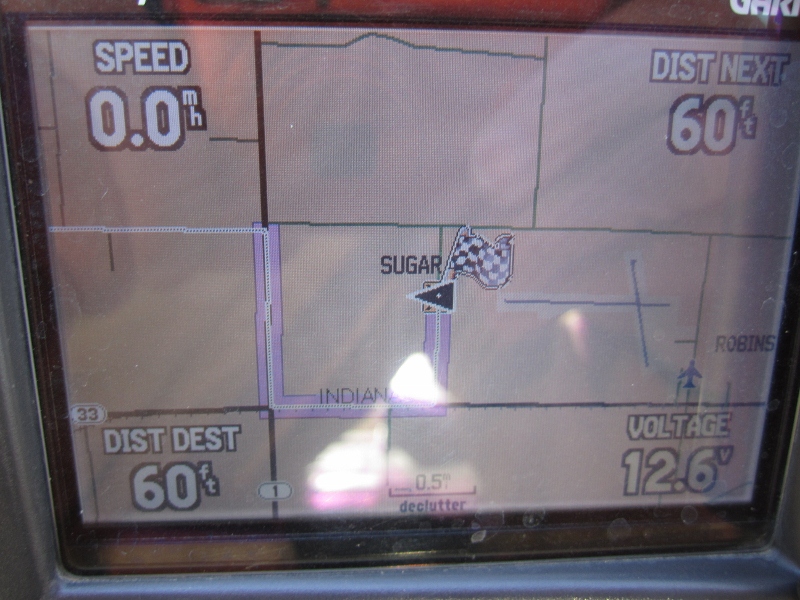 About 1/3 of a mile down this grass-----as the road had went back to nature---I found the bridge.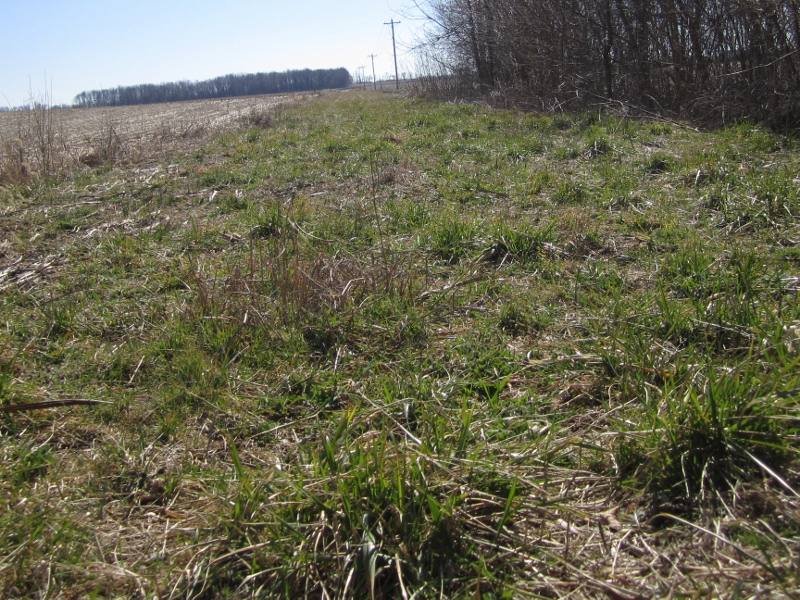 Over sugar creek ------it was a neat little bridge----and after walking across it it looked like you could get to it from the North---but
I had approached it from the South.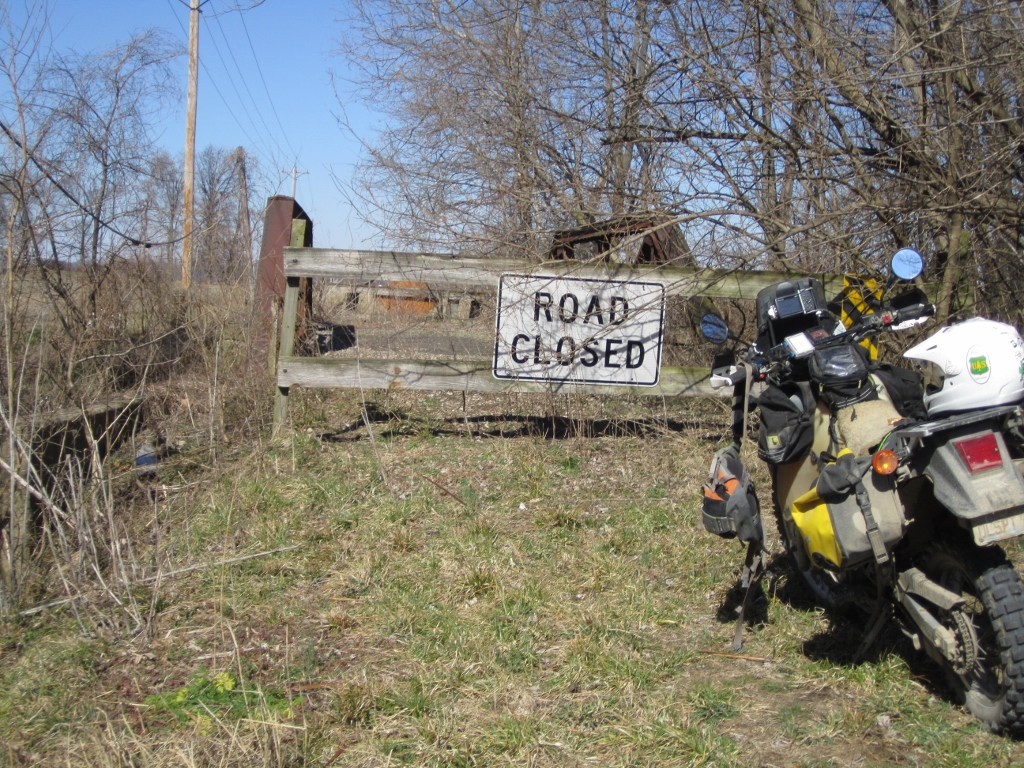 Time for a break and a snack----so I got on the bridge and relaxed a bit.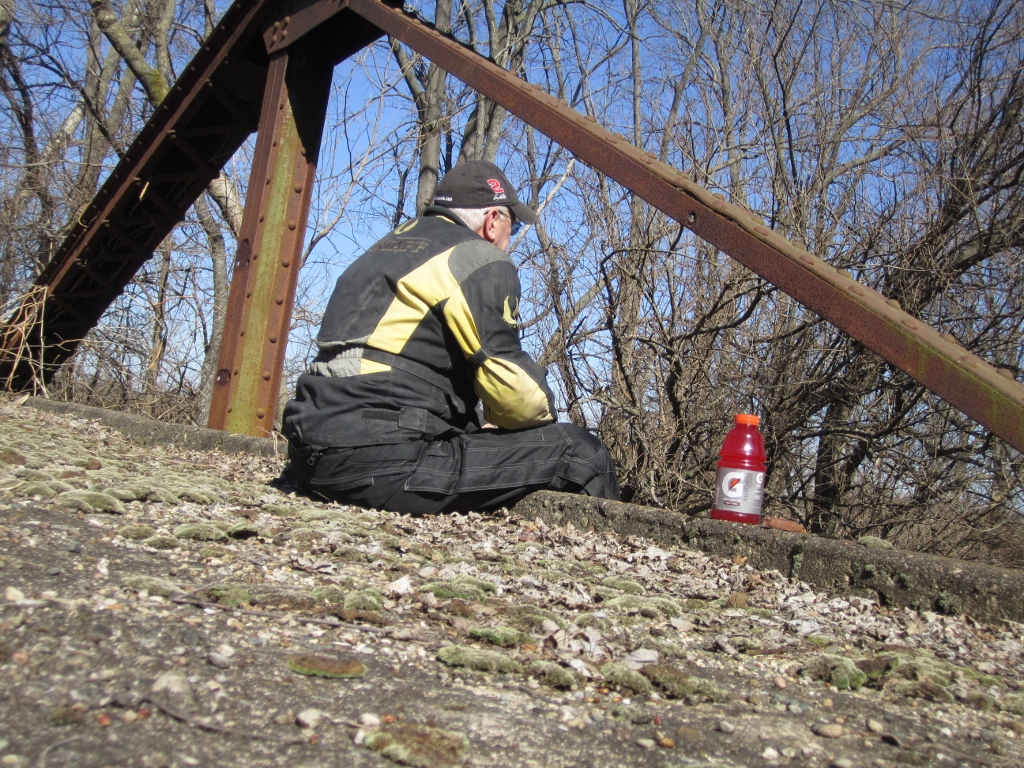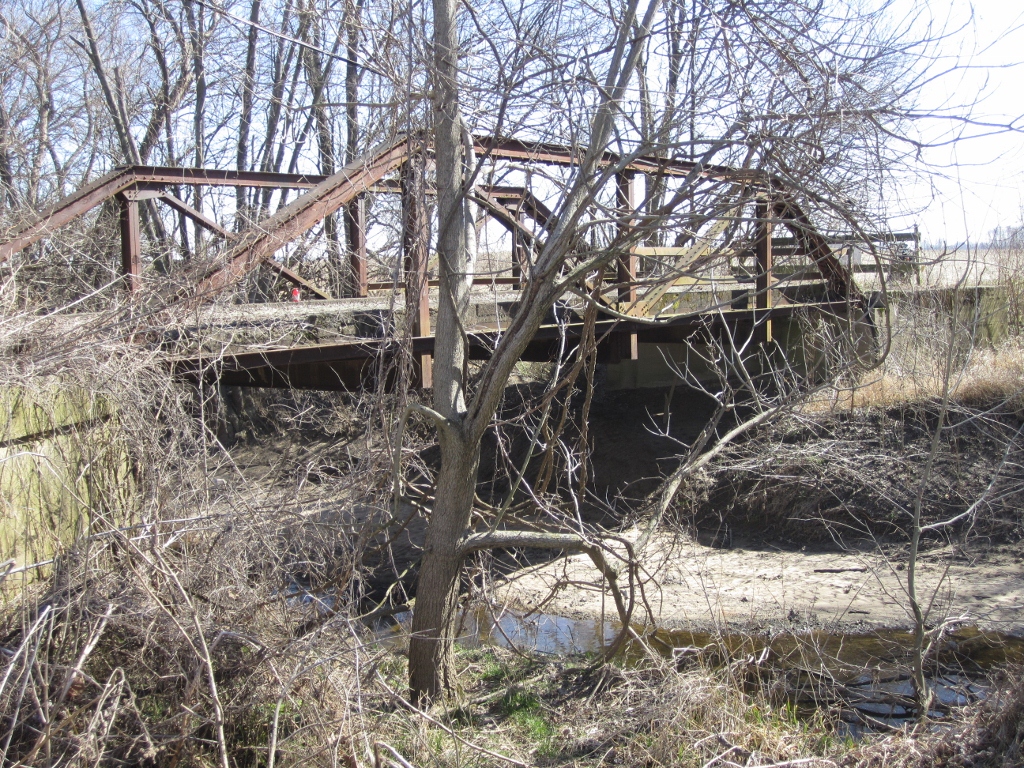 I left my mark.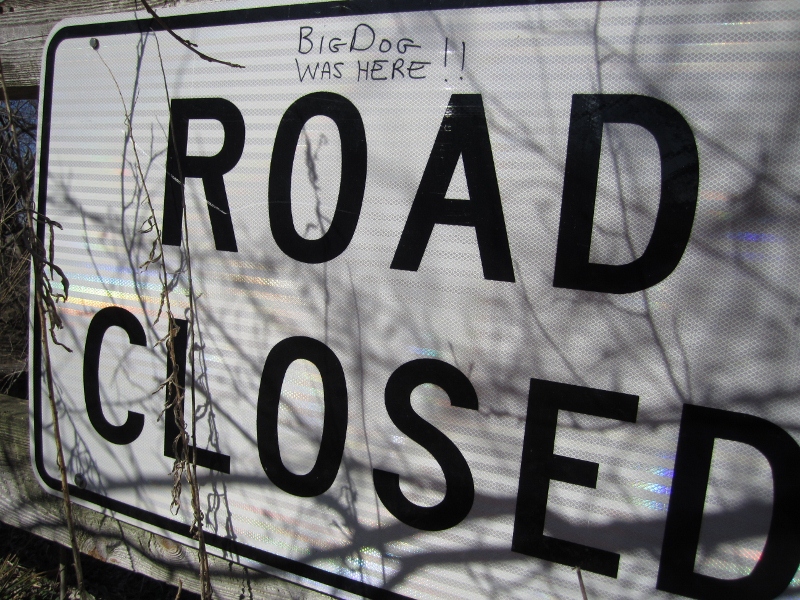 "brush creek O-Arch"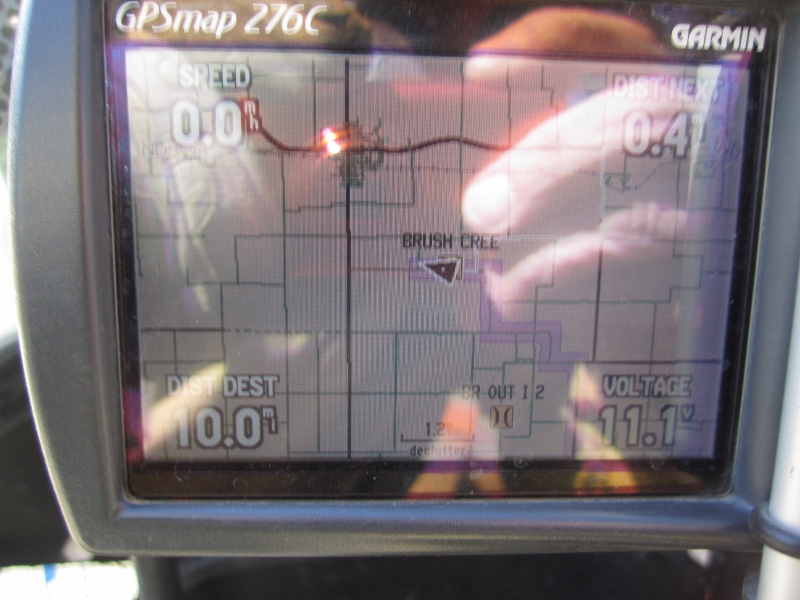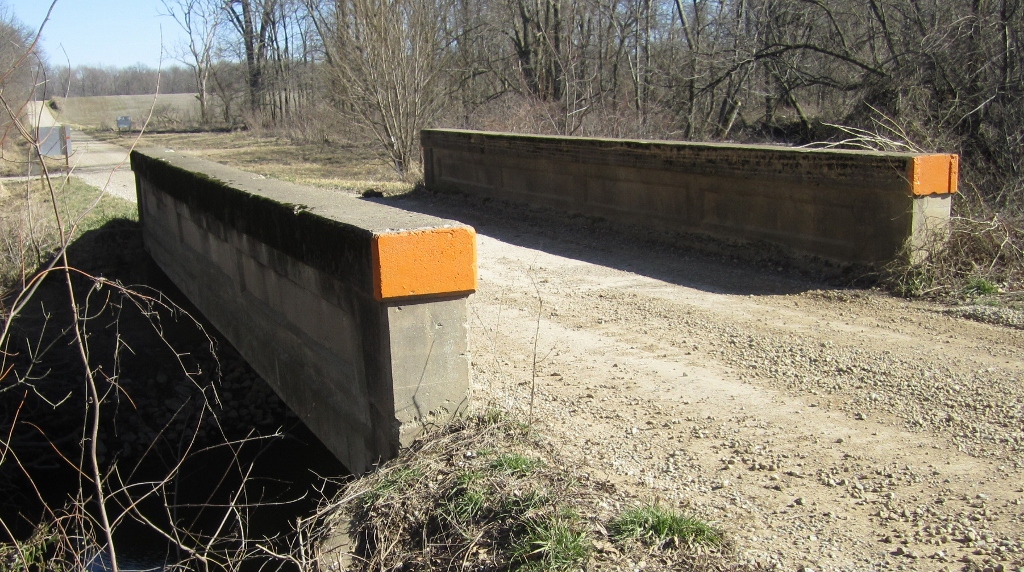 "honey creek2 O-PT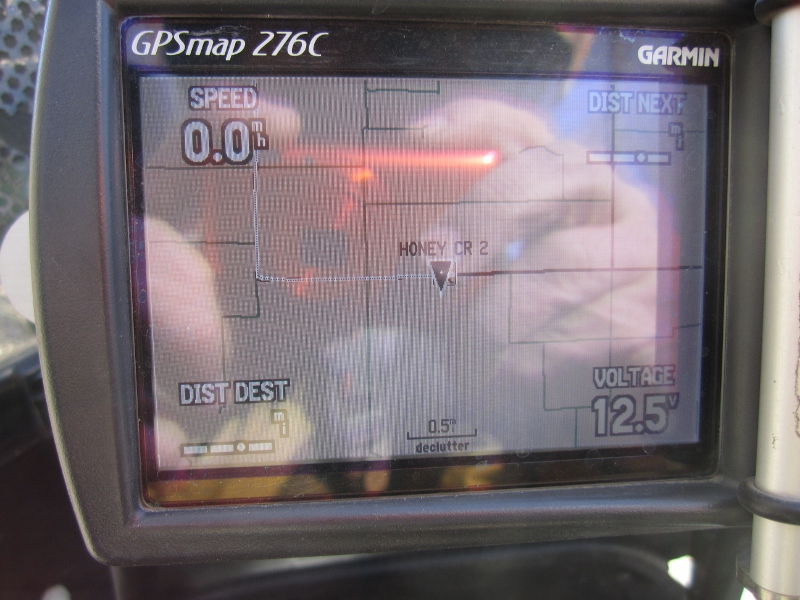 I went down and embankment and into the woods to pee.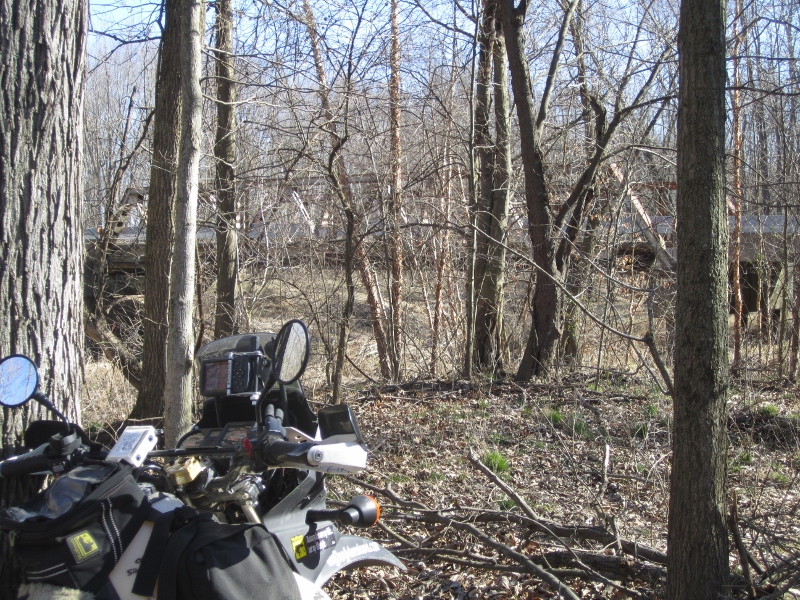 And got a really good look at this bridge.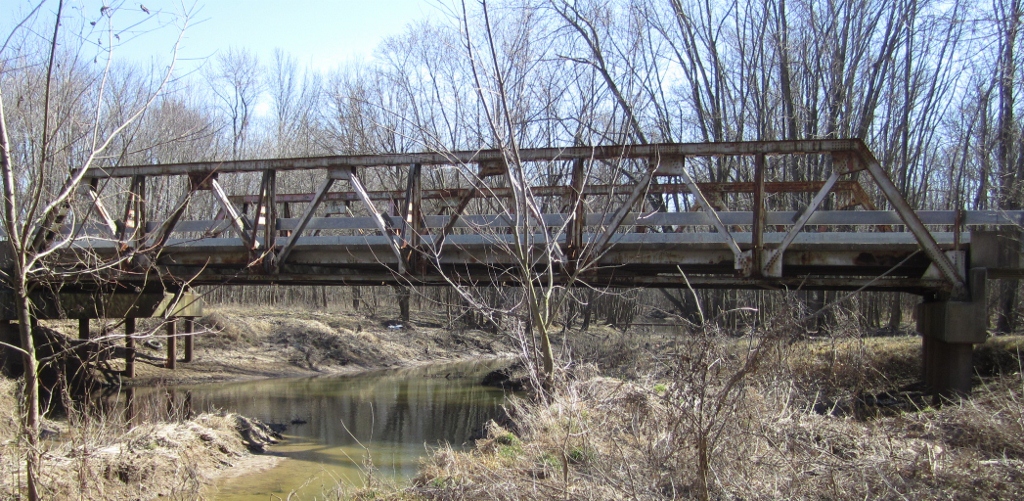 "fitch O-CB"
It's rare you get to see a bridge with the brass plaque still imbedded in the concrete.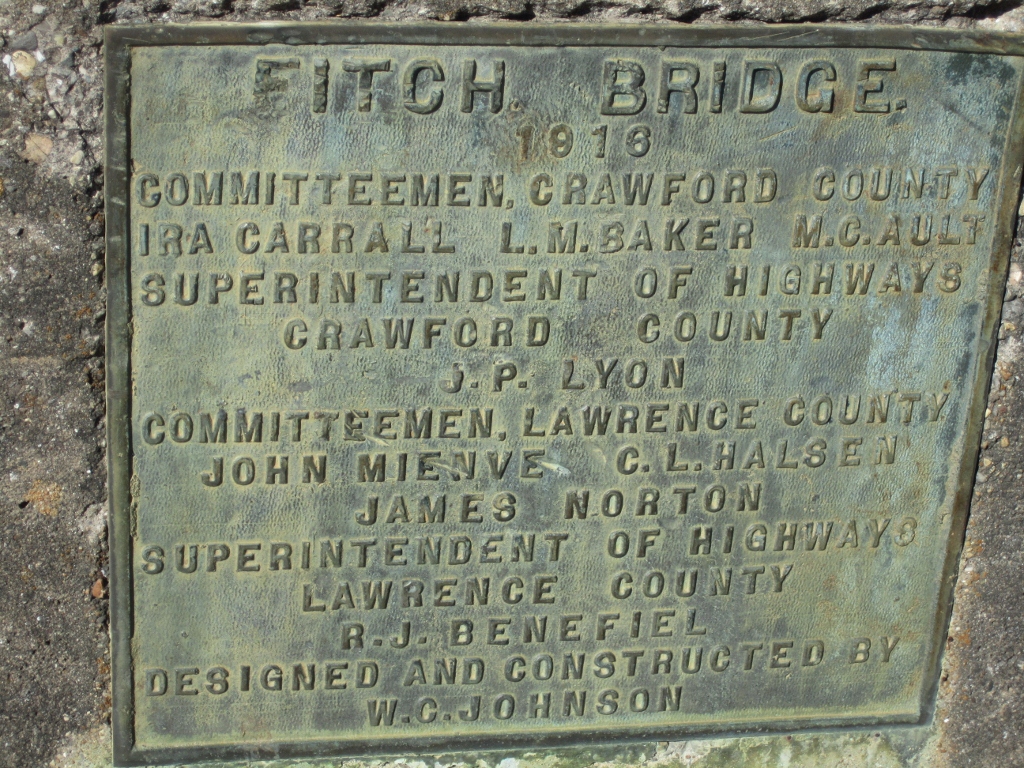 Some nice folks stopped to say hi to me here and gave me the history.
Seems the Fitch family had owned all the property around this bridge forever.
But it had just been sold----still holding up after almost 100 years.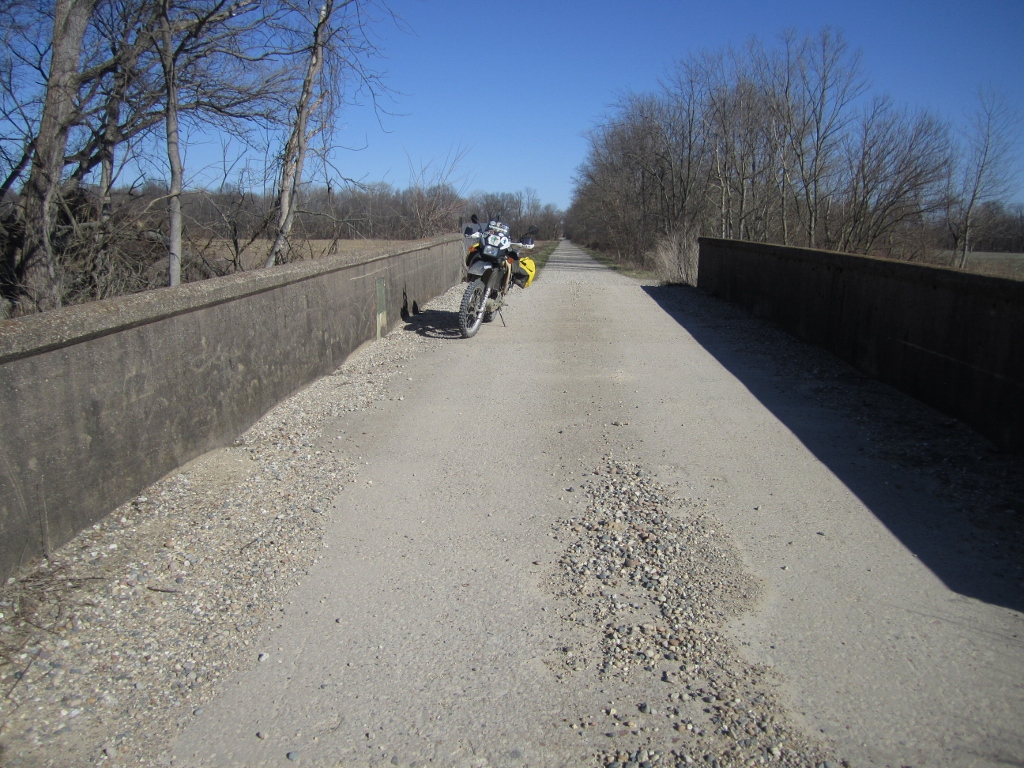 "flat branch O-WD"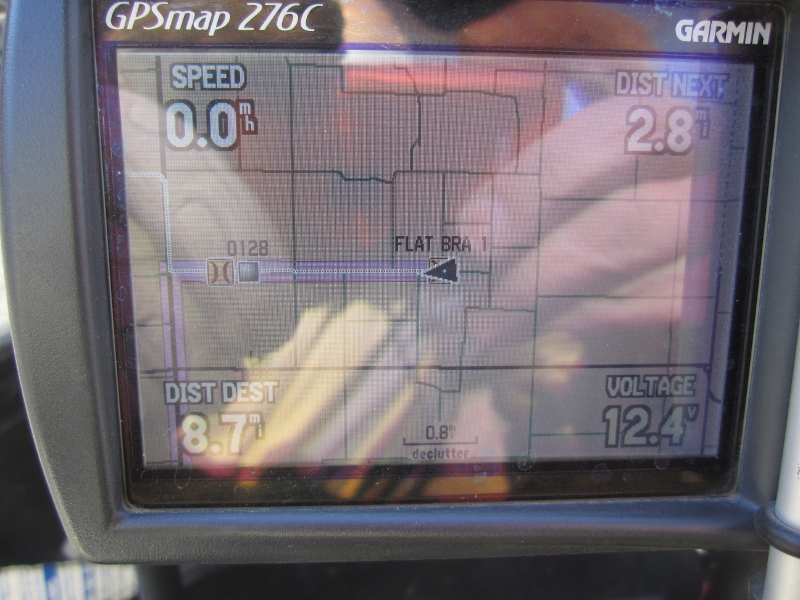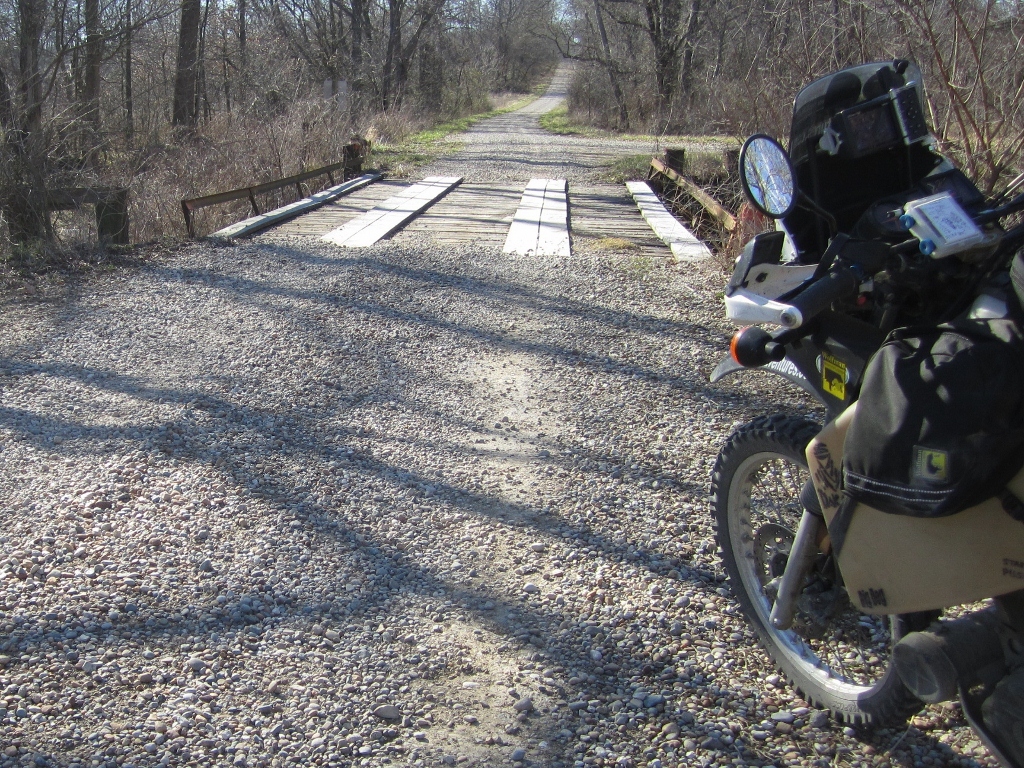 I almost didn't notice this---but look down beside the bridge and you can see the remains of the previous bridge !!!!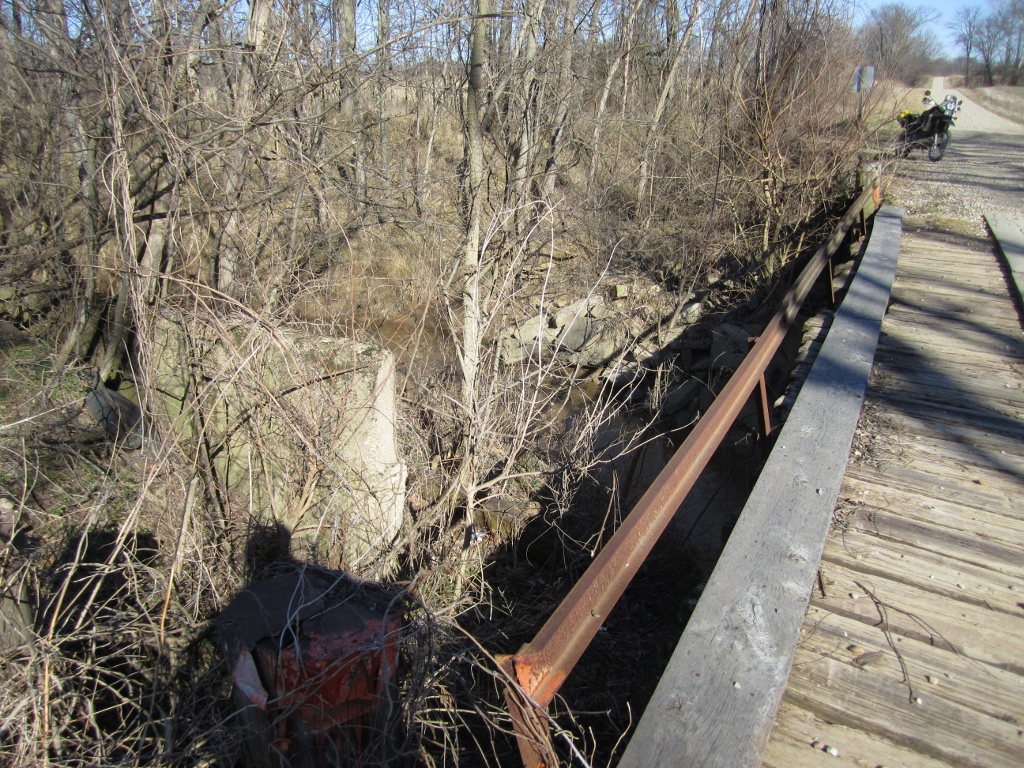 This was a hoot----right beside the above bridge running North and South was an old railroad bed.
I love old railroad beds and it was time for me to head South anyway.
It also ran North from here too---I want to come back and see how far North it does go.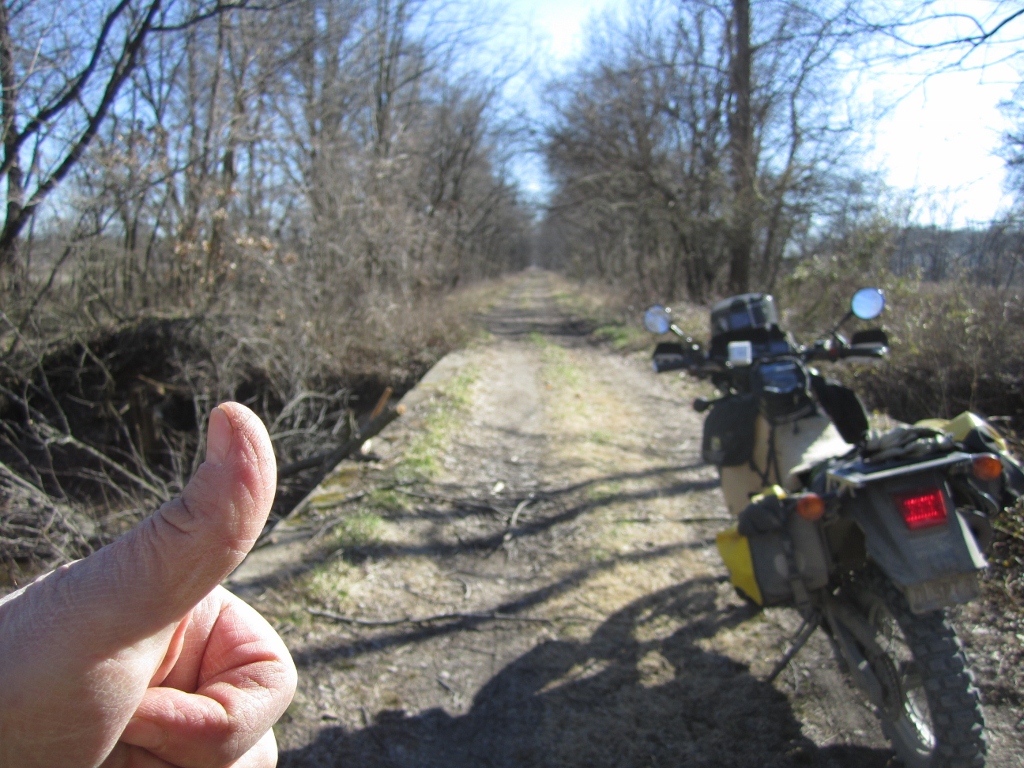 It was the old "Prairie Central Railroad" as I got into the tiny town of Birds.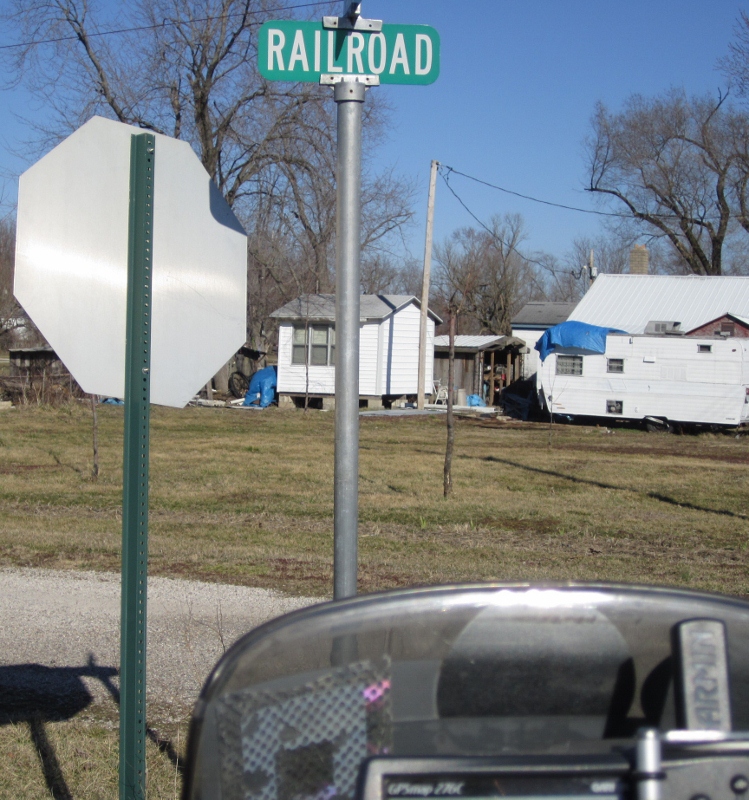 It was right here at "brushy creek C-PT"
that my KLR quit me.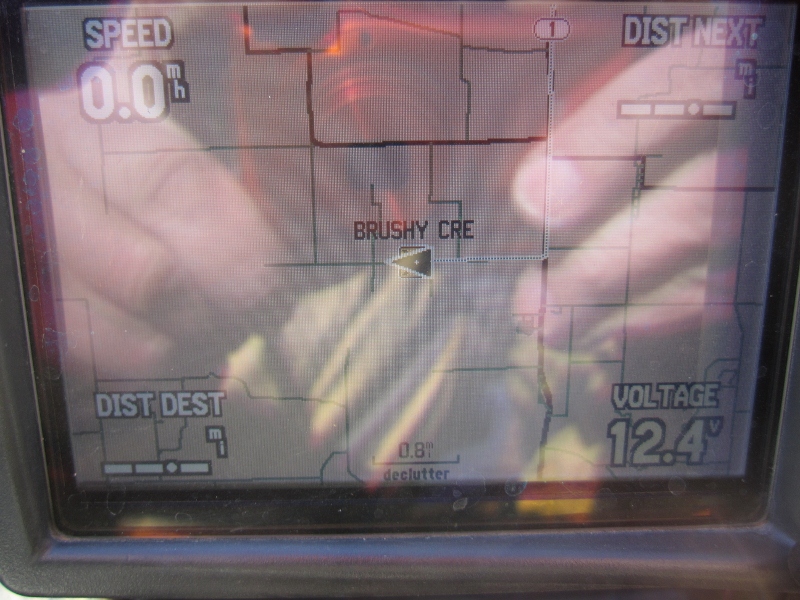 I had dropped down a dead end dirt road to this bridge when the KLR just died and wouldn't re-start ?????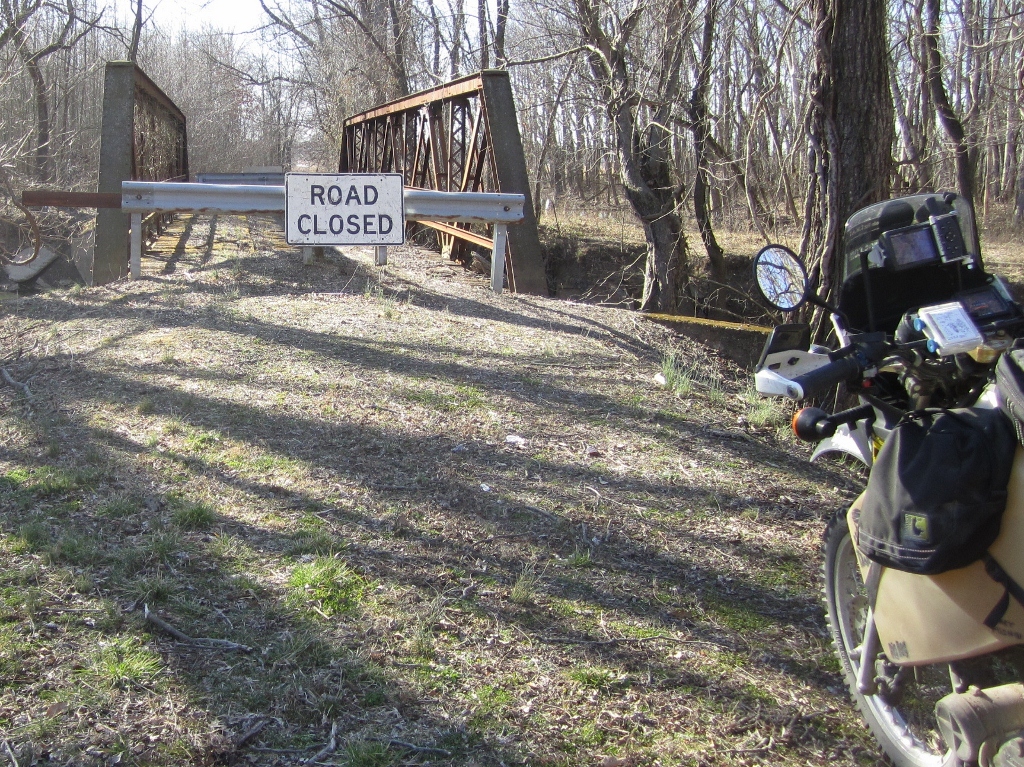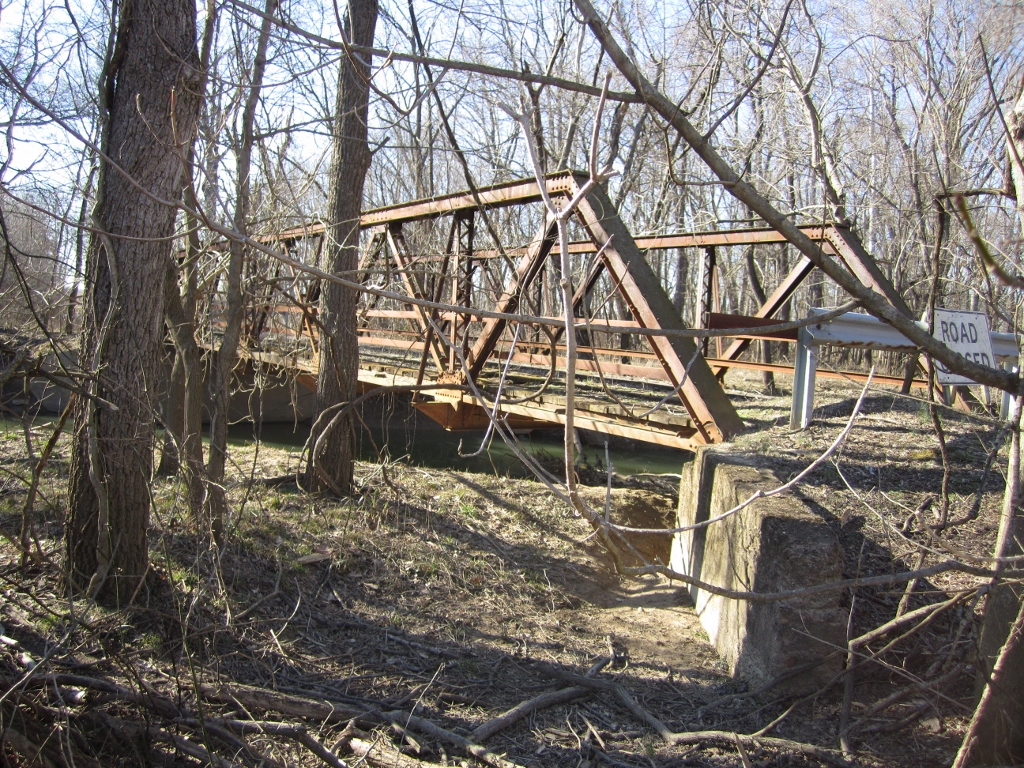 This is the road on the West side of the bridge----If would have to dry up a bunch to get to it from that way.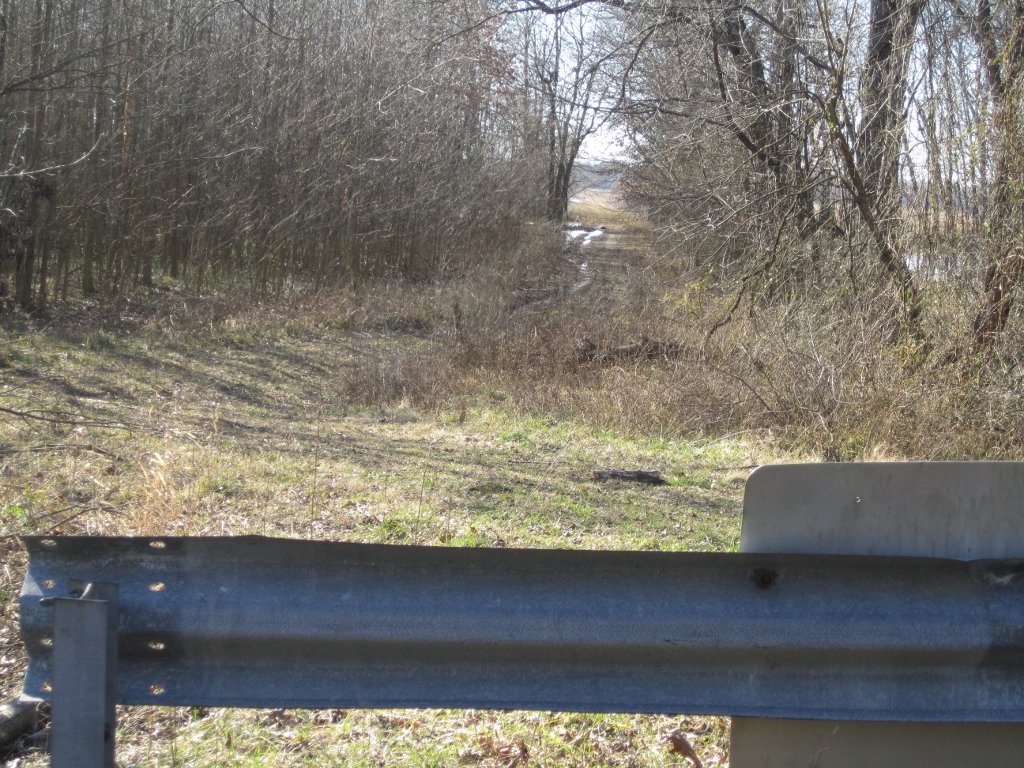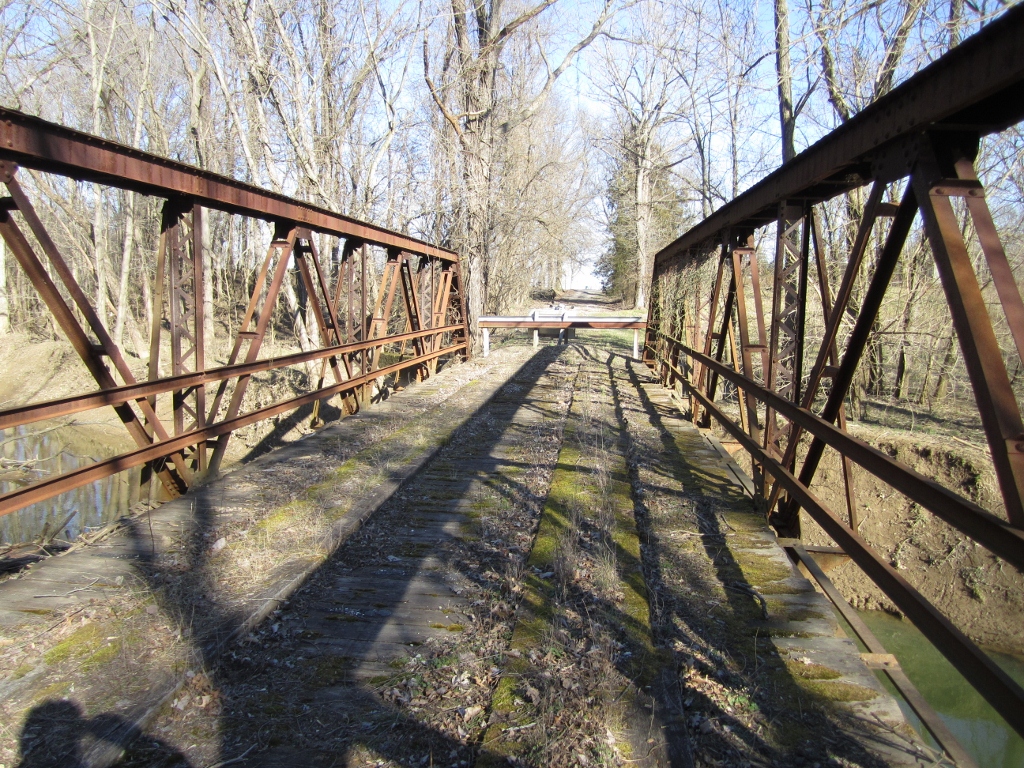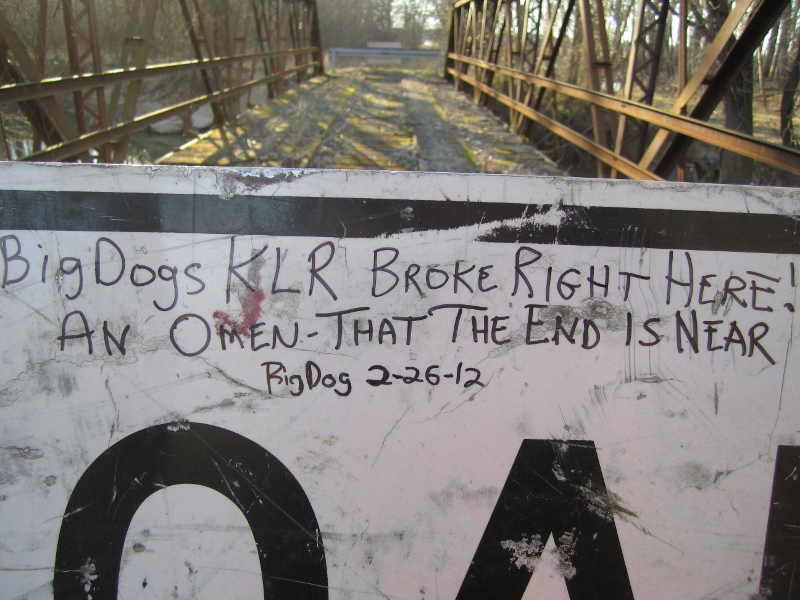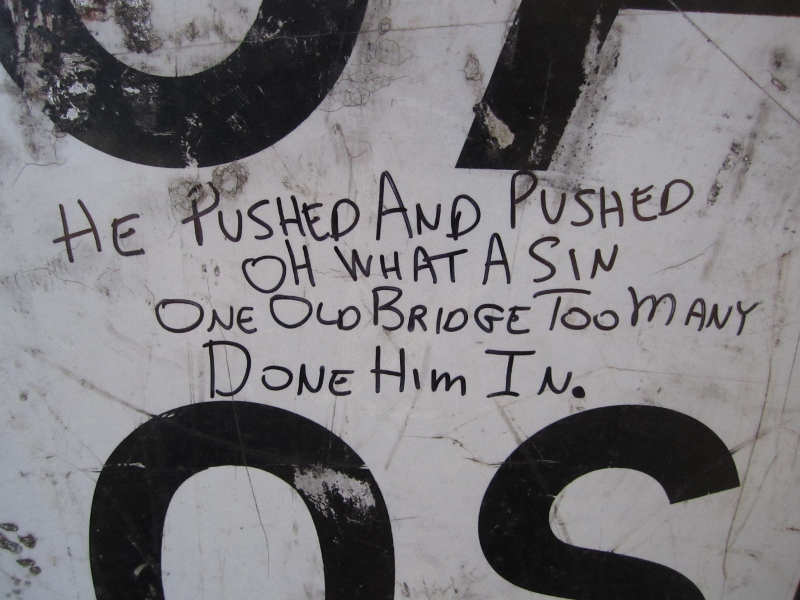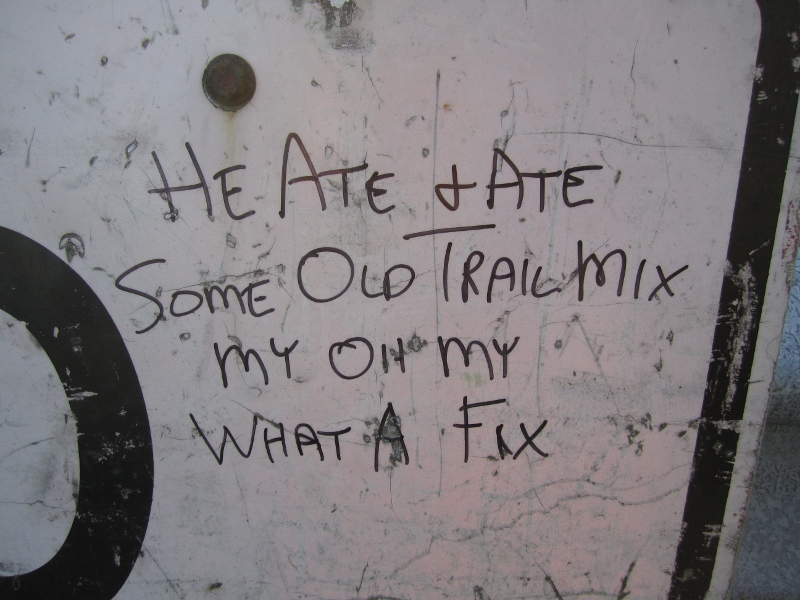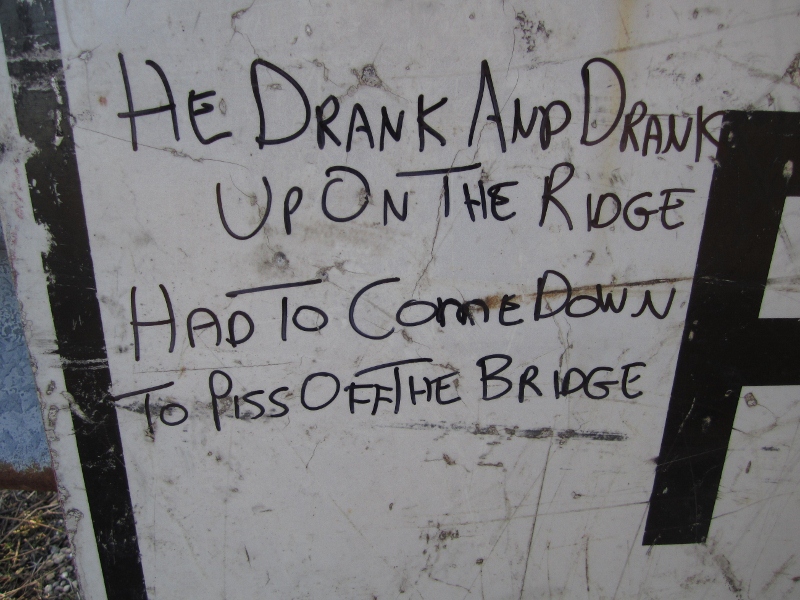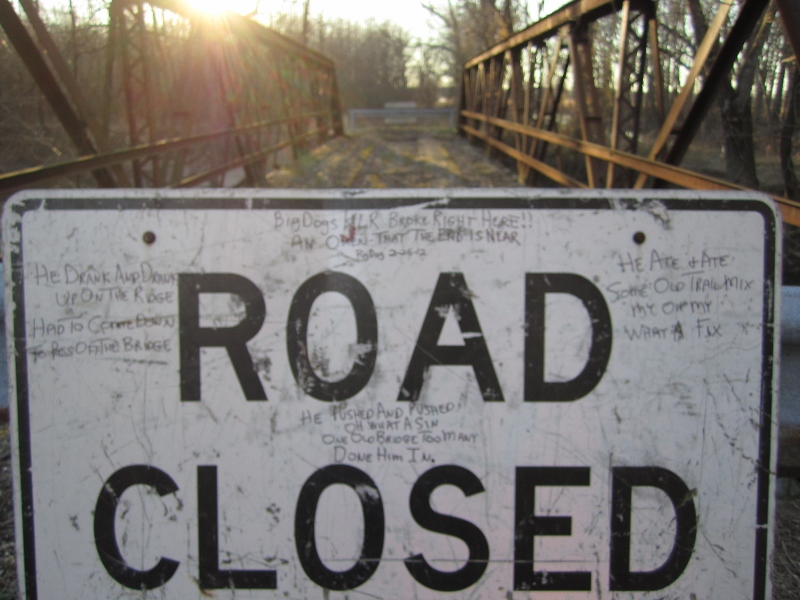 So to close this day---the KLR was dead----I'd always thought when my KLR quit running, the earth would quit turning---the son
would go dark---earthquakes would open up the land---floods would encompass the lands and that would be that.
The end would be near----so I sat down and made up a few poems as the sun went down for the last time and waited for it to come !!!!!
I was OK with that.
Well---to make a long story short----a piece of silicone plugged up my pilot jet in the old Keihen carburetor.
It was my own stupidity causing this---as I had put a little to much silicone on the float bowl
long ago--and it finally worked it's way into my pilot jet. After pulling it out--it ran like a top again and I guess me and the old
KLR would see another day after all.
And while I was there the guy who lived in the last house before the dirt road came down to the old bridge came down for a visit---
wondering what I was doing down there---and was a little pissy. Thought he owned the road and bridge now.
I was about to tell him to piss off and he could use my cellphone to call the law if he wanted when he backed off and left me alone.
I argued it was a county road---and it was.