BigDog/Dingweeds And Company
Mobius 10----September 2012
2 weeks and almost 3,000 miles of Utah, Montana, Wyoming and Colorado.
A DVD video over an hour long of this entire ride is available HERE
Dr. Rock as he is known on AdvRider is the king of route planning and is going to be the leader and organizer of this ride-- you see him here on his throne.
I'm just tagging along and will love just relaxing and following someone for a change.
Him and his wife (below) have been leaving their bikes all over the USA, and Canada for 5 years.
They fly to their bikes where ever they left them twice a year and ride for 2 weeks---a very unique idea that works for them.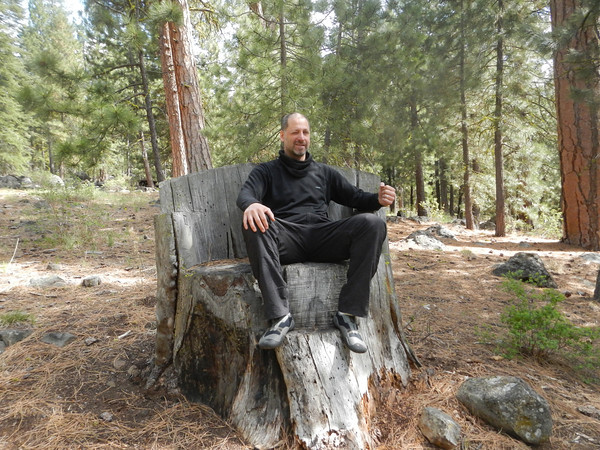 Dr. Rocks wife LDF as she is known on AdvRider.
This picture was taken on Crater Lake on one of their rides
They both ride Suzuki DRZ400S's and are very good riders.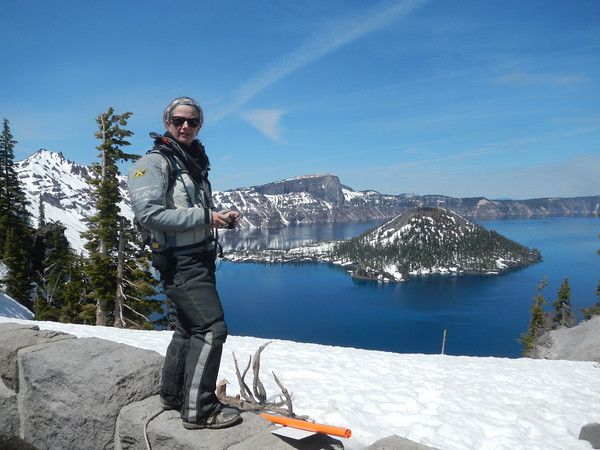 And my good friend Scott Stevenson from Tuscon, AZ
No one calls him Scott-----------he's Dingweeds to me anyway !!!!!
Here he is near the Utah, Colorado border on our last trip.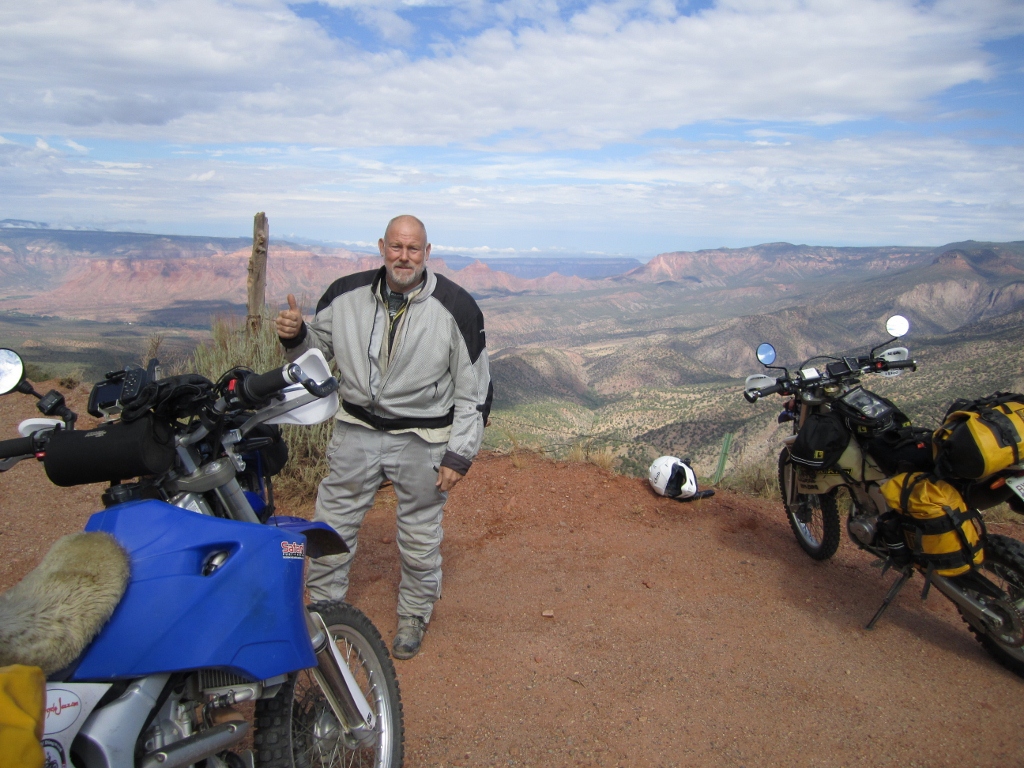 And me---don't bother me I'm retired !!!!!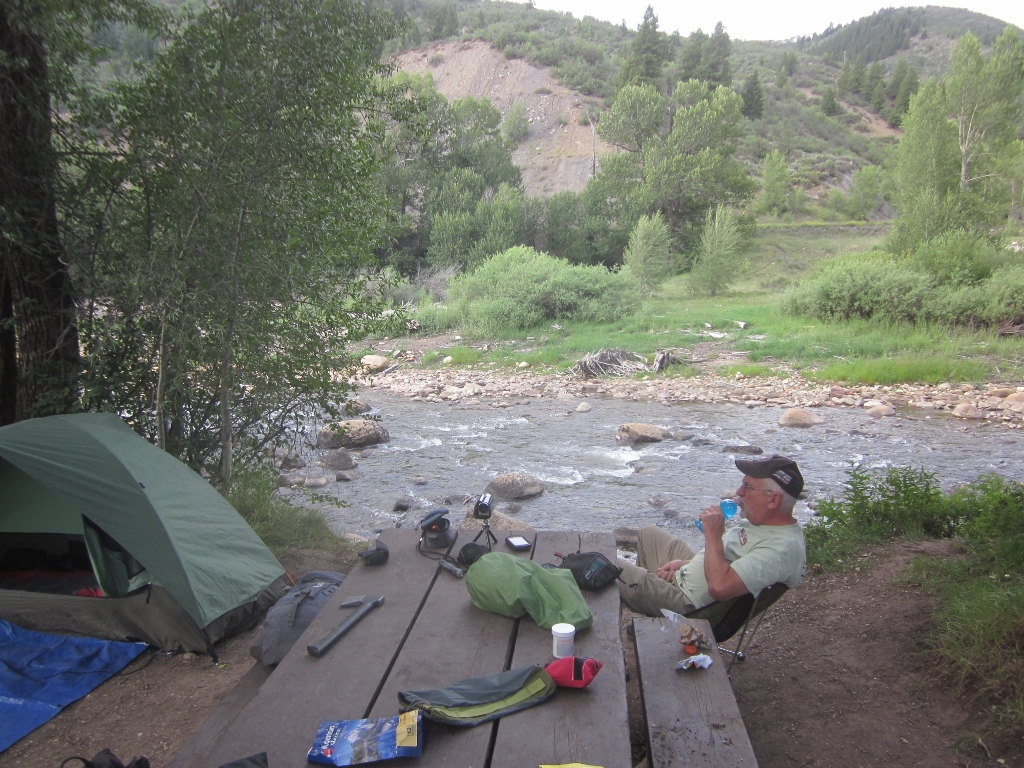 I"ve had to aquire some bicycle tassles for my bike for this trip----a requirement on Mobius rides.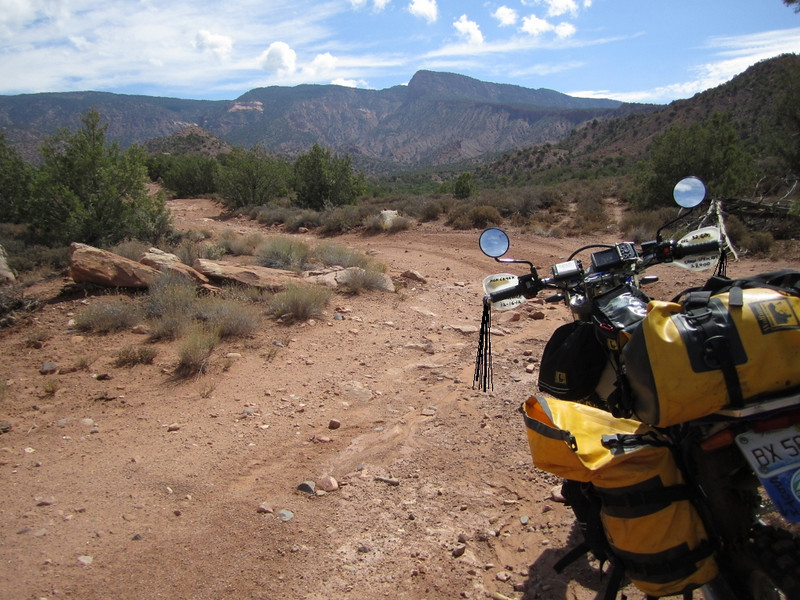 Dr. Rock-----let's call him Dave and LDF--let's call her Francine (their real names) Mobius ride starts in Idaho Falls. Idaho.
They had left their bikes there at Questors (Ed Wilkinson's) house since their last ride earlier in the year.
So me and Dingweeds had to meet them there and would start the ride on September 8th.
They would fly from New York to Idaho Falls----get their bikes out of the garage and we would all start riding.
But---me and dingweeds started riding our WR250's from Rawlins, Wyoming and took 3 days to get to Idaho Falls.
So the story of that follows first------are you confused ??? I think I am !!!!
Tony Huegal---better known as "ByWays" plotted me and Dingweeds an offroad route to Idaho Falls and it was awesome !!
Thank you Tony----he knows all the backroads everywhere and is a great resource and has helped out many an adventure rider
follow some great routes.
While suiting up in Rawlins in pulls these 2 hooligans.
Left: Jeff Bullock (1150GS) and Right: Paxton Snyder (950KTM SE)
We all took off seperately but kept running into each other out on the trail---we couldn't figure out how we kept running into each other--they'd pass us,
we'd pass them---then they'd pass us back. Later we had a big laugh and found out they were following the same route we got from Tony Huegal.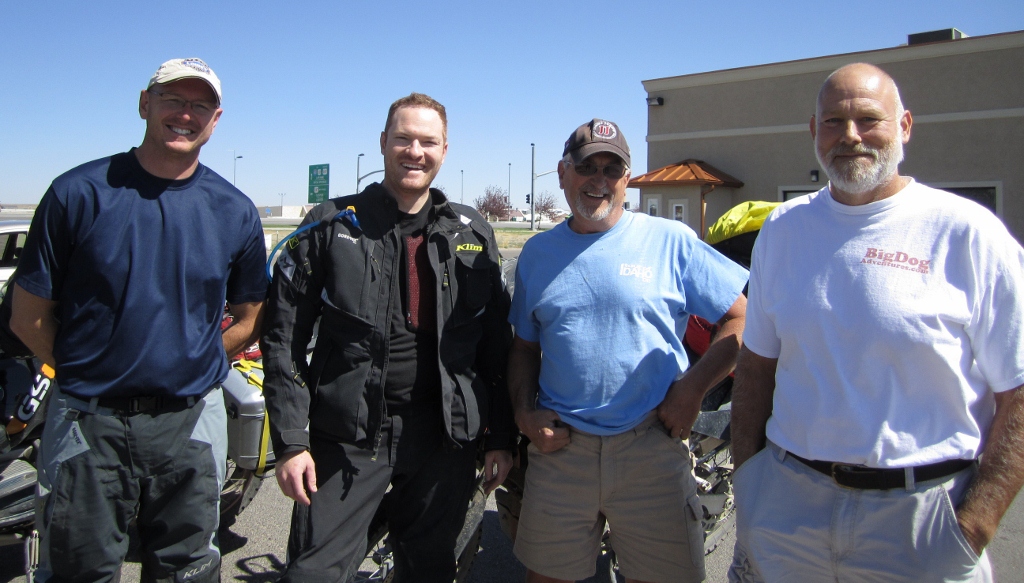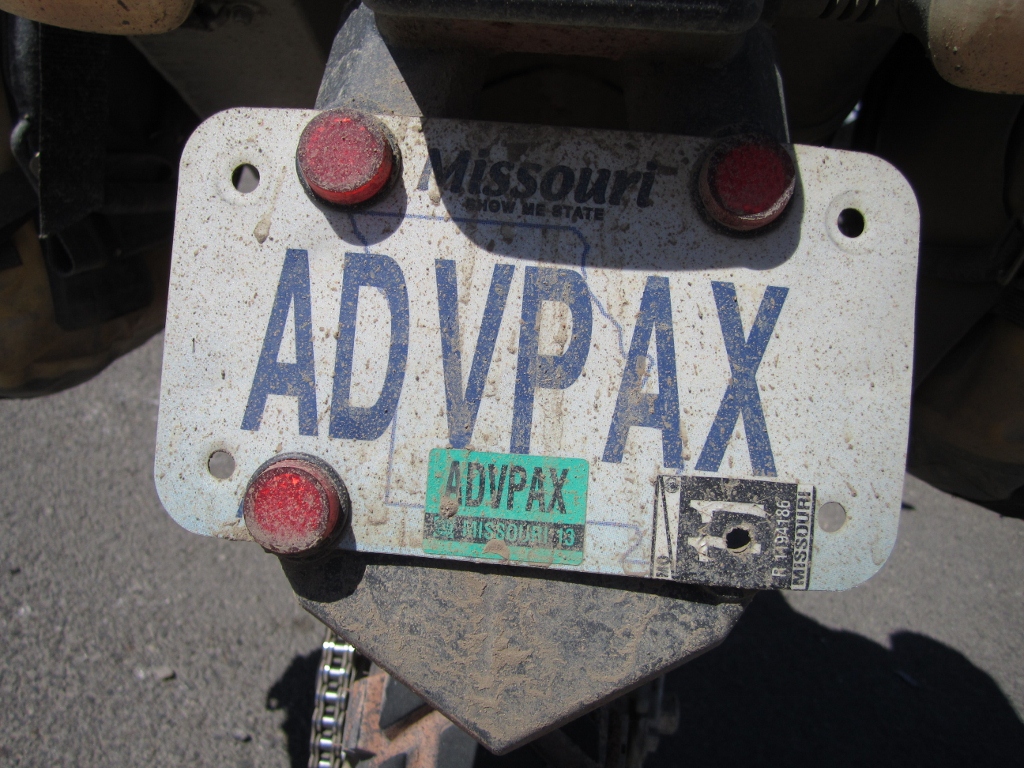 Day 1
September 5th, 2012
Rawlins, Wyoming to Atlantic City, Wyoming

Out of Rawlins we rode a short distance West and got on Riner road heading Northwest---my favorite direction if I ever had one.
Me and my buddy Scott had never been on this road and we were estatic.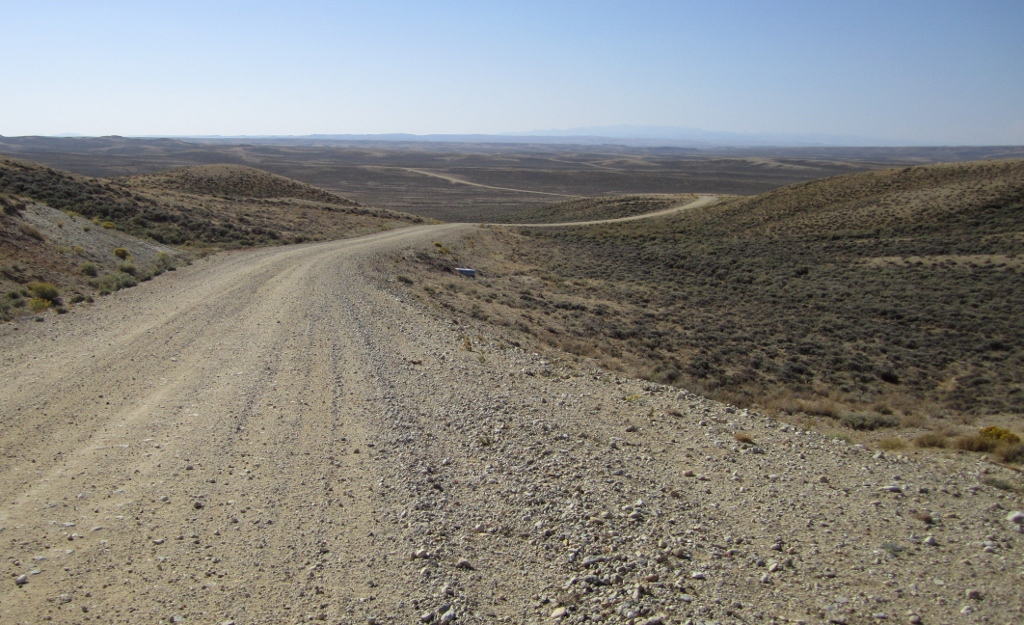 My riding buddy dingweeds (Scott Stevenson)--Tuscon, Arizona--2009 Yamaha WR250R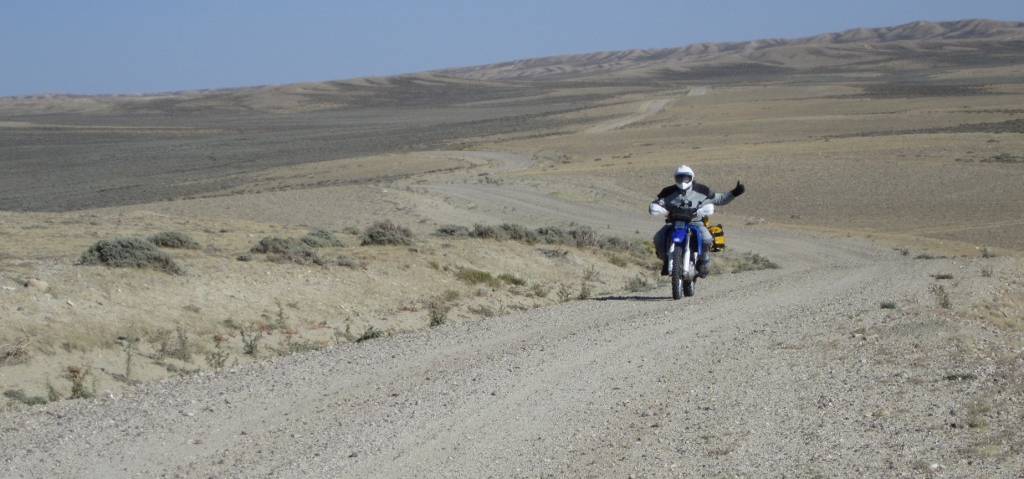 We went for many miles and only saw this one cowboy.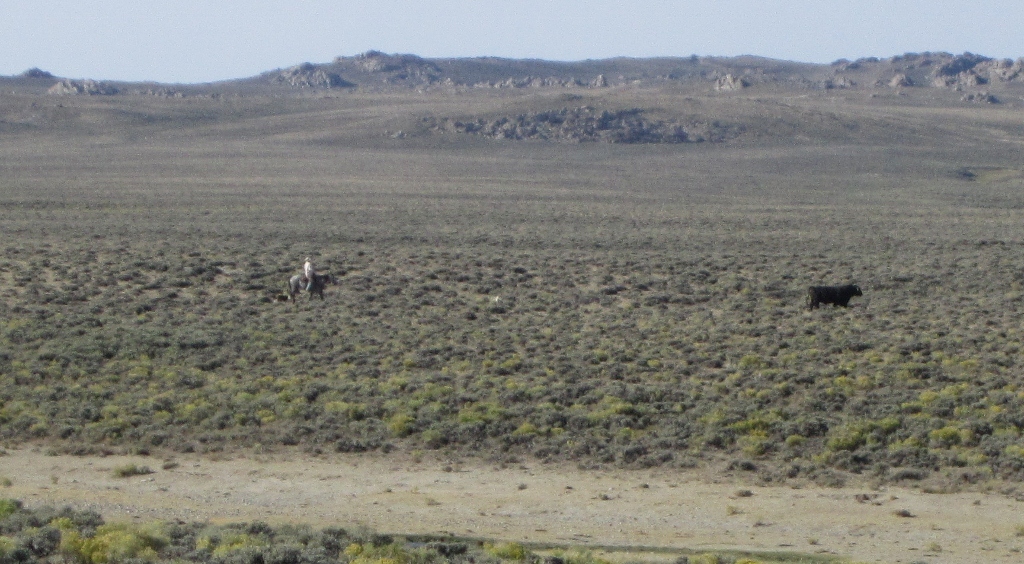 I was sporting my new Fly Trecker helmet and KLIM Badlands Pro riding suit.
It was perfect for this ride. Full gortex with lots of vents when it got warm.
I couldn't believe how well this suit vented---you can see the wide open vent on the left side of my back.
Waterproof is KLIM's middle name-----it never rained on us so I never got to confirm this------dang it !!!!!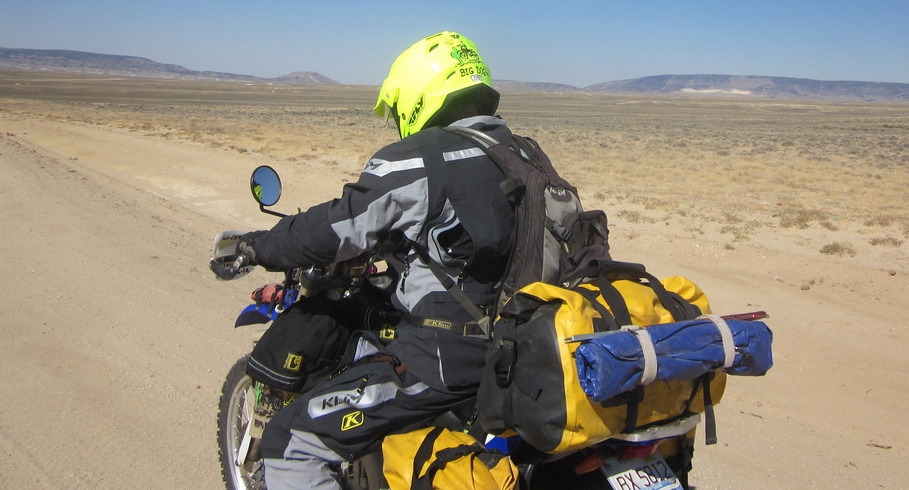 Our route was out of this world and we ended up at a campground North of Atlantic City, Wyoming.
Jeff and Paxton had caught up with us and we shared a campsite---with a fire. It was rare to have fire on this whole trip as the drought
that had been going on for a long time kept us from having a fire most of the time.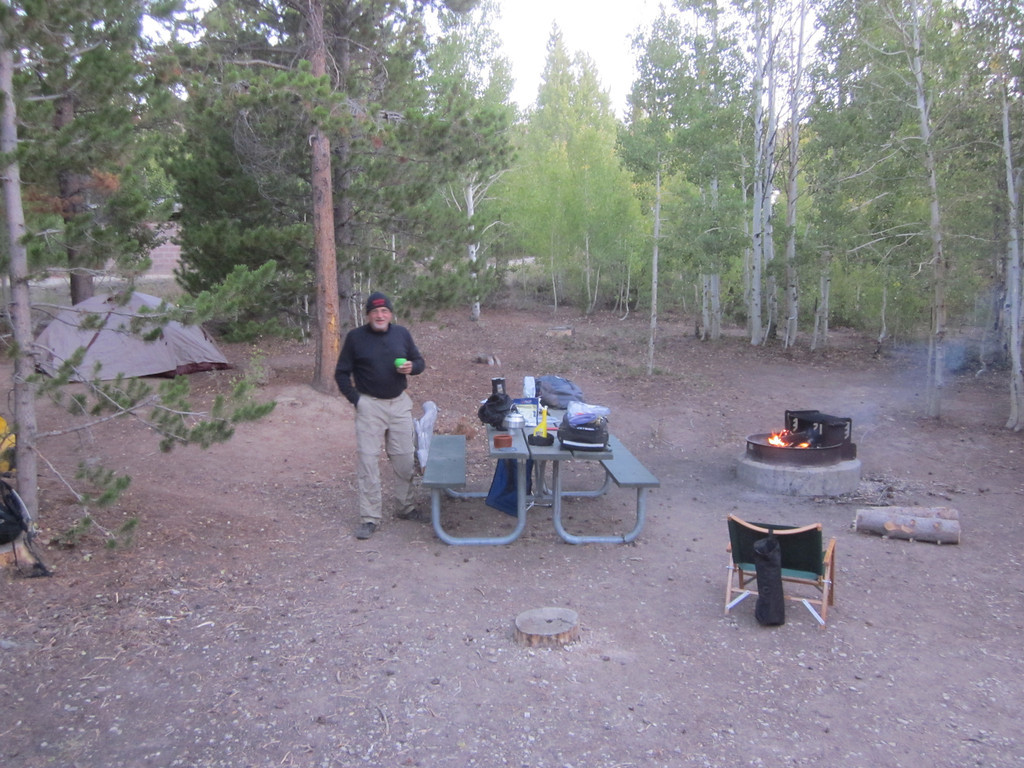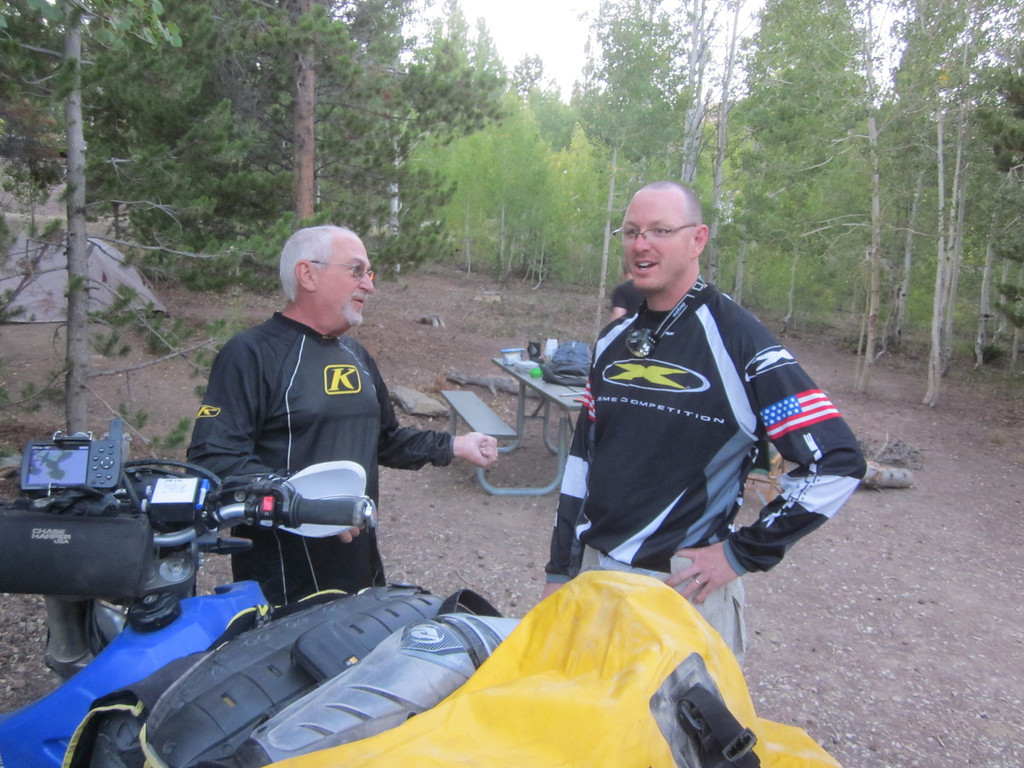 I didn't sleep hardly at all that night-----I had bear on the brain and just couldn't shake it.
I heard all kinds of noises all night long---bear noises---seems they were creeping all around us.
The only night I didn't sleep well on this trip.
134 Miles for the day
I don't think we started riding till 2PM this day.
A rough map of our route today is below.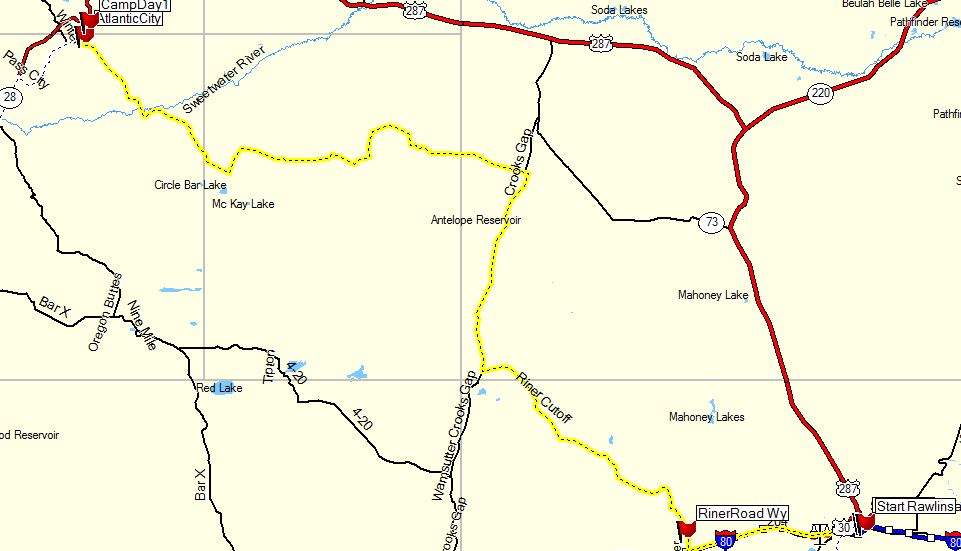 Day 2
September 6th, 2012
Camp in Atlantic City to Moose Flat Campground in the Bridger National forest
We beat it Southwest down Hwy 28 to Farson for gas and then went back just a ways and headed off North to Little Sandy Crossing.
An old pioneer route.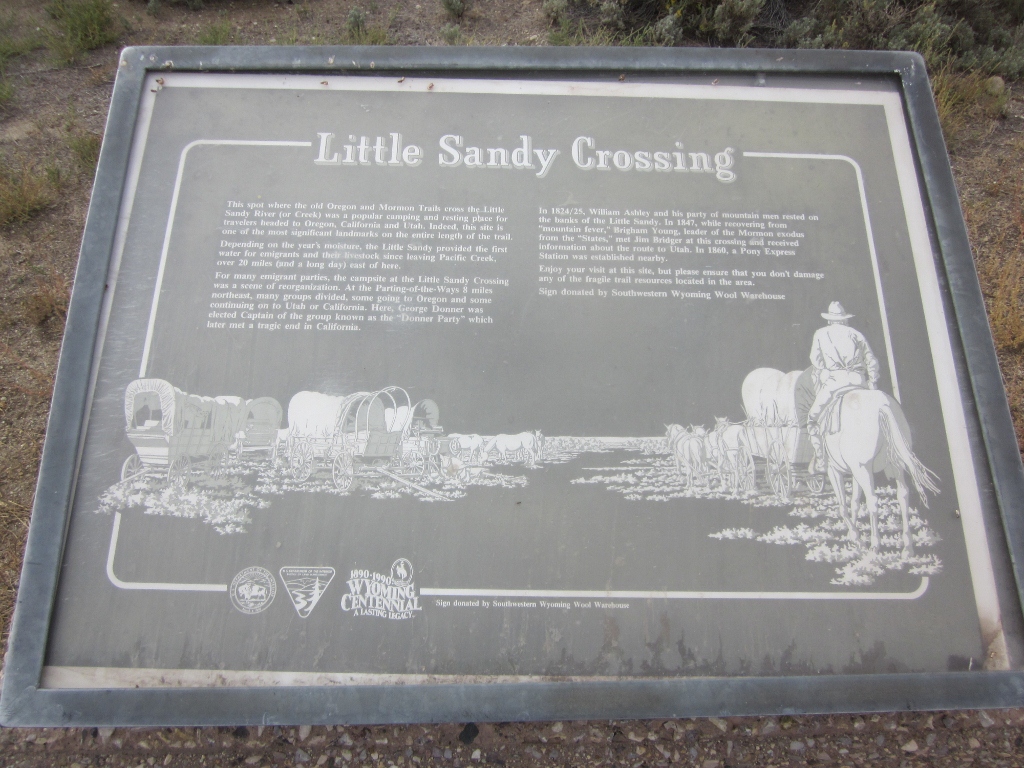 We weren't really trying to all ride together---but just seemed to find each other.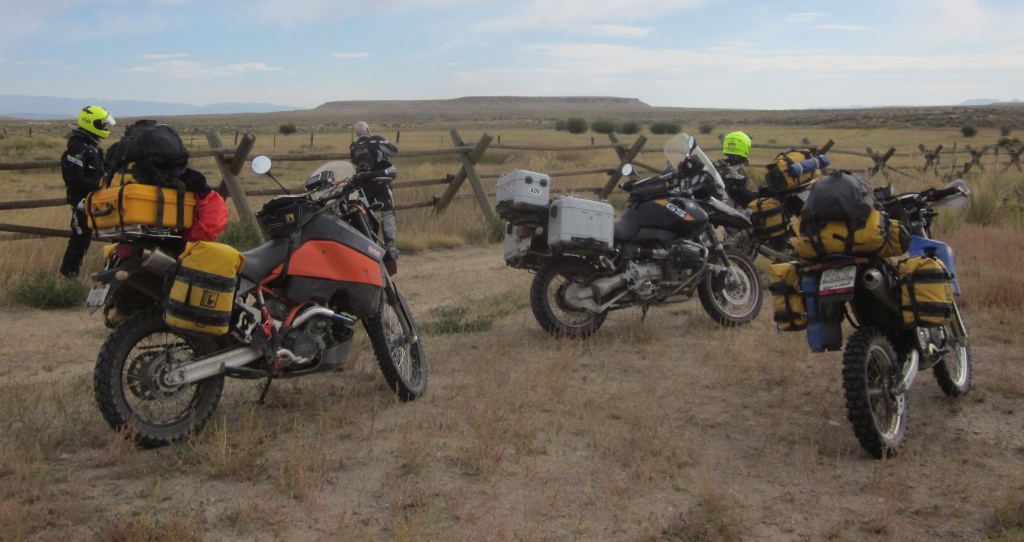 And here is the little bridge over the Little Sandy creek----really neat little bridge out on a what was an old covered wagon route.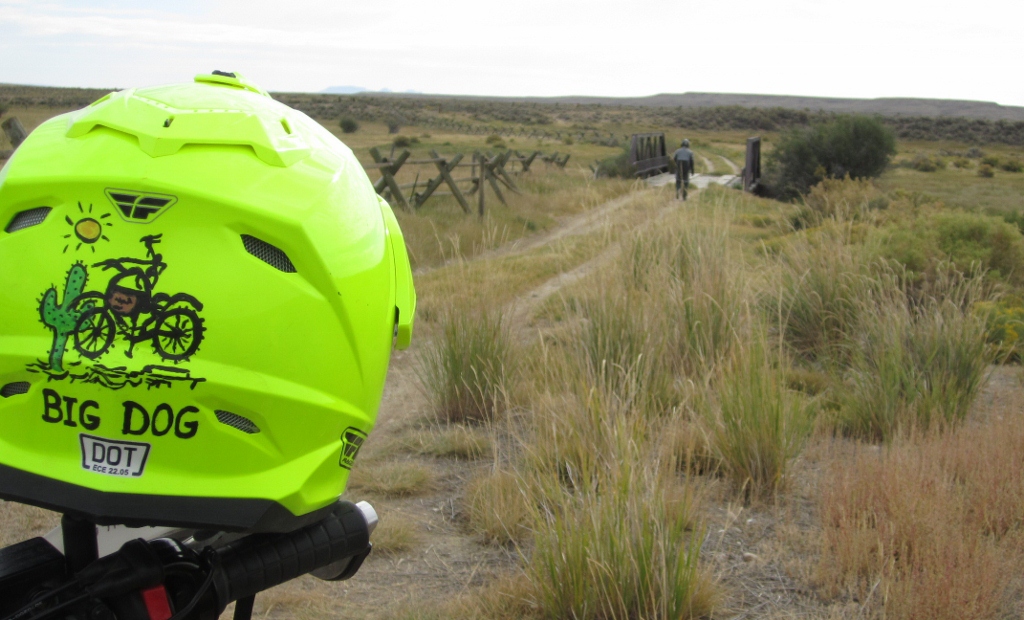 The Pony express trail and the California trail crossed paths here.
I don't think much has changed out here since they were used by horses and wagons---and that's what made it so neat.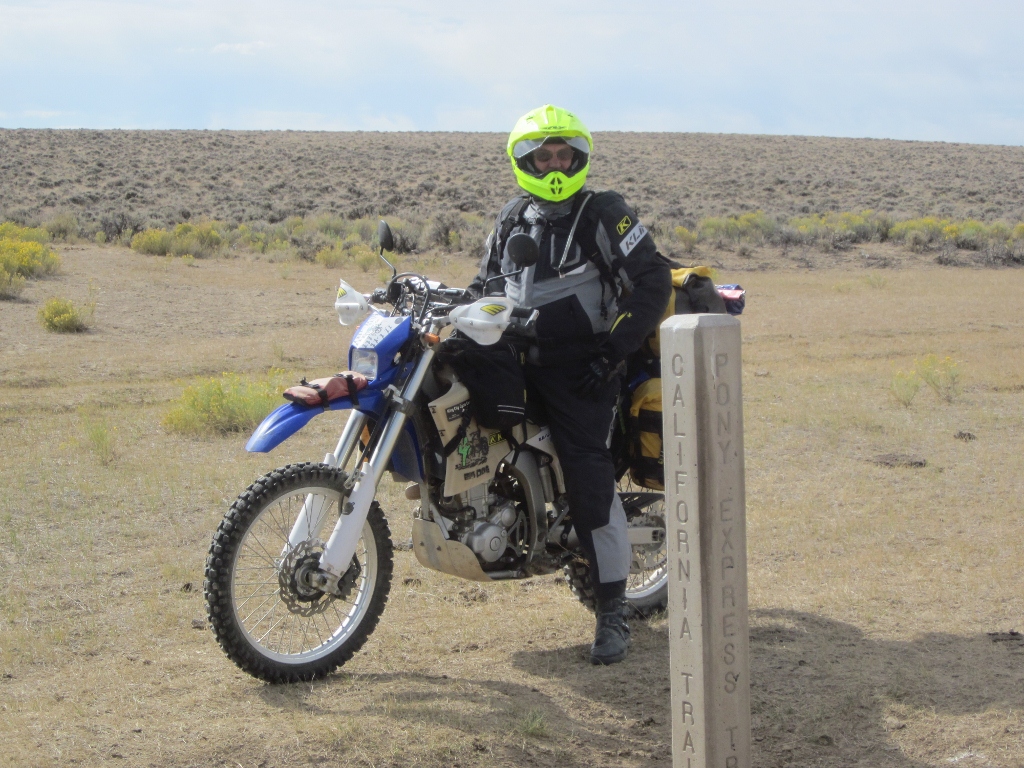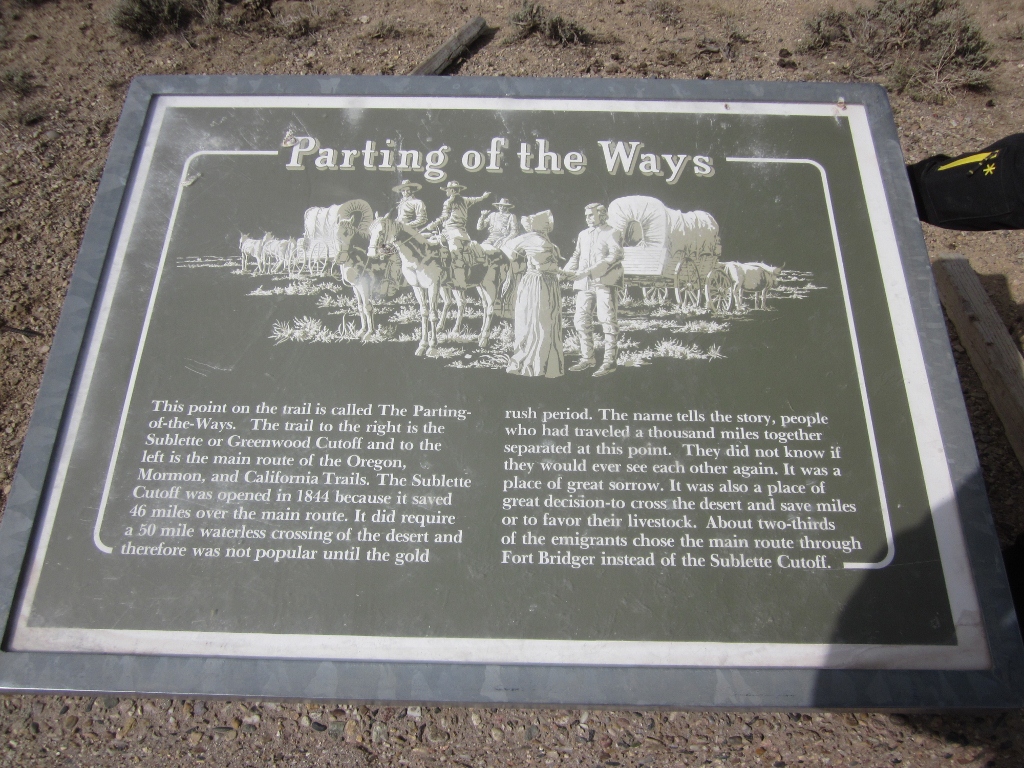 Well ole' Paxton had a little moment in the sand with his KTMSE----easy to do. It wasn't real deep sand, but you had to keep on your toes.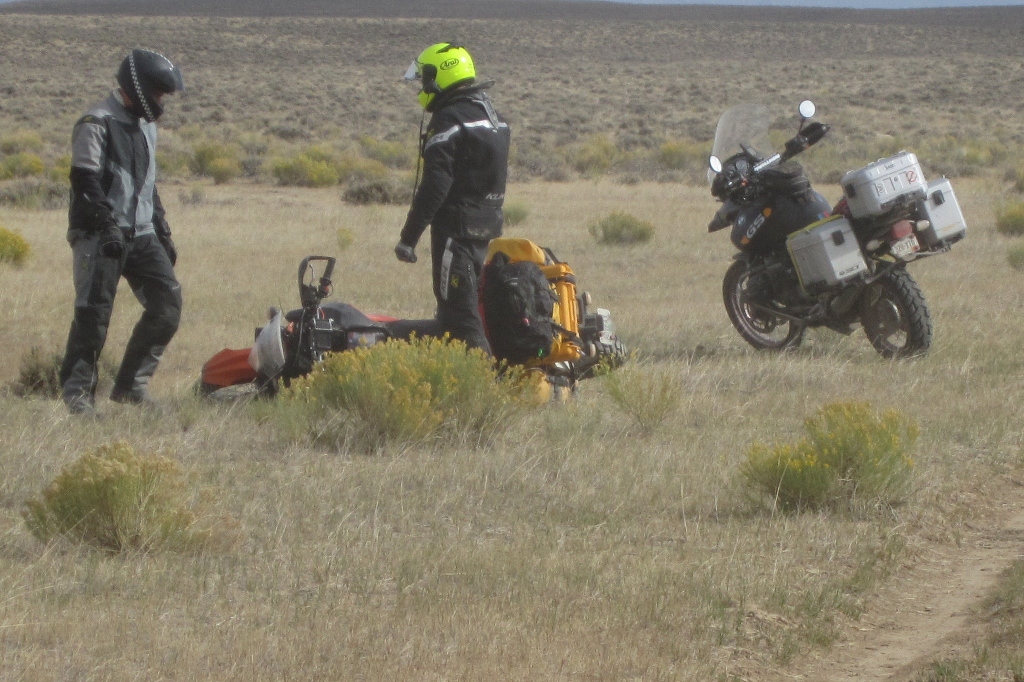 We later intersected a wide graded dirt road.
This is actually a piece of the Continental Divide Trail which we crossed or got on occasionally.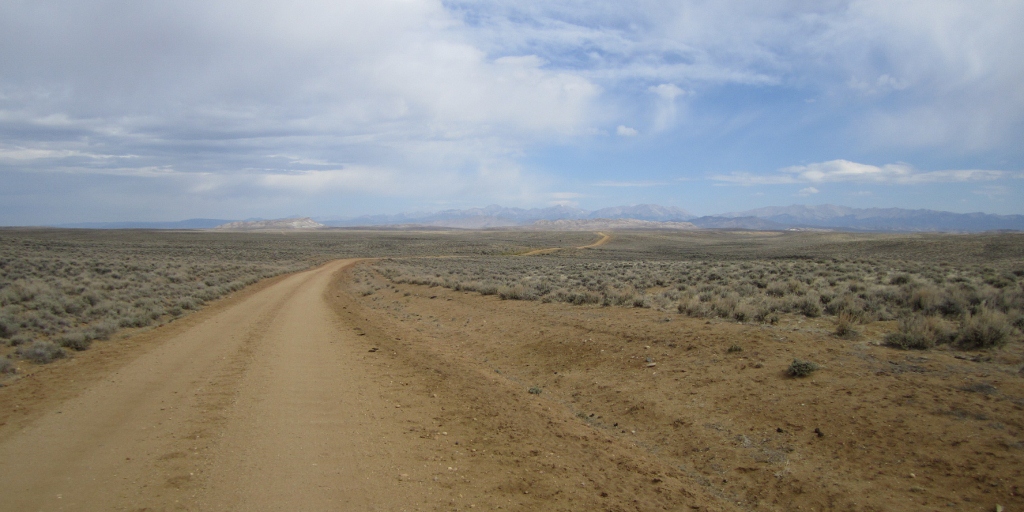 I think Scott likes it.
We were trying to beat our way West out of Pinedale, Wyoming and cross the mountains into the Bridger Teton National Forest.
They were closing the roads out here and once we had to do a big re-route.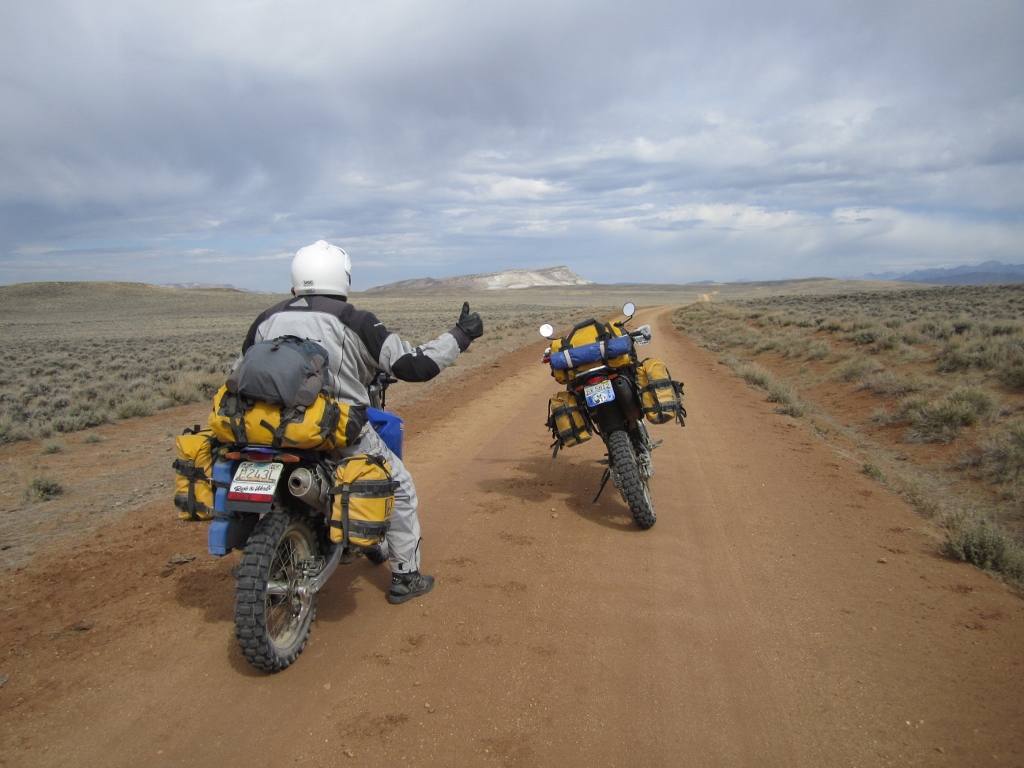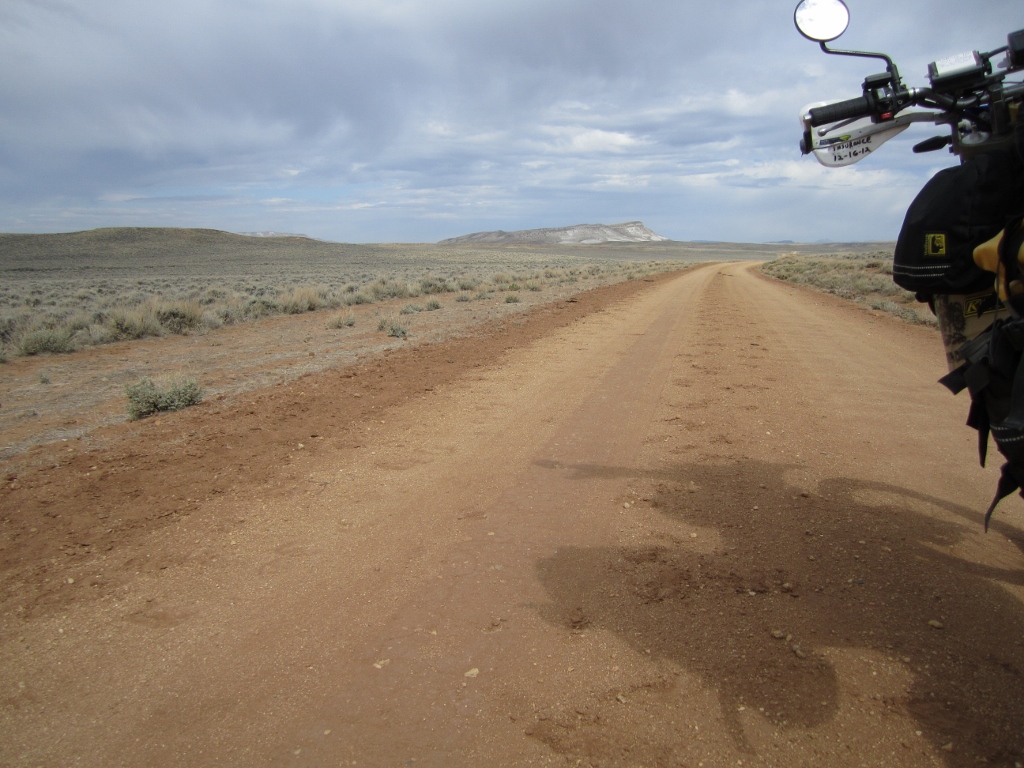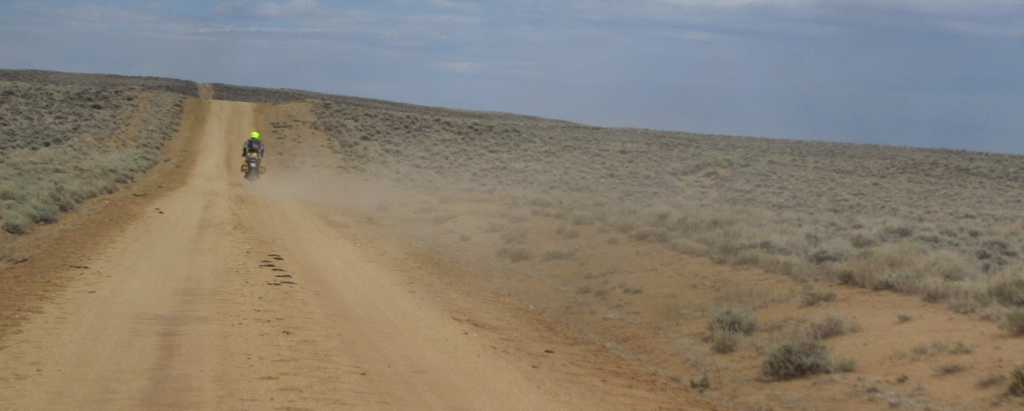 There was only one open path thru those mountains ahead----and we found our way with no problem after a little advice from some hunters.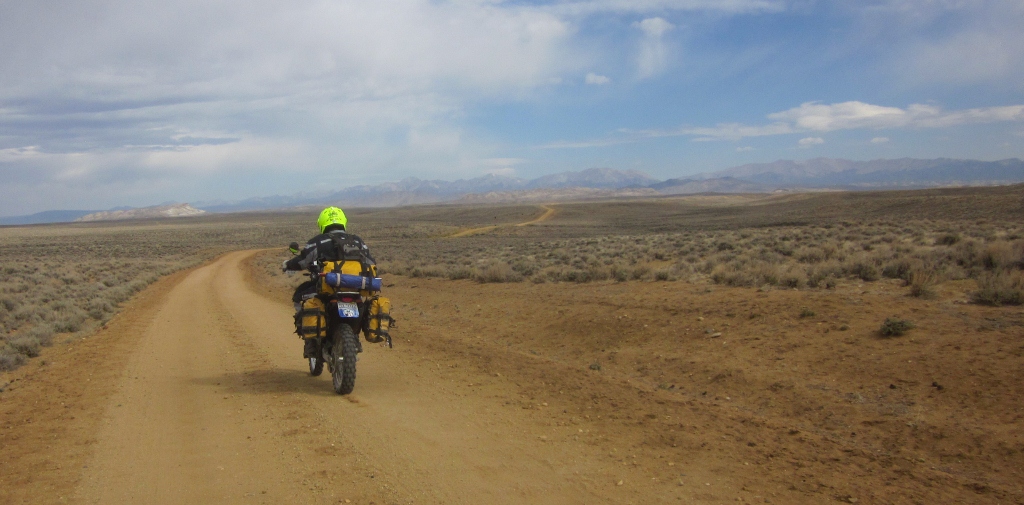 A lot of these pictures are Scotts---and something was wrong with his camera---you can see the black spots on a lot of them.
I think he's going to throw it away.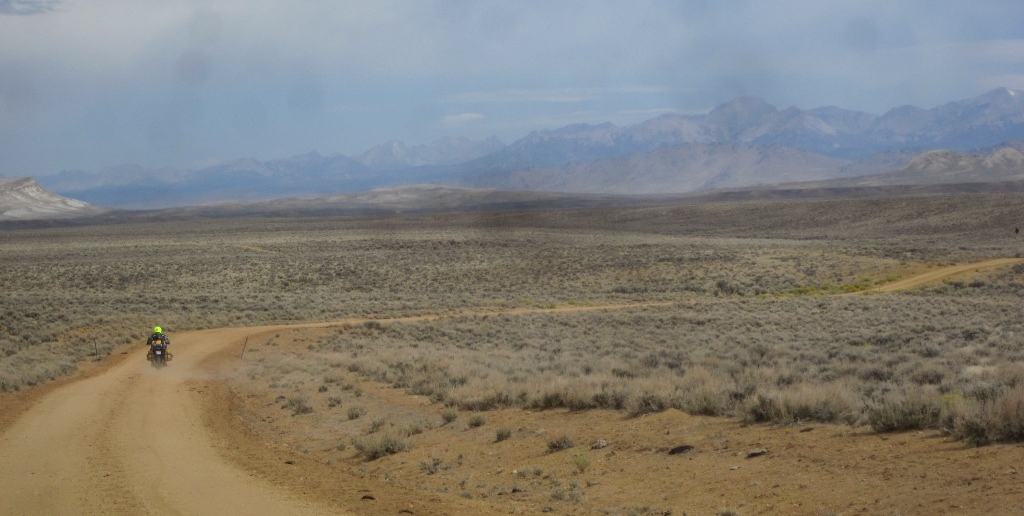 We had parted ways with our 2 riding buddies a long time ago in Boulder I think------they said they were going South---but we ran into them again as they went West.
We all hit the Grays river road in the Briger Teton National forest and they went South to a campground and we went just a mile or so North and
camped at Moose Flat campground right on the Grays river. No one except the bears and Moose were anywhere near this place and I picked a spot
with a nites worth of firewood just laying there for us to burn.
We went down to the creek and took a hobo bath.
This whole trip we only got a motel twice---and one of them was because of bike trouble with Francines bike.
So we made do with a bath when we could.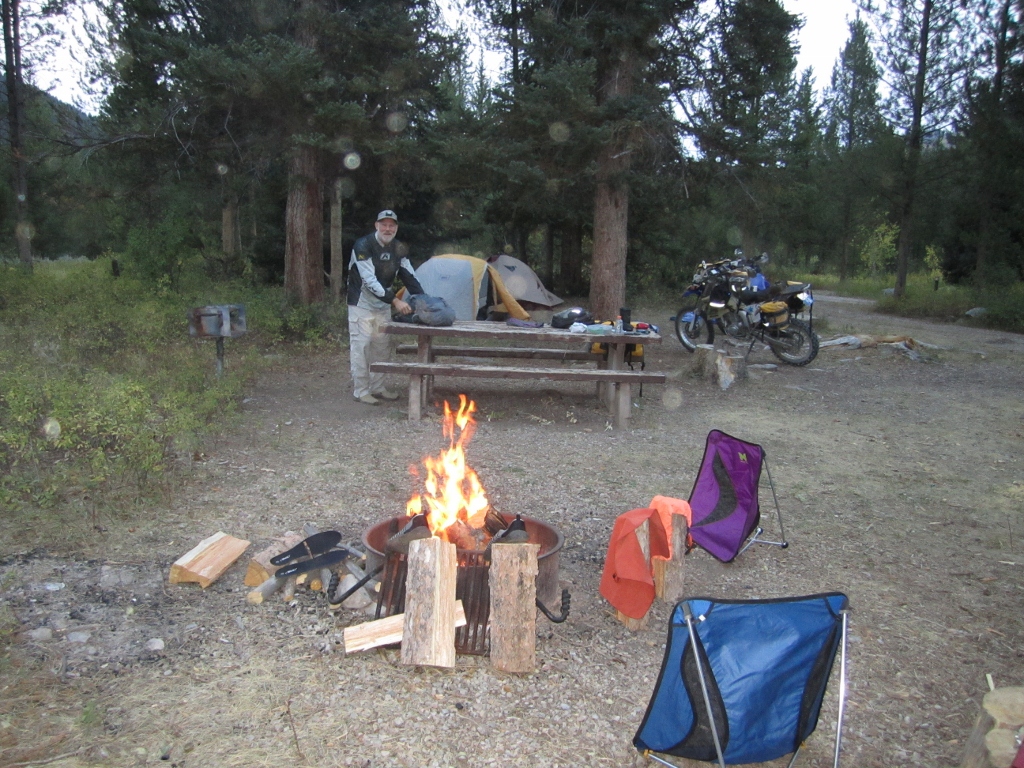 A rough map of our route for the day.
About 230 miles for the day.
We were having a great time riding some great routes---but still were excited about riding with the Mobius group when
we got to Idhao Falls, Idaho.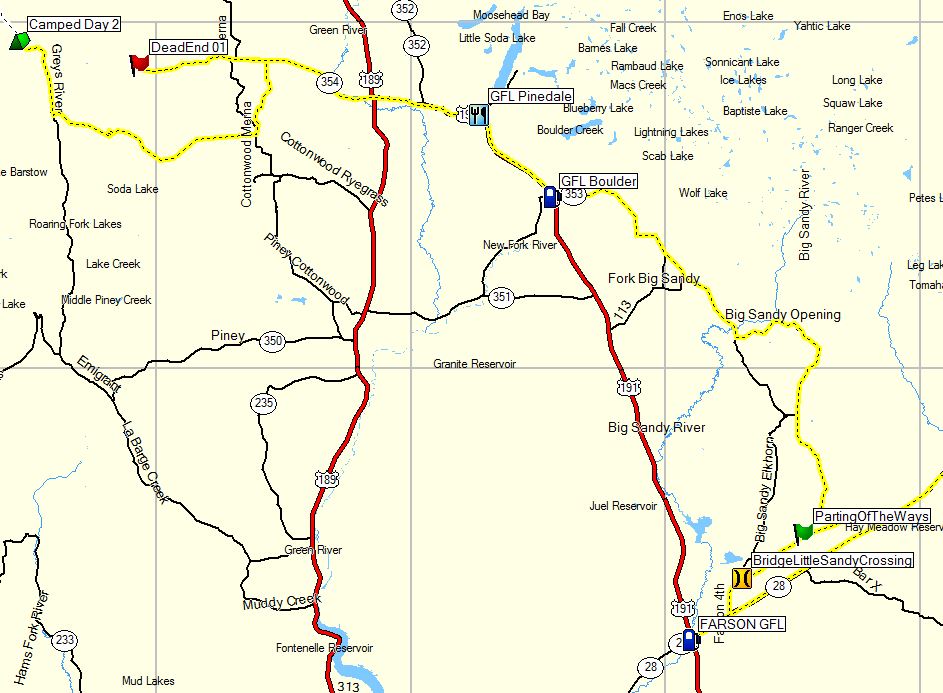 Day 3
September 7th, 2012
Moose Flat Campground in Wyoming to Questors house in Idaho Falls, Idaho
This is the pretty completely dried up Palisades Reservoir on the Idhao, Wyoming border at Alpine Junction, Wyoming.
Me and Scott have been here before as it's on the Tour Of Idaho T2 route.
We've seen it full and were astounded at what we saw.
The Snake river running thru it is all that's left. This picture was taken off the bridge.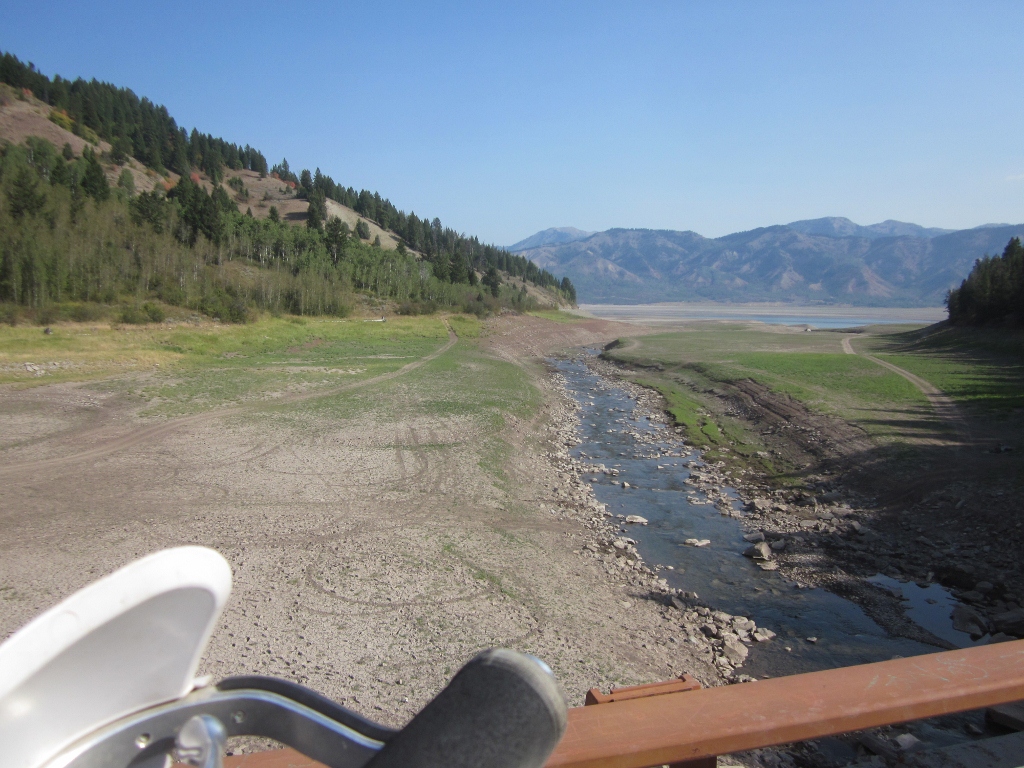 So...............................I had to ride down in it------just had to.
It was really difficult getting down there thru some really big rocks on a steep hill.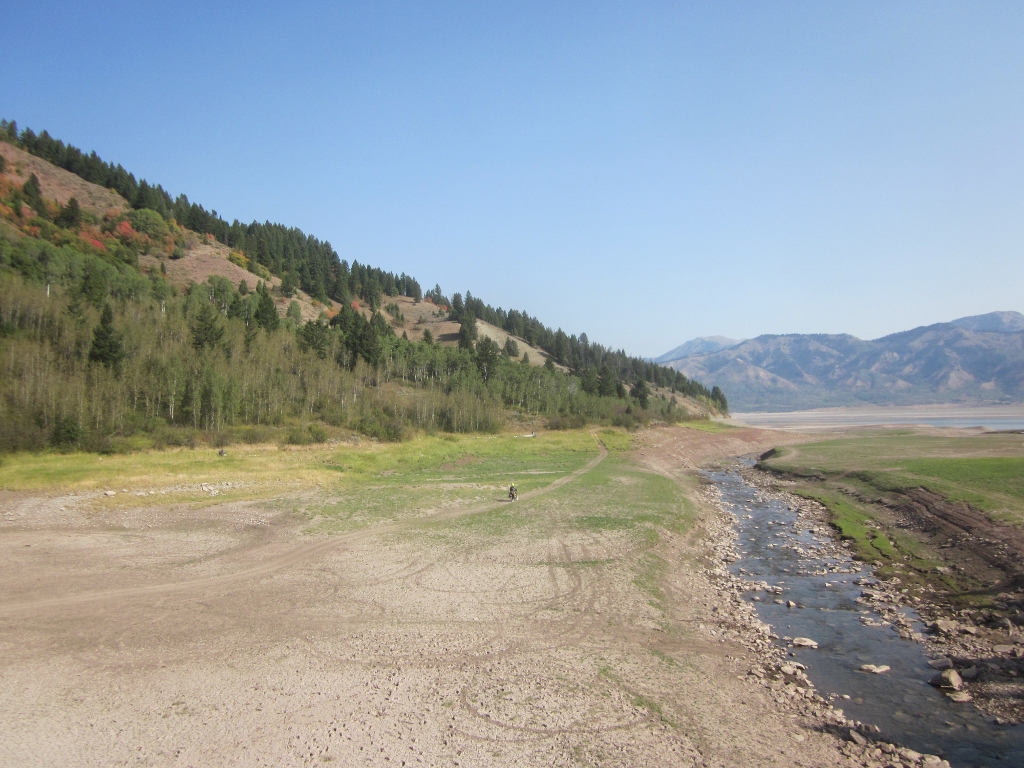 I guess I'd be 15ft. under water normally.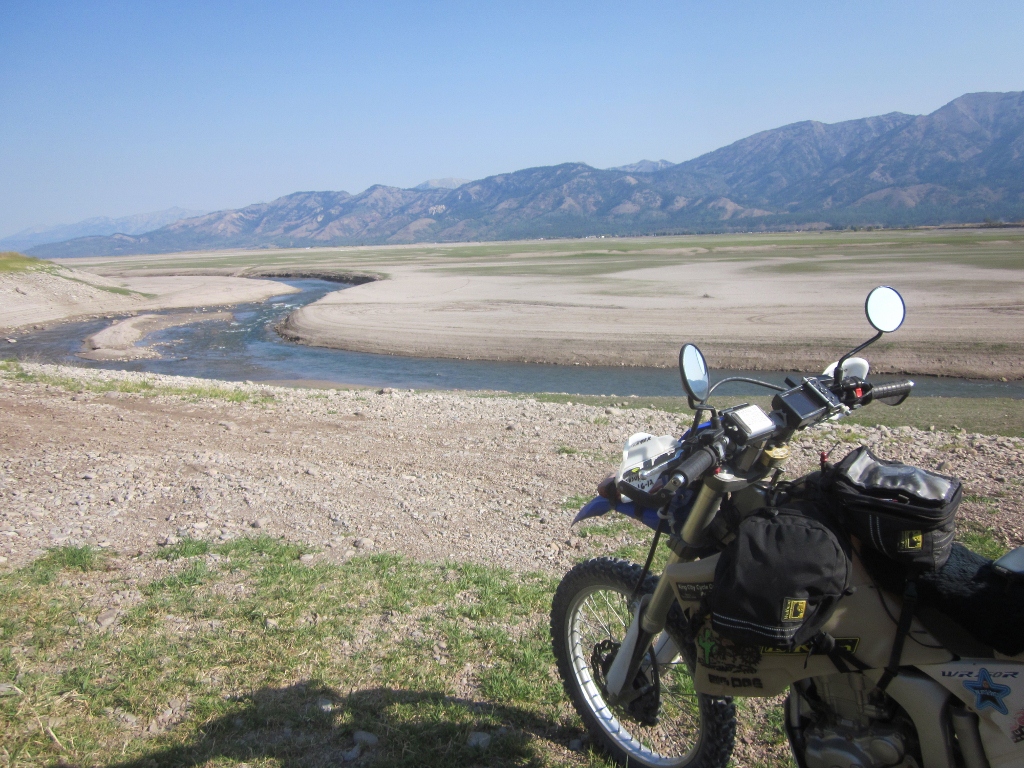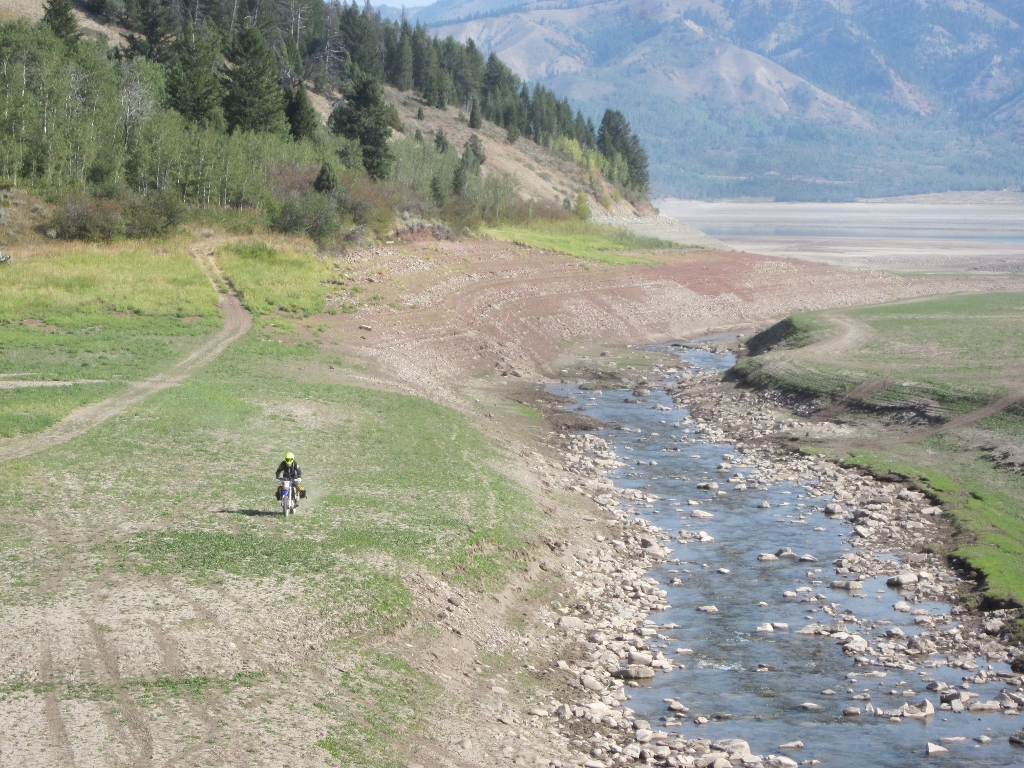 On Northwest on Tony Huegal's route ----and we were surprised we were on the Great Western Trail a bit.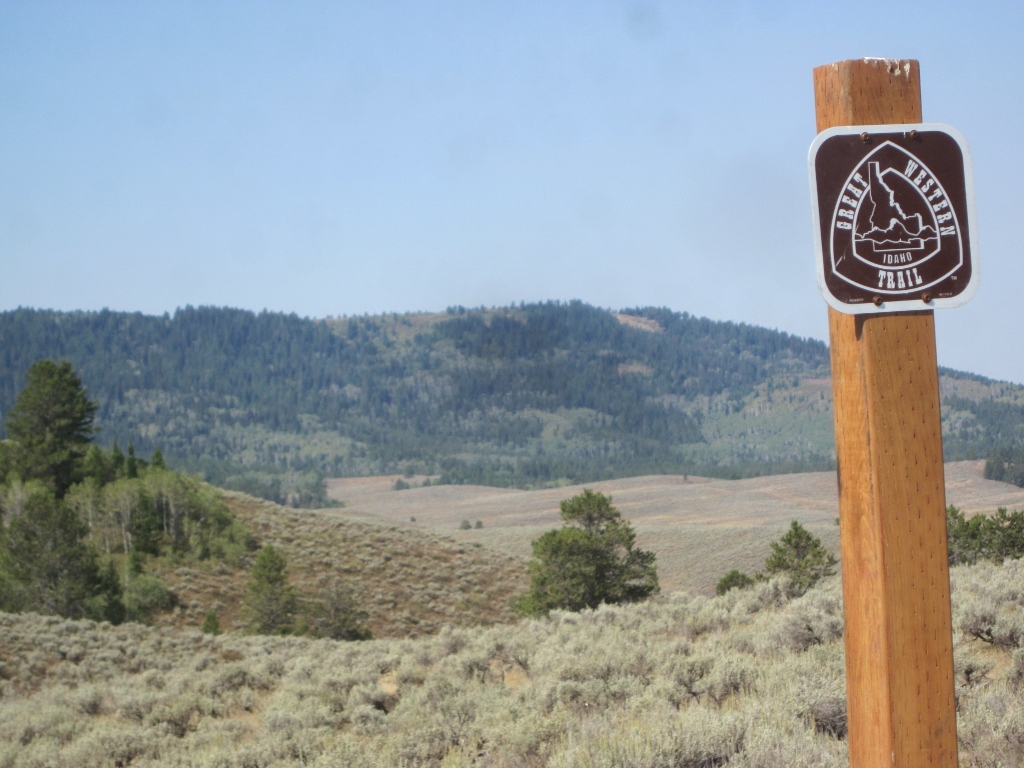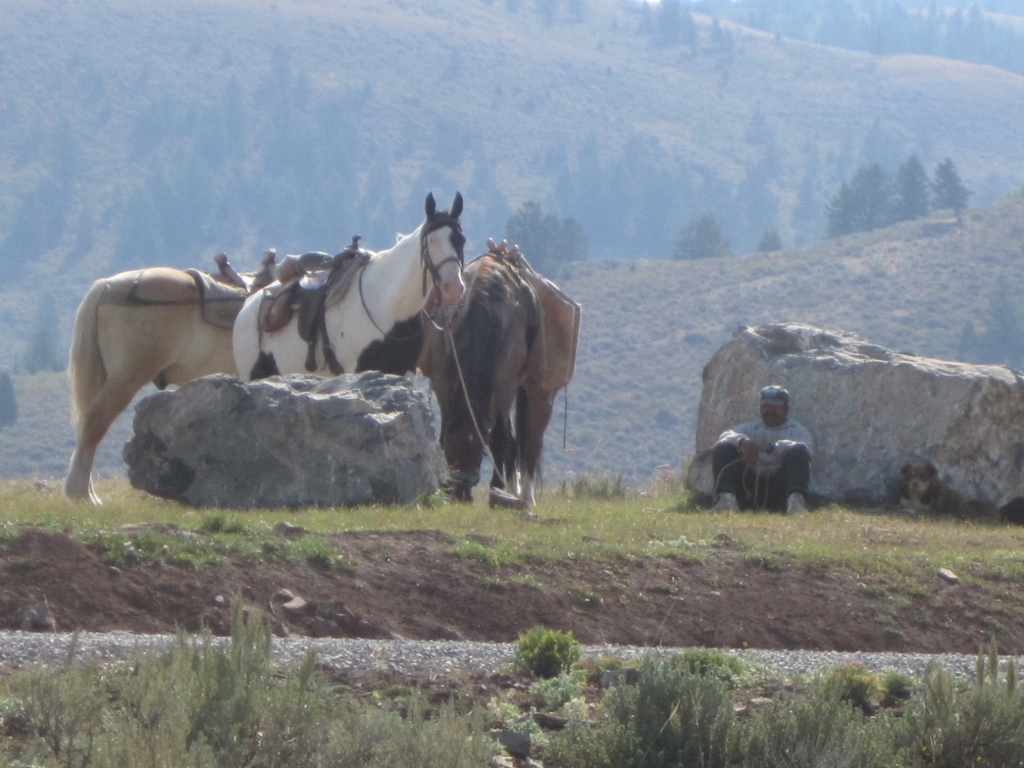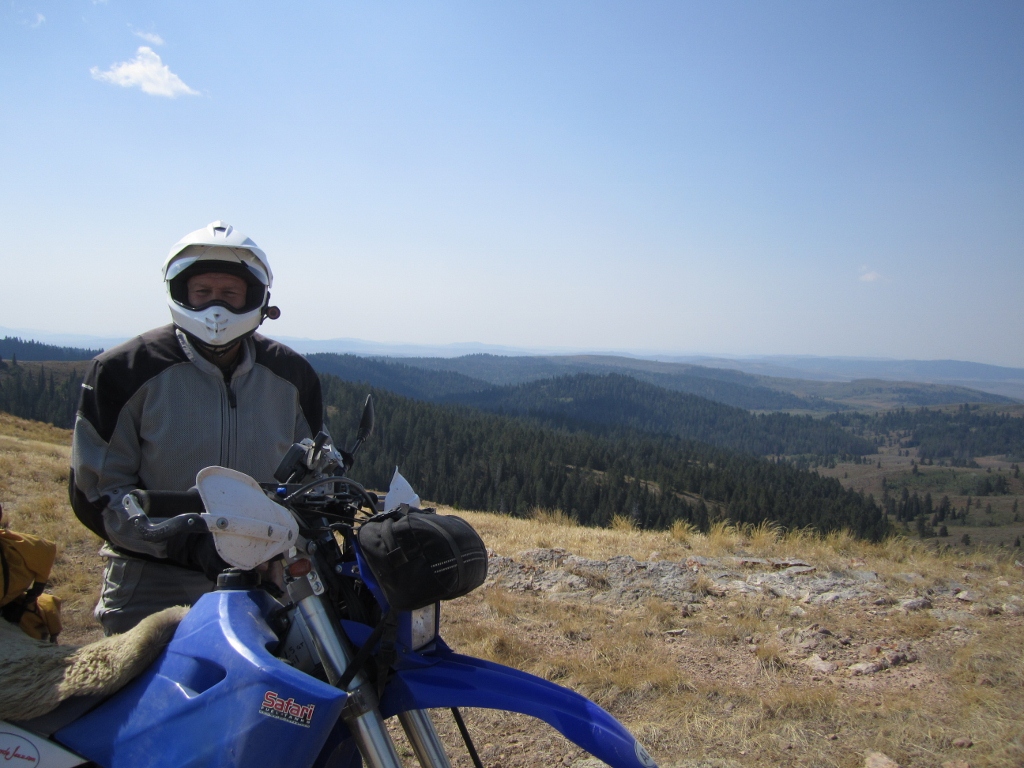 Getting close to Idaho Falls, Idaho the riding and scenery did not dissapoint till we actually dropped into Idaho Falls off this mountain ridge
which was called Kepps Crossing road I believe. This went on for many miles.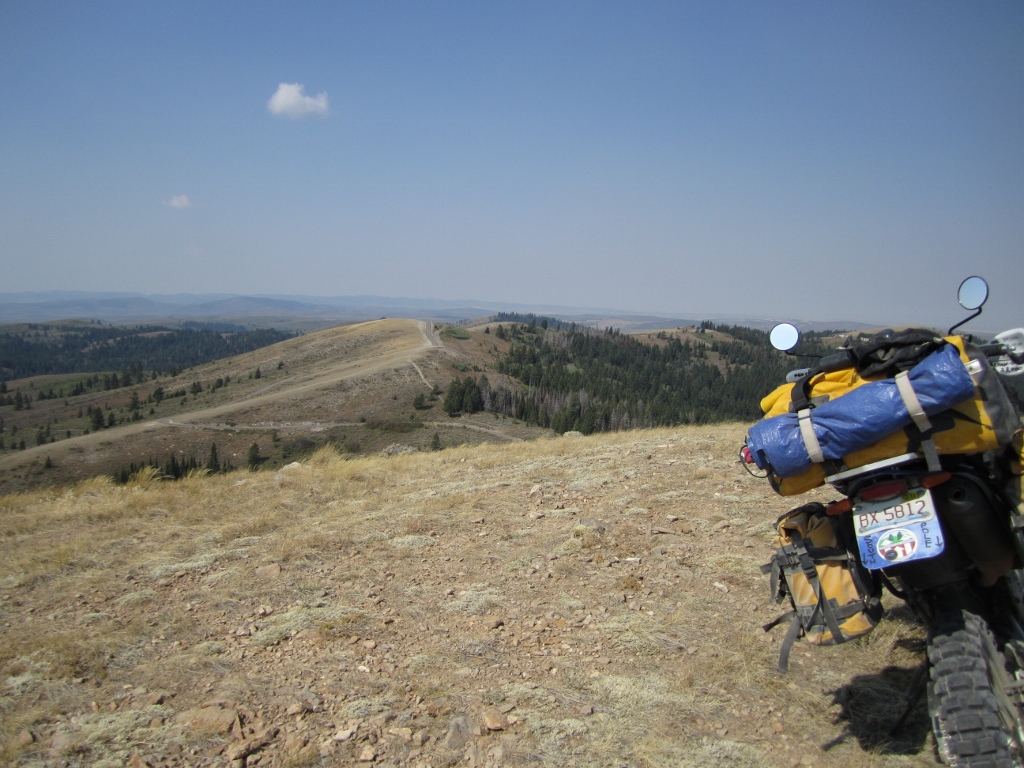 The above picture was taken at the same spot you see on the gps screen---------you can see our elevation.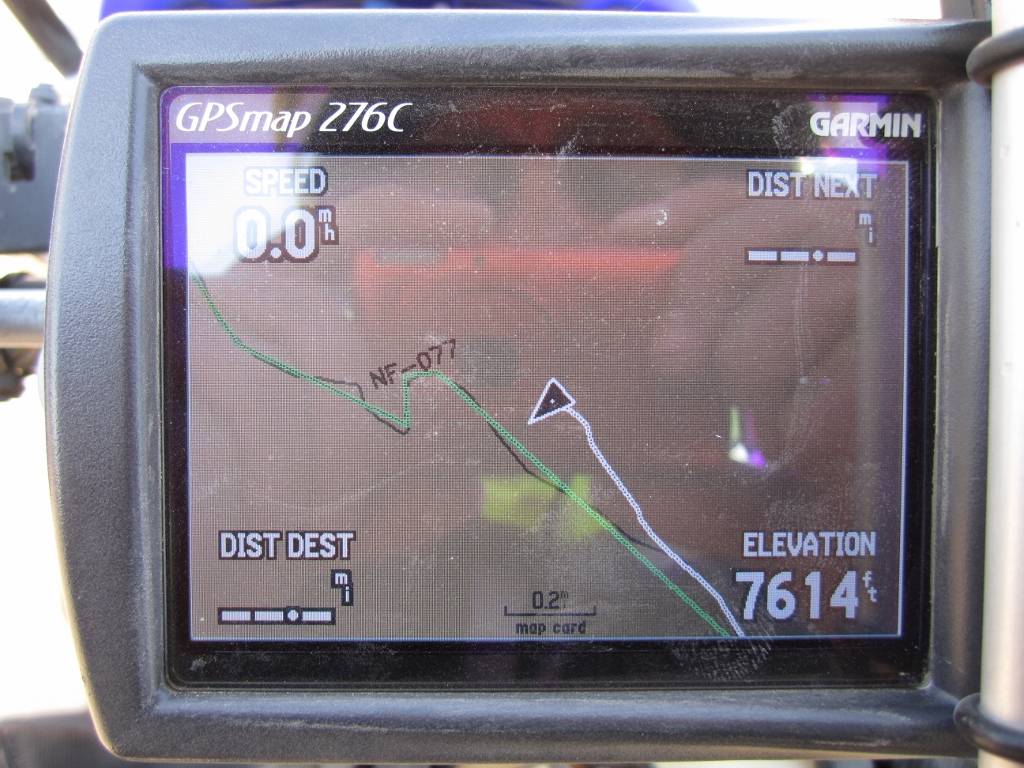 It was nothing but good ole' dirt up here and we loved it.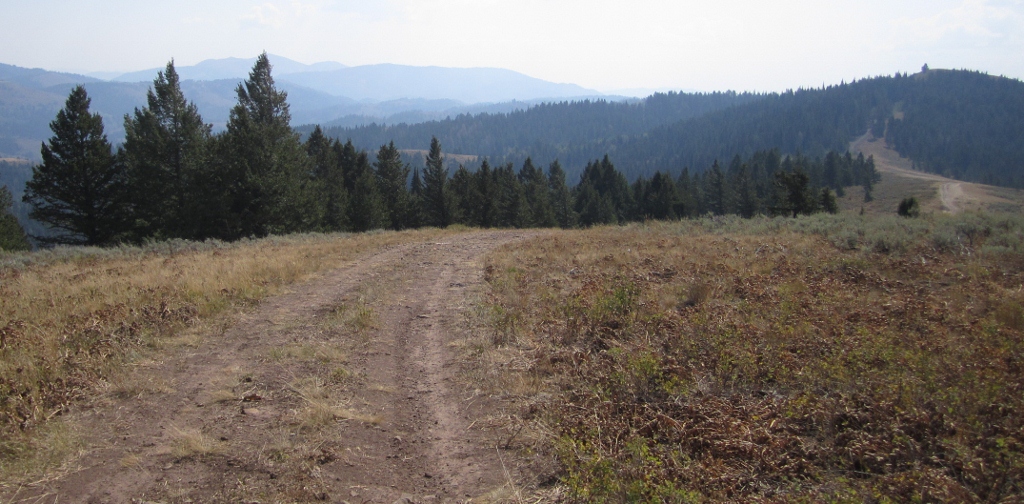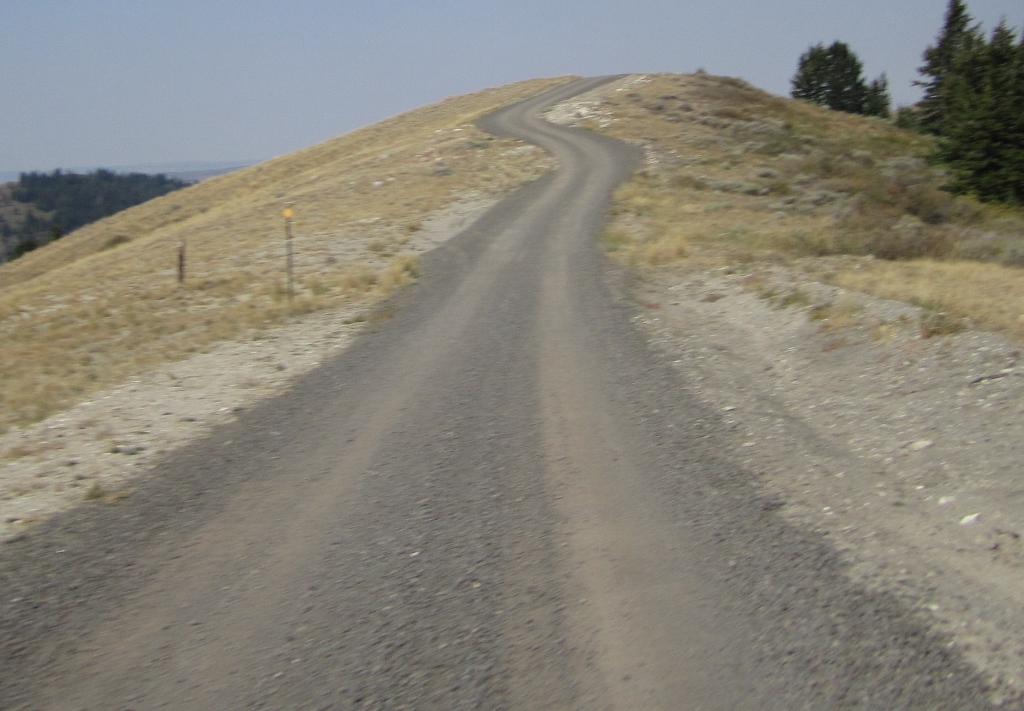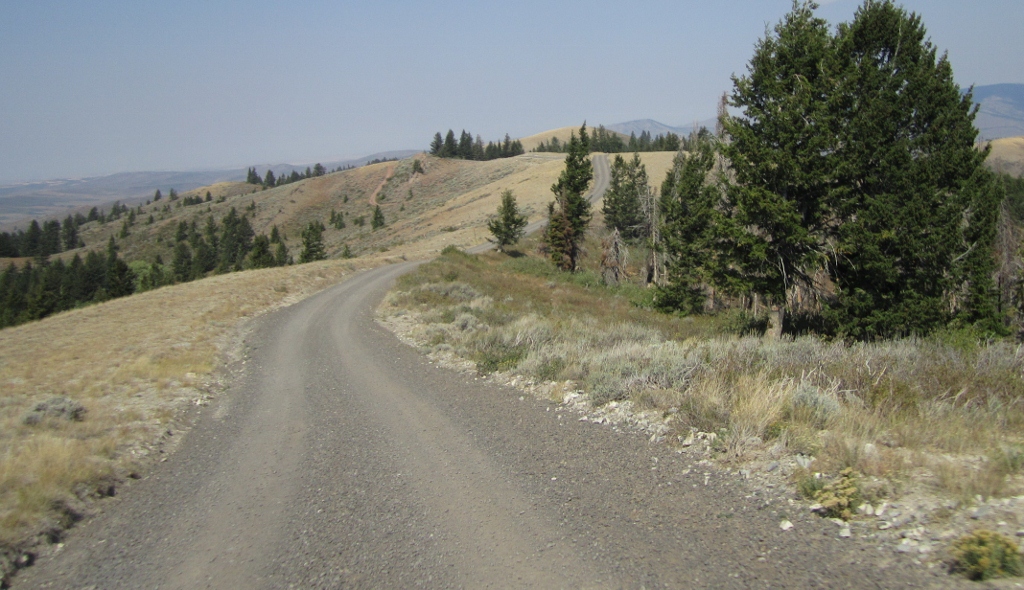 First order of business when we arrived at Questors house----install a new fuel pump in Scotts WR250R.
He was approaching 40,000 miles on his bike and Scott had shipped the fuel pump here and Tony Huegal picked it up for him.
Scott did not want any problems on this trip----and as my fuel pump had failed on our last trip he felt his might fail to.
This is a 30 minute job if you know what your are doing.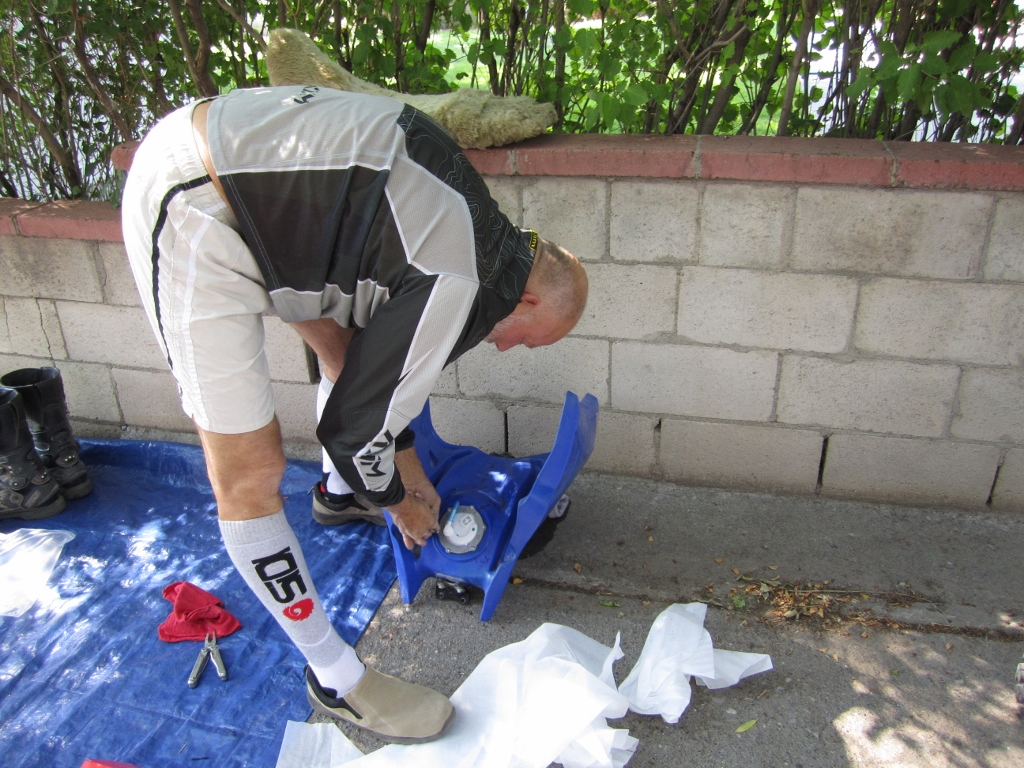 Bad fuel pump-----------bad, bad, bad, bad.
And new fuel pump installed.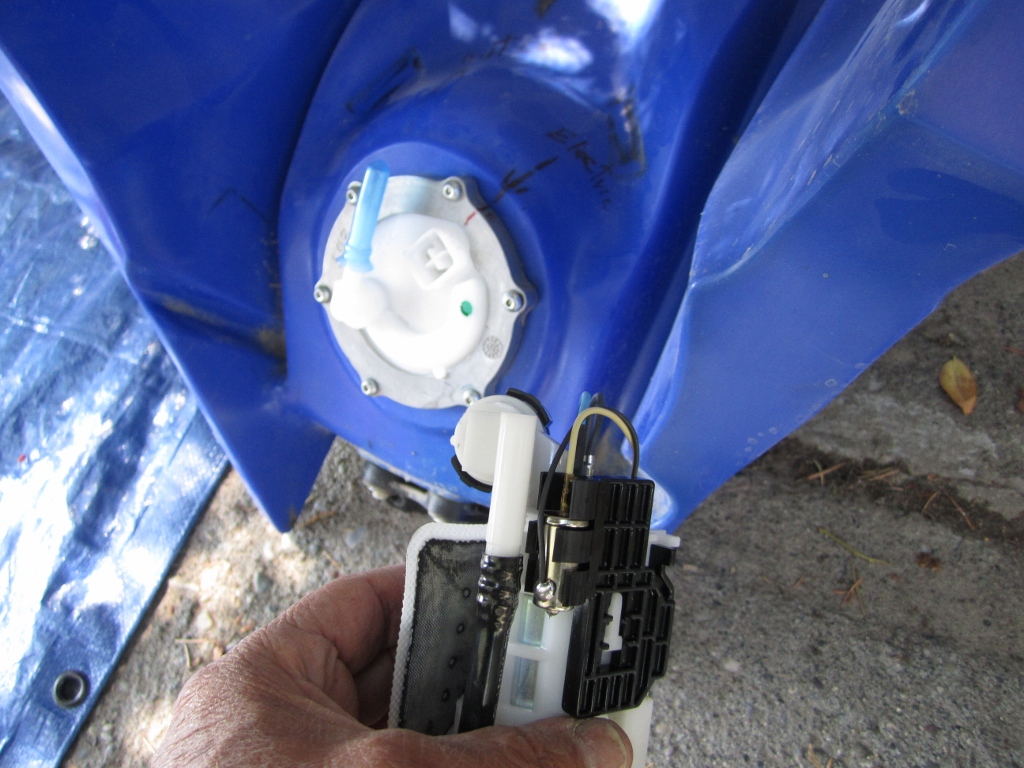 Tony Huegal
What a great guy-----Tony is thee man if you need some help on an adventure. He has helped many people out with guidance.
He was the guy that made the "Forever West" route for Dockingpilot and his crew about 2 years ago.
When Tony talks---------shut up and listen.
Very shy non assuming guy he was----I immediately liked him.
He would ride with us on his really nice KLR for a couple days.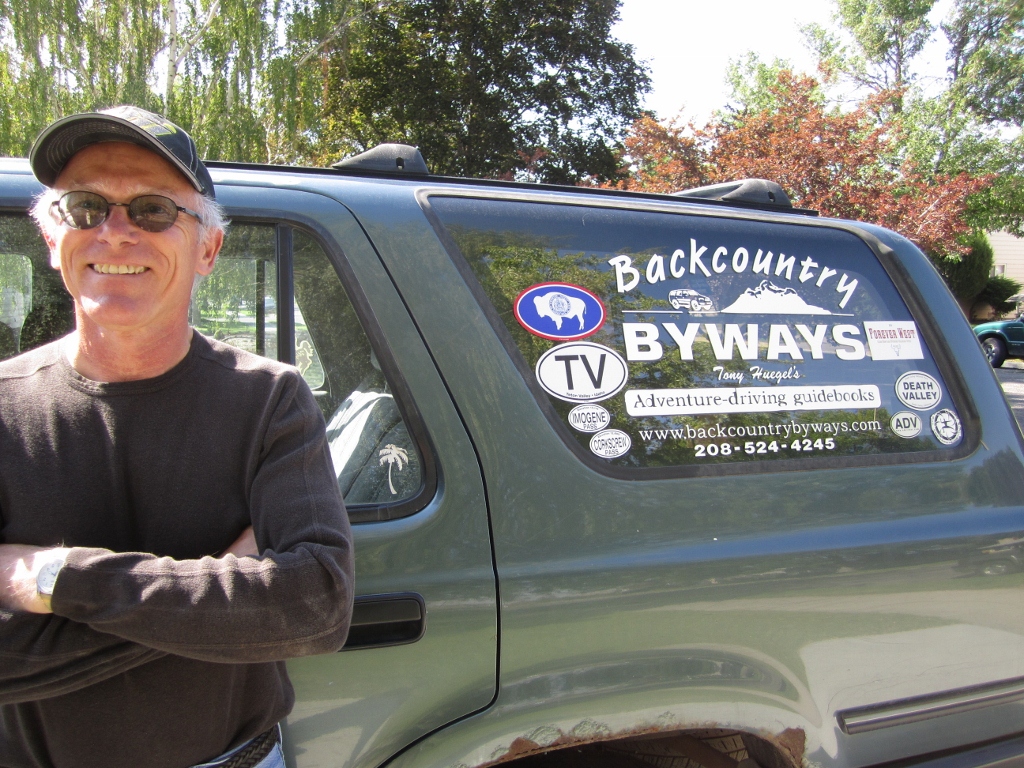 Dr. Rock------as he's called on AdvRider is the utmost techno geek. He is very smart and has all the latest technology and has one of those new Montana GPS's.
I one upped him with my 2013 Model Montana gps in Garmin 276C disquise!!! As he had the old 2012 model.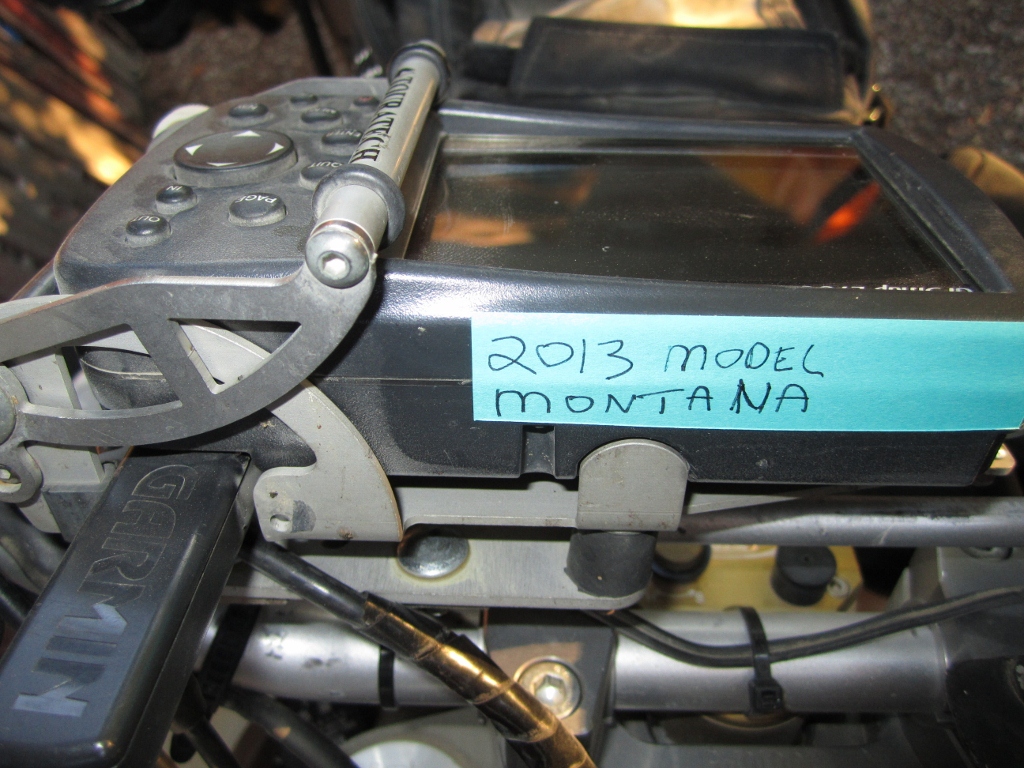 And Dingweeds out did us both with the 2013 Garmin "Idaho".
Not available in stores yet----and was in disquise as a Garmin 276C.
I figured in on some cold weather on this ride and had packed my heated vest and my Shoup, Idaho sock hat.
Since 1882.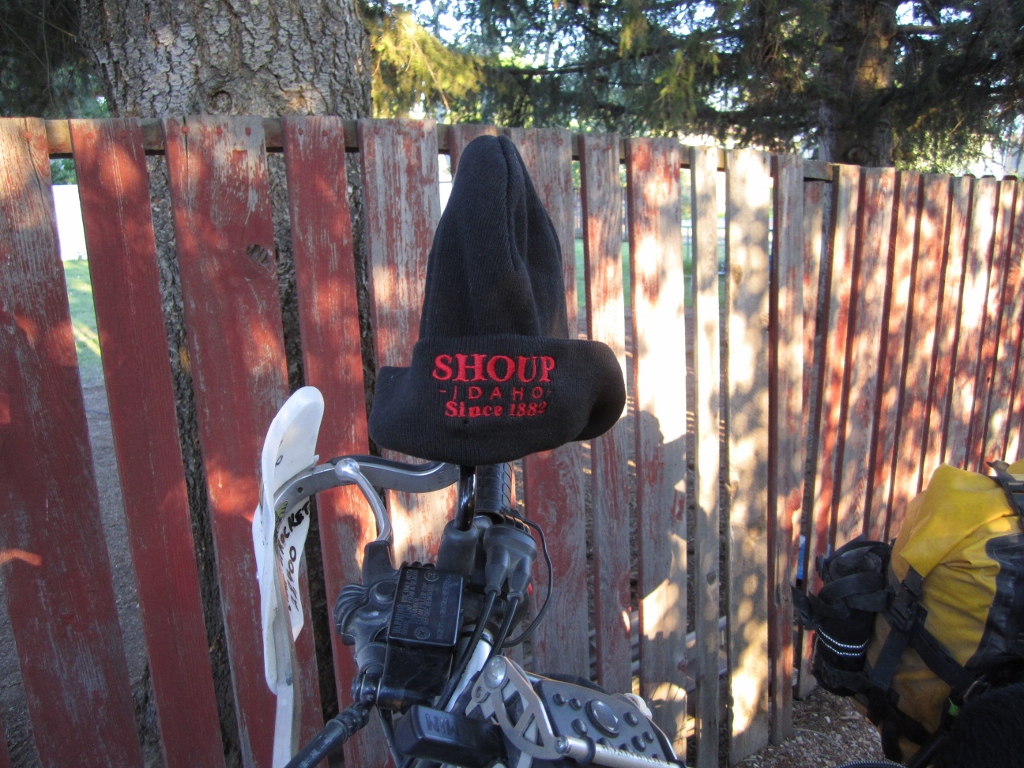 Scott Cadwell, AKA NorthernTraveler
This guy was a hoot---he's been everywhere and has ridden all the routes you here about and maybe have road.........but ....
He's on a mission to "Connect" all of them together----so I called him .................
"Connector"
He's always connecting routes, roads and trails.
He's on a very well set up DR650 and actually was on a way bigger mission than we were on.
He would leave us eventually---as he had "connecting" to do.
See the red thing on the back of his bike---looks like one of those rubber chicken thing-a-ma-bob's !!!!!!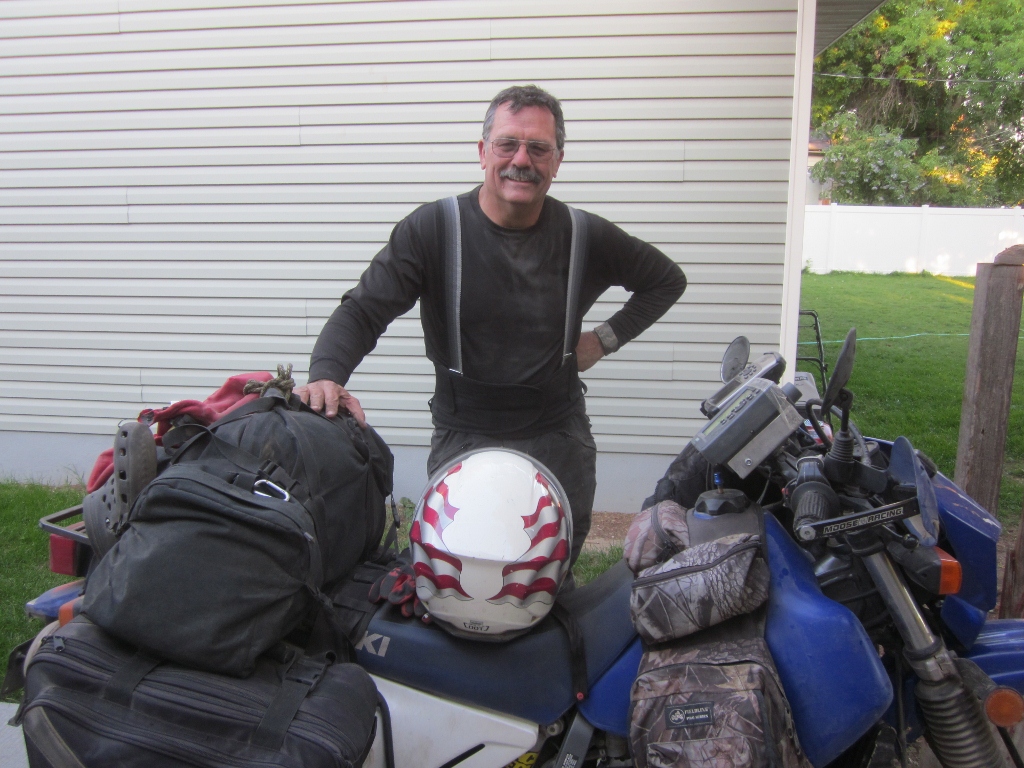 Seems old Scott was cruising down some dusy trail and he stopped and smelled something burning.
Guess what this pile of molten plastic is ???? I mean was !!!!!!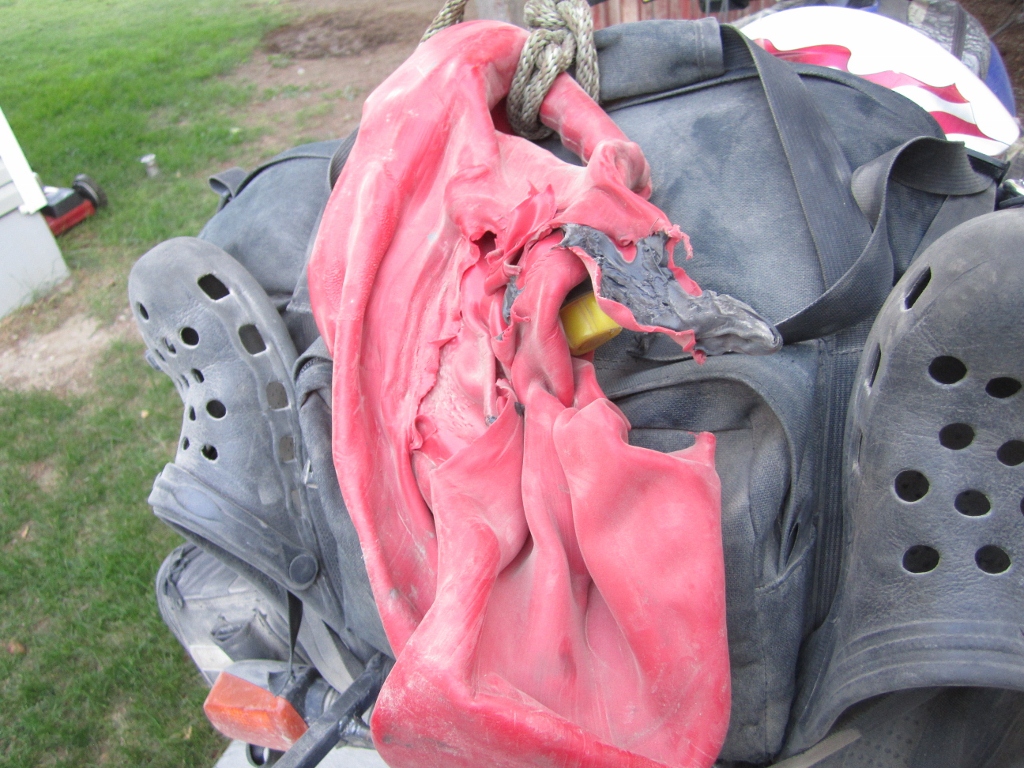 It's a Kolpen gas can---and he goes into this long story about how it had fell off his pack and got right into the end of his muffler.
The whole time he was telling this story I was thinking -------holy crap---wonder he didn't burn alive.
And was imagining the trail of gasoline he was leaving behind just ready to ignite or explode and then the stinch of burning, smoking plastic !!!!!.

Turned out there was no gas in it-------dang it--that would have been a better story !!!!!!
Scotts got 2 gps's------------why you ask ?????
Cause there wasn't room for 3 that's why.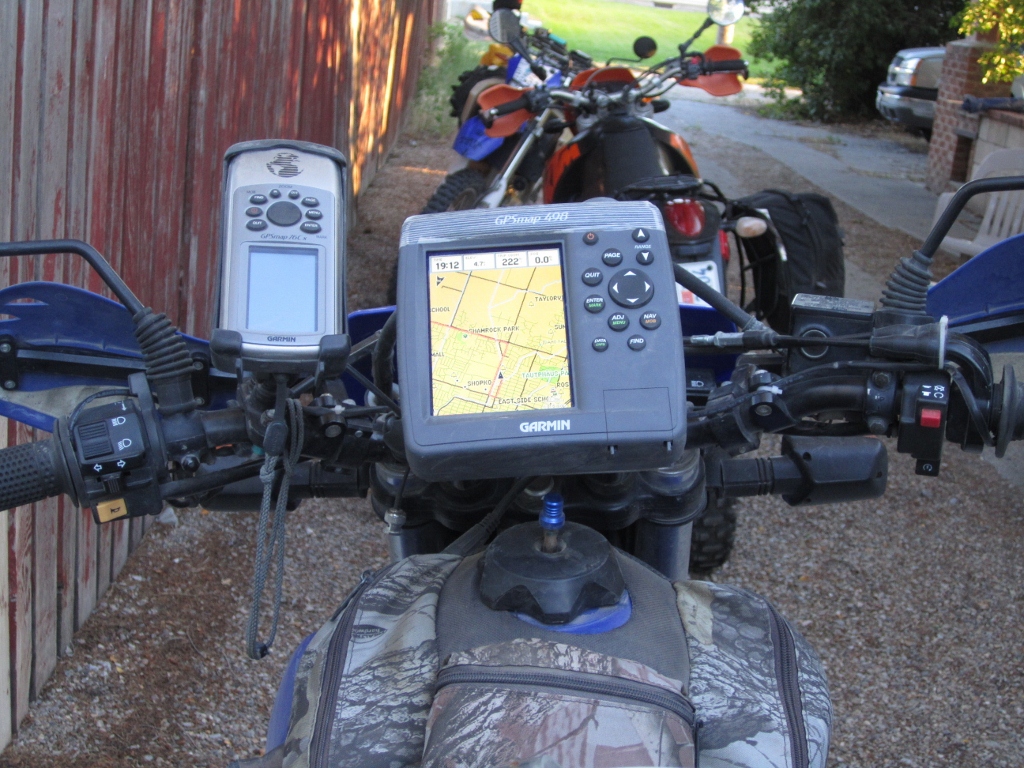 I'm just didling around-------waiting for the Doc and LDF (Francine) and others to show up.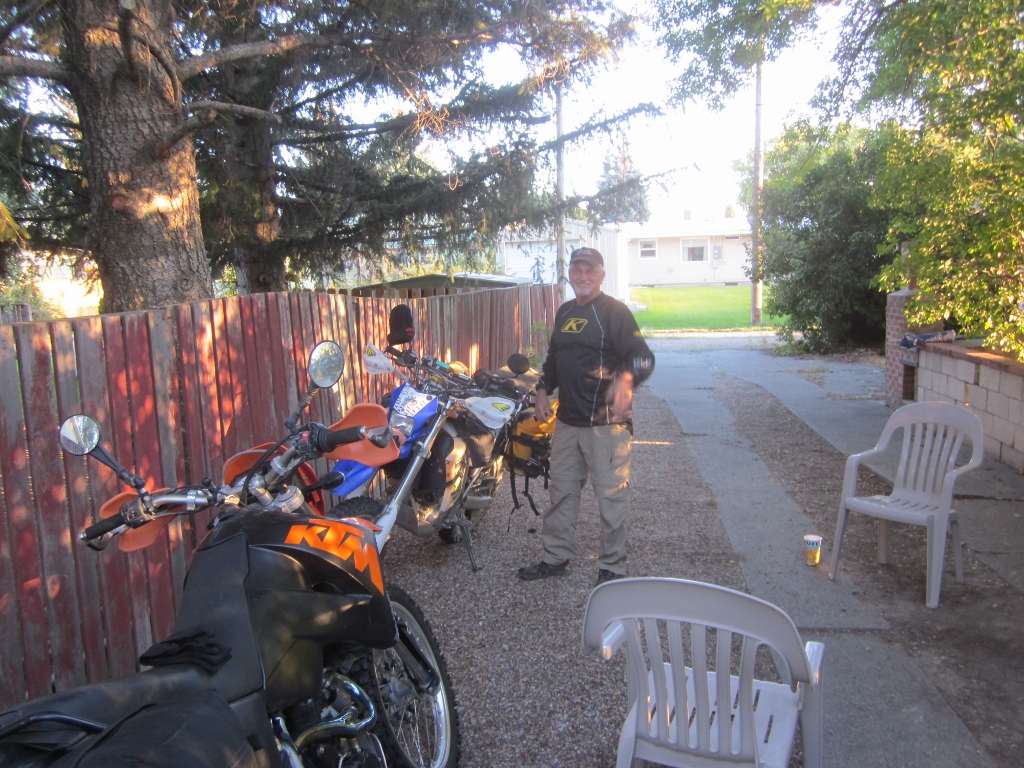 OK----in pulls who I call "BobBob"
His name is Bob and he's Bob on AdvRider--------so I called him BobBob.
Nice fellow on a 640 KTM.
Bob was a quiet fellow who I also immediately liked.
A little longer and ole' BobBob would have a handlebar mustache.
His manner and looks reminded me of this guy on TV on one of those classic car shows.
Ole' BobBob is a classic alright.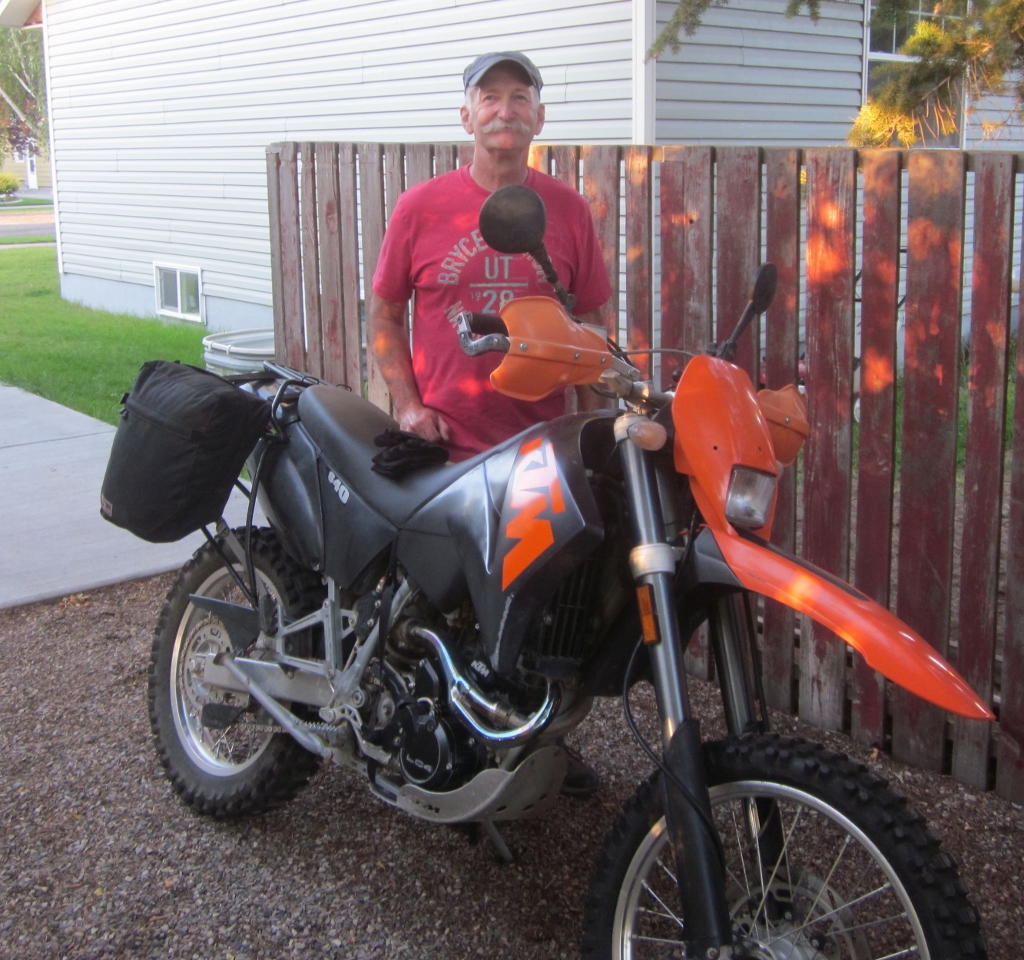 I just thought I knew gps's and mapping. Connector blew me out of the water.
Hell--what do I know-------I've only got one gps---and his was 10 times bigger than mine !!!!!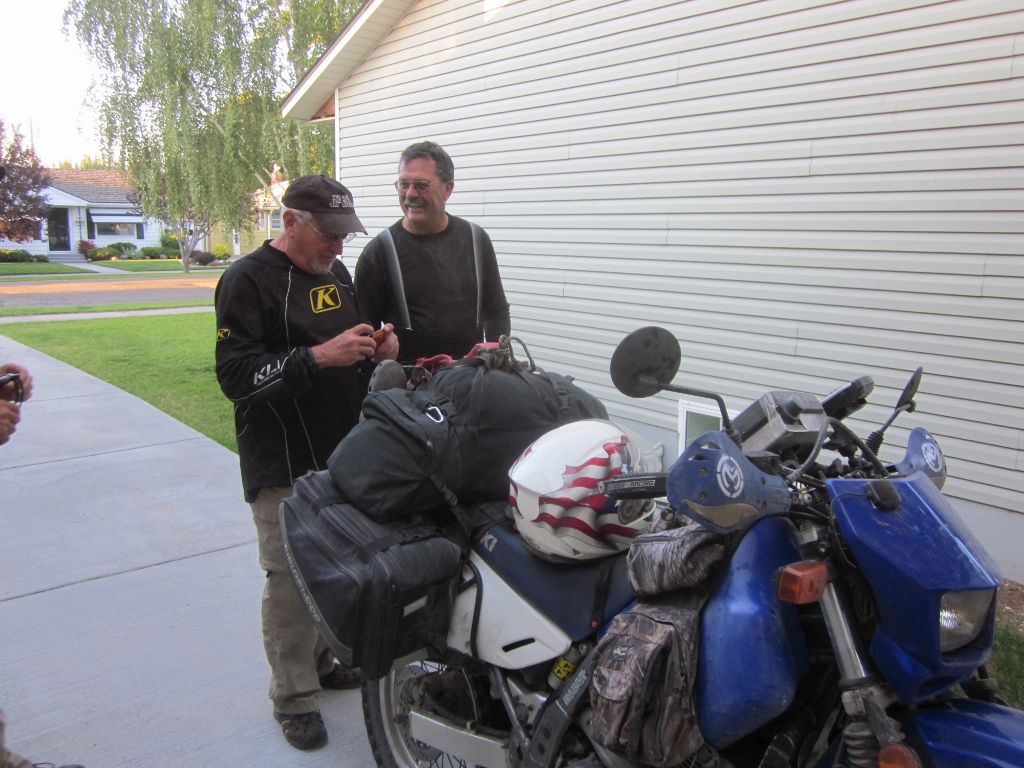 The Dr. and Francine showed up----and his old DRZ which had been sitting a long time fired right up.
Here he is trying to not piss off the neighbor with his loud bike ------as he did the last time he was here.
Got a little butt chewin from the lady next door I heard.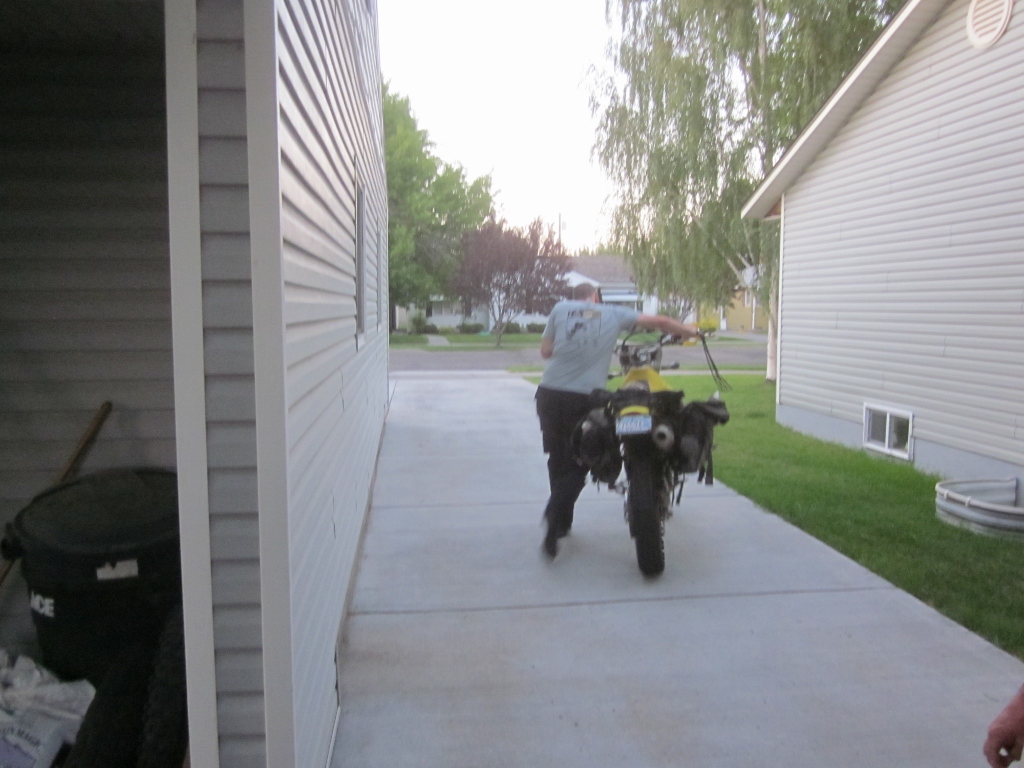 A rough map of our ride to Questors today.
97 miles for the day.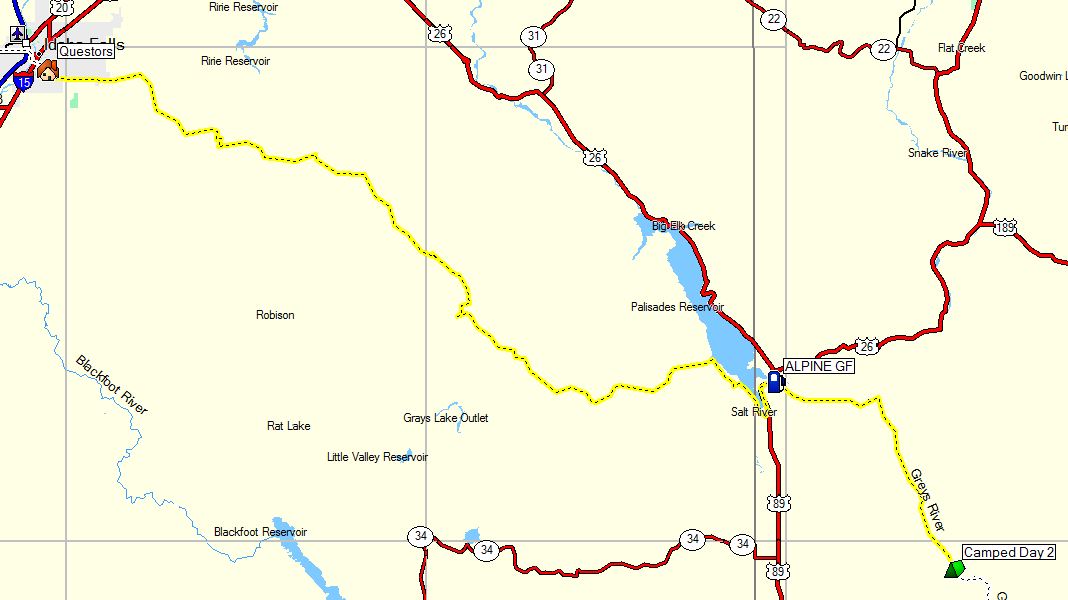 Day 4
September 8th, 2012
Idaho Falls, Idaho to Clover Meadows campground amongst the grizzly bears
in the astounding Gravelly range of mountains.
Up early in the morning there were still things to do----Dr. Rock had to put new rear tires on both the DRZ's and re-install the batteries--check everything out--get
their riding gear all sorted-------all sorts of stuff after flying in my New York------I don't know how he got it all done.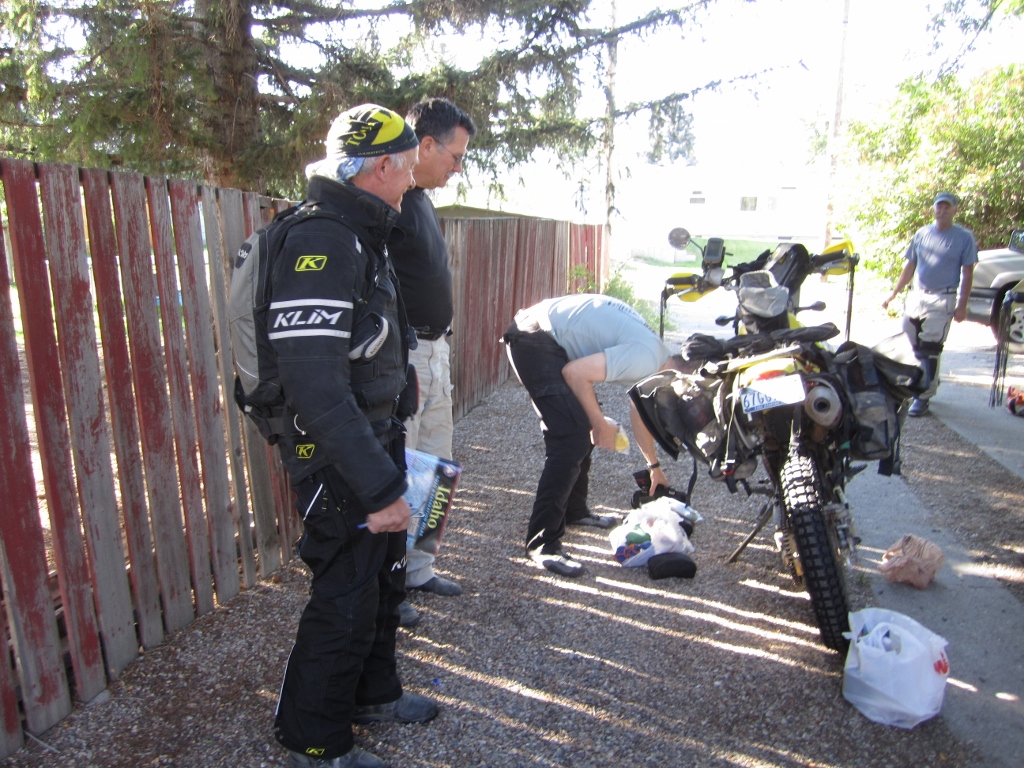 Francine waited patiently---------but was very eager to just get riding--we were all eager to do that.
Later I would find out that this girl could get her hands dirty and greasy just like us guys.
She calls her bike "Blueberry" and really likes it---said she'd never part with it as it just fits her perfectly.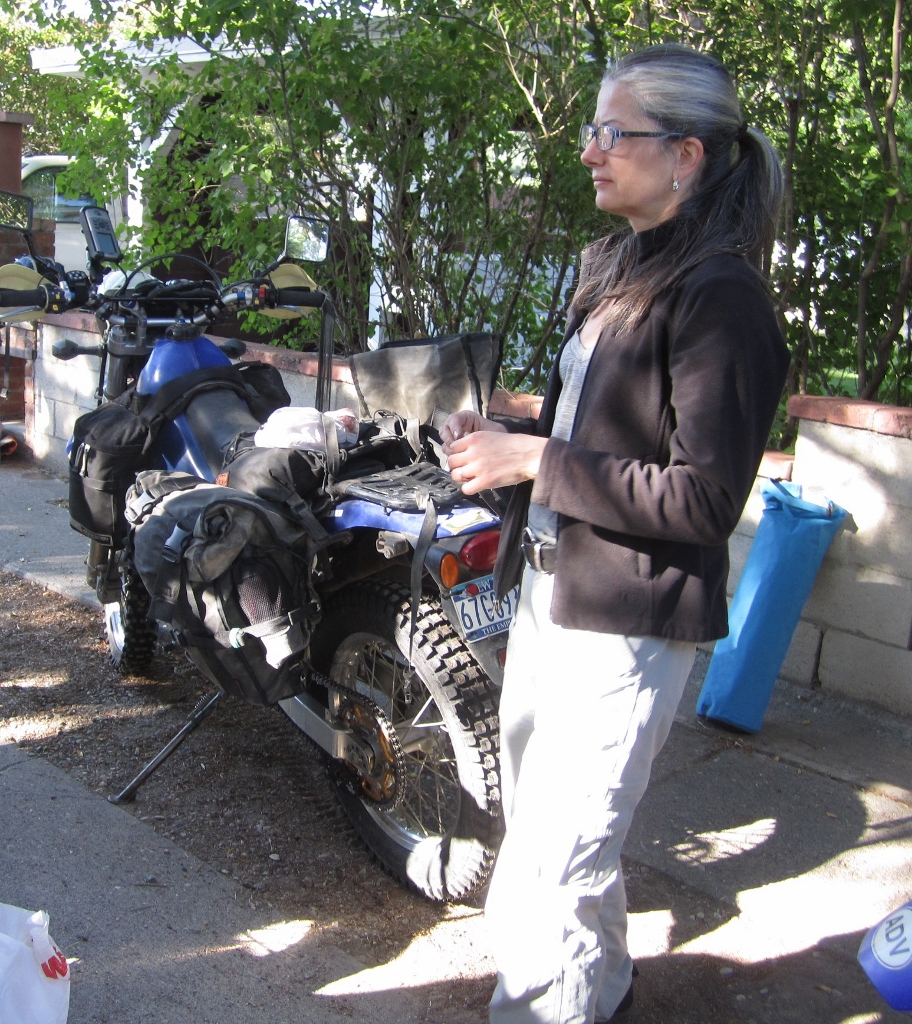 We had all holed up in Ed Wilkinson's (Questor) house for the night while Ed was gone on a ride on his KTM SE---a big KTM rally I think.
We had the place to ourselves-------well---there was Questors cat---"Mr. Purrrrrr".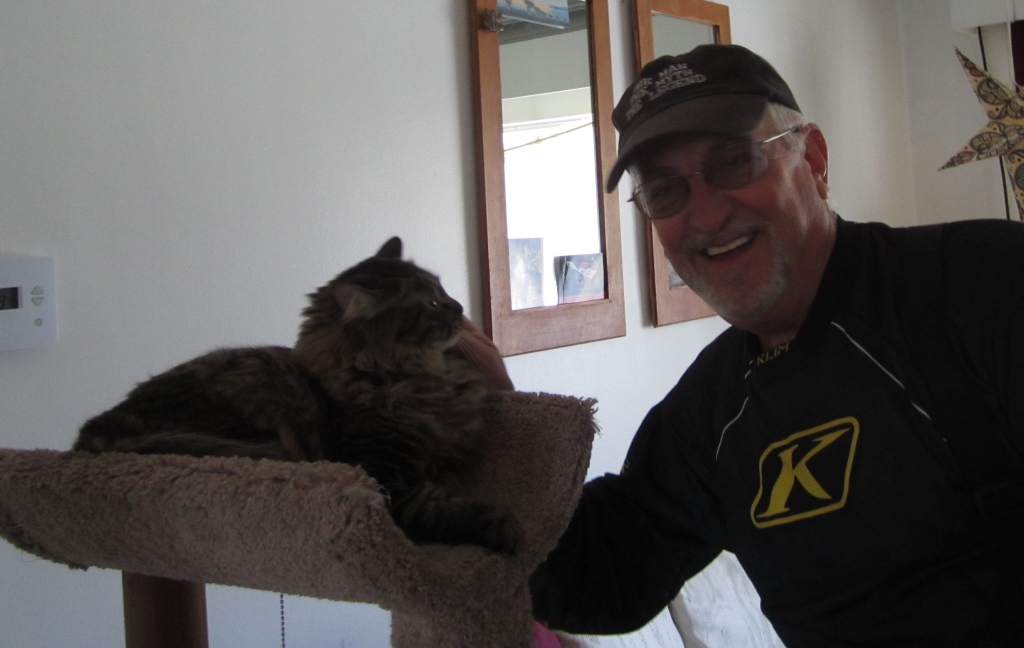 Me and Mr. Purrrrrr became immediate friends and when I tried to shew him out of the bathroom to take a shower he looked up at me and you could read his lips.
"I don't think so------this is my house BigDog"
Purrrrrrr---Meeooooowwwww.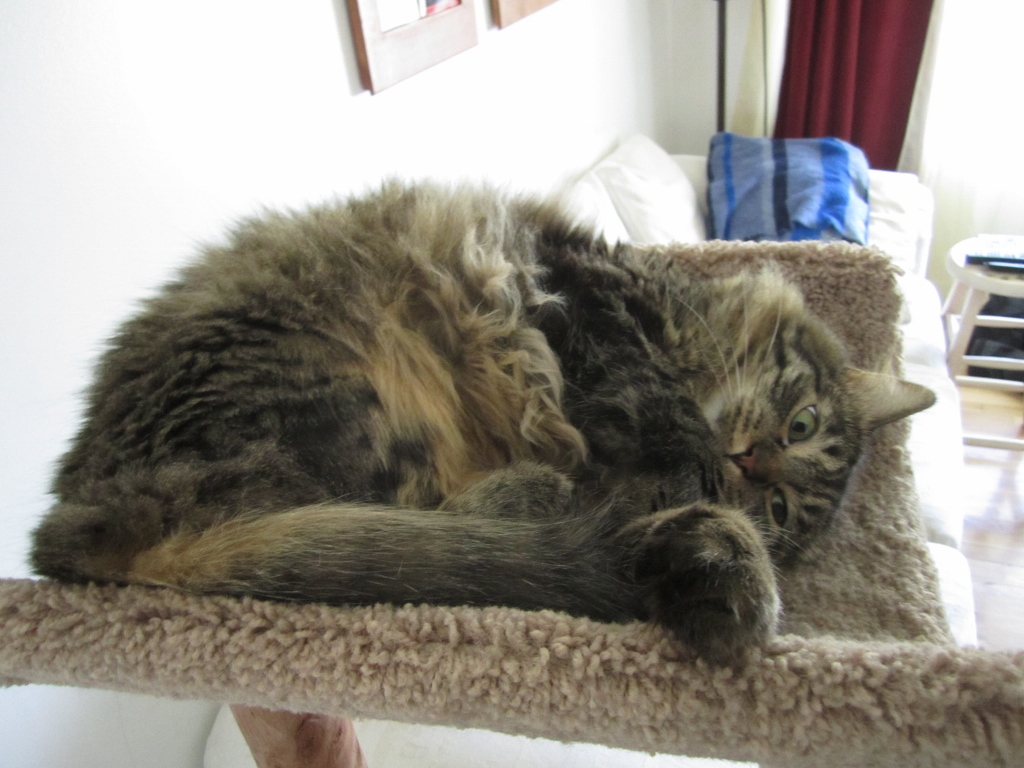 Busy as beavers everybody was----between working we all tried to get to know each other.
How was this all going to work out-----would we get along---would we get up at the same time--would we ride near the same pace---would our bikes be
compatible----would we eat the same foods----would our camping habits be completely different---would we go to sleep at near the same time---do all of us
have the fuel range-----are all out bikes prepared for this-----how about our different personalities--how was this going to shake out.
Well-------just read on.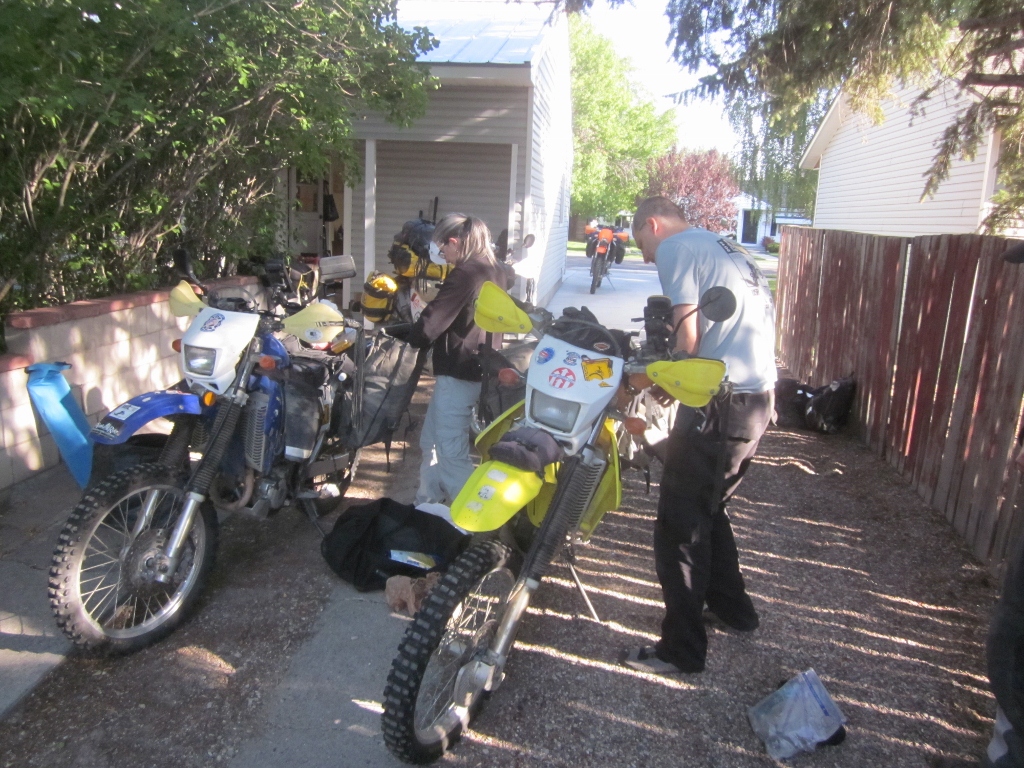 Dr. Rock has a helmet-----------I mean goggle cam built into his goggles-------really neat.
Dr. Rock and Francine have helmet commicators---the rest of us just holler, point and grunt.
I think he's tellling us to get going here---------that away !!!!!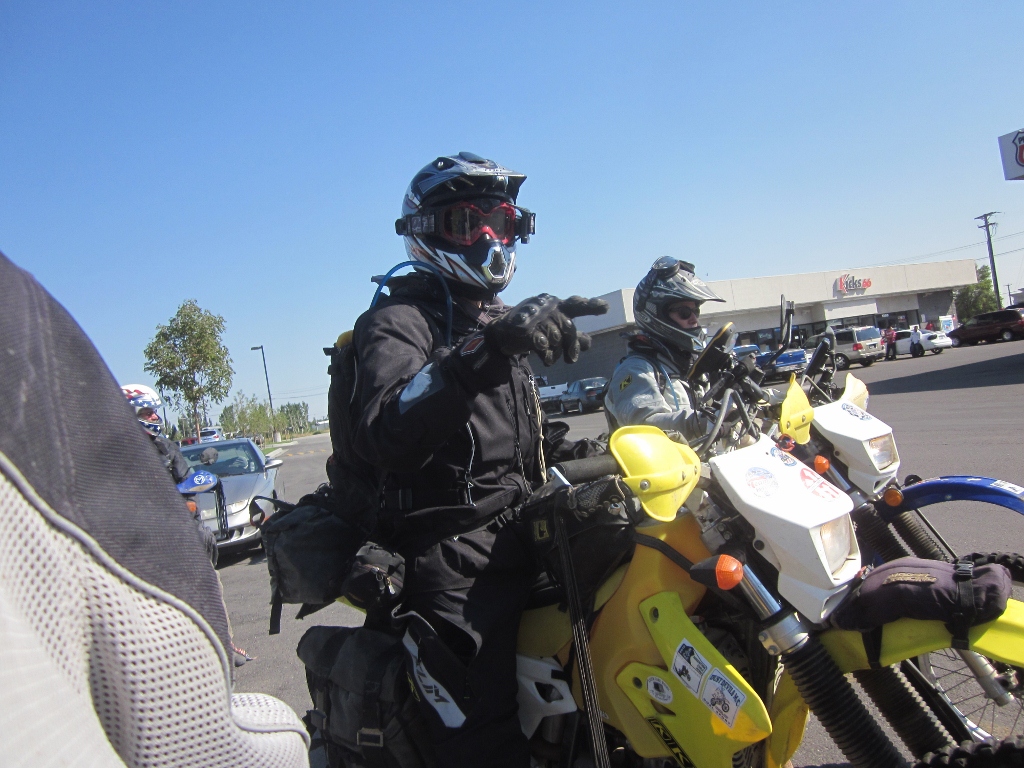 I've gotten my hand slapped for poking at someone else's GPS.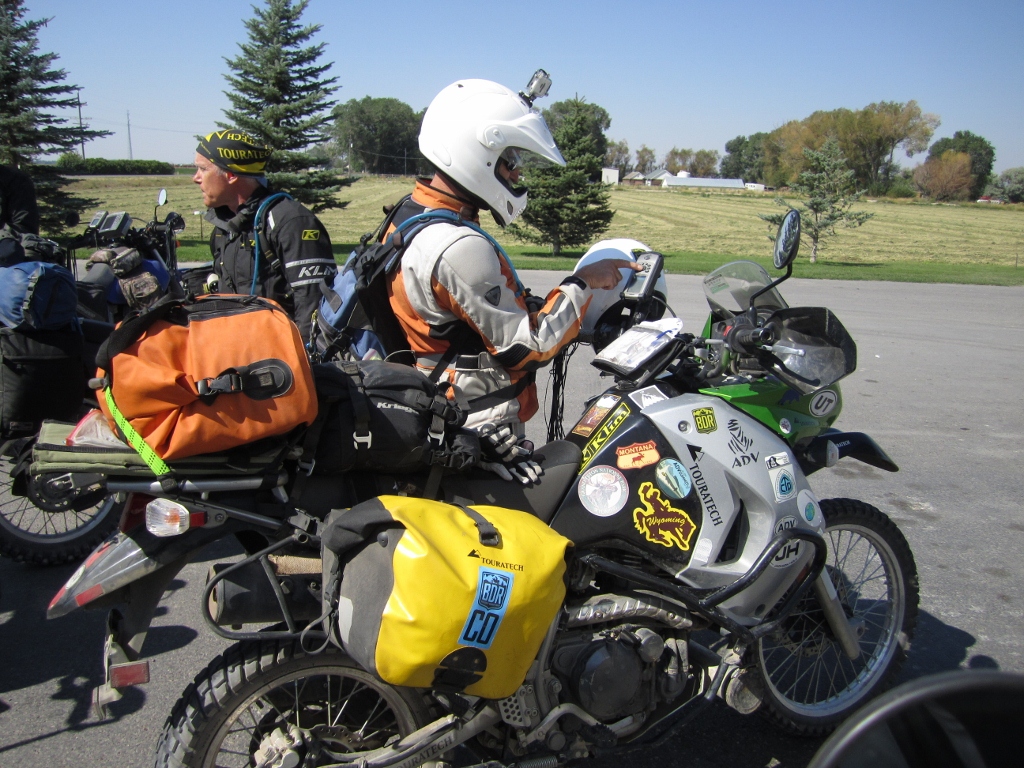 Hey--------he's going to hit me !!!!!!!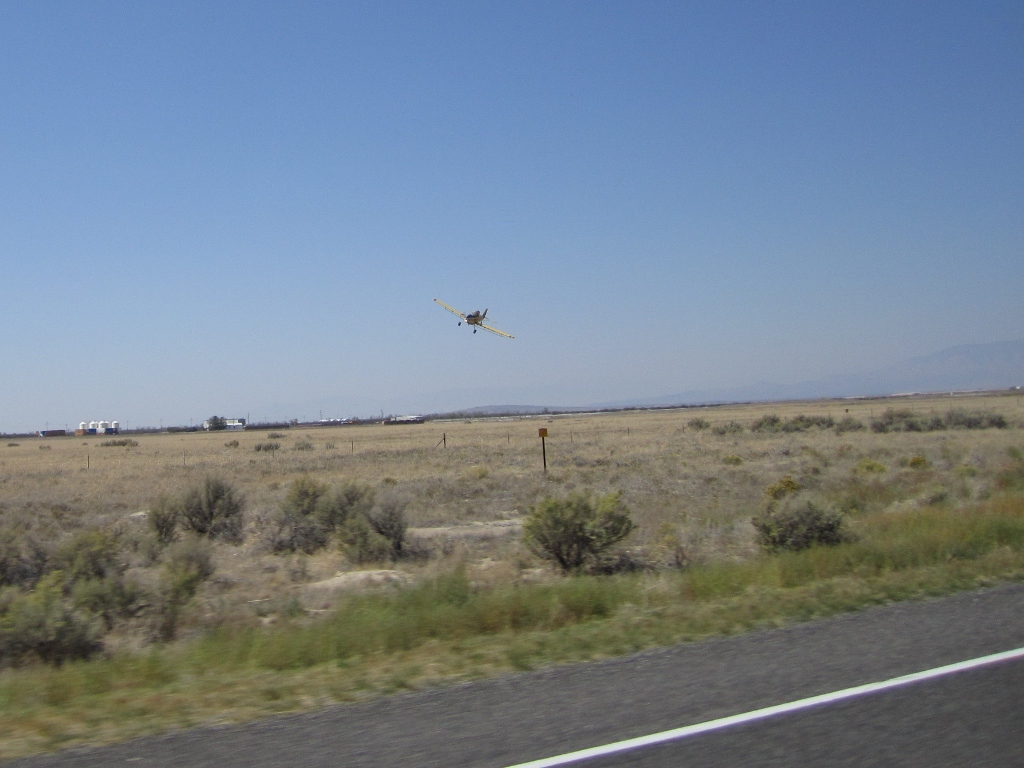 This scared the Ba-Jeesus out of me.
Scott got the pic-----he was right on top of me.
Always wondered how I'd die--------never thought of a crop duster plane takin' me out.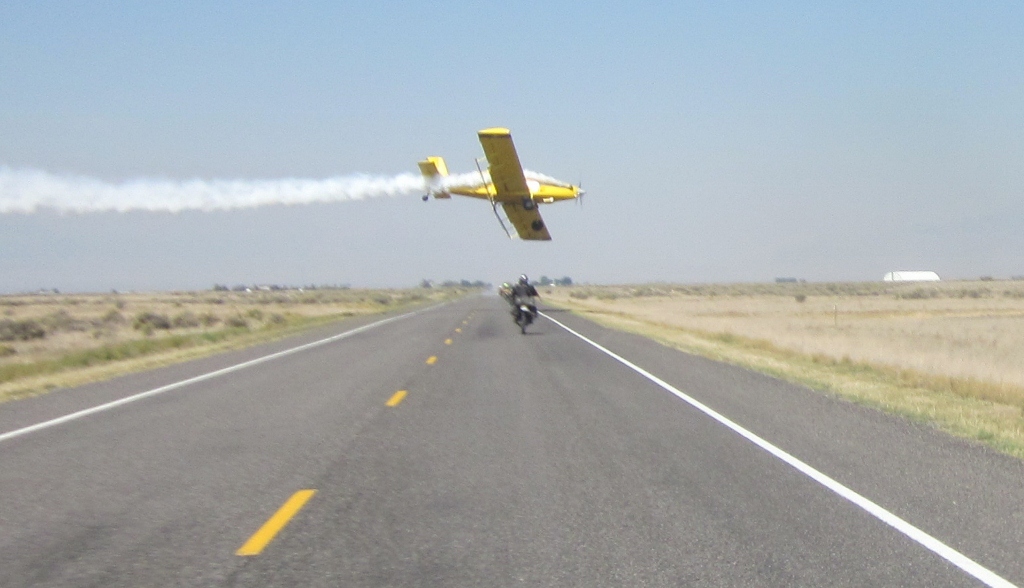 The meeting of the minds.
Tony (middle) was in charge------he knew this area well.
I thought I was just gonna lay back and tag along on this ride----that would change later on.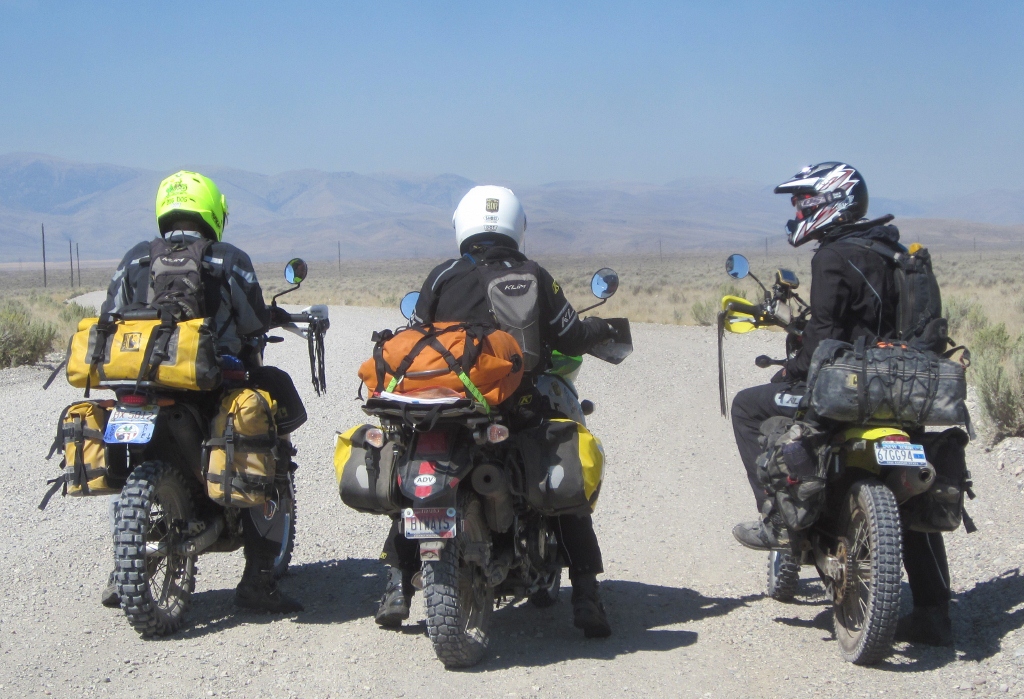 Hi Tony-------Tony needs more stickers.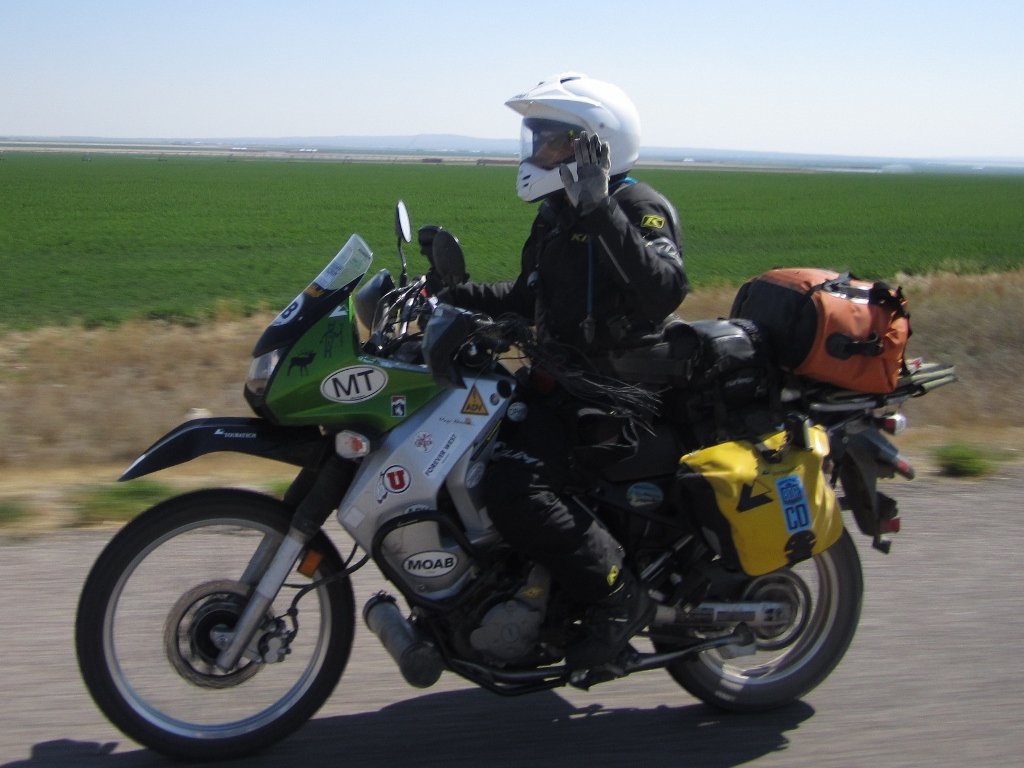 Again----Francine filed her nails, dangled her leg and had a sip while she waited for us to get going.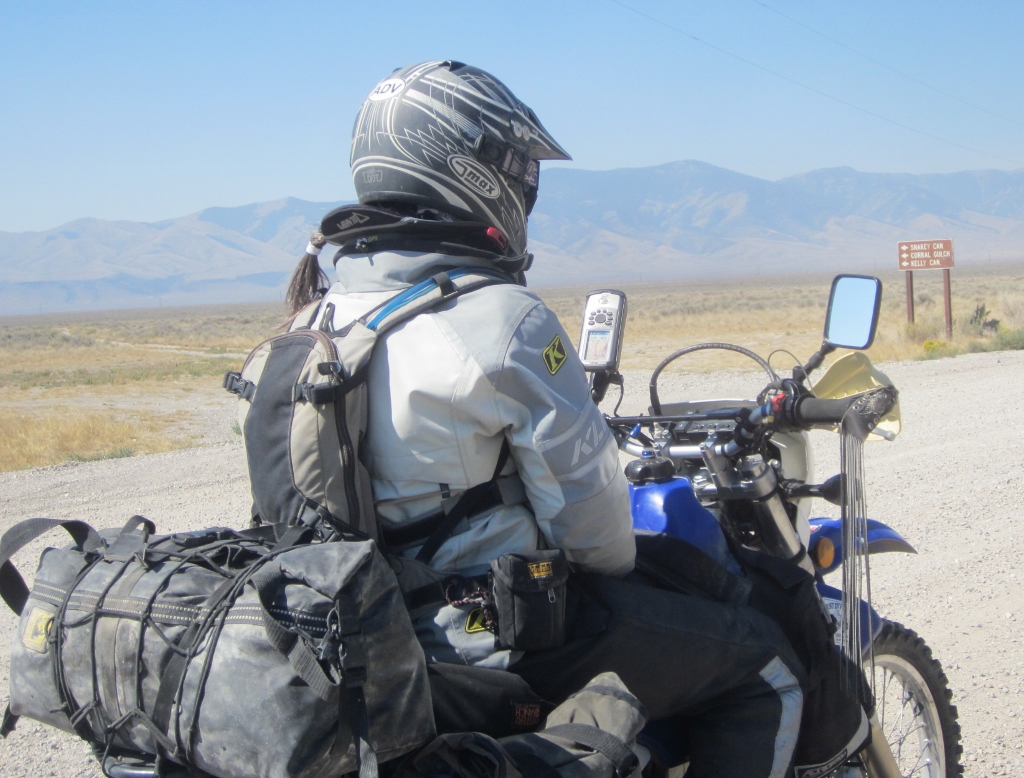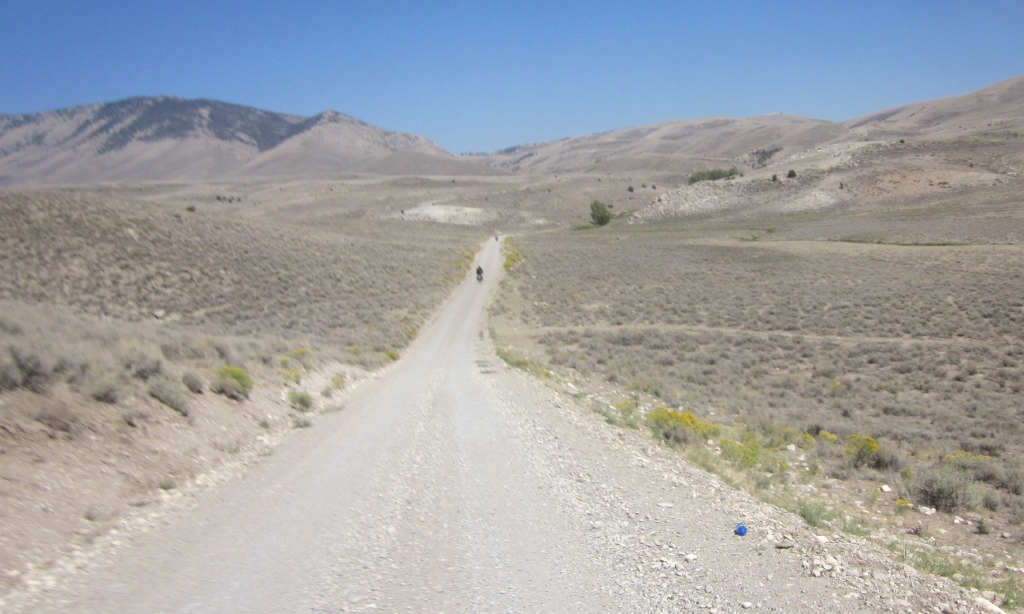 I remember reading about this little school house----but now I was there------nothing else around and it was all open to check out.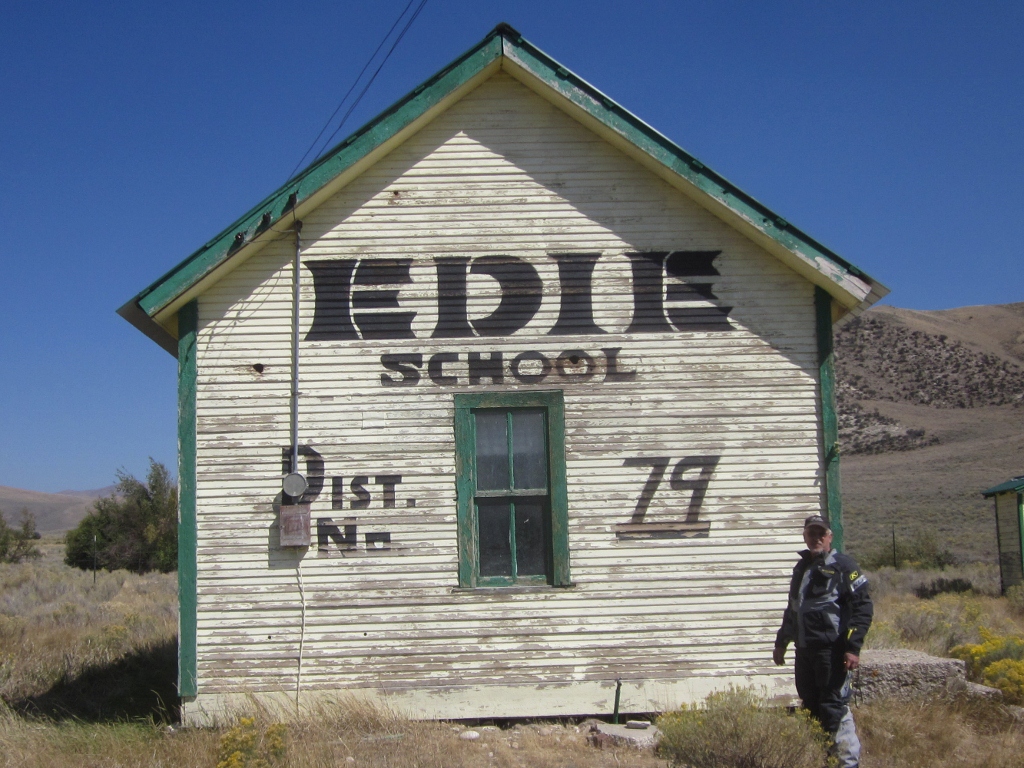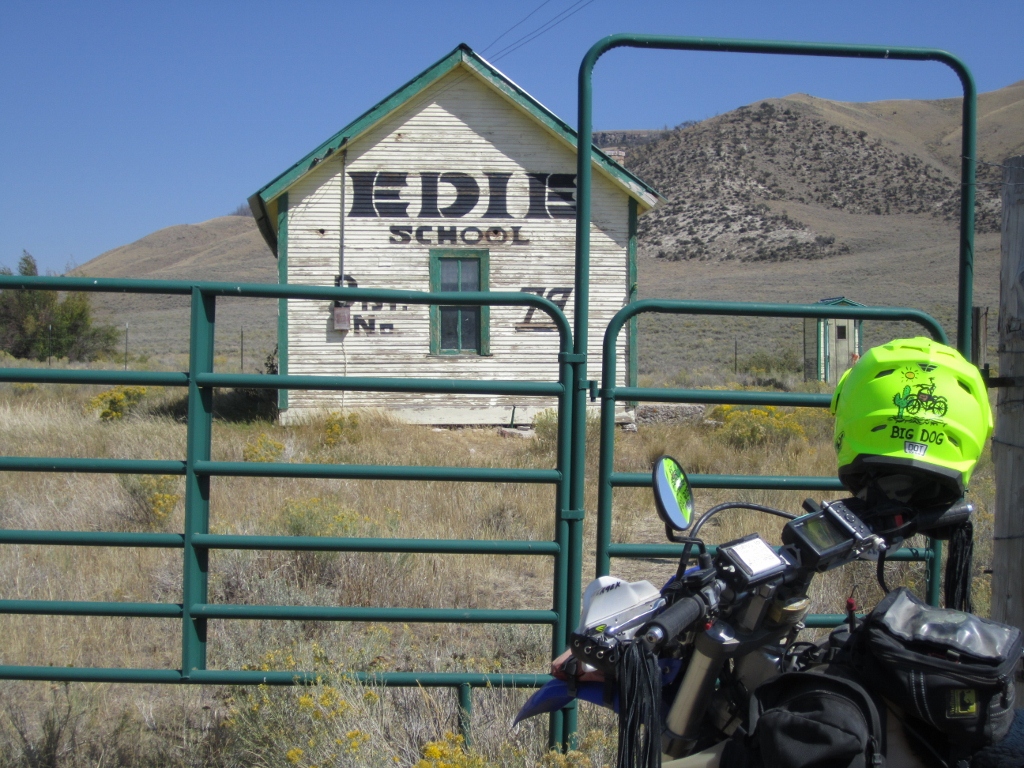 I'm very familiar with one of these.
We need to bring them back----it would take care of 95% of our crime.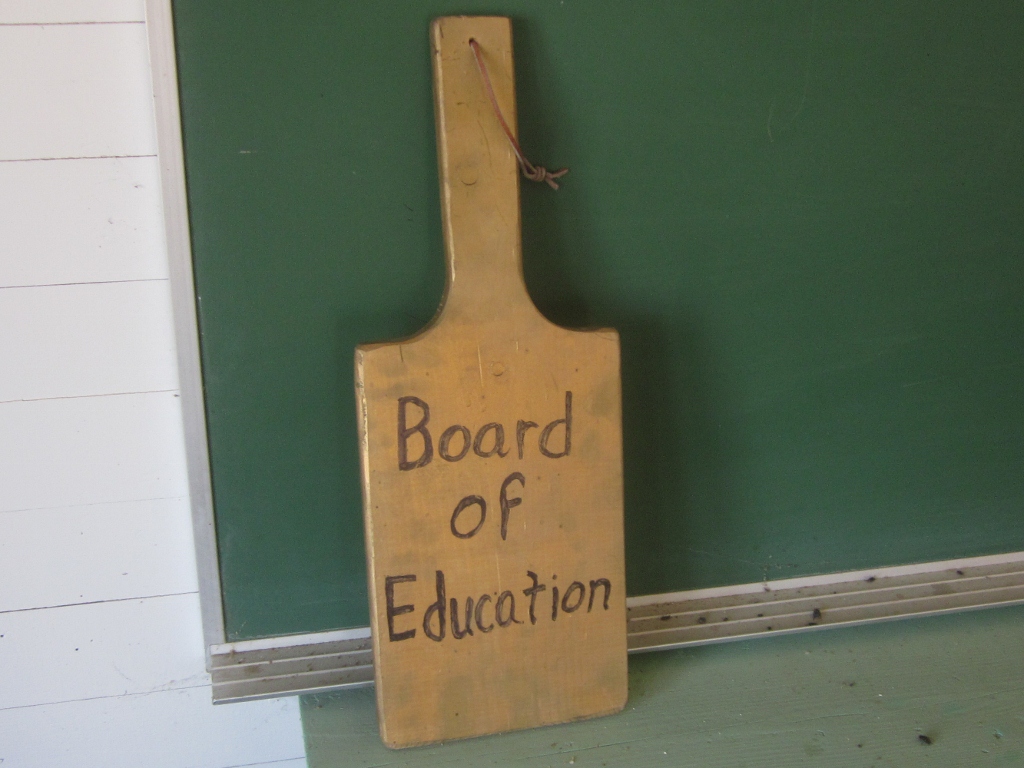 Tony is really liking this.
Ahhhhh----the memories.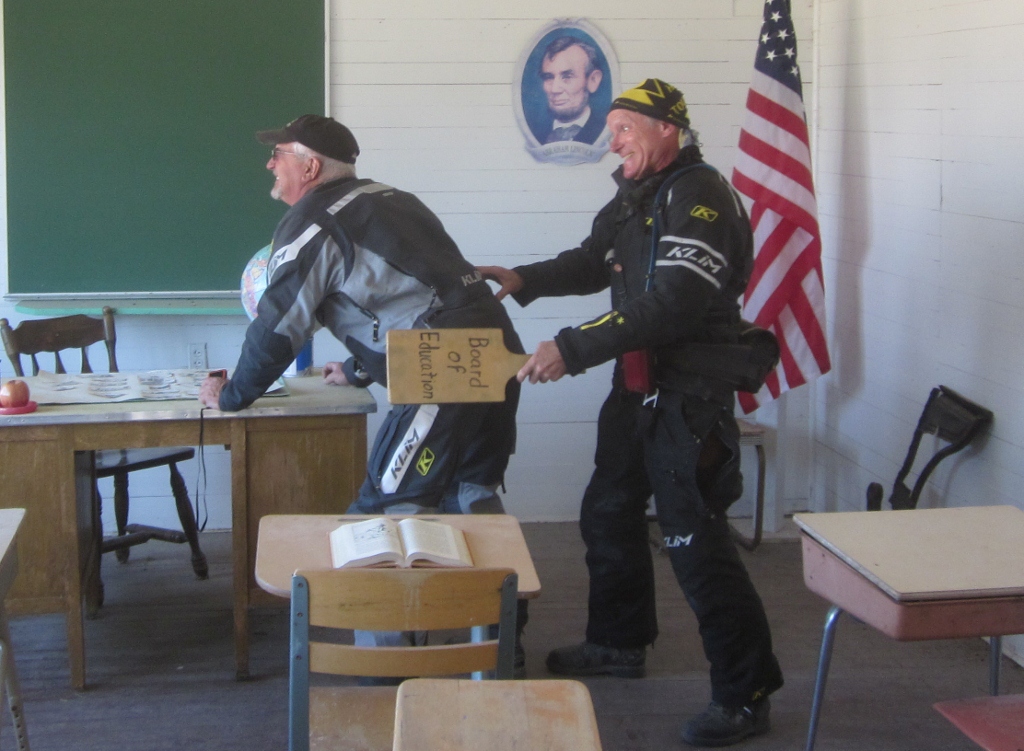 BobBob wasn't gettin' away from the stove.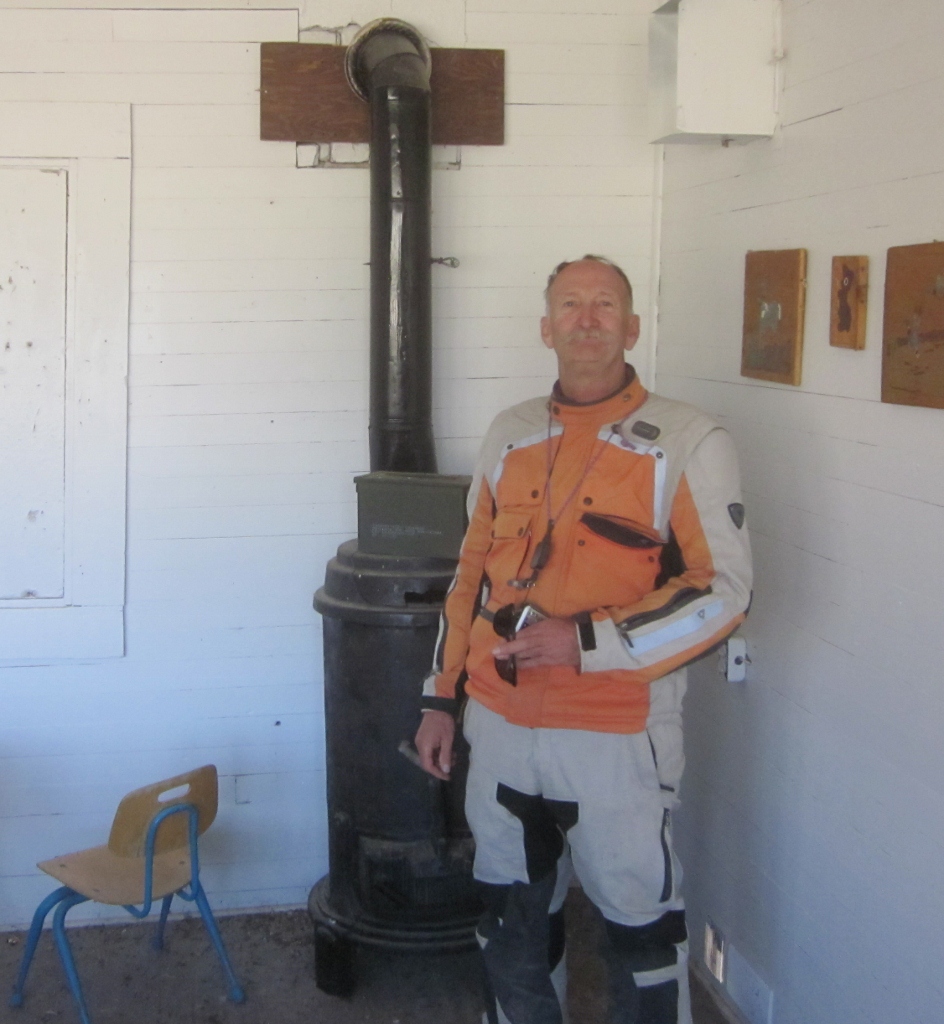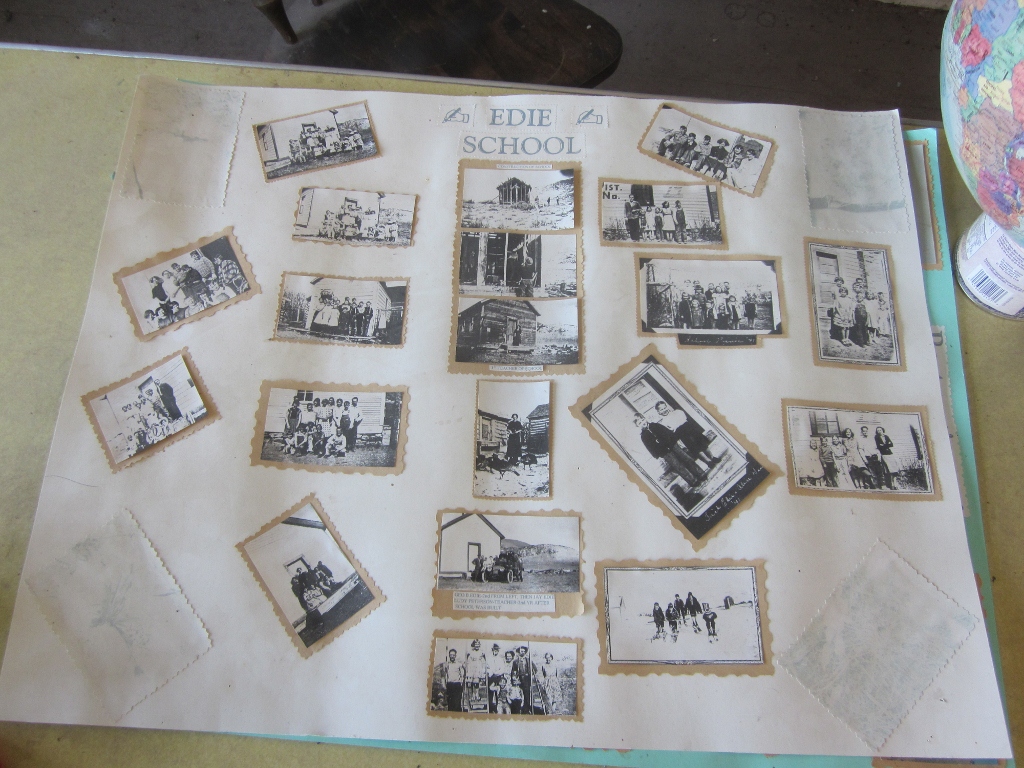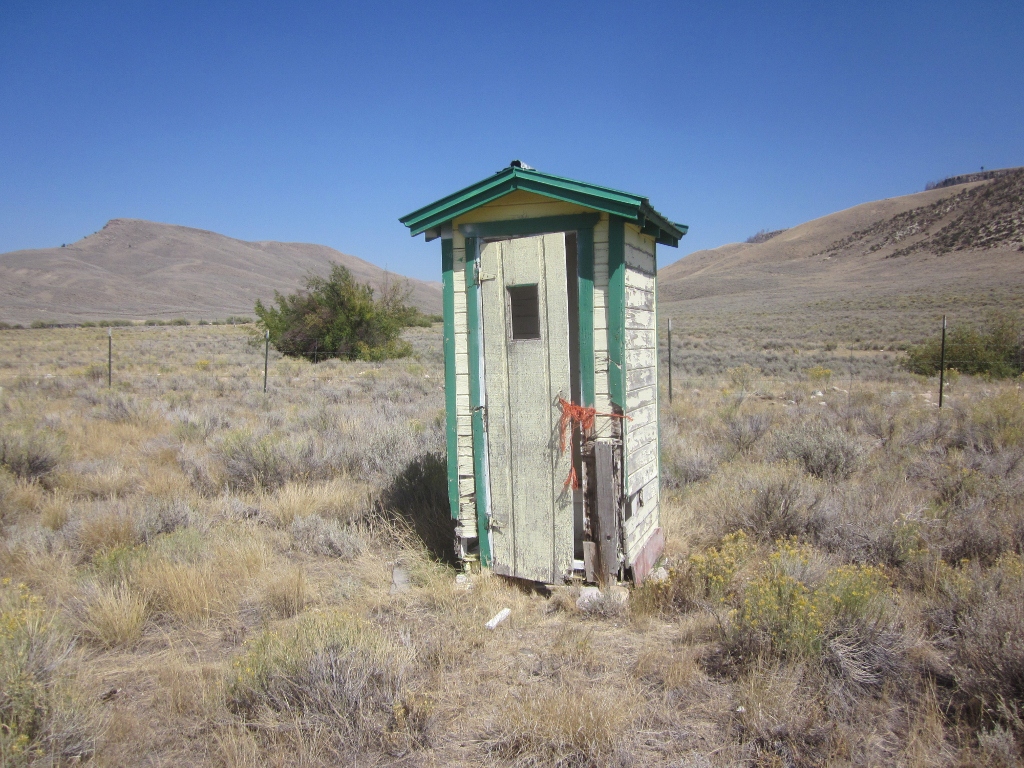 Dr. Rock who I'll now call Dave had some kind of balancing beads in his tubes. They would get in the valve stem and cause it to leak.
It happened a couple of times---but he was able to clean it out and carry on.
He had rimlocks on--so this balancing act was probably a good thing---rimlocks are pretty heavy.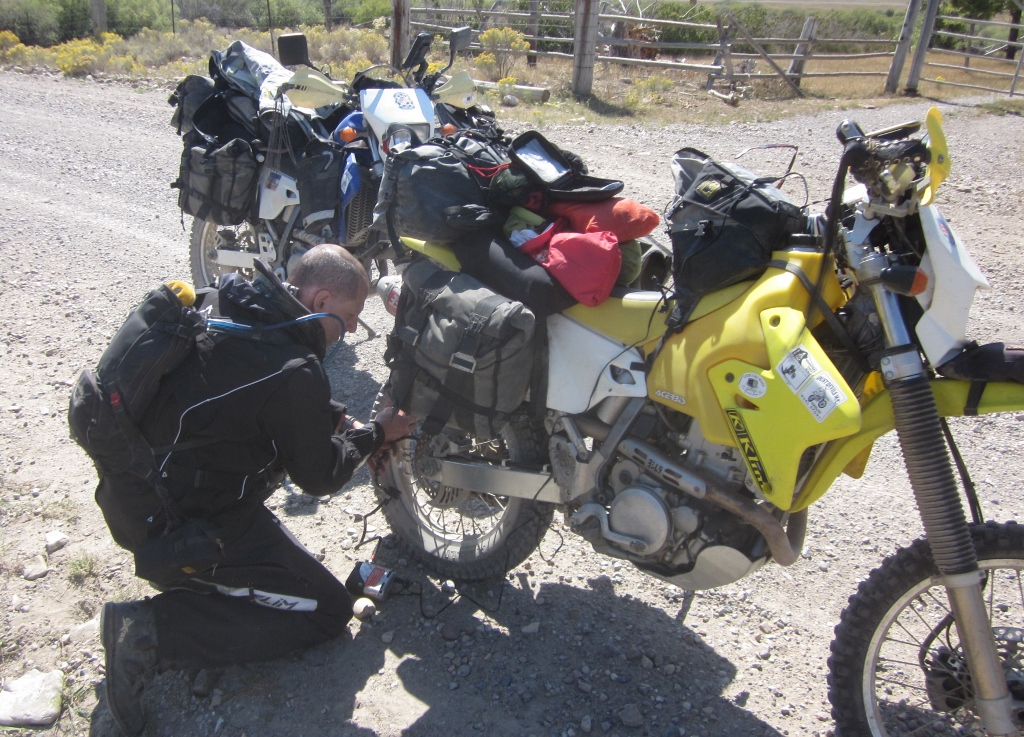 I don't see no stinkin' rain---------it never rain on us this whole ride.
A few drops one night in the tents------that was it.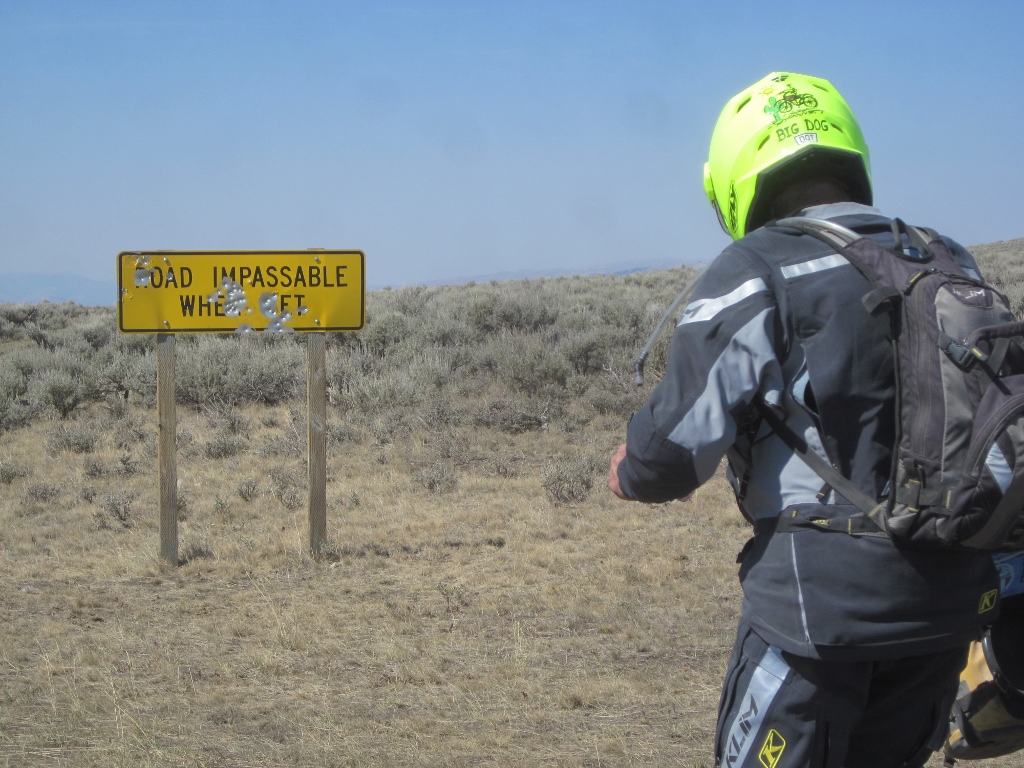 I think we are approaching the Gravelly Range.
A magnificent range of mountains----I've heard of them------but now-----I'm there.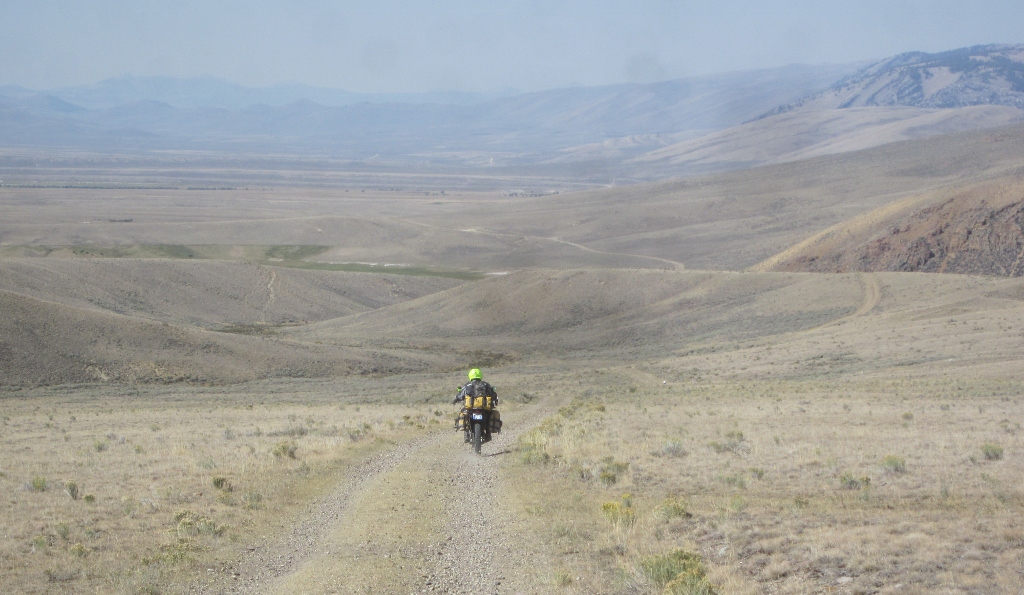 No Dogs Allowed
Woof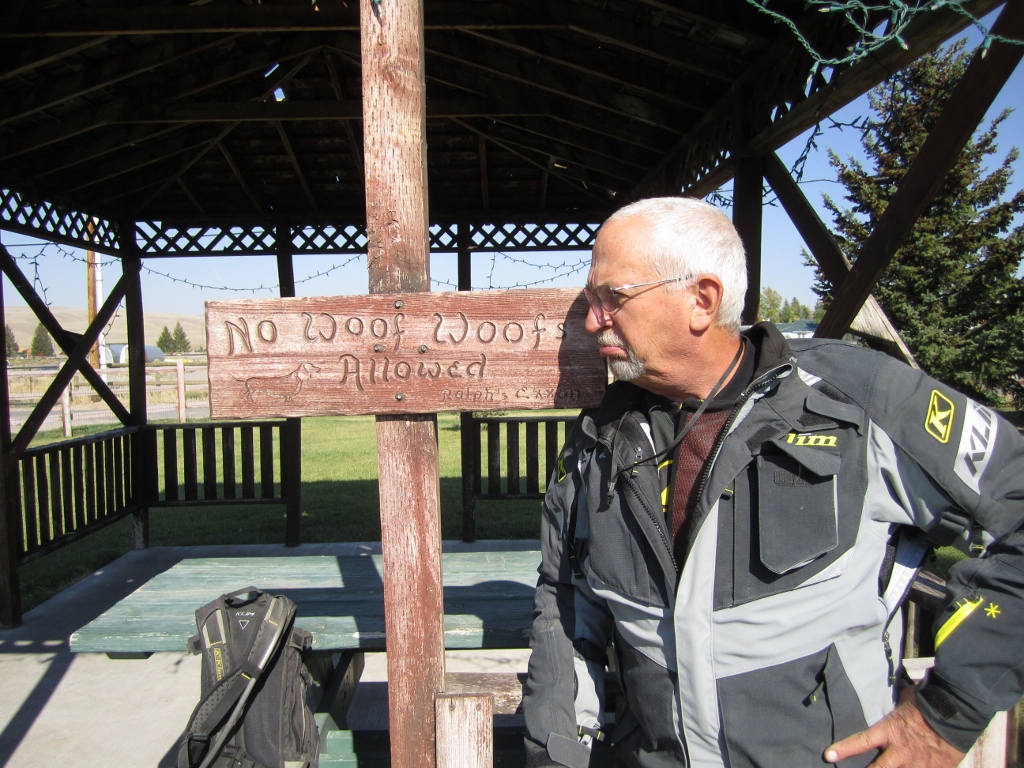 I'm guessing this is the Lima Reservoir we passed.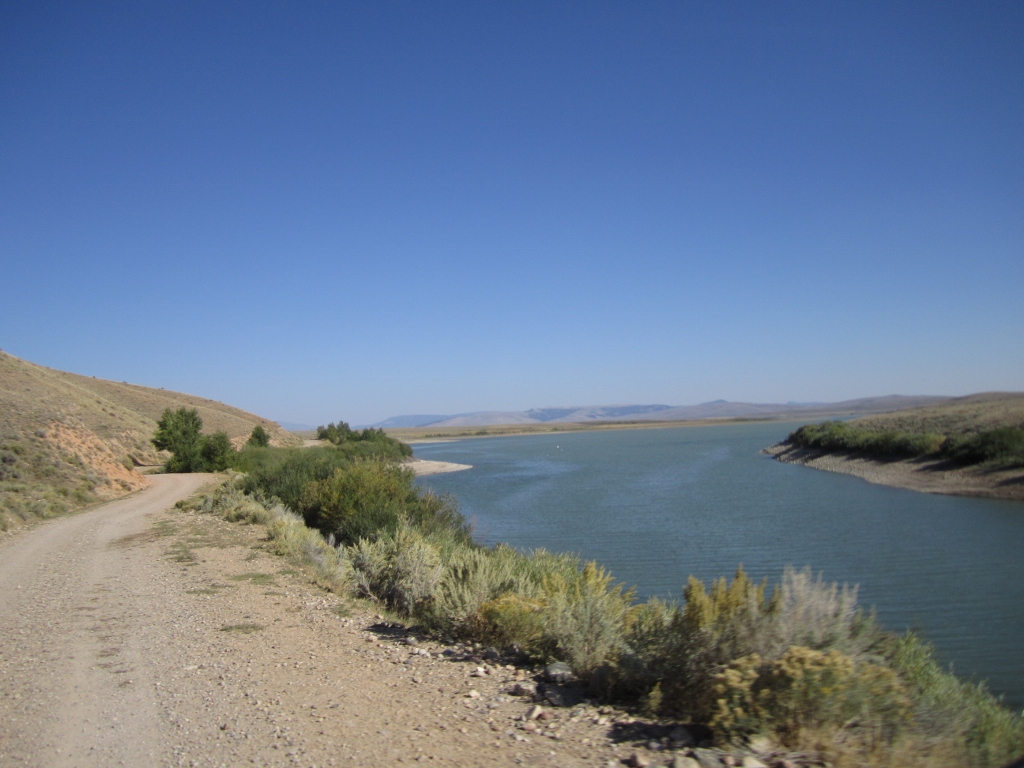 I introduce the .....................
"No Hassle Tassells"
Very powerful----increase horsepower and fuel mileage while also stablizing the handling of your machine.
The were mesmorizing---you had to be careful not to just stare at them while riding.
Like I said---very powerful-----only use for good---not evil.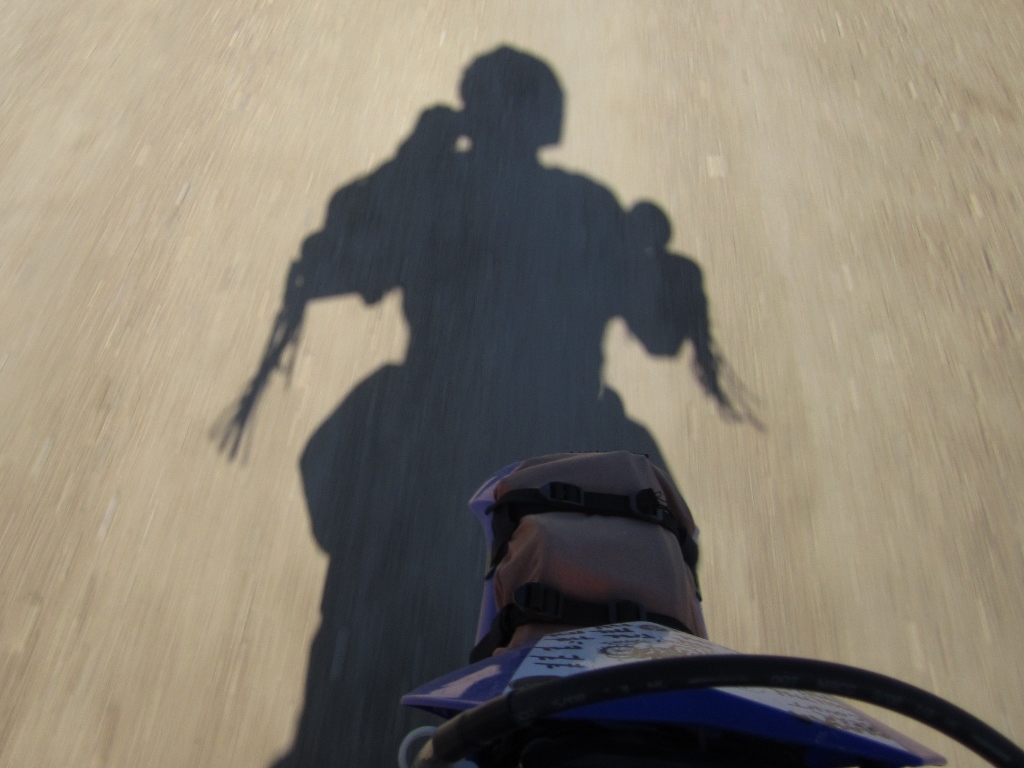 BobBob had tassels-----we all had tassels.
BobBob also had a Go-Pro helmet cam.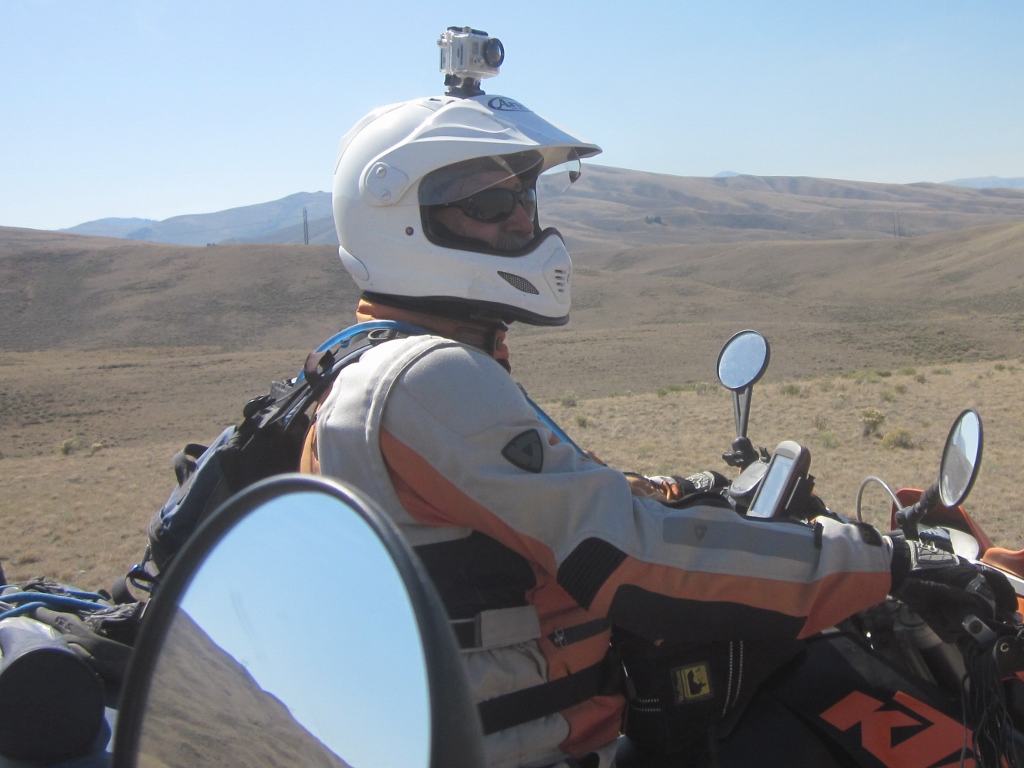 Water crossing weren't a problem on this ride.
This one was easy but really fun.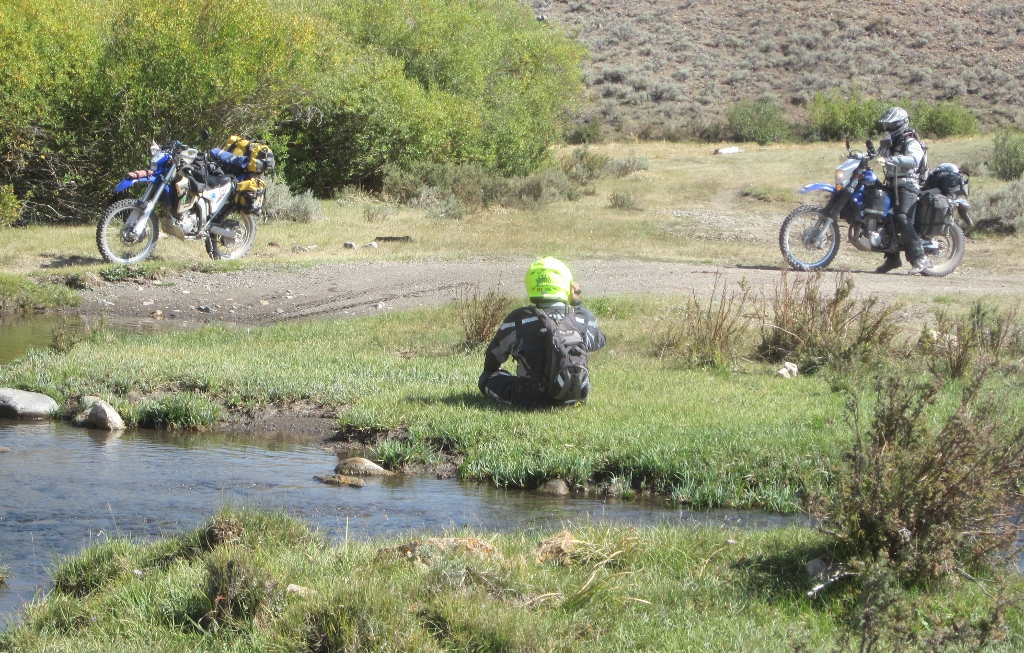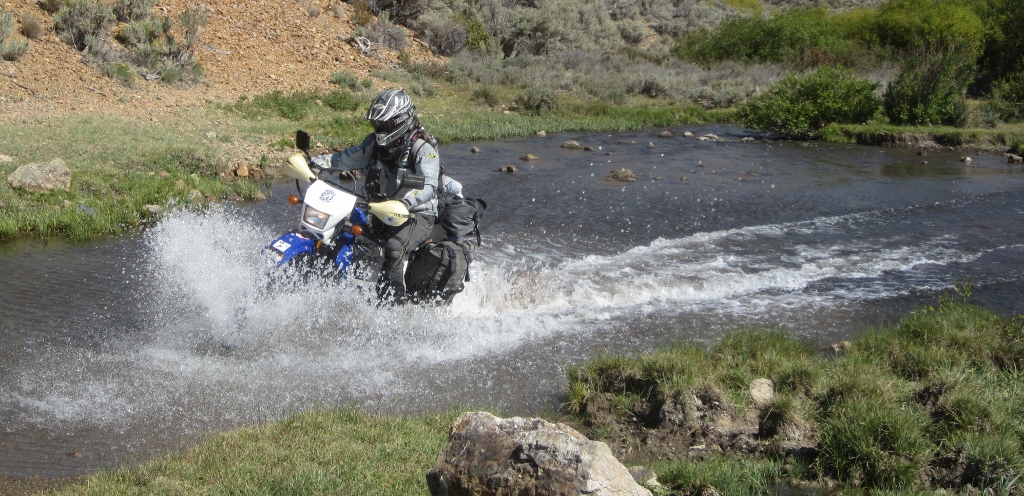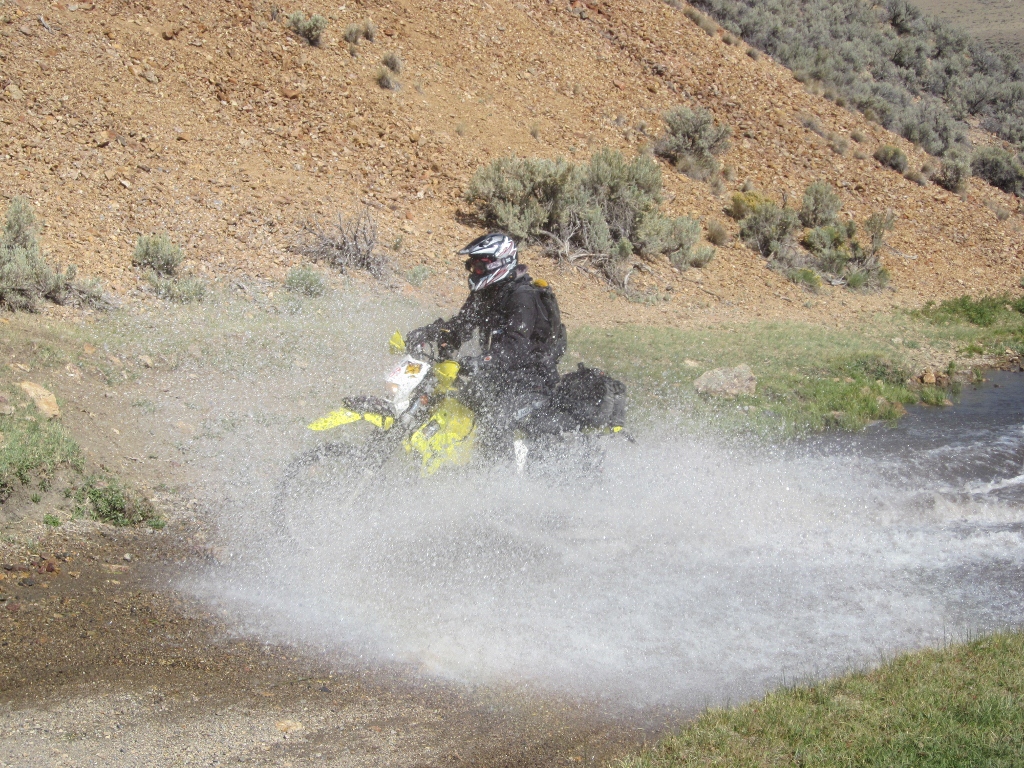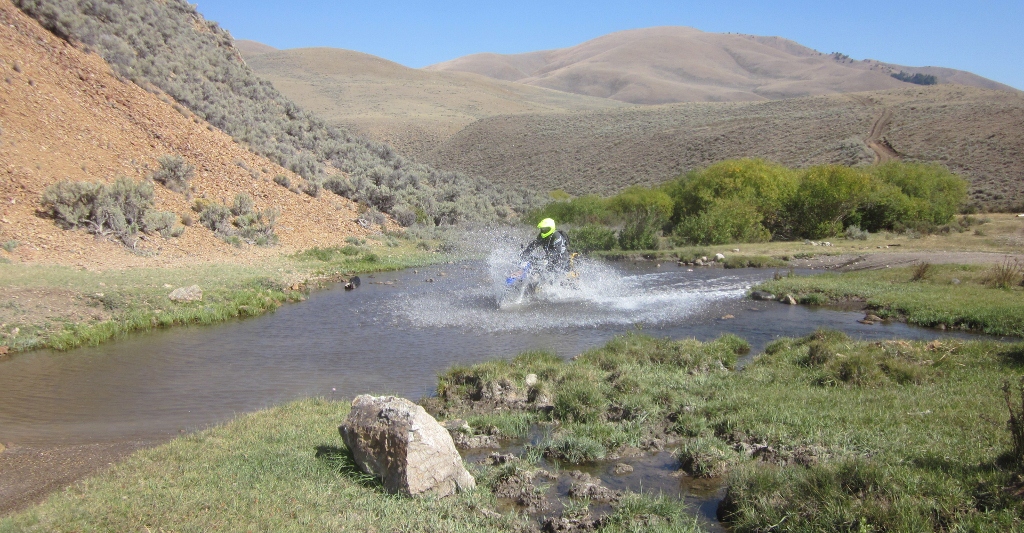 A lttle Video of the Deadmans Creek water crossing------what a hoot this was.
I remember in the Gravelly range it was getting late in the day-------and the perfect campsite eluded us---and we pushed on later than normar.
None of us like to push our riding---but we did and I found a campground miles down the road on my gps that I thought we could get to in the daylight---and we did.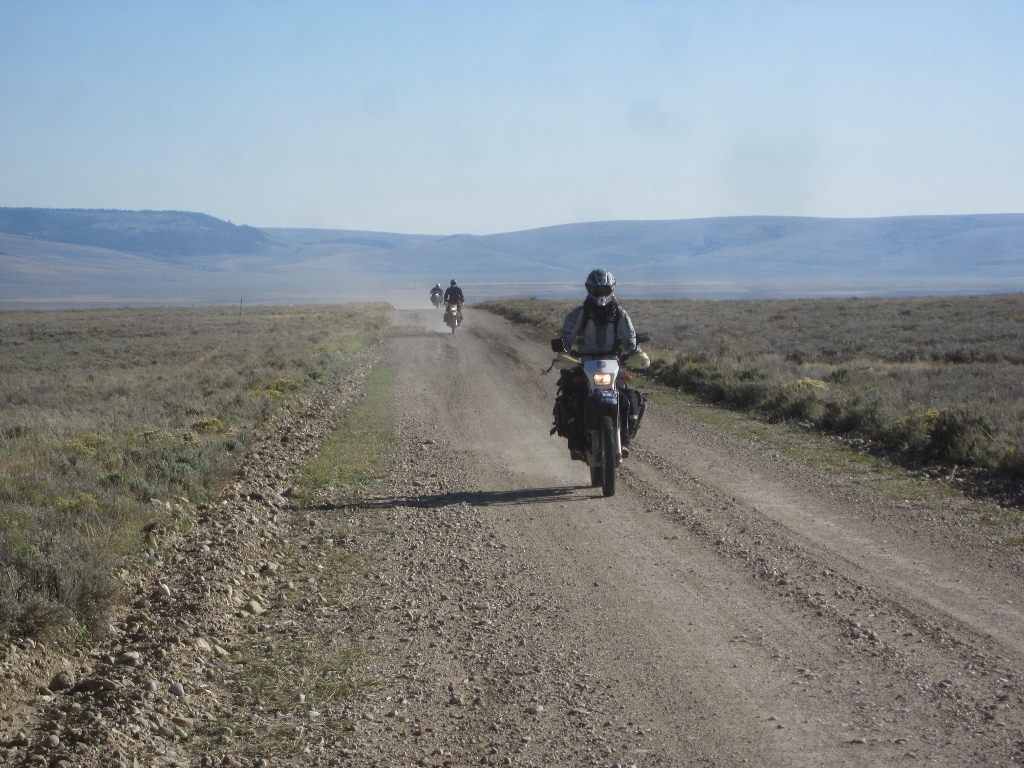 I think Dave's butt is a little sore.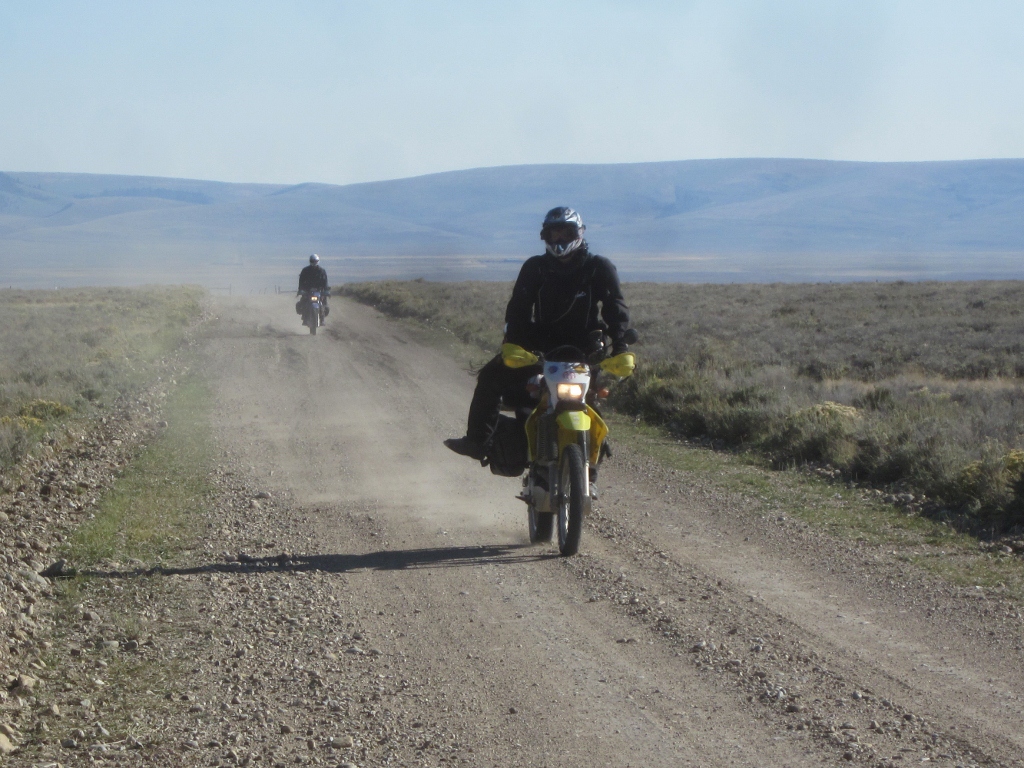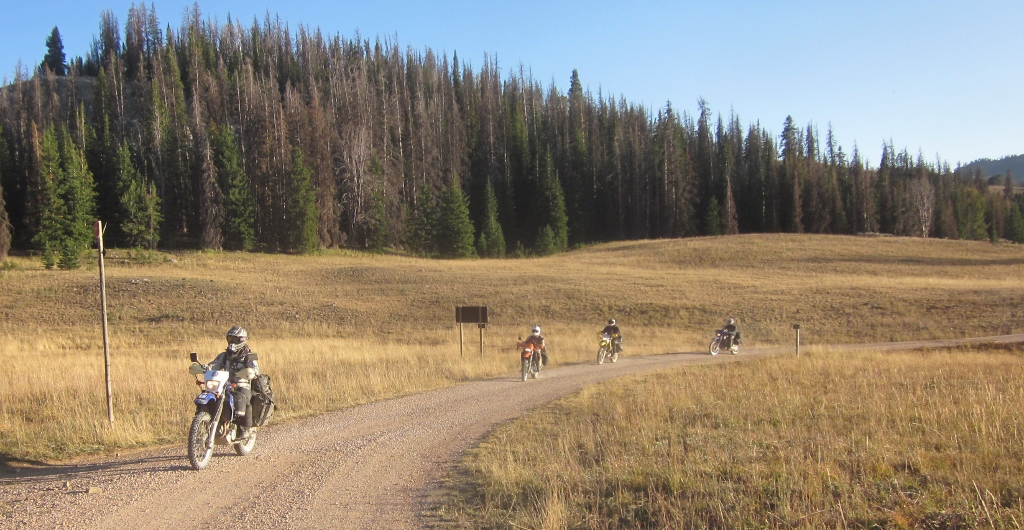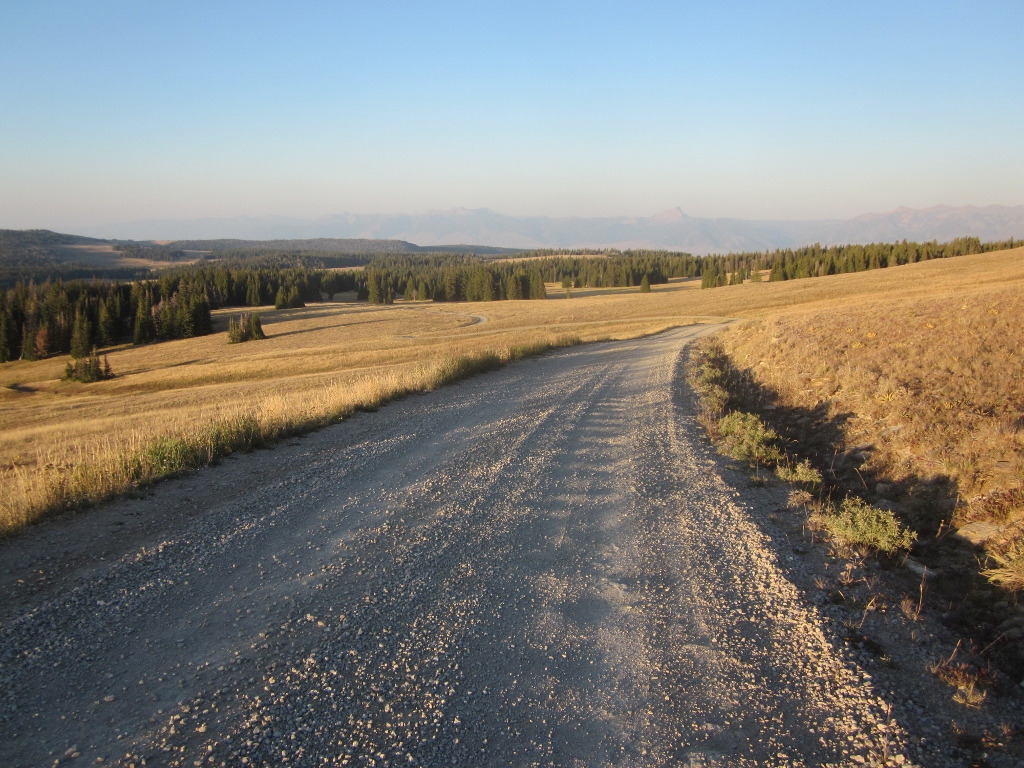 The sun is going down really fast------it's cooling off----bears are everywhere in the trees---where's this campsite you found BigDog ???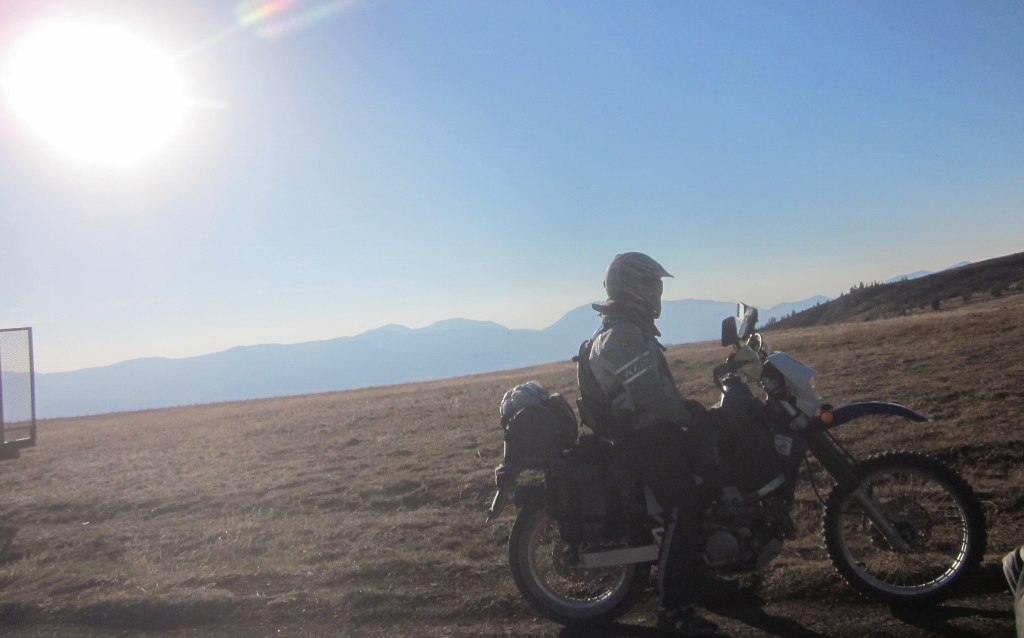 The Clover Meadows Campground was awesome---primitive camping.
We set up camp quickly as night was falling and all of us moved to one corralled site with a picnic table and we cooked dinner.
Or I should say Dave probably cooked dinner------as he did most nights.
The woods were thick and we knew there were bears and very carefully tied all of our food off the ground.
We thru ropes over a limb and pulled the food high off the ground and didn't sleep anywhere near the food.
Didn't matter---Scott had a big gun---and Francine kept wide awake all night listening for bear sounds--so we could all sleep comfortably :)
Very nice of her I thought.
Day 5
Sept. 9th, 2012
Clover Meadows Campground in the Gravelly range to "Power" camp.
A Little Video of the Gravelly Range
Clover Meadows Campground
You can see the elevation we were at.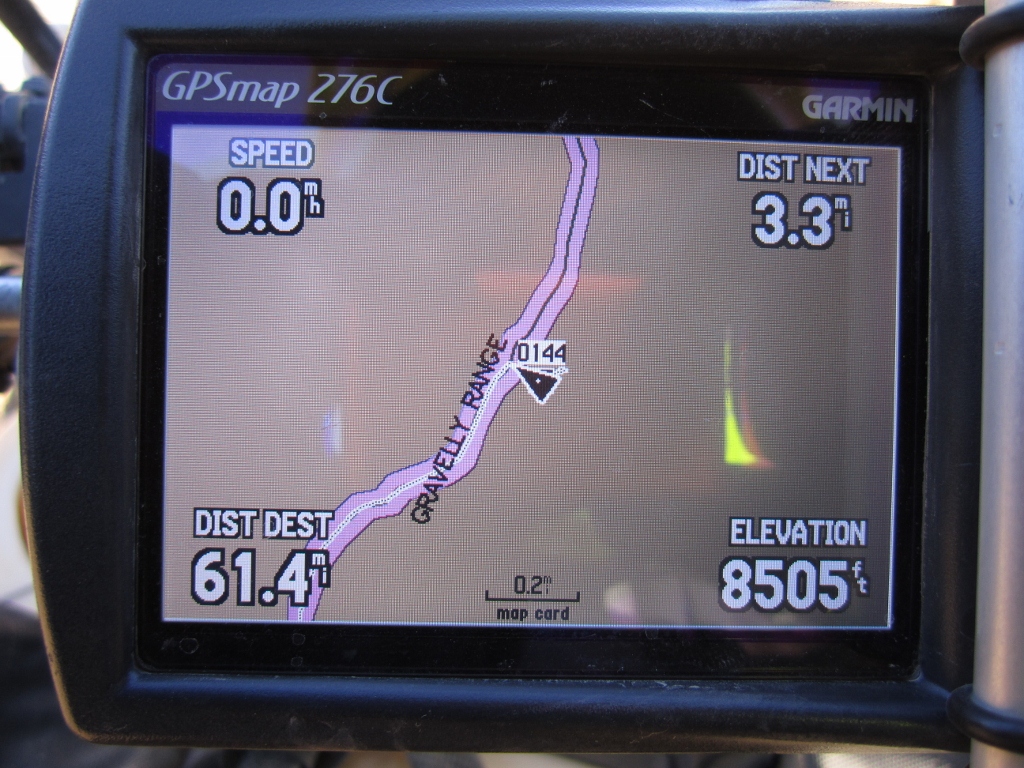 The bears didn't eat us------I have a secret weapon for bears. Scott packs a 40 caliber loaded and ready automatic on his hip.
And.......................he snores so loud no bear is going to get near that sound.
I put my ear plugs in------try to wipe the smile off my face----and doze off...........ZZZZZzzzzzzzzzzz
I love his snoring---hope he never quits-----------me and him have camped so much together if he didn't snore-------I bet I'd never go to sleep.

So----------we all shake out of our tents at exactly the same second every day---this went on the whole trip----nobody woke anybody up.
We just all got moving at the same time. And when one guy hit his starter button----everybody else was ready also.
So---were all packing up and are ready for some more Gravelly range.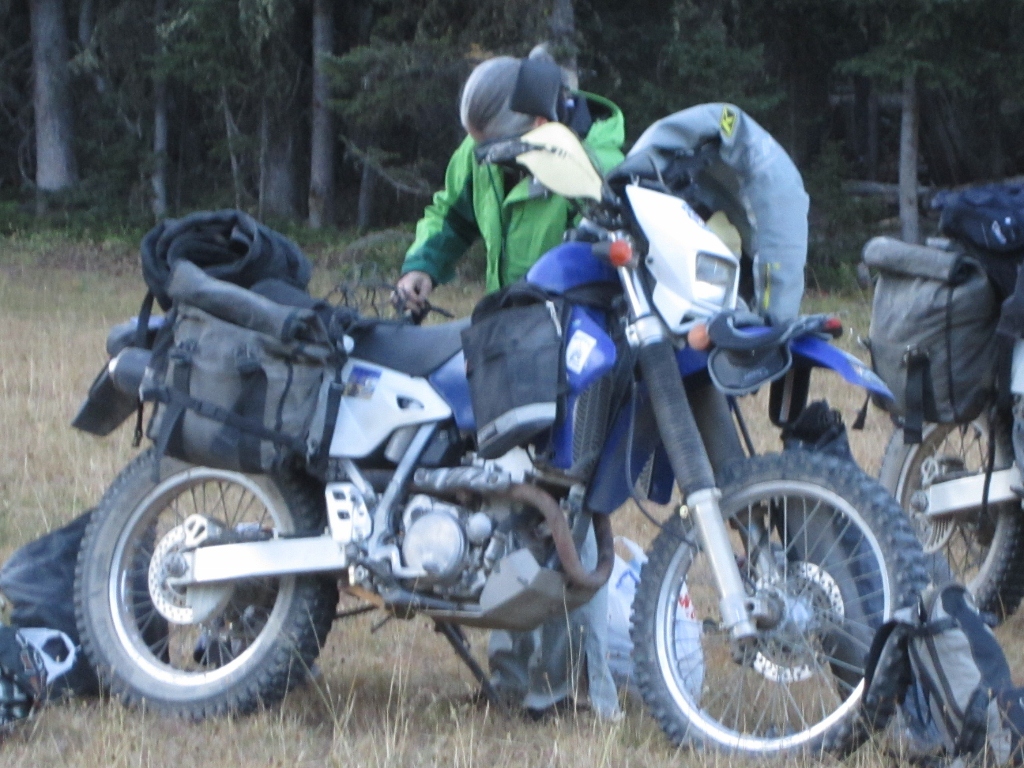 I forget who handed out the Idaho Potato pins-----but everybody got one at Questors house---------I think it was Tony.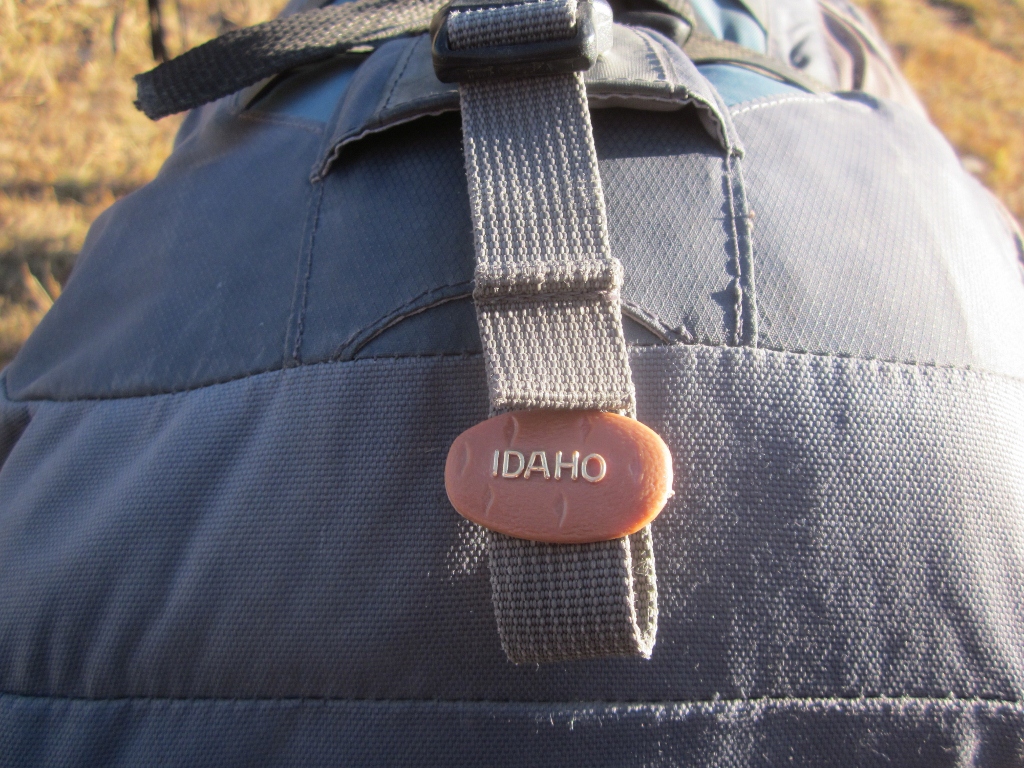 So North we headed out of Clover Meadows Campground.
The Gravelly's were just awesome.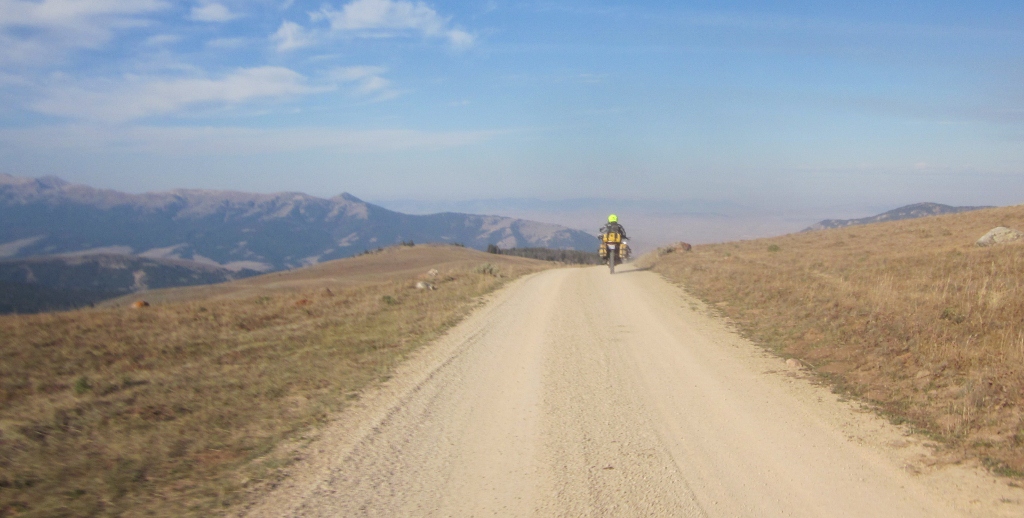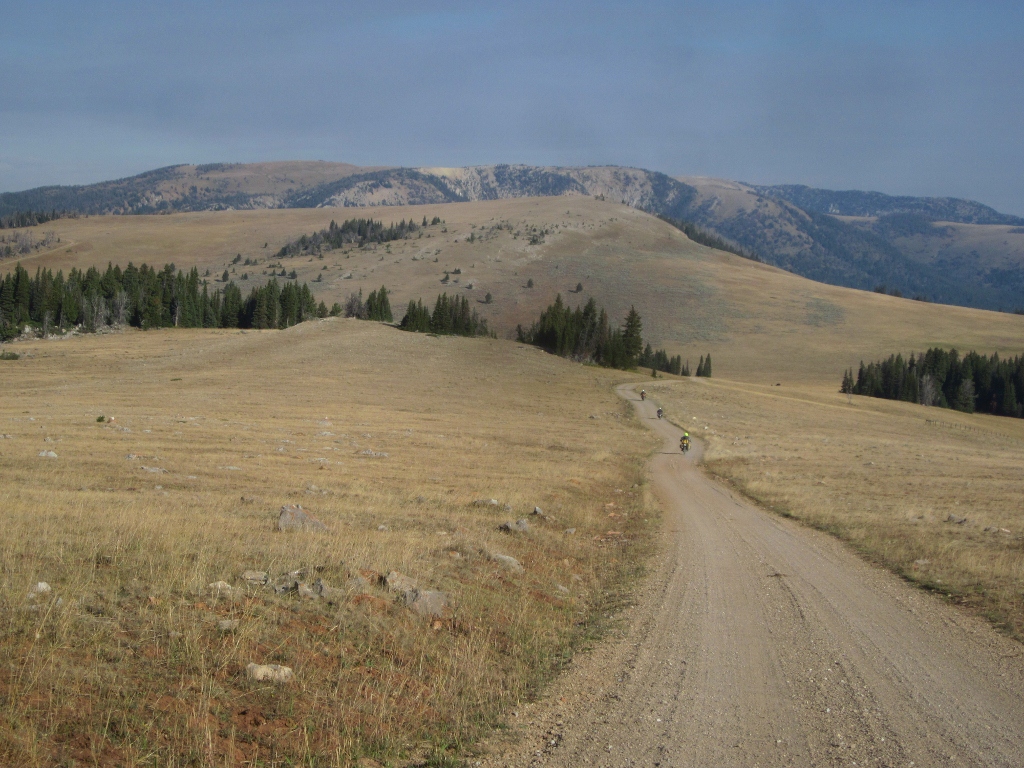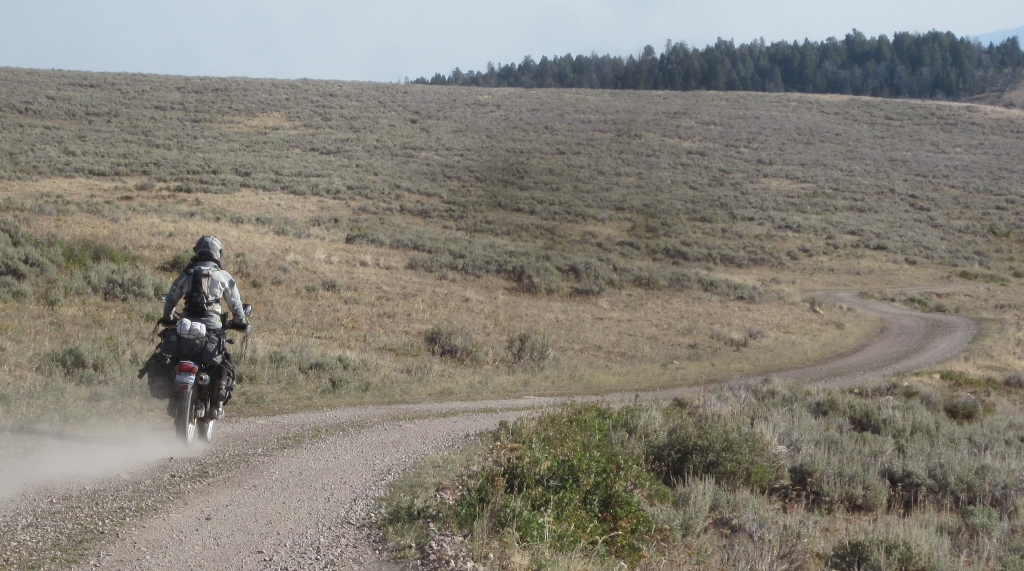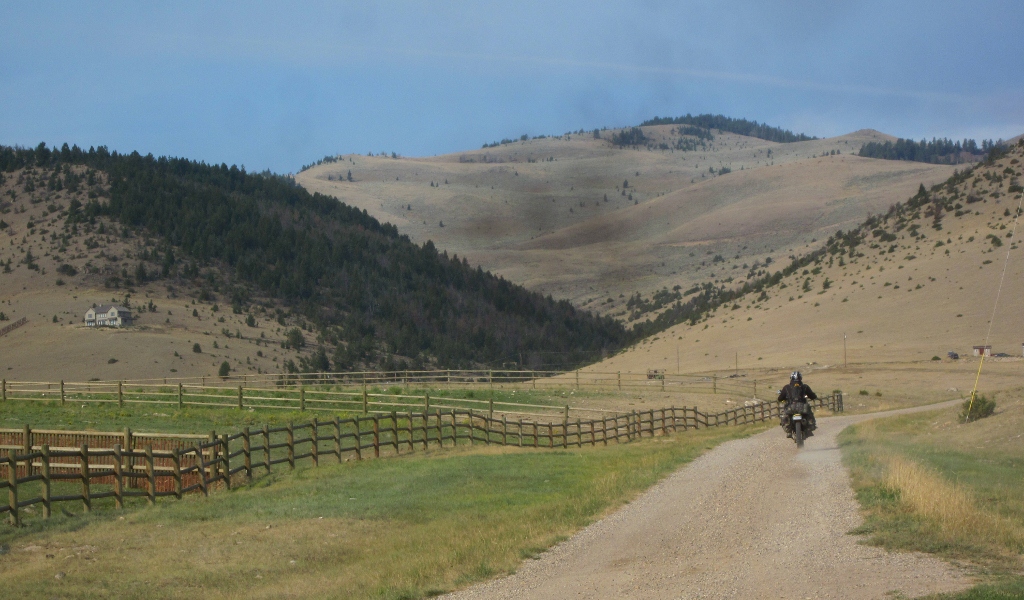 Dave's taking pictures on the fly--------me and him both did that a lot-----but I think he was better at it and took way more pictures.
We have our cameras tethered so we can't drop them------so handy to pull out while riding.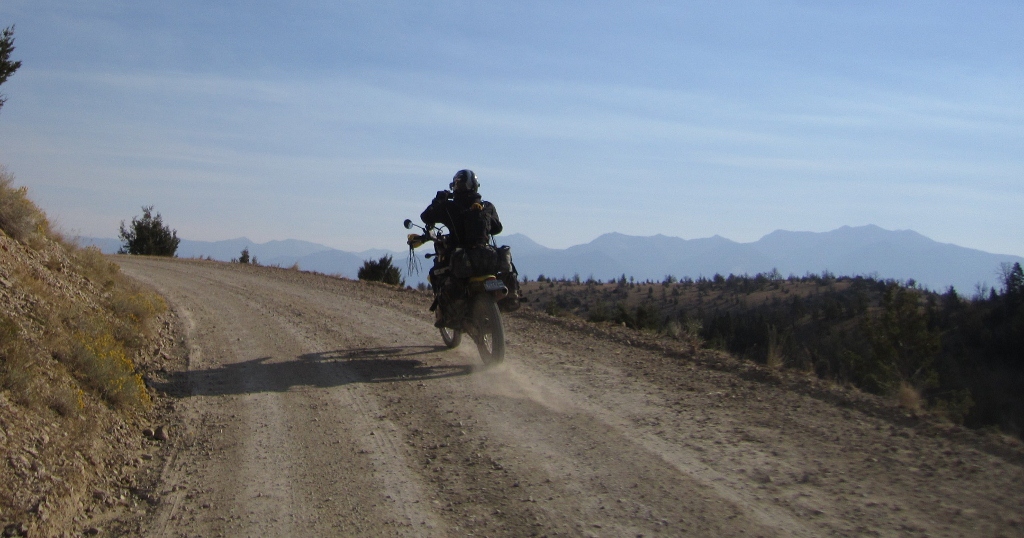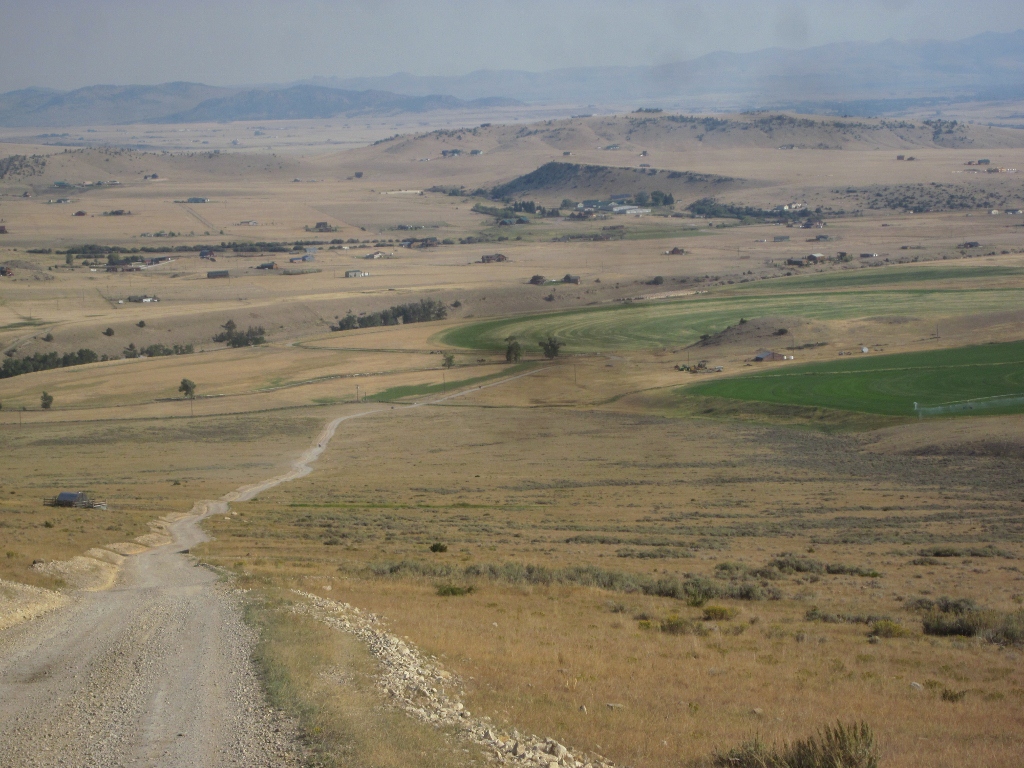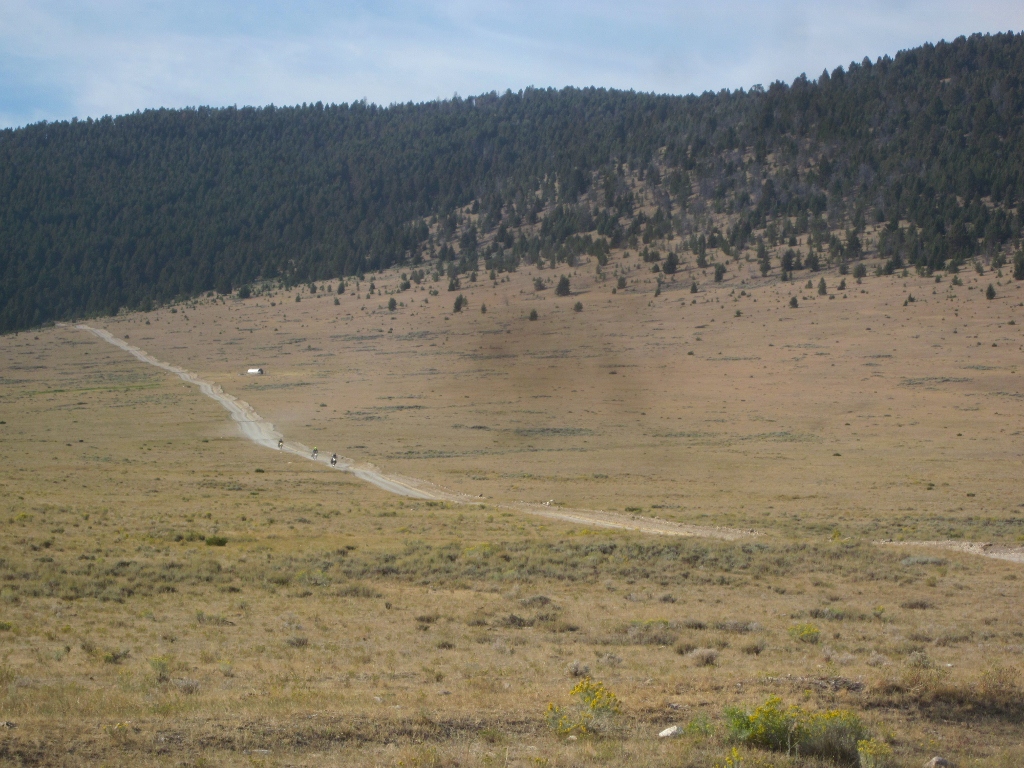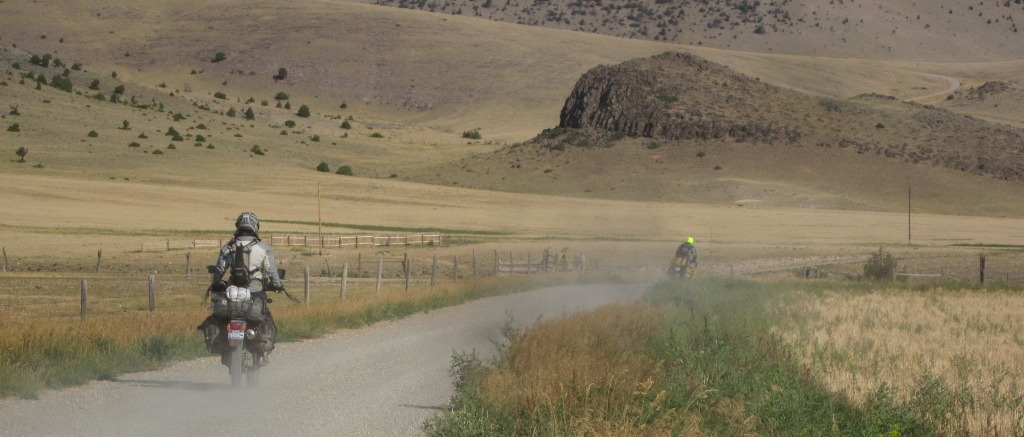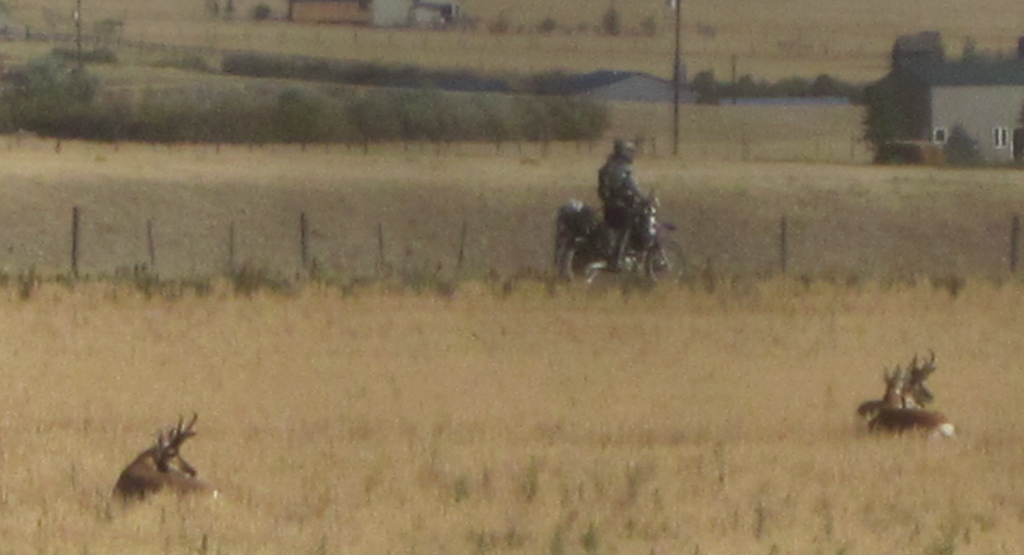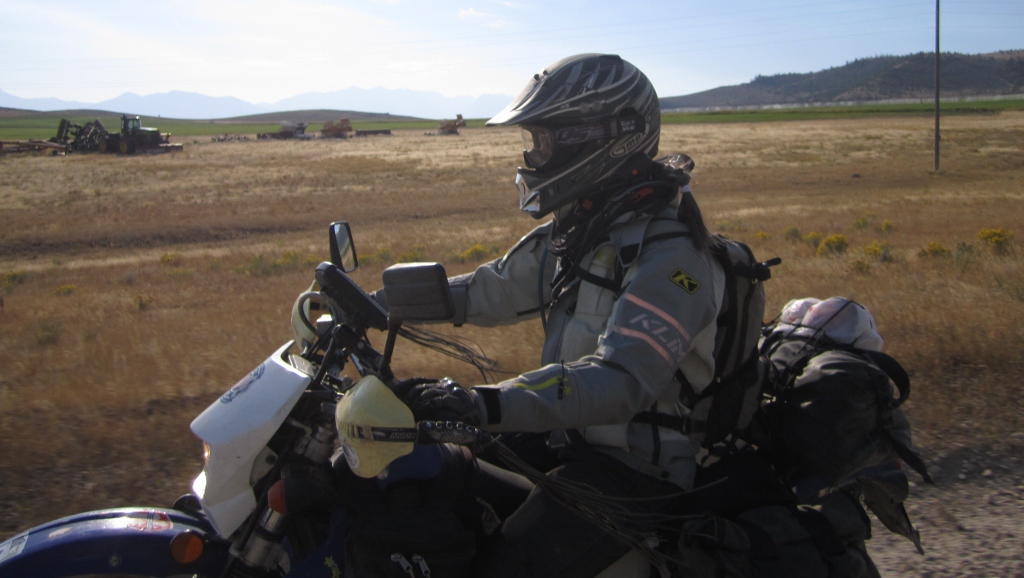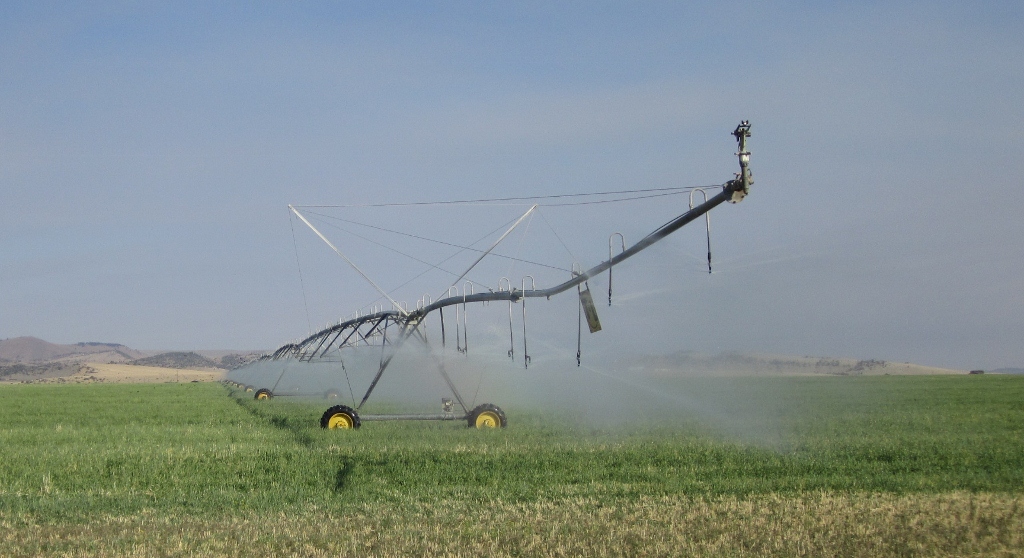 We rode a technical ATV trail that wasn't wide enough for a Jeep for miles and dropped into Virginia City, Wyoming.
I had been here before with GasPipe years ago on my 950------me and him stayed in an old motel here.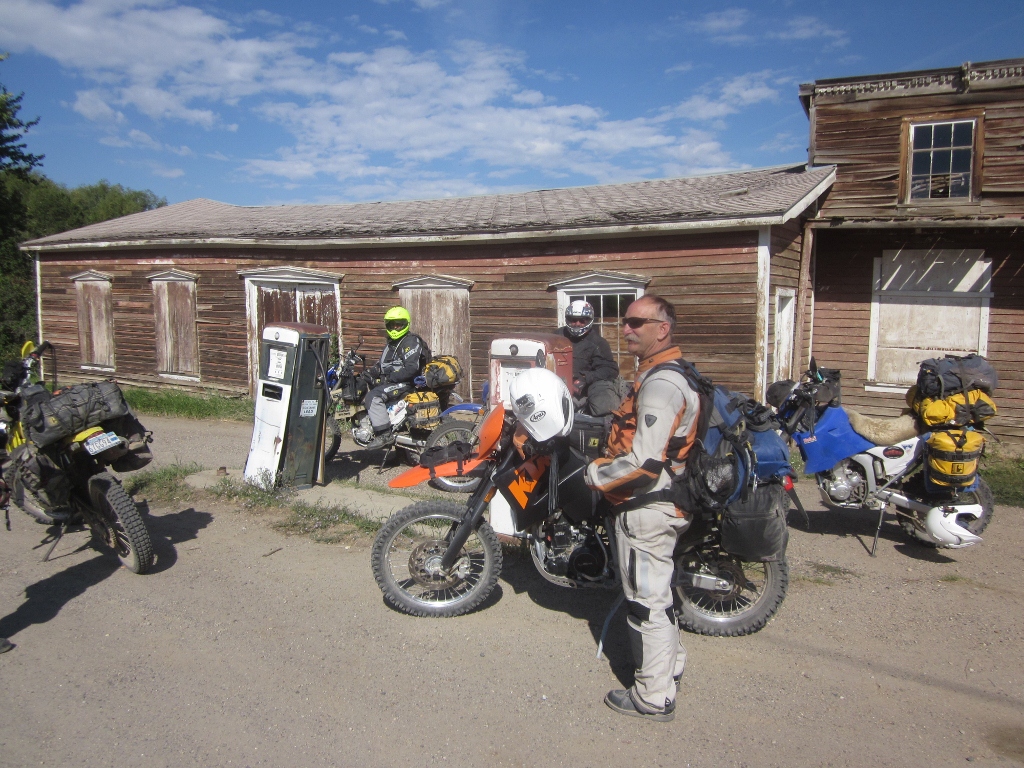 It's a neat old town-----and it's amazing how well they have kept the old flavor of the historic Western town after all these years .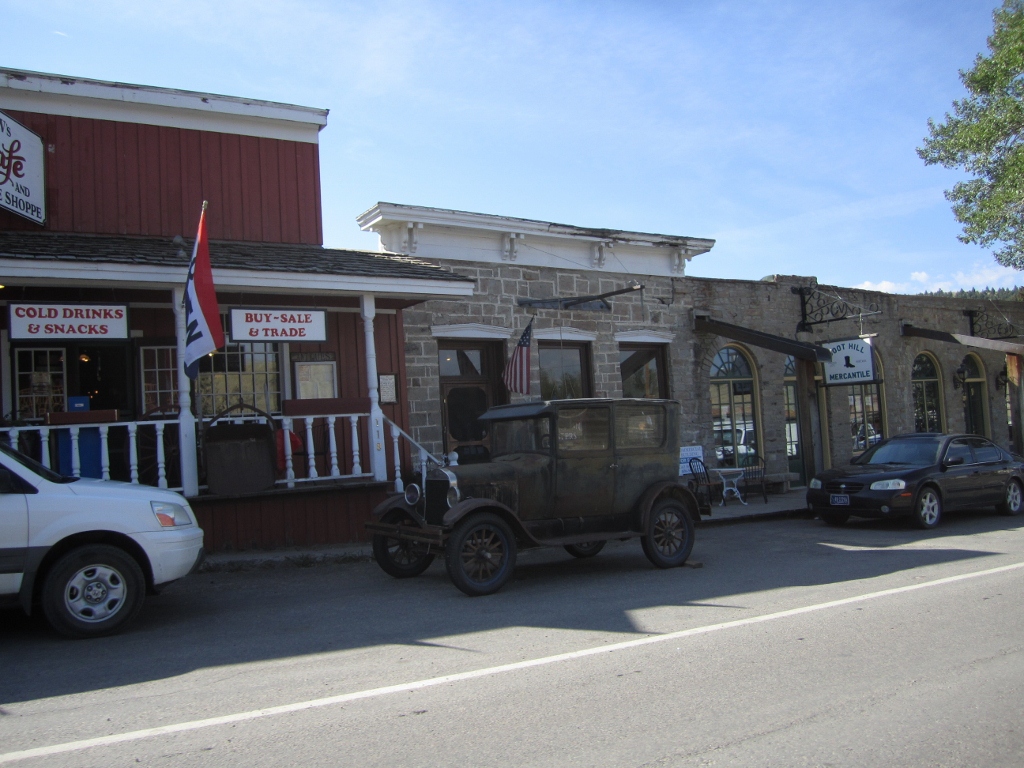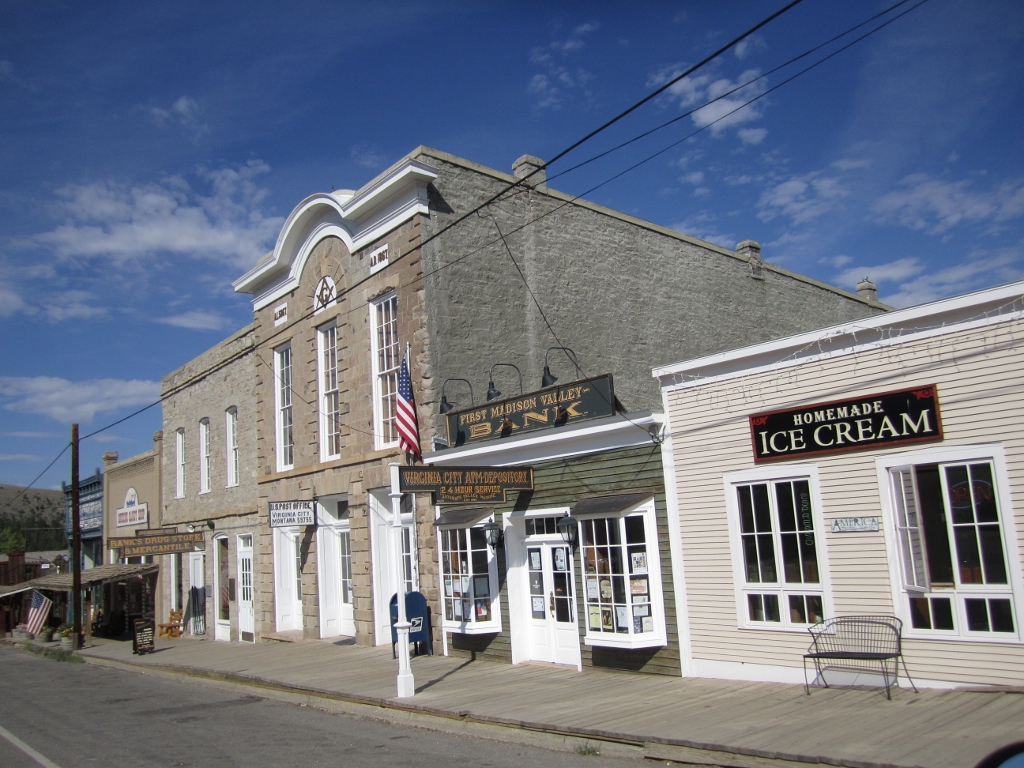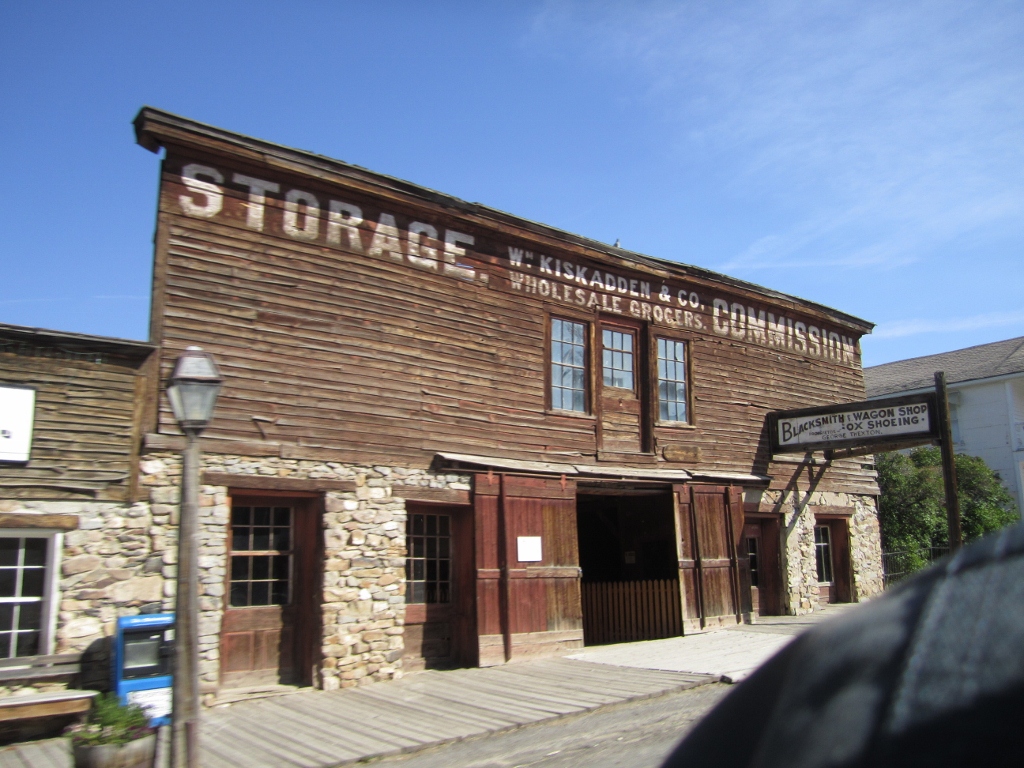 Dave had a flat later on that day---and I think we got gas in Norris.
Dr. Rocks routes route had a waypoint called "Buffalo Jump".
I read about it and couldn't wait to see what this place was all about.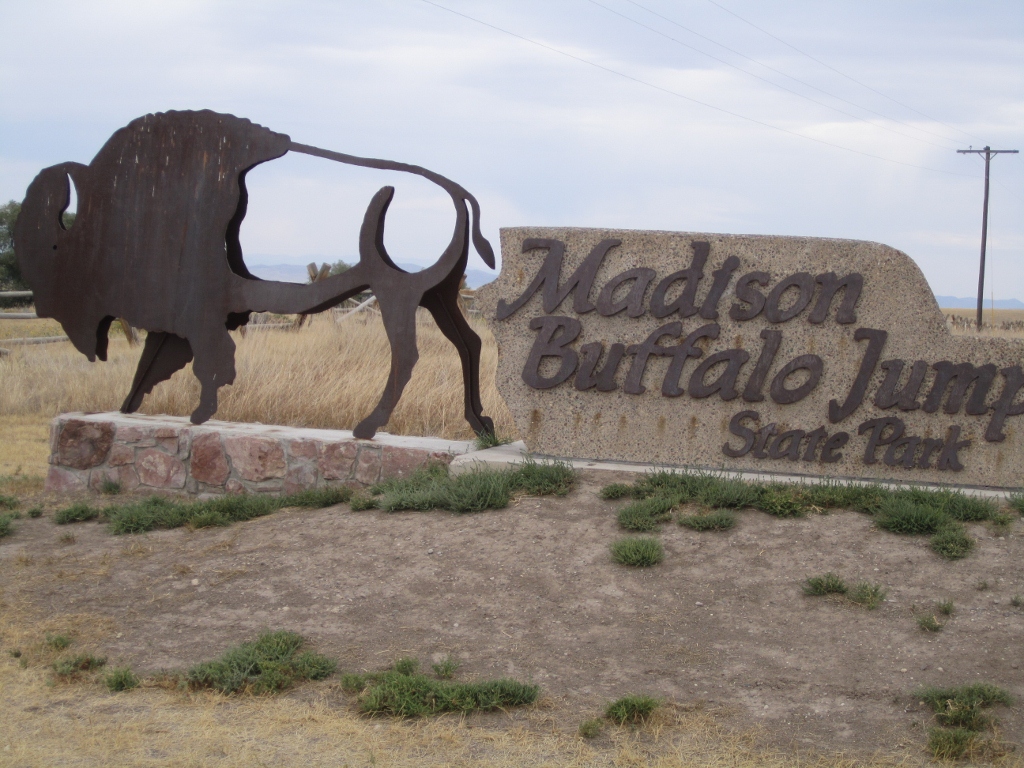 So Here's the story I copy and pasted off the net.
Situated on the edge of a broad valley carved by the Madison River, this high limestone cliff was used for 2,000 years (as recent as 200 years ago)
by Native Americans. It enabled them to
stampede herds of bison in vast numbers off this massive semicircular cliff, utilizing them for food, clothing, shelter and provisions. The 'runners'
were highly skilled young men trained for
speed and endurance and wearing buffalo, antelope or wolf skins, lured the bison to the 'pishkun' or cliff. This was
their only means for survival. Although the introduction of
horses led to the abandonment of this jump sometime after 1700, the rugged outcropping now serves as an inspiring
monument to the region's early inhabitants. The park encloses
all the main geographical features of a jump site and several formations remain to provide visitors with a glimpse
of the cultures, which utilized this method of hunting.
Tons of bones still lie buried at the cliff's base, while archaeologists have located the tepee rings of an extensive village. With a little
imagination it is easy to visualize the awesome events
which occurred here during a drive, the thunderous roar of the stampede, the dramatic sight of the fall,
and the frenzy of activity which followed.
I was the first one to get here and found out it was about a mile and one half hike back to the Jump.
I told Dr. Rock this and still laugh at what he said.
"So they jumped off the Cliff---------lets' ride"
I'm with your Doc------I ain't got my hiking shoes on.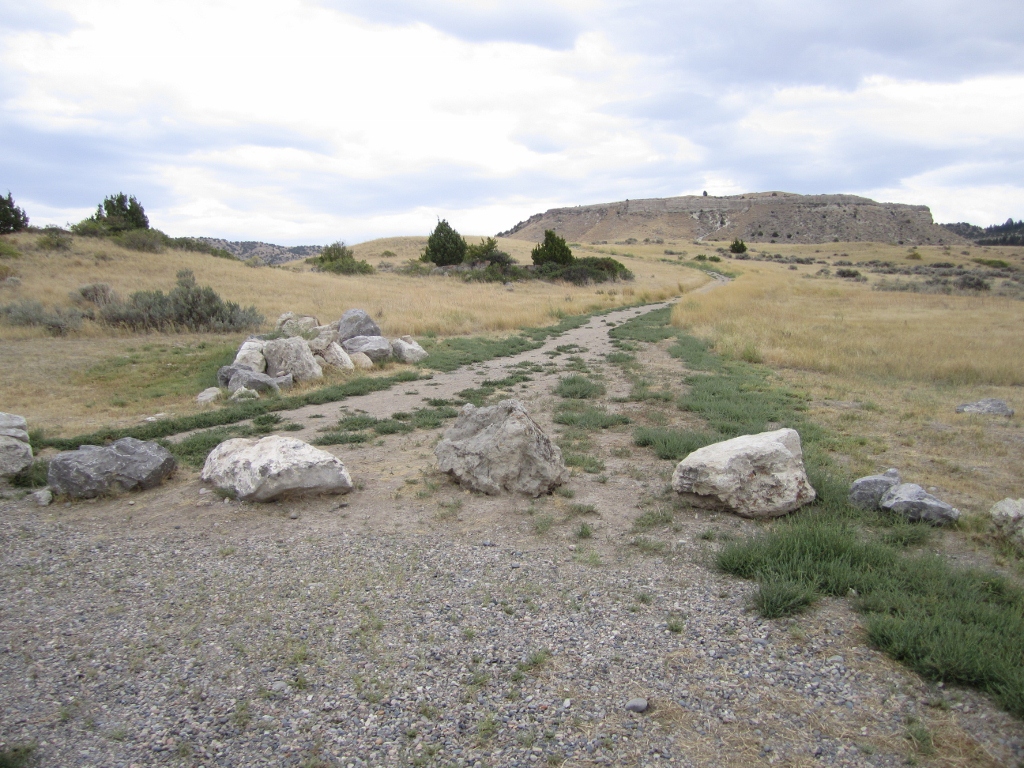 It was so beautiful in here ------------would have been better if it wasn't the constant orange paint ------which meant "No-Trespassing".
Somewhere before this Scott had the worst crash of his whole life--------he high sided at speed after blowing thru the deep silt with hidden hard dirt ruts.
It knocked him silly------tore up some stuff----shoved so much silt in his starter button his starter would work---tore up his gps and touratech mount.
I didn't see it----but heard it was ugly and Scott was so lucky not to get hurt really bad.
He was hurtin' --------but I've been around him a lot and he never whines -------like I may do sometimes.
Tough ole' dog his is. You can see his gps is missing in this picture---but he gets fixed up with one later.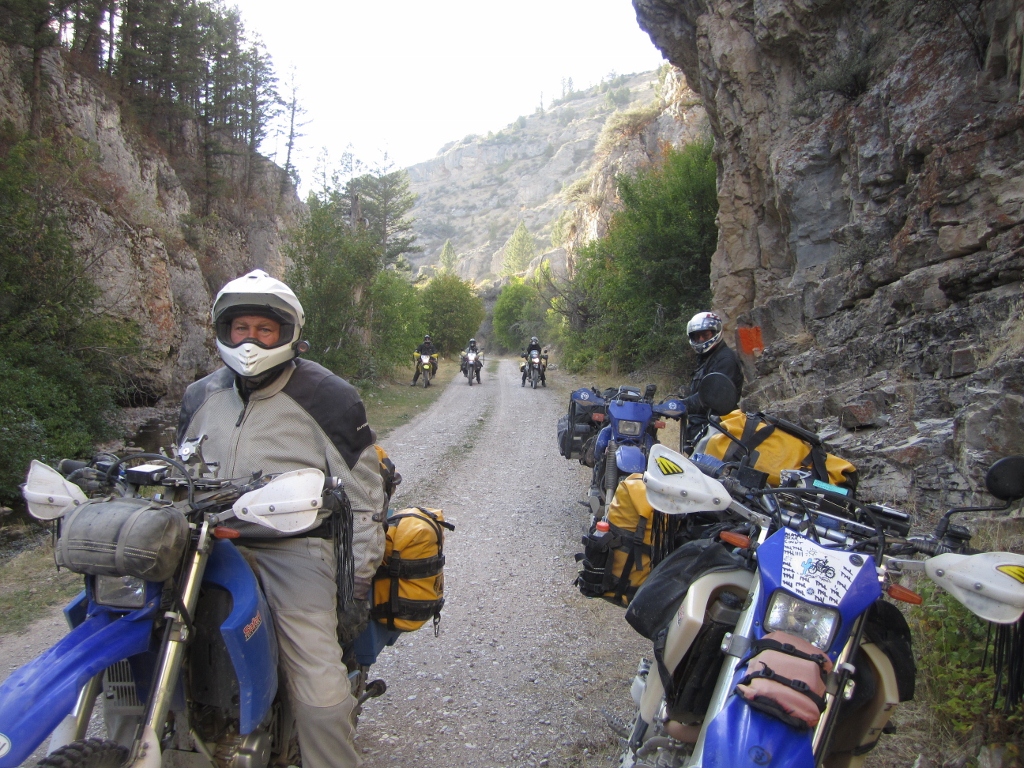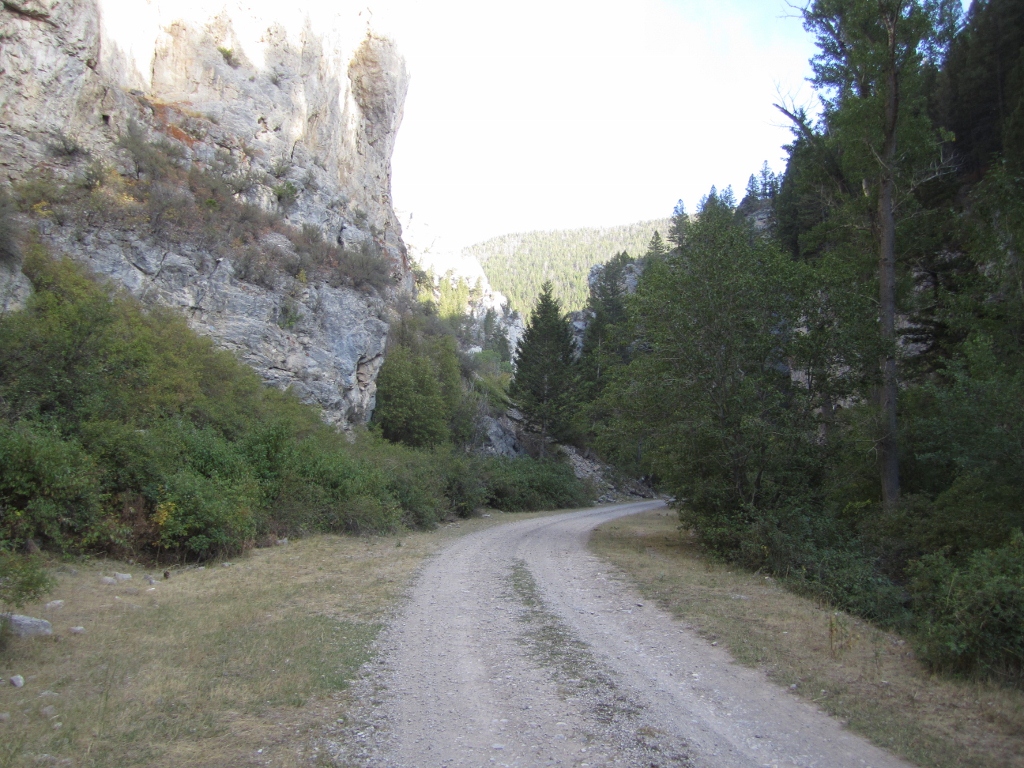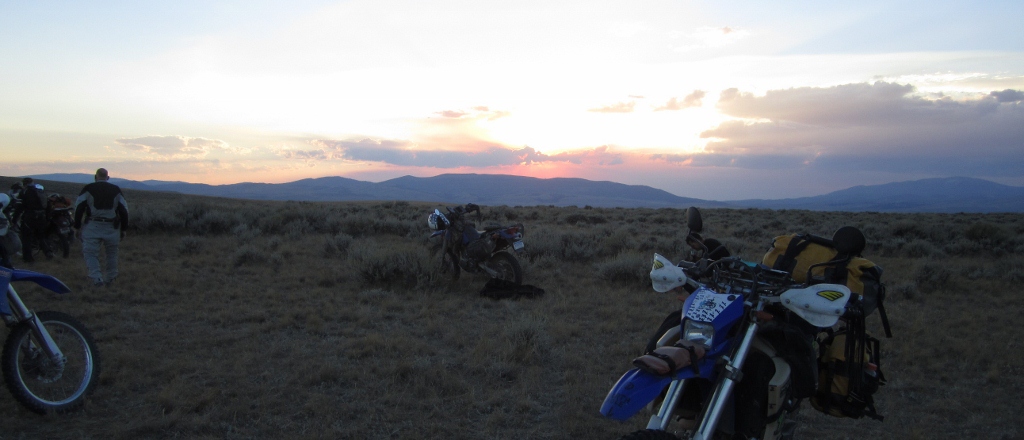 After the little town of Ringling we got desperate for a campsite----and just went out into a field under some really big power lines.
We called it camp "Power".
The attitudes of everybody was so good it made no difference-----we had a great dinner and talked till we got sleepy.
We were in out tents a couple of hours I think and it pitter pattered rain on us for a bit---but that was it.
In the morning you couldn't tell it rained at all.
A rough map of Day 5's route---about 182 Miles for the day.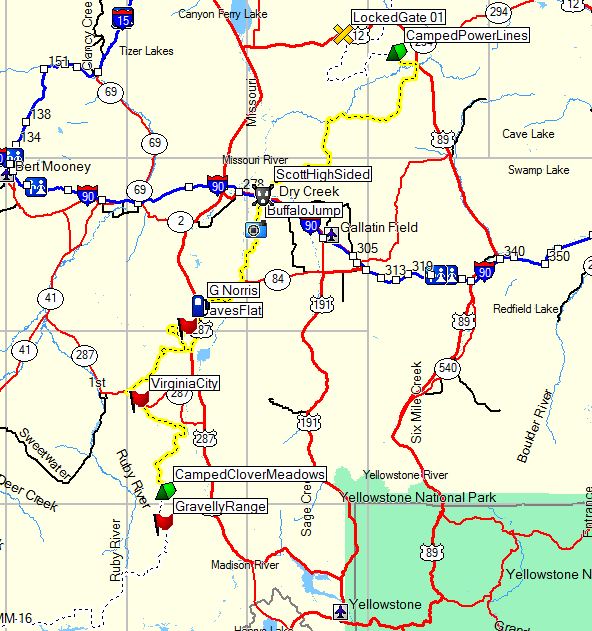 Day 6
September 10th, 2012
Camp "Power" to Camp Baker Recreation Site
The sun has risen----we didn't get drenched in the little drizzle last night ------we all made breakfast in our own little way.
Even tho Dr.Rock fed us lot in the evenings with some good stuff---we all were on our own for breakfast.
Me and Scott usually ate oatmeal and coffee made with out Jet-Boil stoves---maybe a Mountain House breakfast meal.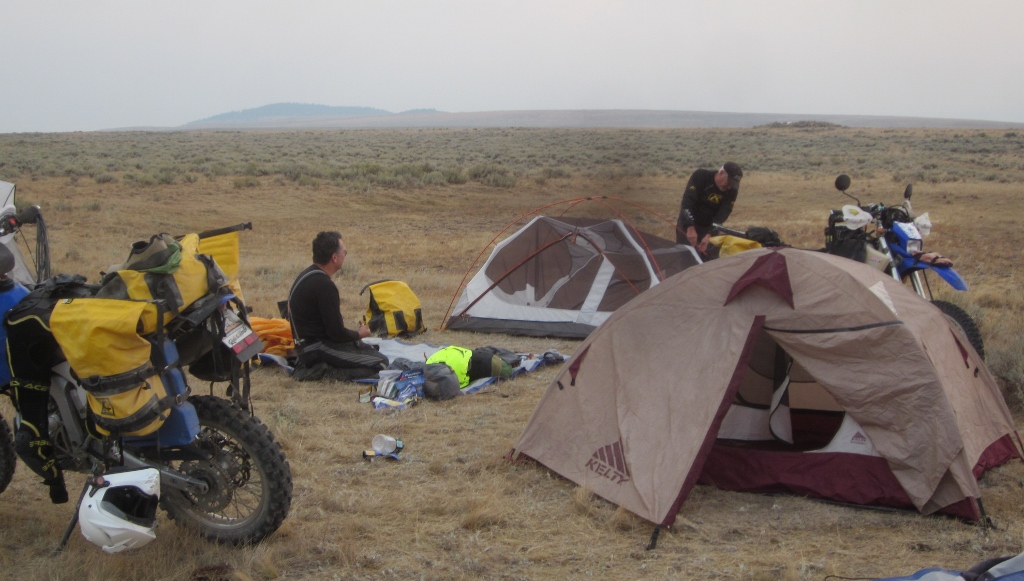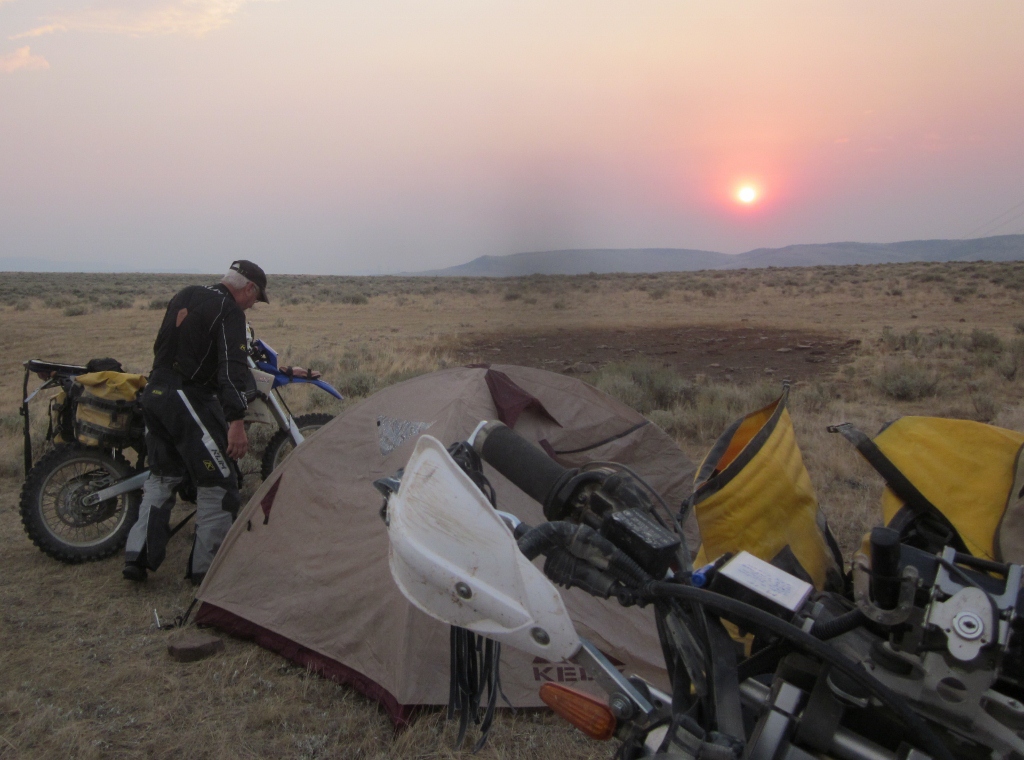 We headed out early as usual and the rolling fields made a beautiful view---and the still low sun made some nice shadows.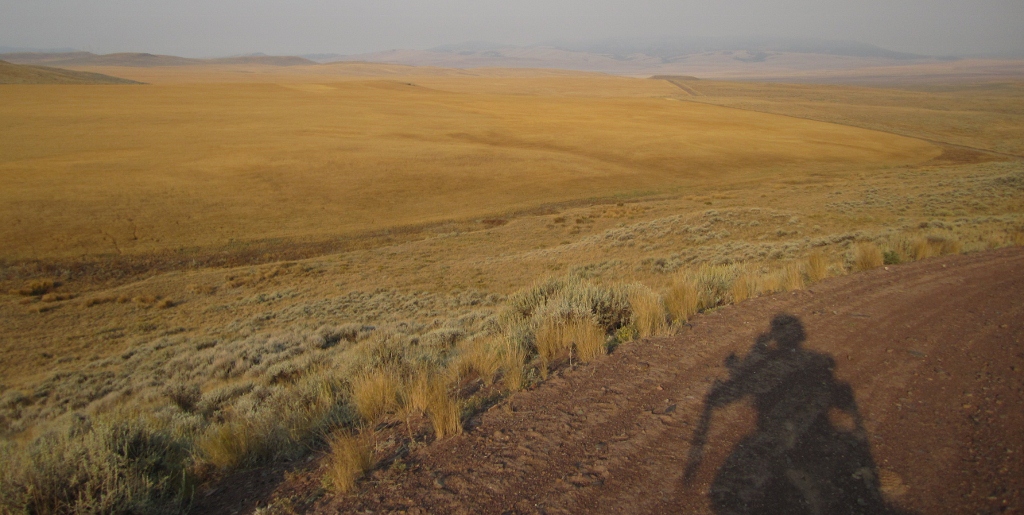 My tassels would keep me safe today----and I would always use them for good------not evil.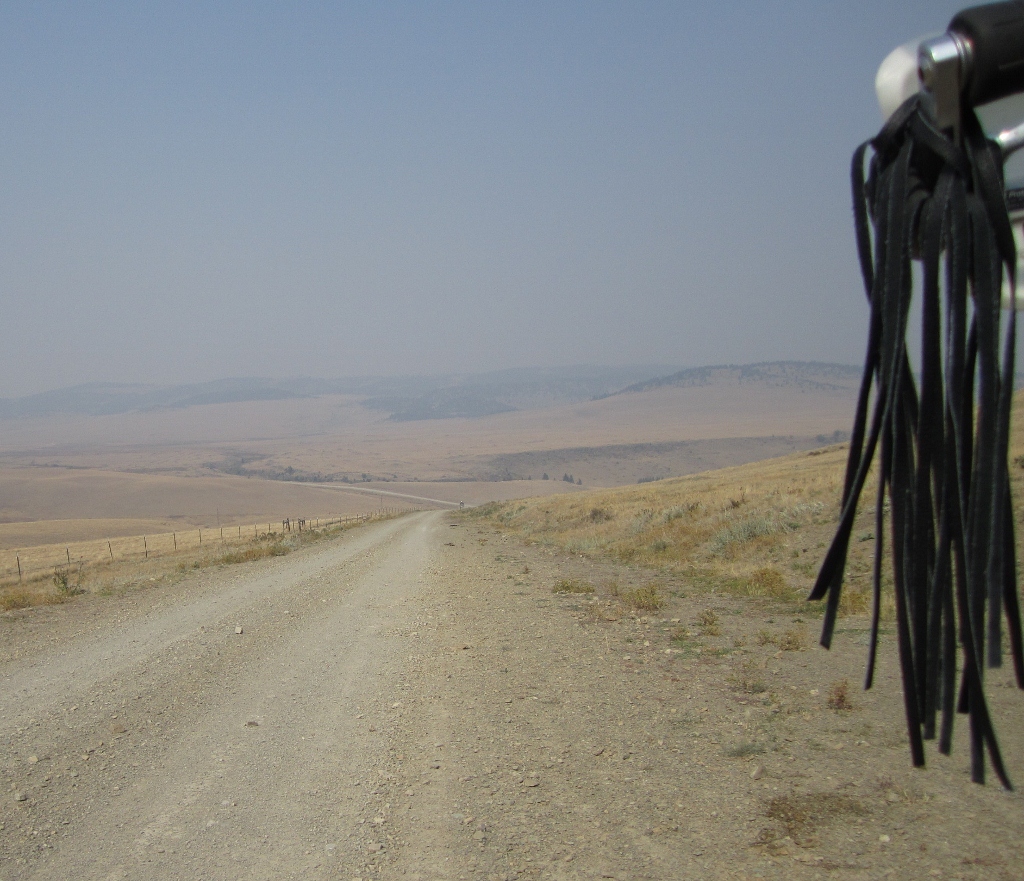 Today we would ride some pretty technical stuff----maybe not for an all out unladed dirt bike----but for us campers.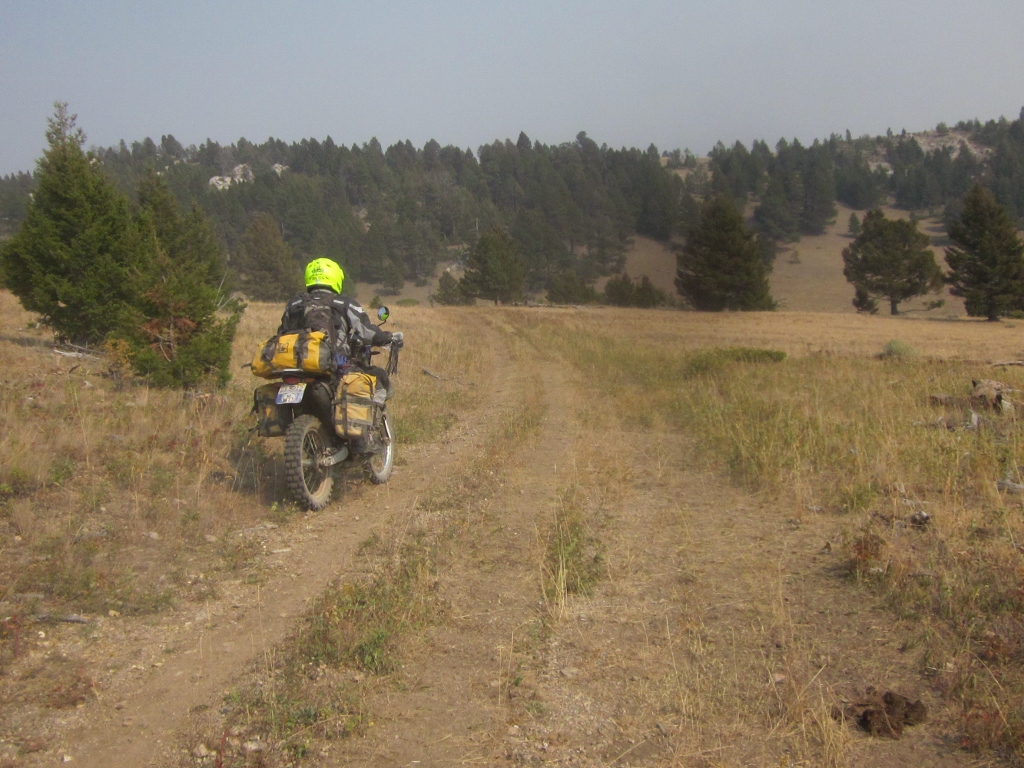 It was sometime before now that Dr. Rock let me out front for pretty much the rest of the ride.
I was dunbfounded at first---as since he laid this all out I just assumed he and Francine would lead.
He loved draggin up the rear and taking pictures and soaking it all in. I think he quickly learned he could trust me out there with the navigation
and I would stop and gather everybody up once in awhile---and if there was a question with routing---- I would stop to work a
re-route out----which was always figured out very quickly between me and him.
And sometimes while I was out front----------if I wanted too--------I could run as fast as I wanted.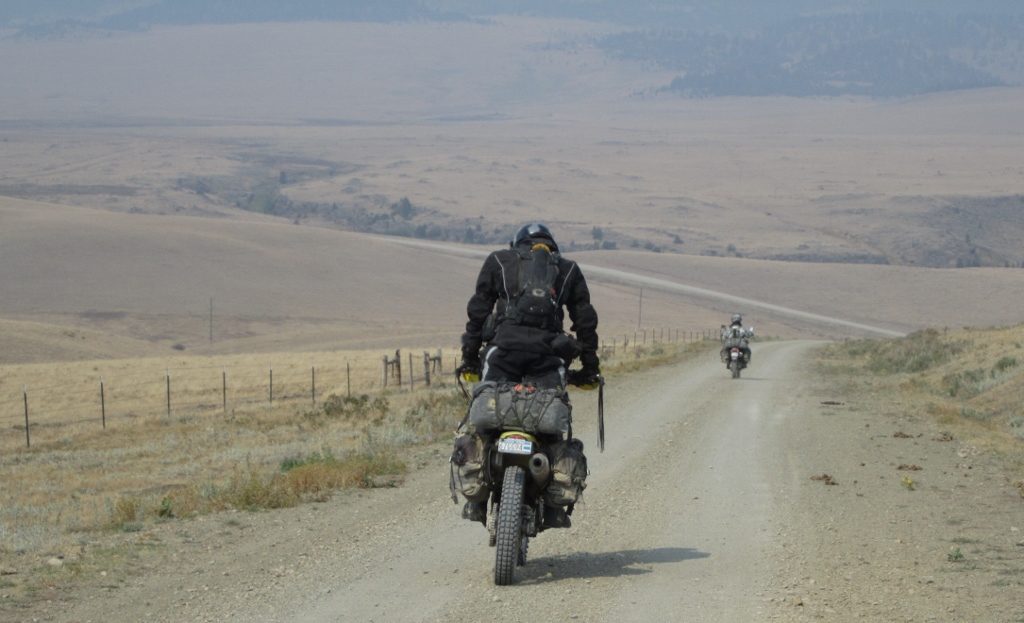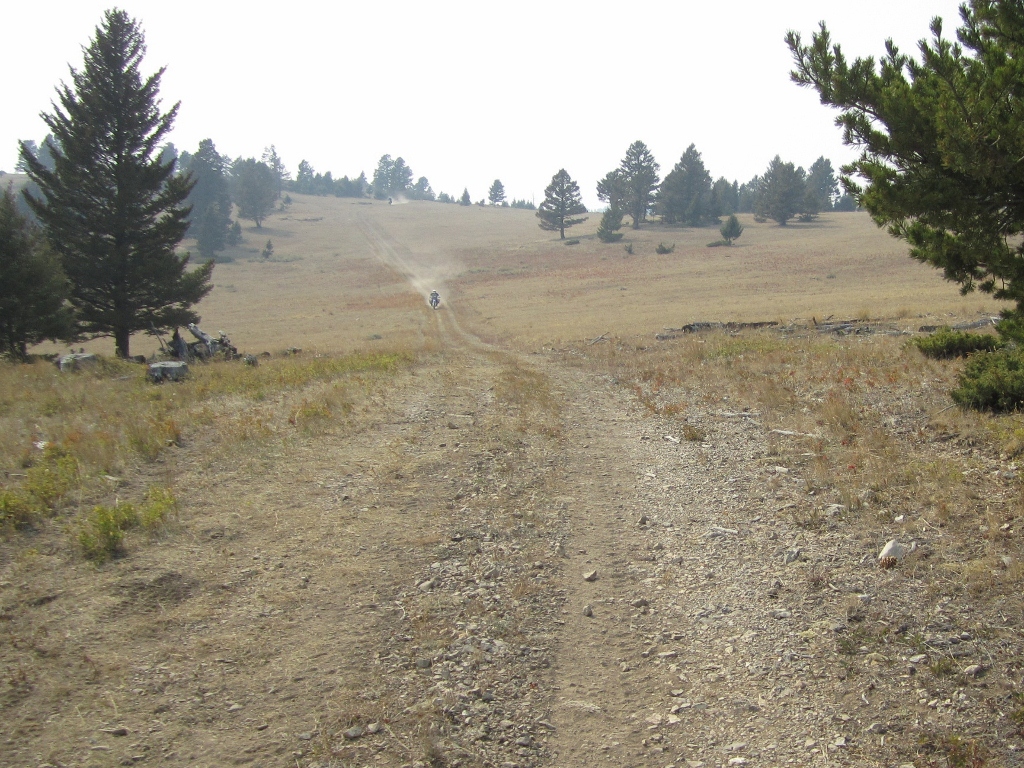 This was a very high point of the ride----and I think you can see Francine is almost being blown over by the high wind.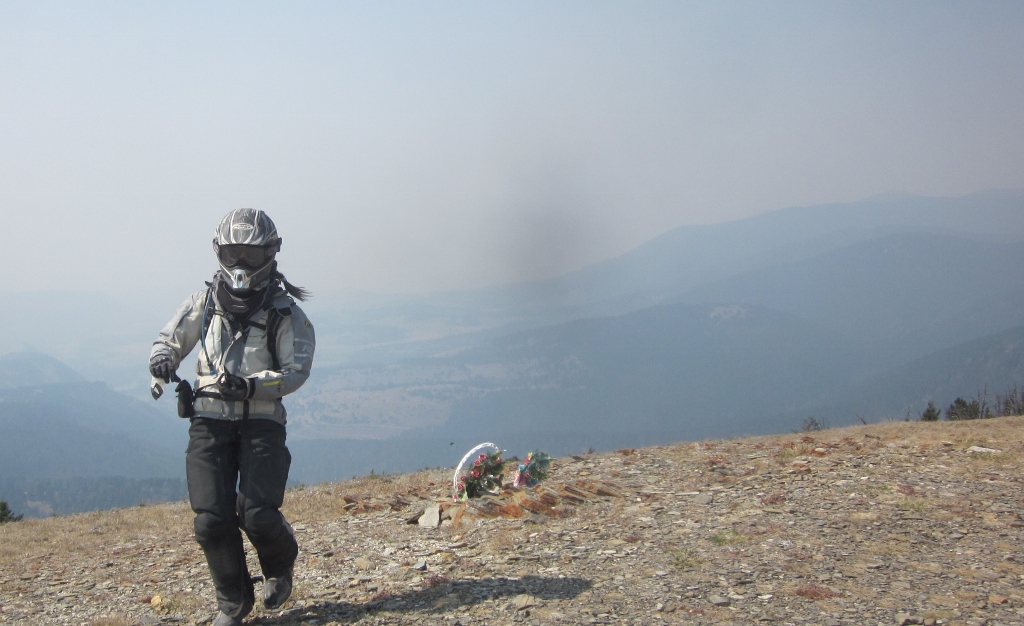 As I remeber we went thru this gate and closed it behind us. We interpreted it as a public road ----but stay on the road---a lot of this out here.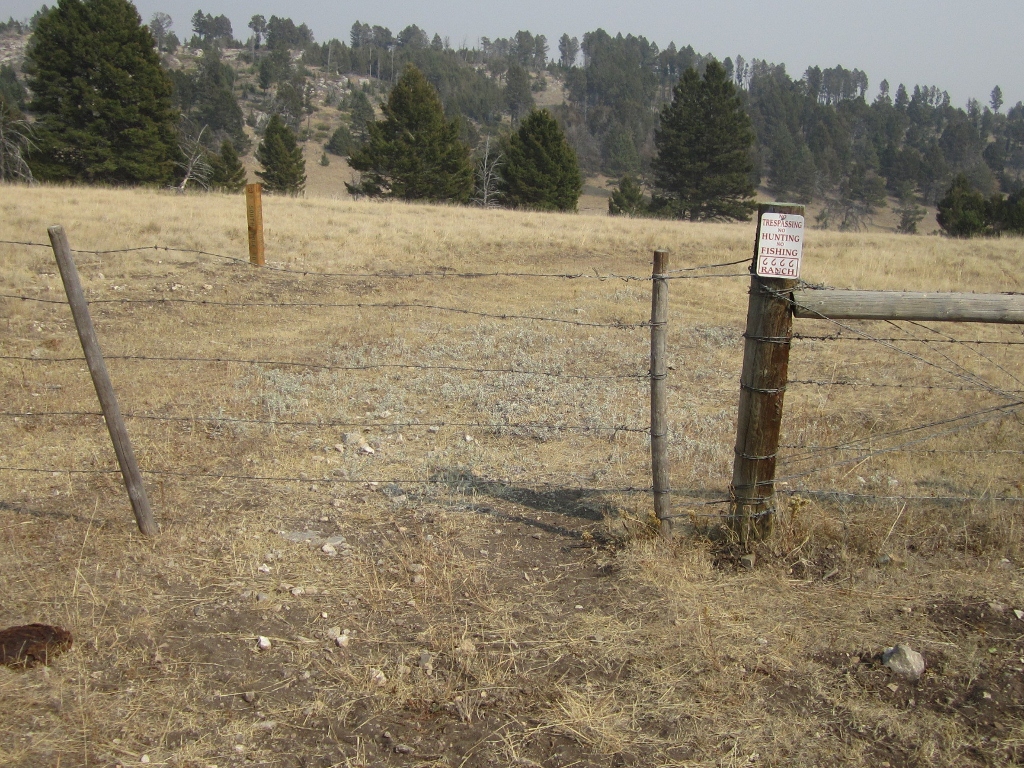 It was tricky thru here as the road almost disappeared---but we found are way thru-------really fun in here.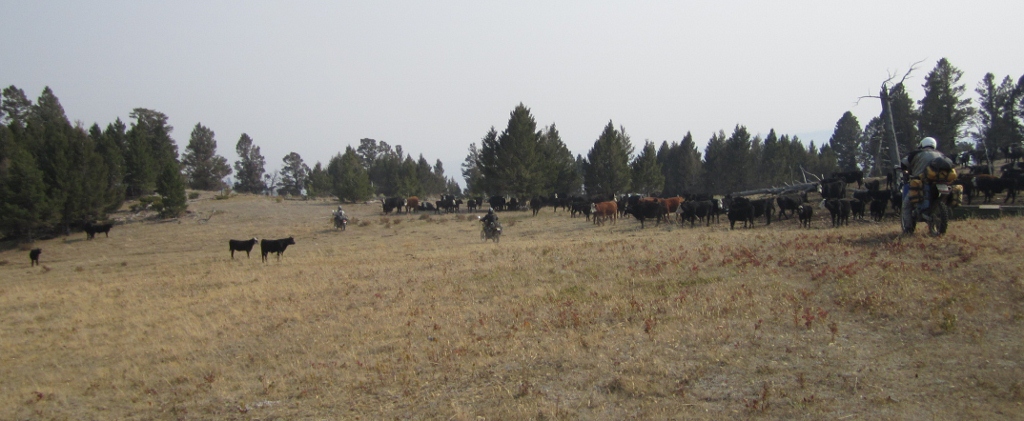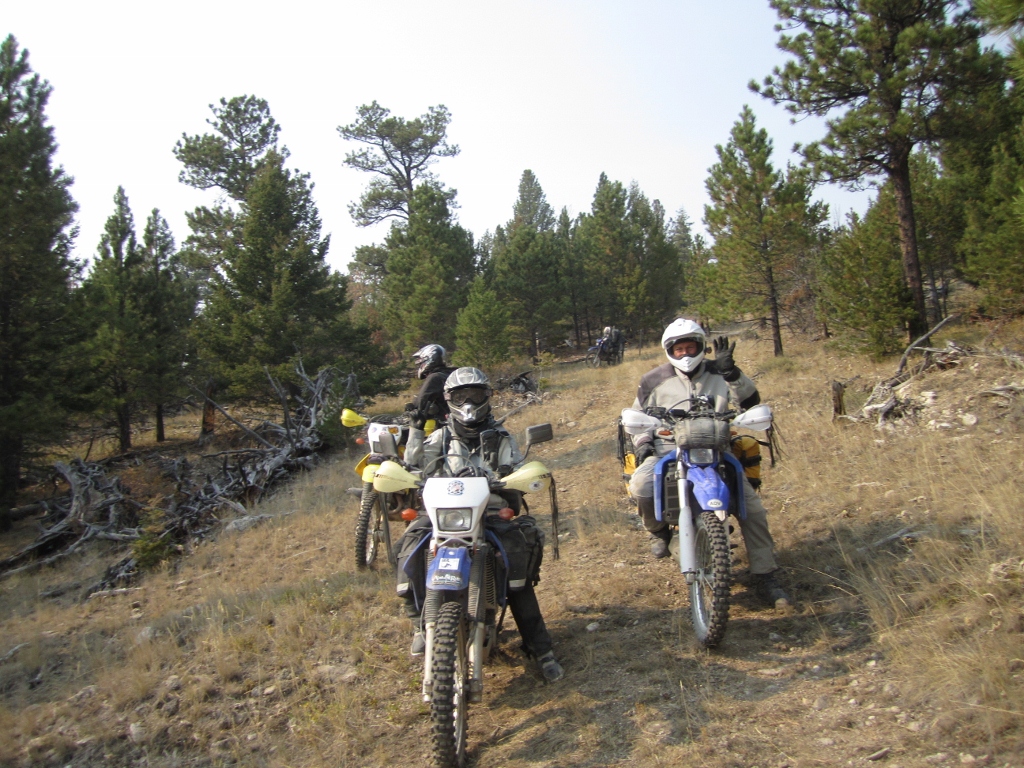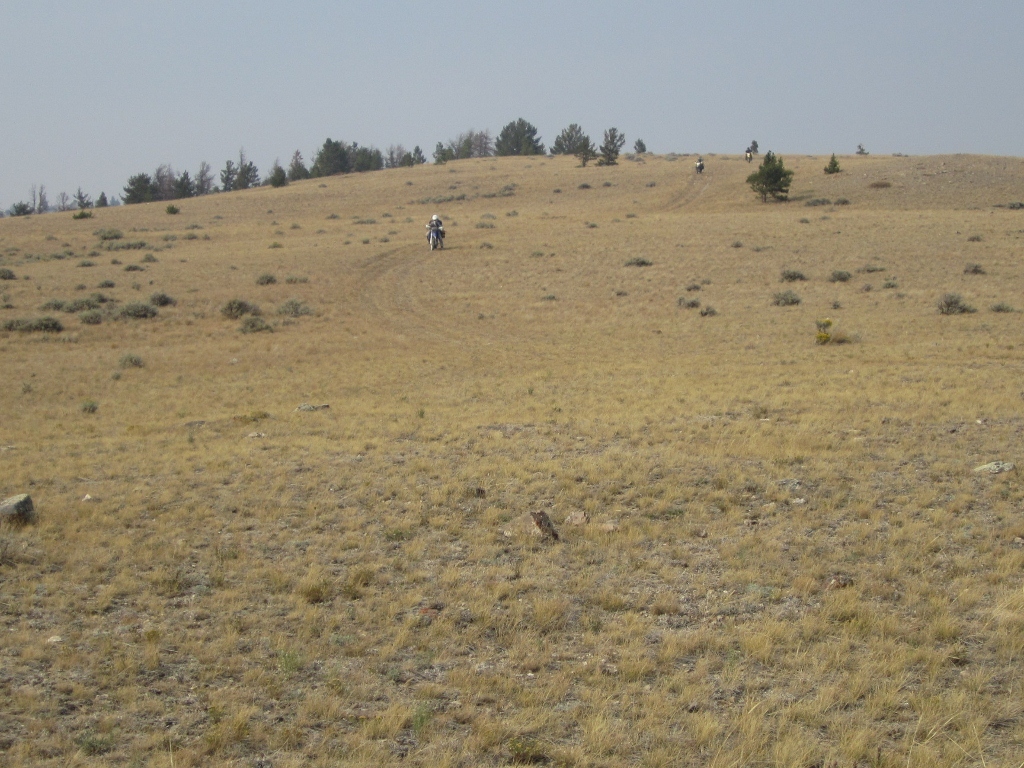 More gates to open and close.We worked together opeining and closing them.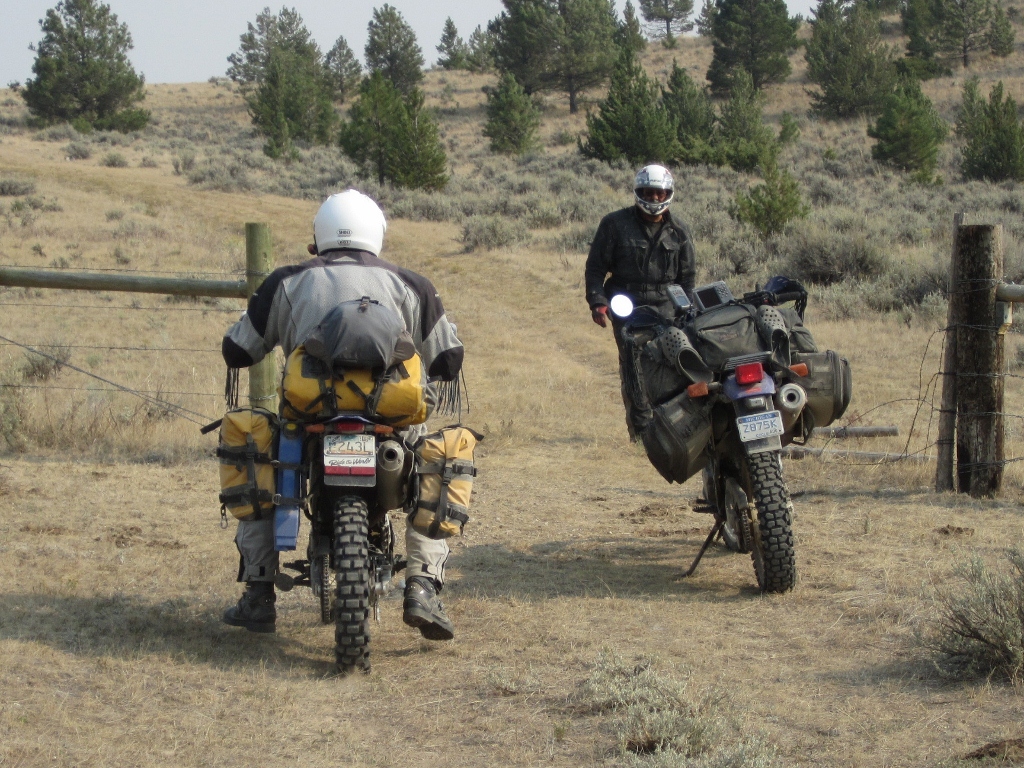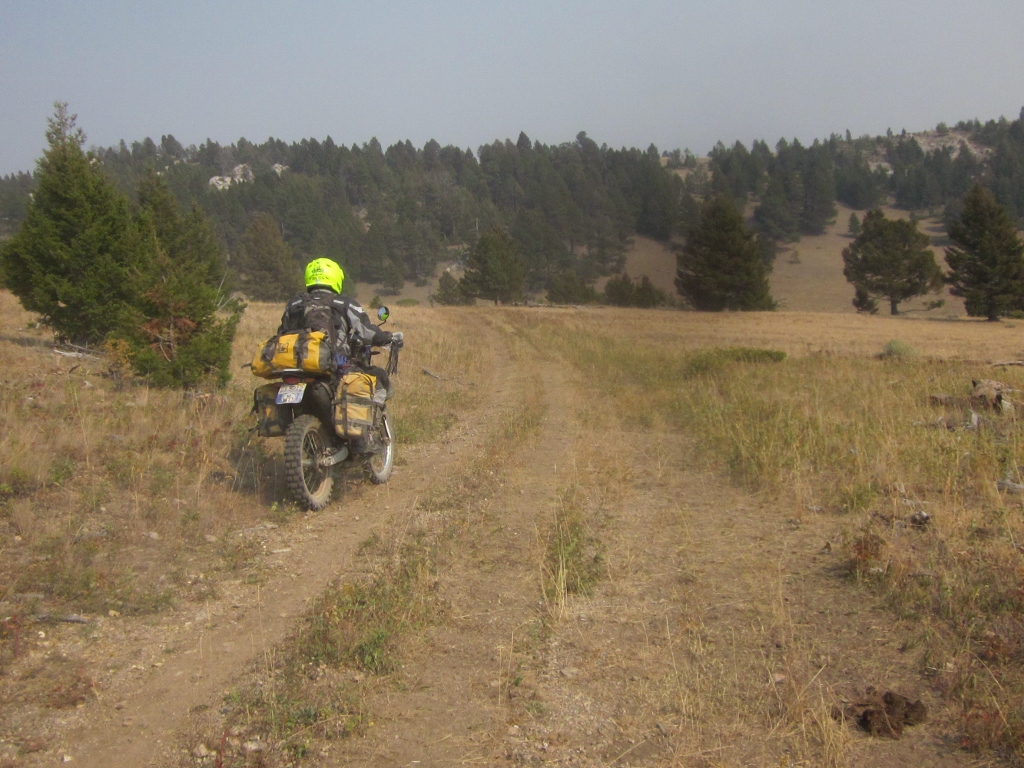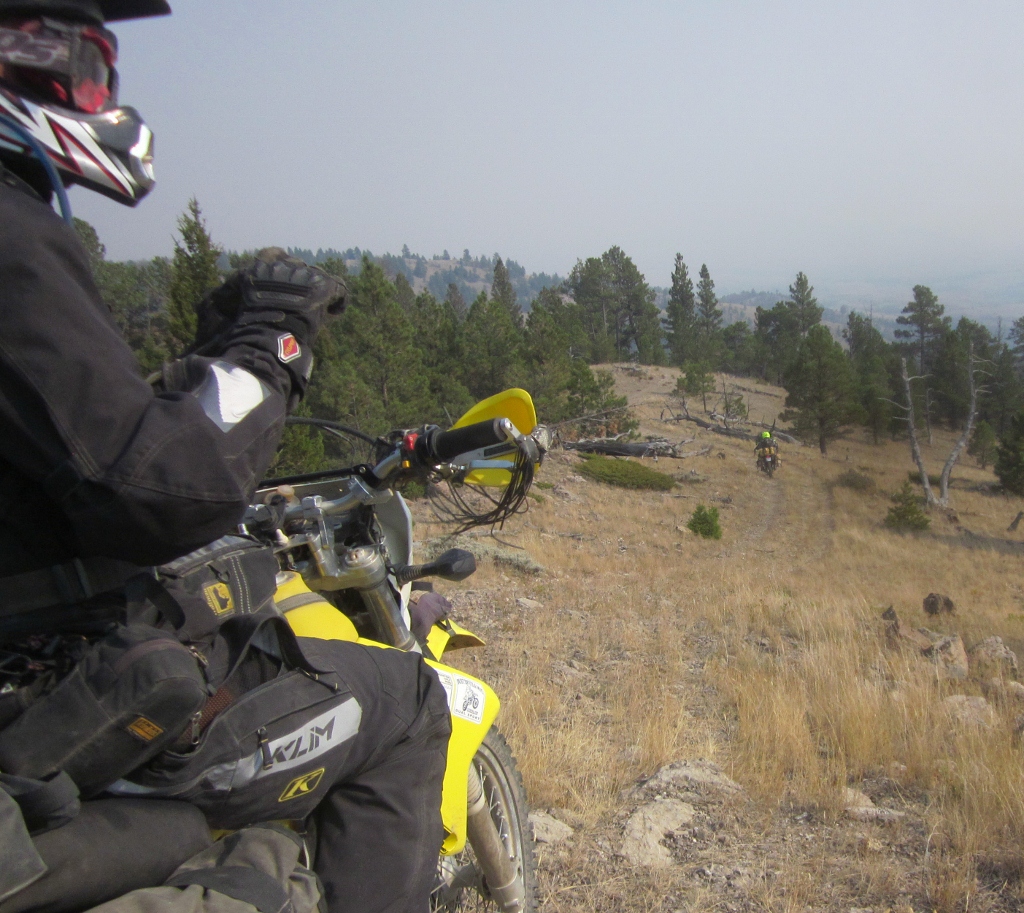 We hit this locked gate and made a quick re-route. We hit 2 locked gates today-------no problem.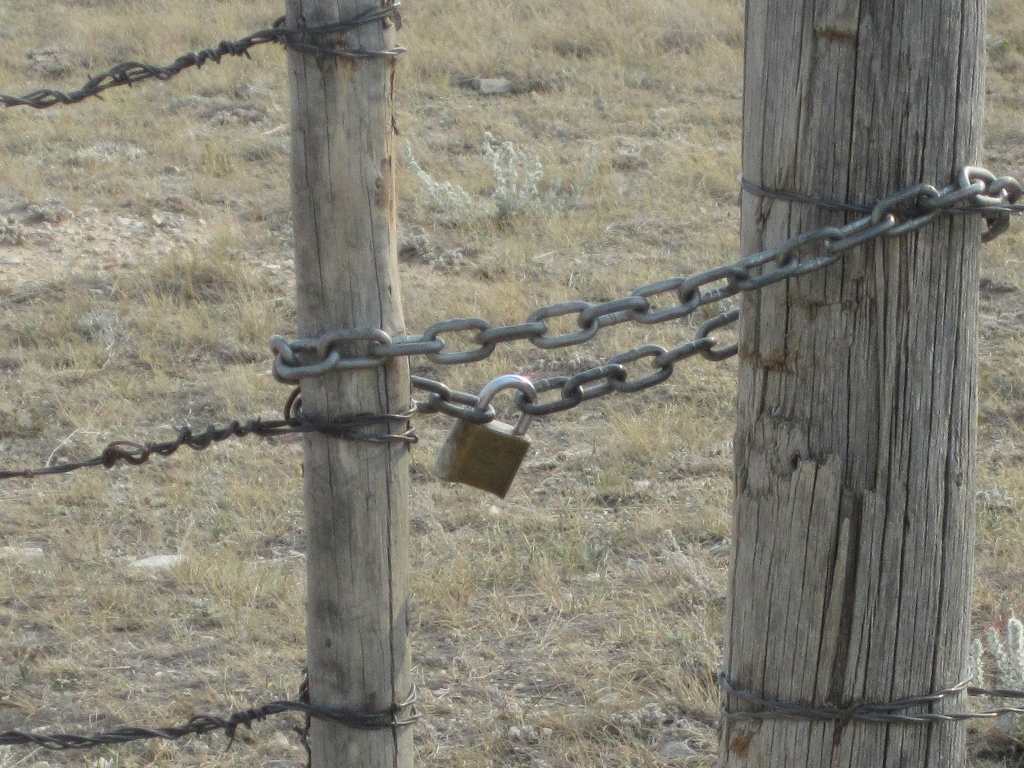 We made it to the Camp Baker recreation site at a good hour. Man it was nice.
Camping was free as it was out of season----as no one in their right minds would be out here this time of the year------yeh-----that's why we came.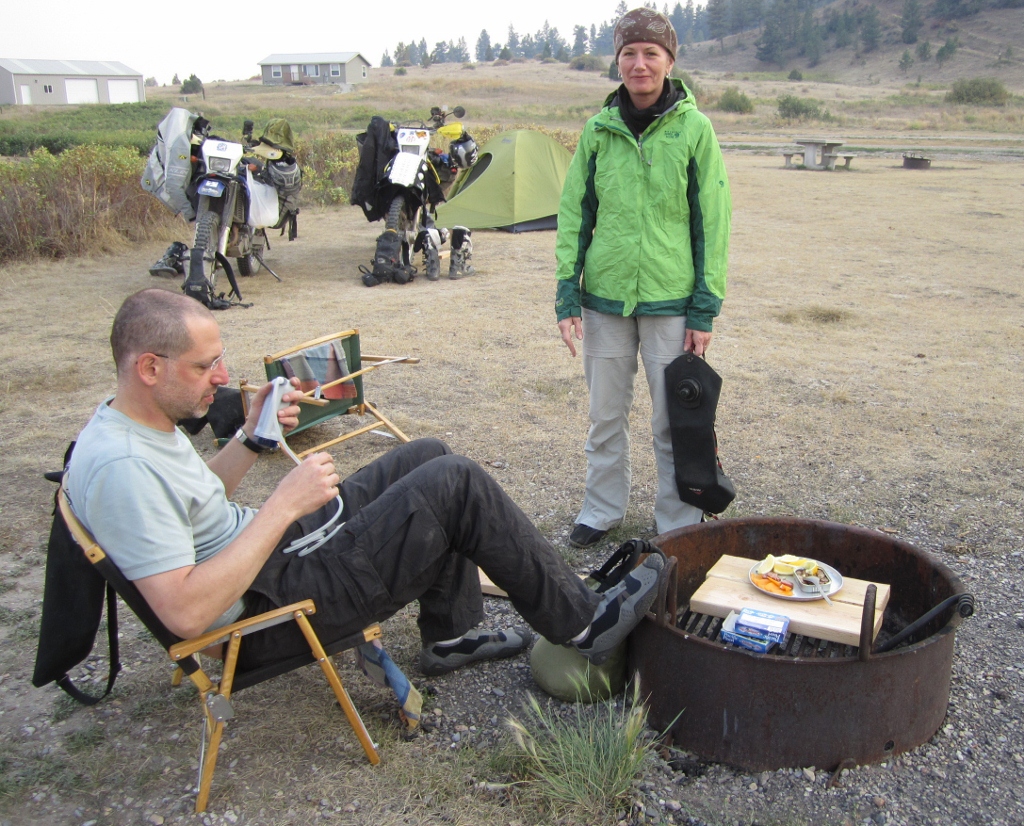 Francine prepared us a little appetizer as she always did while Dave was planning the full meal.
We were never allowed to eat our freeze dried dinners in the evenings. Dave said on this trip they were for emergency's only..............OK !!!!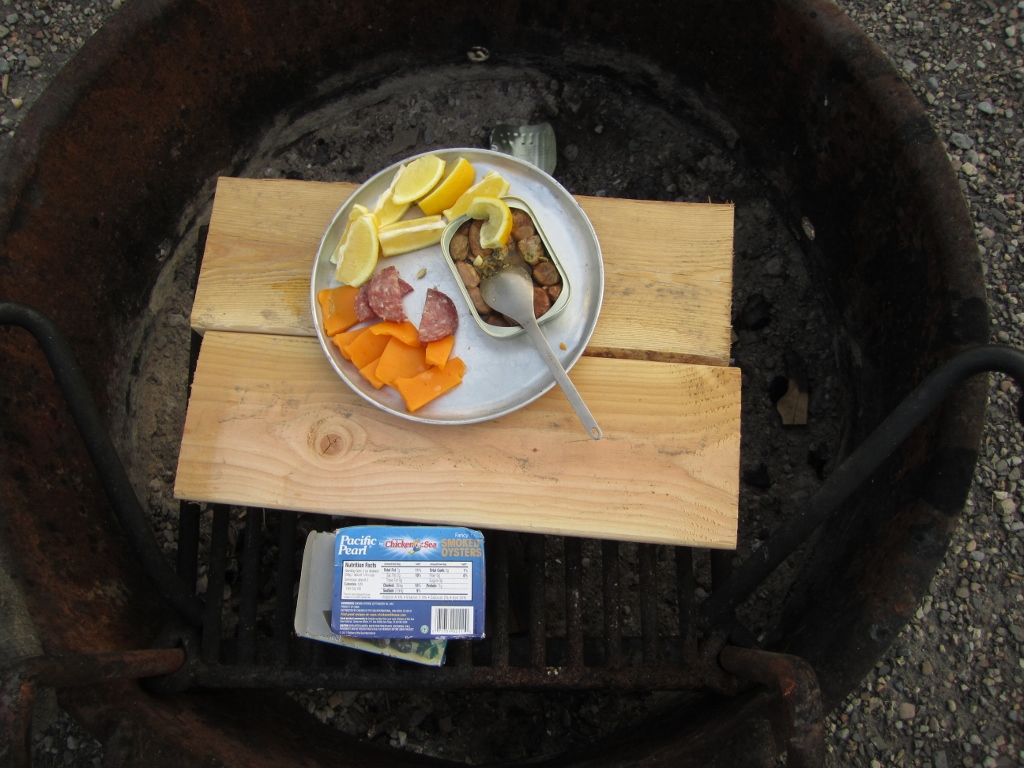 We had an extremely nice creek very near---and Dave purified some water.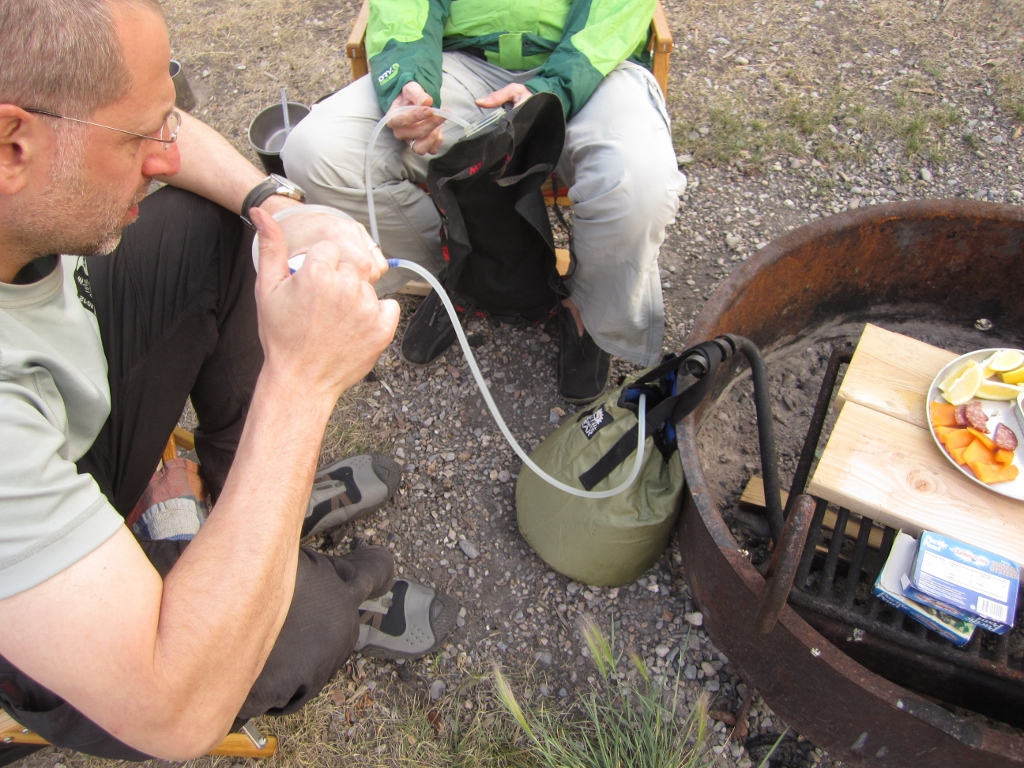 Left: Dingweeds
Right: Scott Caldwell ......AKA Northern Traveler.
And I think I already said we knicknamed him "Connector"
Here he is doing his job-------Connecting.
Connector was a lot of fun and is the biggest wiz of this computer mapping stuff I've ever met.
Notice the nice outhouses that were still open for us---and they were still stocked with the necessary stuff.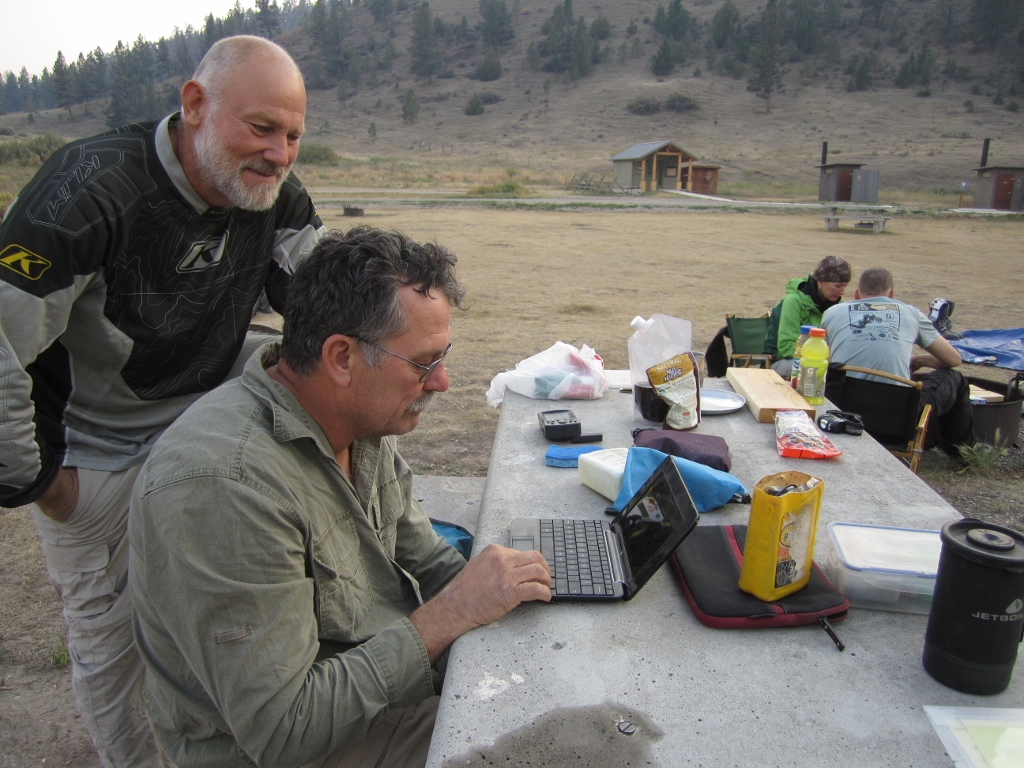 The creek (The Smith River) just 50ft. from our tents.
This spot couldn't be seen from out tents-------it was a little cool out-------but I hadn't had a bath for a bunch of days.
We hadn't stayed in a motel once yet-------and I announced (so as not to scare anybody) that I was going around the corner behind the bushes to the creek---I was going to get naked
and was going to take a bath---------and I did. Man did I sleep good that night. I think some other followed later.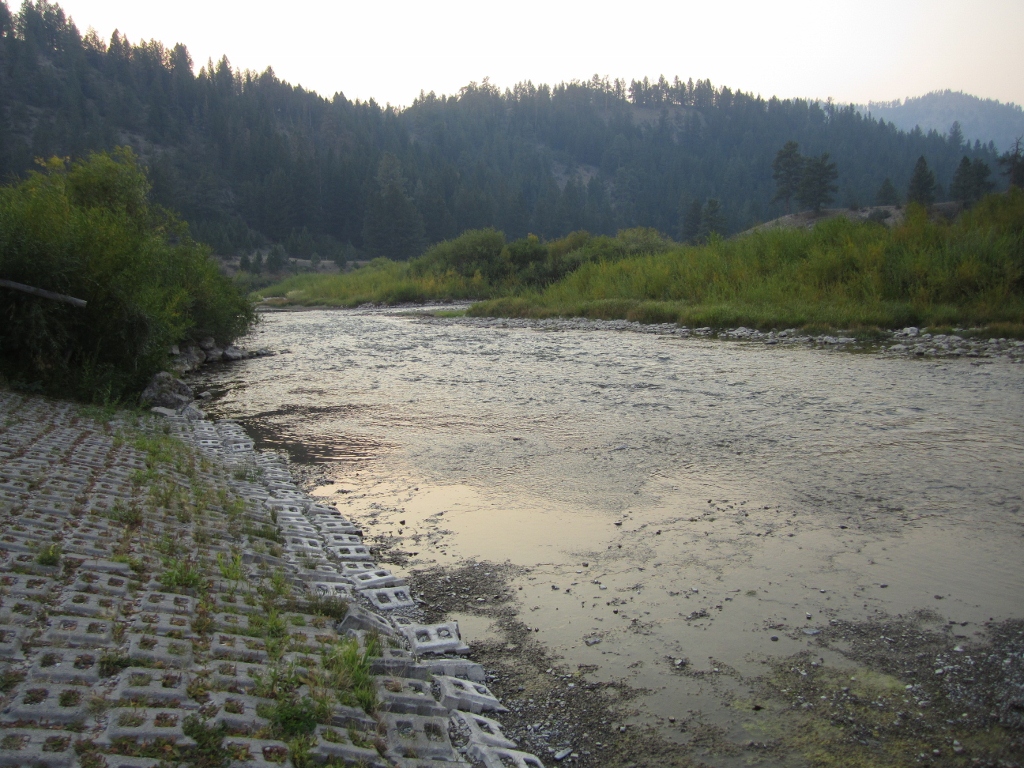 A rough map of our route today-----about 136 miles of heaven.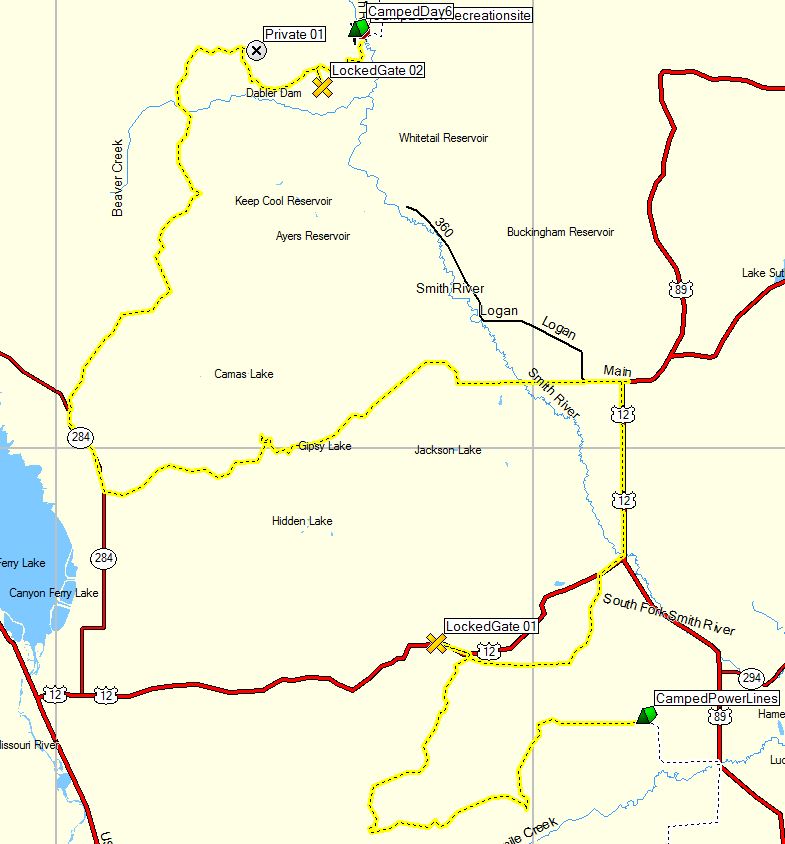 Day 7
Sept. 11th, 2012
Camp Baker Recreation site to Camp in Winnifred, Montana
After breakfast at Camp Baker---the riding started off very easy but beautiful.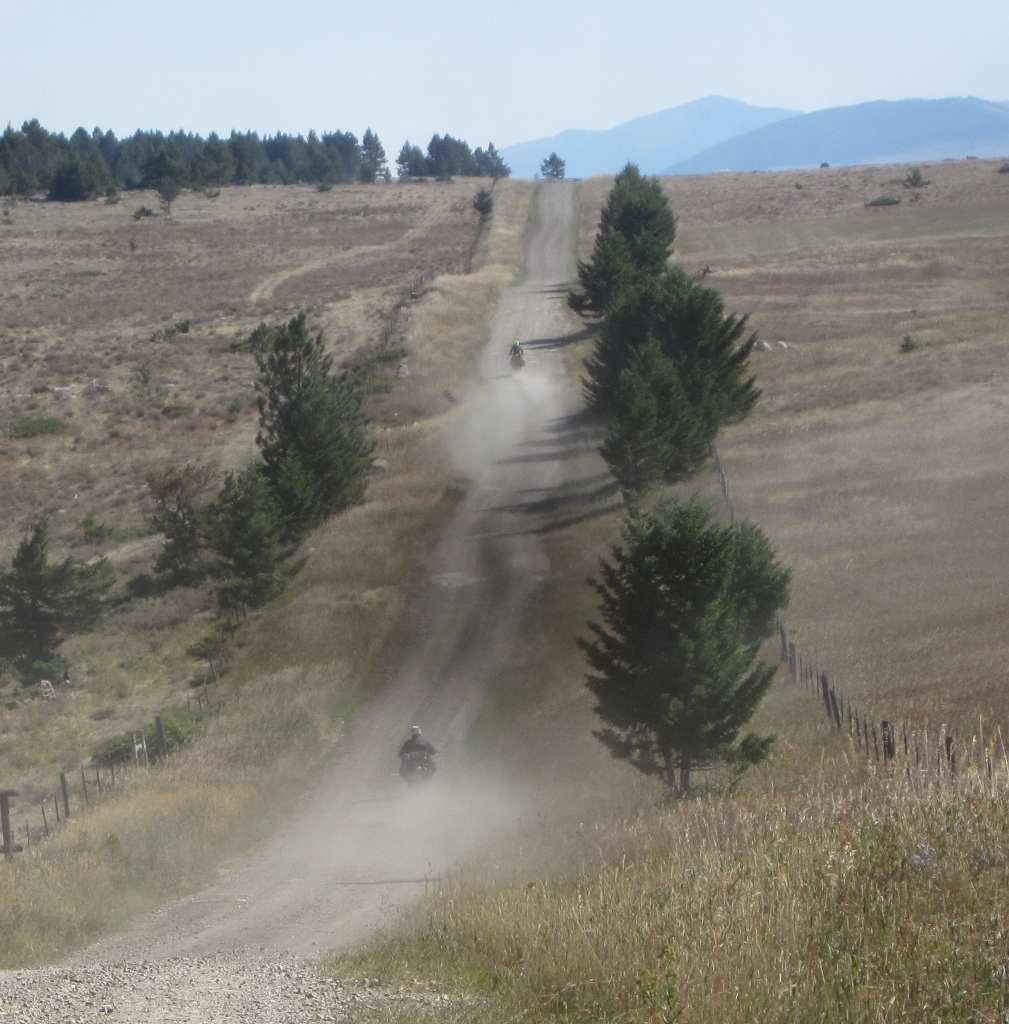 I blew a turn and didn't know it--and came to this old steam boiler by an old mine.
It was good that I was still in everybody's site and went back to carry on.
It would have been bad if they got in front of me---not knowing that I wasn't in front anymore--that's a bad situation.
We eventually crossed a little wooden bridge on Belt Creek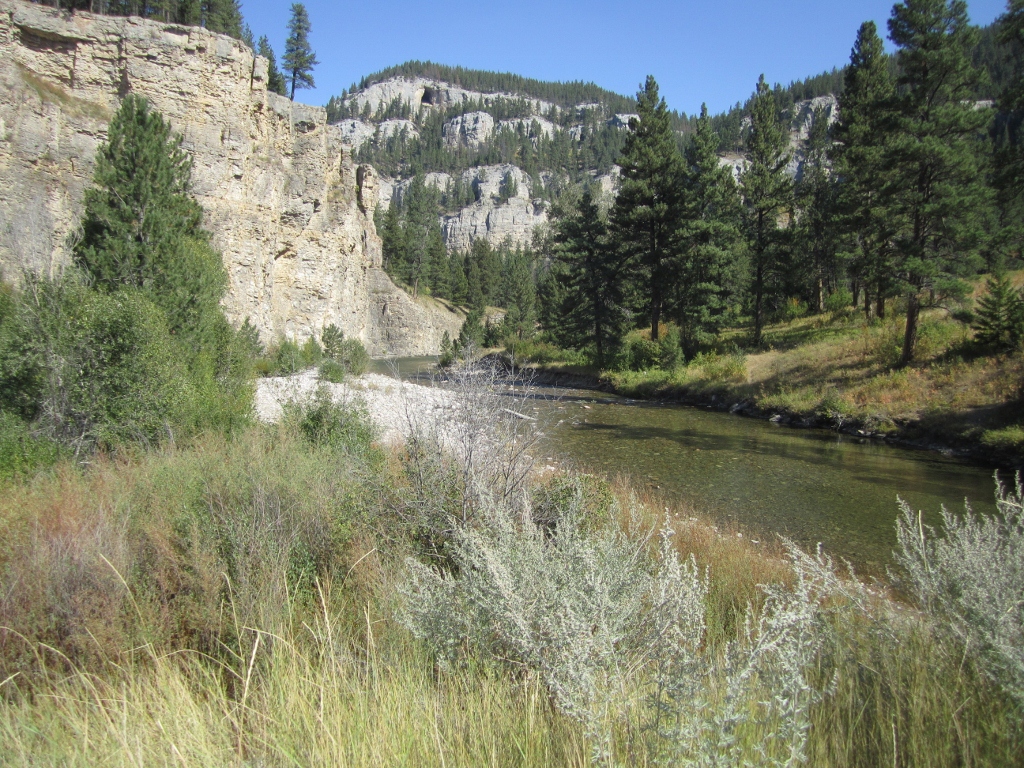 Here I am at the top of a hillclimb waiting for the others to come up--------it had been awhile and I was getting nervous.
It was by far the toughest climb of this whole ride. I wish we had a picture of the bottom-----I stared at it for awhile before letting the clutch out and I think
everybody watching me (I was still leading) had the same feeling as me-------it looked bad---steep---narrow--a drop off---and rolling baby head rocks and you
could not see the top---it just went on for what seemed forever. I took off not knowing how tough it would be and several times on the climb I thought I wasn't going to make it.
So I go back to try to help anybody---still not believing I climbed that hill with the load I was carrying.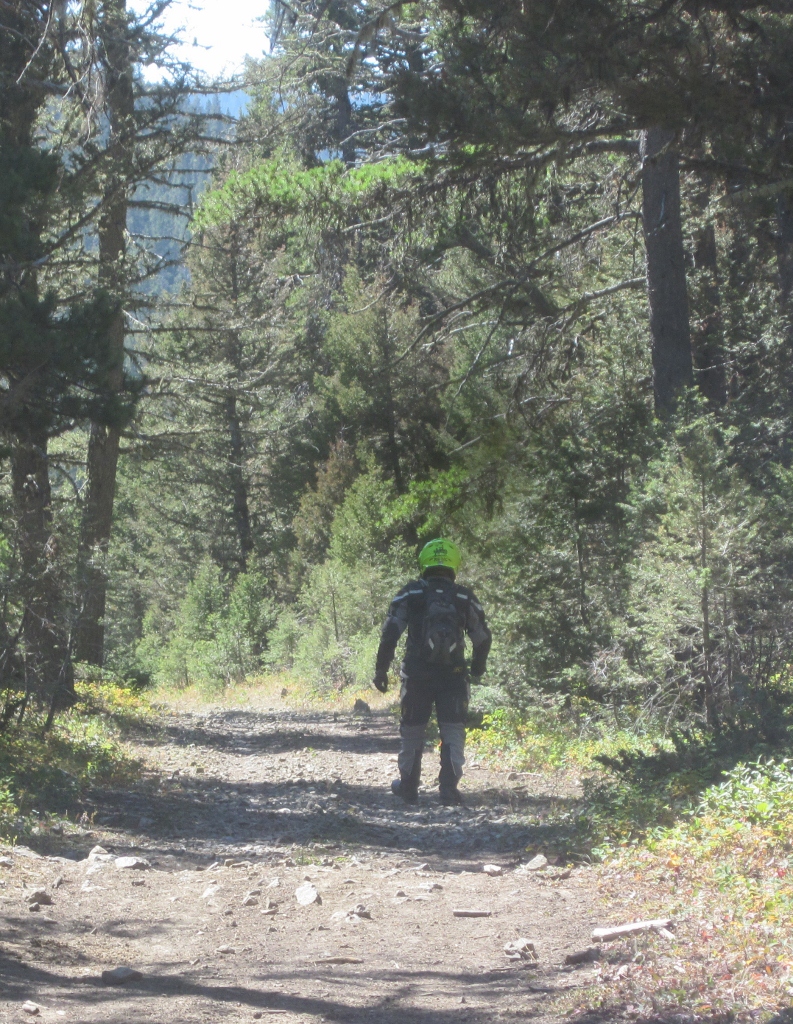 I have no pictures of the steep part------this is still near the top and Dr. Rock comes rip roaring up it.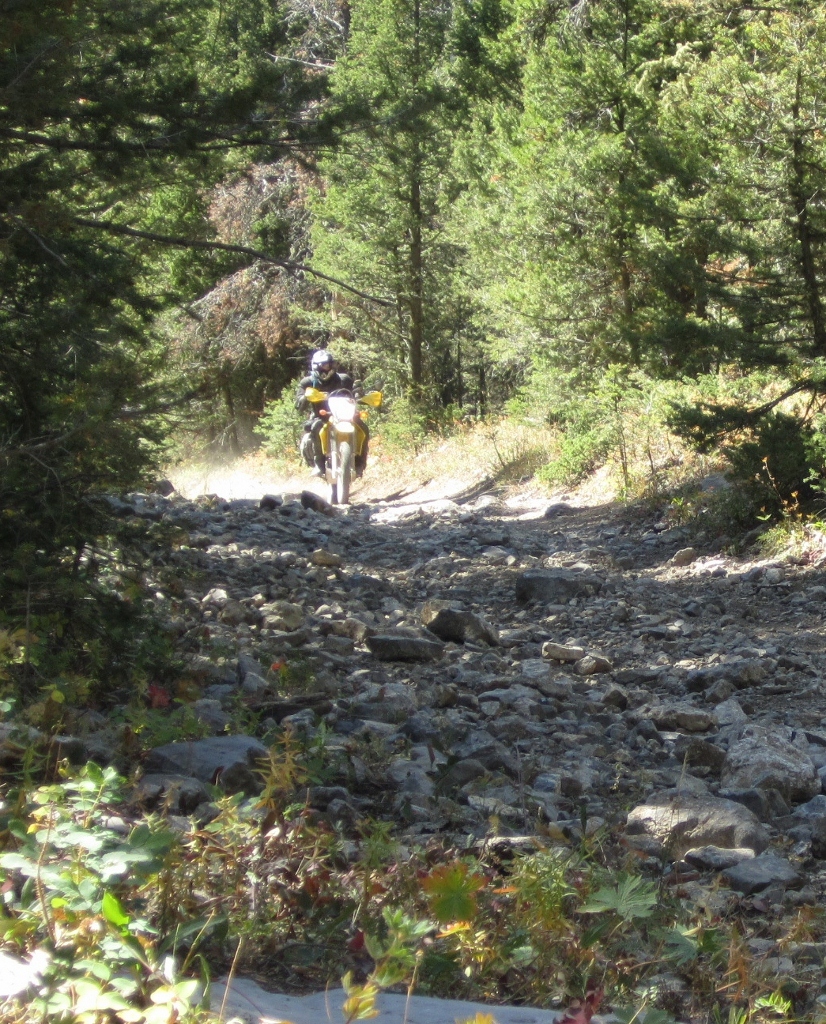 Dummy me---------I almost didn't get out of his way----he couldn't change his line and I was in the way.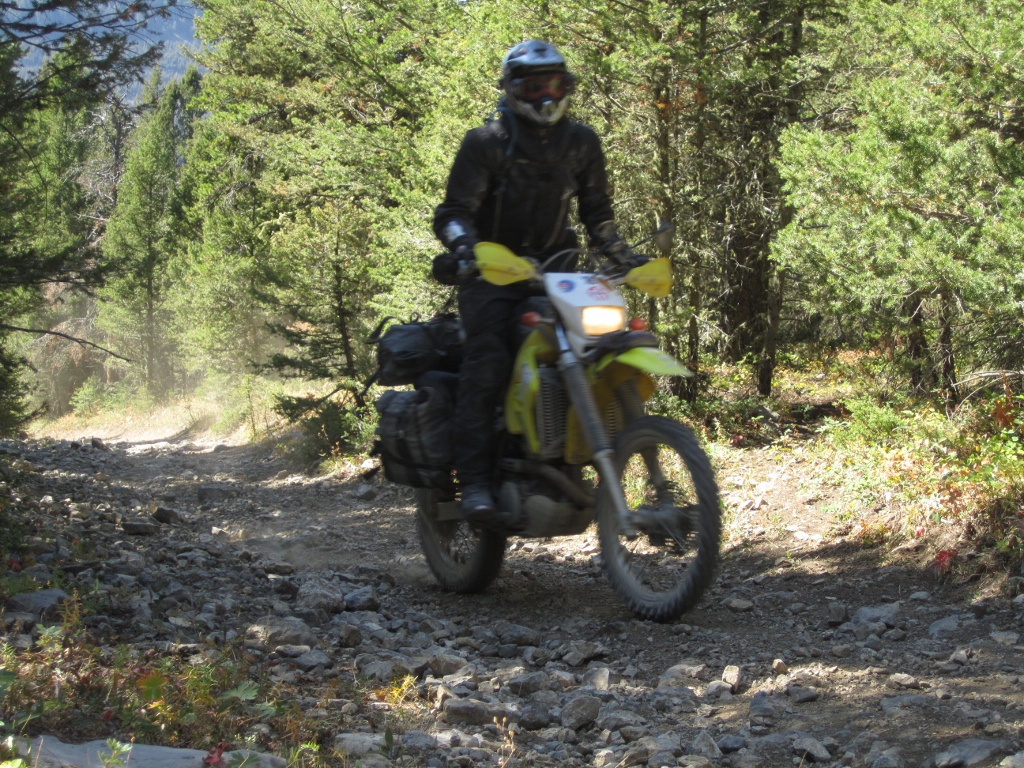 I guess Dingweeds was up with me and got these shots.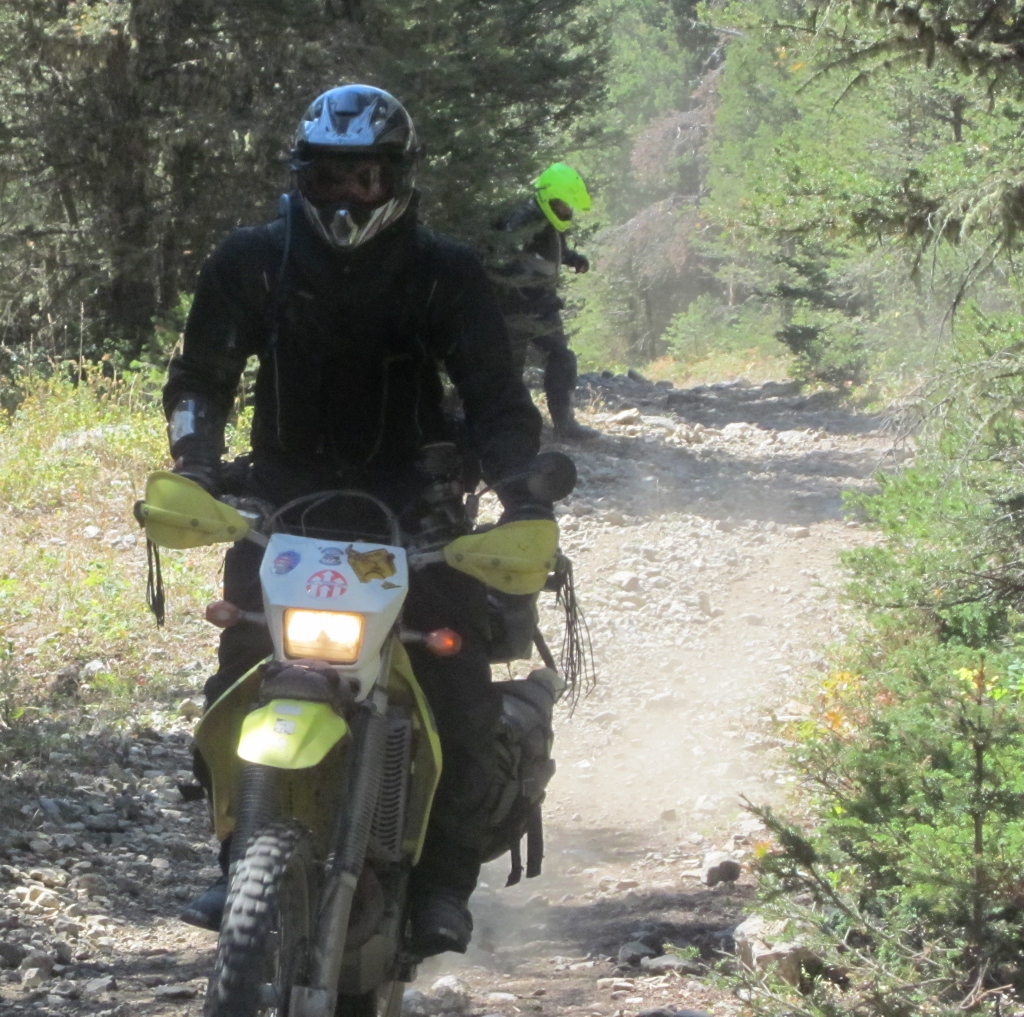 That was tough.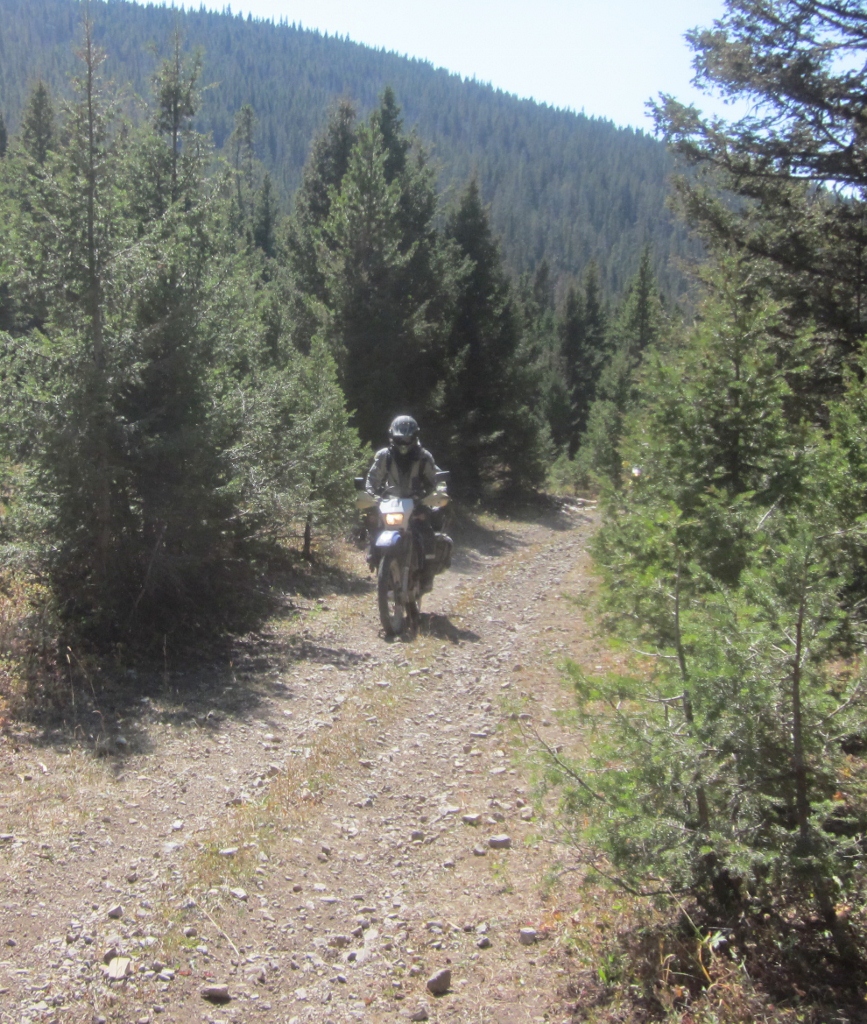 After everybody gets up unscathed-----I walked back to my bike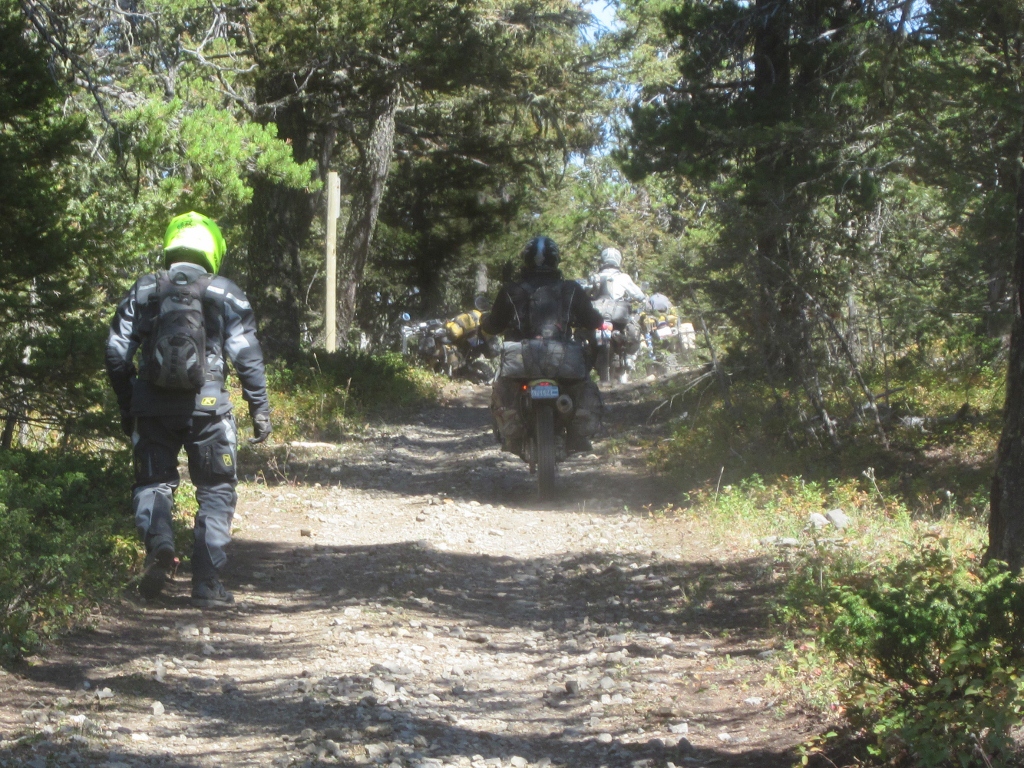 I think here we are all wondering how we got up that hill-----and wondering what was next.
Nobody wanted to go down it---or re-route.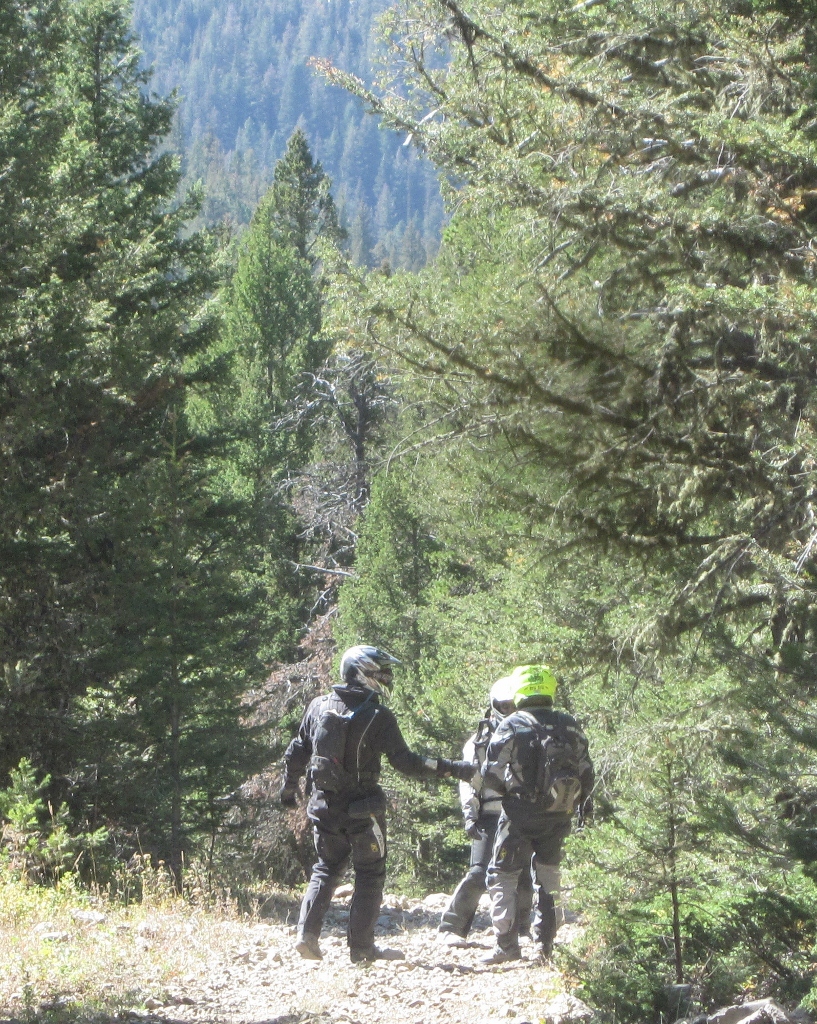 But I didn't get far.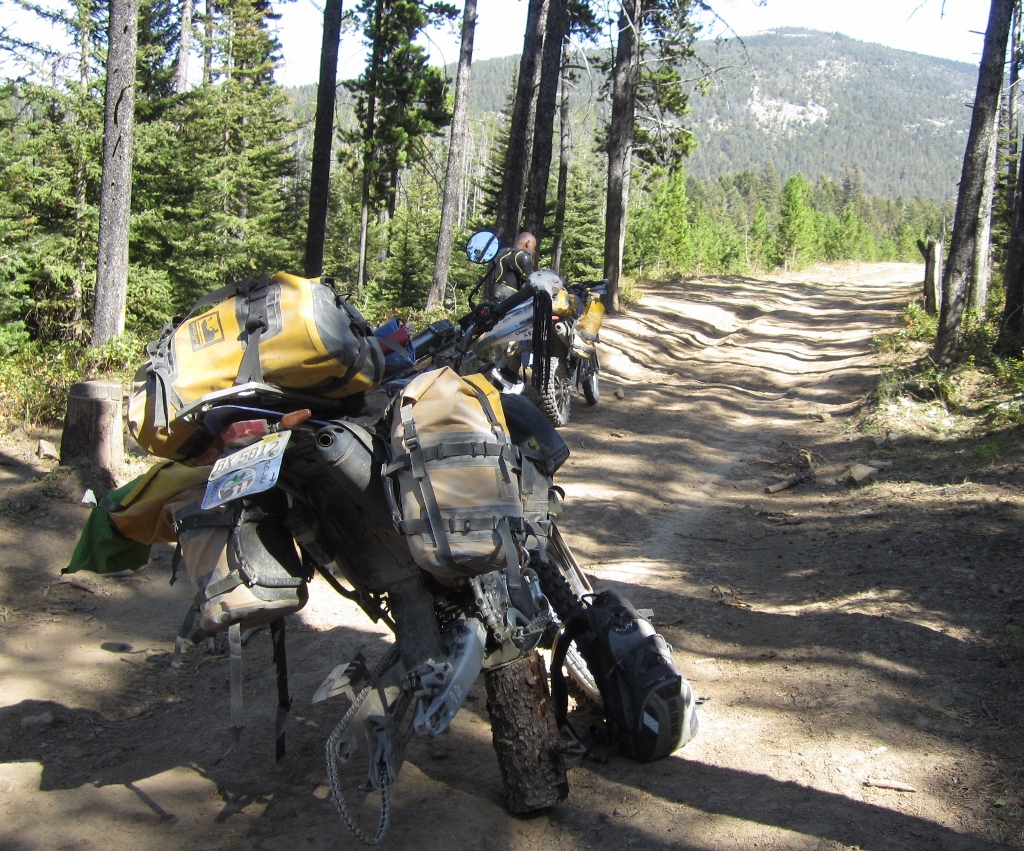 This tube change took 10 minutes----everybody pitched in and it was done.
I put a 21" tube in the rear to Dr. Rocks dissaproval I think------I've done it before and got away with it.
This time I didn't------it bit me in the ass a few days later.
Dr. Rock had an electric pump--------you want to use it BigDog ????
Well-----------Yeeeehhhhh.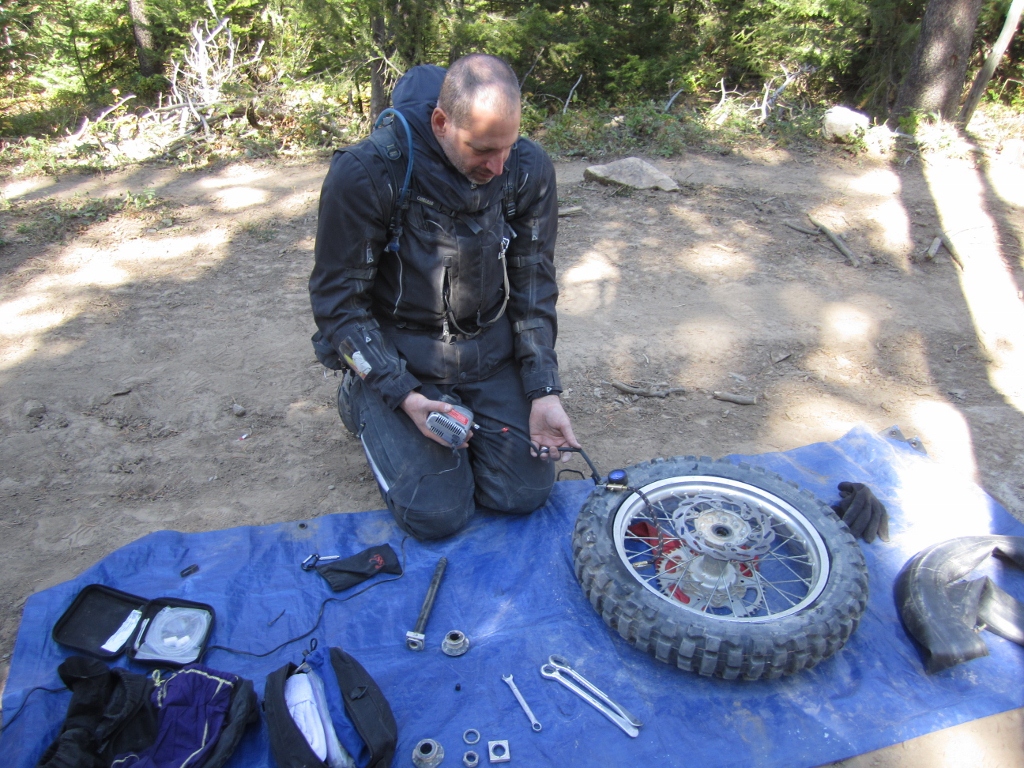 And on we went with not too much more technical terrain ------then it got easy-------but oh so beautiful again---jeez, I hate this Montana.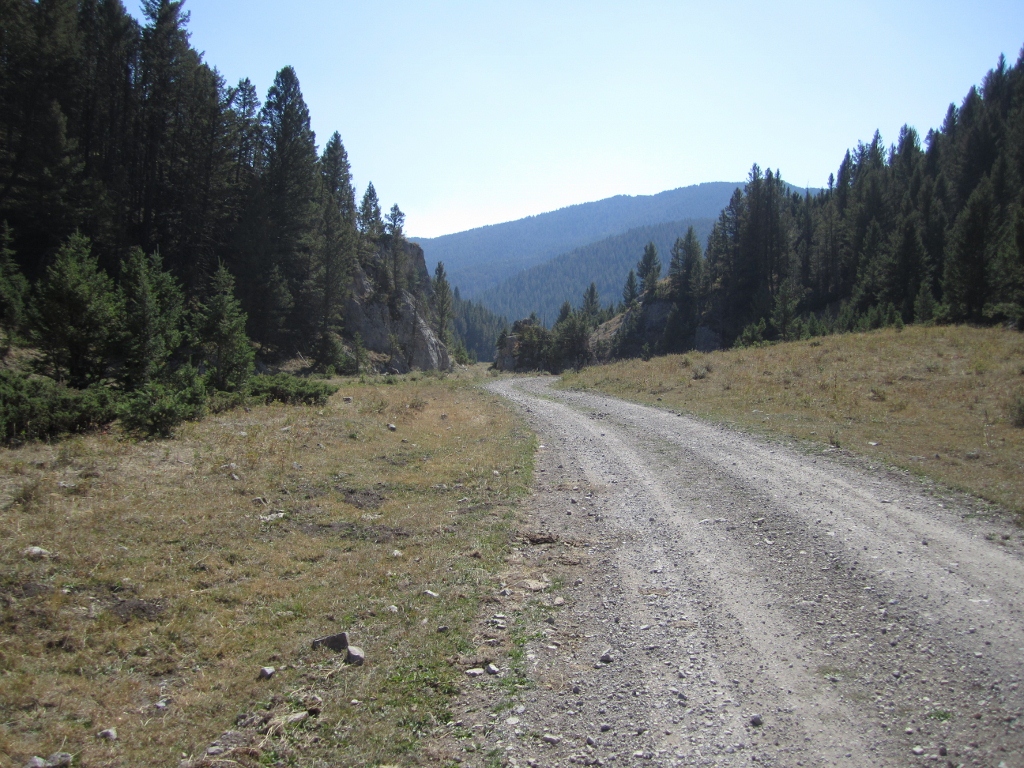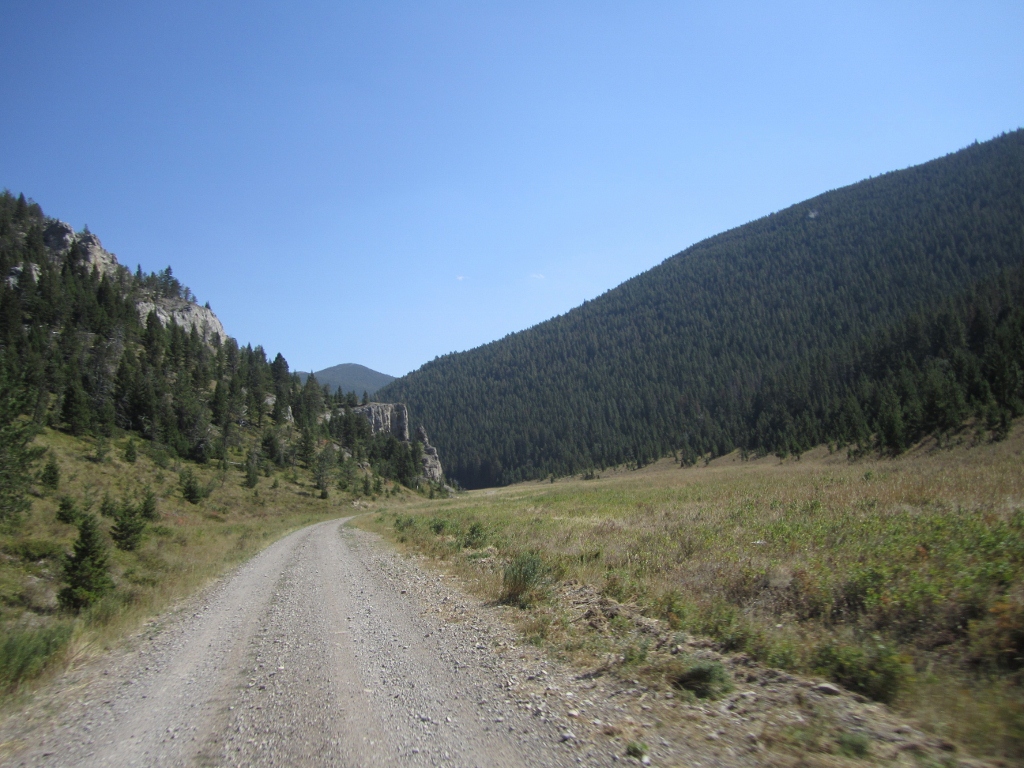 And soon we were to get a huge surprise as we started to drop down into a valley and would cross the Judith river.
I think we had gotten gas and stocked up on goodies in Stanford, Montana.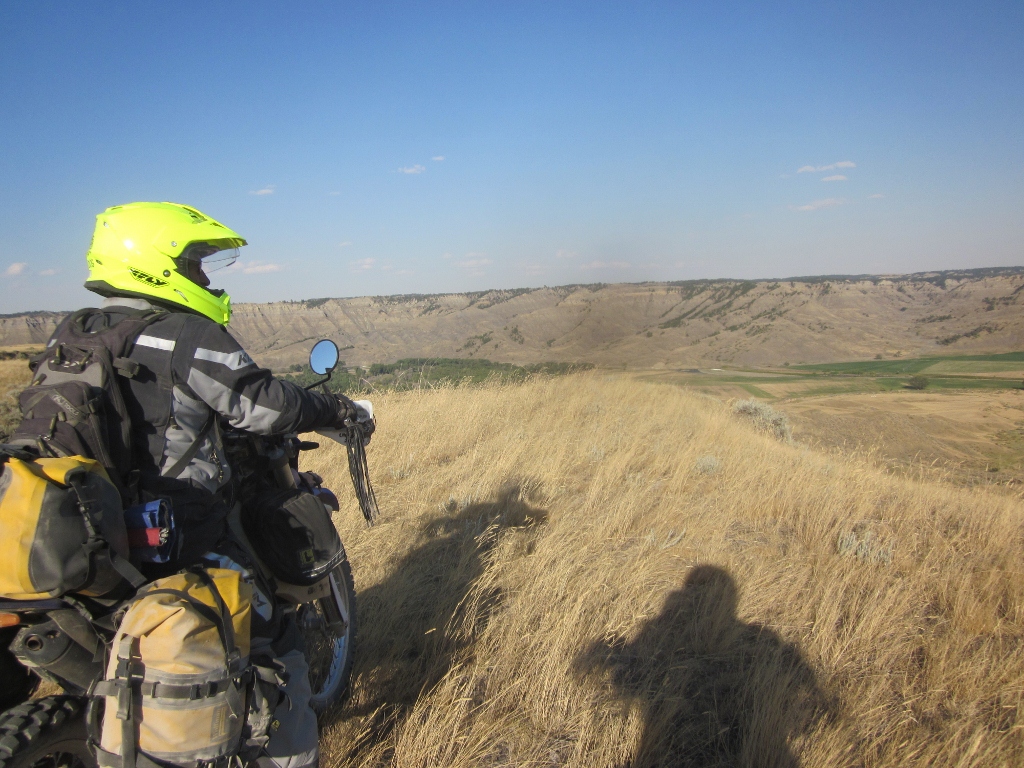 The terrain had been flat before this-----and like I said ----we didn't expect this beautiful drop into the river basin.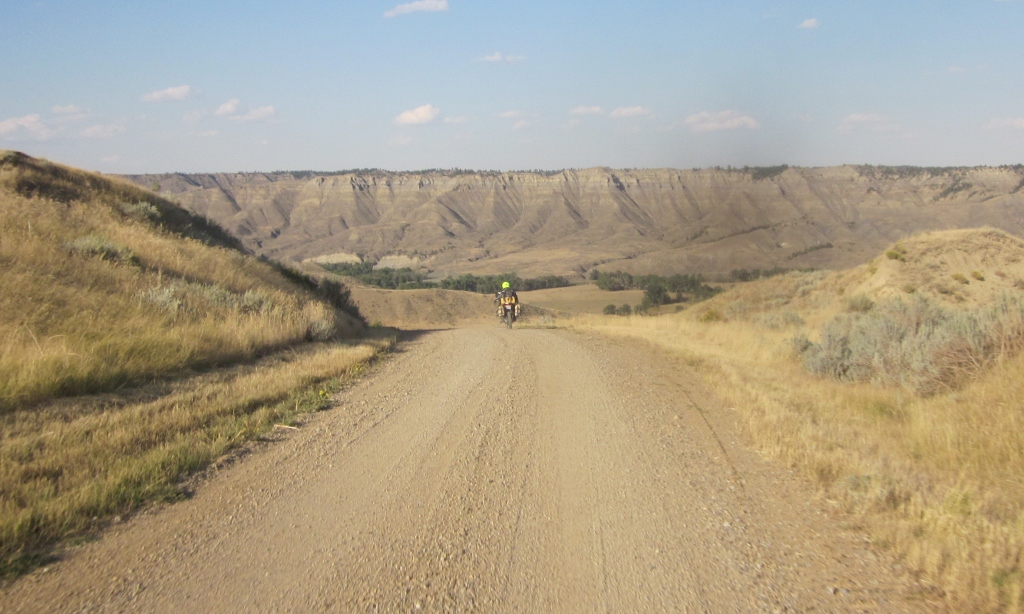 Bridge over the Judith river on Judith river road.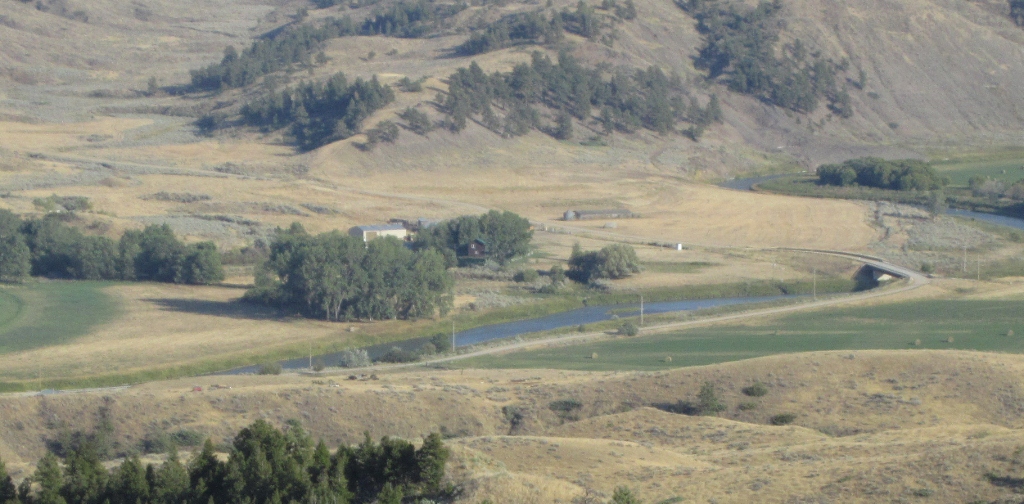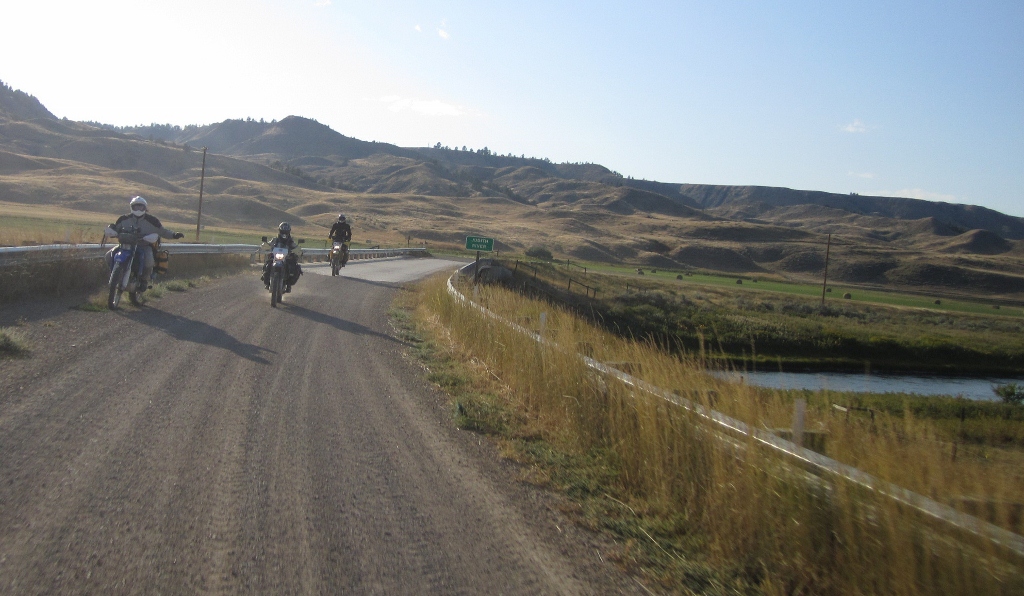 It was a just as beautiful climb out of the river basin as we headed East towards Winnefred where we hope to get gas, supplies and find a campsite.
Dust ???? I don't see no dust. Rocks ??? I never saw any rocks !!!!!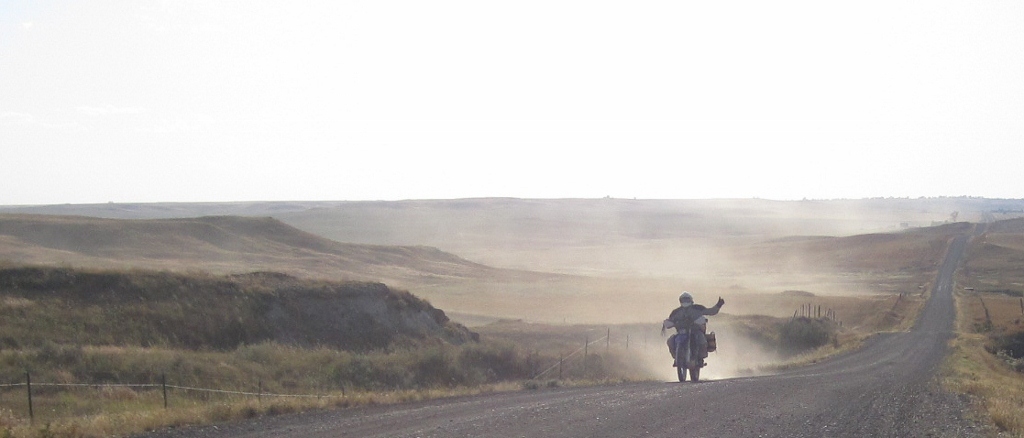 We found a campground right in town-----and the grass was suspicicously green as I looked for lawn sprinklers ??????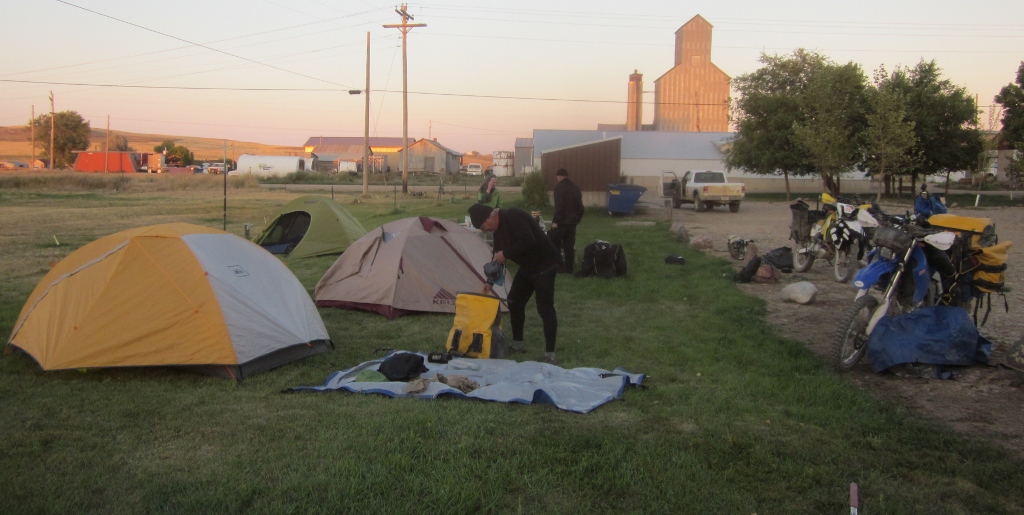 As soon as we got our tents up----we got a homesteader.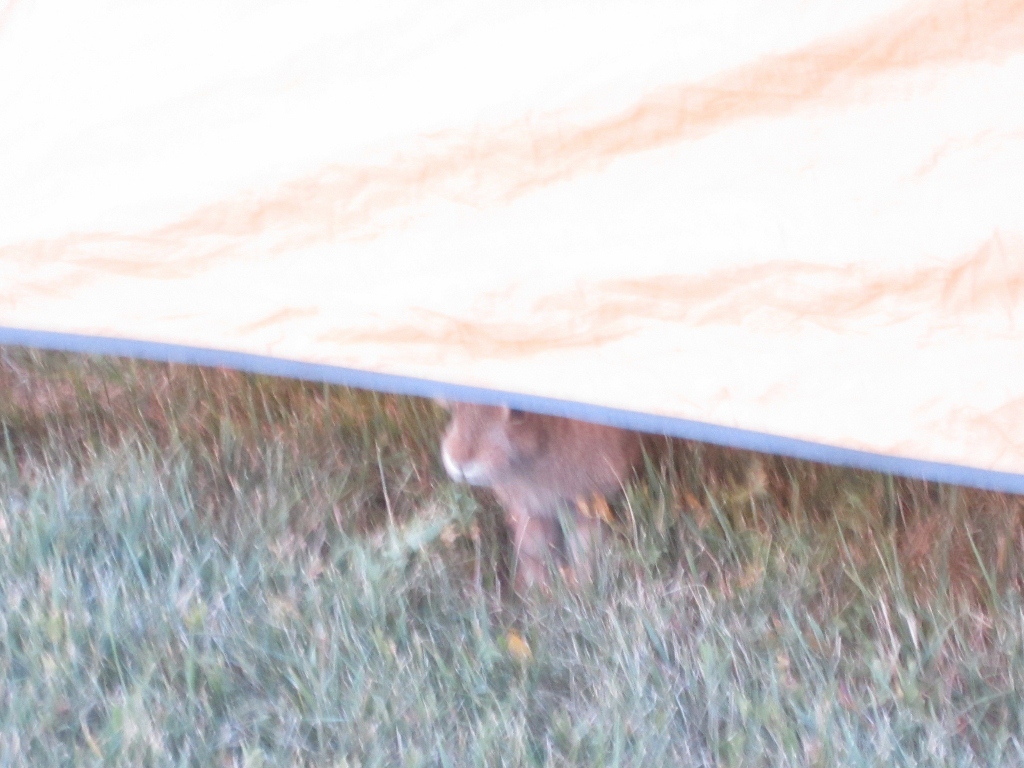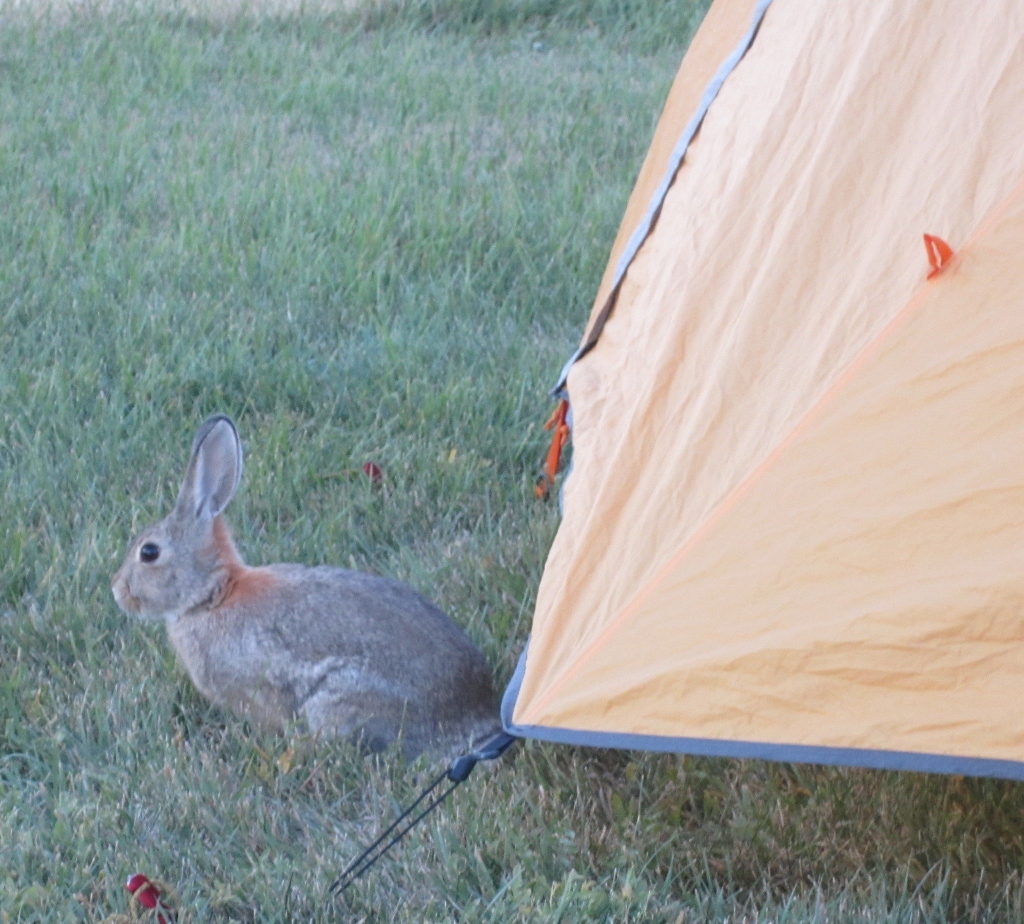 Yeh---and he headed right for the goodies.
He'd done this before I'm sure.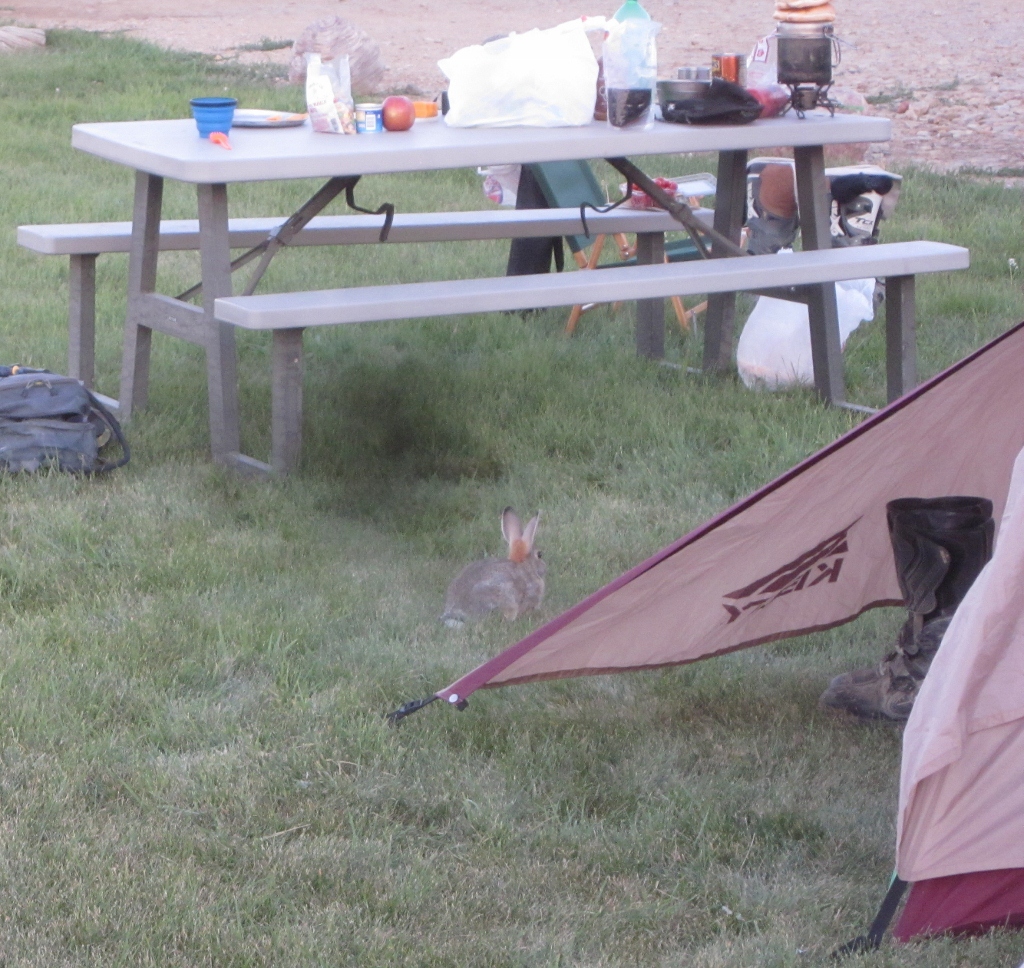 Day 8
Sept. 12th, 2012
Camp in Winnifred to Camp in Winnett.
Once again there was the meeting of the minds-----Francine was really the brains of the outfit---she just let us look like we were.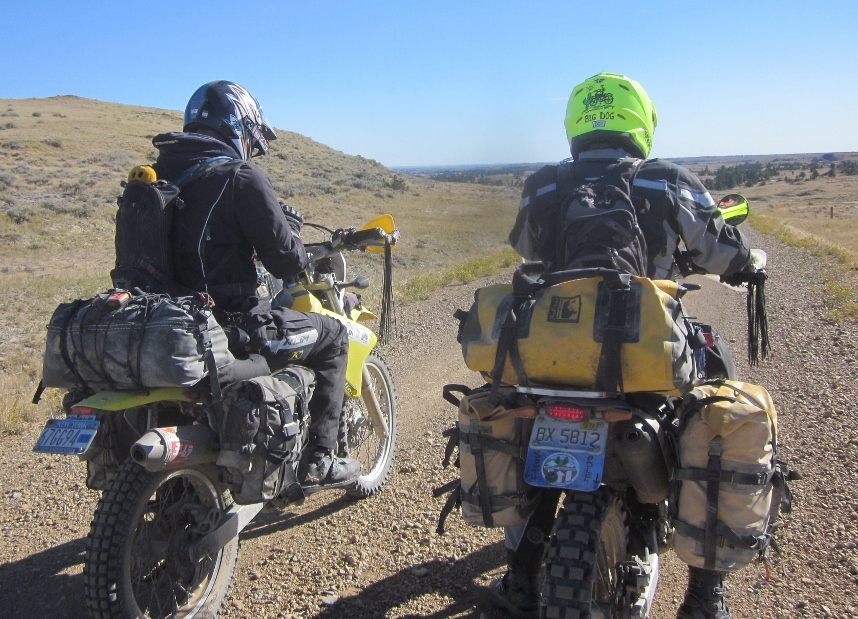 I think I better look where I'm going.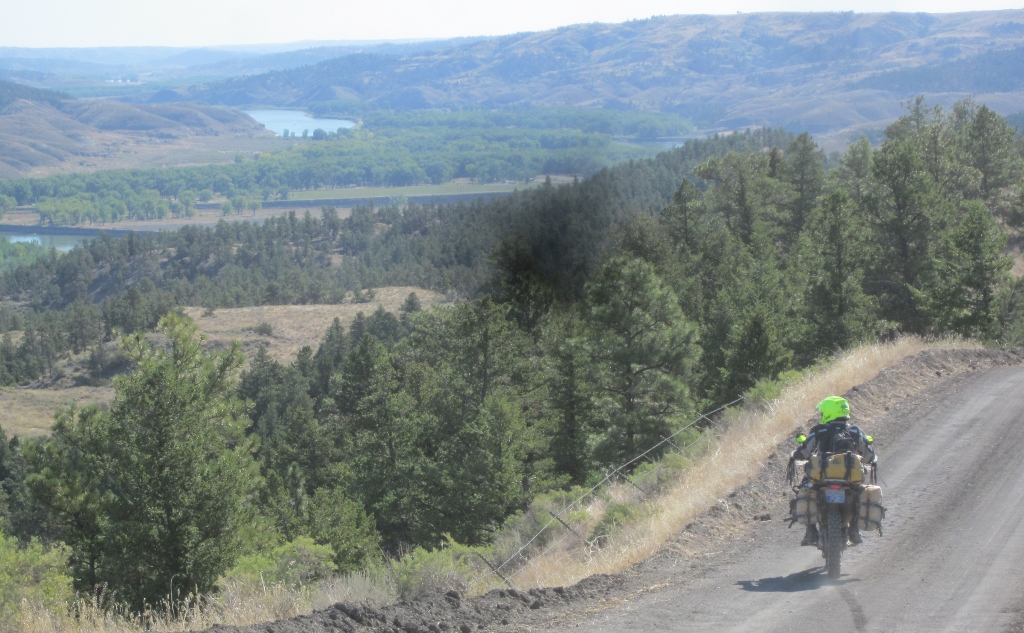 What a handsome crew.
Were like the KLIM poster childs.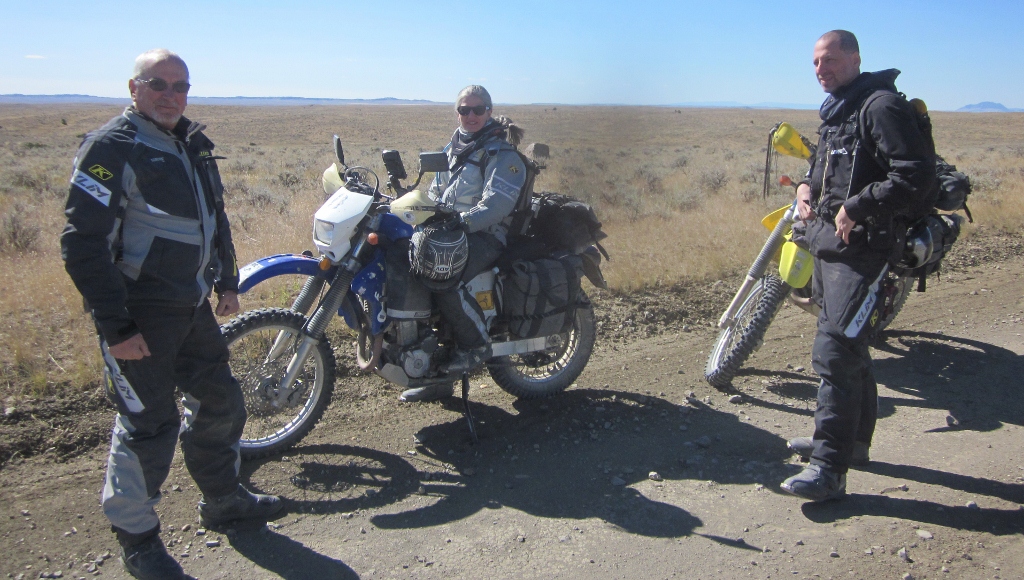 We blew out of Winnifred before the lawn sprinklers went off and headed straight East.
Something called the "Missouri Breaks" loomed out there in the bare loneliness.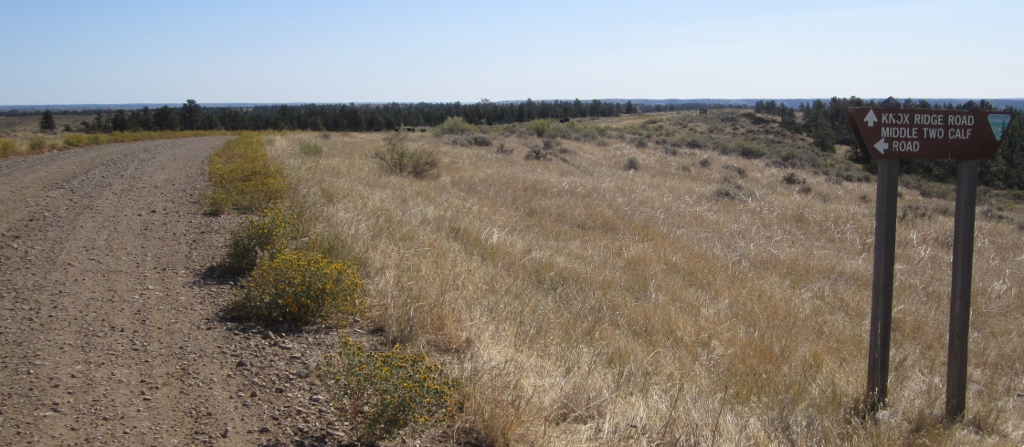 Somewhere out in this Charles M. Russell National Wildlife Refuge we would ride on the most exciting and beautiful dirt road any of us had ridden on.
I hate to tell you where it's at.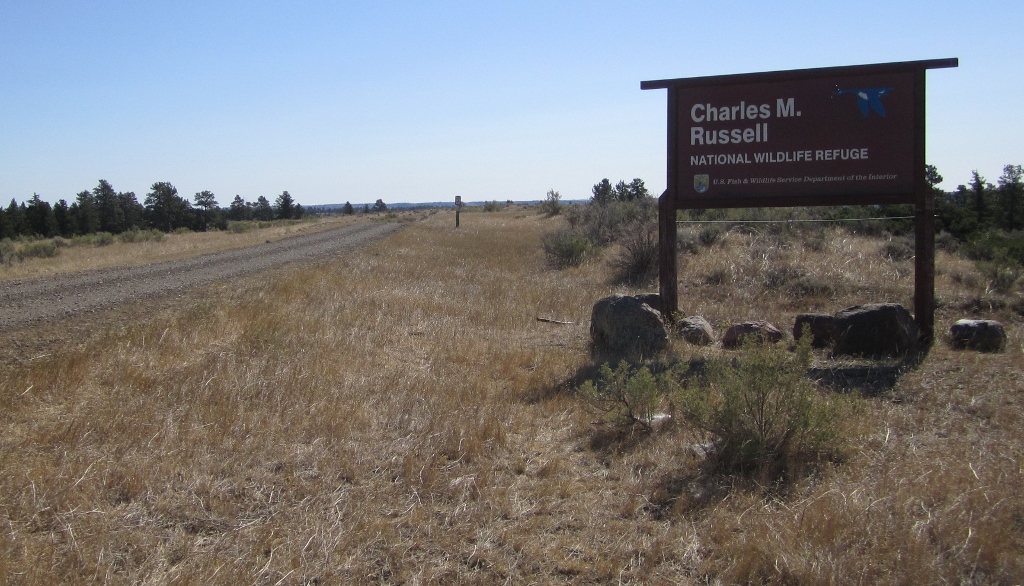 That's the Missouri River down there.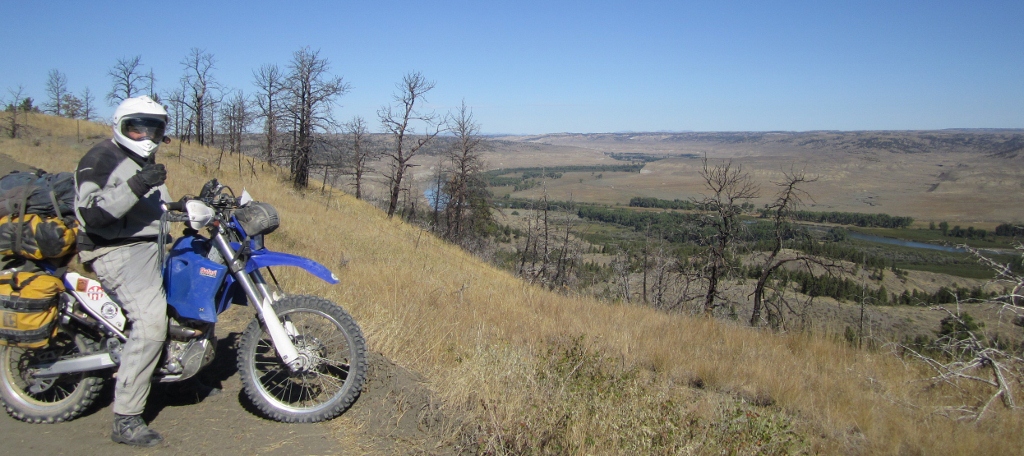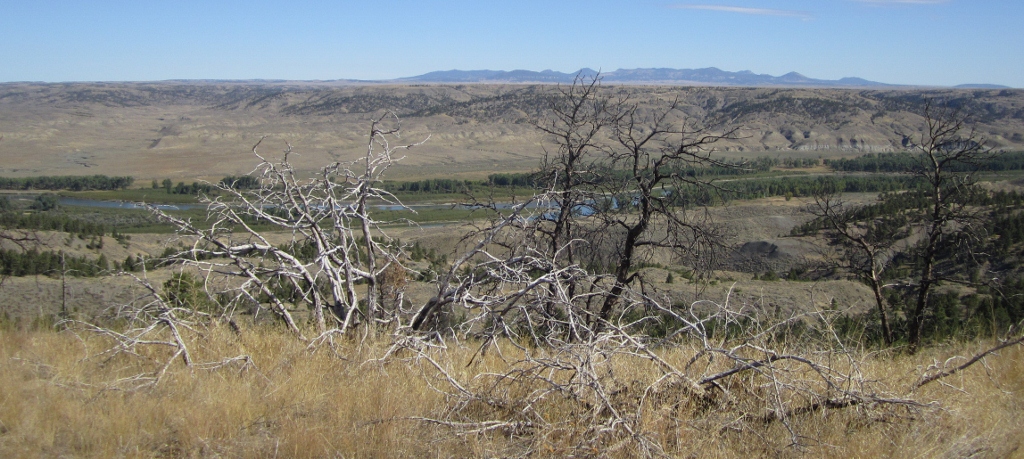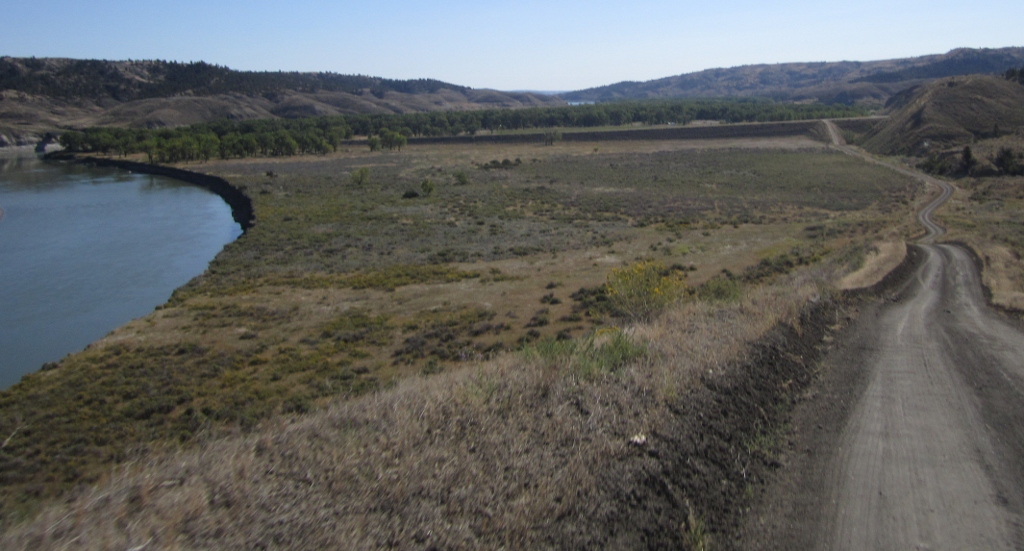 I rode off route a bit to see the river off the bridge-------nobody followed me so I was the only one to see the bridge.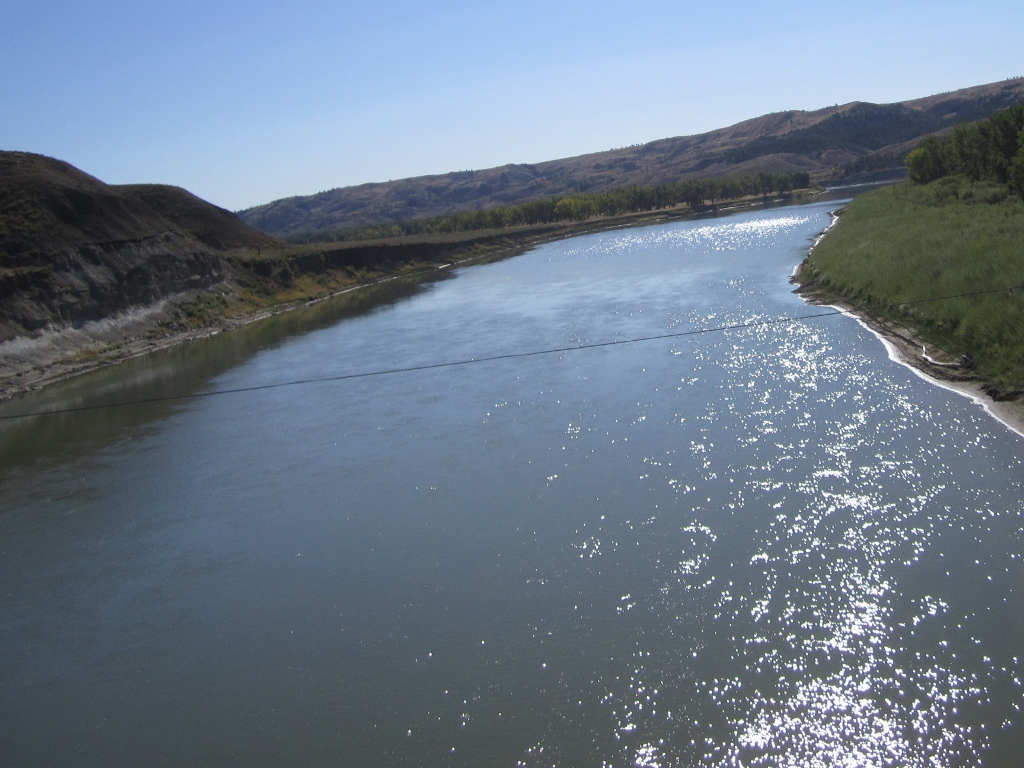 We went South a bit on Hwy 191 for a bit----but not for long----as we turned East again on a dirt road
to what would turn out to be our kind of heaven.
Our favorite road on this trip was this--------on Dunn Ridge.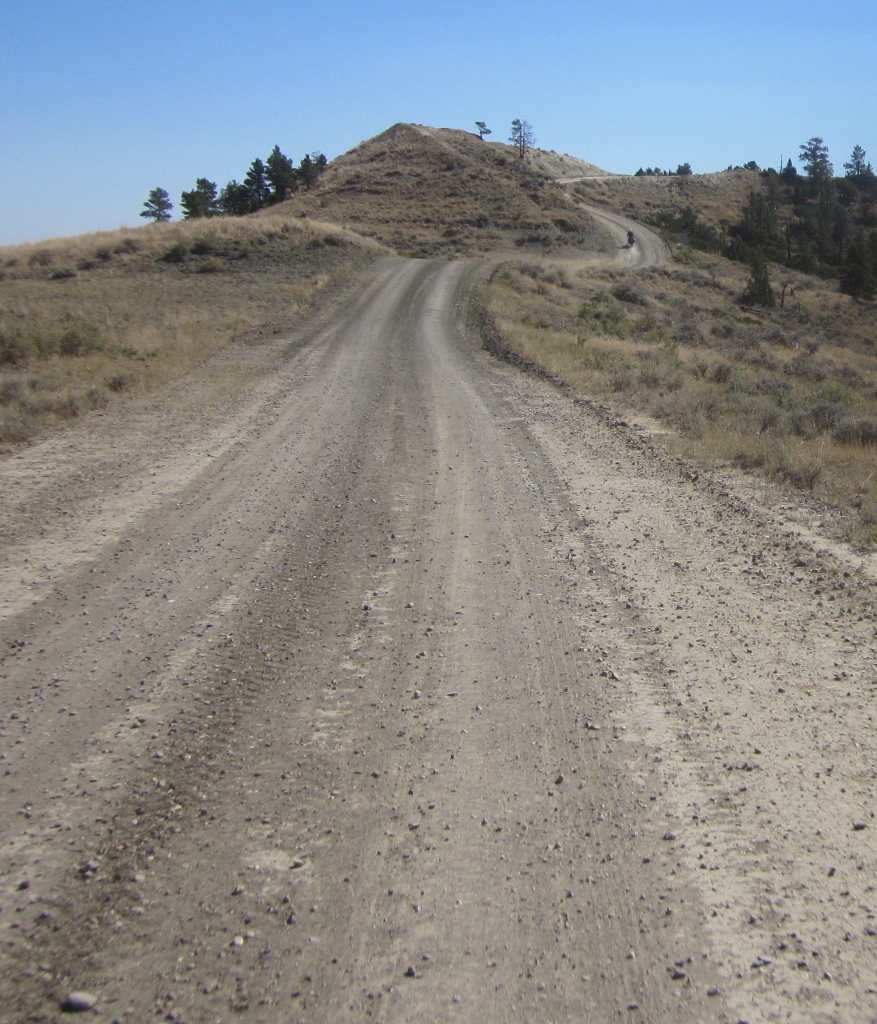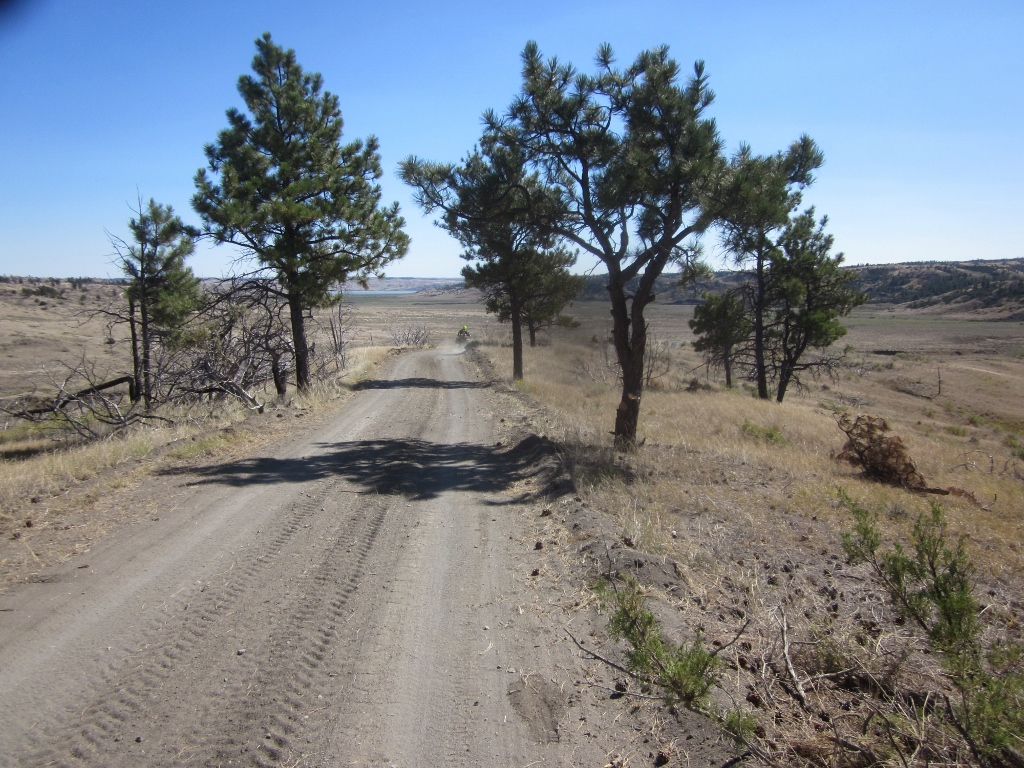 Oh slip clutch let her clutch out finally-------and I couldn't catch her.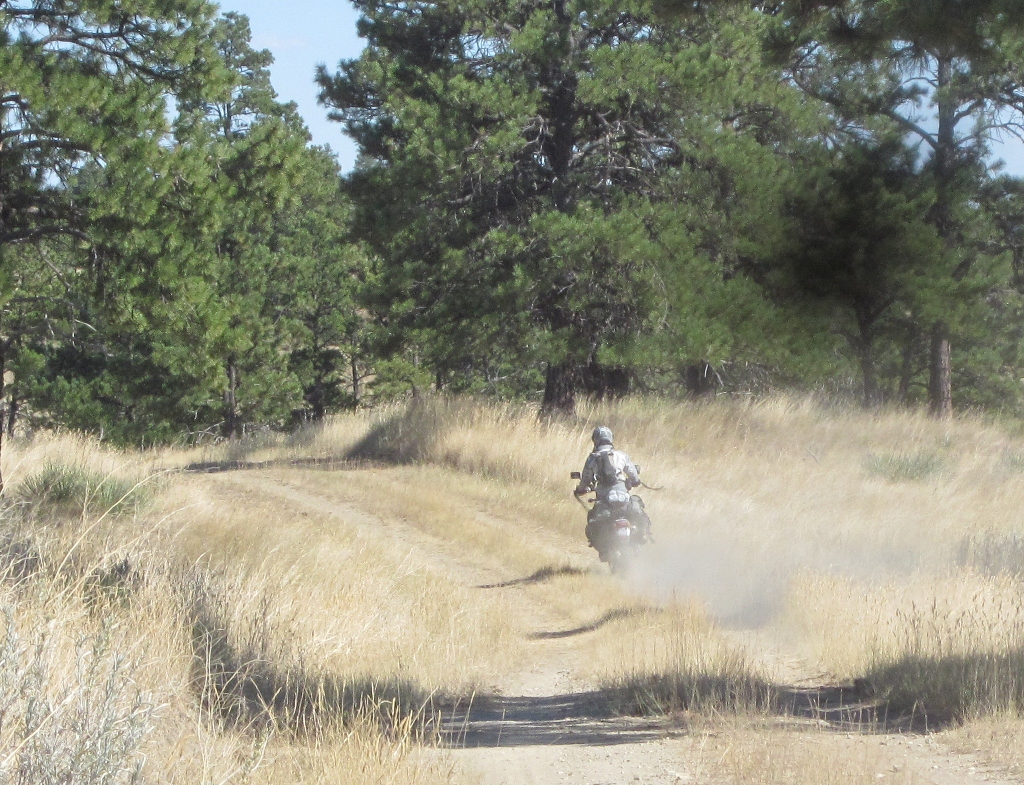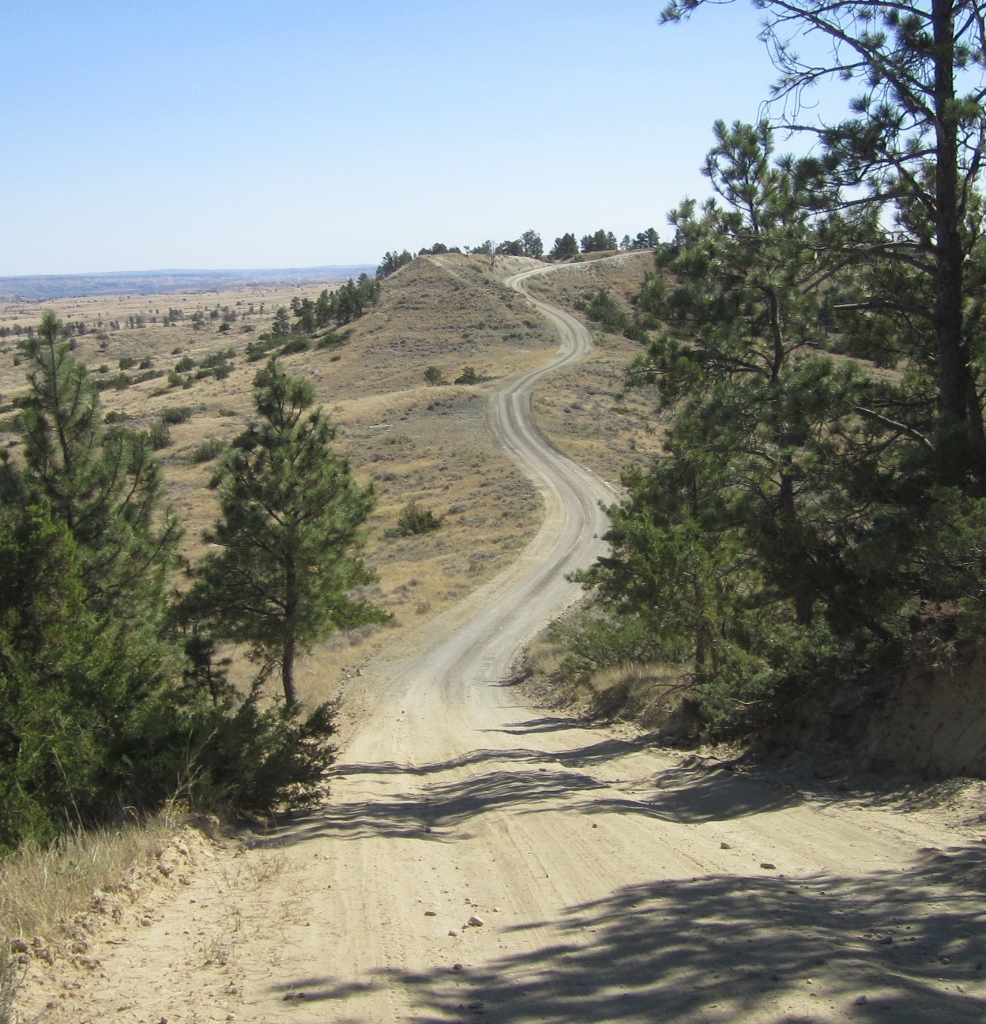 This dirt road on Dunn Ridge was like a roller coaster for miles. It was up and down ---up and down.
Dr. Rock was so estatic he said he was expecting to do a loopty---loop.
Francine was on it I'm tellin' you---hard on the throttle making a huge cloud of dust.
Some of these hills I bet were a 35% grade---including this one she is climbing.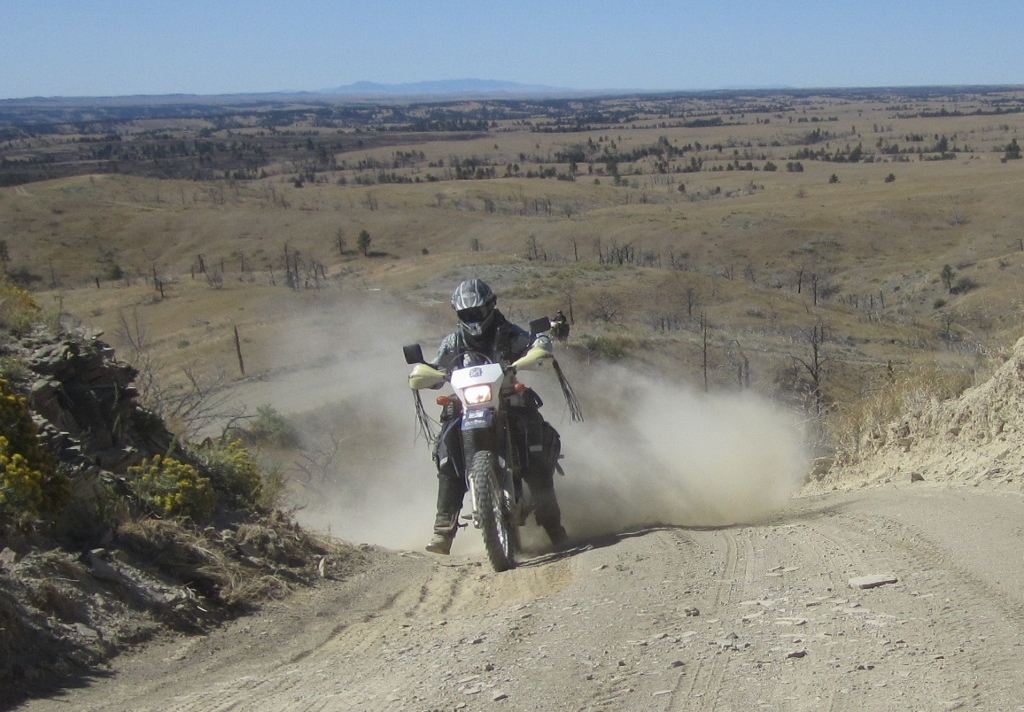 I'm not a hunter------but still, I don't guess I ever heard of hunting horns ??????
We never saw any horns out here ????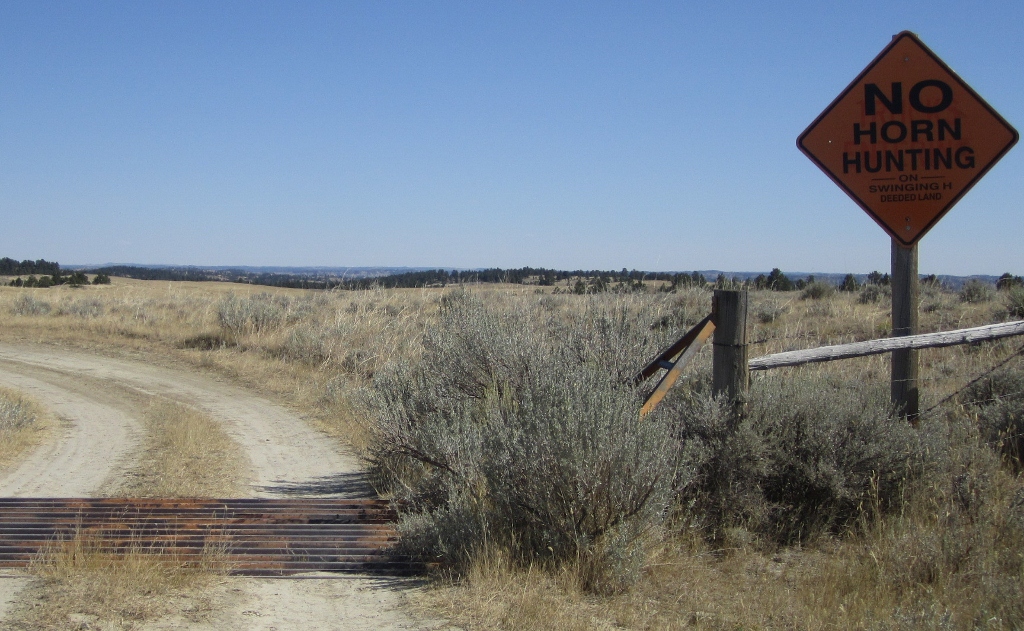 While riding the road on Dunn ridge this was the view off the ridge you had.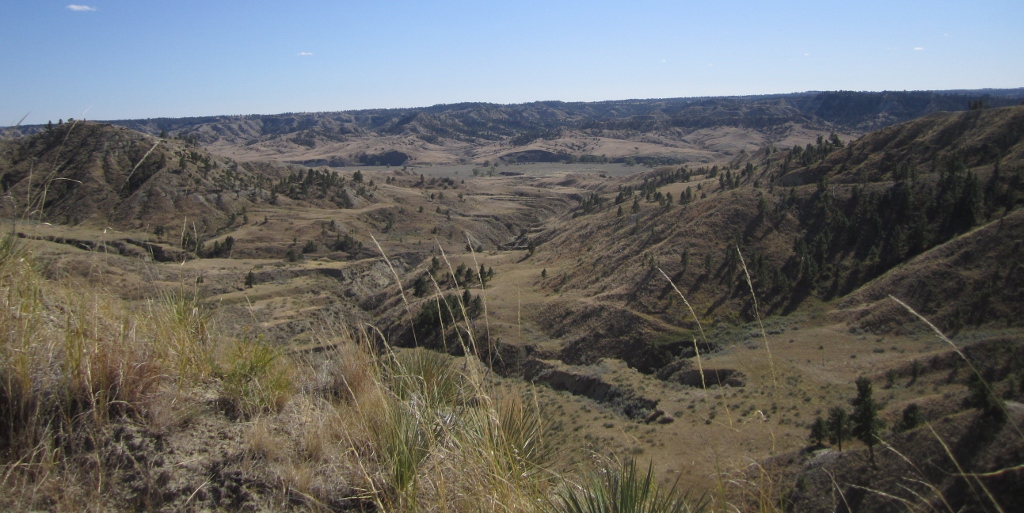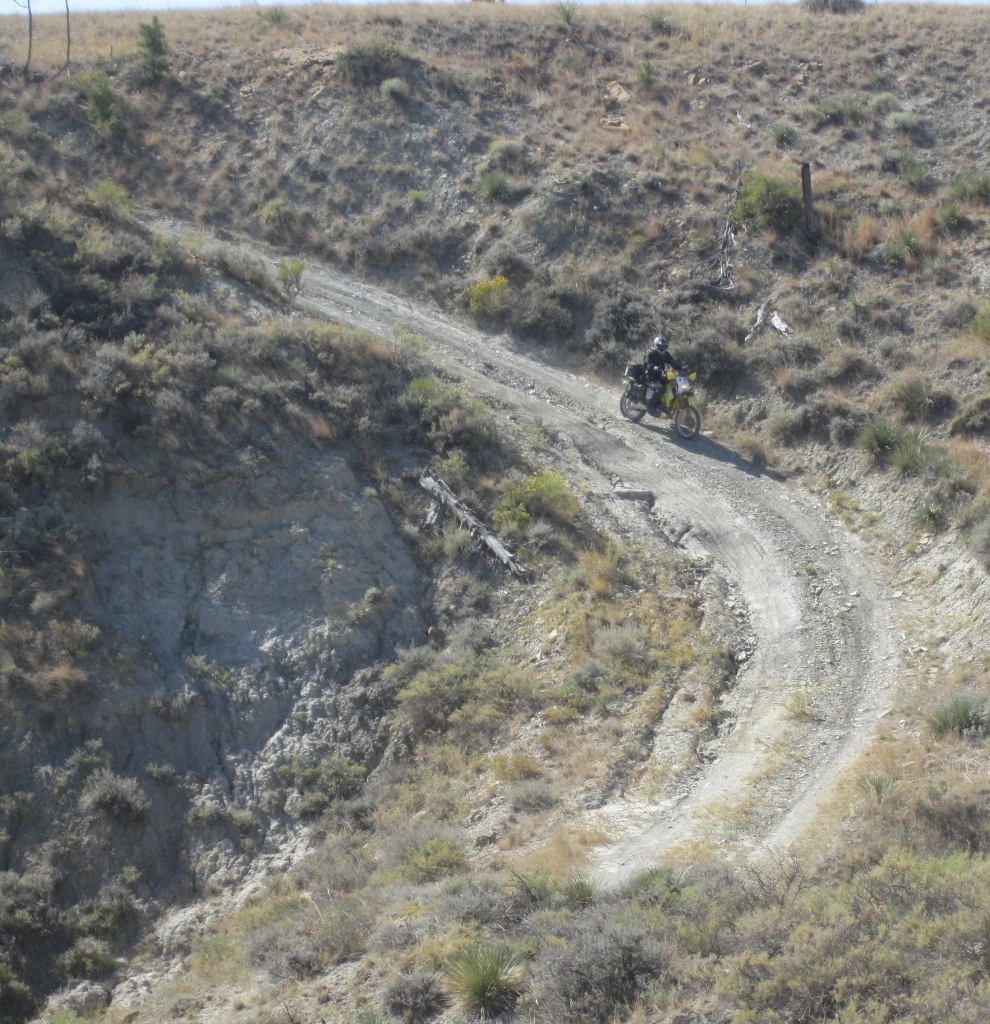 Now here's a picture that actually shows the grade.
Francine is handling this beautifully. Me----- and I skidded down that thing with both brakes practically locked up and was gaining speed.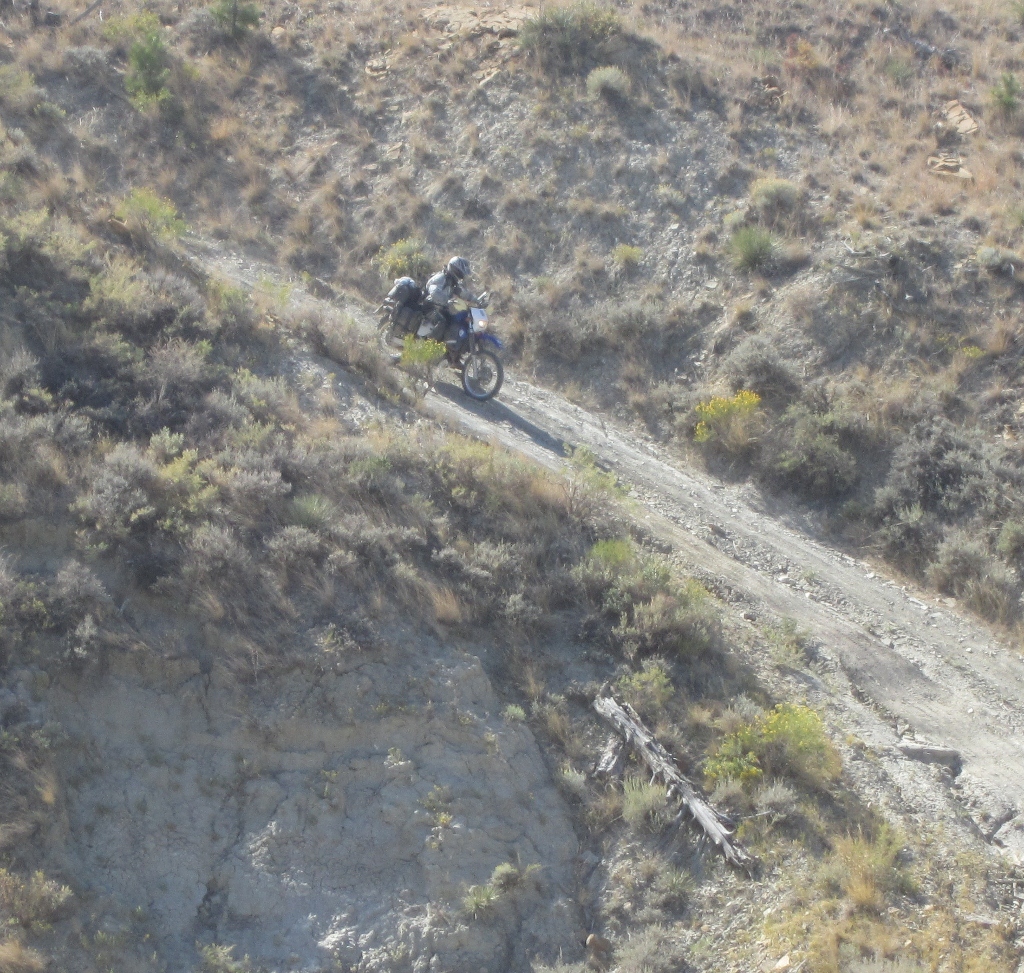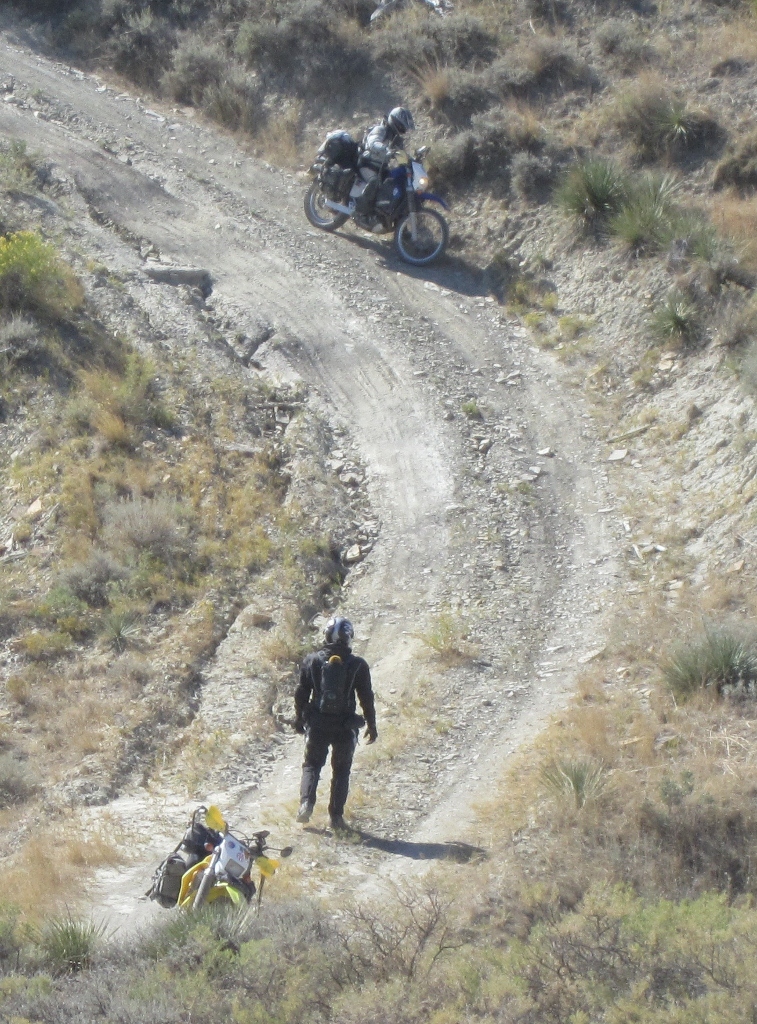 Wooooo--Haaaaaa as Dingweed would say.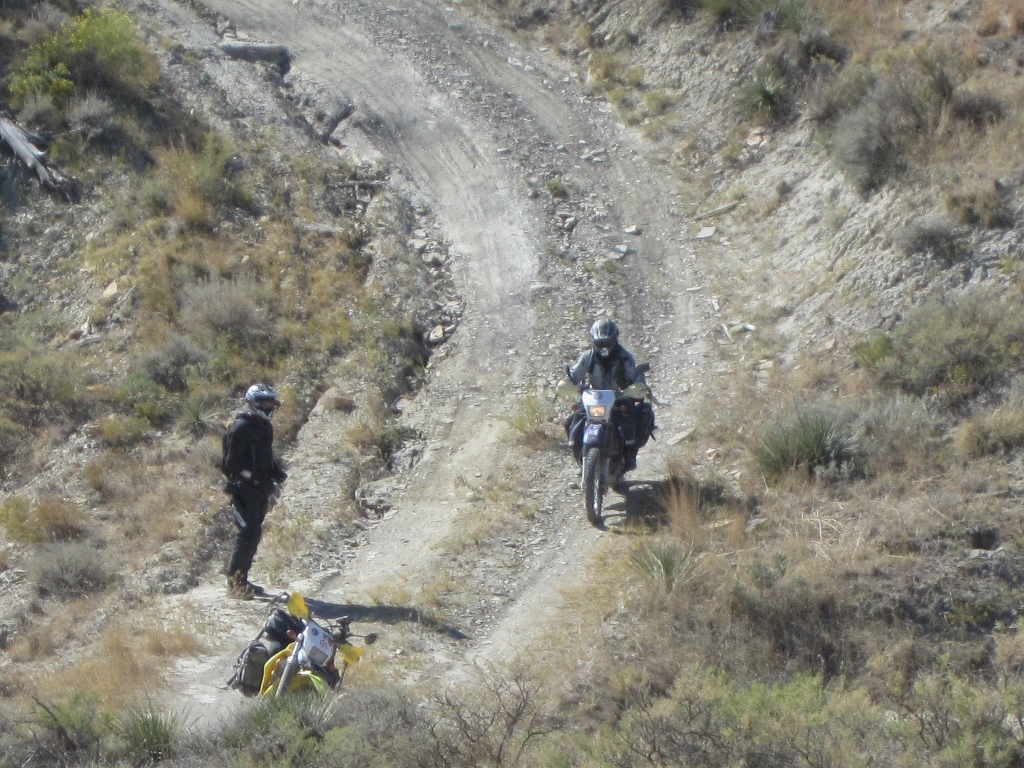 We ended up camping in the town park in Winnett, Montana for free.
Just not many towns that will let you do this-----really nice folks in this town.
But------there was a problem.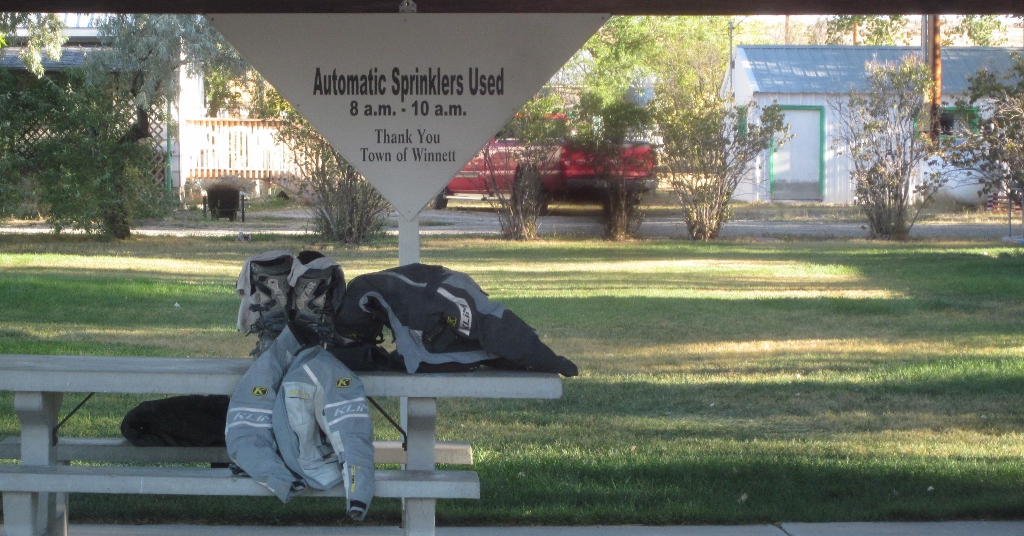 The really nice thick, plush green grass was really pretty alright. Everything else was brown and burnt up. So---what was the reason for this ???
I talked to the gal next door at the swimming pool about the sprinklers and she said "Oh yeh there are sprinkler heads all over the place".
And she went on to say "they seem to come on anytime they want to---and we've had complaints".
Oh----------as I thought how uncomfortable it would be if I put my tent on top of a sprinkler head and it went off in the middle of the night.
You couldn't find the little boogers---they were hid in the thick grass.
We set up anyway and went to town for supplies---which was a short walk away--this was a very small town.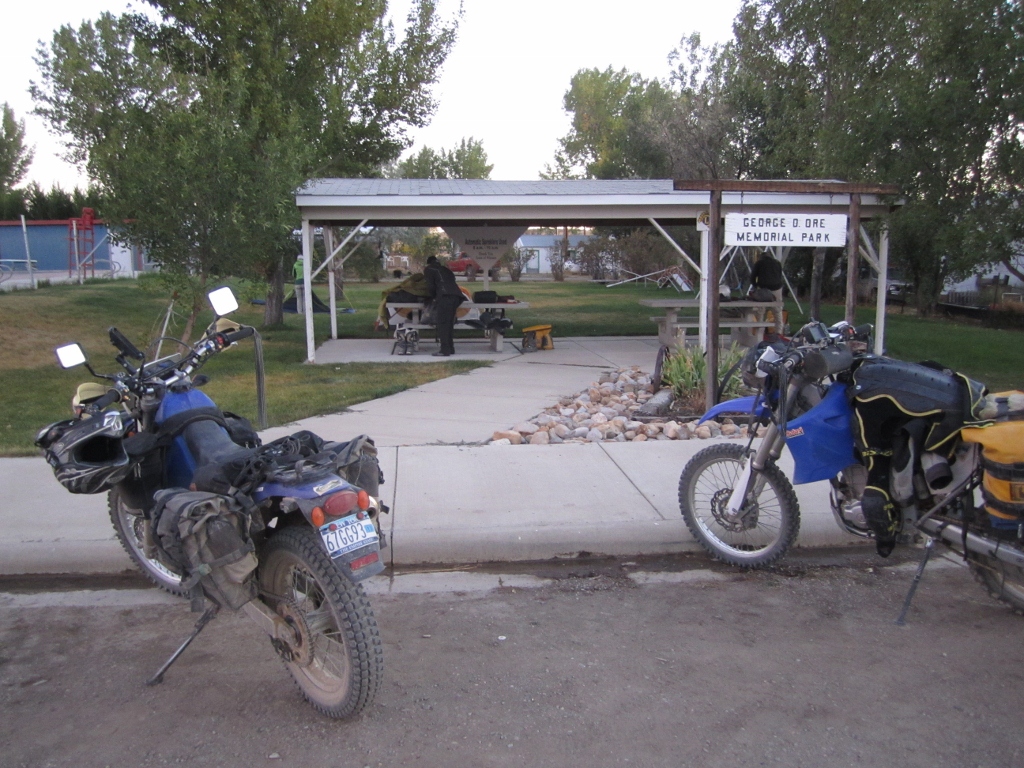 A rough map of our route today.
About 165 miles for the day.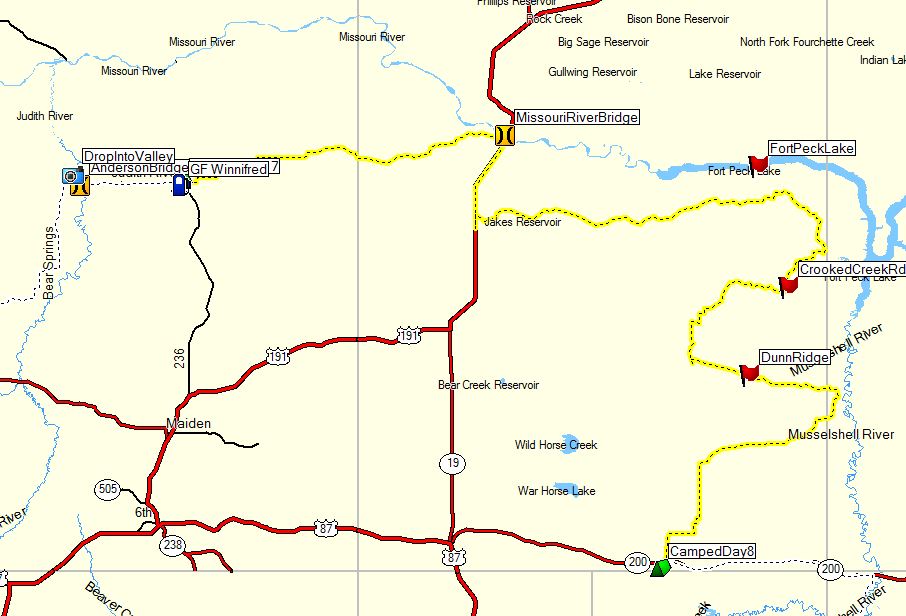 Day 9 and the rest of this story
Click HERE