BigDog/Dingweeds
July and August 2012
Colorado, Utah, New Mexico on the WR250R's
A one hour and 40 minute DVD Video of this ride is
available HERE
Here is a sample of it.
This ride started with an invite from Sam Correro (creator of the Trans-America-Trail) to spend some time exploring some new options for
the Colorado section of his trail. We would spend 2 days with him---but as he headed back to Trinidad, Colorado where we started to ride together---me and
Dingweeds (Scott Stevenson) head on West-------------------------sort of !!!!!!
And as usual----this ride would unfold to something "kind-a-spectacular" as we took the WR's to places
only an un-laden single track dirt bike should have went.
And oh yes------I arrived in Trinidad a day earlier than Sam, his buddy John and Dingweeds---so what to do ???
Go riding-----I was foiled about 3 years ago of getting to the Cauplin volcano in New Mexico by a little dirt road that didn't go thru
on the Colorado, New Mexico border. I googled earthed a new route as I didn't trust maps that said there were roads out here
in the middle of nowhere. So off I went---heading East on the TAT to the little town of Trinchera.
Day One
7-22-12
This is heading East out of Trinidad toward Tinchera on the old faithful TAT.
This section also coincides with the Colorado part of Sam's--- Shadow Of The Rockies trail.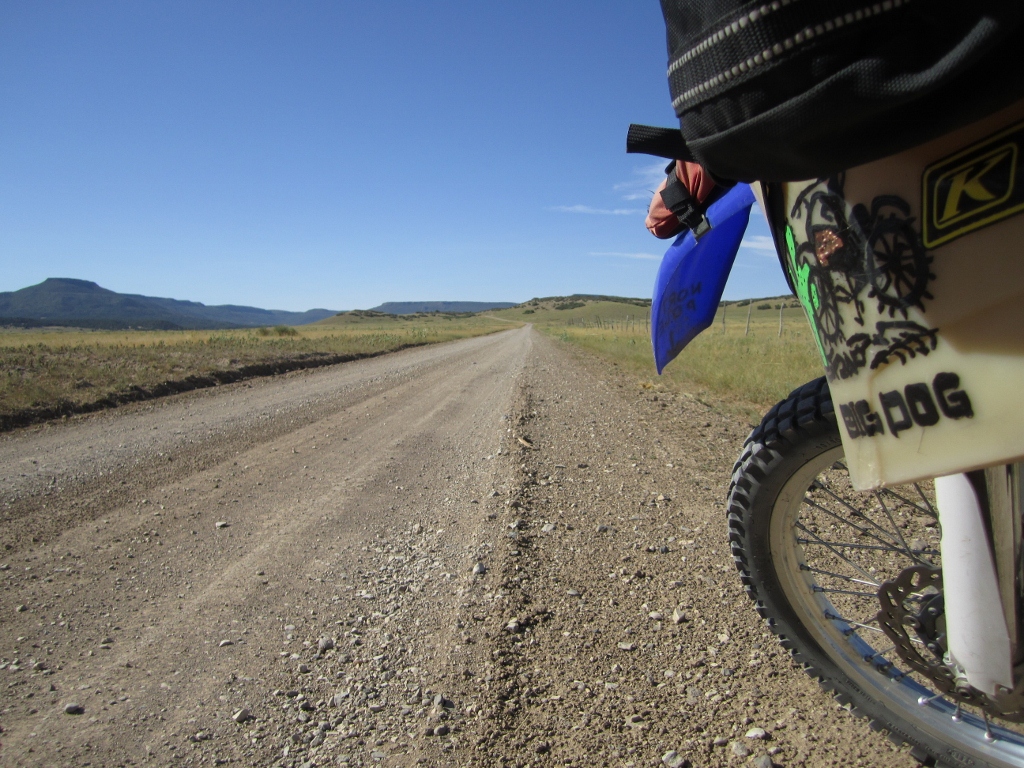 I had no idea if I'd be stopped again by gated raches or impassable roads----I turned south at the little town of Trinchera which is a really
a neat little ghost town with lot's of neat stuff to see--mostly old railroad stuff--hardly anybody lives here.
The details of this little town with pictures are chronicled elsewhere on my website----I think on the Shadow The Rockies/Colorado ride.
And I'd be going over Trinchera Pass.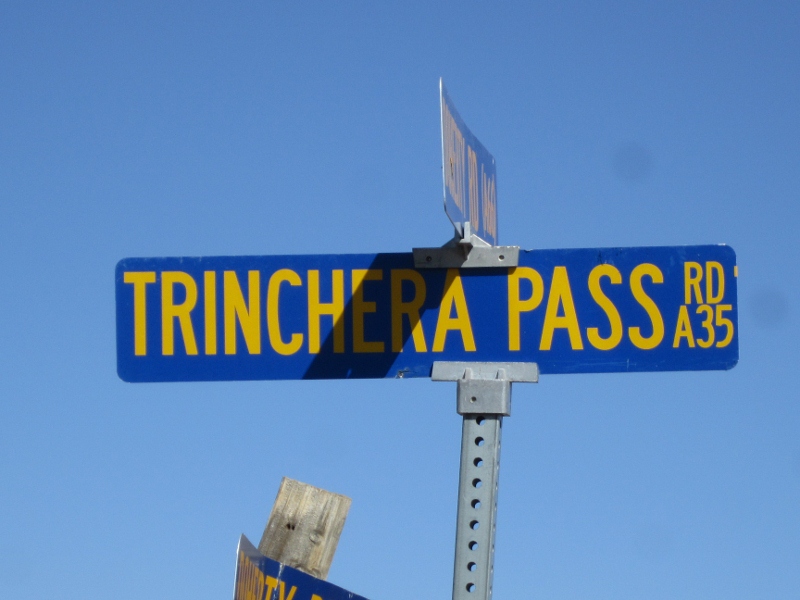 The gps picture shows the waypoint I made before I left of the Trinchera Pass.
I'll show pics of my gps continually throughout this ride and you can see the elvevation.
We never got hot on this whole ride---as we were always at elevation.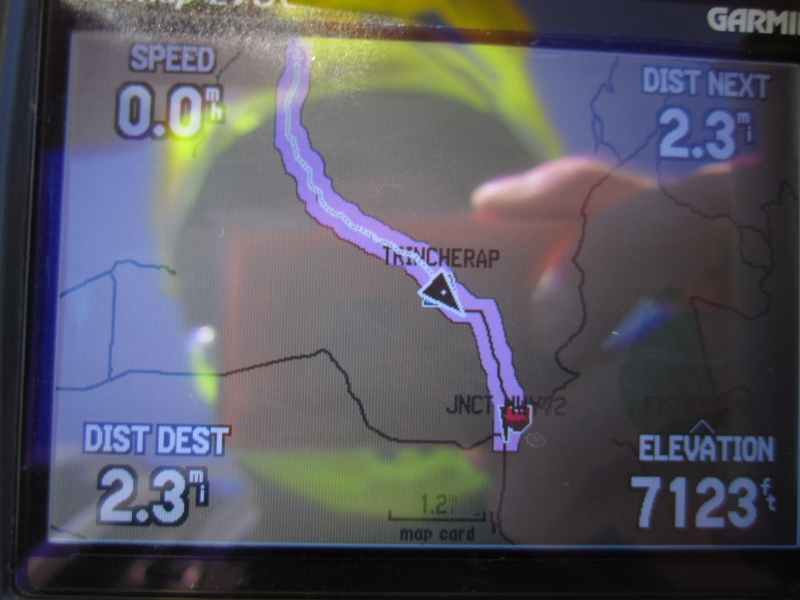 This road would go for miles thru ranchland and is a no-brainer to navigate to the little town of Folsom in
New Mexicoif you just use your good sense and stay on the main road.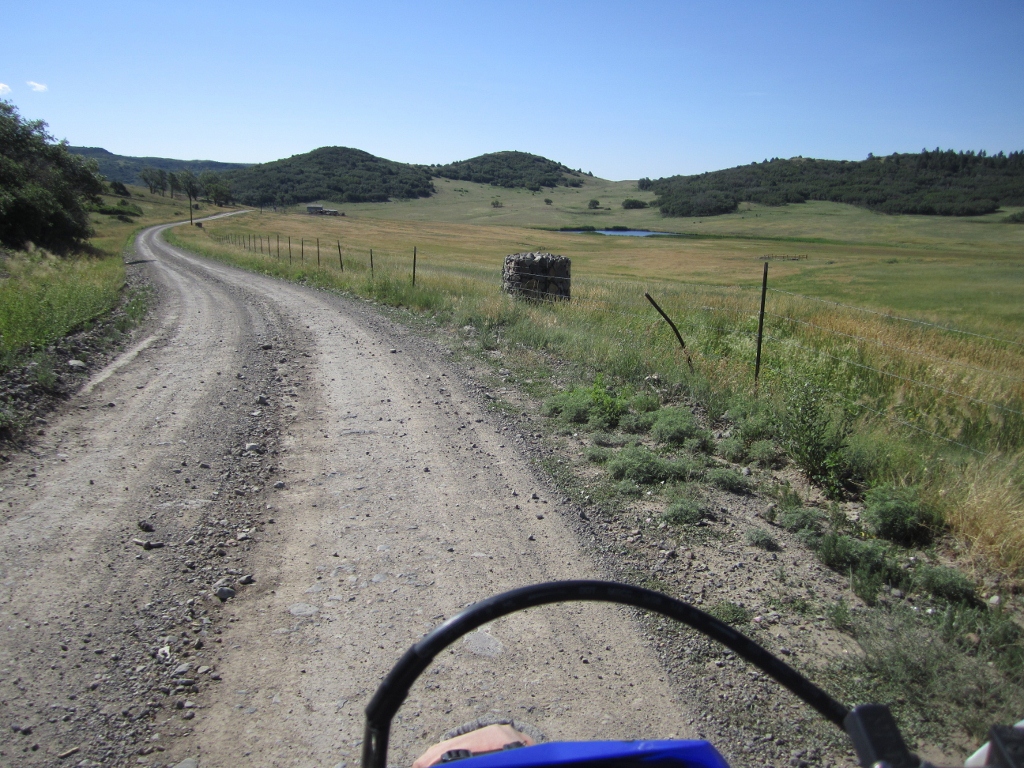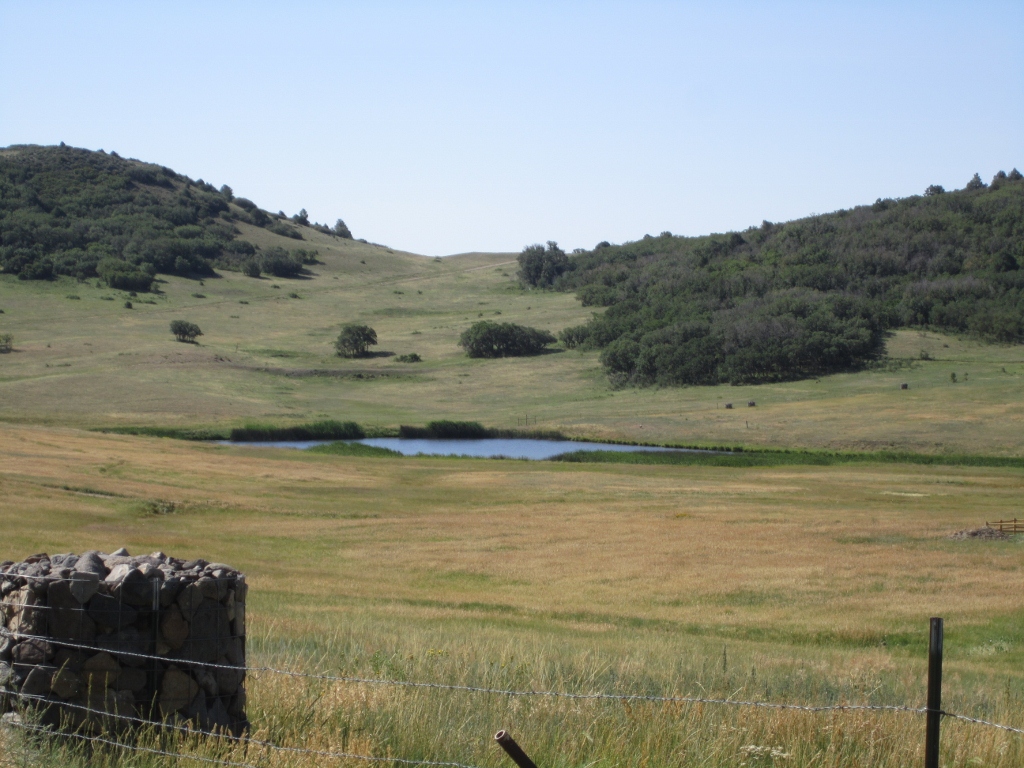 This sign was at the other end of the Trinchera pass road and might lead you believe you are trespassing-----you are not.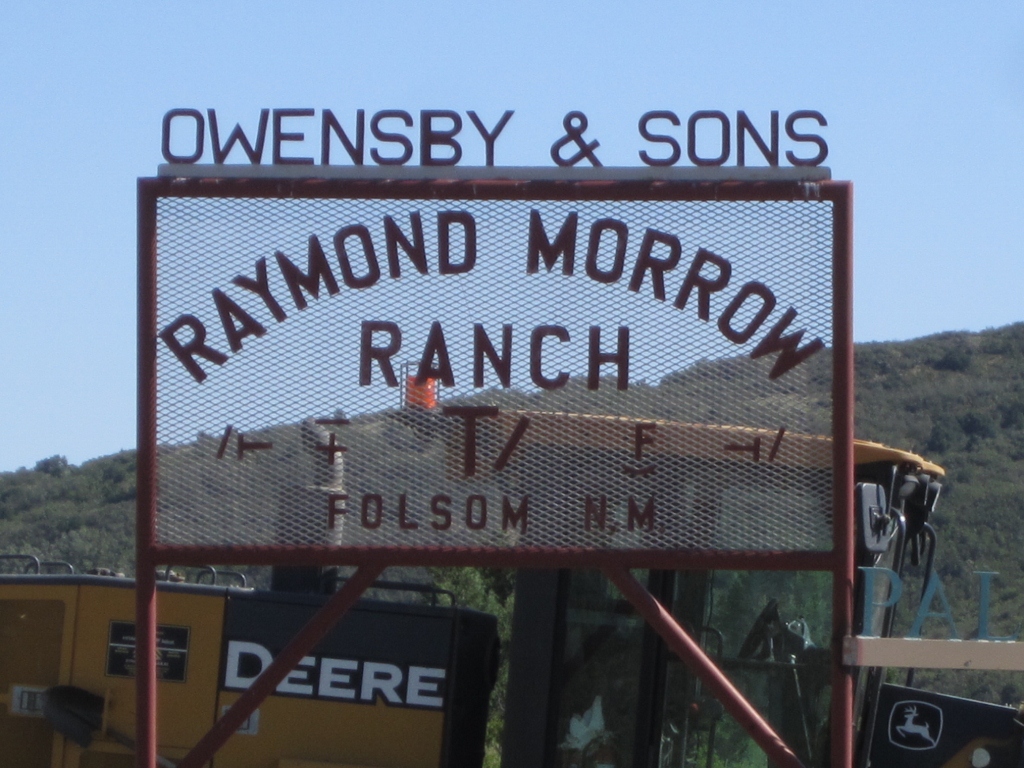 I intersected paved Highway 72 and went Southeast into the little town of Folsom.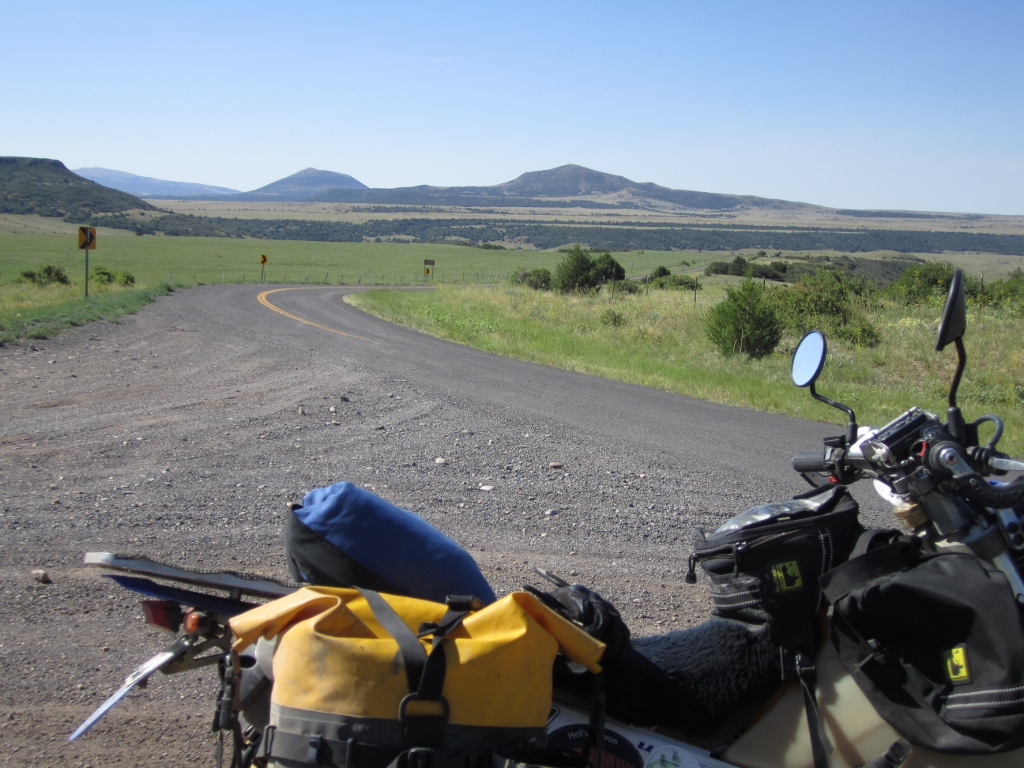 These next 2 pictures are about all there is in Folsom. Don't expect to eat or get gas here.
There was a nice museum to visit---but it was early and not open yet.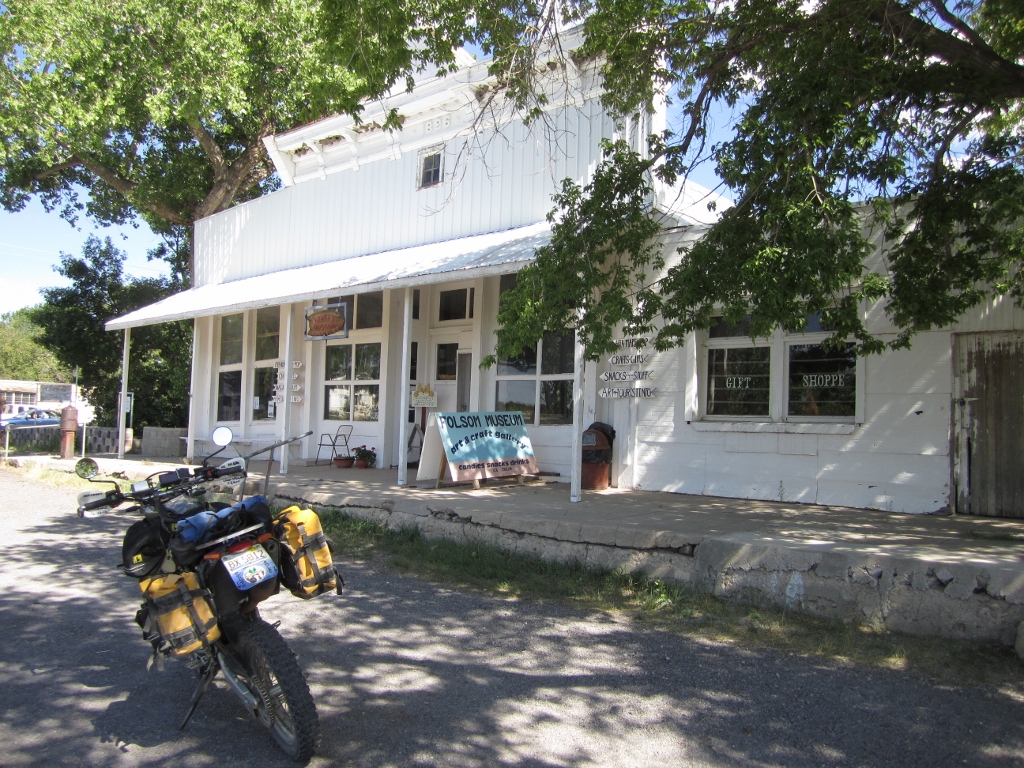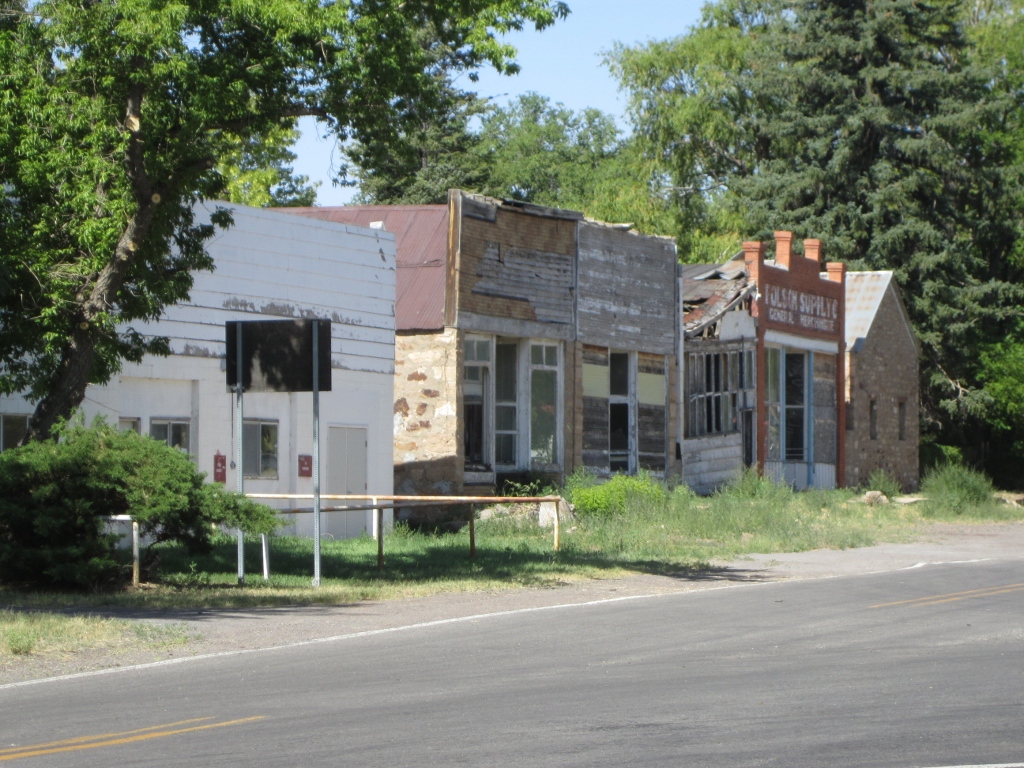 A little Southwest on paved 325 and I was at the Capulin Volcano National Monument.
If I was one year older I could have gotten in for free------no thanks----I like 61 just fine !!!!!
I'd like 42 better tho.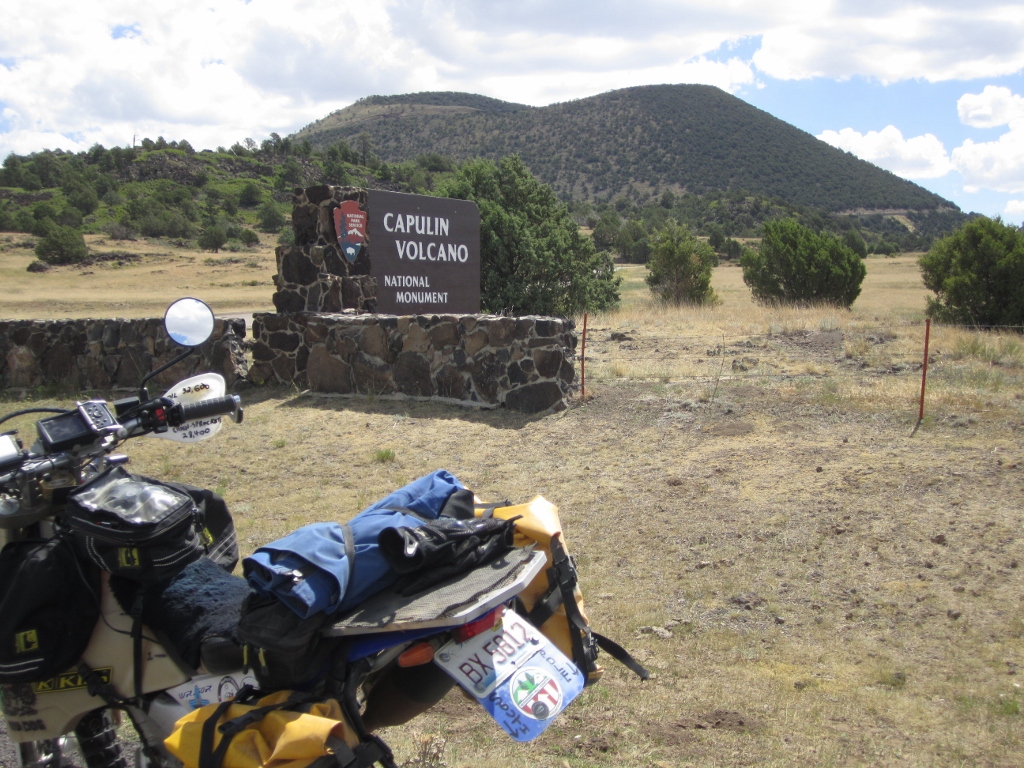 This picture gives you a great view of the round-a-bout road you take riding up to the top----yes you can ride to the top.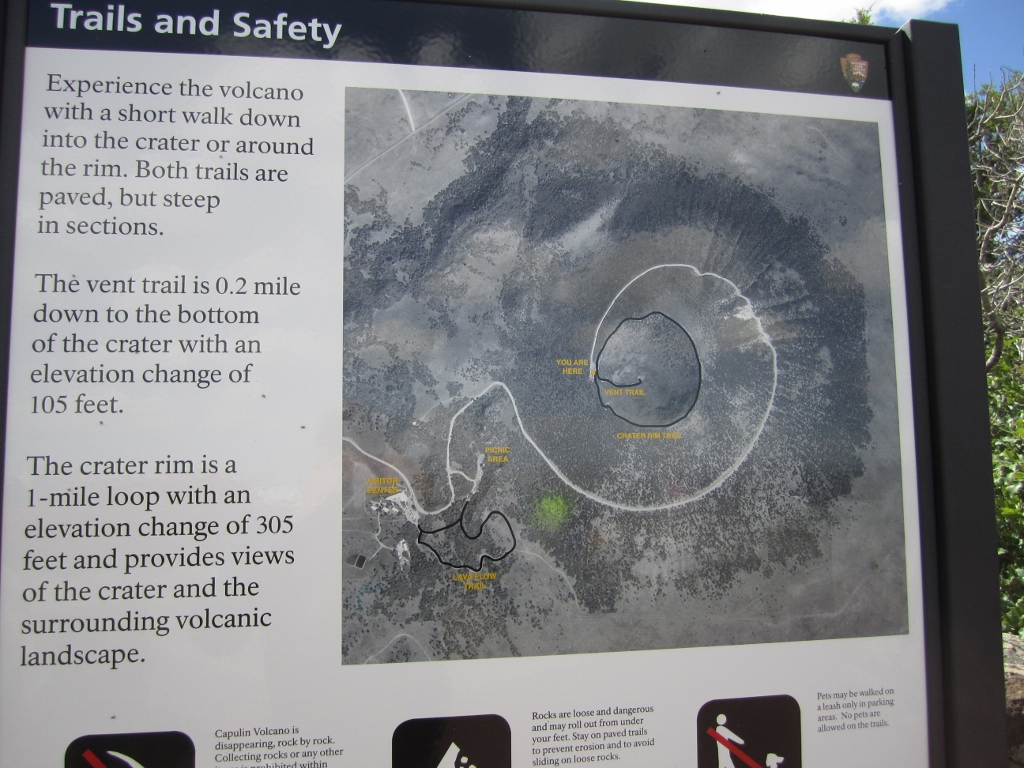 This is looking down into the crater which blew about 60,000 years ago.
You can hike down to the bottom---and you can hike around the top rim.
I wish I brought some hiking shoes-----I'm going to do that from now on.
I'm tired of not seeing and experiencing things because of my big clumsy riding boots.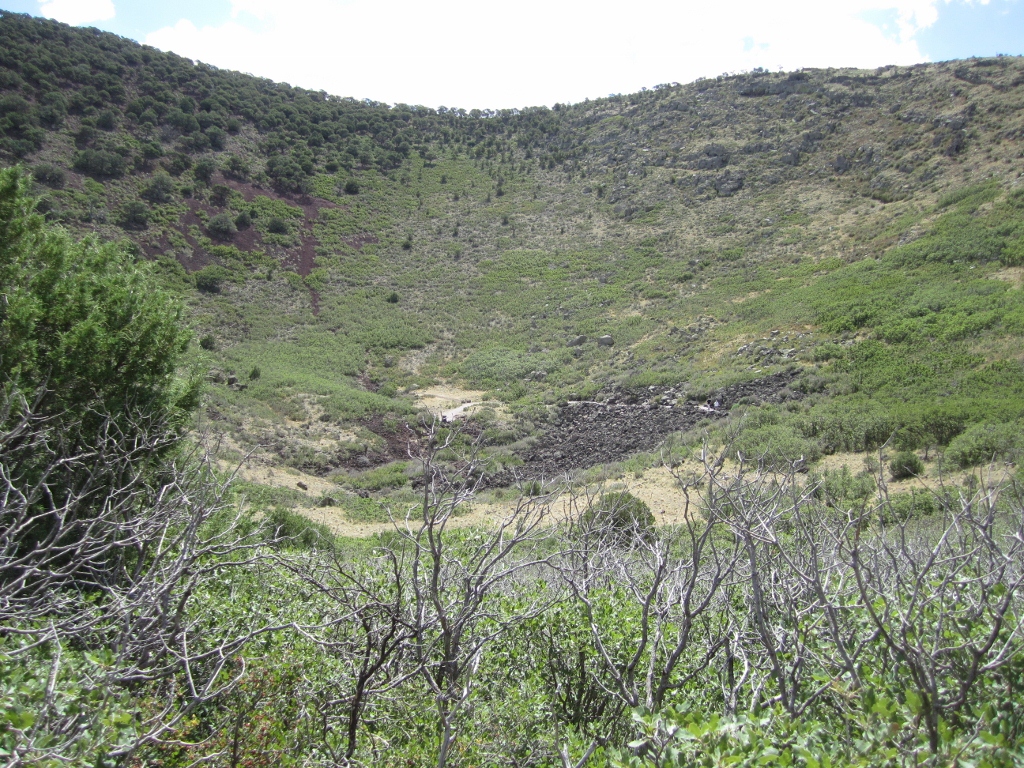 I eyeballed that little dirt road down there and would try to ride it back to Trinidad---but it dead ended at a ranch.
The View from the rim.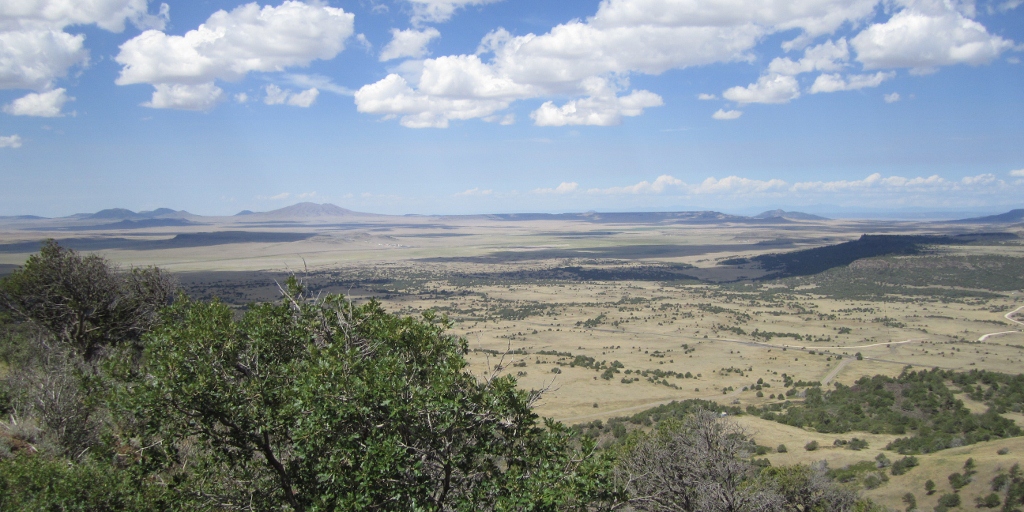 A topo shot off my computer ----and the waypoint I dropped into Mapsource years ago---funny how waypoints I've dropped years ago......hoping to get there
someday------are becoming a reality.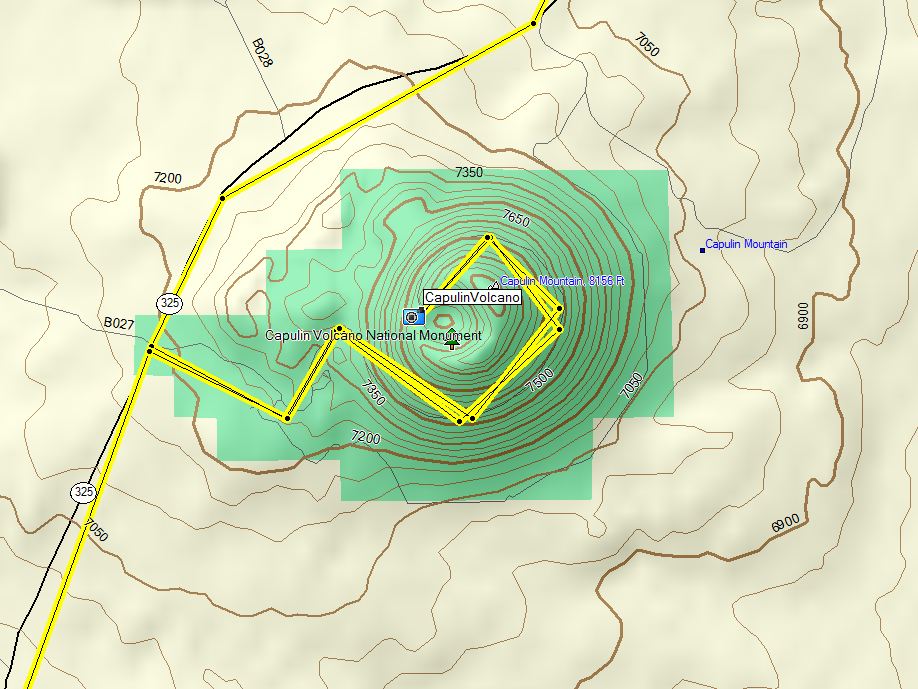 I didn't even ask---the very nice lady at the top offered to take my picture.
I think it was $5 to enter the National monument.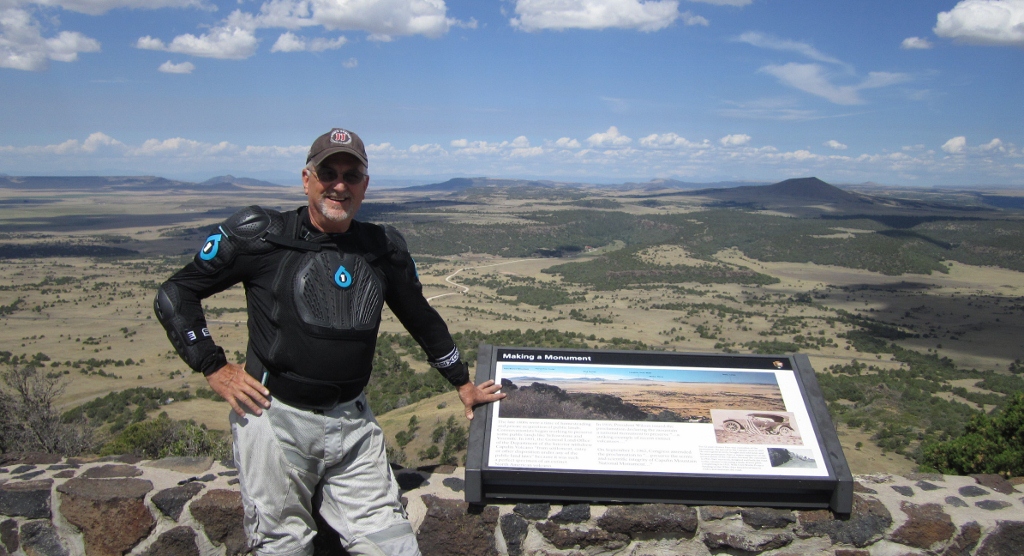 I tried and tried to find another dirt route back----but was foiled.
One dirt road I rode on for about 12 miles and was foiled by a gate and a sign.
A nice lady said she thought I could ride thru------but the sign said the opposite.
So back to Trinidad on pavement to wait on Scott, John and Sam.
I was satisfied I finally got to the top of the Volcano--the elevation at the top was 7,800 ft.
127 miles for the day.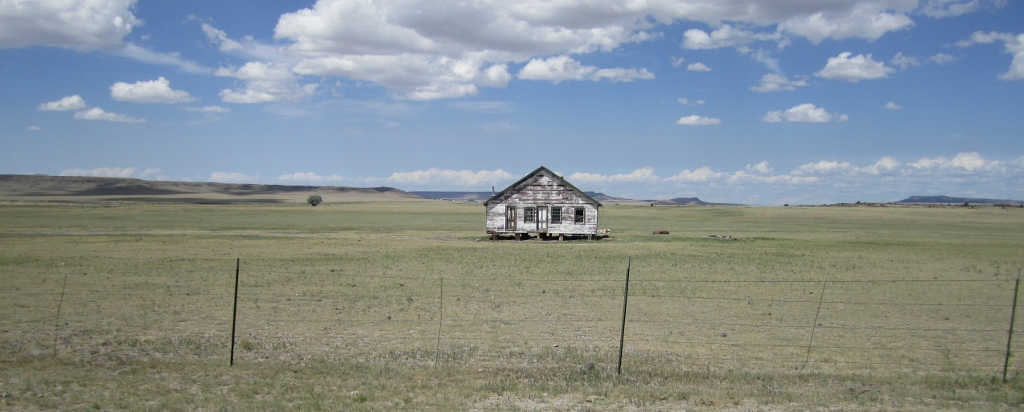 At the end of this day my friend Scott Stevenson, Sam Correro and his buddy John all showed up and we prepared ourselves
to leave at the crack of dawn the next day.

Day 2
7-23-12
Today would be spent riding a lot of the old Trans America Trail (TAT) and exploring some possible new options that Sam is wanting
to incorporate in the state of Colorado. So out of Trinidad Colorado with rode towards Salida, Colo. which which is where we holed up
up for the night.
The 4 Amigo's
Left to Right
John, Scott (Dingweeds), Sam and Mark (BigDog)
Sam would always joke to me that he was the "Little Puppy"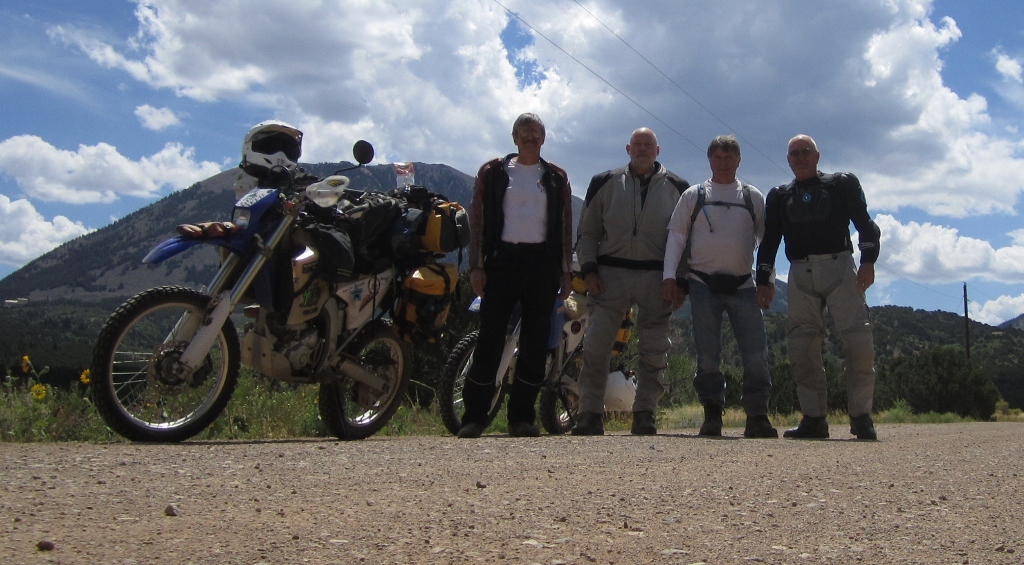 It was a beautiful cool morning in Colorado-----and off we go.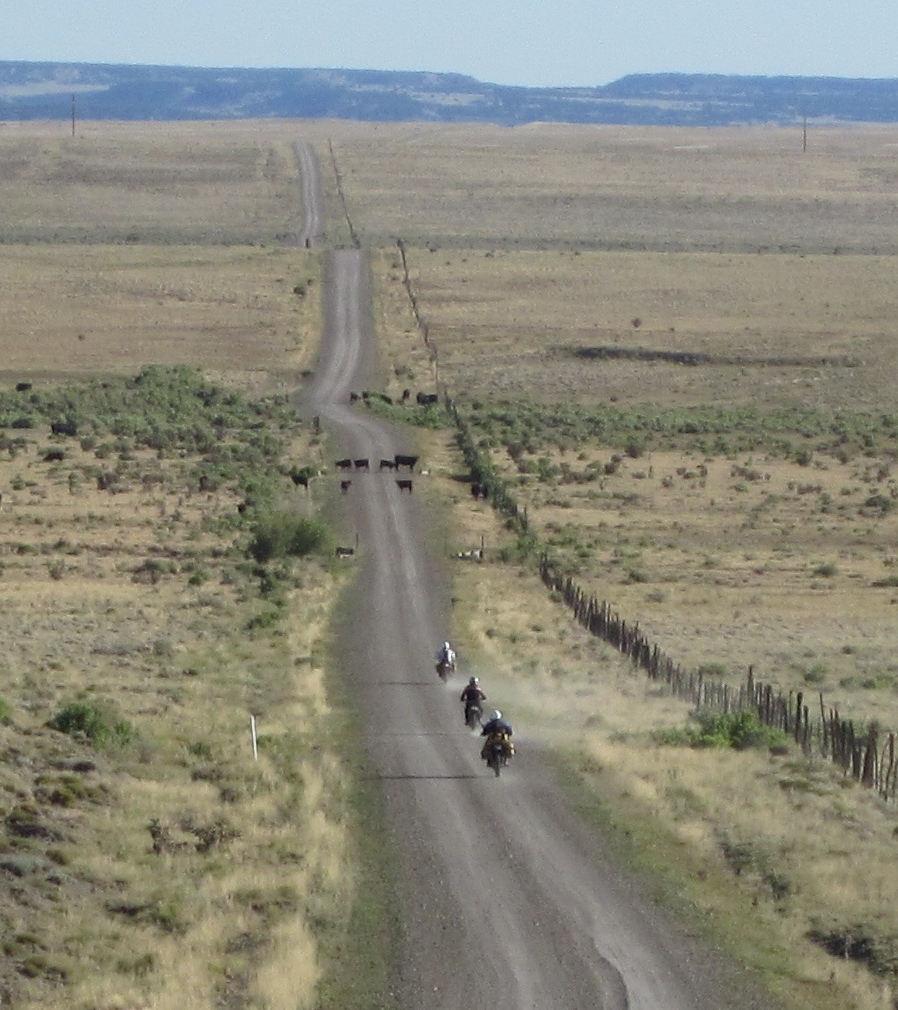 Sam would be riding his new Suzuki DR650.
Sam proclaimed his riding outfit was called the "Mississippi Redneck" edition.
Jeans, sweatshirt and hiking boots---said he didn't need all the fancy stuff the rest of us were wearing.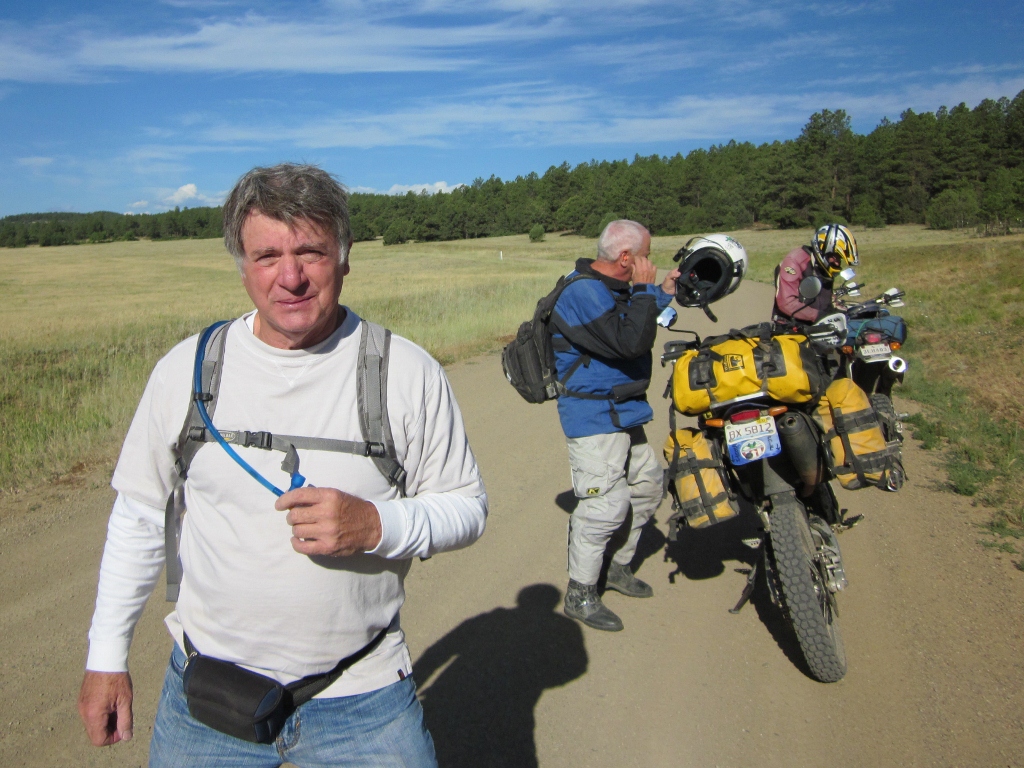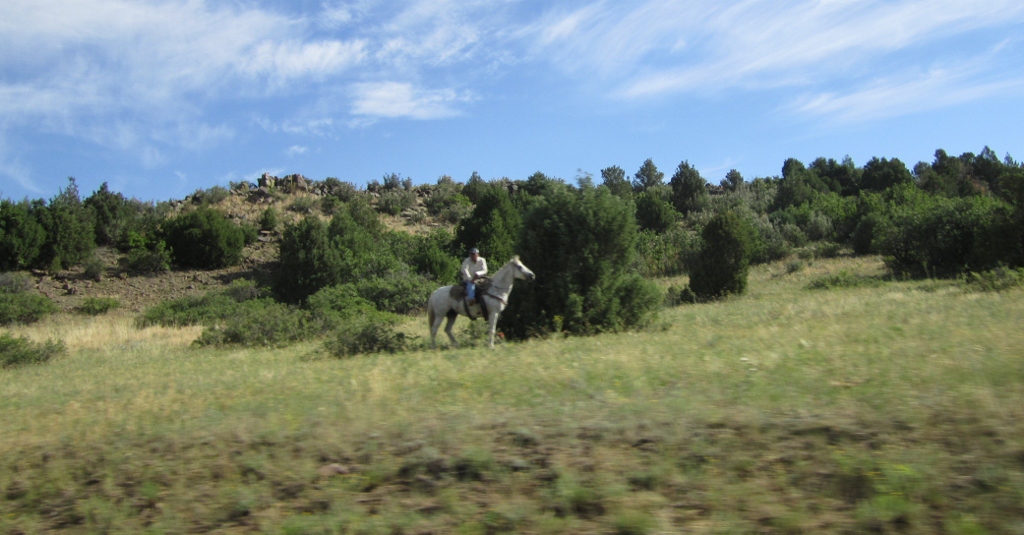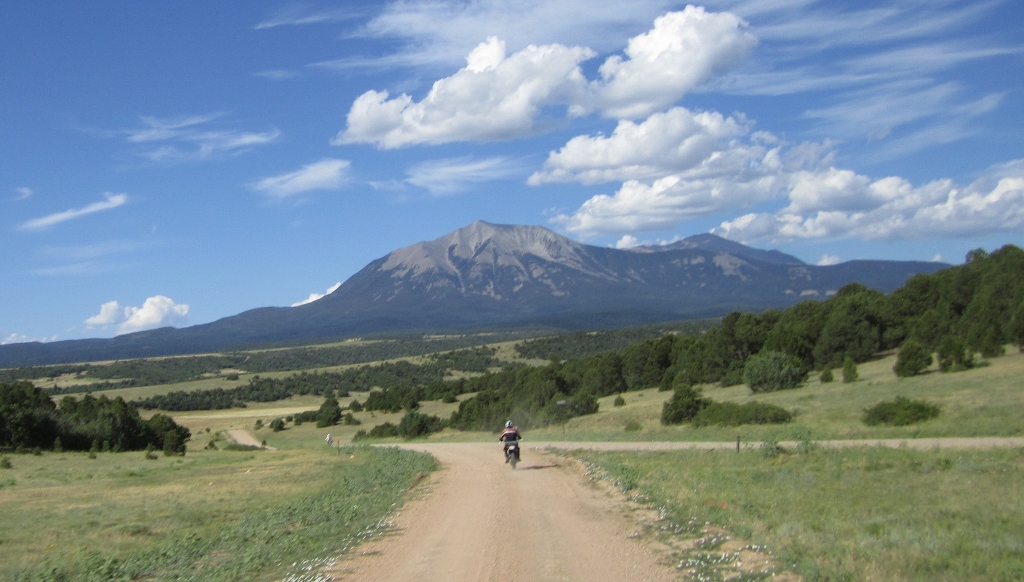 I was riding my 2008 Yamaha WR250R.
Me and Scott were packing camping, cooking, fire starting, survical and riding gear that would be comfy no matter what
the weather thru at us.
Sam and John were packing.......well...........Uhhhh.................................... credit cards.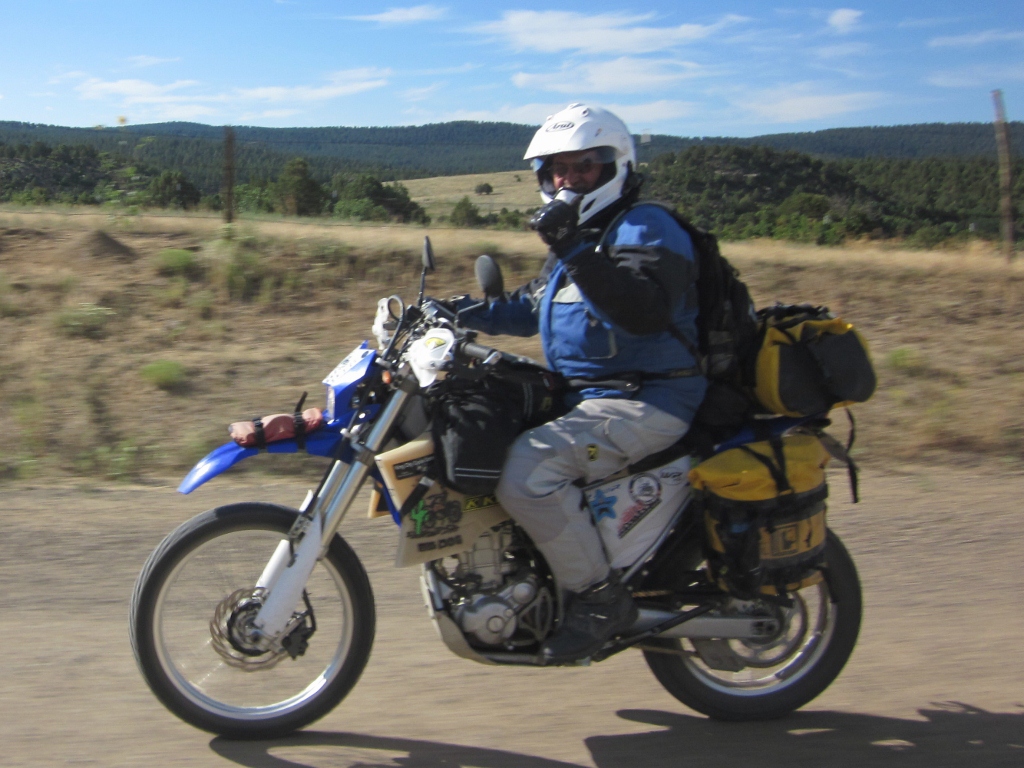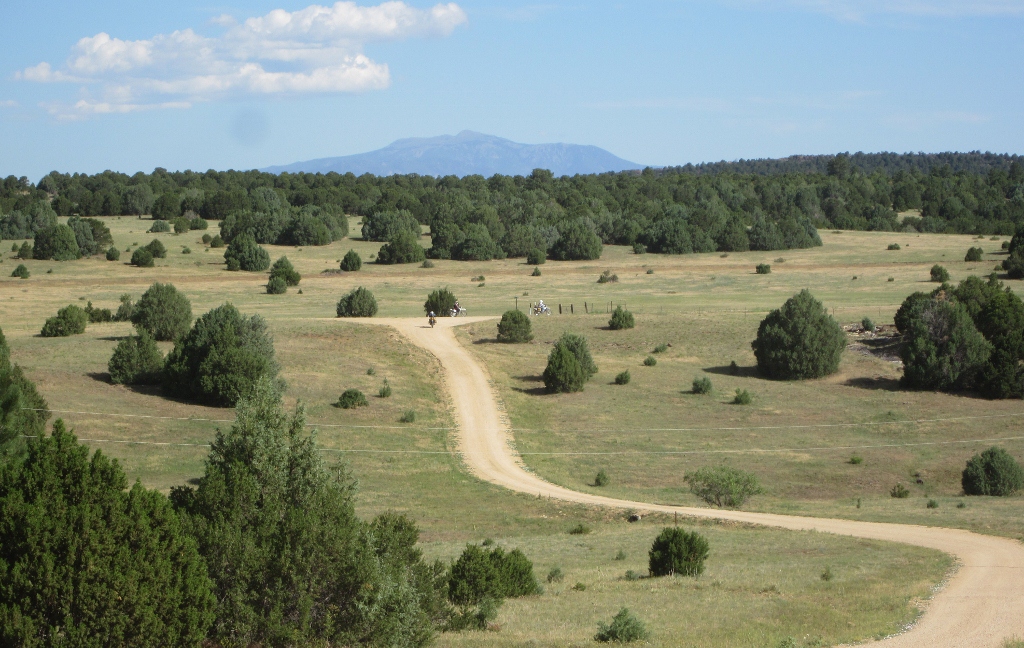 Pretty much no snow on any of the mountains.
Colorado was in a drout and the winter snow had been minimal.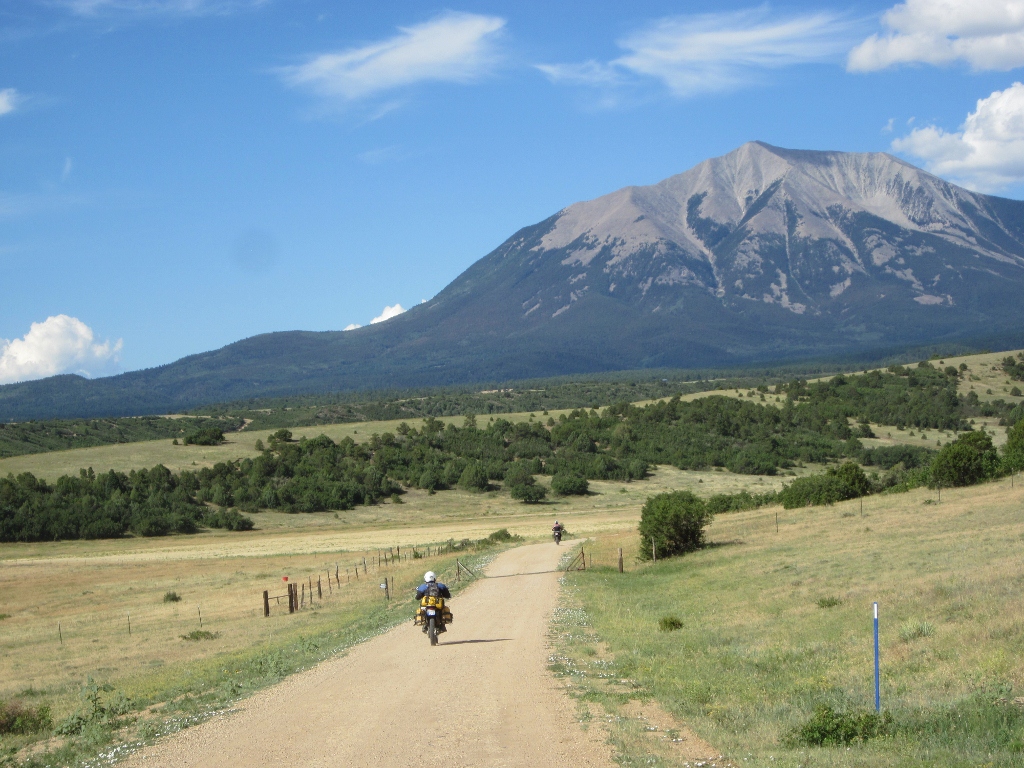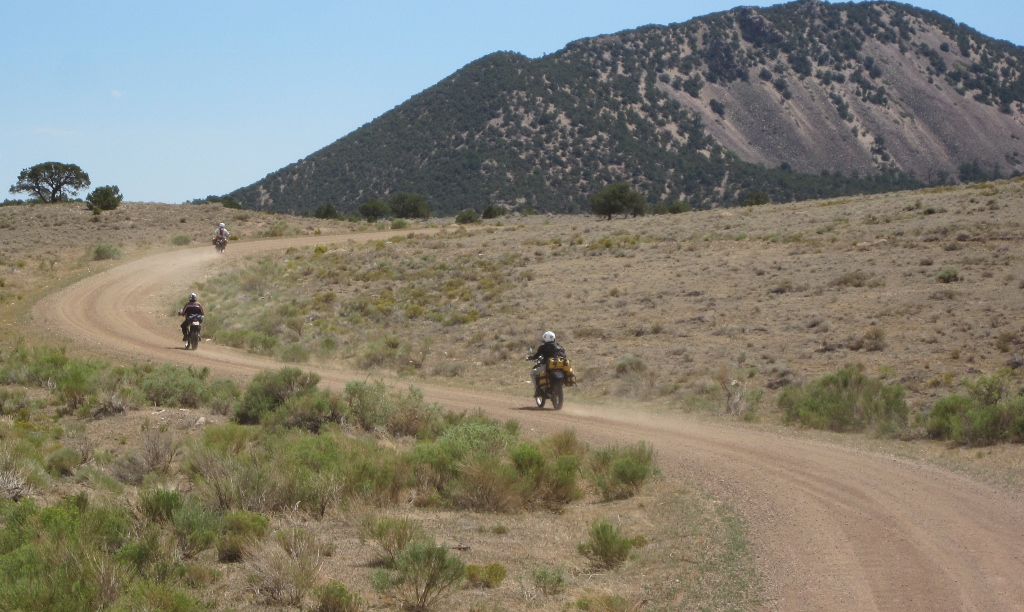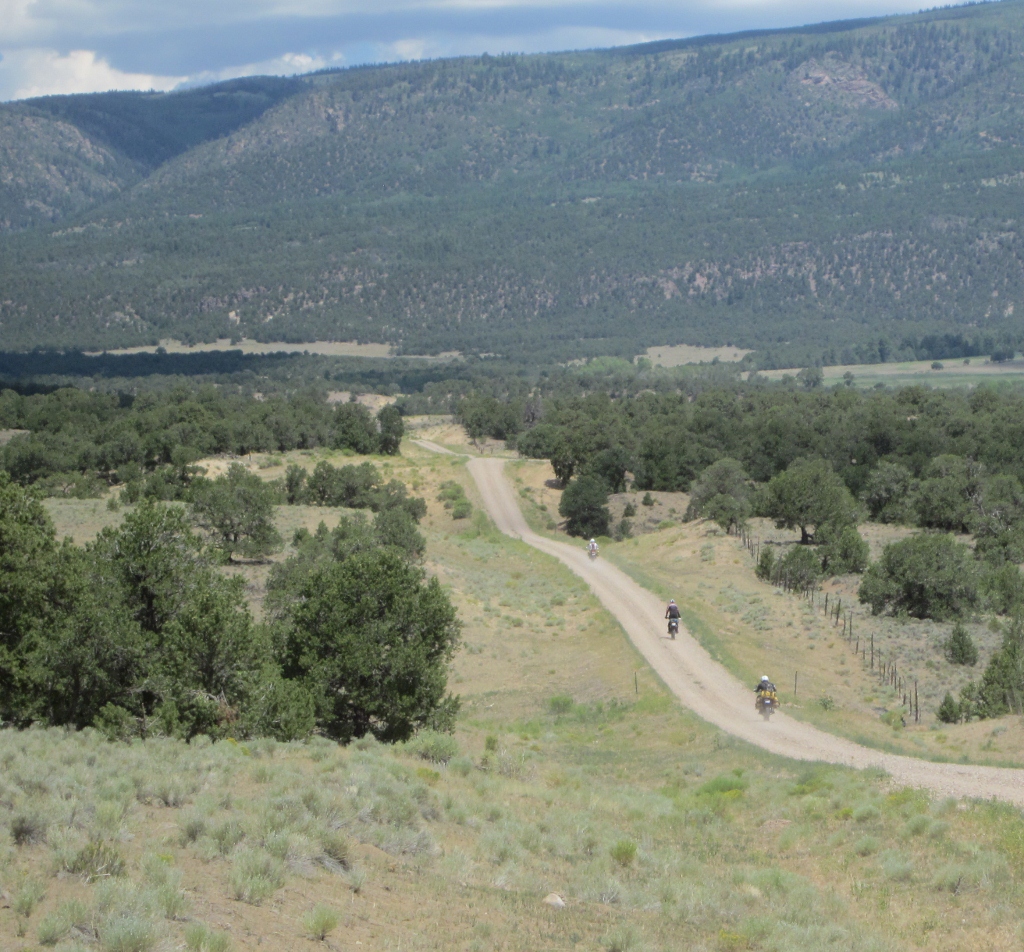 We followed Sam all day as he certainly knew where he was going.
I was so happy to just follow along and stay out of his dust---not worrying about where to go.
I had the tracklogs of the entire TAT loaded in my Garmin 276C---I put that in there for reference--as I did a lot of other stuff I've ridden out here.
So me and John give Sam some space.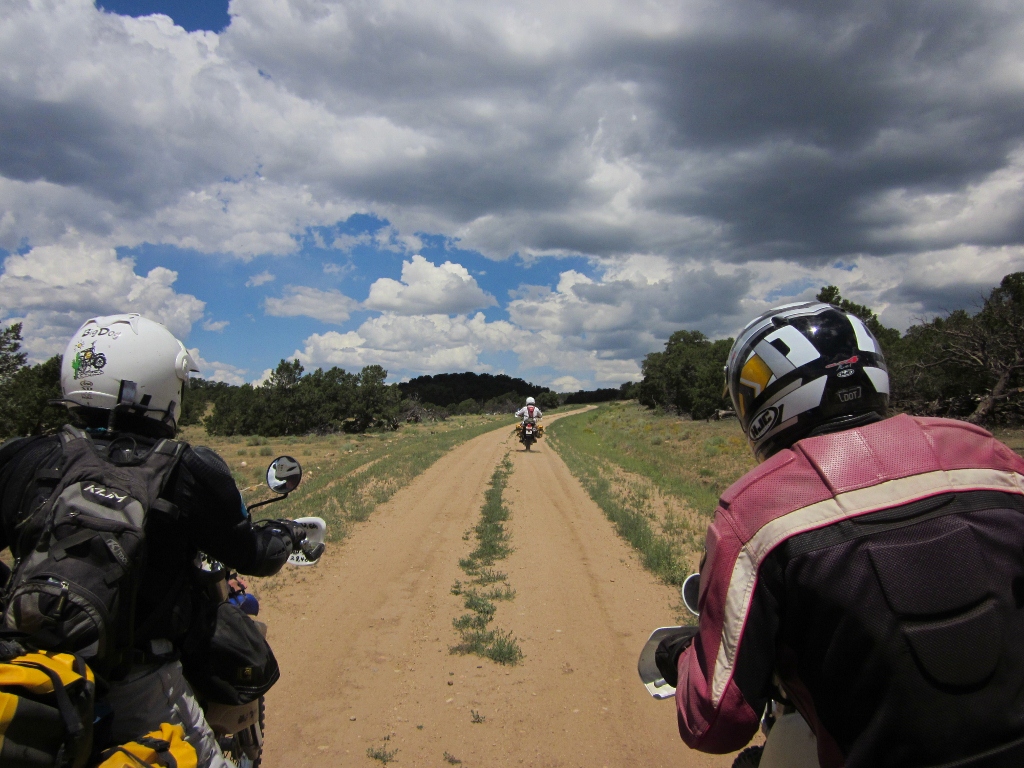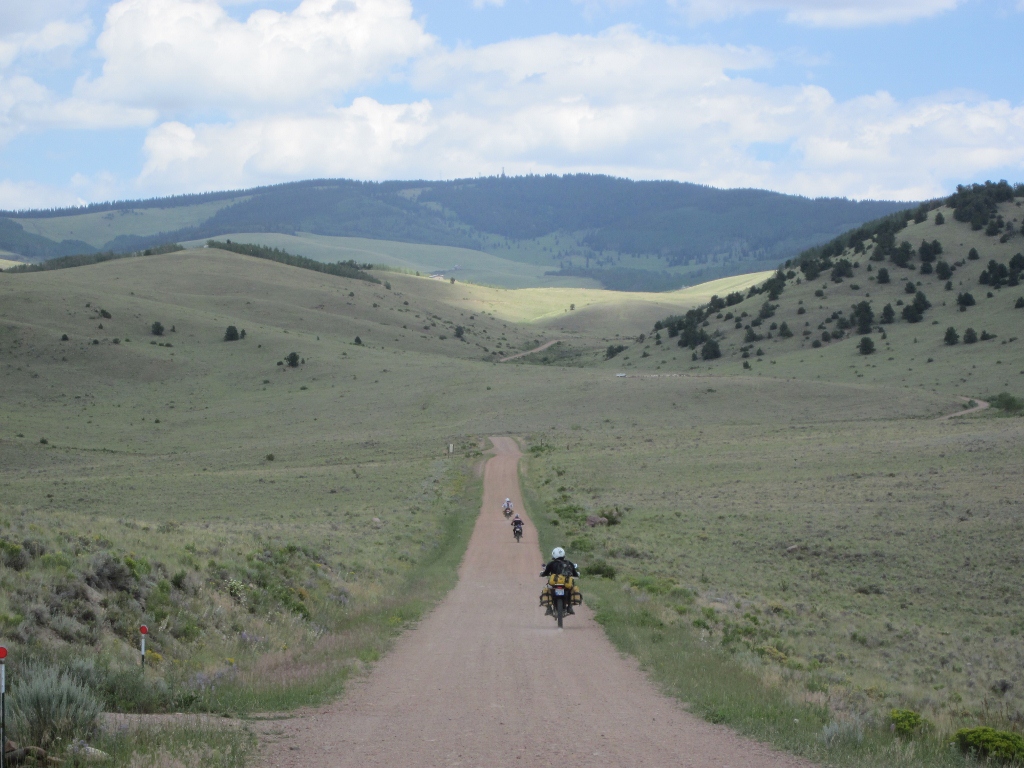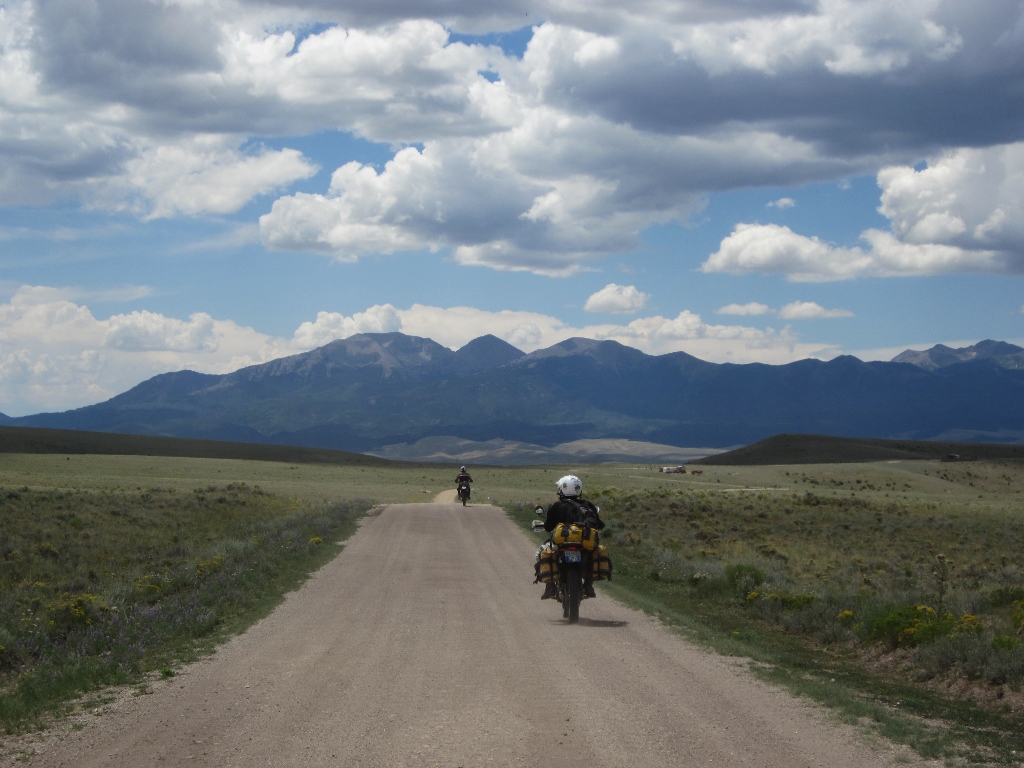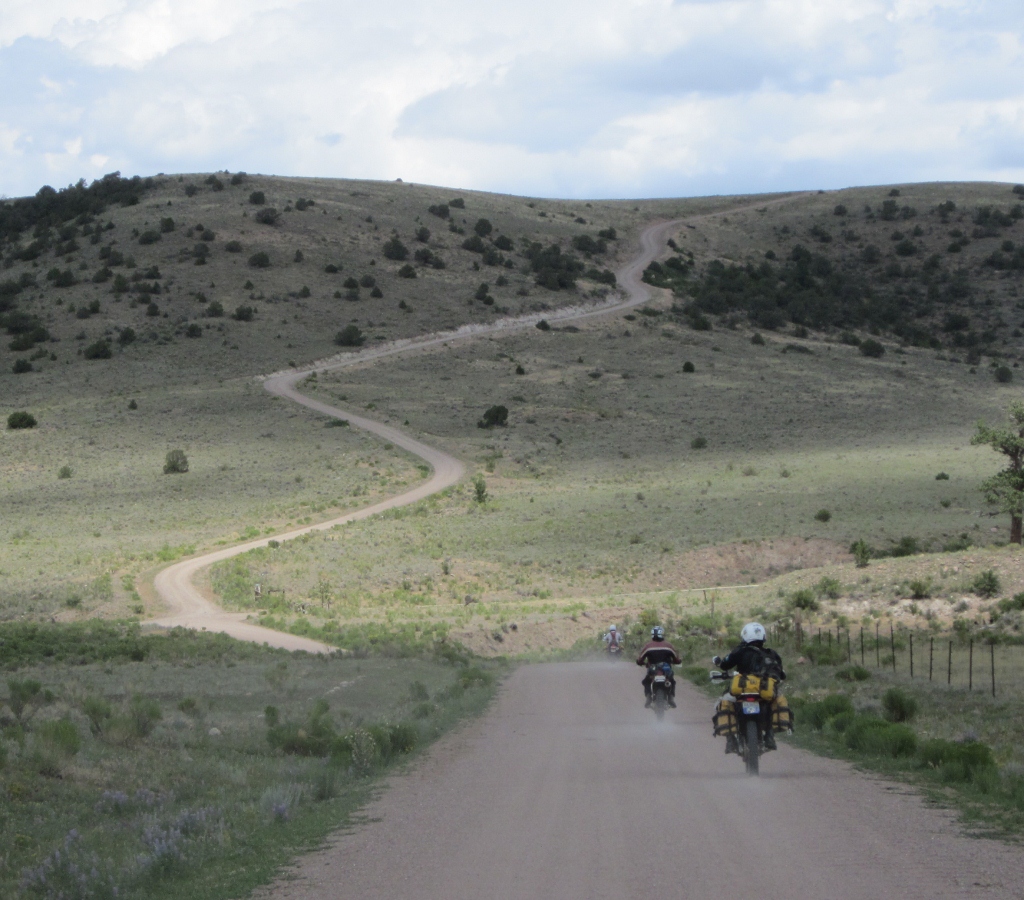 Pretty much everyday in the afternoon---sporadic thunderstorms would roll in and we put on our rain gear.
Sam did have a rainsuit---but poor ole' John just had a credit card----and Scott (Dingweeds) would end up loaning him some rain
gear---a body can get very cold even if it is 70° if your wet.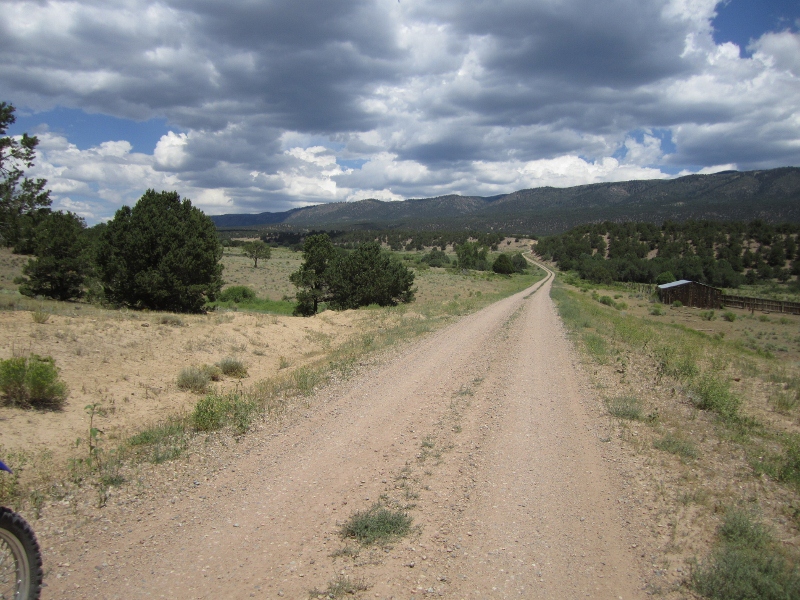 Sam needed to do some personal stuff----but alas----he only had a credit card and
I saw the writing on the wall.
I whipped out my extra roll of TP and swiped his credit card---wait till he sees that bill.
Gas and toilet paper can be very expensive out on the trail----and you'll be glad to pay it.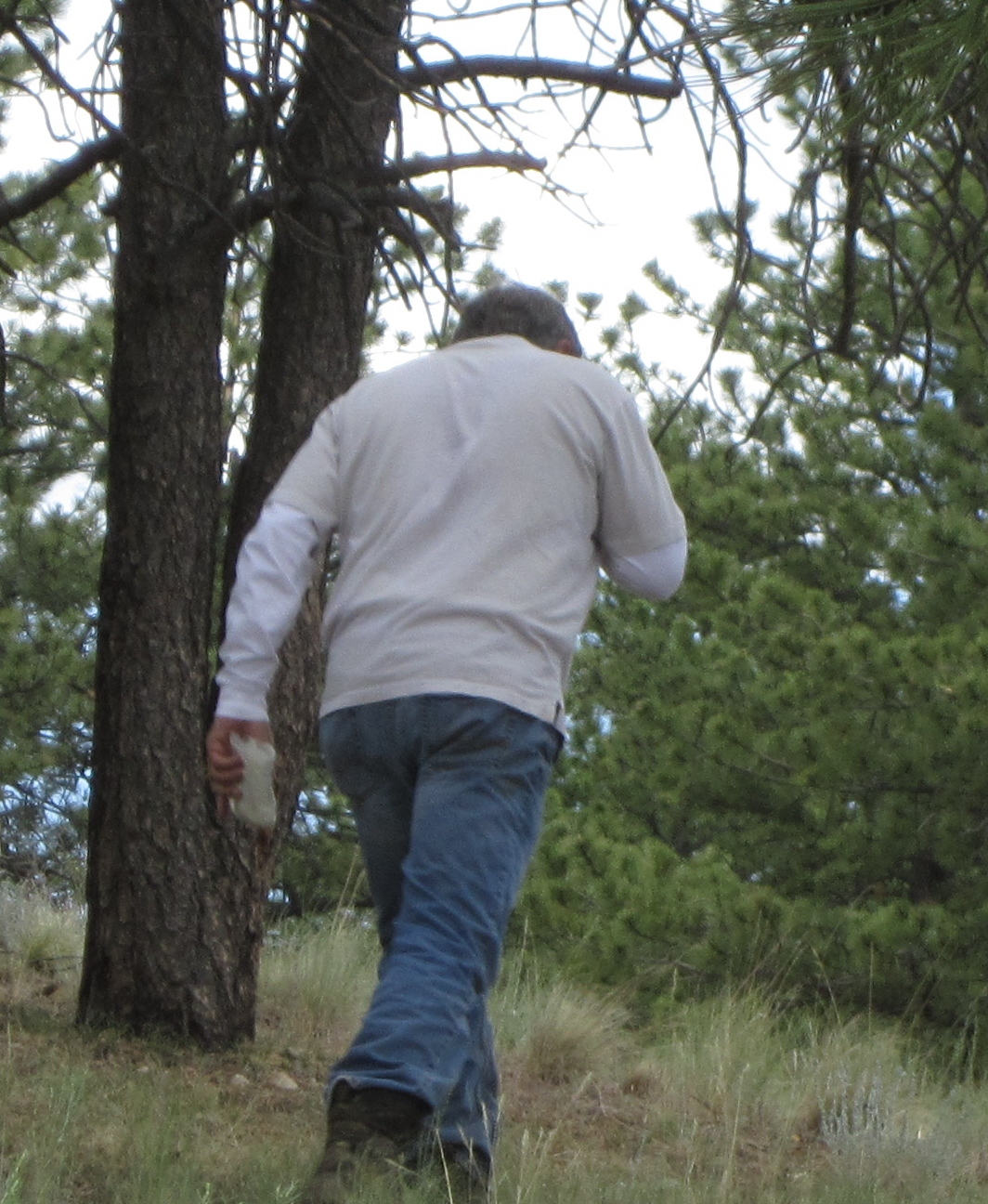 We all stared at this sign for a very long time---and came up with 20 different interpretations.
Obviously the land was private---but where they placed this sign made it seem the road was private also.
This is a very clever tactic I see all the time and it almost scared us away.
But we finally rode on as it was definitely a public road.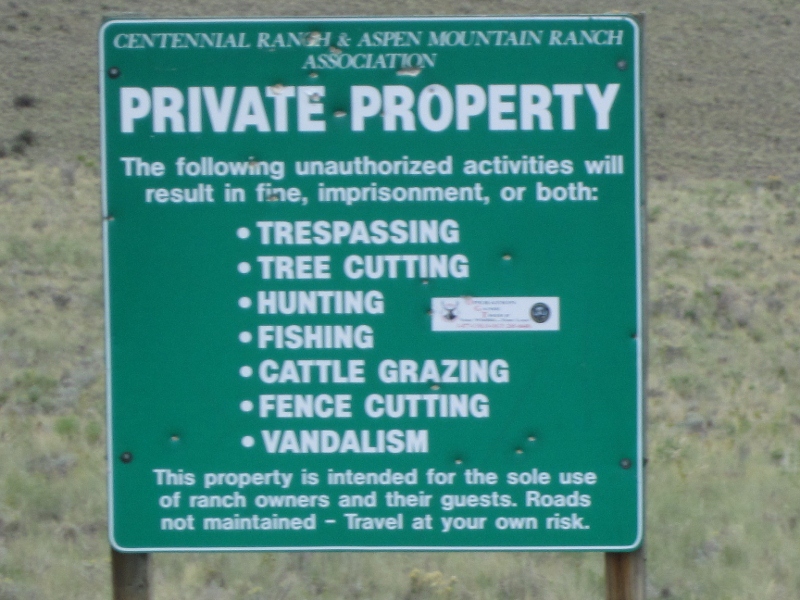 Johns not skeert. John was riding a very nice Honda XR400 made street legal.
These are very nice offroad machines Honda should have never quit making.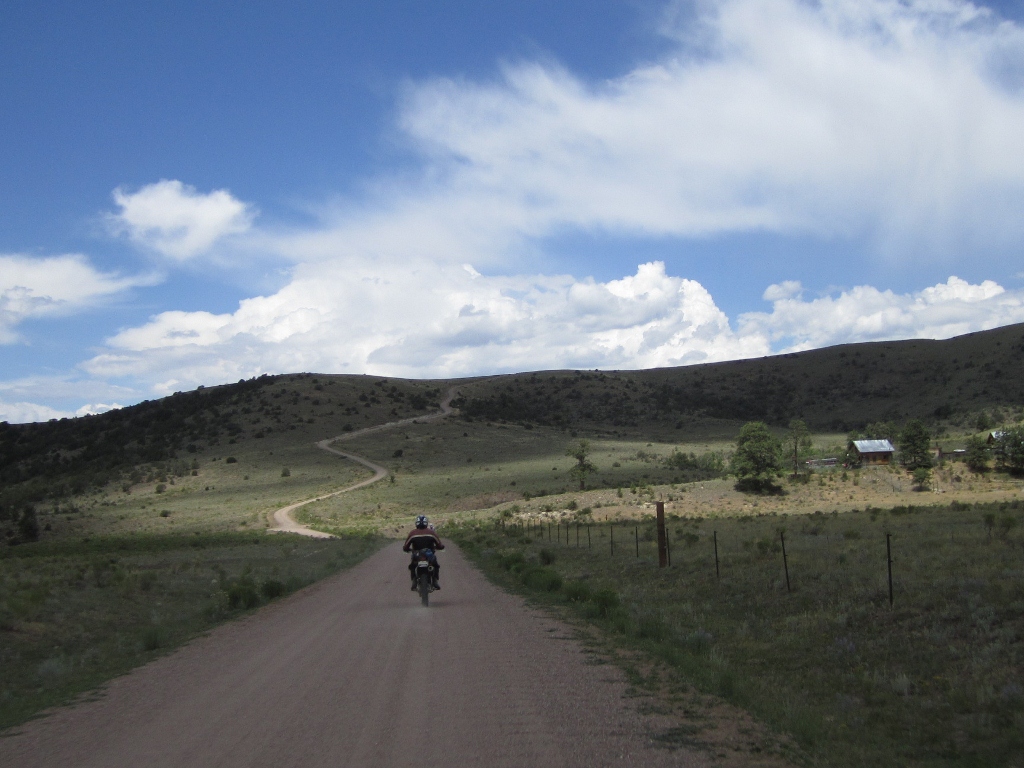 I loved Sam's orange rainsuit--------yep...we can see you now.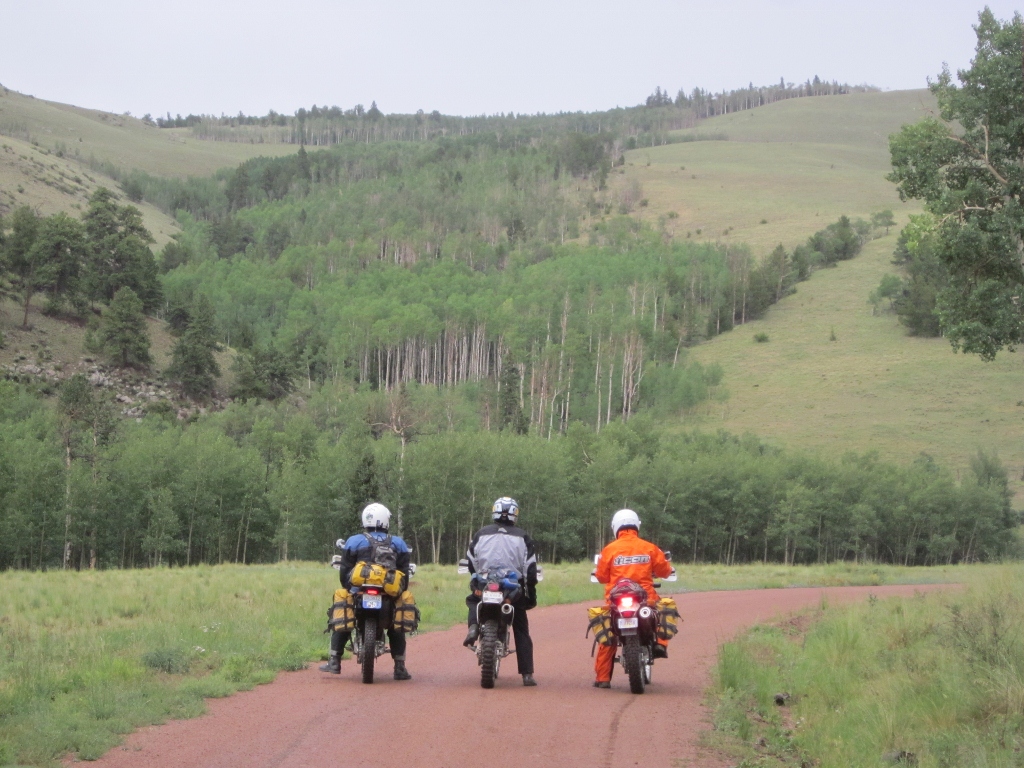 We ended up in Salida, Colorado for the day and had absolutely no problems all day.
It went without a hitch and me and Scott really enjoyed Sam and John's company and good attitude.
I had met John before down in Mississippi on another ride with Sam earlier in the year.
Day 3
Salida To Lake City, Colorado
I think we ate a small breakfast at the Motel (not the official TAT Motel).
The official TAT Motel is the CircleR in Salida---don't let anybody tell you different.
The rest are unfriendly high dollar chain motels with inside doors----I hate motels with inside doors. I shouldn't use the word "hate".
But I truly hate motels with inside doors. Across the street the inside door motel was packed with $23,000 adventure bikes.
And Sam asked me if I knew there were 2 ways to Marshall Pass ??? Actally I knew of 4---some pretty tough and we followed Sam up the old jeep trail
to the top which was full of baby head rocks, but not to difficult for all of us----especially if you were only packing a "Credit Card".
Dingweeds was packing heavy-----and had brought plenty of food for everybody---including the bears----which I'll get to later.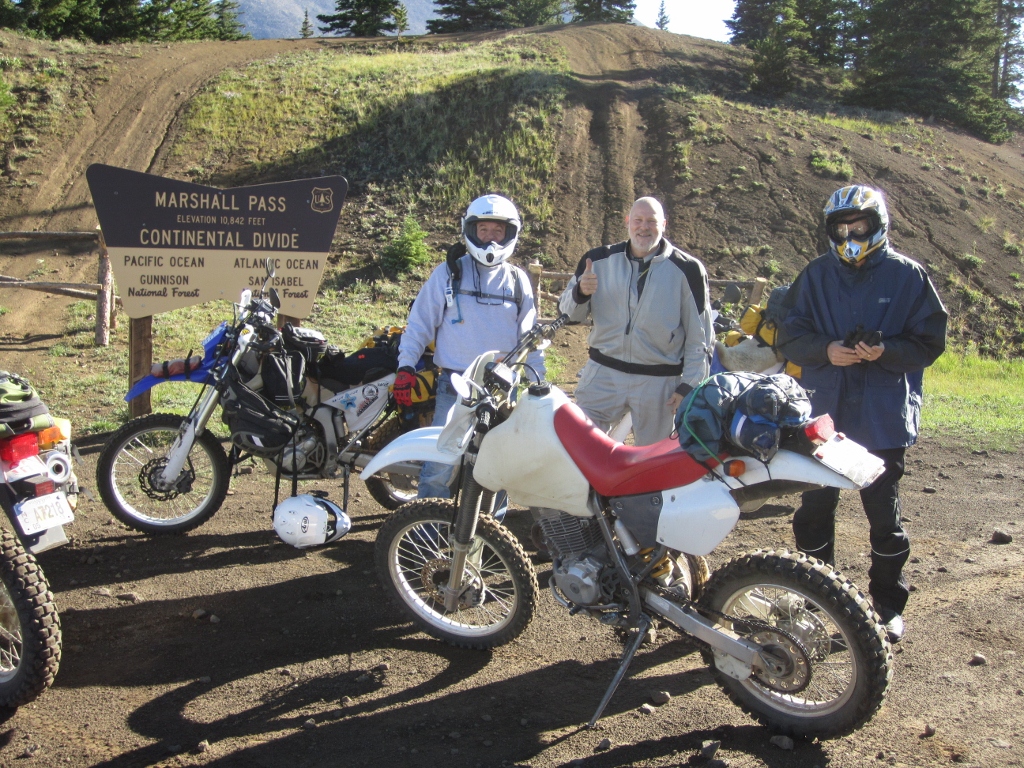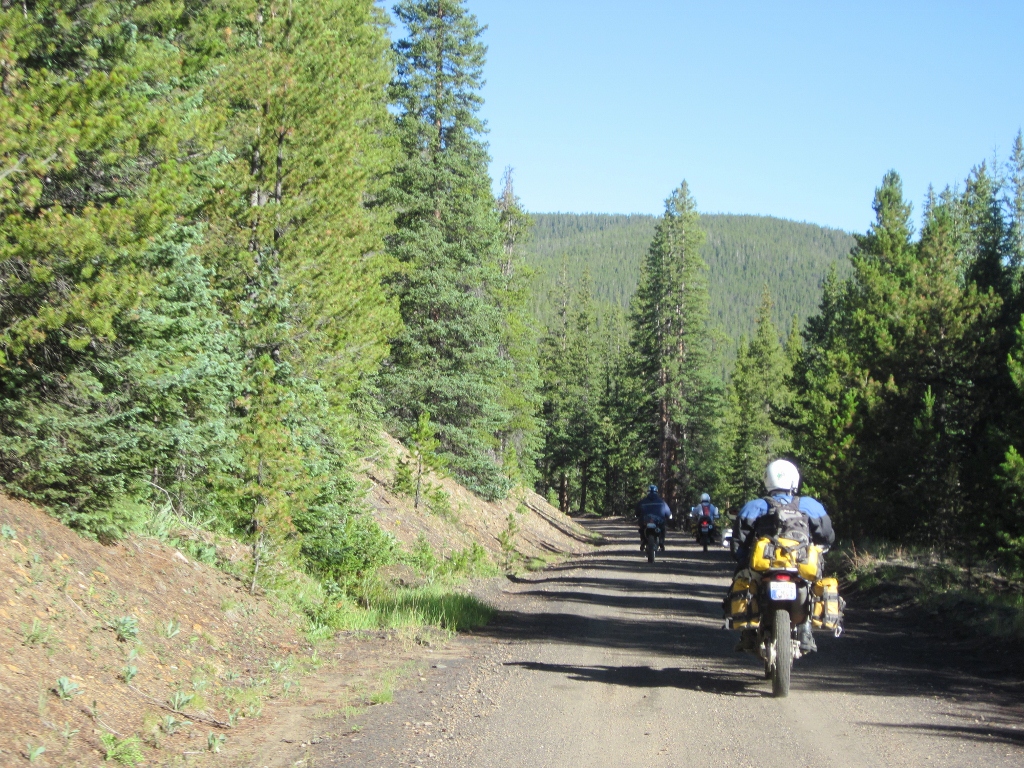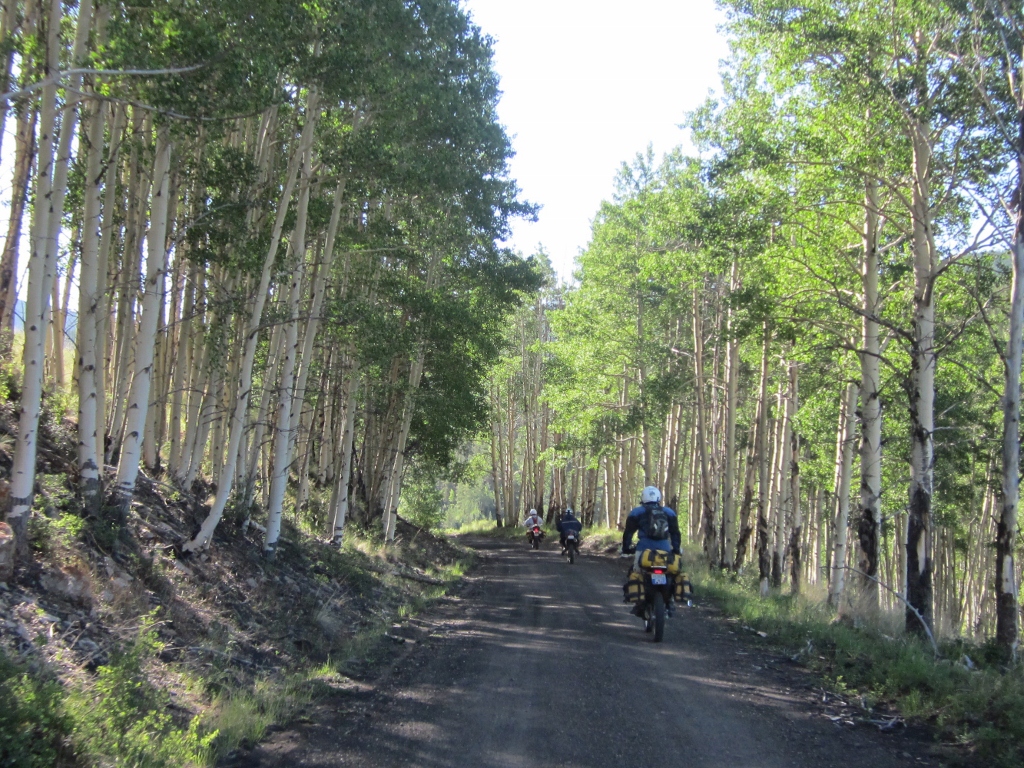 Todays ride would take us over Black Sage and Los Pinos passes also.
Sam really likes his DR650---and he had twice the horsepower of me and Scotts 250's------but never used half of it.
Didn't need too---as like the rest of us, Sam is in scenery mode.
I saw no rollchart on Sam's bike---just one of those evil devil boxes with all kinds of gizmo's inside pointing here and there.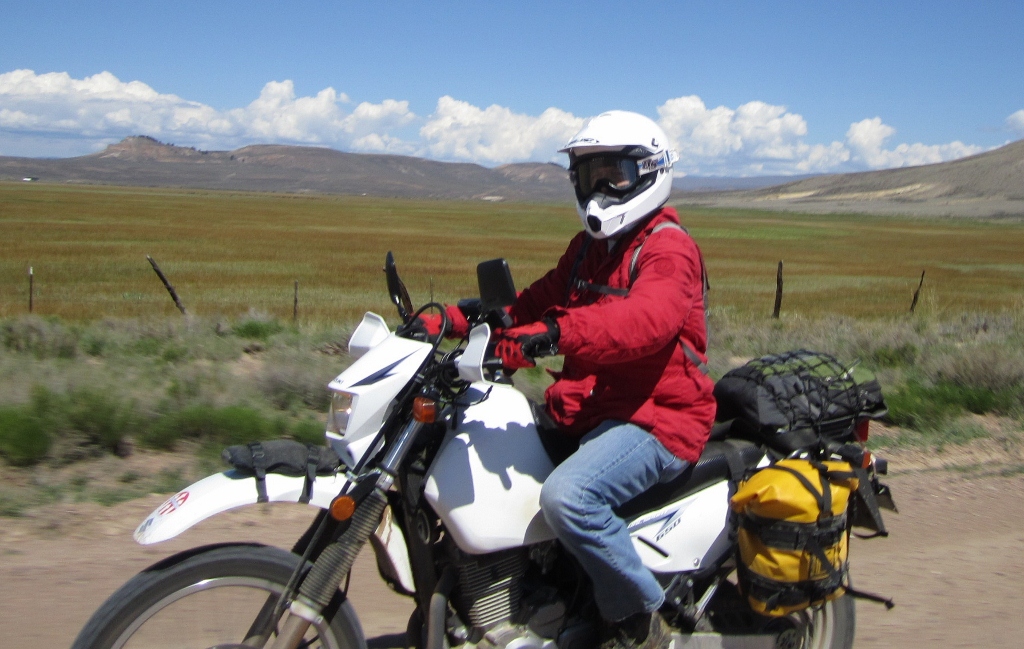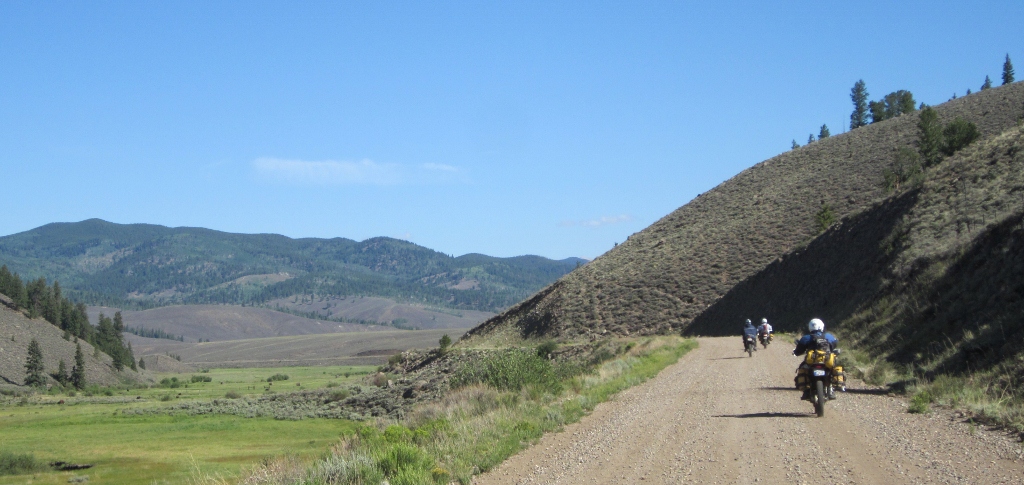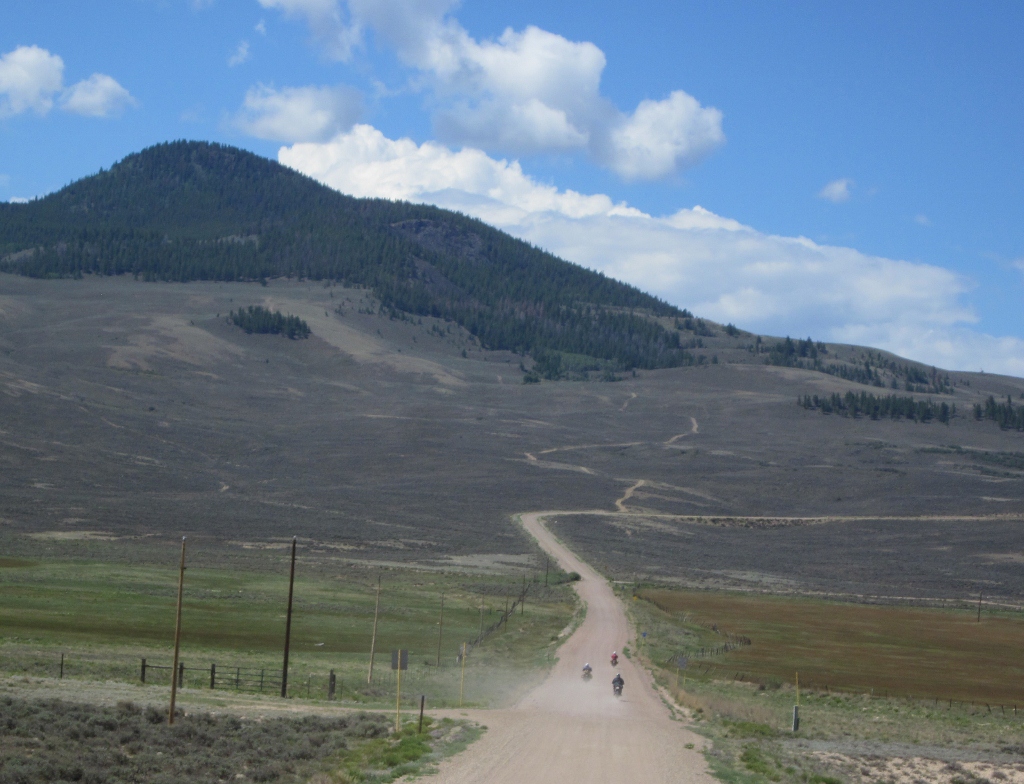 A lot of history here. Me and Sam talked about this and found out both of us had ridden down this road on seperate occassions years ago.
It's pretty rough---rocks and lots of mudholes---not big bike friendly at all.
The route is open to motorized travel----it is gated--but you can open and close the gate as you pass thru.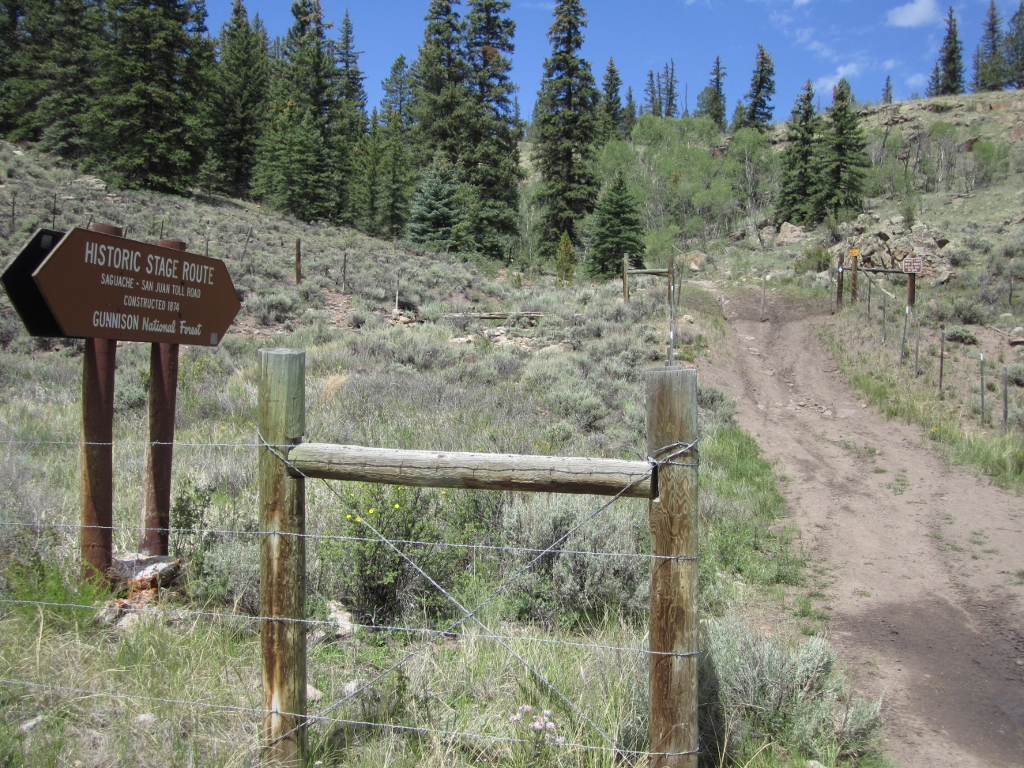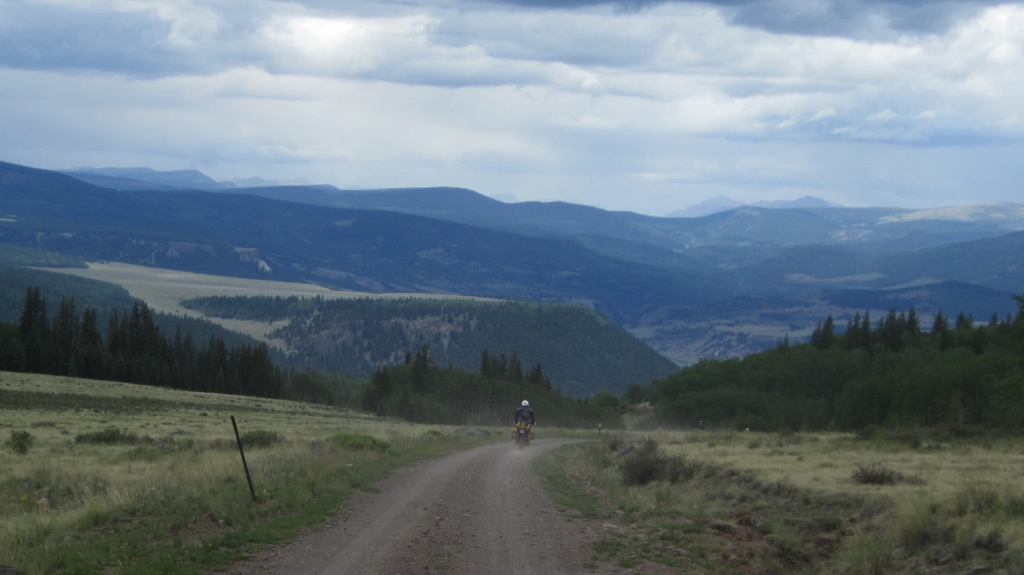 Los Pinos Pass is probably up ahead---it's elevation is 10,500 ft.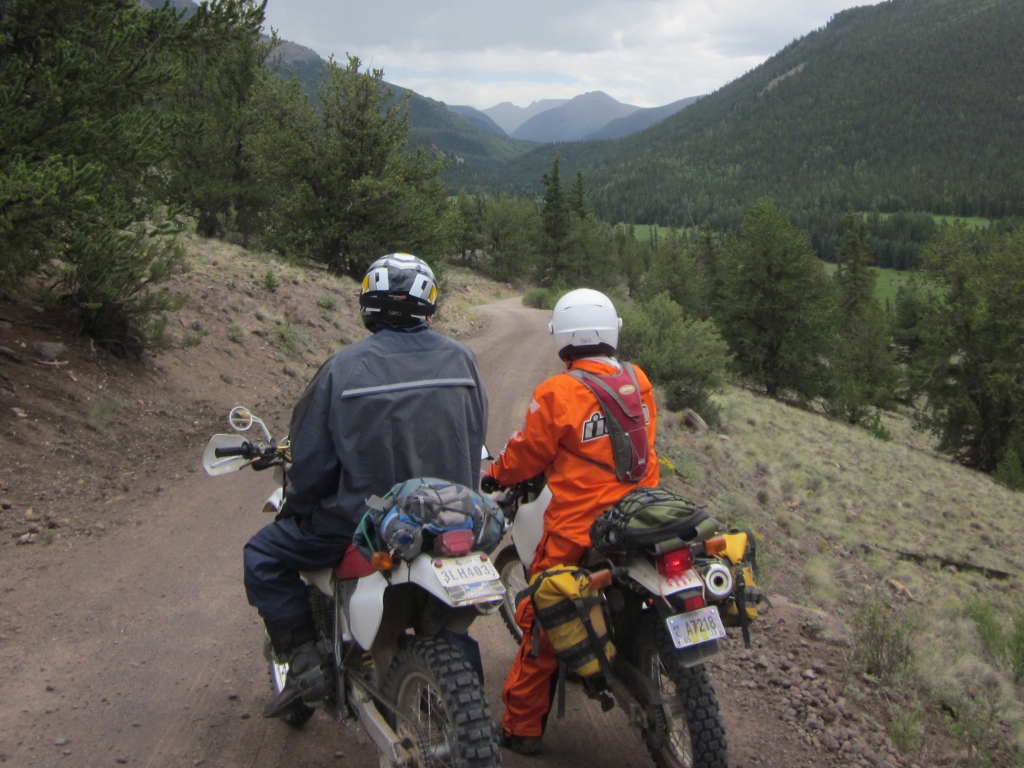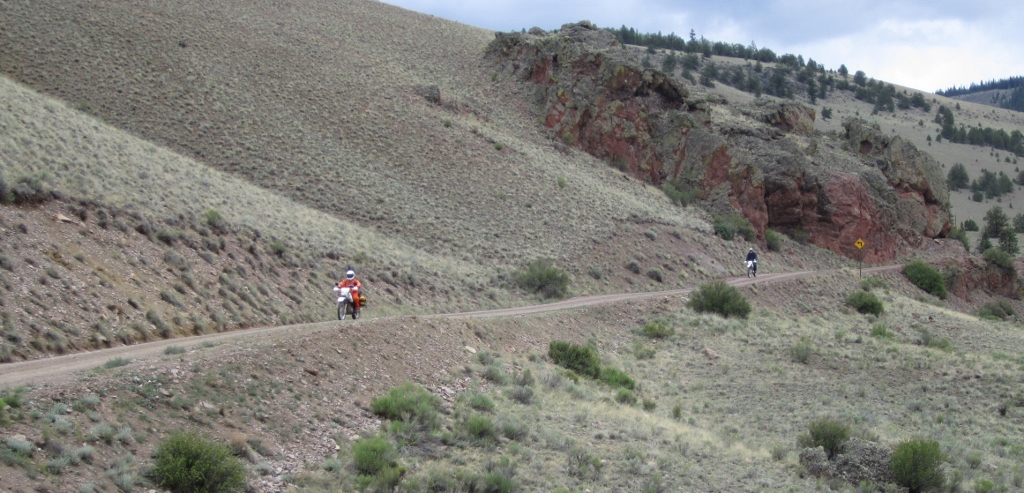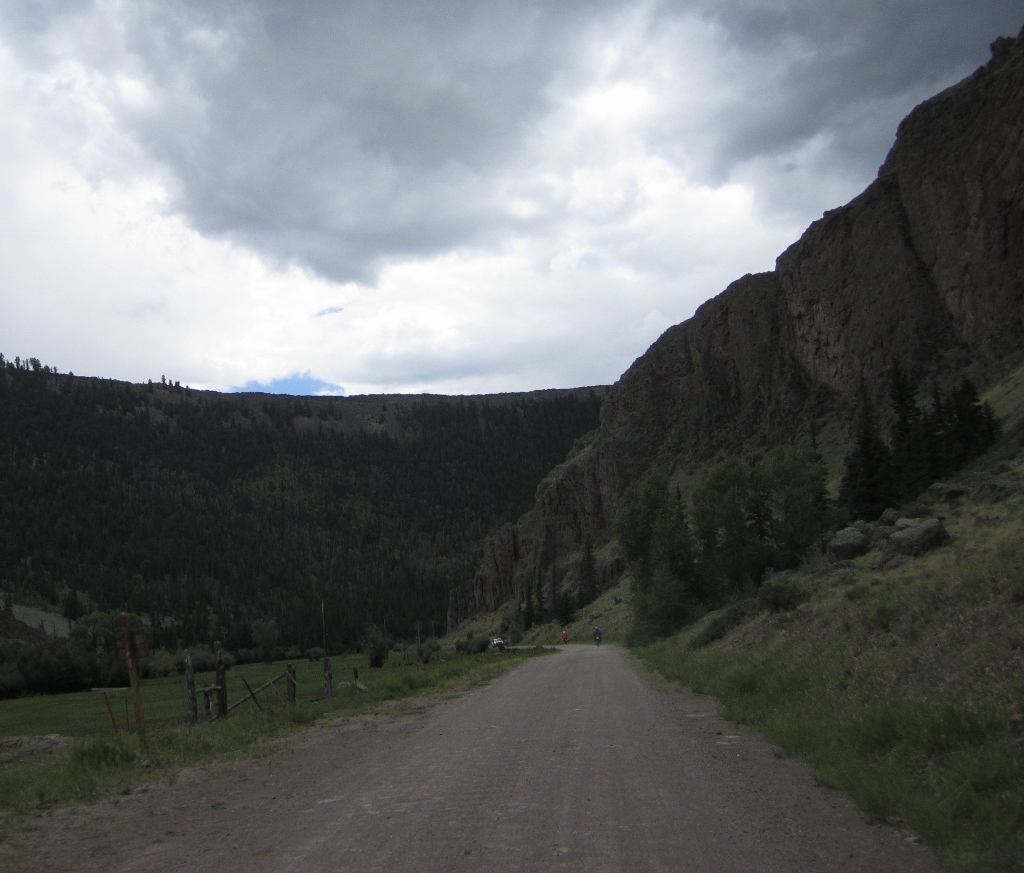 I love camping next to a river or creek---me and Scott would do that a lot later on and have been know to take a dip (bath) in them.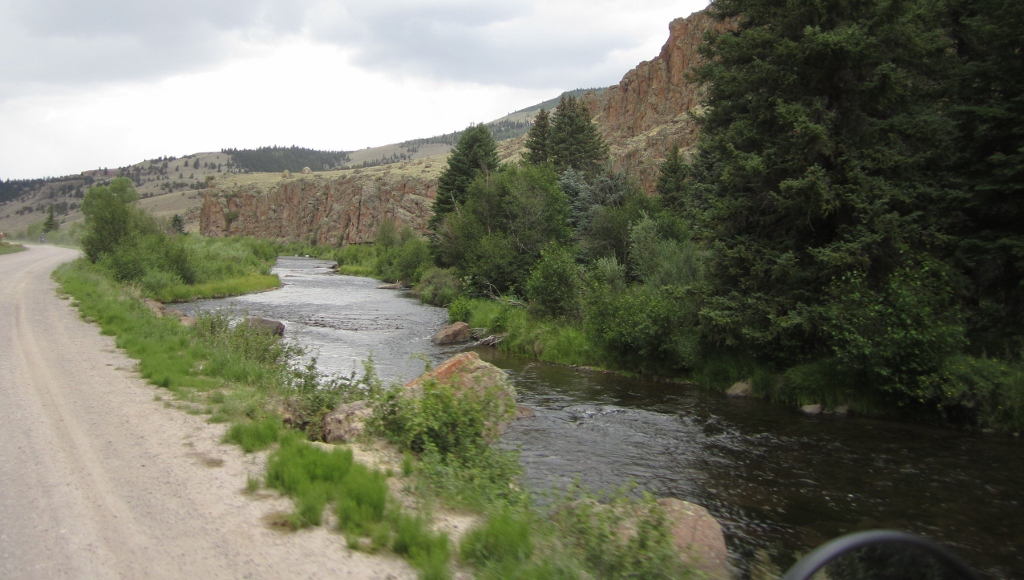 Sam donned his orange rainsuit and proclaimed it was going to rain.
I learned that when he said that---put your rainsuit on.
John borrowed Sotts water proof jacket and I put on my Klim goretex "traverse" pants---but already had on my very old goretex MSR enduro racing jacket
which I truly love.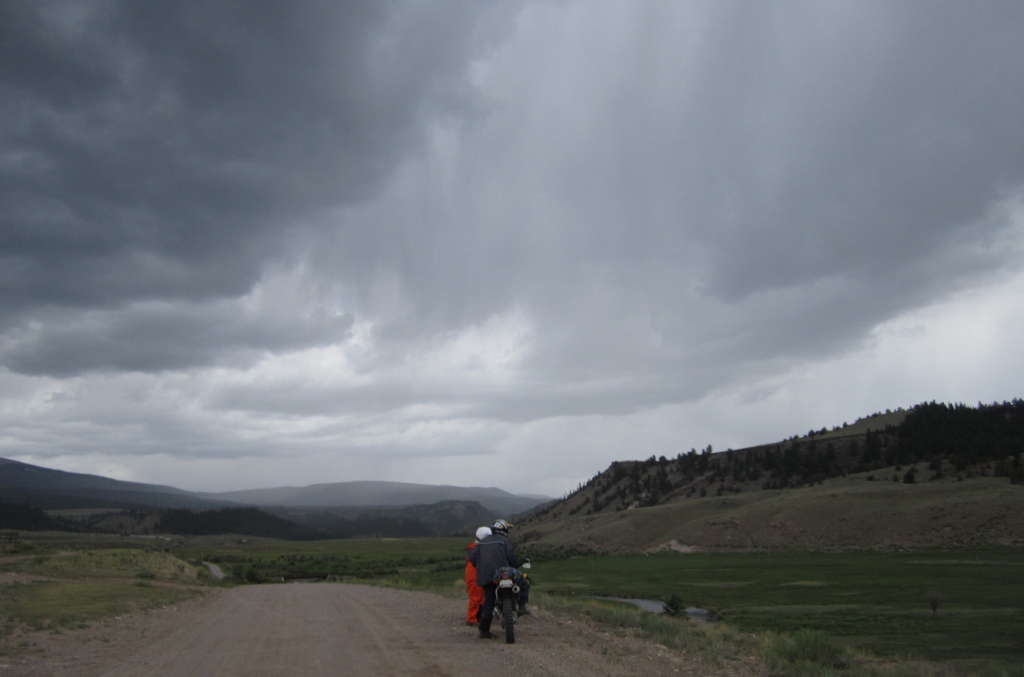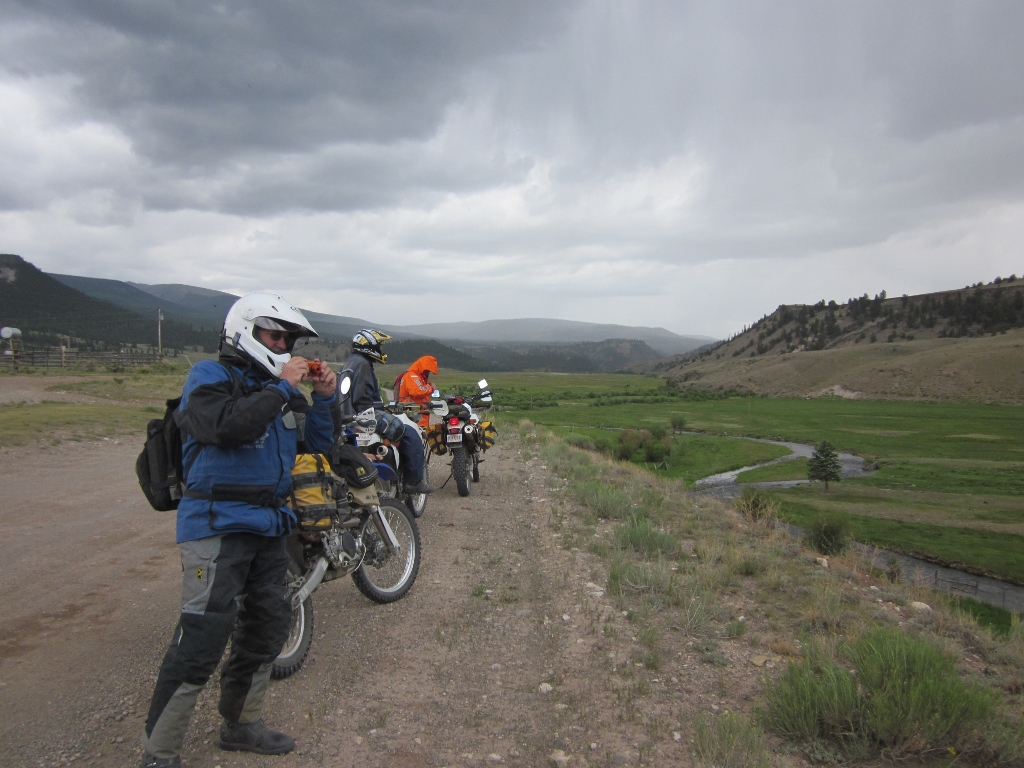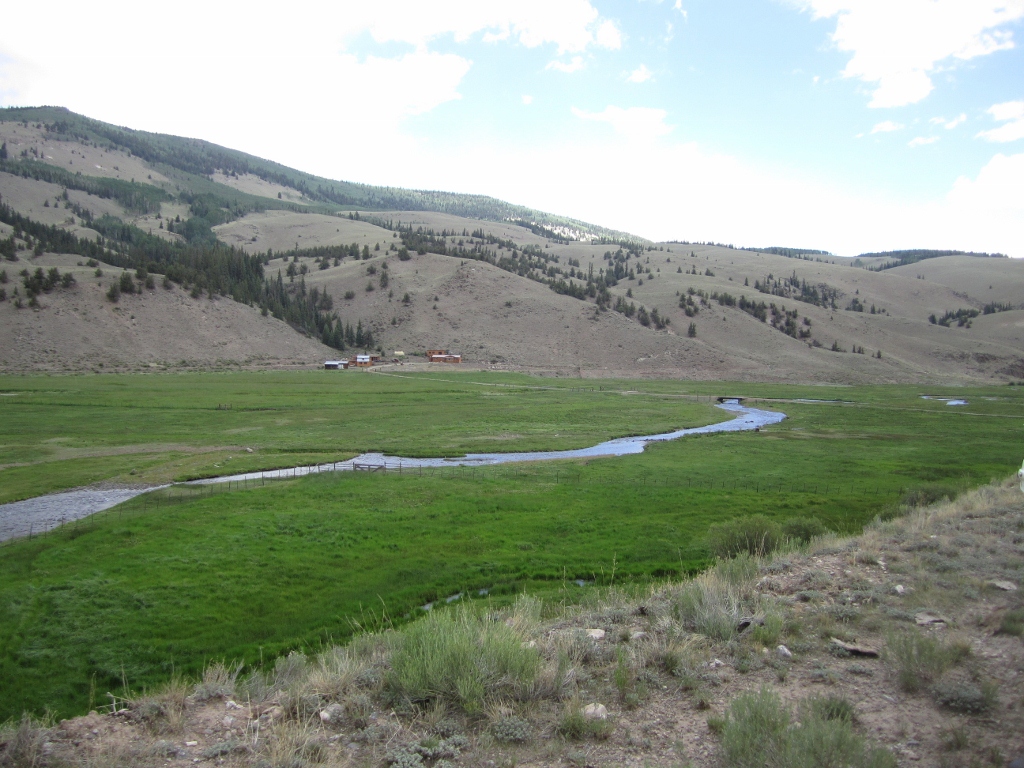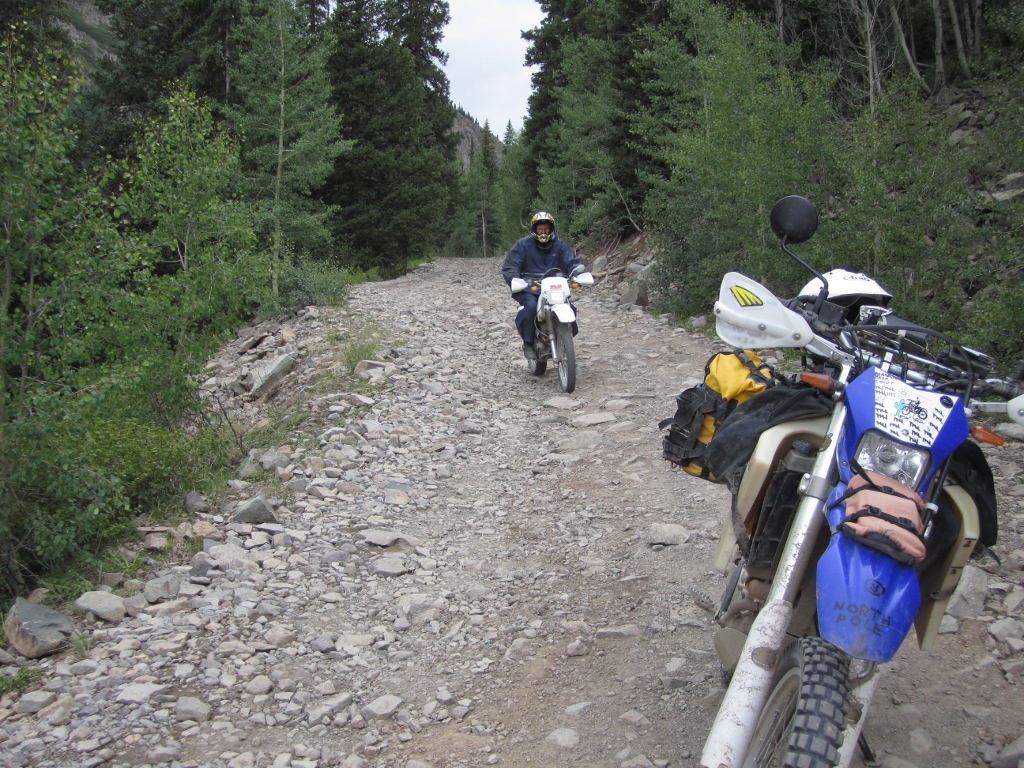 Sam says this is the "Money Shot"
Who took this picture you ask ???? The camera--of course.
Next to me is my buddy Scott----me and and him are such good friends---too bad we live 2,000 miles apart.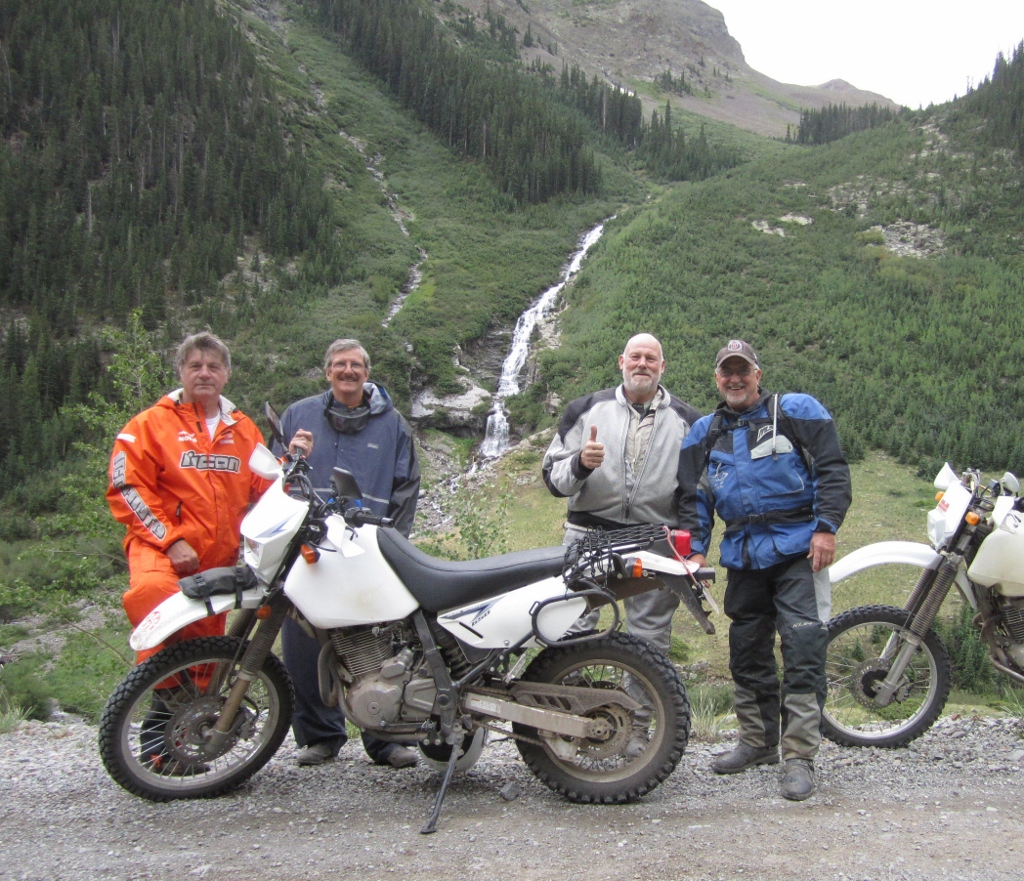 We arrived in Lake City early afternoon----too early to quit riding and we headed up Engineer Pass just to finish off the day.
On the way we went thru the very historic town of Capital city----this is all that's left.
Capitol City was founded in 1877 to service many of the gold and silver mines in the area. Miners and mining barons were one group of folks who lived here, but the easy
access to personally-held capital also attracted other entrepreneurs and for several years, Capitol City was looking like it might become a major city of the modern era.
The town grew and prospered until the 1882-1883 recession nearly destroyed it. That was when Wall Street speculators and their federal government cronies crashed the stock market,
and devastated nearly all of Colorado almost overnight. The population of Capitol City dropped off quickly and by 1910, the town was virtually abandoned.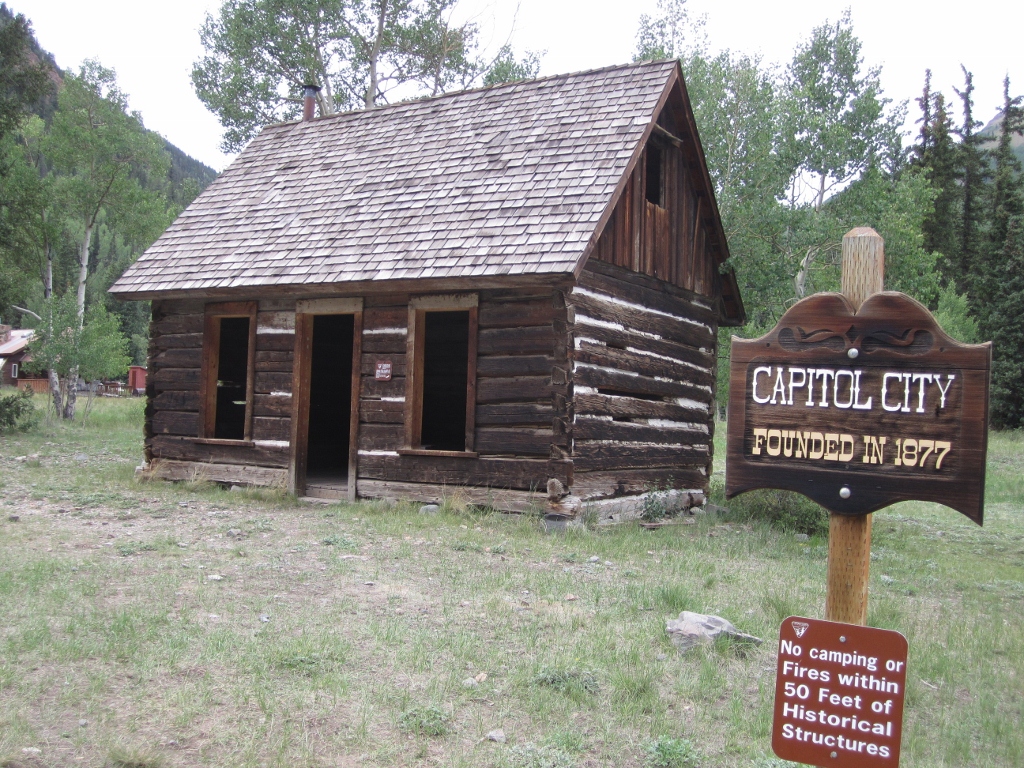 And it's for sale.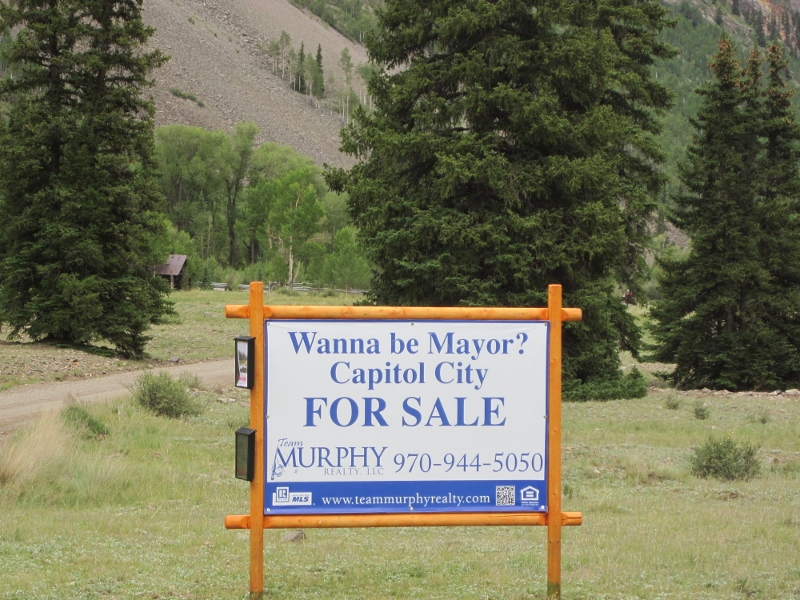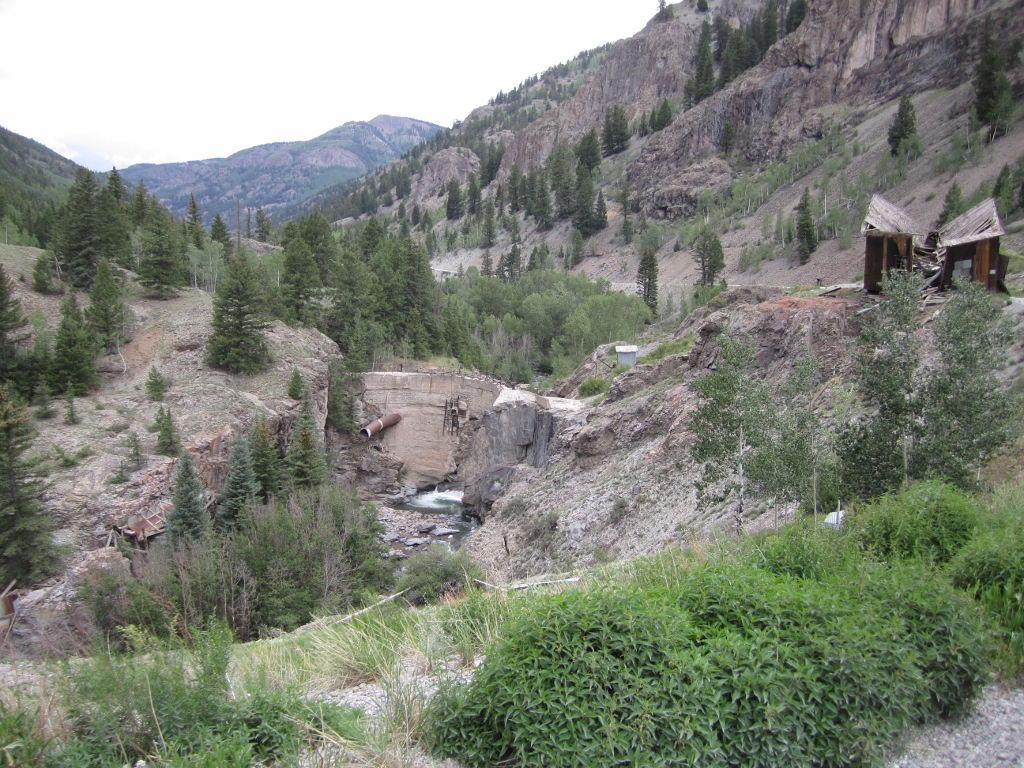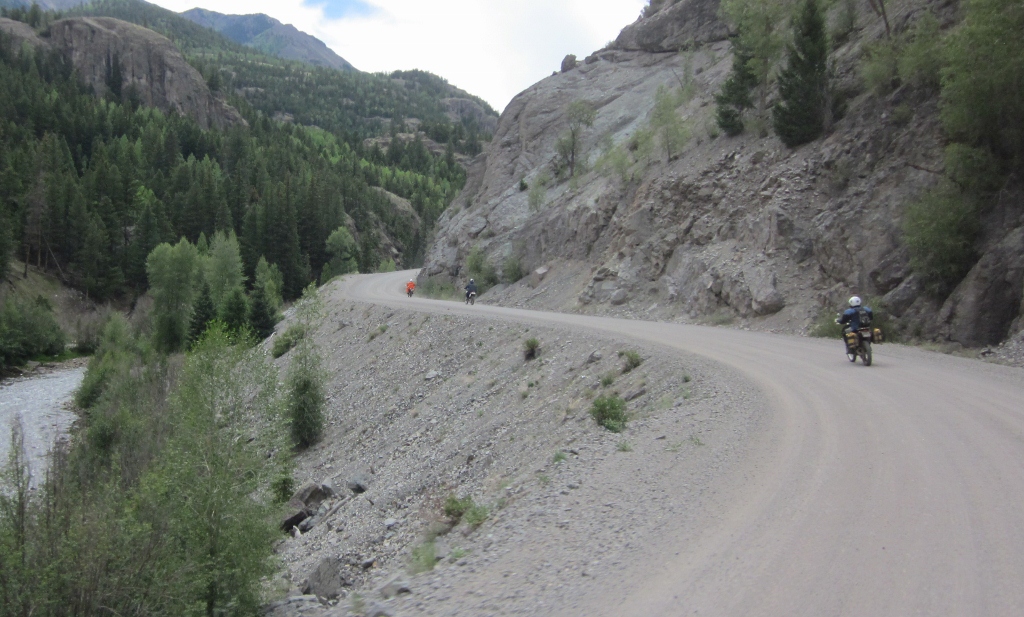 All of a sudden Sam wasn't feeling well----I think a burrito had got to him and before we got to the pass we re-treated back down the
mountain to Lake City where Sam got to quickly feeling better.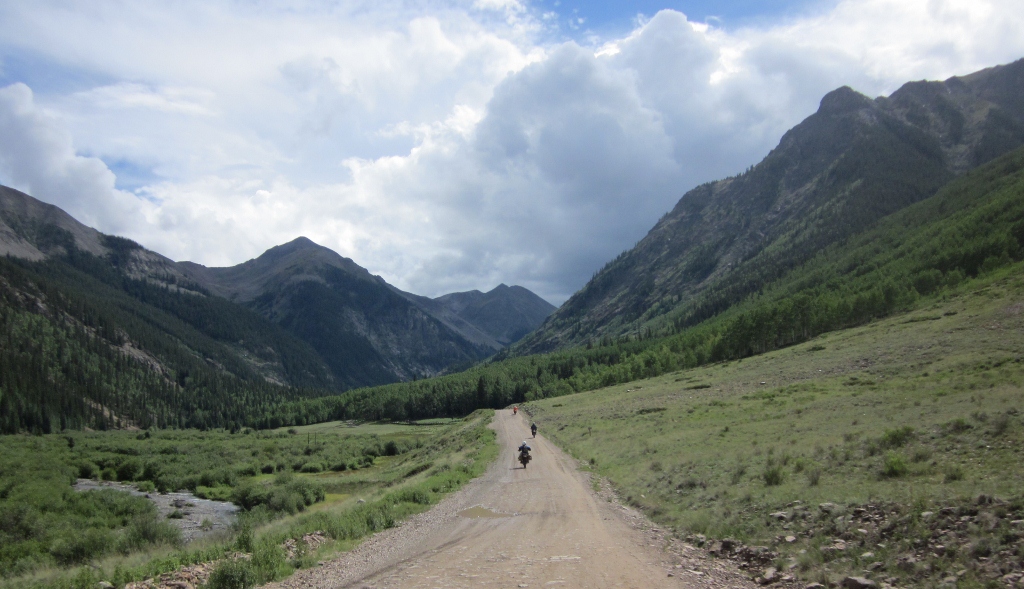 Long story goes with this picture-----but it's a good one----and includes 4 bears. We couldn't have just one---we had to have 4.
Me and Scott were bunked up together in a Motel room and it was getting nice and cool and late---and I had left the room door wide open.
Scotts remembers the story I told him about me leaving a room door open in Creel, Mexico and woke up with a donkey in the room---another story.
But there were no donkeys around------but lot's of bear. Scott shuts the door--opens the window and we get a nice cool breeze thru the plastic screen.
I'm asleep when I hear all this noise-----someone is rattling the plastic tarp over Scotts bike and he jumps out of bed and there is a big mama bear clawing
at the packpack full of food on the back of his bike------the bear then pushes the bike over and climbs on---he then notices there are 3 tiny little cubs
waiting for a snack. They are cute little boogers---little bitty guys. Scott new better than to go out there and started yelling at the sow to no avail.
He then claps his hands very loudly and she runs off..............................but leaves one of her cubs who is now crying his eyes out. Wah--wah--wah--wah-wah !!!!
I'm taking pictures in the dark and we both know better than to go out there. The little one finally scurries off and we see it climb a tree
on the other side of the parking lot.
We finally stroll out and pick up the bike and the only damage is just some holes in Scott's back pack.
Remember these holes---they come into play tomorrow night while camping.
The money bear shot you ask ????? Never came out---this is the best we got. Momma bear is on top of the bike in this picture
and that's John's XR to the left.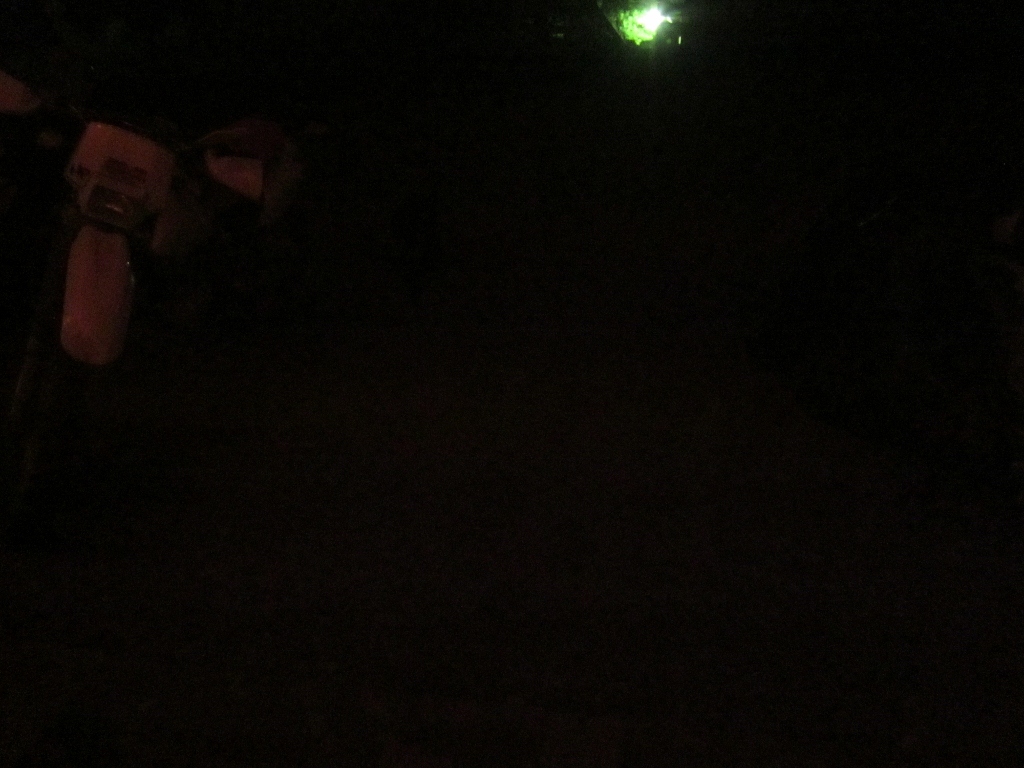 Day 4
July 24th, 2012
This is all the bear did-----their claws are very sharp----and these little holes would cause Scott more problems at camp tonight----a
vicious strange animal would once again invade Scotts pack and create lots of havoc.
And that story is really funny.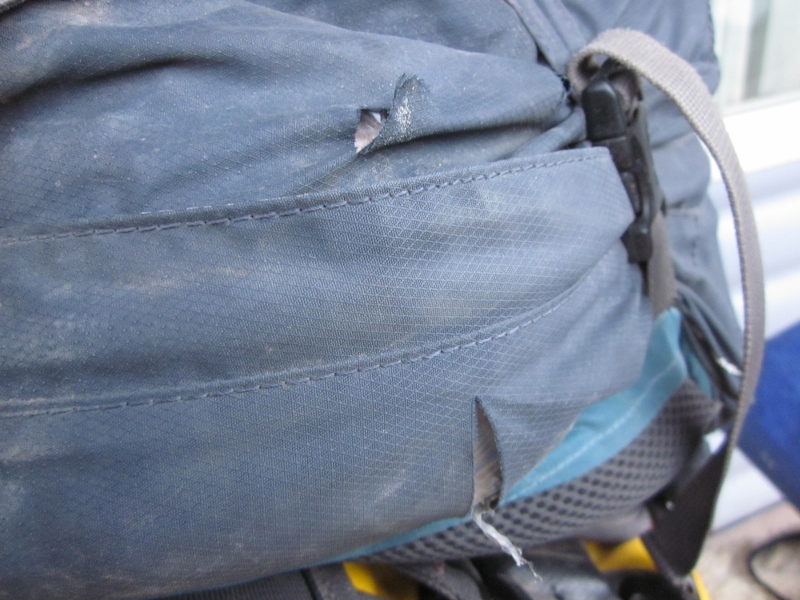 I found another pic that came out of the bear attack---I think I turned on the flash and it came out--but no bears.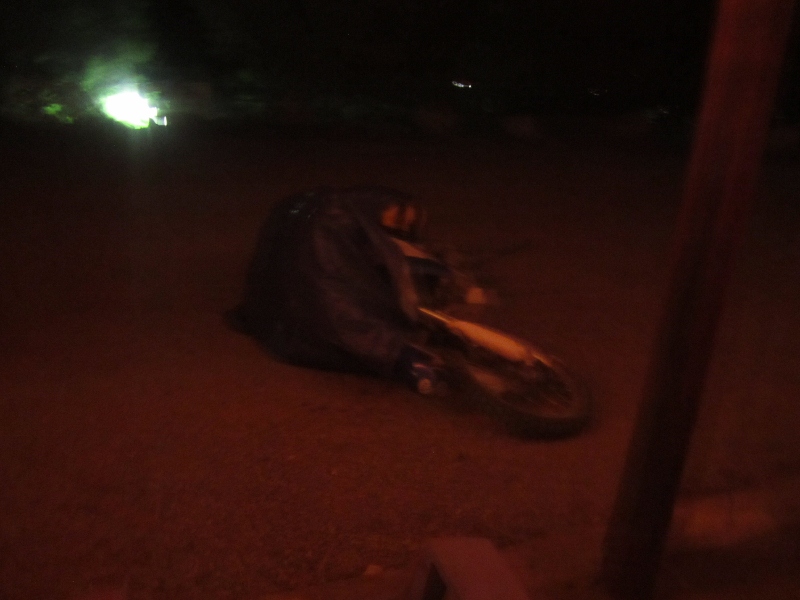 Sam had decided over the night to not go on into Utah as he felt it might run him short on time and he had a rendevous with his girlfriend in a few days
and plane tickets had been bought. Sam had hauled out 4-wheelers also and they were going to ride them for a few days.

It was obvious to me that none of us wanted to part company and instead of getting all mounted up in the morning we just took it easy and walked down to a little
shop that had donuts and breakfast sandwiches which we ate out on the wood deck and just yakked for quite awhile.
Sam new it was there and had been there before----neat little place.
Before Sam left he tested my knowledge of riding in the area and asked me if I knew another way to Stoney Pass than the one I had ridden a couple years ago.
Me and Scott were all ears---as he told us from his memory where to turn off the Alpine Loop road before Cinammon pass to this other route.
It had been 6-7 years since he had rode thru there, but was accurate in his verbal description and that's where me and Scott headed.
So up Wager Gulch road we road-----and at the top of the pass would be the old gold mining town of Carson--which had been abandoned long ago.
It was very easy at first-----but would get almost brutal before we got thru to the main Stoney Pass road---which is no picnic in many places.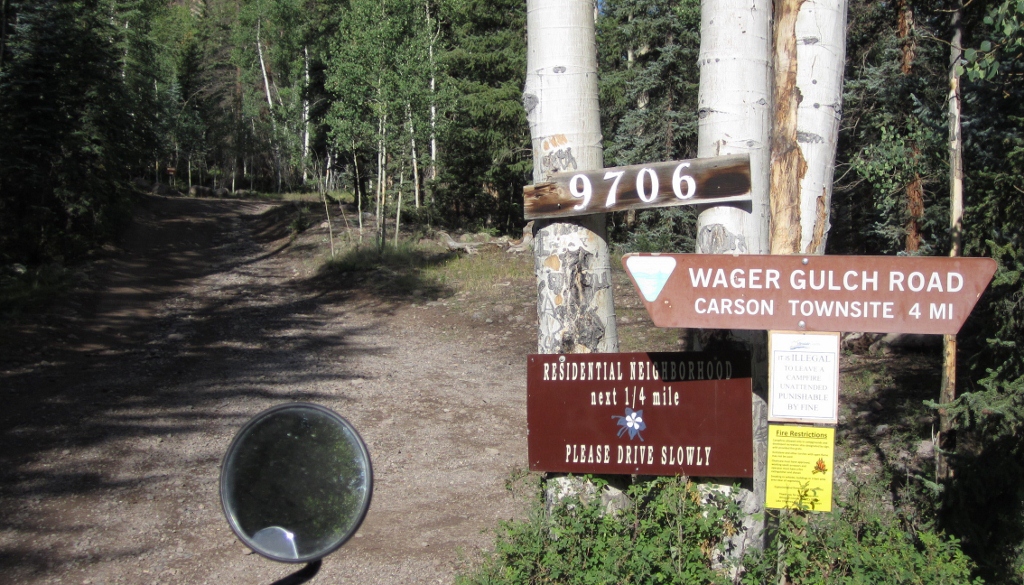 The trail going up to the pass which was close to the ghost mining town of Carson was just awesome.
Not really big bike friendly as there were many loose rock steep climbs which aren't shown in the pics but are in the video.
You can't take pictures struggling thru these hard parts---but the video camera is no problem and sometimes makes a fool out of you--or
at least embarrasses you a bit----I don't care-----I don't worry about that stuff anymore..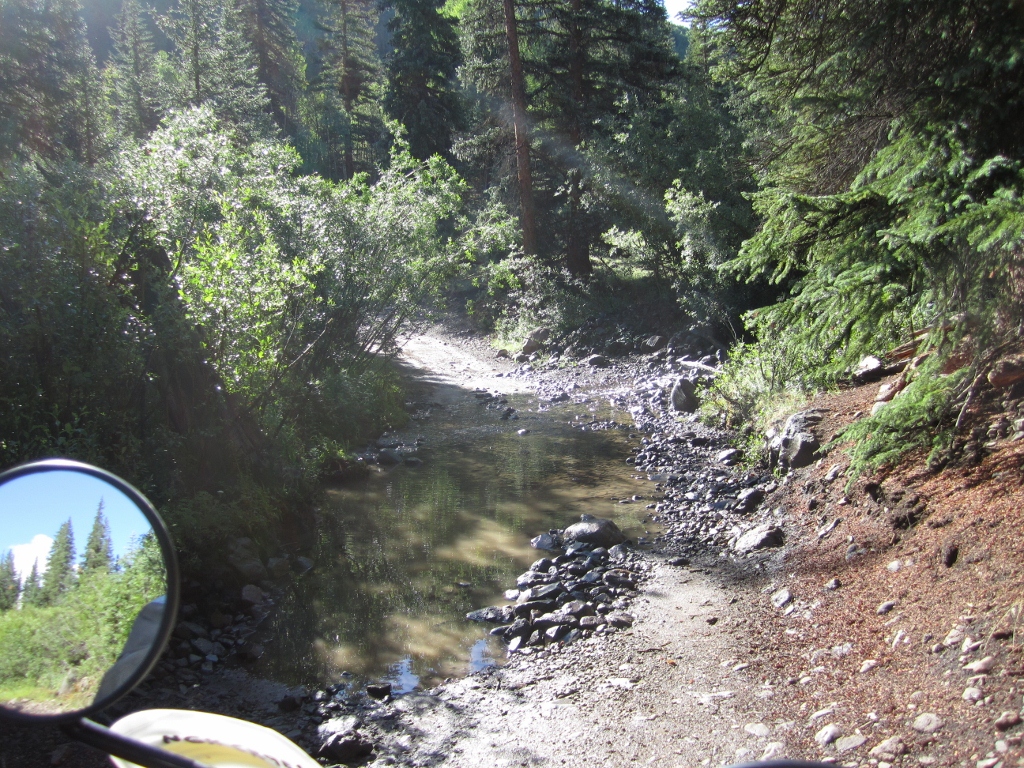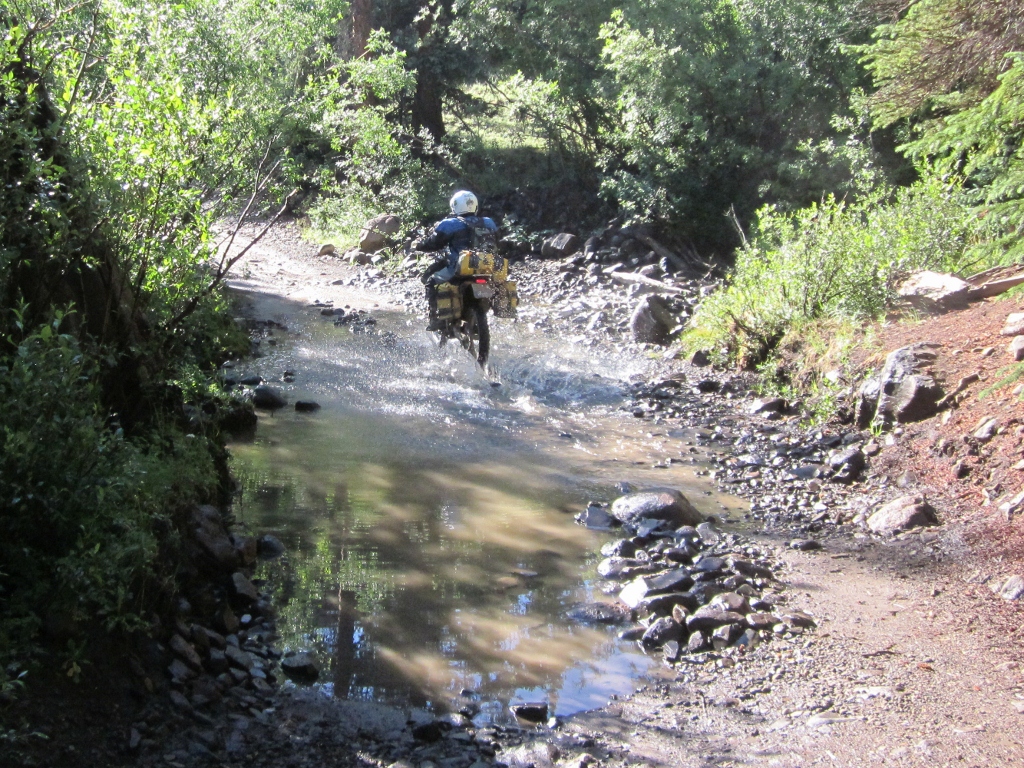 Bent Peak is in view at 13,393 ft. Man fuel injection is so nice.
And here we get our first glance at the town of Carson.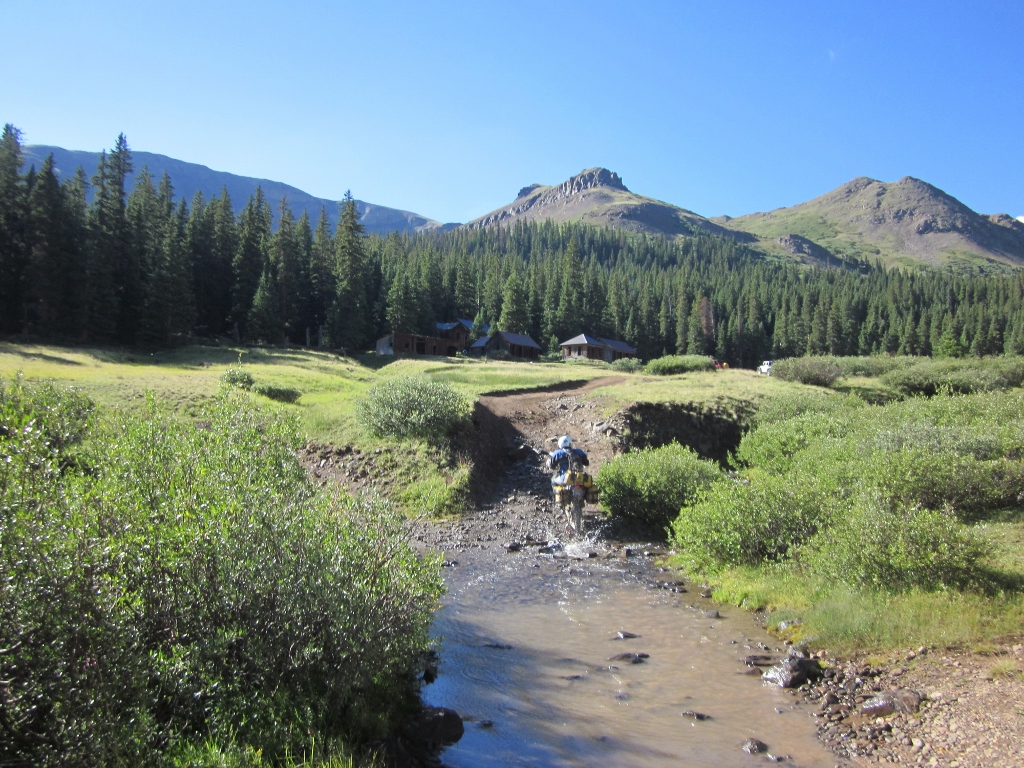 Founded in 1889 at 11,600 feet this is a beautiful setting in a nice mountain meadow. Christopher Carson came to this area and staked out the Bonanza King in 1881.
He was after the silver ore. This town sits close to the continental divide and is sometimes confused with old Carson which is on the Pacific side of the divide. The town was
sometimes called Bachelor Cabins because many of the miners living here worked in the Bachelor mine. Many buildings are still standing and plenty to explore in and
around the woods behind the town.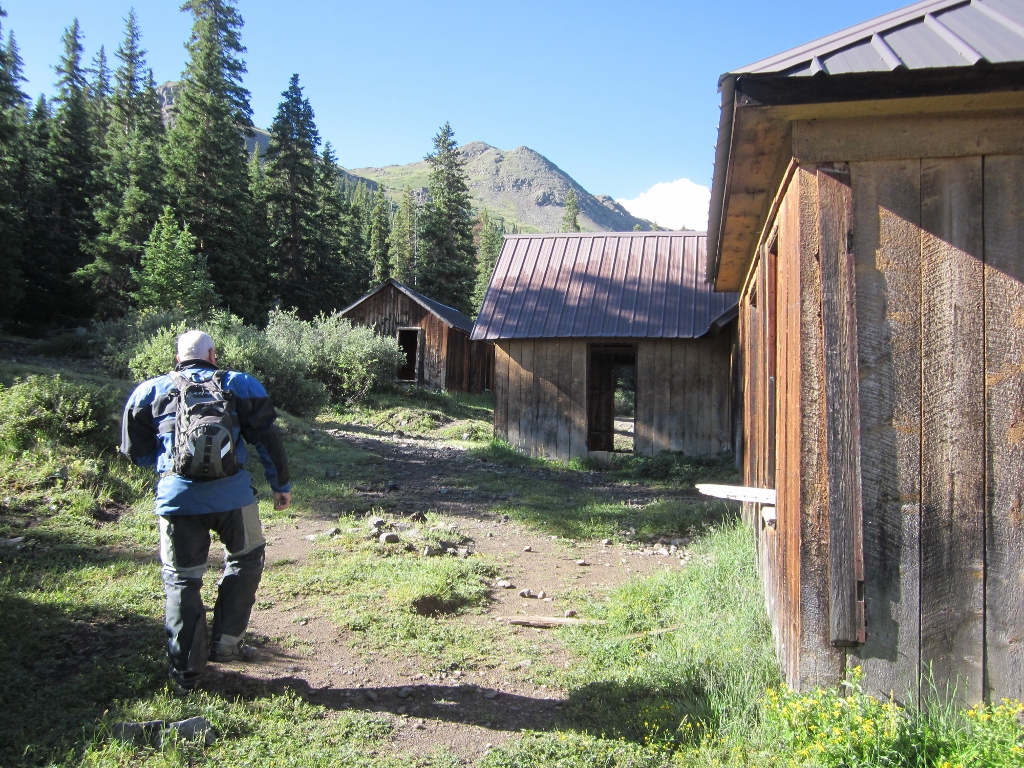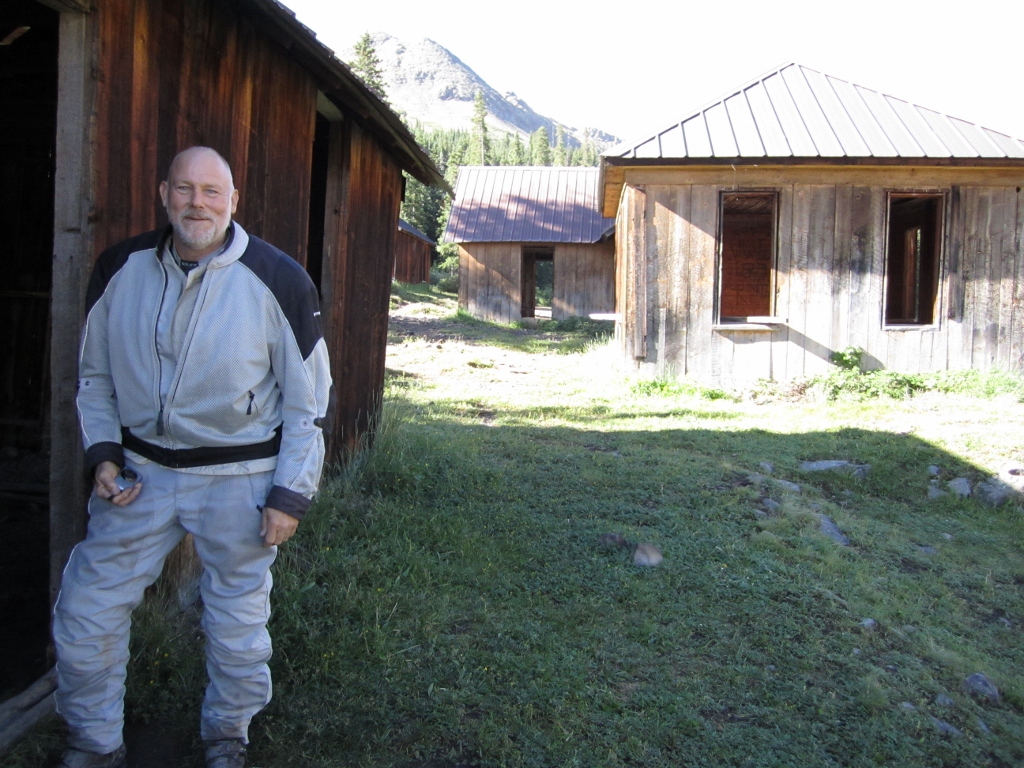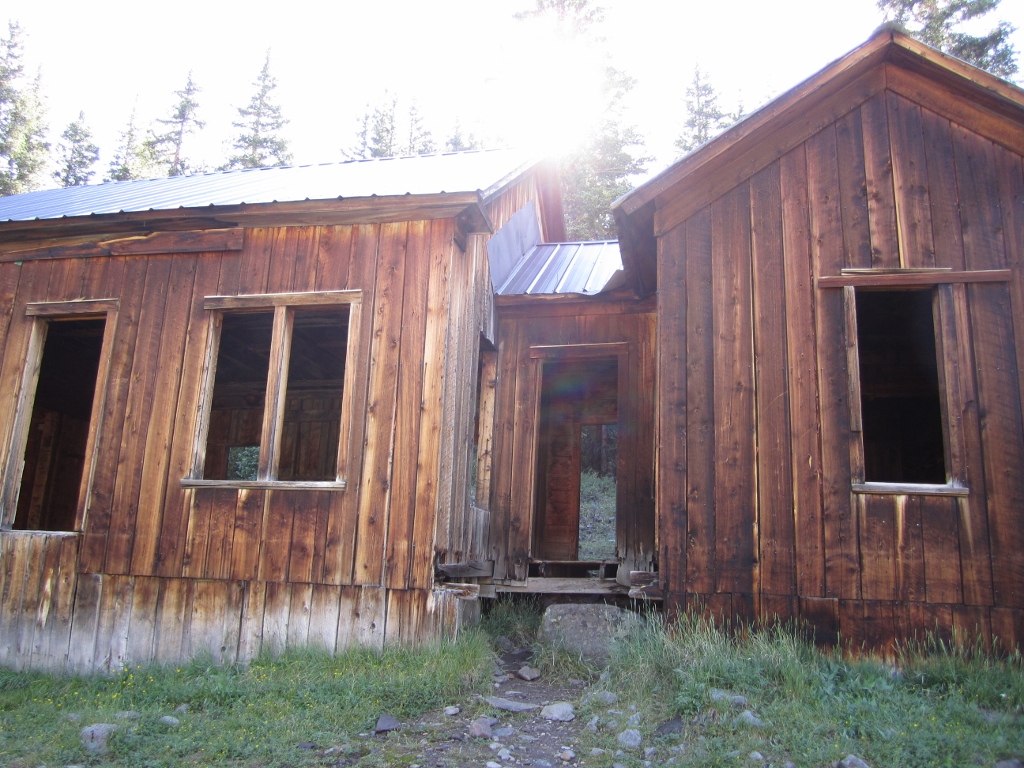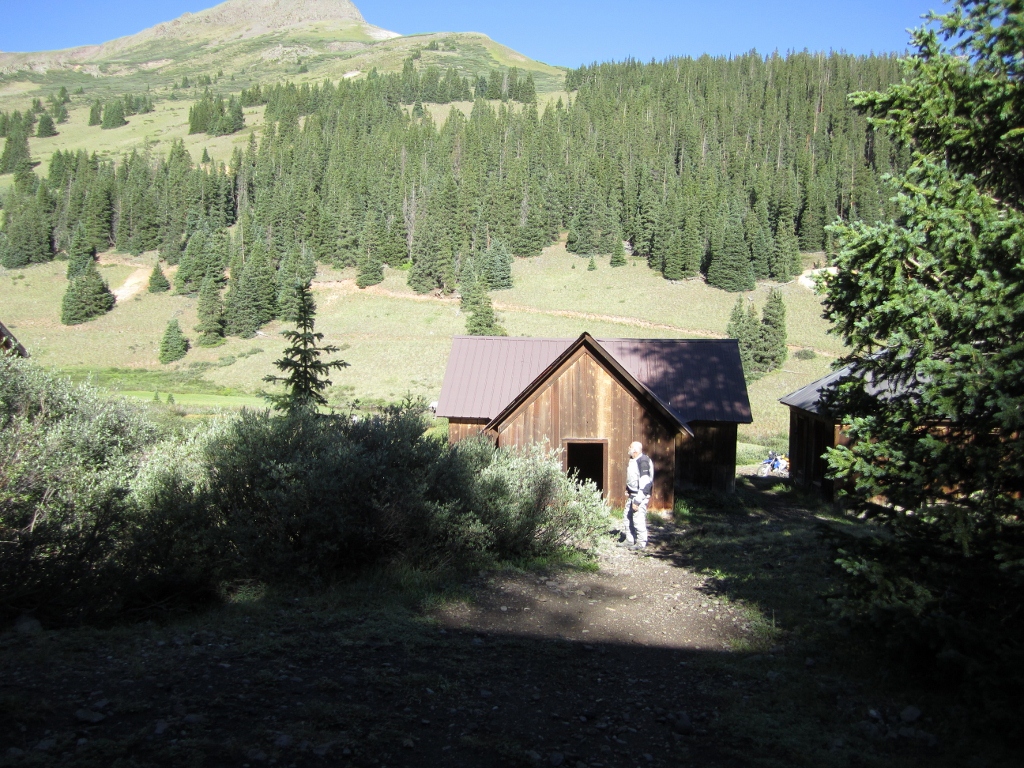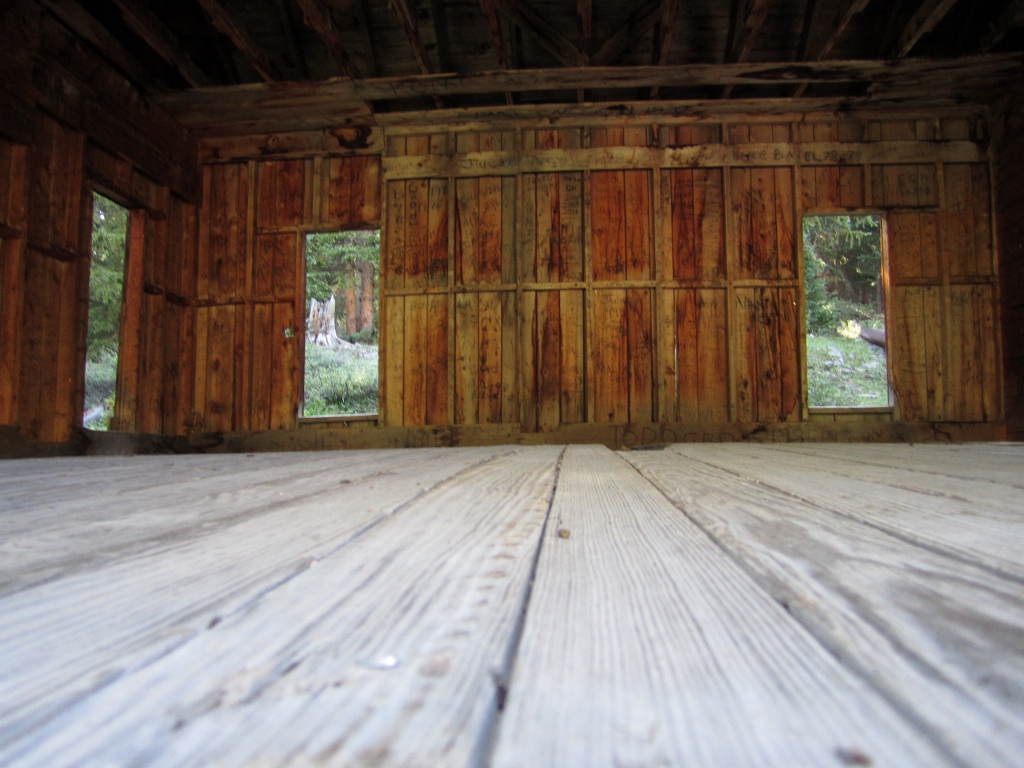 I left my card in one of the old buildings-------go find it---and send me a picture with your mug in the shot.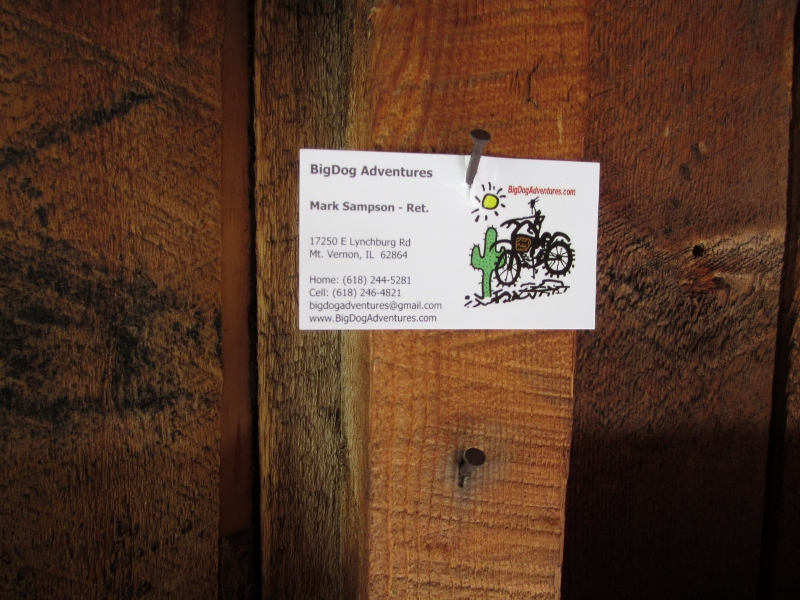 As we rode further South and toward the much higher pass on a shelf road we saw many mines close to Carson.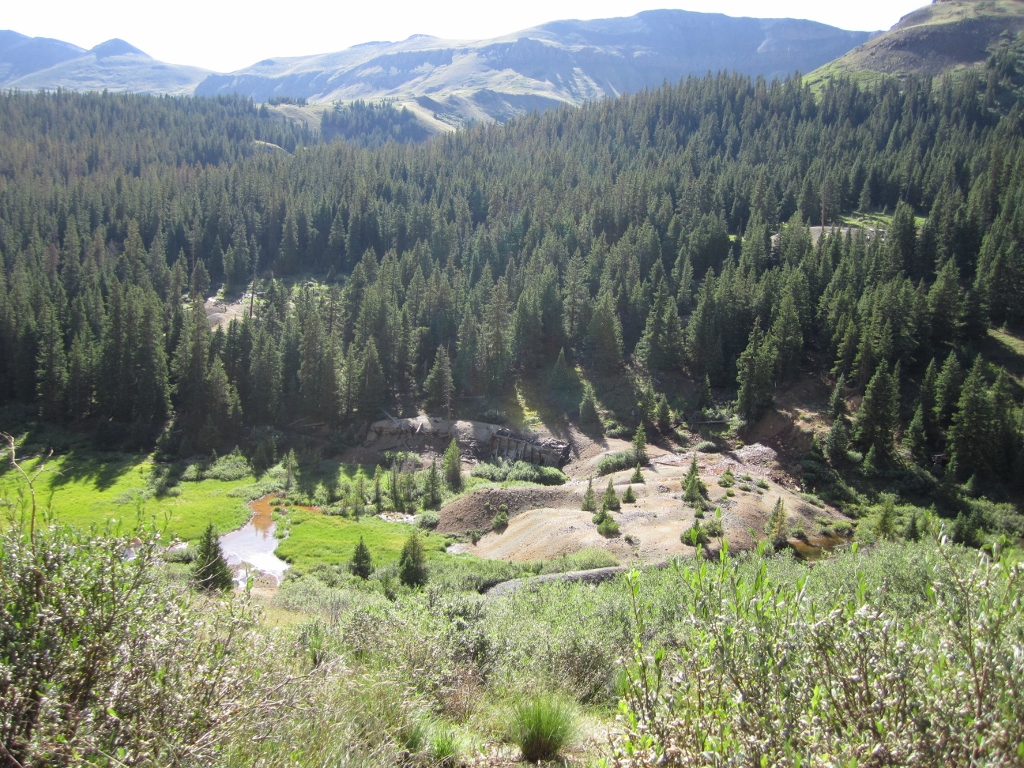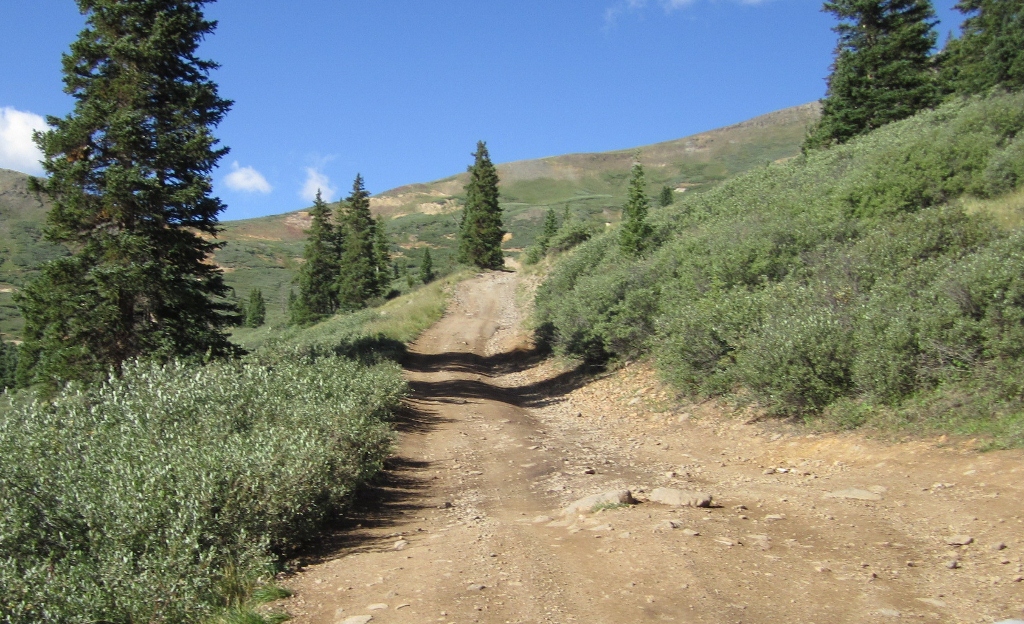 Top of the pass-----------awesome !!!!
2 things had me pumped----I'd never been thru here and it was..........awesome--------thanks Sam !!!!!!!
The TAT will never go thru here I can guarantee that----there is much tougher stuff ahead where we should have been riding unladen dirt bikes.
Sam has already had to re-route much of Colorado because of whiners belly aching about the tough passes---and didn't ride a proper bike for the ride.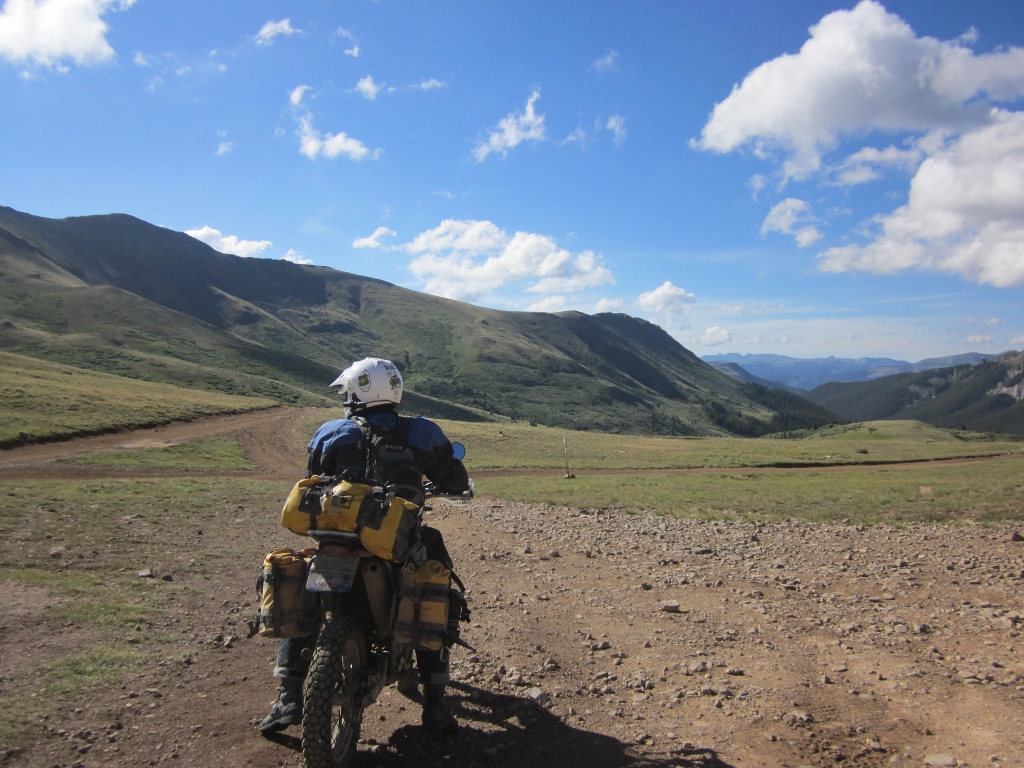 Poor ole' Scott had a hell of a crash in here----I was in front and never saw a thing till I got home and watched the video footage he took.
It was a heck of a crash and the mud got in his throttle and he had to wash things out----but he never killed the motor and
rode on. I fall more than him and I'm always glad he's back there to pick to help pick me up. Later on I get my leg hung up and can't move.
I hated that tire on the back of my bike---it was way too small and not very aggressive----it was the only thing I could find when riding out
East on the TET----I'd get rid of it later thank god.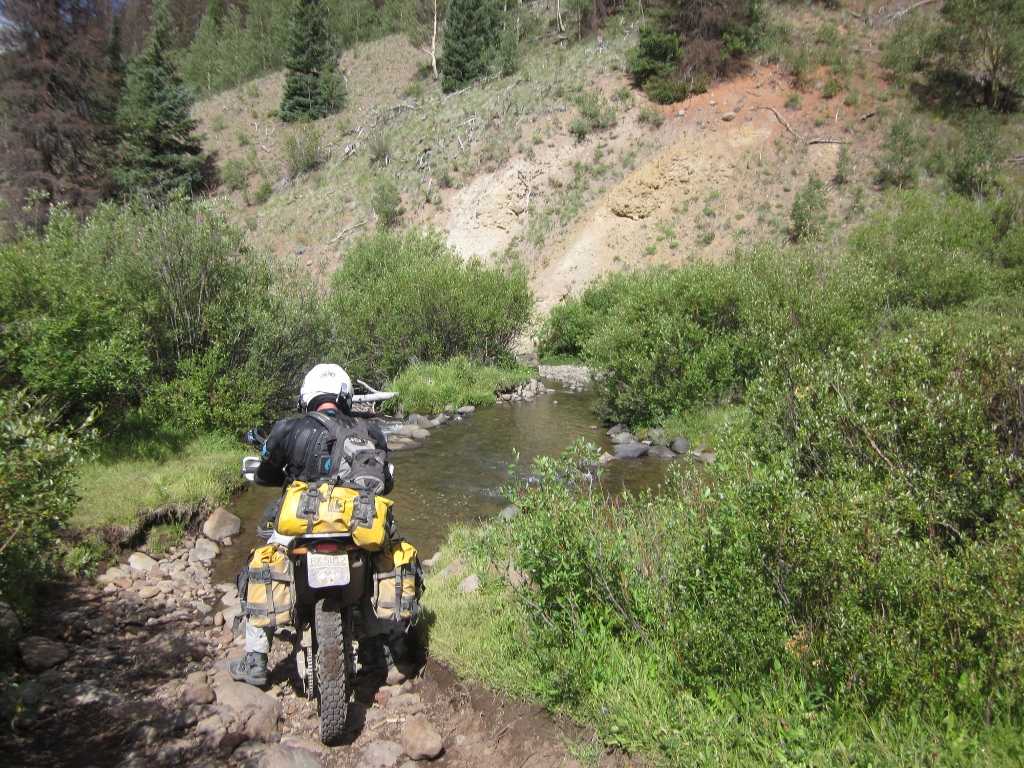 It was down in here where we ran into about 30 college girls camping and hiking. These girls were way out here on some pretty tough stuff.
When we rode by their camp one of the girls came over and we talked quite awhile----Scott had his video camera on and it's interesting.
I was too dumbfounded to have mine on--and took no pics---thought that might be rude.
We called it the "Bugs Ear" campout.
You were required to be cute as a "Bugs Ear" to go on the hike---that's all I got to say about that.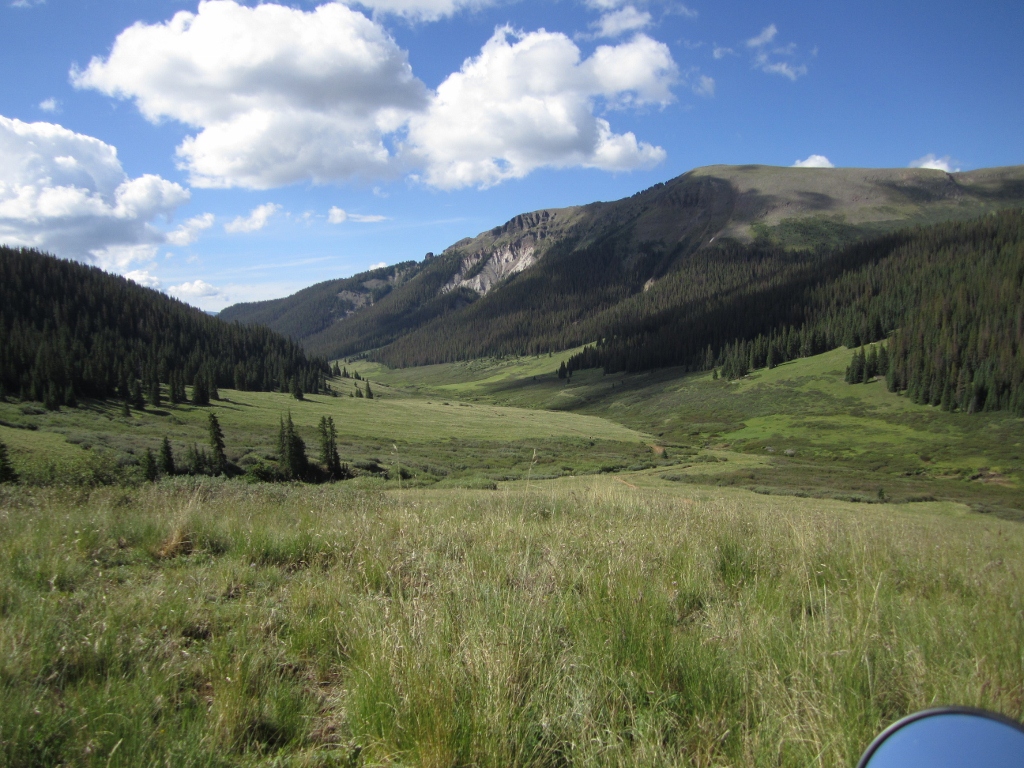 No jeeps or large side-besides thru here.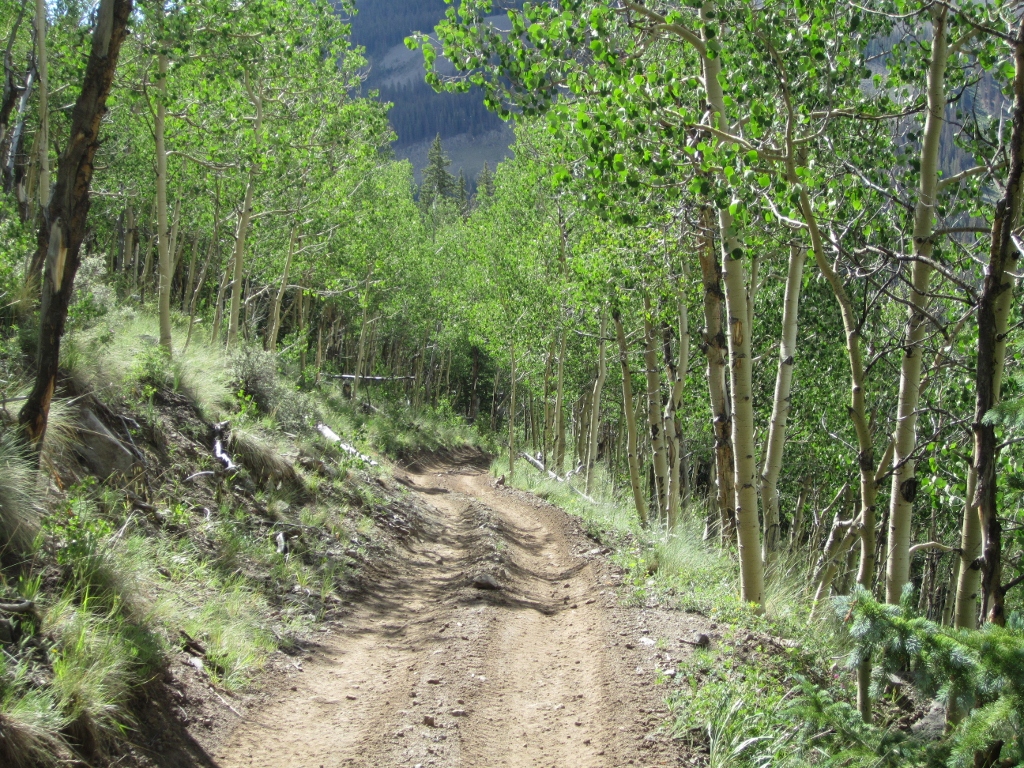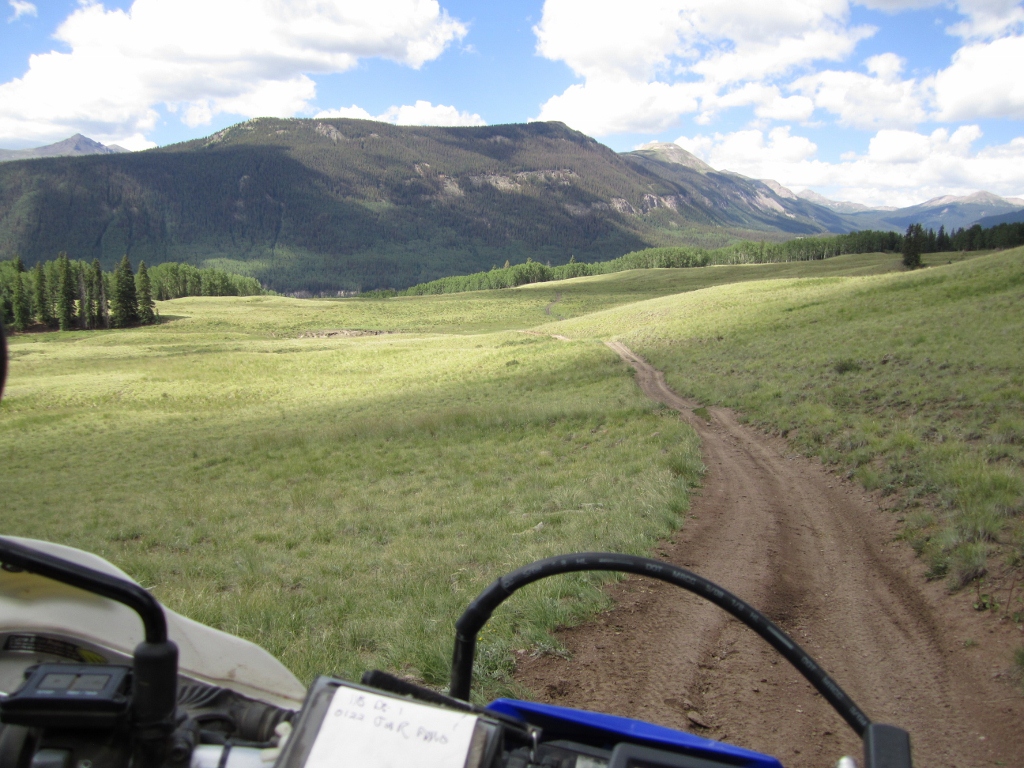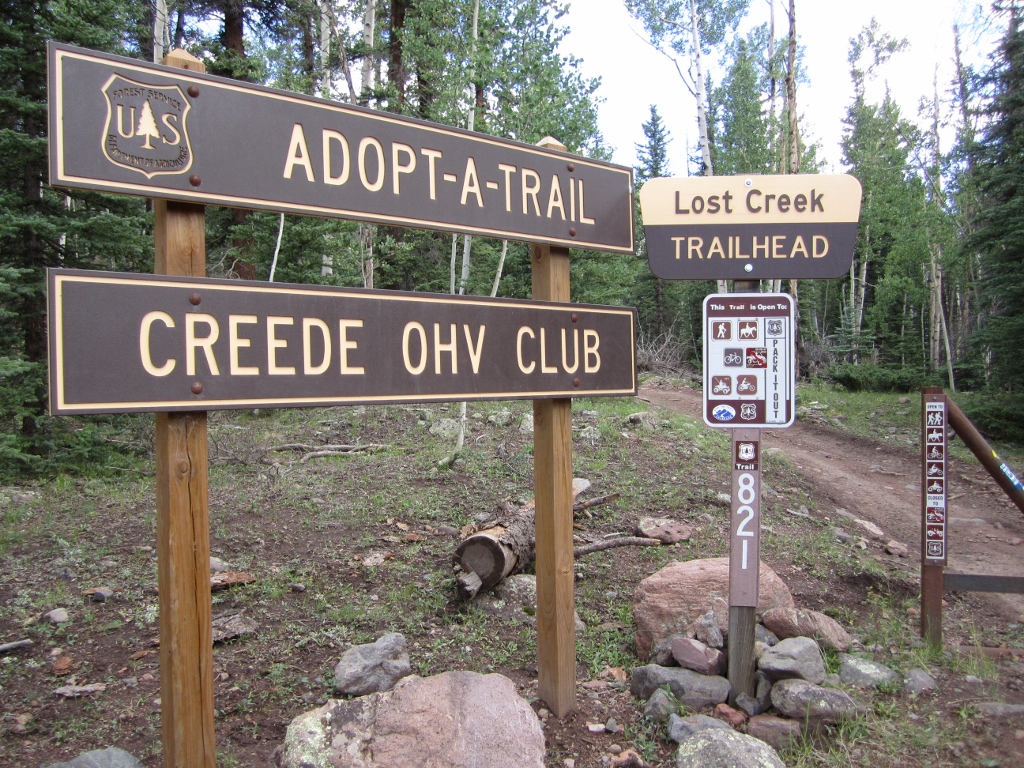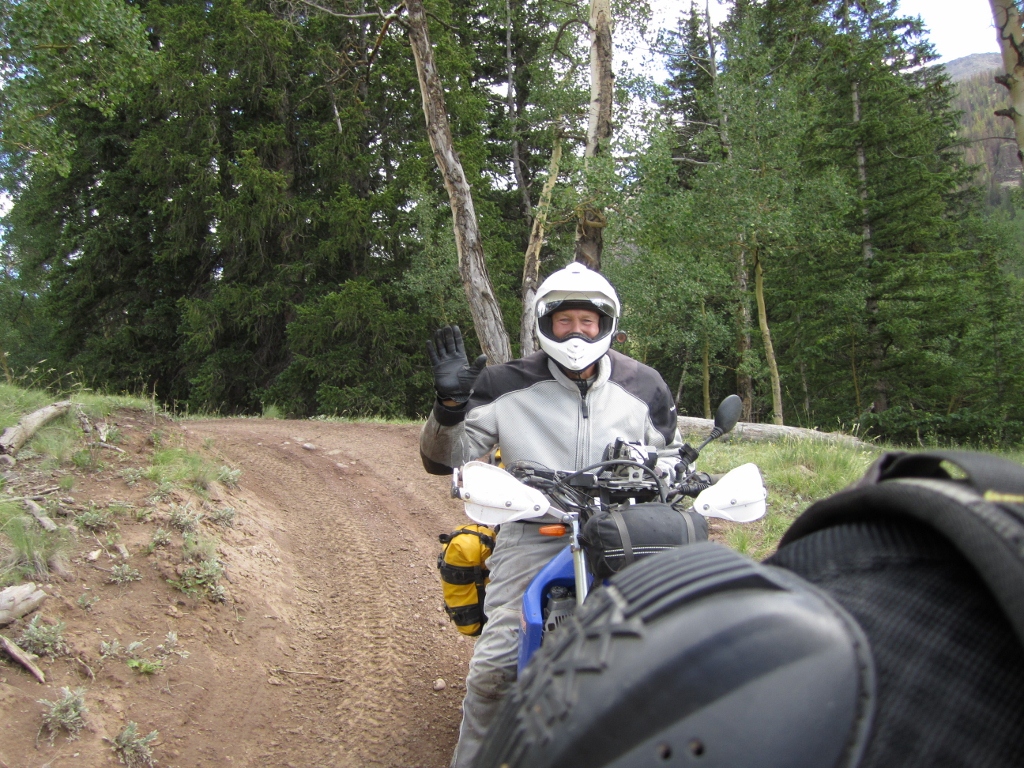 Wager Guch road had turned into Lost Creek Trail somwhere in there.
At this picture we had hit the main Stony Pass road.
Words of caution------there were lot's of places after the pass going South that were unbelievably steep-----we slid down them out of control
and it got really dicey---all the time I'm knowing there was no way I could climb up the hill I was going down---no way.
Even tho it wasn't that wet---------we ran thru a marsh that was black deep mud for about 1/2 mile.
The tool to ride thru here is an unladed 240 lb. or less dedicated dirt bike----not a dual-sport---not an adventure bike---we lucked thru.
Going North you probably won't make it riding anything-----Going South like we did you won't even make it if it's wet.
All of our pics look easy------------some of it is "NOT".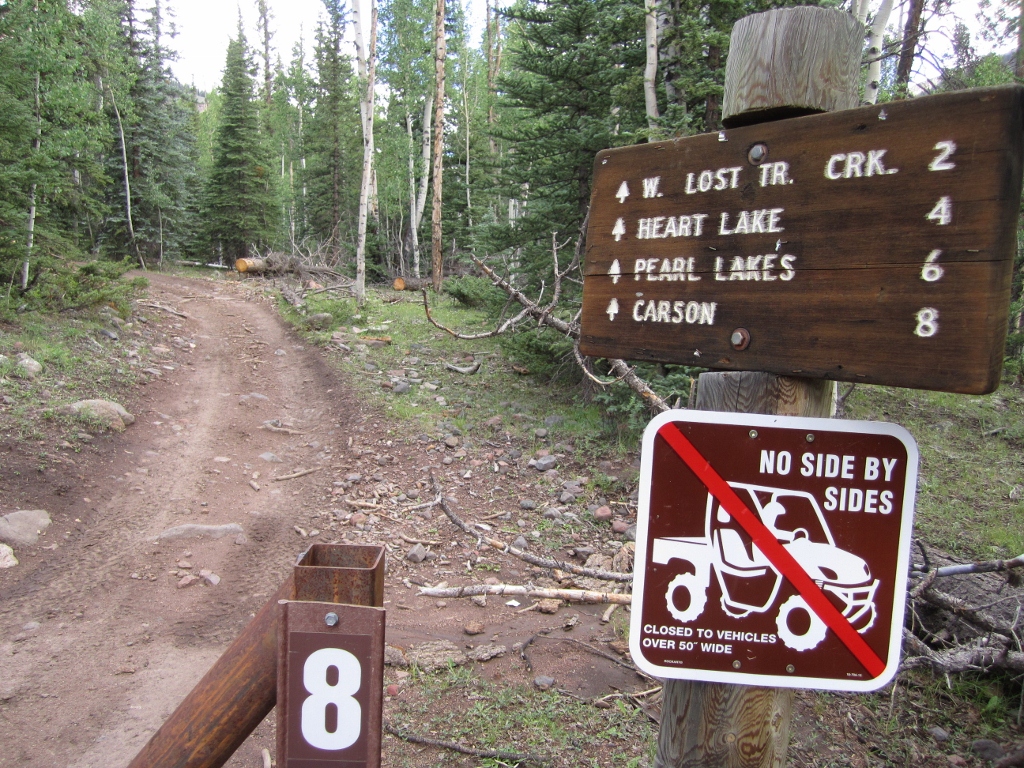 So we hit the main Stony Pass road-----which is right where the Rio Gand River starts. I have picture of that elsewhere on my website
when me and my son rode this pass road. Pretty neat and beautiful place.
I had no idea ----as we were winging it that we'd get down into New Mexico later and cross the Rio Grand again in the middle of the desert
and go over the coolest old bridge built in 1892.

You can see Pole Creek down below.
2 years ago with my son the water was much higher and we had ridden over Stoney pass in the rain, sleet and snow and it was freezing.
We came to Pole creek------it was much higher and I cautioned my son that we should turn back and not get soaked if we fell
and frickin' froze out here. I turned my head and he let out the clutch on his mighty Husky 610 and blasted right thru it----I had no choice but to follow
and we made the long ride into Lake City without any further problems----good job Marty !!!!.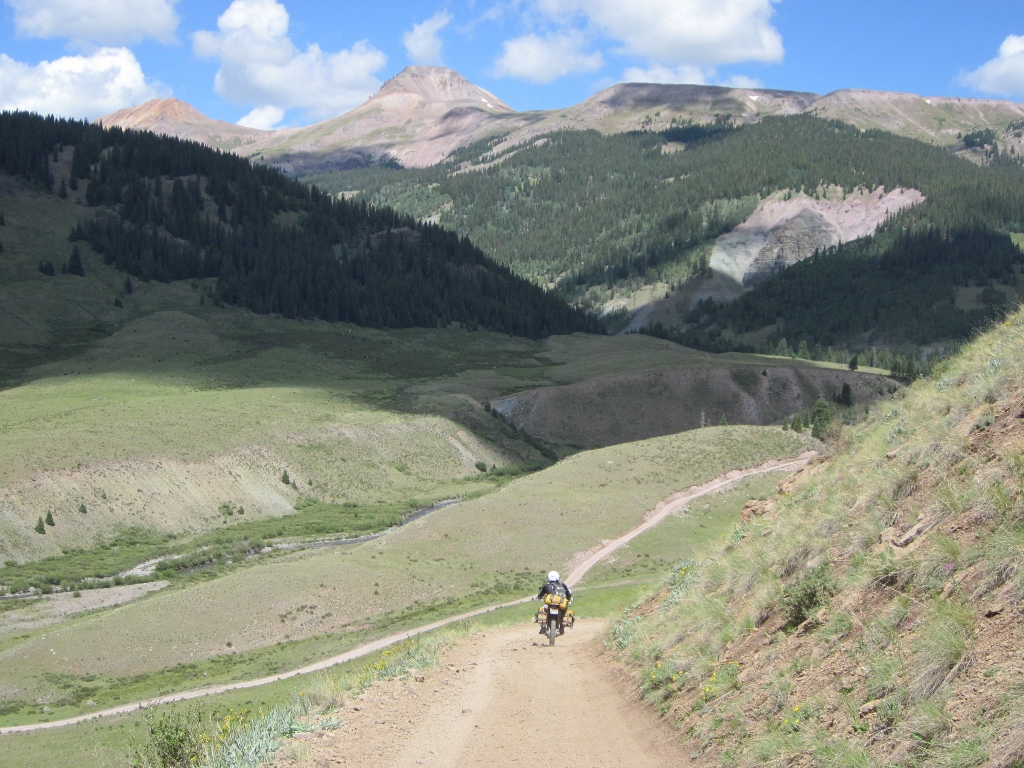 Towards stony pass.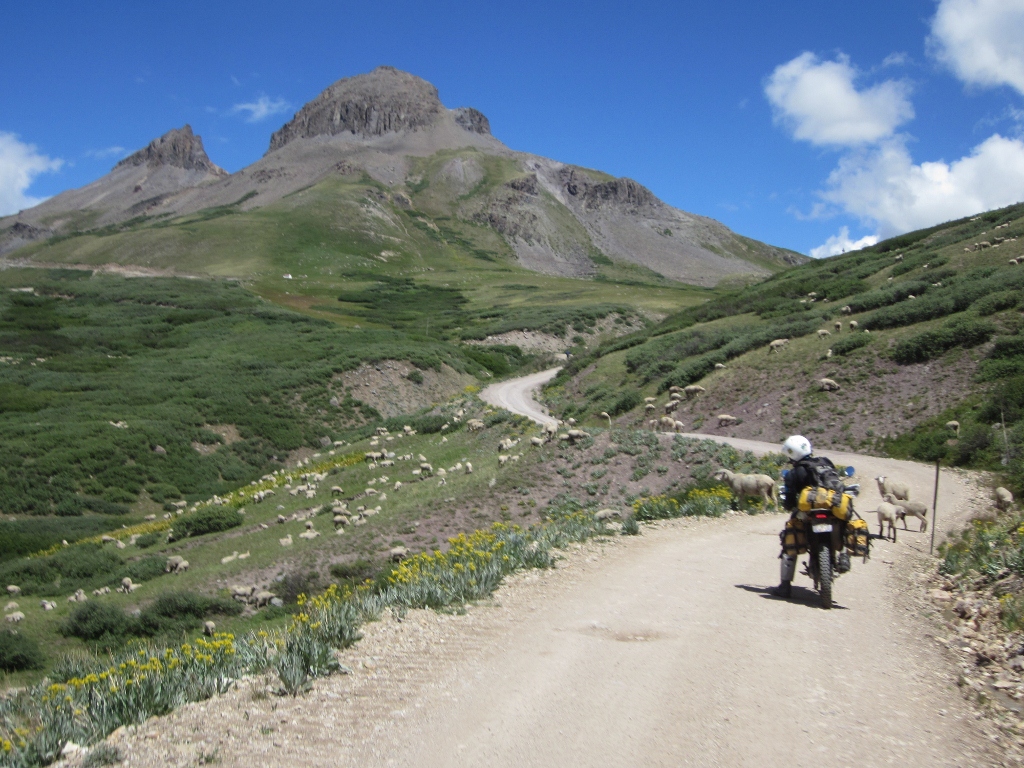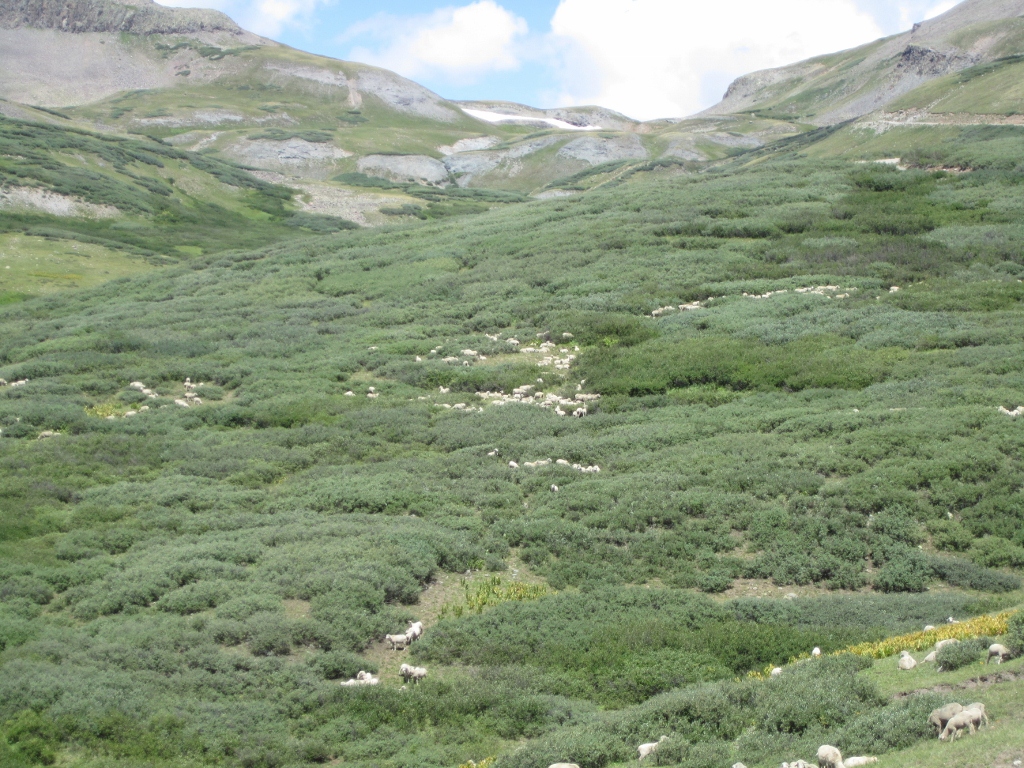 My good buddy Scott-----I forget how he got the name Dingweeds--but I forget a lot.
One of these days I won't be able to find my way home I suppose.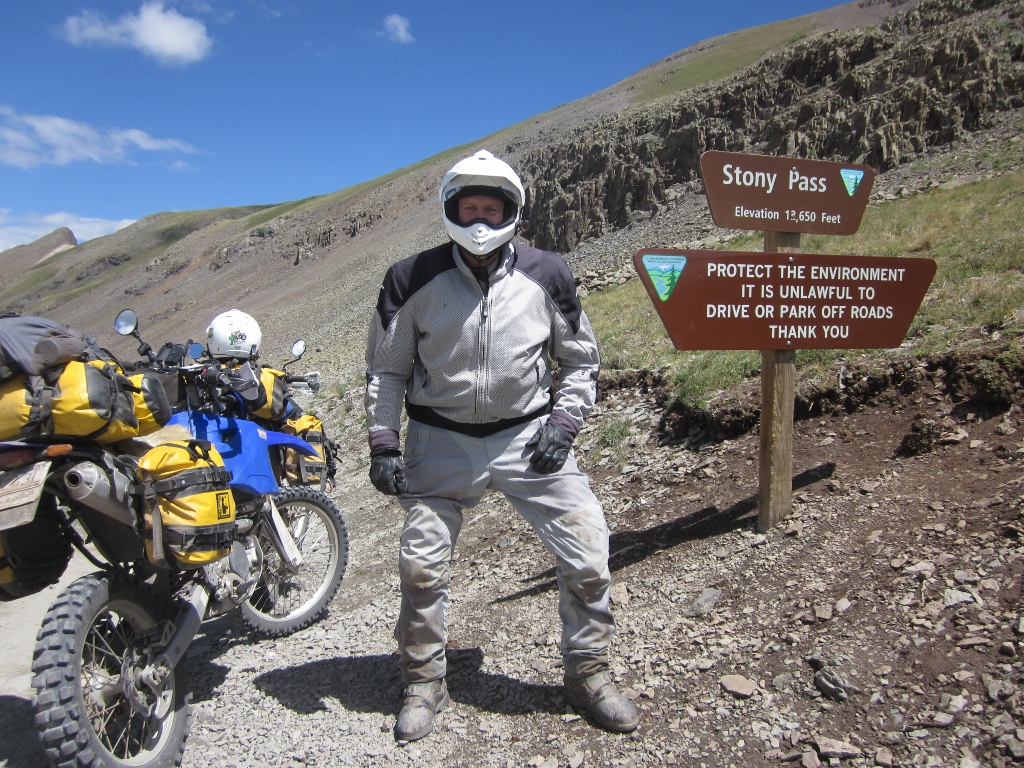 We eventually hit the dirt road that's between Silverton and the old mining town of Animas forks and proceeded up
Hurricane Pass and Corkscrew Gulch heading West. I don't think I had been thru here since me and Gaspipe did the
Western TAT.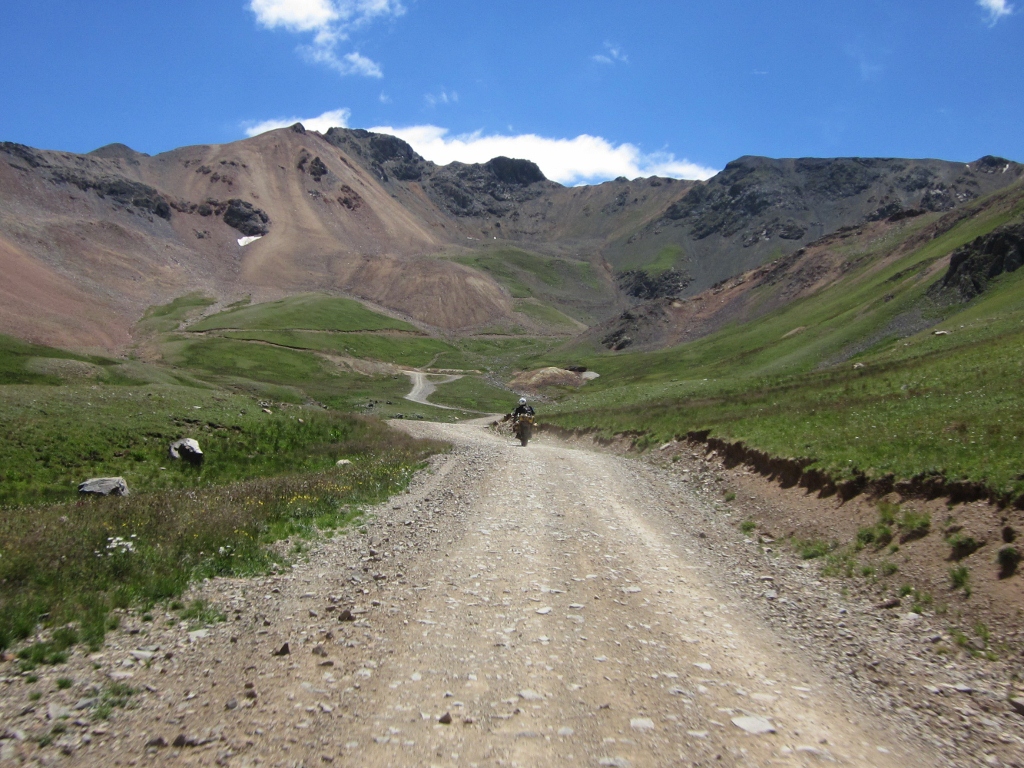 I hadn't been over Black Bear pass since the year 2000 on my unladen DRZ400S.
Scott hadn't been over it------and with my knees starting to shake from the memory of when I last went over it----off we went--without a lick of sense.
The climb to the pass before you get to the scary part is very steep and loose and the swithcbacks are so tight a long wheel-base vehicle can't hardly do it.
Rented Jeeps are forbidden to come up here---lot's of people have been killed up here.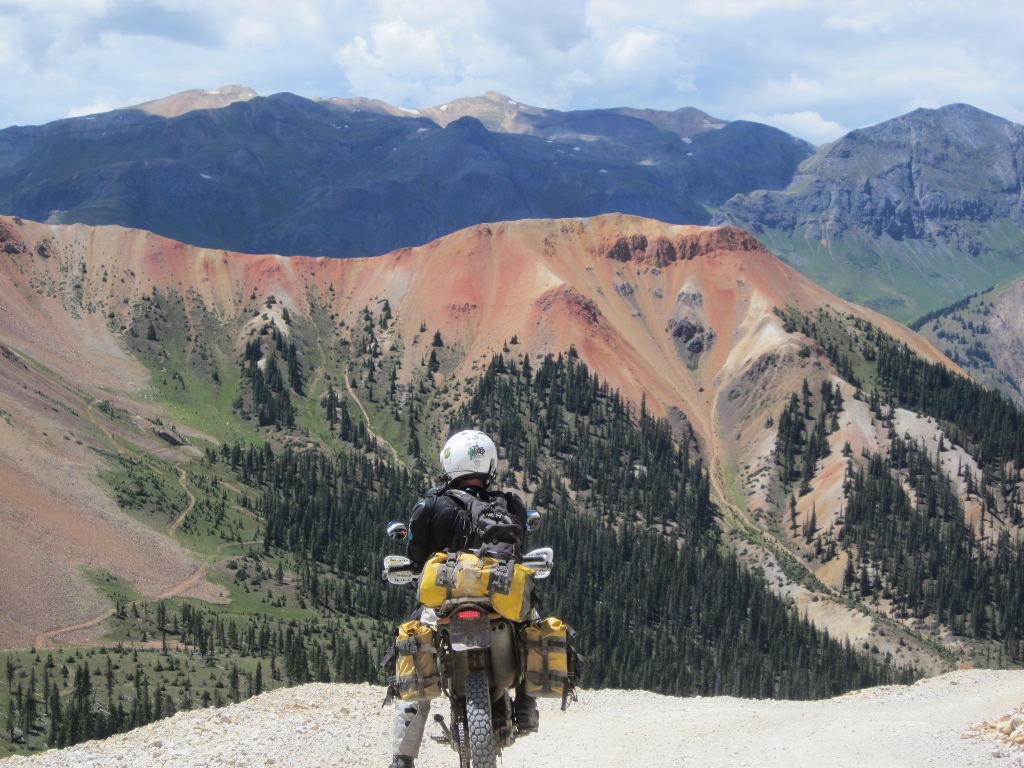 This is pretty much all the snow we saw on this ride---never seen it like this.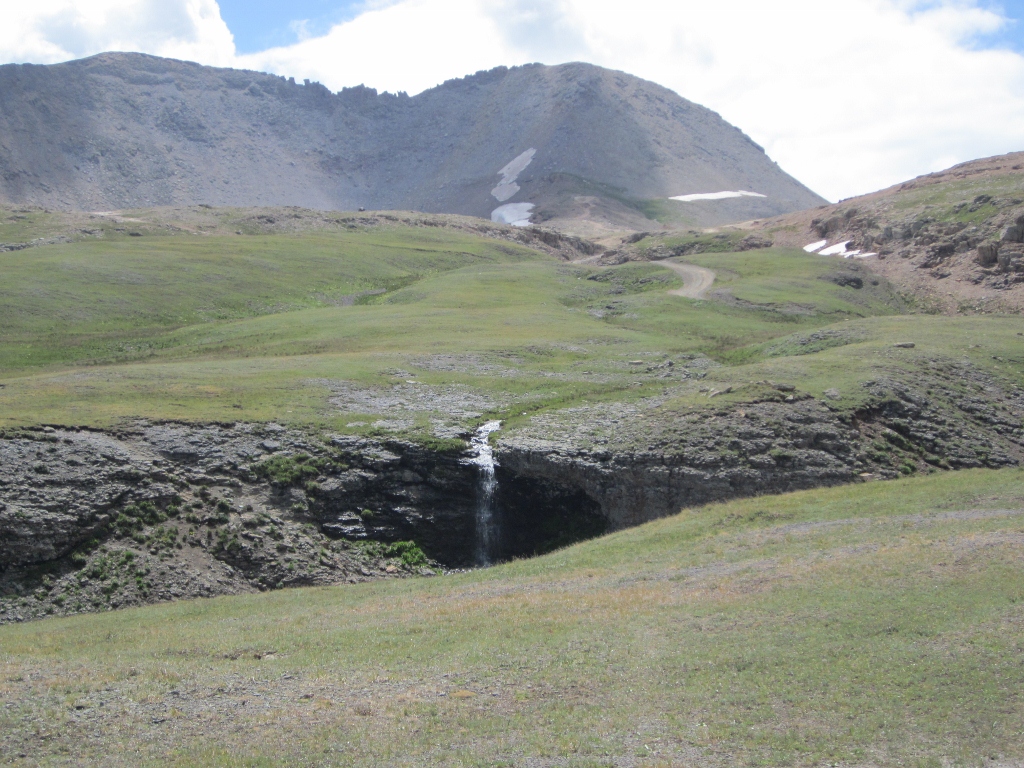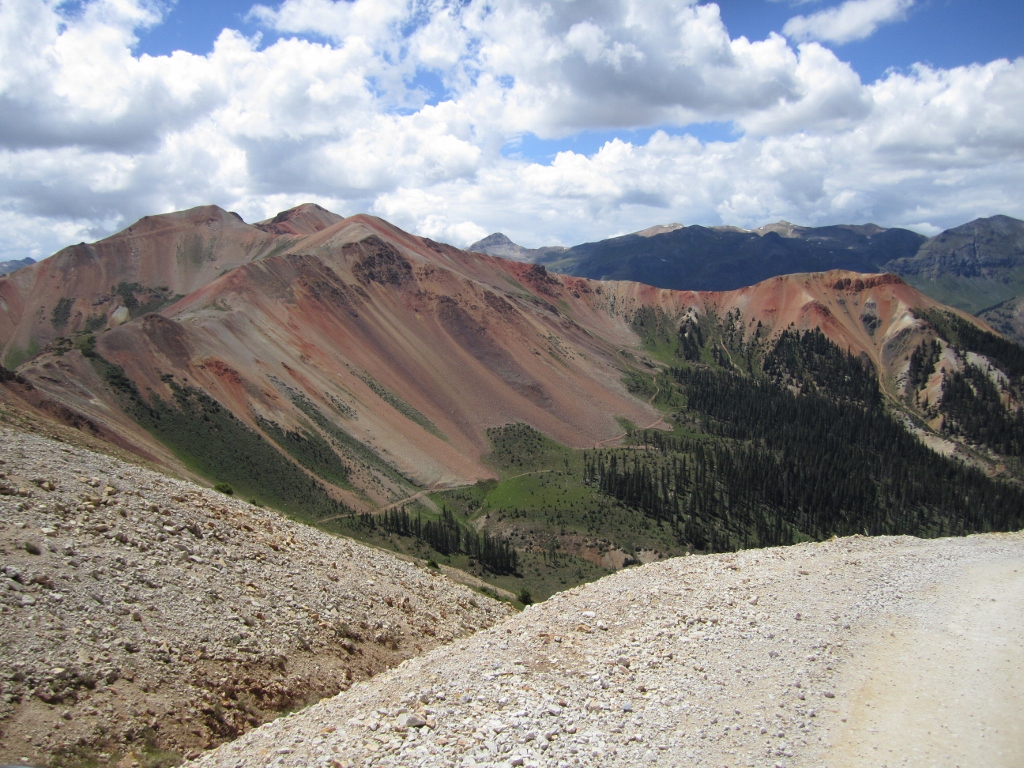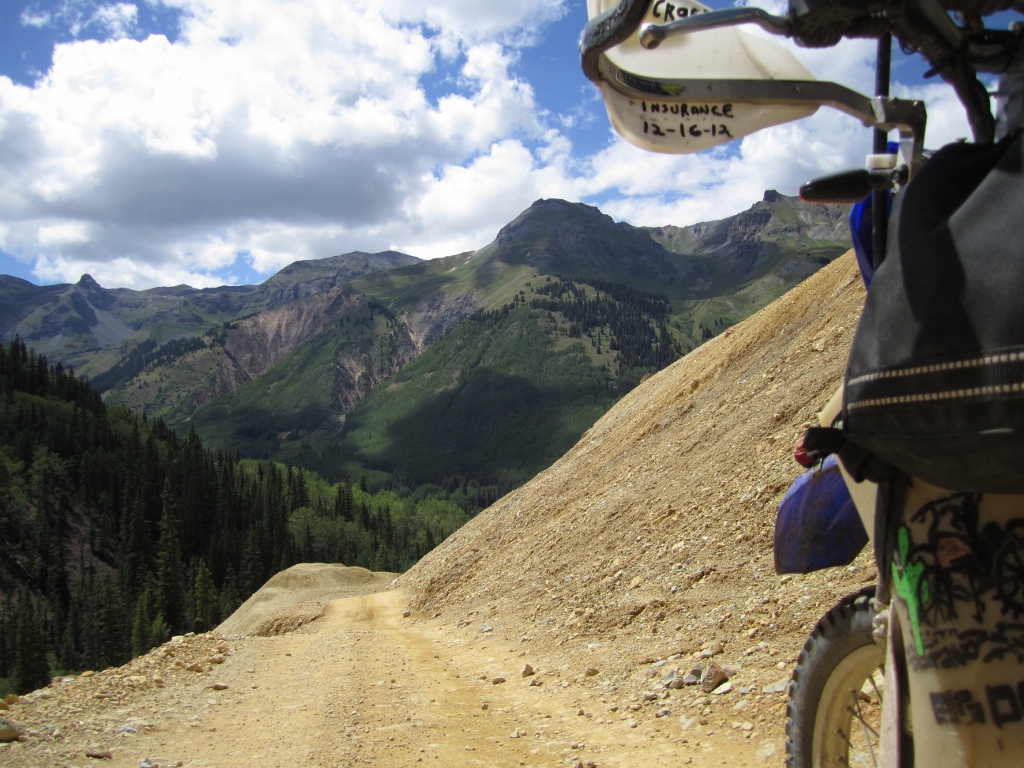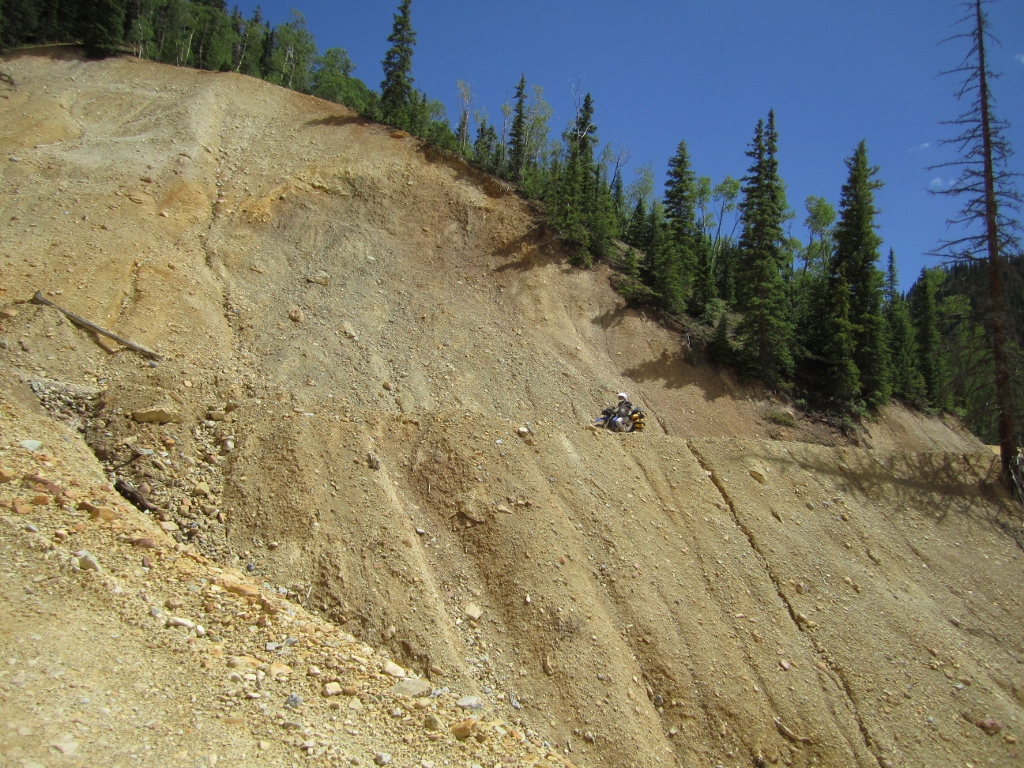 If you come up here-----------don't get relieved you've done the worst part of this at this sign--not even close.
It's the descent down the other side in view of Telluride is where it gets scary and it's one way traffic as there is no room to pass.
It's really not that tough--or I didn't think so--------it's just the thought of if you screw it up you ain't going to live to tell about it----and
that makes you knees knock---it did mine again---and it did Scotts'.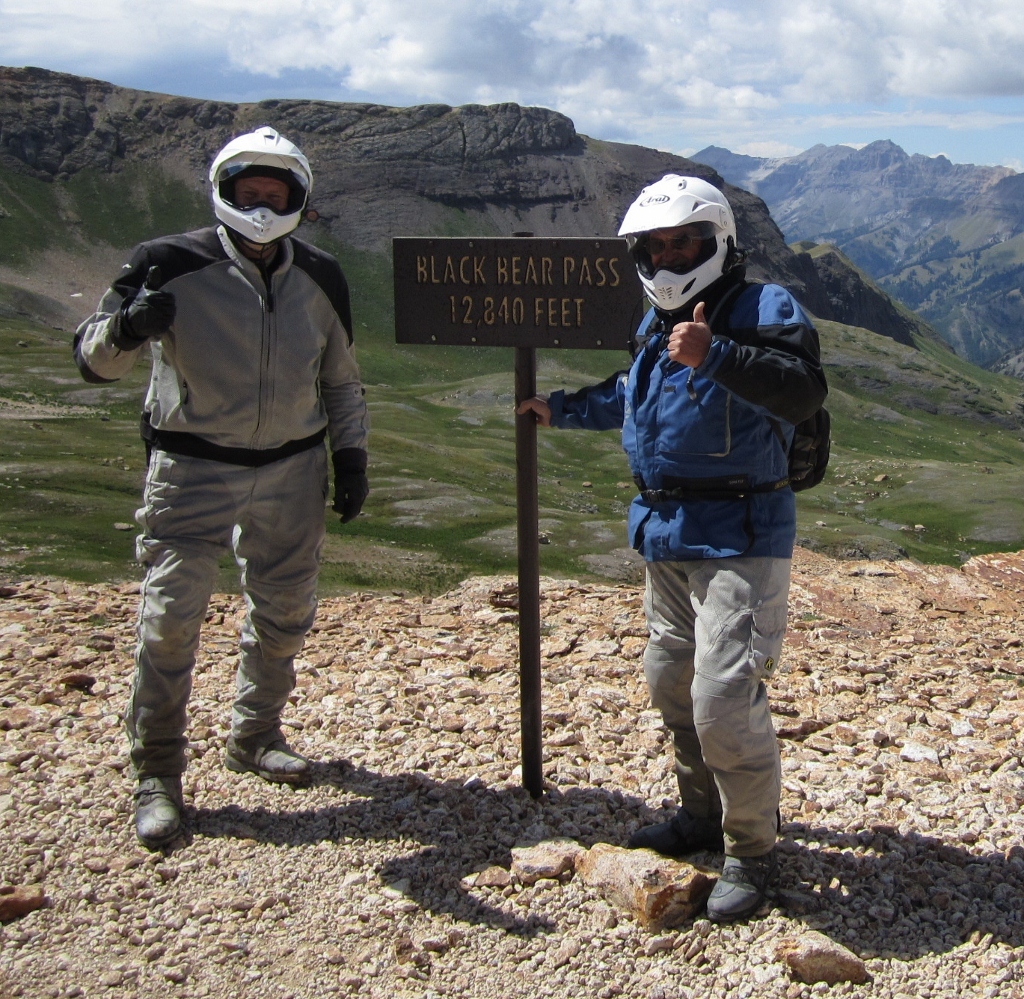 If you miss the 90° turn at the steepest part going down---this is what you'll see on your flight down.
Take a good long look-------it will be your last.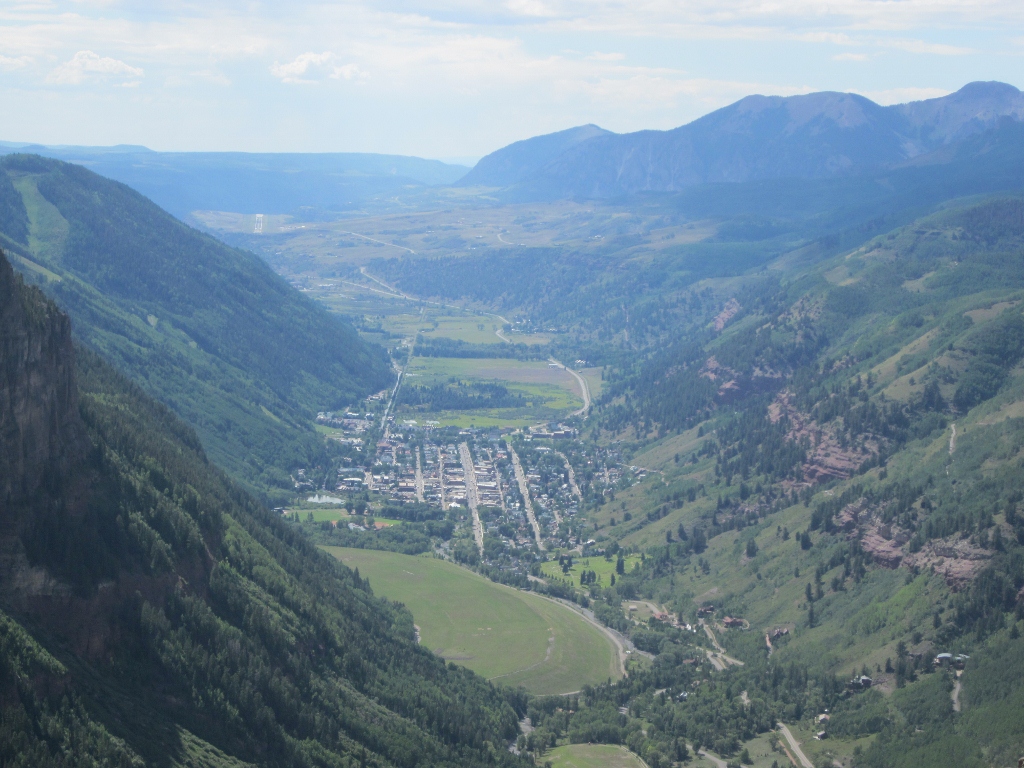 This is the picture I took in 2000 over the handlebars of my DRZ---I was too scared to run the motor and shut if off.
For about 150 ft.-------I'd inch forward a bit--lock up my brakes and then skid on the loose shale about 4 ft.---finally skid to a stop--knees
knocking-----heart throbbing-------then repeat. When you round that corner at the bottom of the picture---it's easy.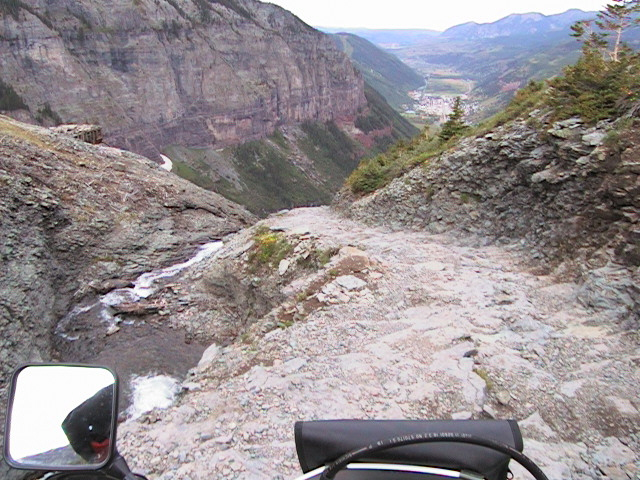 The helmet cam footage we took of all this is priceless---much heavy breathing and trying to sound tough.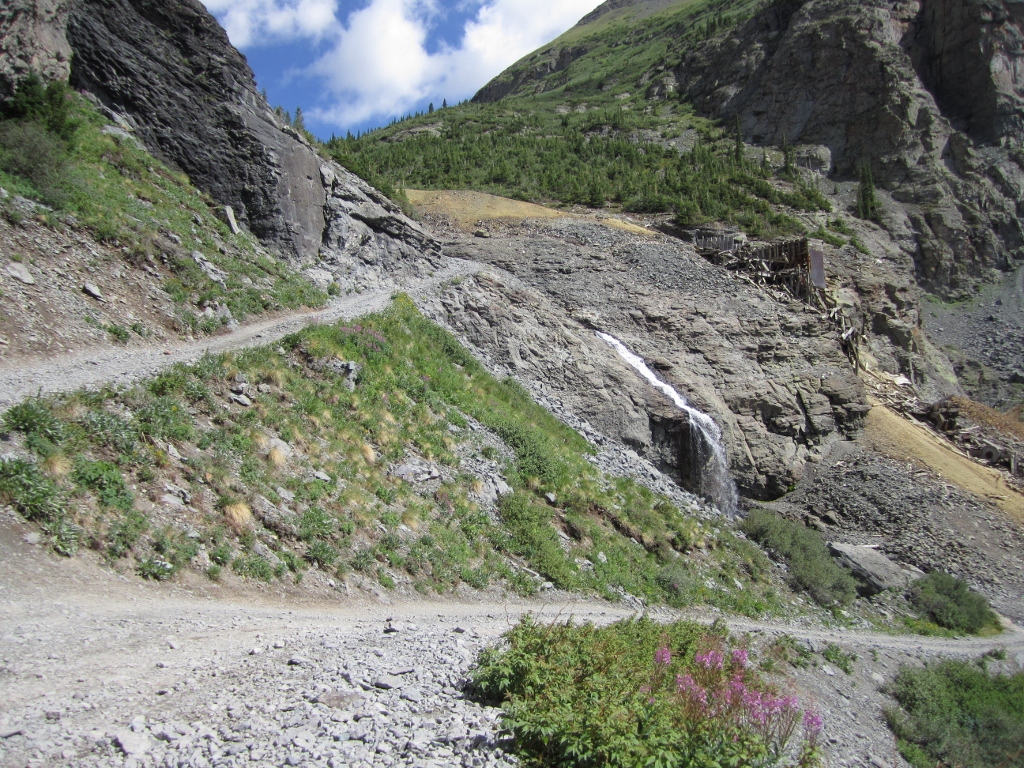 Briday Vail falls.
The building use to be a hydro power house to provide electricity to the mines and the town of Telluride.
What's city in the US was the first to have city wide electricity ???? Telluride.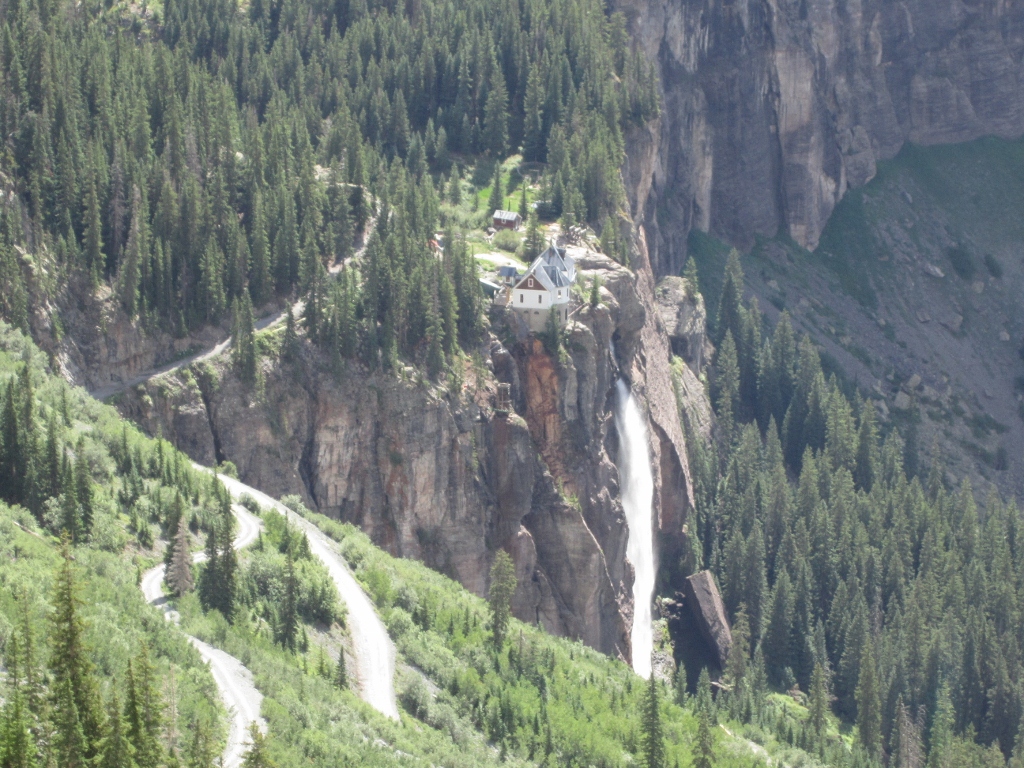 They have re-routed this rode down to Telluride since I rode it----as you use to ride under that water fall.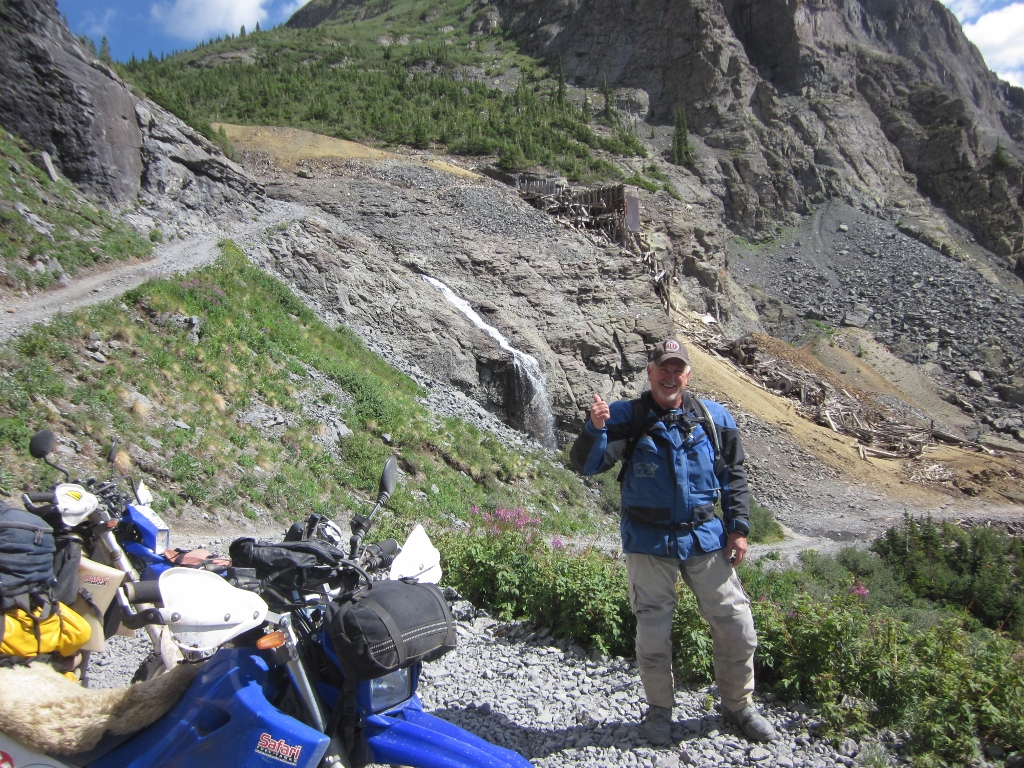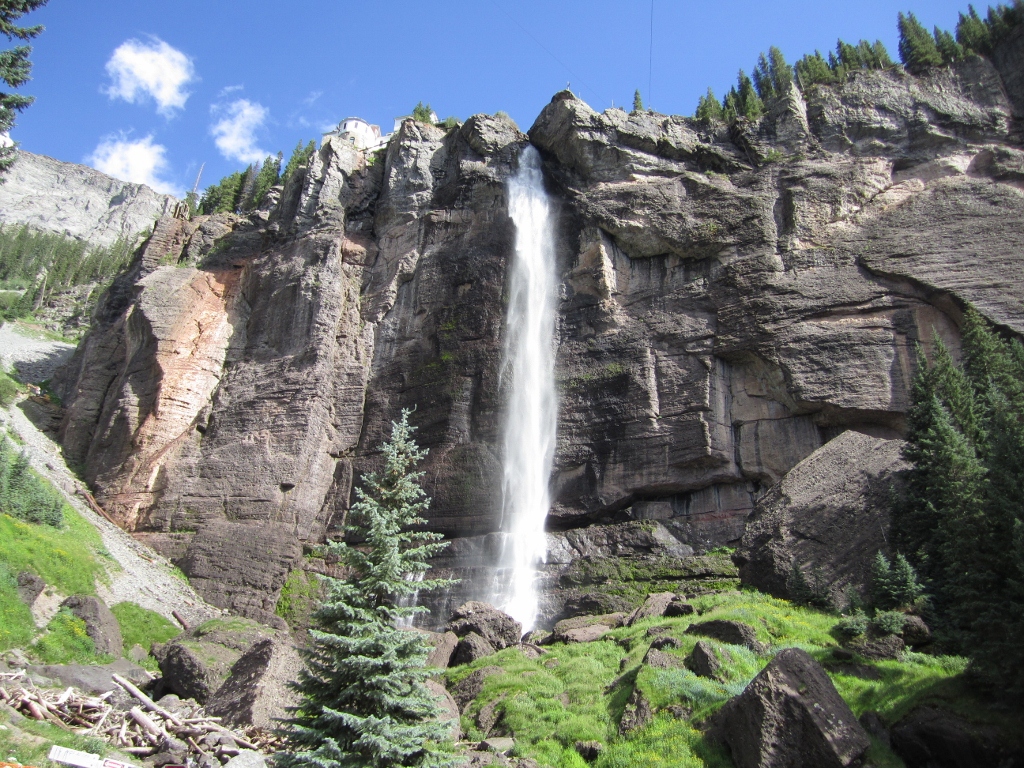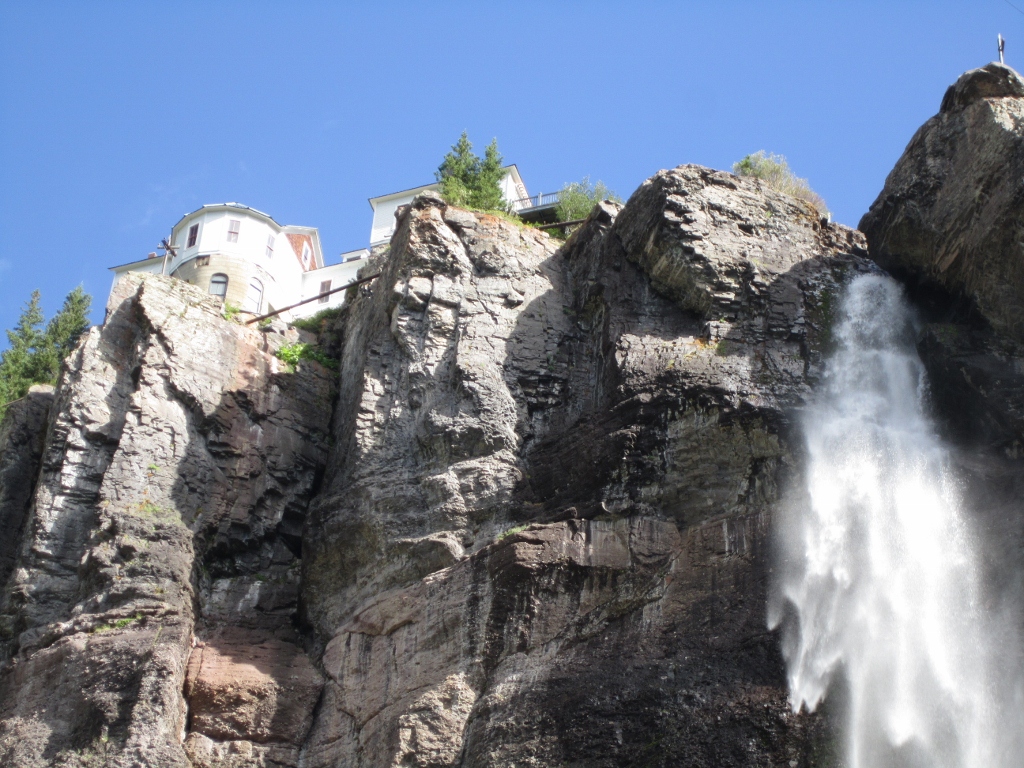 When ate in Telluride--but that town was a bit much for us---and we headed out to find a campground ---and did.
I believe it was the Sunshine campground on rt. 145 south of Telluride just a few miles.
We set up camp and went to bed not really thinking Scotts backpack (full of food) on his bike would be molested again.
As we went to sleep--------they crept in.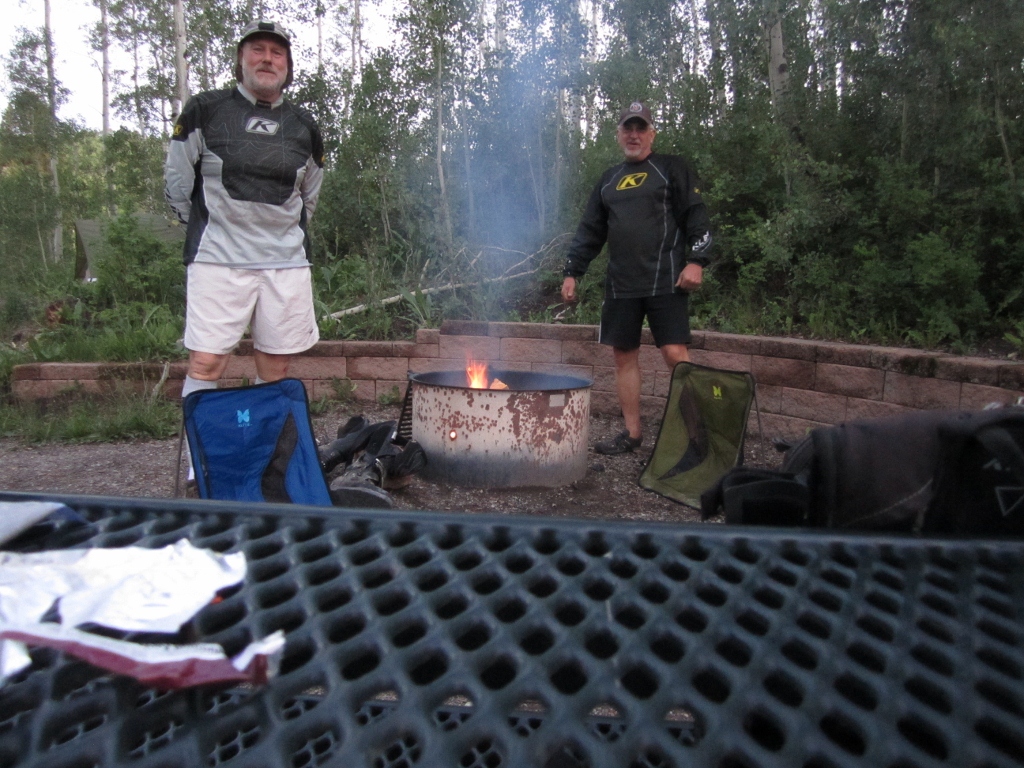 153 Miles for the most excellent day.
Day 5
July 26th, 2012
Our 5th day was to be kind of short lived----from out of camp we had a really big day coming up that we were extremely excited about.
A guy I know (John) from Colorado was putting together a huge extreme offroad ride-----1,000 in 7 days.
How can it take 7 days to ride 1,000 miles you ask ????? The tough--and beautiful terrain is why.
He laid out a really neat route-----a whole lot of it I have ridden years ago---and I knew how tough some of this was going to be.
But it was this picture of one particular part he laid out-------"The Sheep Creek Trail" that had me mesmorized.
I hadn't ridden there and this picture put me over the top in anticipation. This is John's picture.
See the little guy---riding his dirt bike in this picture------I wanted that to be me------but how tough was this going to be ?????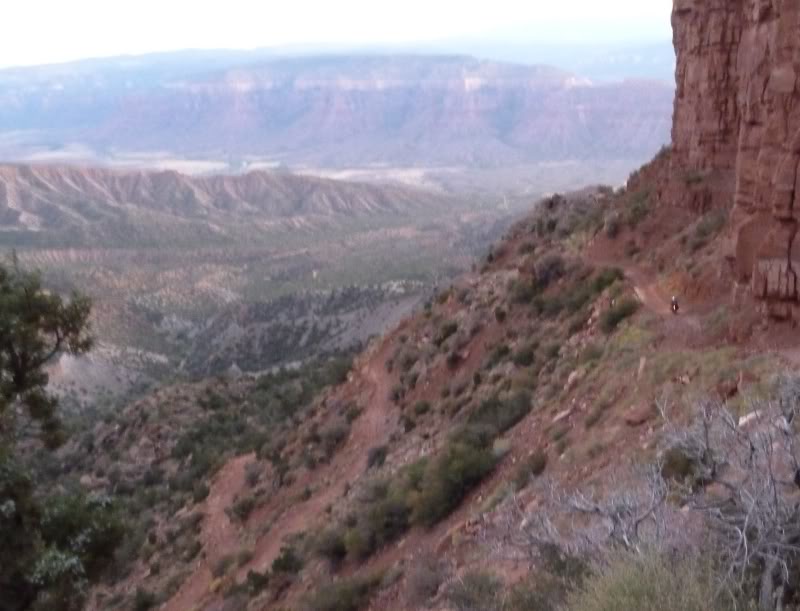 But before we could even get going-------remember the holes in Scotts backback ?????
Seems a mouse---or maybe a herd of them snuck in Scotts backpack thru the holes the bear clawed in it and had an all night party.
Scott had all kinds of snacks in there-----4 different kinds of energy bars---snack bars---peanuts---all kinds of stuff.
Seems the little shits sampled everything----a little of this and a little of that---"oh this looks good---yum, yum, yum--let's try this----oh this is better"----all night long.
Then they shit all in his pack and all over his sheep skin seat cover---and can you see the little yellow pee spot ???????
This was the 2nd night in a row Scotts bike had been molested---and we had no idea another one was coming up tonight.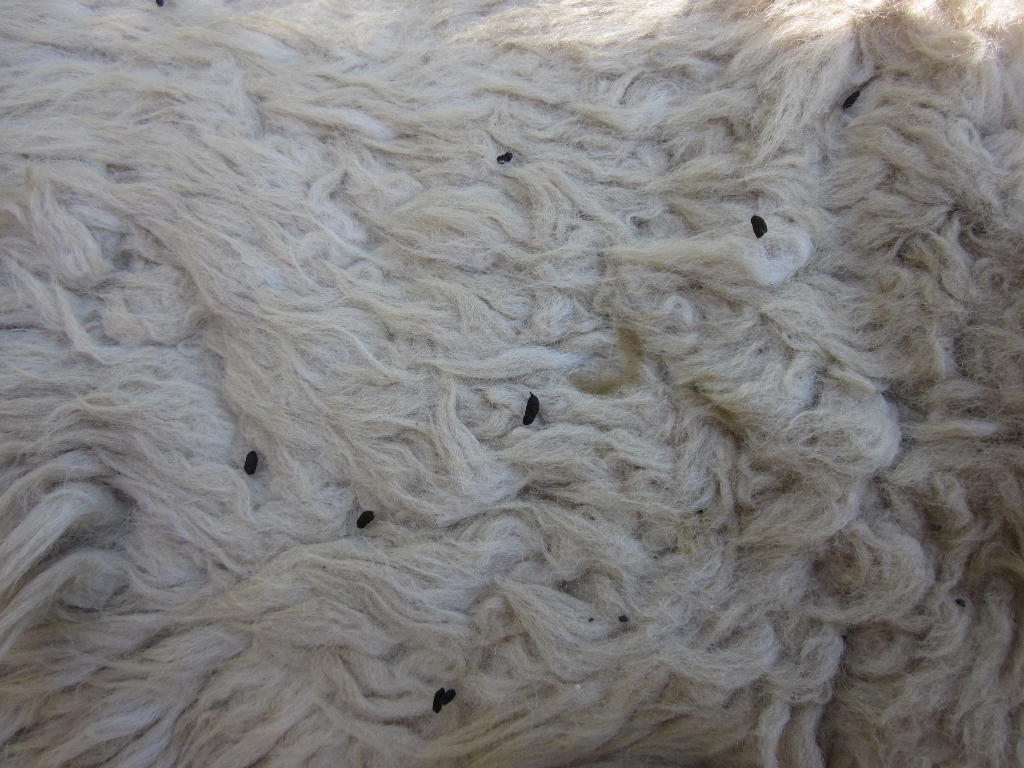 All of this was hilarious to the both of us and we packed up camp and headed South on Hwy 145 to Rico, Colorad for breakfast.
Then back North a bit where we headed West on CR-38 toward Groundhog reservoir.
But we would have some company along the way.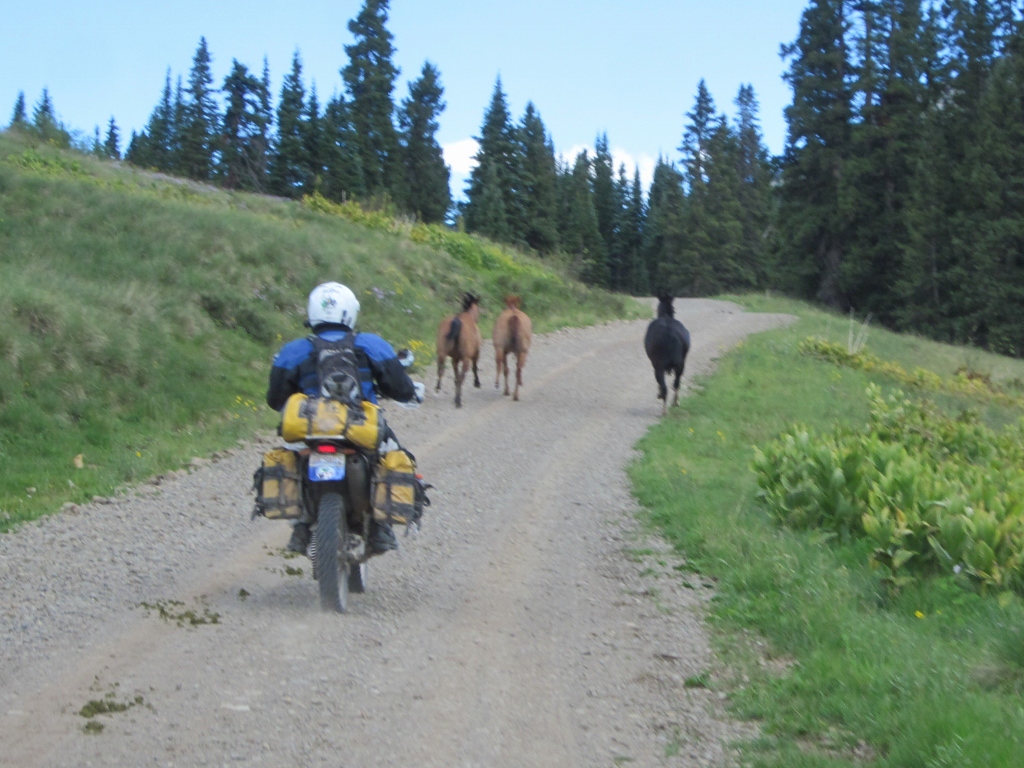 As with all lakes we saw on this ride----it looked to be 10ft. low.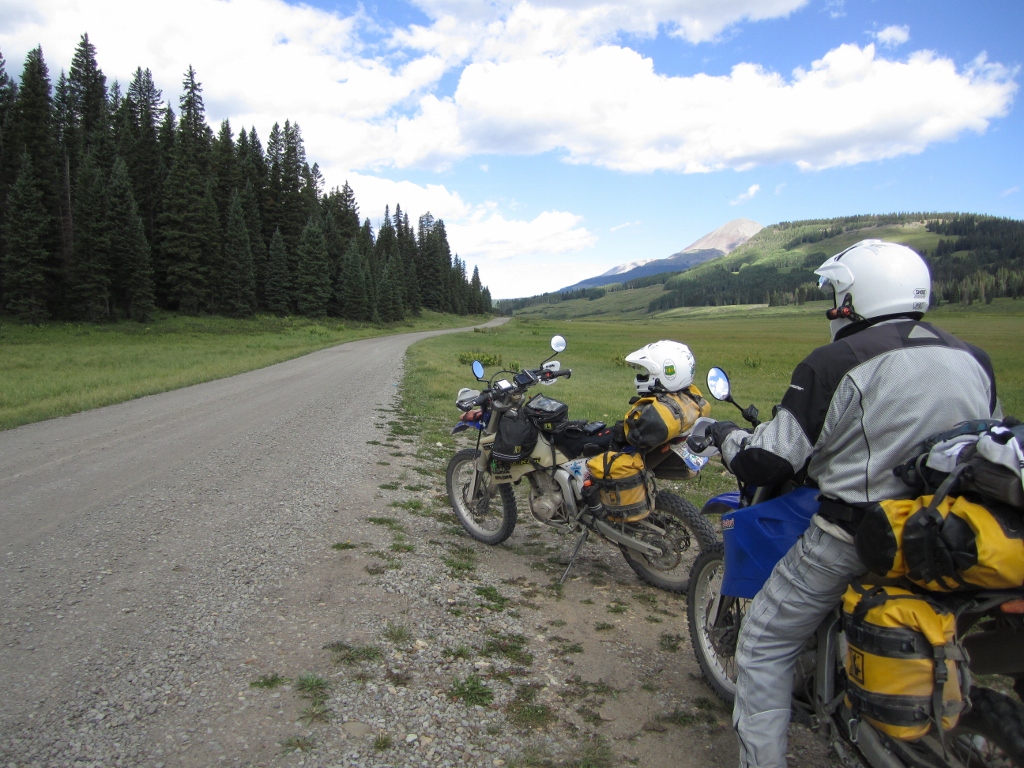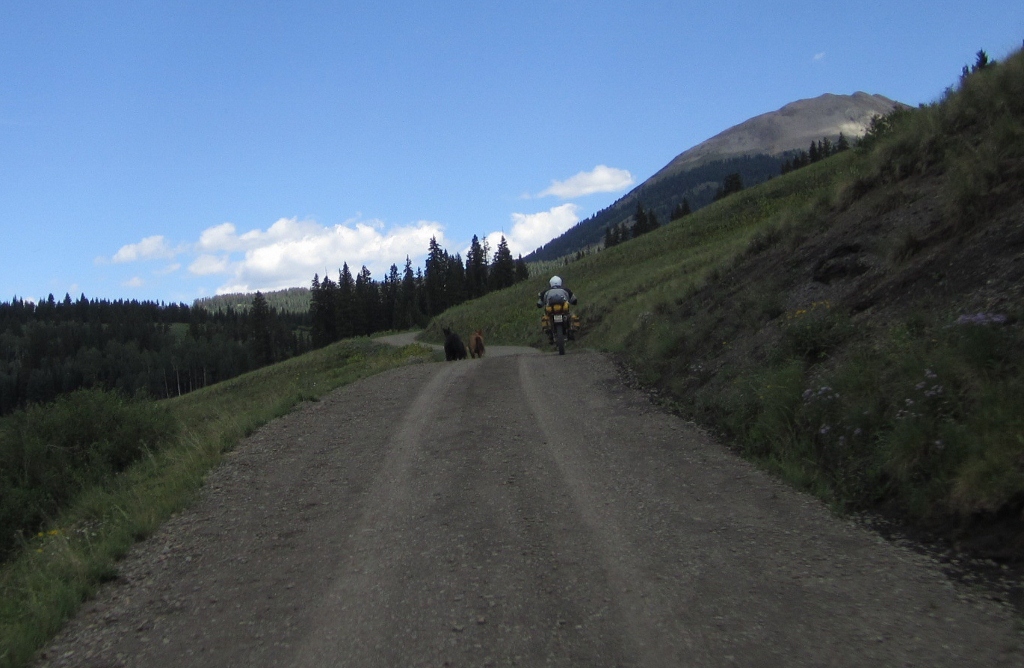 This is one of the most beautiful views we had.
I love this whole picture---with the old barbed wire fence and old plow.
If it weren't for those metal fence posts--this could be 1850 ?????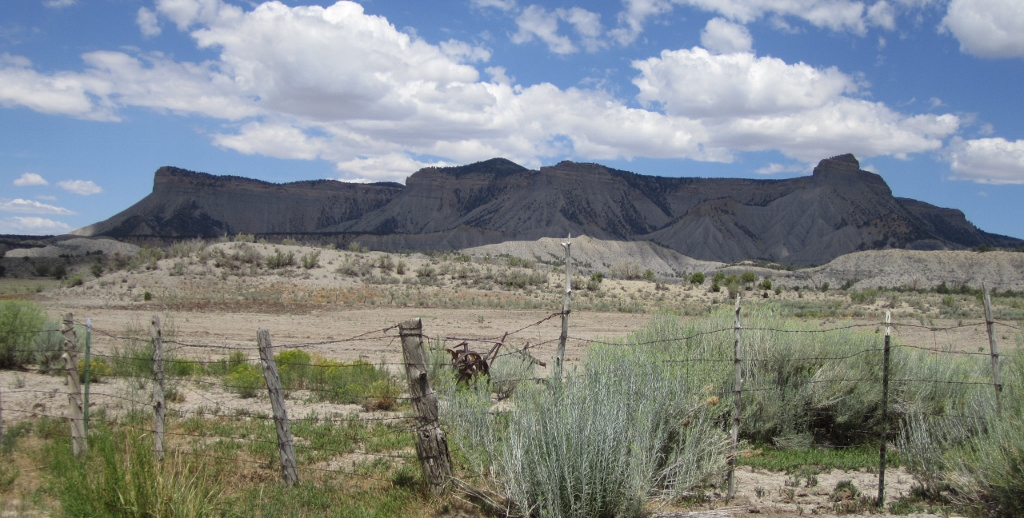 We finally turned North on Hwy. 141 thru Basin to the little town of Naturita, Colo. which isn't that far from the Utah border.
But after only 122 miles and just a few hours we called it quits in Naturita ----where we'd be for the next 3 days.
It seemed the fuel pump on my fuel injected WR250R had decided to poop out on me. Luckily they give you some warning and we limped back to Naturita
after getting only about 12 miles North of there.. We were very lucky here in Naturita---a very small town---they had a motel to hole up in and
they had Verizon cell phone service which I needed badly. I was on the phone for about 1 hour with several people including my son who was doing phone number
searches for me on his computer at work to find me a pump. It was getting late and shops were closing up their doors.
I have a good friend in Kentucky who owns Lee's Yamaha---Mark Edwards----a standing ovation for Mark---he got me a pump shipped to Montrose, Colo
next day air----it was very late in the day Thursday--it would ship out Friday--and I'd have it Saturday.
There was no UPS shipments to Naturita on Saturday----so I'd have to go get it in Montrose Saturday morning.
This all saved our trip and ride. We took this all in stride as neither one of us had a schedule or timeline to meet.
We kicked back in the small town of Naturita and had a hoot with the locals----I luv small towns.
Might as well do laundry while on the cell-phone--------I can multi-task with the best of them.
And while on the phone I bought stock in WR Yamaha fuel pumps---it's on the rise !!!!!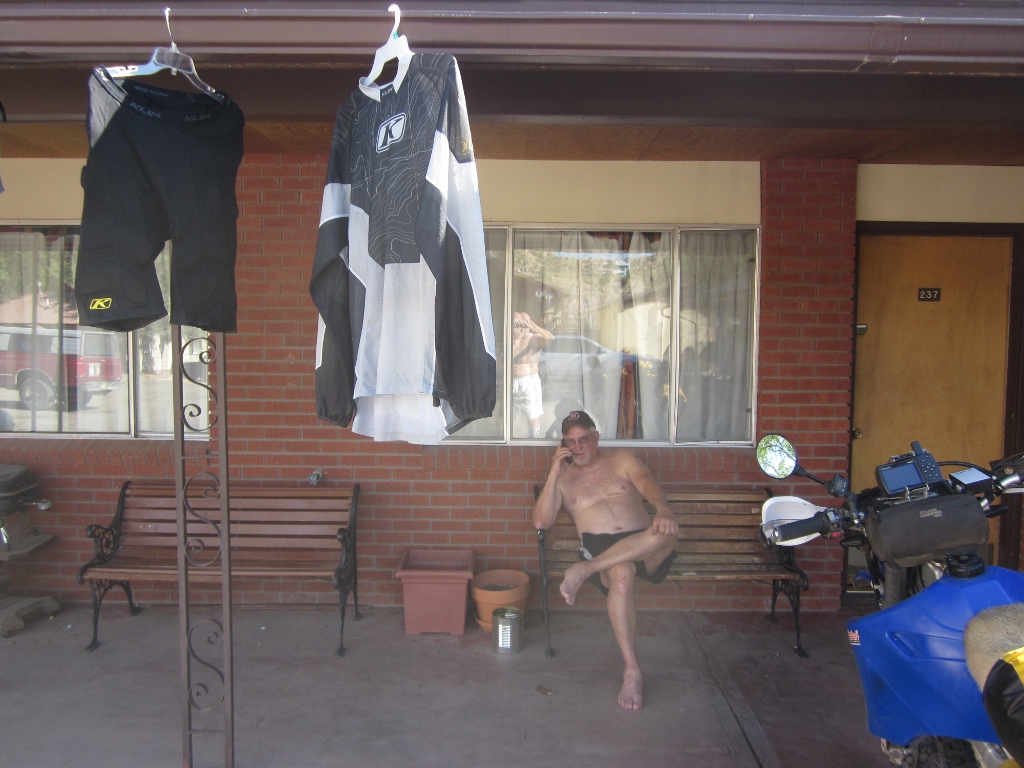 Day 7
Saturday July 28th, 2012
Me and Scott know we can rely on one another for anything------so he loaned me his bike and I took off took pick up my fuel pump in Montrose
in the wee hours of the morning. It was suppose to be there by 9AM at the UPS store. I was sure I was prepared for battle as the weather looked iffy
and I had to ride 60 miles of dirt over the Uncompadre Plateau to Montrose----I could have went on pavement the long way around------but-----nahhhhh--not me.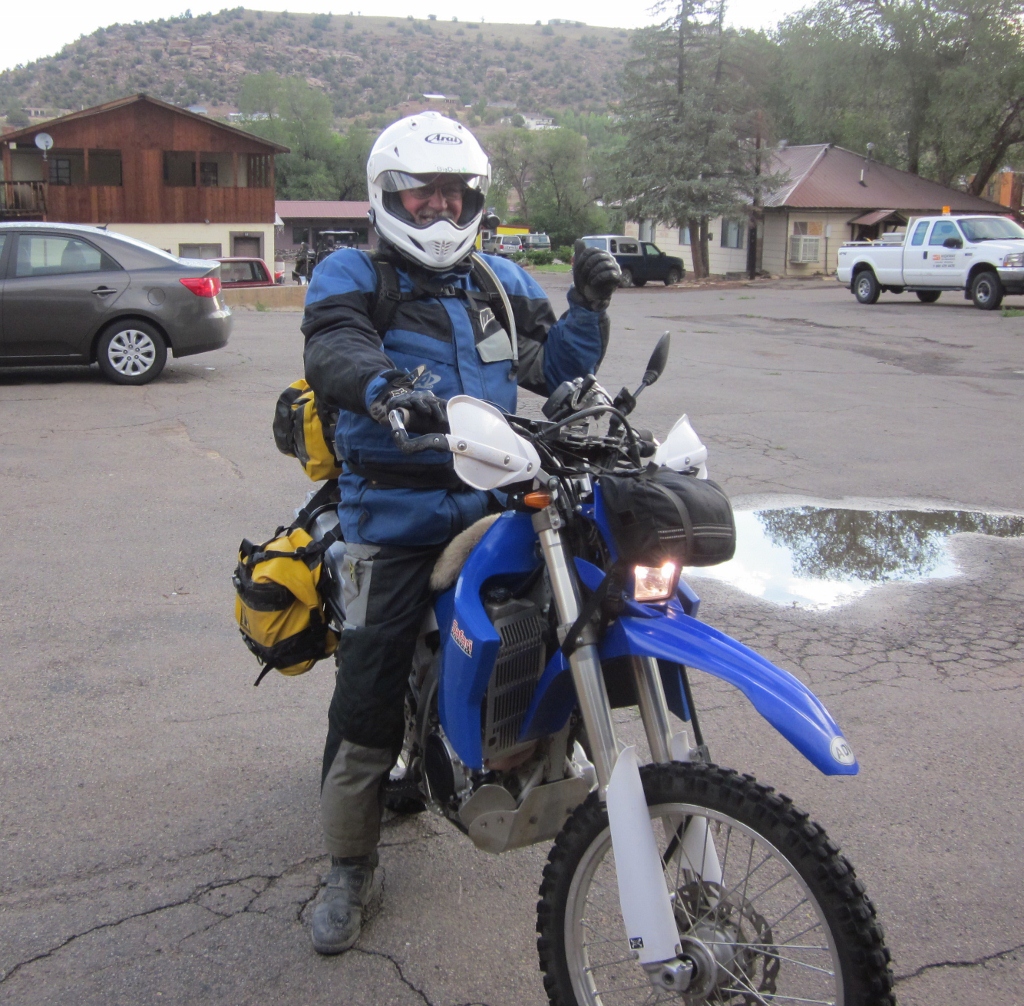 It had rained during the night----and the dirt road all the way to Montrose was really nice and fun
except for this nine miles of mud hell. I pondered turning back and dropped 2waypoints where the mud began and ended
for reference on my return trip.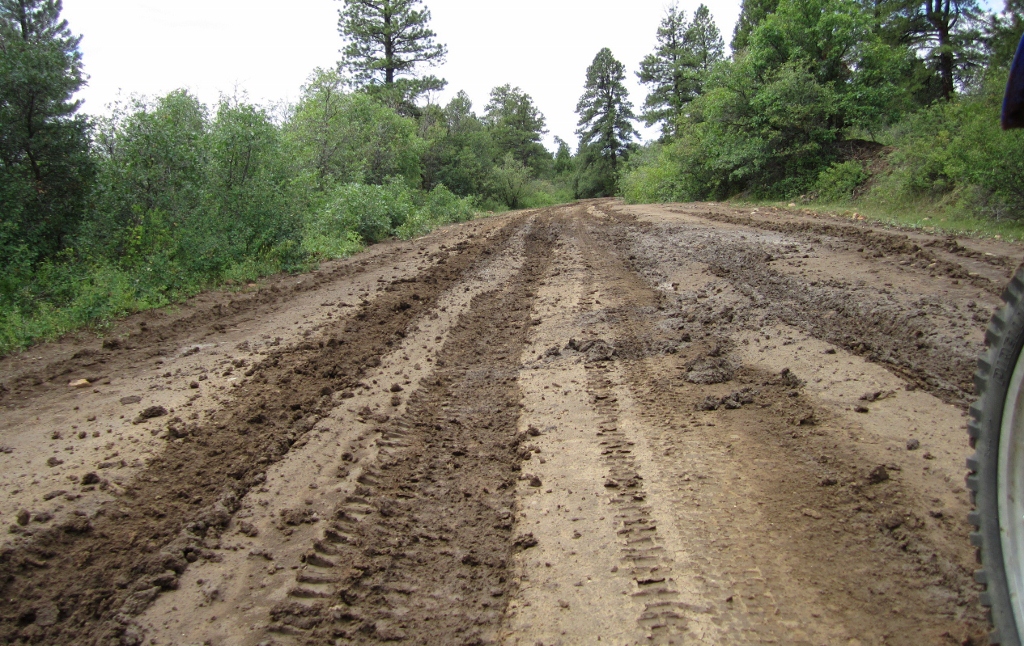 Scott has just washed his bike and I felt bad getting it all muddy-----well............not too bad !!!!!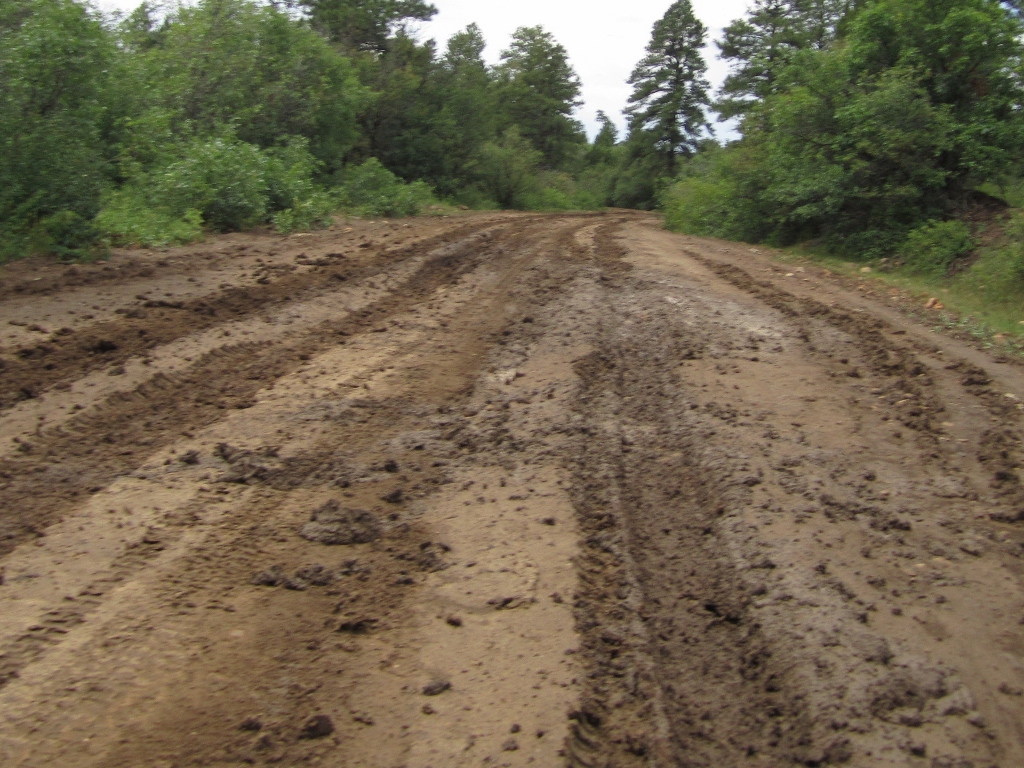 On my return trip I kept eye-balling the skies-----it looked like it was raining where I had dropped those mud from hell waypoints.
But it wasn't------I think more moisture on this road would have stopped me dead in my tracks.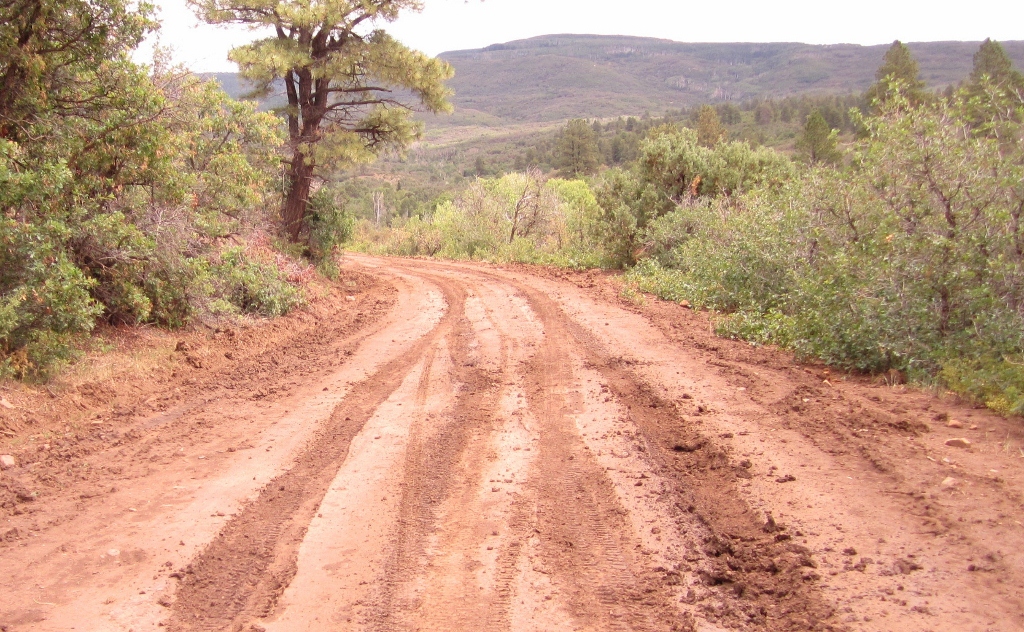 When I got back to the motel in Naturita my rear wheel was missing on my bike !!!!!!!!!!! What the ?????????
Somebody had stole my rear wheel !!!!!! And my gas tank too !!!!!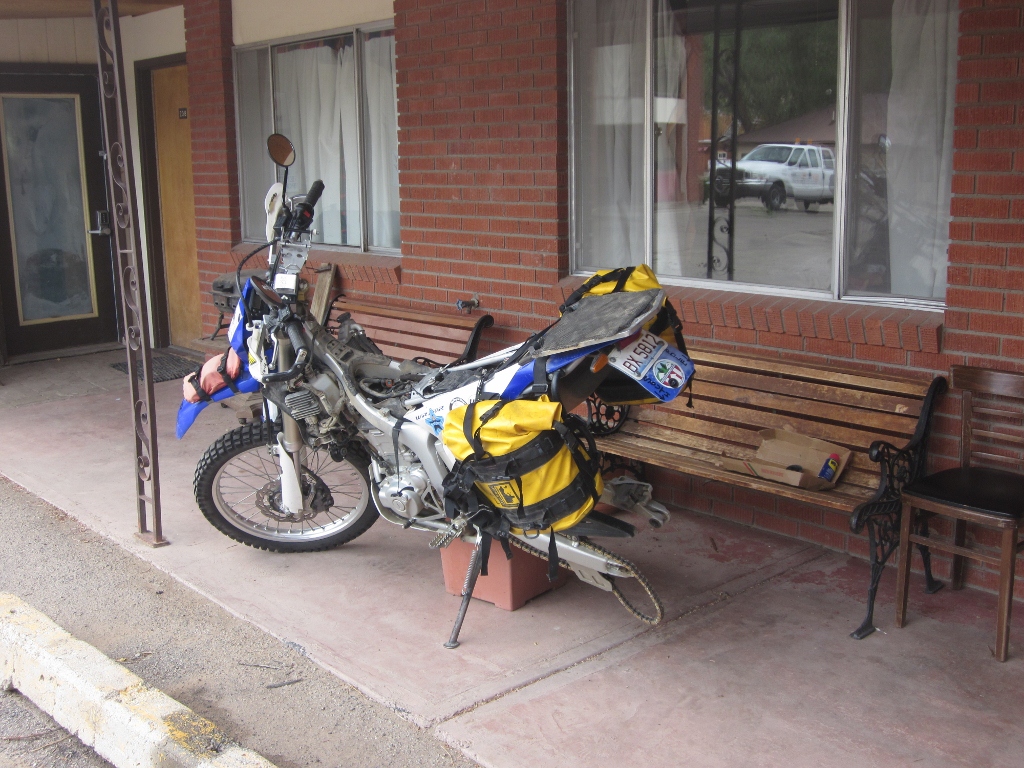 Seems while in Montrose I had been pretty resourceful and picked up a brand new Dunlop 606-----------my favorite tire.
Kudo's to Davis Cycle for having tires. They had whatever I wanted---in all sizes. You will very rarely--if ever find this while traveling.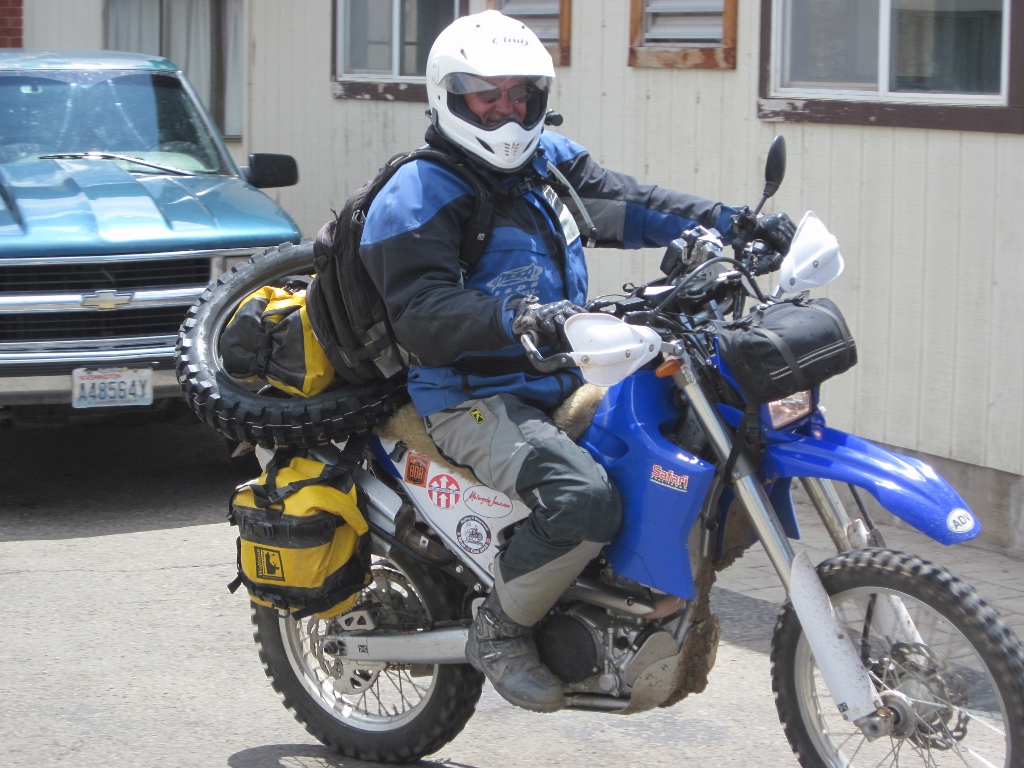 I had called Scott when in Montrose and asked him to take my tire off so we could get rolling when we got my fuel pump and tire on, and
not spend another night in the motel we were at.
We stayed at the "Ray Motel"------really nice folks. High priced for a mom and pop motel---but I think it is hard to make a living in Naturita.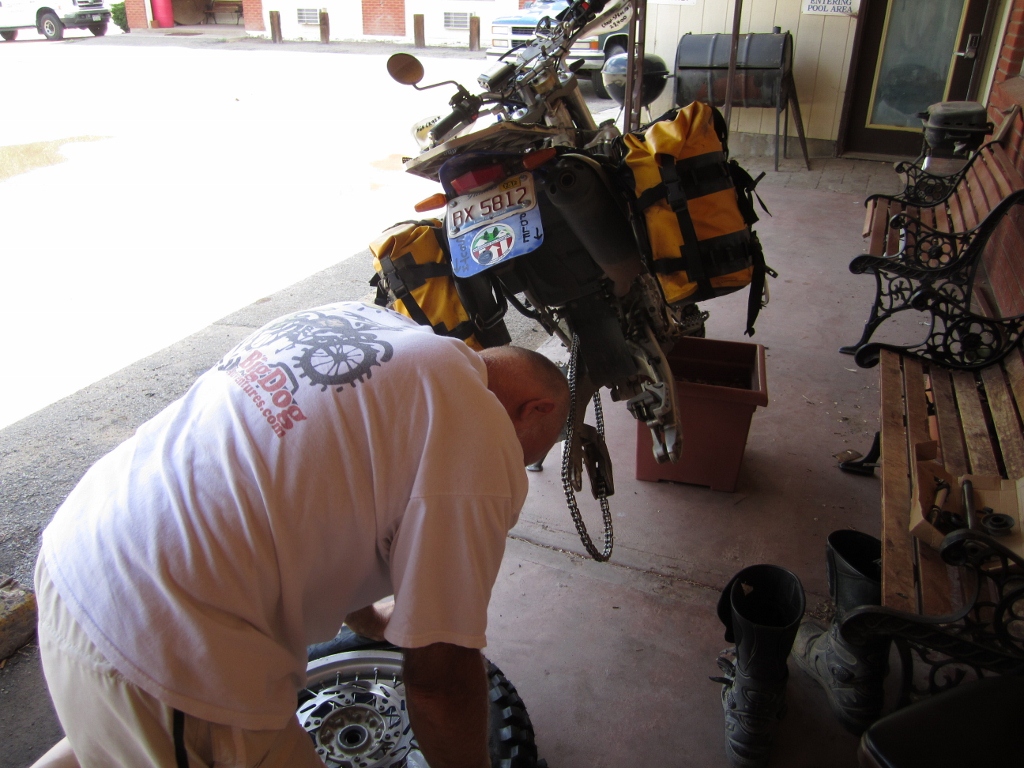 The tire I was glad to get rid of-----man would I need the traction of my new 606 tomorrow.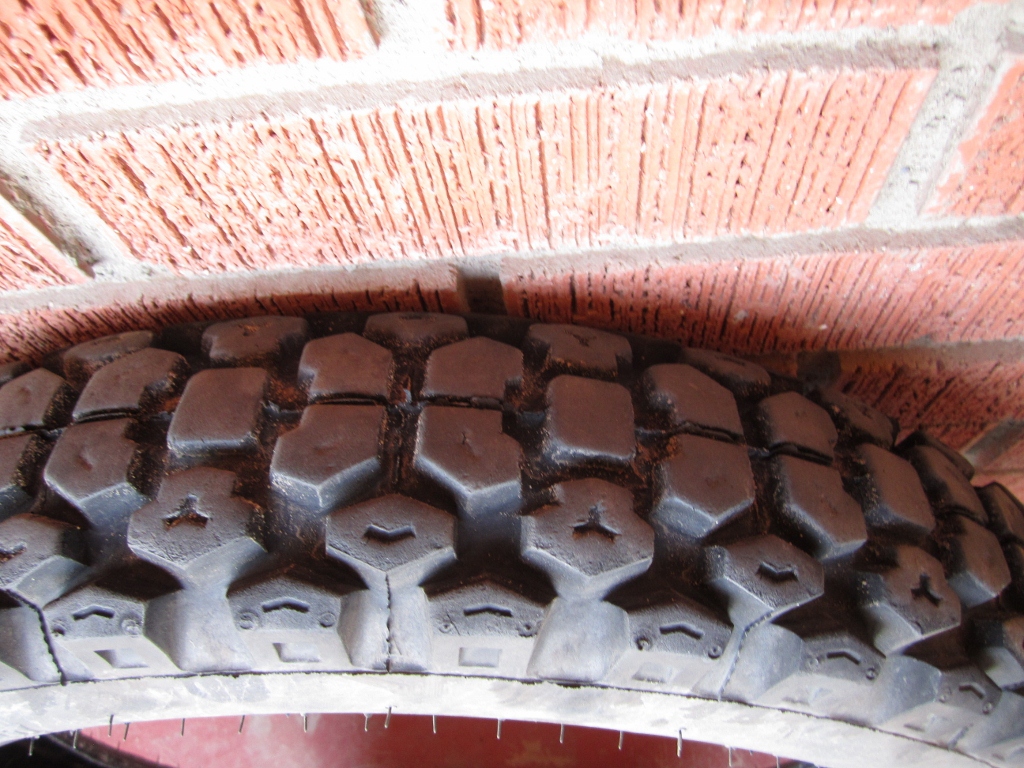 Scott was bored-----and went to work putting my new tire on.
Would your riding buddy put your tire on for you ?????? I didn't think so.
While he was spooning on the new tire I went to work putting the new fuel pump in my bike.
It was easy peezy------but I had done it before---this is my 2nd pump to go bad in 34,000 miles.
This is a one hour job------if you know what your doing.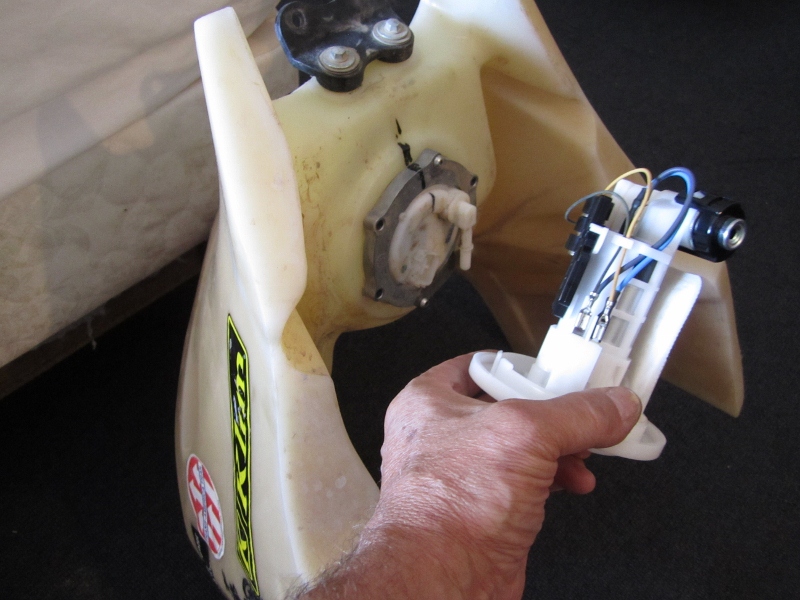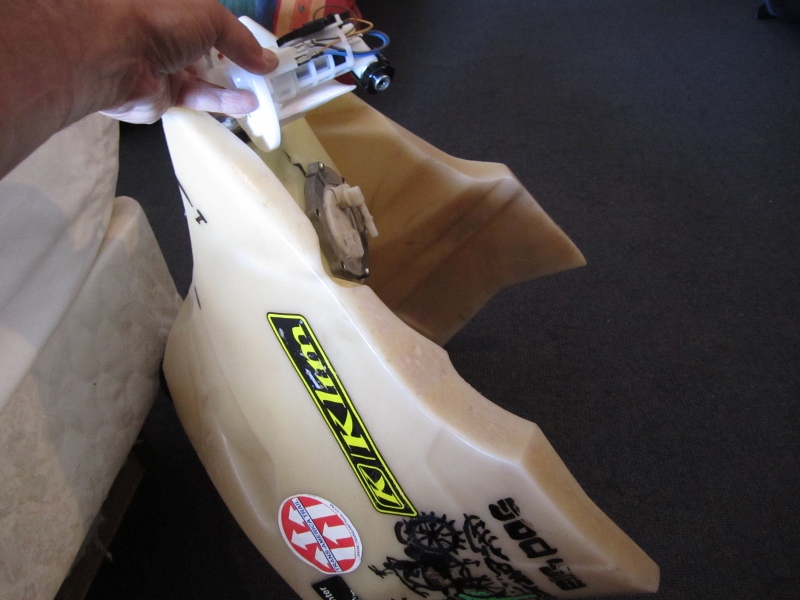 It was 3 PM by the time we got my bike done----and we thought it best to stay another nite in Naturita which was a good decision
as for what transpired the next day.
So---once again Scott was bored---and we wouldn't watch TV----and with nothing more than a pocket multi-tool completely dis--assembled my fuel pump.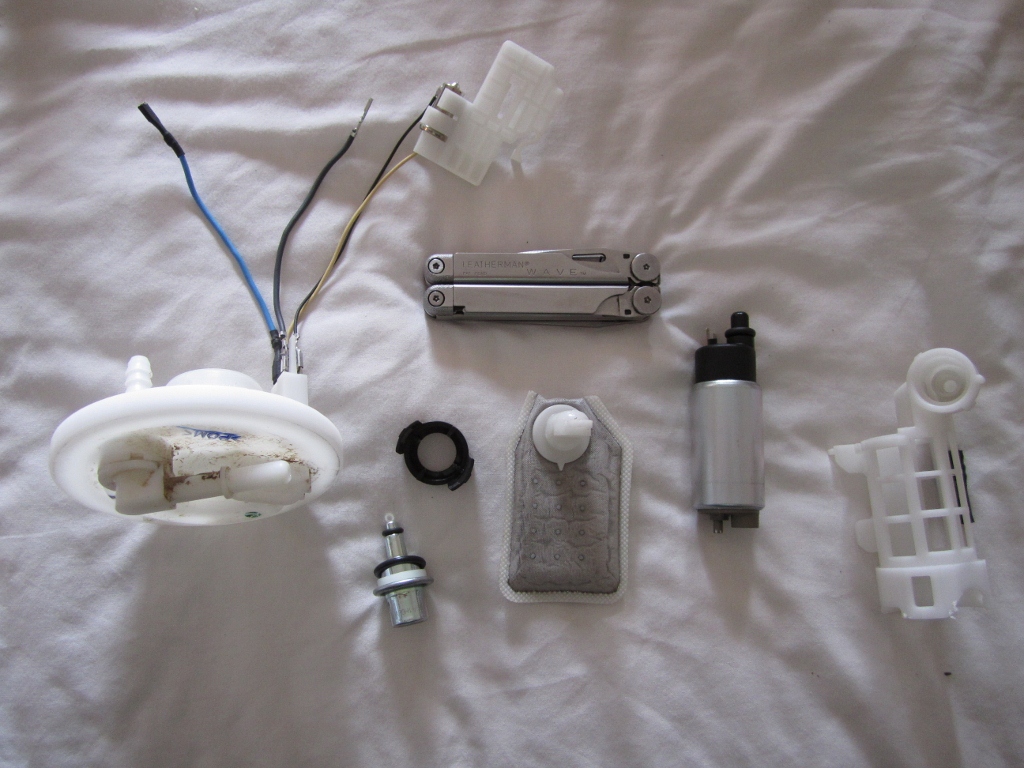 This fuel pump is used in many Yamaha motors----including scooters---all of them go bad.
There are only 2 moving parts in the whole assembly that can go bad---the pump itself and the relief valve--both shown below.
The rest is just plastic stuff that can't go bad.
So which is it that goes bad ??? My money is on the relief valve on the left.
It's suppose to bleed off excess fuel pressure---but if it went bad and opened to early you'd lose fuel pressure and your bike would lose power.
That's my theory anyway-----and I have no idea if it's right.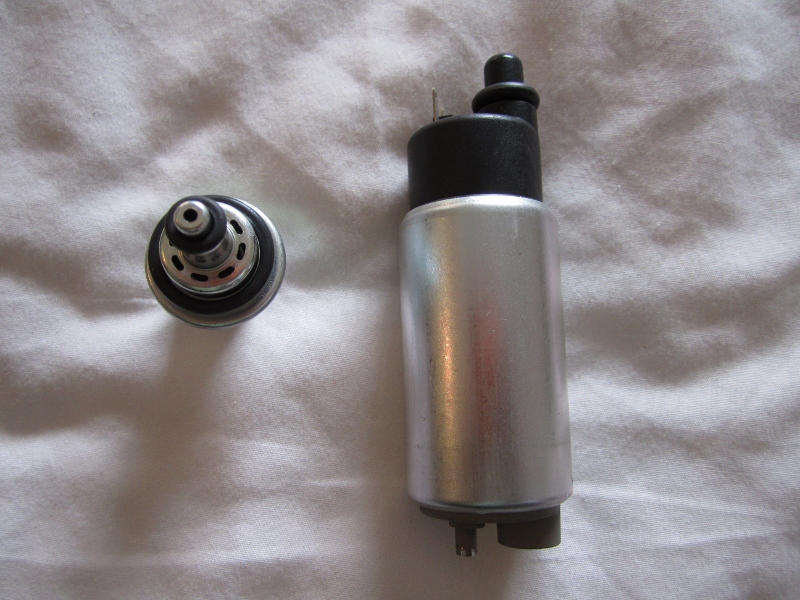 No miles for the day-----oh maybe 1.
Day 8
July 29th, 2012
Quite possibly the most spectacular riding day of me and Scotts life.
And remember it was all because of this picture I saw of this area on the internet.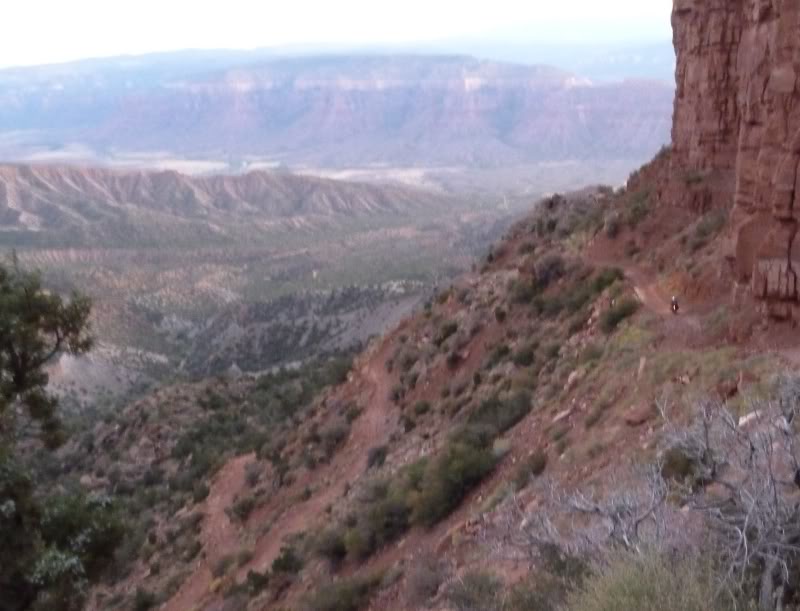 The sunrise.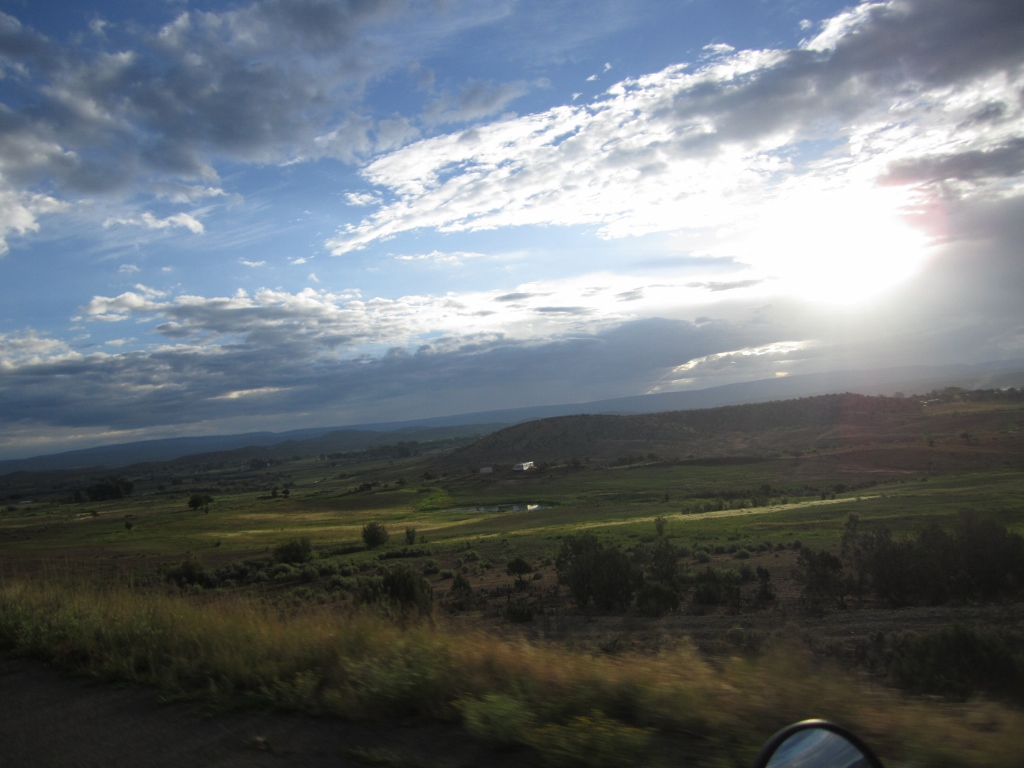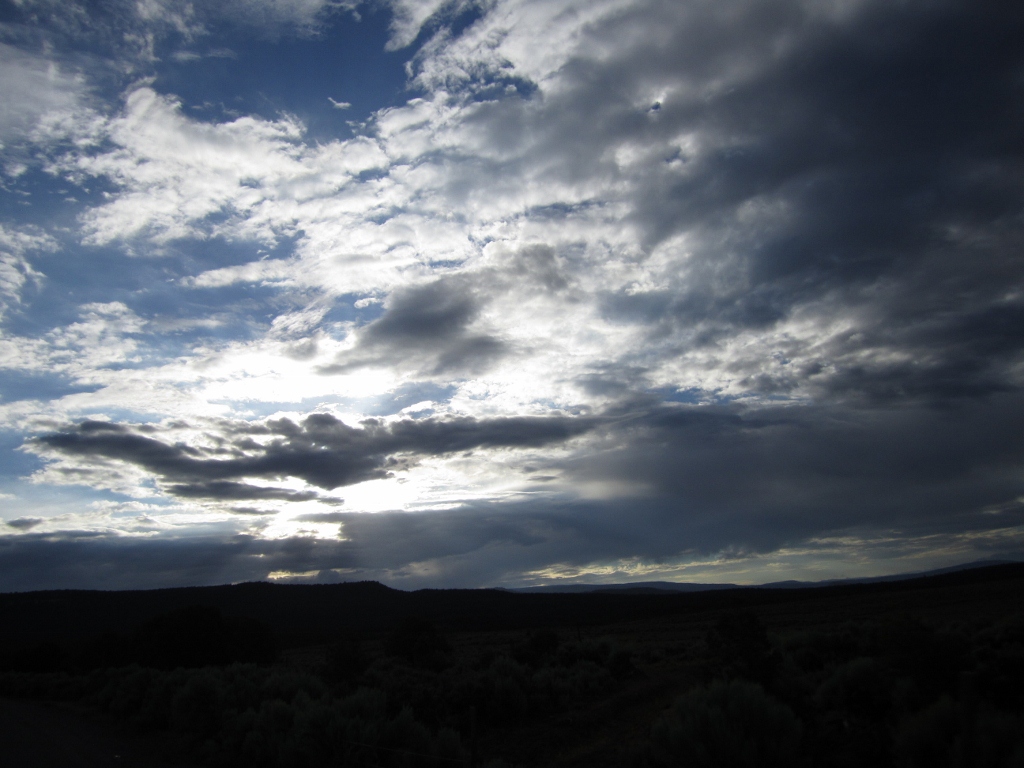 We had been holed up in the Motel for too long---and we broke out early----before even a restaurant opened for breakfast.
We rode Northeast out of Naturita and climb for miles up on the Uncompadre Plateau to almost 10,000 ft.. Man it was nice out I remember plainly.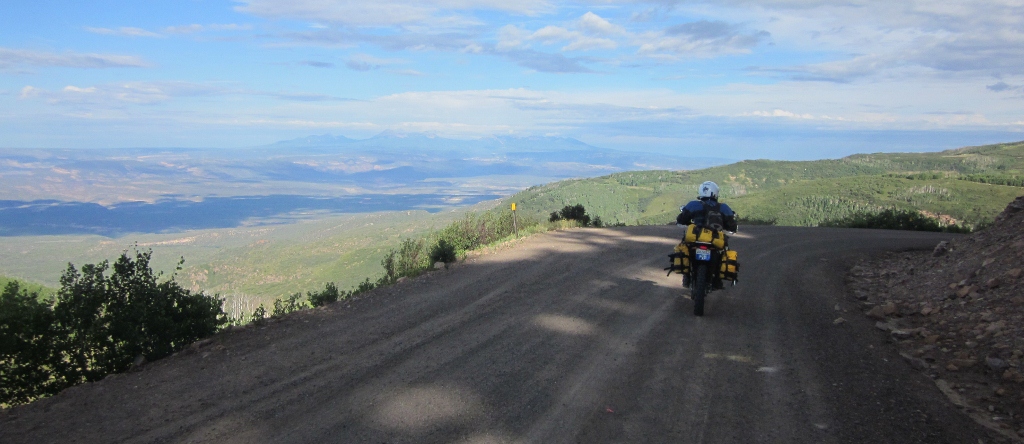 This is what a lot of Utah looks like---we were very near Utah---and would ride into and out of it today.
On top of the Uncompadre Plateau---it was very cool up here and this road looks harmless and easy-----------it was.
But may have been greasy if wet. ???????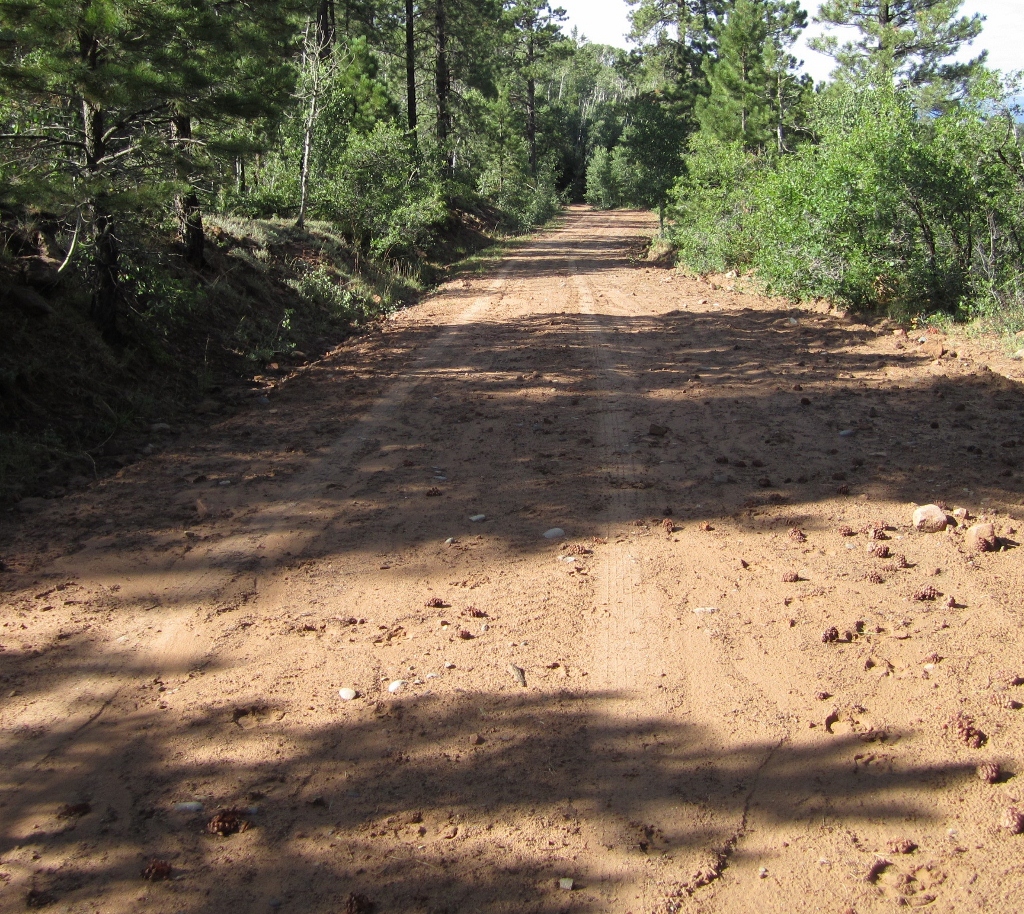 Descending down the plateau was awesome and I'll never forget it. I had been up here before but not on the roads we rode.
We rode a lot of nice smooth, moist red dirt--------by absolute very favorite.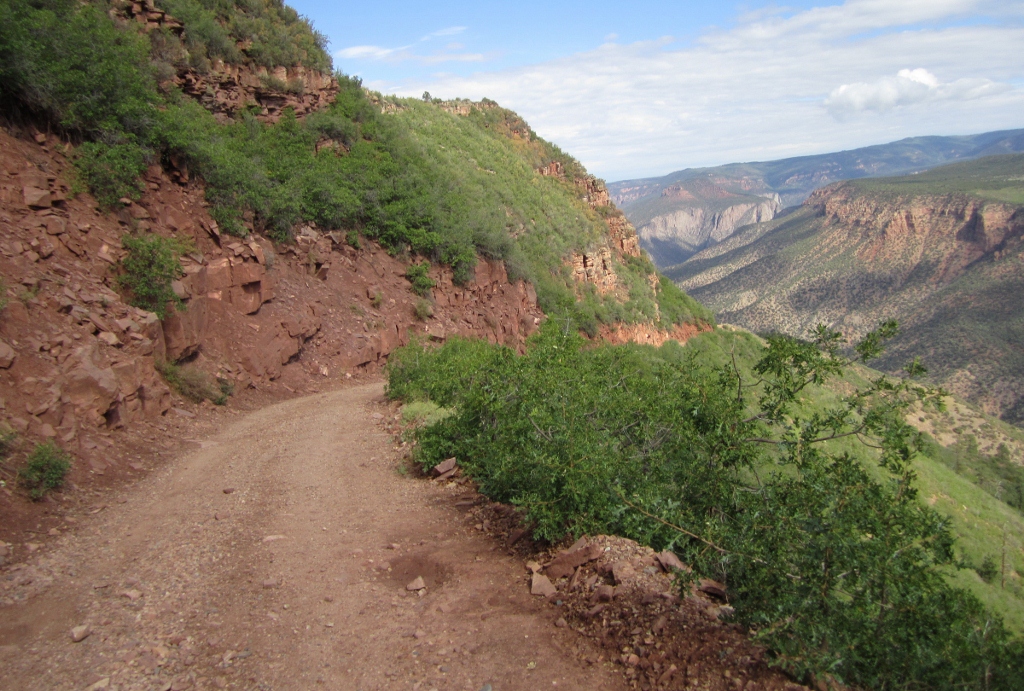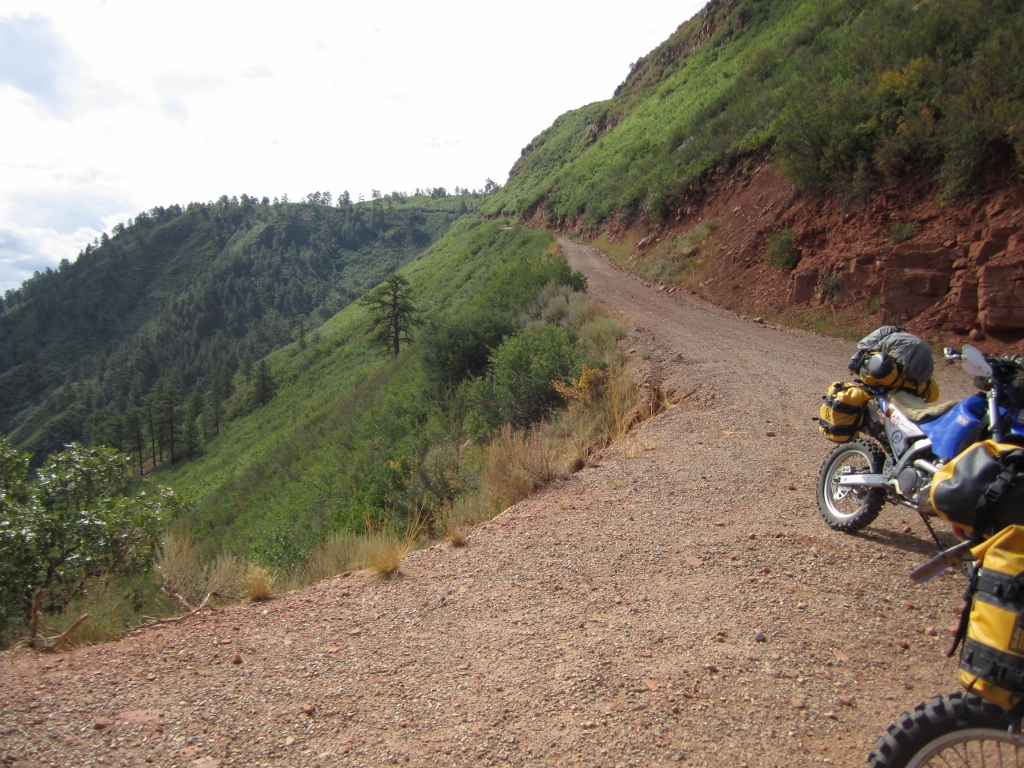 We would ride all the way off the Plateau down into the basin you see here---dropping thousands of feet in the process.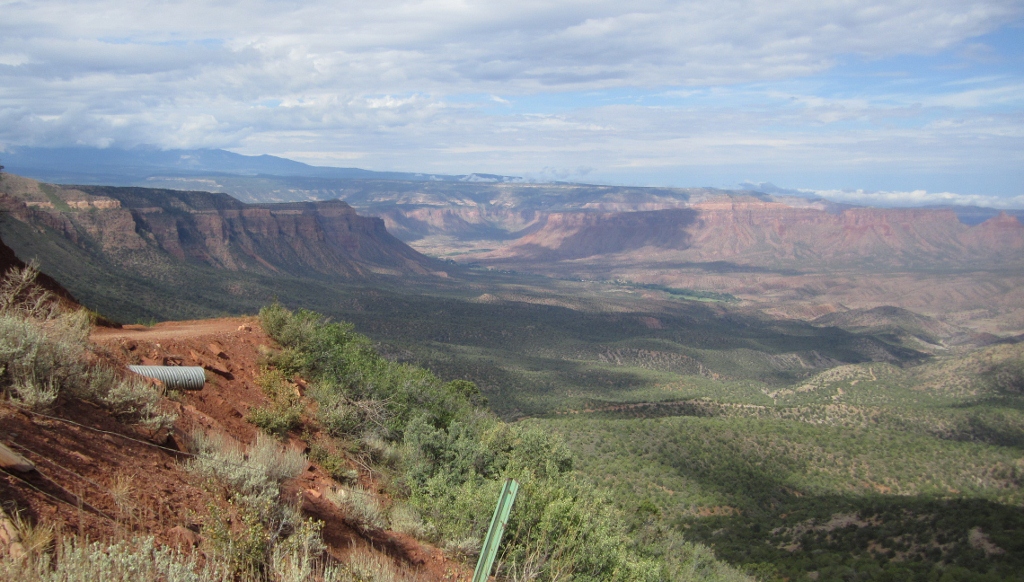 If your having problems on the trail and see this guy coming---he'll help you in anyway you can.
I've 9 years older than Scott---and I can see me needing him more in the future !!!!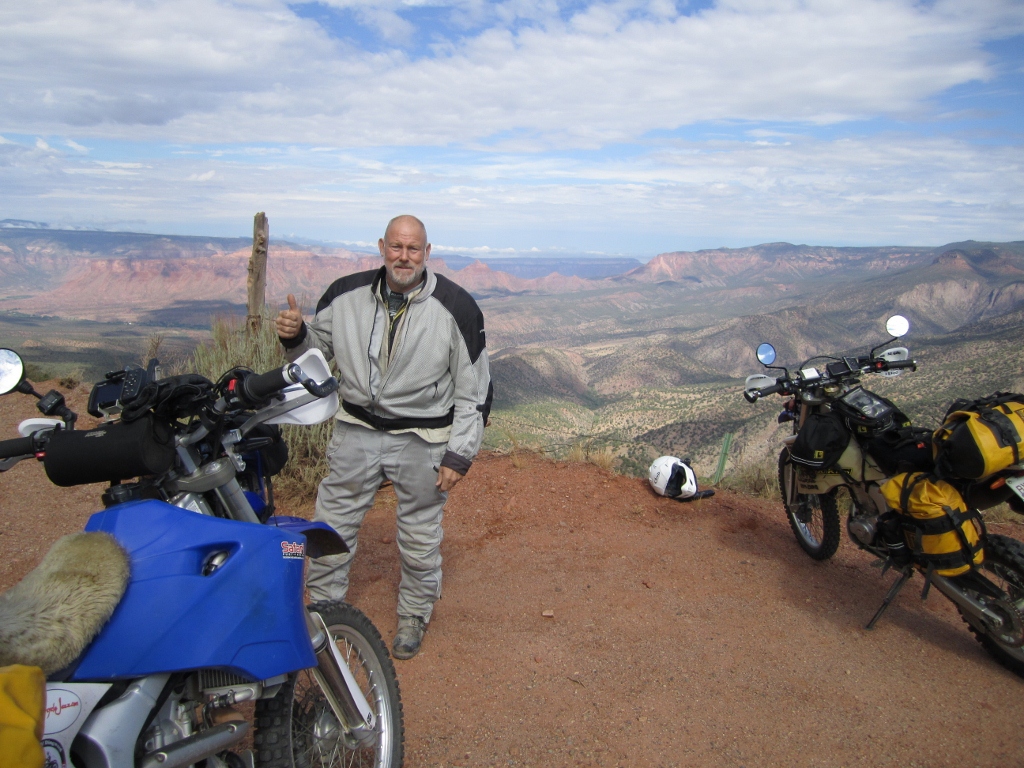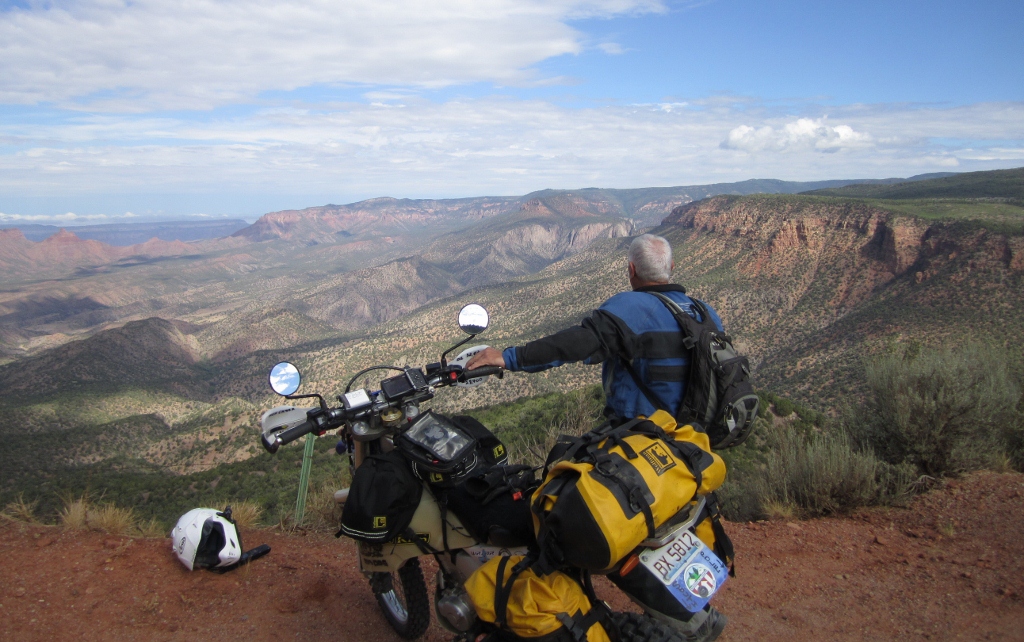 Down in the basin was the town on a map called Gateway.
Not a town at all like you would think really----very few houses---but there is a huge resort there which use to have gas---and no longer has.
Use to have a restaurant which I don't think it has now either. It's a jillion dollar resort----and I've seen it before and it seems to me it's going broke---just guessing.
It's out in the middle of nowhere and I know for a fact one manager didn't like bikers---they would flock in here and get rude treatments.
So they had to remove their gas pumps as they could no longer afford them----and the fire department around the corner was forced in to putting
in some pumps---so now you can get gas in Gateway------credit card un-manned pumps 24/7. It's at the waypoint you see.

We headed Northwest up dirt road 4 2/10 as you see -----along the Delores river.
I was hyped up to the scenery and trails I knew were ahead.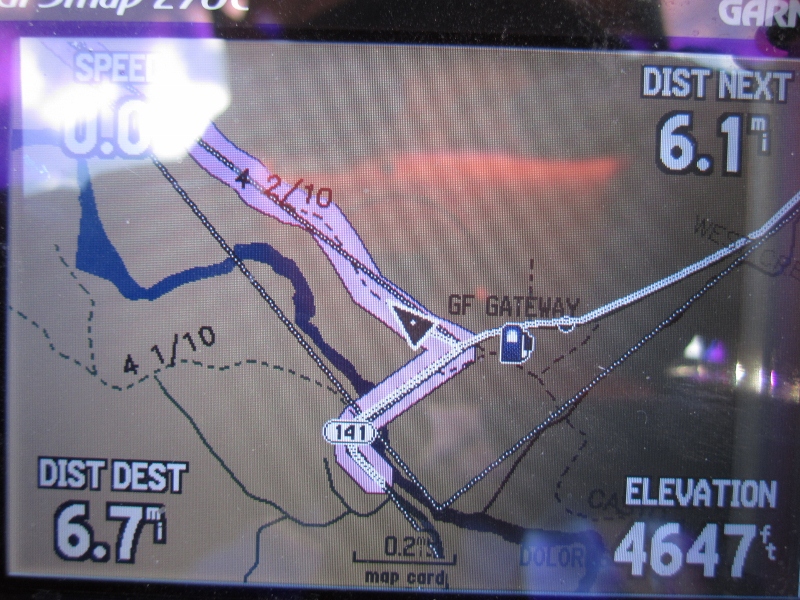 This road went Northwest for a few miles and was awesome----I knew before long we would turn East up a narrow mountain switch back that
I had heard can be brutal----depending on moisture and washouts----------it was.
It was brutal--------and it was brutally beautiful and fun.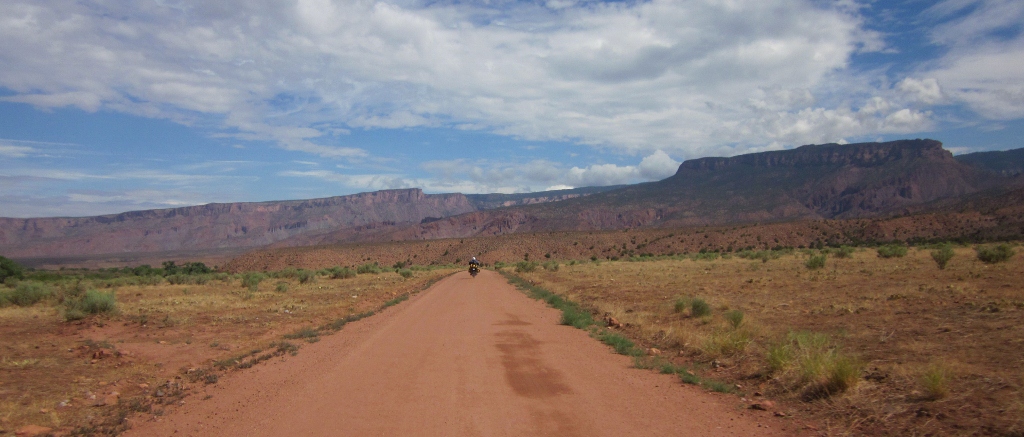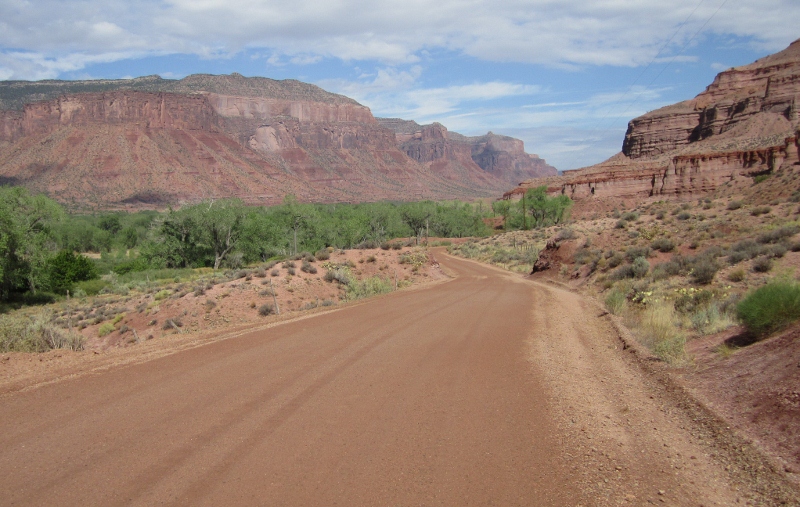 A view of where we were headed and waypoints I had dropped before the ride.
The vertical line is the Utah, Colorado border. The Cabin I heard about---and you'll see it in a bit.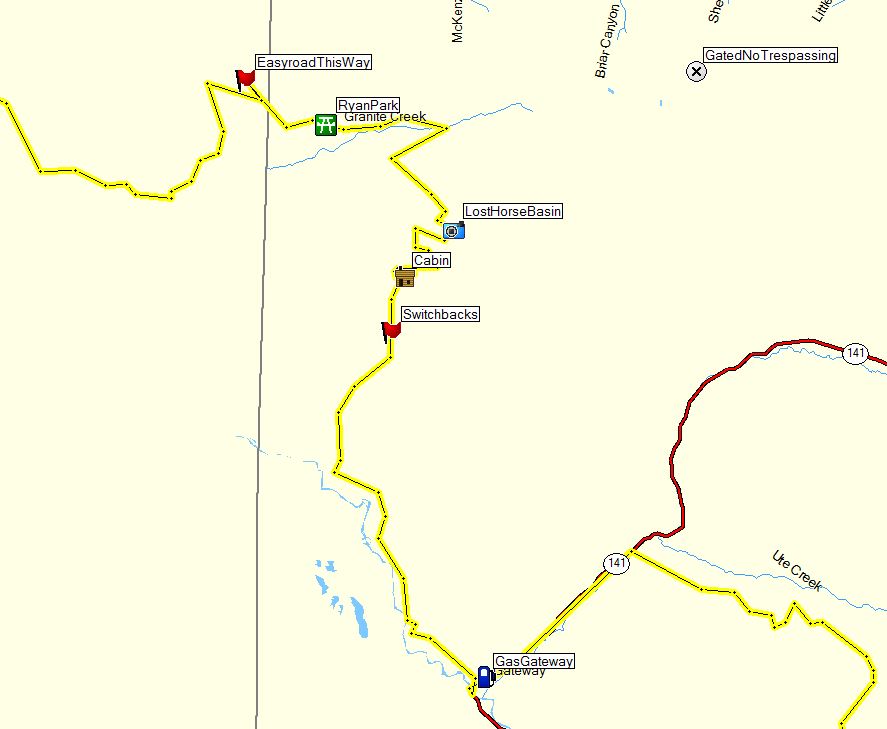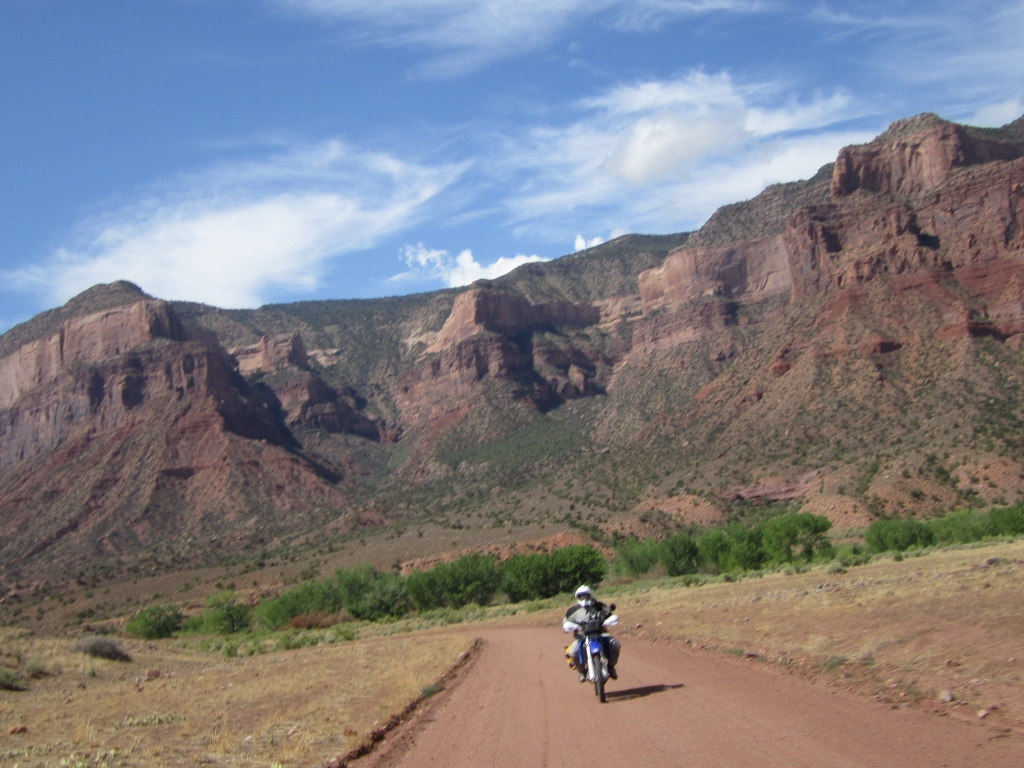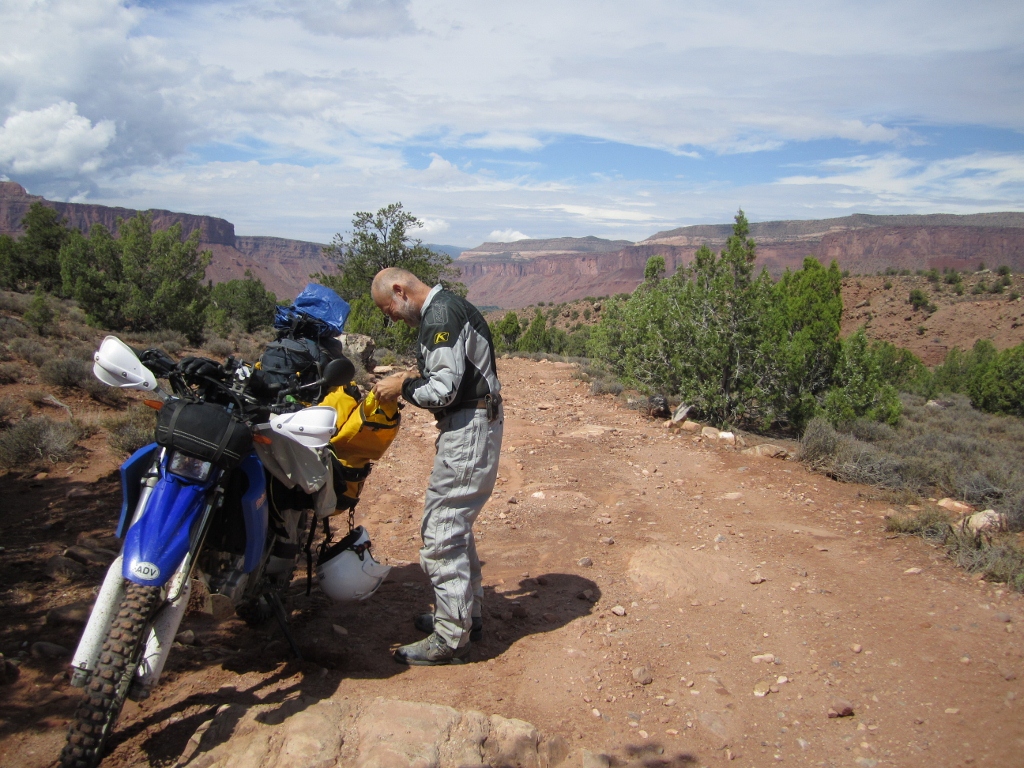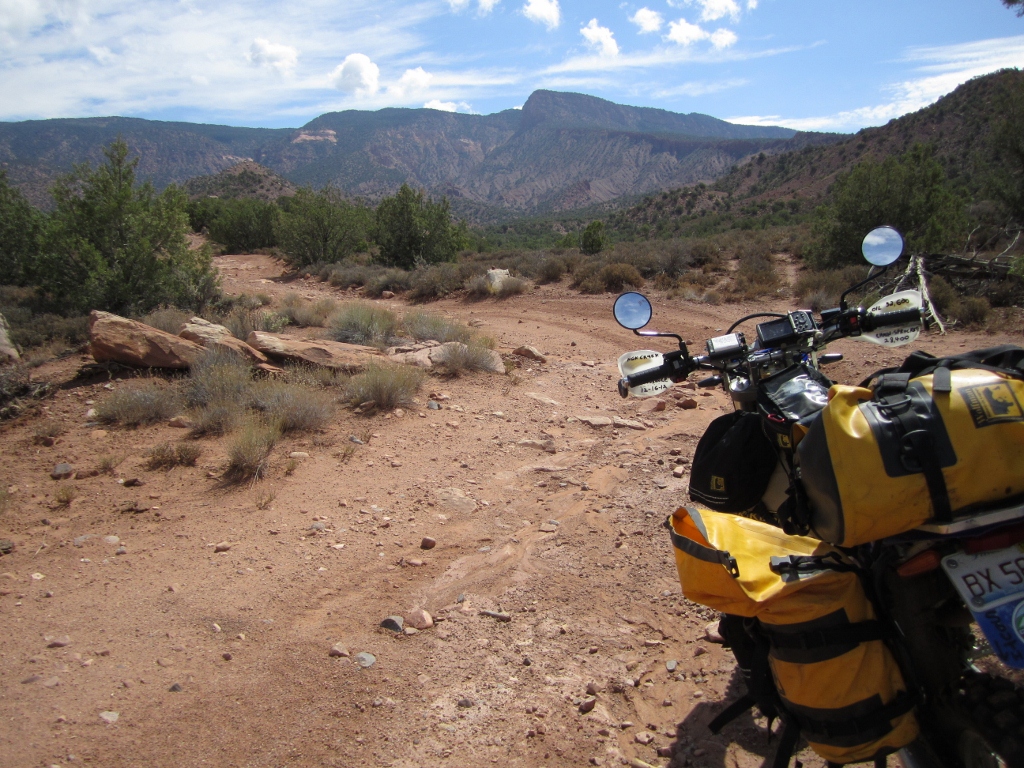 See my bike up on the switchback ????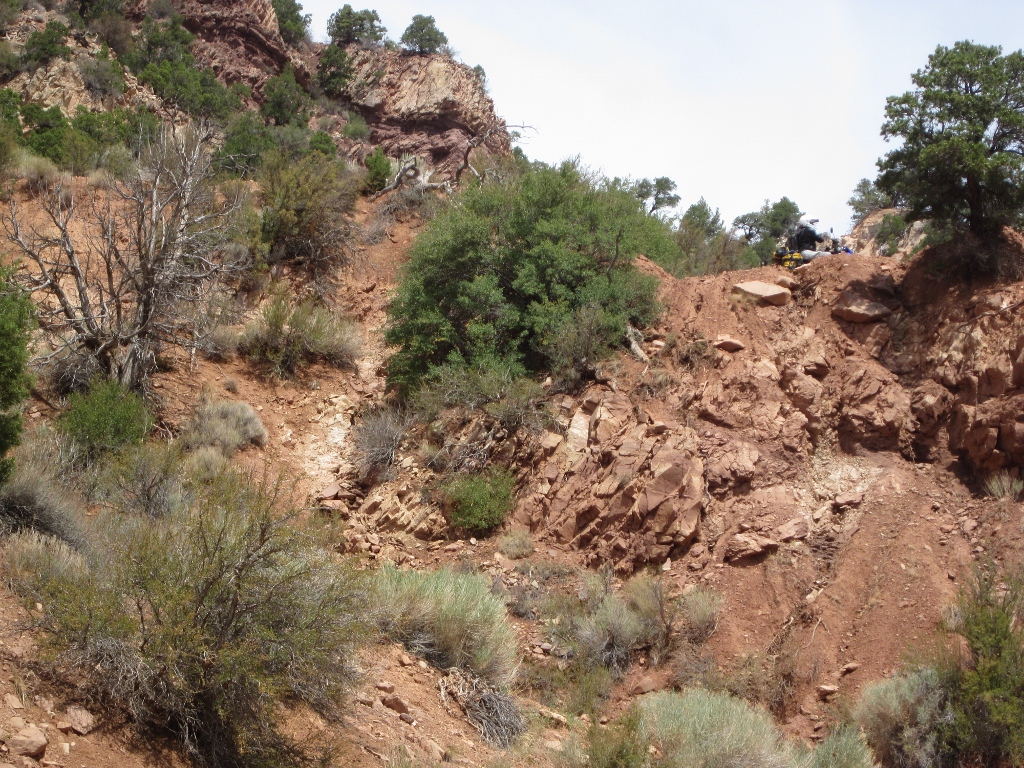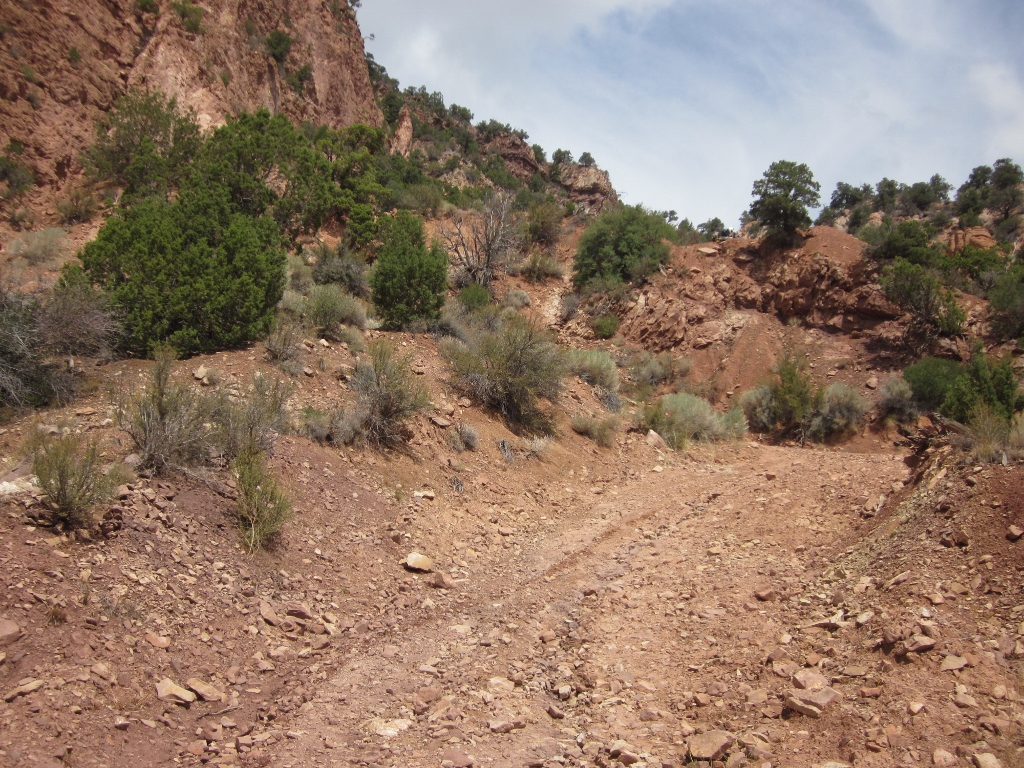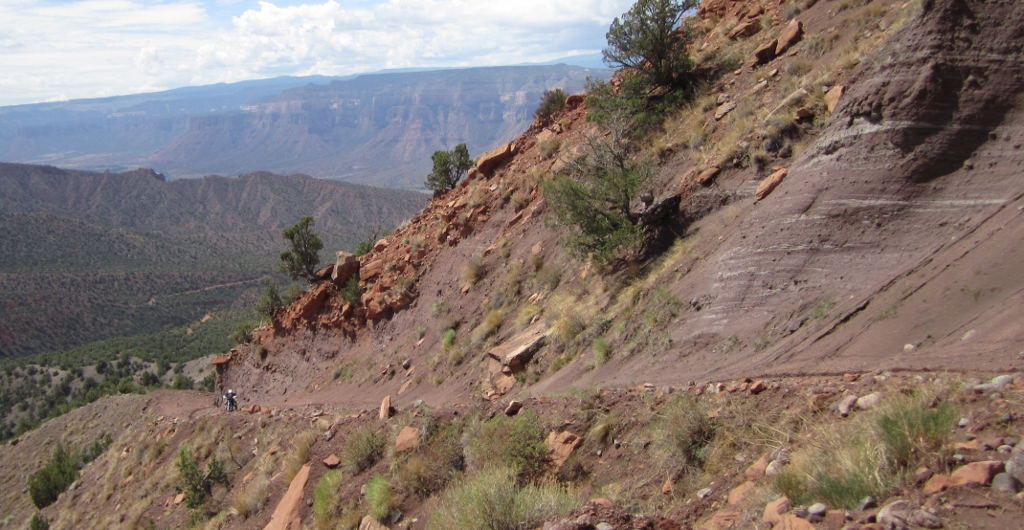 The climb up here was brutal----only an unladed 240 lb. or less single track back should attempt this climb.
But we were stupid to try it on heavier bikes laden with camping gear.
It climbed for what seemed like 30 minutes where there were very few places you could stop and rest for fear of rolling or skidding
backwards----or having to go back down and get another start---------it was nerve racking, brutal, sometimes muddy, extremely steep, rocky and had
extremely tight switchbacks and .......................fun.
It was so narrow in places I just knew one little washout would stop us in our tracks----I'm not sure I ever got out of first gear all the way too the top.
Not in my youngest racing days could I have ridden my 950 up here--------John the guy who I found about this trail from says it can be done---me and
Scott both totally 100% disagreed.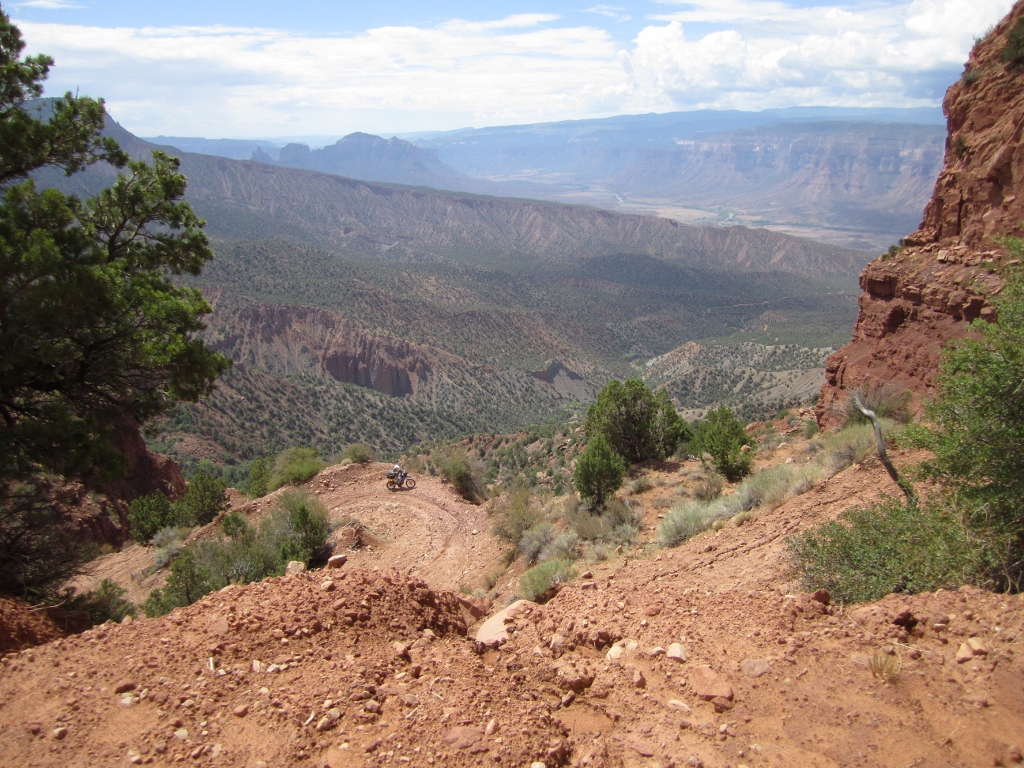 We tried to create the same shot that John had posted that got me fired up to come here in the first place.
I'm telling you it was surreal------to the max.
Pearl Pass in Colorado is childs play next to this.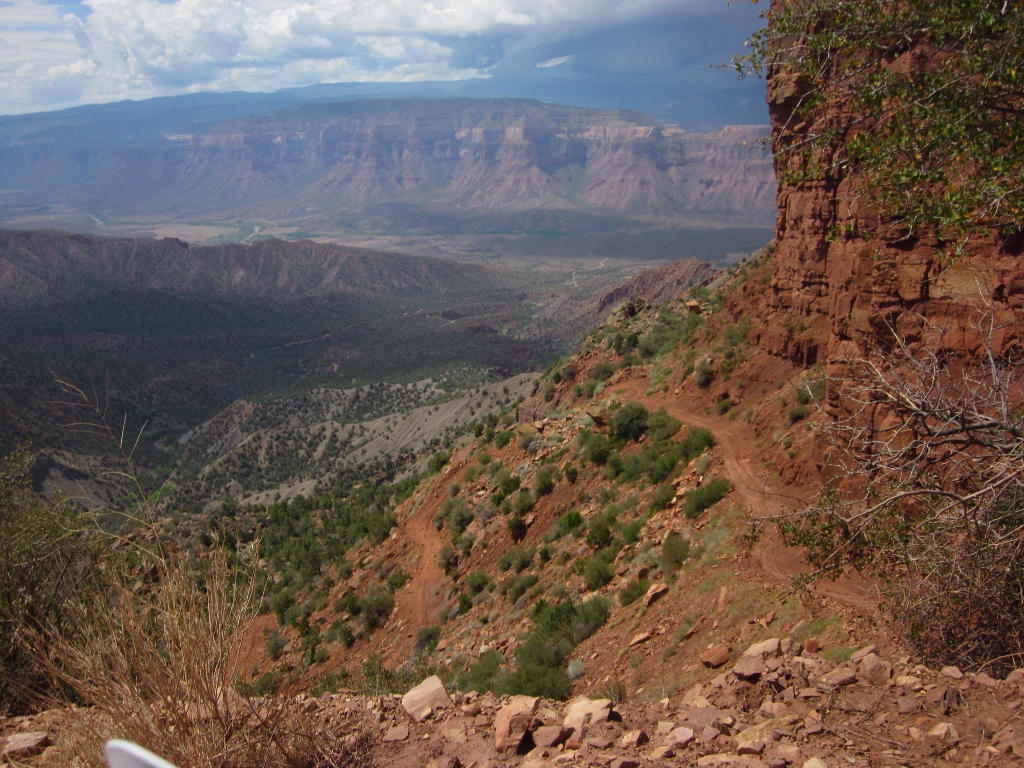 It's raining in this picture----so why is Scott smiling ???? Because we survived -----that's why.
Almost at the top was this cabin----if it had rained much on our climb up here we wouldn't have made it.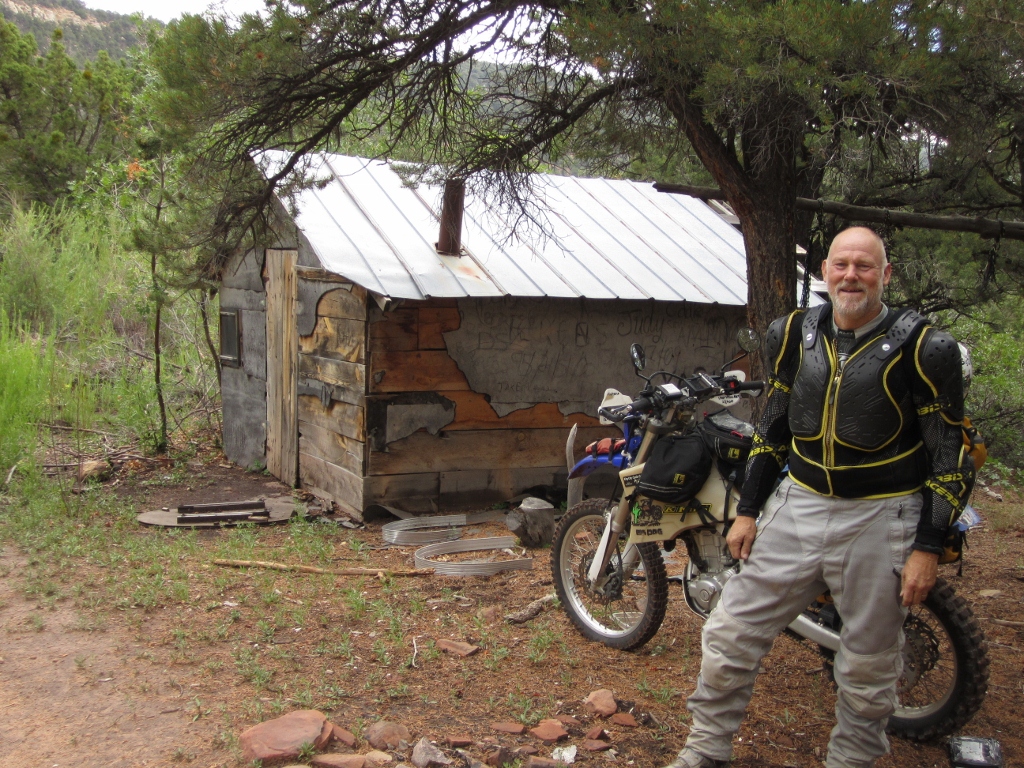 Welcome to my cabin
"The Rat Turd Cabin"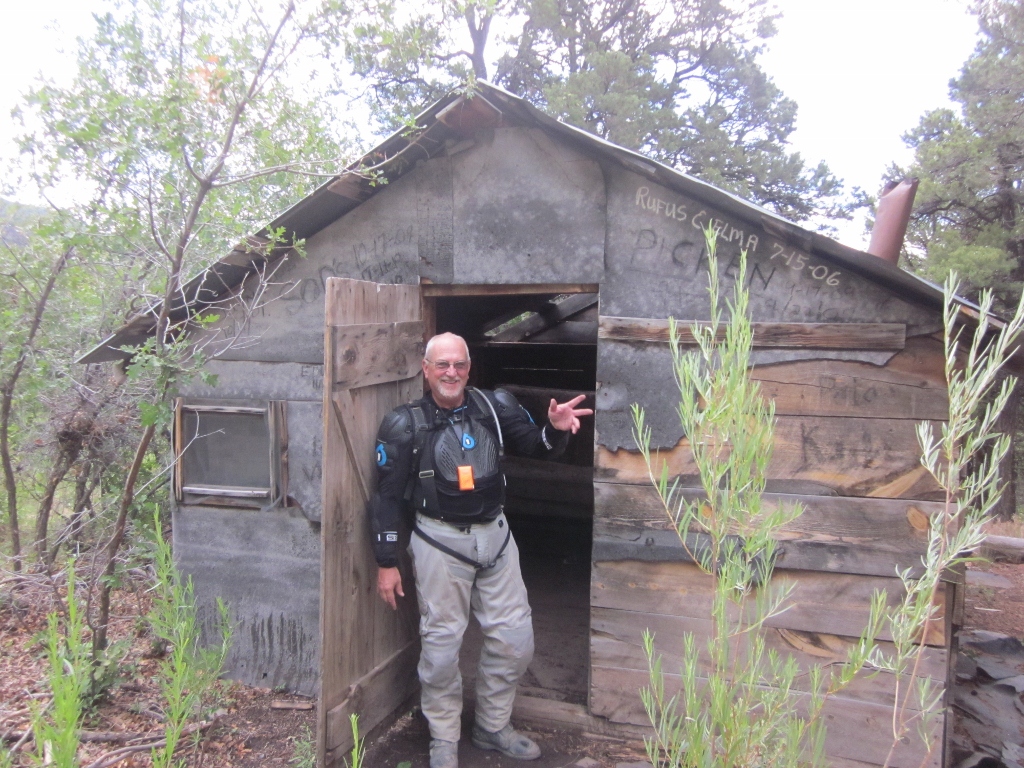 It's still raining and that trail was starting to get slick.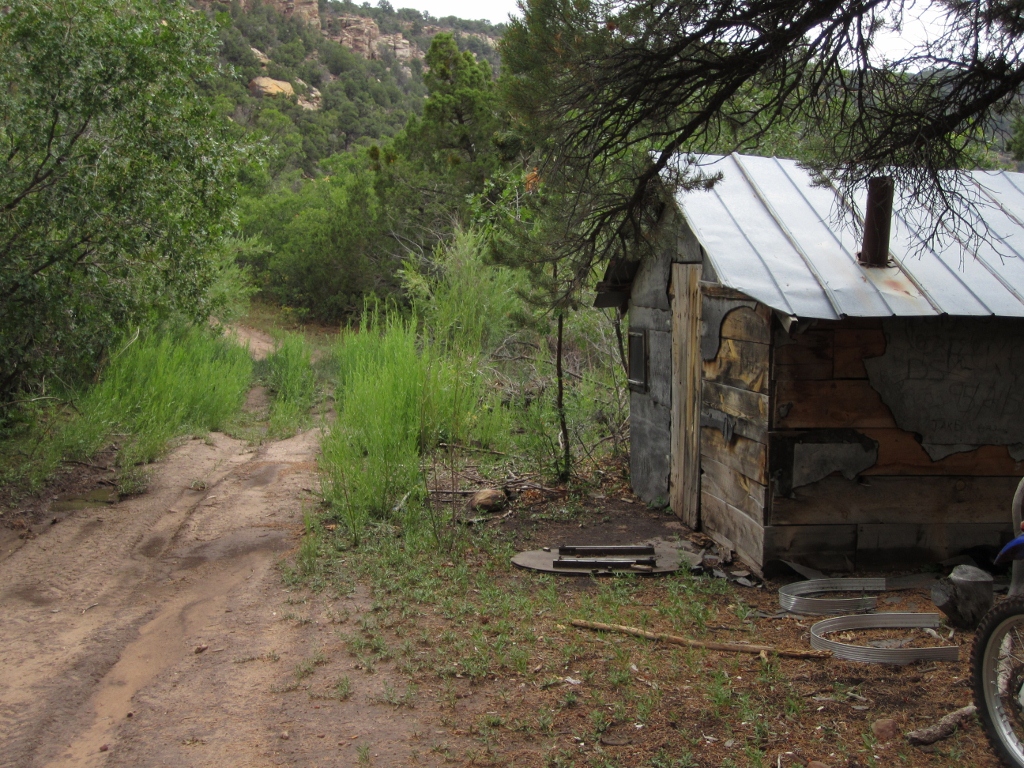 The smell in here wreaked of rat turds----I mean wreaked------it almost took our breath and we could see big holes in the mattresses where the rats
went in and out and we pondered if we would have to spend a night in here if the rain kept up.
See the thousand little black specs on the mattresses ????? The floor was the same.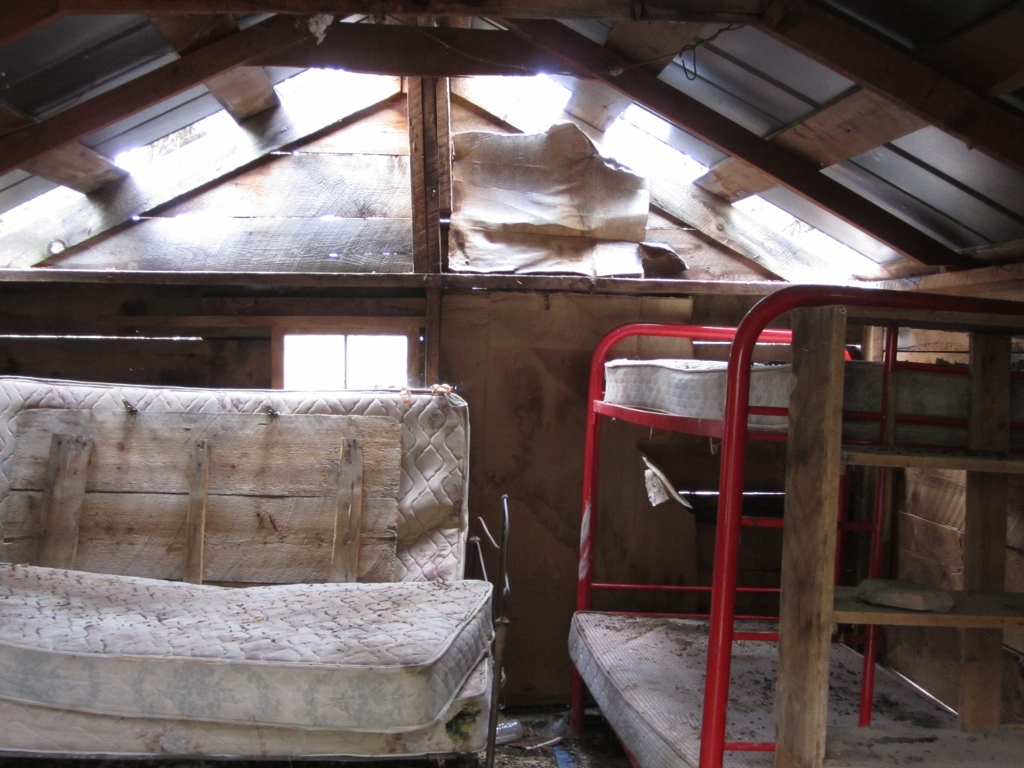 But hey we had heat !!!!! And I prepared my mind for a night in the cabin.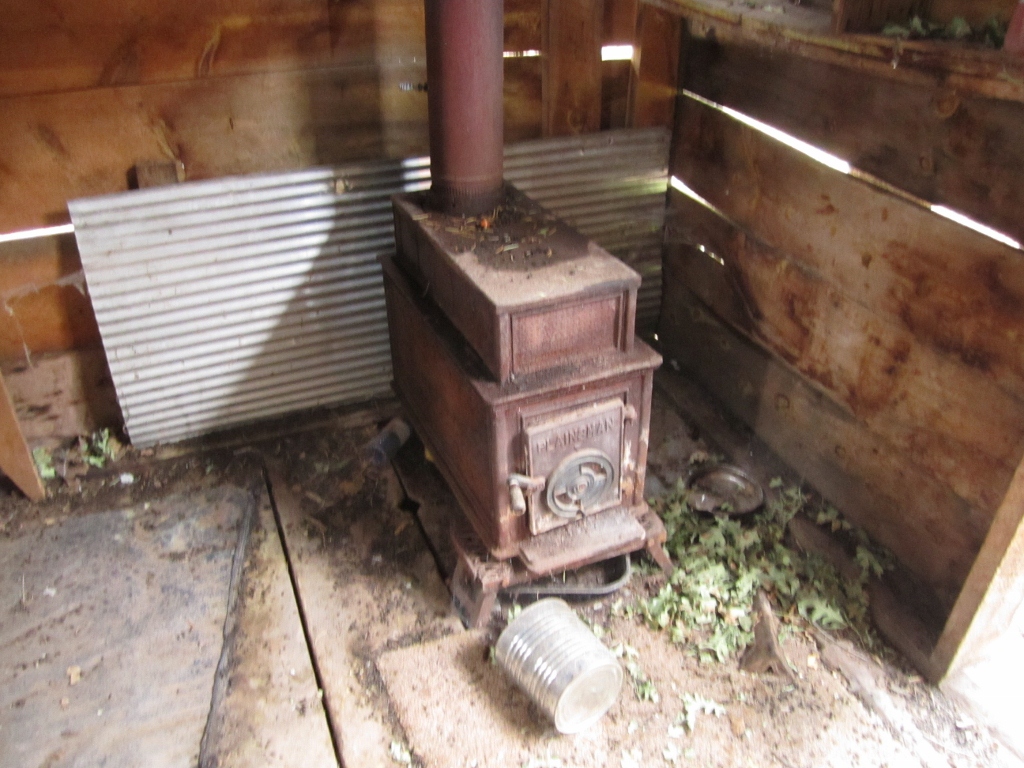 I left my mark------find it and take a picture of it with your face in the picture and I'll give you a big thumbs up !!!!!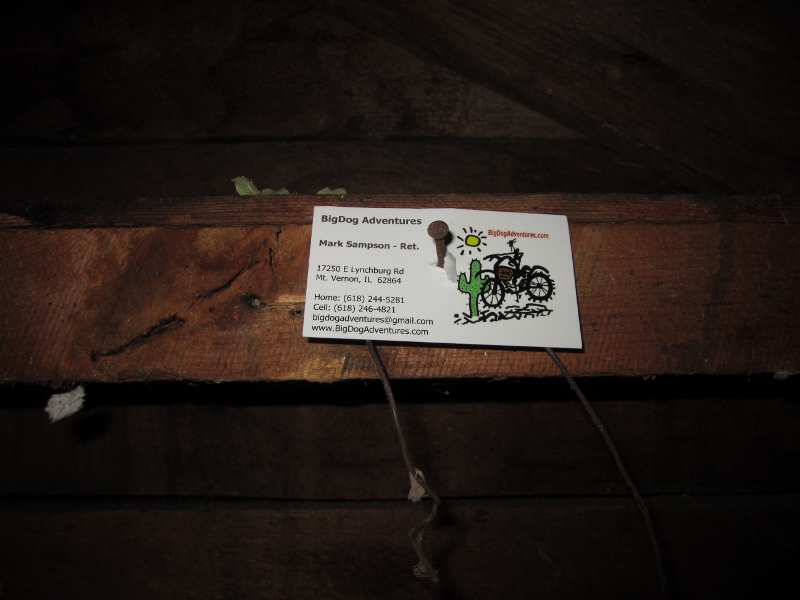 The trail was too slick------we did climb up to the top of the mesa once---and the dirt up there was sticky and gooey and impassable.
As it rained harder I told Scott we need to hole up in the cabin till it dries out or we'd be riding in sticky mud for hours having to stop
and dig mud out from our bikes every 4 ft. We had done that before----it's no fun and extremely hard.
We waited for hours for the trail to dry up after it quit raining and while waiting took some more pics.
We have been in this situation before and had no problem waiting the trail and rain out.
If we had to stay here for a few days------we had enough supplies to survive-----for.........a...while.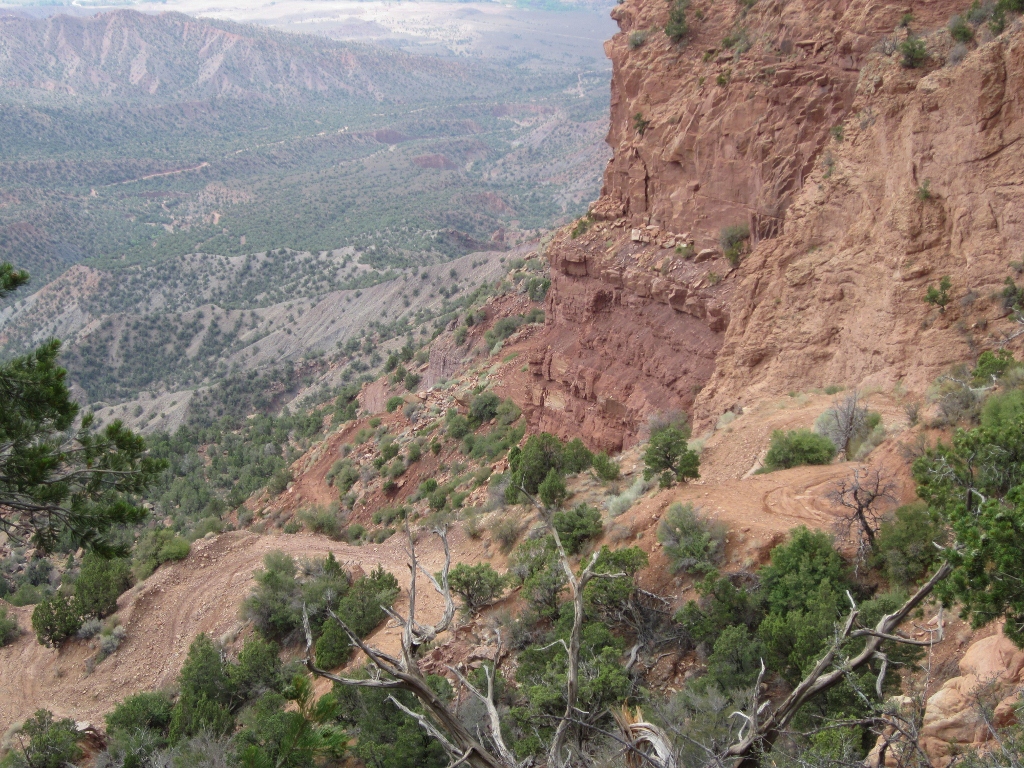 When it quit raining I didn't think the trail would dry out enough for us to continue up on top of the Plateau---but it did..
Here I am making the final run to the summit---which wasn't muddy---but steep and very rocky---first gear all the way.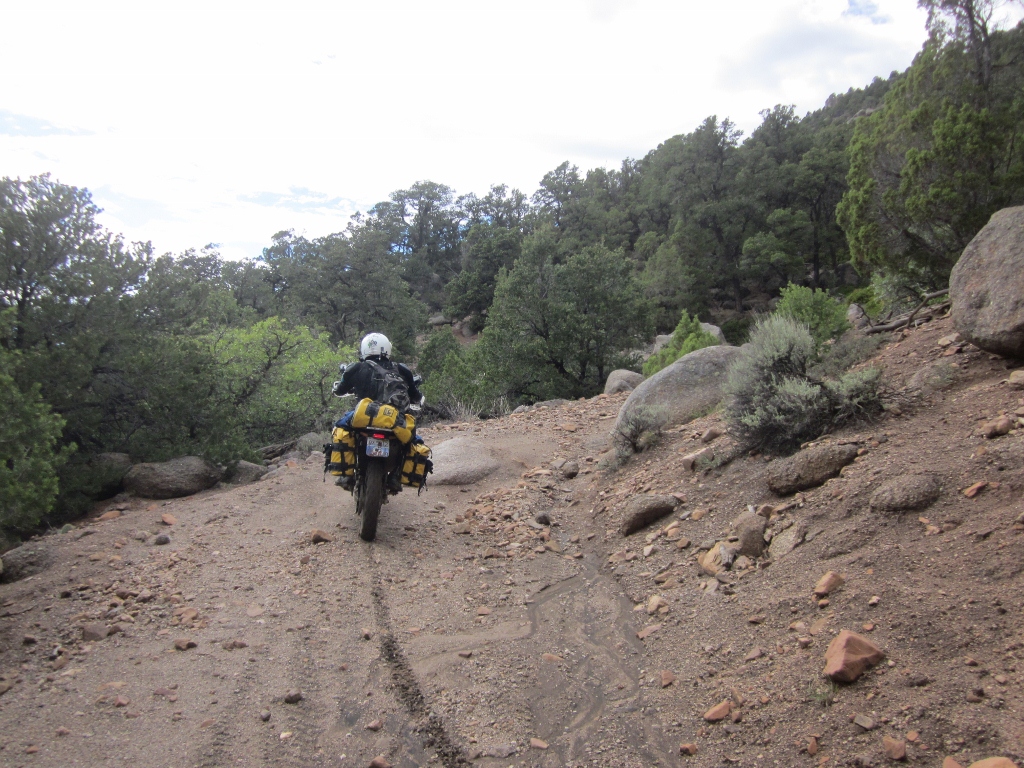 Up on the plateau the mud was much worse---and we had to wait some more for it to dry-----but it did pretty quickly.
We were having a ball in this stuff and really didn't care---but I was still thinking we'd be spending the night up here.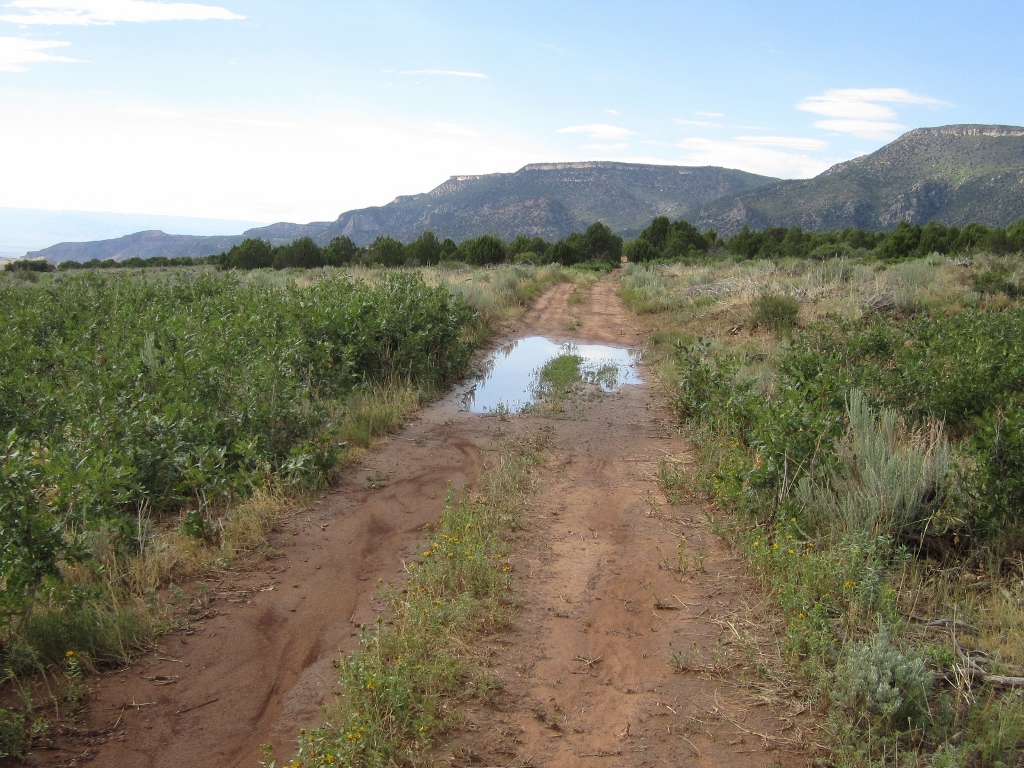 This big ole' green tree just stuck out brightly among the other dried vegetation---and I thought it deserved a picture.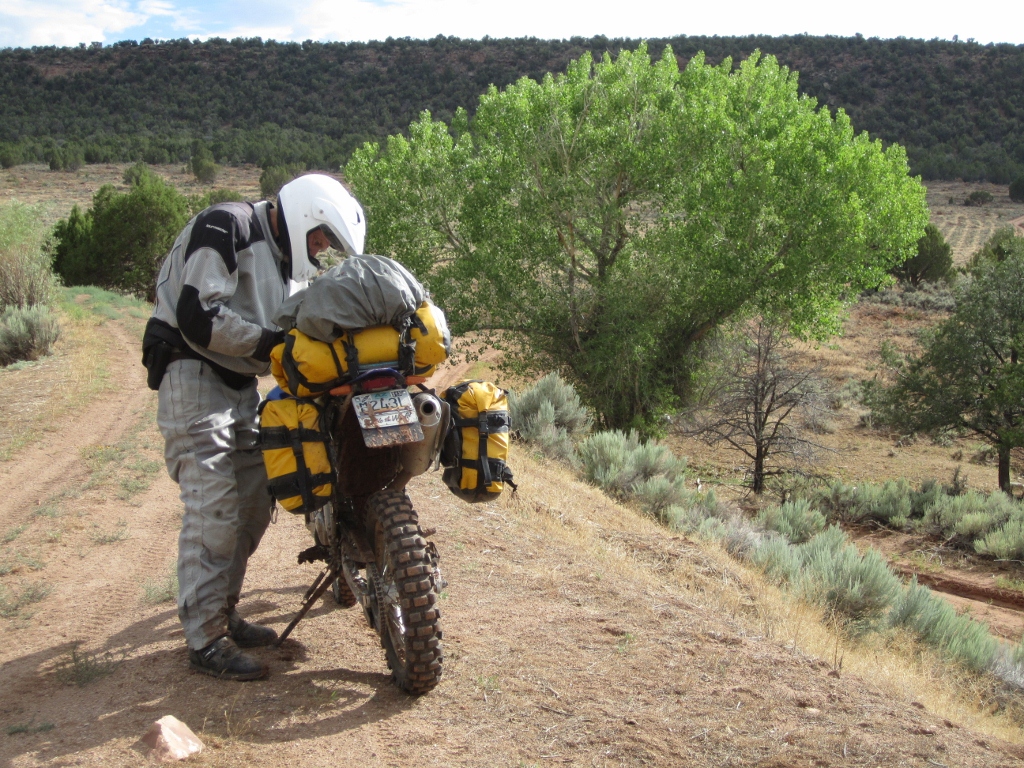 Without these crucial wayponts I'd dropped before we left I would have never been able to navigate our way thru here.
A lot of this was accompllished with google earth.
I"m not sure what Ryan Park is------certainly no park was there---and the terrain was still brutal rocks---but it was beautiful in there
I'm telling you.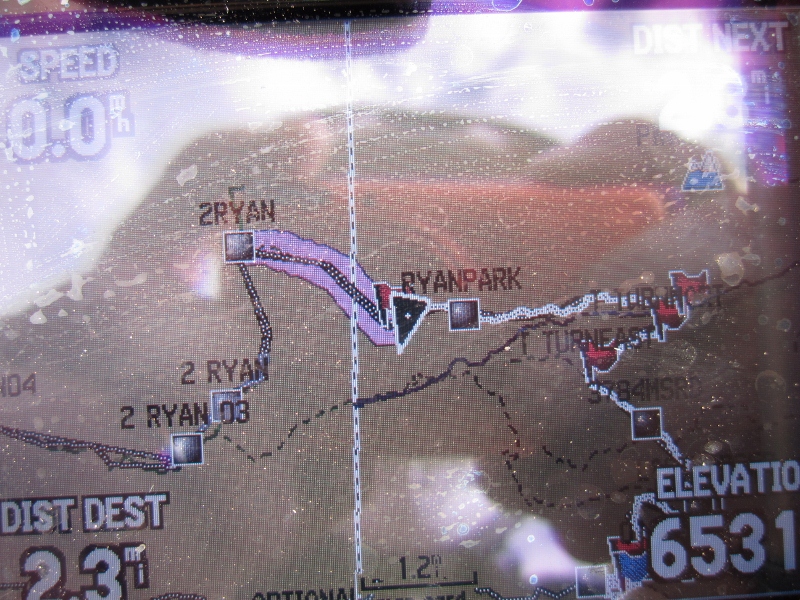 We are now in Utah and the trail became easy----and oh so beautiful.
We wouldn't hit any more hard stuff the rest of the day.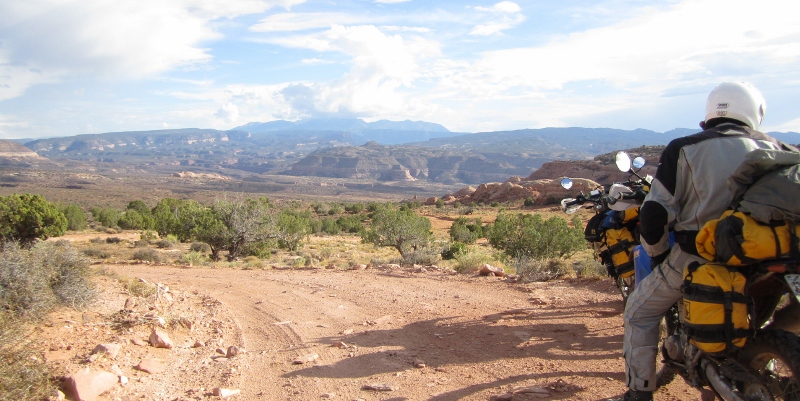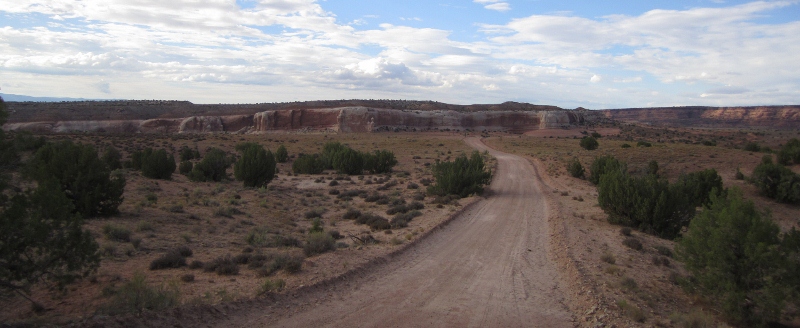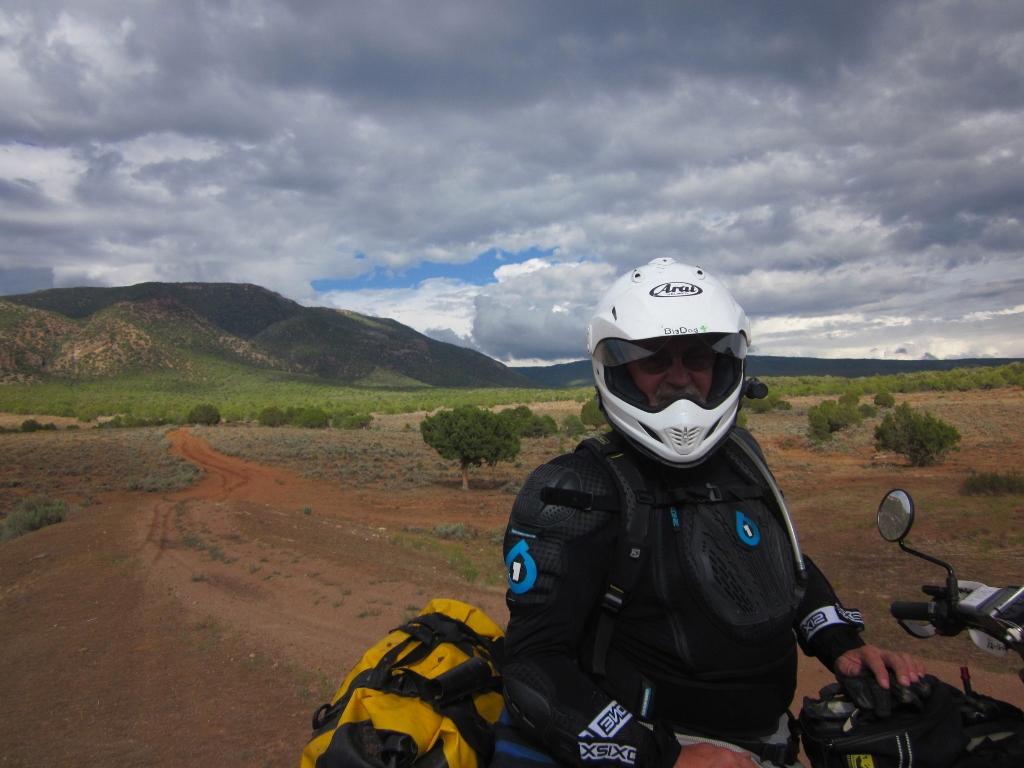 Still in Utah---what a beautiful rock formation.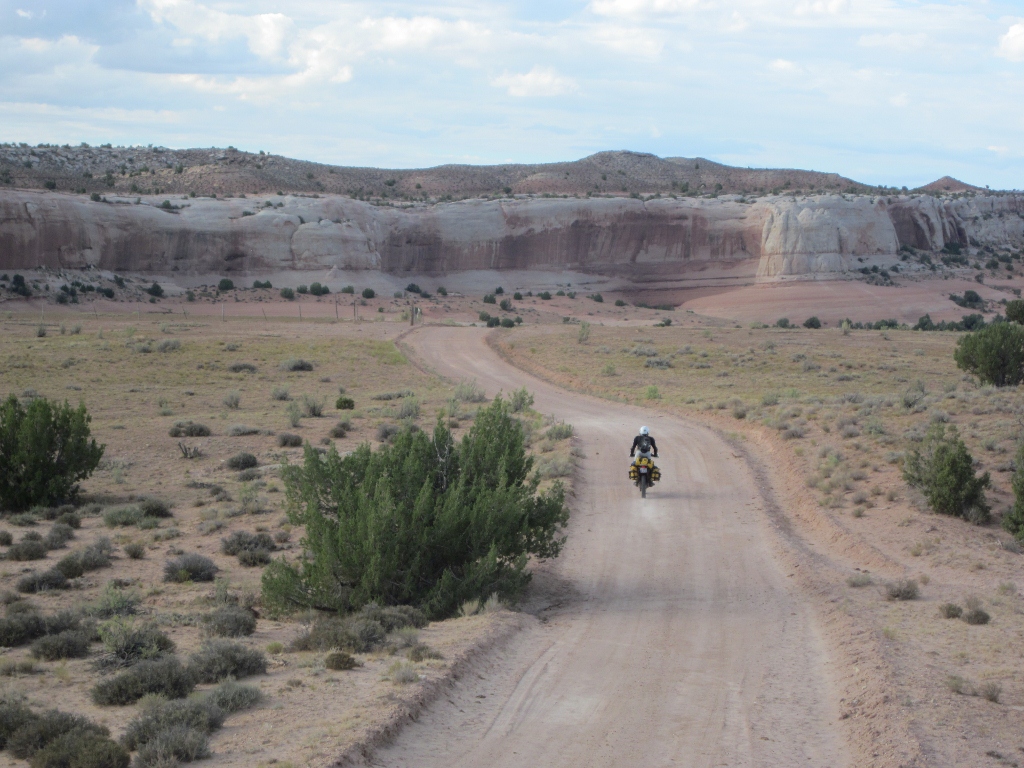 In this picture we had headed East back into Colorado toward Grand Junction on DS road.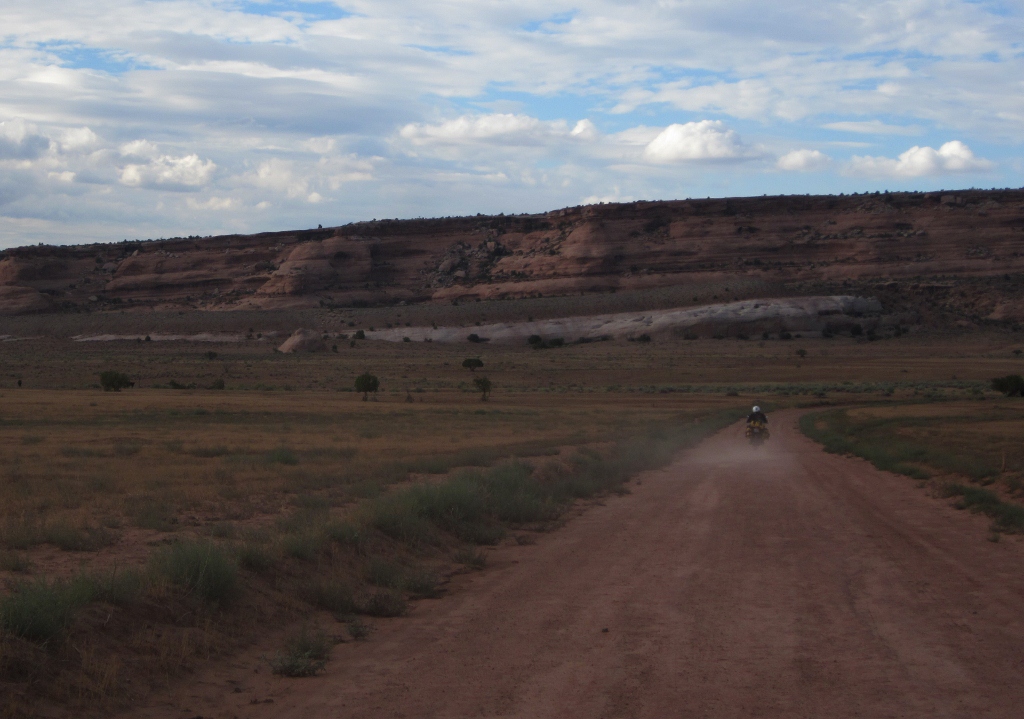 I love the old windmills and this guy obviously does too. I kept looking for someone around so I could ask if we could have a closer look.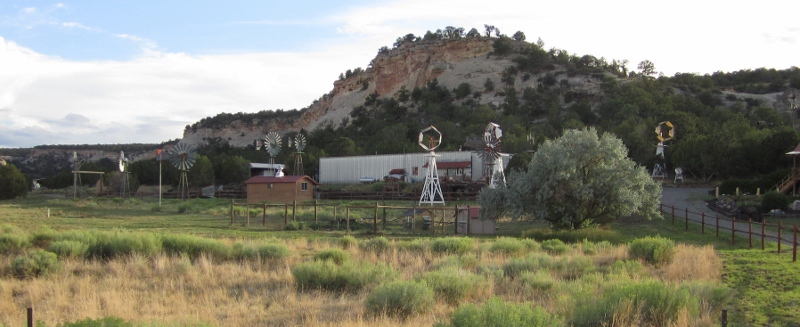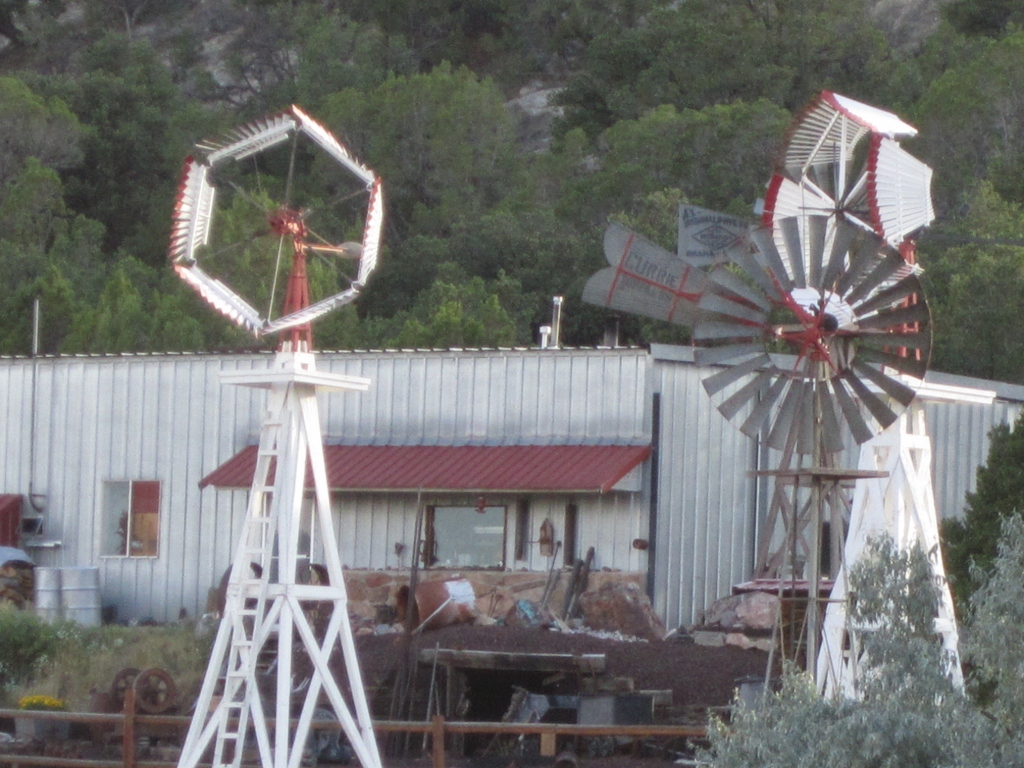 Before we hit Grand Junction and Fruita, Colorado we rode thru the "Colorado National Monument"---a beautiful ride with Utah like
rock formations and a ride thru several tunnels.
We had only ridden 192 miles today-----but I had spent easier days riding 600 miles.
Me and Scott were on a high of accomplishment.
I've said before--------sometimes I've heard about or seen pictures of neat places thinking I'd never get there------but we did---life is good.
Thanks for picking me up Scott when I was down---one time with my leg hung up.
The motel to stay in Fruita Colorado---------I'd stayed here before and it's a nice mom and pop place that's not to expensive.
The Polish guy that owns the place was still there----he had the strongest Polish accent I ever heard---a little hard to understand--a great big guy with a smile
and he was a guy who likes to mess with you..
I finally asked him what nationality he was as I couldn't figure it out and he gave me this really serious look like I'd made him mad and said "Chinese".
I give him this dumb look-------I'm very good at that-----there was a long confused pause---------and we both broke out in laughter at the same time.
What a great guy------and.............he has outside doors.
Stamp out inside door motels------don't stay there and break them. Tell em' to knock some holes in the wall and make an outside door
or you ain't coming back.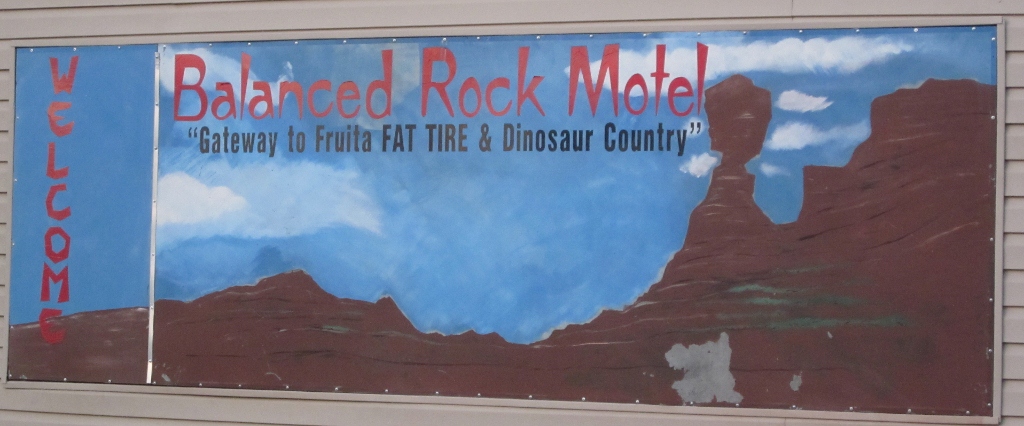 Day 9
July 30th, 2012
Today would take us from Fruita, Colorado to a really nice campsite between Gunnison and Taylor Reservoir.
Looks like my muffler bearing needed some WD-40 I guess ??????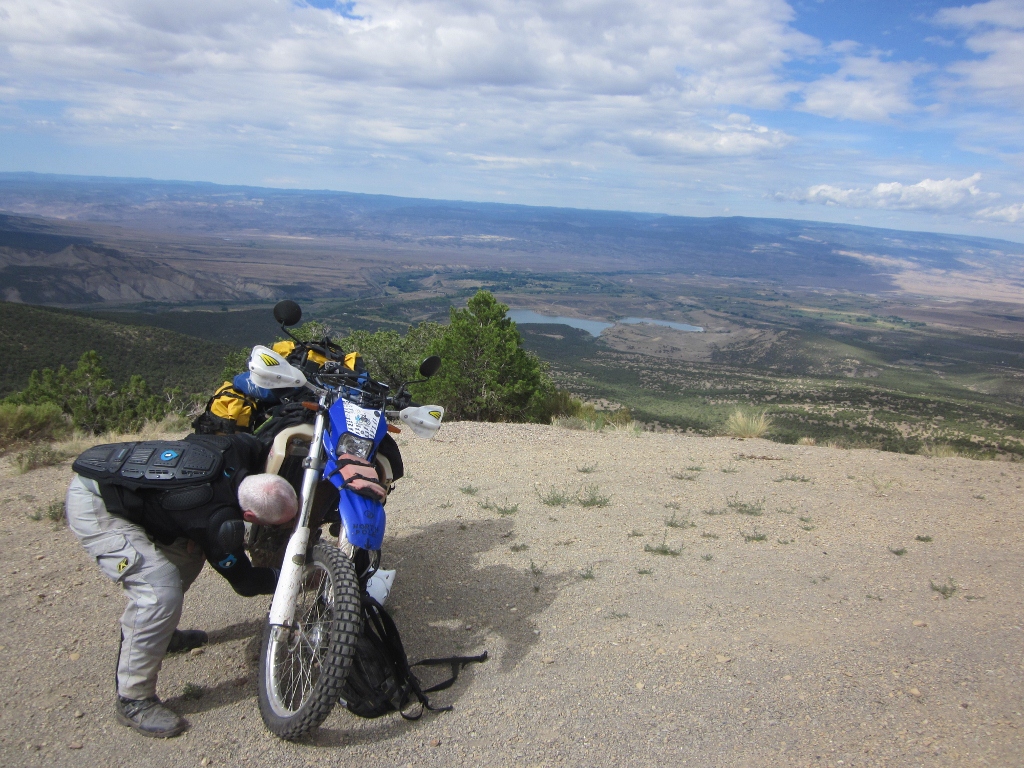 This morning would be spend climbing many miles on top of Grand Mesa---about 10,300 ft.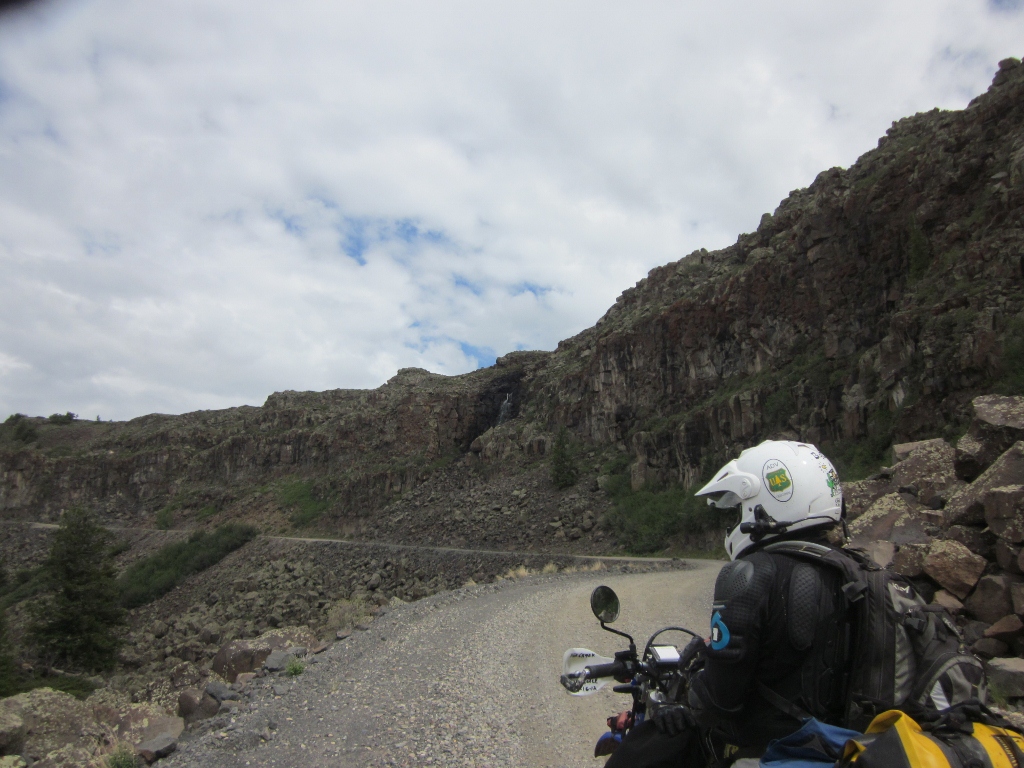 It's a very easy climb with lots of switch backs.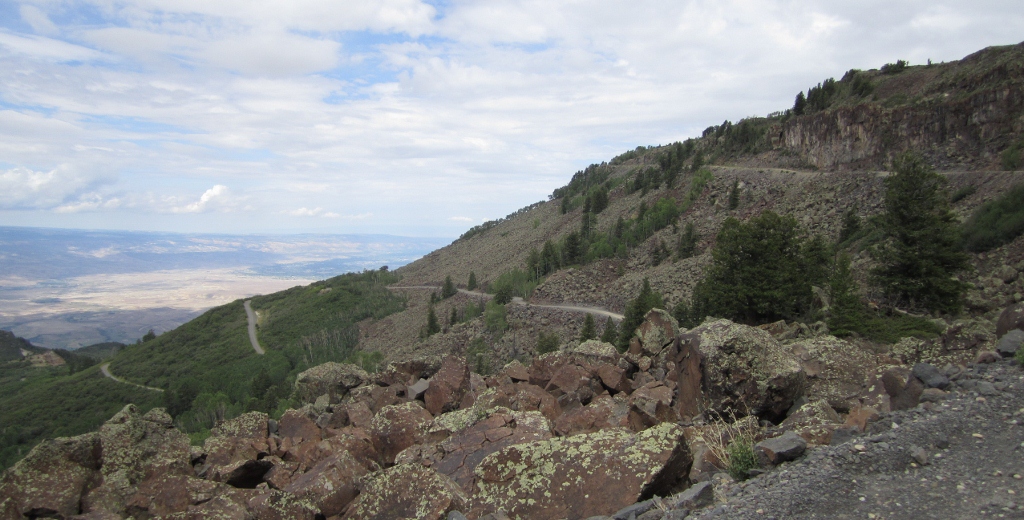 I'm not sure what the Lands End is all about---but we went there.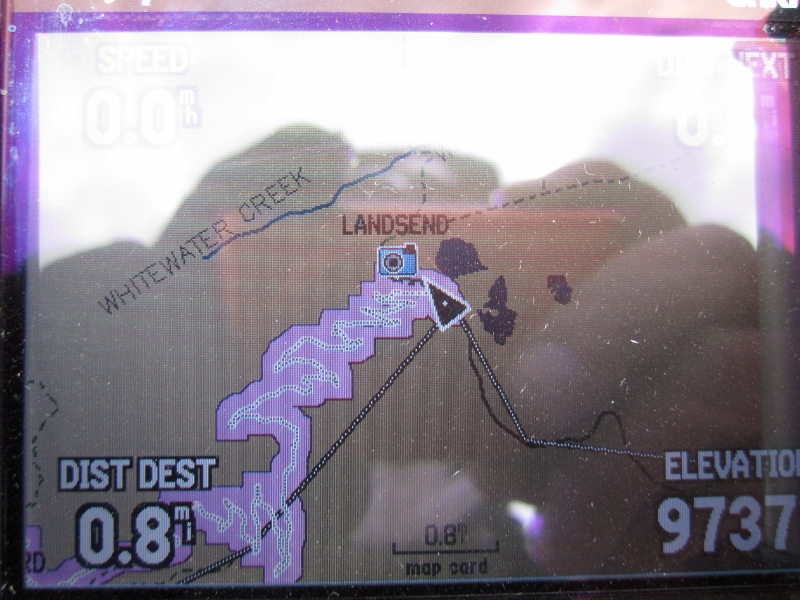 All the while climbing you couldn't help but look back at every switchback and see where you had come from--and how far you have climbed.
It was about 4,500 ft. down in the basin.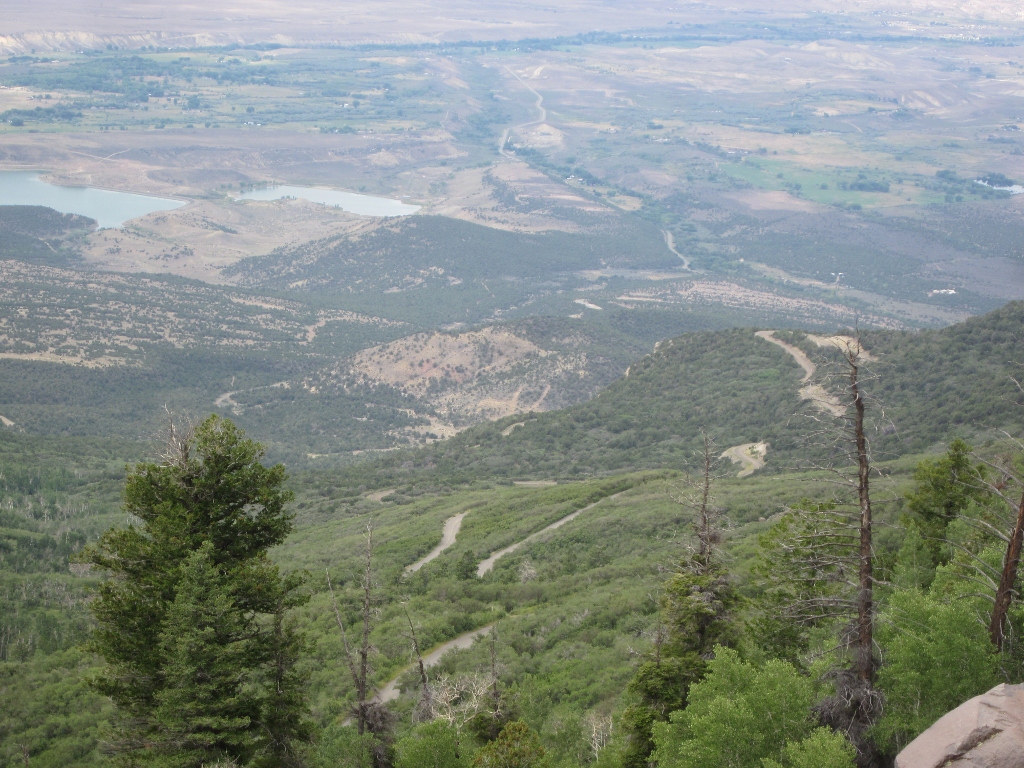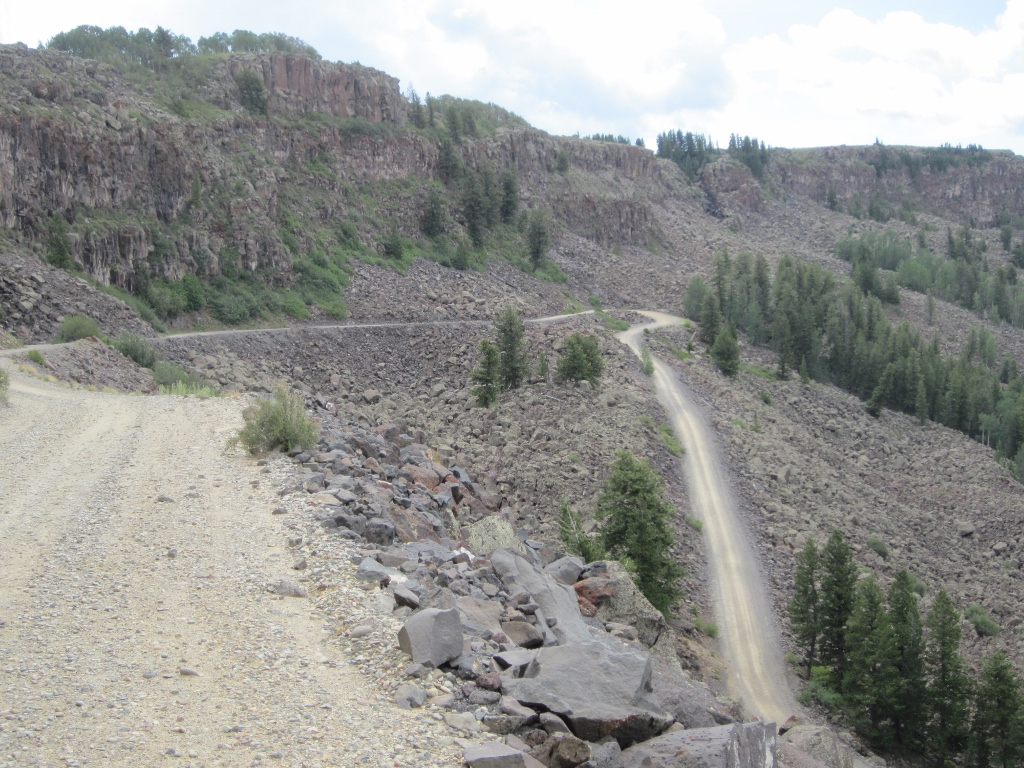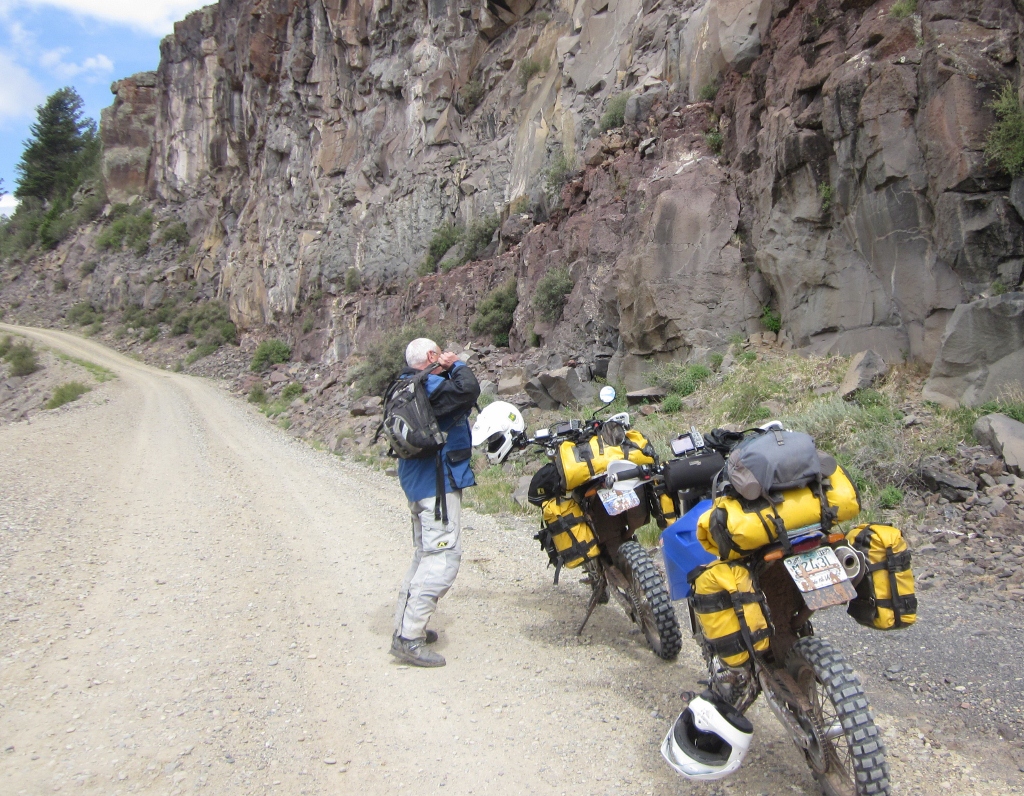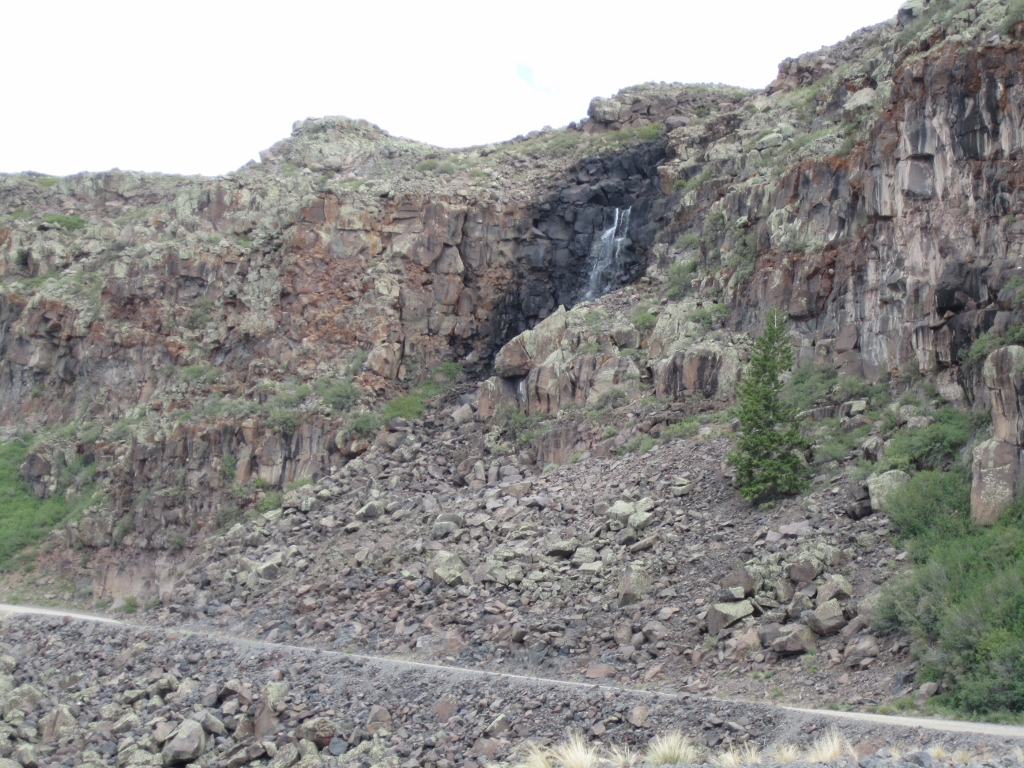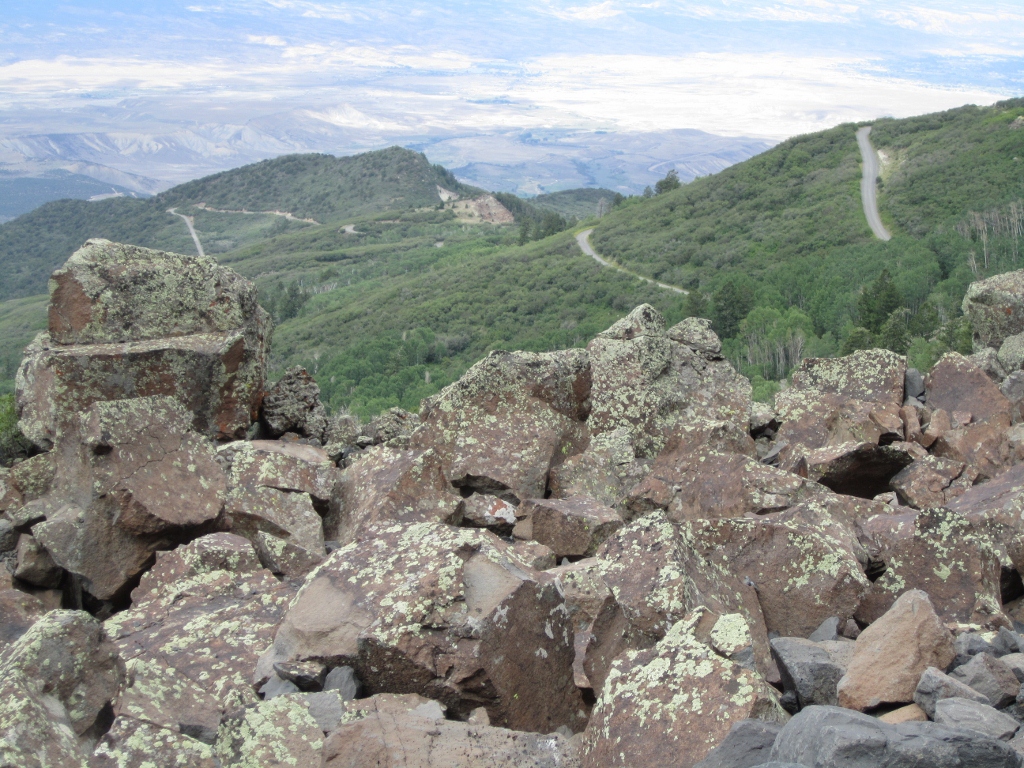 Once on the top I took off on a snow mobile route I knew of----of couse in the summer ---it's an Adventure route !!!!
A few lakes up here where snow and rainfall is about all that makes the lakes.
Doesn't look like you are up high in this picture but you are---and you stay that way for many miles.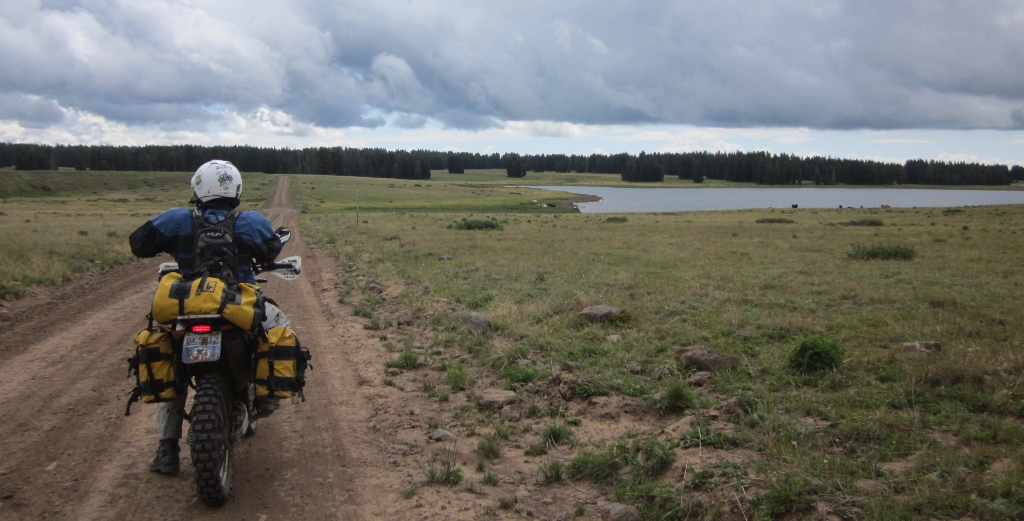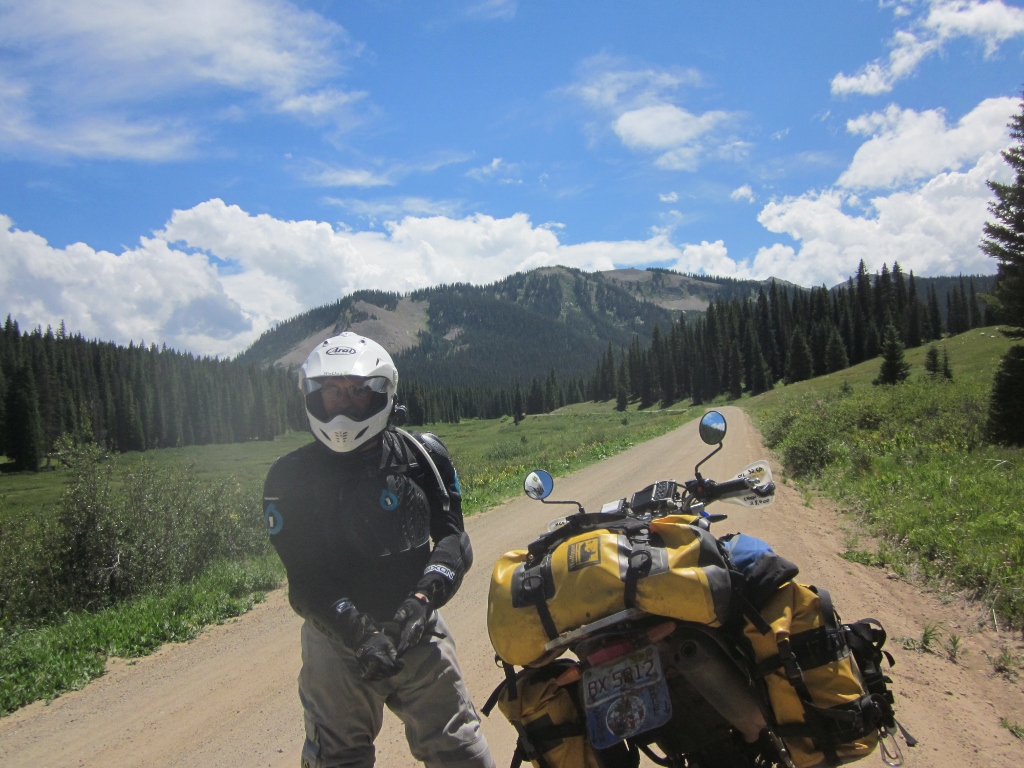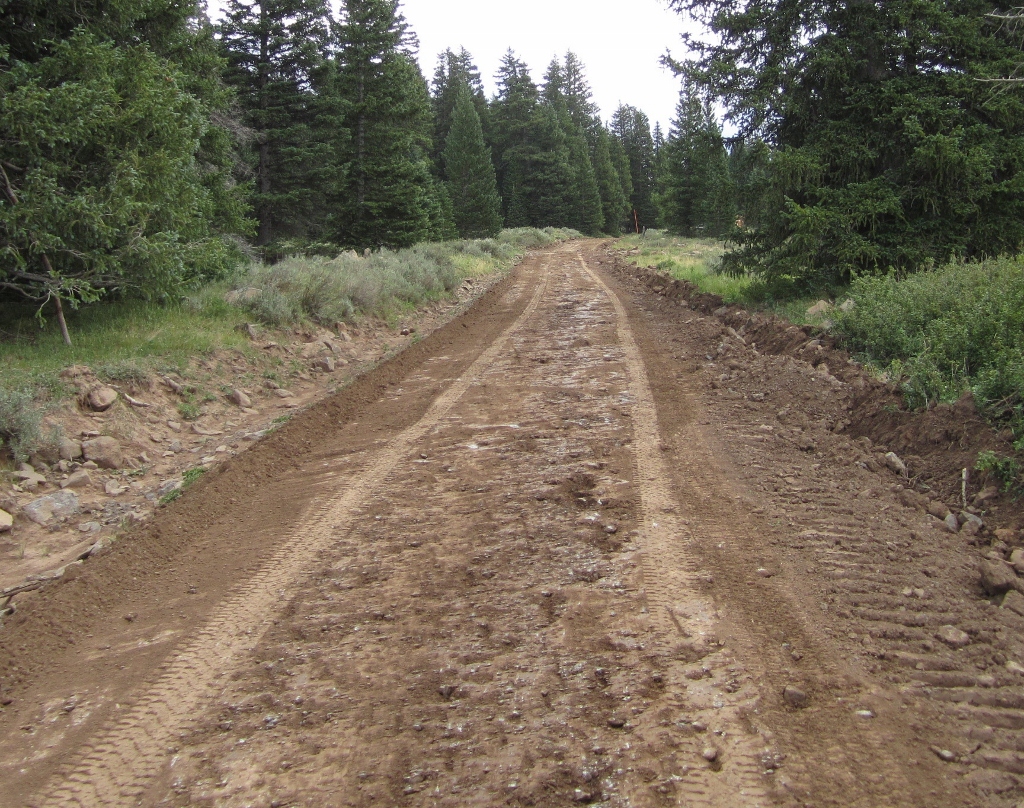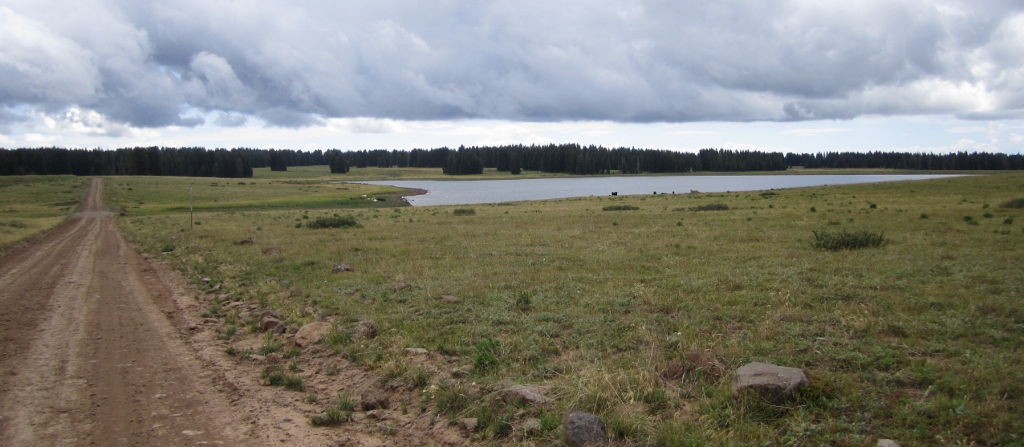 I finally turned South off the big tall Mesa on 65-----East on 92--Northeast on 133 and to not have to go thru Crested Butte me and Scott
went over Kebbler pass---then South over Ohio Pass.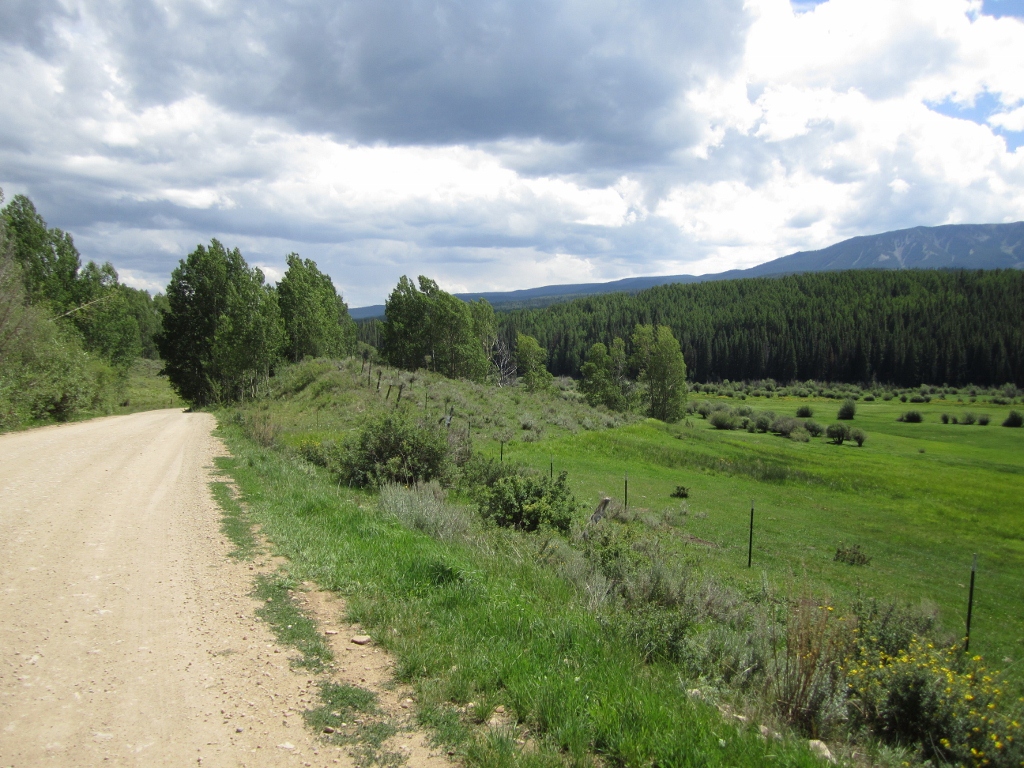 We met these hooligans in Gunnison.
Said they were adventure riders------bah---you can't go anywhere on a 250 I told them--what's the matter with you.
Forgot their names---forgot mine too---but we had a hoot with these guys and looked over all their bikes and gear.
They were very well prepared and were having a ball.
I'm thinkin' one of them told me that it was me that convinced him to buy a WR250R.
"Quick Scott let's get out of here---he's pissed".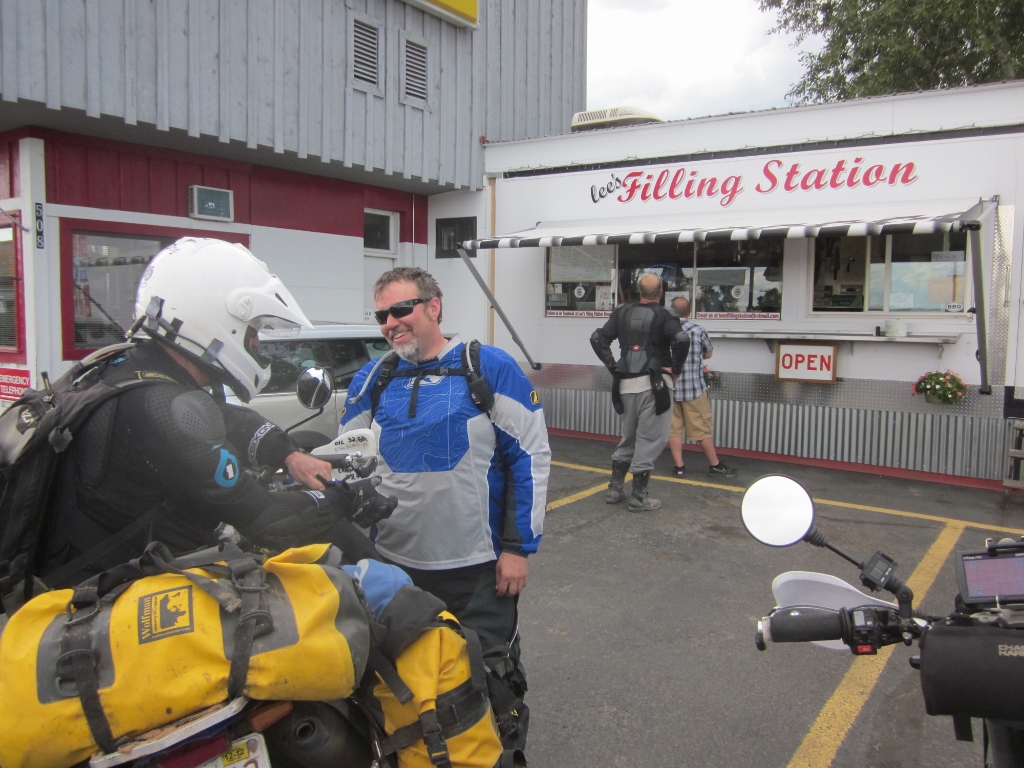 I tried my best to talk Scott into buying that really nice 520EXC in this picture.-----He asked me .............
"How often does your WR breakdown Mark"--------every 17,00 miles---like clockwork I told him.
"How often does your EXC breakdown Mark"--------oh....about every 40 miles.
"How often does your kickstand break off on that thing Mark"------------it had a kickstand ??????? I didn't know that !!!
Look at the smile on this guys face---having way too much fun.
They had a guy with them on a DR650 that had 70,000 miles on it---awesome.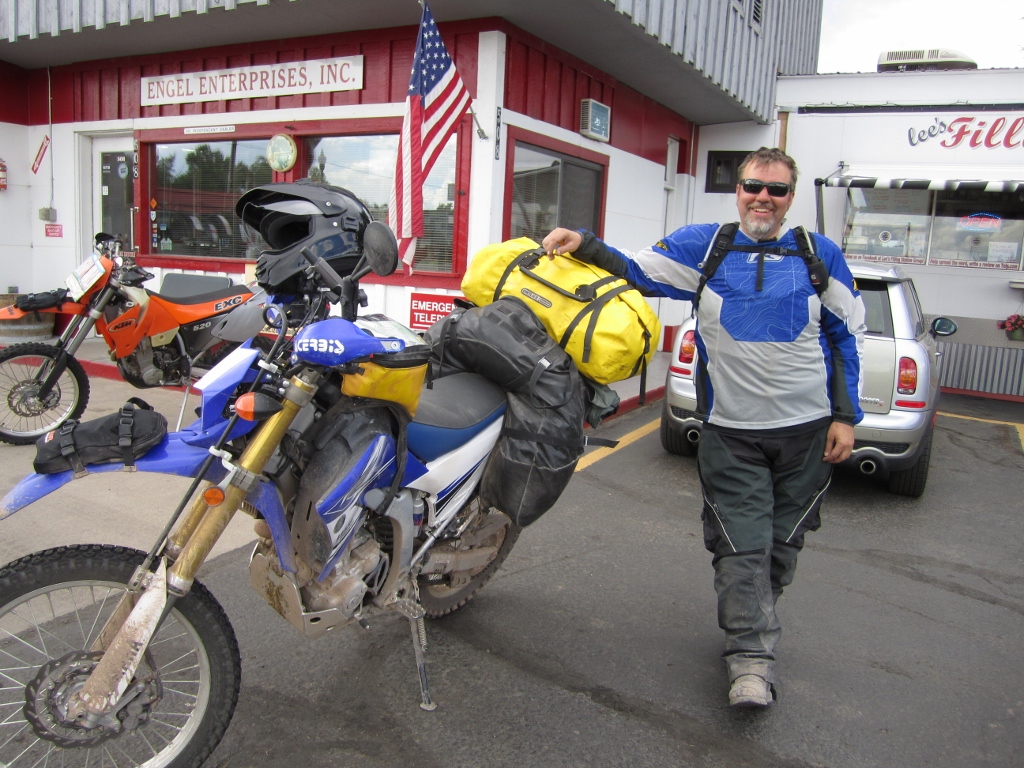 I was really fascinated with this guys saddlebags----I never saw anything like them and they were so well tucked away.
I asked---"where'd you get those" ??? He made them--they were nice.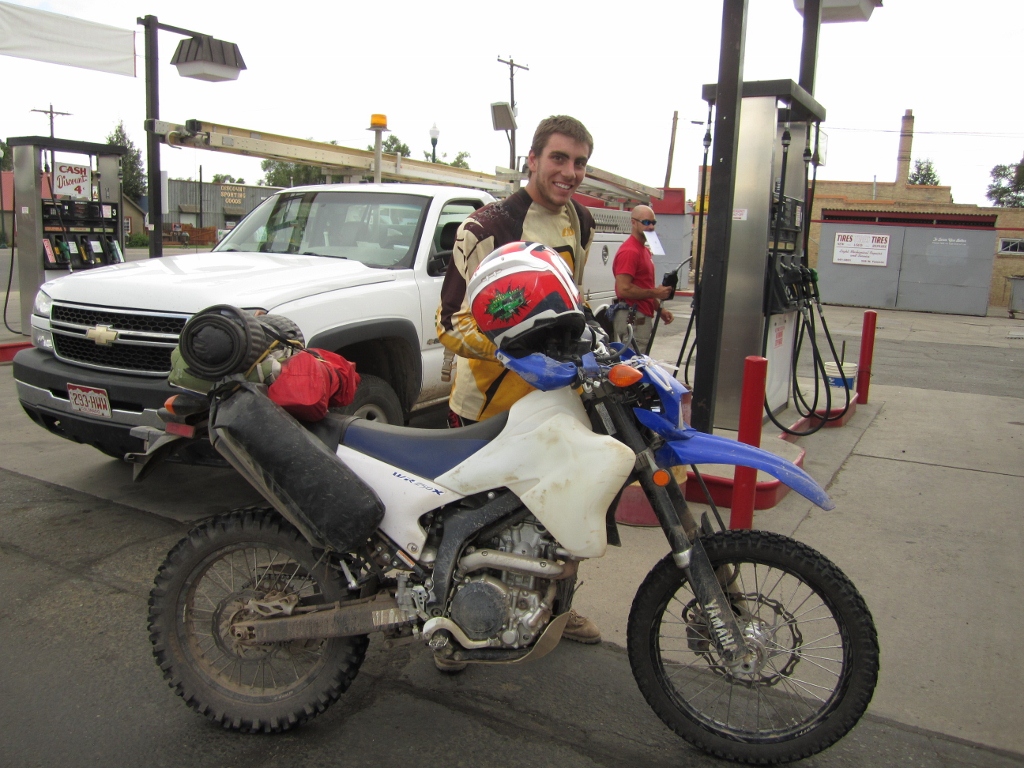 We talked about camping around Taylor Reservoir a bit---but on the way found this to stay away from all the people
up around Taylor---I think it's called one mile campground.
And if you haven't seen it before----my chair-------I call it the "Big Burrito Chair"---cause it packs up to the size of a big burrito.
It's really comfy after getting into it---and fully supports your back----a little tricky getting in and out of.
Camping fees are going thru the roof----and all I can think of is the good ole' days when a state park would hit you up for $2-$3.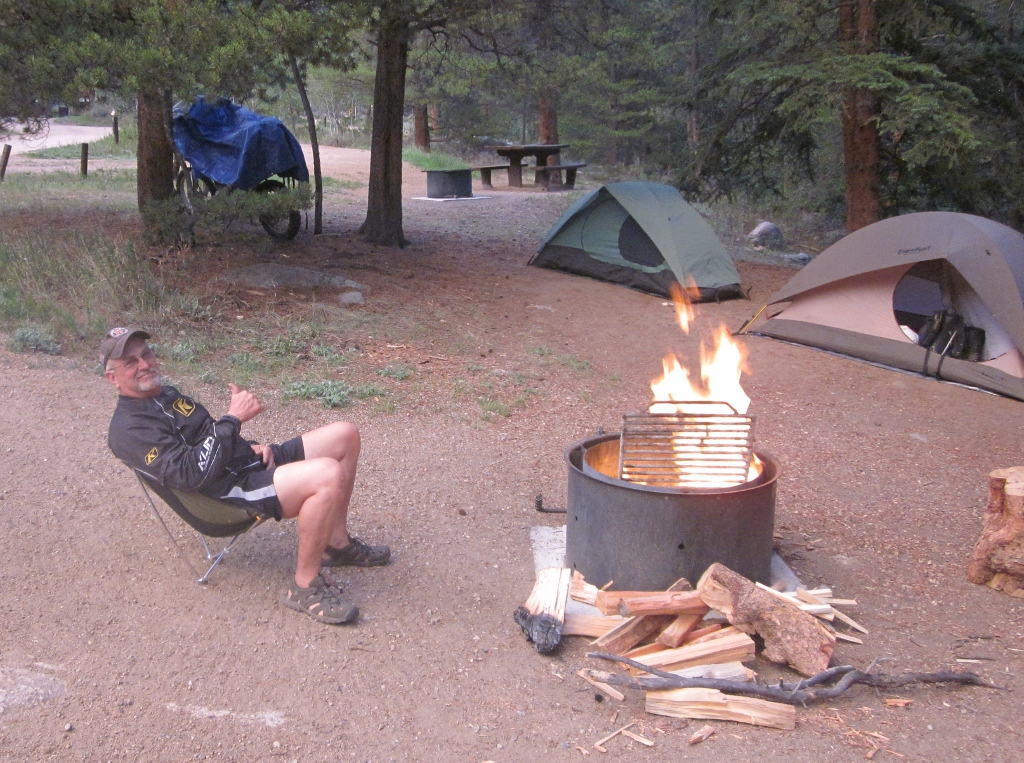 Scott is definitely the woodsmen.
I think he could be one of those survivor guys on TV----cept he ain't going on TV.
He had some wood split and a fire going before I could put up my big "Burruto" chair.
Notice the babbling brook (creek) in the backgound---that'll put us to sleep.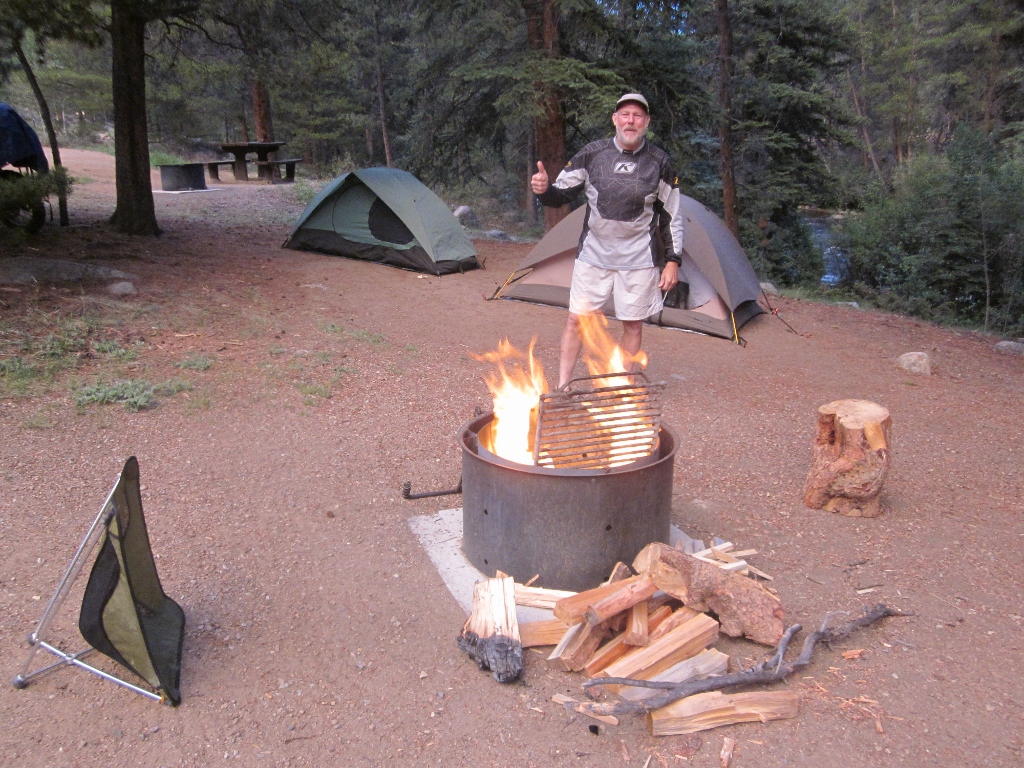 Day 10
July 31st, 2012
Today will make it from our camp Northeast of Gunnison to our campsite on Ruedi Reservoir---which is on the Hagerman pass road between
Basalt and Leadville, Colorado. Shofield pass will be the thing today that has our butts puckered to our seats.
The words "BaJesus-----Oh Crap---Uhhhhh----Ouch---That Dang BigDog----Oh My God----Yahoooooooo" will be used on this descent down Schofield pass.
So we have a Jet-Boil oatmeal breakfast with coffee and break camp---and head North on the unpaved Spring Creek road.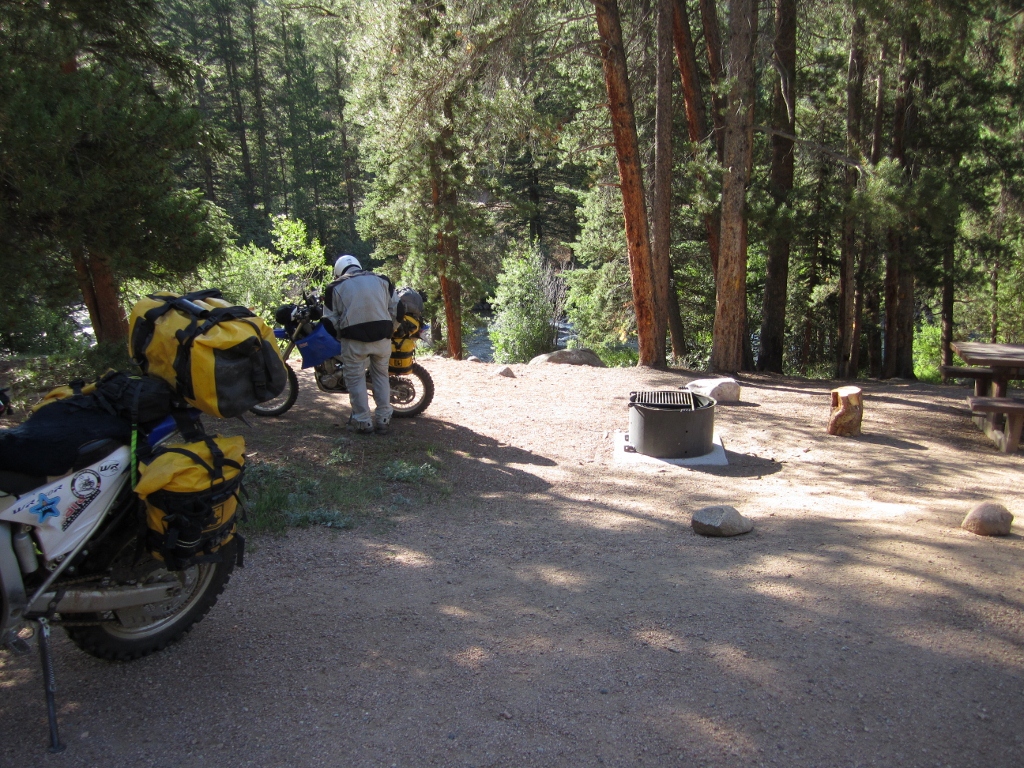 Here is our campsite----what I do is very quickly hit the gps mark button--which marks the spot with a generic number.
I do this sometimes while riding---when I can I write that number down on my handy dandy BigDog waterproof rollchart paper and what it was.
This time "Camp Day9" Then when I get home I download all this stuff to my computer and changed the names of the waypoints---now I've
got it for future use---or sharing to other fine folks. So if you get the gps file for this ride it will say "Camp Day9".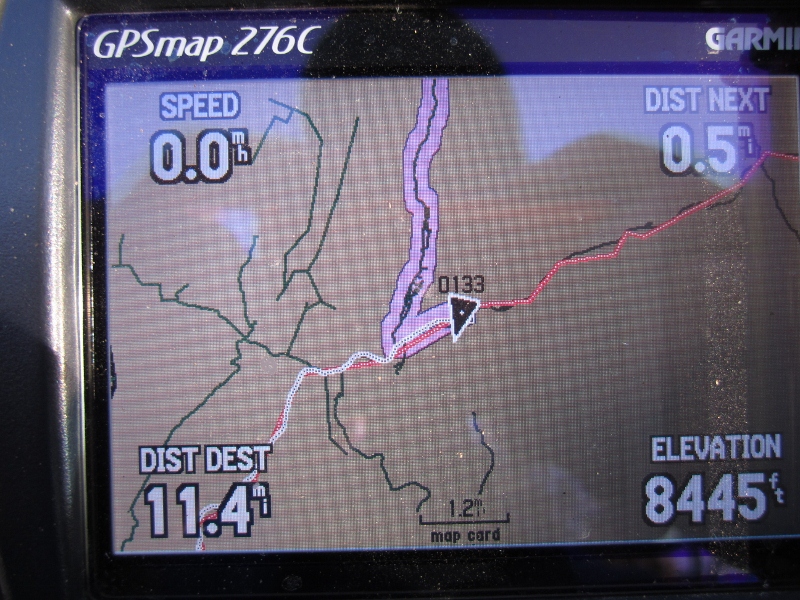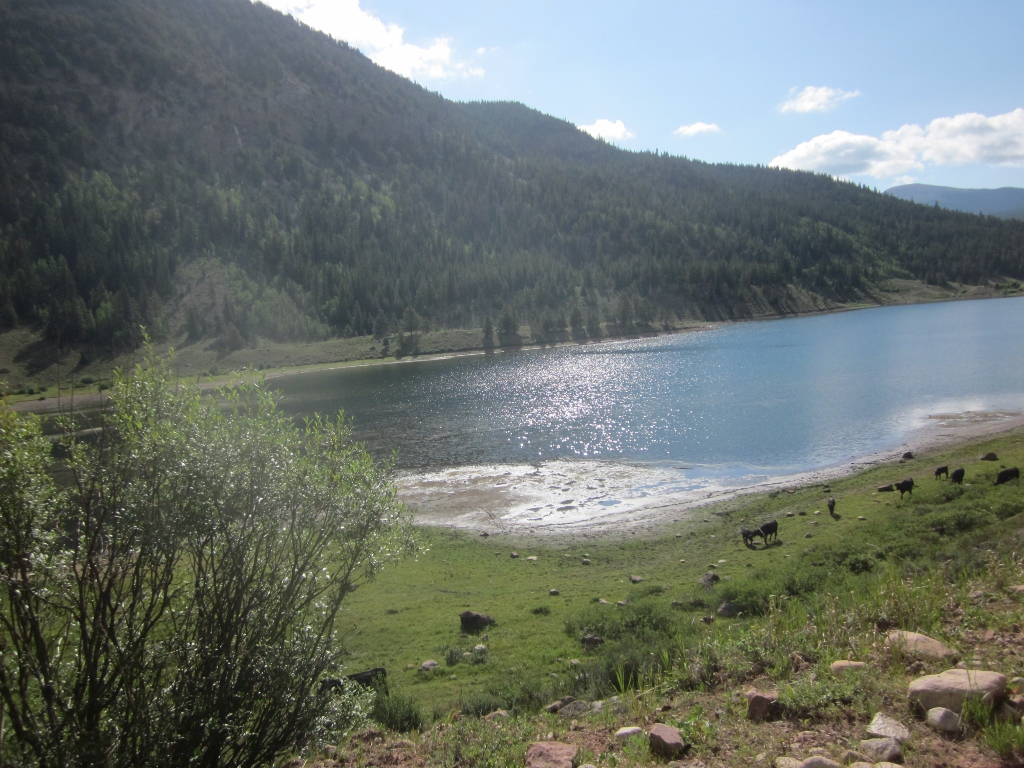 The next few shots are actually a very small part of Sam Correro's Colorado portion of his Shadow Of The Rockies Trail---which come out of Cement creek road
at Hwy 135 Southeast of Crested Butte.
I've plotted and google earth more than once---for hours on end trying to find a way thru ghose mountains you see to avoid Crested Butte.
Seems the Billionaires bought it all up and closed it all off.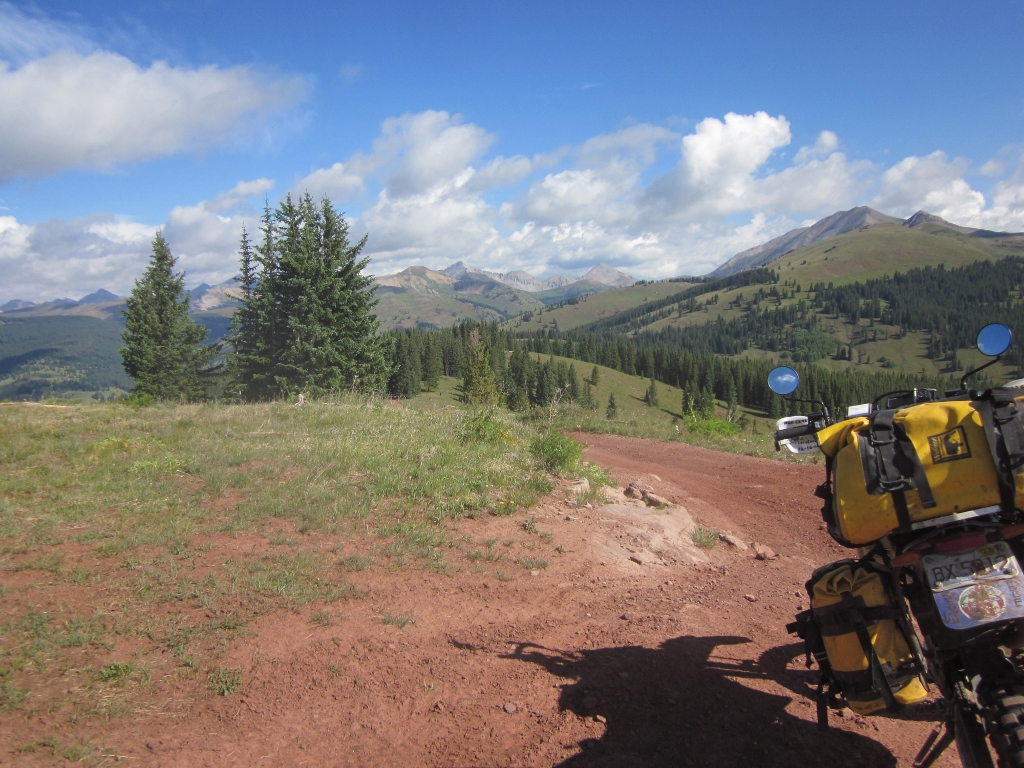 Now we are headed to Schofield pass--Northeast of Crested Butte---which leads to the neat little town of Marble.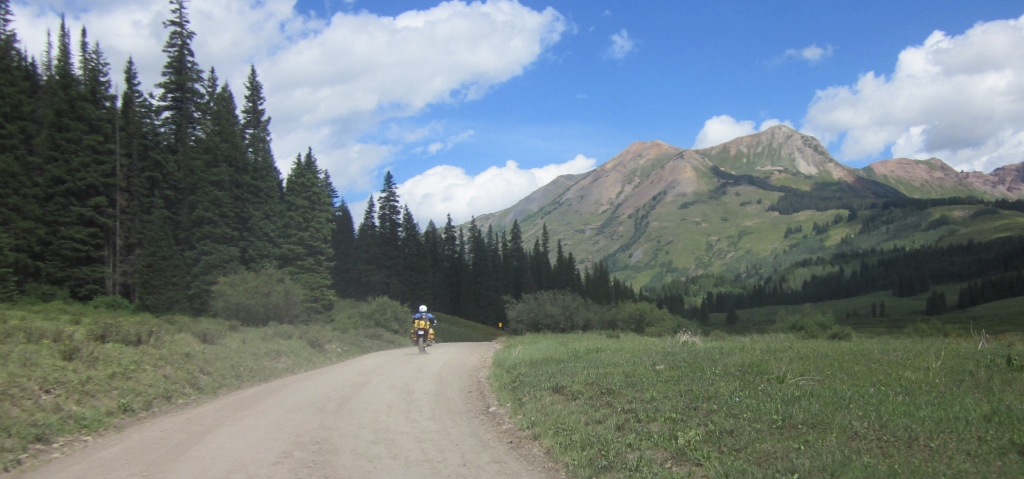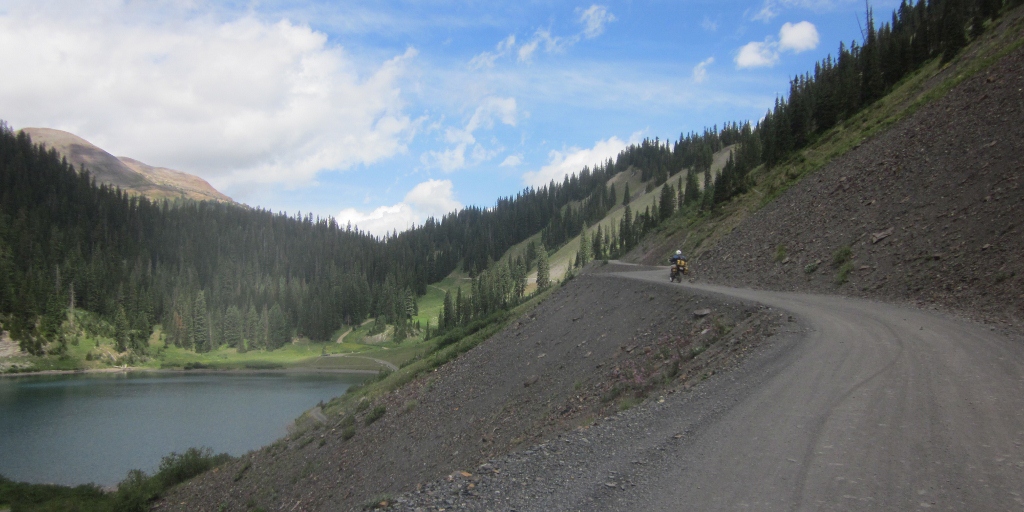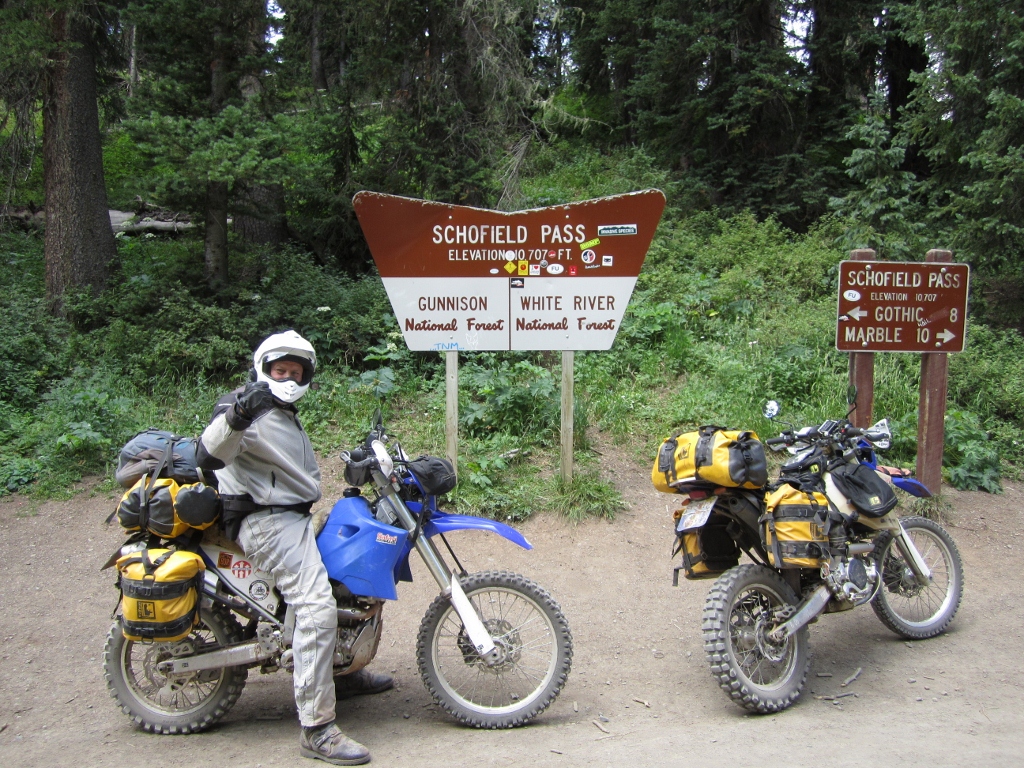 Yeh---I stuck my card there again--marked my spot ----like any dog would do.
When you are at this sign going North you might think you have already passed the very nasty part of this pass road------fraid not dude.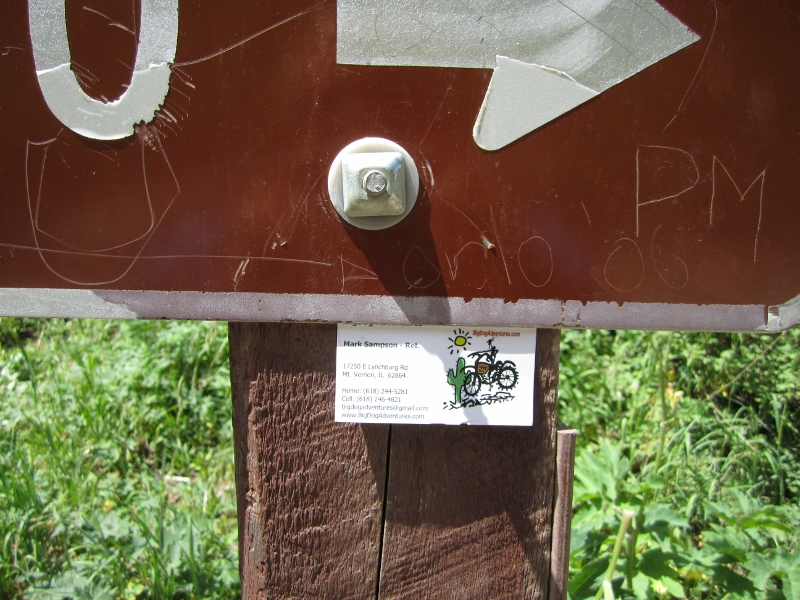 If you've done this pass before---now is when your knees start to tremble again.
If you haven't------they will next time.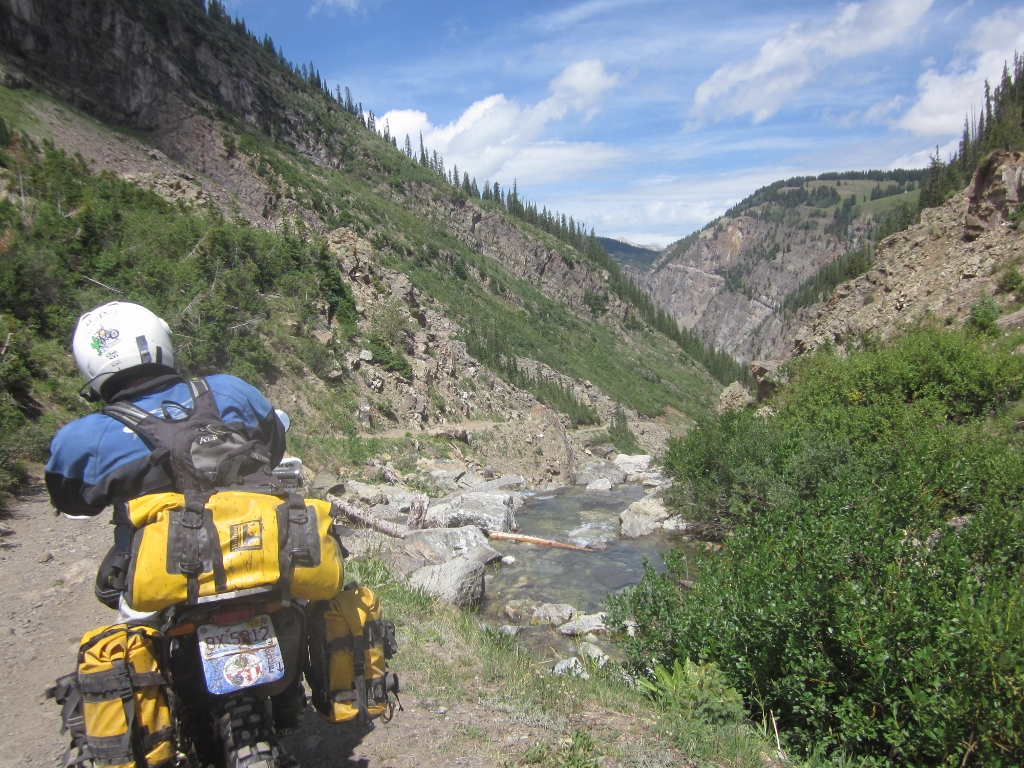 Unlike Black Bear pass where the really scary part is about 150ft. long----this one is 20 times that long. It will pucker your butt.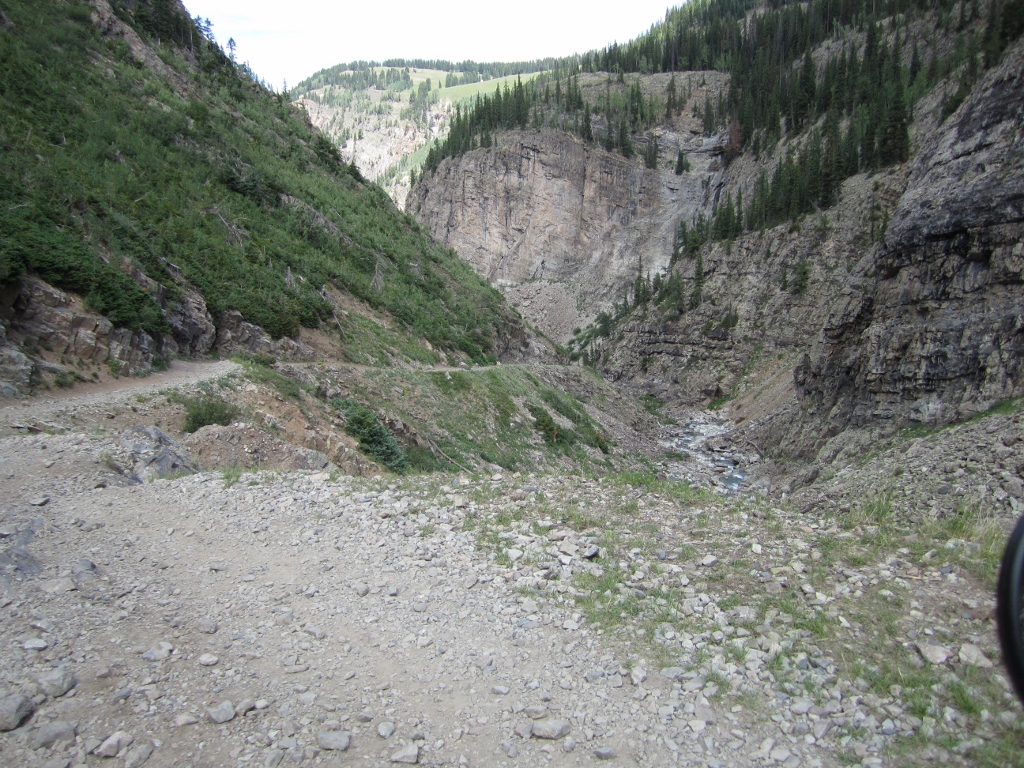 I'm not sure why -------but everyone calls this "The Devils Punch Bowl"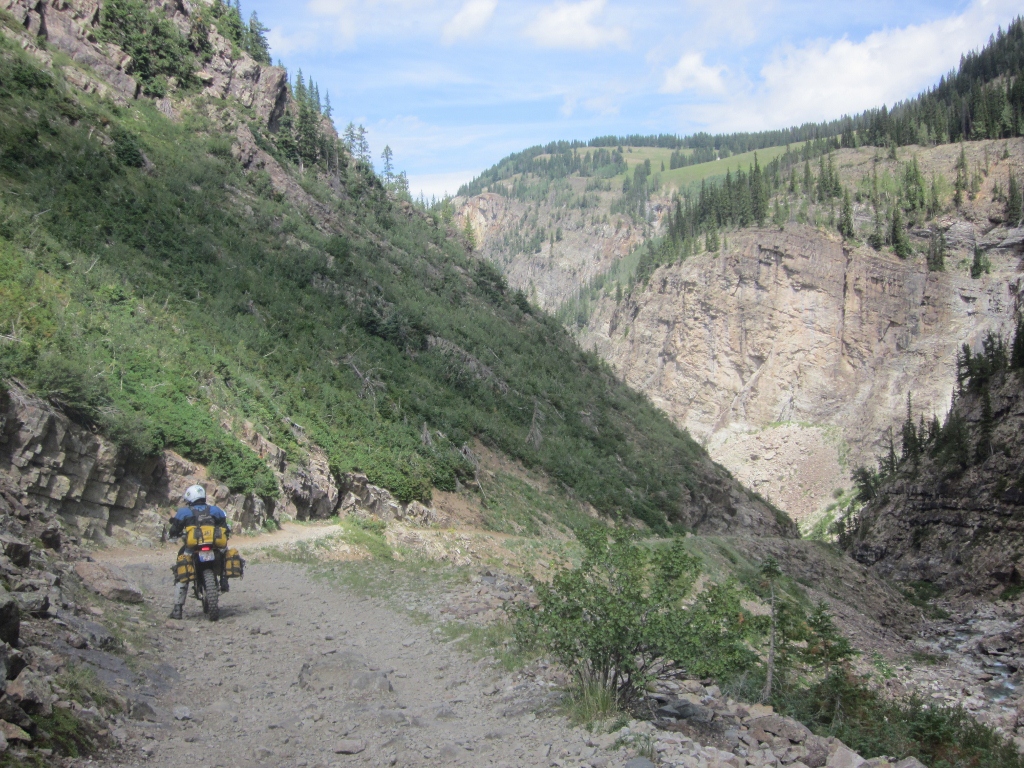 You skid down this sucker---almost never using the bikes power. If you only had one brake----you'd -----well-------I guess die.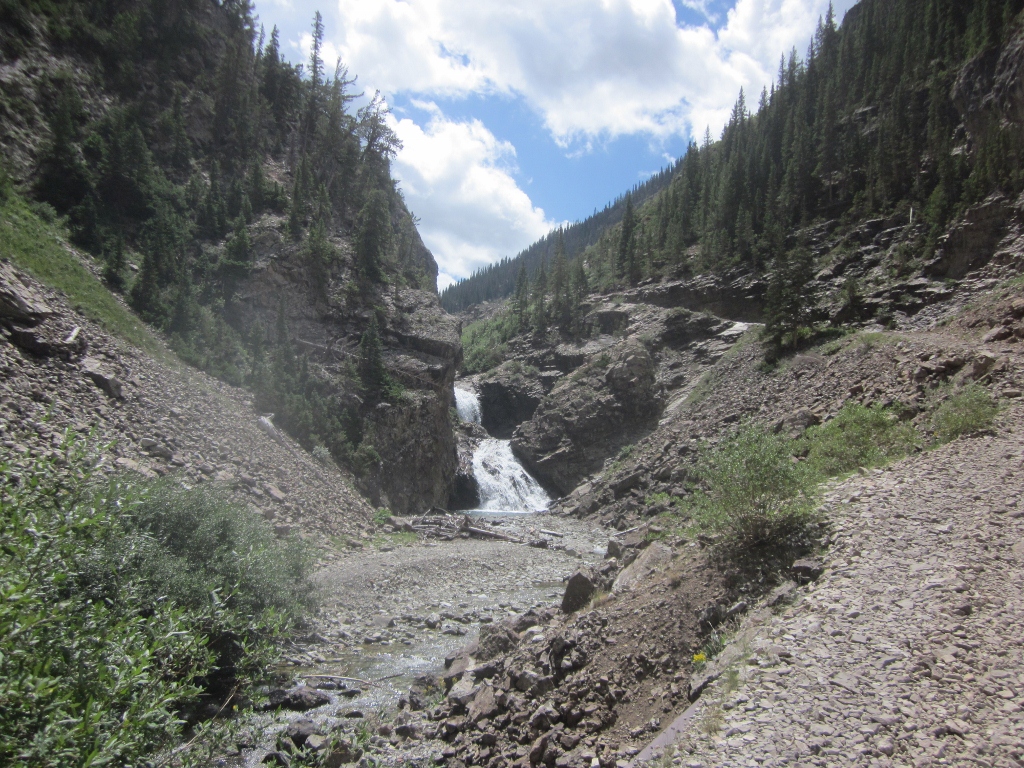 I'm not going to say it's steeper than it looks.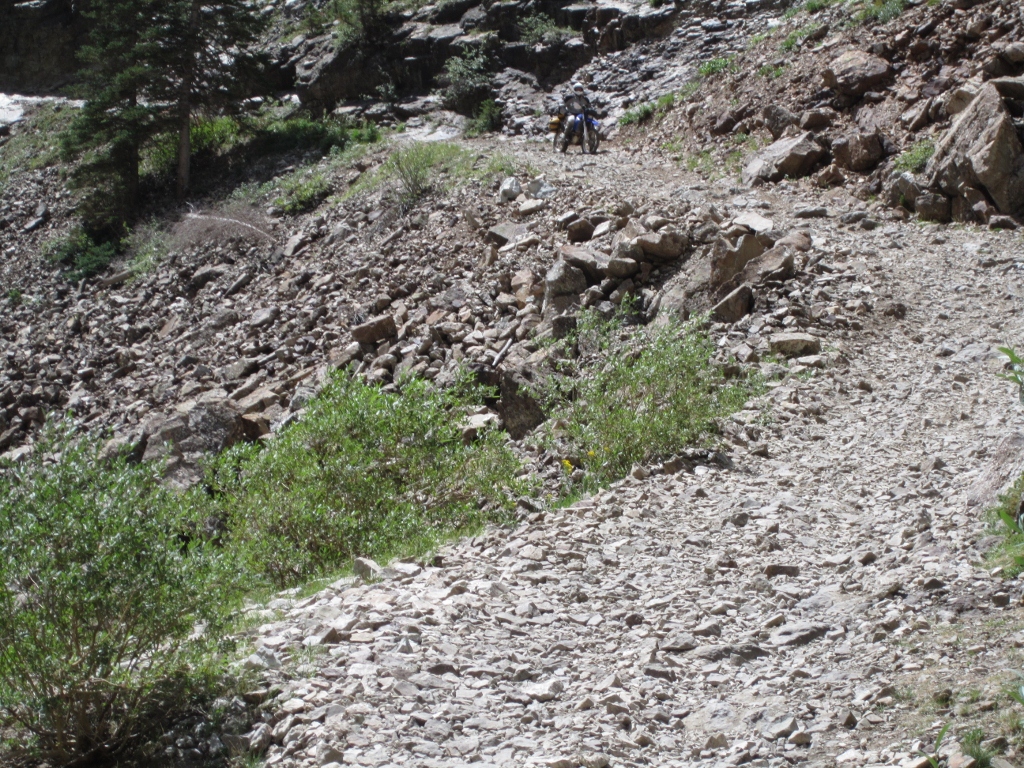 You'll pass a beautiful water fall on the way down-----but when you are right at it you don't dare look---otherwise your eyes may take you
where your looking. You have to wait till you get below a bit to look back.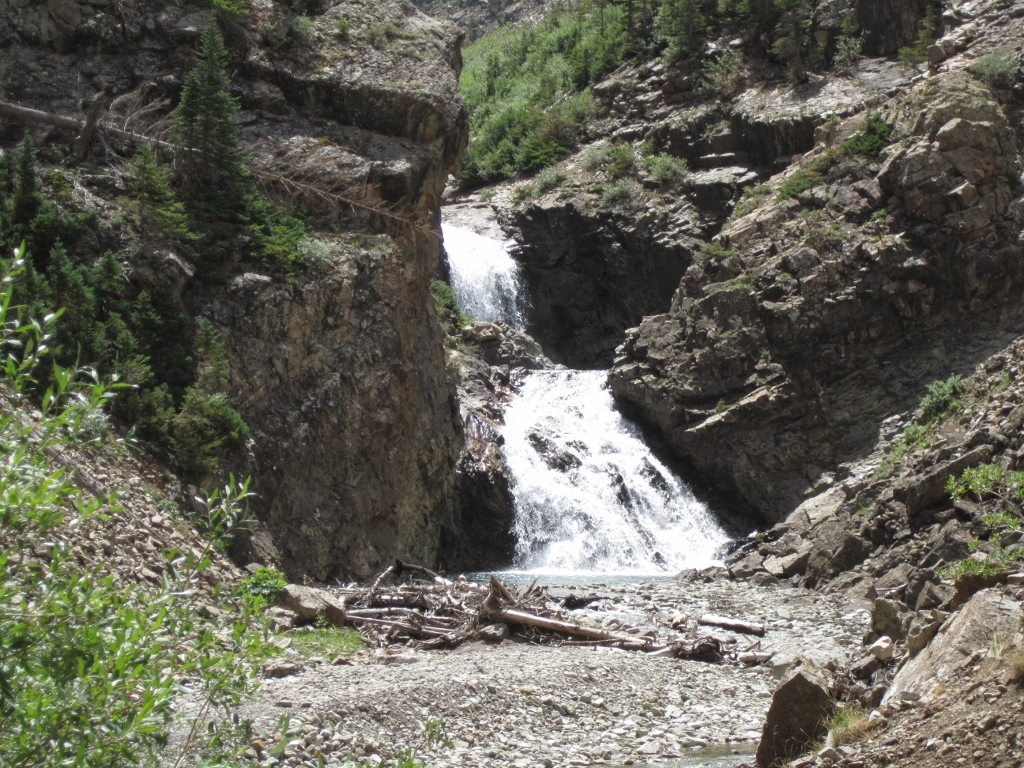 Once you cross this bridge----no more scary.
Just about 4 miles of relentless baby head rocks all the way to Marble.
If you have a steering damper on your bike you may have enough energy to sleep that night.
If not those rocks will beat you to submission.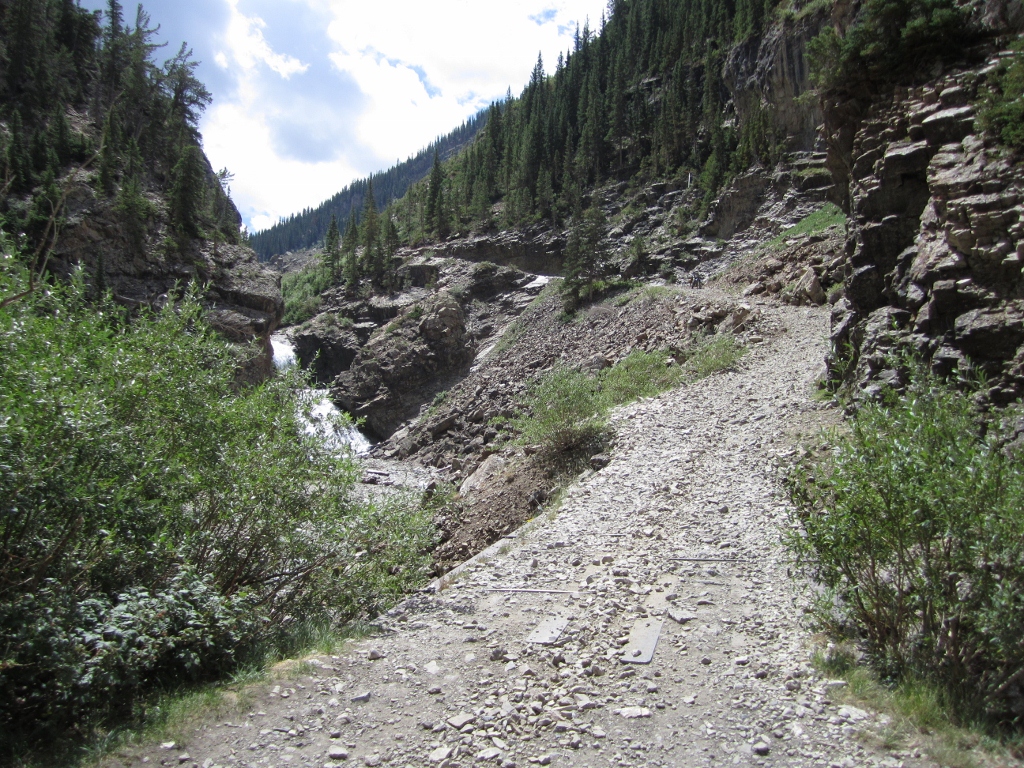 This is called the Lucky Boy Mine---and just looks very different to me from any other mine I've seen.
Some guy standing there said this is the most photographed old mine in Colorado.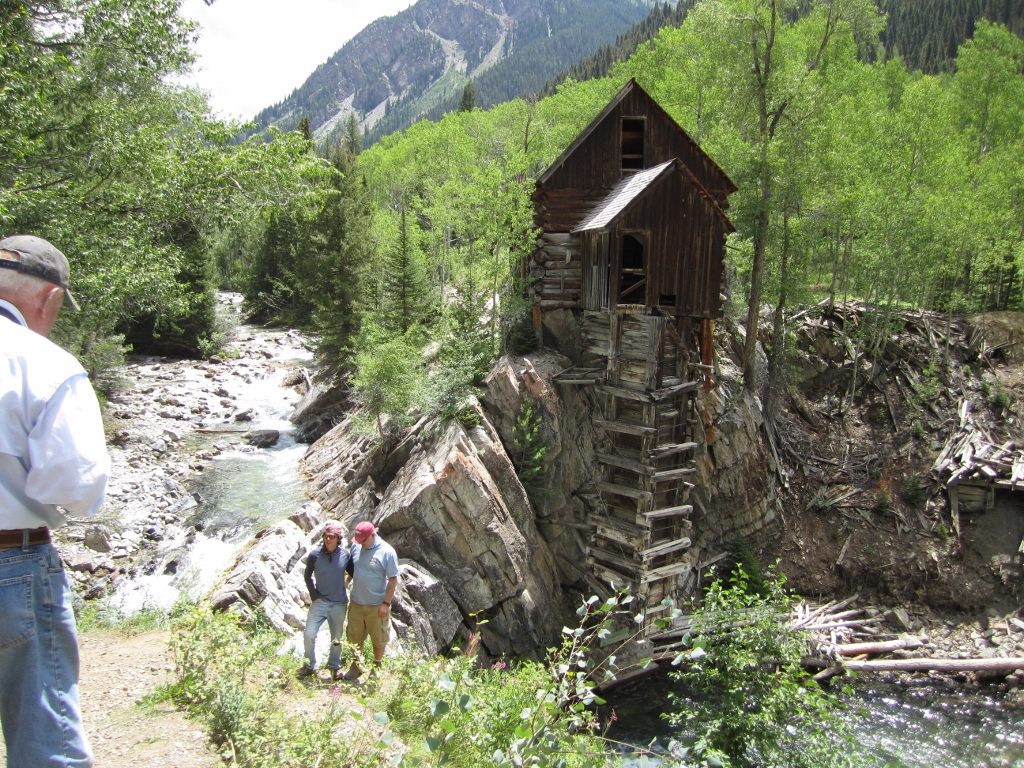 Right here me and Scott are celebrating are conquering Schofield pass with no casualties---and agreed it's scarier than Black Bear.
What don't kill you ---makes you stronger----I think.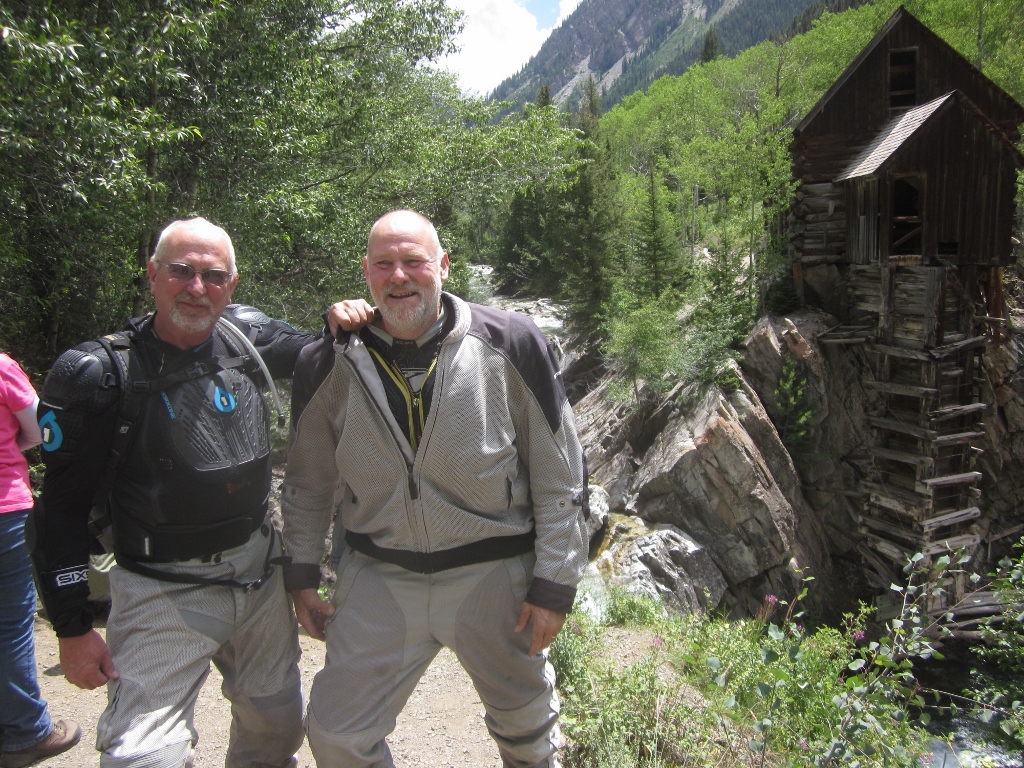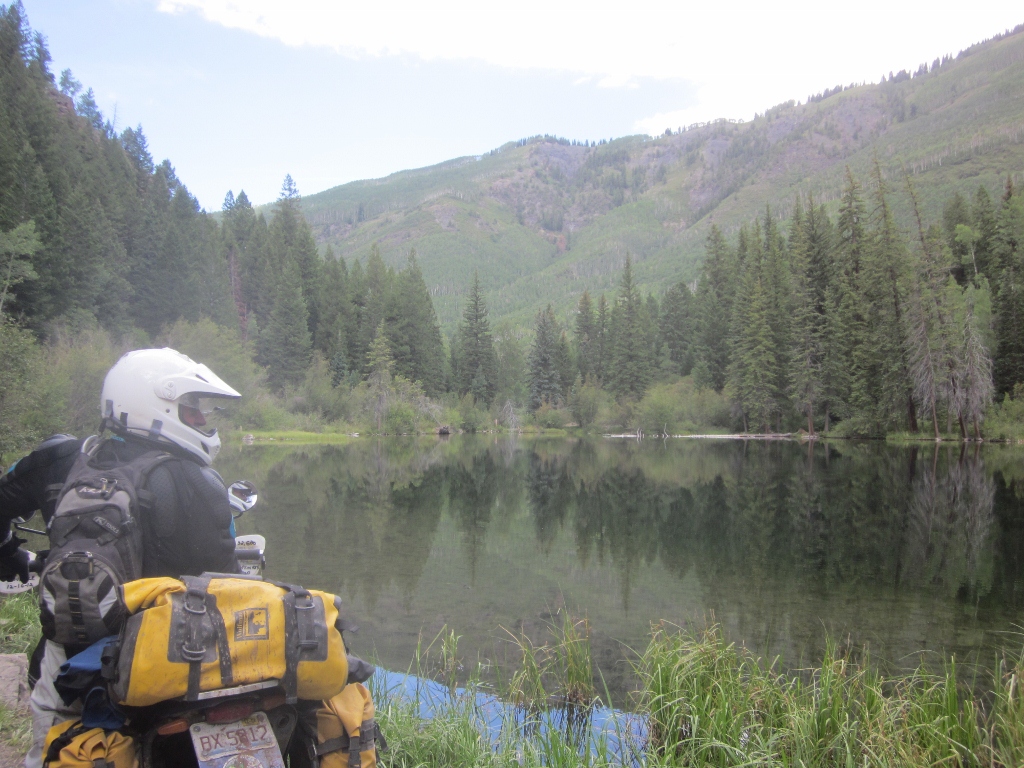 There's a lake near TinCup, Colorado called Mirror Lake---there's one here also.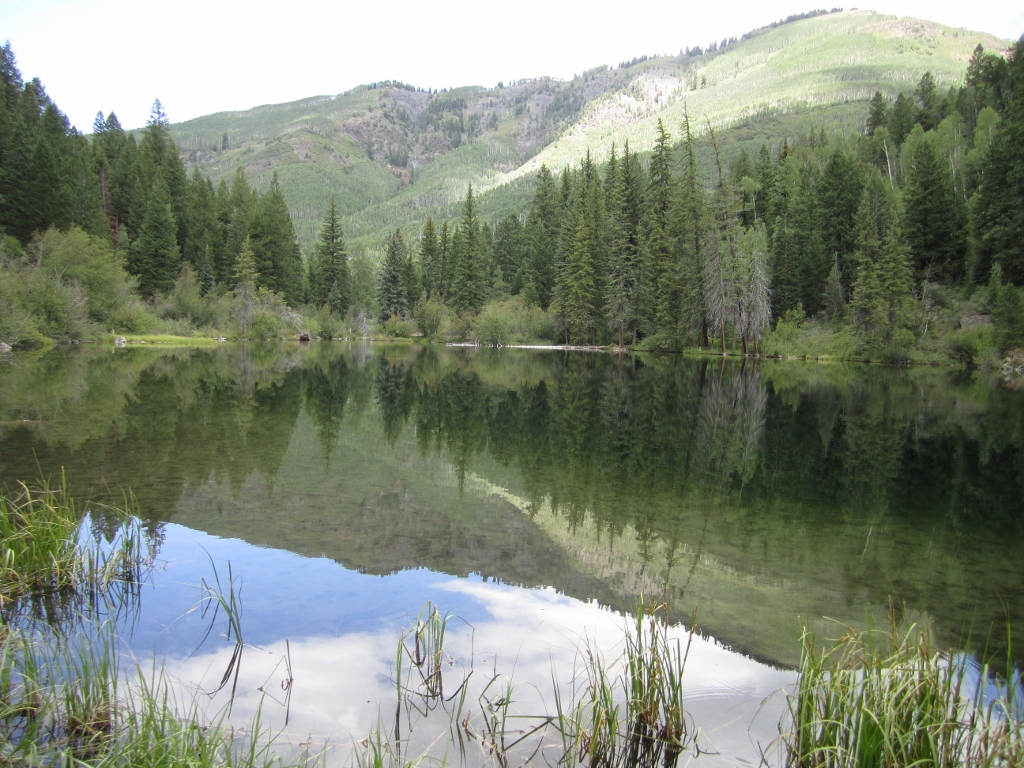 I saw this guy and had my camera out.
I had a bike just like that----same riding gear--same helmet--same sun glasses-----same shit eatin' grin----HEY--that's me circa 1971!!!!!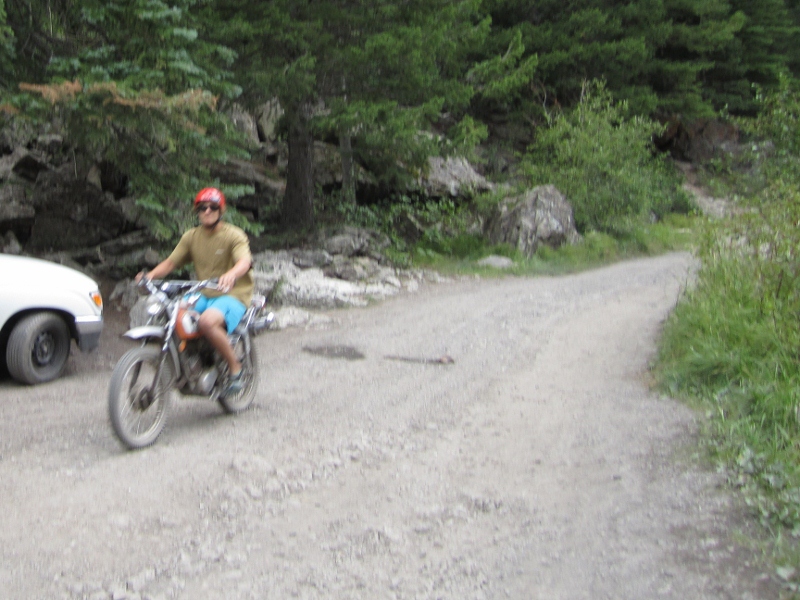 We passed the little town of Redstone----I pulled a big U-turn to check these coke ovens out.
They are right beside the road on hwy. 133. You can't miss them.
Rather than me quote all the history---here it is.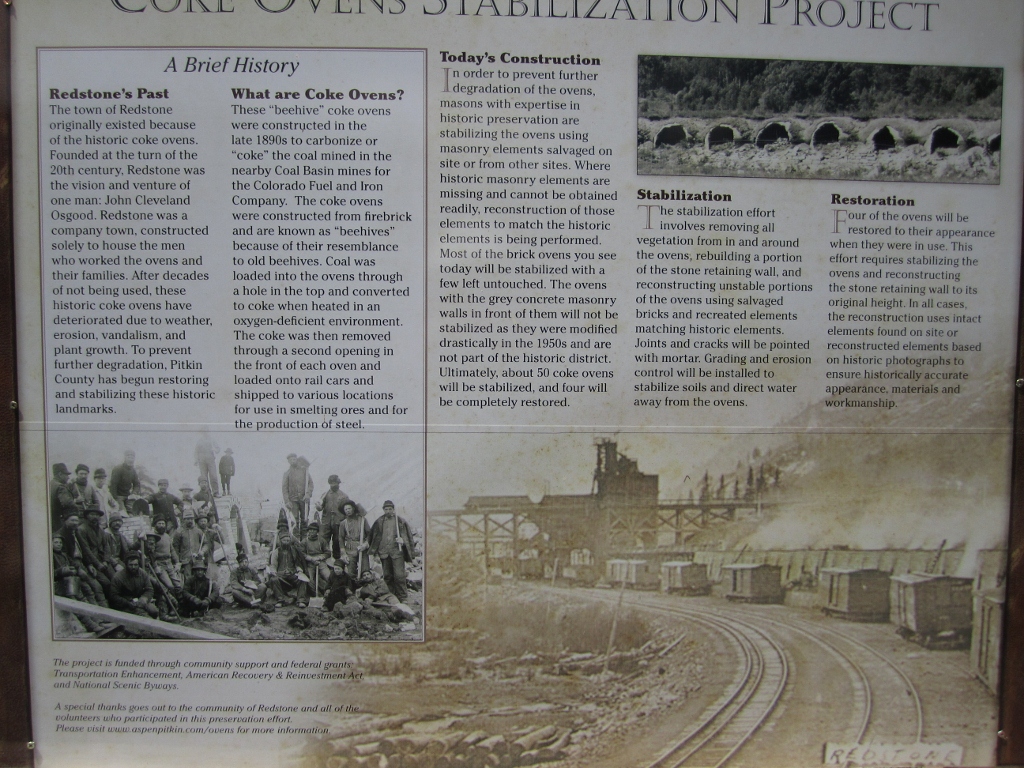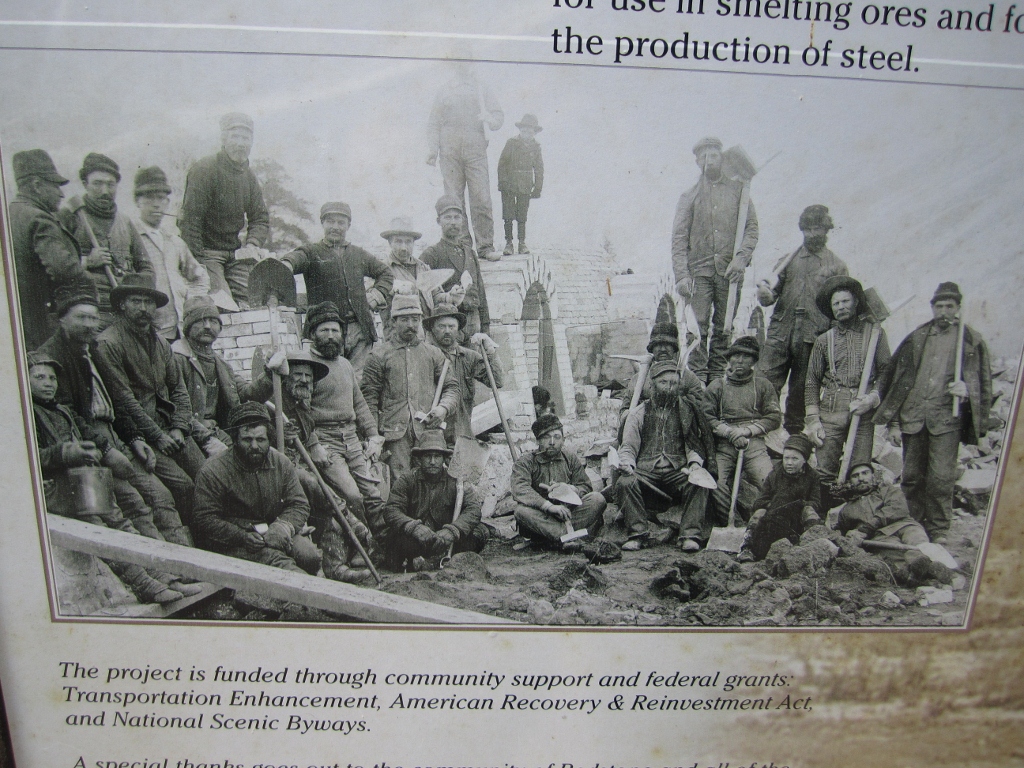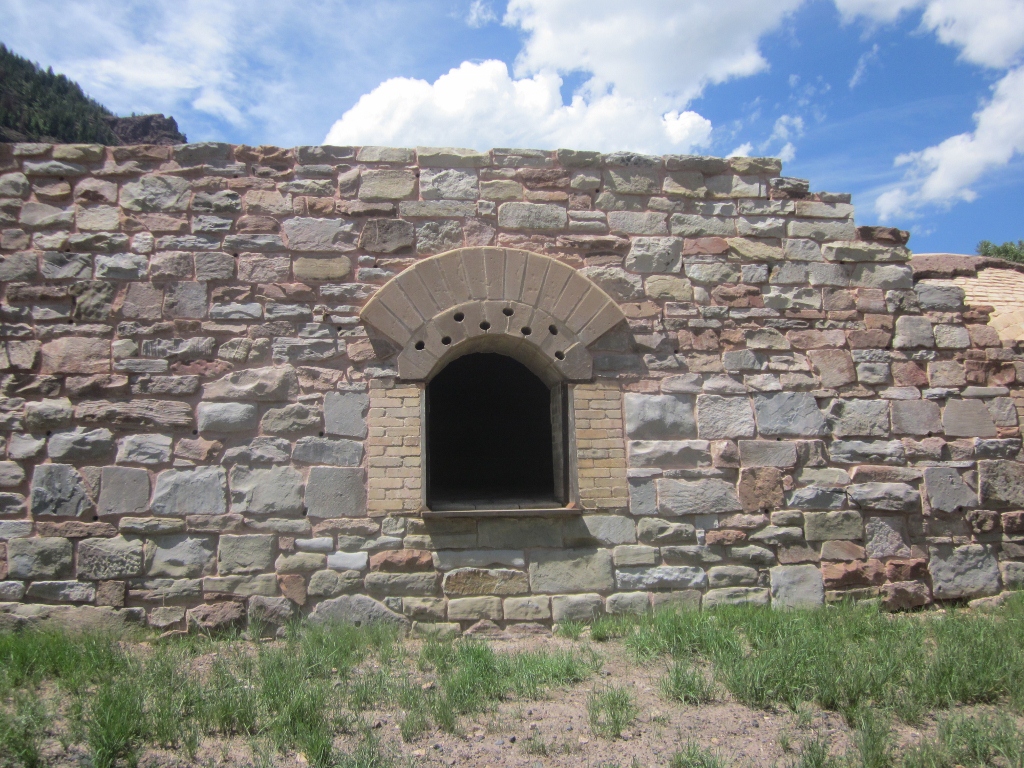 We headed on North to Carbondale then East thu Basalt gettting gas and some lunch--then continued East on the Hagerman Pass road toward Leadville.
A really nice campsite was beside the road on Ruedi Reservoir and it was time to camp.
I think we had ridden about 124 miles for the day.
I had something way more interesting in store for tomorrow than just doing Hagerman Pass.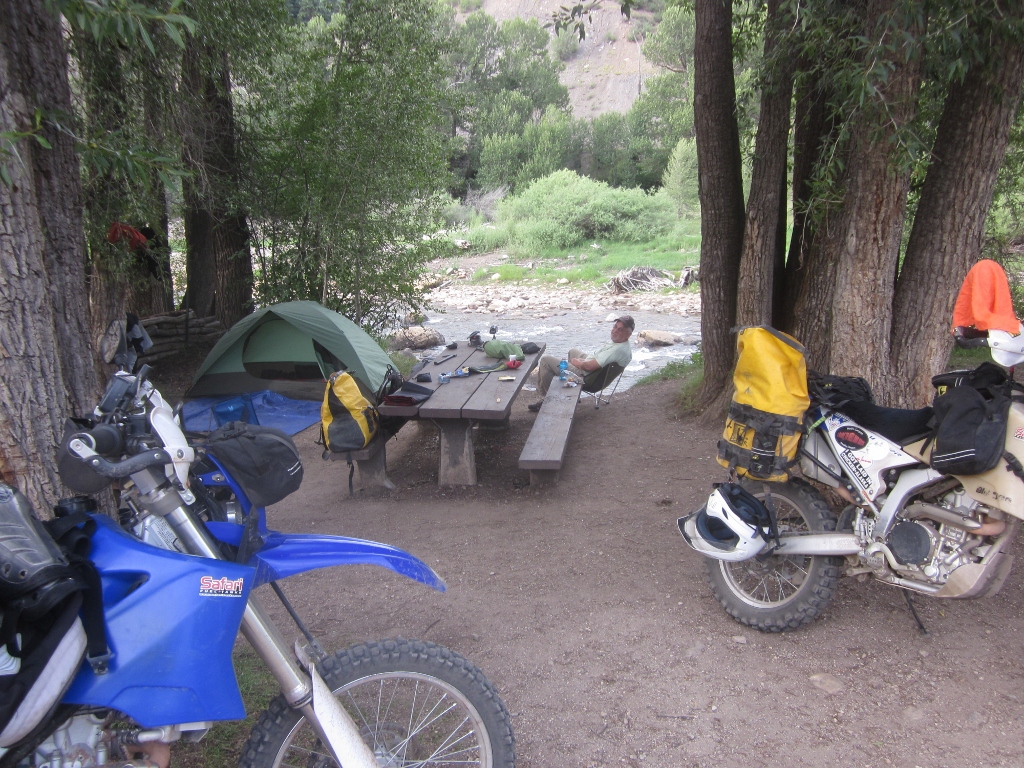 The babbling brook put us to sleep tonight---so did the pitter and patter of rain. In fact it pitter and pattered so much it flooded my tent.
I guess I put it in a bad spot---maybe it was more of a downpour---yeh--that sounds better.

We hunted and hunted for fire wood but didn't use it at our camp----we met 2 nice fellows and took our firewood over to their camp--they had beer,
an awning over us while it rained---and we had a ball sharing stories with these guys while it pitter pattered..
This retirement thing is killing me. I really don't know how much longer I can take this abuse.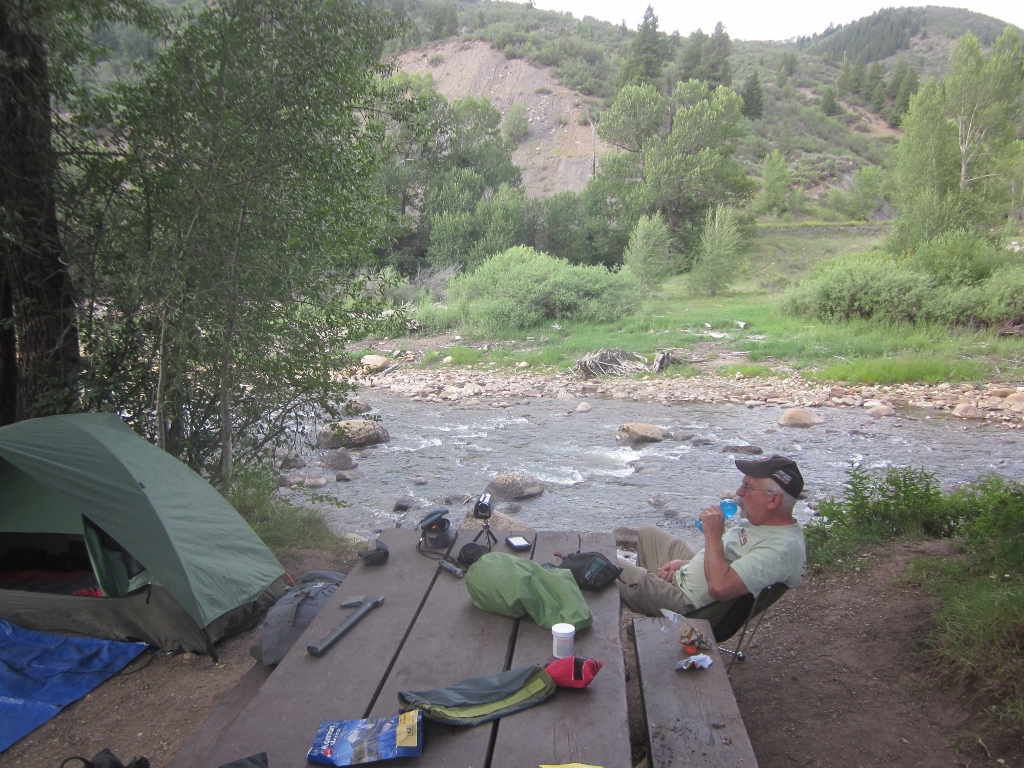 Day 11
August 1st, 2012
This Day would take us from our campsite on the Hagerman Pass road all the way back to Salida at the official TAT Motel.
Not the inside door motels---the outside door motel.
But first we had to pack and had to say goodbye to our new friends. These guys were extremely interested in what we were doing, where we were going
and all the stuff it took to do this. They were very interesting fellows themselves and had been friends for many years.
They both had been soccer players. I've watched soccer and can't believe the stamina those players had. We heard interesting tales from them from
back in the day.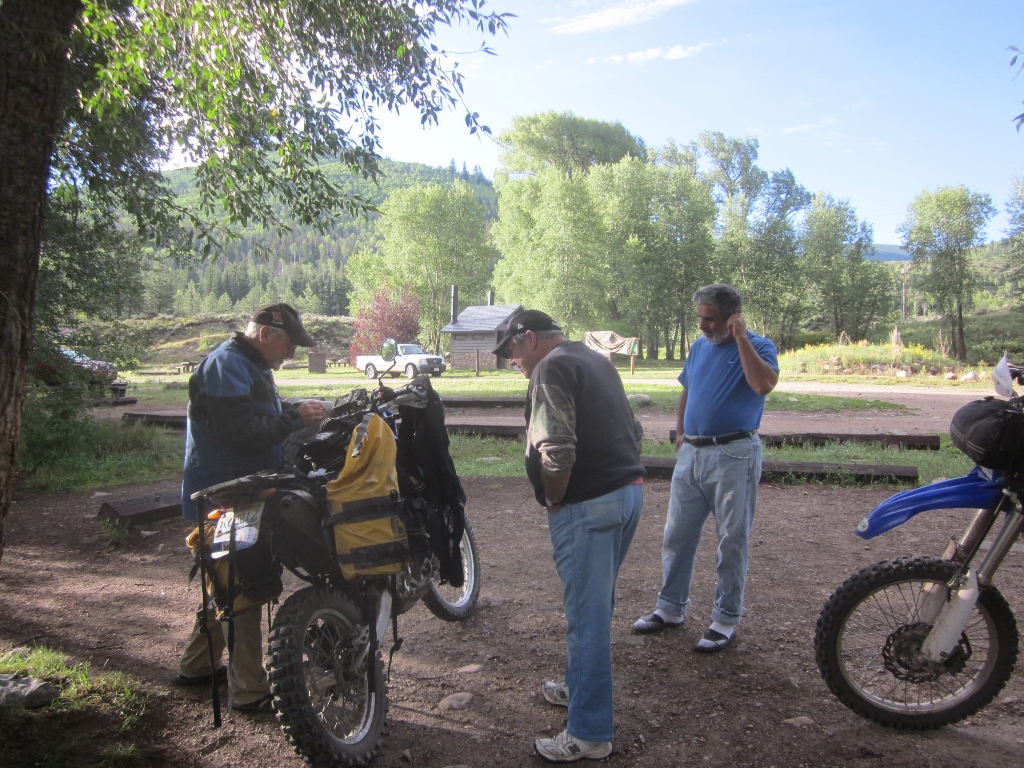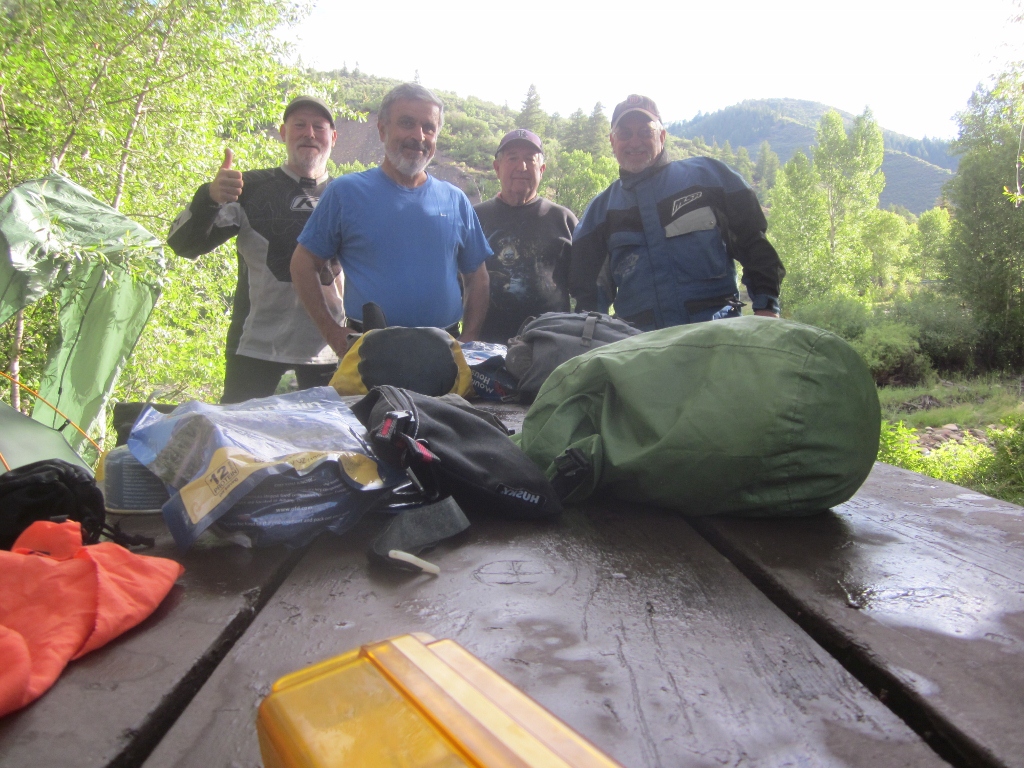 So where was it that I had planned to go today---or try to go that was so neat ????
Here's another one of those deals of something I heard about on the net and had to go there.
I marked the "Fulford" cave many years ago---and have been down the Hagerman pass road at least 3 times and never took the time to go
to that waypoint I've been seeing North of the pass road----"Fulford Cave"-----today was the day.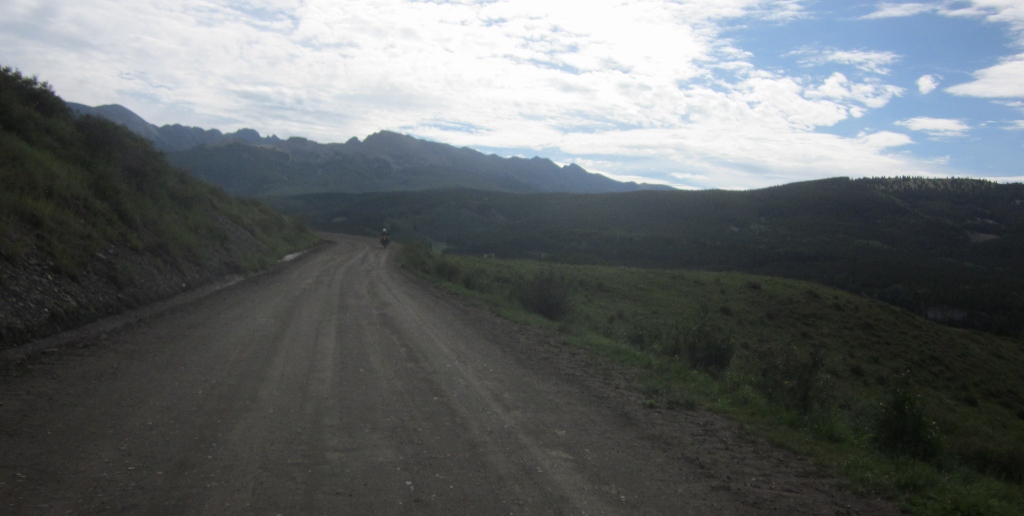 We turned North off the pass road on Eagle Thomasville road and headed to my waypoint some 25 miles away---in a straight line.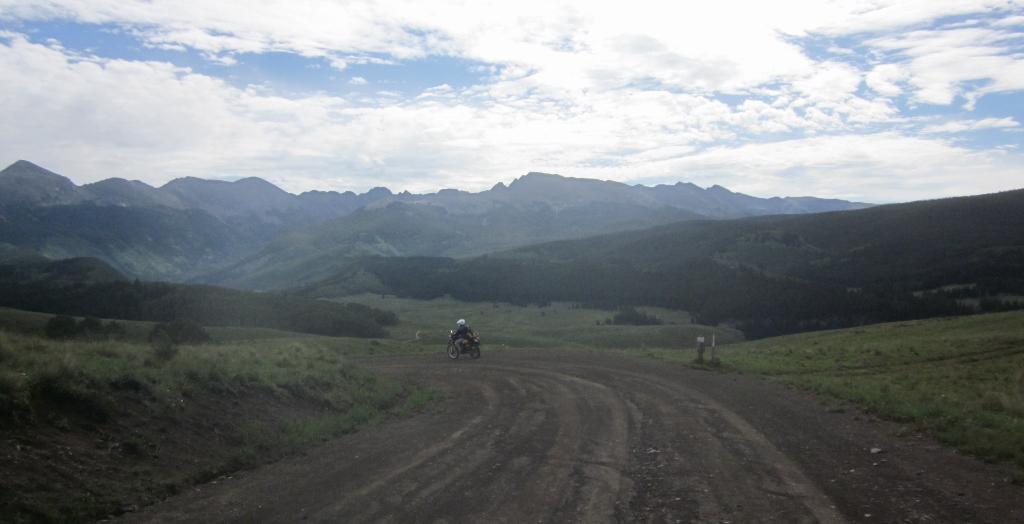 We passed by Crooked Creek Resorvoir--there were just a couple old abandoned log cabins at the South end of the lake---nothing else.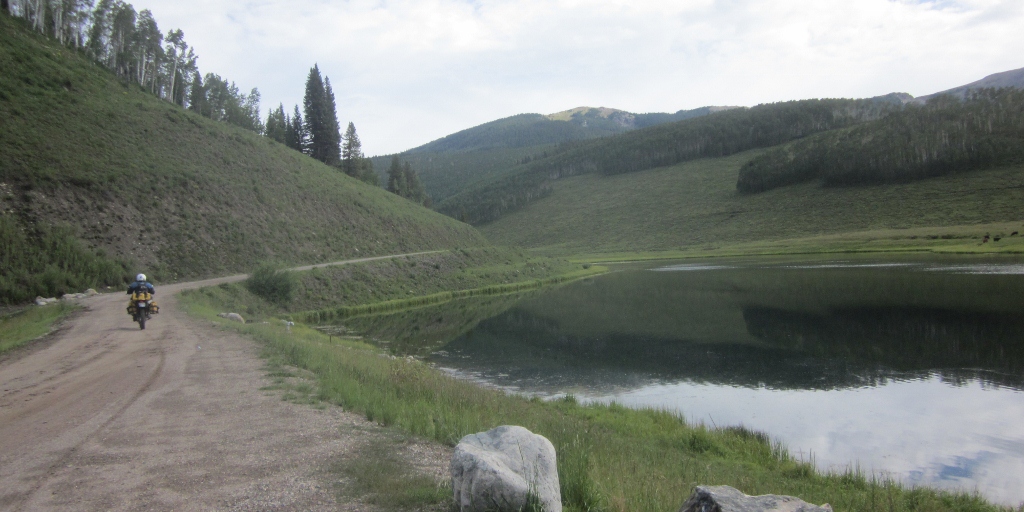 I think Scott approves of the riding.
Somewhere we turned off on the Crooked Creek Pass Road---then Hat Creek Road going North.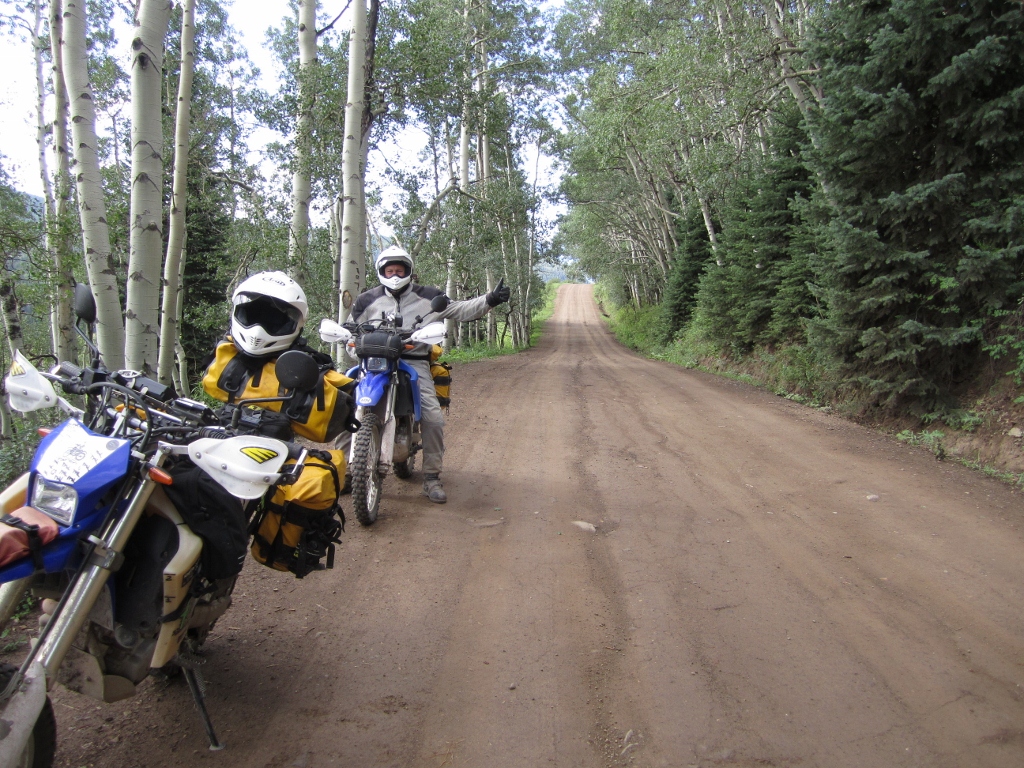 And it turned to my favorite again--------moist, but not slick smooth red dirt.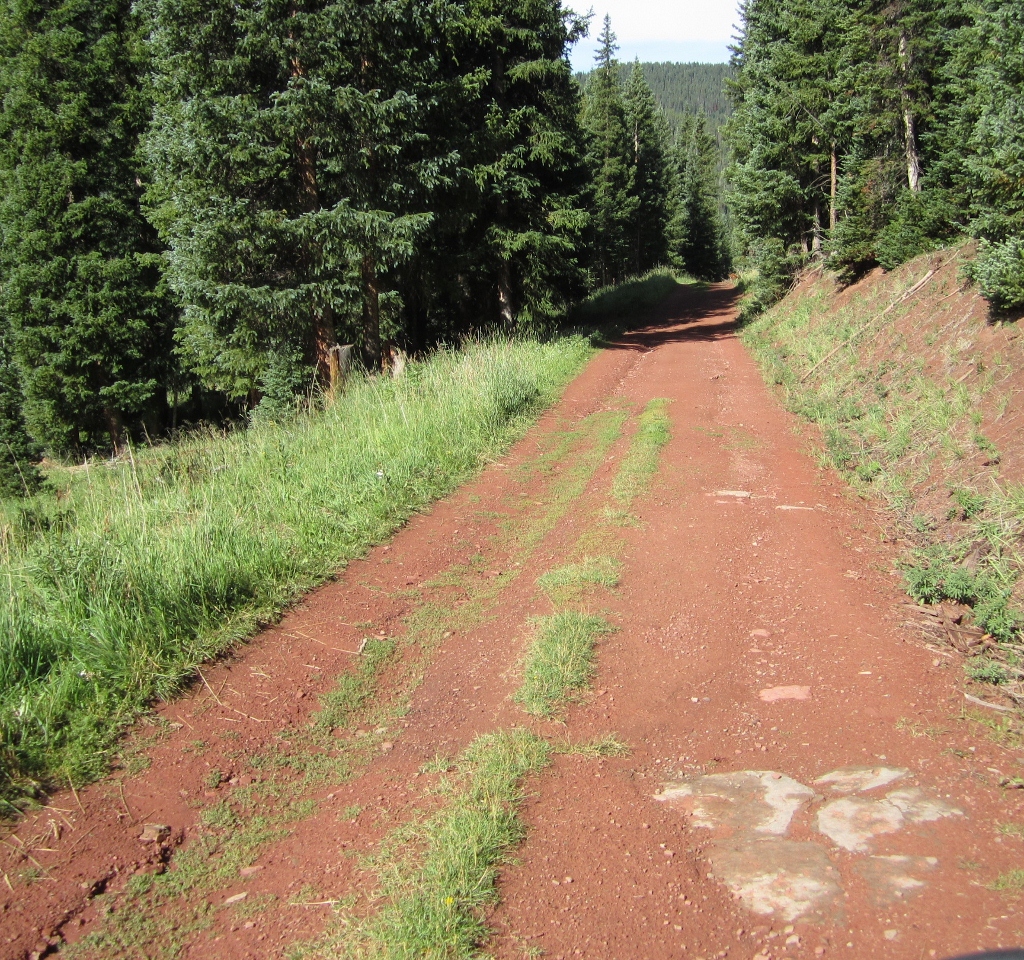 This was perfect riding and we would see no one till we got close to the cave.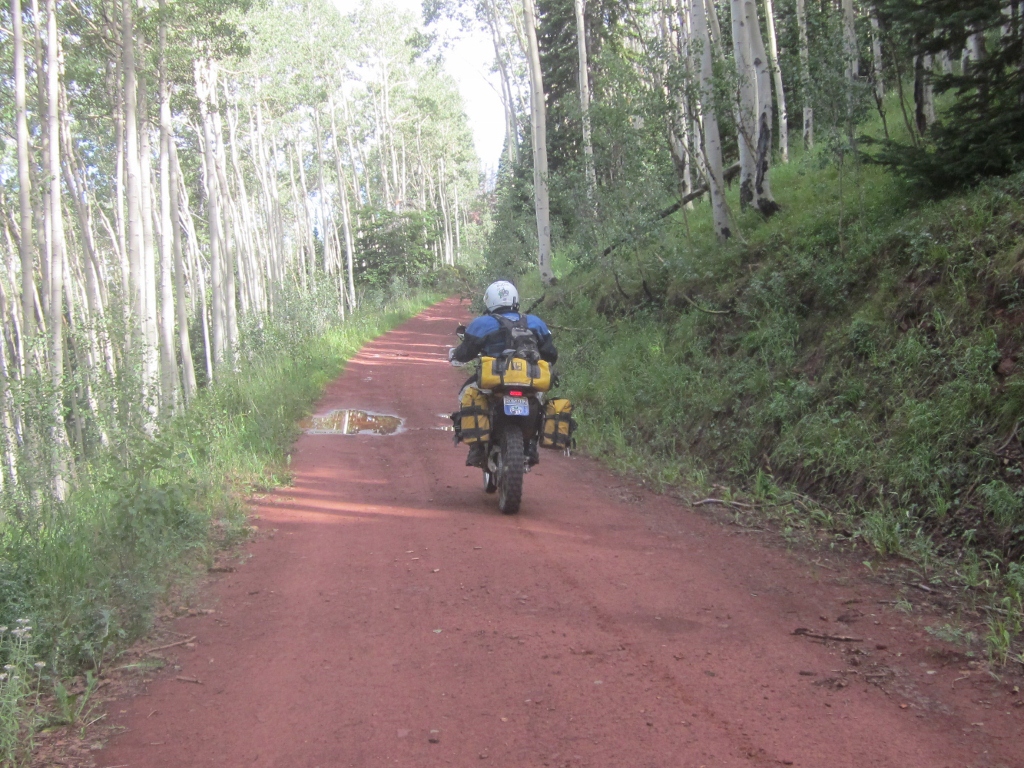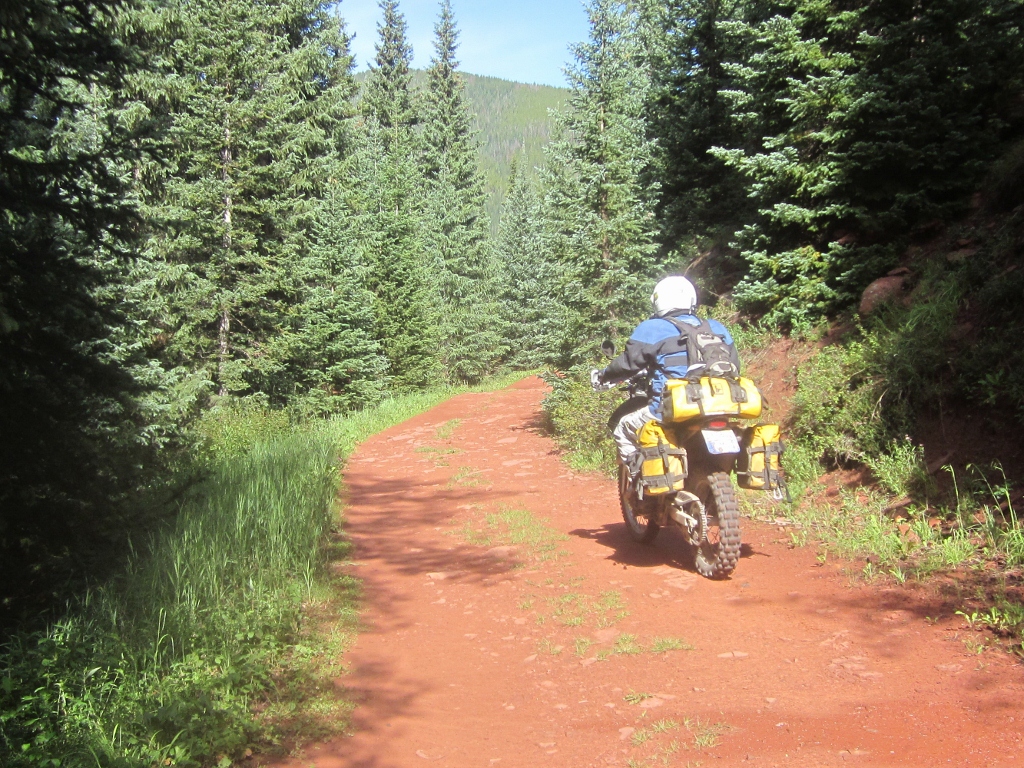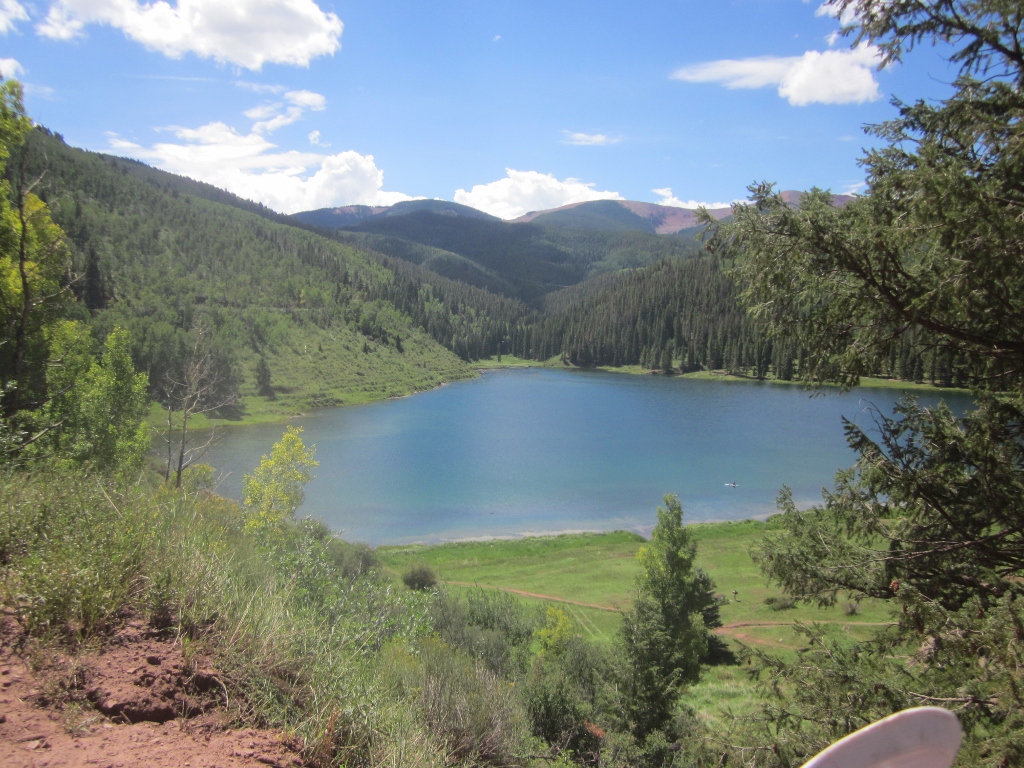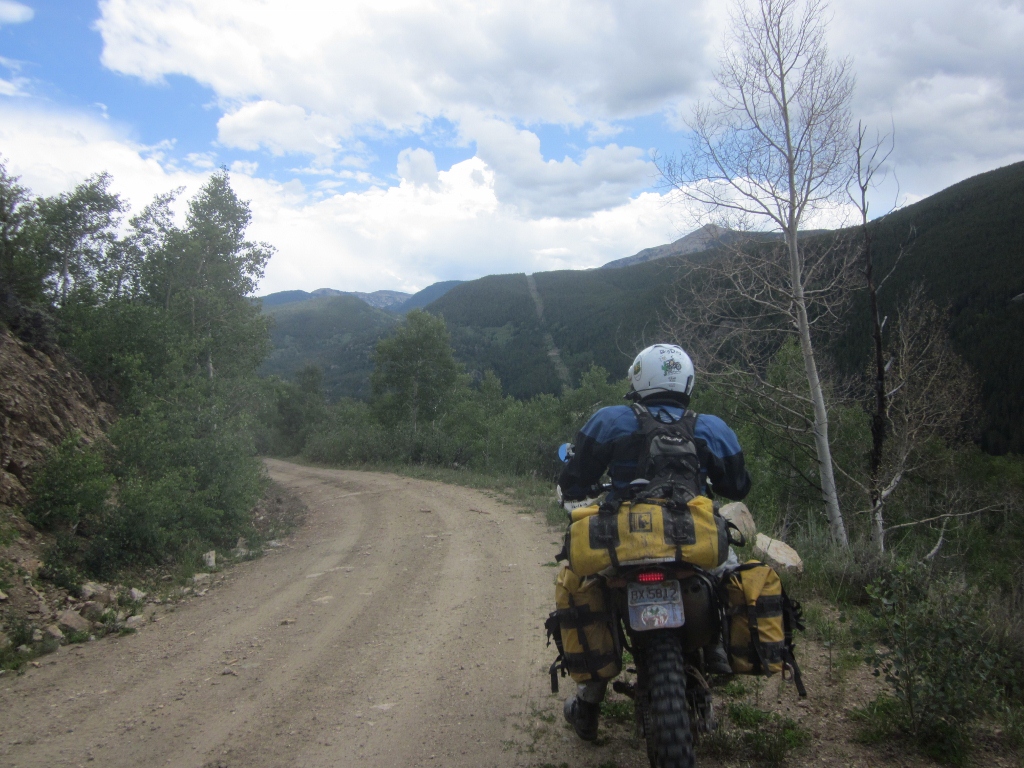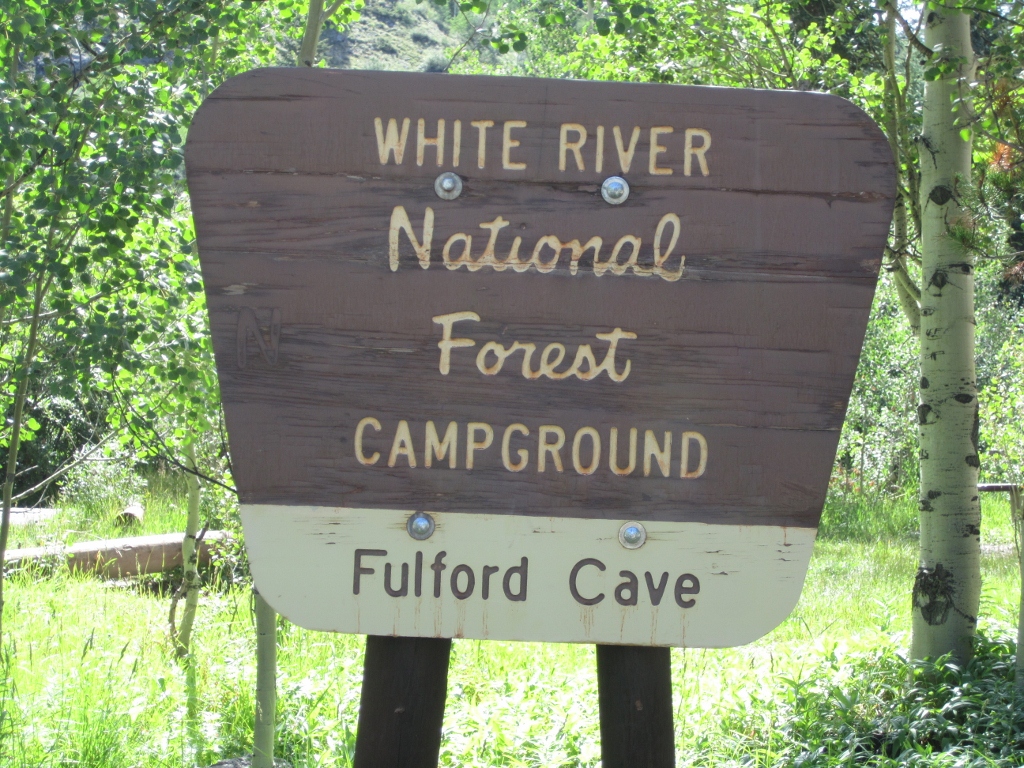 It was not to be for us to see the cave---nor even walk in the forest it was in----Keep out.
We'd heard it was quite a hike from the parking lot to the cave---but I wanted to see them---but it was not to be.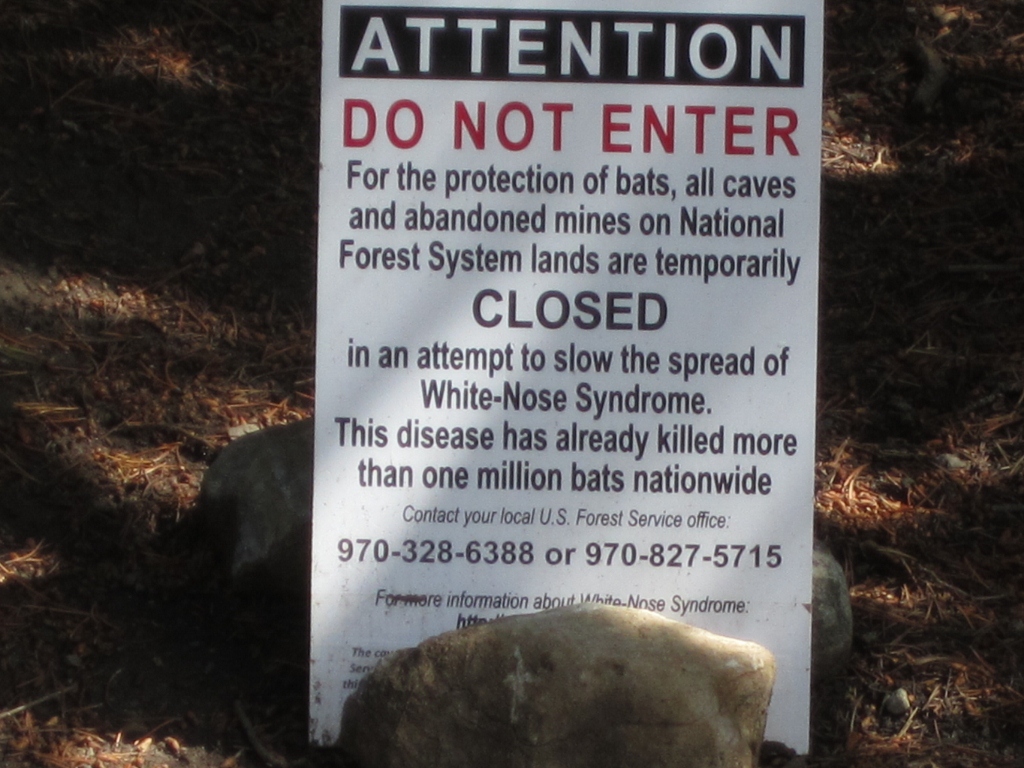 The next 2 images I just got off the net----and I had heard you had to crawl into a culvert to get in the cave---and then it was huge inside.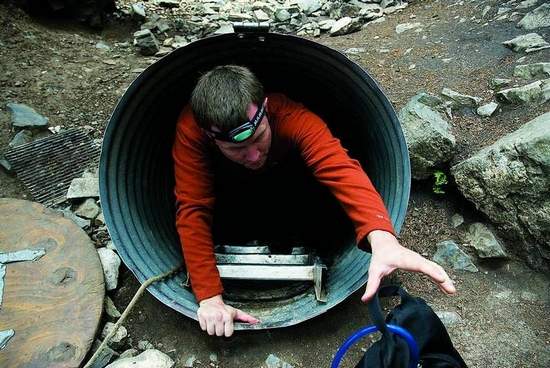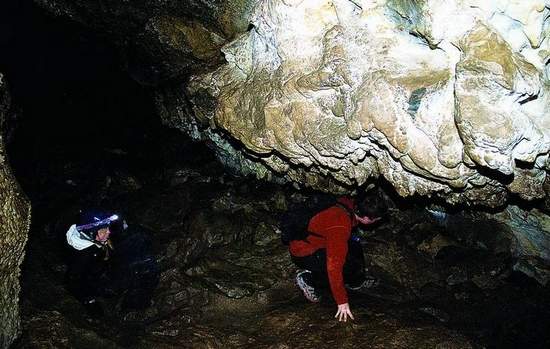 A few miles away was the town of Fulford---which reminds me of Tincup or St. Elmo, Colorado---no electricity here.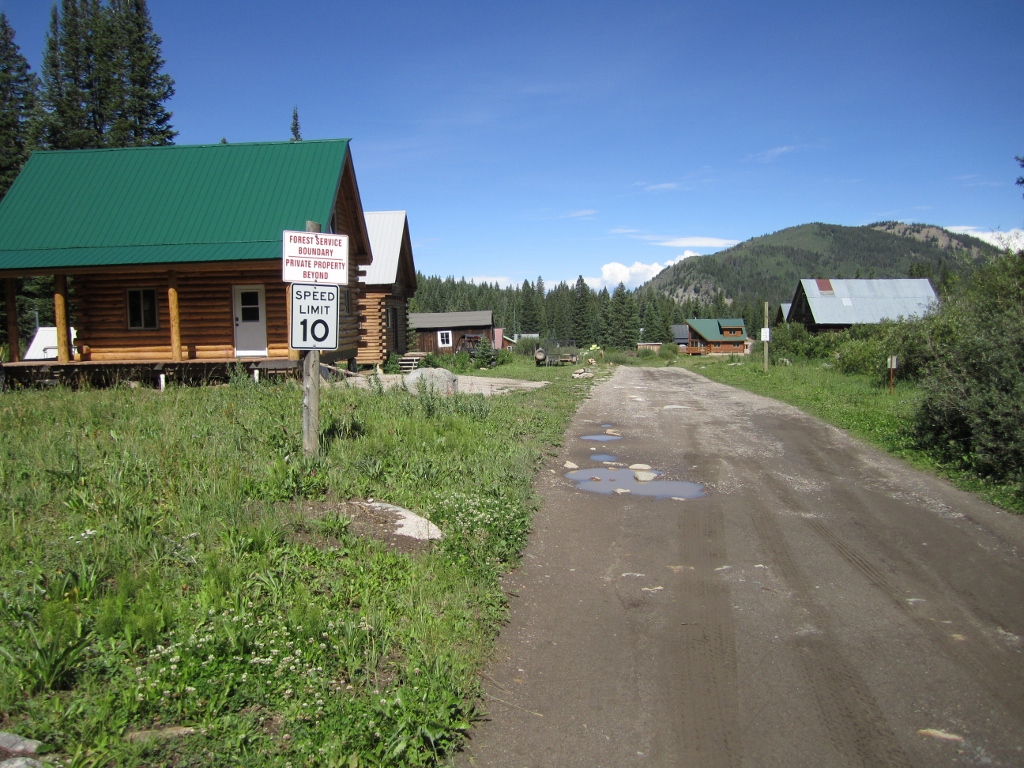 The ride there had been awesome and was totally worth it--and I found another route back by poking around on my gps a bit.
This is Sylvan lake state park on Brush Creek Rd. This is all South of Eagle, Colorado.
I don't seem to have any pictures of it---be we intersected the main Hagerman pass road from Burnt Mountain road which was the best road of the day
and we saw nobody on it-------it was a little rough but not bad.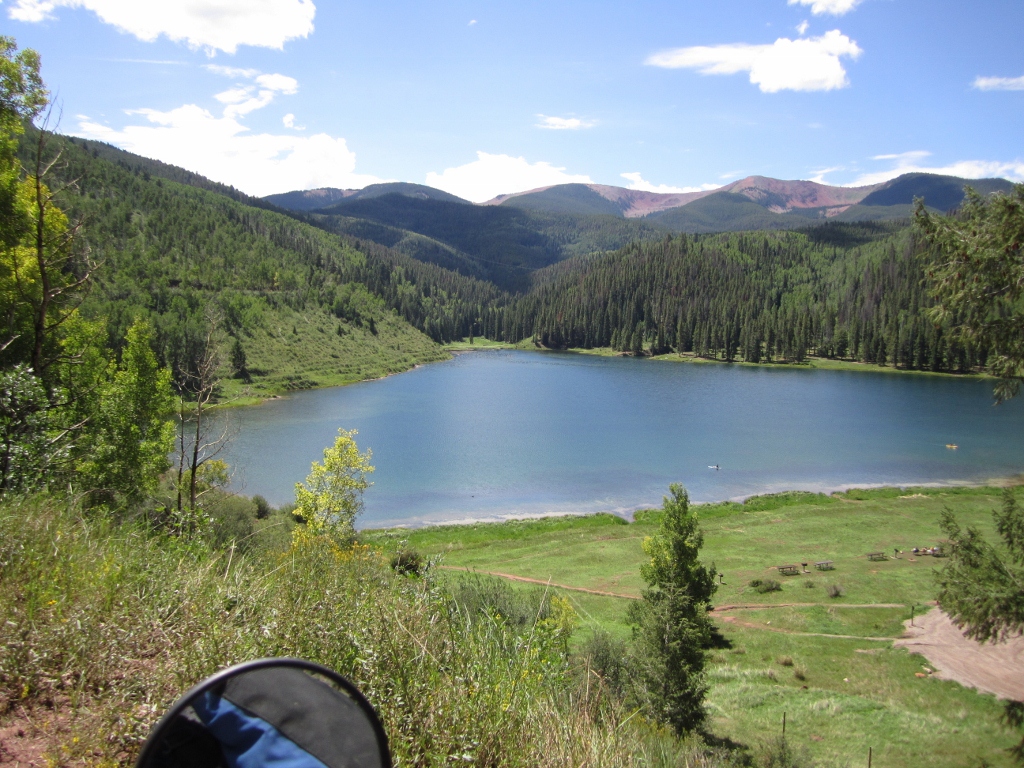 The main Hagerman pass road heading toward Leadville.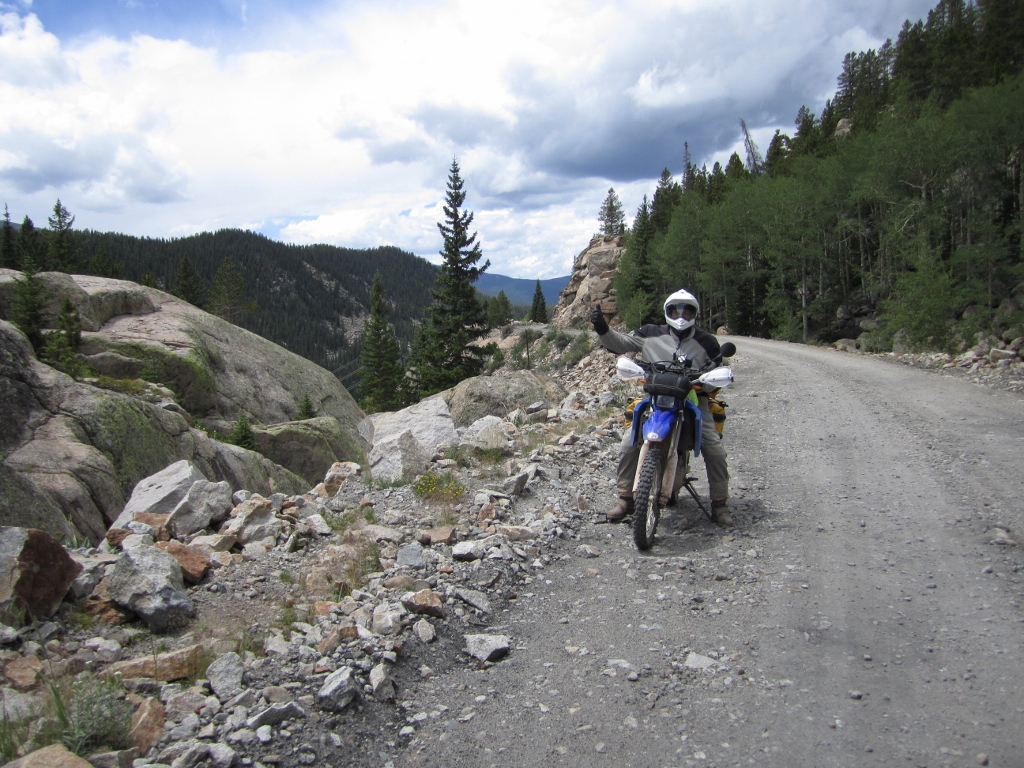 This used to be an old railroad bed---and that was obvious to me before anybody told me.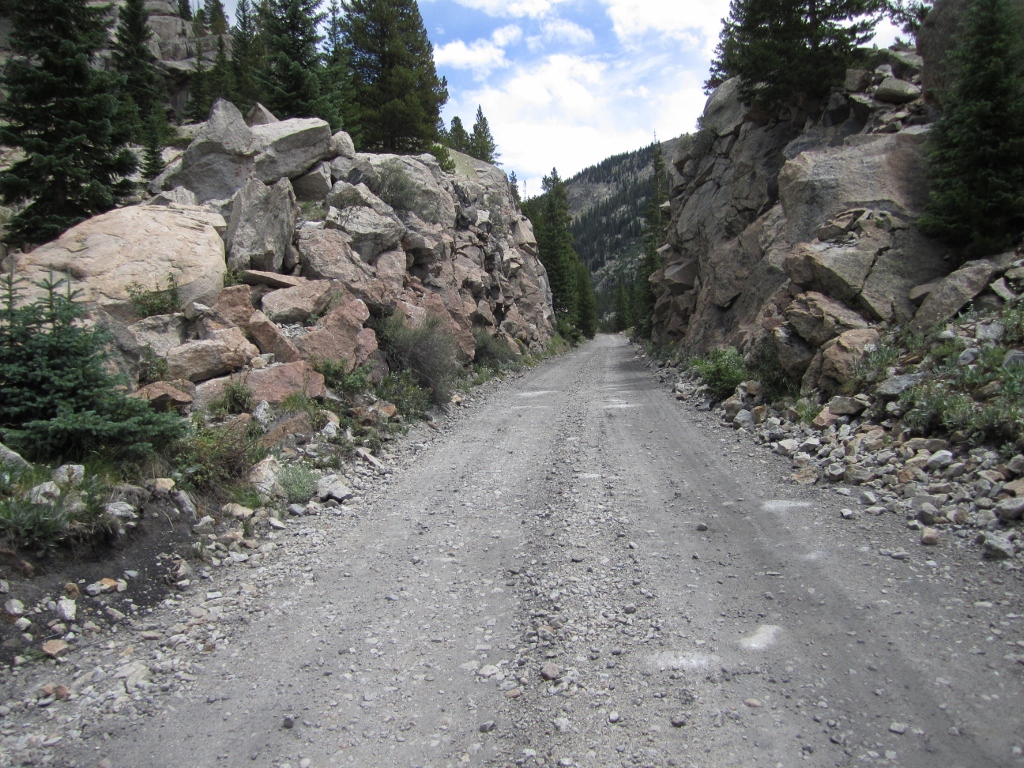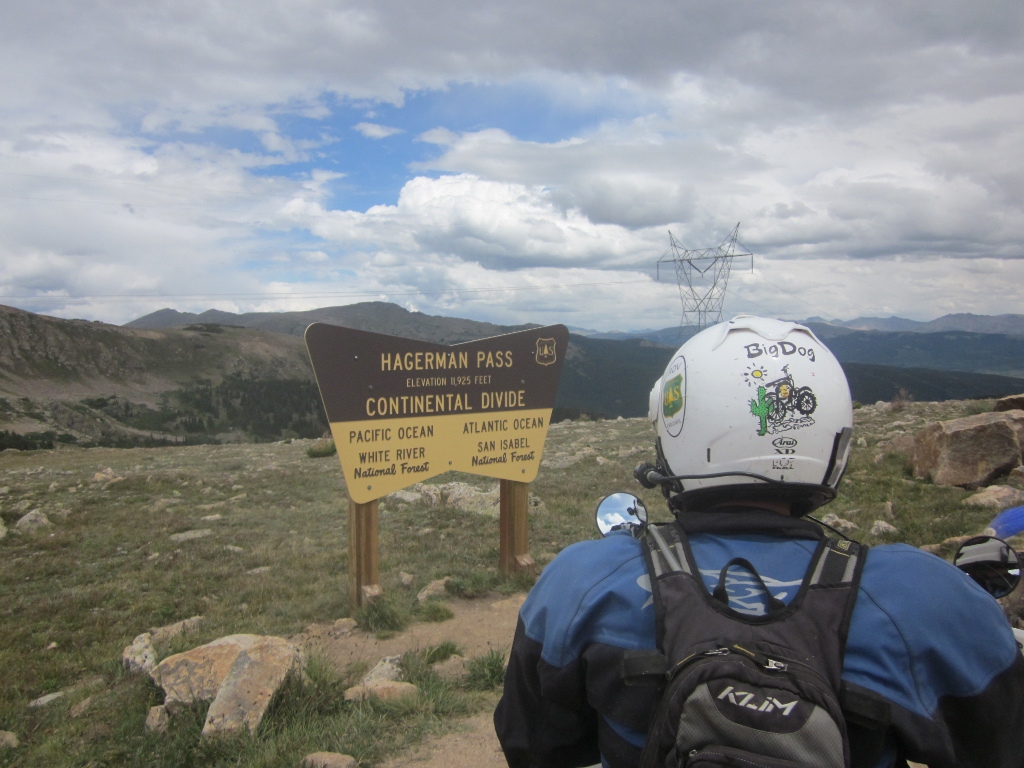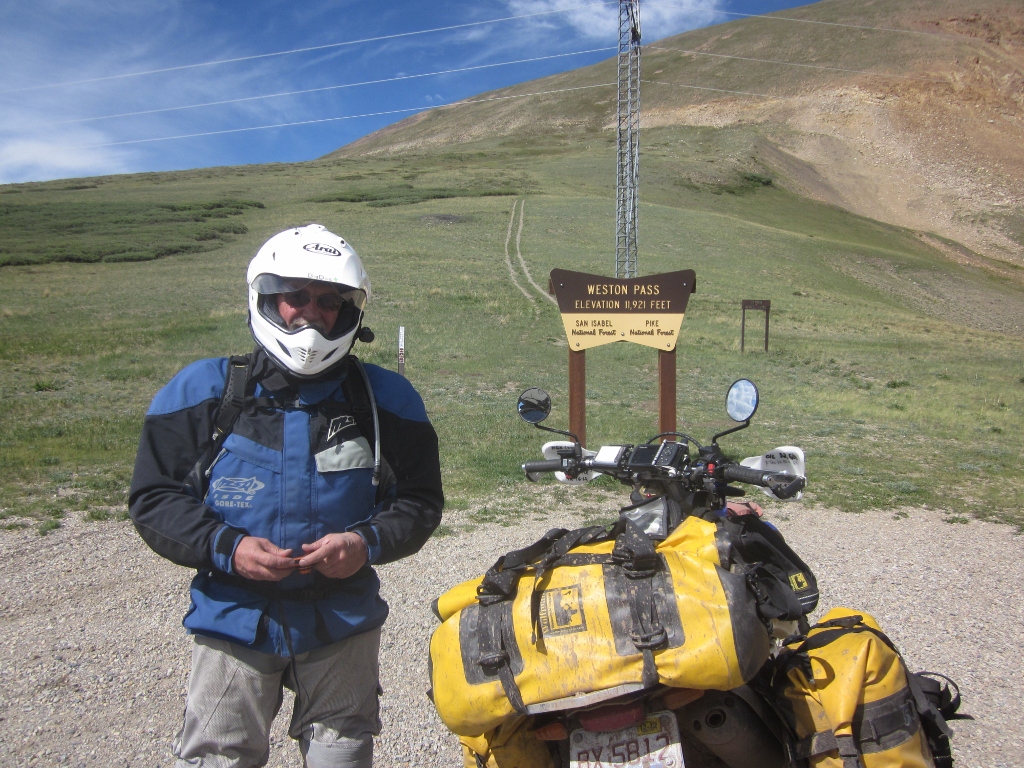 Going down the pass we ran across a sign that said expect very long delays from work being done on a power line.
Most pass travelers had to wait for hours before a huge crane got out of the road.
Our little bikes breezed around the outriggers of the huge maching and off we went.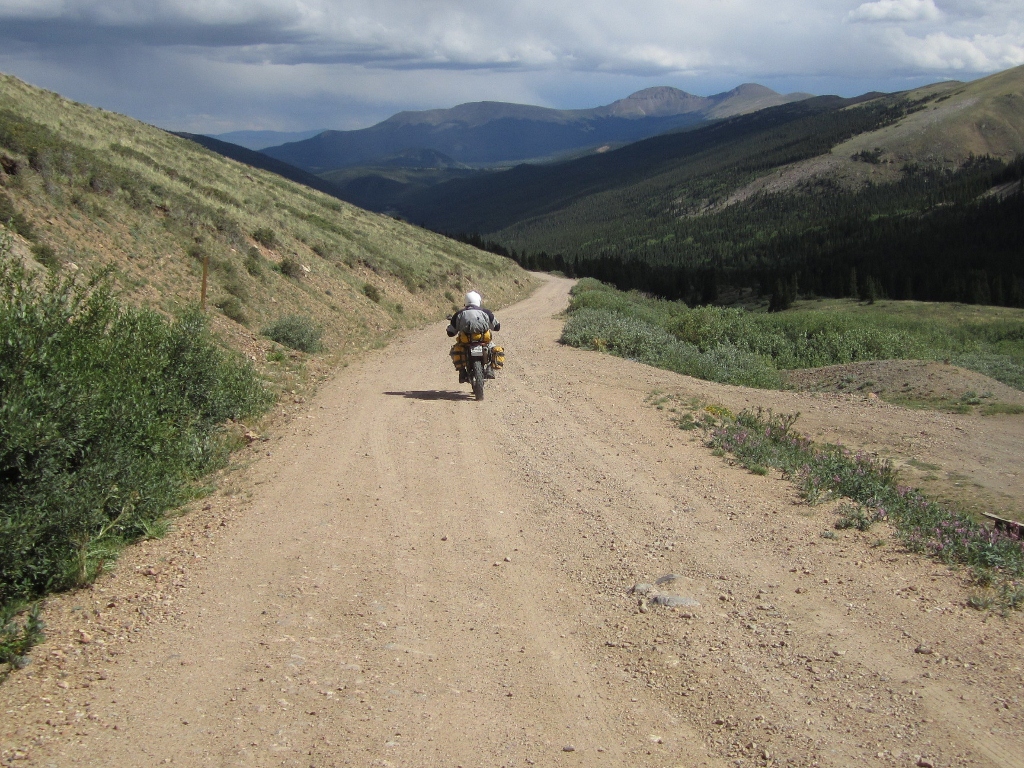 The official TAT motel------do not stay anywhere else.
Me and Gaspipe stayed here years ago and as I was chatting with the nice lady she ask me if I was BigDog----I say well......yes.
And she said where is Gaspipe ???---------I was dumb founded she remembered me--that was years ago.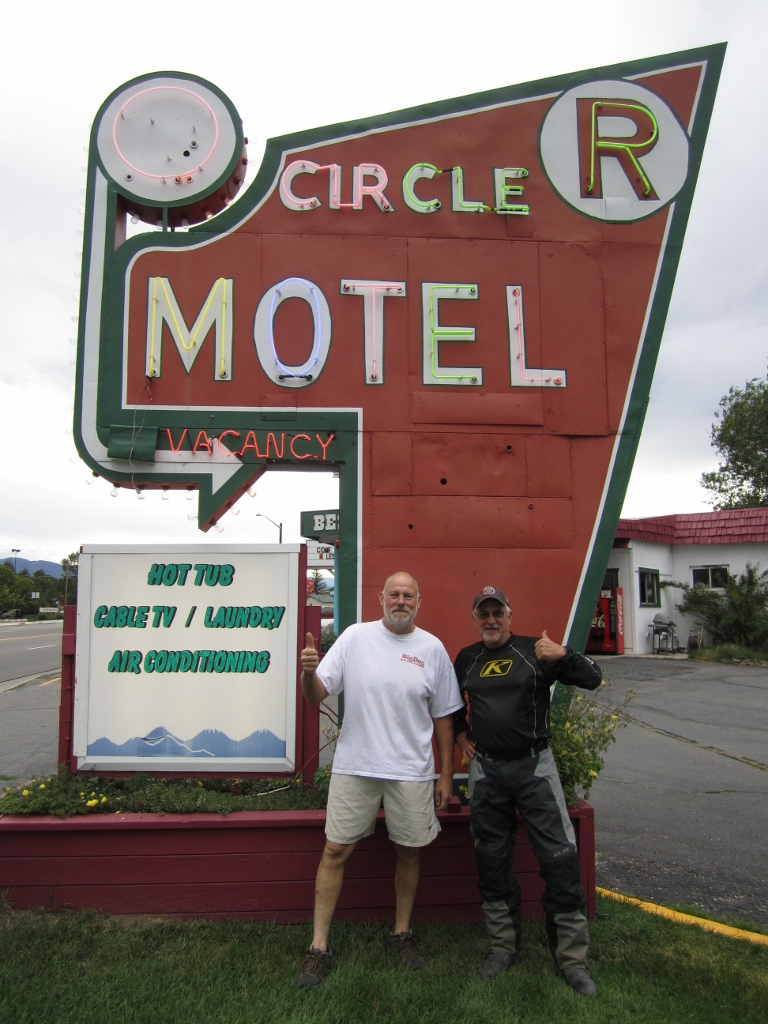 We had a long chat with the owners---husband and wife and went out and sat on the wood deck.
Out comes the owner and handed us 2 very cold beers.
I just don't have much of a taste for beer-----but was in the mood and it was good.
When me and Scott are long gone----you can remember this picture of us.
My favorite picture----good friends.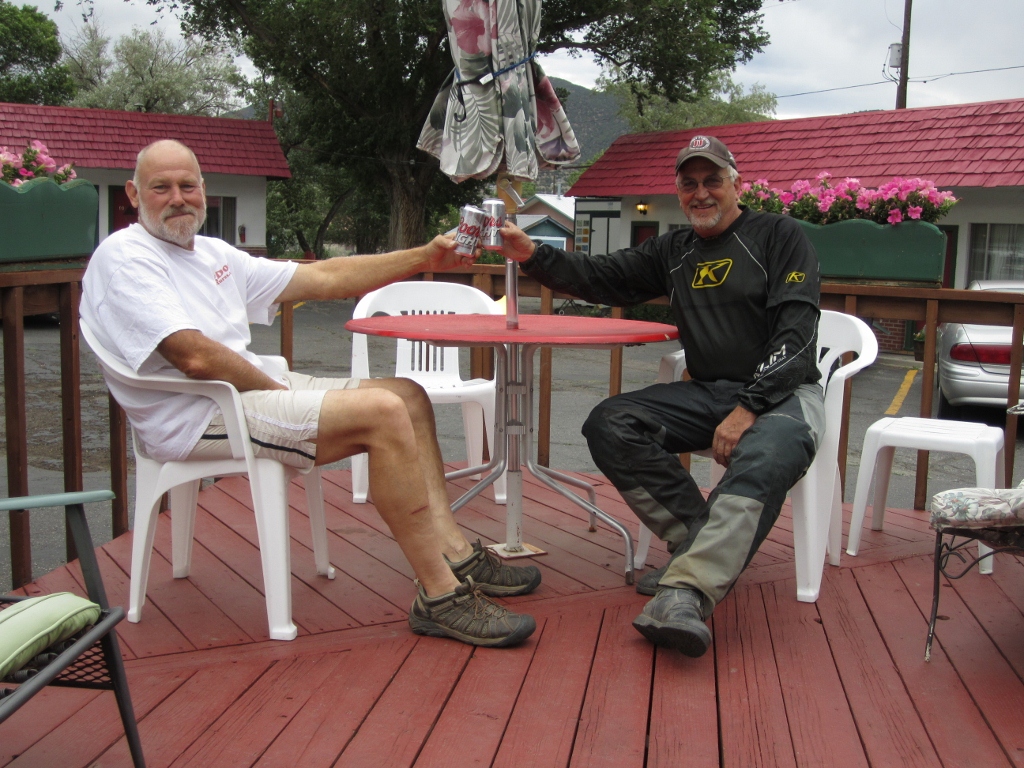 178 miles for the day
Day 12
August 2nd, 2012
Today we'll ride from Salida to Del Norte to some amazing places we've heard about---but never been.
Today we would try to find the old Otto Mears Toll road and some old railroads.
Otto Mears once ran the road as a toll road, collecting 10 cents from each person using it. It was one of at least 12 roads constructed by Otto Mears.
Mears built roads all over the place including the Marshall Pass road---and charged a toll fee to pass by.
He then sold some of them to the rail roads---quite a fellow Otto Mears was.
This is one old bridge where the railroad use to be----I only found one small piece of track but failed to get a picture of it.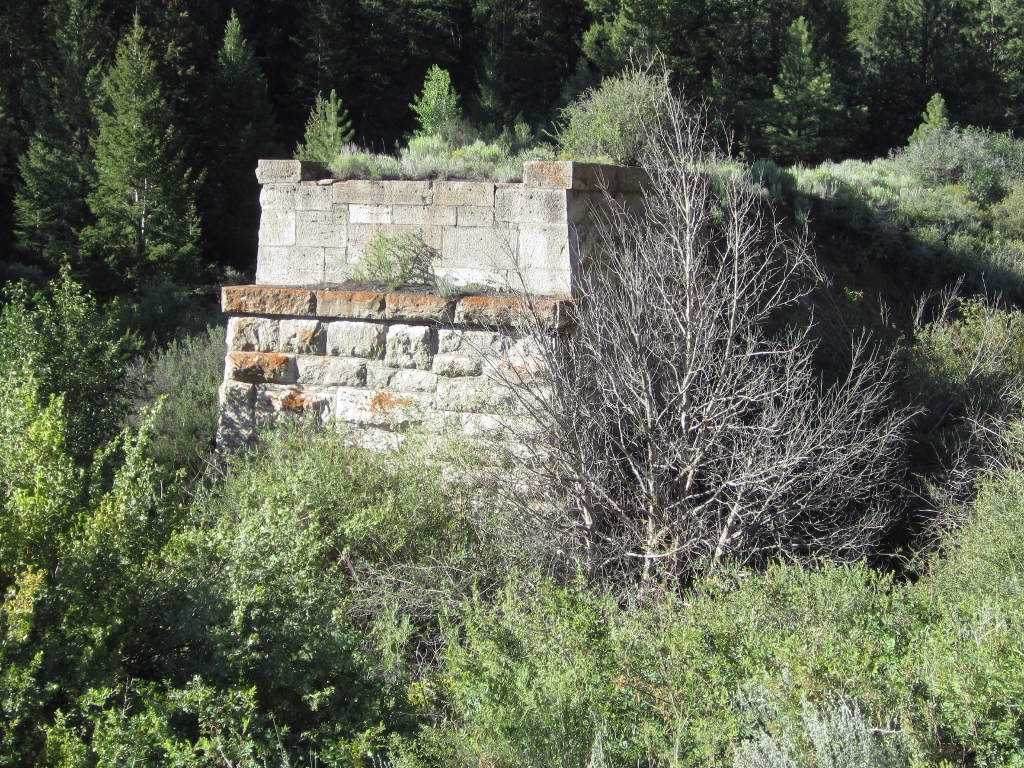 This is all just South of Poncha Springs.
Most of the Otto Mears road is not big bike friendly at all---but the first part is.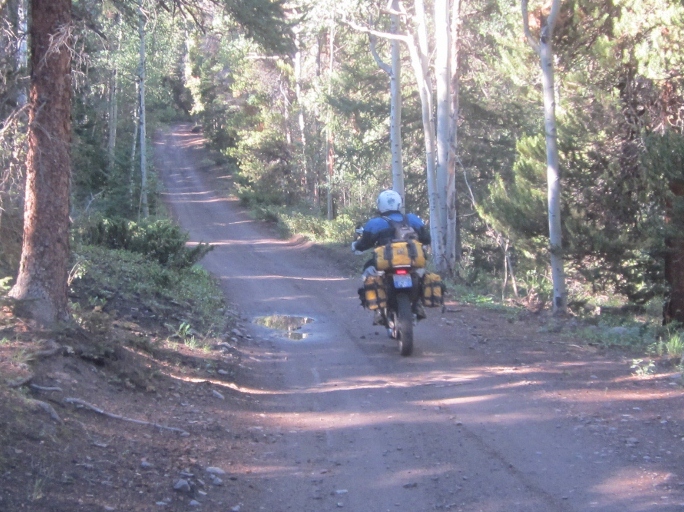 The Rainbow trail starts here and heads South for about 100 miles.
It's a lot of single track and is not big bike friendly----and not packing gear friendly.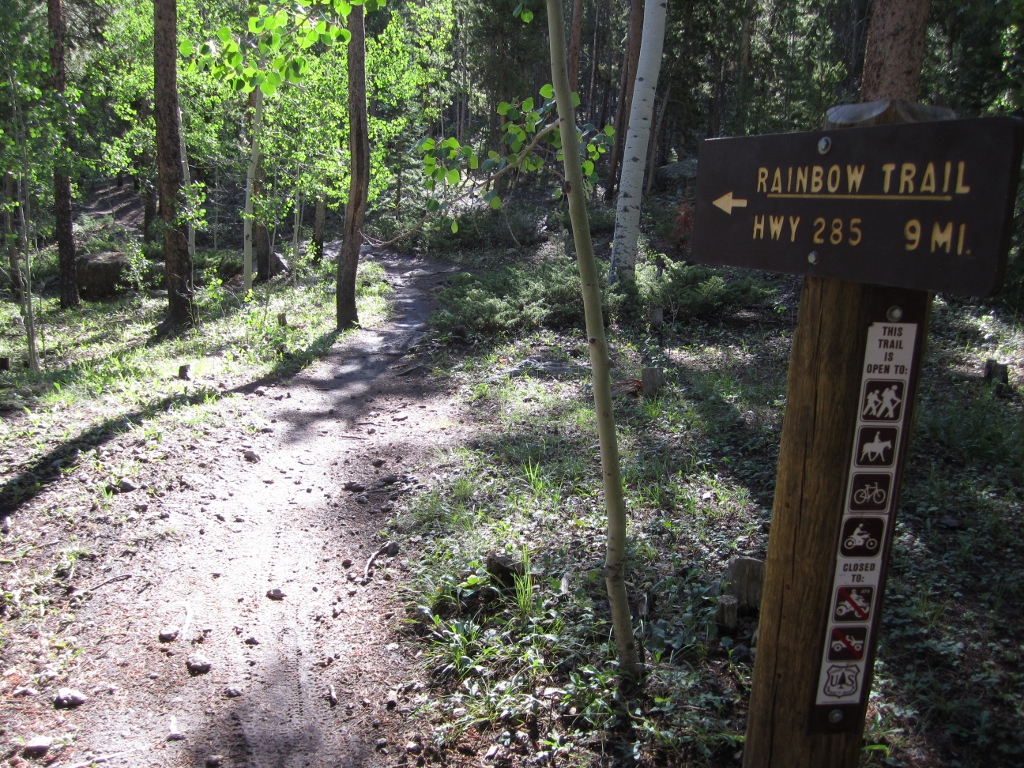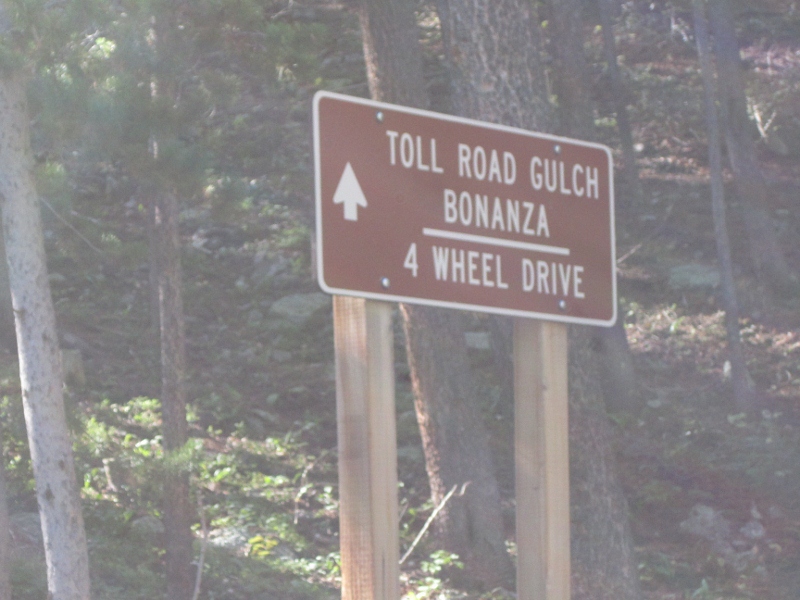 The Otto Mears Toll Road
Not big bike friendly---but just hard enough to make it interesting for us.
This was a very steep climb---and it climbed for a long ways.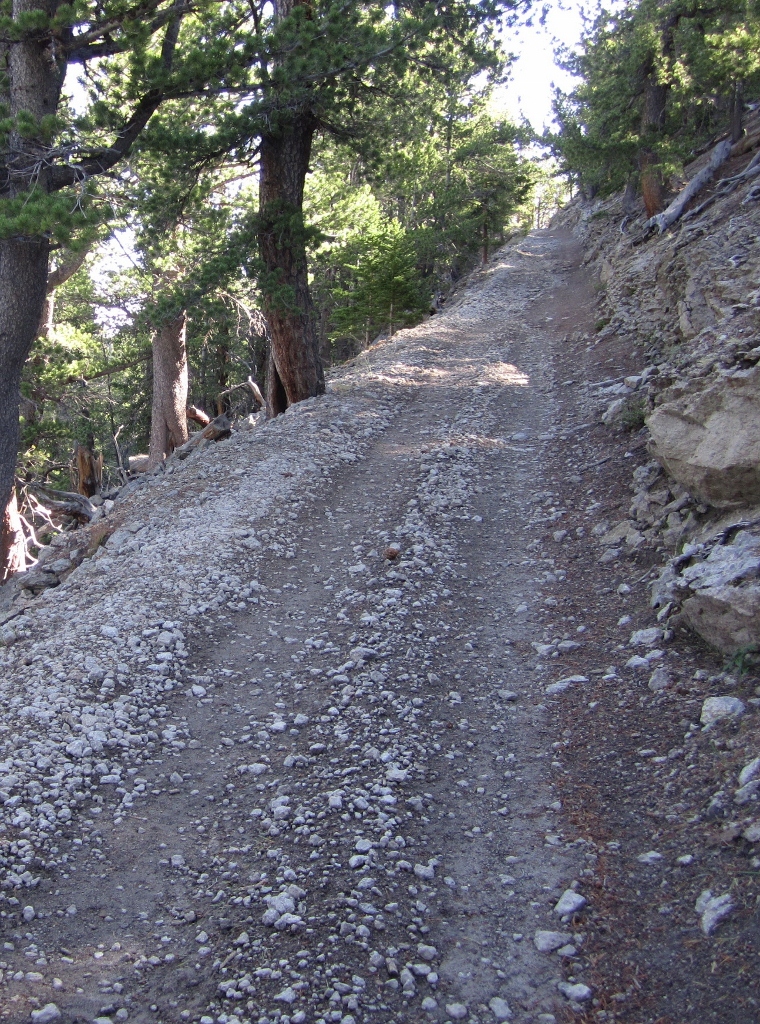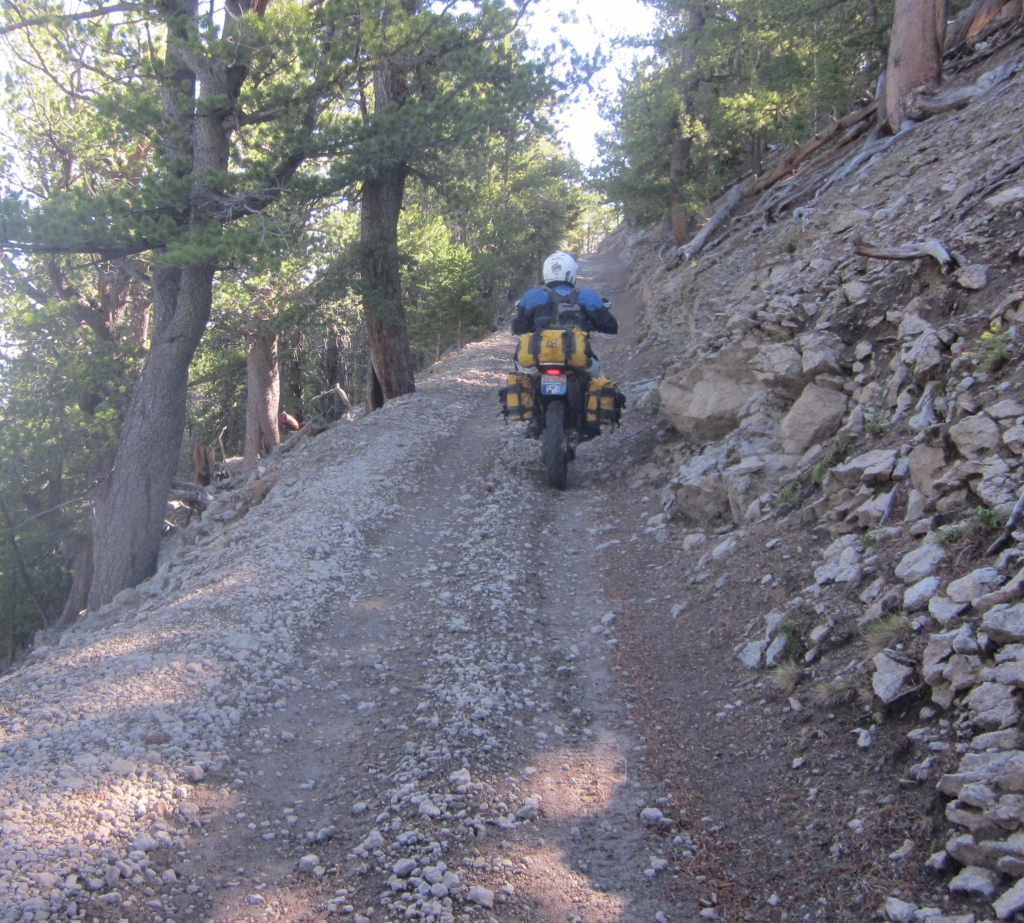 Near the pass it opened up to a great open view.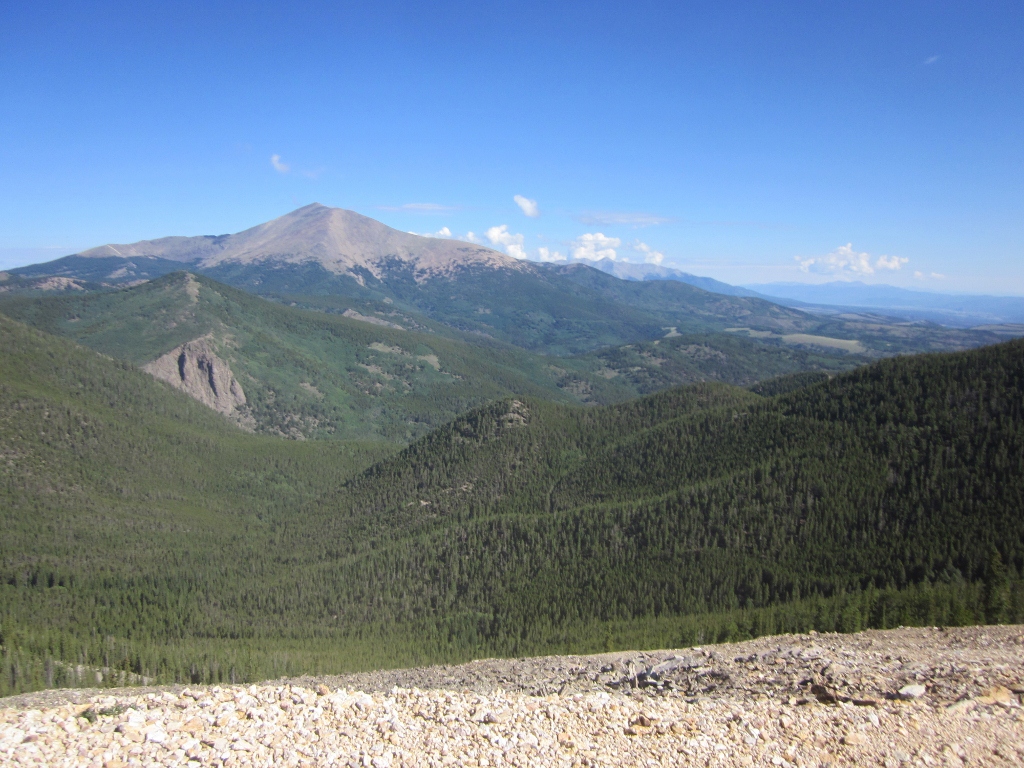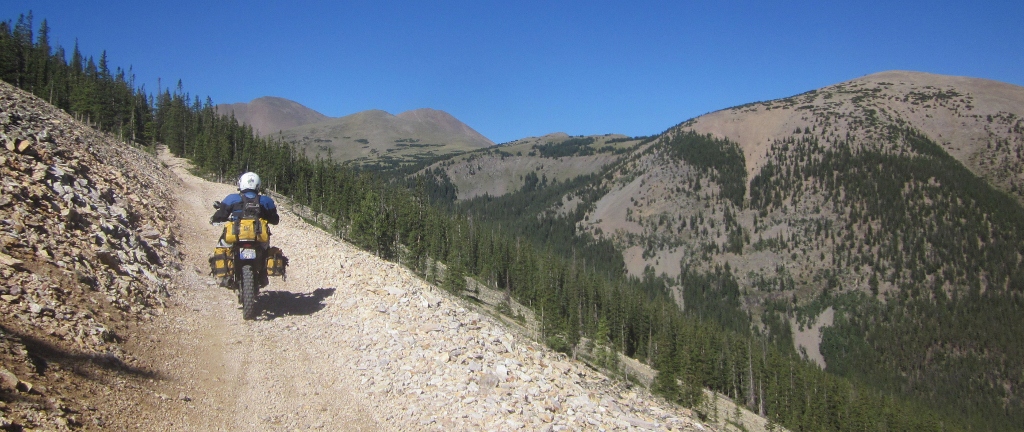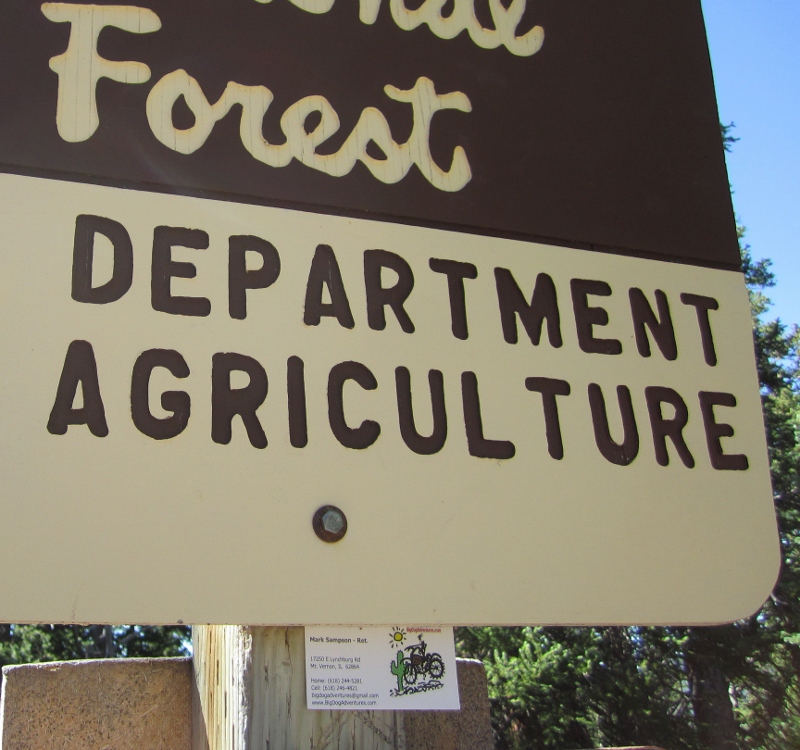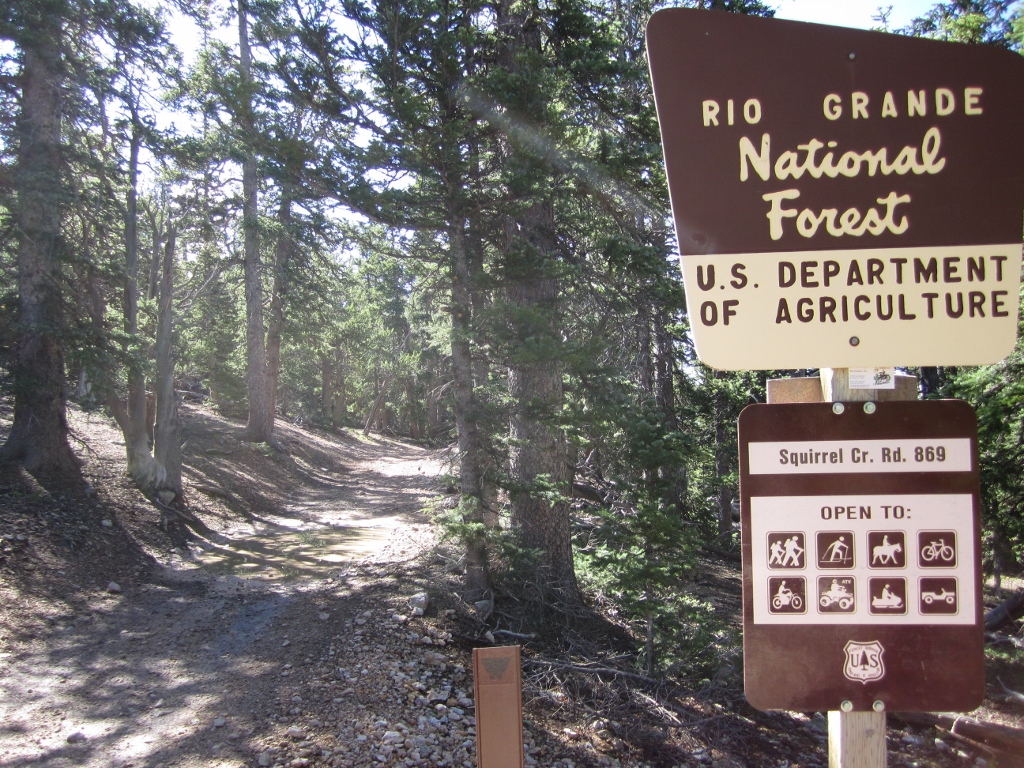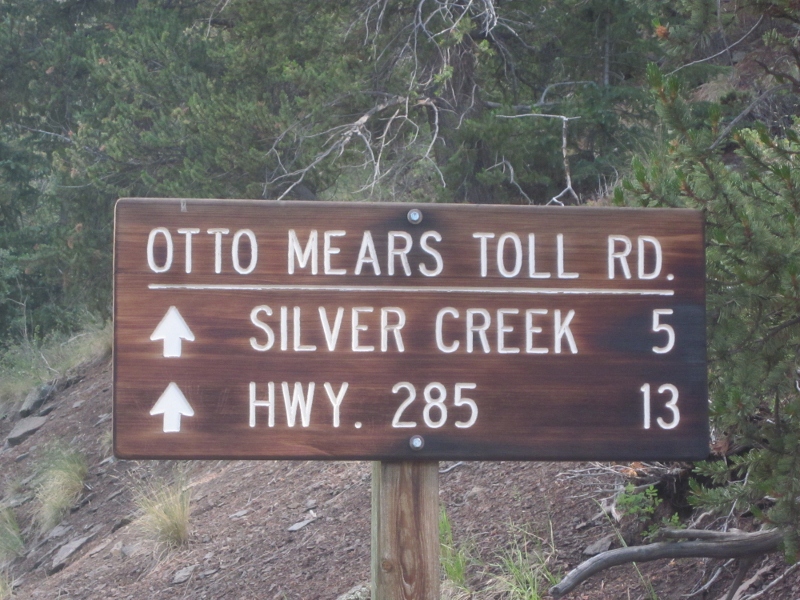 Before we had left town I had called my good friend Vance Hunter (Vinnie The Snake). He has ridden around here more than anybody probably
and gave me great insight from memory to help me navigate thru here and the old mining town of Bonanza.

We also found and old abandoned homestead with several log cabins that were going back to the earth.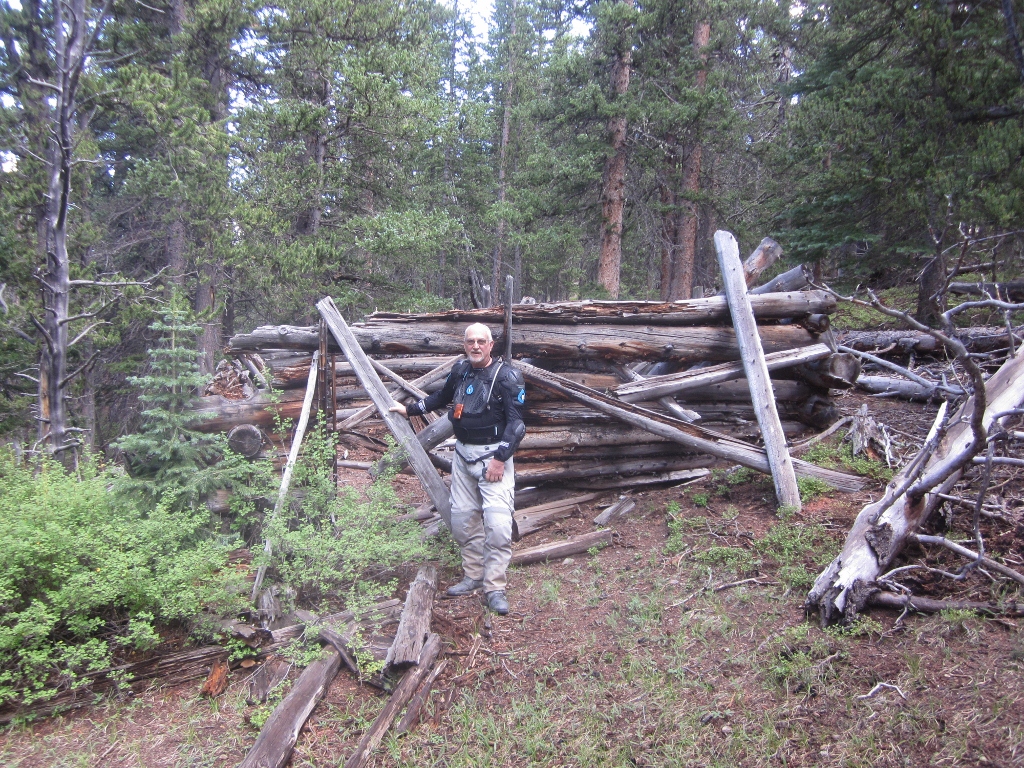 Do these KLIM pants and this narrow doorway make my butt look big ?????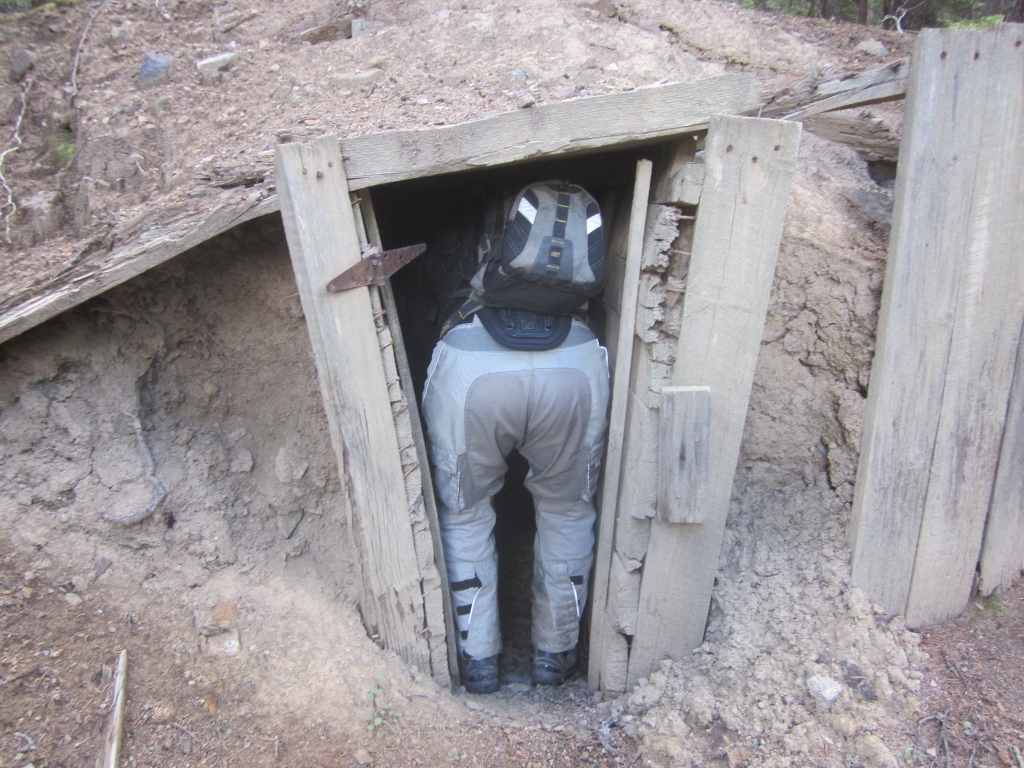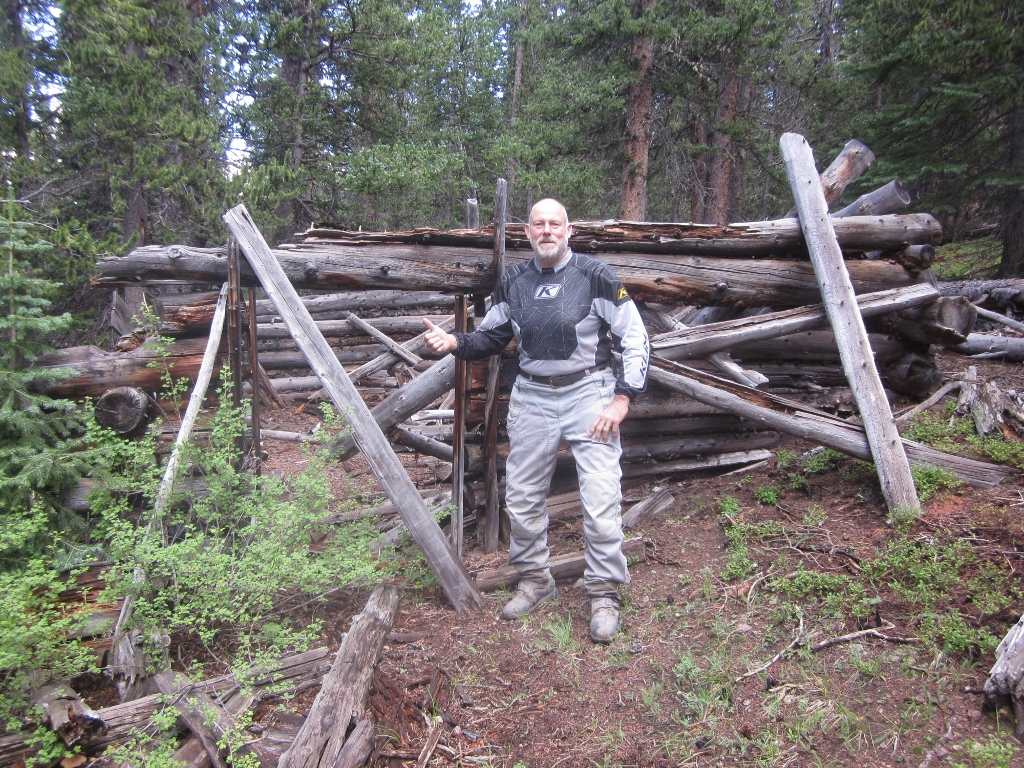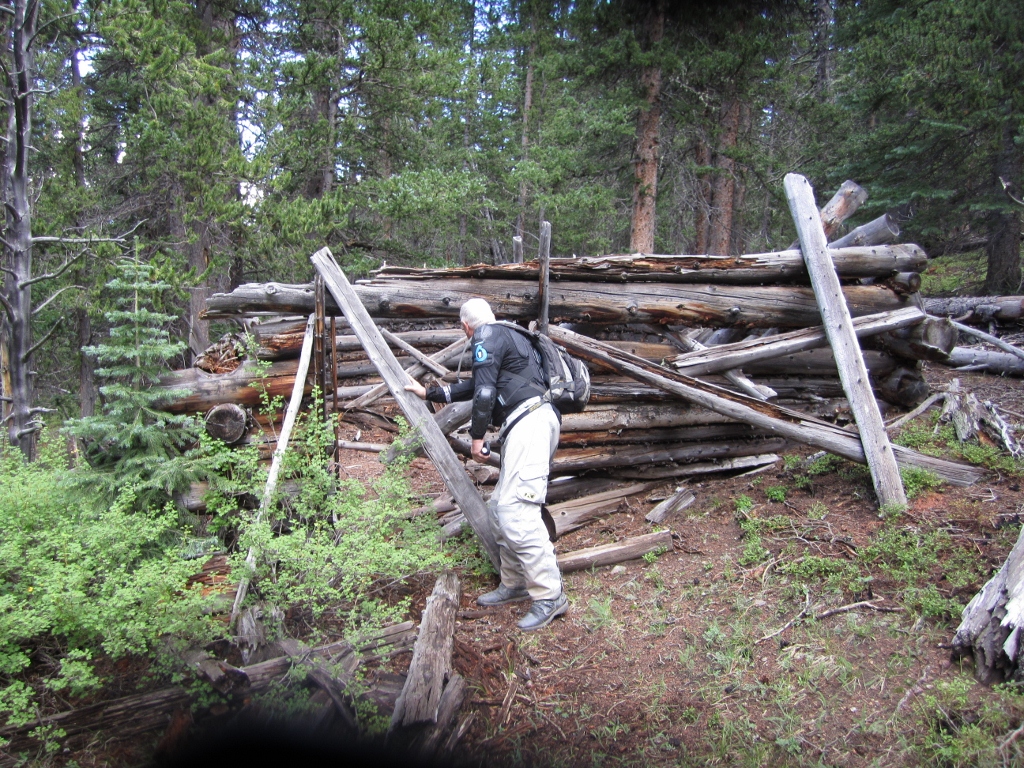 This couple was having a hoot in their Razor-----900 cc and 90 horsepower.
I loved their little dog---part Yorky and part poodle.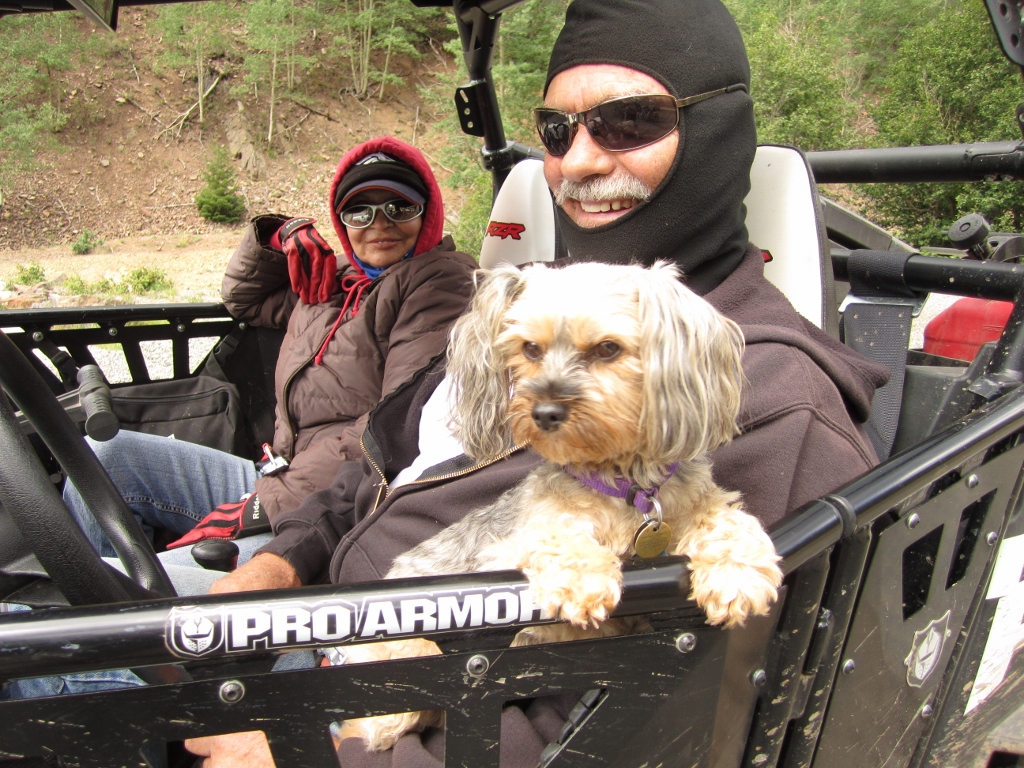 At the old Bonanza mine we found some interesting pictures and the story of Bonanza.
There were mines everywhere around here--hundreds of them I suppose.
I turned on my topo software on my gps and they filled the screen.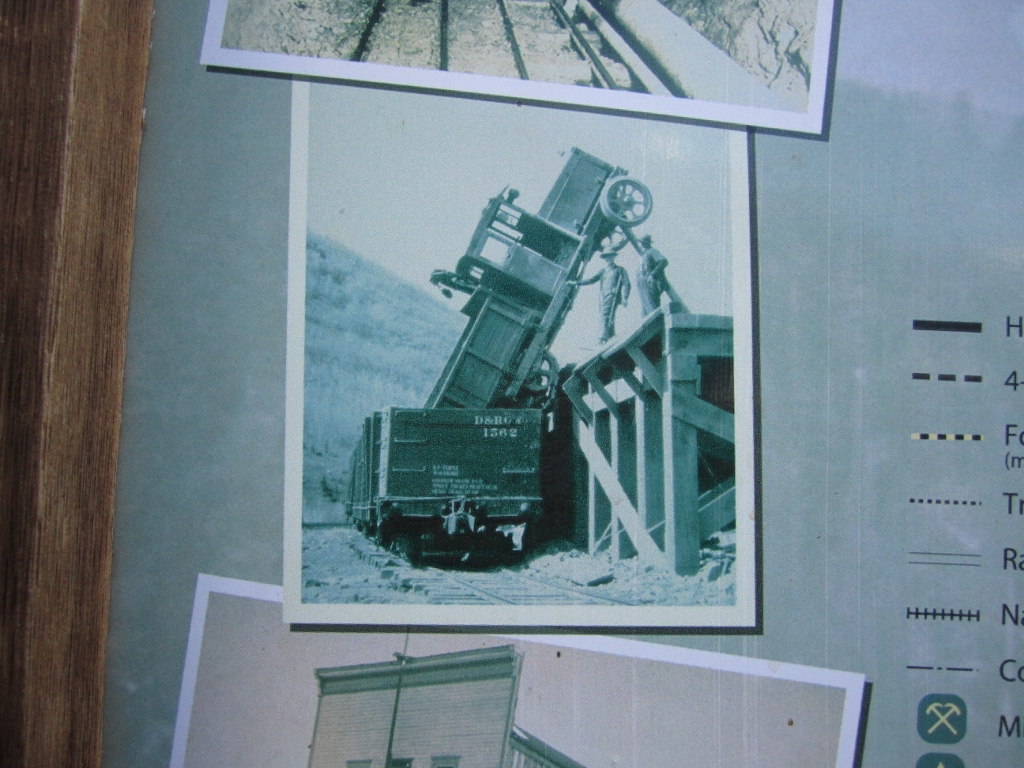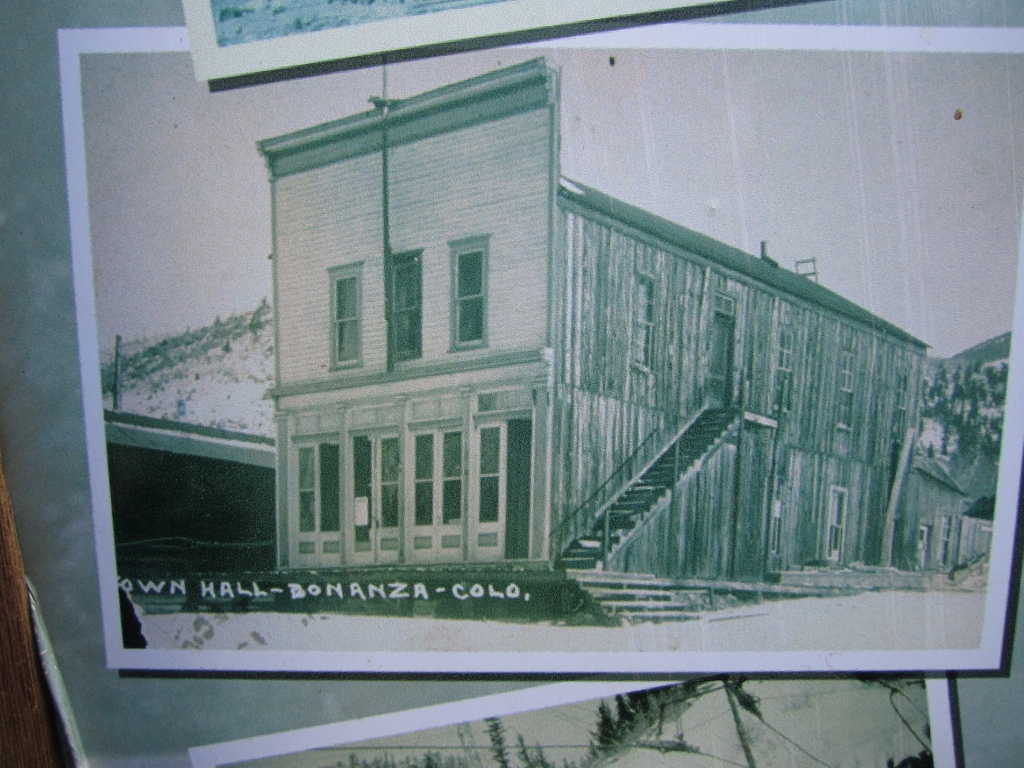 This is all that's left of Exchequer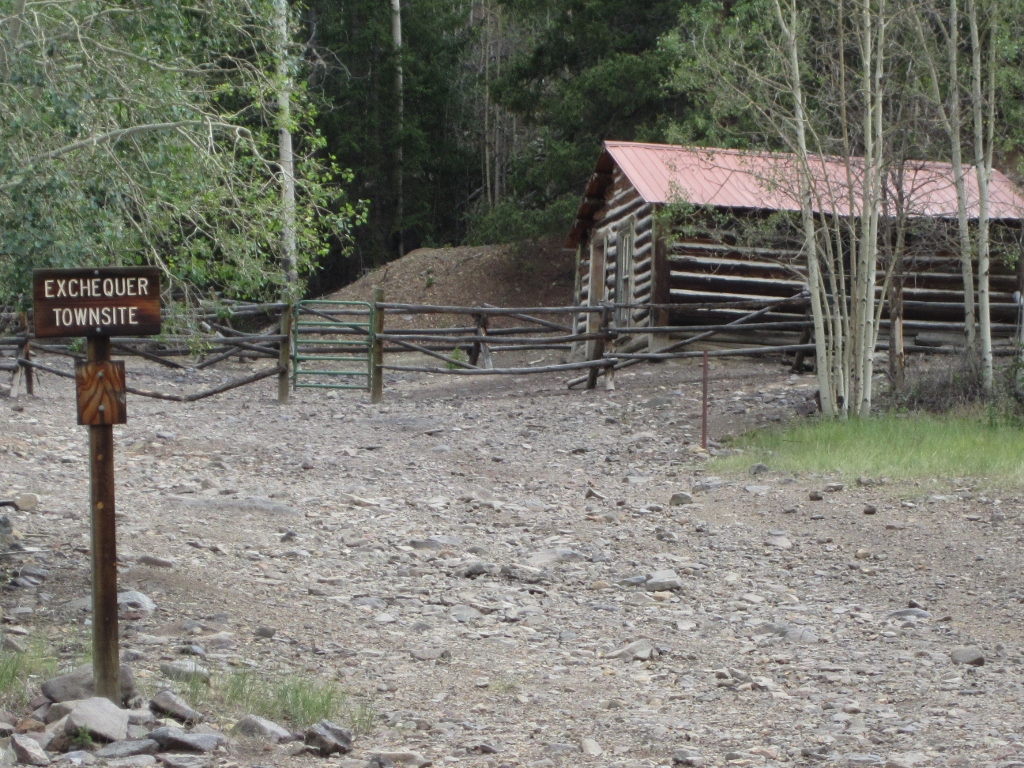 I wanted to go to the dead end at Antora meadows but it was blocked off for some restoration or something ????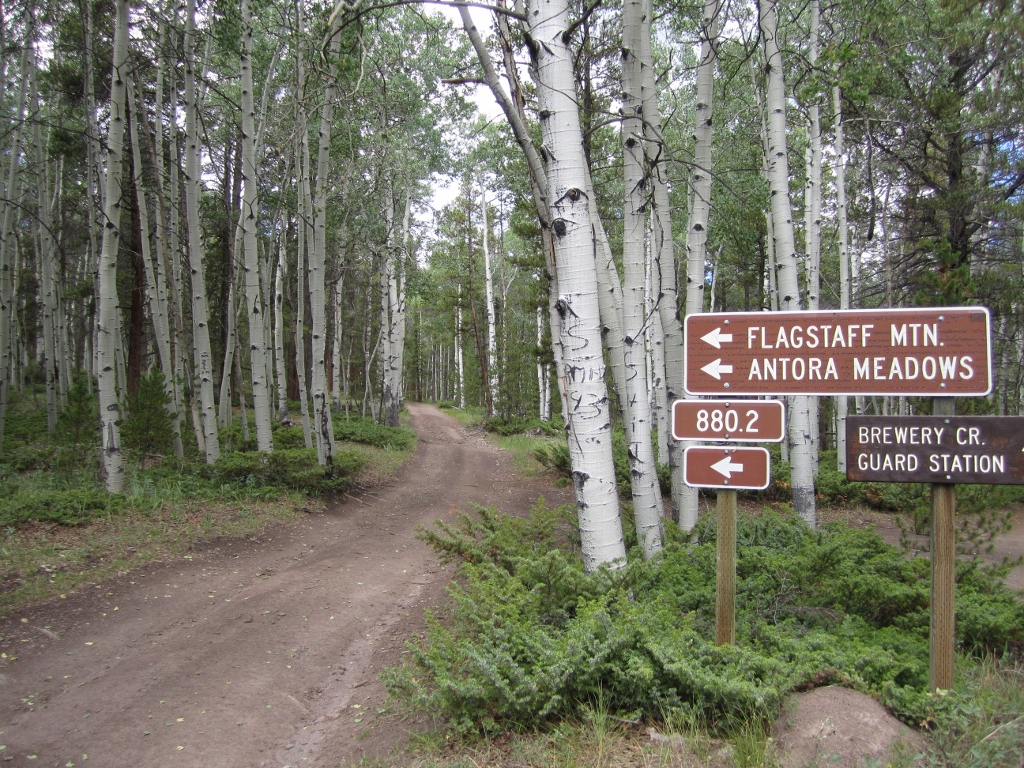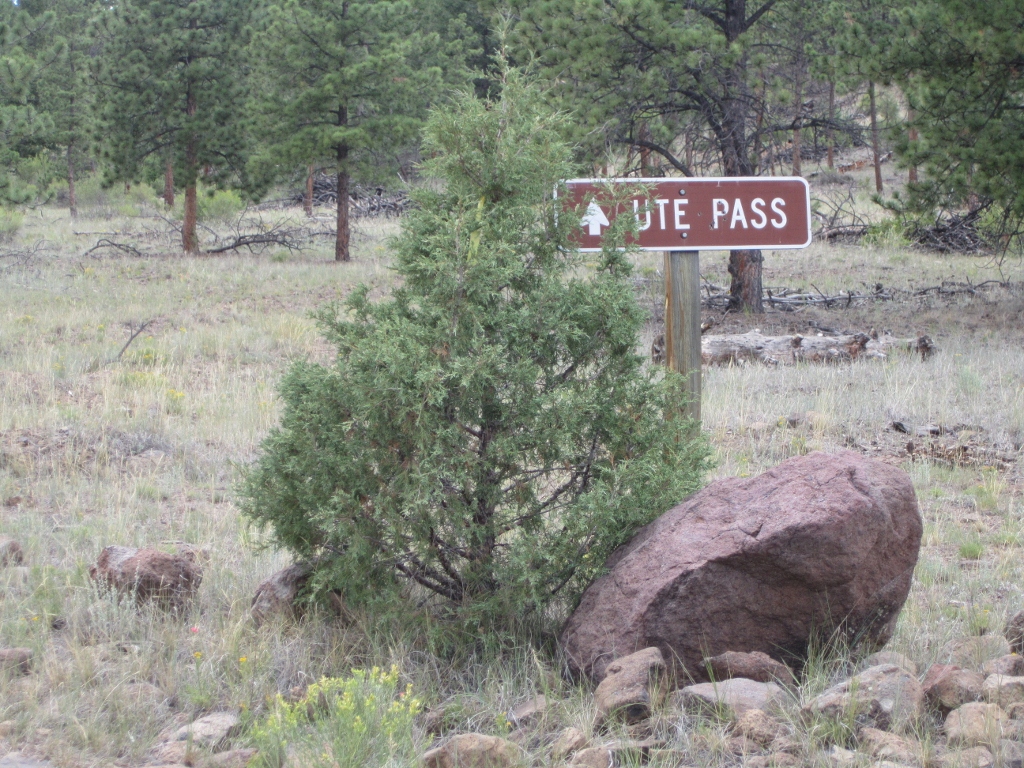 There were 3 ways up to Ute Pass----2 on easy graded dirt roads---and the one we took.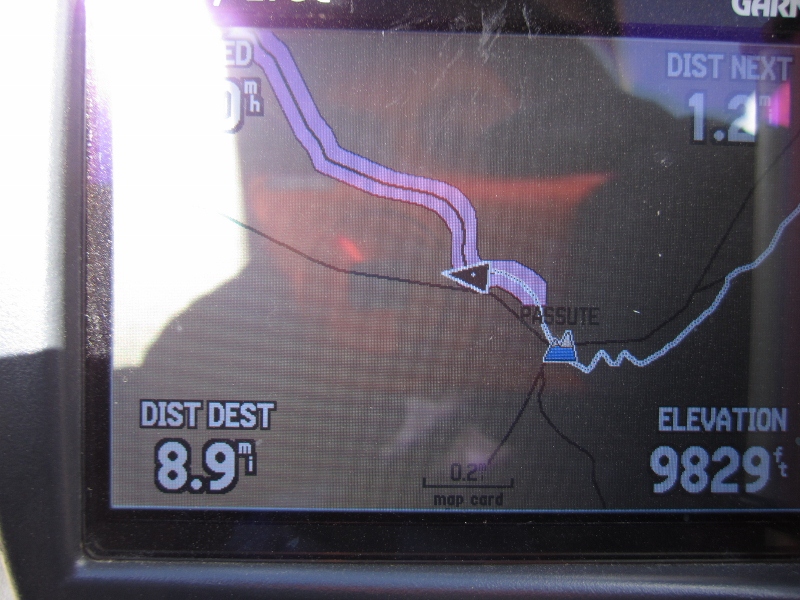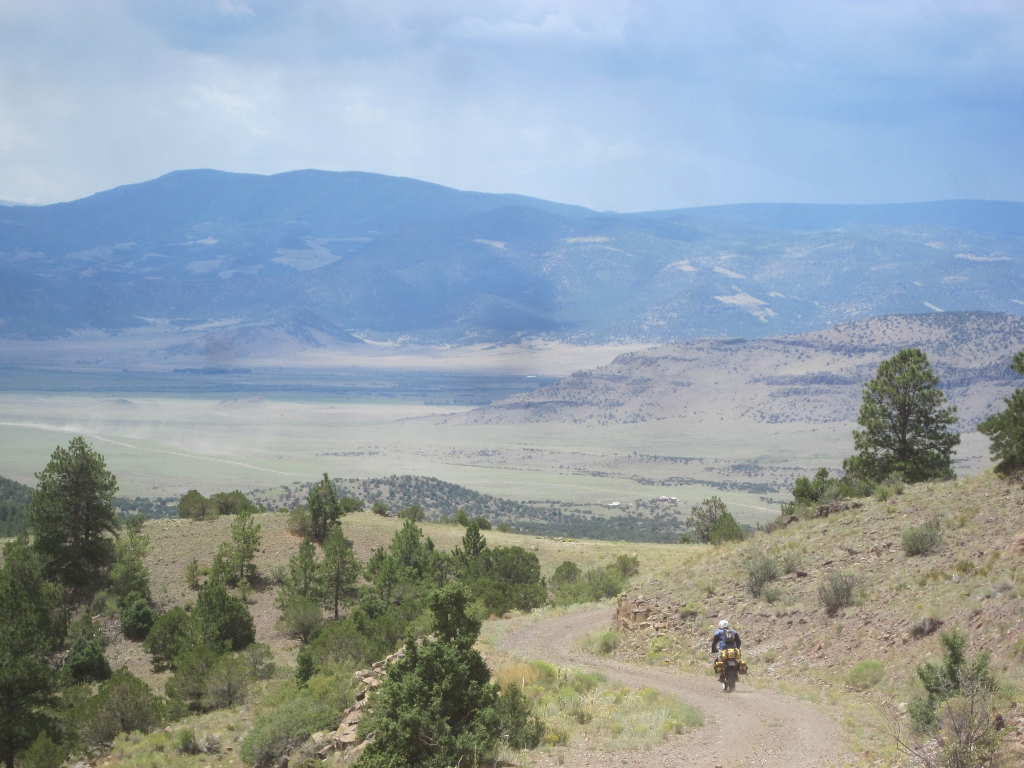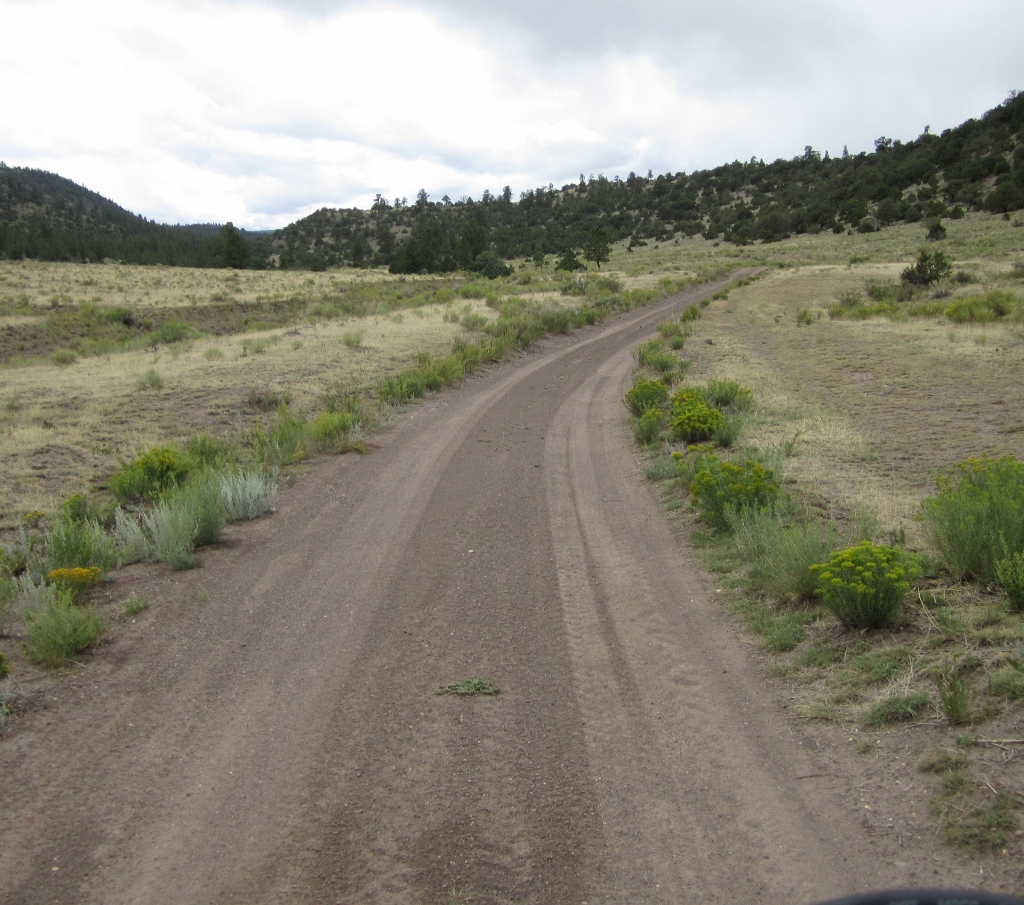 Much of this was the route of the CAM 1000 this year---and for miles the road would have been impassable if wet and
I worried about the rain clouds around us.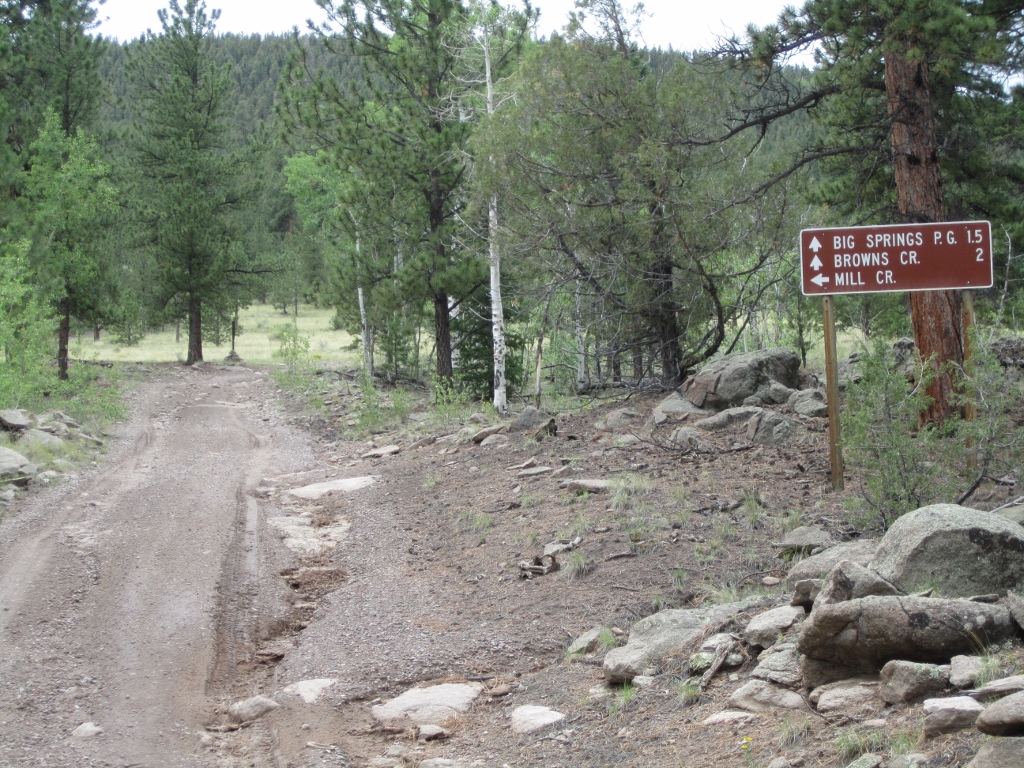 I'm at a tee----see the road in front of me-----it's the Continental Divide Trail.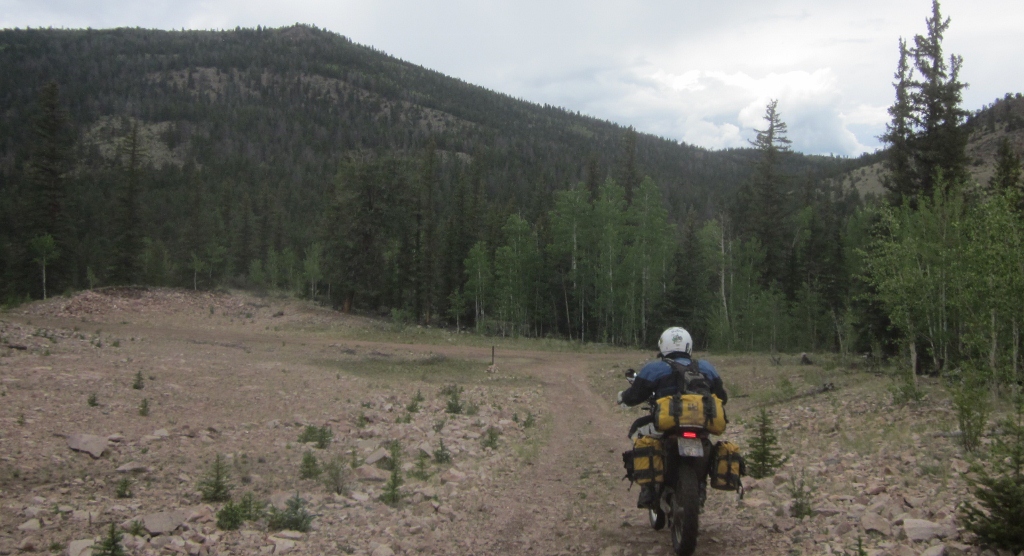 My gps screen at the very spot above----I had loaded the CDR in my gps for reference and it's the red line on my gps.
so we go South on the 41G road where I wanted to ride a route that was for sure going to be very tough and go West off the CDR route
and end up at Wagon Wheel Gap. I had google earth this route ----again a part of the CAM 1000 ride. It was late and it was raining
and we decided it was not wise and rode on as it started raining hard.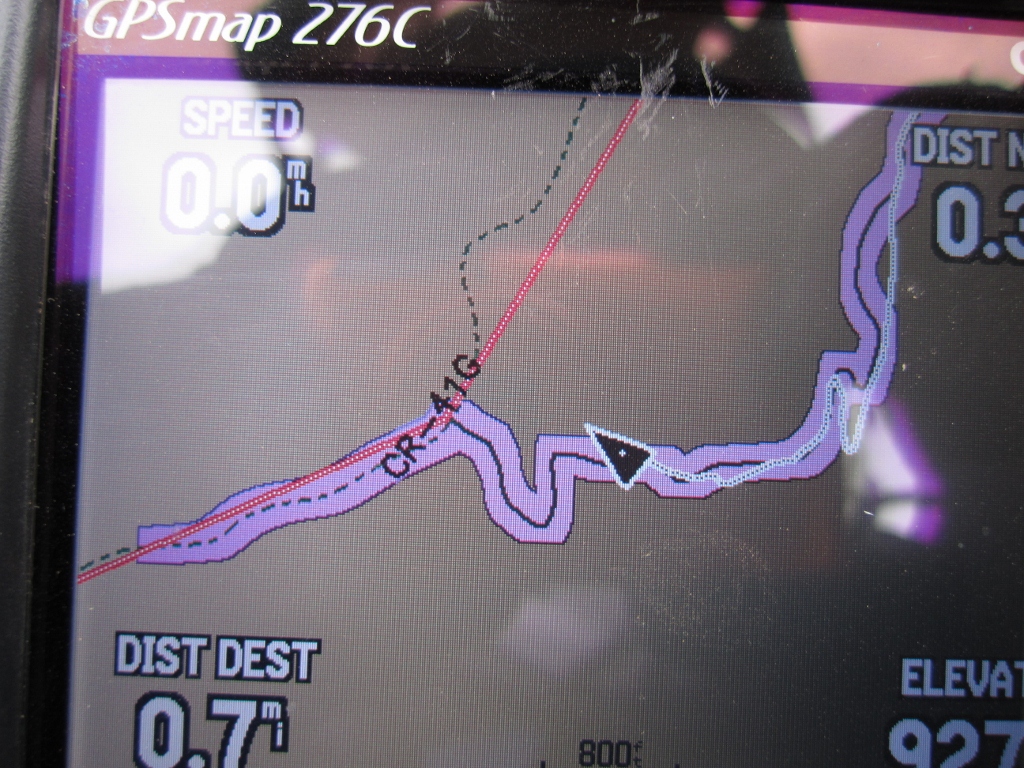 One lone motorcycle track was at the CDR tee.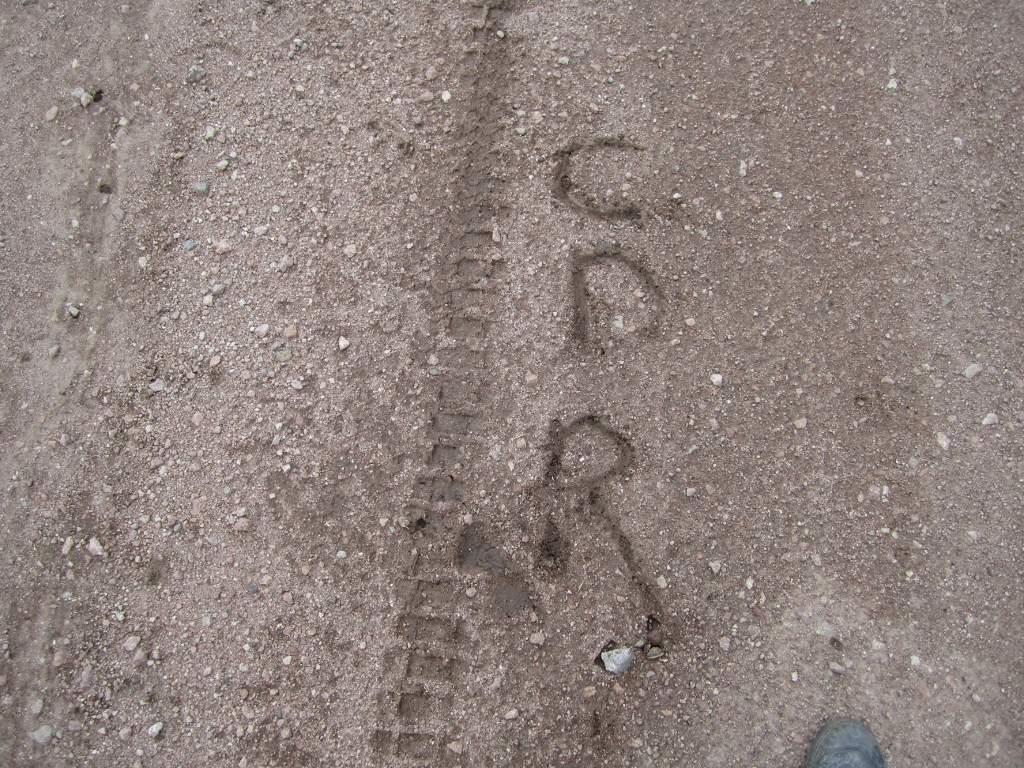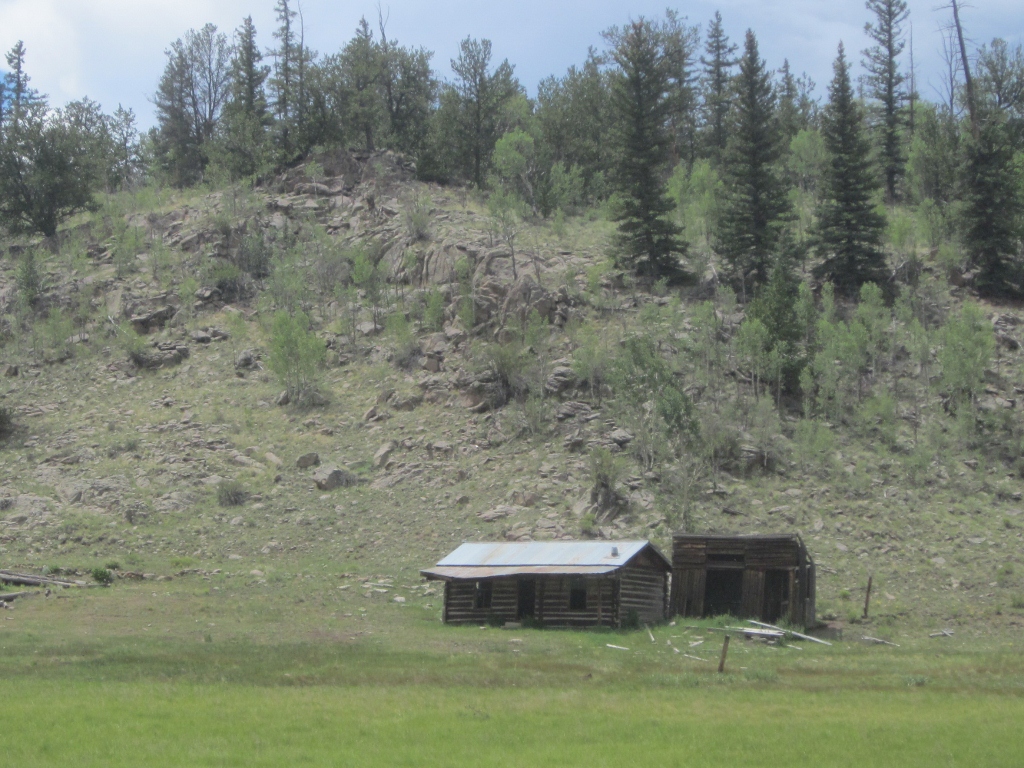 South on 41G the CDR trail to Del Norte.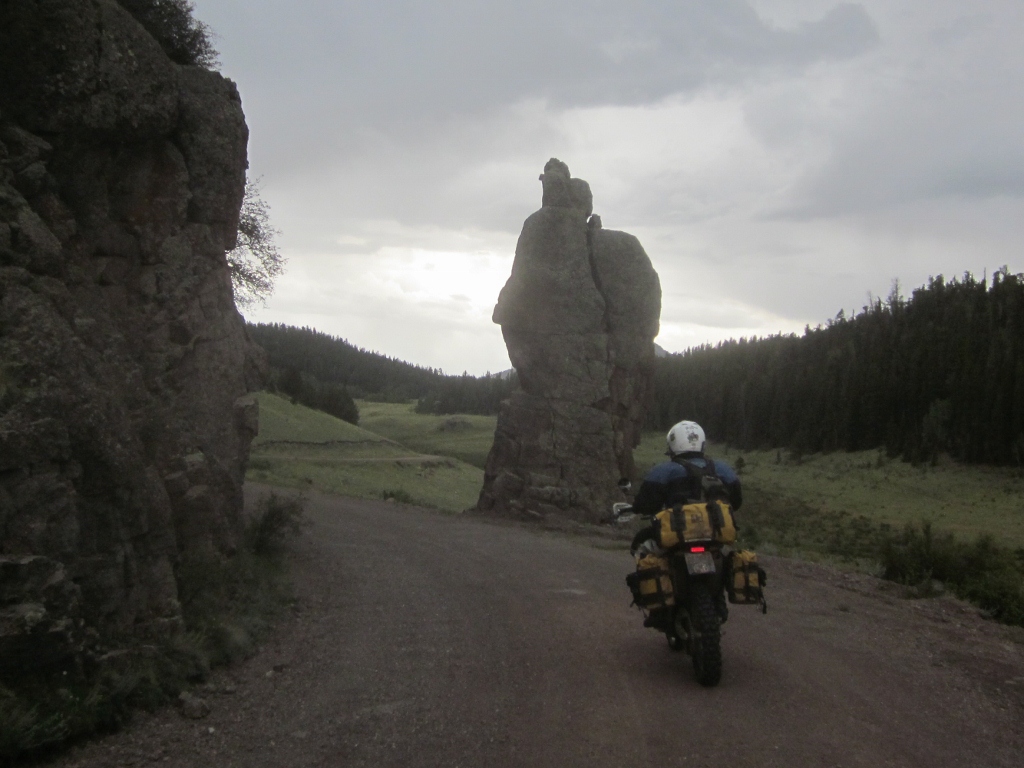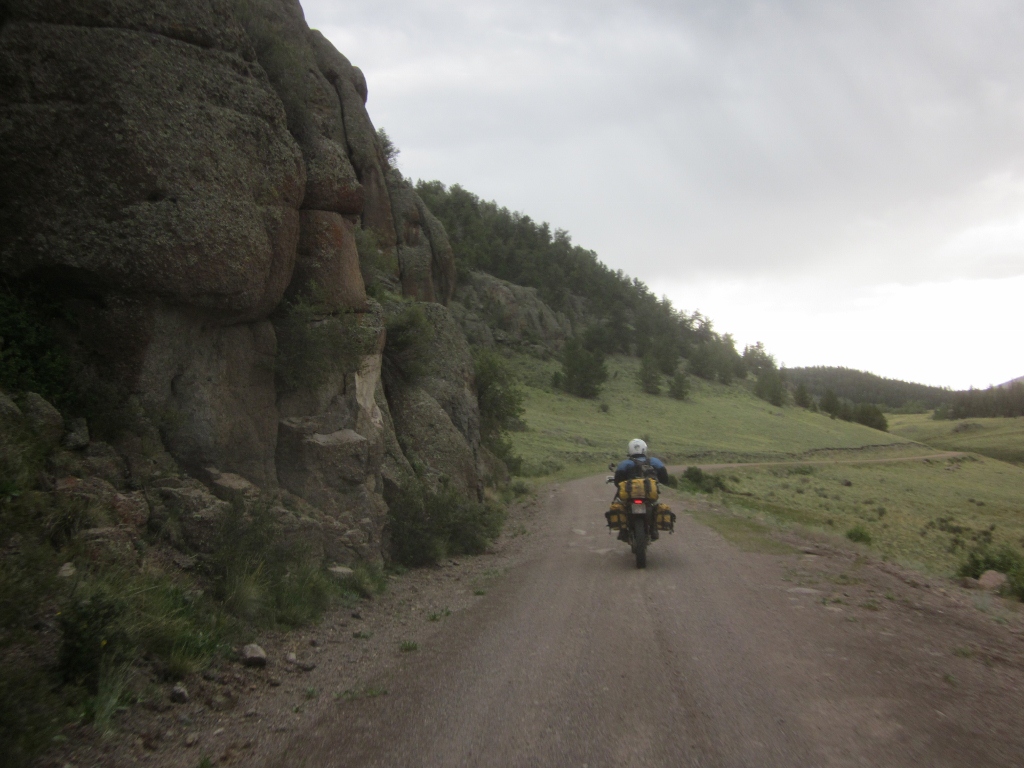 We ran into these guys riding the CDR---and packing lite---they were really nice guys but said when they got older they
was going to get some motors.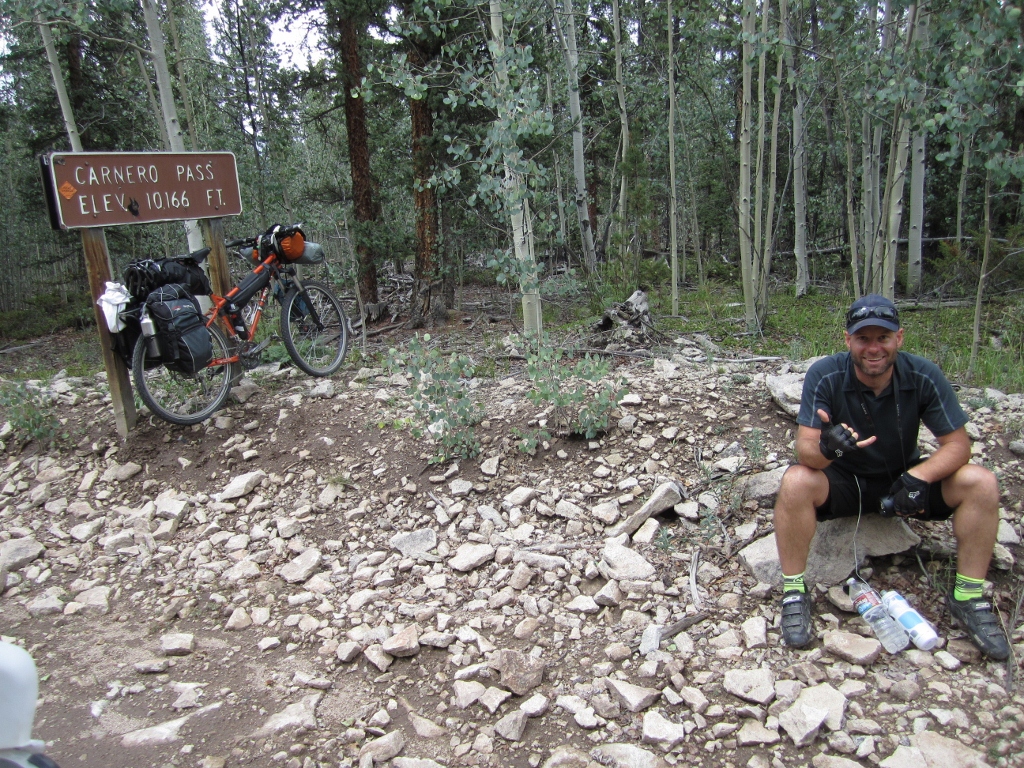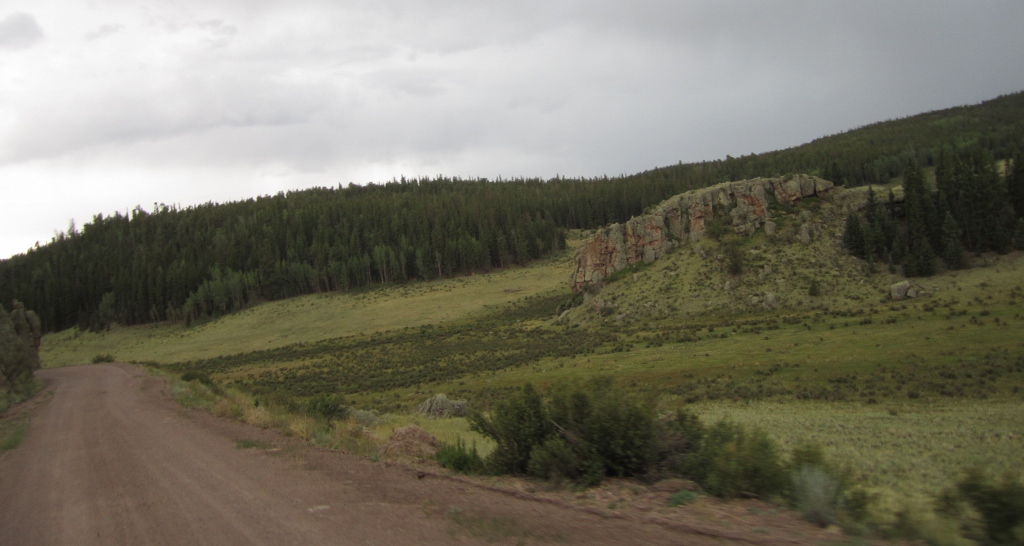 I turned in Storm King Campground to check it out even tho it was raining and found the bicycle riders again.
I put more raingear on and off we went to Del Norte.
We stayed at a mom and pop motel which had a restaurant in the circle of the motel---pretty handy for dinner and breakfast.
They weren't no stinkin' inside door motels in this town---they had run em' out on a rail.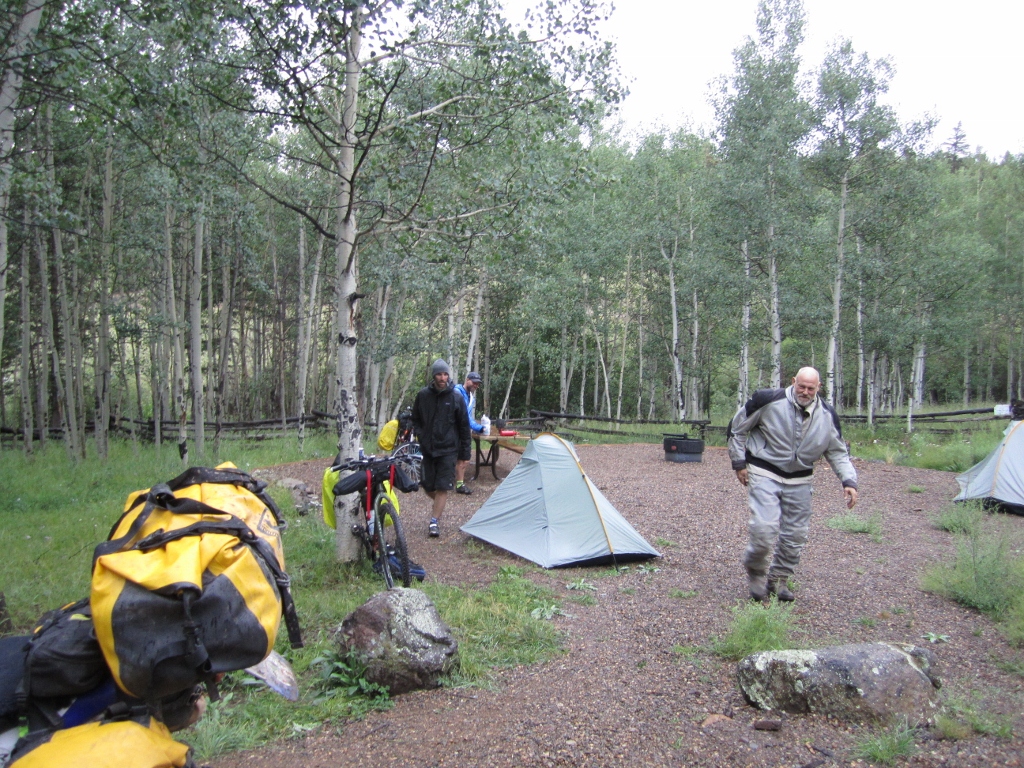 120 miles for the day
Day 13
August 3rd, 2012
Today would be our last day of riding----we would ride from Del Norte back to Trinidad where we started riding with Sam and John.
We ran Southwest out of Del Norte right thru the Rio Grande National Forest and over Grayback Mtn. elevation 12,616 ft.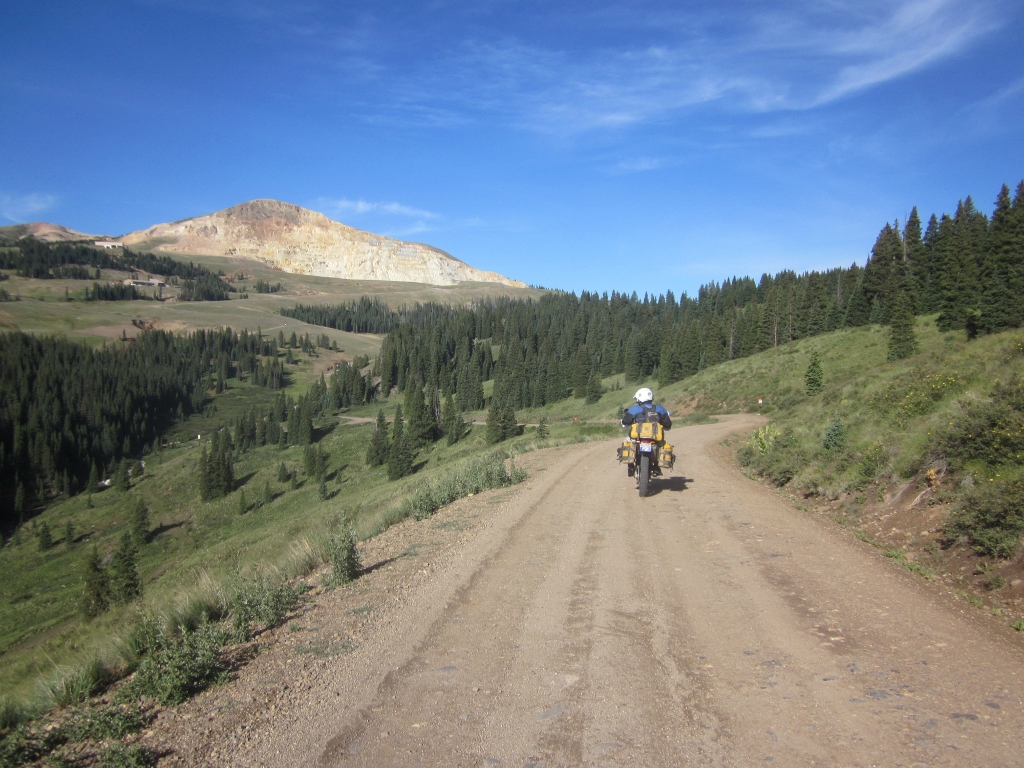 I do believe for just a few short miles we were on the CDR ---then turned East off of it on NF-250.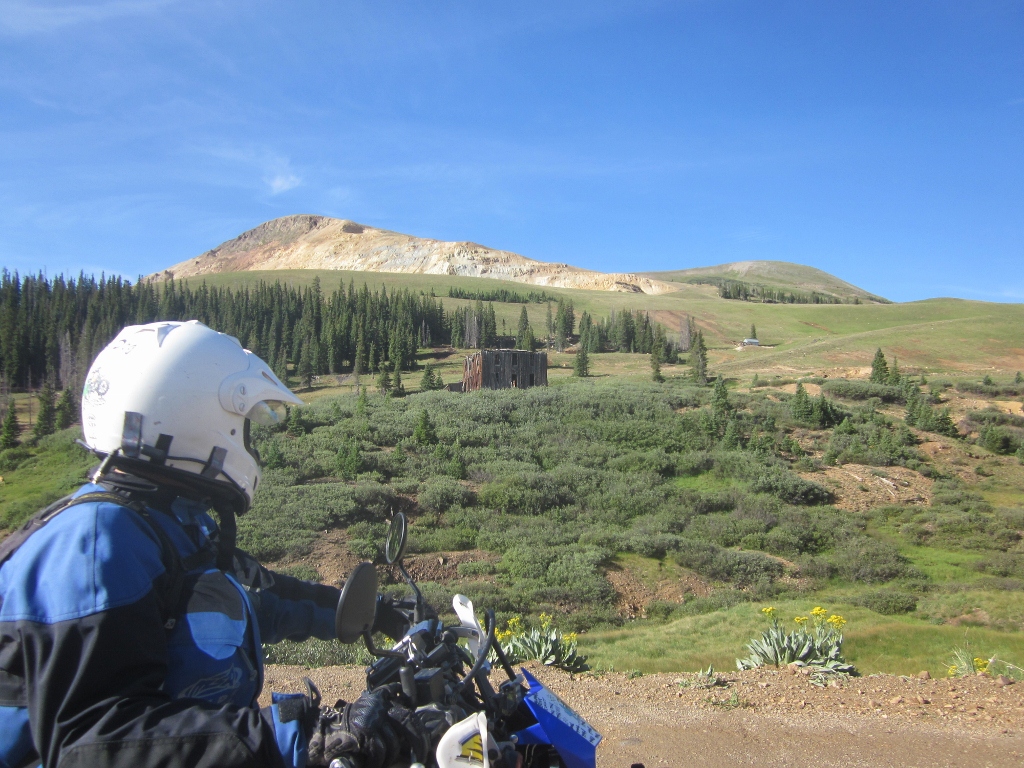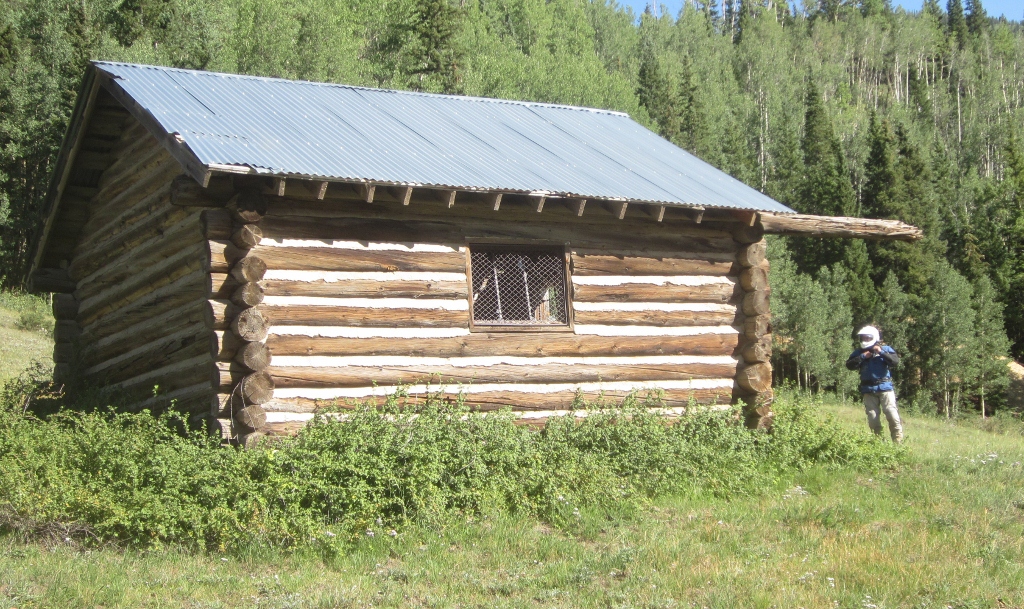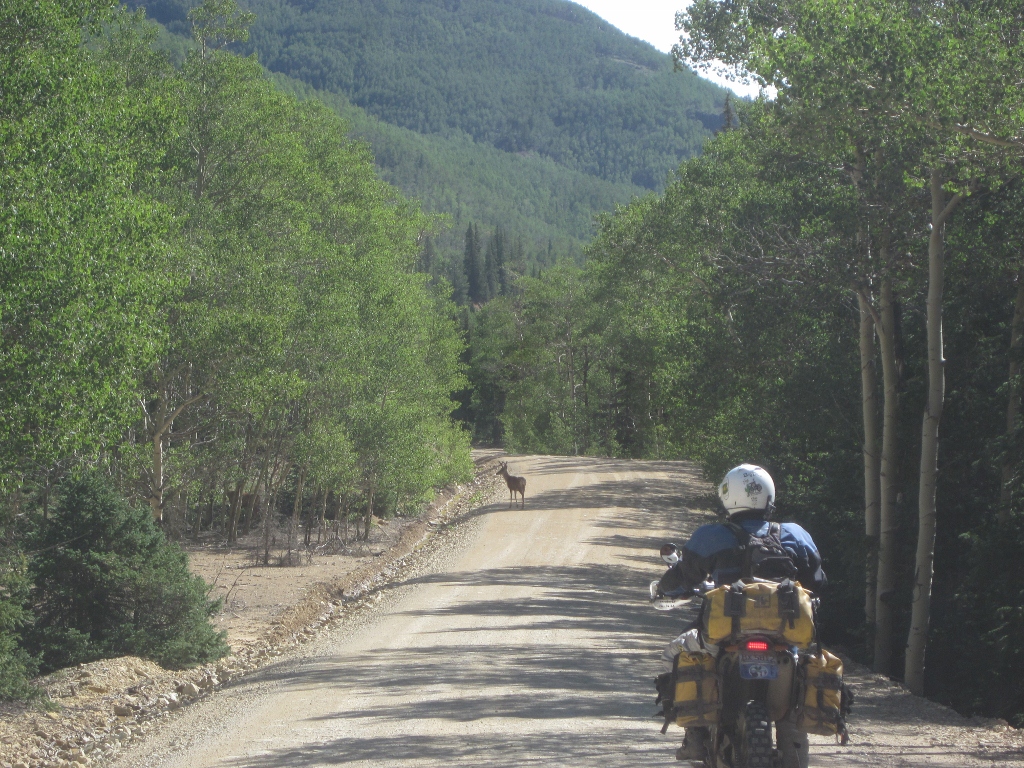 For a couple miles we rode right on the edge of the Terrace Reservoir which looked incredibly low--but we were getting used to that.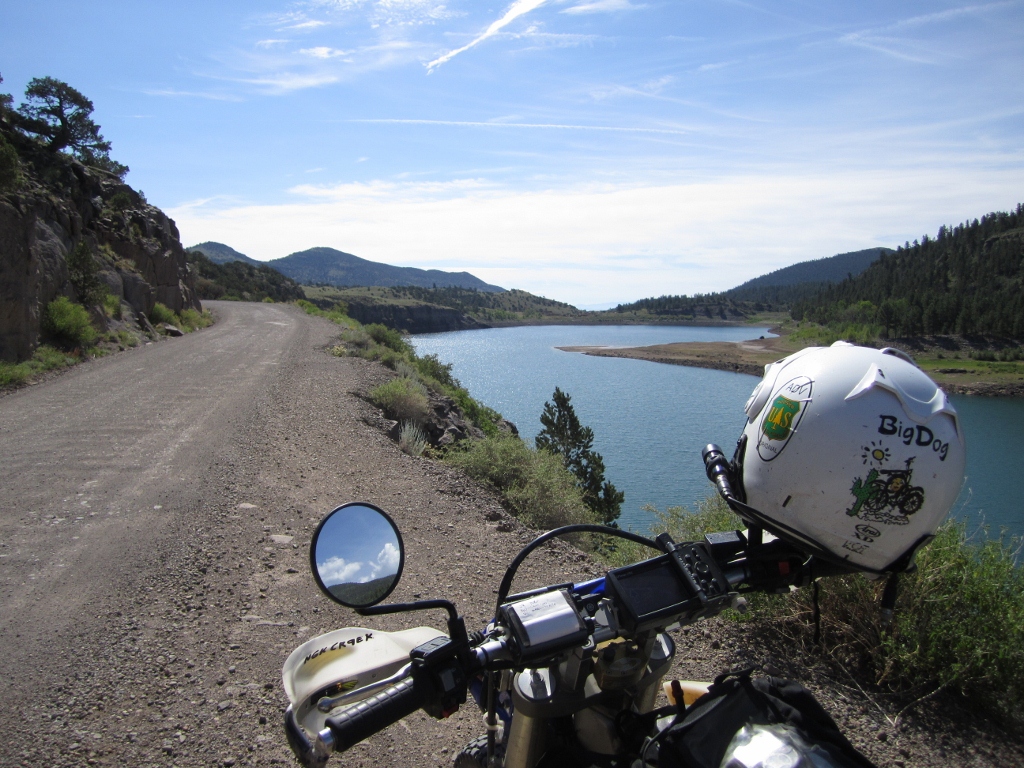 I had been kind of winging it all day as we got close to the town of Antonito, New Mexico I saw a sign pointing down the road and it said
"Oldest Church in New Mexico"
So here it is----I never expected it to be so perfect or grand---and it was both.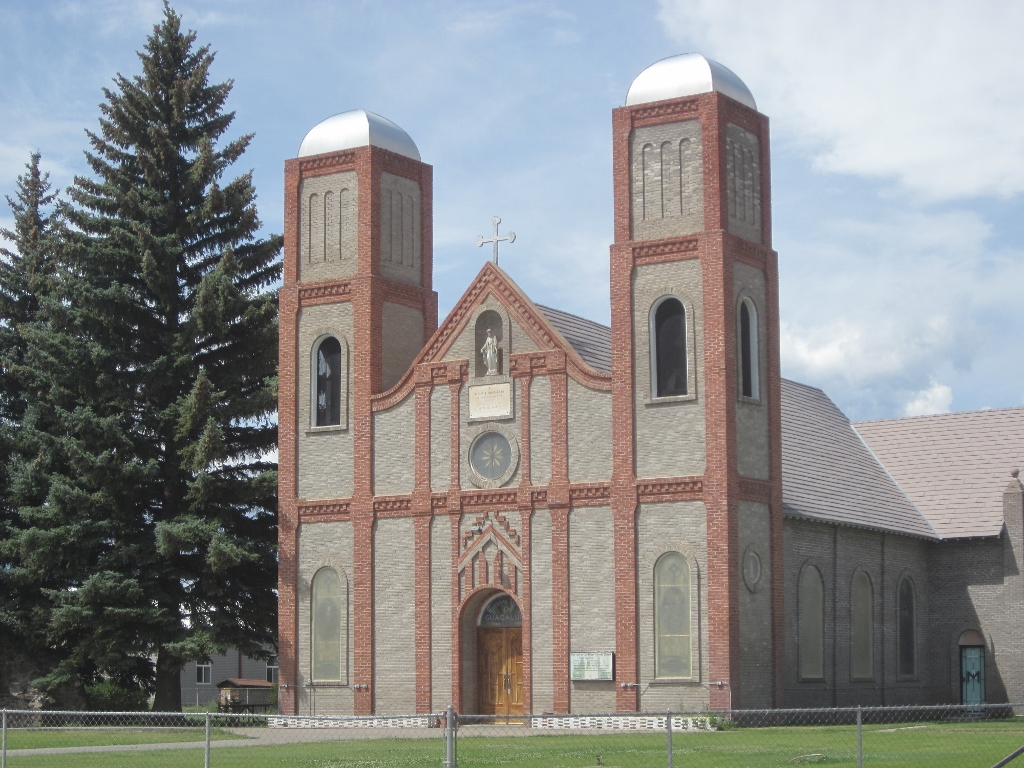 The small town of Antonito is the Eastern terminous of the still running Cumbres and Toltec Steam locomotive.
It runs from Cham a to Antonito. I have fond memories of this train as me and my son spent a lot of time in Chama a couple years ago
when he was still riding and had the best time. A time I will never forget.
Marty (my son) has promised we would ride this train together someday.
We rode the one from Durango to Silverton that same year.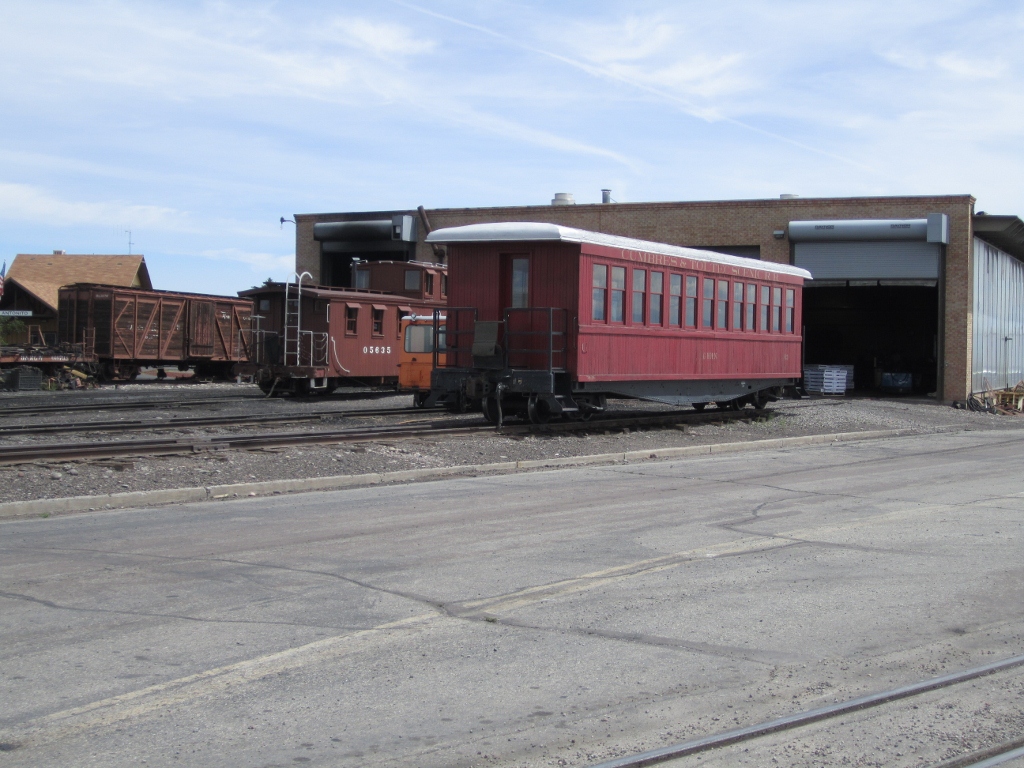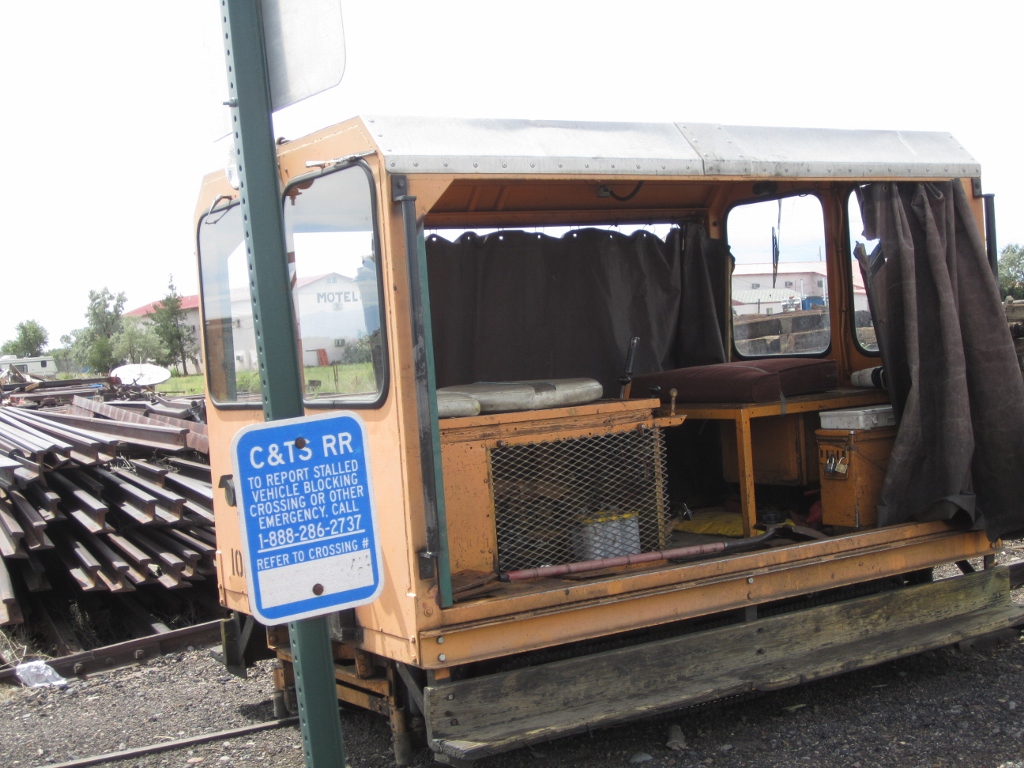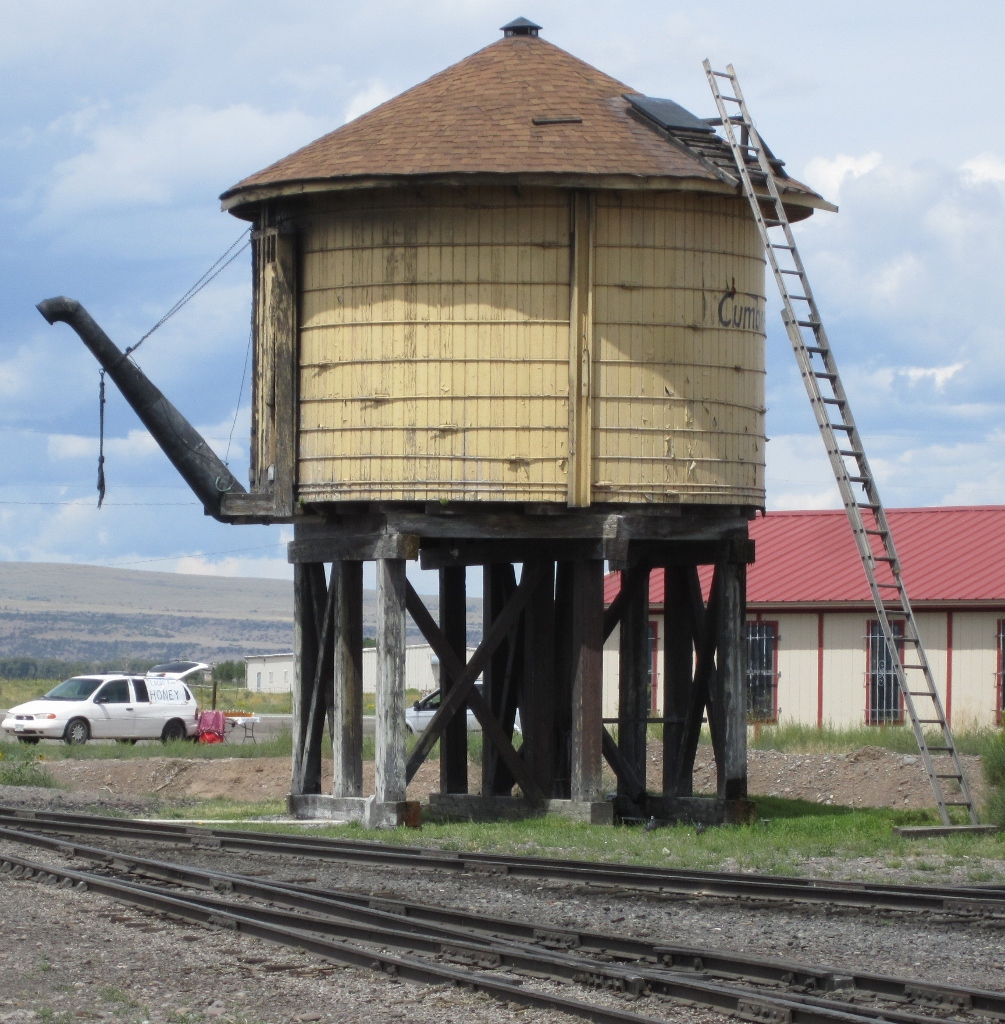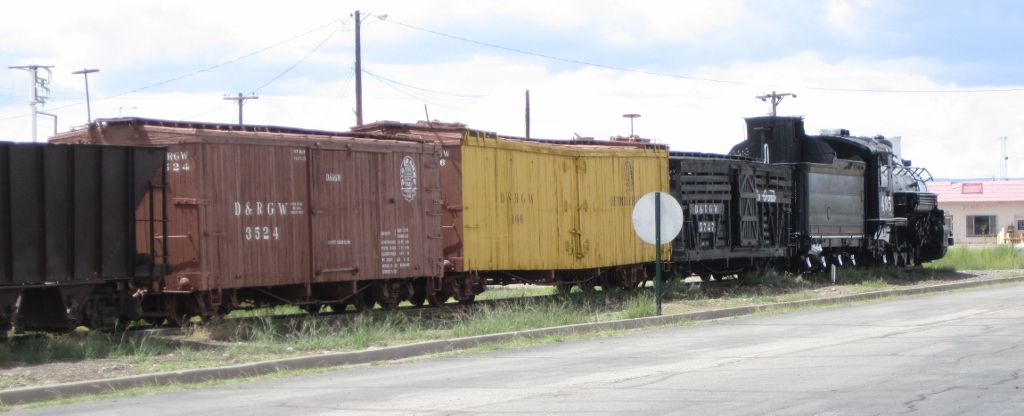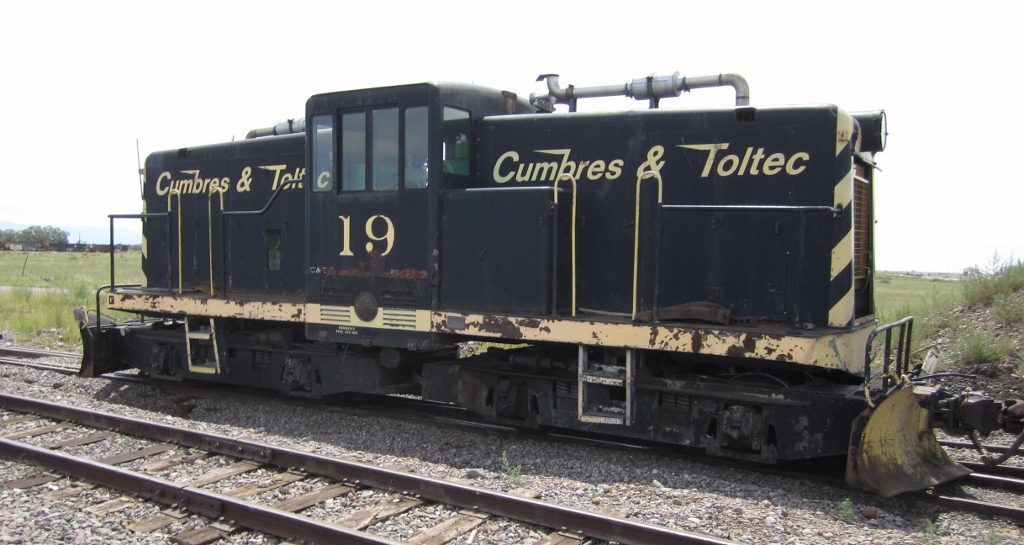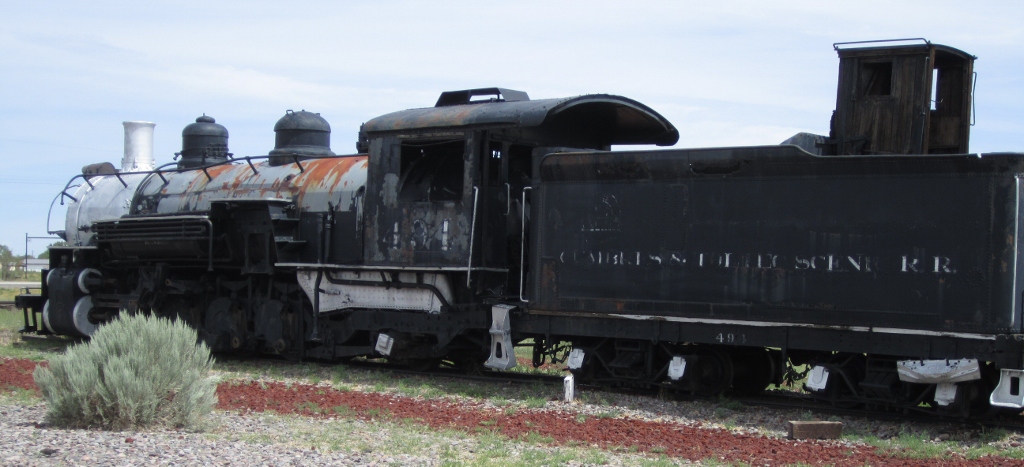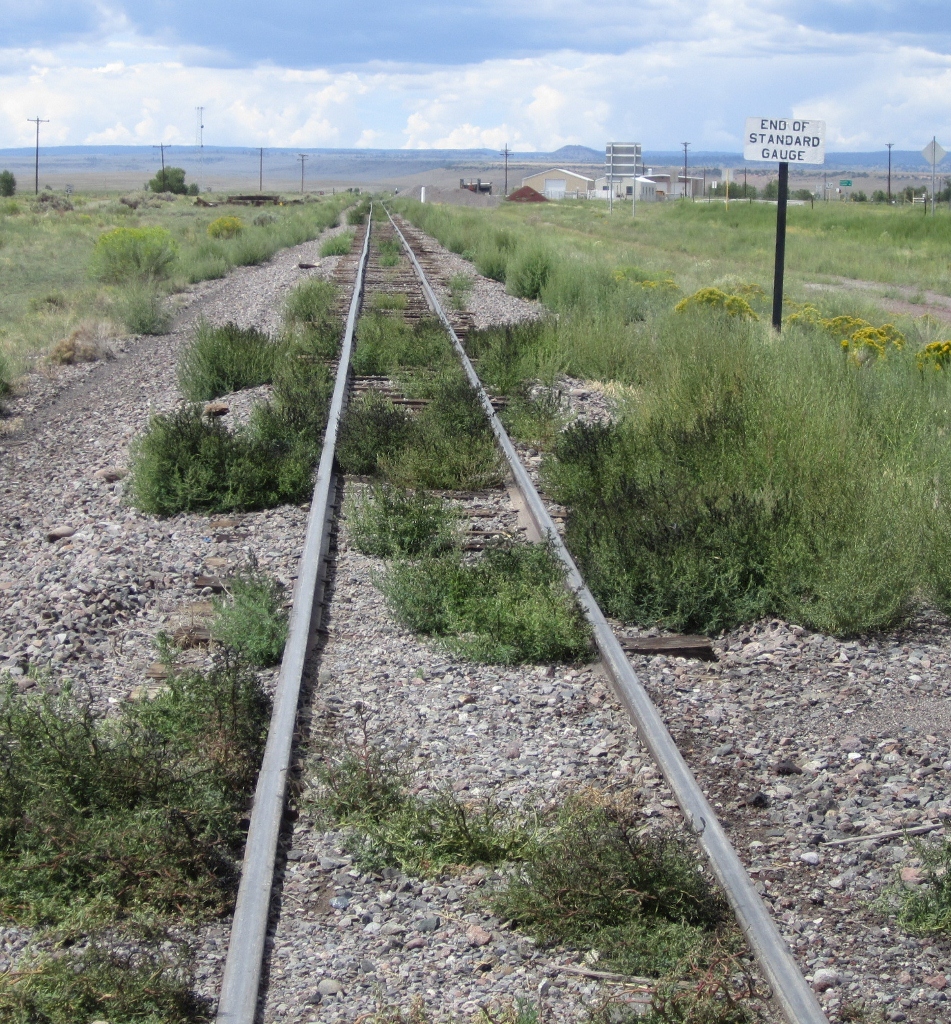 I was still wingin it of course---and headed West out into the desert not really knowing at all what was out there---but we had full bellies and full gas tanks.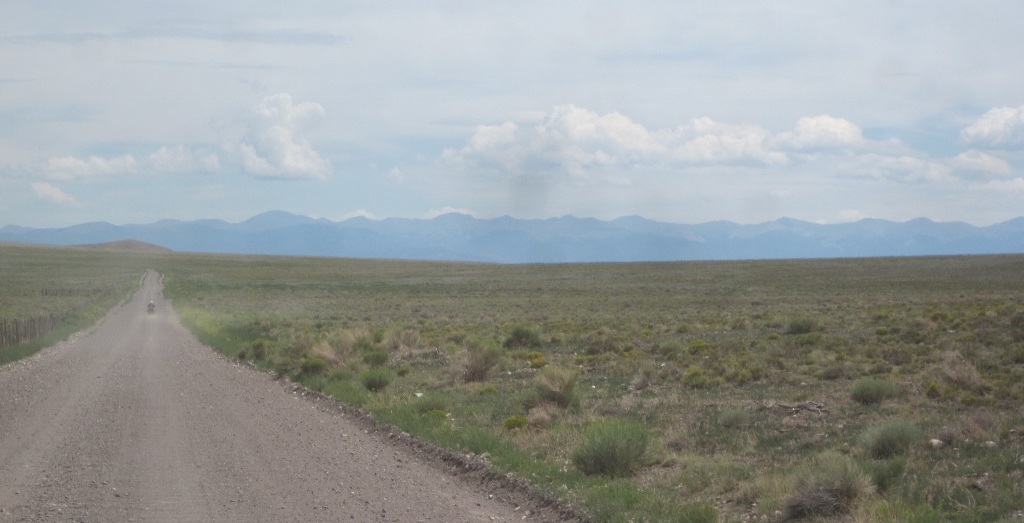 The riding out here was truly surreal as they say------running fast down the dirt and sand road---standing on the pegs without a care in the world.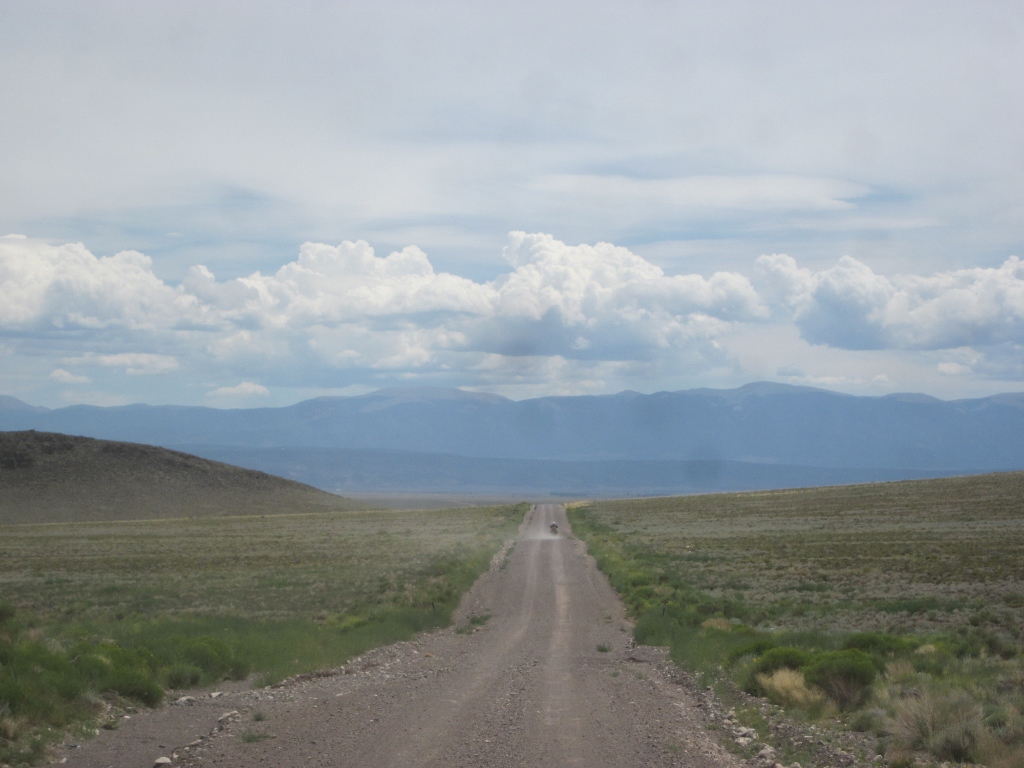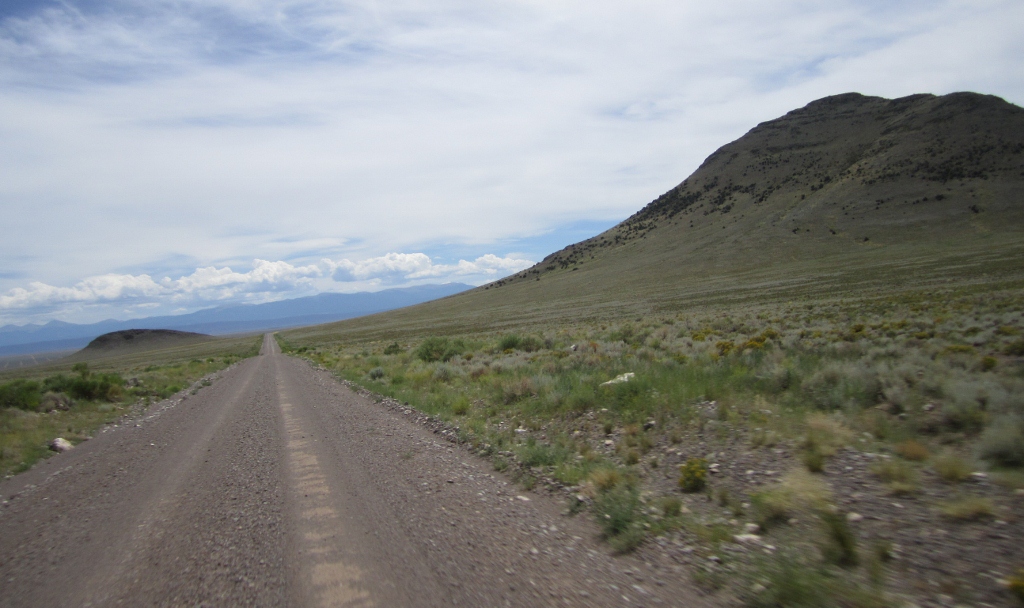 I was leading and I forgot had told me we were running close to the Rio Grande river and I never expected this in a million years.
Days ago we were at the head waters of the Rio Grande river and now we were to cross it again in the middle of the New Mexico desert.
And over a really nice old bridge.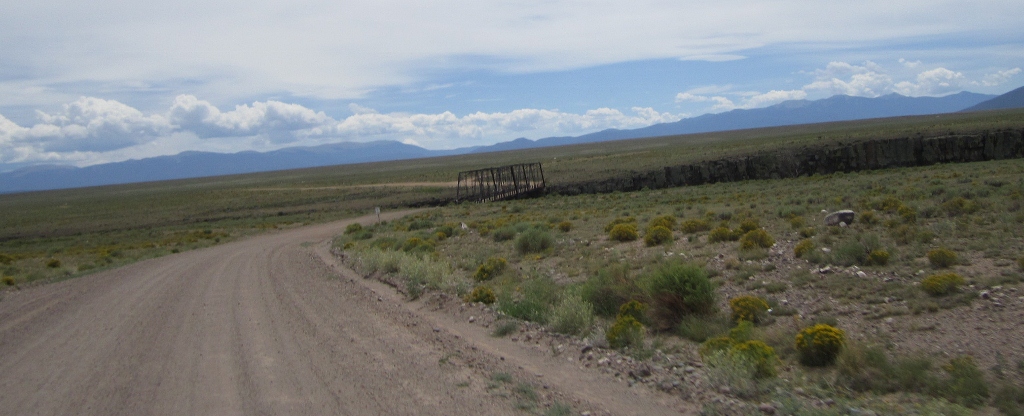 For me this was a diamond in a goats ass as they say. Nothing around but desert ------and this old bridge.
One lone 1970 Ford pickup went across while we were there---a Mexican working on a ranch I suppose.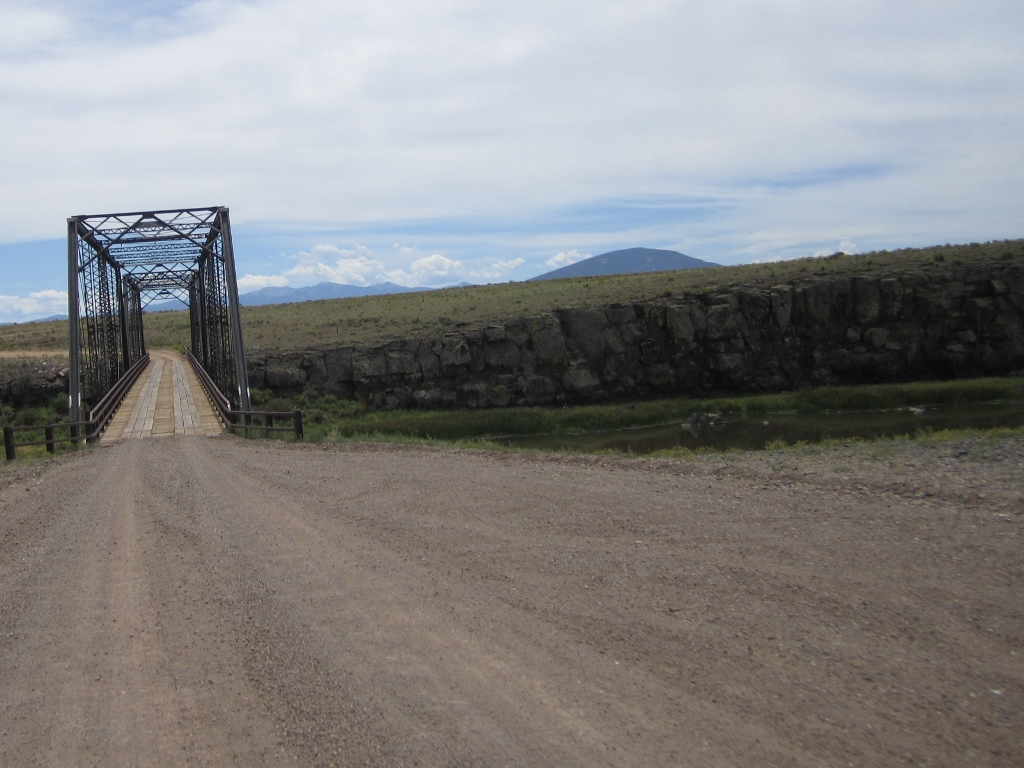 I couldn't make it out when I was there---but can now see in this picture it was built in 1892.
The bridge is called "Old State Bridge" on my topo maps.
What a piece of history---and we were here for quite awhile and I rode my bike over and under it.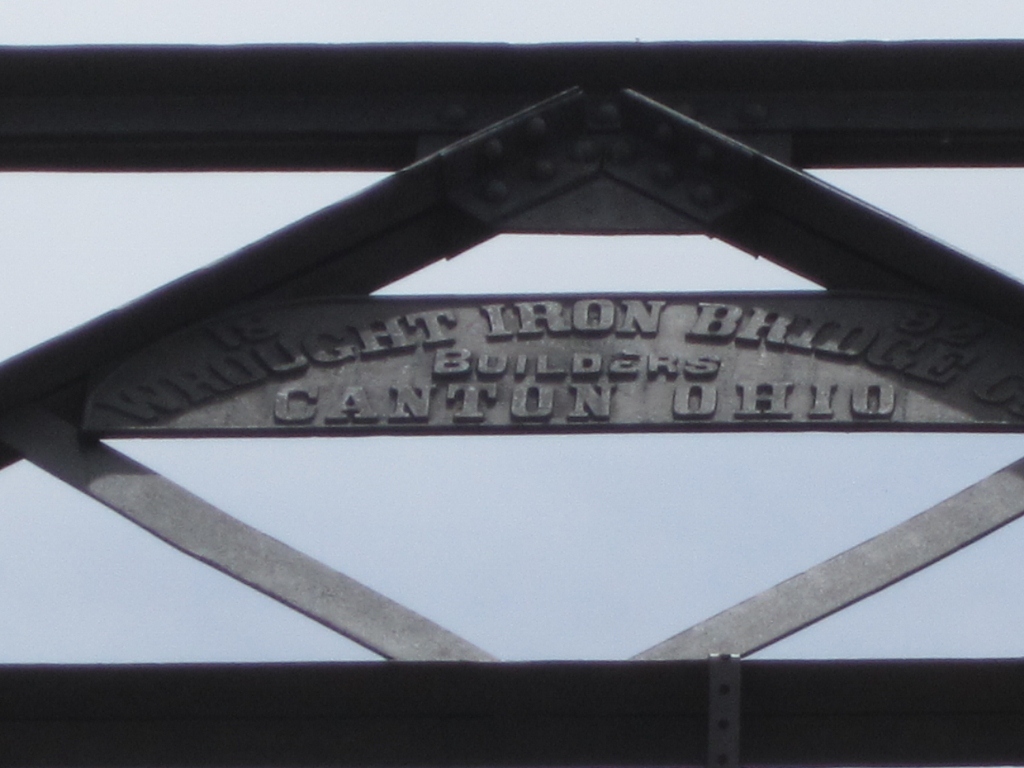 The view to the West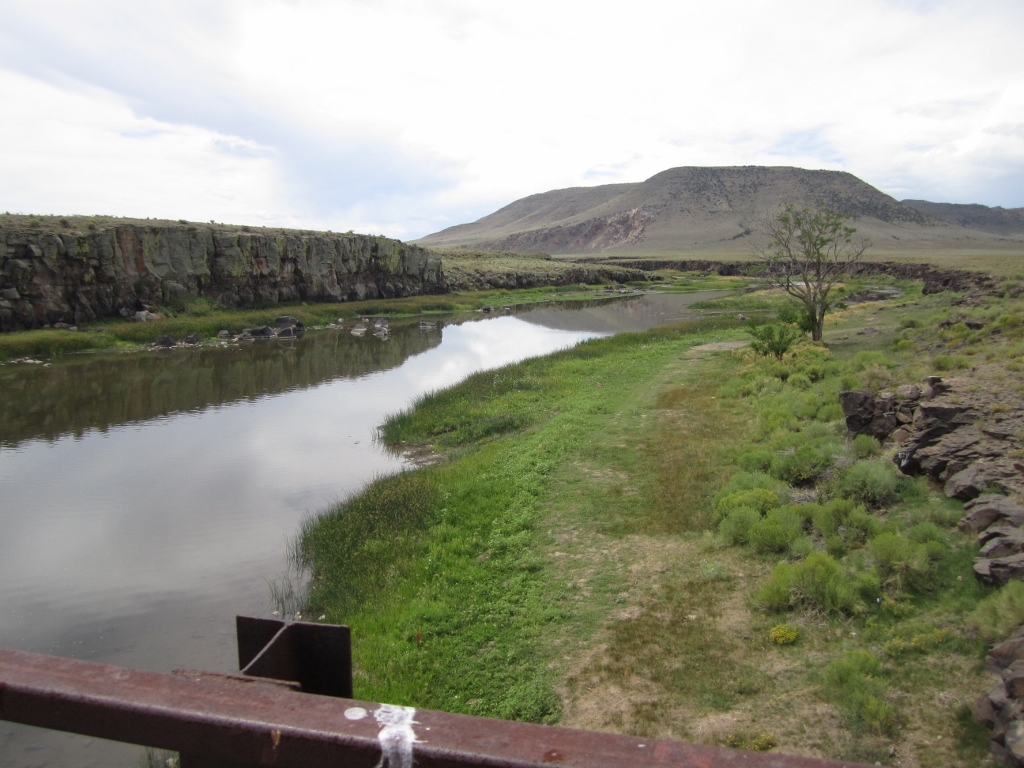 And to the East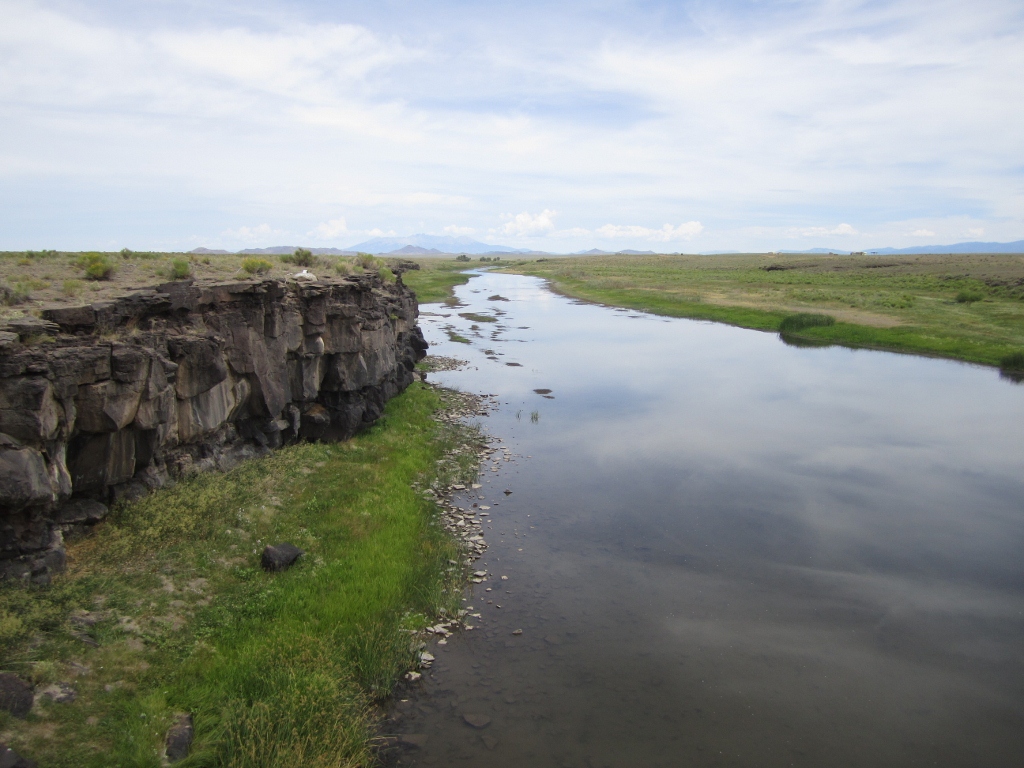 All the steel was original but it had all new boards and you could smell strongly what I thought was creasote.
We both determined the hand railing wasn't original.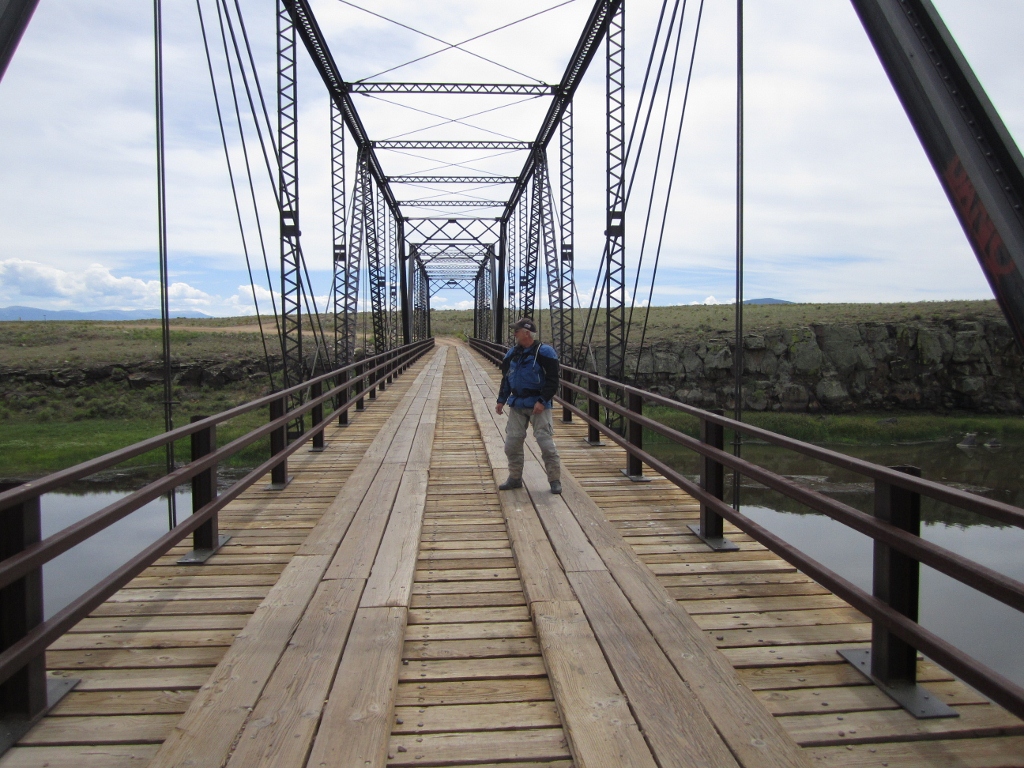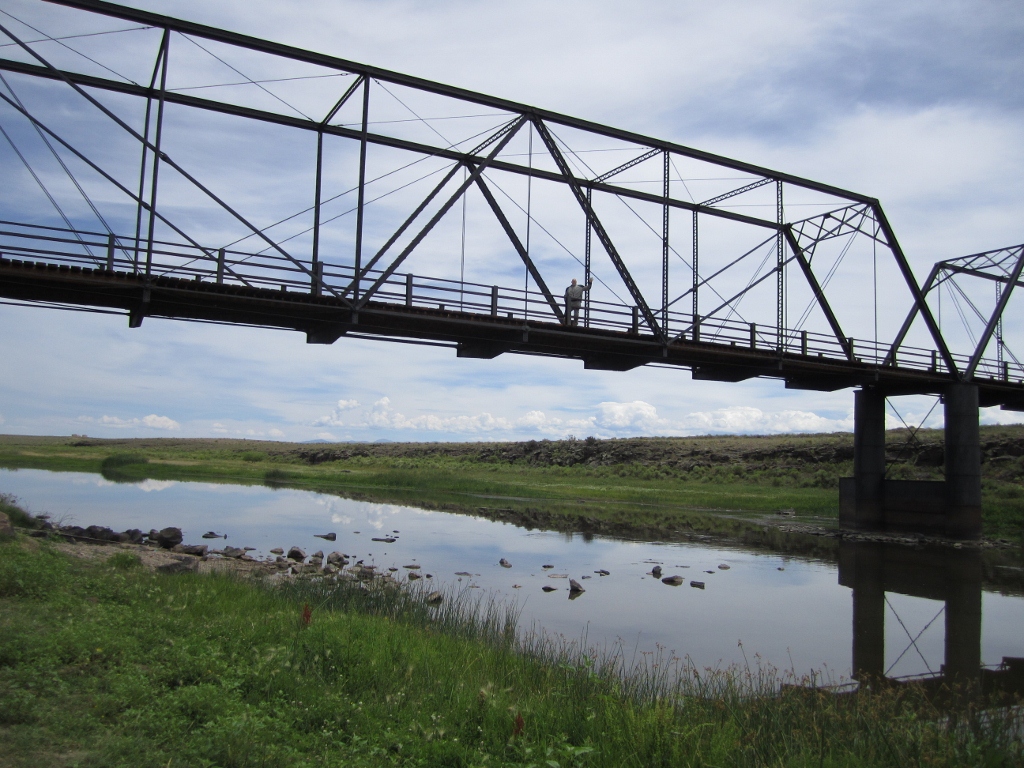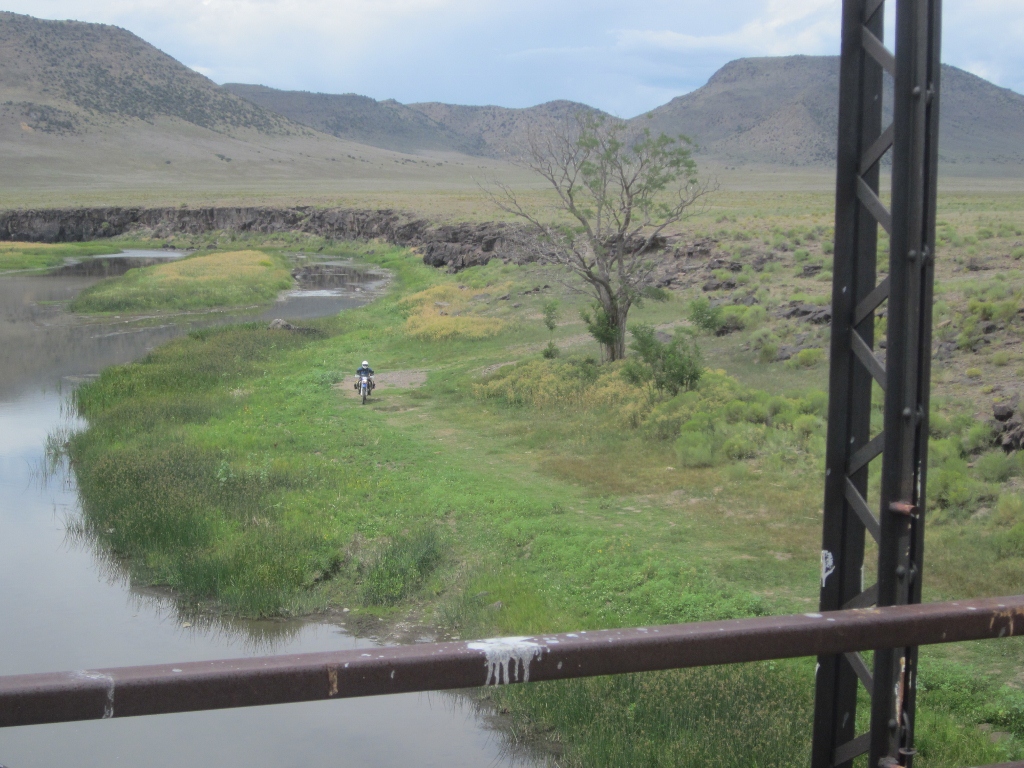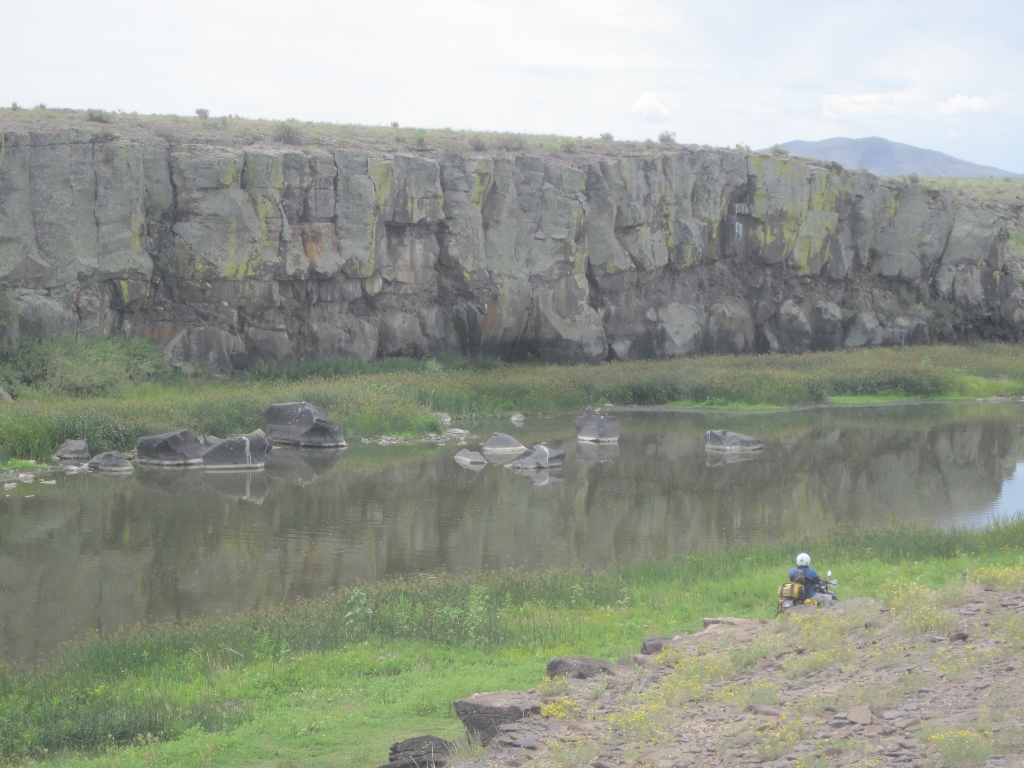 We rode on Southeast finally crossing paved 159----and continued Southeast.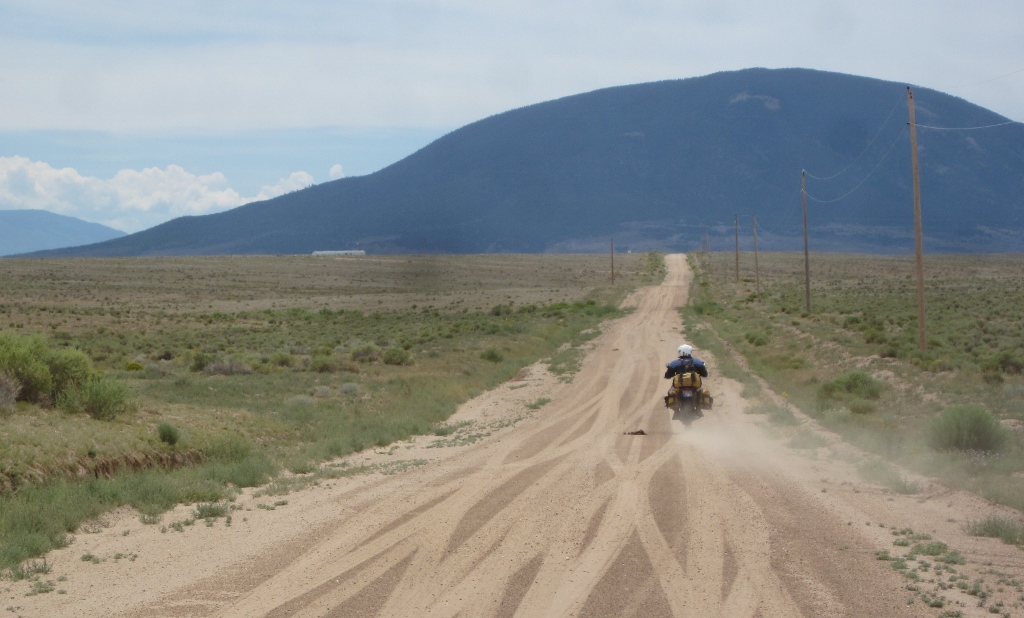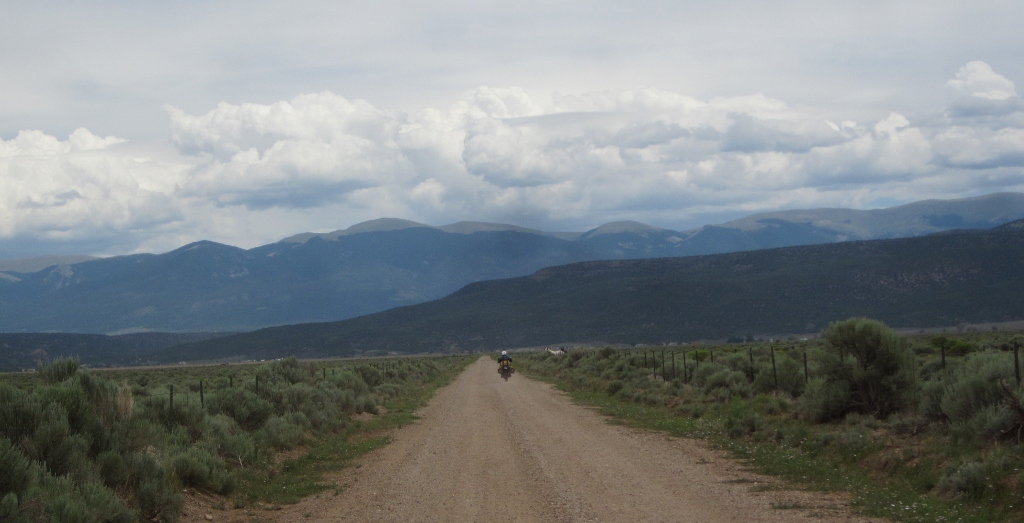 Aint't it amazing how the terrain can change so quickly ??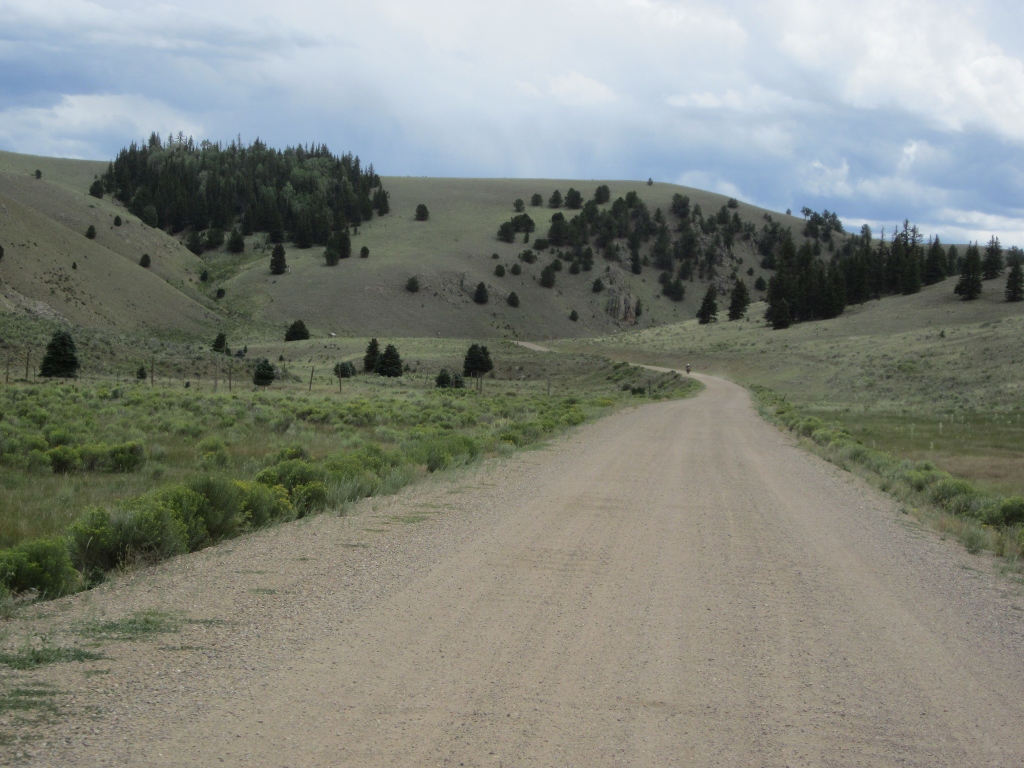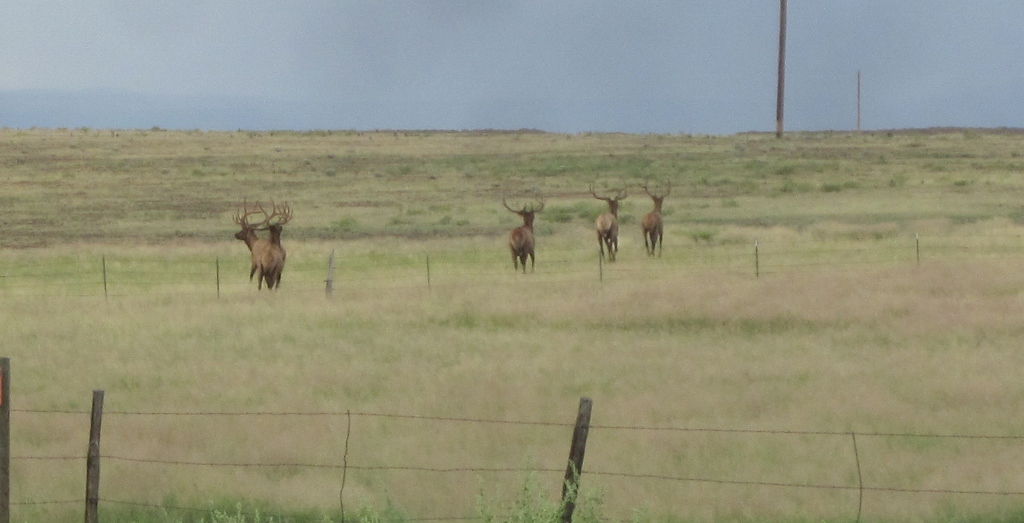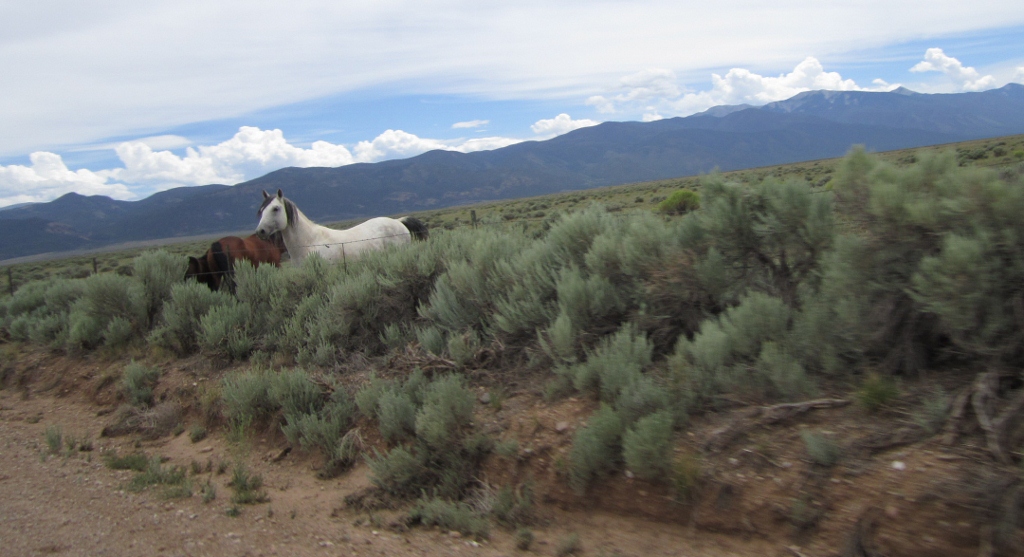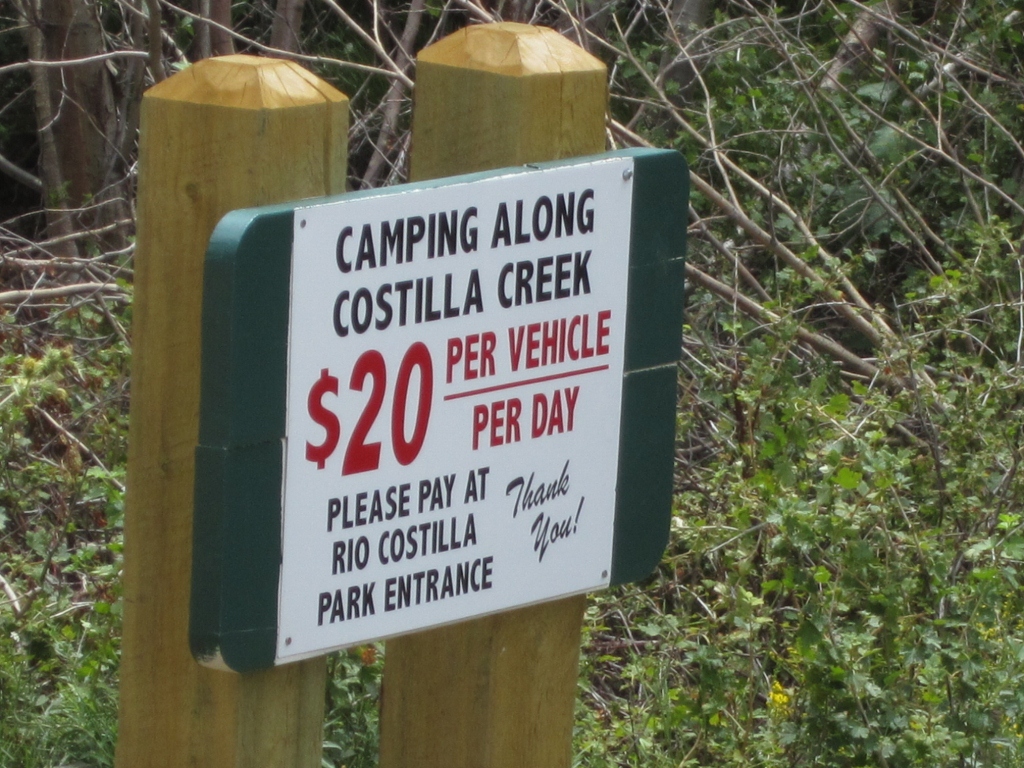 Here's what you get for $20------------per vehicle------nothing--nada---nothing.
This would have cost me and Scott $40.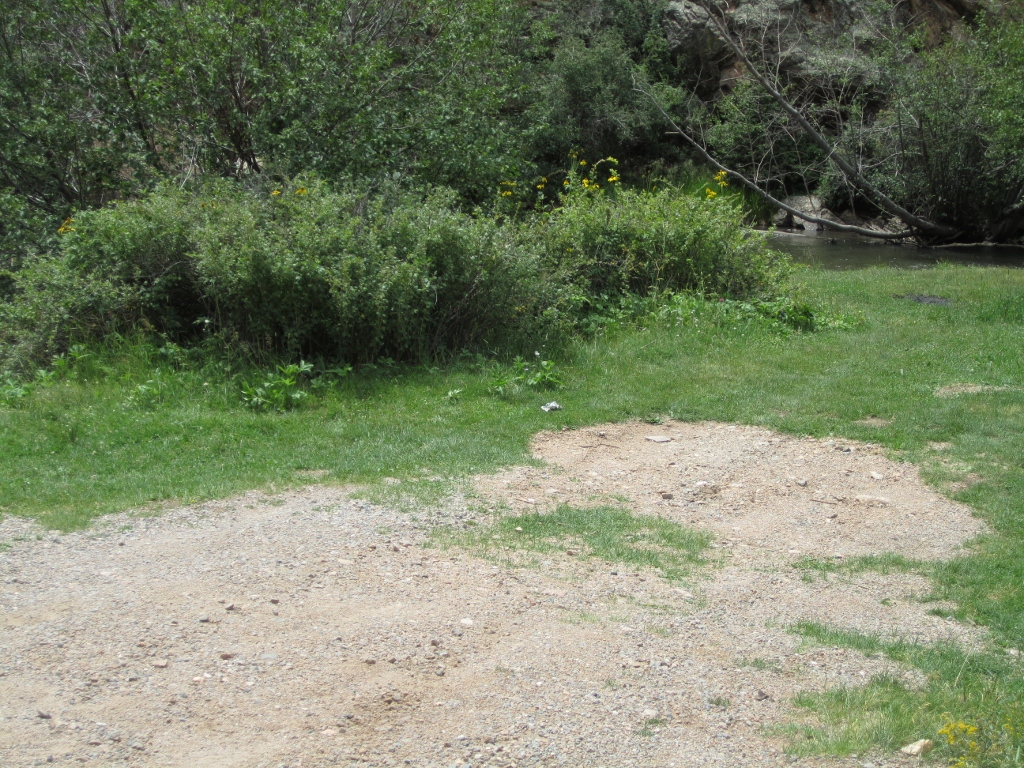 I had to stop and figure up the bill for these free loaders. It came to a total of $480 !!!!

It looked like rain-------no........................it was raining hard up ahead.
I couldn't believe we rode for another 40 miles back to Trinidad and stayed right behind this storm and never got wet.
The road was wet---but not us.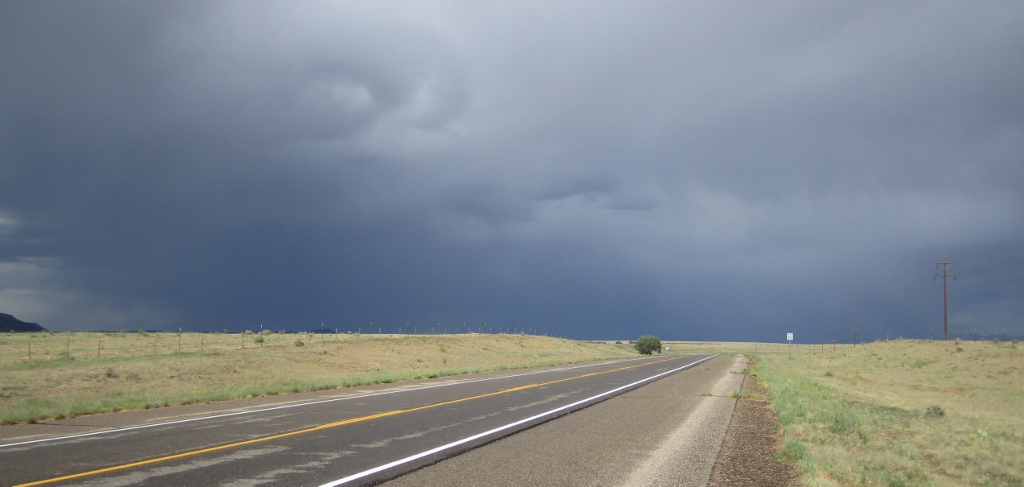 Our trip was over---and I have but one thing to say---but am going to say it with a picture--as this one is worth a thousands words----or memories.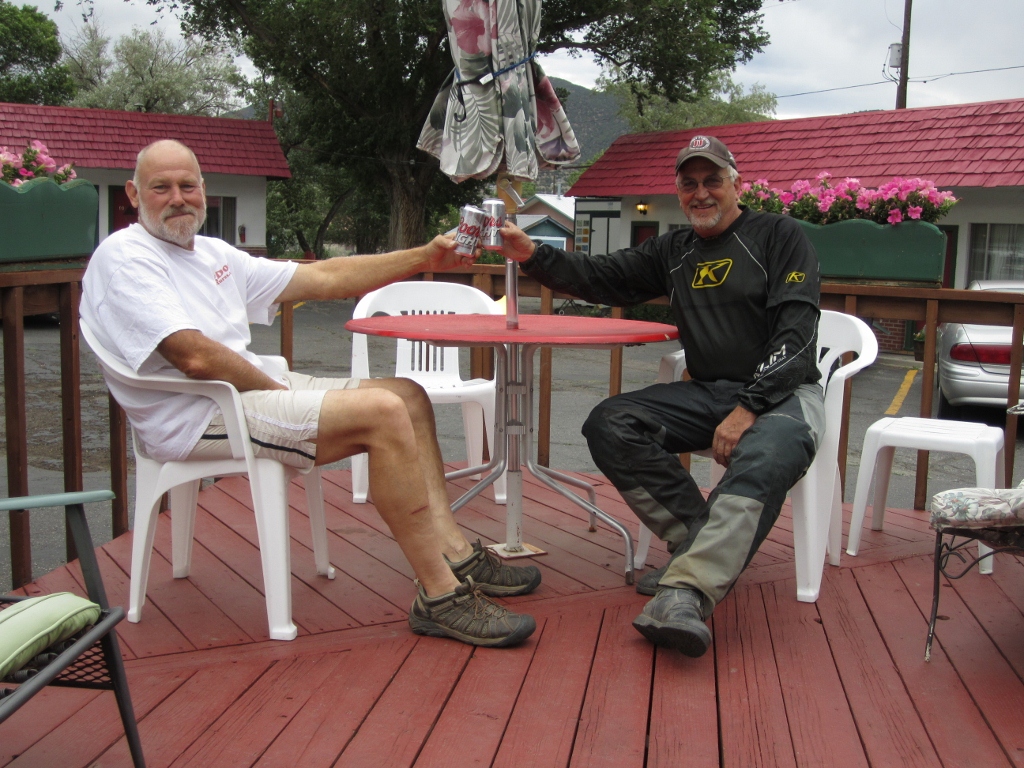 After me and Scott left each other and he headed home to Tuson, AZ---he sent me this picture of about 100 Elk.
Wish I could have seen that.