Baja Mexico
BigDog/Dingweeds
January/February 2013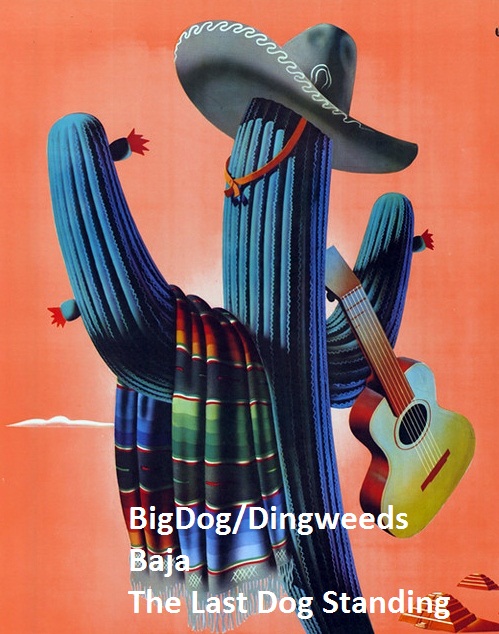 I had thoroughly prepared 2 bikes for this ride.
My 2006 KTM 450EXC and my ever faithful 2008 Yamaha WR250R.
I hauled them both to Arizona to meet up with my buddy Scott Stevenson (dingweeds) at his place in Tuson, AZ.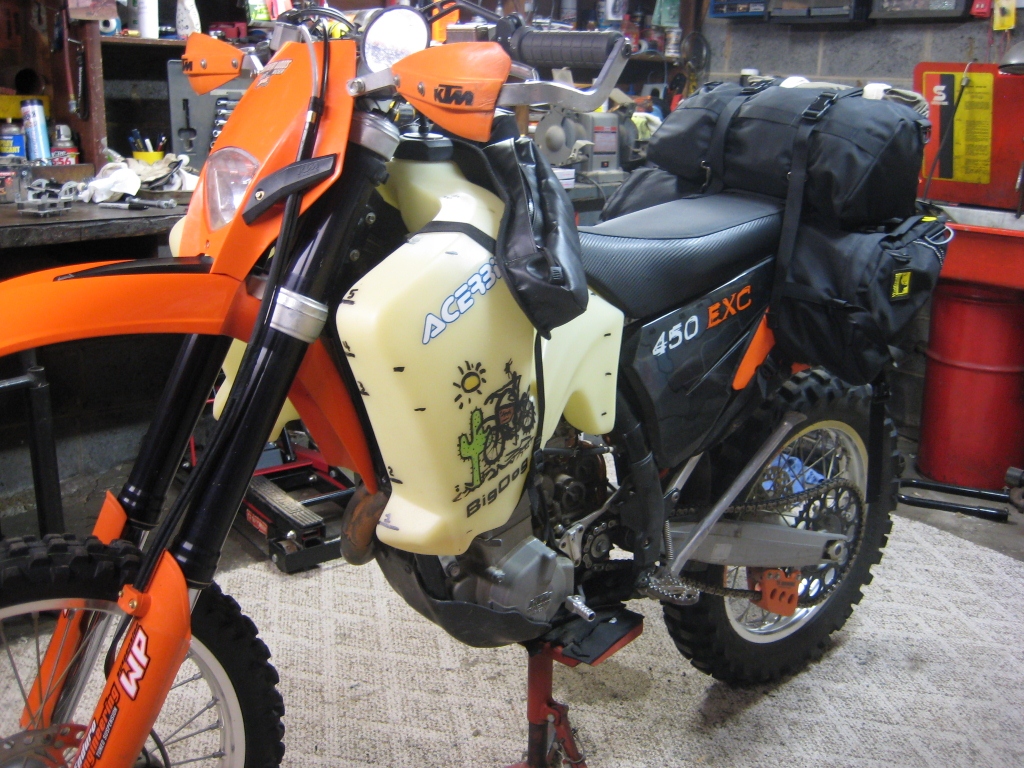 I had laid out a ride of approximately 3,000 miles offroad in Baja and knew my WR would take me there and back.
I chickened out on the KTM----I wasn't sure it would take me there-----or back.
Send hate mail---to "I don't care.com"
It would be fun riding no doubt--but I needed something more and chose the WR250R---and had no problems with it.
At "casa dingweeds" we made last minute preperations in his shop and I was well taken care of at Dingweeds place.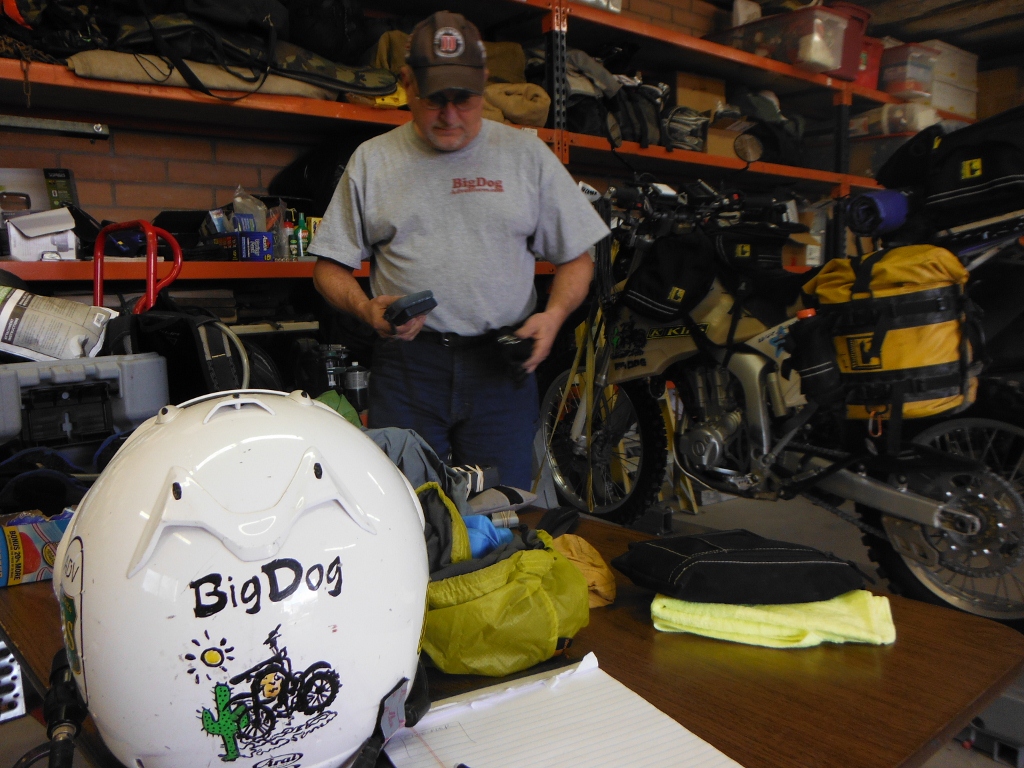 On the left is Wayne Wah who was nice enough to let me park my tow vehicle at his house which was about 15 miles from the
Baja border for as longs as I wanted--------thanks Wayne !!!!!
So me and Dingweeds unloaded here and rode to the Mexican Baja border in Calexico, California.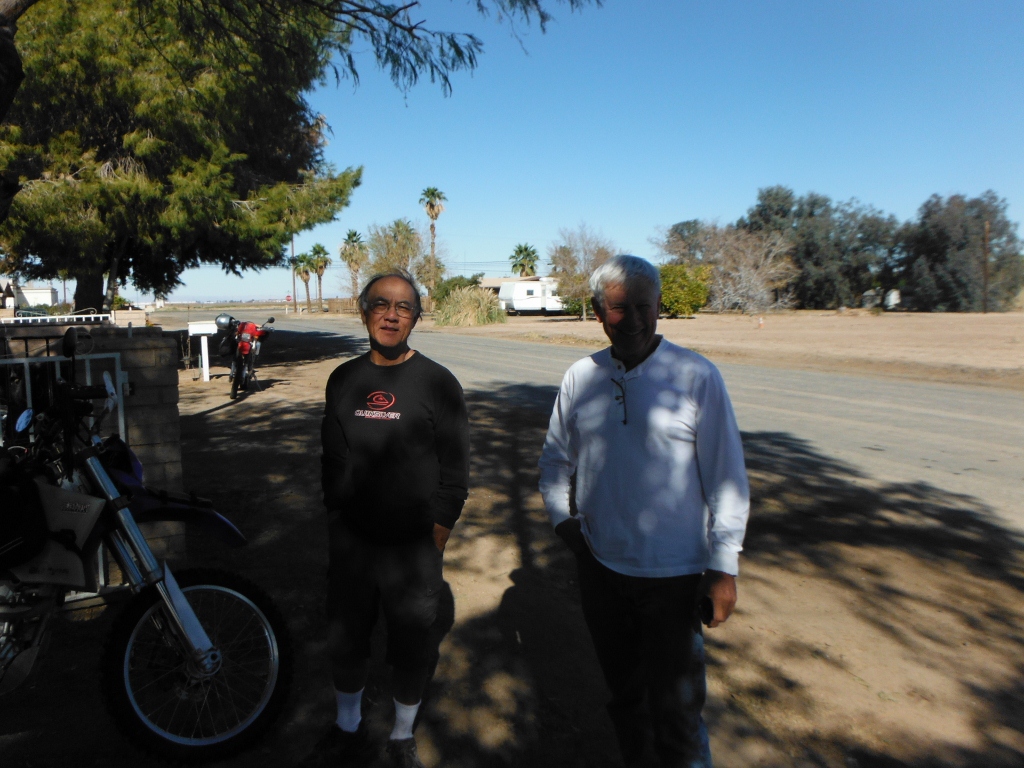 We had gotten our Mexican insurance at BajaBound insurance online for about $75 and carried a copy of it with us.
We both cashed $800 of USA money for Peso's---the rate at the time was about 1.24 I think.
Roughly 100 Peso's cost $8 USA . This can be done at many Casa De Cambio's in Calexico.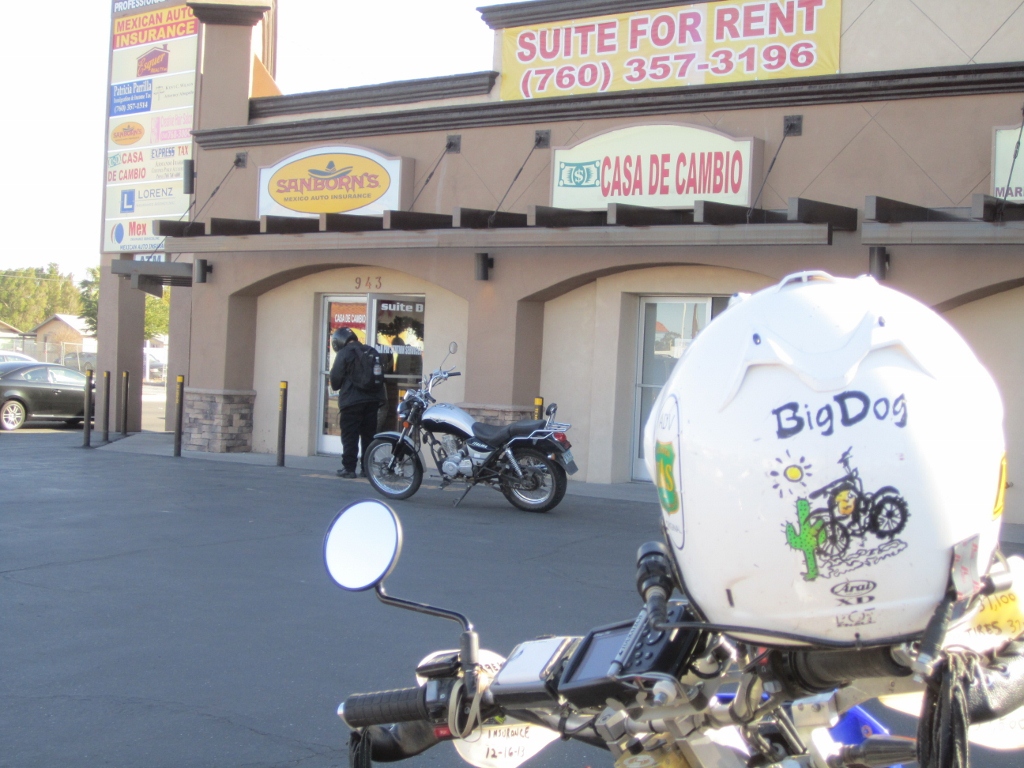 It was about a 1/2 mile line of cars waiting to get in.
Once at the border you just ride across------no problemo.
But we needed Visas's and I didn't see the little building to get them and we got a bit lost---and now the adventure started.
After wandering around a wee bit we went by a Policia station and I talked this Policeman into giving us an escort to the Visa office.
This was hilarious-------so imagine this.
He turned on his lights and sped off with us 3ft. off his bumper------and we played Mexican bumper cars thru the traffic.
Except---------it was like the parting of the red sea as the officer ran stop light after stop light---stop sign after stop sign and waved his arm out
the window of his police car for us to come on thru. It was a hoot as people and cars scattered out of our way and we kept right on his bumper
thru the busy streets with full attention on the throttle and brakes------at the same time.
When we got there he sped off and I hollered a big "Gracius". Me and Scott were both laughing in our helmets.
This was the start of many acts of kindness that we would experience on this whole trip.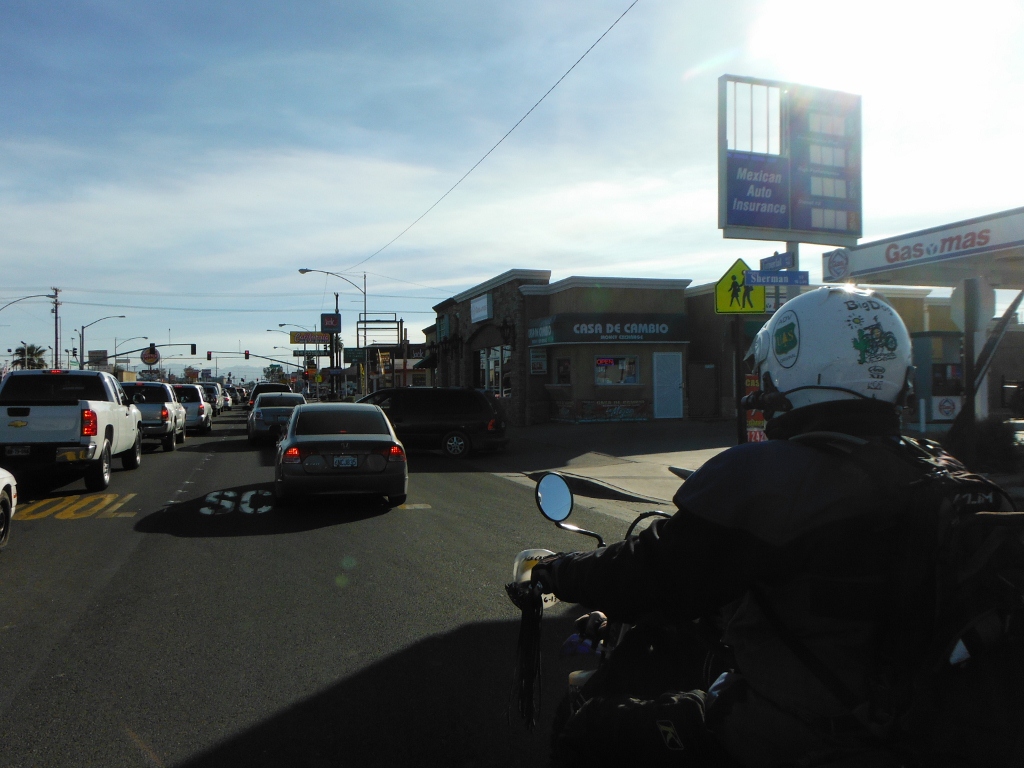 We blew out of Mexicala and headed West on the pavement for about 17 miles and turned South on to the dry lake bed (Laguna Salida) with dark fast approaching.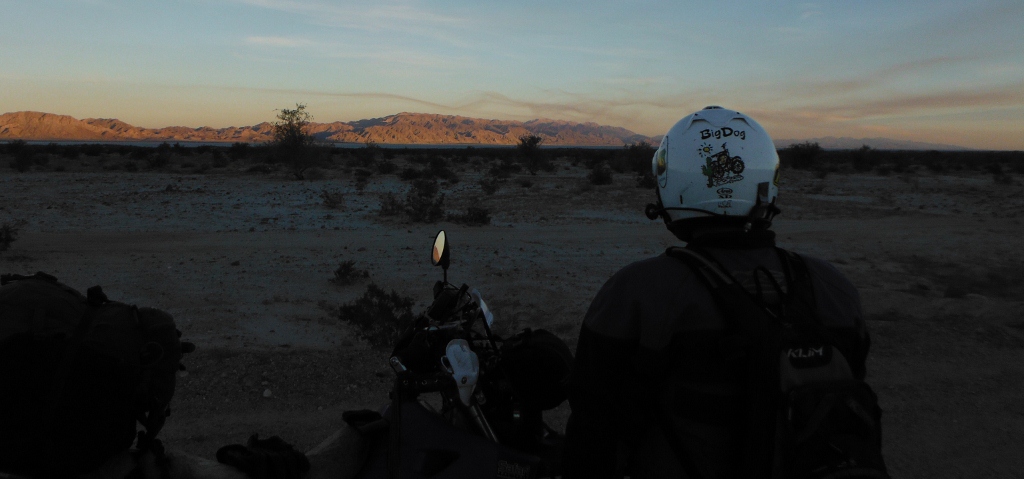 It's about 25 miles South on a sandy dirt road to the turn off to Canon De Guadelupe---then about 7 miles back into the Canyon to the Hot Springs
and nice camping area. It got plum dark riding back in there and we took no pictures. We would have gotten here in plenty of daylight if I had found the
place to get our visa's more promptly. From the border crossing it is only about 65 miles to Canon De Guadelupe.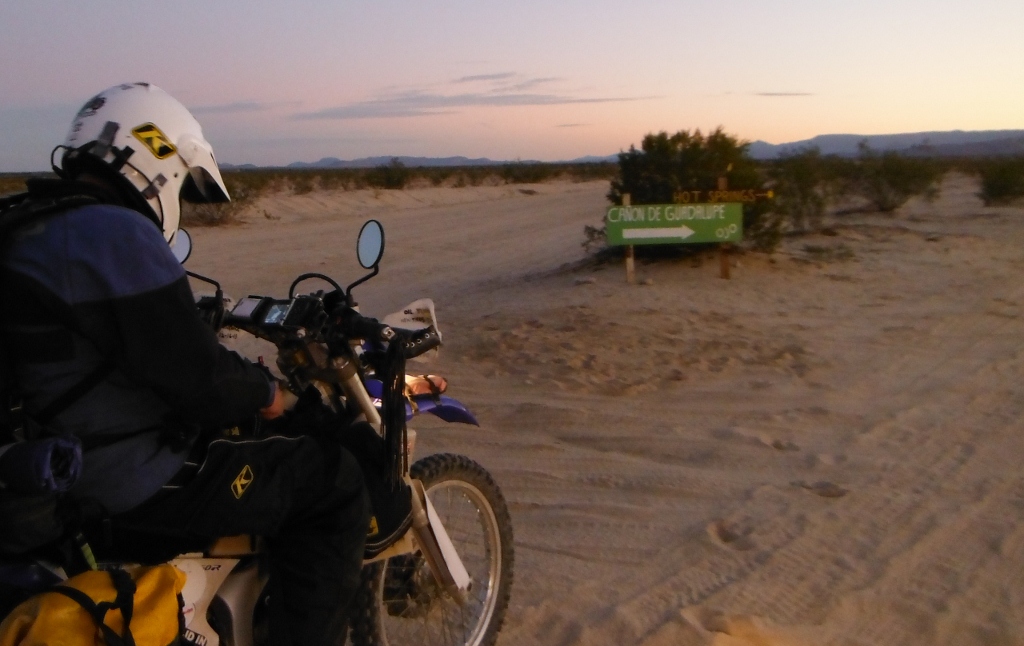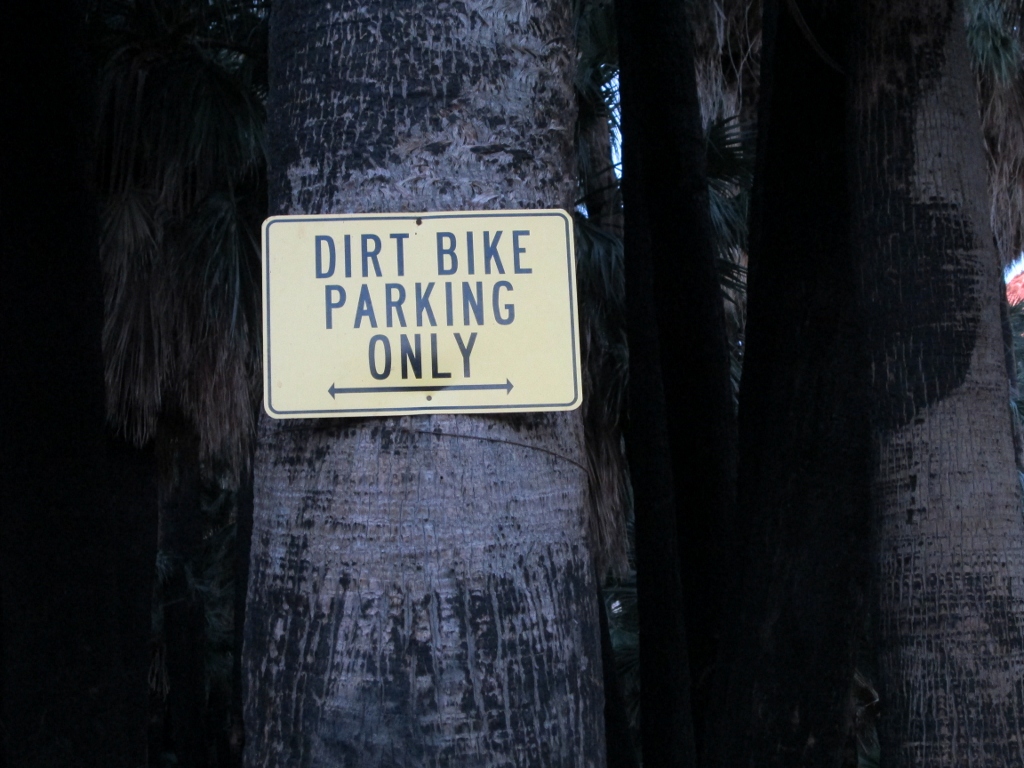 We were met by Ernesto and he took about 450 of our peso's for a really nice secluded campsite with a roof over our heads, a grill, a picnic table
and of course------------a hot tub.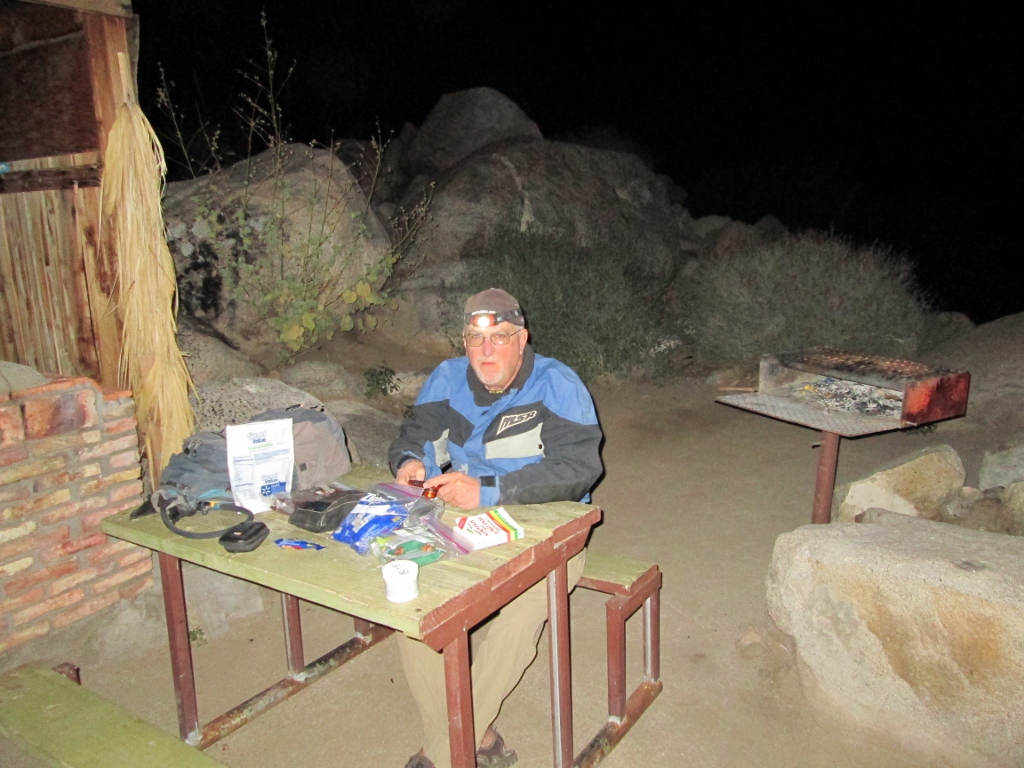 It was pitch black out----these shots were taken with a flash and me and Scott soaked in the hot tubs till they about put us to sleep.
The water temperature was absolutely perfect and the ambient temperature was too at a nice 55°.
The stars were out like you wouldn't believe-------I don't get to see the clear sky and stars back in my Southern Illinois hometown
like we did here in Baja.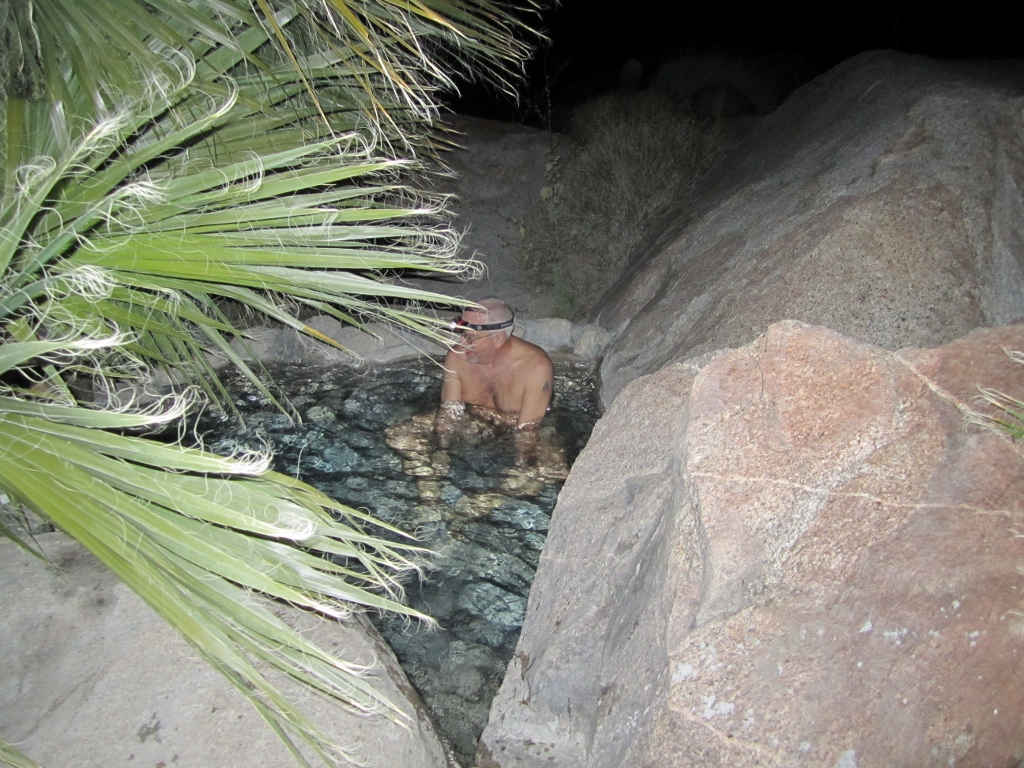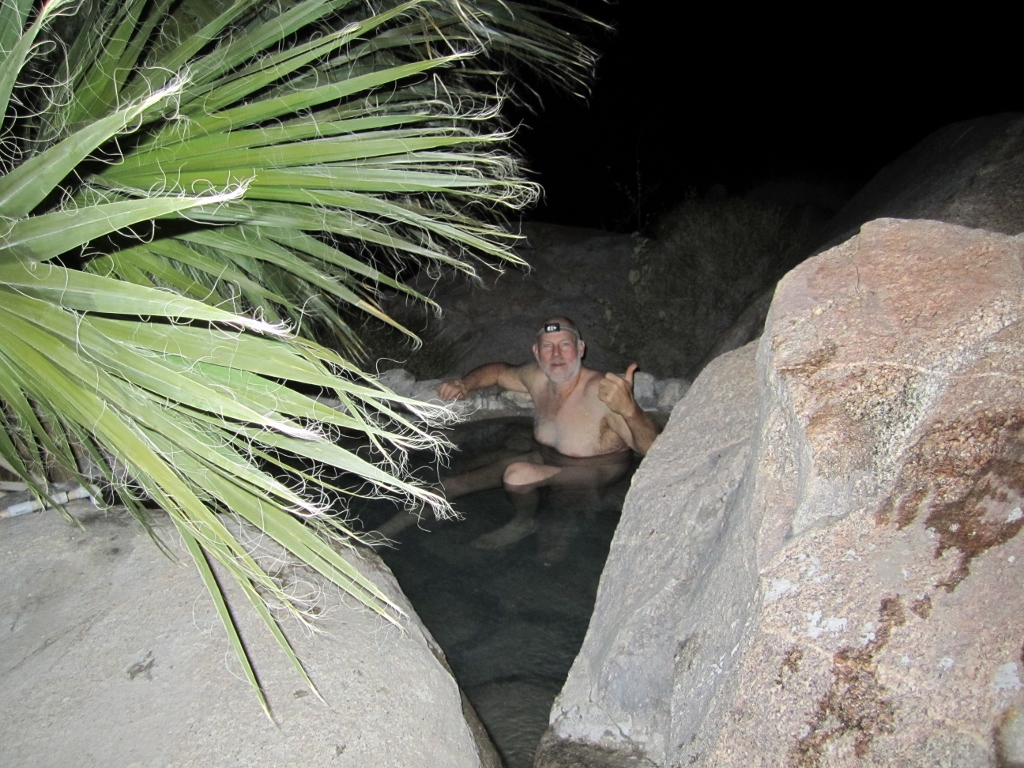 Day one stats.
January 19th, 2013
65 Miles
A rough map of our route so far.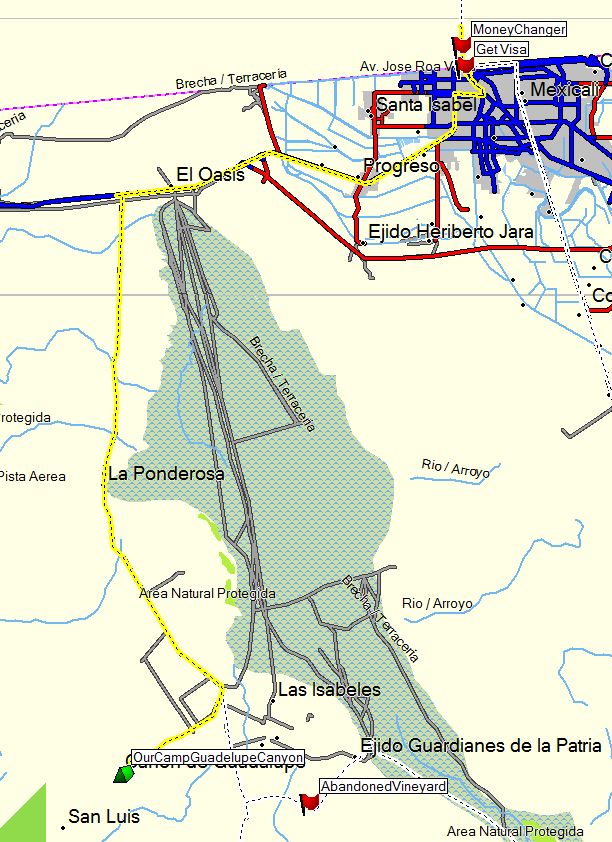 Day 2
January, 20th 2013
Quadelupe Canyon to Mikes Sky Ranch
This picture was taken the next morning---but we set our tents up under this roof for the night without our rainflies-----it never rains in Baja !!!!!!
Scotts backpack is on the roof for a reason----which I'll get to.
So now the best story of the trip.
Me and Scott were sound asleep when I was wakened by a lot of noise---something really big was in our camp and
in the trash barrell. I knew there were no bears down there---but me and Scott are always camping in bear country--and
that was on my mind. I dismissed the bear thoughts and wondered what it was and hollered to wake up Scott.
There was no waking him up---and I got out of my tent and was shaking his tent and hollering at him to wake him up
and I heard the large animal run off----------it had very heavy sounding feet and we decided it was a horse ??????
But Scott never heard it at all. Actually his snoring was louder than the noise the animal was making.
We lauged it off and fell back to sleep after not finding anything out of place---what was it ?????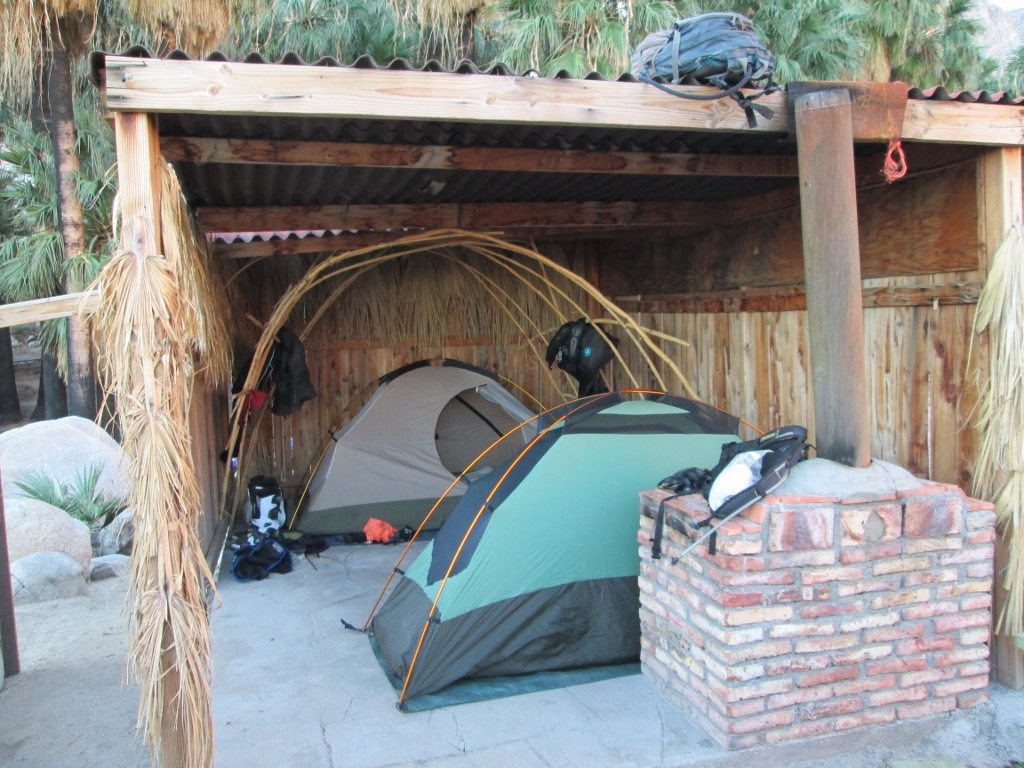 I have been here before with Gaspipe, Jonz, and another fellow.
We came thru in the middle of the day and stopped for a short while------but I was set on staying here this time--soaking in the hot springs and
hiking around and seeing all the beautiful plants in the Canyon------we have no jobs---we were in no hurry to leave and took it all in.
We were both up at sunrise taking pictures.
We were on the South side of the canyon and there were campspots and hot tubs on both sides of the canyon.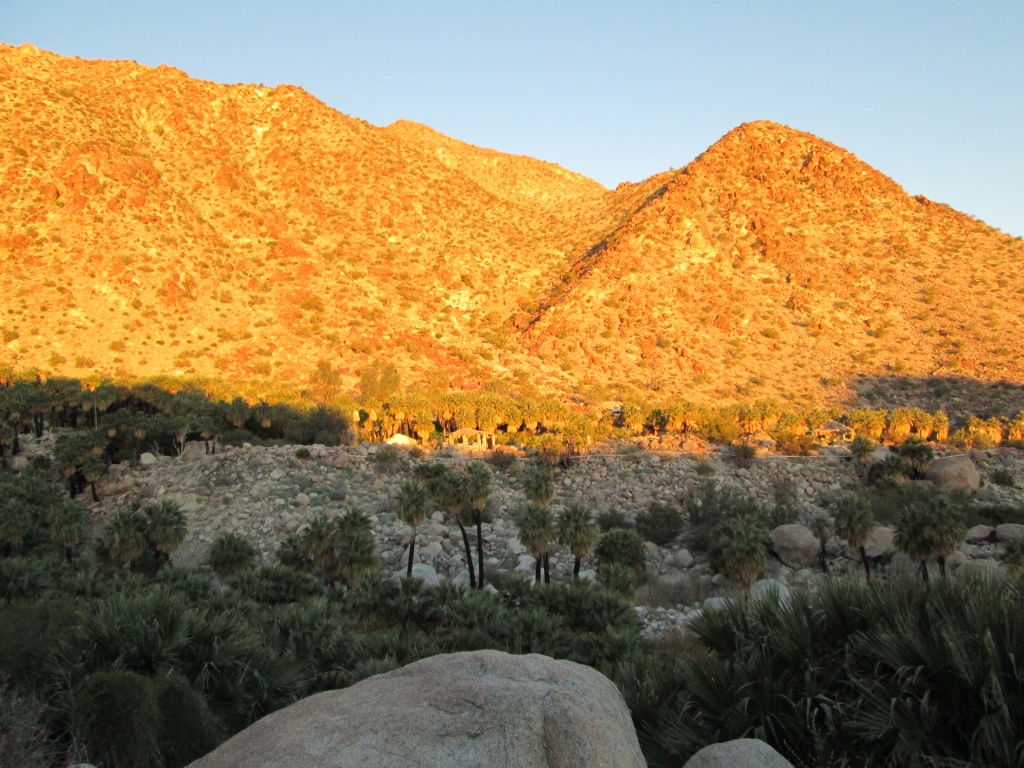 I think these plants are called "Fan Palms"
According to the E32 Mexico maps loaded in our gps's the elevation at camp was about 1.100'.
The peak you see here was about 2,800'.
The E32 maps were awesome and were topographical---a very good purchase before we left.
My last trips to Baja and mainland Mexico were done with much inferior gps maps.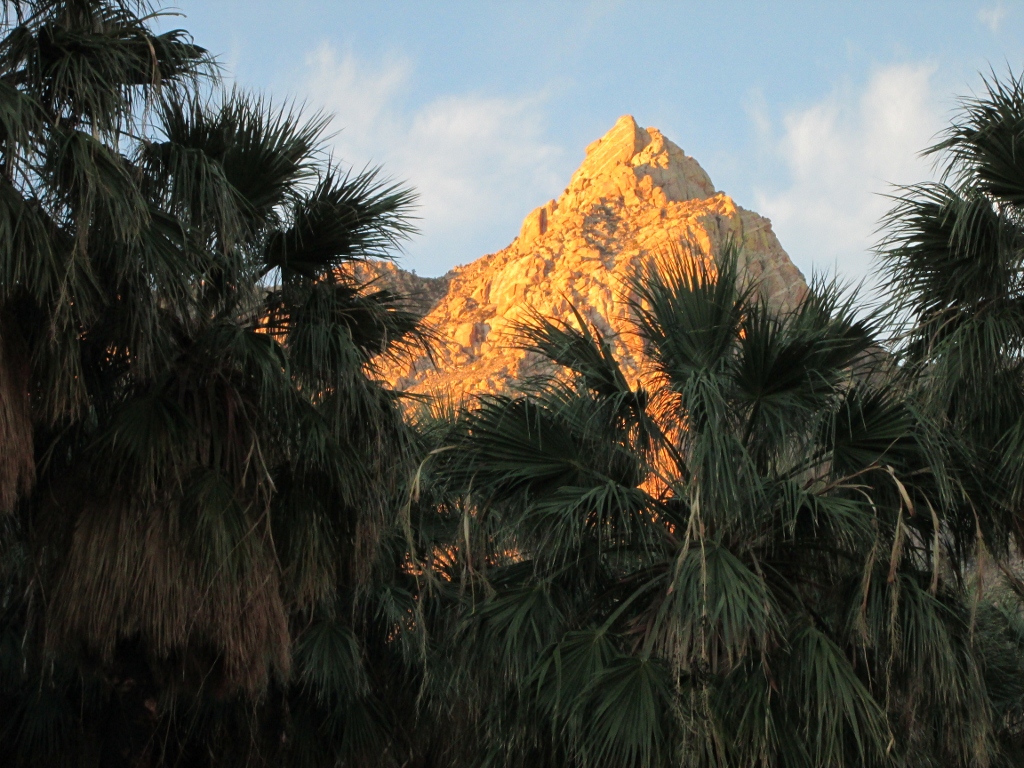 We went for a long walk before suiting up as the sun rose swiftly and warmed things up nicely.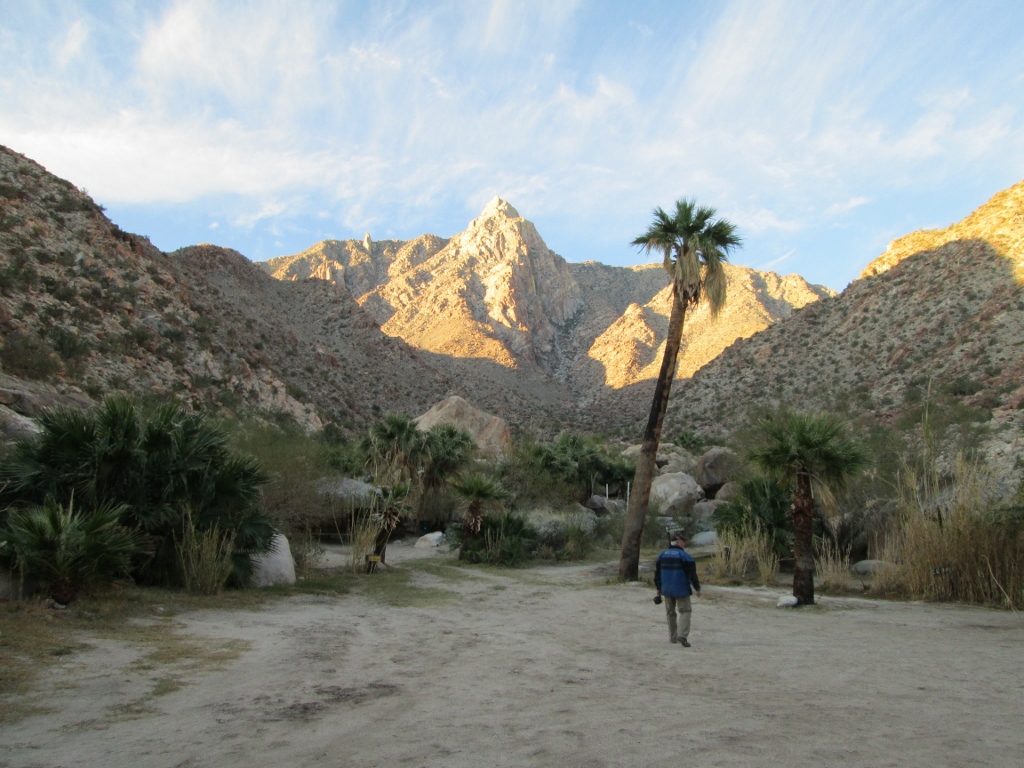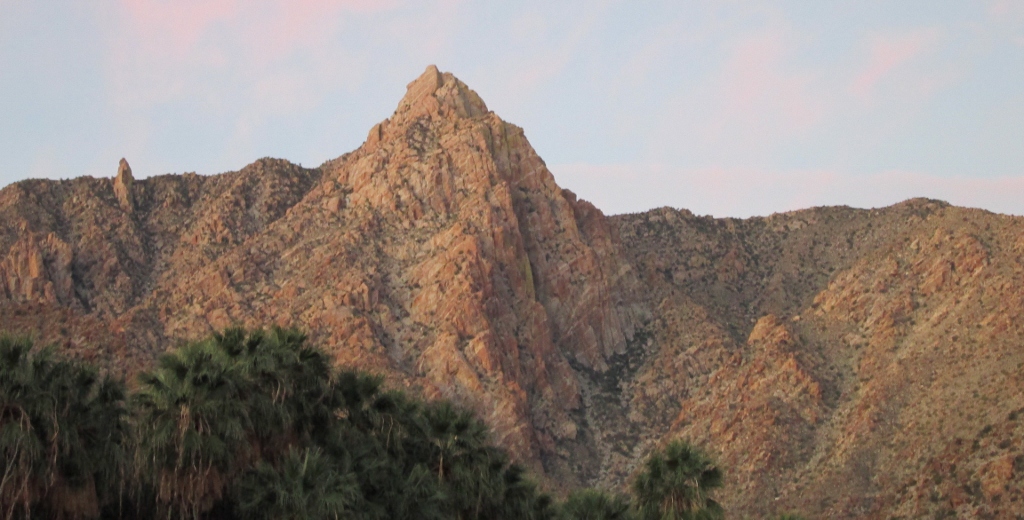 This place could be on anybodys bucket list----I wish my wife and son would join me down here.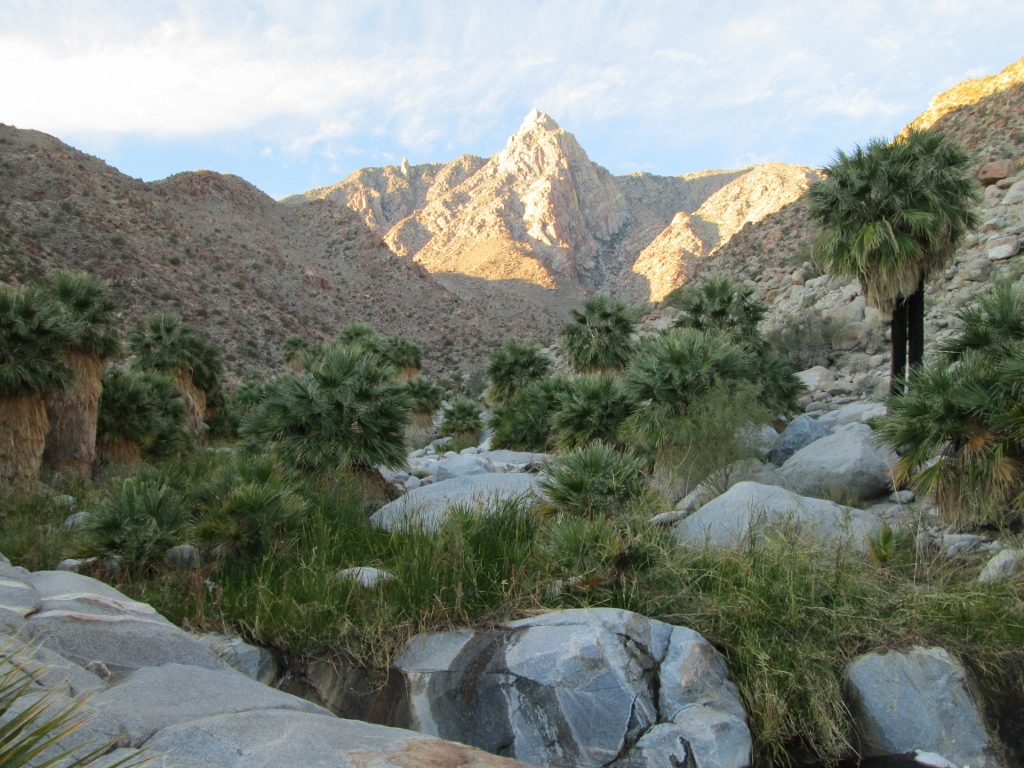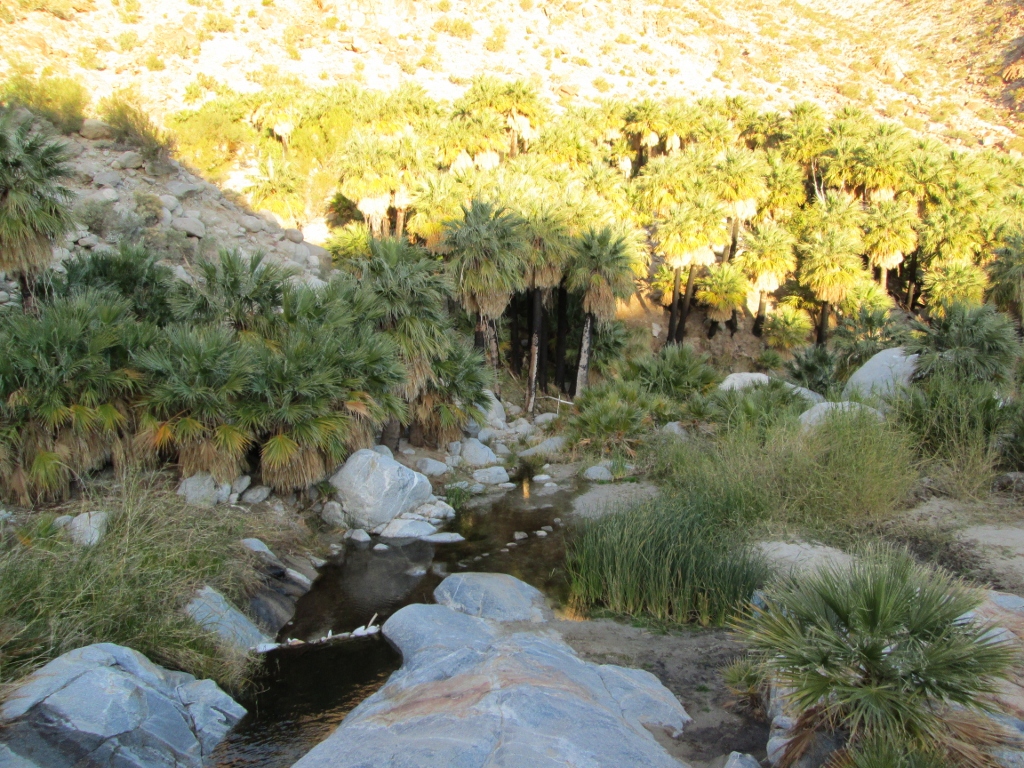 Here is another campsite with a much bigger hot tub.

By the way------we were the only ones here.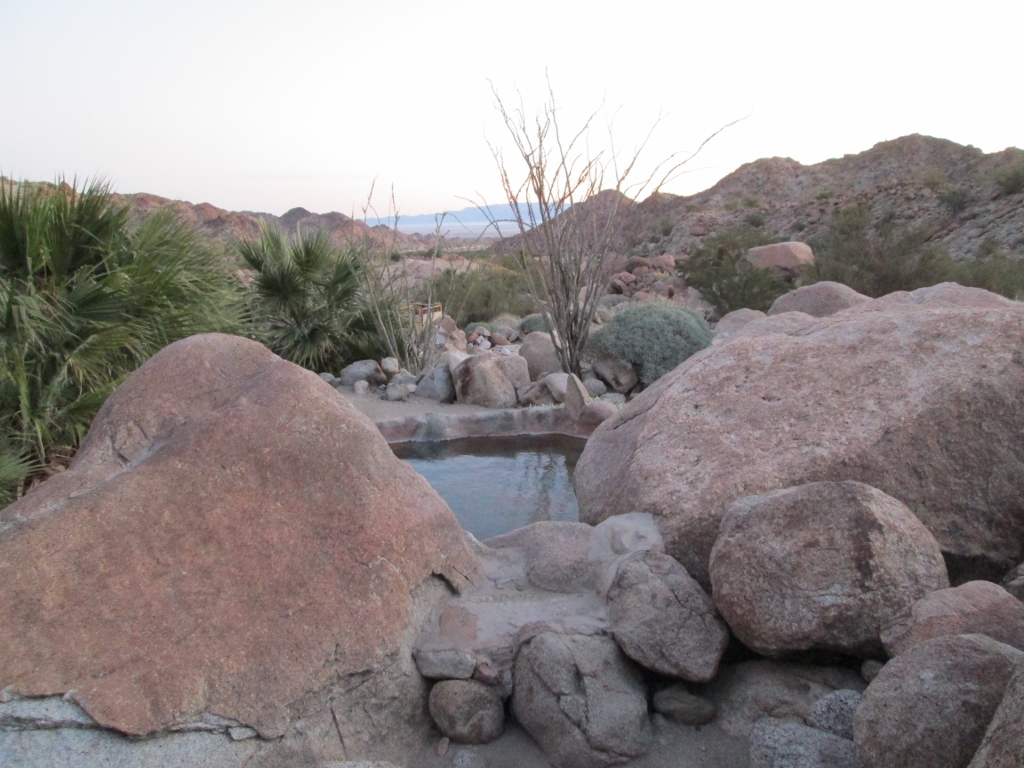 Alone I said ?????????
Well after a very long walk---and back to our camp I noticed we had an intruder---------a squatter ???? And Ass ??????
He was looking at me like "Oooopps---we've been caught"-------notice I said "we".
Scott had thought it might have been donkeys in our camp last night----and I laughed cause I had told him there were no donkeys in the Canon'.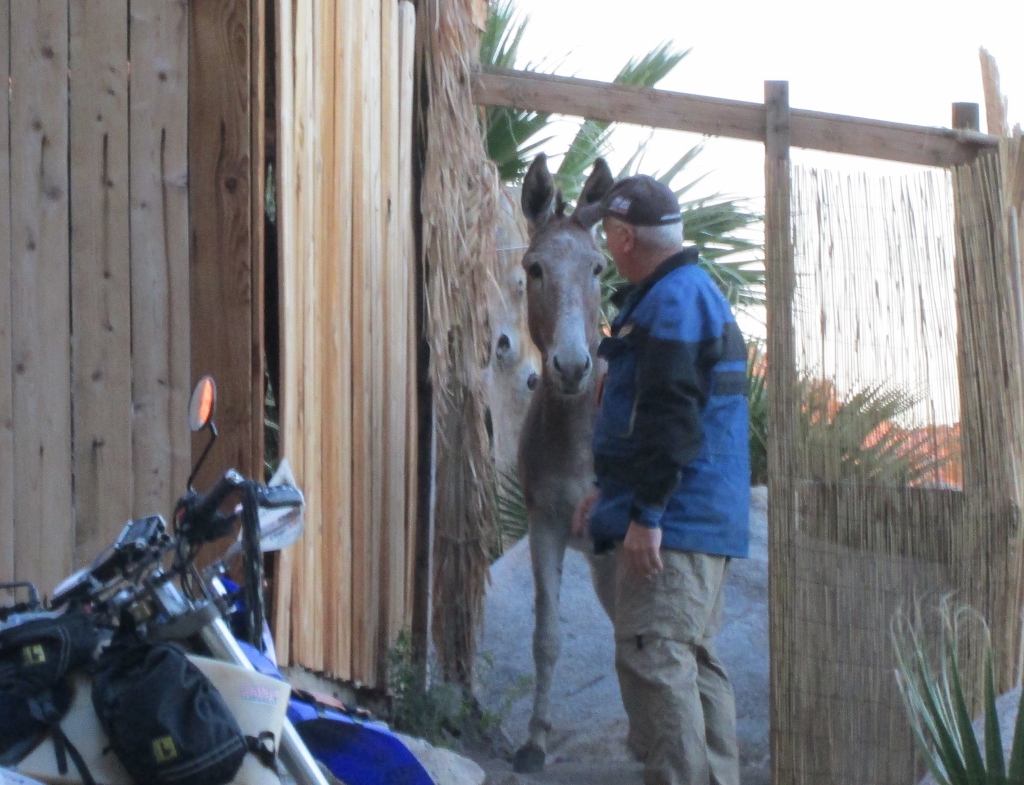 There were 2 of them and they had gotten into are our food and snacks and even my toothpaste !!!!!!!!
Probably took a dip in our hot tub.
This guy is finishing off Scotts peanuts.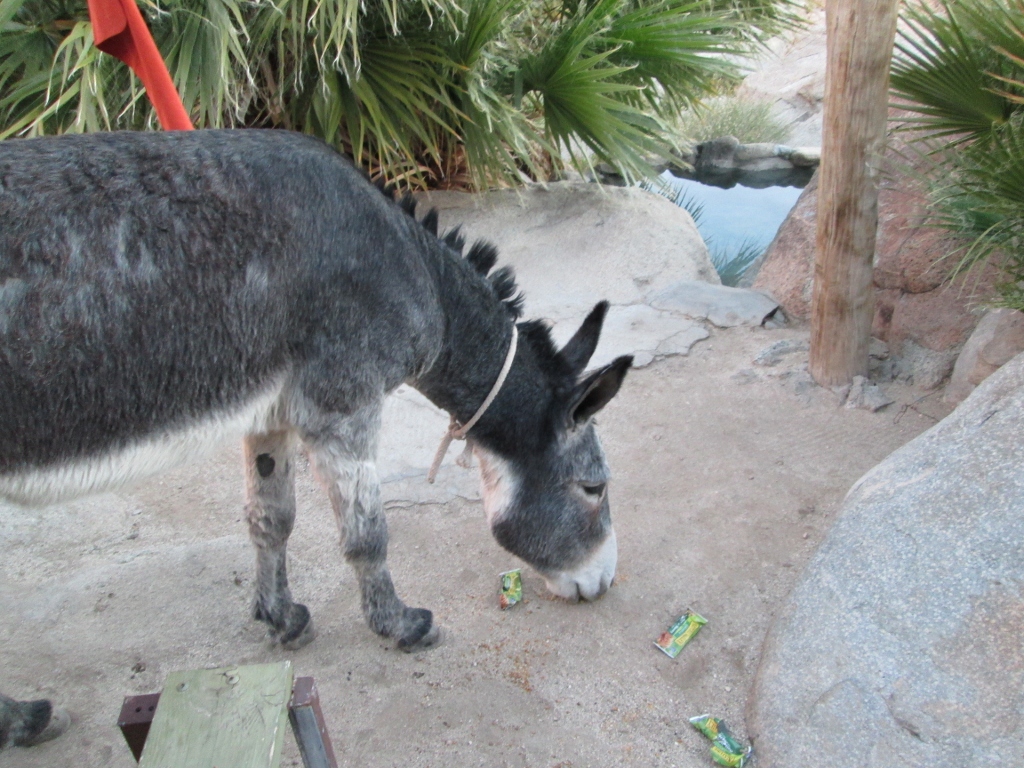 So now starts the "BigDog Donkey Rodeo"
as I pulled and tugged on the donkeys while Scott pushes and smacks them on the rear to get them out.
It wasn't easy------and we could do nothing but laugh even tho they ate all our food.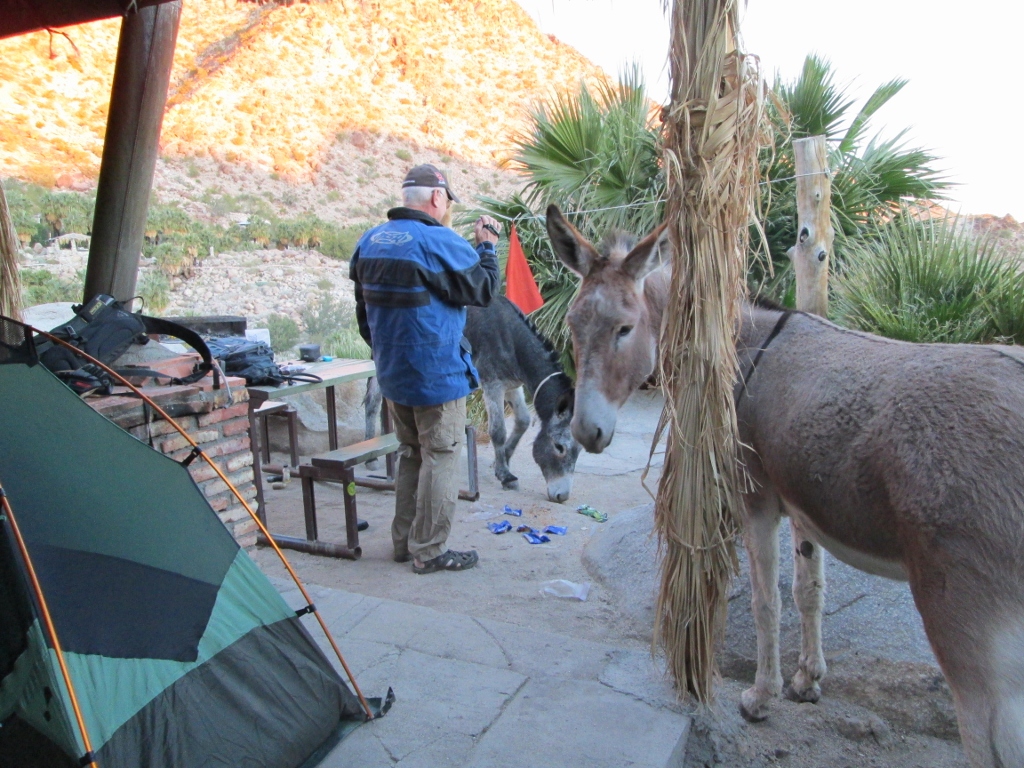 Here's a little video of the BigDog/Donkey/Rodeo
I have lots more pictures of Guadelupe Canyon as it was such a beautiful place.
It's an easy place to get to----big adventure bikes and their riders will need some skills after getting off Laguna Salida and
and getting back into the canyon----and I don't recommend at all riding any further out on the dry lake bed and
riding further South with a big bike. There can be deep mud---very deep silt and nasty ruts and washouts.
There is some very deep sand in the 7 miles back to the hot springs. You won't be happy on a big bike.
Enjoy more canyon pictures---if you haven't been you must go here.
It could even be a day ride into Baja from the border---but camping and the hot tubs is the treat !!

Here in Mexico we have what I call the "El Poopo"
Or "Bano" to the locals.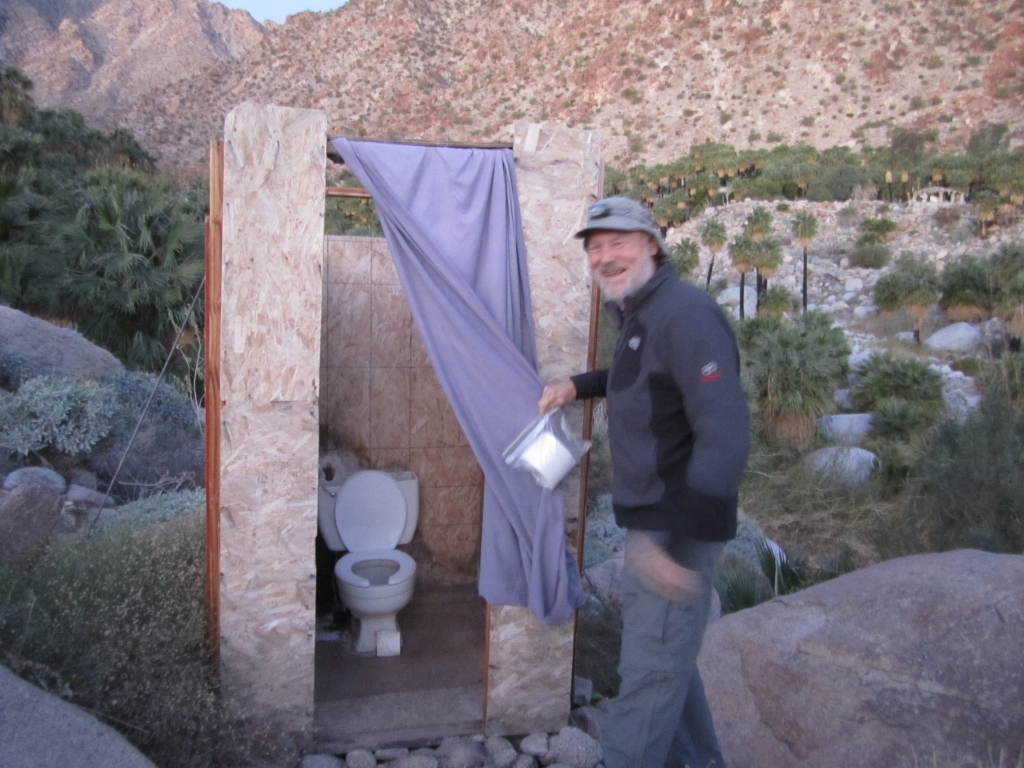 These flushing toilets----------yes I said flushing toilets are way different than anything I've ever seen---and I've seen it all as
I was an Illinois licensed plumber all my life.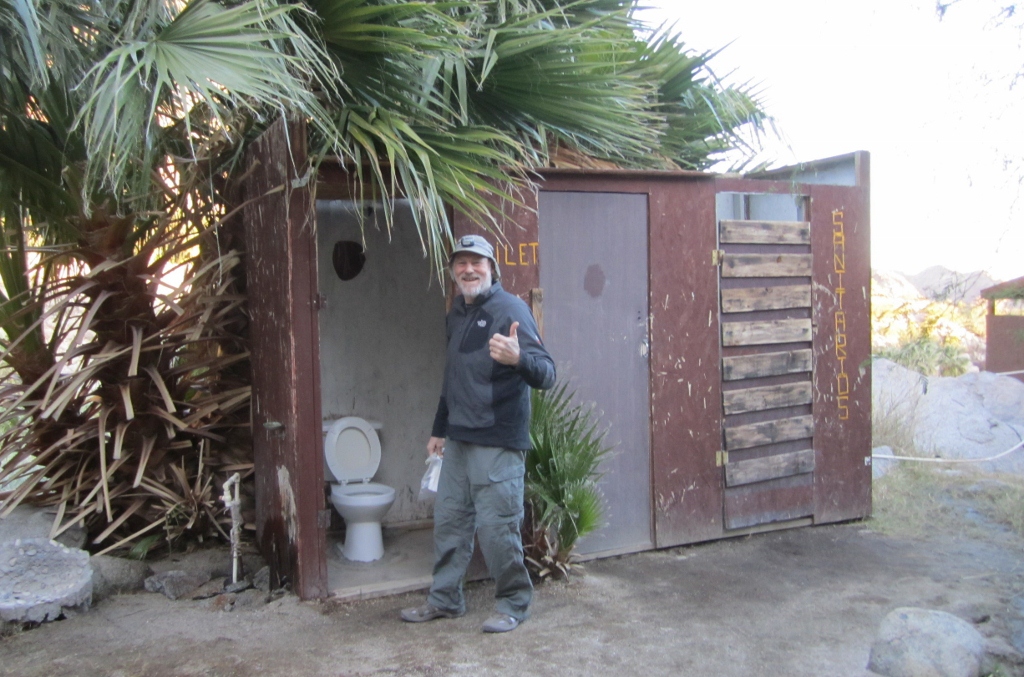 Each toilet has no tank lid---and there is a constant stream of hot water pouring into the toilet tank.
How ingenious ??? I thought.
So with the constant stream of water coming into the tank and going into the overflow tube and finally getting into the bowl
the whole toilet is very warm---and when you sit down on it -----wow !!!!!! A warm butt !!! Really nice.
I've always praised Mexico's normal water system compared to ours in the states.
We use most of our very expensive treated water to flush turds down the toilet----think about it--how stupid is that.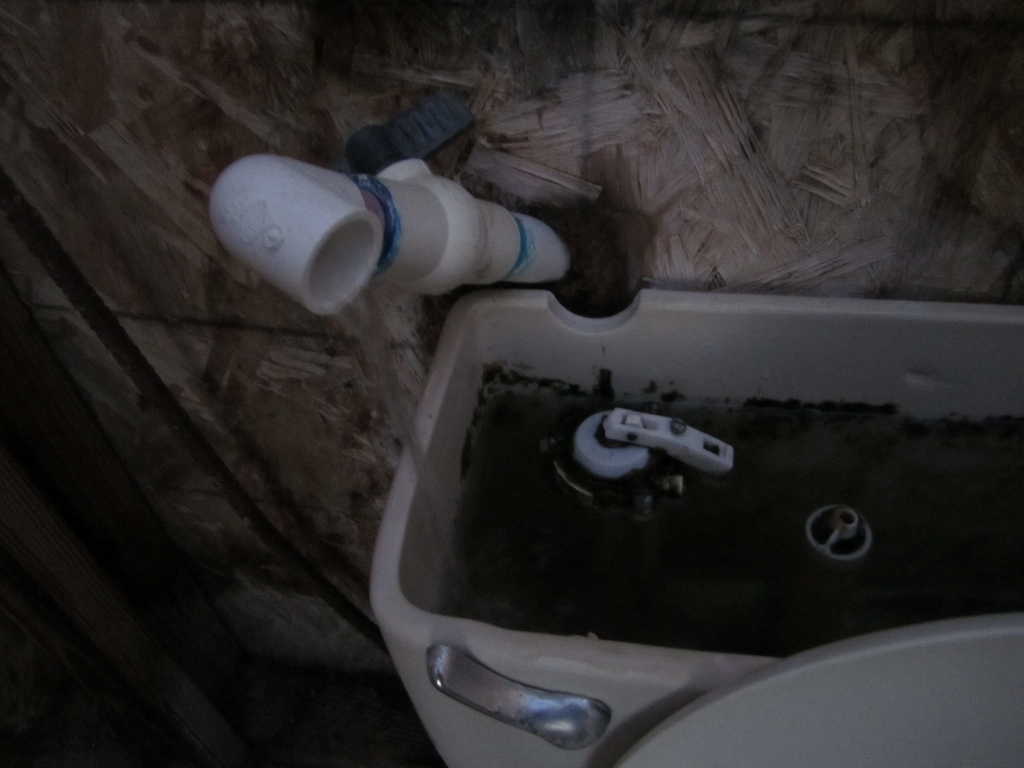 The sun keeps giving us better views as me and Scott explore the area some more.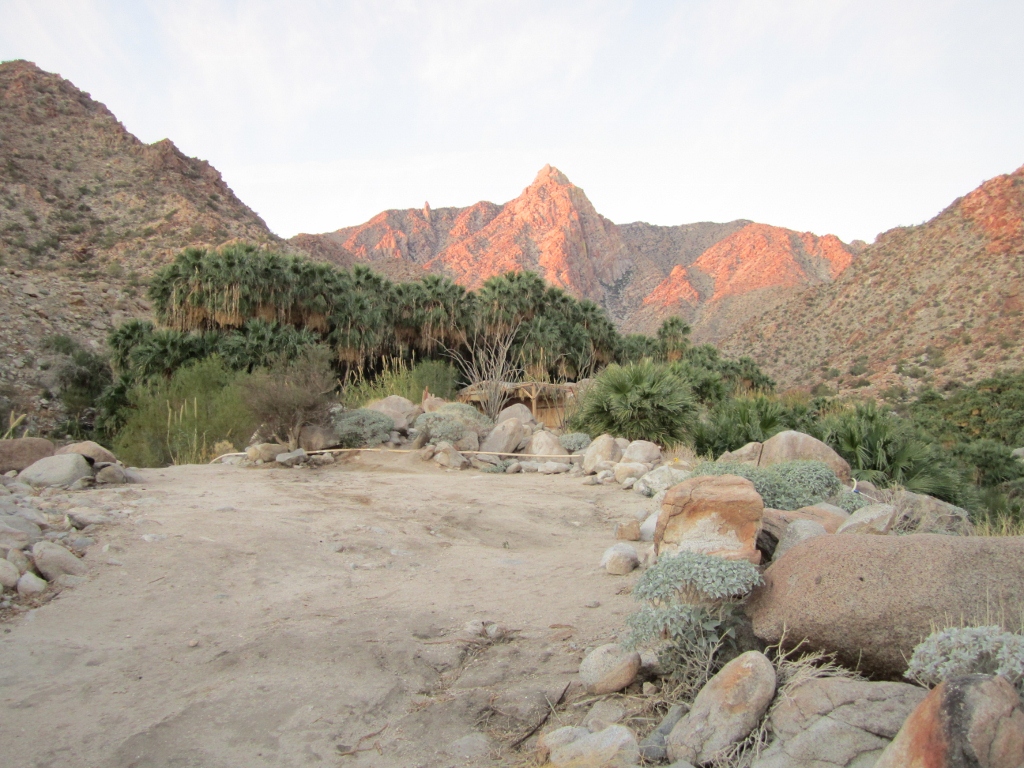 This little hut was way across the canyon and not seen very well with the naked eye.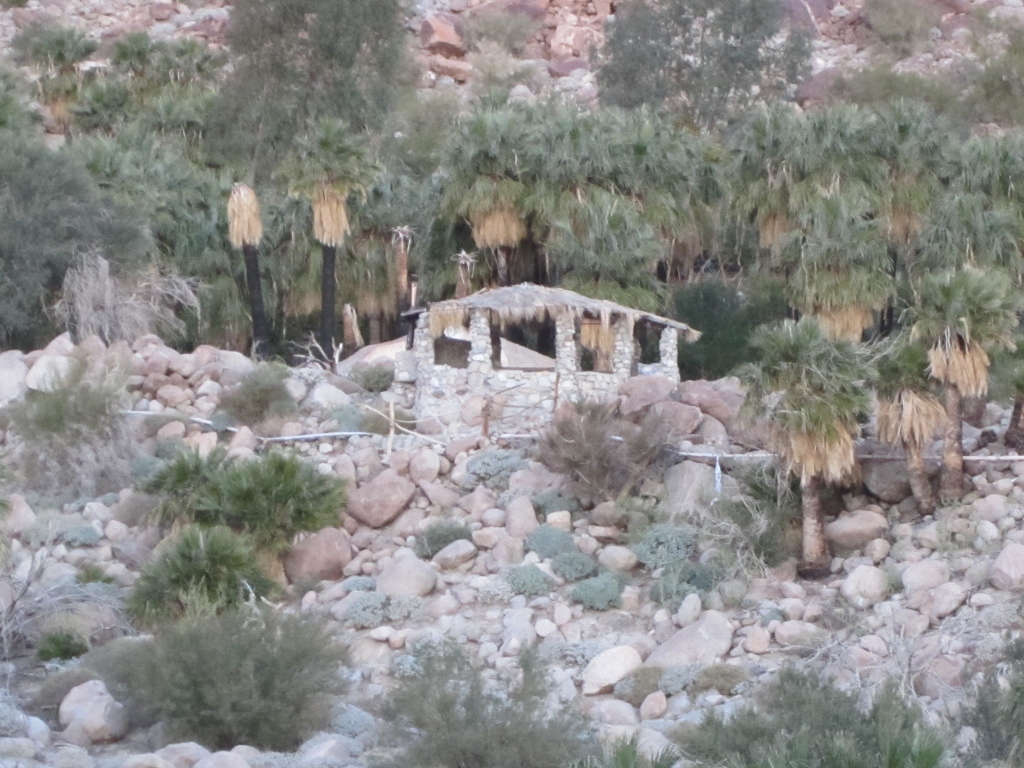 This appeared to be some kind of old oven----but it had fallen apart and was crumbling.
One of my pet peeves-------noise in a campground.
No noise allowed here.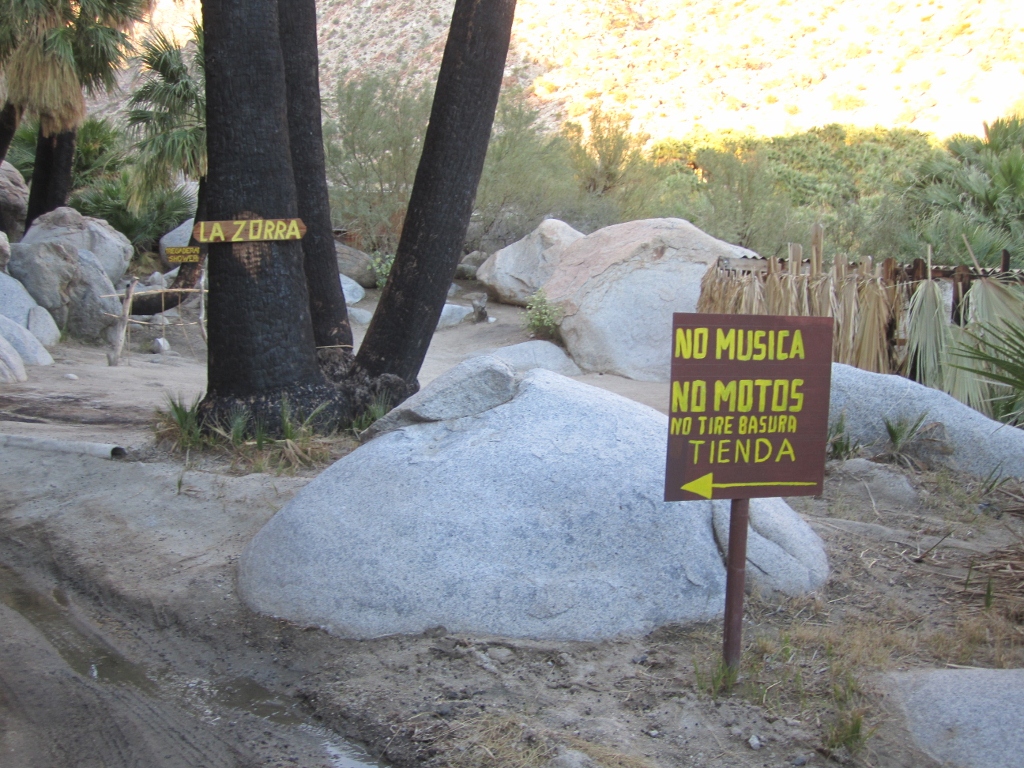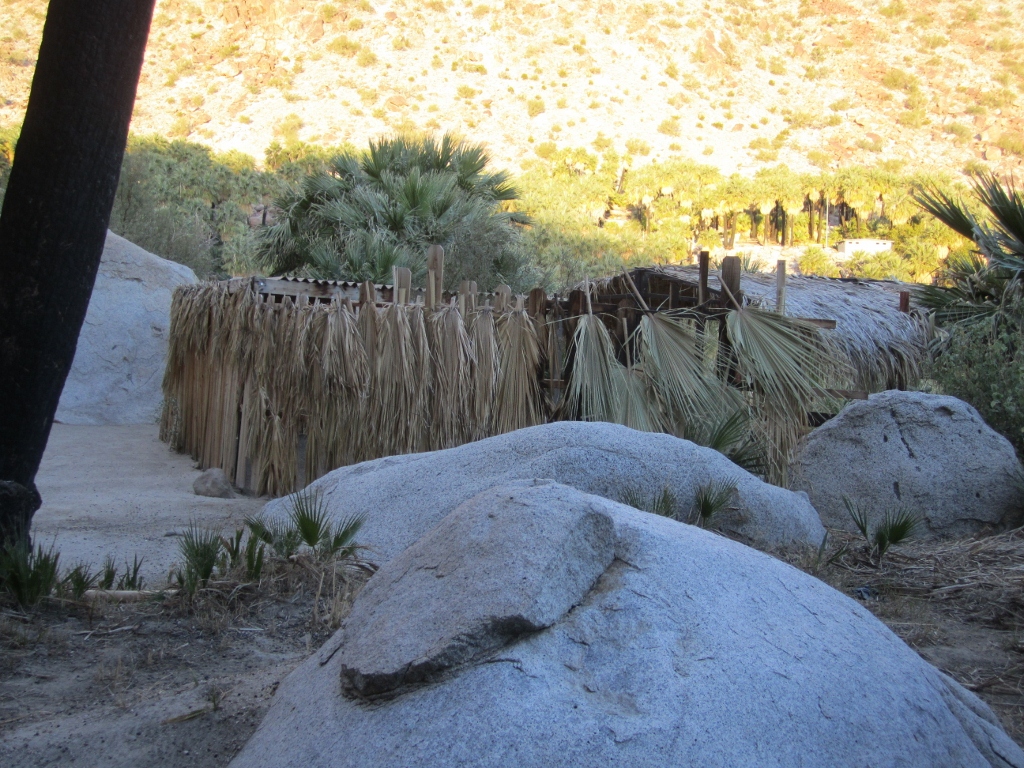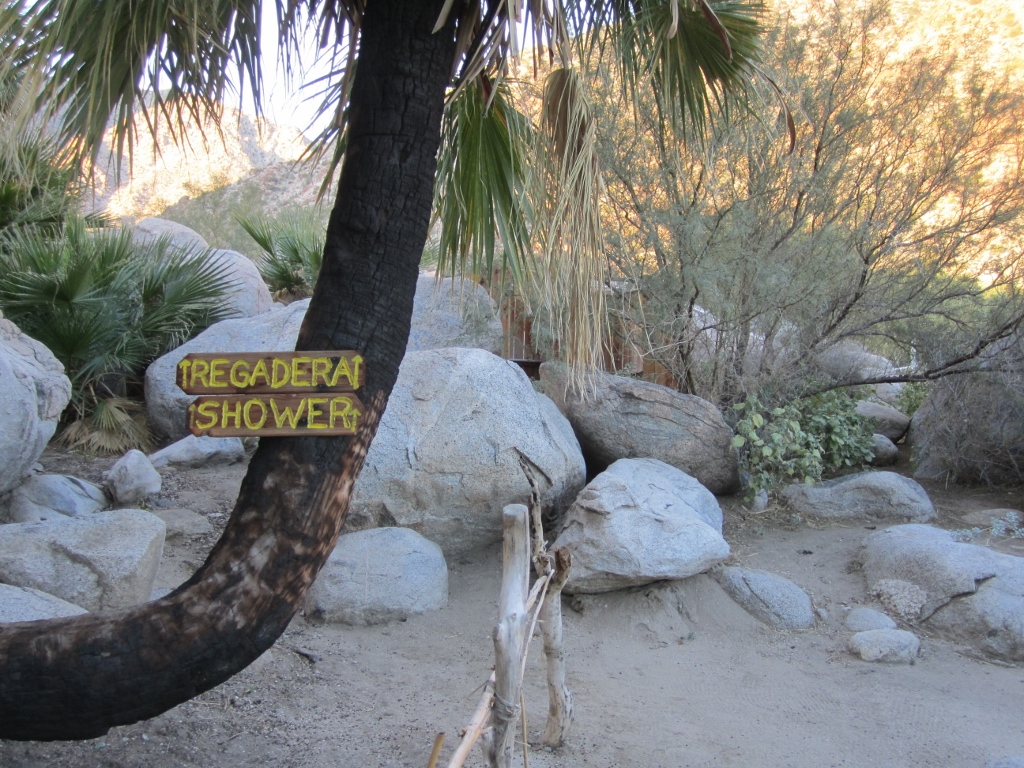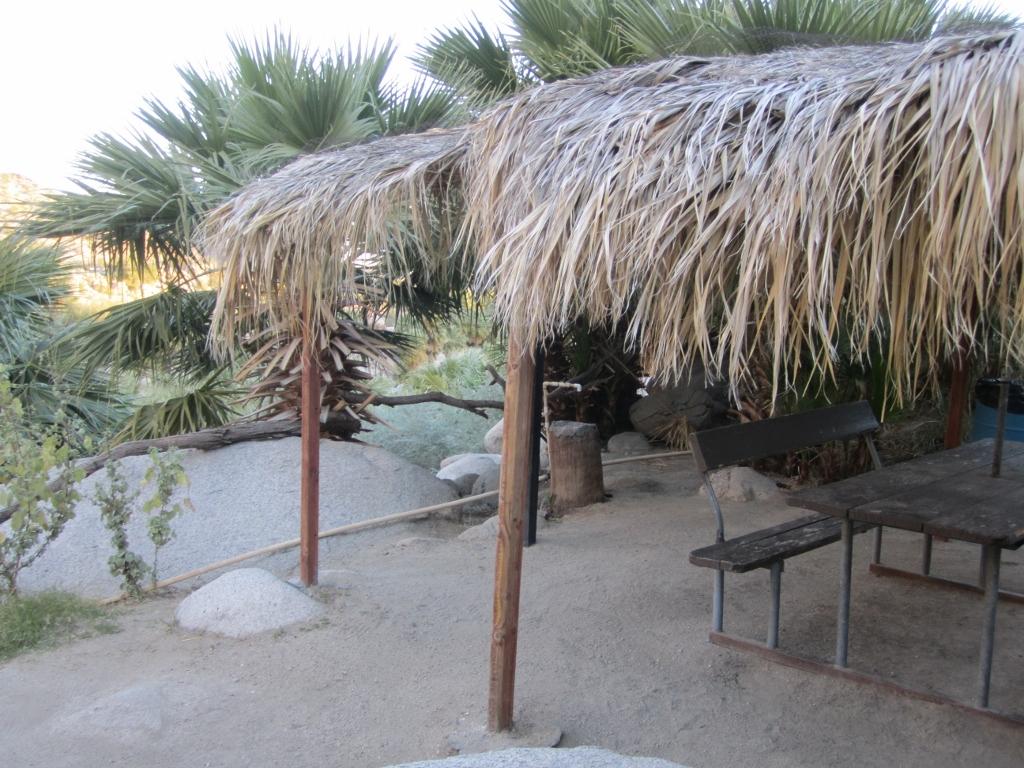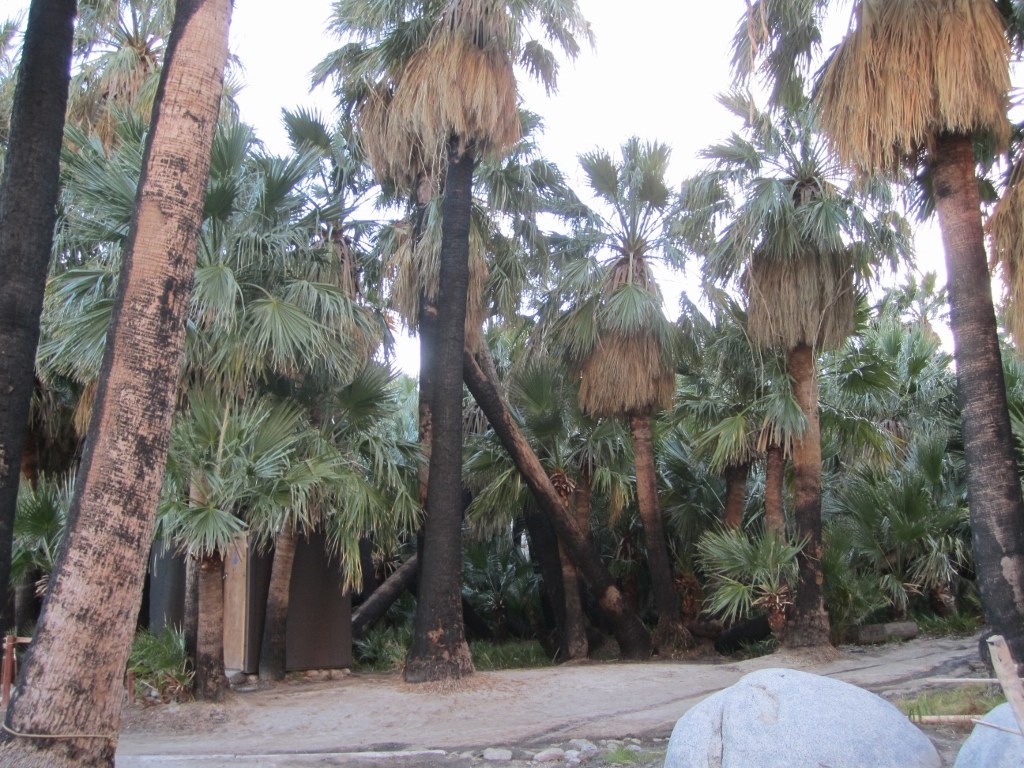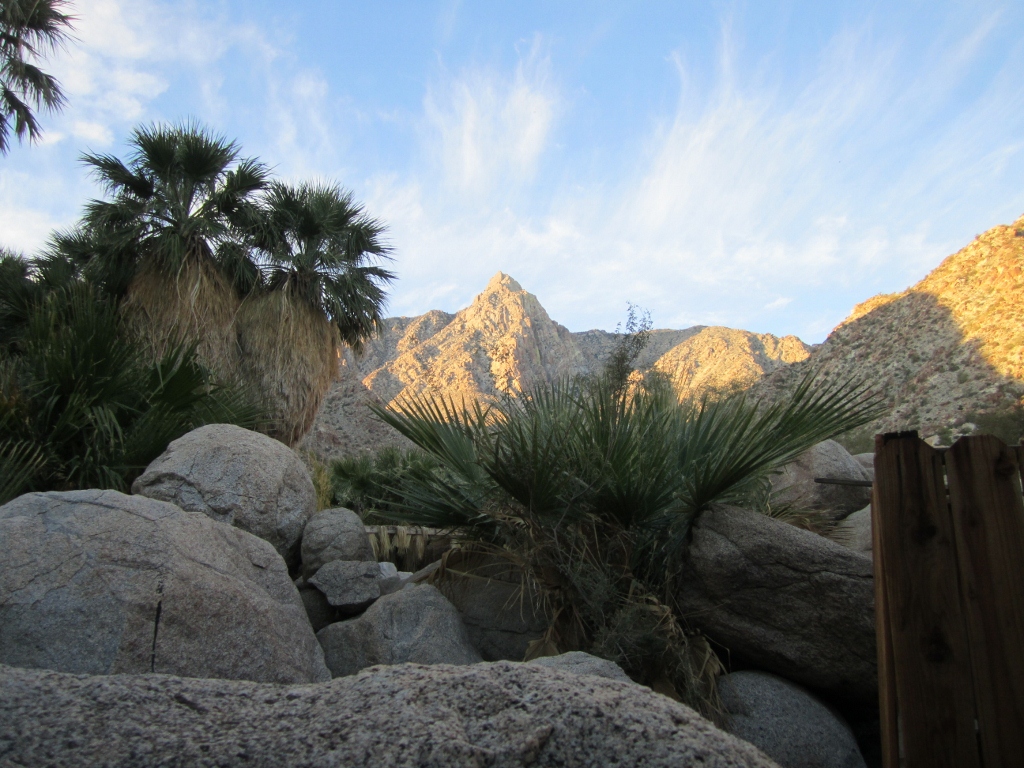 The Tienda (store for you Gringos) wasn't open.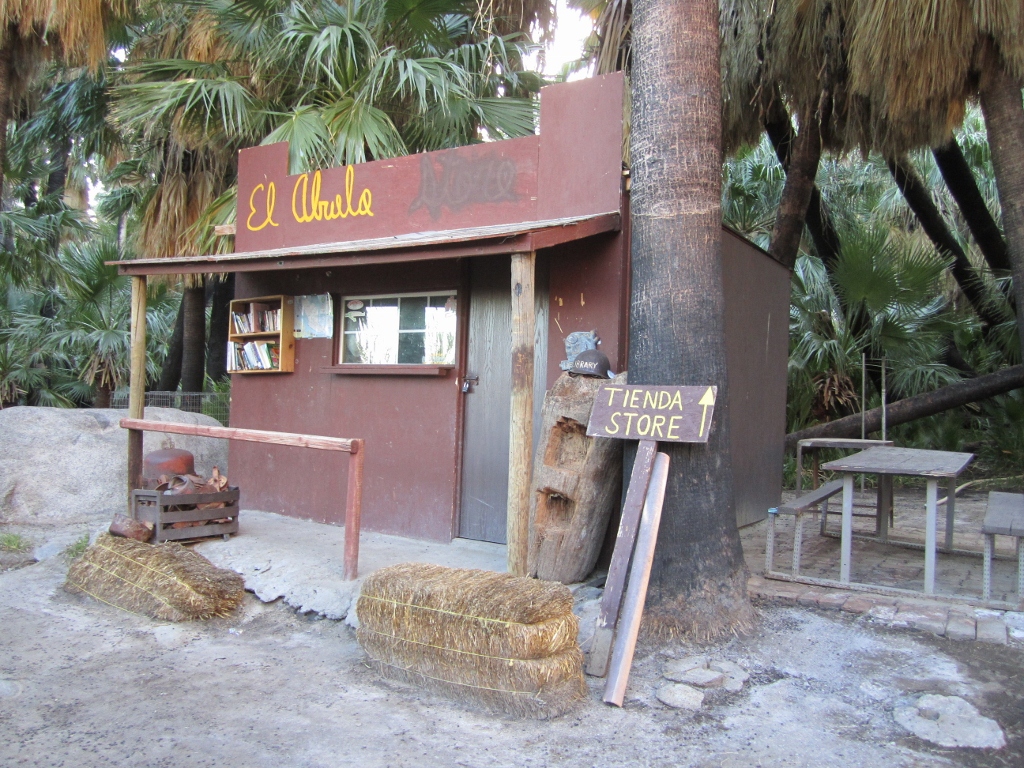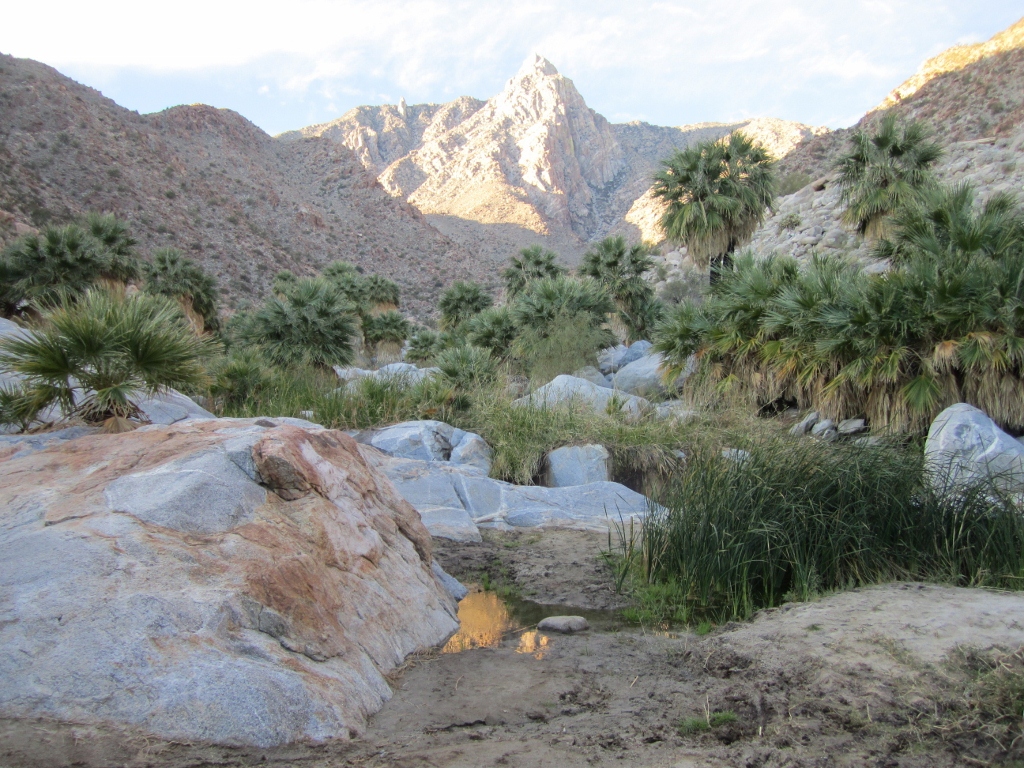 Here is a nice camping spot-----see the picnic table under the tree ???
But their hot tub was dried up.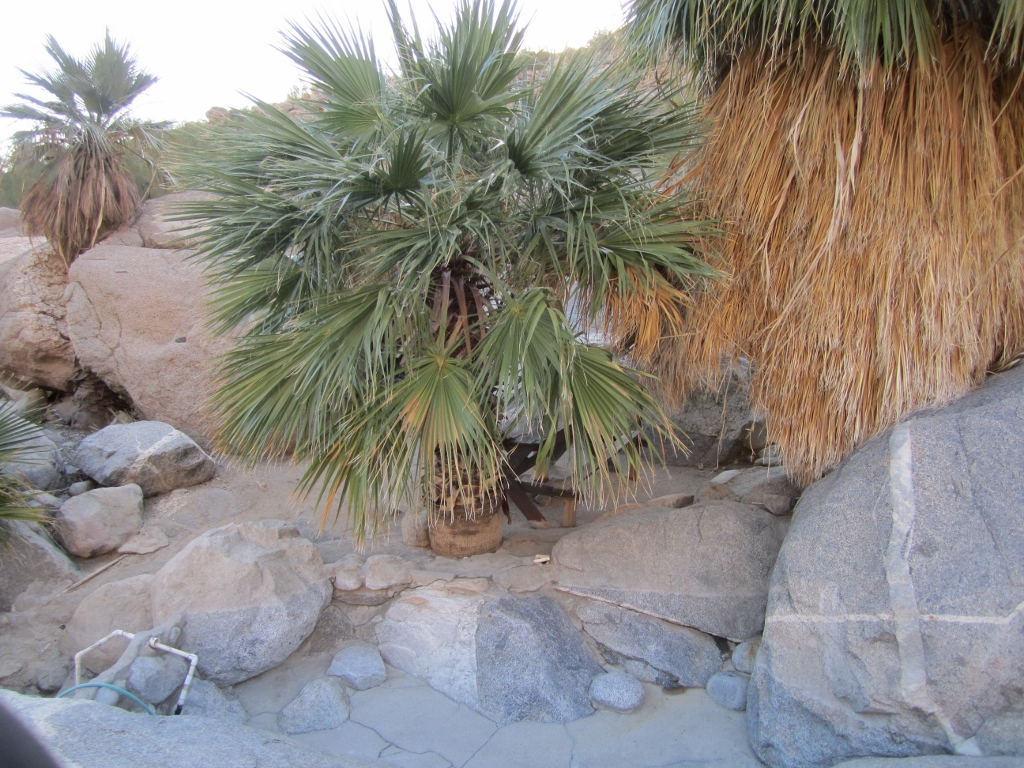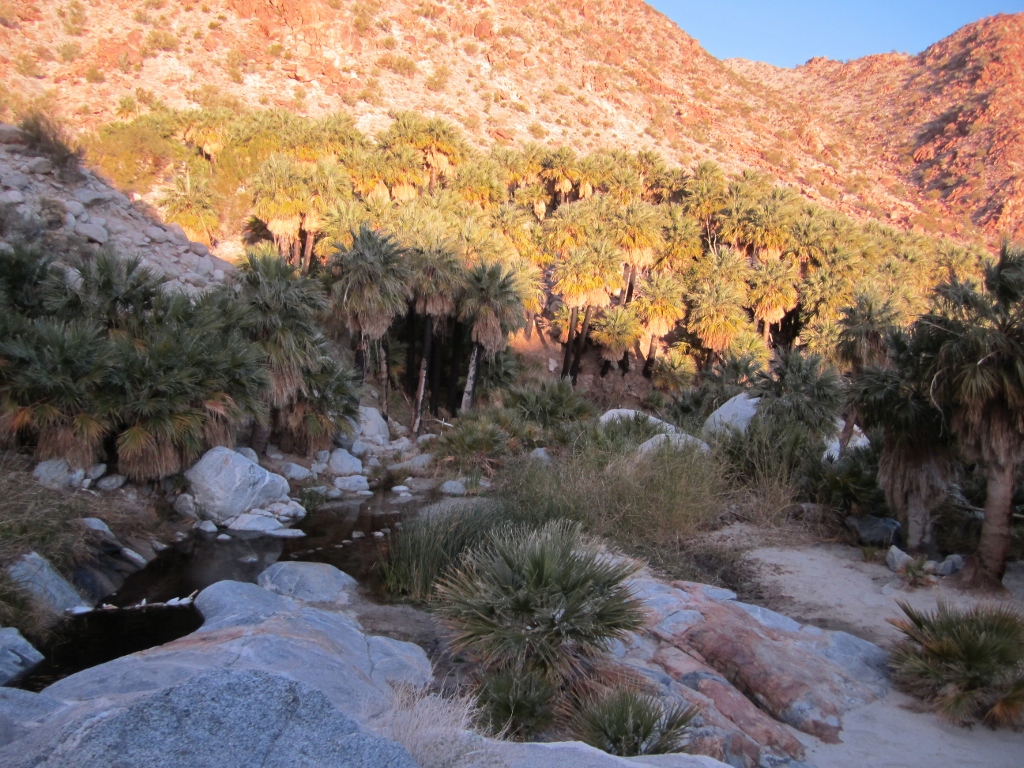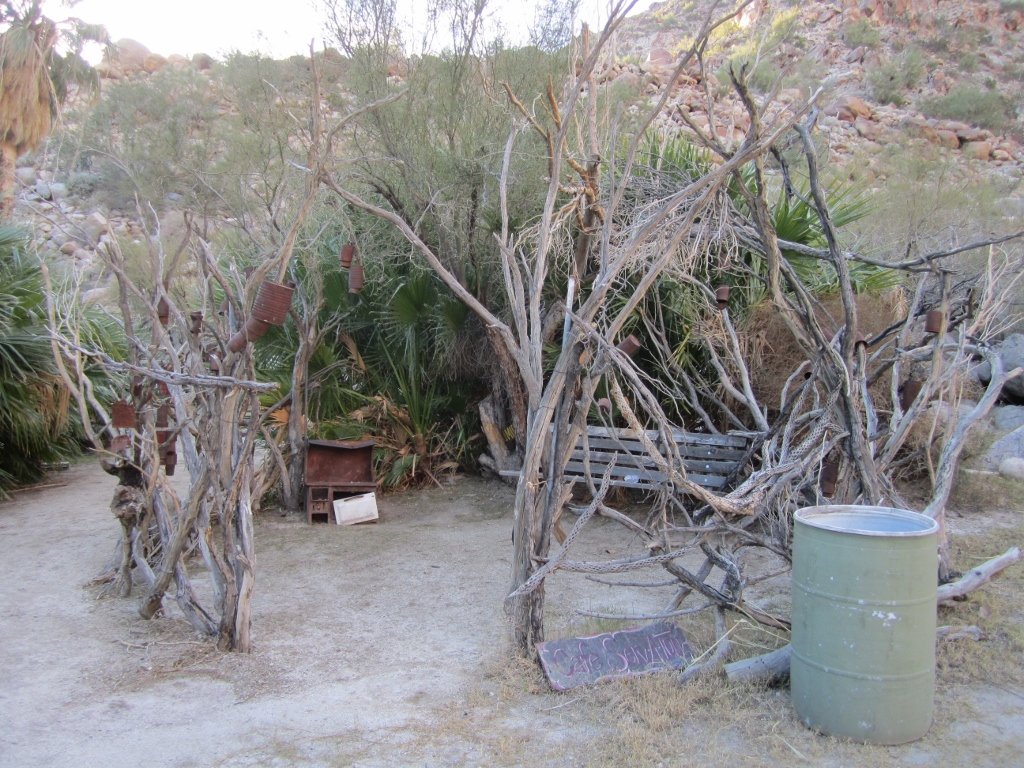 Here is a picture of the main water pipe that brings the hot water down to the lower levels.
Look close--you can see there is a leak.
I'm retired ----I'm not fixing it.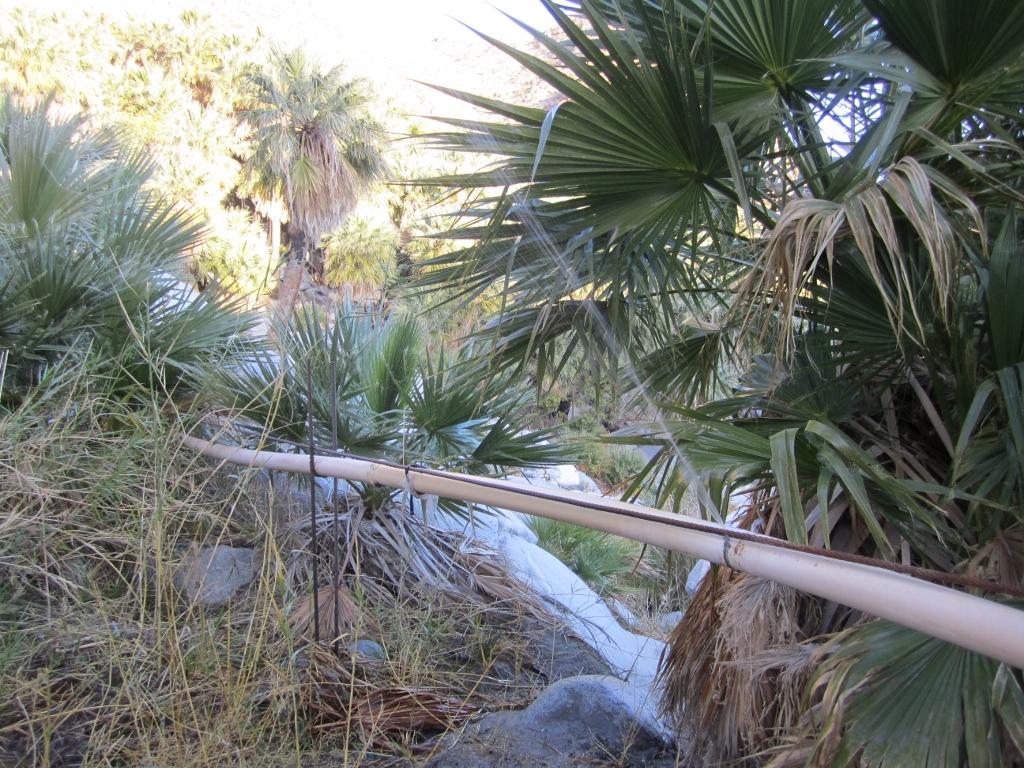 And there was a really nice shower----see the pipe and valve ???
I turned it on and it worked. We didn't take a shower as we had been in the hot tub.
Scott just got in the tub the evening we got there----but I got back in it in the morning too.
I just couldn't pass up the oppurtunity---I may never get back here in my lifetime--so I wanted to soak it all in.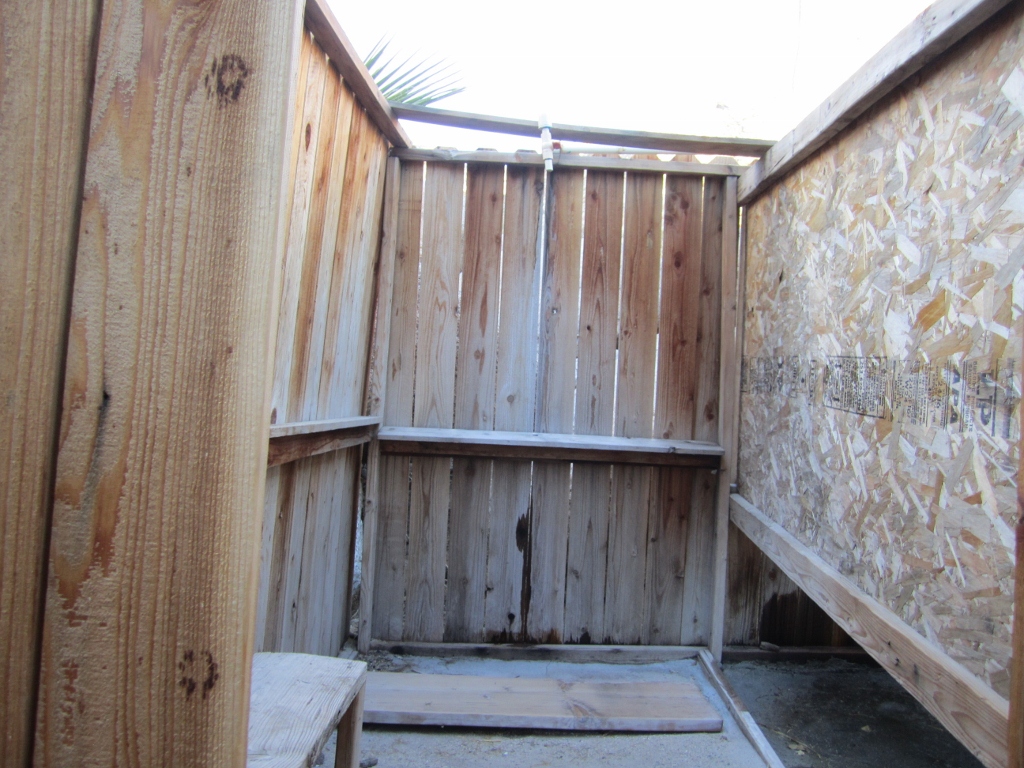 Our Jack Ass friends finally got tired of us gringo's and sauntered off.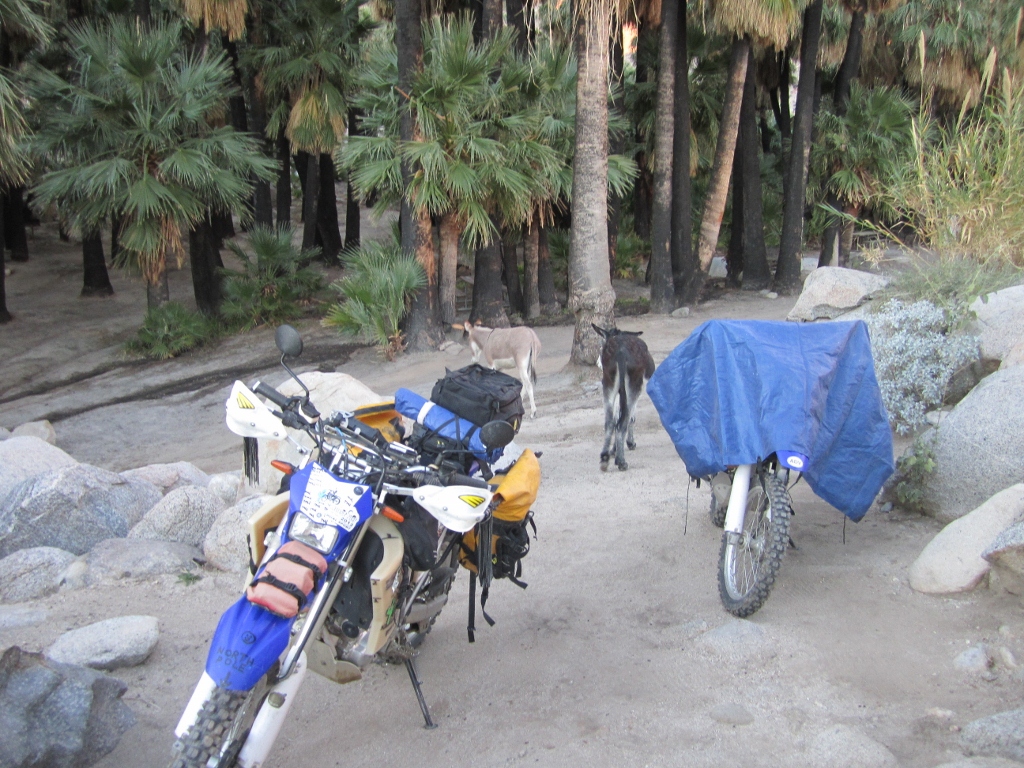 My next plan was to ride over El Mano Pass.
I've only know one rider to ride over it--and I had his track log.
This would go high up into the mountains to the West of Laguna Salida.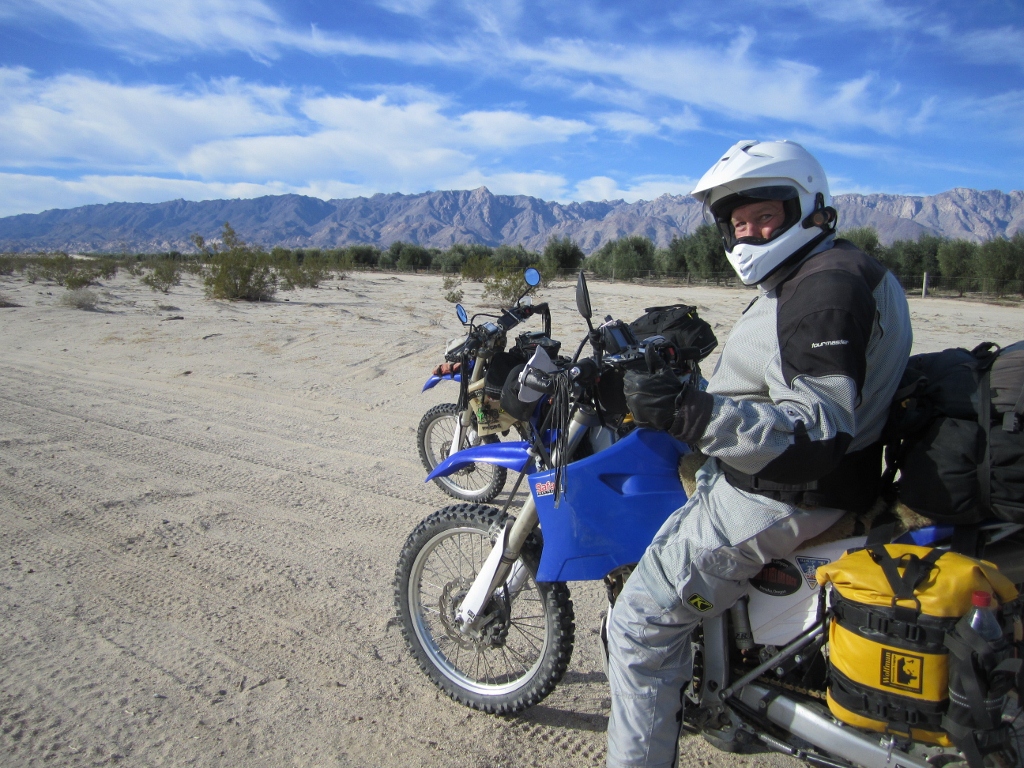 We blew South on the big graded road at high speed------what a hoot.
And the Dingweeds said-----Wahooooooooooo !!!!!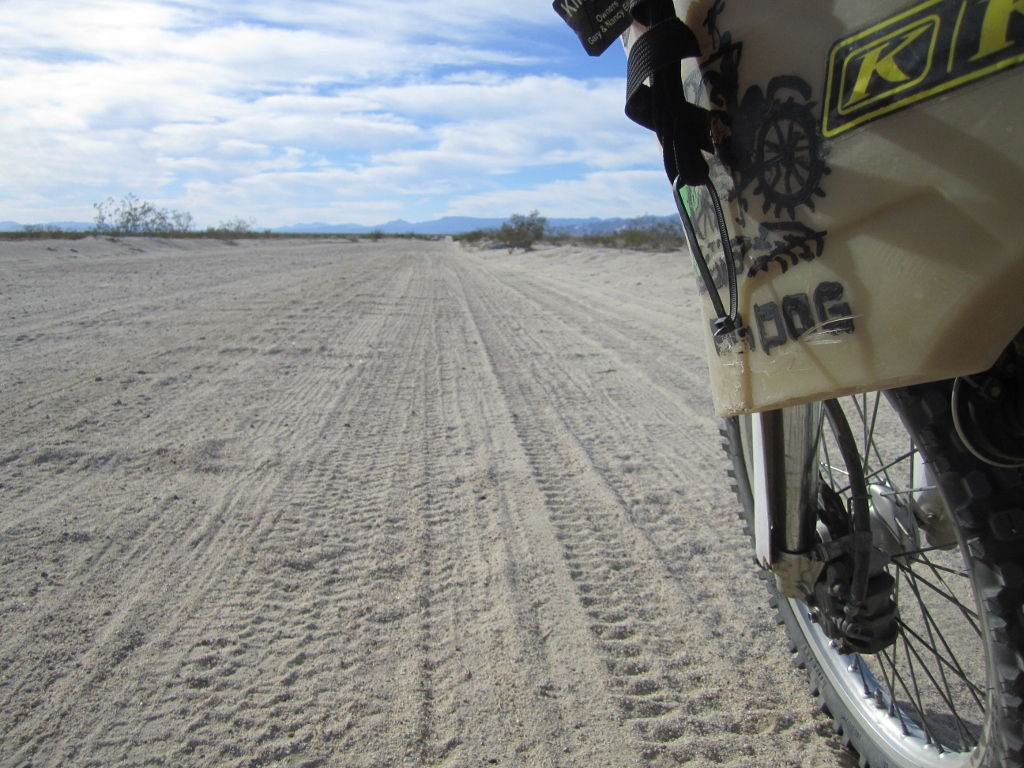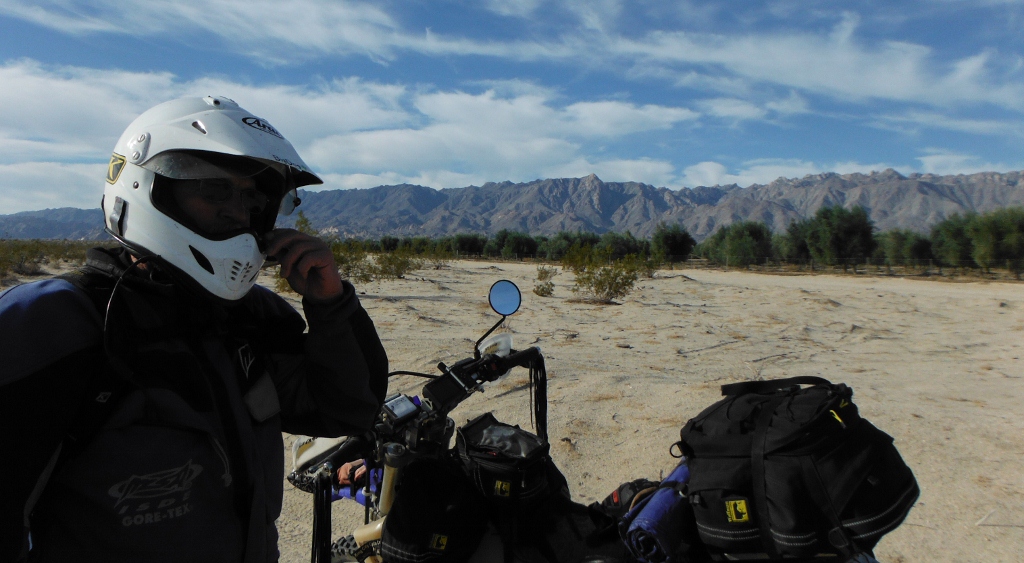 There were many navigational speculations as sandy trails and roads went everywhere.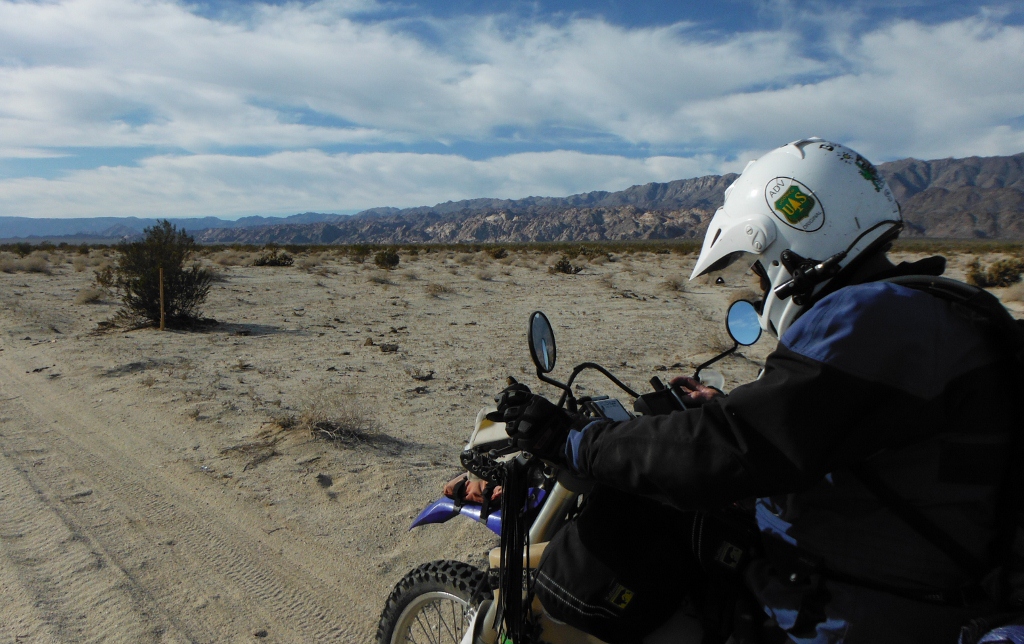 And they deteriorated more and more ------and the sand got deeper and deeper.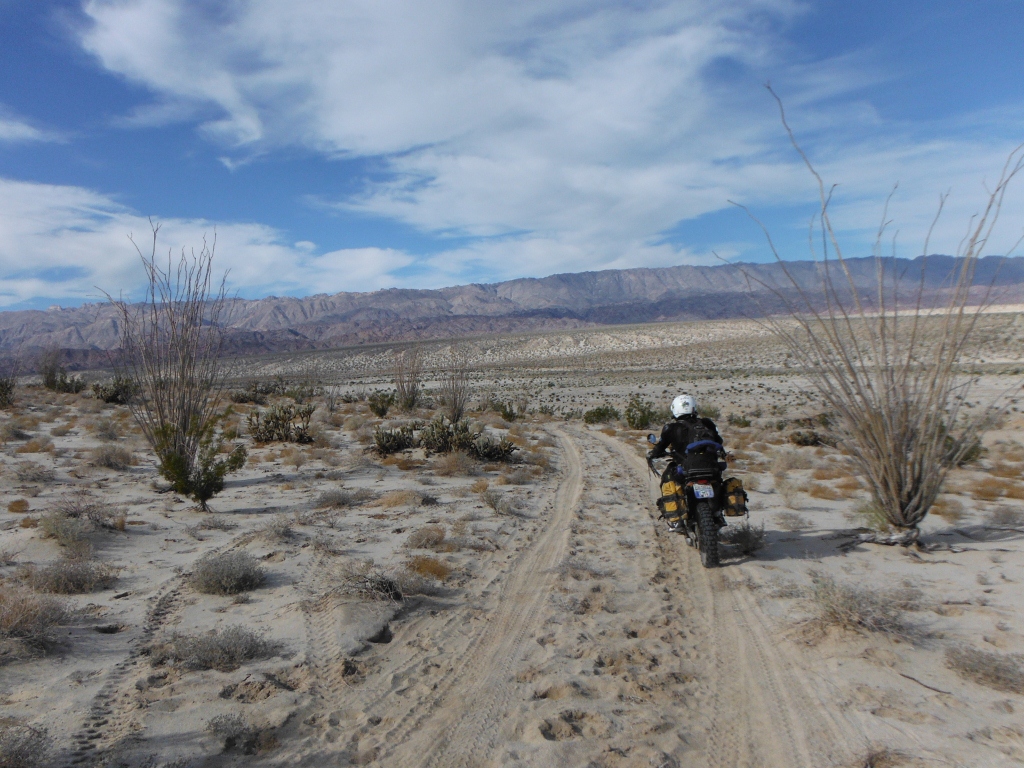 It was getting really tough to ride and the trail just ended---no one had a vehicle threw here in a long time.
It was here we found this long abandoned very expensive SUV which had been stripped of anything useful.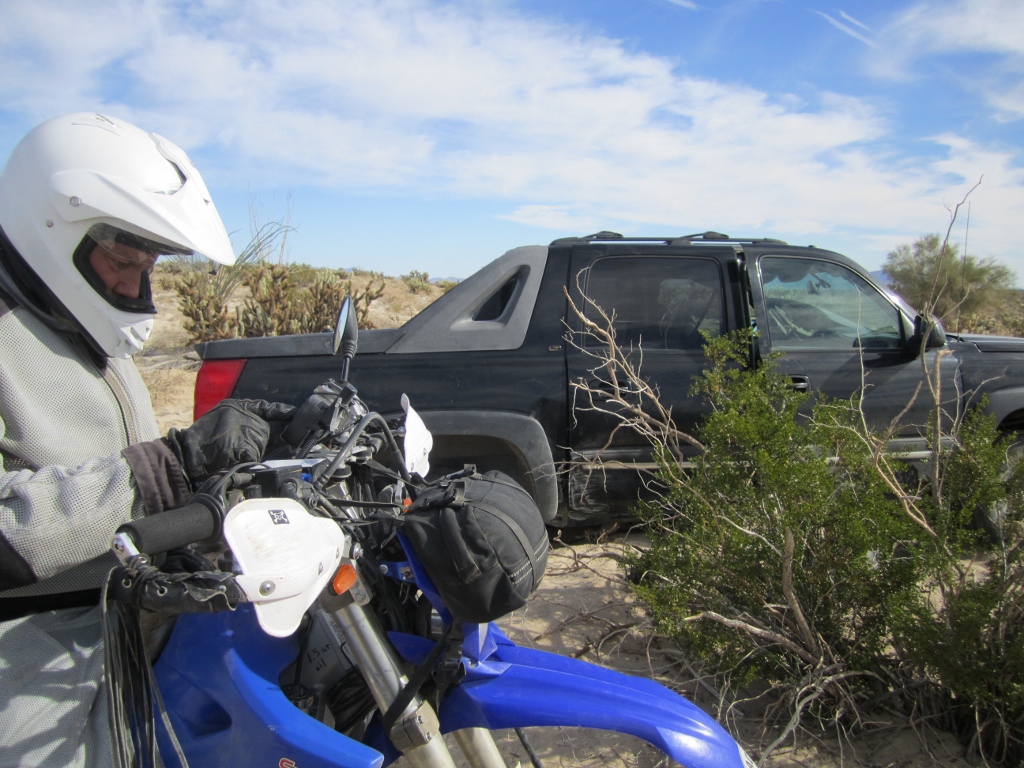 After getting home a friend that was watching my travels on google earth said---"man you guys were in the middle of nowhere and I couldn't see a
track or trail one".
Yep-----and after considering how hard the riding was ----the fact that maybe nobody has gotten over El Mano pass in years--and the fact we
may have run out of water, gas and food if we continured on----we turned back. And almost ran out of gas doing that.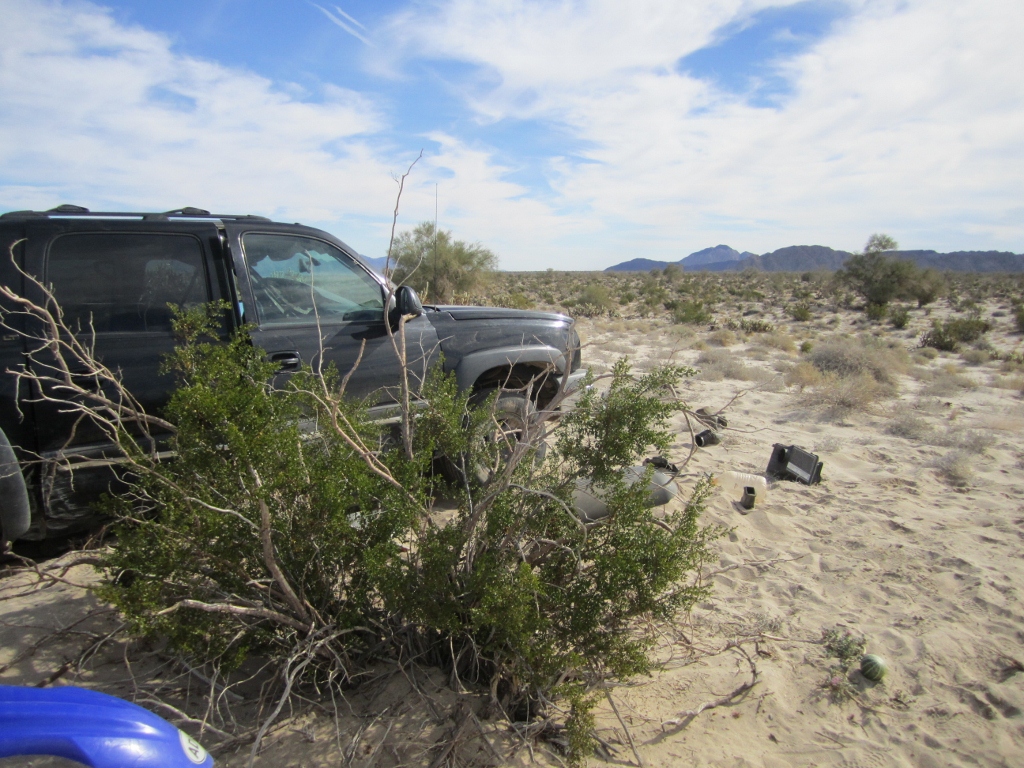 I guided us back North a bit to intersect a route across laguna salida heading East toward the paved Mex route 5.
Before leaving the house I probed google earth in this are and found a picture of this abandoned vinyard.
We mad a "cut-a cross" East to the vinyard. Kind of eerie.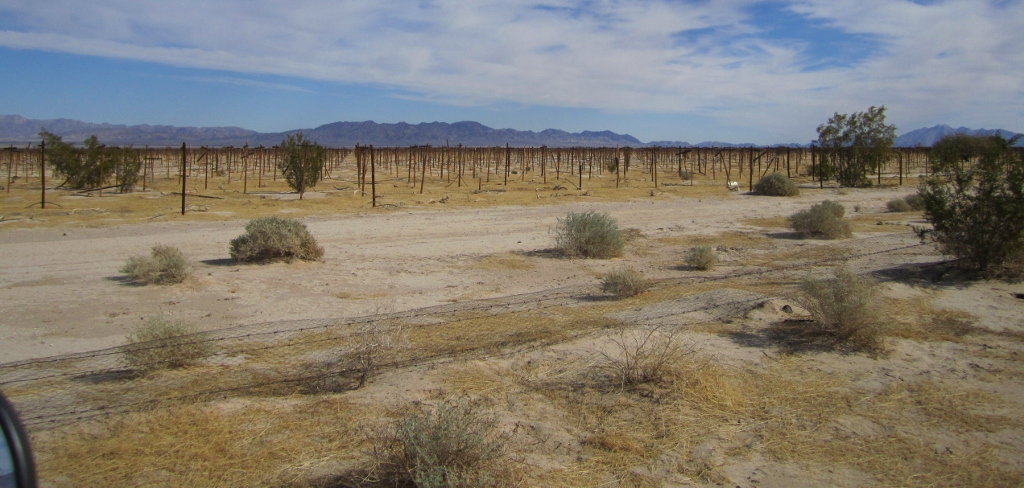 Oh man this was a hoot----you could just about ride where ever you wanted and Scott chased my dust trail across the dry lake bed.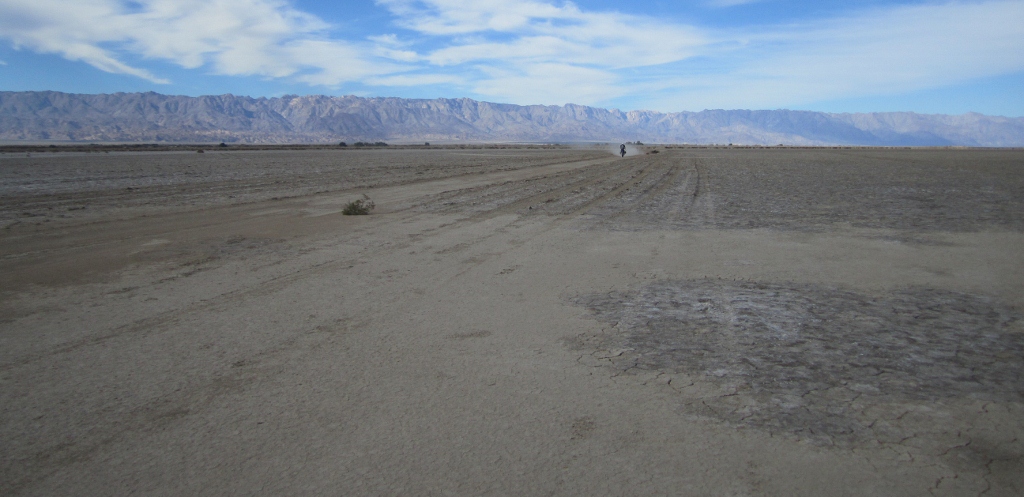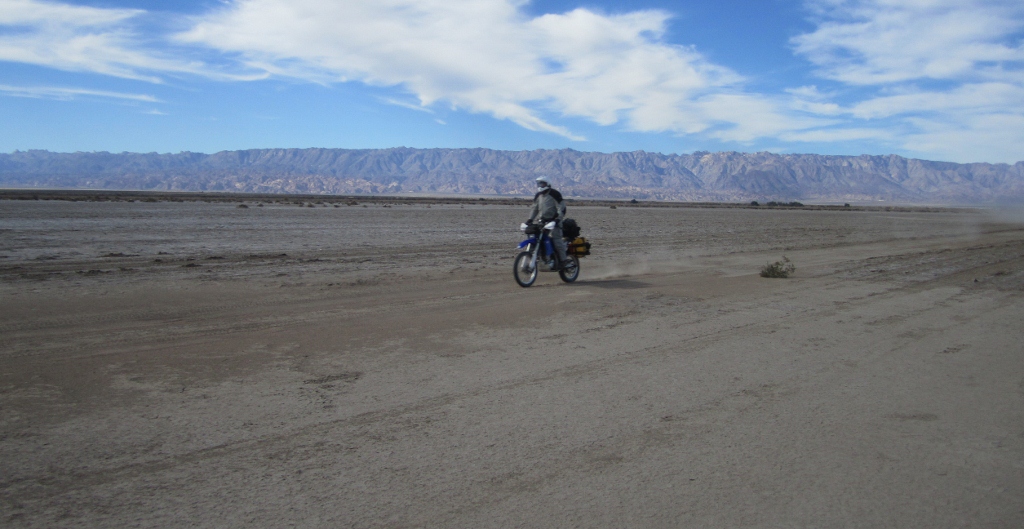 I took a picture of my gps so you could see our elevation. We were 4 feet below sea level here.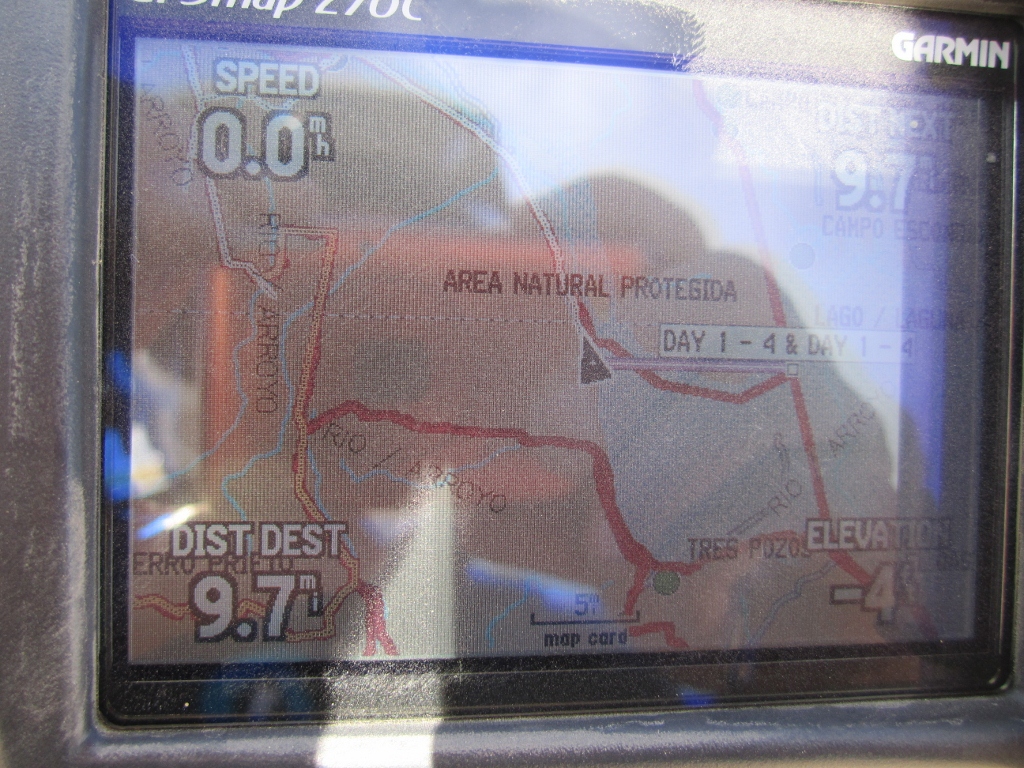 See the deep silt behind Scott----I'm sure he was riding carefull.
On our last ride with the Mobius crew Scott had the worst bike crash of is life in this stuff. It will swallow you up.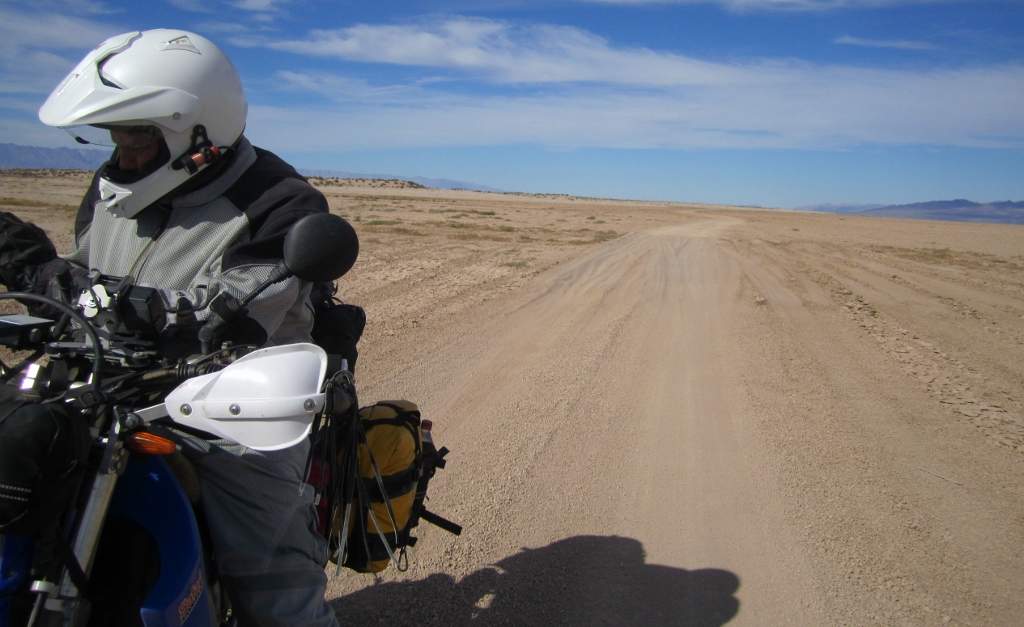 Then it starts getting wetter----a little dampness was below us and it got soft some times.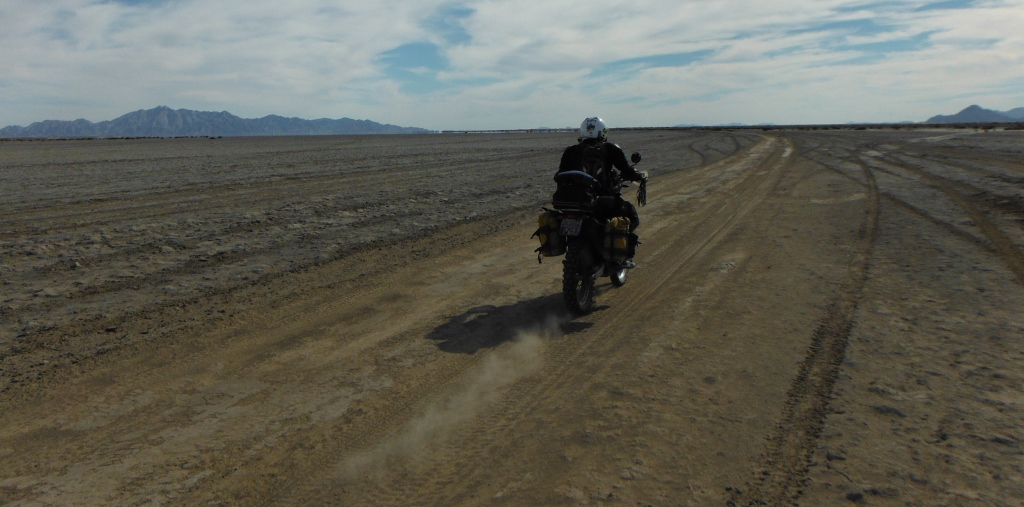 Probably part of the Baja 1000 race course.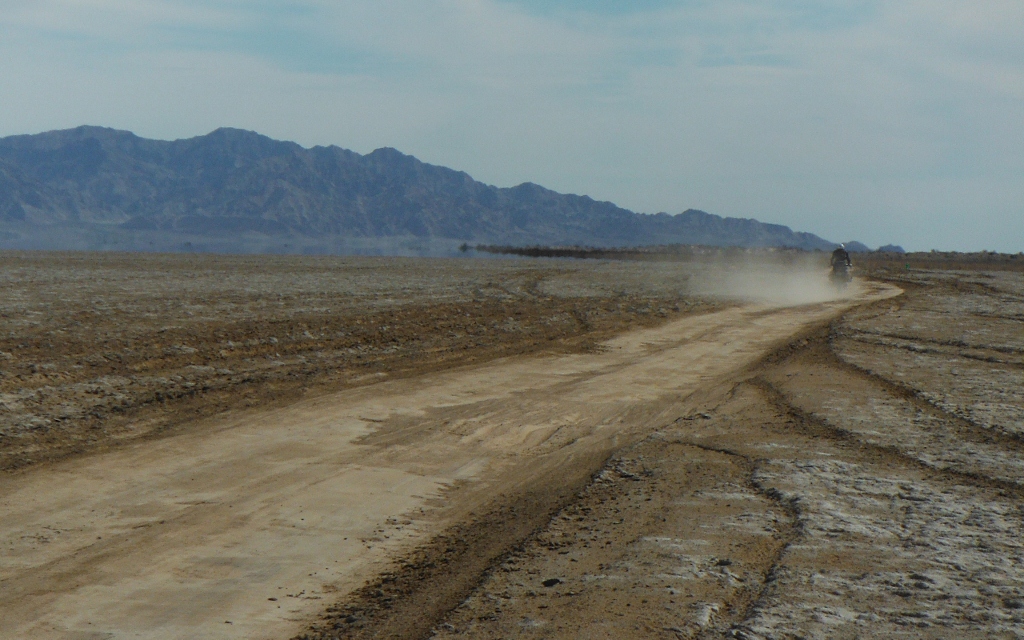 Yes---definitely the race course---which was back in November I think.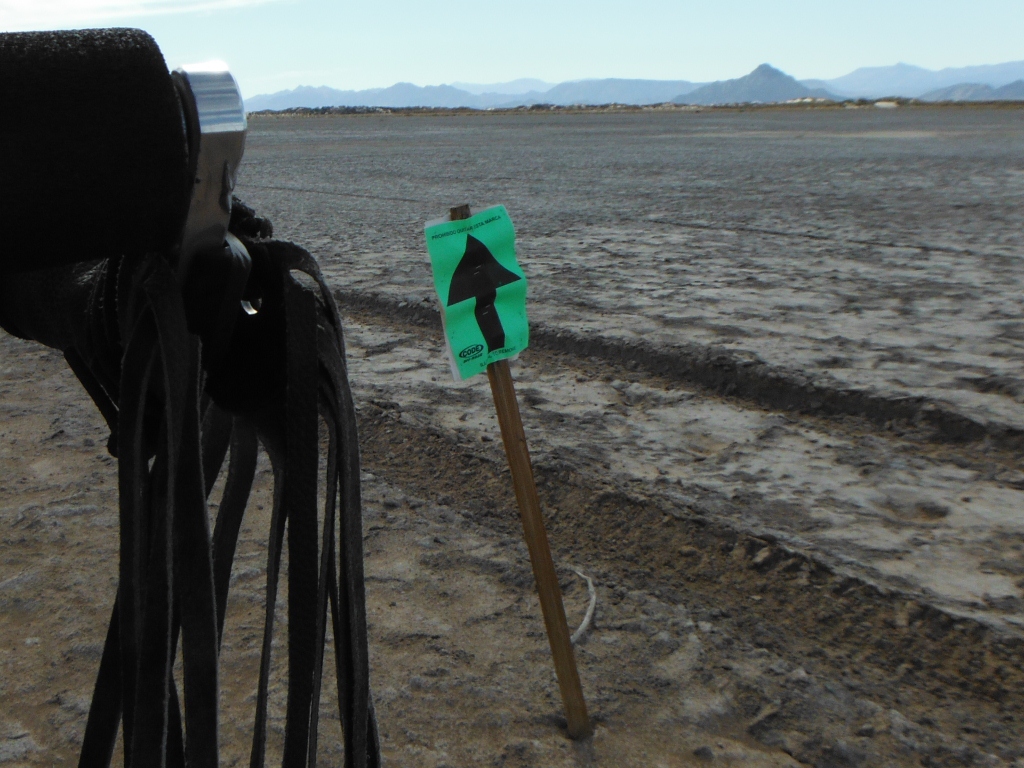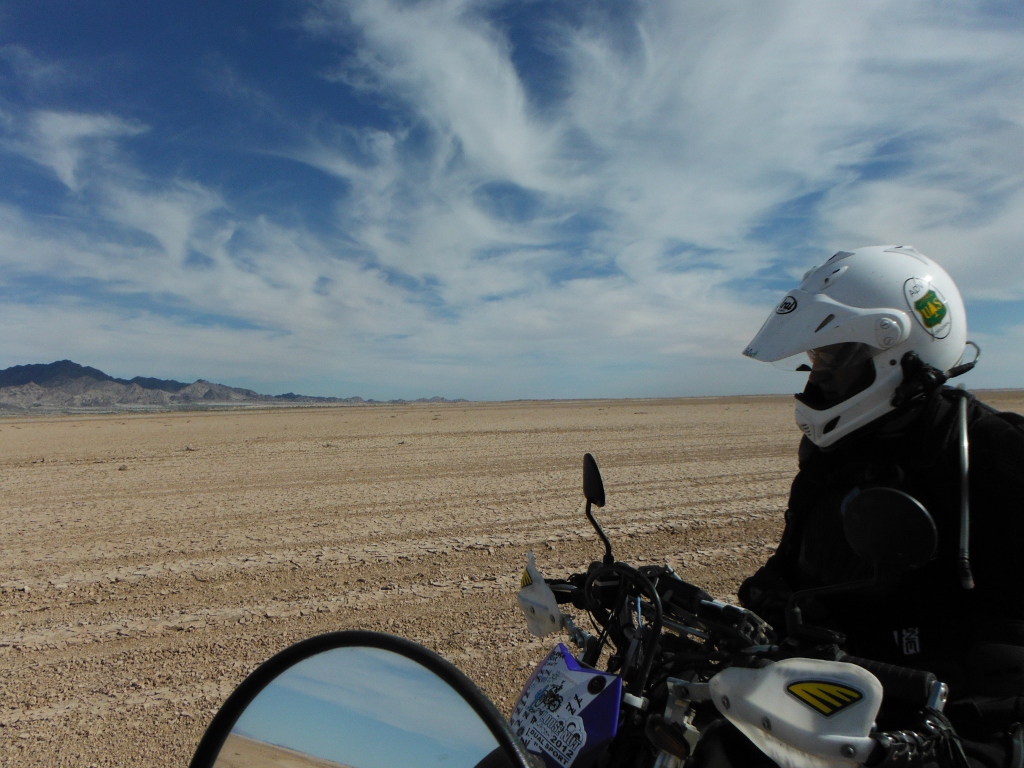 See that white stuff ???? It's slick as ice. Both of us about bit it in here before we hit the highway--but our "No Hassle Tassles" kept us safe.
For a bit--the mud and salt got so slick we weren't sure we'd make it to the highway----we didn't have enough gas to go back.
And it turned out we didn't have enough to go forward either.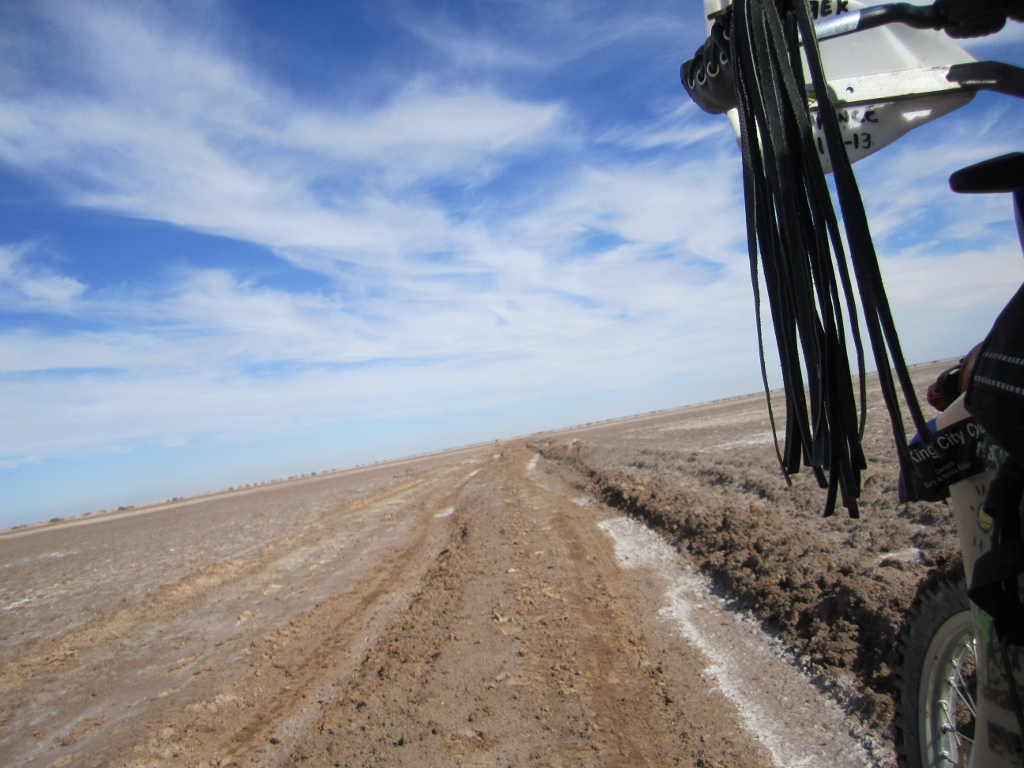 Another act of kindness along the highway was bestowed upon us as we begged for gas from some dune buggy guys.
They drained the gas out of their dune buggies (which were on trailers) and that got us to the next gas---kind of ... !!!!

We were heading West on Mexican 3 towared the turn off to Mikes Sky Ranch when I spied the sandy road that I planned on riding across
another dry lake bed to the South of the highway. I thought I'd check it out briefly to see how it was. It was nasty deep silt and I got stuck
trying to get back on the highway. We wouldn't have made it thru that trail. So I made a mental note not to try that trail on our return North
which would be a couple weeks away.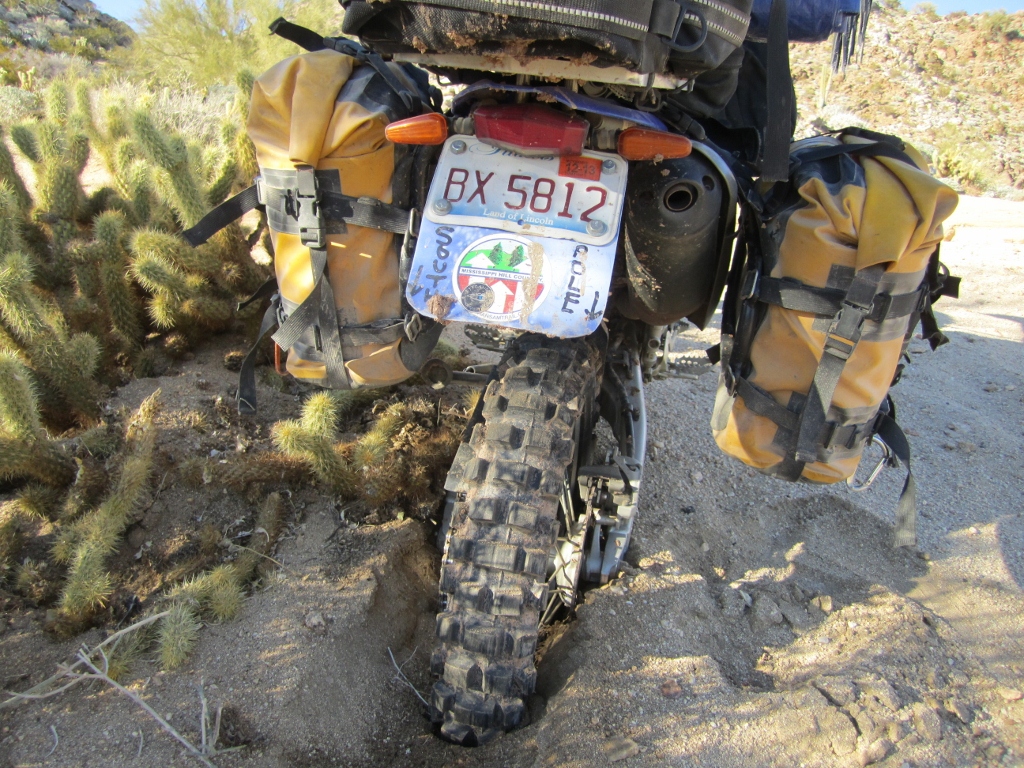 Kind of hard to tell---but that's a steep hill behind me.
I had plenty of power----the tire just dug in and was spinning.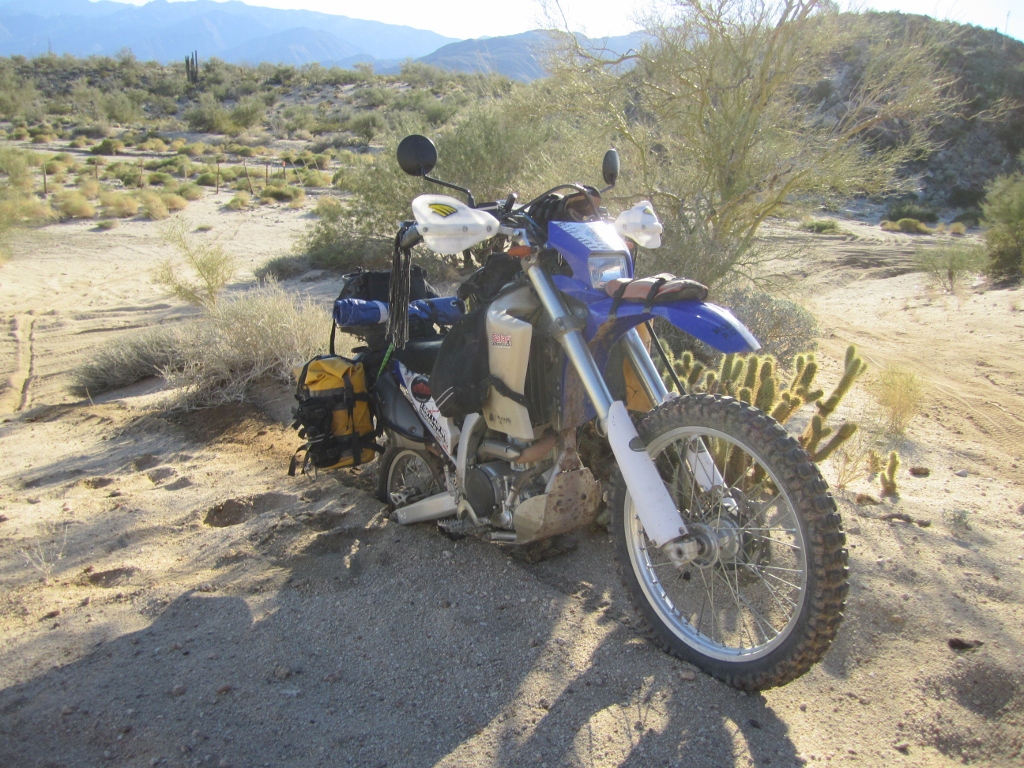 We hadn't got much gas from the dune buggy guys----and we didn't have enough to go to Miles Sky Ranch and ride South out of there the next day.
So we had to run down the road a bit passed Mike's turnoff to the little town of Cardenas with had a Pemex-----it's getting late and we
pondered again that we'd be riding in the dark. It was 7 miles West of Mikes turnoff to the Pemex.
Here we have turned down the dirt and sandy road to Mikes Sky Ranch and we were estatic.
It was about 30 miles of riding bliss getting to the ranch-----the terrain climbed into the mountains as we got higher and higher.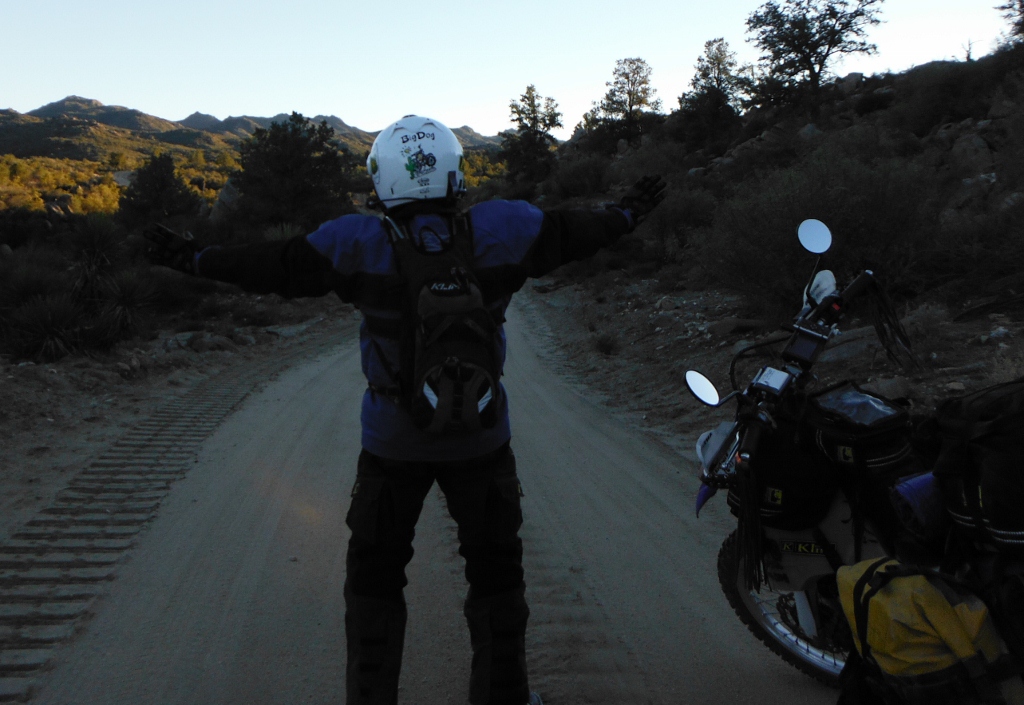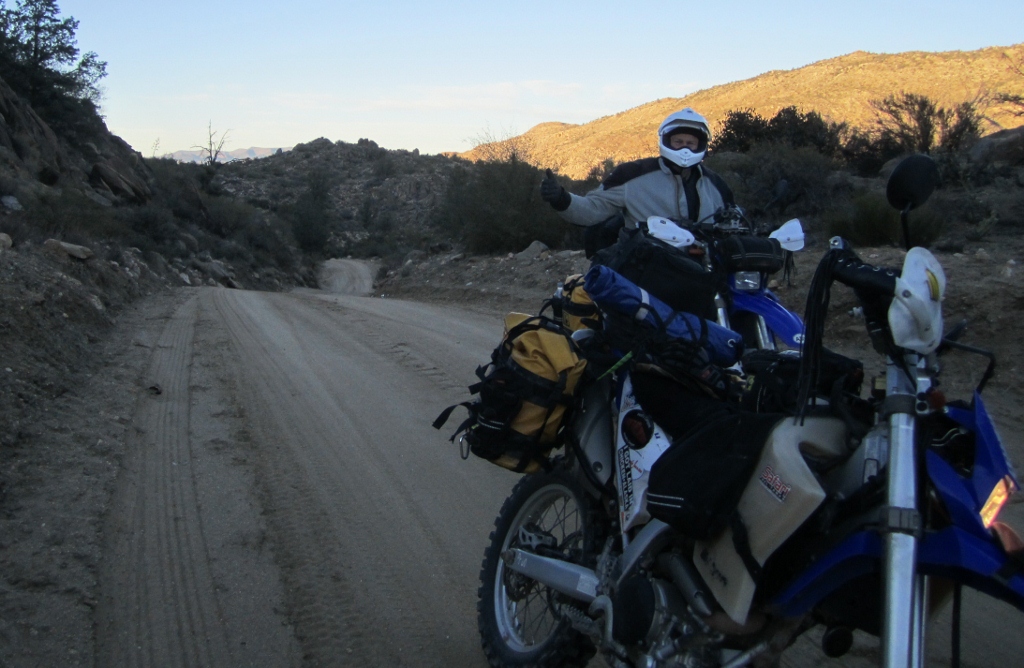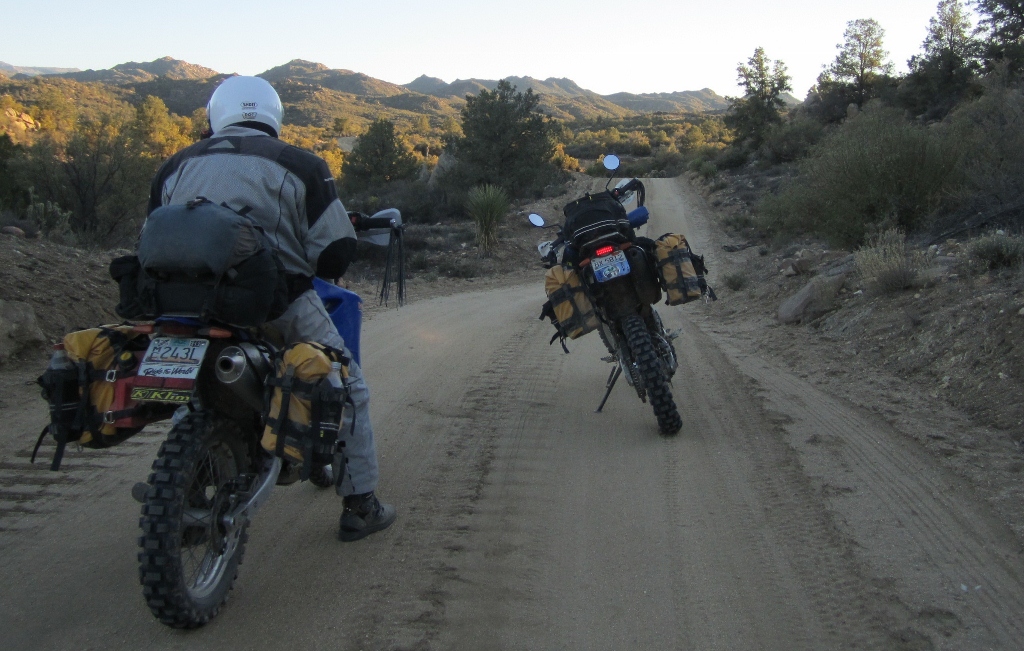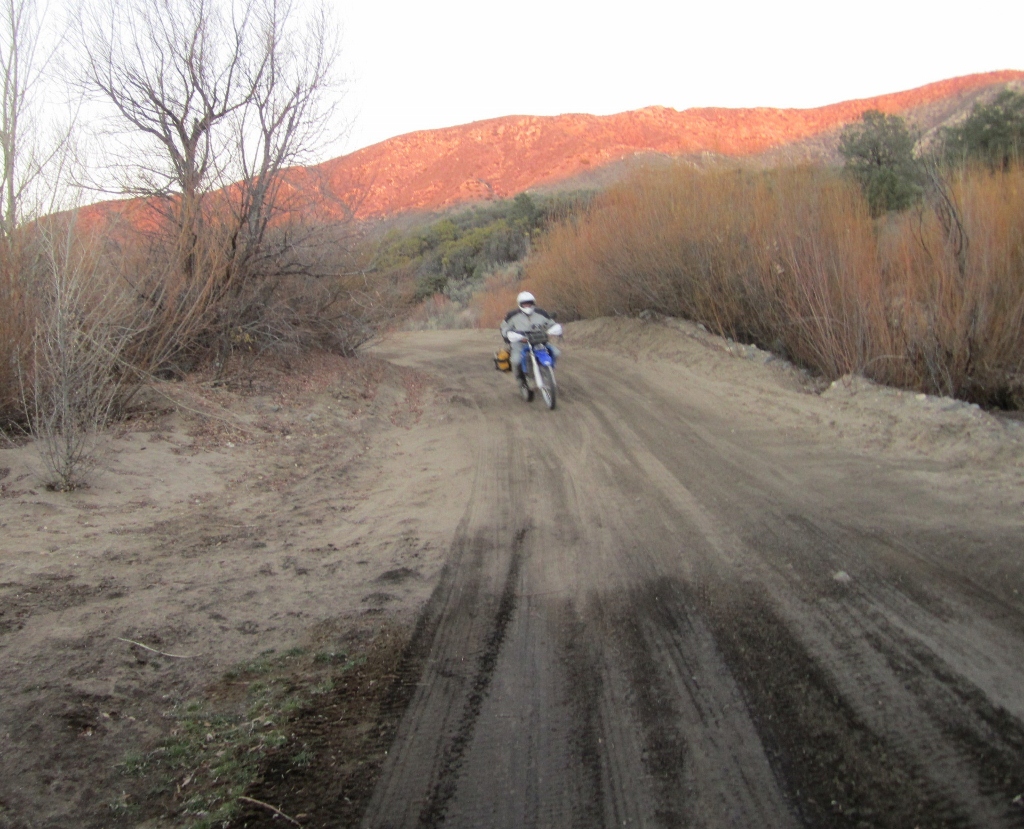 I was hoping Mikes was open as it was kind of out of season and pondered we might be camping.
A perfect example of why I won't travel without a tent and sleeping bag.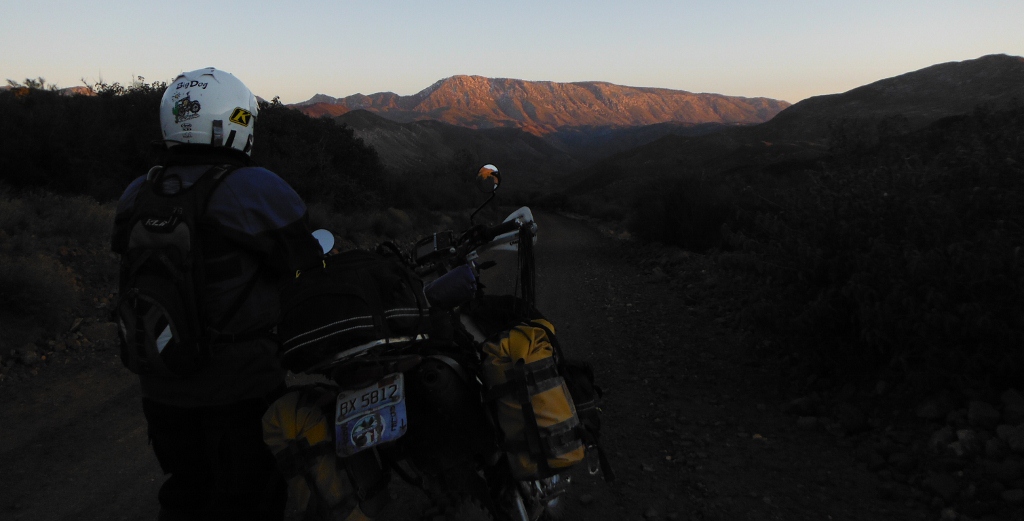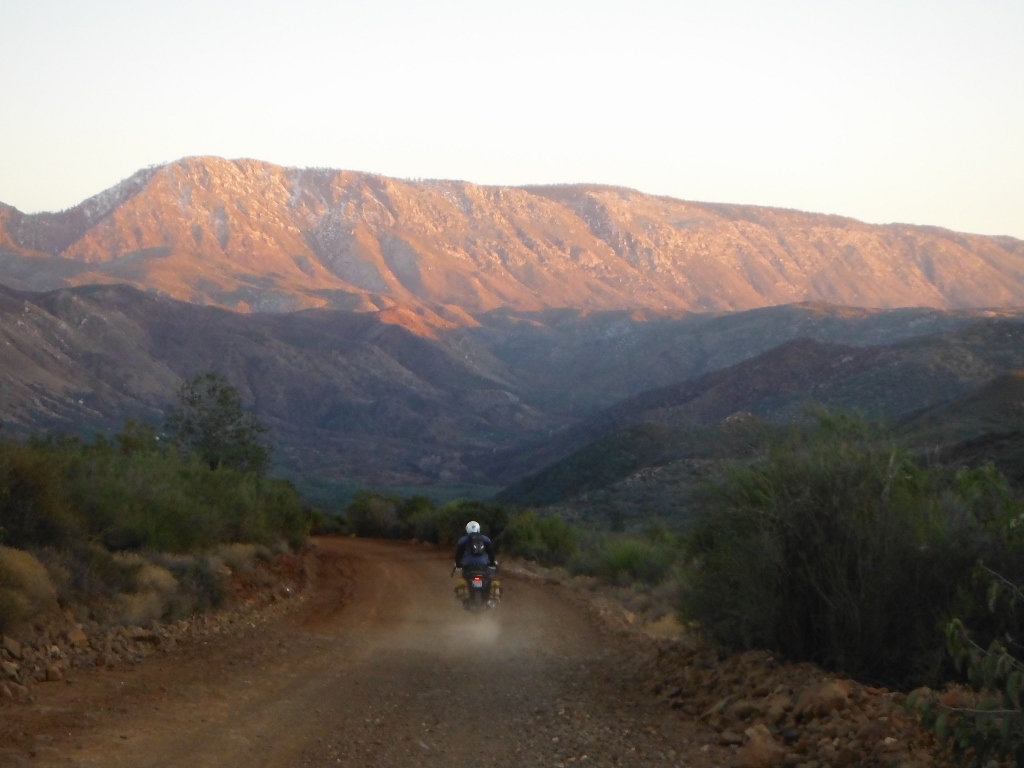 Scott made quick work of the water crossing (the only one) into Mikes.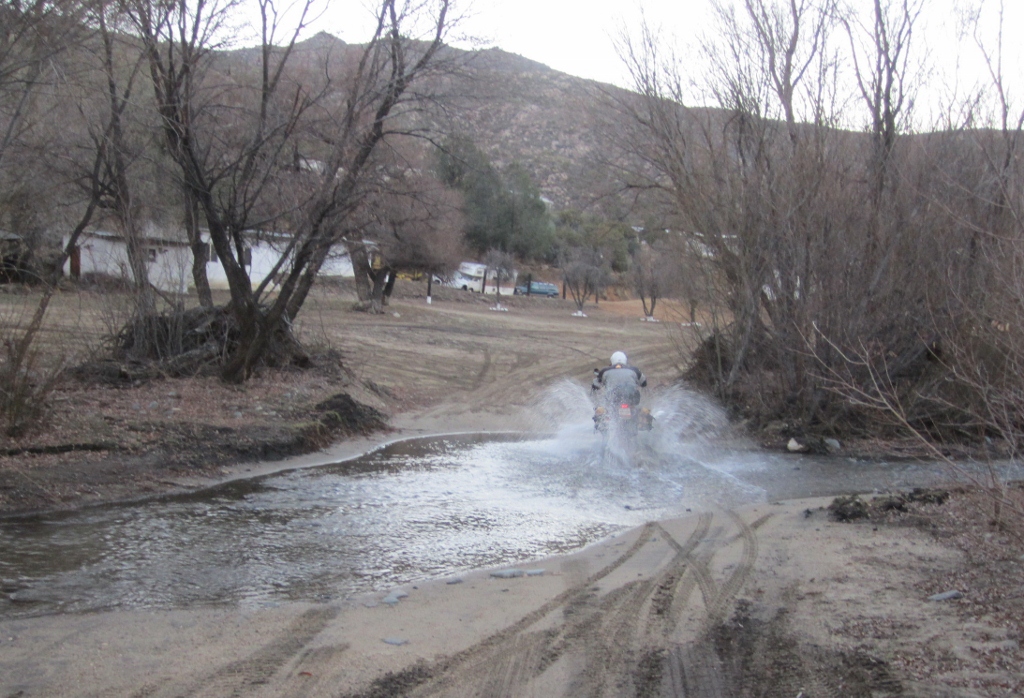 We were heartedly greeted by these 3 yay--hoos. What a hoot these guys were. They gave us the low down of the place and made sure we got on
the list for dinner that night.

Rules at Mikes
6:30 PM----dinner------be there---eat what they fix--or don't eat.
Breakfast 7AM-----be there----eat what they fix or don't eat.
Generator will run from about 6:30 PM--and goes off at 9PM Don't whine when it goes off.

These guys were from San Diego and rode their unladen dirt bikes down here just for the weekend as they had kids, jobs, obligations, etc.
They didn't want to hear we had none of that. They all 3 pulled out some huge cigars and commenced to set them on fire.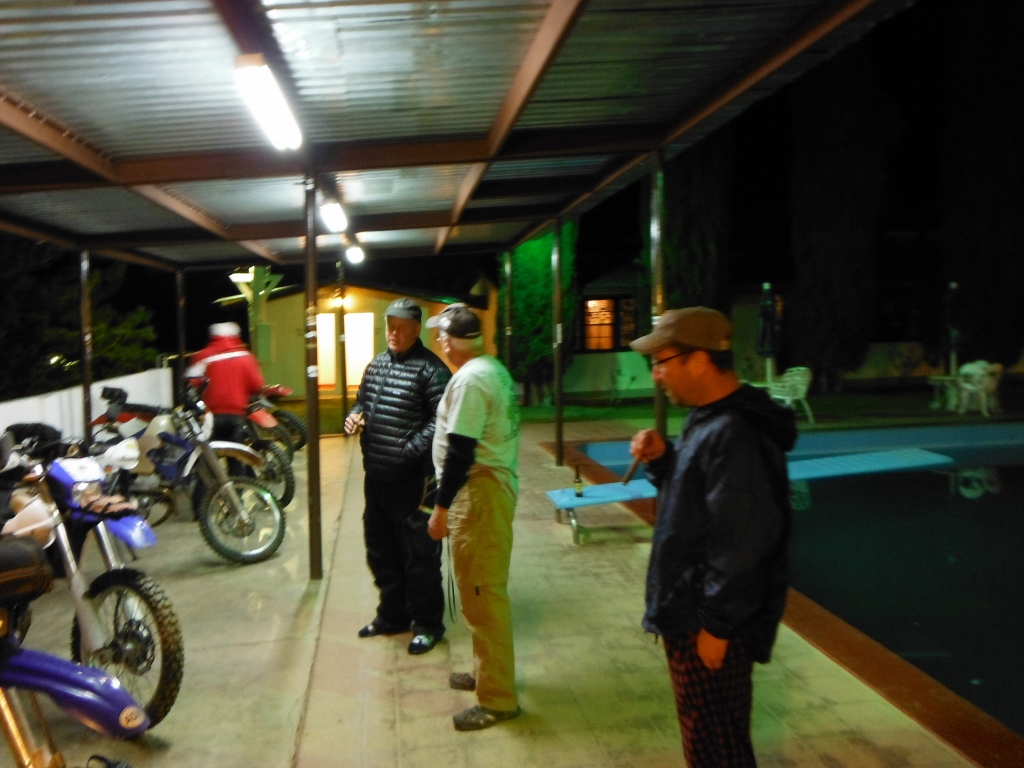 These guys were all very good friends-----but nagged each other constantly---all in good fun--making fun of whatever
they could make fun of. If you didn't know it---you would have thought maybe they didn't get along.
But we saw thru all that-----they were having a ball haggling each other and we weren't around long enough for them to start in on us.
They were a hoot !!!!! Me and Scott really enjoyed them. It was like Saturday Night Live.
Unbelievalble place------how in the heck did they get the building materials back in here to build this place.
They had to bring it in from the North as all other roads out of here were dirt bike trails----as me and Scott would find out.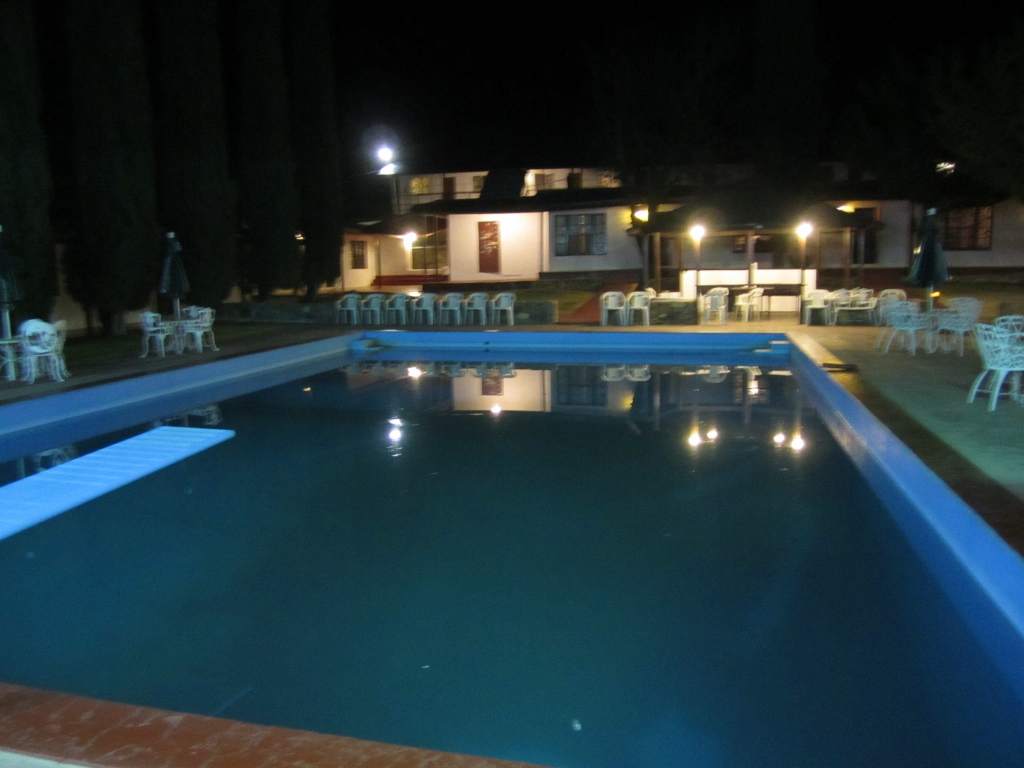 Entrance---see that little half moon red concrete step--------it's slick.
I almost crashed my bike riding up it and into the inner courtyard and then fell on it going for a walk the next morning. -----I'ts slick.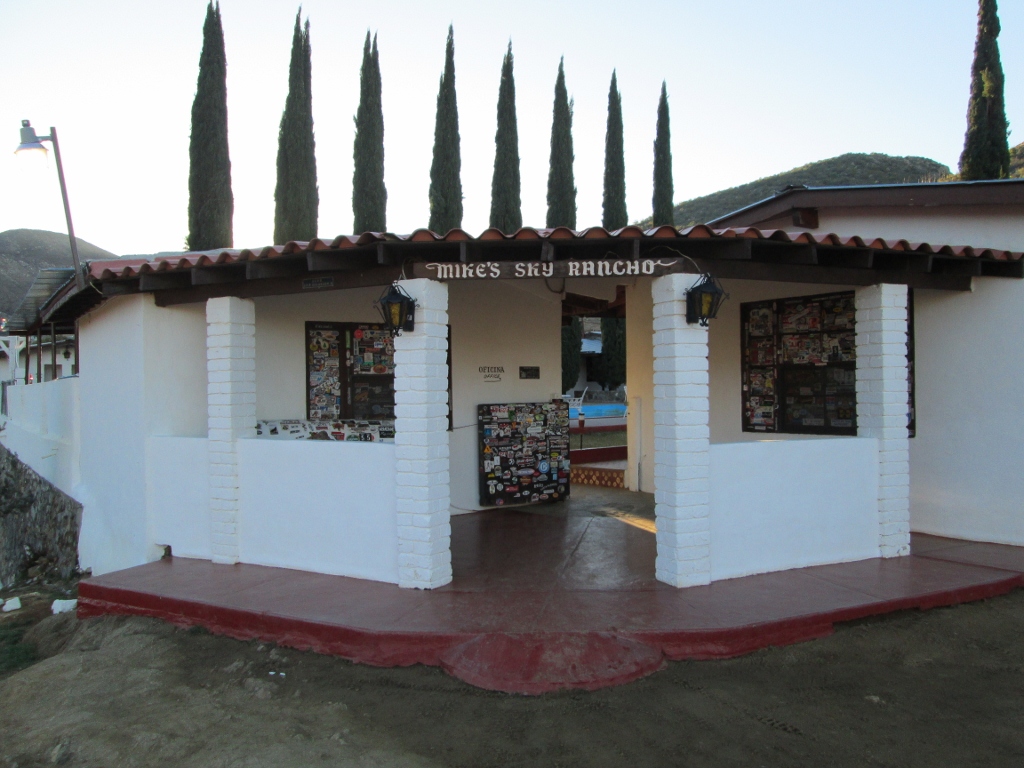 Our little heater----it was oil fired---no electricity needed.
It had a carburator on the back that dripped fuel oil into the burning pot.
I use to have one of these in my garage back in about 1974.
The girls that were fixing our dinner fired the thing up and it was toasty for the night---I loved our little heater.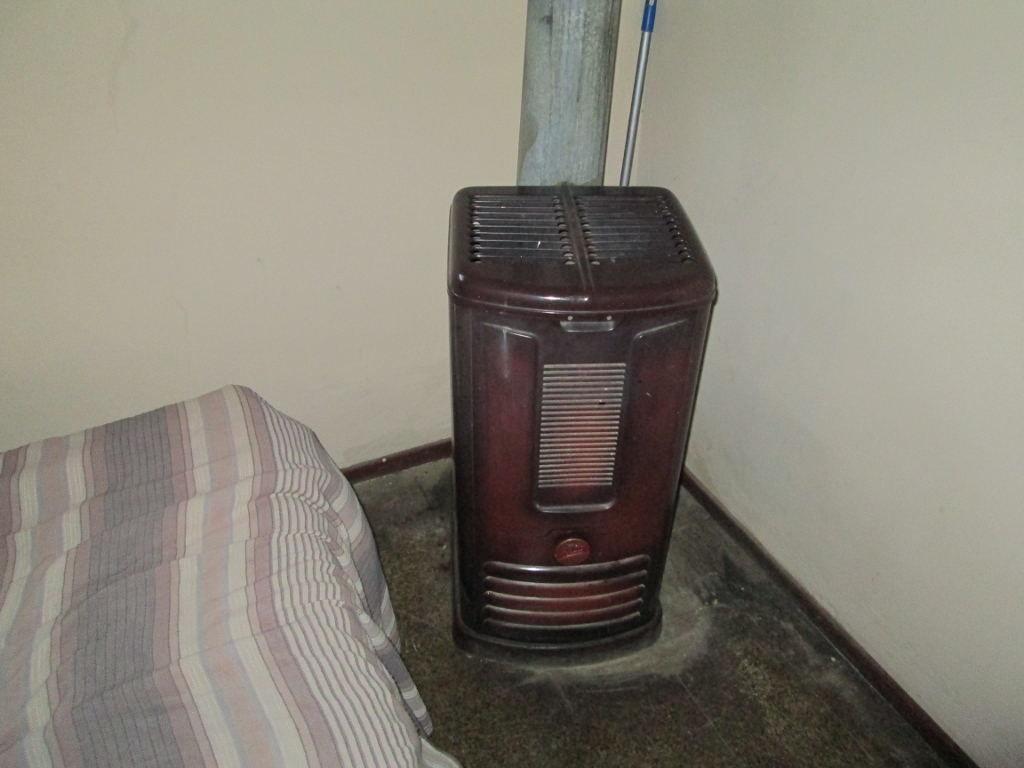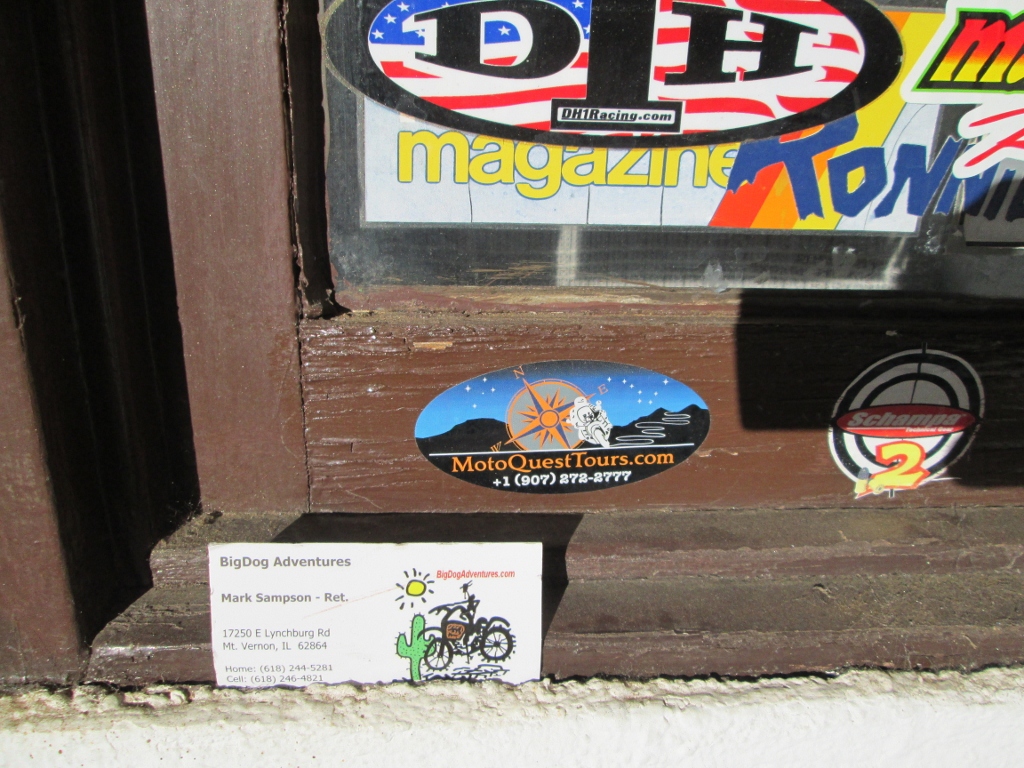 This place is a dirt riders paradise I'm telling you.
I was told this place was built by very rich hunters---maybe in the 50's ????
It was extremely well kept-----us 5 riders and 2 nice Senioritas' was all that was here.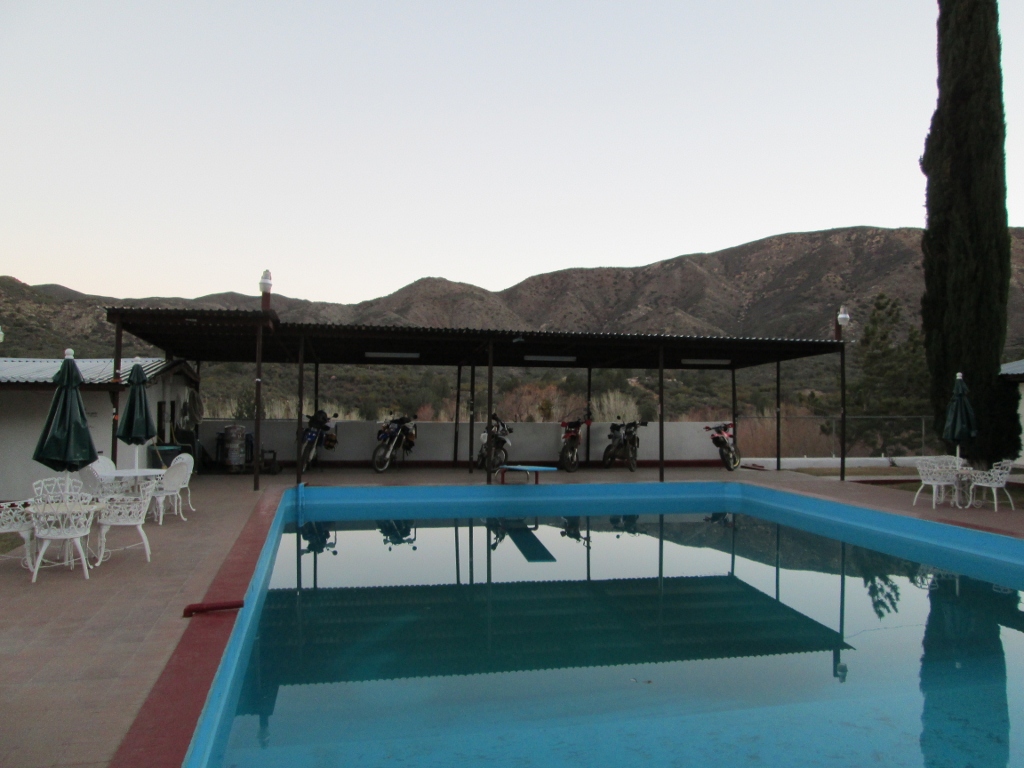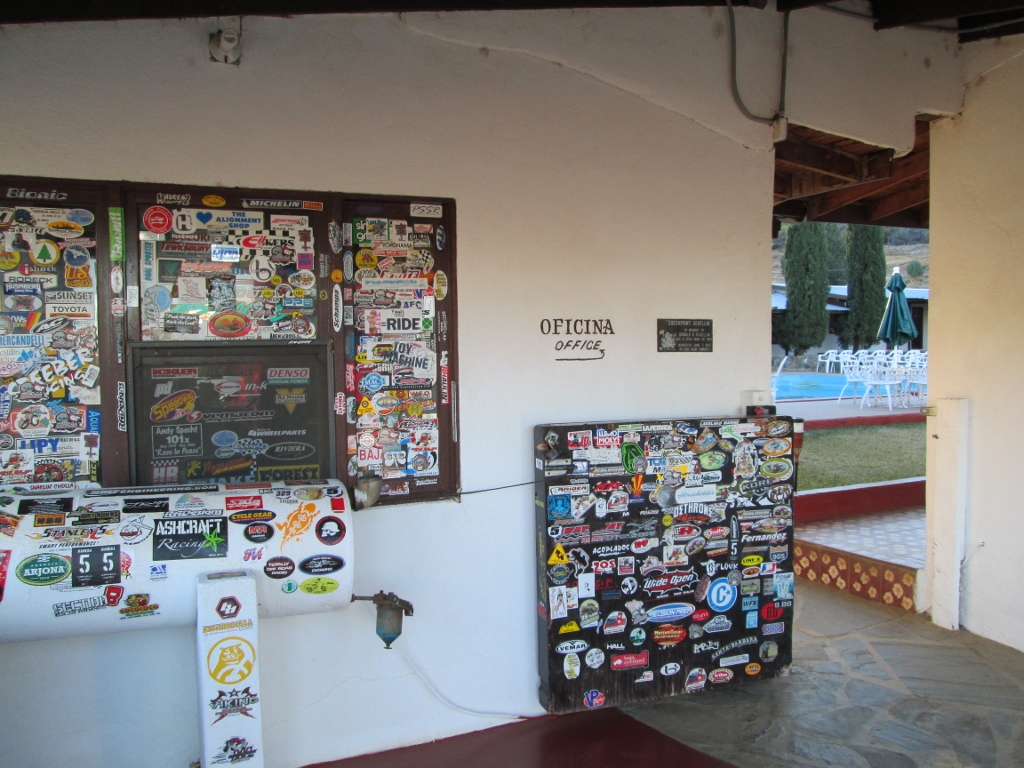 There is a full bar and little store I think---I didn't get to see the store.
I'm waiting for our breakfast to be prepared the next morning here.
They charged us $70 per person (American dollars only) and that included a very nice dinner and a good breakfast.
It was well worth it.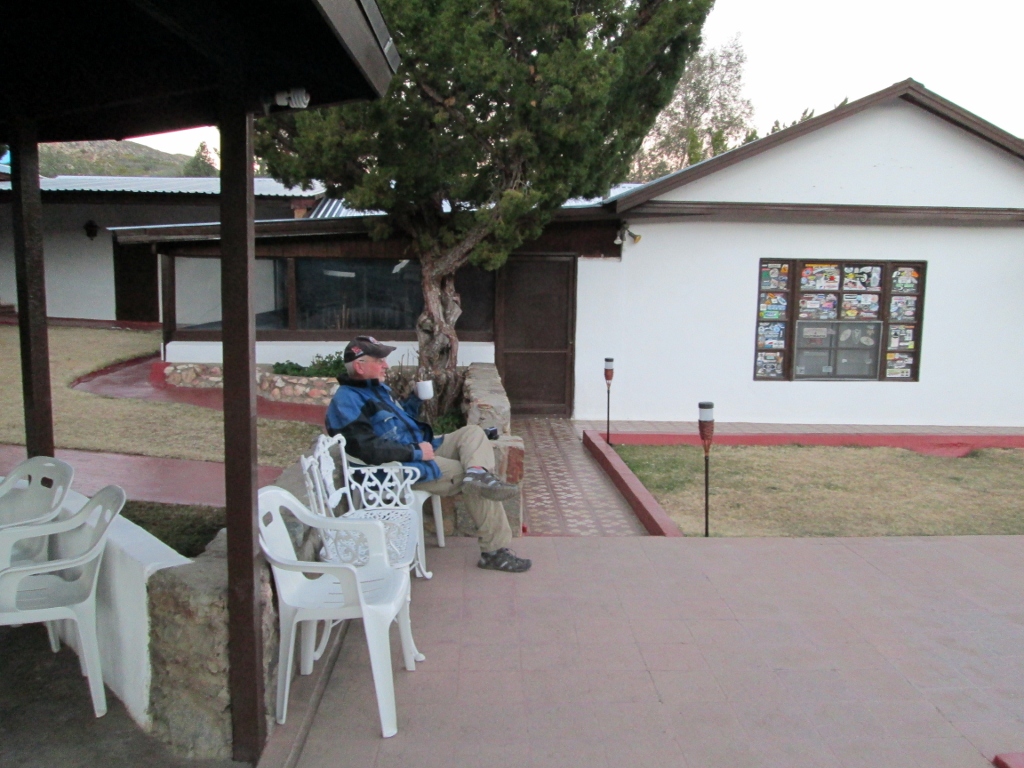 Our Mexican "DeSayYunos"
"Breakfast" for you gringos.
And the thinnest flapjacks in all of Mexico !!!!!
I loaded up on beans at dinner last night--loaded up with more this morning---and already had a healthy dose
of them before we got here----so I entertained the crowd quite a bit to everyones's enjoyment.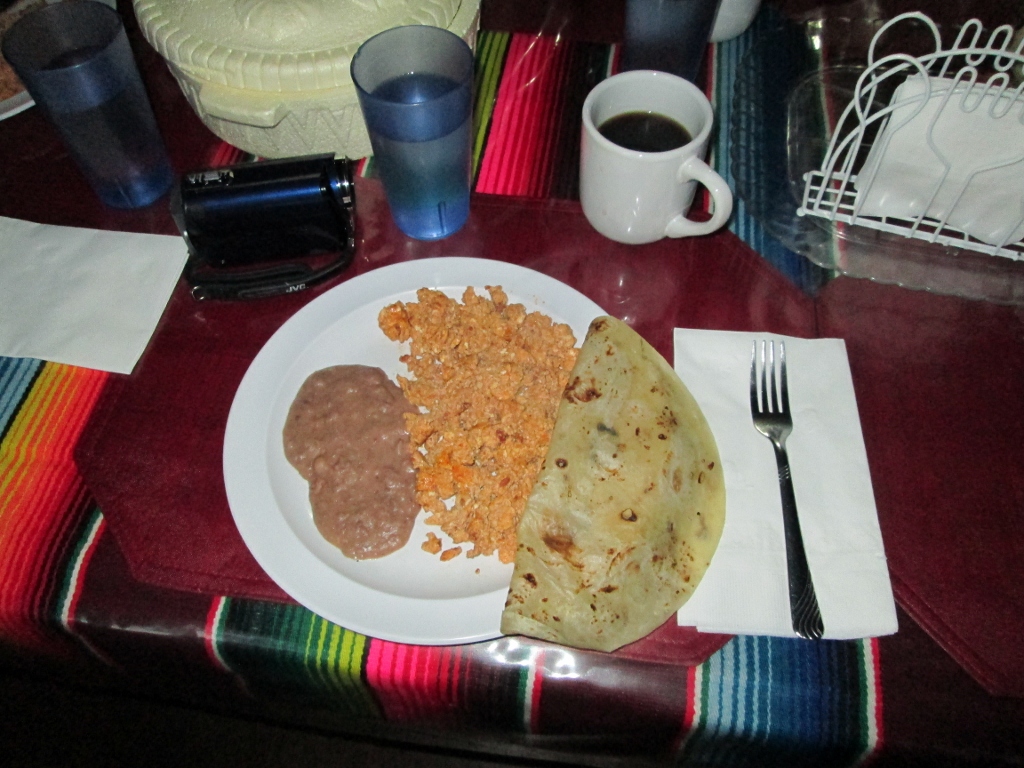 Day 3
January 21st, 2013
Mikes Sky Ranch to "Pirata Cove" (Pirates Cove for you Gringos)
Breakfast with the boys from San Diego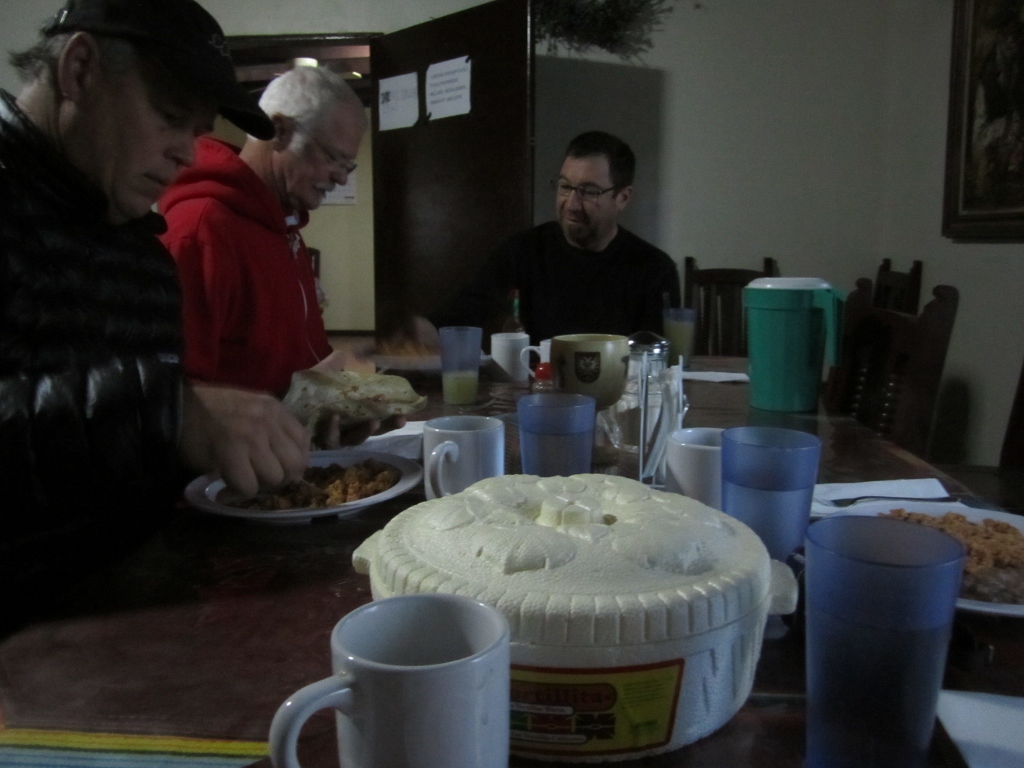 We were treated with the thinnest flapjacks in all of Mexico !!!!!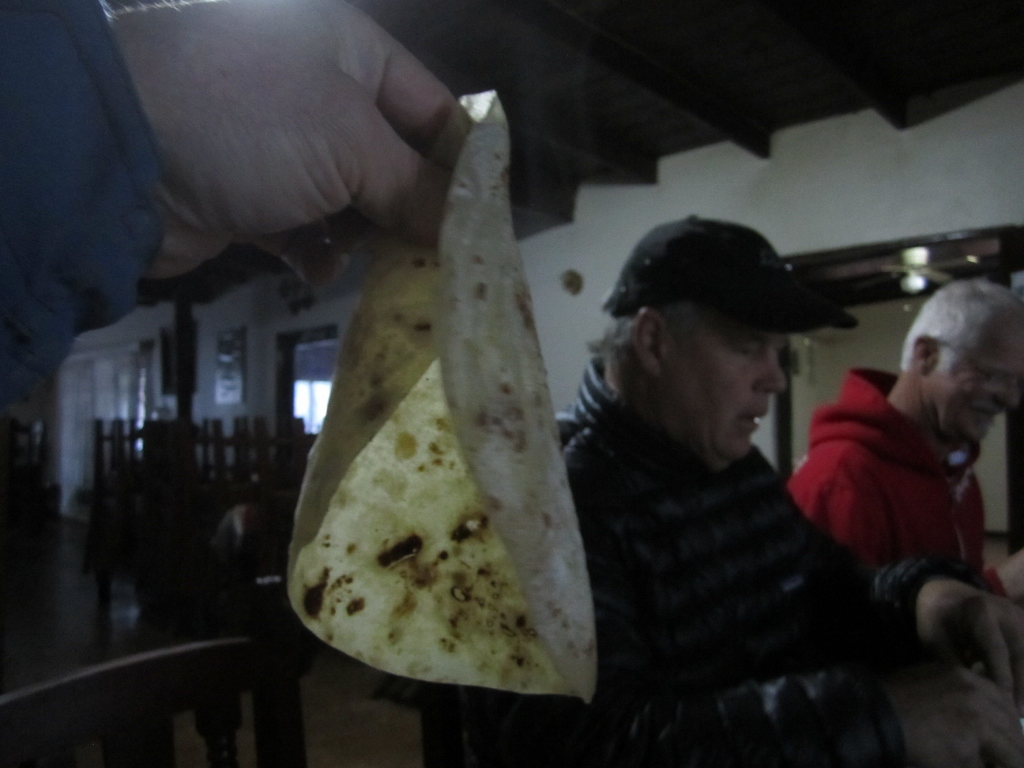 The sun rose at Mikes Sky Ranch and the light came thru those beautiful pointed pine trees in the inner courtyard.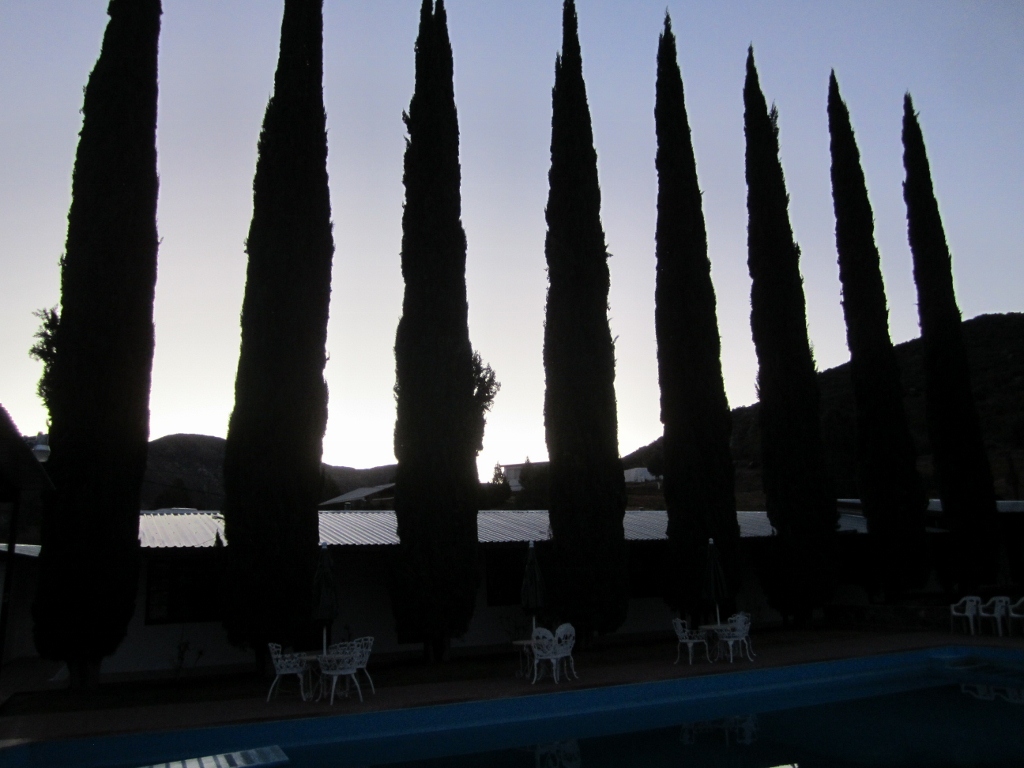 It actually was a hard place to leave.
But we headed Southeast out of the ranch on a dirt road.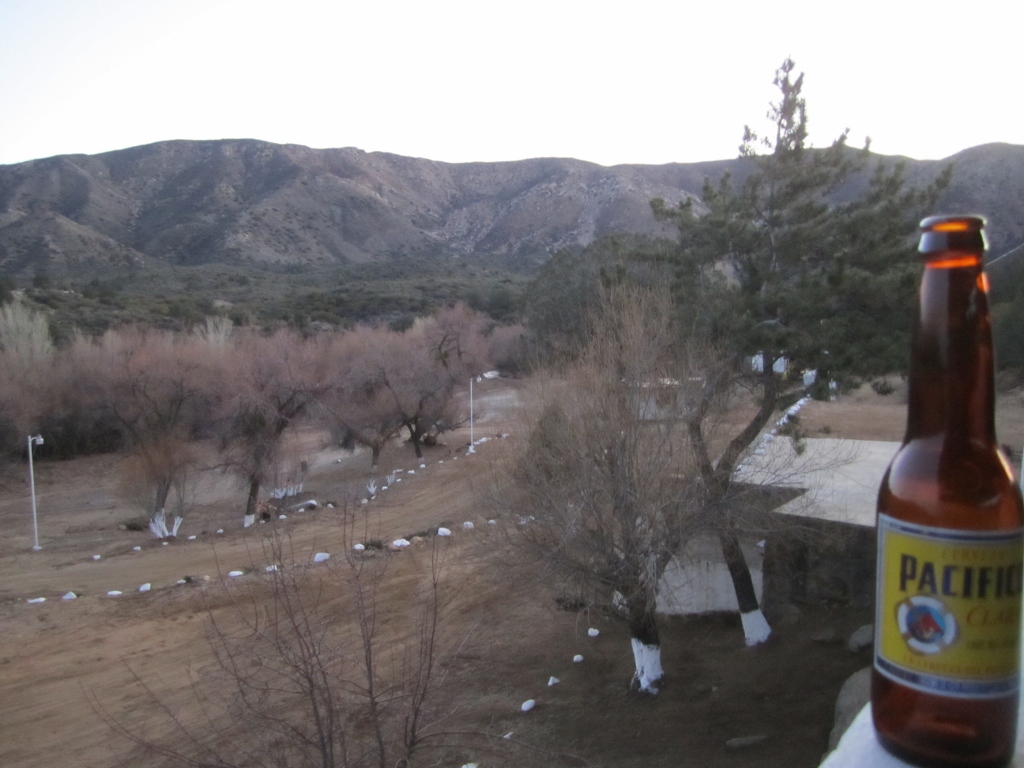 We followed a creek for a bit and crossed it many times.
We would follow several dirt bike tracks for miles out of here.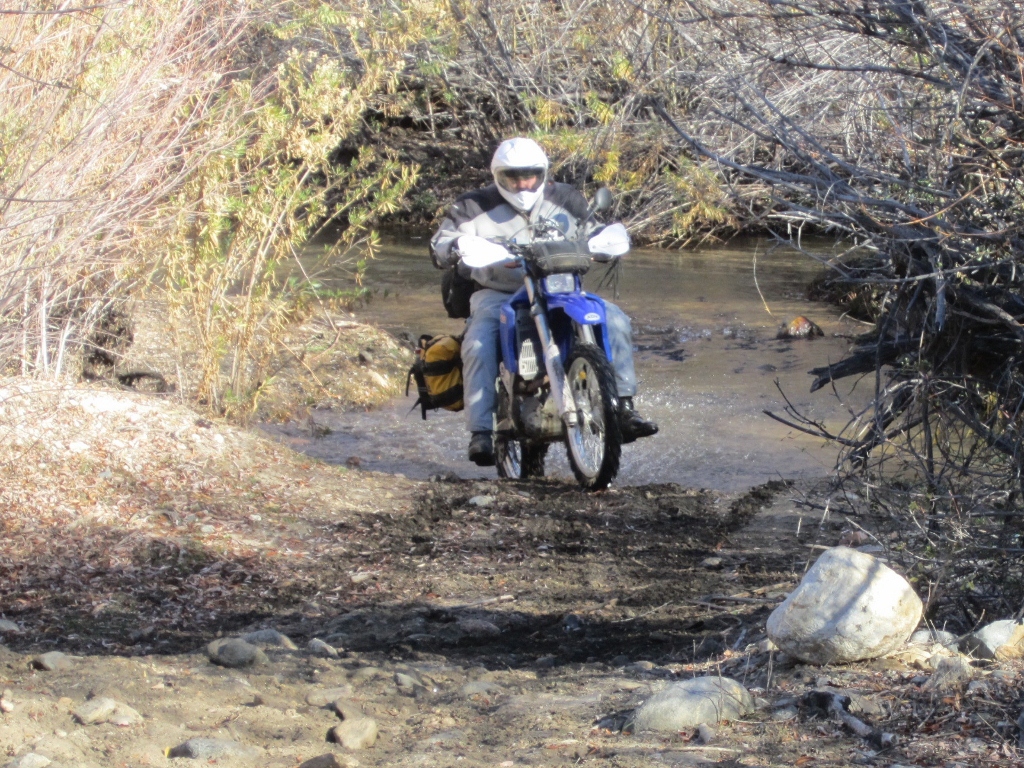 This hill was way more intimidating than it looks.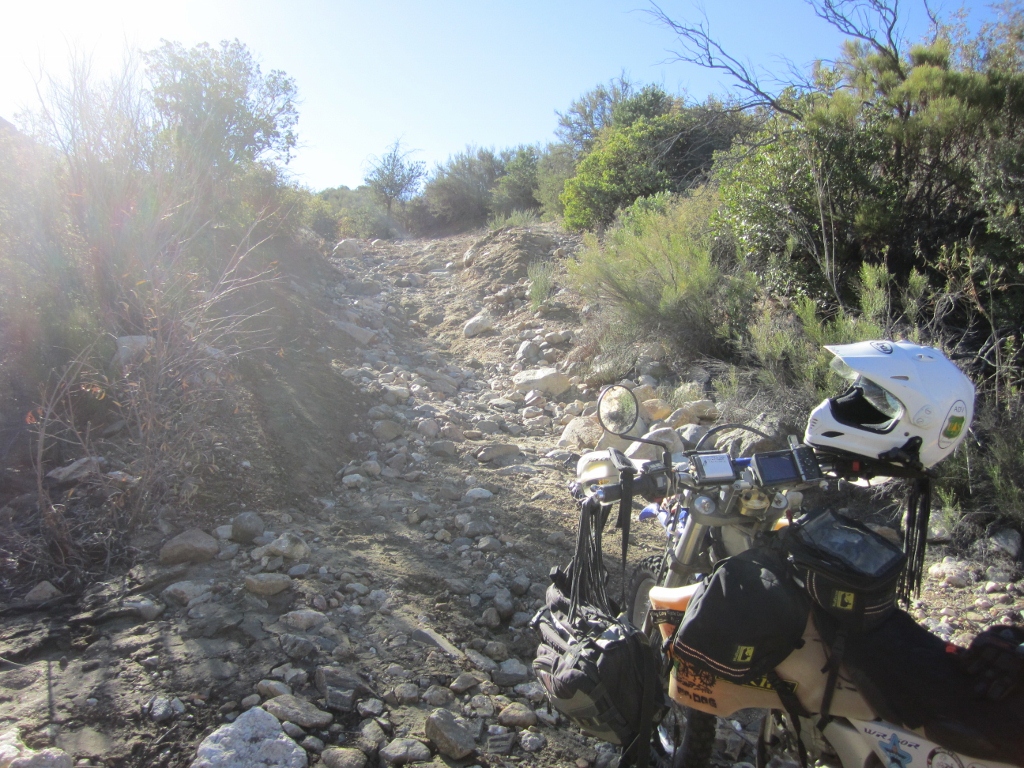 We came to this hill and it was really tough---so tough we almost opted to go back.
I move a whole bunch of rocks out of the way as there was not one good safe line to climb this thing.
I didn't think I'd make it but did. I had kind of phyched myself out after looking at it too long and was trembling when I took off.
You can't see the whole thing in this picture---we both made it up it.
A few miles down the trail we both wished we had turned back here---but it was too late for that.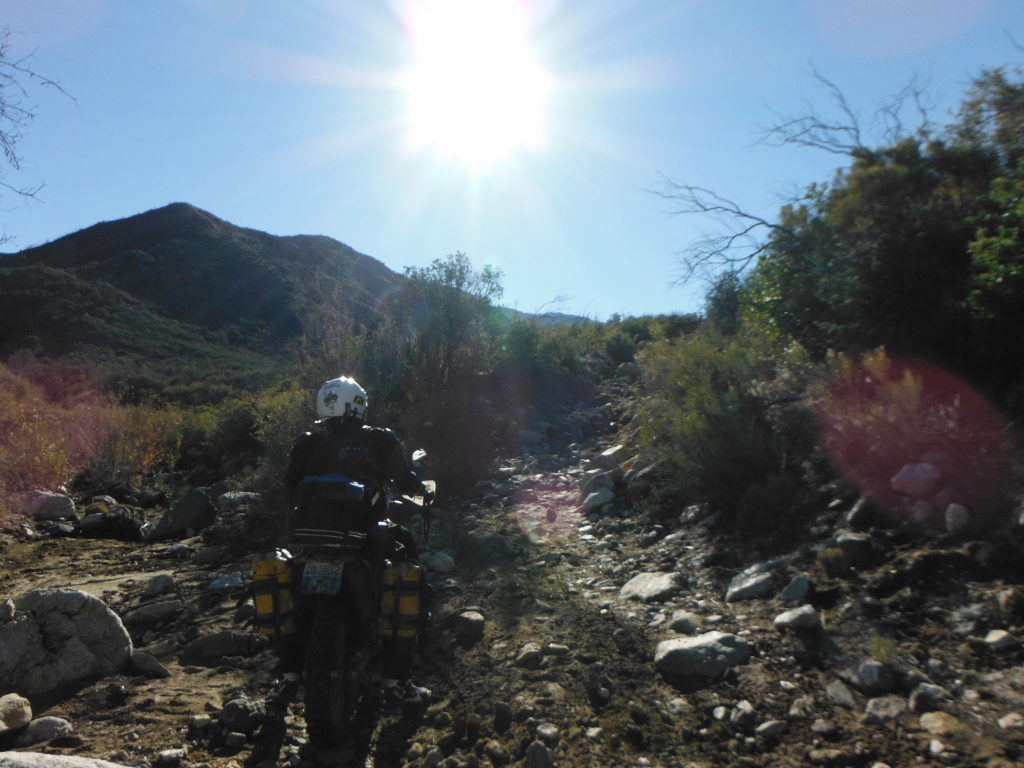 This is a different hill --but we kept climbing and started seeing a bit of snow.
The elevation here was about 5,000 ft.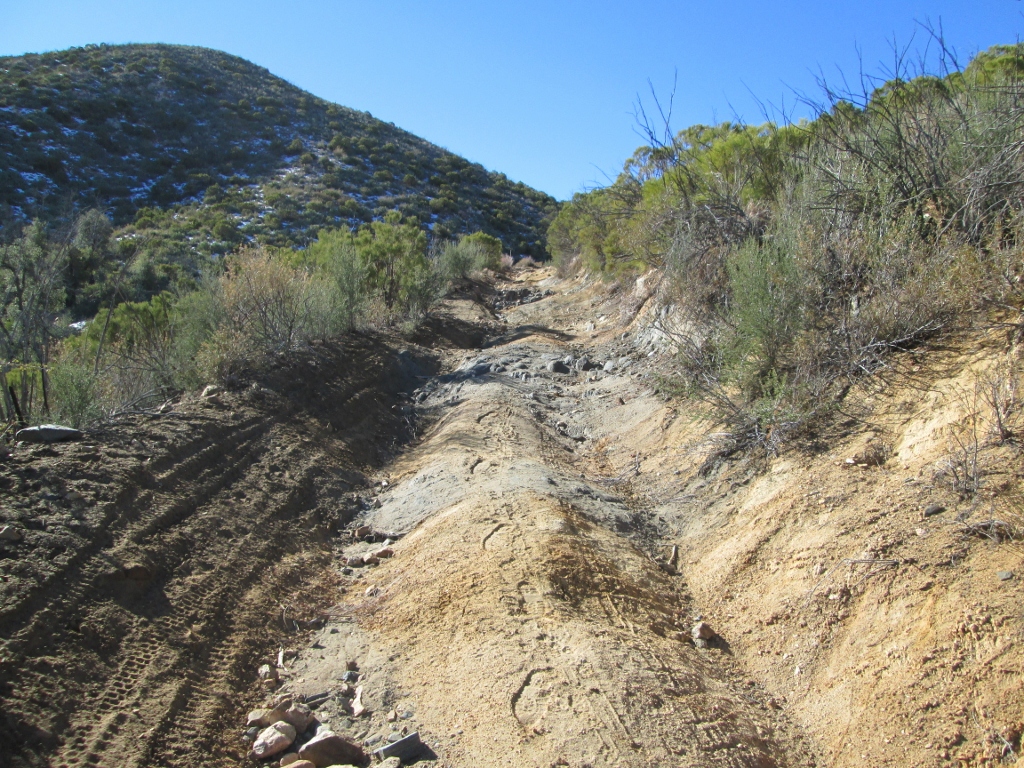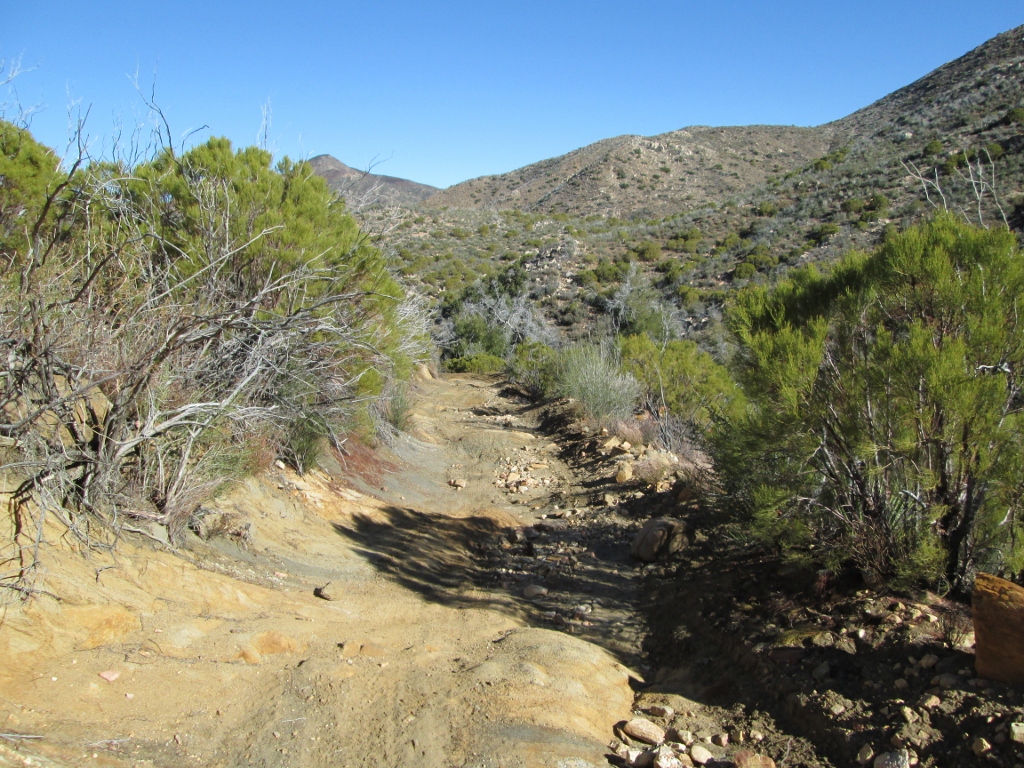 This here was really dangerous. We traveled toward the camera shot---righ in front of Scott was a narrow dirt path between 2 rocks
which was the only path thru-----you couldn't go too fast and if you tumbled you'd end up in those rocks with the bike on top of you.
Here Scott is going back for one of his gloves he found missing.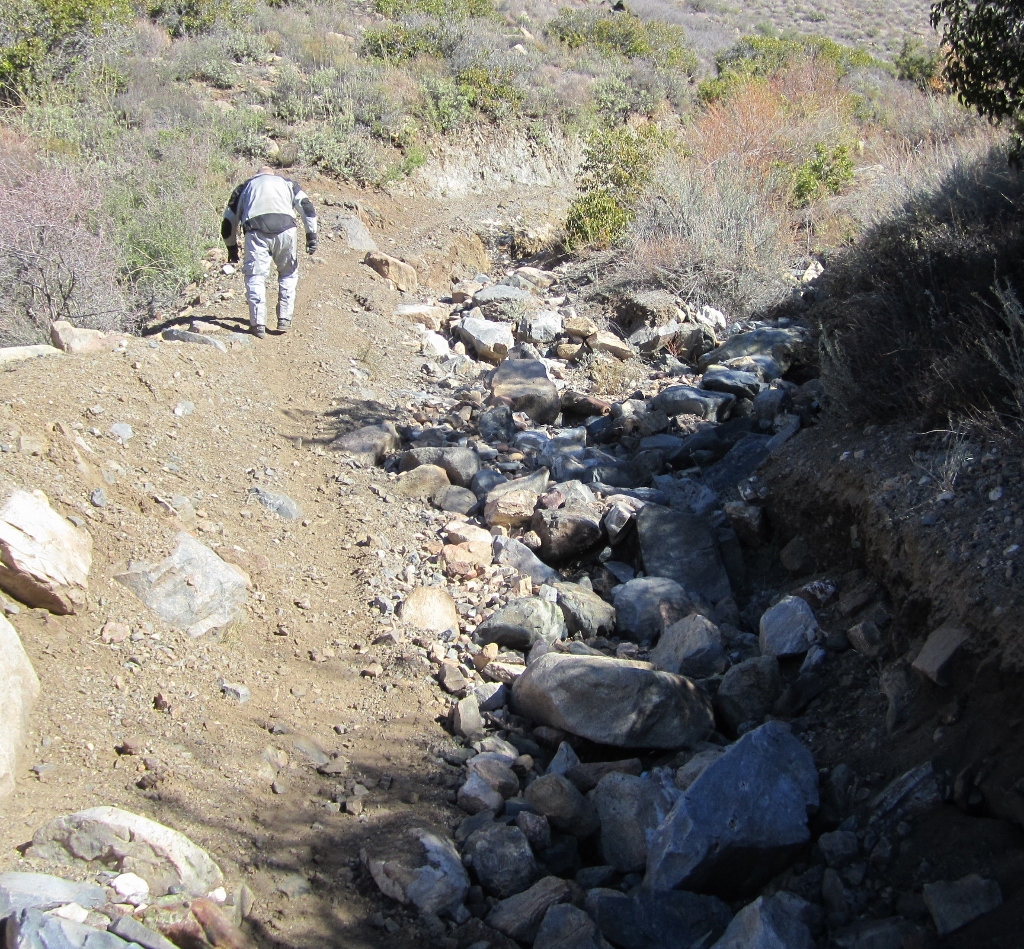 You can see all the bike tracks we were following.
It was so tough in here in places and Scott made the comment "it's got to be OK for us---there are bike tracks"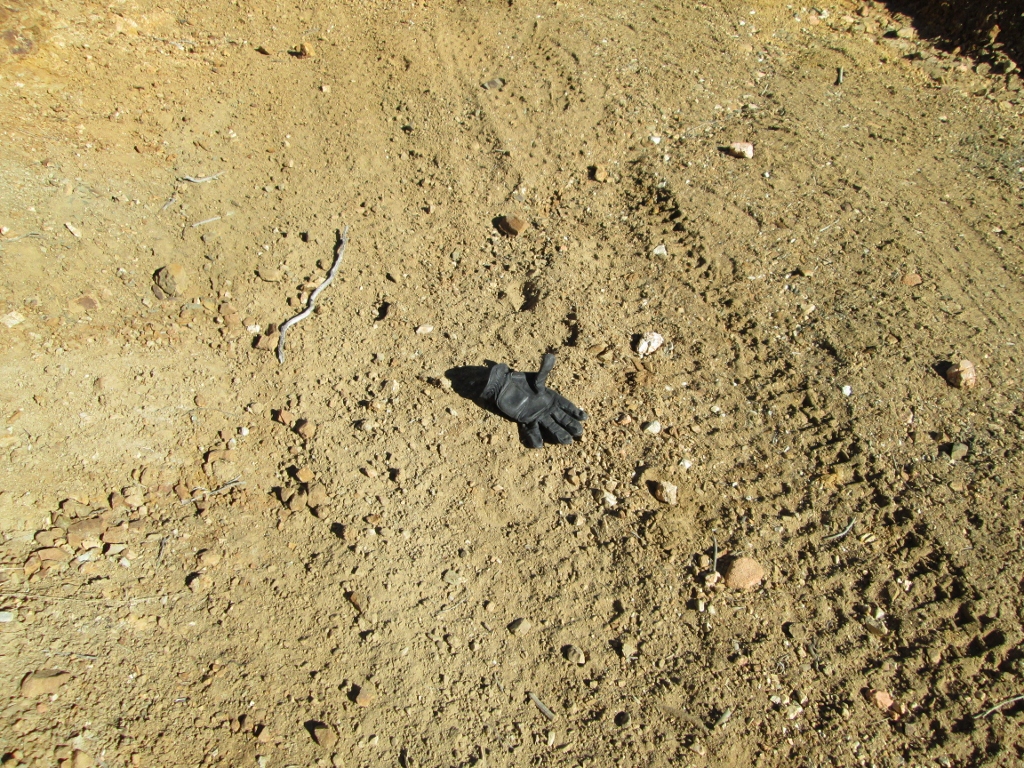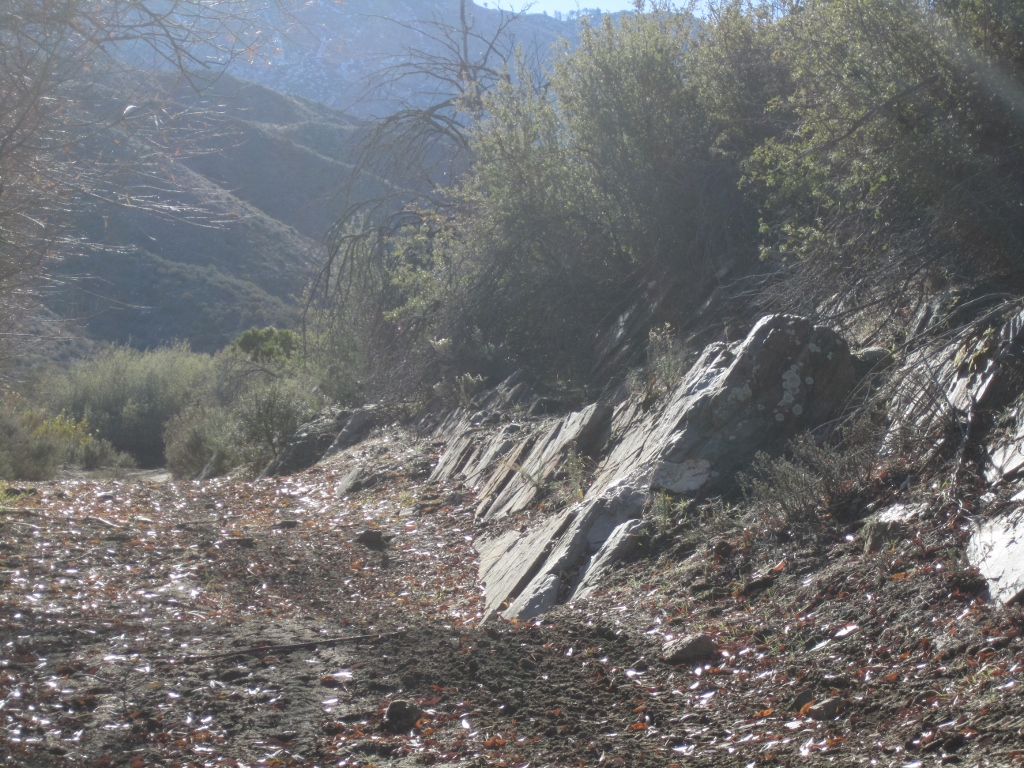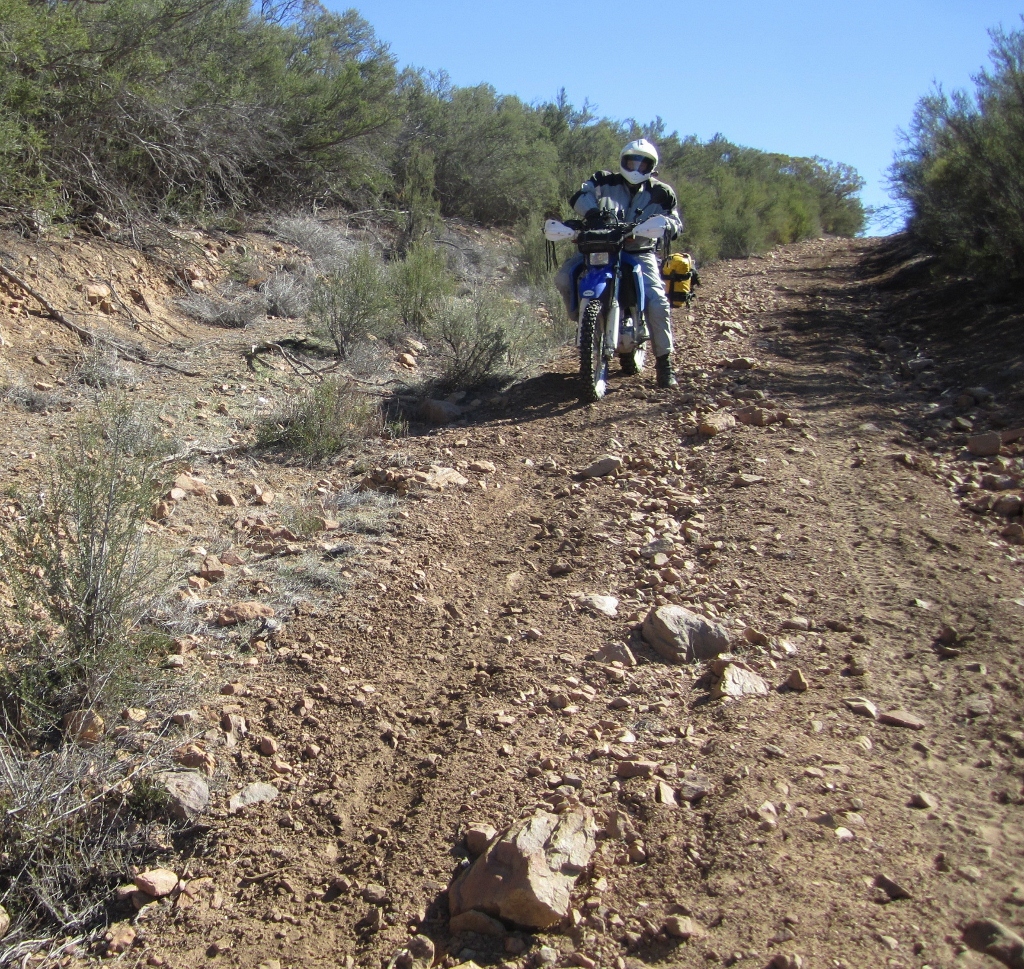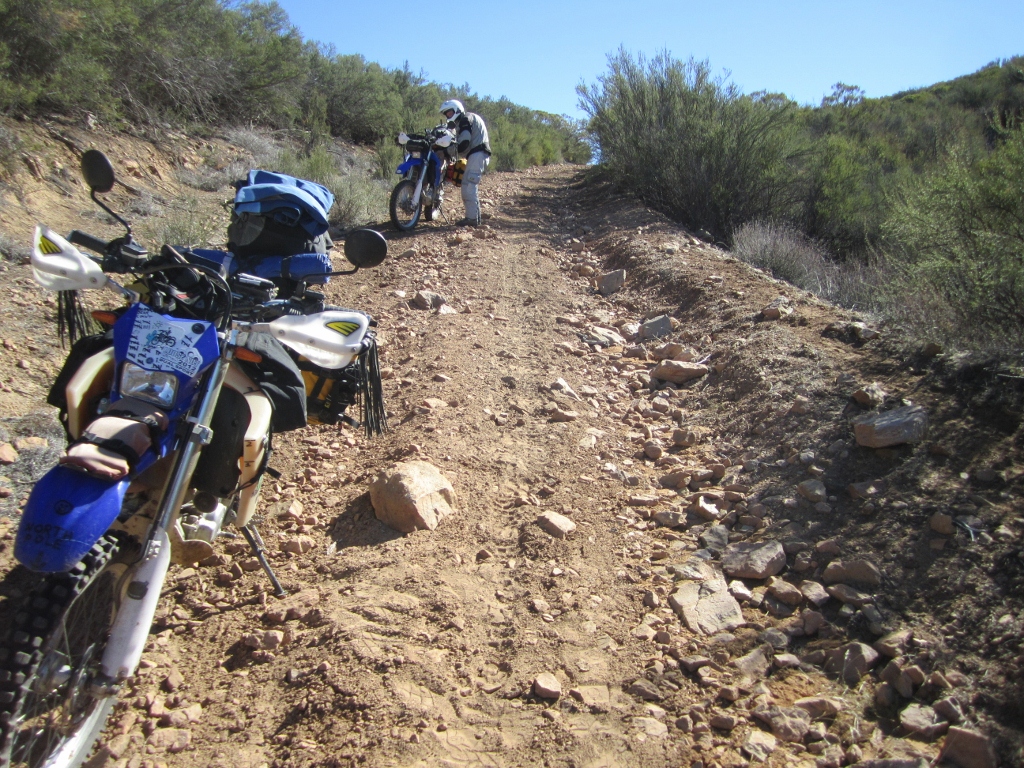 I hoped the no hassle tassels would get us through.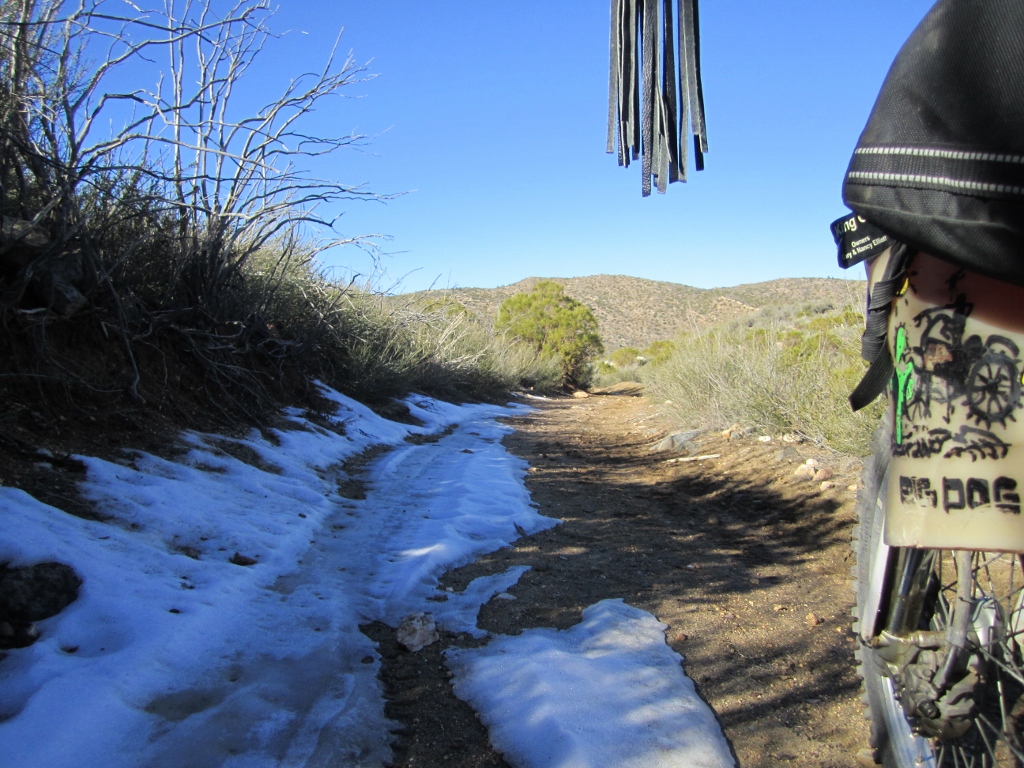 On top of the world we started going down for miles.
At some point in here it had taken us 3 and 1/2 hours to go 12 miles.
We spent a lot of time going really slow picking our way thru nasty boulders, resting and picking ourselves up after tip-overs.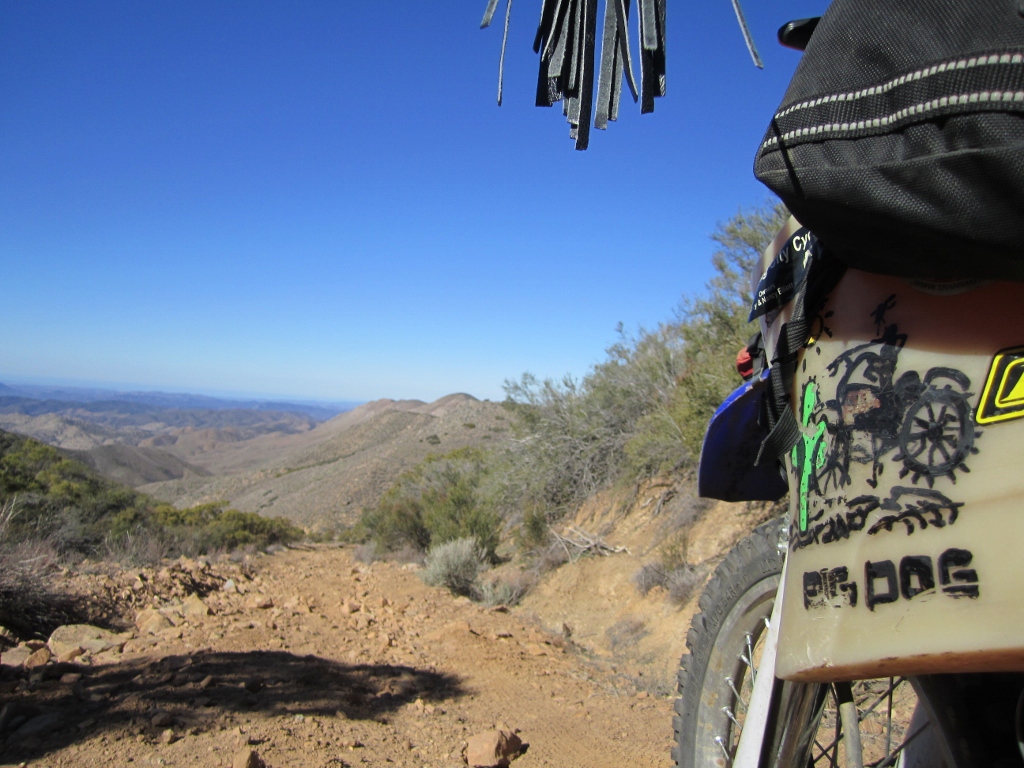 Scotts moving some rocks to give us a safe and good line.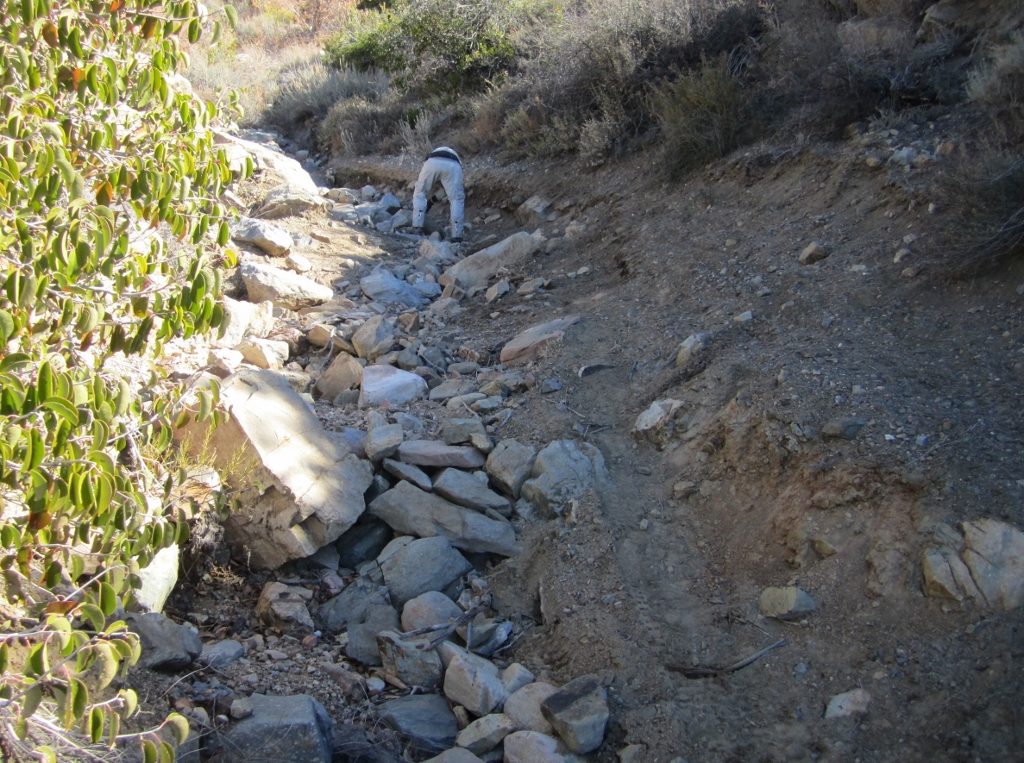 It was in here I made my 4th tip-over---each time I wasn't hurt---but was in a bad position and needed help picking my bike up.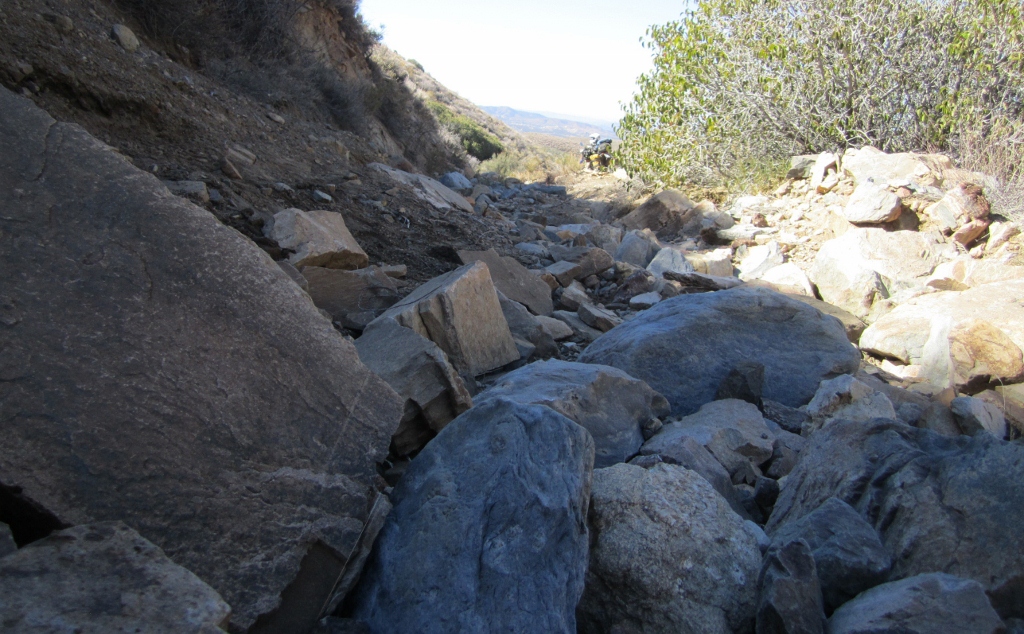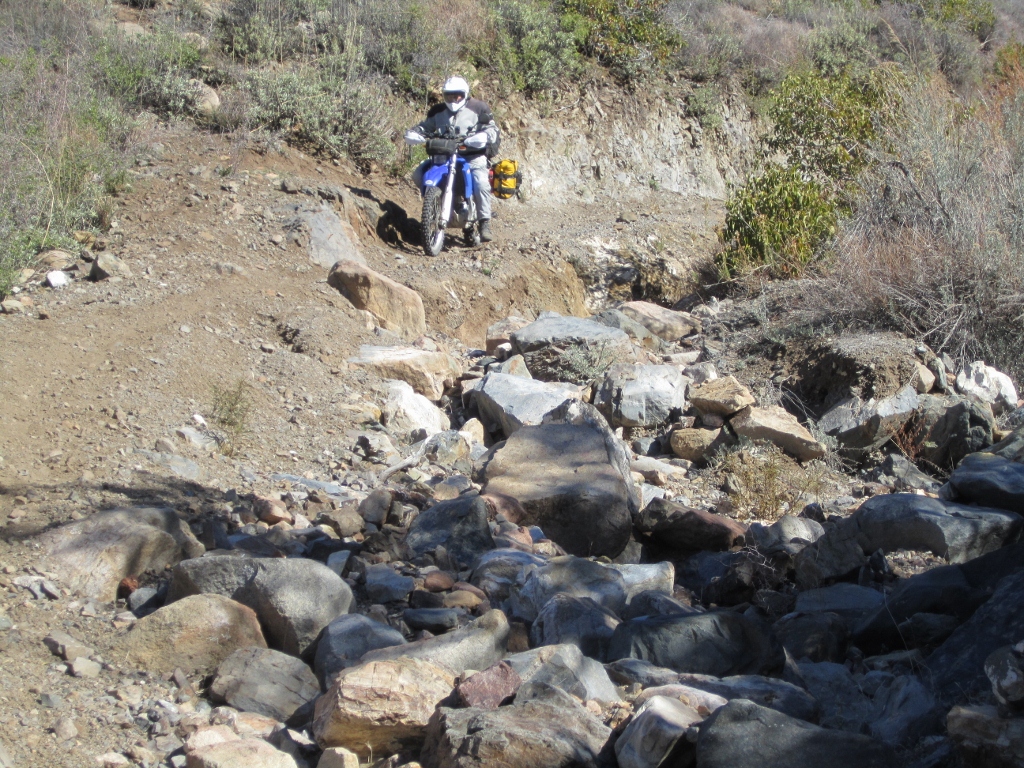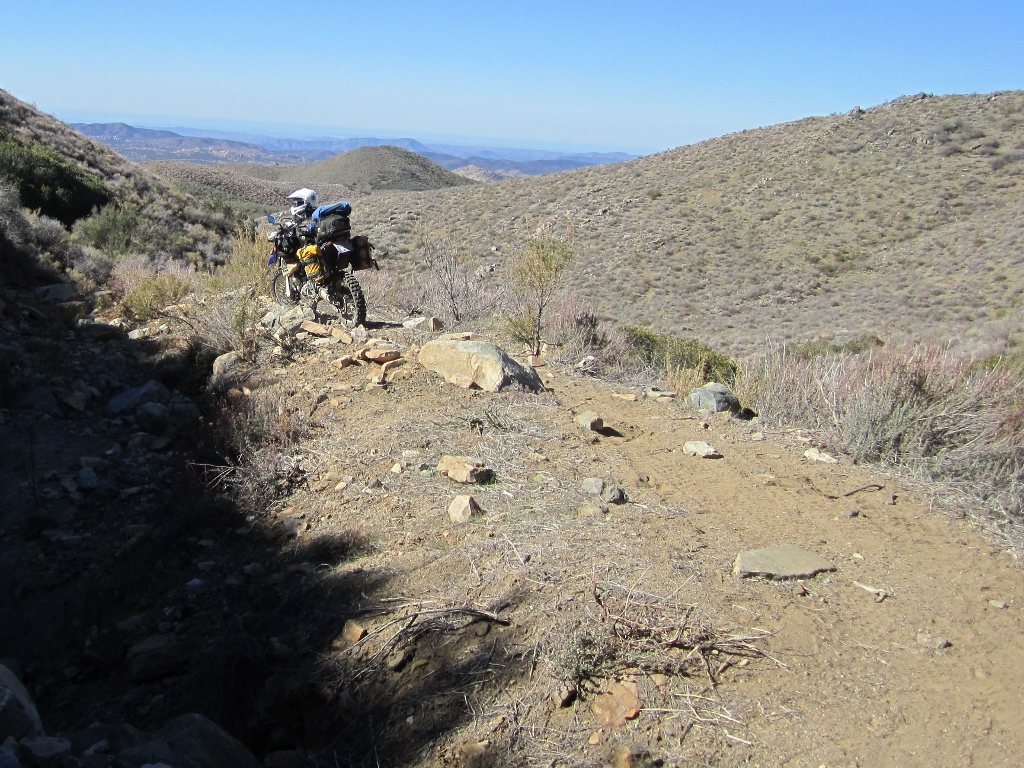 This isn't it-----but I remember a spot similar to this with bigger rocks.
We were in a creek bed finding our way thru and Scott had a zero mile an hour tipover and a huge pointed rock gouged him in the side below his left armpit.
I'm sure he broke some ribs and he was in a lot of pain.
He's a tougher guy than me for pain. He couldn't hardly move his arm for a bit--we got his bike picked up and move forward for a good place
to park it and took a big rest and evaluated our situation.
After a bit---there was nothing to do but to try and ride on.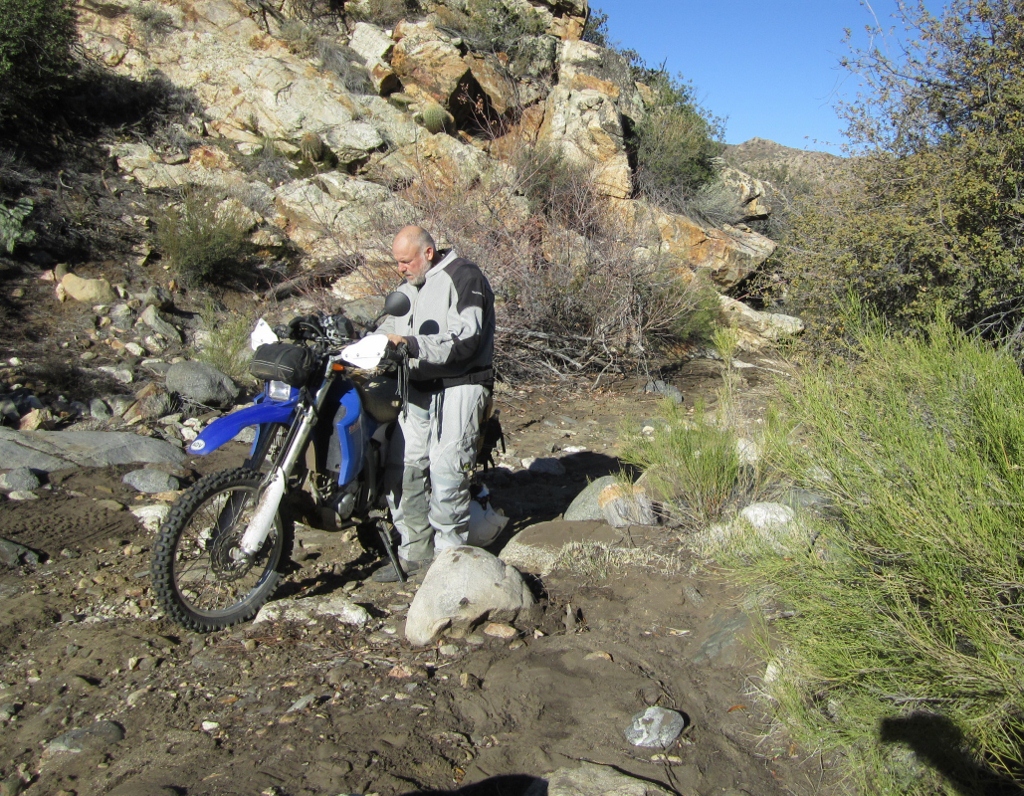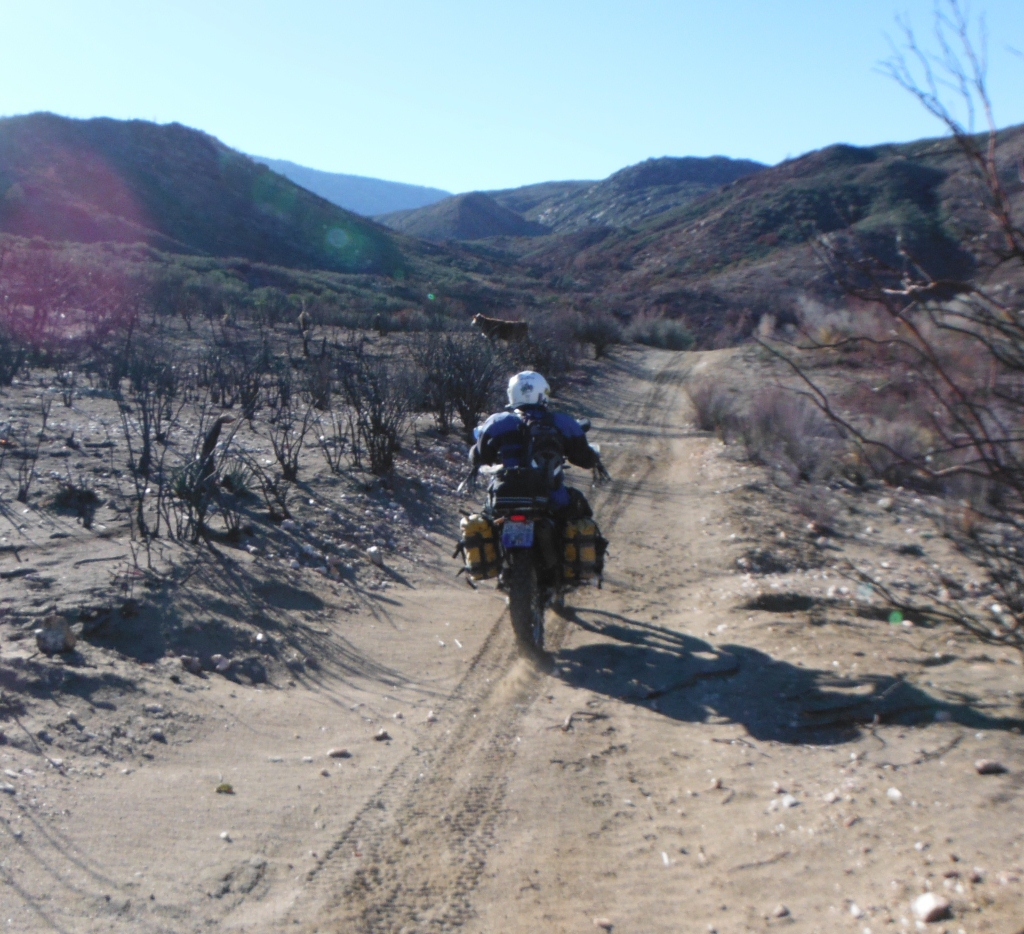 Somewhere down below here---the road was completely gone.
We had to go down a hill that was over 45° steep into a boulder infested creek and climb out the other side.
Scott was hurging badly and asked me to ride his bike down that hill and up the other side which I did..
That's when I knew he was really hurting.
We have no pictures of that--------but lot's of good video.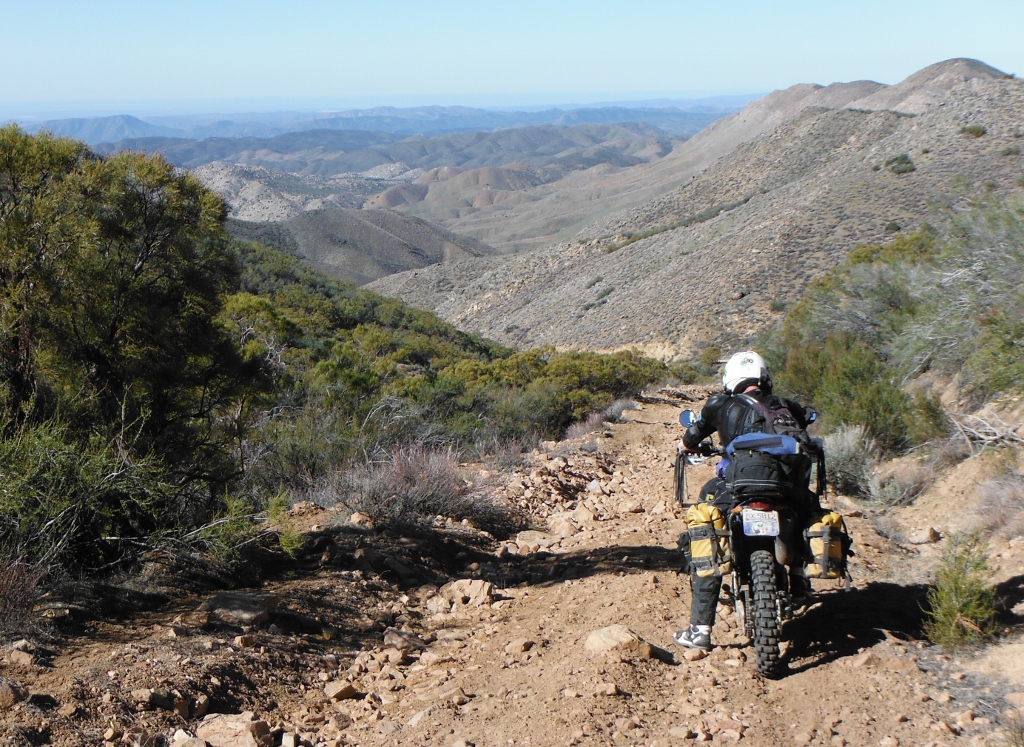 The road eased up to easy.
We had been traveling West for a long time now toward the Pacific ocean and just passed the El Coyote ranch we turned South.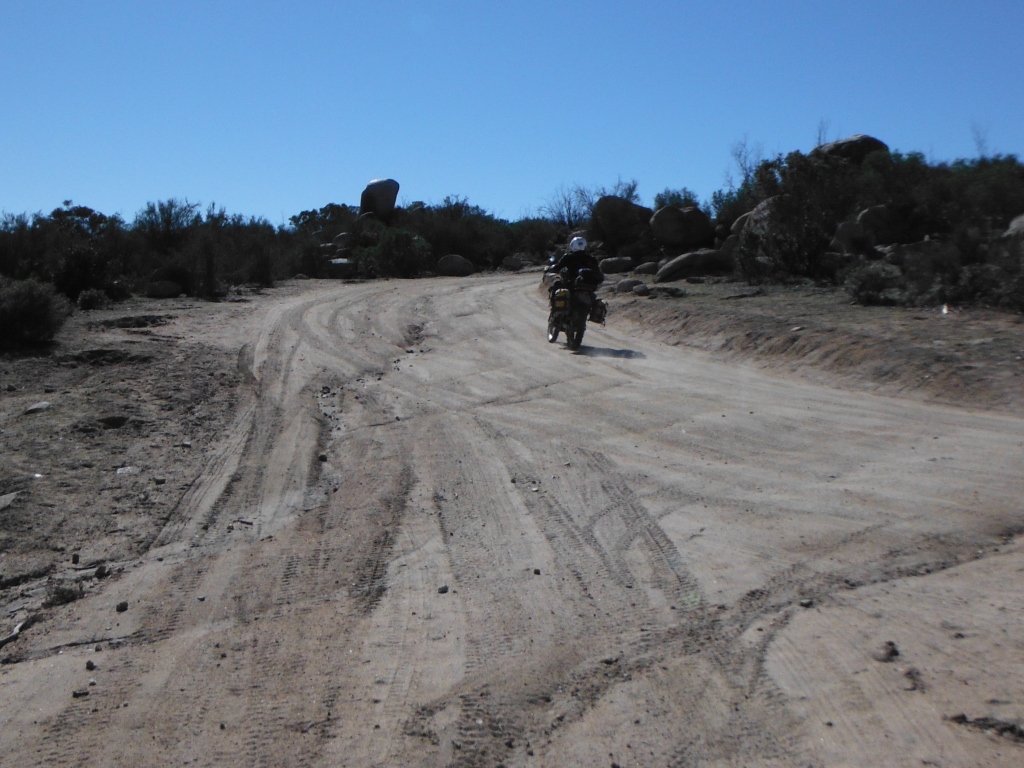 I think the Melling Ranch was thru that gate---I went up for a look, but we weren't going that way.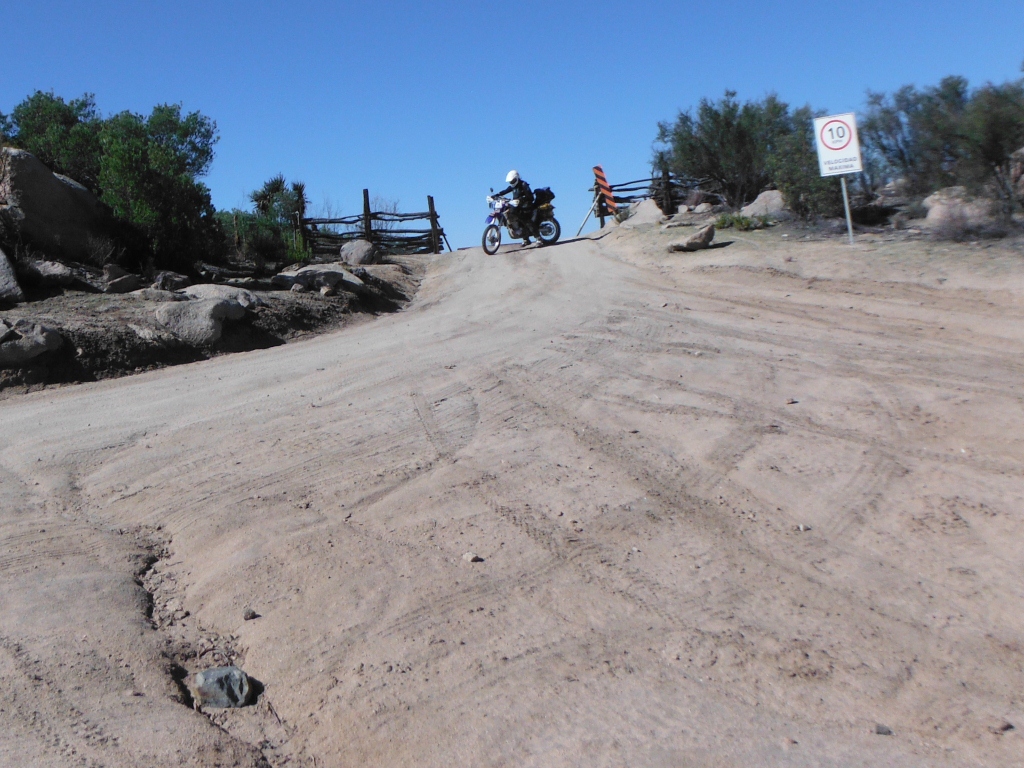 We hit the pavement that goes from Hwy. 1 East to the Observatory but went West toward the ocean.
Scott was hanging in there and refused to give up the ride.

Getting really close to the Pacific ocean west of paved Hwy 1 we got on some sandy dirt roads and came buy this agricultural area.
I think we crossed Hwy 1 at a little town called La Providencia where we went North a bit and got gas at a Pemex.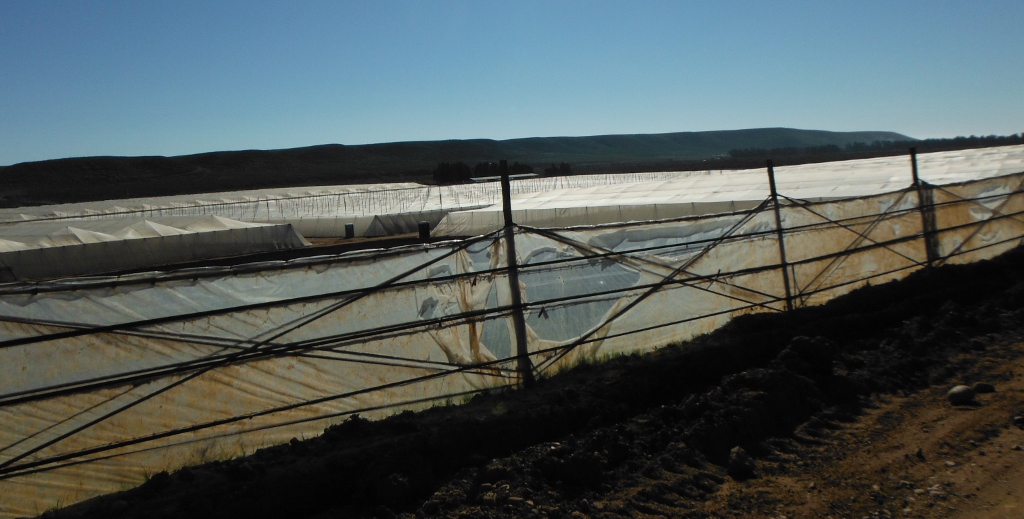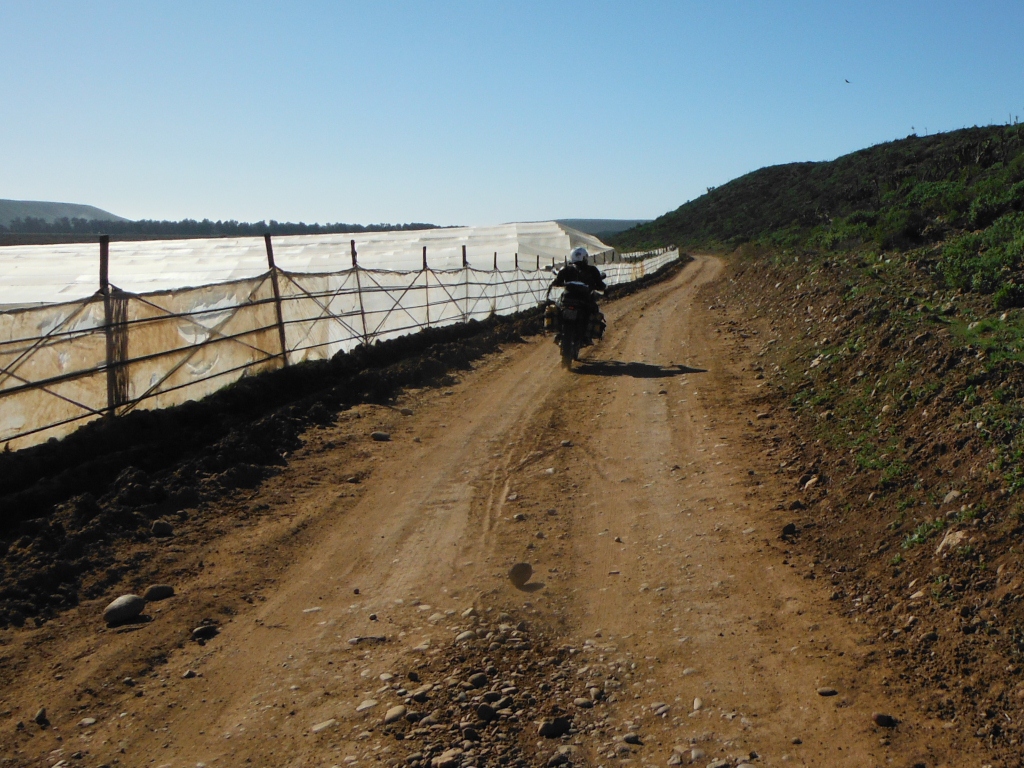 Our first glimpse of the Pacific ocean------the smell was invigorating and the surf was really loud------pretty cool.
There was almost nothing out here.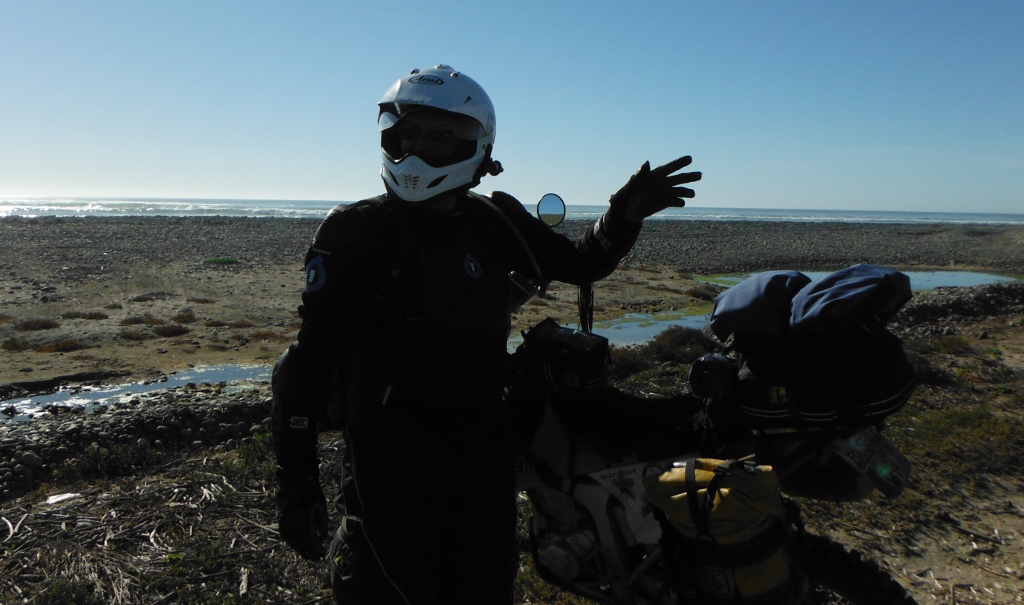 Except this lonely abandoned church.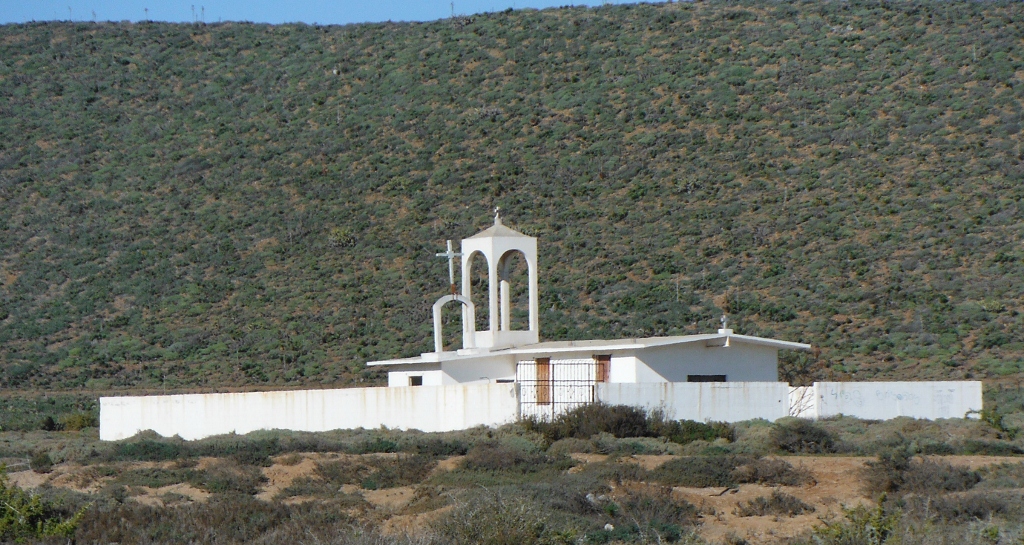 We rode for a good 15 miles right along the ocean----picking are way around washed out roads and rideable
roads and were approaching a waypoint I had loaded in my gps called "shipwreck"
One of the main things I wanted to see while down here.
For quite a bit I was following a track log I got from Jonz----the trail or road had long been washed away in many places
and we were forced to travel more inland at first.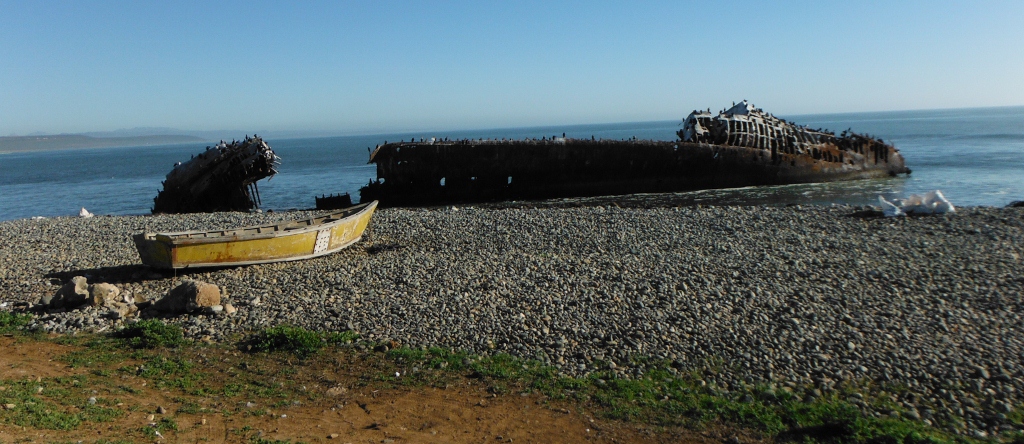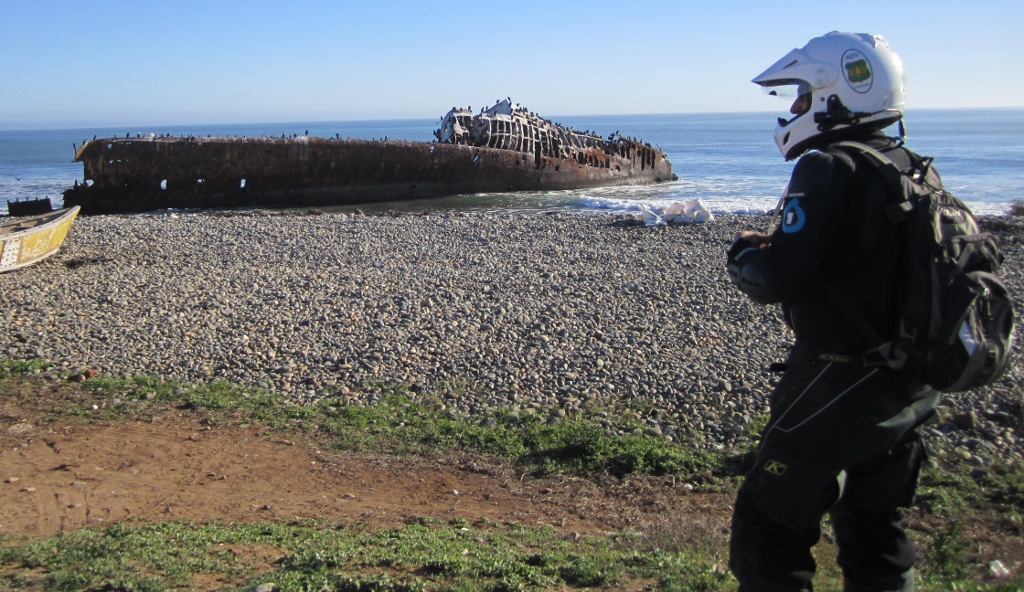 Still riding along the ocean I was looking for a place the guys back at Mikes Sky Ranch called "Pirates Cove" for you gringo's.
Or "La Cueva Del Pirata" -----to the experienced Mexico traveler who could speak Spanish------which was not us.
They told us we'd be here by lunch---but they had no idea how slow we were---and how the road was washed out---nor
how many times we'd crash---nor how many naps we took.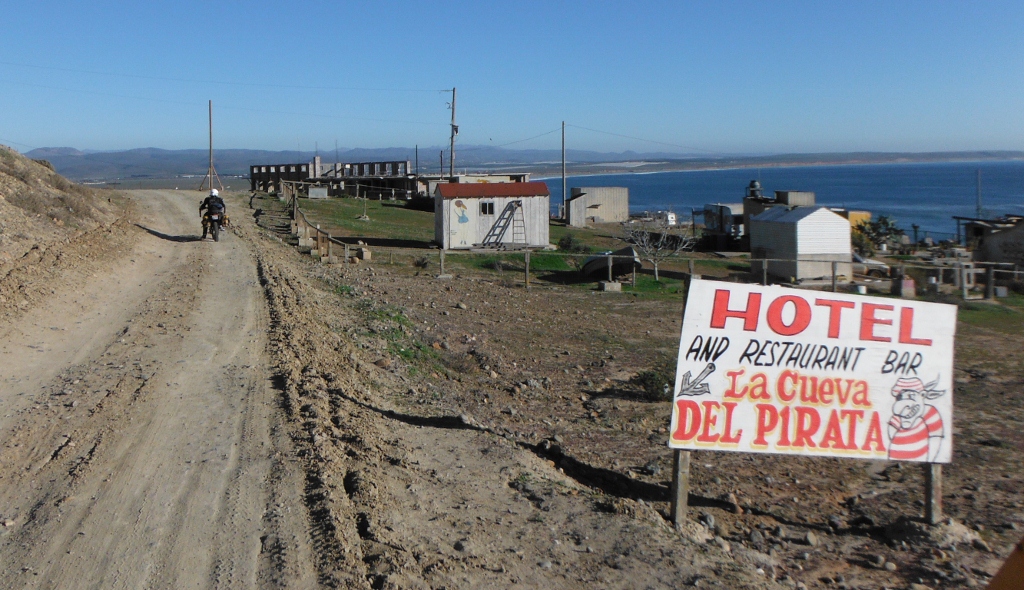 As we first approached Pirates Cove---the place kind of looked like somebody blew it up.
A closer inspection revealed the place was open for business--------but never finished---a re-occuring them in Baja
since all the dumb Gringo's are afraid to come down here ignoring the news casts and newspaper reports about all the murders, rapes, car jackings, people taken hostage,
stabbings, drugs, crack whores, robberies taking place in their own country---and in their own neighborhoods.
I personally kind of like this situation down here---nice and quiet---like it was quite a few years ago.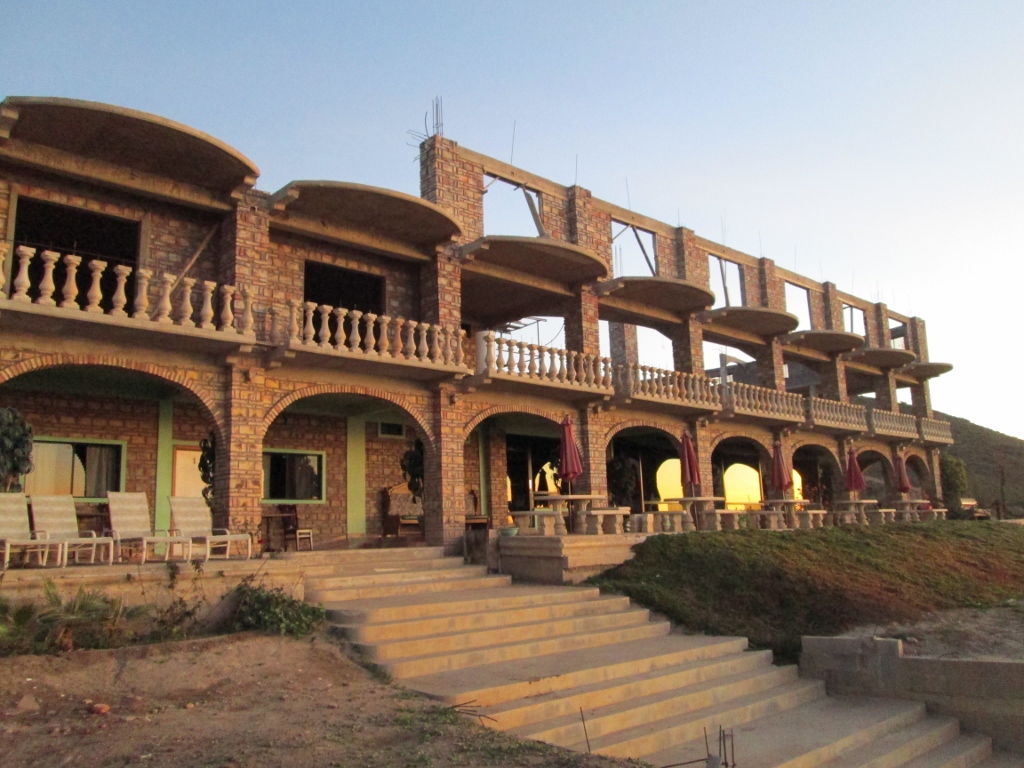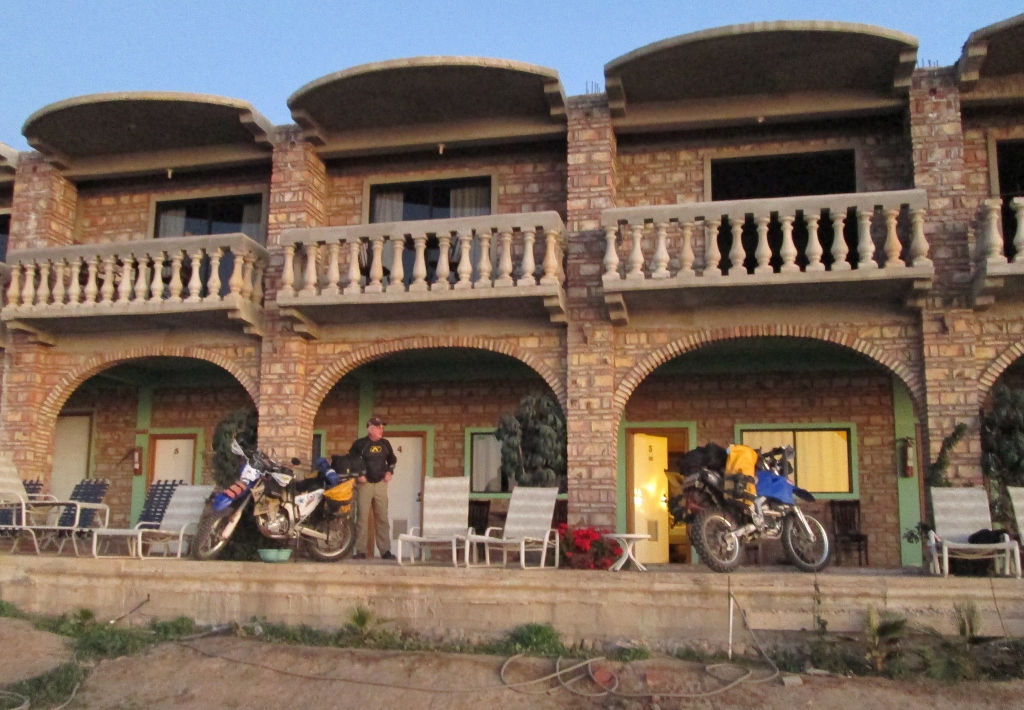 The restaurant was quite nice and we had great meal and were the only ones there.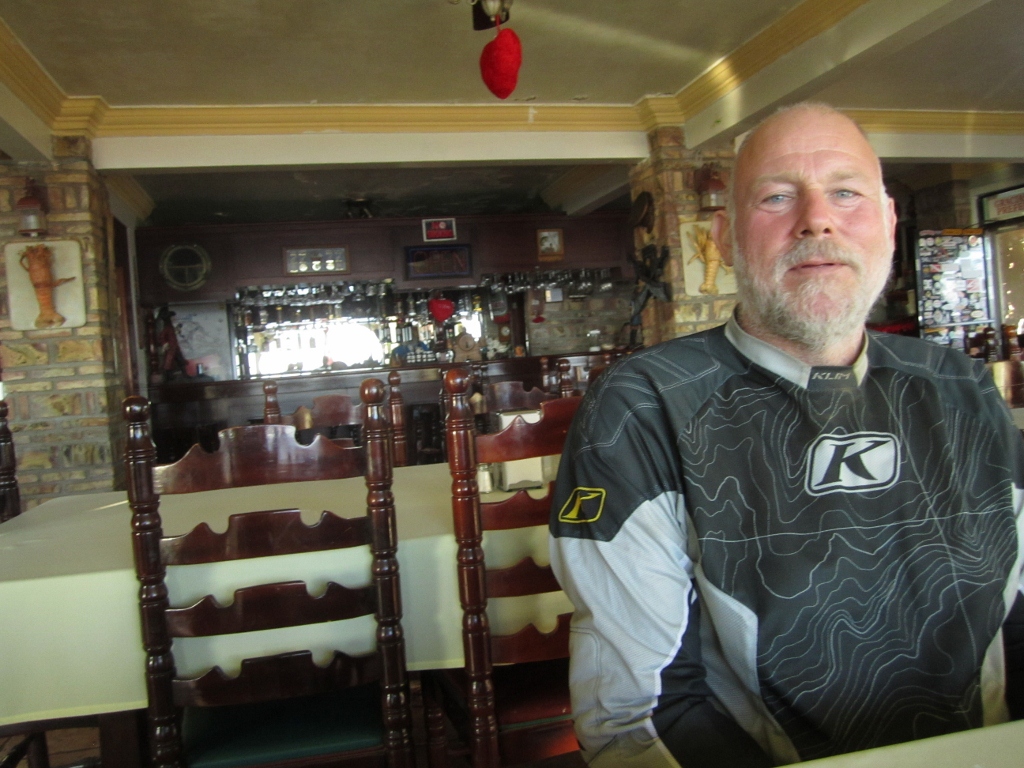 After our meal we aquired a nice room----500 peso's for a room with a view----400 for no view.
You see which we chose and I went back into the restaurant and got me and Scott a couple Tecate's.
We stayed out here till the sun set completely ---------and then some.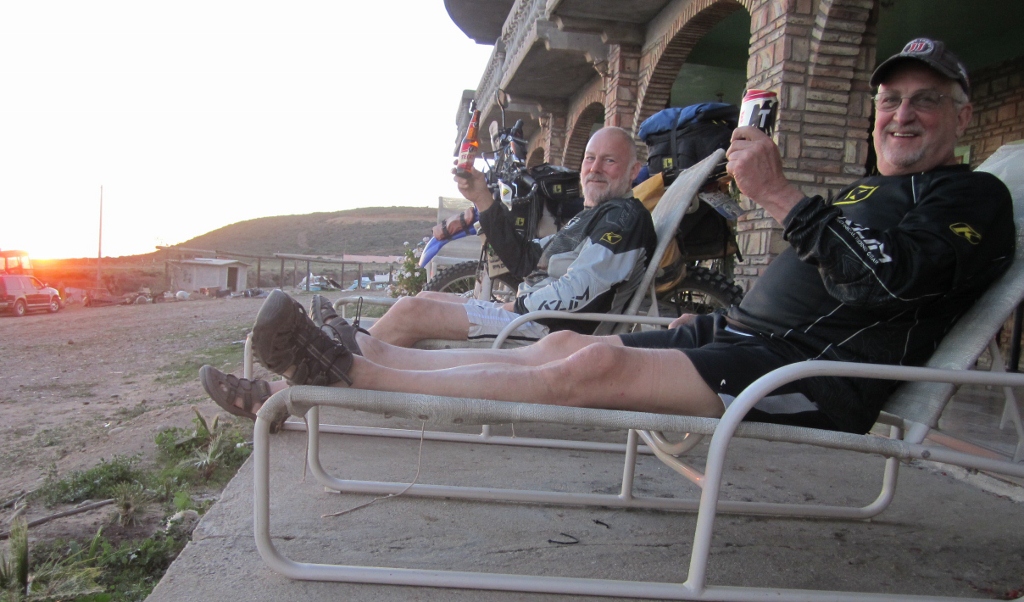 We had preferential parking for our bikes---I didn't ask------we just rode them up onto the outside deck.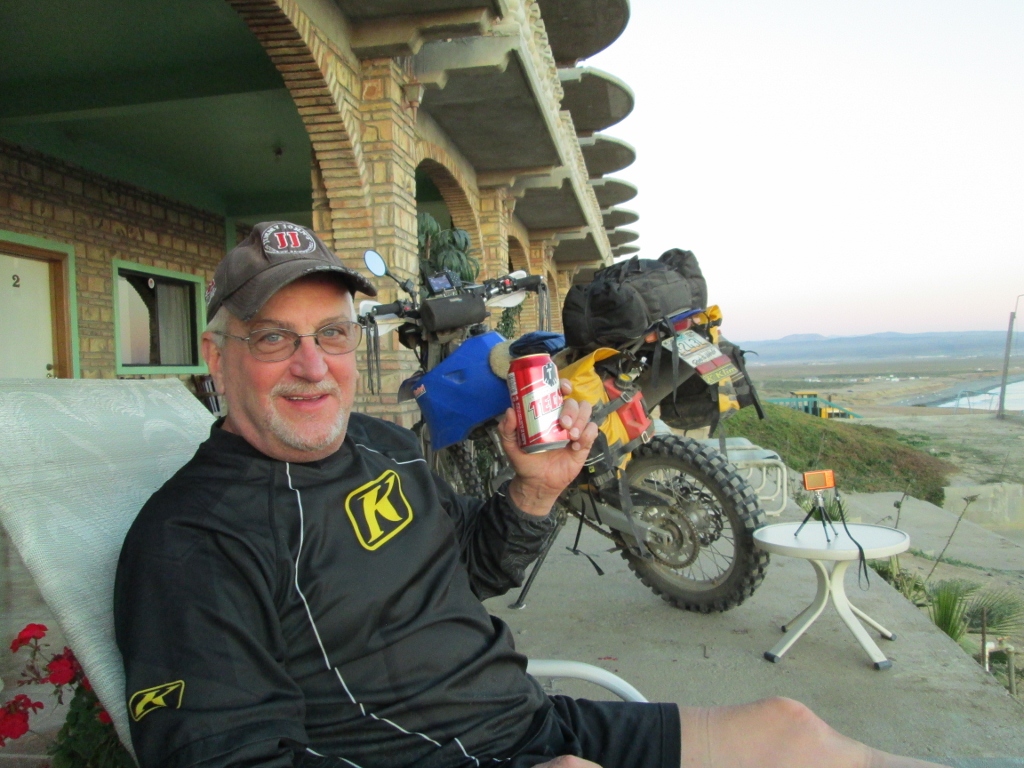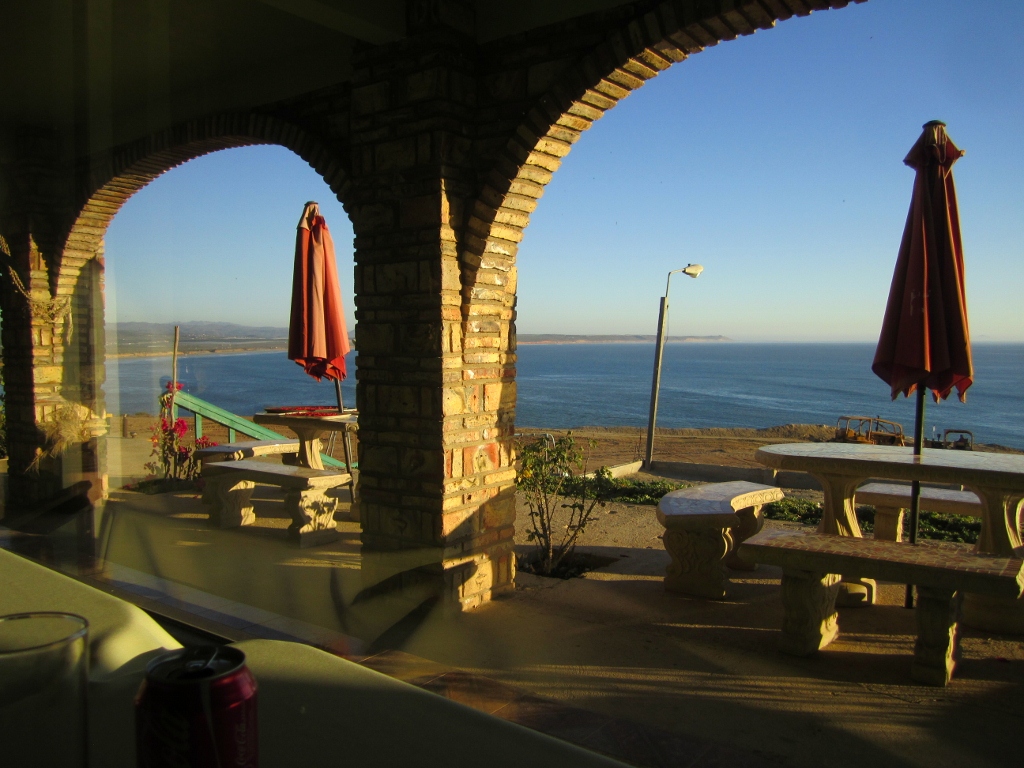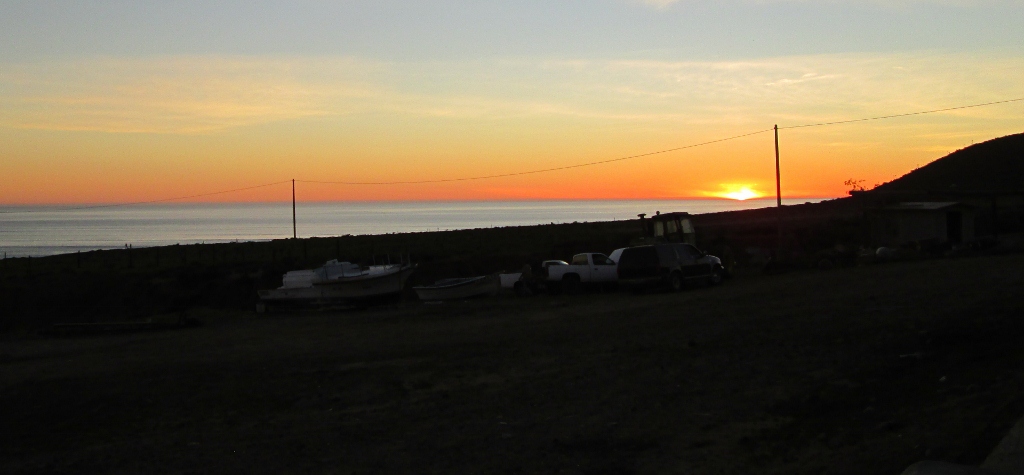 72 Miles for the day
Here is the route we rode today.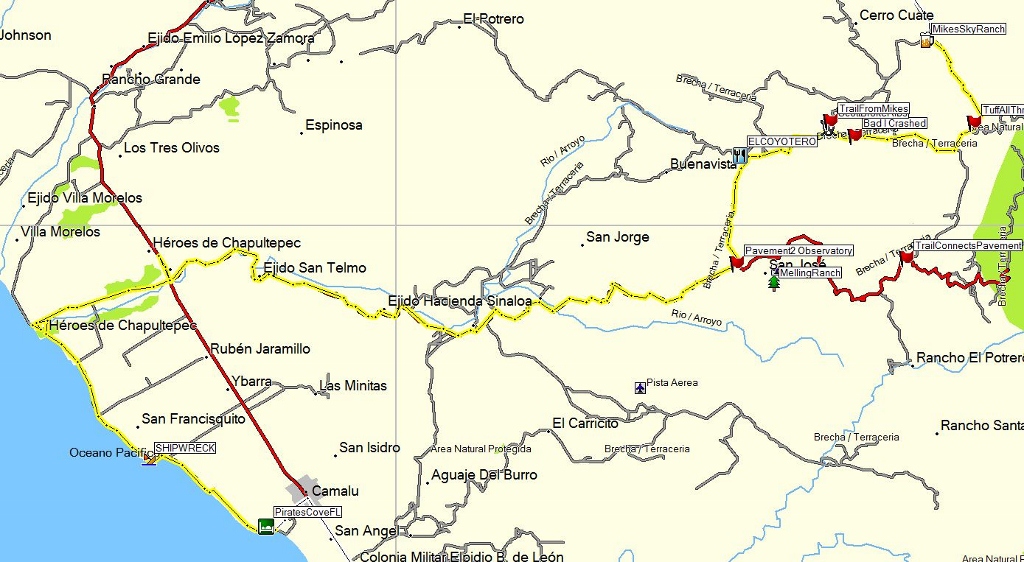 Day 4
January 22nd, 2013
Pirates Cove to El Rosario
Much to my surprise Scott was determined to keep riding and I never said to him--------but thought maybe he was soldiering on just for
me--------something------as his good friend-----I wouldn't let him do if I knew it. We had both went thru a lot of preperation to do this trip
but that didn't matter to me. In the following hours of riding I assured him if he couldn't go on that it was OK with me.
I think he knew that---but I made sure he knew that.
A better picture of Pirates Cove as we rode away "hasta la vista"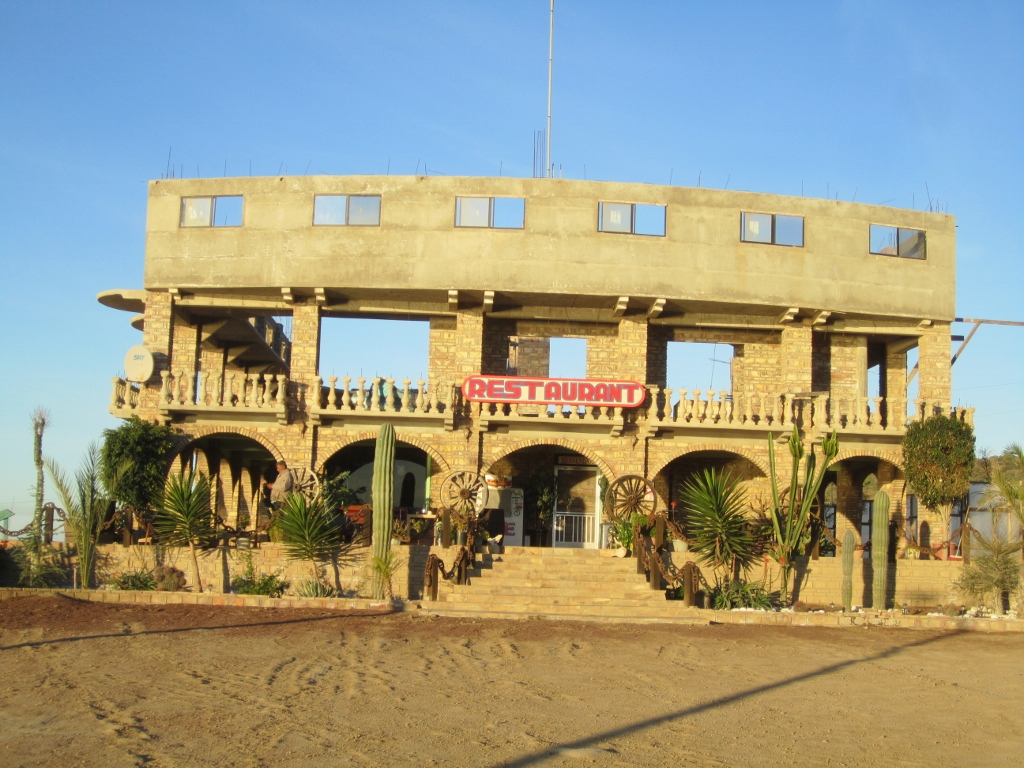 I wanted to get right down to the ocean and feel it----and hear it.
Looks like if that bank washes away----pirates cove will be in the ocean.
Maybe that's why they never finished it ?????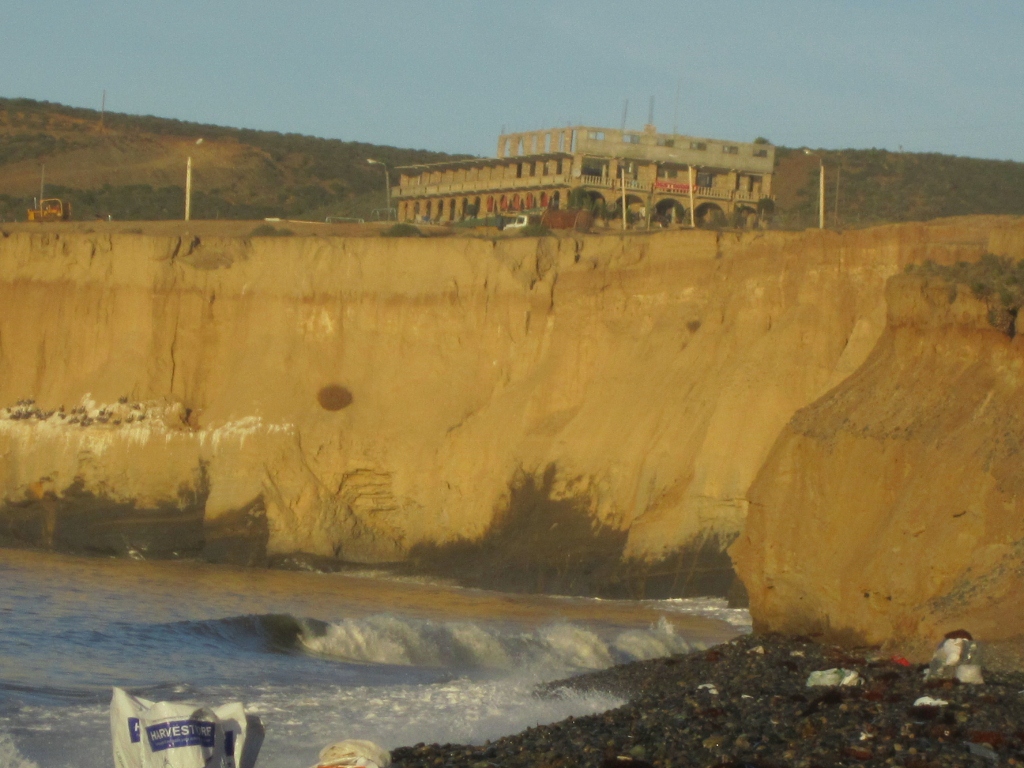 The weather had been perfect are whole trip-----today would be no different.
We would start off wearing a jacket and later remove it.
On top I was wearing a armored compression suit----and would never take it off.
Over that I would wear and old gortex MSR enduro jacket I've had for 20 years. I would remove it when I got hot.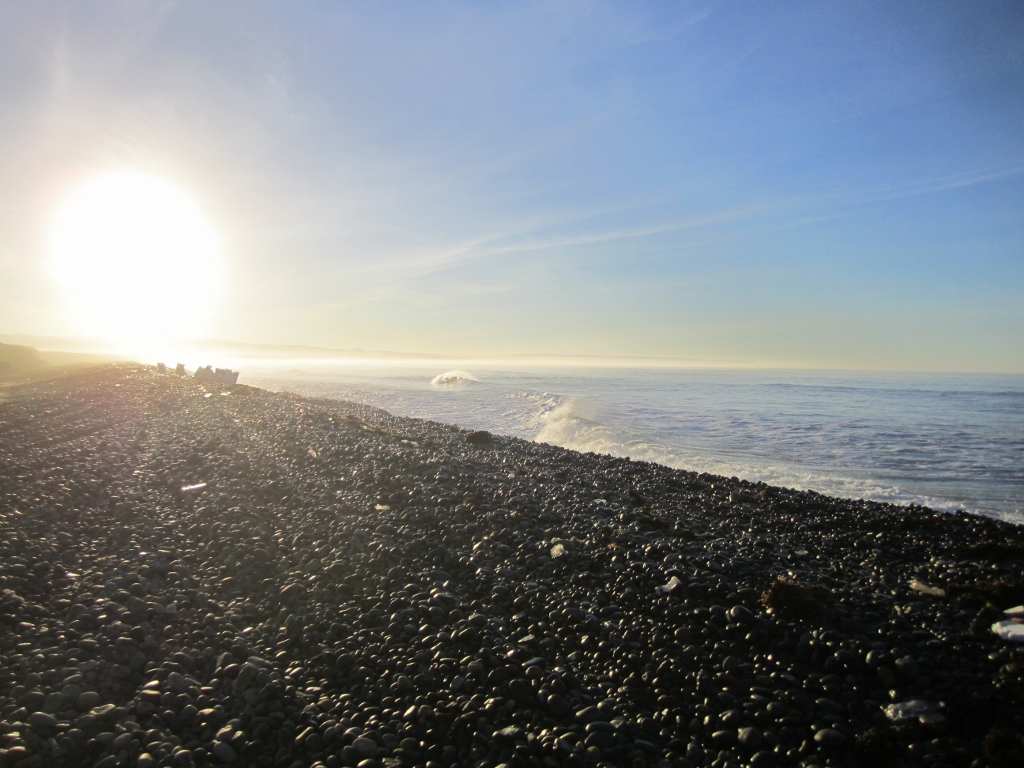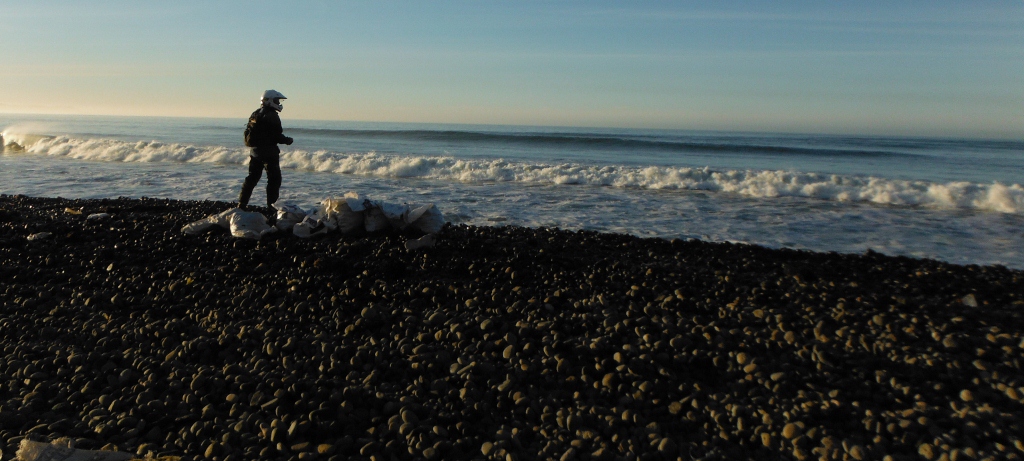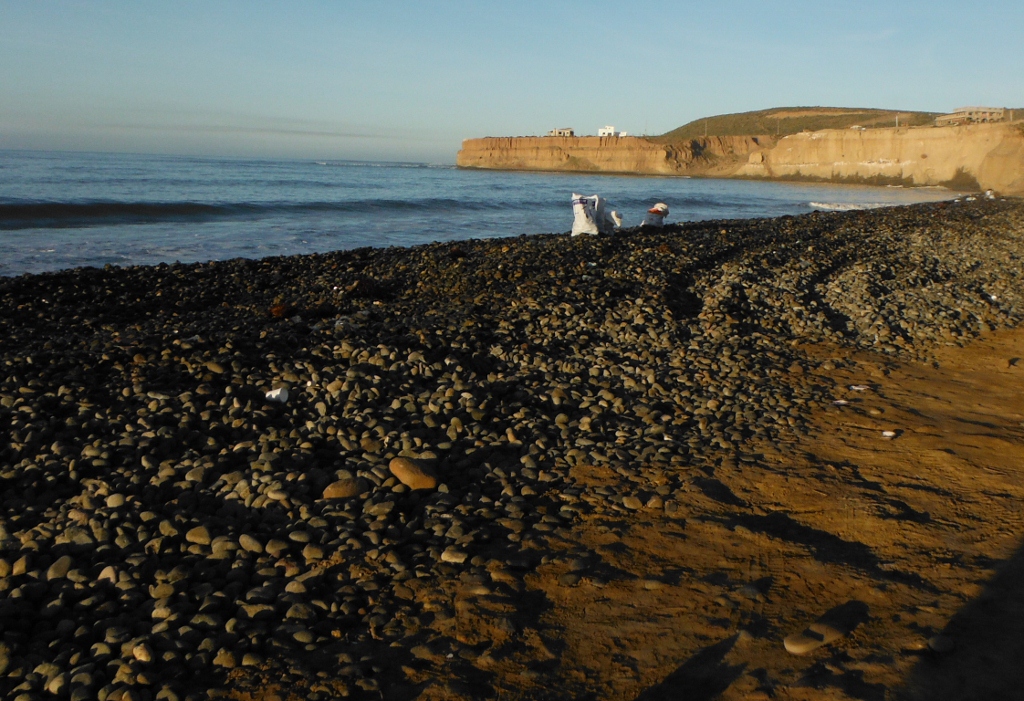 From the ocean we rode East out to paved Mexican Hwy. 1 to Vicente Guerrero and got a really good tip from a local where to have
breakfast. The restaurant at Pirates cove didn't open up early enough for us.

The route I had laid out went East on a dirt road but we rode South a bit to here. But it was closed ------or so we thought.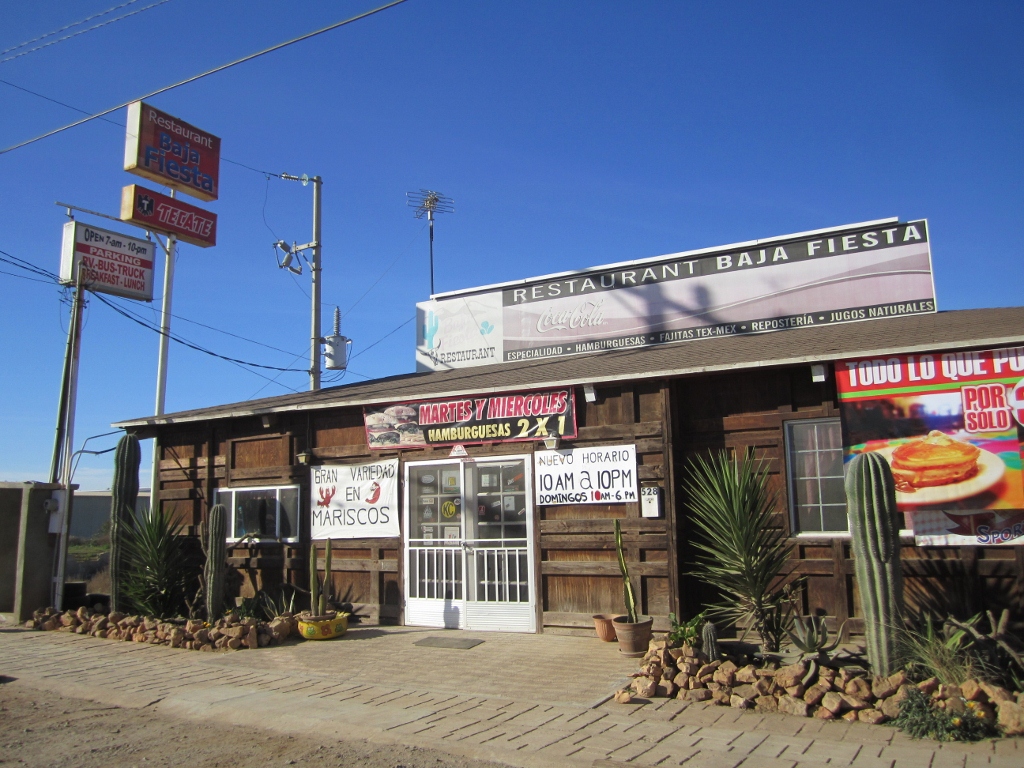 The Restaurant Baja Fiesta had become another victim of the poor economy since the gringo's quit coming.
We had dis-mounted and were ready to leave when the nicest lady ran up to us from the place next door you see hear.
She fixed us a great outdoor breakfast with lots of coffee.
She spoke very good English and we had a hoot with her---everyone was just so friendly.
We ordered one breakfast burrito each----and she knew we'd want more and had another ready before we finished the first.
Really nice people------------don't know about the Starbucks sign ????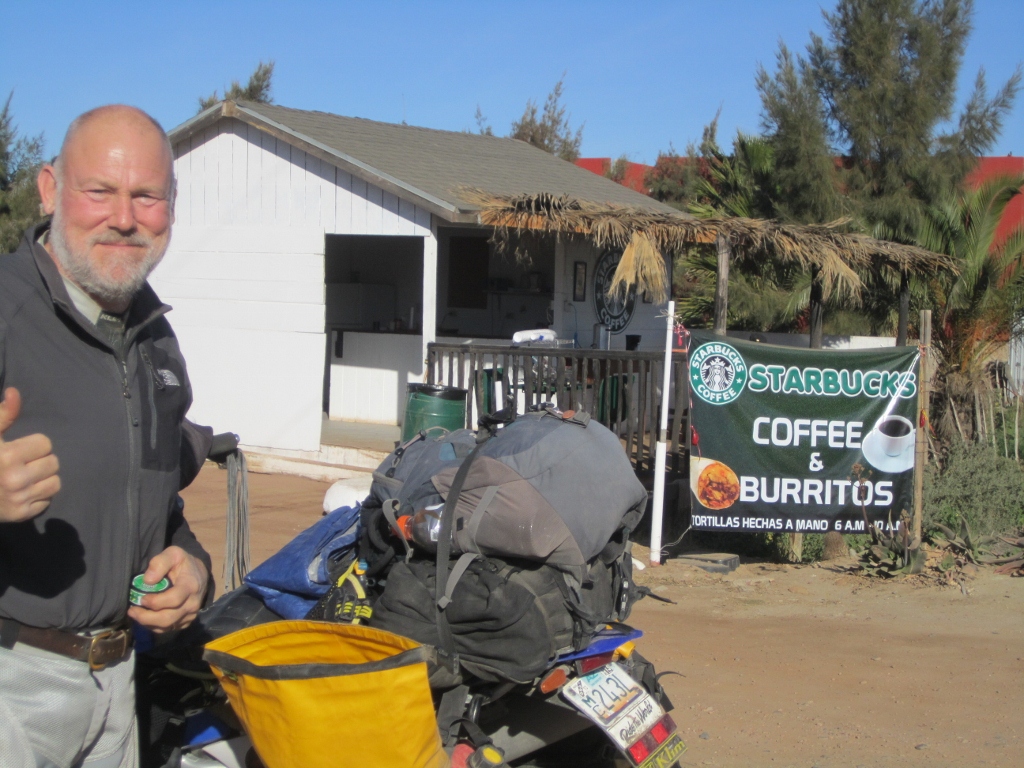 Scott seemed fine and was in good spirits and we headed into a mountain preserve East of town and the riding was superb.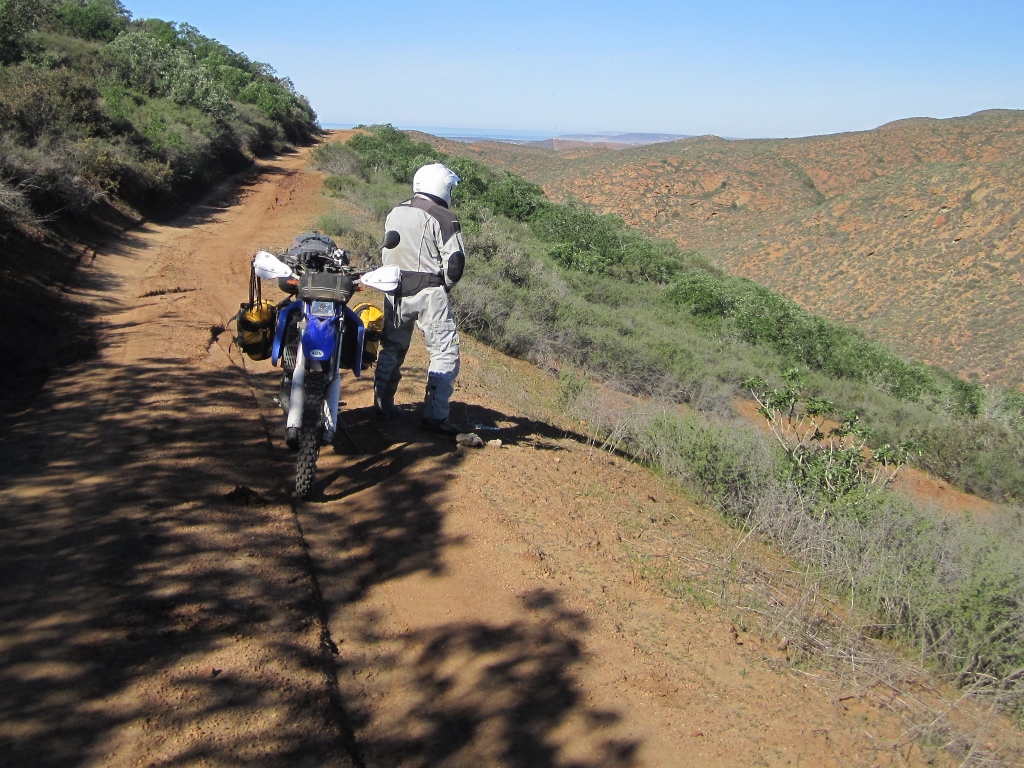 The route thru here was just dirt---no gravel or rocks---just dirt ---but there were a few nasty washouts worse than this one that kept you on your toes.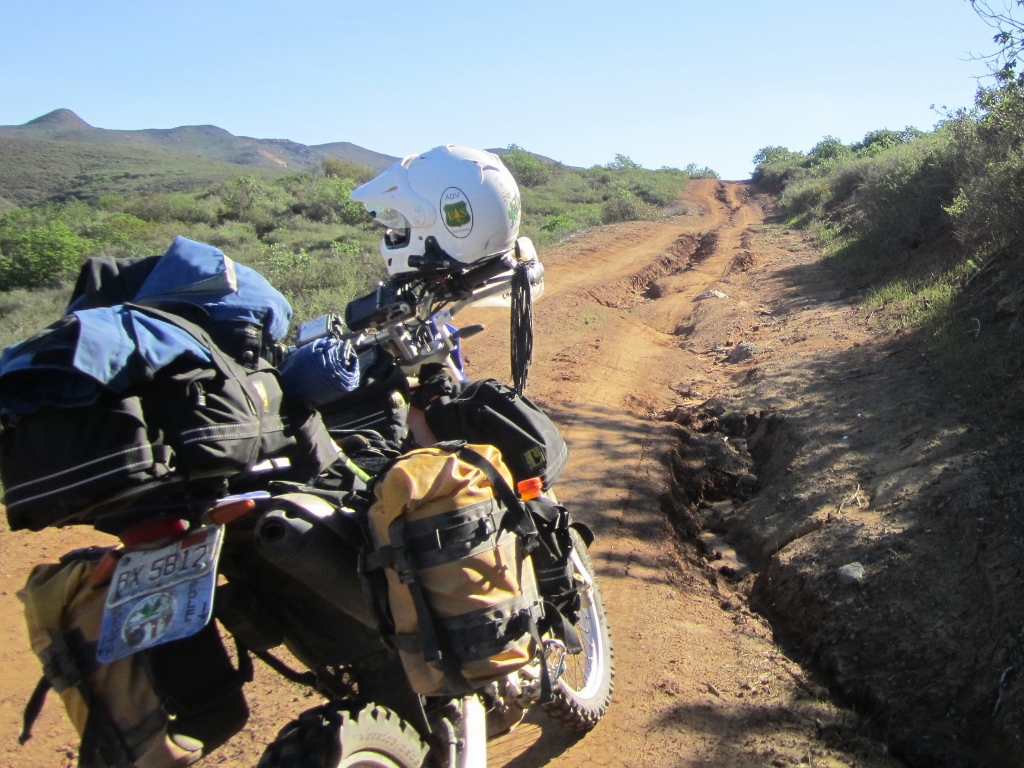 We had ridden about 12 miles and were both estatic about the riding. I was keeping an eye on Scott and asked at least twice if he was doing OK.
He was------and was a happy camper.
But when I got here at this neat little camp-------it was a long time before Scott showed up and I feared something was up.
Scott hadn't crashed----but got it a rut or something and tweaked his already broken ribs. The pain was unbearable for him ---and it was here
we decided to retreat---ride some easier stuff and try to give him some time to heal.
It would have been about 100 more miles of this terrain before hitting pavement again------or gas.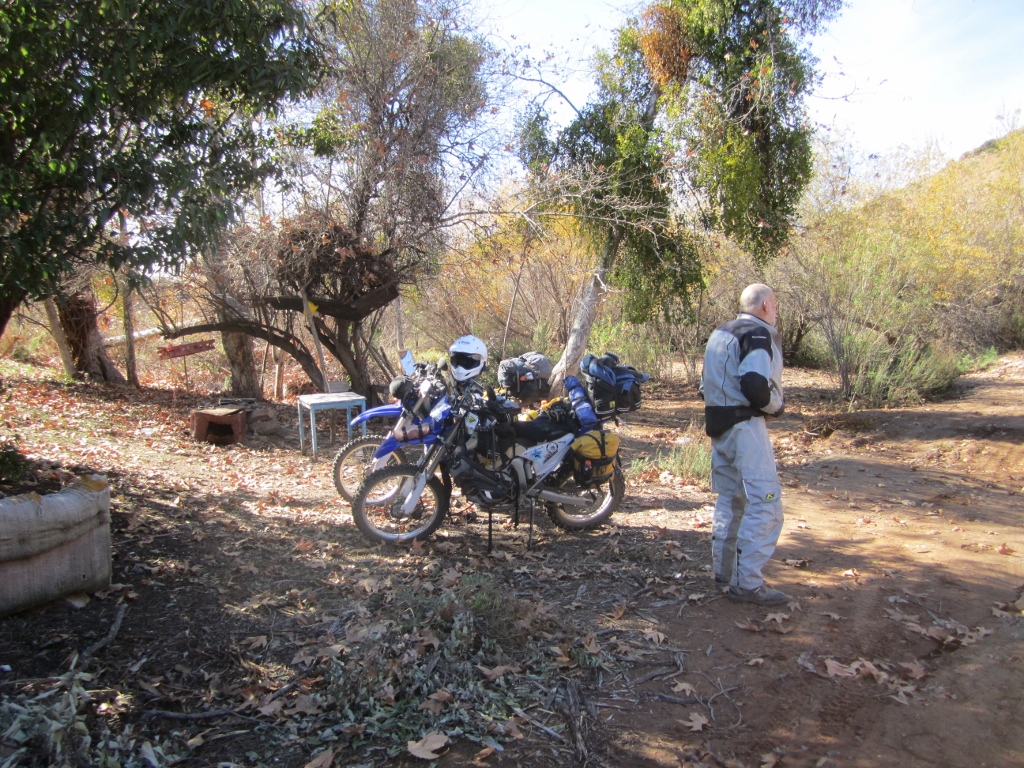 I don't think this bottle of Tequila would have helped his pain.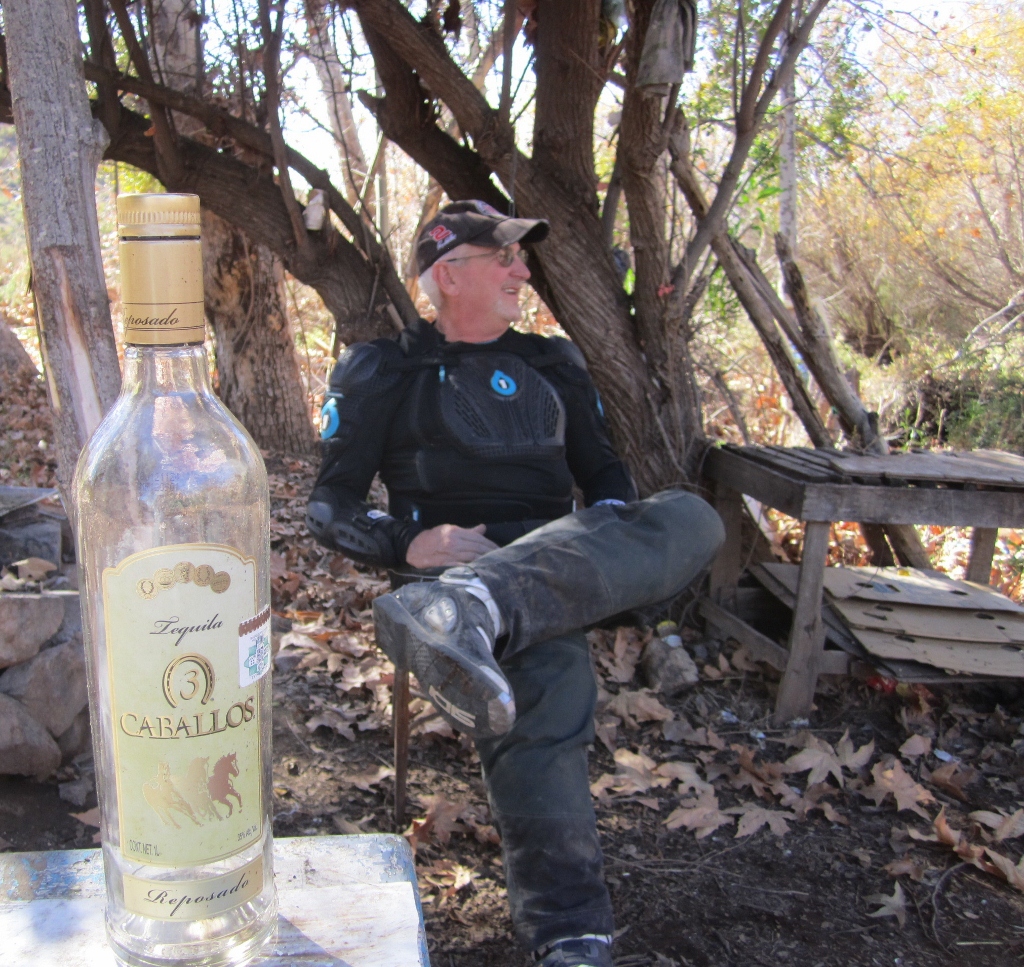 We headed back the same way----but I had dropped a waypoint on the way in of another trail heading back SouthWest-------for reference.
We used that waypoint and trail to get back to the highway---man I love GPS's.
All these little dirt roads were in my E32 gps maps I bought before we left.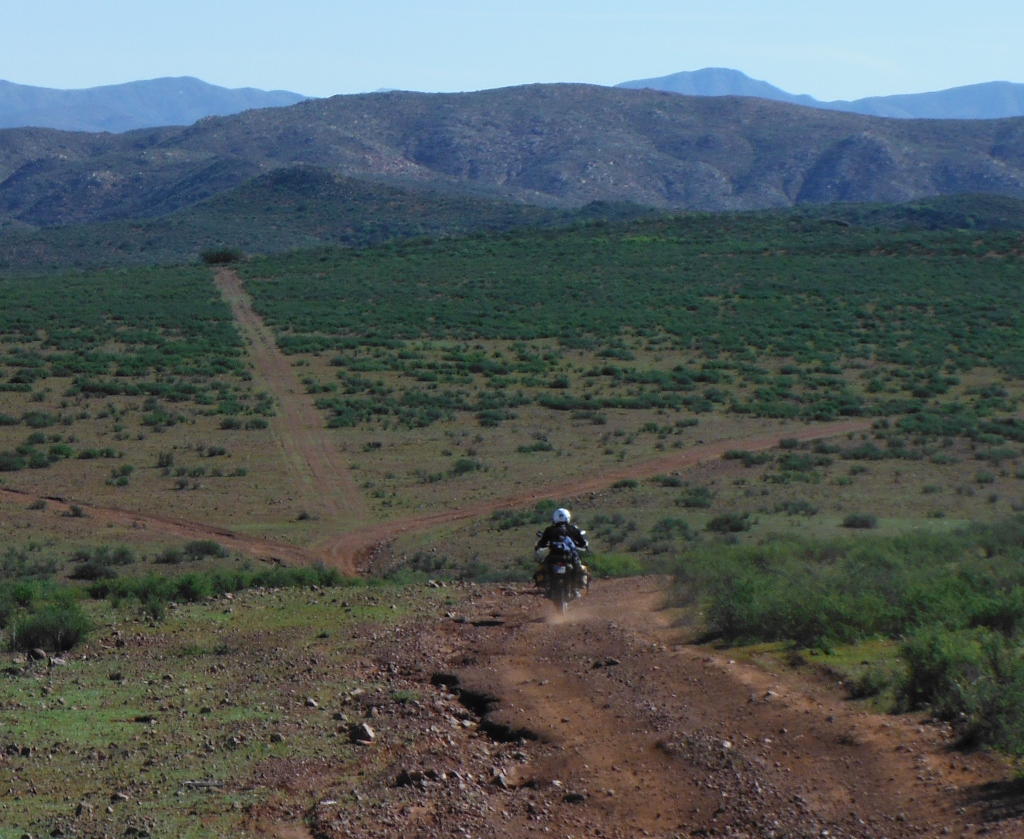 We would head South to El Rosario on Mex 1 and get a good motel and some food and rest up.
Mi Casita---what a nice place------nice people---right beside the road in El Rosario.
The had a Pemex here and plenty of places to eat ---and plenty of hotels---the town had a very nice slow, hometown feel to it.
Nobody running around in a hurry---pushing and a shoving their way around.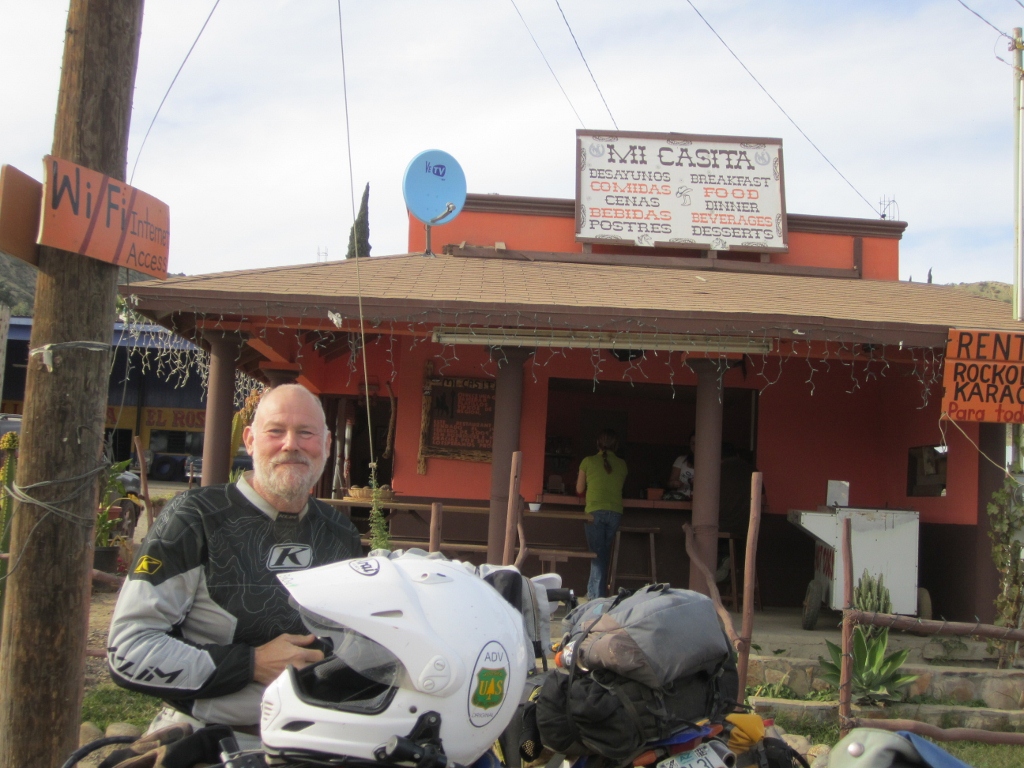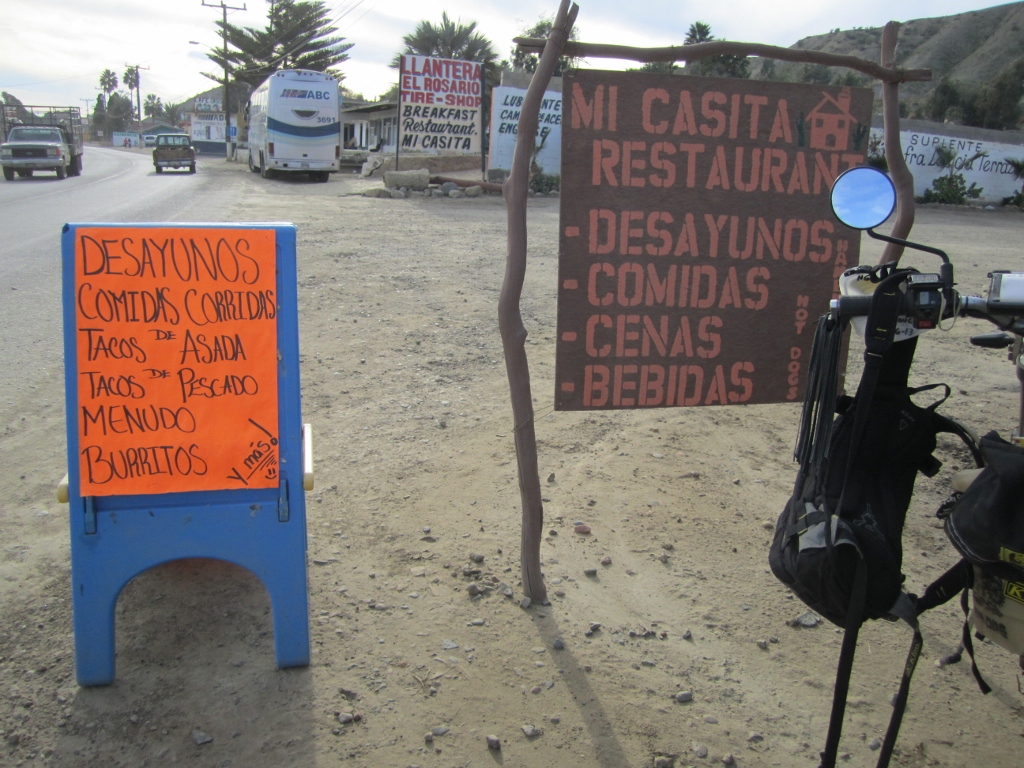 I can't remember the name of our Motel--but it was nice for $400 peso's I think---about $32.
It was right next to the Pemex as we came into town from the North.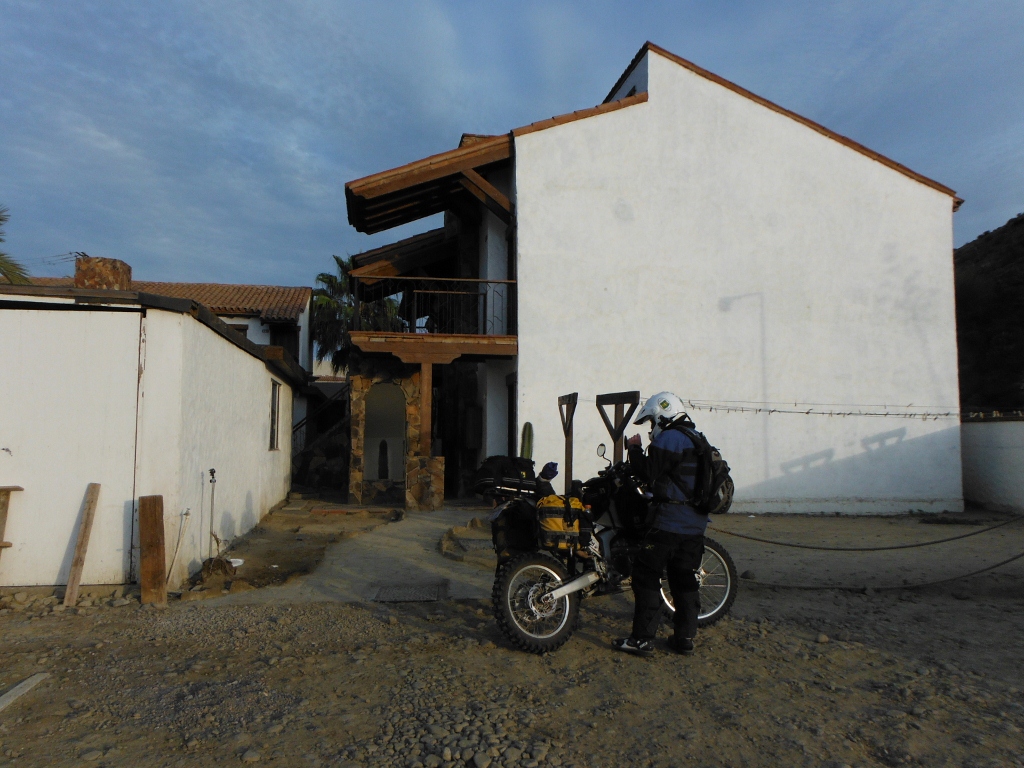 In the US--this room would bring $220 dollars in the right location.
The people running it waited on us hand and foot and would make sure everything was to our satisfaction.
The beds were huge---the biggest I ever slept in---and made out of solid wood---we marveled at the craftsmanship.
I tried to get Scott a job-------since he didn't have one. He is a bricklayer by trade and they were laying some floor tiles
and I tried to get him on to no avail.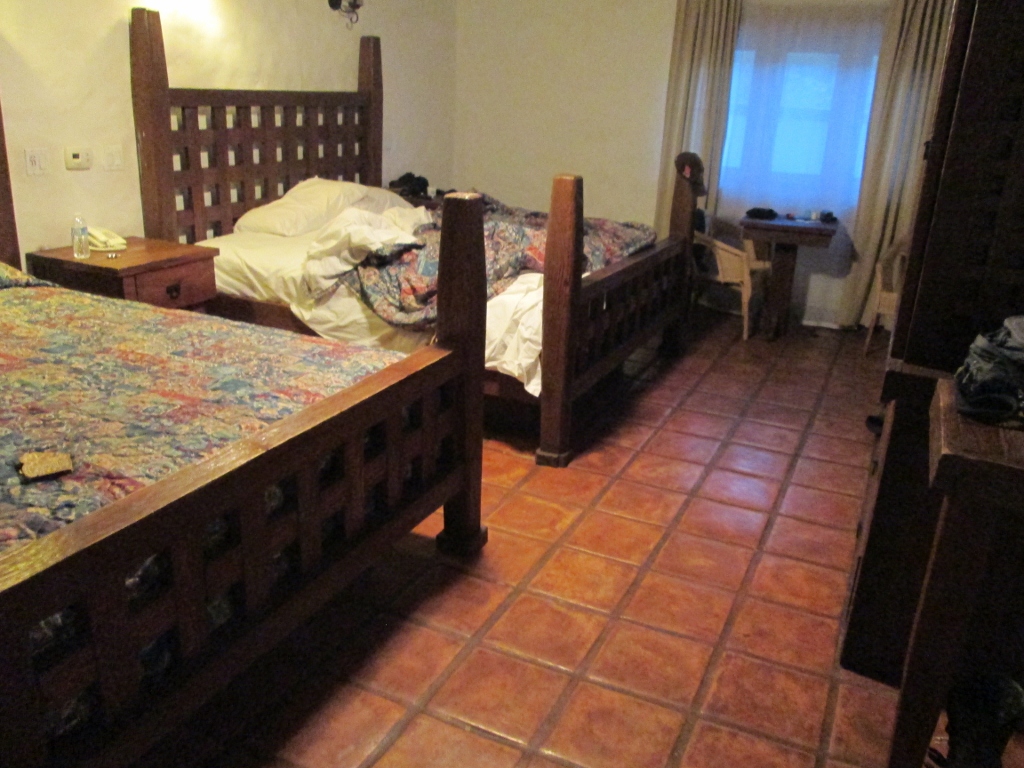 89 miles for the day today
And here is a map of our route today.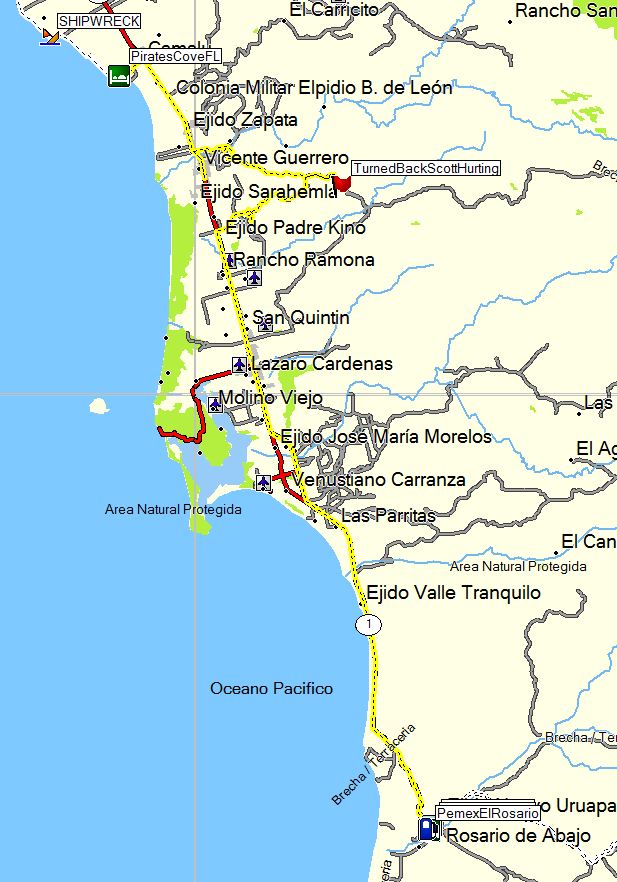 Day 5
January 23rd, 2013
El Rosario to Alfonsino's at Gonzaga Bay on the Sea Of Cortez
We had promised the gals back at the La Casita road side restaurant that we would be back for breakfast at 7AM when
they opened and they were there waiting for us. Their breakfast did not dissapoint us.
We ate outside on a picnic table as the weather was already georgous and tried to chat with the locals the best we could.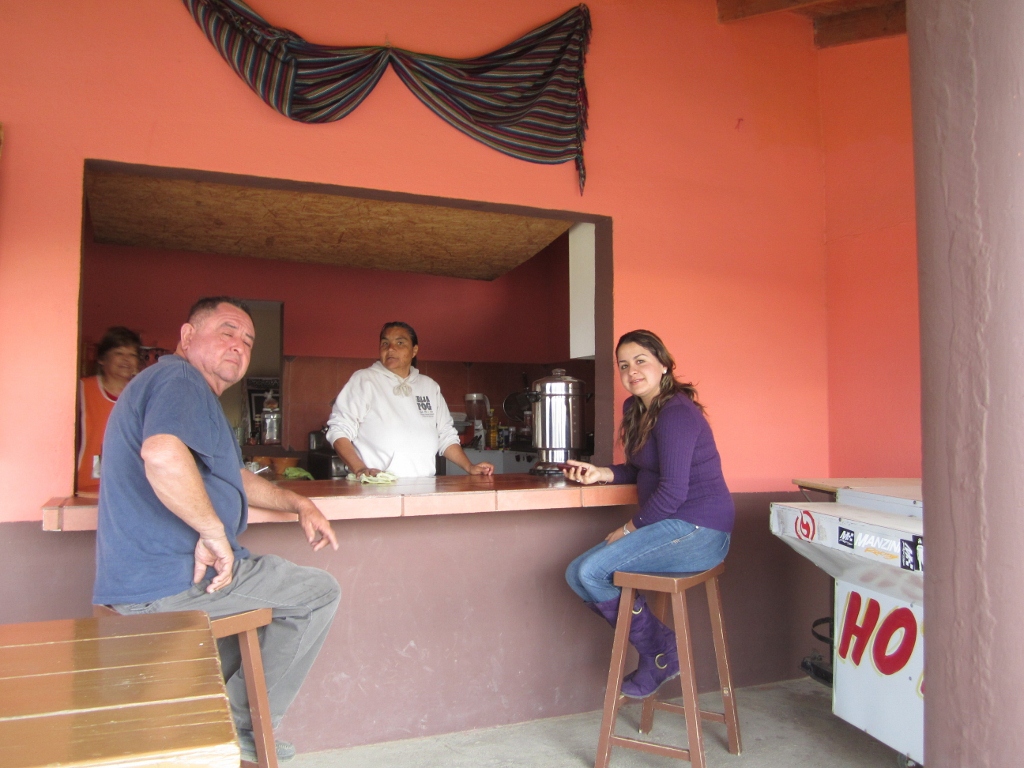 We rode a good 60 miles down paved Mexico 1 still skipping our planned route a bit. I re-routed an easier way and planned on re-joining our planned route
a bit down the road before turning off toward the Pacific ocean again where we would run along the mud flats right on the ocean.
I rode right passed the turnoff toward the ocean on purpose to get our tanks topped off.
We hoped for barrel gas in Catavina and there it was. Several people were trying to make a little money out here where there is a long
way between Pemex's on the paved road here. We were very glad to help them out and gave them a little extra.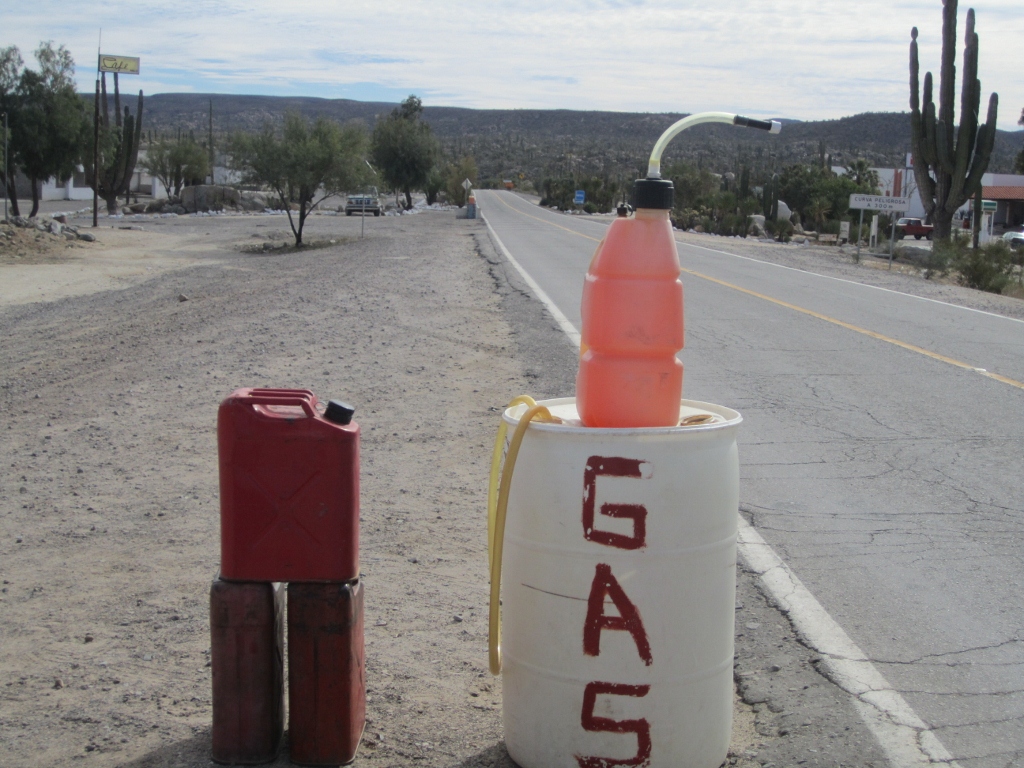 These nice folks were selling the gas and helped us out a bit with some assurances of my routing and where it was taking us.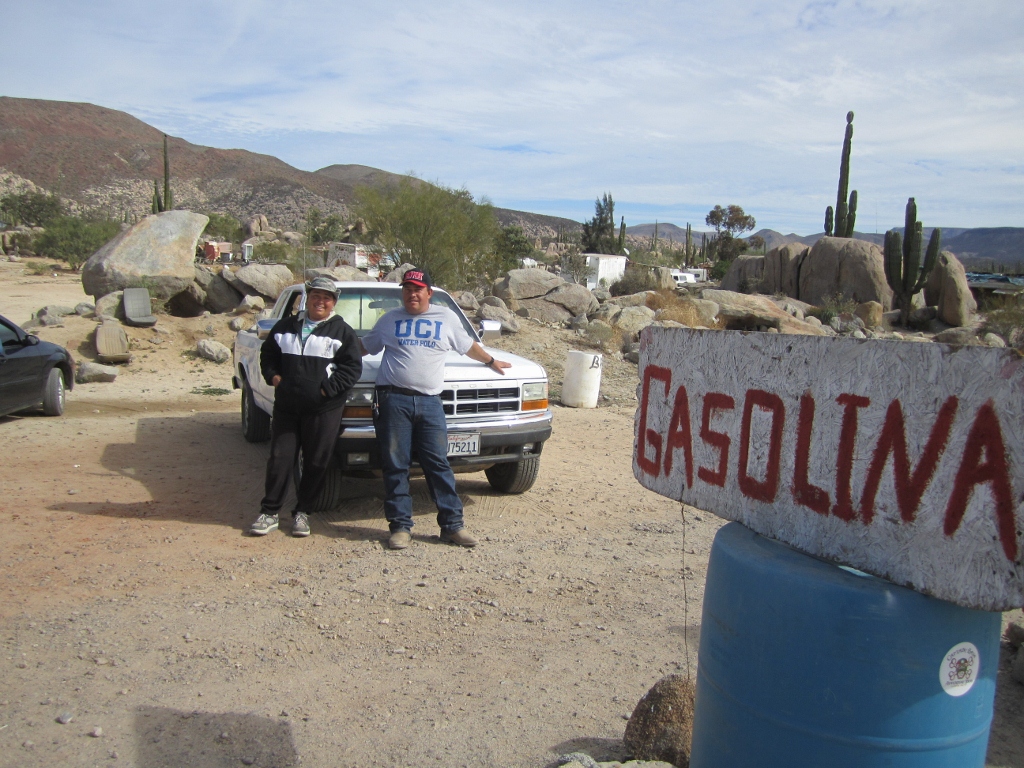 And it was here we met this fellow-----I'd guess you'd call him an ex-pat.
He lived in this town and had a ranch out in the boondocks with a full shop, welder and anything else you might need.
Before we left him he gave us some very good intel on our routing, offered his place to stay, and said if we needed anything repaired
he'd see to it that it got done. He had moved the exhaust system on his Toyota pickup and installed an extra gas tank and had
a 700 mile range----awesome. He was 80 years young and was a total hoot. He seemed lonely and we talked to him for an hour.
And before we left he helped me drop a waypoint in my gps of his ranch and he was astounded his ranch was not only
in my gps ----but had his full name on the ranch-----this was all from the Mexico E32 maps I had loaded. He liked to stay off the radar
as he put it and I'm not sure he liked that his place was designated on the map---it surprised me too. He had a place in New Mexico too.

So it was back to this sign---the sandy road would take us to the ocean---and I heard it was a mecca for surfing down this road.
Check out the crow in the picture.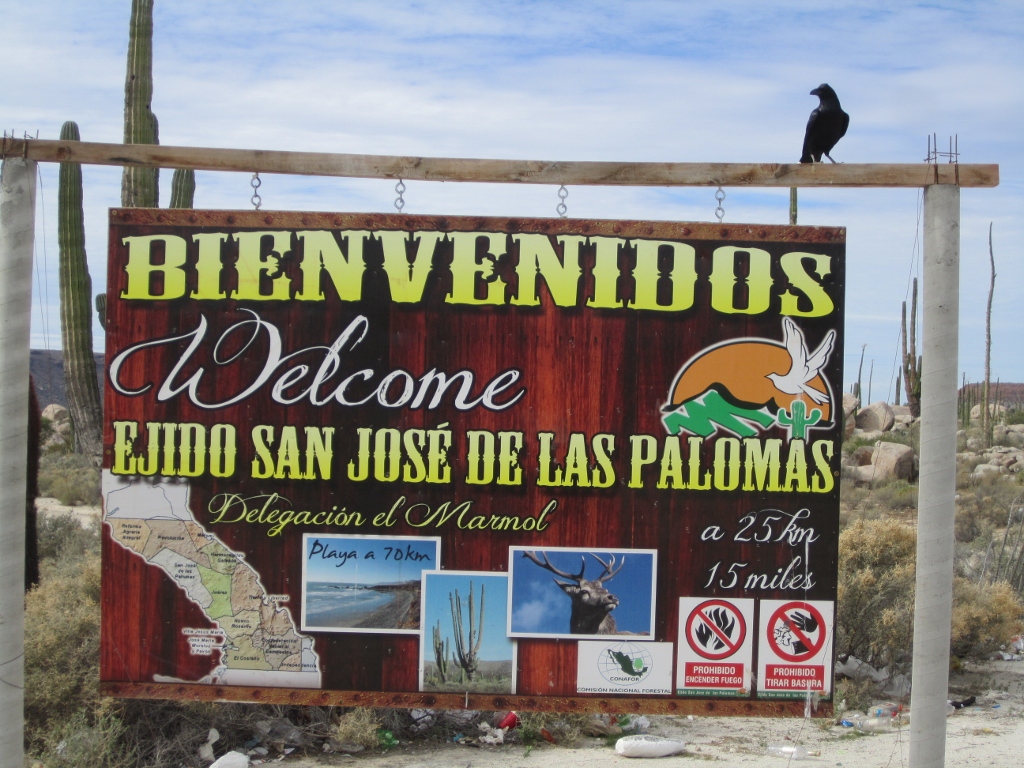 I think it was about 40 miles to the Pacific ocean down this sandy road and it looks like we'd go thru a mountain range on the way.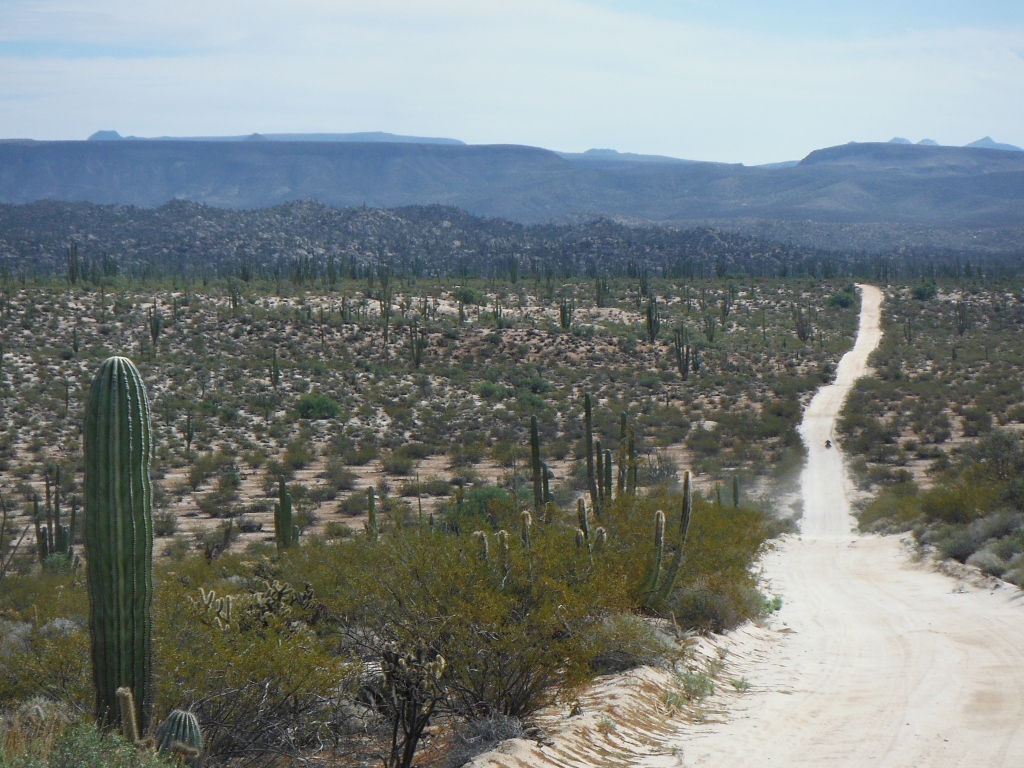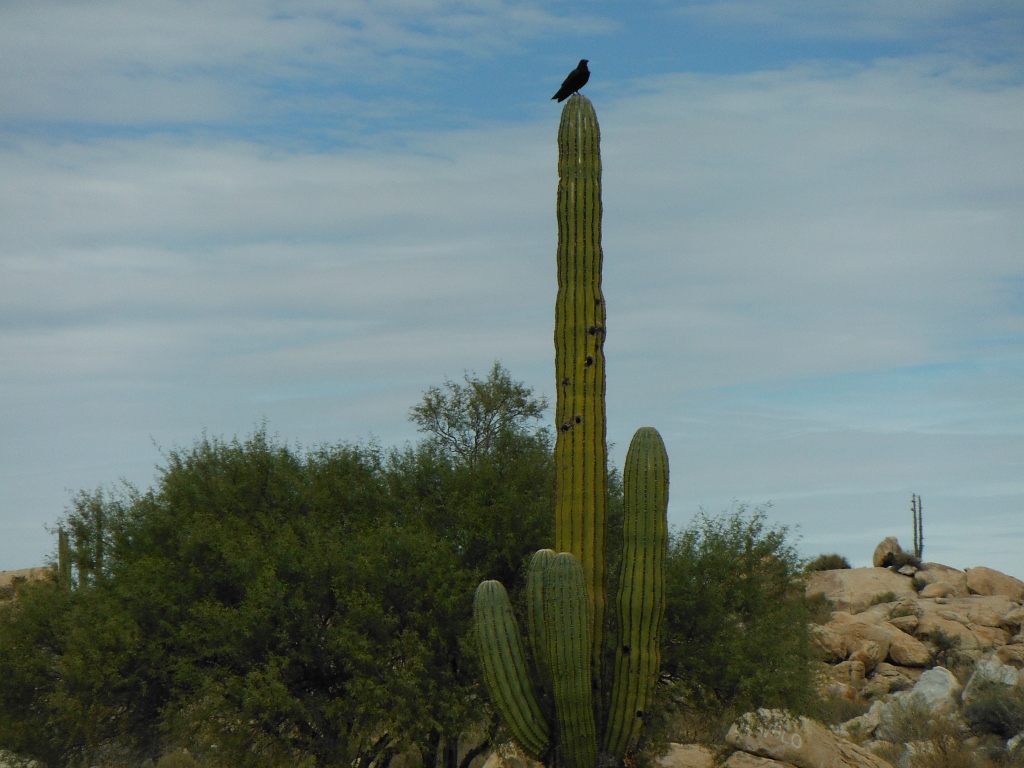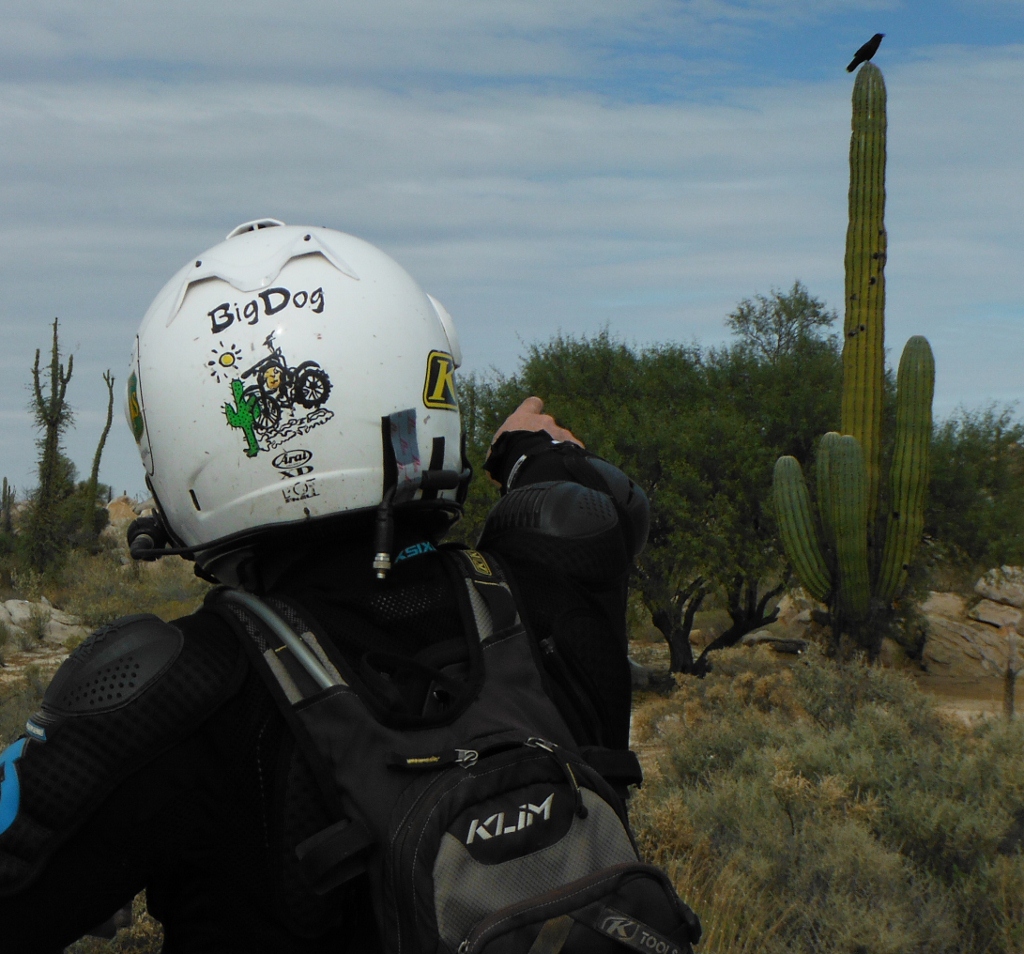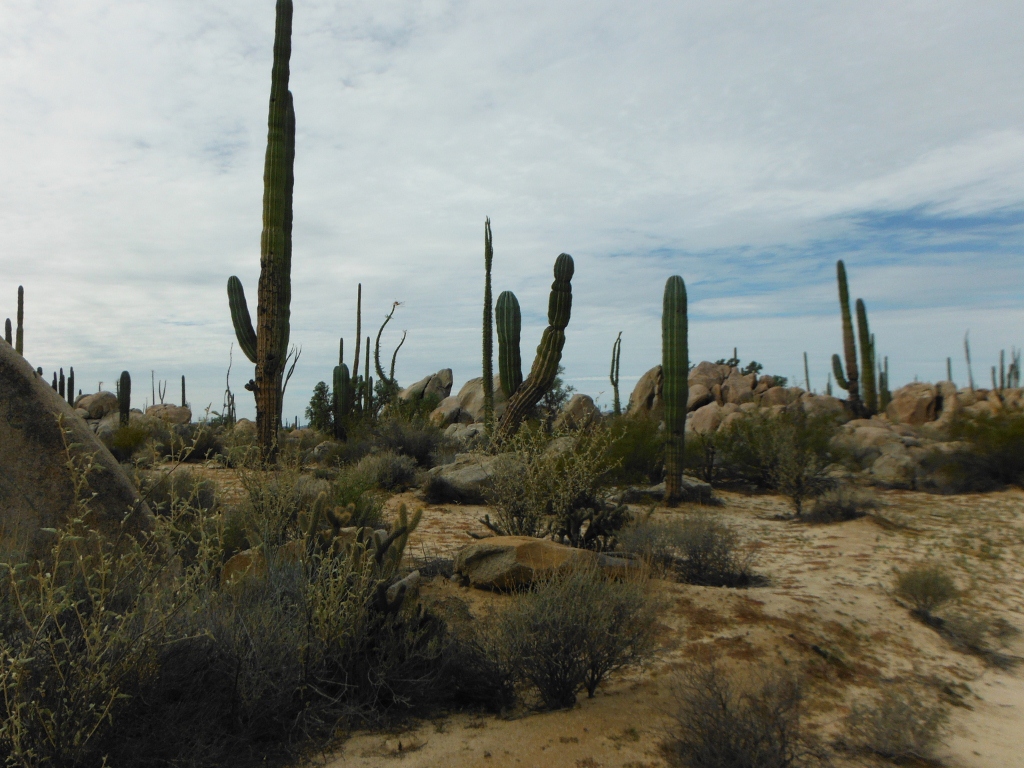 We rode for miles on this sandy road------get your sand legs or go home.
Some of it was deep----we dialed our steering dampers up to a very high setting and pulled on the throttle.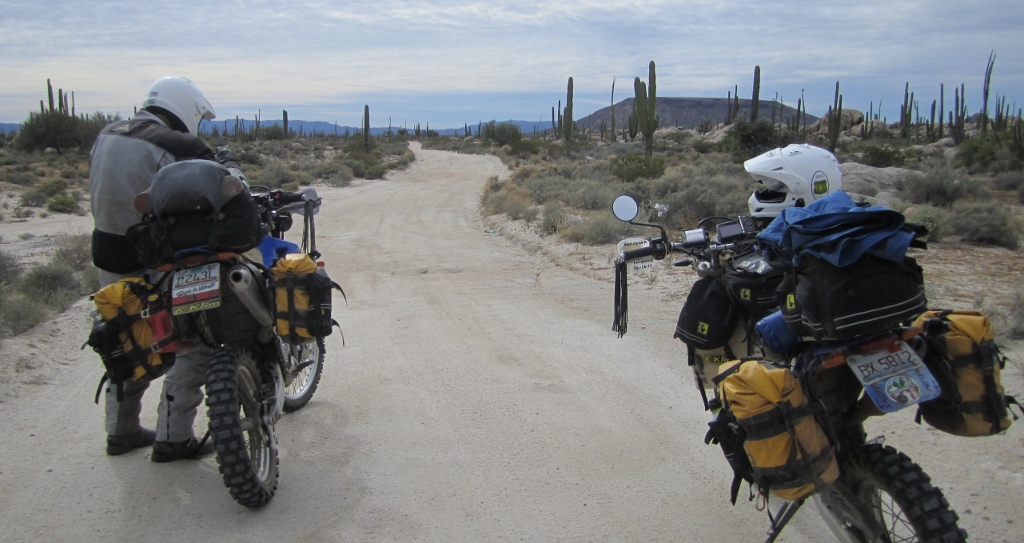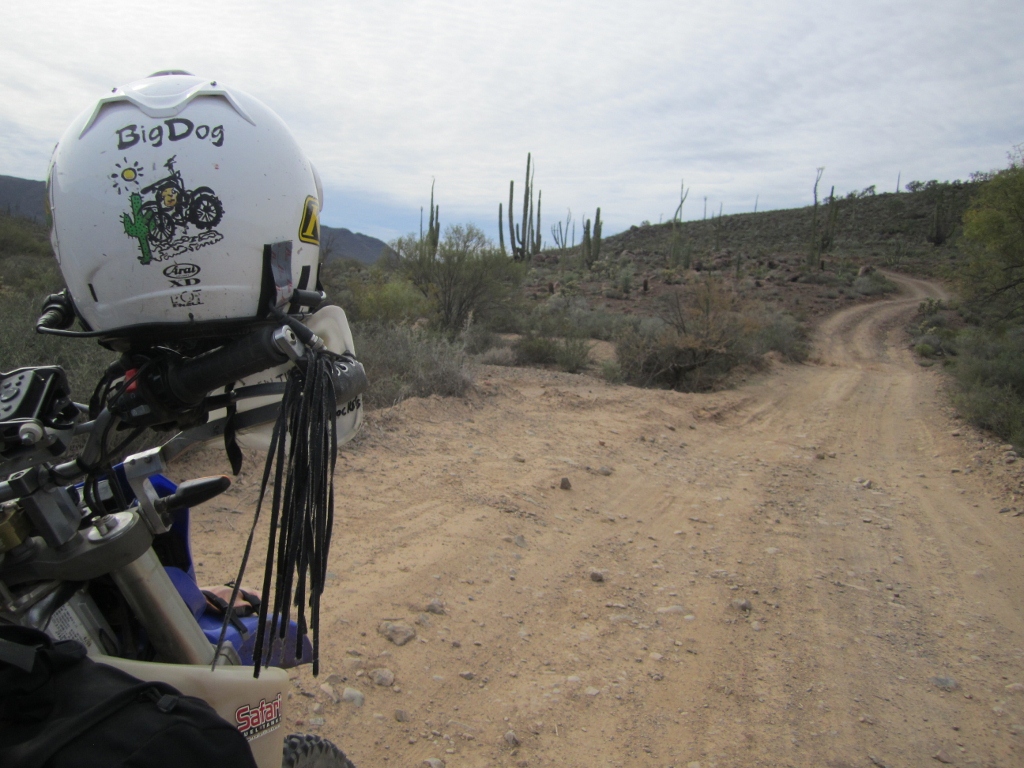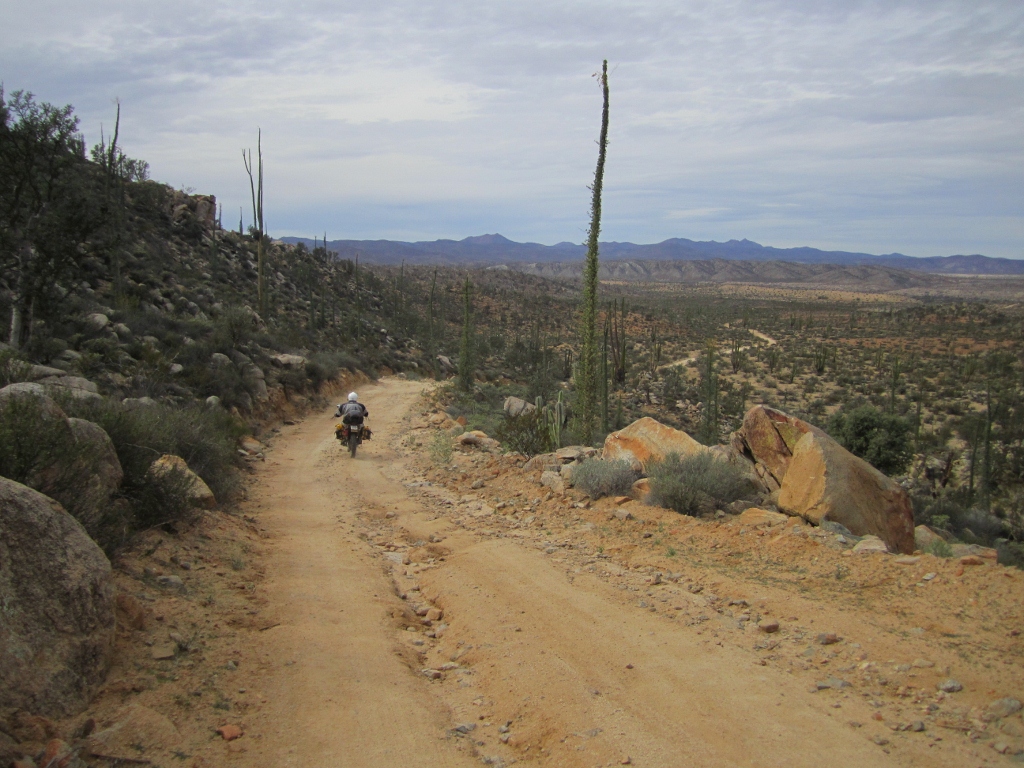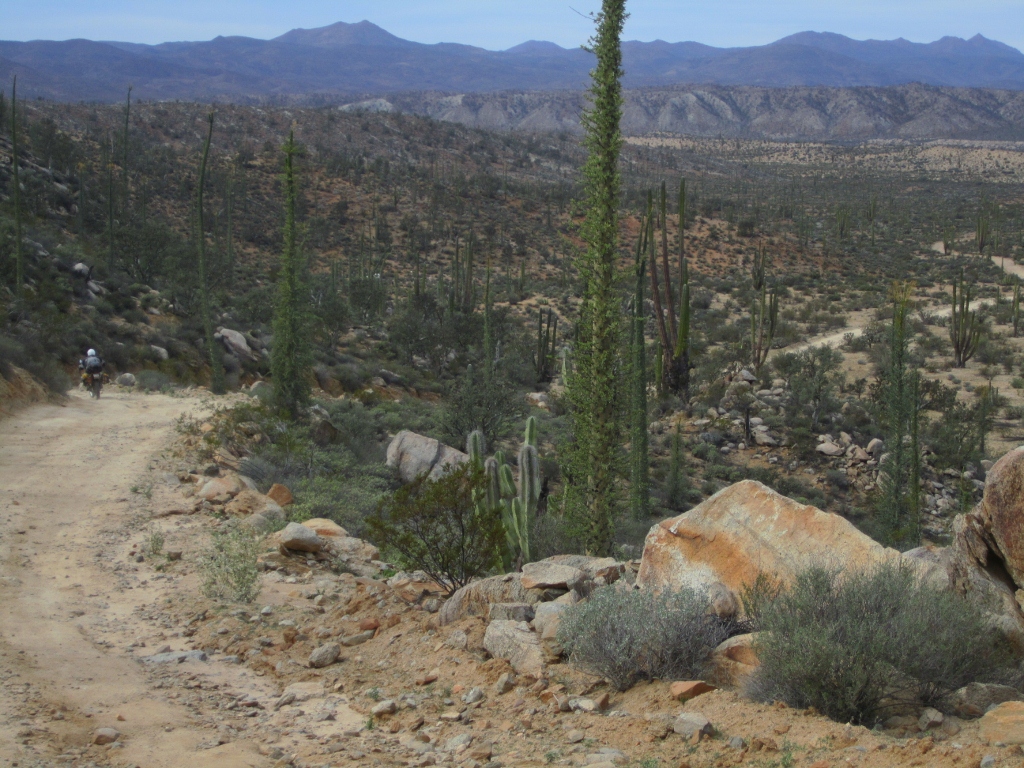 I stopped to take a pee break---have a snack and let Scott catch up.
Scott dis-mounted and said his rear suspension was "wonky".
And inspection revealed what he already knew---his shock had blown a seal and discharged all of it's oil---so now he had no dampening on his rear suspension.
We probably sat here for an hour and thought about what to do. I pushed down on his seat to compress his suspension and it bounced up and down for quite a bit.
If you've never rode a dirt bike with a blown shock------------you can't.
It will buck you off and is miserable to try and ride even on the smooth pavement.
We both knew the trip was over here and just accepted it----relaxed a bit more ---had a snack ---a gatorade and rode back to the pavement
and I had worked out a plan in my head how to get back to the USA without retracing our route at all. I'd ridden the way I worked out before and
knew Scott would survive it with his blown shock and we would still get to see some neat stuff----meet Coco and camp on the Sea Of Cortex at an
awesome spot I knew of.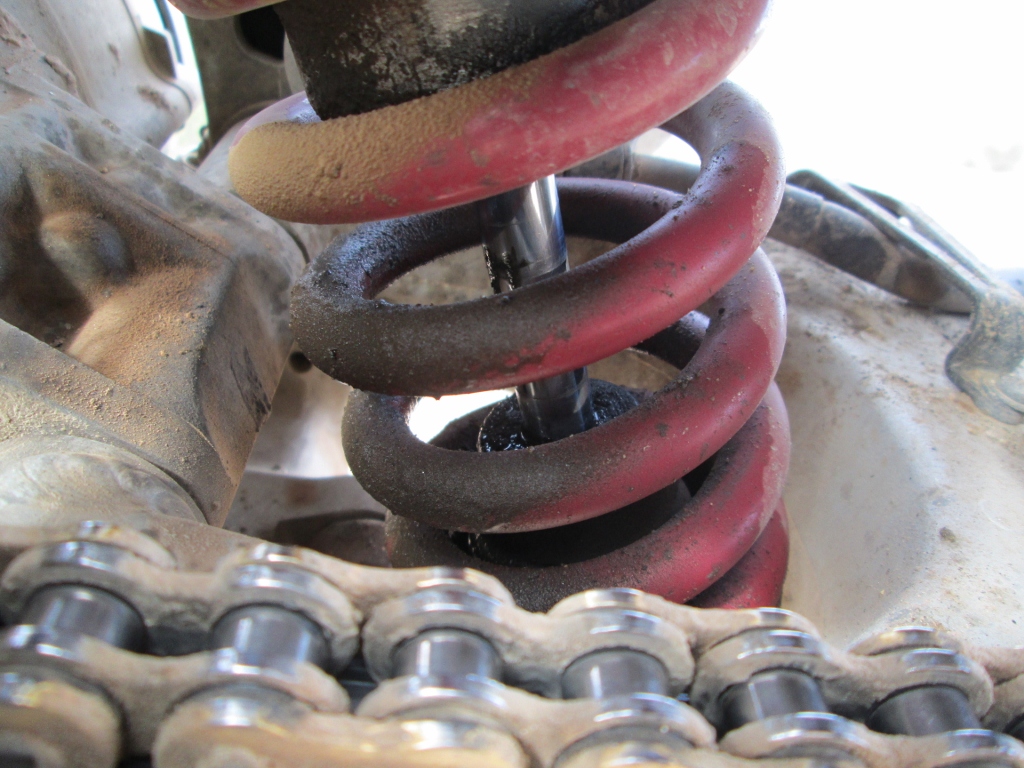 We went south a bit on Hwy 1 and turned Northeast on a rocky road I knew of that of that would take us to Coco---and if everything went right
we'd get there in the daylight. Despite me being told Coco was dead------I assure you he wasn't. Last time I saw him he had 1 1/2 legs---now he has none.
Sugar diabetes has taken them. I kind of thought we'd spend the night with Coco and camp here.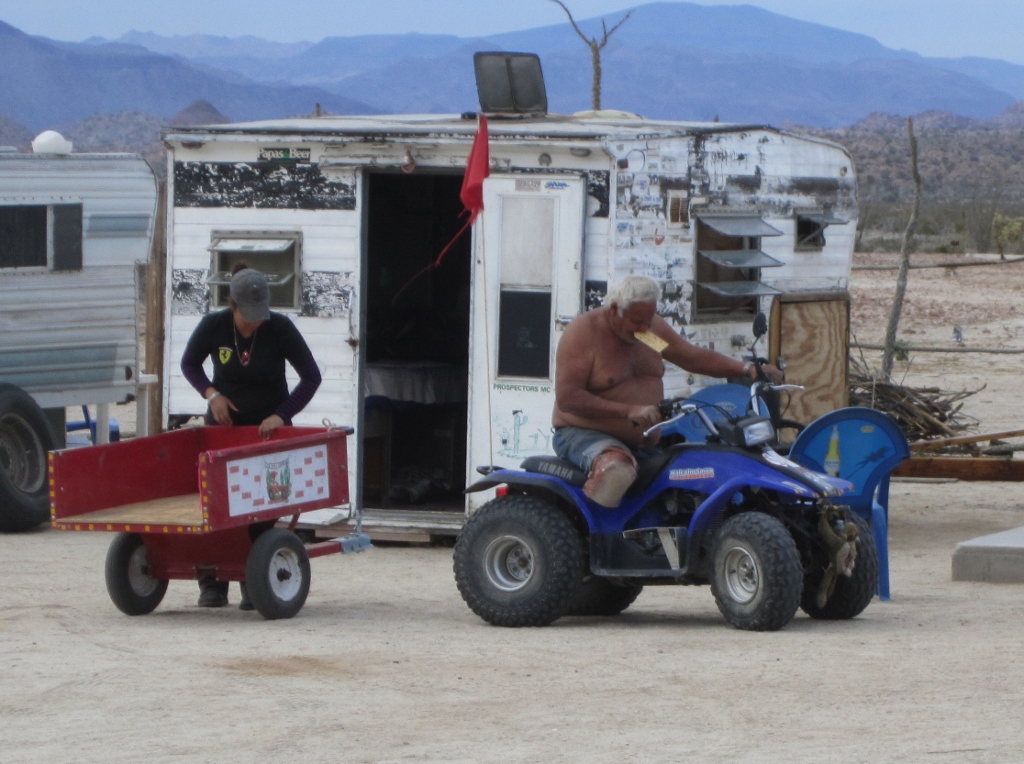 That is CoCos 4-wheeler------it was broke down a while back and I read about a guy that stopped in here and helped him fix it.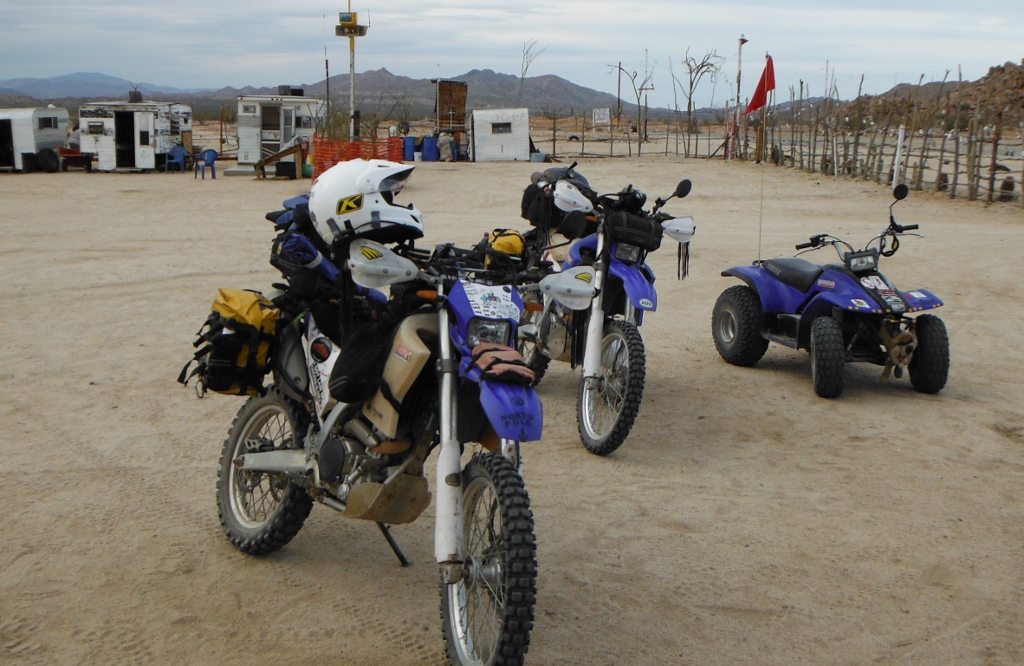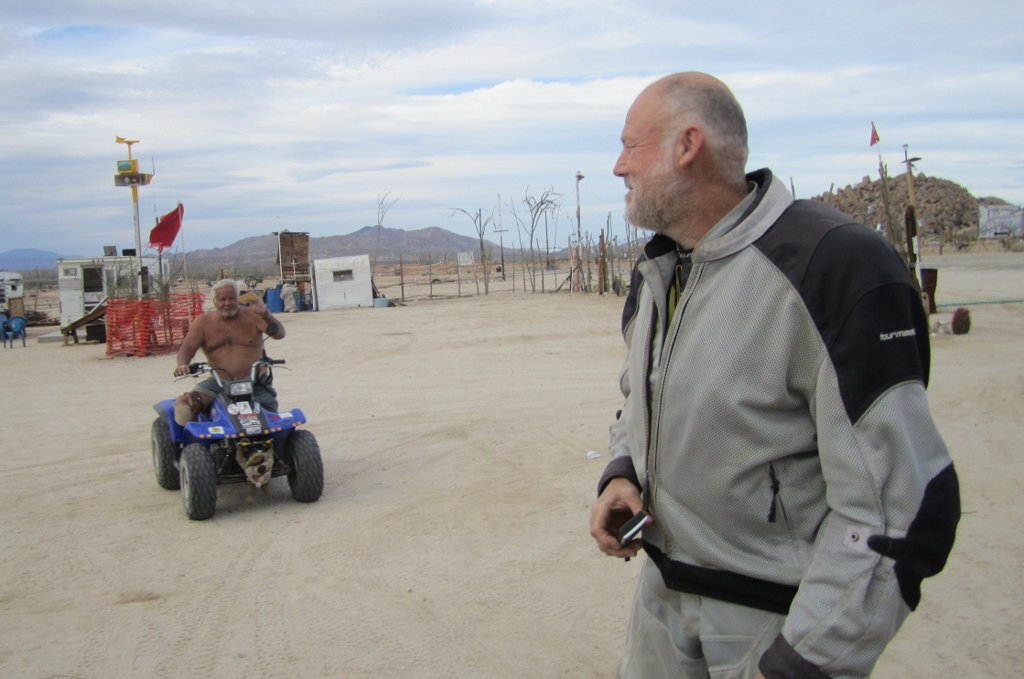 He finally dis-mounted his 4-wheeler and kind of waddled like a penquin on his kneepads and walked into his little outdoor shack.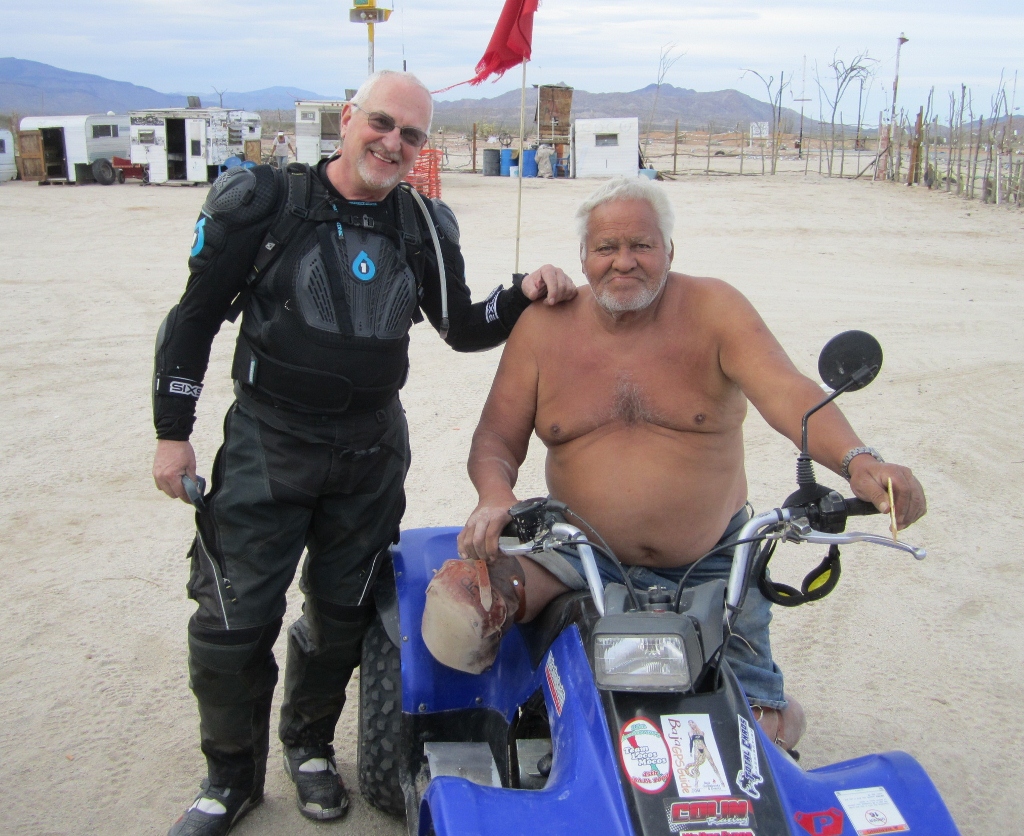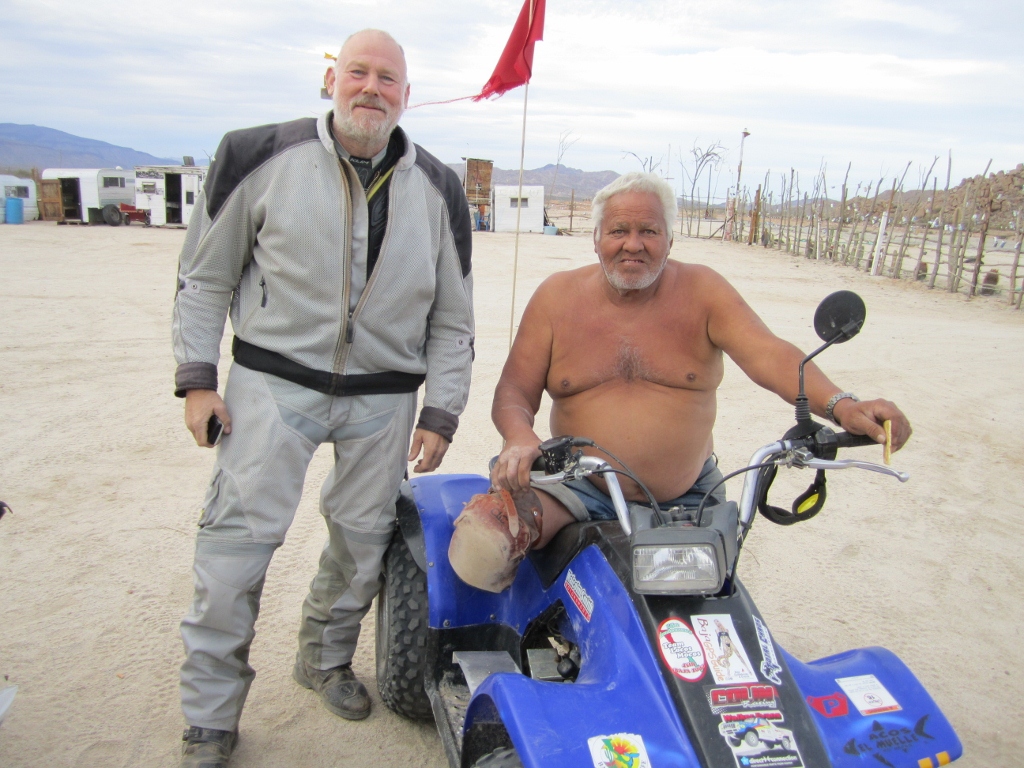 I mentiioned to Scott I knew of a really neat place to camp on the Sea Of Cortez and agreed to go there---although dark was fast approaching.
CoCo was not going to let us leave till we signed his guest book---it was very thick and very old----I suppose my name is in there from a few years ago.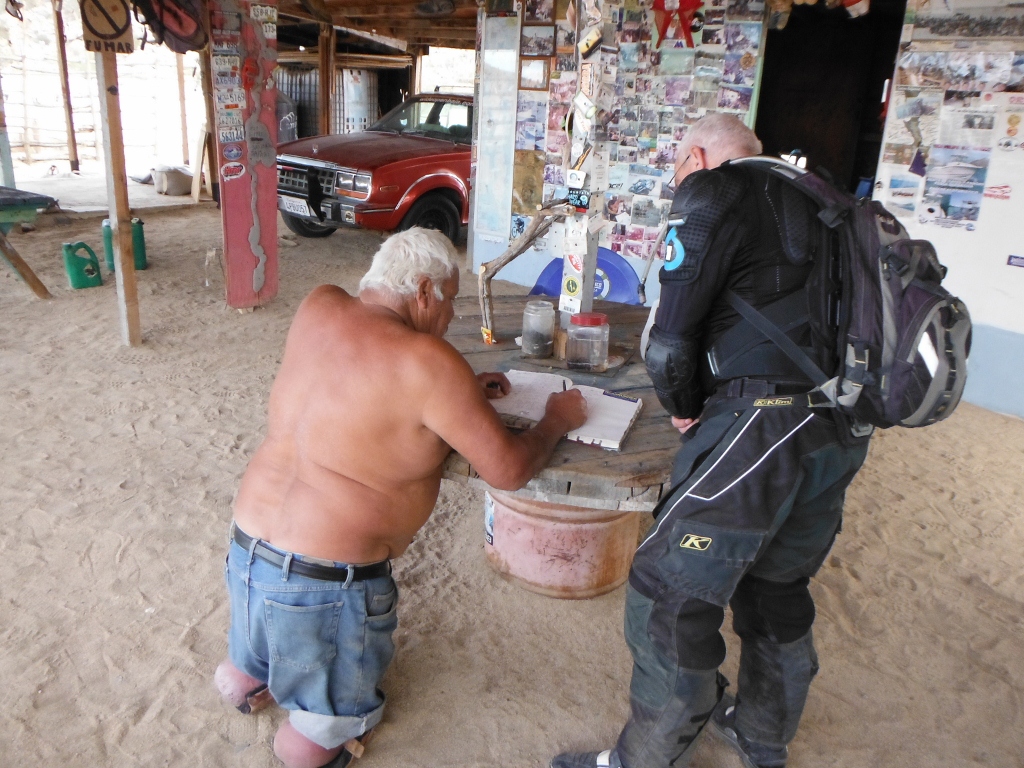 We admired all the womens panties and bra's hanging from the ceiling.
Look under the motorcycle---------you'll see both of Coco's prostectic legs he can't use anymore.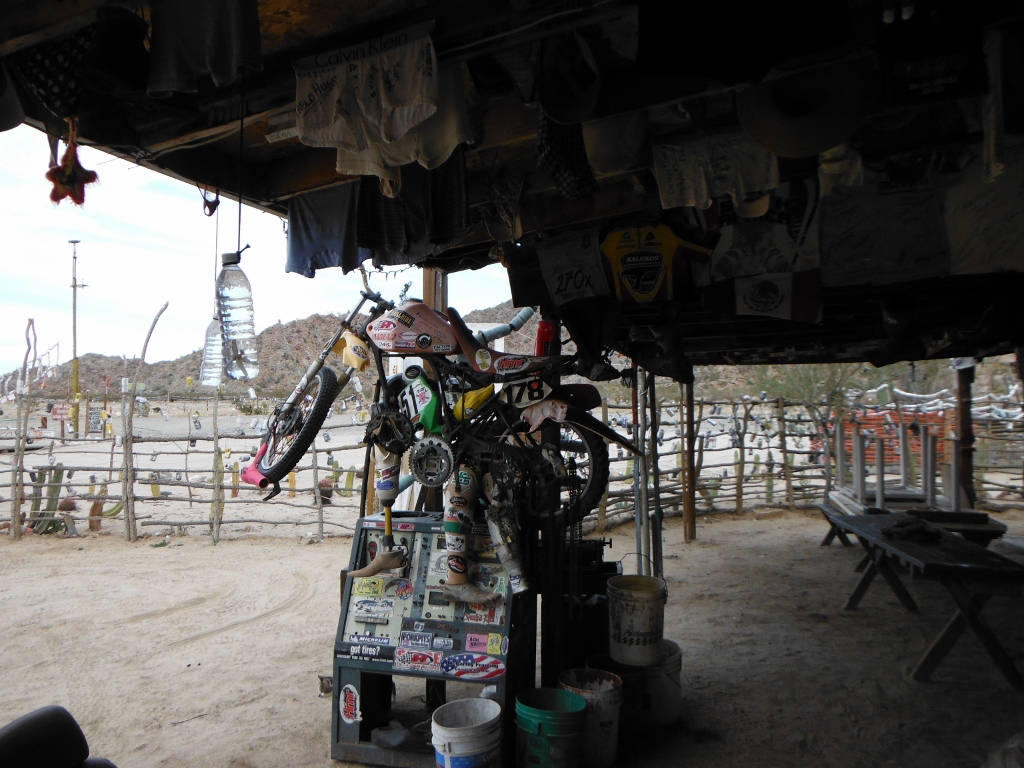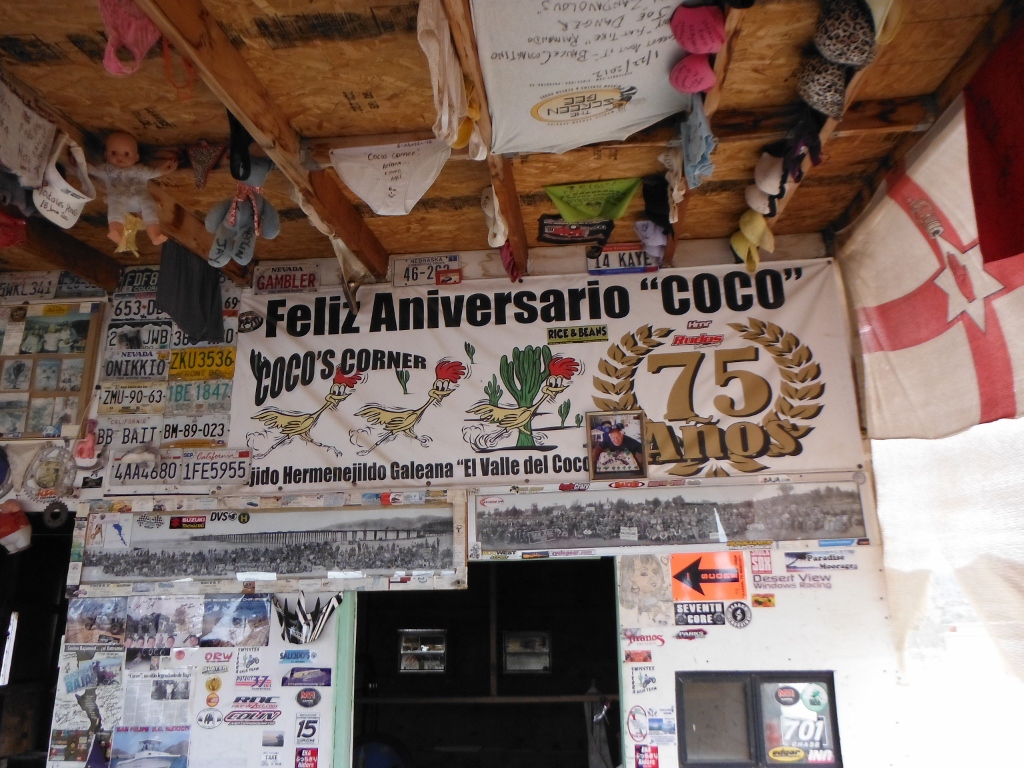 I told Scott to forget that gps gizmo and follow my tailight.
At the turnoff to Alfonsino's I paid for a palapa for the night ---130 Peso's.
And we filled up with gas at the Pemex on the dirt road and a really nice fellow fixed us a great big steak sandwich.
We loaded the sandwich's up with 2 cold beers (my limit is one) and headed to the beach to eat it and set up camp.
There was no wind------perfect temps as we ate and watched the sun go down behind us-----knowing it would ride
out in the ocean in the morning.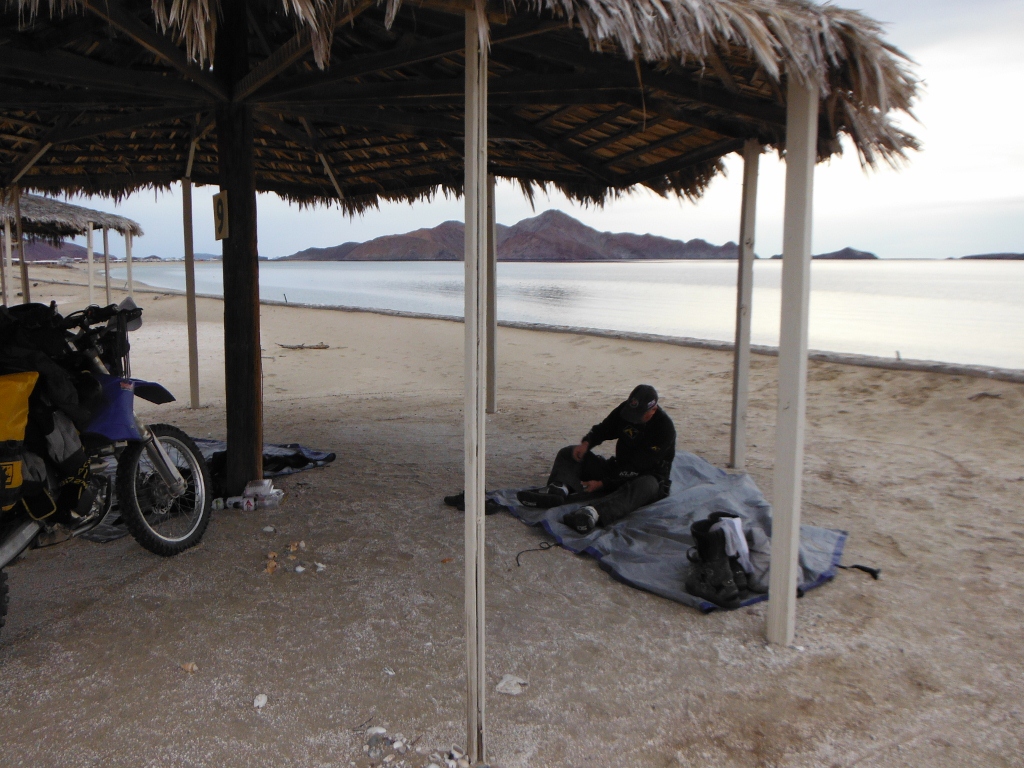 We were the only ones here---thanks to the many gringo's that won't come down here.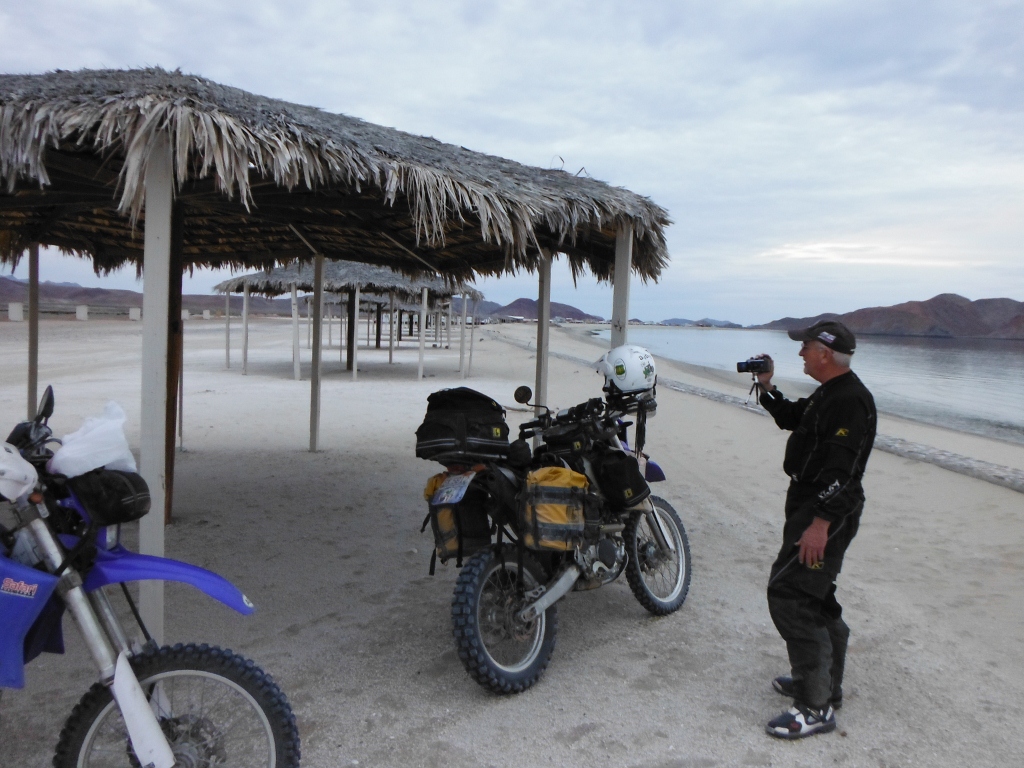 There were many birds out in the ocean making loud bird noises---that were actually very pleasing to the ear along with the soft sound of
the surf coming in.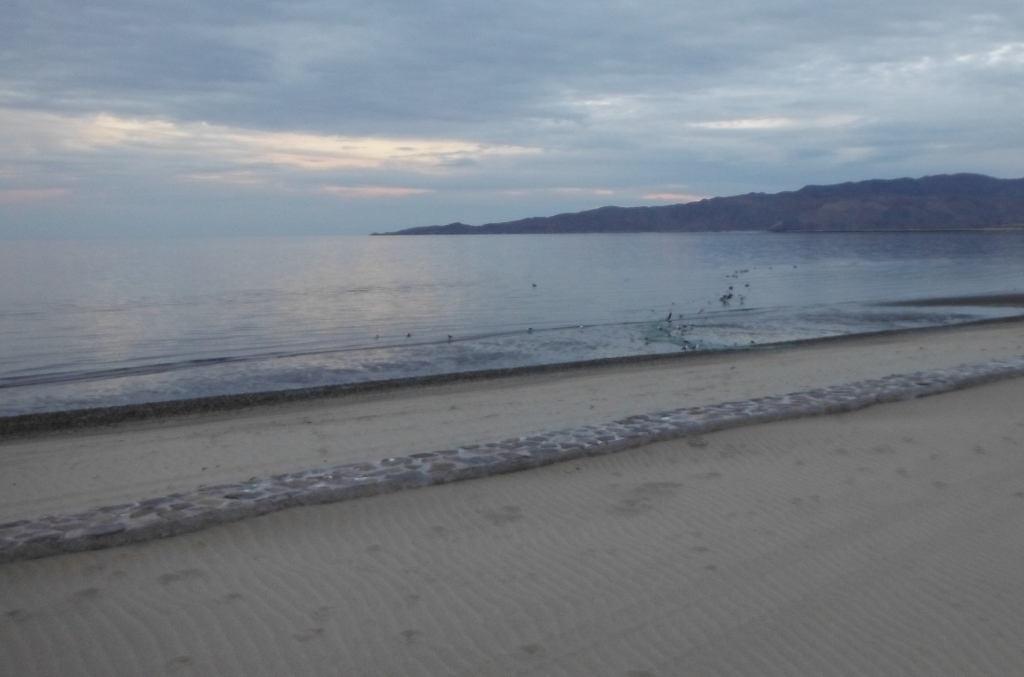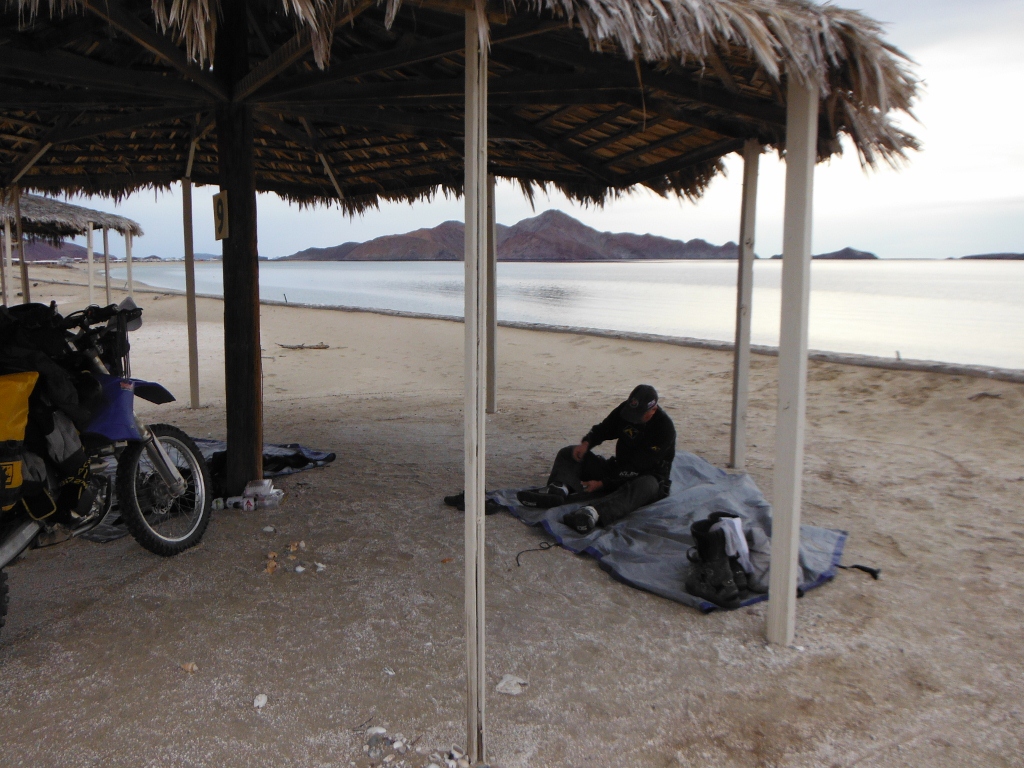 I laid out my "Dingleweeds M-3000 Combo--Tarp---Bike Cover--Shelter--and Misc. Use".
We never go anywhere without these.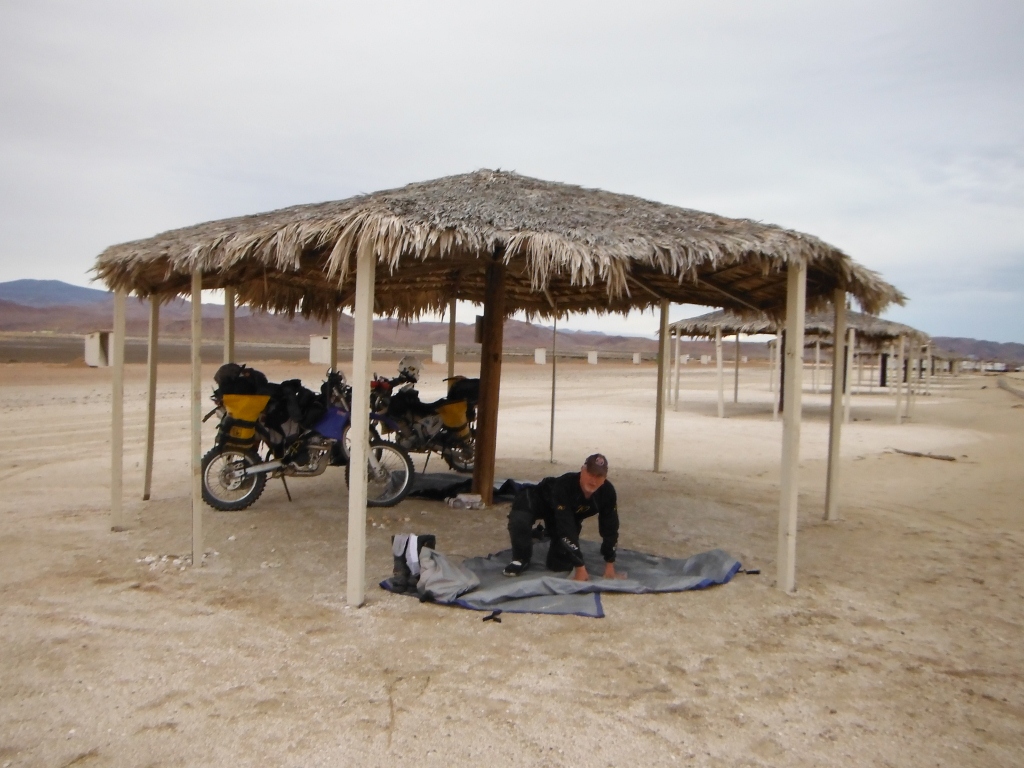 A hot steak sandwich and cold beer.
I usually drink about 5 beers a year-----I hit my quota on this trip and will have to wait till next year to have another.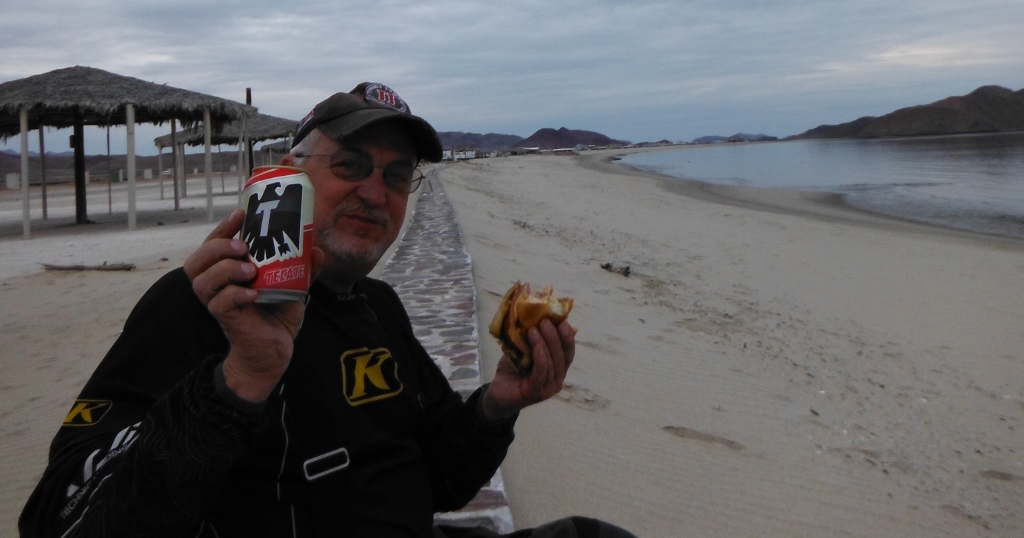 ZZZZZZZzzzzzzZZZZZzzzzZZZZZZzzzZZZZZZZzzzzzzZZZZZZZZZZzzzzzzzzzzzZZZZZZZZZZZzzzzZZZZ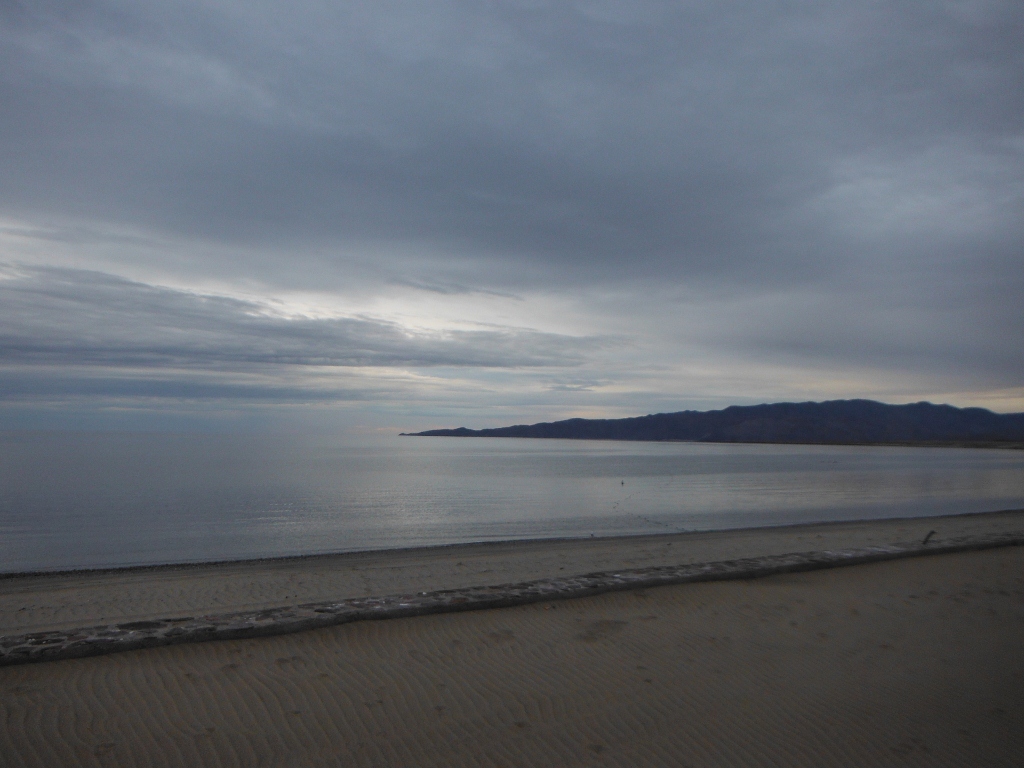 About 195 miles for the day.
And here is the tracklog of the days riding.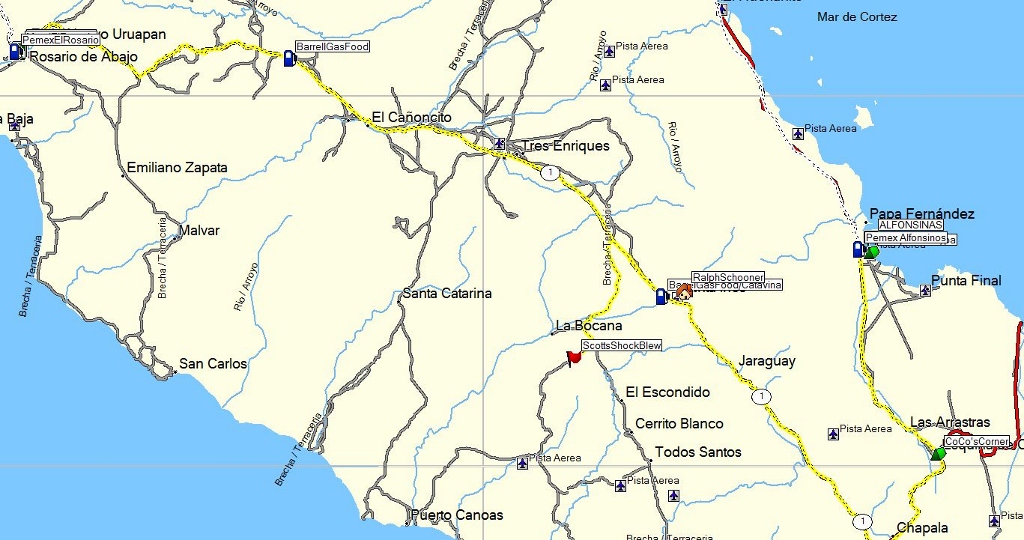 Day 6
January 25th, 2013
Our lovely Palapas to the United States.
We packed up early in the morning.
And it was here I fully realizex and I guess Scott did too how bad he was hurt.
He was laying flat in his tent on his back----and couldn't roll over or sit up by himself.
I guess if somebody had heard him they would have thougth I was stickin' a knife in him.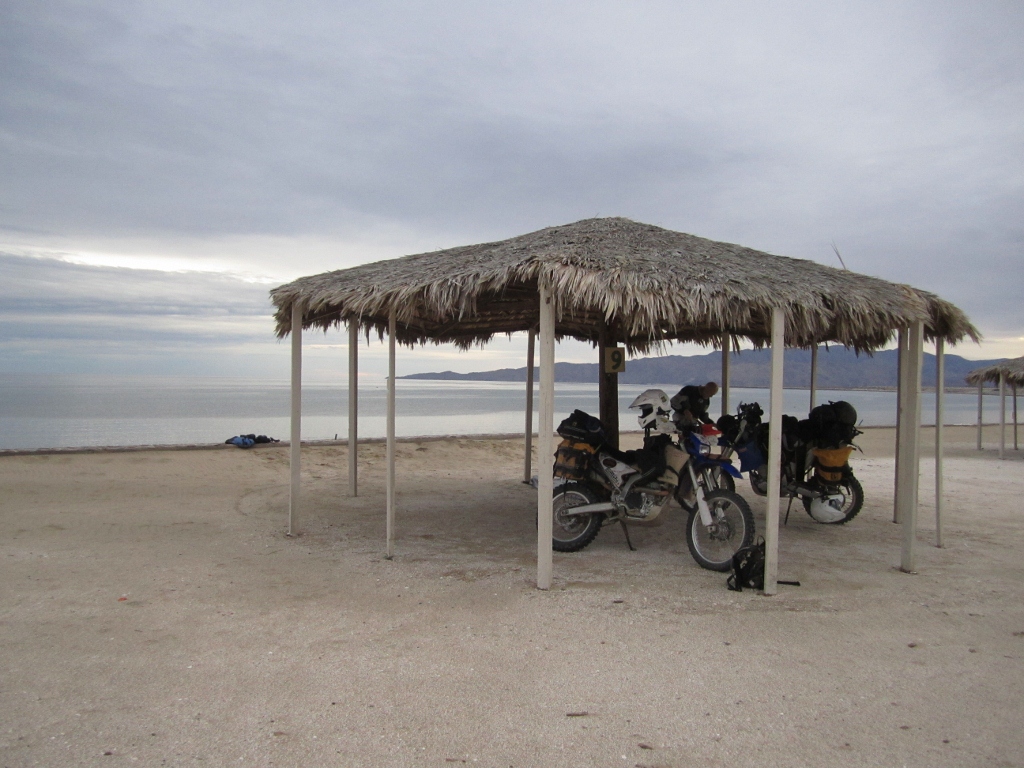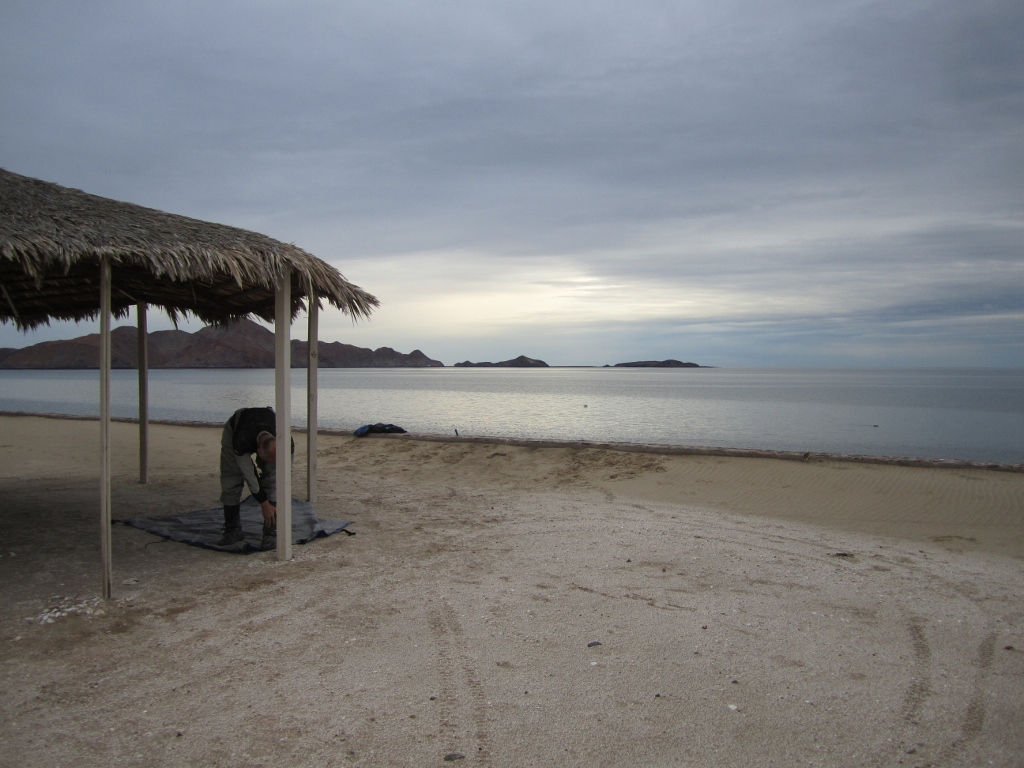 But he got on his bike and I heard a big !!!
"Wahooooooooooo" !!!!!!!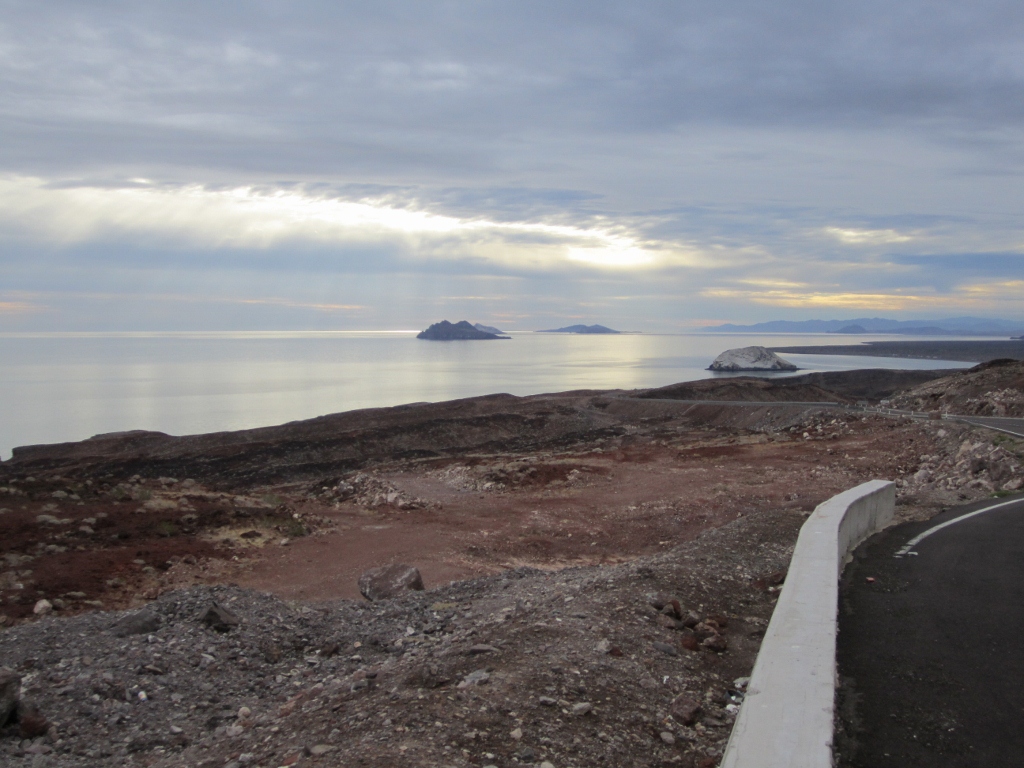 Scott ripped off 2 really good pics as we rode slowly North on the ordinary route.
Pavement started about 3 miles North of the Alfinsino's turnoff.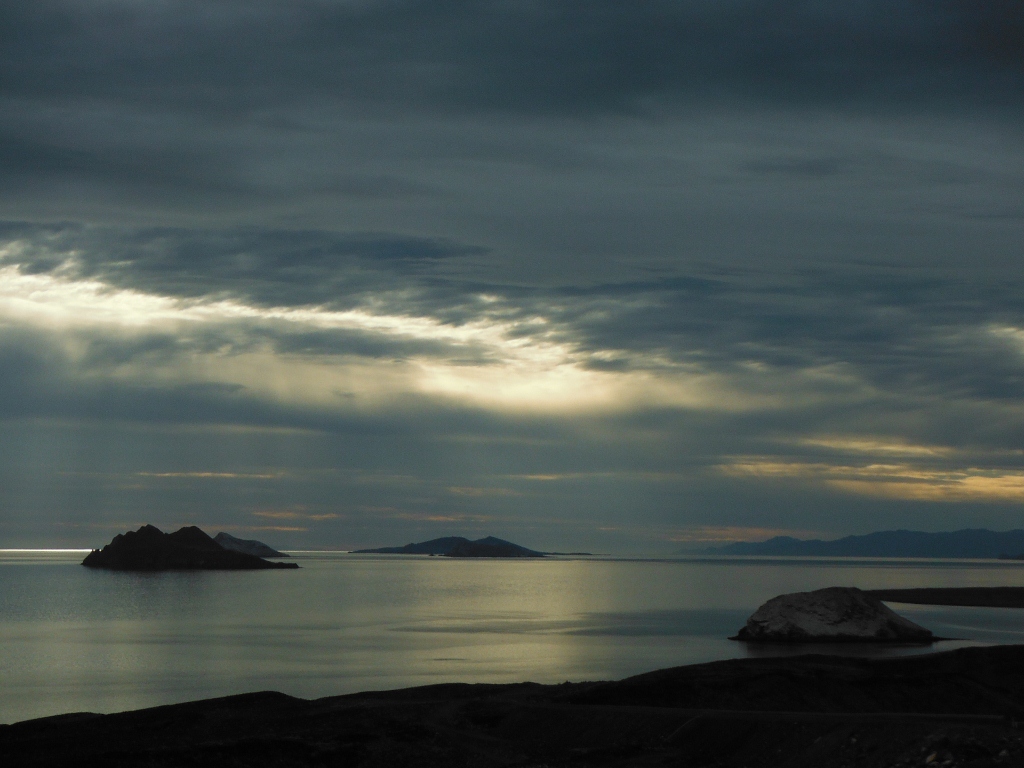 On the new pavement-------I was reminiscing about the old unpaved route I could see closer to the sea--they left a lot of it.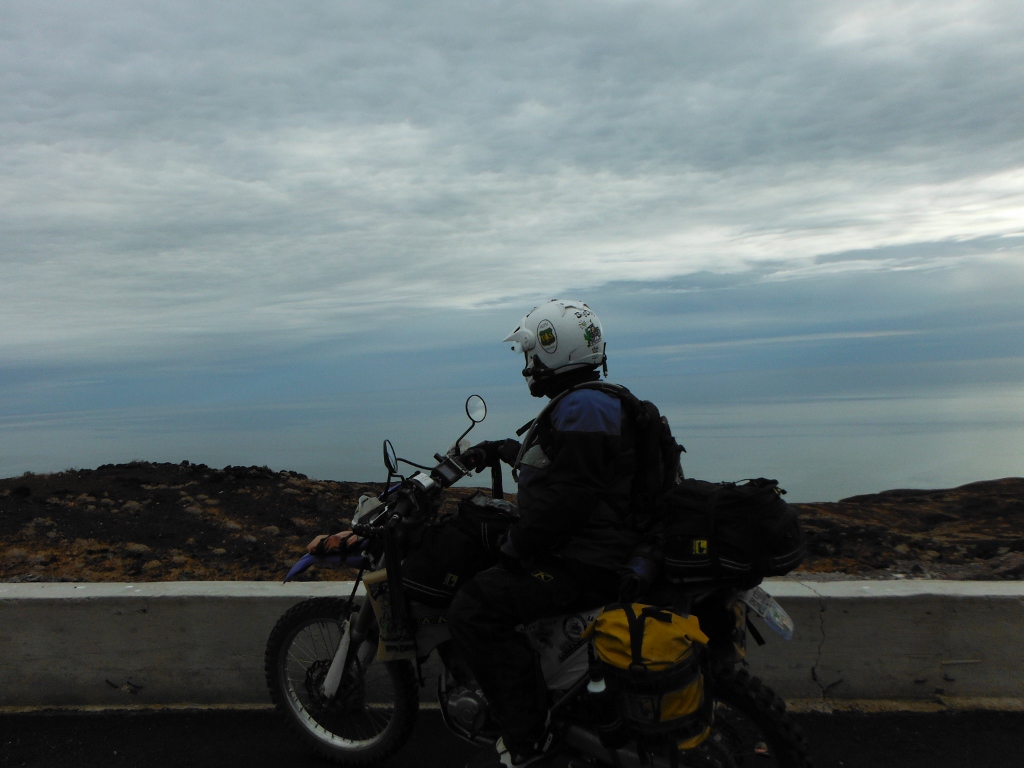 The border crossing took 17 seconds---and we were on our way back to my tow vehicle------ then back
to Scotts in Tuscon where we just relaxed for a day before I headed home.
I figured this might be my last trip to Baja------not so.
We are coming back for sure.
The End
Back to My Homepage