Winging It To Alaska
June 2011
A DVD video of this ride which is about one and one half hours long is available HERE
Below is a short trailer video to show you what the full video is like.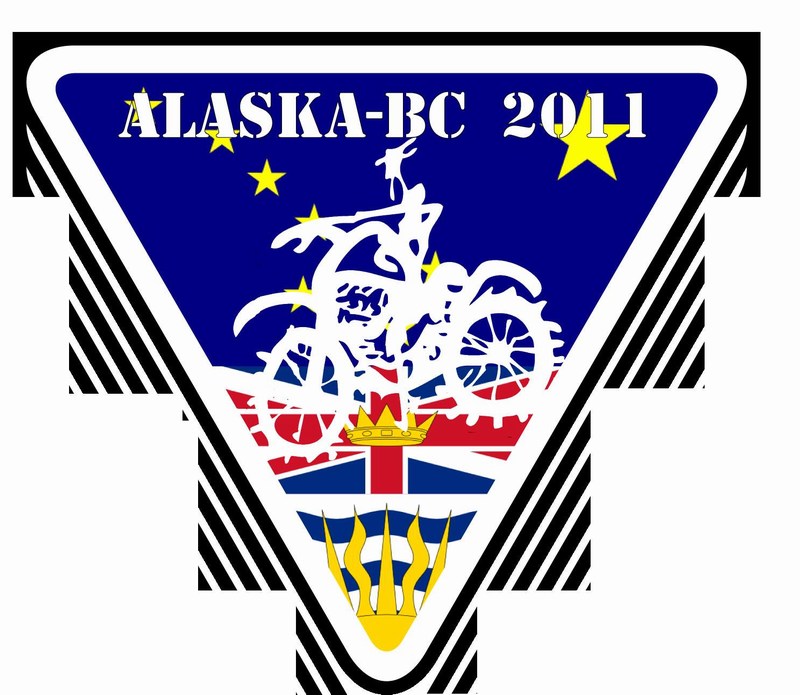 Me and my buddy Scott Stevenson (Arizona) rode ourYamaha WR250R's 7,000 miles on this ride from the
US/Canada border all the way to Deadhorse Alaska.
I guess I'm no different than any other adventure rider and have dreamed of going to Alaska for years.
I even had money set aside years ago to do it and would wait until the time was right---I never touched that money but had kind of put the trip out of
my mind----as I didn't want to follow the paved Alaska Highway to get there and wanted to take quite a few more rugged routes then almost all take.
When I got that figured out----off Me and Scott Stevenson went---we met at the border on June 7th, 2011 and headed North.
We had no exact route planned----no daily mileage goals----no planned overnite stops--no flights to catch---no watches to watch--
no time frame to be back home--to time clock to punch---just 2 very well prepared bikes loaded with camping gear, food and water.
Having camping gear allowed us to quit riding whenever we wanted---not when a motel was convenient.
Of course we did have to surface for gas---but carried extra and that allowed us to never to take a turn just to get gas.

Our first day out was hilarious now that I think of it.
We crossed the border at a very small border to avoid hassles and lines. We avoided the lines but not the hassle.
It was in Midway BC we crossed into. The BC border guards were
like snarling pitbulls and accused both of us of crimes we never committed---and when they finally got tired of playing (it was 10 minutes before their
quitting time)------they let us through after they thought they made us believe we were lucky to get in the country.
Yeh--we'll be good boys if you don't mind me never stopping at your stop signs---I never stop at stop signs--they
are for people who don't know how to drive (most everybody) !!!!!

We didn't start riding till about 1PM as we had lots of gear to pack up and took off in a very cold down pour and rode the rest of the day
in a hard cold rain. The sun was setting as we slid into the very little town of Beaverdell BC looking for a roof over our heads.



The next thing you know---our bikes are parked on the dance floor of a local bar---dripping water all over the floor--this is where we slept.
How can this be BigDog ??? You don't even drink and neither does Scott ????
Oh this story gets better----the local store that was getting ready to close said there was no lodging in Beaverdell contrary to a couple of
signs we saw----but she said--"Let me call this gal and see if she's got a place for you "---it's still pouring outside.
We met a gal down at the Tamarack Lodge which is a bar, restaurant, and motel that is not quite ready for business.
She said it's not really ready but pull your bikes around back----we did and she motioned for me to pull right inside---right on the carpet,
and then right on to the nice wooden dance floor where our bikes dripped a gallon of water each onto the floor.
She left--and said you have the place to yourself---rooms are upstairs---lock the door for the night and when you leave.
And that was it---we were dumbfounded---totally dumbfounded----or just dumb ???? $35 and we had a roof over our head,
over our bikes, a shower and a warm place to sleep.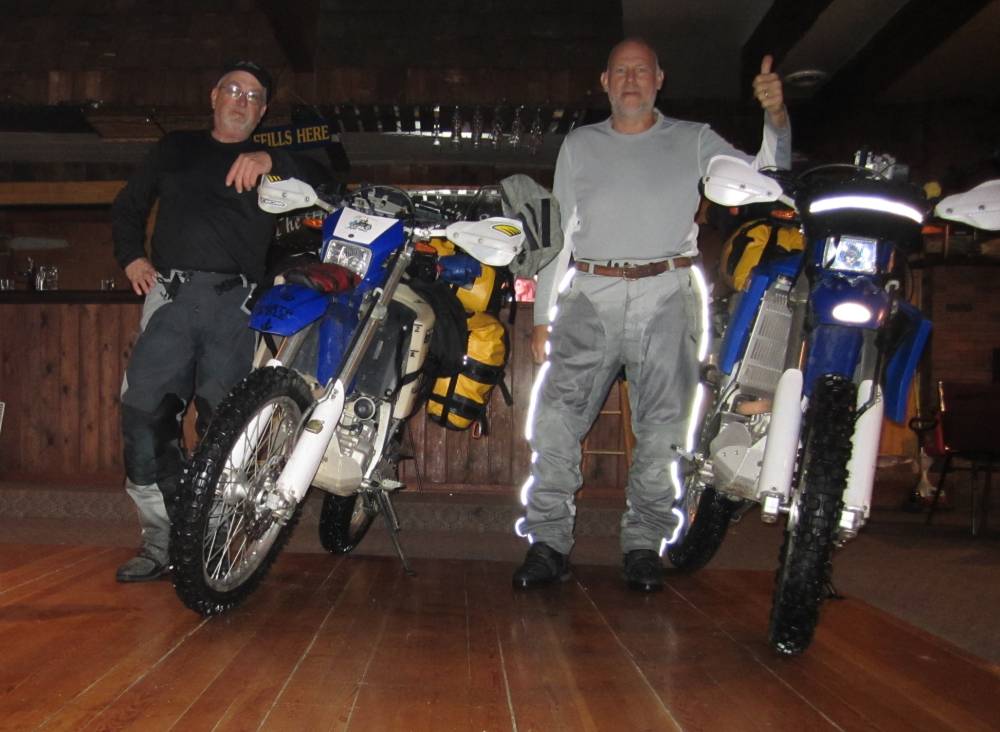 If I didn't have these pictures you probably wouldn't believe this story I just told.
The stereo was playing some classic rock---the bigscreen TV was on and if we were partiers---we'd have been in heaven.
But it was heaven to us anyway---and there was a dirt bike in there also if we decided to make some hot laps.
We finally went up stairs--crawled in bed and had a great nights sleep after a hot shower.
You can't plan this stuff---I don't know why people try to.

"Just Wing It"
Day 2
June 8th, 2011

Beaverdell had anything a guy could ever need for sale.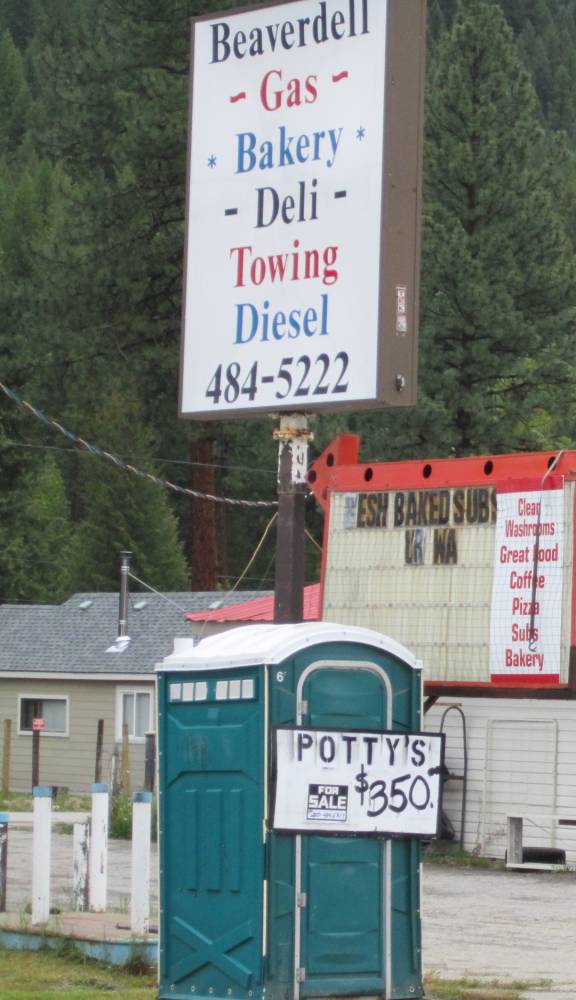 Where we stayed.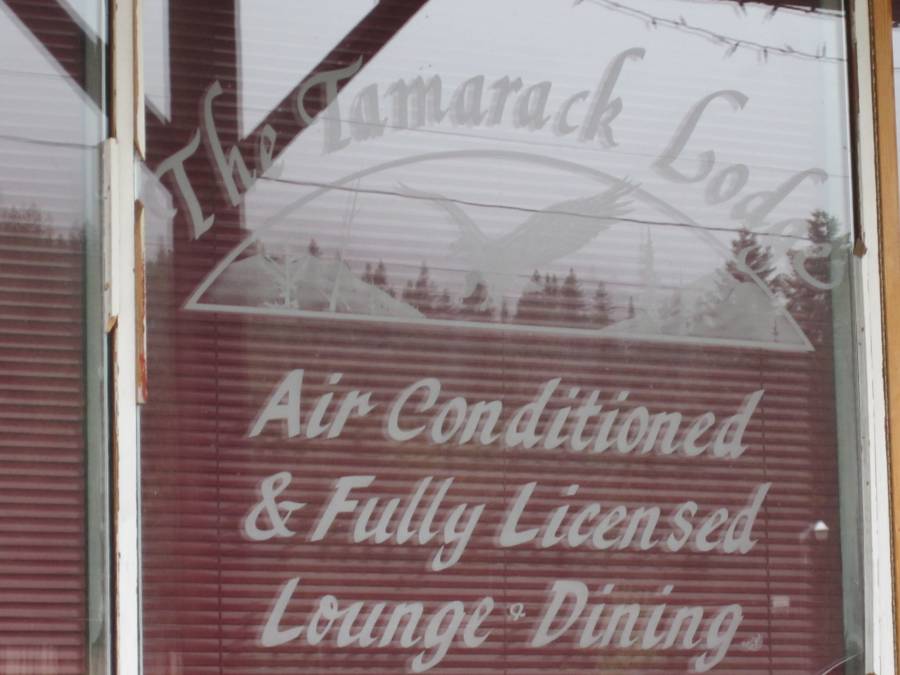 Our route--our plan----well we had none really-----"hey Scott the old Kettle Valley railroad bed is
just about 1/4 mile West of Beaverdell---you want to check it out ???"
"Does it go North ???-------not really------OK"
And that was that---the Kettle Valley railroad bed it was.
It had rained alll night and there was no dust---there were planted baby head rocks at first but then smooth sailing.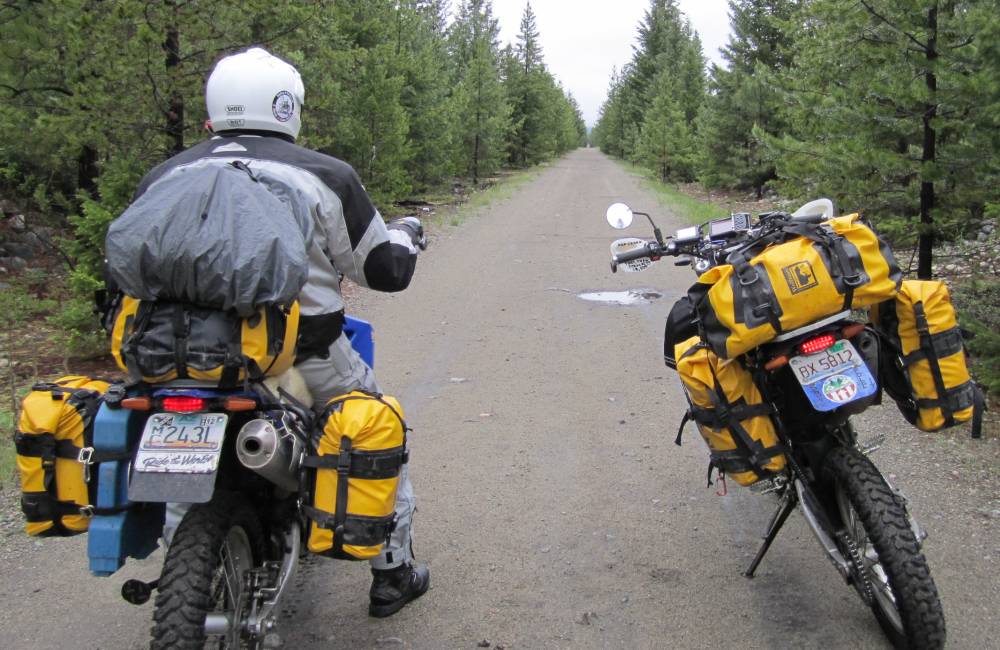 Everyone that knows me knows I have a fefish----kind of embarrassing I know--but we all have them.
And mine is old bridges---I guess it could be something much worse---pretty harmless really.
If you don't like bridges you need to read something else on the net---we crossed at least 100---lots
of them old tressels on the Kettle Valley Railroad---which I'll now call the "KVR". Got it ????
And I took a picture of almost everyone.
This is an old bridge on the KVR---and all the bridges you are going to see for the next 3 days are mostly railroad
bridges and tressels.
The Hikers and bicycles want this for themselves as they always do--or at least we heard.
But we found out kind of different---in which I'll get into later.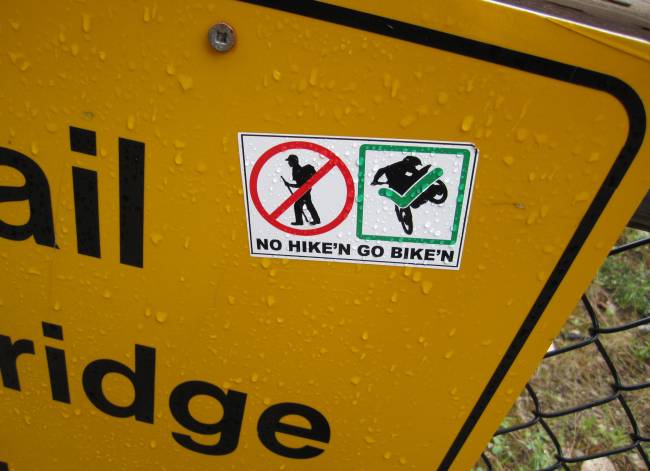 Railroads always go thru the backcountry---and to try and keep a small grade they follow
valleys, river and canyons a lot.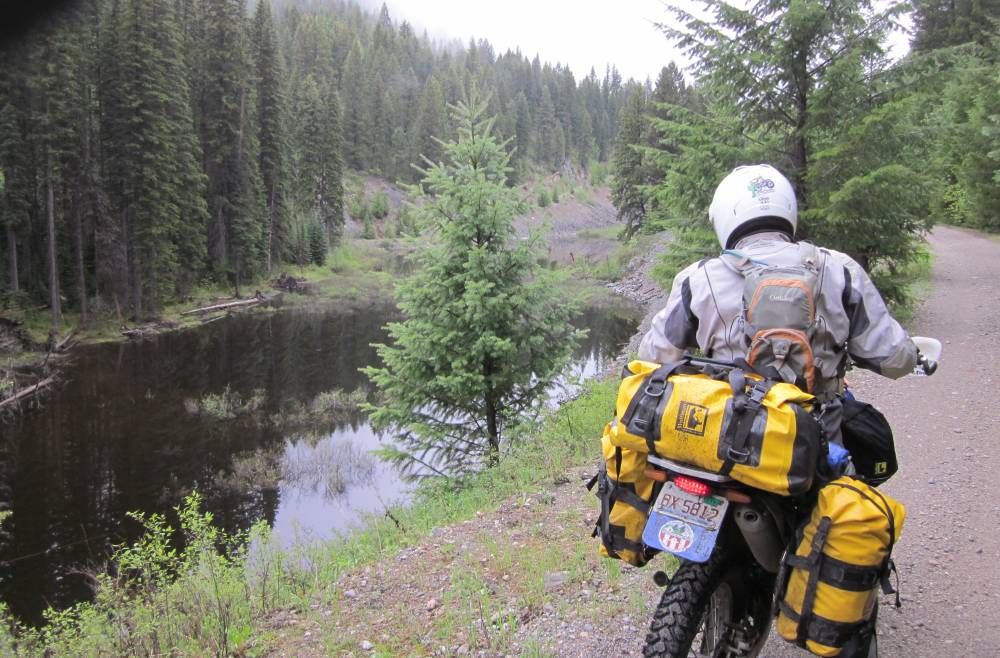 Me and Scott had put on brand new Mefo rear tires---hoping they would last 7-9,000 miles.
We'll see later how that went-------it didn't.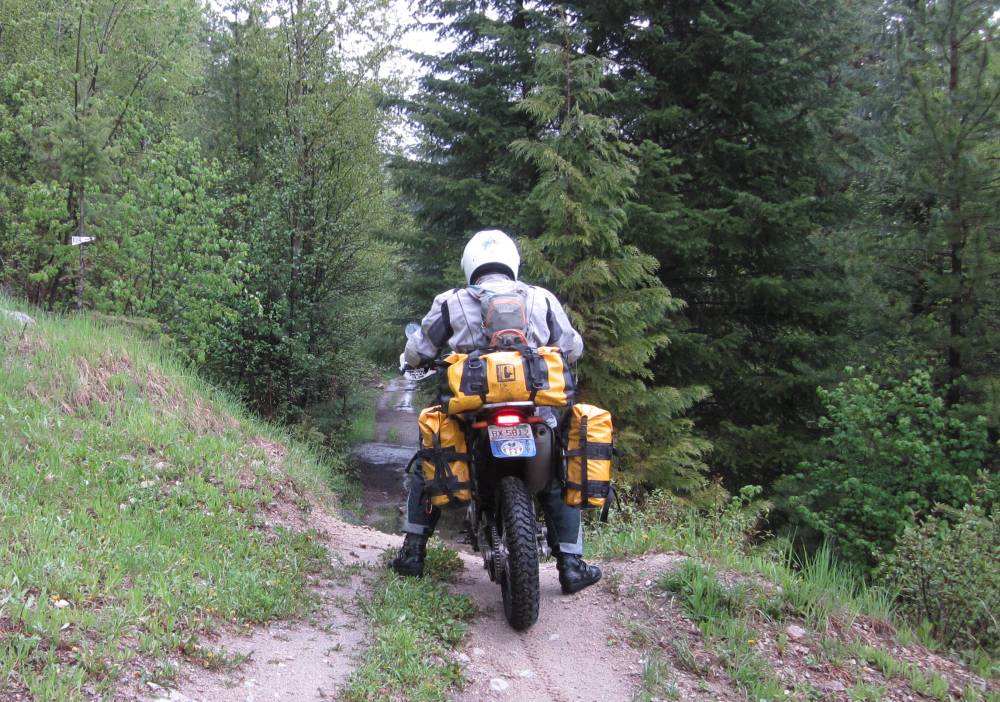 It never rained all day---- but it sure was soggy and we rode thu water holes all day long pretty much.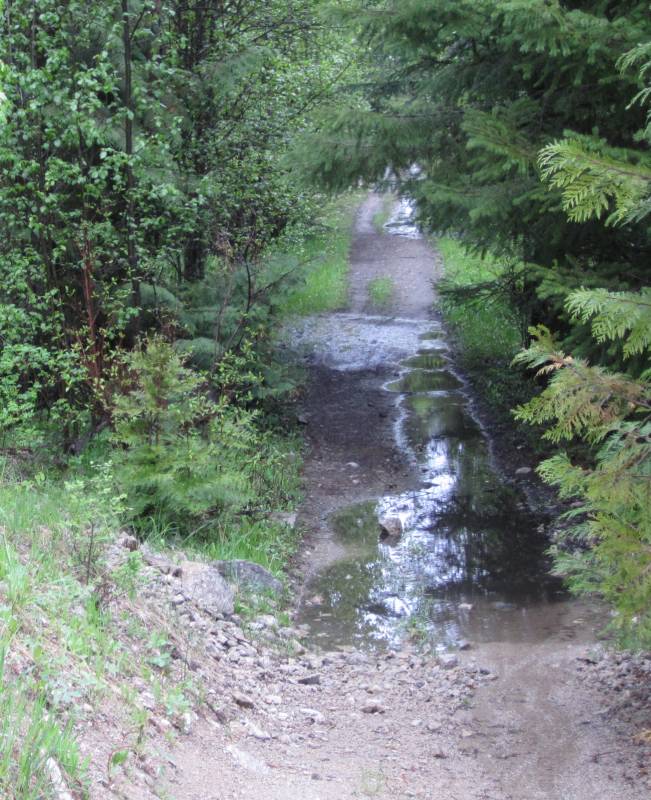 Don't need no stinkin' gps-----just follow the sign.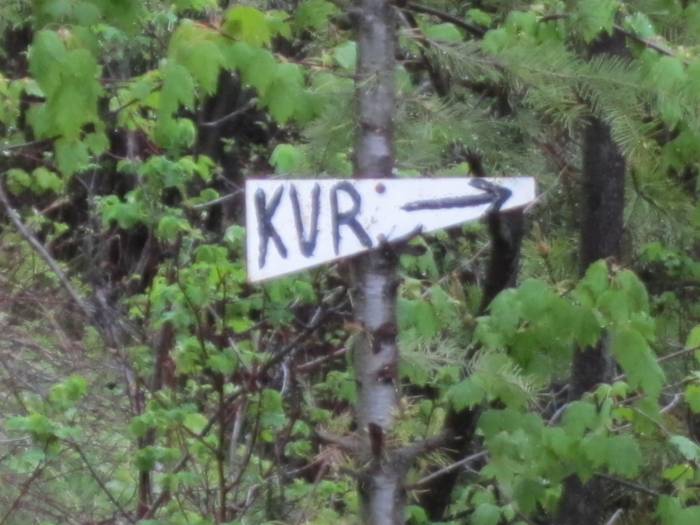 We thougth this wooden wall was built to keep big rocks from a rock slide off the tracks.
The railroad opened in 1915 and was abandoned in portions beginning in 1961, with the final segment falling into disuse in 1989.
It was then converted to a multi-use trail.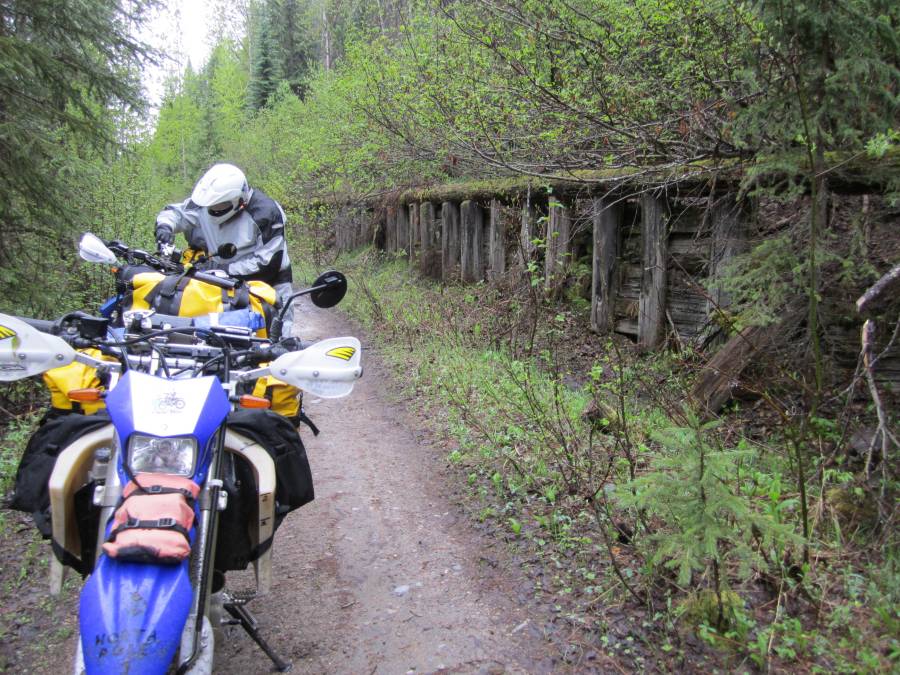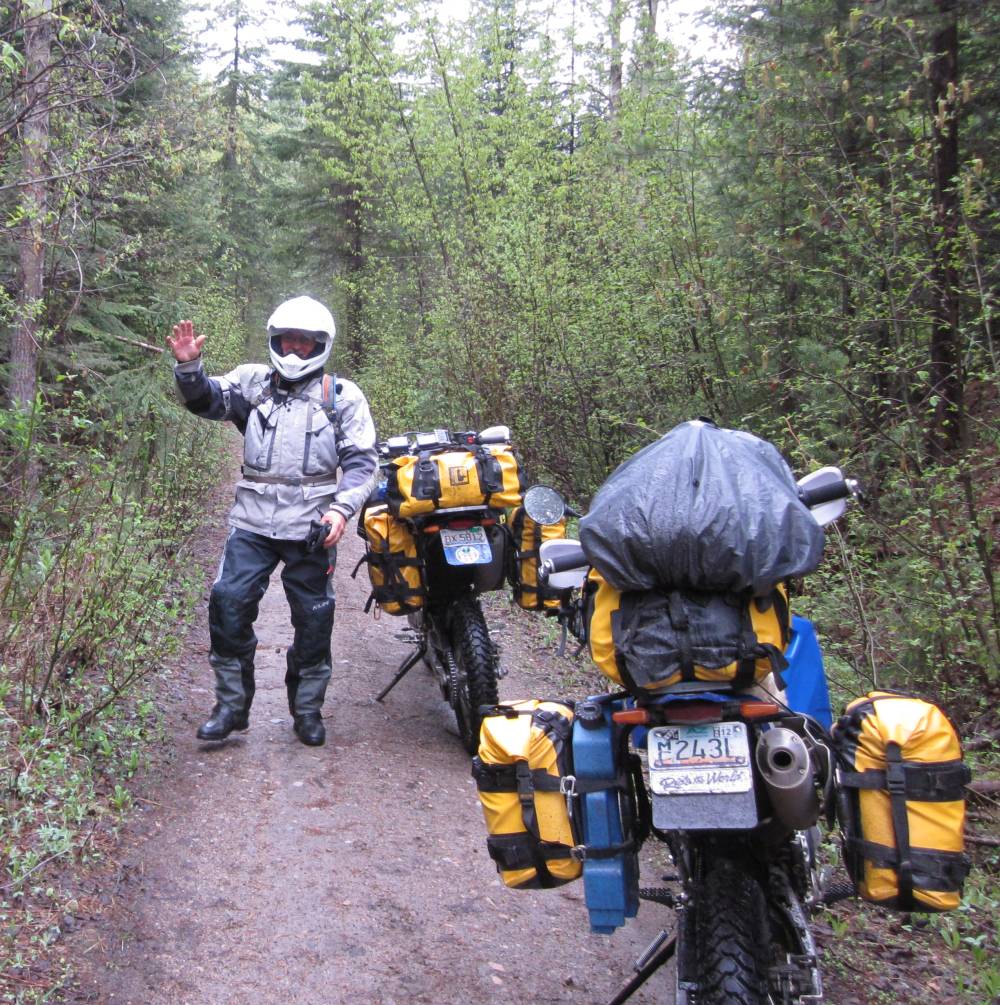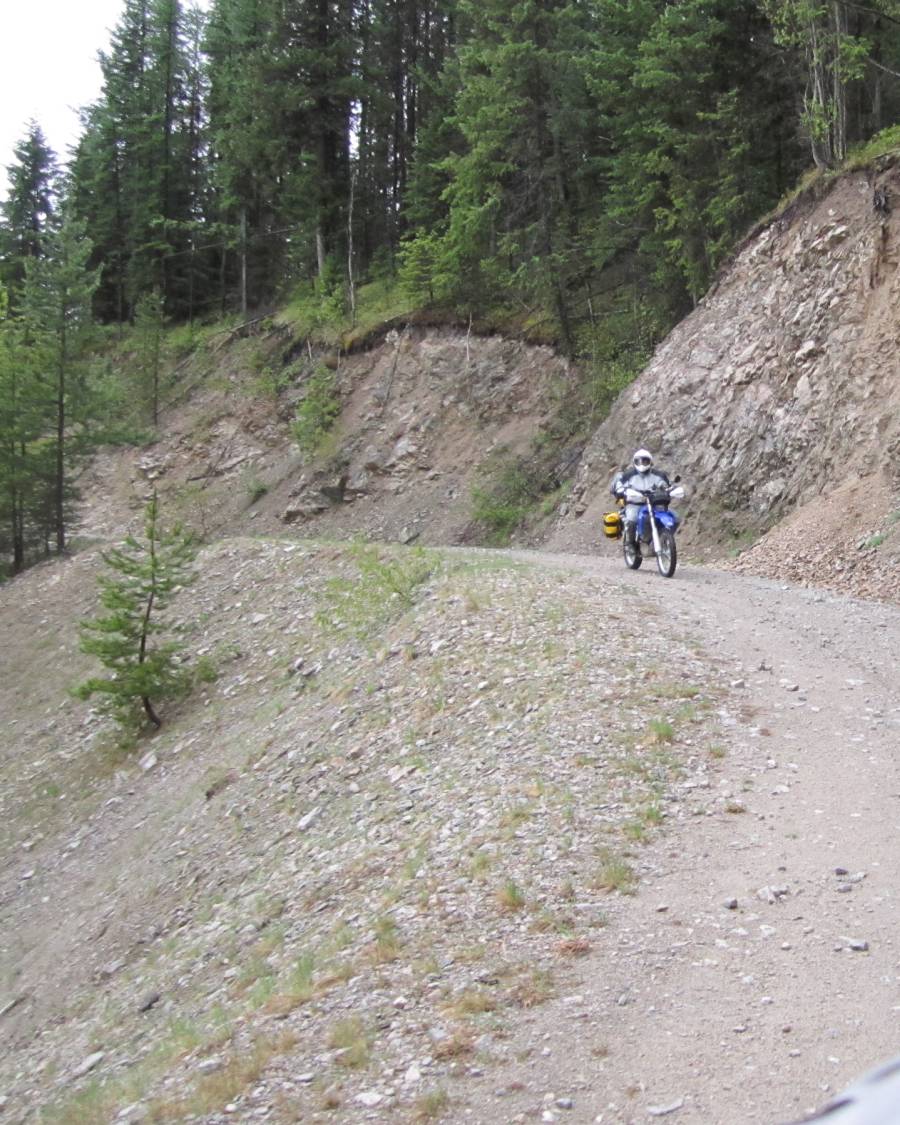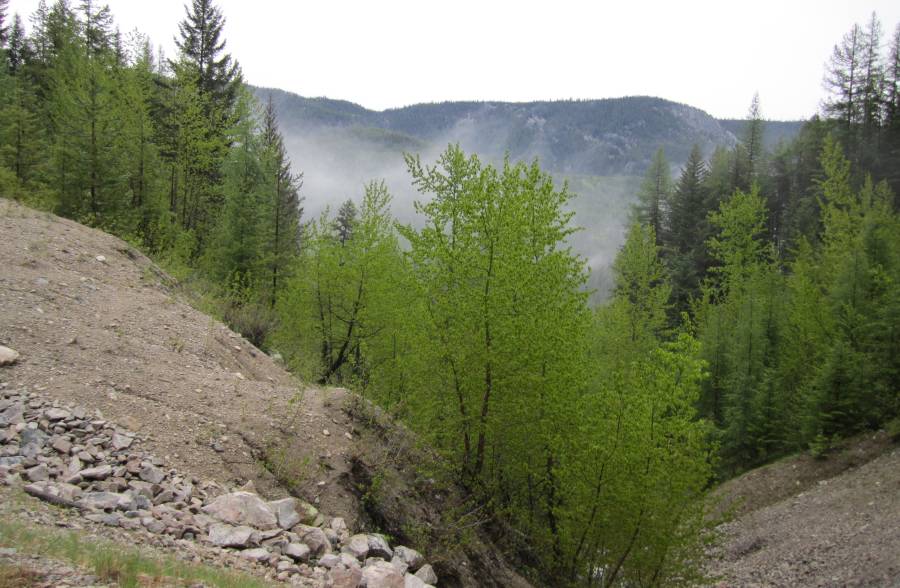 Mr. Moose
We had hope to see gobs of these big animals--but only saw about 5.
Now---bears----was a completely different story.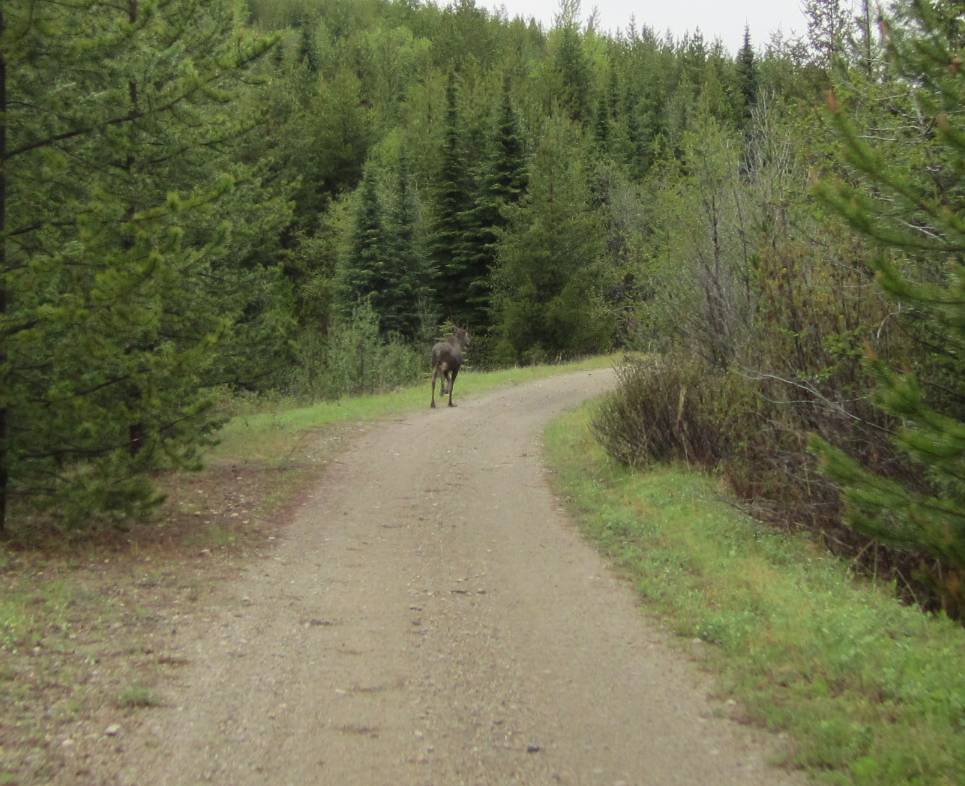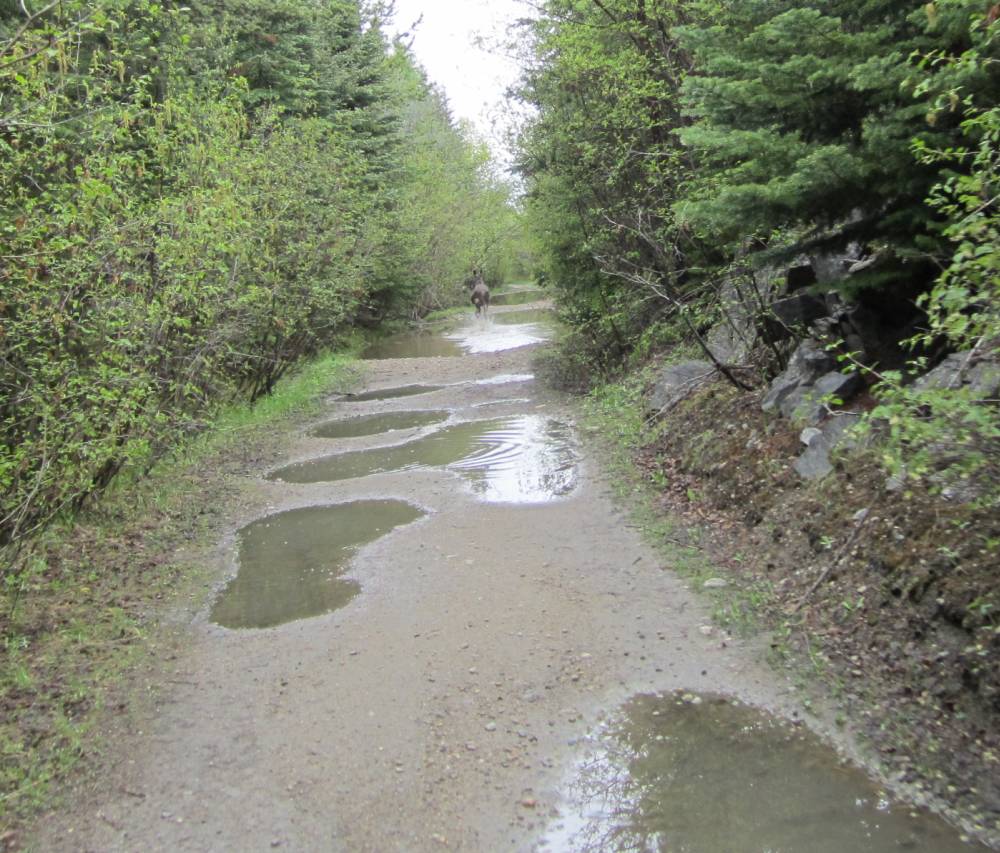 I wasn't totally ignorant of the KVR route----and knew part of it went thru Myra Canyon which is a
designated wilderness area in which they are several huge magnificent tressels. This is near the town of Kelowna.
I heard there was a by-pass trail around but very near to Myra Canyon and I went in search of it.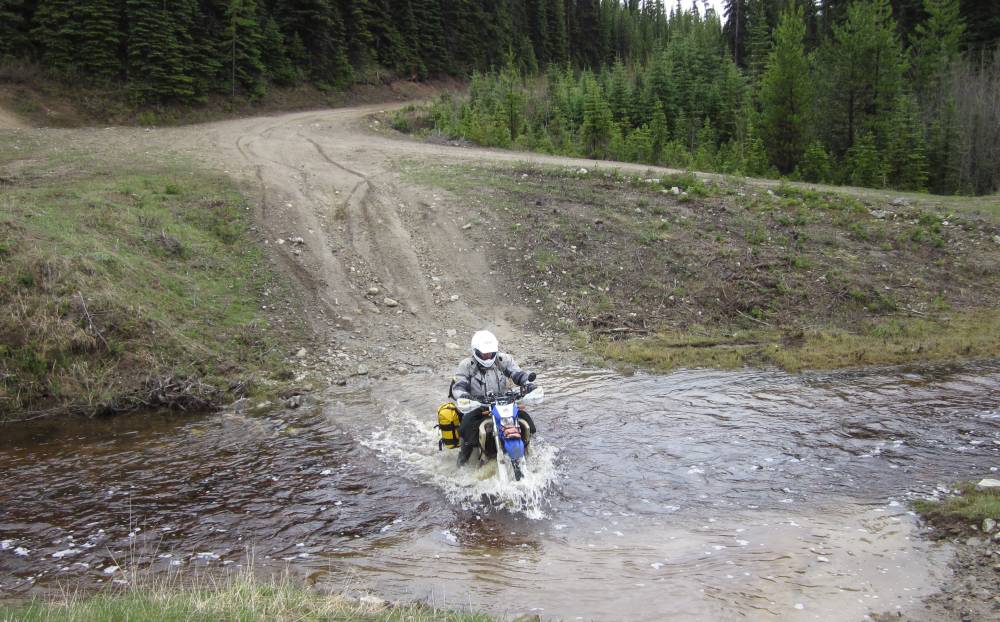 Nope it's not down this road.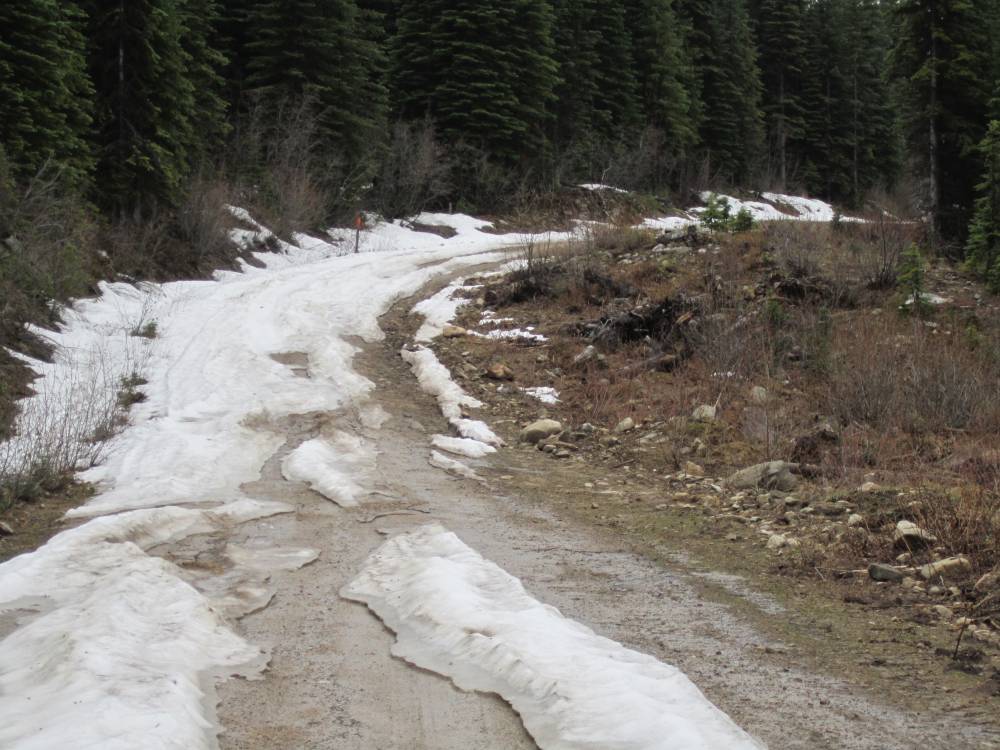 Not across this creek.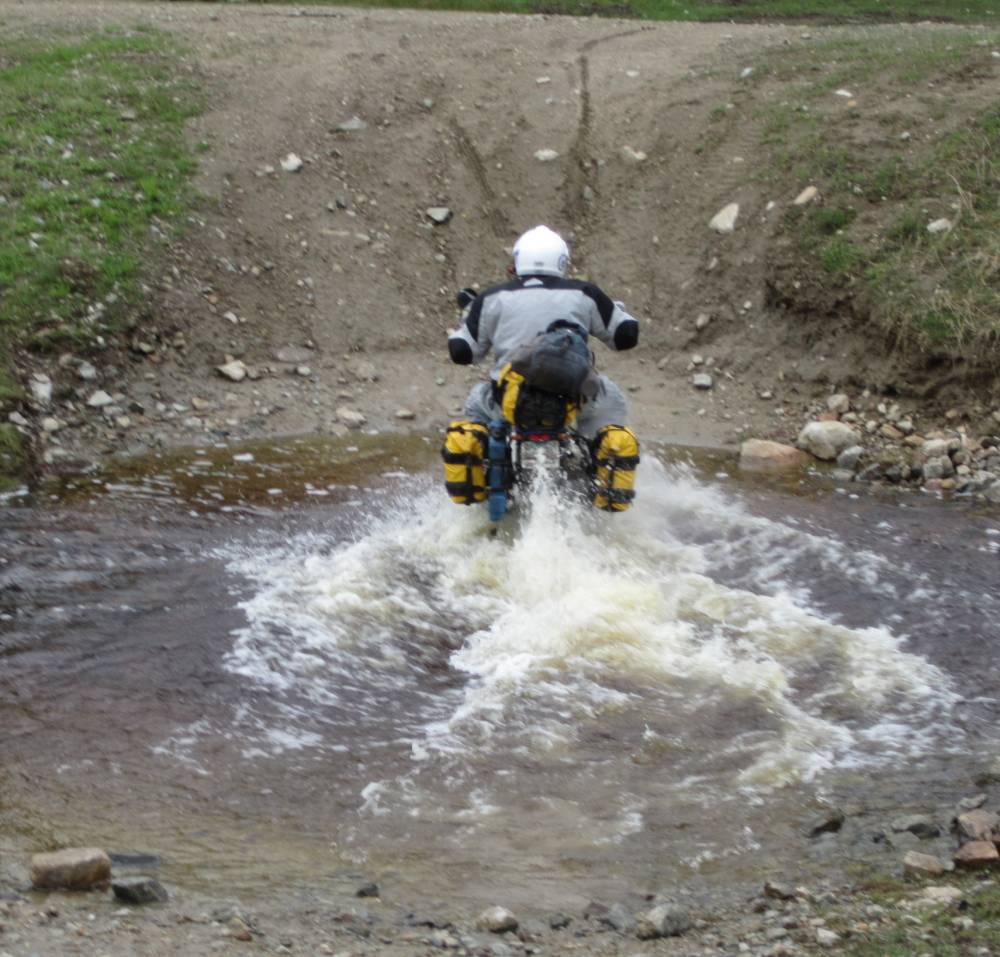 This road dead ended into an impassable fast flowing creek with huge rocks in it.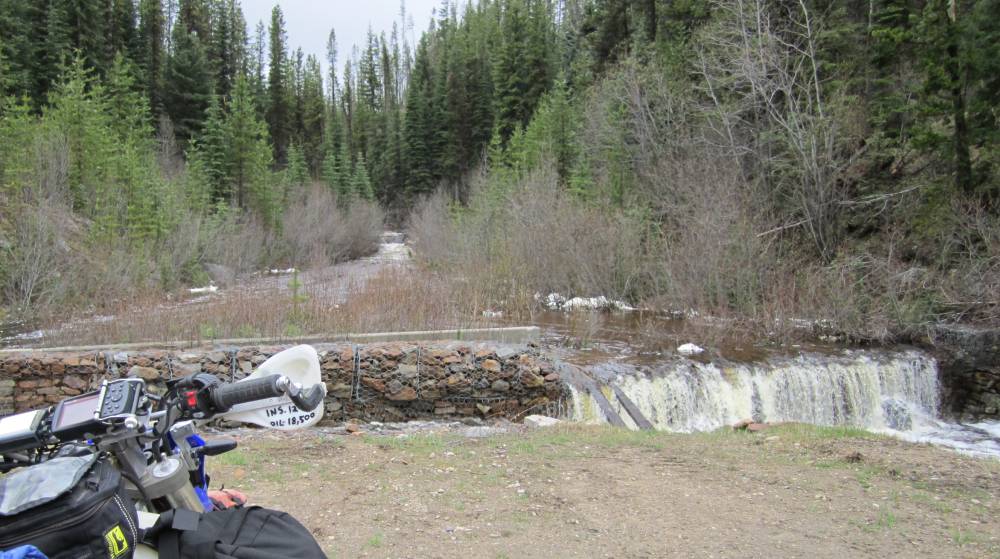 I had initially went right by the correct route----and I finally found it.
Proceed at your own risk----yeh, yeh, yeh----we can go "Anywhere".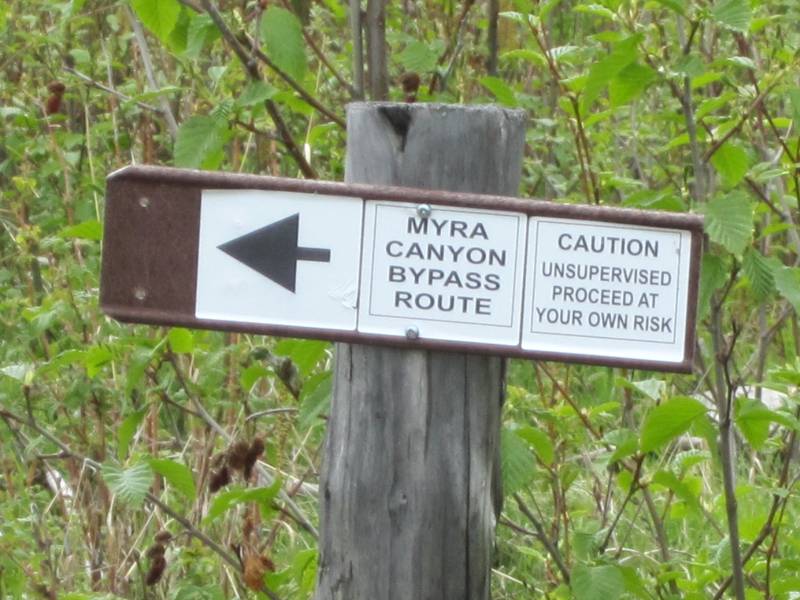 It was nice and cool---very damp, and foggy at times.
The clouds were heavy with moisture but never unloaded on us.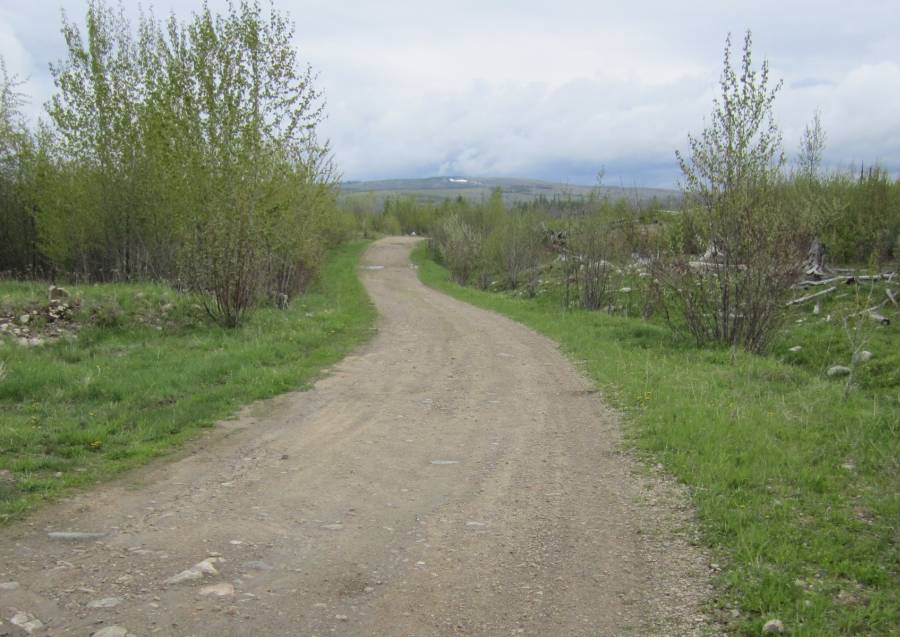 We made it thru this by-pass but not without some issues---but---we can go "Anywhere".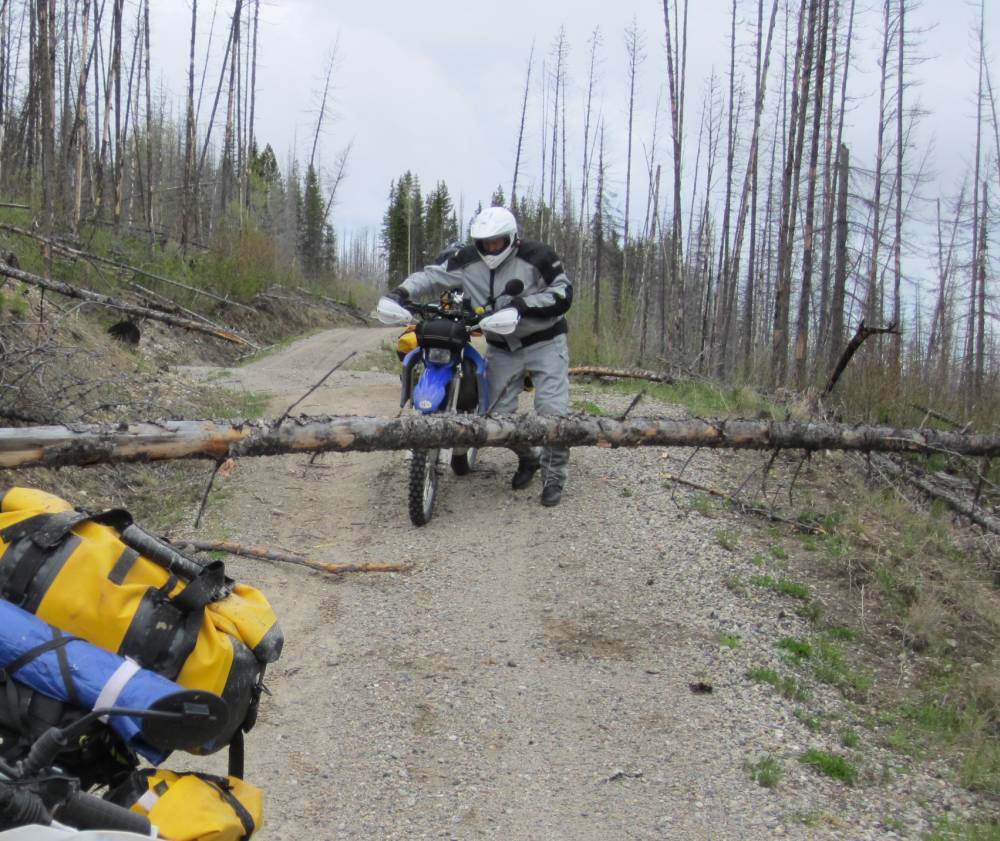 Little bridge over Poker Creek--man this thing looked like it could be washed out easily or get torn up by
floating timber.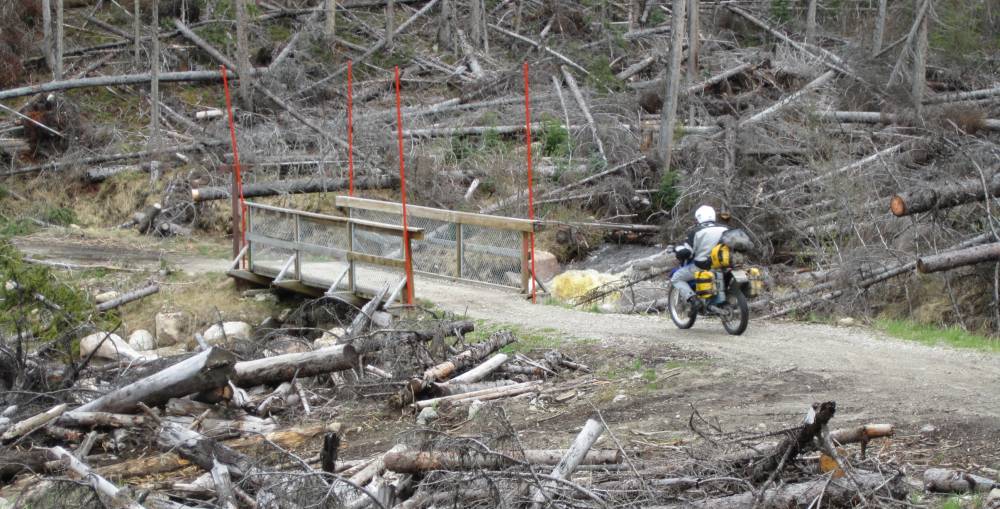 We zoomed are cameras way in and got this shot of one of the huge long tressels in Myra canyon.
We got to bragging on these Mefo rear tires.
They did fine in this wet dirt road--we had Pirelli MT21's on the front.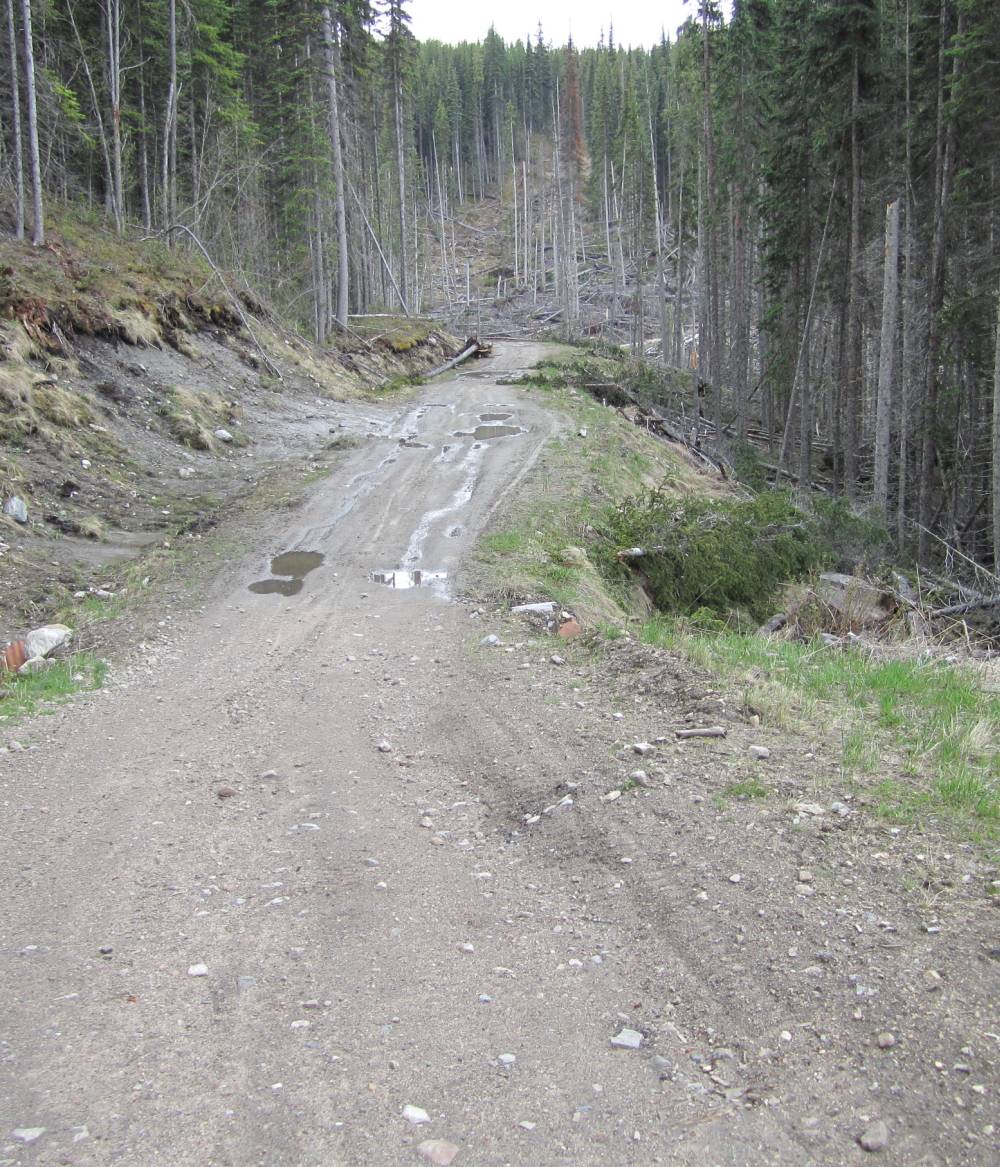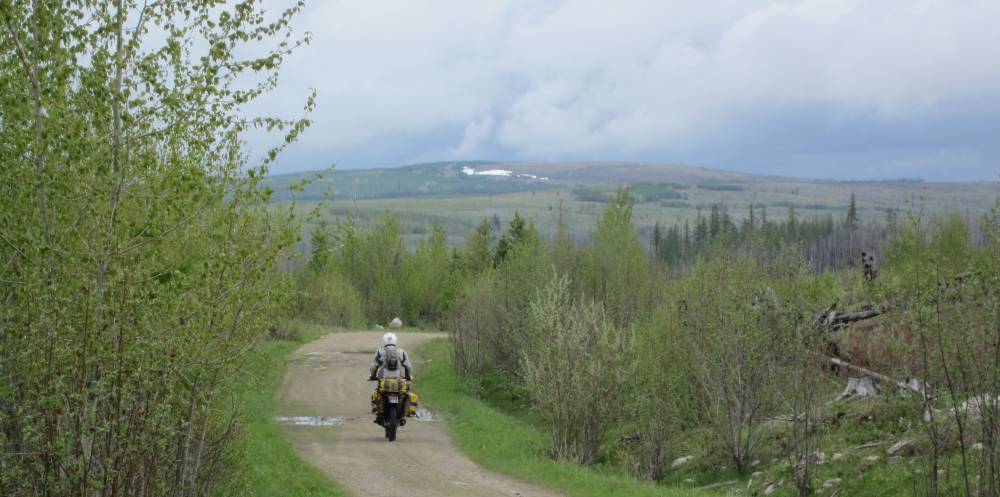 We had to lift this tree up one at a time to get under it.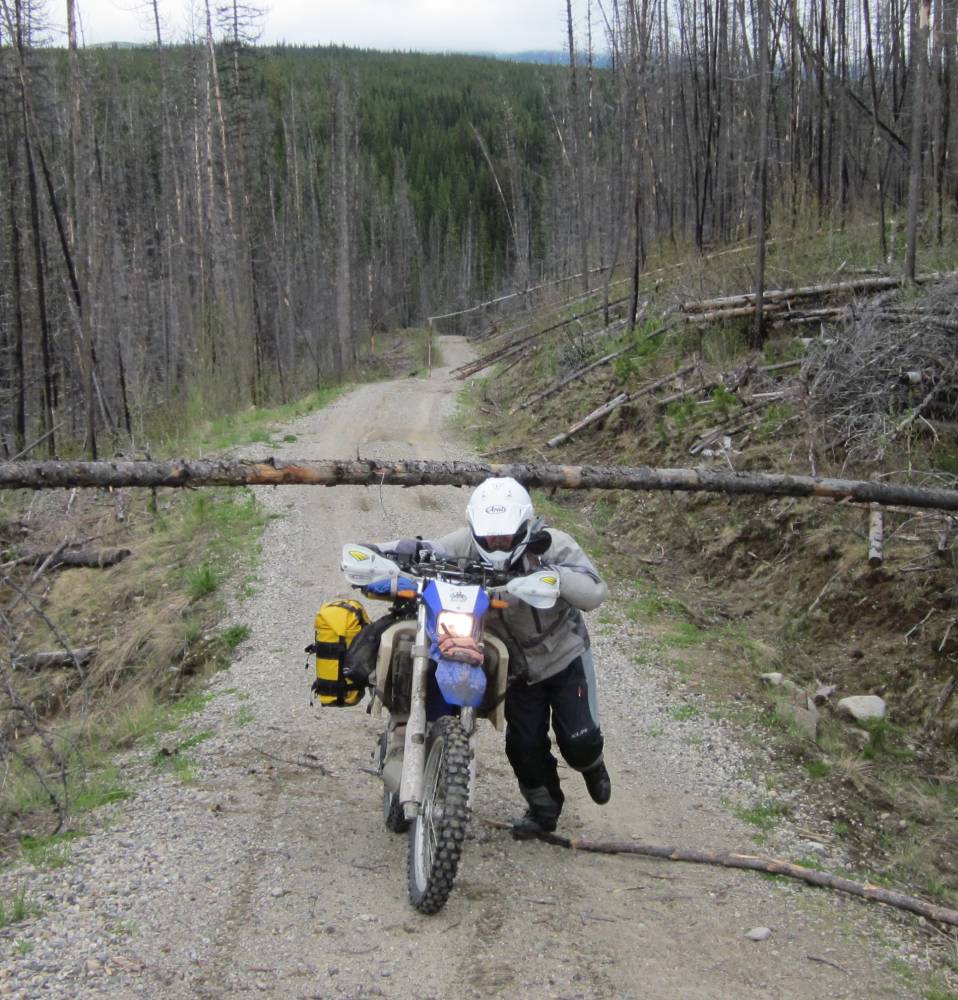 Somebody had put this prop under this tree---that looked pretty hard to do.
But it let us get thru.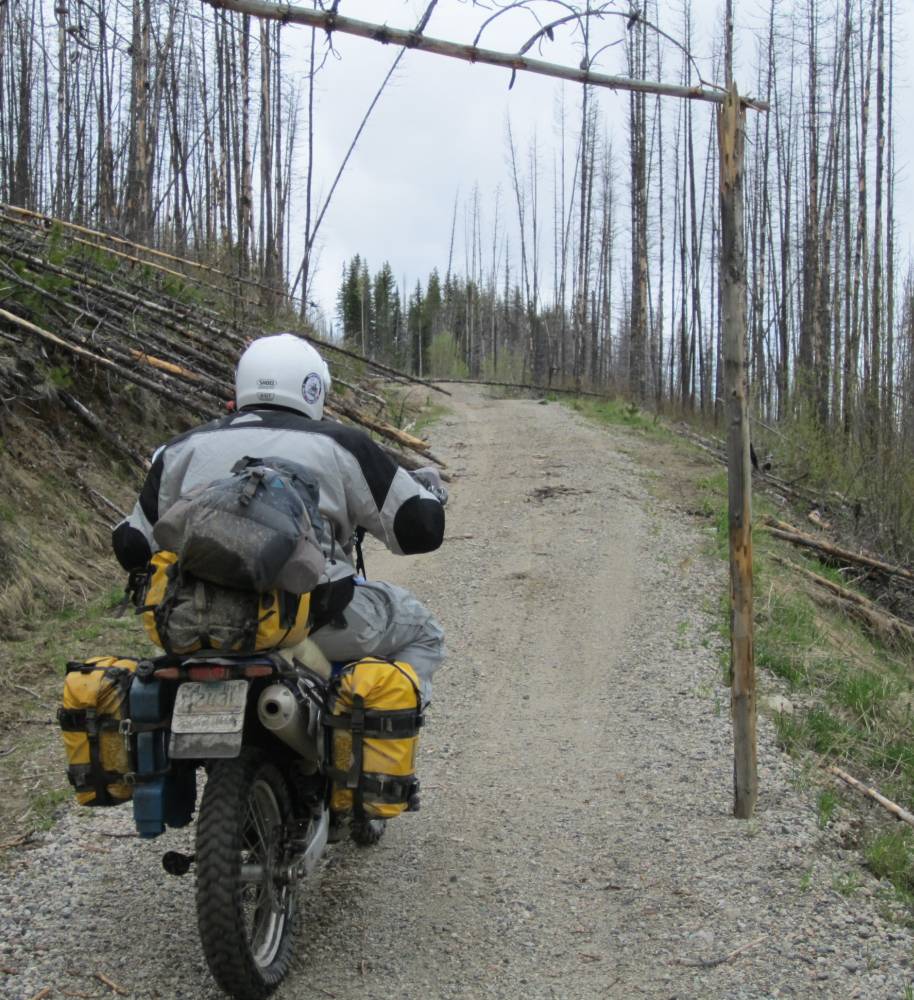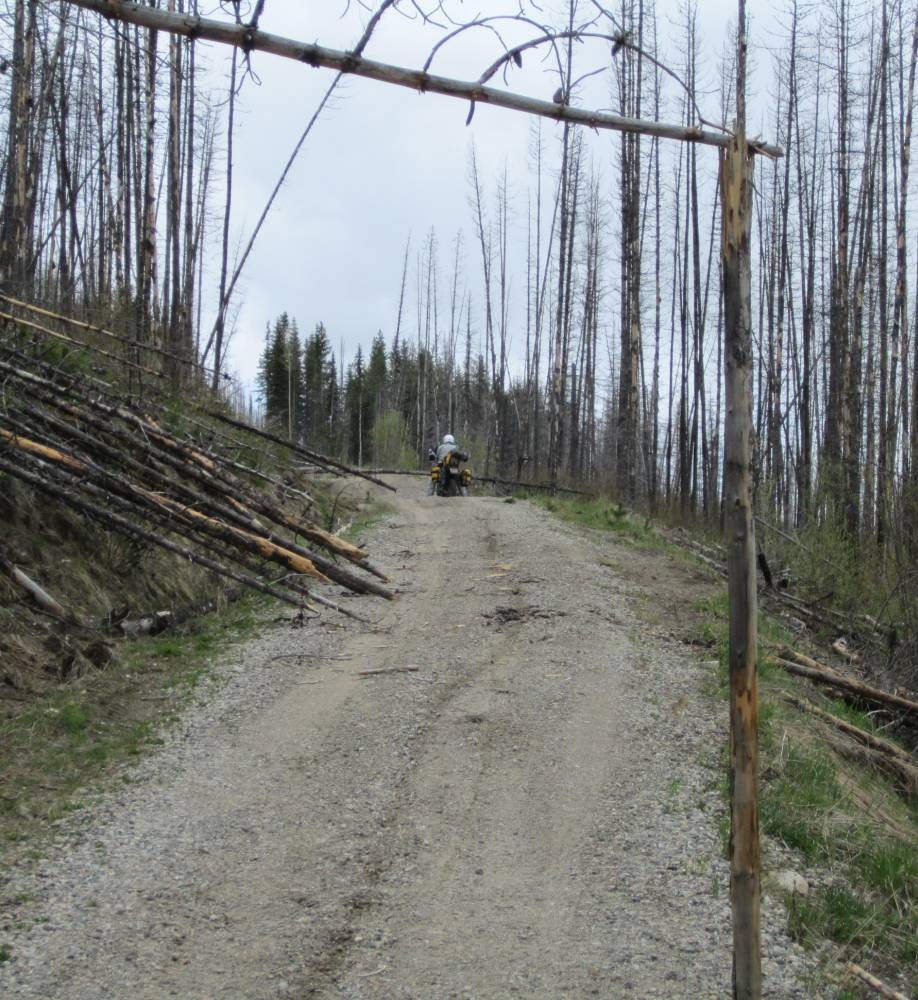 Just to the Southwest of Myran canyon we came to the "Belleview" tressell. It was magnificent.
I marveled at it's construction. And the fact that it was in a curve just amazed me.
They had made it safe for people to cross with the nice deck and railing.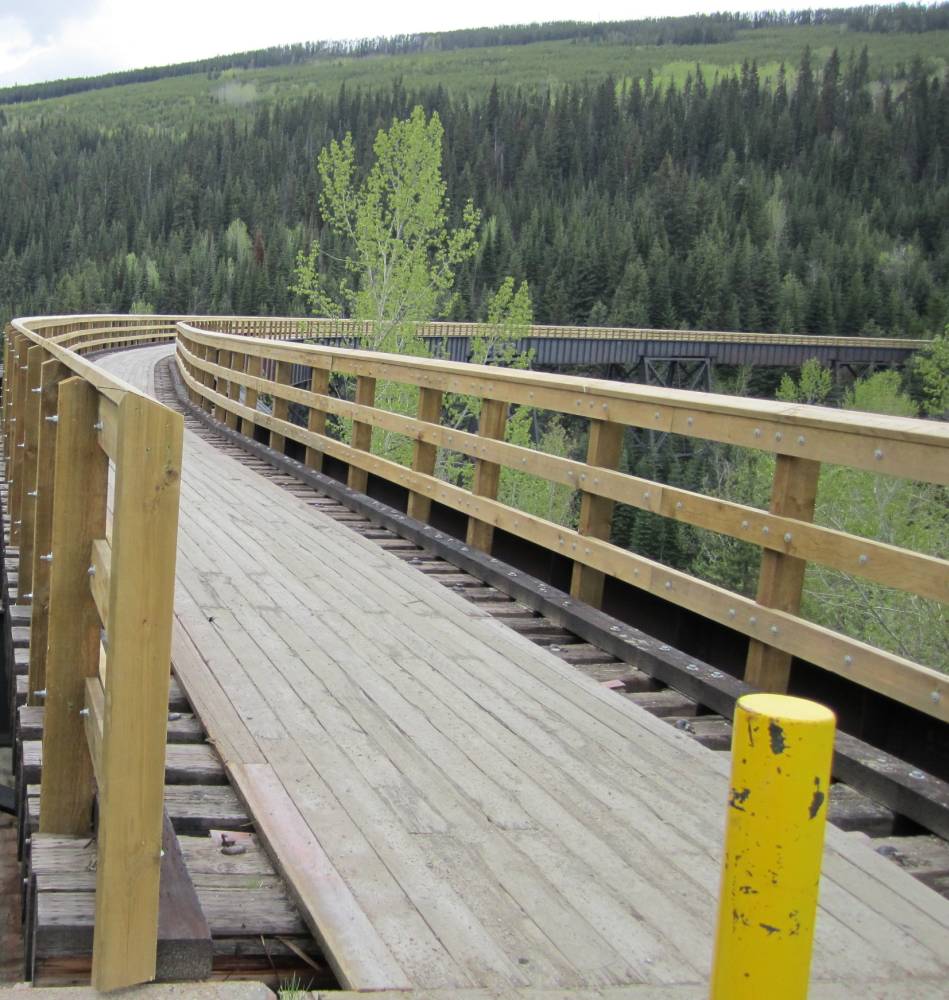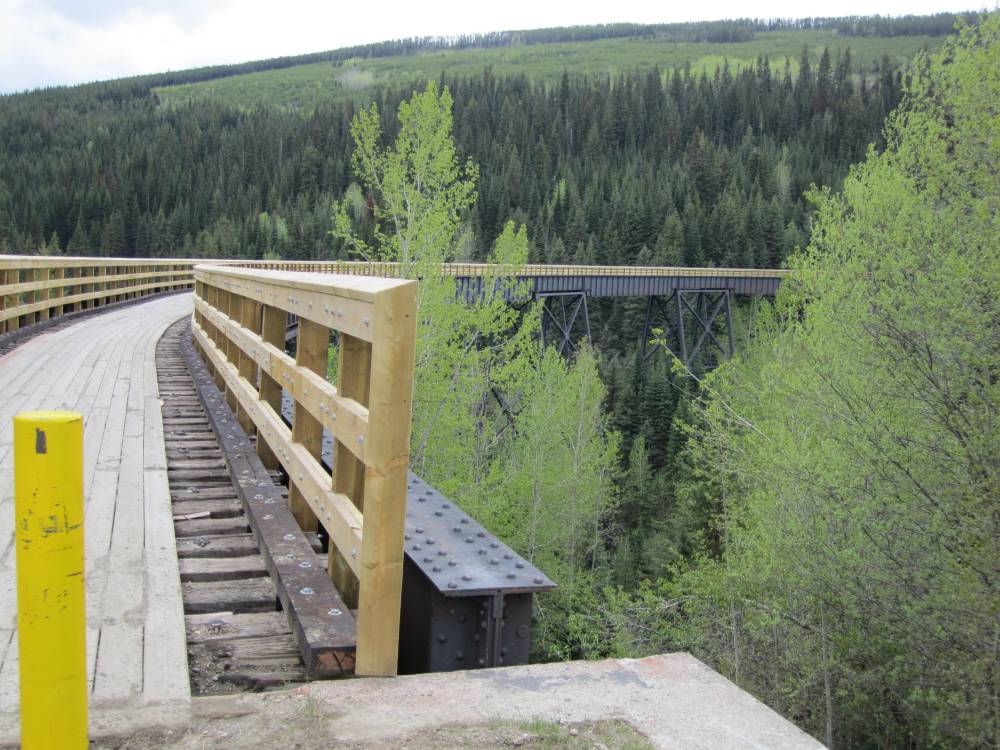 Several wooden tressels in the Myra canyon area had burned not that long ago from a forest fire.
Somehow they had built them back to keep the route and history of the railroad alive.
I relished riding over this bridge and was careful not to spin my tires and damage the deck and wanted to not
leave a trace that my motorcycle had ridden across it. I did this for respect of the bridge and maintained
this attitude for the remainder of my ride on the KVR.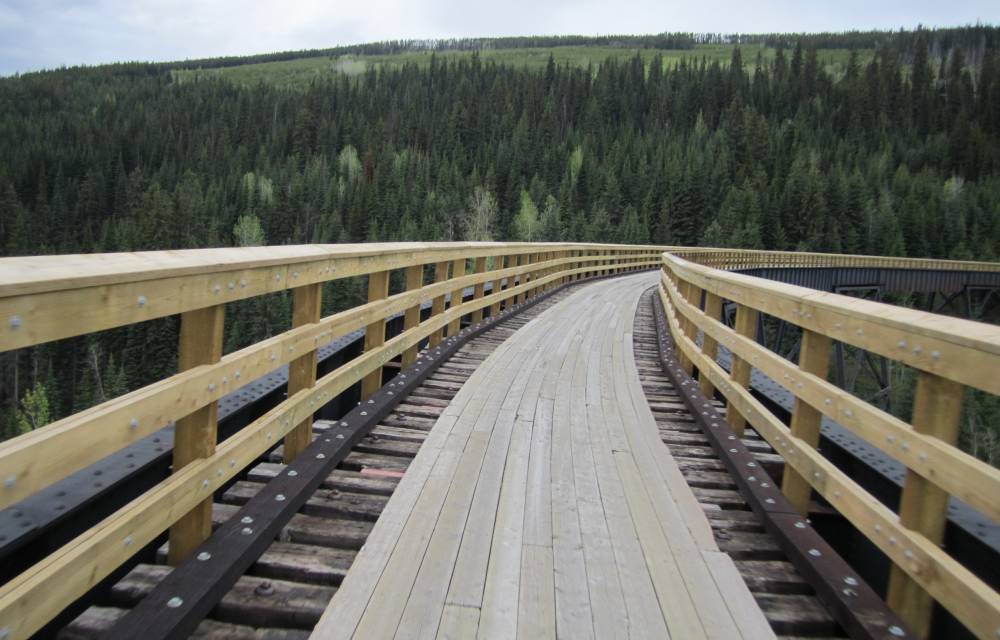 A view down into the town of Kelowna BC.
Scott had his helmet camera mounted up and we made a nice video of this ride.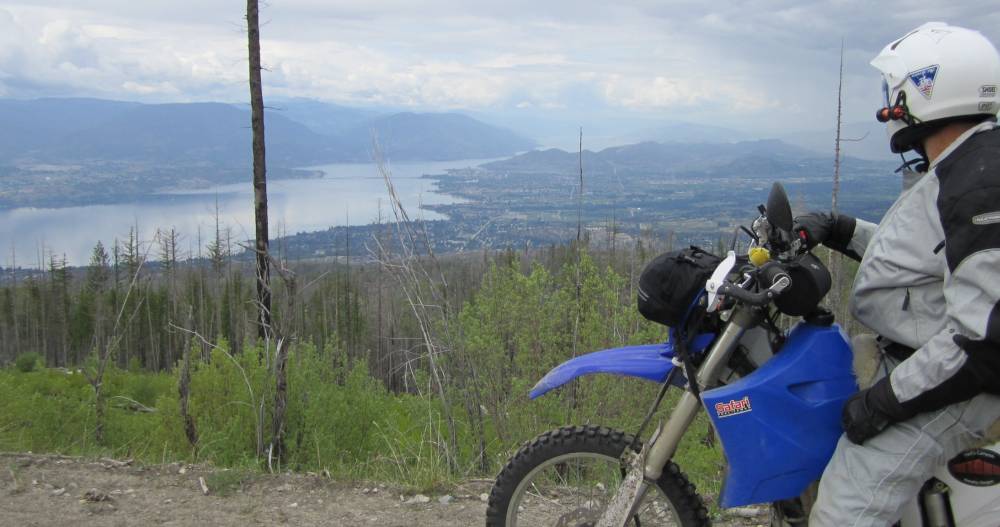 This is the Adra tunnel----it collapsed a few years ago but efforts are being made to dig it out,
and make it safe for travel once again.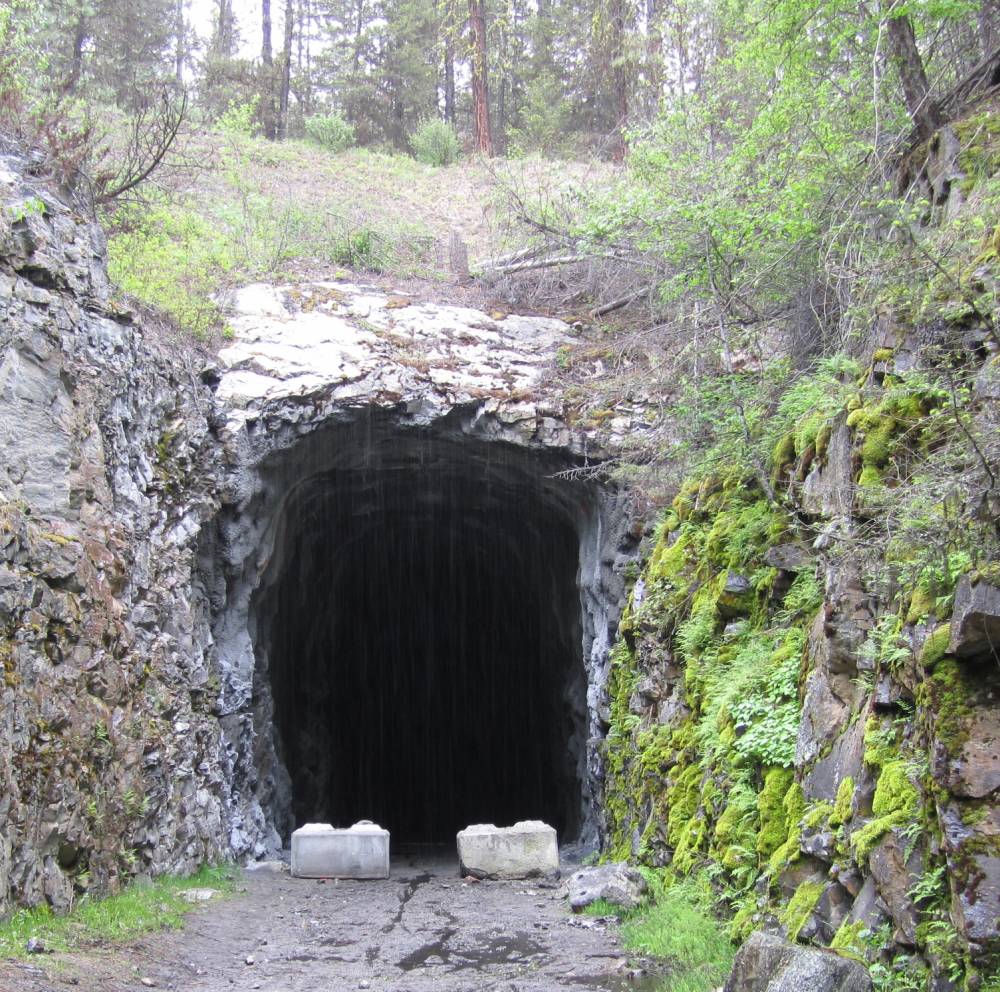 There is a by-pass trail around the tunnel---but of course I had to find the other end.
It is a cuved tunnel and is 1,604 ft. long.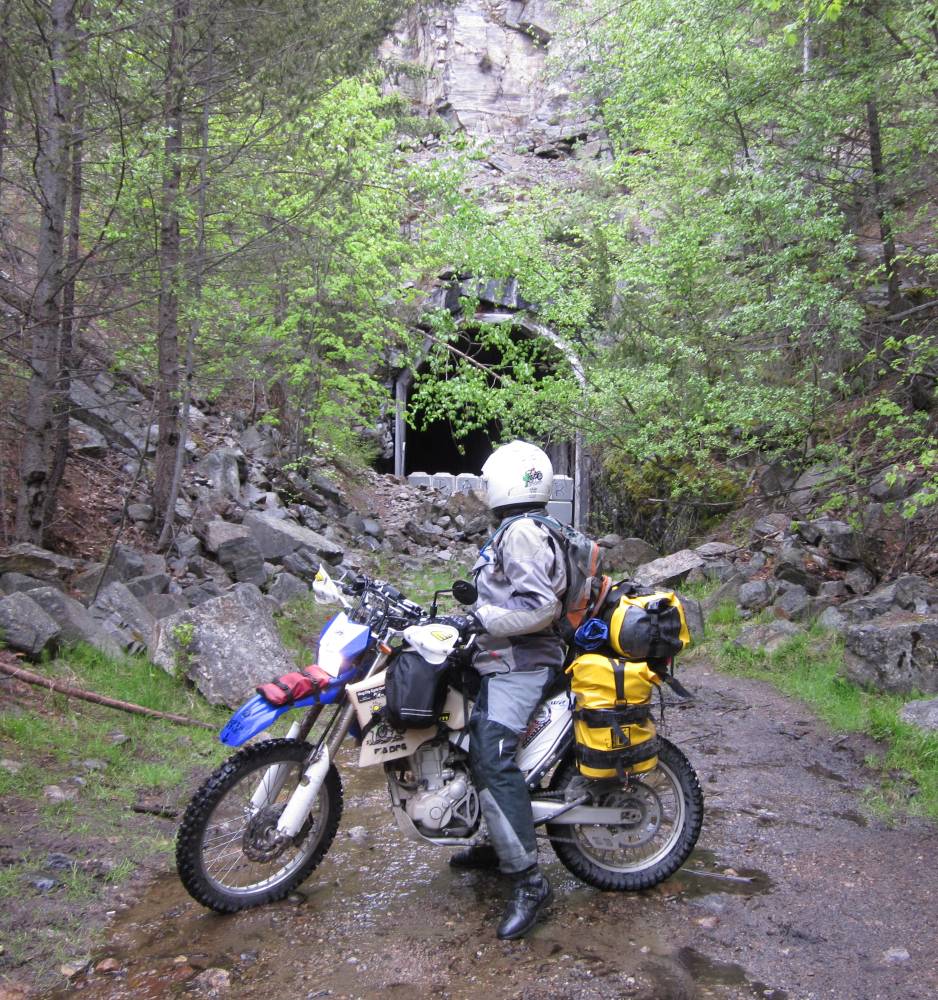 We go thru one last short tunnel as the railroad grade descends into the town of Penticton BC.
There is a huge lake at Penticton.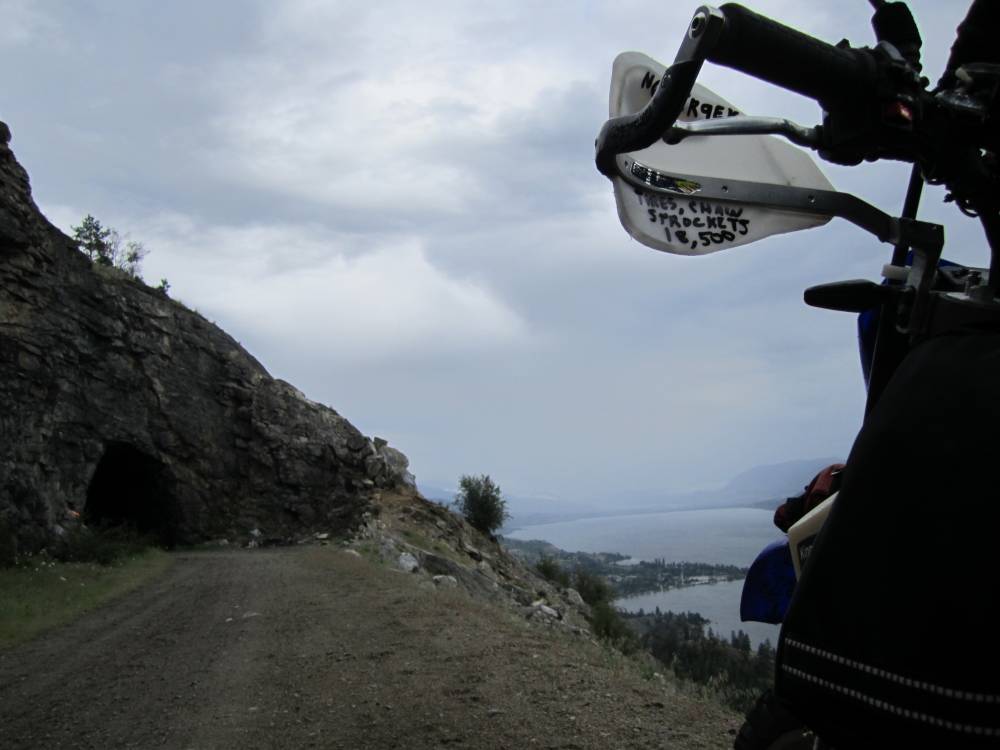 The clouds are still looking quite juicy---it was a magnificent day.
This is still on the old KVR railroad bed.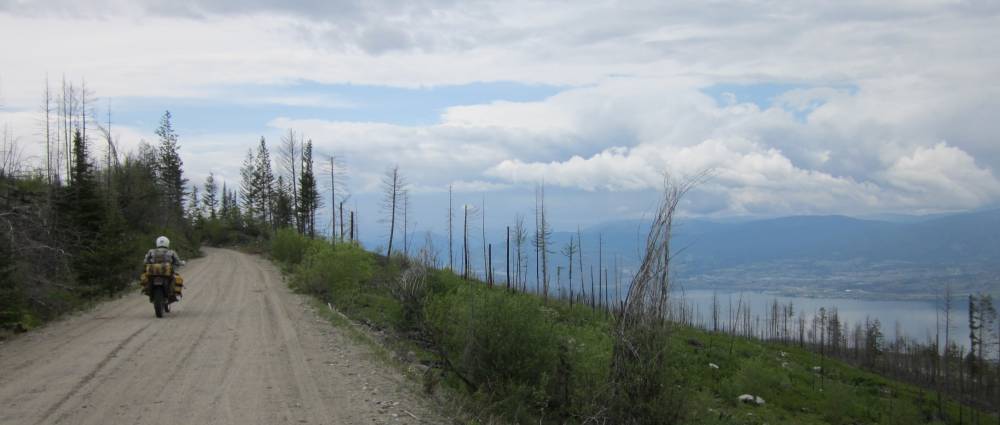 Day 3
June 9th, 2011
Another day on the KVR
There is a small portion of the KVR that still have the tracks on it---but a trail was built beside it to allow
travelers to follow the railroad.
I do believe you can still ride an old locomotive on this short section of existing rail.
This picture was just barely West of the town of Southerland BC.

There are places on the KVR that are posted that they are not legal for motorized vehicles---we honored that.
We've heard there are bicyclists and hikers out there that don't want motors on it.
However all the hikers and bikers I talked to were extremely friendly and I'm sure they appreciated the fact
we hadn't modified are engines and exhausts--these bikes are whisper quiet.
I almost always stopped and chatted with these folks and tried to leave a positive attitude with them as
I slowly rode on.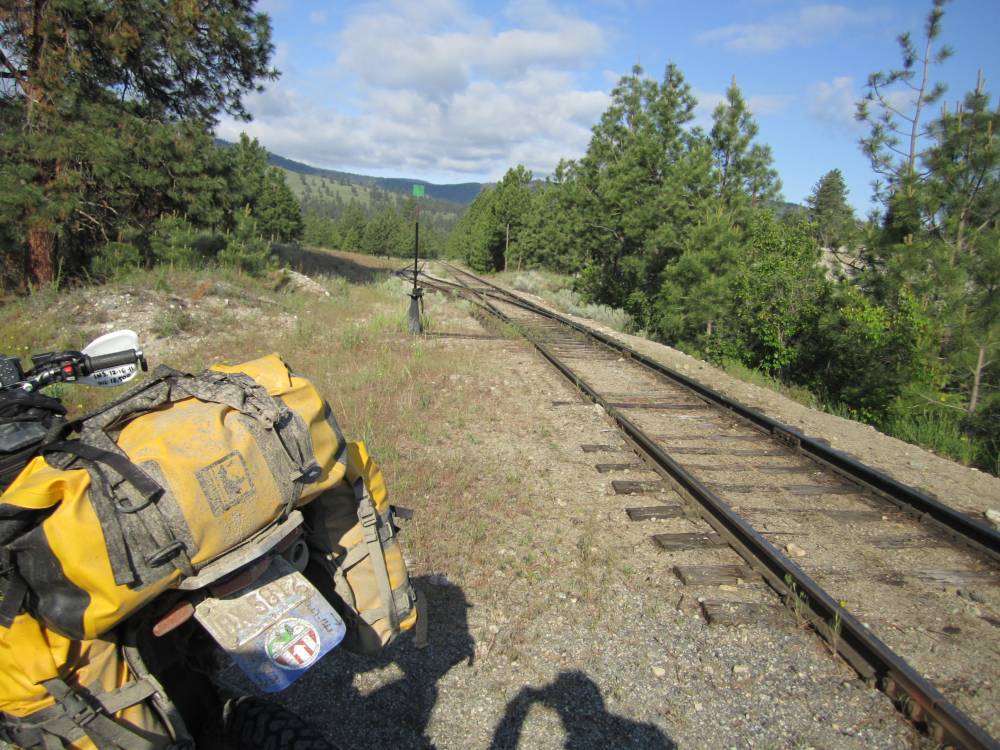 The route has been made into the Trans Canada Trail.
I was honored to ride on it.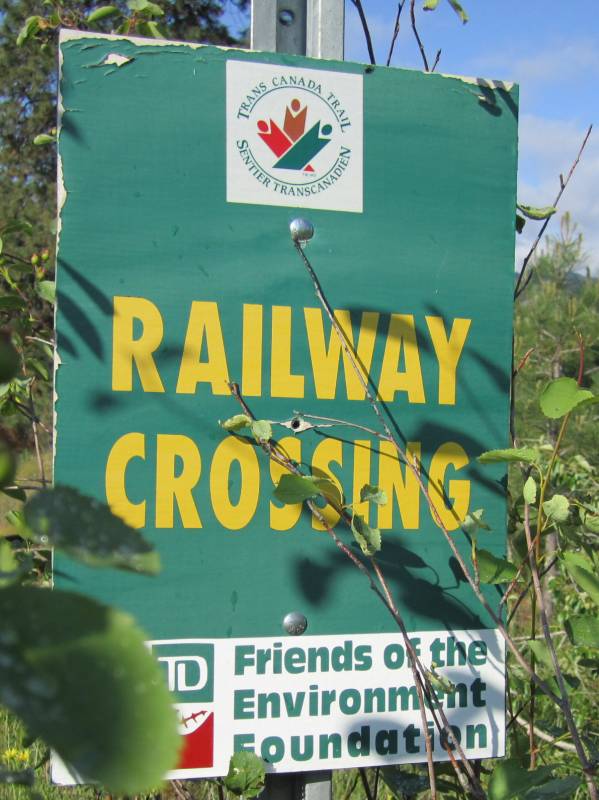 Here is the narrow trail built beside the live part of the track.
It was kind of a delicate surface here and we did our best not to spin our tires.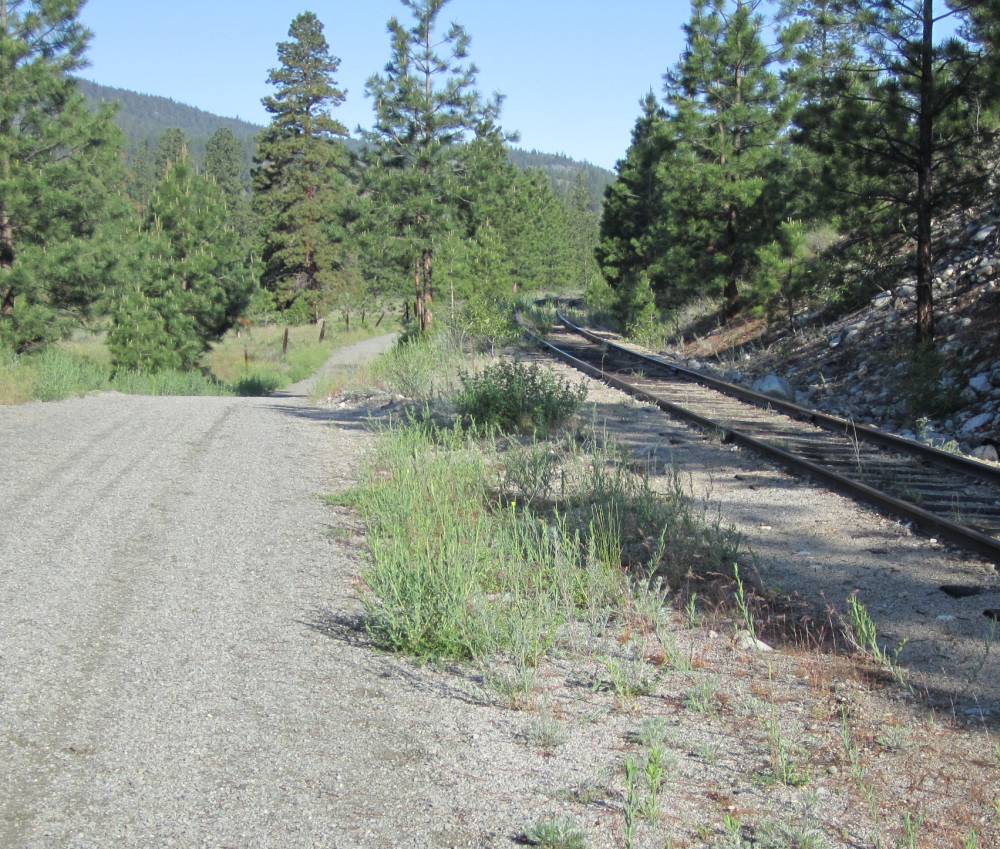 What it took to build this railroad continually to amaze me----cutting thru this rock had to be very difficult
given the equipment they had to work with back them.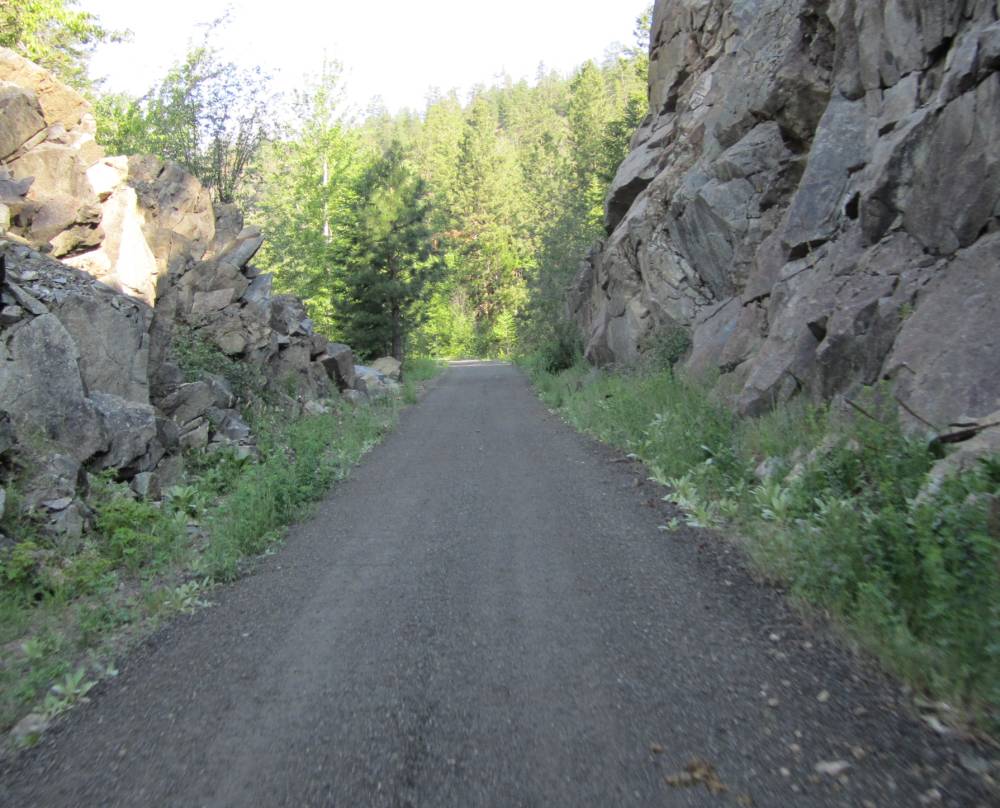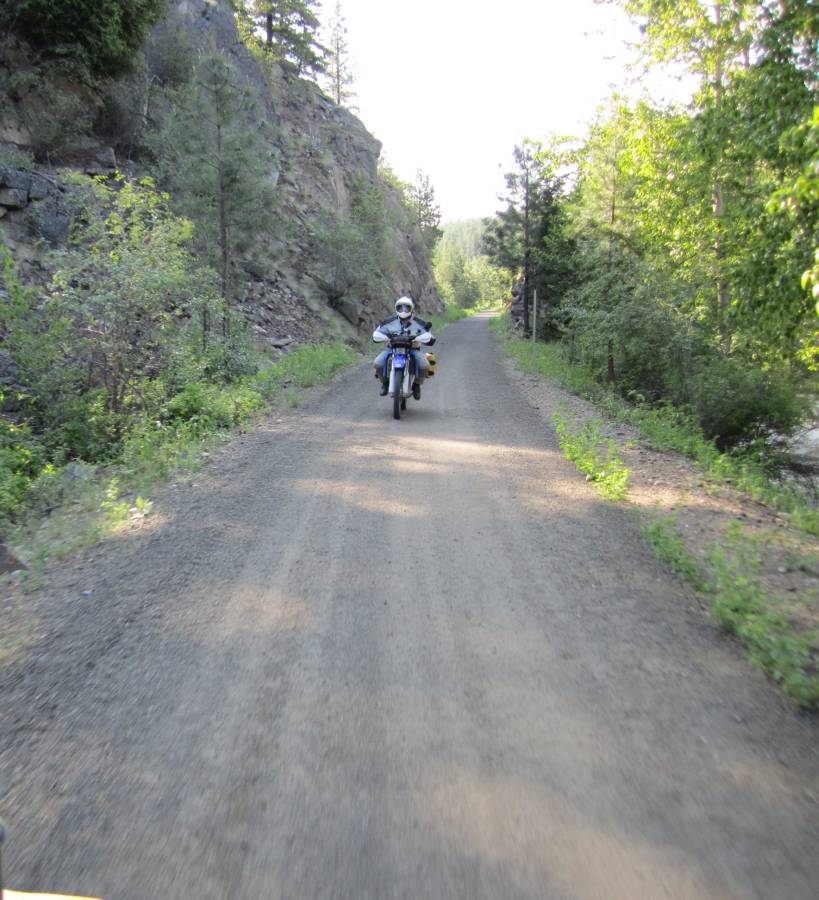 You are going to see so many pictures of these bridges that cross all the rivers and creeks.
All the rivers and creeks were absolutely raging as the area had experienced huge 100 year rainfalls this year.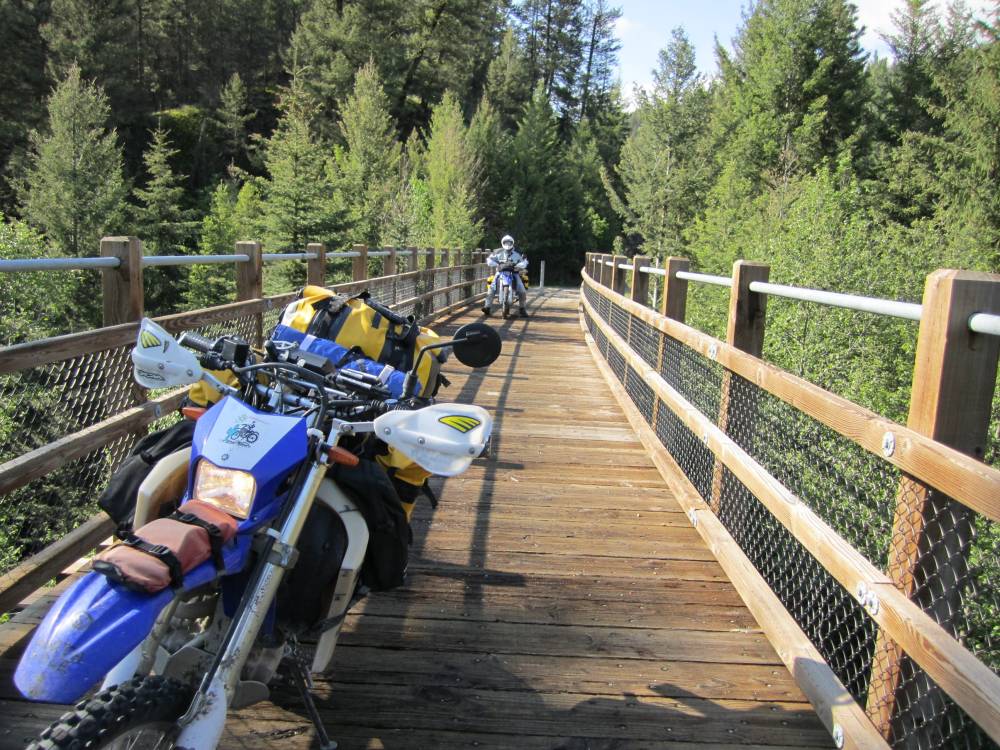 The waters sometimes were muddy---but sometimes had this rootbeer look to them.
Scott said that was from minerals in the water.
We thought after the rains settled down the creeks and river would clear up and settle down.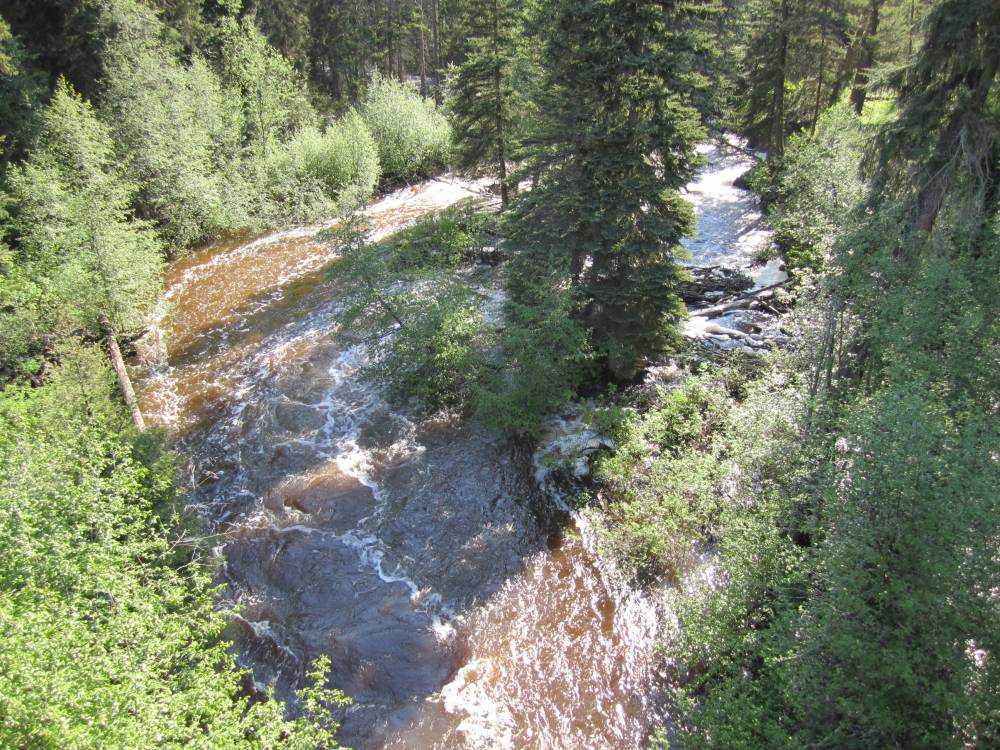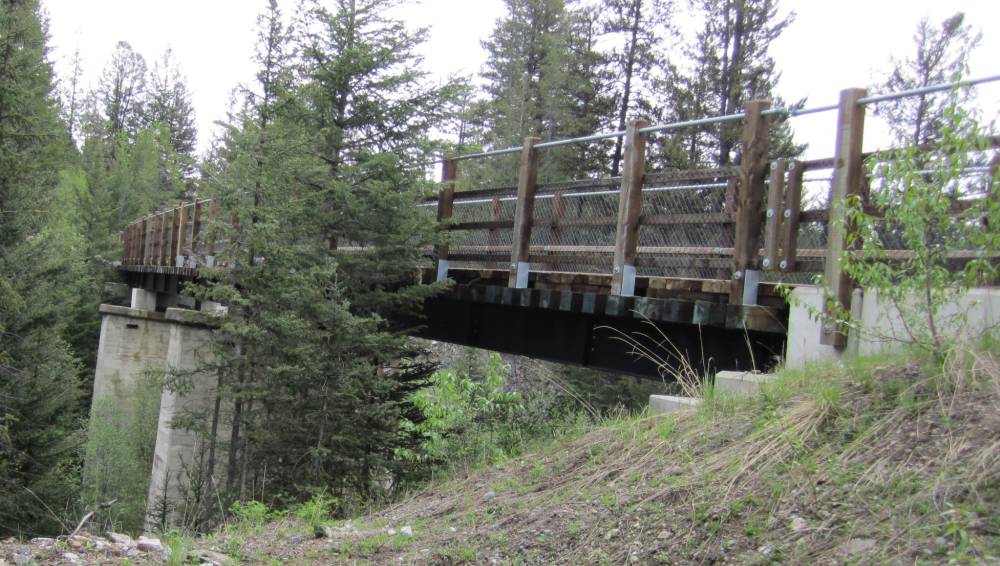 The rail bed was mostly easy---you could run really fast if you wanted----I didn't want to---and didn't.
I didn't want to tear up the trail nor irritate the locals.
Occasionally you'd pass a sign giving you mileages.
Jura on the sign---is an old spot where there was a water tower for filling the steam locomotive.

There was one place where there was about 30 miles of big whoops.
Big whoops that would be fun on a 200lb. offroad bike with no gear.
But we took it in stride and it was no big deal really--but would have wore
you ass out if you were on a really big bike I think.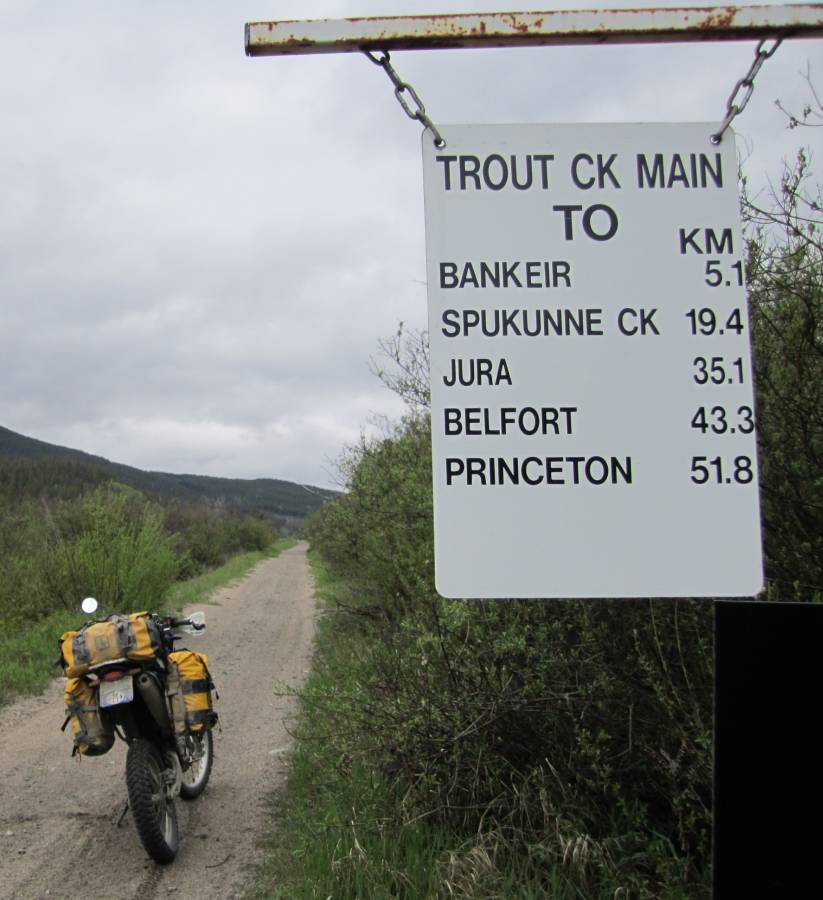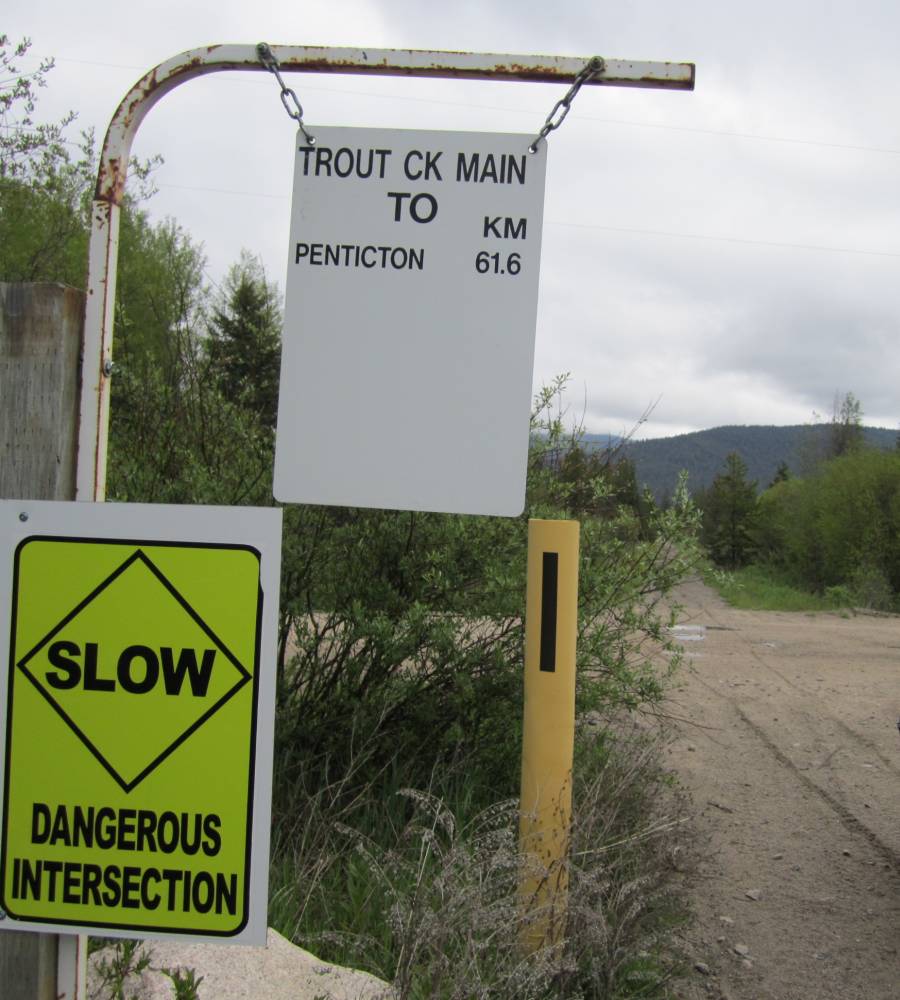 No----it's not the same bridge.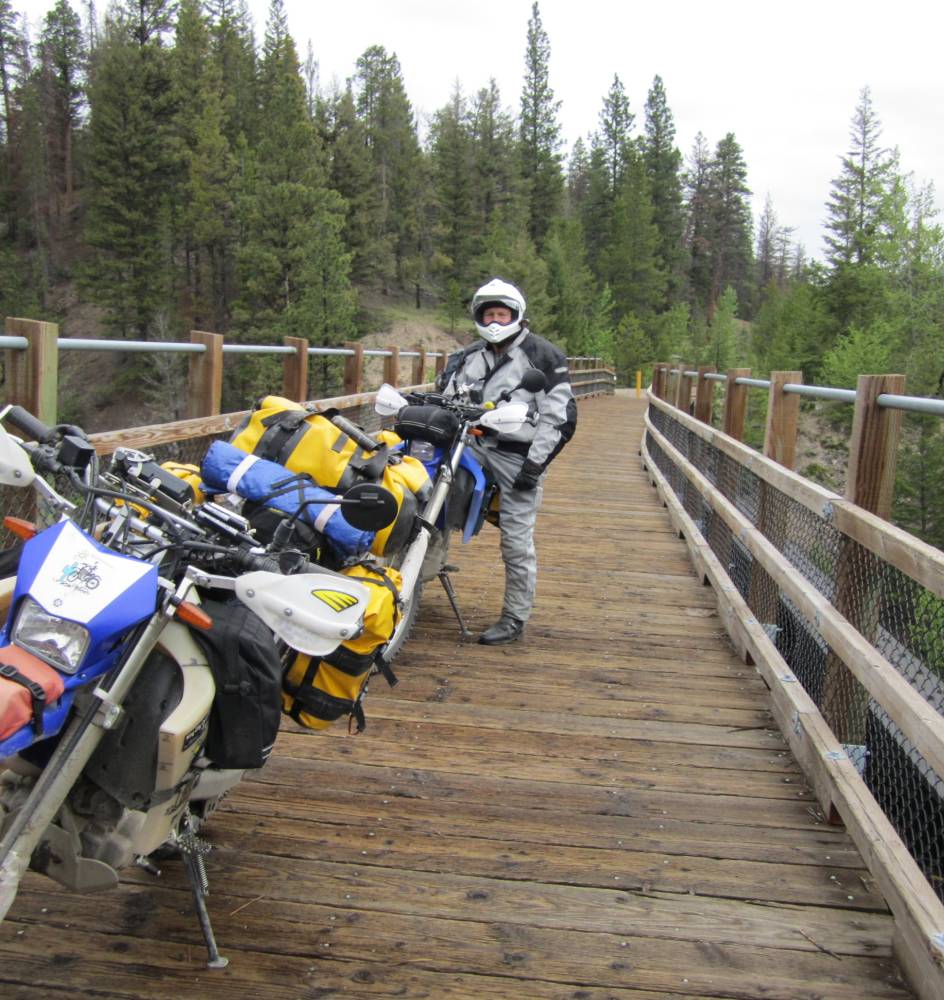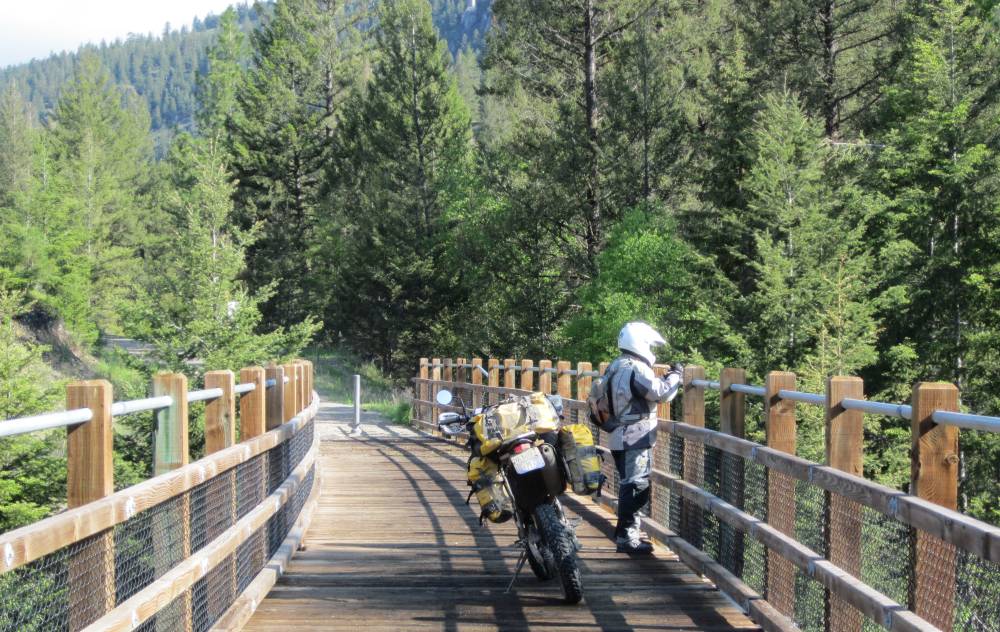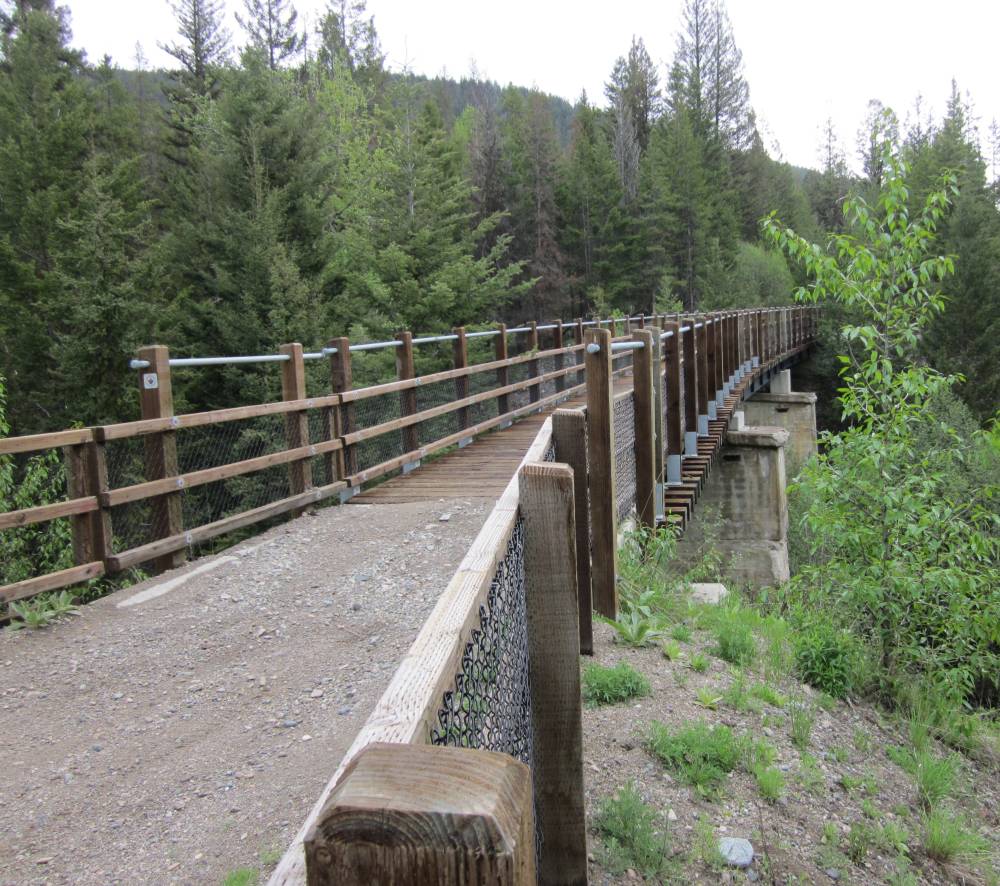 I think we went thru a total of about 6 tunnels ????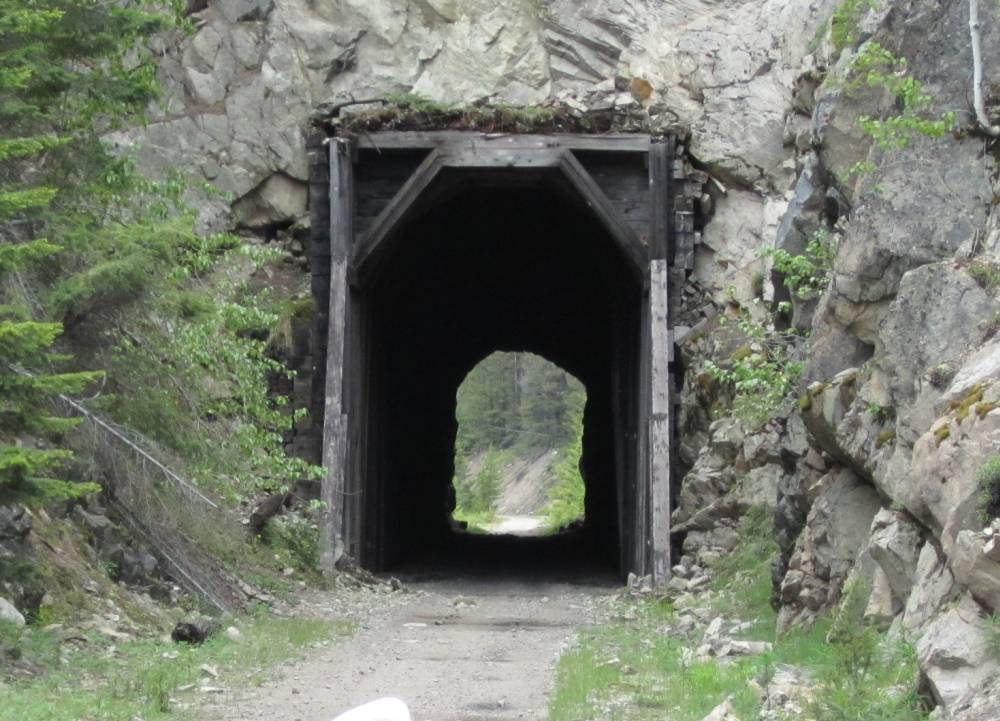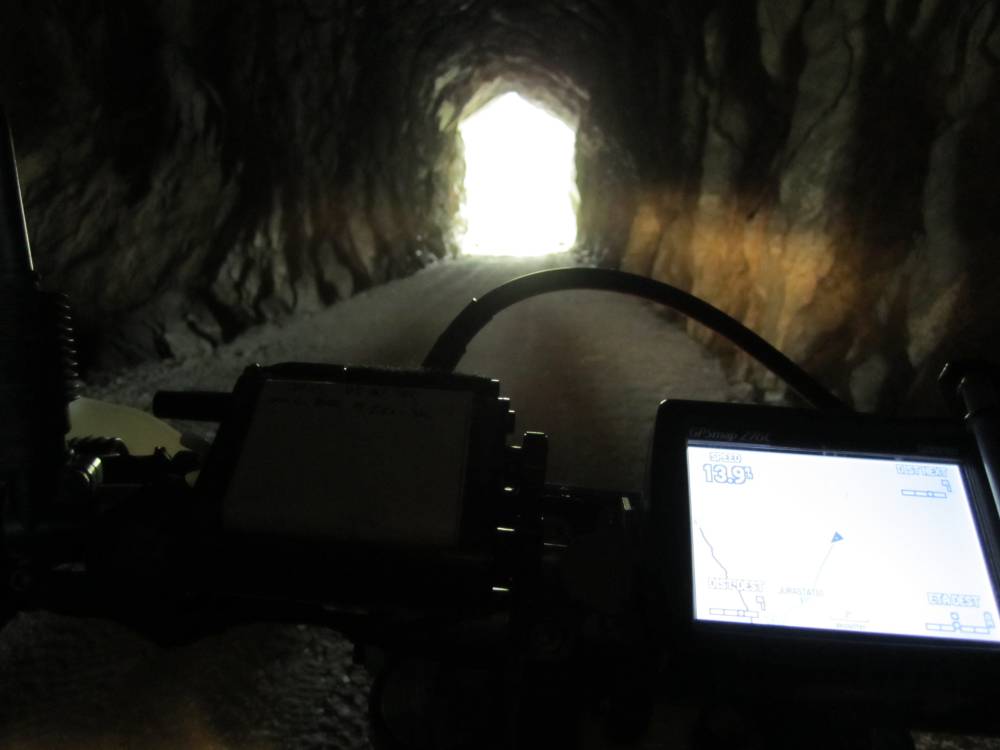 I stopped in the middle of this tunnel---big mistake--lost satellite reception--now what do we do ??????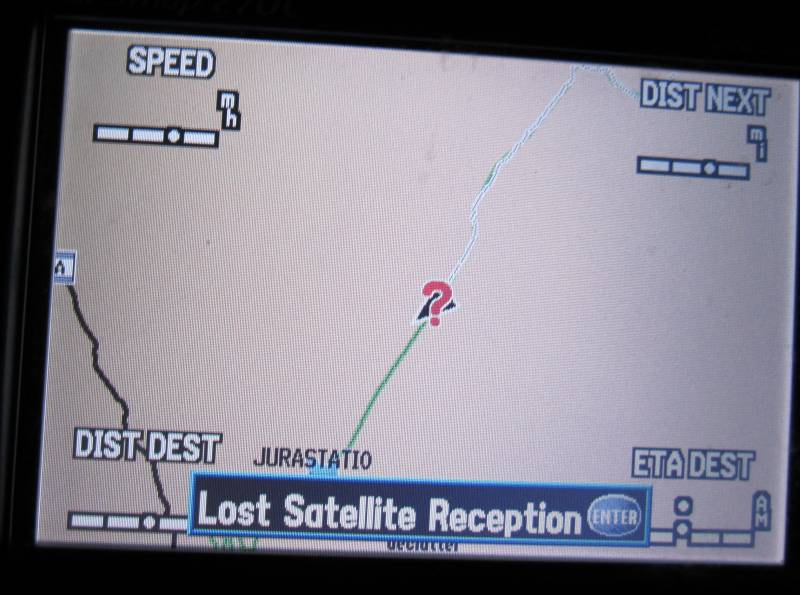 This is very interesting---this little stop once was the concrete footing for a 8 sided water tower to fill the steam locomotive.
Except for one---the water towers are long gone but they built these nice gazeebo's to rest and enjoy the view.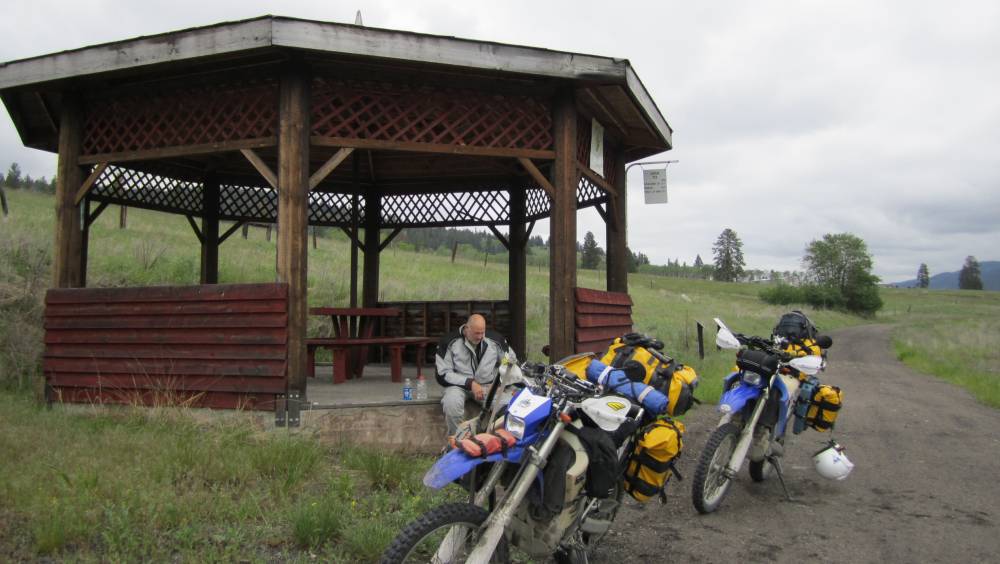 We had a snack here.
"Hey Mark"----"What"---"You know you've been going South all day???"
"Isn't Alaska North ???""-------"Yeh--So What"
"What time is it ???"-----"Hell I don't know"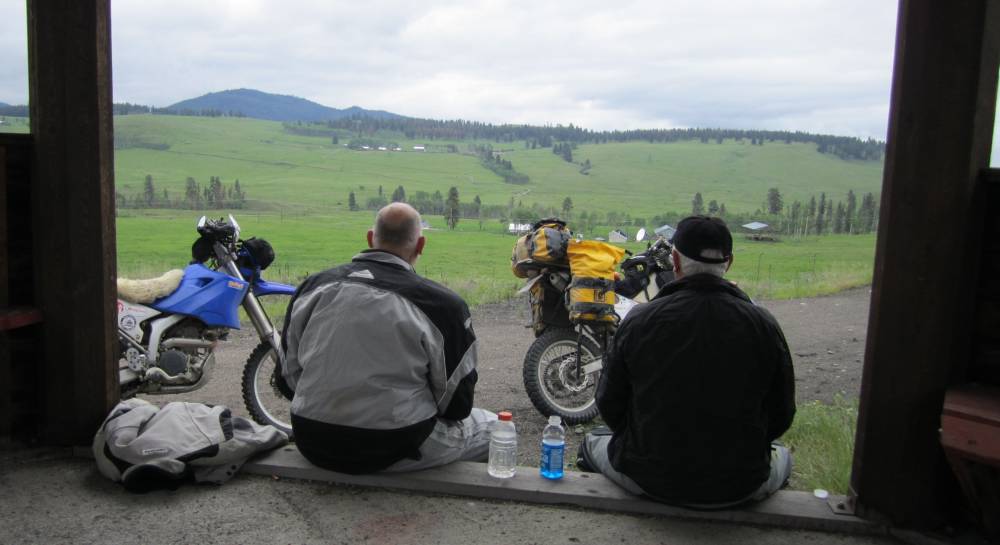 Much of the railbed goes thru ranchland----which we found very little of on this trip.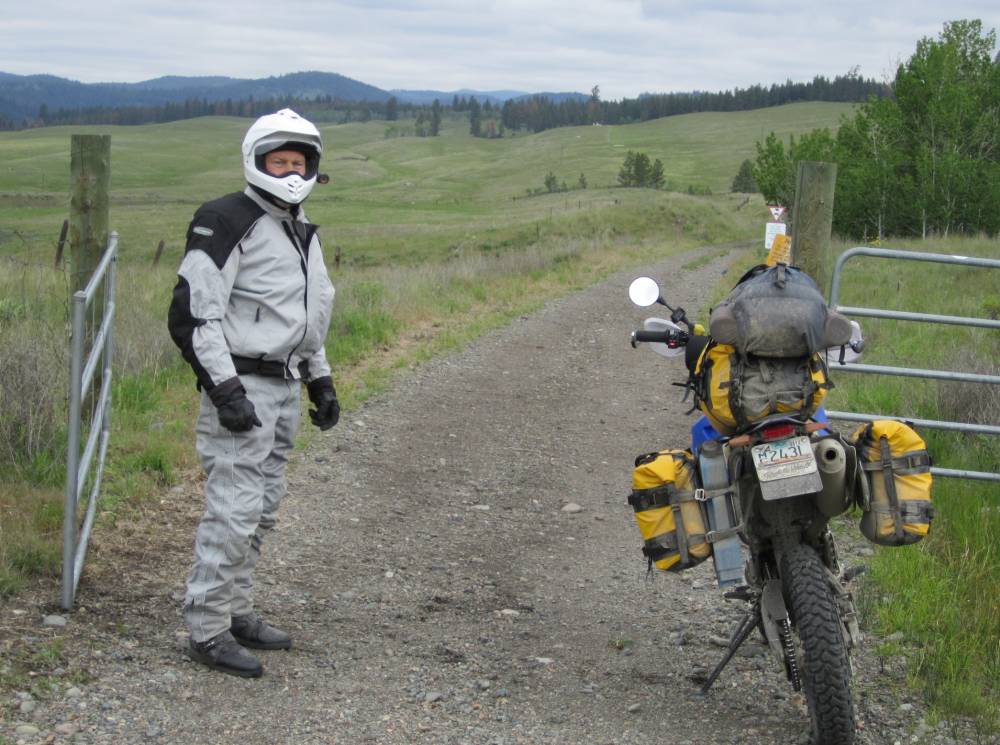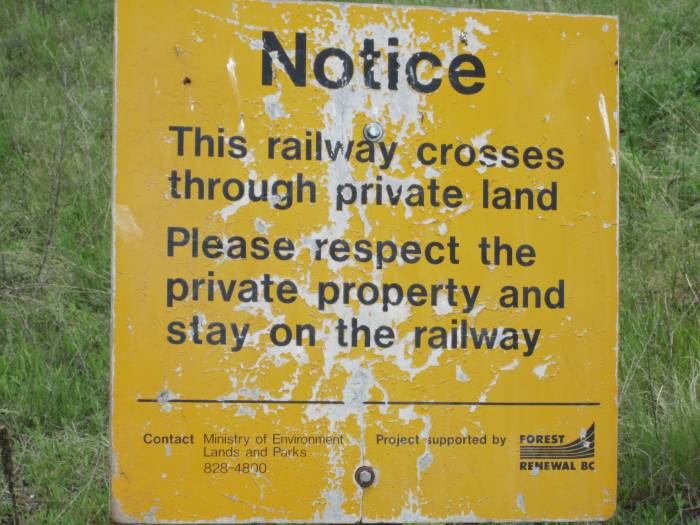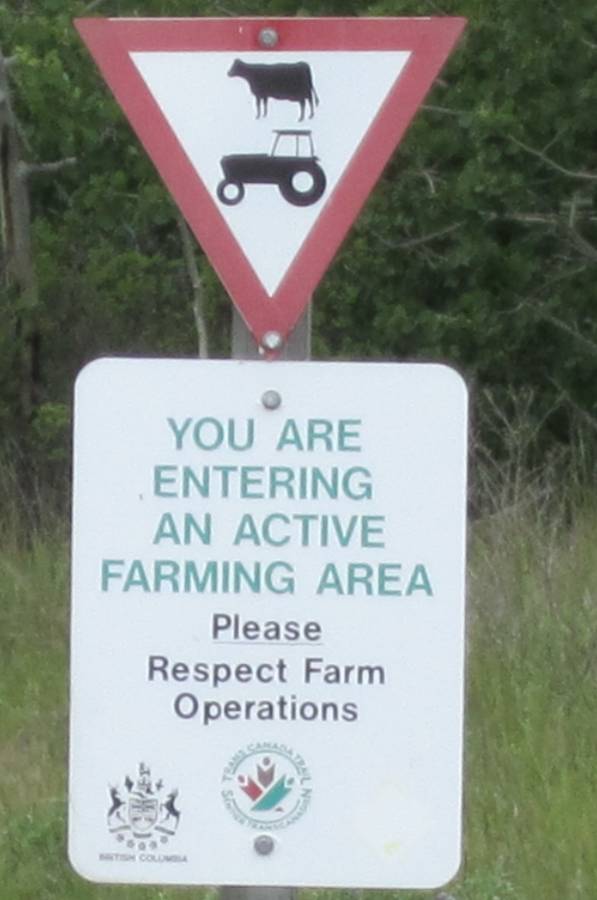 What's better than a picture of an old bridge ????
Yep--you got it.
The railroad went thru the one on the left which had been fancied up---and we rode right across
it and town the trail.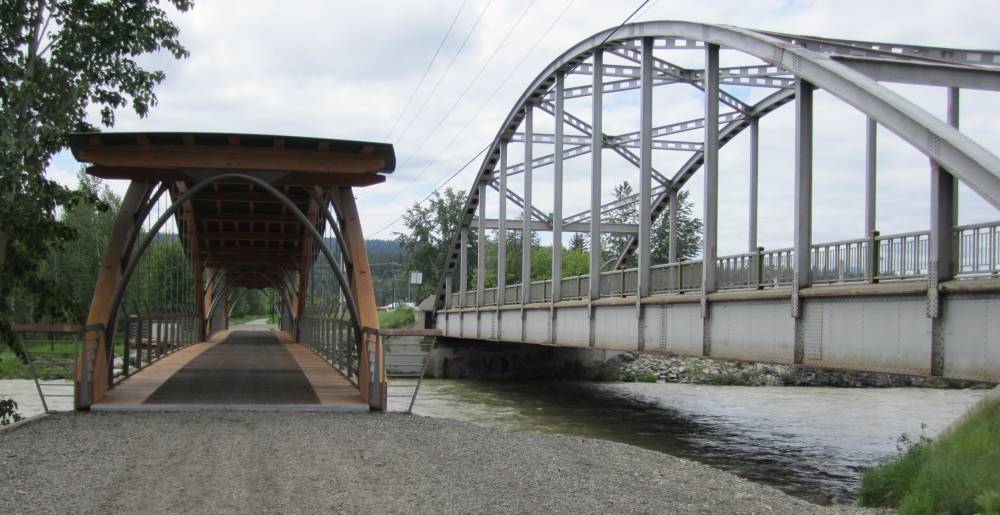 "Ellen---Ellen. Ellen--Ellen Ellen. Ellen--Ellen !!! "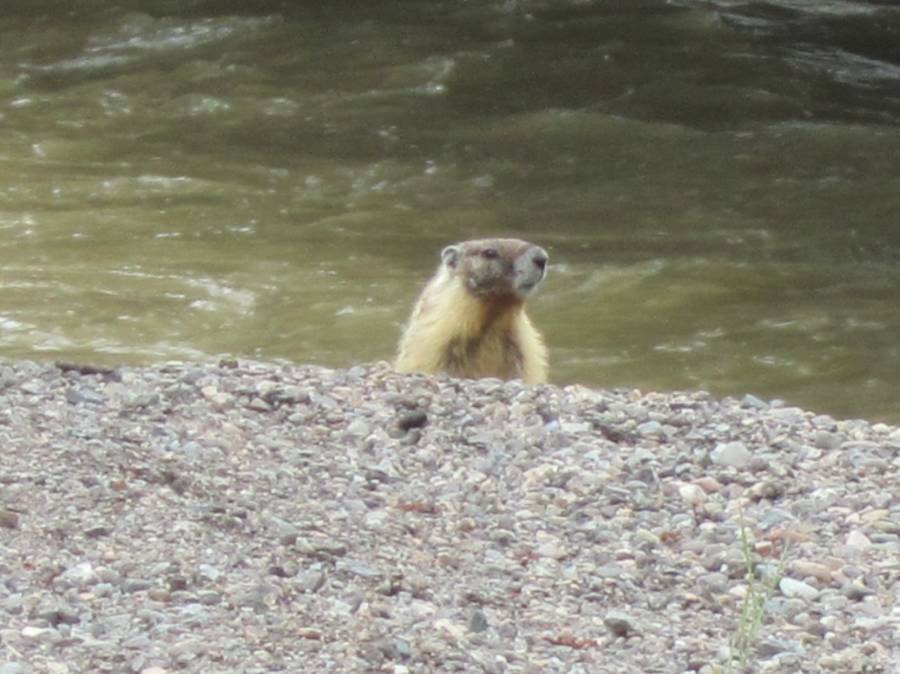 The bridge above and this tunnel were right out of Princeton, BC.
And you can see another bridge ahead---I'm getting bridge overload.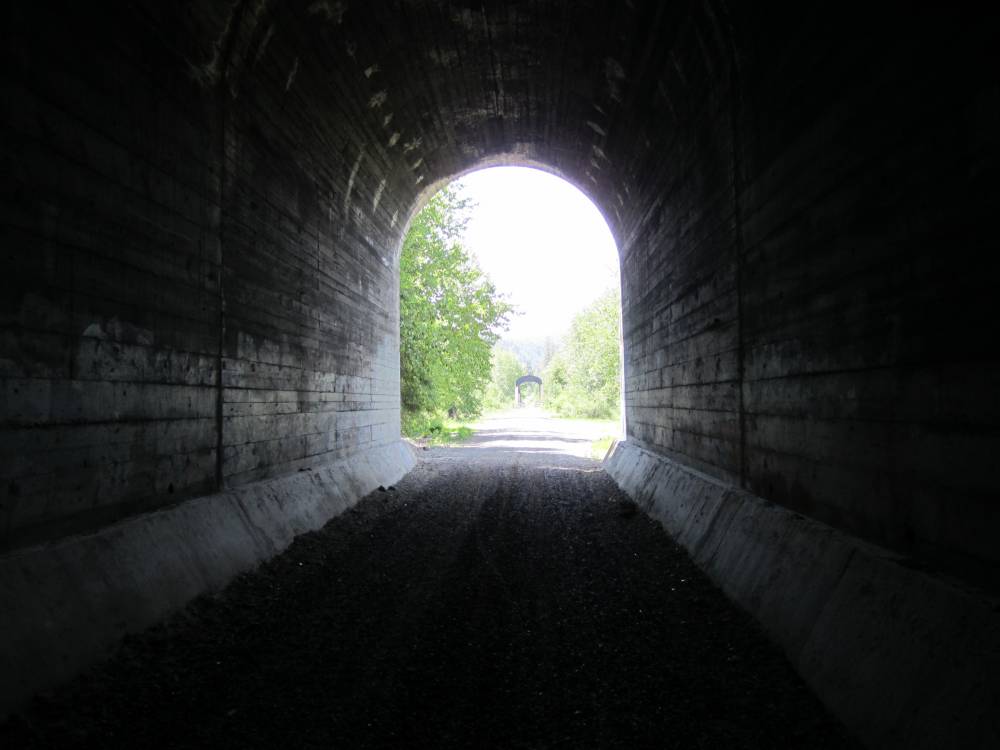 Looking back the other way from the picture above in the tunnel.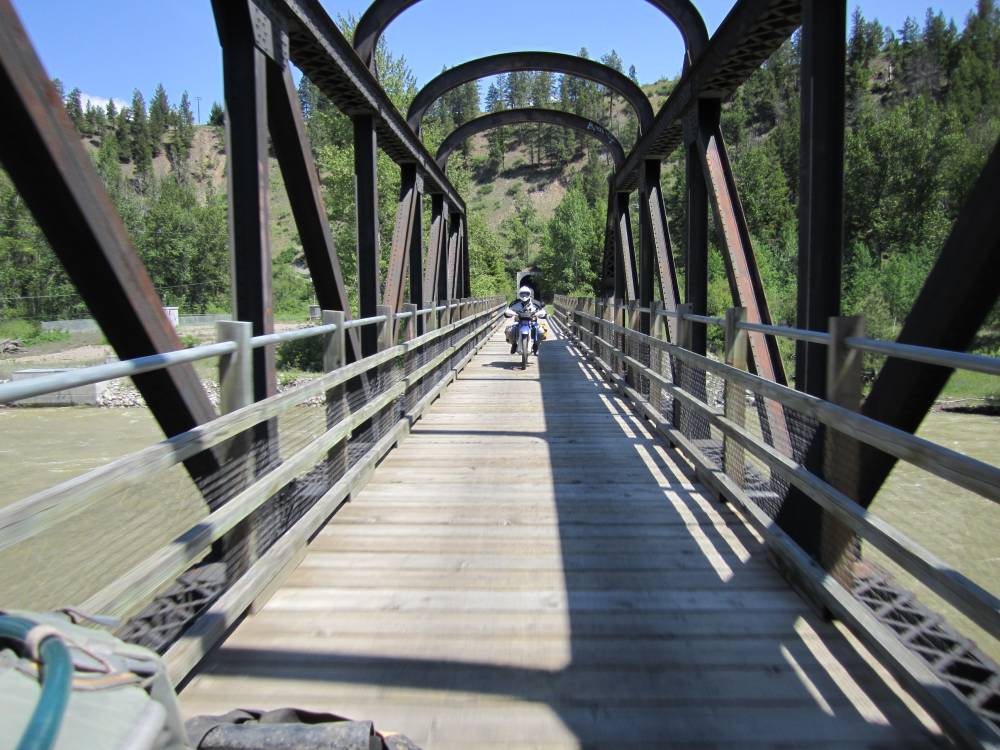 Another little rest stop-----and looky---another tunnel around the bend.
The scenery here was breathtaking and we had the river to our side most of the way.
That is the Tulameen River---and it's raging.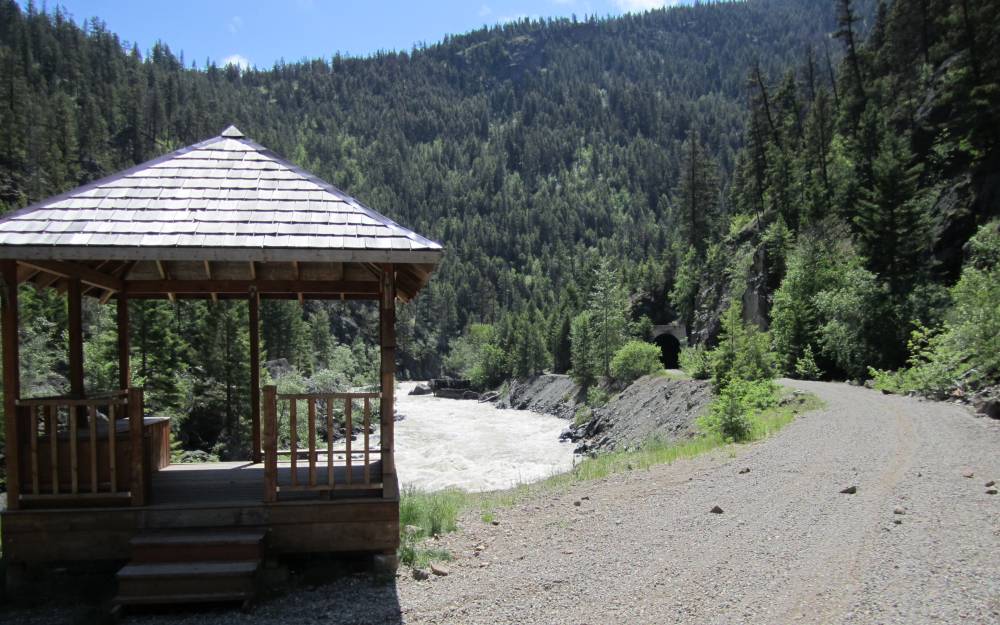 I guess in 1949 the tunnel was redone---as the railroad was much older than this.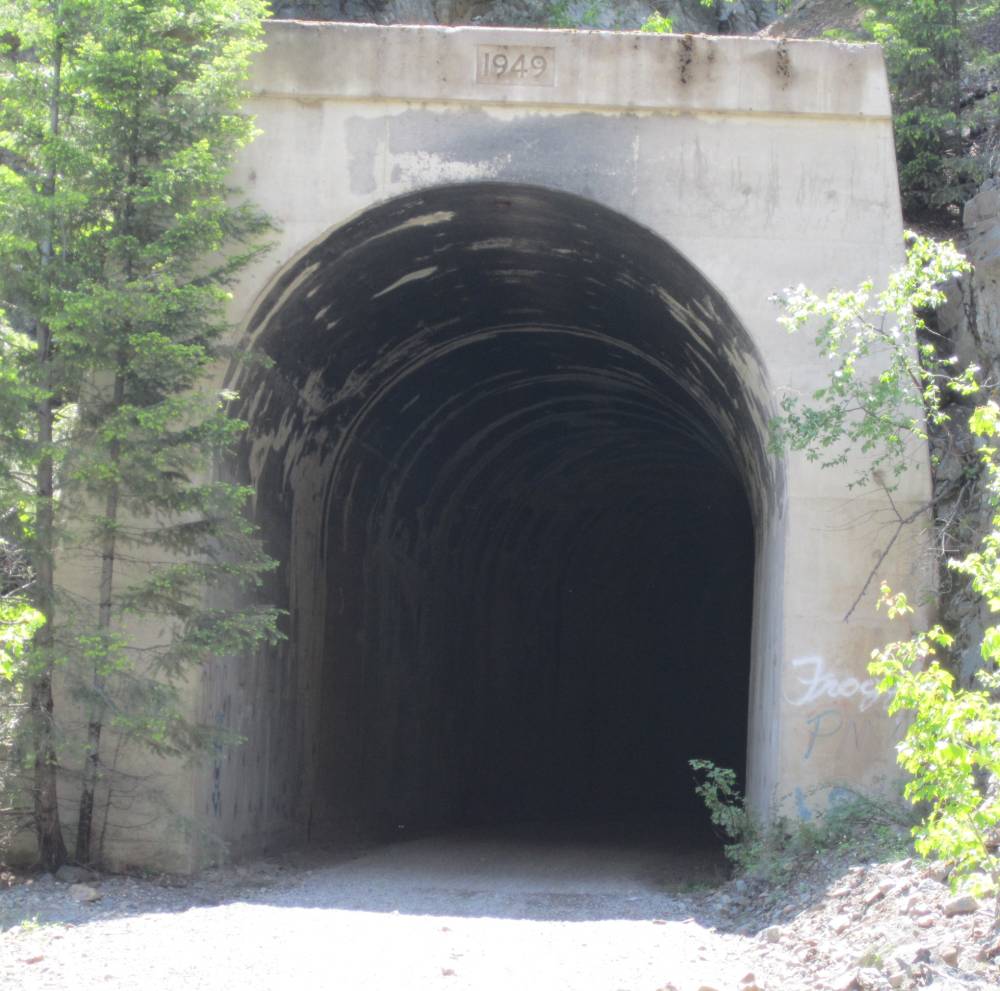 Pinch me quick.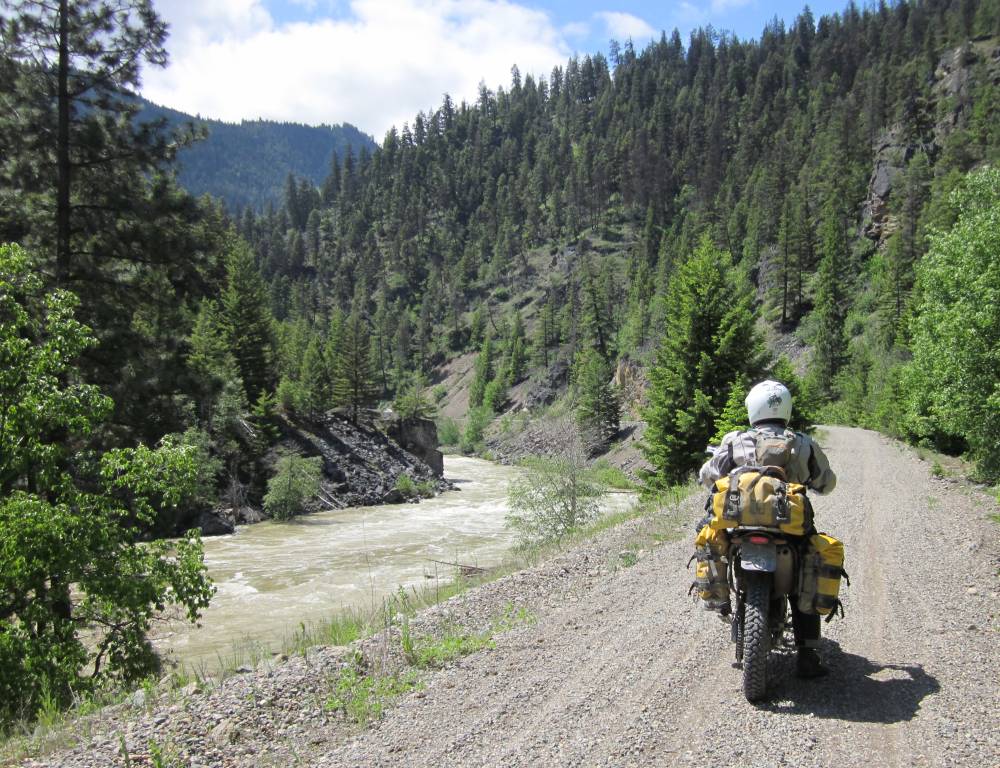 The culvert was put there to keep continual rockslides off the trail.
See those hikers ??? Everybody we met had been so nice---were we going to get chewed out now nad ruin our day ???
We let them walk thru the tunnel and I rode up to them, shut my motor off and with a big smile said hi.
We had a nice chat about the KVR and I found myself apologizing (again) for other motorized users
who weren't so respectful of the trail and this guy just shut me up.
He said we live here---and this trail is for everybody---don't apologize to me for what you didn't do.
We relish in the fact that we can share this with guys like you two--have a great ride on the KVR.
I motored quietly away with a huge grin on my face.
Nothing like meeting nice people to make a day go good.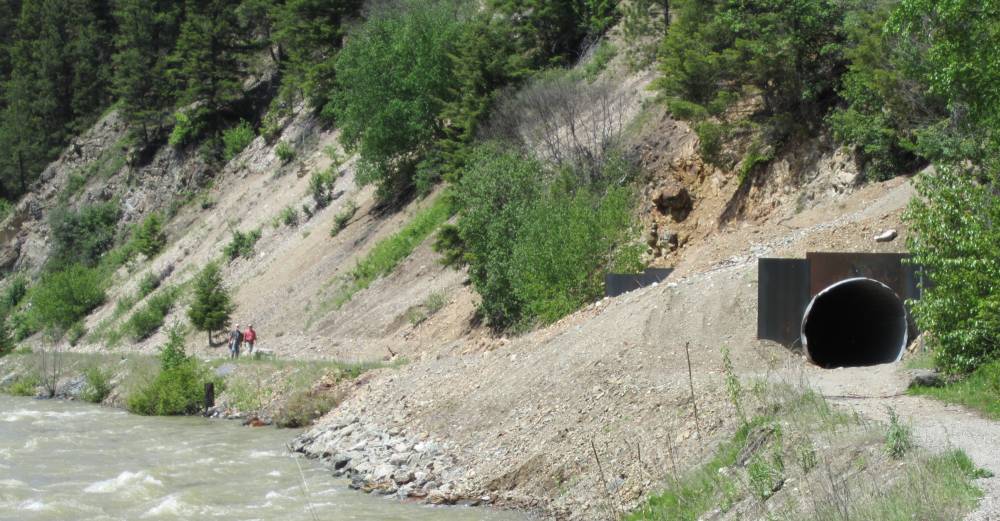 Only 354 more bridge pictures to go---I warned you.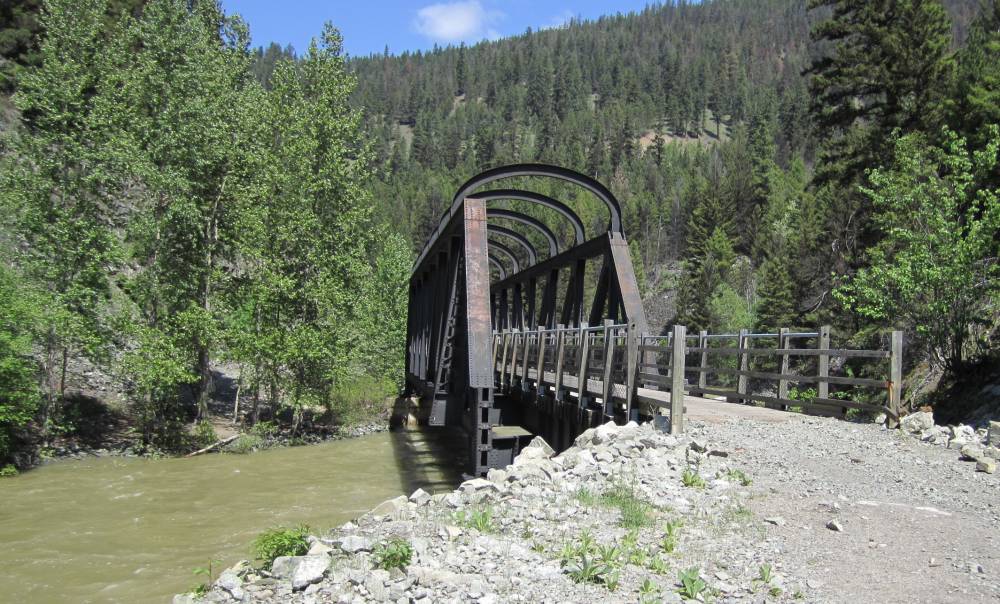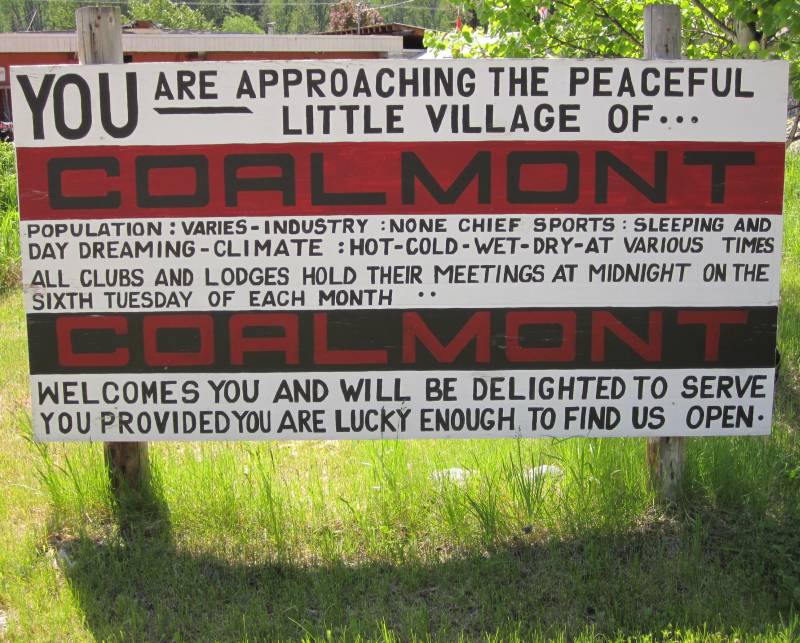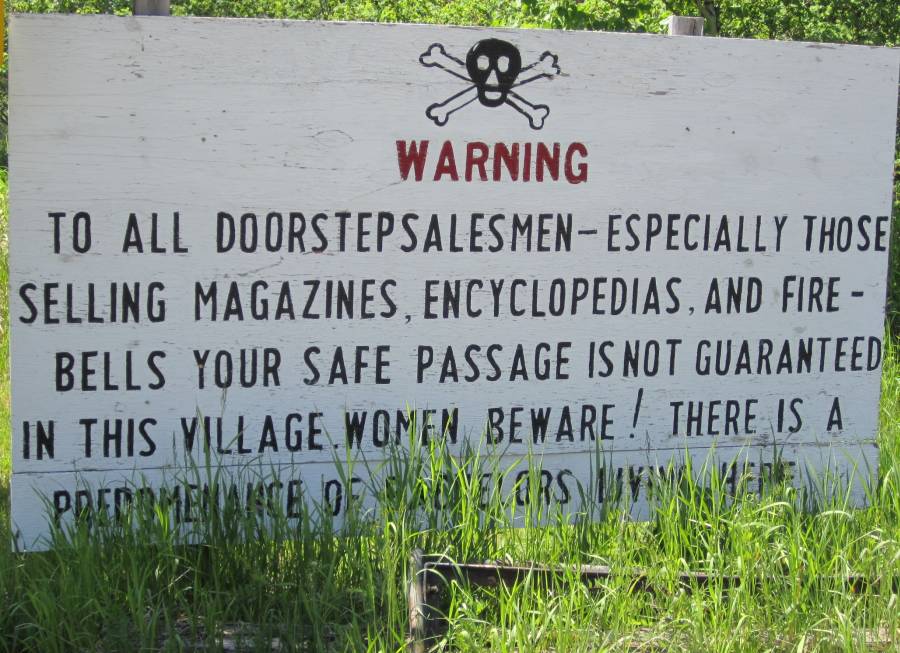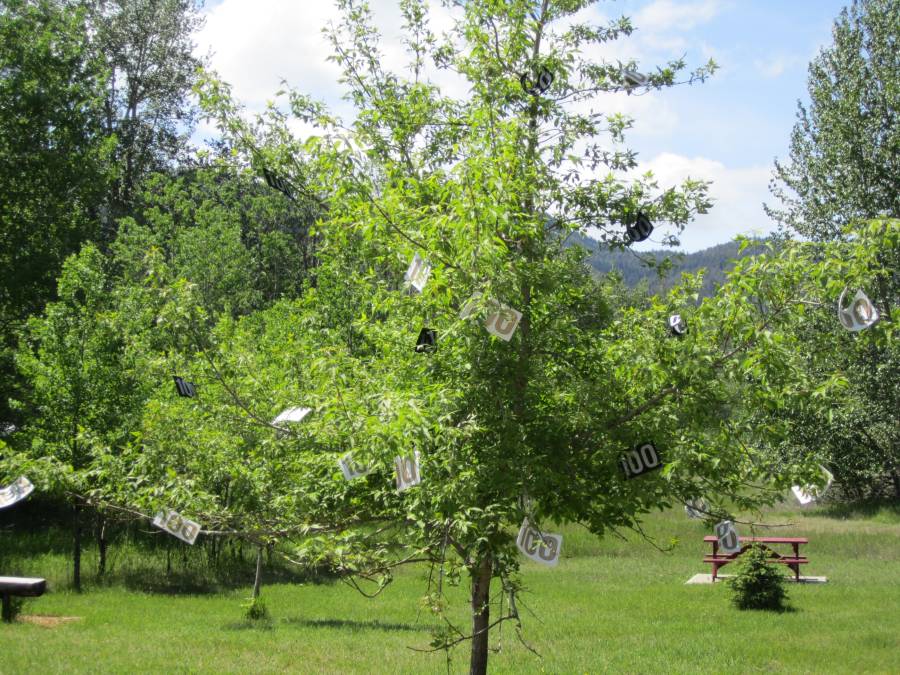 Sadly this was closed down and for sale---last year it was open.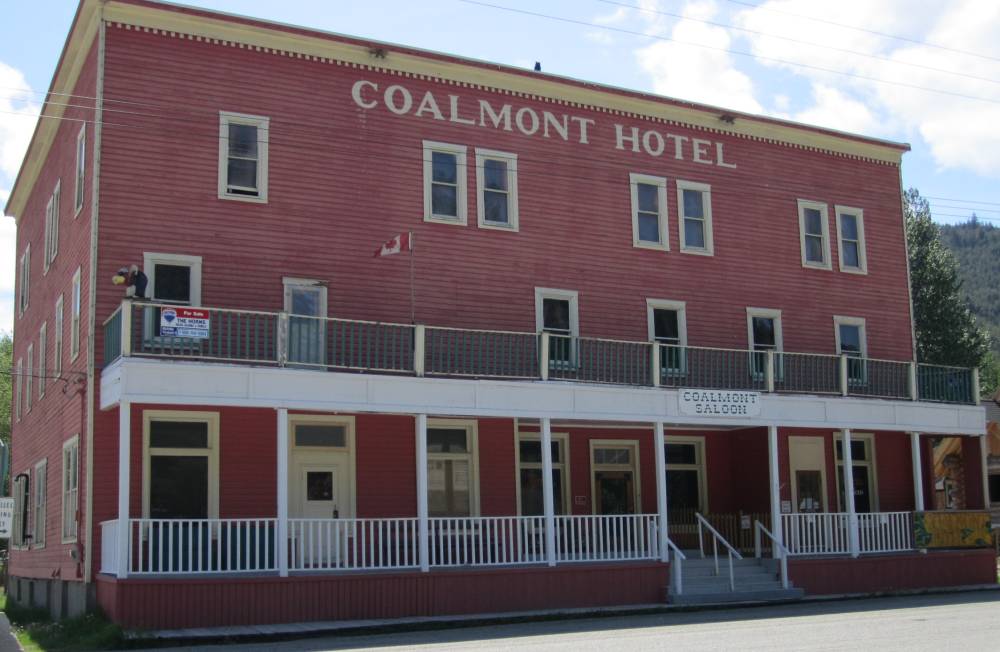 "Ain't you gonna bury him---Josey" ????
"Buzzards and worms got to have something to eat "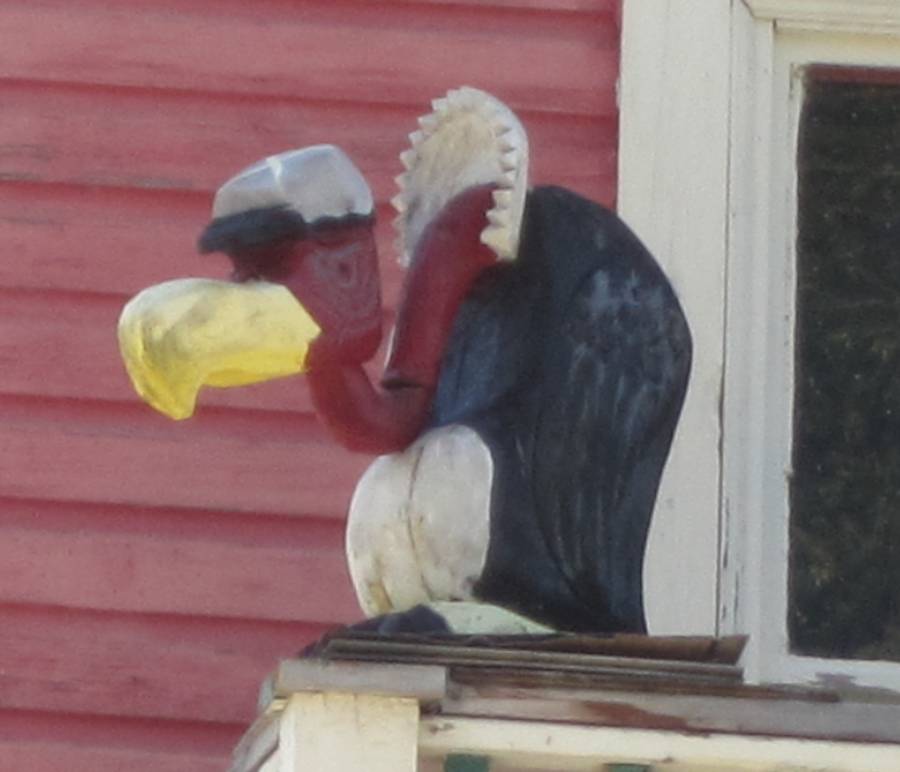 I thought from a little research that this bridge and route was off limits---and thankfully Scott earged me to check it out.
It was OK and ran right along this lake (river) in Coalmont.

Note to the left where the rairoad actually ran.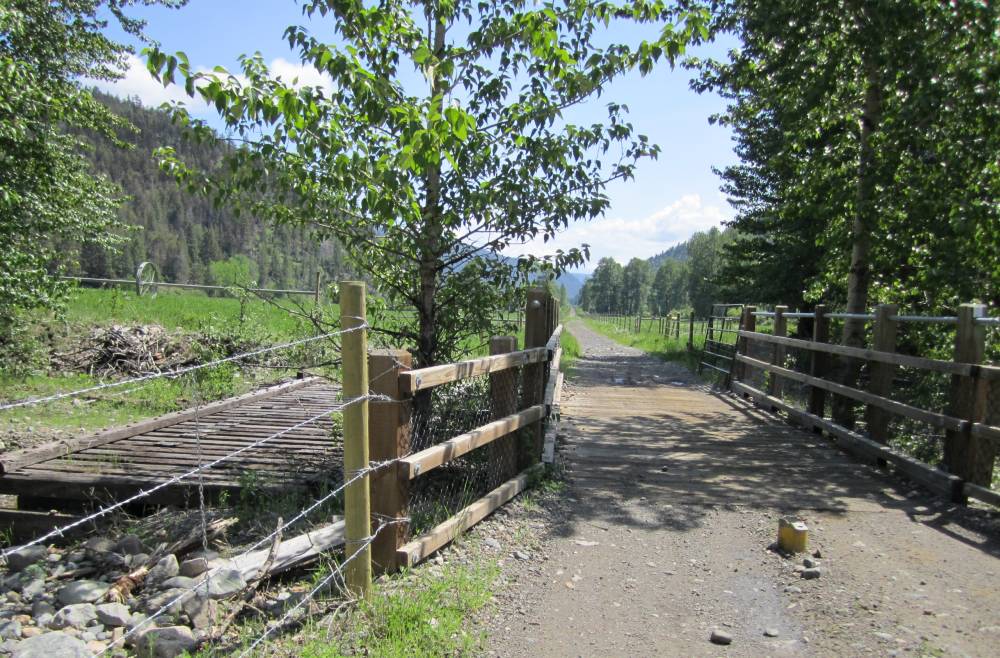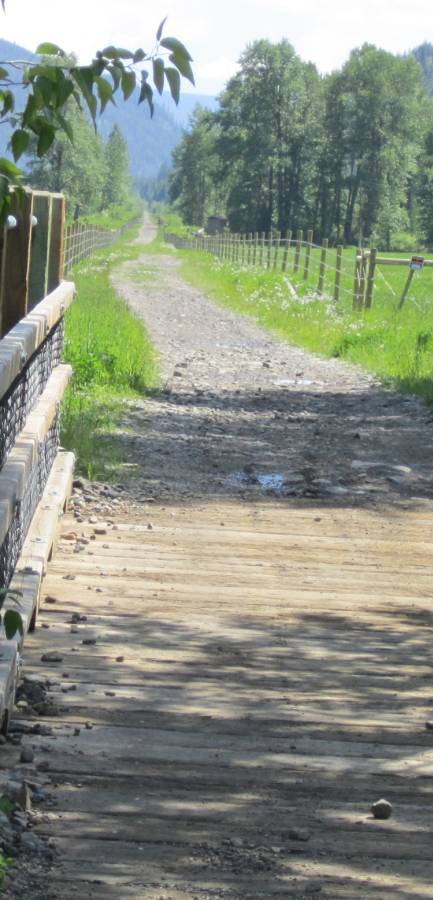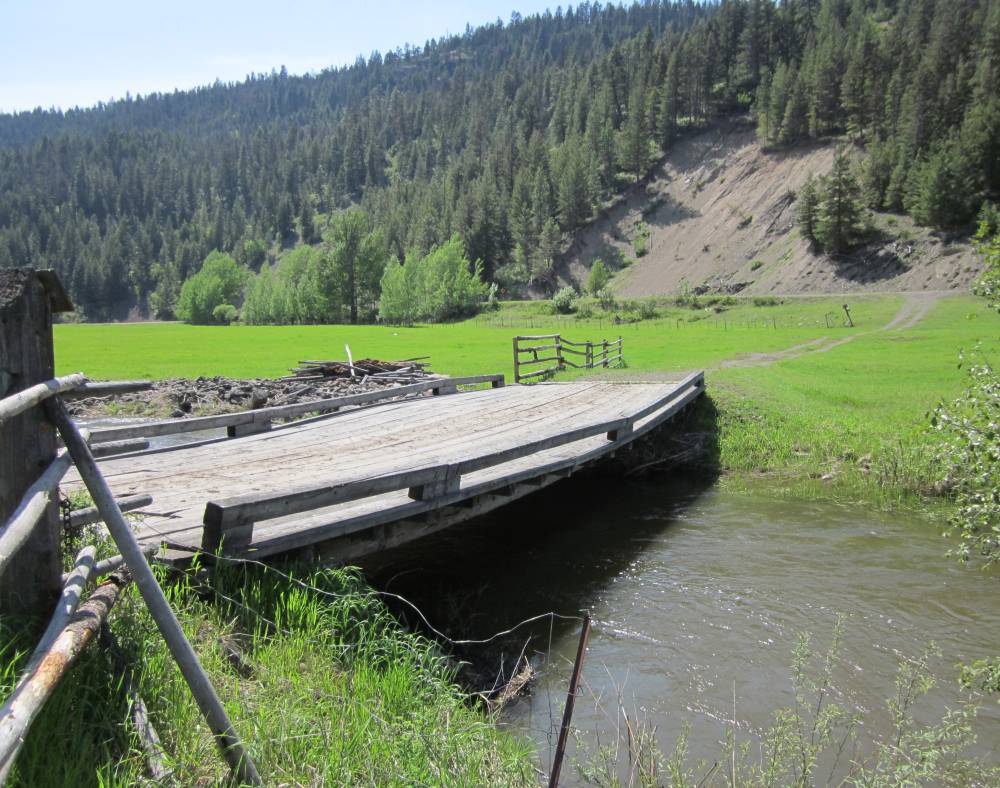 The rail ran thru lots of ranchland and we had to open and close lots of gates.
I don't mind this at all----I appreciate being able to ride thru.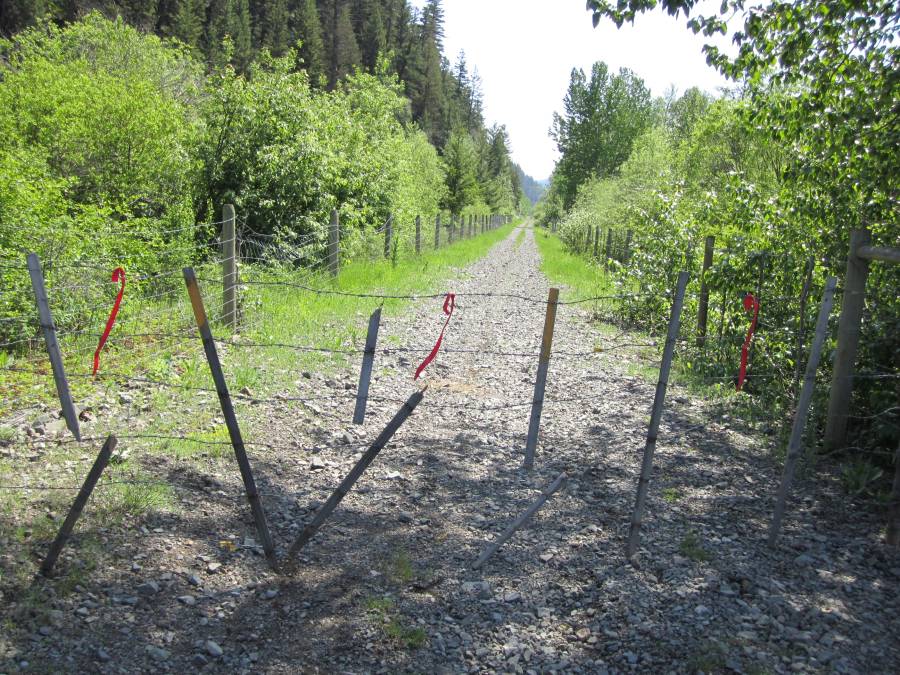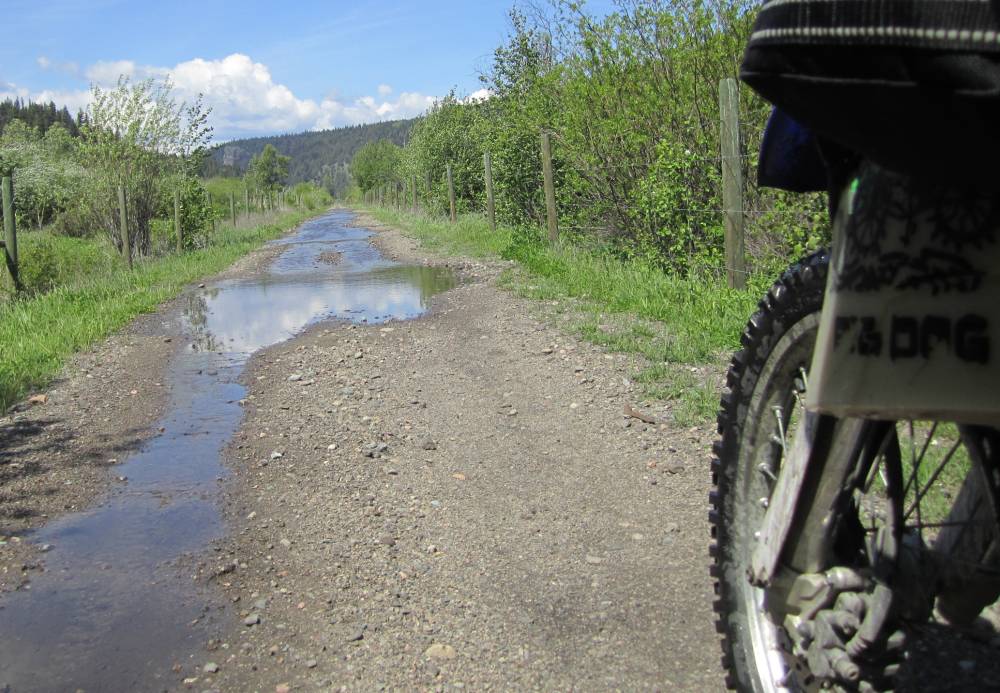 I loved this gate hasp.
I love taking pictures and marveling at the little things we saw--they are just as neat as the
big stuff.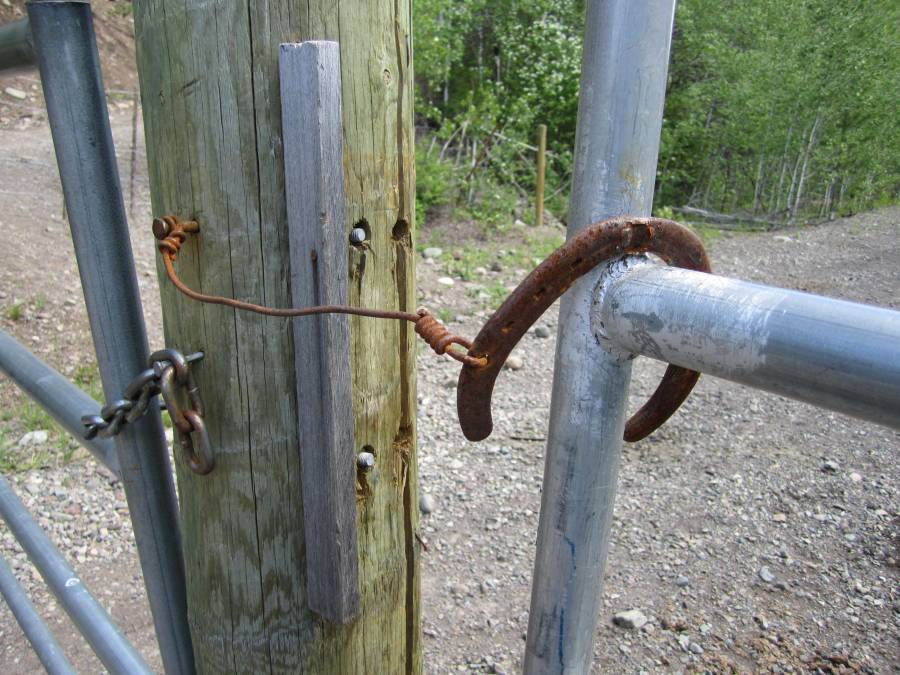 We came to a burned down tressell and had to ride thru this deep water--open a gate and ride up the steep hill.
Kind of tricky----especially while I was trying to eat a banana.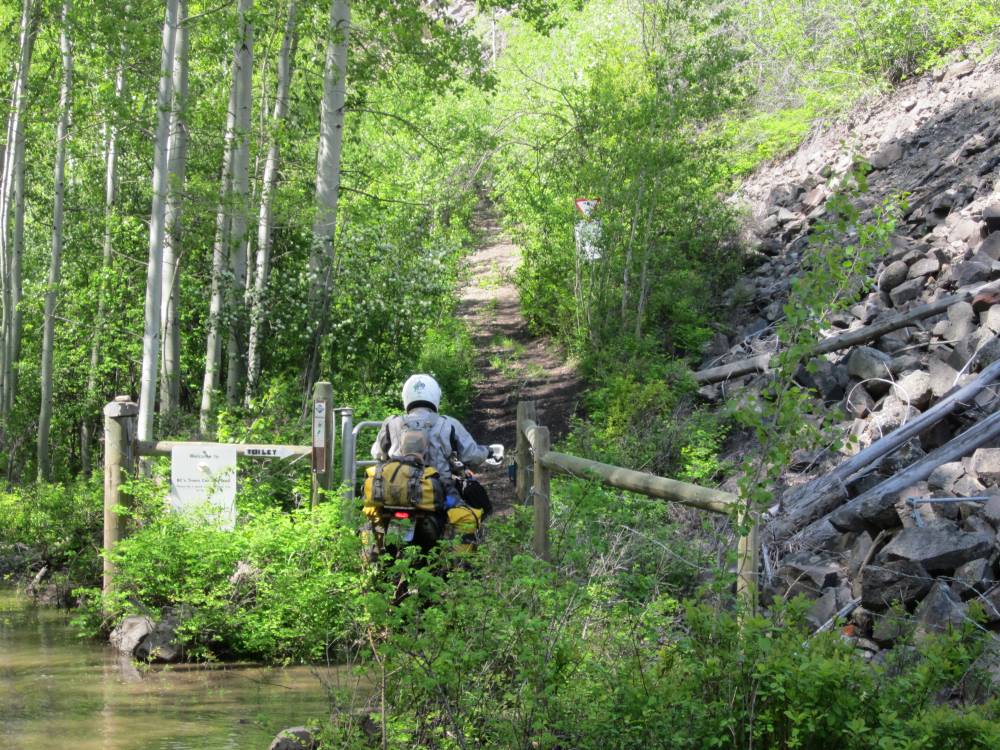 Here is Scott coming up that hill to the railroad bed.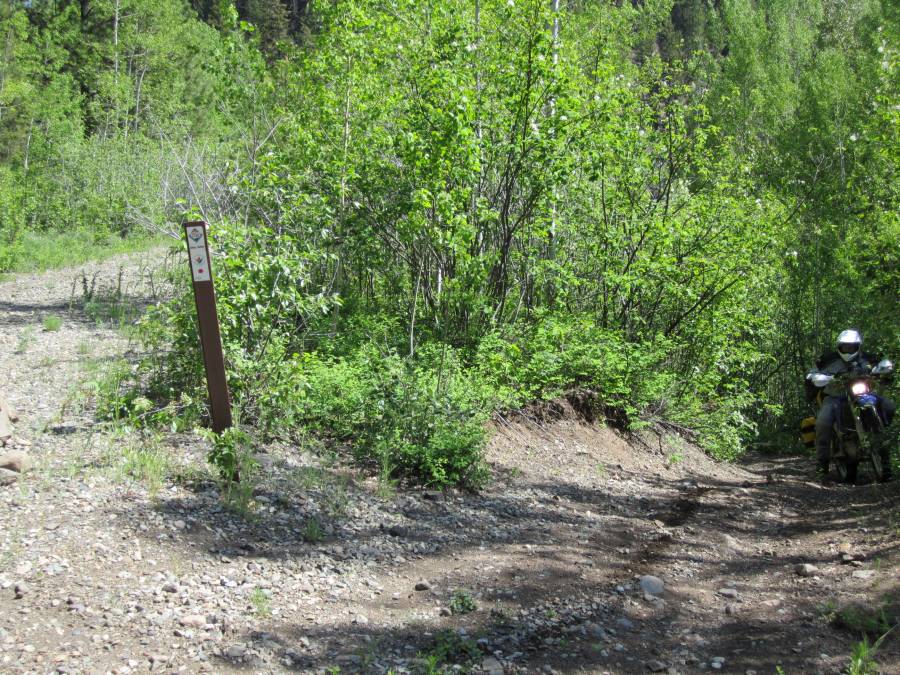 Time for a jet boil meal and snack---lot's of dandelions.
We exclusively used the jet boil for our meals on the trail and at camp.
Going in to this trip we knew we could never run out of water as we would be in the pretty desolate places
and we always needed water to not only drink, but to fix meals.
I brought for the first time and water purifier--------hiker pro.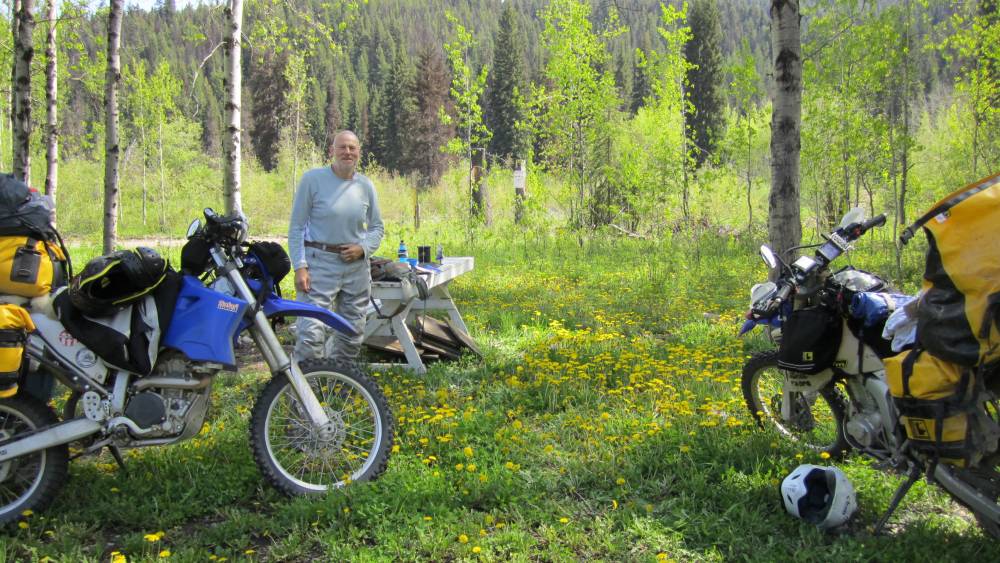 You can laugh and make fun of how Scott is packed-----but he had stuff that saved our bacon.
Last year that ax saved us a 250 mile re-route on pavement in Idaho when we encountered a down tree that
we couldn't ge around.
This year it chopped a lot of firewwod-------a lot.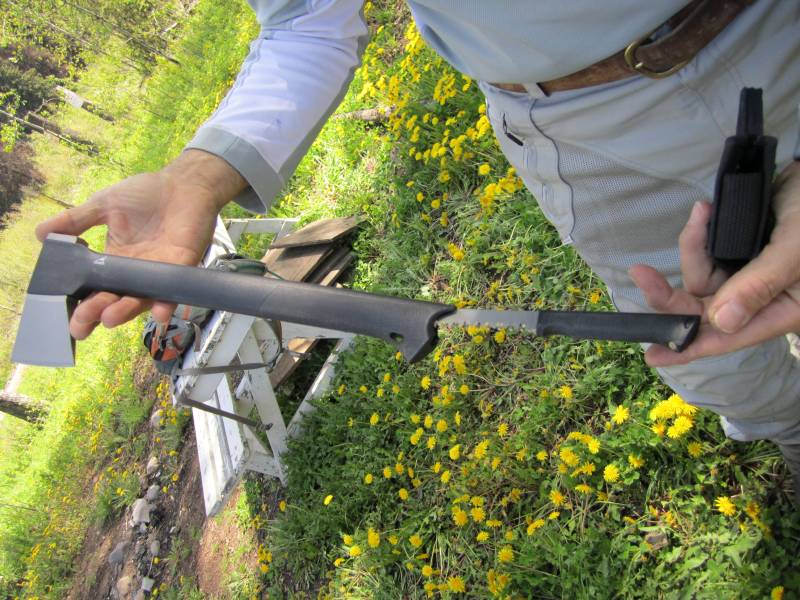 As far as I know---this is the only remaining water tower on the KVR.
I am assuming they were are identical---as all the concrete bases that were left looked just alike.
I think this is in Brookmere--population 6 ?????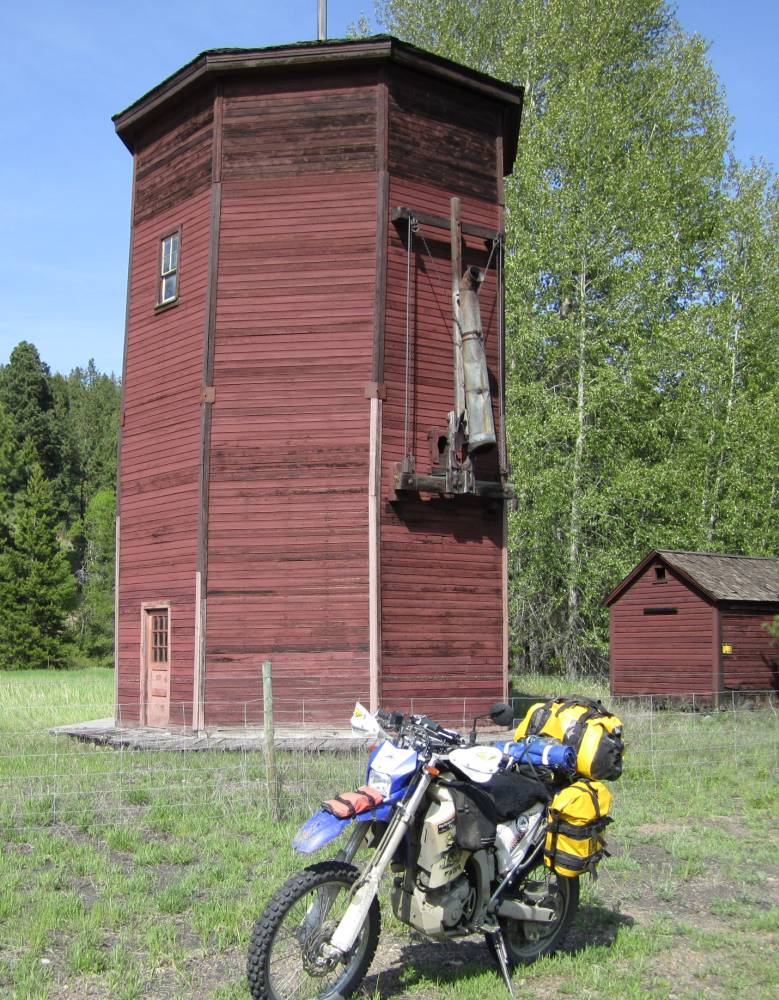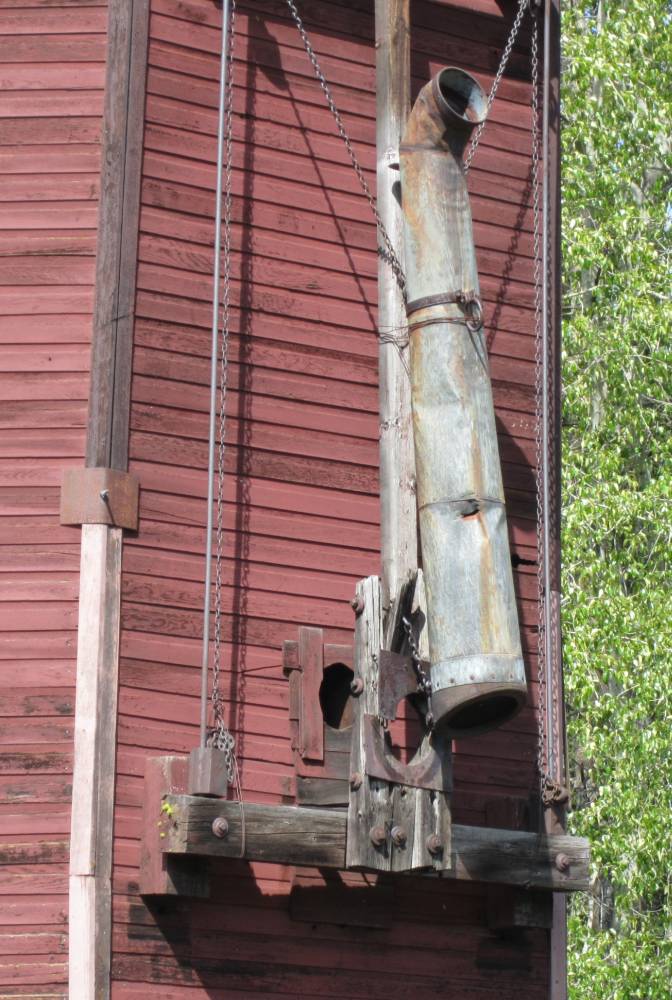 And they all lived here.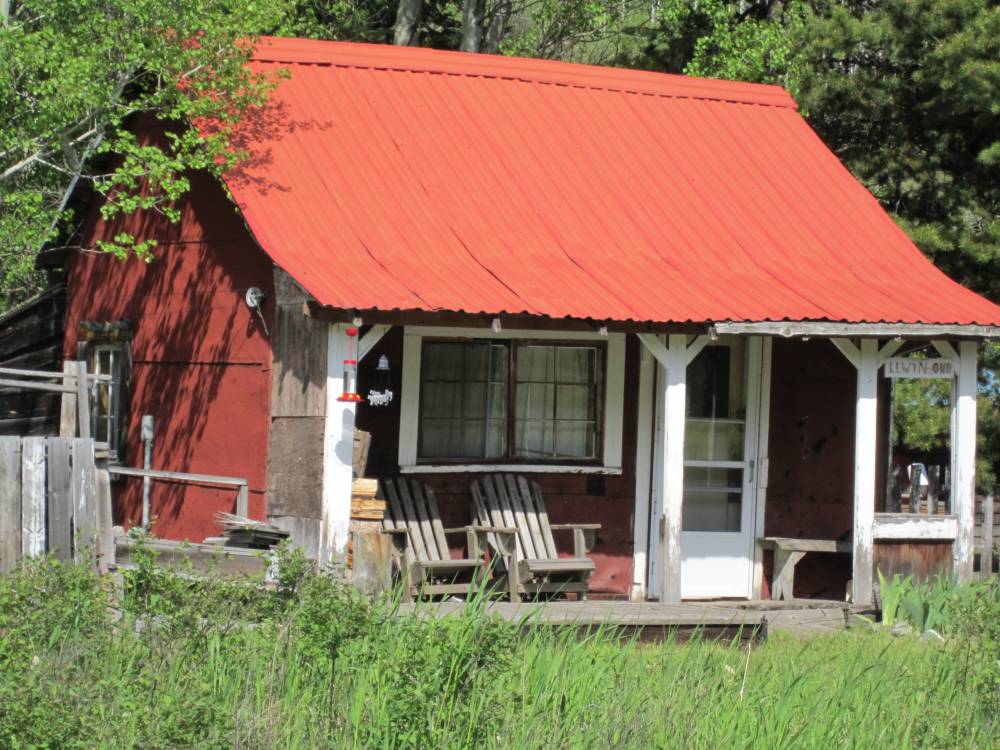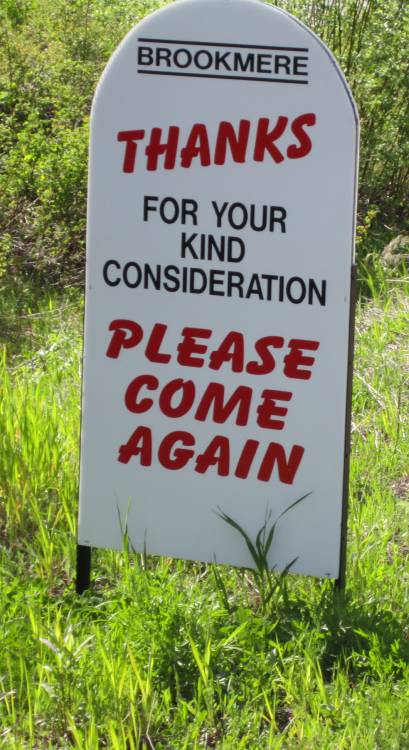 A huge washout.
It's much worse than it looks and we didn't want to risk losing our bikes.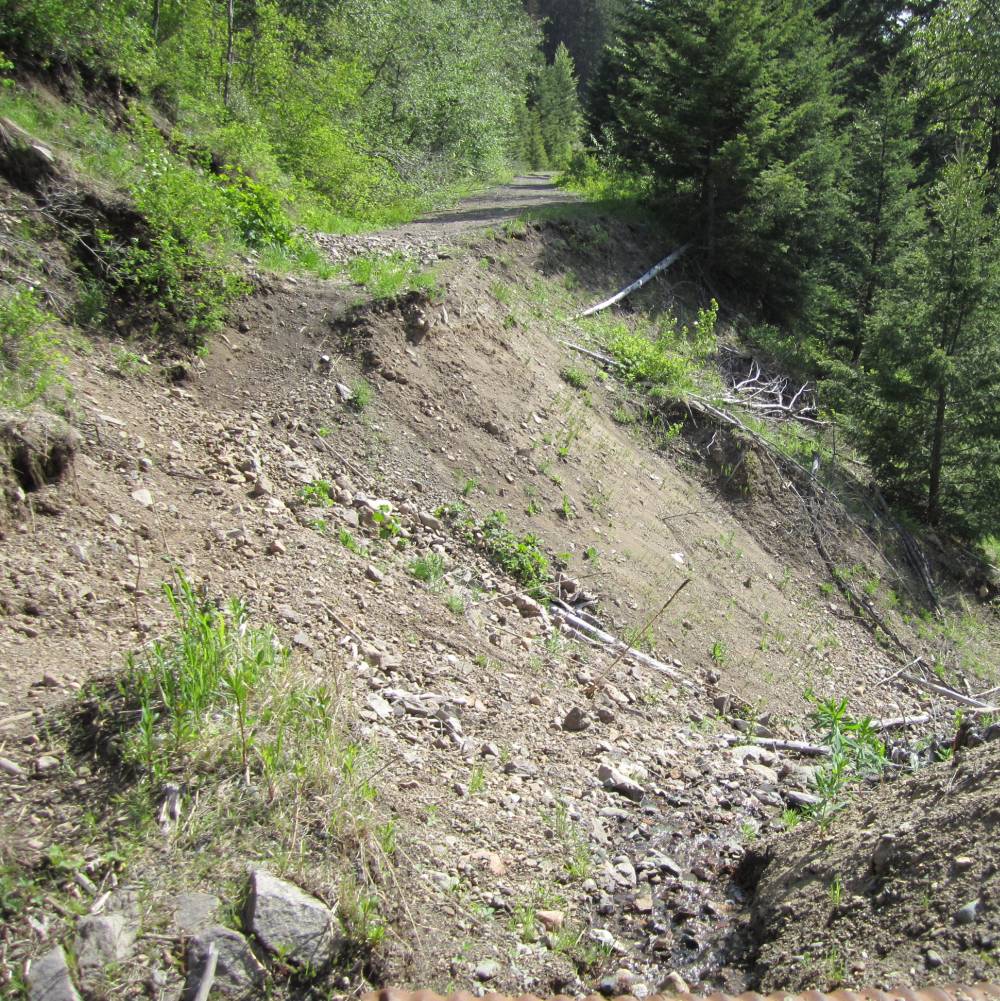 I turned around and found the ATV's had pioneered a by-pass.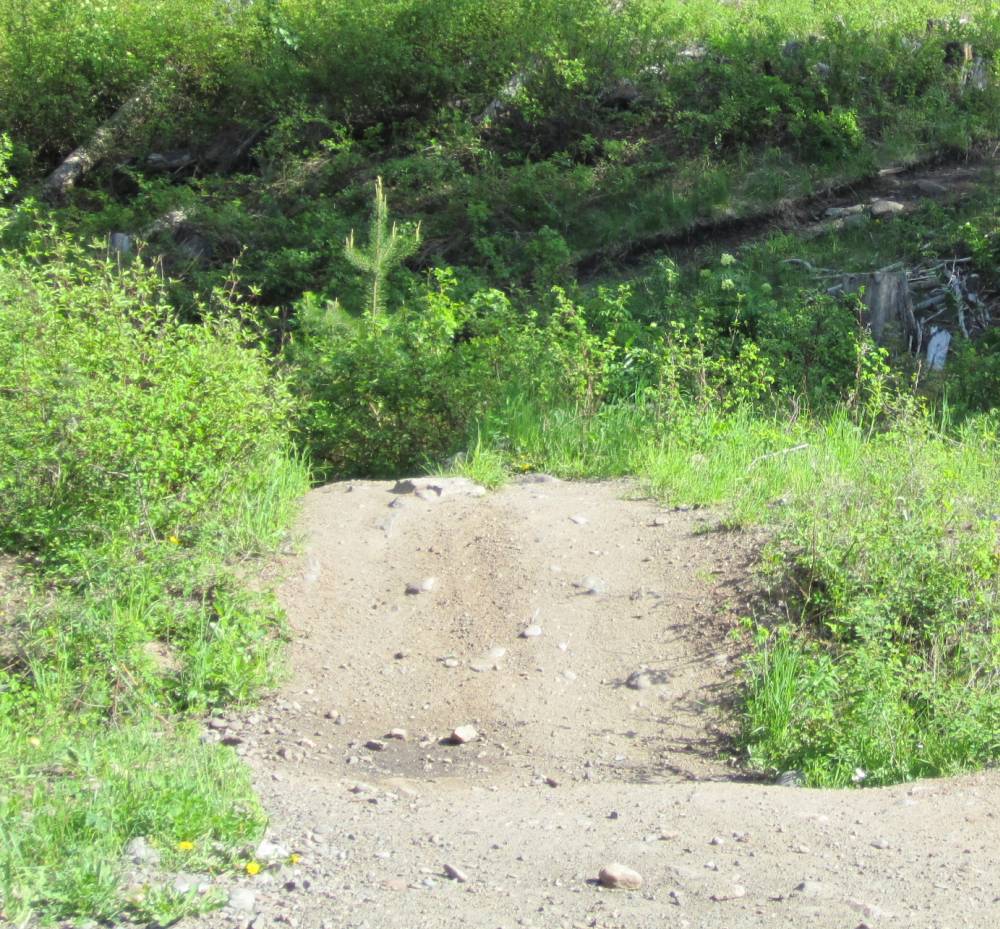 Now is this awesome or what---something different around every bend.
Don't know if you can't fit your wide beemer thru here or not ???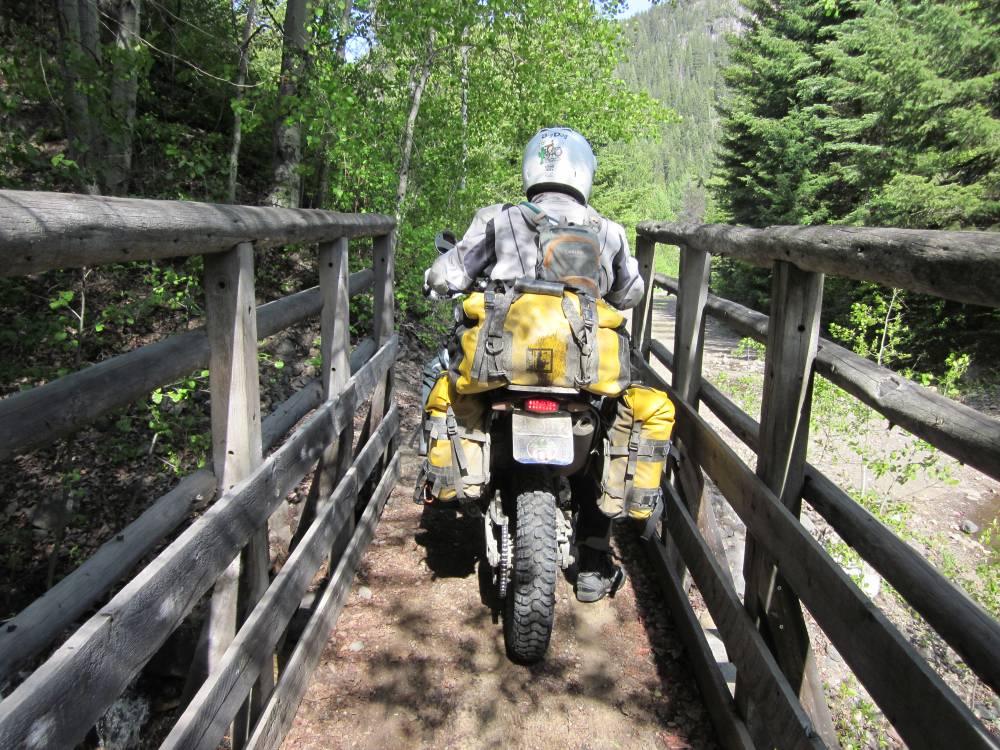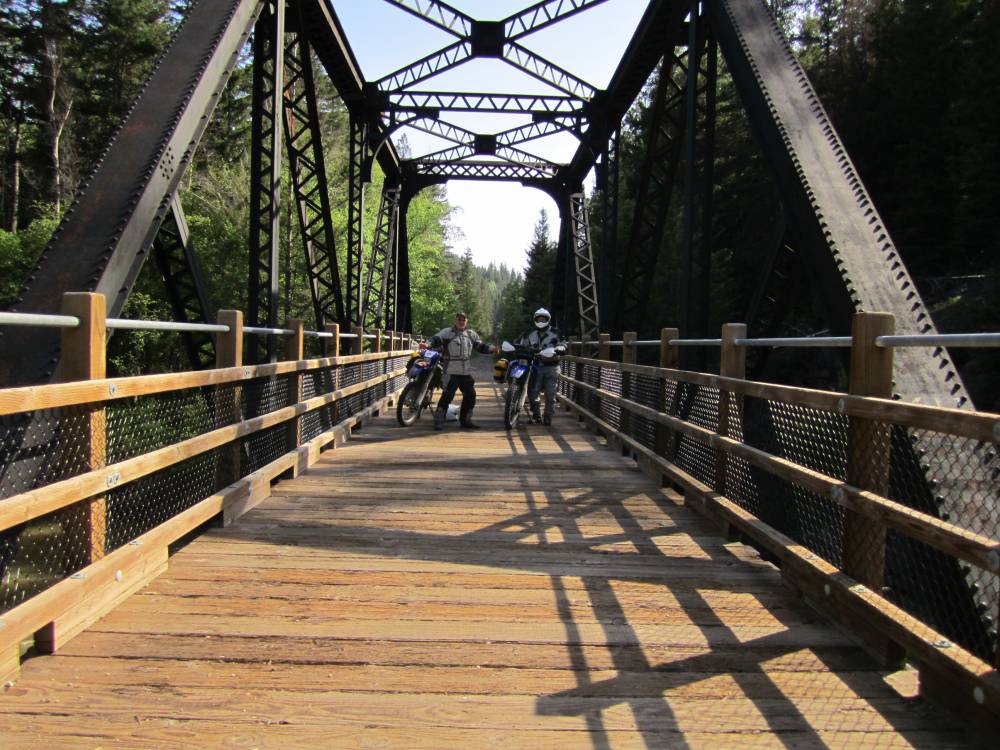 The only way to cross a paved road.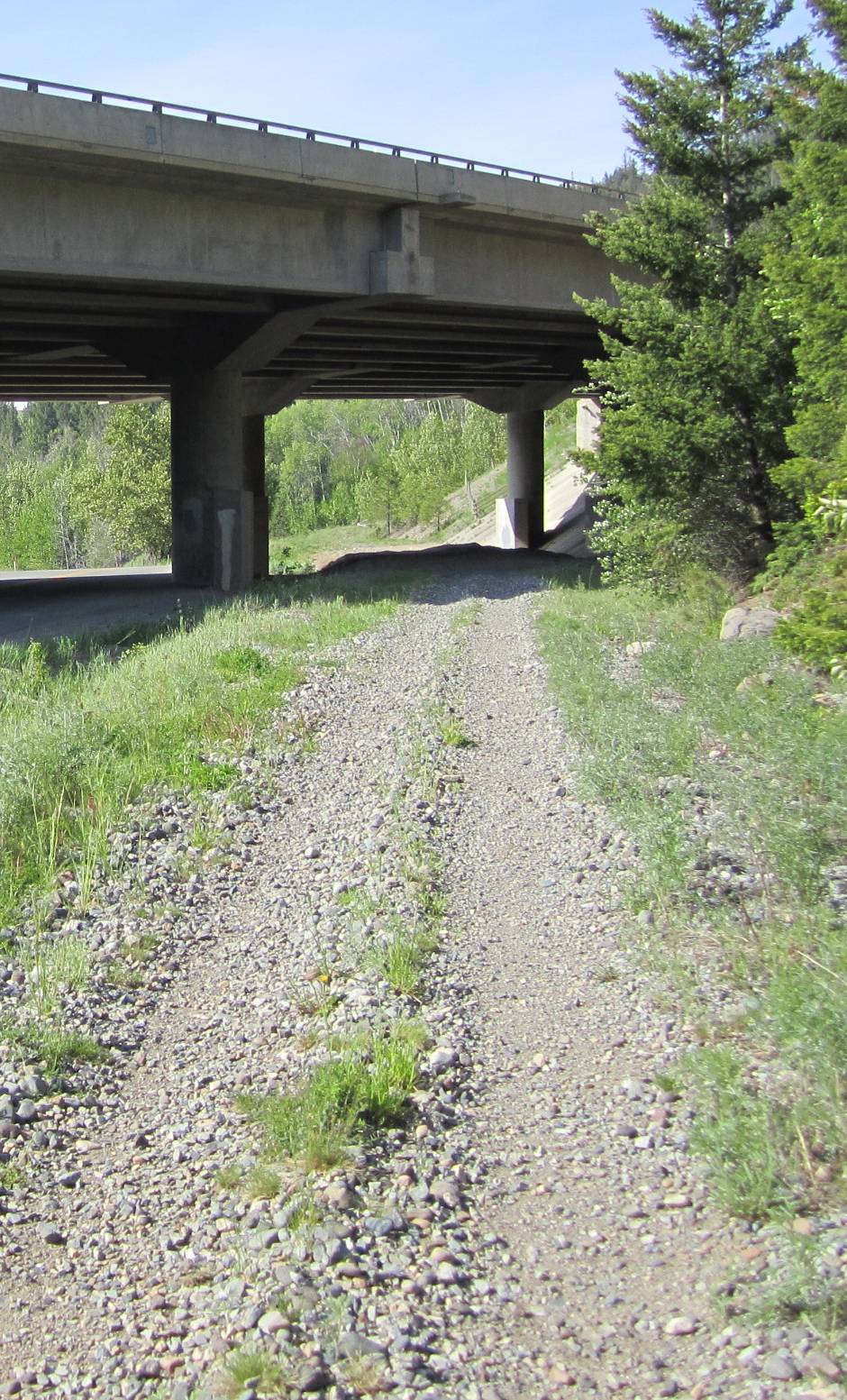 One place the trail hit private property and had to scout a way down to the nearby road.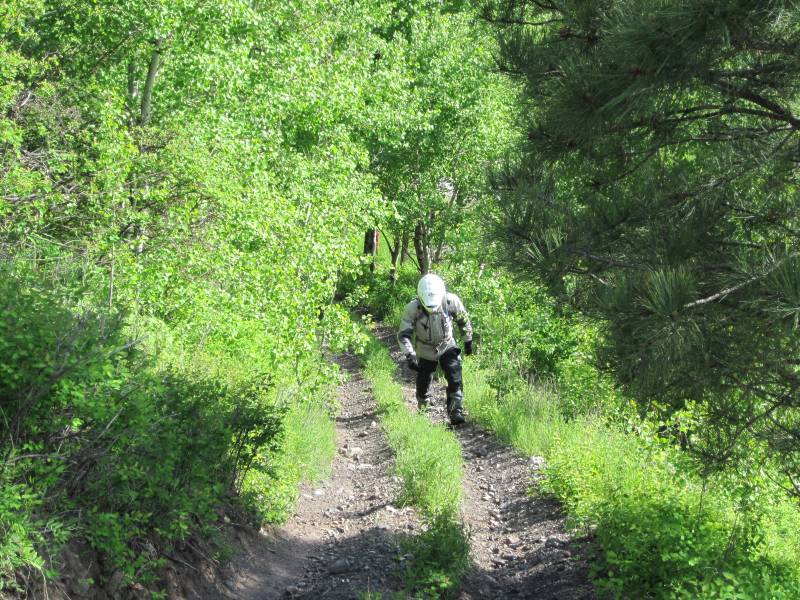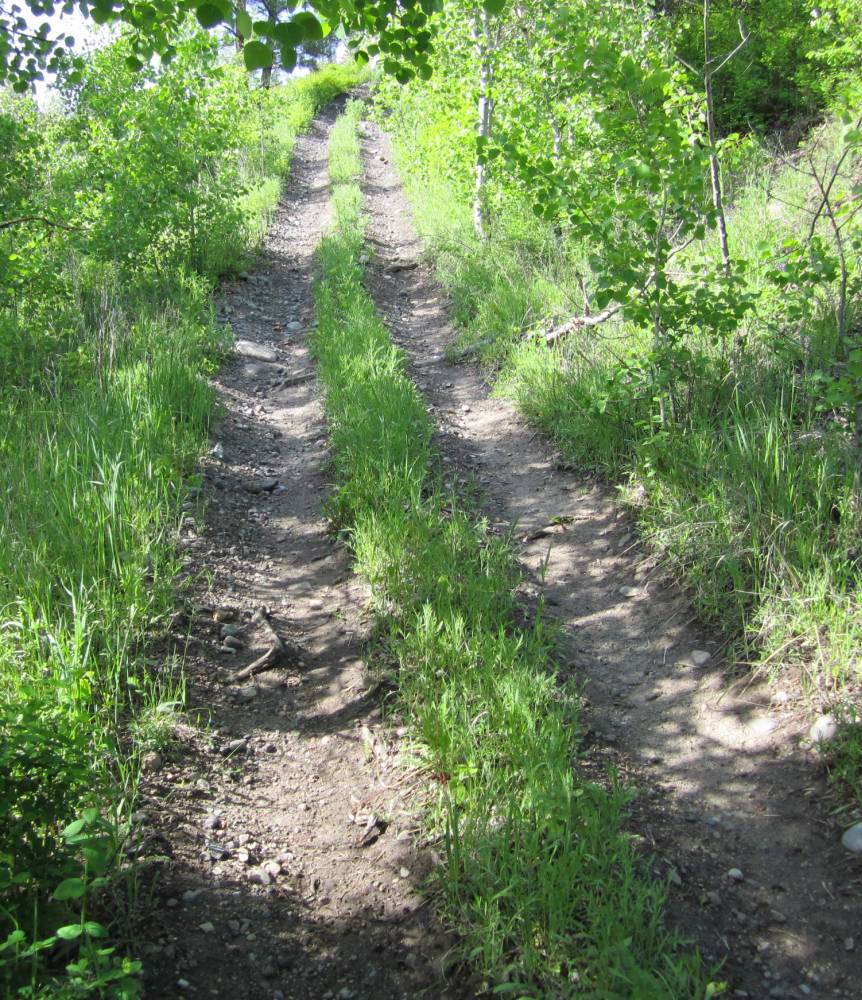 You'll see more later---but I can't stress enough how most of BC had been hammered with huge unforgiving rains.
If you came down this road in your family sedan in the dark-----man that would tear up things.
It is about 20" deep.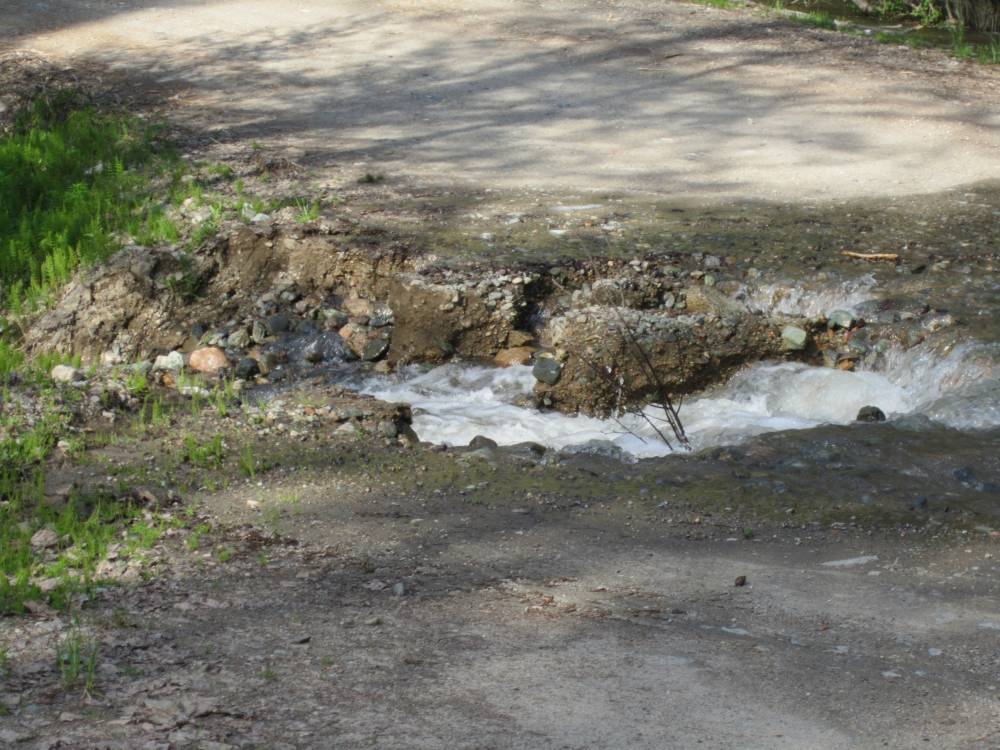 This kind of took us by surprise---like I said something different around every corner.
But we can go "Anywhere"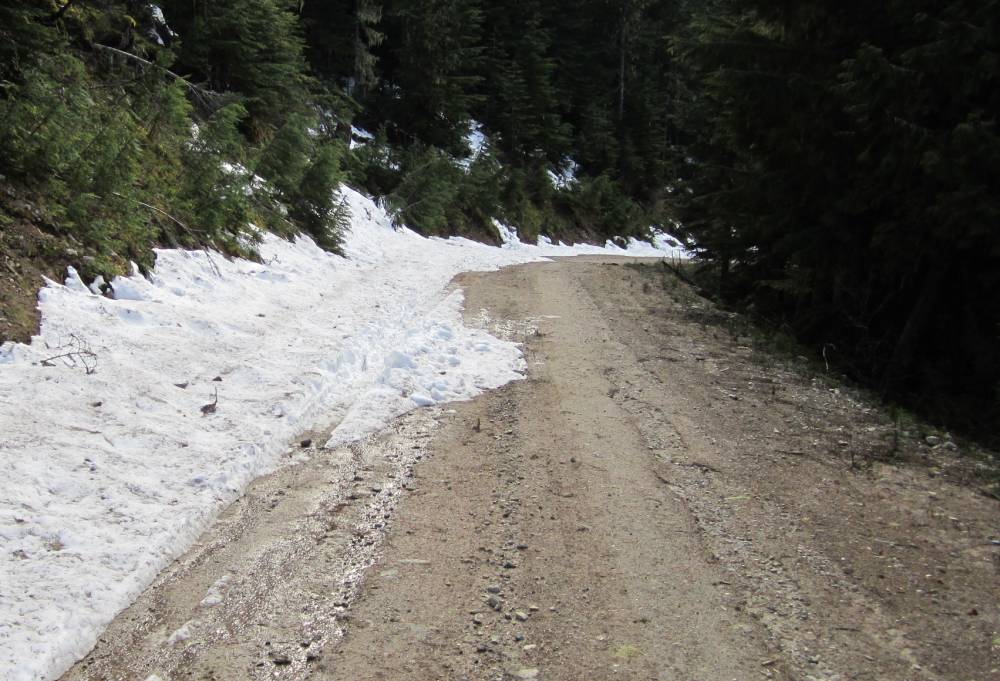 OK pinch me again---we are off the KVR now.
We are now officially...............
WINGING IT..........again.

Scott........."ain't we goin' South again ??"
Mark............."So ???"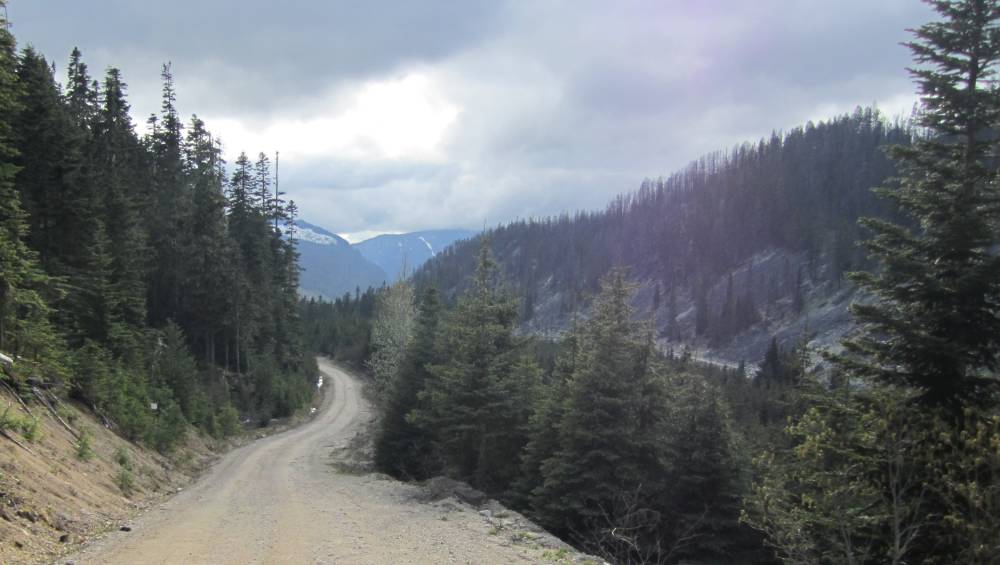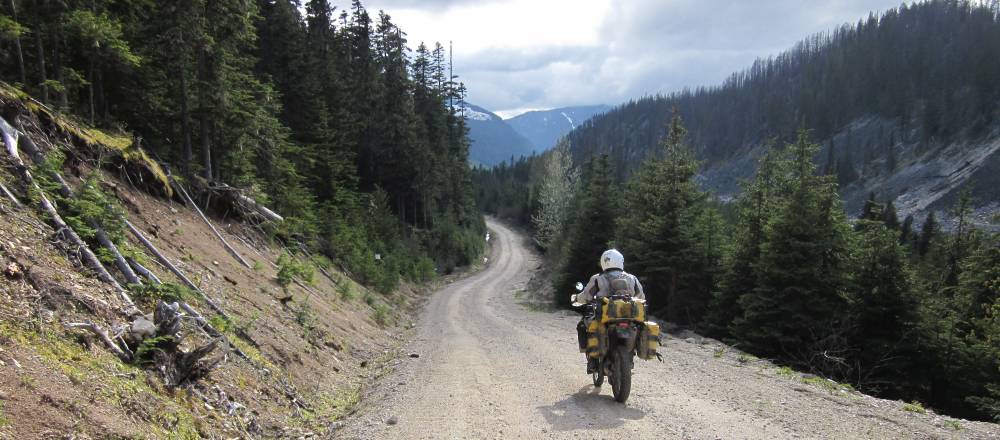 We wing it North---then South---down this logging road--down that logging road--down that trail--then West......king of
and end up at this extremely remote camp site---forgot we had already seen several black bears and lot's more bear poop.
This camp spot had several appealing features-----2 nice chairs---firewood--a fire ring and 2 creeks adjoing right here.

Notice my bear spray by the chair---I ain't skeirt----but get that way before the night is over.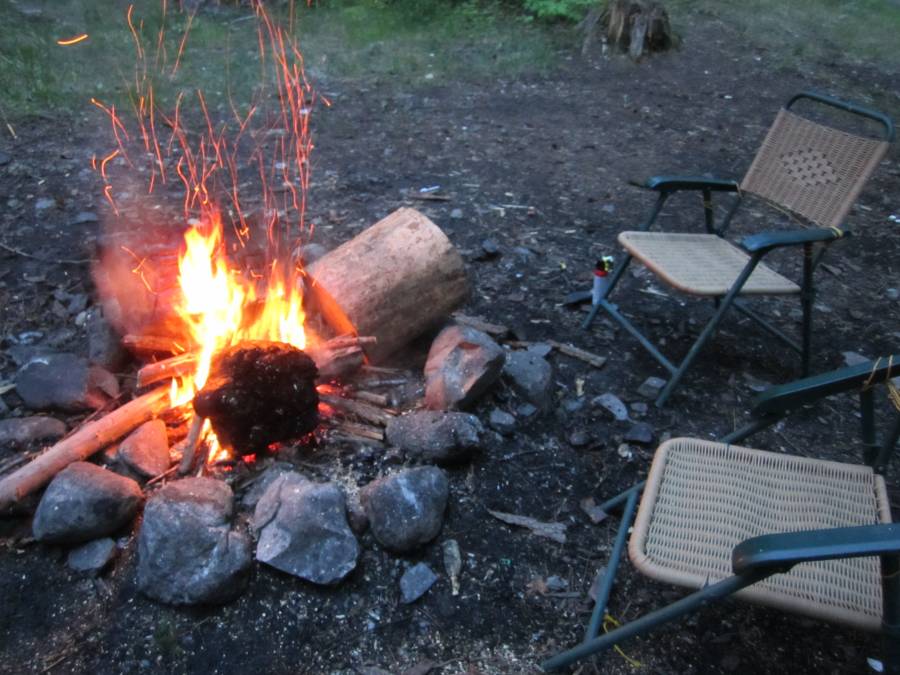 The creek was absolutely raging as all creeks were in BC. It was loud---about like camping under a waterfall--really loud.
We made a nice jet-boil meal-----beef stew I believe and set up our tents and relished in the thought of how nice a camp
spot we had---as I peered in the deep thick forest for bears.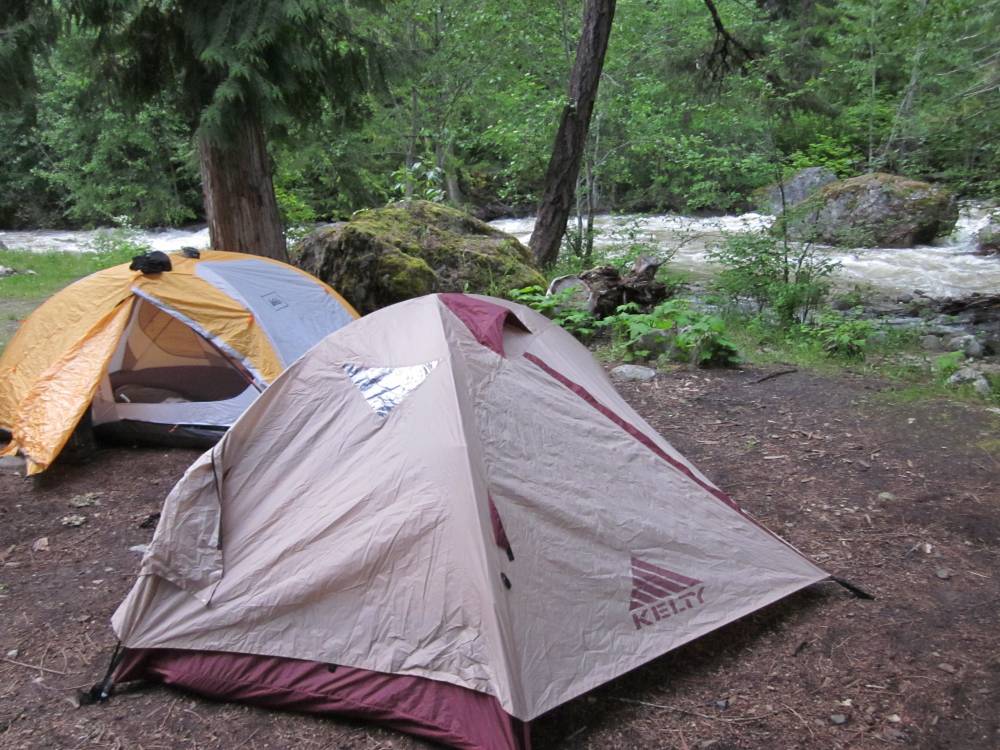 We we settled in our tents for the night----me with my bear spray and Gerber LMFII survival knife right at my side.
I pondered the bears for awhile---and pondered some more-----so long I couldn't sleep.
Thing is--if one creeped up on us you would never hear it---I couldn't even hear Scott snore---and I know he was.
He's never not snoring.
Sometime in the night I swear---I had fallen asleep and something shoved my feet 1 ft. to the side thru the end of the tent. It pushed them hard
and I awoke with eyes wide open to the roar of the creek absolutely scared shitless---and took the trigger lock off my bear spray.
I was hours staring straight up in the dark and got no further sleep and prayed for the sun to come up.
Nothing else happened---and when I told Scott my story in the morning he just snickered.
He has hunted these things and don't pay em' much mind. Sheeeeeeet !!!!!
Welcome to bear country BigDog.
We'd see probably 70 black bears over the several weeks of this trip.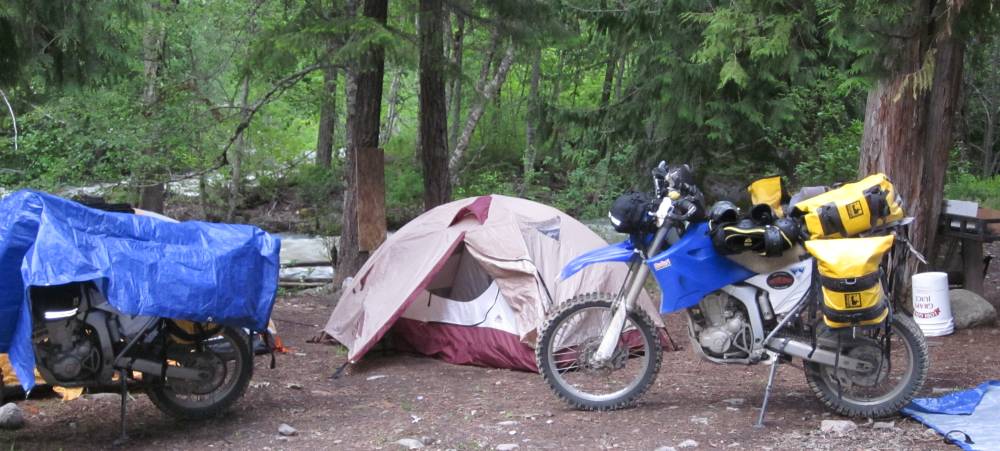 Day 4
June 10th, 2011
After breaking camp and riding thru the town of Boston bar we went North and spotted a dirt road on the West
side of the paved route 1 with the roaring Frazier river seperating the 2.
We chose the dirt road and hoped it went thru.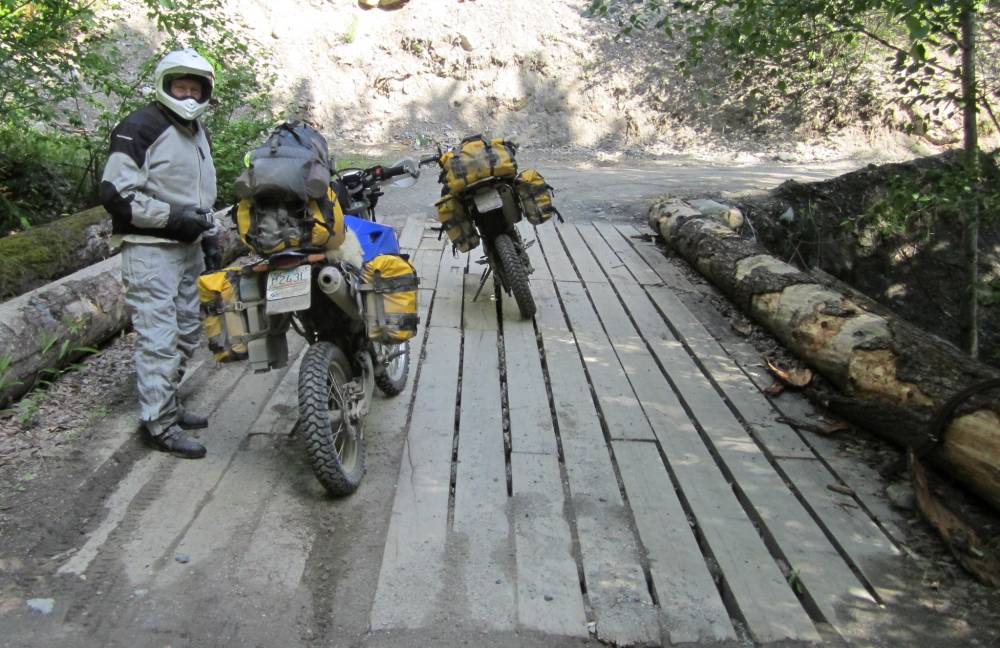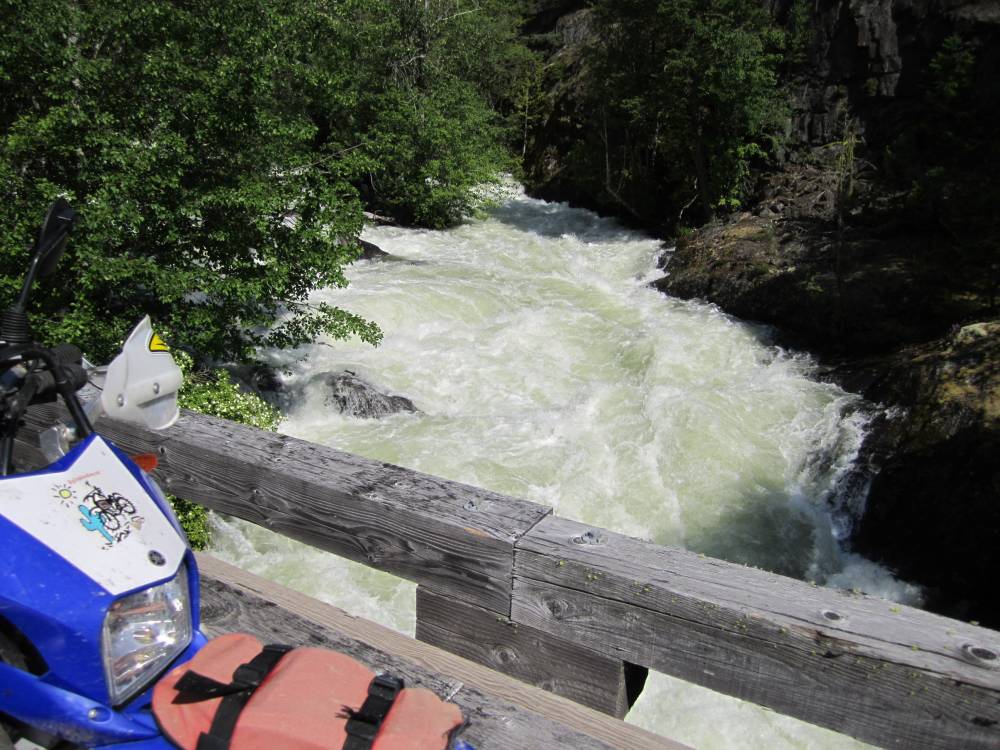 We rode on this road for about 60 miles and never saw a soul.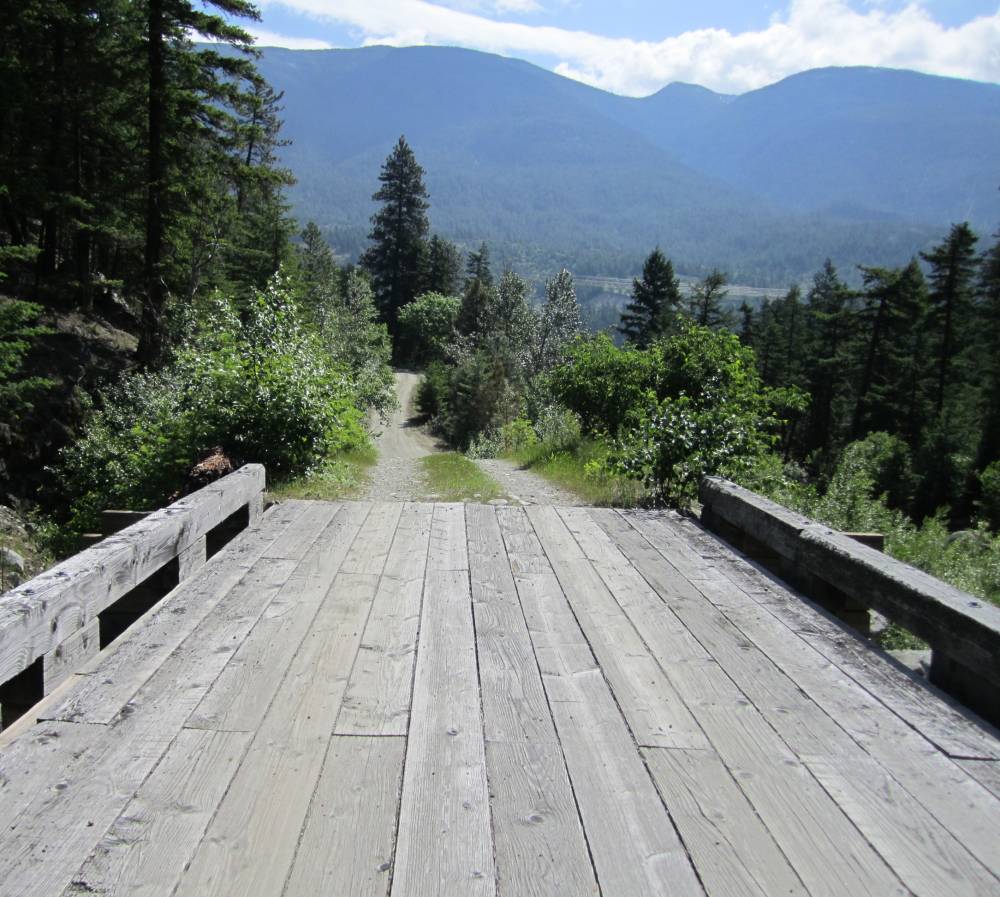 The Frazier river was to be our companion most of today and many other days.
Paved route 1 is on the right side of the river although you can't see it in this picture.
Our dirt road was high above the river and allowed some nice views.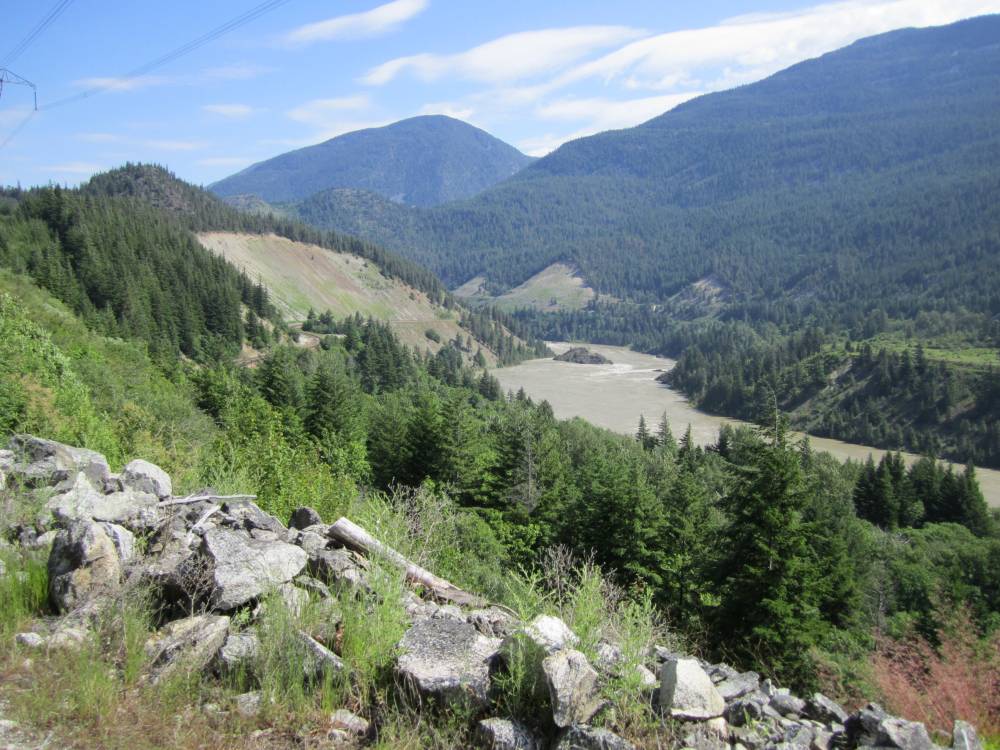 There was a railroad down below us that we would occasionally get a glimpse of.
And we saw some neat railroad bridges going over the Frazier river.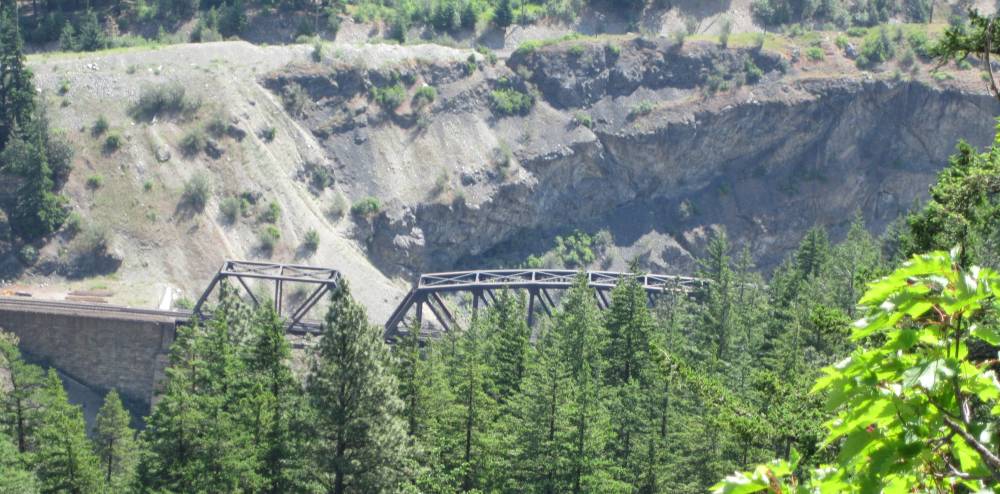 You can see paved route 1 now---this is the way I wanted to travel North---and this
is why I chose a small bike. I chose it for it's weight---not it's engine size.
For every pound you gain on a bike---the more chances the riding will be harder in rougth terrain
and the riding will be much slower and more difficult---and you will probably get turned back more.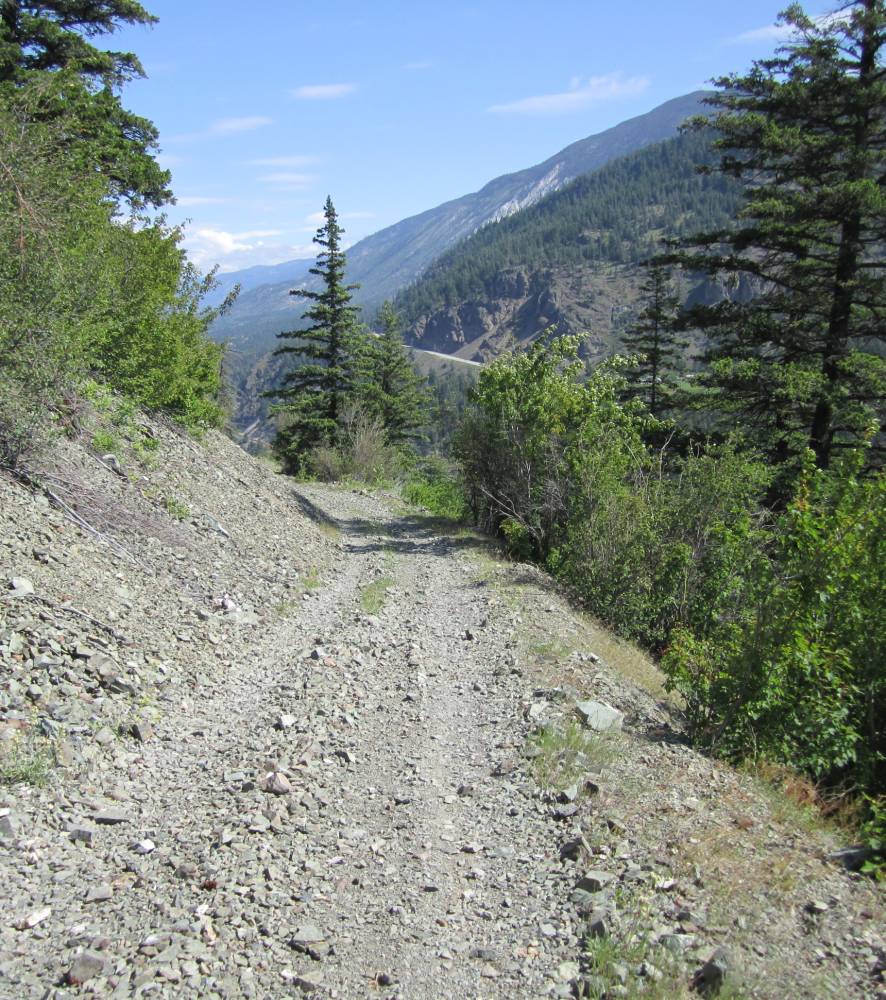 We ran across a few places like this and feared at times we'd come to an impassable washout and get turned back.
It got tough sometimes ---but not enough for us to turn back.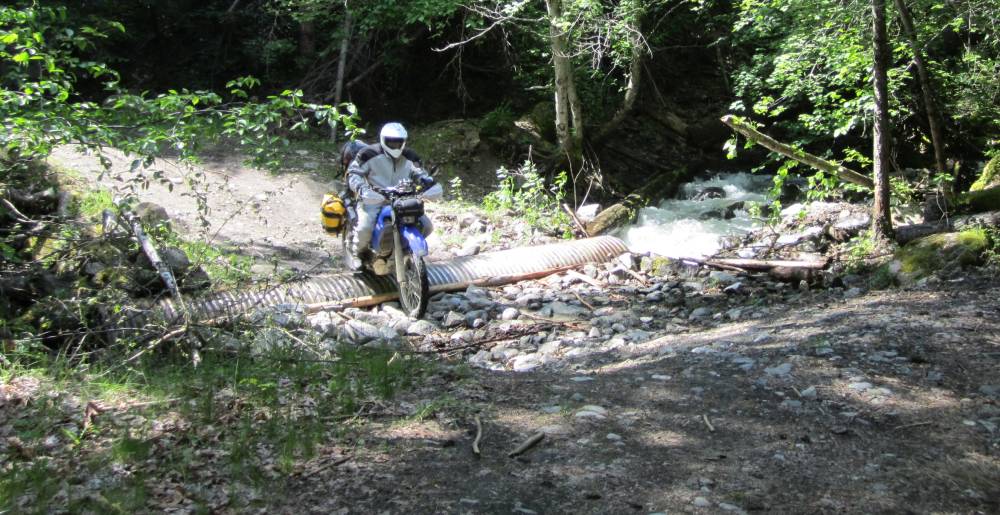 Scotts bike was pretty much set up the same as mine. He carried an extra 2 gallons of fuel.
We used it 3 times---but most of the time it was empty.
The 3.7 gallon Aqualine tanks would give us a range of about 250 miles on the fuel injected bikes.
Since they get such good gas mileage---it was great not having to carry 6 or 7 gallons of fuel to go far.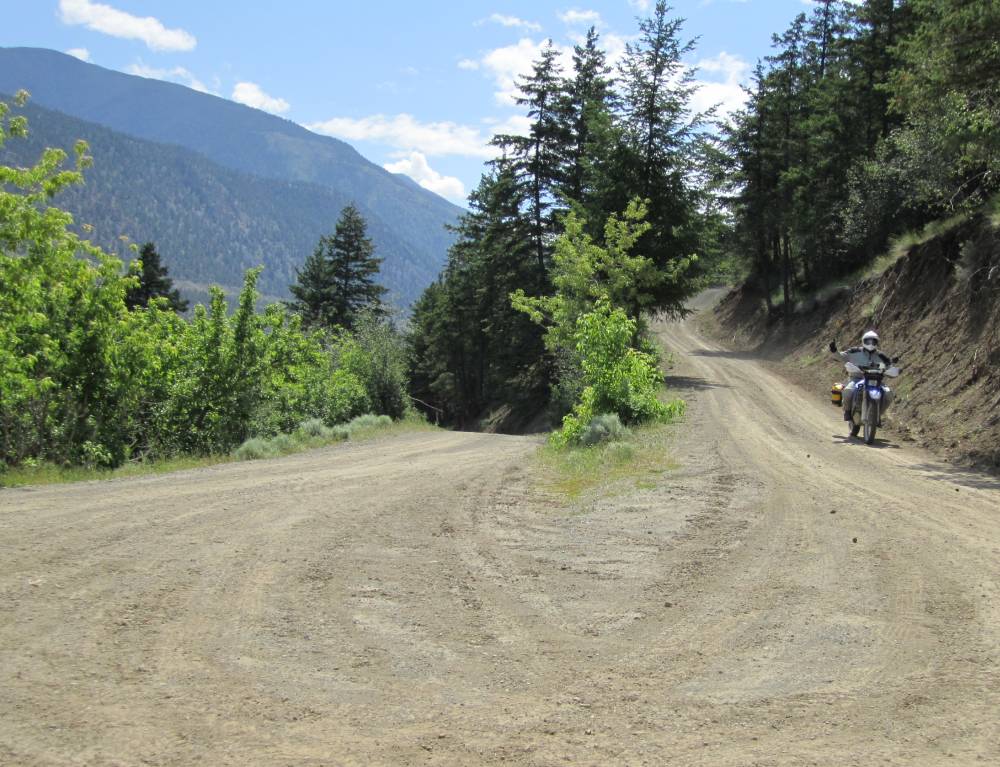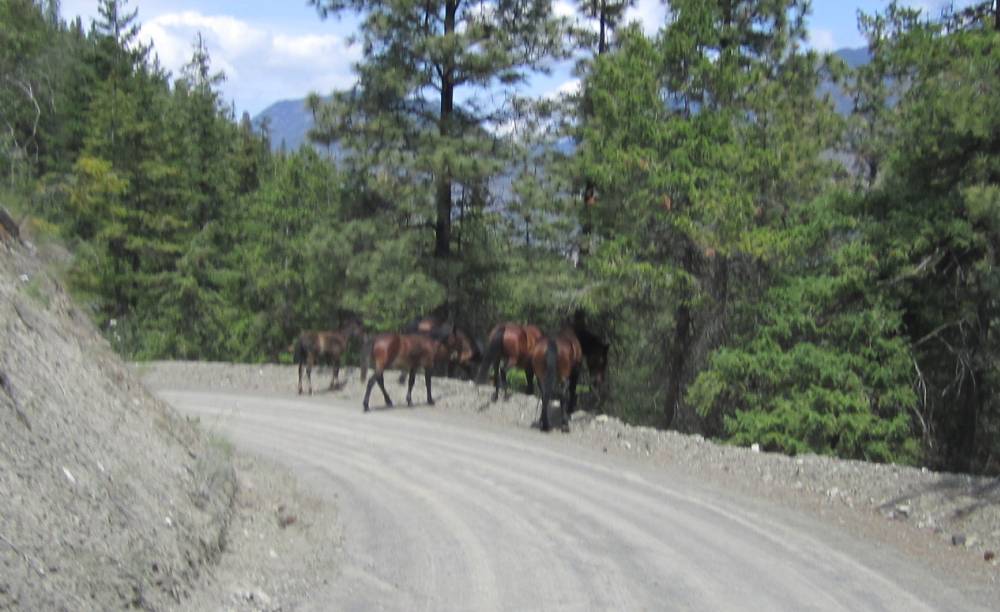 The little dirt road got bigger and bigger as we approached the neat town of Lilioeet.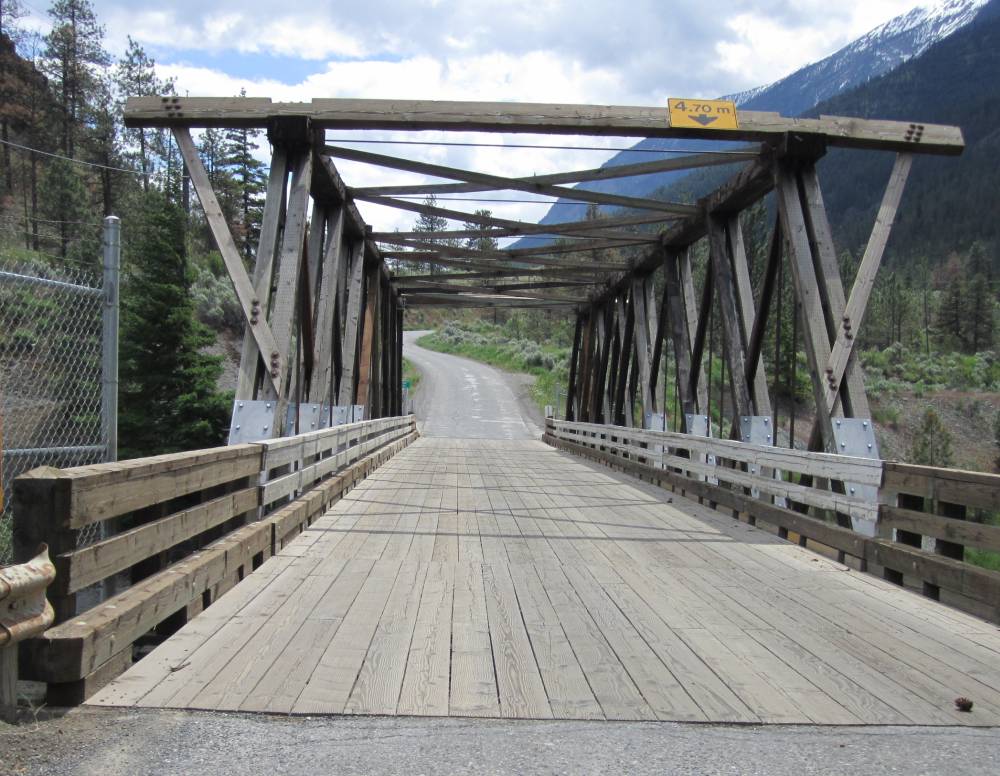 I kind of forget----I think this water went into a hydro electric plant.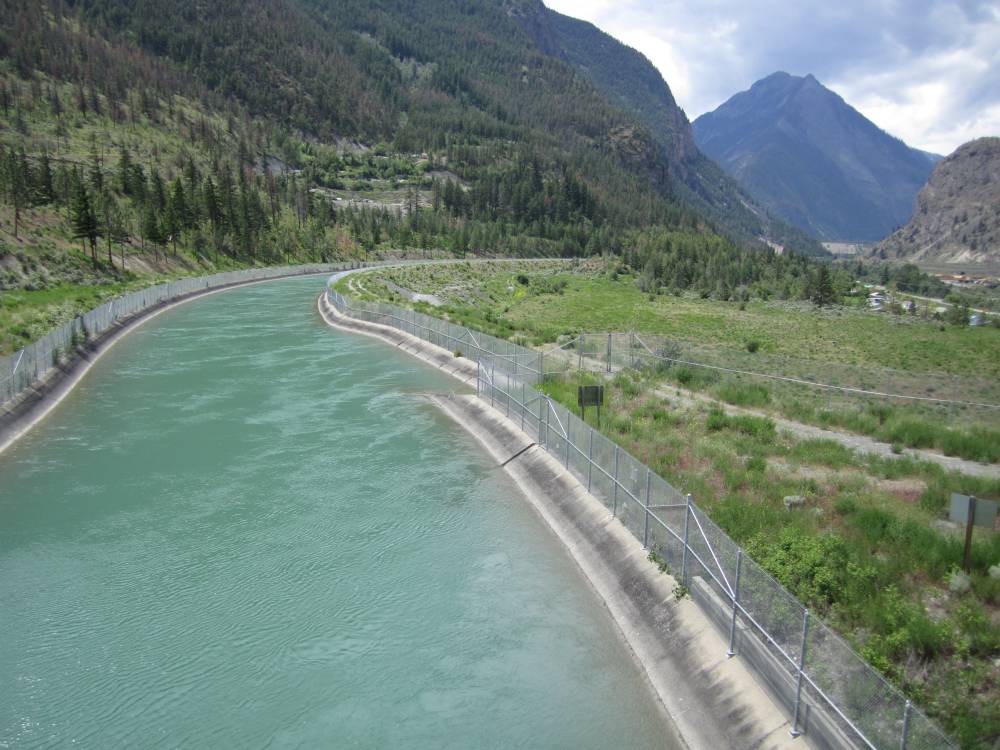 We sat on an outside picnic table here and had pulled pork sandwiches and a nice girl there was full of history.
She was only about 16 but I was amazed of how she was so interested in the history of the area.
Very interesting as she gave us the history of the native people.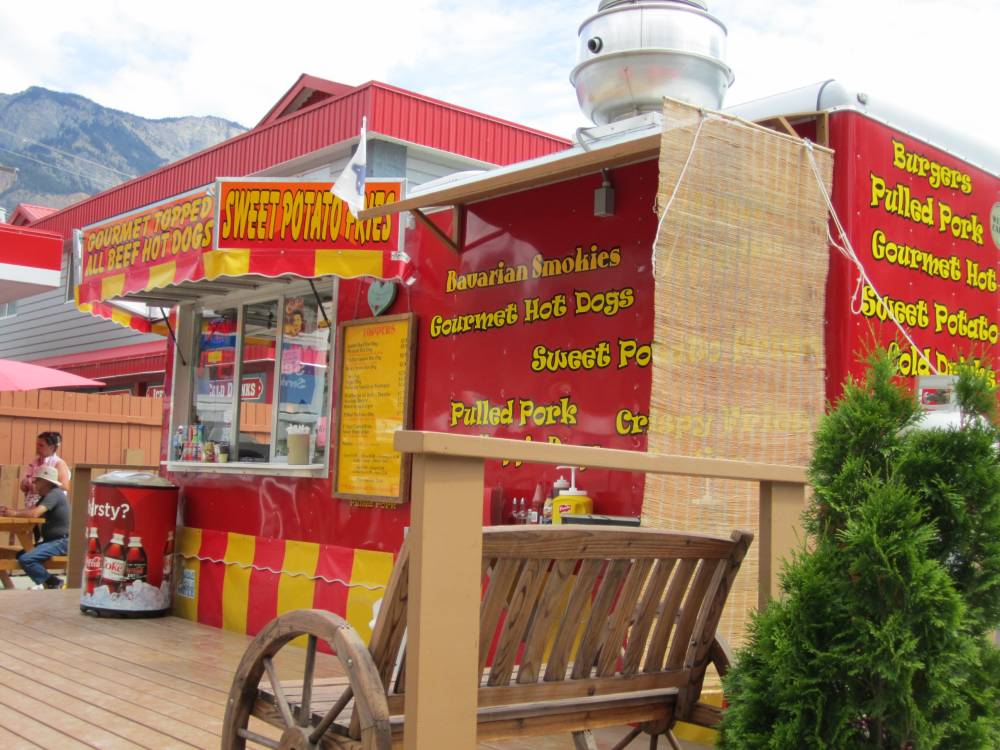 Lilioeet from across the river--I really liked that town.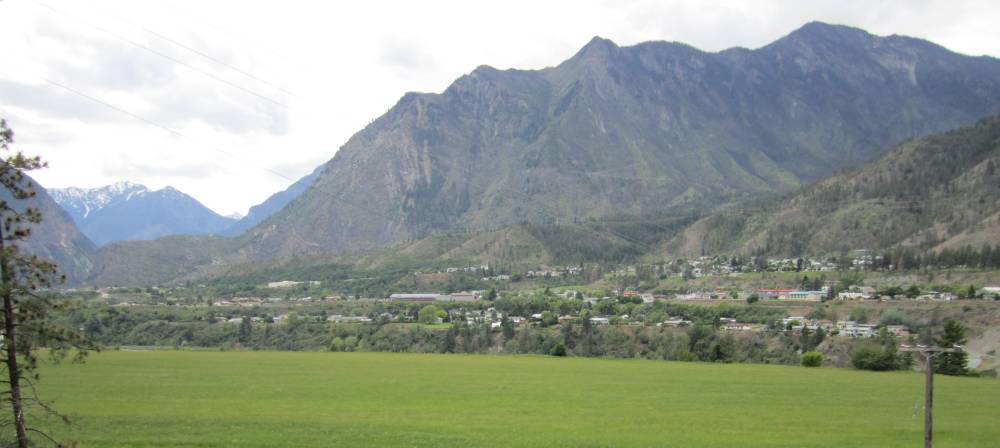 For years I'd heard about this huge big ranch out on a dirt road called Gang Ranch.
And an old suspension bridge was always mentioned crossing the Frazier river.
I've been google earthing that bridge for years--you can see it plain as day---so off we went to find it.
About 17 miles Northeast of Lilioeet we turned down a dirt road towards the Gang Ranch.
We didn't go very far at all and ran into this. A local guy stopped and looked at our bikes and thought we could get thru
but I was going to try it anyway. So we rode the 17 KM's to the washout.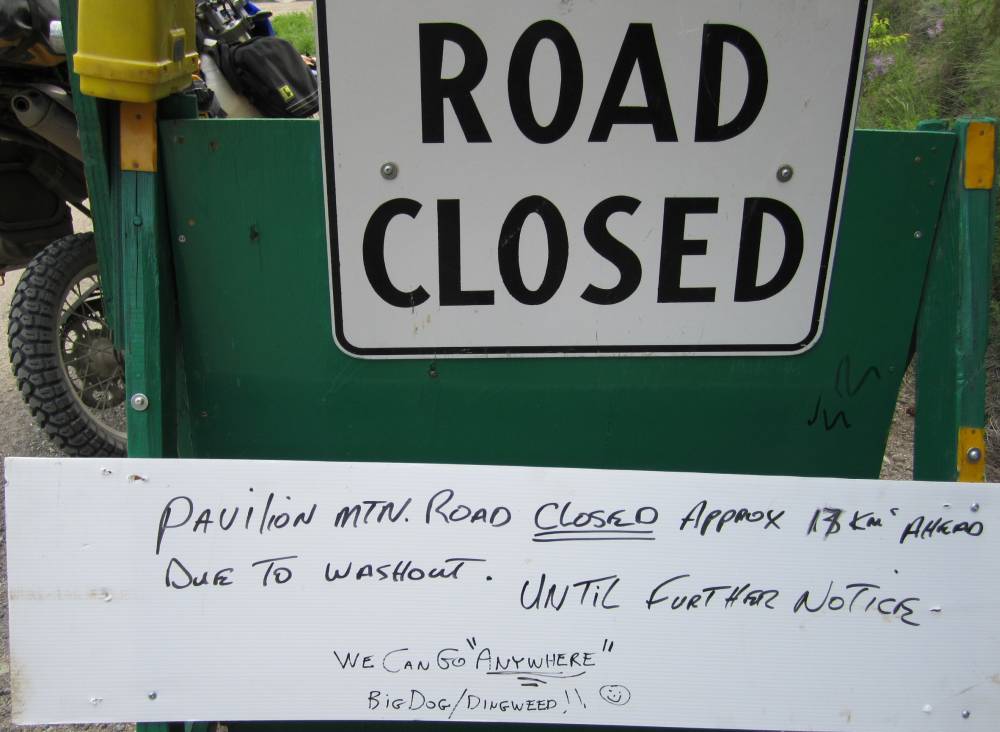 It was way worse than we imagined----a 3 ft. drop off---it was bad looking.
We plotted a plan to kind of drop our bikes off the ledge---walk then down the rushing water and pull the front
wheel back up onto the road about 80 ft. down.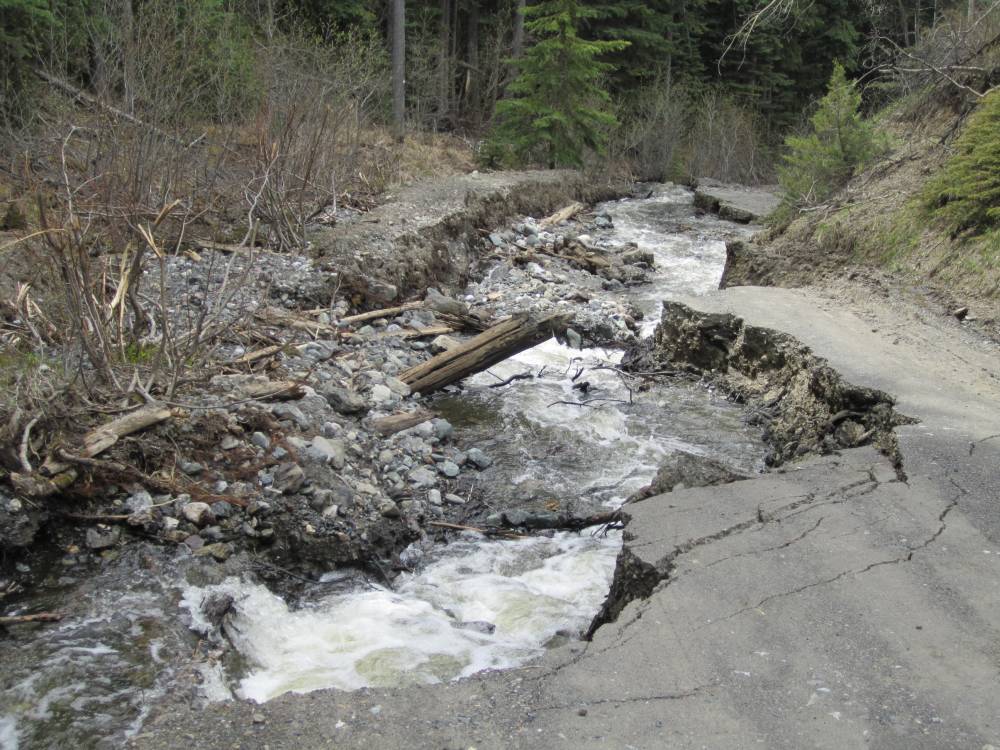 The thing is we decided-----if we ran into something worse than this and had to come back
we'd be in big trouble---that would be extremely hard as you could see.
We'd just about have to dismantle our bikes to do that.
We were 3,000 miles from home---and agreed that was a very bad idea.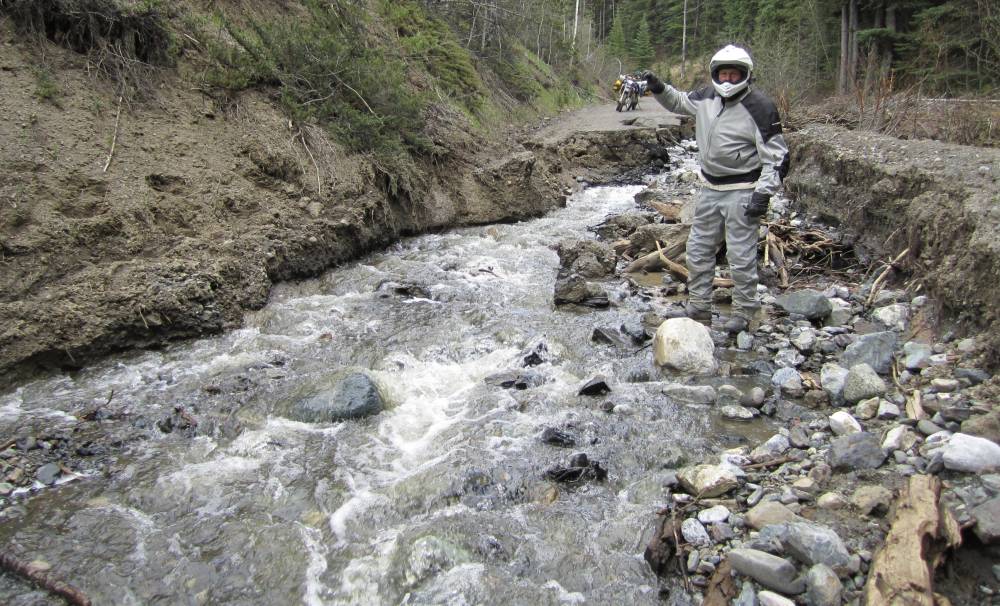 We backtracked to the town of Clinton and found another way to the gang ranch on another dirt road.
That lead us to this campground where the Mobius ride camped. They went around the gate and camped.
People were there working on it and I don't think we would have gotten away with it.
I wish we had----as our next camp wasn't this nice.
Funnly thing tho---this spot is only 2 miles from that washout we had to turn around on.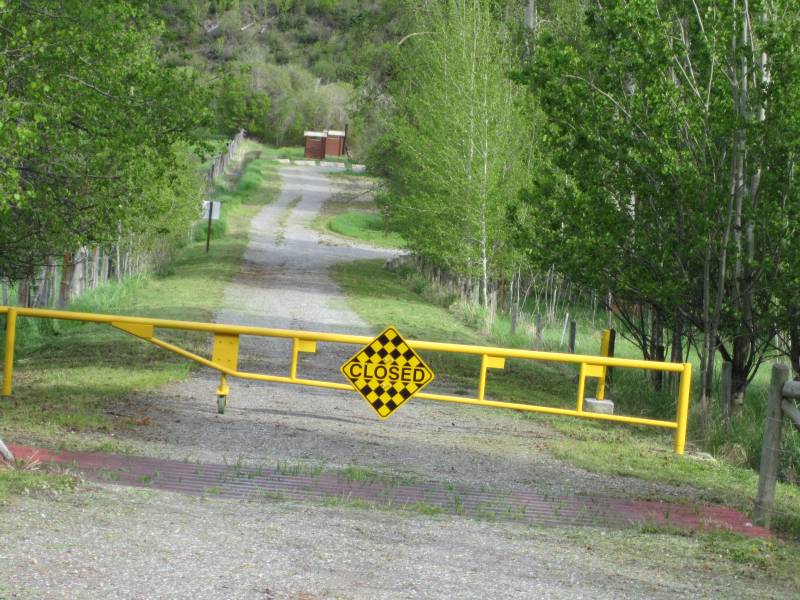 I really was estatic approaching the suspension bridge over the Frazier river.
But I never dreamed the scenery and terrain would be this awesome.
This is about what it looks like dropping into Hells Canyon out of Imnah, Oregon.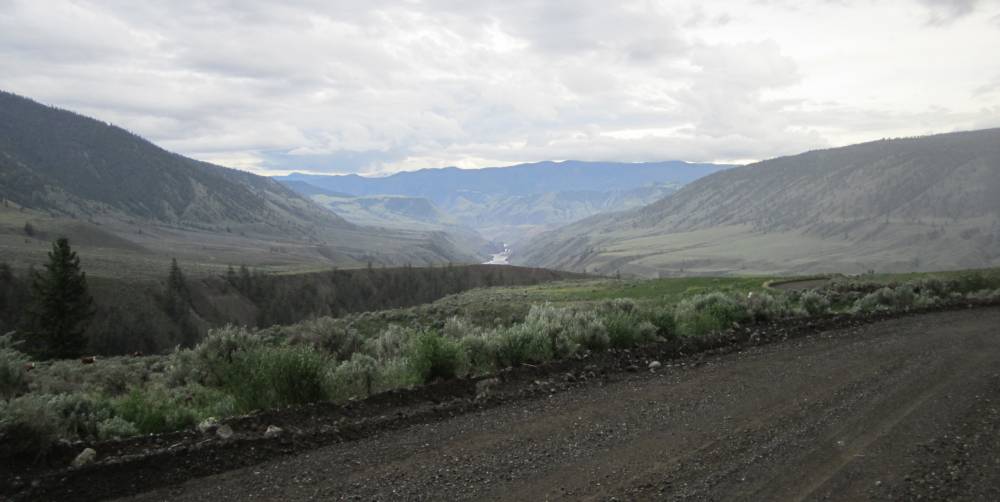 We dropped down and down and there it was-------and all dirt ------nice !!!!!!
I don't mean gravel---------I mean dirt.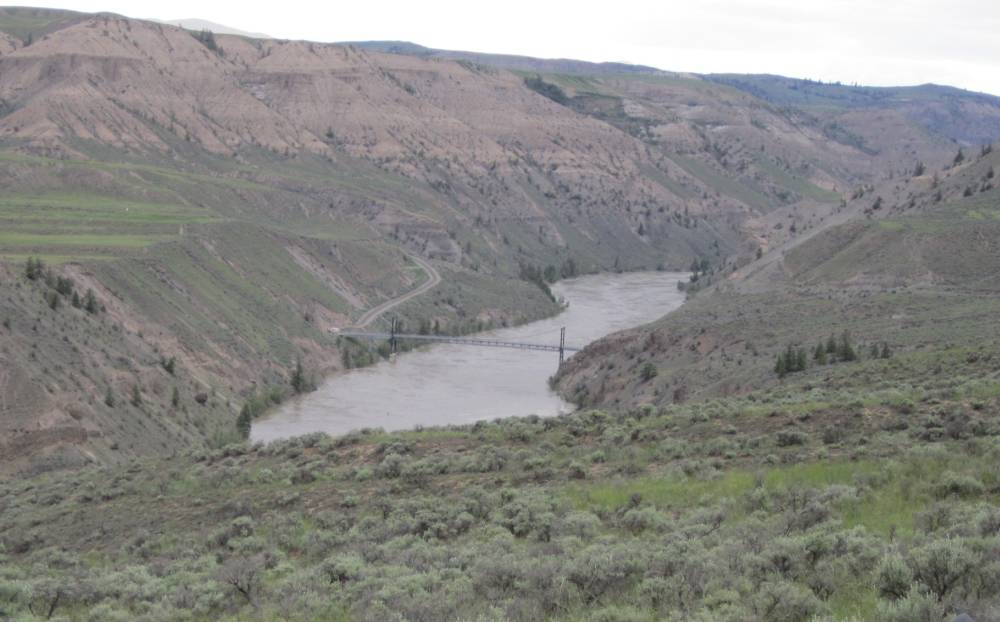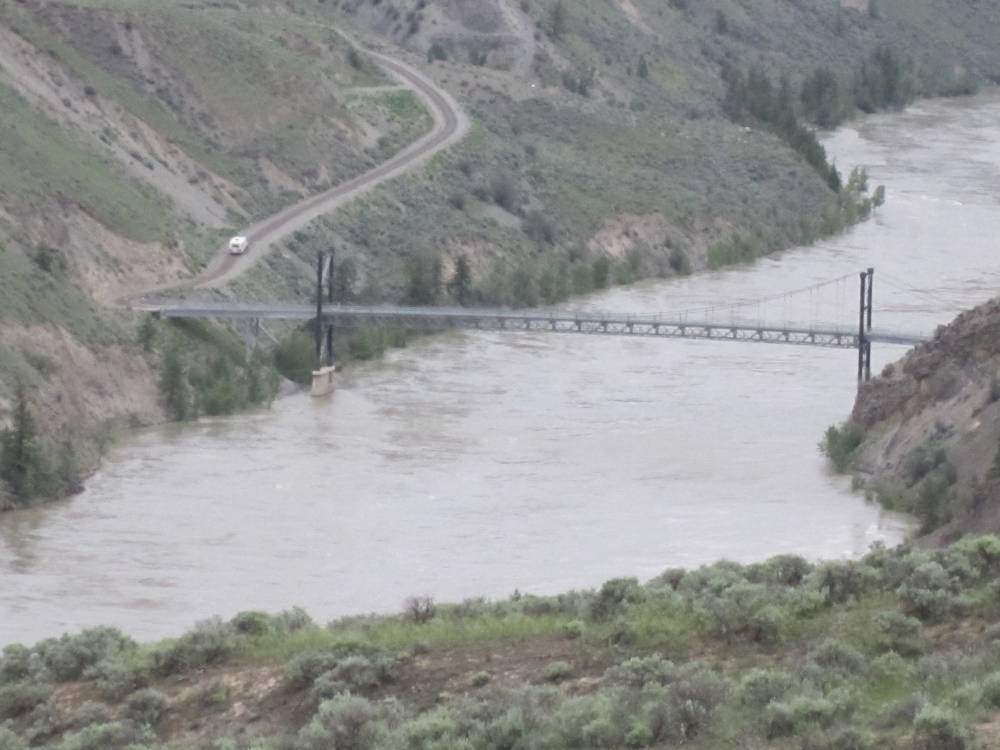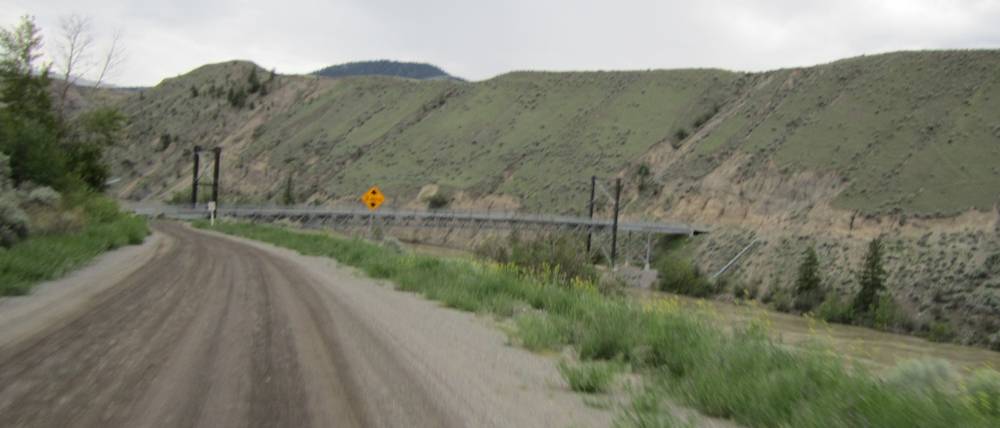 The bridge was much newer construction than I imagined.
I couldn't find the build history of this bridge but finally found out it's name.
The "Dog Creek Bridge"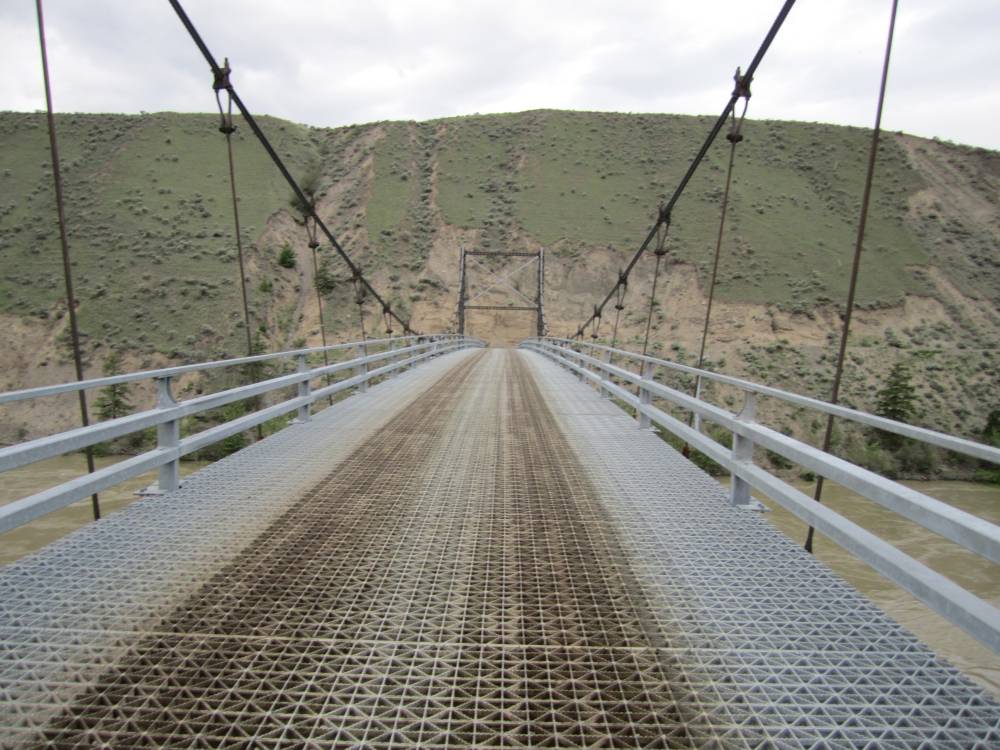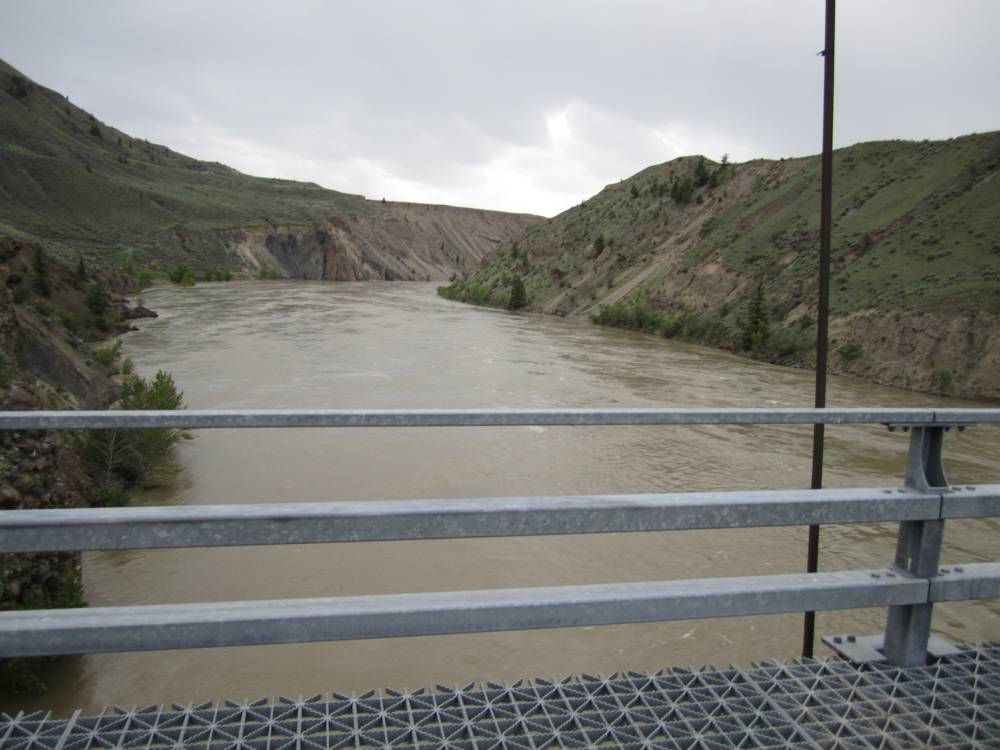 We crossed the bridge and rode a few miles to the Gang Ranch for camping but were turned away.
It was getting late----it started to rain--the roads were getting mucky and camping looked like it
going to be hard to find.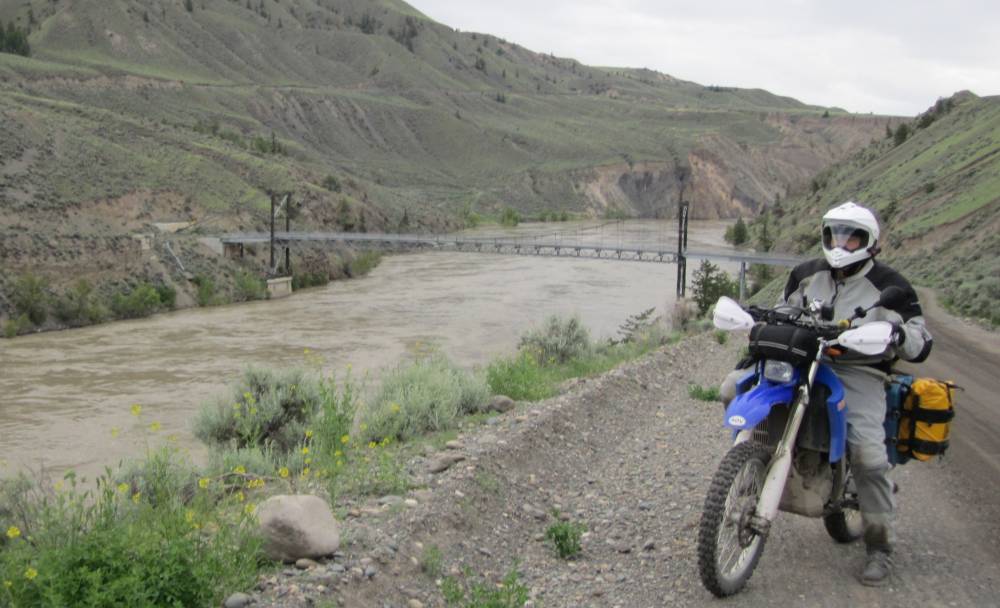 At the ranch, a ranch hand told us about a campground back across the bridge a little ways up Dog creek road.
It wasn't much but it was all we had and we set up our tents in the rain.
Skeeters were pretty thick and I cooked dinner in my tent and handed Scott his half of it out the tent door.
We slept fine tho and looked forward for going back across the bridge ---seeing more of the Gang Ranch
and riding probably about 60 miles more of dirt and ending up at Vanderhoot.
We both had new tents for this trip. I had an REI half dome plus which is a 2 man tent made for big people which made
it very room for me---especially since it had 2 vestibules I could store dirty stuff such as my boots outside the tent.
Day 5
June 11th, 2011
We awoke to a beautiful day ---broke camp and rode West across the bridge and since it wasn't raining
stopped at the Gang Ranch and looked it over. As the sign says it was started in 1865.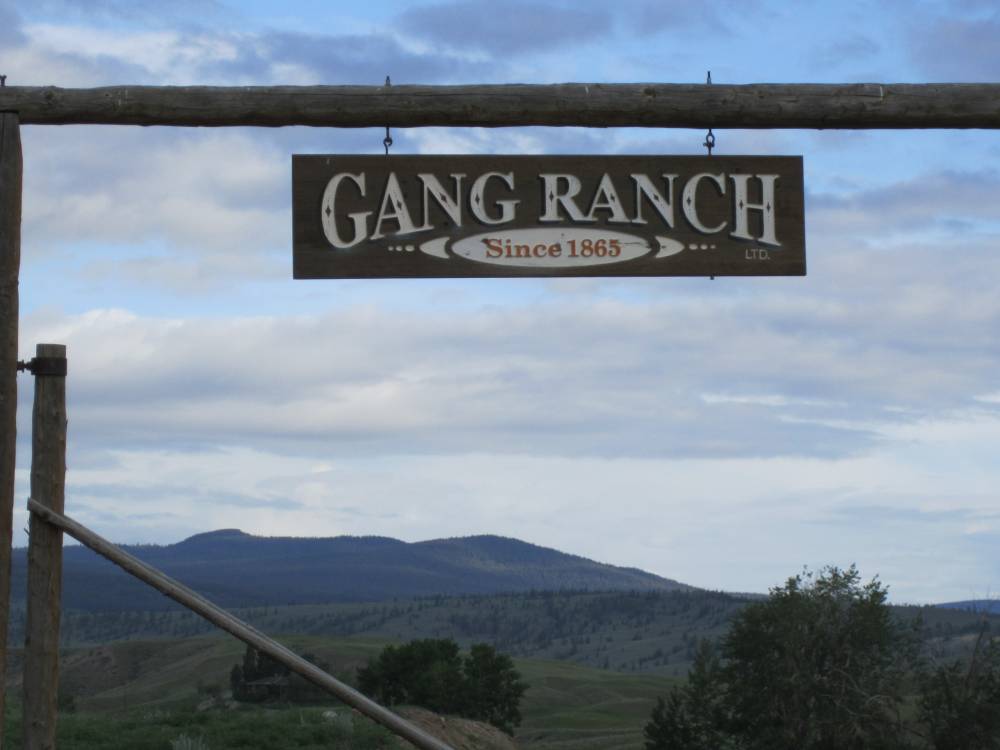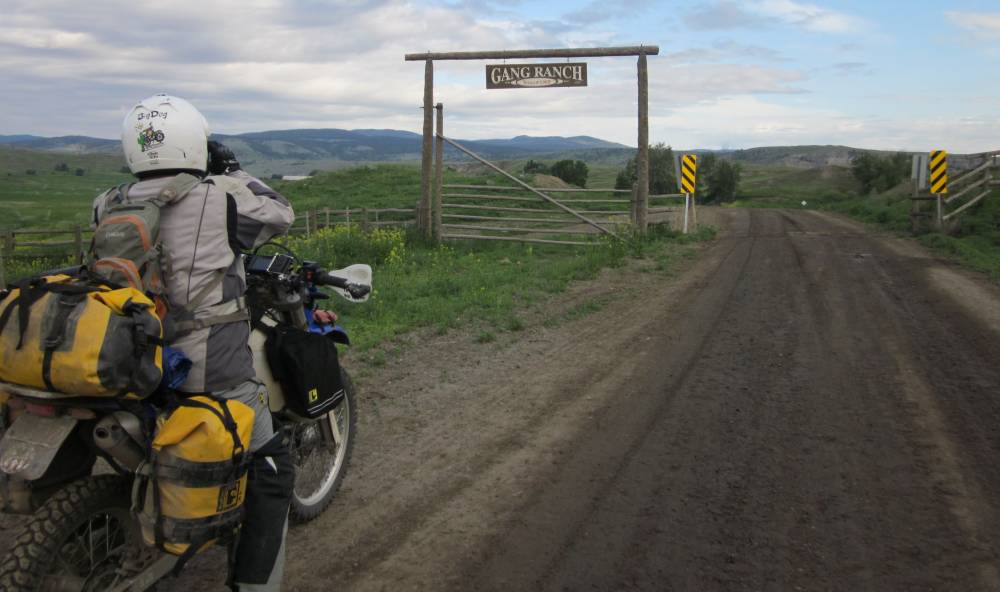 Lodging for the ranch hands.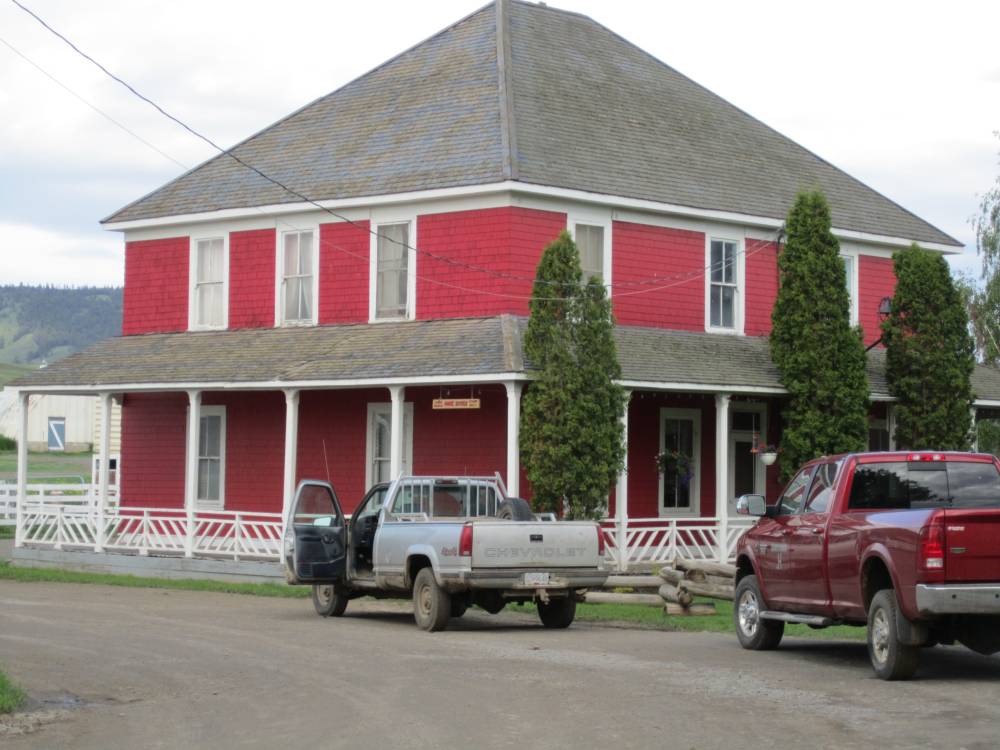 The Harper Brothers were very successful in providing cattle, and saddle and packhorses from the United States for the British
Columbian gold miners and they began to look around for land to establish a ranch. When they crossed the Fraser River near the
present day Gang Ranch headquarters, west of the town of Clinton, they came upon a
country that was a cattleman's dream with the finest bunch grass hillsides they had ever seen. This grass
stretched for miles in every direction. They settled and developed land forming the Gang Ranch, a ranch that, at one time,
was considered one of the largest and most famous ranches in the world, controlling over four million acres of land and
thousands of cattle and horses. The Harper Brothers played a pivotal role in the start of the cattle business, as we know
it today, in British Columbia.
No one still alive today is positive where the name "Gang Ranch" came from. Some say the ranch was named for the large double-furrow
plow called a "Gang Plow" that was pulled by several teams of workhorses and others say perhaps it was named for the number of workers
it took to run a place of this size.The ranch brand, JH connected, was formed from Jerome Harper's initials, registered with the Provincial
government around1869, and is still in use on the ranch today.
There is a world of history to this ranch---it is still the 2nd largest ranch in British Columbia after all these years and
is still a working ranch requiing many ranch hands.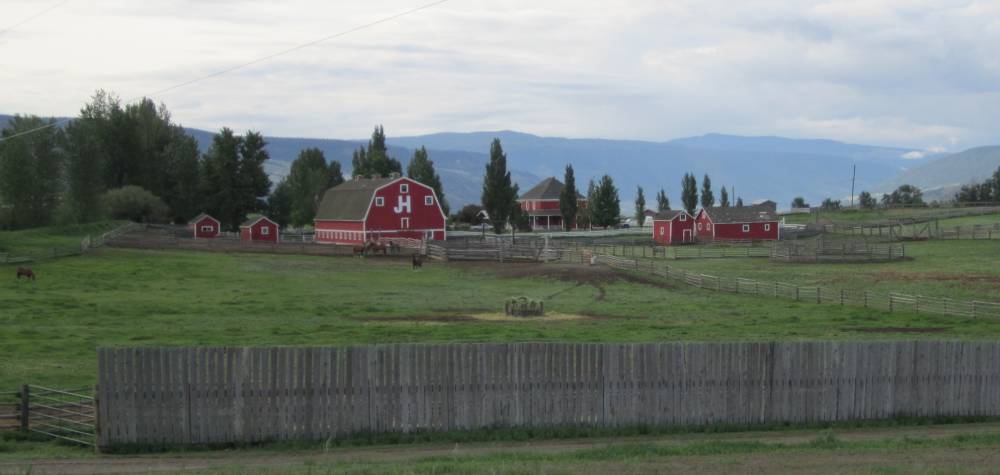 We went West out of the Gang Ranch and there were so many ways to go out here.
And we were warned that if caught out on the Western roads it would get real mucky
and maybe impassable.
This was really mucky and went on for 10 miles---sometimes getting so bad you couldn't hardly move.
Iwould have never made it thru this part on my 950---the lighter weigth of my 250 made it do-able and fun.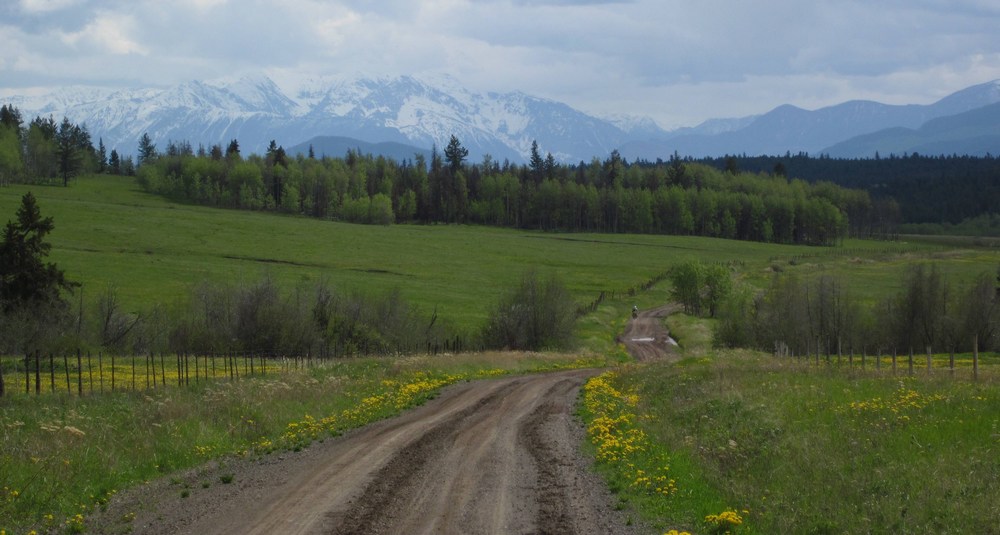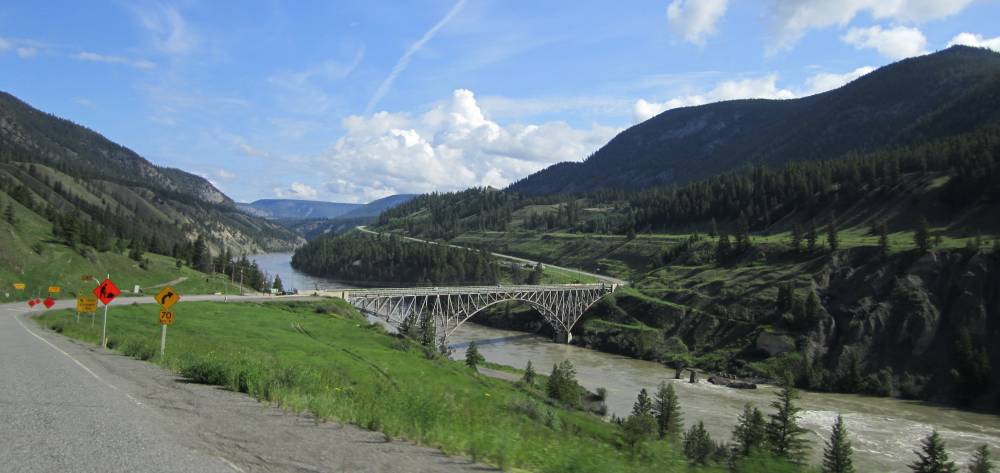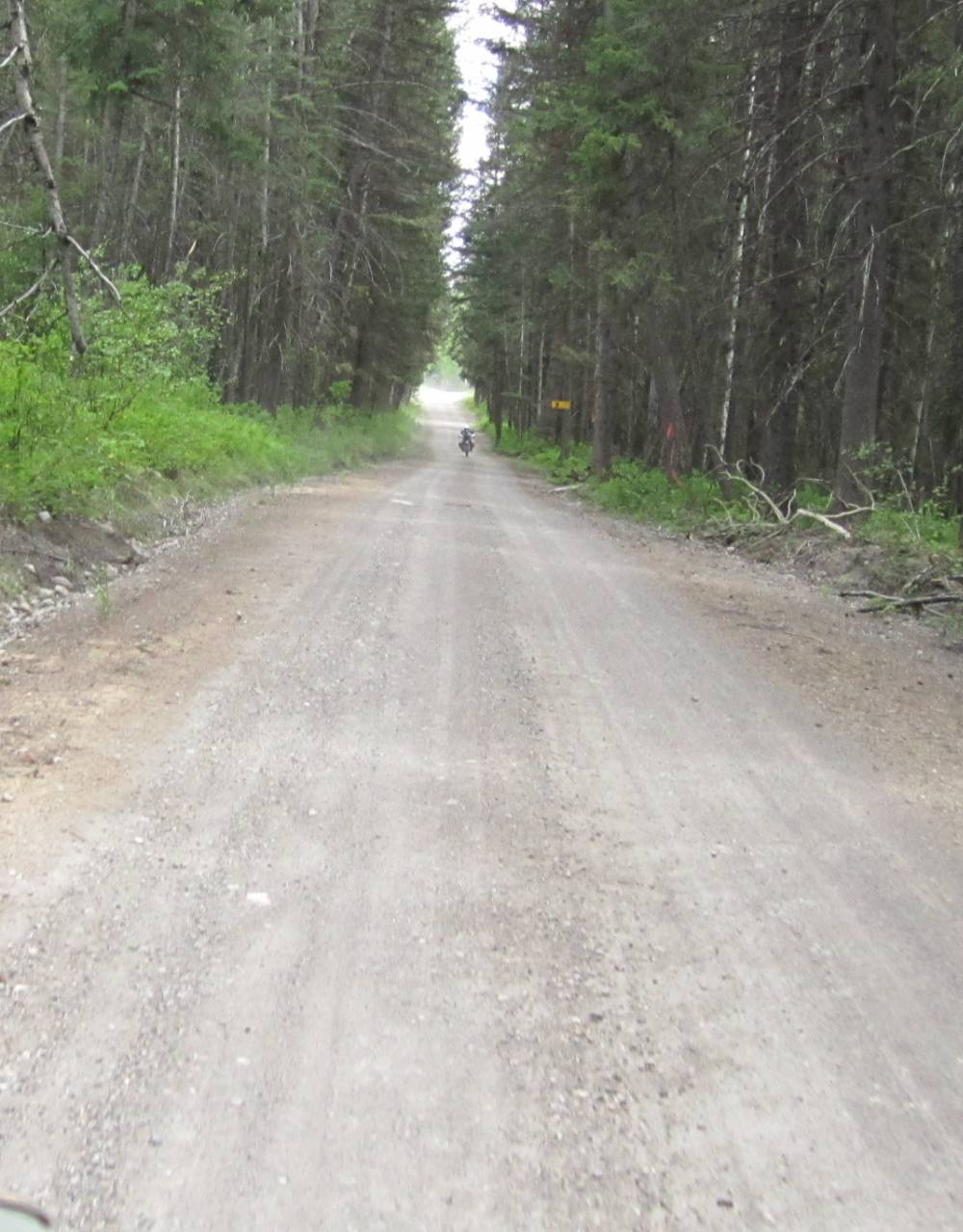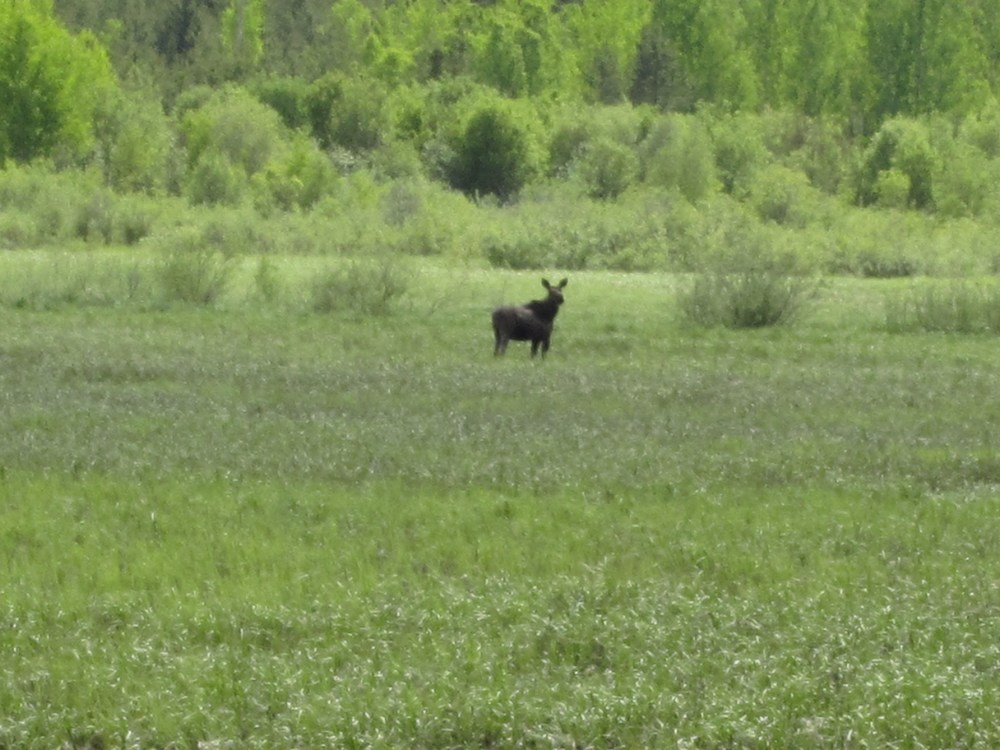 Most black bear sightings were like this---these pictures were taken off the hip while riding.
Then they would disappear as soon as they caught sight of you.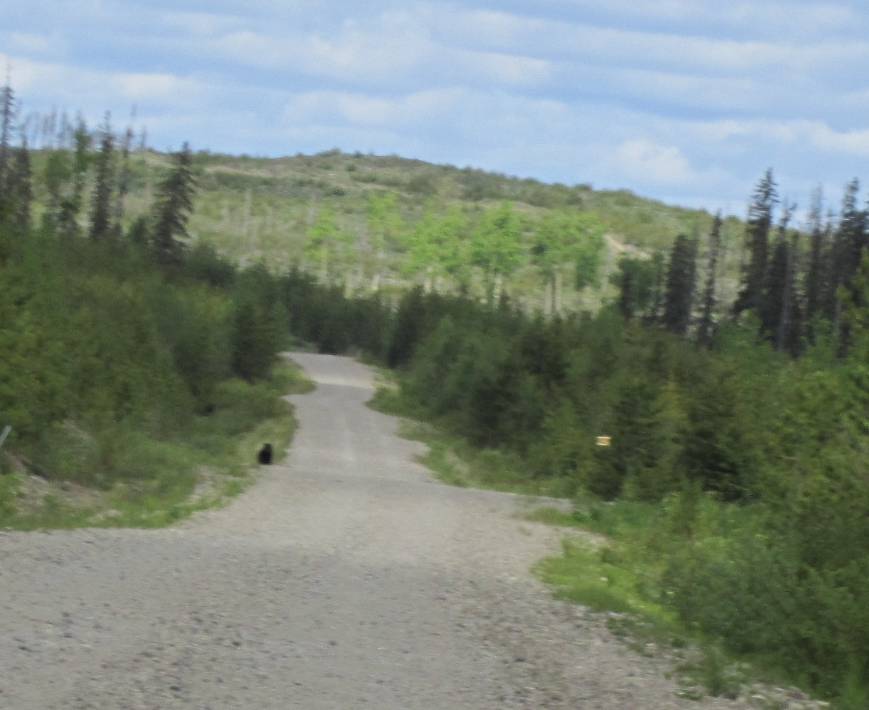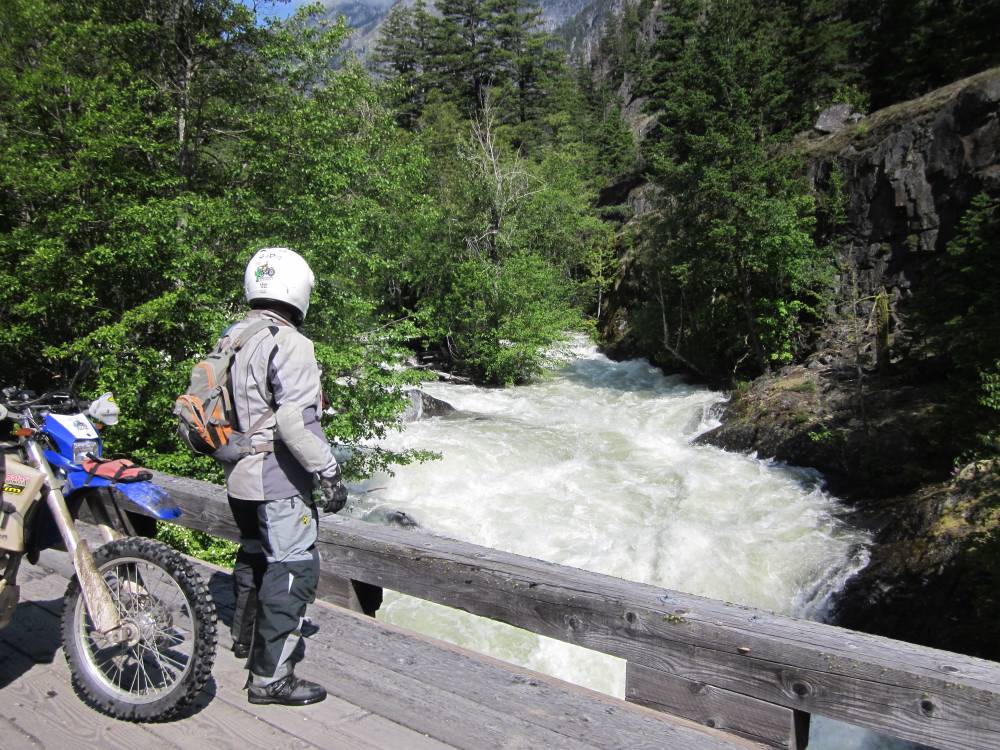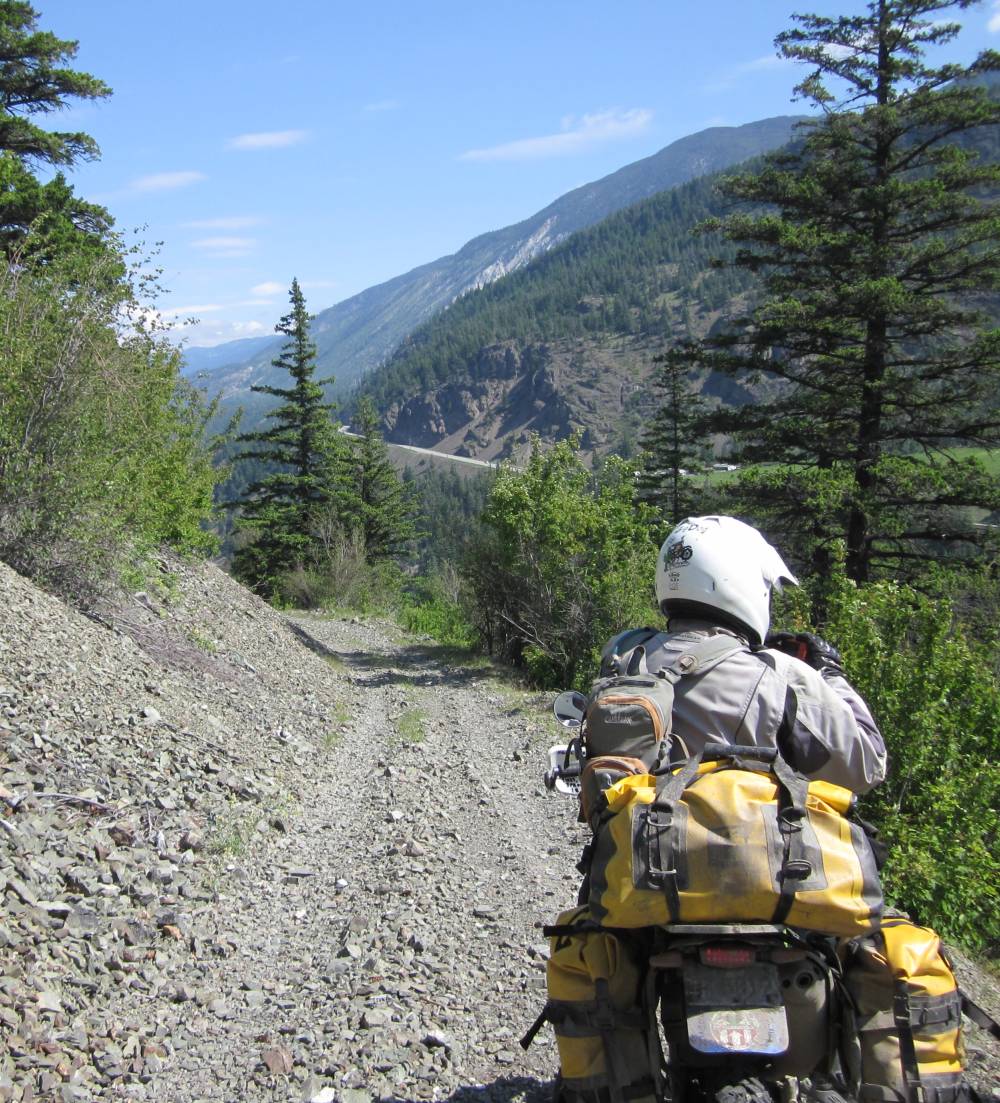 After Mr. Moose---we ended up in Vanderhoot for the night.
And tomorrow would head out thru miles of nothingness where it was
"Lousy With Bears"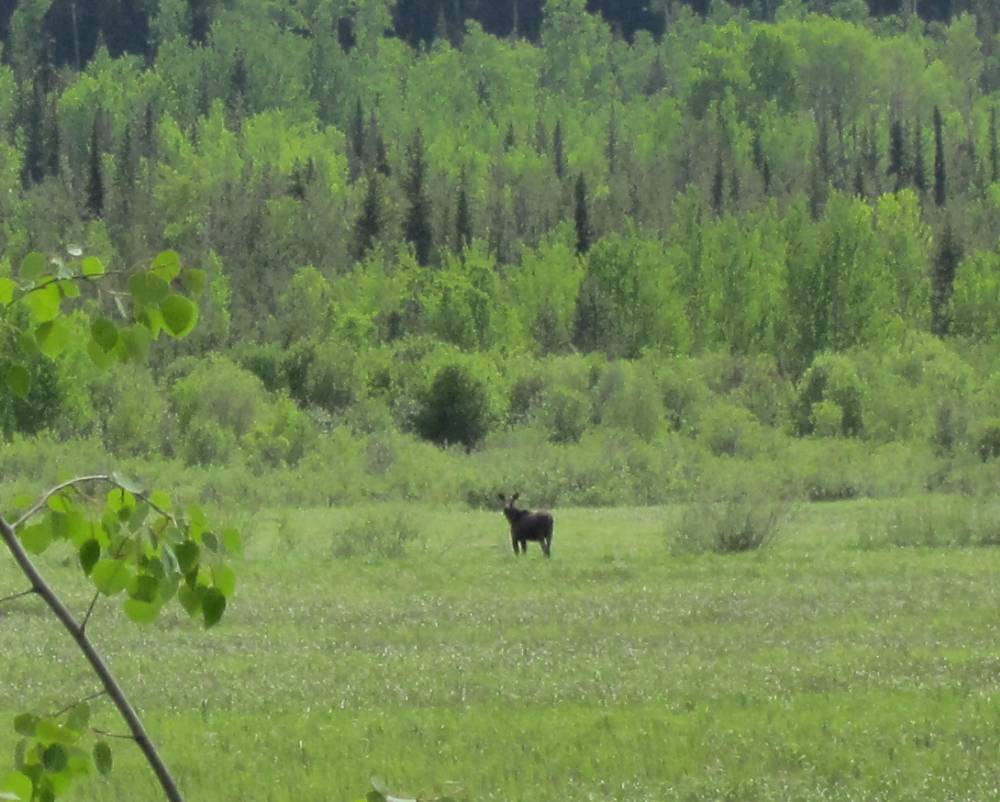 Day 6
June 12th, 2011
We headed South this morning on paved route 16----crossed the Nechako river and went South on a dirt road
and eventually crossed the Nechako river again. The river was simply raging and the waterfall that was here was
under water I guess from the high water.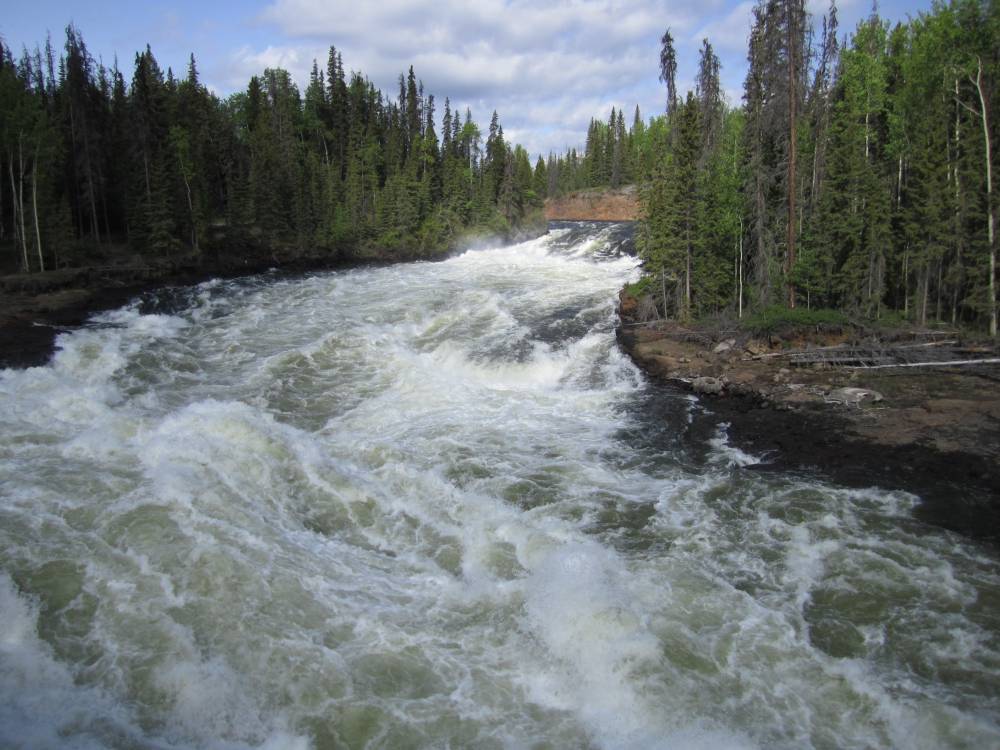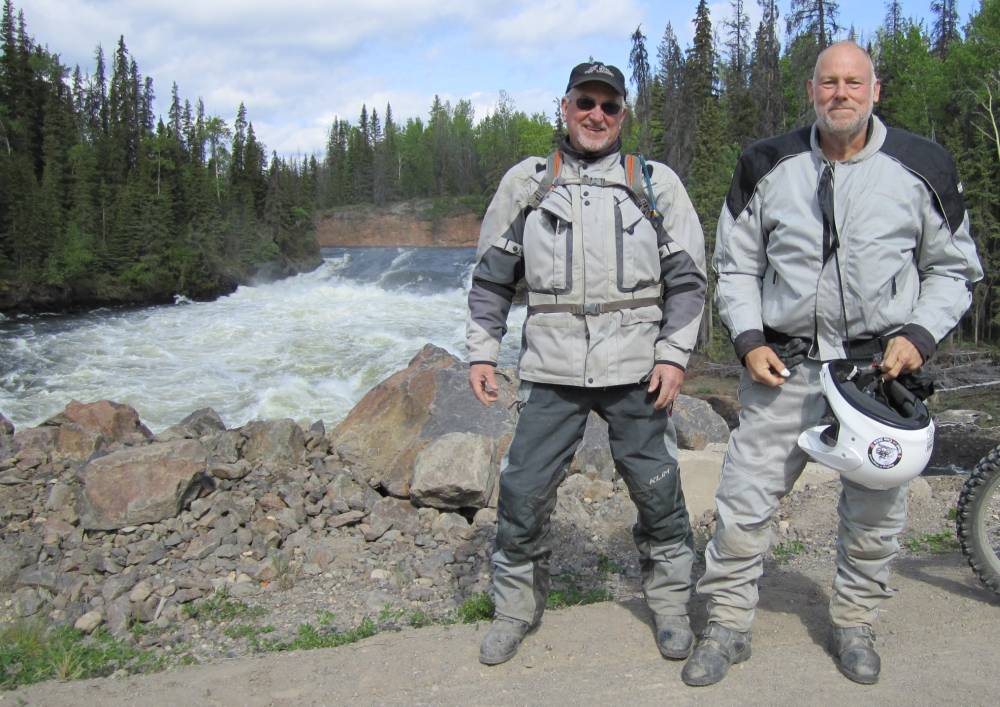 Todays route was "Lousy With Bears"
I had started a bear count--but some local laughed at my marks on my bike and told me I didn't have
enough room. I took his word and gave up------he was right.
For a good 30 miles the dirt road went right beside Ootsa Lake. A real gem.
There was nobody out here.
Except bears---about one every 3 miles.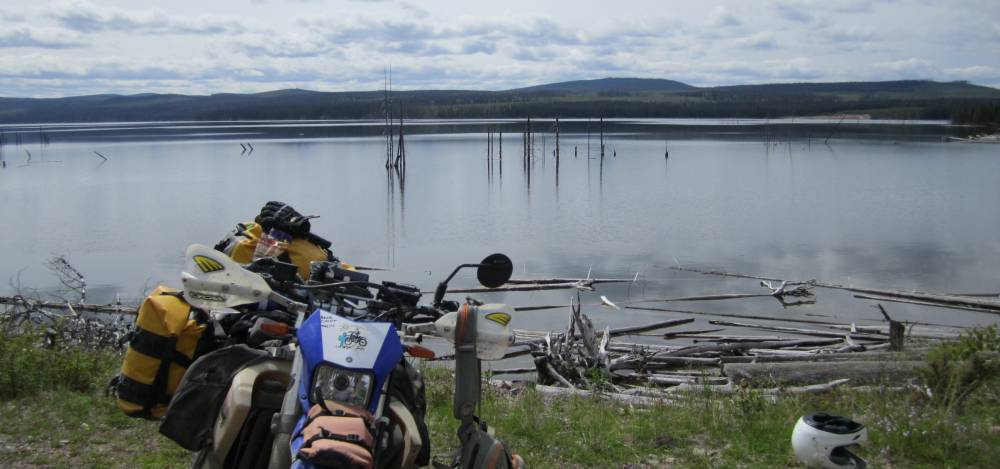 We found a little picnic area on Ootsa Lake and fixed a lunch.
Whatever brand of freeze dried meals you see in this picture is no where as good as Mountain House.
You can see my new "Sea To Summit" collapsible bowl in the picture---I had a similar cup also.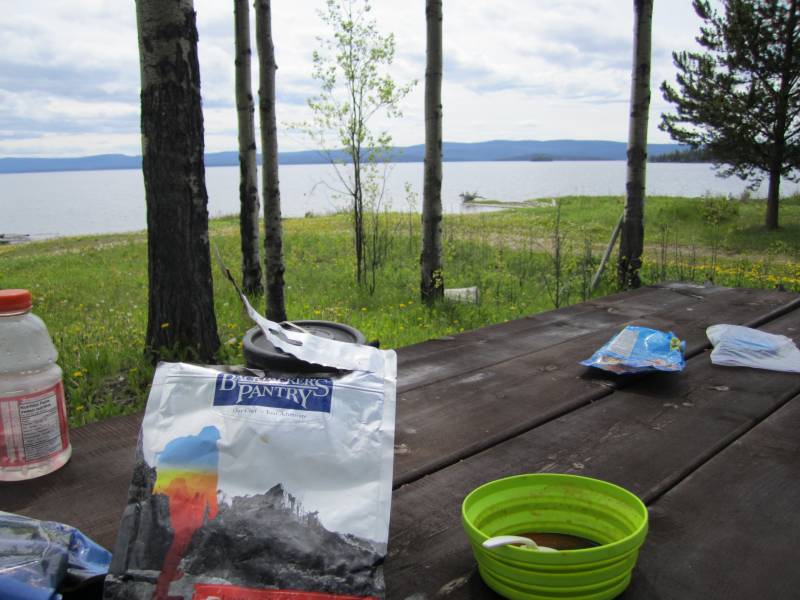 Ootsa Lake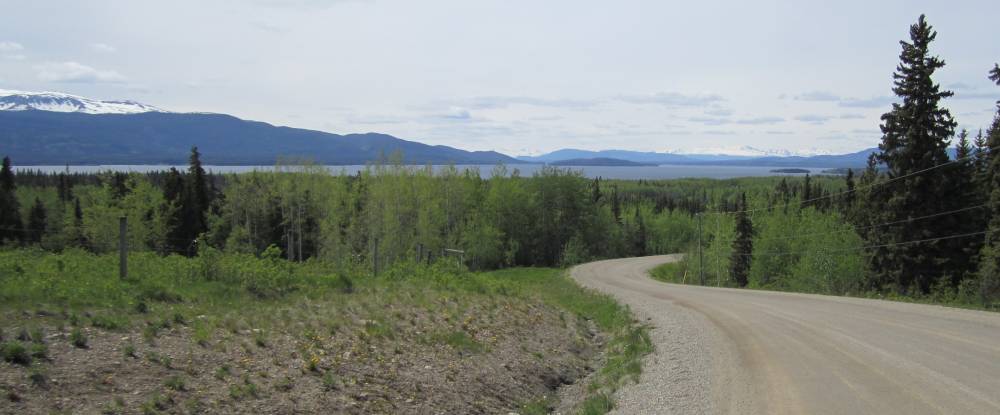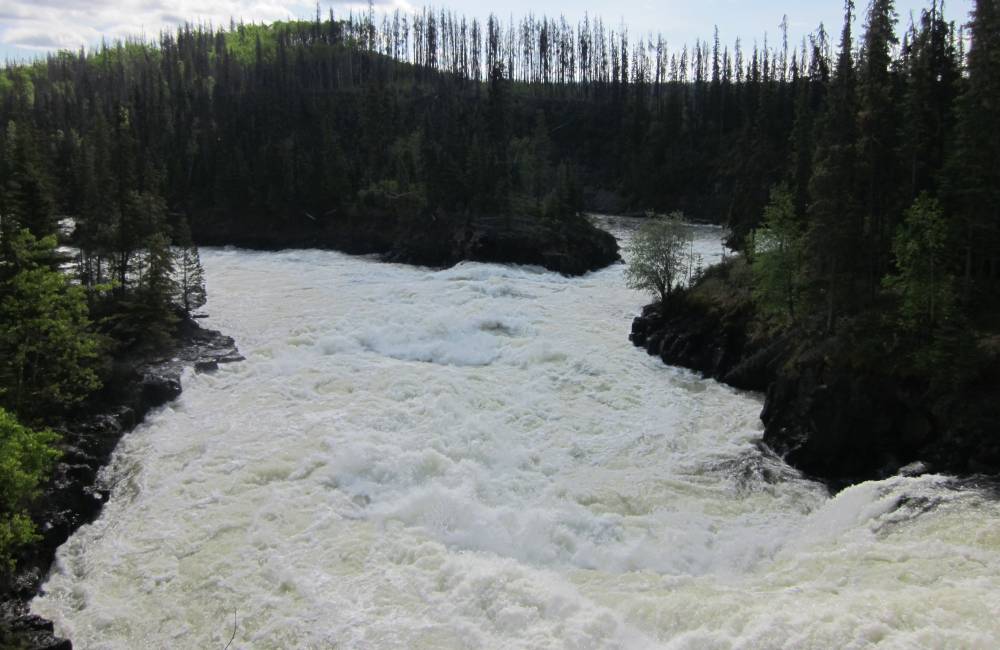 You can't see em'-----but I bet there are 15 bears in those trees.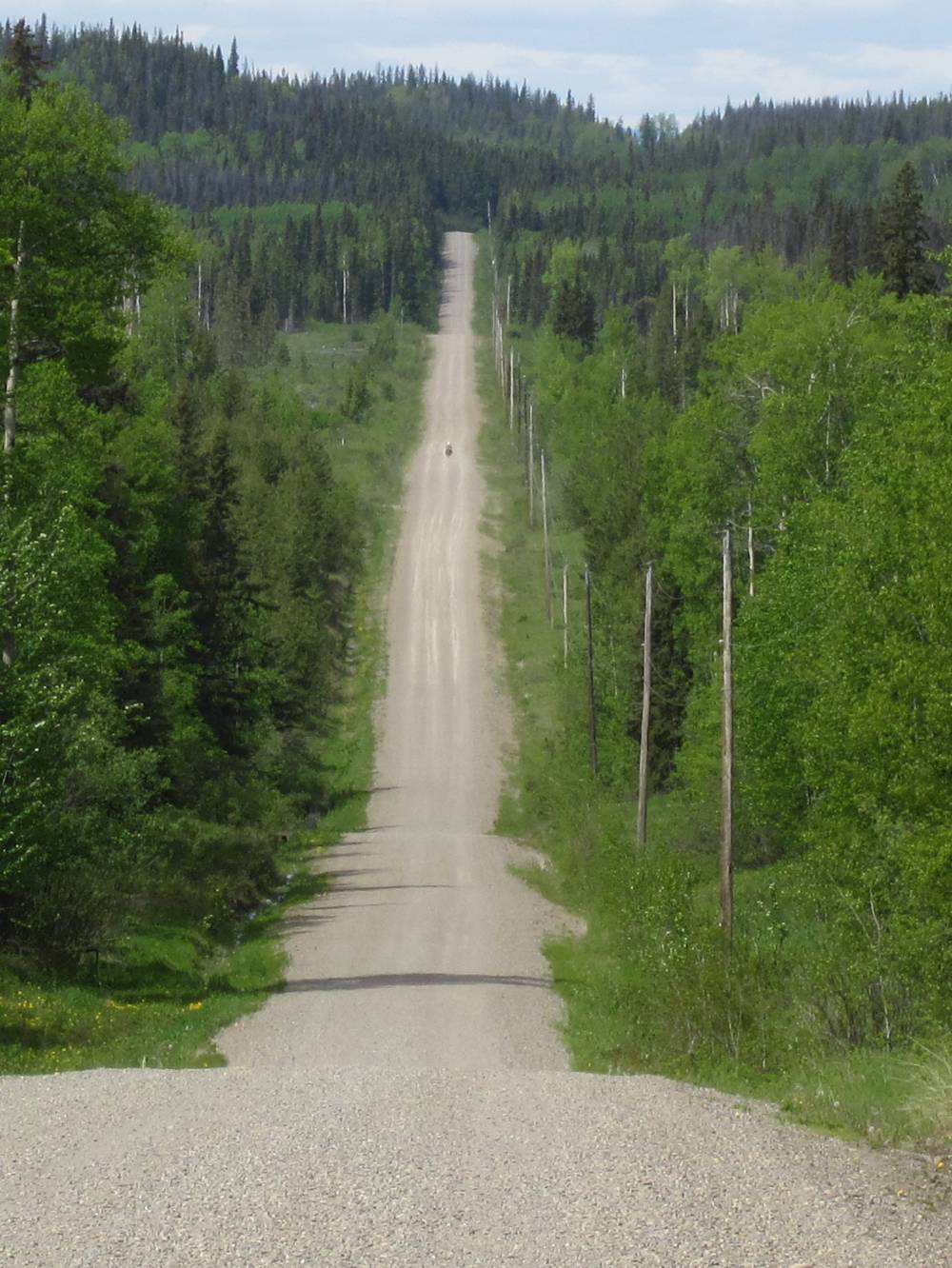 More Ootsa Lake-------it was a very long lake.

I always check out these road closings.
I took pictures of the flooded road---but they are gone ???
Water was over the road and about 1ft. deep in loose gravel.
The water was clear and we could see the bottom and road thru it sinking in the loose rock.
If the water hadn't been clear I wouldn't have went in it not knowing if the road was washed out or not.
It was about 200ft. across the water.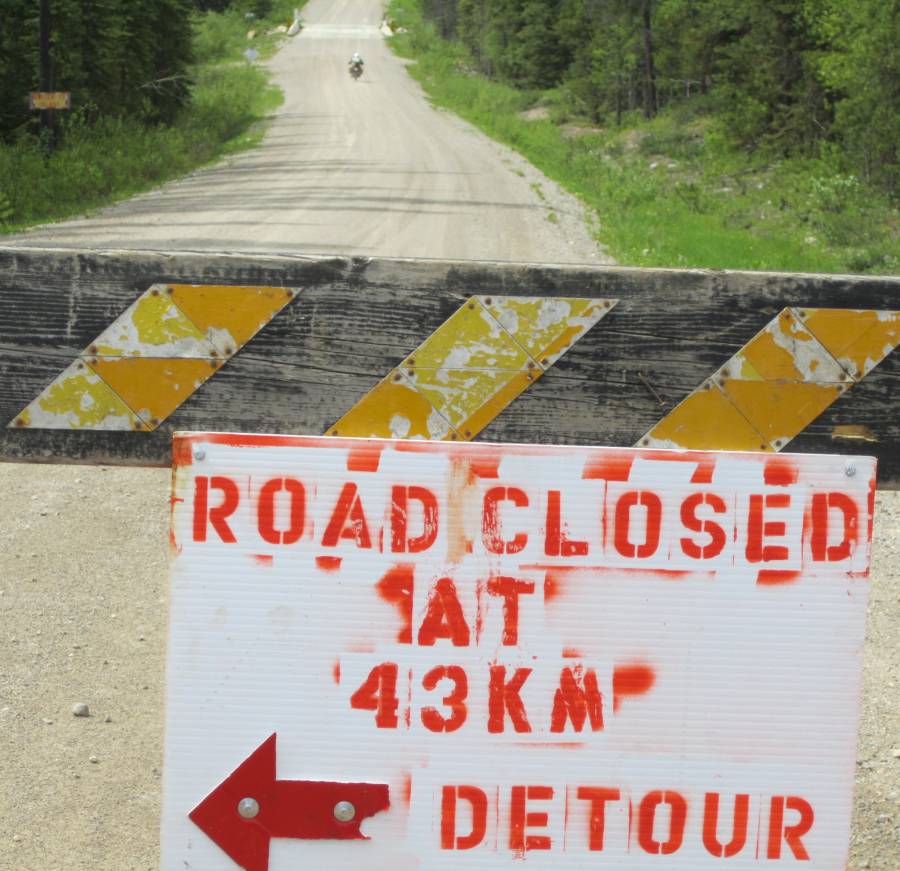 The "Lousy With Bears" waypoint I had loaded in my gps.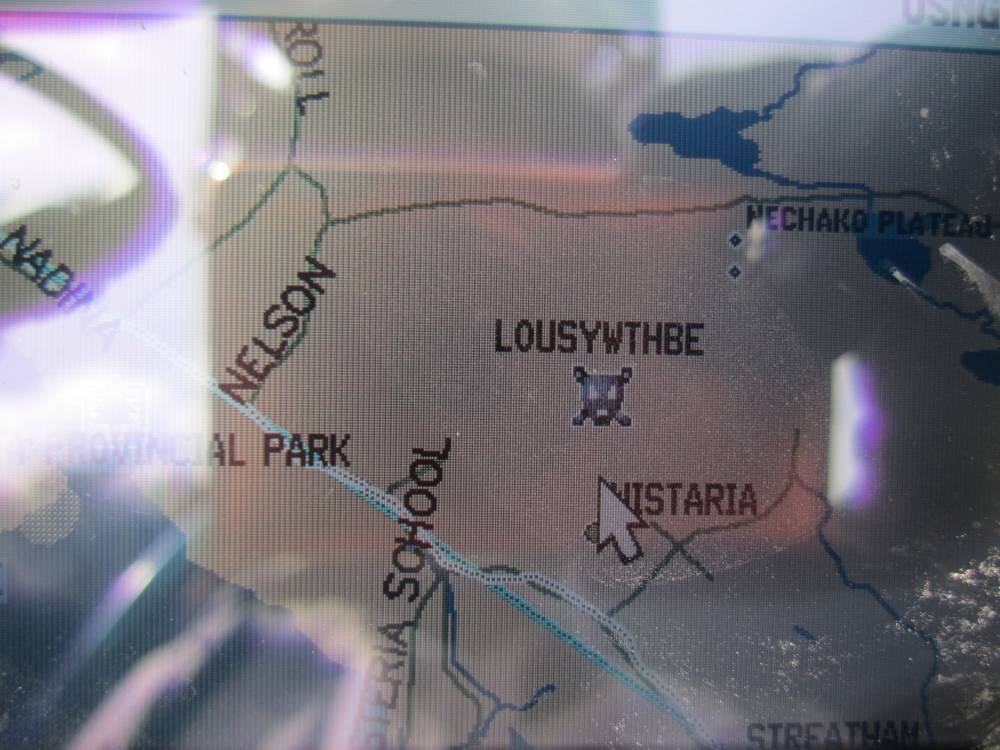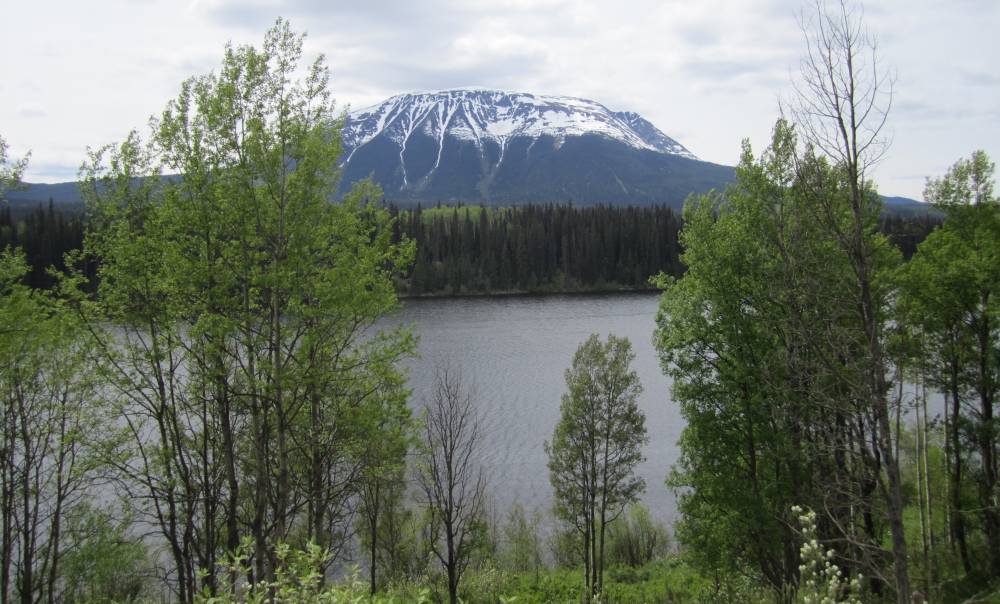 We blew in to the town of Smithers with bike problems and ran into Jay and Jeff-------I think that is their names ??
Super nice guys----and Jay below had never been on an adventure ride before and was having a hoot.
He was a few years older than me but looked fit as a fiddle and was really enjoying himself.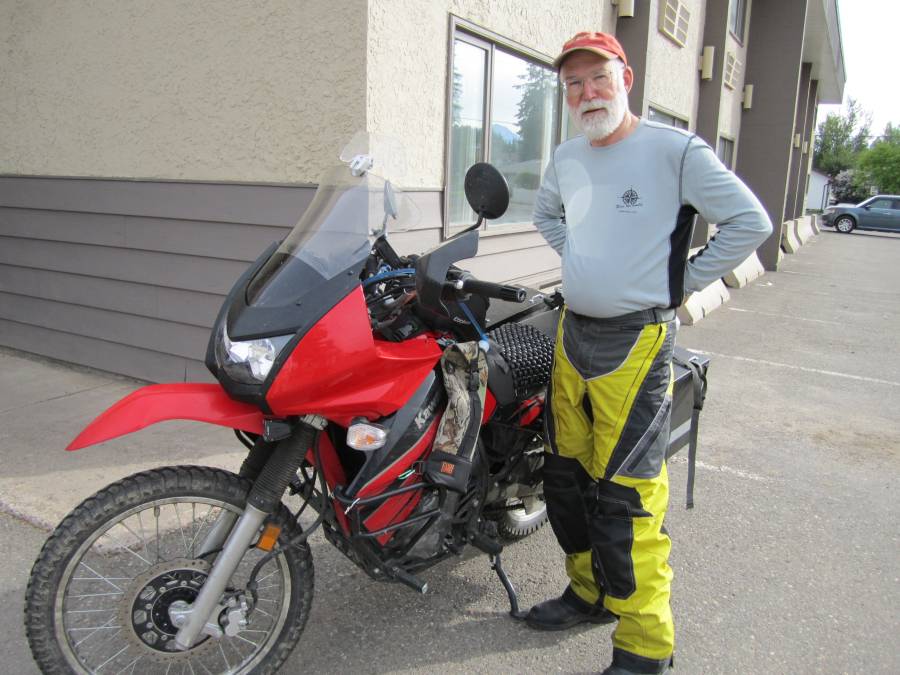 Yeh----he's ate up with this adventure thing.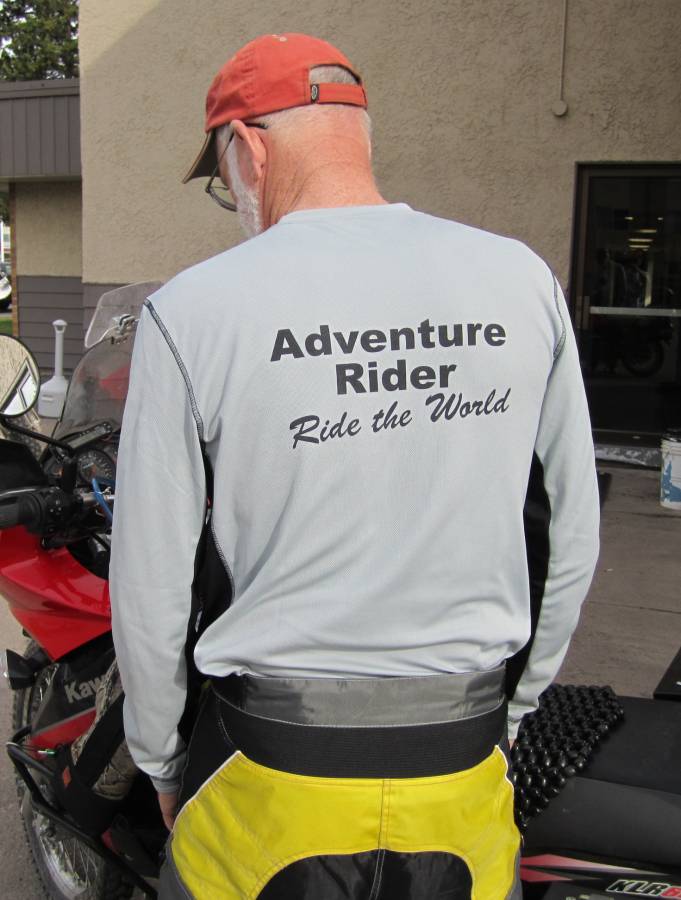 Here's his friend Jeff.
I was so impressed with these guys bike setup. A lot of really neat stuff ---some of it they had fabricated themselves.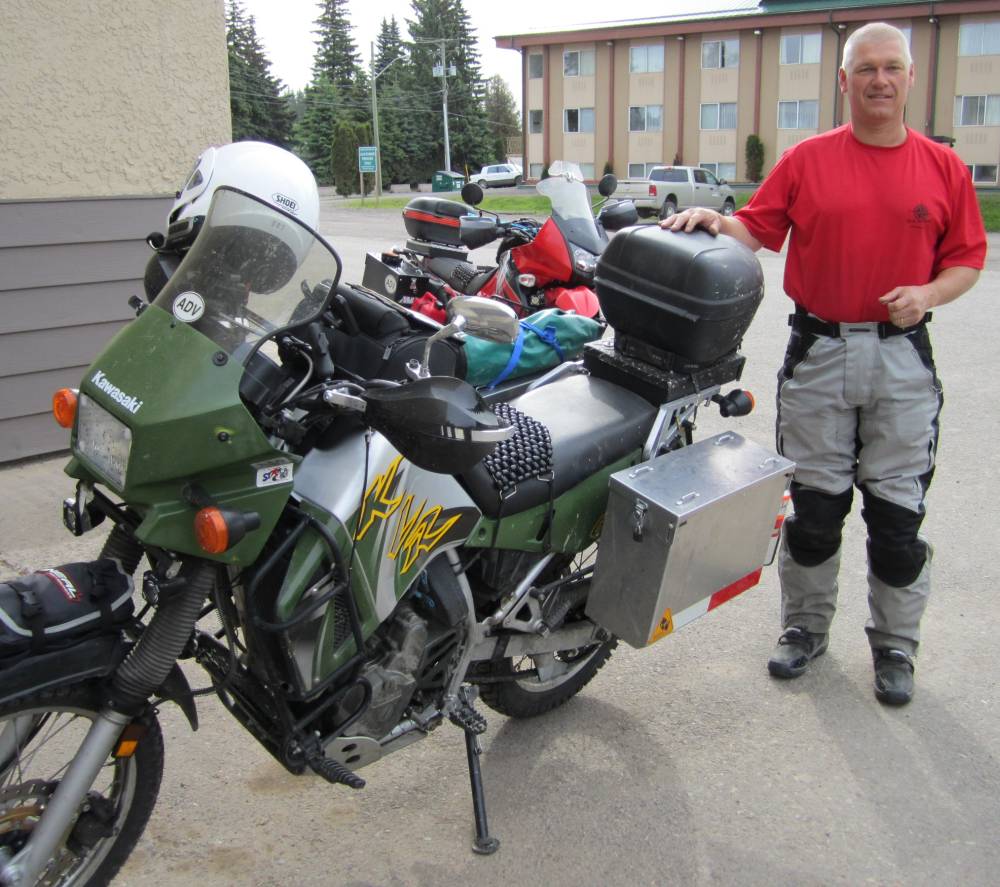 Scotts battery was dead---a brand new one---and we deciphered real quick the battery was good---the charging system wasn't.
We'd try to get it sorted out tomorrow
Day 7
June 13th, 2011
Scotts bike wasn't charging ----it was gettin' late in the day and we left Scott's bike at Eyecandy Custom Cycles
and Sam would get on it first thing in the morning to try and help us out.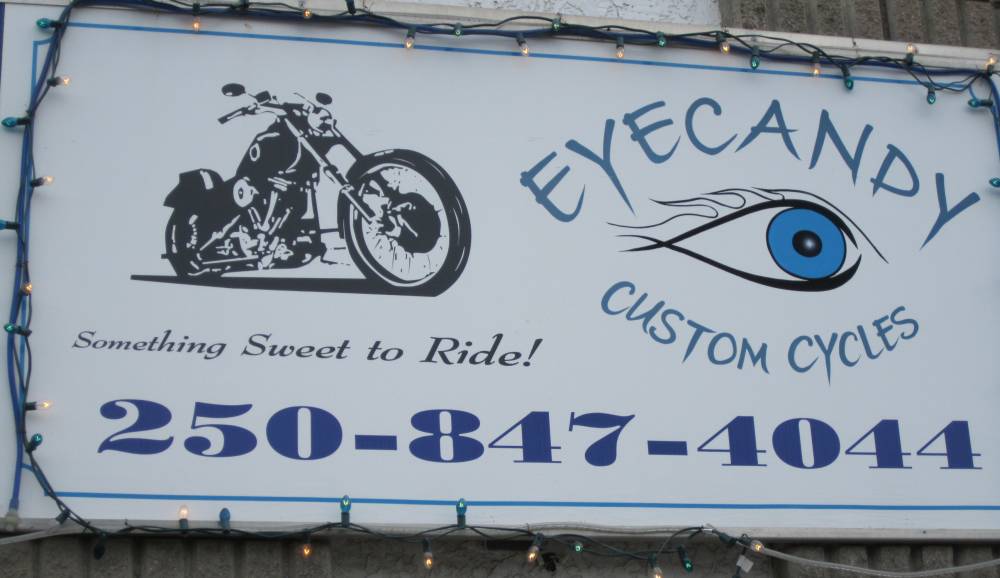 Sam below owns Eyecandy and believe you me is one prince of a guy. He is a superb mechanic and it didn't take him
10 minutes to diagnose that Scotts stator wasn't puttin' out squat-----nothing.
He gets on the phone---on the net ----I bet he made 25 phone calls trying to find a new stator.
There was one in the states but would be maybe a week getting thru customs and getting to us.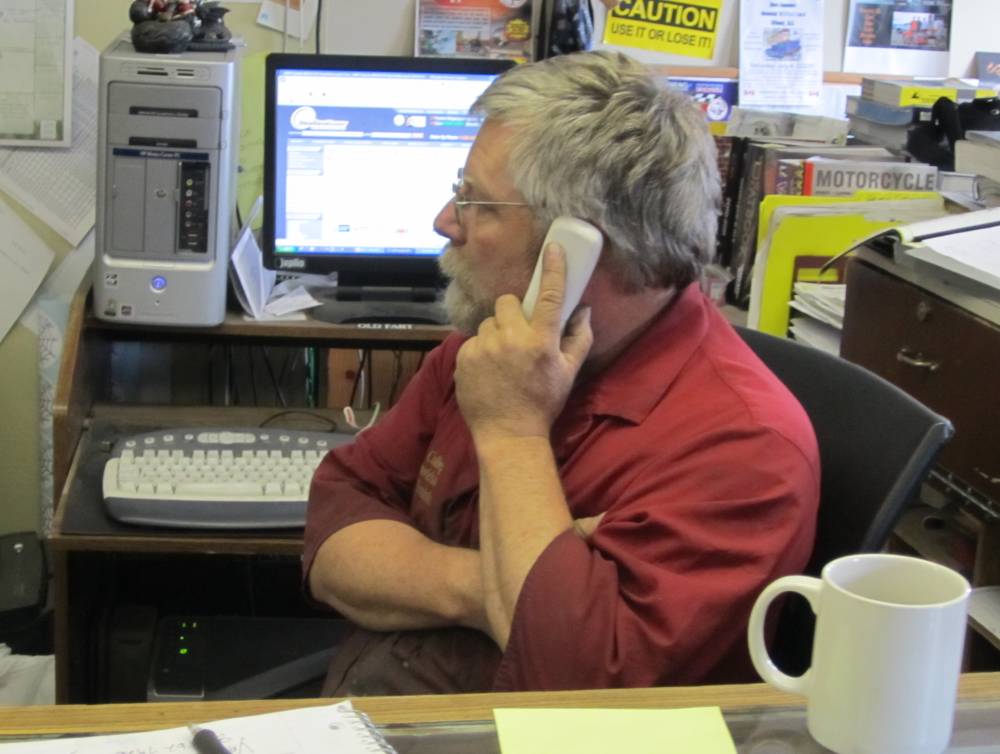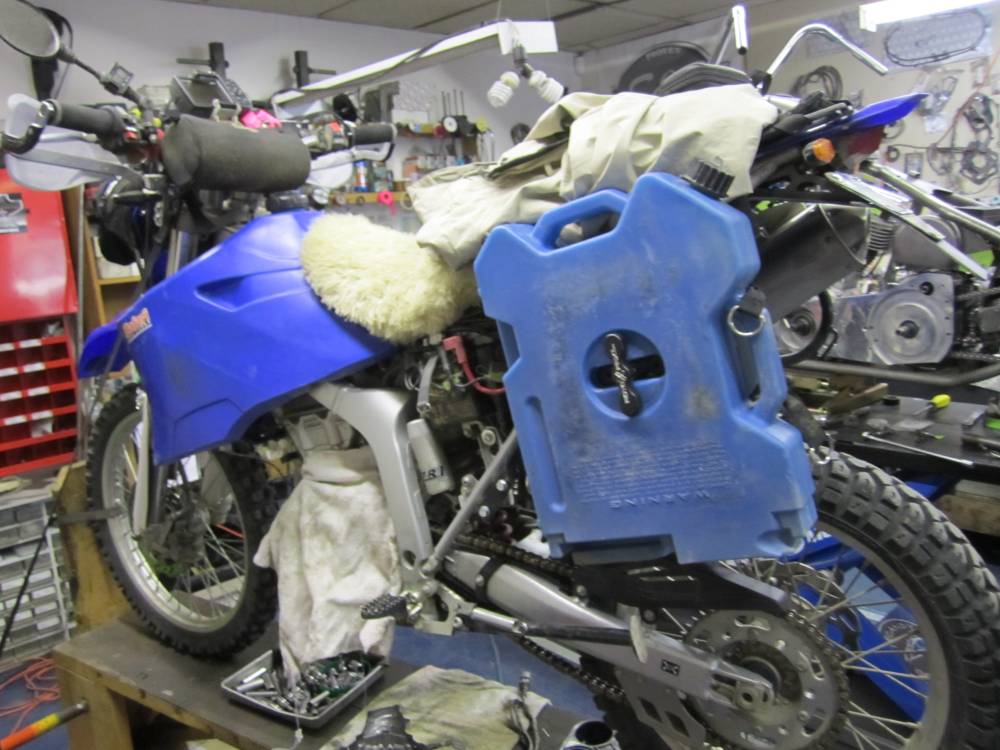 Sam's custom bike--he was getting it ready for a show and had lot's to do---but he put that aside to help us.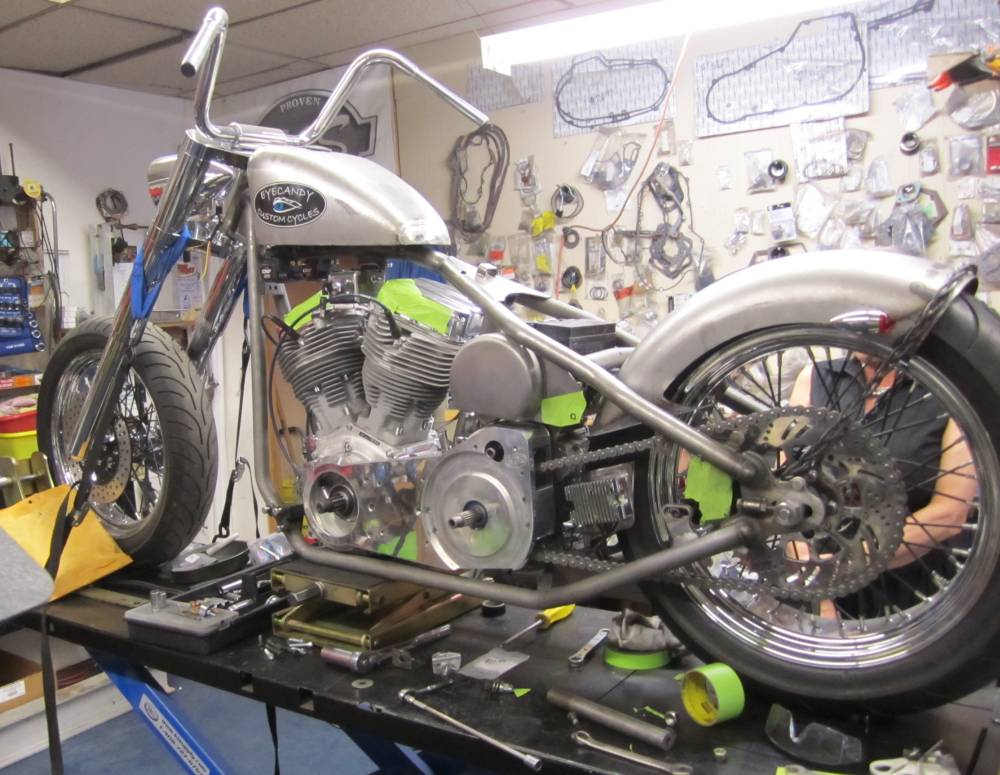 The stator is fried----probably the regulator rectifier too.
Long story short----Sam finds a used bike 100 miles away that will pull the parts we need off a used bike on the
floor. We were astounded they would do that.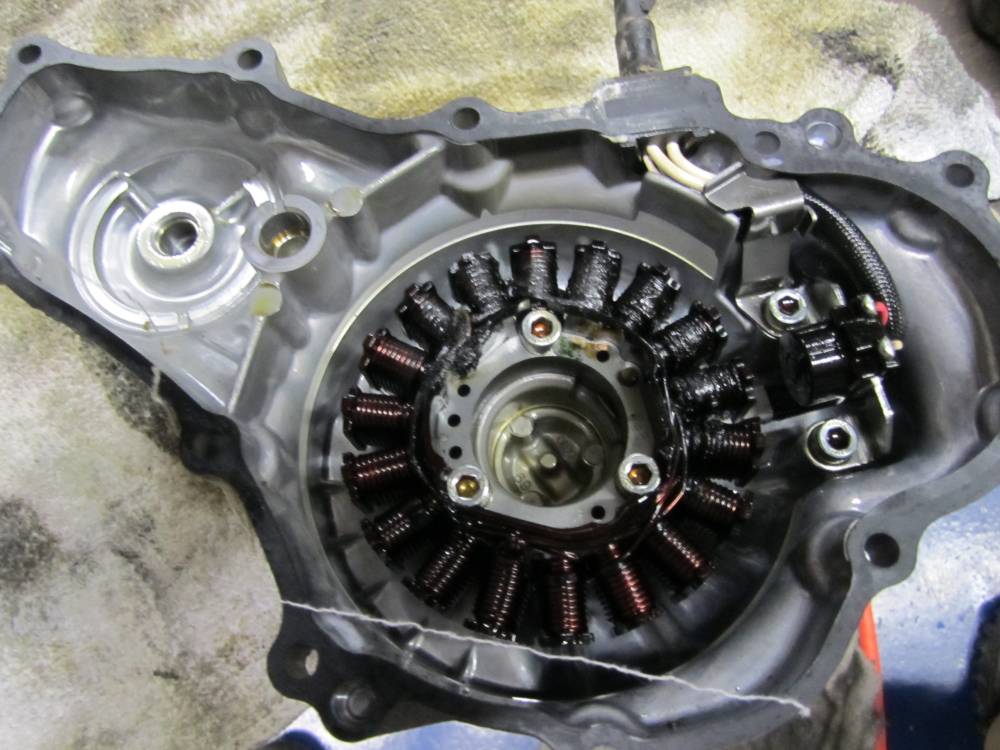 So we spend the day getting this sorted out. What happened to Scotts stator you aks---what caused this.?????
Right before we left Scott put a new battery in ---it started the bike then started discharging and wouldn't take a charge.
They sent him a new one-------same thing---so he put a new stock battery in it.
But what we figured out was that the 2 bad batteries just shorted out and the charging system of Scott's was trying
to do a job that couldn't be done-------it weakened the system and failed just a few hundred miles later in
Smithers British, Columbia-------a good place to break down.
No internet panic needed here of stators failing----unless you put 2 shorted batteries in it.
Tomorrow we would get the parts replaced.
Day 8
June 14th, 2011
Sam got Scotts bike put back together---with the bad stator and we took off for Terrace BC for the parts he needed.
Sam had charged Scott's battery and we rode about 2 hours and the battery went dead again and me and Scott
switched batteries on the side of the road-----we pushed started my bike with Scott's dead battery in it and rode on
as my bike charged his battery back up.
Ken's Marine---which is also a Yamaha dealer.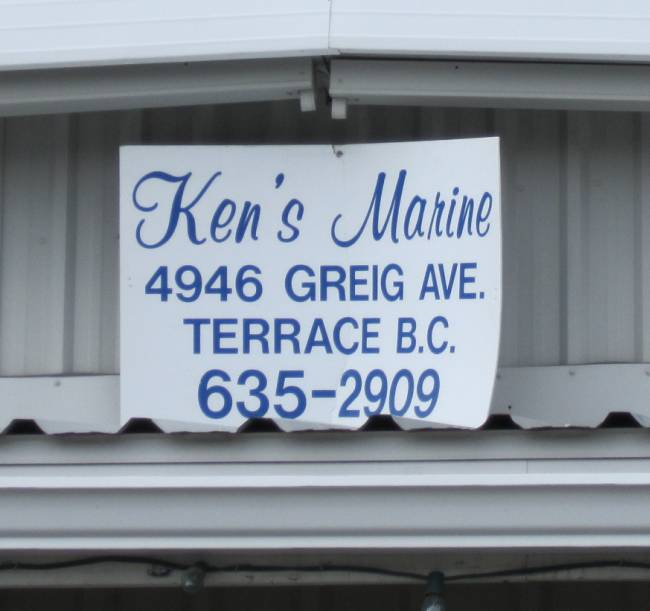 Their mechanics already had the stator pulled of their used bike and Me and Scott installed the good stator and regulator out
in the parking lot in about 15 minutes. We had no more bike problems the whole trip.
These stators are very robust----they put out 350 watts--and I had my heated grips on everyday and ran a heated
vest and gloves quite a bit--no problems.
Happy faces---Kudo's to Ken's Marine----Terrace BC.
They went way out of their way to pull these parts off a used bike they had for sale.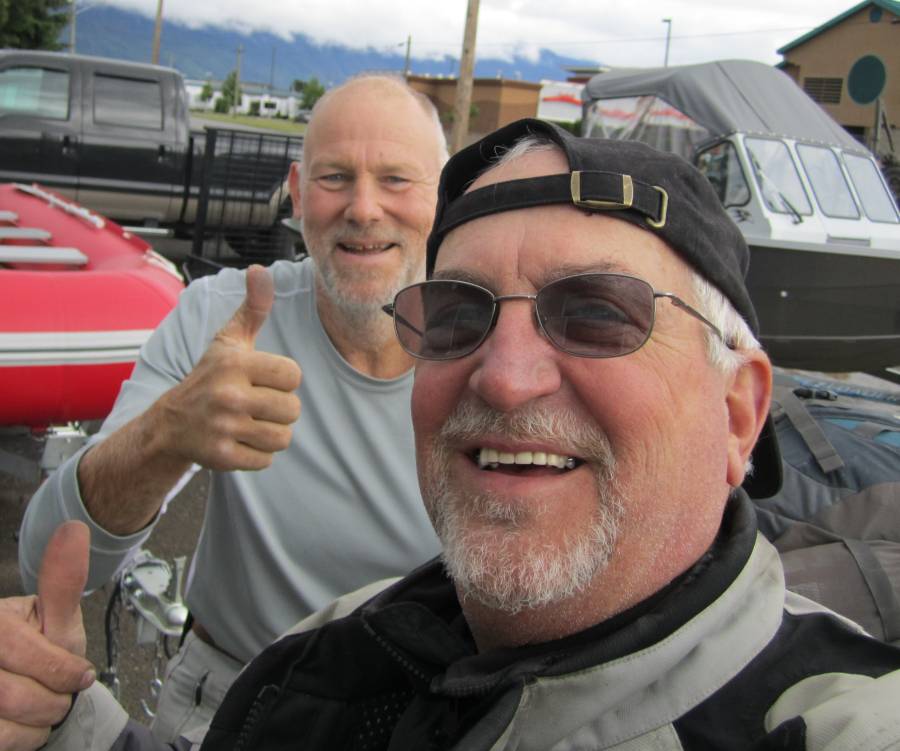 We got a late start as Sam buttoned up Scotts motor--then we rode to Terrace and just holed up for the night
at the Kalum Motel and restaurant. This was owned by people with India heritage---but what was so different and cool was
the fact their restaurant was completely decorated in their home decor---and the food was authentic India food.
We had no idea what to order but it was delicious. Real nice people.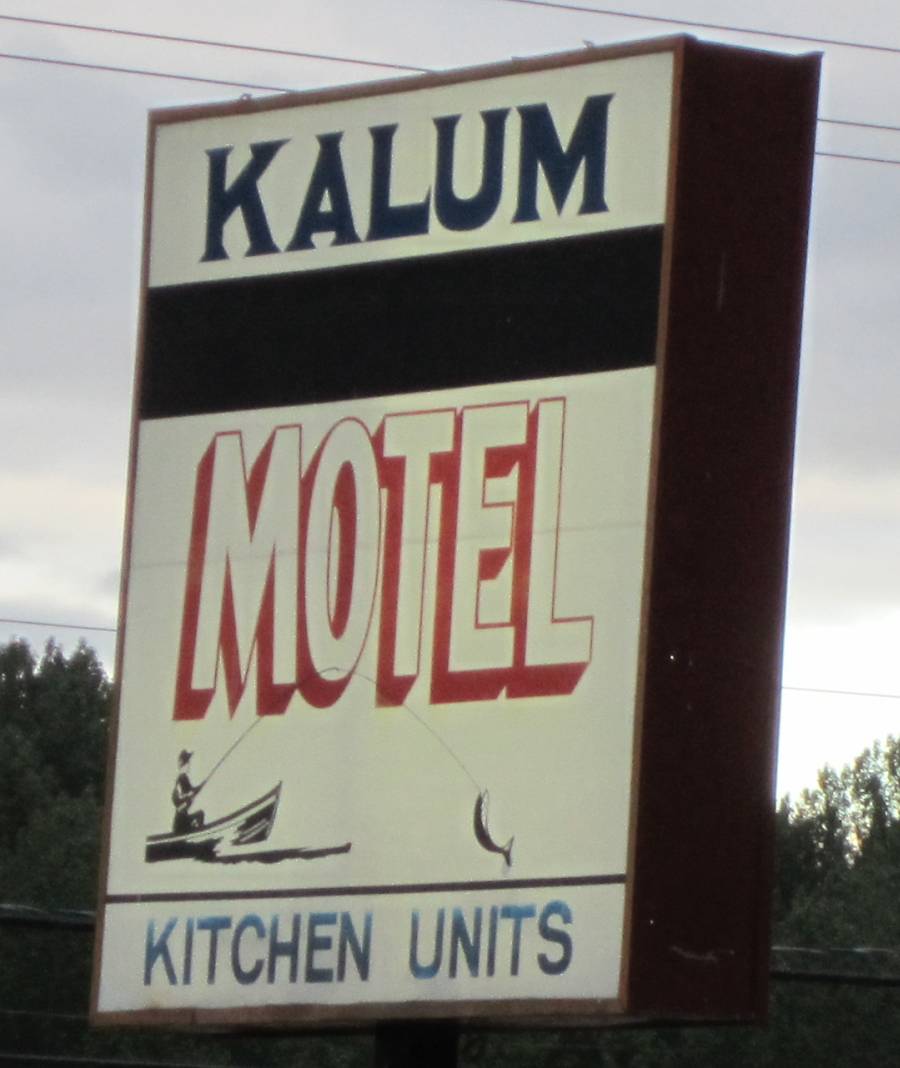 Tomorrow we would ride thru a beautiful lava field,
get real aquainted with the different types of bear poop,
ride thru Hyder, Alaska and see both Bear and Salmon Glaciers.
Day 9
June 15th, 2011
We rode North out of Terrace and I totally forgot about the lava beds.

They built a road right thru the lava beds---it was miles of this stuff---Nothing like I'd ever seen.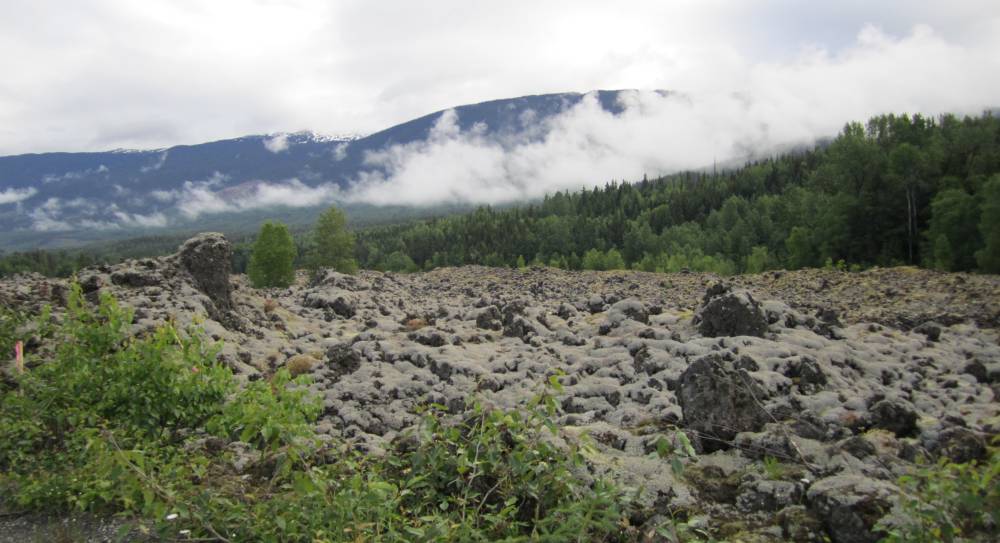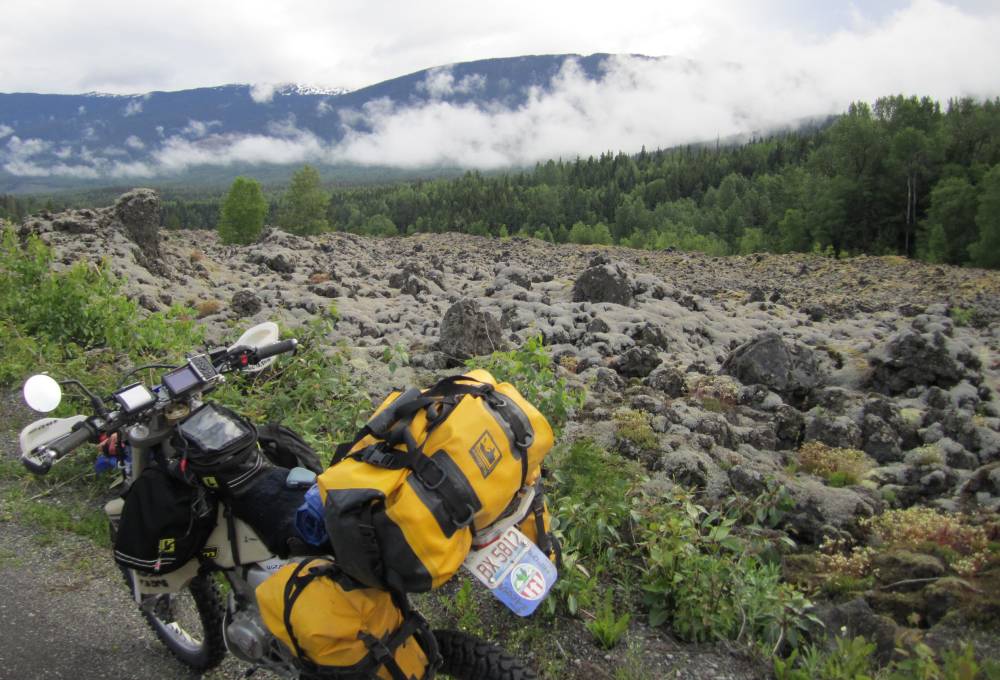 Bear Poop----------a friendly bear that will probably run at the sight of a human being.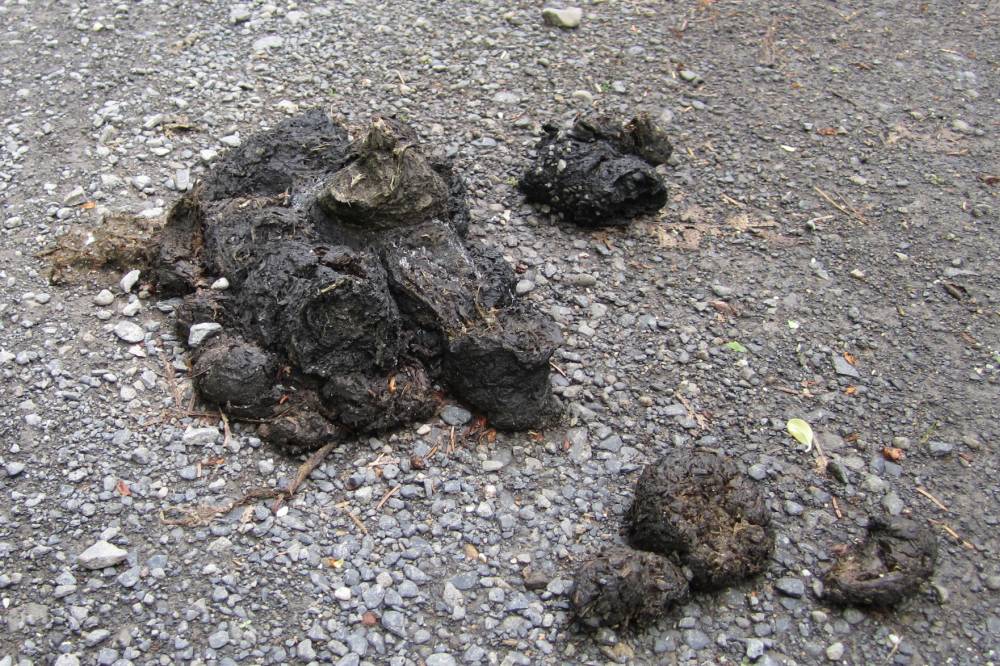 Mean bear poop-----now this bear is not to be trusted as he lives on a diet of humans and bear spray.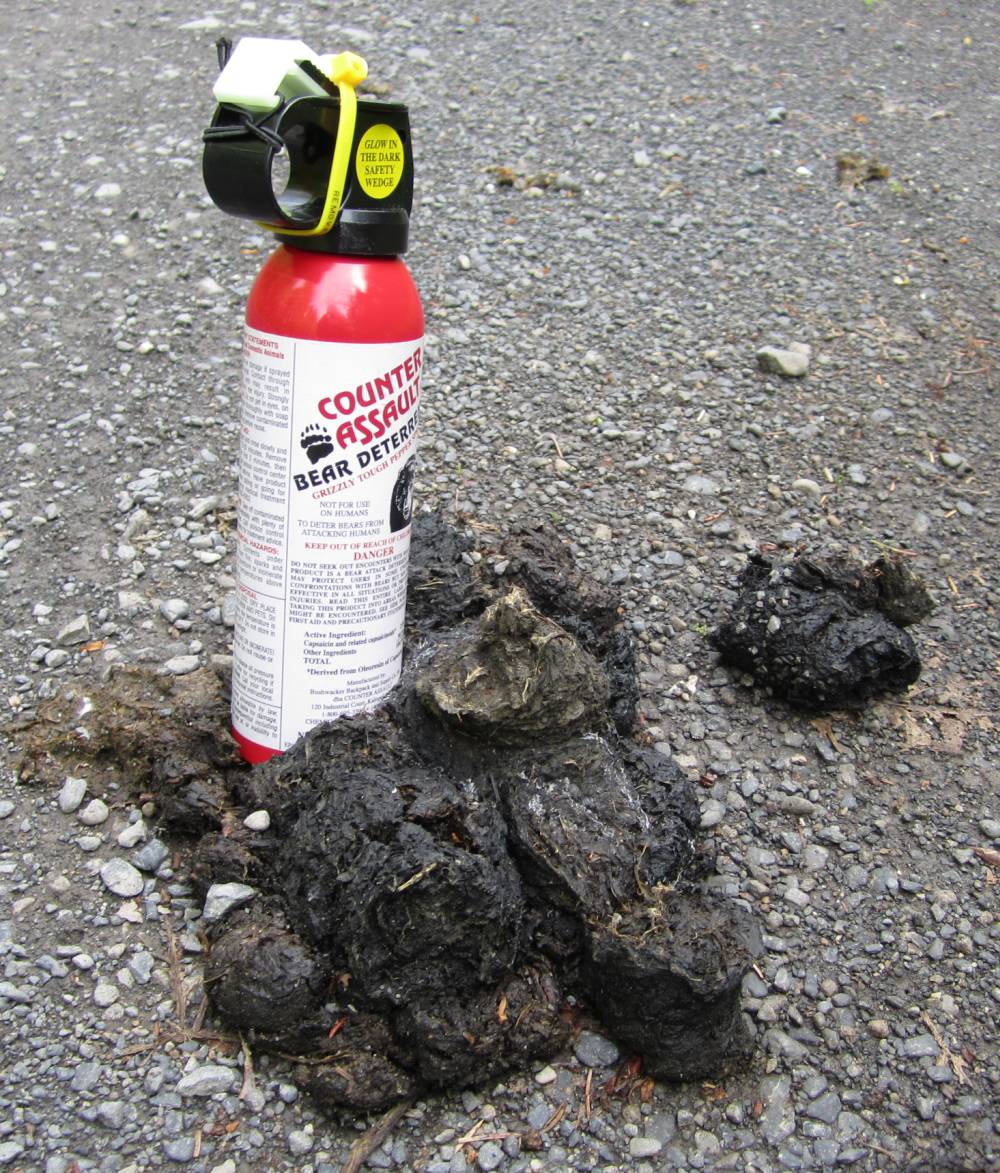 But the meanest of all bears is easily recognized by his poop.
If you come up on a fresh turd that looks like this----it might be too late for you to run.
One bad mean and nasty bear.
Anything that can crap a can of bear spray and a Gerber 7 inch LMFII has got to be bad.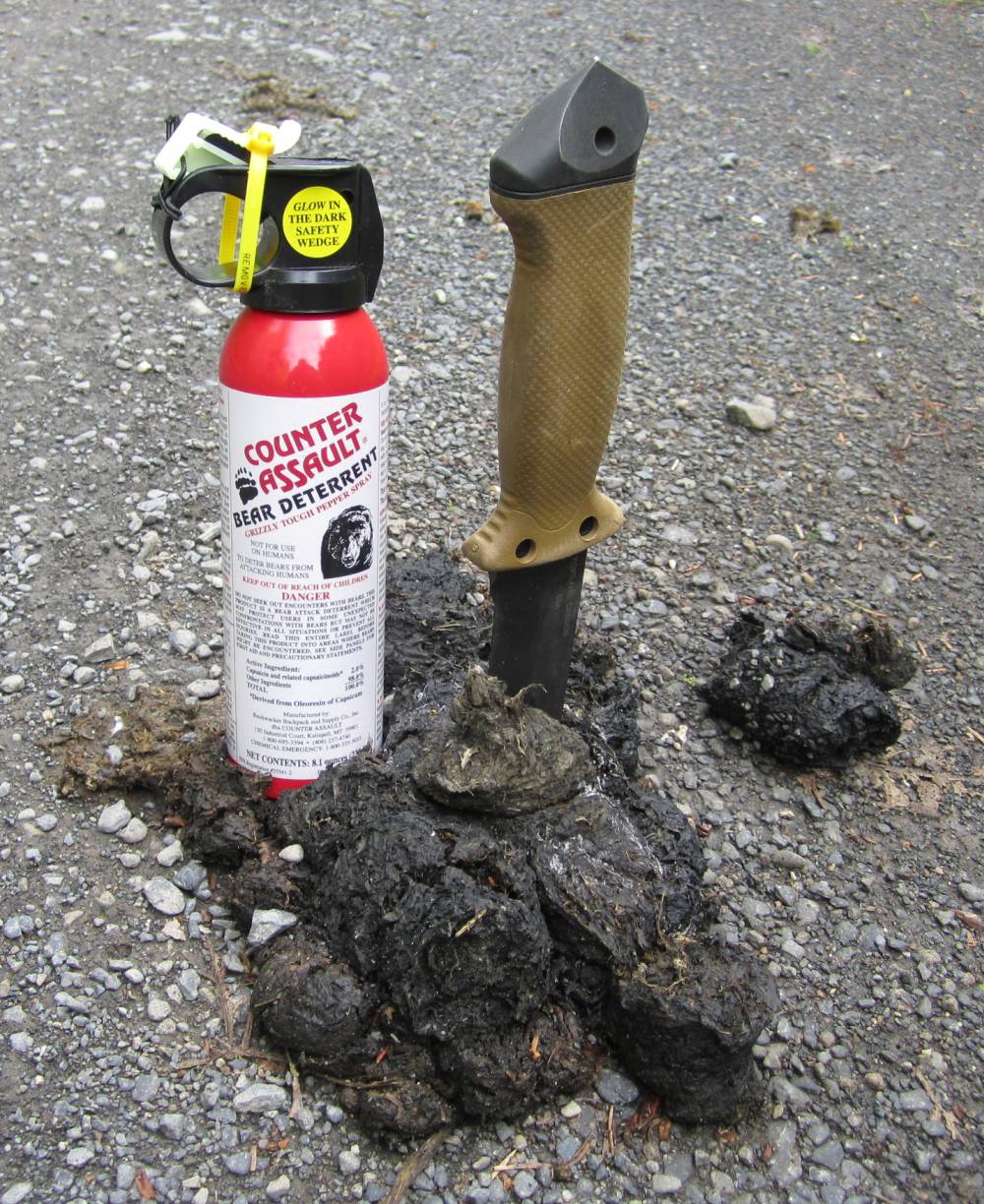 It was a beautiful warm day today as we made it North then West down a dead end road to Hyder, Alaska.
A town that just needs to be seen.
But---on the way we passed the Bear Glacier---the whole ride West to Hyder was over the top georgeous.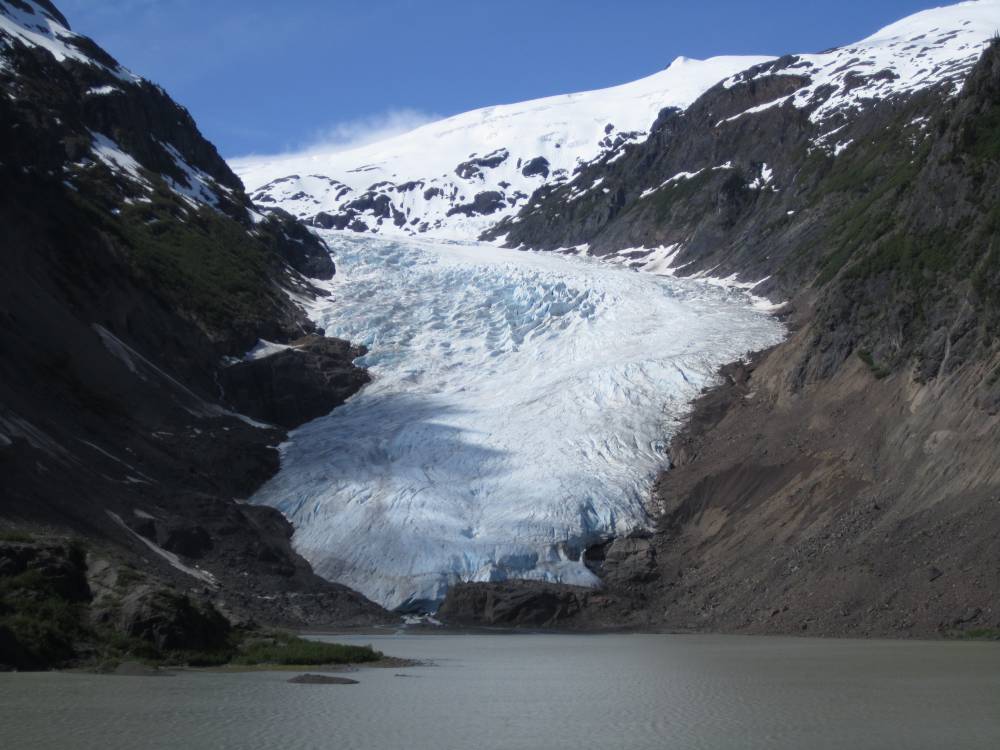 The was the first time I had ever seen a glacier and I was estatic.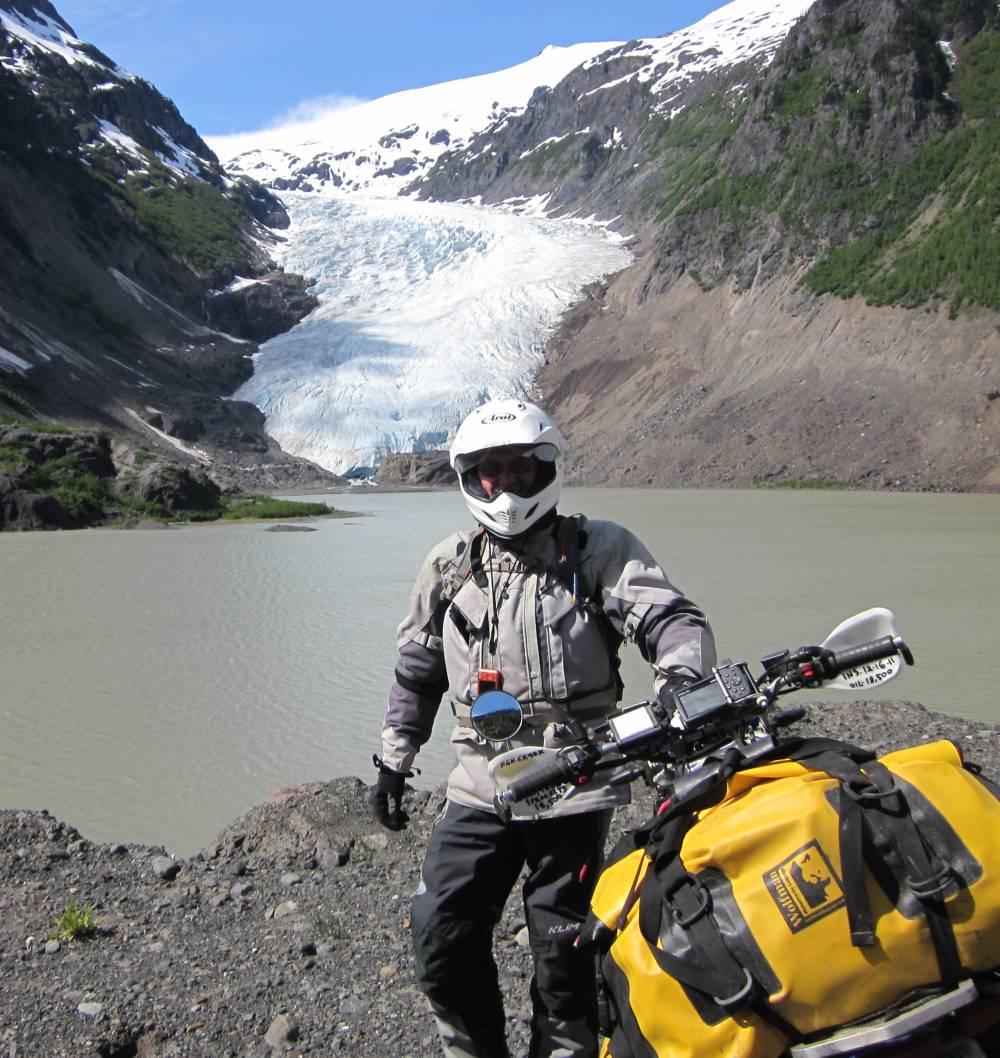 On towards Hyder.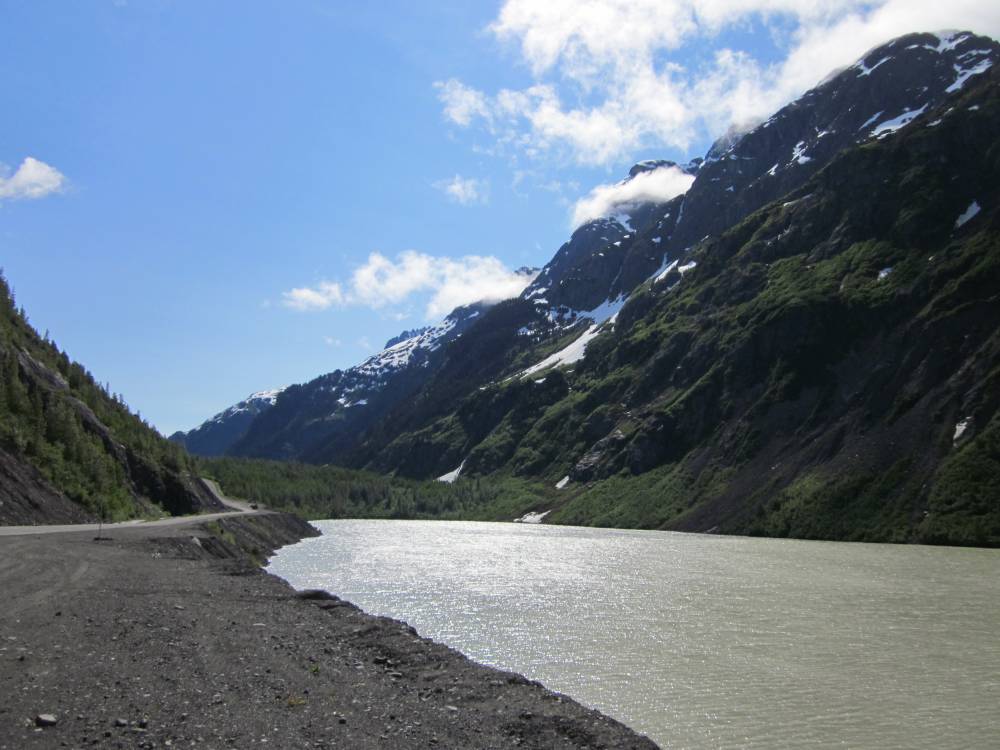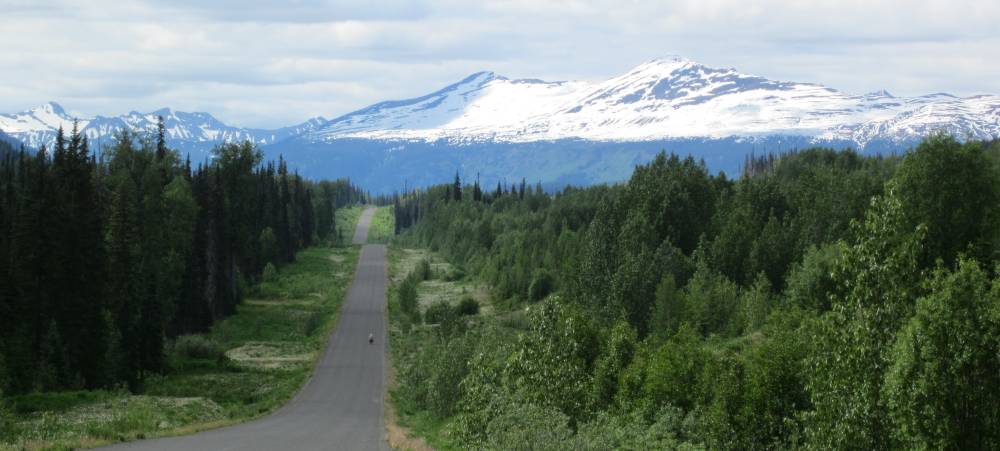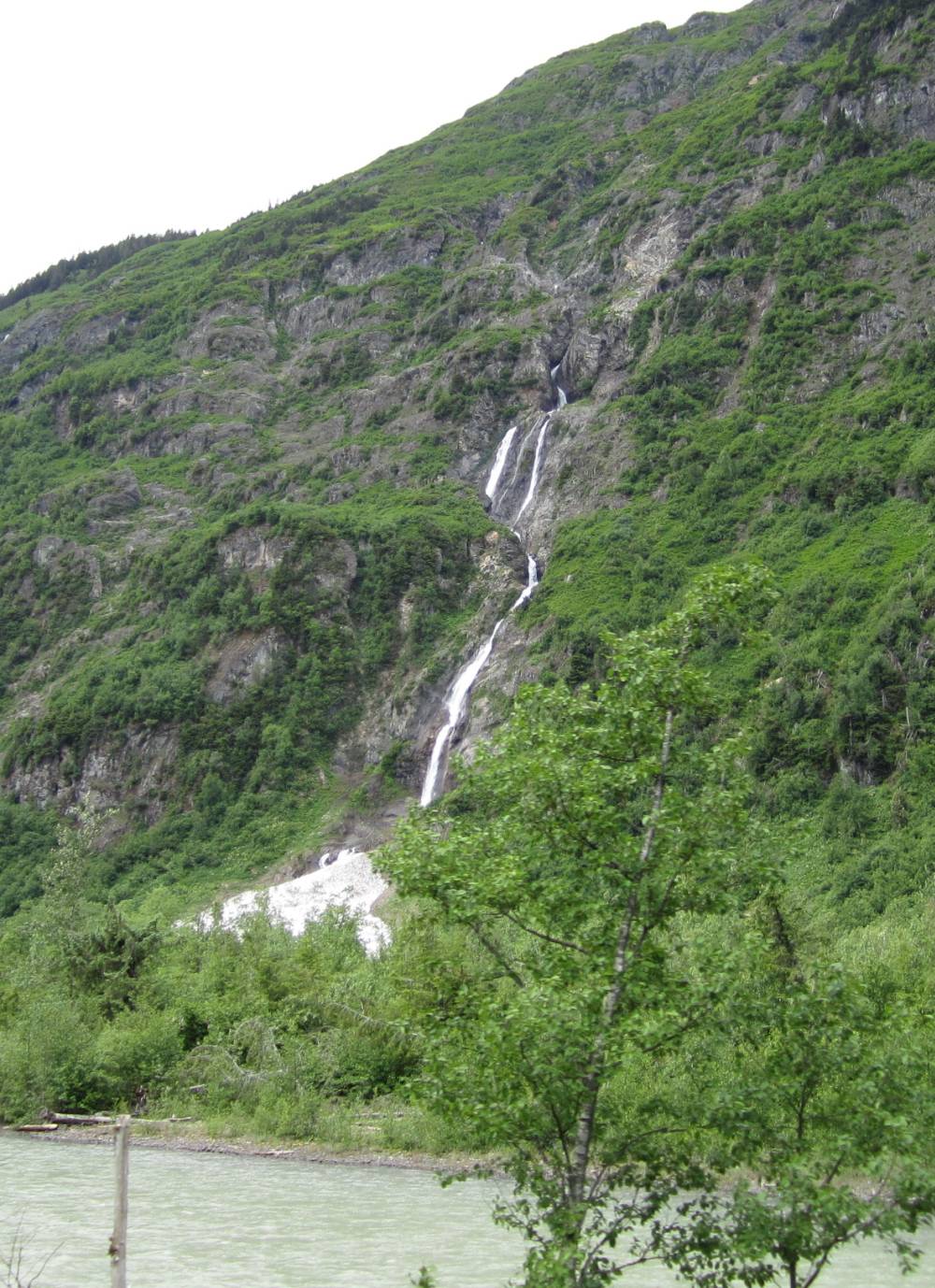 20 miles down a dead end snowy and dirt road from Hyder we would find the Salmon Glacier.
Hyder was a hoot--you just have to see it---there is gas, food and lodging in Hyder.
It is a very small town--my research says the popultaion is 97.
Hyder is actually in the middle of British Columbia on the way North--the mainland of Alaska is much farther North.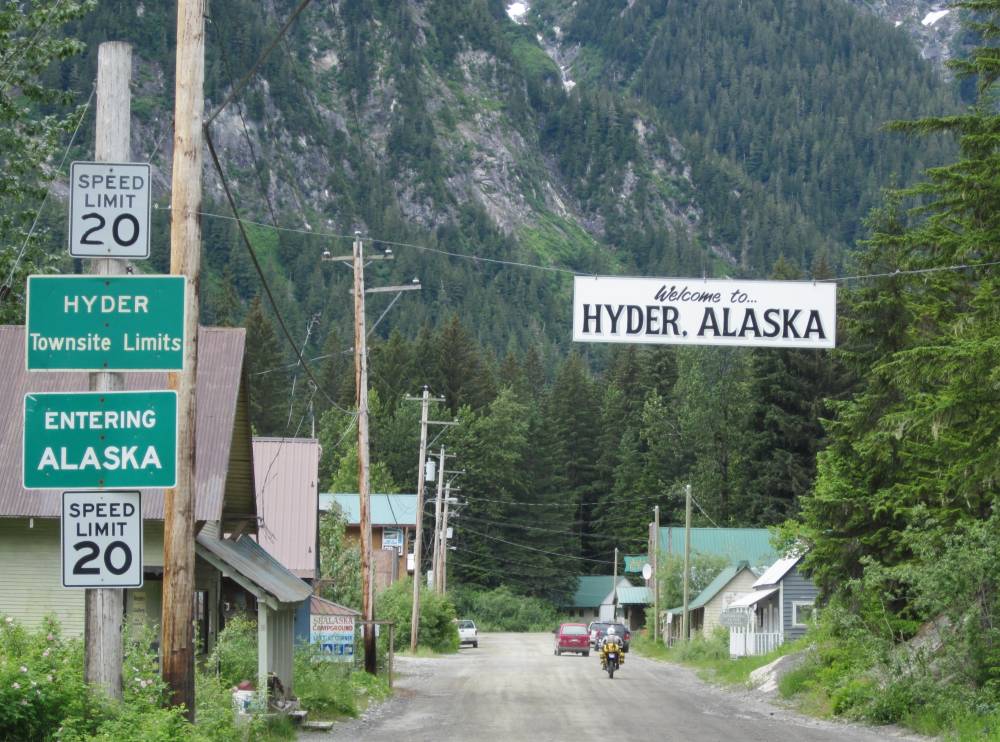 Our first glimpse of the Salmon Glacier.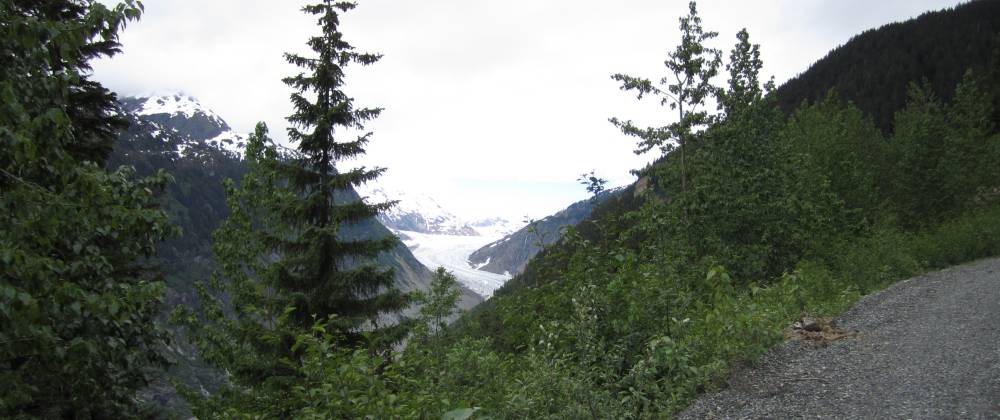 The "Toe" or end of the glacier ---at the bottom of the picture is where the glacier ends and is melting off in the Summer months.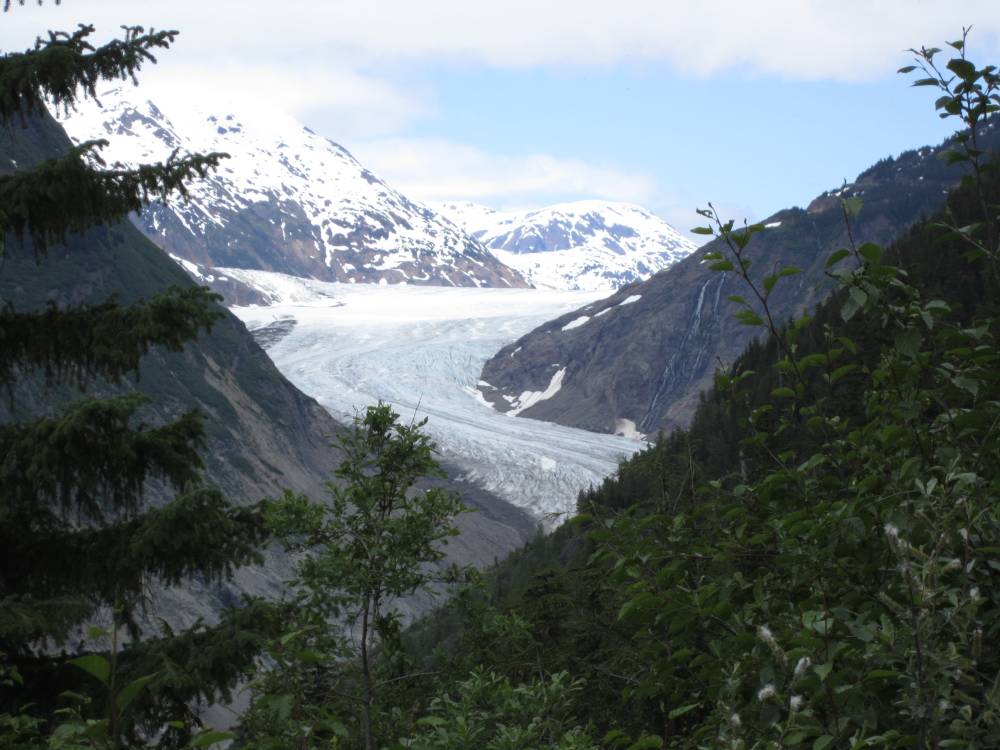 We ride farther up into the Glacier and I had no idea at this point we were to ride on top of a mountain
and be on top of the glacier looking down into it.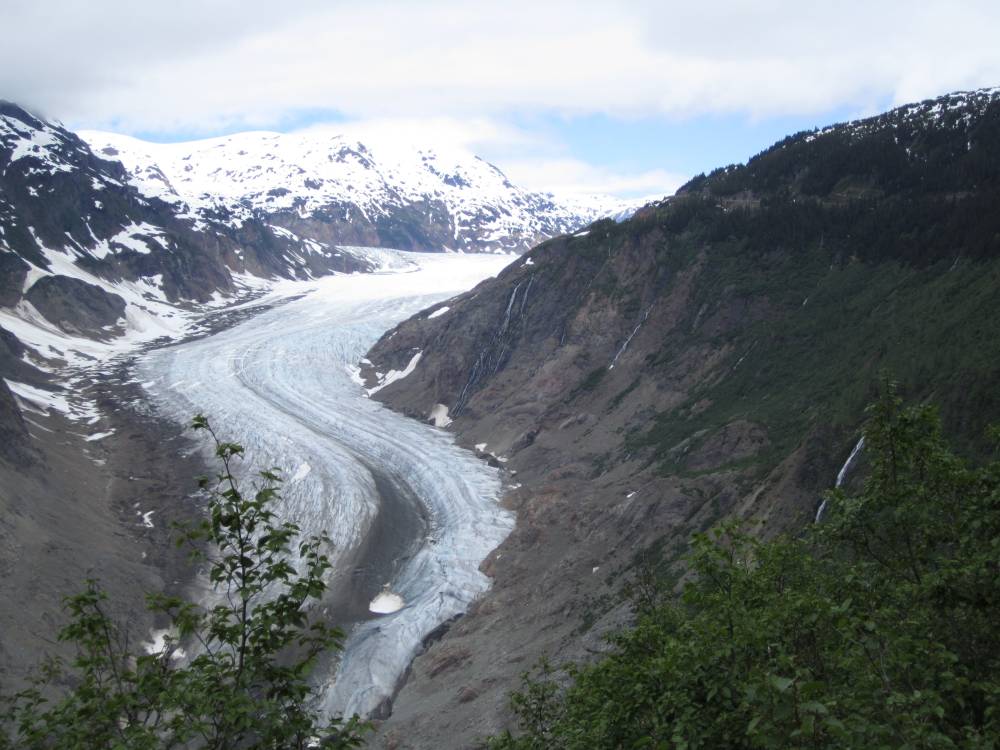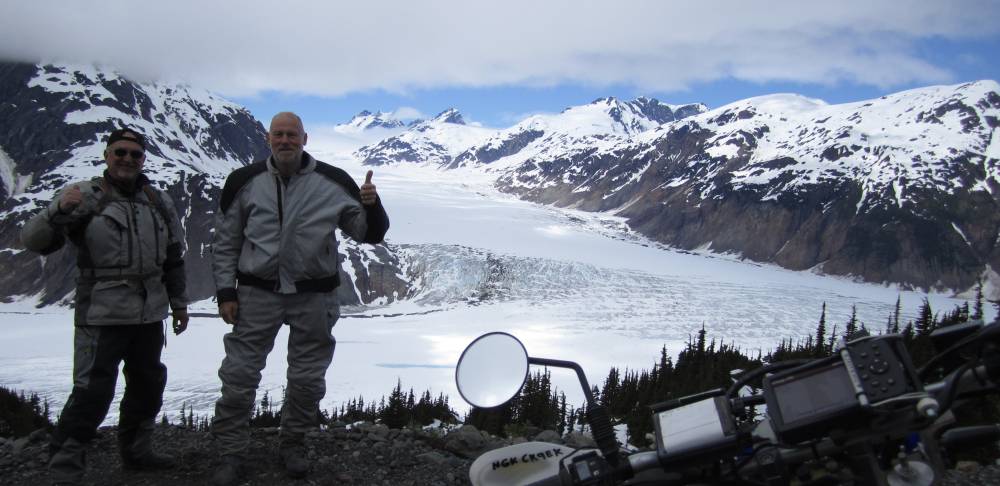 We sat there with mouths dropped ad it just didn't look real.
I wondered just how far off it was up thru those mountains---I had no idea.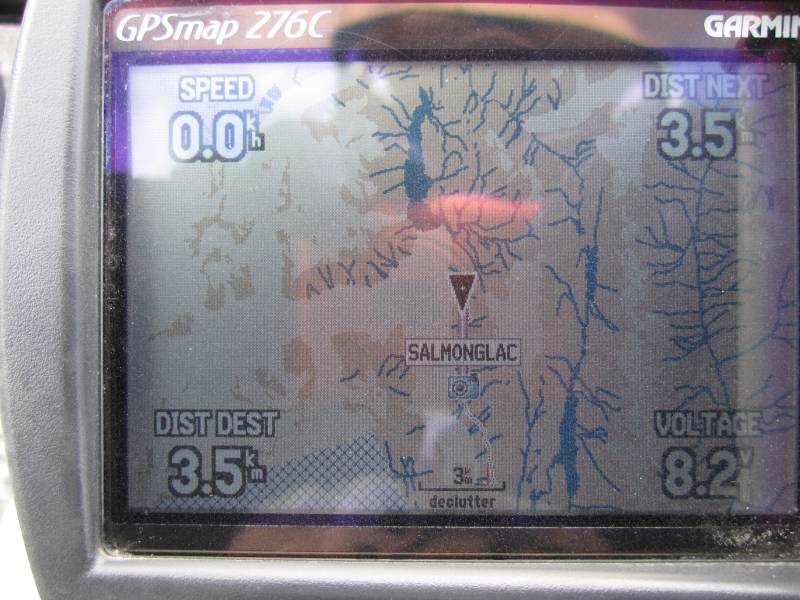 My son has blown this up---framed it----and put it on his wall in the new house he just bought.
I truly wish he was standing there beside me in this picture---I thought of him a lot on this ride
and all the rides me and him have been through.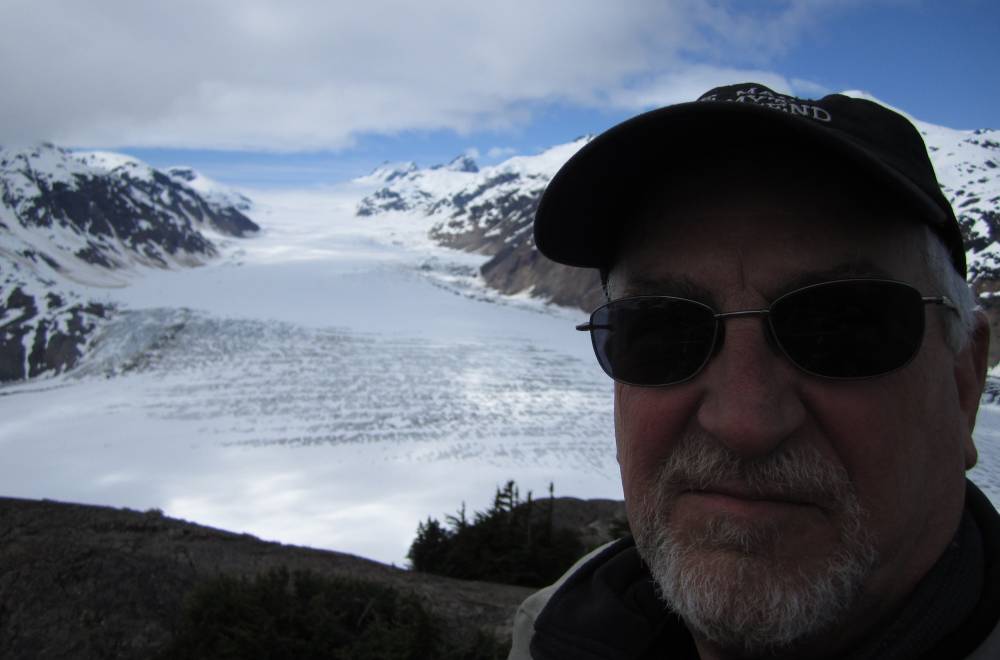 Scott is starting the ride back to Hyder and you can plainly see the dirt road we rode up there on.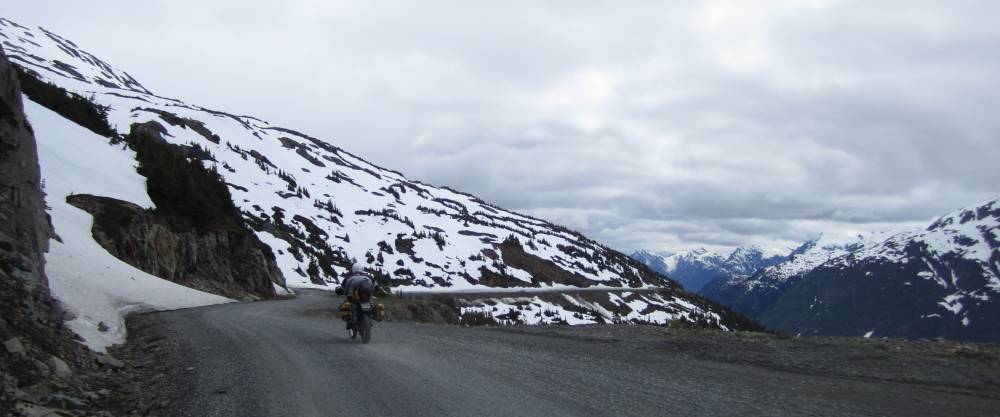 OH---I think I like this one best-----excuse me while I put it on my desktop.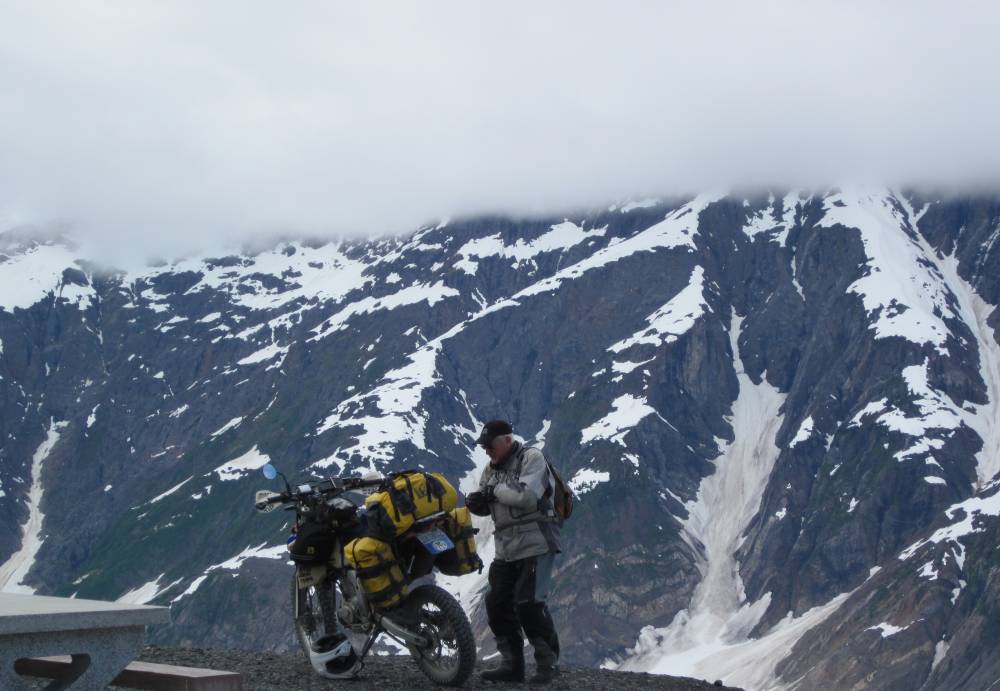 Back on the main road I have been really noticing that the signs up in BC are quite different---what do you see ????
I see a guy in a motorcycle getting electrocuted on a metal bridge when lightning struck it.
OR---he's riding a Harley ?????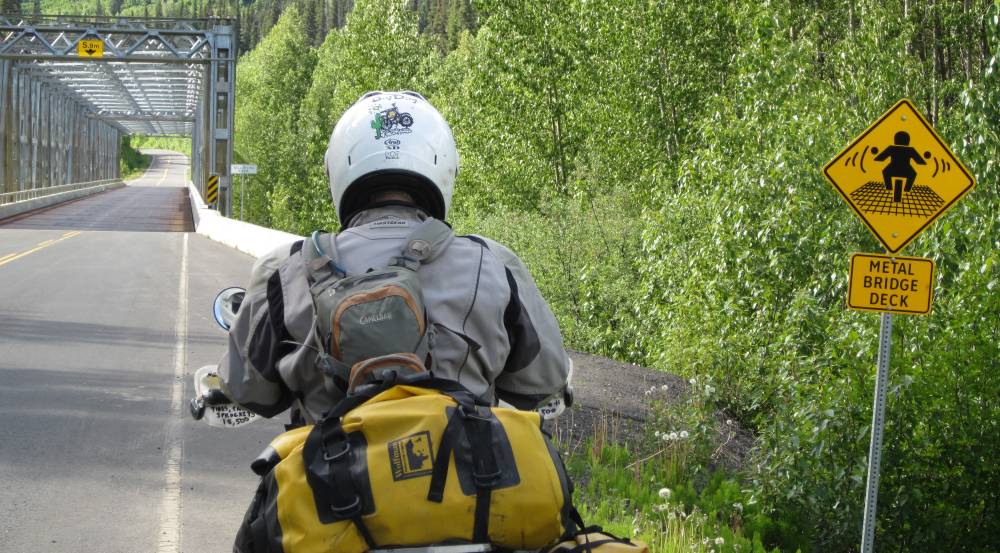 ZZZZZZzzzzzZZZZzzzAAAAAAaaaAAAAaaaPPPPPpppppp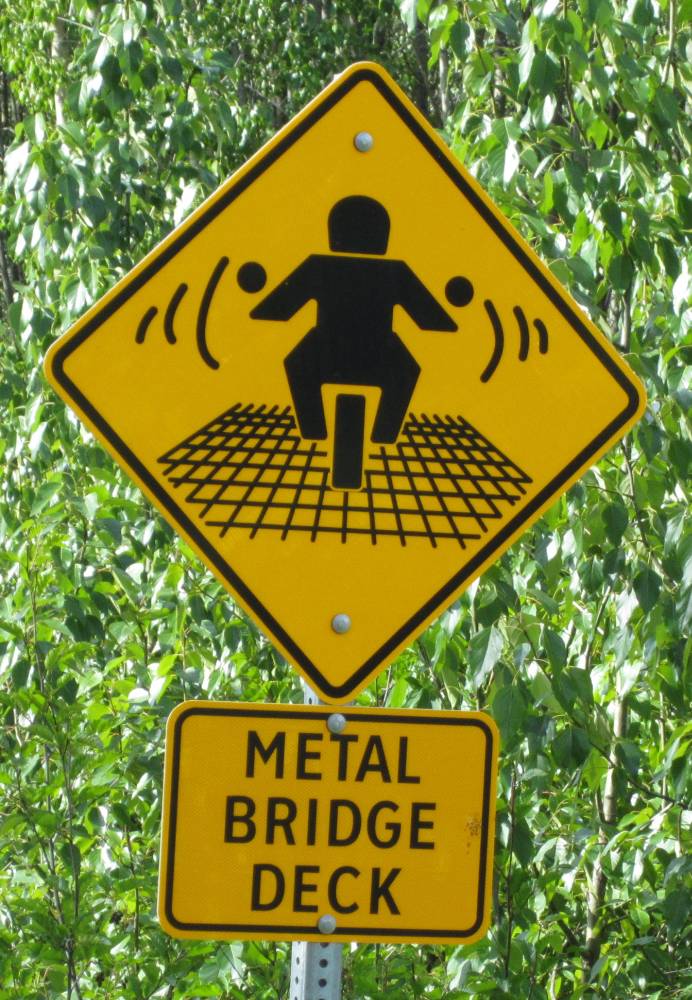 Right before Deese Lake on Rt. 37 I spied a little camground off to the side of the road.
$12 for the night. What a beautiful night this was to be and the campround guy said there were black bears
everywhere---but they never came in to camp----I wish he hadn't said anything.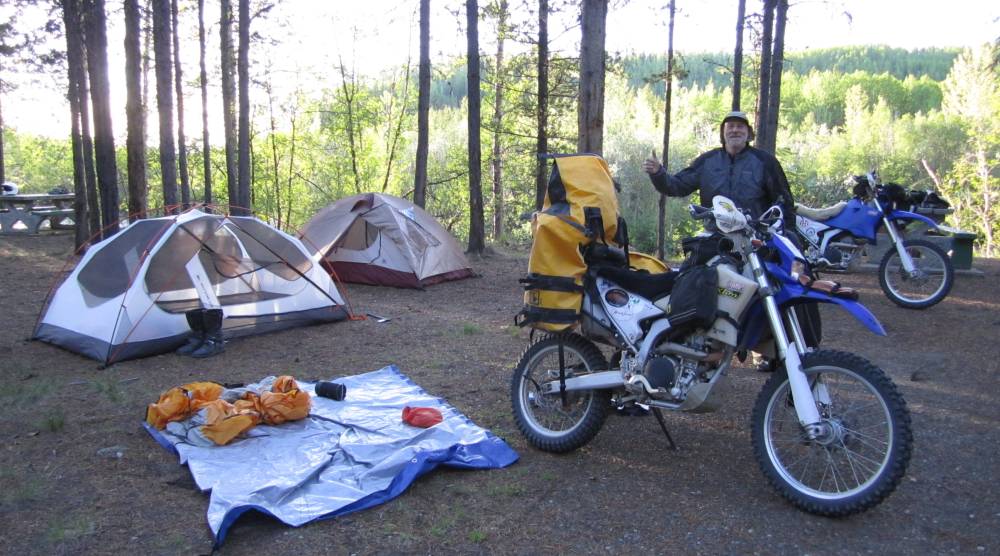 Here I'm doing my bear dance.
OH please--don't let the bears eat me.
We built a fire to keep the few skeeters away and had a Jet Boil dinner---beef stew I believe.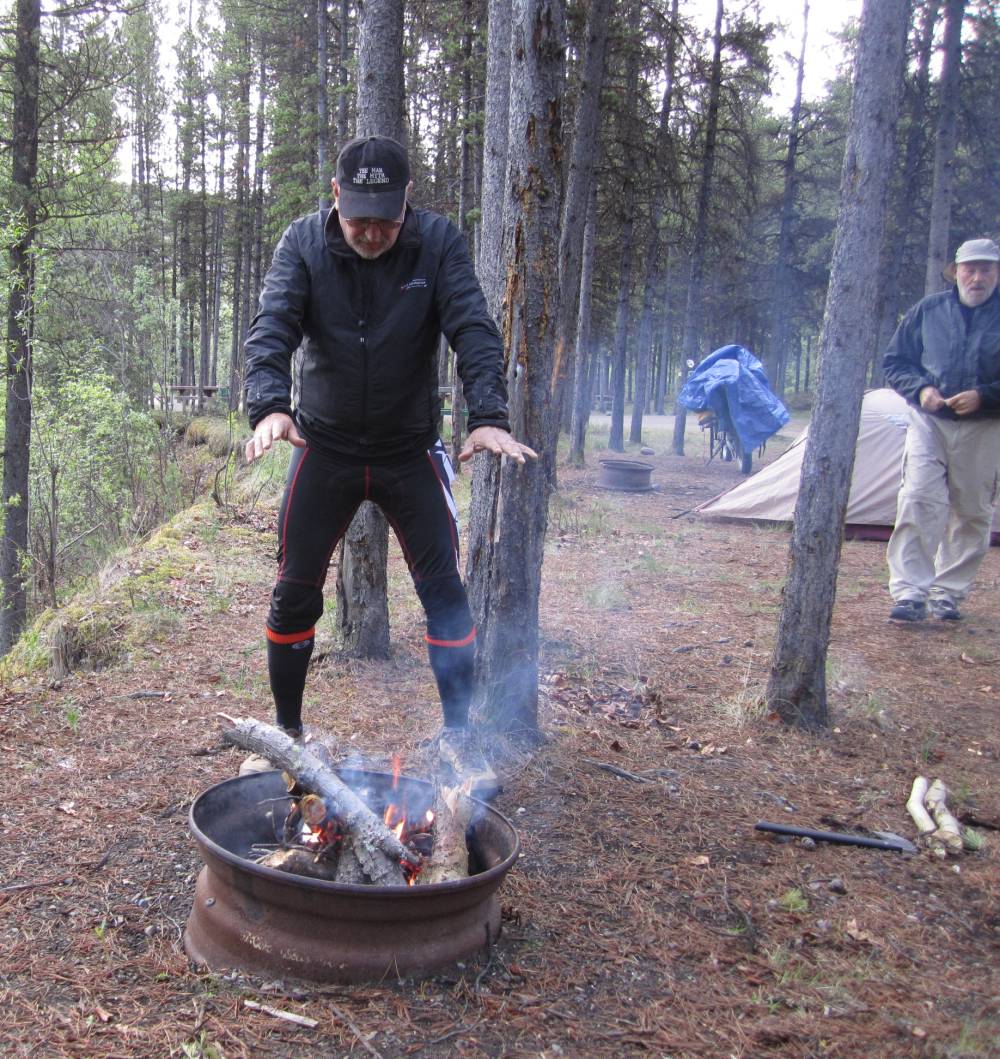 Here's the trash can-----I think that is a bear bite---what do you think ?????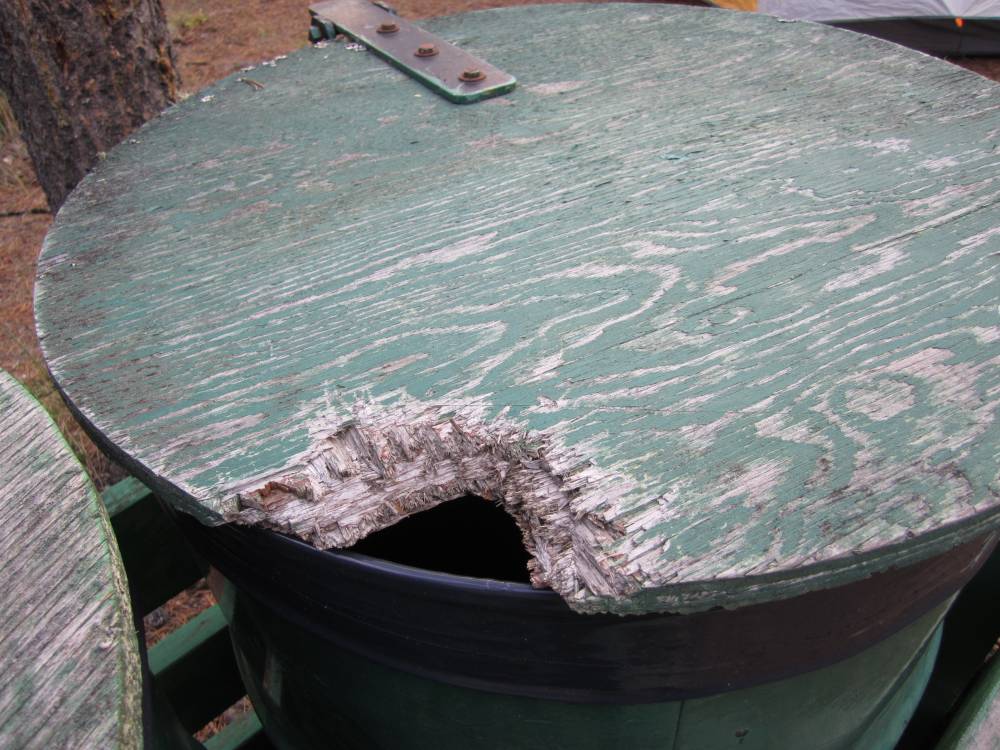 Day 10
June 16th, 2011
We blew out of camp early in the morning and made our way North--passing up the turn-off down to the
little town of Telegraph creek-----we definitely wanted to go there--and catch it on the way back.
I think I might have said, but after going thru customs we met the nicest people up North.
It was immediately noticable that the people were more laid back and relaxed---friendly folks willing to
give you a hand---we were helped several times on this trip---sometimes big ----sometimes small.
It was time we gave something back.
I rarely pass a lone bicyclists where I don't say hi---and ask if he needs anything.
This guy today surprised me and waved me down to a stop. He had lost the hat he's wearing in this picture a good
2 miles back and had already backtracked 3 miles to here looking for it. He asked me if we had seen it
and I told him no----he was sweating profusely and it was obvious to me he needed that hat.
I didn't ask----I just said "wait here---I got a motor--I'll find your hat"
And we did----when I was riding up I waved his hat in the air and he was so excited to get it back.
Our good deed for the day.
We ran thru a few miles of a recent forest fire--I hear sometimes these can shut the roads down.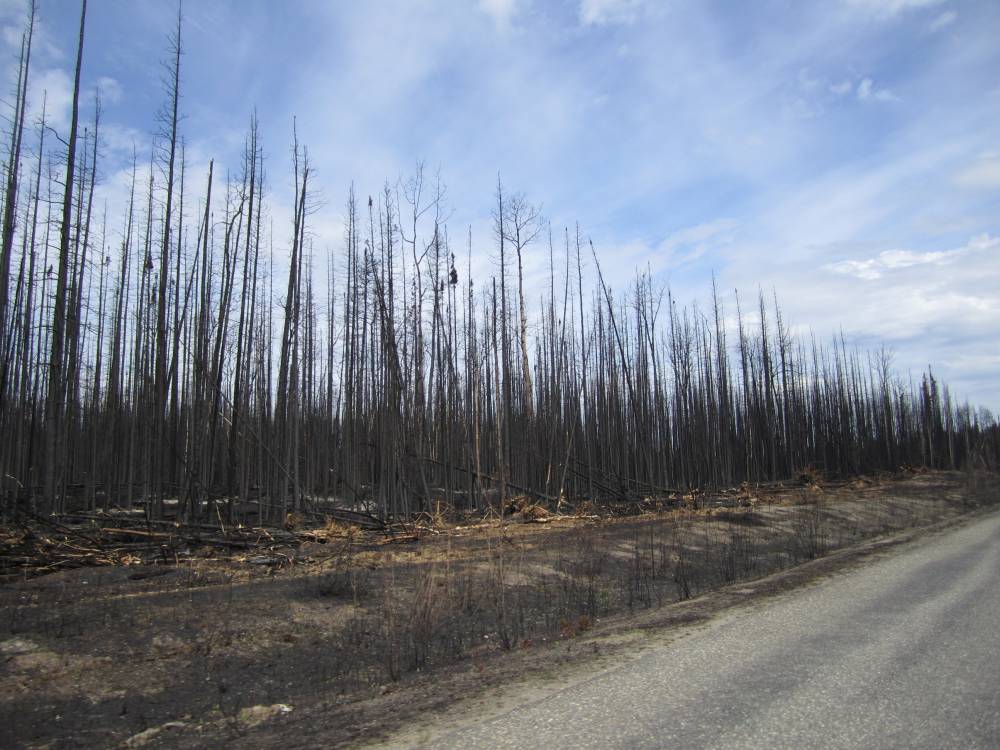 We crossed into the Yukon------and I was to fall in love with this place.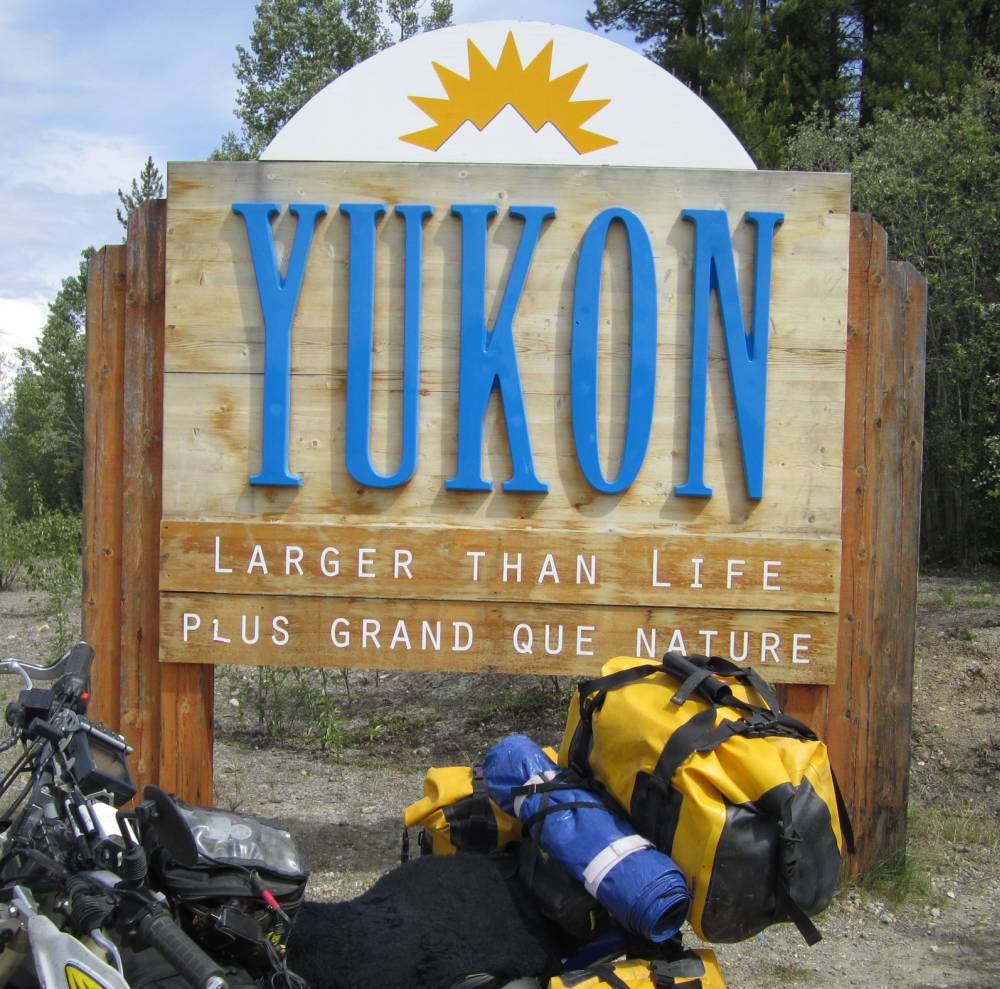 We passed thru Watson Lake and I hadn't planned on looking up the sign forest I'd seen so many
pictures of---but we went right by---and it seems they are running out of post to put the signs on.
The farther North you the fewer roads there are---sometimes being just one.
There is just one road going North from where we started today so we couldn't just "Wing It".
Route 37 North was all there was.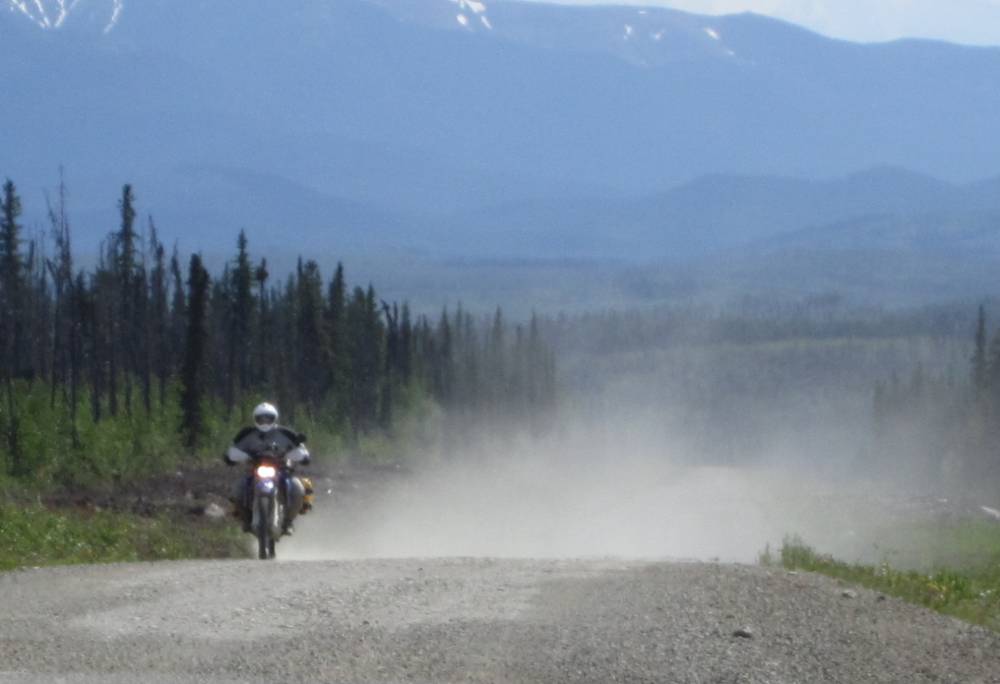 What do you see ???? Pavement ends ??? or..........a cigarette.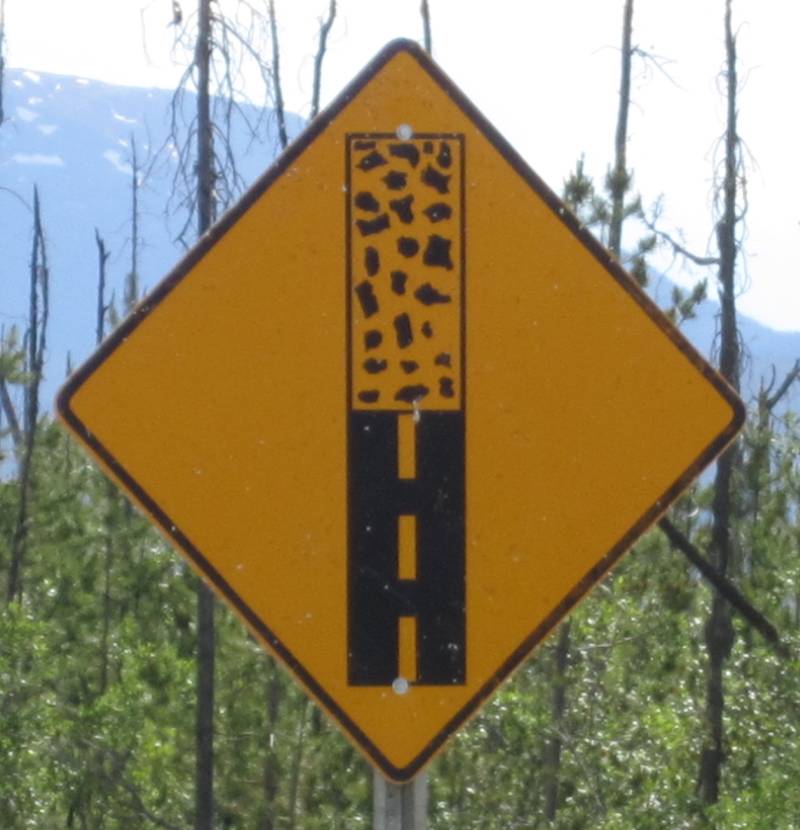 Very easy riding today---but it was beautiful and we were riding where we have never been.
That's all I need really.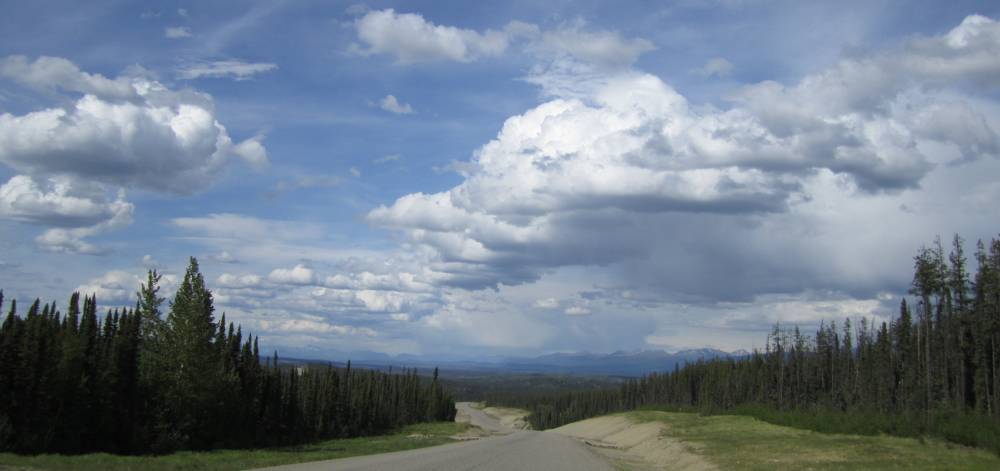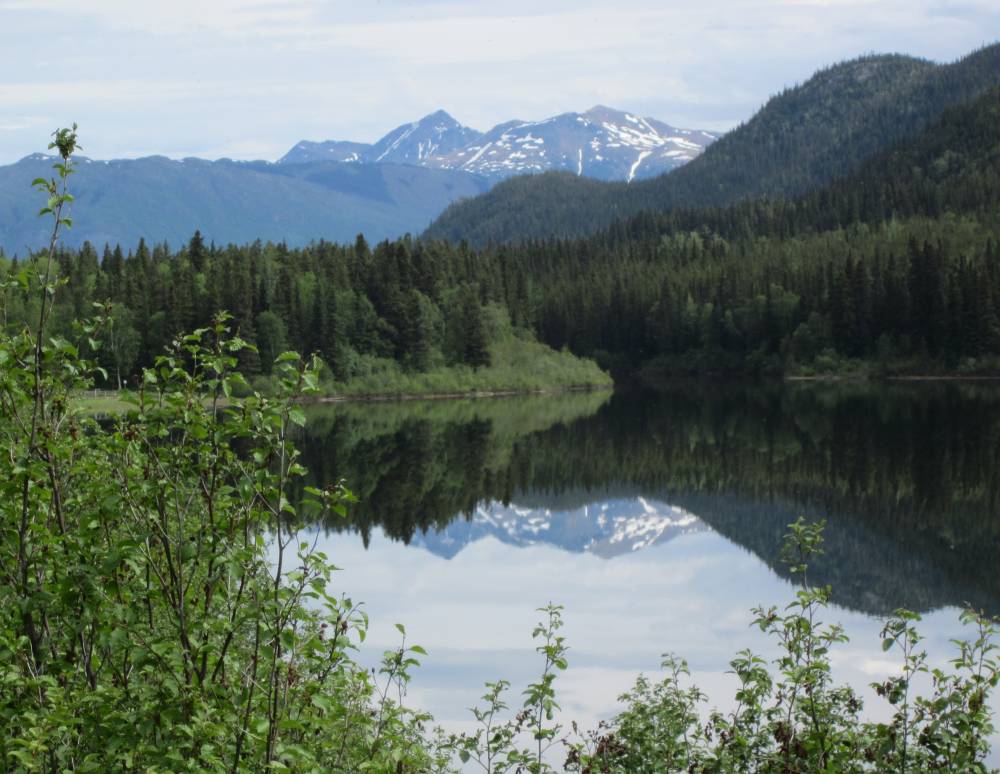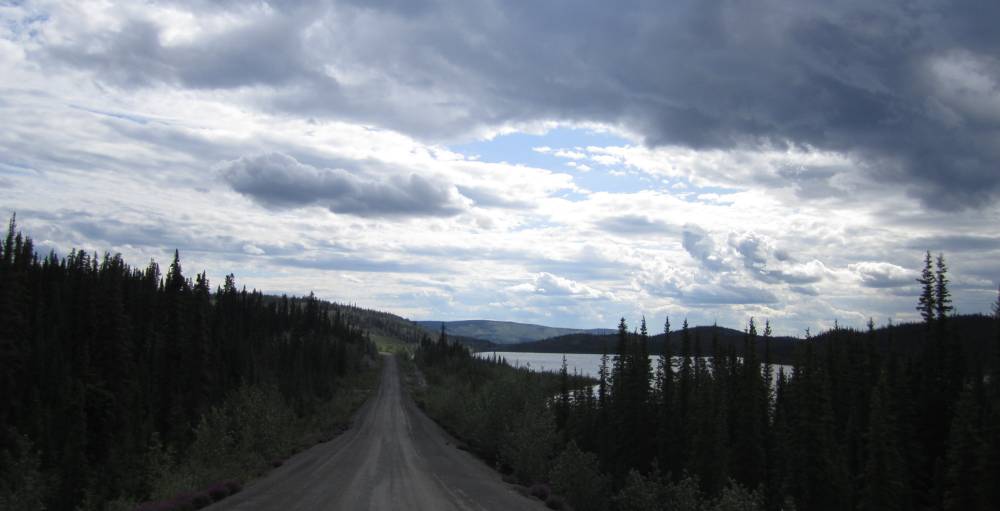 We made camp here on a nice campground on Francis Lake.
I was here that our neighbor came over to make friends----carrying 2 cold beers.
It was probably the only beer I'll drink this year--but dang it was good after almost 300 miles of riding today. He loaned
us a big axe and we chopped firewood for awhile--firewood is free in all Yukon camproungs---Man
I like that. Got to have a fire when camping.
I was dissapointed in the skeeters on this trip. I had planned on getting eatin' alive, but they just weren't that bad.
We'd blow into camp---I'd keep all my gear on except my helmet---put a hat on---squirt a little deet on my neck,
forehead and cheeks---and go about my business of putting up a tent and starting a fire and they just
weren't that much of a bother like I thought they would be. This was true the whole trip.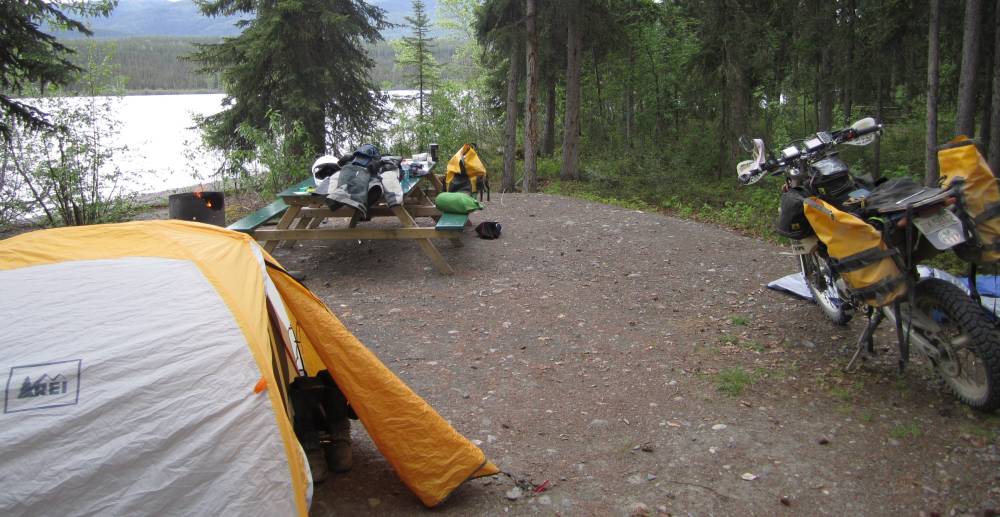 Day 11
June 17th, 2011
We continued North and saw the sign we were entering the little town of Ross River.
I like this town---it was a rough and tumble town and the people that lived there had to be pretty tough.
It was a town of days gone by and making a living here had to be tough.
I talked with a guy who told me how tough it was---getting thru the winters with little to do.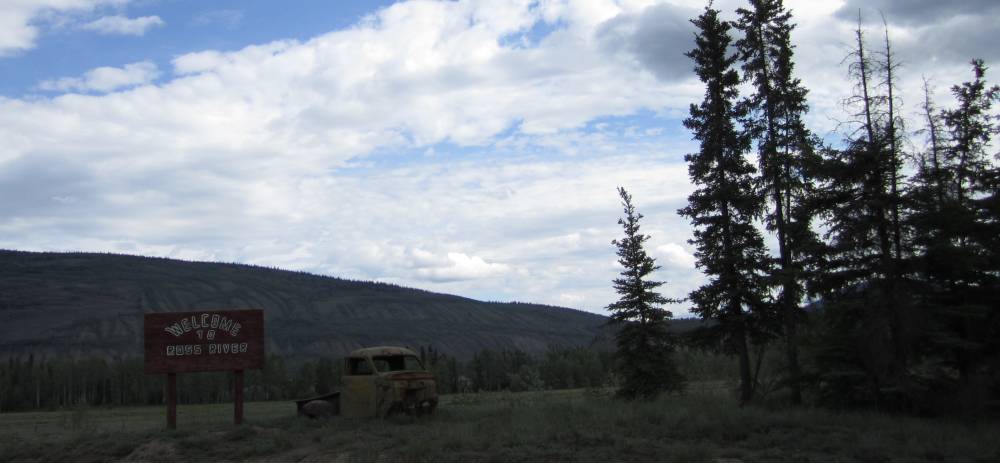 Nothing fance here---if you want fancy you should have taken another road in the first place.
As we walked in to this restaurant for breakfast.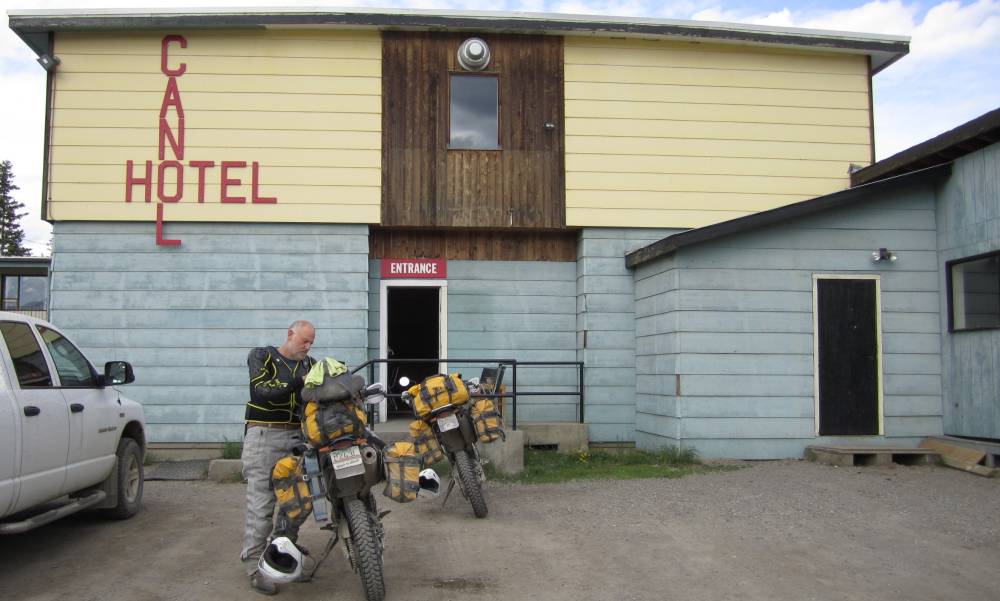 Like I said--life is tough here and the short summer months to make a living are just too short.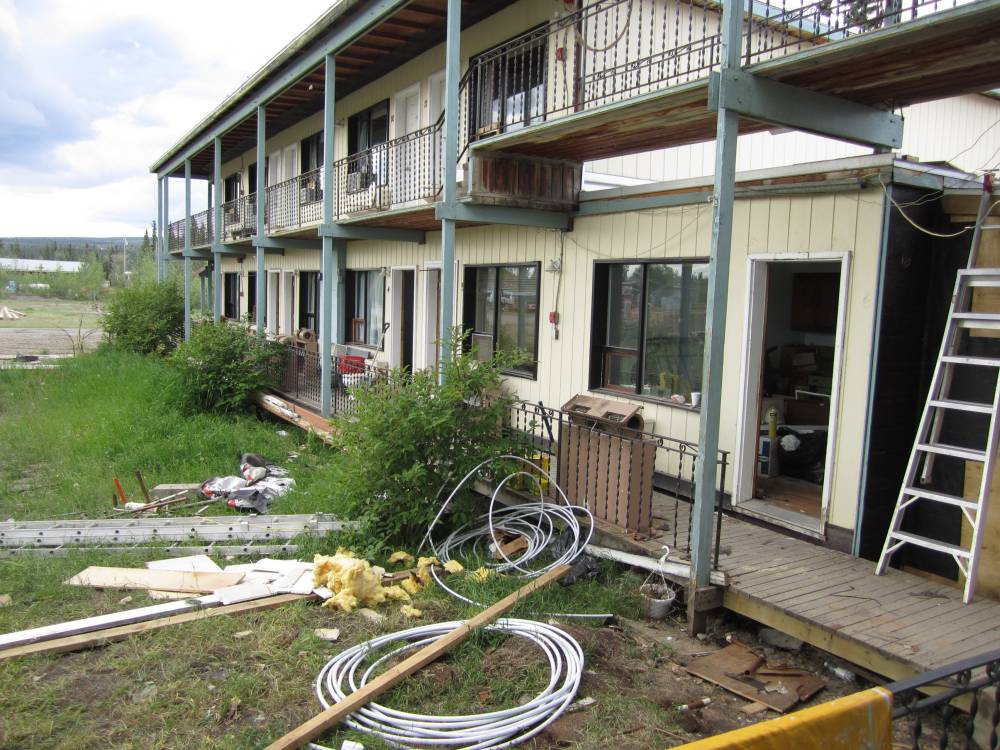 You want the best breakfast you ever had---come to Ross River and the locals will treat you right.
I'm not much on food pictures--but that's making me hungry.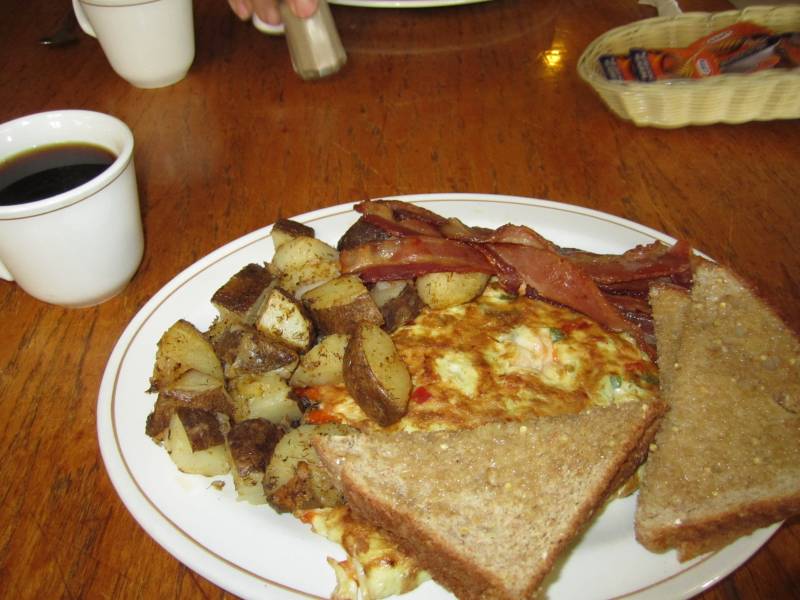 This barge will take you across the Pelly river to the North Canol road.
The North Canol road was built as the Alaska haul road was---a road built to access the oil pipeline coming from Norman Wells.
The pipeline was supported by this bridge you see in the picture---the pipeline only survived a year.
Going North on the Canol road will lead you into a road being swallowed by mother nature after you cross into the
Northwest Territory---lot's of old trucks and equipment still out there rusting away I hear.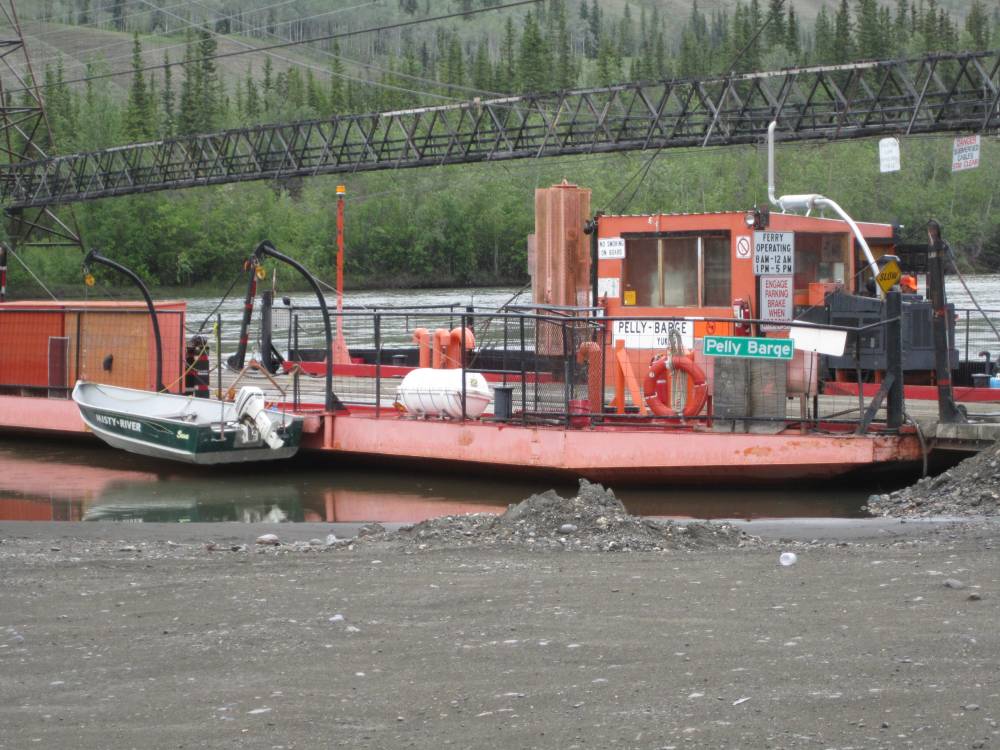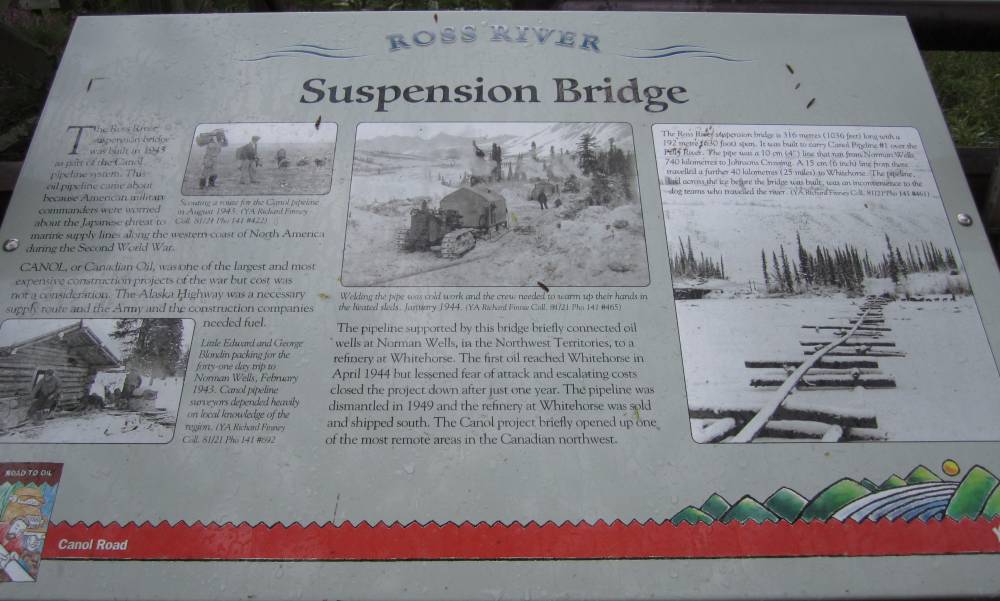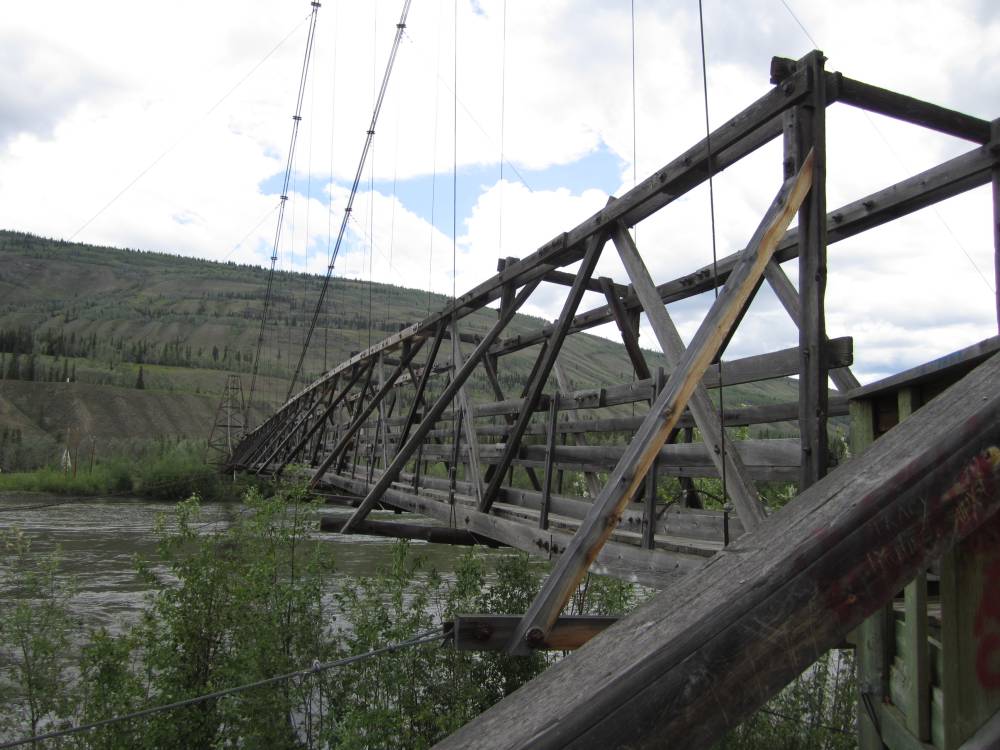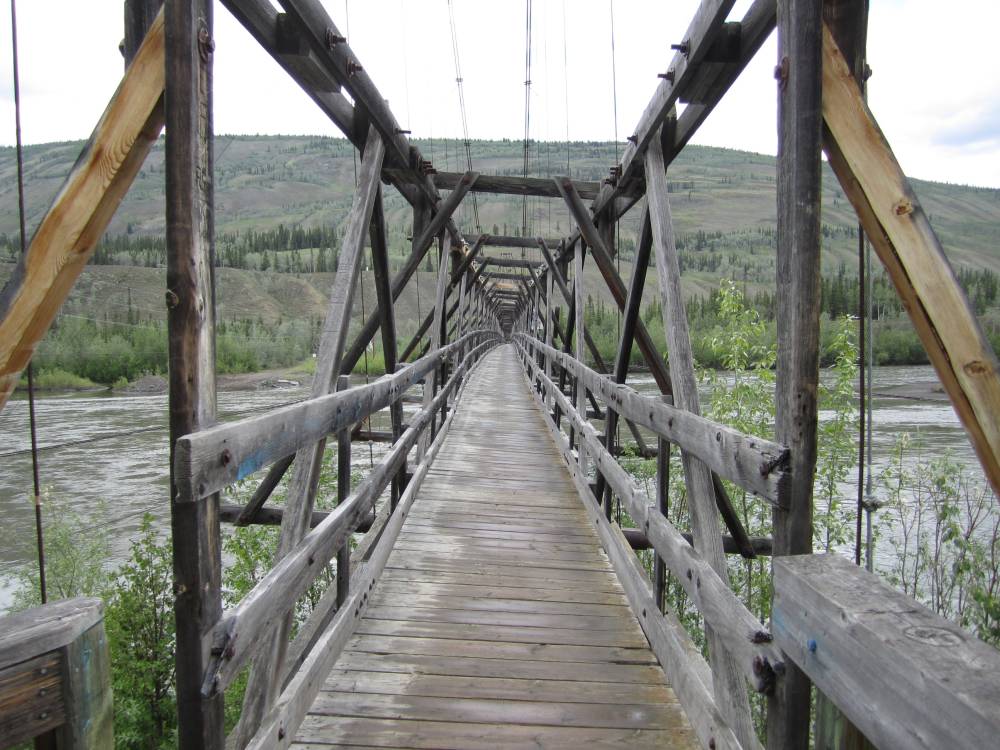 The bridge really looked in good repair to me----and of course--I had to get on it.
I wasn't leaving until I did.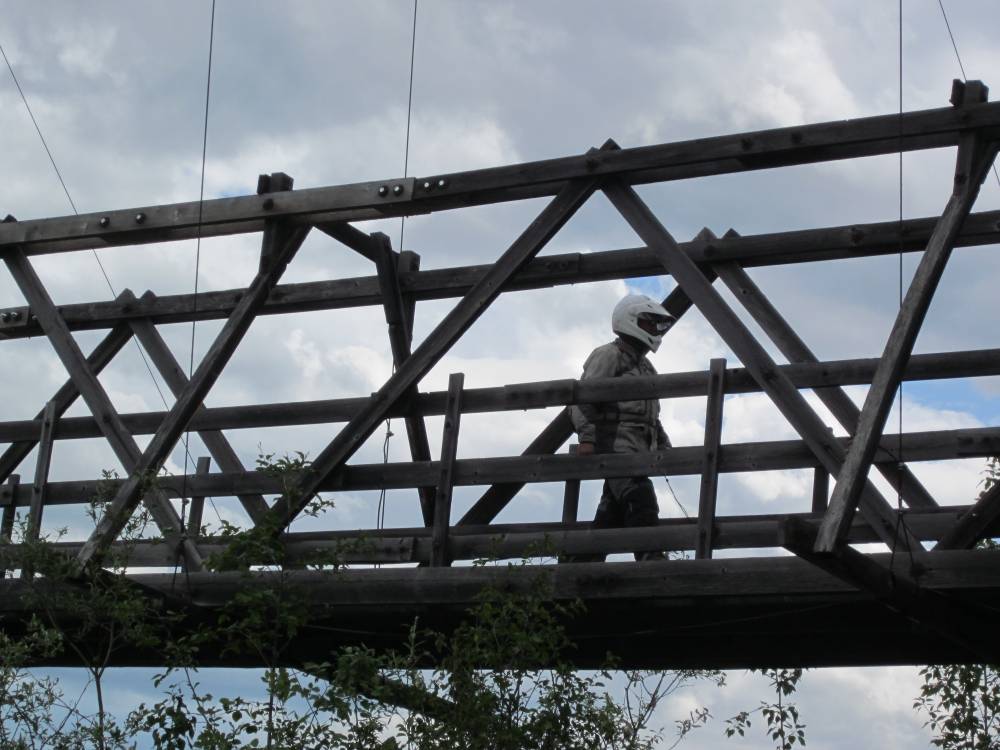 View from the bridge up the Pelly River.
I think I did hear of some more mining going on now up the North Canol road.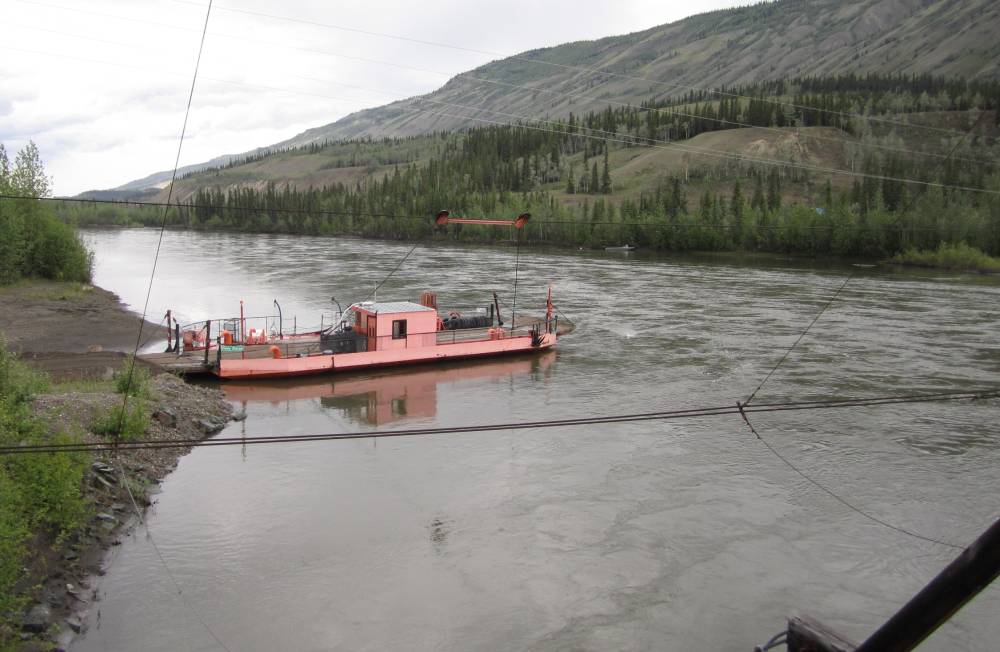 I think this is crossing the Stewart River.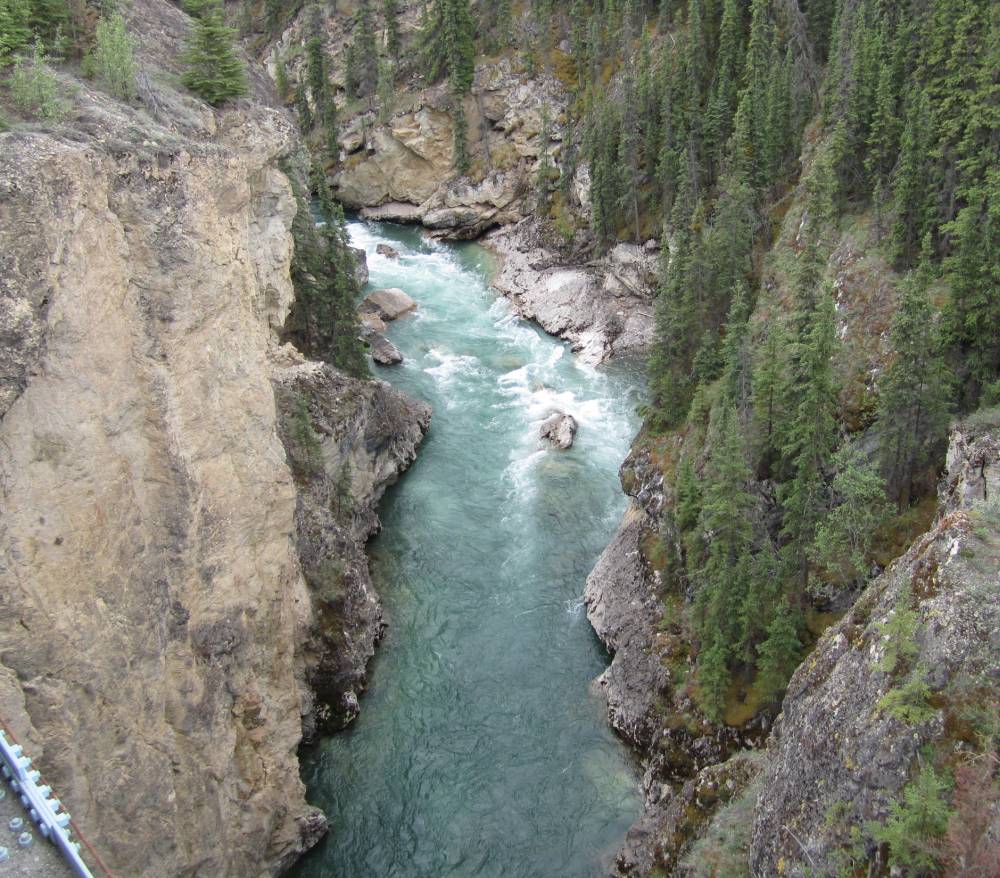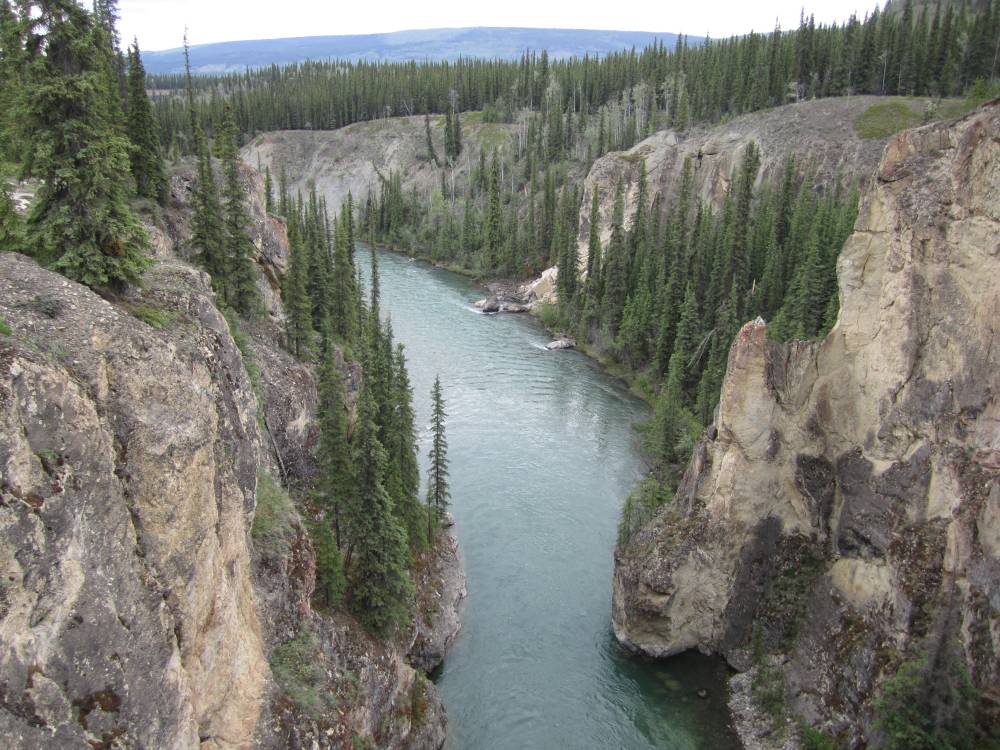 BC sign----what do you see ?????? A bumpy road ???
Or a woman with 3 breasts !!!!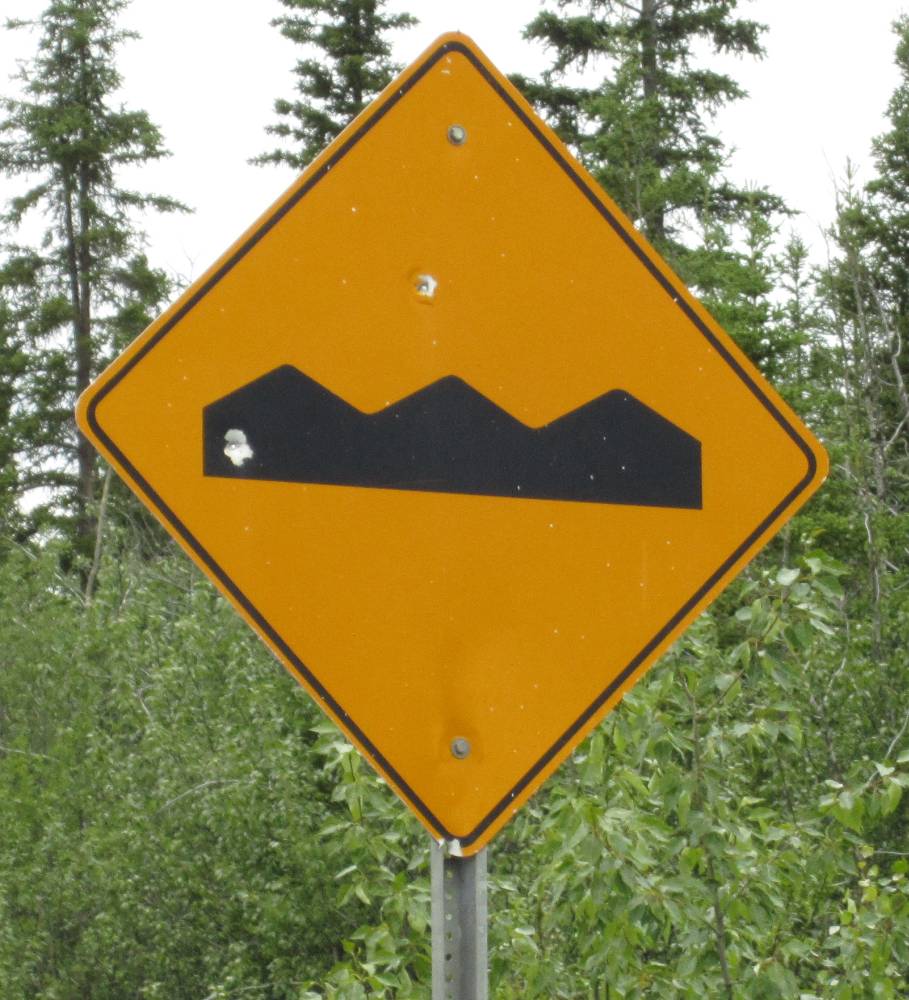 Another BC sign---what do you see ???? Rock slide area ???
I see a bears paw--then I had bear on the brain this whole trip.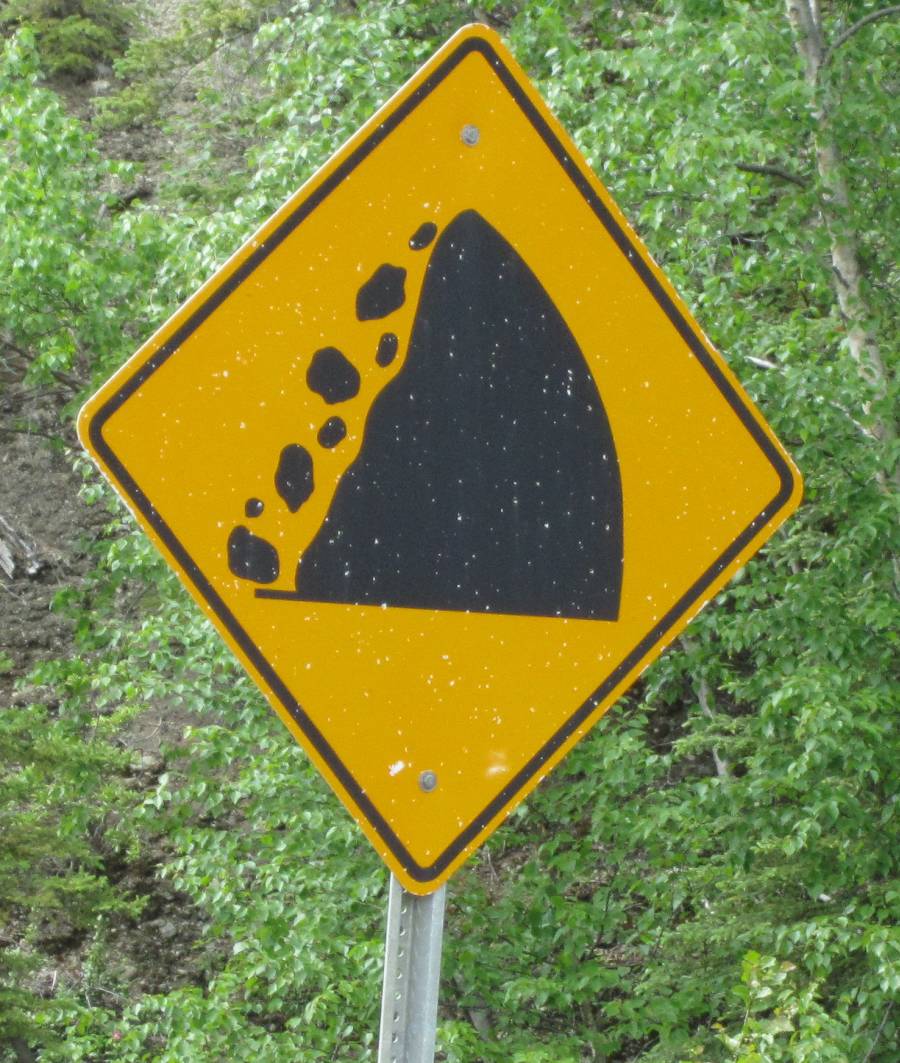 Right here on the Yukon River is where the SS Columbian sank.
Read below how it happened---what a deal that was.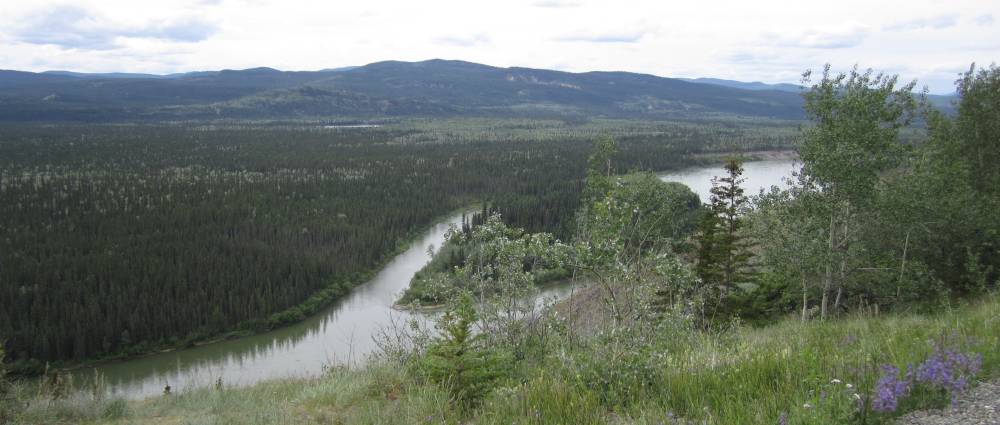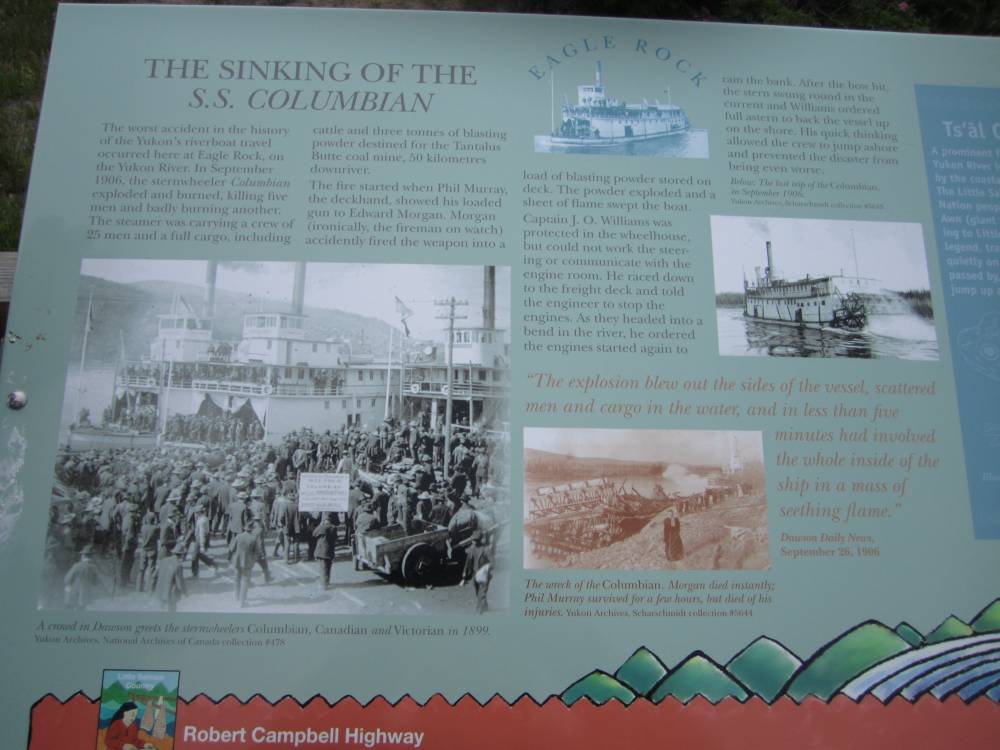 You see whay I got bear on the brain---they were everywhere--if you weren't seeing them--they were seeing you---and
bear poop everywhere---I mean everywhere. Every shadow and tree stump looked like a bear to me.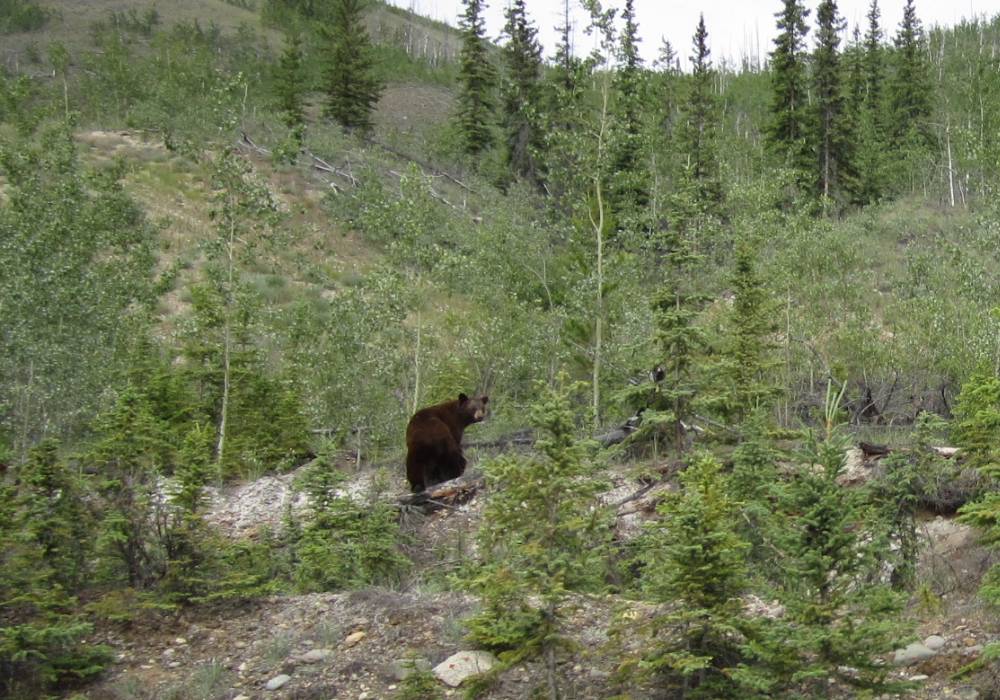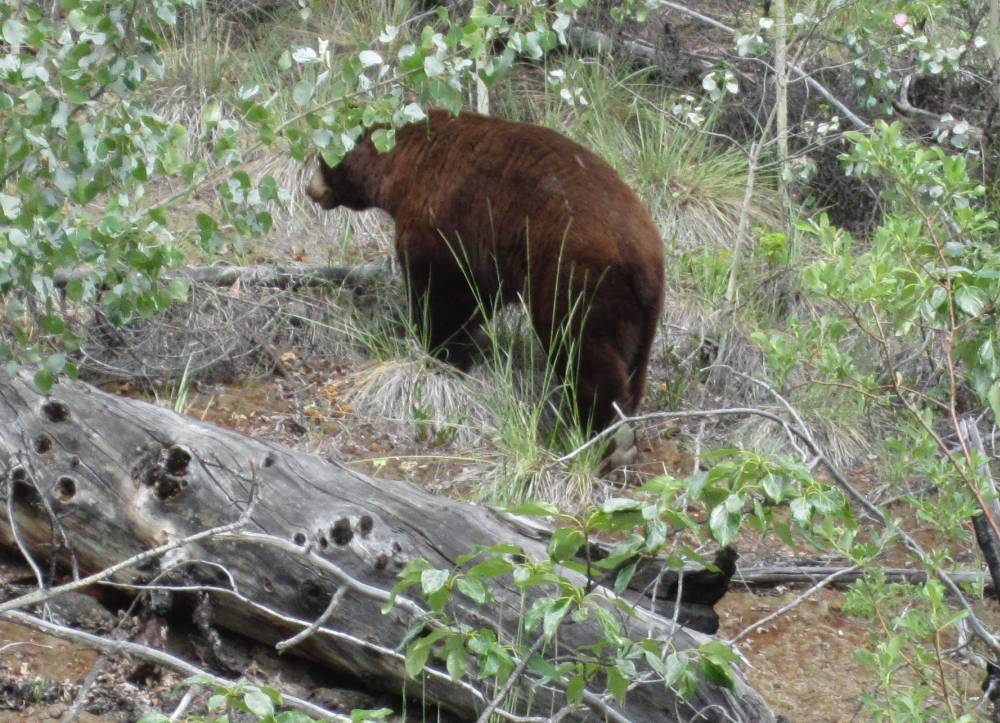 I saw this guy------Scott didn't---------I stopped and told him I saw a grizzly.
We went back and he said it was just a brown colored black bear---------oh.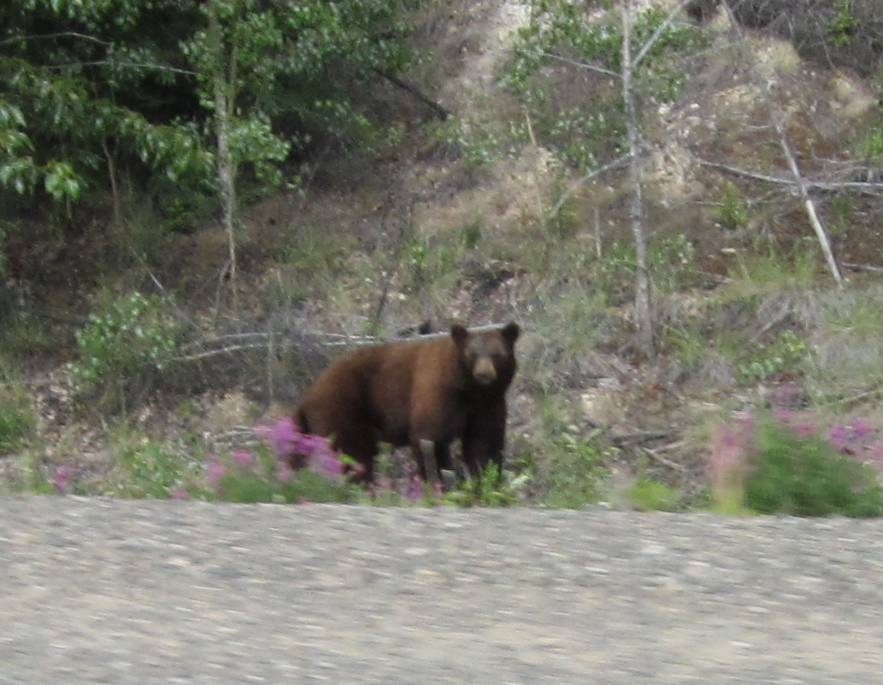 We approached the town of Dawson --------so much history here.
A lot of dredging went on here and huge rock piles of dredged rivers and creeks were everywhere as we approached and
they were even building subdivisions amongst the rock piles.
A lot of neat old restored building here---this place was neat but was crawling with people---I couldn't believe all the
people in this town after traveling out on those lonely roads.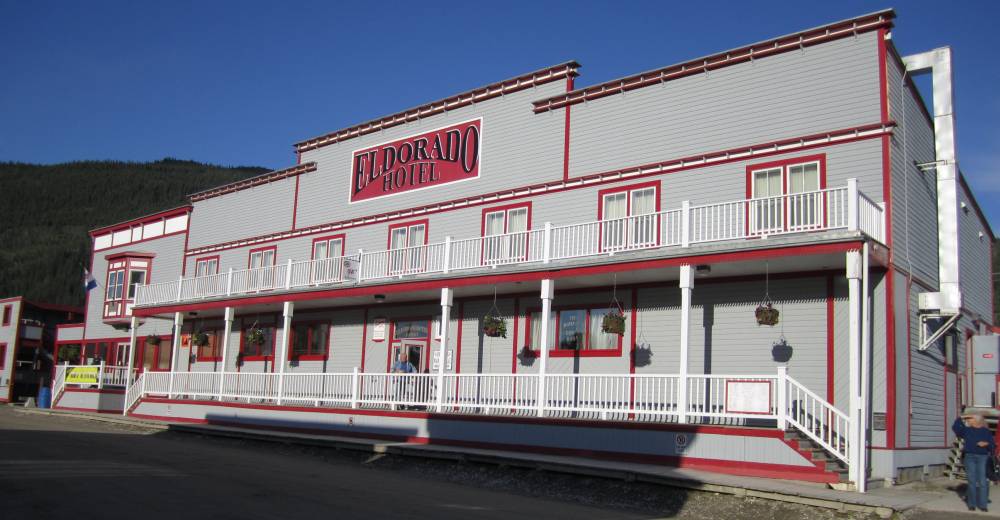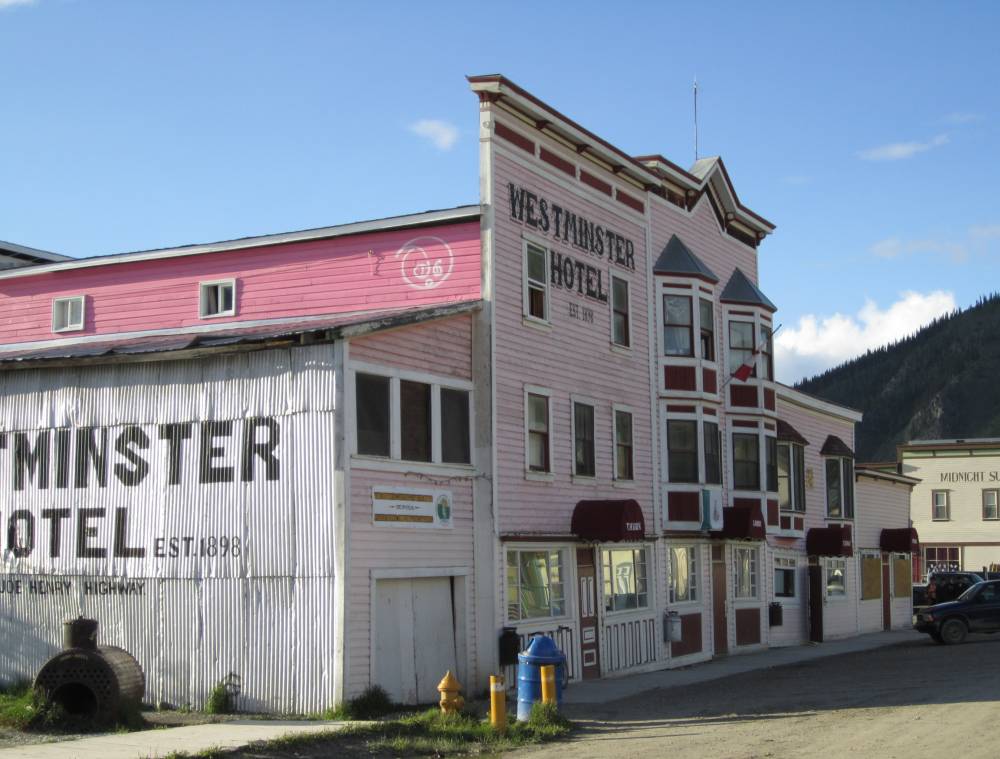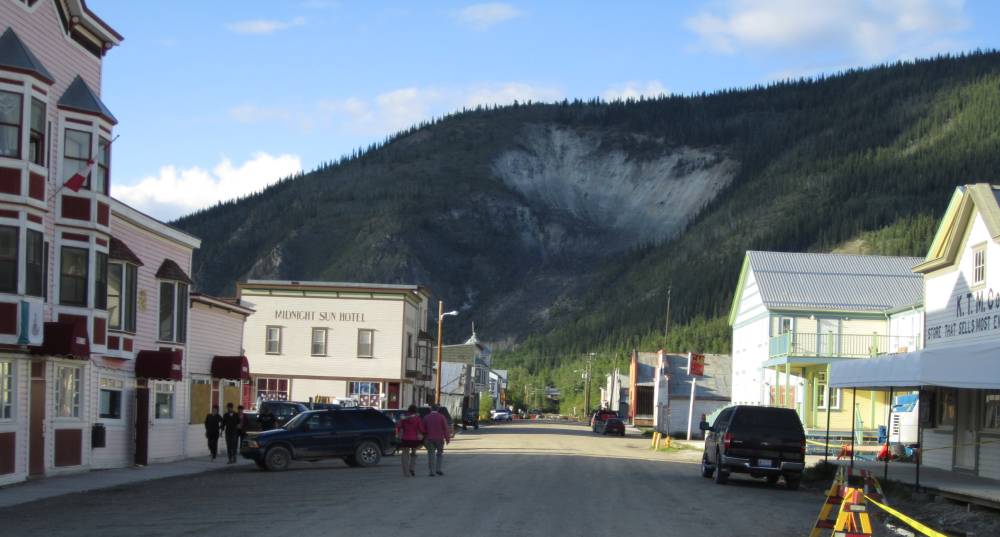 This place had a casino in it------I don't gamble---why in the heck people want to pay these places water, gas and electric
bill, I don't know--I got my own to pay--sorry I just don't get it and never will.
But I did try to talk Scott into the can can show---but couldn't get er' done.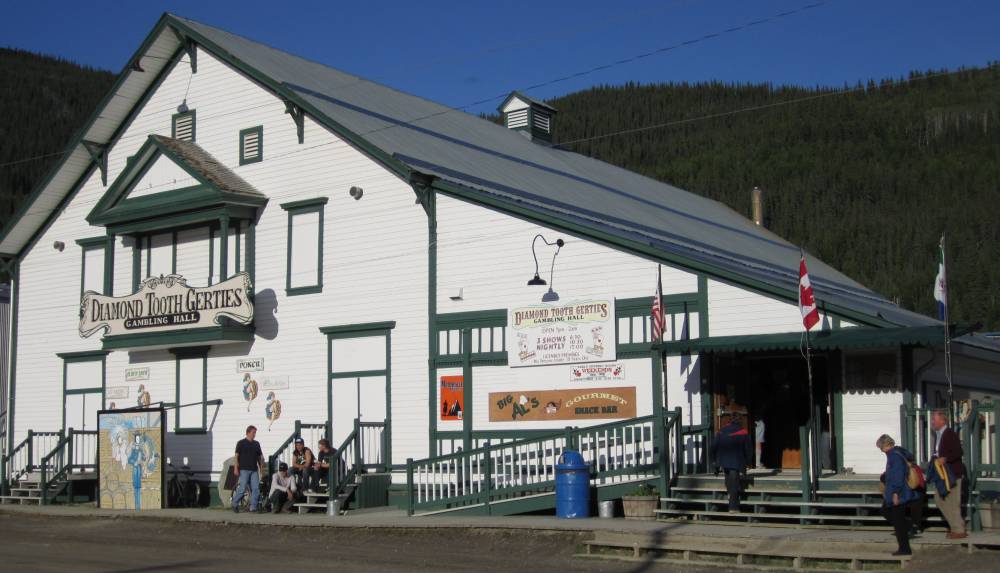 We ate dinner and breakfast here---good food.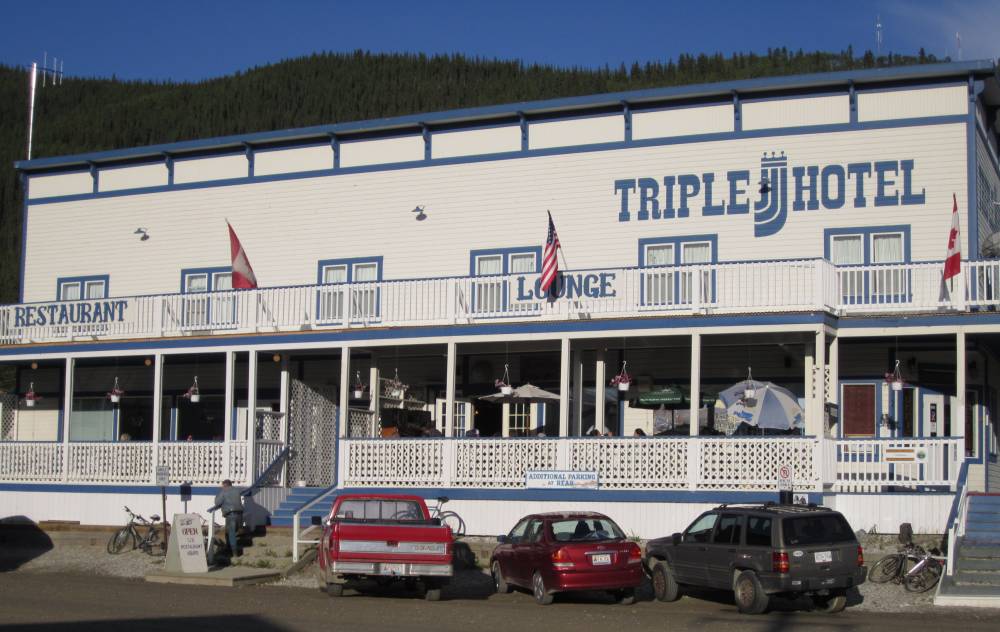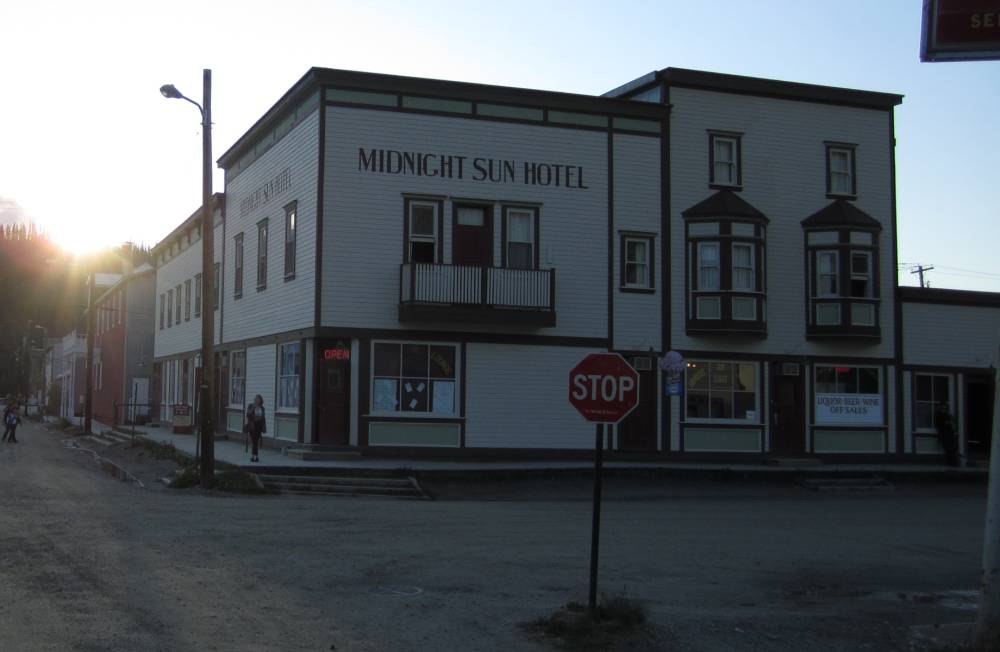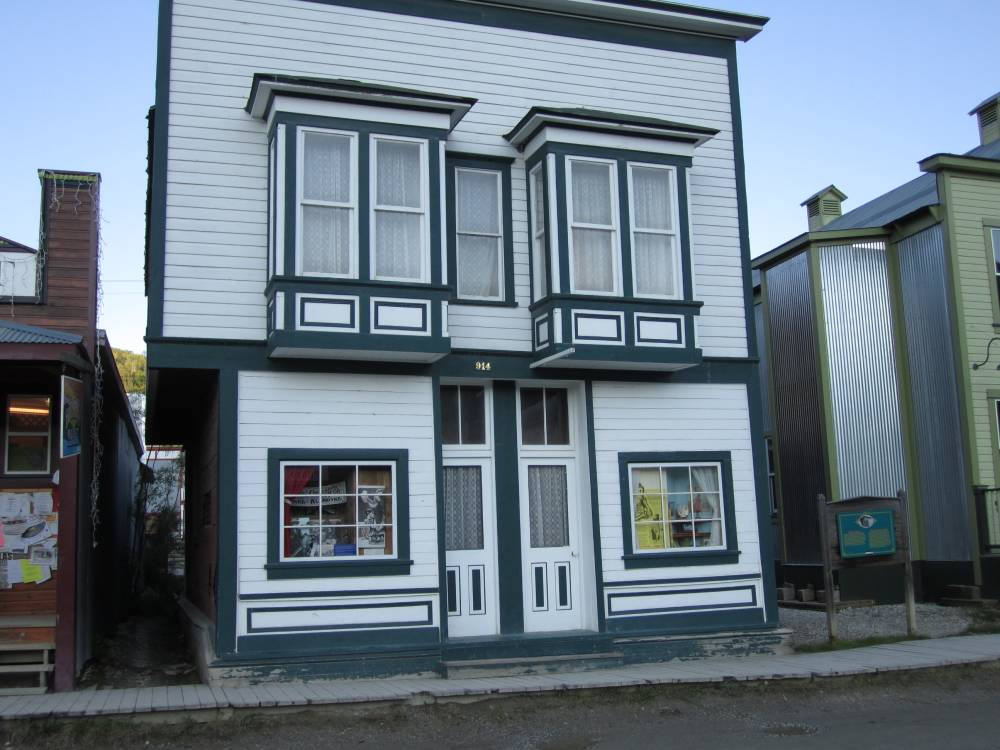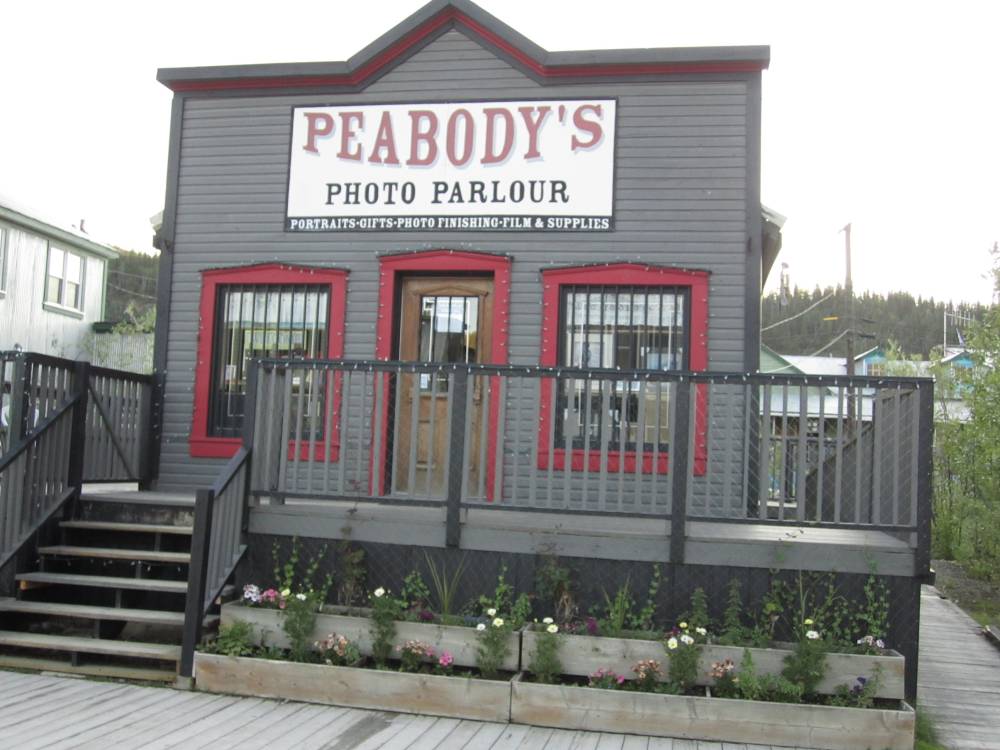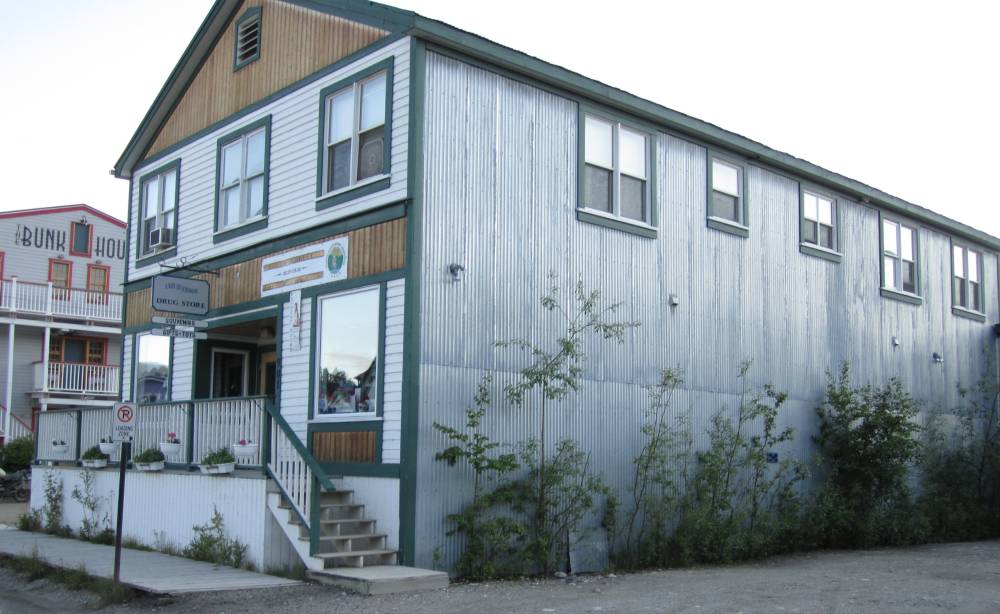 Lodging here is very pricey----we stayed here for the night
The Dust To Dawson motorcycle rally was in a few days---but we motored on.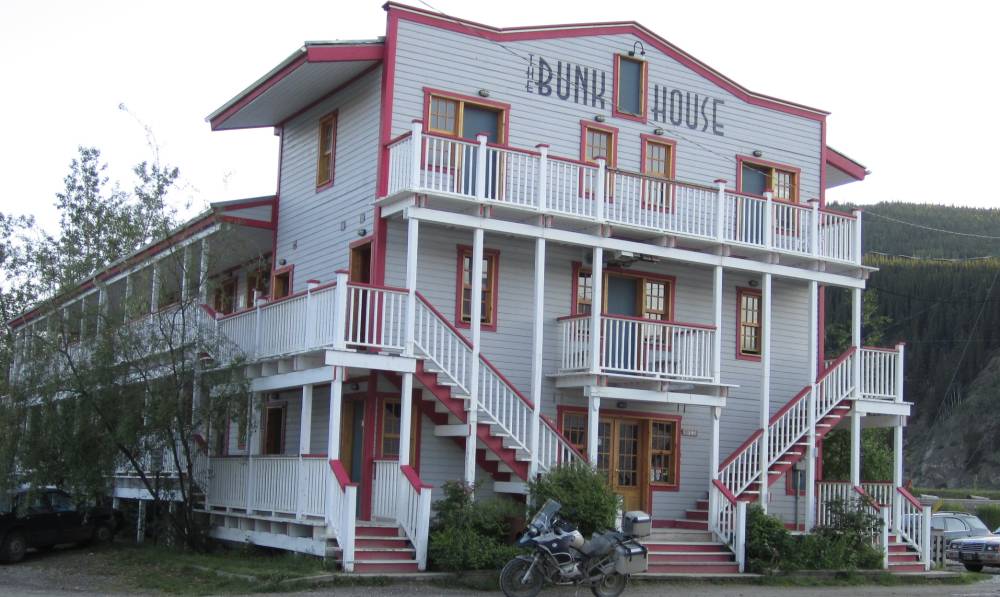 The beds in the Bunkhouse were pretty short.
I'll leave this picture up--till Scott makes me take it down. !!!!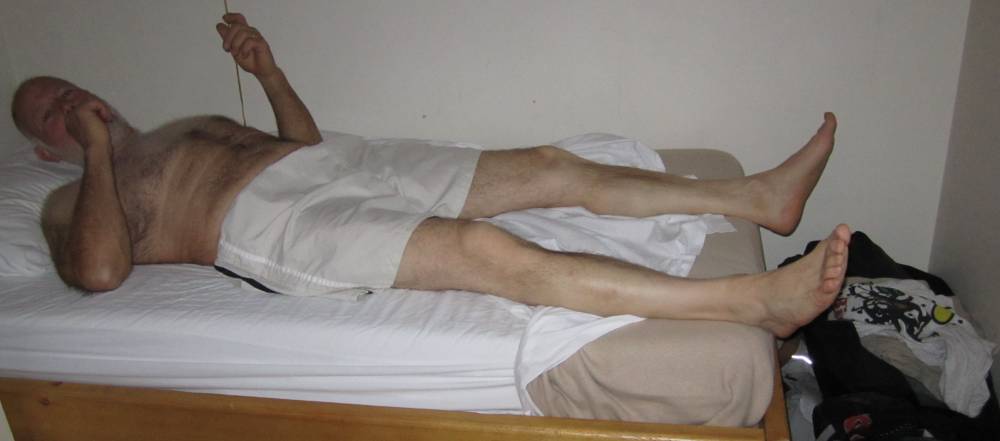 Day 12
June 18th, 2011
We left Dawson and you must cross the mighty Yukon River to ride the Top Of The World Highway.
On the ferry ride I showed the guy on the ferry that we were going 4.7 mph. Didn't seem to impress him--I guess
I should have had my gps set to kilometers--which I did sometimes---this made if much easier for me to watch
my speed coming into towns---which reminds me---we just never saw any police on this ride.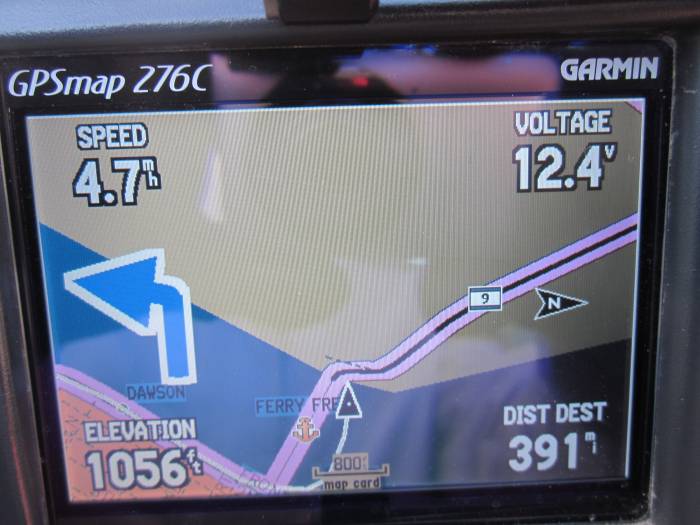 It was somewhat of a fiasco crossing the river on the ferry. We crossed and rode about 10 miles when I realized I had left my
credit card and cash in the motel room. We scurried back--rode the ferry back to Dawson and I ran in my room (which I hadn't locked) and
grabbed my stuff-----phew !!!! We scurried back to the ferry and they were all loaded up but had just a little
room behind a truck---and I hurried down there and just as the gal was ready to close the gate she saw us
and let us board----they hadn't made a run since we got off of it.

On our first boarding there were 3 lines---one for really big vehicles--one for ordinary vehicles and one for small vehicles.
The gal would point to the line in which she wanted the next vehicle to board and I just knew she'd
hold both hands up like she was riding a motorcycle and twist the throttle when she wanted us to board
and she did--------that was just kind of neat.

So many bikes up here---most riding just like us---maybe on a several month cross country trip.
Most were riding solo---and you have to stop and think how tough these riders were and how vunerable they were
to the weather. They just couldn't twist the throttle and run to the next town, campsite or restaurant.
I'm sure they were mostly camping alone in the wilderness probably in a spot in the woods they found.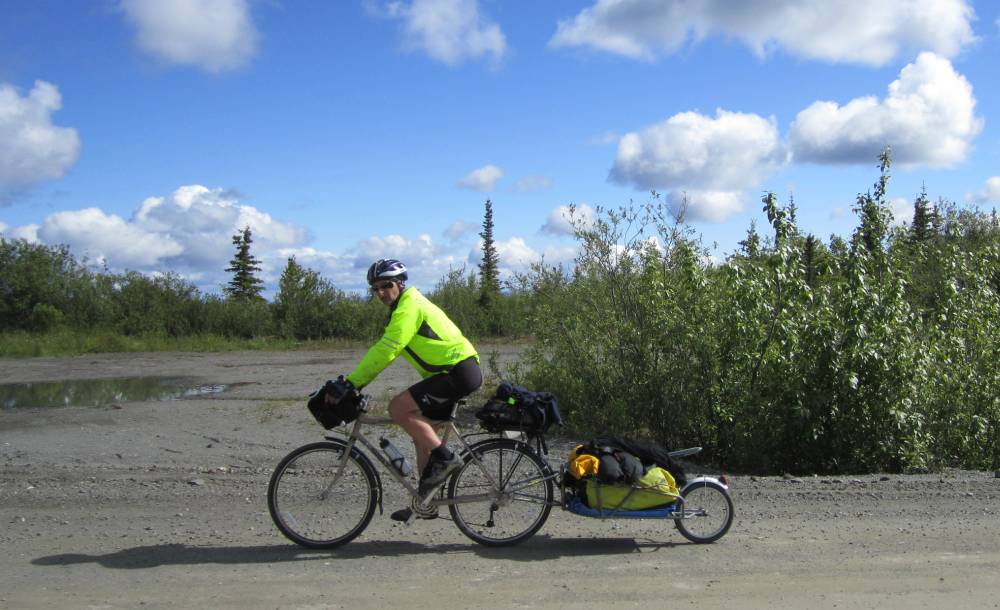 The top of the world highways was one of favorite parts of our entire ride.
Even in the summer it closed down often because of washouts---and the way around is about 750 miles
if you had to get around it.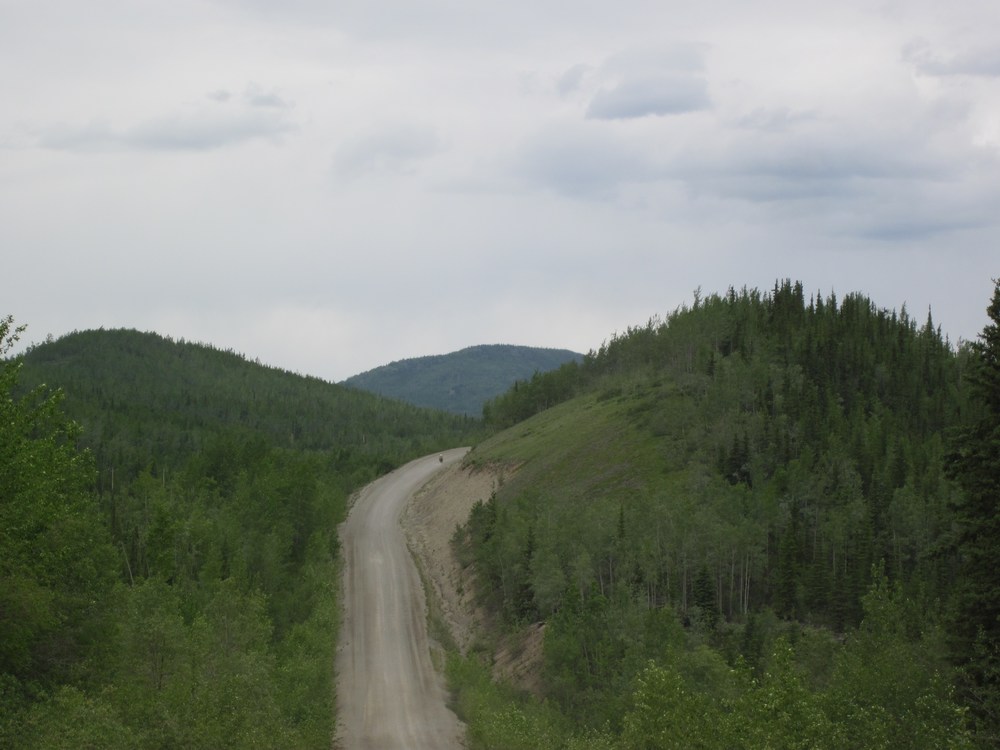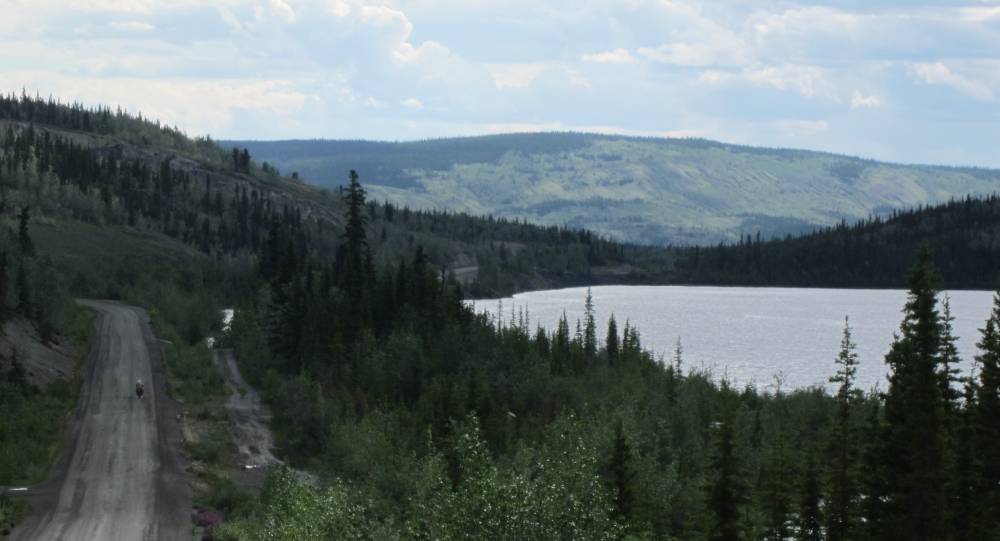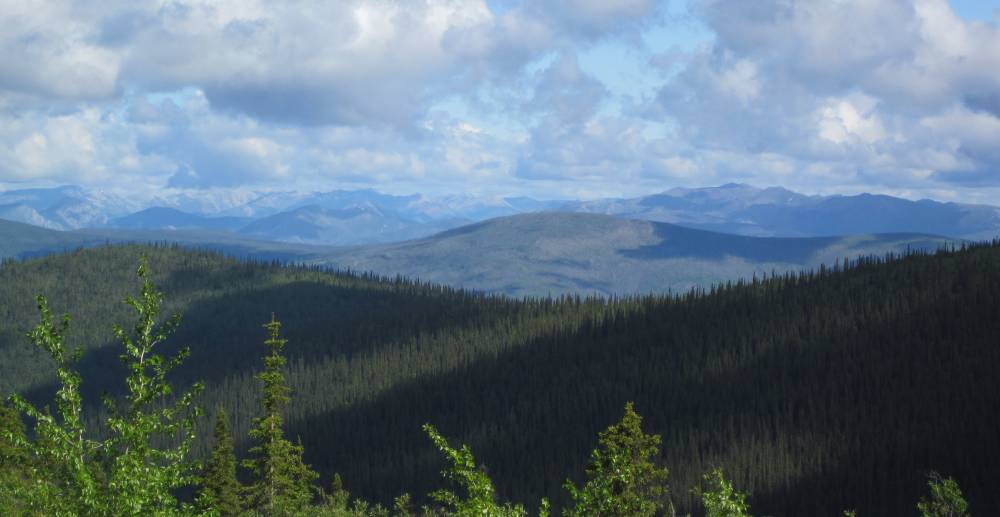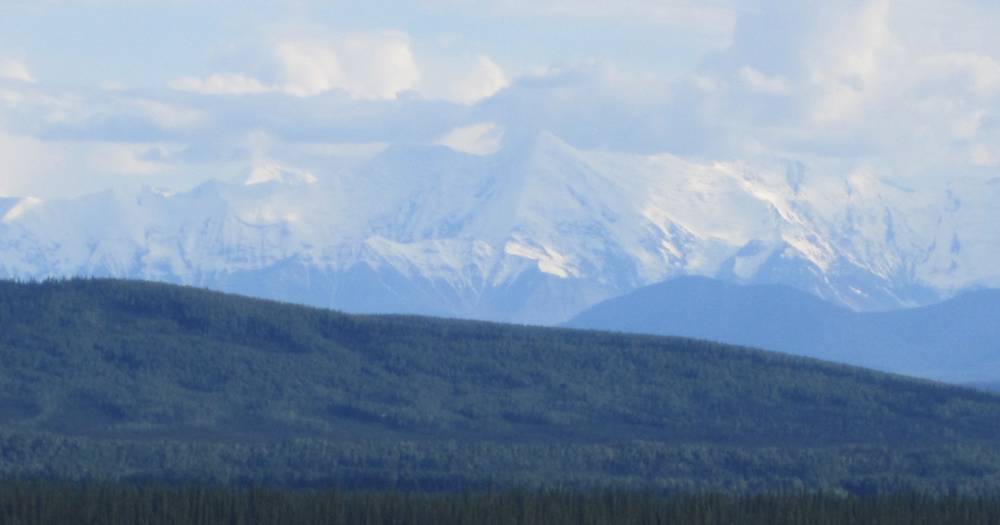 Me and Scott are approaching the border here---one of only 2 border crossing to get into Alaska
from the Yukon.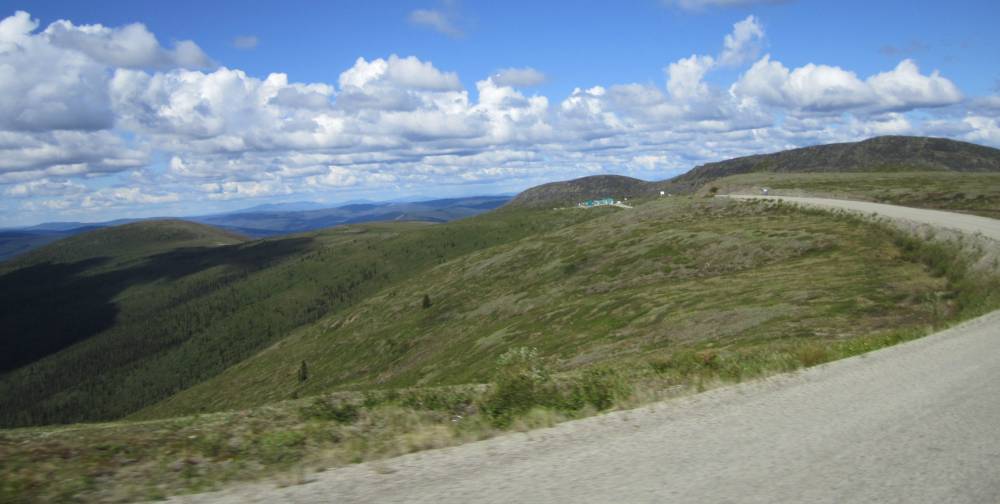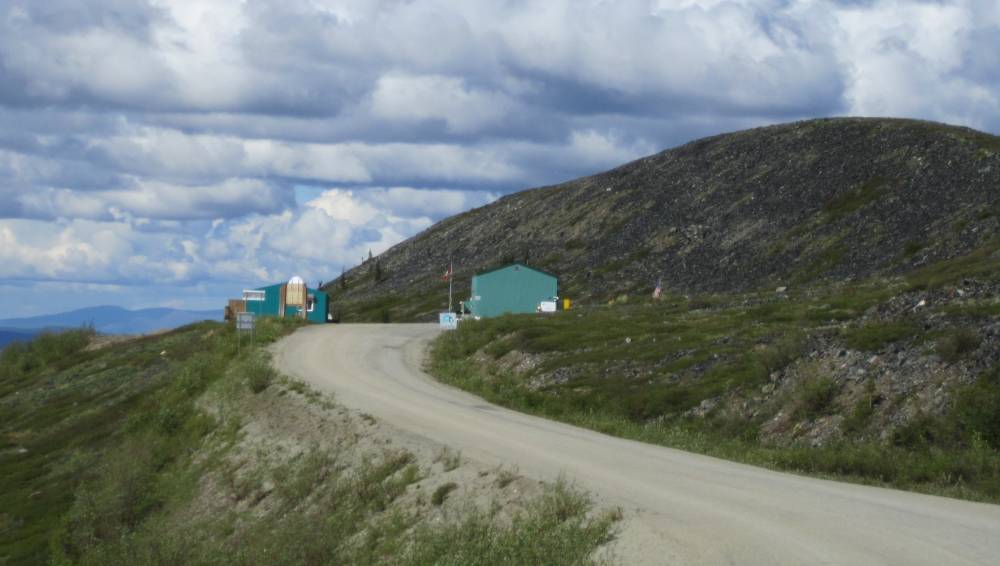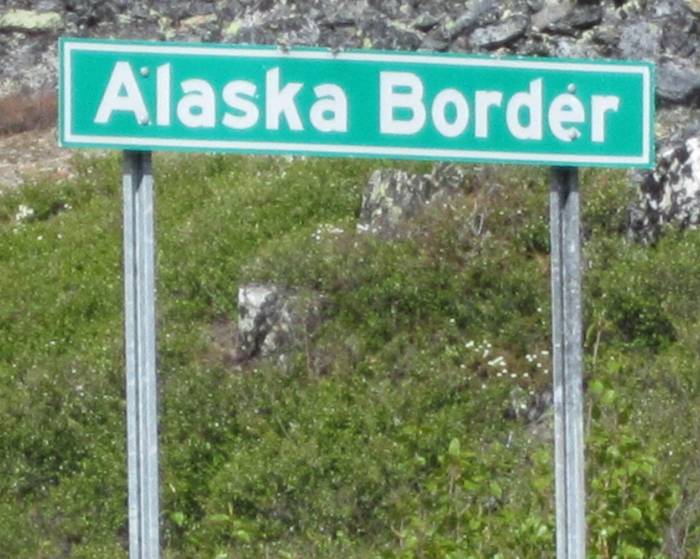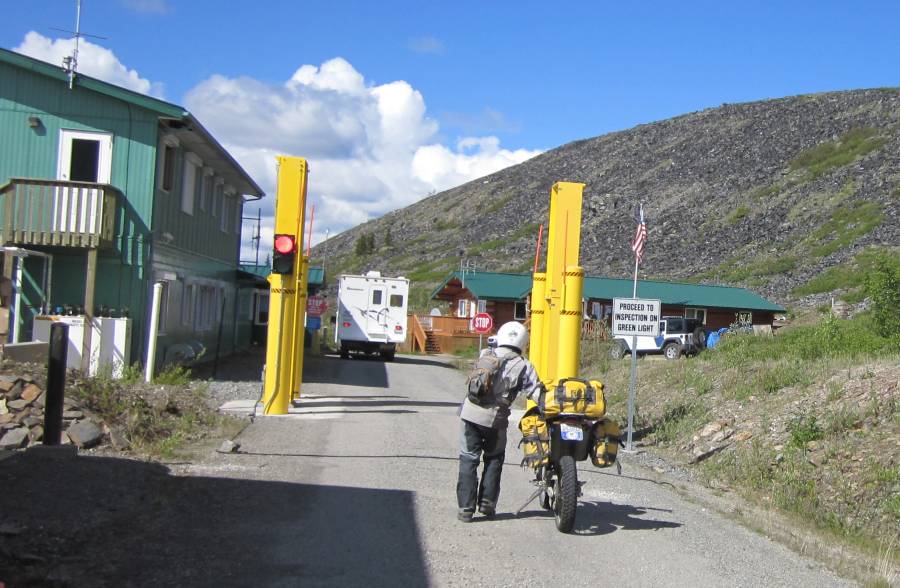 There is no town here really---it's on the maps I suppose--but it's just a border crossing and had only what
looked like to me was a place for the border people to stay.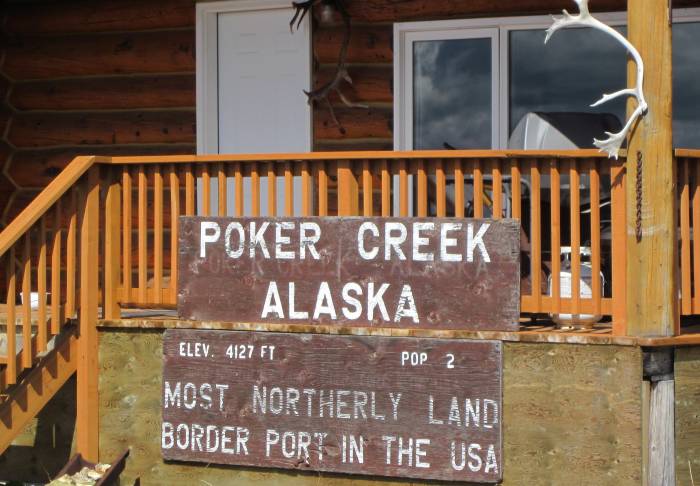 We blew into the very small historic town of Chickedn, Alaska and poked around a bit and had a snack.
Chicken was settled by gold miners in the late 1800s and in 1902 the local post office was established requiring a community name. Due to the prevalence
of ptarmigan in the area that name was suggested as the official name for the new community. However, the spelling could not be agreed on and
Chicken was used to avoid embarrassment.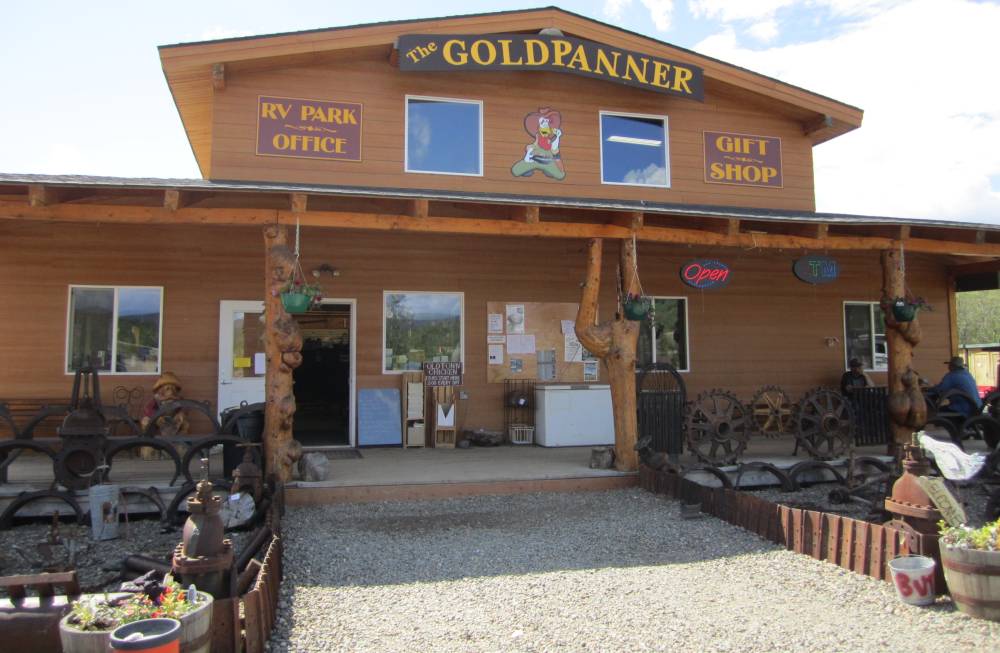 Everything is all about Chickens in this town---everything.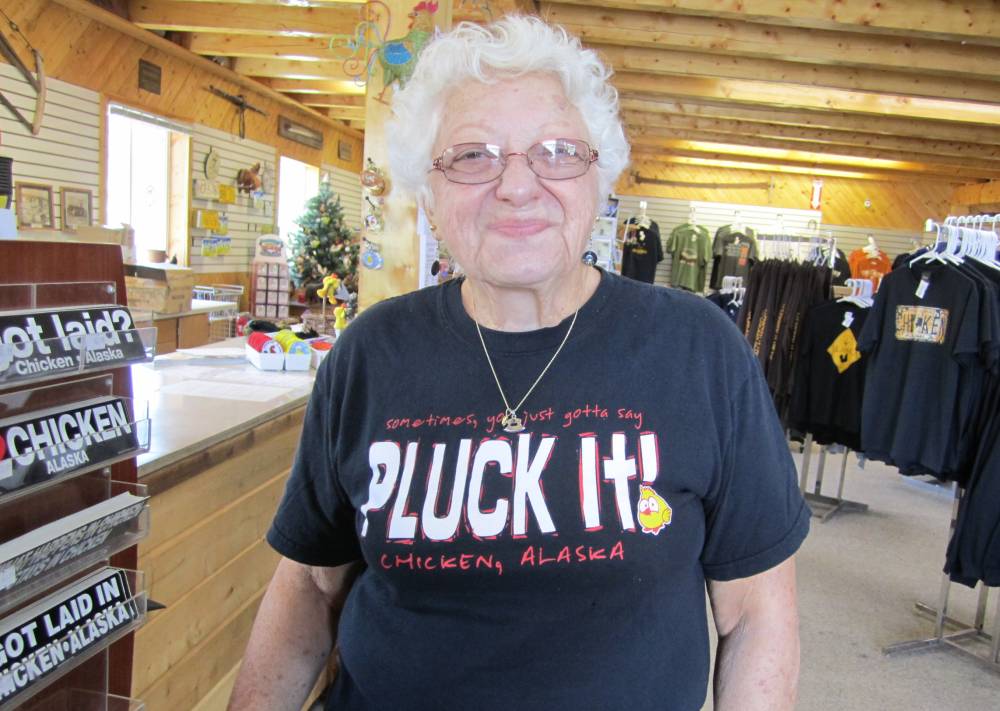 I'm not sure which one of these fellows is older.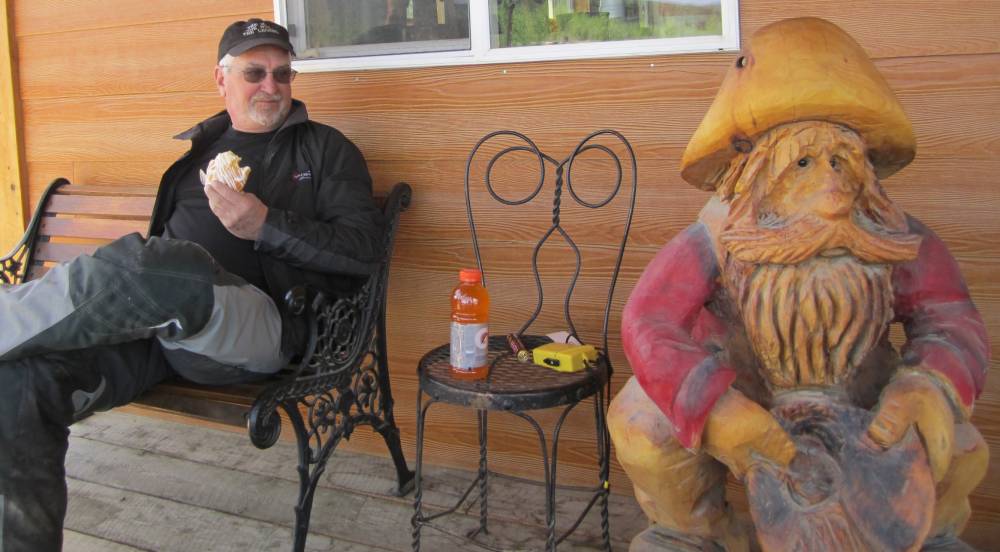 I"ve found out thru the years that the older I get---the bigger my rear sprocket gets.
This may be next for me. That'll slow me down.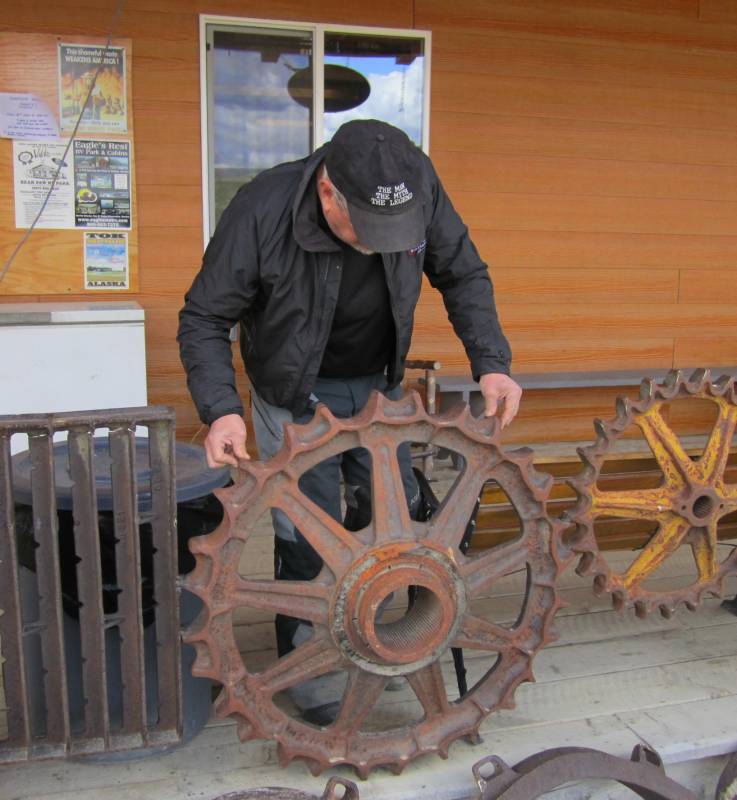 There are at least 3 old dredges in the area and they are a huge piece of machinery.
Man it would be neat to see one of these things running---but that was a long time ago.

It was a hoot visiting these to blokes in Chicken.
Both on KTM 950's.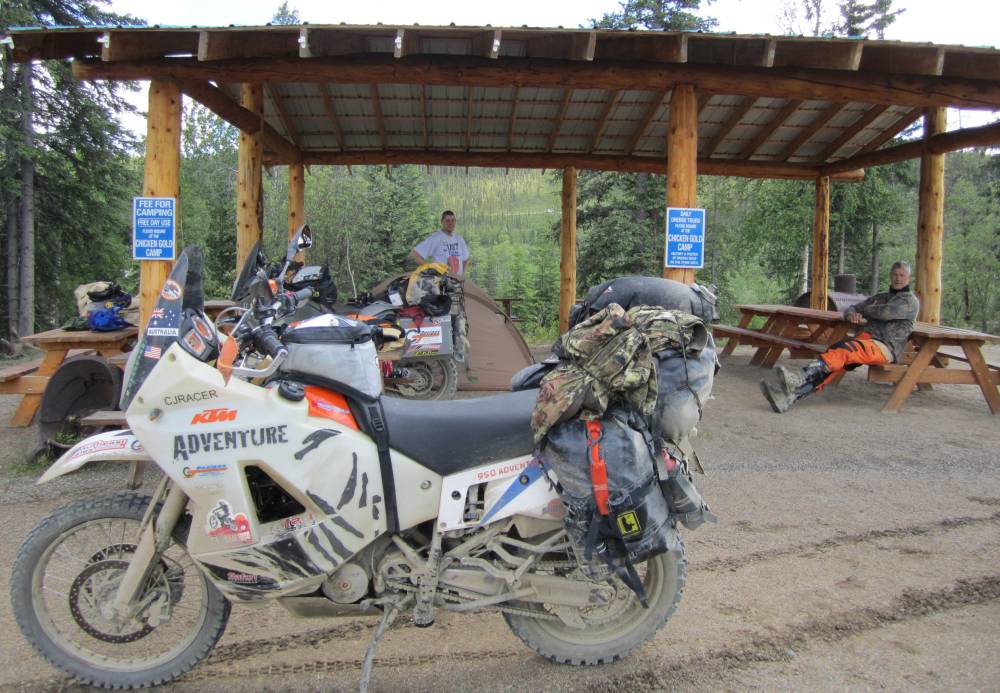 This guy here has to be 7ft. tall---and I saw him riding thru Dawson and he made the 950 look like a mini-bike.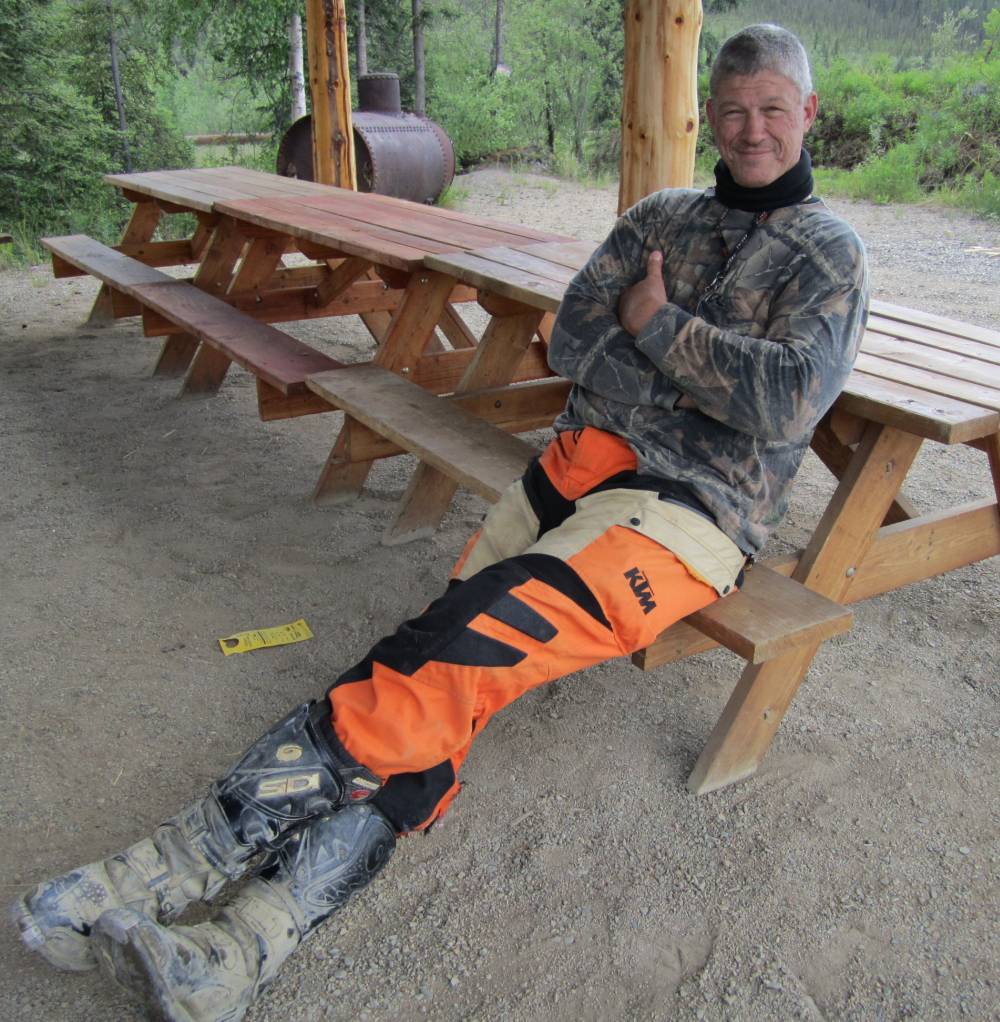 Both of these guys were serious riders--way more than me--and one said his 950 had 2-wheel drive
and it was the only one in the world-------yeh right !!!!!

Here is the mechanical drive mechanism going to the front wheel.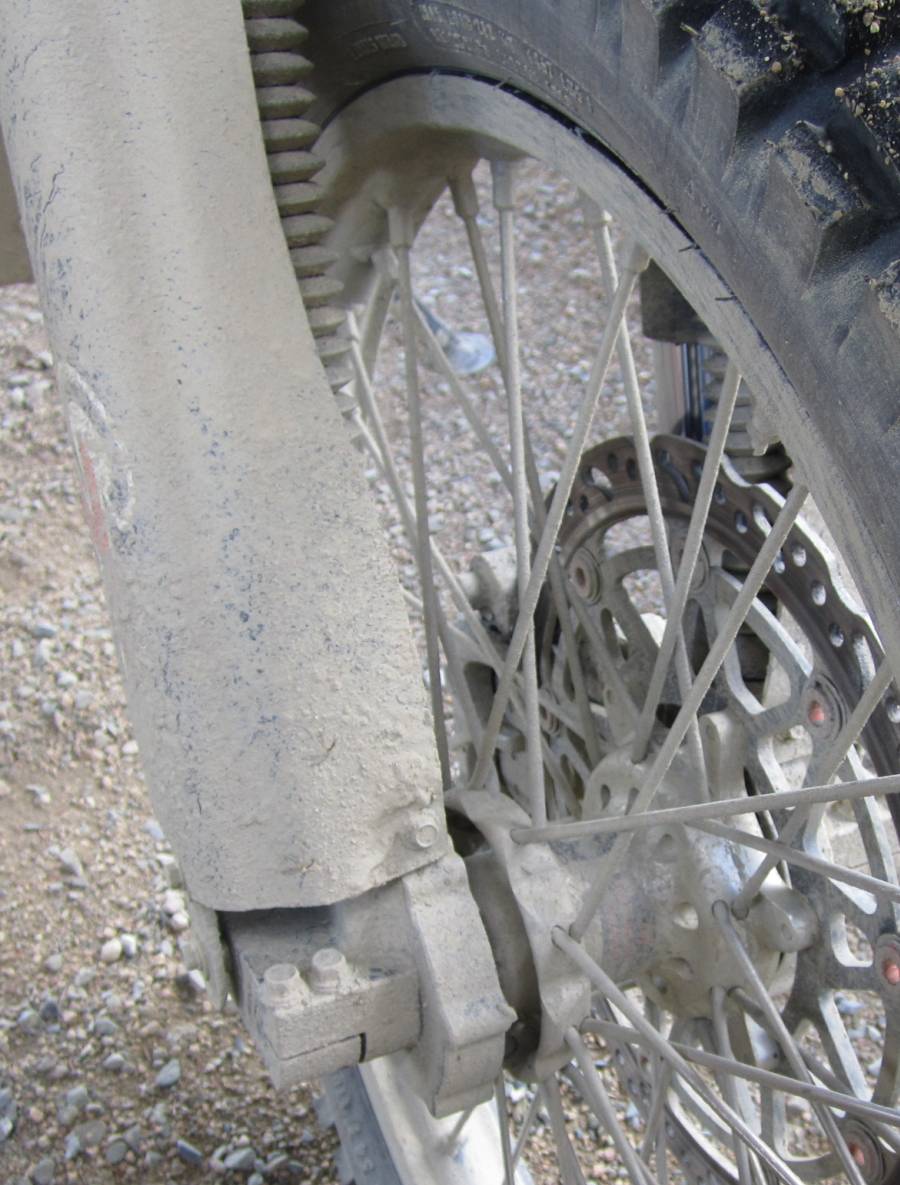 Here is where the front wheel drive gets is power---off the countershaft from the transmission.
He adapted all this stuff from a kit off another bike---I think he told me.
And it had worked flawless for over 25,000 miles.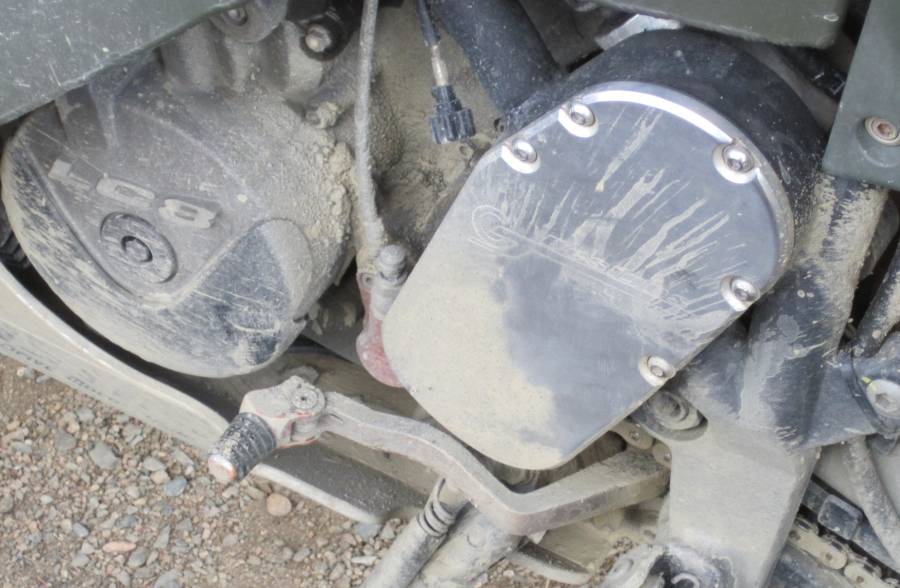 He also had hand made these huge aluminum gas tanks by hand
I think he said they were 14 gallon tanks. That's him in the background--quite a talented a creative guy.
They said they rode anything on these bikes--even single track--I knew after talkng with them awhile
that I couldn't hang with them. I suppose they snickered at my 250 after I left.
Nice fellows tho---I got a kick out of them.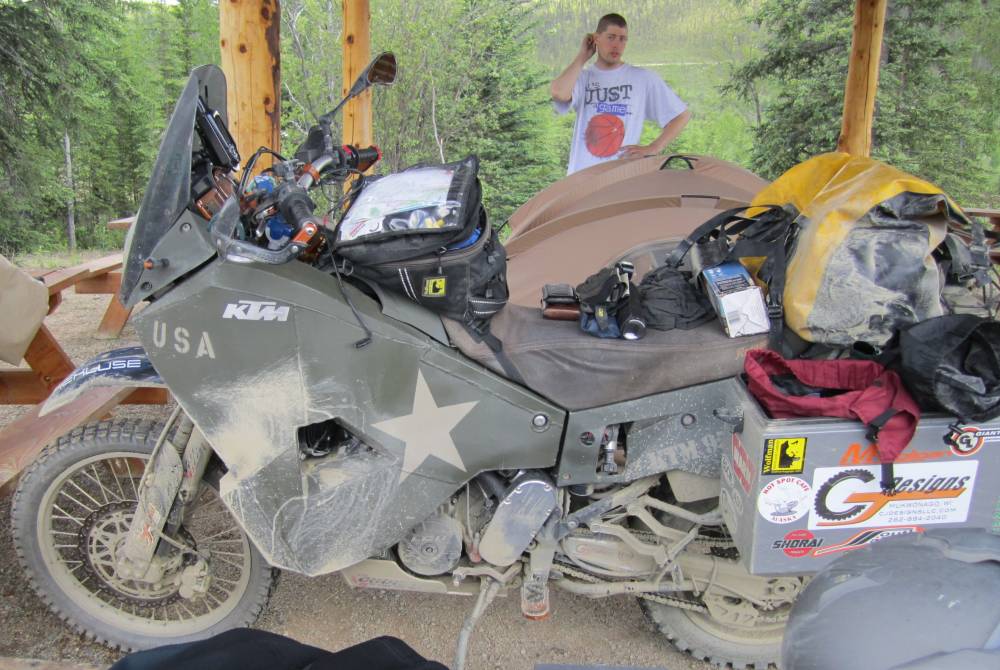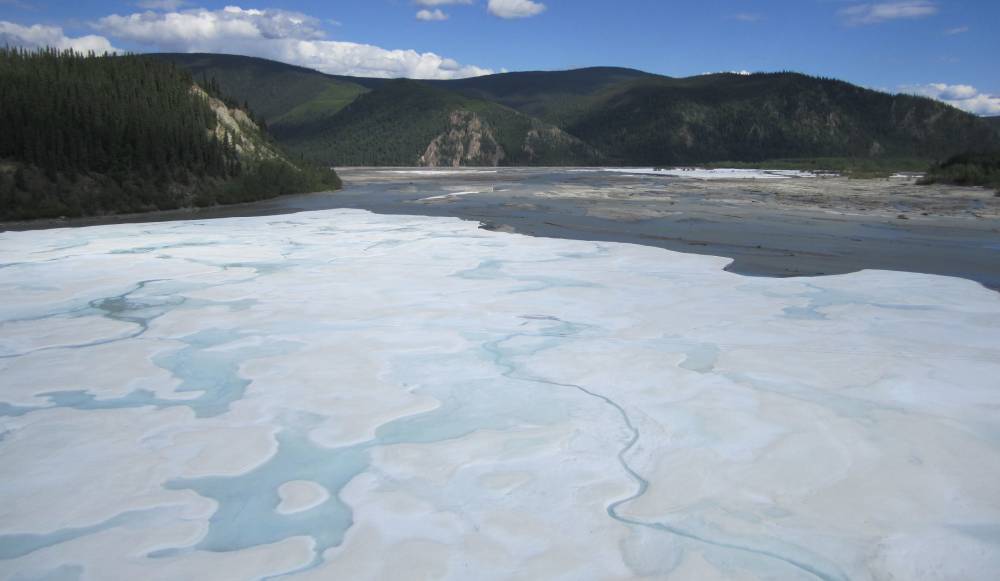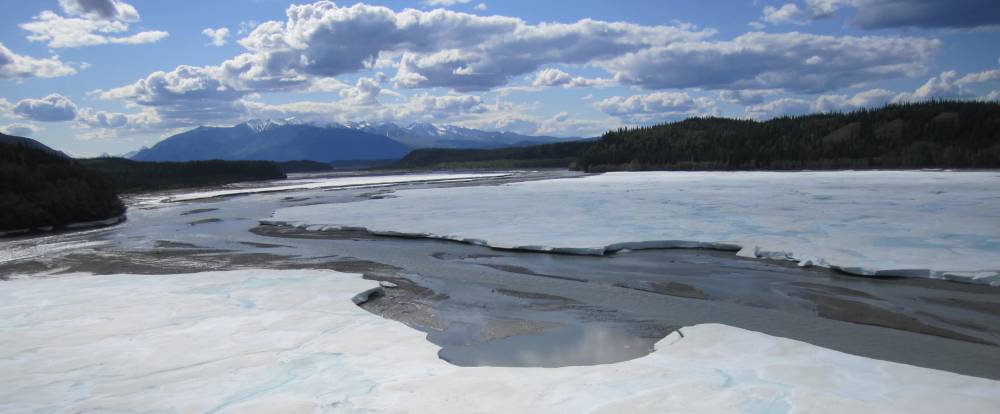 We ended up in Fairbanks today and had almost ridden 500 miles.
I had promised my wife to stop in the Little town of North Pole on this trip and buy here something.
It was 2 minutes till closing time--they didn't have what see wanted me to get, but me and Scott
sent cards home----from "The North Pole".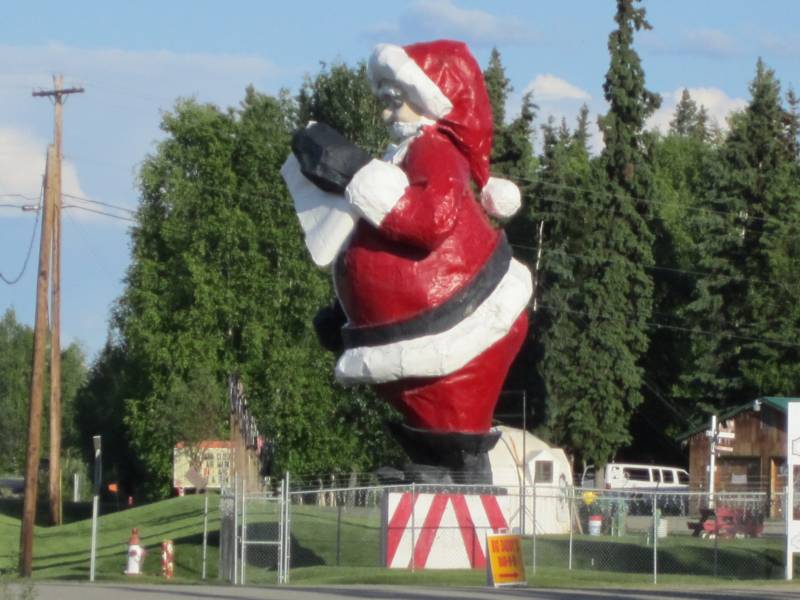 To go to Day 13
Click HERE
To go back to my homepage click HERE