Day 9
Sept. 13th, 2012
Camp in Winnett city park to Super 8 Motel in Coalstrip, Montana

This sprinkler thing is just too funny. We slept a little uneasy thinking the sprinklers would come on in the night.
I'd asked the gal next door at the pool if she could shut the sprinklers off till we left but she said she wasn't allowed to.

Like very busy little beavers---without a word from anyone----we all were packing up earlier than normal to get our tents off the grass in case
the sprinklers came on. We got all packed up---walked a block to breakfast and when we came back................
You can see what we found. Some of our gear under the shelter almost got wet.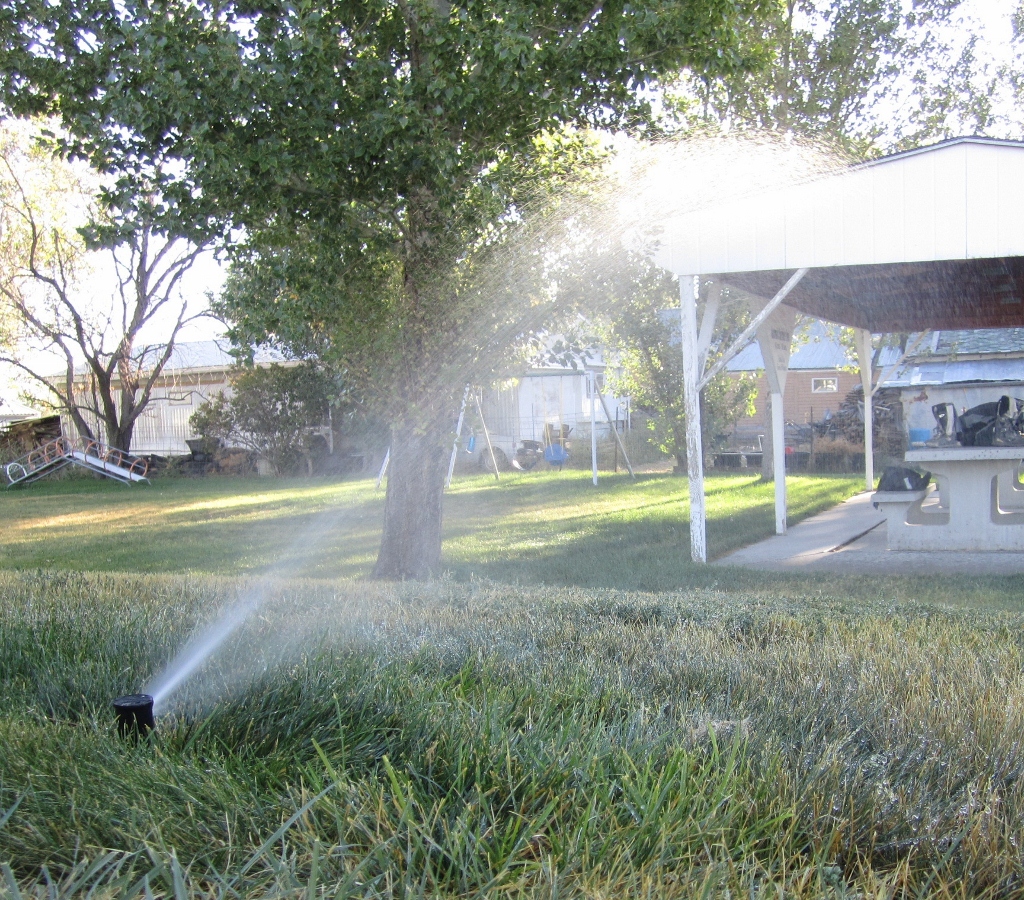 Francine-----so glad she didn't get wet.
She would have melted.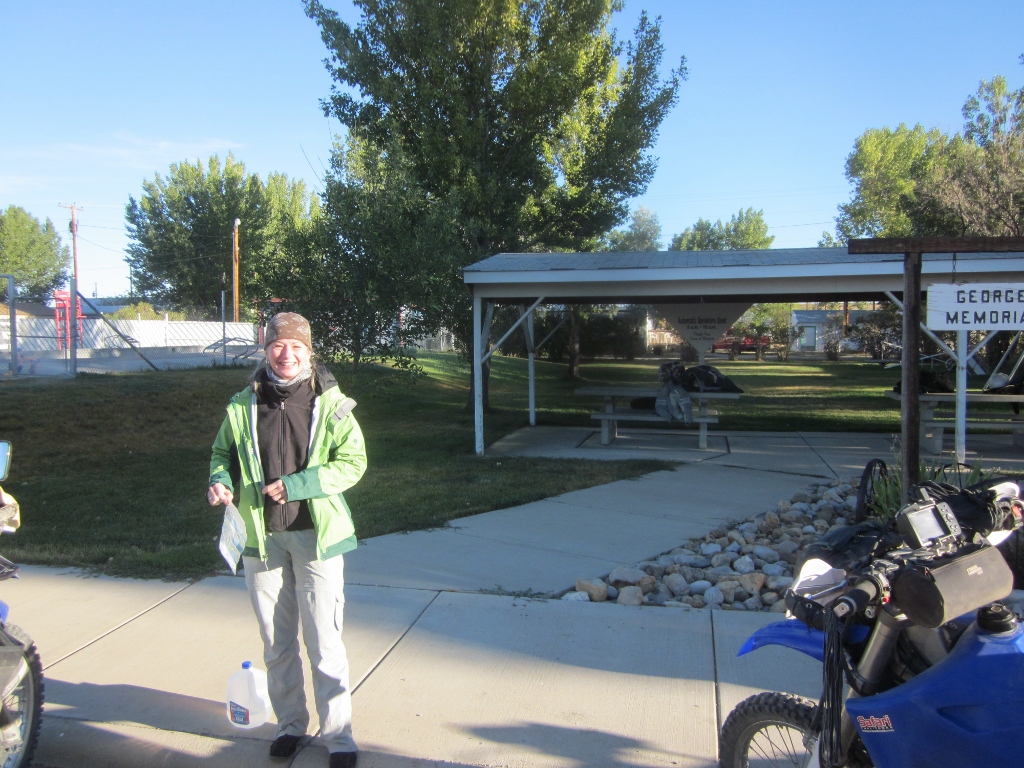 Another beautiful day---as we headed East on Hwy. 200 then South on Melstone Rd. towards Melstone where gas and food were available.
I had been leading and got way ahead of the group and climbed way up a steep climb on top of a hill and waited for the group to come along.
I knew they'd plainly see me sitting up there.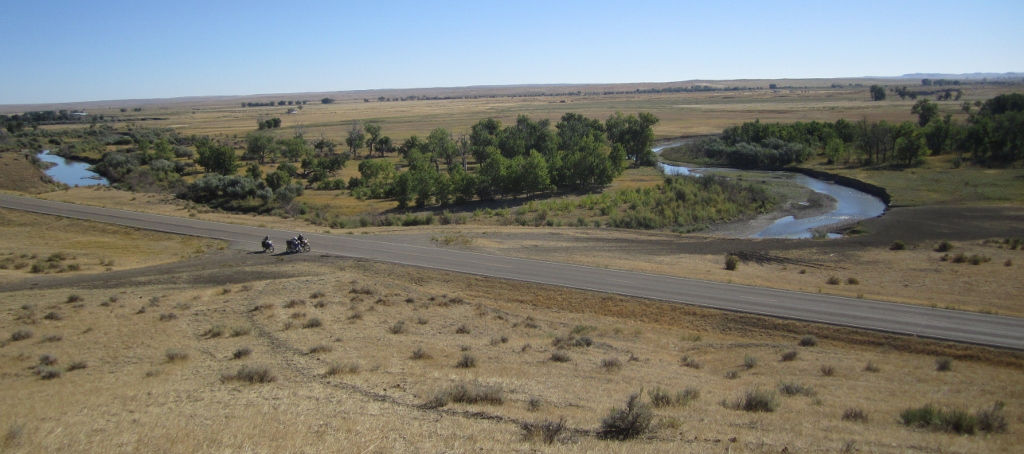 Yep------I was "King Of The Hill" alright.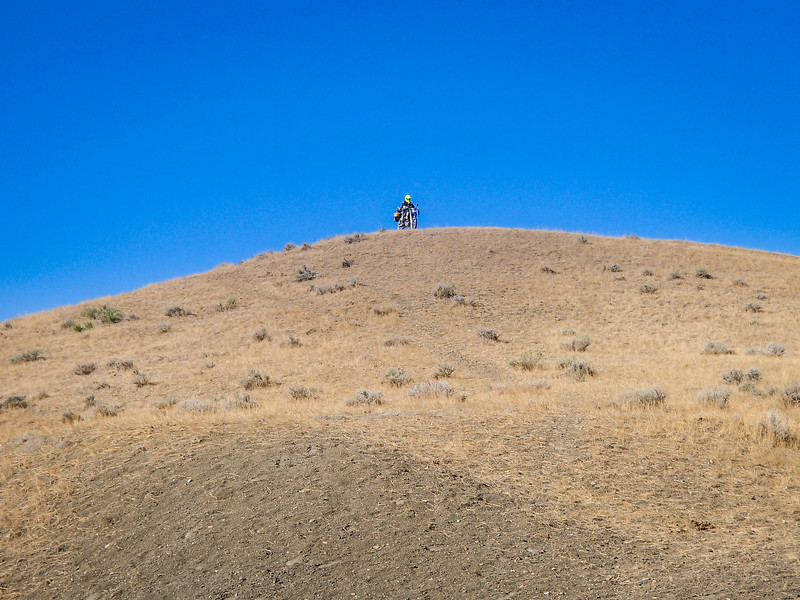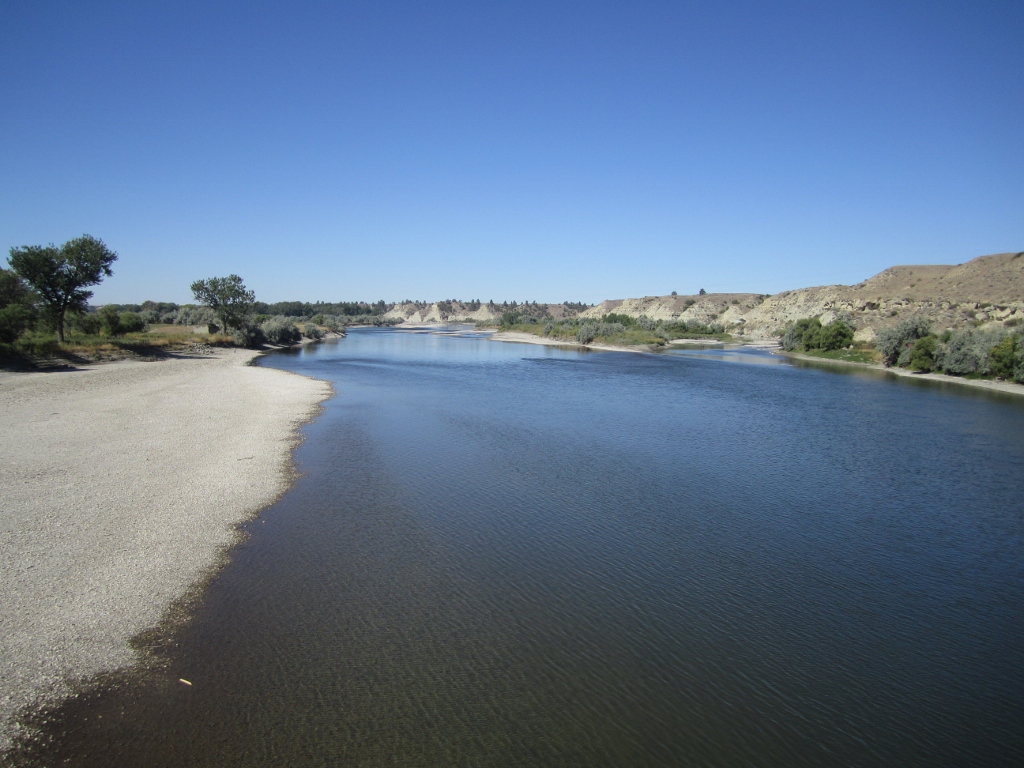 Lot's of dirt roads today again---of course it never rained on us and we never had to worry about the impassable when wet roads.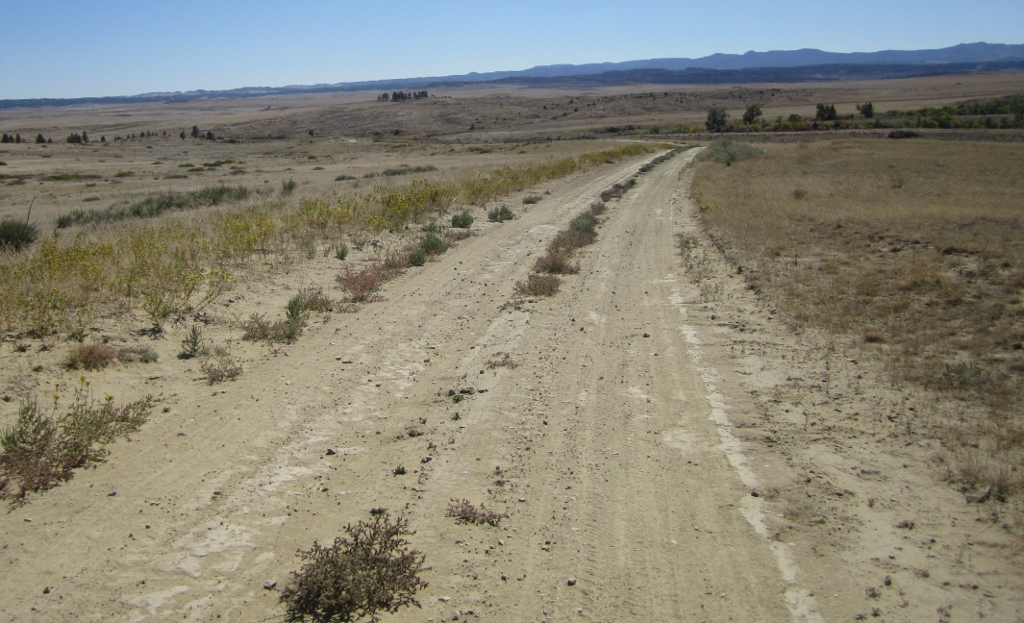 I'm bettin' a little re-routing is going on here.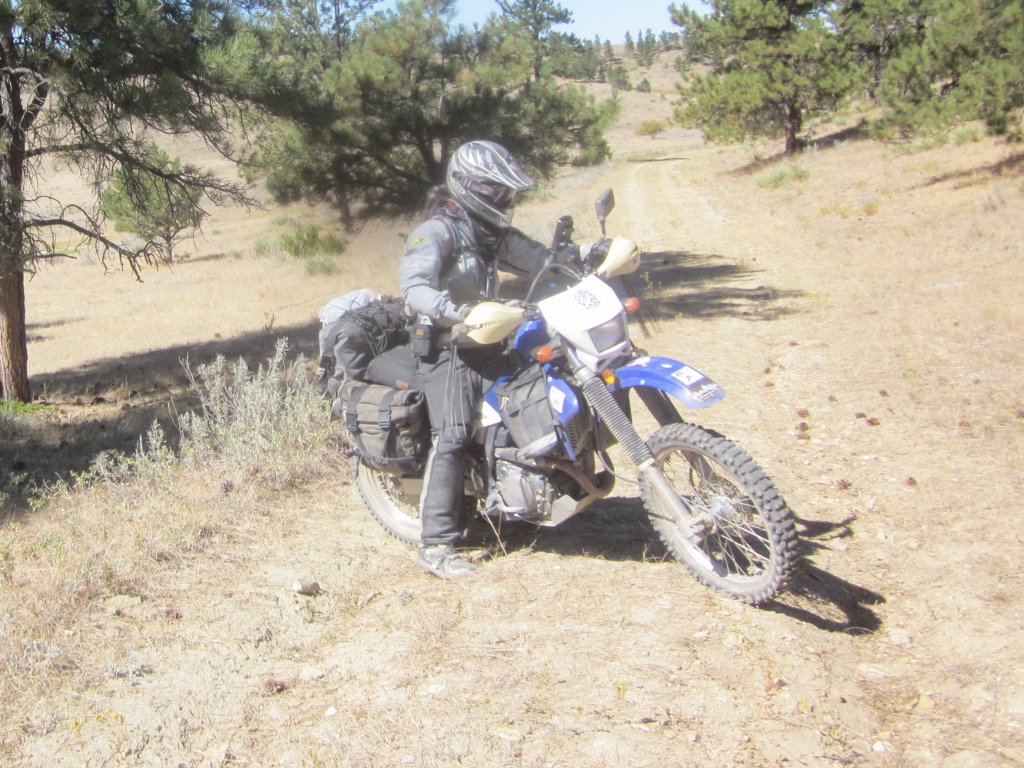 Lot's of gates to open and close today and I think we got gas in Custer then on to Coalstrip.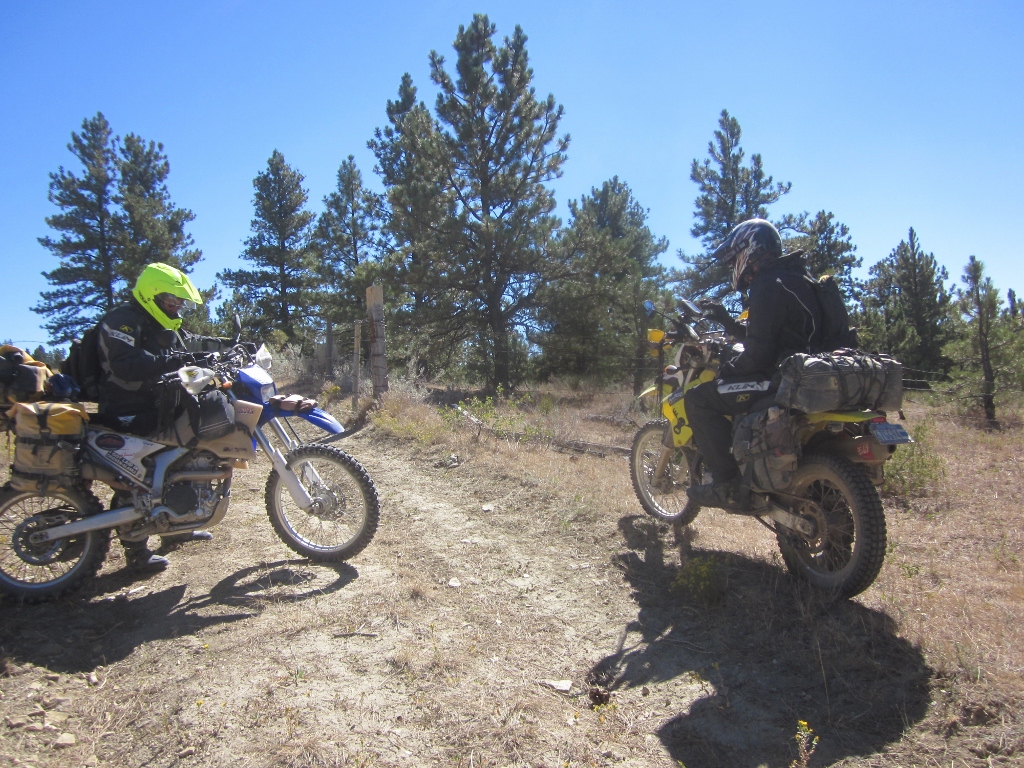 This is Dingweeds helmet after his bad crash.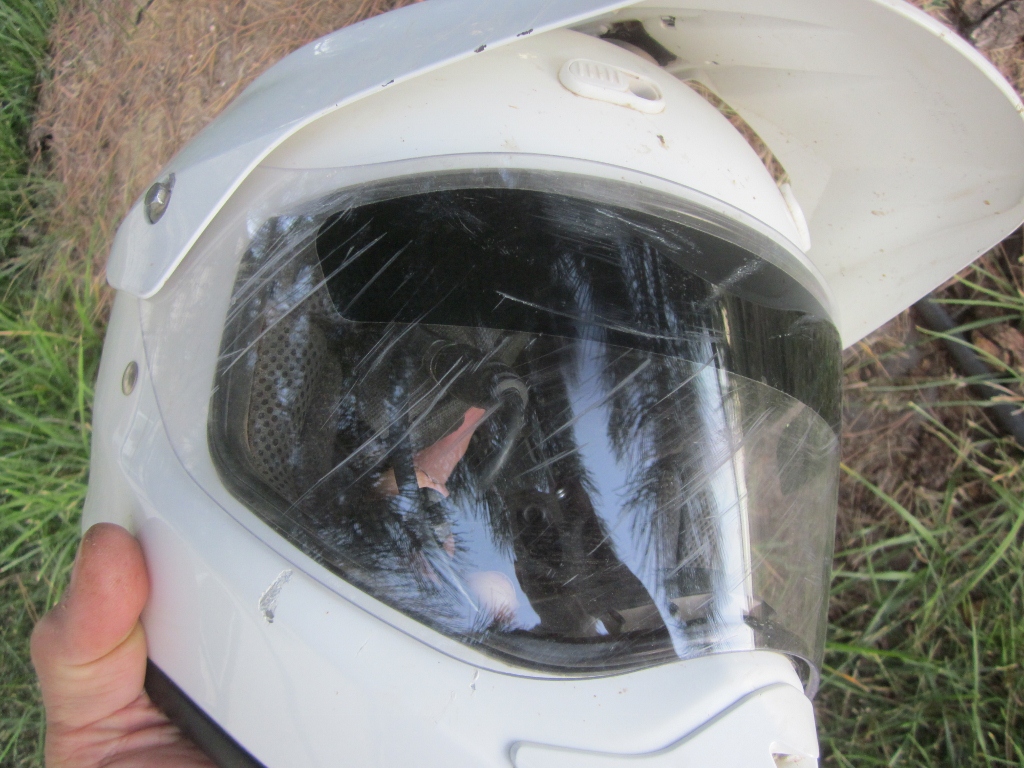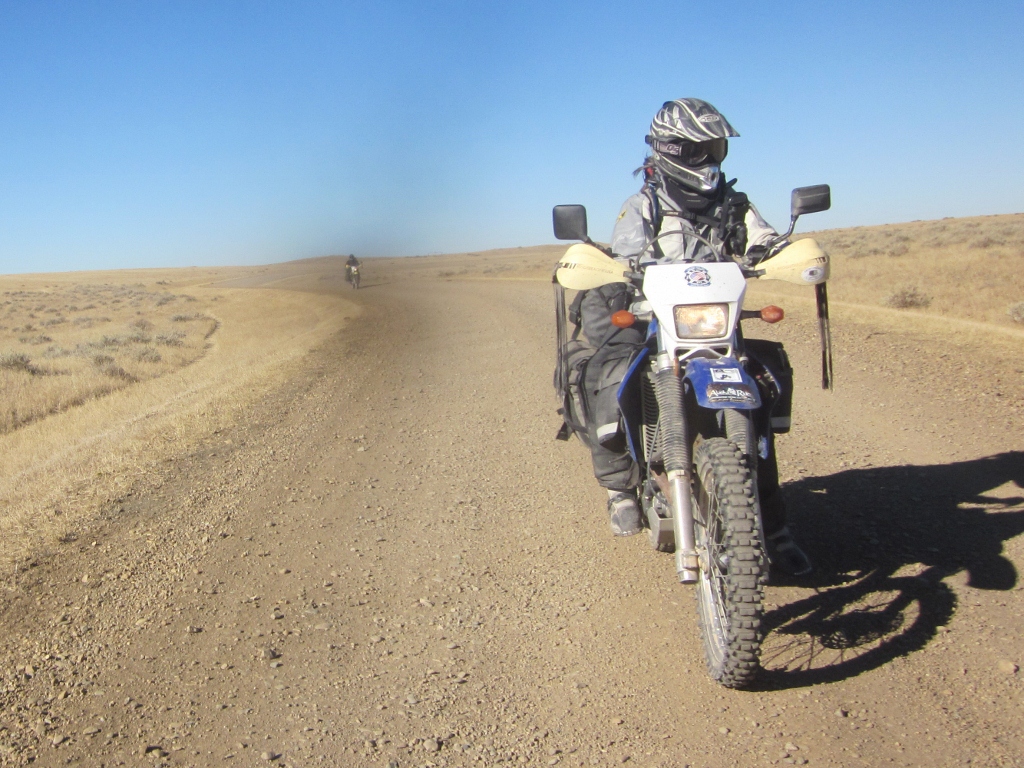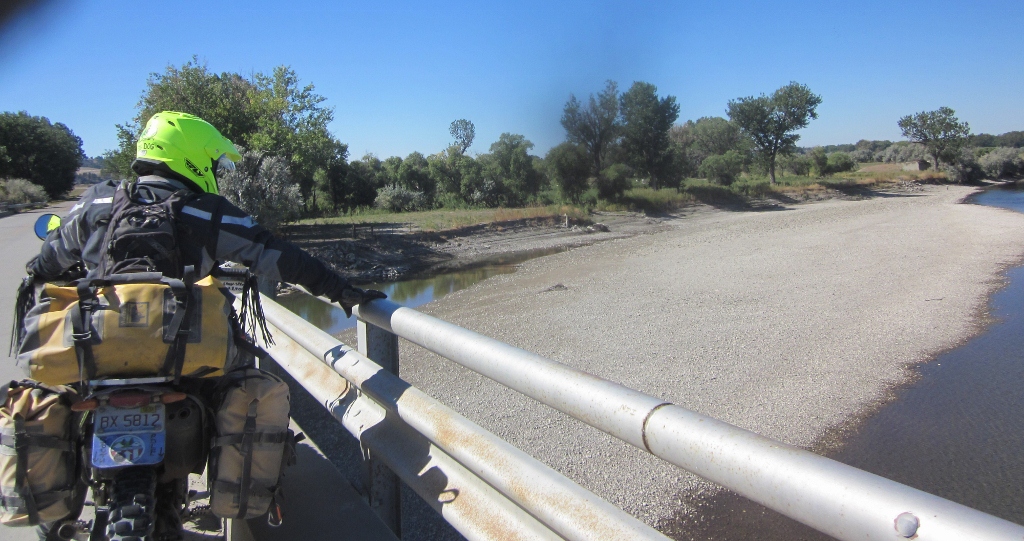 A rought map of our ride today----169 miles for the day.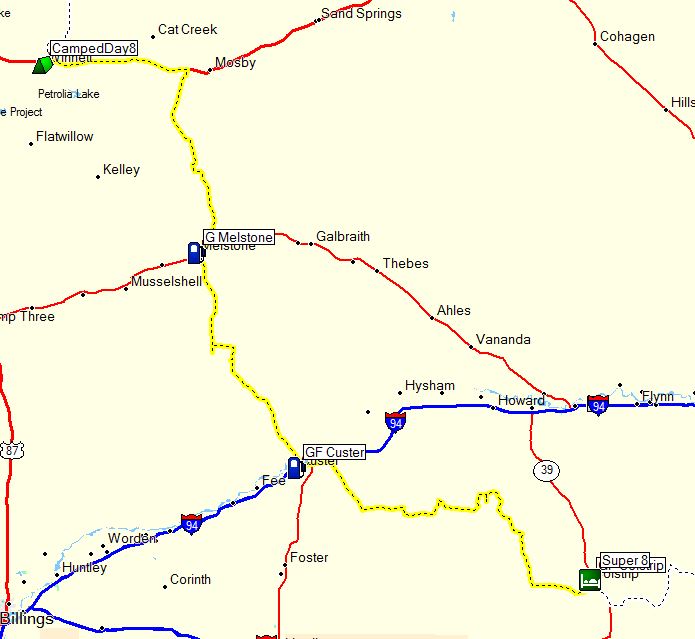 Day 10
Sept. 14th, 2012
Coalstrip, Wyoming to Camp in Custer, Wyoming
We had gotten a Motel in Coalstrip and picked another rider------Dave on a BMW800GS and is known as MTRider on Advrider.
He's from Montana and we all got to really like this guy.
He lived in Montana and knew a lot of the area we were going to be riding in and was a big help---besides being a really nice guy.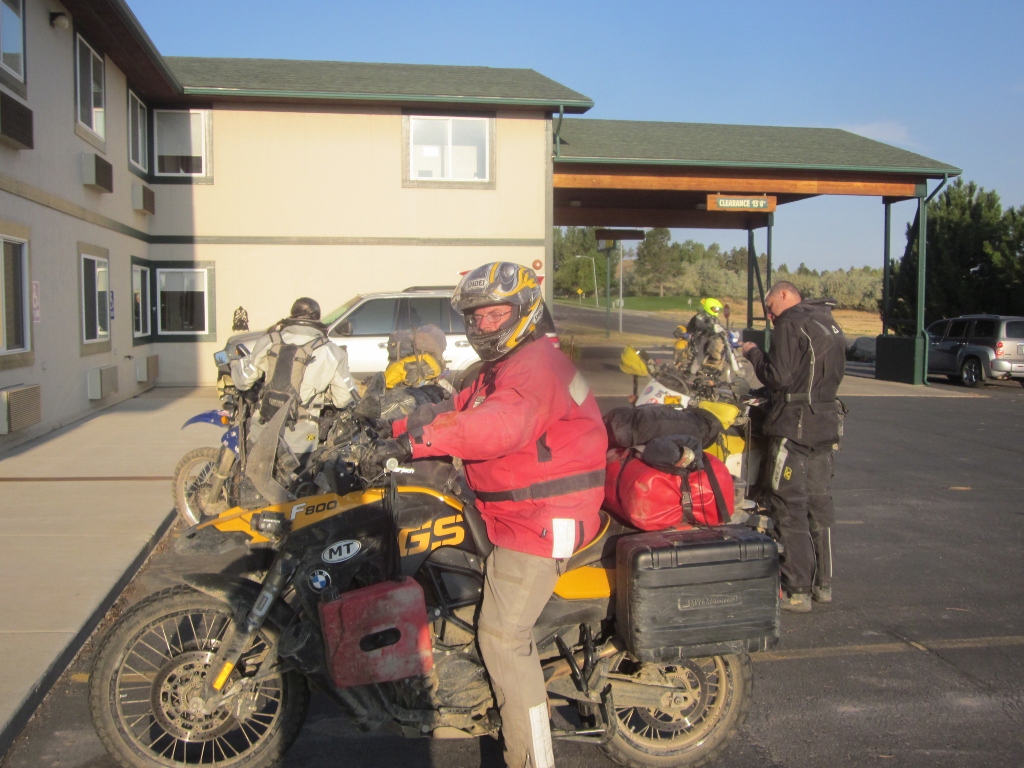 I think Dave had been out a while and had finished up some portions of the Continental Divide ride and didn't give a rats As....... if he washed his bike or not.
I like this guy.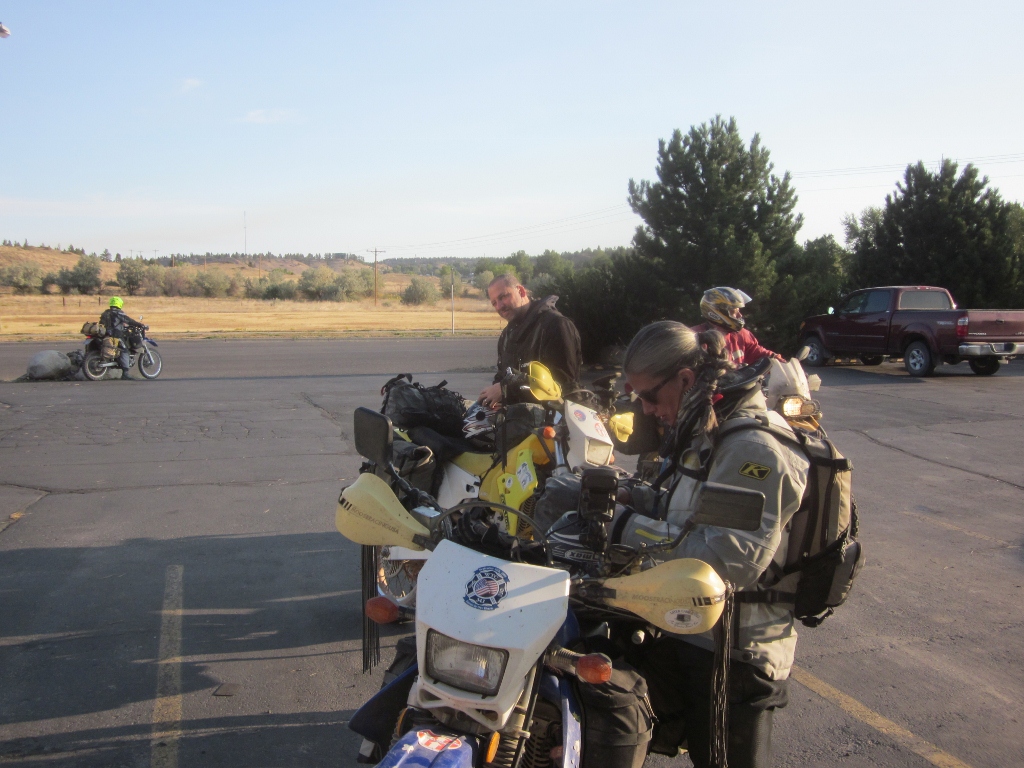 Today was going to bring some big excitement to the ride----some of this excitement was almost to much.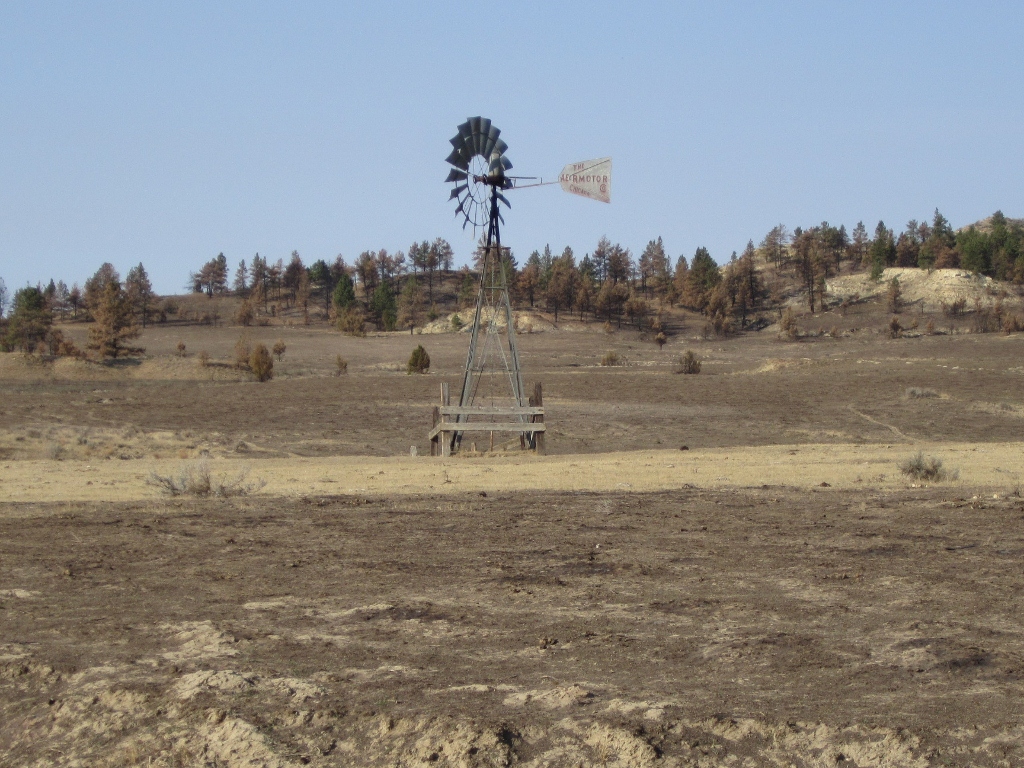 I tried to get a shot of this guy (or gal ???) from the front---as his crooked horns really looked weird from the front.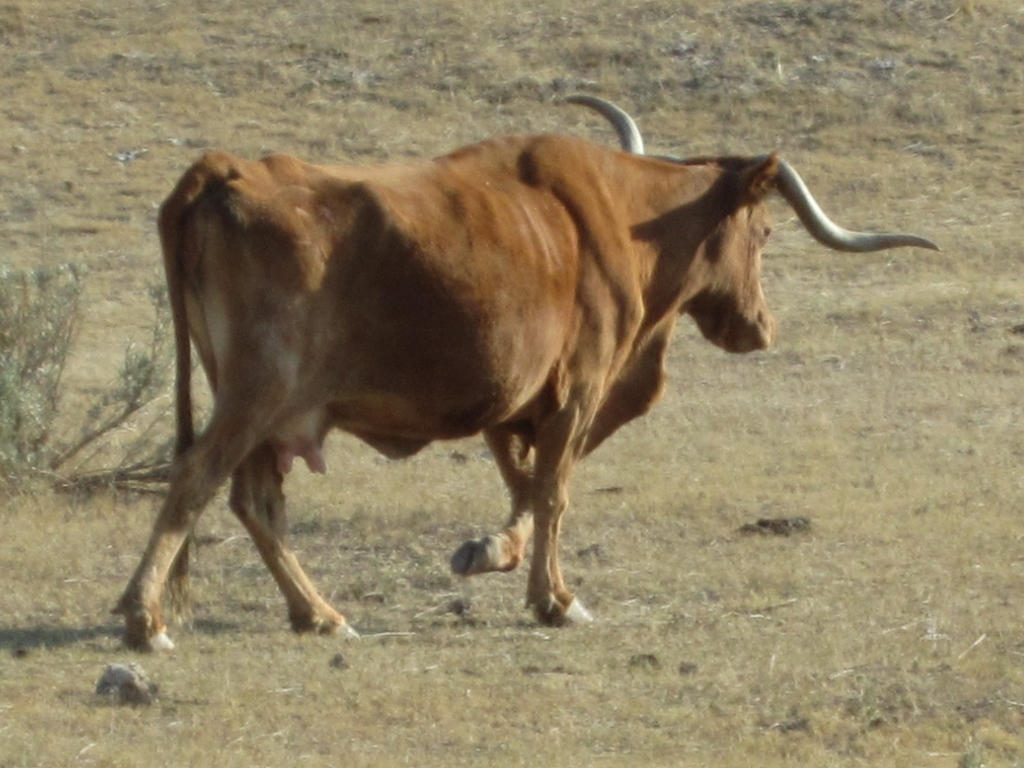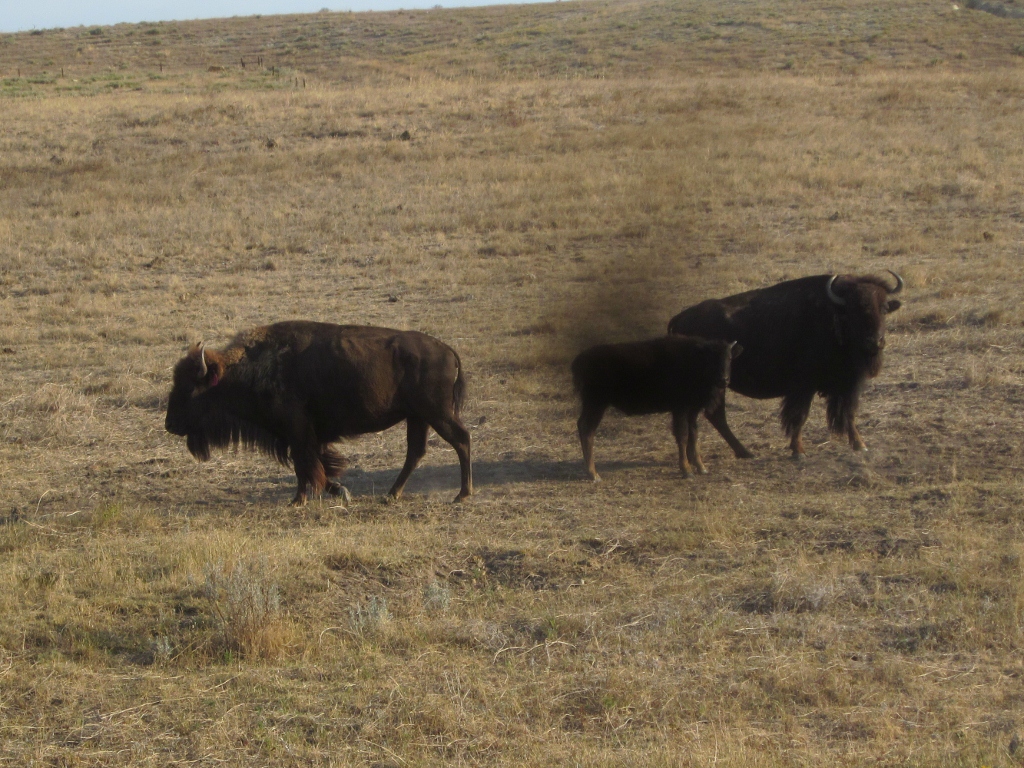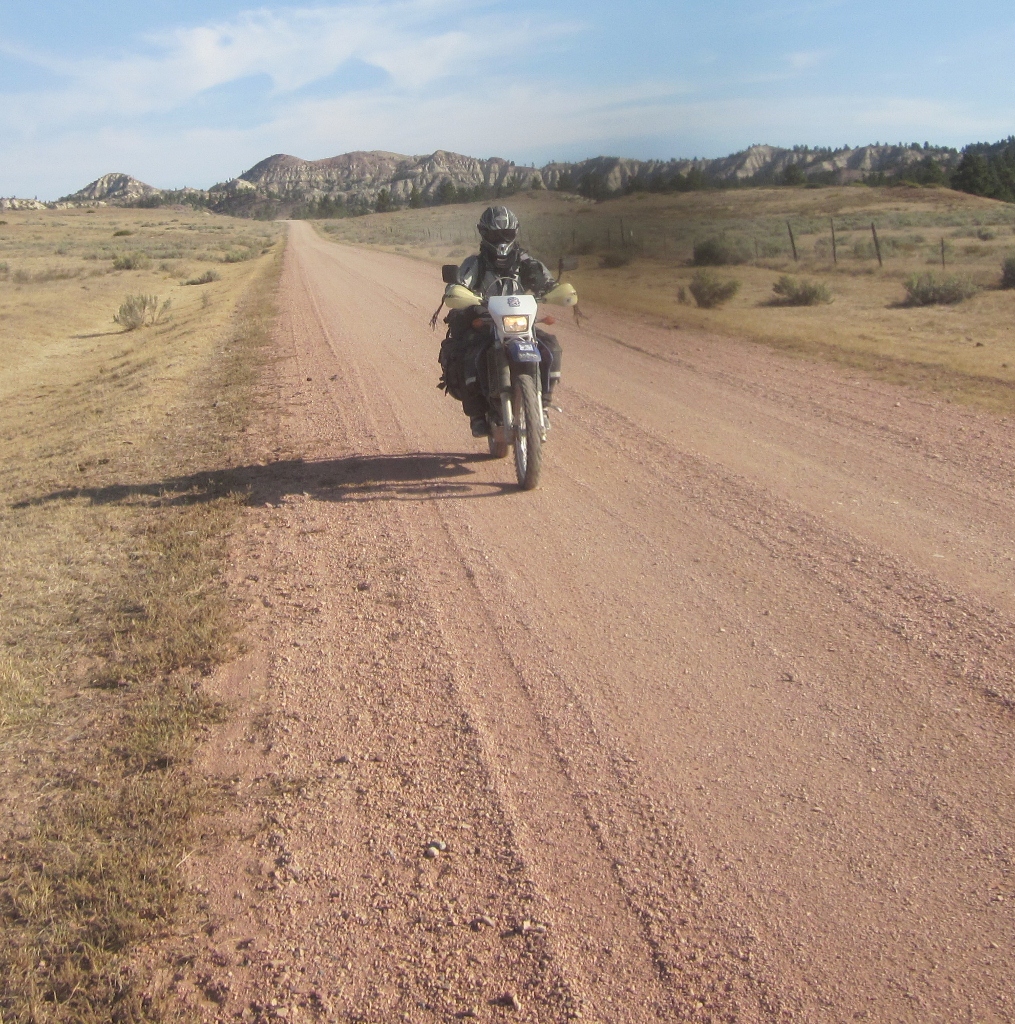 We entered the Custer National Forest thru a burned area.
This was all dirt in here on some roads that were sometimes really narrow.
Even tho the burn was devastating I suppose---it was beautiful.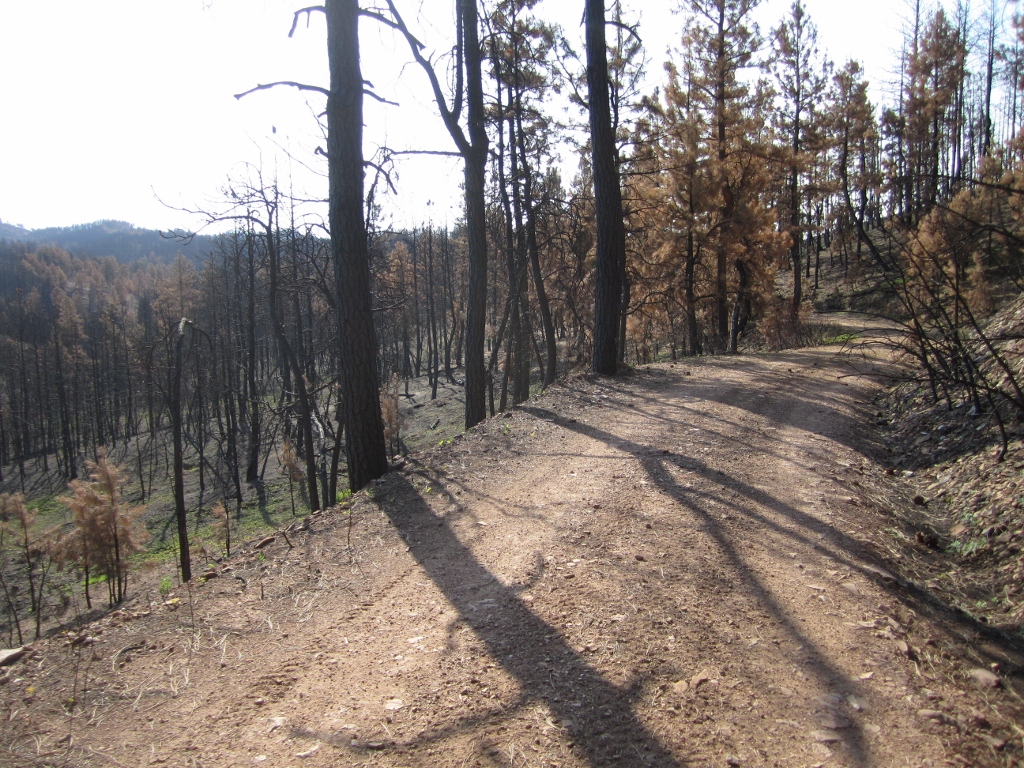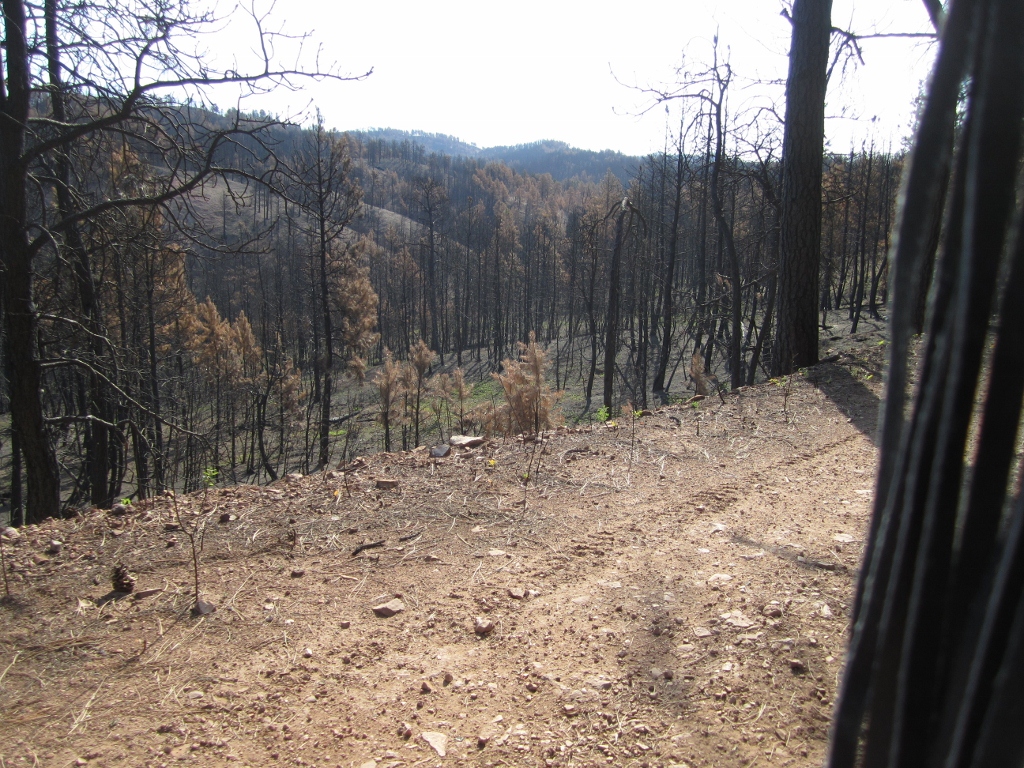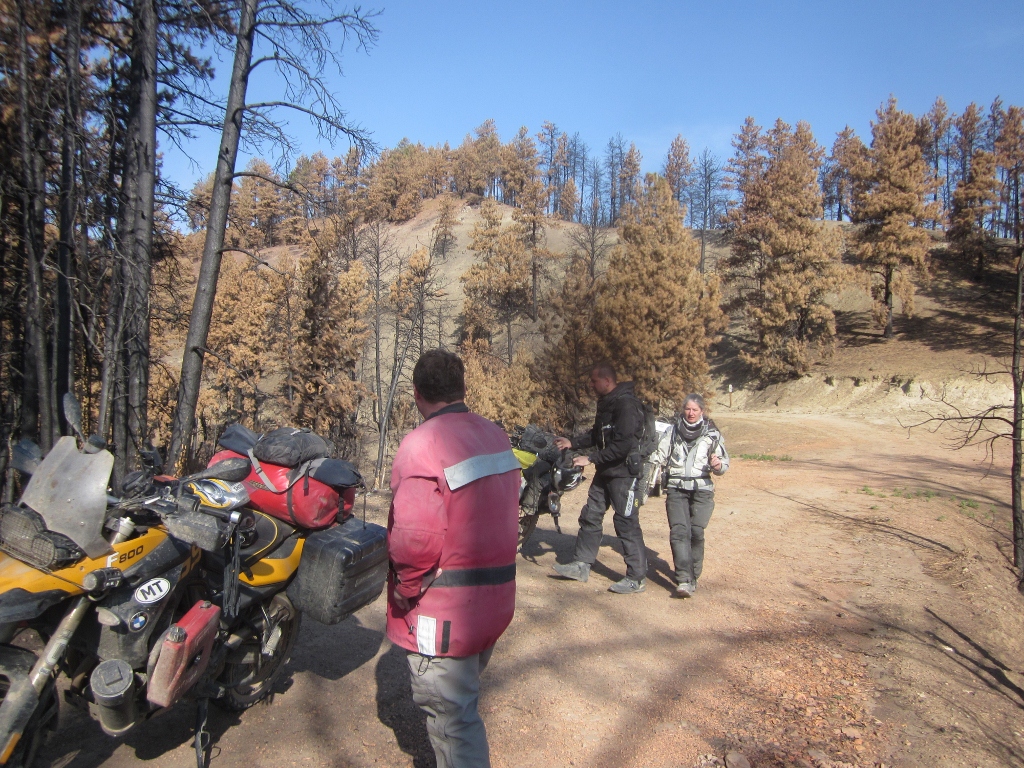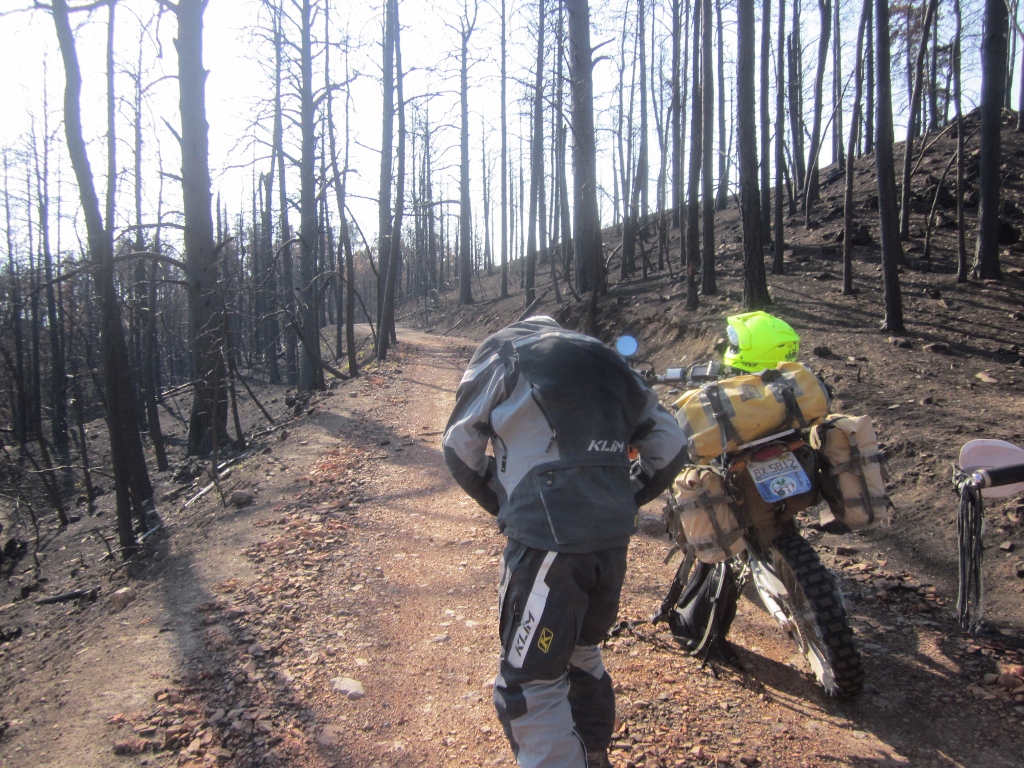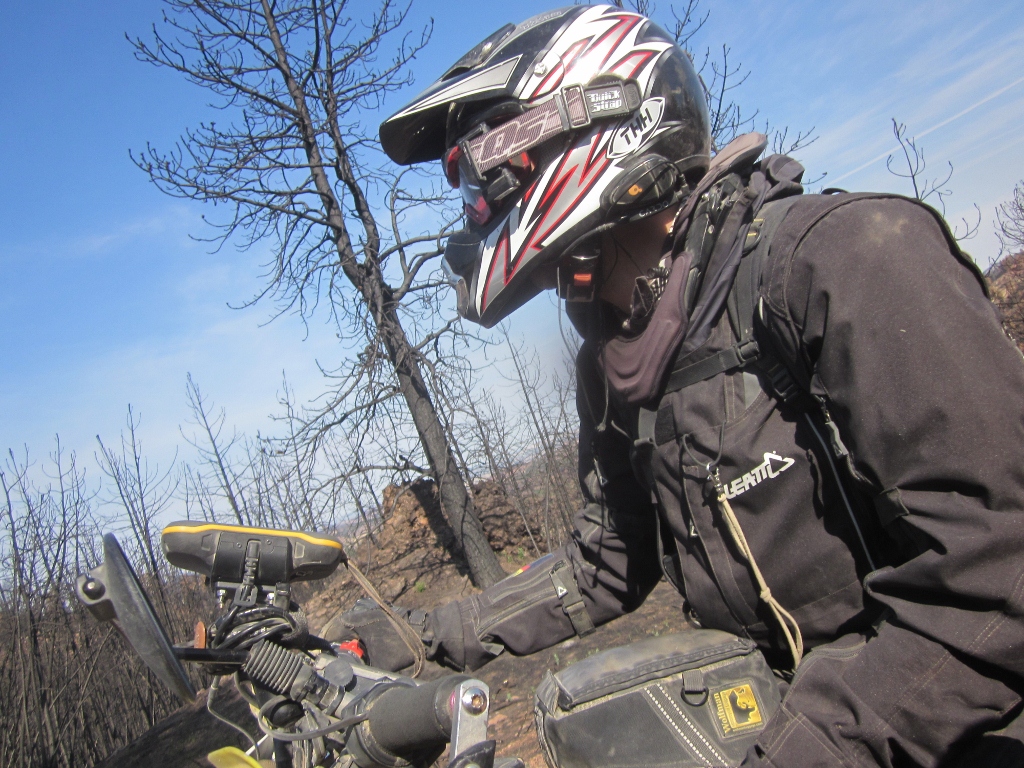 Some really neat hardly travelled roads.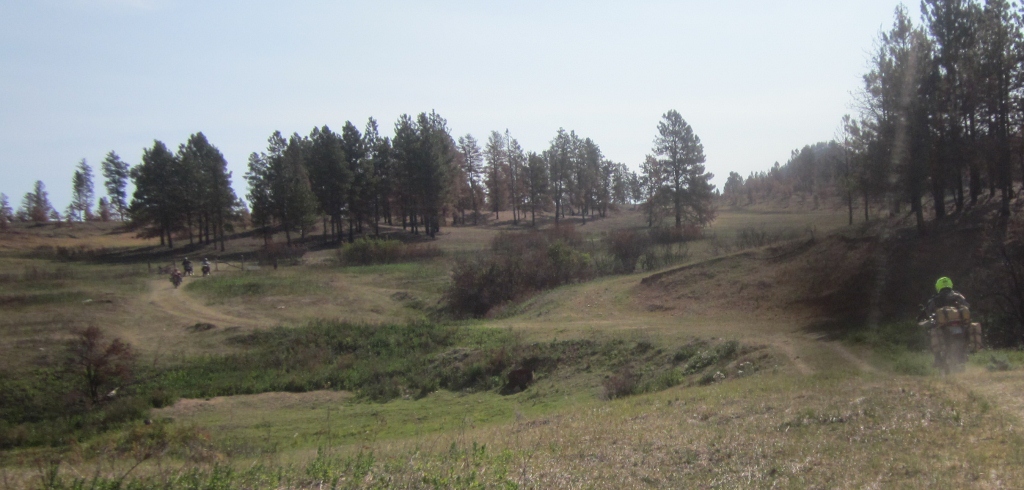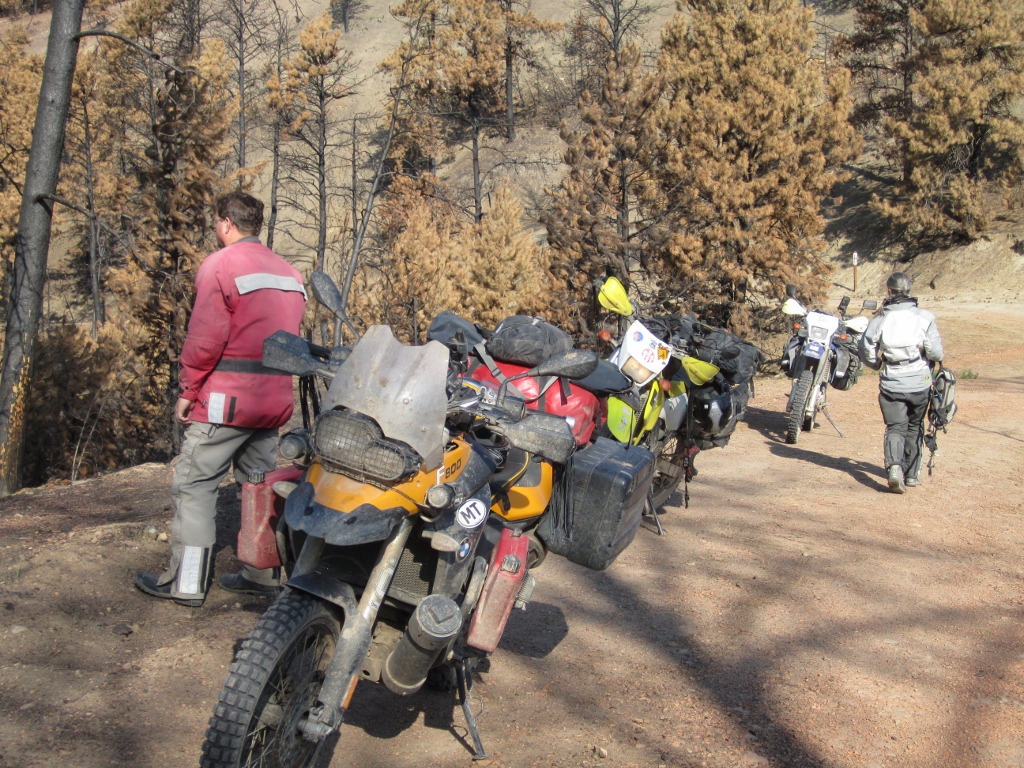 LIke I said------Dave rarely or has never washed his bike.
Now he's got the tassels-----none of us really knew him and we hoped he'd use the tassels for good---not evil.
They can be very powerful.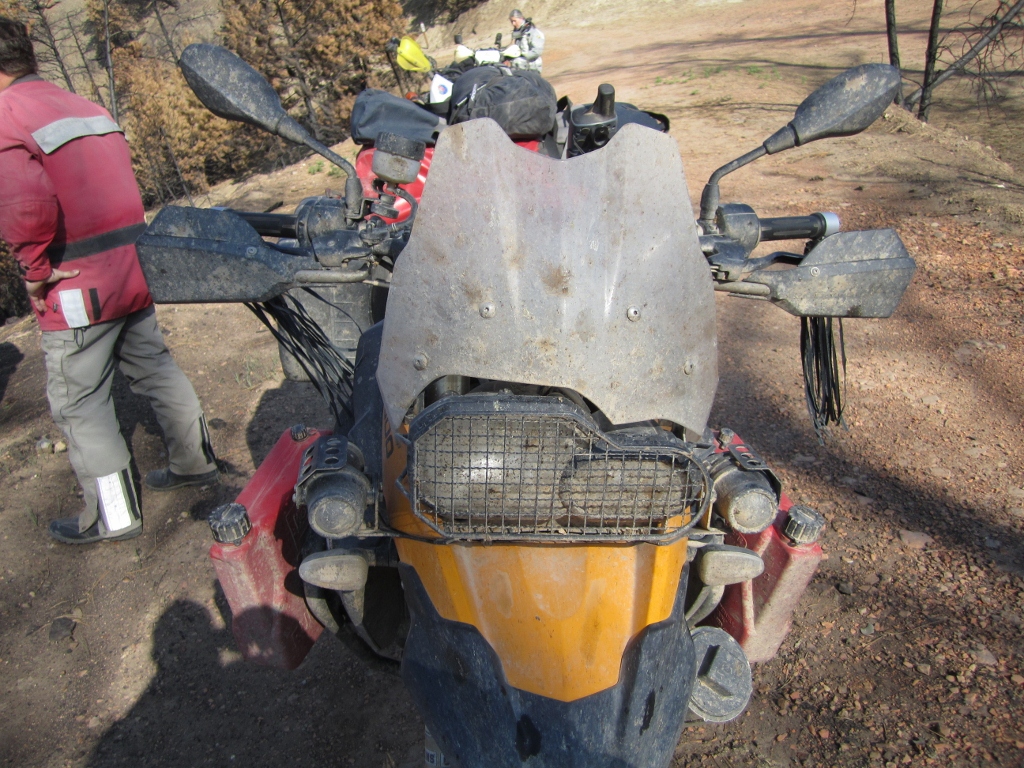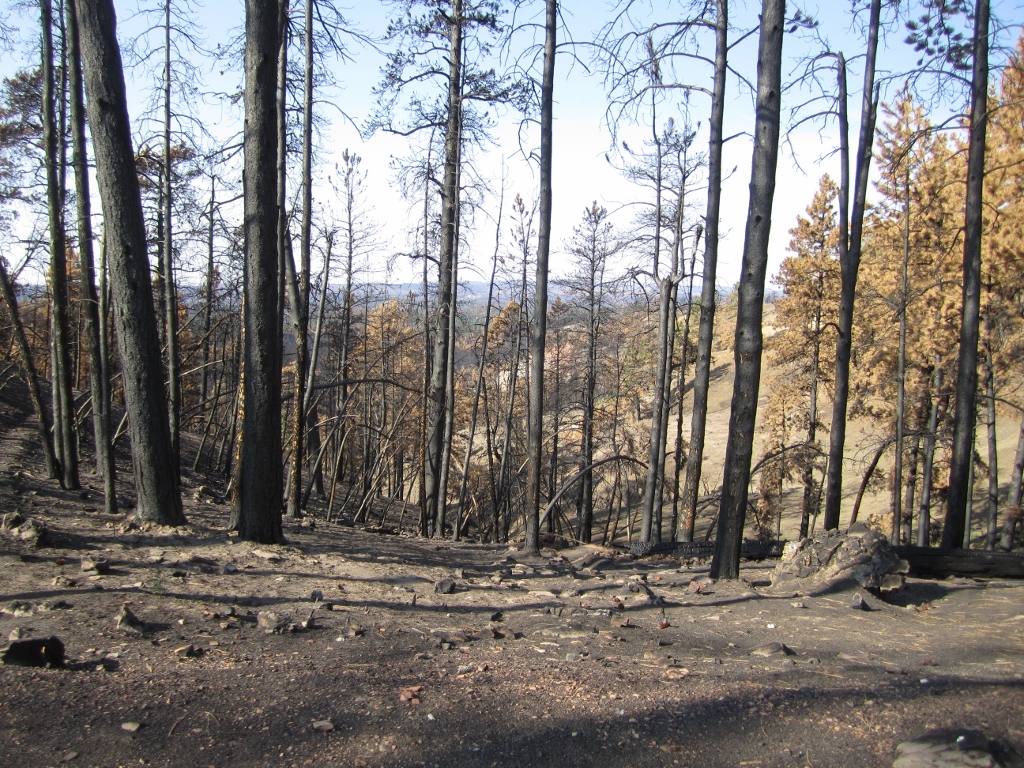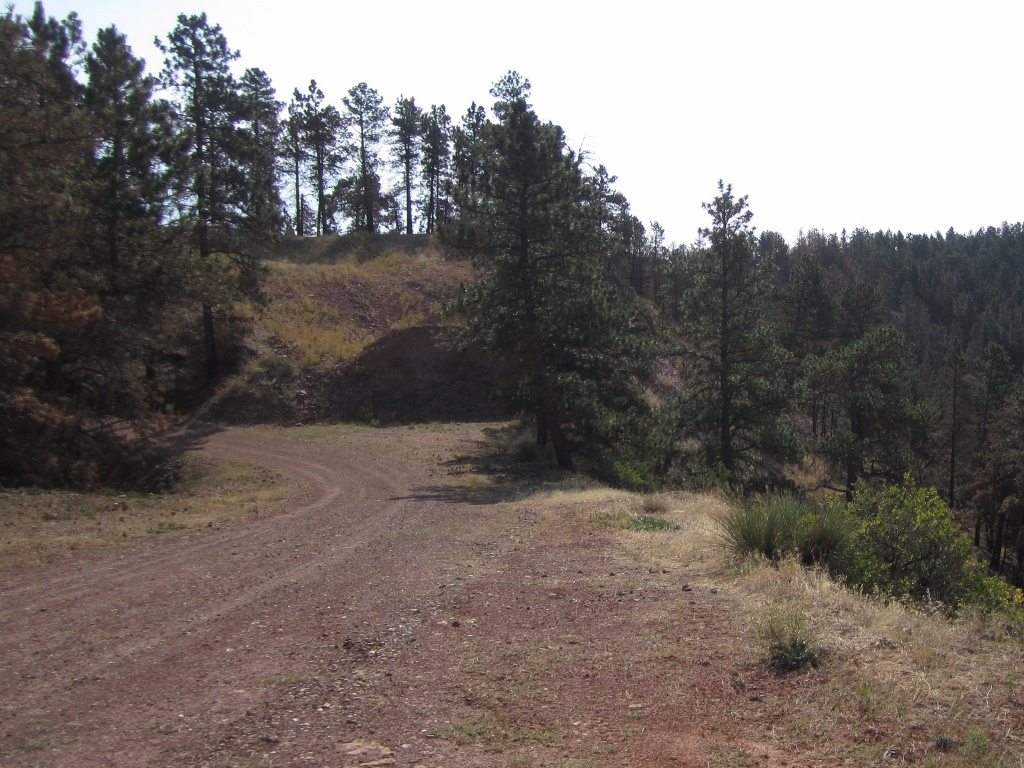 After exiting this burned area we ran across a hunter who said we weren't suppose to be in there.
He was nice as we explained we never saw any signs.
It doesn't work that way he went on to say-----you are suppose to know ????
Yep--suppose to know---so you see you can get yourself in big trouble un-intentionally and not even know
you did anything wrong---and Big Brother is watching you.
So what the powers to be are saying---while you are traveling you should stop riding every mile or so and contact all agencies involved and find out
the rules-----which may change in a minutes notice------but you are required to know this. This is ridiculous and just pisses me off.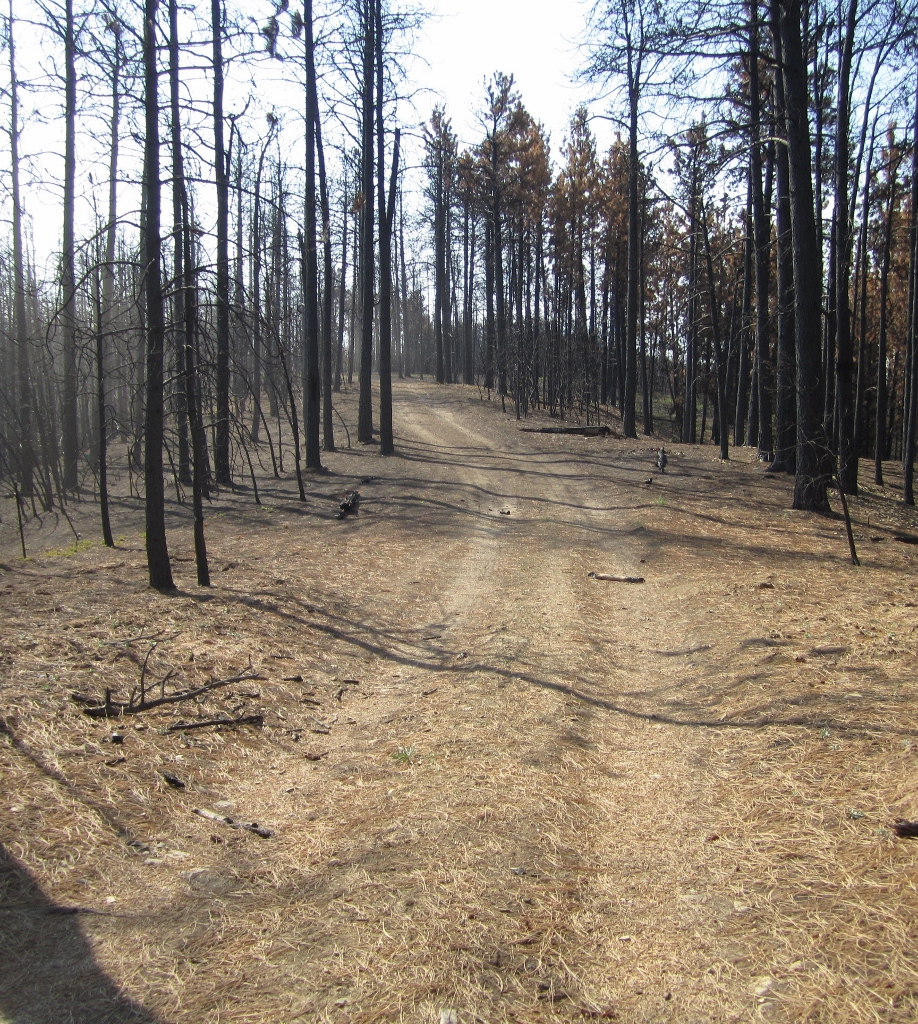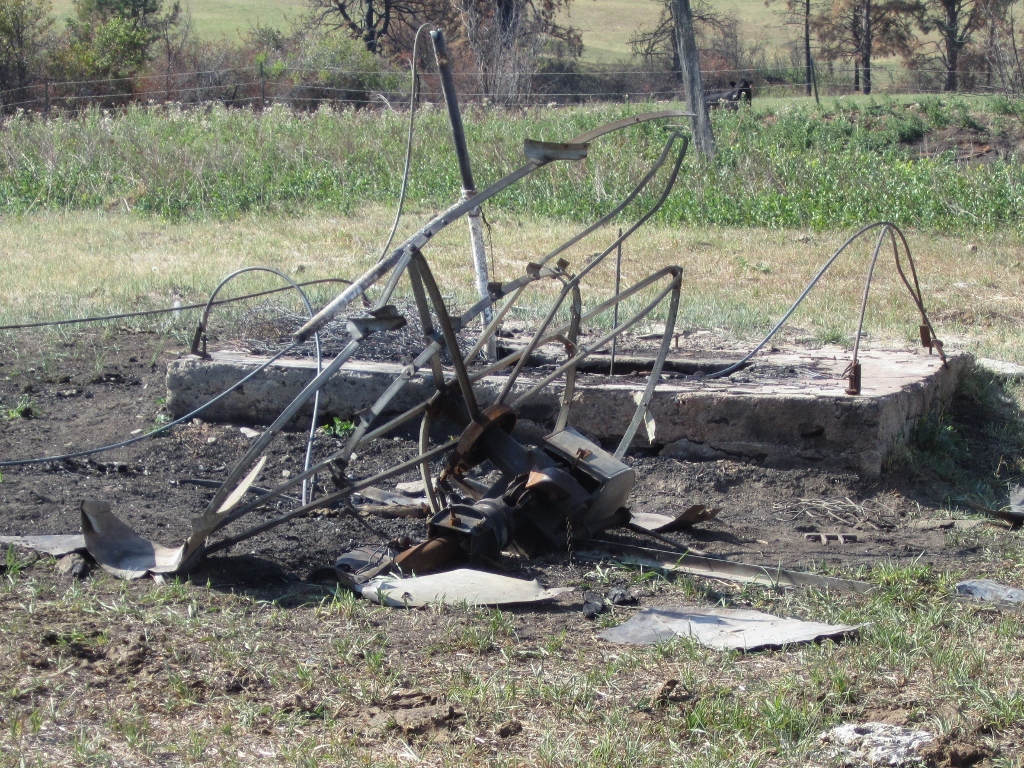 More rarely travelled goodness.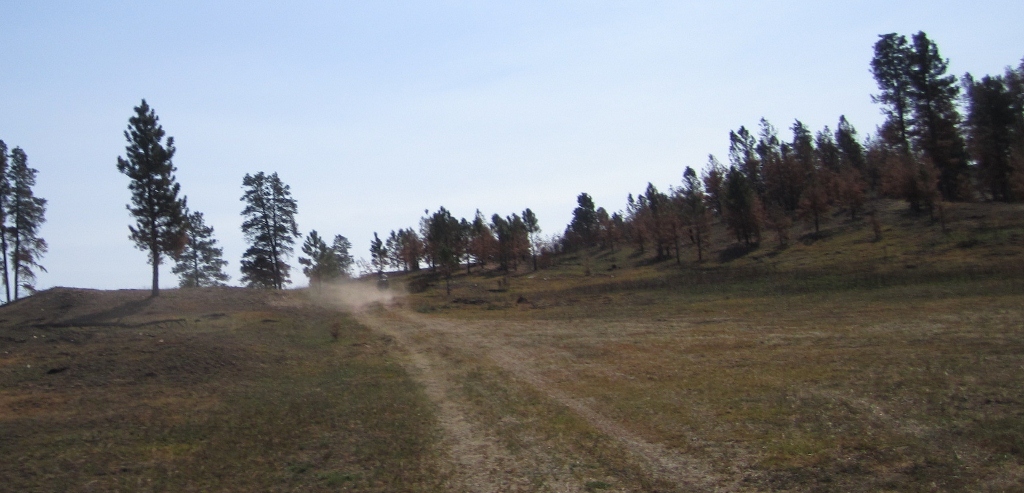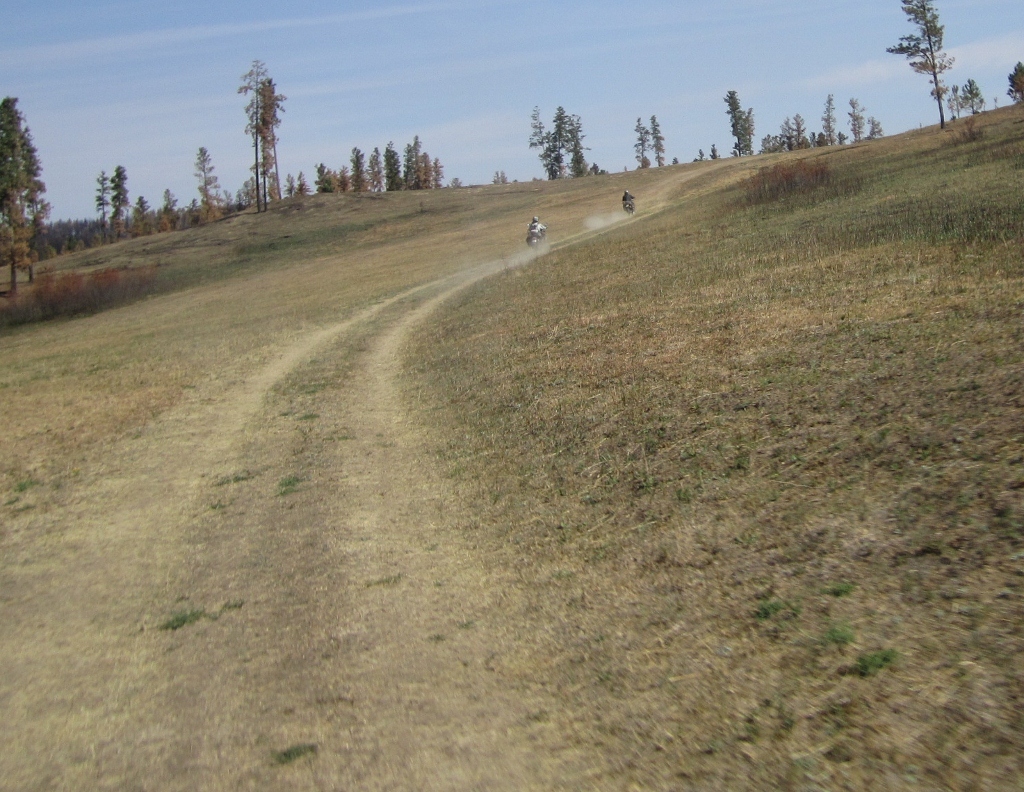 I remember going down this little road----we hit a no trespassing sign and turned back.
I had given Francine the nickname "Slip Clutch" a long time ago and she caught me writing it on her handguard---but thought it was funny
and I never got in trouble !!!!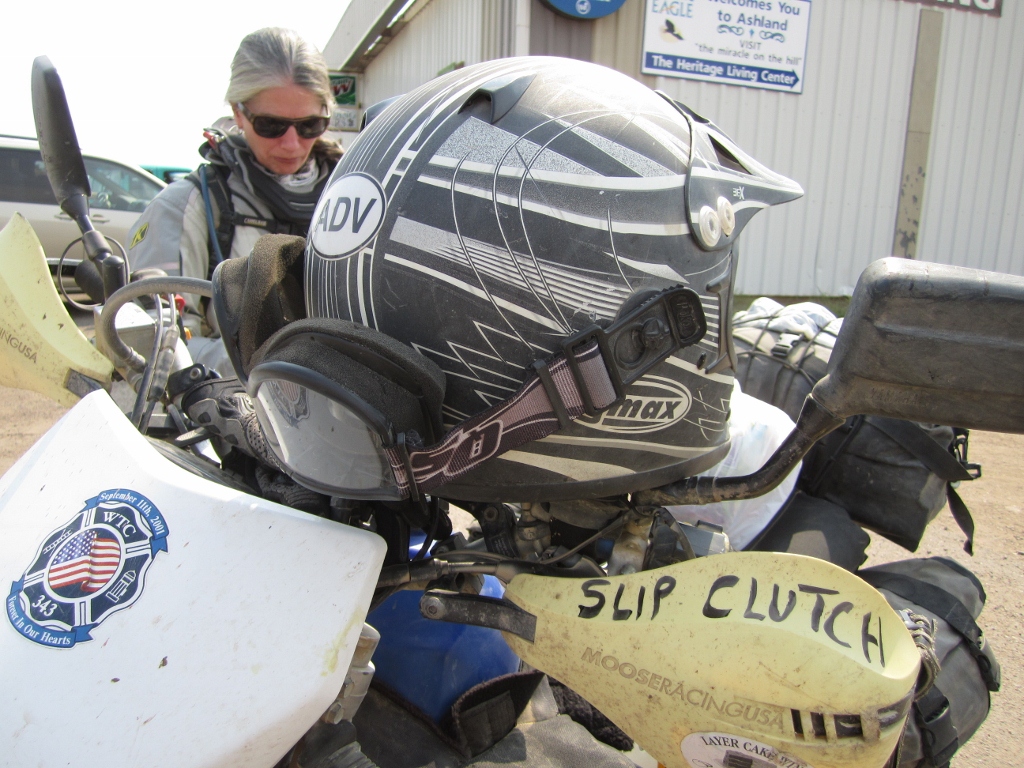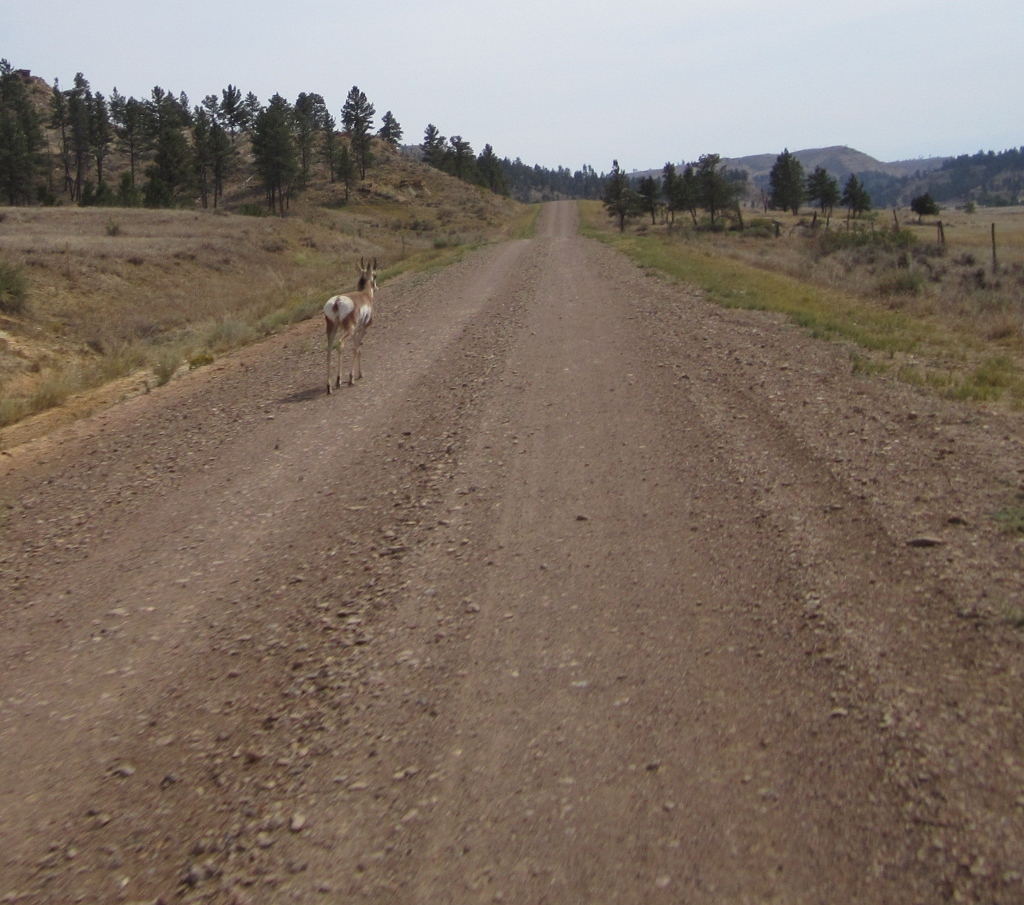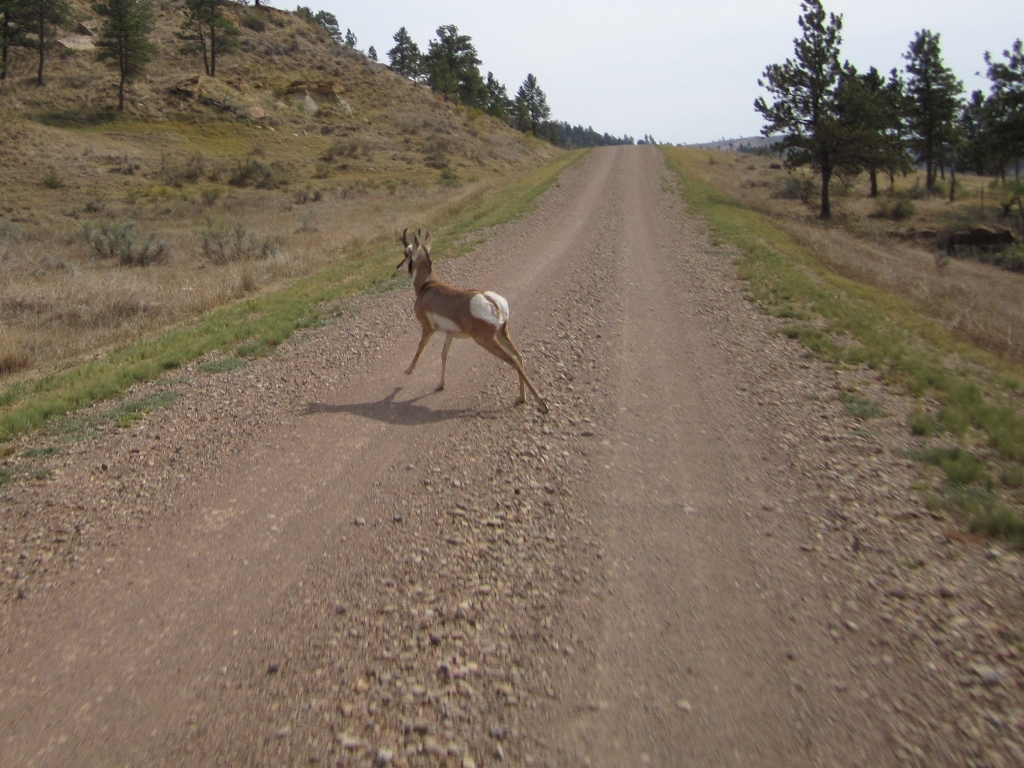 The Aspens are just starting to turn here-----later on they get brilliant.
Cut-A-Cross road
We did a lot of Cut-A-Crossing---------- I mean a lot.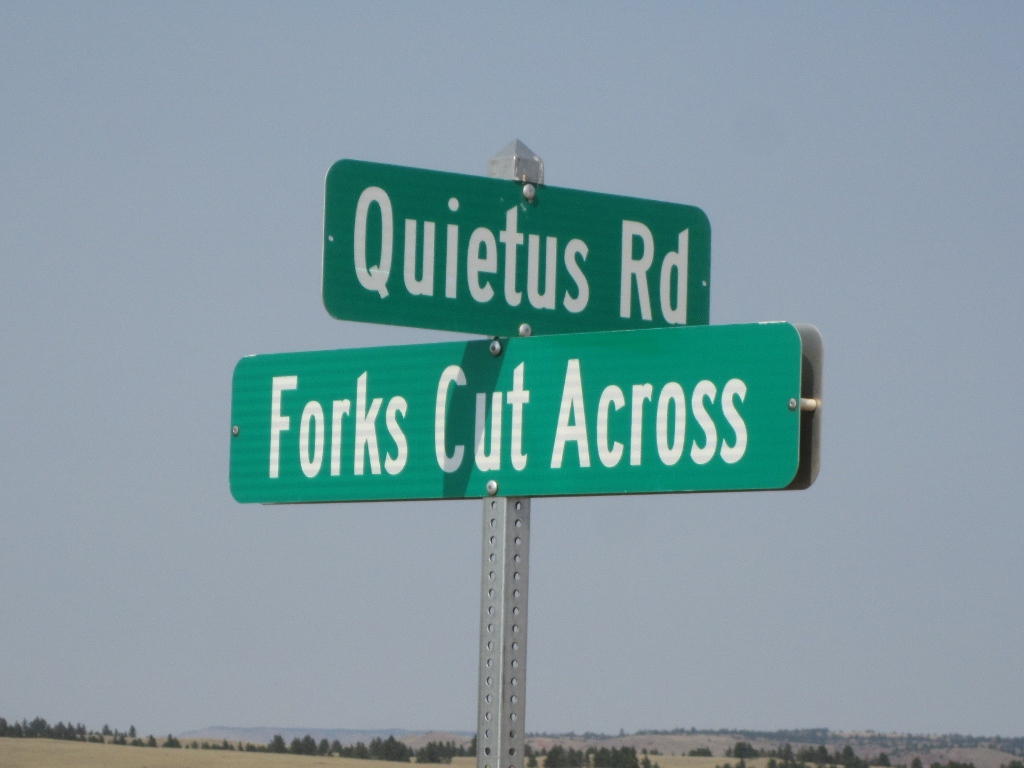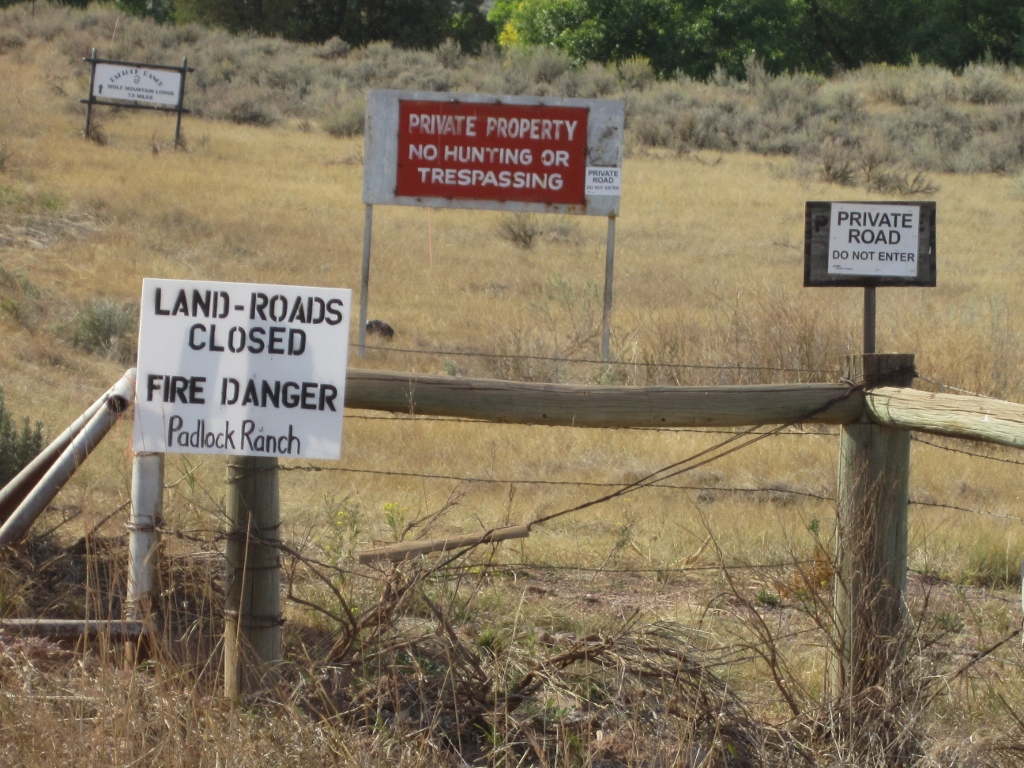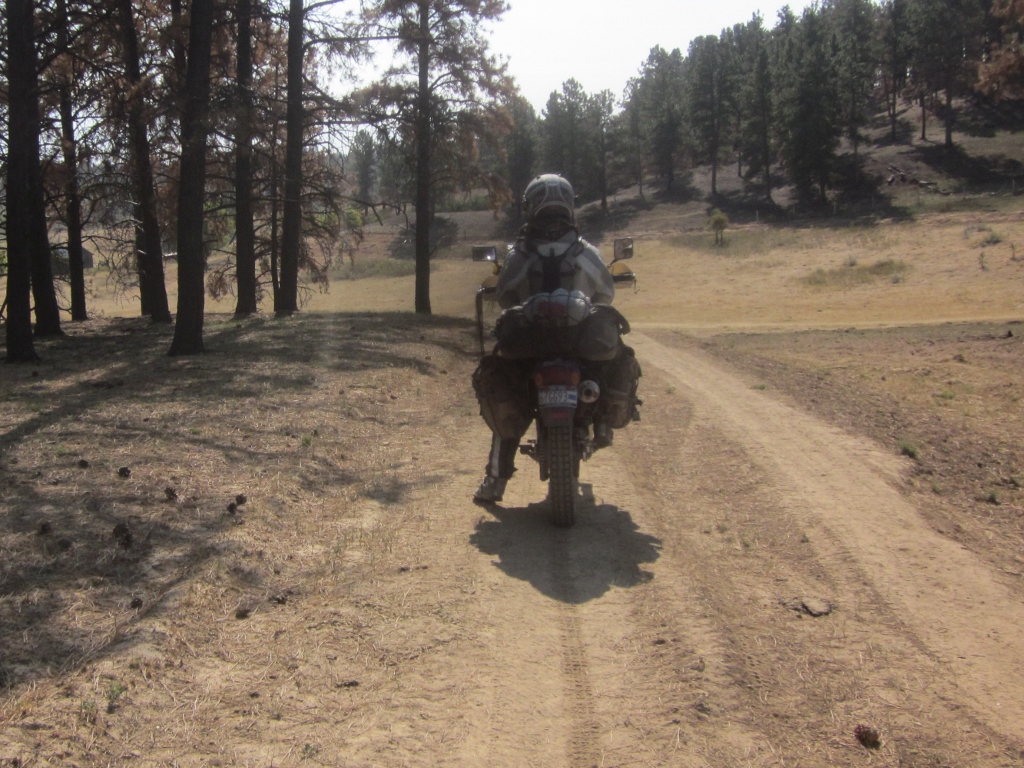 We stopped in Ashland for gas and goodies and against my advice Dave went in the Forestries office for advice.
As we had a little run in with a lady on Suicide Pass road----which I'll not get into here.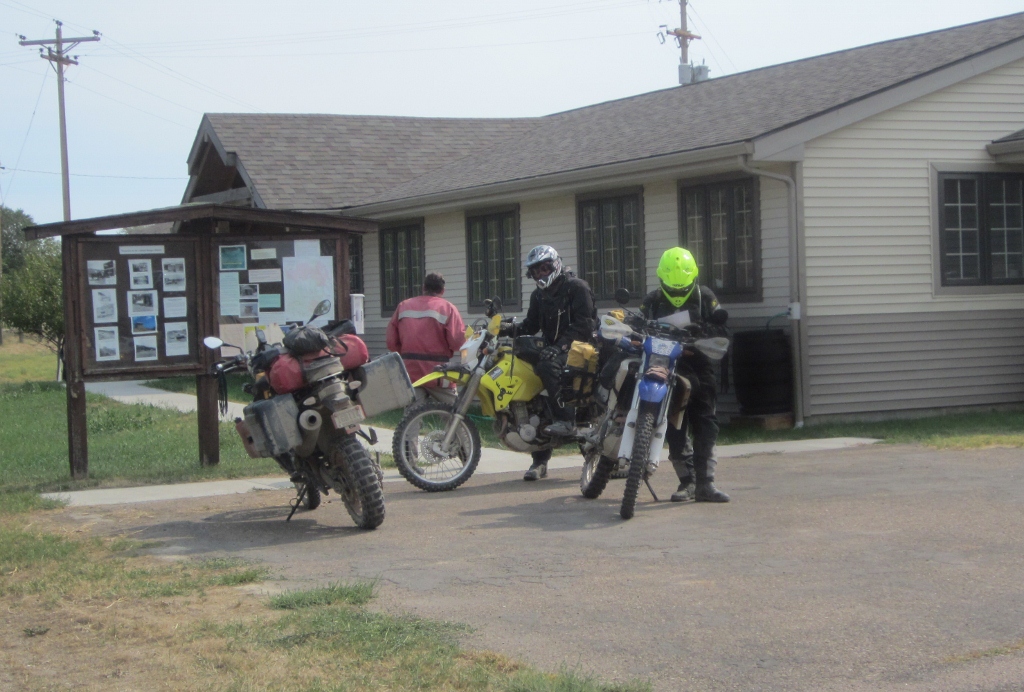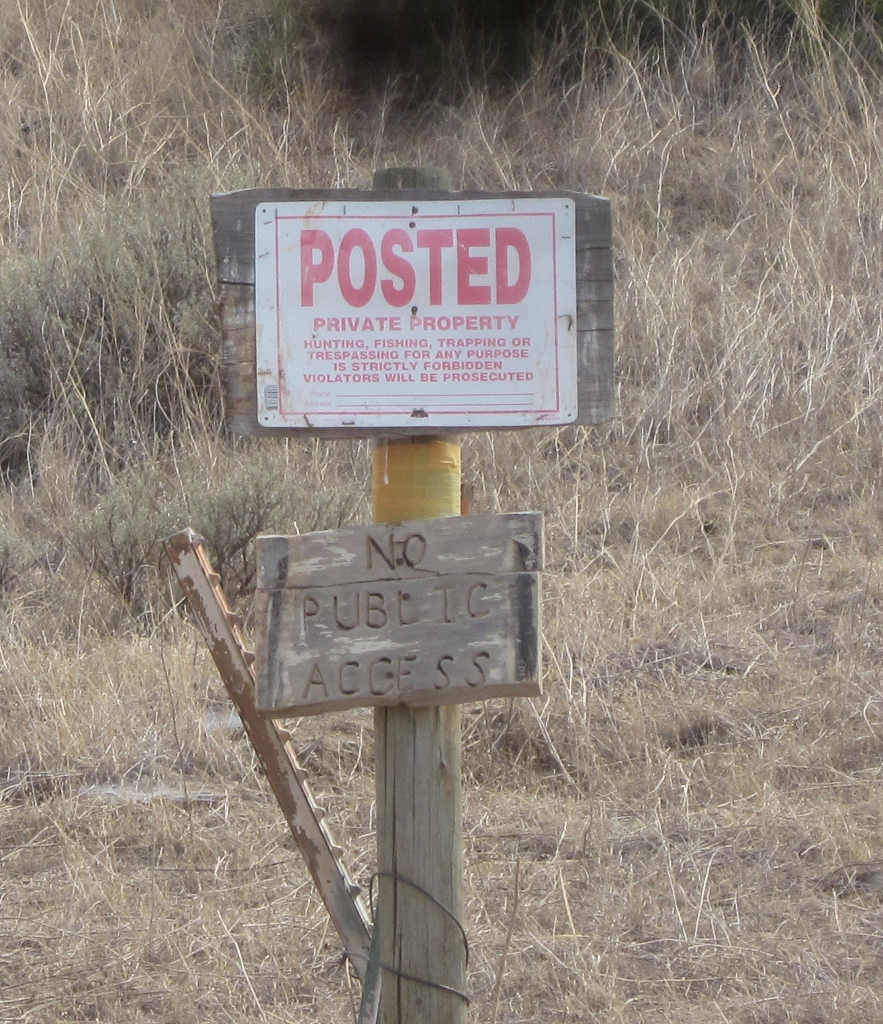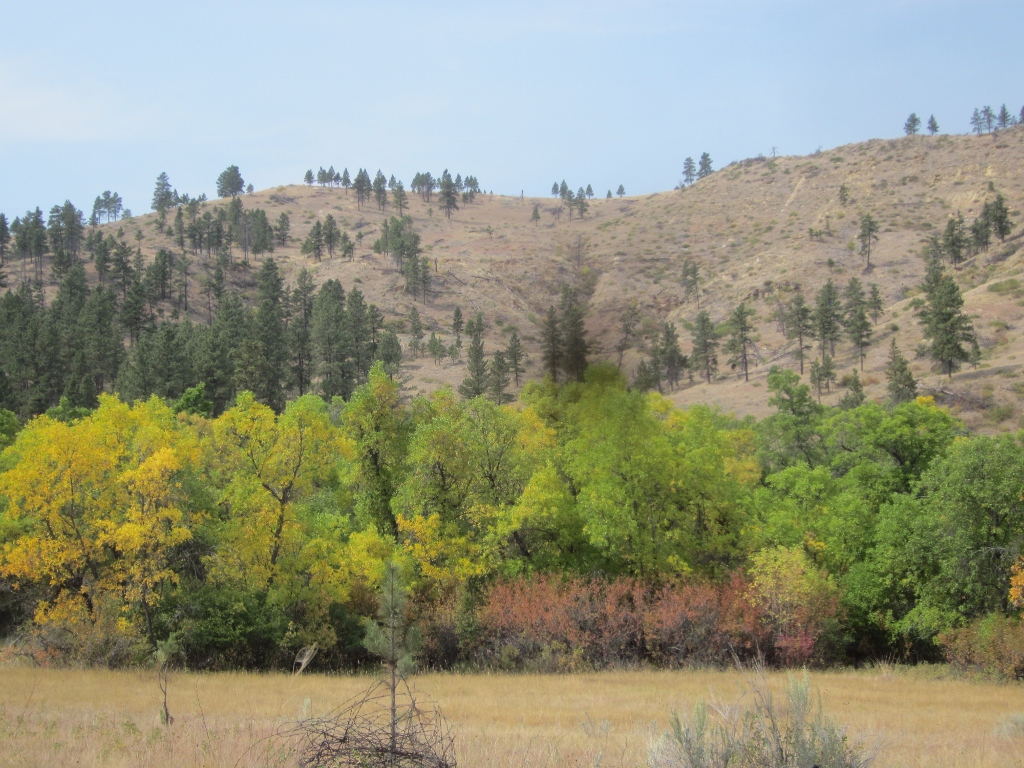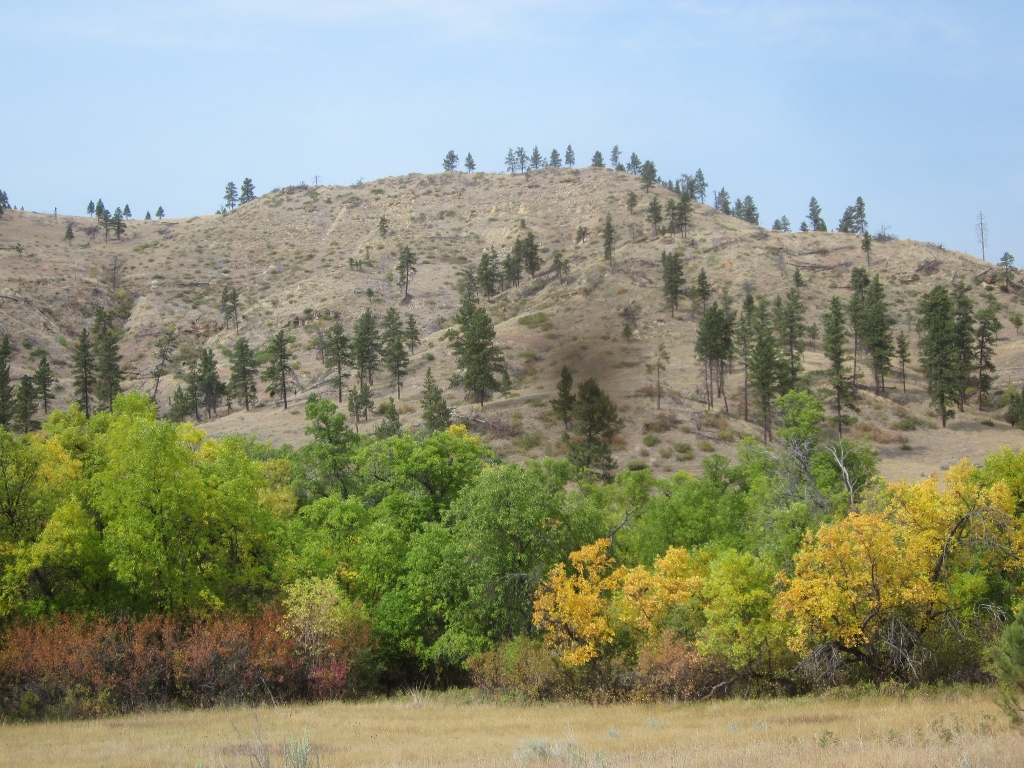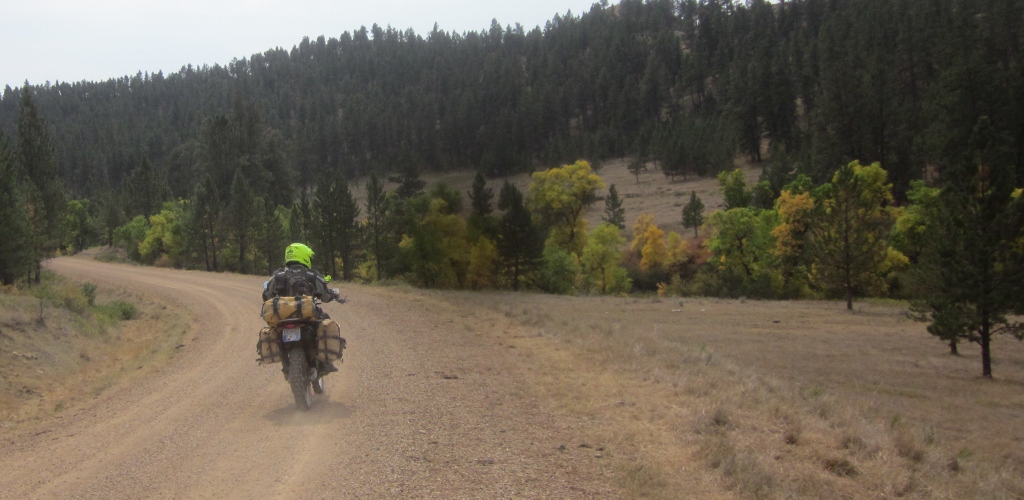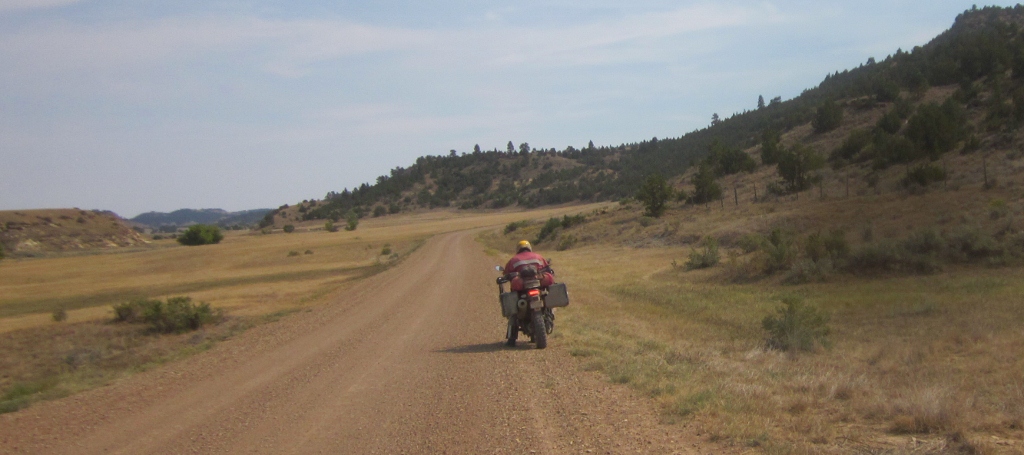 Today was just awesome and we had ridden some really remote small hardly used roads and trails.
Me and Scott had the WR250's really flying down this highway just before Ranchester.
I think we were over the limit but we both had are headlights off and got pulled over for that.
I always run my headlight on but had inadvertantly turned it off---Scott however runs with his off all the time.
I pulled my helmet off to show him I was very old, gray and feeble and we only got warnings.
Really nice guy--------just doing his job.
He did a quick background check on both of us to make sure we hadn't killed anybody in the last 3 days or so and let us go.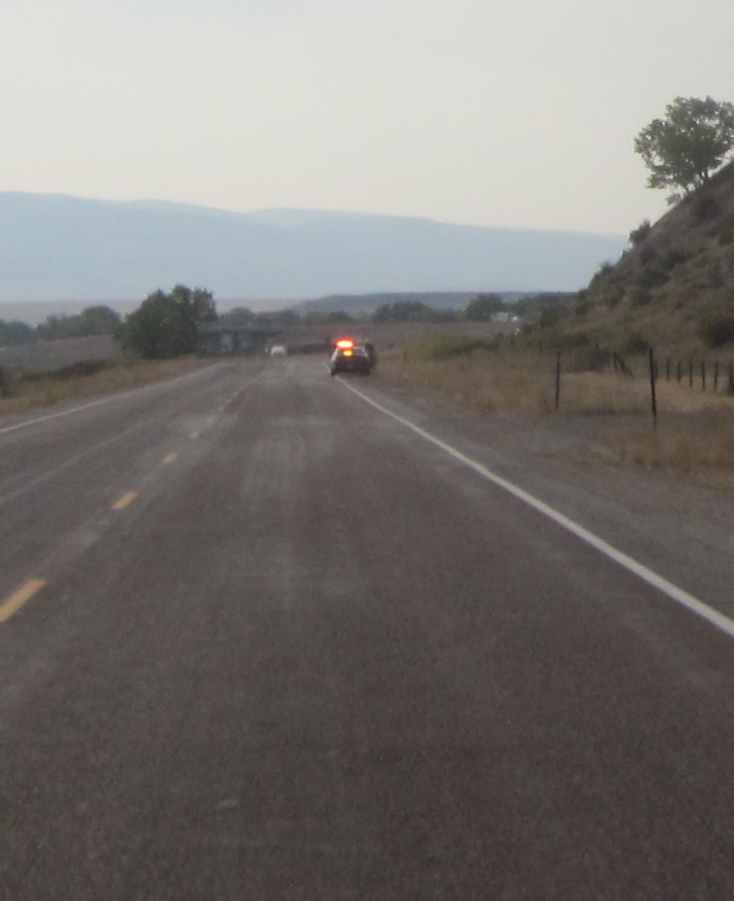 We wanted to camp again---and pulled into a wall to wall RV place--------not to our liking at all.
Dr. Rock asked if there was a little remote campsite nearby where we could throw up tents and she was so nice and sent us to the town Park in Ranchester
to the nicest campsite----right by a nice creek.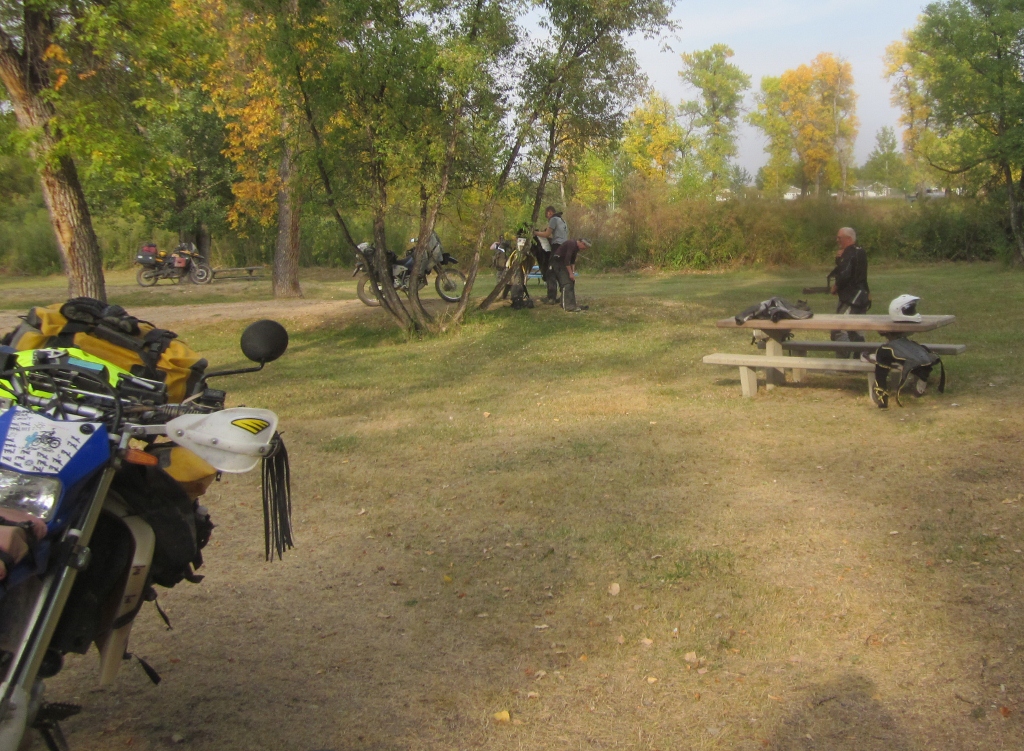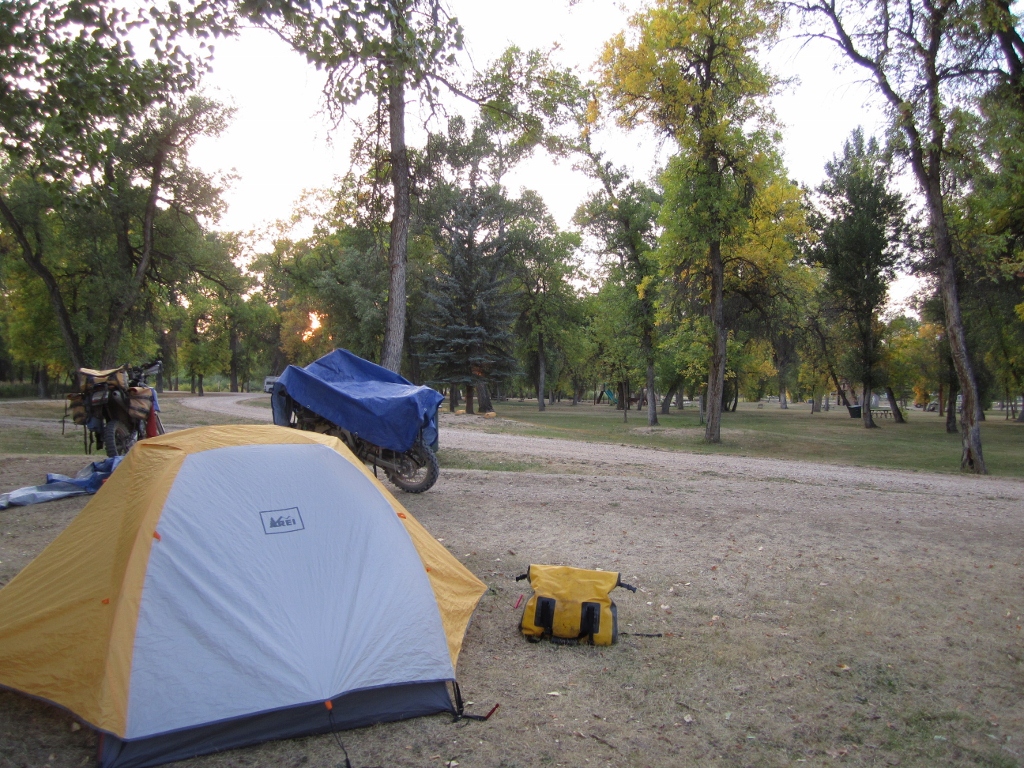 Dr. Rock cooked dinner for us again --------as usual. The tastiest brauts I ever ate---with chili---and or-derves (howevery you spell that) !!!!
Of course we had our usual simulated campfire here also.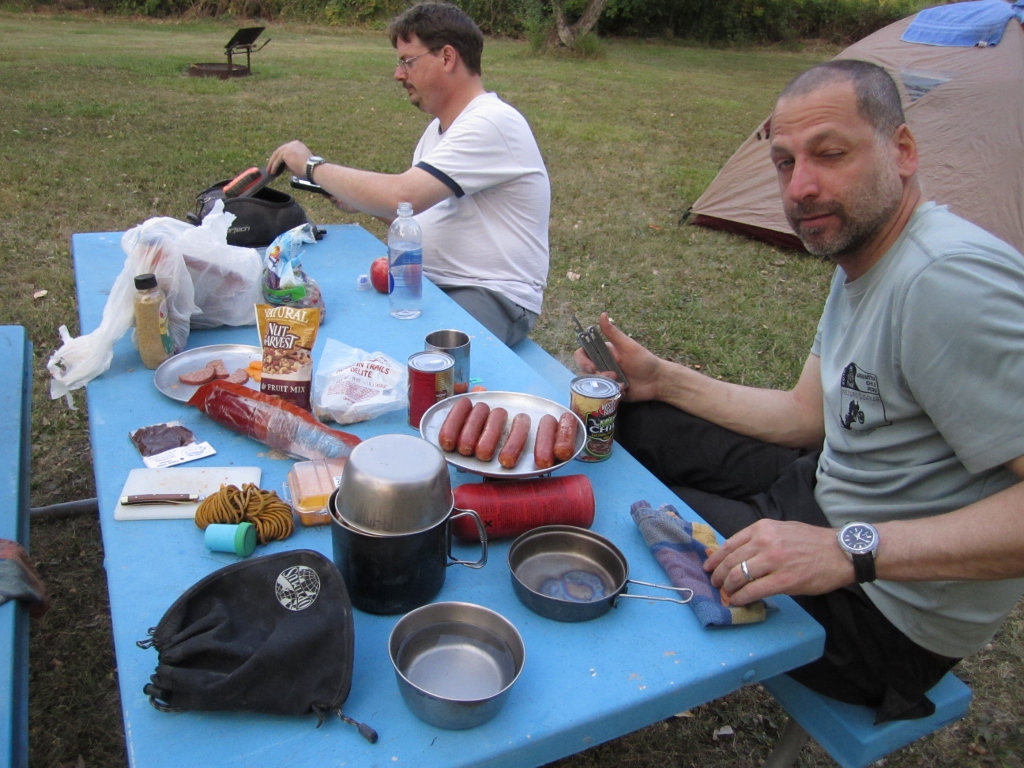 And for you viewing pleasure----enjoy Dr. Rocks Campfire Substitute.
A rough map of our ride today--about 190 miles.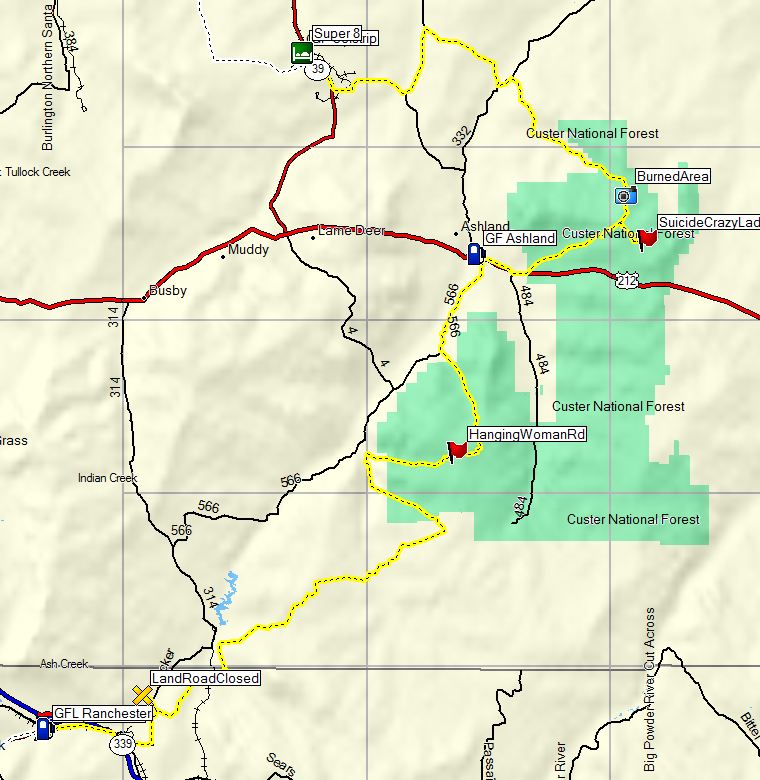 Day 11
September 15th, 2012
Manchester to Medicine Lodge Campground in Wyoming
Yesterday we had crossed into Wyoming and headed South towards Colorado.
Poor ole' Francine---had to wait and wait for us men to get ourselves going.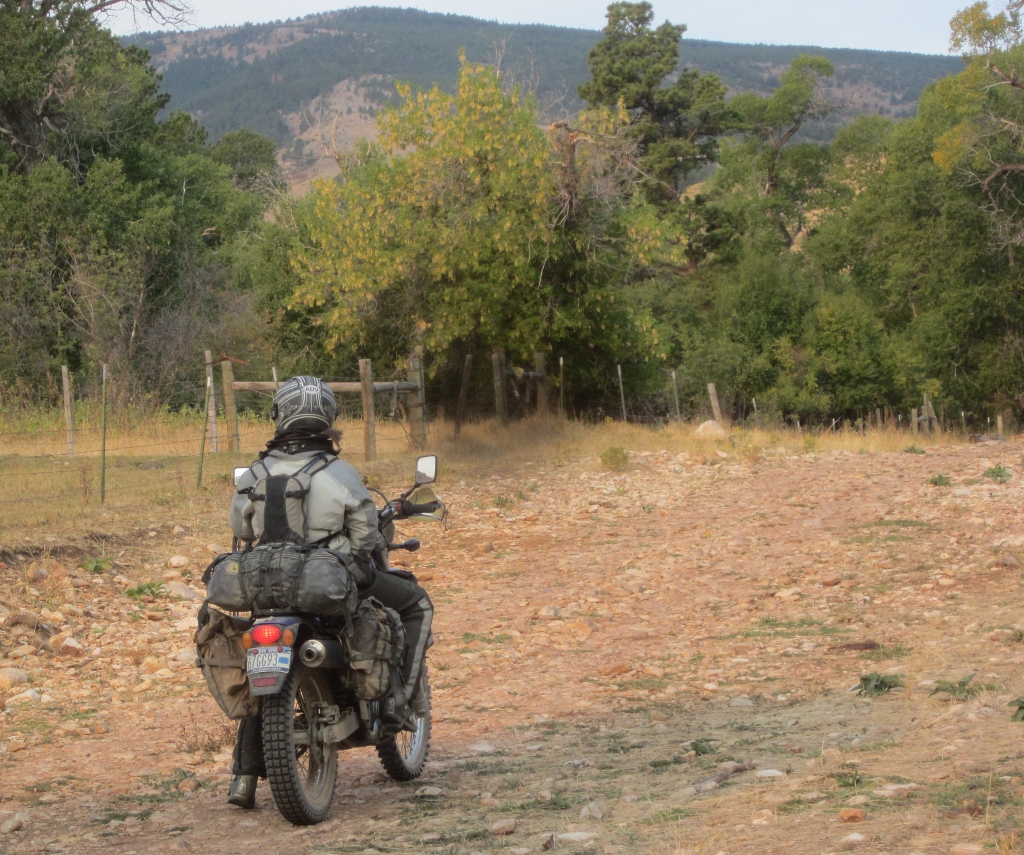 Our route headed North a bit and we actually got back into Montana and on the Crow Indian Reservation.
Then we turned back South into Wyoming towards Colorado--which would take us a few days.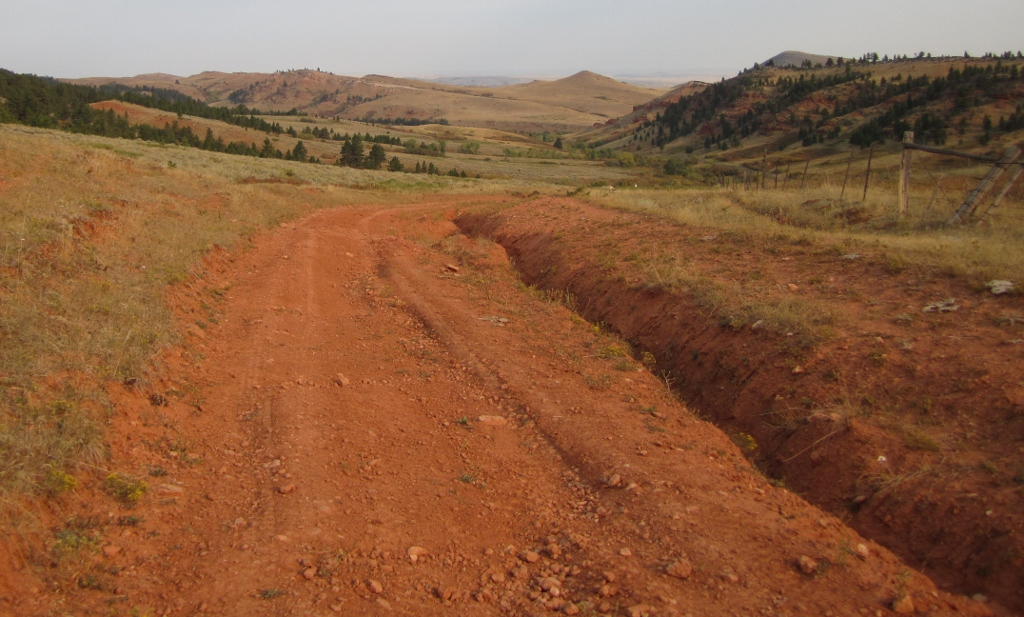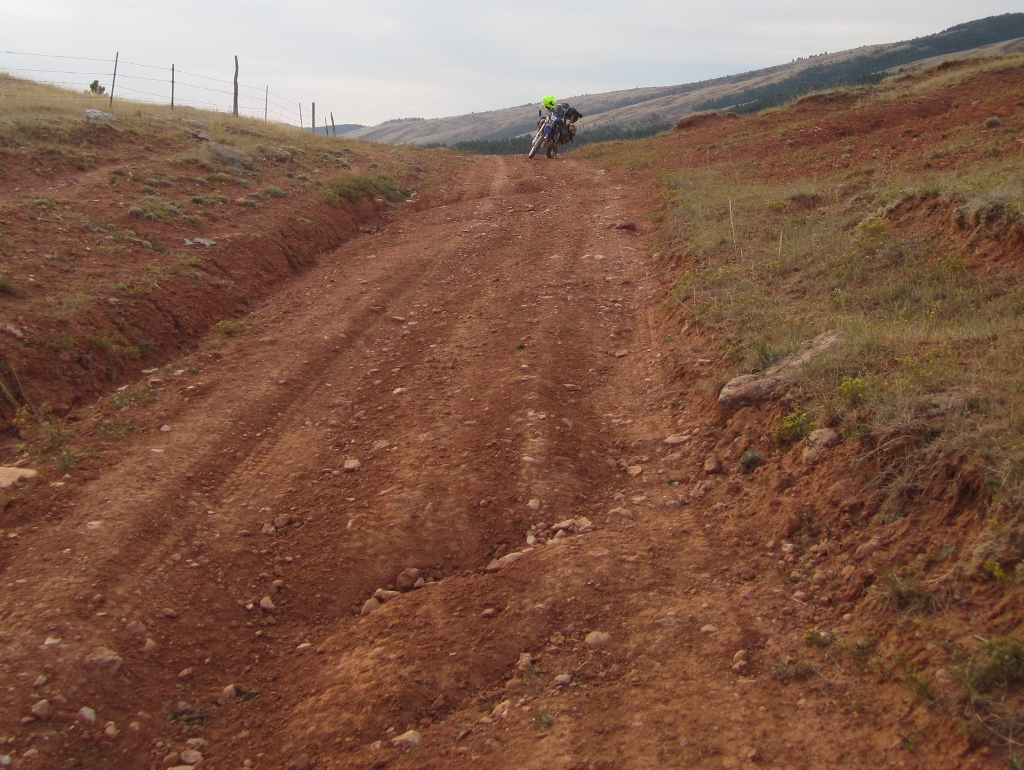 The climbing in here was extremely rutted, rocky and difficult.
I do remember Dave on the BMW800GS wondering if he should bail out here---not knowing his riding ability I wondered what he'd do.
He soldiered on and I found out real quick he was a better rider than I was as he ate this stuff up.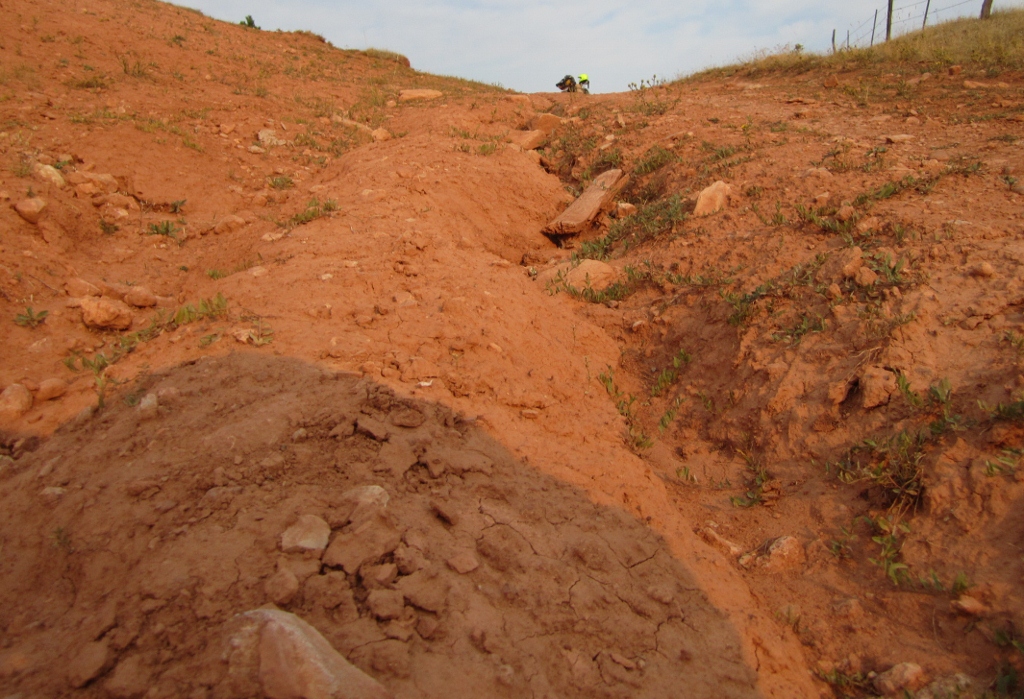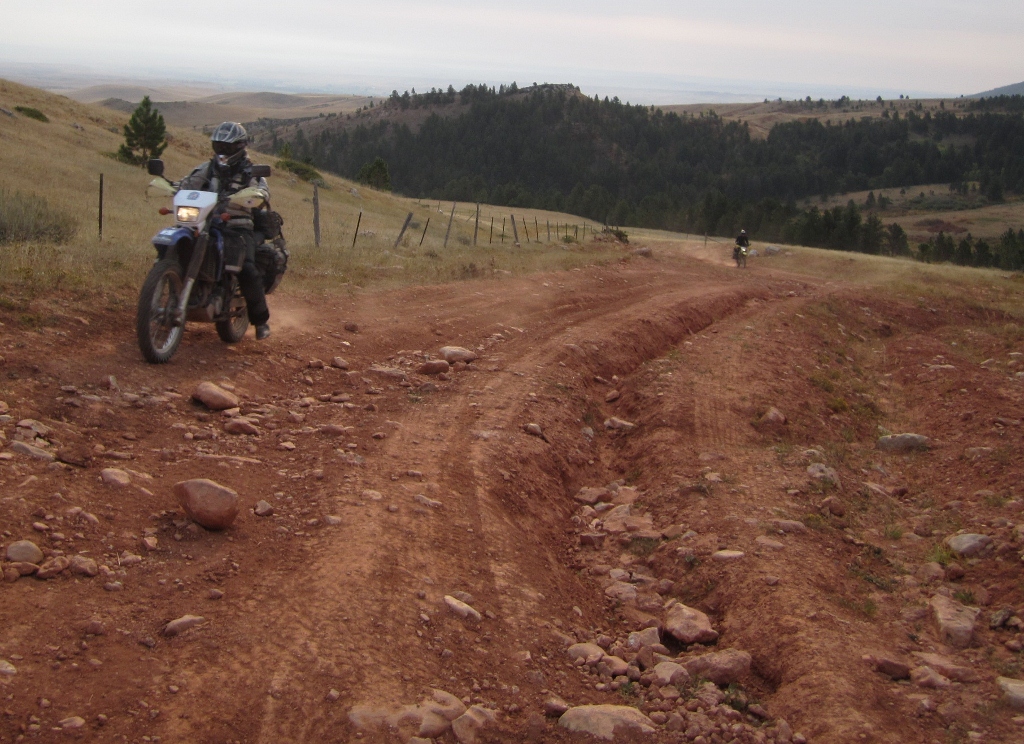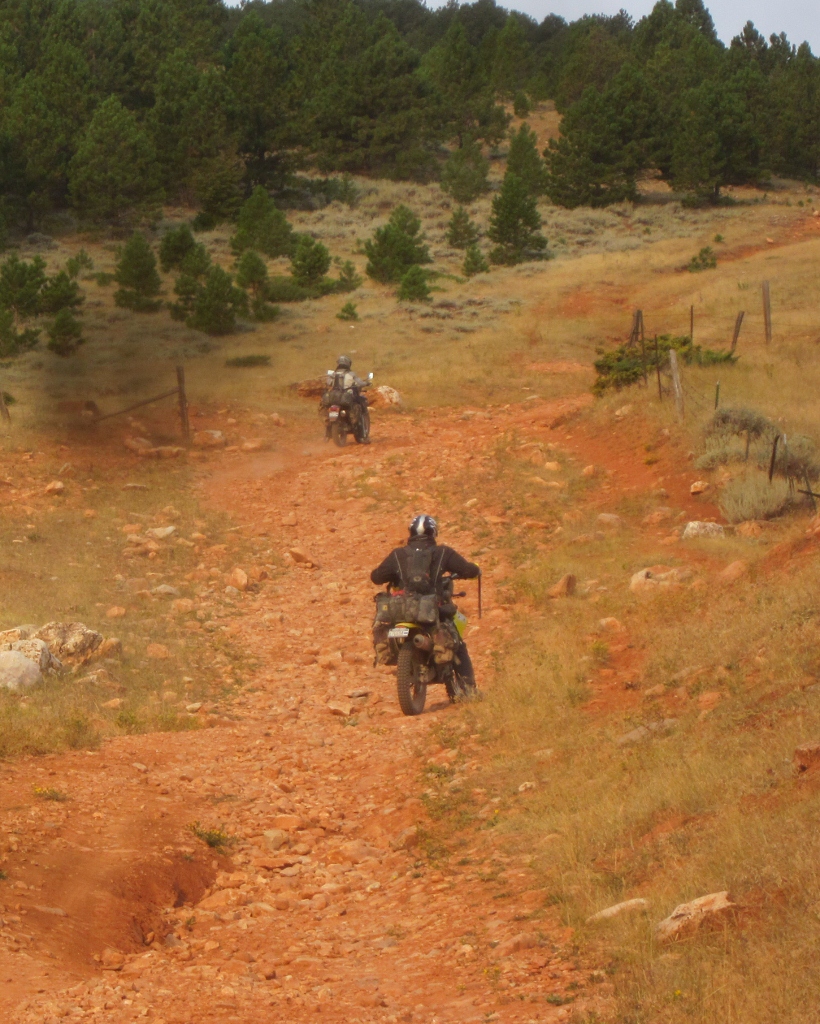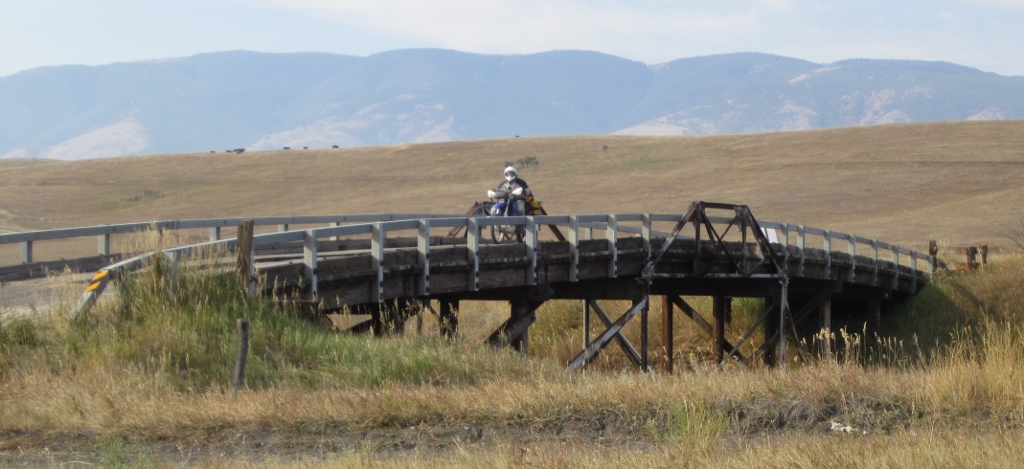 This picture just blows me away-------I guess they don't like the road less traveled and took the easy way.
I just found it real odd that these wild horses were running down the road.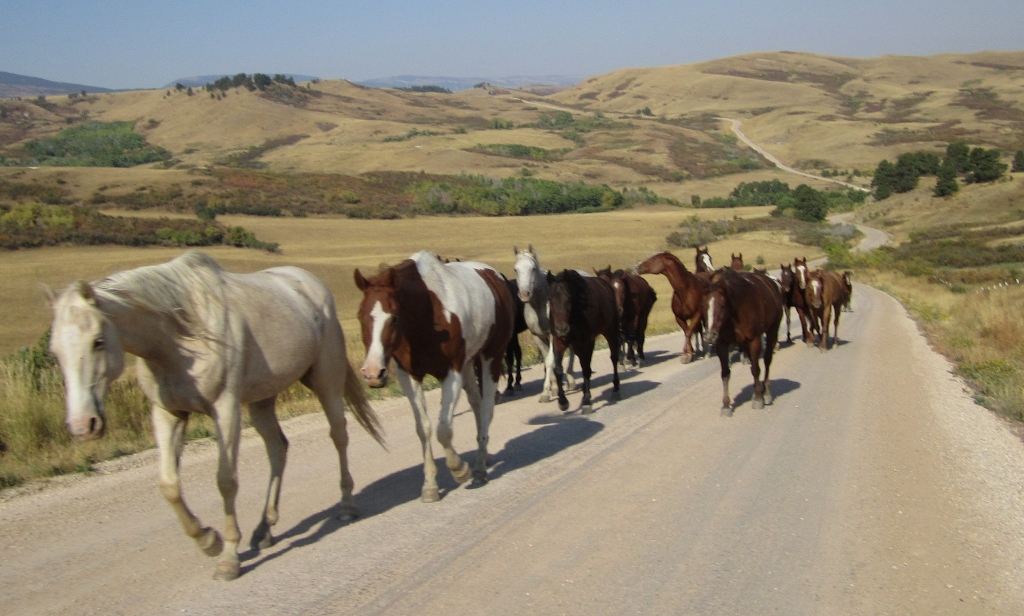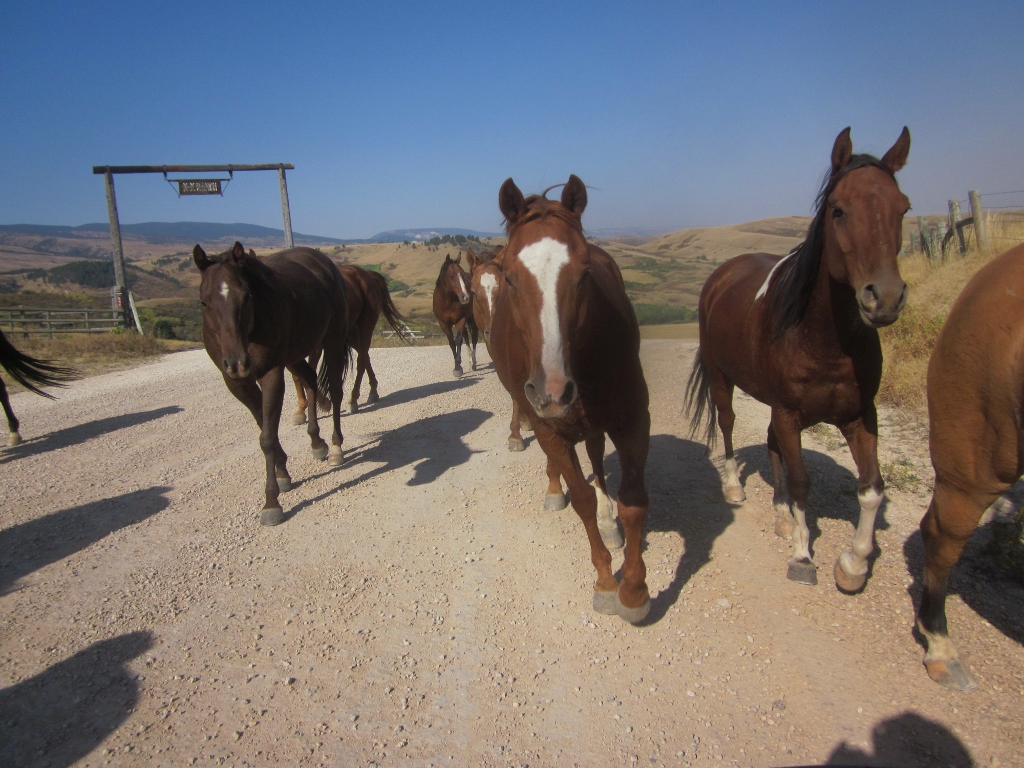 We were on a very primitive road here and had to get thru this cattle drive.
I don't know what everyone else was thinking---but I'm thinkin' we were running into private property and these cattle drivers would stop us.
Not so-----it was a public road------if you want to call it that. The terrain would soon get brutal----and brutally fun.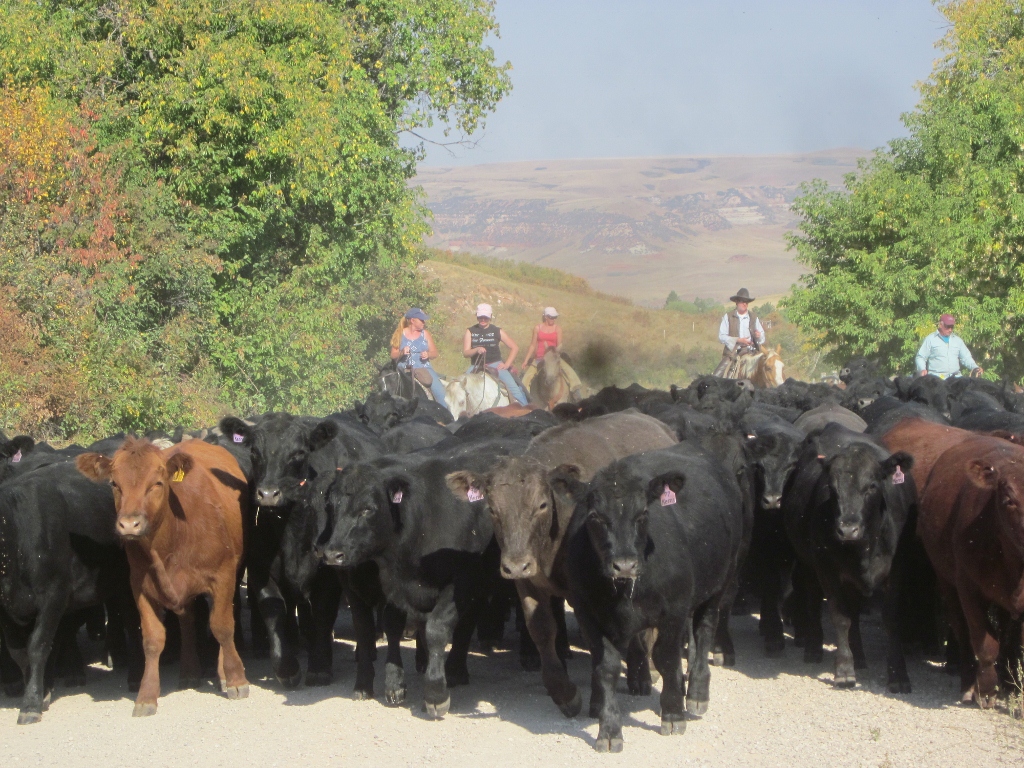 The one gal sported a tube top, ball cap and pony tail instead of the traditional cowboy hat.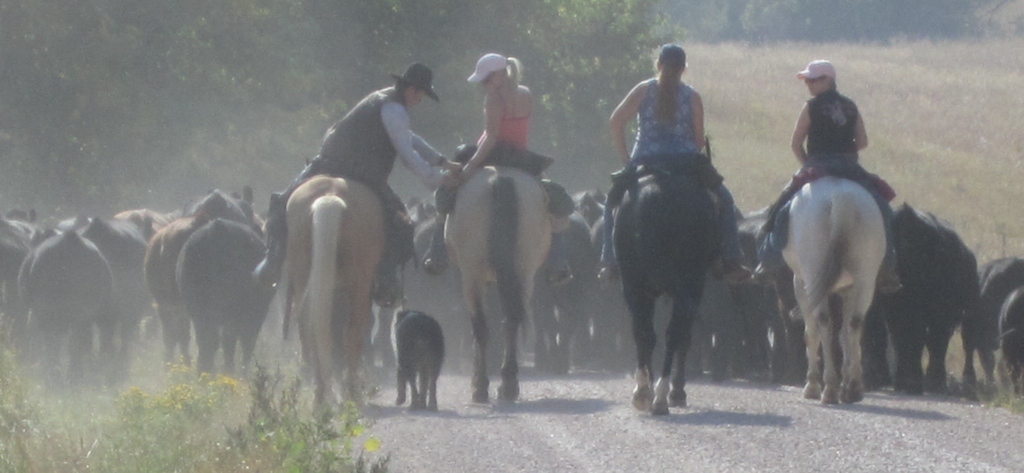 We dove down into this valley into the complete unknown------none of us had ever heard about anybody riding thru here and we
still pondered the private property thing and could see from here if we continued on our path we'd have to climb out of the valley.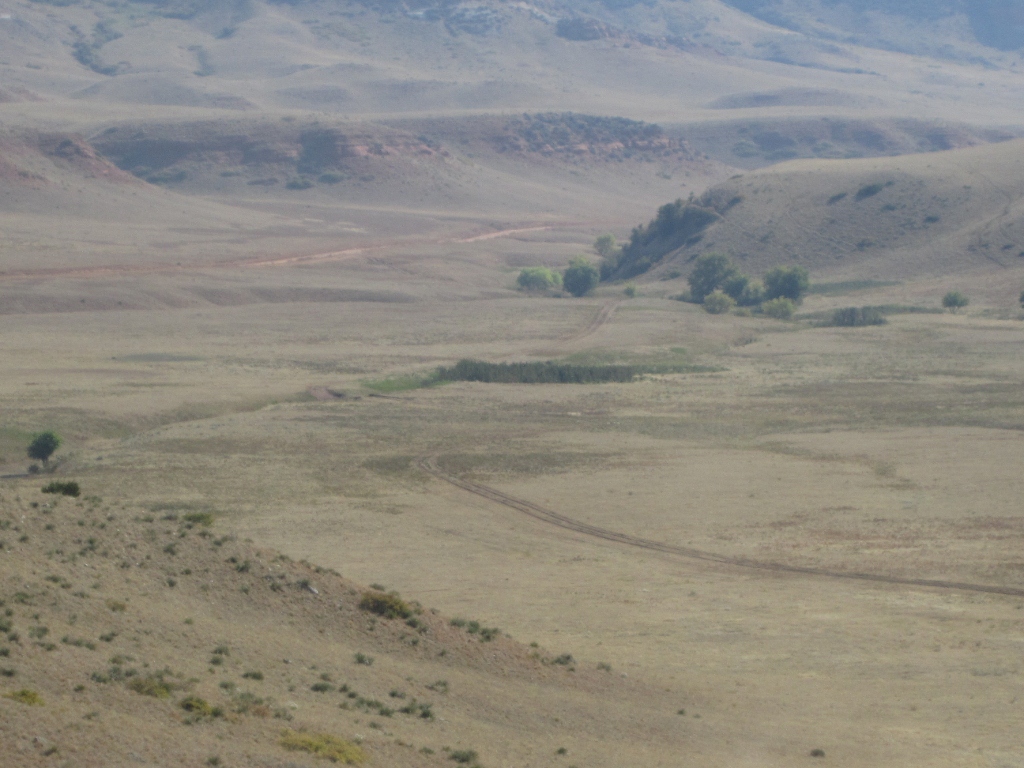 We rode across the rutted up cattle path for miles and started a gentle climb.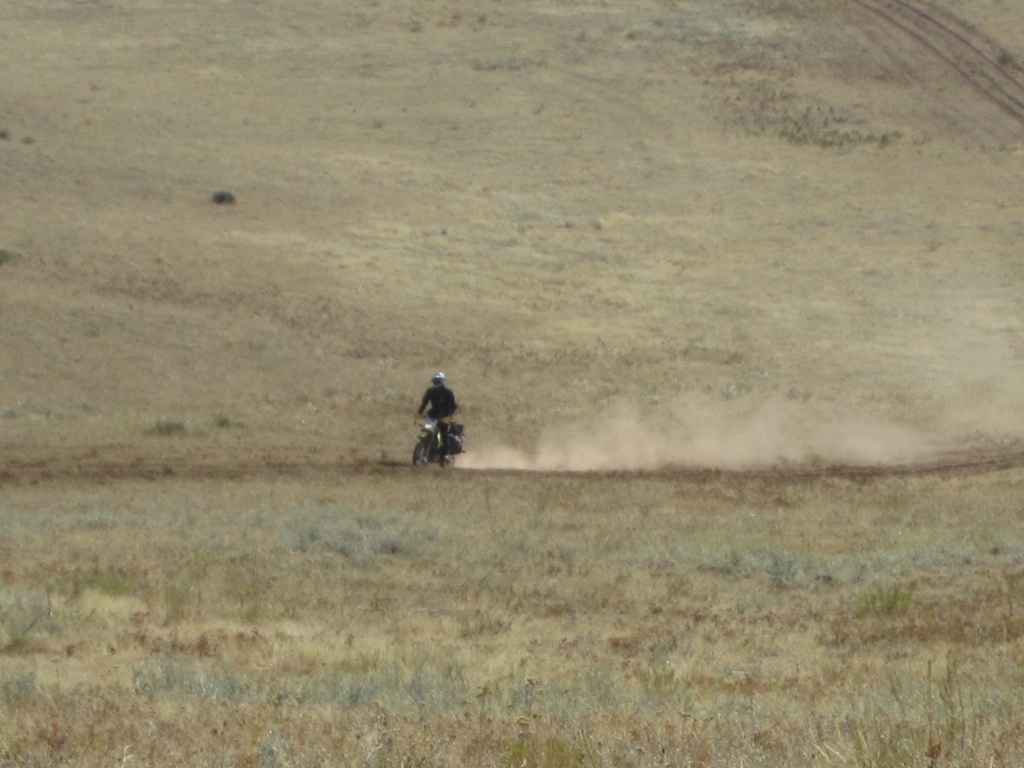 Maybe Dave had an issue riding up this----not sure.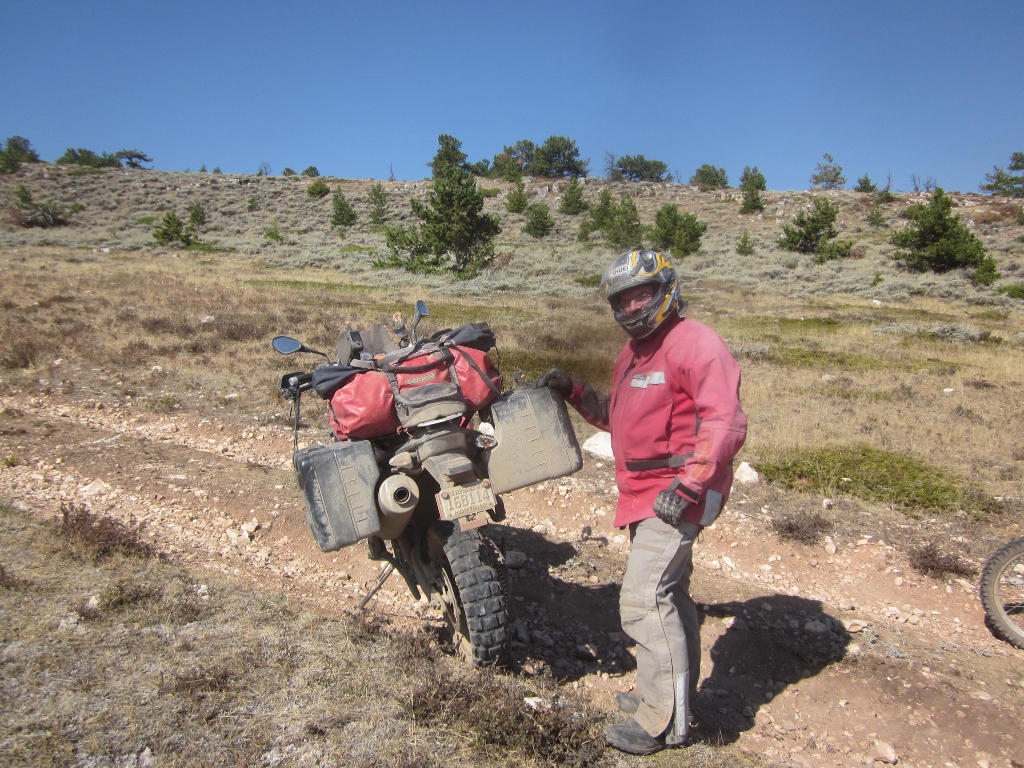 Dr. Rock stopped to take a picture early on in the climb out of the valley.
I was leading and it got really tough-------I mean really tough and I hoped I never got stopped as I thought I'd never get gong again.
I kept the WR250R pulling up the hill in first gear almost coming to a stop many times.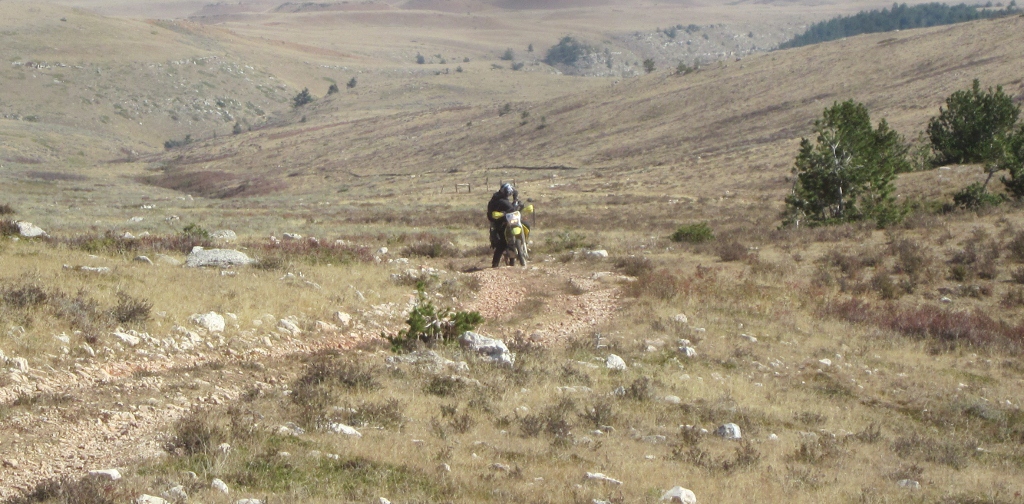 I was the first to get to the summit and it was pretty warm---more from the physical exertion than anything.
Like I said it was a very tough climb and a lot of luck had to be with you to make it unscathed------I wasn't good----I was lucky.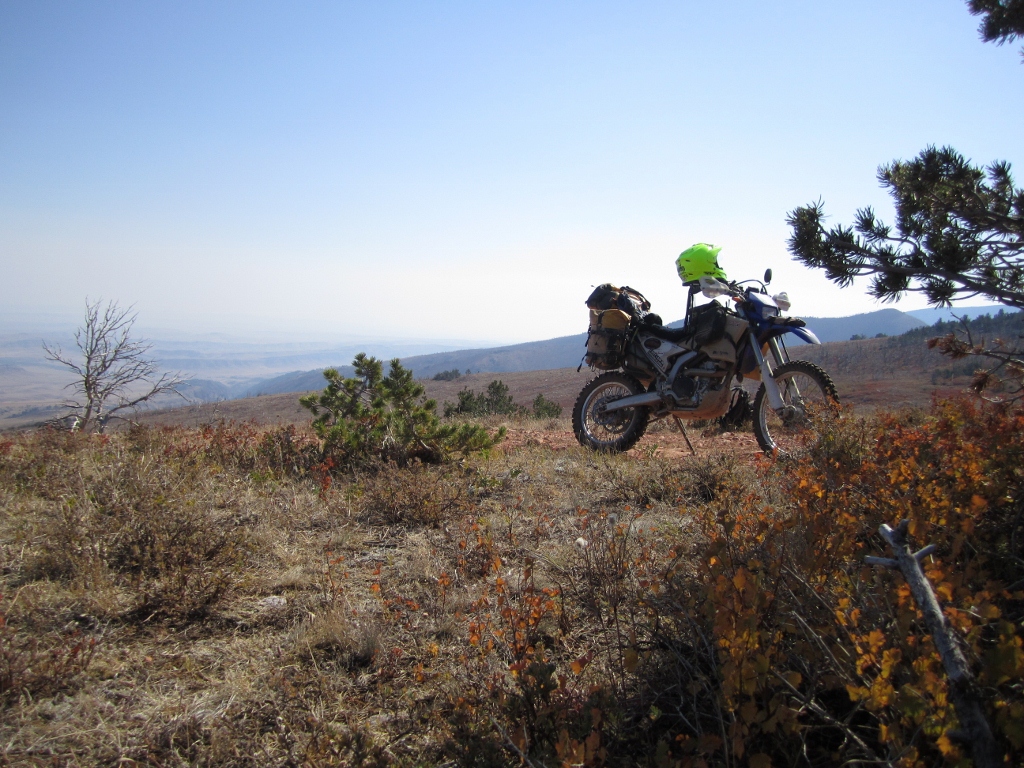 I waited up there a long time before finally Scott almost gets to me. What's behind him was a steep brutal loose rock climb.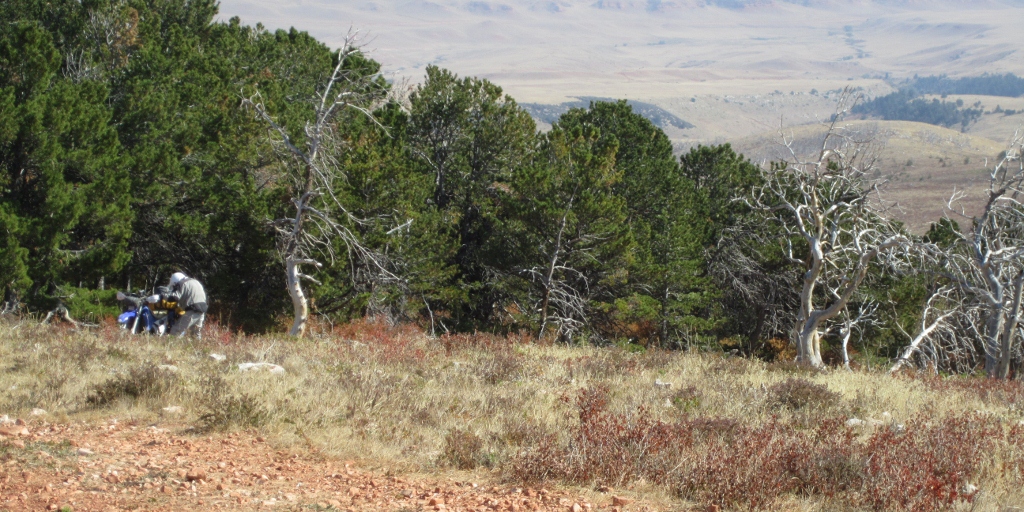 Francine comes up-------but no bike.
Dr. Rock had to help ride her bike a bit-----I wish I'd let him ride mine------I was exhausted.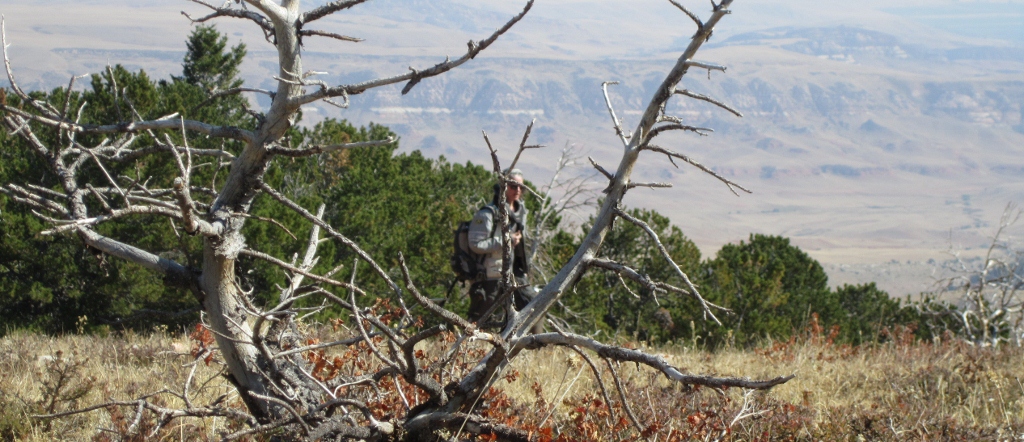 A topo map of the hill we just climbed----awesome !!!!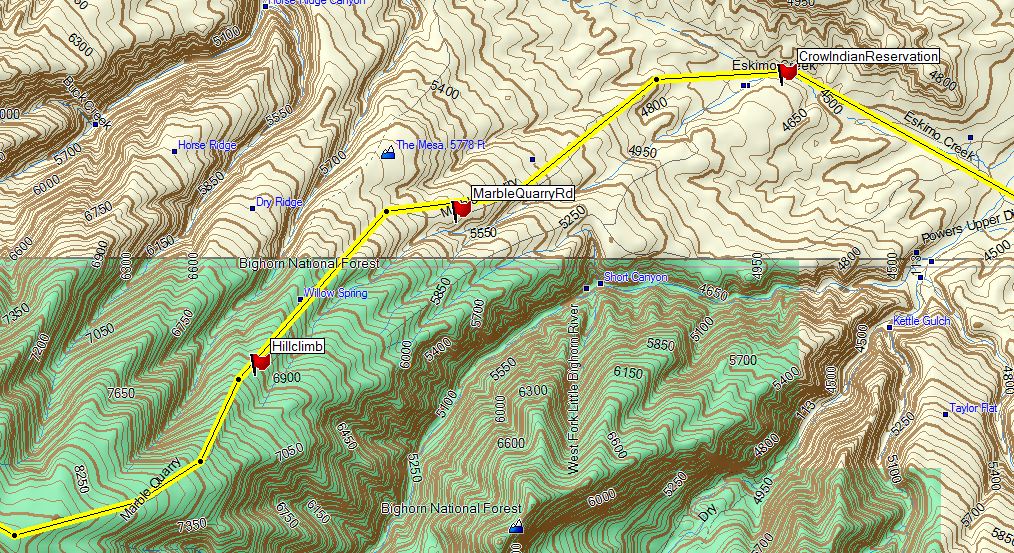 We sat here in the shade----had a snack----lot's of water and felt so good at what we had just conqered.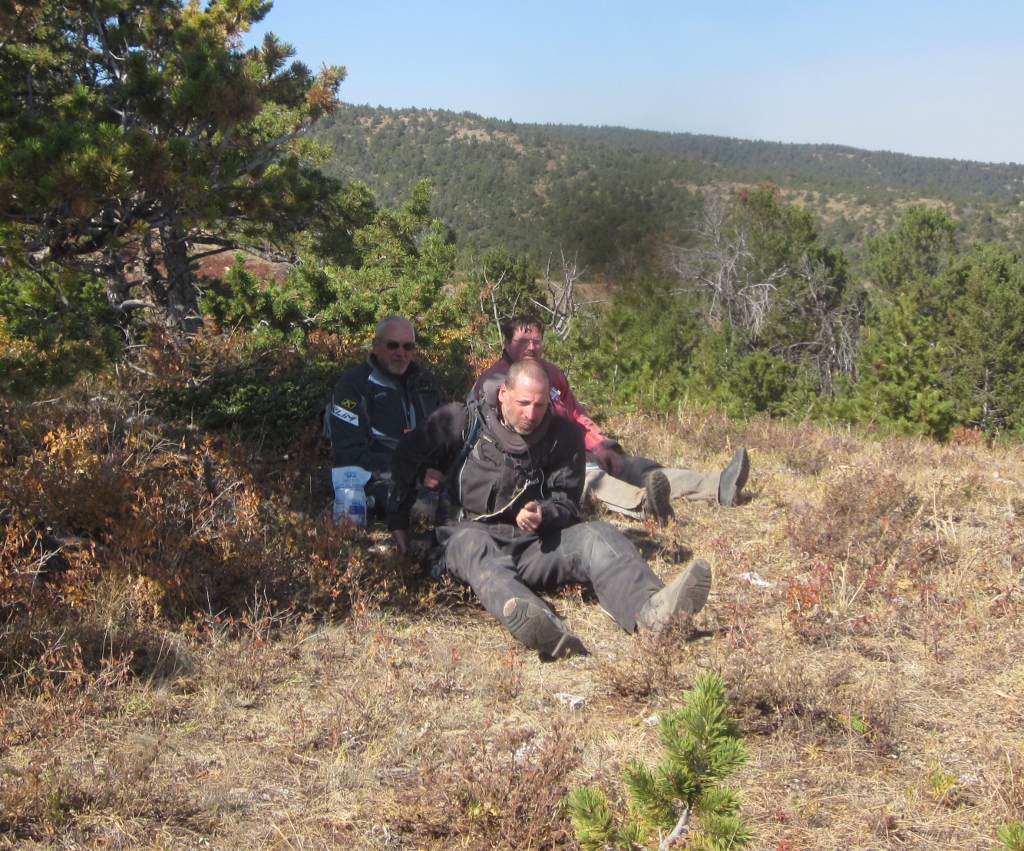 You go girl-------as they say !!!!!
I'm thinkin' in here Dr. Rock had a waypoint called "Little Dicey".
Probably a trail that was barely visible on his research with Google Earth.
Like I said-------we have never heard of anybody riding thru here. I'm sure they have--but very few.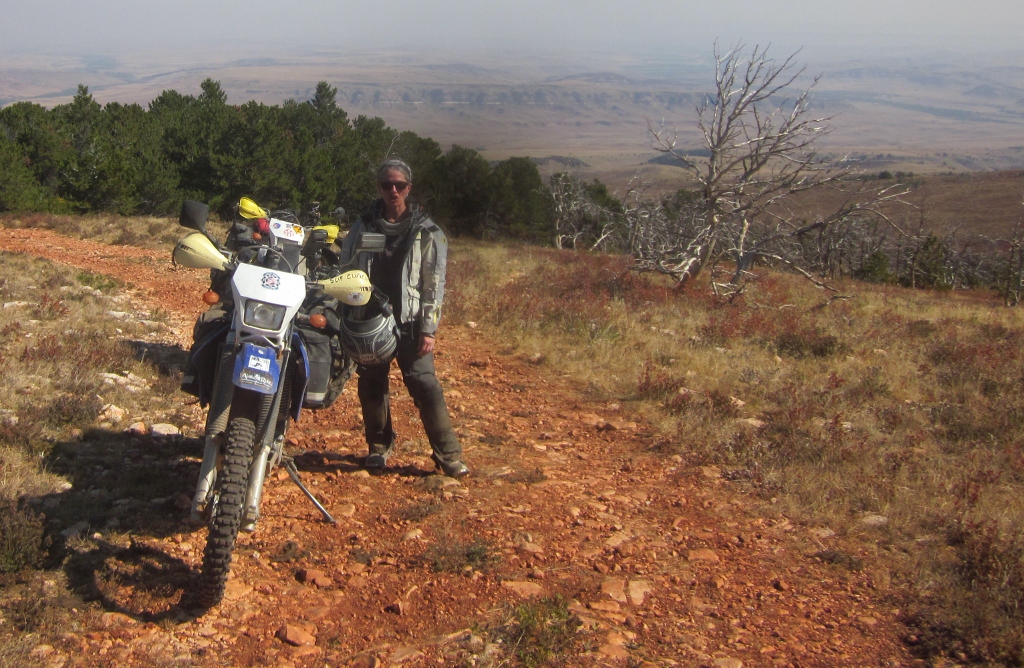 That is Dave on the BMW.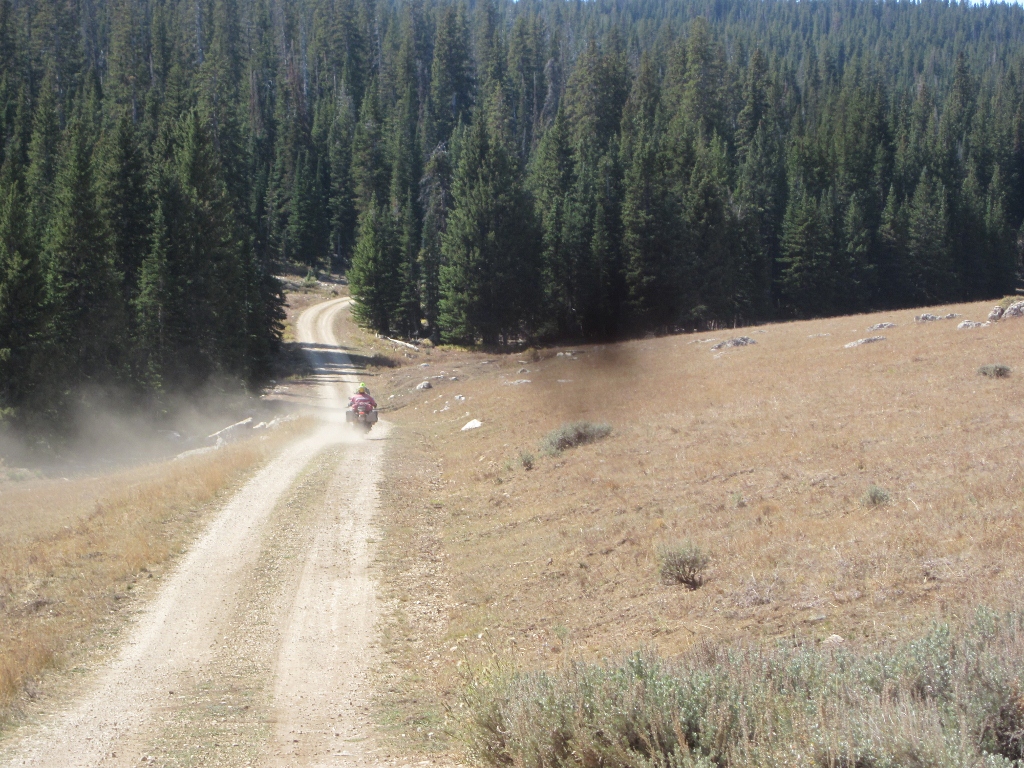 Man this was awesome.
We were having a hoot in here as the riding eased up a bit.
I think the temperature was bout 75° if I remember right-----it only got hot for us in difficult terrain.
My new KLIM Badlands Pro Jacket was perfect for this ride. It vented very well----good thing as I could never take if off riding
as I would have no armor.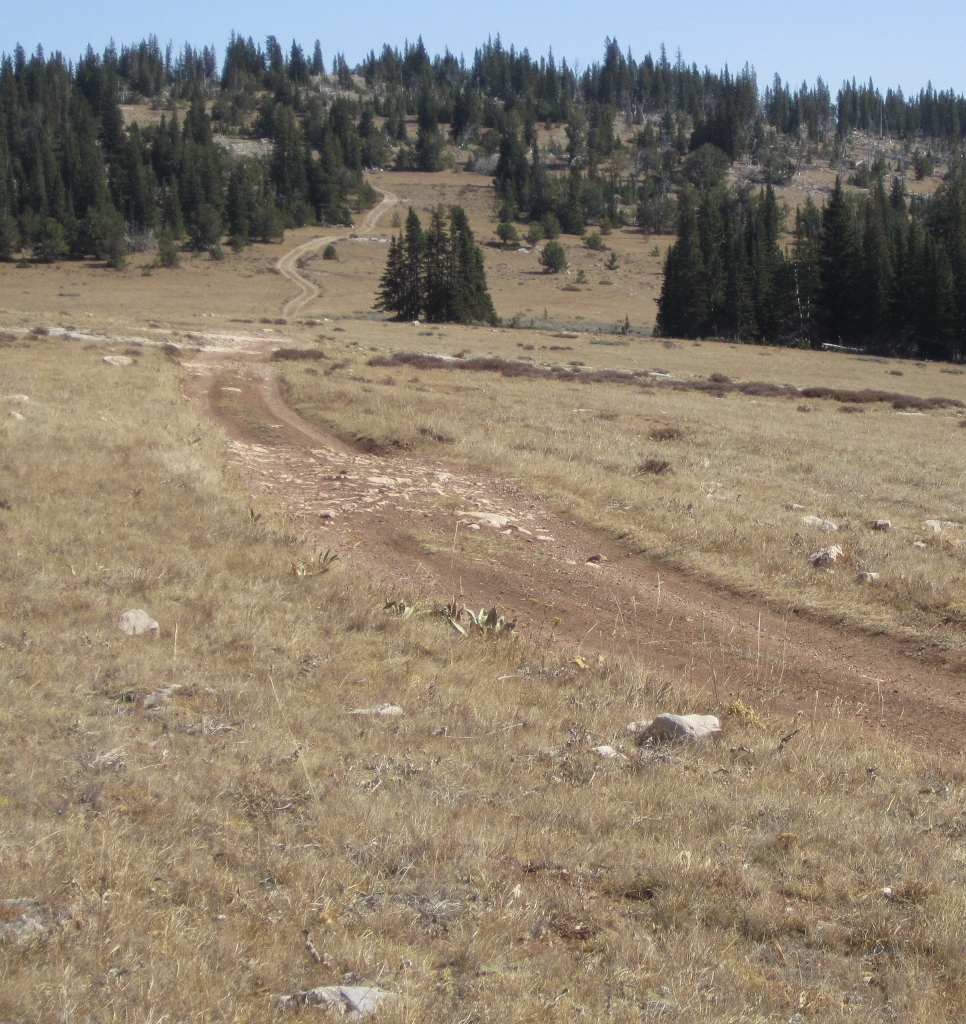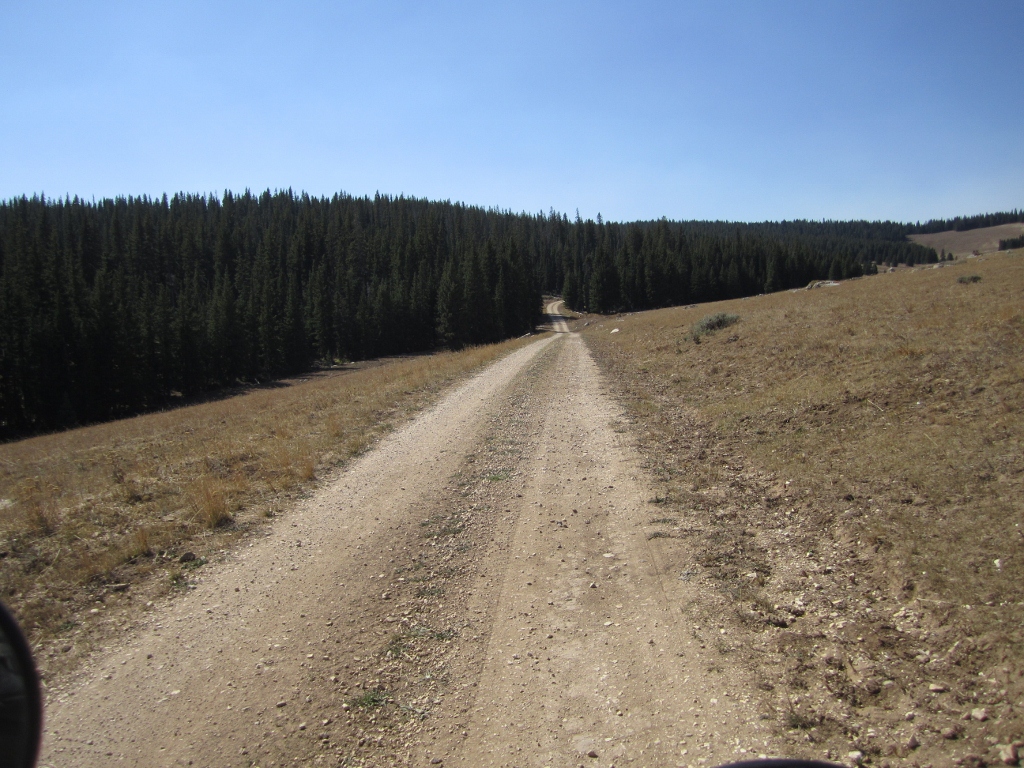 Besides the route to follow-----Dr. Rock had nice little handy waypoints to help you alng the way.
I had a route-----the purple line with navigation distances.
I had a track log---the green line in case I got off the route.
And the handy waypoints.
The Waypoint summit was just a few miles south of the Montana border on Marble Quarry road--which most wouldn't call a road.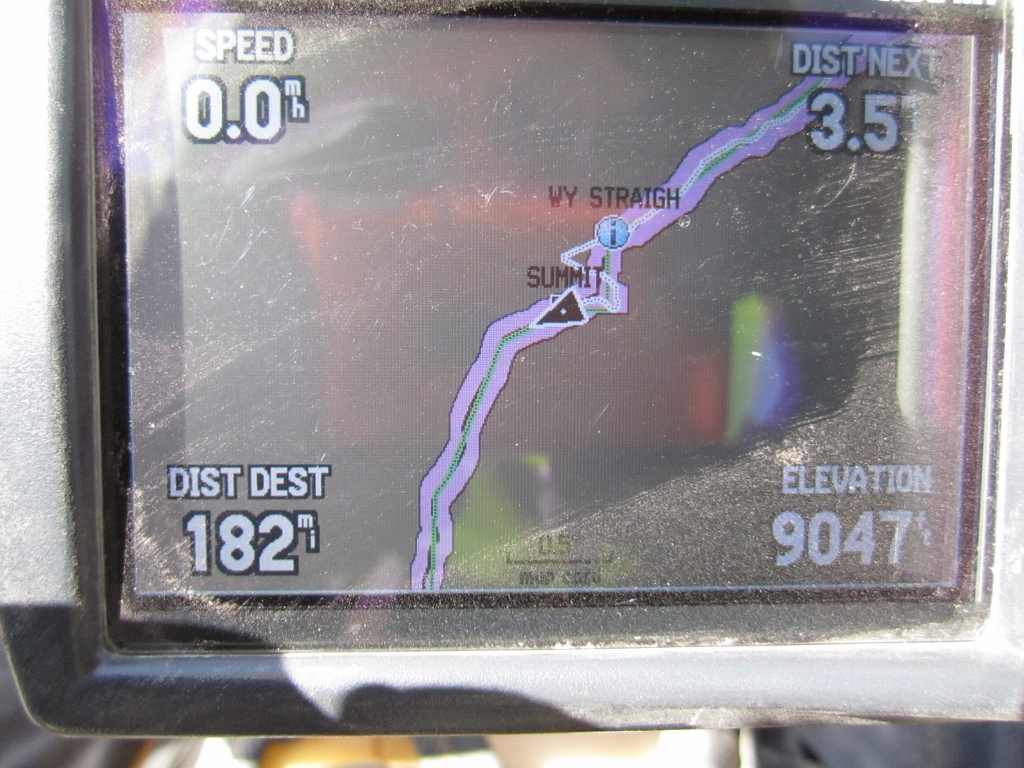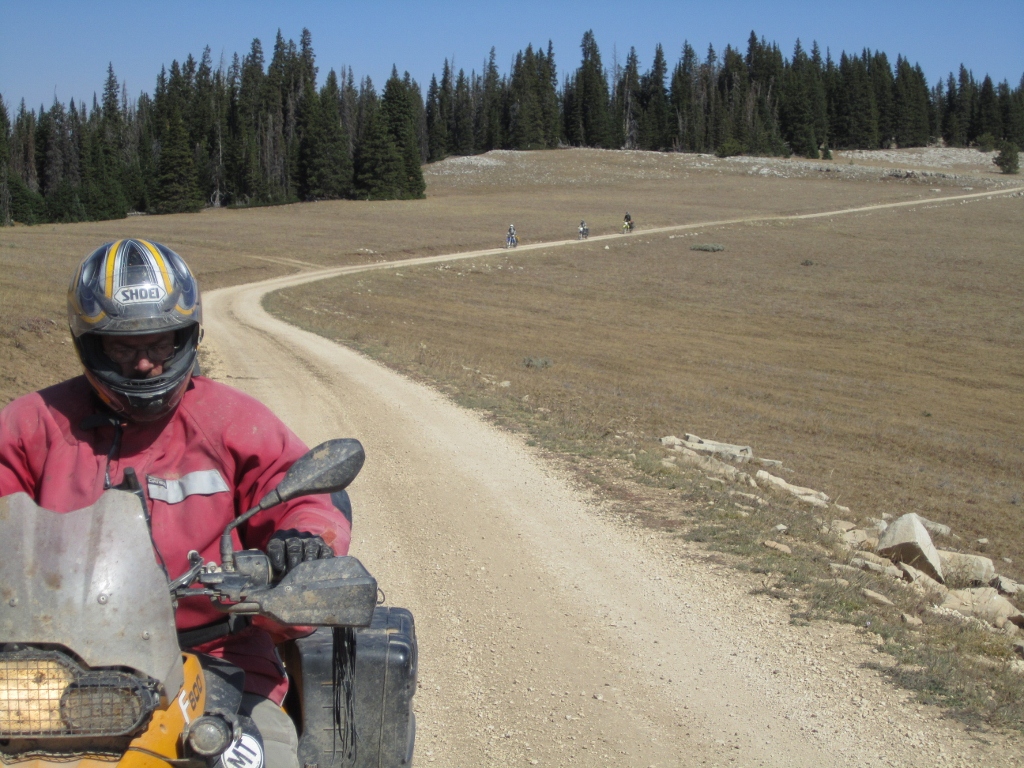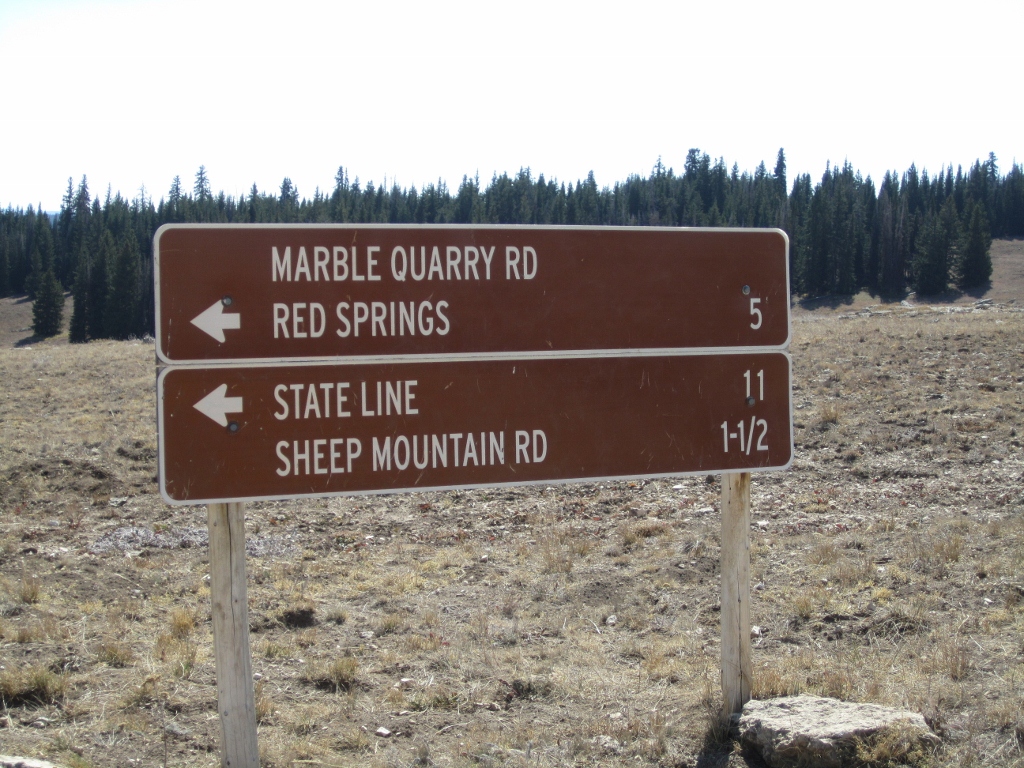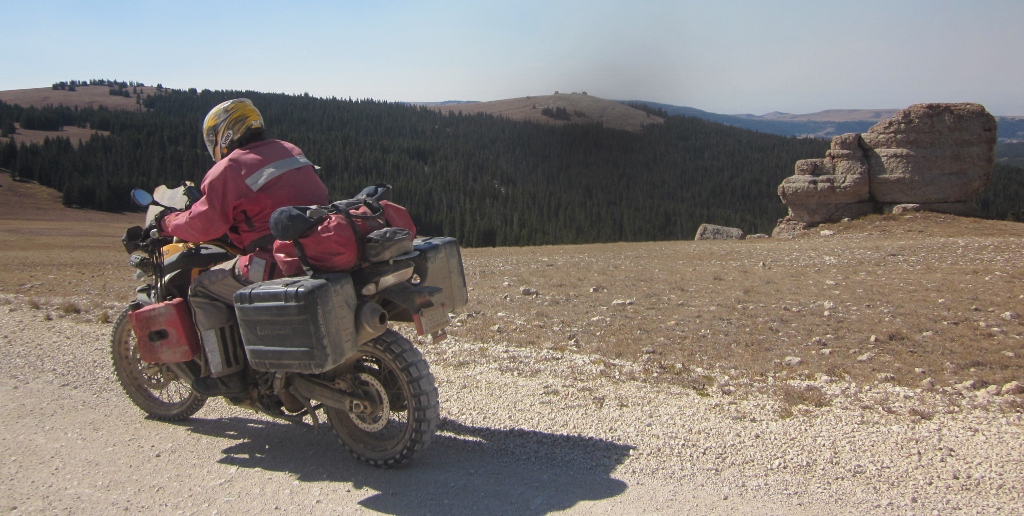 I'm bettin' this was the summit.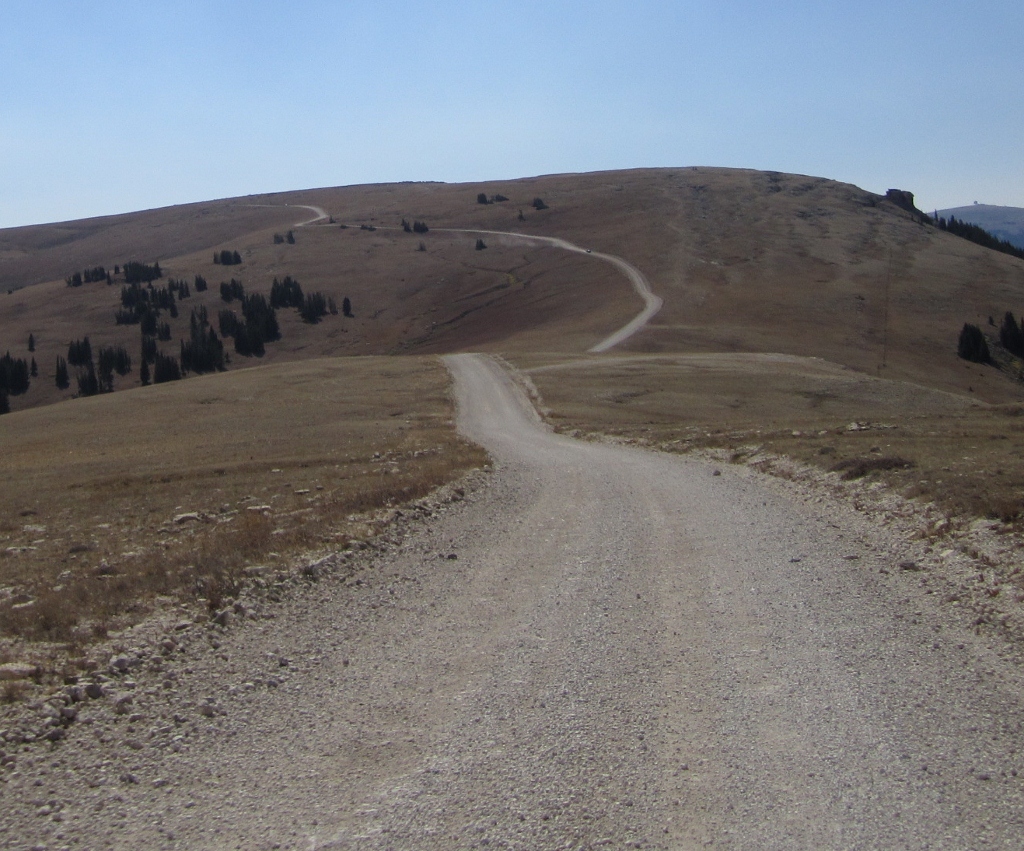 Dr. Rock had been in contact with Steve (pictured) to meet and join our group in Burgess where we also got snacks and gas.
I think he was from Oregon and we had no idea what he was riding till we got there.
He was on a BMW1200GS------ a bike twice as heavy and with a motor 4 times bigger than me and dingweeds.
How would Steve fair on this ride ????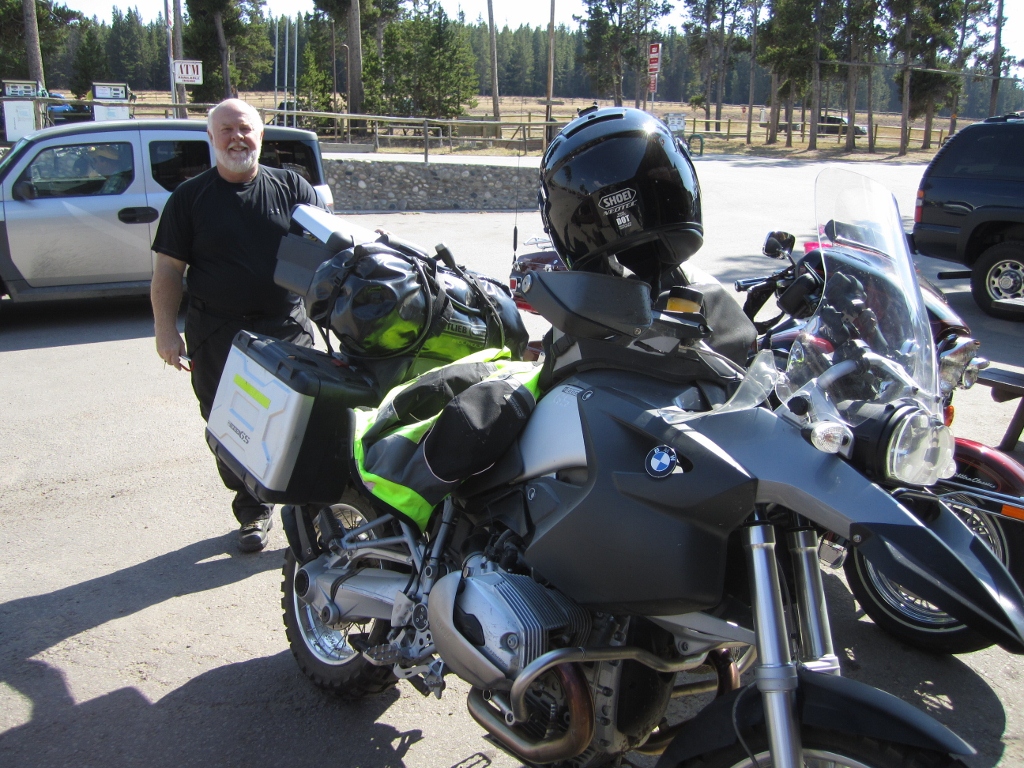 Me, Steve and Dr. Rock poked around on one of those paper map thingy's a bit.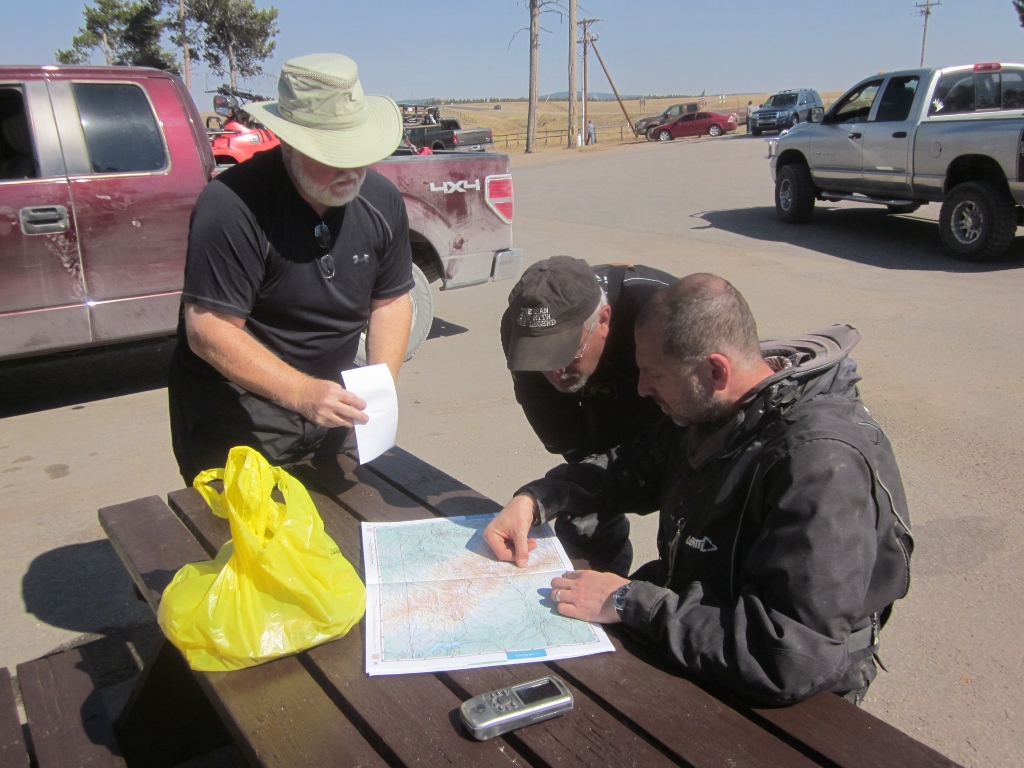 Steves 1200GS in the center and Daves 800GS back farther on the trail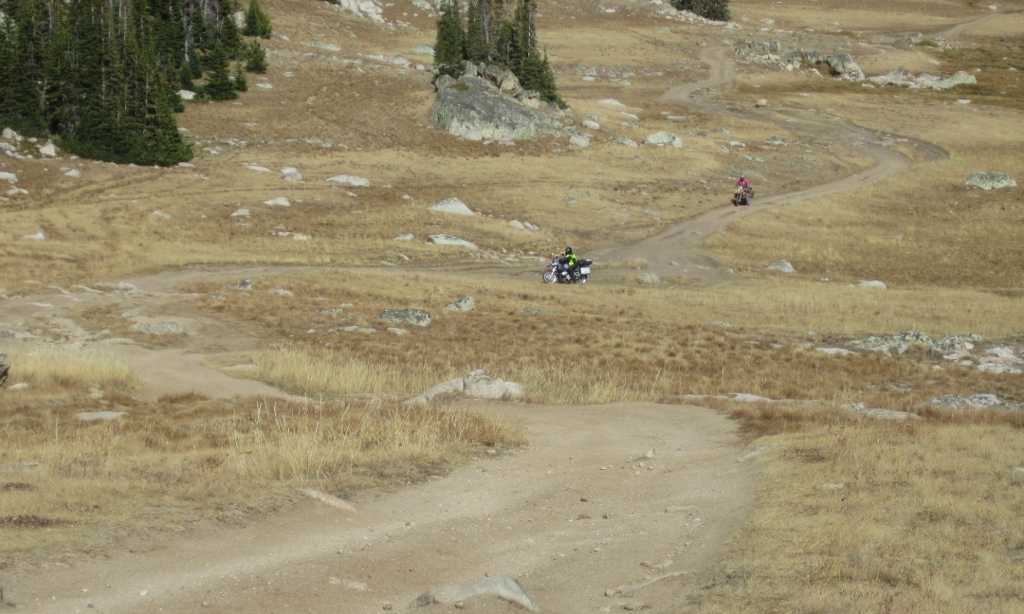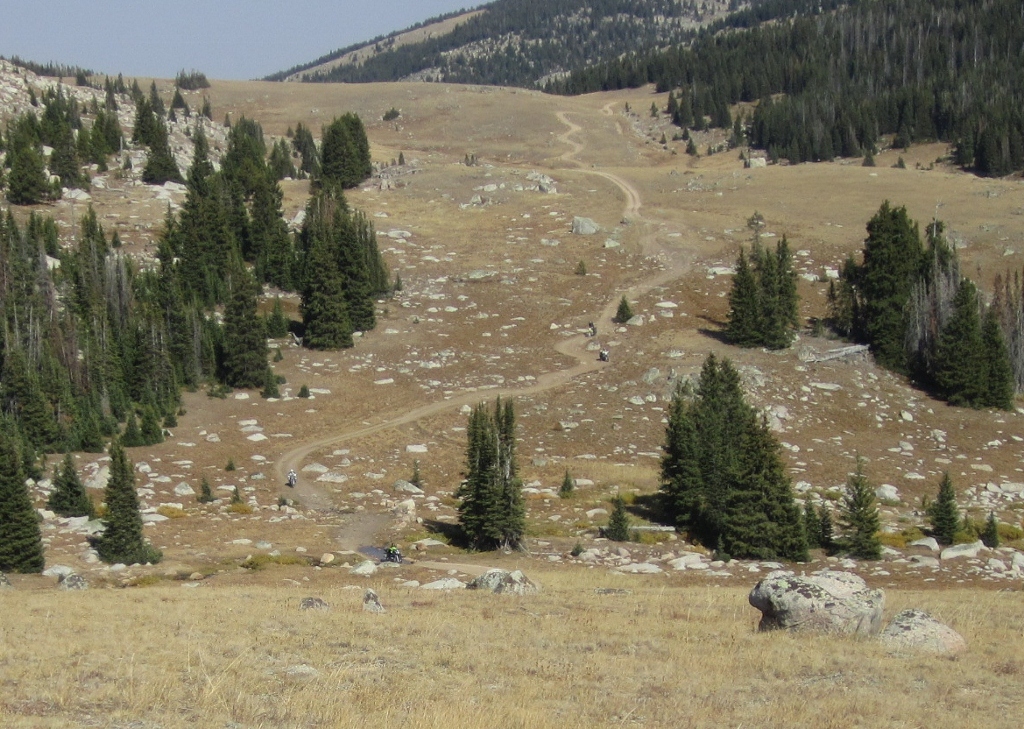 As I had been leading I had to go into another mode when Steve joined us-----as before I didn't have to wait at every turn as all riders had
the navigation and I would make sure and gather riders up after maybe 10 miles of riding in easy stuff----or sooner if it was technical hard riding.
Now I had to stop and wait at every single turn to make sure Steve was till on track as he didn't have the navigation at all.
Hey---I'm retired------no hurry.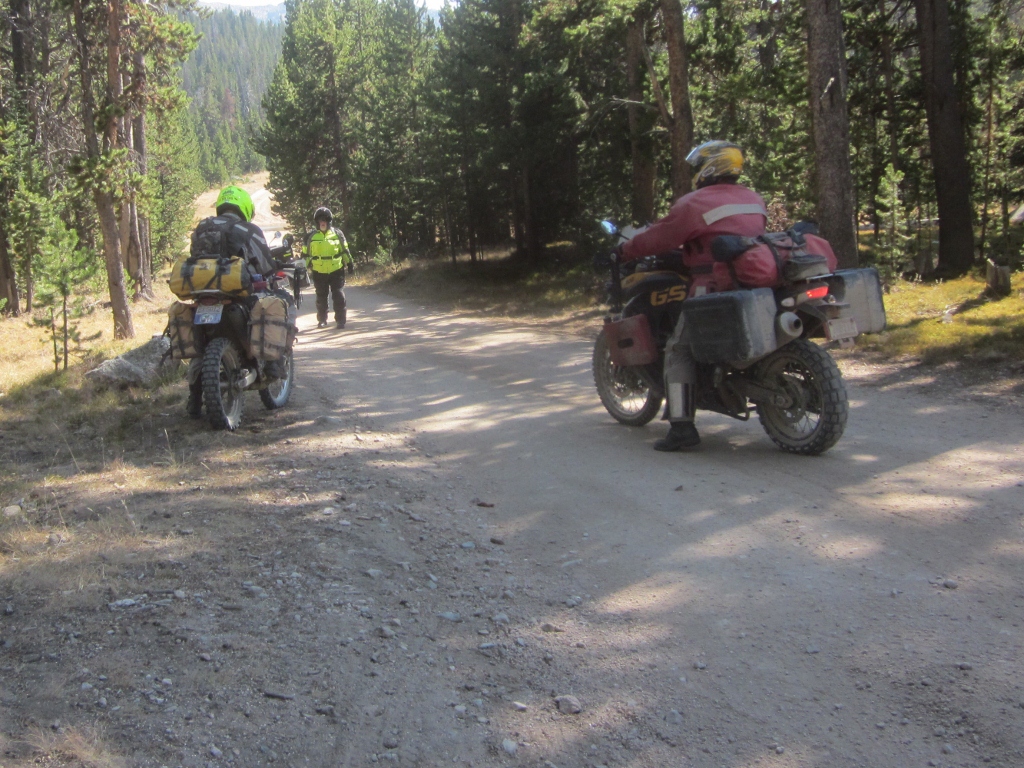 This crossing here was easy-----but everyone wondered why I took the line Steve is taking thru the deeper water instead of the line to
the left in the shallow. See those conrete things ????? If you weren't careful your front wheel could get in between them in a deep rut
and that wouldn't be pretty.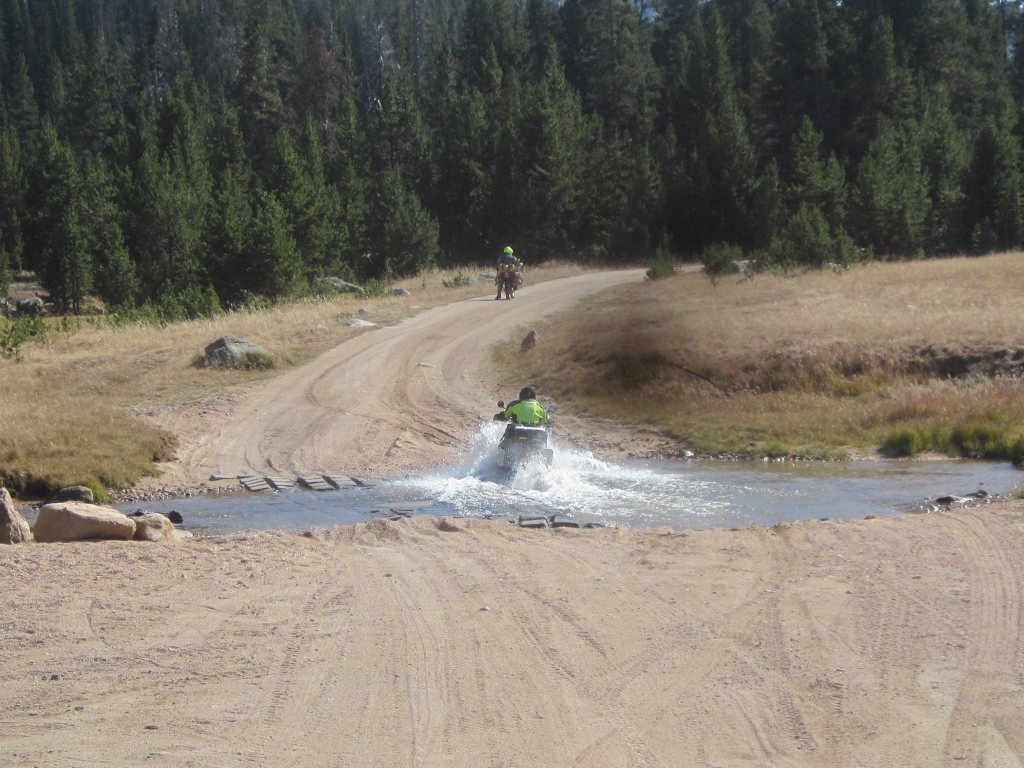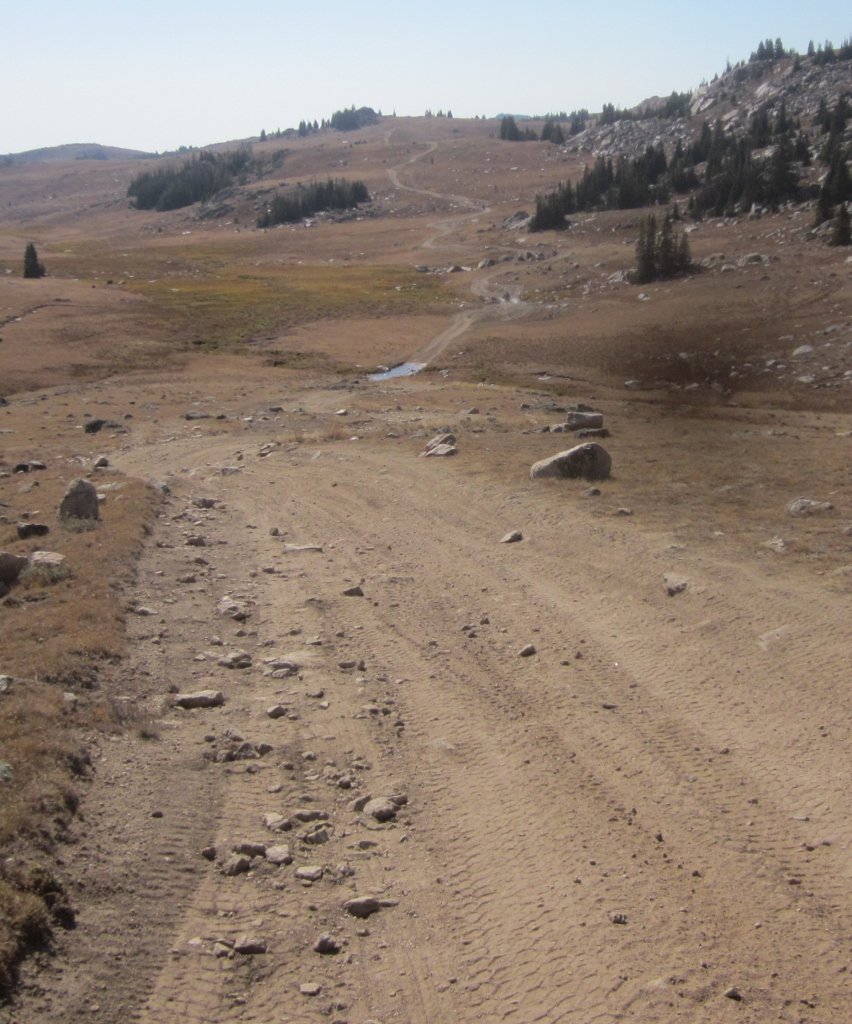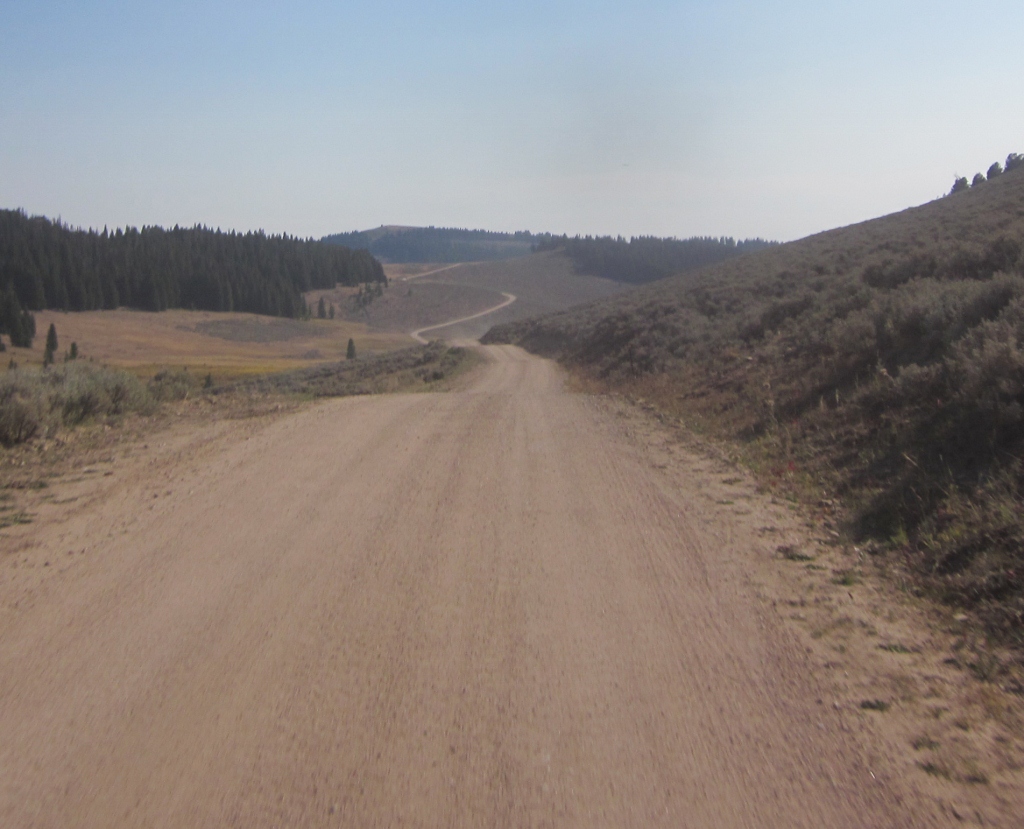 A lot of the riding today was in the BigHorn National Forest and we got a hint of the turning Aspens.
Later it would get full on.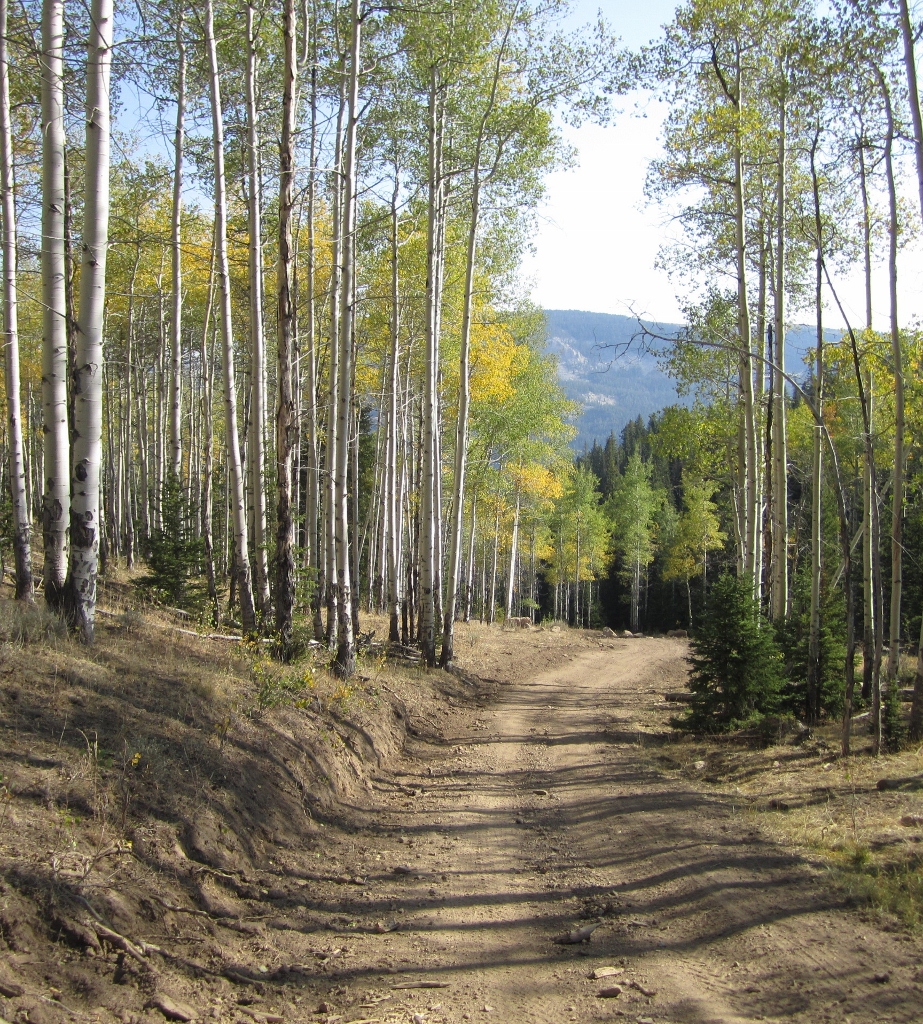 Each day we had no idea of where we'd end up-------but earlier saw Medicine Lodge Lake Campfround in the gps and maps and
hoped to find it and camp there-----------I was running way out front and found the campground and scoped out an extra big camp spot
and ran back out to the dirt road to bring everybody into the spot. We had the entire campground to ourselves.
And the best part-------we could legally have a campfire.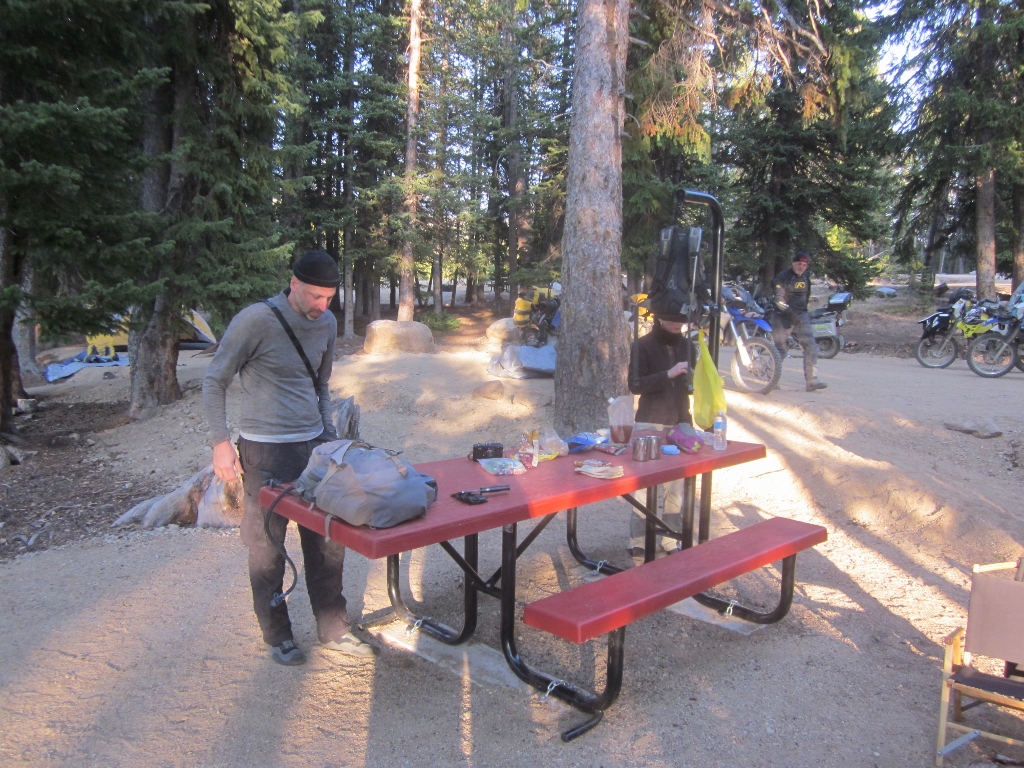 I had been very eager to demonstrate my new wood saw----the "Sven Saw".
Yeh----keep going Steve---your gettin' the hang of it.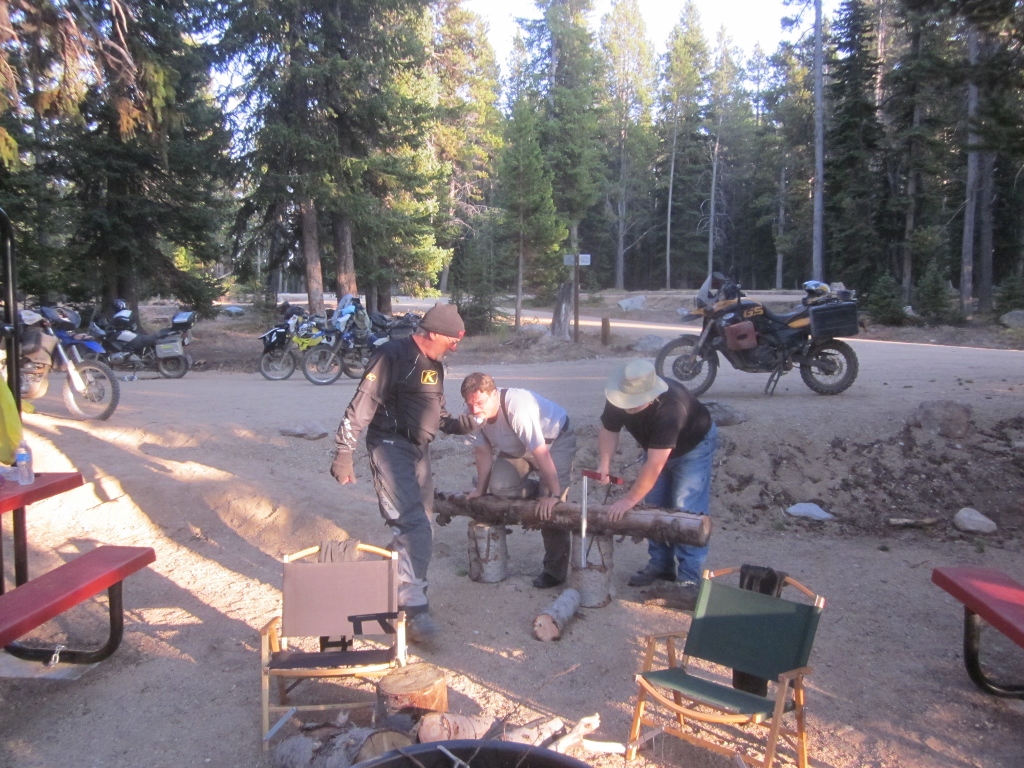 Don't stop yet-----your gettin' the hang of it.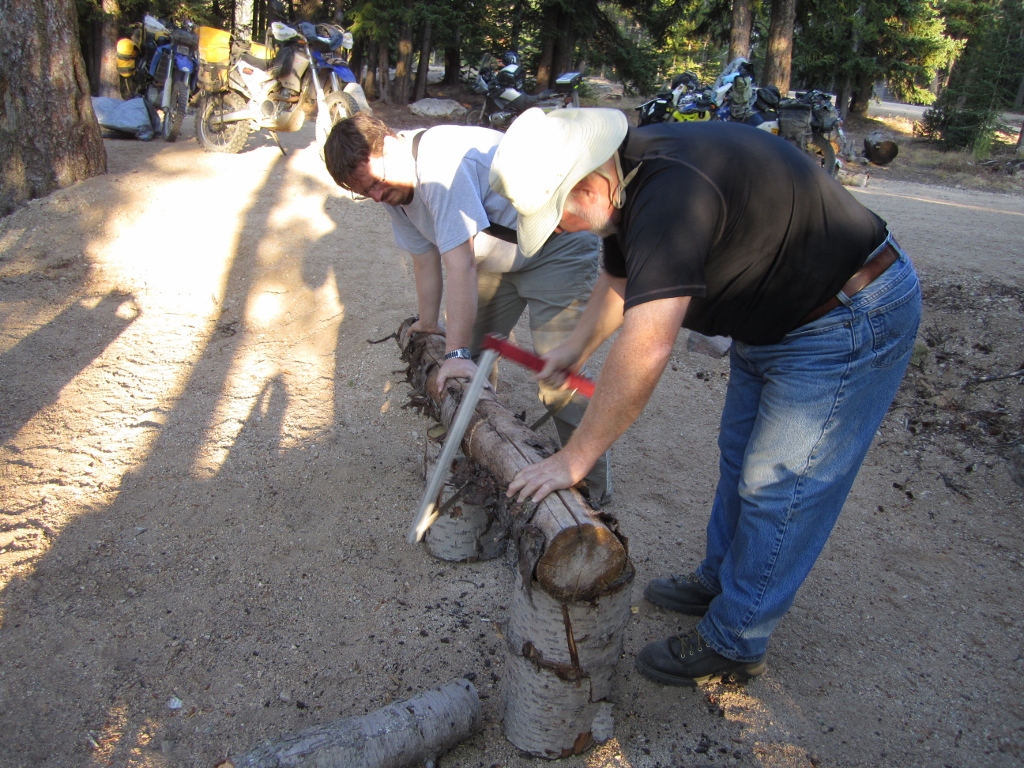 Ok--get out of the way I'll show you how this works.
We had a hoot cuttin firewood and took turns with the saw.
Everyone was amazed how quick and easy it would cut thru an 8" log.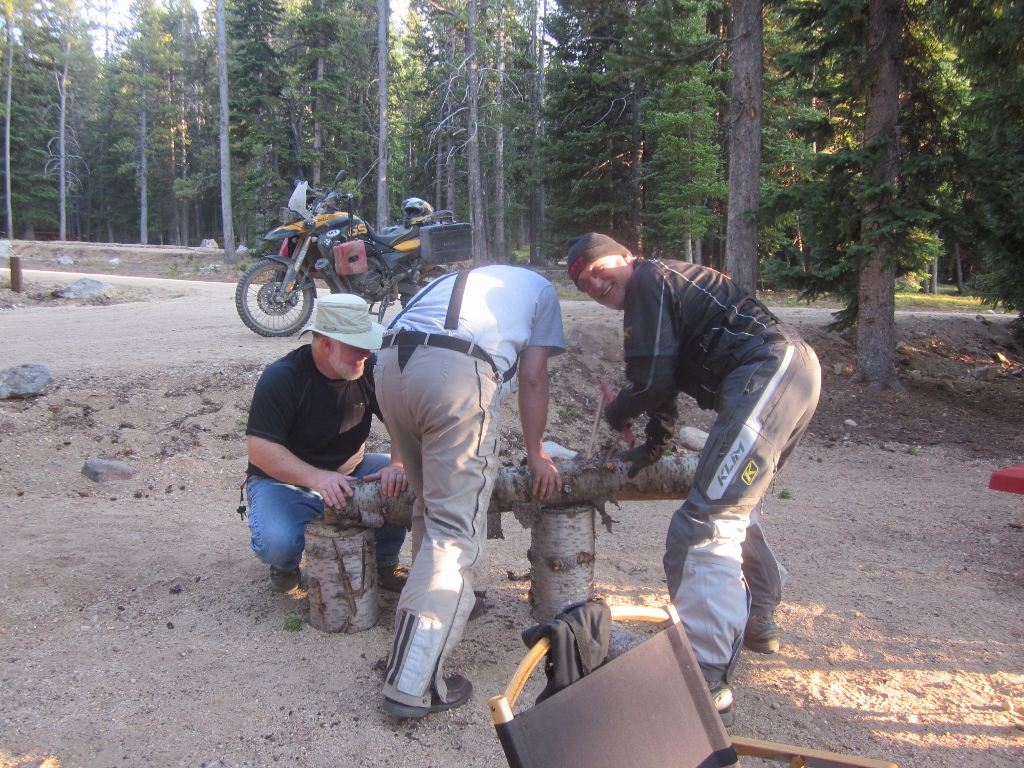 The sun went down as it always does--what a beautiful place.
The camping was posted free---as the season had ended for most folks.
One of my little secrets is too travel after it's cooled off for the summer.
Most people go hide in their houses and you've got the best places all to your self.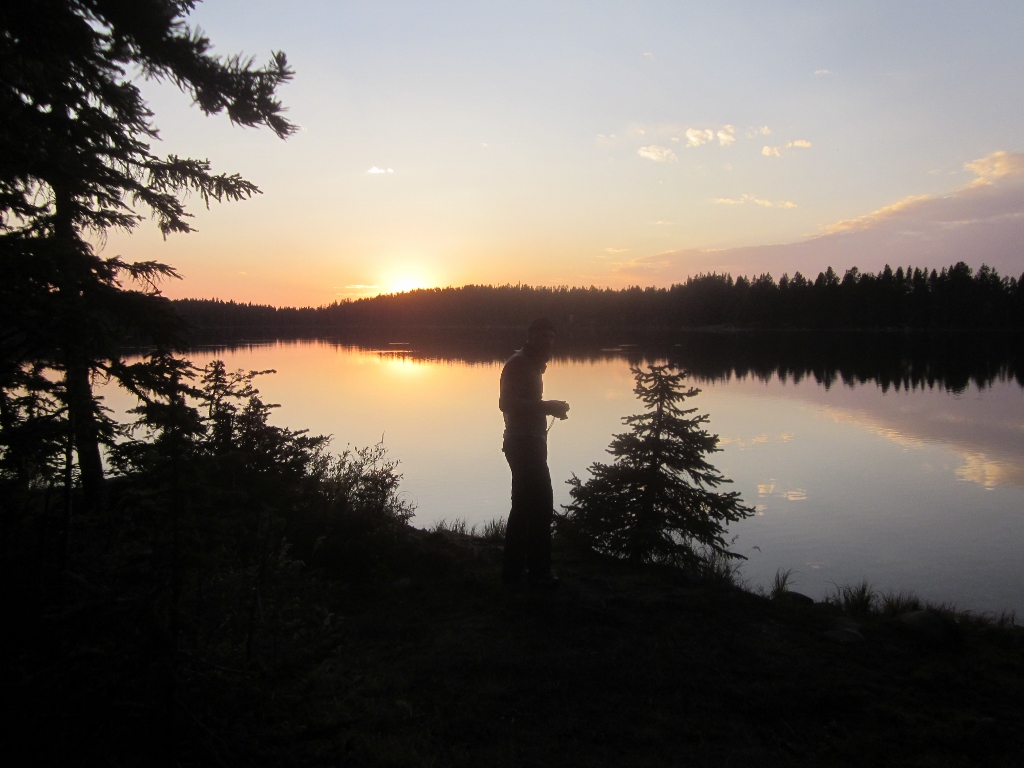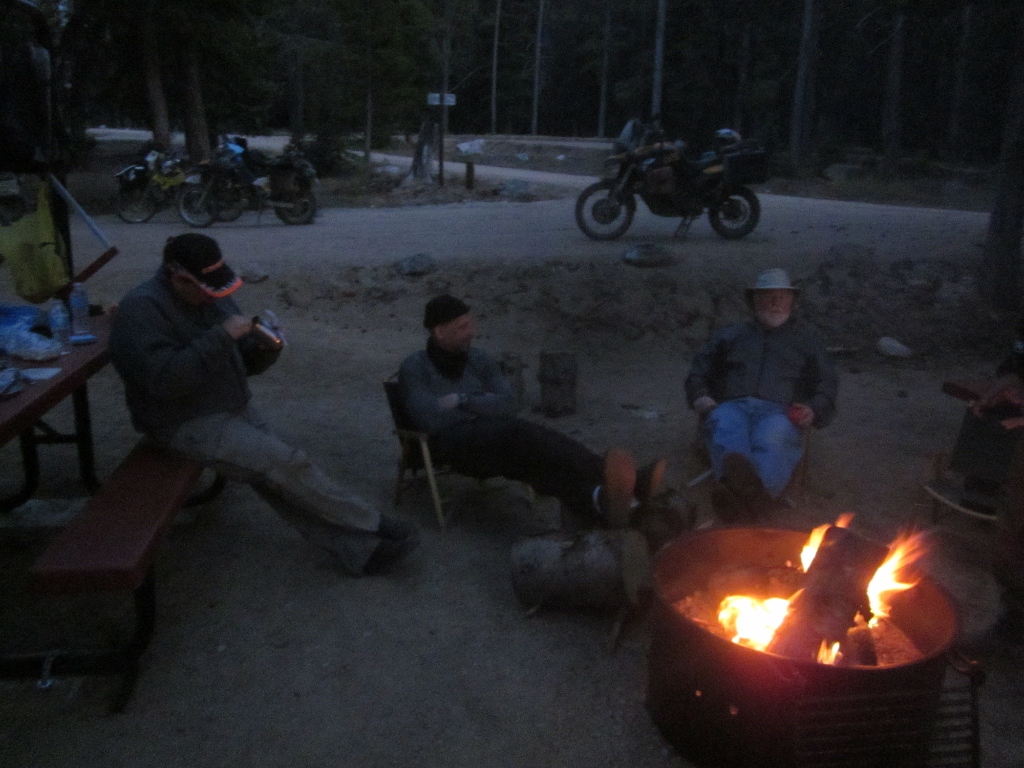 It got cool that night---but all was well with a wood campfire.
A little warmer than "Campfire Substitute".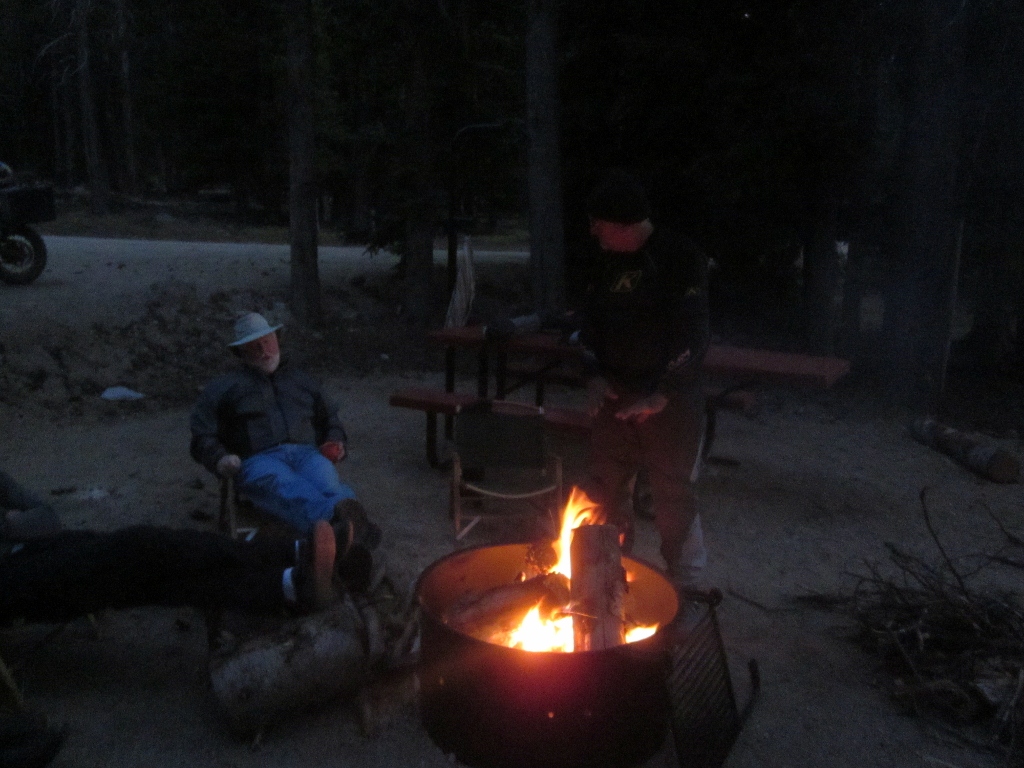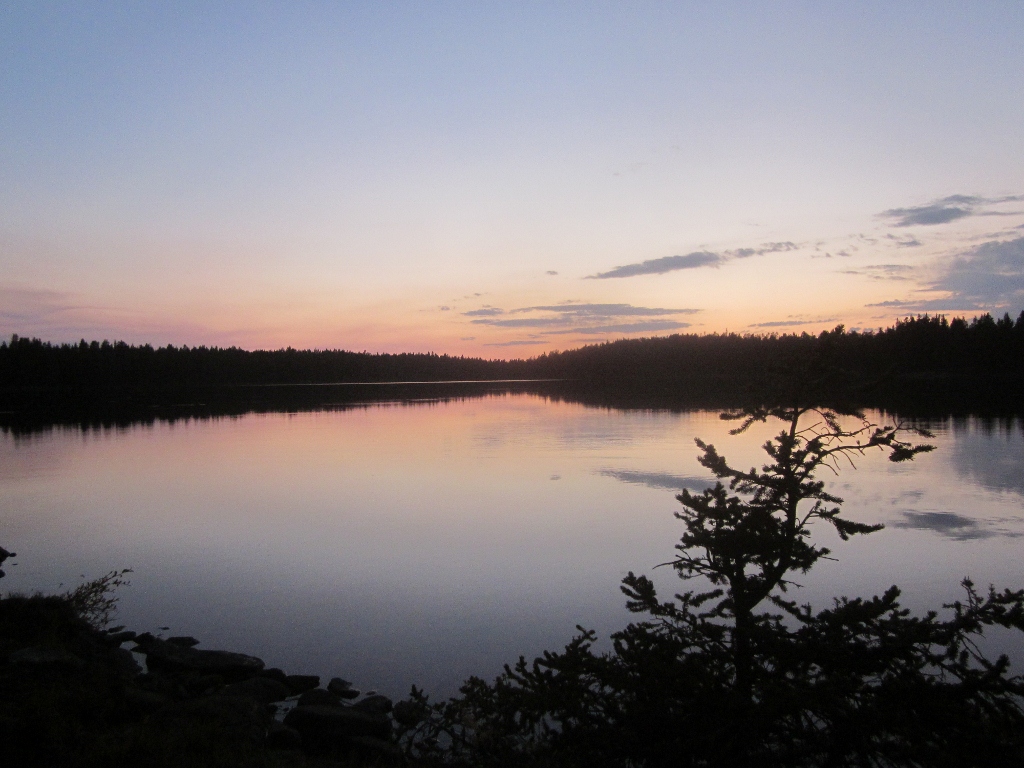 A rough map of our ride today----about 135 Miles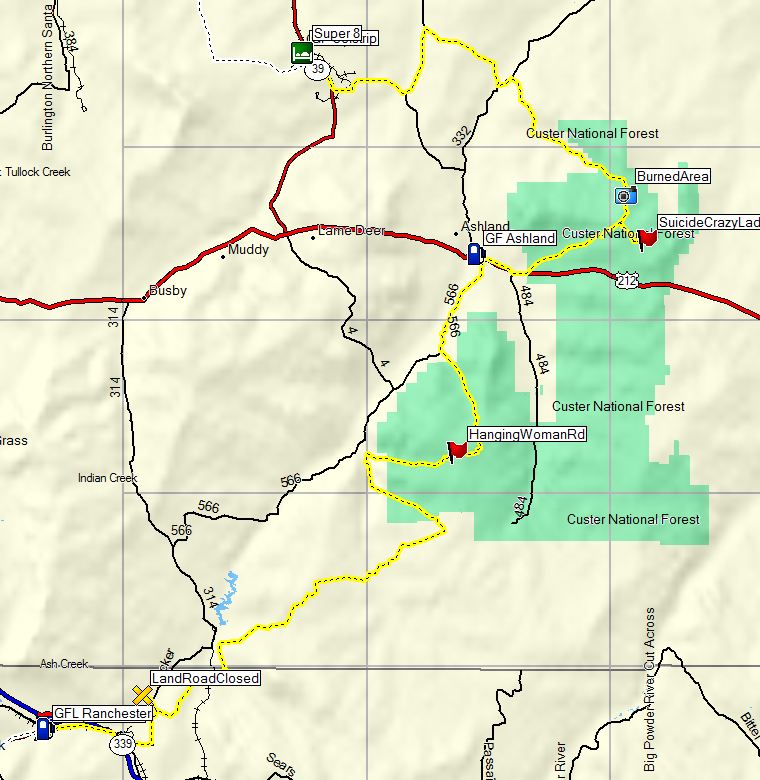 Day 12
September 16th, 2012
Medcine Lodge Lake Campground to Casper Wyoming
We break camp at Medicine Lodge Lake Campground after a bit of breakfast and hit the road.
I think Steve on the BMW is estatic to have joined us and is having a ball.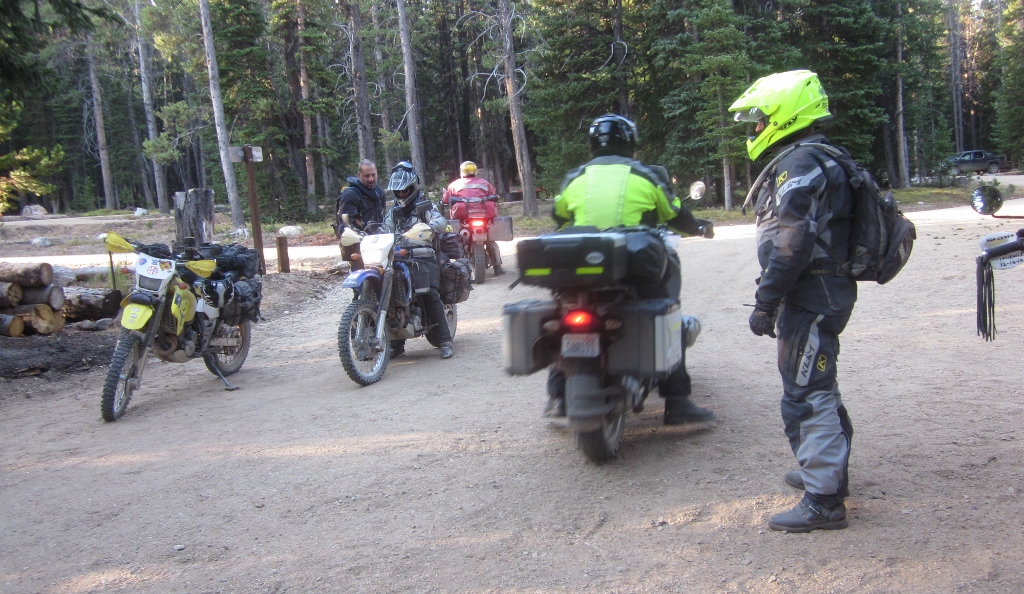 Mr. KLIM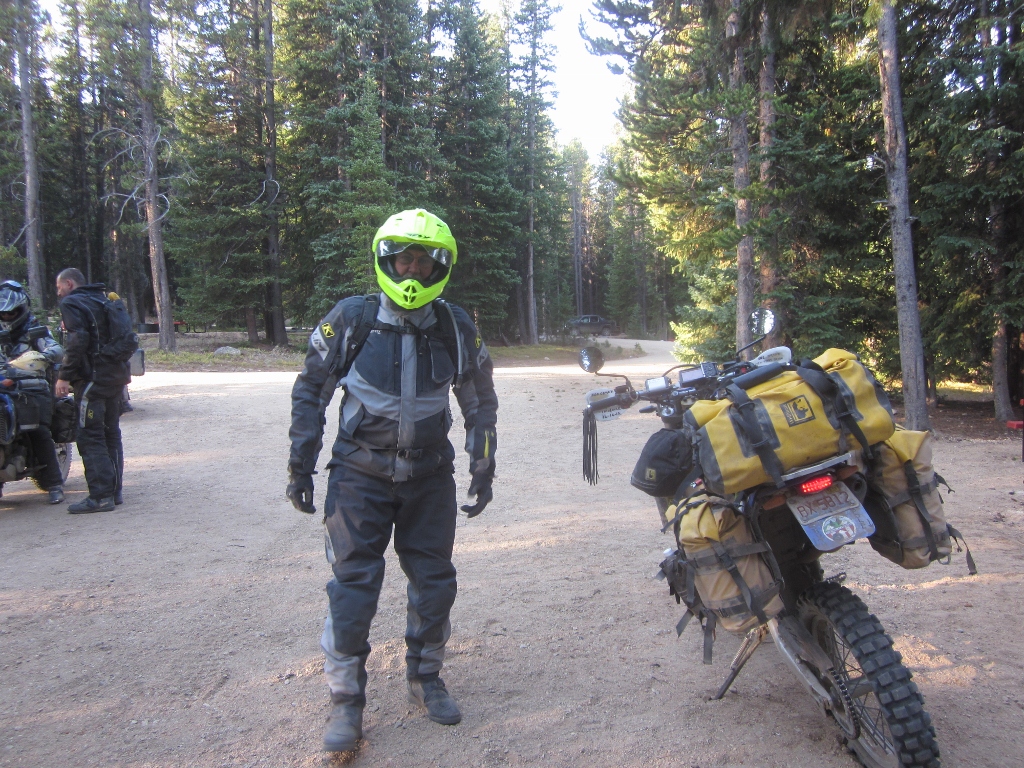 We head mostly South and are soon on Cold Springs road.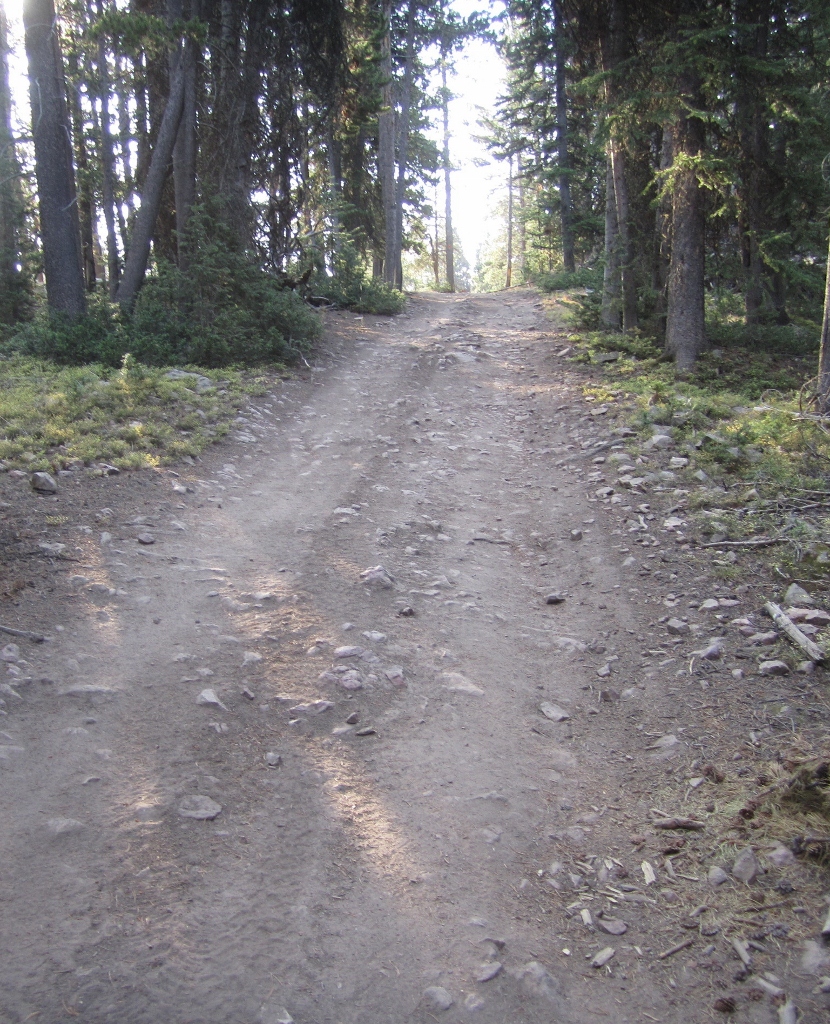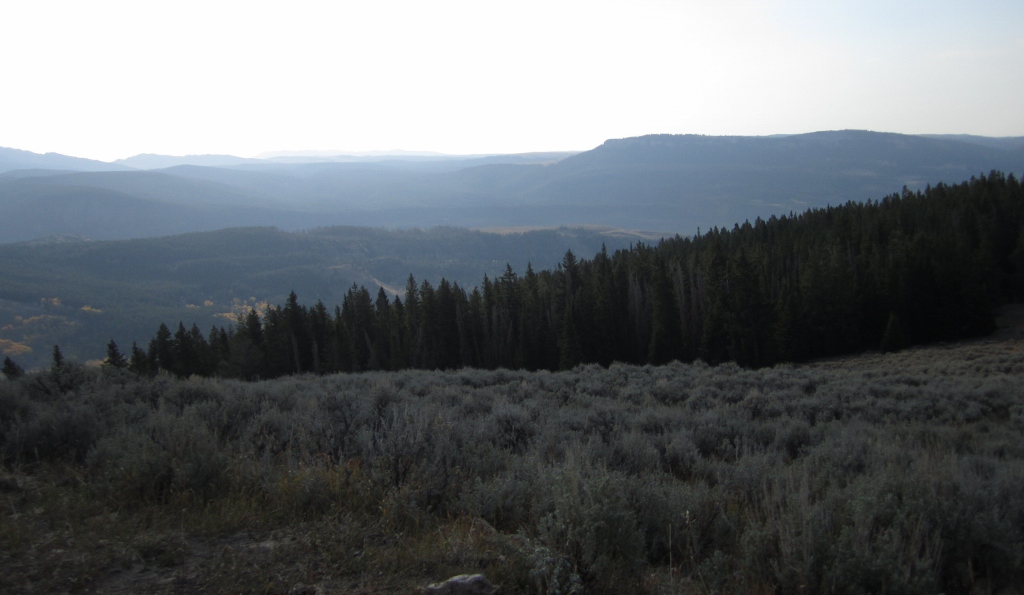 I think the town of Ten Sleep is off in the distance as we'll get gas and more supplies there.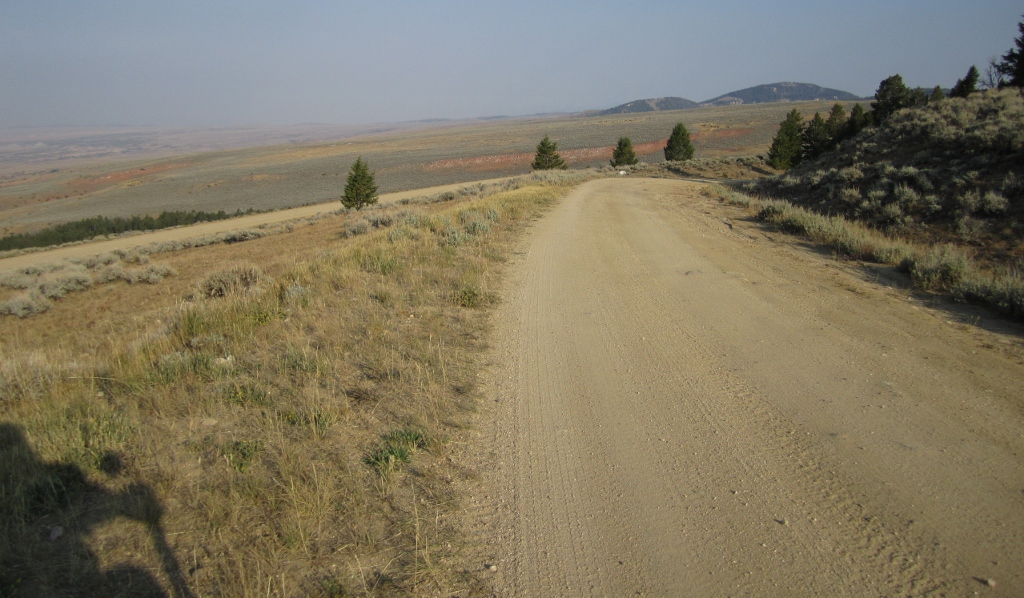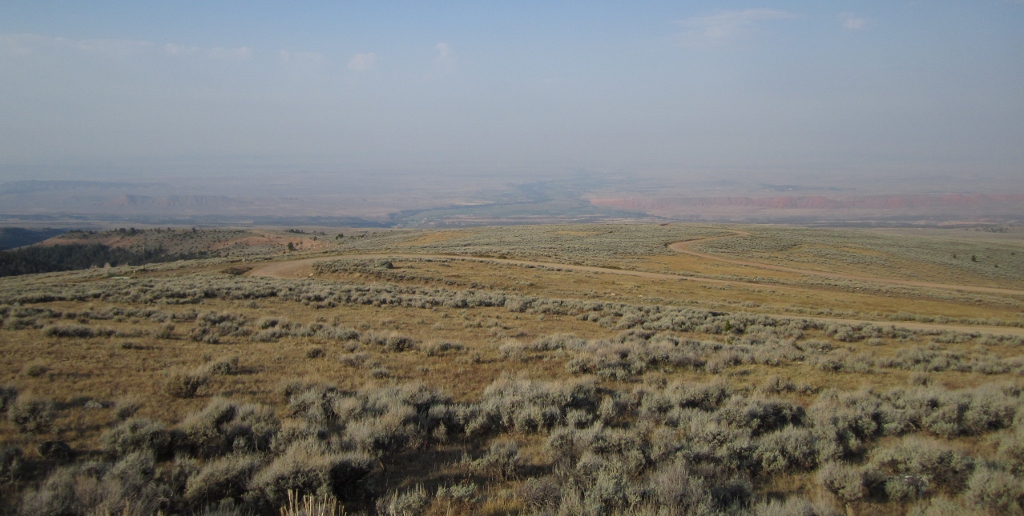 Sometime on this trip Francine starts noticing her bike not handling right ----------and a couple times it scares her-----we can't figure it out.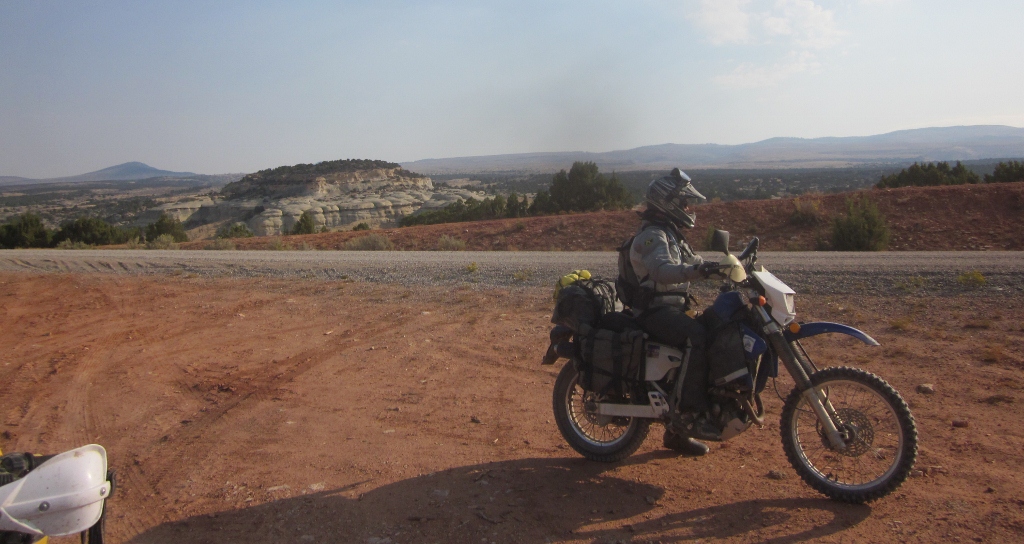 I'll shut up as you see what we saw----another beautiful day in Wyoming.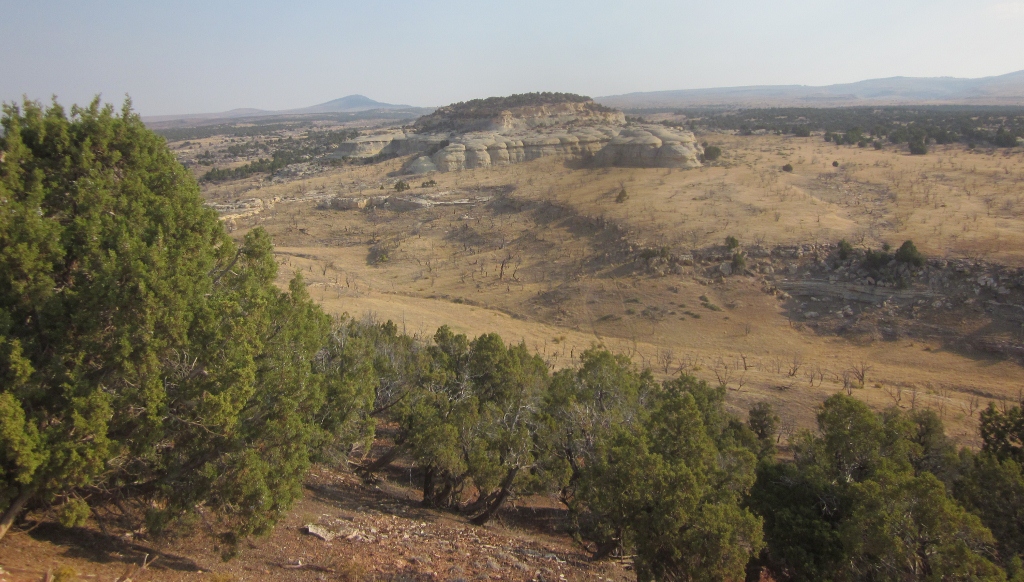 I love mesa's
I don't really know how they are formed---but they are so beautiful.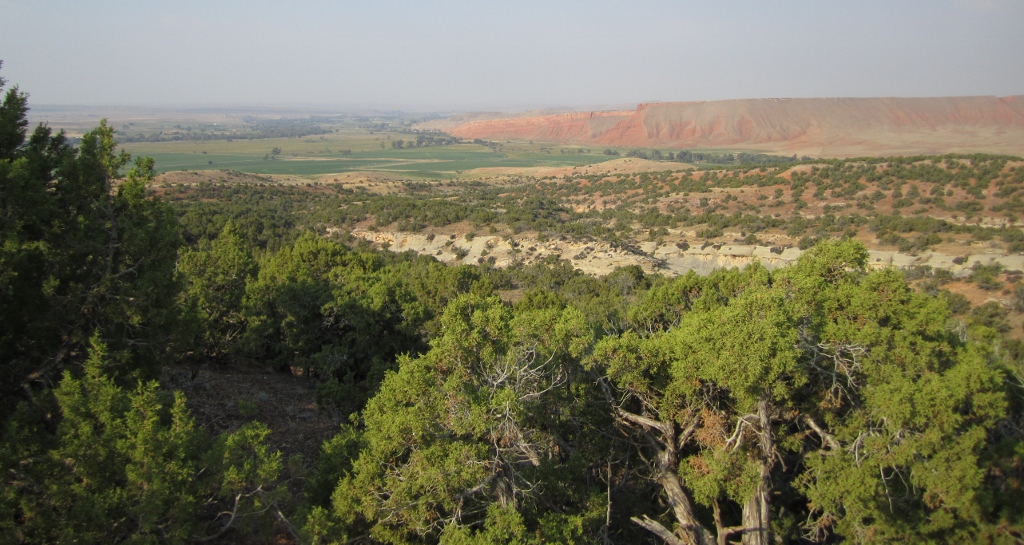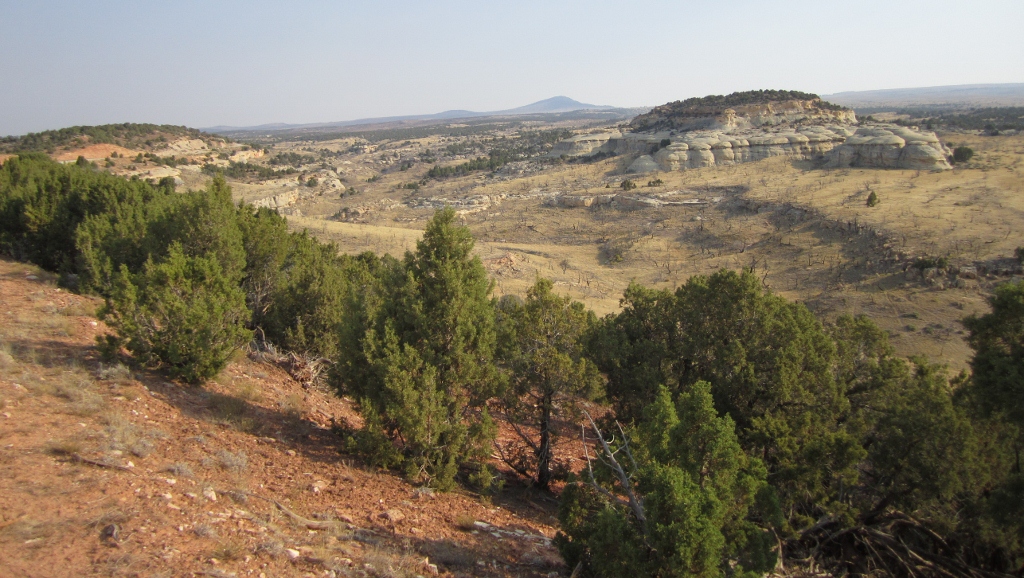 Very easy but fun riding----and I'm sure Steve on the big BMW was enjoying this.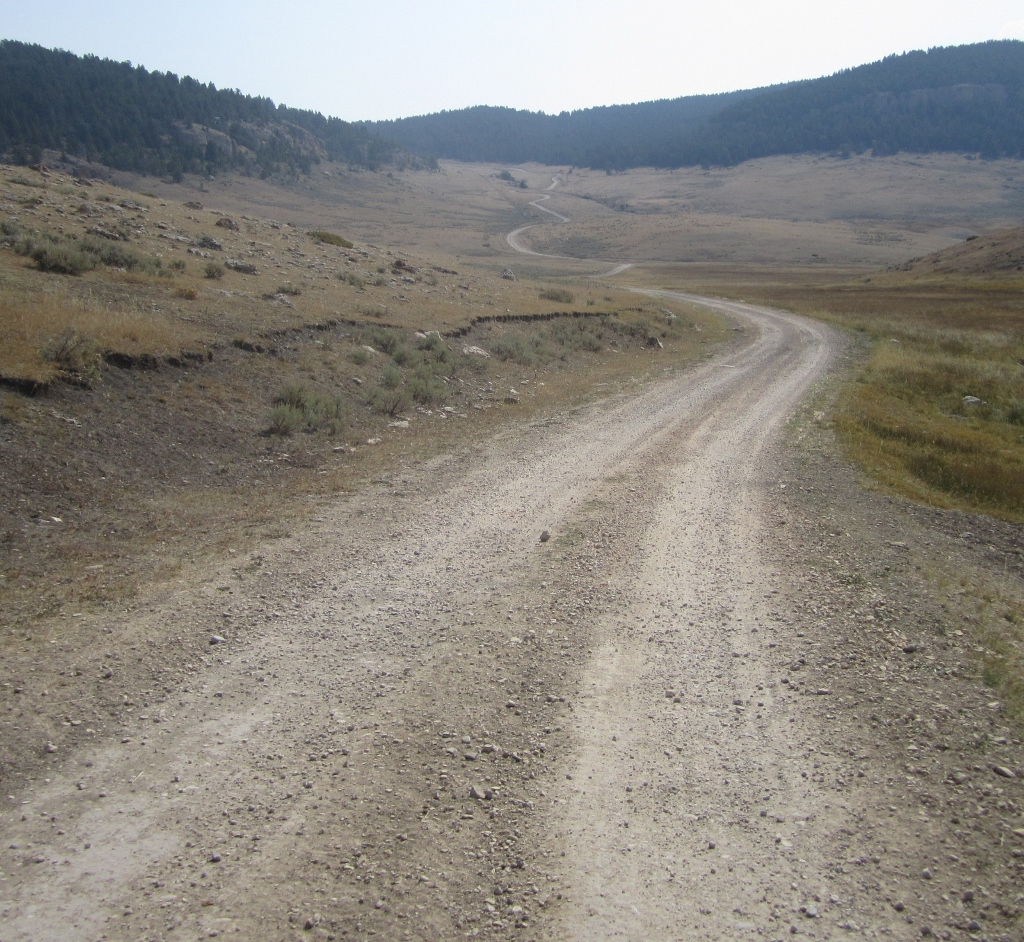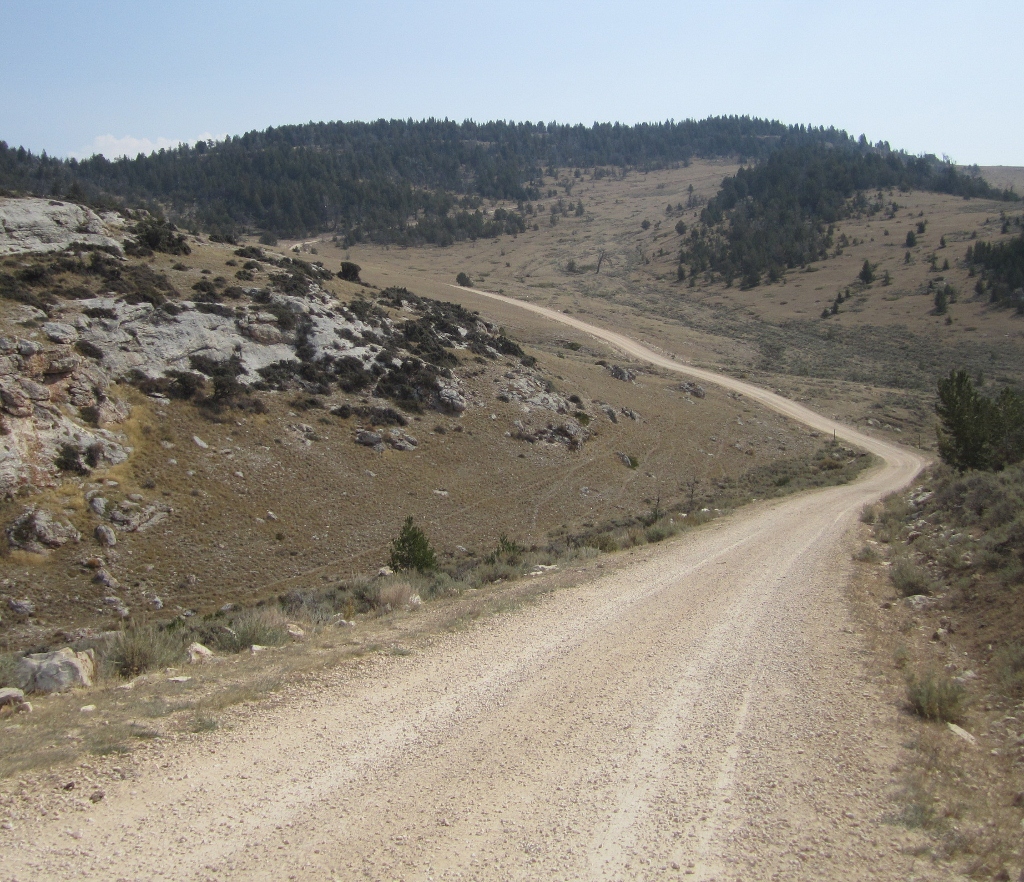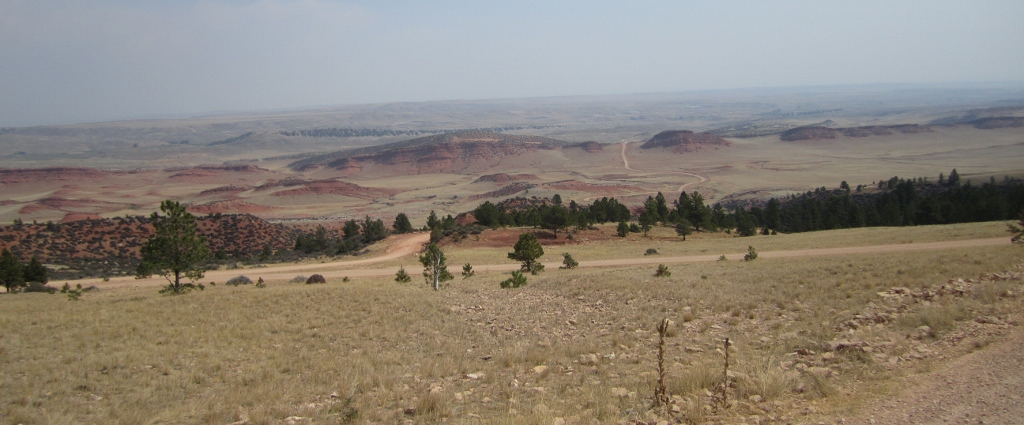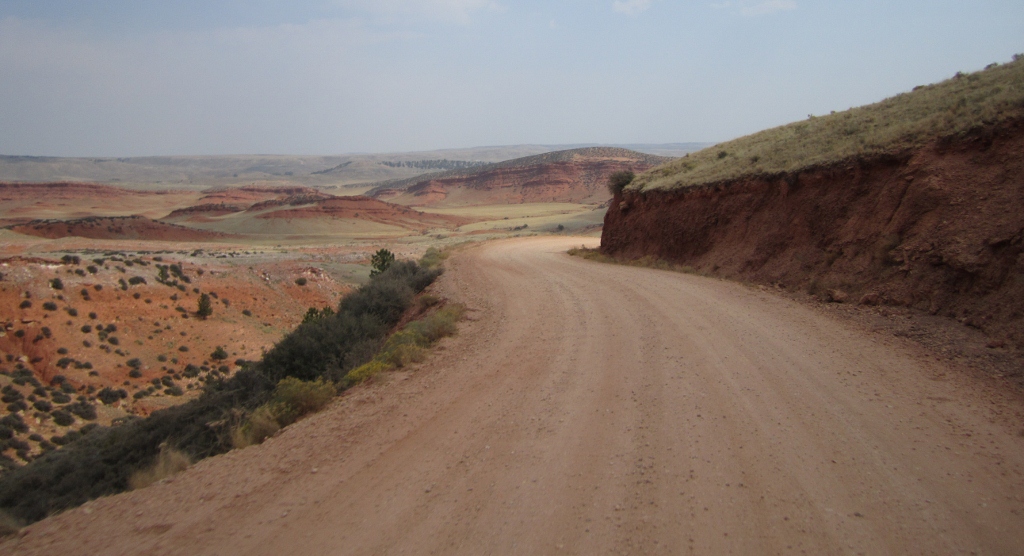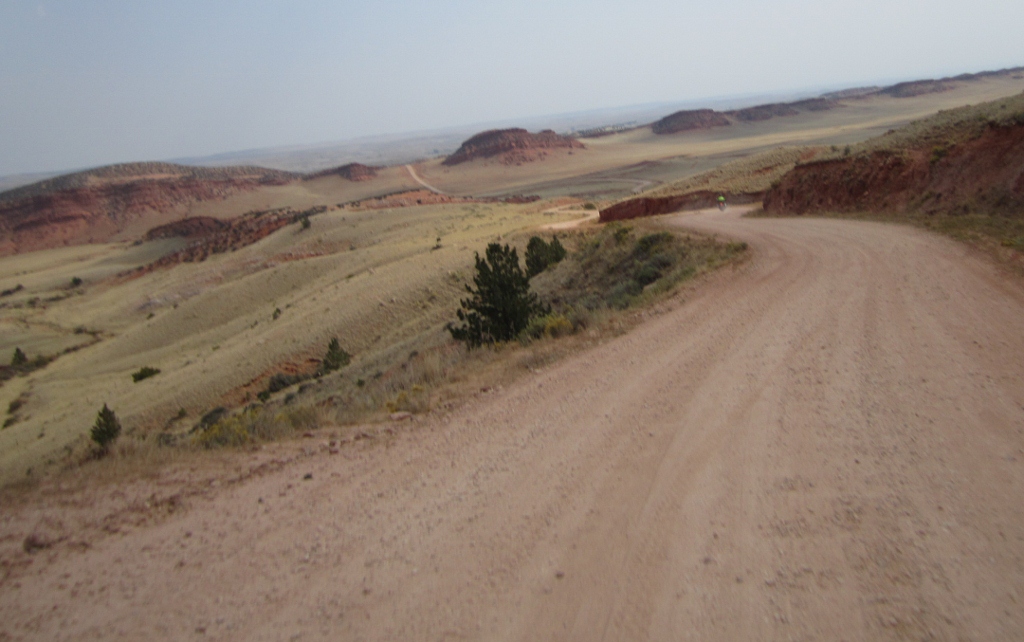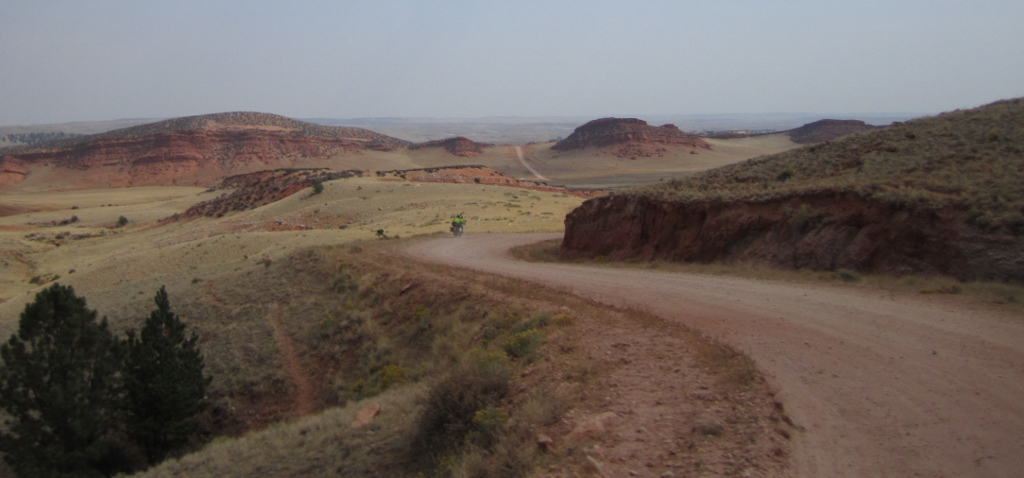 We pass thru the town of Kaysee where gas, food and lodging are avalilable but it's too early in the day to stop.
And since we all are prepared to with camping and cooking supplies we ride on of course---------untill.
Remember that 21" tube I put in the 18" rear tire a few days ago ?????
Well---it bit me in the ass.
I sometimes don't carry an 18" tube and use the 21" for emergency's----maybe not the smartest choice.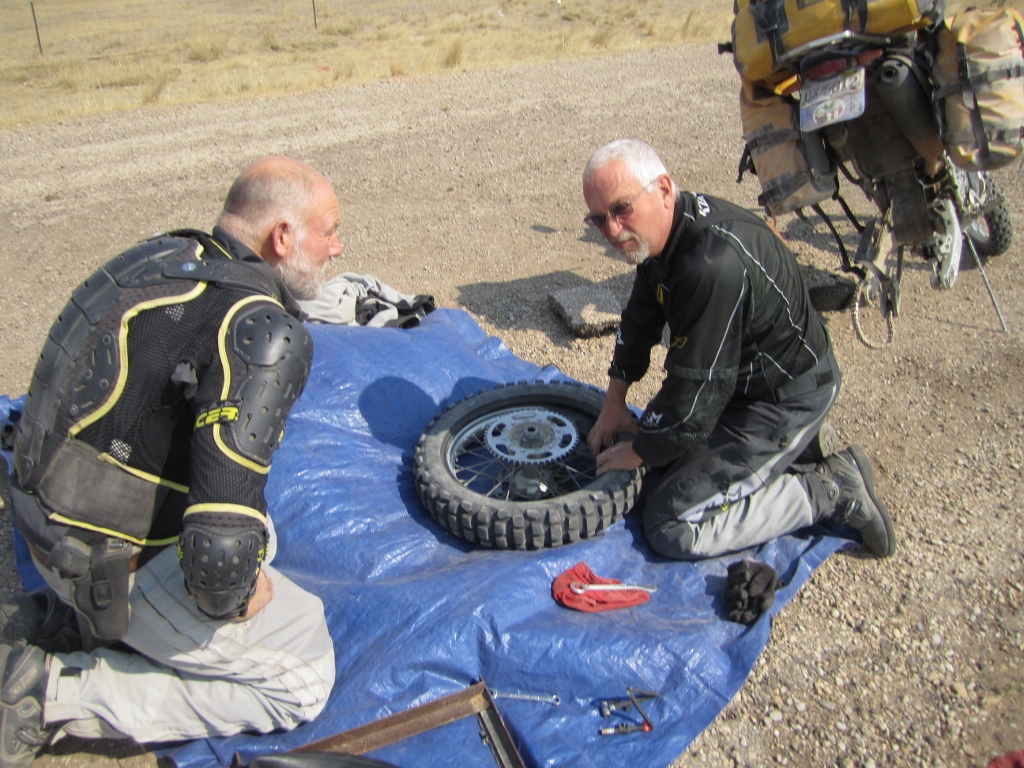 Dr. Rock provided one of those fancy smancy bike holder upper thingy's ( got to get one of those )-----as there wasn't a rock to be found.
And I hadn't hardly dismounted when Scott had already laid out the Dingleweeds combination, tarp, hammock, ground cloth, bed spread, tent, rain cover,
bike cover, sun shade and tire changing comforter device.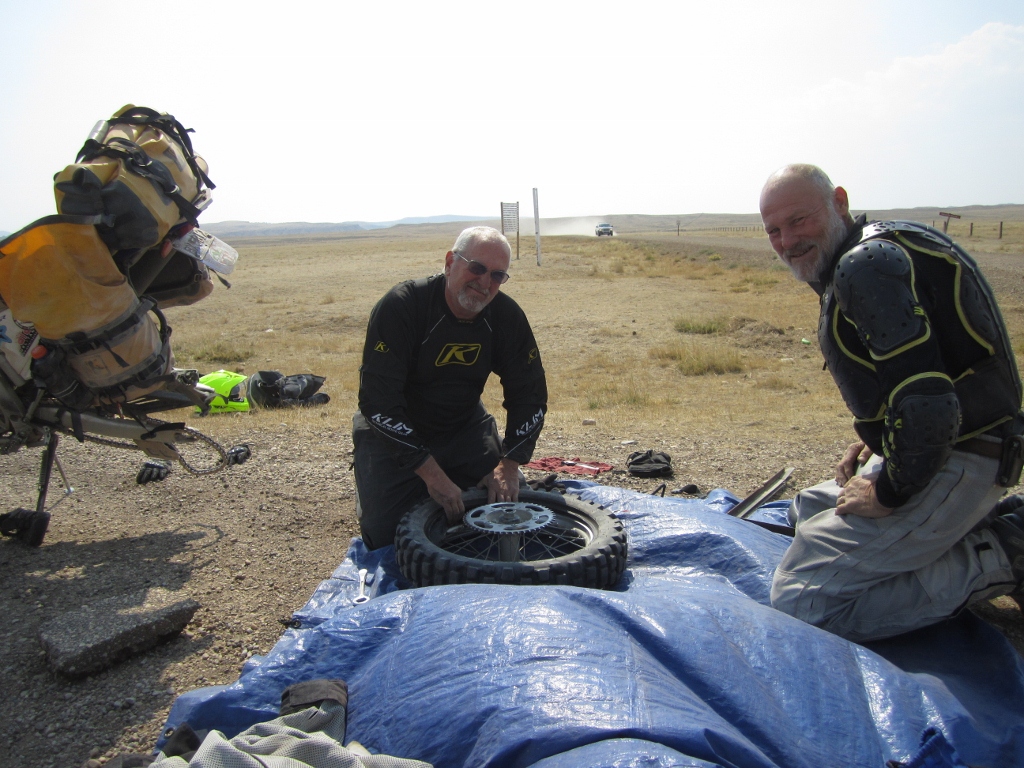 The tube looked like it had wadded up in there and finally chafed itself to death.
This might have worked better if I had put a bit of air in the tube when I put it in the tire.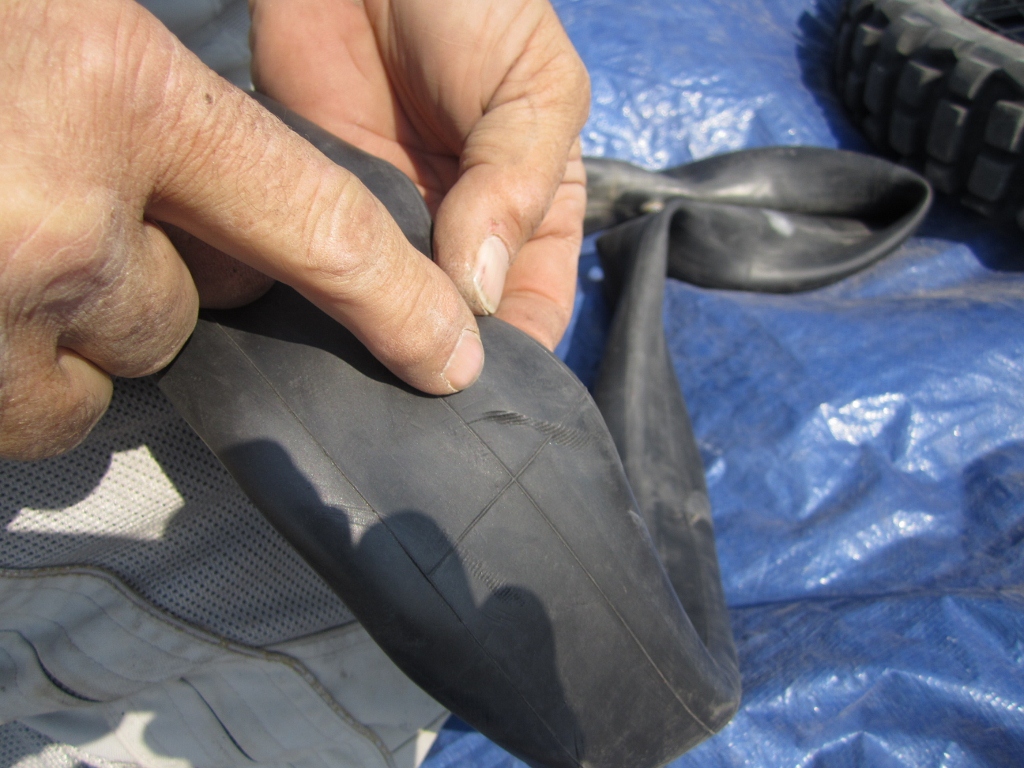 And right here is where it all went down----as people eye-balled us as they drove by.
Our route was suppose to go this way-----but didn't in the end.
You just can't see a trash barrel on google earth !!!!!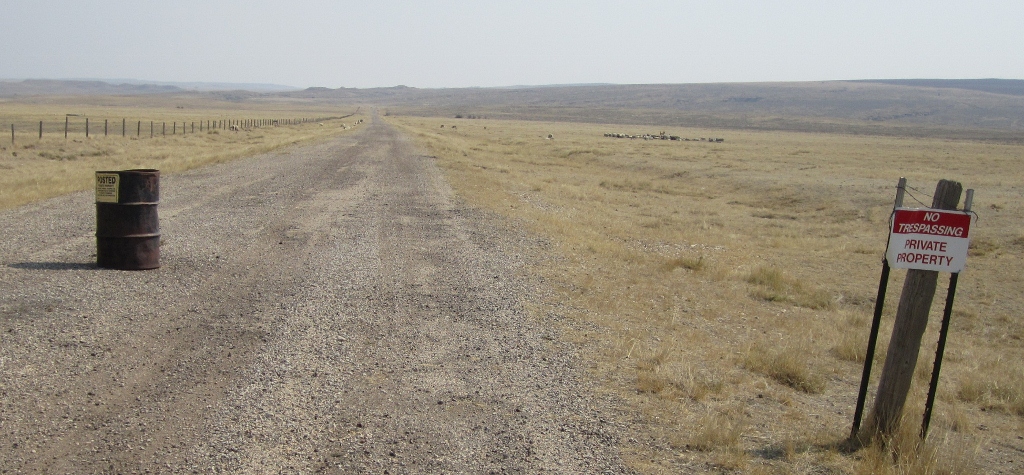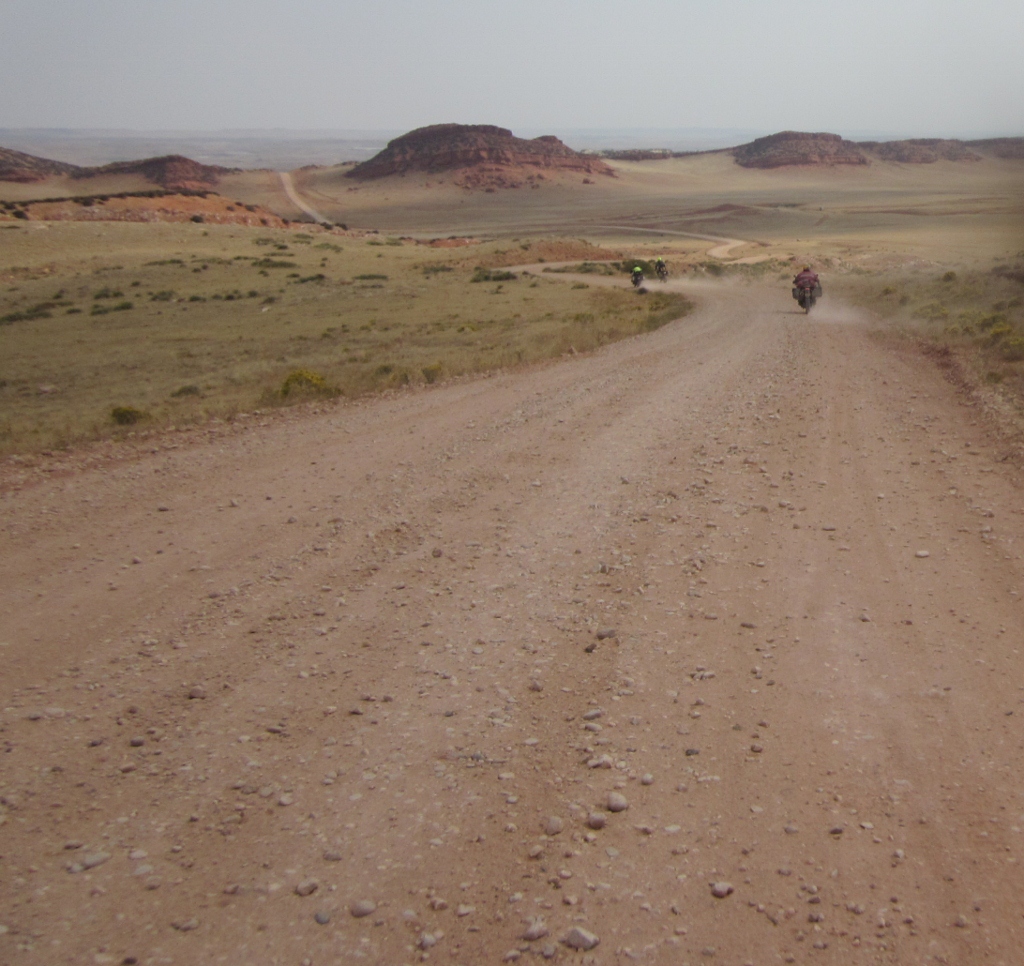 Actually there were a lot of things like above you couldn't see on google earth---but we made the best of it.
As you can see in the map below--a huge area we were going to ride thru was posted.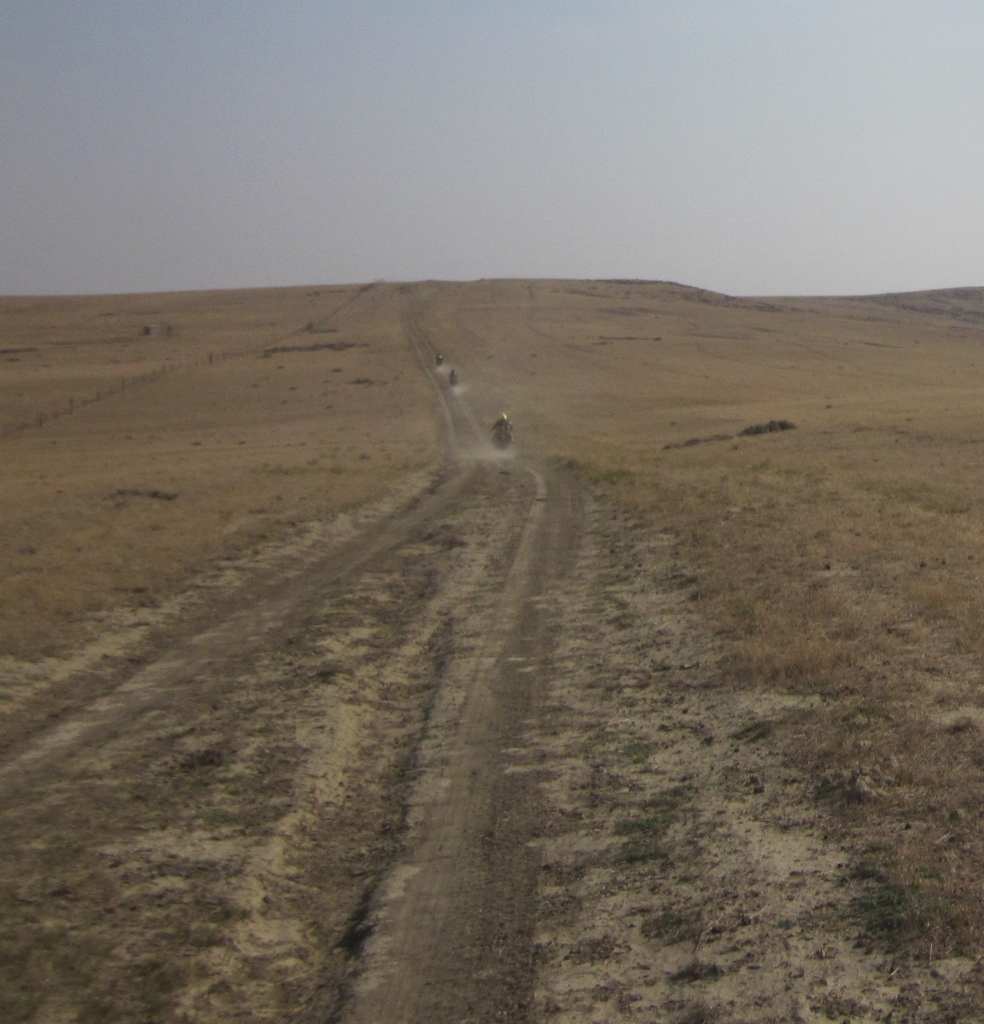 Todays rough map---you can see we ended up in Casper in an RV park.
233 miles for the day.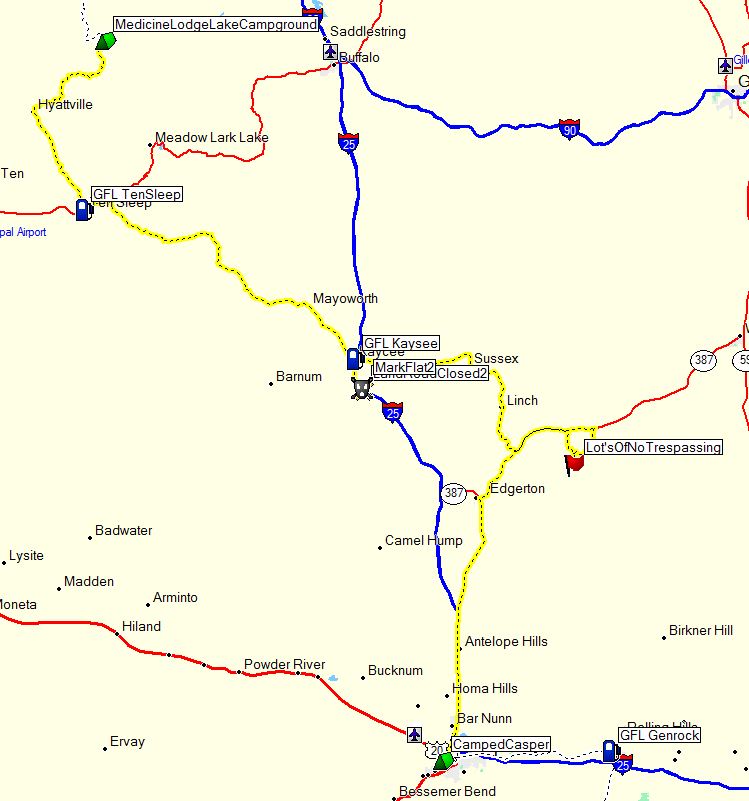 Day 13 September 17th, 2012
Camp in Casper to Medicine Bow, Wyoming
The day always begins with the meeting of the minds.
What would be in store for us today as we wander further South.
None of us had ever ridden any of todays route.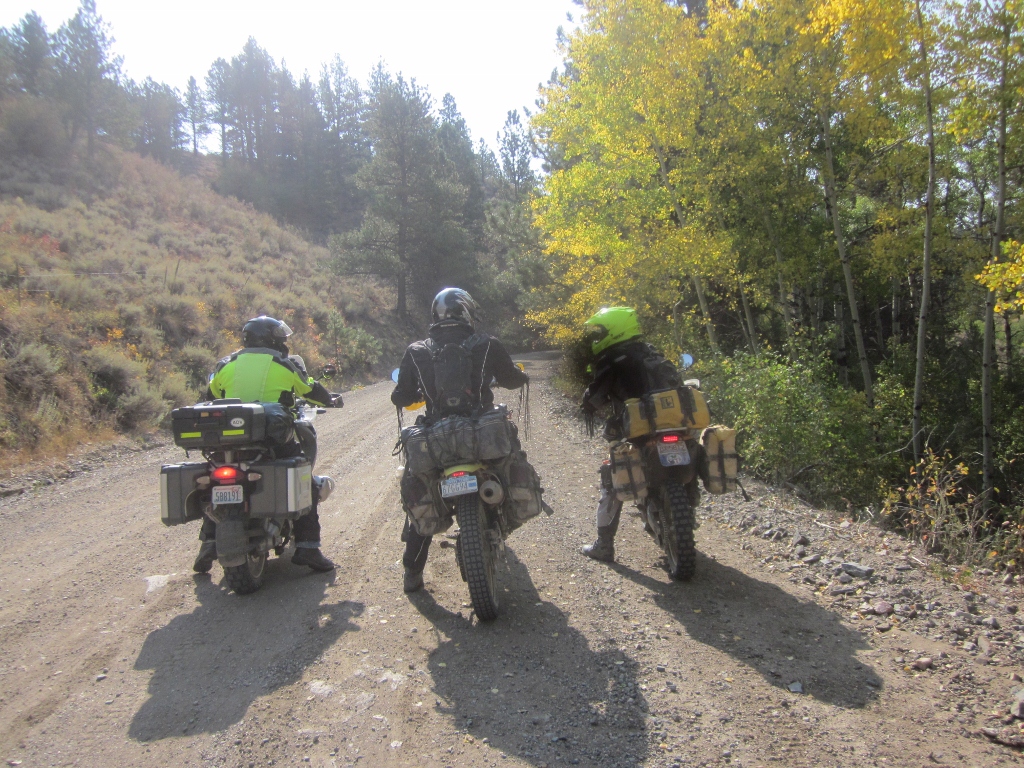 Steve would get very comfy today and was hoping his BMW would be able to survive the terrain.
Today was all easy and would give Steve a false sense of security----as tomorrow things would go all wrong for him----and his bike.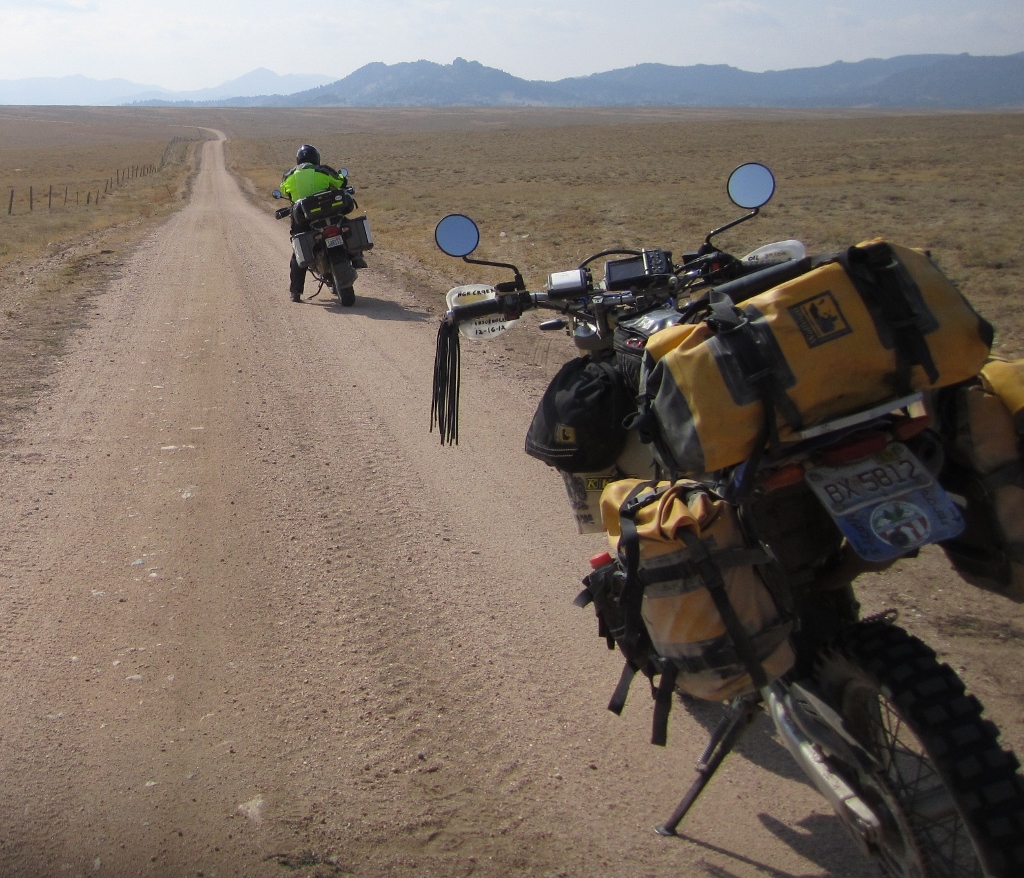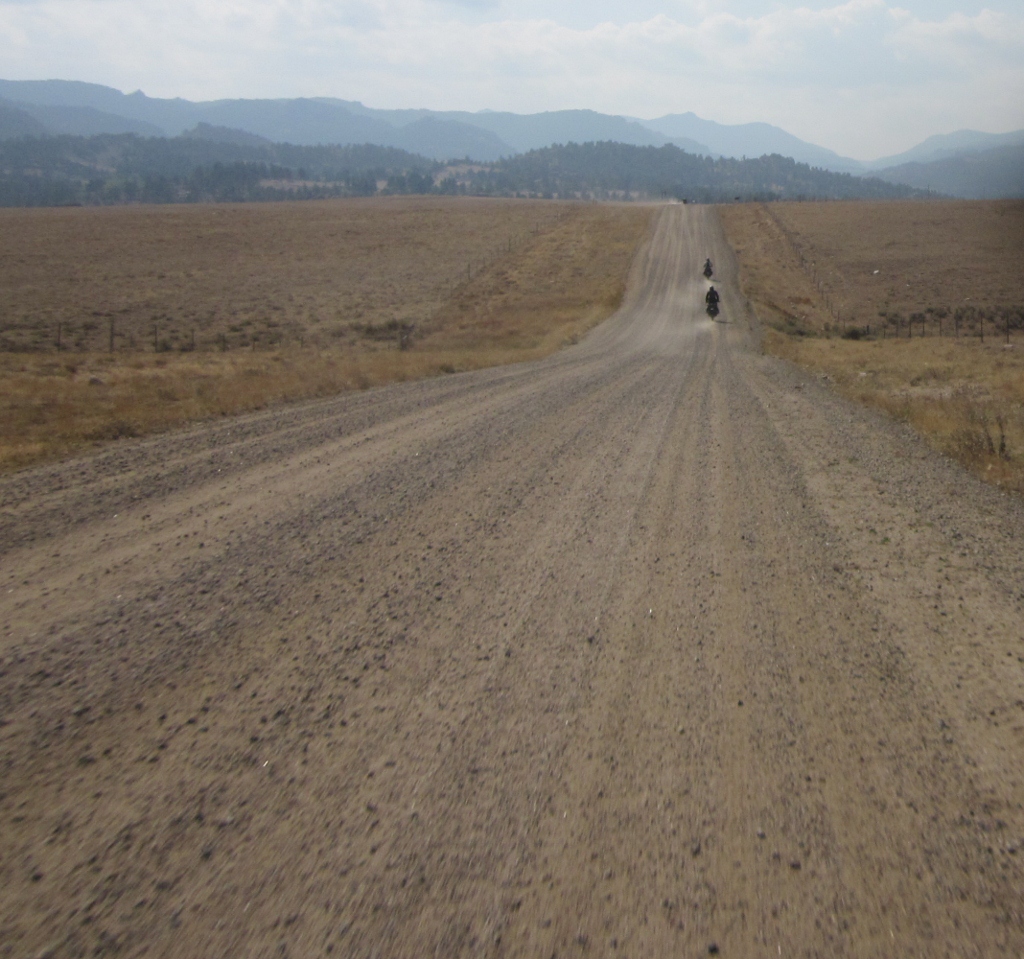 Does this make my ass look wide-------------why no---you can't see it :)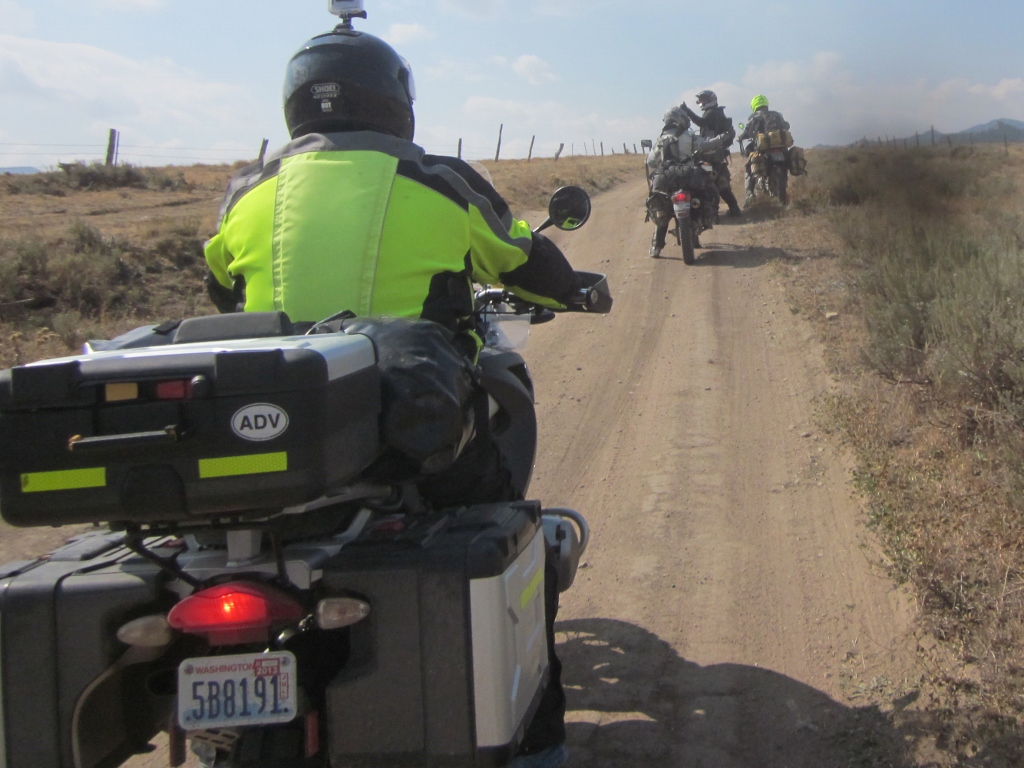 Ole' Slip Clutch----always oh so patient.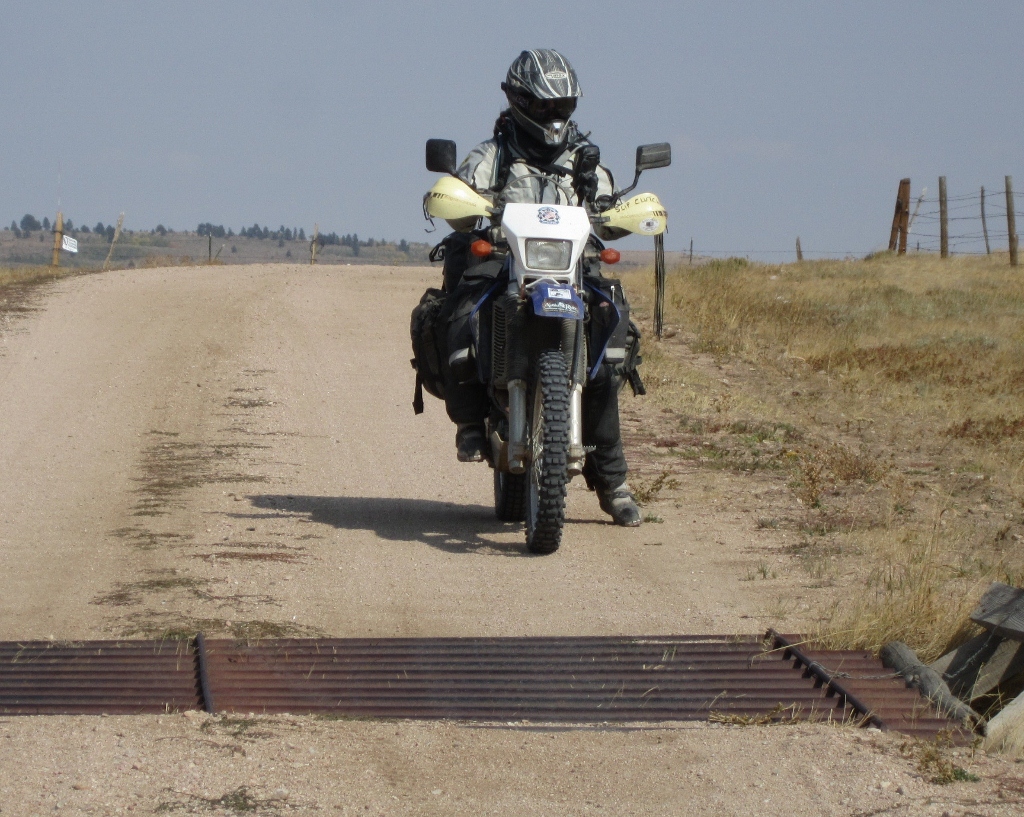 Standing on the pegs running fast----awesome----and another beutiful day.
I don't think we got rained on this whole trip------amazing.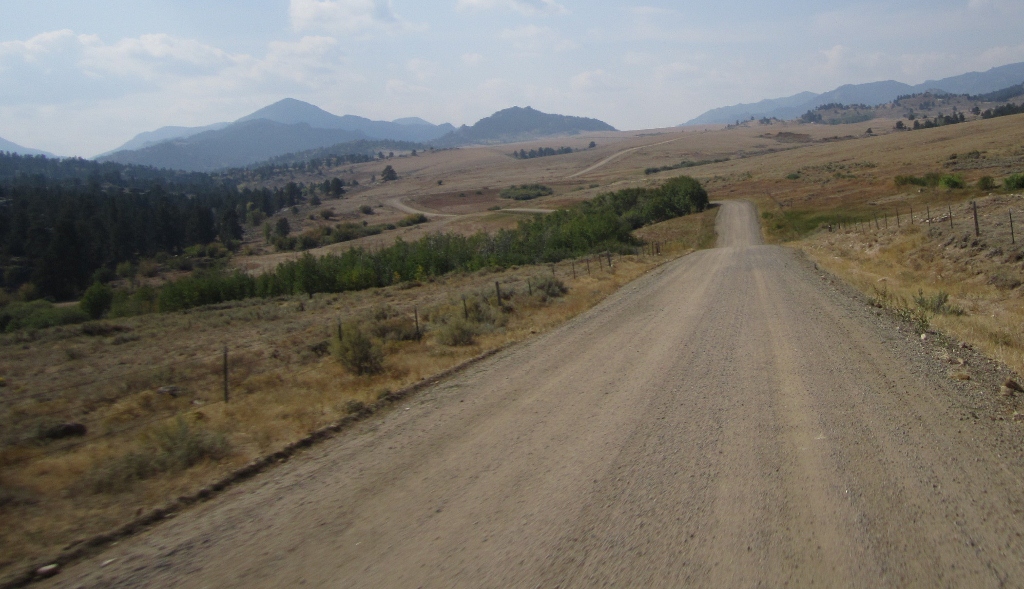 Our first hint of the turning aspens as we approached the Medicine Bow National Forest.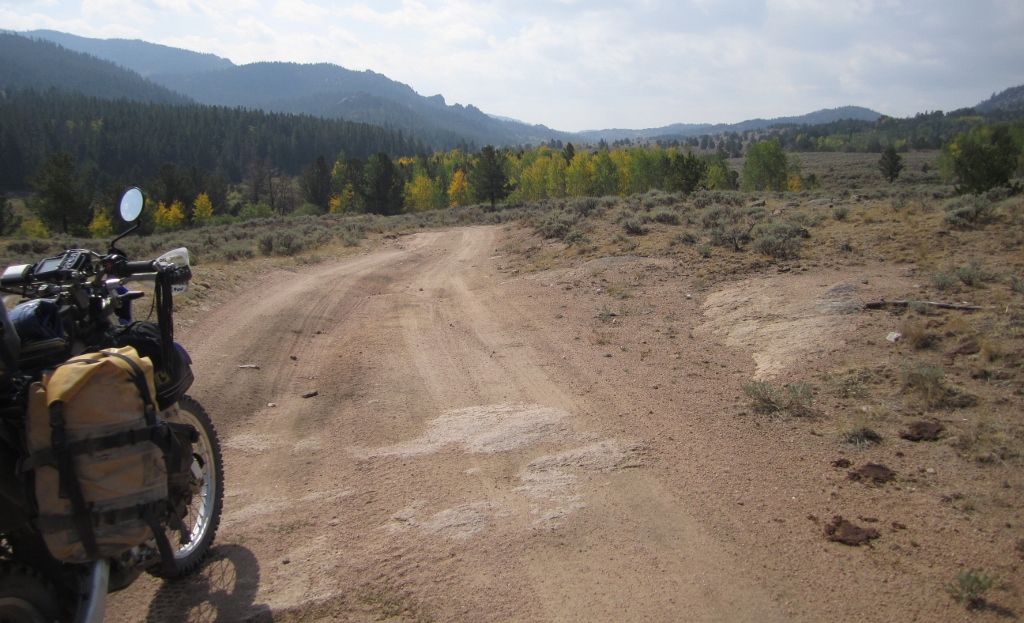 They would eventually get as bright as Steve's jacket.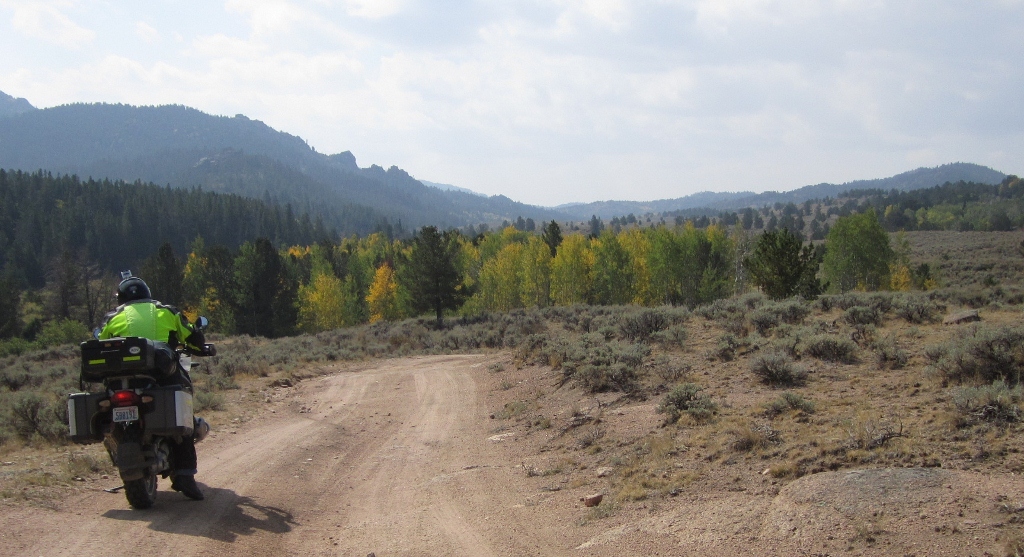 I think Francine is a happy girl here.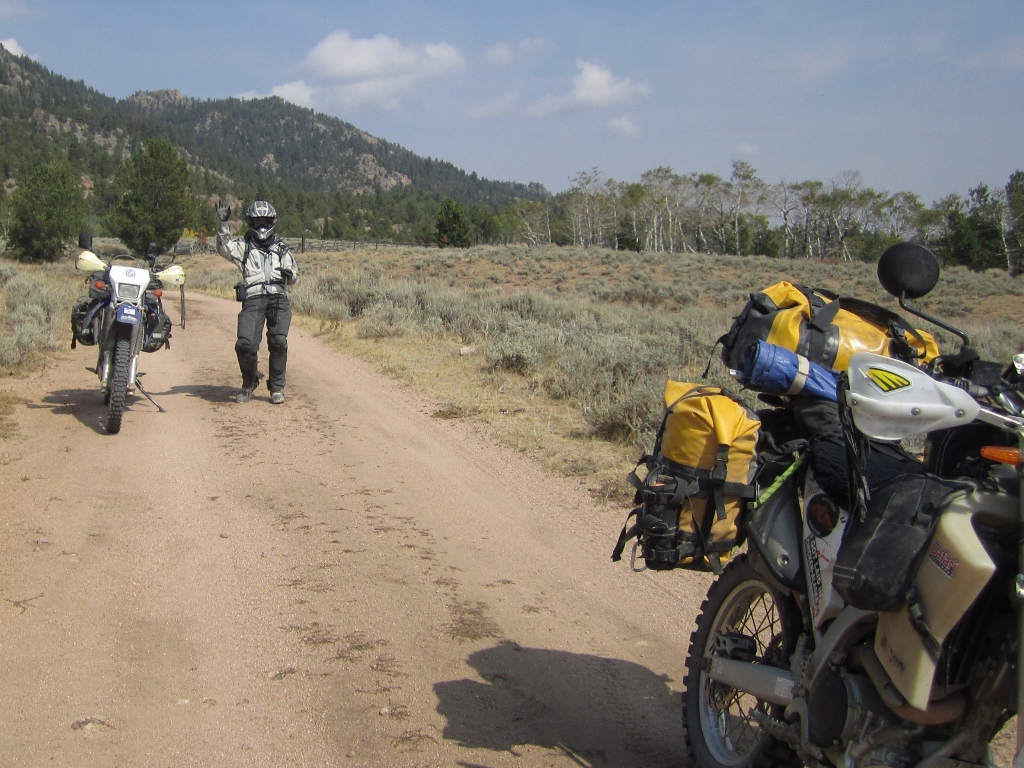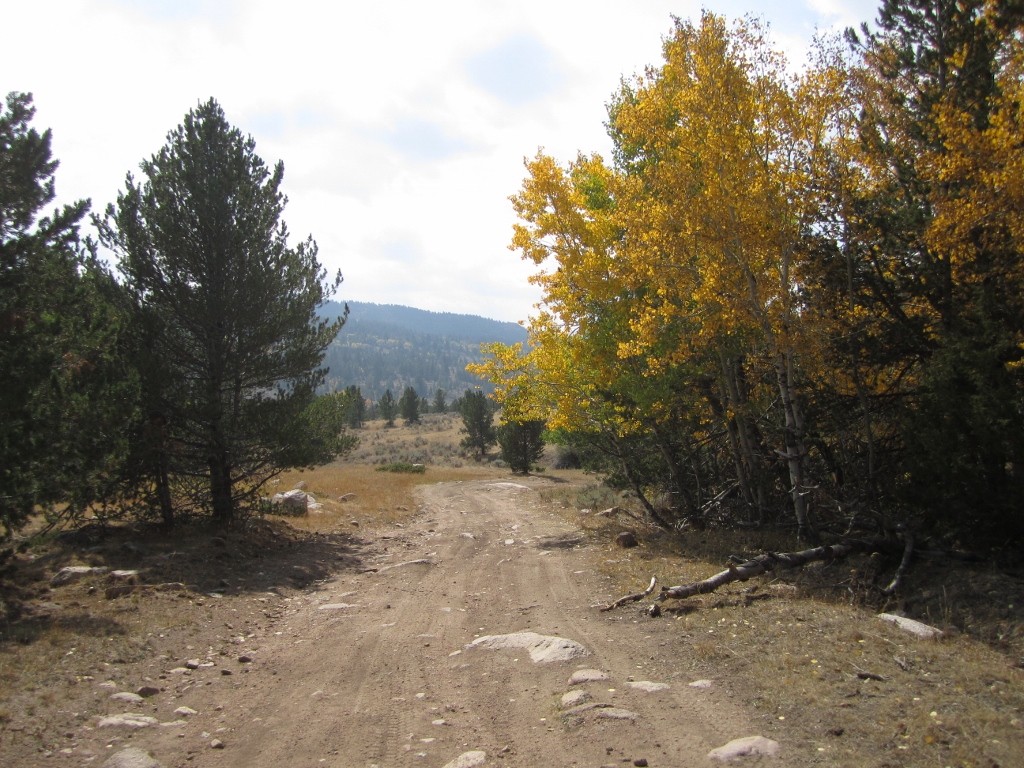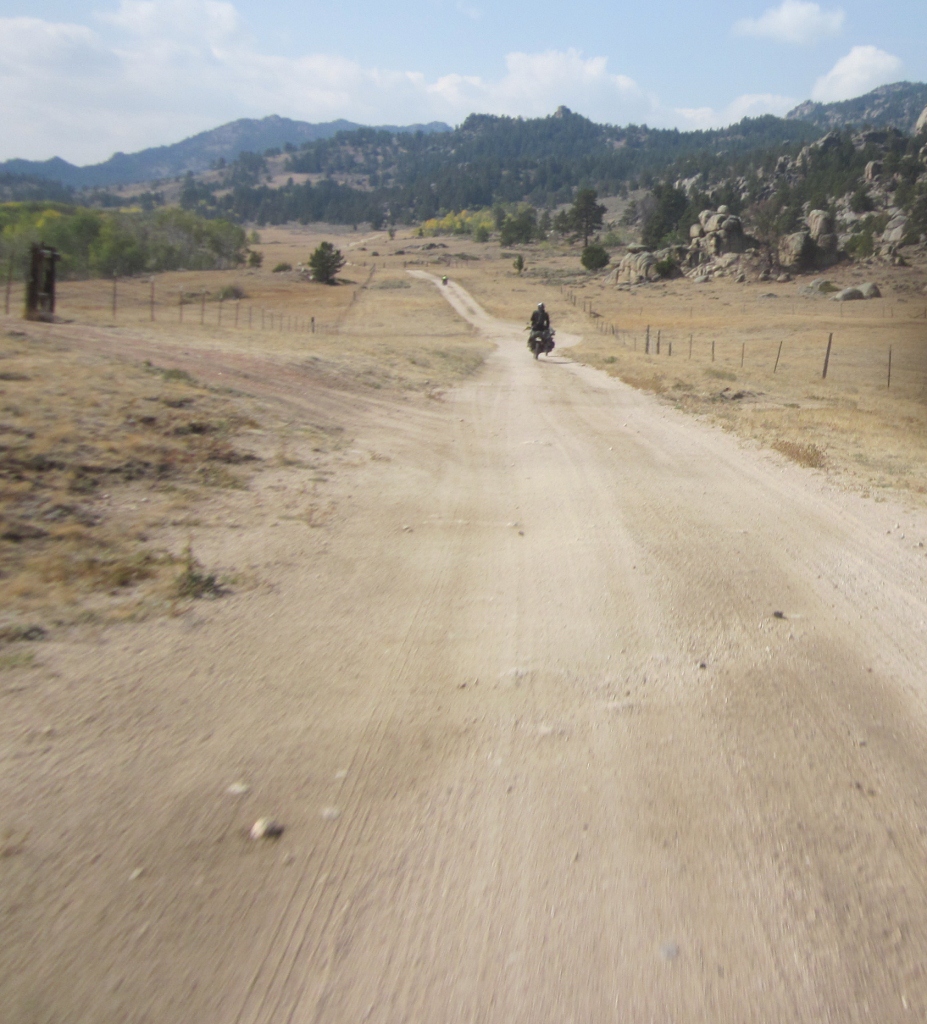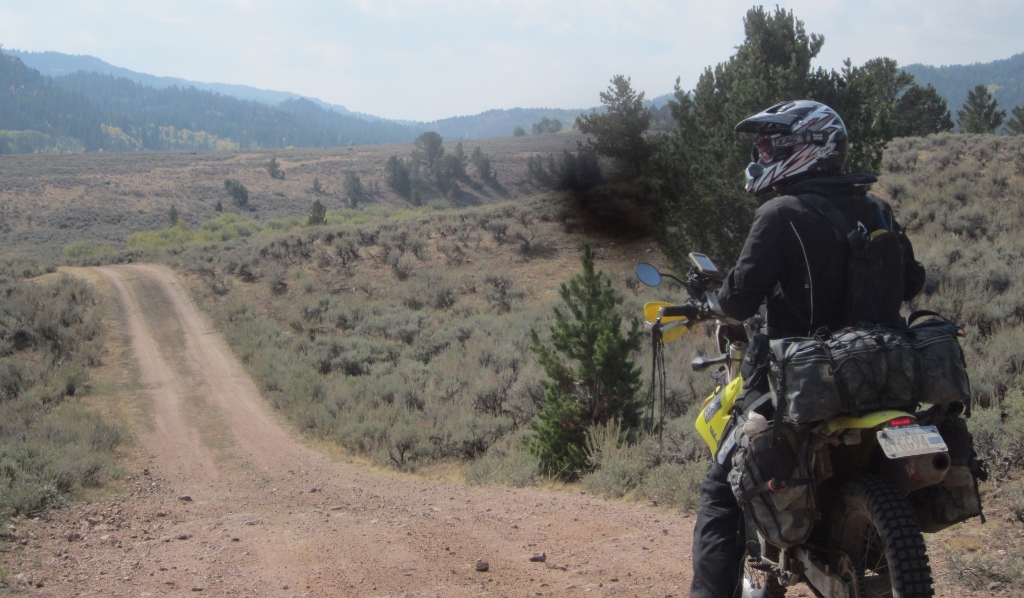 Long after this trip was over I still have my tassles on my bike.
The Harley riders love em'.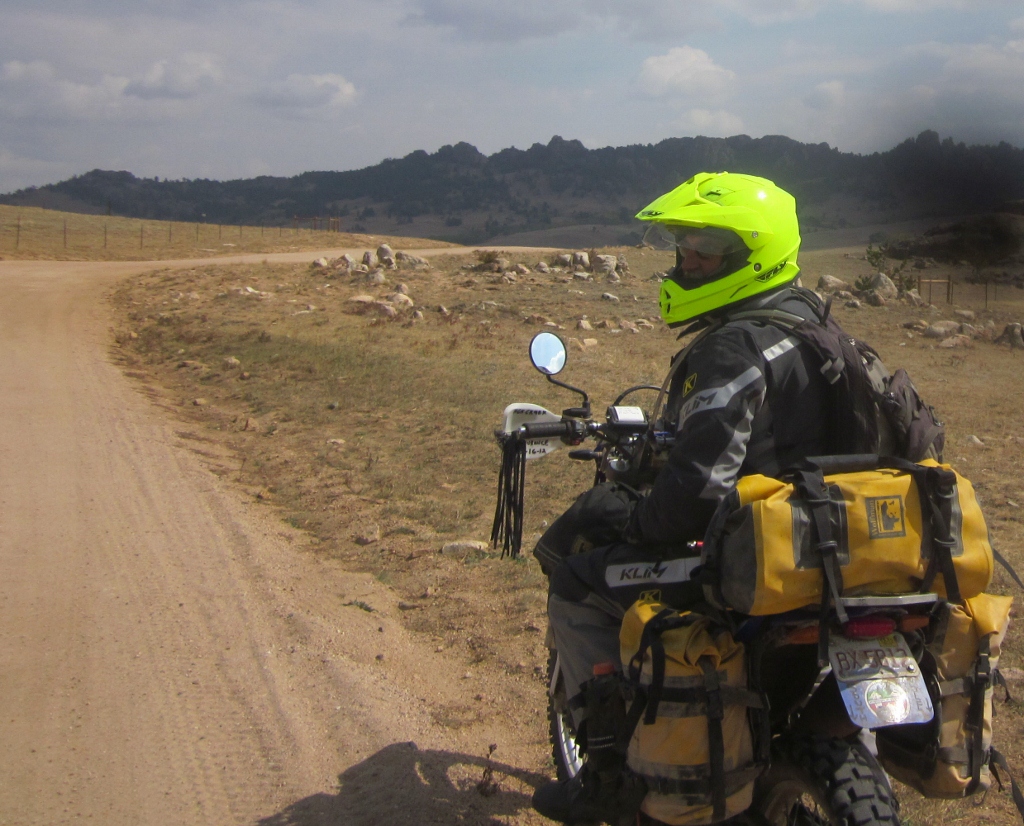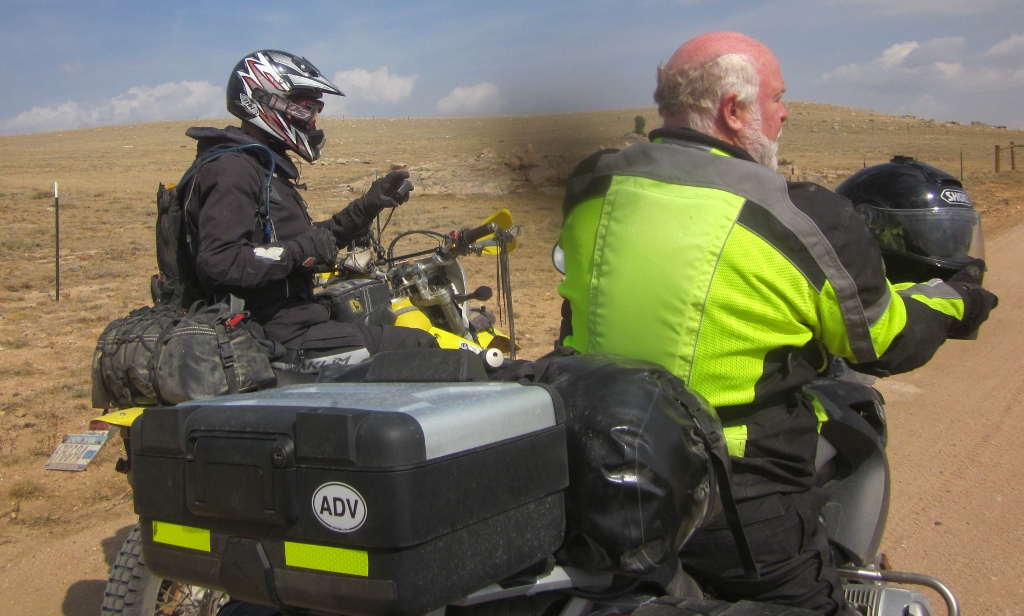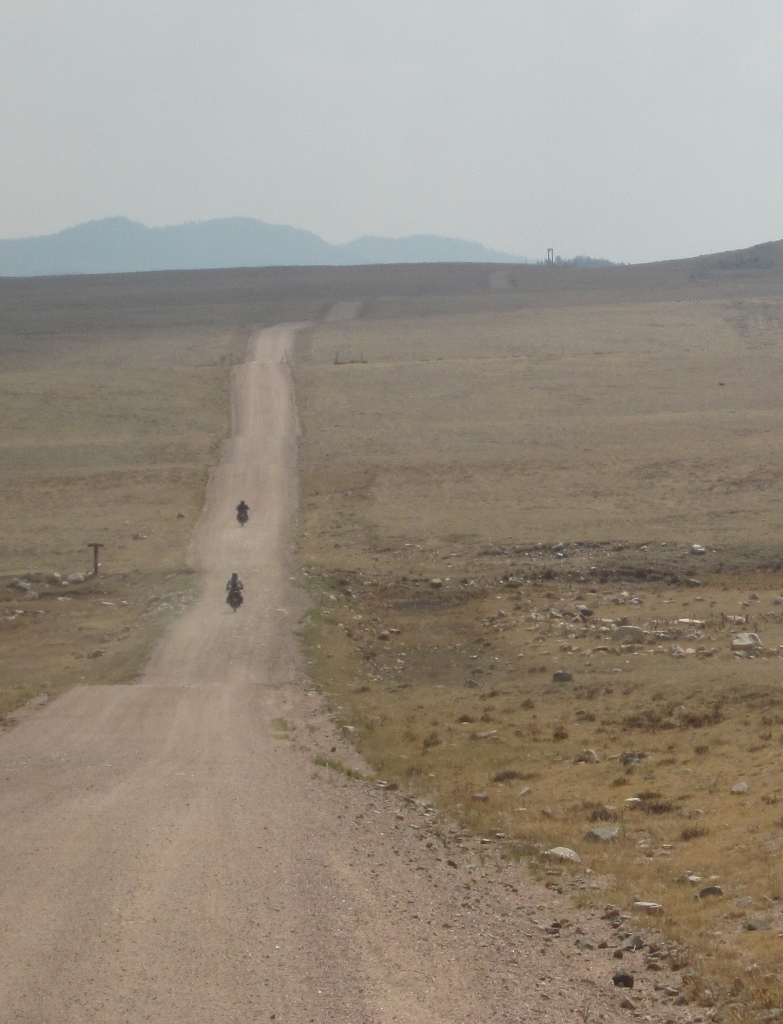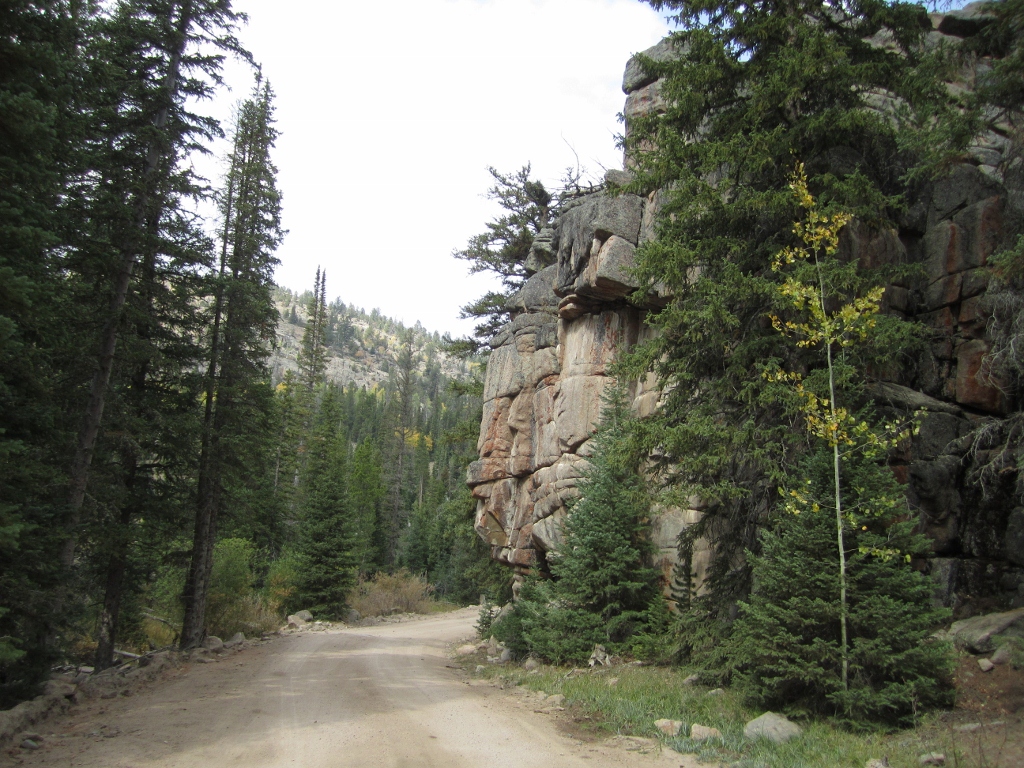 As with many no trespassing signs that can really confuse you---these foot traffic only signs did the same for us.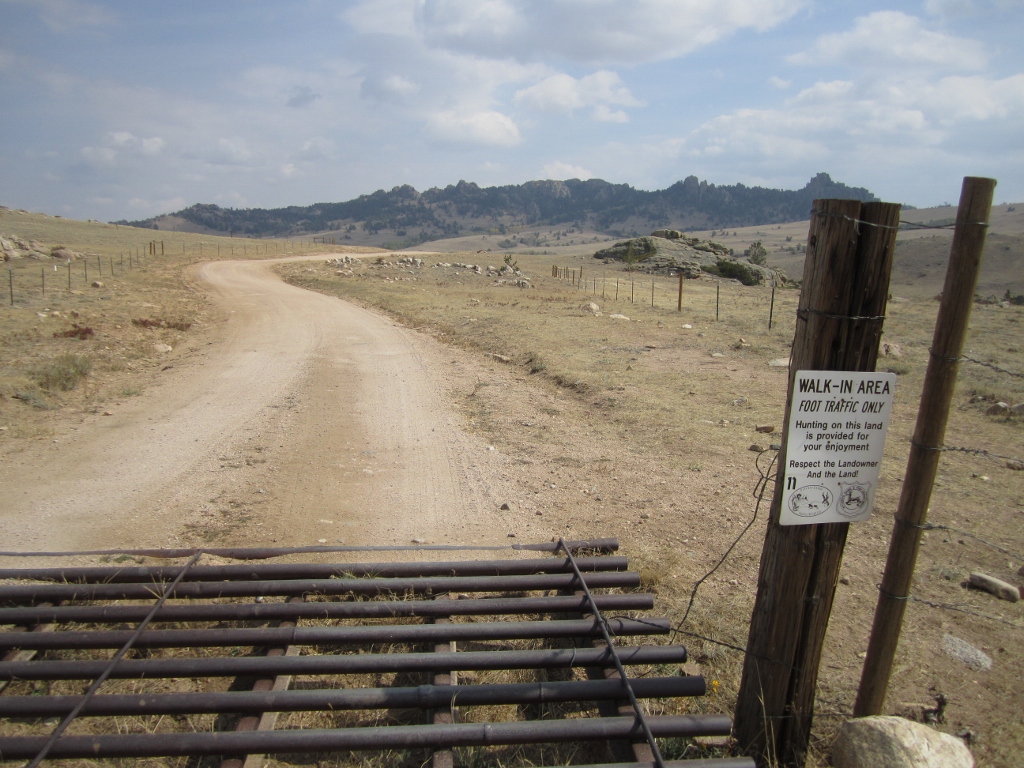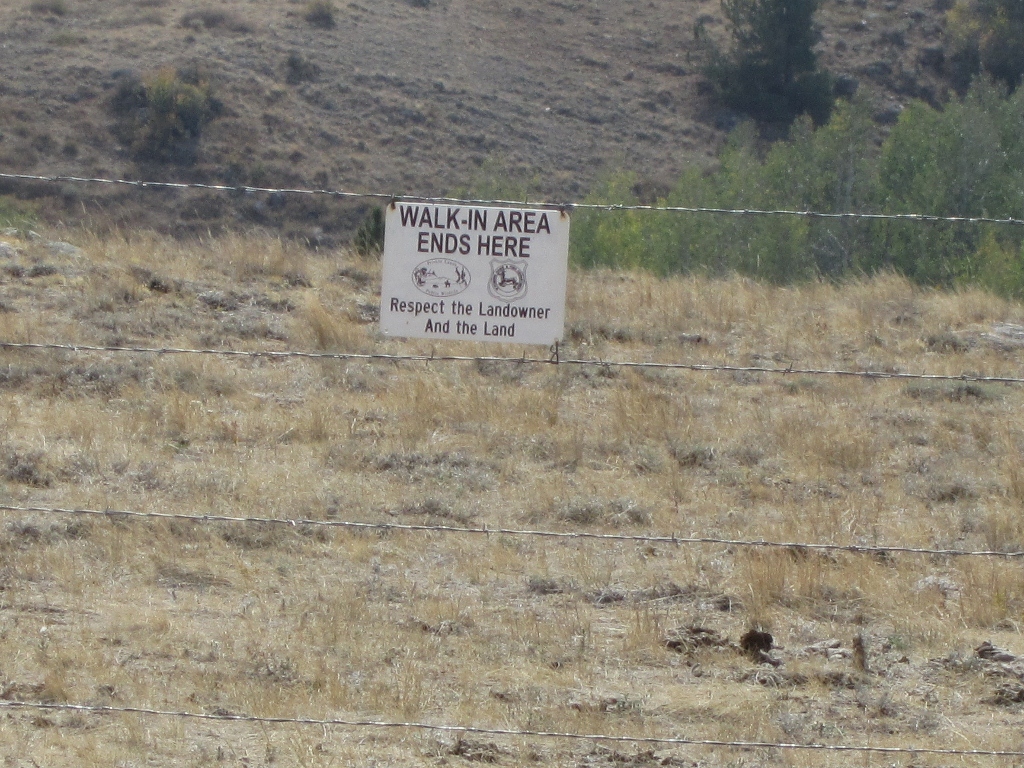 I ain't skeert---------I'll sick my JoJo on them.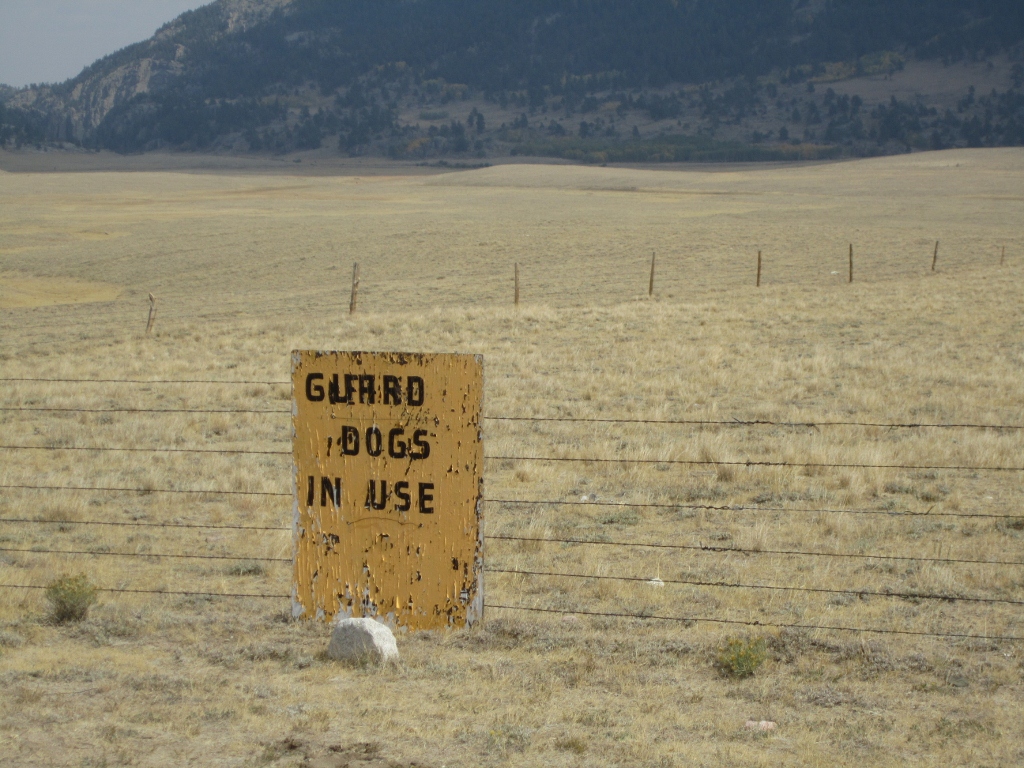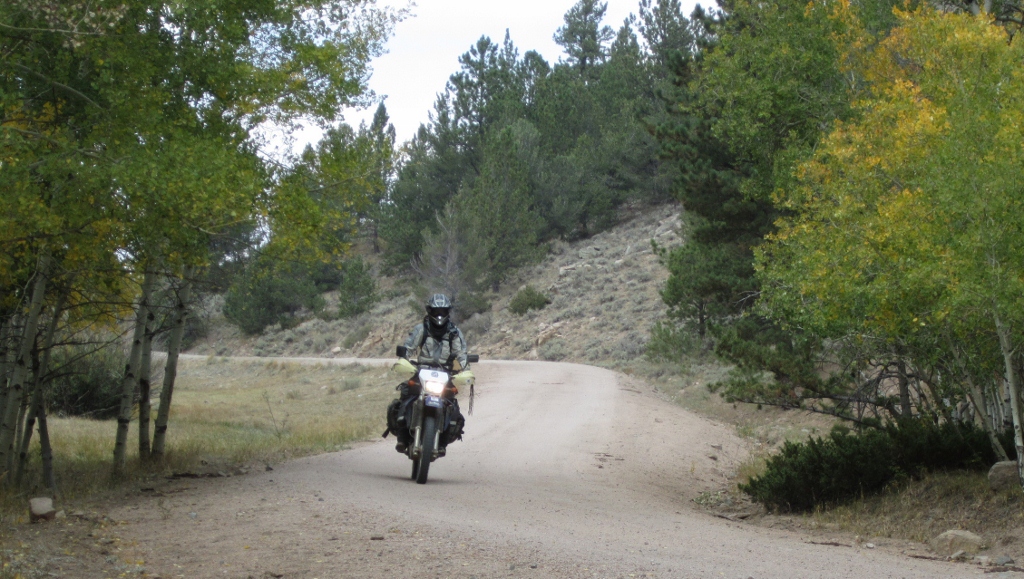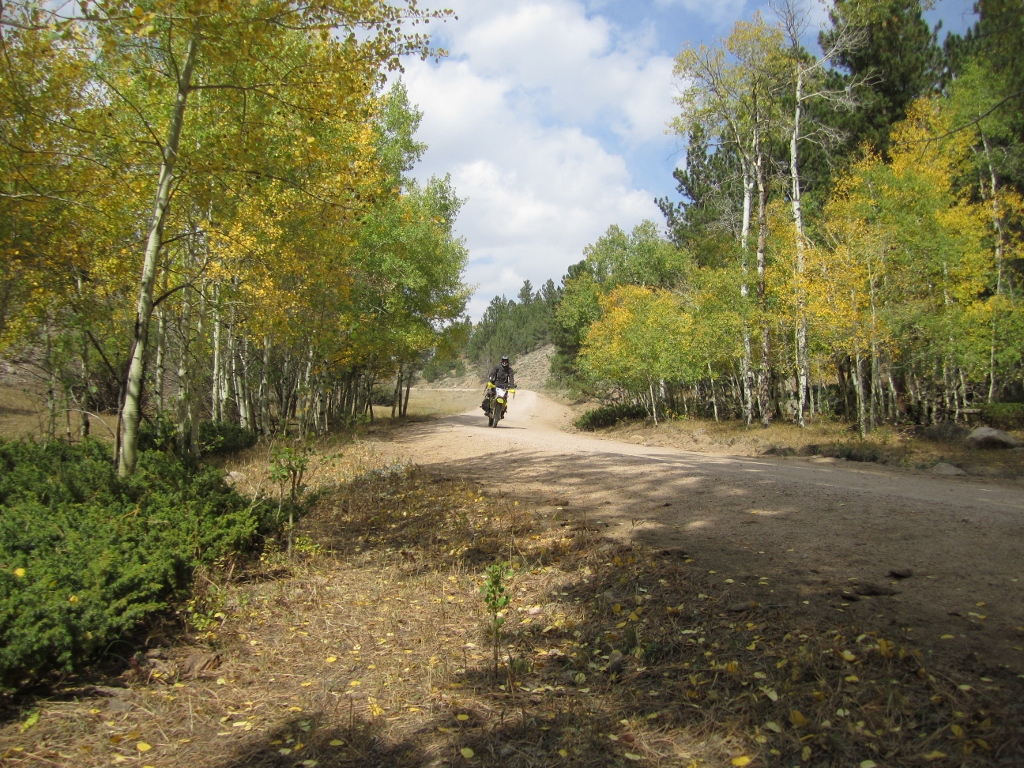 Man what a beautiful place----all the colors of the rainbow in this picture.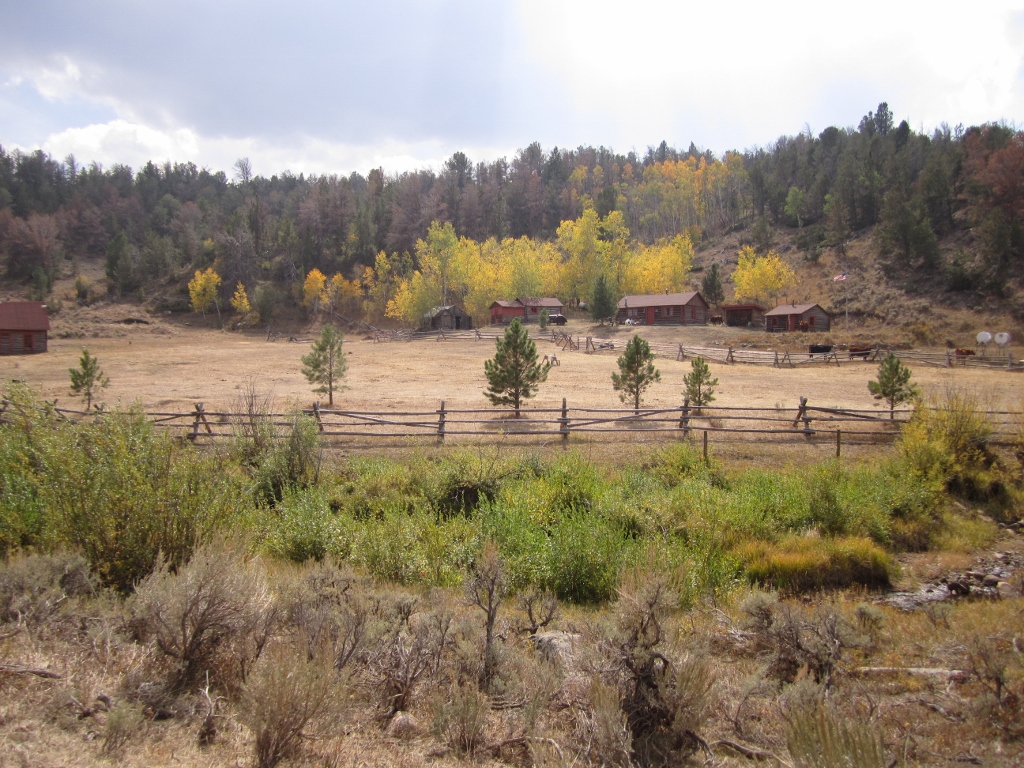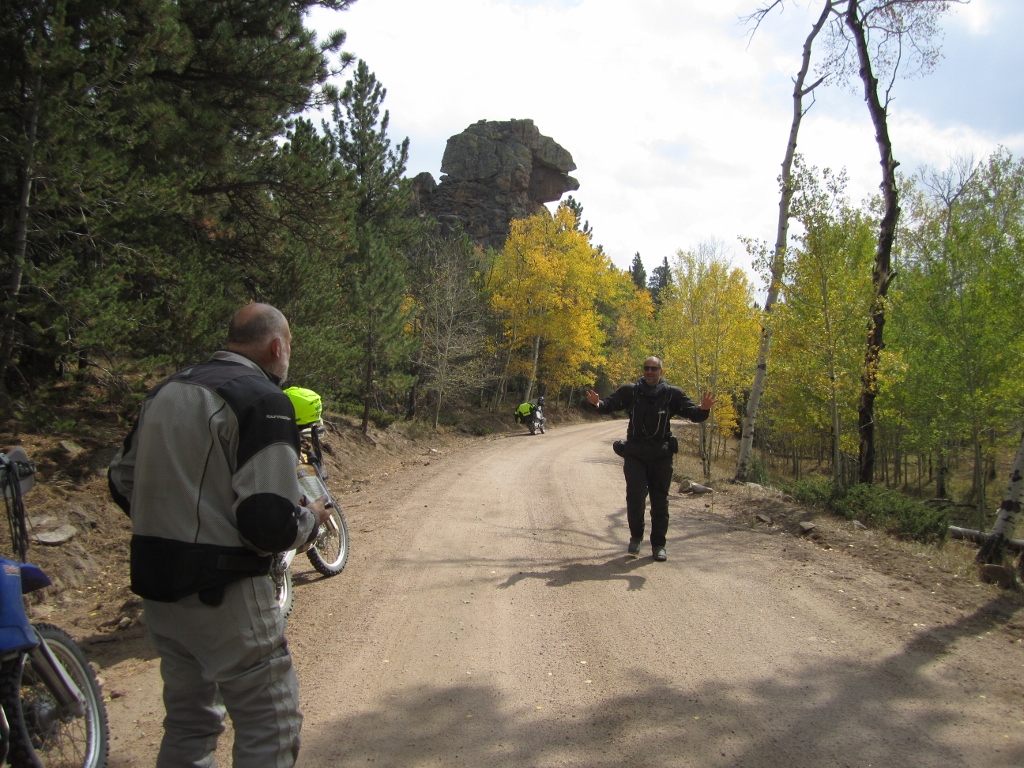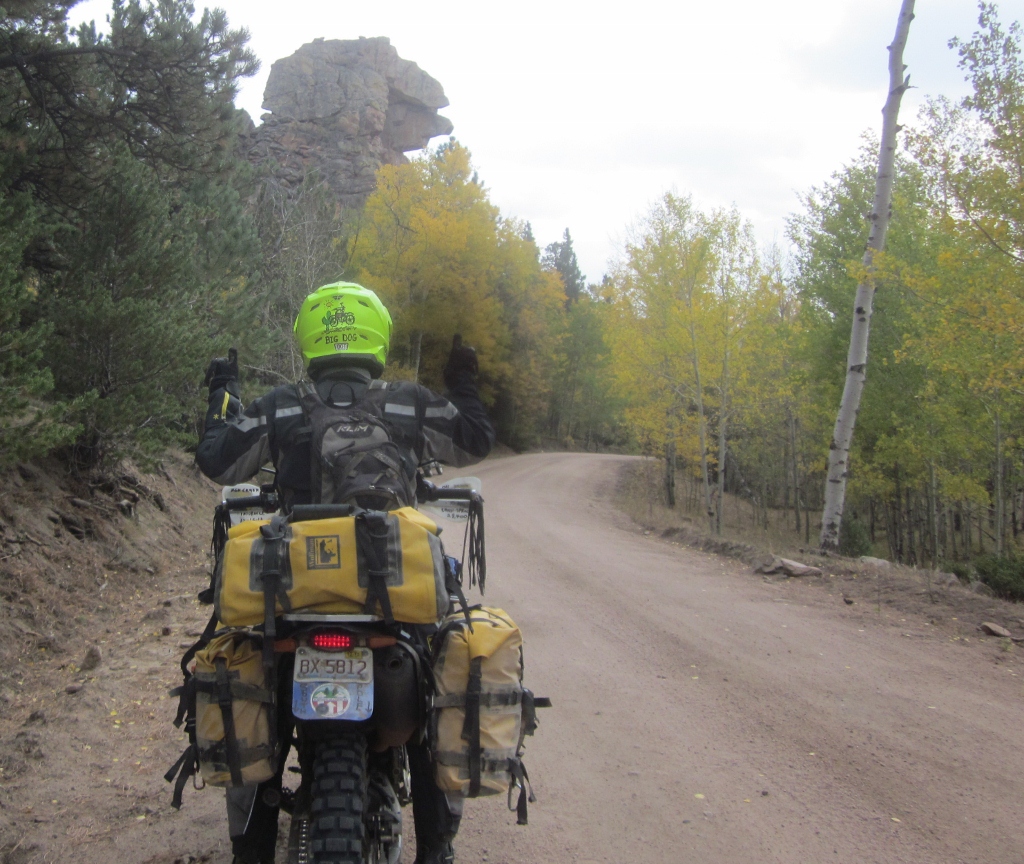 Our route was suppose to go this way-----I saw the sign off the main road and waited for the rest to show up and
we just went straight on the main road. I actually really appreciate signs like this----saves us a lot of trouble.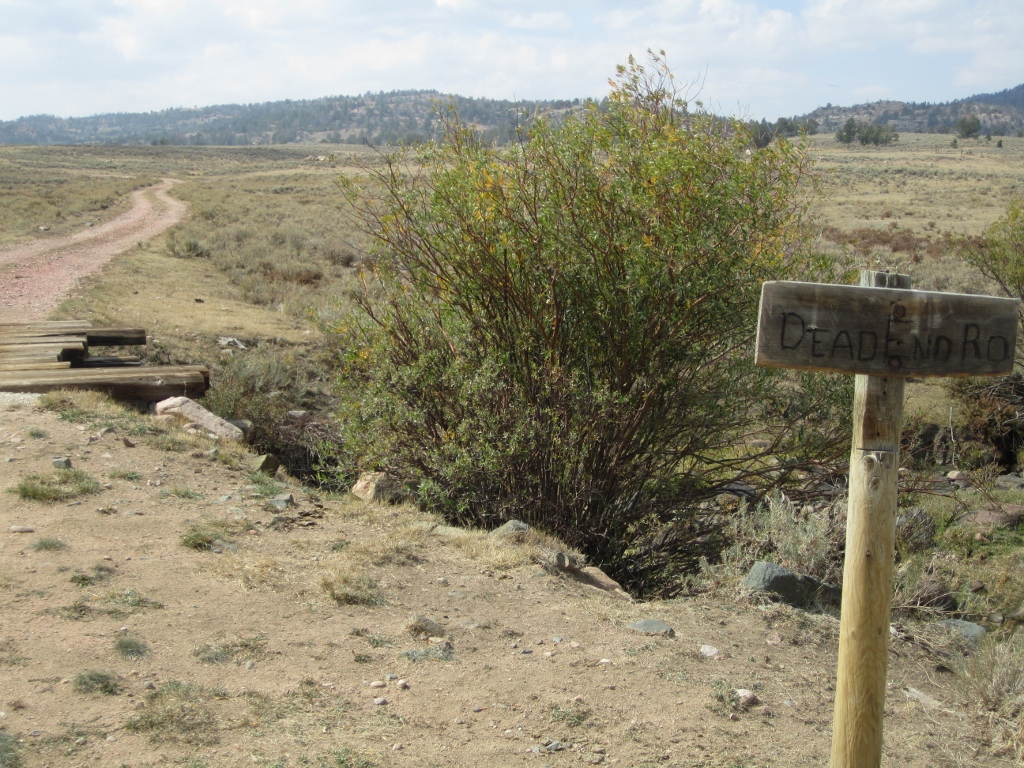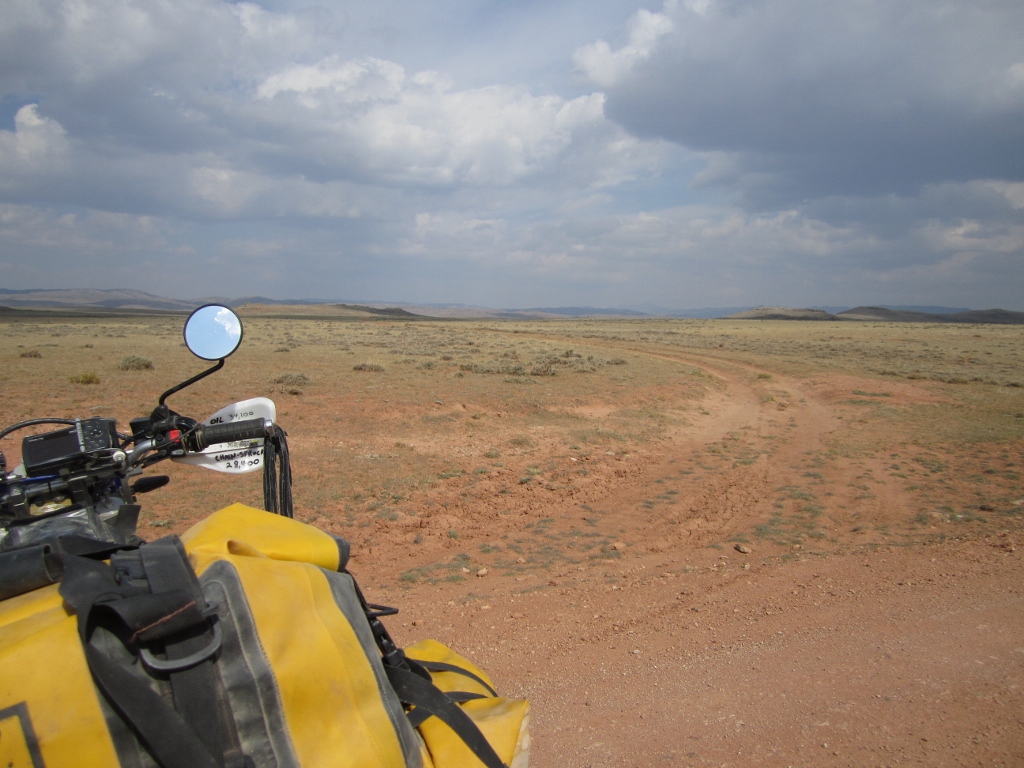 I'm thinkin' this is one of those "Cut-A-Cross" roads.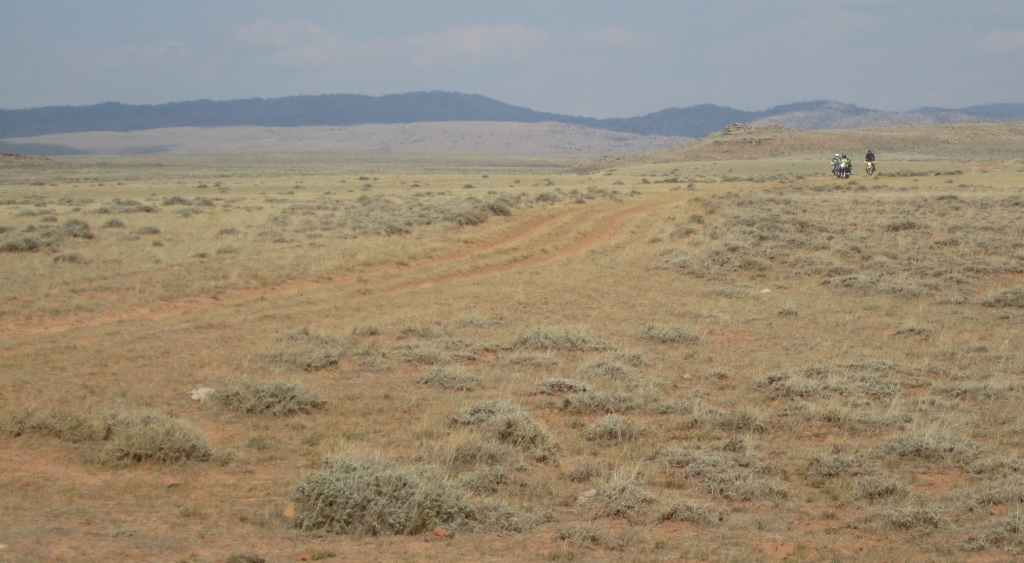 We arrived in Medine bow and at a little store and gas station I asked if there was a park in this very small town we could camp in and
was estatic she said yes. It was really nice and we had a flush toilet.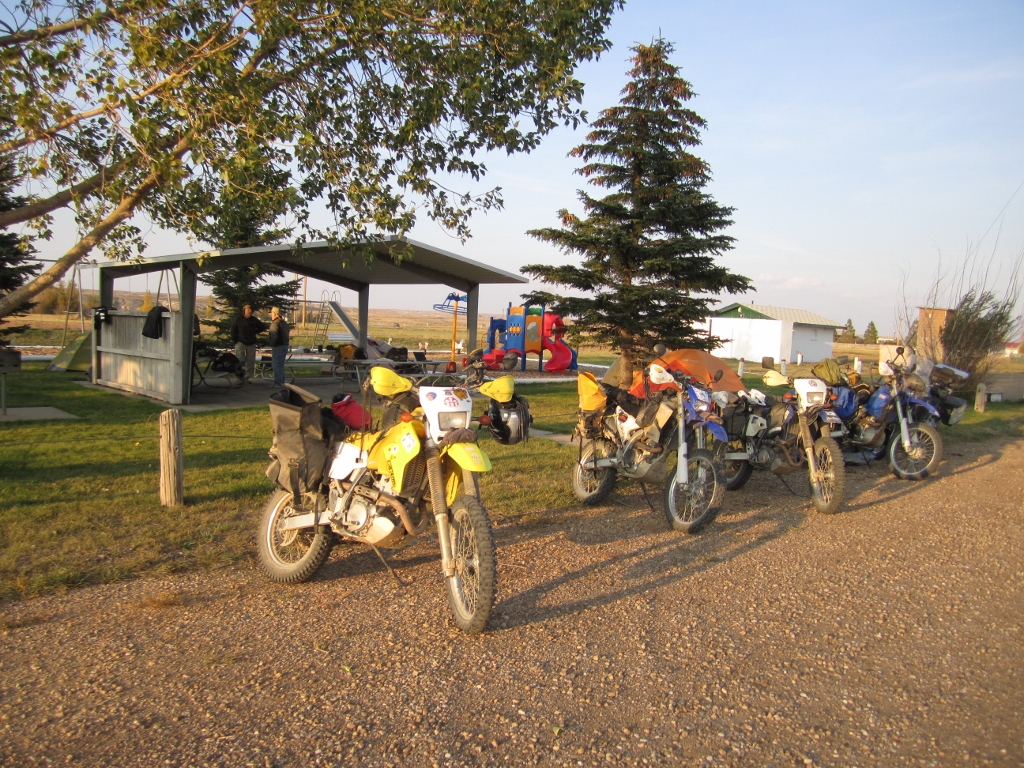 If the weather went to crap we also had this nice shelter and this is where we set up for dinner.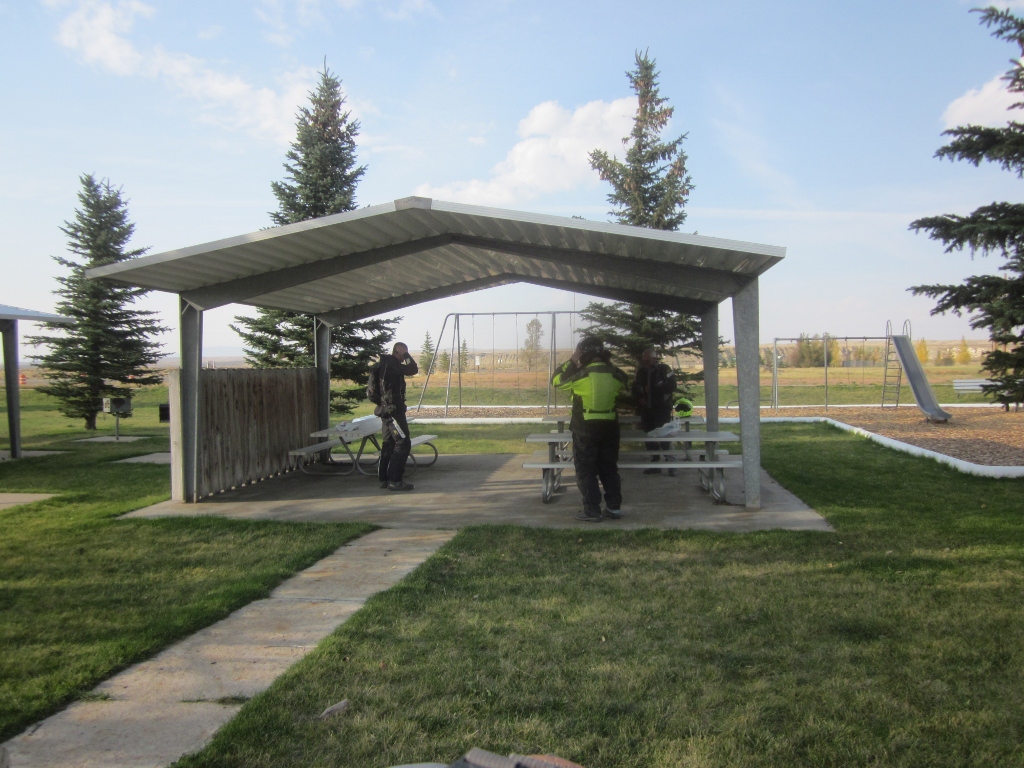 HhhhHHhhMMMmmmm----play toys !!!!!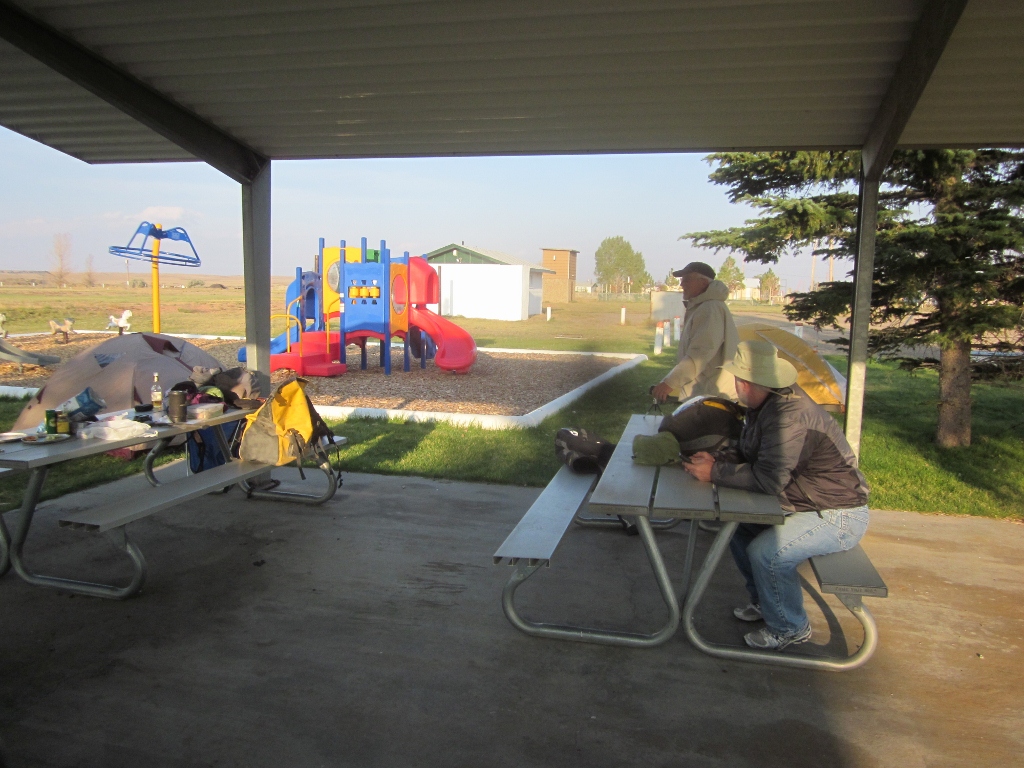 We all had our turn on all these things----I loved the springy horse myself.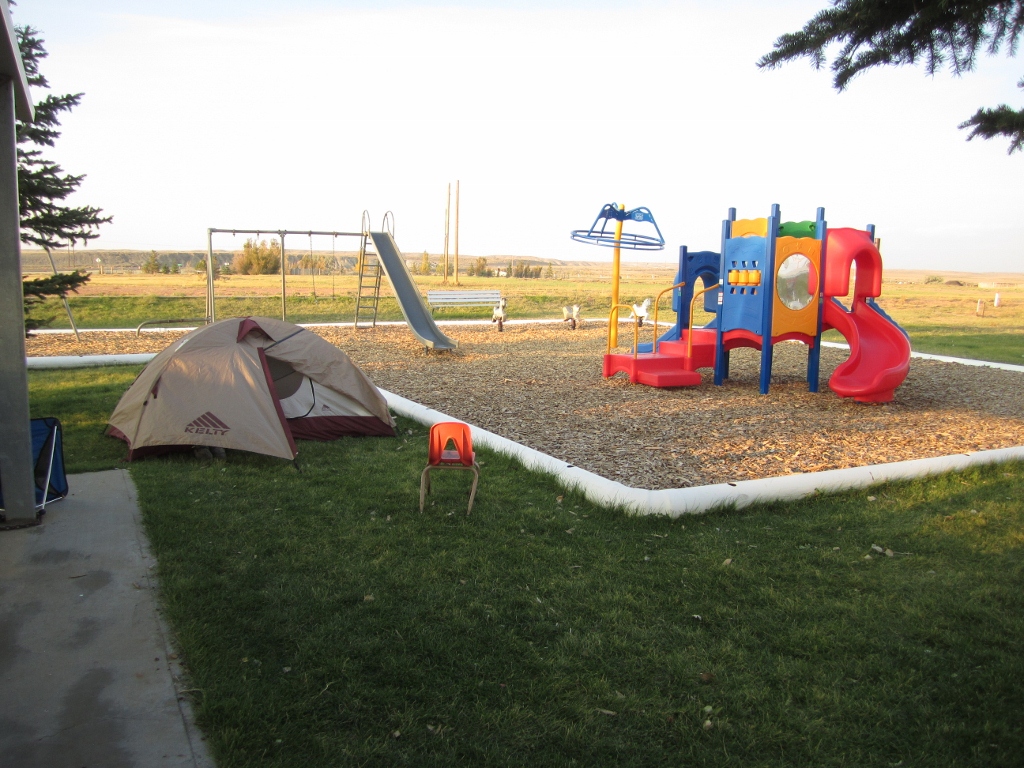 Steve gettin' comfy. I'd hope I wasn't carrying around that chair for nothing.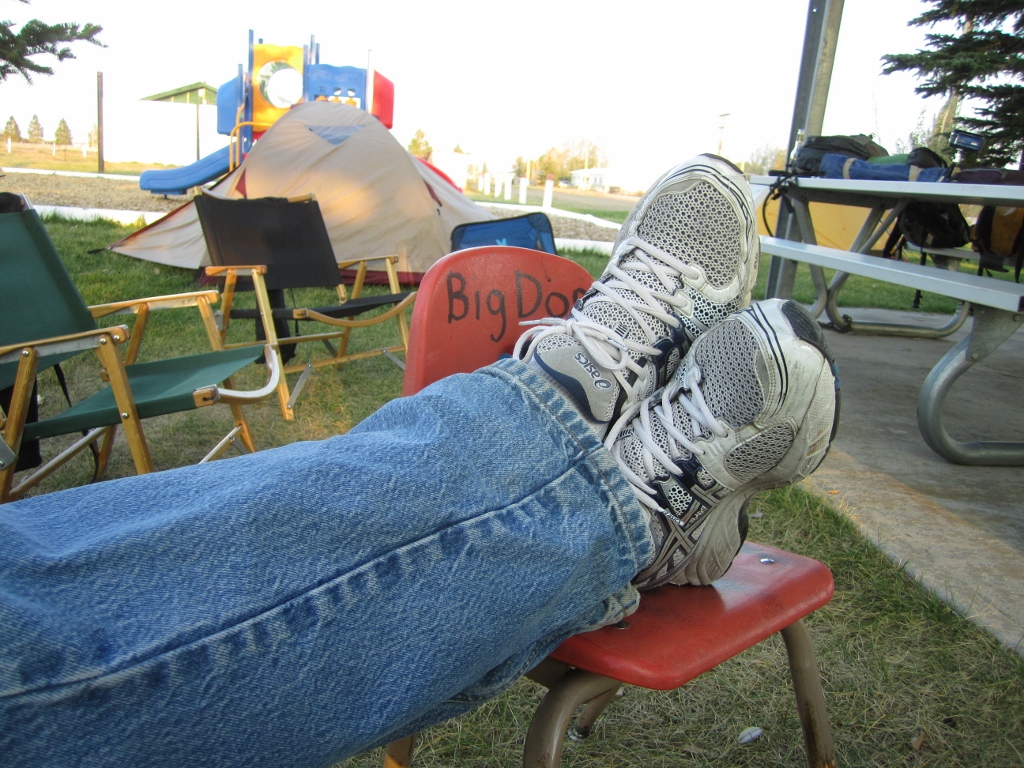 After the close calls with the sprinklers back in Winnett we took no chances and checked the grounds out for sprinkler heads.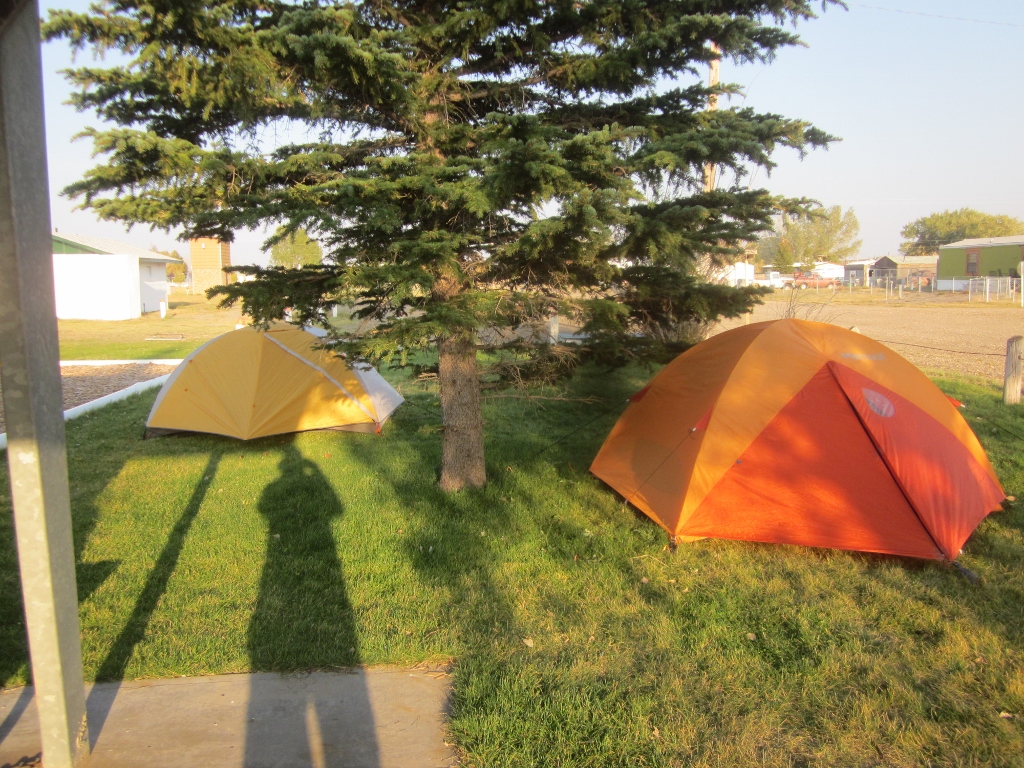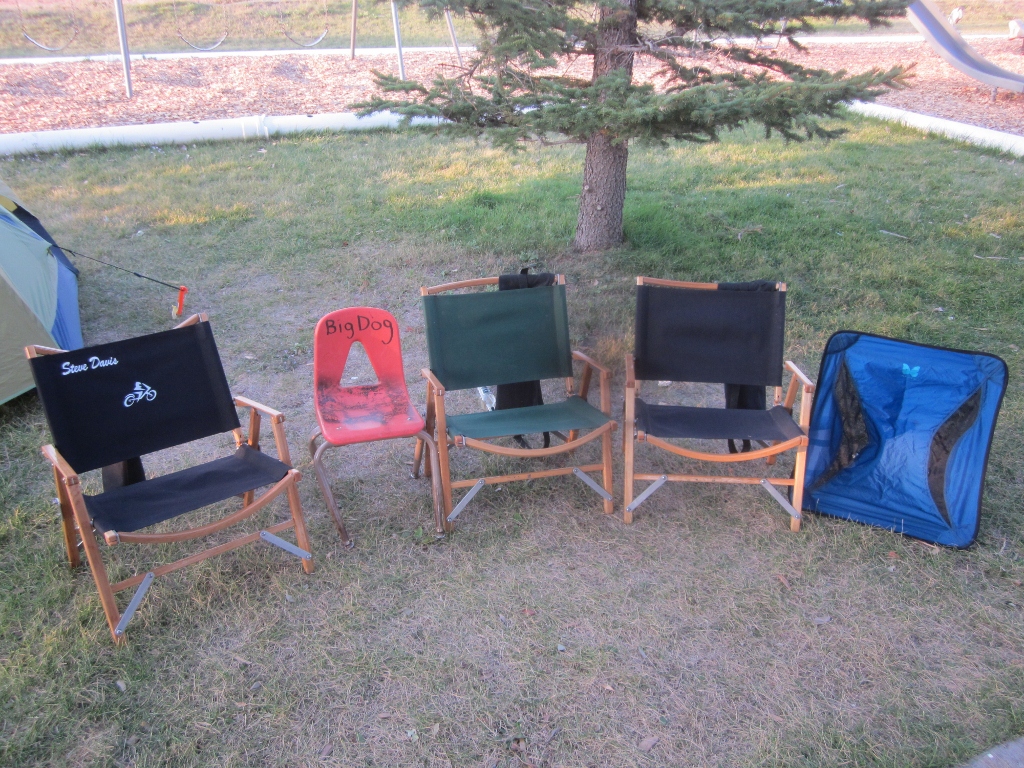 A rough map of our route today---about 169 Miles.
Day 14 September 18th 2012
Camp in Medicine Bow to Motel in Walden
Man I'm gettin' tired of carrying this chair around----it's slowin' me down.
We had a hoot playin' on the kiddy's playground and I pretty much wiped out on the springy horse's.
But it's time to pack up as we head further South and we would cross into Colorado today.
Man what a great trip this have been for all of us.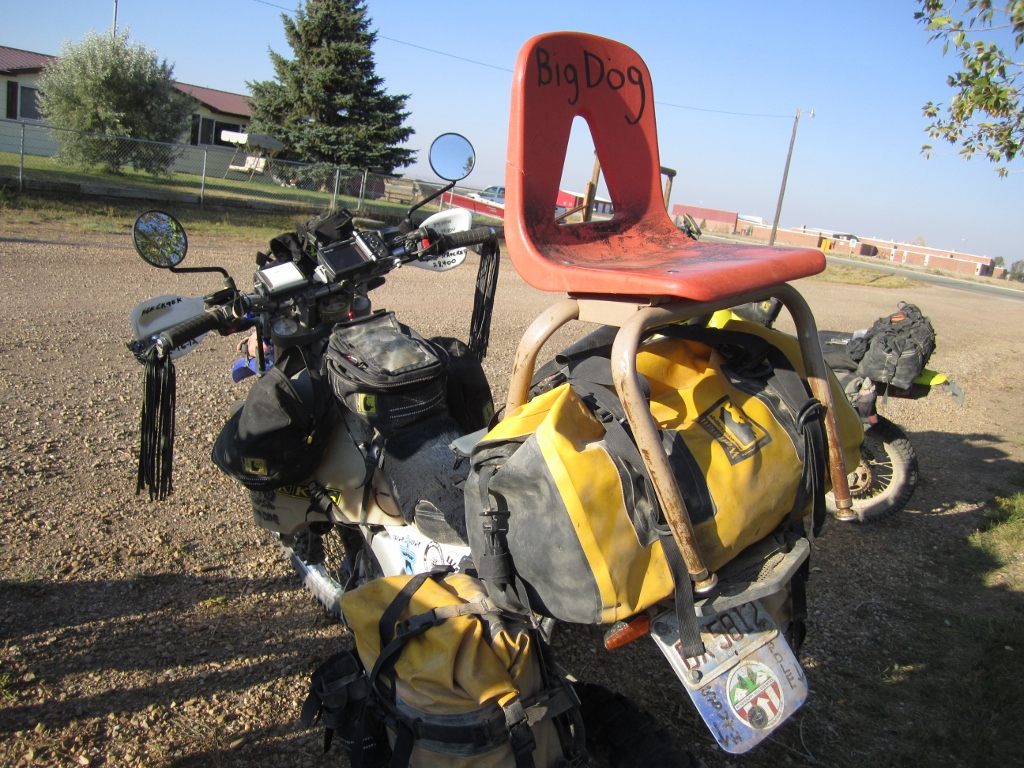 I bet there were 7-800 wind turbines along this high ridge.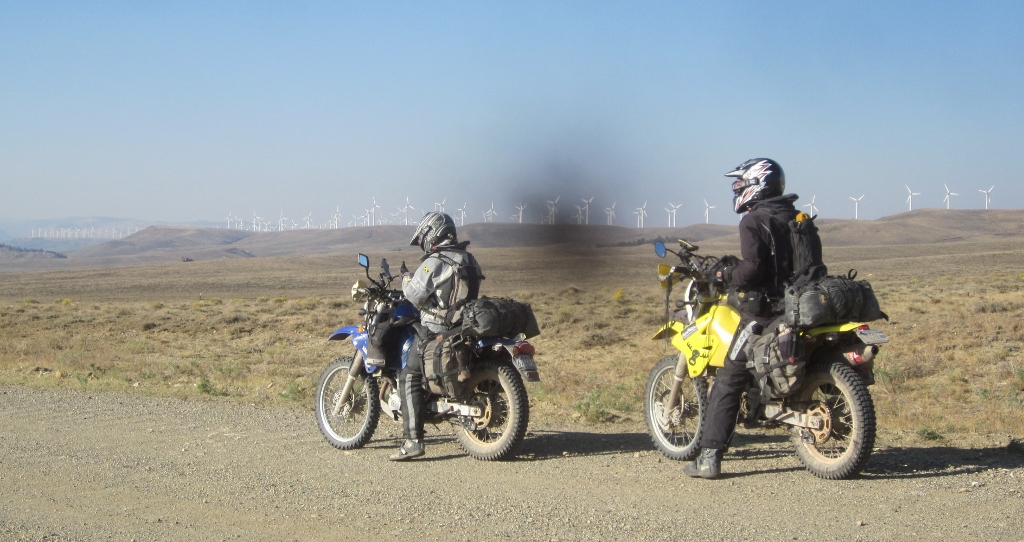 This is the only time we'd ever get close to getting wet on this ride.
The rains didn't get us---and the sprinklers didn't either.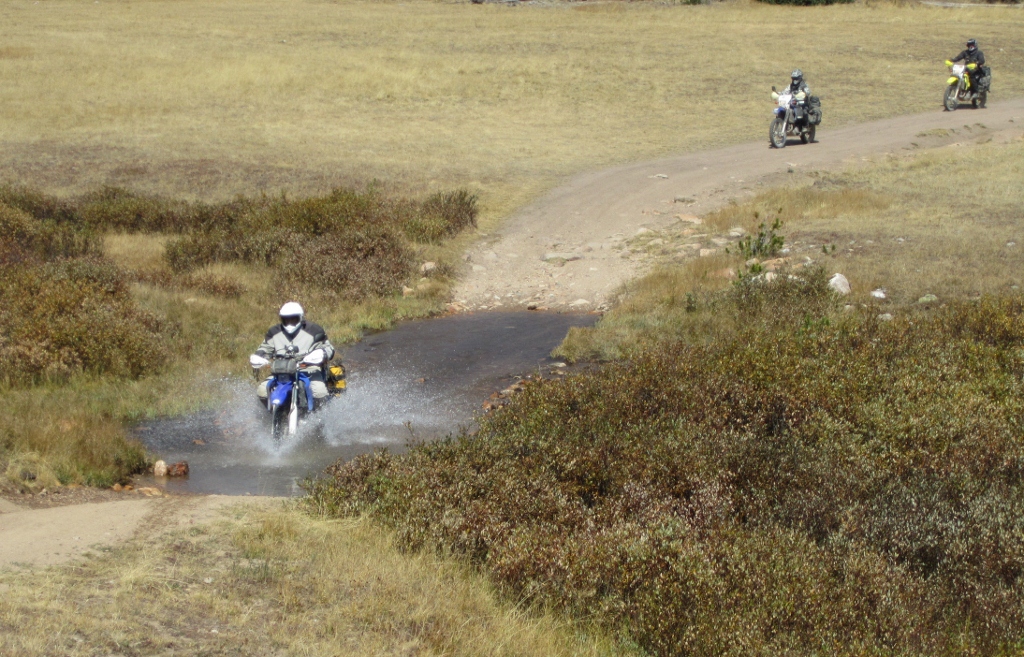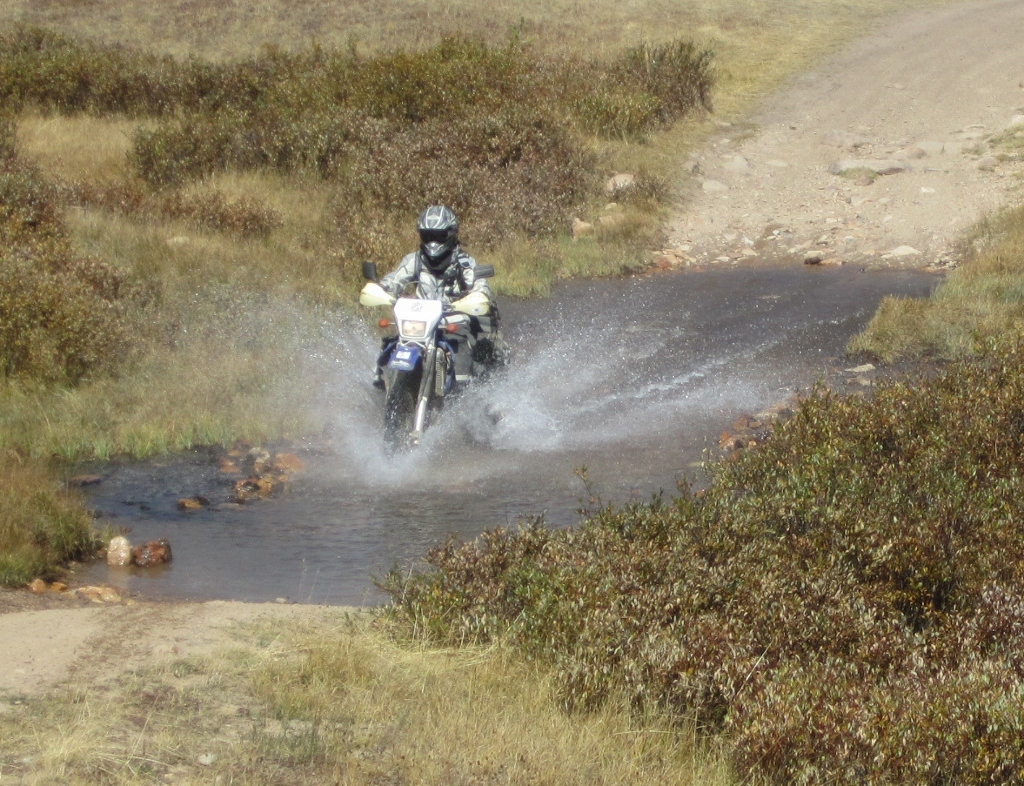 I led all day again and kept a close eye on Steve as the terrain was getting a little tougher in places.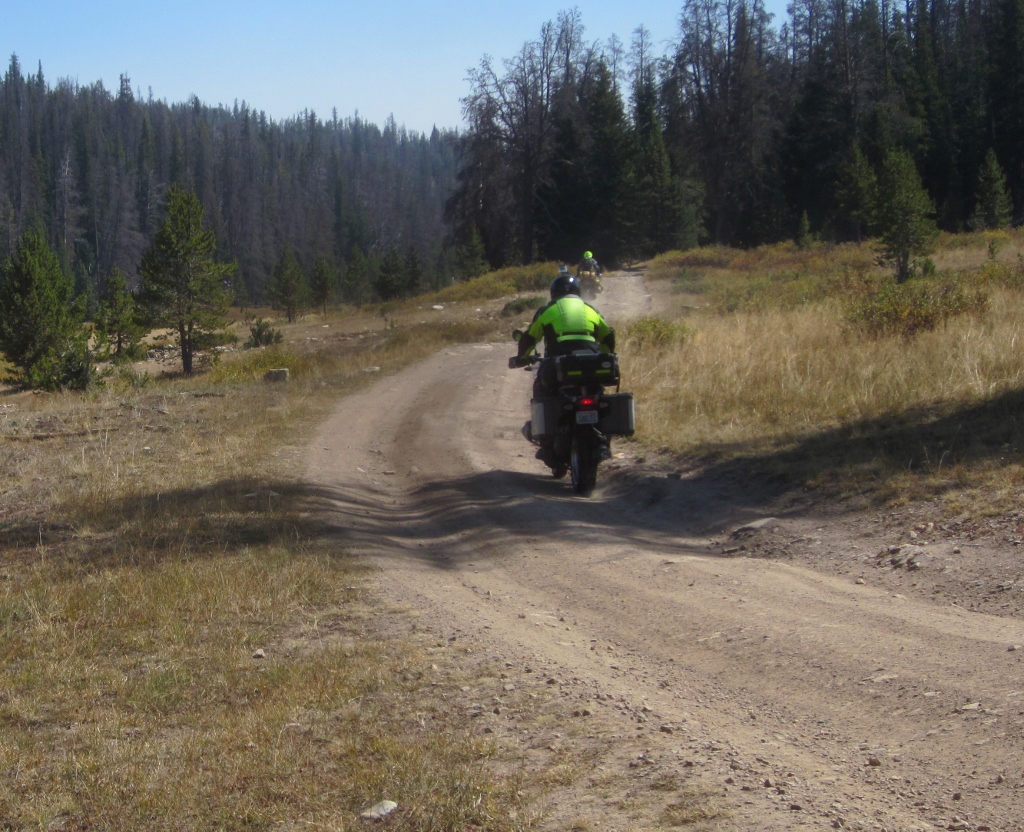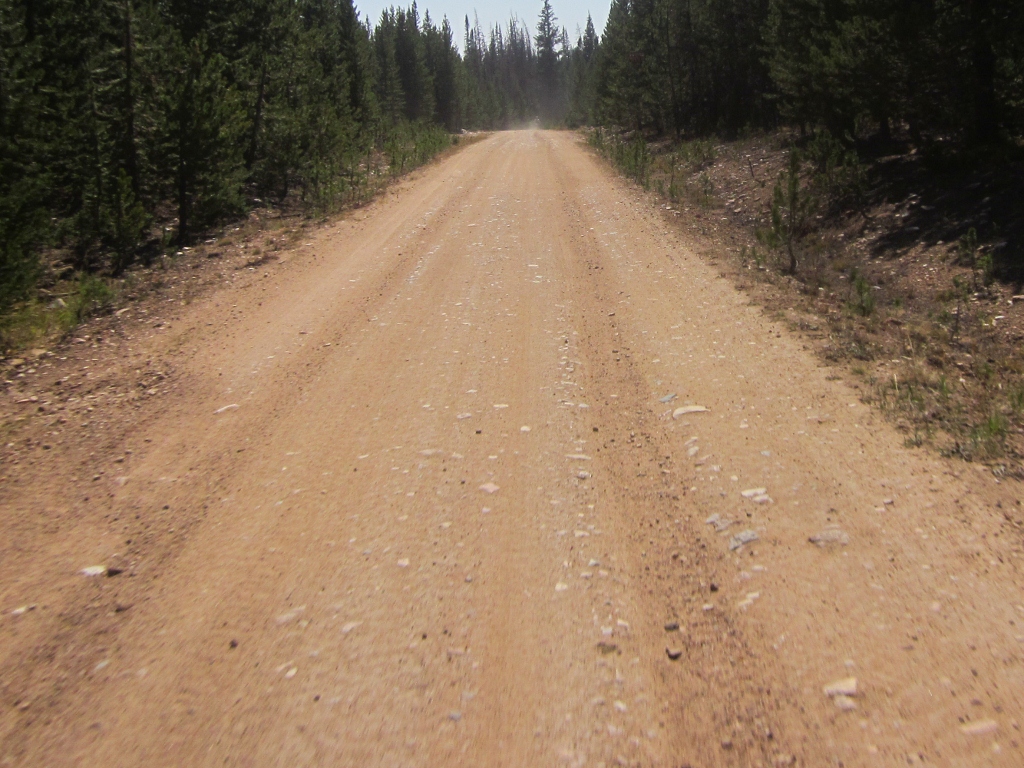 Ah---yes -----the road not taken.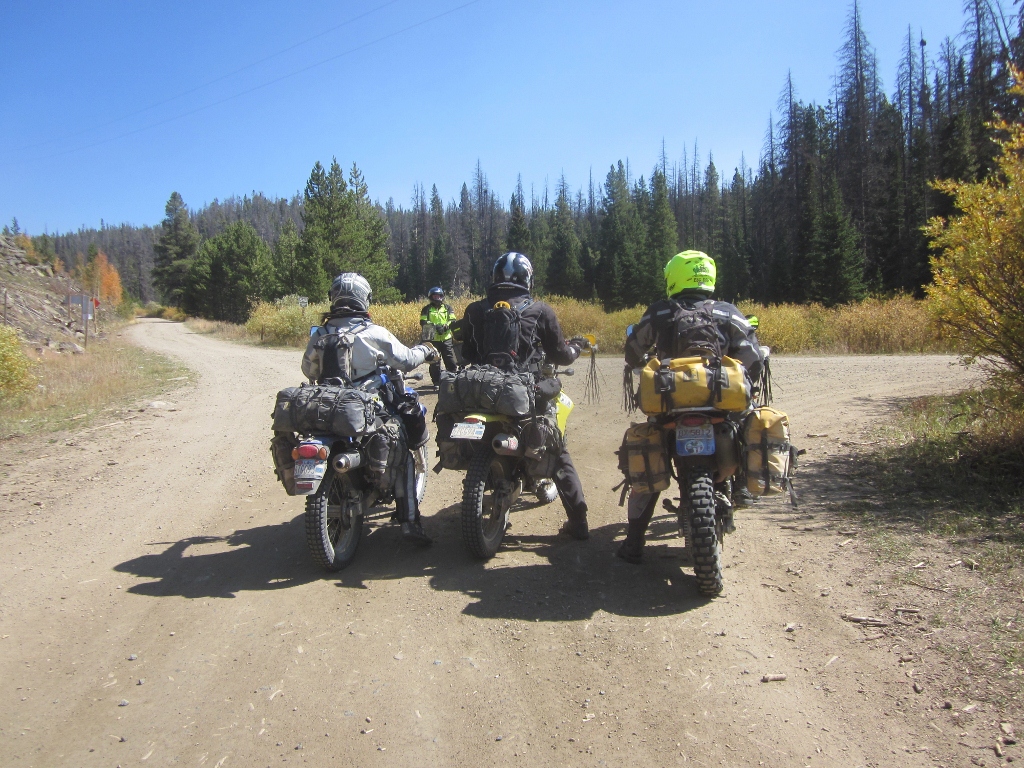 Views like this are hard to take---what a beautiful world we live in.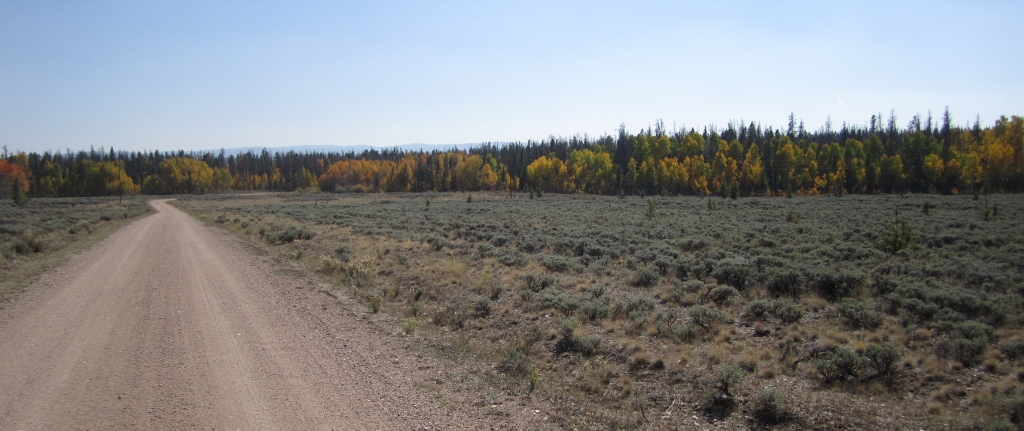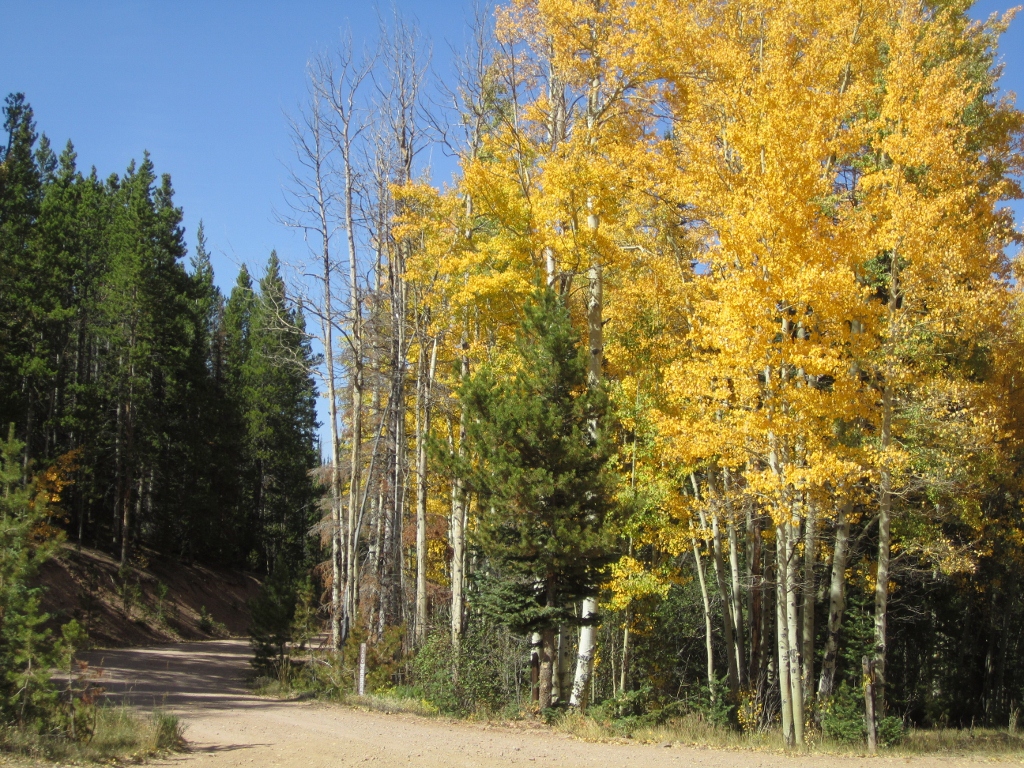 My brand new Dunlop 606 I put on for this ride was holding up really well.
On these really long rides where you never know what you are going to get into (mud) I really like to run these more aggressive tires.
They come in handy and if nothing else just ease my mind---they will last maybe 4,000 miles.
I'm still in love with my Fly Racing Helmet-------I doubt I ever wear my Arai XD's again.
And after my lovely wife painted my logo on the back of it-------I'd never part with it.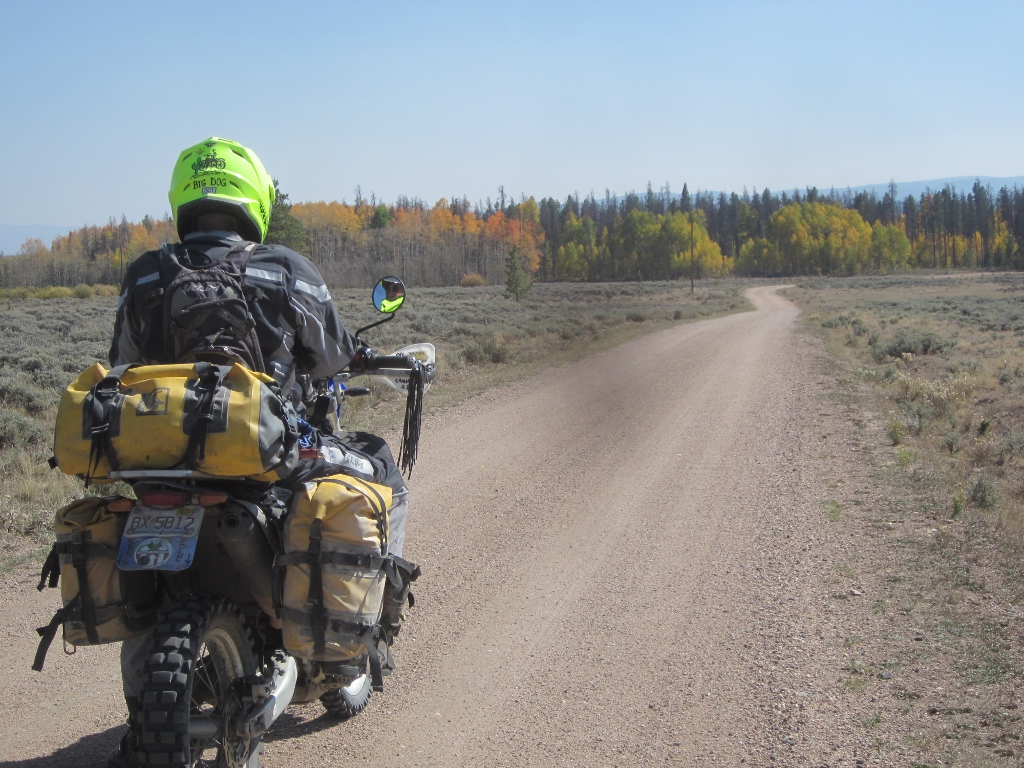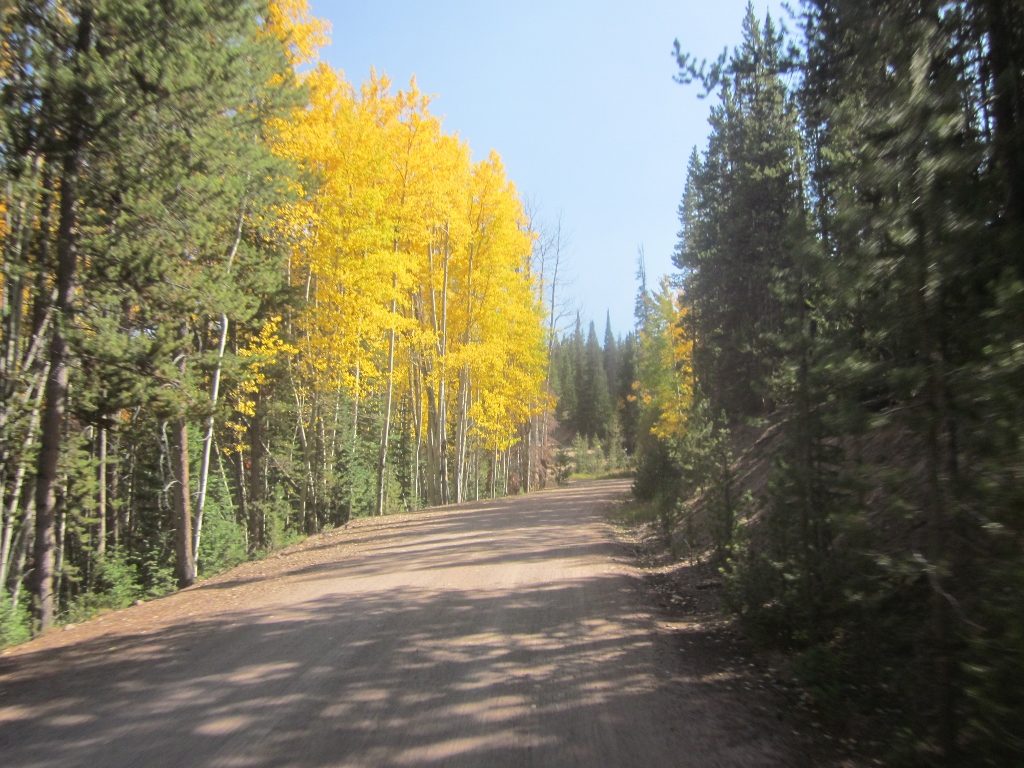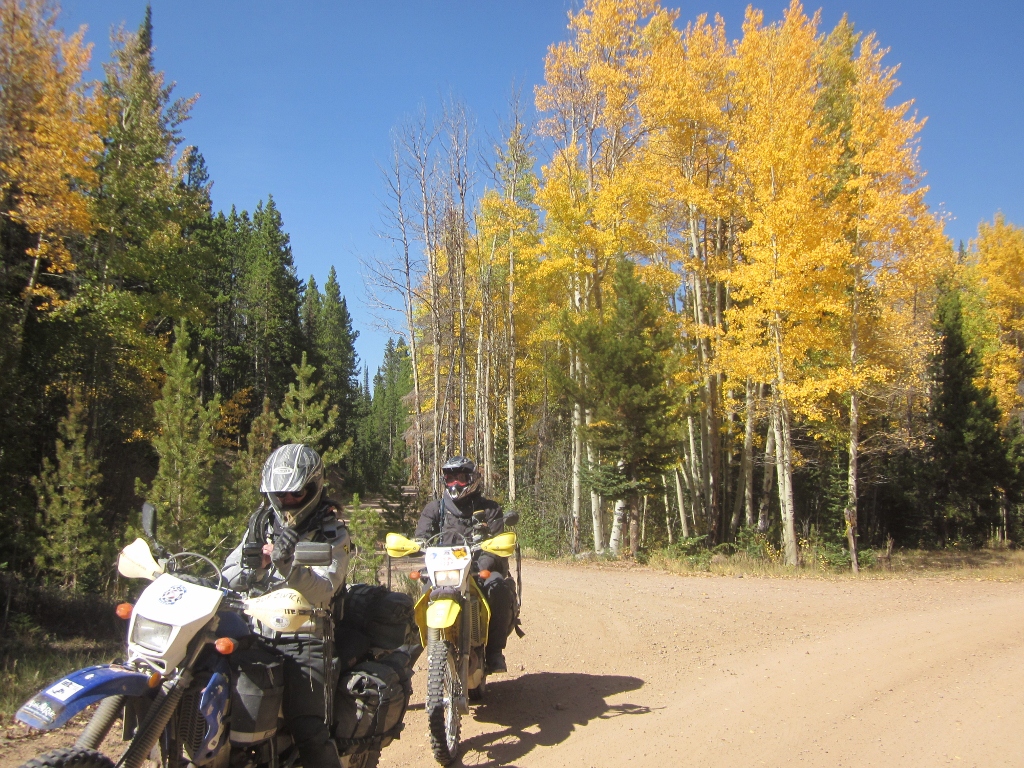 If this gets any rattier lookin' it will be as ugly as my KLR----------good !!!!!
What lies under all that dirt and dust is a well oiled machine.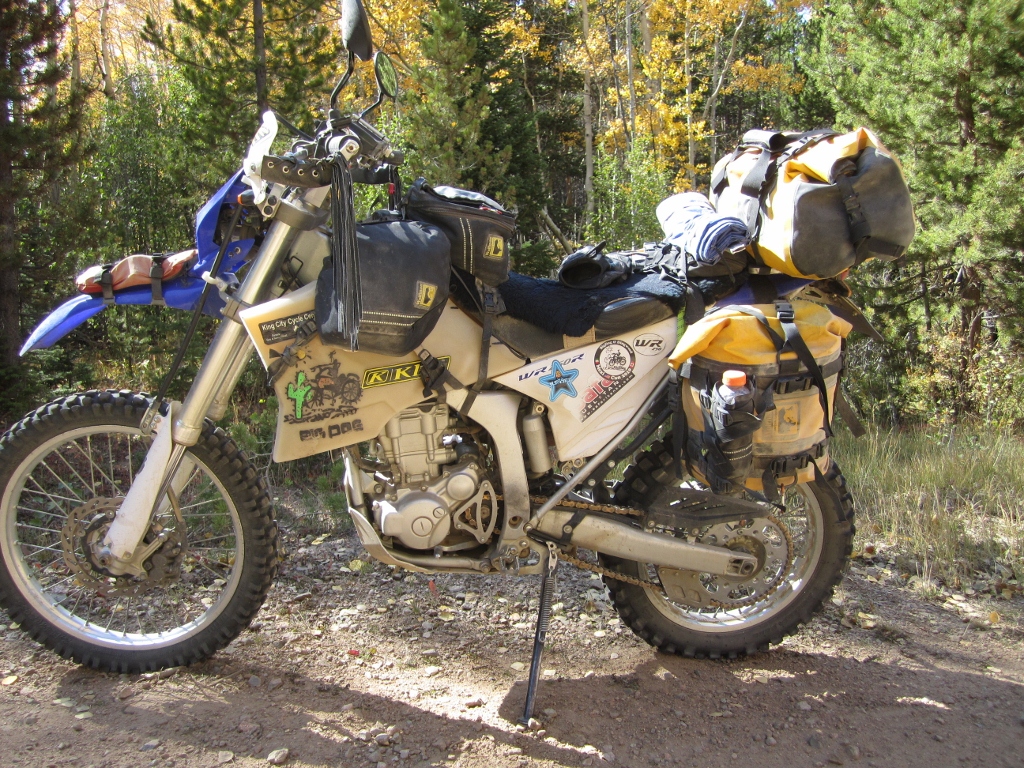 I think we had went into Centennial Wyoming for gas and supplies and we headed for a waypoint on Dr.Rock's route that said "TrickyTurn".
And boy was it tricky----we went round and round for a bit before finding the right way. Only took about 10 minutes tho as the forest service
had closed a short trail section and we had to find another way.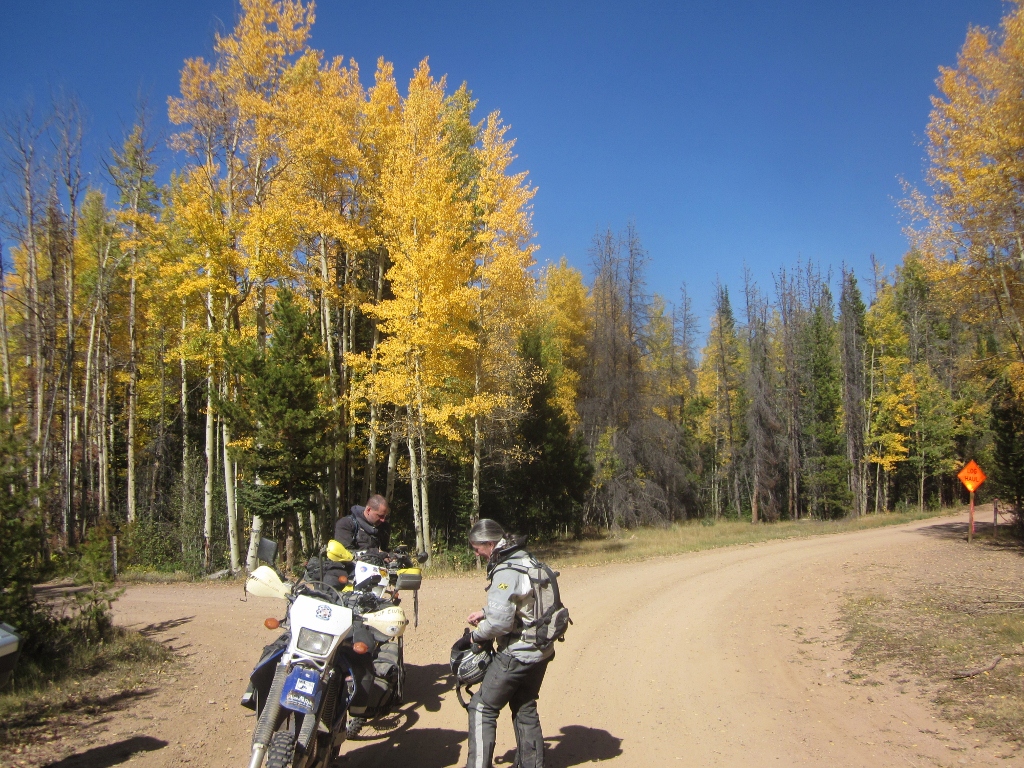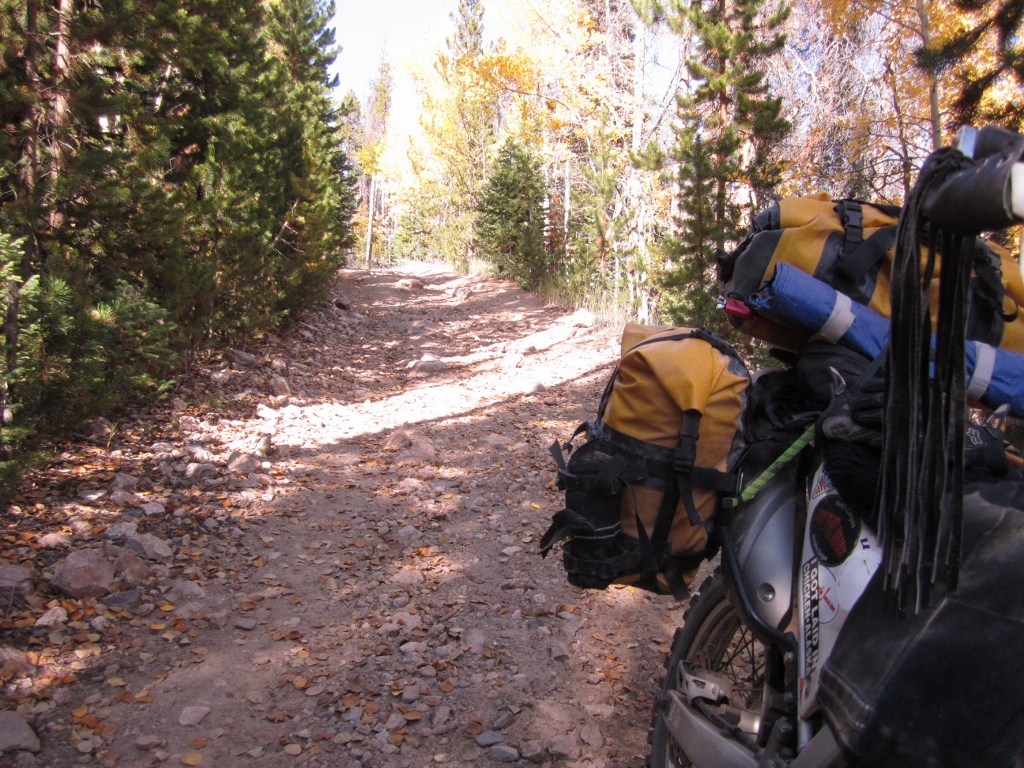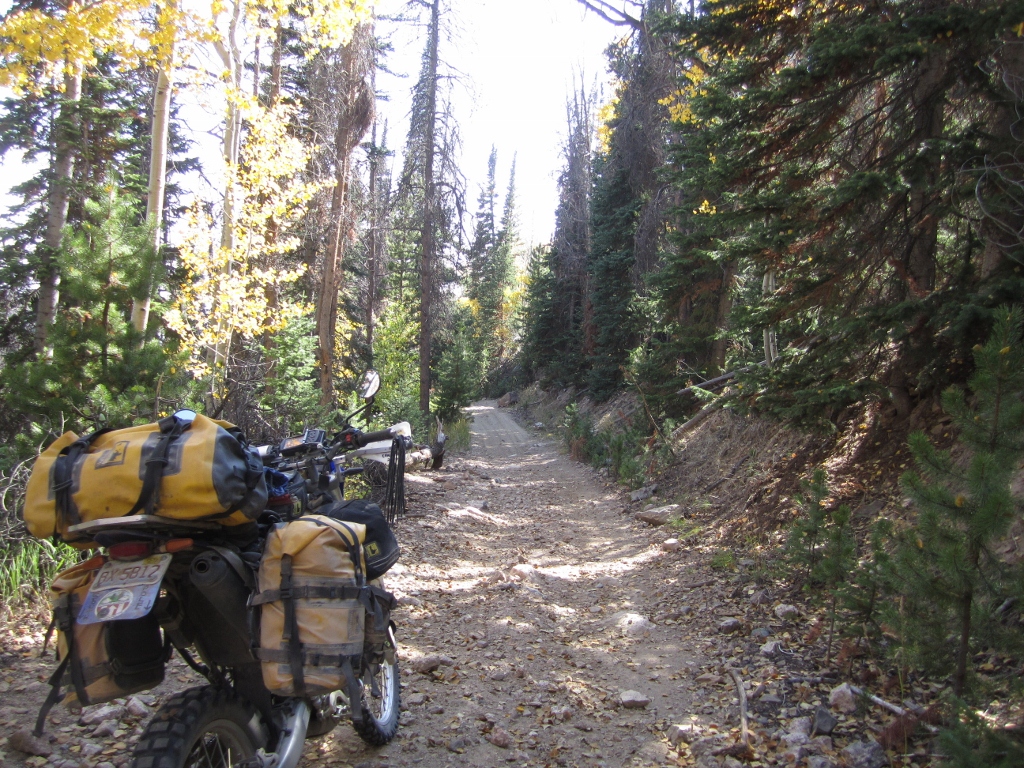 Dr.Rocks and Francines tires did well---but we never hit any mud.
That would have been another story.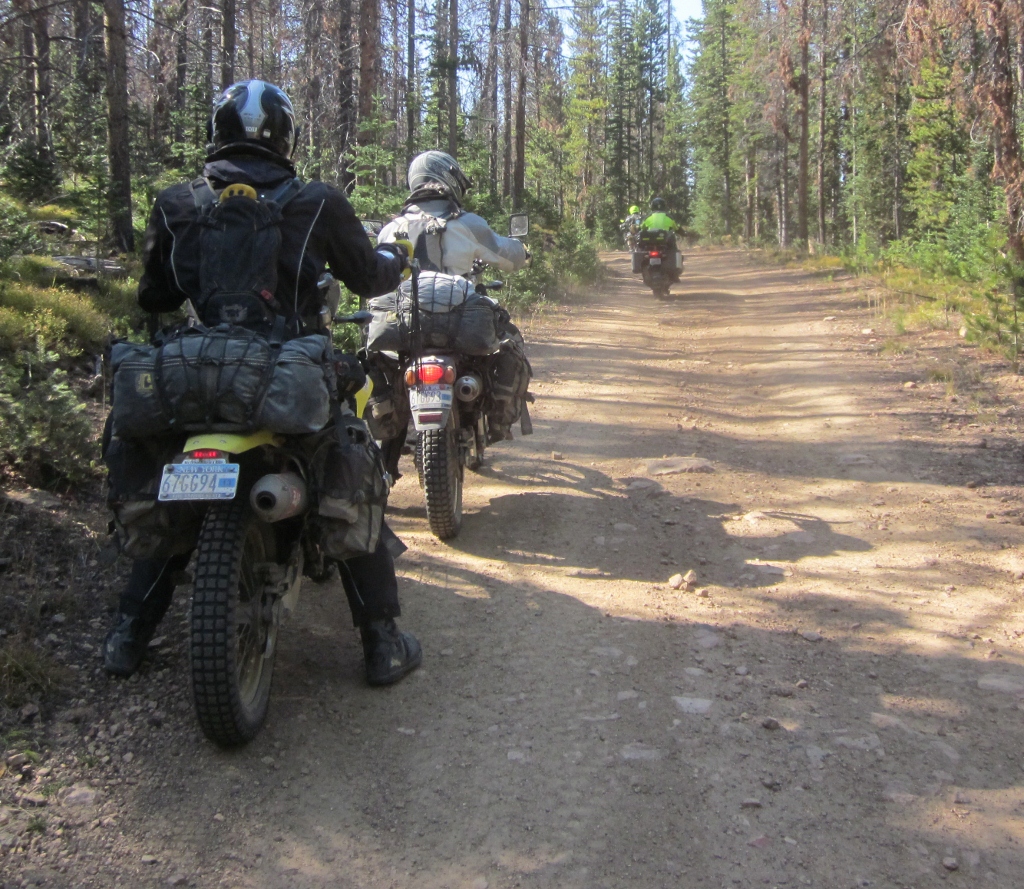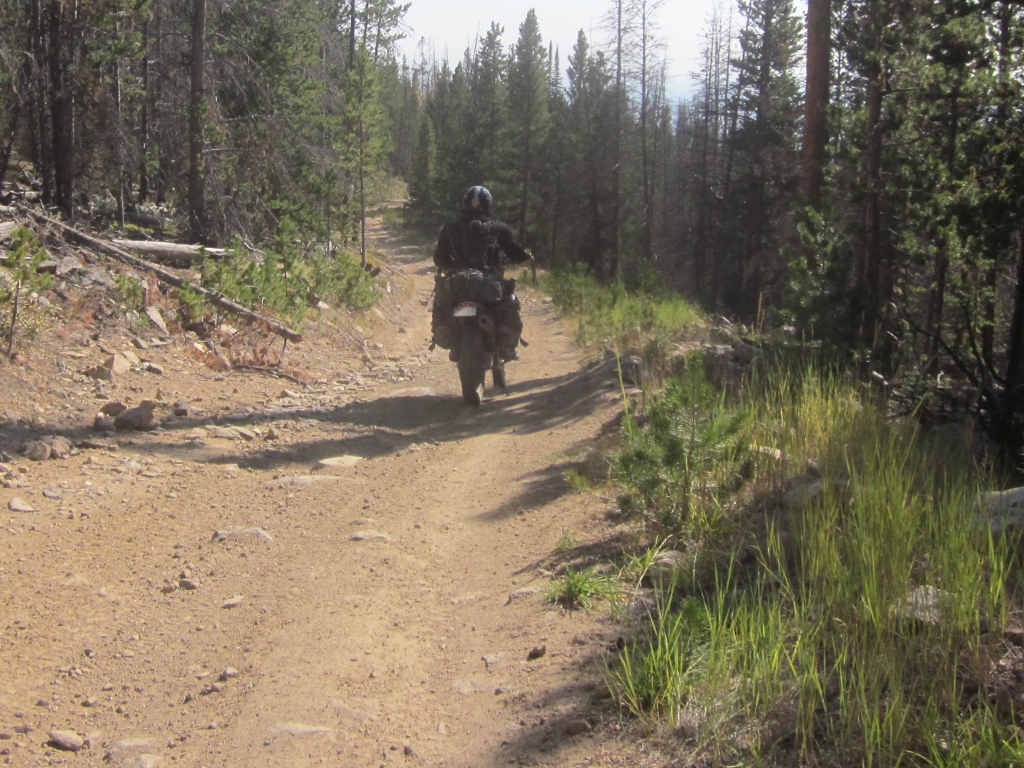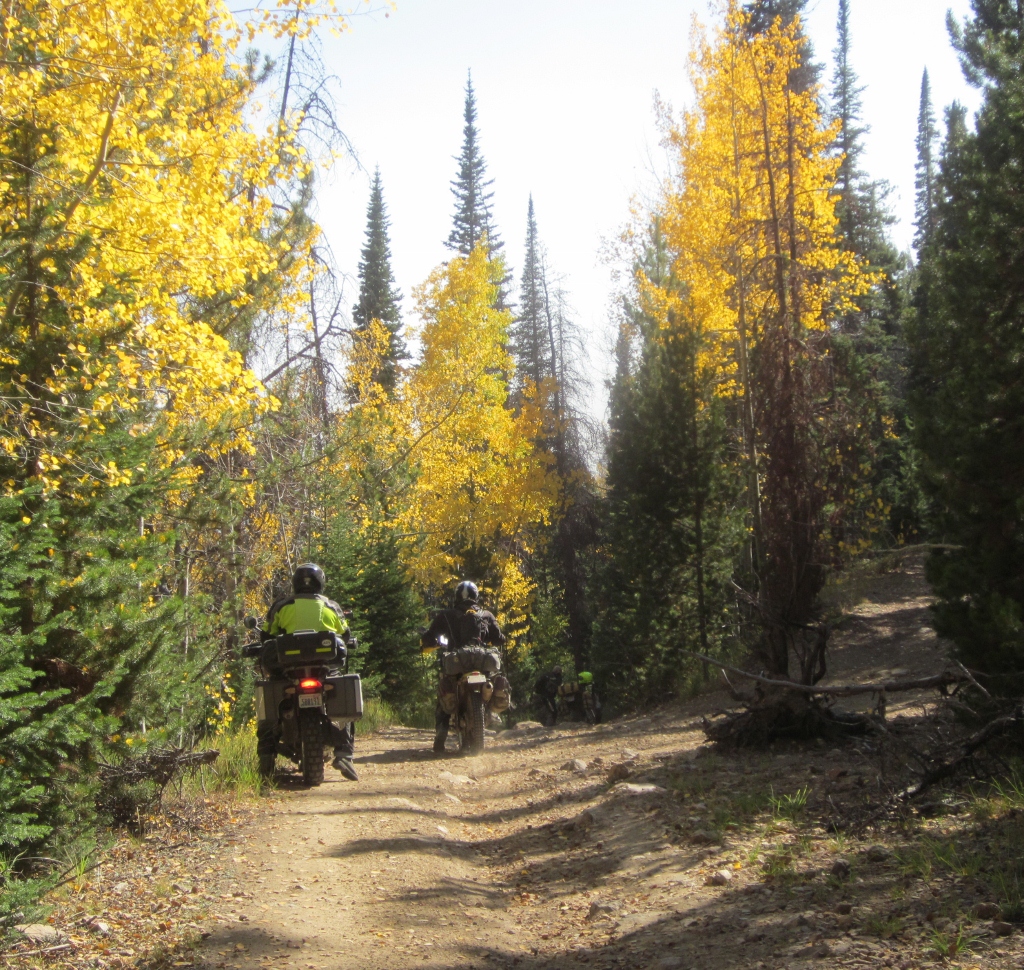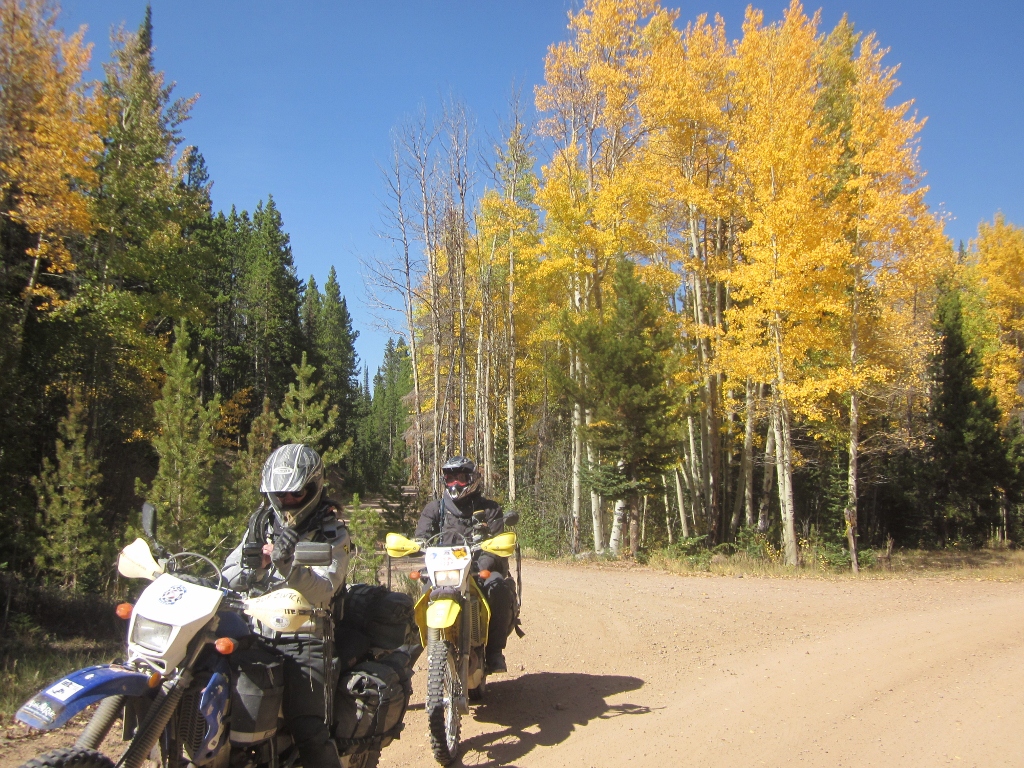 We crossed into Colorado somewhere today.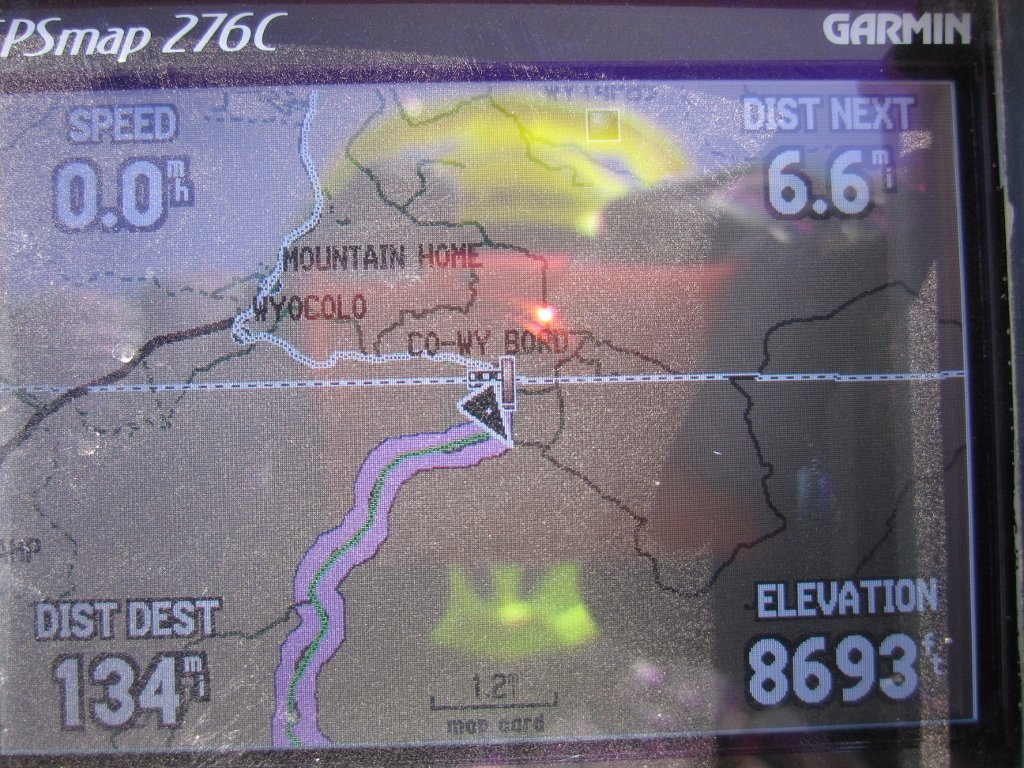 It was in here the riding started to get pretty tough---------lot's of loose rocks--some of them big and some very steep hills.
Steve was working his butt off on the big BMW.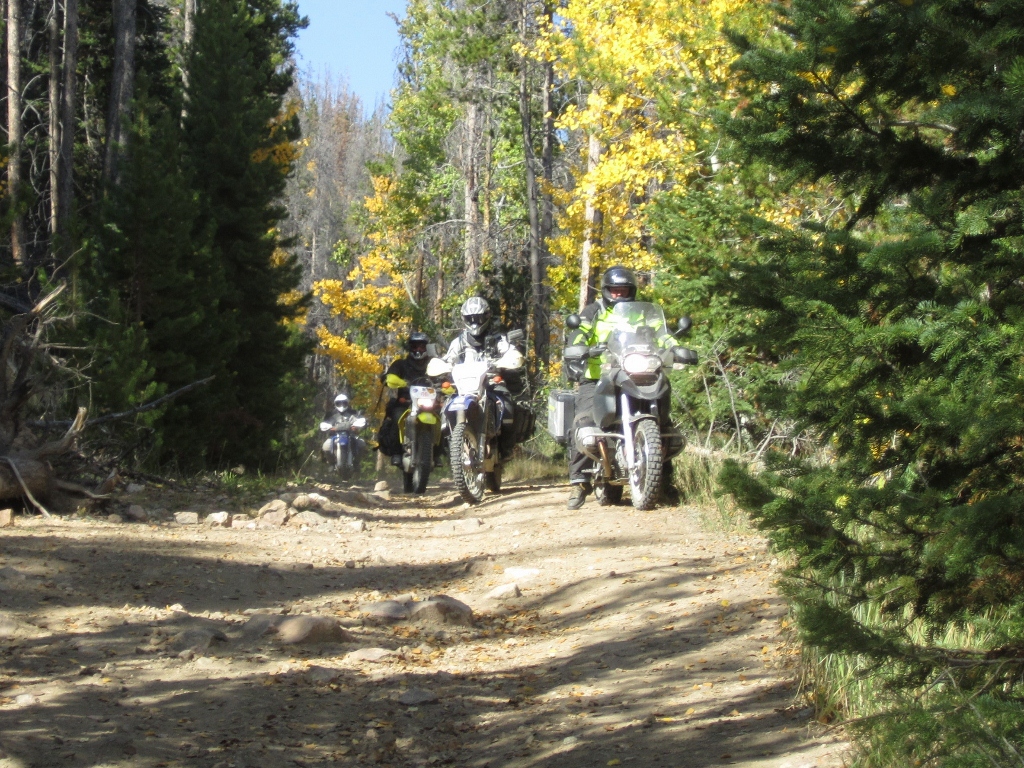 I never expected this---but sand dunes-----we would start down the mountain here and it would be miles of descending before we would get down there
and I couldn't wait---I don't mind riding in sand at all.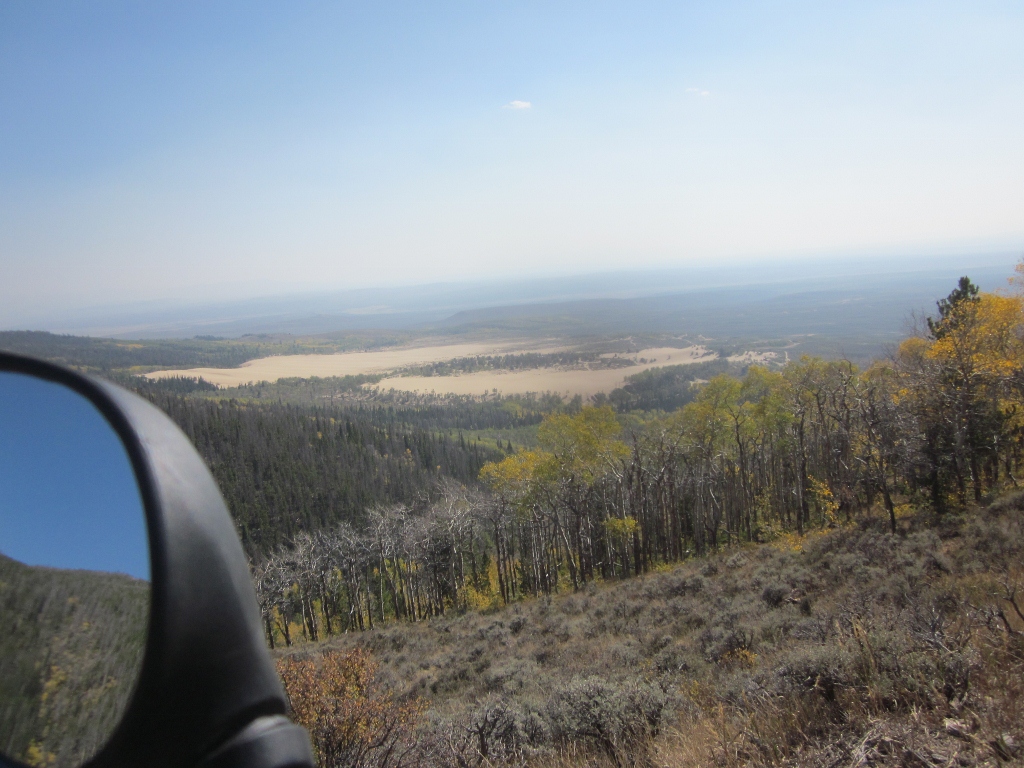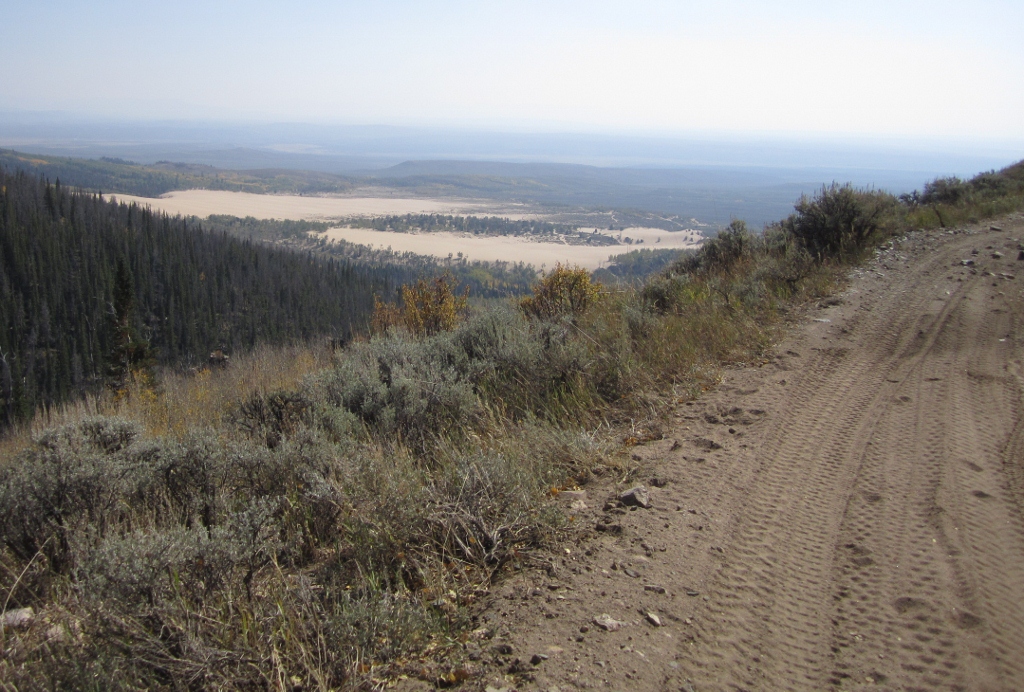 This was the abslolute most fun and unbelievably scenery of the day---down, down, down and down we went with some sharp switch backs
occasionally that were really steep----sometimes way off camber---rocky and some made a 180° turn------awesome.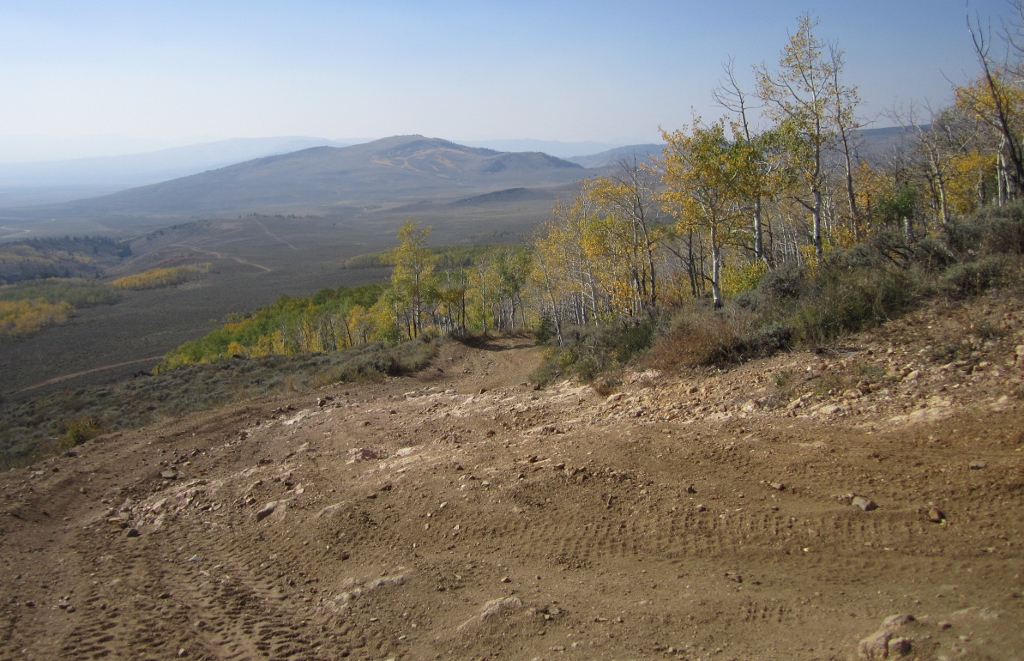 I think you can feel my smile in this picture Scott took.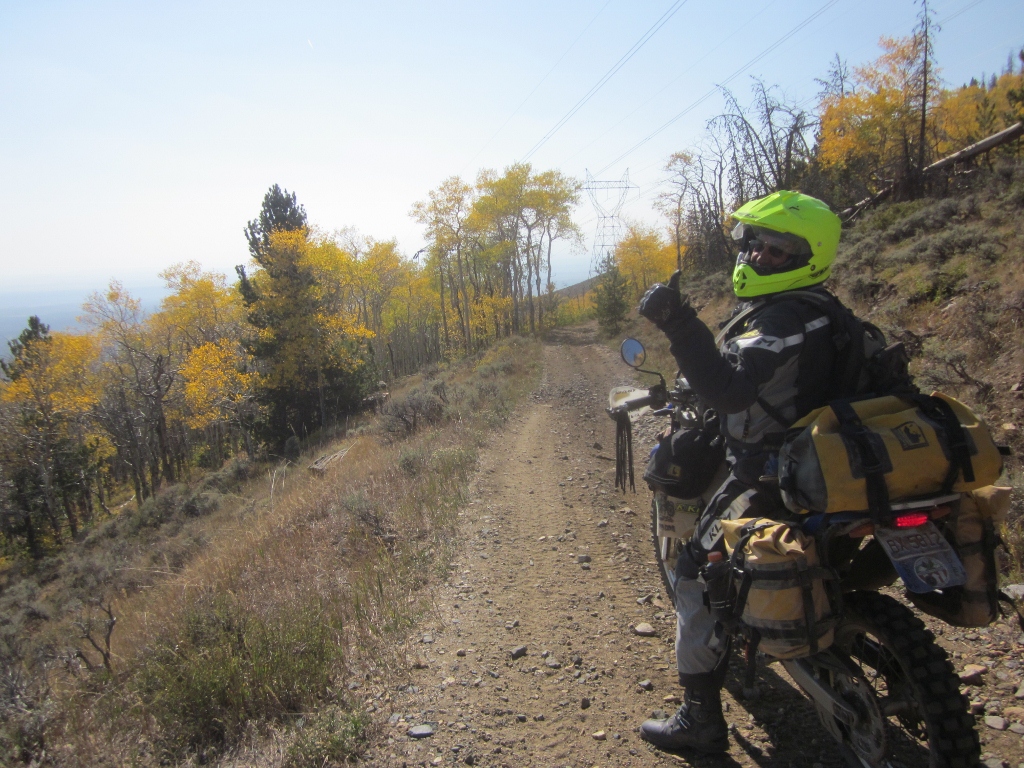 Truthfully none of us knew how Steve had gotten this far on his bike---a tribute to how good a rider he was.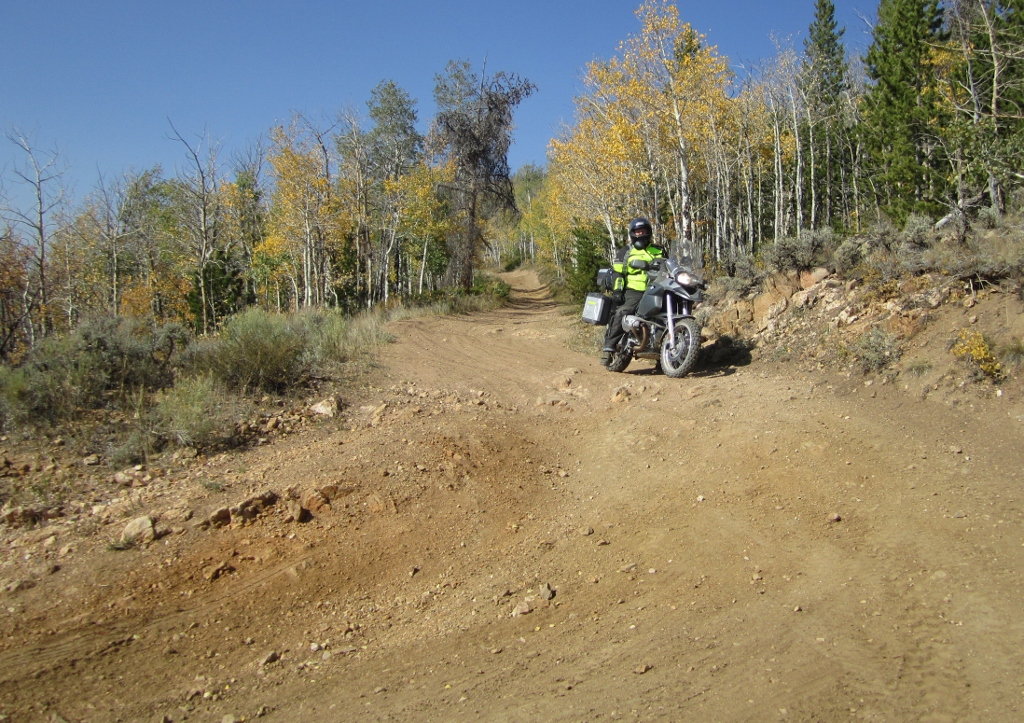 A lot of this downhill was very sandy.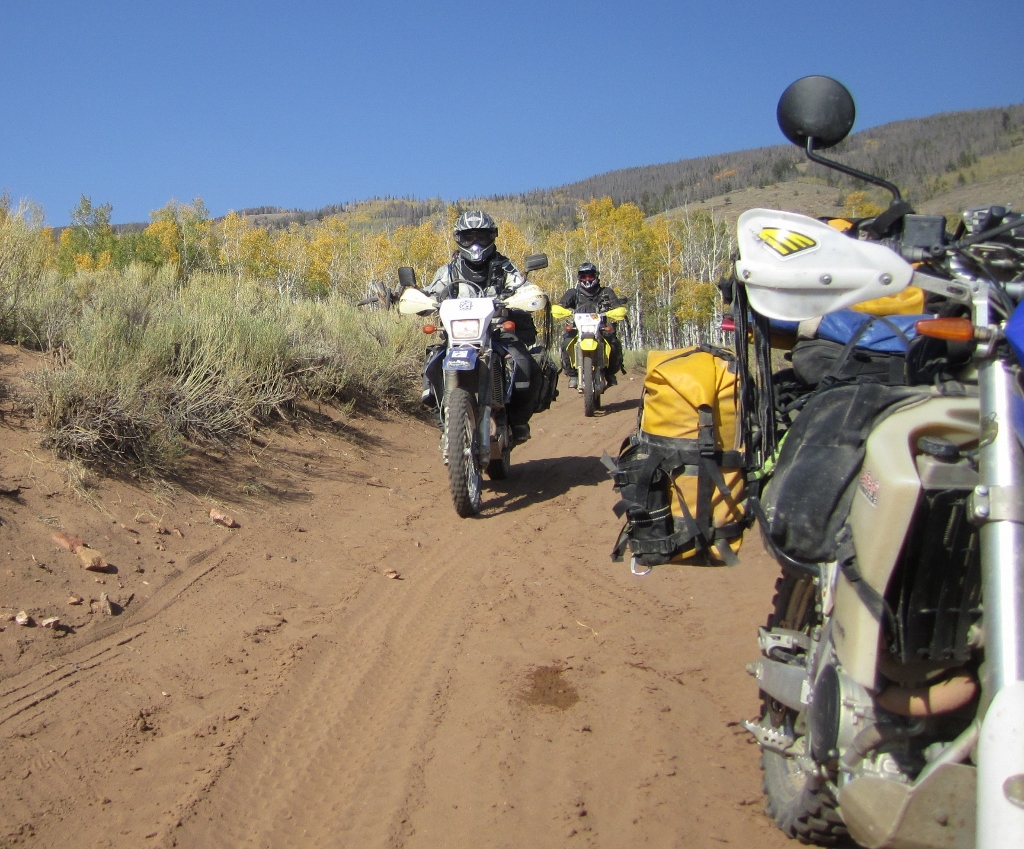 Finally the sand bit Steve-----I think he actually went over the bars and something---maybe a mirror cut his nose up pretty bad and he
tweaked his shoulder pretty bad.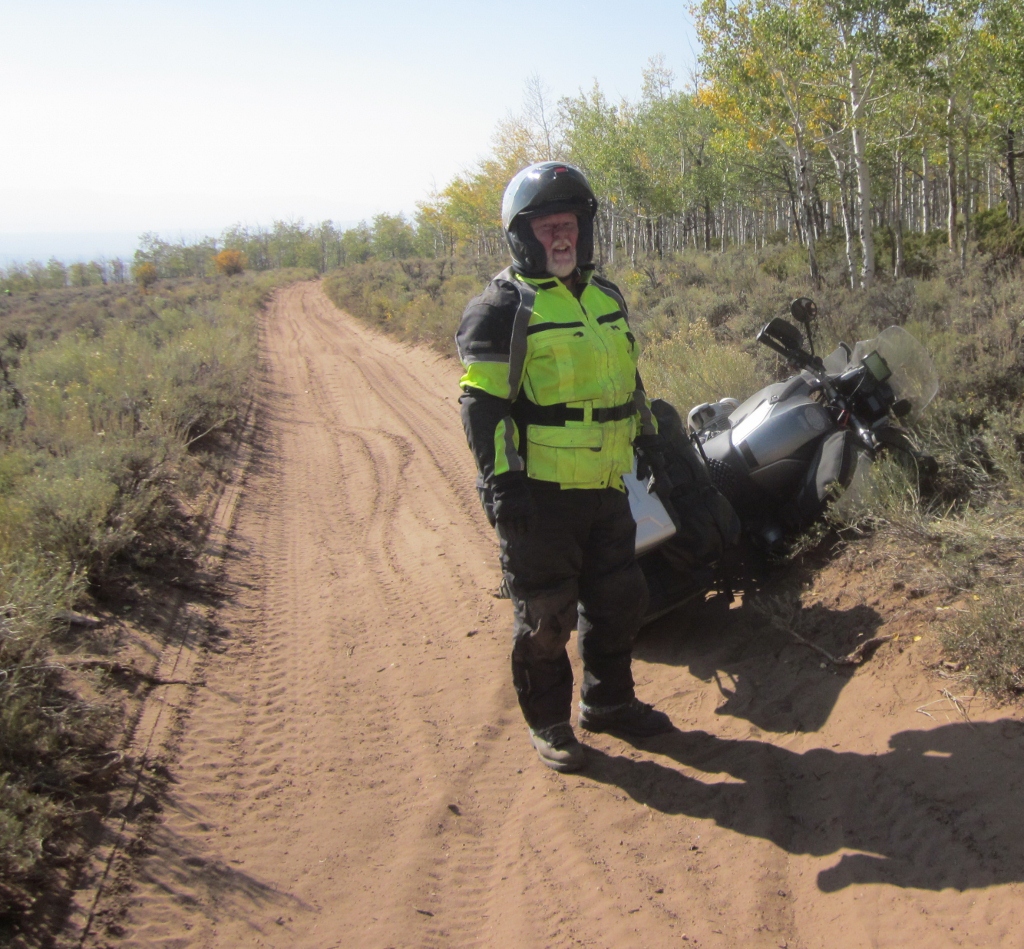 Scott took this picture of me as I was up ahead around the corner. He had stopped to help along with Dr. Rock.
I waited there a long time not really knowing what was going on----but knew there were several people there.
I wanted to go back but was in a deep sand rut and couldn't turn around.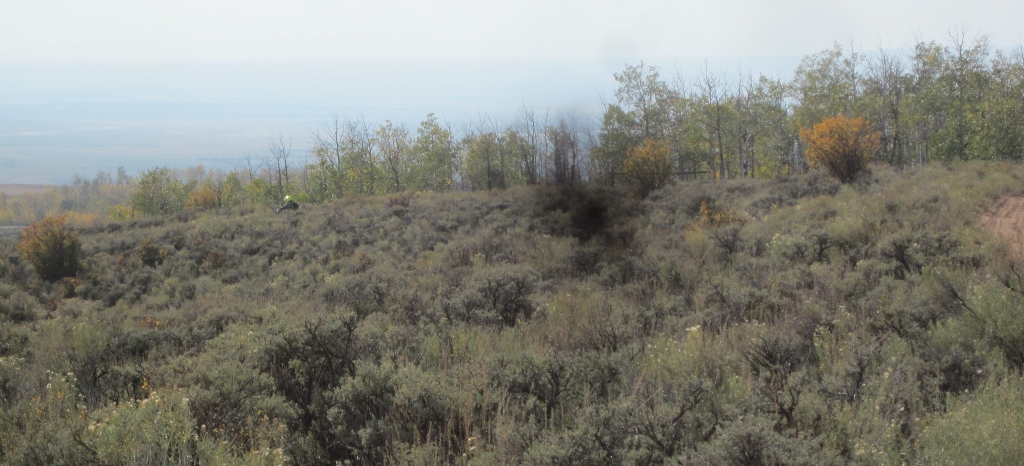 Steve got some expert medical care from Dr. Rock-------with a band aid-----------a $365 dollar band aid--you know how those hospitals are !!!!!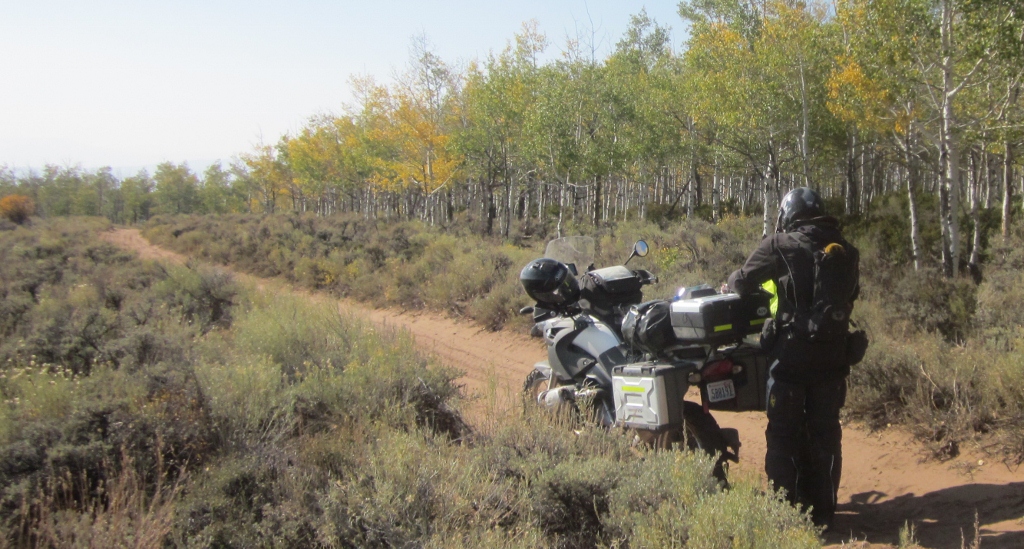 I think steve bit it at least a couple times in this sand and he had pretty much had it.
We pushed him a bunch and whent it came to a very steep sandy climb Steve was unable to carry on.
We all felt very badly for him and Dr. Rock ended up riding his bike up that hill---it was a sight to behold.
Wide open, sand flying everywhere, the back end was flailing all around, tire spinning wildly, the clutch was a smokin' ---lot's of pushing and his clutch smelled like 10 diesal trucks
dragging their brakes down a mountain. We finally got the bike up to here and wondered how in the heck we were going to get Steve
and his bike out of there. I really thought when he was at the bottom of that hill we were going to have to get a 4-wheel drive wrecker out there to get it
out----and we had no idea if one could get in there.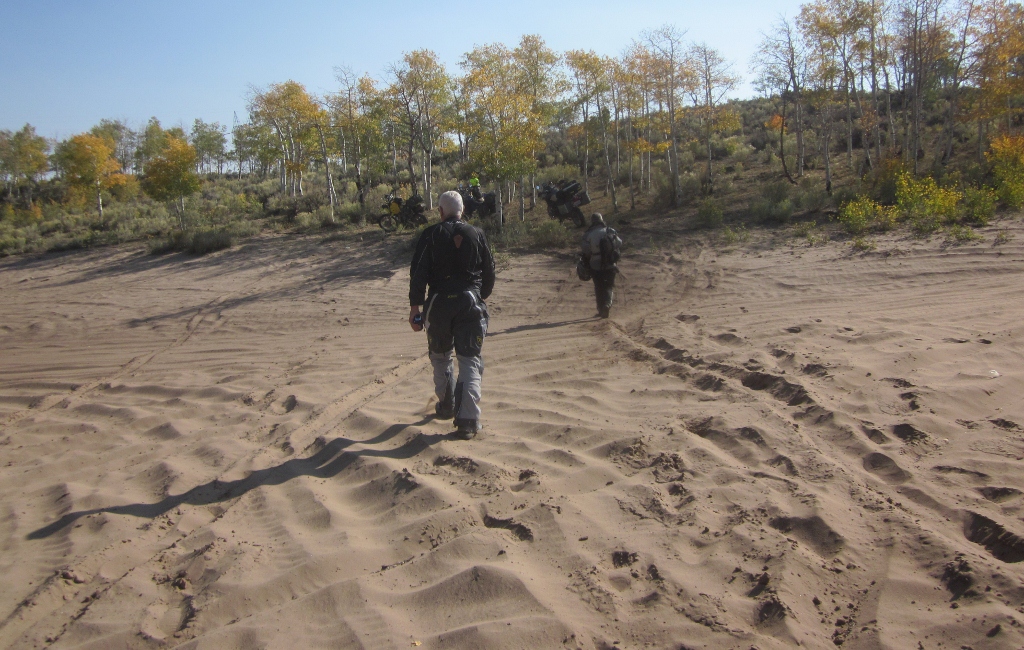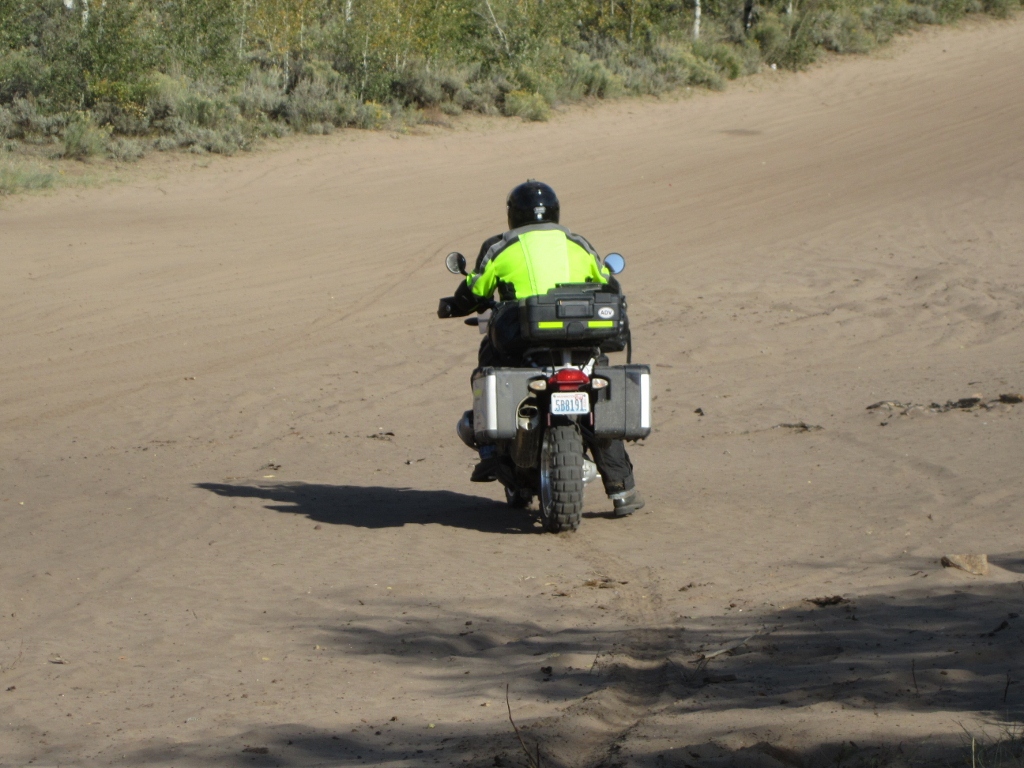 We abandoned our planned route and finally found an easy way out for Steve.
He was hurting badly and soldiered on ----we had to get him to town and re-group.
I got a really good video of Dr. Rock on his DRZ coming up that hill. It's awesome and wasn't easy.
How he got the BMW up that hill I don't know.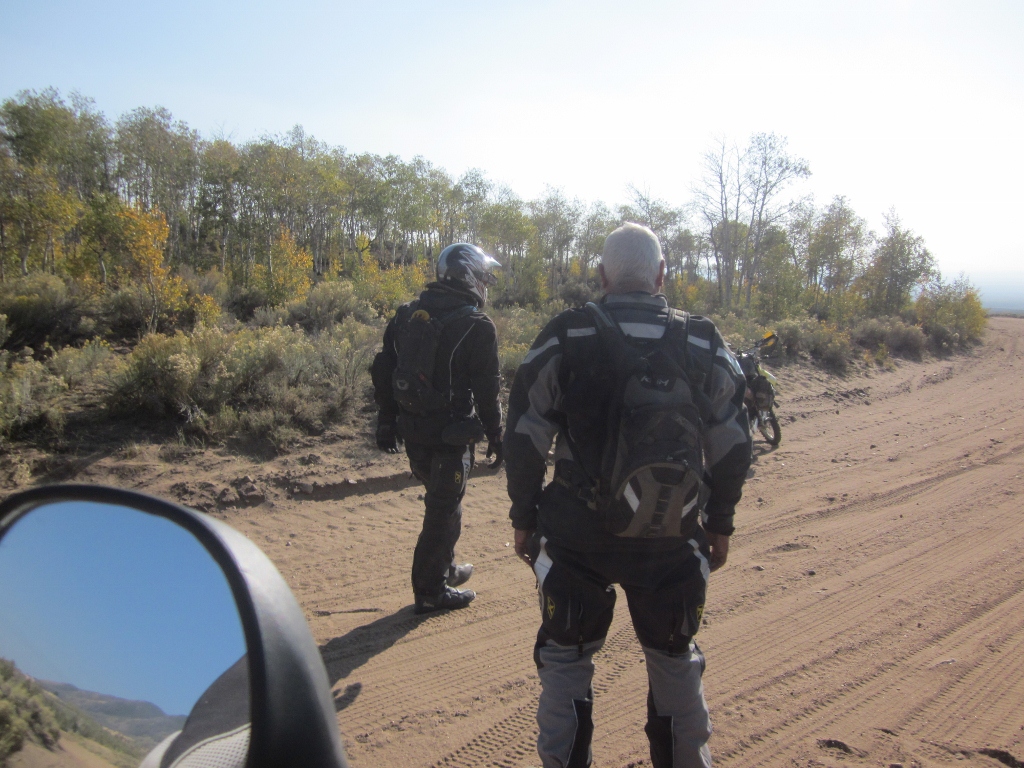 Steve eased the BMW slowly West out of there and hoped there wasn't anymore deep sand.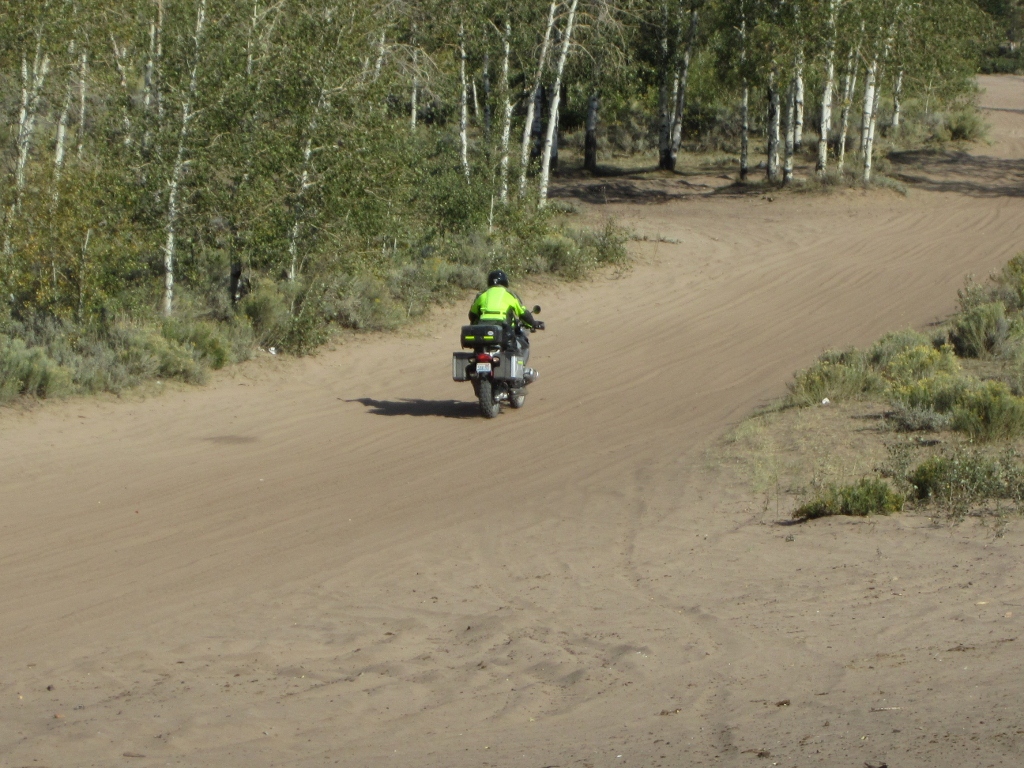 And bam--down again.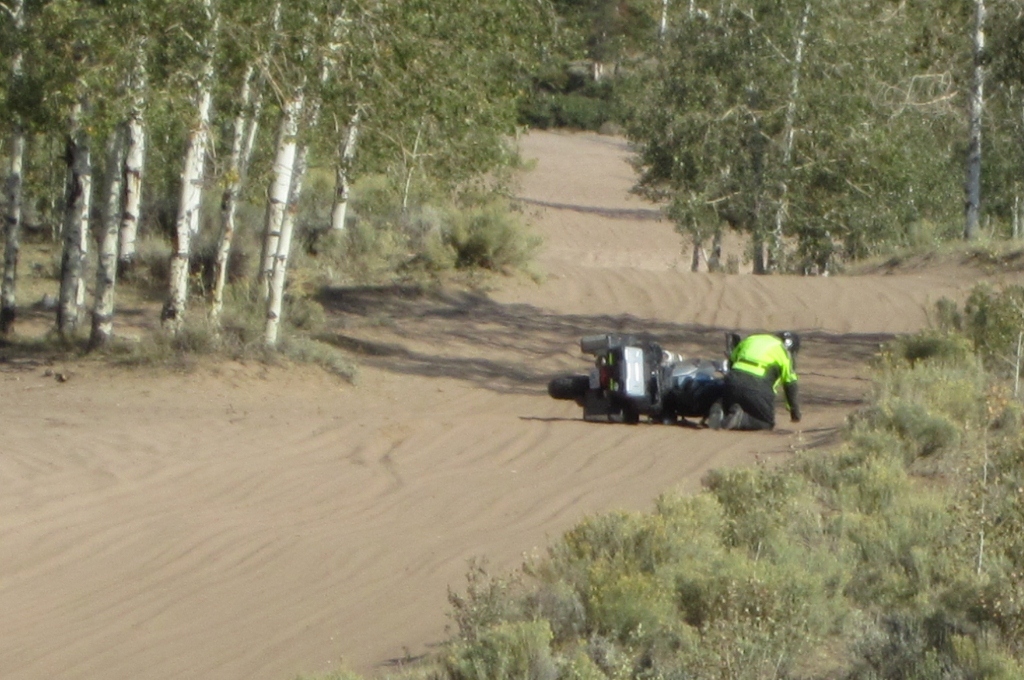 We all scouted an easy way for him----running up into the sage brush to keep out of the sand.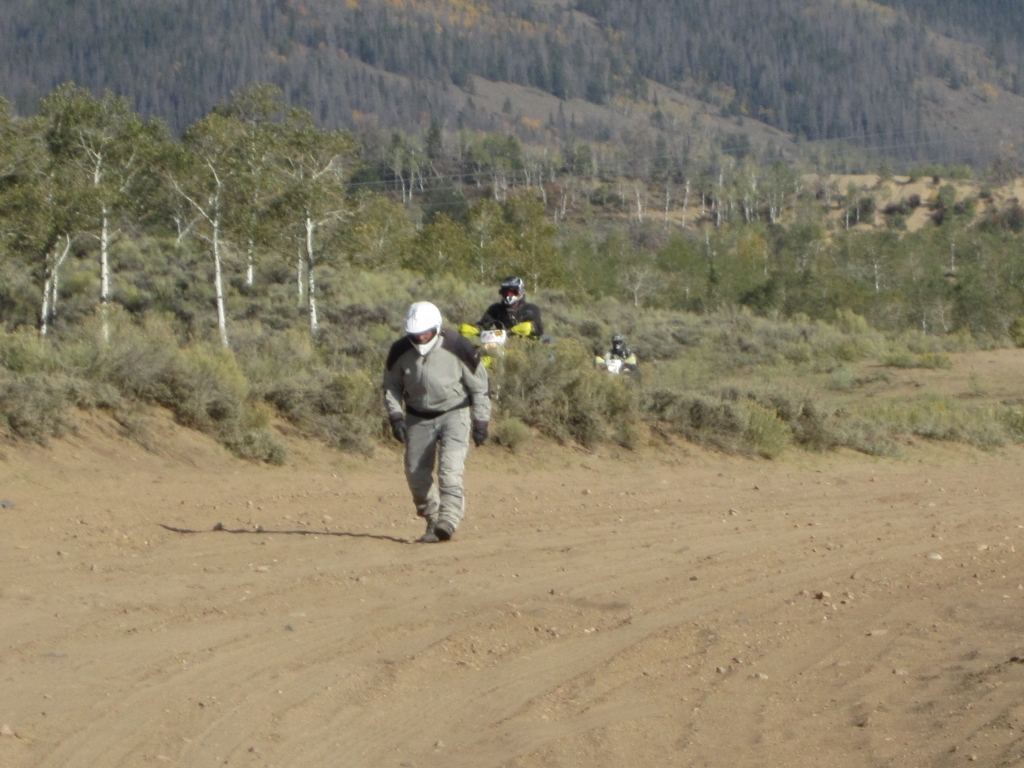 I have forgotten to say that Francines head bearings were shot. The bearings would totally lock up occasionally and down she'd go.
It was very scary for her and it was lucky she never got hurt-------she was scared to ride her bike but she soldiered on.
This had been going on for a few days and was getting worse---we had to do something to fix her bike.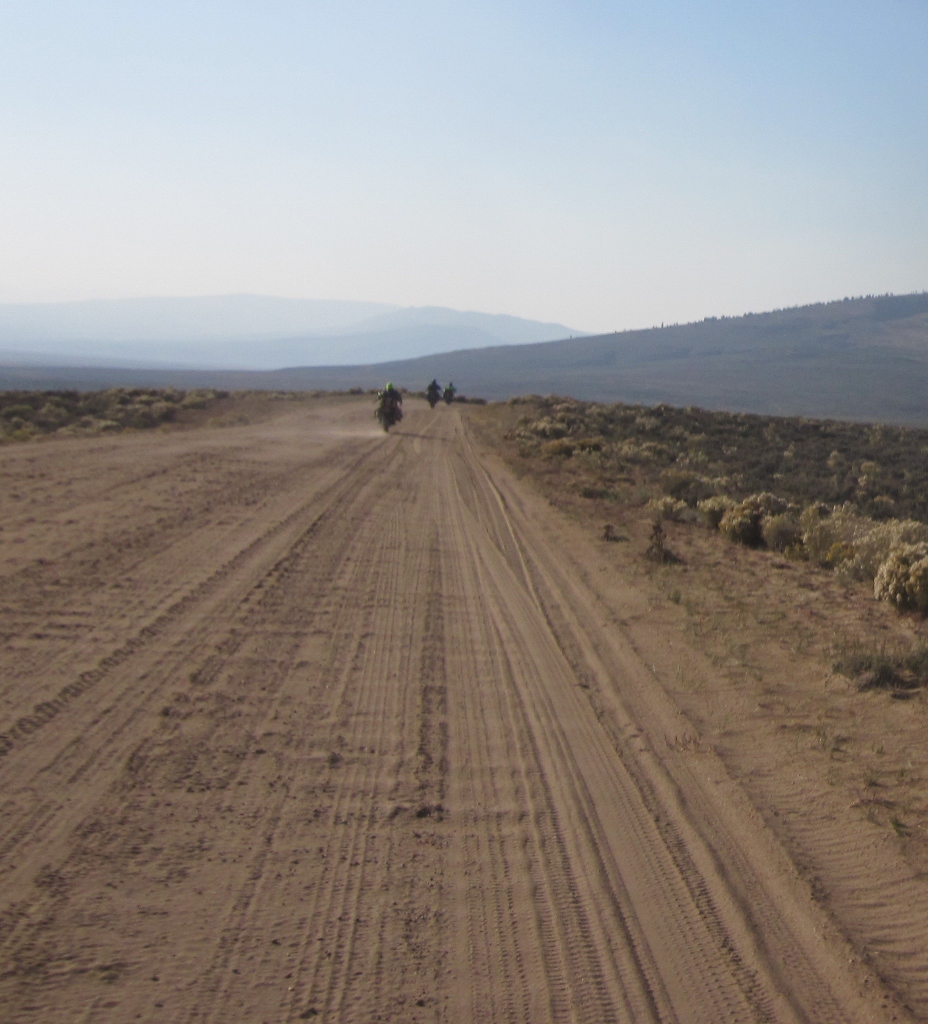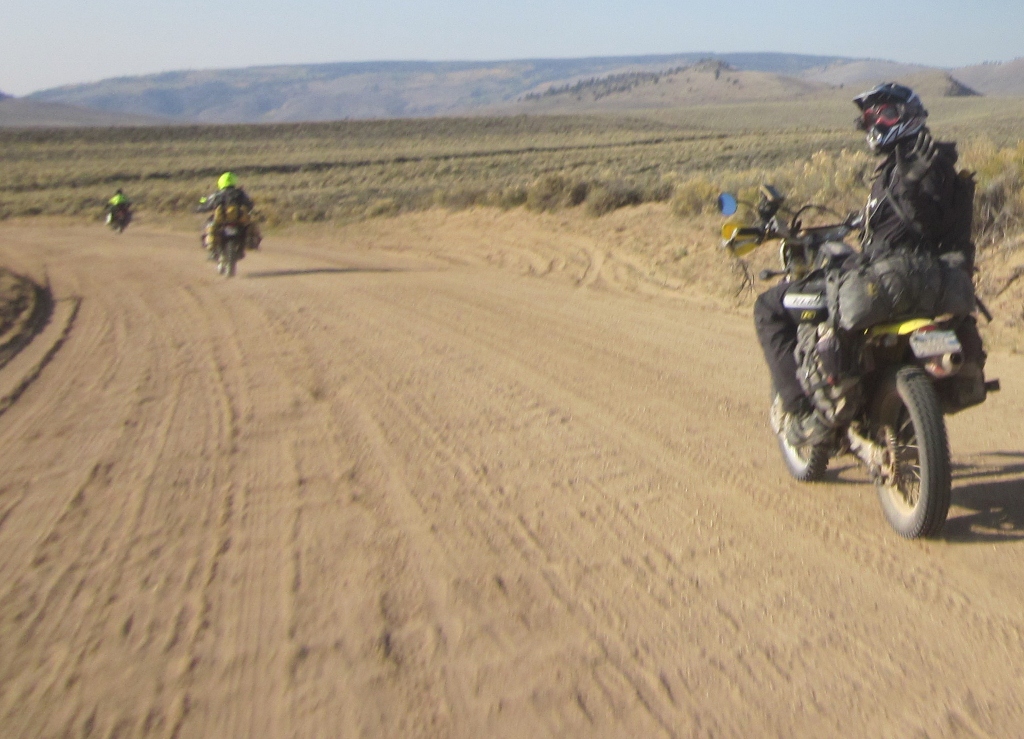 Before this picture I blew thru a set of signs just like this and all followed me.
We ran across a huge timber cutting operatioin and I blew by those guys before they knew what happened with logs, limbs and brush all over the road.
The workers looked at us with disbelief as we all rode on by.
Here we finaly came out of the closed area. Was I glad--the re-route wouldn't have been good.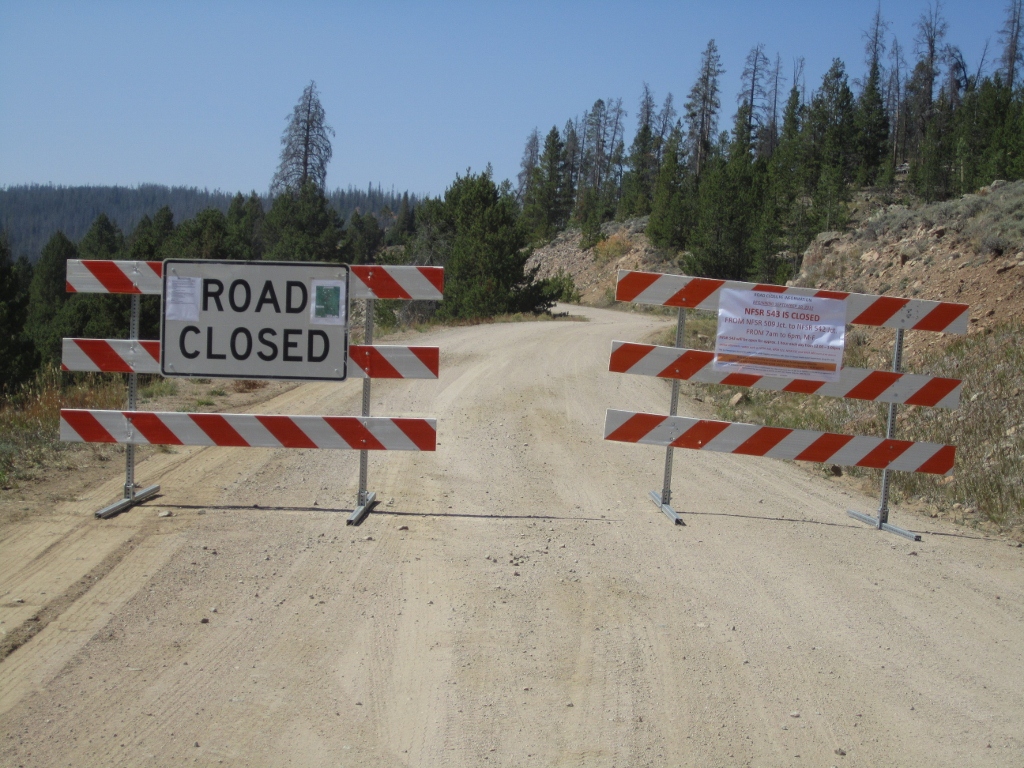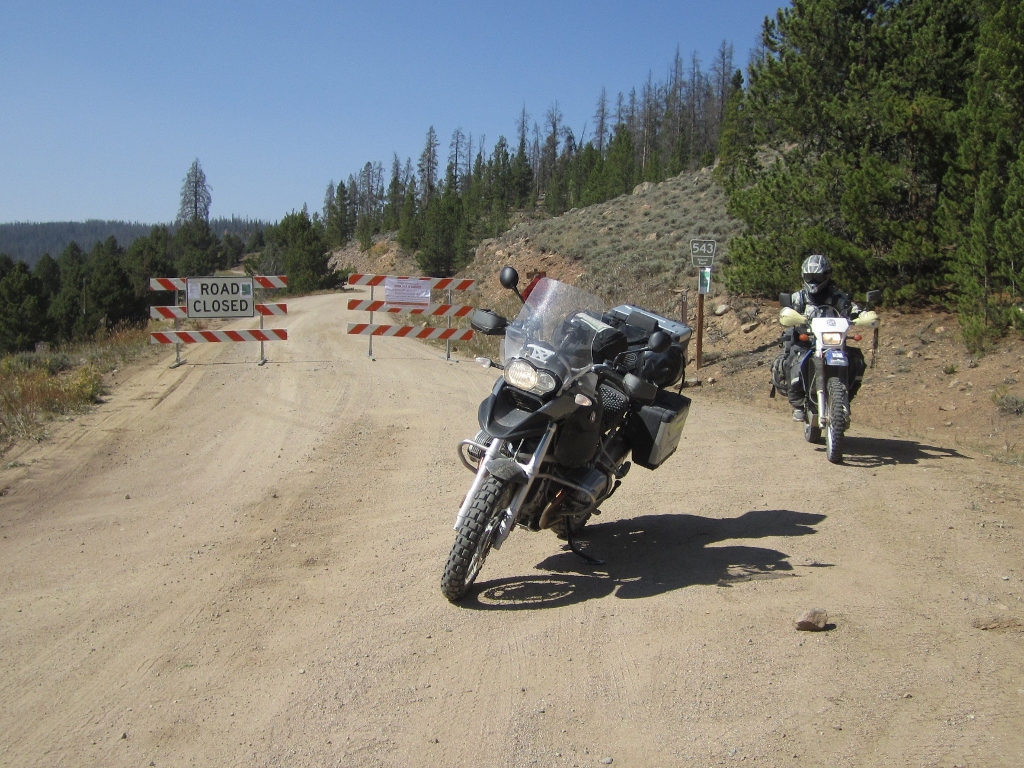 All done.
To make a long story short---Francines bike needed new head bearings---we neither had the part or the tools to fix it.
Dave had bought steaks with all the trimmings and was going to try to do something with Francines bike and cook dinner.
I told him---no you ain't.
I told him to get in the Motel (we had a kitchen) and start cookin'.
Me, dingweeds and Francine tore into her bike like buzz saws and had fork tubes, the fender, the wheel and bearings laying all over the
place in the motel parking lot. The upper bearing were fine--the lower were shot---dry of grease and the bearing cage had started to disintegrate.
We cleaned it up the best we could-------greased the heck out of it---put it back together and Francine was able to finishe this ride into Denver.
Awesome to see a girl stick her hands in a tub of grease and smear it all over the place------amazing girl.
Just as we buttoned it all up Dr. Rock said dinner was ready and we had steak, wine, salad and all the trimmings------it was awesome.
He had cooked all that in the motel room.
Steve, on the BMW would head home to Oregon in the morning and would be fine (well almost) if he stuck to the pavement.
"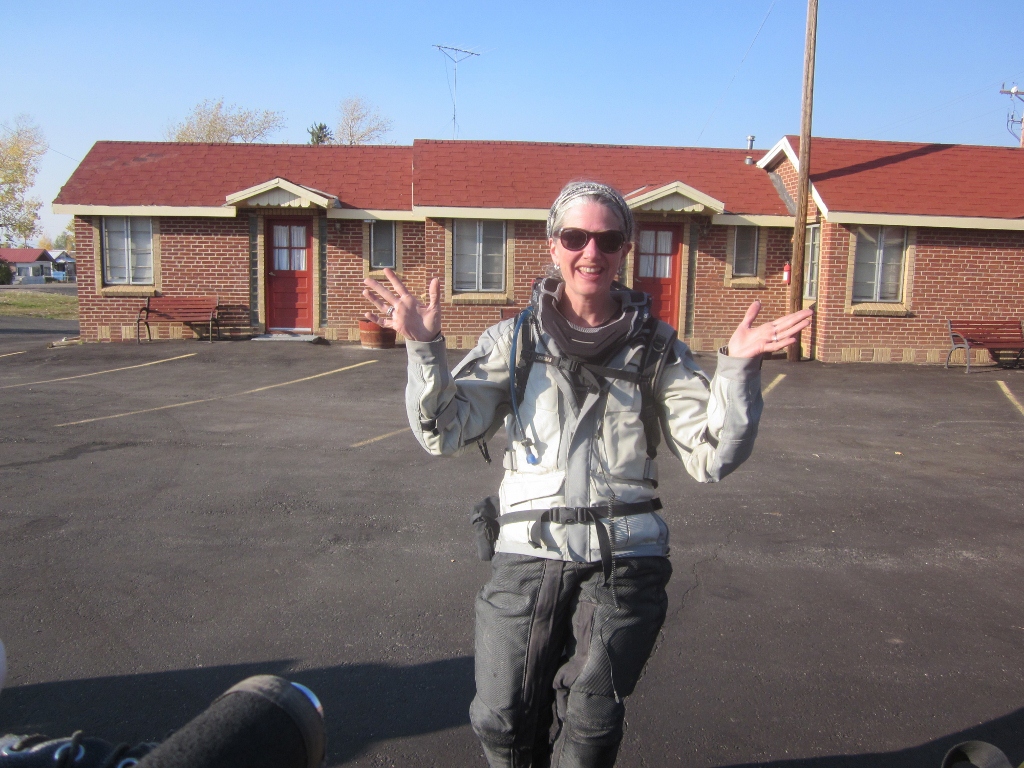 Rough map of the day---about 135 miles.
The lower mileage days are always the best.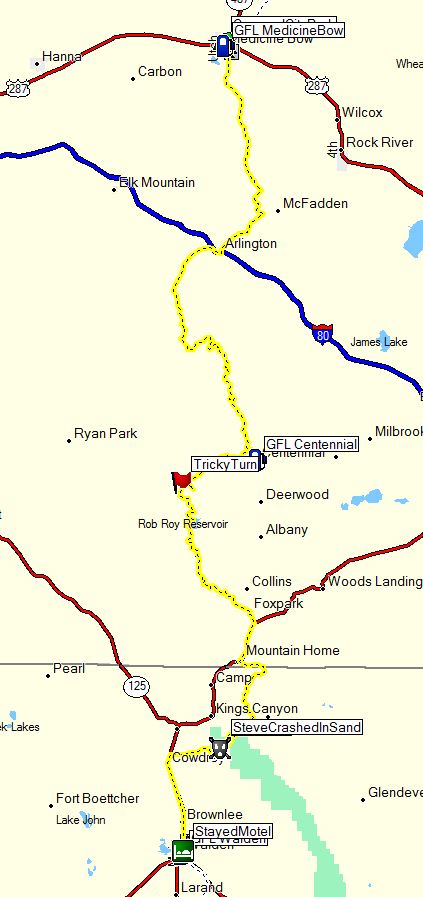 Day 15 September 19th, 2012
My last day with the Mobius crew.
If you remember my tow vehicle was in Rawlins, Wyoming where me and Scott had started ridng together and this ride was going to end in Denver---not my favorite place.
I rode thru there back in about 1982 I think------I'm still shaking.
After checking my personal map to make sure I decided this would be my last day with the Mobius crew.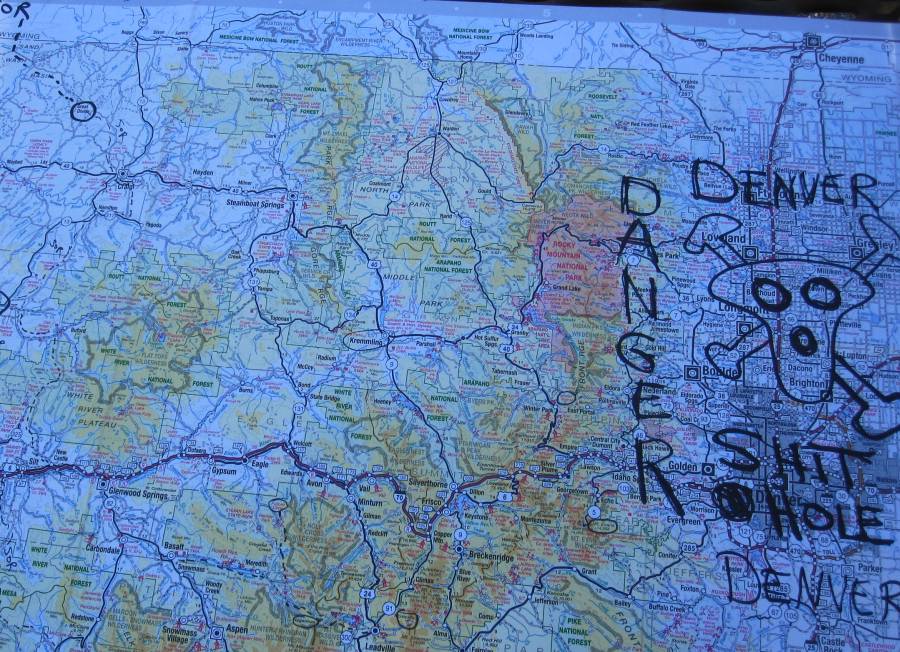 From Walden we headed still South of course kind of towards Denver---but the long way--------the very long way---the very, very long way.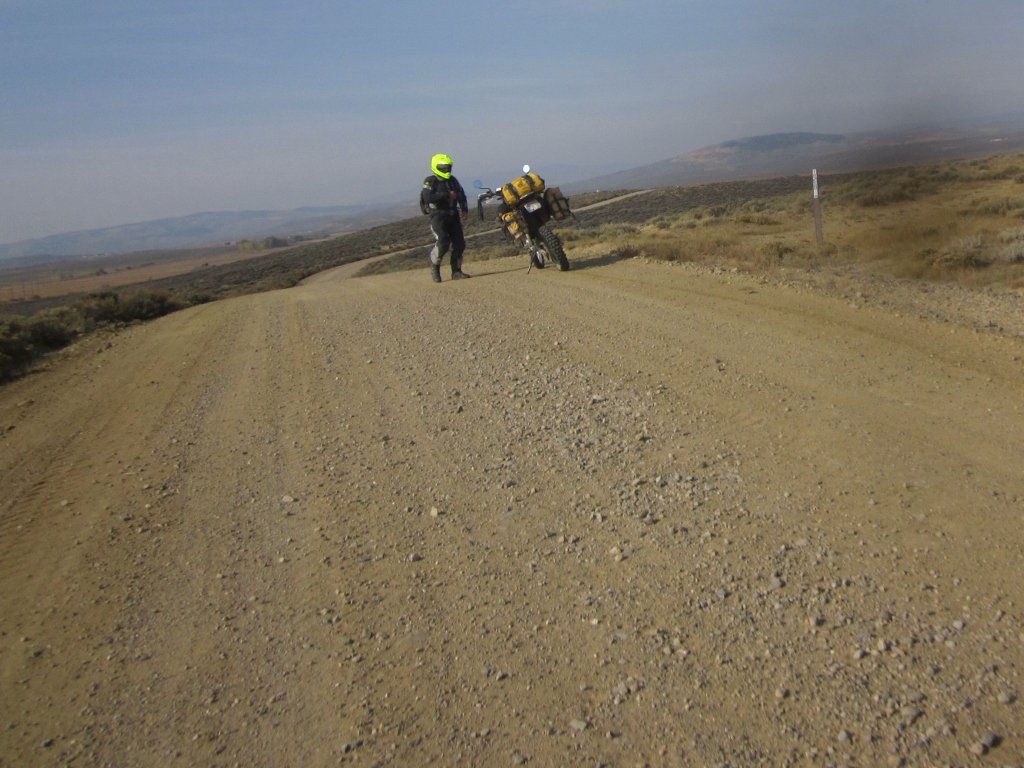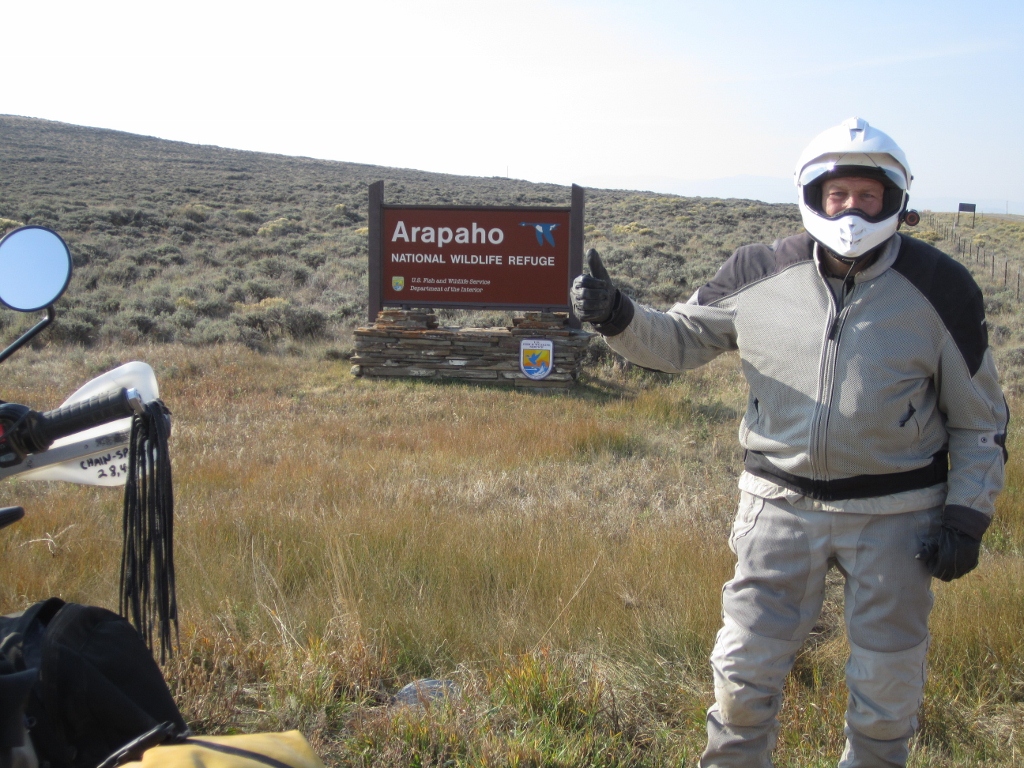 Looks like me and Dingweeds are waiting on the Dr. Roc and Francine---it's just us 4 now.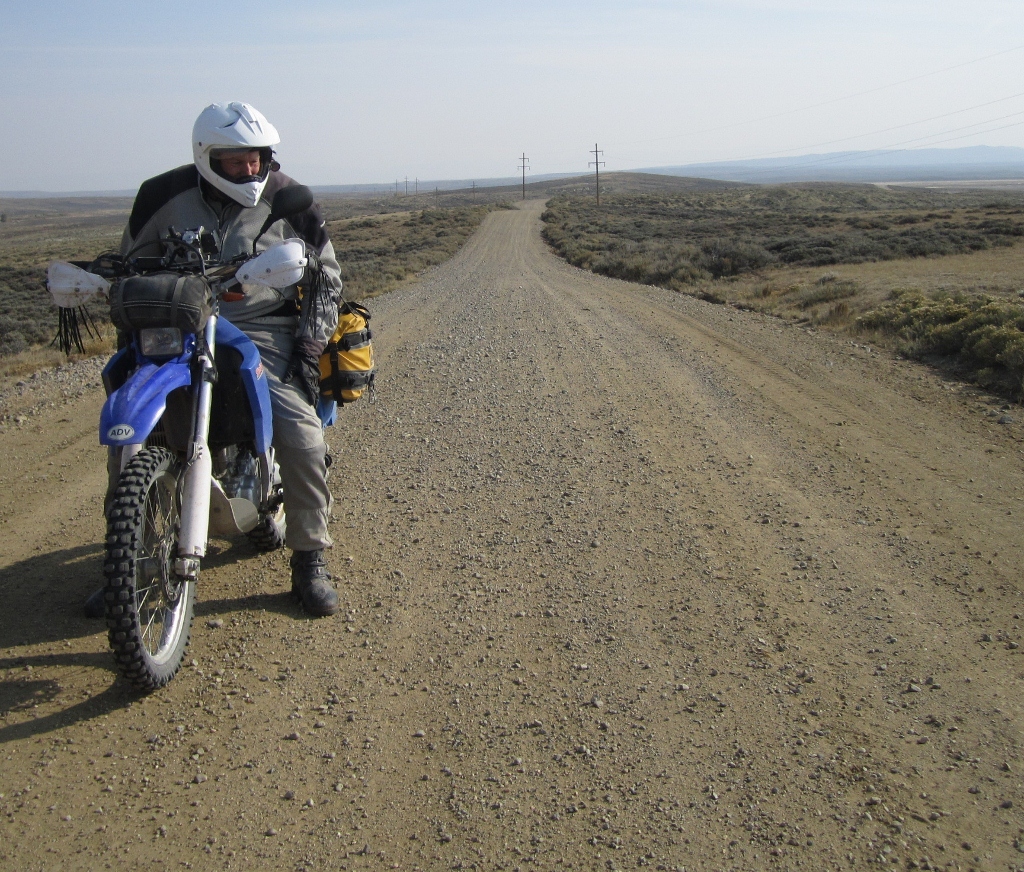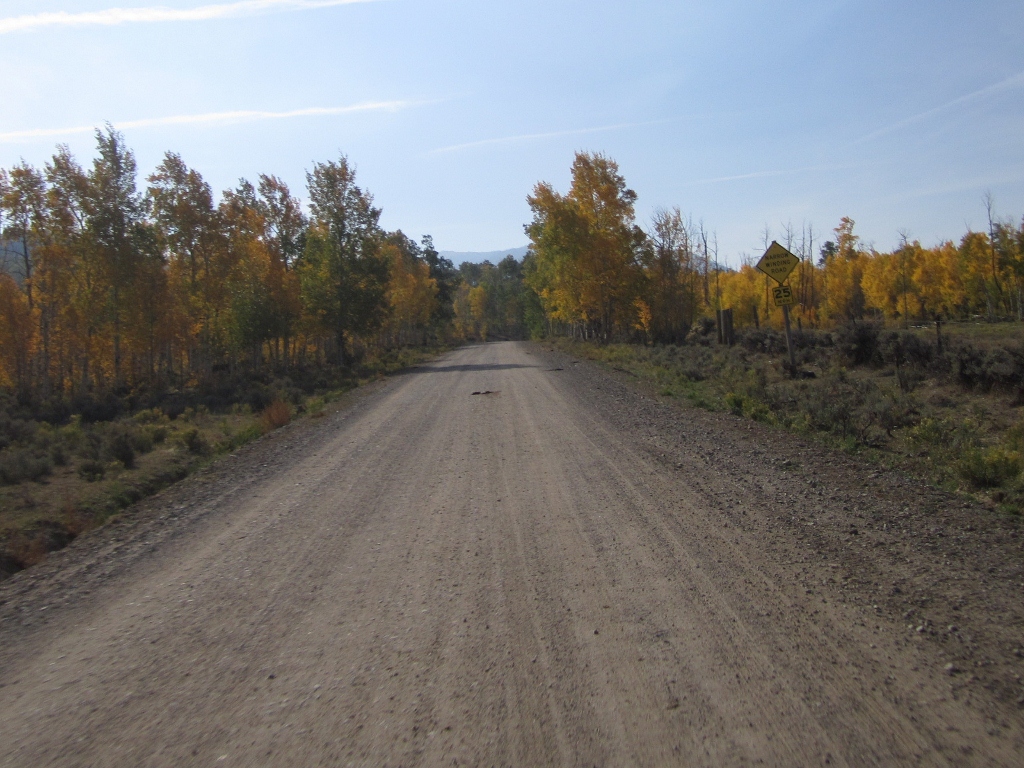 I've been out West a lot----but never quite hit the Aspens in their full fall colors----I knew I would on this trip and appreciated every leaf.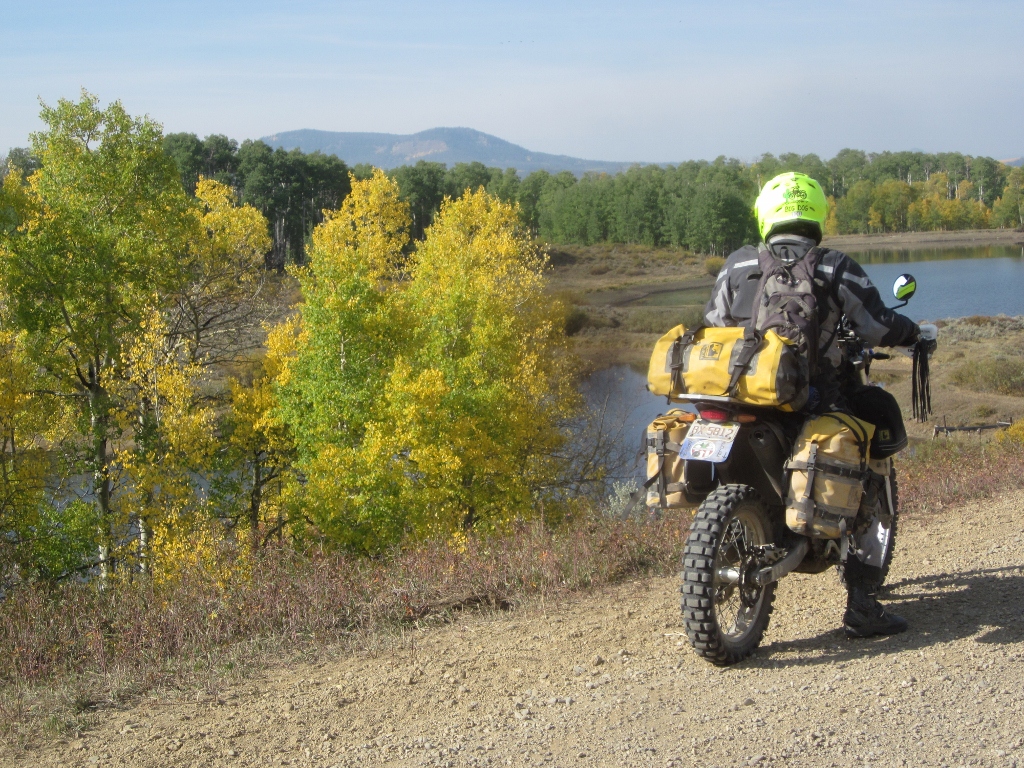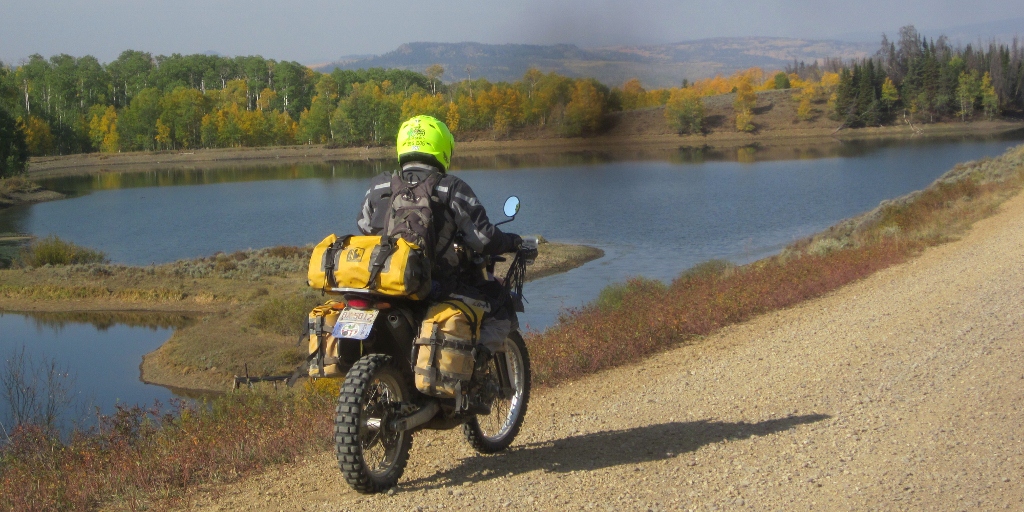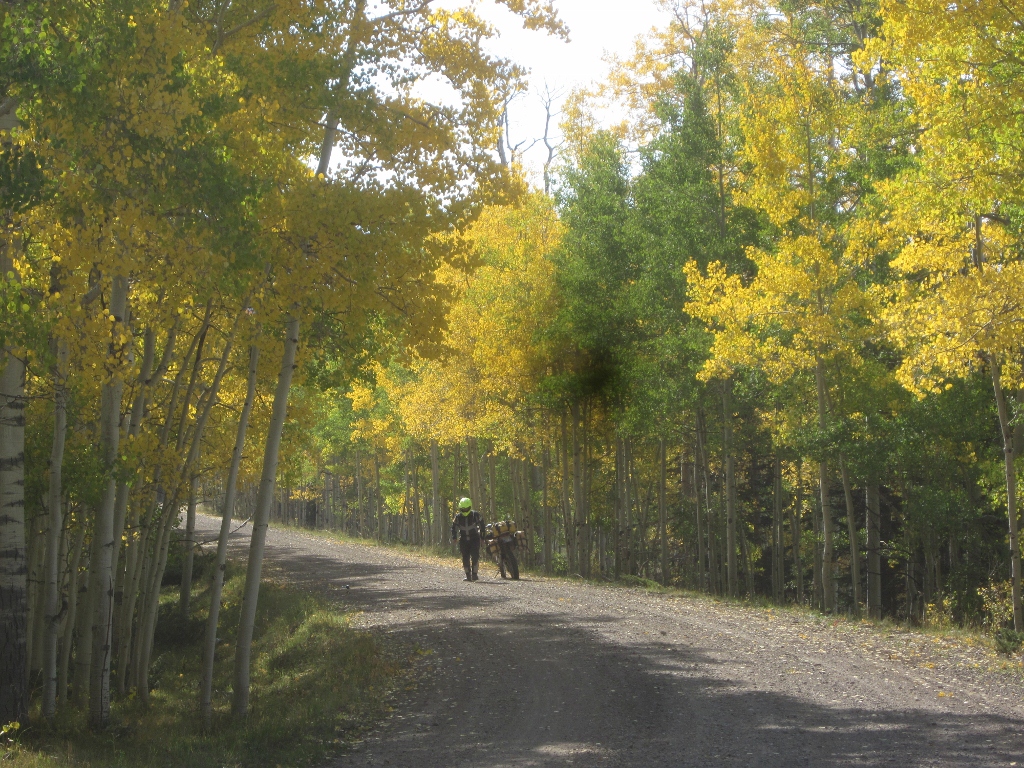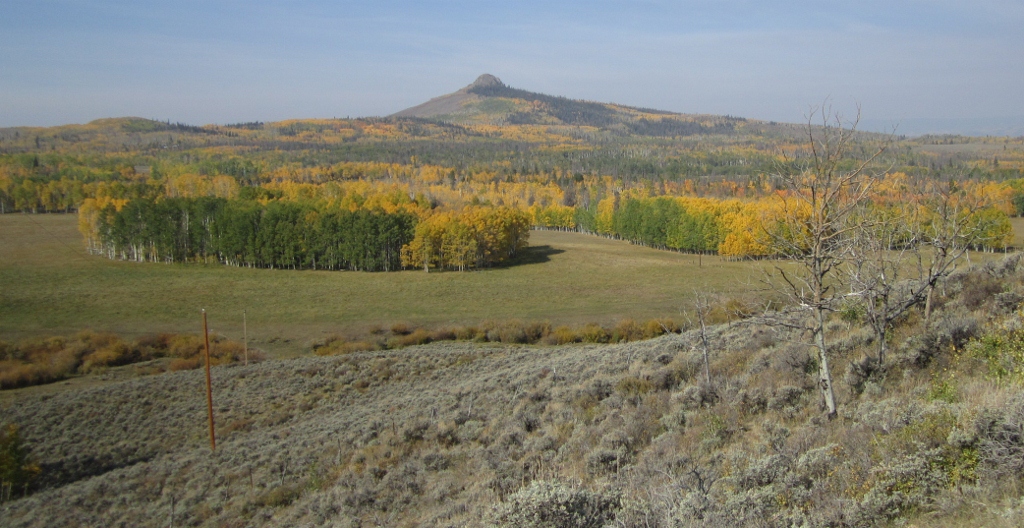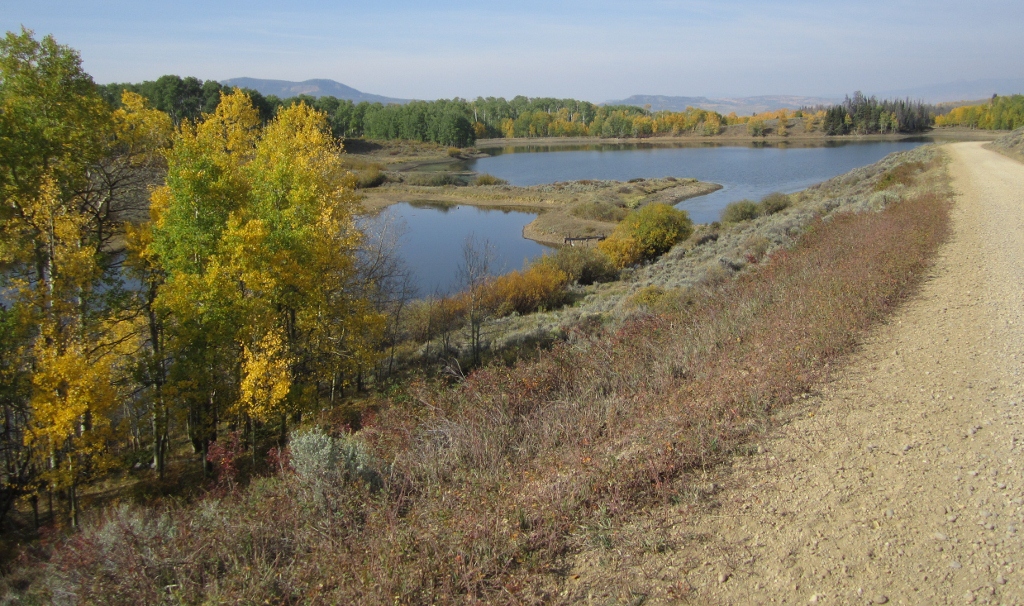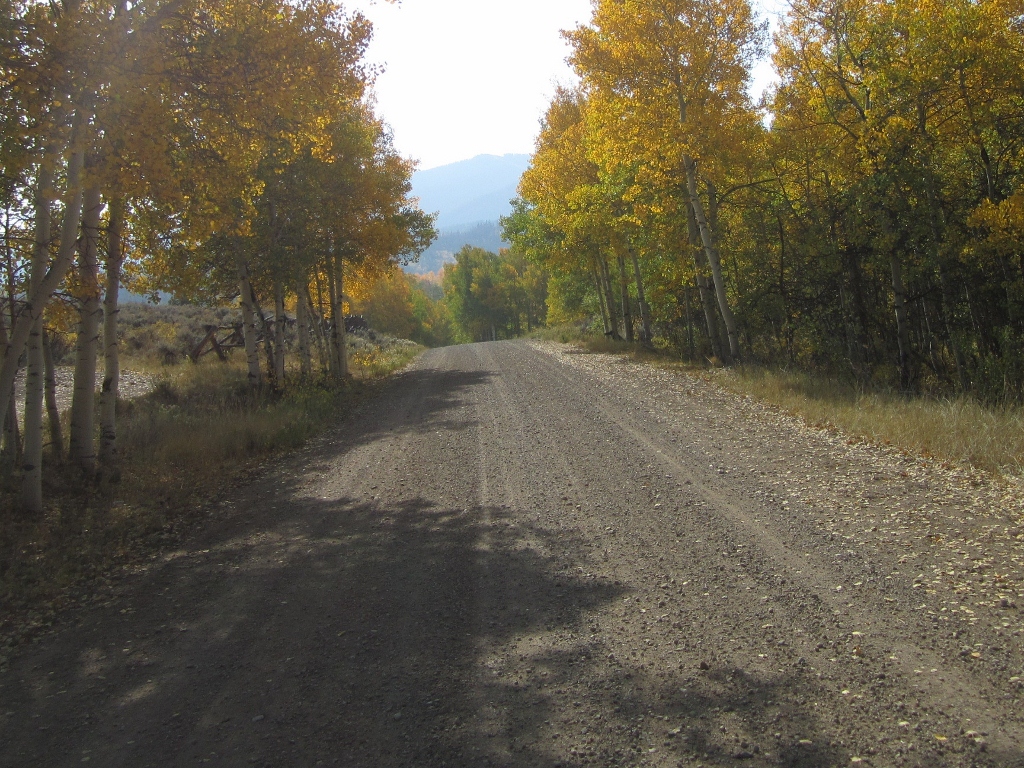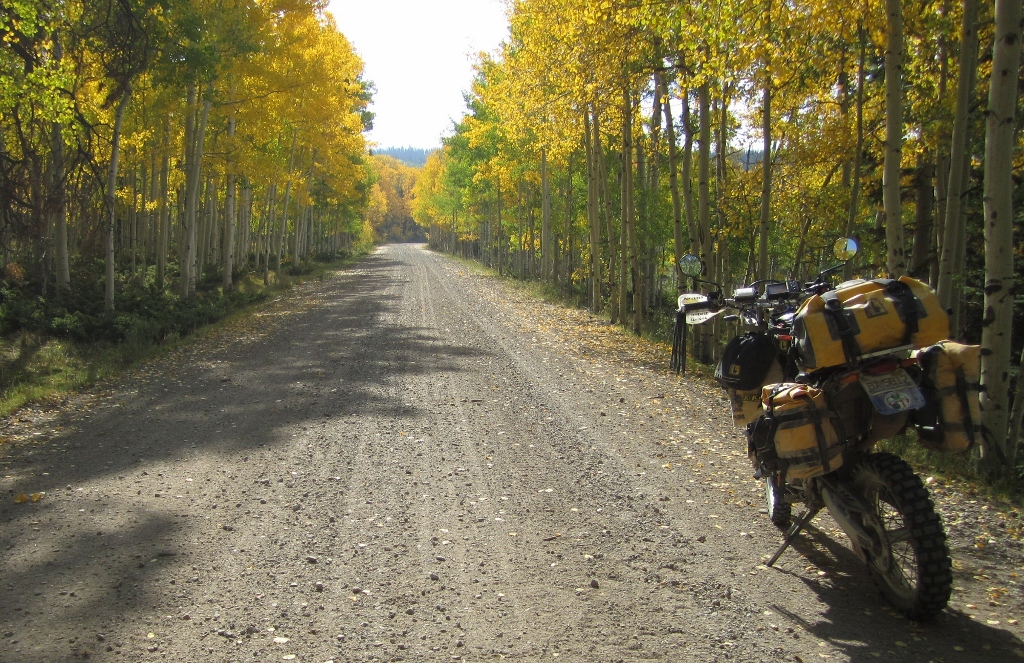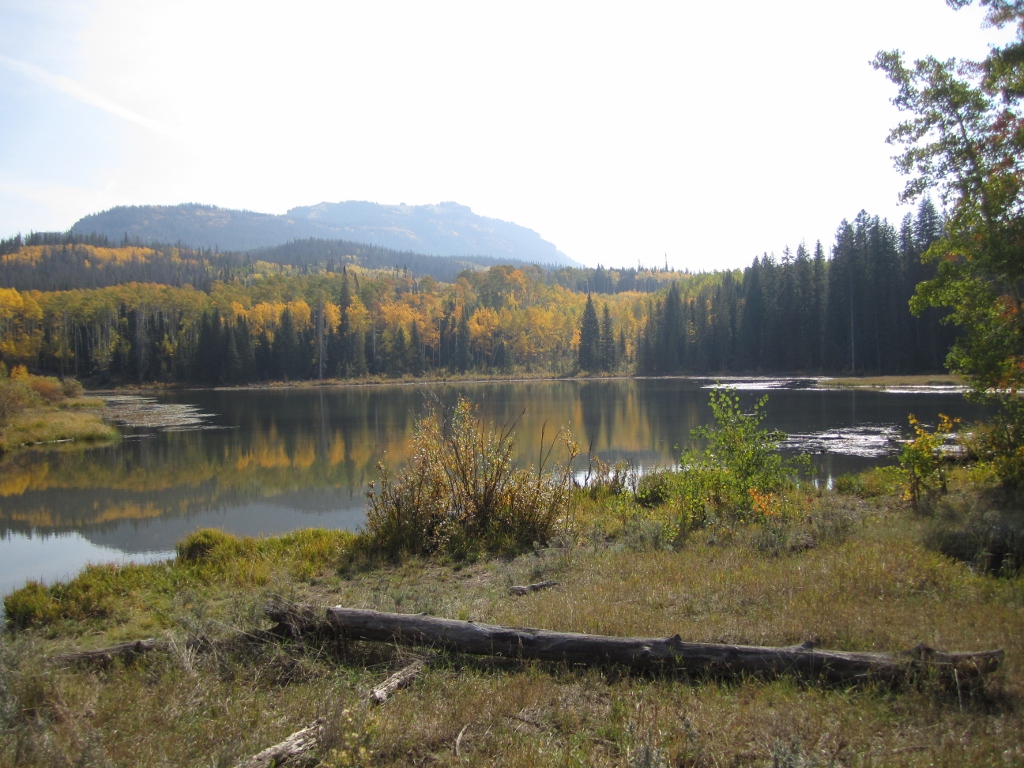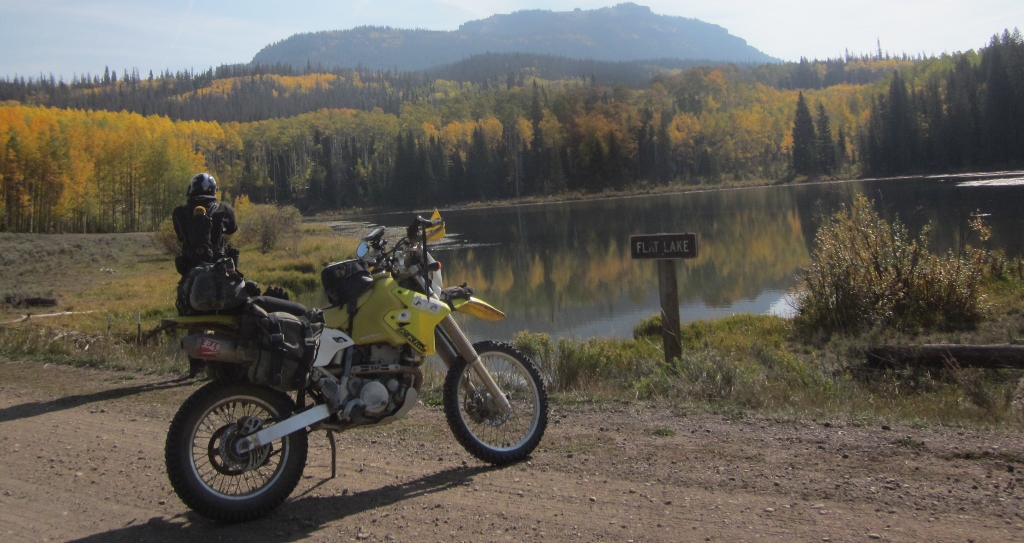 I'm probably smiling here-----it was a sad smile as I knew my time with my friends was nearing an end.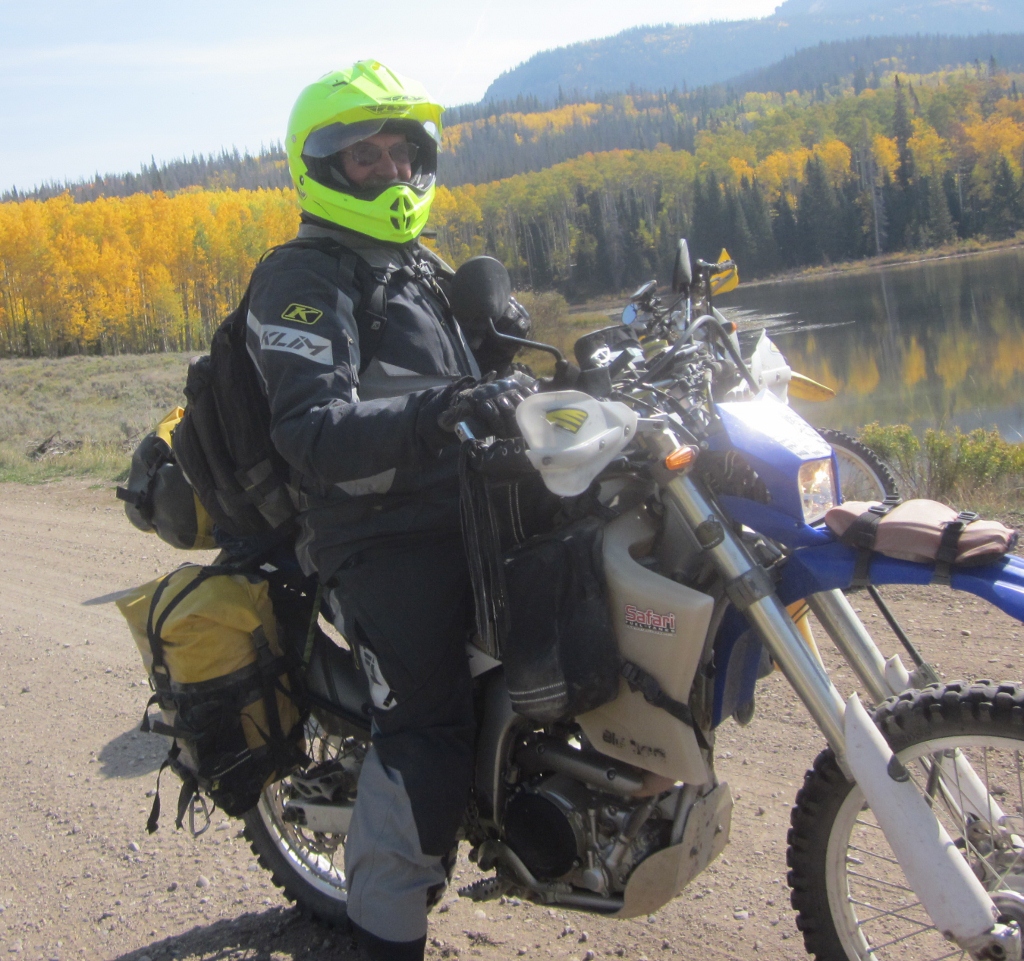 I had decided I would head back North to my tow vehicle at the top of Rabbit Ears Pass but realized we didn't have a really good shot
of us 4 together and I pulled over to get this one using the camera timer.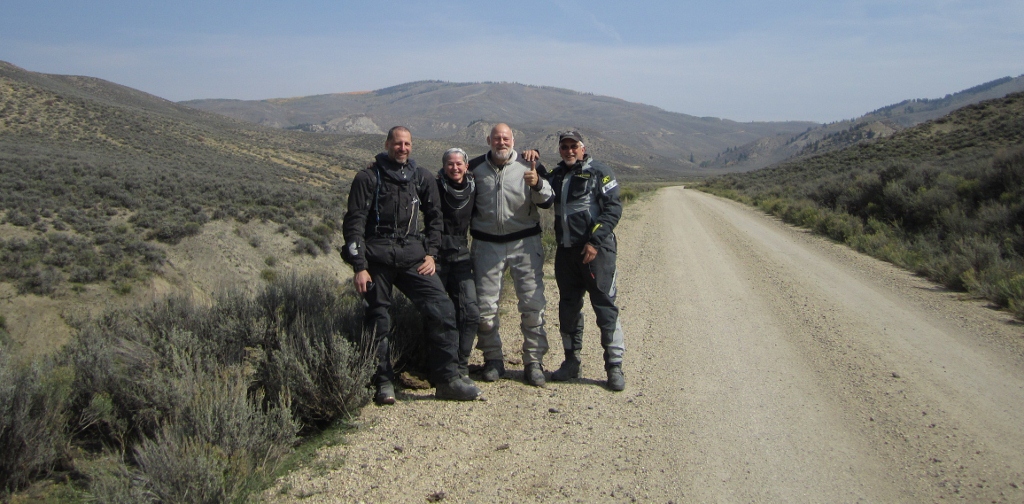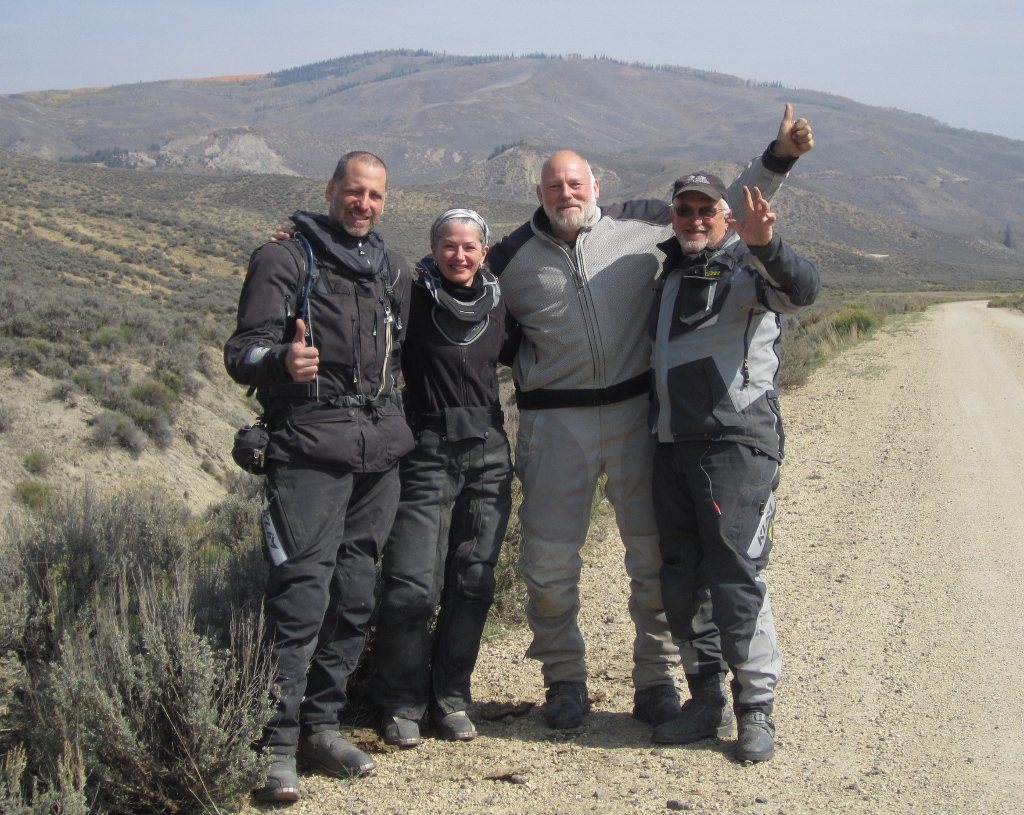 We went on down the road a bit and finally came to Rabbit Ears Pass on route 40.
Here Scott, Dr. Rock and Francine are riding off on a dirt road South for more adventurous riding while I headed North to Rawlins.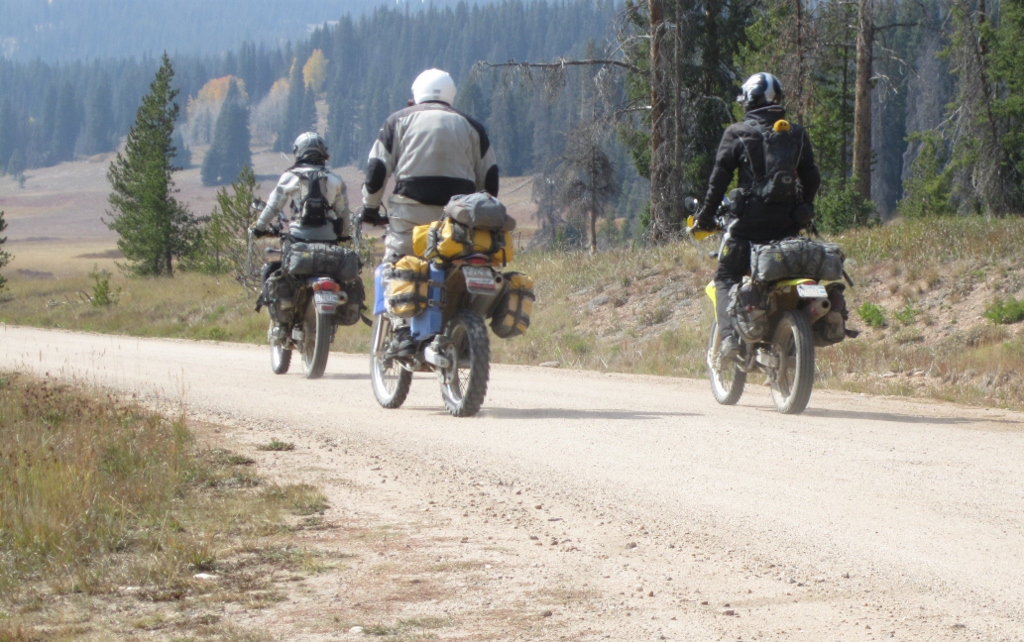 I cried like a baby as they rode off.
You never know when you leave somebody or they leave you if you'll ever see them again---you never know.
I think of this now when I'm departing from family and friends and sometimes come out and say it.
Might make some people feel uneasy---but that's the way I feel.
Goodbye !!!!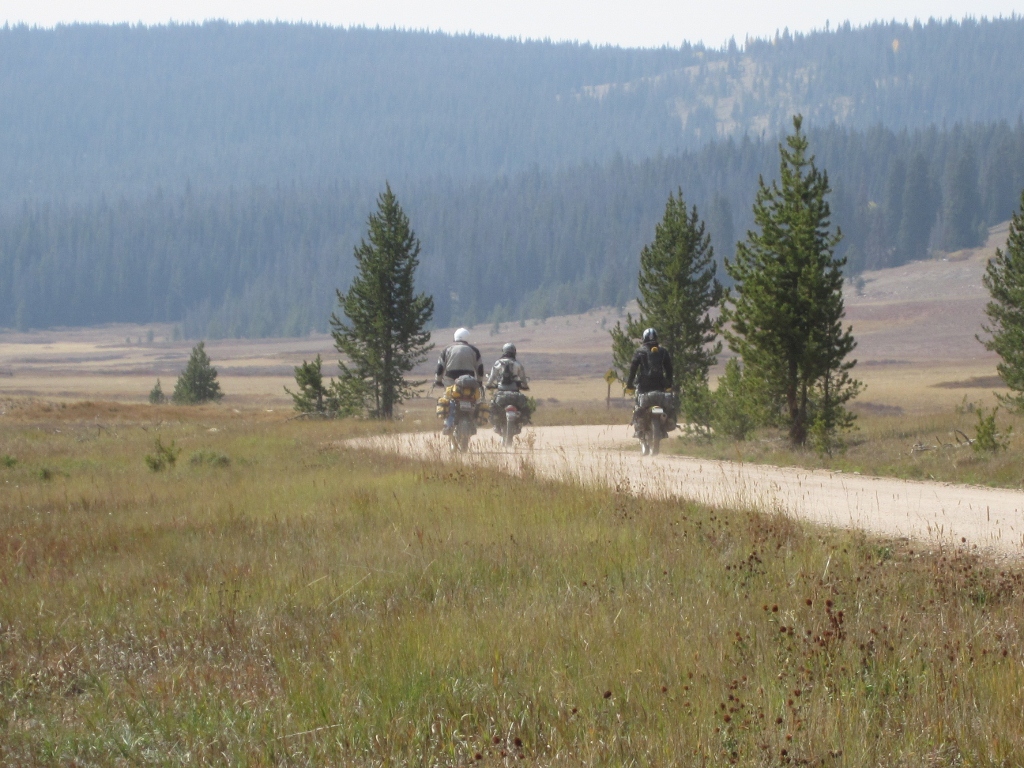 Map of todays ride and where I headed back North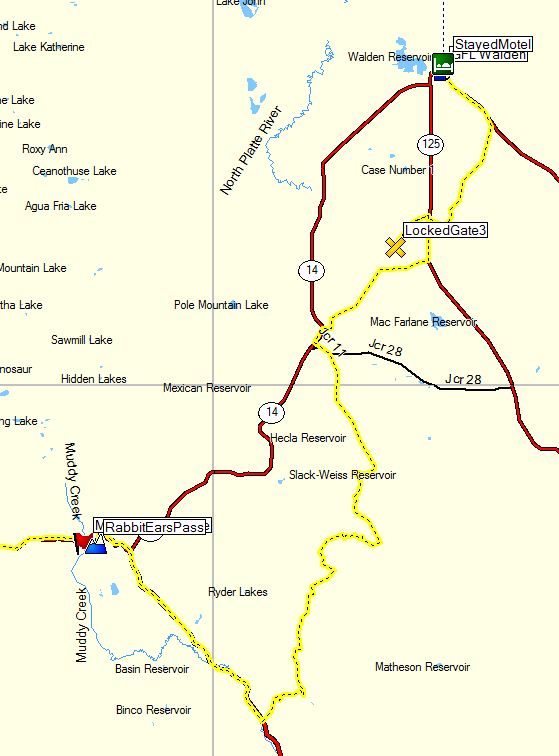 Back to Rawlins was pretty uneventful as I pretty much followed the Continental Divid Trail all the way.
It wasn't the same------the CDR was horribly mundane to what I had been riding.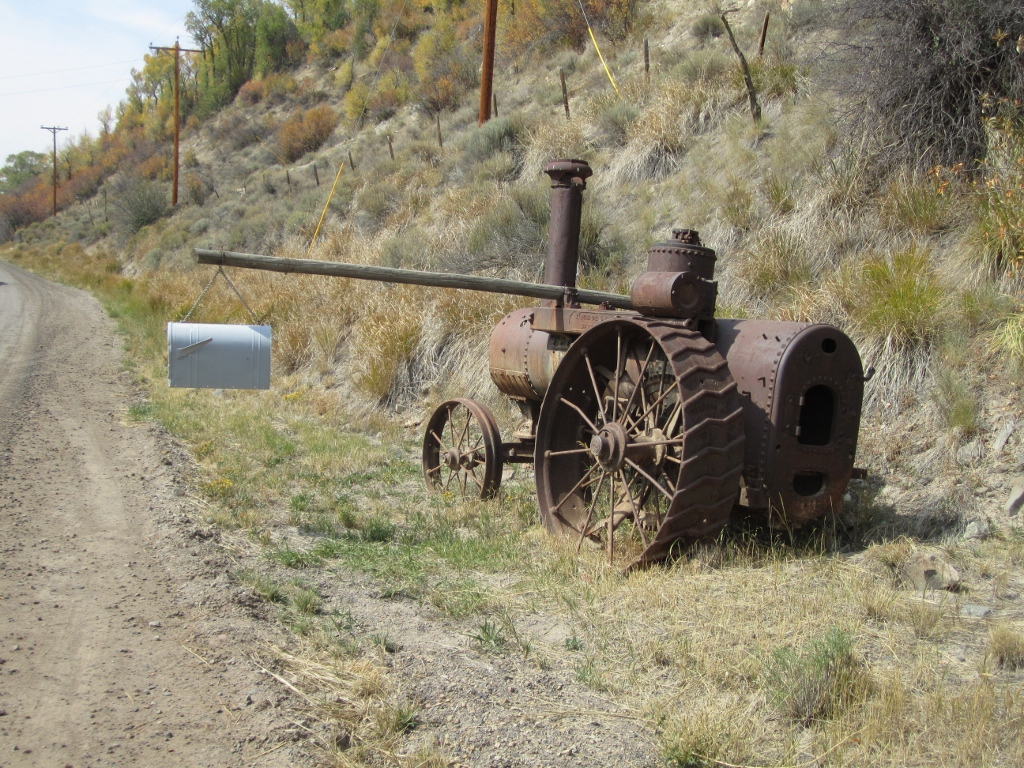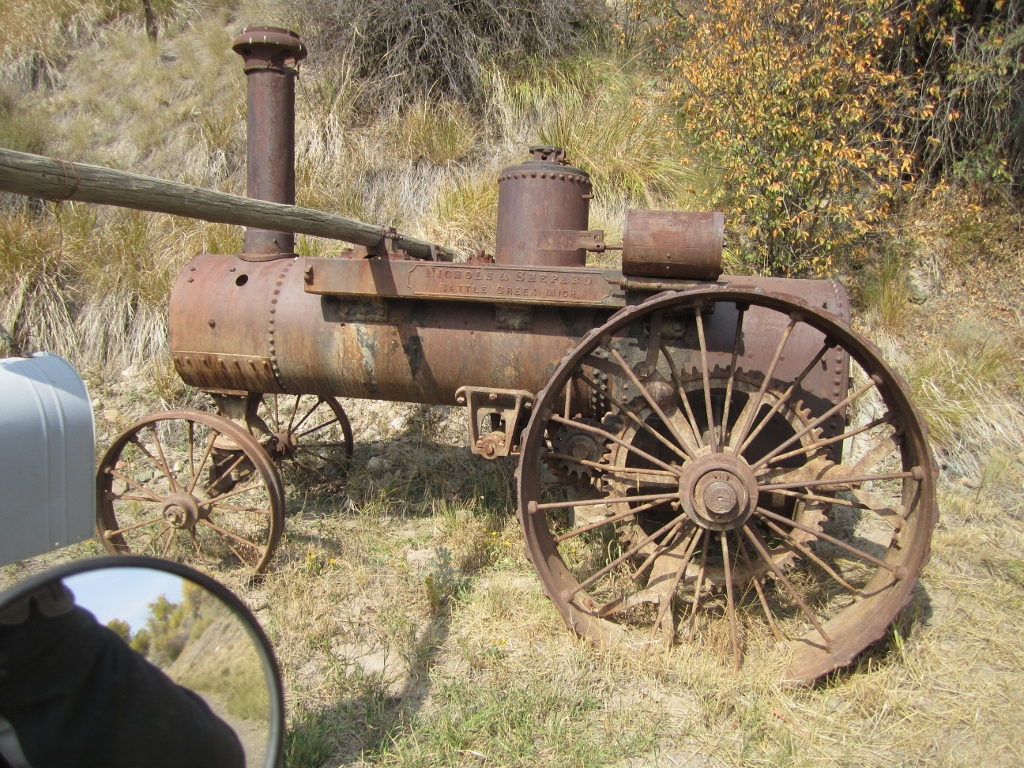 Back in Rawlins------37,096 miles on my 2008 Yamaha WR250R.
I'll put it in the garage when I get home until the next "BIG" ride.
I never ride it at home on small short local rides---this bike is made for the long haul and won't turn you back when the going gets tough.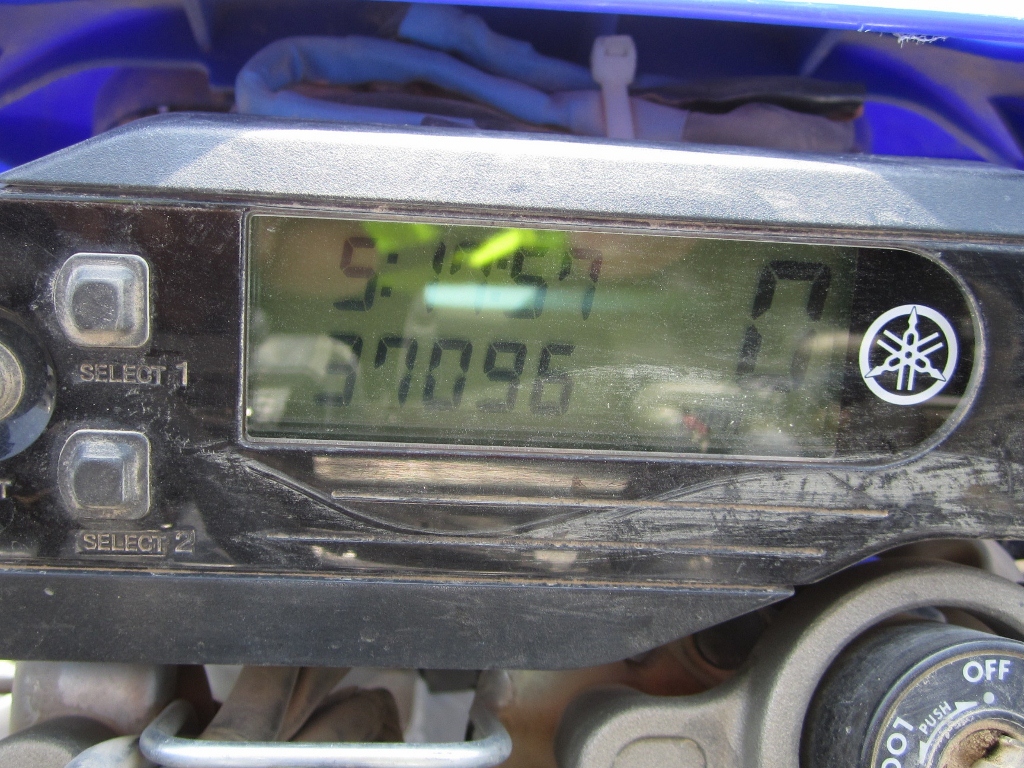 The total stats for the 15 day ride..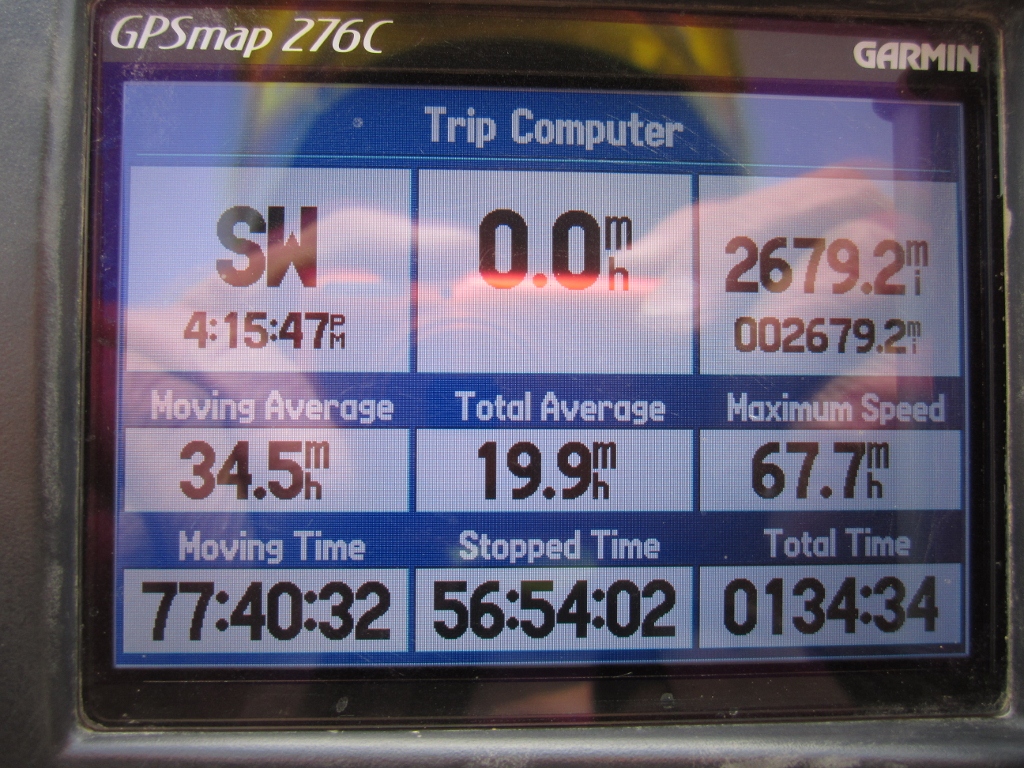 The End
Back to Part 1
Back to my homepage