Getting Prepared And Getting There
A DVD video and gps file of this ride
are available HERE.
Me and Tim burned the midnight oil many nights preparing our bikes.
New tires, chains, sprockets---cleaned the air filters and changed the oil.
We adjusted the valves and completely tore apart our suspensions and swingarms
for a good greasing. New tires also--I no longer wanted to fiddle with finding or
shipping tires to Mexico as in the passed. I wanted tires to last 3,000 miles of offroad
dirt and still be aggressive-----A Bridgestone ED77 up front and Rally Raid for the
rear did the job---and did it well !!!! My new and somewhat untested 5 gallon tank
that I had worked so hard to help get it made with Halls
Husqvarna of Springfield, Illinois would be put to the test
on this ride.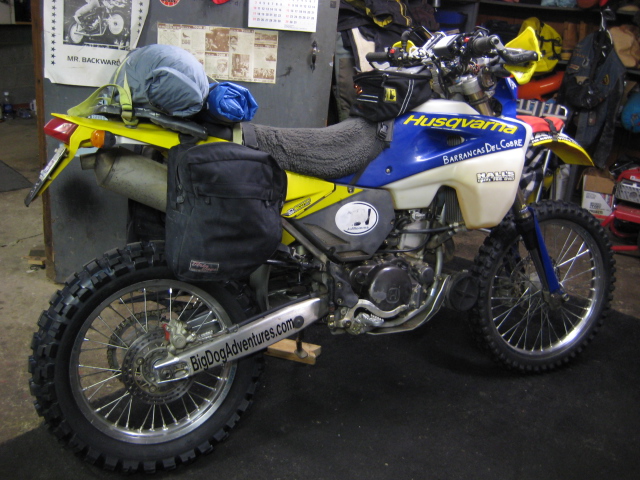 I picked up Tim in Rolla Missouri in snow and ice.
It was treacherous getting to his house, and we fought ice on the road
till we got far South.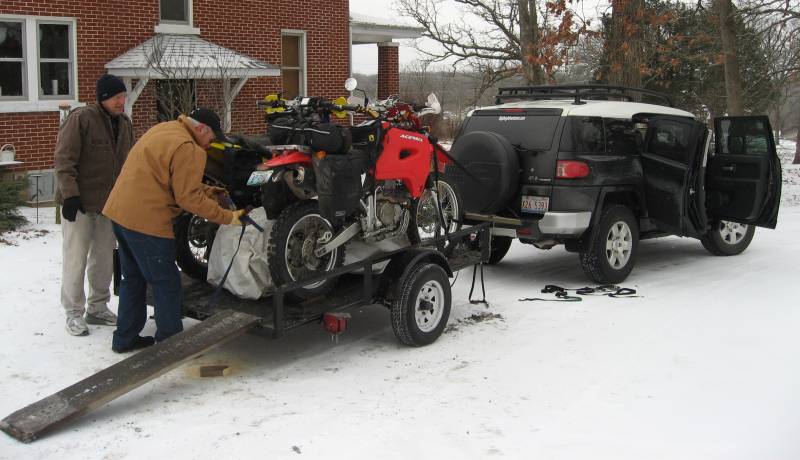 We arrived safely, driving straight thru to Presidio, Texas where we would leave the
tow vehicle and stay at the 3 Palms motel for the night--after doing border town paperwork.
It was so nice and warm here--we had all day to get things done as we arrived in the early morning
and were prepared for a daybreak departure the next day.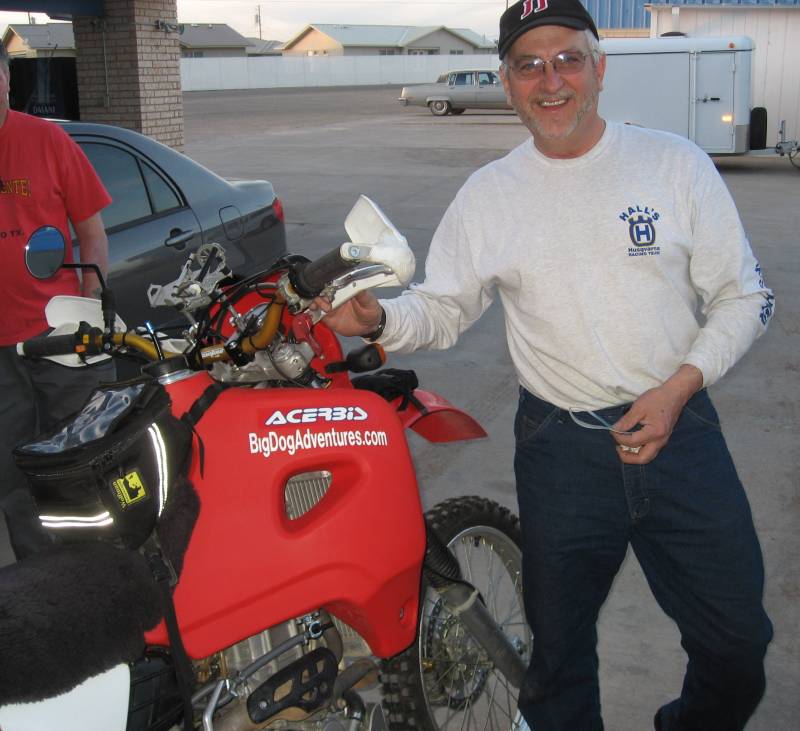 After getting there---we discovered a stowaway !!!! Looks very suspicious.
Could it be ???---a tarp---feet as big as an anvil---kinda smelly ???
Naw couldn't be--Could it ????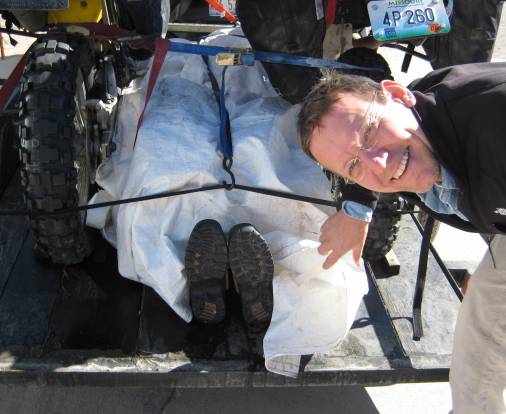 Day 1 Feb. 14th 2008
Presidio, Texas To Nonoava, Chihauhau
We hit the road as the sun was coming up and breesed thru the border crossing
like we knew what we were doing. Tim's a little nervous---- or was it excited
as we crossed into Ojinaga, Chichauhau.
Pequiscaney Canyon---a cool canyon to warm you up to the much bigger canyons to follow.
It's just about 25 miles into the Mexican state of Chihauhau just West of Ojinga---a beautiful place.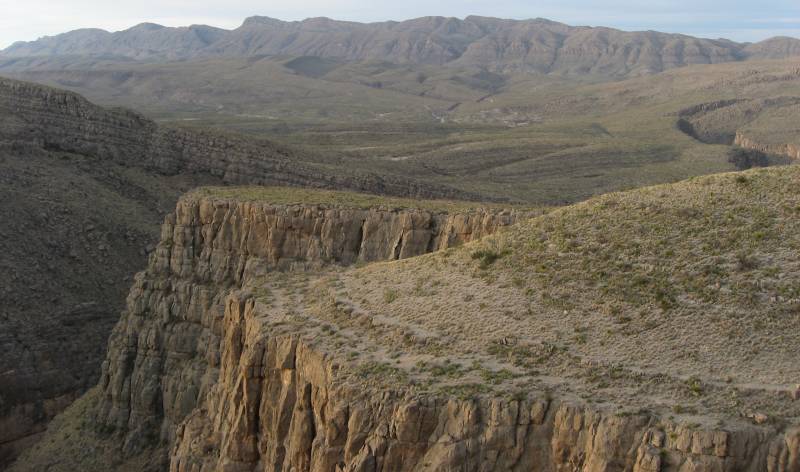 I have finally after 56 years on this earth--come to the peak of my experience about packing.
We took very little--except the necessites----no hard bags--kermit chairs or ice coolers
would go on this trip. The casual clothes I packed consisted of one pair of light synthetic pants
where the legs zipped off to be used as shorts and a light pair of slip-on shoes
-----that's it--nada. I never needed or wanted anything else. My riding socks and shirts
would serve as my other casual clothes. I could have ridden around the world with what I had.
My riding gear prepared me for anything the weather thru at me including freezing temps,
hot temps, rain, sleet, snow or hail.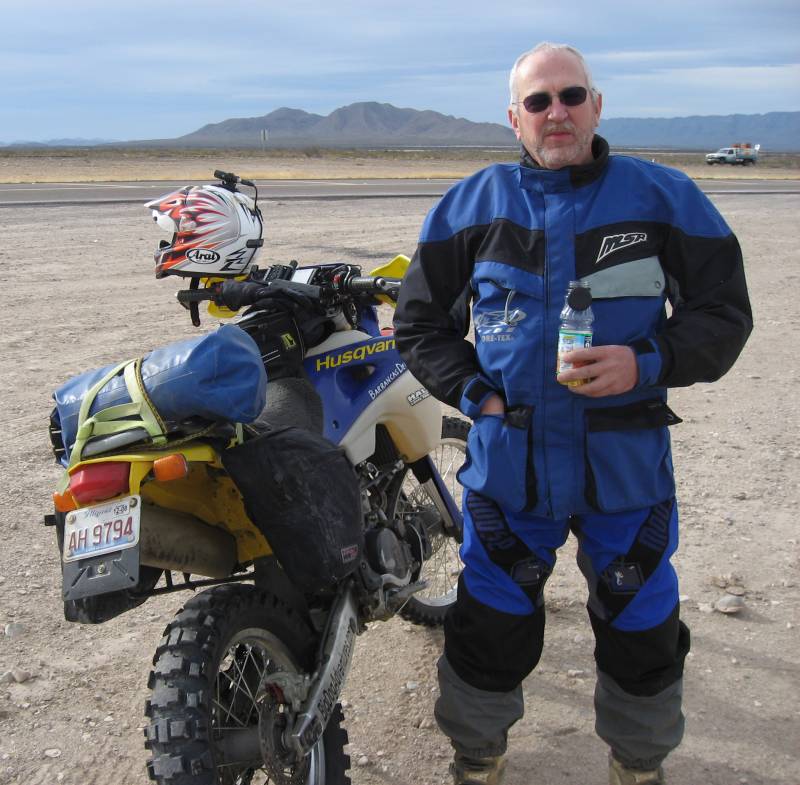 The roads to here aren't worth mentioning--but we hit dirt North of Nonoava, Chihauhau
and rode thru some beautiful ranch country--the real riding has begun.
Here, Tim had heated us up a cup of hot tea on his Jet-Boil cook stove.
Tim had the larger Dirt Bagz and had food for a couple of days if need be.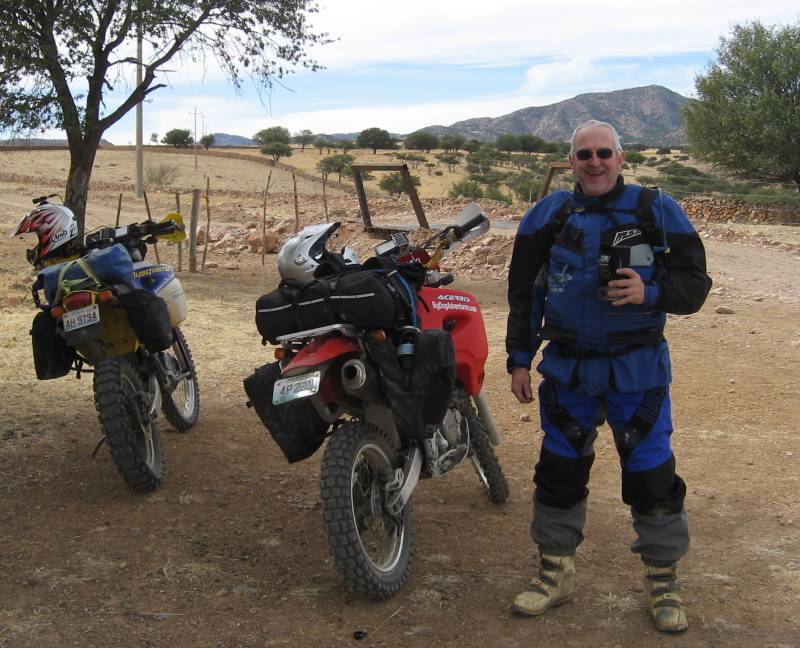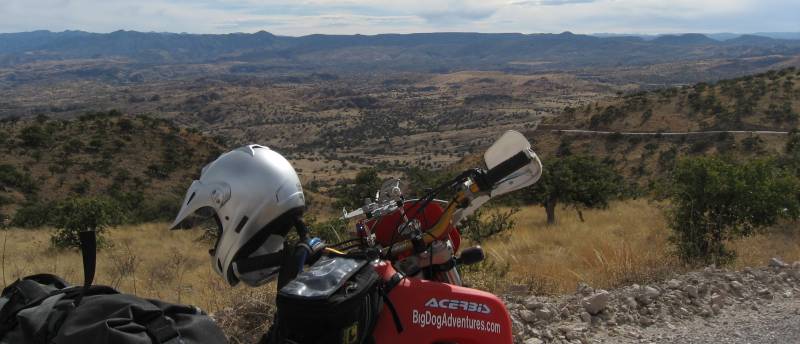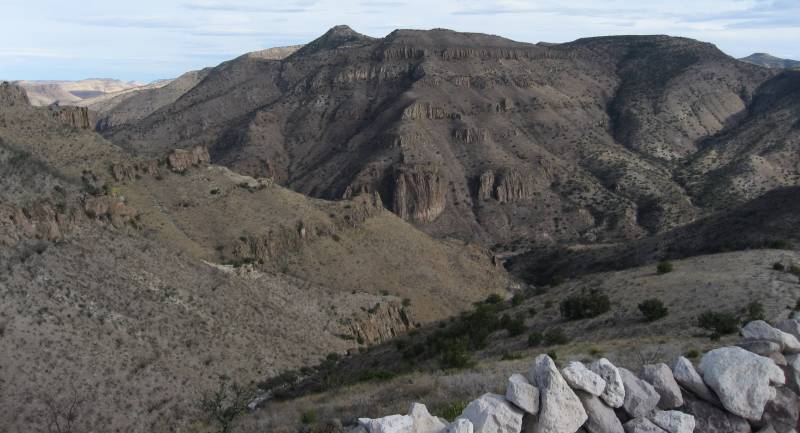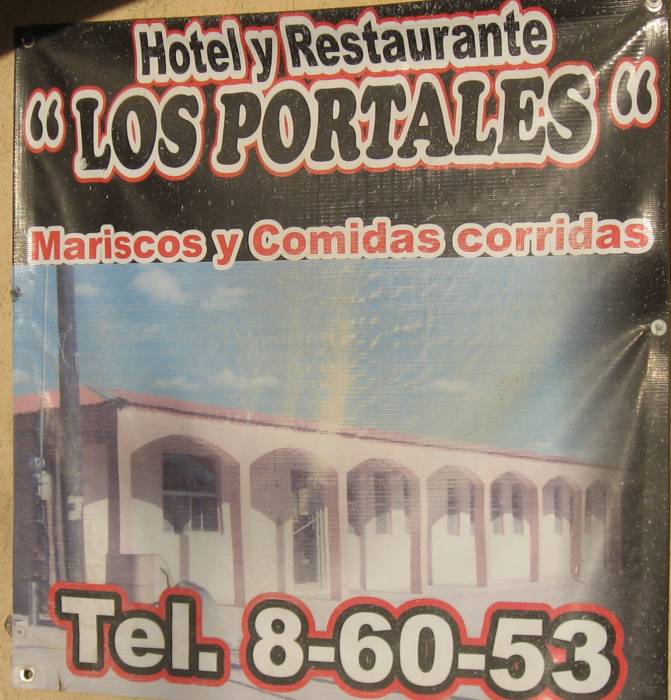 We blew into the dusty town of Nonoava about 5PM and filled our tanks
at the Pemex (gas station) before finding the Motel.
There is one Motel in Nonoava and we got a nice room for about $350 pesos ($35).

I told Tim to wait outside and I negotiated the price of our room.
Since as you can see---I am quite literate (or is it full of it) in Spanish.
No---Problem-O for "El (long pause) Perro Grande.
(Big Dog ----for you Gringos)
My wife says I needed a new hat-----4 years ago !!
It just feels good and I can't part with it--sentimental value you know.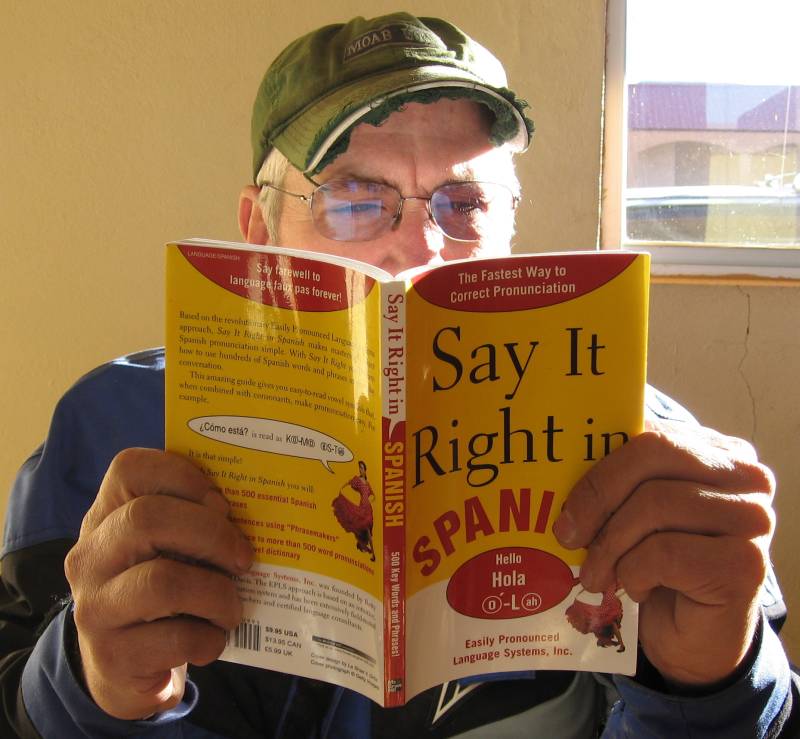 These very nice girls fixed our dinner for us.
We had a hoot with them---they couldn't speak a word of English
and I couldn't speak a word of Spanish---so it worked out really well----I thought !!!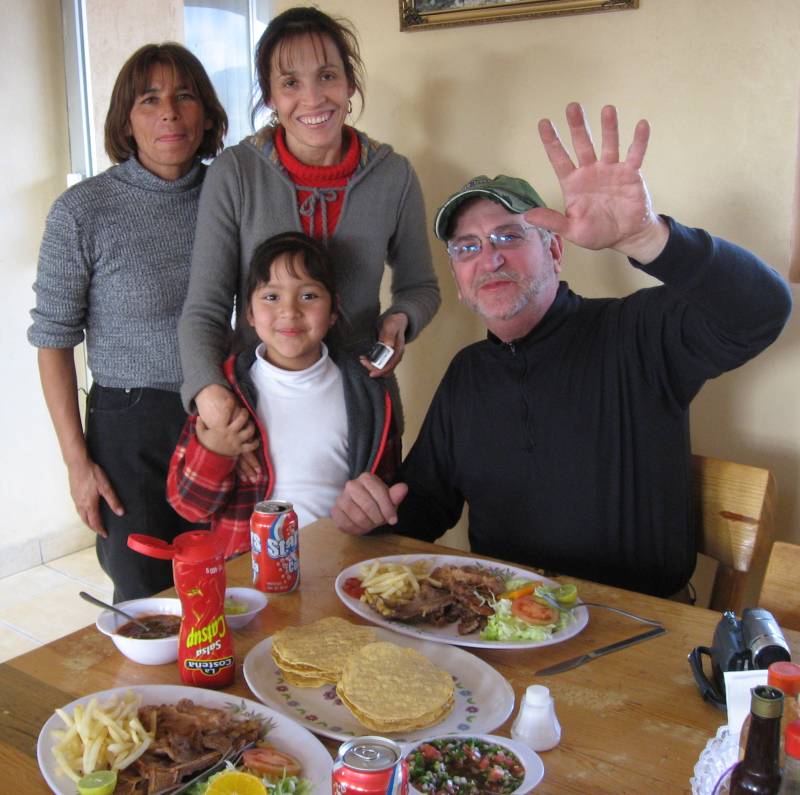 Tim was hilarious-----he had his nose in that Spanish book and give it all he had.
His all-------wasn't good enough usually----but it was fun to watch.
He got so engrossed in to learning Spanish--and had a great time with it.
With all meals---you always get the thinnest flapjacks I ever saw--pretty dry
with no Aunt Jamima's. After that hot sauce on the table bout took my head off....
El Perro Grande was cautious after this.
It was a delicious meal.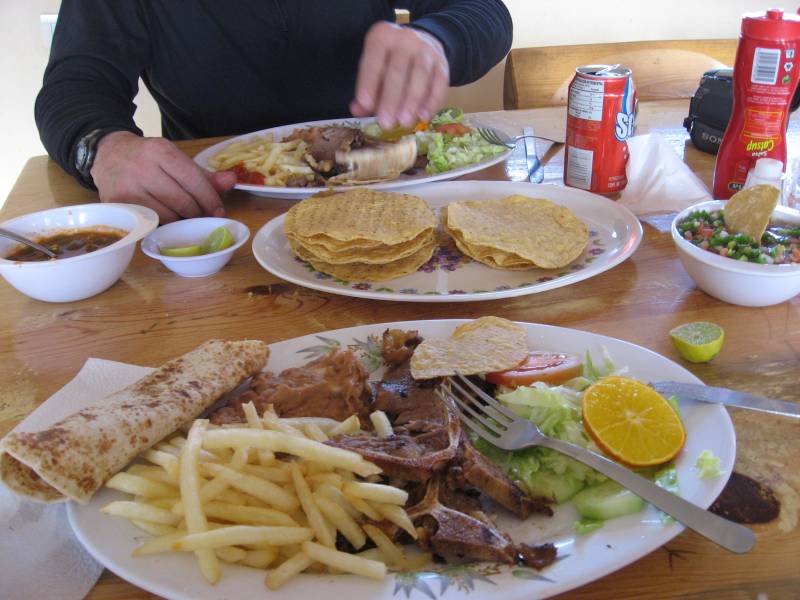 A couple hours later the lights went out----a local electrician was there in an instant and
fixed the problem. He was glad we there to hold our flashlights on him while he worked.
Really nice friendly guy.
Our room had hot water and even a toilet seat--we were estatic--you don't always get a toilet--or a seat.
Of course you always have to guess which side the hot is on--as they just don't care which
side they put it on--I can live with that---saves a lot of labor.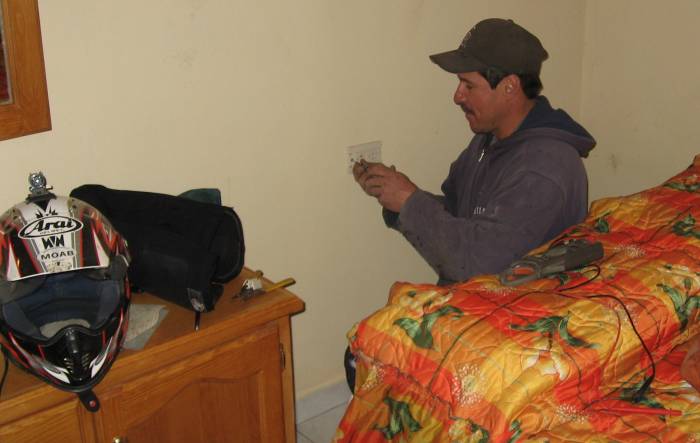 These little boogers kept us entertained-----wife wants to go down and steal them--take them home she says.
Since our son has been kinda slow about giving her some grand children, she's getting desperate!!!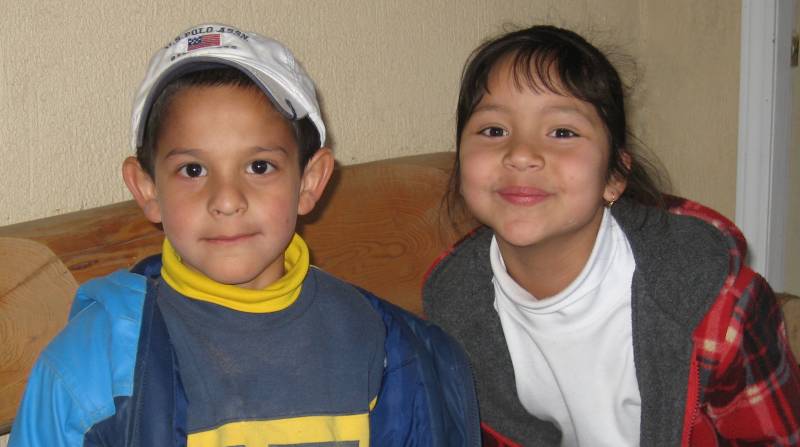 Day 2 Feb. 15th 2008
Nonoava To Baborigame
Whilst riding thru the wonderful country of Mexico---keep in mind that most people can't afford new tires.
It's wise to not follow vehicles to closely for very long--this is pretty much the norm when taking
"The Road Less Traveled"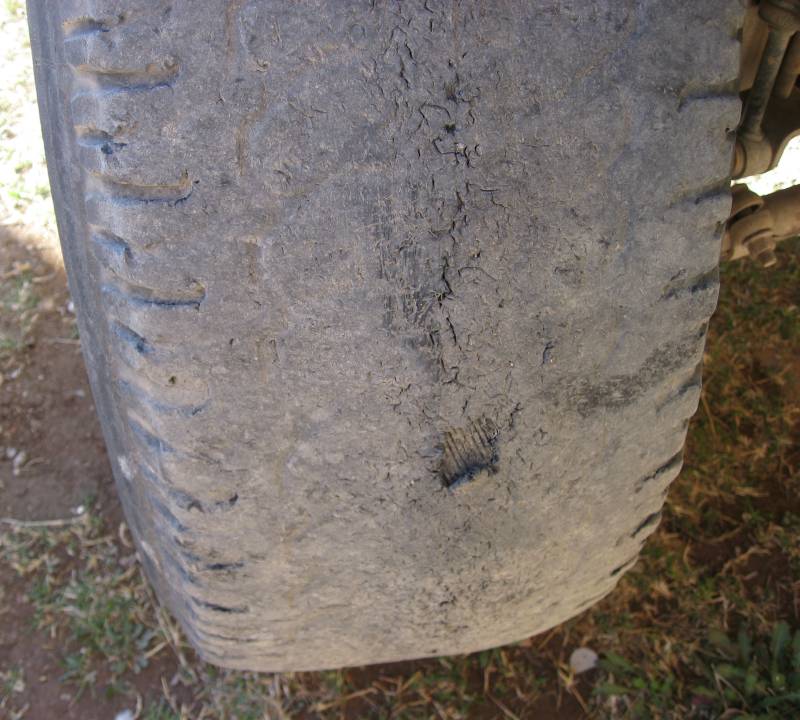 This nice cowboy could really handle his horse----and the cows.
We were really entertained while he detoured them down an embankment to keep them away
from the 2 loco gringos on murdercycles.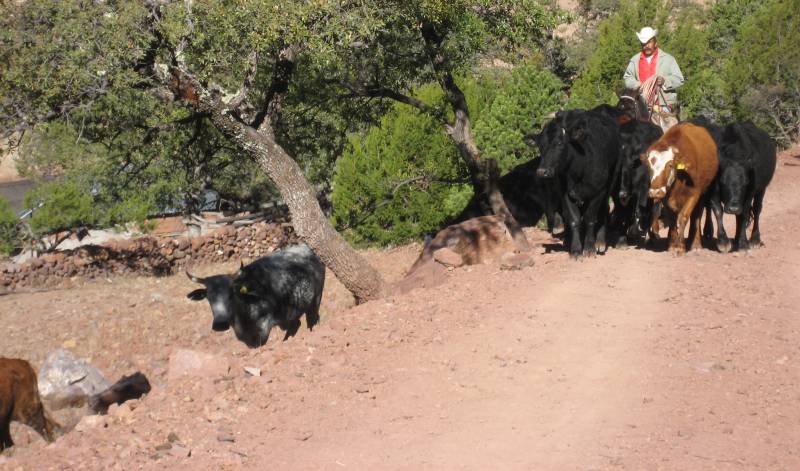 On a high plateau we rode for miles thru ranchland admiring these great rock formations.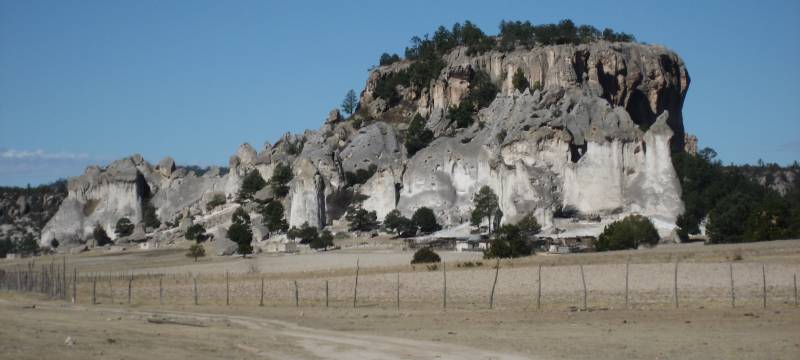 If this was in the United States it'd be a National Park full of motorhomes, campgrounds, fences, billboard signs,
fee stations and rangers handing out tickets for all kinds of things.

But we had it all to ourselves.
I have first hand knowledge that riding thru here in the wet is a muddy mess.
Almost impassable.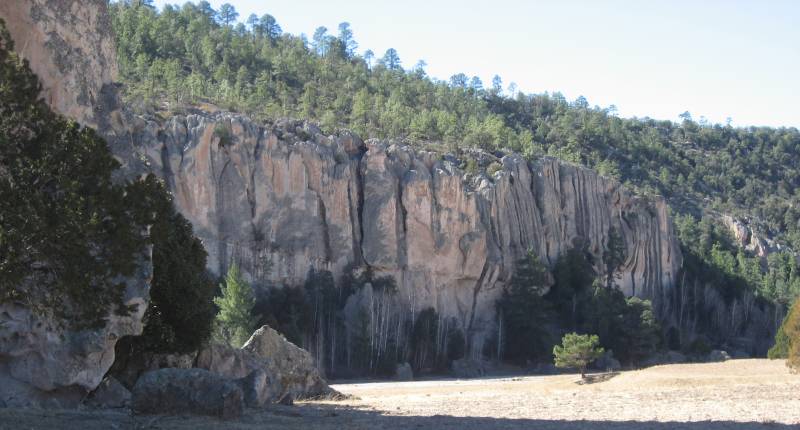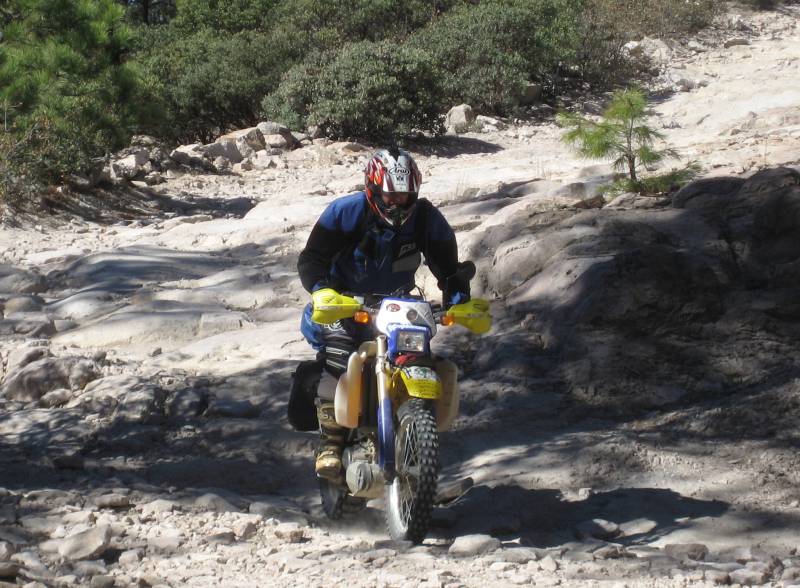 Tim's gps antennae got broken somehow------we JB welded it up and it kept working.
The rubber bands were a backup------Mexicanada style.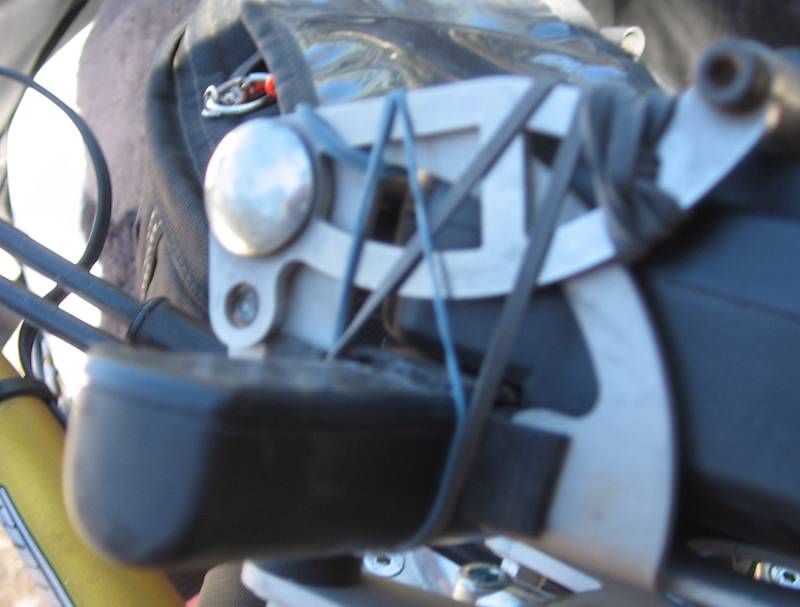 Tim also lost a bolt out of his Dirt Bagz Mounts

We robbed a bolt out of his front fender and on
we went.


From then on we checked these bolts often. Lucky he
caught it early or the whole rack would have busted.
We blew into the dusty town of Baborigame (Bah-Bor-ah--gah--meeee)
I had to use some of my professional skill---I was fresh out of bowl waxes and ballcocks
but made a temporary repair. To flush the toilet you had to fill a cup from the sink (if they hadn't turned the water off)--pour it in
the toilet tank till it was full-------then reach down and pull the flapper up as it wasn't attached
to anything !!! Hot was on the right or left--depending if you were using the lavatory or the shower.
Oh yeah the shower----it worked for Tim------I got all naked and turned her on and there was
no water at all---seems there was about 4lbs. of water pressure from a gravity flow water storage tank
and when somebody flushed a toilet downstairs the water flow just stopped--I just had to take my
turn at using the water----it was the polite thing to do since I was a foreigner you know.
No Problem-O for "El (long pause) Perro Grande"
Look at me--you can tell I'm not having any fun at all.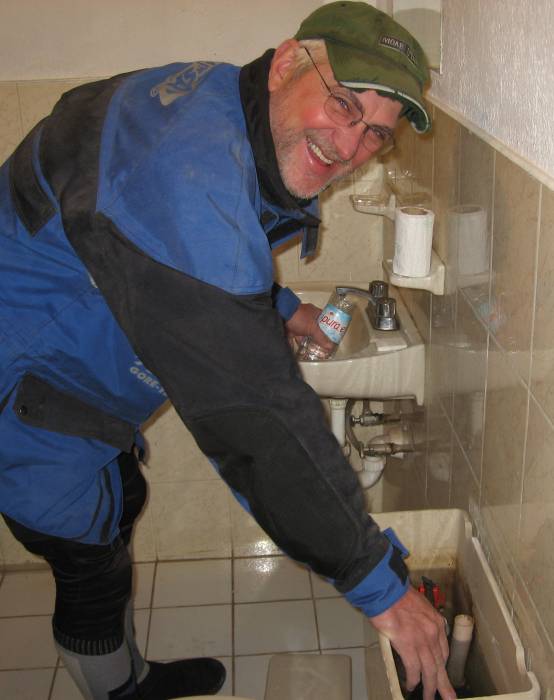 It had been a great day of riding-------all dirt to this town.
And Tim made a new friend--------Tony.
Tim makes friends with everybody--his smile goes a long way.
Tony was a nice guy that worked for the government I think.
Really nice guy to talk to--who spoke English very well.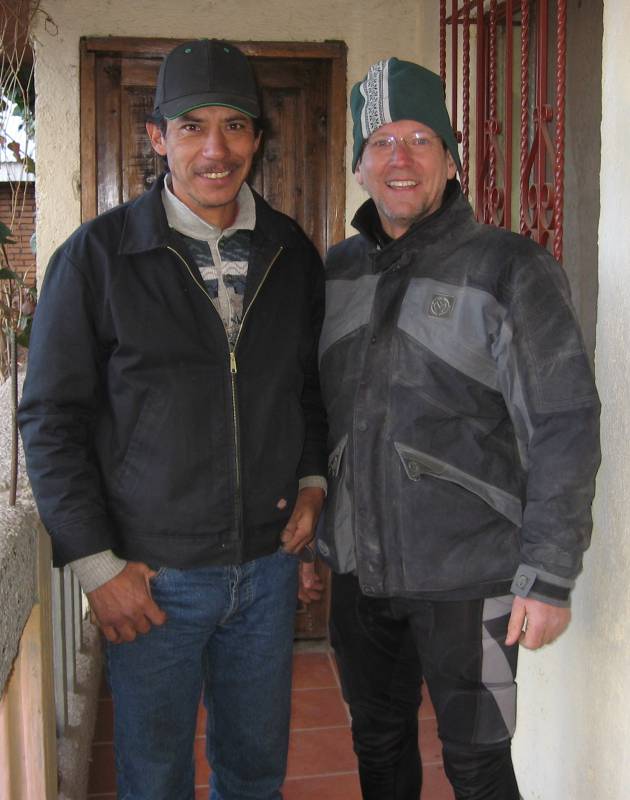 Day 3 Feb. 16th 2008
Bagorigame To El Fuerte
We had stayed at the Sante Fe Motel in Bagorigame and blew out of town after eating Desyunos (breakfast)
at the in house restaurante. The roosters had crowed all night long and were still going at it as we left.
The roosters were roosting in a tree like a flock of blackbirds--never saw them do that before.
The wind was howlling and would blow one out every once in a while-----pretty funny.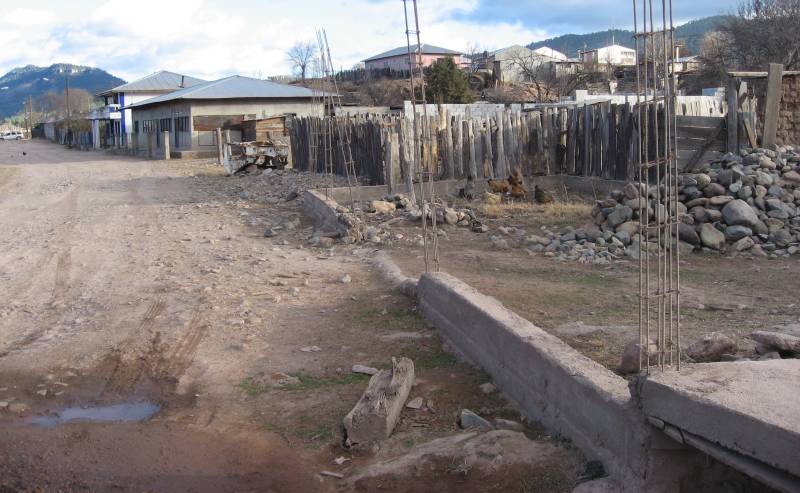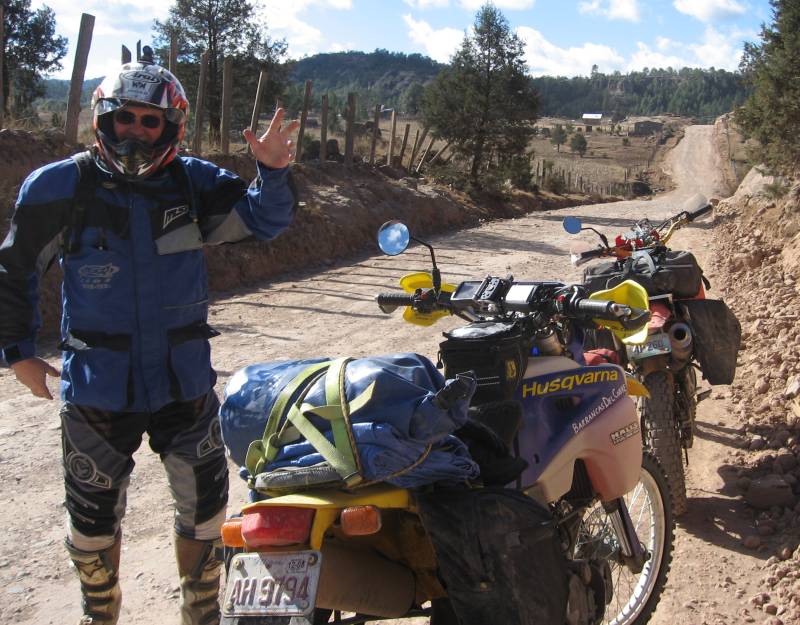 "El (long pause) Perro Grande" stopped to shed some under clothes as it was warming up pretty good.
He spied one lonely rock in a meadow and headed right for it.
Thank god Tim (head camera man) got the shot.
There's a big reason Tim got promoted to head cameraman--we'll come to that later on.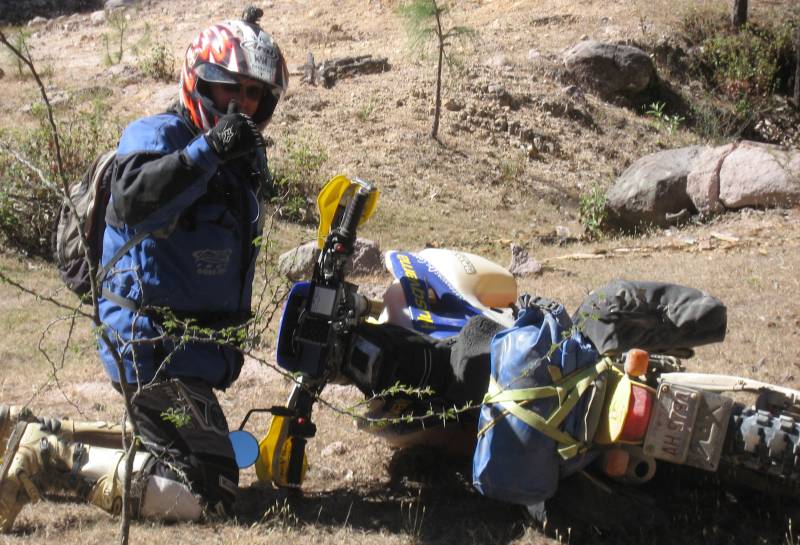 The tank hit a smaller rock---the dent popped out soon after this and is totally gone now.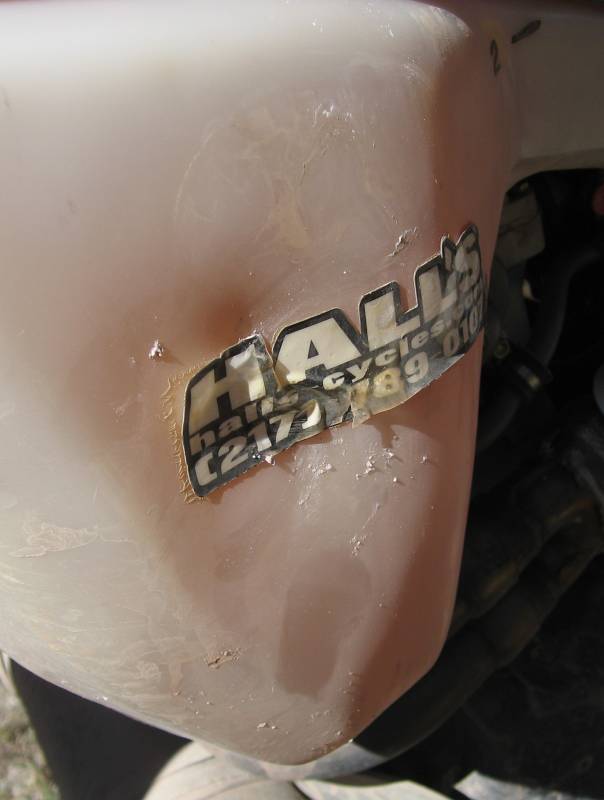 In San Antonio de le Huerta we stopped at a Tienda for a drink.
It was a beautiful warm day out for riding.
If I had my tarp out------I could have taken a siesta here.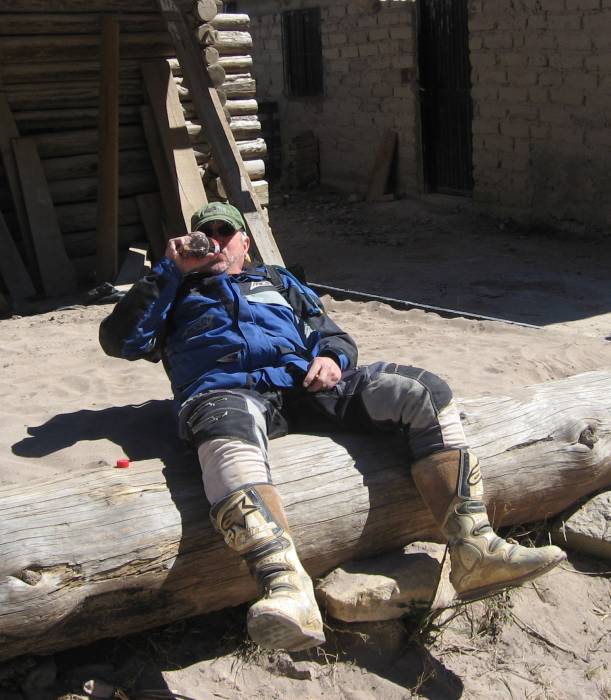 On towards El Fuerte thru El tablon, Lajitas de Palmira, Los Tacates, Yecorato, El Reparito and on to El Fuerte.
Yes it was------kinda, spectacular.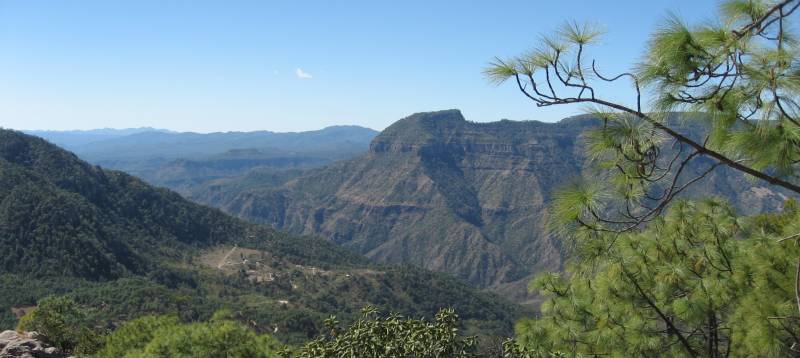 The sun was going down and I realized we weren't going to make El Fuerte--------in daylight that is.
Never fear------"El (long pause) Perro Grande switched on 250 watts of blinding HID and night became day.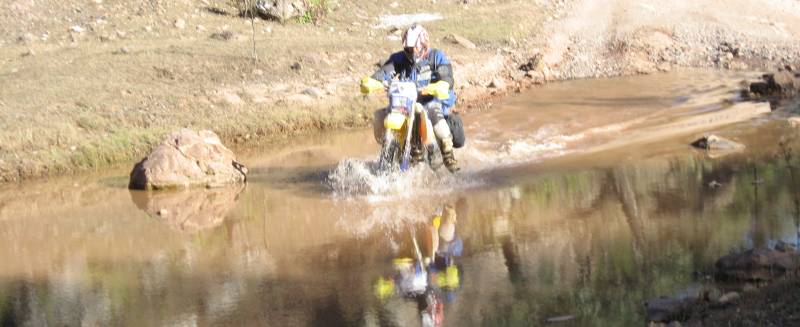 We blew into the sizeable town of El Fuerte an hour passed O' Dark Thirty.
I GPS'd my way around town to the town plaza and there loomed a motel
Looked way too fancy for us. I told Tim to wait out back (he hadn't shaved in a month)
while I negotiated a room at this fine establishment. I put on my best (my only) hat and sauntered in
like I had reservations---all smelly, dusty and stinky. The price started at $1,600 pesos ($160 US bucks).
But got down to $500 pesos before I was thru with that guy and he spotted my can of "whip--ass".
(Translation: I took the cheapest room they had)
This all took about 45 minutes by the time he showed me my room---and poor or Tim was still waiting out back in the dark
thinking that someone had knocked me in the head or something. I finally showed up and did my Fred Sanford dance
like I had really done something.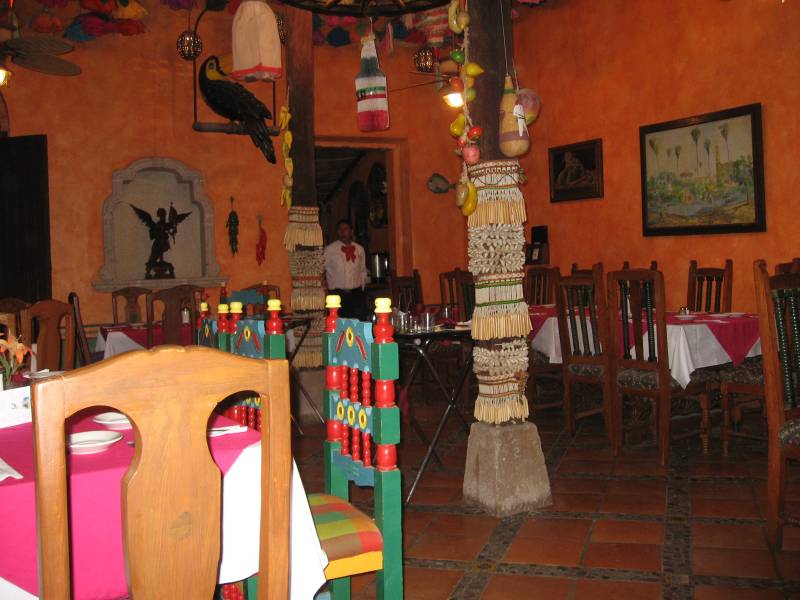 The restaurant stayed open late for us and Tim had black bass for dinner
and I had a couple old tacos---it was great. We had road for 12 hours on some tough stuff
and were done for--our room was very nice and even had A/C.----so we used it-just because we could.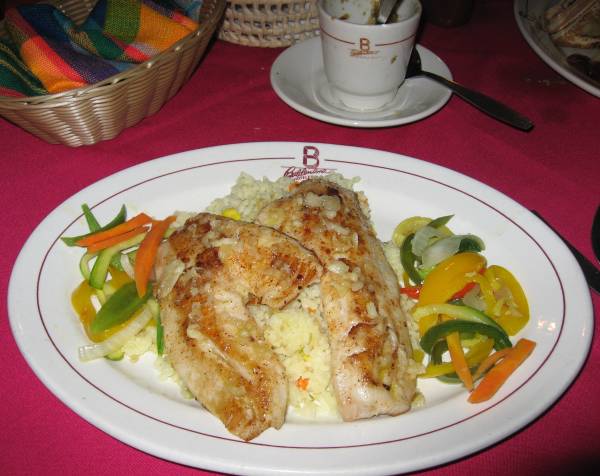 Day 4 Feb. 17th 2008
A rest day in El Fuerte
Today was pure bliss---we slept in and just took it easy
Our bikes didn't need anything so there was nothing to do but have fun in this beautiful town.
Here is the town plaza-across the street from our Motel.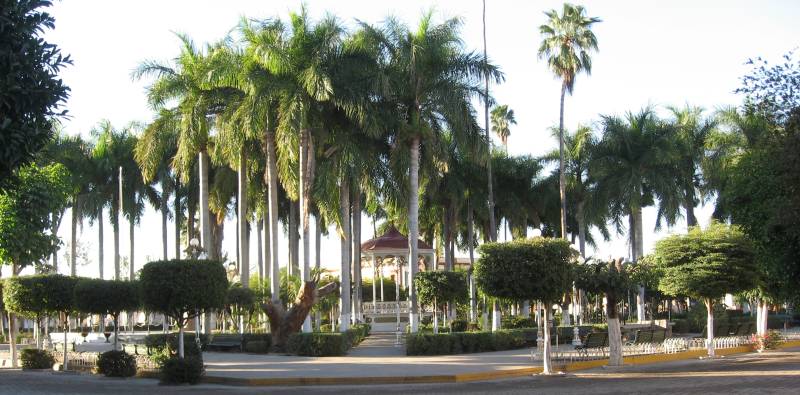 Our Motel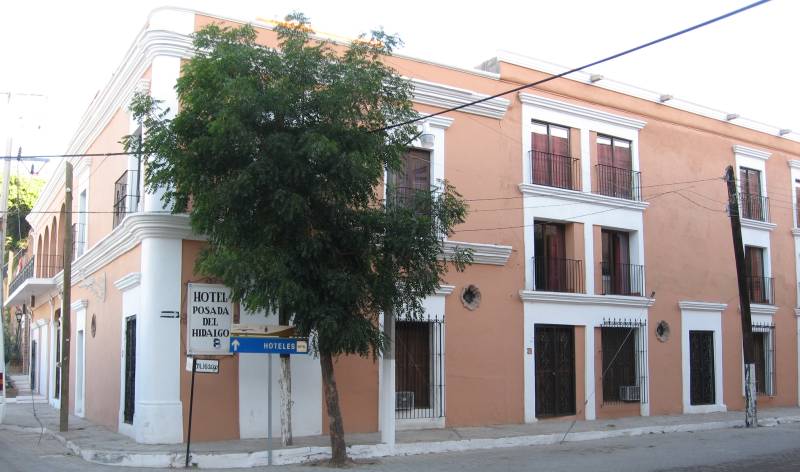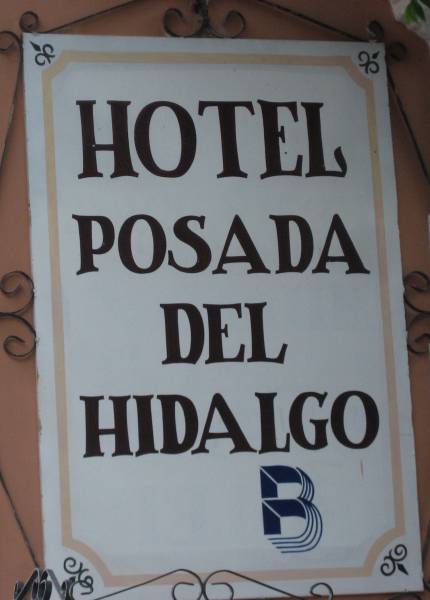 This is the only entry to the motel-thru 2 huge doors and then up, and up.
Much of it is open air.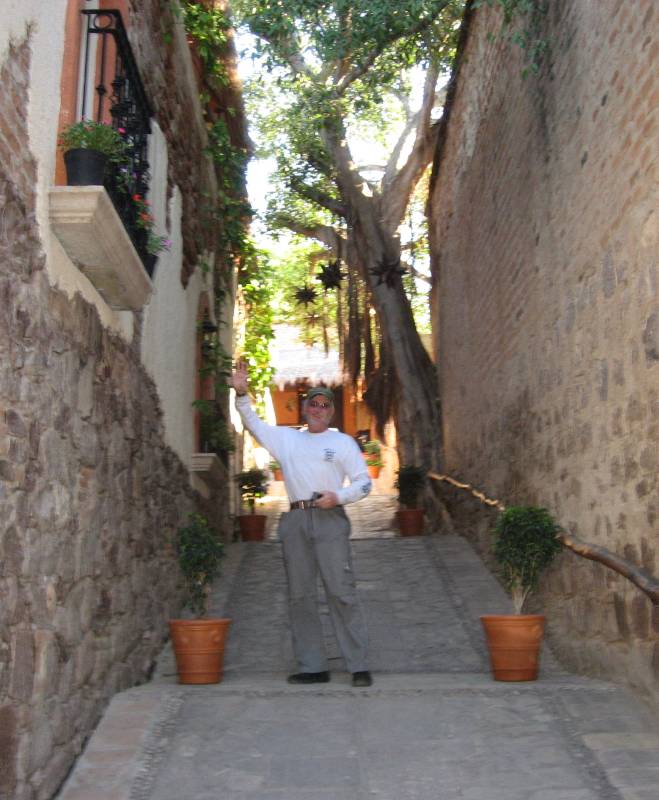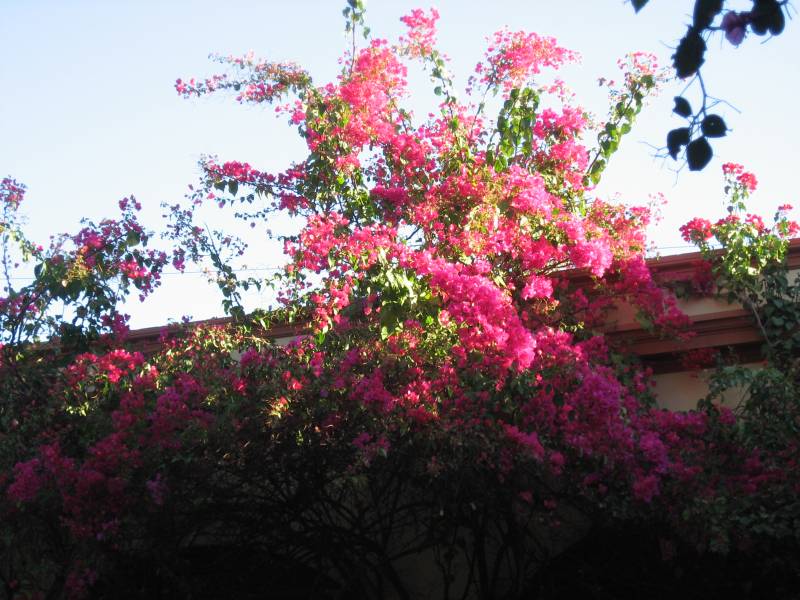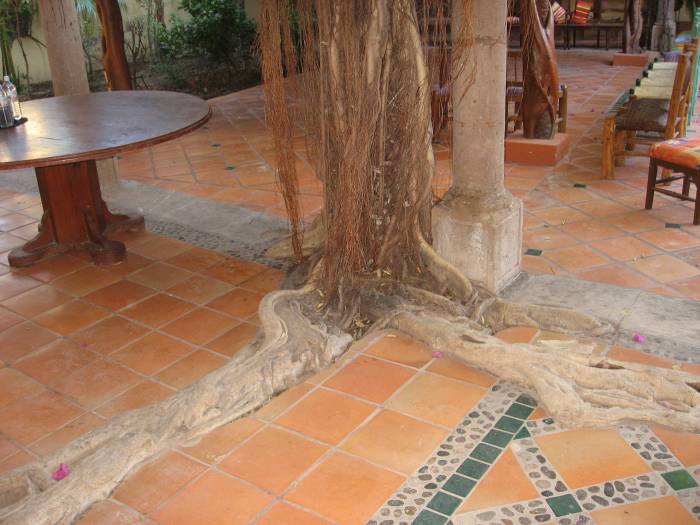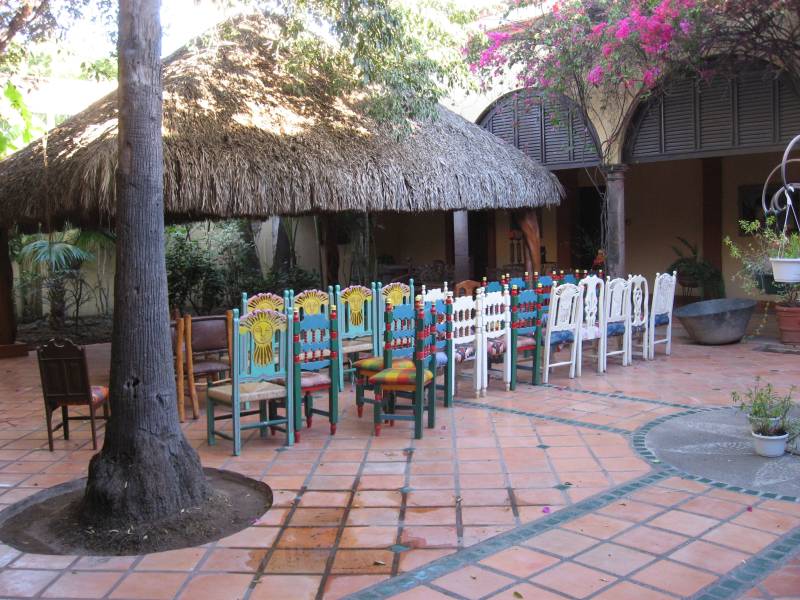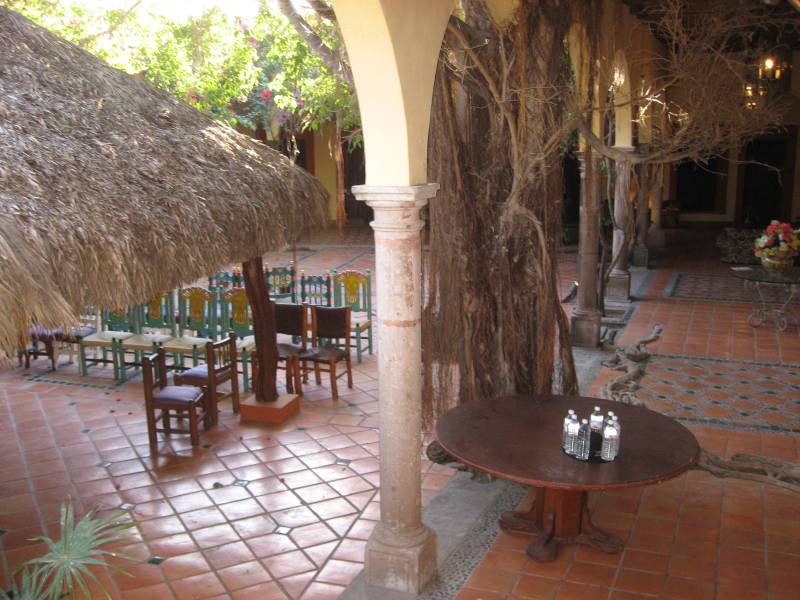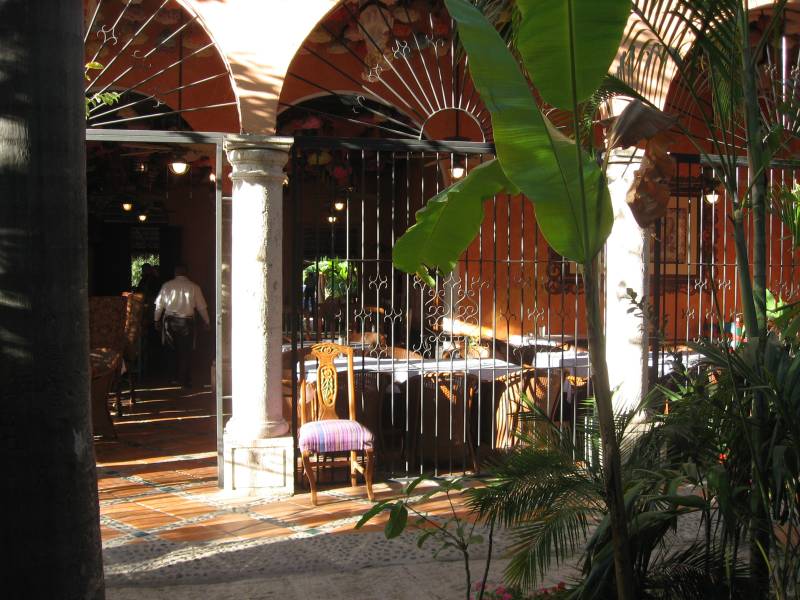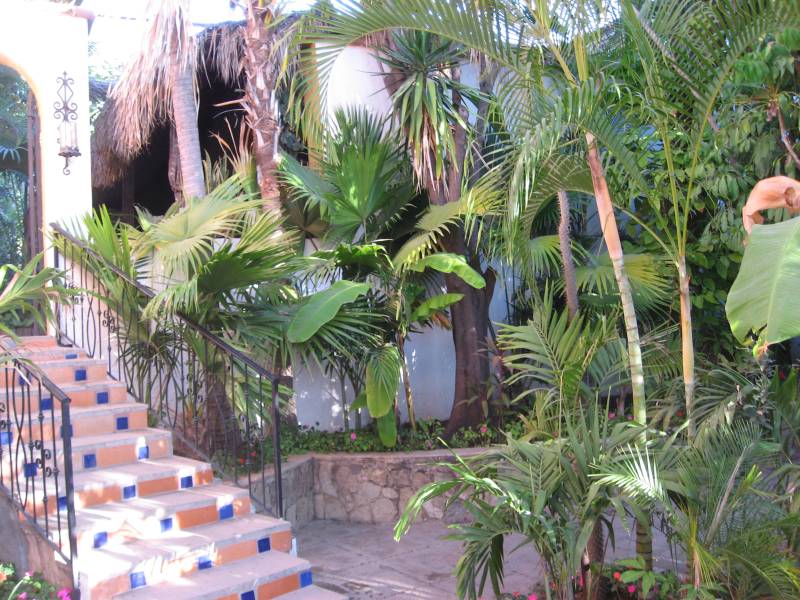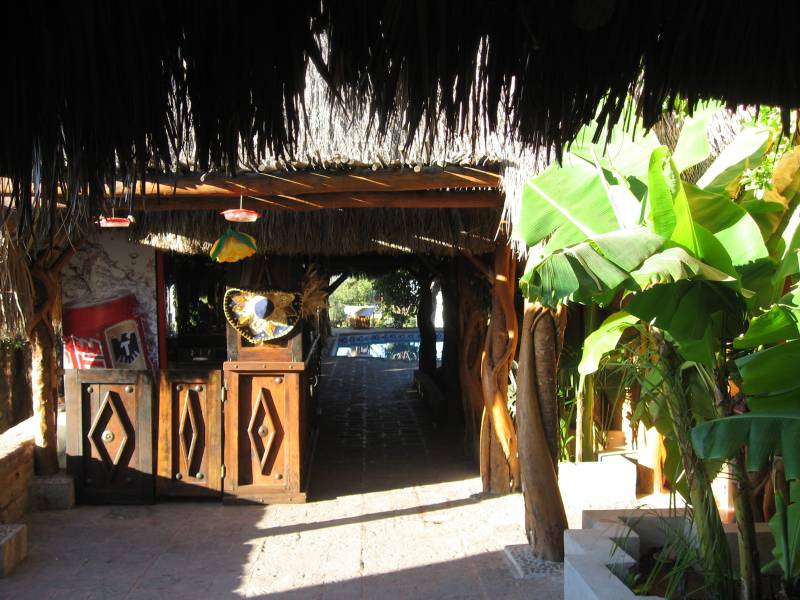 This nice seniorita graced the hotel. Her name was Americana.
Everyone there treated us like royalty-----they didn't know who we were obviously.
She had this long dress on--and seem to have no legs or feet--as she just
glided gracefully across the floor---floating on air.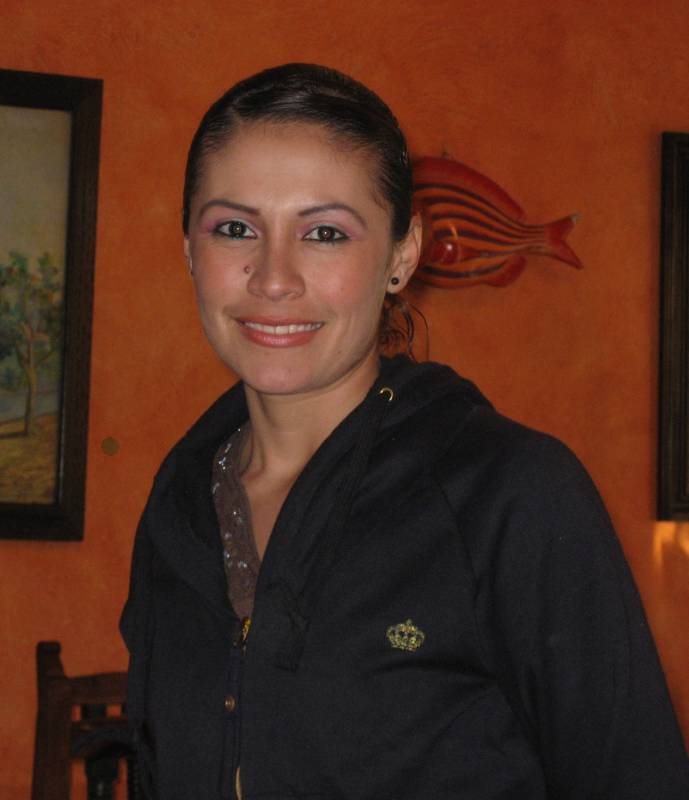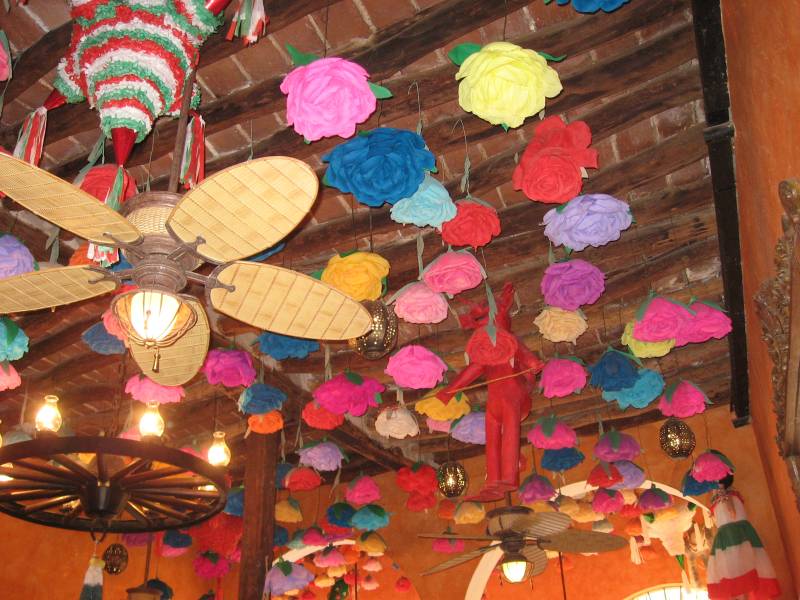 Most everything including the pool was open air----they even had a hot tub.
Yepp--there was lots of "Bubbles" in the hot tub.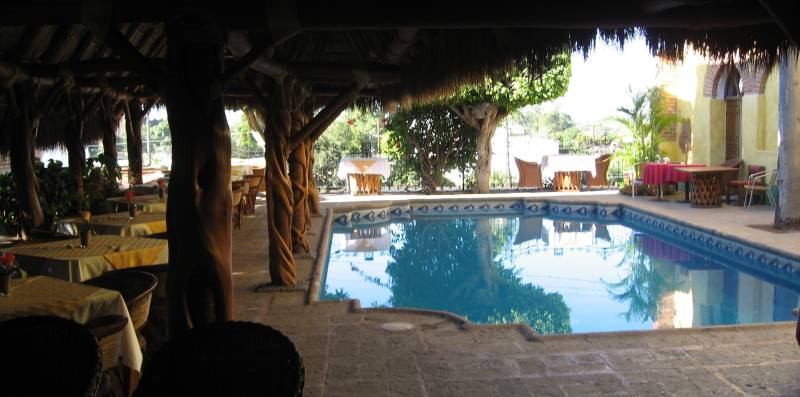 Our buddy Christian.
Christian was genuinely so nice to us. He kept us entertained all day with his smile.
I felt like I had made a friend---and he told me if I ever came back he'd take me fishing.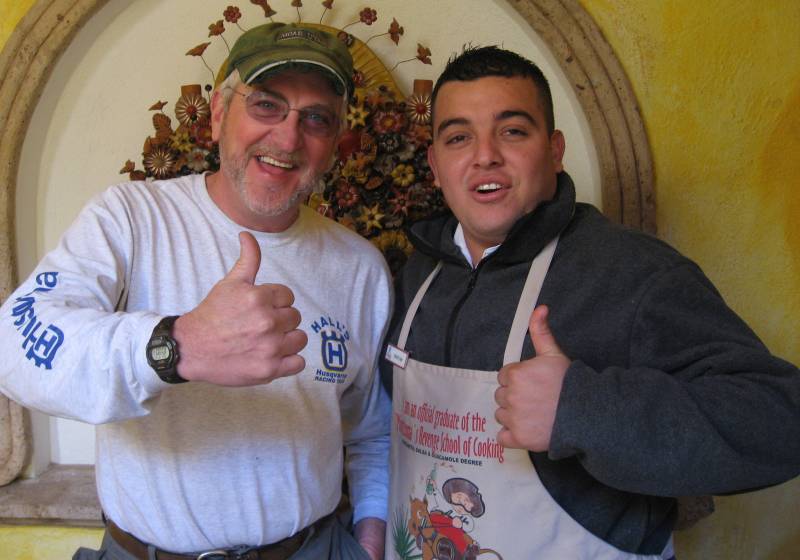 This town has something to do with Zorro-------remember Zorro ??? My god your old too !!!!!
If we hadn't blown into town after O' Dark Thirty the day before we would have seen some real life action
as they put on an act with Zorro as the star.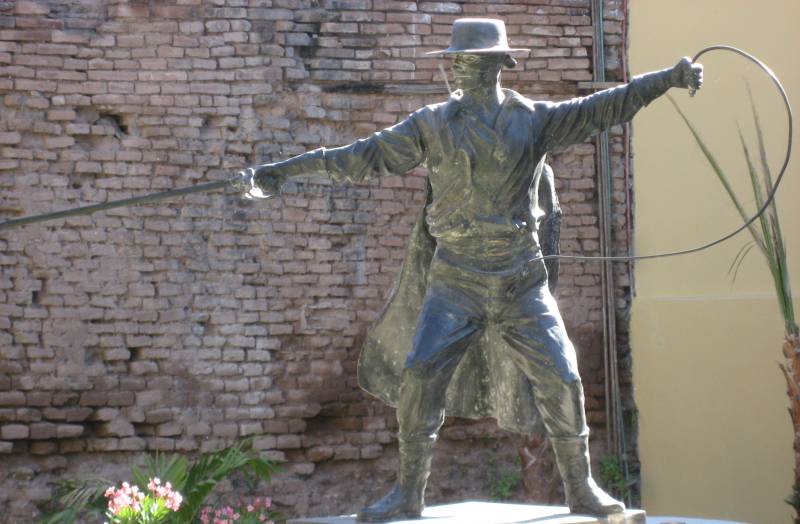 Nope-----the ceiling never fell in on me.
I kept an eye on it tho.
"Dear lord--don't let this ceiling fall in on me--please"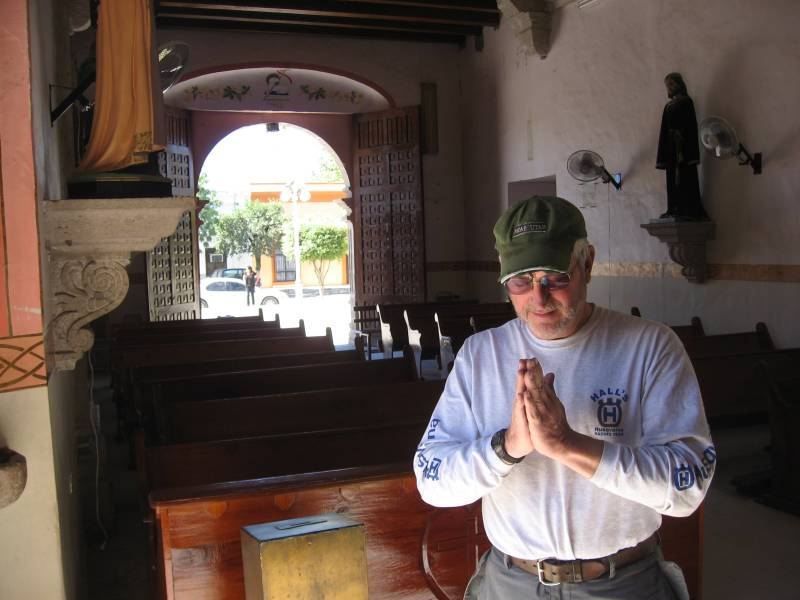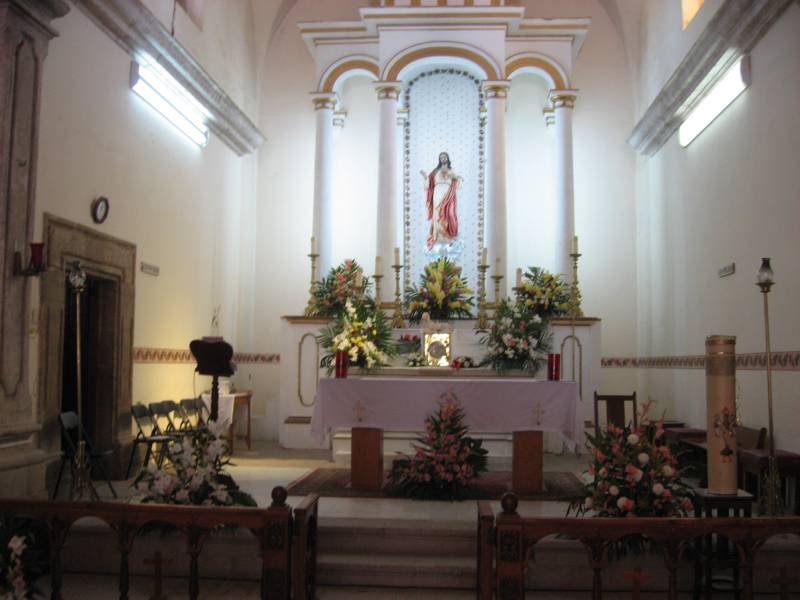 Head Camera man -------Tim Rhoads.
It was torture having to look at this happy face 24/7. Well----not really !!!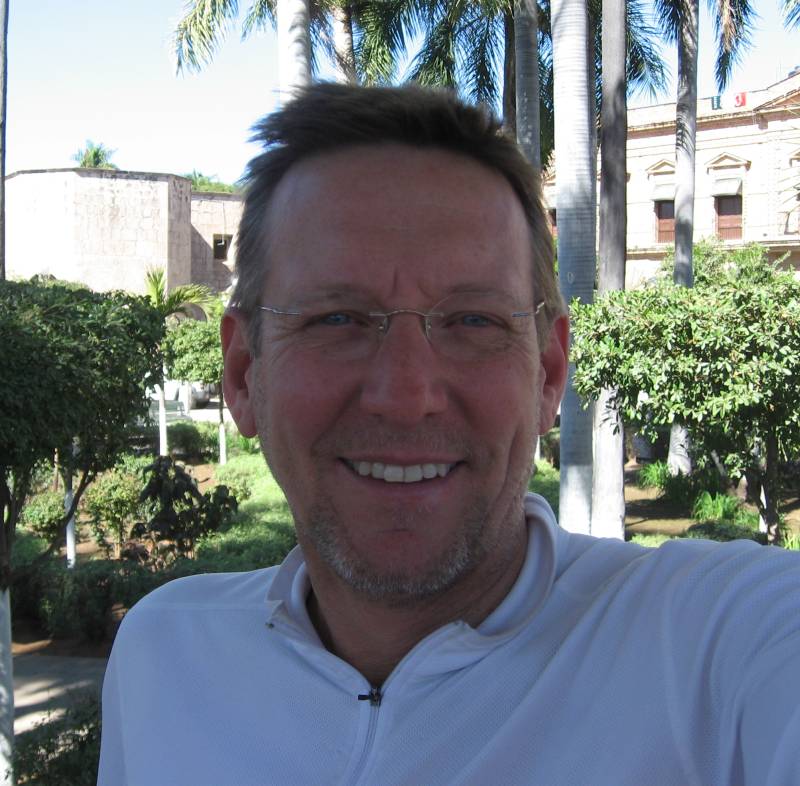 The black bass Tim had the night before look so good------I tried it.
What a dish--the food here was so good.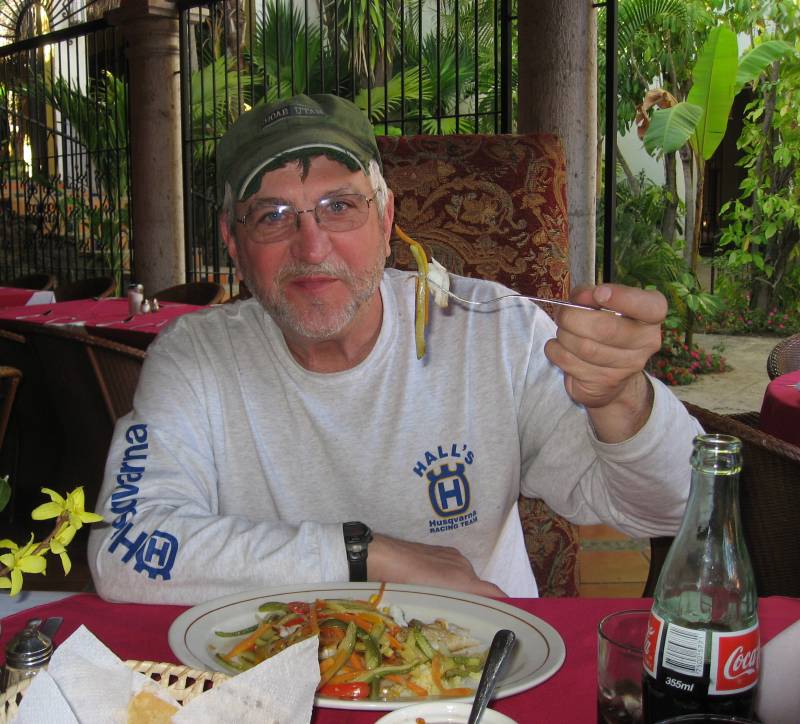 Tim destroyed these lobsters
Looks like stinky ole' crawdads to me.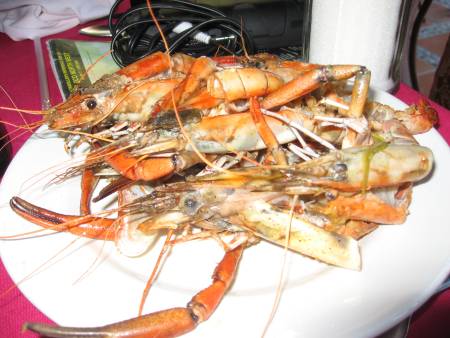 Pancho Francisco
You can tell by looking at this guy that he was a hoot.
I'll never forget him---or Christian.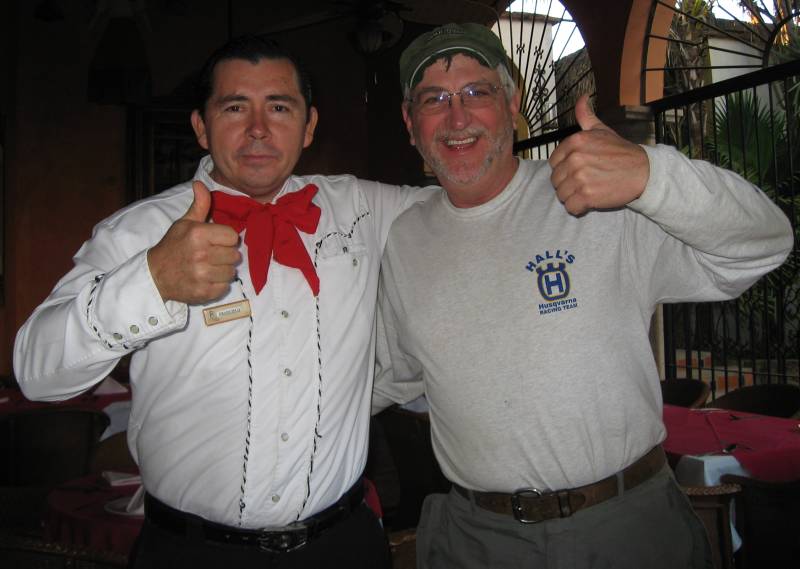 The sun set from our balcony view--we did not want to leave and both of us
wished our girls were here with us.
But I'm sure after a few miles of rocks, mud, potholes and dust they'd want
to click their heels together and be back in Kansas !!!!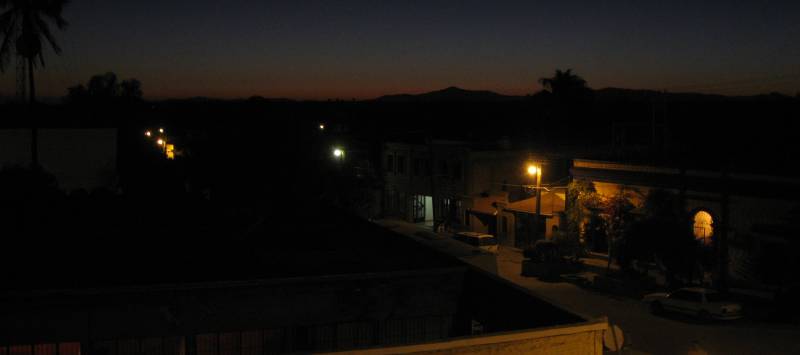 This huge thing was by the pool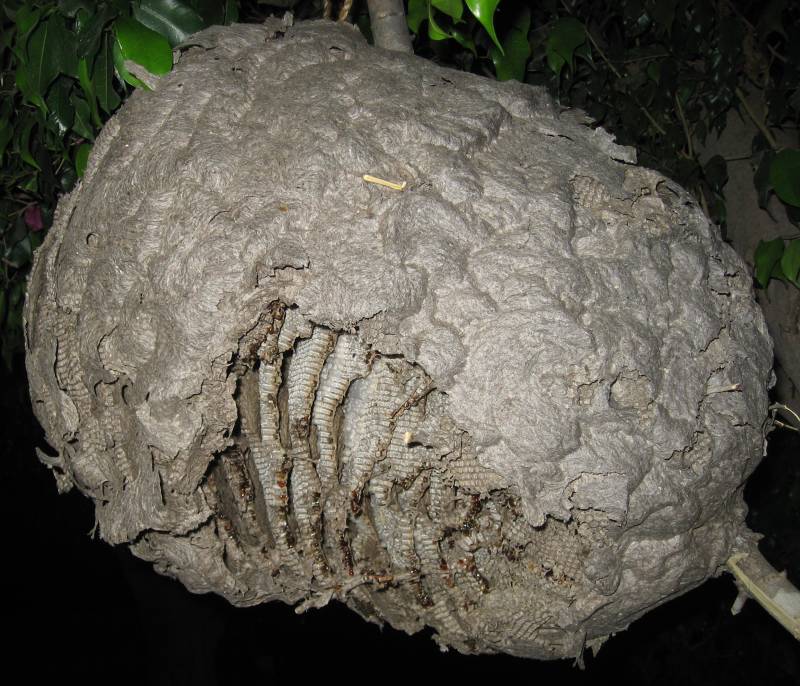 Day 5 Feb. 18th, 2008
El Fuerte To Urique
For years I've heard of stories of adventure riders crossing the Lake Huites on a ferry.
Was the ferry running today ???? Was I at the right place ???
Me and Tim climbed up on a hill where we could see the other side plainly.
We saw no ferry anywhere----we waited patiently and listened and watched for a boat.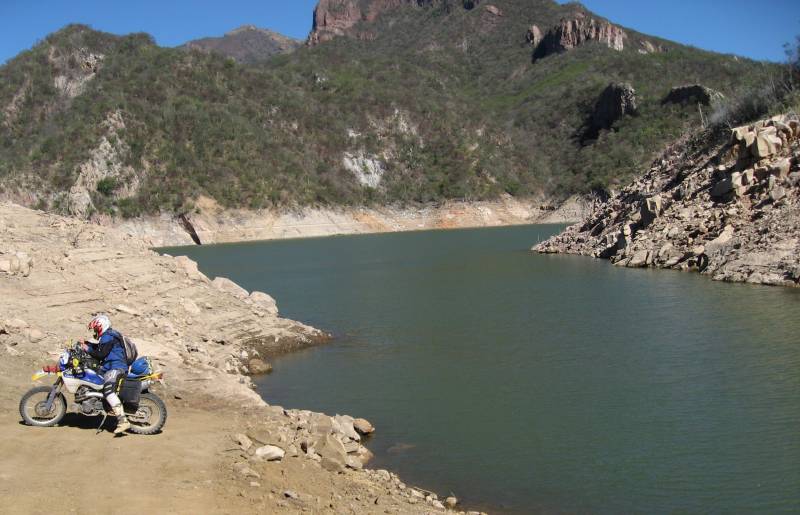 There were fresh tire tracks that just went right into the lake--so I figured this had to be the place.
There was nobody to ask as we were the only two souls waiting on the South side.
This is actually a damned up river--they make hyroelectric power a 100 miles downstream from hear I was told.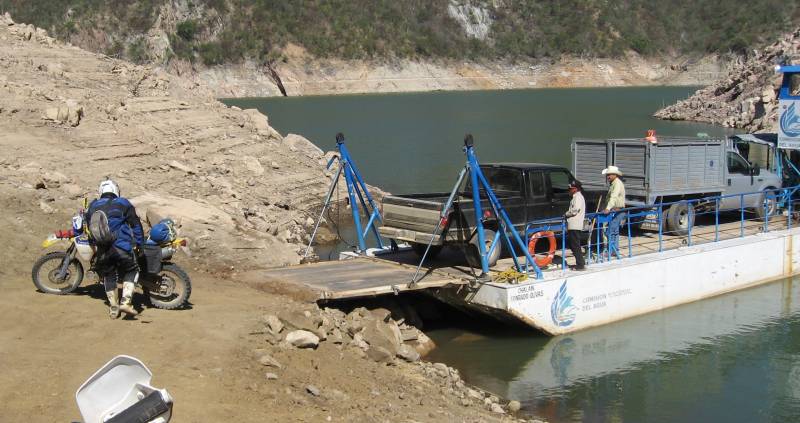 Stupid me------I lost my camera here----the funny thing about that is when we got home Tim called me at home
and told me he found it ???? What ??????????? You found it ?????
It's plainly in this picture on the ground---just to the right of the left big blue steel pole.
It was plainly visible in the full size picture I have when I zoomed in on it--although
it's barely visible in this picture---but I know exactly where to look.
Tim was intent on finding it------and he did.
So now you know the "Rest of the story"
as to how Tim got to be head (and only) cameraman.
This is also why I am in most of the pictures as he took pictures of me
and I took pictures of him.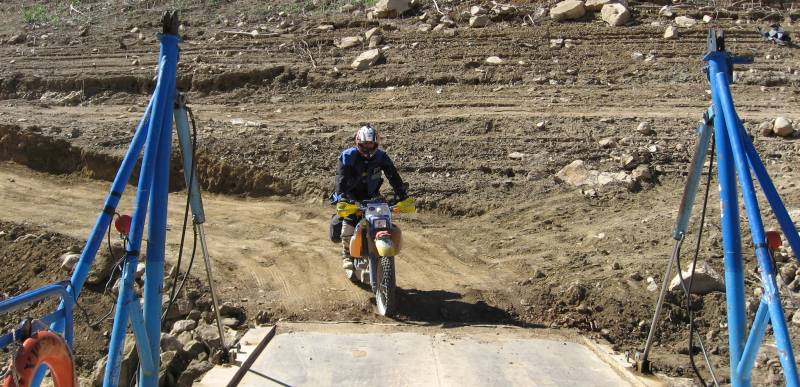 I loved the ferry ride-----it goes miles up river and is a 40 minute ride. We rode thru landscape that seemed
untouched by humans. Seems I'm gettin' kind of mooshy anymore------I actually shed a tear crossing here.
This happened 3 times on this trip.
It was just so beautiful--and we got to do something I've only dreamed about and never thought would actually happen.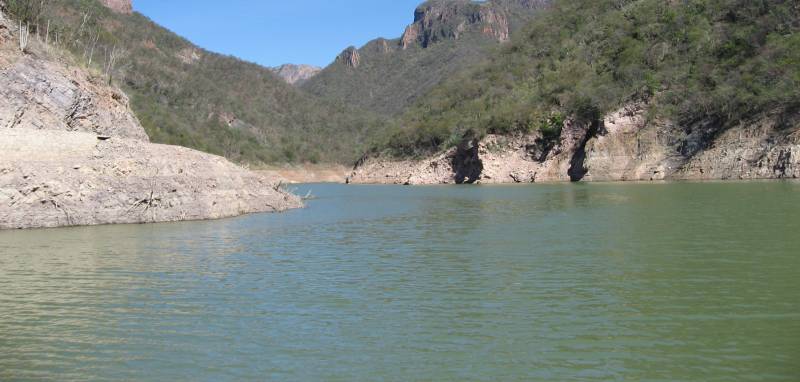 More South of the border tires----look how they are chewed up from the rough rocky roads.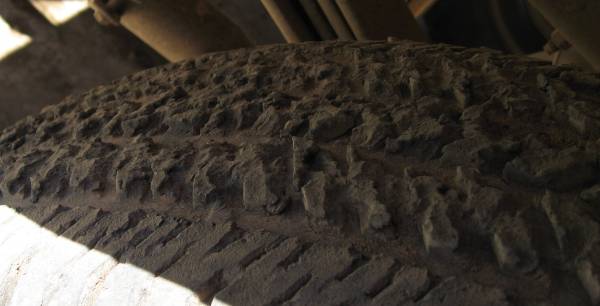 We climbed the mountains to the North-----clawing our way up steep grades past the town of La Reforma towards Cienaquita.
We climbed to 8,000 ft. -----as we did on most days of this ride.
The weather was perfect everyday.
This is my 4 trip to Mexico and I've only seen it rain one time. But I go in the dry season.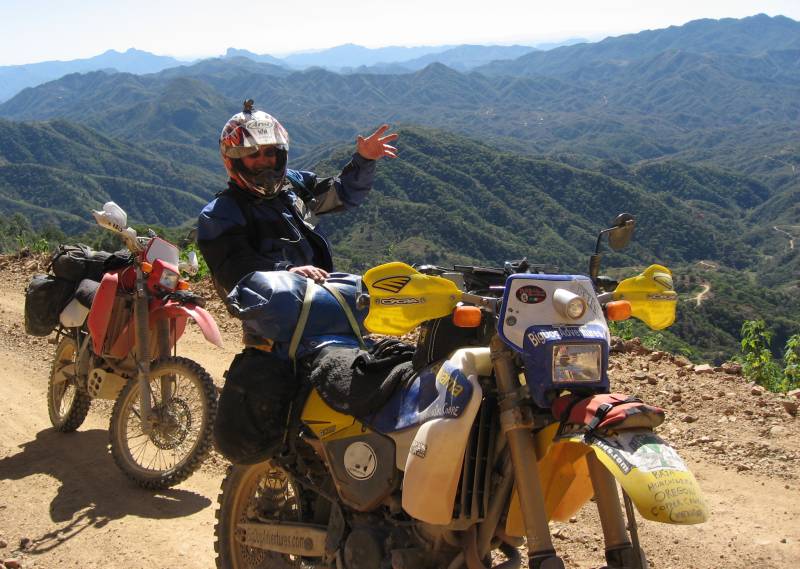 You can plainly see my helmet camera here------I've got some great video of all the places we went.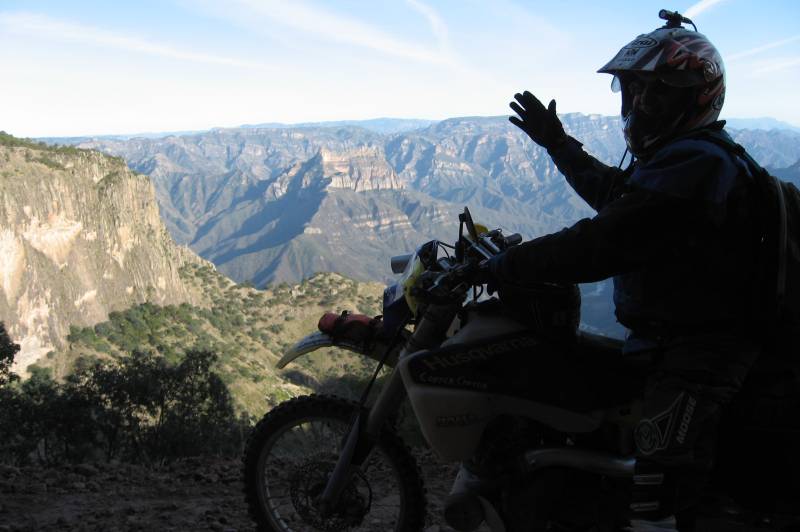 Tarahamara Indian house along the road going down into the small village of Urique.
"Honey--would you fix that board---I feel a draft"
"Quit your complaining---be thankful we have a "Rock" over our heads"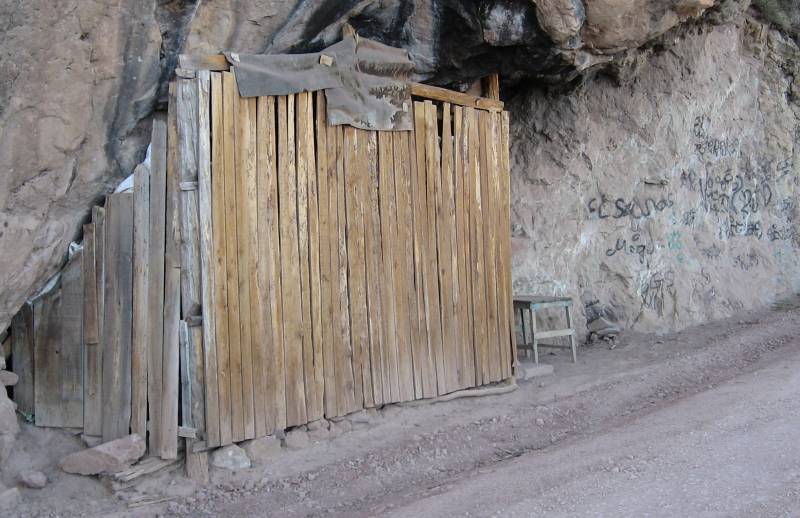 Below is the small village of Urique where we'll spend the night.
The sun is going down----again----imagine that.
Another full day of riding.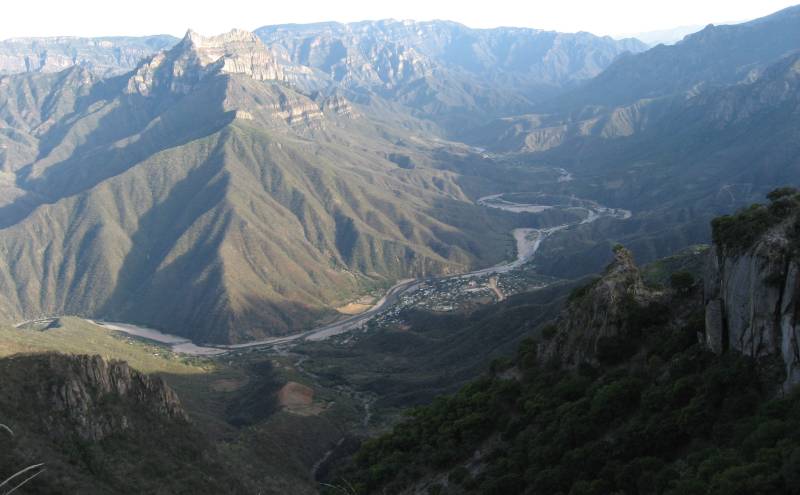 These welcome signs just make me feel so.....................well.....welcome.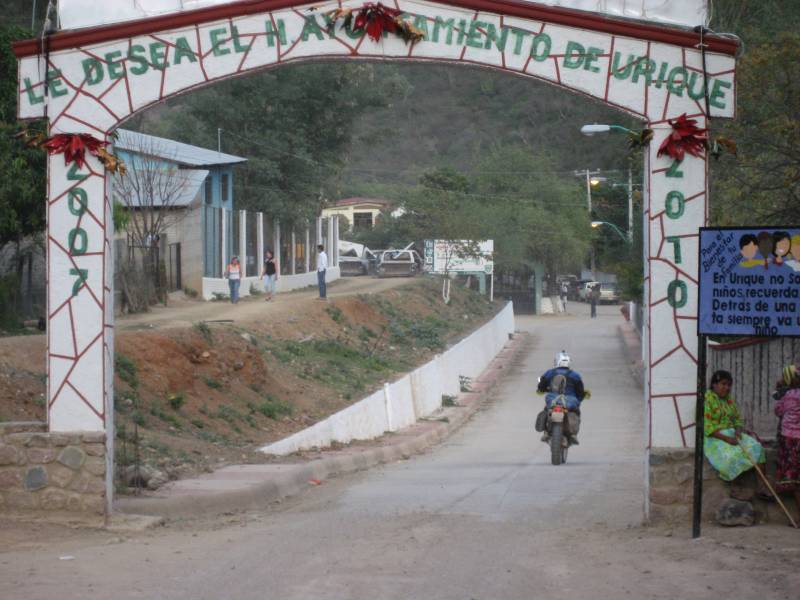 We parked the bikes outside our luxurious accomodations at the "Hotel Estrella"
and ate at the "Restaurante Estrella"
They have pump gas here now-----didn't have it 4 years ago.
We bought gas out of a 4 gallon anti-freeze can......and was glad to get it.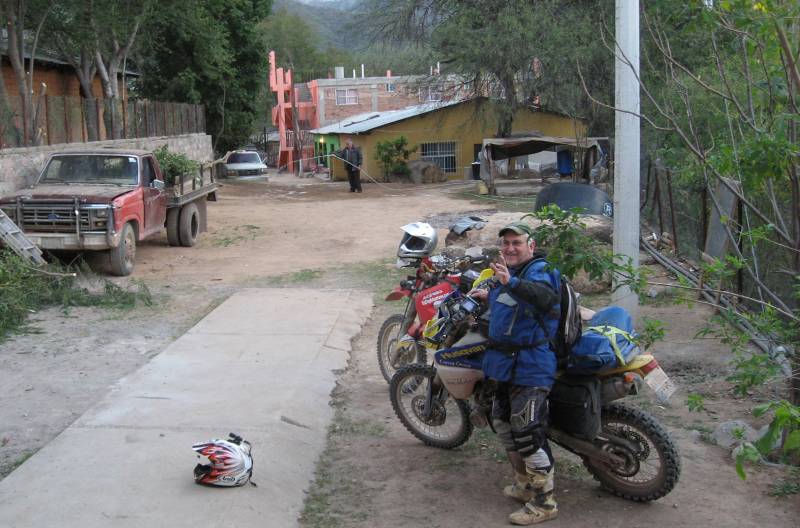 Now I know why there flapjacks are so thin !!!!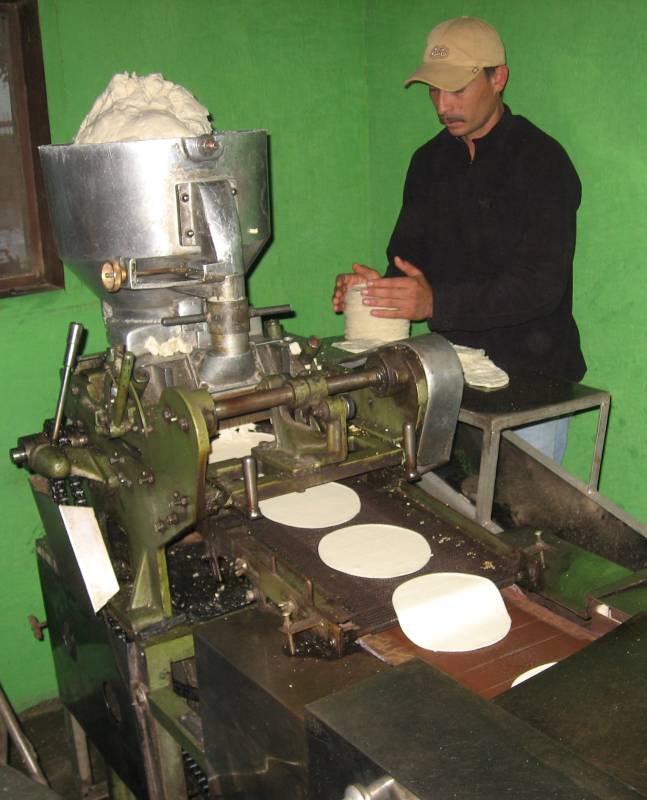 Met so many nice helpful people we lost count.
This guy was from Australia and seem to be carrying only a guitar--a nice one.
Me and him played just alike--new the same songs and had some of the same
electric guitars back at home.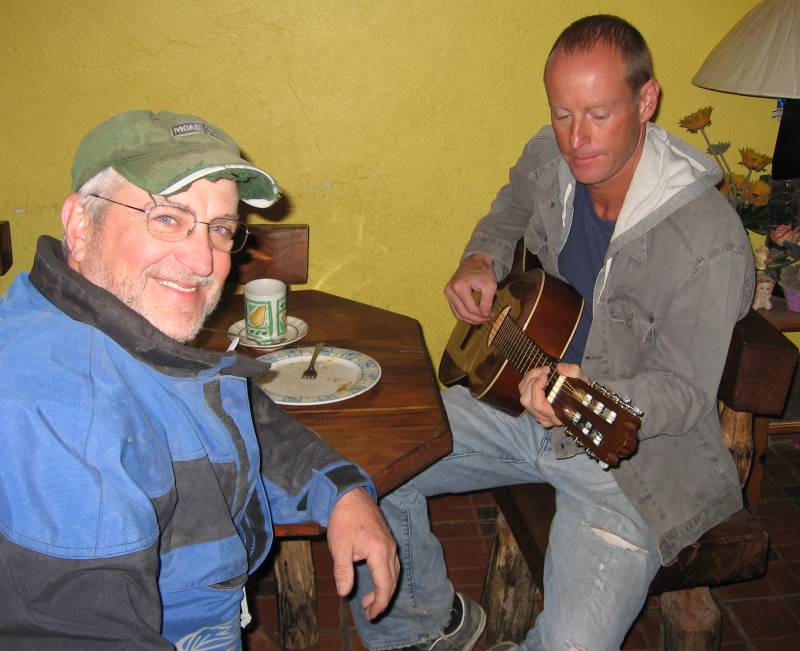 Give me that thing I'll show you how to play Stairway to Heaven.
I didn't have to show him nothing---he was very good.
Tim figured I'd probably start singing and got out of there while the gettin' was good !!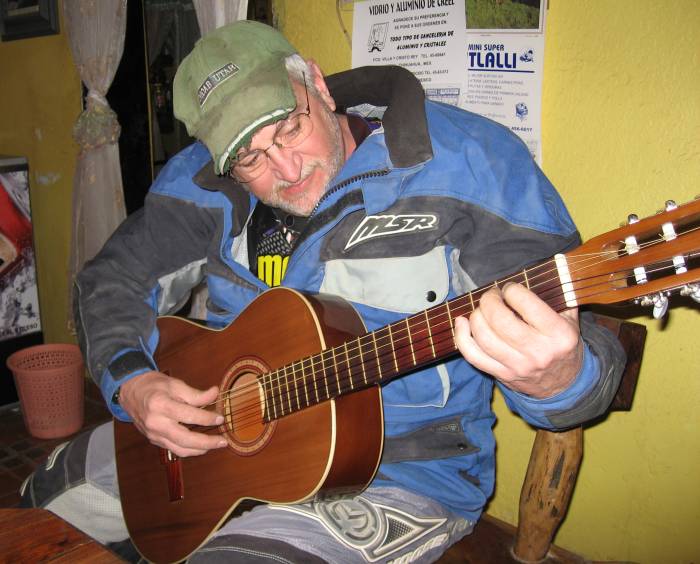 The Chicken Bus
When you get on this bus---you will ride with whatever anybody brings on board.
Whether it be a pig, goat or Chicken.
Get in---sit down--and shut up.
Baahhh---oink------cocka--doodle---doo----"and I'm buying
a stairway to.........heaven" !!!
The fellow from Australia got on the chicken bus and we never saw him again.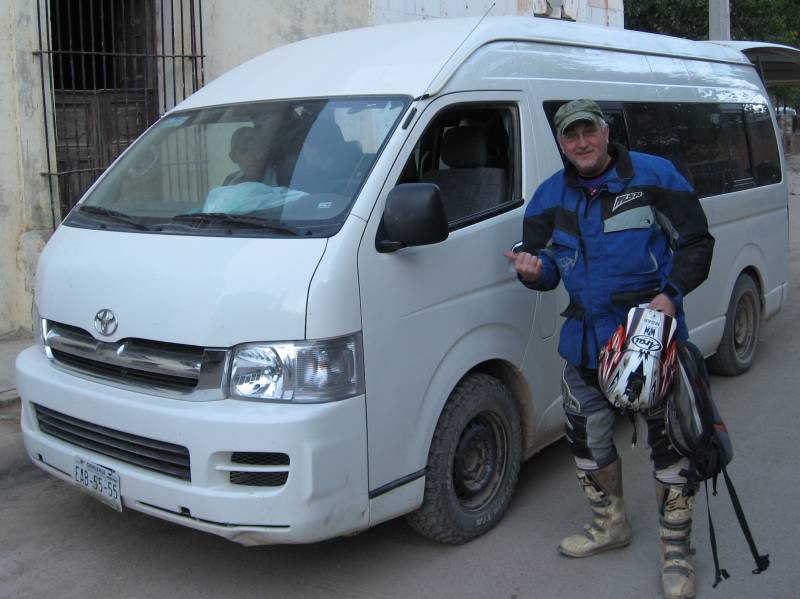 I'll never forget this little fellow.
He ran up to me smiling------"buenos noches amigo" he said.
He had an almost empty bag of corn chips....and offered to share them with me.
Only on.........."The road less traveled"........in Mexico.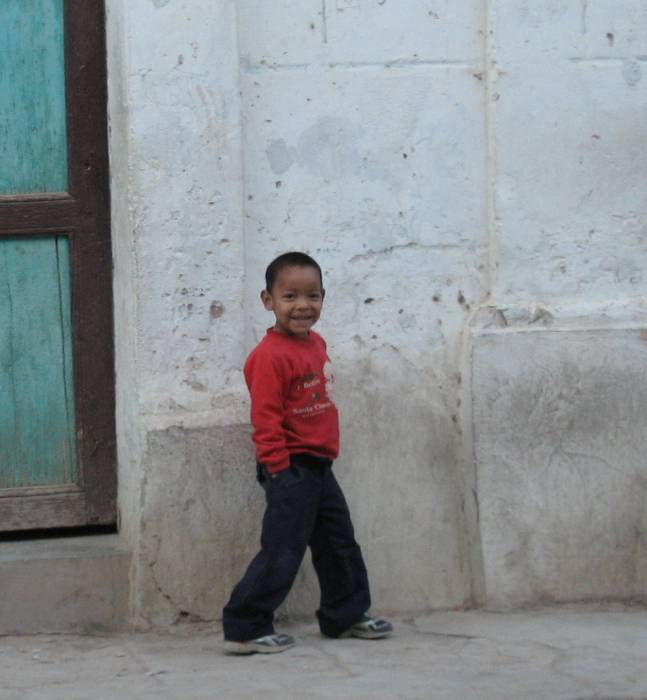 Day 6 Feb. 19th, 2008
Urique To Chinipas
We got an early start and said goodbye to Urique and Jose Quintana....owner of the motel and restaurante.
We rode North thru Cerocahui--thru the tunnel just out of town.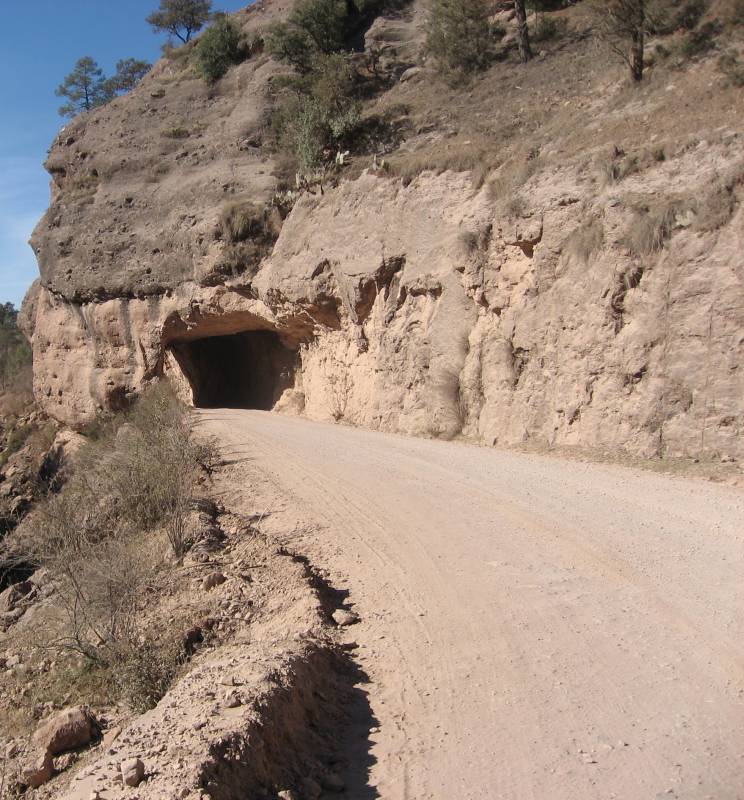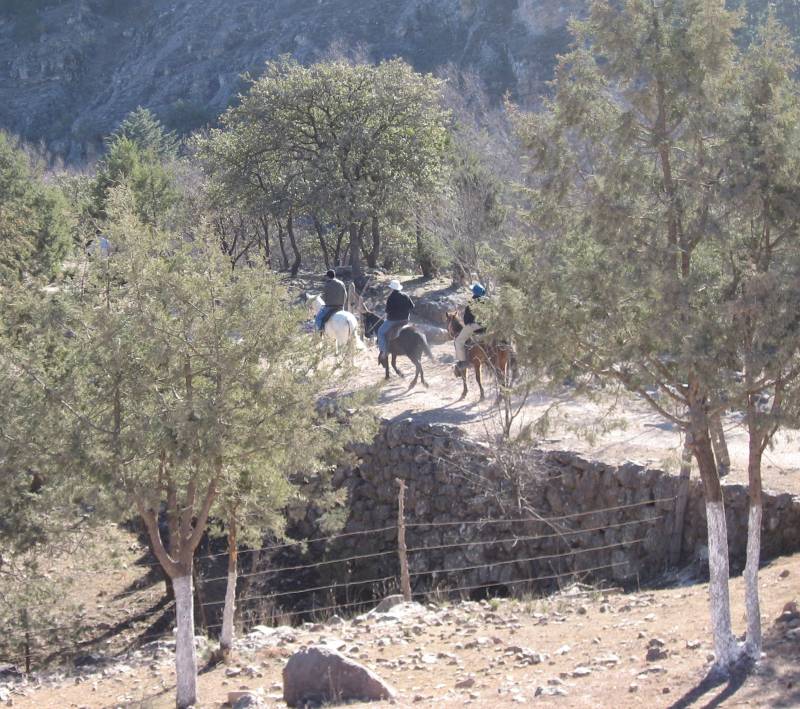 I've seen so many old kilns in my travels in the U.S.---but have never saw one in Mexico
nor........I have ever seen one fired up and working.
Only on...........
The Road Less Traveled in Mexico
This was on our way to Temoris--going West from Bauchivo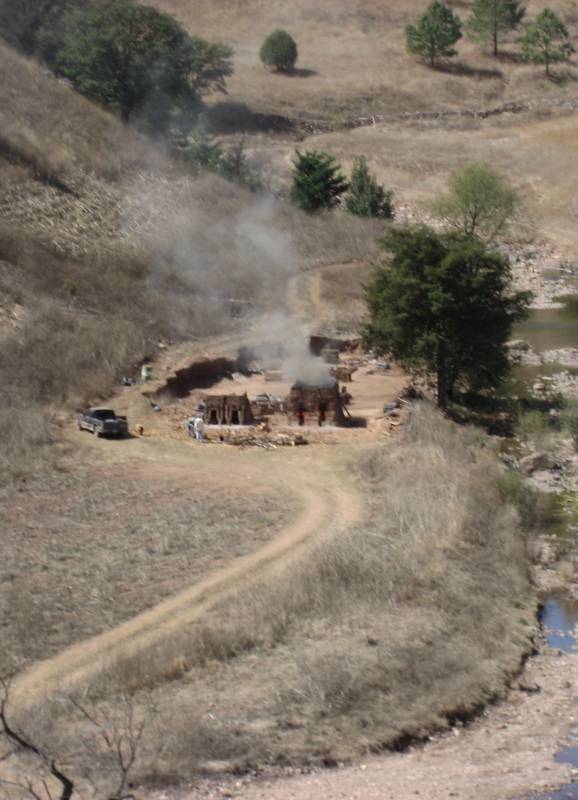 I took Tim down to the train station South of Temoris.
It's a fantastic 12 mile ride down to the bottom of the canyon.
You can see a tunnel here where the train goes in the mountain--drops several hundred feet of elevation
and makes a 180° turn in the mountain--this to me is one of the most amazing feets man
has accomplished on this earth. It is beyond my mind how they built this railroad in this terrain
so many years ago.

This guy will never get a ride.
"Hey I brought 2 pair of socks----guess I should have got the second pair out--I never did".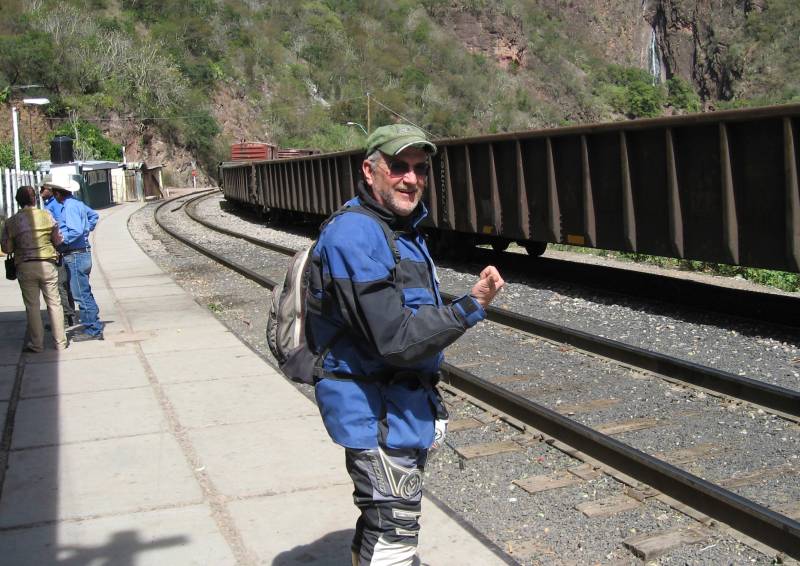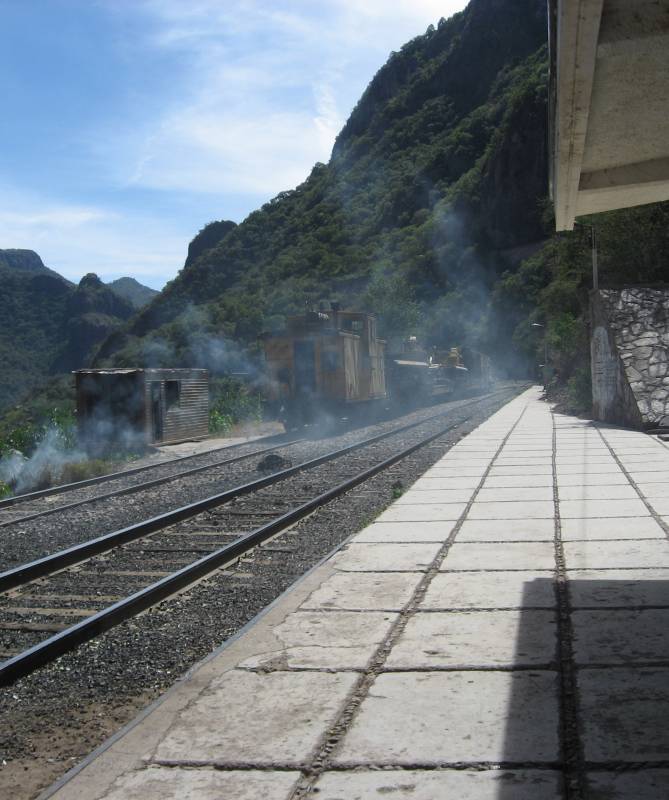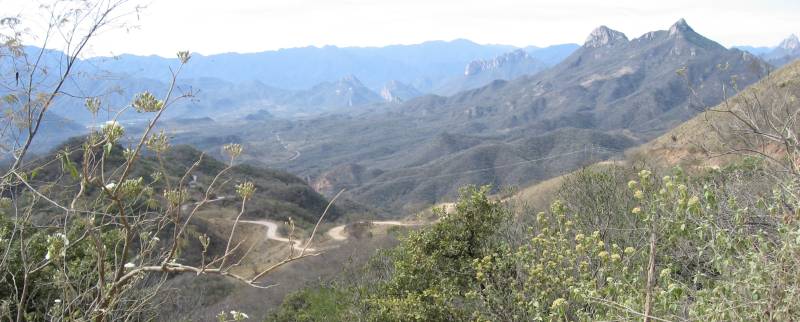 We rode into one of my personal favorite towns in all of Mexico.
Fine accomodations----and food. Nice people and a river crossing that just gives me
goose bumps because it is so beautiful here.
Are bikes were escorted into the inner courtyard--and we got a room for one and a half.
The half (me) had to sleep on an old army cot---best night of sleep I ever had.
I had a tarp for backup.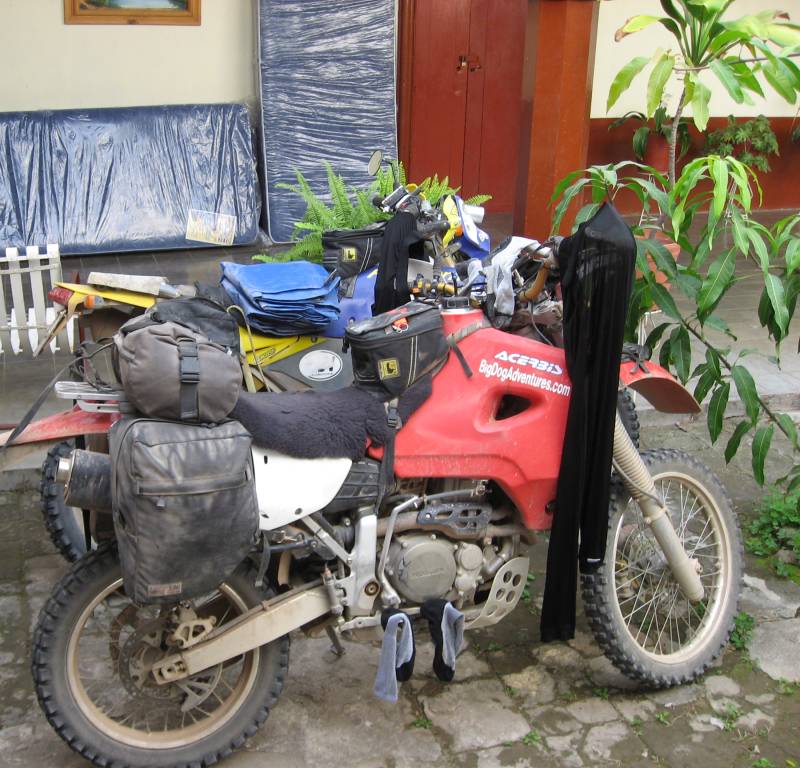 Dinner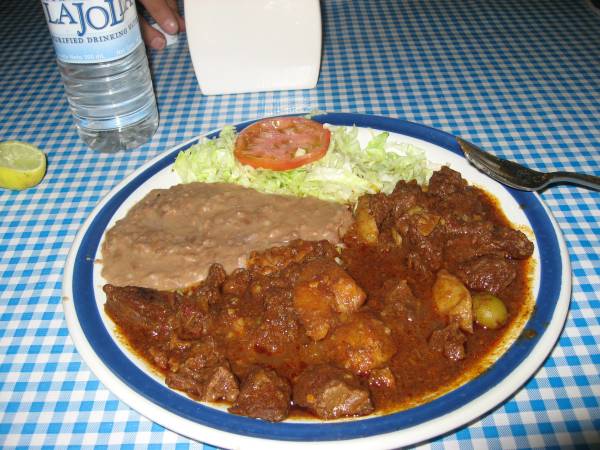 You never know what side the hot is on in Mexico usually.
However this was 5 star accomodations.
We had a toilet seat on the toilet--the flush handle was actually connected to something,
there was a 1/2 roll of toilet paper, the lavatory was connected to the wall (kinda)
and it was a no-brainer which side the hot was on.......if you could read Spanish.
And in the toilet was this amazing device that actually put the water
in the tank------automatically !!! I was very pleased to say the least.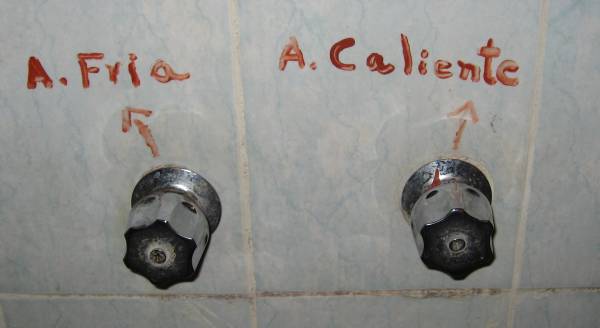 One wall of our motel room didn't go all the way to the ceiling.
On the other side was a Tienda (store).
There was much business going on in the Tienda and noise.
This didn't bother me or Tim at all and we went out as soon as our
pretty little heads hit the pillow.
Breakfast at Rosa's fine restaurant.
The thinnest flapjacks in all of Mexico.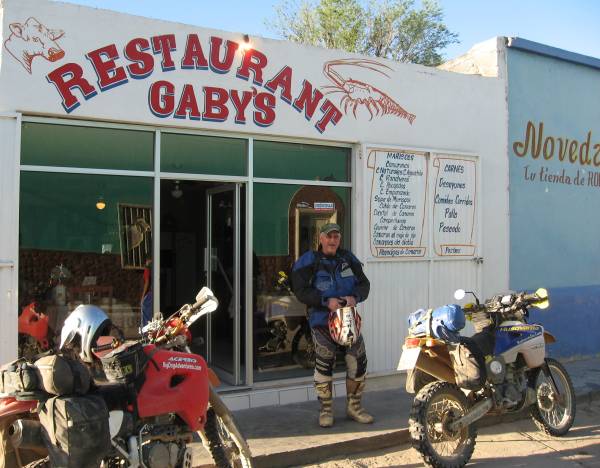 Day 7 Feb. 20th, 2008
Chinipas To Urauachi
After crossing the Chinipas river where we did---you can go North a little bit and there is this magnificent
walking suspension bridge built a very long time ago---it's in great shape and has been used by the occasional
adventure rider---although the signs discourage this.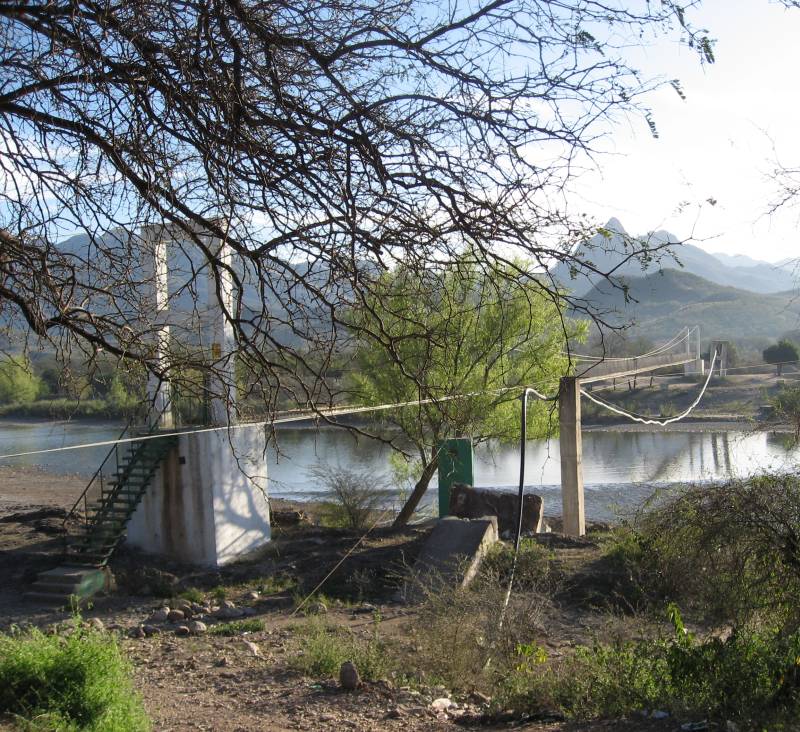 I'm now on new turf--the both of us. I was in much anticipation of riding this route North many miles
and finally ending up in Uruachi. There is no talk or need to pave these roads.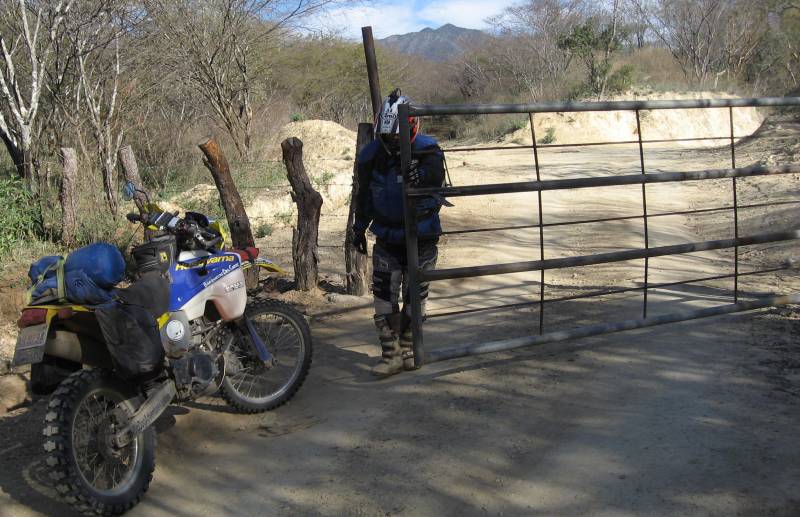 If Moose don't get my check in the mail---I may have to go to
some cheap E-bay closeout stuff.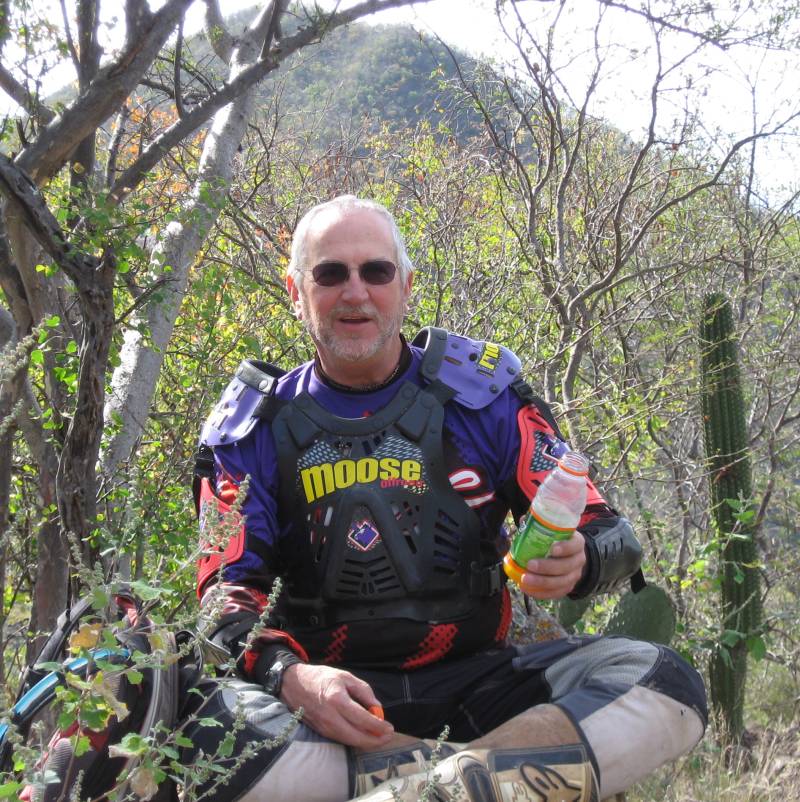 Must have been some very spotty showers here last night.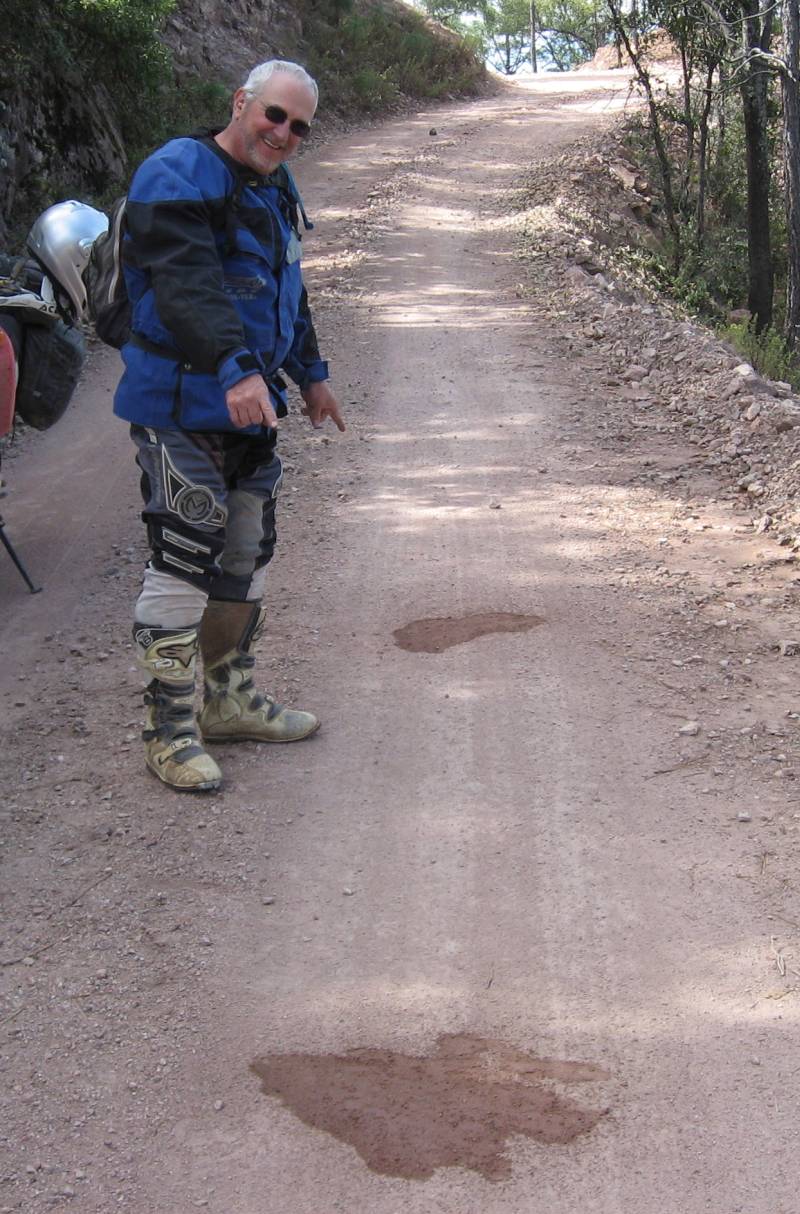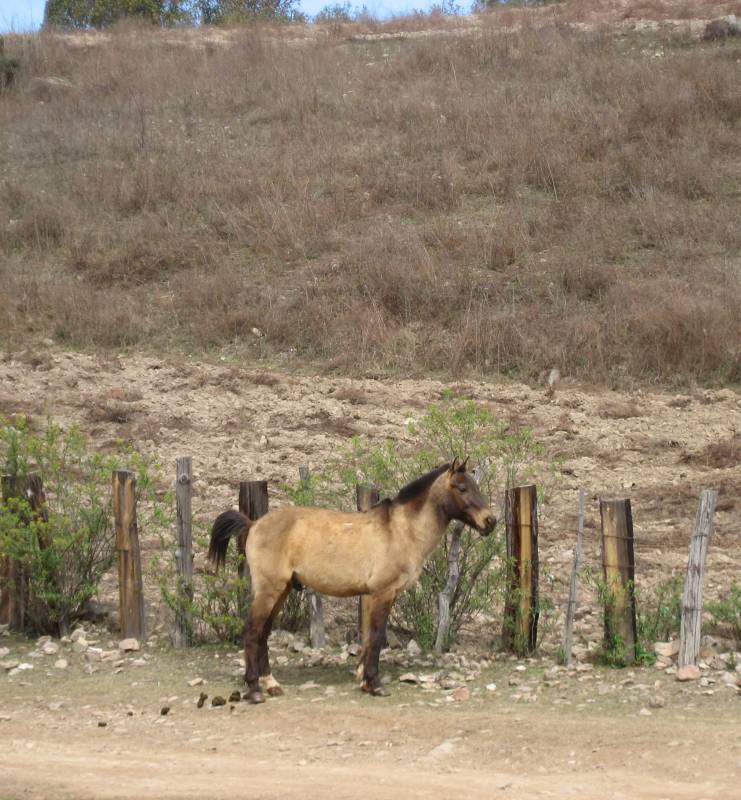 This is a magnificent ride-----and I encourage you to ride it and forget the madening crowds and traffic
forming at Batopilas, Creel and Urique.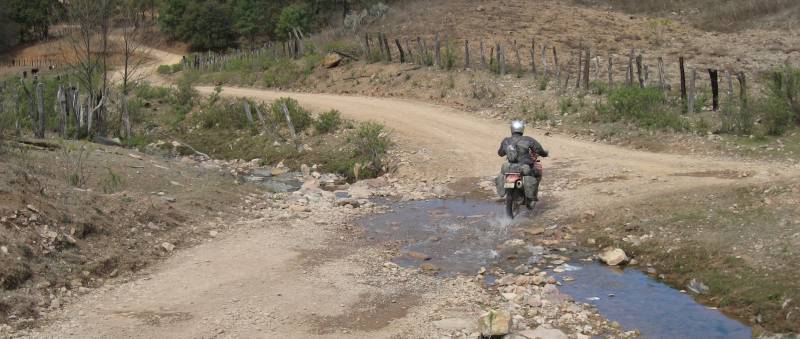 This town isn't on any map----not even on my gps Bicimapas.
No electricity here at all-----we had a snack at this Tienda and the people here were so friendly.
I sat down on the concrete in front of the store----a man who was pouring concrete stopped working
ran up to the store---ran inside and brought us out 2 chairs to sit in while we enjoyed our refresca's and snacks.
And watch them work.
Only on ..........."The Road Less Traveled"---in Mexico.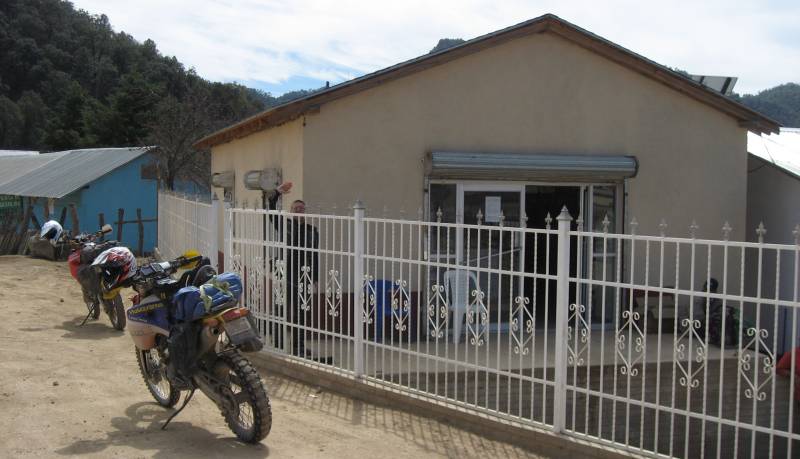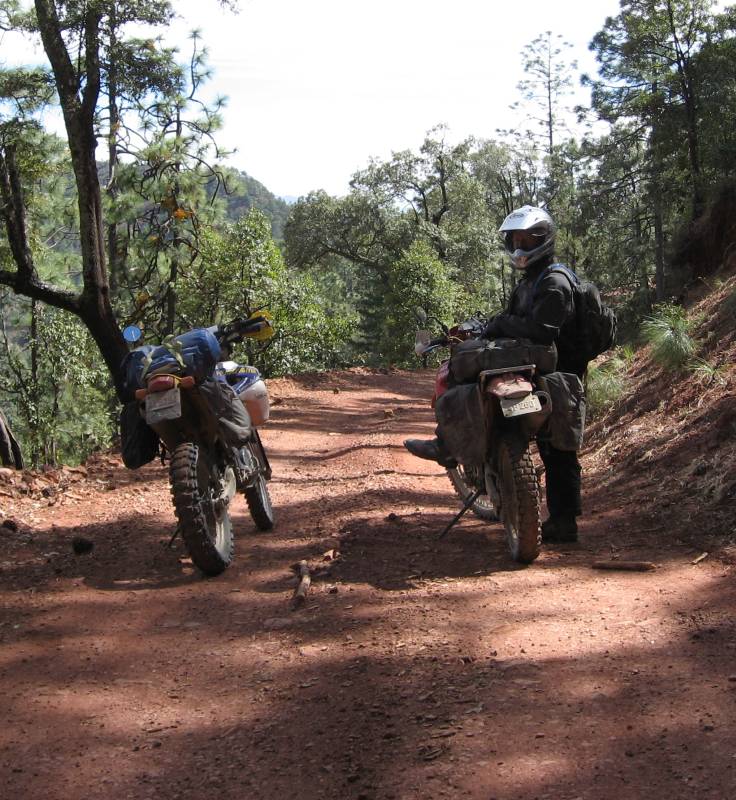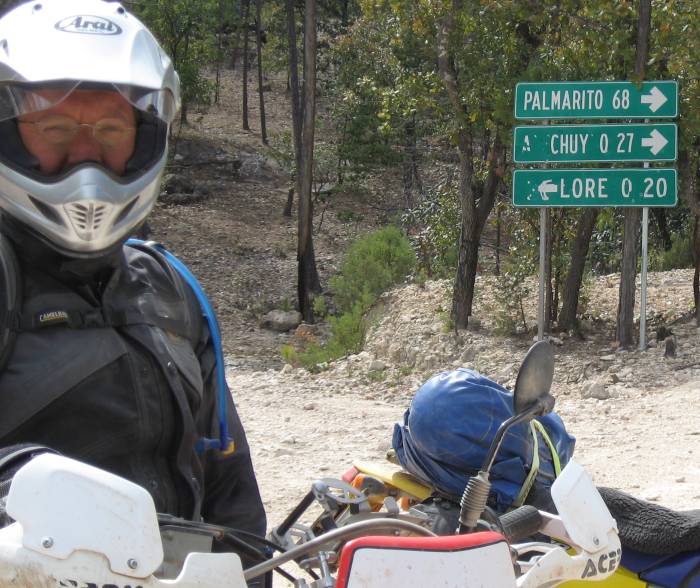 "Yes dear------I've got that load in the dryer already"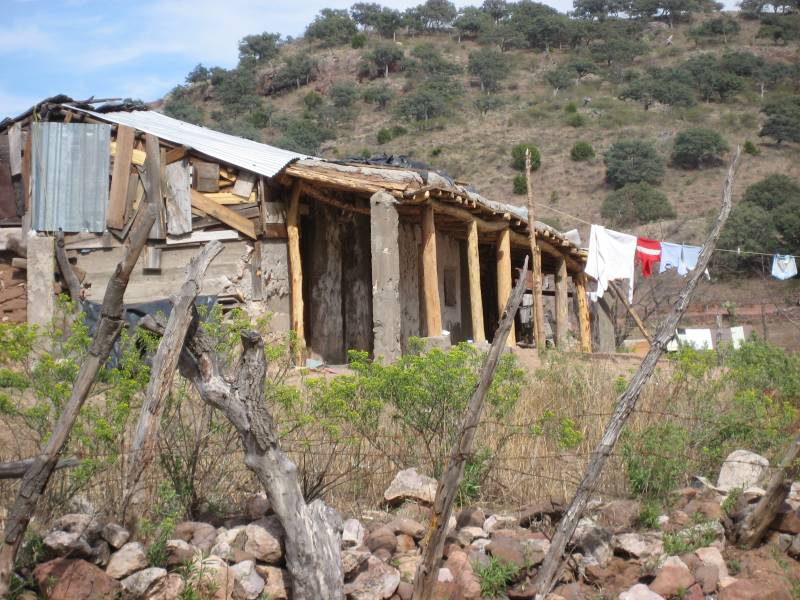 I saw this and just absolutely laughed out loud-------and wondered ????
How'd they know we were coming ???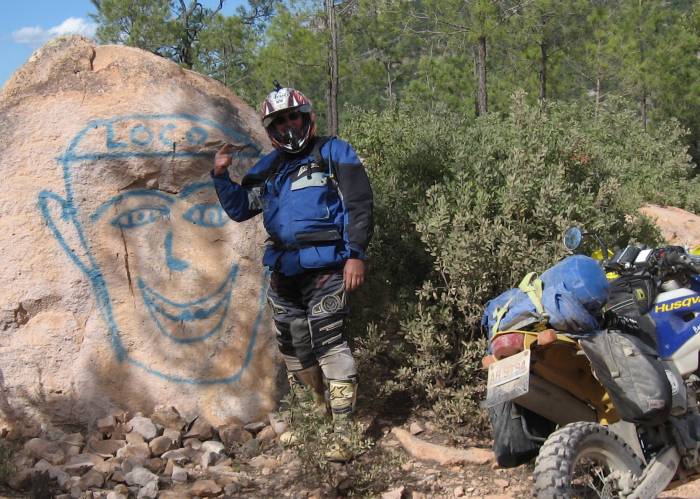 I had google earthed a route that seemed spectacular.
It was a shortcut thru some beautiful terrain that would allow us to skip
the boring rough graded dirt and rock road. It was not to be and dead ended at a cliff
right after we went thru a ranch an opened a couple of gates. Dang--it !! I hate to turn back.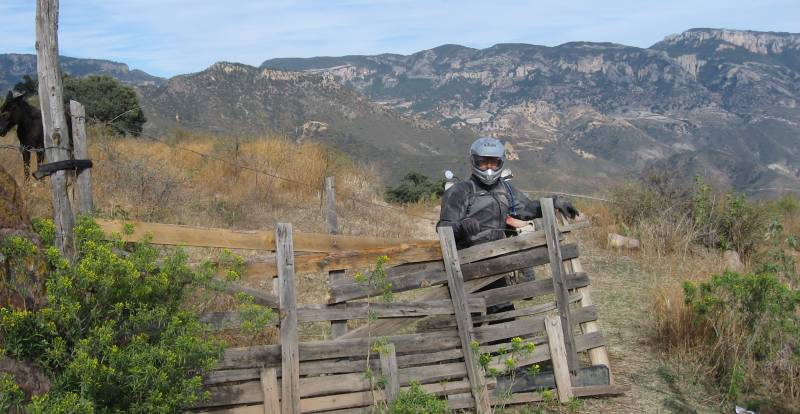 The road leading down into Uruachi---the easy way.

This nice man filled up our gas tanks----everyday I would lead us to gas at the end of the day
so we didn't have to search for gas in the morning. We did the same with food-----then if we wanted to
head out at daybreak we didn't have to depend or wait on anybody.
Don't think I was in a hurry.......well I guess I was.............to go riding.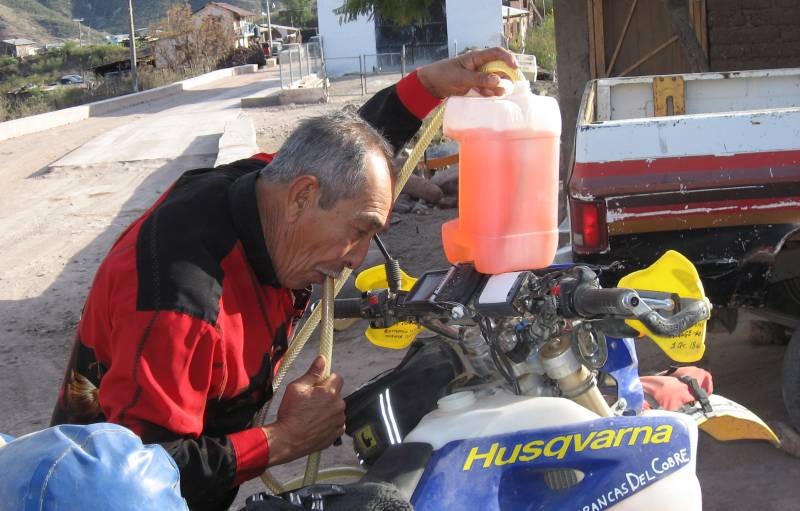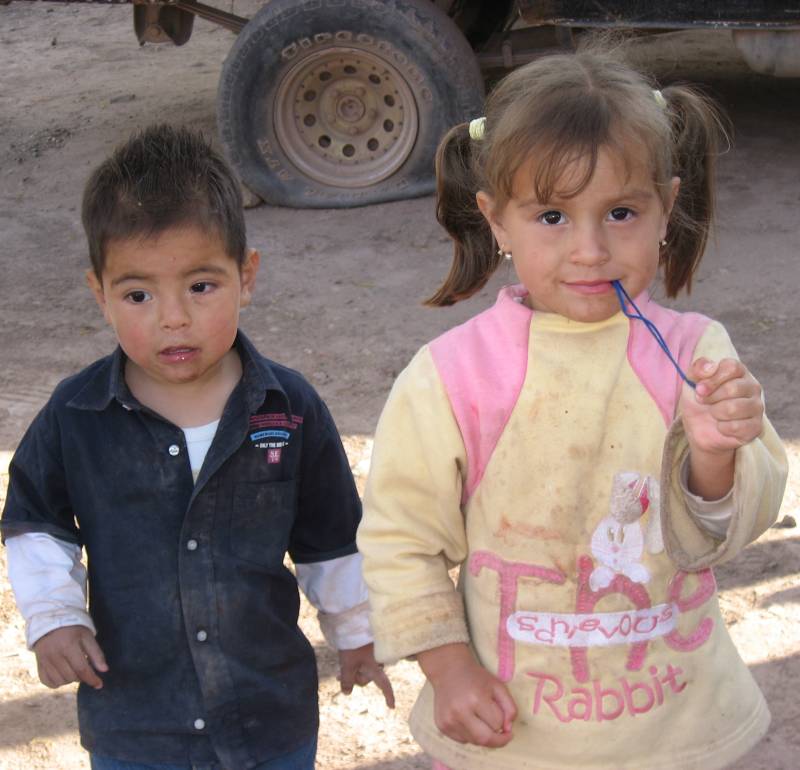 My wife has left------she is heading to Uruachi to steal this little boy.
You better watch yer kids when my wife is around----dang, I wish that son of
mine would give her some grandchildren-----she's very desperate.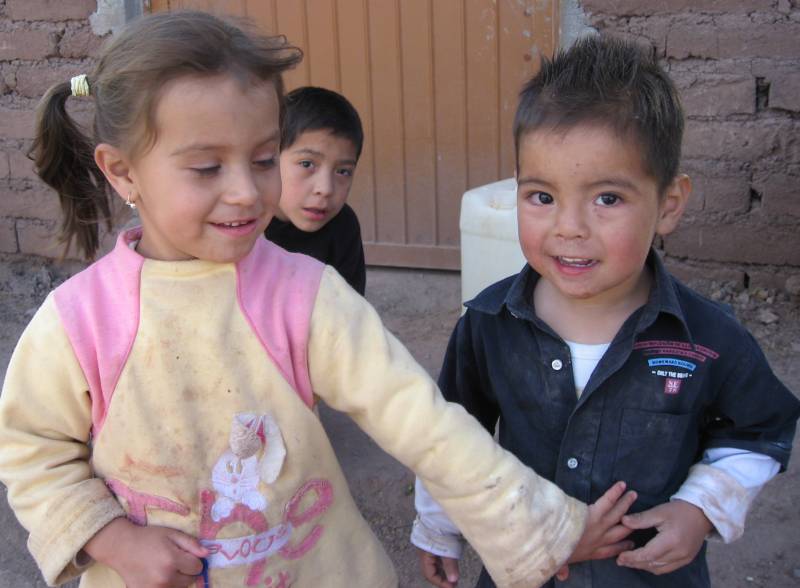 Maybe---------naw---I'm not going there.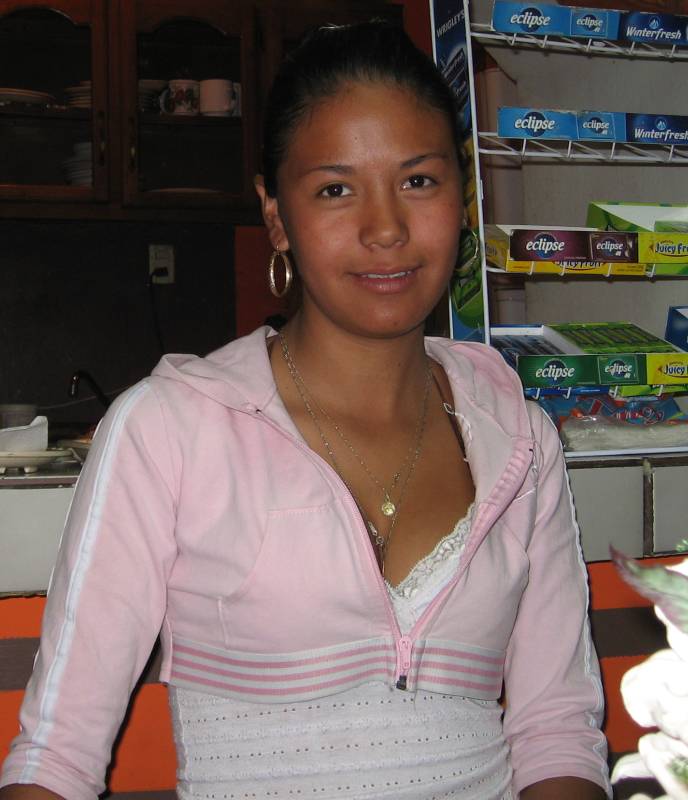 We stayed at the LoLo motel-----or was that Loco ?????
The nice lady above and below fixed us the nicest meal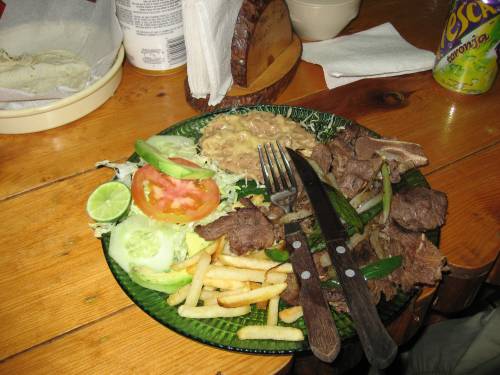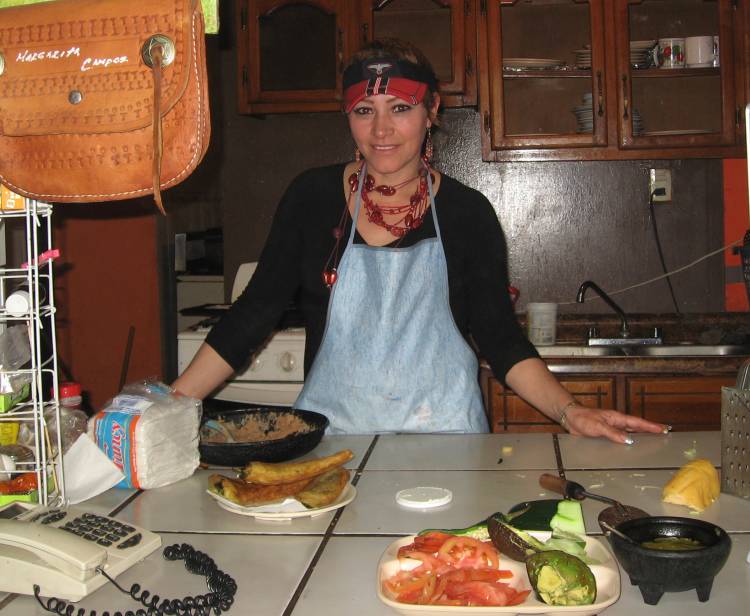 $200 pesos ($20) at the LoLo
Our room had a clothes dryer (this picture) and washer (shower).
We watched my helmet cam footage on the TV---as it had no channels at all--not a bad thing.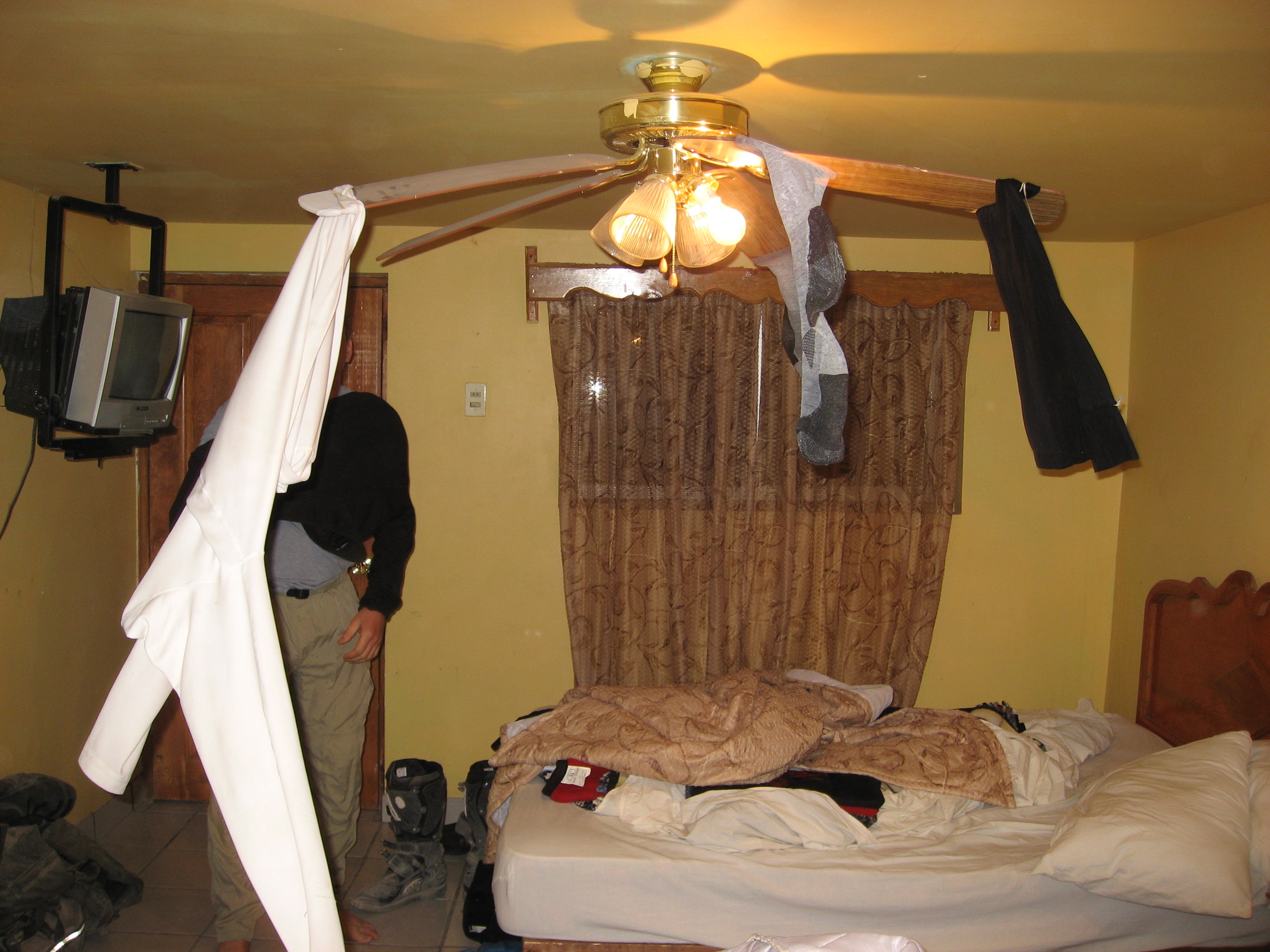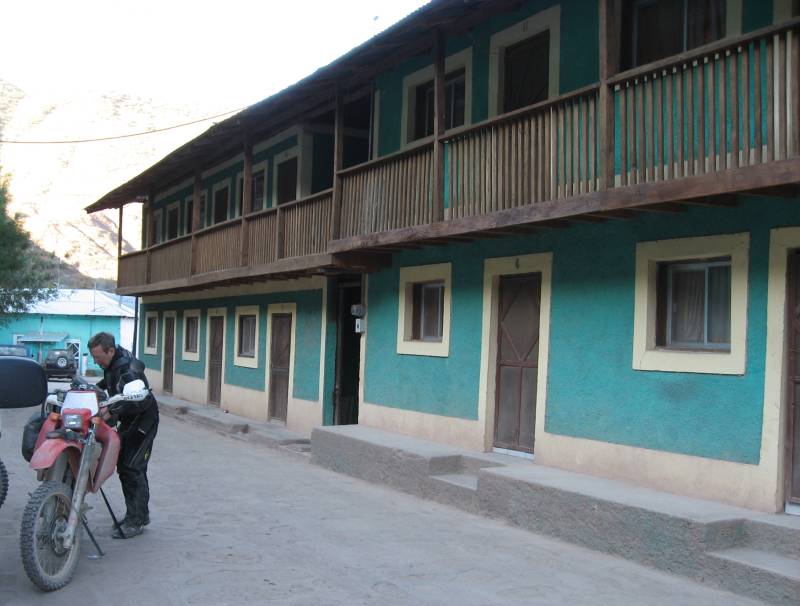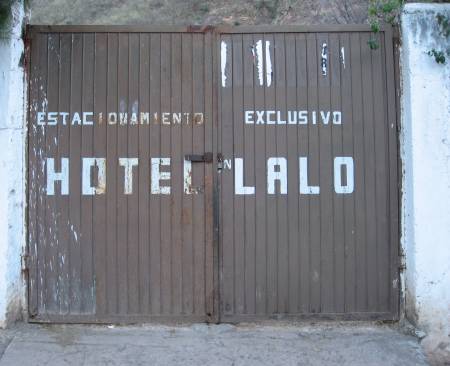 Right out back of our room---I took this picture.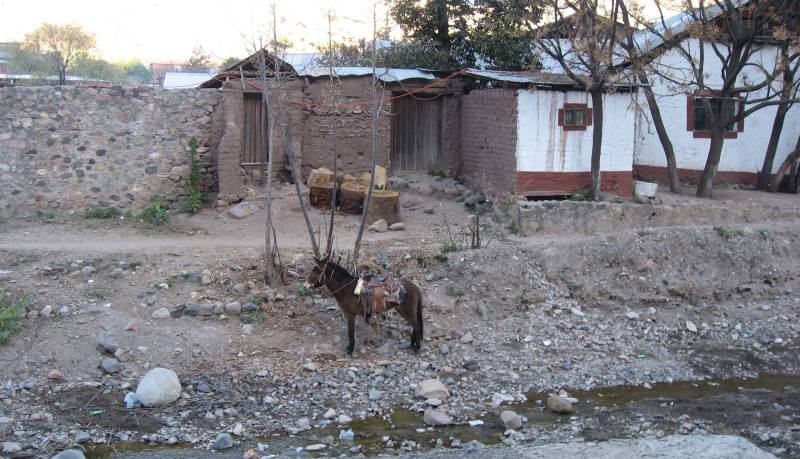 Day 8 Feb. 21st, 2008
Urachi To Creel
My favorite day in Mexico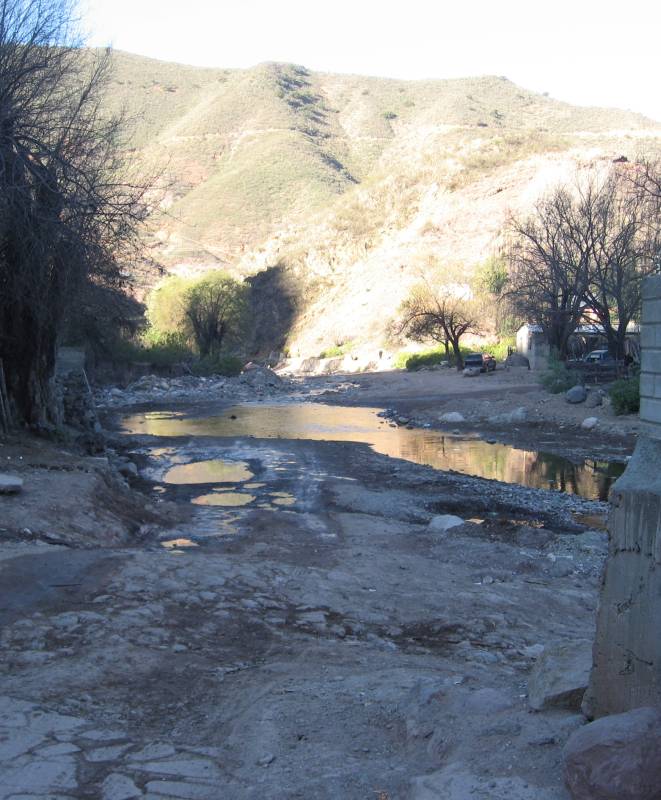 Me and the Pandilla (GasPipe, Ibarra, Lee Bob and others) had been to Marguarachi and had stopped and marveled
at the dirt road hanging on the side of the mountain--and where did it go while we rode another way?? This road has ate at all our hearts since
we rode there. Was there a road between Marguarichi and Uruachi ??? Was the river crossable ??? Were their 5
star Motels on the route ???? Good questions........all to be answered by Google Earth.
Much homework to be done--------I ran Google earth between these two towns for weeks--marveling at the terrain.
There was a dirt road------but would I need a Jack-Ass to get thru ??? or a 2-wheel drive Rokon where I go go anywhere.
I used about 30 longitude and latitude coordinates off Google Earth and made a route for my gps.
No maps showed at route thru here. But there was talk of one--and I finally found a guy who had rode it
on a Kawasaki KLX300--------Arturo (Tury) from the city of Chihauhau.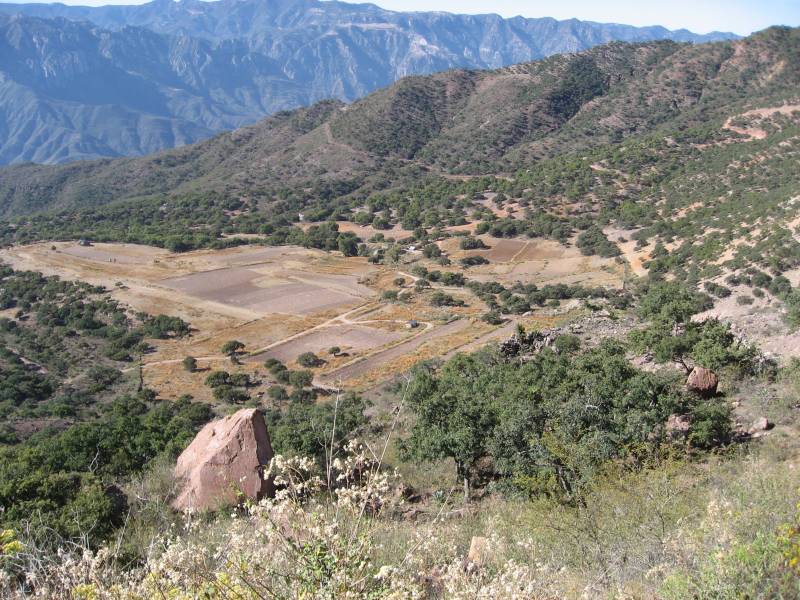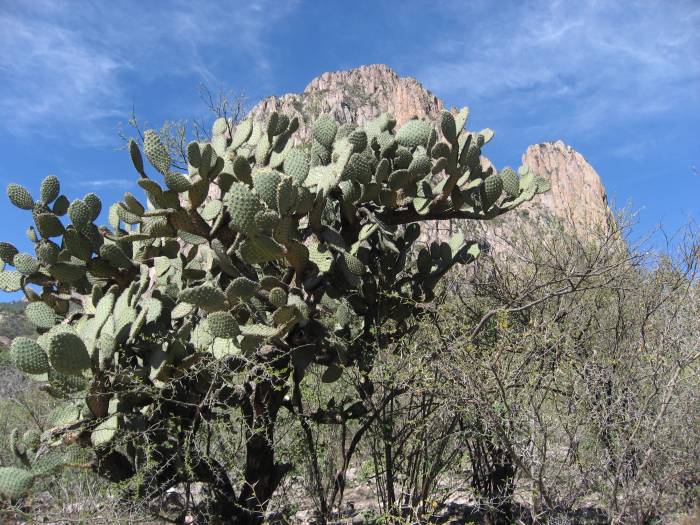 The osteros river had to be crossed------(pictured below)......looks easy from here...especially sitting home in your easy chair.
The water can be chest deep--------and be impossible to cross.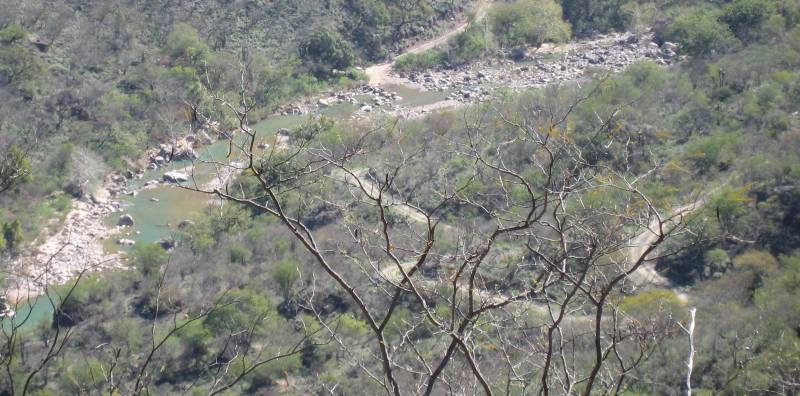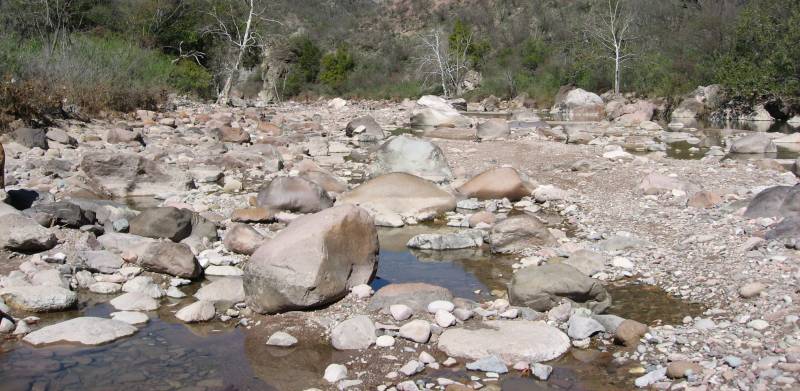 I knew it was the dry season-----Tim wanted to ride to the right of this picture--it was shallower--but had big rocks
that your wheels would fall between and stop you in your tracks------I cautioned him not to try it---even pushing the bikes.
I advised for both of us to push one bike at a time across in the deeper part-----letting the engine idling and doing some of the pushing.
We both got across without any problem although water was lapping at the low air intake of my trusty Husky.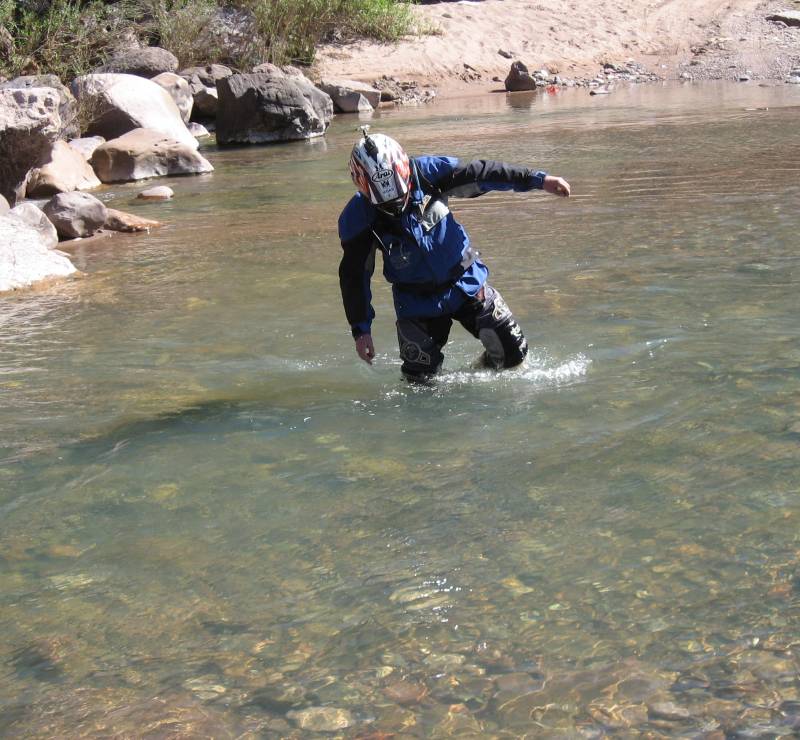 We got my bike across first----and I set my helmet camera up to video pushing Tim's bike across.
The second heartbreak of our ride-----my video card was full----crap--no video of this.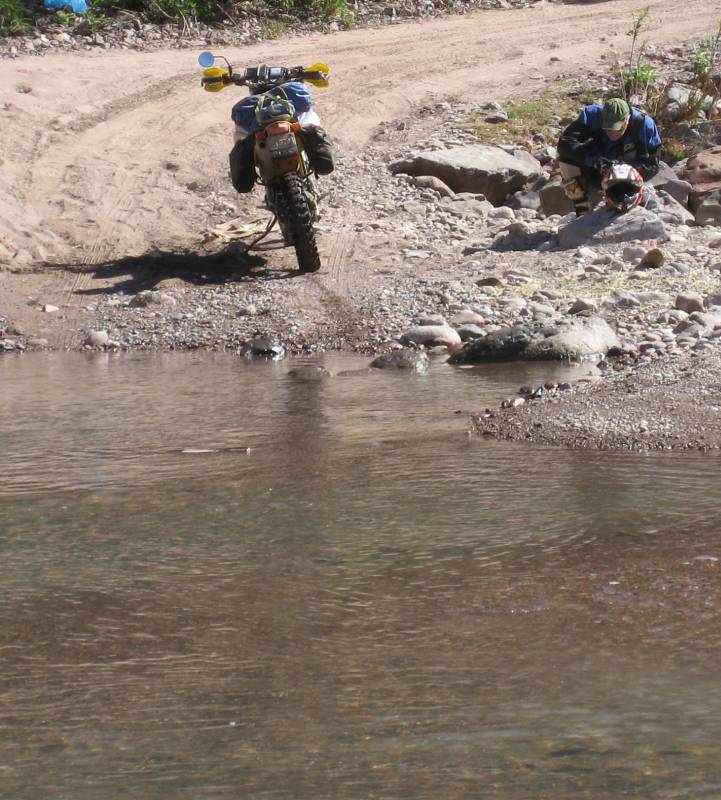 The riding here seemed to fulfill all my riding. It was just spectacular.
Knowing that not many went this way and we only saw one vehicle on the whole route made it even better.
This is the second time I would get all mushy and actually shed a tear----I'm not making this up !!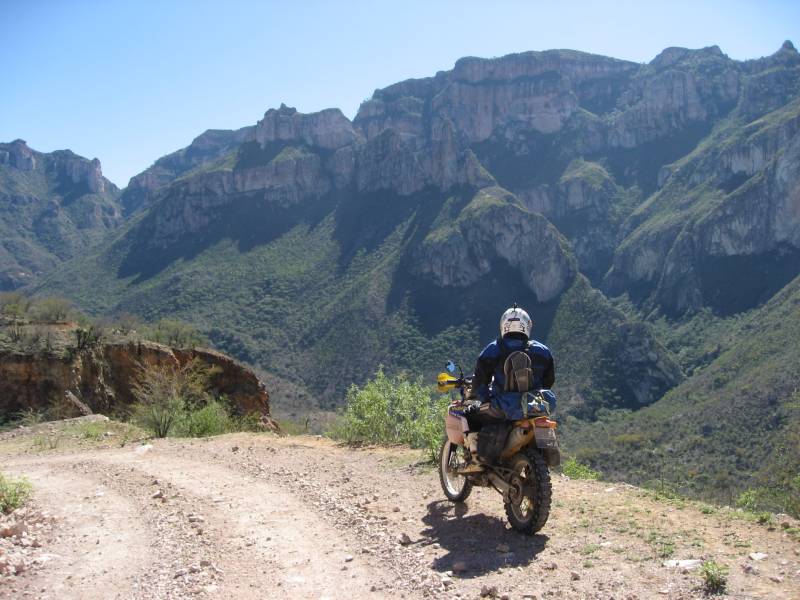 Tim's mouth was hanging open the whole day..
We just couldn't take it anymore-----"Lord---go ahead and take me--I'm ready..I am such a lucky and happy man--
I've had a great life---take me now--for' I get old and broken down and to feeble to ride"
Well the Lord decided he had a little more for me----and Tim heated us up some hot tea on his Jet-boil while we sat right here
and soaked it up for a half hour-----speechless.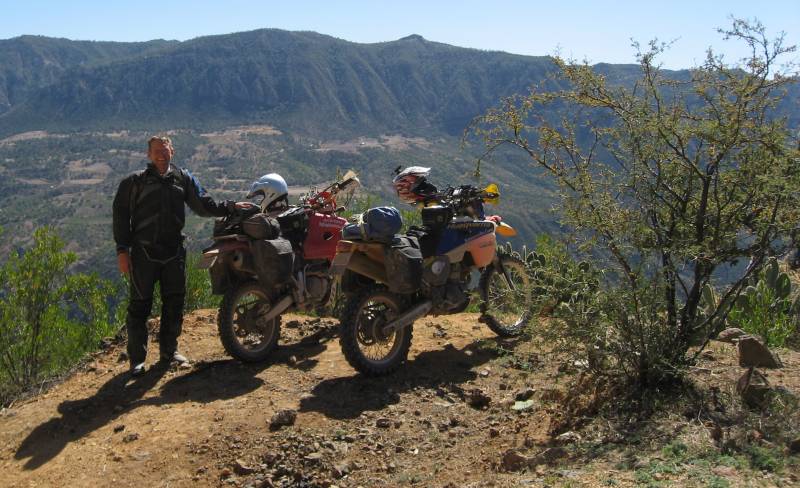 All this emotional stuff came to an abrupt hault as Tim poured the water out of
his smelly boots------back to reality !!!
I toughed it out and just rode with some really wet stinky feet.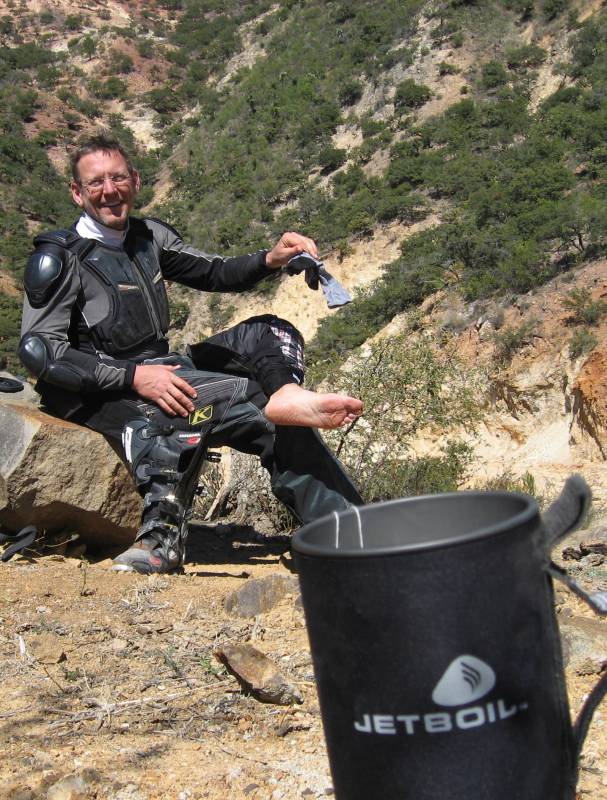 We blew into Marguarichi from the West and had a refresca and snack.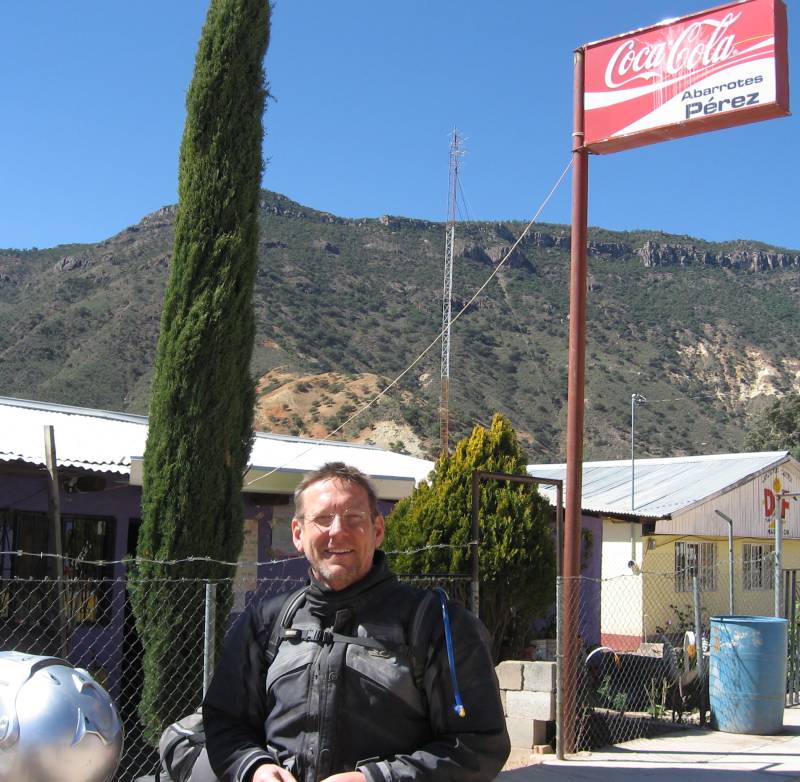 We rode to Creel on a road not worth the time of day-----I tried to find another way there--but kept hitting dead ends.
In Creel-----these nice people lit our furnace (wood stove) for us. We were chilled to the bone as Creel is about 7,500ft.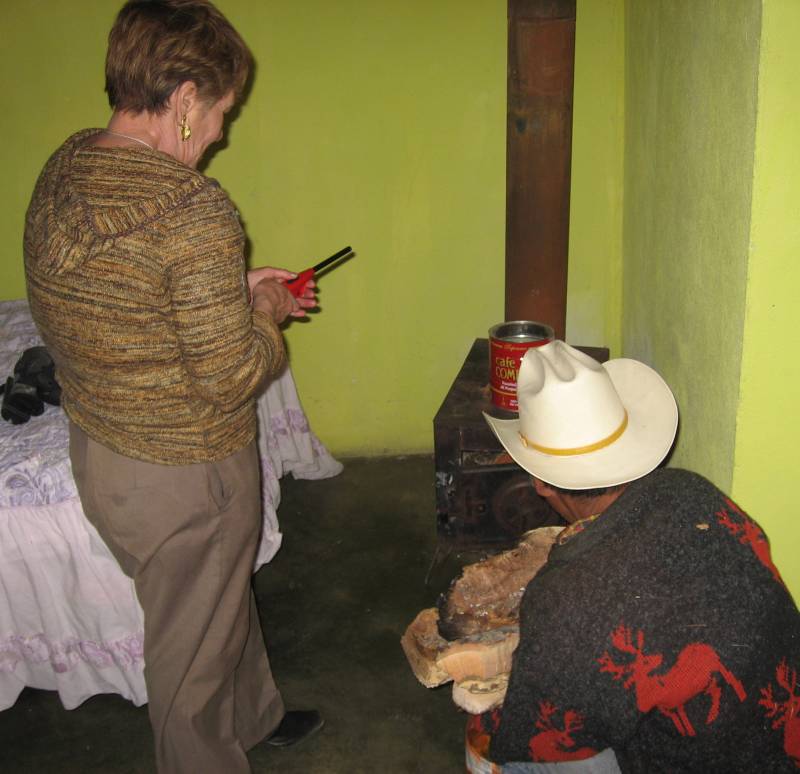 We met this really nice German couple.
They were traveling on seperate bikes. Him on an early production 650cc African twin
and her on a BMW650GS with some one off tank panniers.
Very nice and interesting people---they were traveling on pavement mostly---but were traveling the world
untill their money ran out---they had sold all possesions and owned nothing but their bikes and what was on them.
I gave them my website to look at---and told them I'd would like to put their picture on it-----nice to meet you guys !!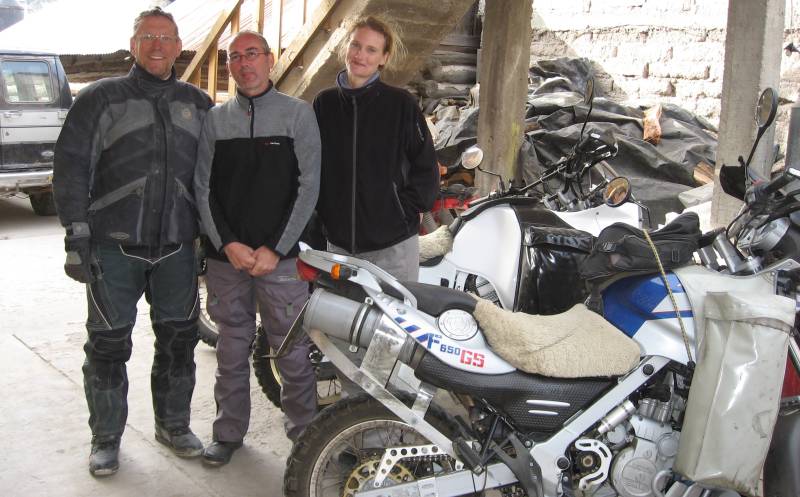 Here is where we stayed
This fellow in the picture (can't remember his name) seemed to be stalking us (just kidding)
Everywhere we went we ran into him-----he was in Urique when we were several days before seeing him here.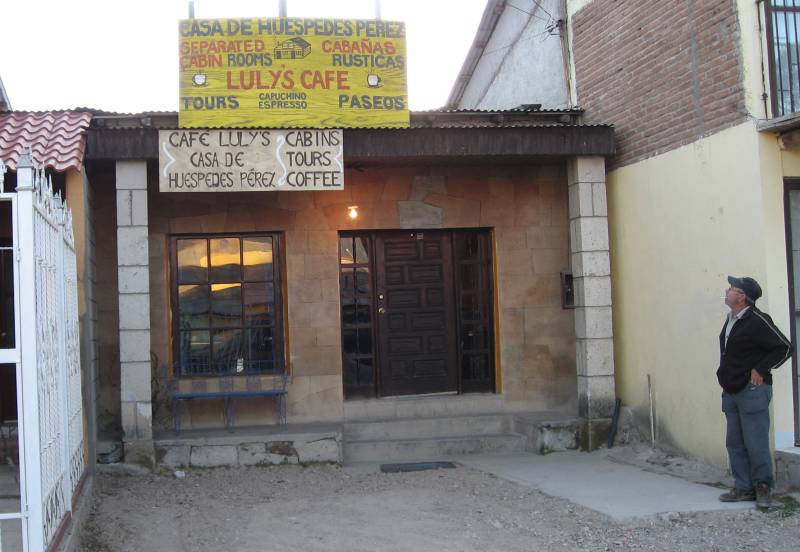 The road to the motel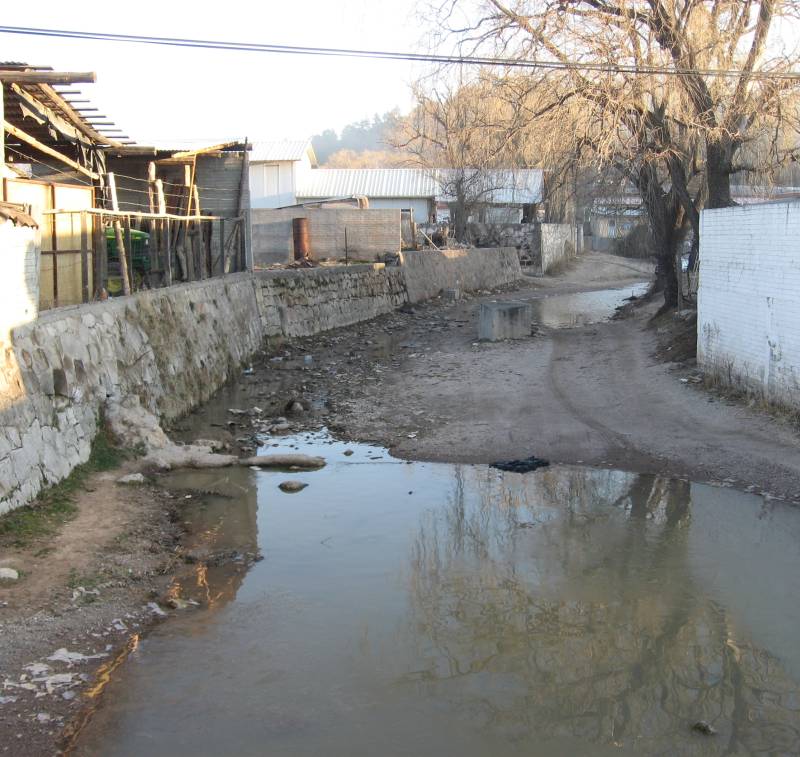 Day 9 Feb. 21st
Creel to Batopilas
We rode pavement out of Creel for miles to the dirt turnoff to Batopilas.
It was a very nice scenic route and I kept telling Tim I never remembered riding this before-but had to
as I've been to Batopilas before-------but finally remember I came in a different way and hadn't ridden this road before.
I knew some friends were down here-------I had hoped I would run into them...as they were running
some of the same routes we were. Where were they-----cell phone don't work on the
"Road Less Traveled"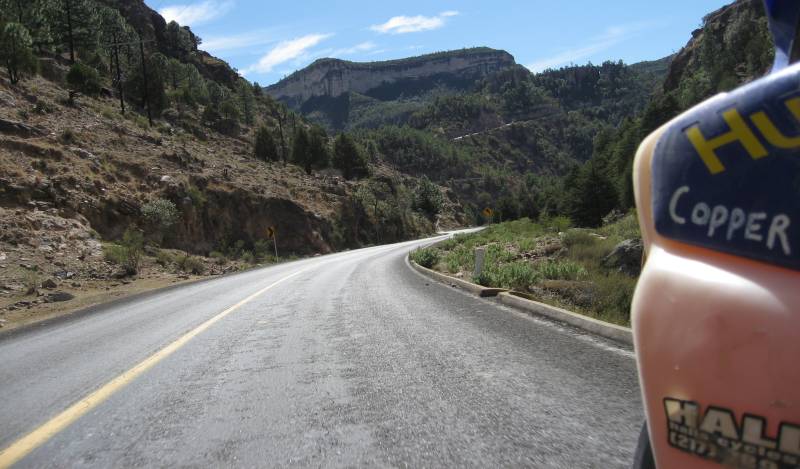 We bout' hit each other head on------Charlie Coons and his buddy Dean.
We had never met-----but had talked on the phone and been e-mailing each other
exchanging ideas on riding in Mexico. I was so glad to finally meet these guys.
Me and Charlie immediately recongnized each others bike as we met on the road
since we both had been reading each others tales on the net for a long time.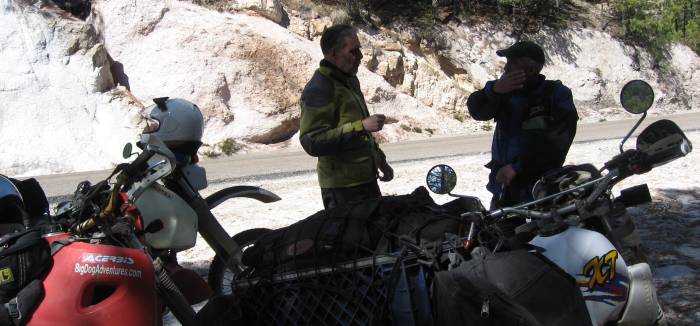 Such nice guys---and really experienced adventure riders.
Dean almost had too much adventure on this ride. These guys rode that route between Uruachi and Marguarichi
a few days before us-------Charlie some how (he is a very good rider) made it on his own across the osteros river.
Dean had bad luck-------filled his motor completely full of water-----evern the crankcase.
The motor couldn't be ran---he had to camp at the river alone while his 2 compadres road for miles to a town
stayed in a motel as it was dark----and brougth Dean back some oil the next day. What a story.
Dean laid on the ground all night in the middle of nowhere----a couple of vehicles passed int the wee hours of the night
but never seemed to spot him camping.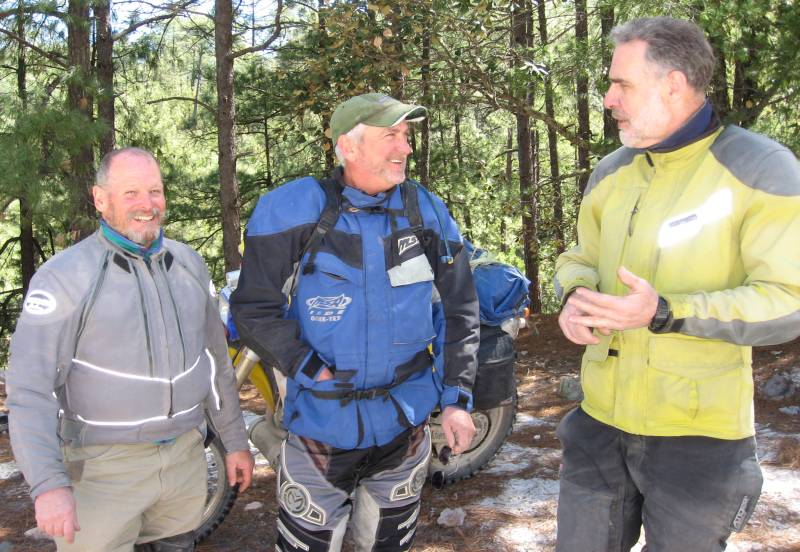 We chatted for 45 minutes about where we'd been and where we were going.
Finally they had to catch their buddy who didn't stop and had went on.
I really enjoyed meeting you guys---and I had my helmet camera on when we met your around
a curve in the road------it's neat footage---I'll see that you get it.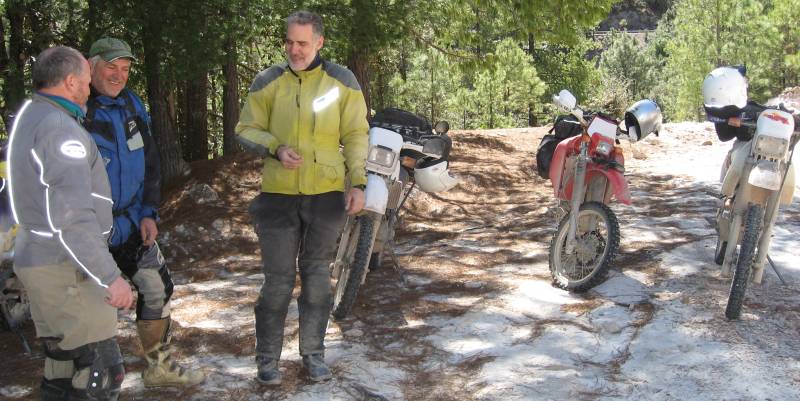 "El (long pause) Perro Grande-----and his compadre just about met our makers here------really.
I had asked to meet my maker the day before----but never dreamed I'd get blown up with a pickup truck full of dynamite !!
Have I got your attention ???????
We were on the dirt road to Batopilas where they seem to be stuck on the idea of paving it.
I rounded a corner and 4 guys in a pickup truck slid sideways in front of me and jumped out
and were hollering loudly at me to stop--2 were in military drab---I almost went on.
Have I got your attention.....................!!........................
They were very excited---I was very excited---Tim was about to have a stroke...........
Have I got your attention............
I think I just got figured out what they were telling me when the dynamite went off.
The ground shook---I could see dust and smoke over the hill in front of his as we were
being peppered with rocks and debri.
"Lord don't take me now---I have something else I need to do first"
Crap my pants.
All were relieved after the blast---but I wasn't sure if my pants weren't a bit squishy ???
It took about 15 minutes for the caterpillar to clear the road out for us and we road on.
I just missed by seconds having my helmet camera on when the dynamite went off.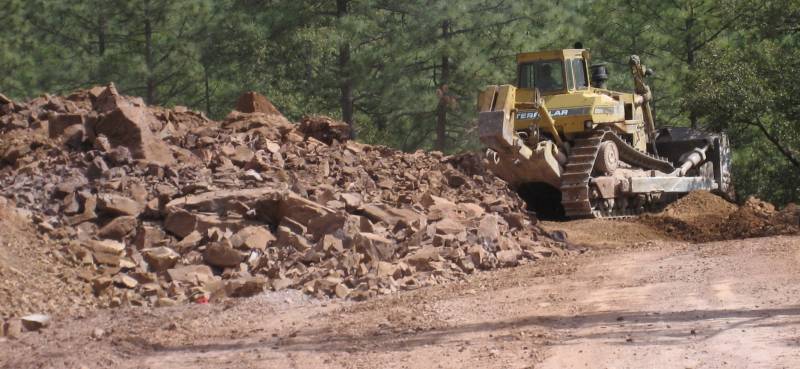 After that-----the usually spectacular ride down this canyon seemed to take second place
to what just happened.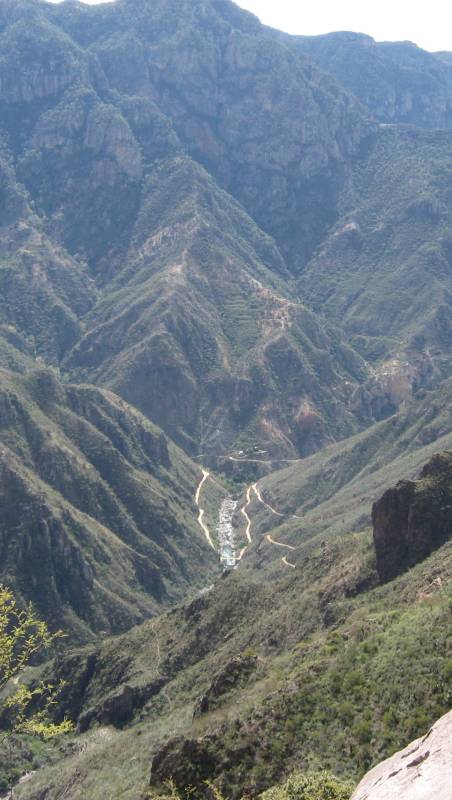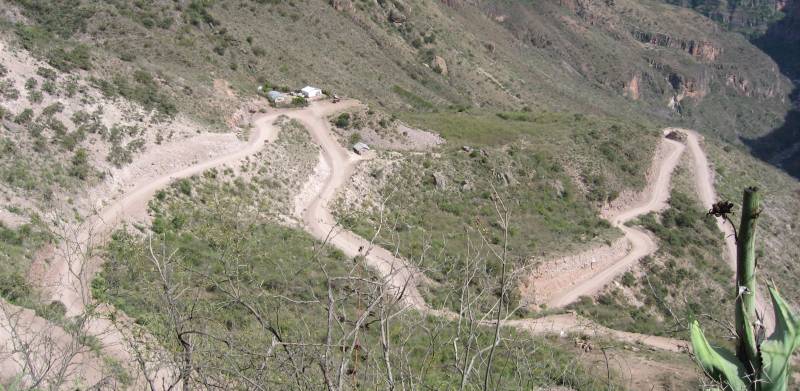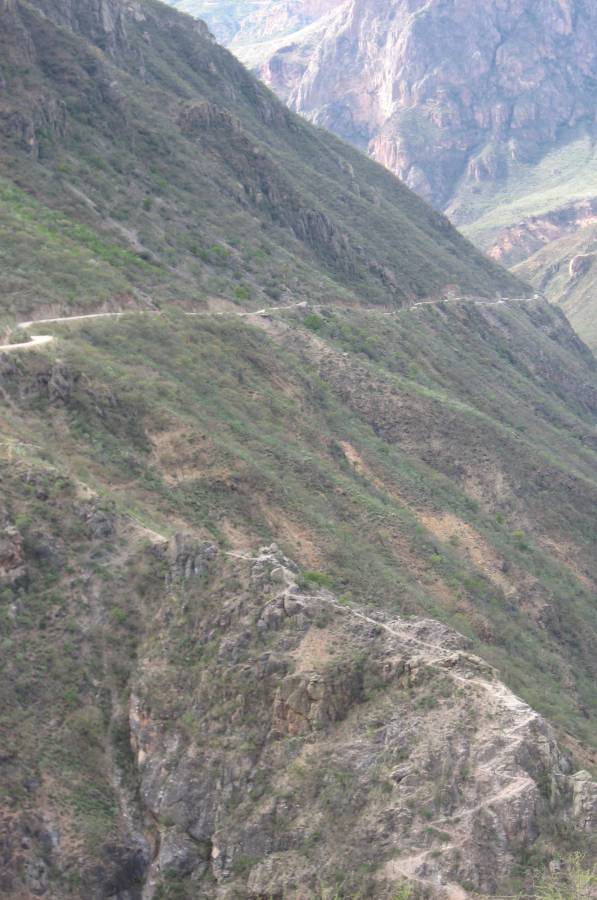 We got to the Juanita motel-----and as usual I told Tim to wait outside while I negotiated a room.
I came out and did my Fred Sanford strut----like I'd really done something--and I had !!!!
Got a motel with just pointing and grunting---should of had a video of that.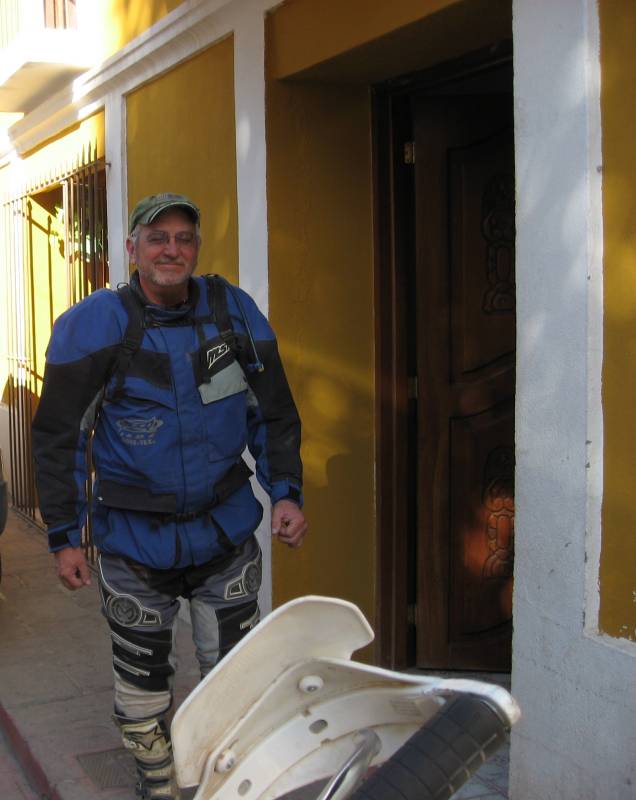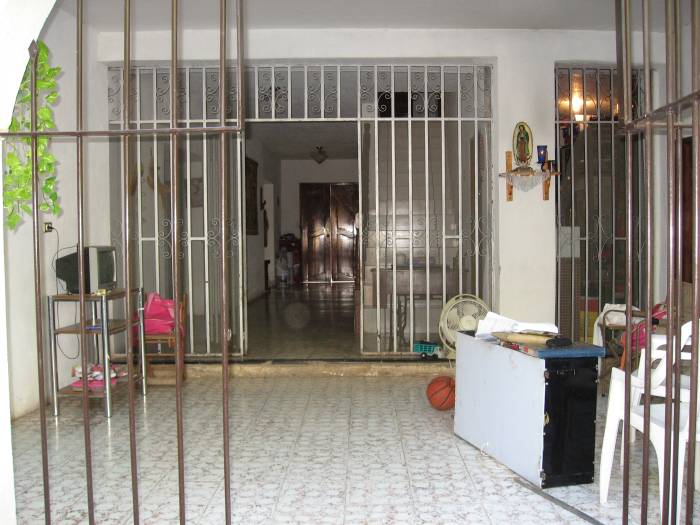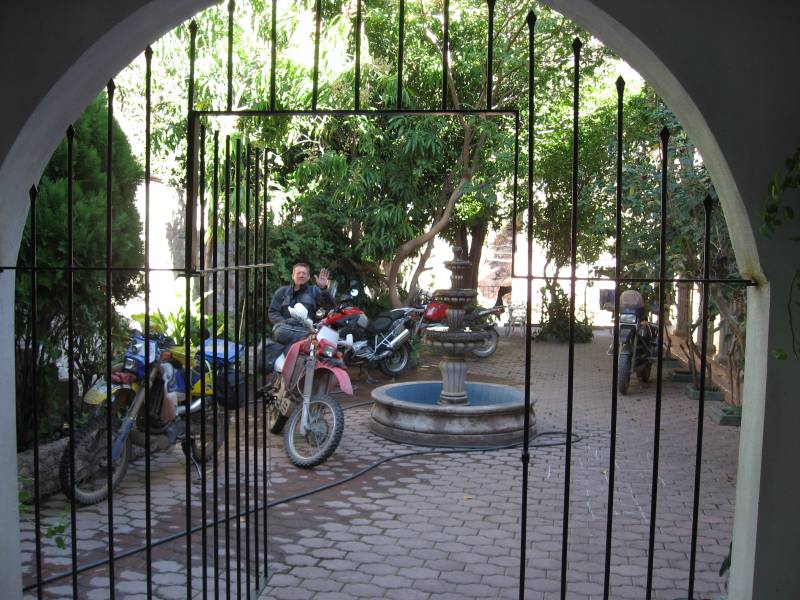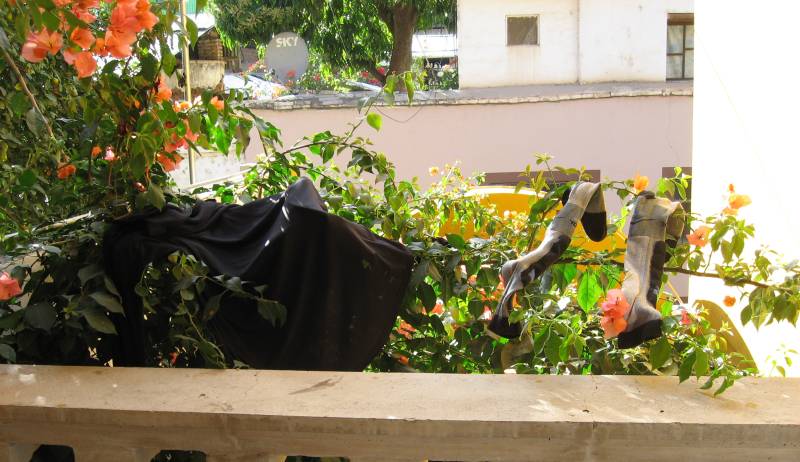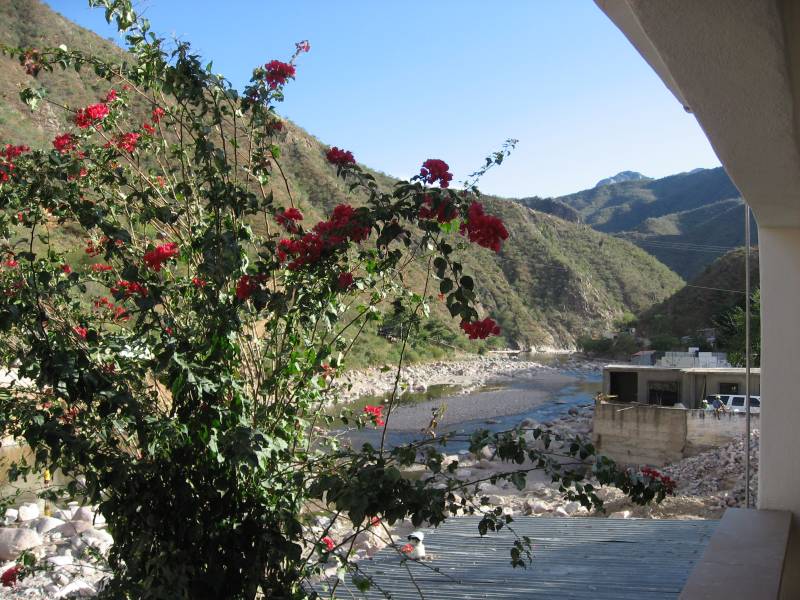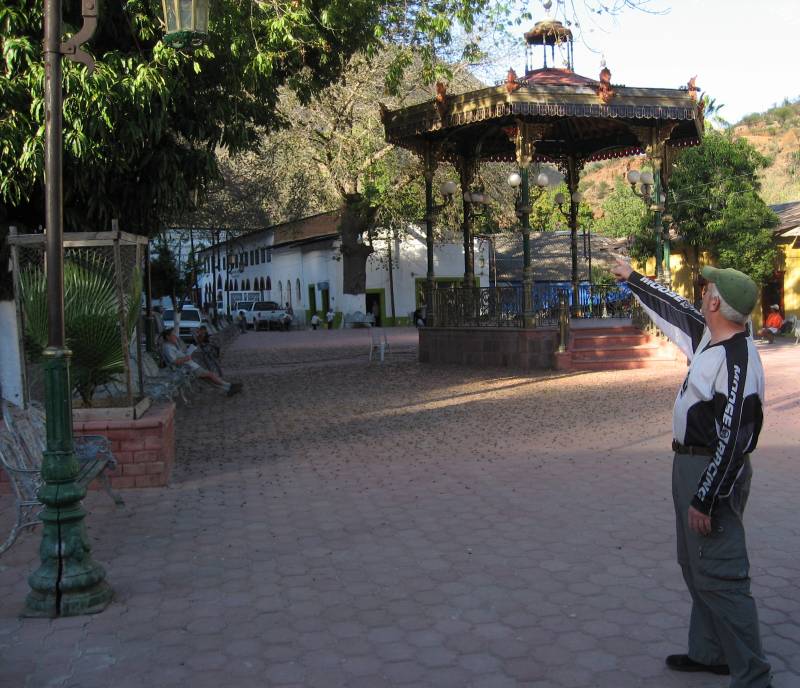 "El (long pause) Perro Grandes" resturante recommendation.

When you get to Batopilas all tired and hungy---get a shower and find the small plaza.
Not the big one--------the small one----it's just Southwest of the big one.
Look around untill you see this place-----it's a nice ladies house.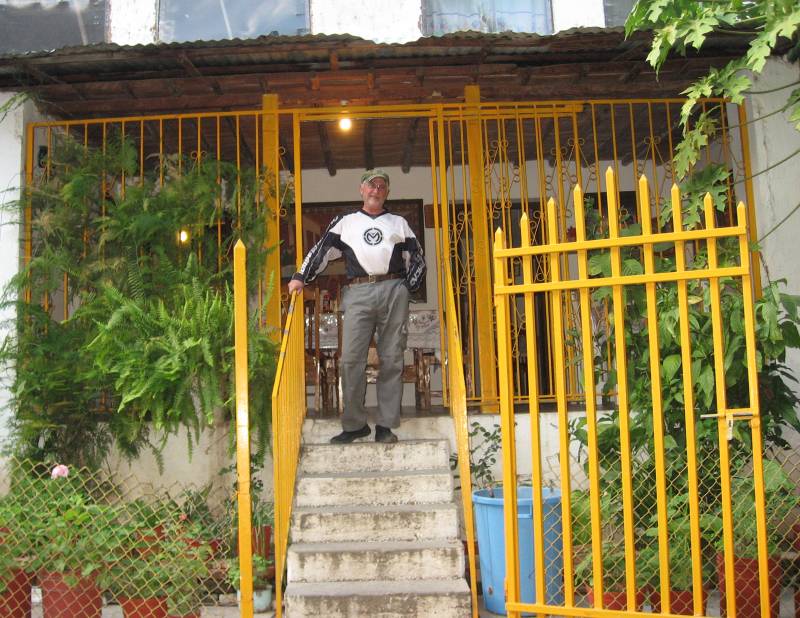 Our hostess for the evening.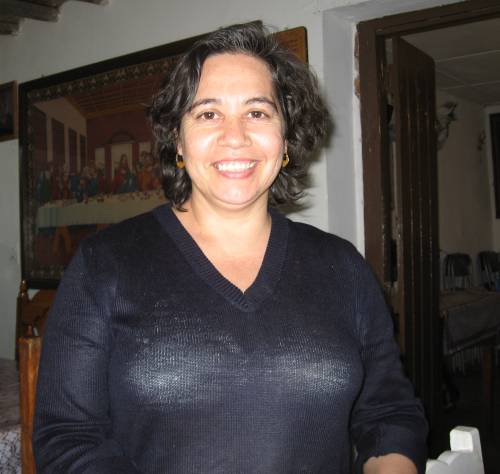 There were 2 tables on her front porch.
She came out and offered about 3 dishes too us.
Yeh---we'll take that.
Here's our appetizer-----MMmmmmmm good.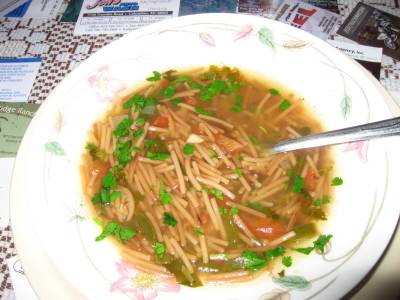 Whilst the birds chirped, soft music played, the kids played and we chatted and relaxed she fixed us a dinner to die
for-----I knew the Lord had something else for me---and this was it.
Go ahead and take me---but please let me eat this wonderful dinner first !!
And enjoy the thinnest flapjacks in all of Mexico.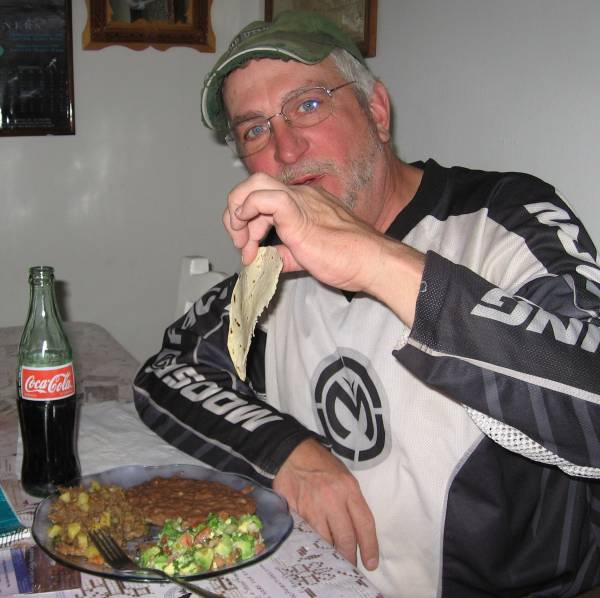 We left her a huge tip--and felt honored to eat here.
She took the time out of her day to fix us a nice meal.
I don't know here name---I'm sure she told me--but I'm gettin' too old to remember names.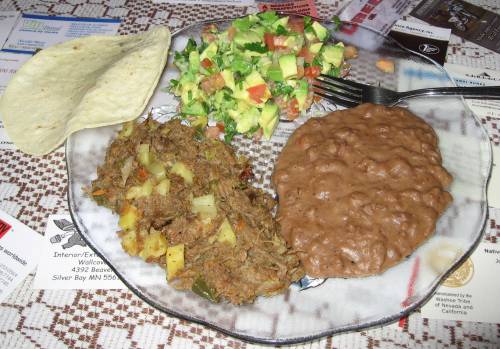 We walked out of her house with such a great feeling.
Maybe the best of the whole ride.
I think Tim would agree to that.

Meanwhile back at the big plaza---the locals passed thru.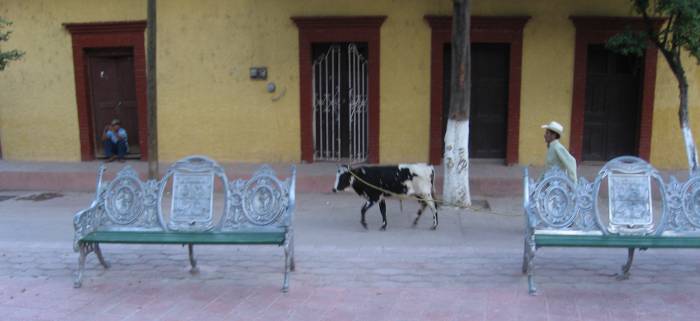 This lovely couple were in town---from Finland I think.
We had saw them in El Fuerte.
We had seen 3 different people we ran into in different places on this trip-----really weird.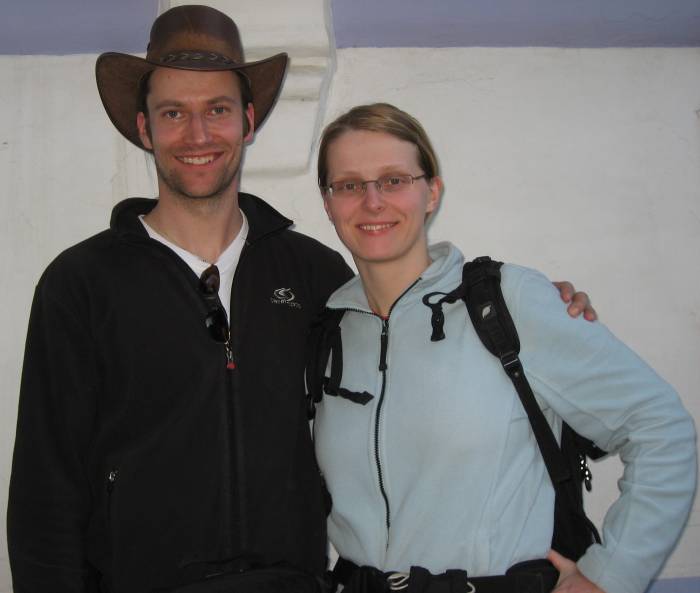 The sun was going down--such a peaceful place we were at.
This picture just relaxes me looking at it------just imagine if you were there.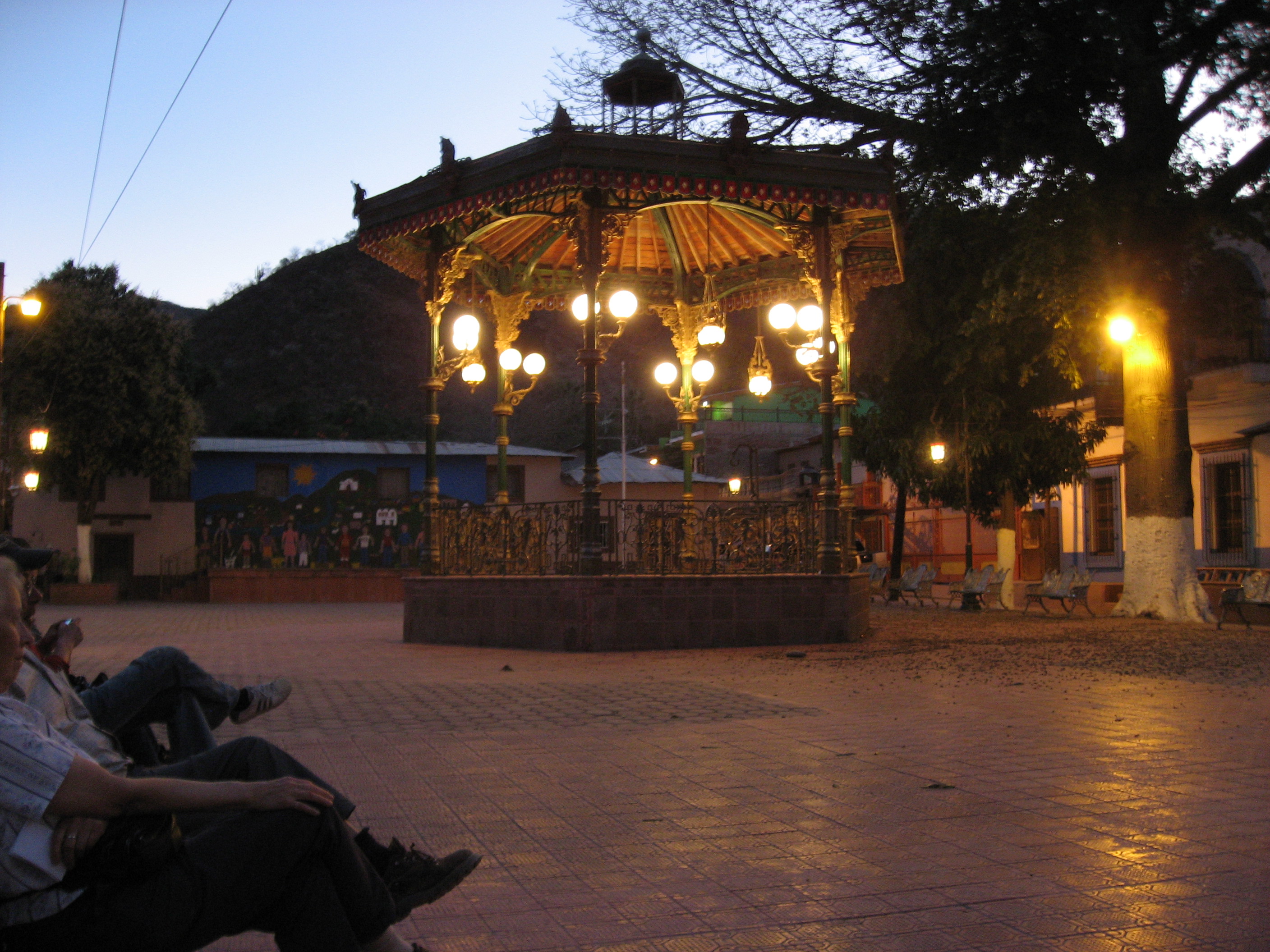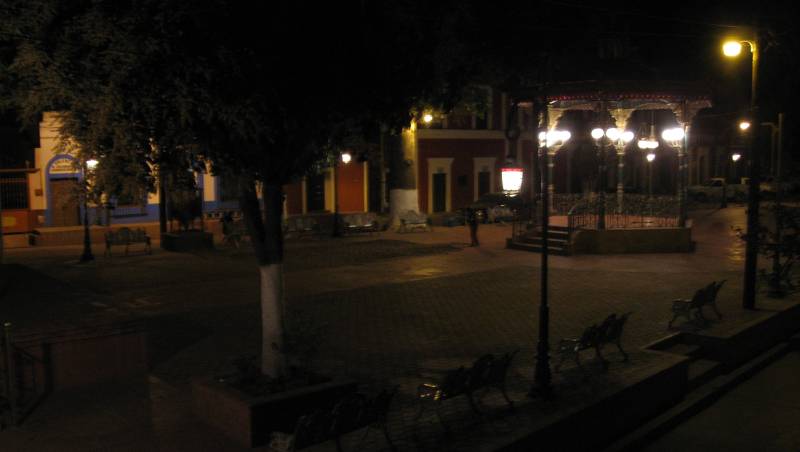 "Good night Tim"
"Good night "El (long pause) Perro Grande"
Day 9 Feb. 22nd, 2008
I have been to Batopilas before......but went again for 3 reasons.
1. Take my buddy Tim there
2. It is a great place and ride.
3. I wanted to ride a route I had never ridden along the river to Satevo
then cross the rio Batopilas and ride all the way to Guachochi.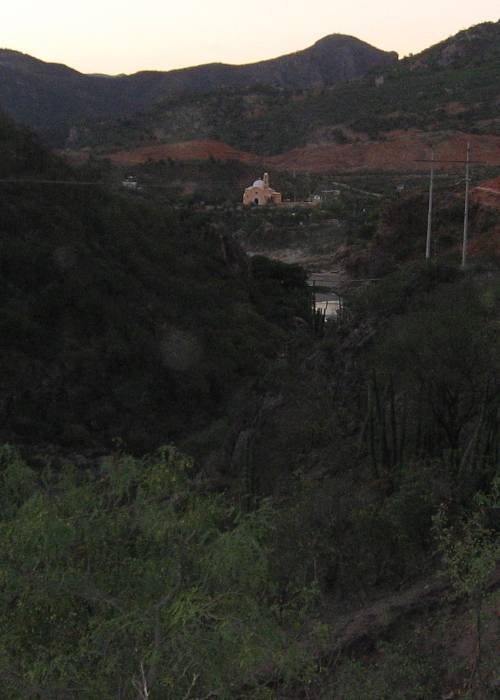 All that said-----I'm sure it was my last ride there for a couple reasons. First and foremost is I don't like going
to the same place twice and when I go to Mexico again---I want to ride new territory.
Second-----I guess the road is going to be paved-----I couldn't stand that--it will soon all be ruined for me.

We took off out of Batopilas in the dark as we had gas, food and water and didn't need to do any of that.
We rode South right along the river on a shelf road towards Satevo and The Lost Mission church.
Magnificent--it has just recently been restored.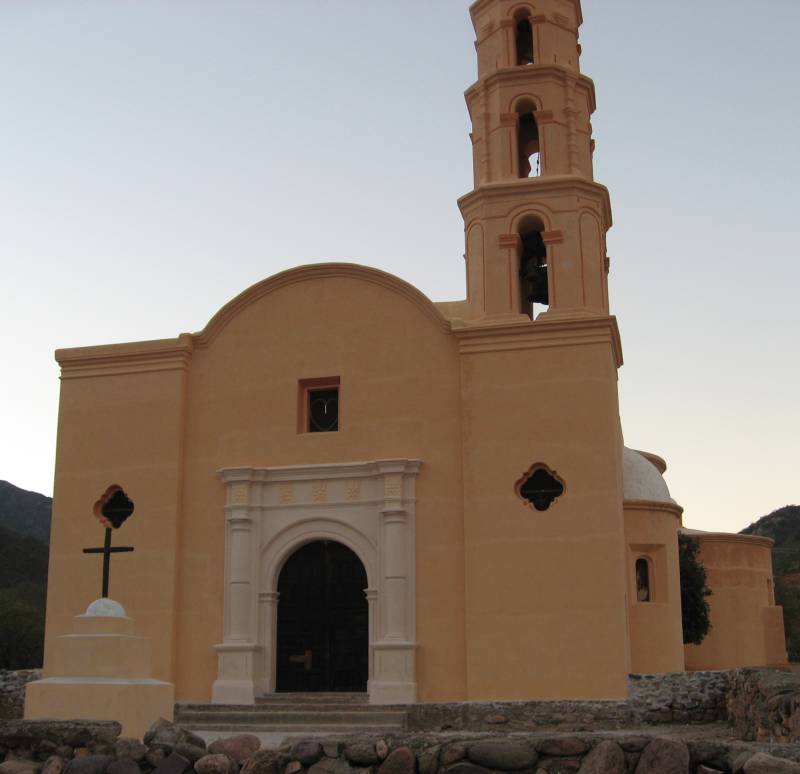 The last time I was here the very small village seemed abandoned and there was no electricity.
Now there seem to be quite a few people living here and there is electricity.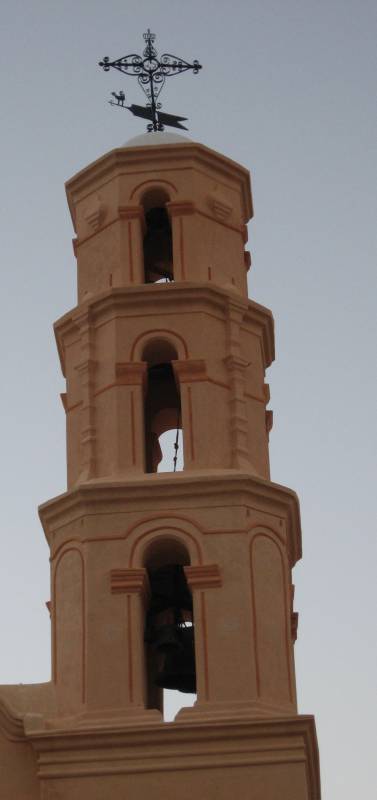 Knowing I had to cross the rio Batopilas---I dug for imformation but never did find out how to cross it.
I didn't know if there was a bridge or we would just have to ride thru it.
There are 2 bridges in this picture.
The most well seen in the picture is a walking suspension bridge.
Kind of hidden below and to the left is a bridge good enough for any vehicle to use.
The walking bridge was unfit for use as a lot of the boards were gone.
I guess there is no use now to use the old walking bridge.
As you can see----it was spectacular here.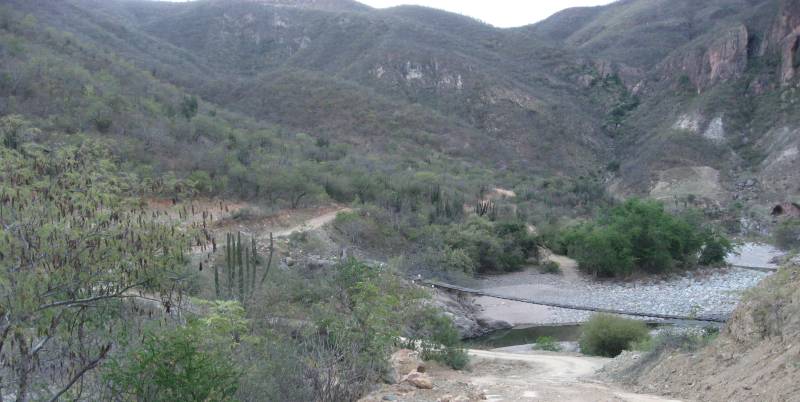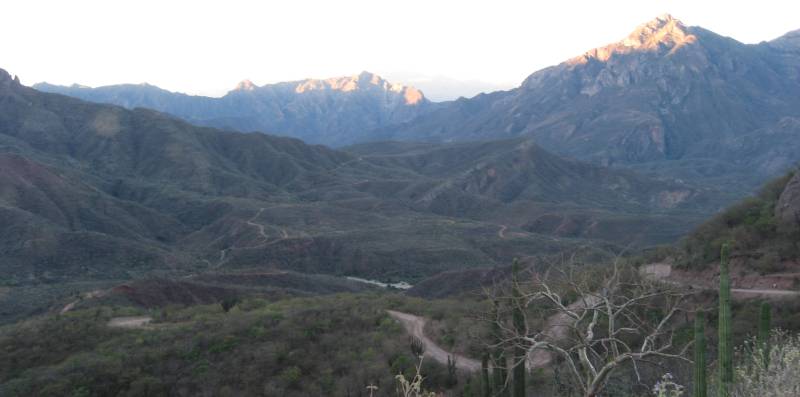 Our ride was winding down and Tim confessed to me when a ride nears it's end he's kind of like a horse
heading towards the barn and I had already sensed this from him.
Rides like this are really incredible--but sometimes a time comes where you are missing home,
and I think it was that time for Tim.

At Guachochi we were starving.
We breezed thru town and I spotted this little taco stand.
These little homeade stands always have good food.
The stand was made out of an old horse trailer---we ordered some tacos and refresca's
and had a good time in the warm sun.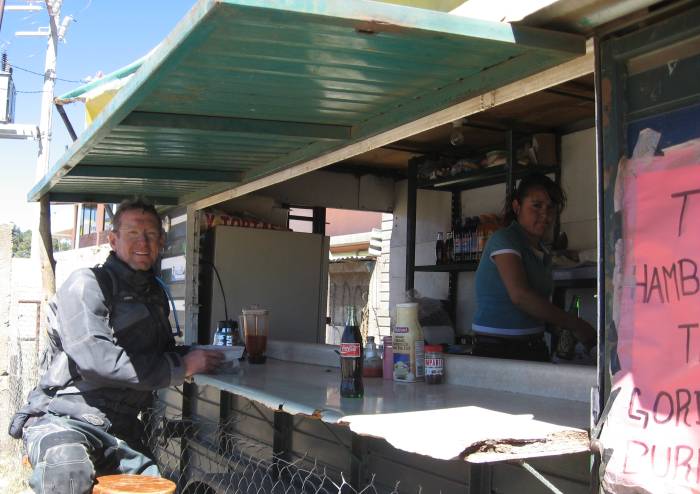 Here's the menu at the taco stand------cept' all they had was Taco's.
It was time to hit the dreaded pavement and we headed West.
We rode from sun up to sundown and made it to Carmago
where we got a motel------The Sante Fe Motel-----really nice.
It would have been stupid to ride in the dark all the way to the border at night,
as it was another 160 miles. We did the smart thing and holed up for the night.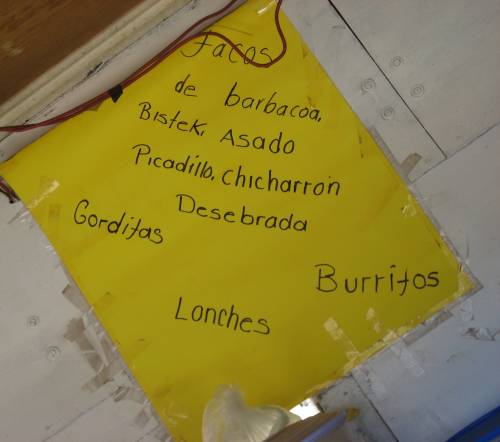 Every trip I've made in the last few years ended up with this.
A blow out on the trailer---my buddies always ask
"You got a spare ??
"Naw don't need one of those things---there highly overated"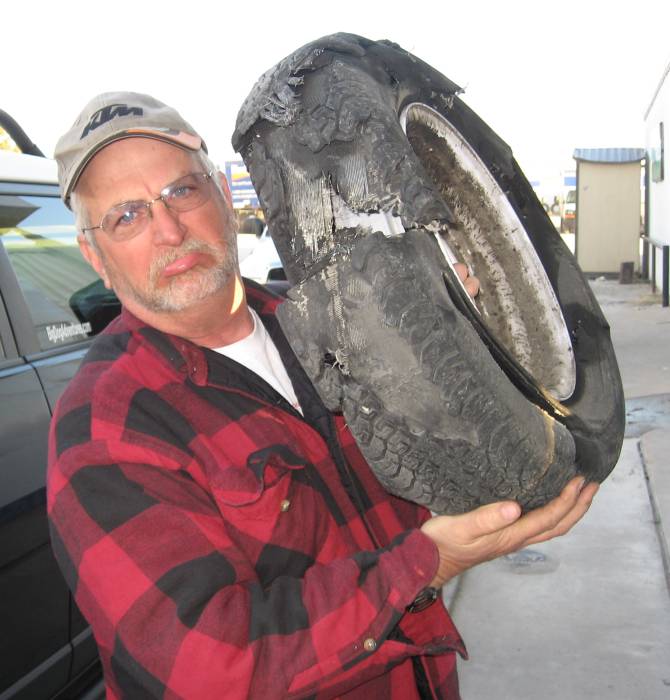 We just laughed----the blowout happened at midnight.
We slept in my FJ the rest of the night and the next day found a boat store
who had a spare on a boat trailer they sold me.
Now-----I have a spare !!!!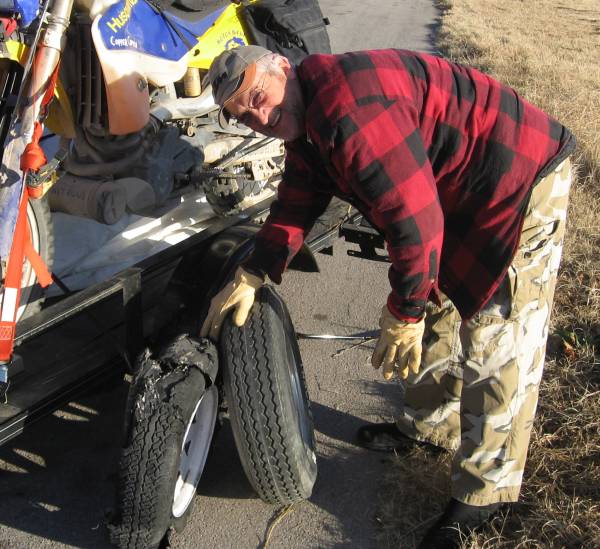 We beat it on home after that and I drove on home
"Chevy Chase Style"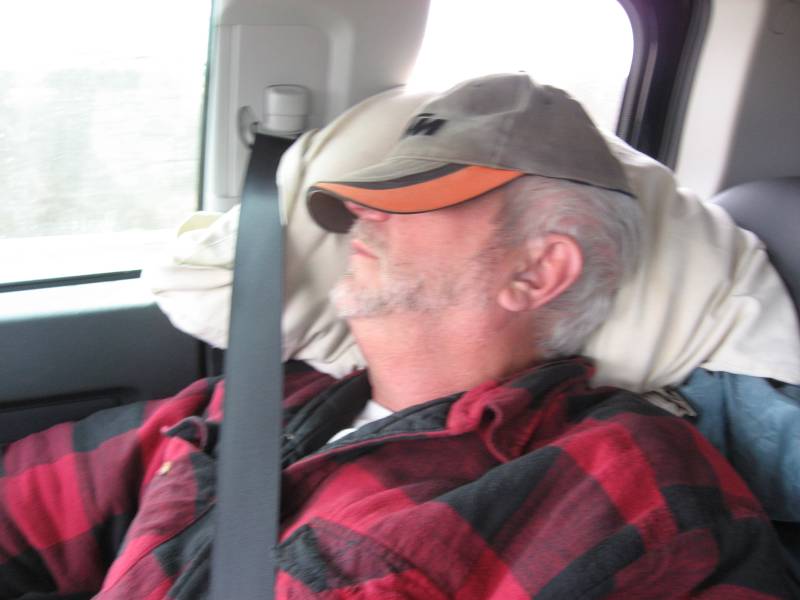 Me and Tim had the adventure of our lives
and can't wait to ride together some more.
Thanks for the good time and friendship Tim

Tim is talking about taking his girfriend down there someday----she would really like that.
Hasta Luego
The End
"El (long Pause) Perro Grande"